Creating a kitchen design that is functional, beautiful and comfortable can be a challenge. Check out our gallery of fifty original and unique design ideas, tips and inspirations to help you construct a plan to revamp your kitchen! Whether you are looking for simple decoration changes or motivation for a full renovation, we've provided a variety of looks, styles and combinations to ponder and peruse. If you rent or own, are urban or rural, happy to craft or prefer ready made, we've brought you kitchen inspirations to boost those kitchen dreams into design realities.
Check Out 50 Inspiring Ideas to Design Your Kitchen for 2018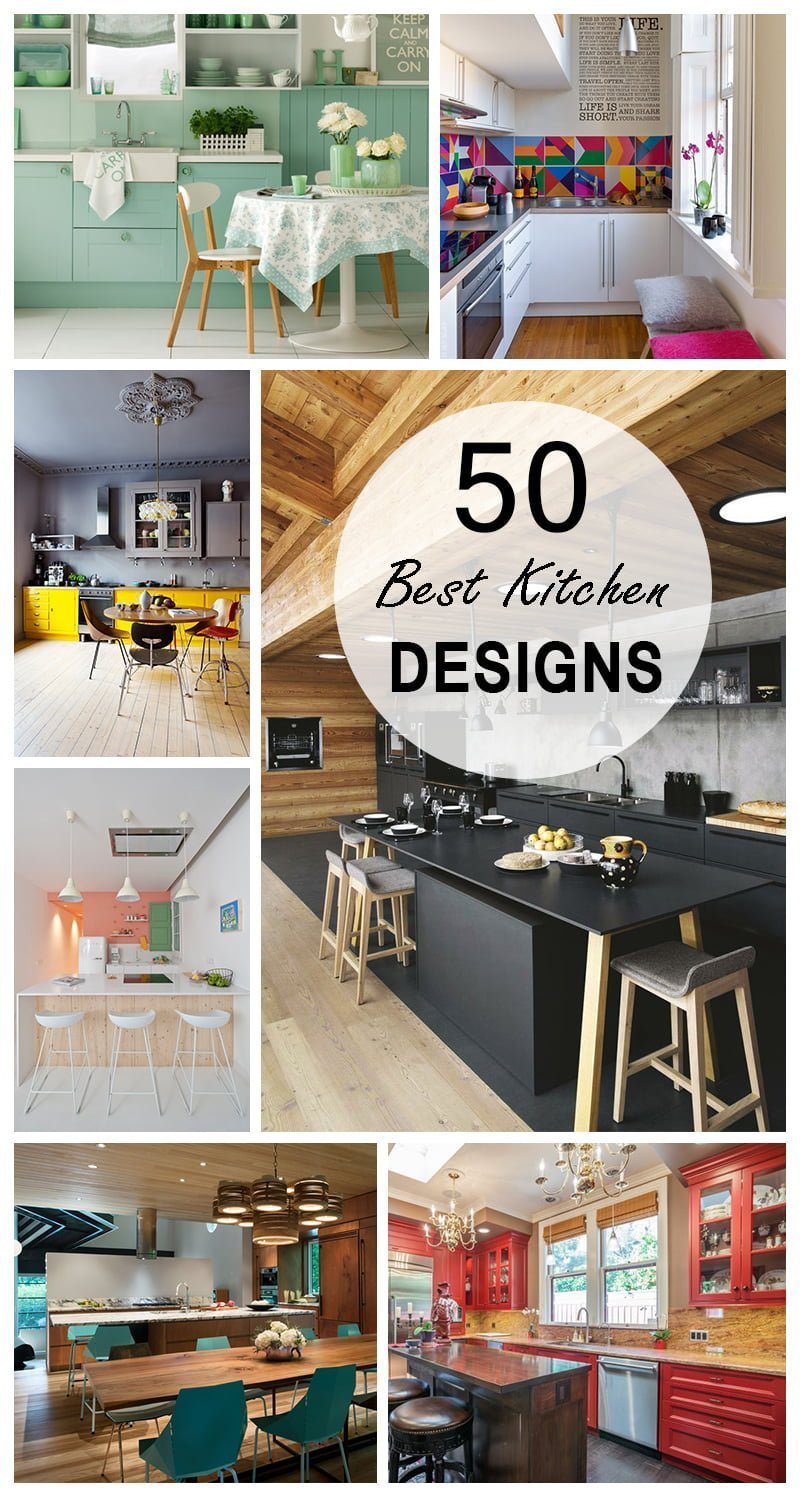 The kitchen is the heartbeat of your home – whether entertaining large groups or brewing a cup of tea, your kitchen is where precious memories are made. This is the space where meals are created, new tastes and cooking methods are explored, and special conversations are had. The epicenter of your home should be comfortable and functional, but it can be difficult to create a kitchen design idea that perfectly blends practicality with the style you are searching for. Transforming this vital room in your home does not require a pricey professional interior designer – it's just a matter of discovering unique solutions and fun aesthetic touches to make your kitchen more usable and beautiful. There are even a myriad amount of kitchen design ideas that can easily be utilized in your rented house or apartment, to help add a touch of individuality and personalization to your space. The following kitchen design photos are collected to introduce you to some delightful designs to inspire your internal designer. That inspiration and a few unique kitchen design tips will help you to create a welcoming space for food prep, entertainment and more.
1. Bright Colors Add Great Impact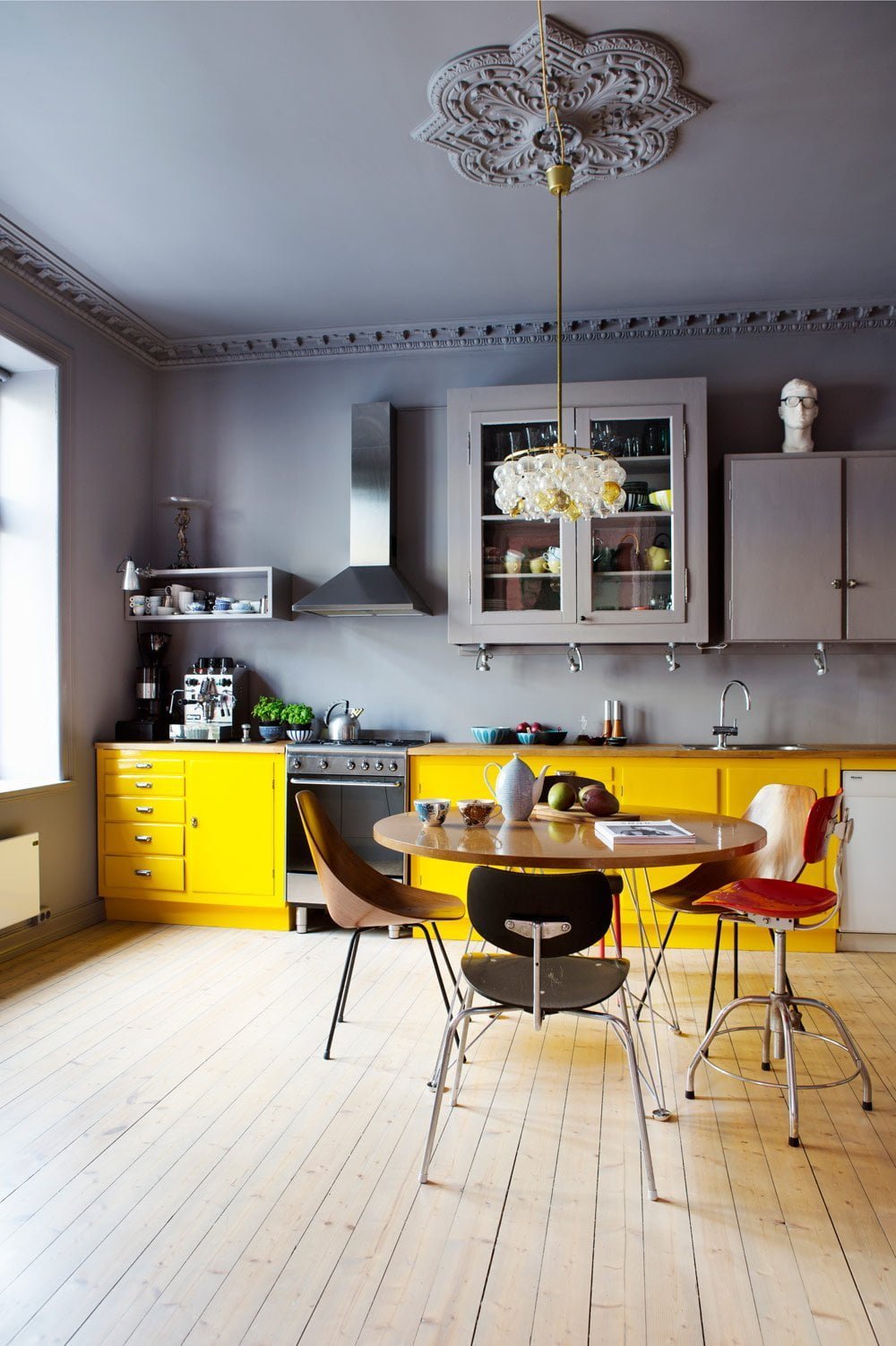 Bright colors don't have to be restricted to your garden. Bring the cheery yellow of a fresh daisy into your kitchen and be wowed by the glowing difference it creates. As you can see, simply painting the lower cabinets a bright shade adds a great new dynamic to this kitchen, especially against the grey background. Keeping the upper cabinetry a similar shade as the walls and ceiling places even greater focus on the sunshine-esque accent and makes the kitchen seem much taller. This is a great technique to use in kitchens where not all the fixtures quite blend – the yellow, even sized cabinets draw the eye away from the mismatched, grey wall storage.
2. Hidden Touches for Sleek Style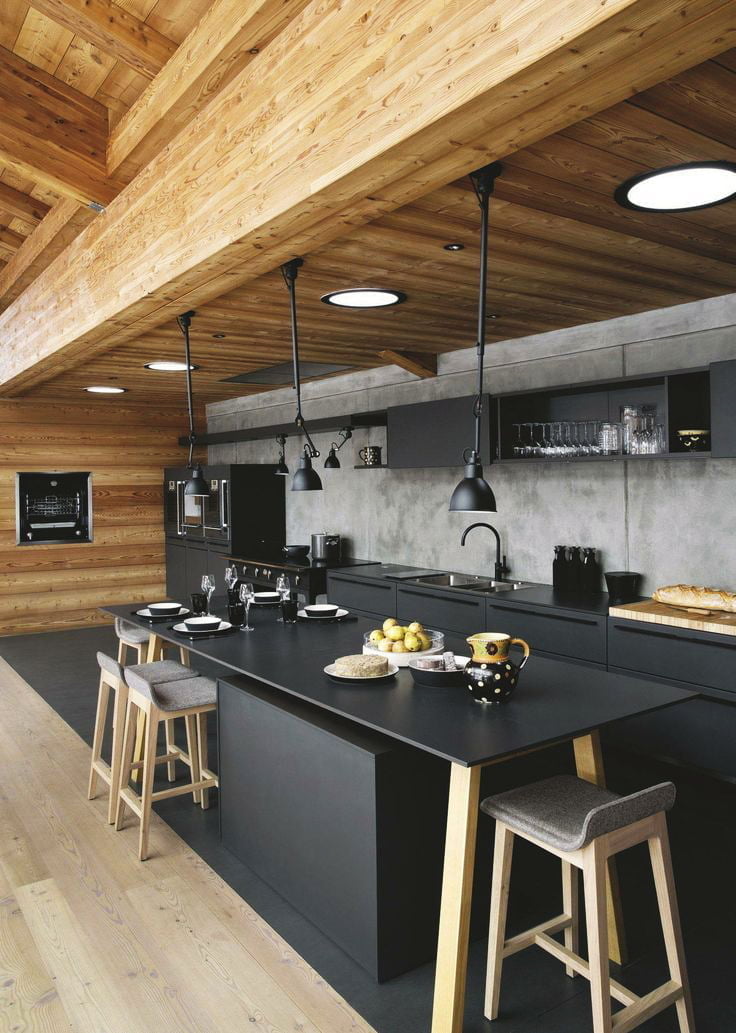 Make preparing meals practically effortless with a style that tucks away all your gadgets with ease. This kitchen design in this picture features recessed lighting to make sure you cuts are clear and your measurements are accurate. Storage underneath the table utilizes the space effectively while keeping the room tidy. The deep matte black of the cabinets and surfaces provides a sleek backdrop to the beautifully detailed wood grain. It would be easy to switch out accents such as hand towels and serving bowls for whatever color fits your mood or the season. Matching appliances that are either perfectly aligned with the cabinets or set into the wall present a polished kitchen any host or hostess would be proud of.
3. Minty Fresh Appeal Kitchen Design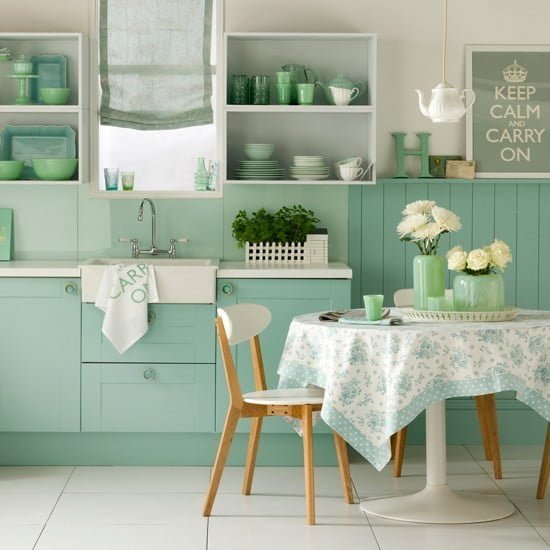 There's a reason that mint green has been frequently appearing up in fashion lately. This lovely pastel is fresh, fun and flattering. This particular kitchen design picture shows a space that has utilized many shades of the mint green for a sweet and homey feel. A closer look shows some simple touches add to the overall effect, such as replacing the drawer pulls with funk mint hardware and towels that match the wall art. Are you renting and aren't able to paint your walls? Or love the look of colored wainscot but don't want to commit to that large of a renovation project? There are wainscot panels you can purchase, paint to your desired color and then affix to your walls in a manner that can easily be removed.
4. Black That Is Anything But Basic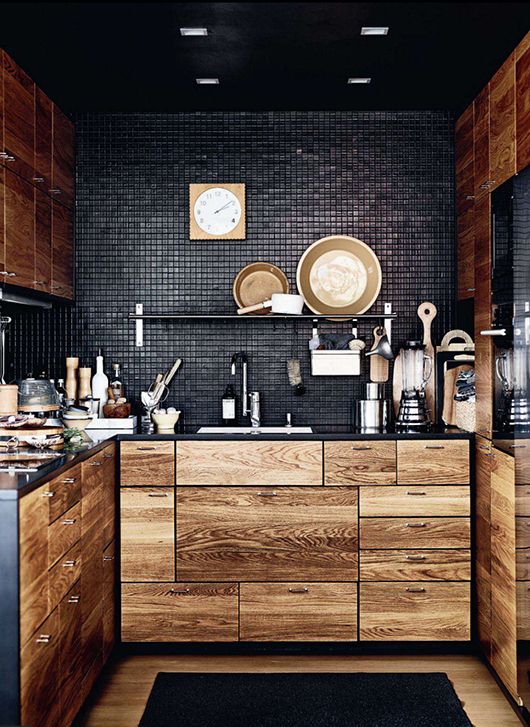 This stunning kitchen design image perfectly examples how a small space doesn't limit you to small options. While most people don't think of utilizing black in their kitchen, the black tile wall creates stunning texture while the black counters and toe kick form striking lines to best display the golden wood drawers and doors. The asymmetrical sizing and placement of the drawers add interest and functionality – imagine having drawers that perfectly fit that silverware tray, or a pullout shelf that would contain those miscellaneous lids? Choosing a dark finish for the faucet and storing rack helps keep the memorable contrast between the black base and gold highlights.
5. Quirky Touches for a Fresh Look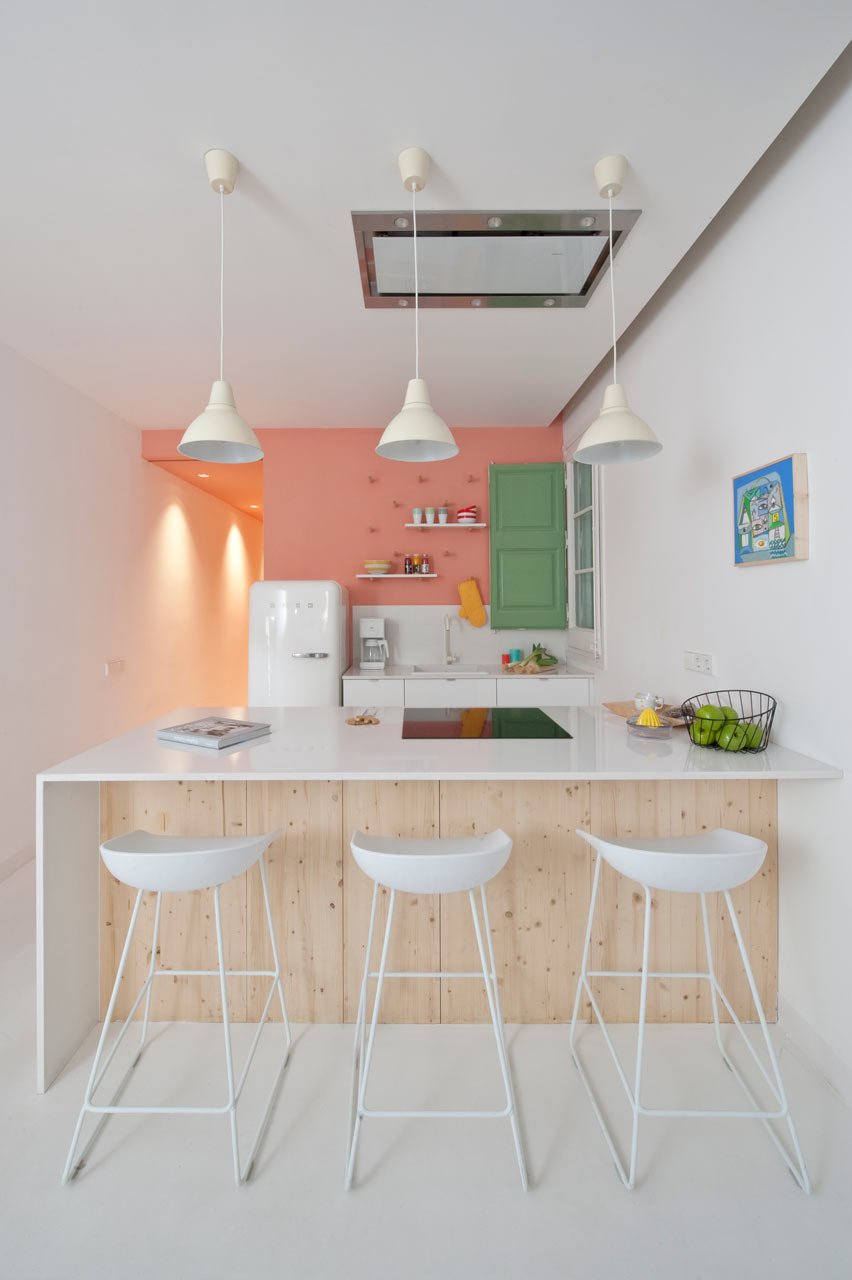 Sometimes, the simplest way to revamp a kitchen is to think outside of the box. For example, when replacing bar stools, seek out comfortable scoop shape seats instead of the more common round stools. Replacing your refrigerator? A rounded, retro look fridge is a fun and interesting divergence from the stainless steel norms. In this adorable kitchen, unusual shapes are still featured in white, allowing the contrasting juicy colors of melon and clover to brightly pop. Simple white floating shelves and pegs on the wall allow for additional storage without adding bulk. A crisp white counter/eating area combination makes great use of the space while providing a canvas for further decorating.
6. Tiny Space Can't Hold You Back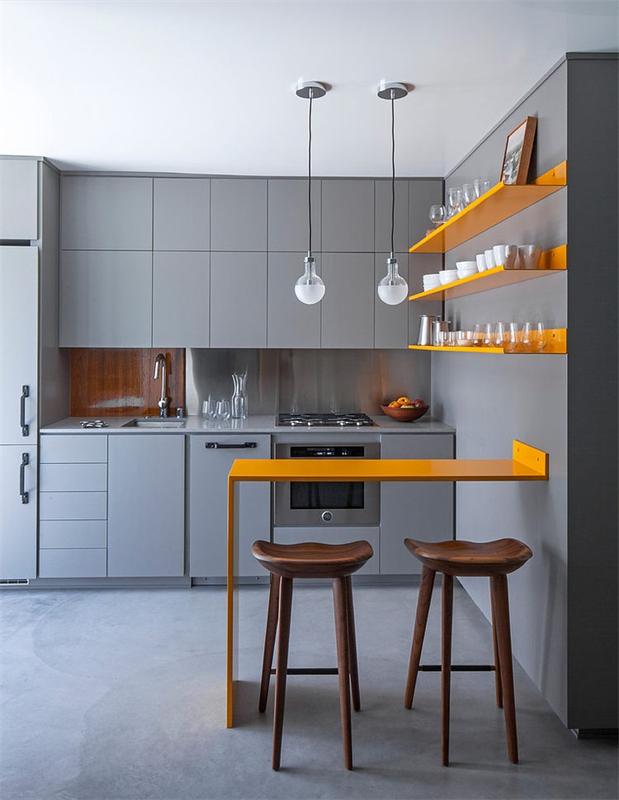 Are you working with restricted space and can't seem to find furniture that will fit? This image is unique among the other kitchen design pictures, as the tiny kitchen area has been perfectly planned to maximize the available space while maintaining effortless function. Notice how even the cabinets and drawers are without excess hardware, keeping clean lines and an overall minimalist presentation. The light grey color used throughout the walls, ceiling and floor add depth without creating too much background noise. Vivid yellow punctuates the orderly shelves and the innovative table, showcasing the unique way this tiny space has solved the need for a table and storage. Softly accenting this miniature masterpiece, the wooden back splash and seating flow with the gentle pattern in the floor, keeping the overall impression from appearing too industrial.
7. Mixing Materials Makes Magic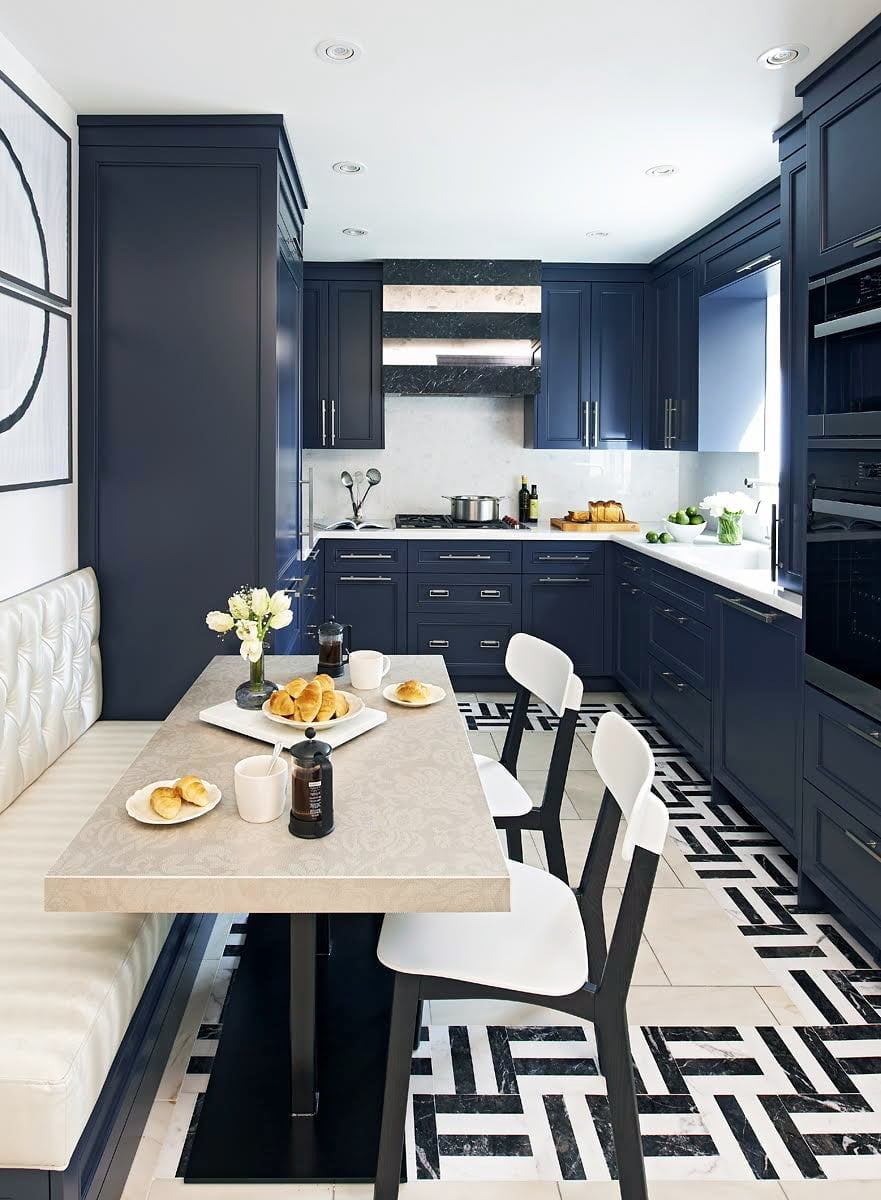 It can be easy to revert to common combinations while planning your new kitchen, but let yourself dare to dream of the unexpected. These gorgeous navy cabinets look right at home next to the marble counters, while not overwhelming the limited space this galley style layout provides. An underutilized kitchen design idea, this border tile in a eye catching pattern is a simple way to ramp up the interest without tearing out and replacing your entire floor. Another novel piece that blends in beautifully here is the stunning hood, made of marble and mirror and nestled among the upper cabinets seamlessly. Switching out curtains and towels can be a simple fix, but switching up an item like this hood is memorably magnificent.
8. Let Your Personality Shine!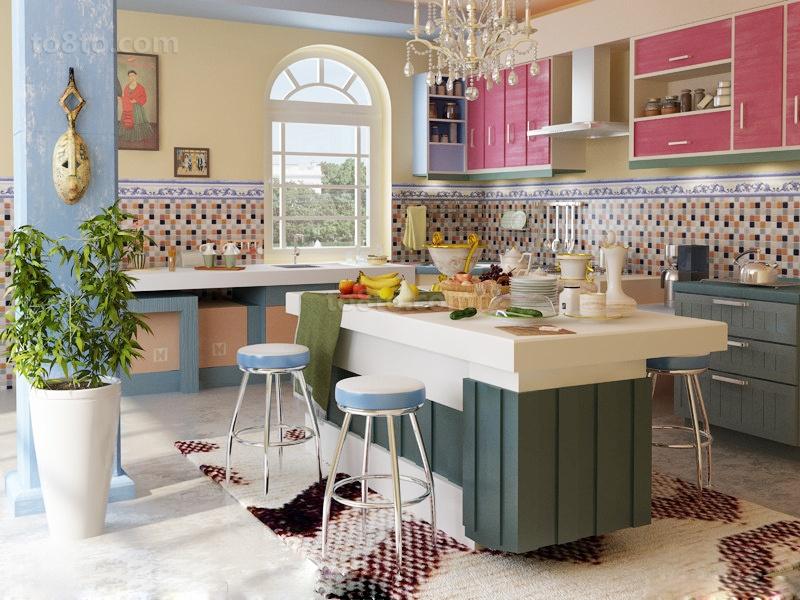 Personalizing your space doesn't have to be relegated to decorating a bedroom. There are no set rules for how a kitchen has to look, so use pieces that will catch your eye and admiration. In this expressive example, the whimsical chandelier is just one of a variety of conversation pieces to feast your eyes on. The geometric print rug complements the colored pixel print tile on the walls without clashing with the neutral island. Pinks and purples on the upper cabinets flow with the flourishes of the border tile and a lovely arch window opens the room with natural lighting.
9. Seek Out Local Options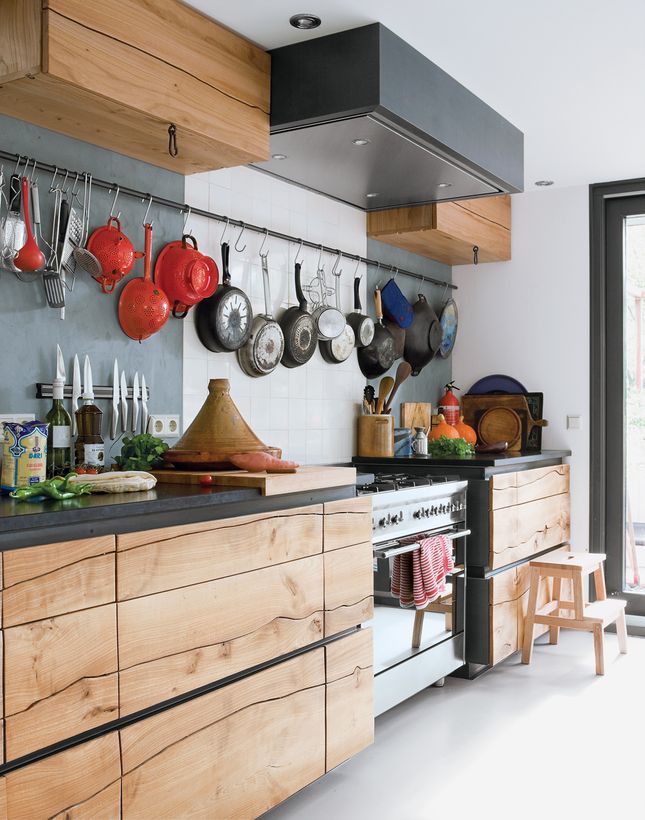 There are a number of big box home improvement stores that sell a variety of inexpensive and pre-made options for your kitchen remodel. However, consider this kitchen design tip – research local options first! This will provide you with a truly personal touch of your community within your home. The kitchen design in this image, for instance, is absolutely one-of-a-kind! Cabinets crafted from a single elm tree placed in waxed iron, offset by traditional rustic tiles tell the tale of this Dutch homes' origin. The undulating golden lines of the wood are perfectly showcased against the dark metal – which matches well with the kitchen gadgets hanging along the wall. Oftentimes craftsman can create gorgeous custom pieces using local products.
10. Neutral Tones Create Classic Elegance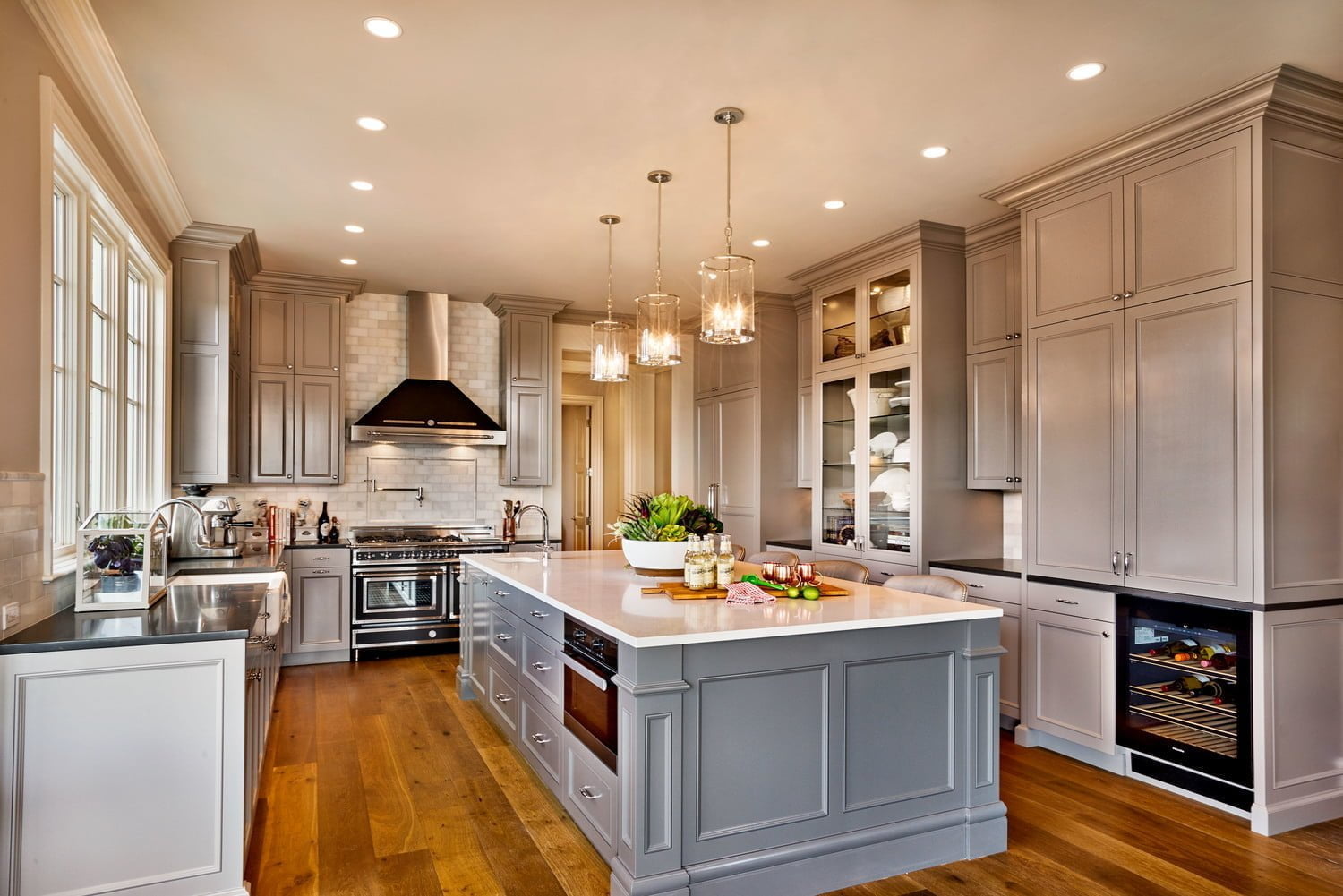 This timeless kitchen has many of the most desired kitchen necessities – plentiful counter room, generous storage space and even a wine refrigerator! What sets this apart from other dream kitchens, however, is the use of light and neutral tones to craft a timelessly elegant space. The subway tile wall detail is comprised of multiple tones combining the appealing cream of the island surfaces and the deeper neutral beige of the cabinets. Recessed lighting in the ceilings adds to the crystalline lighting in the middle of the kitchen, which is all accentuated by a bank of windows above the spacious sink. This stunning room would be worthy of hosting even the fanciest of feasts.
11. Gilded Glamour Kitchen Decoration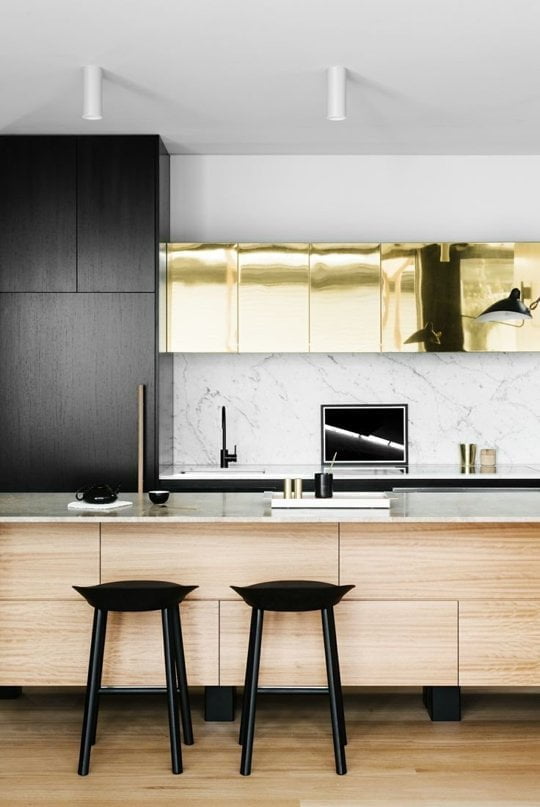 The image above combines several common kitchen design ideas – bar seating in front of classic marble surfaces, unobtrusive lighting and clean lines. What escalates this room from familiar to fabulous, however, are the unexpected metallic gold cabinets. It just takes one such statement piece to give your kitchen an air of opulence. Simple gold accessories help tie the room together, and styling the remainder of the kitchen in contrasting black and white keep this glamour from going gaudy. Adding a focal point such as this shimmering storage is certain to grasp the attention of your guests, without costing its' weight in gold.
12. Farmhouse Familiarity, Revamped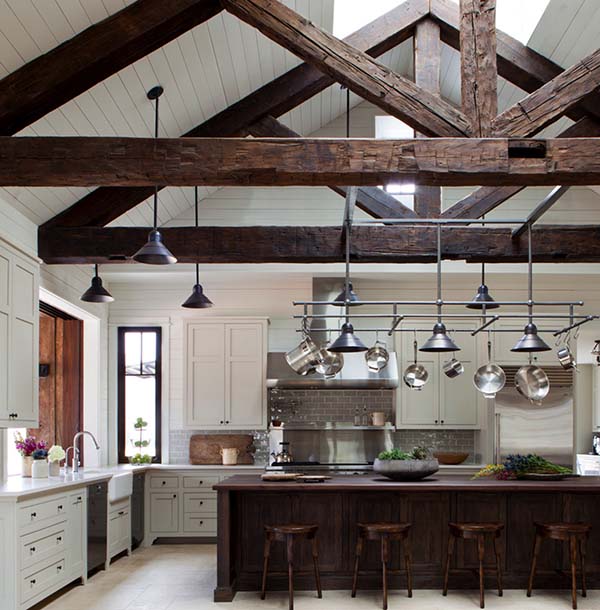 Many of the most precious memories are forged in kitchens, with traditions that date back generations. Farmhouse style structures are visual reminders of generous portions of comfort food, enjoyed with large groups of family and loved ones. Bring that traditional aesthetic into your home by mixing the familiar feel of worn wood and exposed beams with modern conveniences such as a stainless steel rack for cooking pots and crisp lighting. Clean white cabinetry and neutral subway tile allow for the character pieces to proudly stand out. Accenting the counters with live plants helps provide the feel of farm fresh ingredients, even if you're residing in the middle of the big city.
13. Make a Statement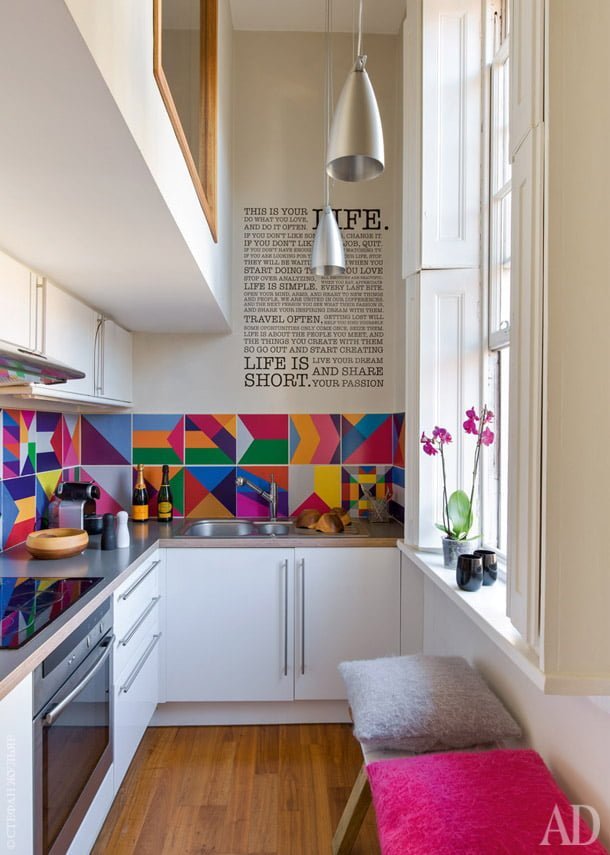 Inspirational messages and brightly colored graphics are certain to add an extra smile to that morning cup of coffee. With so many options available for home decor stickers, rub-on decals and inexpensive prints, you can easily incorporate lively quotes and exciting illustrations into your home. Many traditional kitchen design images depict simplicity in a small space, but this example showcases how bolder can be better! Keeping the cabinets and walls white morphs this kitchen into a blank canvas ready for that creative touch. Lovely orchids in the window and soft, comfortable seating keep this area comforting, and the multitude of colors ensures this design will never get boring.
14. Hints of an Island Paradise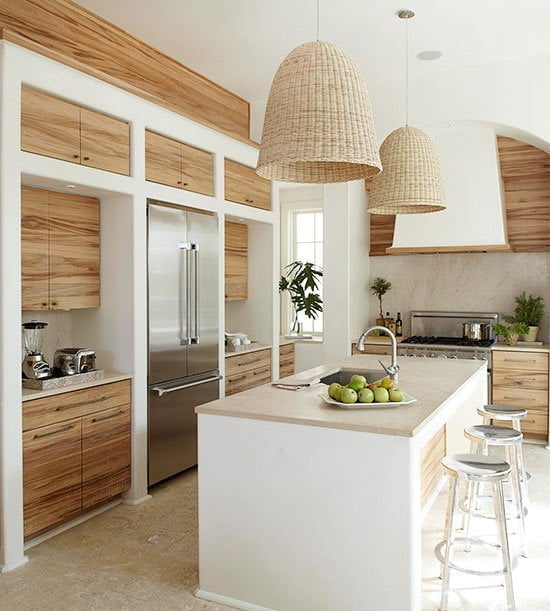 Rustic wood grain, wicker baskets and lush foliage bring to mind relaxing vacations in gorgeous tropical locations. Bring touches of that enriching environment into your home and recondition your bustling kitchen into a calming getaway. The large overhead pendant lighting with wicker covers bring attention to the fibrous texture above the functional island and smooth stone floors. Clutter is tucked away behind the striking natural wood cabinets while stainless steel appliances subtly blend in. The simple pots with verdant foliage lend to the impression that a tropic paradise is waiting for you just outside the door.
More kitchen design ideas on the next page…