Decorating your home involves many considerations, including discovering the best kitchen and dining room sign ideas available. The style you choose for your home speaks volumes about your interests, values, and vision for the future.
24 Unique Kitchen and Dining Room Signs Guaranteed to Get Compliments

You stamp a personal style on your home in many ways. Choices of paint colors and flooring frame the character of a room. Furniture and fixtures shift a space from contemporary to country. Smaller decor items, such as plants, draperies, and wall hangings further complete the aesthetic of your home.
The kitchen, and by extension the dining room, represent the heart of your home. In these places, meals are shared, dreams are planned, and triumphs are commemorated. As the primary gathering spaces in your house, the kitchen and dining area offer the greatest canvas for displaying your individual style and decor.
Every time you entertain guests with a meal or come together to bake holiday treats, you have the opportunity to reveal your personality without ever speaking a word. Whether clever or charming, kitchen and dining room wall signs convey messages of hope, blessing, good cheer, and wisdom to all who read them.
Wall art can be used in many ways. A large sign can serve as a focal point for smaller pieces displayed around it. Over a window, a horizontal decal can substitute for a valance where draperies may not make sense. The space behind a range offers a great display area for metal artwork. And a vertical wood sign can be the ideal solution for a narrow section of open wall.
Many home wall signs are available direct from the craftspeople that create them, whether through festivals and shows or online marketplaces. Continue reading for more than two dozen great dining room and kitchen sign ideas to let your home speak your style.
1. Make Memories Over a Meal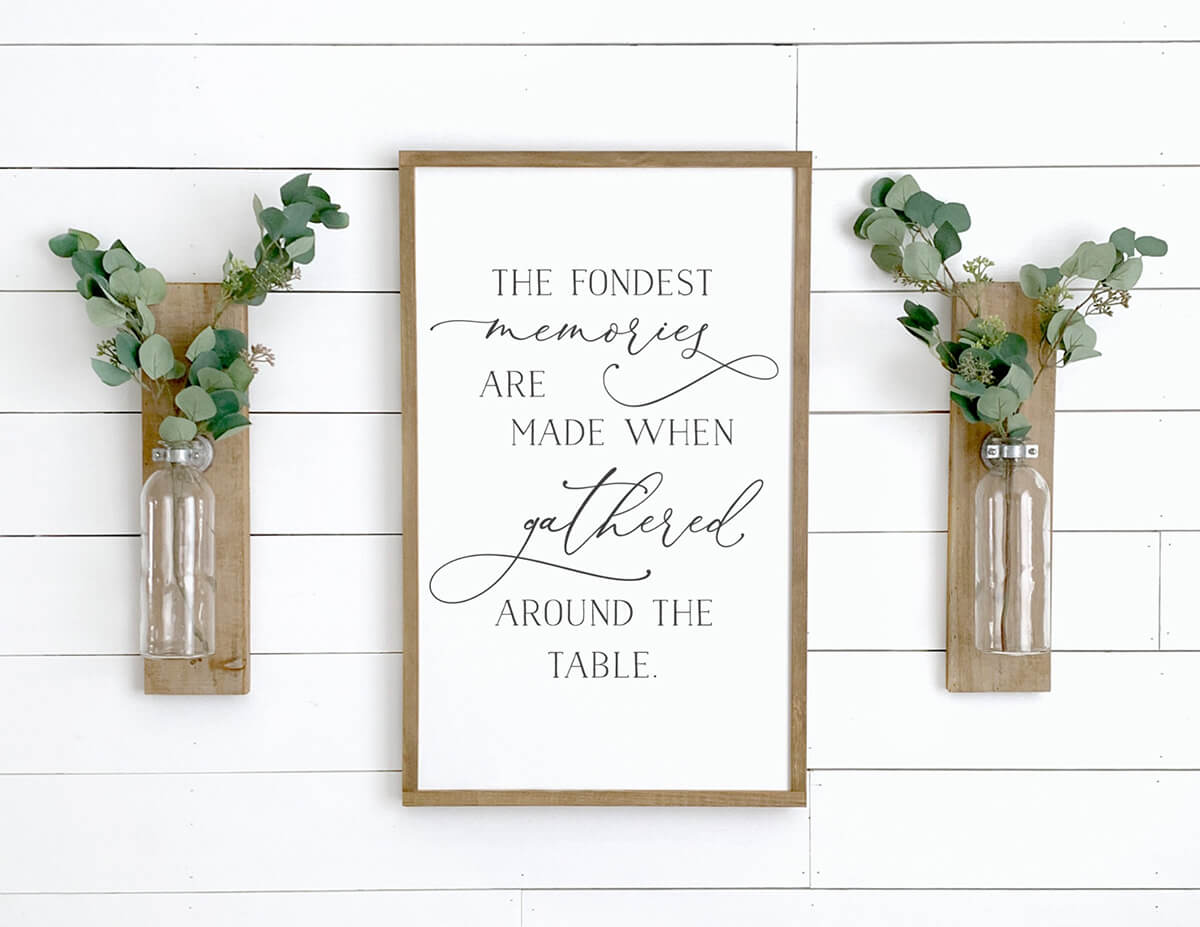 Coordinating a kitchen sign with the decor already in your house is simple with this classic black-on-white wall hanging. Made from real wood, the timeless message of making memories over shared food resonates with every generation. The high-quality lettering is precise and sharp, while the sturdy wooden frame ensures durability. A choice of four frame colors offers flexibility to match other home decorations you currently display in your kitchen or dining room. Numerous satisfied customers appreciate the maker's superior quality and swift delivery. You're sure to have fondest memories of the guests around your table with this welcoming handmade sign.
2. Say It Loud with Bold Vinyl Lettering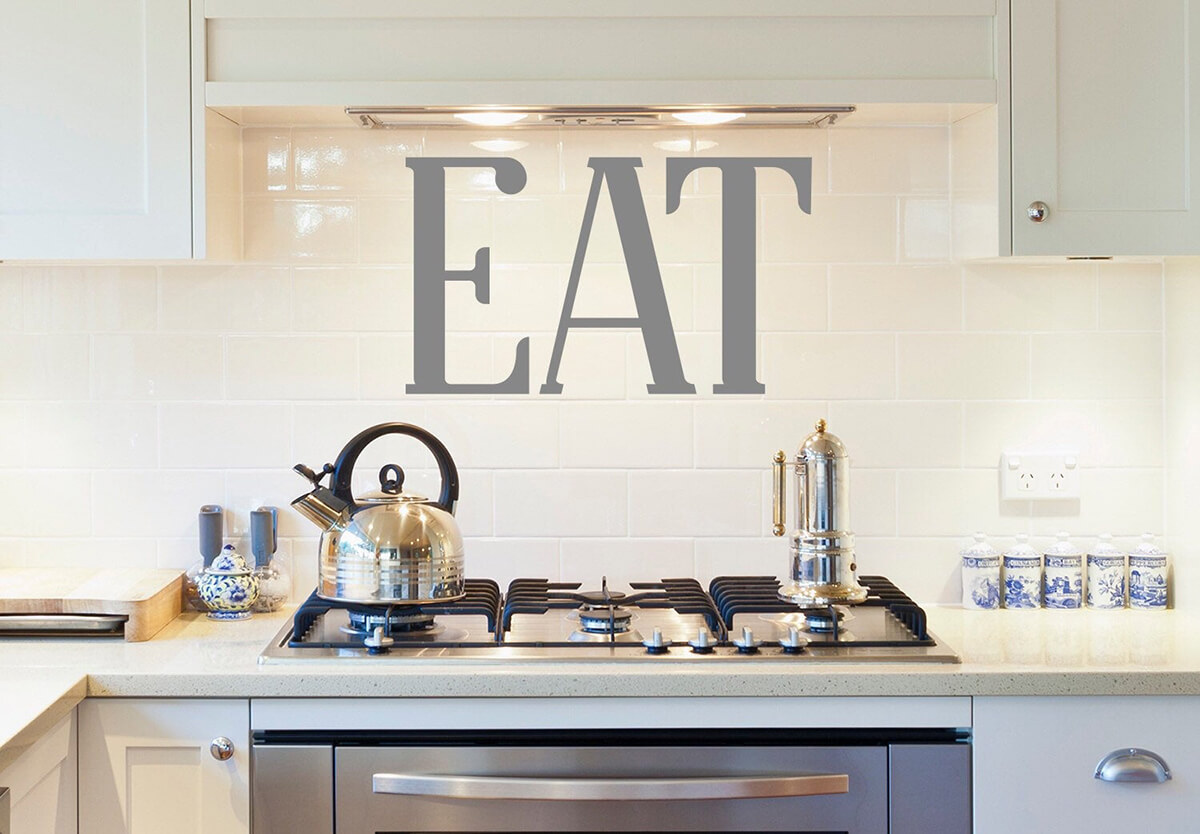 Lest anyone is confused about what to do in the kitchen or dining room, this unique home decoration with a distinctive look will get all your guests talking. If you're searching for kitchen sign ideas that make a bold statement, look no further than this durable matte vinyl decal. These EAT kitchen signs come in over 40 colors for a subtle match or an eye-catching focal point. Pick your perfect size, from just under a foot tall to nearly 24 inches high. They're also stress-free to remove when the time comes to change up your kitchen signs and other decor items.
3. Handwritten Homemade Steel Statement Sign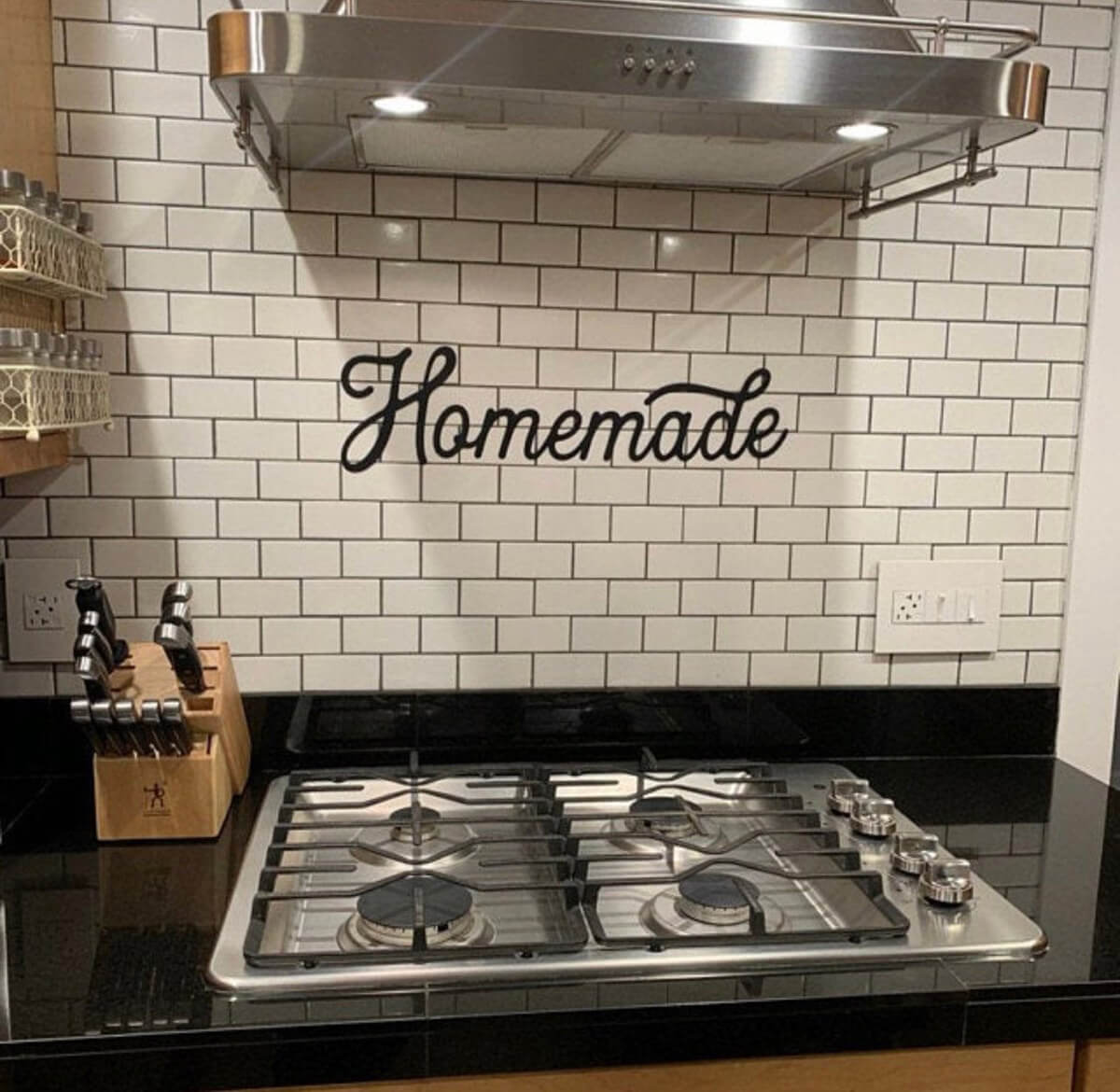 One of the classiest kitchen sign ideas we've seen is this powder-coated metal sign that confirms your meals are proudly "Homemade." Available in a variety of sizes to best fit your display space, this kitchen sign decor comes in black, white, or steel gray. In a unique twist, the initial capital H arrives separated from the rest of the sign, allowing you to exercise your creative freedom in selecting the exact alignment. This metal sign looks perfect on the backsplash behind your range. With a solid design, adhesive strips offer the best option for easy mounting, whether on tile, stone, or drywall.
4. Personalized Home Decoration Decal for Kitchens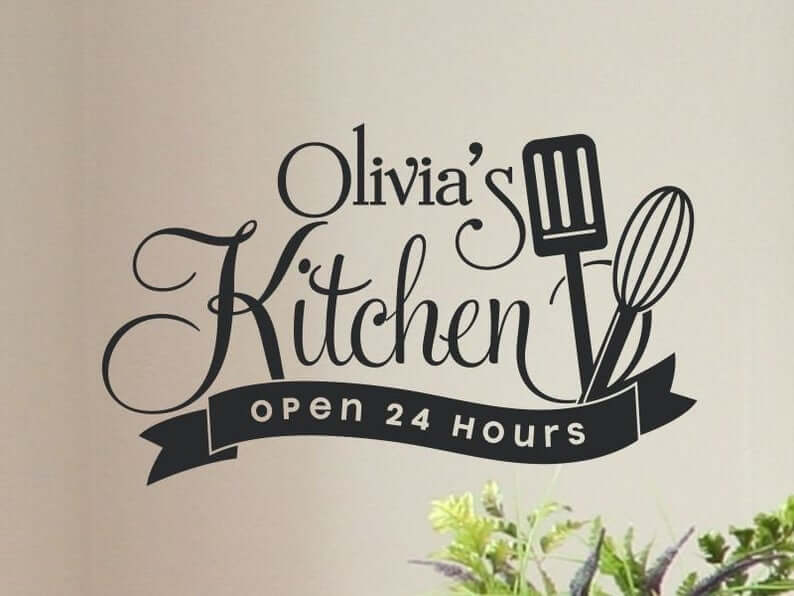 Prominently displaying some tools of the trade – a pancake turner and a whisk – this personalized decal proudly declares the keeper of the kitchen. Choose from 42 available colors to best coordinate with your existing color scheme. The self-stick vinyl holds strong, yet it easily removes when it's time for a refresh of your kitchen signs and other decor items. This decal is wittier than many other kitchen sign ideas, with the claim that your kitchen is "Open 24 Hours." You can embody this cute phrase, though, by demonstrating your ready hospitality, whether for a complete meal or simply coffee and conversation.
5. Rustic Kitchen Blessing Wall Decor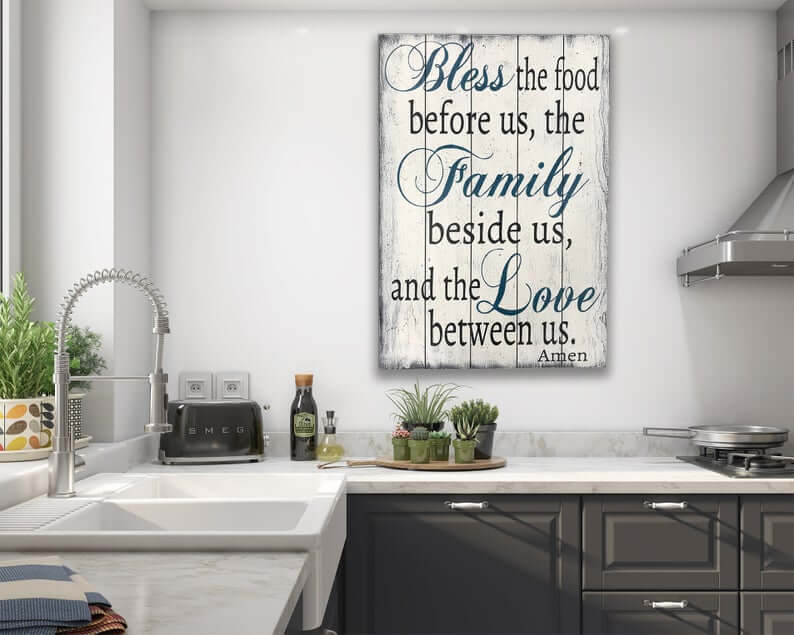 Designers develop many decorative kitchen signs from the ideas of blessing those who gather underneath them. This hand-painted sign carries a simple inspirational message that will serve to enhance the warmth of the hospitality around your kitchen table. The most prominent words – bless, family, and love – subtly stand out in a dark teal color among the black text on an ivory background. The distressed appearance of reclaimed barn wood belies the sturdy nature of this wall decor. The sealed front surface ensures a beautiful look for years to come, whether you display this in a vacation cottage or your primary home.
6. Bon Mots from The French Chef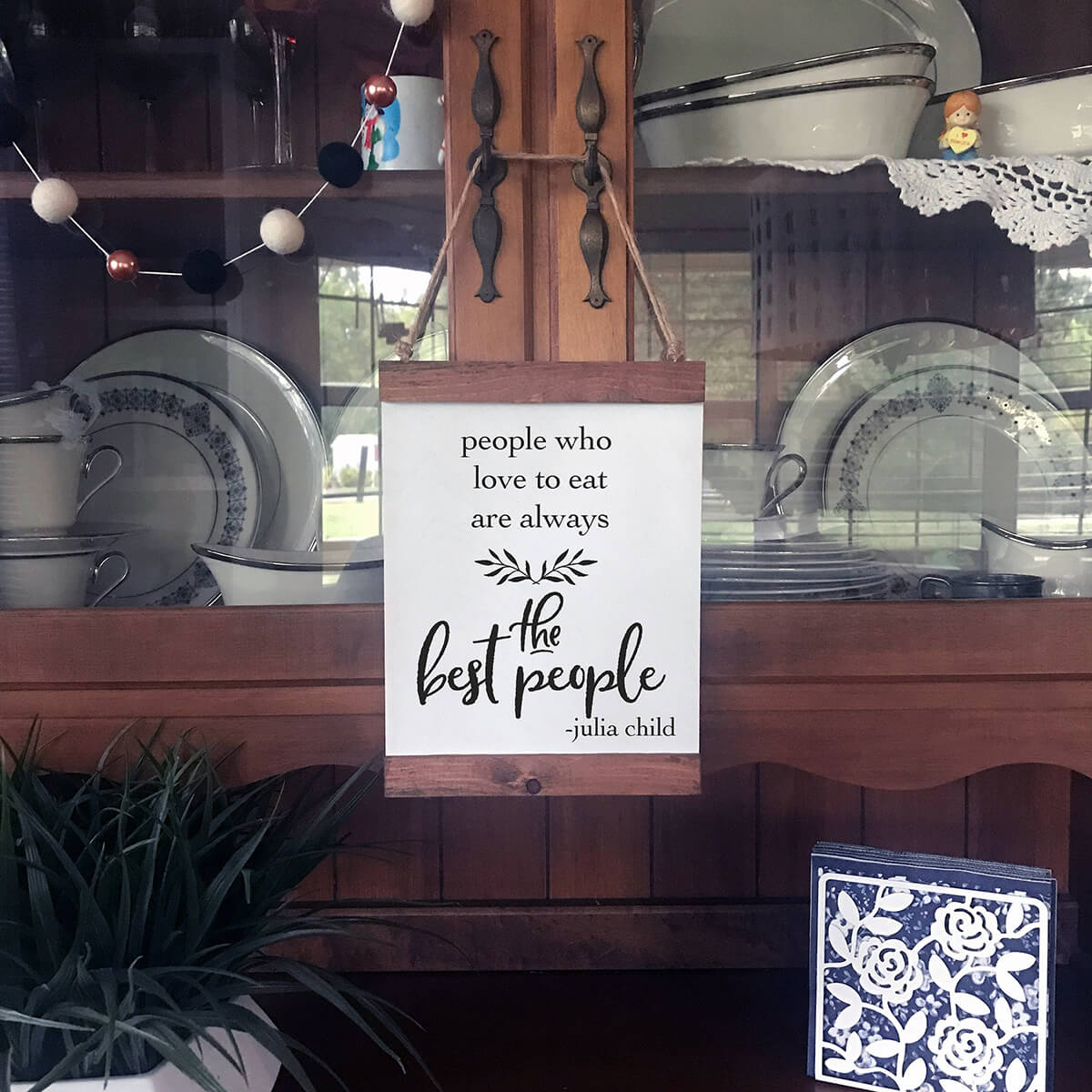 How can you be certain that the best people gather in your dining room? According to Julia Child, you see if they are people who love to eat. The clever turn of phrase displayed on this vertical banner sign provides a bright spot of casual wit from one of America's first celebrity chefs. The jute rope included for hanging the banner accentuates the farmhouse aesthetic of this decorative item, perfect for a kitchen or dining area. With more than 250 possible combinations of wood stain and text color, this sign and its unique sentiment can fit into any interior design plan.
7. Gather Attention with Geometric Modern Farmhouse Decor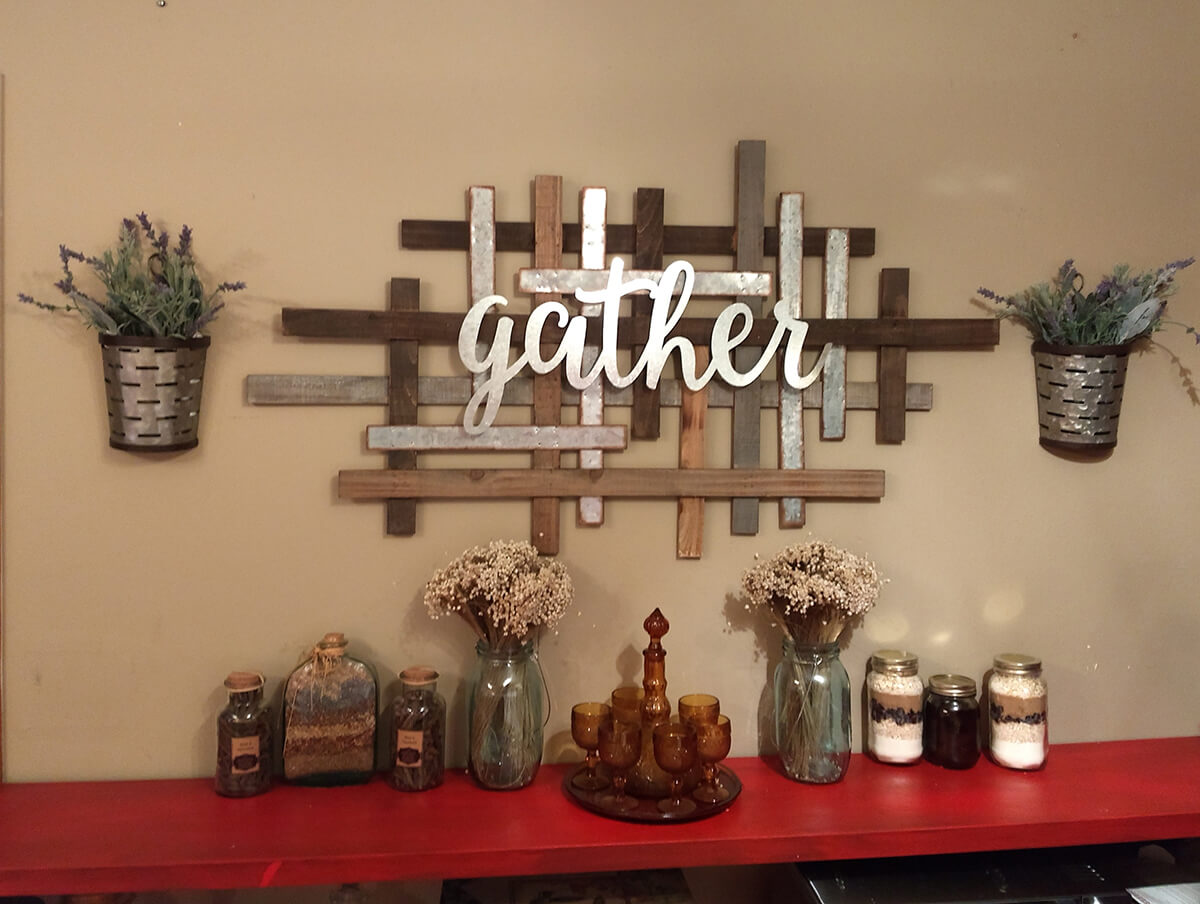 Discovering the ideal wall decor to bring together rough rustic and sleek modern styles can often be a great feat. This three-dimensional wall sculpture combines wood and metal to create an eye-catching sign, perfect for the kitchen, dining room, or family room. Crossed geometric planks provide depth behind a simple scripted message inviting family and guests to gather. Blending materials and colors, this farmhouse-style home decoration would be an awesome idea for any wall where you want a bold focal point. As a bonus, this handmade sign comes with two basket-shaped metal flower sconces to complement the beautiful sentiment.
8. Personalized Bakery Sign With Custom Year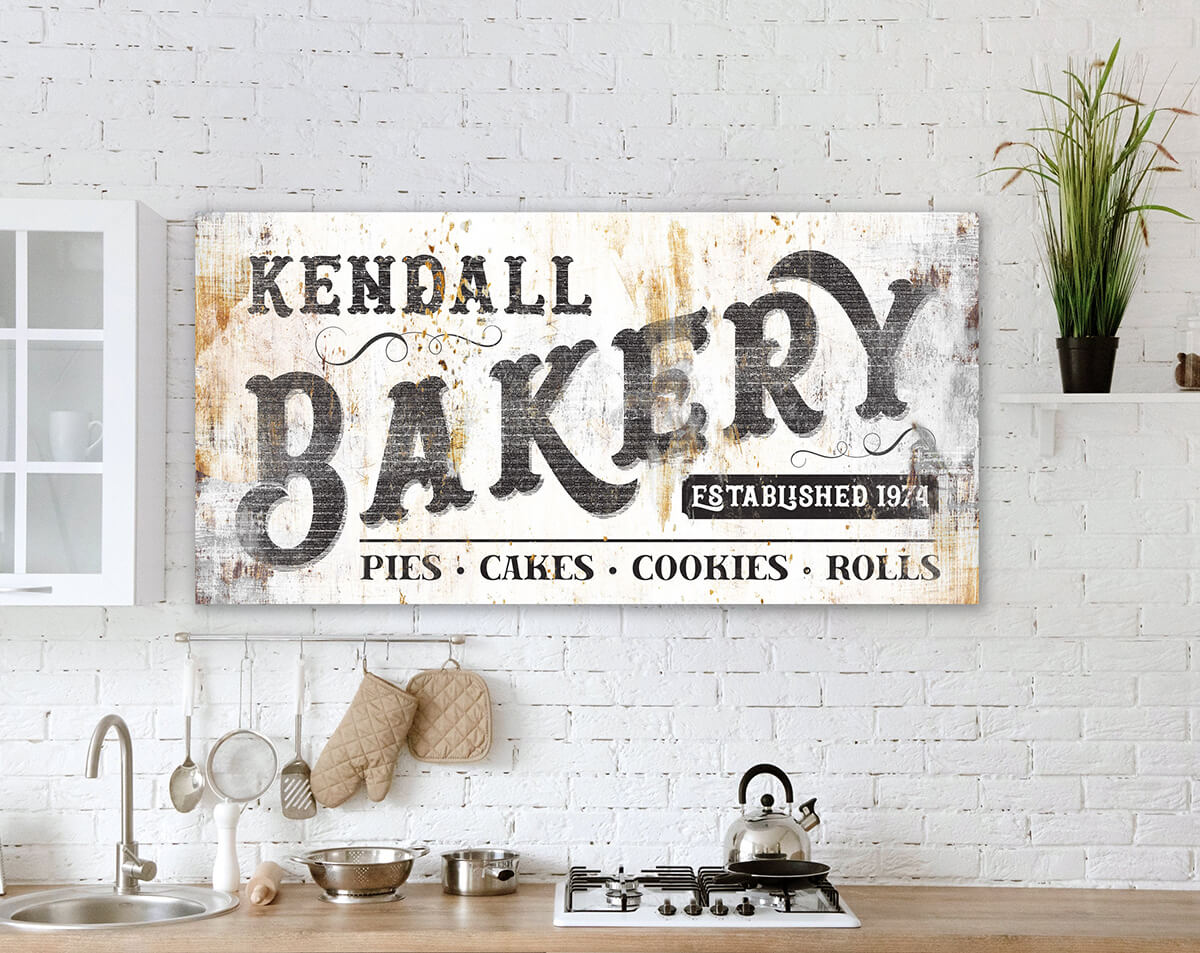 Whether you have an older house or simply enjoy the aesthetic of vintage advertisements, this bakery wall sign will be a perfect complement to your decor. Made from stretched canvas, the sign displays the unique appearance of rusty metal and the old-style typeface suggests antique advertising placards. While the sign may appear to be weathered, the acid-free materials ensure that it won't discolor over time. Make this sign your own with options to customize the name and year of establishment. Family and friends hungry for treats from your kitchen are sure to give rave reviews to such a distinctive sign.
9. Wood Grain Bless The Food Sign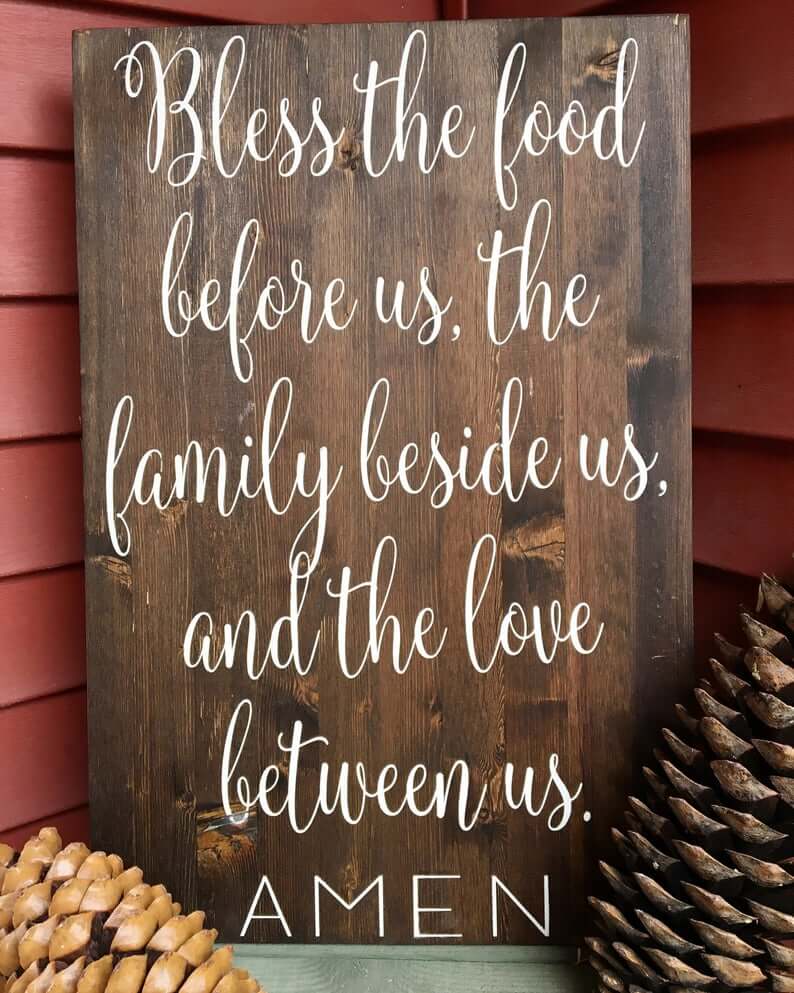 The inspiring message on this dining room sign reminds us of the simple blessings of life. With a white painted script on a background of narrow walnut planks, this sign would look great with rustic decor and wooden trim. The 16×24 size anchors a dining room or kitchen wall, and the attached sawtooth hanger makes installation easy. Note that this vertical sign is made of real wood, so expect variations in grain and color depth. These qualities enhance the one-of-a-kind character of each piece, though, and the natural beauty will bring a smile to the face of all who read it.
10. Food Family Love Trio Wall Art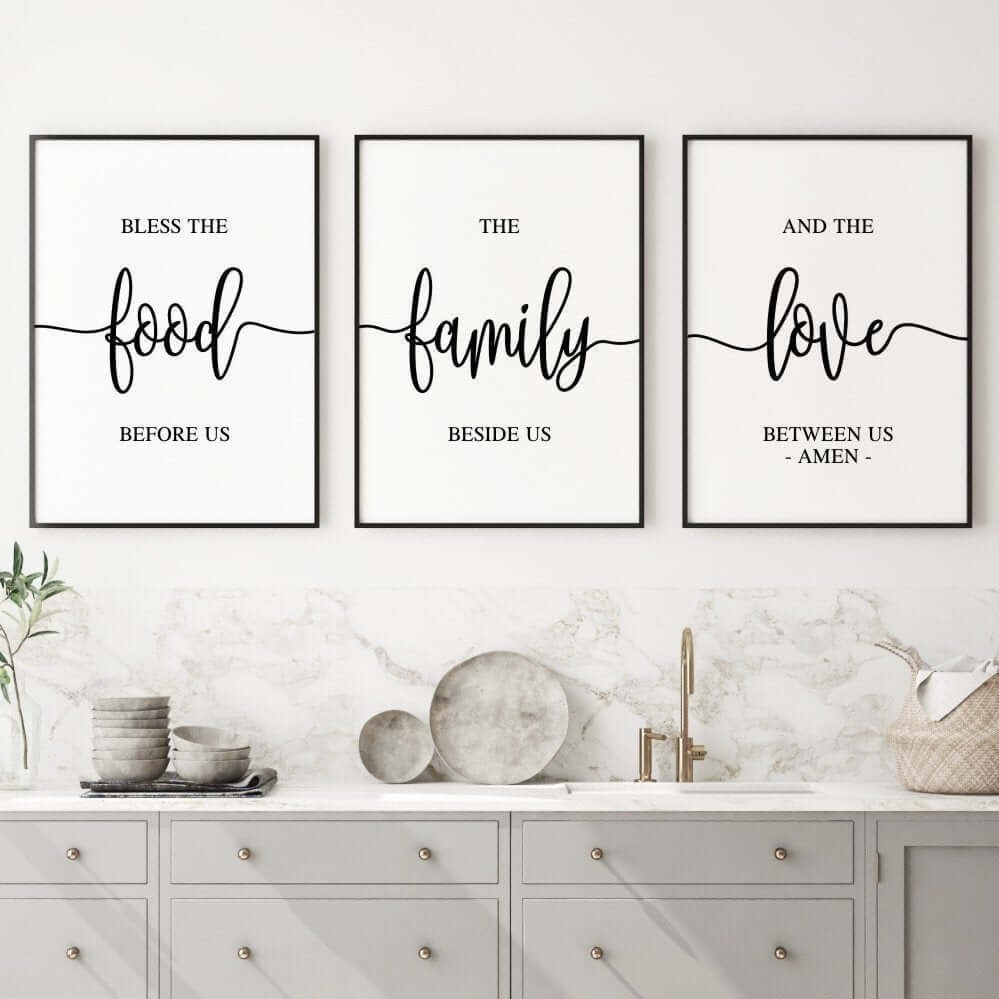 Among the dining room sign ideas available today, this inspirational triptych stands apart by offering endless options for display. The artwork comes to you as a digital download (meaning no shipping time or costs). You have the freedom to choose your frame style and pick background and text colors to create the best match to your home decor, whether subtle or striking. Arrange the pictures vertically or horizontally; displayed in a row, the spiritual threads that connect us can be easily seen. This simple prayer serves as a visual reminder of the memories created when people gather over food.
11. E-A-T Framed Signs (Set of Three)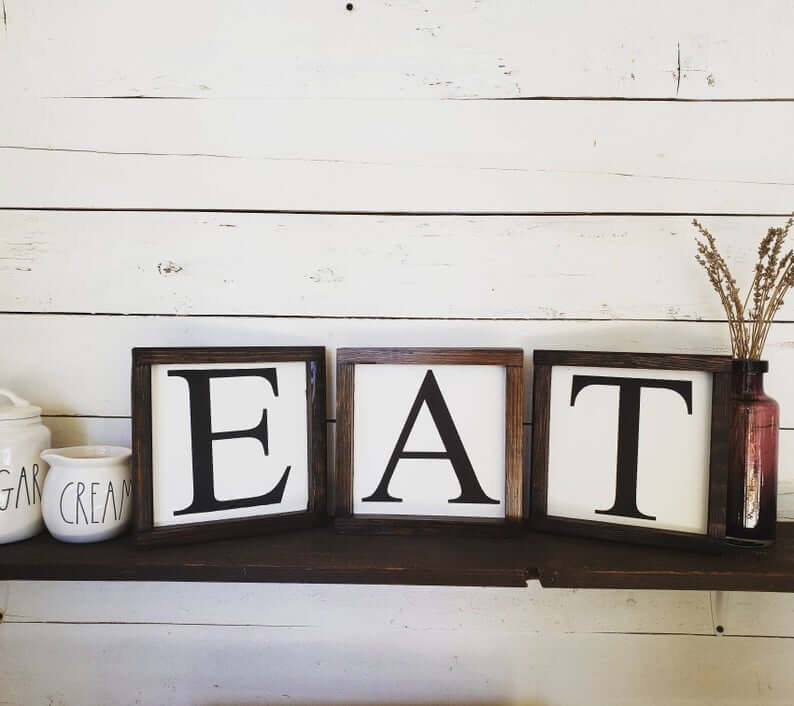 If you're seeking cute kitchen decorations, this trio of kitchen signs is among the ideas to be considered. Square frames made from solid wood each highlight a single letter. Choose from multiple finish options to match your existing decor. As with any natural wood product, be prepared to enjoy the one-of-a-kind rustic charm of the knots and grain variations of the frames. Complement your farmhouse style by displaying the signs on a shelf or attach the included hardware to hang them on your dining room or kitchen wall. Arrange the letters vertically, horizontally, or diagonally to best fit your space.
12. Rustic "Bless The Food Before Us" Sign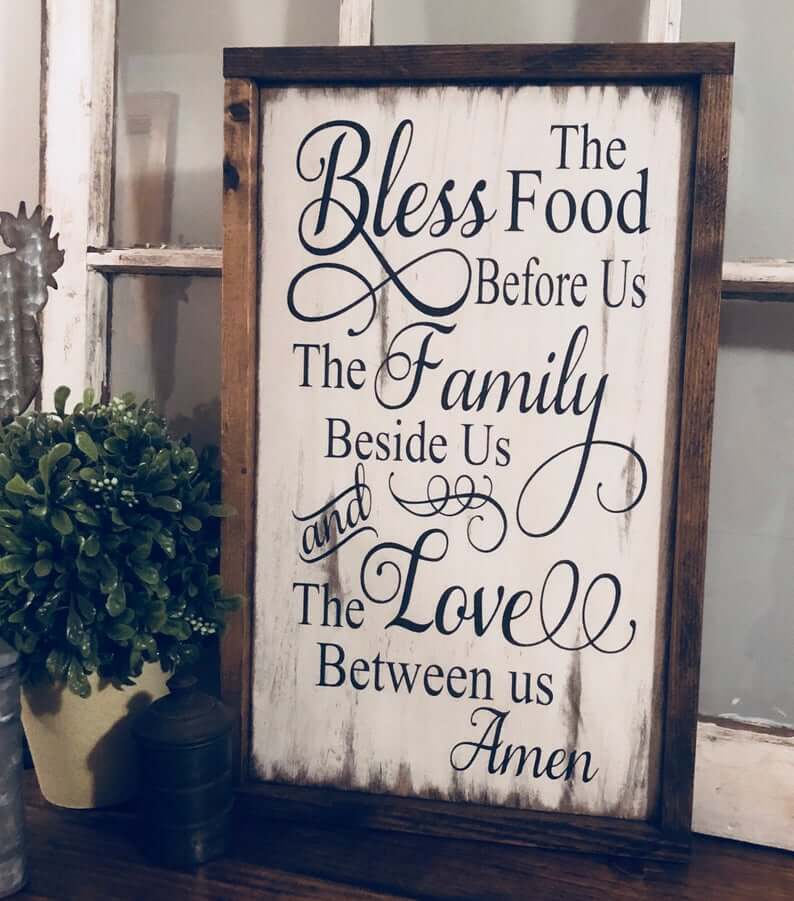 Embellish any dining room or kitchen with this rustic wooden sign proclaiming a beloved mealtime blessing. This stylish visual prompt of the importance of faith and family makes a thoughtful housewarming gift or wedding present. The calligraphic style of black lettering on a background of white chalk paint displays a classy charm for any country-themed home. A solid wooden frame boasts a dark walnut stain that enhances the words on the sign and complements your other home decorations. This sign comes to you ready to hang on any wall where you want to be reminded of this traditional call to prayer.
13. Personalized Metal Scrollwork Sign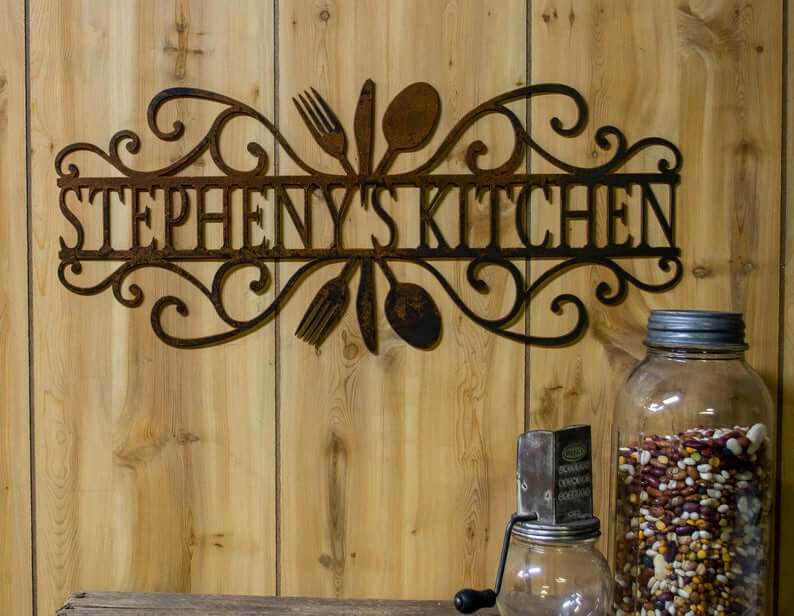 When you want a charming display piece for your kitchen or dining area but you don't want to obscure the wall with a larger frame, consider this airy metal sign. It features a center motif of crossed utensils set off by decorative scrollwork. The message on the sign can be fully customized with a name and description (Kitchen, Cafe, Parlor, etc.) of your choosing. Hand-finished in one of a dozen color options, including raw steel and a rustic weathered finish, this cool artwork would make an ideal gift for anyone who loves kitchen signs and other ideas to personalize their home.
14. Gathering with Gratitude Framed Farmhouse Sign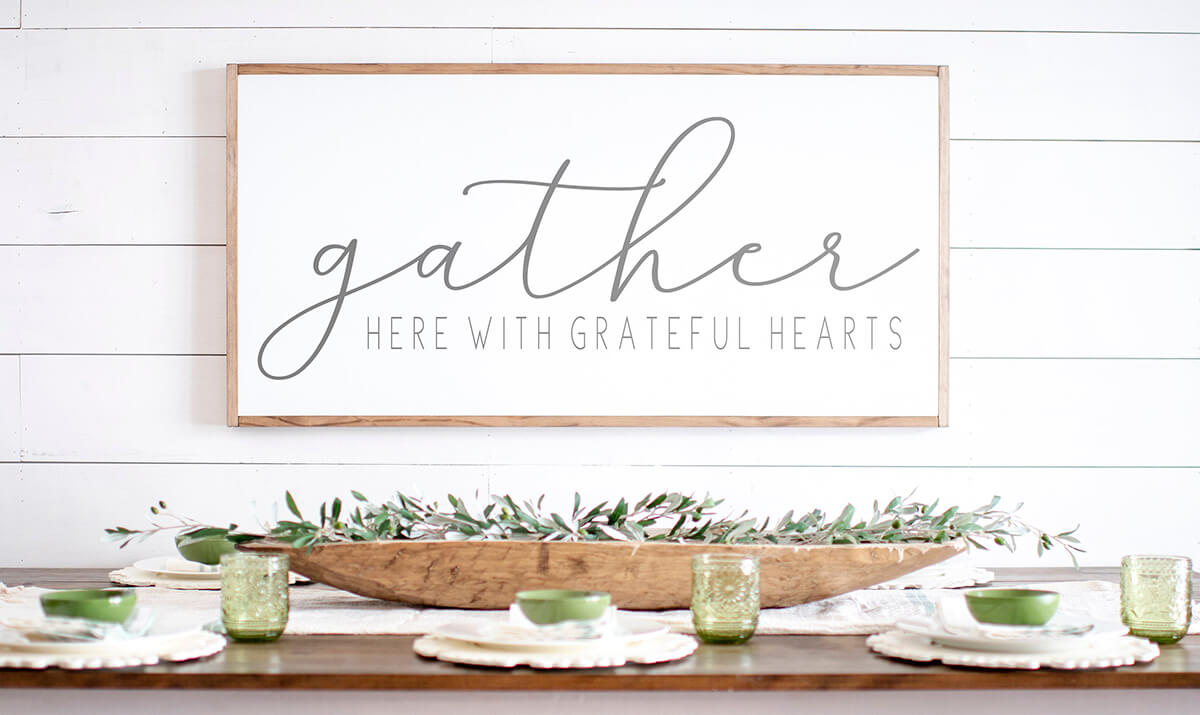 Framed wood signs create a rustic, yet polished, focal point that makes your guests feel welcome in any season. The flowing script invites friends and family alike to come together and feel the warmth of home and hearth. To coordinate with your home's unique style, the colors of both the frame and lettering are customizable. Even smaller homes can enjoy this high-quality decor, which is available in a range of sizes. This sign's inspiring message of thankfulness fits perfectly in a farmhouse dining room or eat-in kitchen. Everyone will enjoy the simple sentiment echoing their gratitude for your gracious hospitality.
15. Dining Room Blessings (Five Sign Set)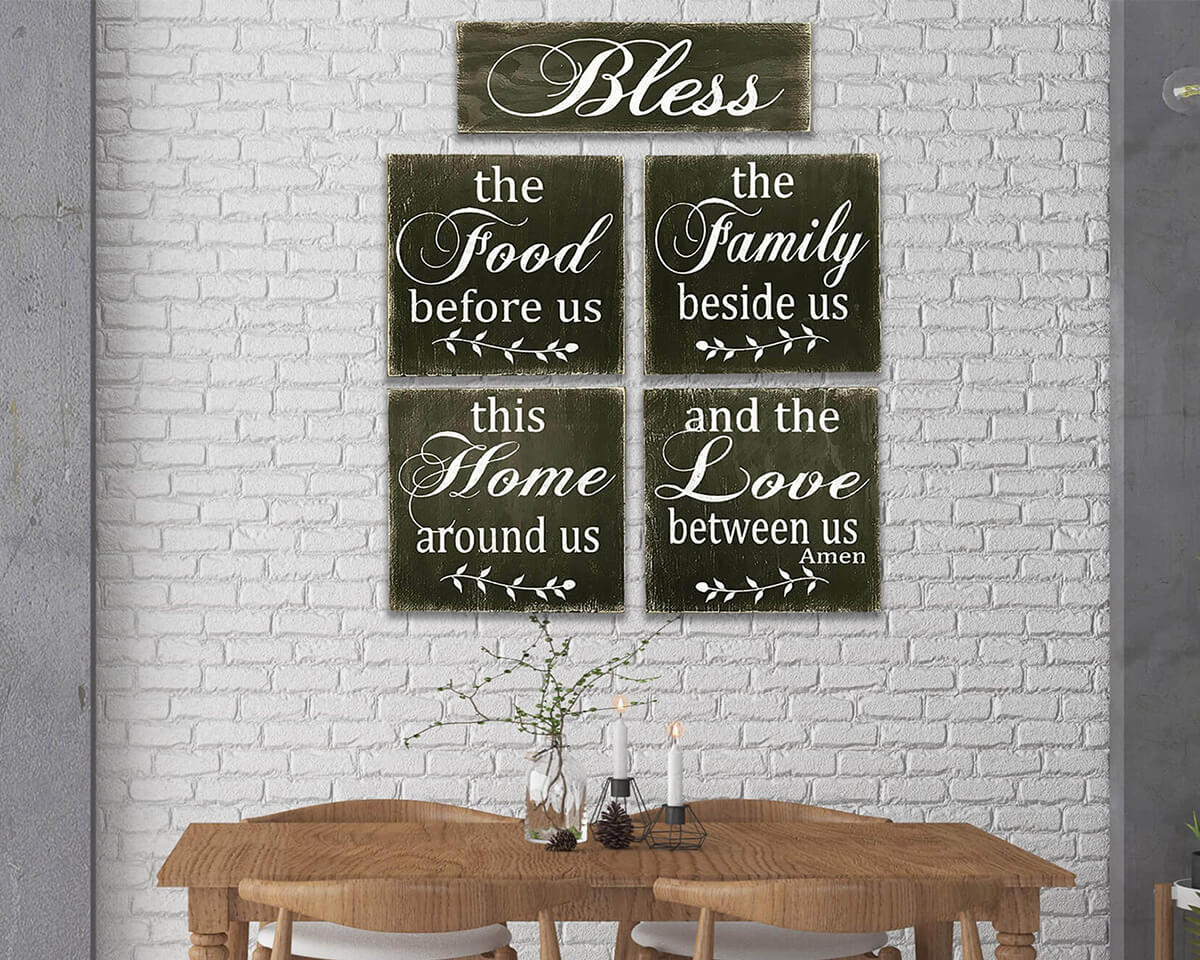 Options abound for displaying this great set of five wooden dining room or kitchen signs. Whether your available wall area is tall, long, or square, this gorgeous farmhouse-inspired statement piece can be arranged as you desire to best match your living space. These signs are sanded by hand to create a vintage distressed aesthetic, and they come ready to hang for easy installation on any surface that you want to spruce up. Welcome guests to your table with a genuine mealtime blessing remembering the true gifts in life: family, home, food, and the warm love that binds them all together.
16. Farmhouse Style Vertical Bakery Sign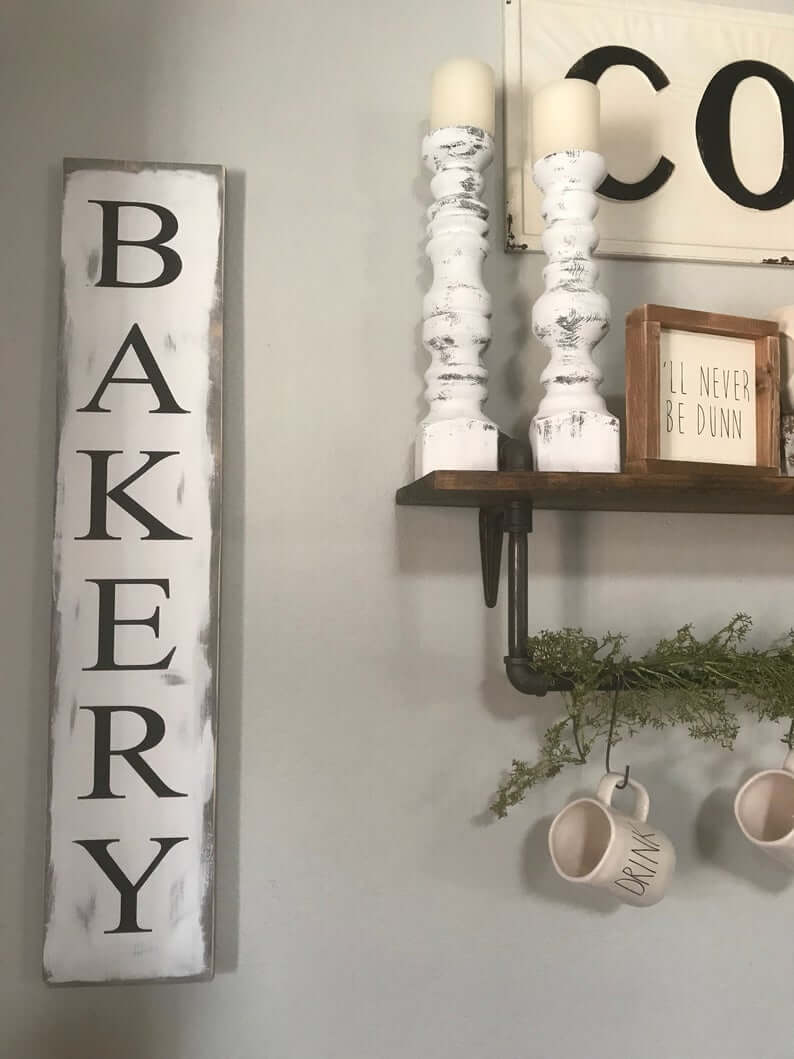 Vertical kitchen signs are a great fit for tricky wall spaces and are the perfect gifts for the baker in your family or circle of friends. Displaying clean black lettering over a distressed white background on a cool gray base, the neutral colors of this country-style wall plaque will easily match any household decor. Let everyone know where to be when the oven opens and delivers the next batch of delicious baked goods. Get one for yourself or save it as a thoughtful present for Mother's Day, a housewarming party, or as a hostess gift that's sure to be remembered.
17. Eat. Drink. Enjoy.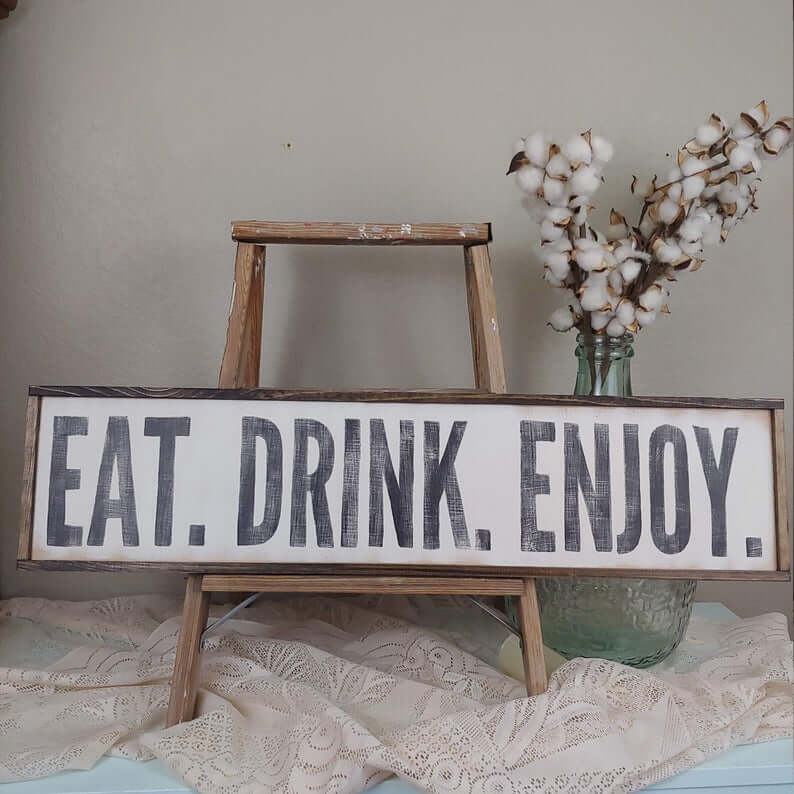 An ideal plaque to display above a window or doorway, this whimsical horizontal sign proclaims a cute, three-word message that updates the quintessential invitation to "eat, drink, and be merry" with good friends. The neutral background color allows the simple, hand-painted words to take center stage, framed by dark walnut-stained wood for a classic vintage farmhouse look. This sign ships to you ready for hanging with two attached sawtooth hangers. Customers love the durable construction and protective shipping materials. Your houseguests will appreciate the charm and welcoming sentiment displayed by this timeless piece of home decor.
18. They Broke Bread Scripture Plaque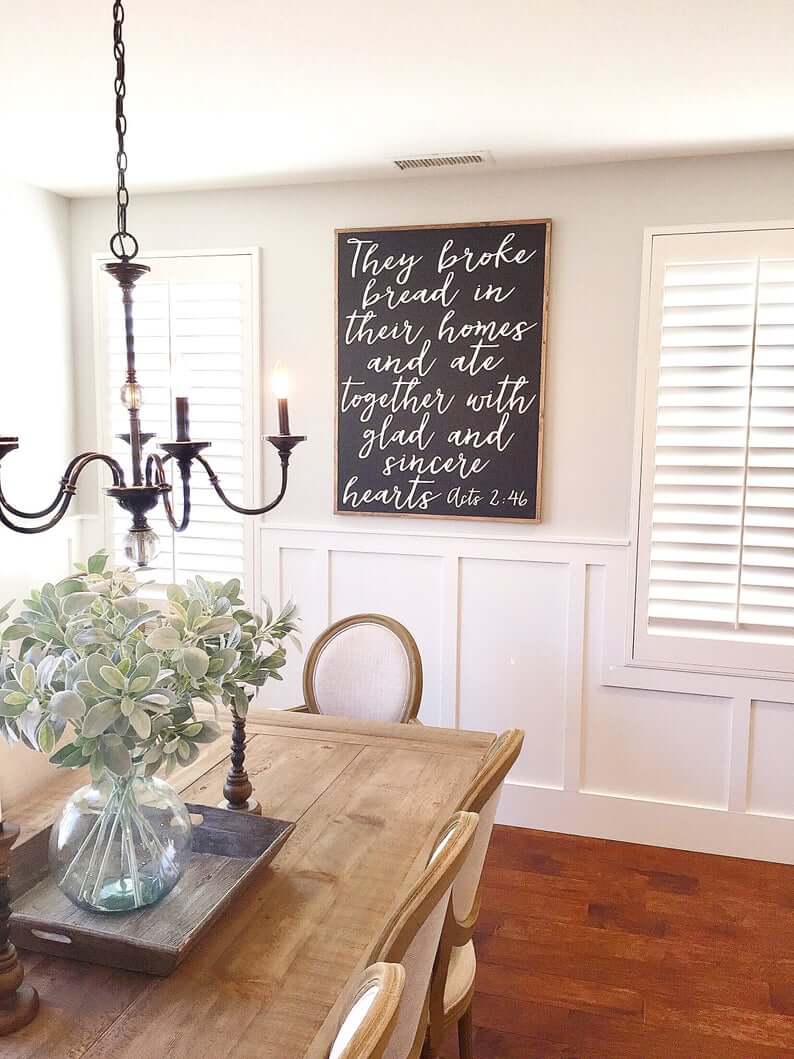 Households founded on faith often demonstrate great hospitality to friends, family, and foreigners alike. If you are seeking kitchen sign ideas for a loved one that fearlessly lives out their beliefs, the bold message of this scriptural wall art is a match made in Heaven. The early Christian church described in the biblical Book of Acts welcomed people to gather around the table with "glad and sincere hearts" to break bread together. Displaying this rustic, wood-framed message in your kitchen or dining room serves as a good daily reminder to engage in the same type of fellowship today.
19. Bless the Food Before Us Pine Board Decor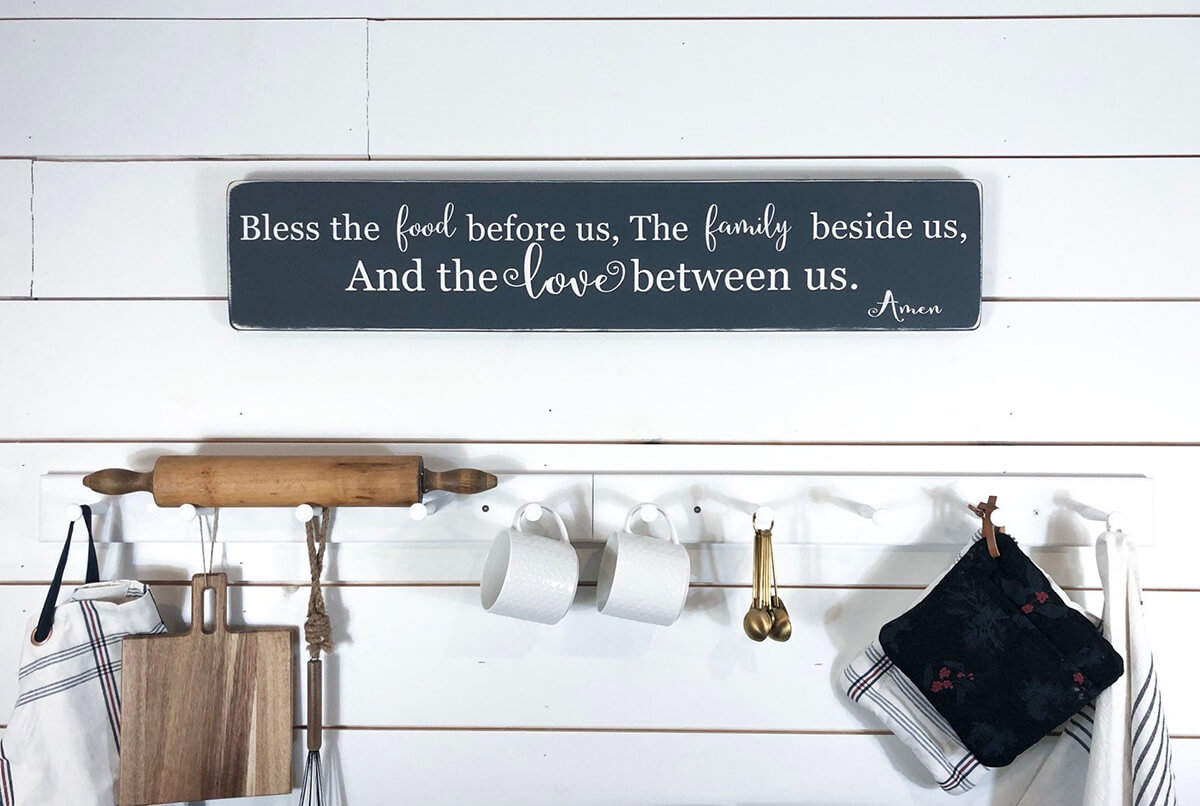 For a more subtle, but no less genuine, message of blessing, this horizontal sign is a perfect choice among kitchen and dining room sign ideas. The rounded corners, cool neutral tones, and faded edges of this piece lend a weathered air that would be the ideal complement for a beach house or vacation cottage. Easily installed with a single nail, this single pine board offers flexibility in choosing a display location. The maker of these handmade signs offers half a dozen options for combinations of text and background color so you can easily create a piece of wall art that matches your other home decorations.
20. Bon Appetit Wall Sticker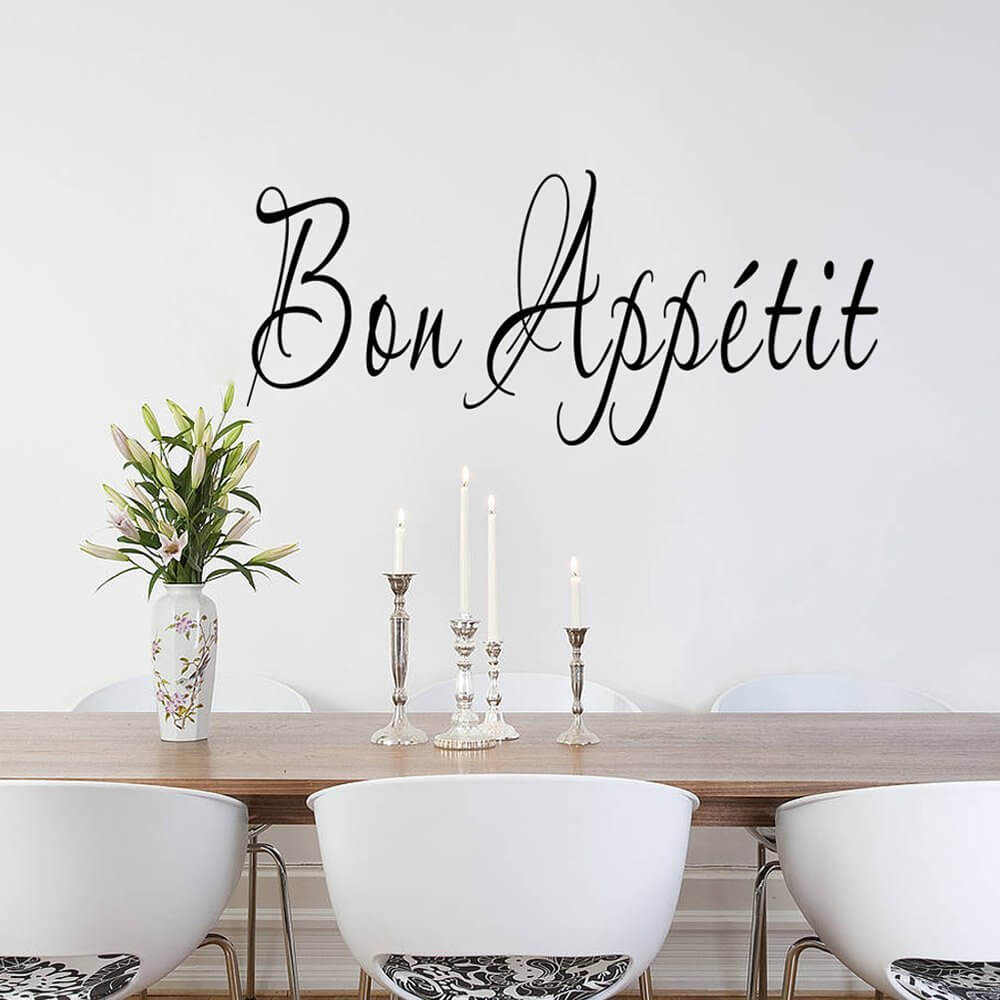 Put your creativity on display by using your house's walls as a blank canvas, ready for your individual touch. With professional-quality home decor options like this "Bon Appetit" wall sticker, guests instantly feel welcome in your kitchen or dining room. The lively invitation to enjoy good food and pleasant conversation sets your table apart as the place to be. The classic French phrase adds an elegant flair to any meal, whether you're serving coq au vin or chicken nuggets. As a bonus, this decal is both removable and reusable, which is an awesome idea to manage costs when design styles change.
21. Live Love Laugh Metal Wall Hanging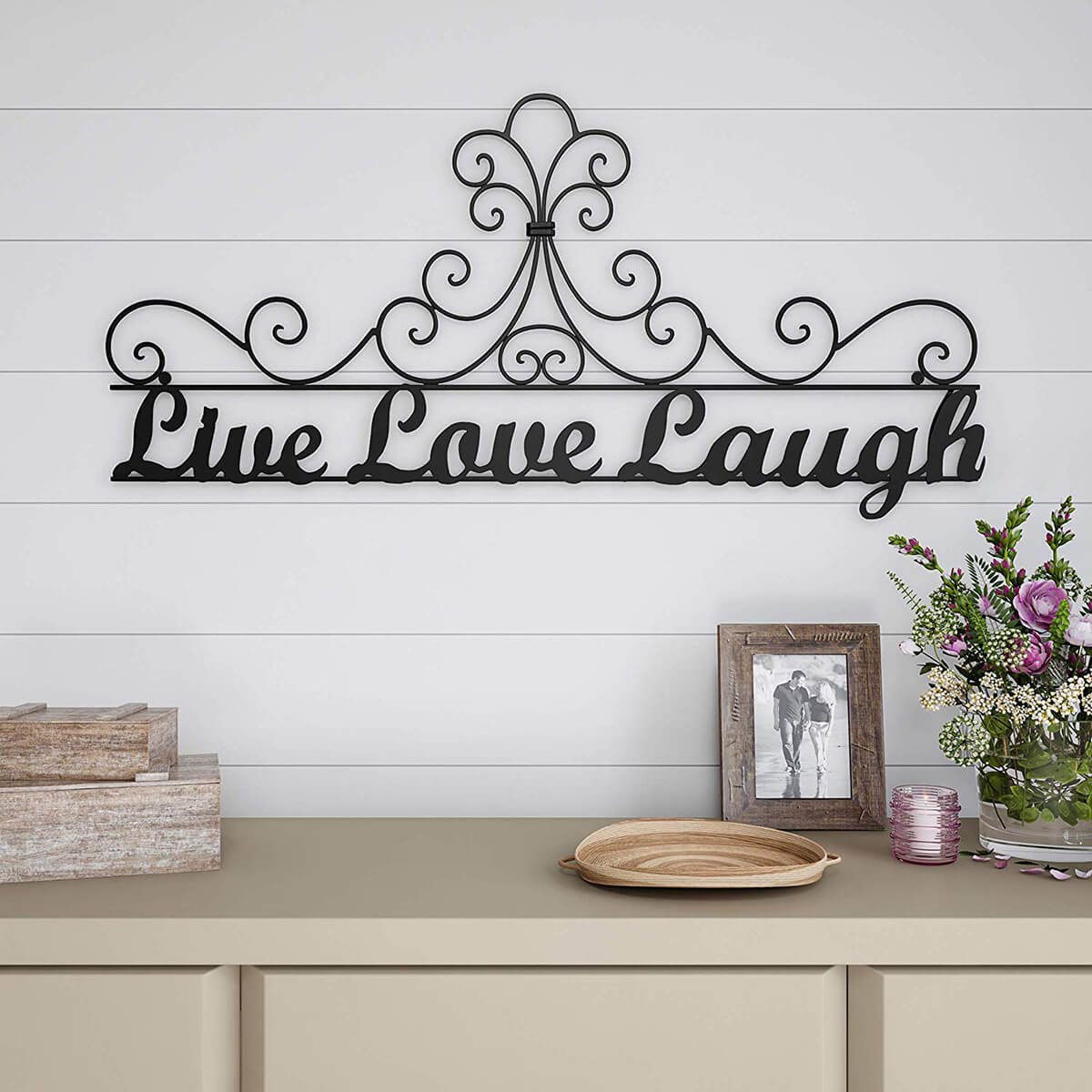 Break out of the typical box of rectangular kitchen sign ideas with this three-dimensional home accent piece. Created from laser-cut iron with a matte black finish, the classic scrollwork matches almost any style of home decor and is sure to look elegant on your dining room or kitchen wall. The inspirational message of the good life will encourage all who read it to enjoy each day as it comes. This sign is durable and incorporates discreet mounting holes for easy display over a stove, sideboard, window, or wherever you need a reminder to pause and celebrate the everyday joys of life.
22. Dining Room Blessings Prayer Vinyl Sticker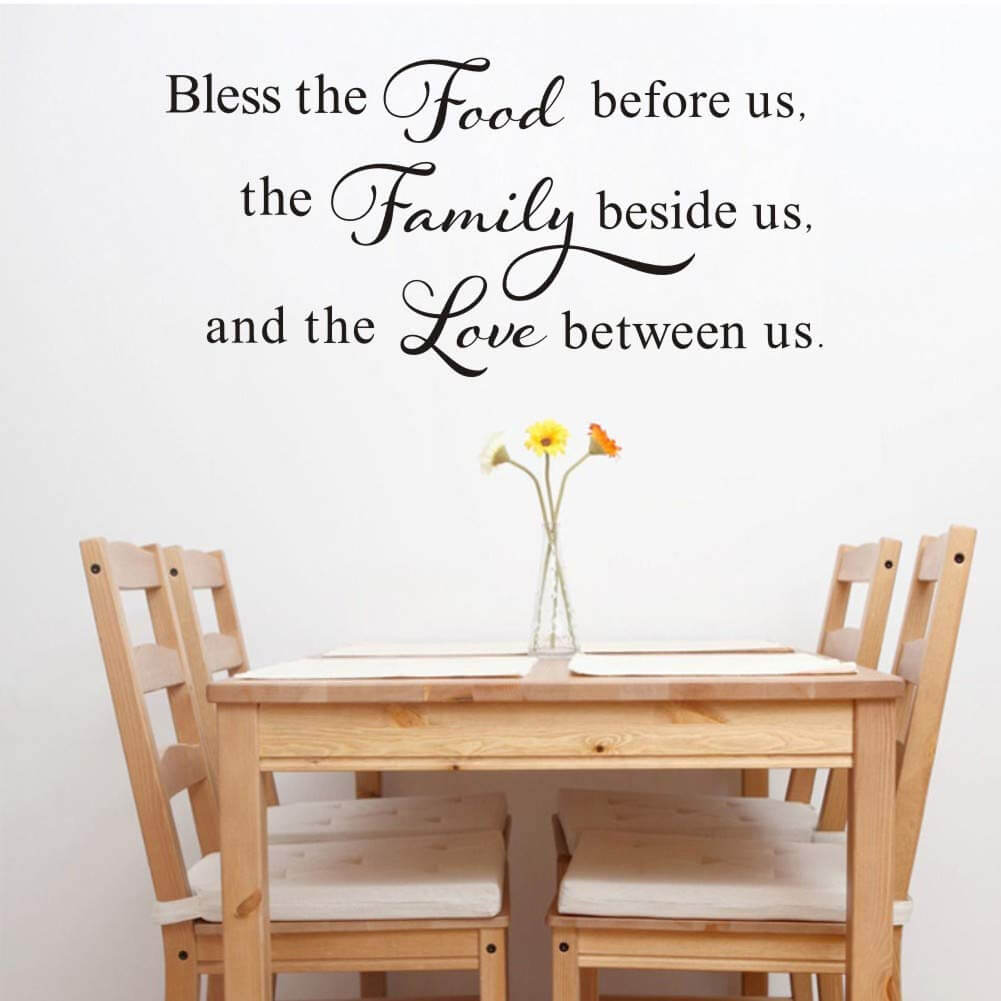 Looking for an awesome idea to bless your dining room? Display this vinyl wall sticker so that all who gather at your table are reminded of the source of hospitality. Start meals with gratitude by reciting this simple prayer for all the true blessings of life. This customizable home decoration is easily configured for your unique space; display it stacked or in a line. Clear vinyl around the words can be trimmed to provide a border that adheres to most smooth surfaces in your home. The positive sentiment of this sign is sure to elicit compliments from all your guests.
23. Kitchen Rules Vinyl Wall Decal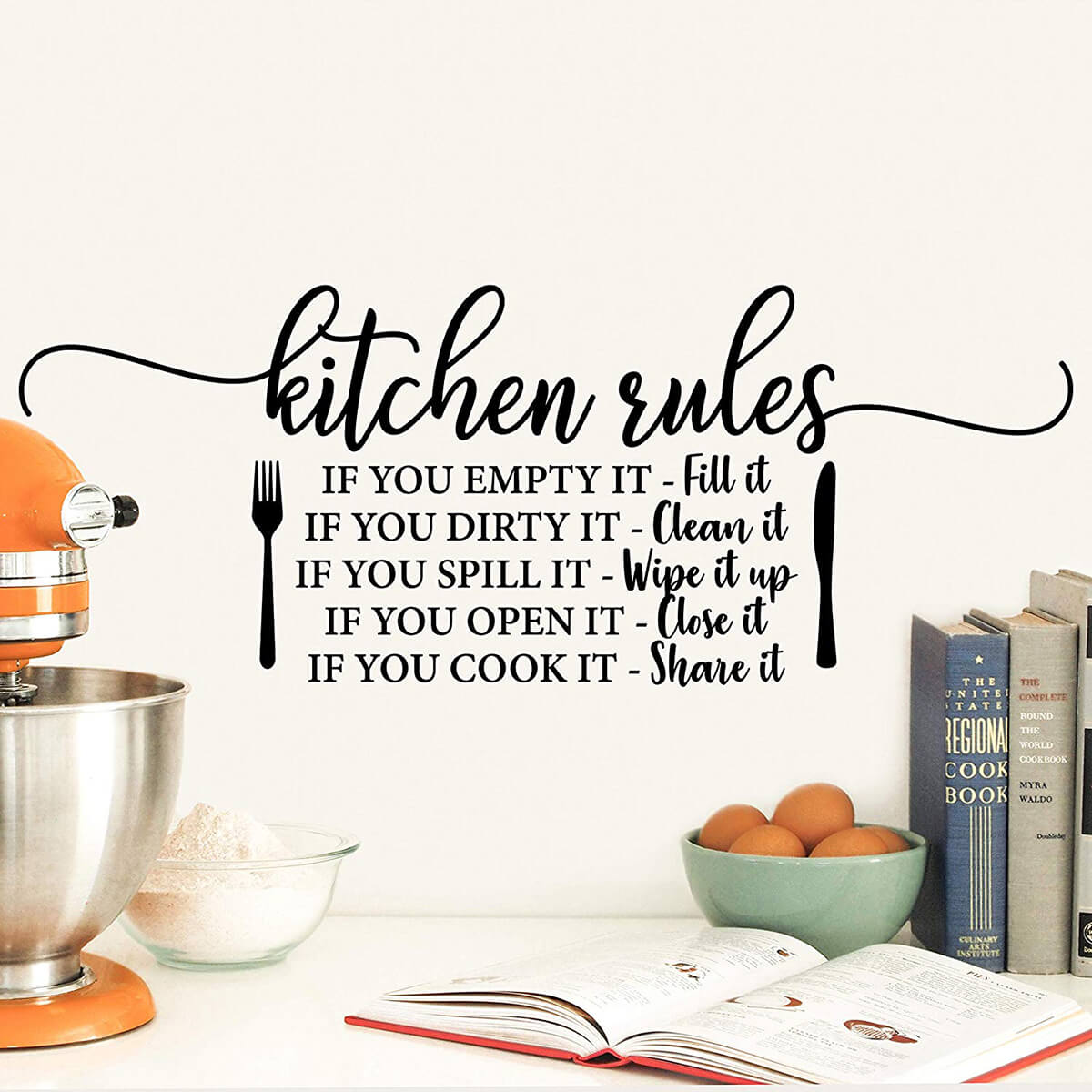 Let family and friends alike know the "rules" of your kitchen with this commercial-quality vinyl decal. A smooth matte finish and crisp edges give the appearance of an artist's hand-painted work. The artwork removes easily, though, so you can update your style when tastes change and not worry about damaging your kitchen wall. The cute and heartwarming message informs kitchen guests of their responsibilities; any consequences for breaking the rules are left for you to decide. This two-piece decal comes with a link to an online video, demonstrating how to efficiently apply this unique display piece to your wall.
24. Upright Rustic Kitchen Panel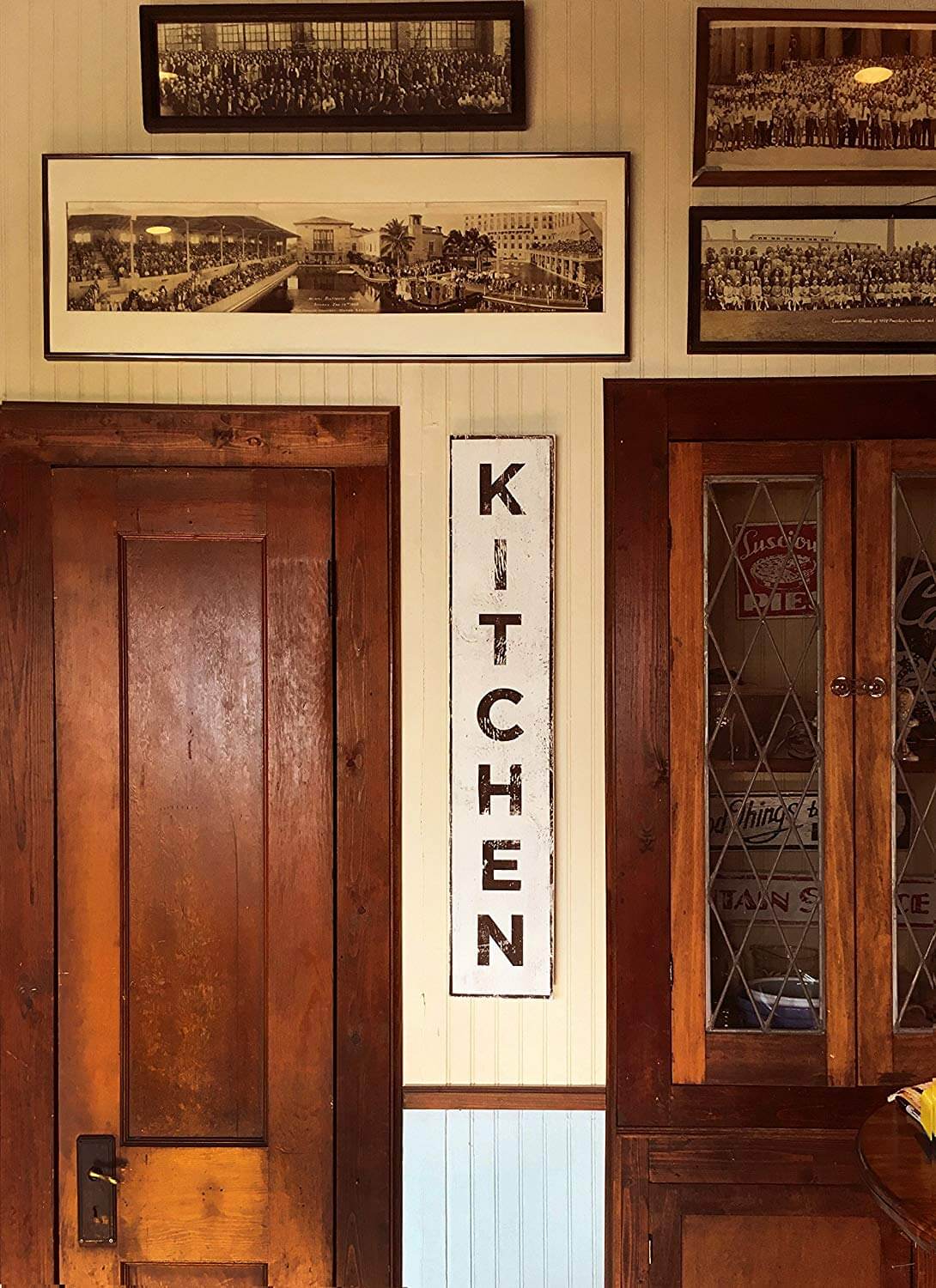 Calling to mind the distinctive signage of a quaint European rail station or British post office, this vertical "KITCHEN" sign offers an awesome idea for perking up a narrow wall space. The screen-printed black on white text portrays a straightforward message, identifying the location in your home where the meal magic happens. Handmade in the United States from solid wood, this sign ships direct to you ready for display wherever you need a creative design solution. The compact size of this wall art is ideal for smaller kitchens, breakfast nooks, or wall areas too tight for signs of typical dimensions.
24 Creative Kitchen & Dining Room Sign Ideas to Welcome Your Guests
Kitchen signs and other wall decor are part of the personal style touches that make a house into a home. Whether wood, metal, canvas, or vinyl, the options for adding an inspirational, witty, or sentimental message to your kitchen and dining room walls are limited only by your imagination.
Changing wall textures, built-in cabinets, or major appliances can result in high costs of both time and money. Swapping decor items, like wall signs, can update the style of a space for less expense and with greater ease.
Discovering the best home decor for your kitchen and dining room personalizes your living space. Everyone who comes through your door, whether family or friend, will be able to immediately sense the warmth and love of the hospitality in a well-decorated home. The messages on wall signs and other art pieces can entertain, inform, or spark conversation.
Whether your style is rustic farmhouse or sleek contemporary, you can easily find great kitchen and dining room sign ideas from a variety of online boutiques. With limitless options to customize colors, materials, and messages, you can assemble the perfect collection of home decorations to welcome your guests and truly transform your house into your home.
Choose Rustic Wall Decor Ideas to Make Your Home Warm and Inviting