The kitchen is one of the most used rooms of any home, so it only makes sense that you would want a great looking kitchen in your home. Personally, I have tried a number of budget friendly kitchen makeover ideas over the years like changing the paint on the walls, but I never really thought about other ideas that I could use.
25+ Beautiful Before and After: Budget Friendly Kitchen Makeover Ideas

In this gallery, we will look at 27 different images with budget friendly kitchen makeover ideas that you can easily create yourself. Each image will show a before and after photo that you can look at to see exactly how the idea brightened up the kitchen.
Upgrading your kitchen can mean changing the cabinets, redoing the floors, or simply swapping color pallets. Maybe you want to add a light fixture or an island to your kitchen, but you are unsure how you can create something that you will love without going above the budget that you have available to you.
Take a look at the images below, consider your budget, and make one of these kitchen makeovers your own. Small changes can make a big difference in the look of your kitchen.
1. Lightening Up a Dark and Stormy Look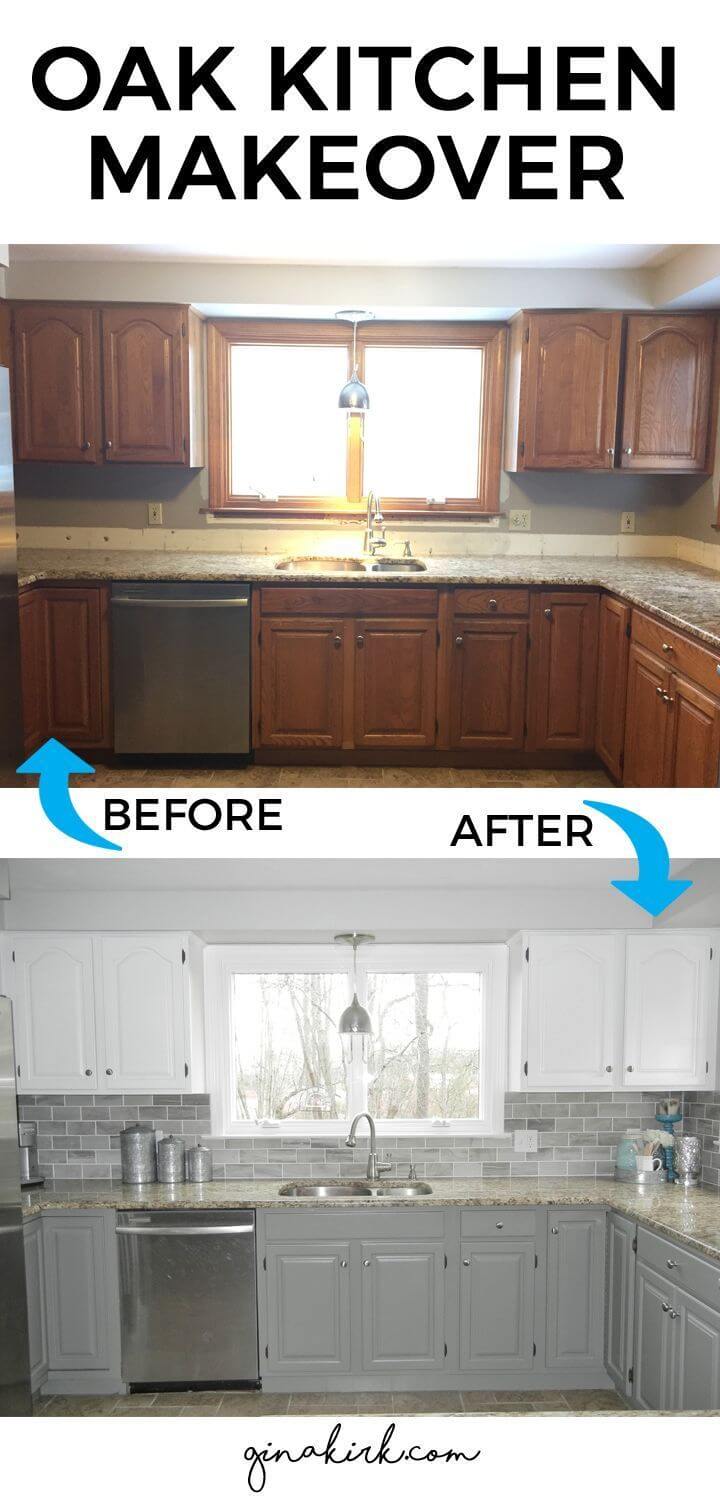 Dealing with that traditional, dull brown kitchen décor? Well, spice things up with a grayscale theme instead. This redesign adds a lovely tile backsplash that completely overhauls the feel of the kitchen in the simplest of ways. Opting for both white and gray cabinets offers a clean and modern look too that you won't even recognize in the old kitchen.
2. New Appliances and Fresh White Paint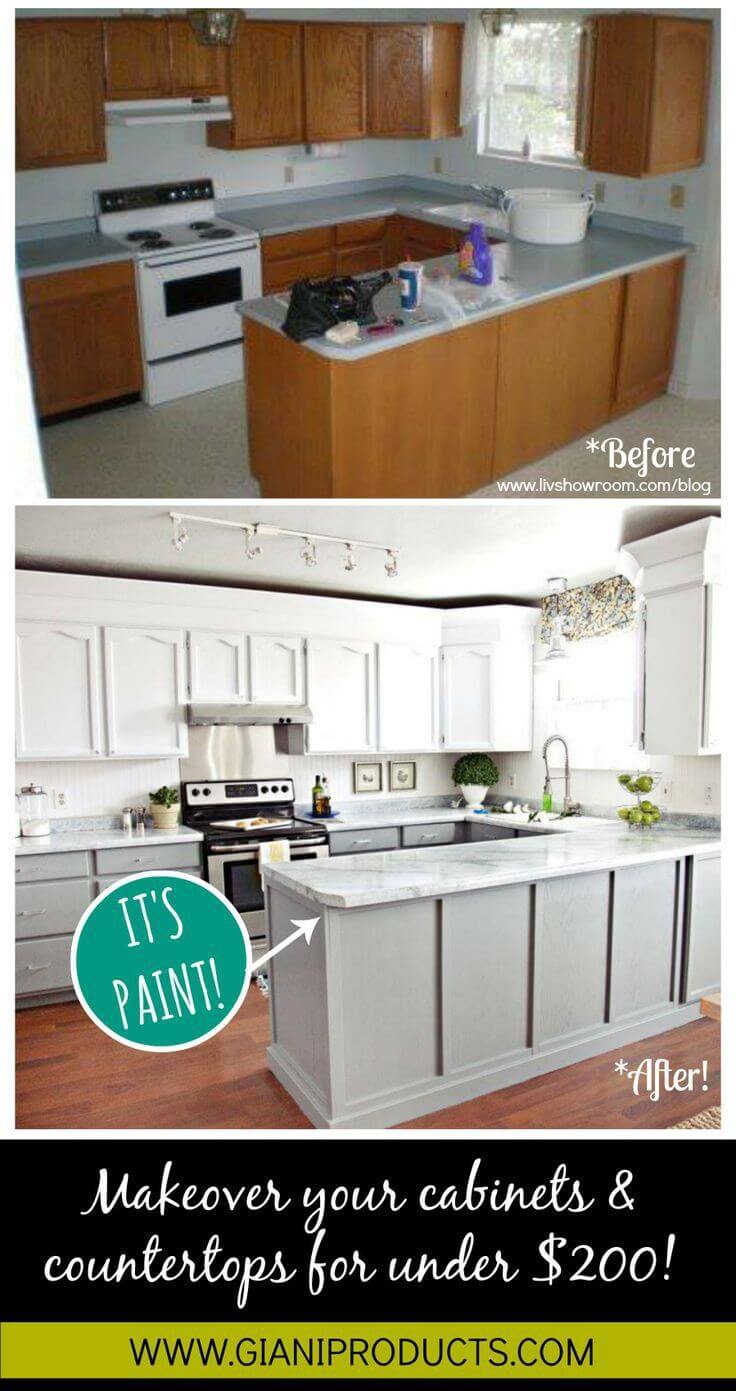 For cost-saving kitchen remodel ideas, paint becomes your best friend. The right paint blended with the right style can leave the room looking as if you brought inexpensive and new cabinets and countertops. You have a kitchen that looks and feels brighter. The gray is the primary hint of color throughout, and it pairs well with the bold white upper cabinets.
3. A Dark Finish on Wooden Cabinets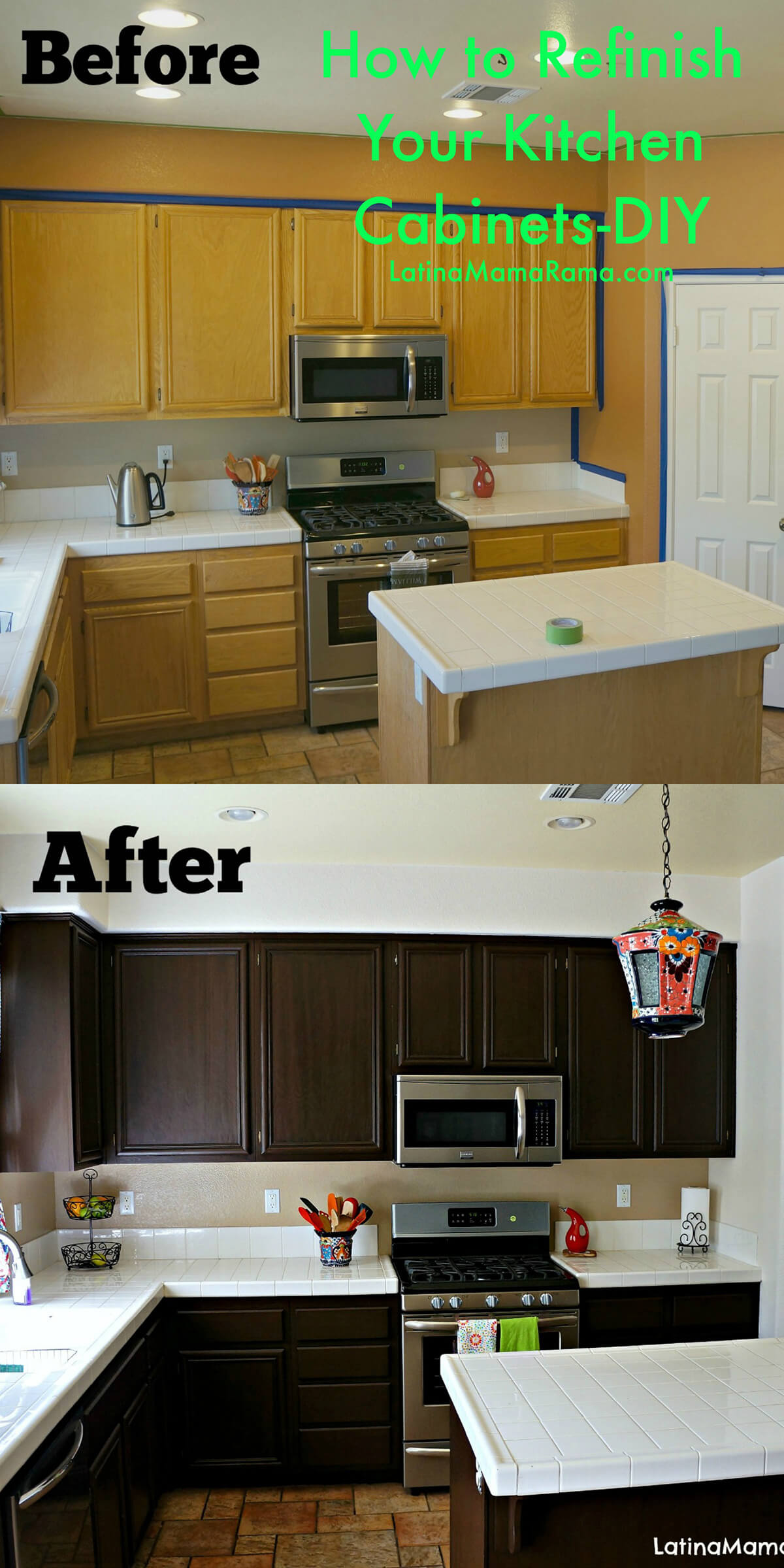 Focusing on just a single feature in your kitchen is a great way to remodel and save money. If you don't like your wooden cabinets, you don't have to replace them. Instead, apply a new finish so that they look as though you bought new ones. Going the darker route truly helps everything else in the kitchen stand out.
4. Lightening the Cabinets and Adding an Island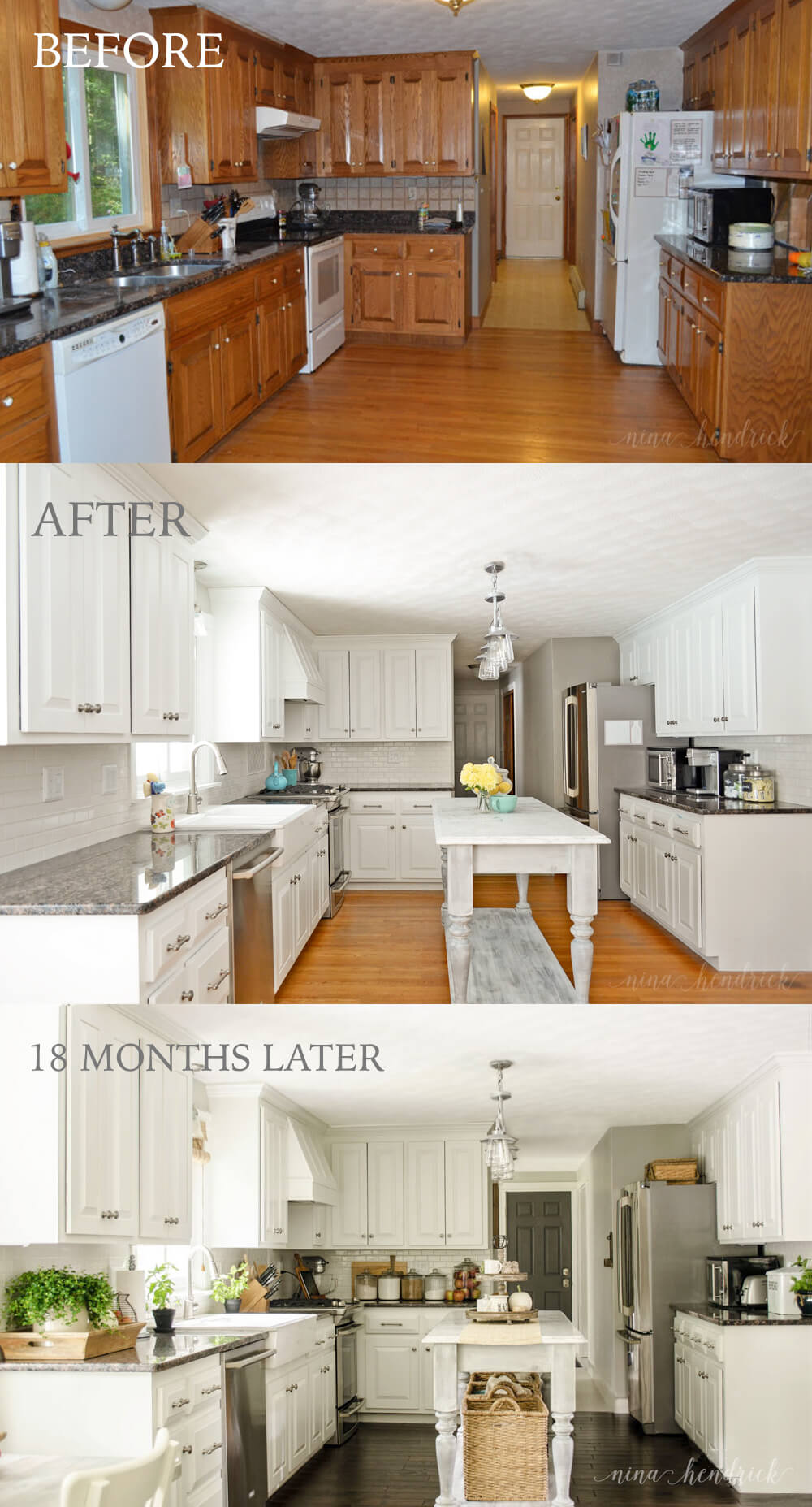 If you have the means to replace some appliances but not everything in the kitchen, then you can utilize white paint in a beautiful way. The color is bold and allows the kitchen to gleam. If you have the means and the space, throw in an island to give more flow to the room.
5. A Dark Vintage Design with Sandy Tiled Floors

There is plenty you can do on a budget in a small kitchen. The coloring on the cabinets is unique, and it pops more thanks to the silver hardware used. Plus, going the natural wooden look for the countertops blends effortlessly with the color theme in the room. It never hurts to throw in a colorful kitchen rug either to breathe even more life into the area.
6. Budget Friendly Kitchen Makeover Ideas for Your Cabinets

Staining and adding some different hardware to your cabinets makes all the difference. This idea involves you going lighter in terms of how you are decorating. The silver hardware shines against the gray lower cabinets too. You are left with a small kitchen that is inviting over something simple and easy-to-ignore.
7. A Bright, Open Cabinet Design

Sometimes, the best way to redesign your kitchen without spending too much is to rip the cabinets out completely. The open cabinet style is a cool and contemporary approach to invigorating your kitchen. You don't even have to do this to all the cabinets either as opening the upper cabinets drives the point home perfectly.
8. A Soft Pendant Light Installation

For the smaller-scale remodeling in your kitchen, consider focusing on the light fixtures. This is quicker while also saving you money as lighting changes everything. Hanging light fixtures above the sink is such a unique approach that the area will instantly stand out and capture all the attention.
9. Shades of Gray with Gorgeous Light Fixtures

With a fresh coat of paint, your kitchen cabinets have more life to them. A modern approach is to go for gray. If you already have gray countertops or floors, then it pays to go lighter or darker with your cabinet colors so that the style isn't one-note. Don't forget lighting either as adding in some cooler fixtures further helps you update the kitchen.
10. Stainless Steel Updates for a Modern Design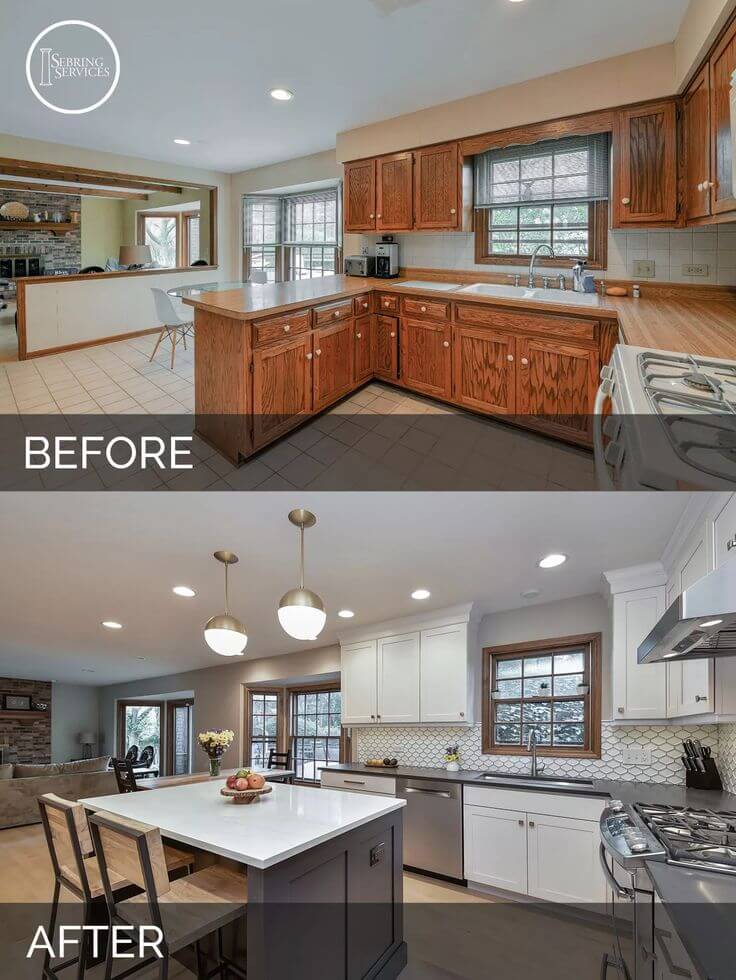 Let's go full-on modern in your kitchen and give it an entire facelift. Other than using all-white cabinets, you can balance things out with some stainless-steel appliances. This allows everything to look cleaner. A great way to provide more contrast is to utilize a darker countertop that plays off the white cabinets.
11. A Bright Addition to a Dark Corner

Even on a budget, you can build the farmhouse kitchen of your dreams. Gray and white remain a perfect color theme to play with as the colors suit a variety of themes. This frees you to continue to decorate your kitchen as you please. The farmhouse sink is the icing on the cake at this point.
12. A Modern Style with Elegant Lighting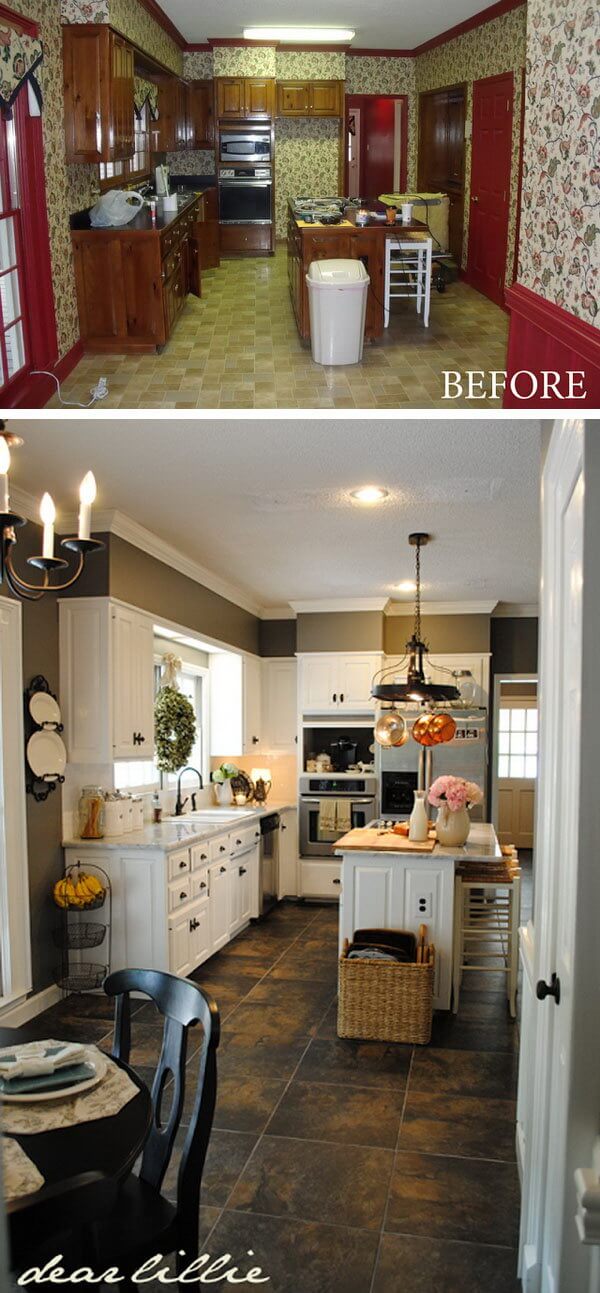 So, you're ready to upgrade a rather old-fashioned kitchen? Stick to your budget and still create something that is bold, vibrant, and elevated. Changing around the color styles is a great first step, and adding in some elegant hanging lights helps this kitchen lean more toward contemporary. If you have the means, consider changing up the flooring too into something that matches better.
13. Updated Cabinets Make the Difference

Create a stunning rural kitchen layout on a comfortable budget. The all-white cabinets have that instant appeal that wouldn't look out of place in a countryside home. They work well along with the lovely wooden countertops and the stunning white sink. One good thing to keep in this remodel is the open cabinet design at the top as it leans more modern.
14. Breakfast Nook with a Farmhouse Look

In many cases, the all-brown look can come across as muted and too classic. Overhauling it all with white cabinets is the perfect way to transform your kitchen. Opting for the darker hardware on the cabinets gives them great contrast too. The right countertop can also help in this case as it leaves you with an island that looks high-class blended with a farmhouse.
15. A Bright Kitchen for a Home by the Beach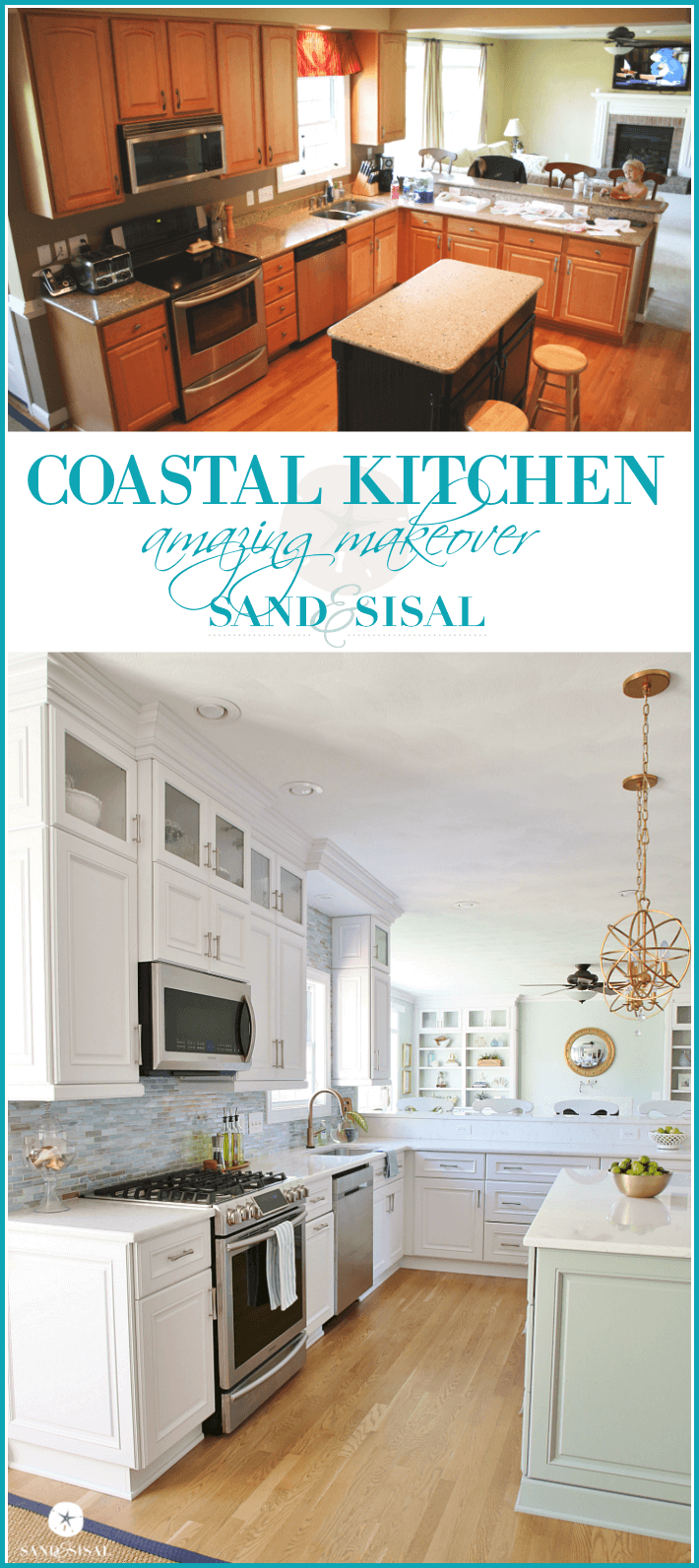 White always works as a contemporary look, and this kitchen remodel is no different. The cabinets all look clean next to stainless-steel appliances too. If you do want some color, you can always add light paint to the island area as a way to break up all the white.
16. A Flavorful Addition to Kitchen Cabinets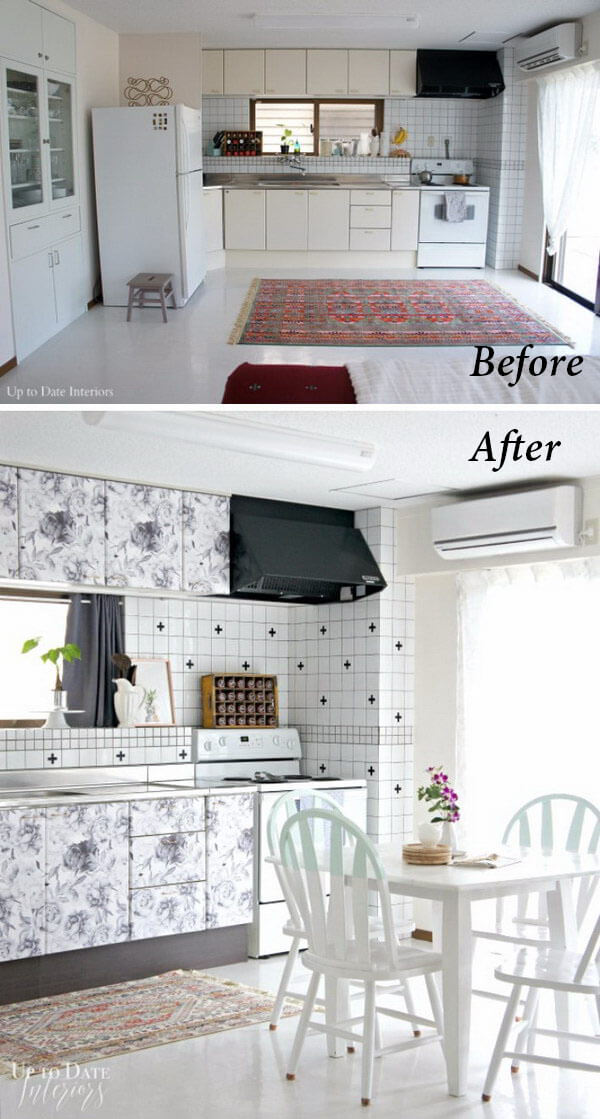 Who said kitchen remodel ideas had to lean toward solid colors? Show off your style and personality by adding a decorative look to the cabinets. You can still find a pattern that plays off the white cabinets if you wish. The designs on the cabinets merely help them capture more attention.
17. A Colorful Backsplash in a White Kitchen

Already have yourself the white-colored kitchen of your dreams? Well, you can build off that rather than starting anything fresh, saving you more on your budget in the end. A good major change to make is with the tile backsplash. Aim for a shade or two darker than the cabinets so that the backsplash stands out even more.
18. Light, New Counters for a Spacious Kitchen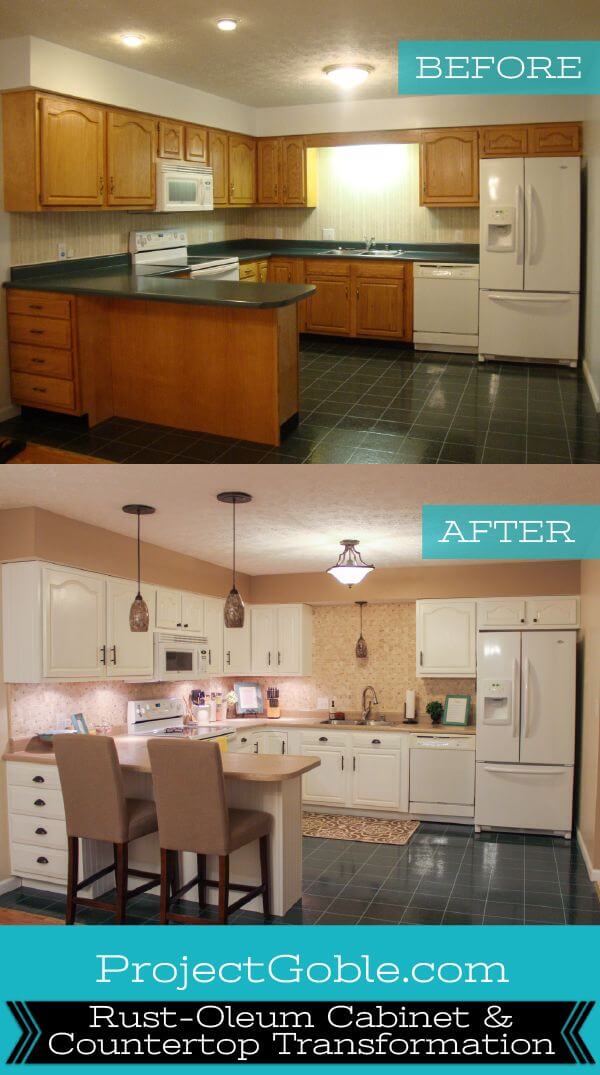 An excellent way to decorate on a budget is to whip out the paint and get to work. Elevate that old brown look with the newer, more modern white. Switching up the countertop helps too. Going darker than the cabinets but lighter than the flooring provides seamless balance throughout your kitchen.
19. A New Blue Design with an Extended Ceiling

You can get rid of all that brown with not just white, but with some color thrown in as well. The white upper area looks appealing and plays into the average refrigerator. However, going for something darker with the lower cabinets is a nice touch. The wooden countertop adds a bit of a natural look to it as well.
20. A Unique Brick Backsplash and Breakfast Nook

Even a tiny kitchen deserves all the love as you budget-crunch your remodeling job. Some changes on the cabinets can help such as painting them, but what really makes an impact is the brick backsplash. It adds some much-needed brightness to the area considering its smaller size. Plus, it blends with the wooden countertop.
21. New Shelves and Lighting for the Counter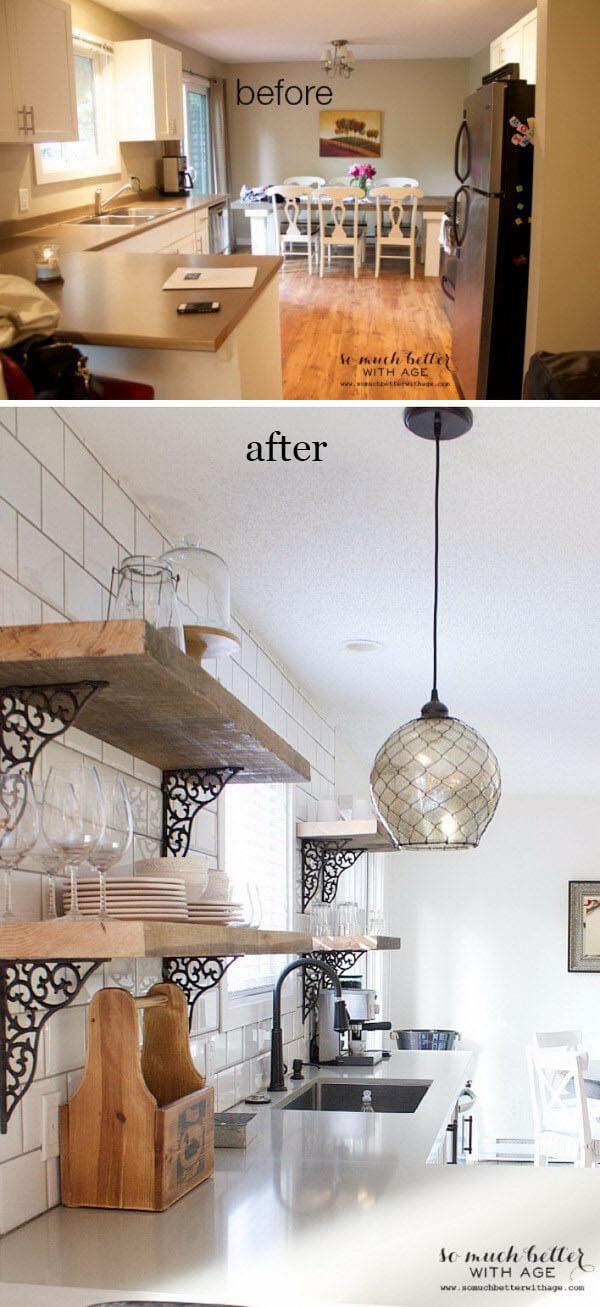 Why worry about painting your old cabinets when you can remove them completely and opt for a different sort of storage? In this case, built-in wall shelves can benefit more than people may realize. These shelves have a shabby chic look to them. They work so well along with a more contemporary-leaning, smooth countertop, and the dark sink.
22. Delightful Kitchen Island with Storage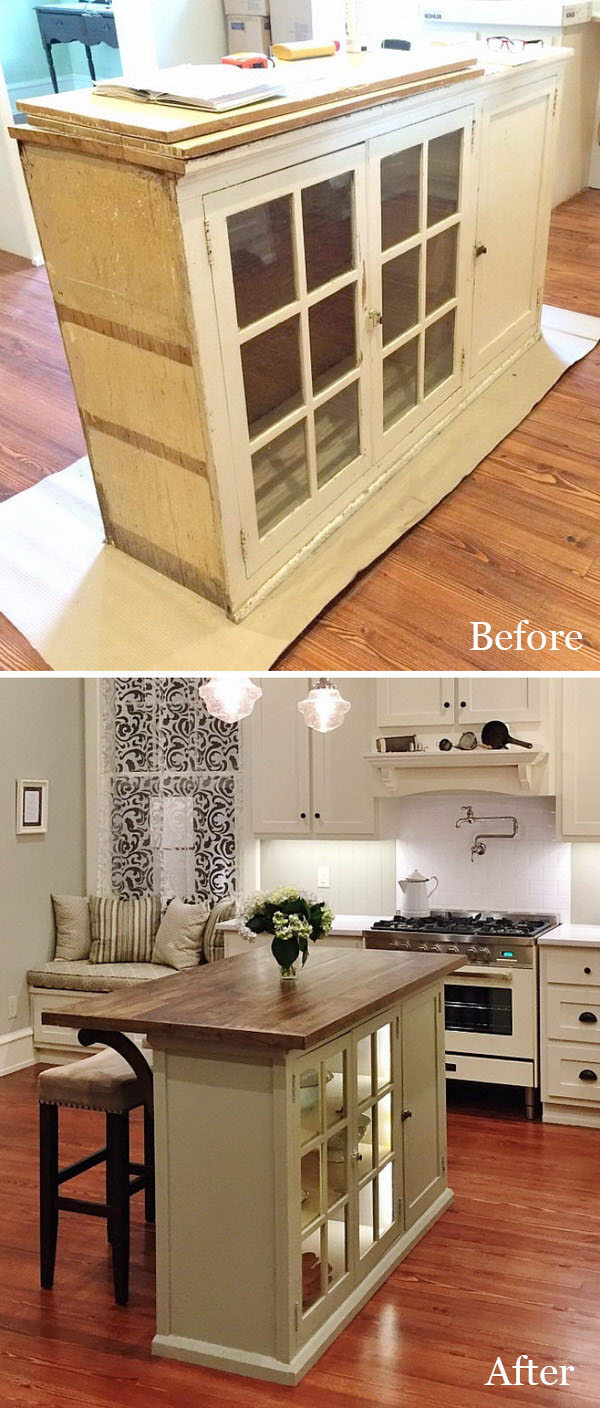 An aged kitchen with an equally aged island deserves some new life. You can do this without breaking the bank either. In fact, build it yourself if you have the means. This island is bold and works as the perfect centerpiece for your kitchen. The island further works as a functioning décor thanks to the storage space provided.
23. Refinished Countertops with a Pop of Color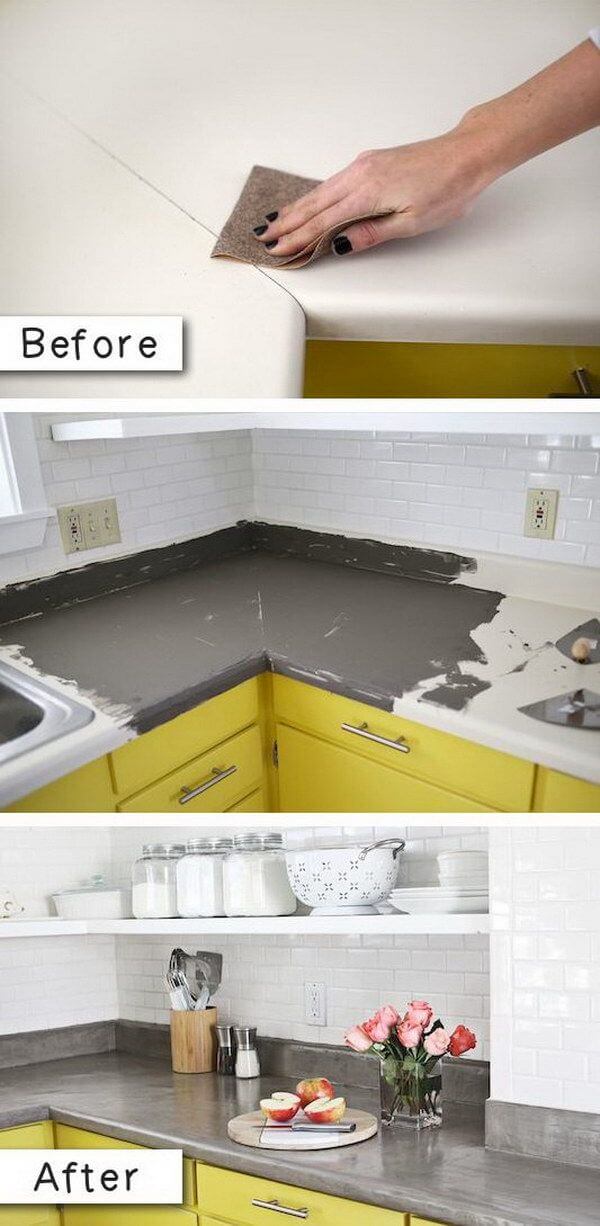 Let's double down on our budget here and play around with the countertops rather than a complete kitchen makeover. This process is a nice and affordable way to rejuvenate your counters. Plus, the dark look works well with the lighter tile backsplash layout. Also, if you have colorful cabinets, this bold dark countertop can help it stand out too.
25. Wooden Countertops with a Lime Green Backsplash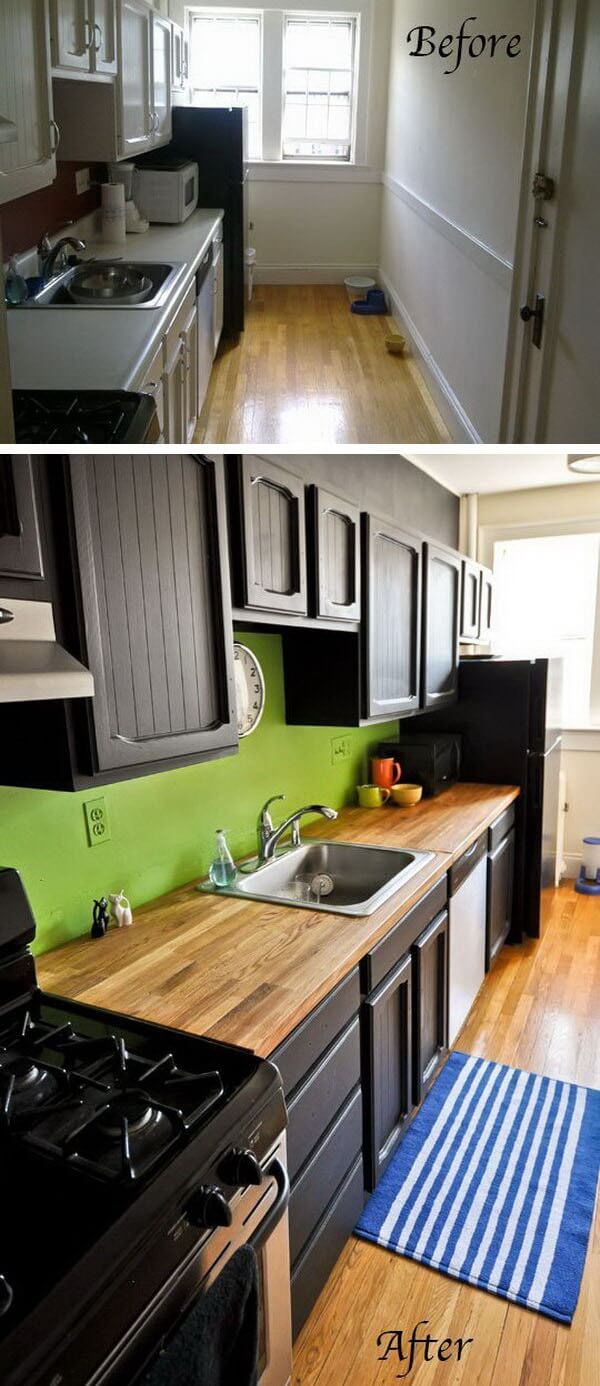 Going darker is just as fun as going with all-white. In this case, the all-black cabinets look professional-quality. They work well with the wooden countertop as well as the lighter-colored backsplash. There is even something cute about this setup that will make it a joy to be in your kitchen.
26. Kitchen Shelving with Baby Blue Accents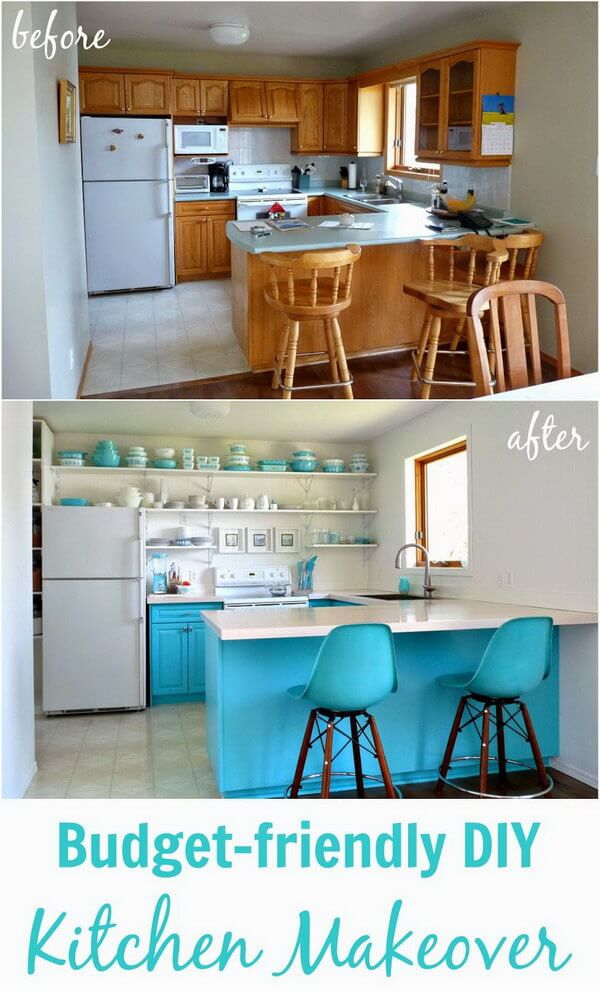 Keeping your bottom cabinets but doing away with the rest is certainly a risky choice, but one that pays off with this design. This fully opens up your kitchen too, making it look more spacious than ever. Consider a lighter color scheme too in this case such as whites and blues. It gives an overall peaceful and relaxing vibe.