Scavenger hunts are only fun when there's time and a nice prize at the end not a kitchen tool you should have found easily anyway. When you are looking for a pan to cook in or a food that you know you brought home yesterday, but is no where in sight today, the scavenger hunt can become frustrating quickly. Add kids, spouses, work, and your own need for calmness into the mix and that hunt becomes unbearable. We have come up with some of the best kitchen organization ideas to help you avoid the needless scavenger hunts throughout your kitchen.
Stop The Scavenger Hunt with these Practical Kitchen Organizing Tips

1. Easy Small Kitchen Pantry Makeover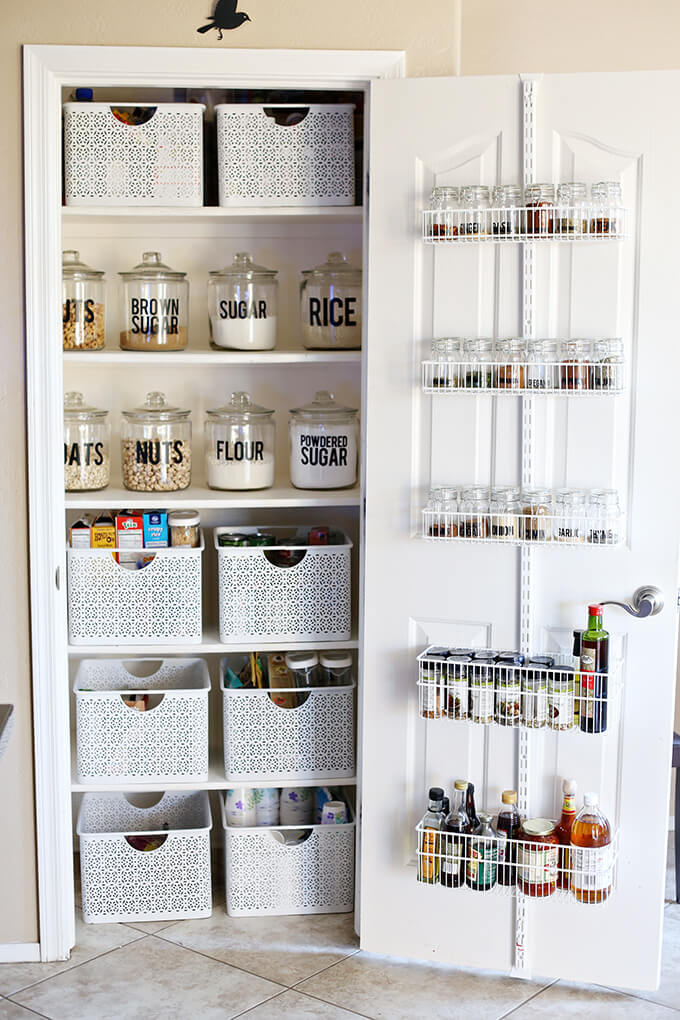 When space is limited inside your pantry, it can become common for the area to get a bit cluttered. Thankfully, it's just as easy to organize it using baskets and various sized jars. This makeover is the perfect way to make it faster to find what you need. Consider adding some labels to the jars and baskets too so everyone knows exactly where things are supposed to go.
2. Cool Coffee Station Drawer Organizer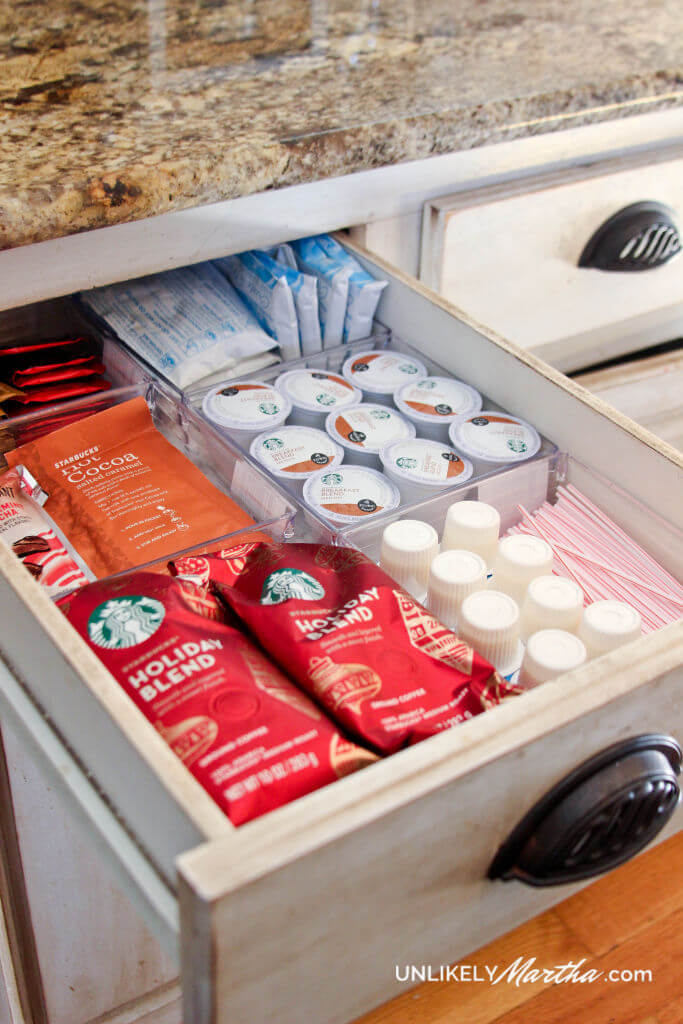 For coffee lovers, having a station dedicated to the morning beverage is useful, but sometimes, all those little extra features such as pods, creamers, straws, etc. might make the station seem overwhelming. If your station is on the countertop in your kitchen, you can use the drawer nearby and create a sectioned storage area. Each item has its own spot so nothing is ever lost.
3. Wall Mounted Hanging Pot Rack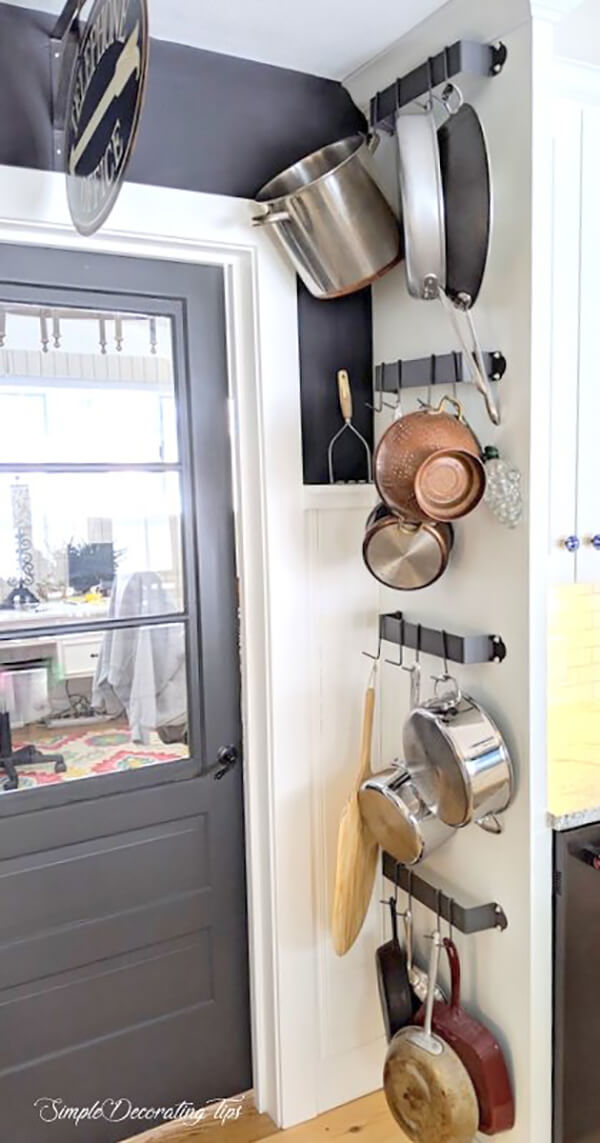 Having a pan for all your cooking needs is fun, but storing them can be frustrating. Why not hang them all up on a pot rack? A wall-mounted one in particular can help bring a more modernized touch to your kitchen décor. How tall you can make it depends on your specific kitchen ceiling height, but even just a couple of bars can make your kitchen appear neater.
4. Command Hook Measuring Cup Wall Storage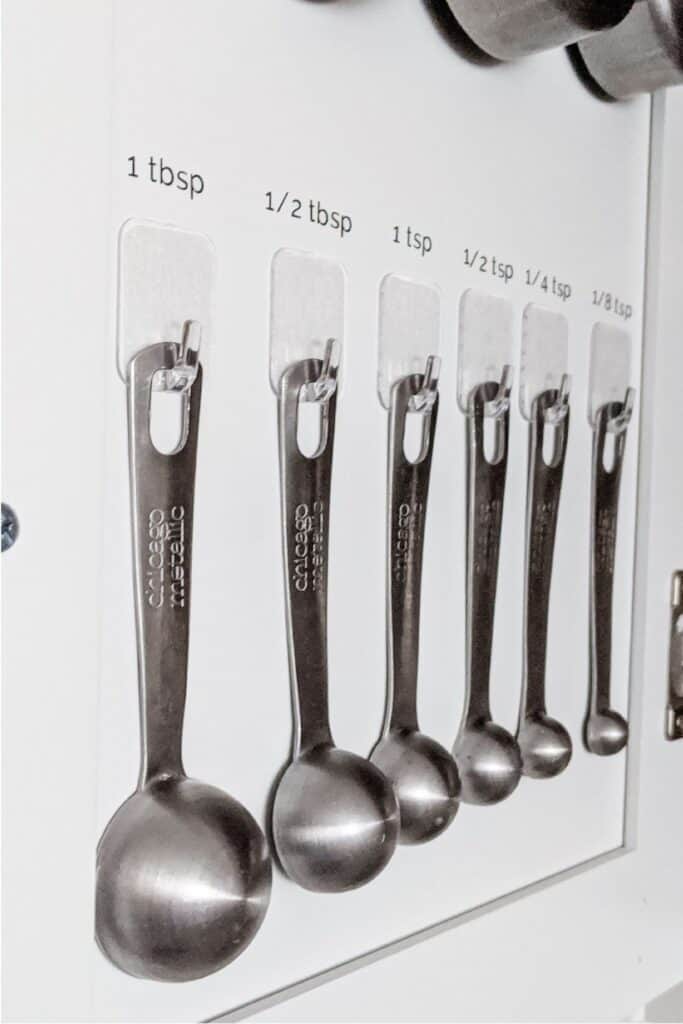 Using the likes of command hooks is an inexpensive and quick fix to solve some of your kitchen storage needs. It can take forever finding the measuring cup or measuring spoon needed for that cooking or baking recipe, but with them hung up on the wall with their respective labels above them, you can see them all as clear as day.
5. Vertical Oil Bottle Shelf Rack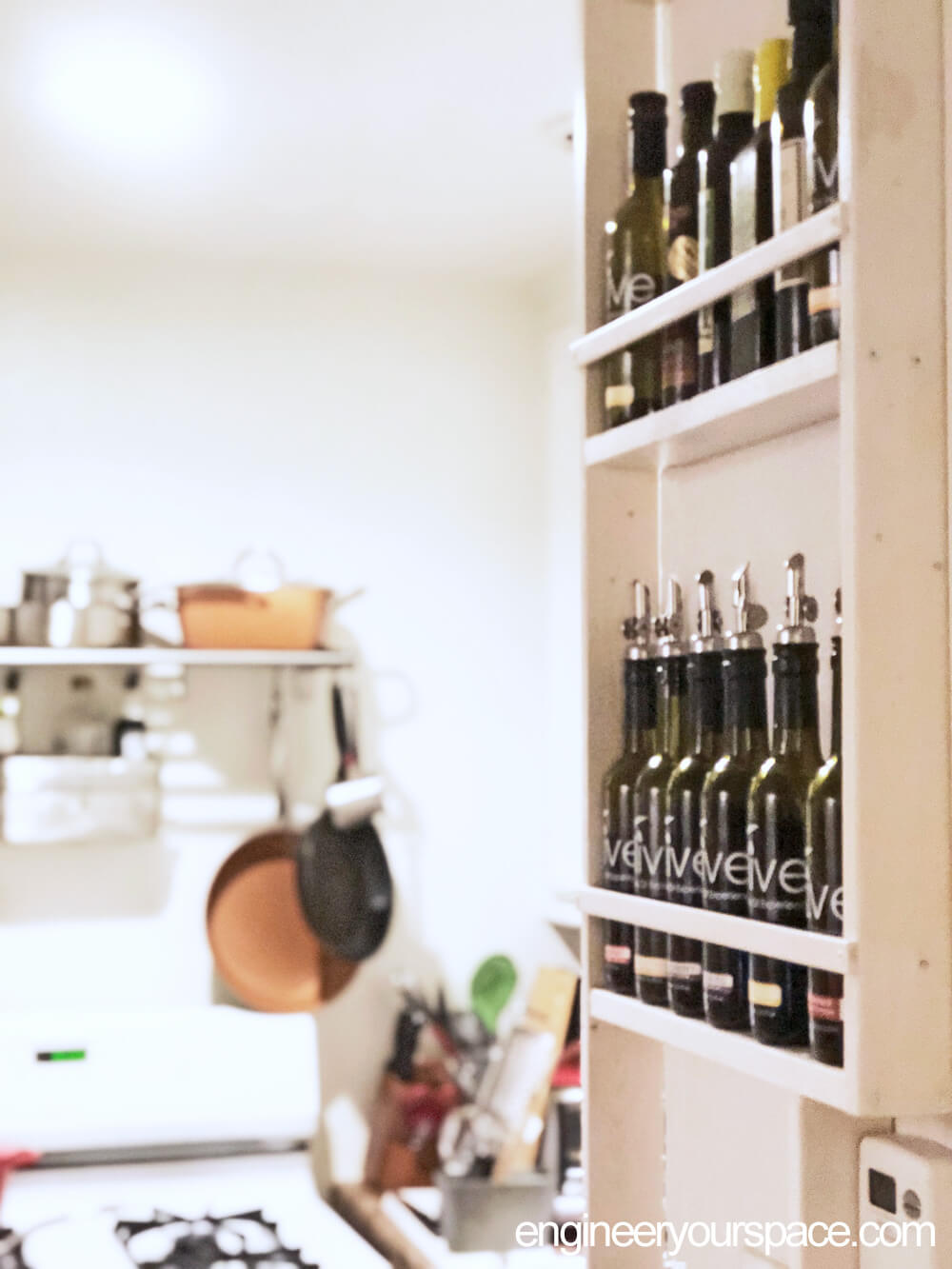 If cooking is important in your household, then you probably have a good deal of cooking oils lined up in a cabinet. You can bring them out in the open, making them easier to grab as well as using them for décor purposes with a vertical shelf rack. This is also an awesome idea in small-sized kitchens.
6. Budget-Friendly Wire Spice Rack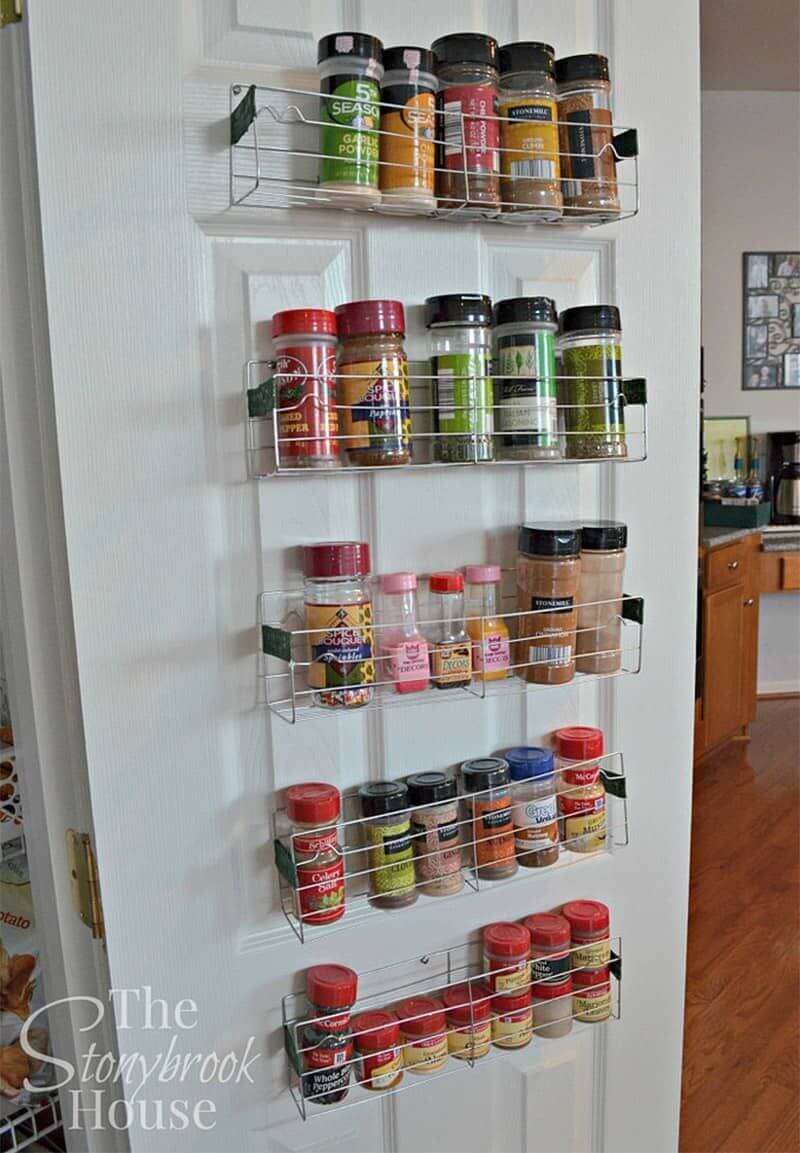 It doesn't take much to make a straightforward spice rack to hang on the inside door of your pantry. You can use basic wire cooling racks originally intended to cool cookies down from the oven. After a little bending, you have yourself a handful of racks for all your spices to sit comfortably on in a more manageable way.
7. Divided Organized Kitchen Junk Drawer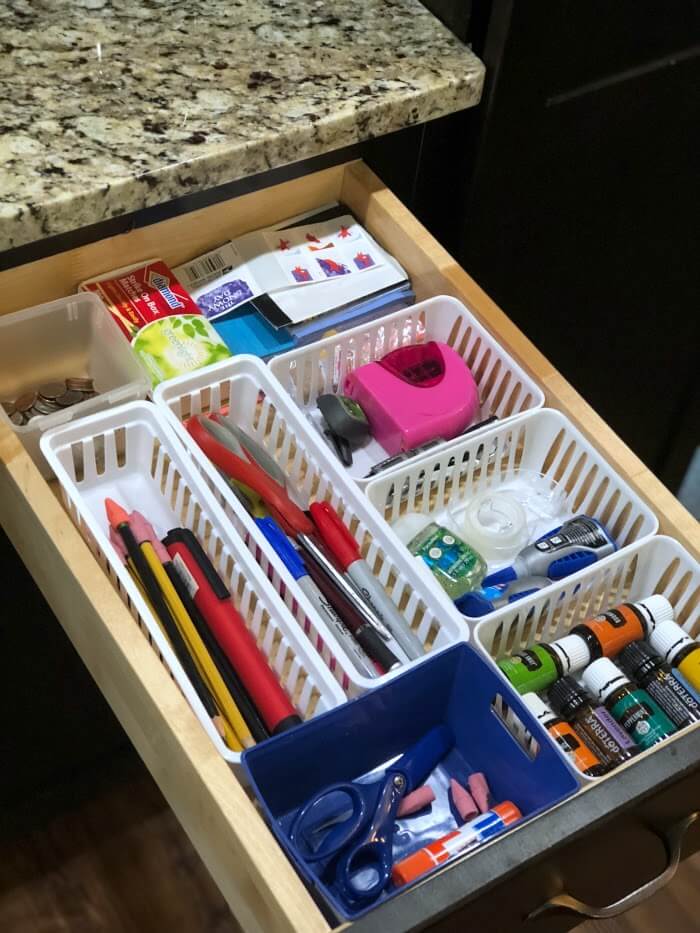 A junk drawer is a familiar sight in many homes, but just because it's meant to hold "junk" you have no other place for, that doesn't mean it has to be cluttered. You can purchase some dividers in the form of simple, small plastic baskets and use them to section off the drawer. This way, you won't spend hours searching around for one small item.
8. Bills and Receipts Mounted Holders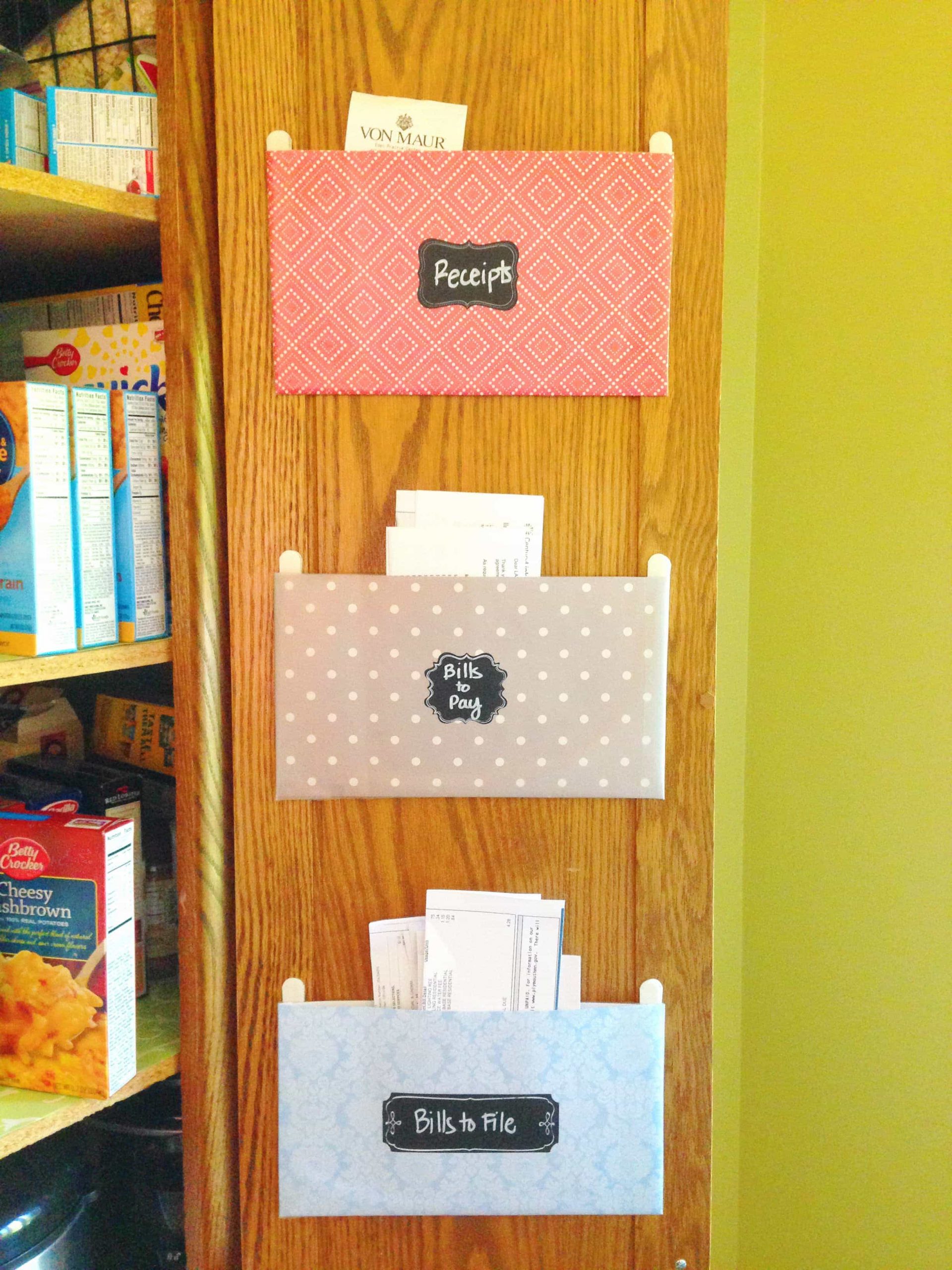 Have you noticed an influx of receipts and bills loitering around in your kitchen? Well, you can find your important documents much faster by creating some wall-mounted holders for them to hang on the inside of a cabinet. This is a great way to keep better track of your finances as the bills and receipts you need are within reach and organized properly.
9. Small Spool Spinning Spice Rack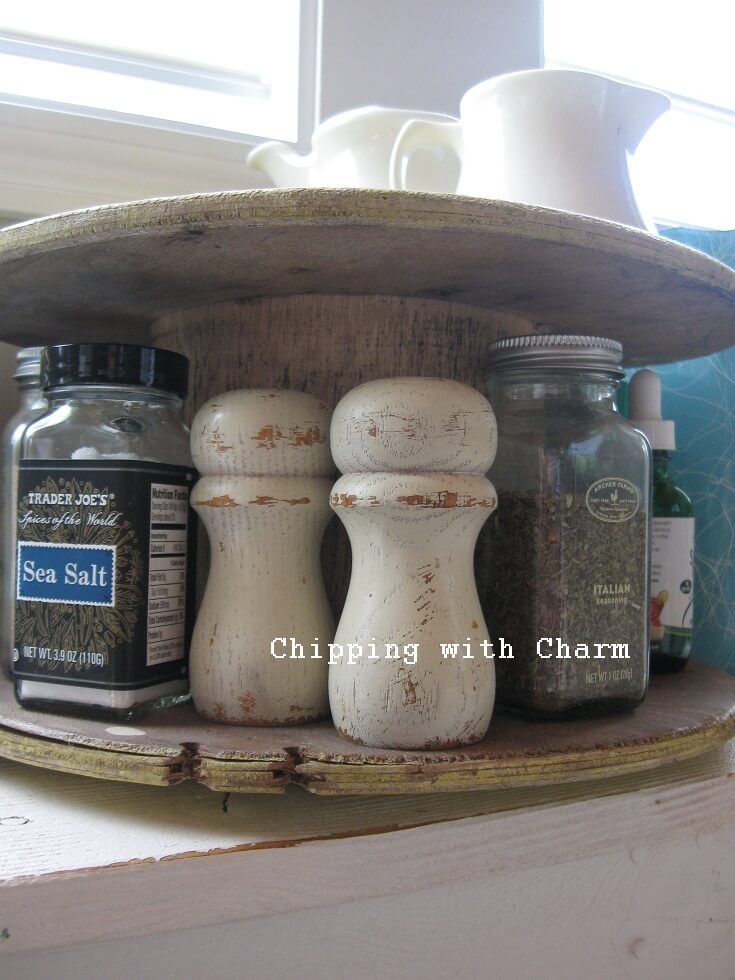 A spool can make for a cool looking spice rack, especially if you are aiming for a more rustic, vintage vibe in your kitchen. Simply add a lazy Susan to it so that you can have a spinning spice rack. You can leave the spool as is or throw some paint on it to match your specific decoration theme in your kitchen.
10. Incredible Under Sink Kitchen Organizer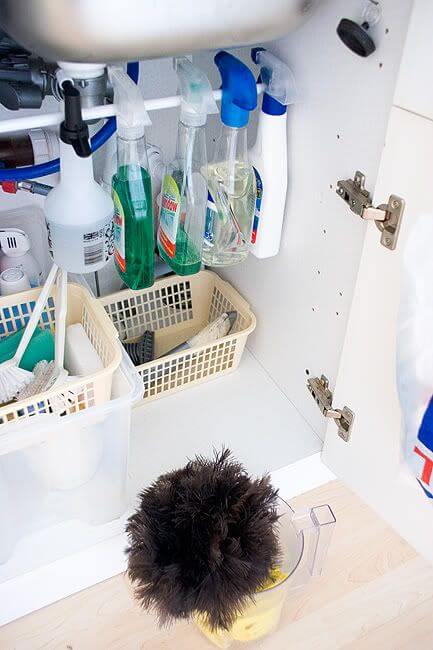 The area underneath your kitchen sink is another typical spot to toss in an array of items such as cleaning supplies. You can readily do away with the clutter of it all with some strategic use of baskets and a tension rod. The tension rod comes in handy to hang spray bottles on so that they're up and out of the way from everything else.
11. Wall Mounted Pallet Wood Silverware Holders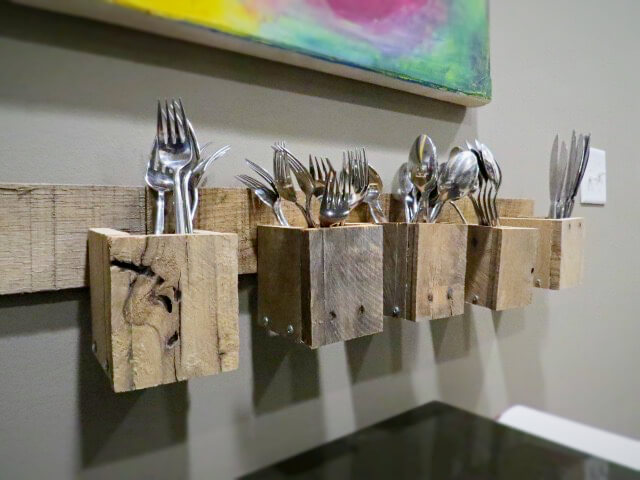 For those of you looking to put a spin on the traditional drawer silverware storage containers, try your hand at these wooden wall-mounted holders. They can work out perfectly in a home that has a more rural theme in terms of décor. These are also a wonderful way to take advantage of a kitchen that lacks the drawer space for all your utensils.
12. Steel Wall Magnetic Spice Rack
A fun way to add some industrial style to your kitchen is with this awesome magnetic spice rack. If you don't have metal on the wall already, you can add a sheet of galvanized metal to the wall instead. Remember to label the metal containers so that you know what spice is where. This is a good way to clear up space on your counter or in your cabinets.
13. Custom Wooden Drawer Storage Divider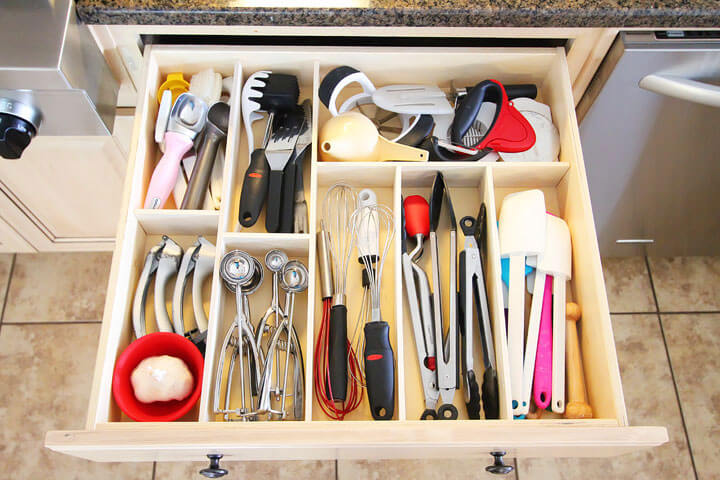 Rather than buy a holder for your kitchen utensils that may not precisely fit your drawer, you can always make one yourself by using wooden dividers. Make sure to measure correctly so that you'll cut the right size pieces. By the end of the project, you're left with customized storage to suit your utensils and allow you to take advantage of every inch of space inside your drawer.
14. Magnetic Strip Kitchen Knife Holder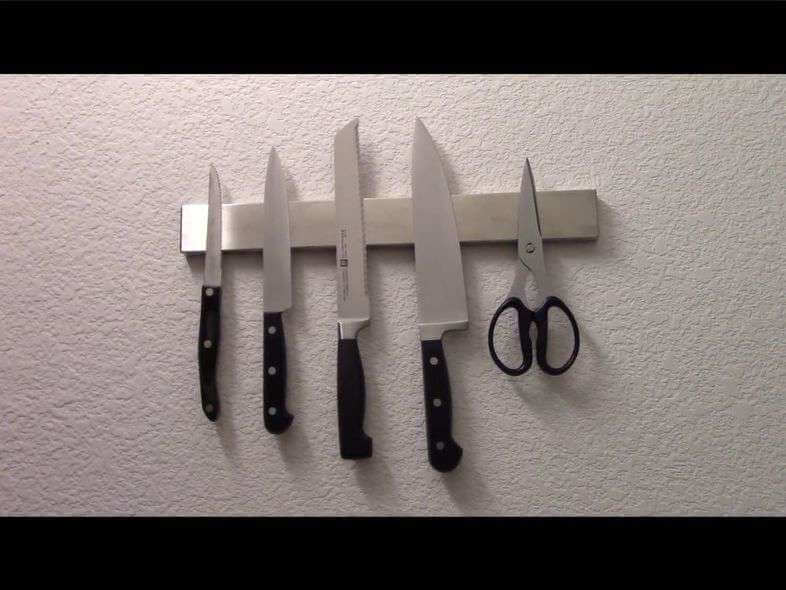 A magnetic strip is an easy tool to use for simple storage on an empty wall in your kitchen. It's a short project to complete, and once the strip is on the wall, all you have to do now is place the knives on it. This takes a new spin on the traditional knife block many kitchens have sitting on the countertop. The magnetic strip offers quicker access and turns these tools into decoration as well.
15. Stackable Black Iron Wire Baskets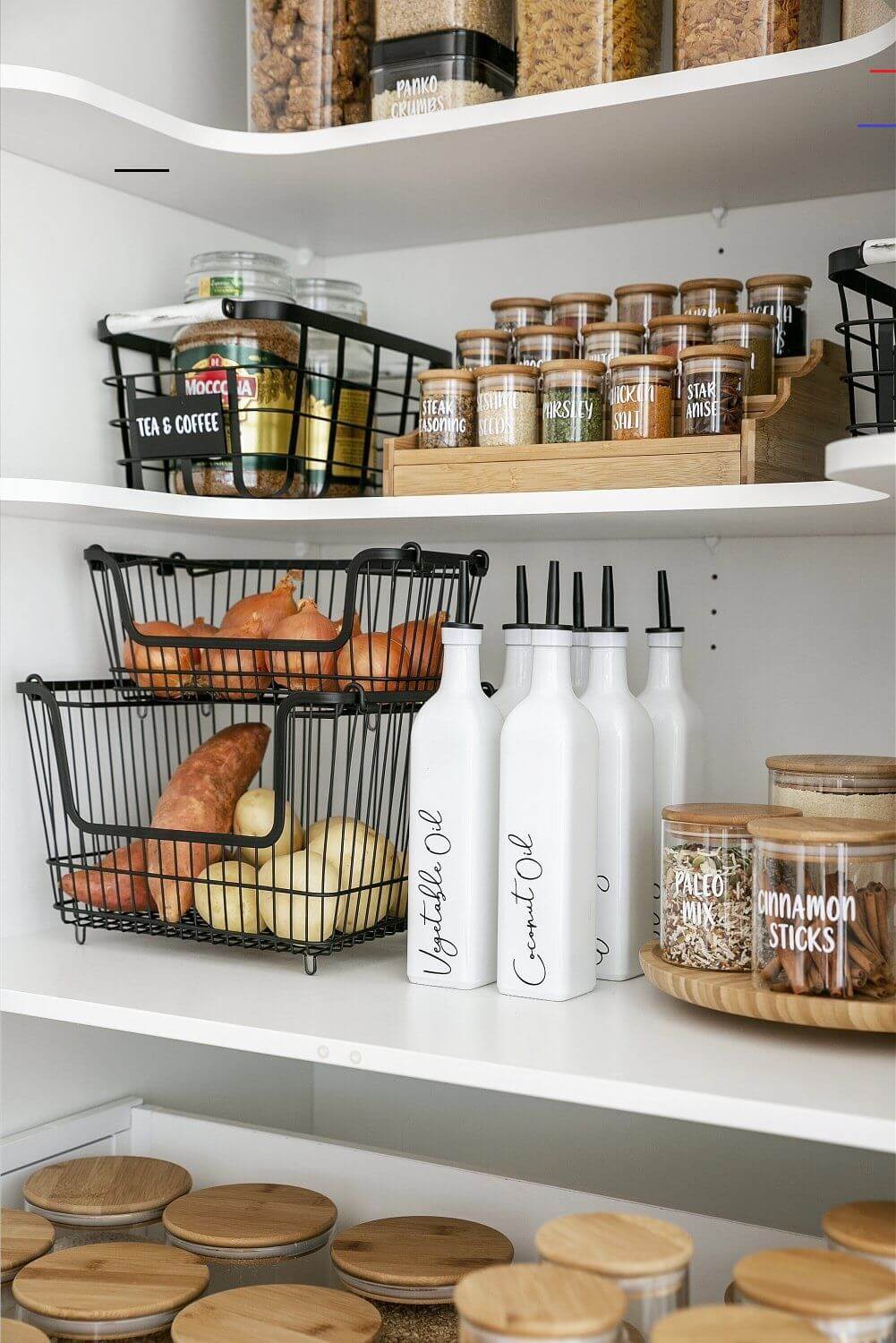 A stylish way to create more space in your kitchen pantry is with these iron wire baskets. They're powder-coated black, and the handles fold inward so that you can easily stack them without the worry of anything falling. These baskets readily help you fill in some of that empty vertical space that may be in your pantry or cabinets.
16. 3-Pin Wooden Rolling Pin Wall Rack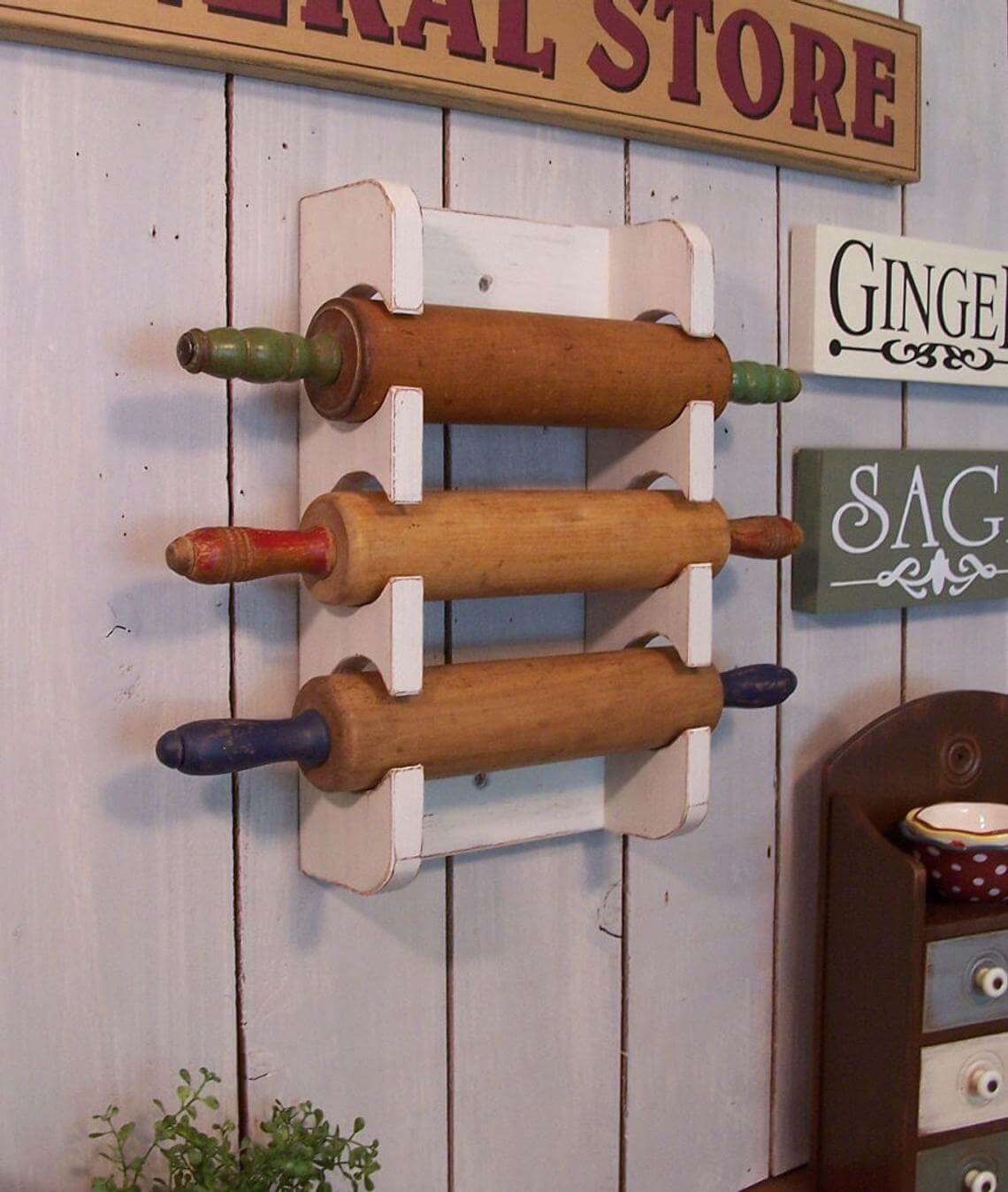 This 3-pin rolling pin wall rack is a straightforward, yet interesting, way to store some of those rolling pins you have lying around in a drawer. It's intended to only hold wooden, vintage pins, and it's compact enough to fit with ease on your wall. There are three different finishes as well as several primary colors to choose from.
17. Personalized Plastic Kitchen Storage Boxes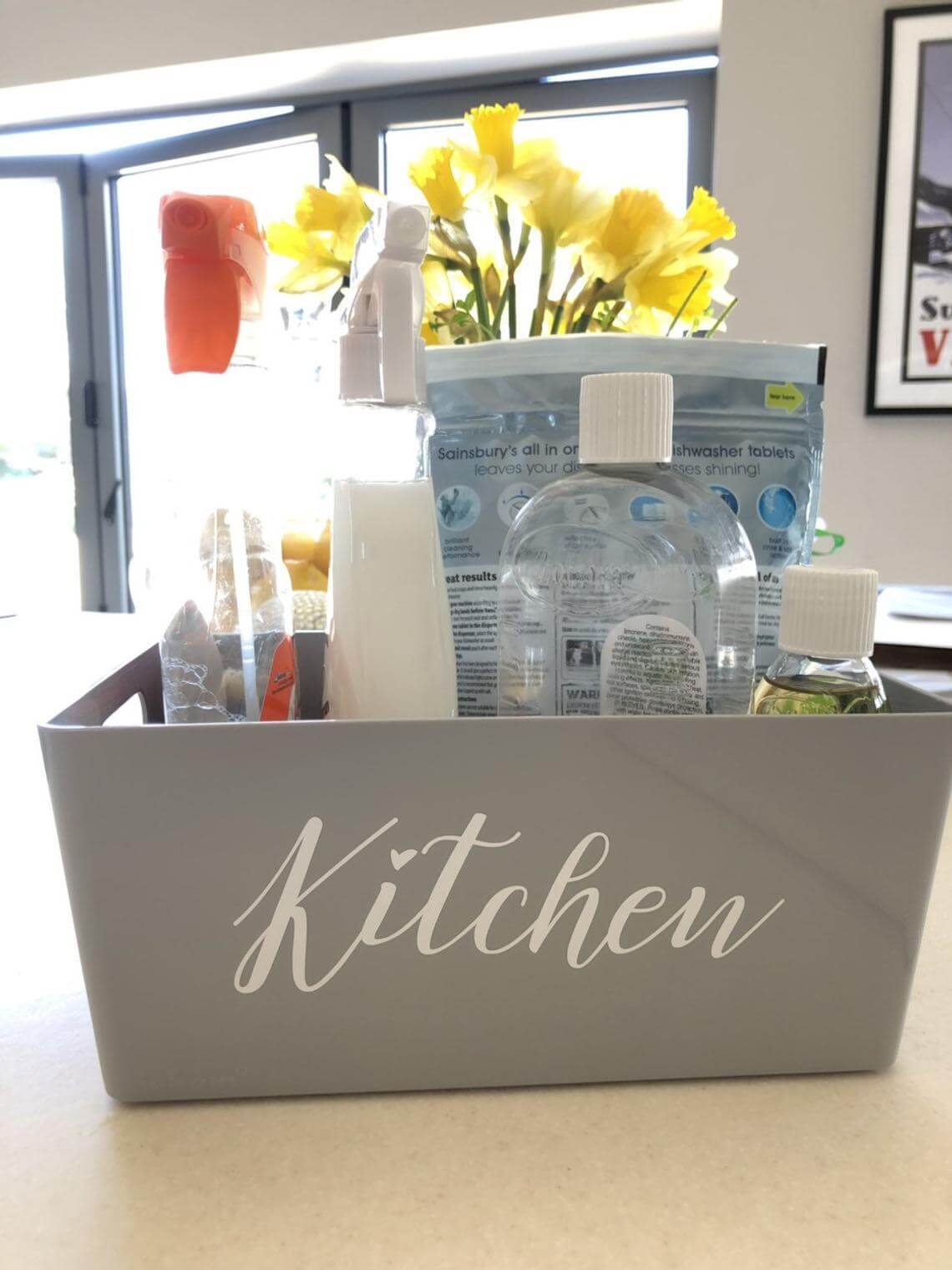 If you're looking for a way to add some storage to your kitchen with a modern, stylish touch, then take a look at this personalized organizer box. It features an integrated handle so you can move it around as needed, and you can specify the exact wording you want it to have if you need to label specific items it will contain or the room it will be in. You can choose the wording color and the color of the box.
18. Raised Cabinet Storage Shelf Organizer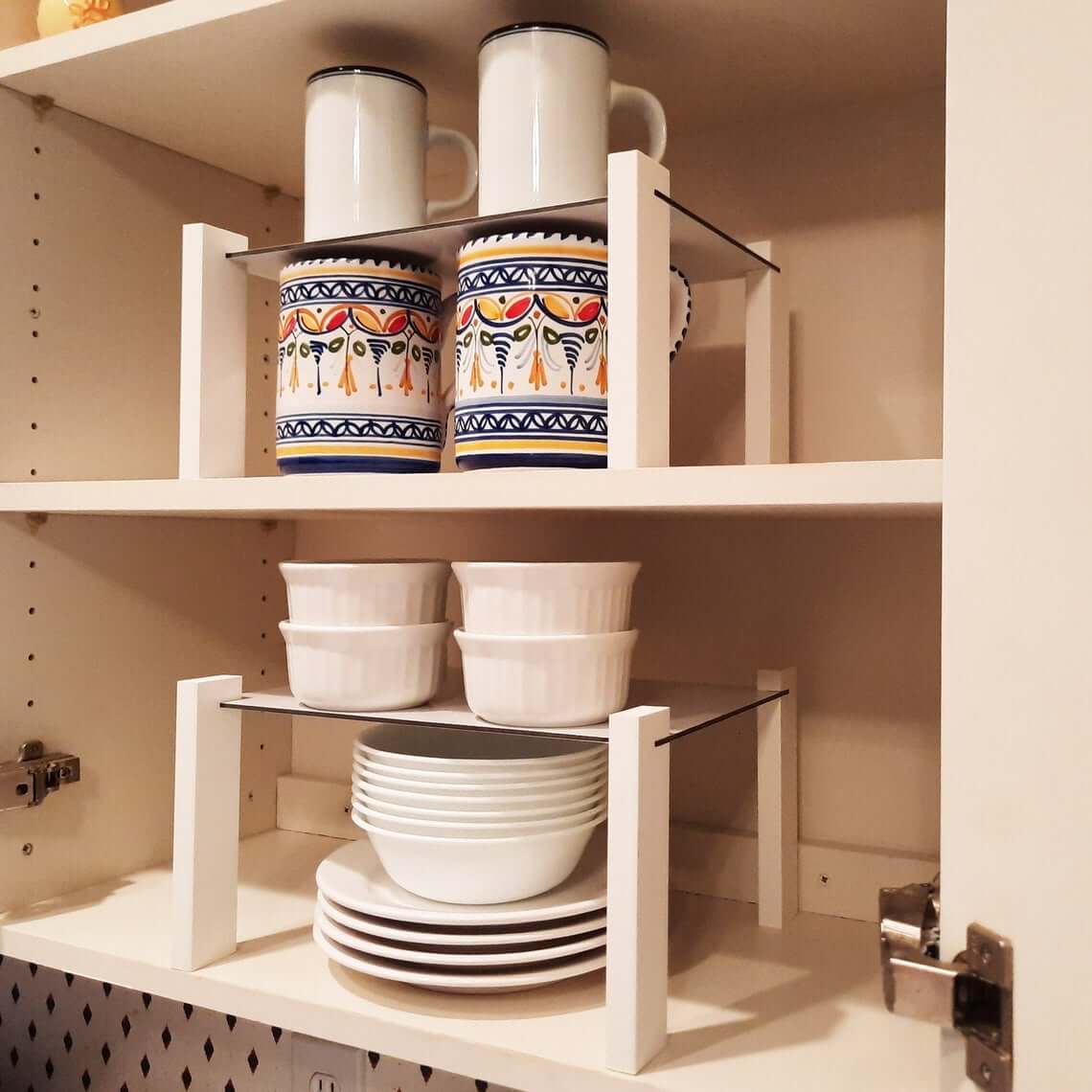 This raised cabinet organizer shelf helps you make good use of the vertical space inside your cabinet. Made of recycled plastic and aluminum, this is sturdy enough to support a few dishes, jars, or cans. Keeping those items elevated frees you up on sliding some more items underneath to make your cabinet look more spacious.
19. Wall Mounted Kitchen Rack Storage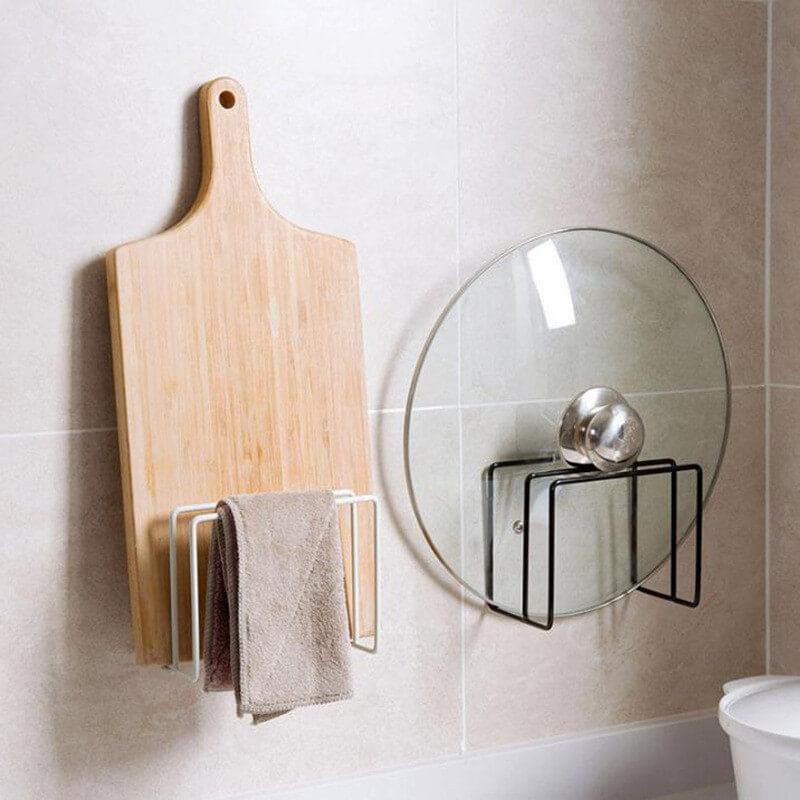 Simplicity is key here with this wall-mounted organizer for your kitchen. It can help eliminate some of the clutter around your countertop when it comes to items like lids or cutting boards. Depending on their size, this can fit about three cutting boards. You can even hang towels over it, and it is available in black and white colors.
20. Decorative Hanging Fruit Rope Baskets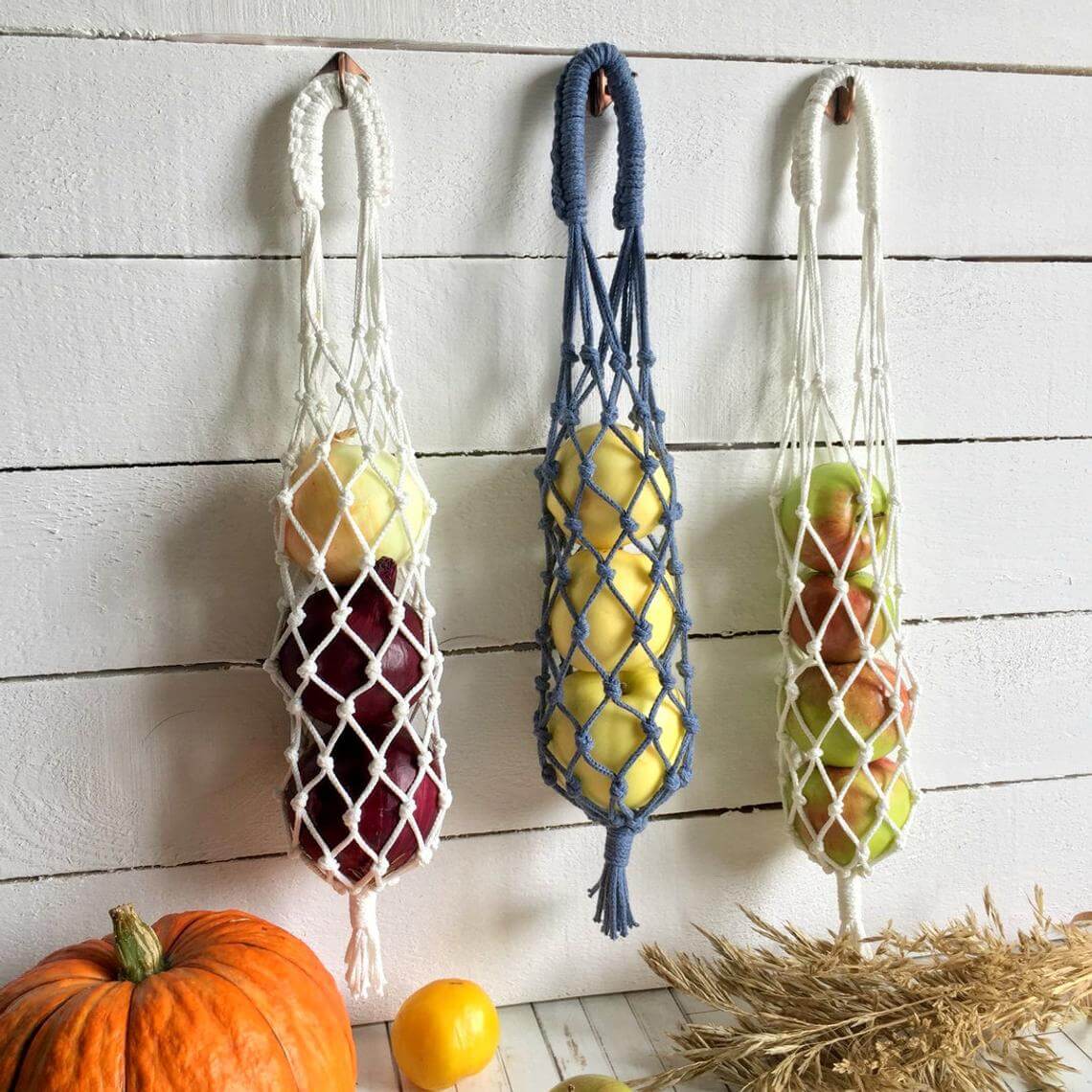 This set of three storage rope baskets allows you to keep your products right within sight. They're reusable so you can always add to them as you use up the fruit inside. These are even machine-washable so you can keep them fresh and looking like new longer. They simply look good too so that they can add a decorative touch to your kitchen.
21. Hanging Cabinet Paper Towel Holder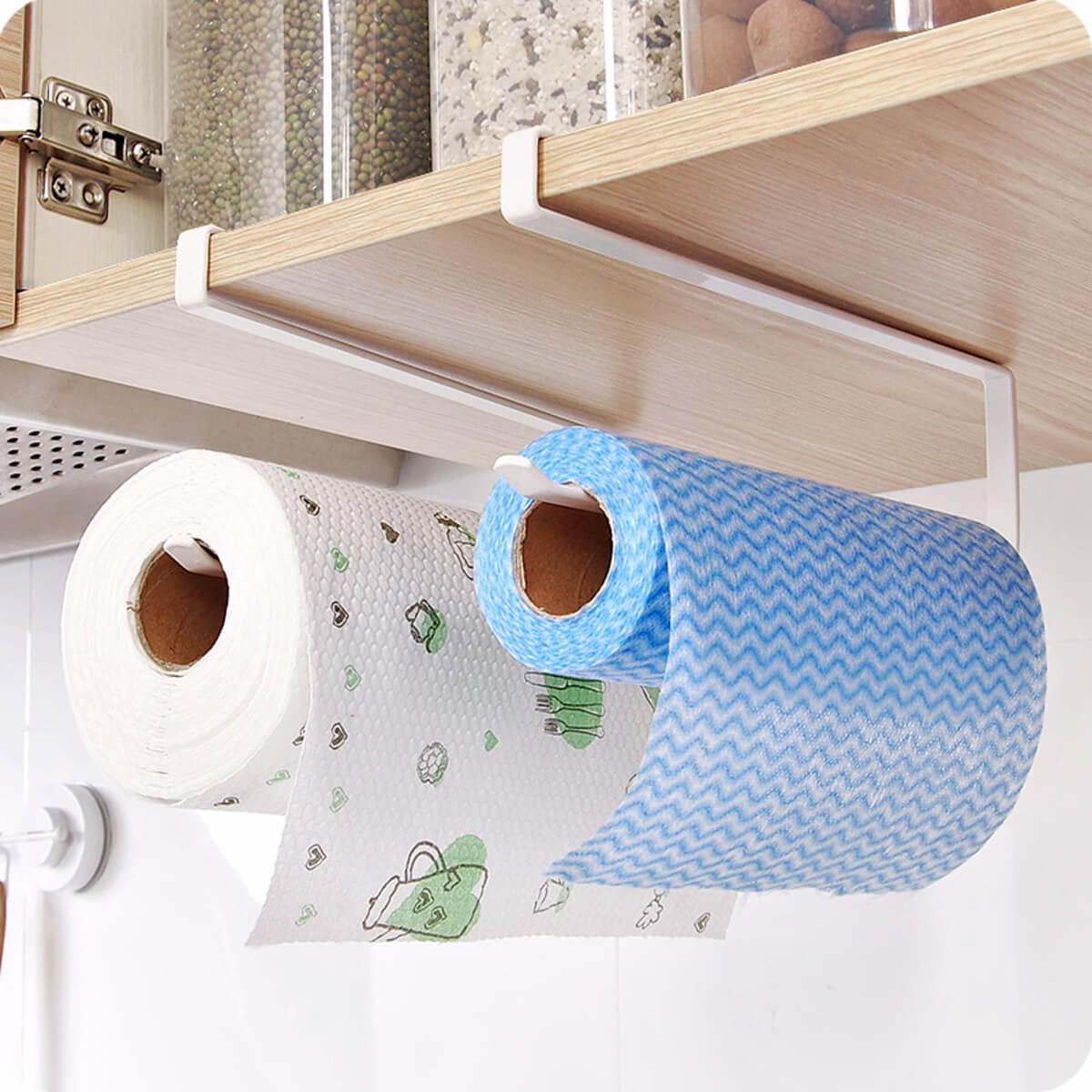 This metal paper towel holder is an uncomplicated way to create a space for your paper towel rolls without taking up a countertop room. It hangs well without causing any damage to the cabinet thanks to its hook curl design. The s-shape also helps prevent it from slipping so you can comfortably grab a paper towel.
22. Tall Transparent Sealed Storage Container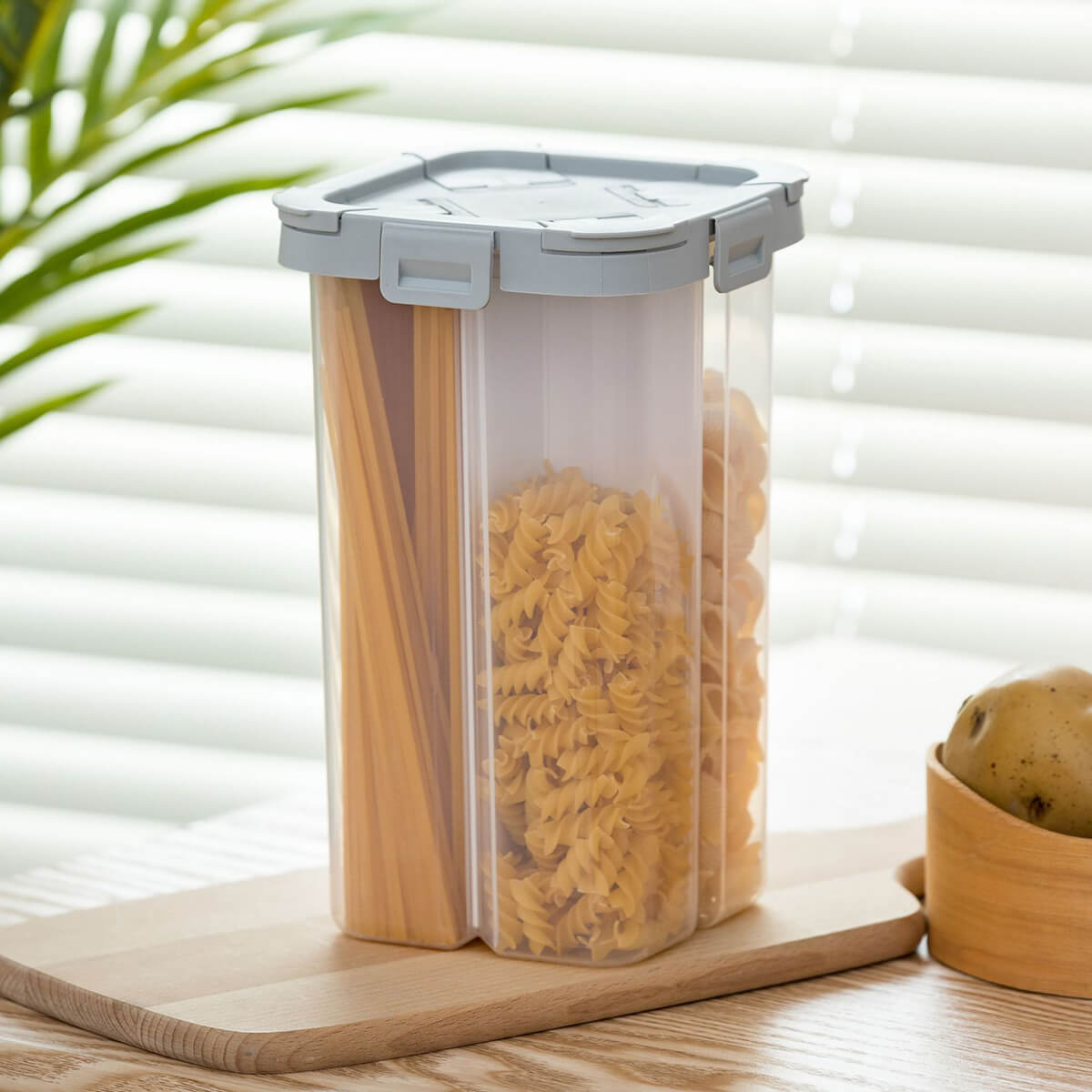 This storage container is a wonderful way to section off some of your kitchen staples such as pasta, rice, cereal, coffee, and more. It features a transparent body with a white lid, and it has a 2.3L capacity with four different sections that all seal and lock. The contents inside are protected too as the container is moisture-proof, insect-proof, and dustproof.
23. Adjustable Refrigerator Storage Drawer Rack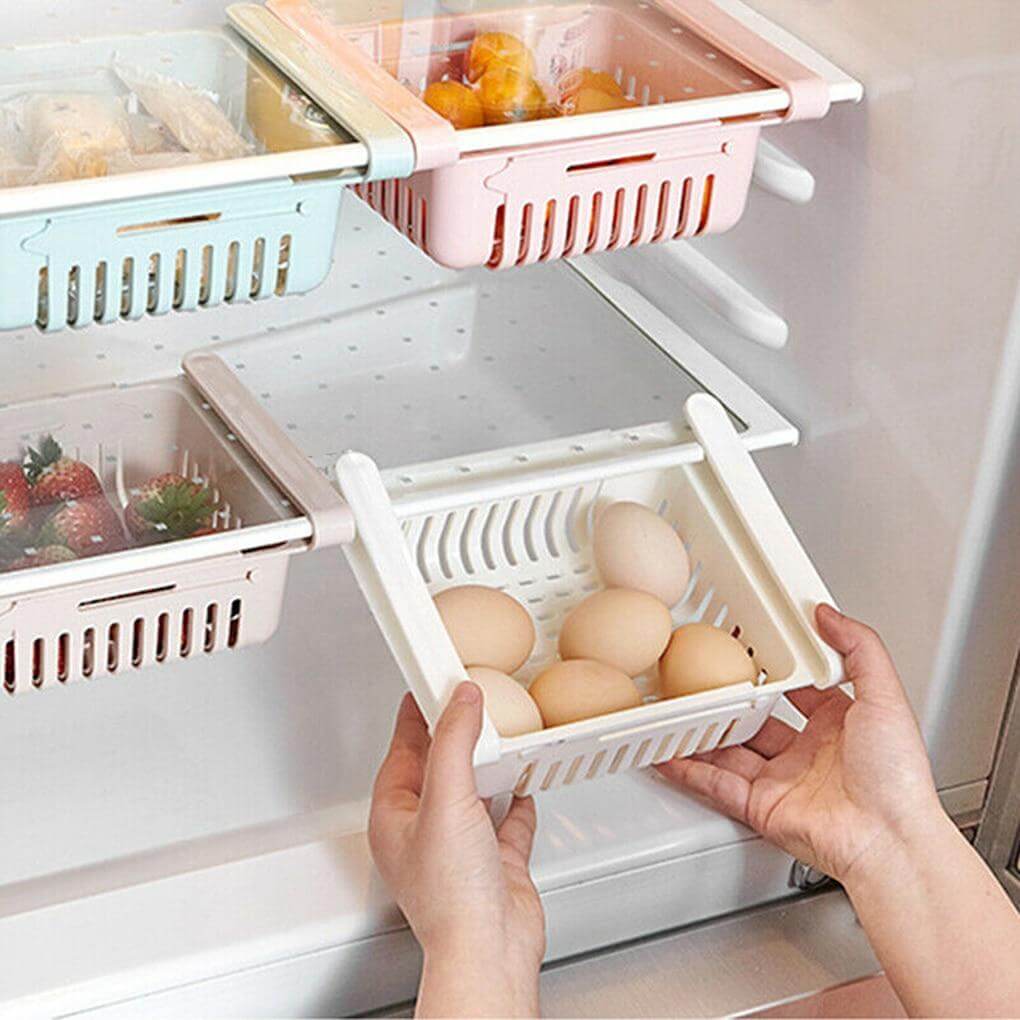 A good place to de-clutter in your kitchen is inside the refrigerator. This drawer rack is available in four different colors, and they work well at holding eggs, fruits, and vegetables. You may even use it inside the freezer to hold some bagged food or small boxed items. Made from plastic, it goes on and slides out with ease.
24. Vintage Metal Foil Box Rack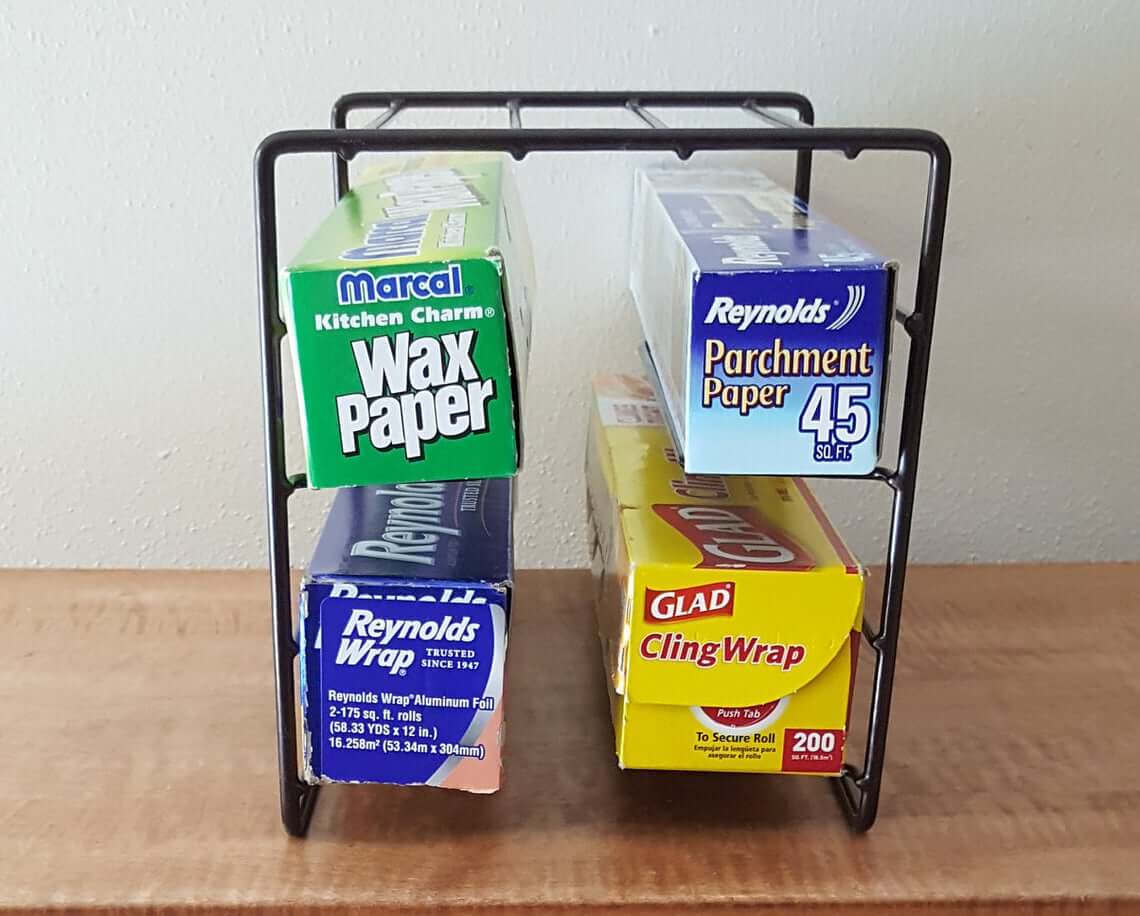 Designed to fit aluminum foil boxes and plastic wrap boxes, this rack is the perfect way to keep your foil and plastic wrap out of the drawer and readily available when you need it. Depending on the sizes of your boxes, you can utilize all four sections. The top may even be able to hold an additional smaller item if needed.
25. Wooden Small Space Oven Spice Rack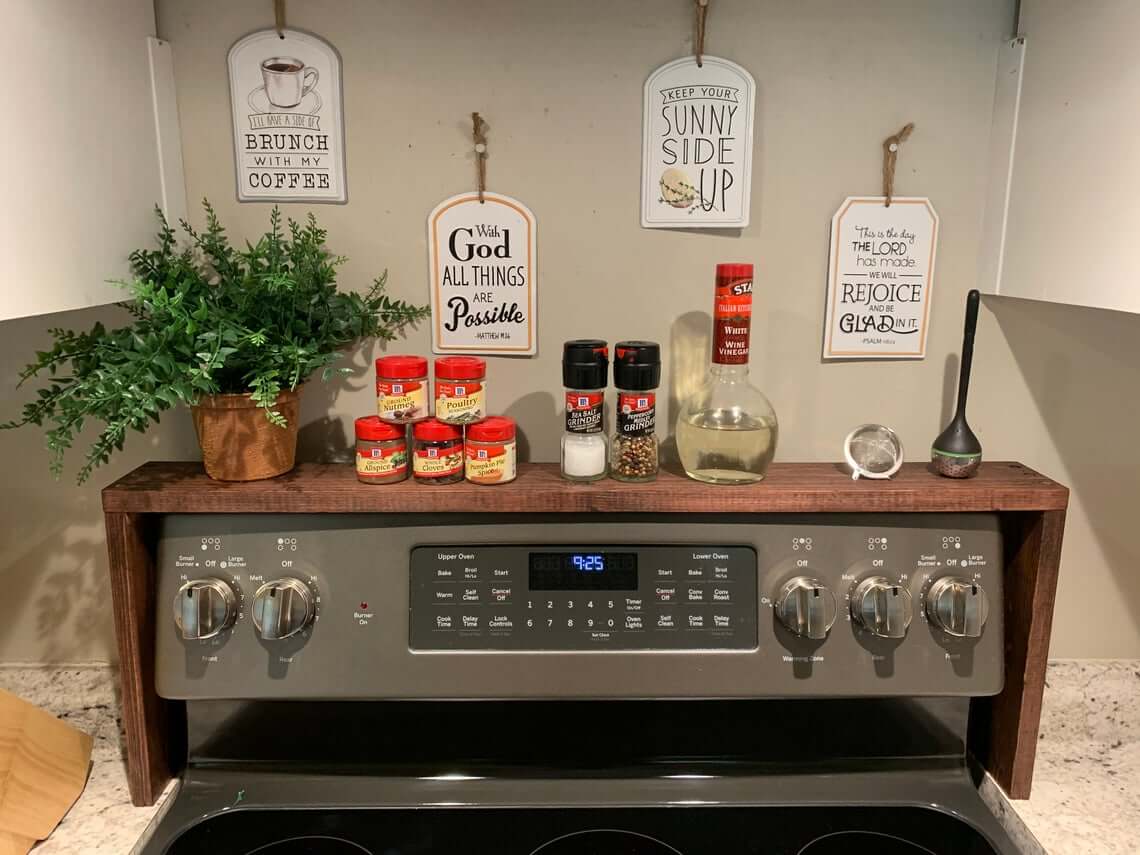 In smaller styled kitchens, it's important to take advantage of every space available, and over the oven is a good place to start. This spice rack fits well across the top and sides of your oven, giving you room to lay out a few of your most-used spices. There are several colors to pick as well as two sizes to choose from.
26. Wall-Mounted Hanging Coffee Mug Rack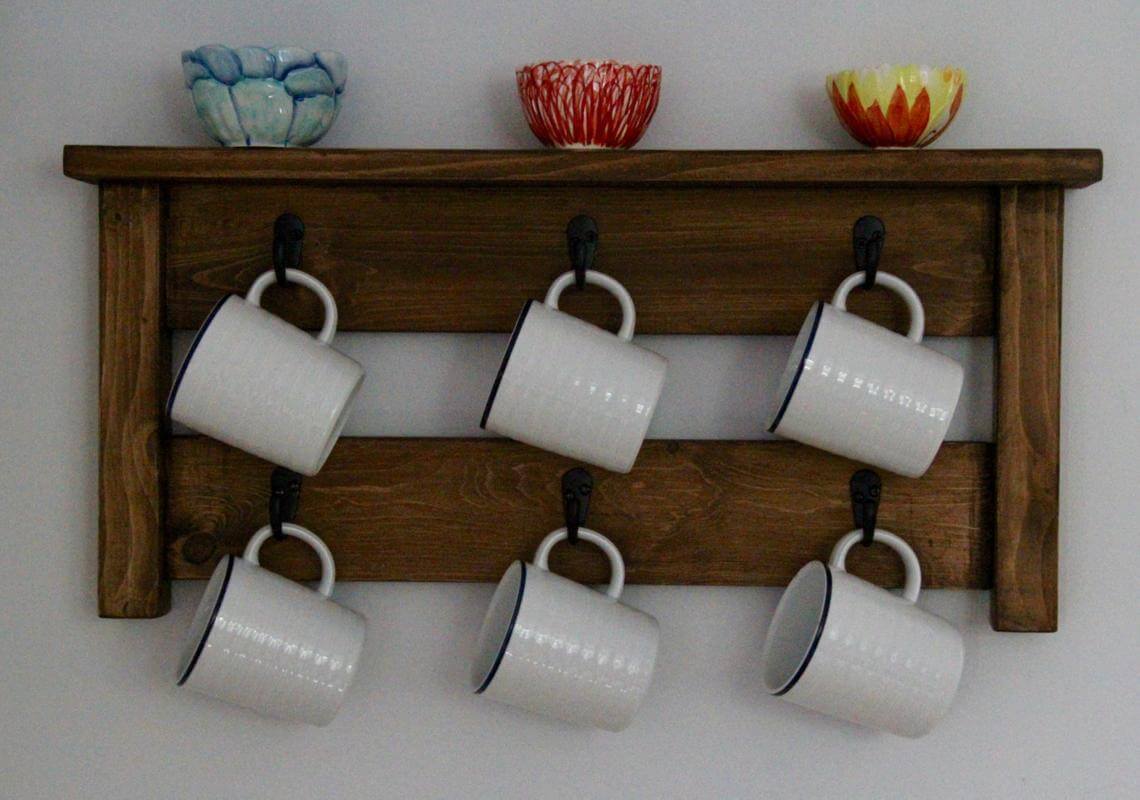 This coffee mug rack expertly combines farmhouse style design with functionality. There are six hooks to use to hang up your favorite coffee mugs, and this can work great on the wall near a coffee station if you have one. You can pick from two different hook colors as well as a handful of different primary colors for the wood.
27. Organize Your Cooking Utensils in Hidden Containers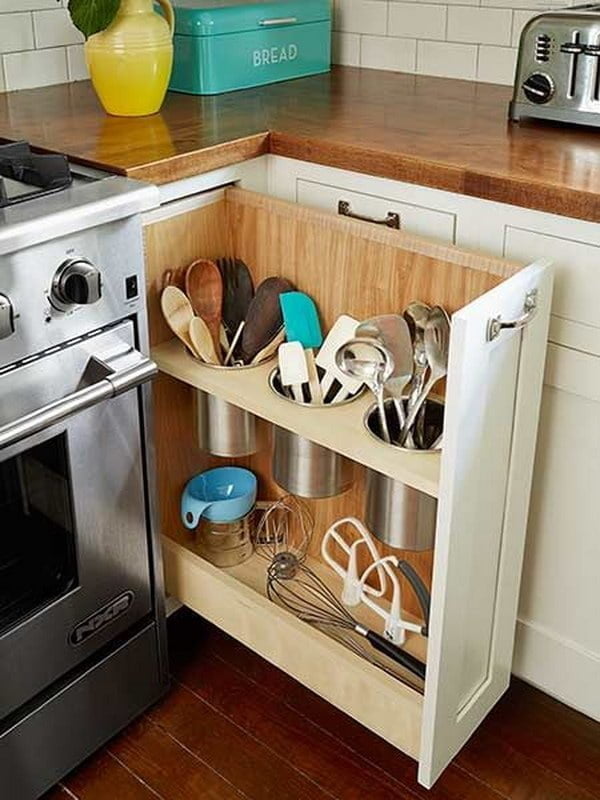 This is a novel way to use the popular counter-height pull out drawers. Instead of using these drawers for trash, add racks for utensil holders. This keeps all your utensils at easy reach right next to the stove while keeping your countertops clean. Smaller accessories can be placed on the bottom shelf.
28. Stack Your Pans on File Racks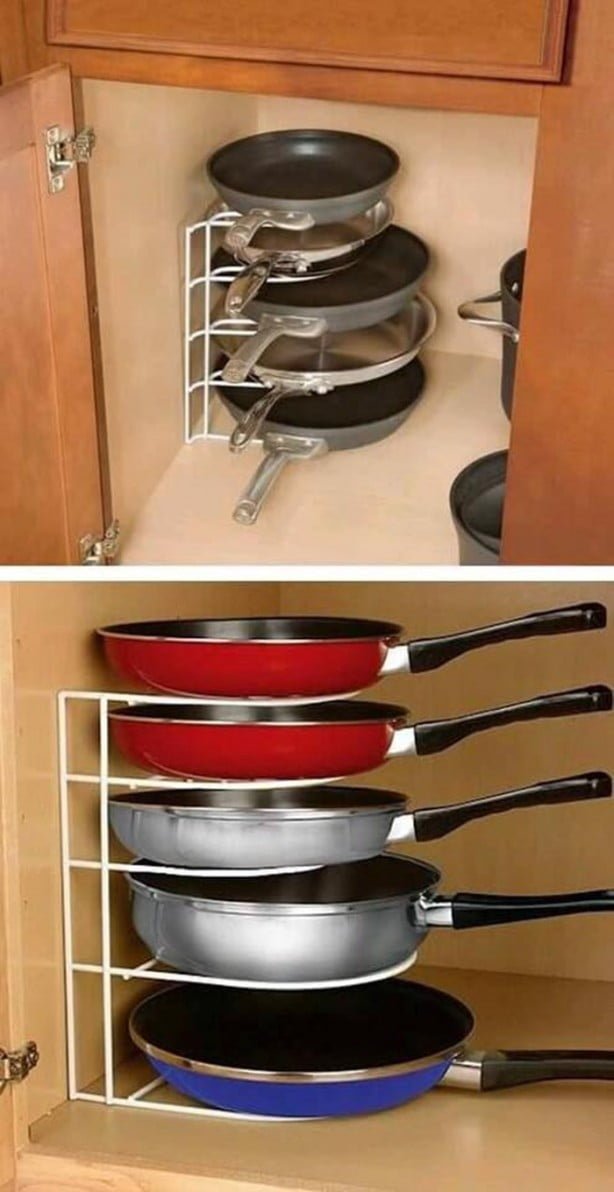 Office file racks can be used to stack your pots and pans. Secure these to the wall inside your cabinet and stack all of your valuable cookware. This will keep them clean and separated as well as free of scratches and dents. You can use another file rack to stack the lids for these pots and pans.
29. Keep Plates Stacked and Sorted in Divided Drawers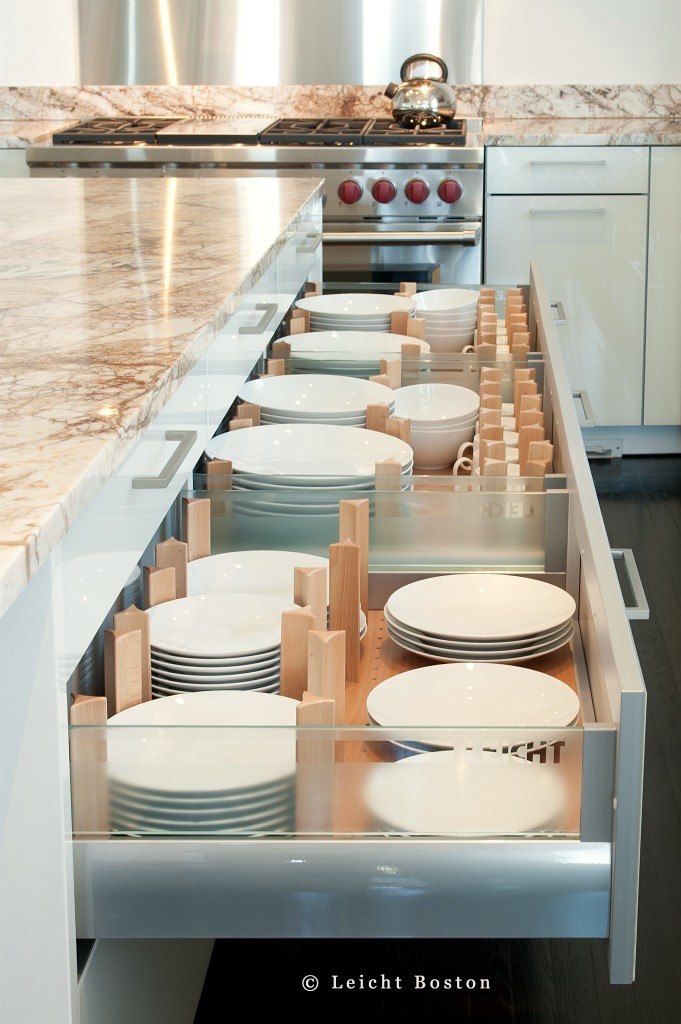 Wide drawers under your kitchen counter are the perfect place to store your everyday dishes. Stack your plates and bowls neatly inside the drawers. Wooden bumpers keep the plate stacks from slipping. Make or buy inserts for cups to keep them from rattling or breaking.
30. Attach Metal Hooks to a Pallet to Hang Any Mug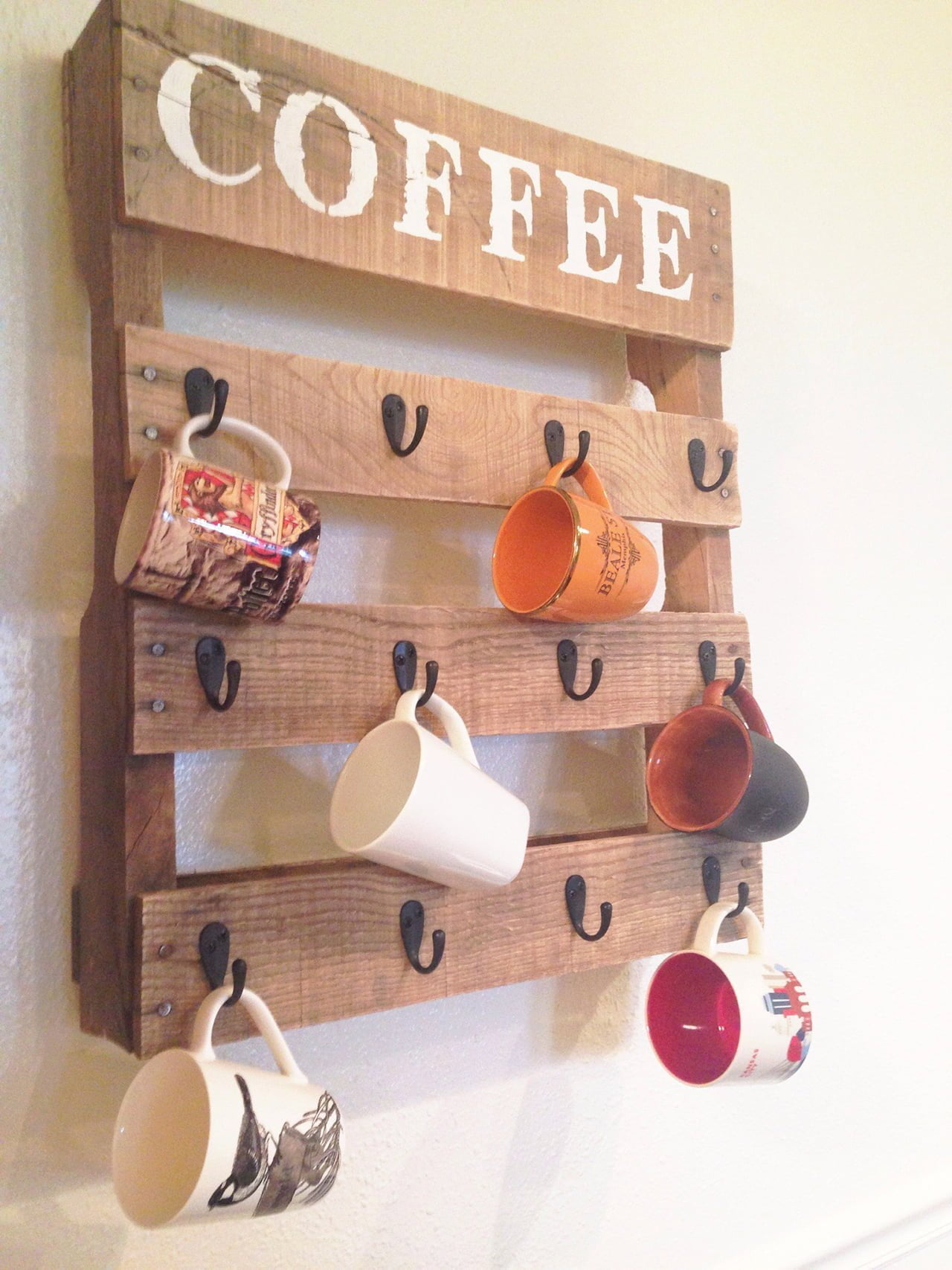 This is an easy project that will give you more room in your kitchen cabinets. Find a reclaimed wooden pallet. Stencil "Coffee" or your favorite phrase on the top slat of the pallet. Add metal hooks big enough to hold all of your mugs. This is a fun way to bring color and charm into your kitchen.
31. Keep Utensils in a Deep Drawer With Wooden, Vertical Slots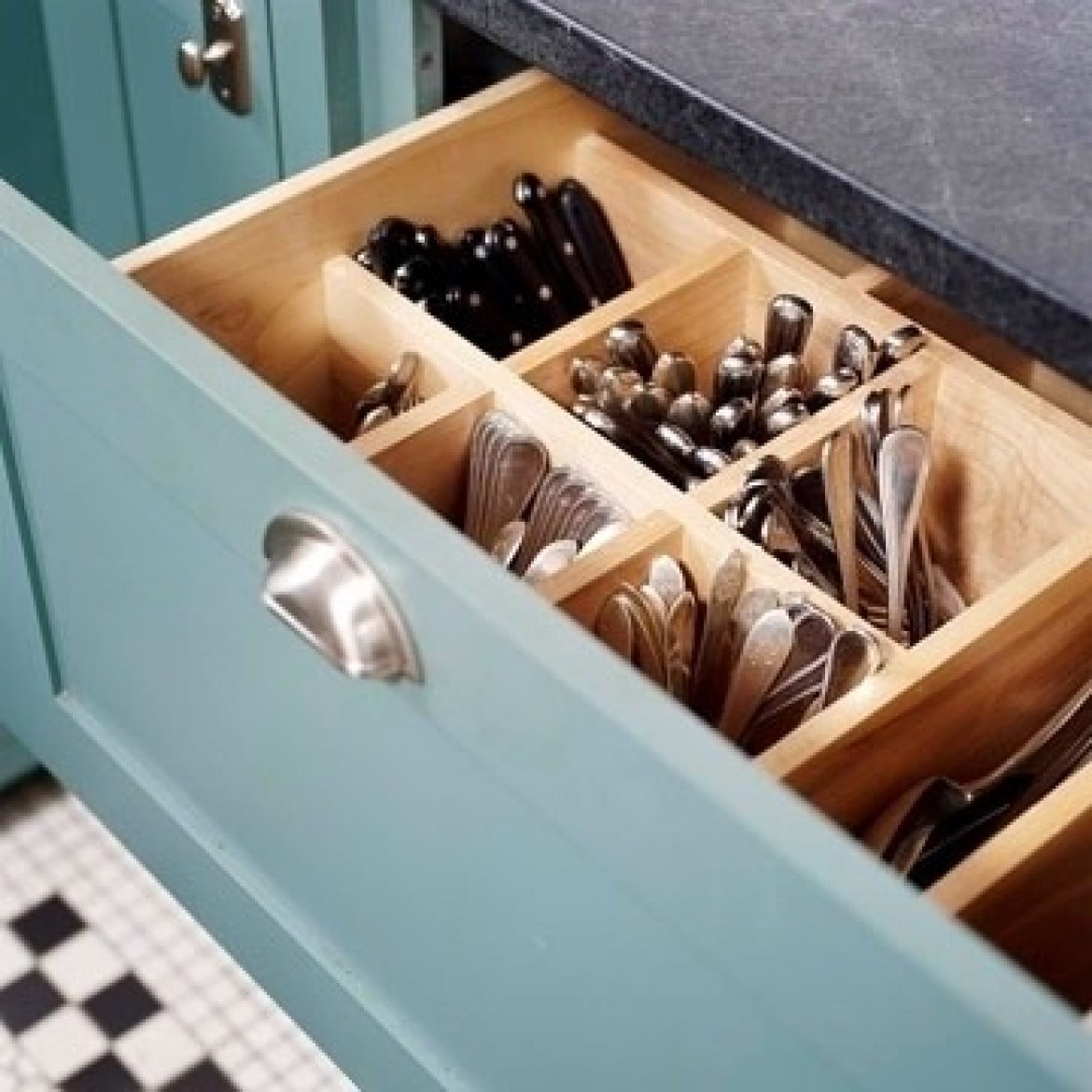 Putting utensils in vertical holders is a novel way to store them. It saves drawer space and organizes your drawer nicely. With this design, you can avoid the mess and clutter that can accumulate around the edges of a flatware drawer. Make sure you have enough compartments for every type of flatware you own.
32. Use Magnets on Jar Lids to Easily Create Floating Storage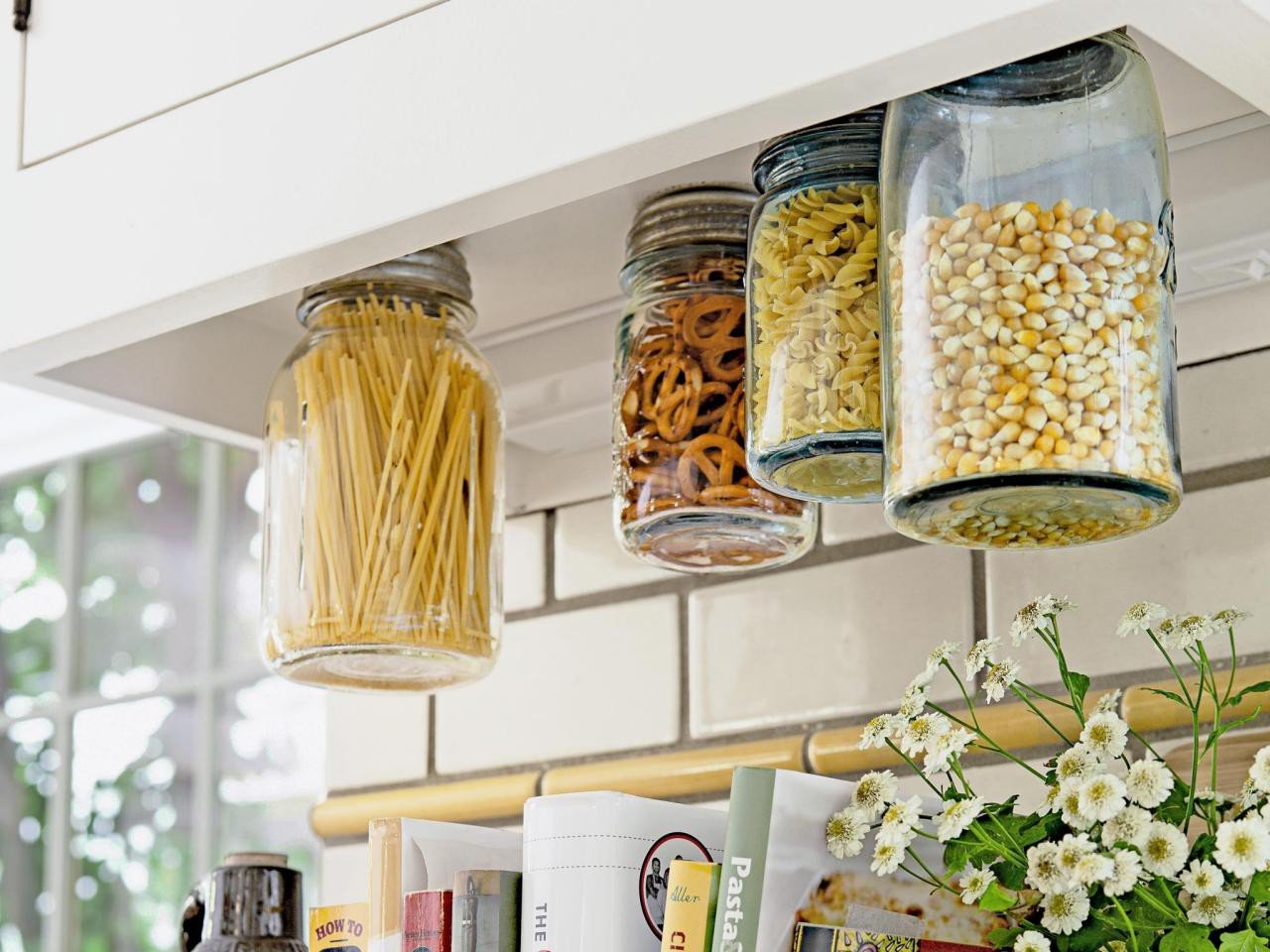 This is an eye-catching idea that relies on magnets. Affix strong magnets to the top of Mason jar lids. Add complementary magnets to the underside of your kitchen cabinets. When you need to take down a jar, it is easy to remove it from the underside of the cabinet.
33. Make a Wooden Box For Cutting Boards and Other Necessities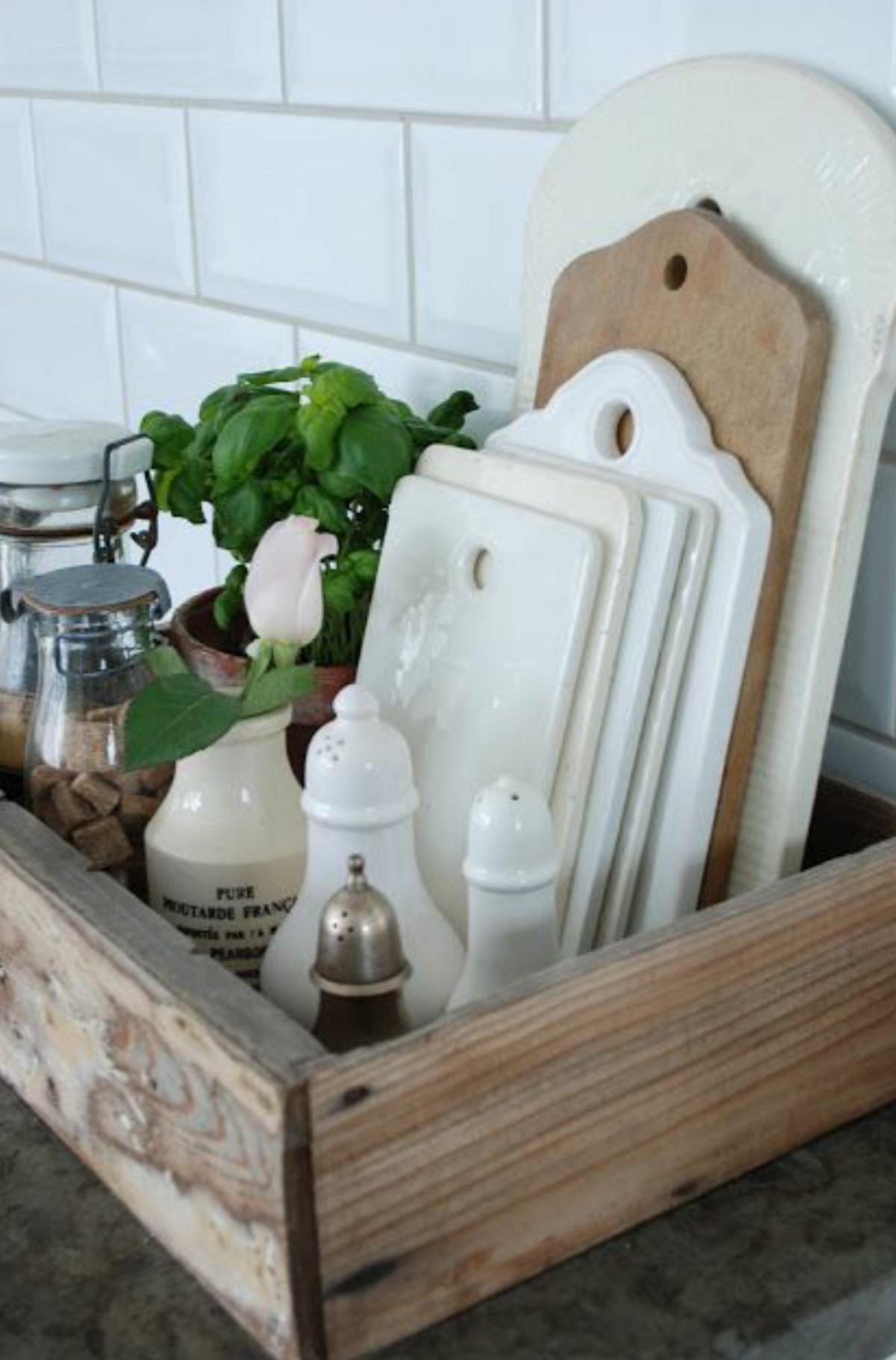 Use a low-sided box or tray to organize your kitchen countertops. Everyone needs a good place to keep cutting boards. Arrange the cutting boards in the box and add other essentials like salt, pepper, and vinegar. Use a reclaimed jar or bottle as a vase for flowers. For extra appeal, add a potted herb like basil.
34. Install Pull-Out Fruit/Vegetable Crates For the Rustic Look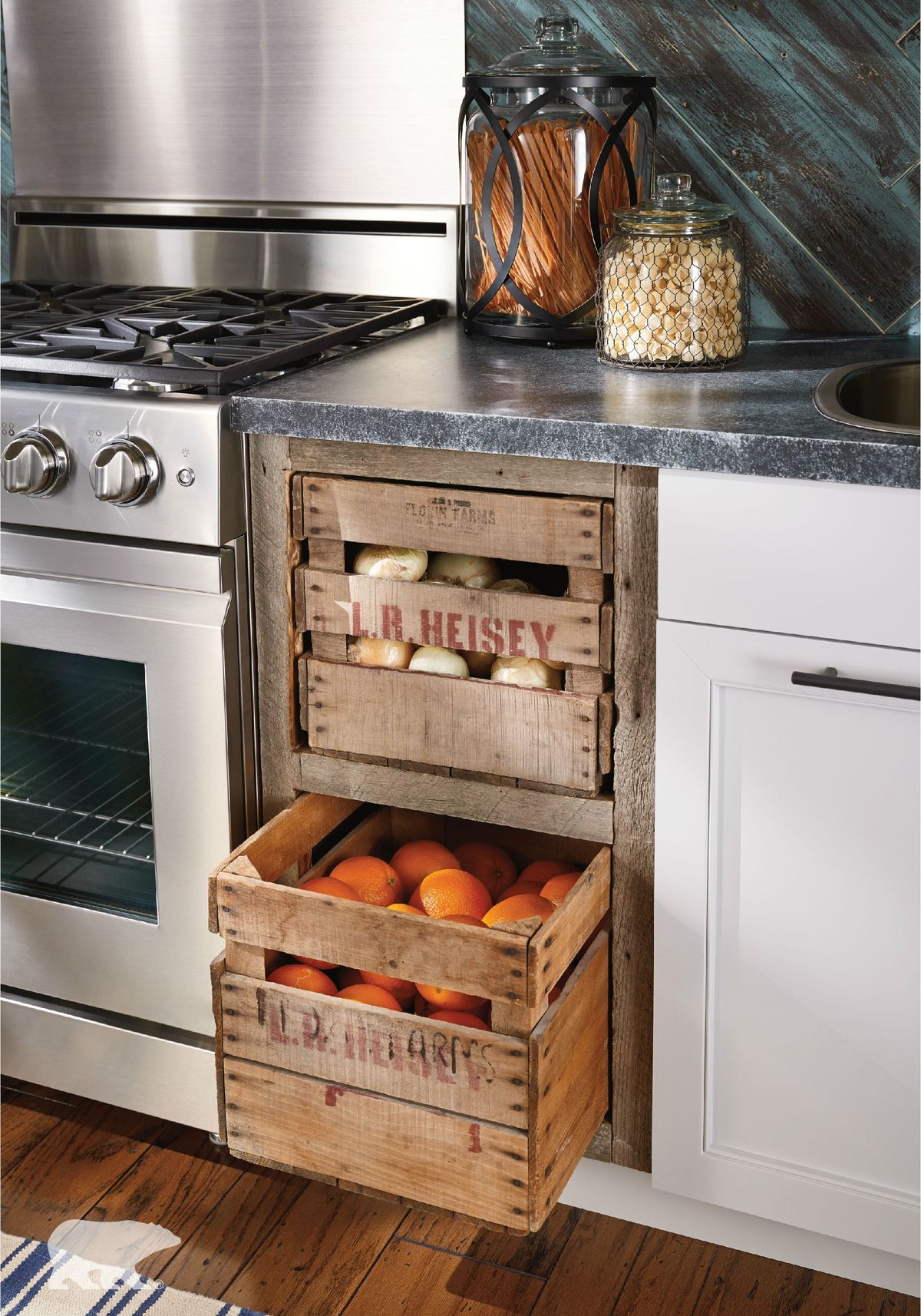 Replace the dull drawers under your counter with upcycled wooden crates. This should be an easy project for any experienced woodworker. Make sure the drawers fit well enough so they can be pulled out easily. Store fruits and vegetables in the drawers.
35. Three-Level Metal Display for Decor and Kitchen Organization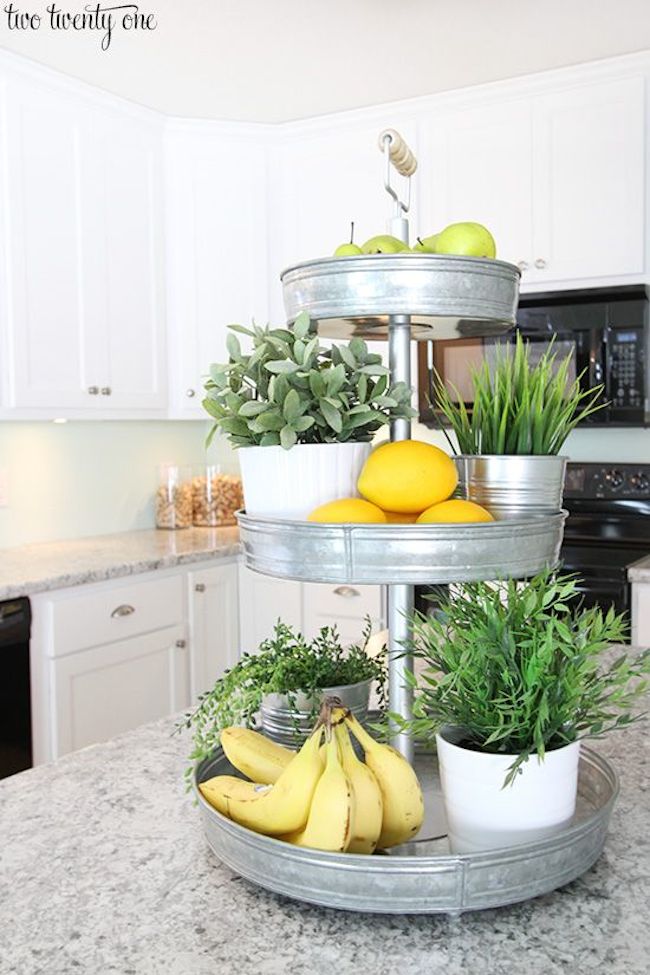 For extra visual interest, find a three-level metal tray. You can paint this tray to match your décor or leave it in its original finish. Mix herbs, grasses, and fruits on the different shelves. This is a nice way to keep fruit out in your kitchen as well as a convenient place to grow herbs.
36. Wire Baskets on the Sides of Cabinets to Store Items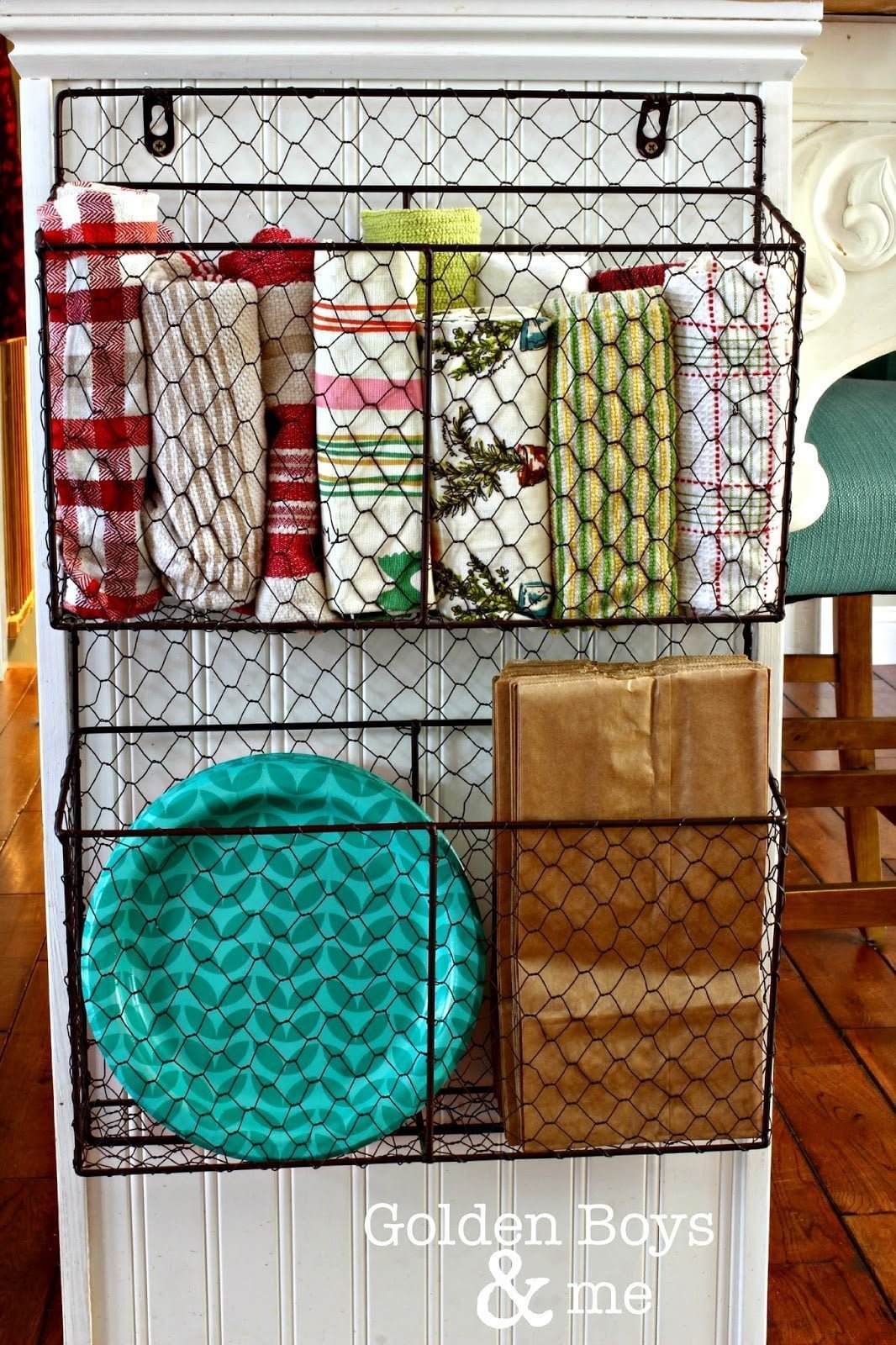 Use wall baskets designed for the office to store kitchen essentials. Hung on the sides of your counters, these baskets provide organized storage for rolled towels, paper plates, and lunch bags. These baskets can be used for everything from school papers to utensils.
37. Attach Rack With Hooks to Outside of Cabinets For Utensils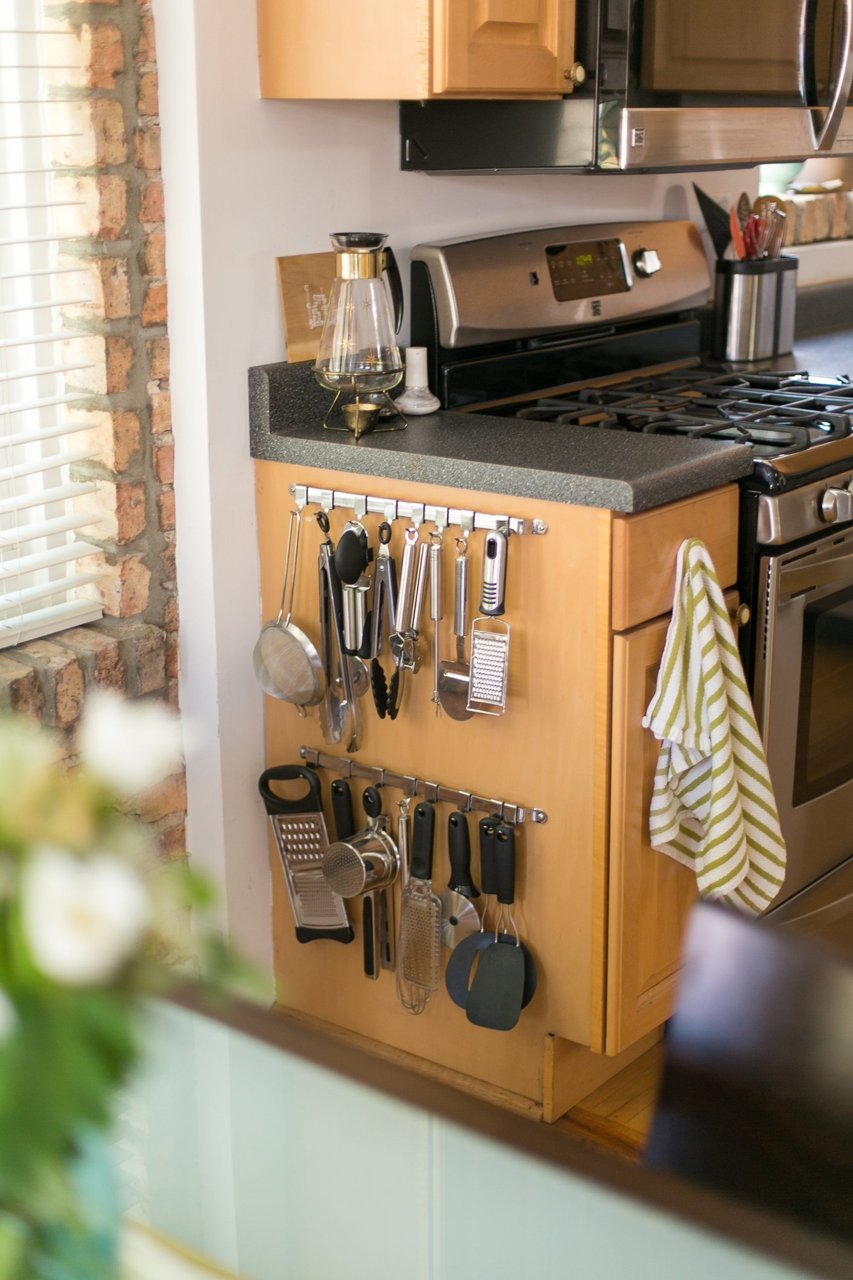 Keep all of your kitchen utensils handy by mounting a rack on the side of your counter. Keep it as close to your stovetop as you can for maximum convenience. You can hang any kind of utensil on the rack, from graters and tongs to strainers. For visual appeal, purchase utensils that match each other.
38. A Tray Basket With Handles Can Add Character and Organization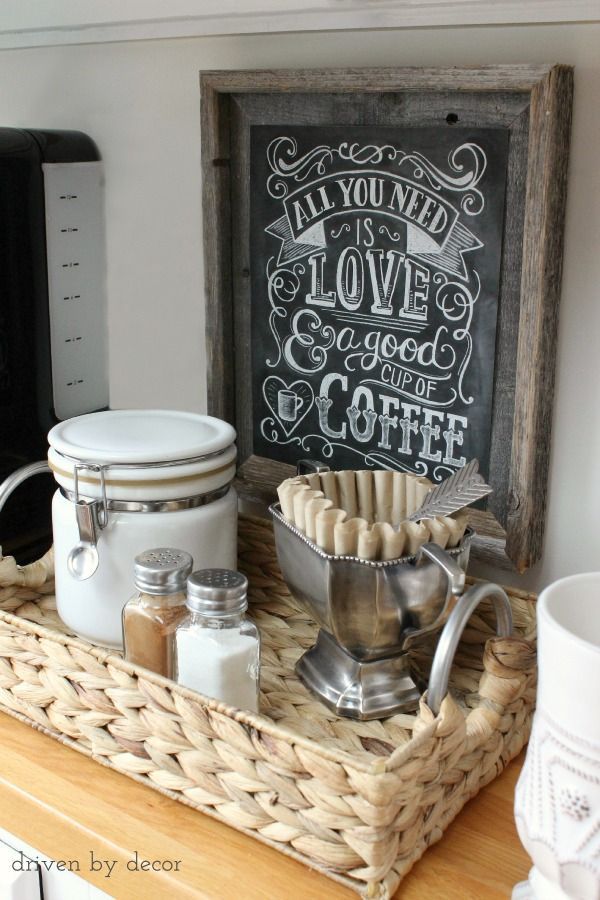 Use a handled tray basket near your coffee pot. This can hold all the essentials you need to make your morning cup. A canister with coffee and shakers of cinnamon and sugar are kept handy for the morning. Be creative when you choose a container for your coffee filters. Buy an attractive scoop for your coffee and display that in the basket as well. Make or buy a reclaimed sign to hang behind your coffee center.
39. Practical Kitchen Organization Ideas Must Include Labeled Canisters and Containers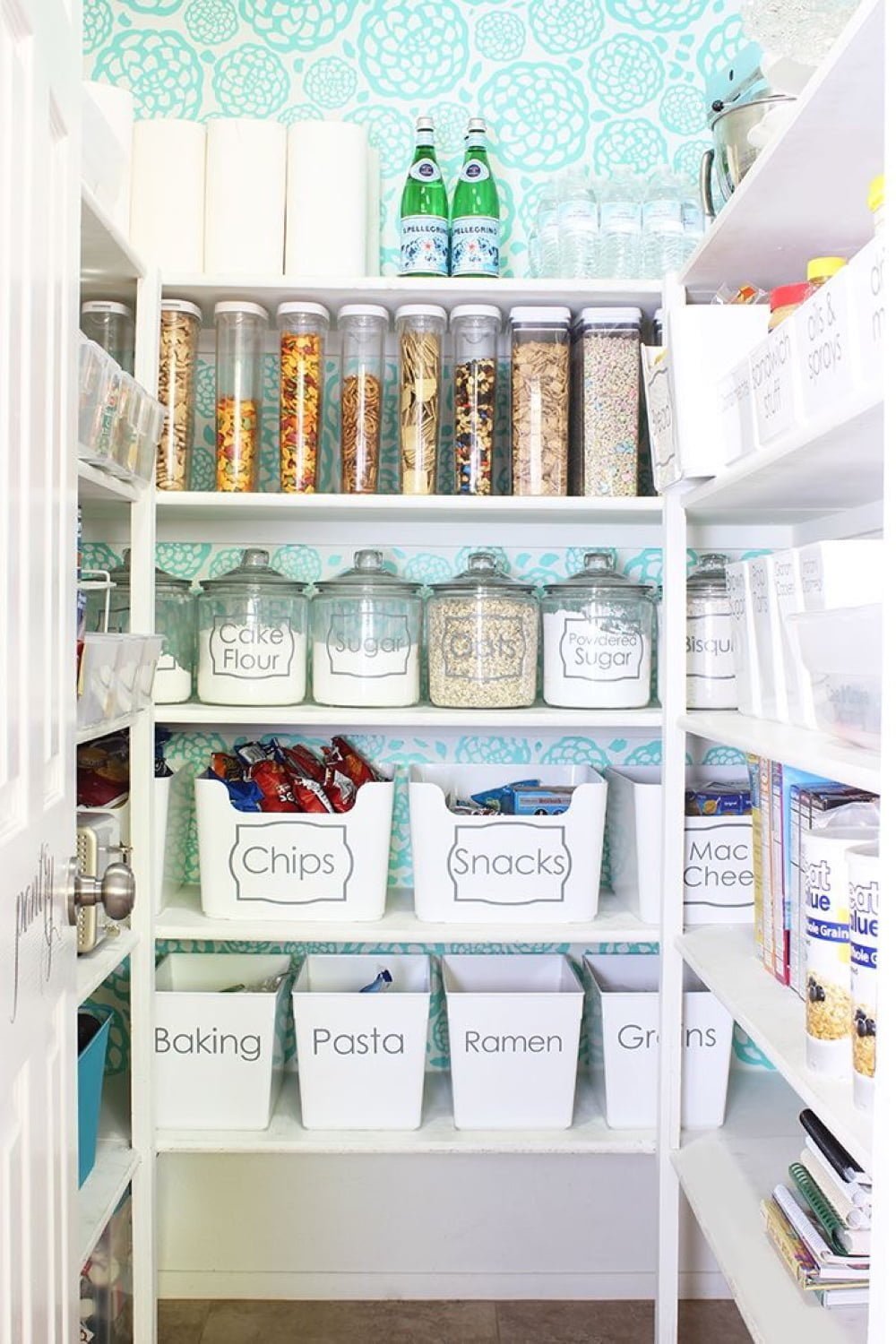 Tie your pantry together with matching vinyl lettering on jars, canisters, and boxes. Choose different categories to organize your loose items in boxes, from oils and sprays to mac and cheese. Paint your pantry shelves white to make it easy to find what you need. Put pretty wallpaper behind the shelves for extra interest.
40. A Divided Drawer Helps You Organize Spices Within Easy Reach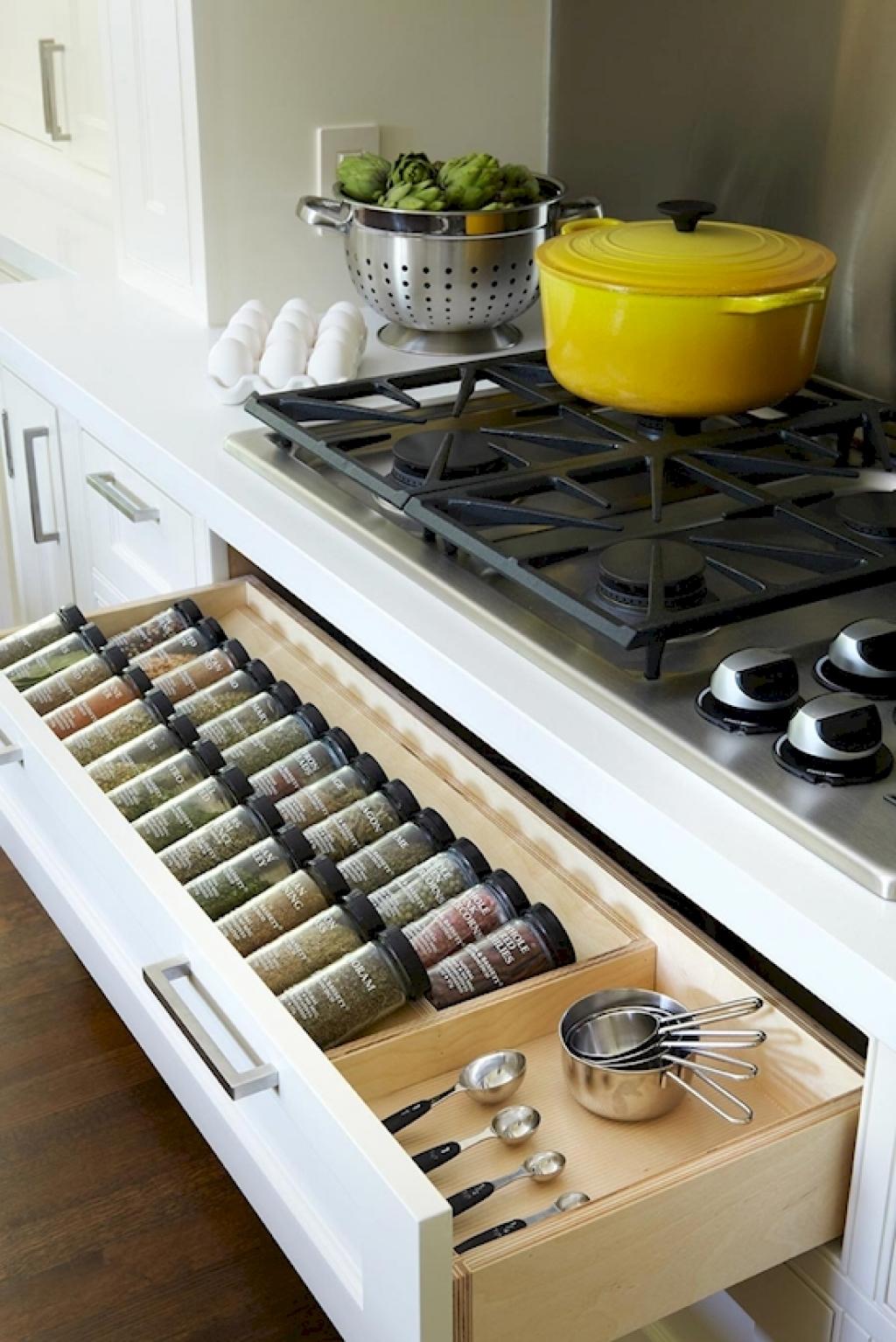 Under your range top, use a pull out drawer to organize your spices. Arrange your spices on a raised rack and alphabetize them. Include measuring cups and spoons in the drawer for convenience. This will keep your spices close by when you are cooking.
41. Attach a Magazine Rack Inside Cabinet Doors For Added Storage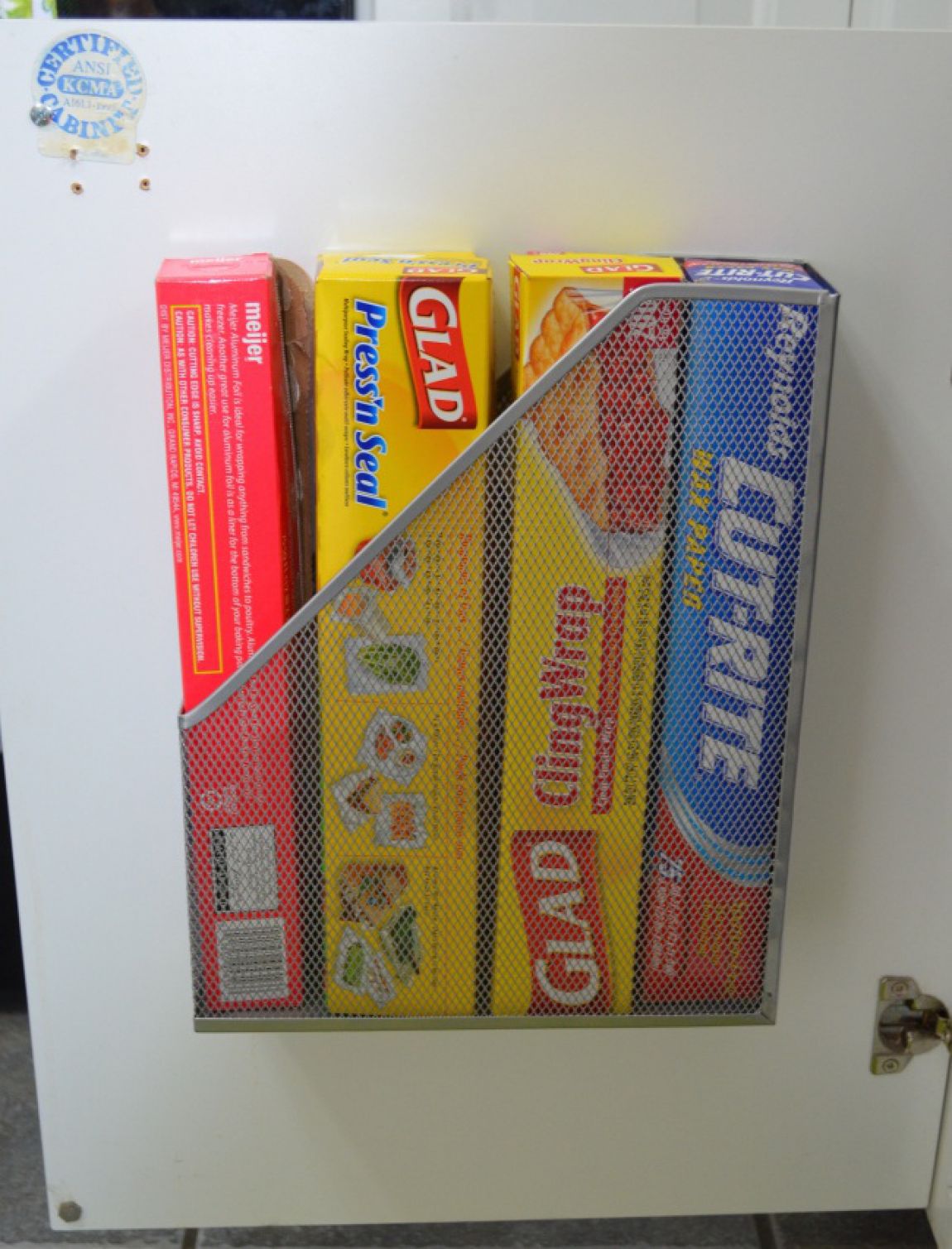 Office magazine racks make excellent kitchen organizers. Try securing them to the inside of cabinet doors to keep wraps, foils, and bags upright and easy to access. This will free up room in your kitchen drawers as well as keeping these items within easy reach when needed.
42. Attractive Hanging Wire Baskets Hold Items You Need On Hand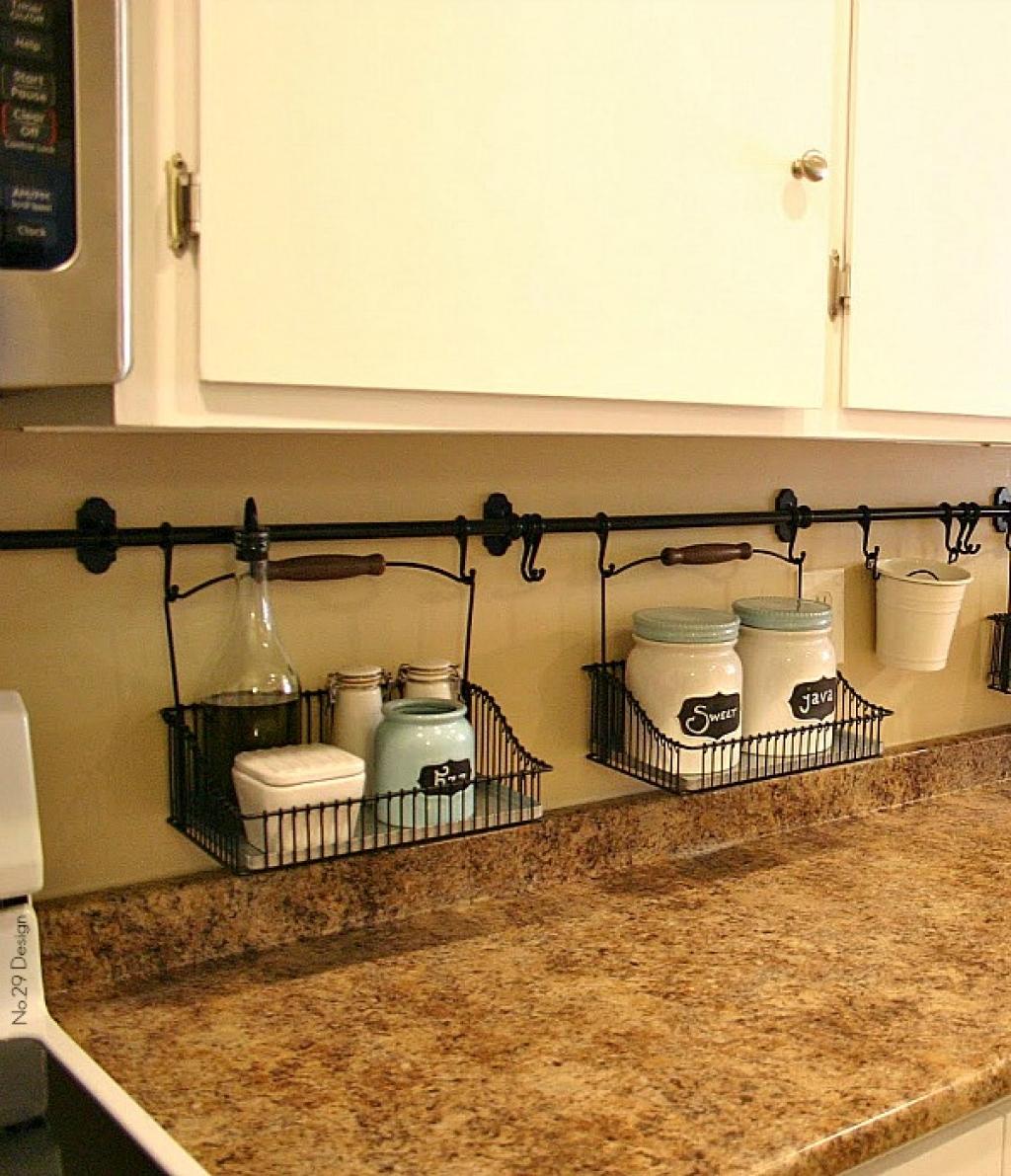 Hang a bar from your backsplash area and hang wire baskets on it. Place the things you need in the baskets. This looks especially nice when you tie the containers together by style and color. Chalkboard labels make your containers easy to find and identify. These baskets are great because they can accommodate items of all heights.
43. Slide-Out, Narrow Pantries are Popular Kitchen Organization Ideas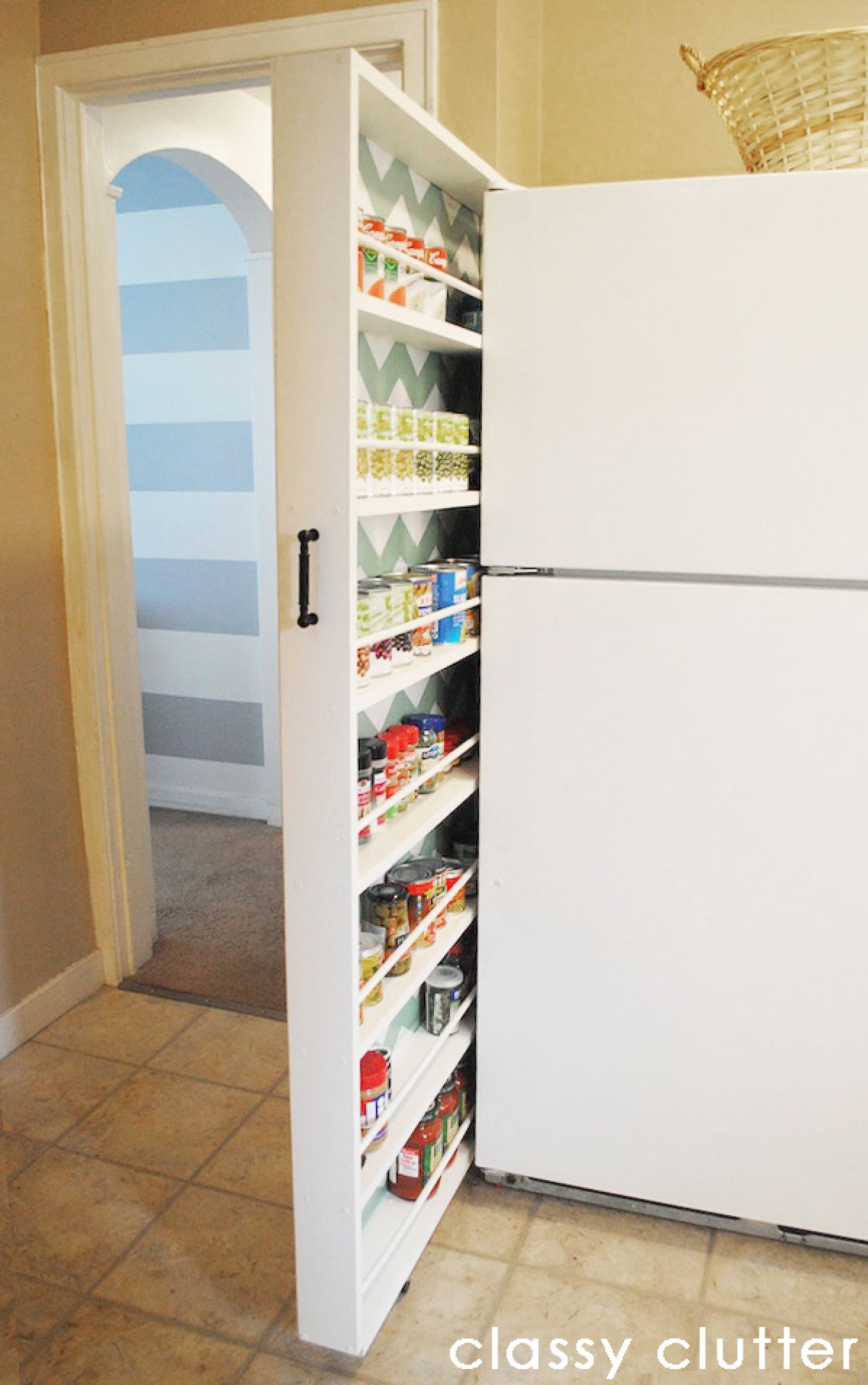 Everyone has wasted space in the kitchen. An area commonly overlooked is the narrow space between the refrigerator and the wall. Take advantage of this gap by installing a pull out pantry shelf. This shelf is great for storing small items like spices, soup and vegetable cans, and condiments.
44. Install a Gliding Rack With Hooks For Pots and Pans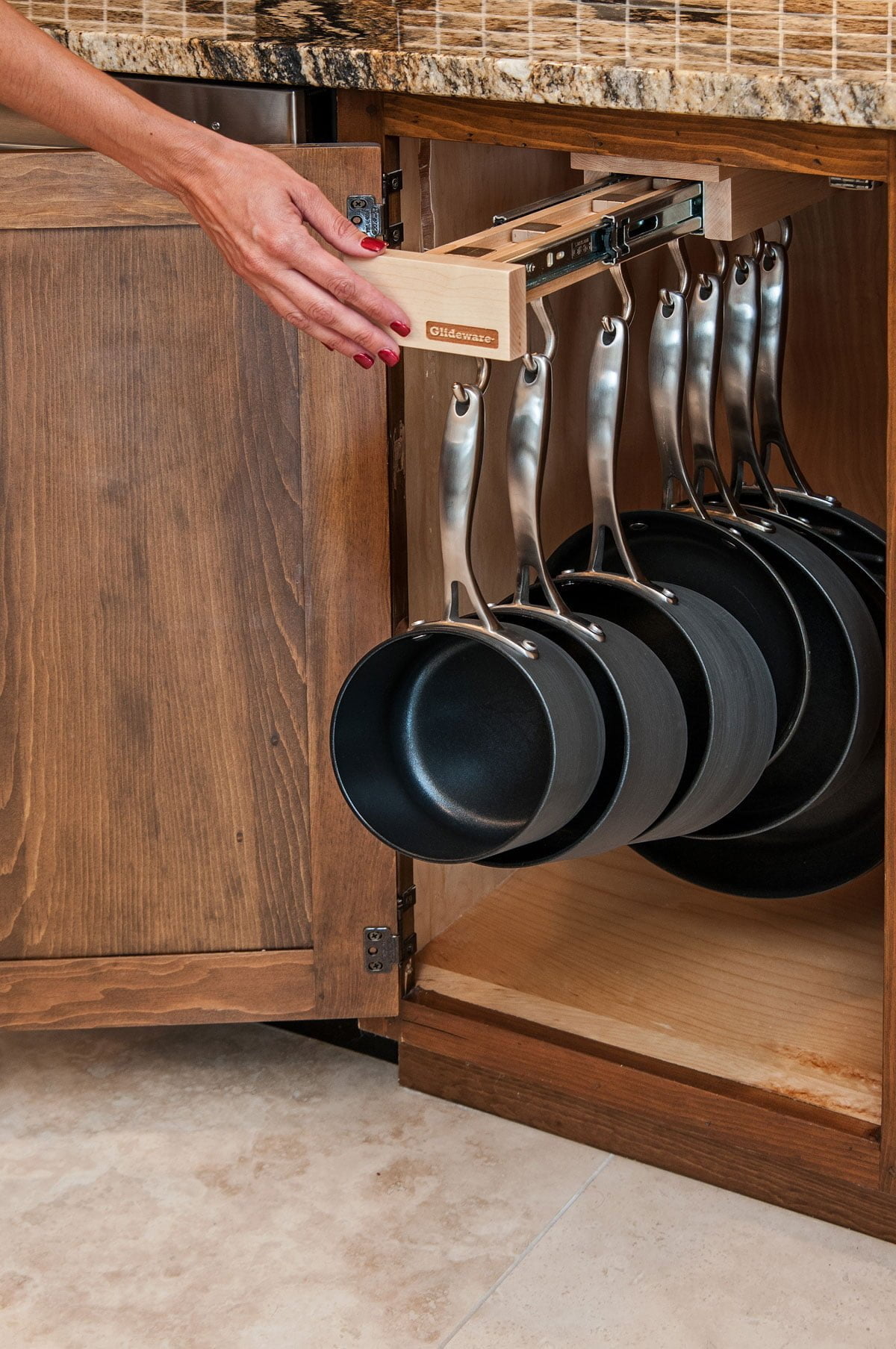 Most pots and pans have a hole or hook for hanging. To organize your pots and pans cabinet in the neatest way possible, install a gliding rack that pulls out. This keeps your pans from getting scratched or dented as well as organizing them by size. Your pots and pans will be organized and look attractive.
45. Cut Out Slots in Drawers for Hanging Fruit/ Vegetable Baskets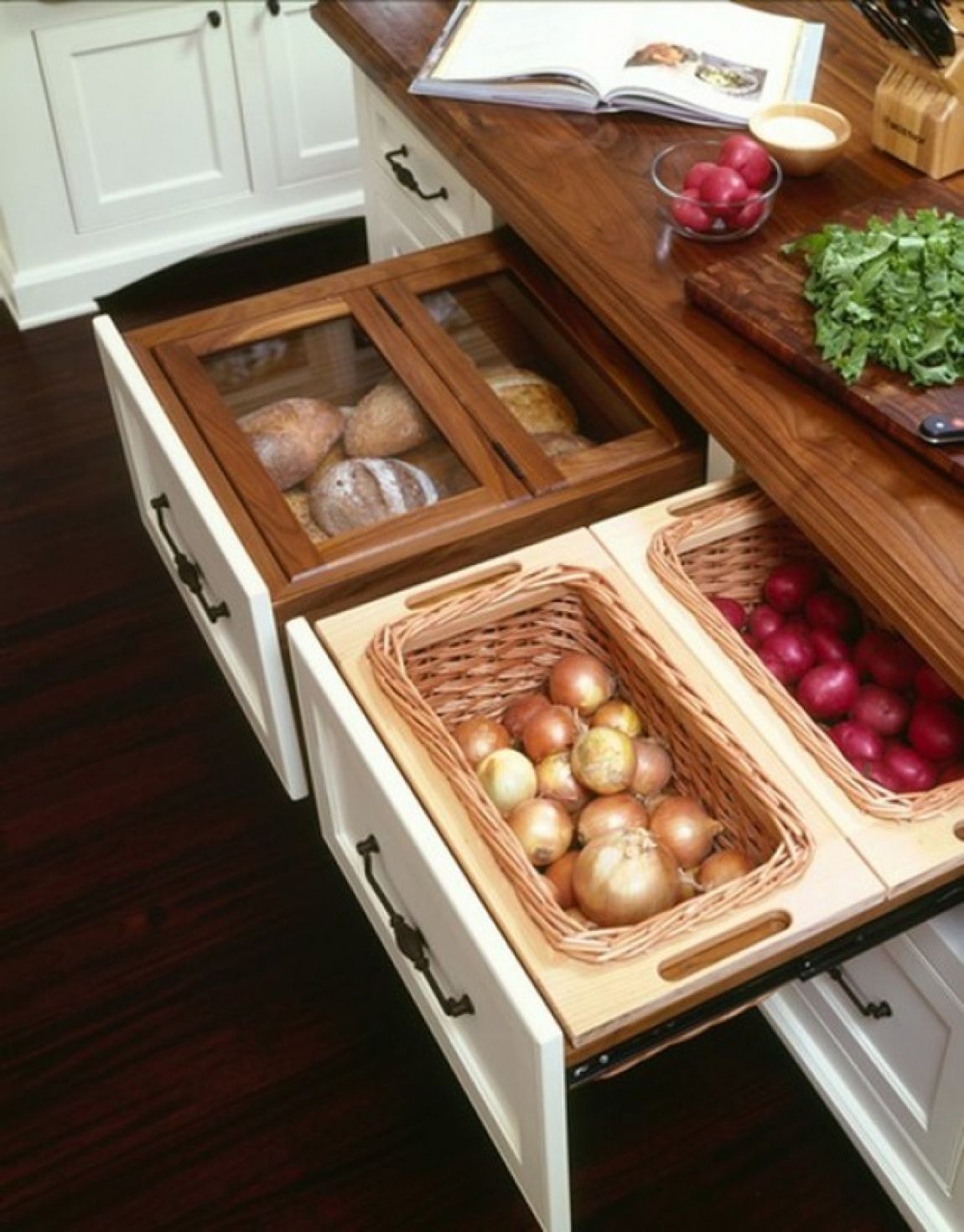 Repurpose sliding drawers by adding cutouts for baskets. Root vegetables like onions and potatoes are best stored in a cool, dark place but not in the refrigerator. This system keeps your root vegetables at hand when cooking. You can also make a breadbox by adding a glass-topped container inside your drawer.
46. Divide Drawers Diagonally to Store More Items in Narrower Drawers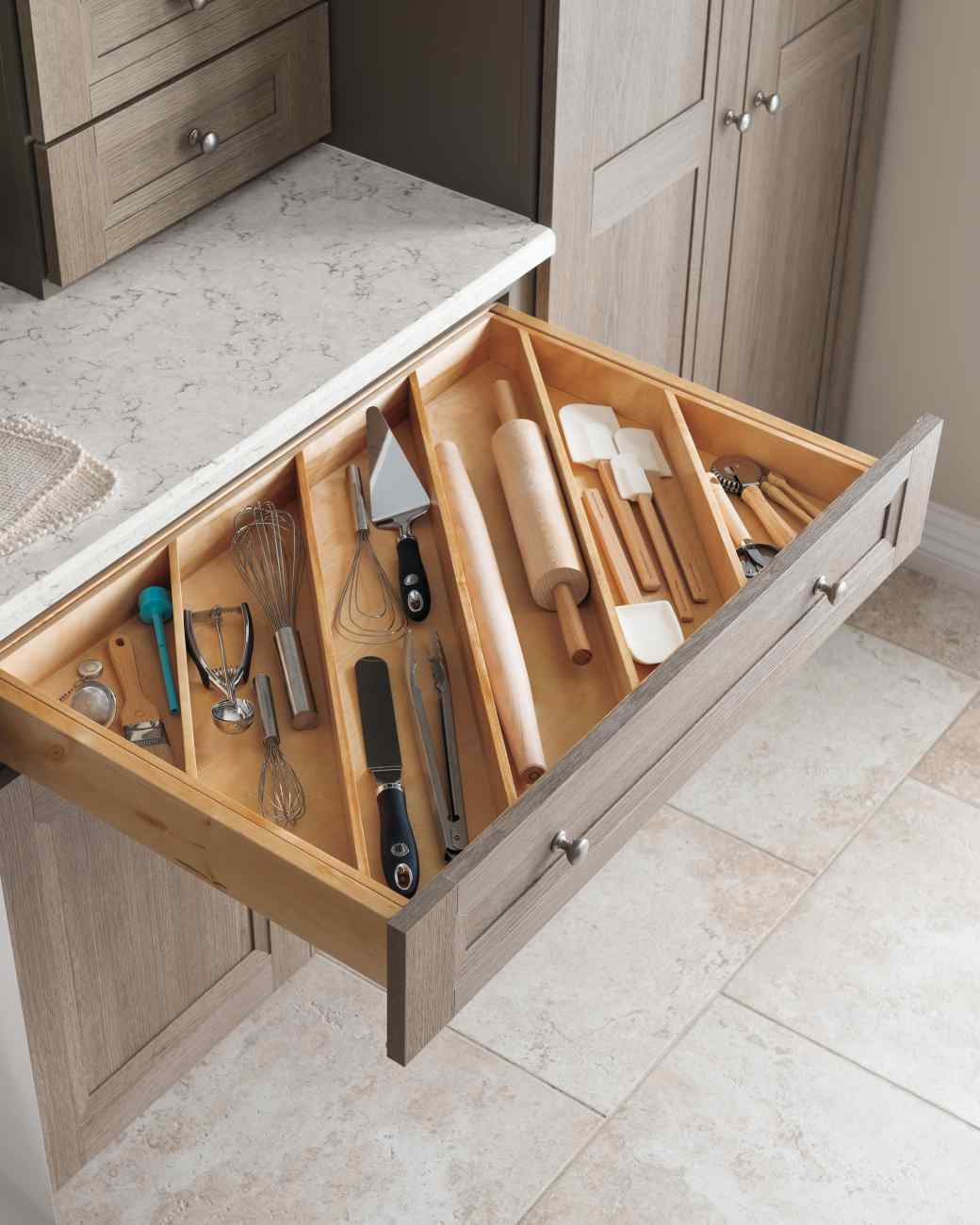 To store longer items, simply divide your drawer diagonally. This enables you to keep large items like rolling pins in a drawer where they would not ordinarily fit. The diagonal drawers also have an attractive, modern look. Small items can be placed in the corners of the drawer.
47. Place Same-Sized Canisters in Rows in a Deep Drawer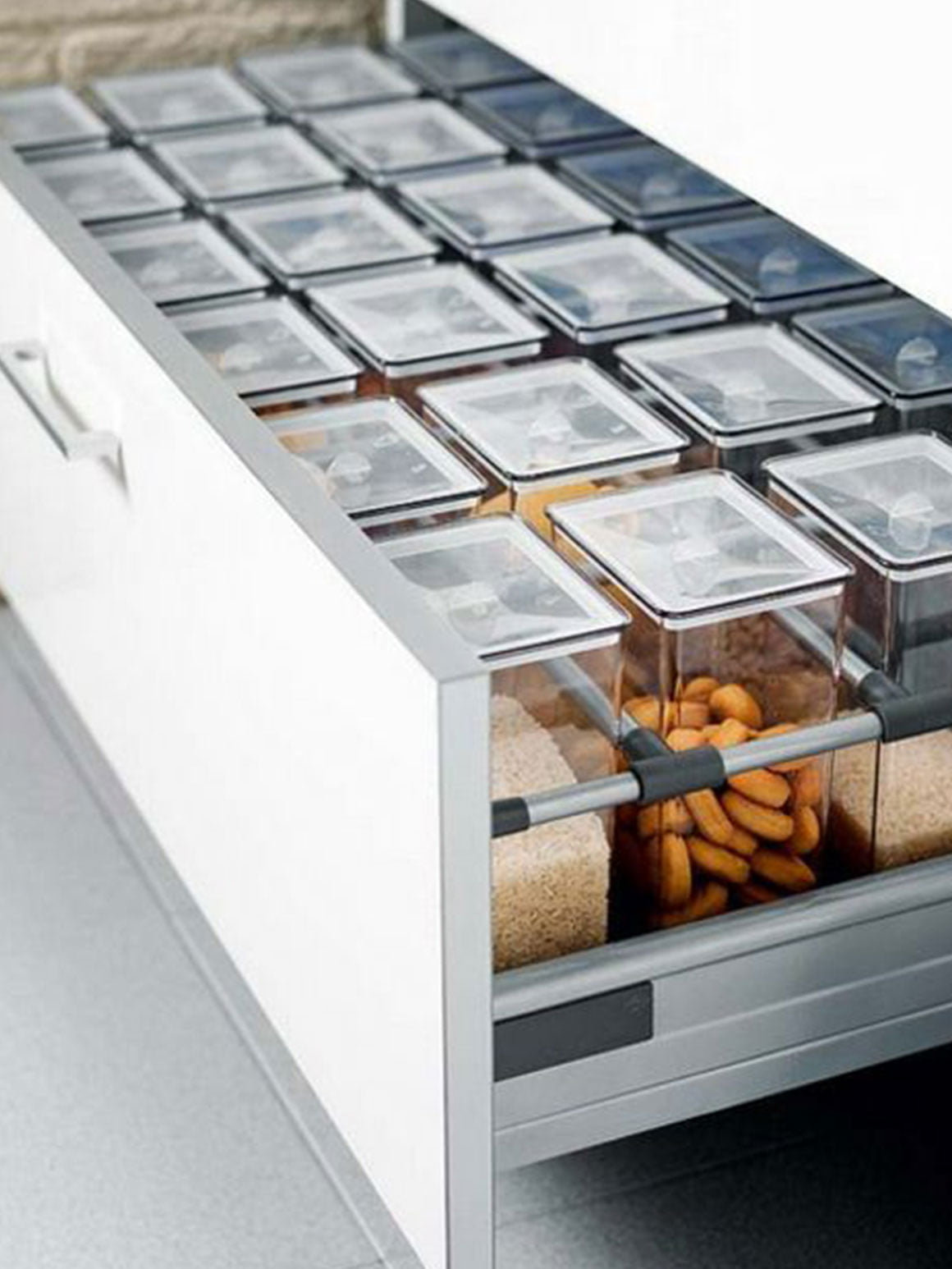 To store all your dry goods, find a deep drawer and enough containers of the same height to fill it. Add a metal grid to keep the containers neat and prevent them from being jumbled together. With clear topped containers, you can easily see everything you need without having to pull them out of the drawer.
48. Install a Narrow Gliding Drawer Under Cabinets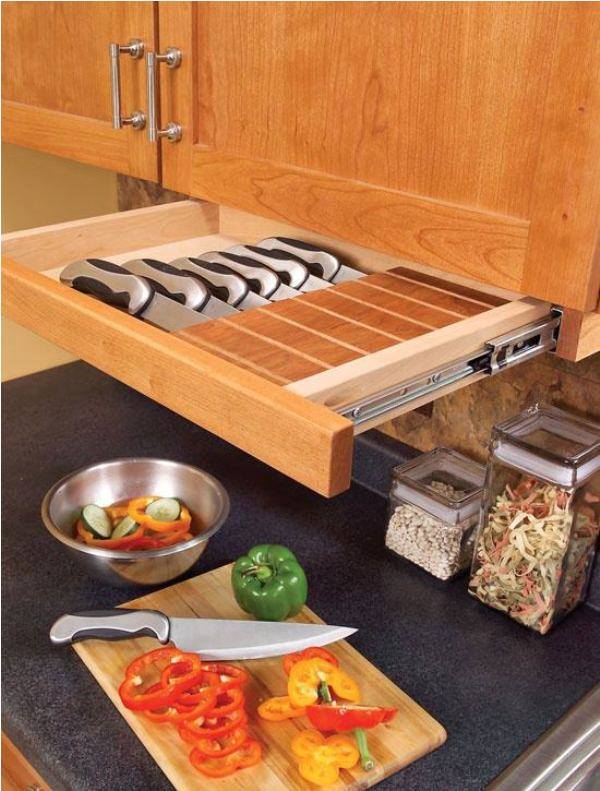 To utilize forgotten space in your kitchen, add a sliding drawer beneath your top cabinets. This provides a few extra inches of storage space, which can be a big plus for any kitchen design. These flat drawers are especially good for storing items like knives, wraps, and bags.
49. Attach Magnetic Canisters Inside Cabinet Doors for Space-Saving Solutions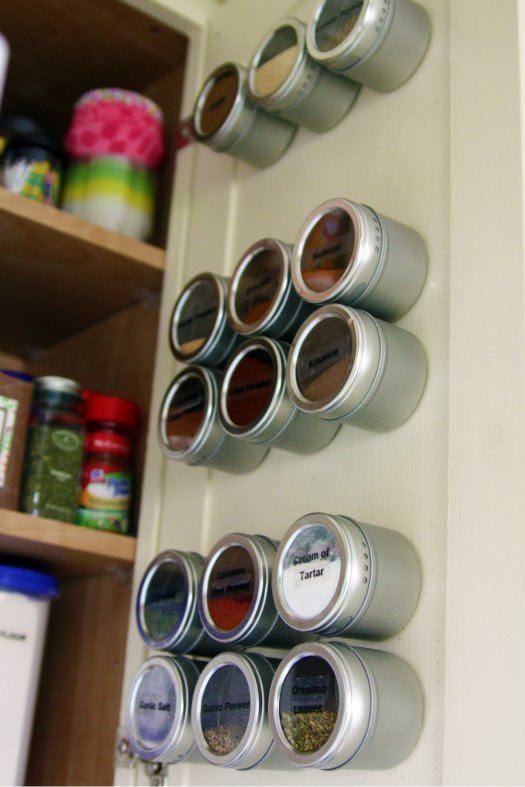 An easy kitchen fix involves buying magnetic spice containers. These containers can go on the sides of the refrigerator or inside cabinets with metal doors. These enable you to easily store and alphabetize your spices for quick access. Sort your herbs, spices, and baking powders by type.
Our Favorite Farmhouse Storage Items to buy on Amazon