Scavenger hunts are only fun when there's time and a nice prize at the end not a kitchen tool you should have found easily anyway. When you are looking for a pan to cook in or a food that you know you brought home yesterday, but is no where in sight today, the scavenger hunt can become frustrating quickly. Add kids, spouses, work, and your own need for calmness into the mix and that hunt becomes unbearable. We have come up with some of the best kitchen organization ideas to help you avoid the needless scavenger hunts throughout your kitchen.
Stop The Scavenger Hunt with these Practical Kitchen Organizing Tips
1. Organize Your Cooking Utensils in Hidden Containers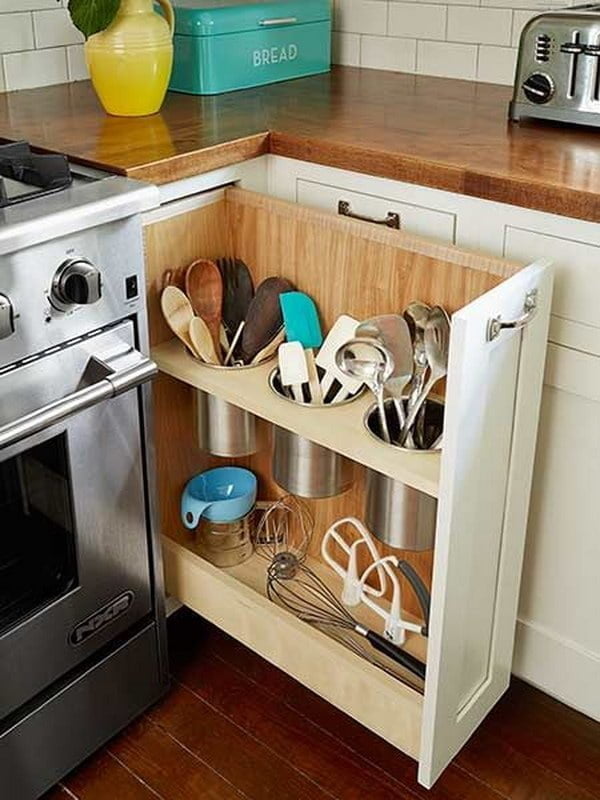 This is a novel way to use the popular counter-height pull out drawers. Instead of using these drawers for trash, add racks for utensil holders. This keeps all your utensils at easy reach right next to the stove while keeping your countertops clean. Smaller accessories can be placed on the bottom shelf.
2. Stack Your Pans on File Racks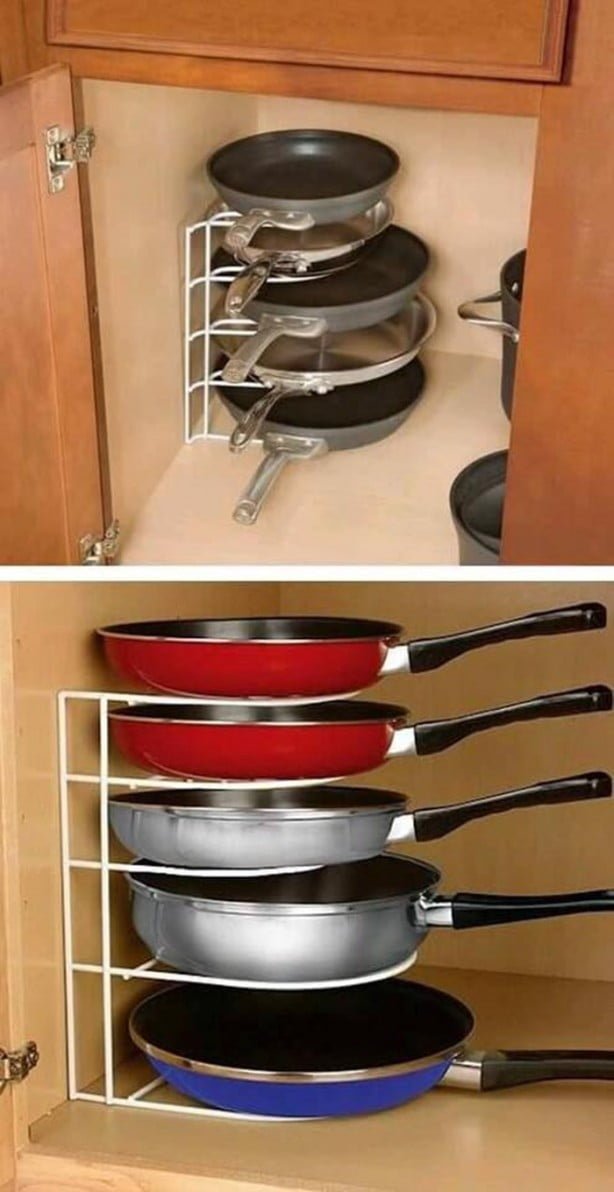 Office file racks can be used to stack your pots and pans. Secure these to the wall inside your cabinet and stack all of your valuable cookware. This will keep them clean and separated as well as free of scratches and dents. You can use another file rack to stack the lids for these pots and pans.
3. Keep Plates Stacked and Sorted in Divided Drawers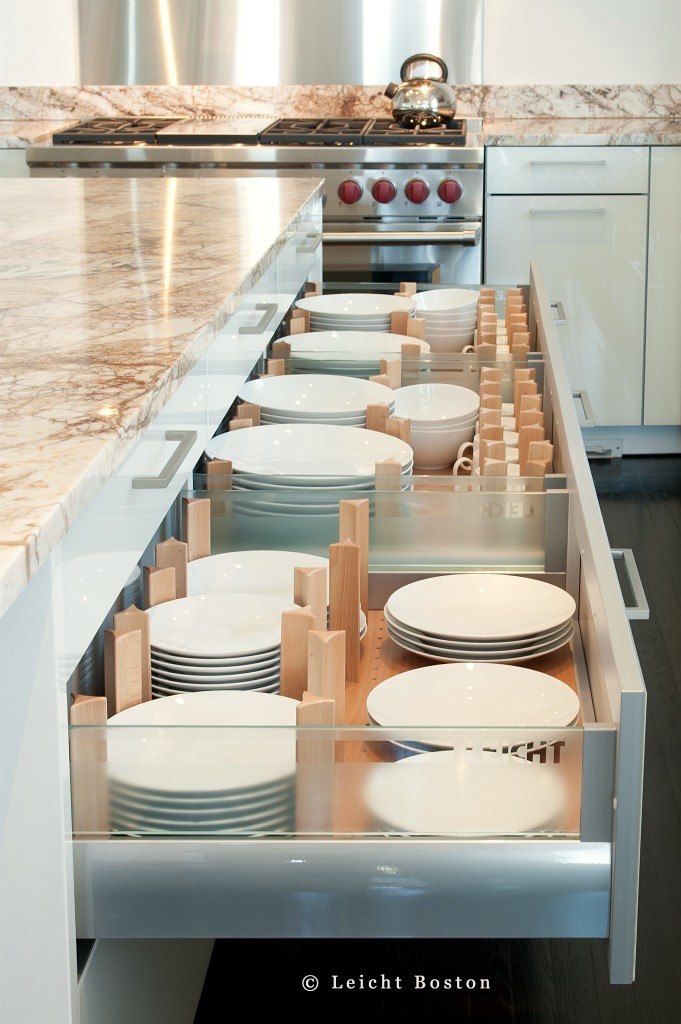 Wide drawers under your kitchen counter are the perfect place to store your everyday dishes. Stack your plates and bowls neatly inside the drawers. Wooden bumpers keep the plate stacks from slipping. Make or buy inserts for cups to keep them from rattling or breaking.
4. Attach Metal Hooks to a Pallet to Hang Any Mug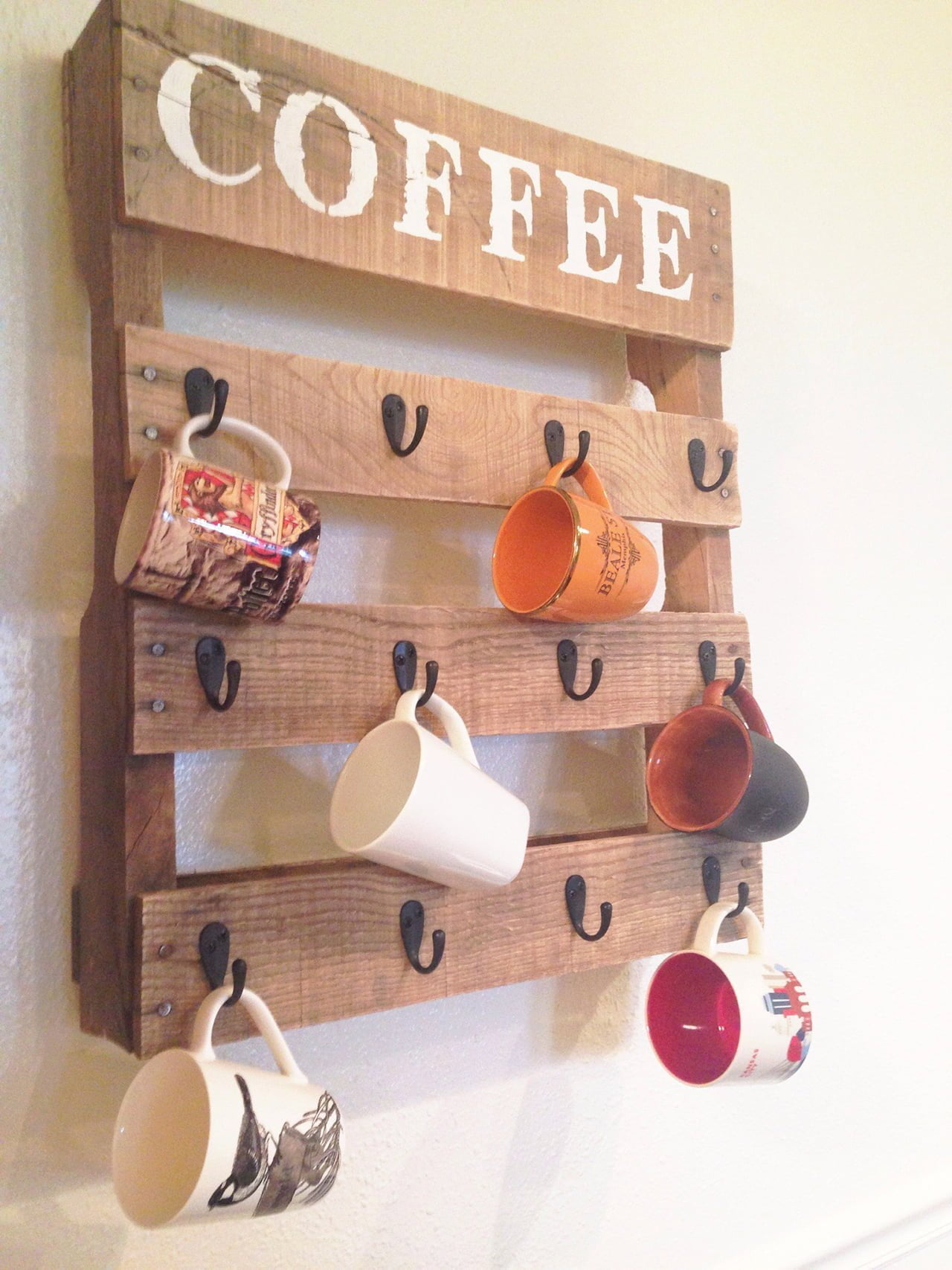 This is an easy project that will give you more room in your kitchen cabinets. Find a reclaimed wooden pallet. Stencil "Coffee" or your favorite phrase on the top slat of the pallet. Add metal hooks big enough to hold all of your mugs. This is a fun way to bring color and charm into your kitchen.
5. Keep Utensils in a Deep Drawer With Wooden, Vertical Slots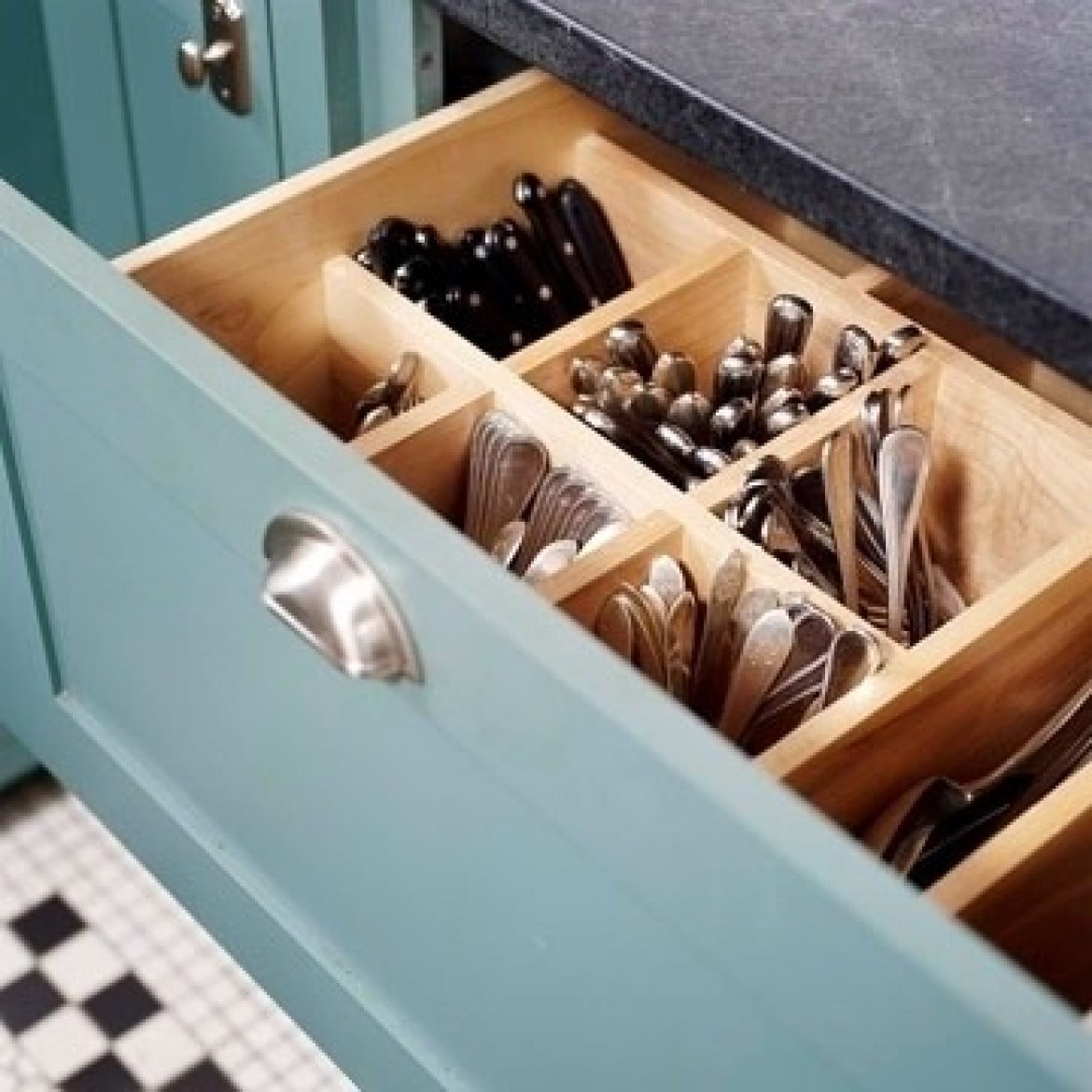 Putting utensils in vertical holders is a novel way to store them. It saves drawer space and organizes your drawer nicely. With this design, you can avoid the mess and clutter that can accumulate around the edges of a flatware drawer. Make sure you have enough compartments for every type of flatware you own.
6. Use Magnets on Jar Lids to Easily Create Floating Storage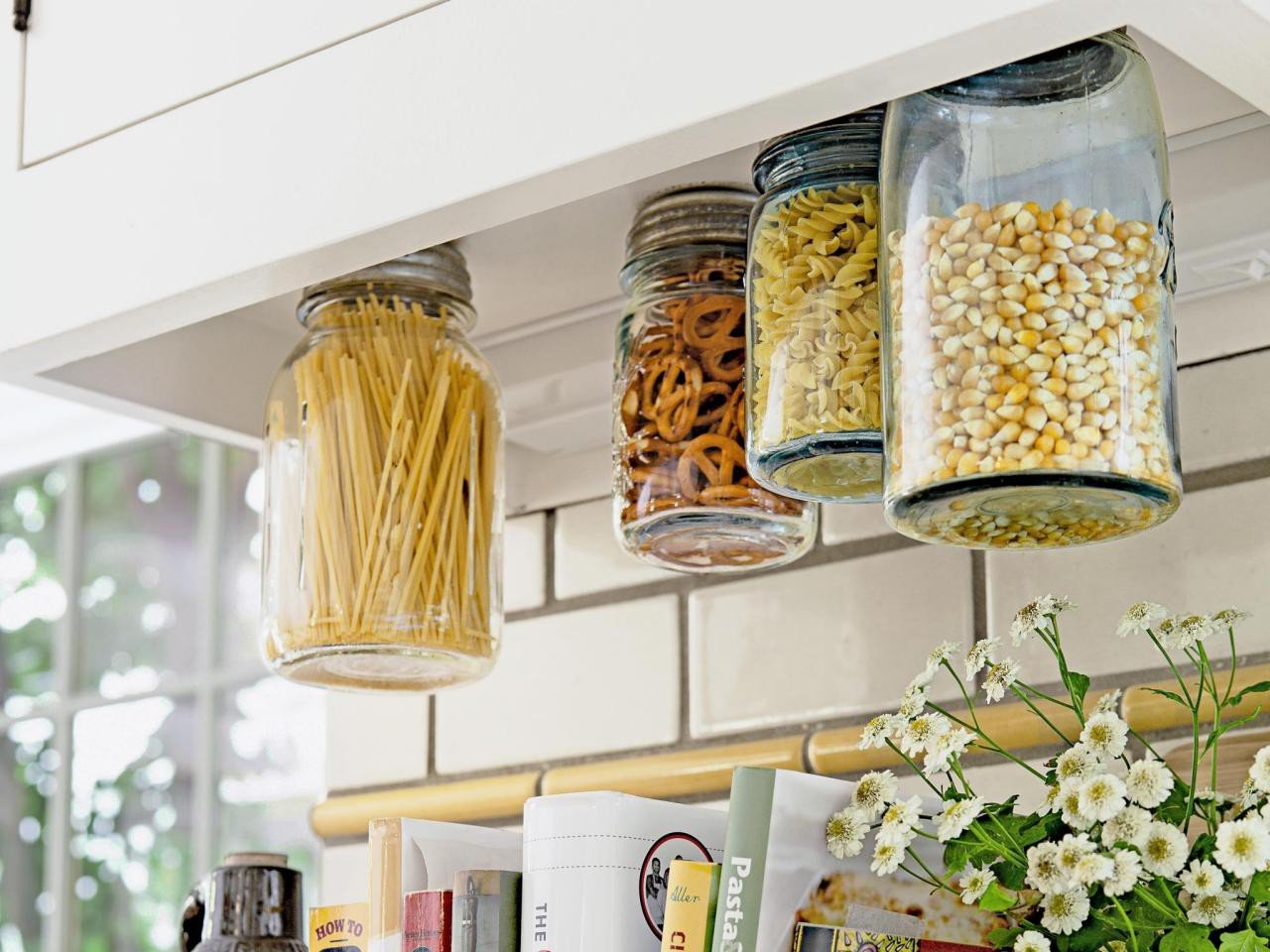 This is an eye-catching idea that relies on magnets. Affix strong magnets to the top of Mason jar lids. Add complementary magnets to the underside of your kitchen cabinets. When you need to take down a jar, it is easy to remove it from the underside of the cabinet.
7. Make a Wooden Box For Cutting Boards and Other Necessities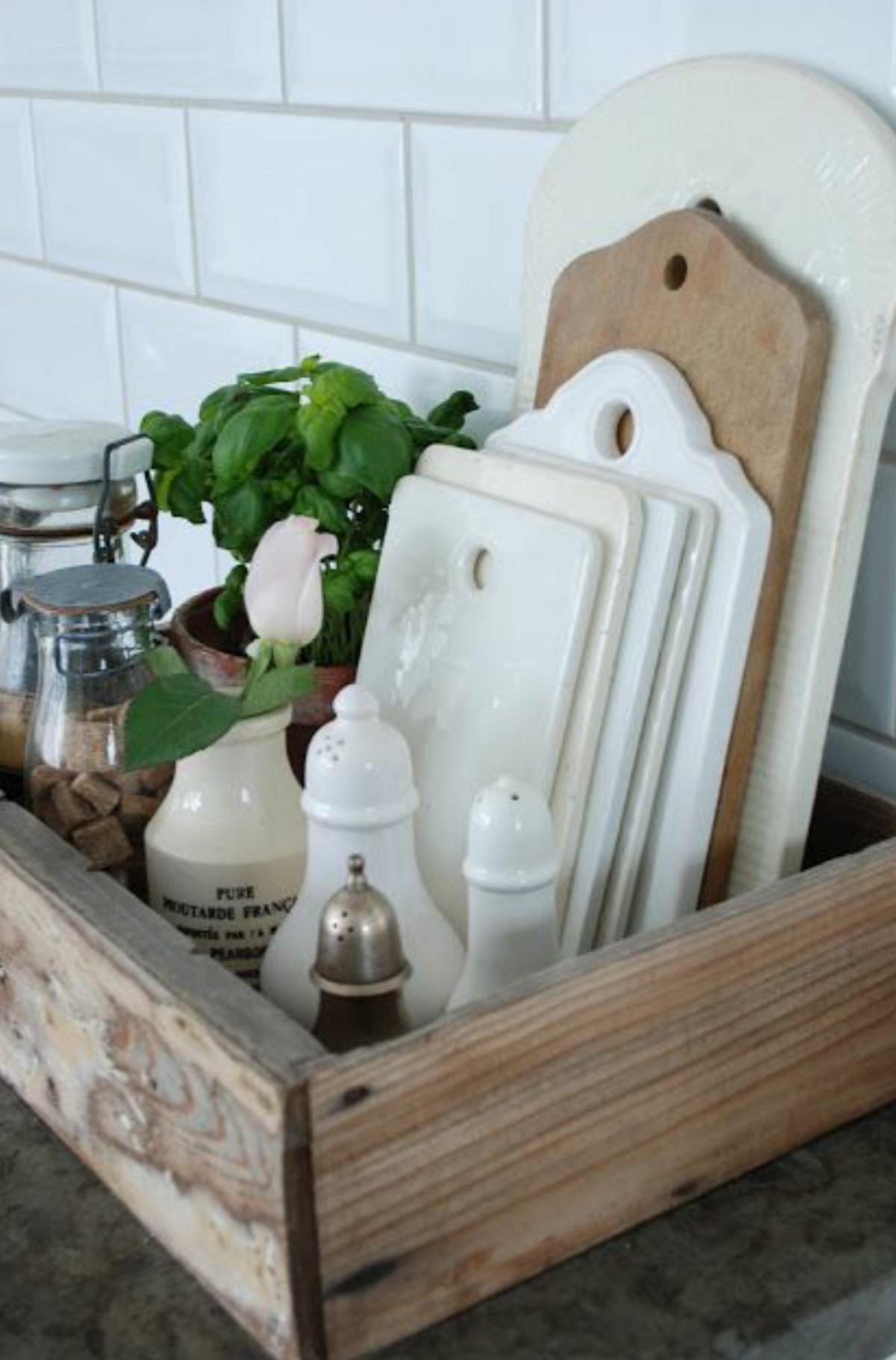 Use a low-sided box or tray to organize your kitchen countertops. Everyone needs a good place to keep cutting boards. Arrange the cutting boards in the box and add other essentials like salt, pepper, and vinegar. Use a reclaimed jar or bottle as a vase for flowers. For extra appeal, add a potted herb like basil.
8. Install Pull-Out Fruit/Vegetable Crates For the Rustic Look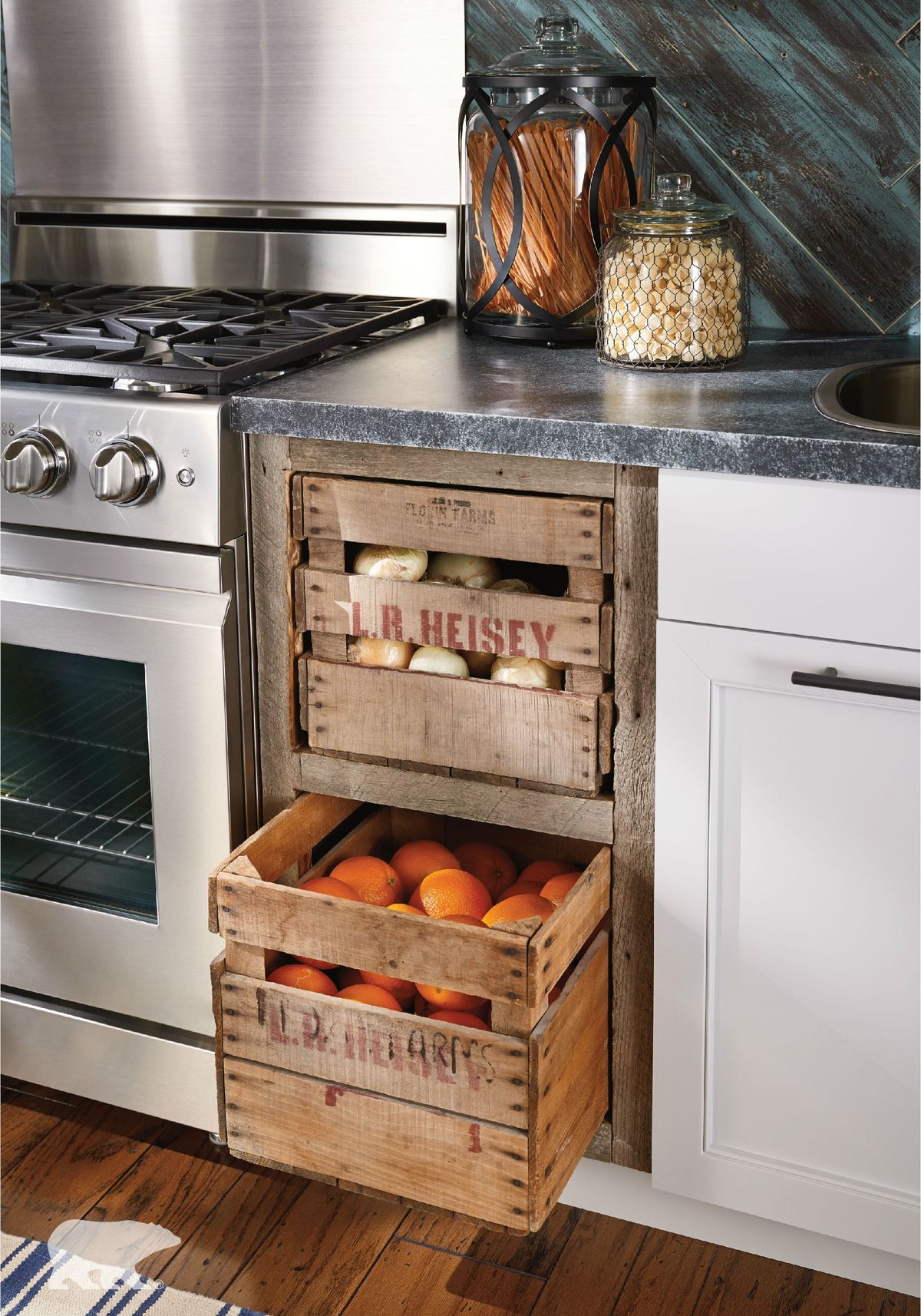 Replace the dull drawers under your counter with upcycled wooden crates. This should be an easy project for any experienced woodworker. Make sure the drawers fit well enough so they can be pulled out easily. Store fruits and vegetables in the drawers.
9. Three-Level Metal Display for Decor and Kitchen Organization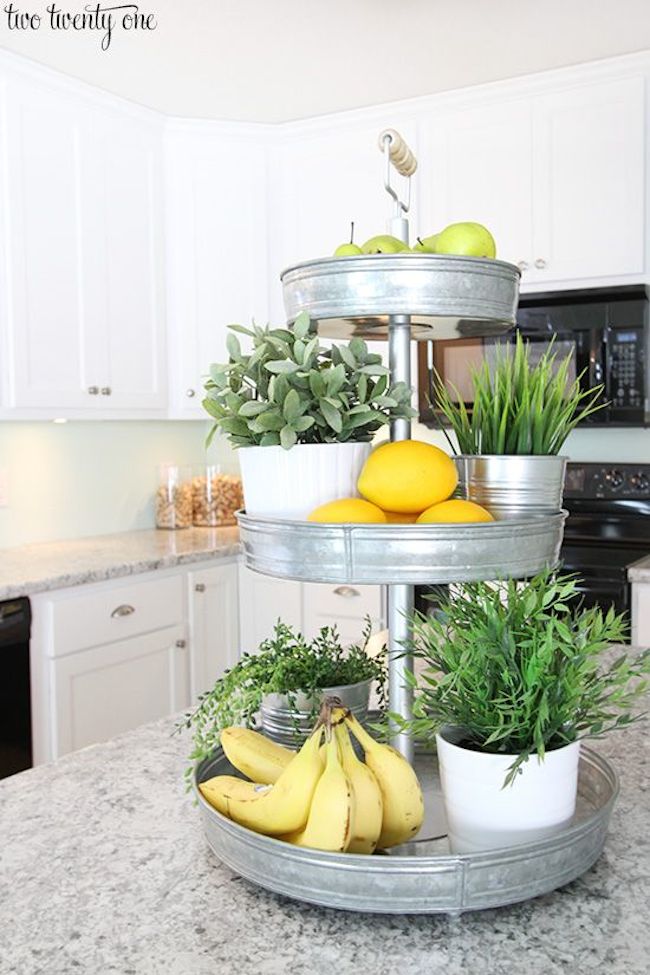 For extra visual interest, find a three-level metal tray. You can paint this tray to match your décor or leave it in its original finish. Mix herbs, grasses, and fruits on the different shelves. This is a nice way to keep fruit out in your kitchen as well as a convenient place to grow herbs.
10. Wire Baskets on the Sides of Cabinets to Store Items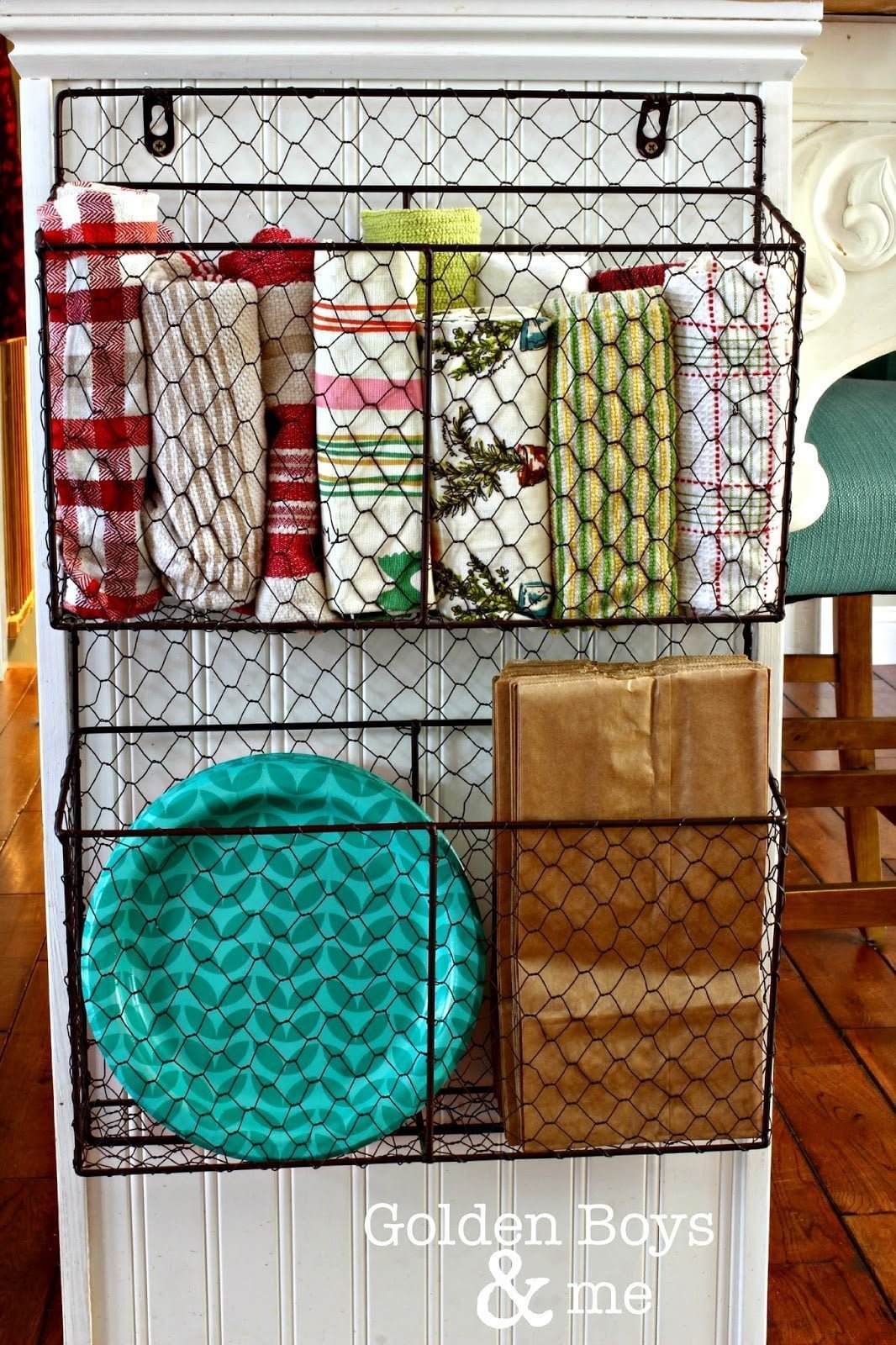 Use wall baskets designed for the office to store kitchen essentials. Hung on the sides of your counters, these baskets provide organized storage for rolled towels, paper plates, and lunch bags. These baskets can be used for everything from school papers to utensils.
11. Attach Rack With Hooks to Outside of Cabinets For Utensils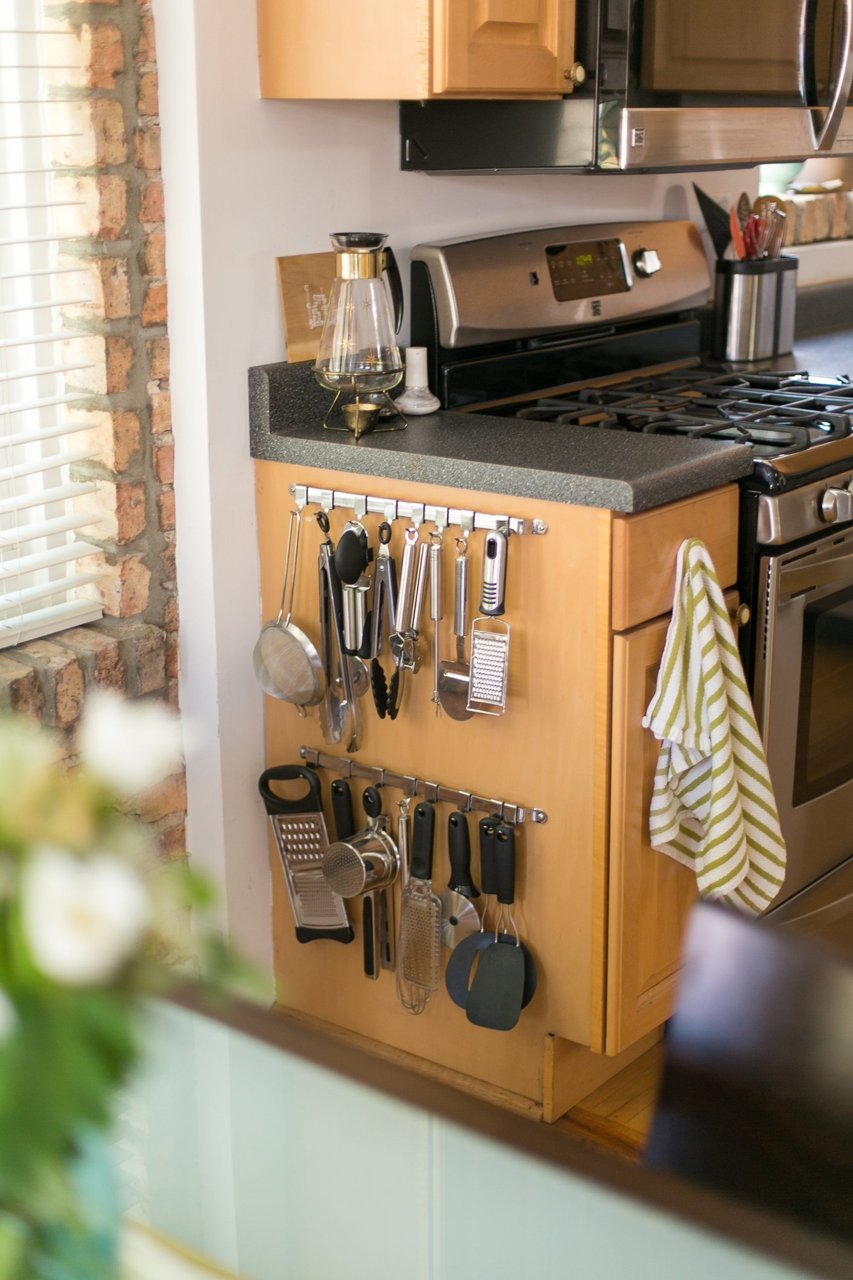 Keep all of your kitchen utensils handy by mounting a rack on the side of your counter. Keep it as close to your stovetop as you can for maximum convenience. You can hang any kind of utensil on the rack, from graters and tongs to strainers. For visual appeal, purchase utensils that match each other.
12. A Tray Basket With Handles Can Add Character and Organization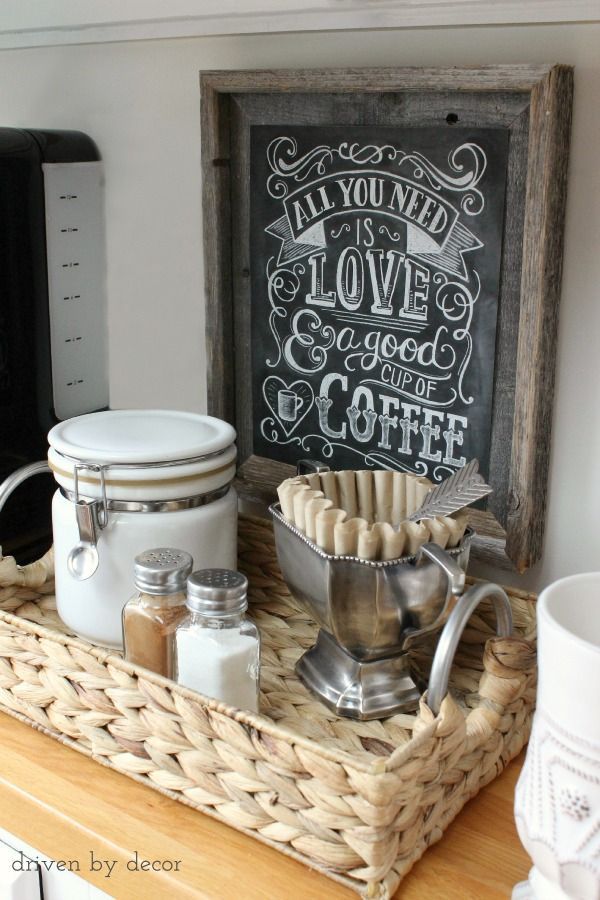 Use a handled tray basket near your coffee pot. This can hold all the essentials you need to make your morning cup. A canister with coffee and shakers of cinnamon and sugar are kept handy for the morning. Be creative when you choose a container for your coffee filters. Buy an attractive scoop for your coffee and display that in the basket as well. Make or buy a reclaimed sign to hang behind your coffee center.
13. Practical Kitchen Organization Ideas Must Include Labeled Canisters and Containers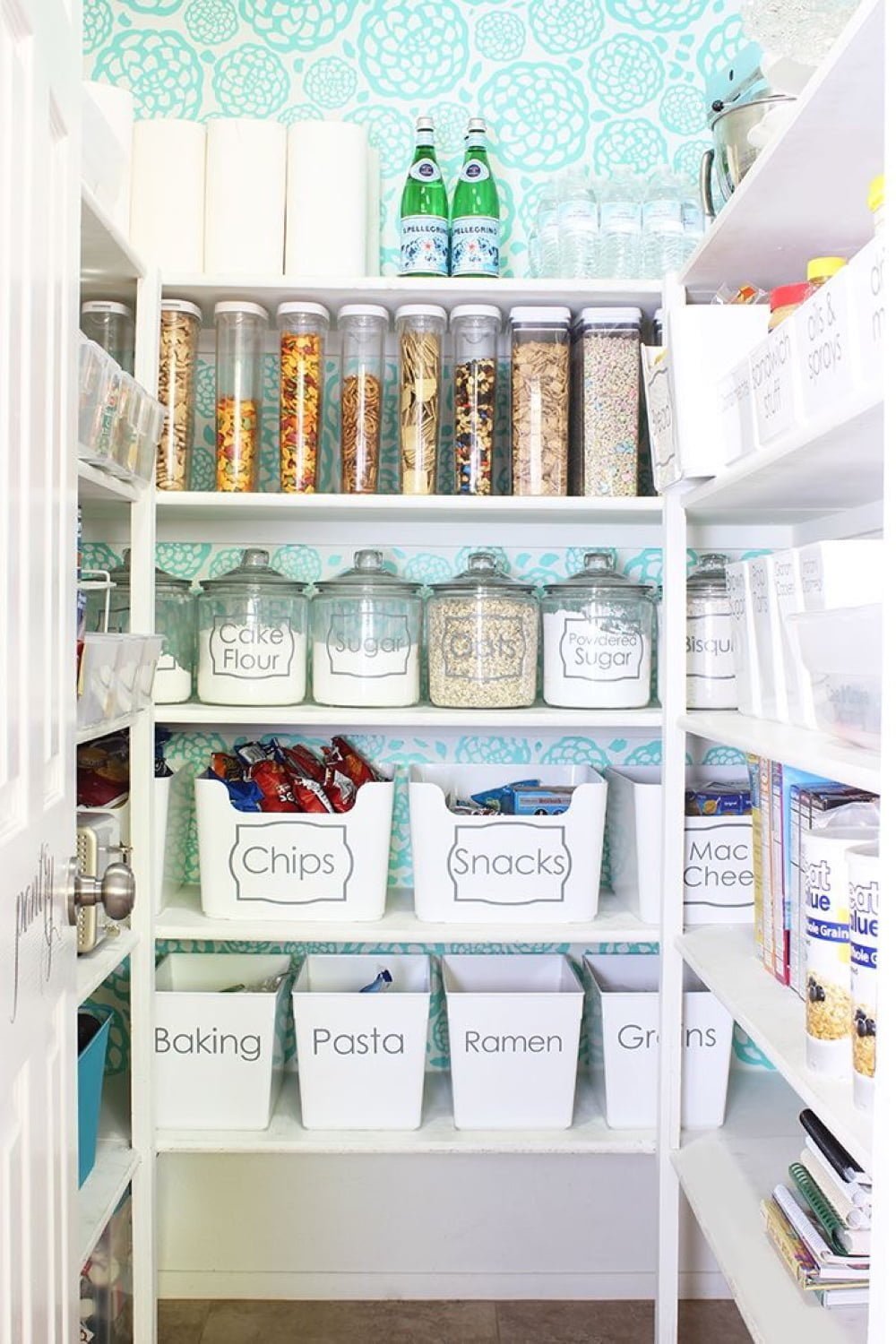 Tie your pantry together with matching vinyl lettering on jars, canisters, and boxes. Choose different categories to organize your loose items in boxes, from oils and sprays to mac and cheese. Paint your pantry shelves white to make it easy to find what you need. Put pretty wallpaper behind the shelves for extra interest.
14. A Divided Drawer Helps You Organize Spices Within Easy Reach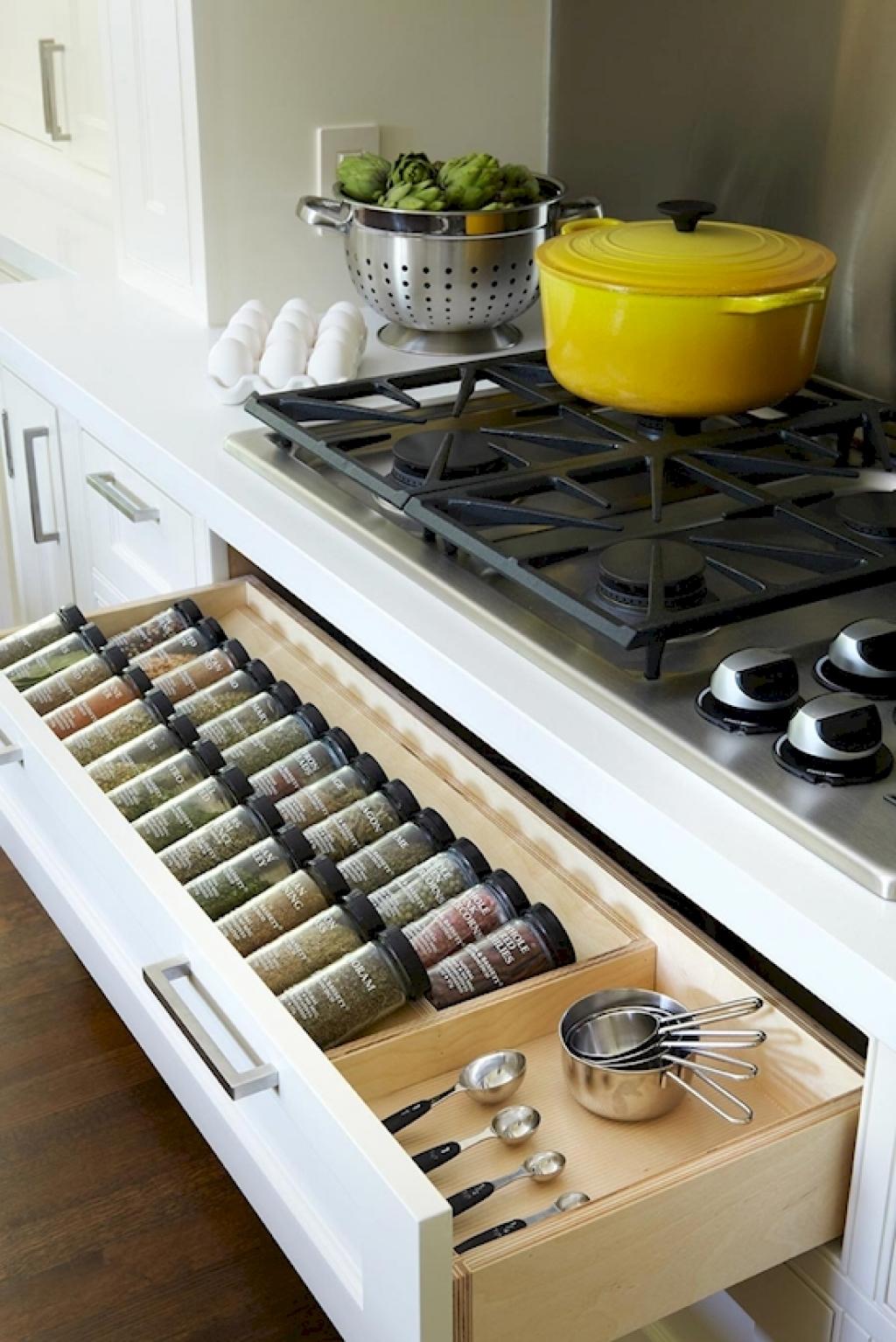 Under your range top, use a pull out drawer to organize your spices. Arrange your spices on a raised rack and alphabetize them. Include measuring cups and spoons in the drawer for convenience. This will keep your spices close by when you are cooking.
15. Attach a Magazine Rack Inside Cabinet Doors For Added Storage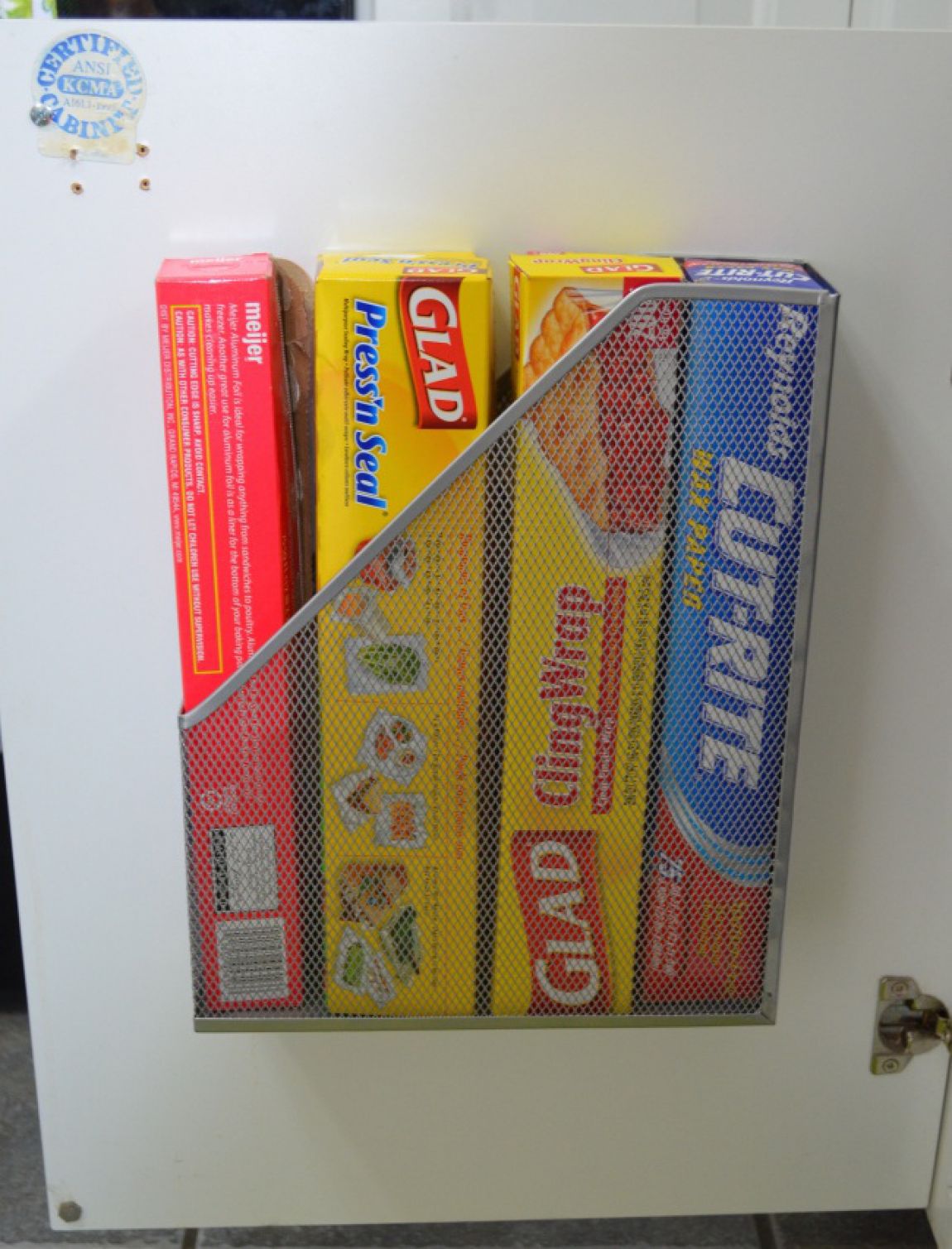 Office magazine racks make excellent kitchen organizers. Try securing them to the inside of cabinet doors to keep wraps, foils, and bags upright and easy to access. This will free up room in your kitchen drawers as well as keeping these items within easy reach when needed.
16. Attractive Hanging Wire Baskets Hold Items You Need On Hand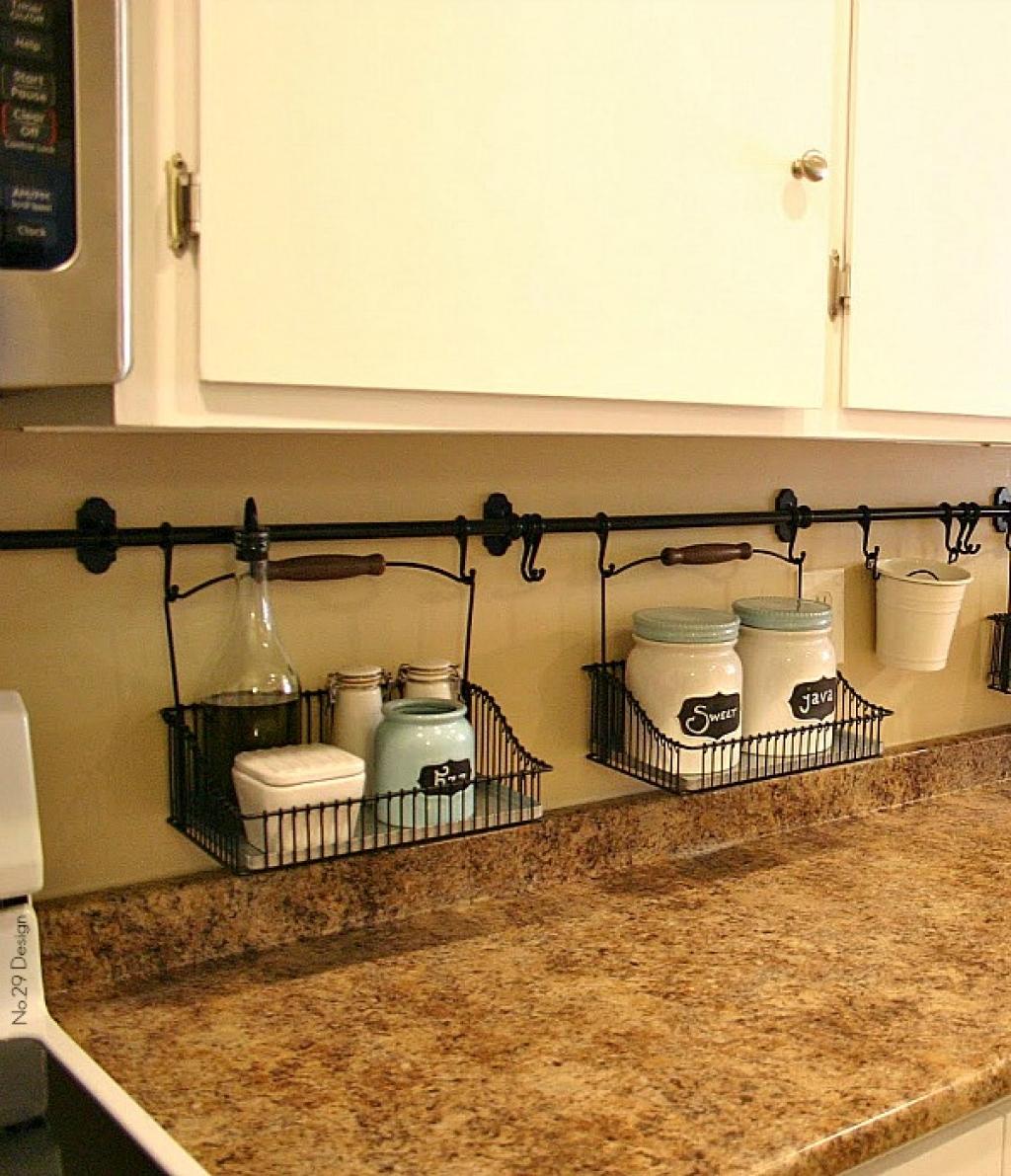 Hang a bar from your backsplash area and hang wire baskets on it. Place the things you need in the baskets. This looks especially nice when you tie the containers together by style and color. Chalkboard labels make your containers easy to find and identify. These baskets are great because they can accommodate items of all heights.
17. Slide-Out, Narrow Pantries are Popular Kitchen Organization Ideas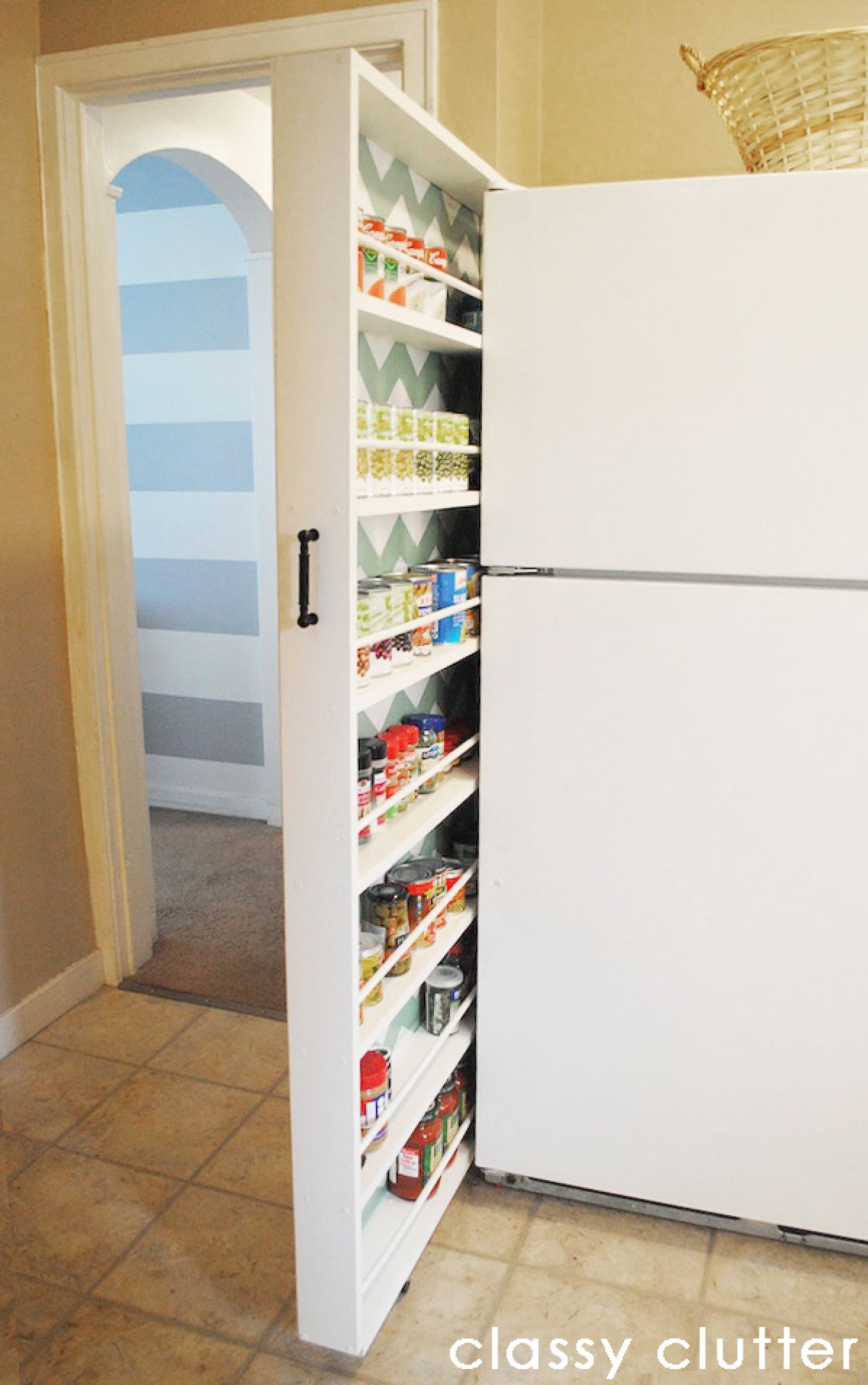 Everyone has wasted space in the kitchen. An area commonly overlooked is the narrow space between the refrigerator and the wall. Take advantage of this gap by installing a pull out pantry shelf. This shelf is great for storing small items like spices, soup and vegetable cans, and condiments.
18. Install a Gliding Rack With Hooks For Pots and Pans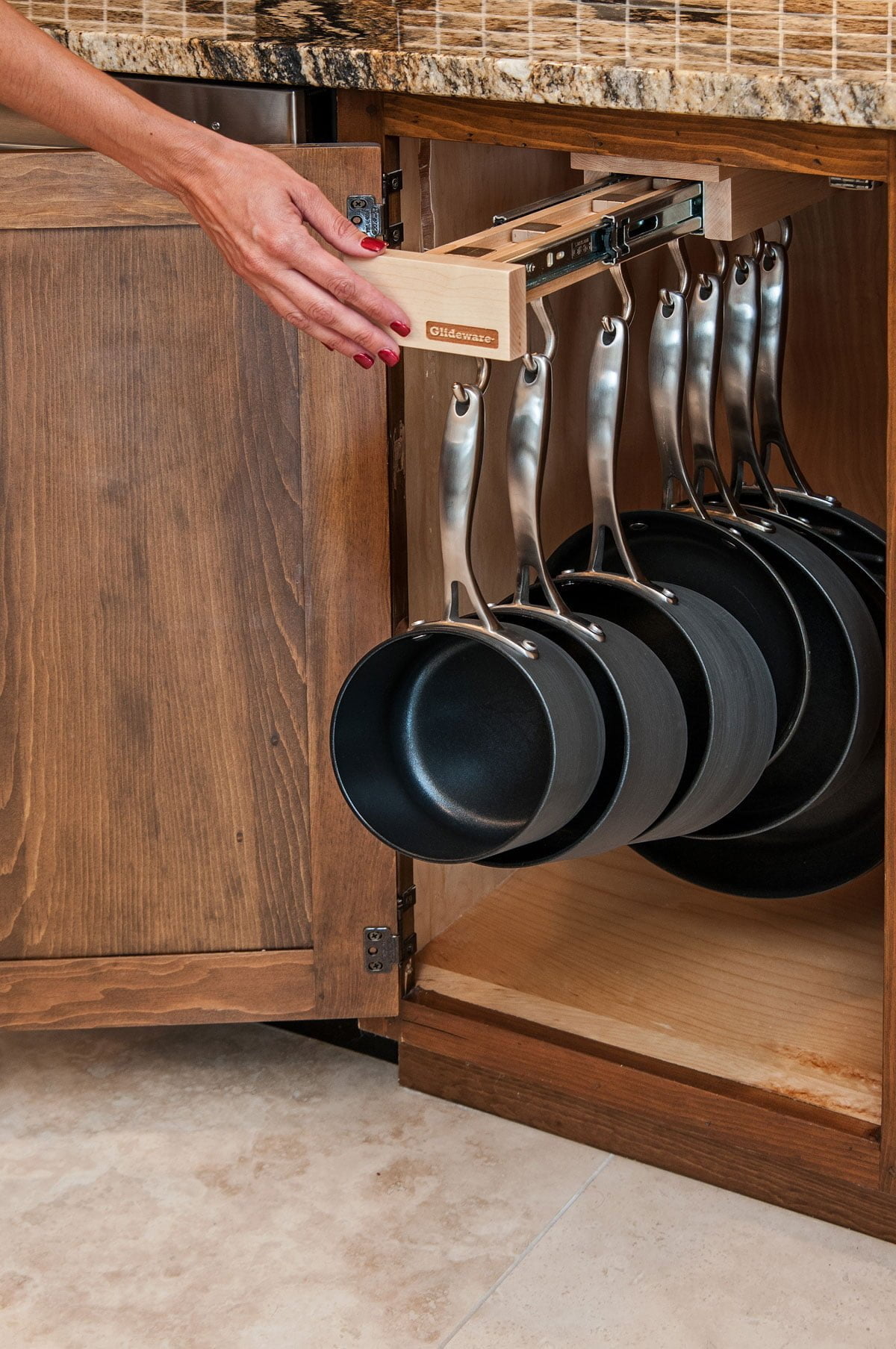 Most pots and pans have a hole or hook for hanging. To organize your pots and pans cabinet in the neatest way possible, install a gliding rack that pulls out. This keeps your pans from getting scratched or dented as well as organizing them by size. Your pots and pans will be organized and look attractive.
19. Cut Out Slots in Drawers for Hanging Fruit/ Vegetable Baskets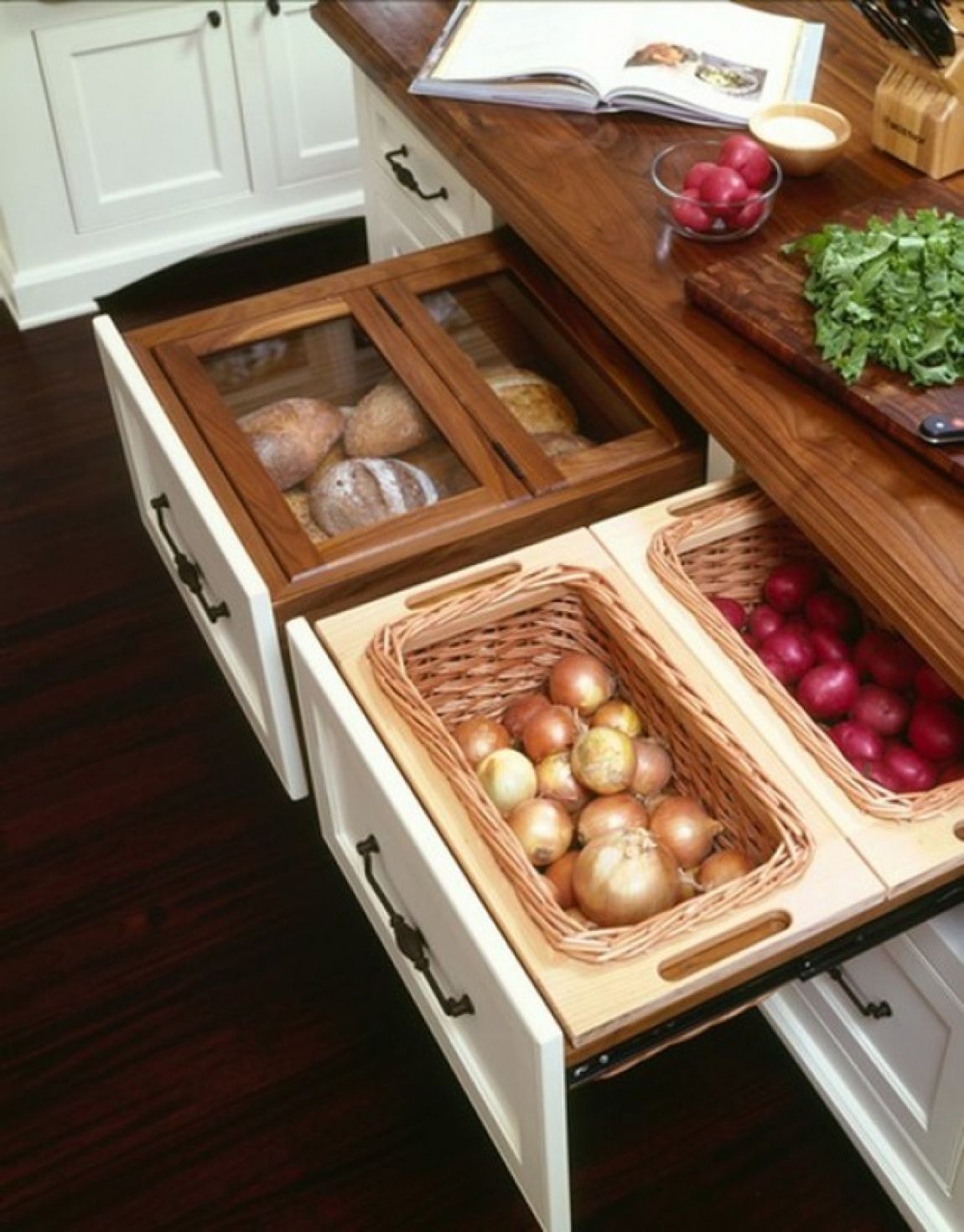 Repurpose sliding drawers by adding cutouts for baskets. Root vegetables like onions and potatoes are best stored in a cool, dark place but not in the refrigerator. This system keeps your root vegetables at hand when cooking. You can also make a breadbox by adding a glass-topped container inside your drawer.
20. Divide Drawers Diagonally to Store More Items in Narrower Drawers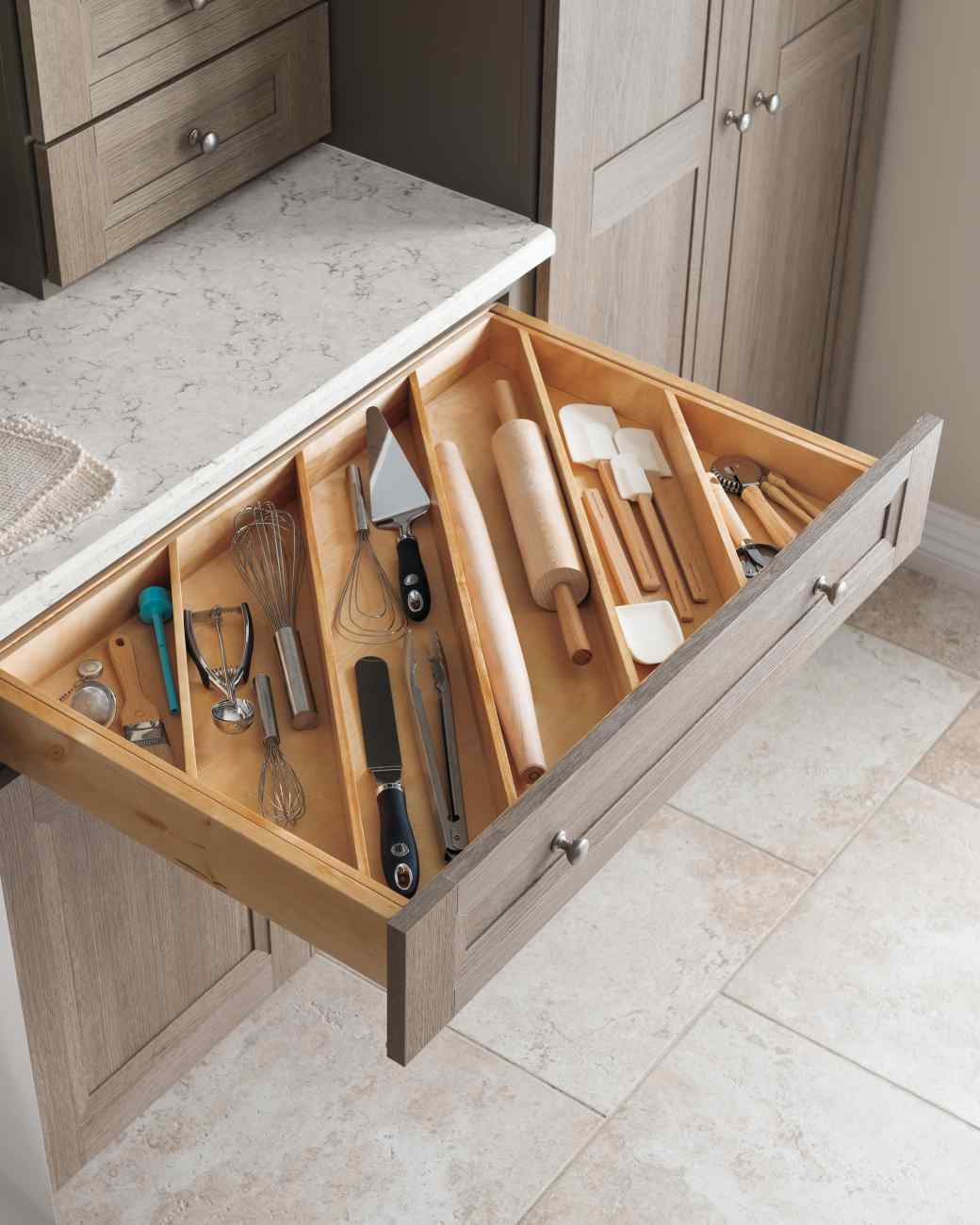 To store longer items, simply divide your drawer diagonally. This enables you to keep large items like rolling pins in a drawer where they would not ordinarily fit. The diagonal drawers also have an attractive, modern look. Small items can be placed in the corners of the drawer.
21. Place Same-Sized Canisters in Rows in a Deep Drawer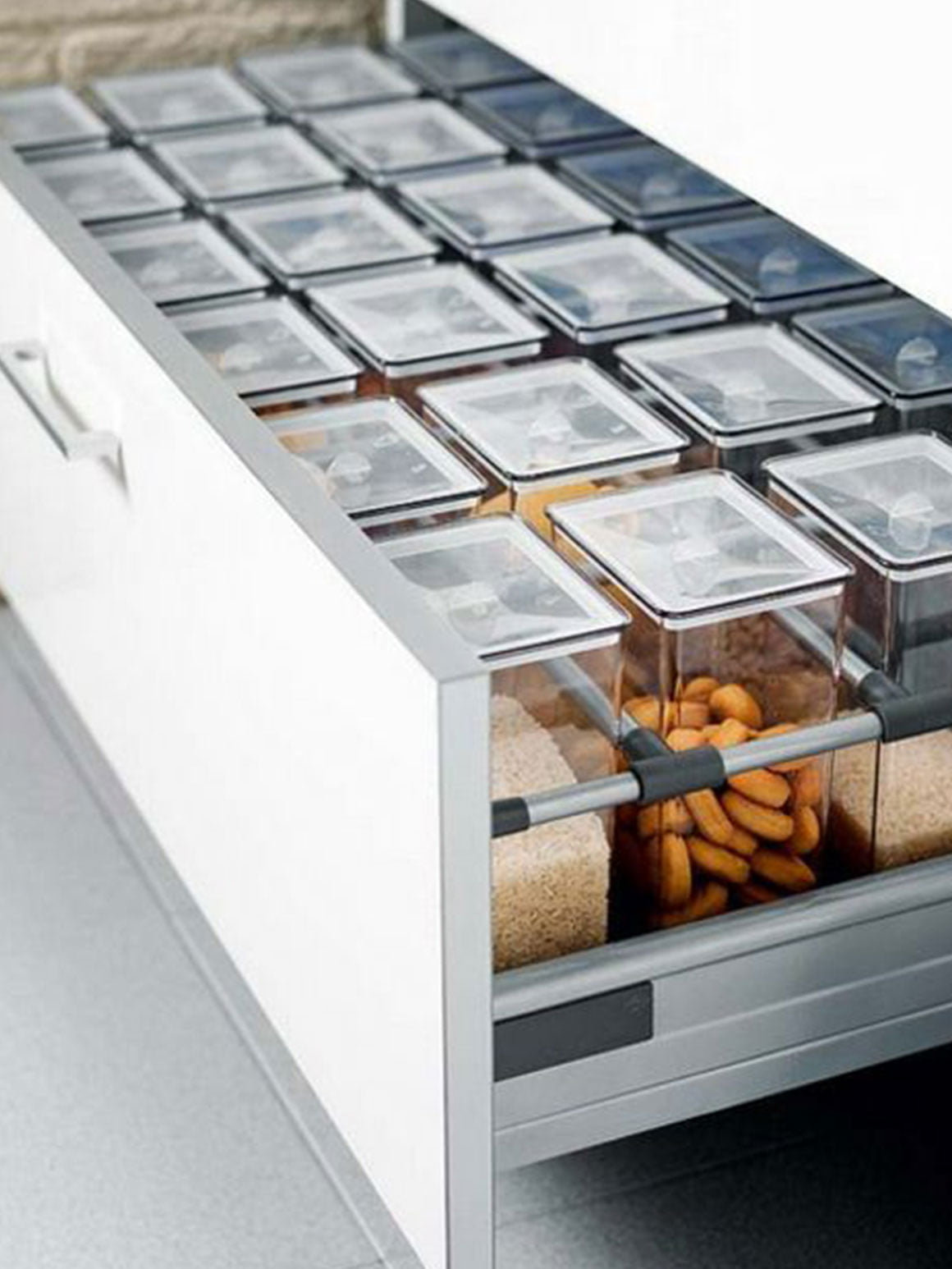 To store all your dry goods, find a deep drawer and enough containers of the same height to fill it. Add a metal grid to keep the containers neat and prevent them from being jumbled together. With clear topped containers, you can easily see everything you need without having to pull them out of the drawer.
22. Install a Narrow Gliding Drawer Under Cabinets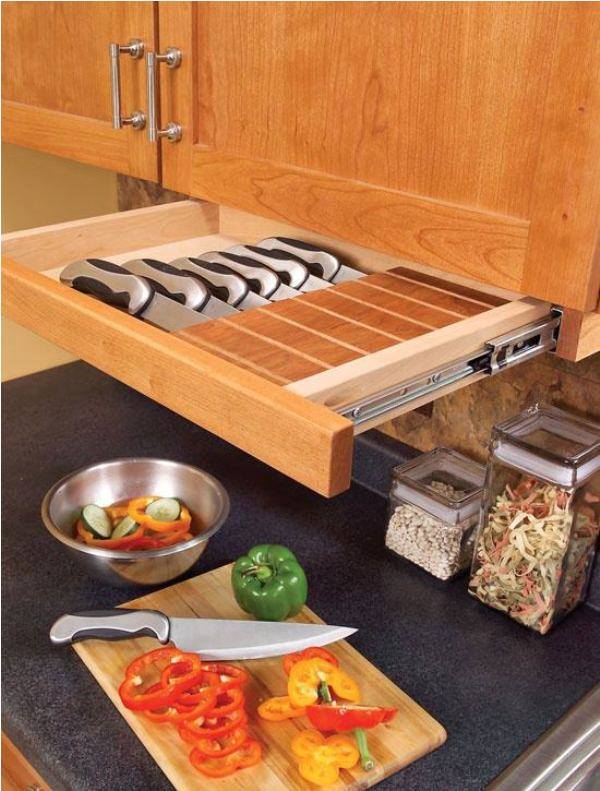 To utilize forgotten space in your kitchen, add a sliding drawer beneath your top cabinets. This provides a few extra inches of storage space, which can be a big plus for any kitchen design. These flat drawers are especially good for storing items like knives, wraps, and bags.
23. Attach Magnetic Canisters Inside Cabinet Doors for Space-Saving Solutions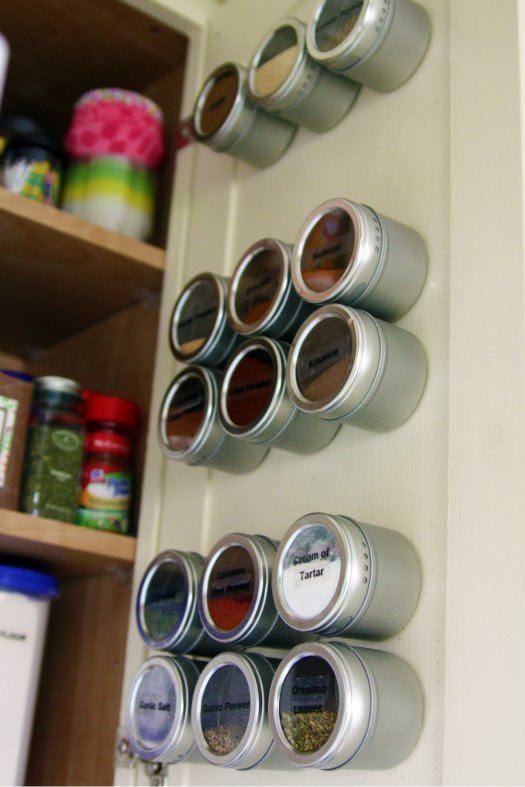 An easy kitchen fix involves buying magnetic spice containers. These containers can go on the sides of the refrigerator or inside cabinets with metal doors. These enable you to easily store and alphabetize your spices for quick access. Sort your herbs, spices, and baking powders by type.
Our Favorite Farmhouse Storage Items to buy on Amazon