There are some tasks in life that are just never ending and laundry is most definitely near the top of that list. Traditionally, the noise and utilitarian look of washers and dryers have by necessity relegated them to the farthest away and most utilitarian places in the home. Basements, mud rooms, garages and utility closets have been the pre-eminent locale for washers and dryers for decades. But the utilitarian location of these time-saving machines can often take a drudging task and make it even more dreary. More recently, rooms dedicated specifically to doing laundry and housing the machines have made their way into the mainstream, but even then, they often remained very functional and utilitarian rooms.
50 Great Ways To Customize Your Laundry Room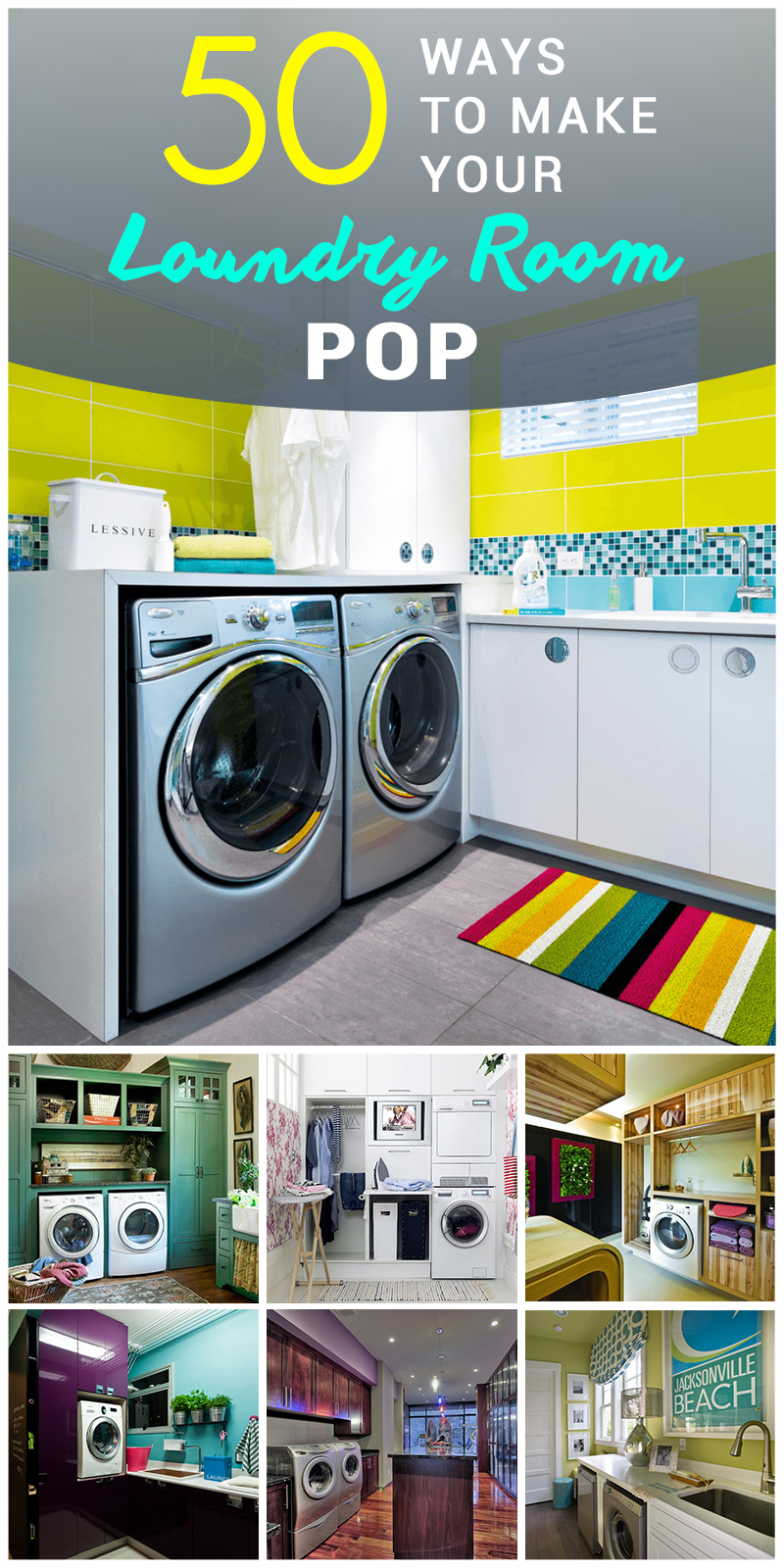 With more modern, quiet and stylish machines making their way into the marketplace, the washer and dryer are also making their way into being featured more prominently in newer home design. Now, these whisper quiet and stylish machines no longer have to be relegated to the dark dinginess of a basement or the oily mess of a garage, which also means you do not need to relegate yourself to those areas either to fulfill this never-ending and often thankless task. Washers and dryers are now making their way into the kitchen, into master bedrooms and even on the upper levels of homes and feature prominently on overall home decor. While some people have the space to devote an entire room to just housing their appliances, others need to combine spaces or incorporate a laundry area into rooms used for other functions.
If you have the space to set aside an entire room in which to do your laundry, however, modern laundry rooms are often bright, light and airy places that contain washers and dryers that come in a rainbow of stylish colors and smart designs. Smaller units are now able to combine both a washer and dryer into one machine, which also makes creating a smart laundry area in a small space a snap. Here are 50 great laundry room ideas that can help you think, plan, dream and envision the kind of space you want that will fit into almost any floorpan, no matter the size of space you live in. We've also provided some great ideas for laundry room storage, laundry room shelving and laundry room organization to help you make the very best use of your space.
1. Zen And The Art of Laundry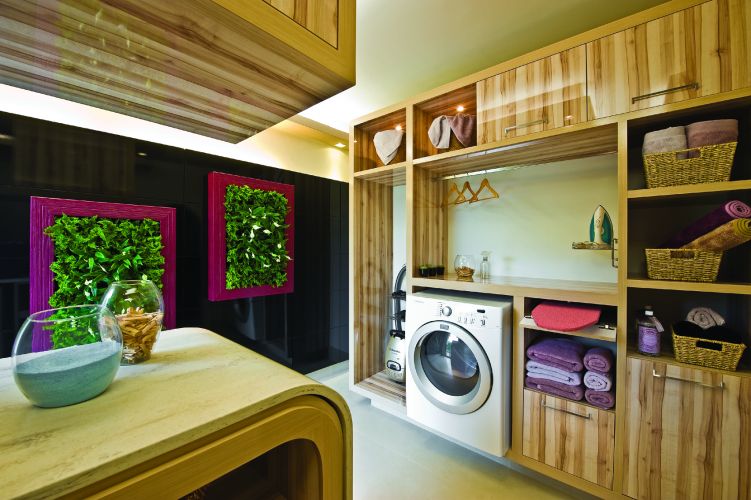 There are few places more calm and serene than a yoga studio. This room features a decidedly Eastern feel with warm bamboo cabinets, rattan baskets, calm, soothing tones of lavender and even introduced live plants as a decorative wall feature. A center island creates a great workspace for folding, sewing or crafting and laundry room cabinets offer a great place to store a vacuum and other bulky appliances.
2. Victoria Does Laundry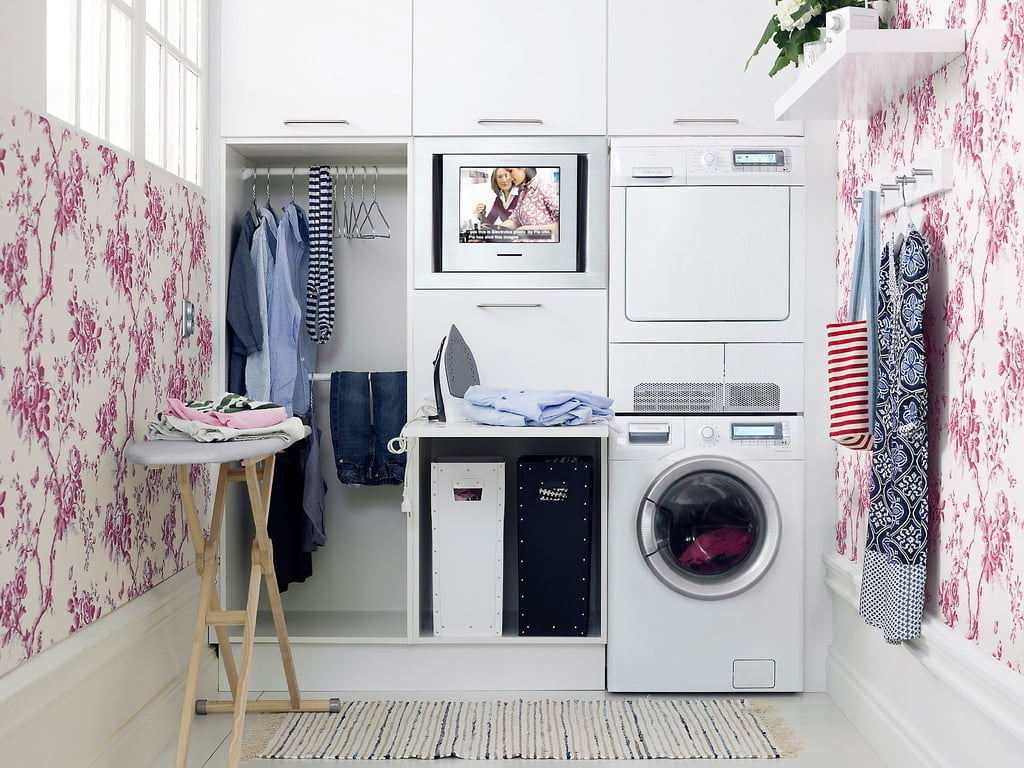 This smaller room provides both great functionality as well as big style and design in a small space. Clean white lines give the appearance of a much larger room, while pretty pink patterned wallpaper with a decidedly Victorian design keeps the space from becoming overly utilitarian. Overhead cabinetry provides storage space for large items that are infrequently used and a small area provides space for folding, ironing or laundry prep. Plenty of hooks offer additional storage of coats or other infrequently used clothing.
3. French Country Meets Modern Appliance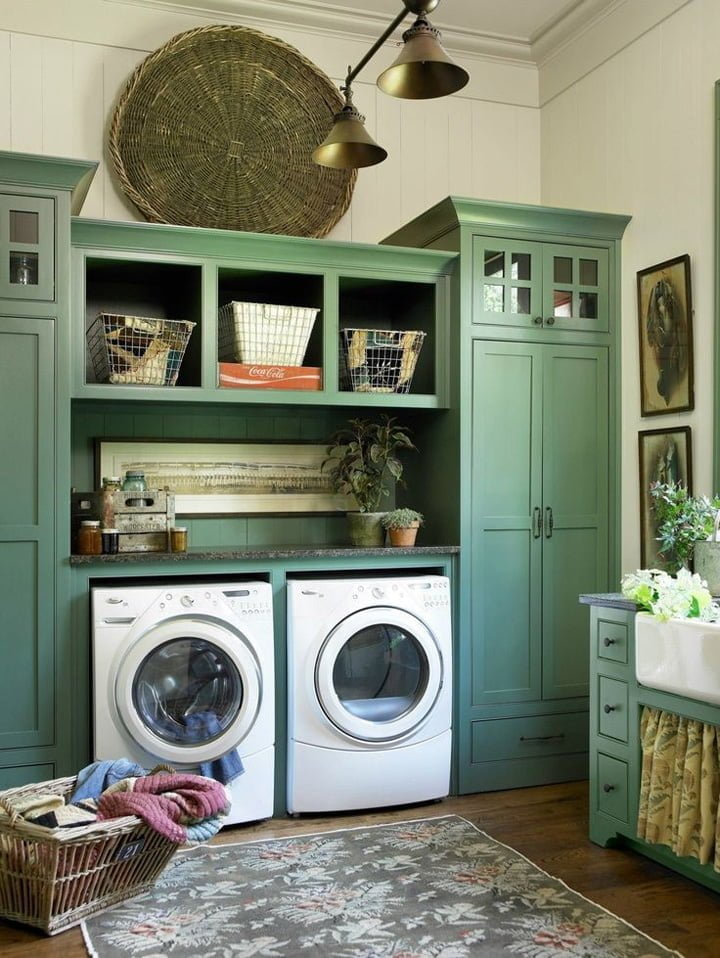 Source: The original source is not available anymore.
A French country sink in a curtained cabinet, rich green cabinets accentuated by brass fixtures and woven baskets all bring the charm of the French countryside into your home.
Tall cabinets with glass fronted accents provide great laundry room storage while modern appliances lend just the right touch to this charming laundry room decor. Dark hardwood floors with a modern floral rug combine old world charm with a modern flair.
4. Reclaiming Your Home Decor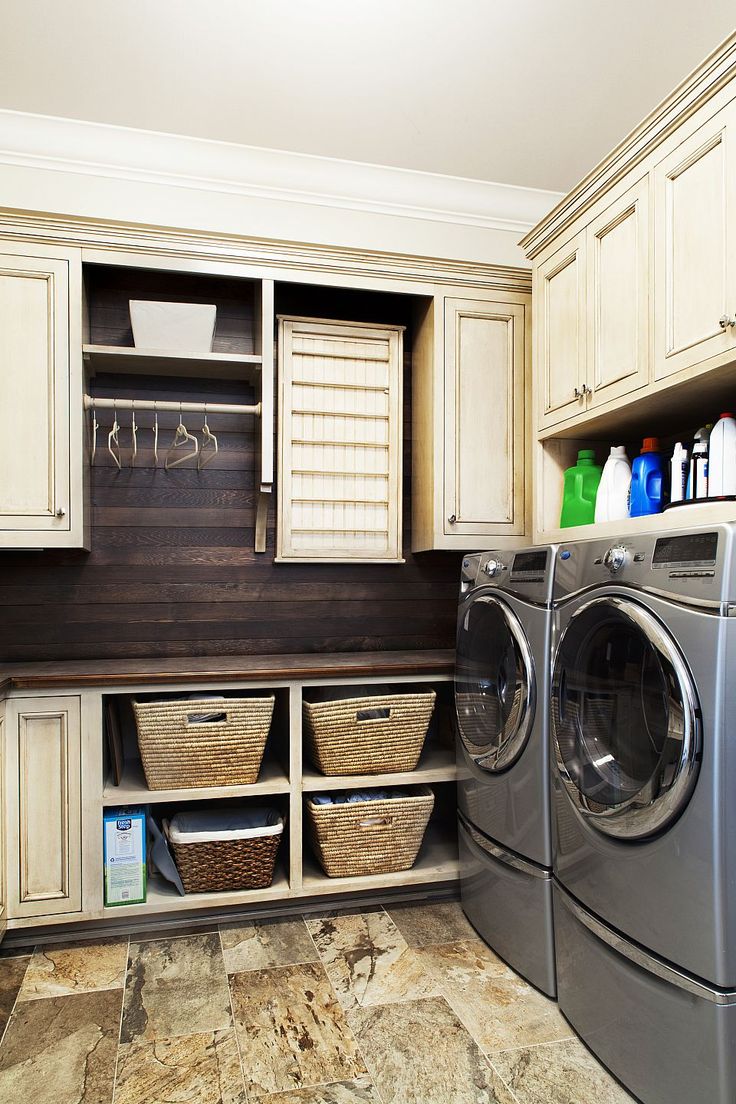 Distressed cabinets and reclaimed wood walls turn a small laundry area into an efficient work area. The stone flooring and natural basketry provides a nice counterpoint to the clean, modern lines of the oversized washer and dryer, while the light cabinetry and dark wood walls blend together in a fantastic mix of elements. This space shows that great laundry room design doesn't need a ton of space to create a warm and elegant area in which to engage in the most mundane of tasks.
5. Beachfront Oasis Laundry Room Decoration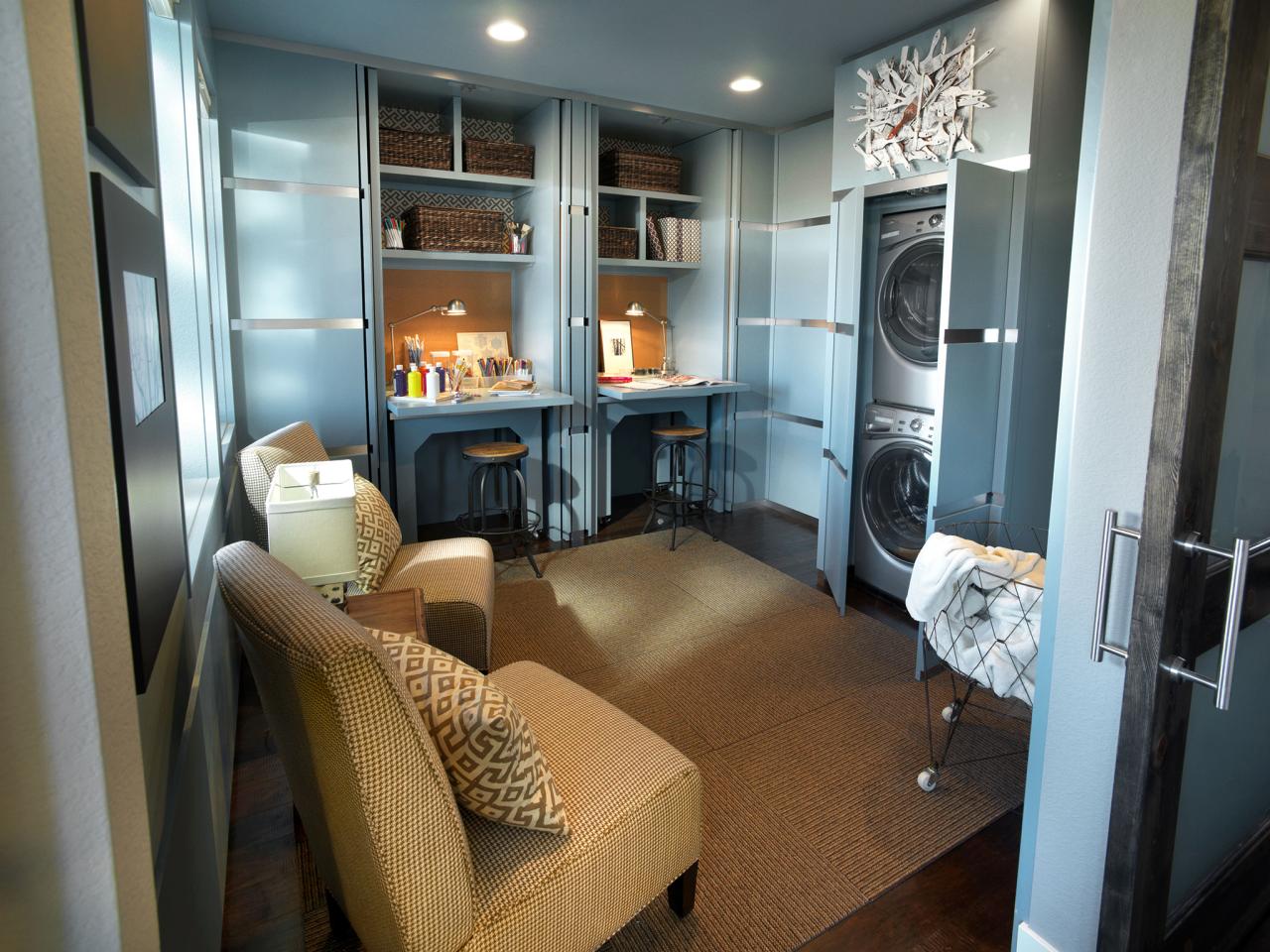 With modern stackable appliances that not only save space but also make little more than a low hum, laundry room designs can now incorporate far more than just a washer and dryer and other implements of the task. This laundry room design incorporates elements of a home office, craft room and sitting room. With a divided desk area that can be used for sewing, scrapbooking or other craft projects on one side and studying or running a home business on the other, this quiet oasis is perfect for a beach house or other property where space is at a premium. With laundry room decor and colors reflective of a beach house retreat, this elegant laundry room provides a calm oasis to sit, read, relax or even get some work done while you are waiting for your clothes to dry.
6. Turn-of-the-Century Modern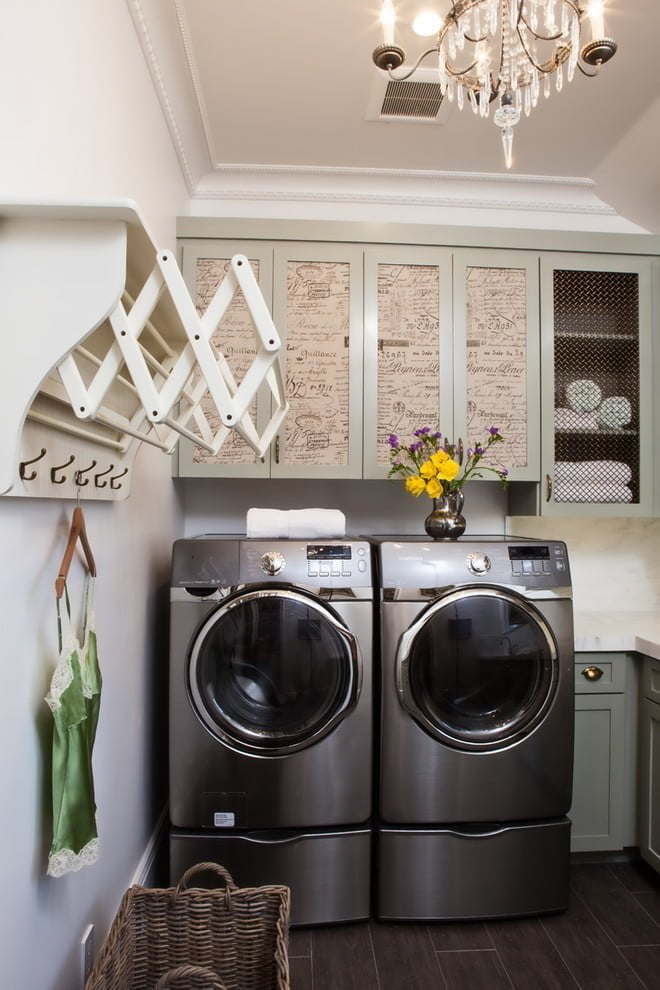 Source: The original source is not available anymore.
A small but elegant chandelier and cabinets fronted with text give this small laundry area a whimsical throwback feel. Dark hardwood floors contrast beautifully with pale green cabinets to offset the large modern appliances. A folding rack cleverly built into a shelf with hooks provides additional drying space that can be retracted and folded away neatly when not in use. A screen fronted cabinet provides easy access to linens or other laundry materials.
7. Laundry Is Like So Groovy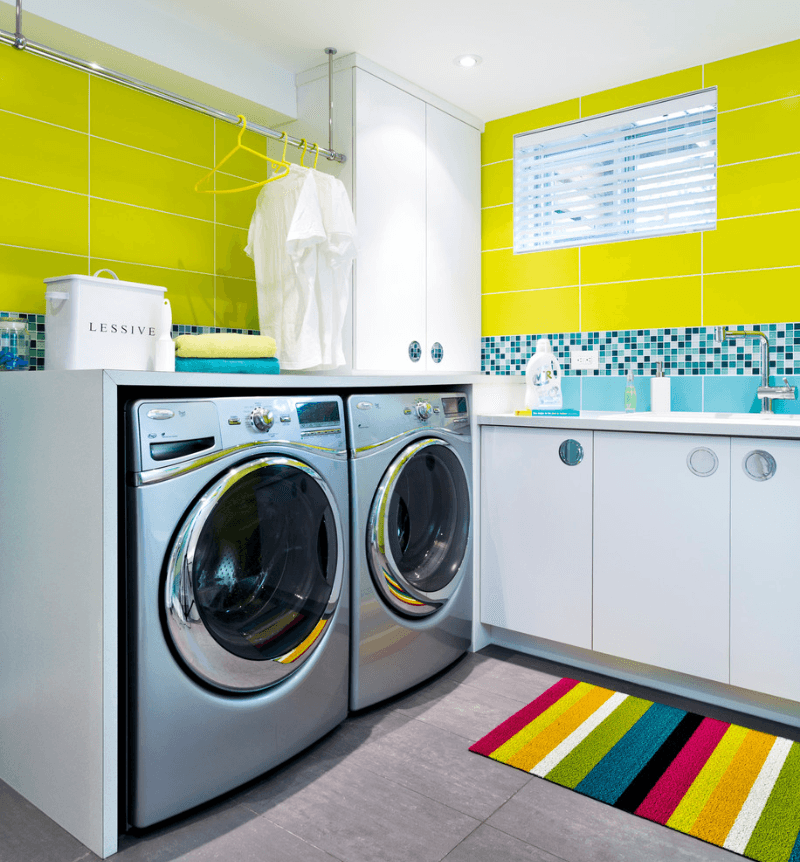 This bright, cheerful laundry room design combines both a classic 70's feel with a hip, modern twist. Bright chartreuse tiles with an aqua glass tile trim provides a bright, cheerful space which allows it to transcend from being merely functional and utilitarian into a fun modern space with a decidedly retro feel. Sleek white laundry room cabinets are paired with oversized handles that blend well with the overall 70's vibe. A sleek modern sink provides a fantastic pairing of the best of retro fun with modern sleek design.
8. Neutral with a Touch of Fun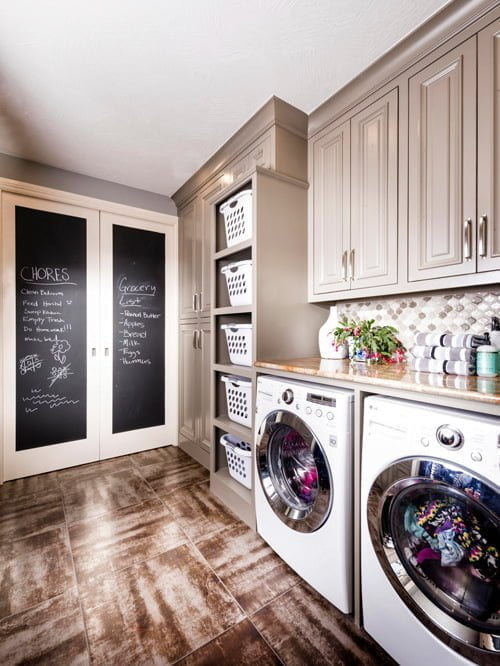 A strong neutral palette brings high end elegance to this modern laundry area. A set of double French doors painted with chalkboard paint, however, provide a whimsical touch that keeps the neutral palette from becoming austere. Shiny, sleek modern handles on the laundry room cabinets provide a nice accent, while a scattered stone backsplash adds warmth and another slight touch of whimsy. Floor to-ceiling cabinets offer storage for large or long items such as vacuum cleaners, brooms, mops and an ironing board, while cabinets over the washer area provide storage for laundry essentials or infrequently used items. A built in cabinet around the washer and dryer units provides counter space for folding, laundry prep or spot ironing.
9. The Future Is Now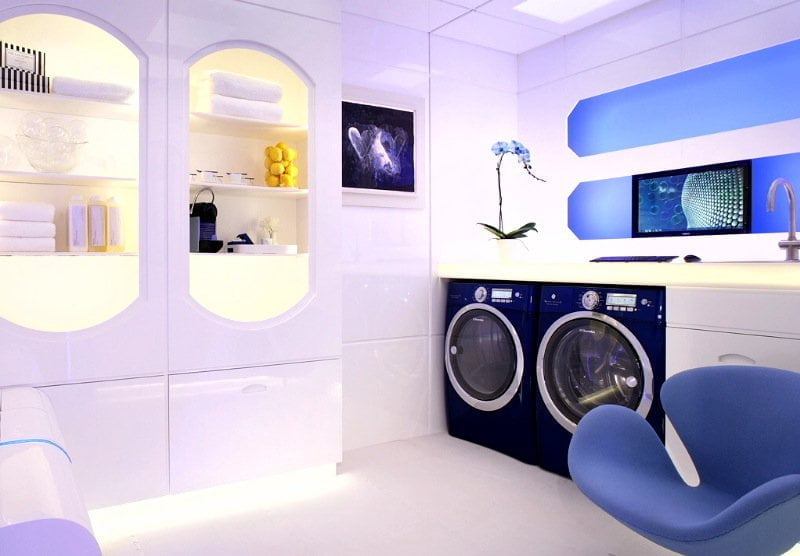 Source: The original source is not available anymore.
This delightful space uses cool blues and soft lighting to create a highly futuristic look that is still warm and inviting. Laminate glass fronted cabinets provide unique and sophisticated laundry storage ideas, while a modern molded chair provides a quiet nook to read, rest or relax while waiting for the laundry to finish. An integrated flat screen TV also turns this elegant room into a multi-function room that enhances the overall home design. Visitors, guests or just a family member needing a quiet space to retreat for a moment can find rest and respite in this cool, calm luxuriously futuristic space.
10. Laundry Goes Back In The Closet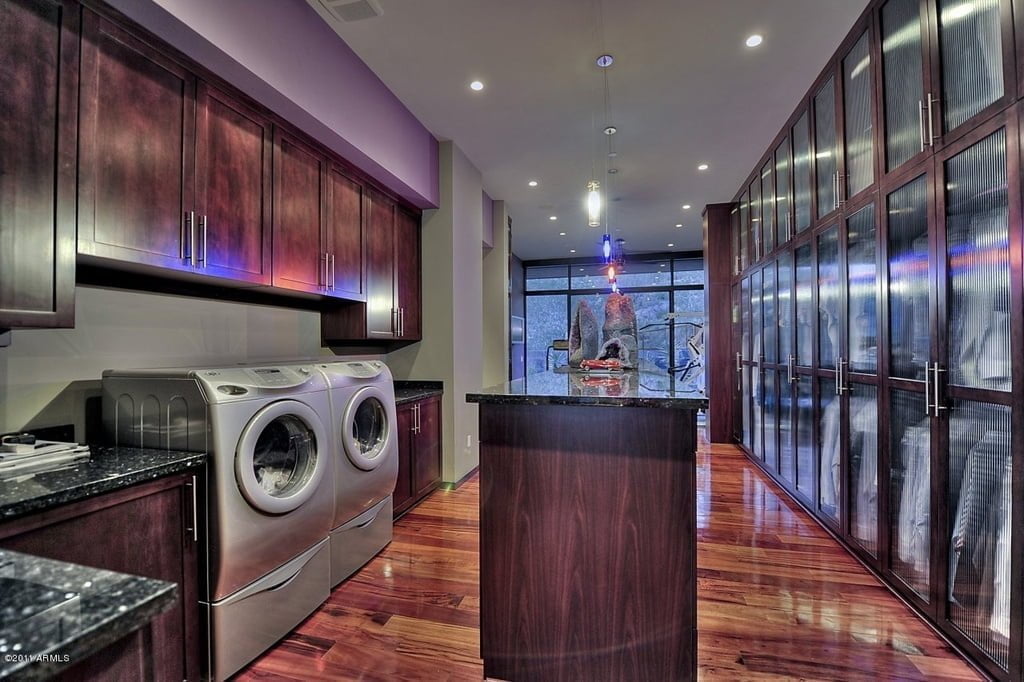 Source: The original source is not available anymore.
Modern home design has allowed laundry machines to be placed in the space they are most needed – right near the closet. In this luxurious space, dark woods polished to a high shine are paired with rich granite and sleek glass that take laundry room decor to a whole new level. One entire wall of glass fronted laundry room cabinets provides a mass of closet space for hanging an entire wardrobe or storing a vast assortment of items. A center island provides a massive workspace for sorting, staging and prepping. Wood floors polished to a high gloss give a modern feel to this dark, traditionally masculine room. Cabinetry over and around the washer provide additional storage space for laundry items and other seldom used household items, making laundry room organization a breeze.
11. Shabby Chic Meets Victorian Functionality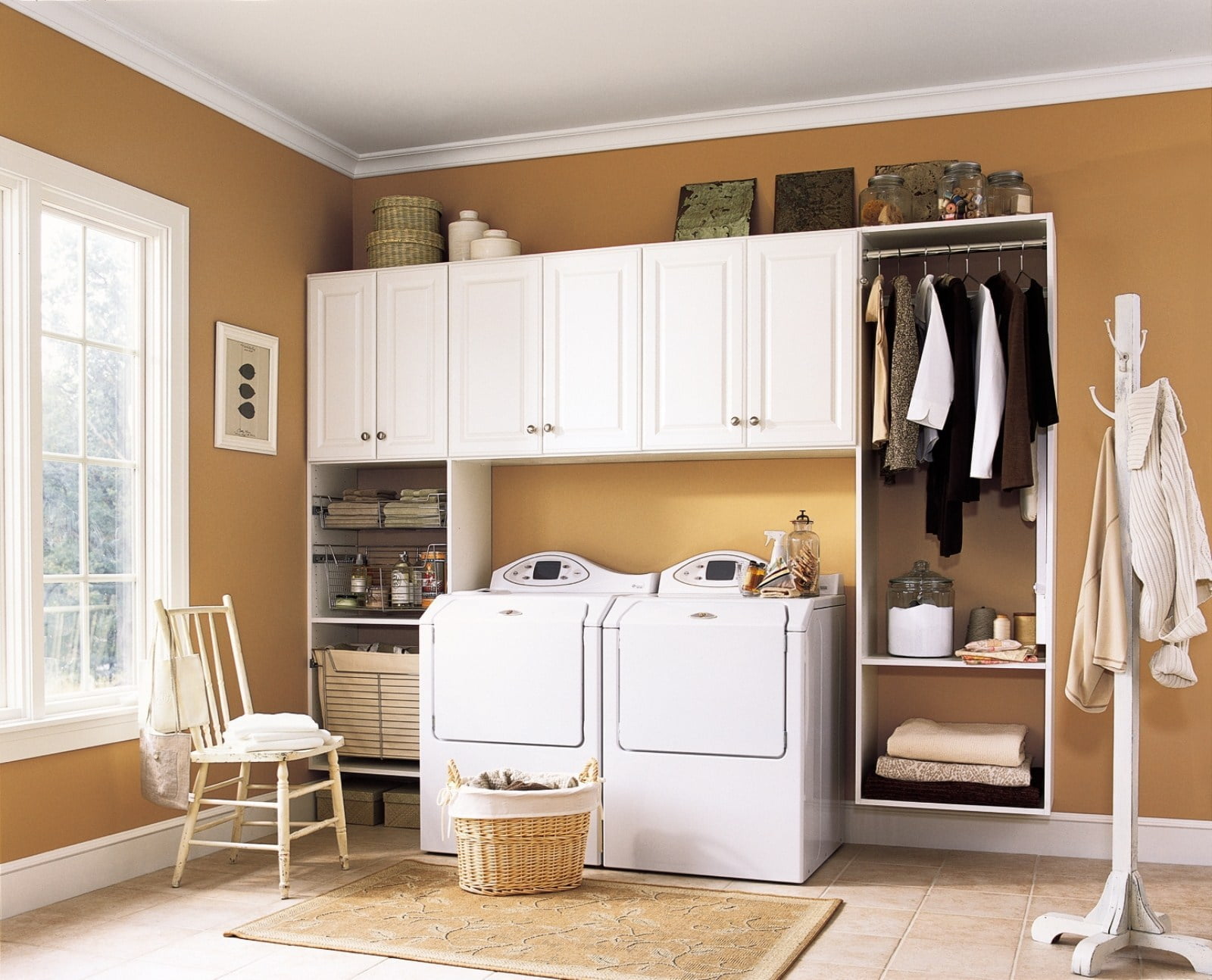 Source: The original source is not available anymore.
This small but functional space provides a simplistic elegance to what is traditionally a mundane space. Neutral tones on the walls, combined with plain white cabinetry and neutral stone flooring provide an elegant framework for modern touches such as polished chrome knobs and Victorian features such as a distressed hat rack and distressed spindle chair. Wire storage units and a large glass apothecary jars complement the Victorian design aesthetic. A woven basket and rug of natural textures complete the look that is a throwback to a time of washboards, washtubs and lye soap.
12. Futuristic Family Fun Laundry Room Decorating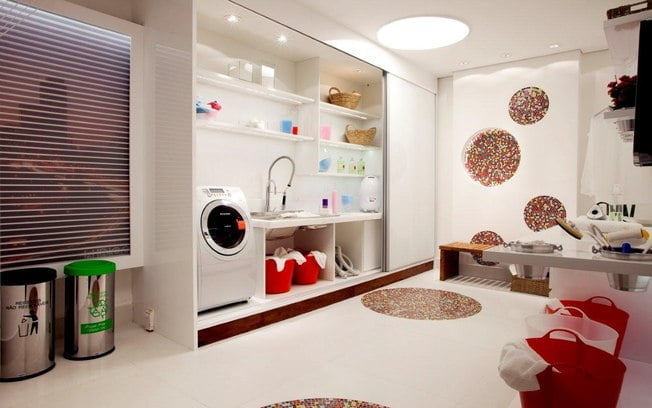 This modern and vaguely futuristic space uses vast stretches of white offset by bright colors and high gloss stainless steel to create a warm, open, modern, slightly futuristic effect. Circular tiles in primary colors offset the vast expanses of stark white, while stainless steel bins and receptacles provide a nice contrast to woven baskets which keep the space from feeling antiseptic or sterile. Open cabinetry in this laundry room design provides easy access to stored items and colorful storage receptacles brighten the space up even further.
13. Fun and Funky Utilitarian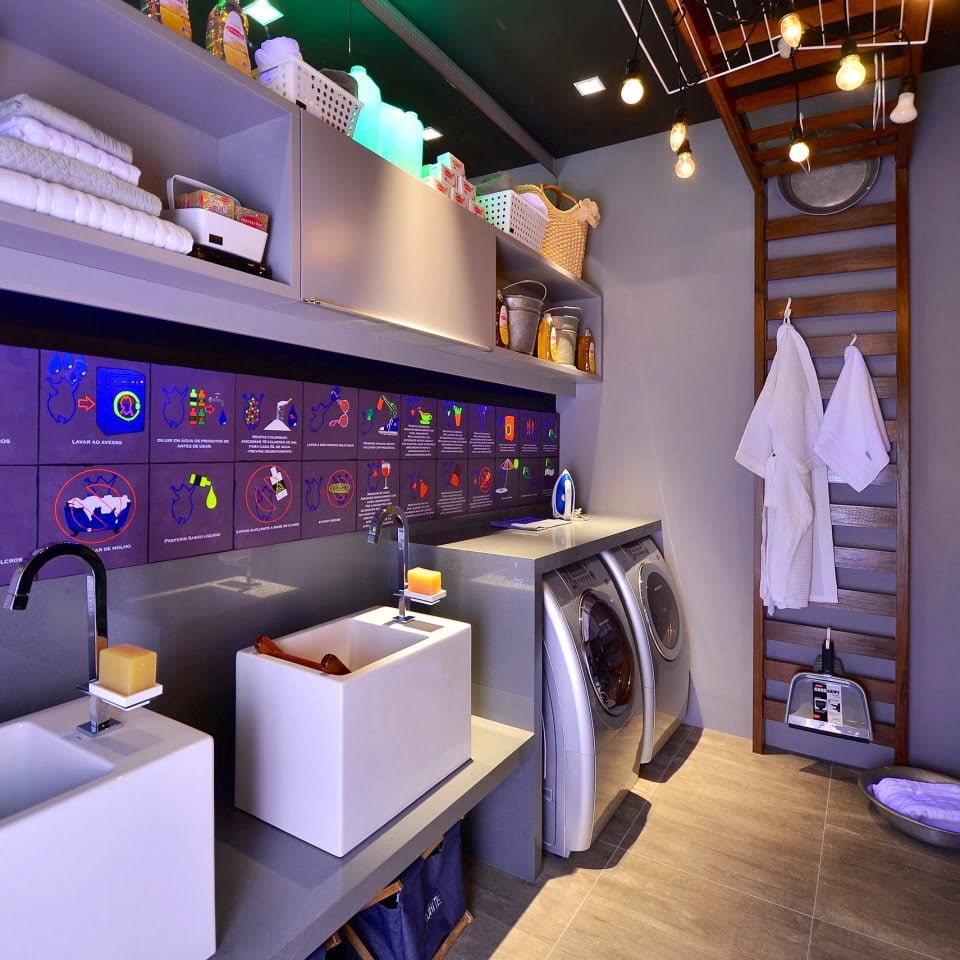 Source: The original source is not available anymore.
Strong geometric patterns make the most of this small space. Deep rectangular sinks with sharp angles provide a delightful contrast to the smooth lines of the modern washer and dryer. A dark wood ladder that can be used for hanging or drying provides warmth to the utilitarian grey tones of the room, while providing a high degree of functionality at the same time. Fun and whimsical lighting provides even more warmth to an otherwise somewhat stark space and a fun backsplash with bright laundry graphics provide a whimsical counterpoint to the stark colors and sharp angles of this heavily geometric space.
14. Amish Modern Laundry Room Decoration Idea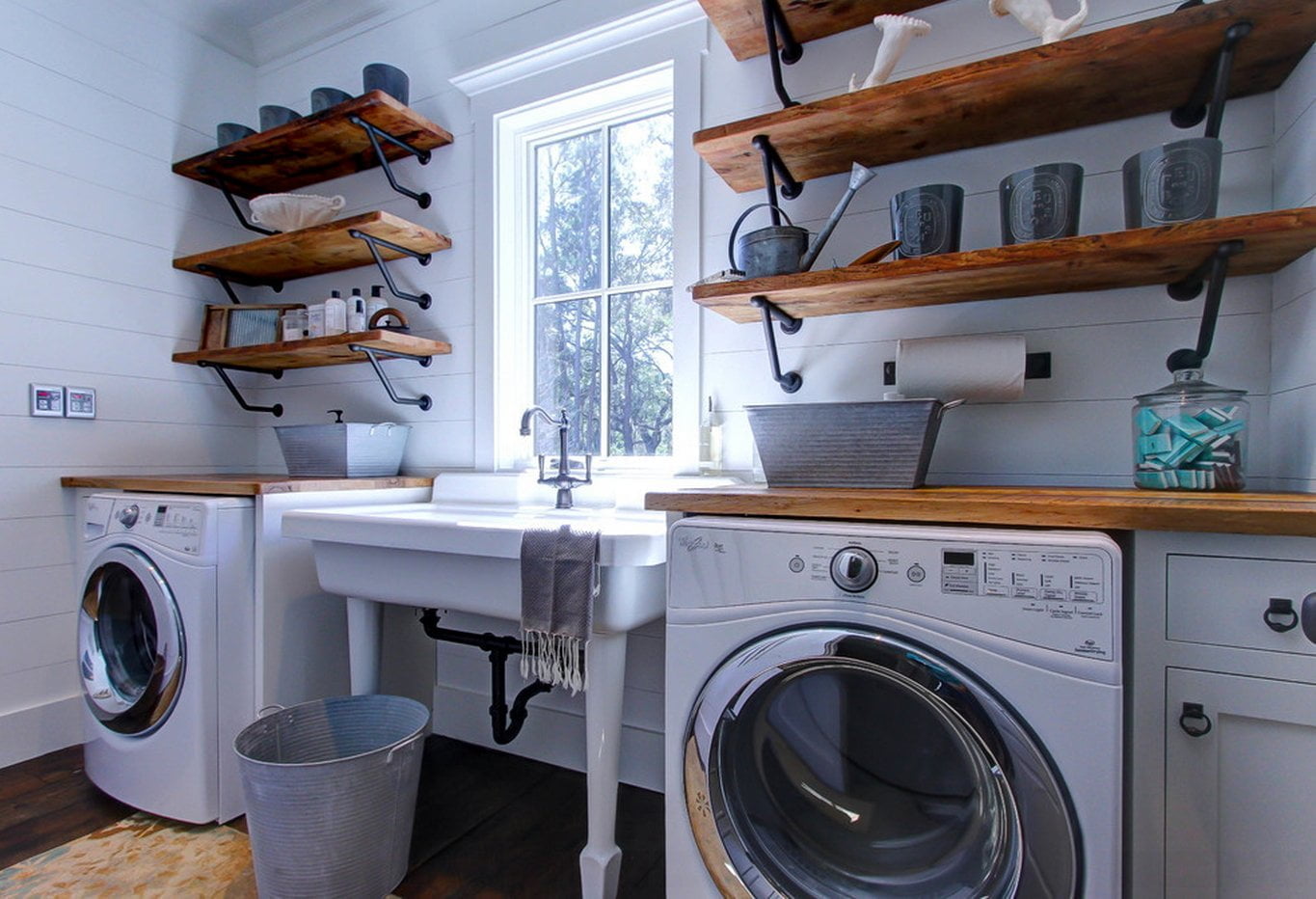 Source: The original source is not available anymore.
Reclaimed wood shelving with heavy iron supports provide a stunning feature of laundry room decor in this rather small and utilitarian space. Tin buckets, hampers and other receptacles as well as a farm sink complete the Pennsylvania Dutch flavor of this charming space. A large window provides plenty of sunlight to bring life and vibrance to the stark white tiles and give the impression that a look out the window might reveal a horse and buggy standing at the ready.
15. Eye-Popping Color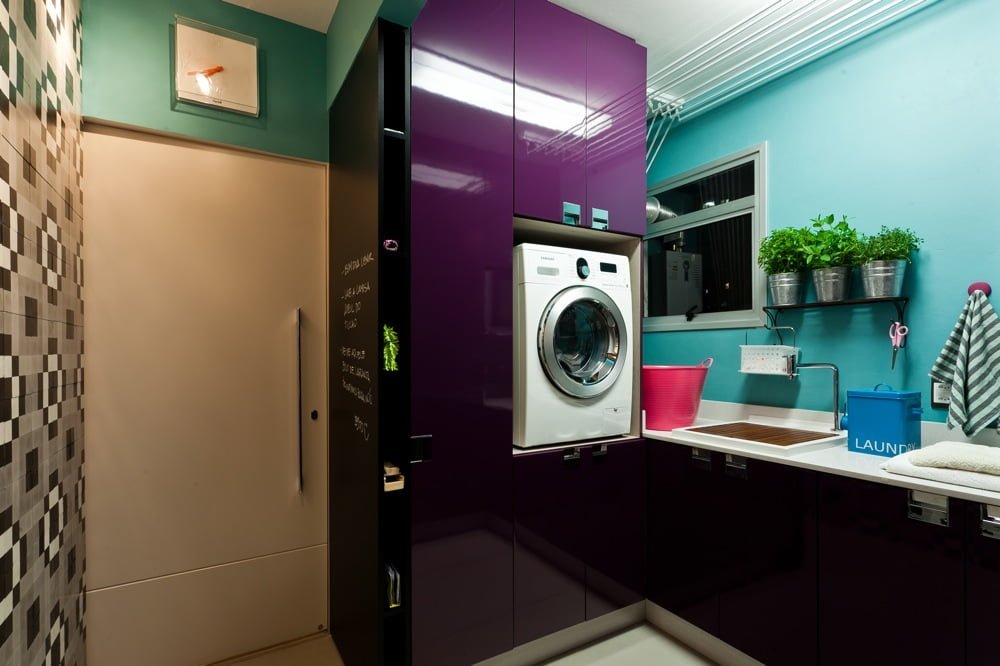 Source: The original source is not available anymore.
Stunning high gloss plum colored cabinetry provides a bold focal feature for this small yet vibrant laundry area. A rich aqua accent wall is offset by a grey mosaic tile wall, creating smooth clean lines to accentuate the vibrant colors. A geometric clock and square sink provide great laundry room ideas for those working with a smaller space. The oversized plum cabinets provide not only a great focal point, but also loads of storage for great laundry room organization.
16. Sunny Garden Delight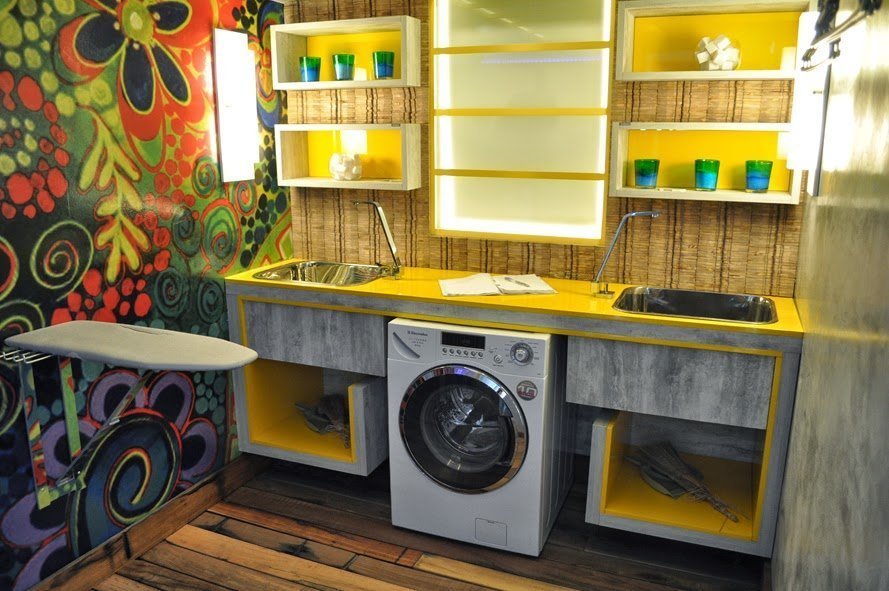 A bold floral wall offsets the rather austere pairing of stark grey and bright yellow. Rattan matting on the walls provides a neutral backdrop for white shelf boxes backed in bright yellow. A small built in ironing board makes great use of a small space to provide added functionality. Mismatched wood flooring creates a delightful contrast to the streamlined modernity of the double sinks. This small room is a study in contrasts that provides a delightful addition to overall home decor.
17. Small But Delightful Laundry Room Idea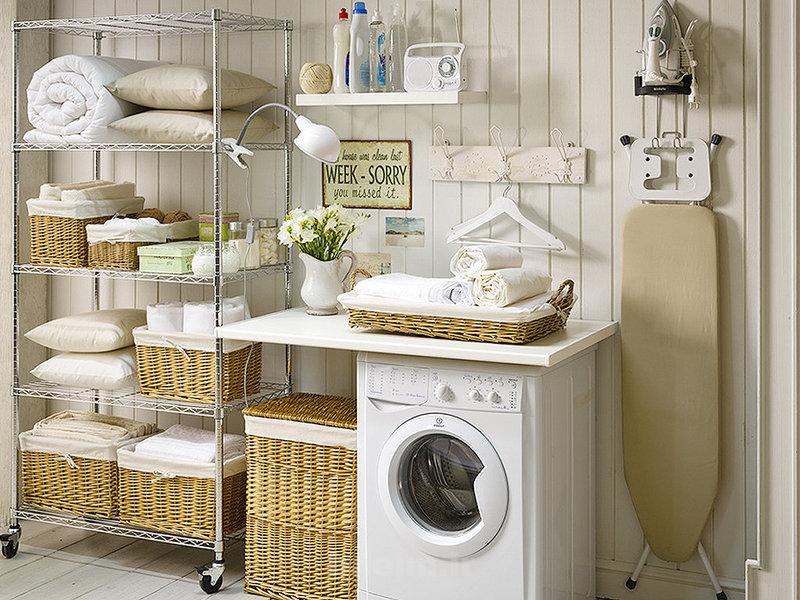 Modern machines that combine a washer and dryer into one unit make this tiny but delightful laundry room design a perfect fit for even the smallest of flats or apartments. A stainless steel rolling kitchen cart does double duty as laundry room decor and provides ample storage when outfitted with all manner and sizes of wicker baskets. White wainscoting provides a splendid backdrop for a shelf, coat rack and hanging ironing board organizer. A shelf installed over the combination washer/ dryer unit adds a small but vital workspace for folding clothes or laundry prep and flowers in a simple white pitcher adds a touch of elegance to this simple design.
18. Maximized Minimalism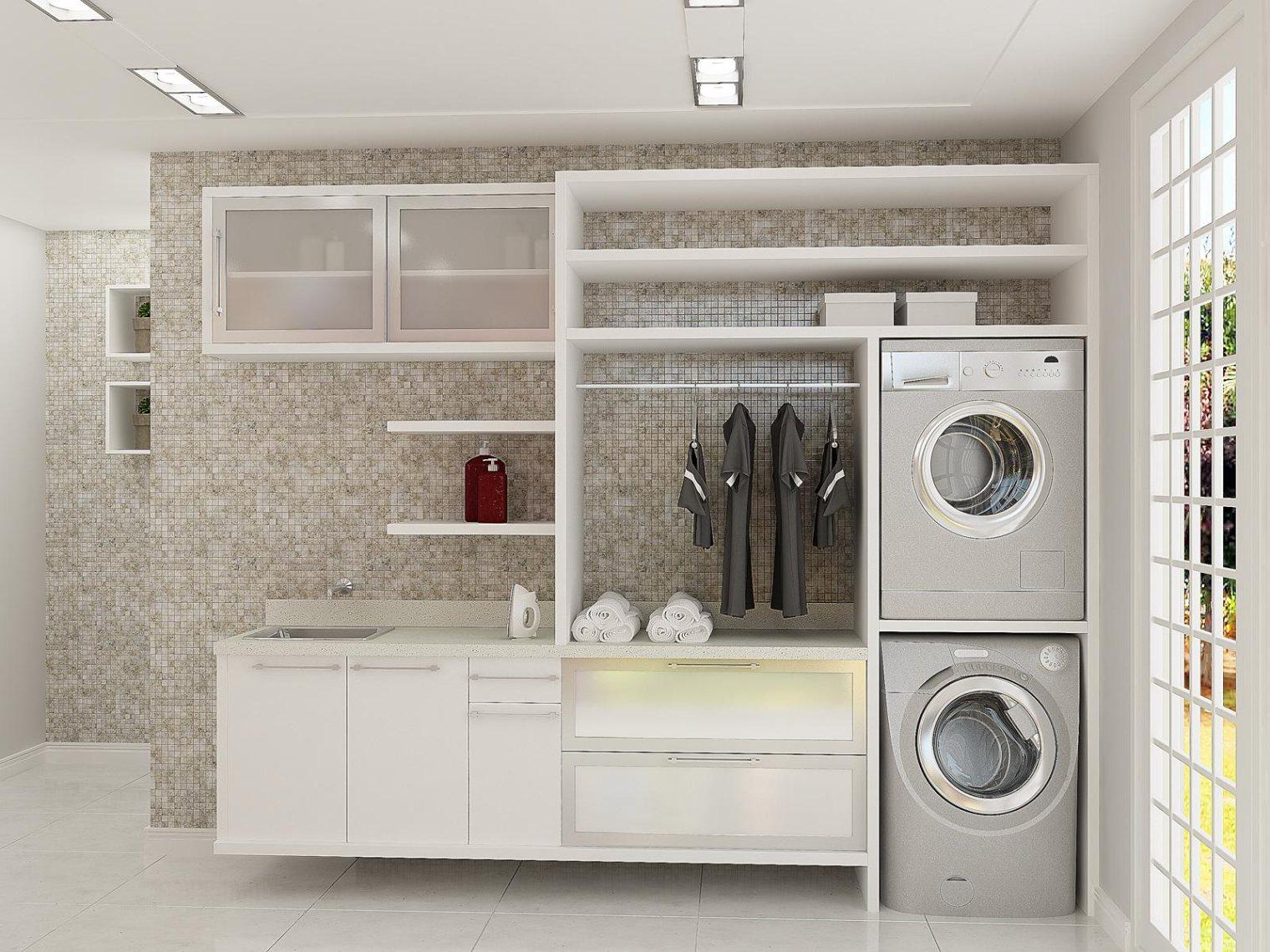 Source: The original source is not available anymore.
Clean, straight lines, smooth angles and neutral tones make this laundry area a minimalist's dream. Open white cabinetry combined with neutral tiles laid uniformly throughout the space create a clean, simplistic elegance. A floor to ceiling latticed window provides ample lighting to bring out warmth and vibrance in the white floor tiles and cabinets. Clean up is a breeze with laundry room designs that utilize open cabinetry and an open floor plan to create space and light with an eye toward minimalistic design.
19. Timeless Classic Laundry Room Decoration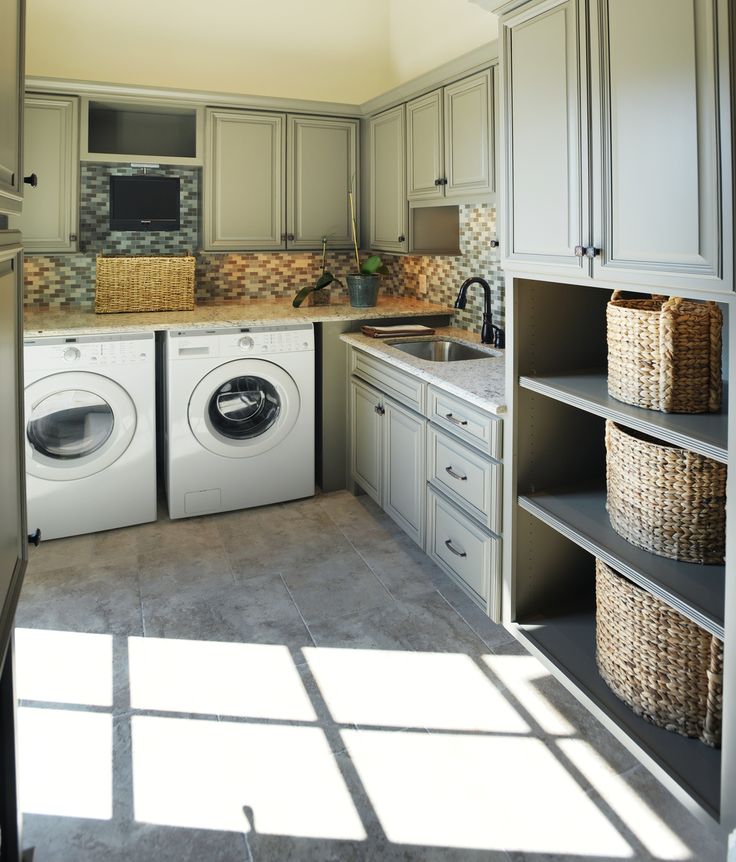 Oversized wicker baskets and just the tiniest hint of green in the cabinets gives this laundry space a timeless elegance that will fit in well with almost any home decor. Light marble or granite countertops combined with dark sink fixtures create a beautiful juxtaposition, which is offset by green glass tiles on the walls. Neutral stone floors and a large window bring warmth and light to this classical, elegant area. This is a great design for anyone with plans for reselling a house as it has enough character to add value to any home, while still being neutral enough to appeal to most buyers.
20. Behold the Bold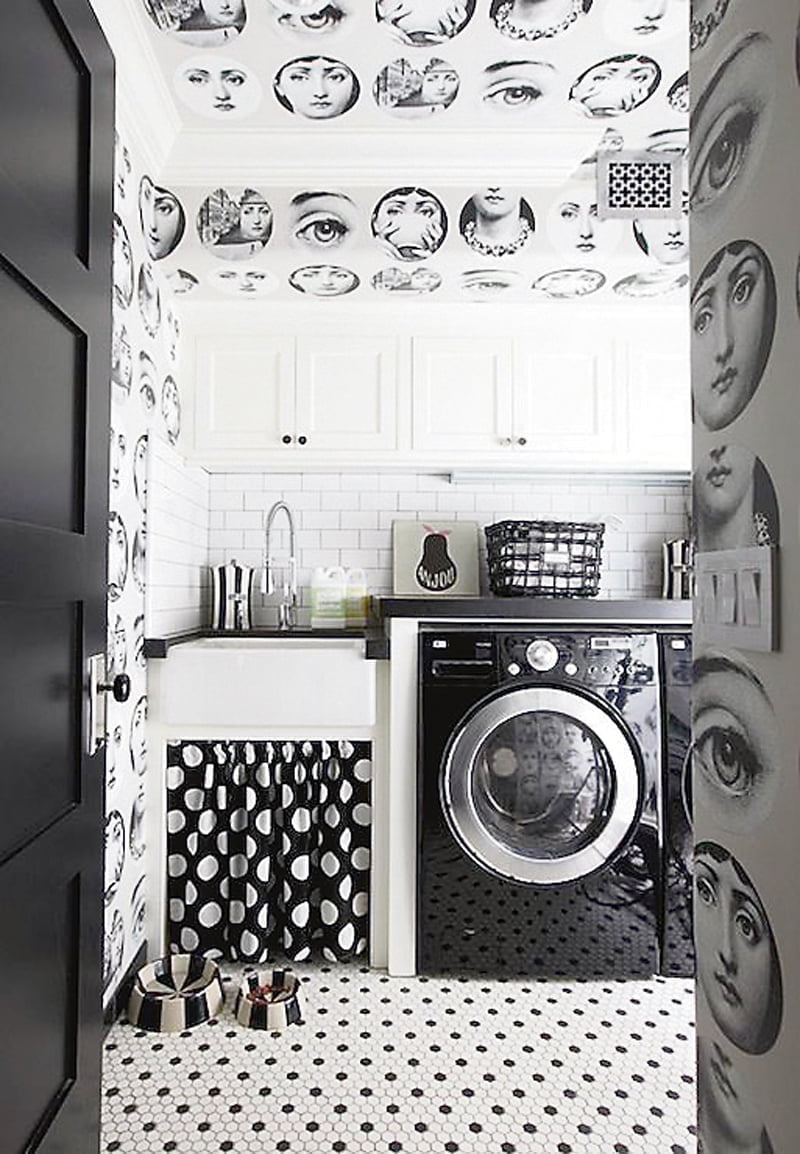 Source: The original source is not available anymore.
This creative and innovative space is perfect for the bold or avant-garde. A white stone sink underscored by a whimsical polka dot curtain creates a delightful counterpoint to lustrous black appliances. White wall tile and black and white mosaic floor tiles complement the white cabinetry and black door. Black & white circular cutouts of faces and various facial features provide an interesting and unusual feature to an otherwise very matchy-matchy room. Chrome fixtures offer a smooth and sleek complement to the monochromatic elegance of this area.
21. Just A Touch Of Color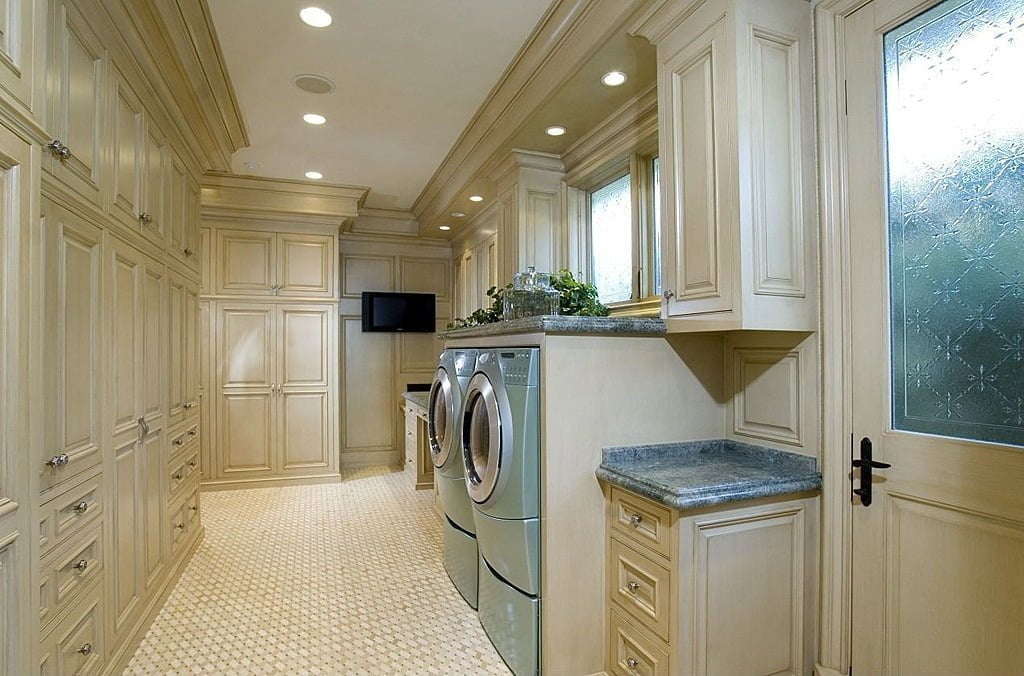 Source: The original source is not available anymore.
Just a few hints of sea foam green in this otherwise neutral space, provides a beautiful accent that highlights the fine details of the beautifully designed laundry room cabinets. Floor-to-ceiling and wall-to-wall cabinetry creates an almost limitless space to utilize all the clever laundry room storage ideas you have ever dreamed or imagined. Green appliances and green marble countertops provide a beautiful accent to the acres of neutral cabinetry and neutral floor tile. Etched green glass in the doors and windows provide a simple yet elegant accessory to this highly functional space.
22. Log Cabin Classic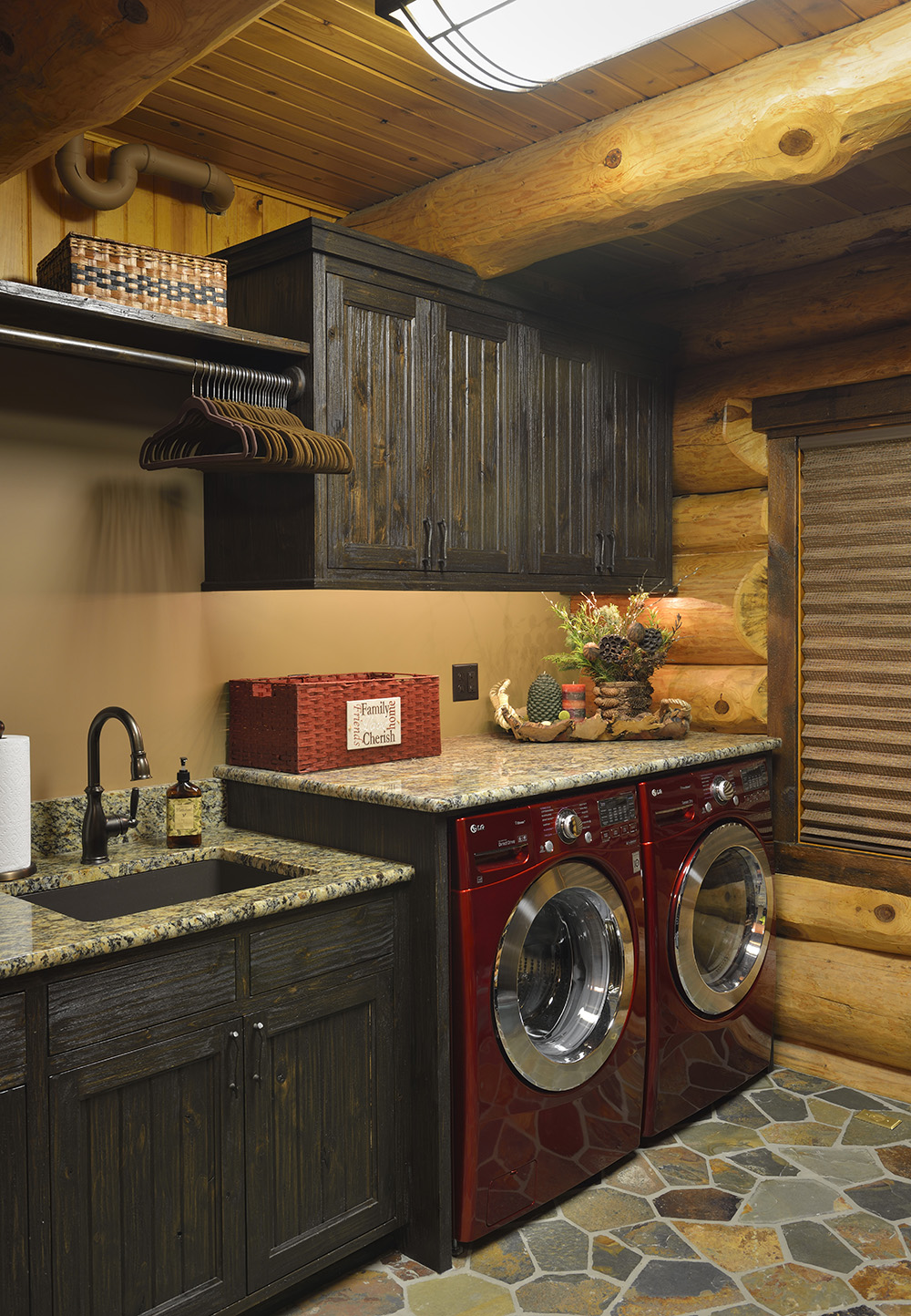 Source: The original source is not available anymore.
Beautiful deep red appliances provide a stunning feature in this microscopic laundry area. Perfect for a mountain retreat where space is at a premium, reclaimed wood cabinetry and marble countertops provide beautiful accents to the natural wood walls and stone flooring. A hanging bar over the sink area utilizes the best laundry room designs to make use of every available space.
23. Vintage Charm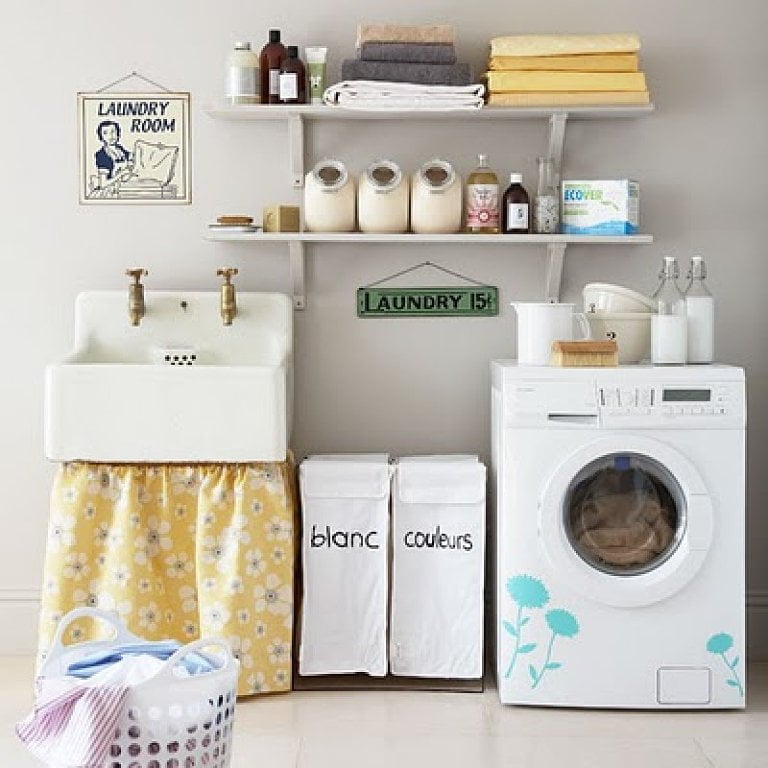 Once again proving that size doesn't matter, this elegant design makes the very best use of a microscopic space. From the floral skirt on the vintage sink with vintage brass hot and cold taps to the flower decals on the combination washer/ dryer, pretty is the name of the game. Overhead shelving accented with glass bottles and ceramic pottery makes great use of the tiny space to provide a much needed storage area. Vintage metal laundry signs and crisp white linen hampers lettered in French complete the overall look of vintage charm.
24. Life's A Beach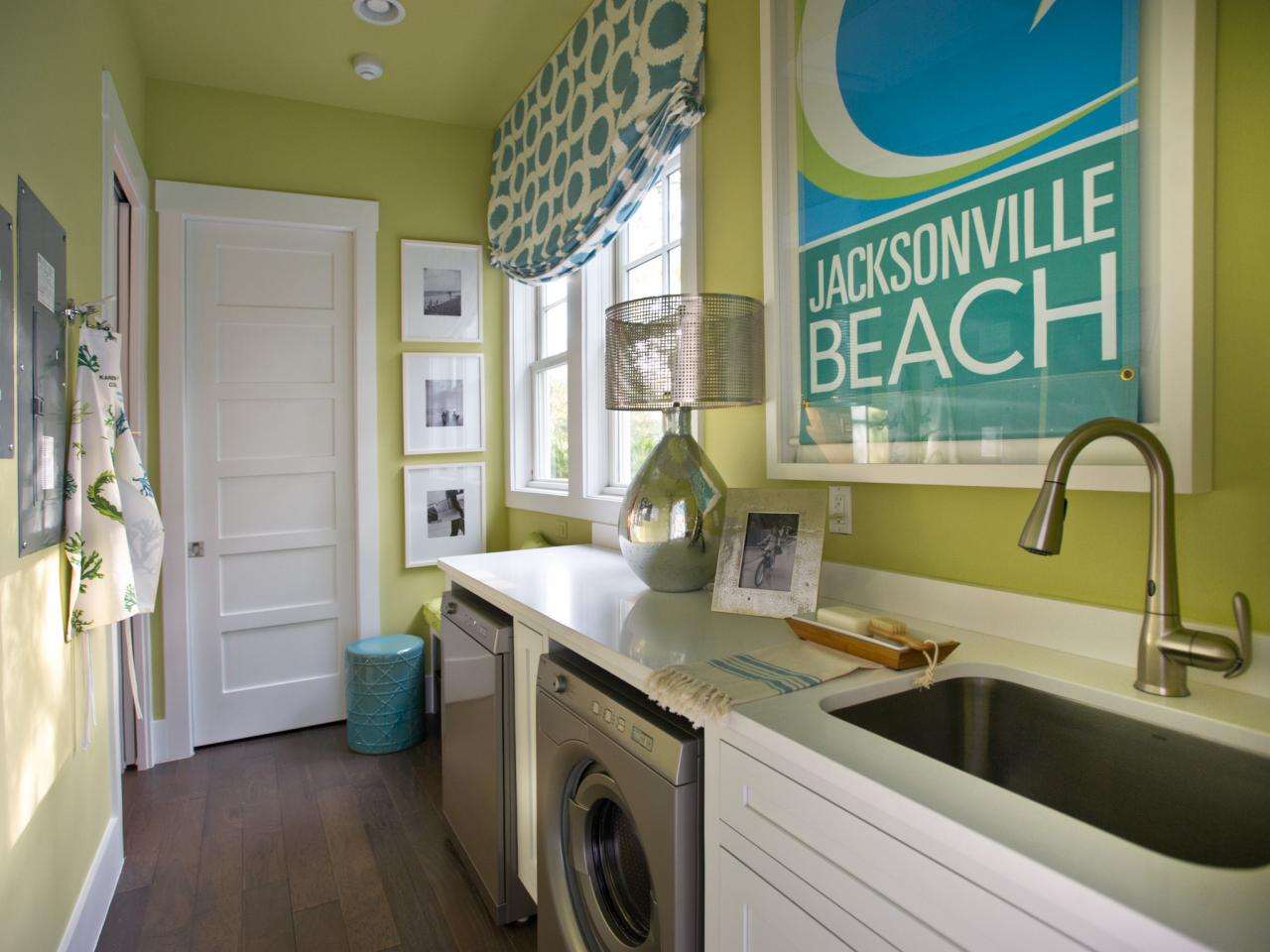 Cool greens and blues offset by white cabinetry, door and window frames and oversized white picture frames combine to create fantastic beach house elegance. A silver table lamp along with a chrome sink fixture adds a few touches of modern elegance, making this a perfect room for either a beach house or just a regular suburban home that houses beach lovers. Medium distressed wood floors and an aqua toned trash can complete this celebration of all things summer.
25. Budget Friendly Makeover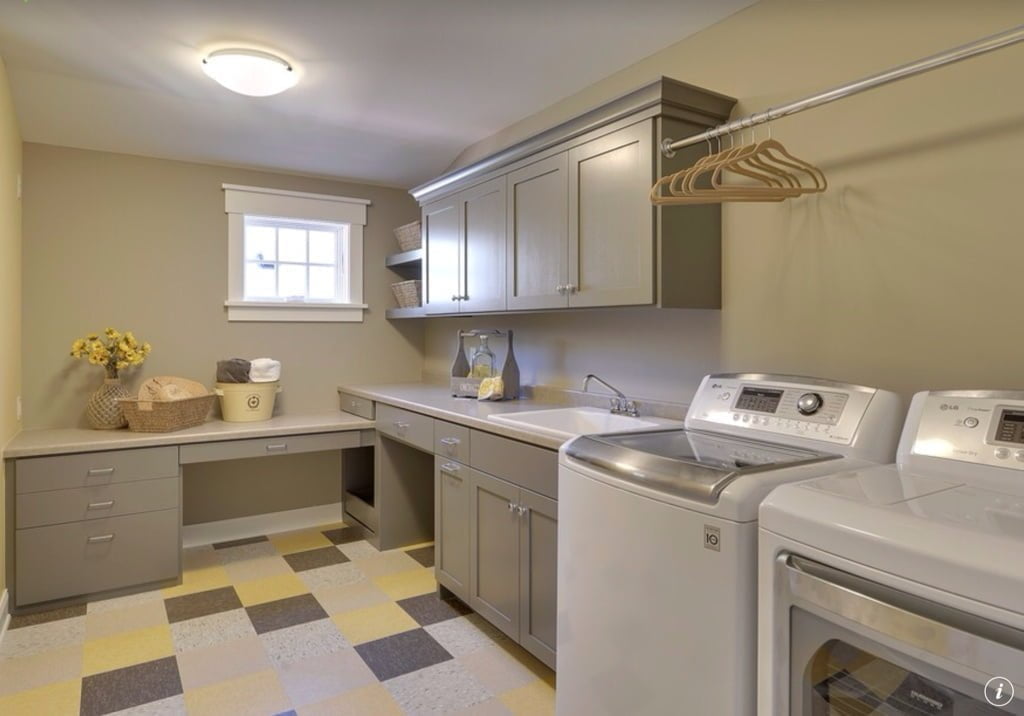 With neutral walls and vinyl floor tiles, this is one of the great laundry room ideas for someone without a huge budget to spend on an entire makeover. Sparkling white appliances pair nicely with neutral cabinetry, neutral walls in a slightly different shade and white window trim. Cabinets are covered in a durable laminate that makes this the perfect laundry room for a rental, resale property or simply an inexpensive facelift for your vintage home. A regular shower curtain tension rod creates a great space for hanging clothes and is a great solution for someone looking for simple and inexpensive laundry room storage ideas.
26. Rainbow Bright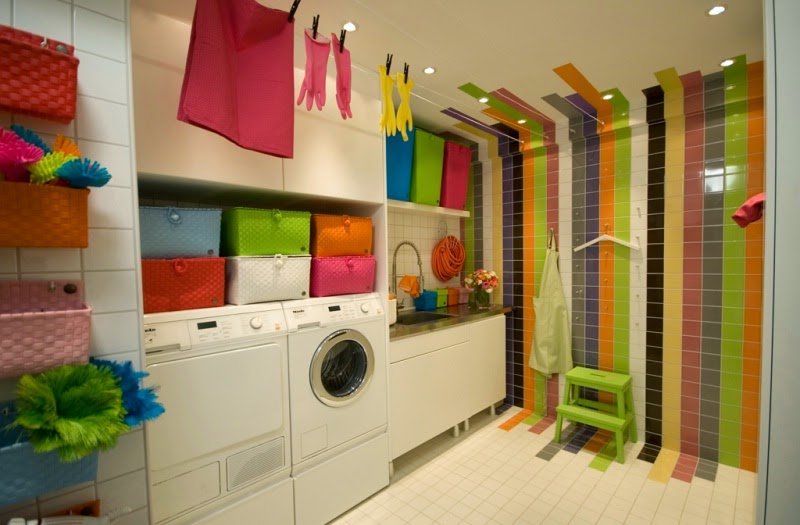 While not everyone will necessarily have the money to invest in a custom tiled wall, there are some great laundry room ideas in this space that will translate well to a less customized space. Laundry room storage ideas abound, from the hanging baskets on the walls, to the coordinating storage baskets stacked on top of the appliances, to the colorful bins over the sink. Simple clotheslines running across the ceiling make a great place to hang damp items to finish drying, and pegs on the wall make great hooks for hanging items for drying or storing. Bright accessories can take a plain white room and turn it into a bright, colorful room in which to do the most mundane of chores.
27. Neutral With Flair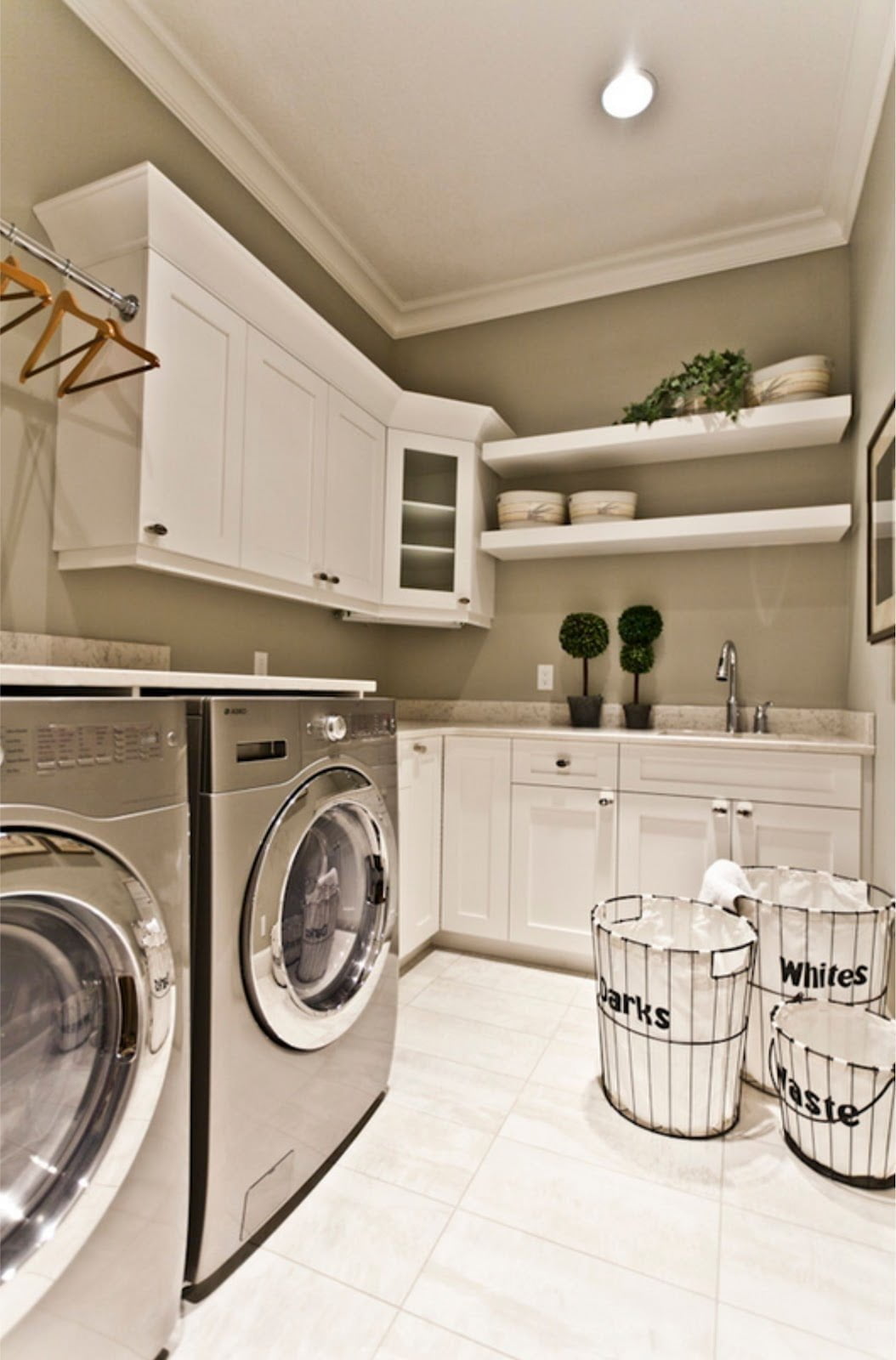 Oversized stainless steel appliances create a smooth, sleek focal point for this delightfully neutral laundry area. White cabinetry, white tile flooring and a trio of white hampers lighten up the neutral walls, giving this area a clean, open feel. Open shelving over the sink provides a great location for plants or other greenery to bring some touches of color to this space. This is another great idea for people working on a budget or designing a space to increase the home's resale value.
28. Baby Fresh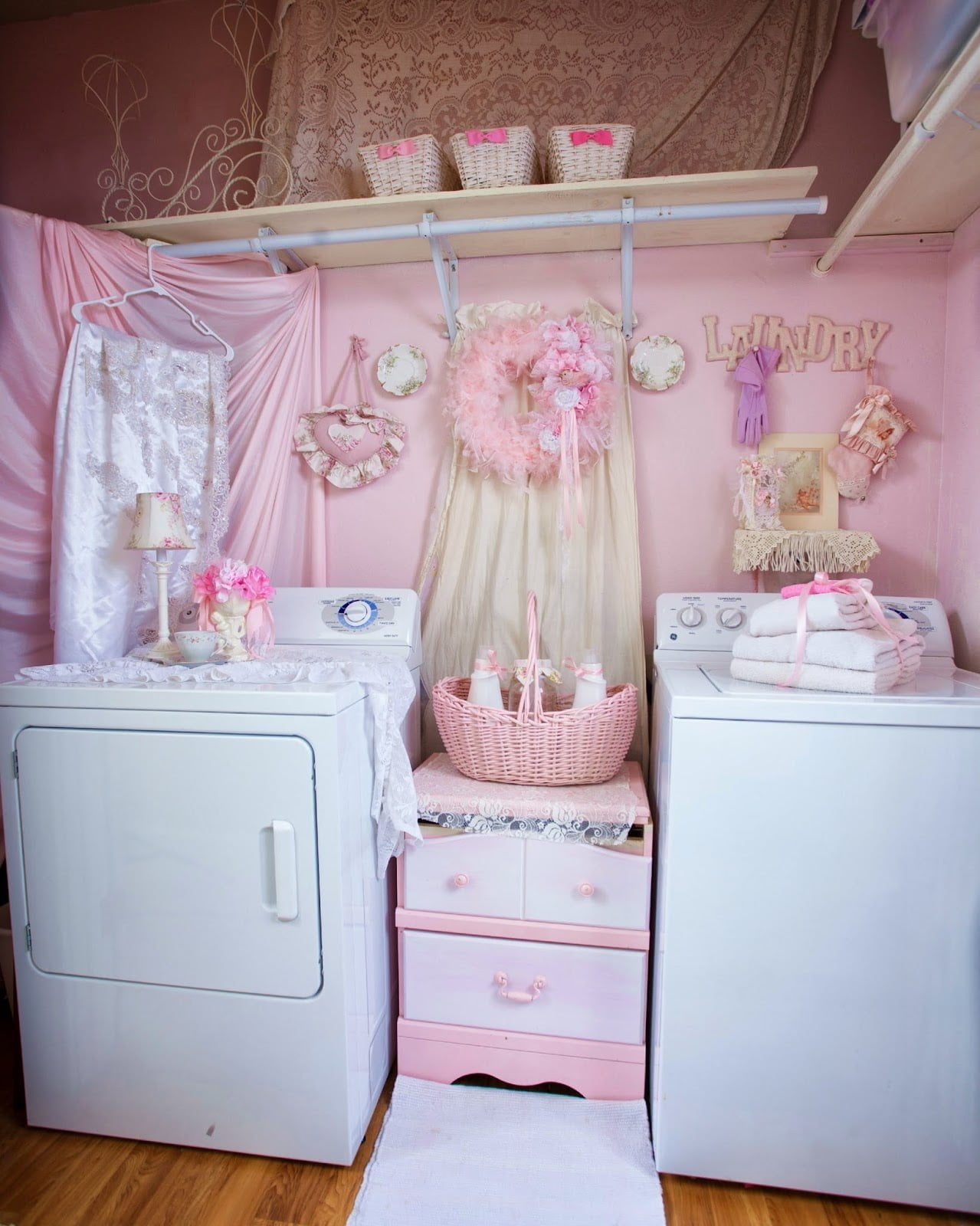 No one can deny that among the many things babies bring into your life is a mountain of laundry. Why not incorporate a small laundry area right into the design of the nursery? A small nightstand between the machines and a high shelf with baskets provides ample storage space for laundry soaps and powders. A pink painted wall provides a sweet touch and a coordinating pink sheet can be used to section off the area from the rest of the room. A white throw rug, pink wreath, woven basket and lots of ribbons and bows complete the look of this sweet little laundry area.
29. Ready For a Latte Laundry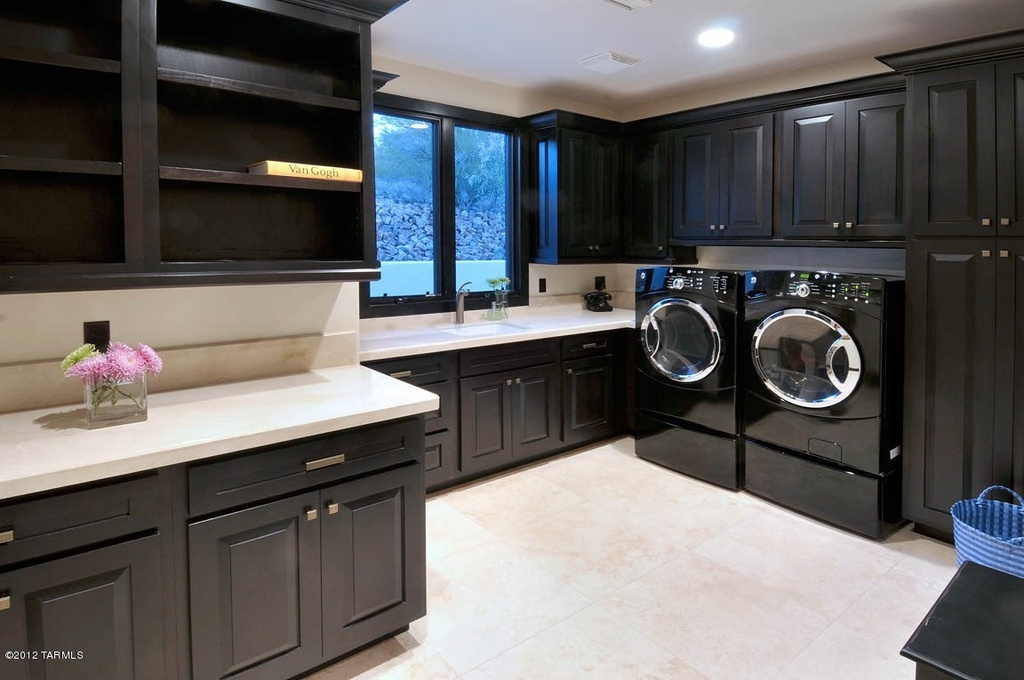 Source: The original source is not available anymore.
If you're looking for laundry room designs for a large space, this is for you. This large spacious laundry area combines dark espresso cabinetry with cream colored countertops and flooring to create a beautiful, warm open space, reminiscent of many people's favorite drink. Oversized black appliances fit perfectly with acres of cabinetry that are an organizer's dream. Recessed overhead lighting blends perfectly with the smooth clean lines of the room, while a large window adds sunny warmth to the stark contrast of dark and light. A sink and miles of counter space make this a versatile room for engaging in any number of tasks, from crafting to canning to a great staging area for a catered or holiday meal.
30. When Residential Meets Commercial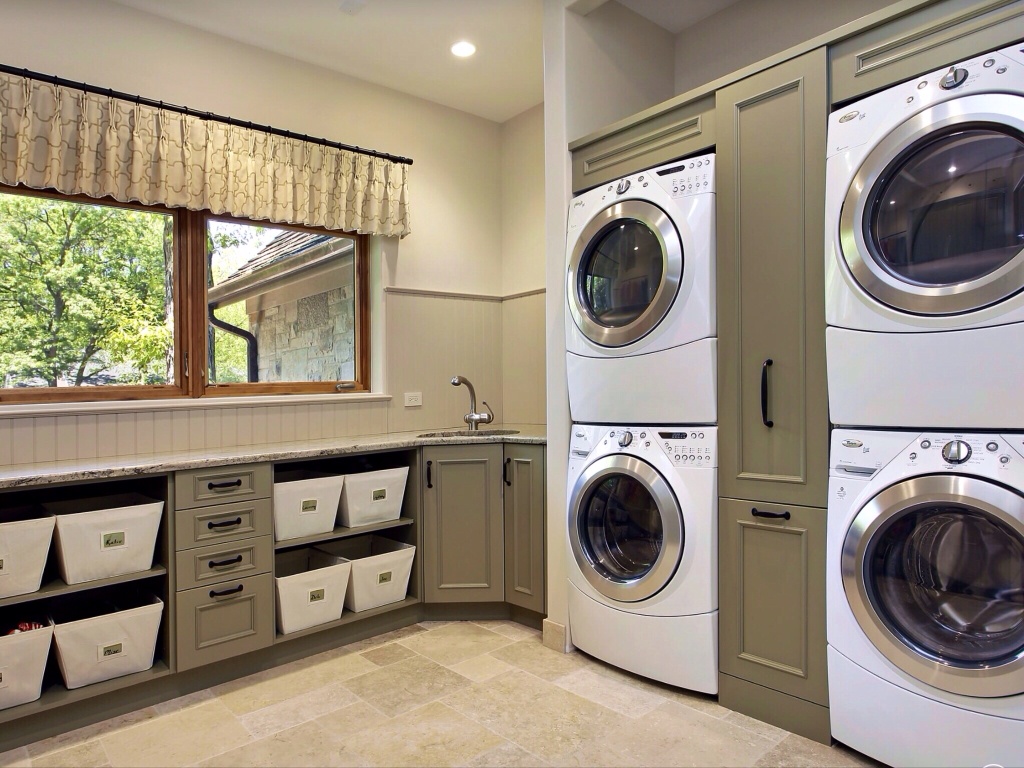 Source: The original source is not available anymore.
Four oversized washer/ dryers are the dominant feature in this laundry area primed for commercial use. This space is one of many great laundry room ideas for a large family, operators of a bed & breakfast or other vacation properties that requires massive amounts of laundry to be done with a short turnaround time. The appliances leave little room for storage, but if the main purpose is to wash massive amounts of sheets and linens that are immediately put back into use, storage is not as big of a necessity anyway. The remaining space is perfect for all the laundry necessities such as an ironing board, soaps, powders and other basic staples of the laundry area.
31. Laundry Room Meets Mudroom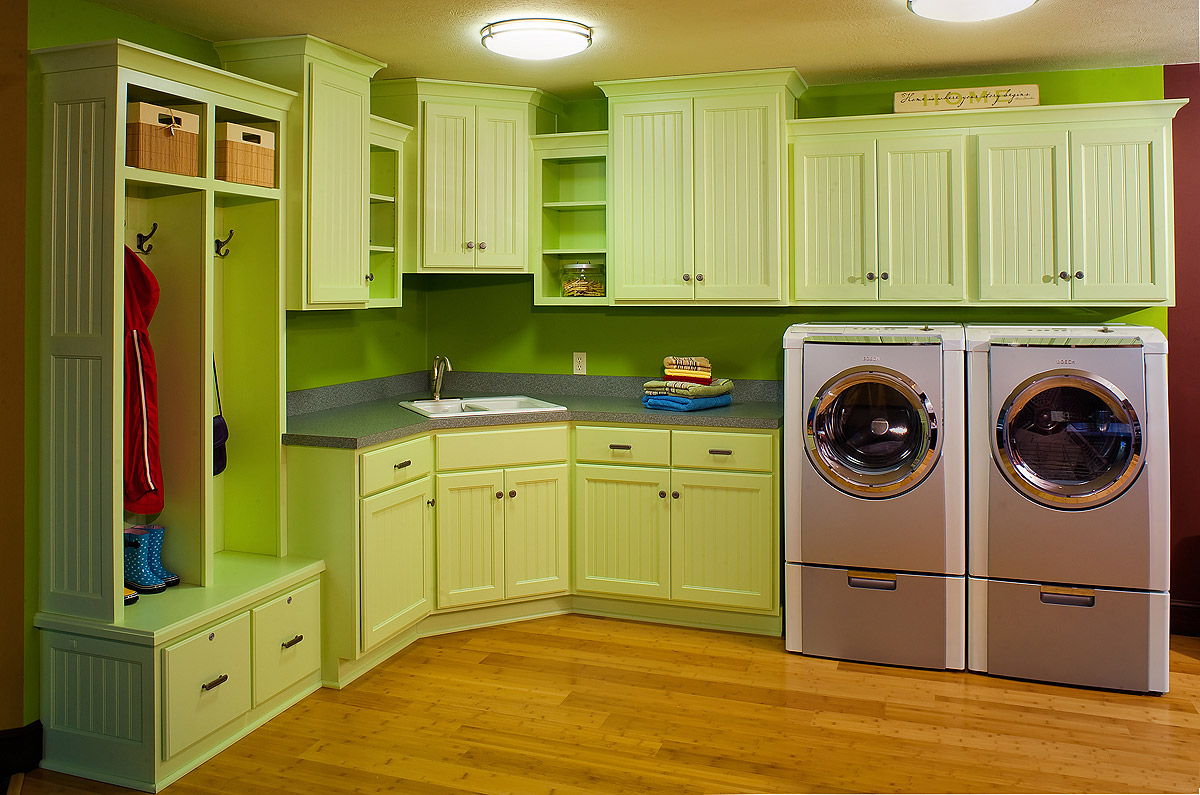 Source: The original source is not available anymore.
Beautiful hardwood floors make clean up a breeze when the weather turns sour. A nook for hanging coats, combined with a small bench for taking off muddy shoes make this an ideal area for transitioning from muddy outdoor gear to clean indoor wear. The oversized washer and dryer is perfect for immediately throwing in coats or other wet clothing or outdoor wear, and the uniform green cabinetry provides a bright touch of spring to offset the winter dreariness.
32. A Study in Scarlet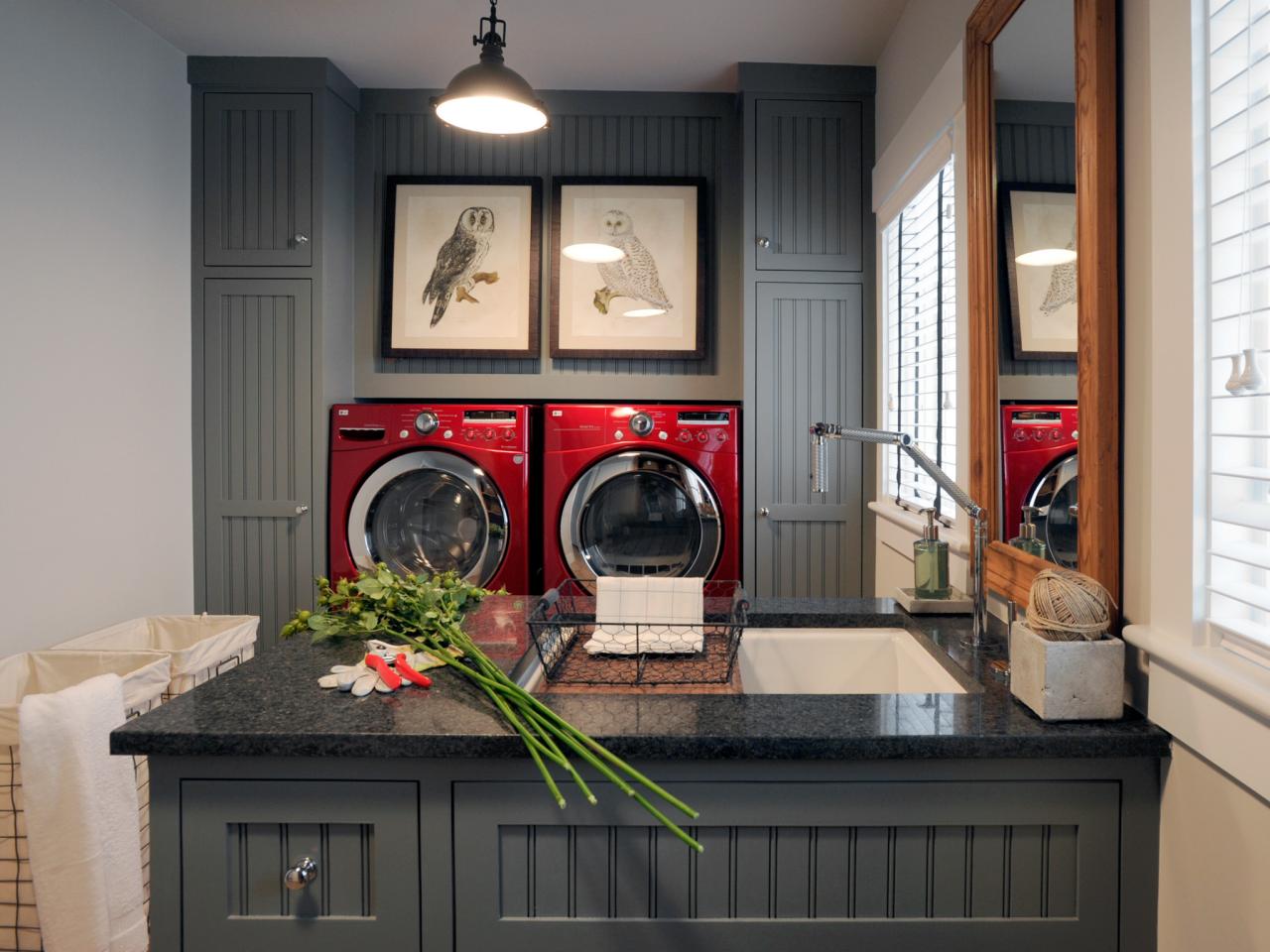 Source: The original source is not available anymore.
Beautiful, shiny red oversized appliances provide a stunning focal feature to offset the clean grey and white palette of this small but elegant room. Off white linen liners in a gridded iron frame create hampers that blend well with the strong, clean, elegant lines of the small room. An oversized island offers a sink and small work area, while clean white shutters provide a nice counterpoint to the dark grey cabinetry and dark granite countertops. A pair of owl prints break up the straight lines and large wall of grey cabinets.
33. Classic, Clean and Swedish Laundry Room Design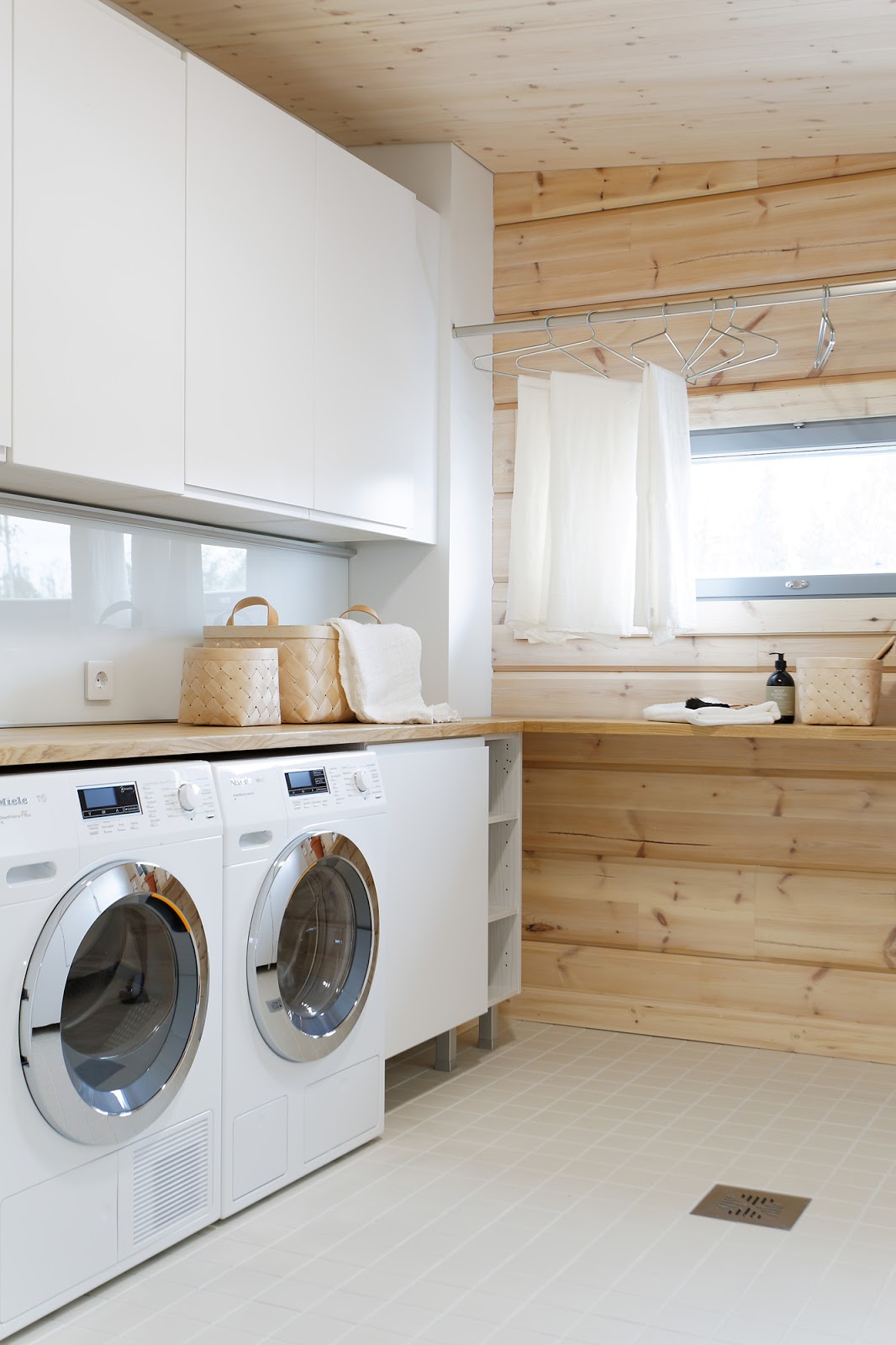 Source: The original source is not available anymore.
Large white front-loaded machines provide the centerpiece for this classic Swedish look. Beautiful light pine paneling paired with smooth white cabinetry provide a timeless and classic look of clean austerity. White floor tiles and a pine countertop complete this no fuss, no muss look that is simple and easy to achieve. The clean, crisp look is unblemished by a lot of accessories or color. Simple woven baskets accent the simple beauty of pine, while the unadorned white cabinets complement the overall simplicity of the room.
34. A Do-It-Yourself-ers Dream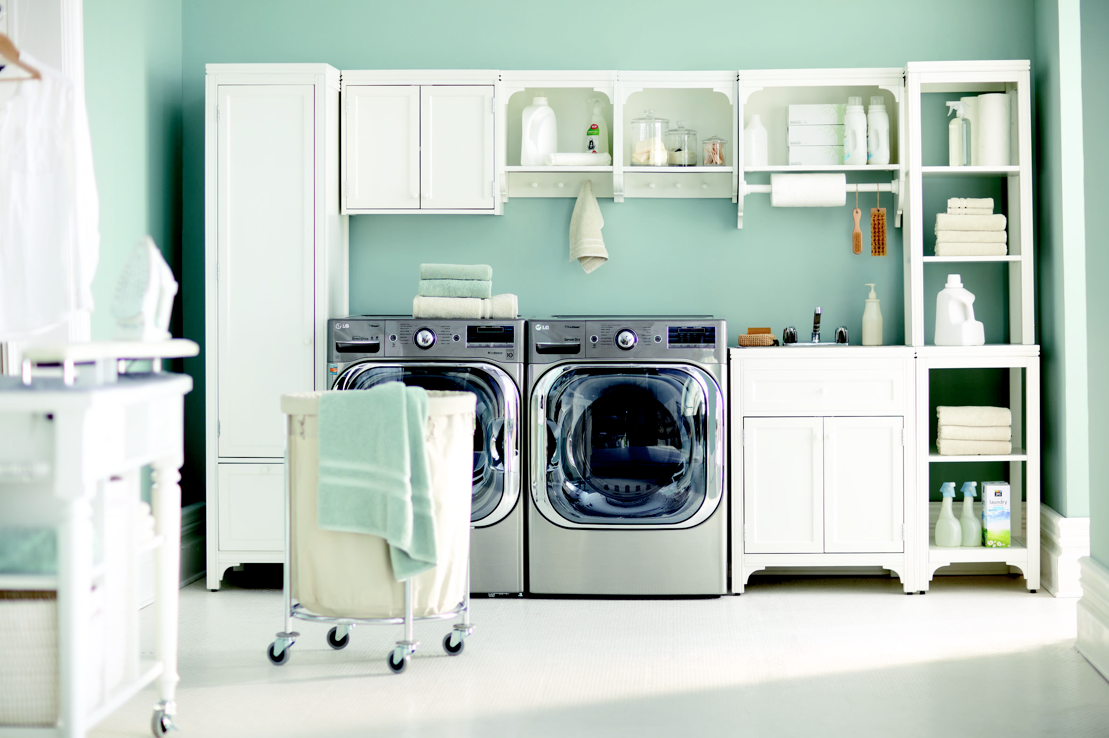 Source: The original source is not available anymore.
Great cabinetry doesn't have to be custom to be charming. This laundry area features a hodgepodge of different do-it-yourself cabinet pieces in the same white finish to create a charming, delightful and highly functional laundry area. Oversized modern appliances in stainless steel with square windows creates a stunning focal point in the center of the pieced together cabinetry. A rolling kitchen cart creates a versatile workspace that also doubles as additional storage, and a hanging bar over the sink creates a great holder for paper towels and other cleaning implements.
35. Under The Sea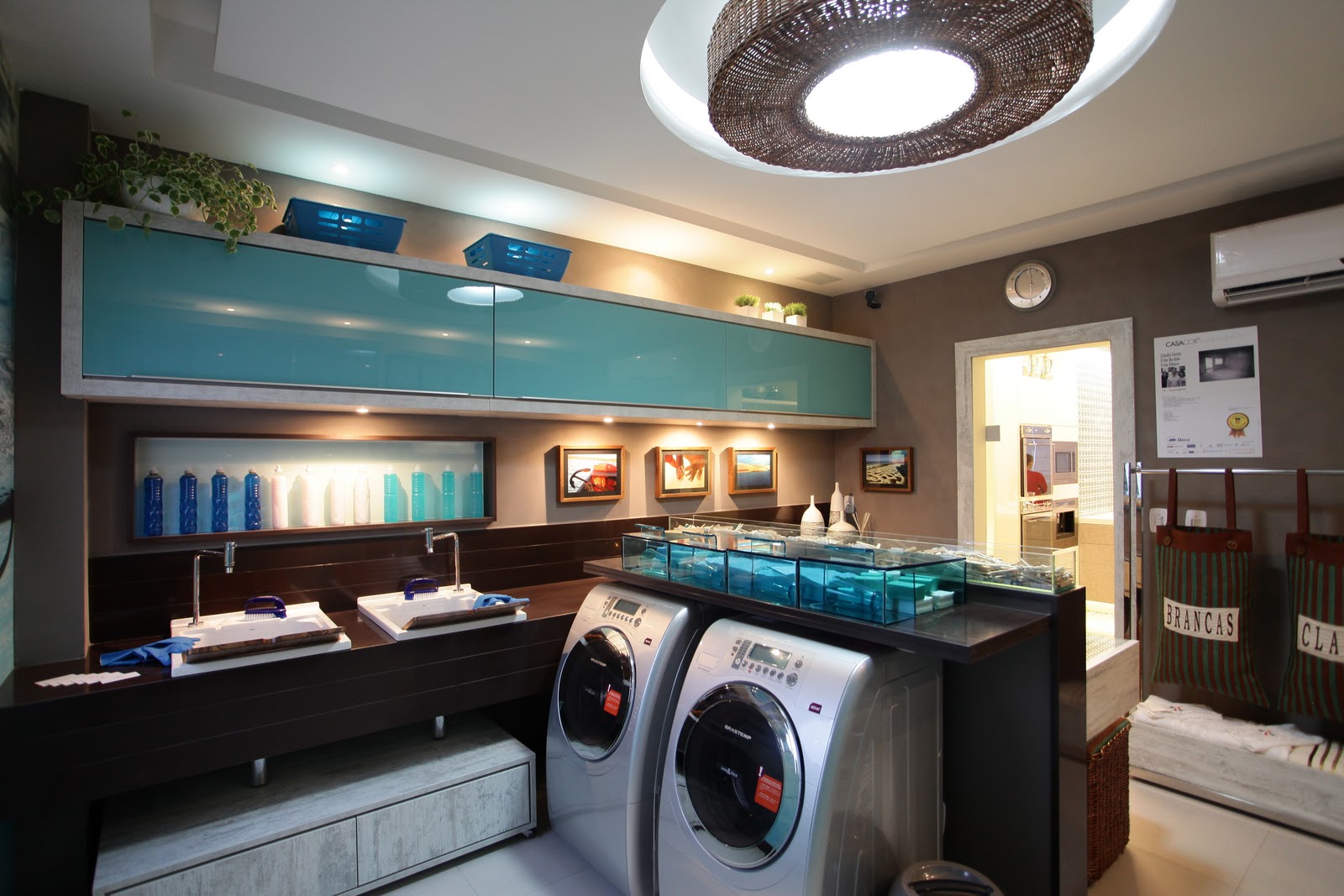 Source: The original source is not available anymore.
Stunning hues of blue and dark woods create a futuristic watery oasis. Modern double sinks accentuate the modern look of the curved appliances, while a light marbled storage unit under the sink offsets the dark woods beautifully. Hanging laundry bags are a unique feature of this space that offers a great idea for laundry room organization and the basket woven lighting fixture creates an intriguing element to the overall design. This space ties together earthy elements such as wood, stone and water in a beautifully stunning masterpiece.
36. Budget Friendly Charm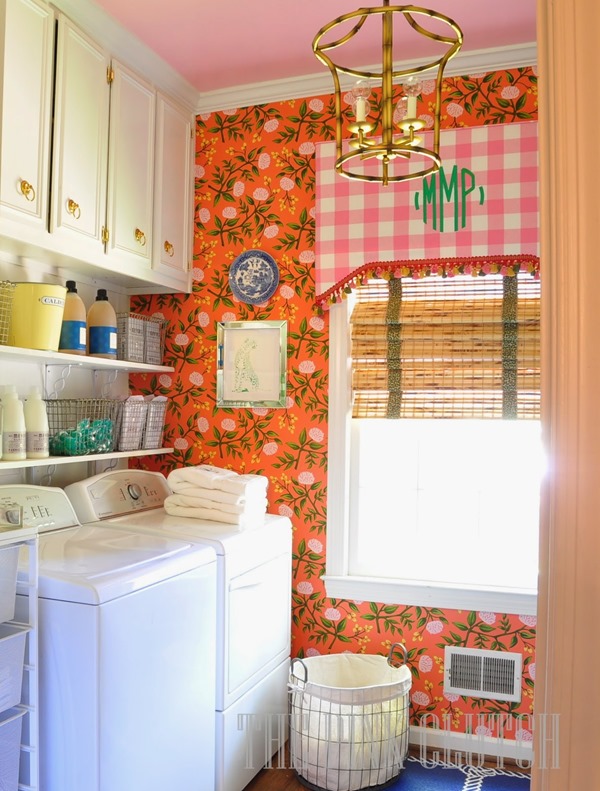 Source: The original source is not available anymore.
This tiny but charming space is a perfect example of creativity on a budget. A hodgepodge of different elements and features have been used to create a delightfully eccentric space. An inexpensive rattan window shade provides a nice counterpoint to a vintage light fixture of a type that can be found at most thrift or second hand stores. A pink plaid custom window treatment is easy to create and pairs nicely with bright wallpaper small enough to be a remnant. An inexpensive and more traditional washer and dryer unit paired with original cabinetry make this a great makeover for a rental property or starter home.
37. Clean, simple and elegant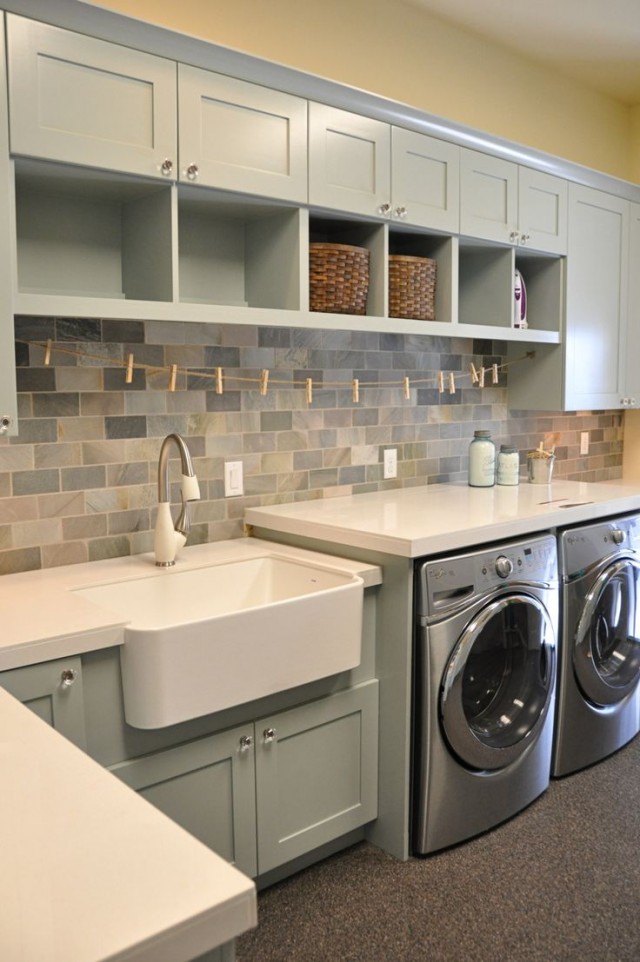 Source: The original source is not available anymore.
The beautiful, simple design of this laundry area makes it another great choice for a resale property or a budget conscious makeover. Inexpensive melamine counters offer a nice contrast to inexpensive cabinetry with clean lines and simple features. A modern sink fixture and a green tile backsplash offers a touch of modern elegance to an otherwise simple room, while stainless front loading appliances give the room a high end look. Vinyl flooring with a granite texture creates a durable but elegant surface that will be both long-lasting and easy to clean. A clothesline complete with traditional clothespins hung over the sink creates a whimsical final touch that ties the room together.
38. Manhattan Mud Room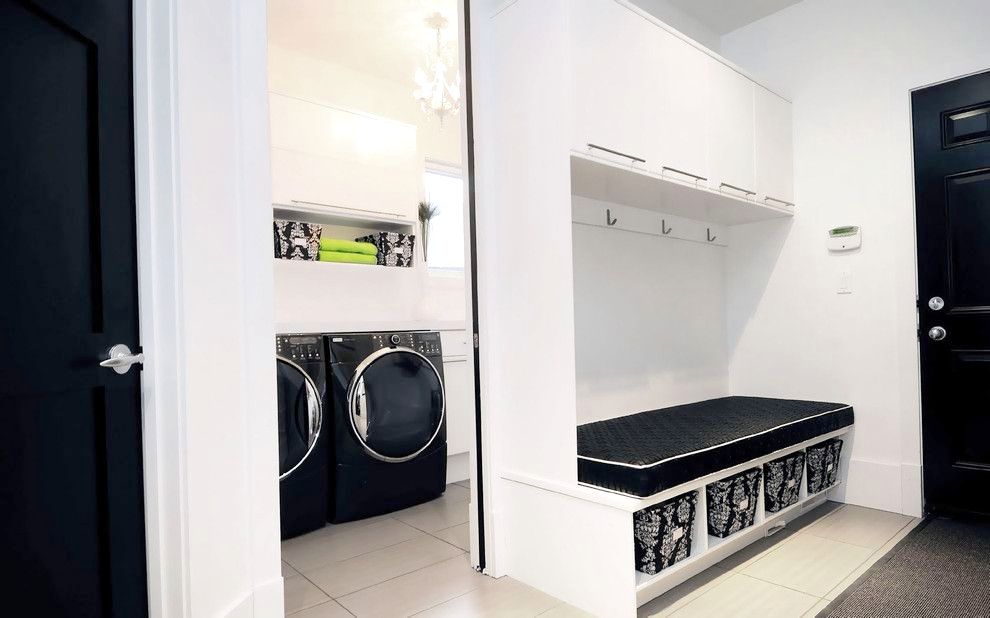 Source: The original source is not available anymore.
A built in unit complete with coat hooks, padded bench, sleek modular overhead storage and under bench storage bins make this a contemporary mudroom that might look right at home in a Manhattan penthouse. Black doors with silver fixtures and oversized glossy back appliances give this room an elegant look in spite of industrial carpeting and easy-to-clean floor tiles. An elegant light fixture and sleek hardware on the cabinets make this elegant mudroom/ laundry area anything but muddy.
39. Basement Brilliance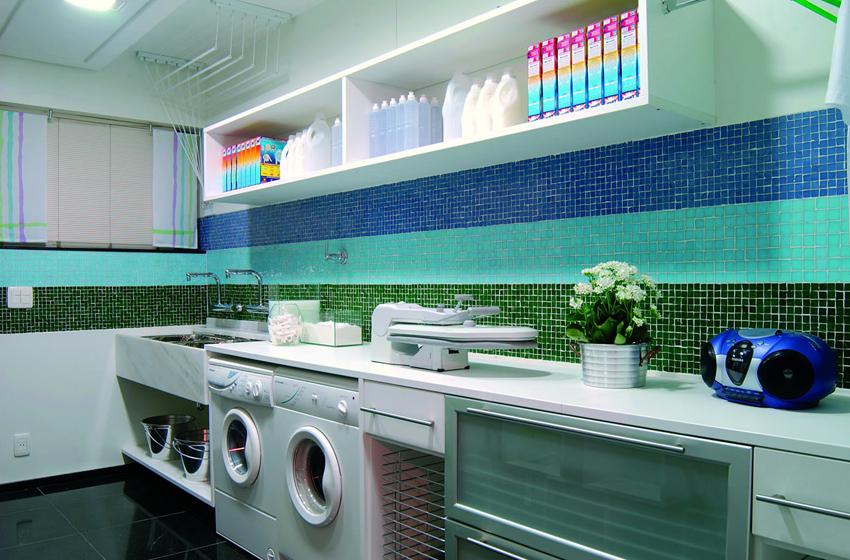 Source: The original source is not available anymore.
An ocean of blue and green tiles brighten up a dreary, dingy traditional basement laundry area. Deep green floor tiles provide a nice accent to white appliances and sleek white cabinetry. Old school overhead shelves are offset nicely by glass fronted cabinets with chrome accents. Shiny silver buckets under an open sink and gleaming chrome fixtures add modern touches to this classic basement laundry area. Simple and inexpensive window treatments and an overhead hanging rack complete the look and give a great inexpensive facelift to a classically dingy basement area.
40. Simple Elegance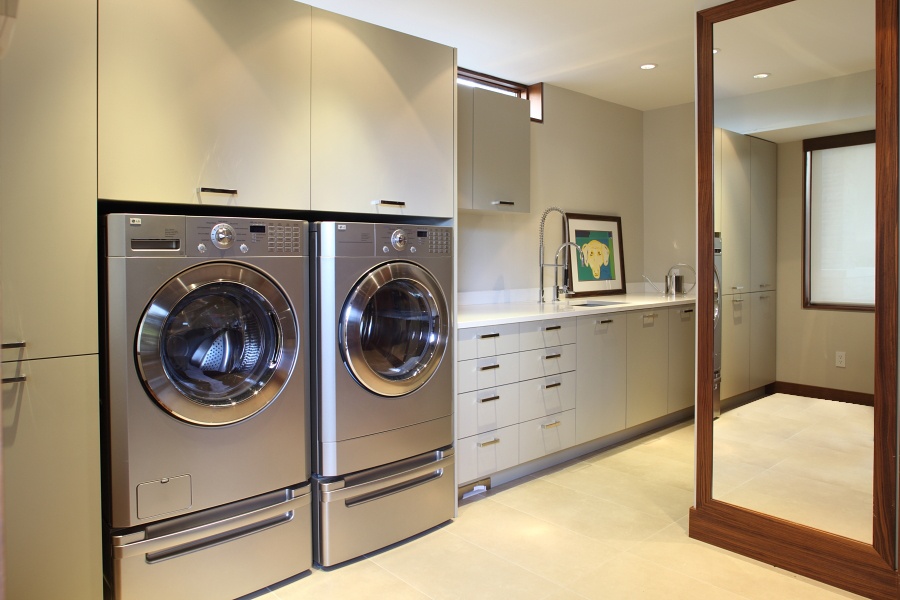 Long straight lines and streamlined features are the hallmarks of this beautiful, modern laundry area. Long, smooth, flat planes of cabinetry are paired with long, smooth flat hardware. Oversized modern appliances in shiny stainless steel provide a beautiful focal point to this understated room. A full wall-sized mirror adds depth the room as well as being a useful feature. Clean, uncluttered countertops and minimal decoration enhance the beauty of this clean, crisp, minimalistic area.
41. Why Not Wainscot?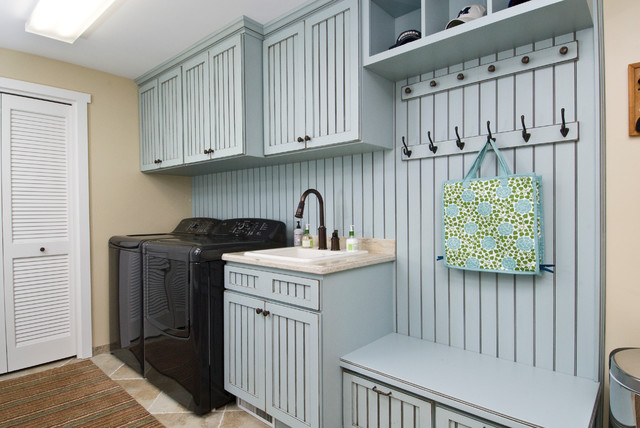 A monochromatic area faced entirely in delightful cornflower blue wainscoting is offset by large gleaming black appliances. A bench seat with hooks makes this a perfect area for a small mudroom or enclosed back porch area. Neutral floor tiles and a neutral marble countertop over the sink provide a delightful counterpoint that doesn't distract from the uniformity of the wainscoted cabinetry. Neutral walls paired with a white door and white frame provide great accent features to this uniquely designed area. This is another great idea for people that don't have an entire room to devote solely to doing laundry.
42. Laundry While You Work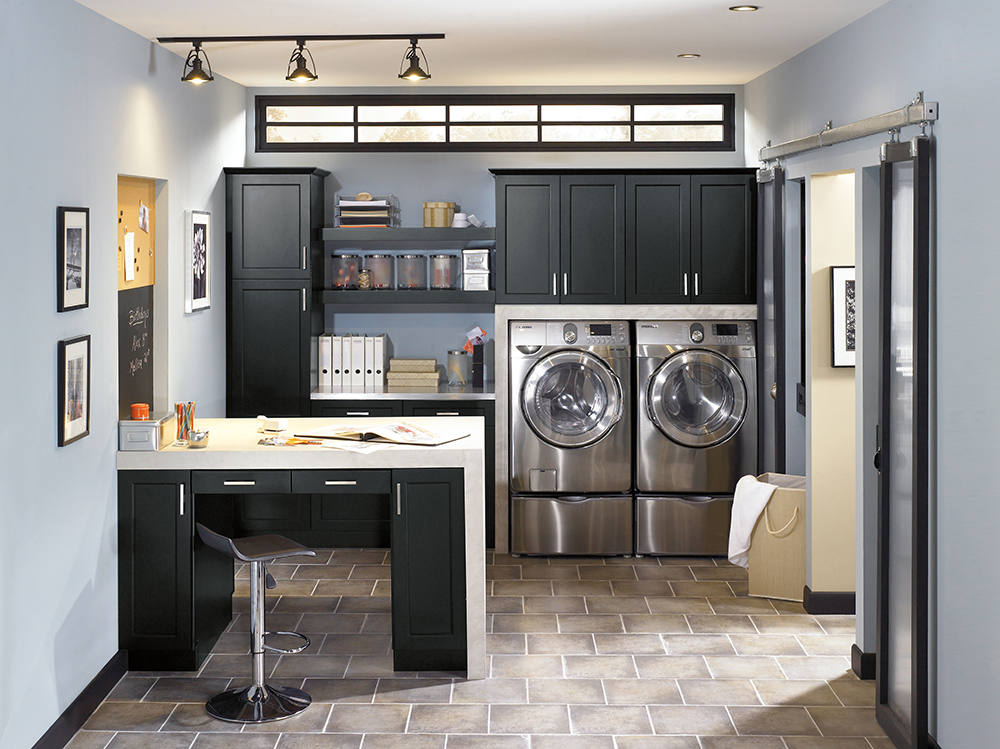 One great feature of modern home design and modern appliances is that they give designers to think outside the box. With appliances that are both beautiful and quiet, they can be seamlessly integrated into a number of different places in the home, so why not a combination laundry room/ home office? A full length window running across the top of the room lets in plenty of light while still leaving ample wall space for cabinetry and other storage. A built in desk provides plenty of workspace, while a counter area next to the appliances provides a great space for folding, sorting or other laundry prep. A sliding panel door opens up the room and provides full access to the wide hallway while still offering privacy if needed or necessary. This area is a great study in both functionality and design.
43. Penthouse Luxury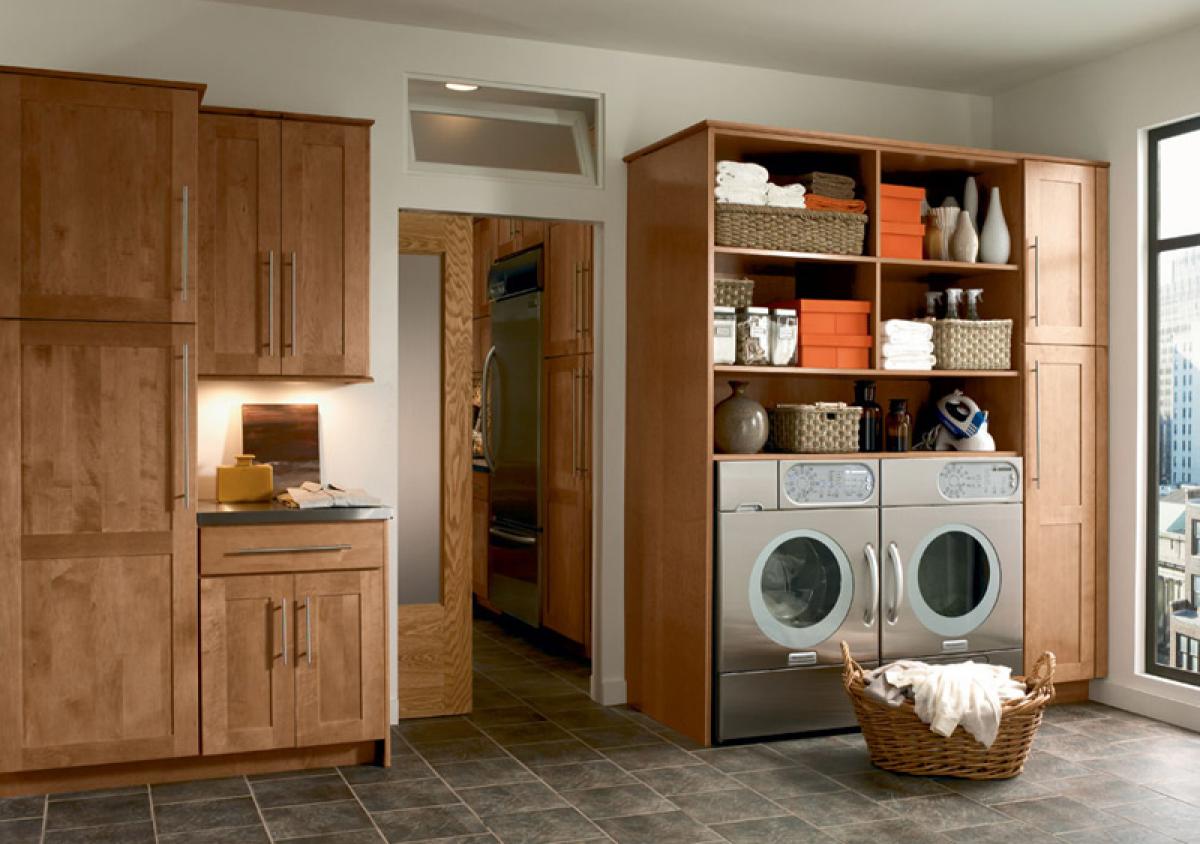 Source: The original source is not available anymore.
This area provides fantastic design for urban living, where space is always at a premium. Beautiful, tall maple cabinetry provides ample storage, while European flat-fronted appliances fit seamlessly within the unit to provide streamlined elegance. Long cabinets on the end provide great storage for an ironing board and other long cleaning implements such as brooms, mops and a vacuum cleaner, while another storage unit provides a small counter space for laundry prep and other tasks. Marbled floor tiles in neutrals and greens create a beautiful accent to the maple cabinetry and a floor to ceiling window lets in plenty of light and a spectacular view.
44. Small Space, Big Punch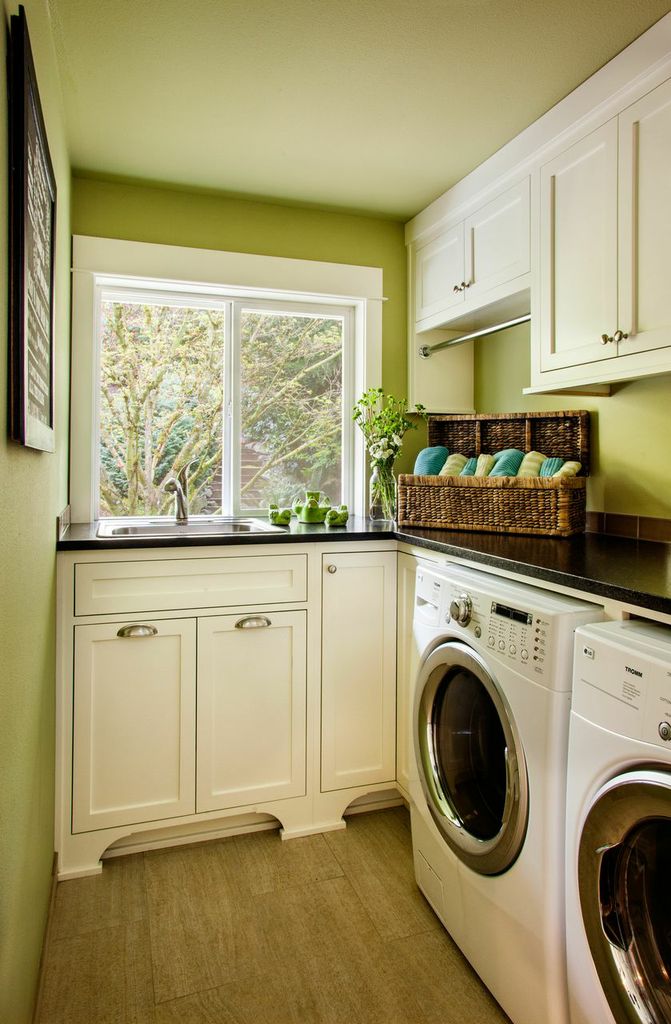 Source: The original source is not available anymore.
This tiny room packs a lot of punch into a very small space. White cabinetry with gleaming white appliances offset by a gleaming expanse of black counter space beautifully offsets pale green walls. A large window lets in plenty of light, which give the space the appearance of being much larger. Plenty of cabinets offer ample storage space for such a small room, and wrap around counters provide a large corner unit in which to hide bulky or unsightly household items. Setting the washer and dryer under a countertop provides a great workspace for sorting or folding clothes, while a short hanging bar offers up a space for hanging clothes once they are dry or drying damp clothes before they are put back in a closet.
45. Cuz We Got Personality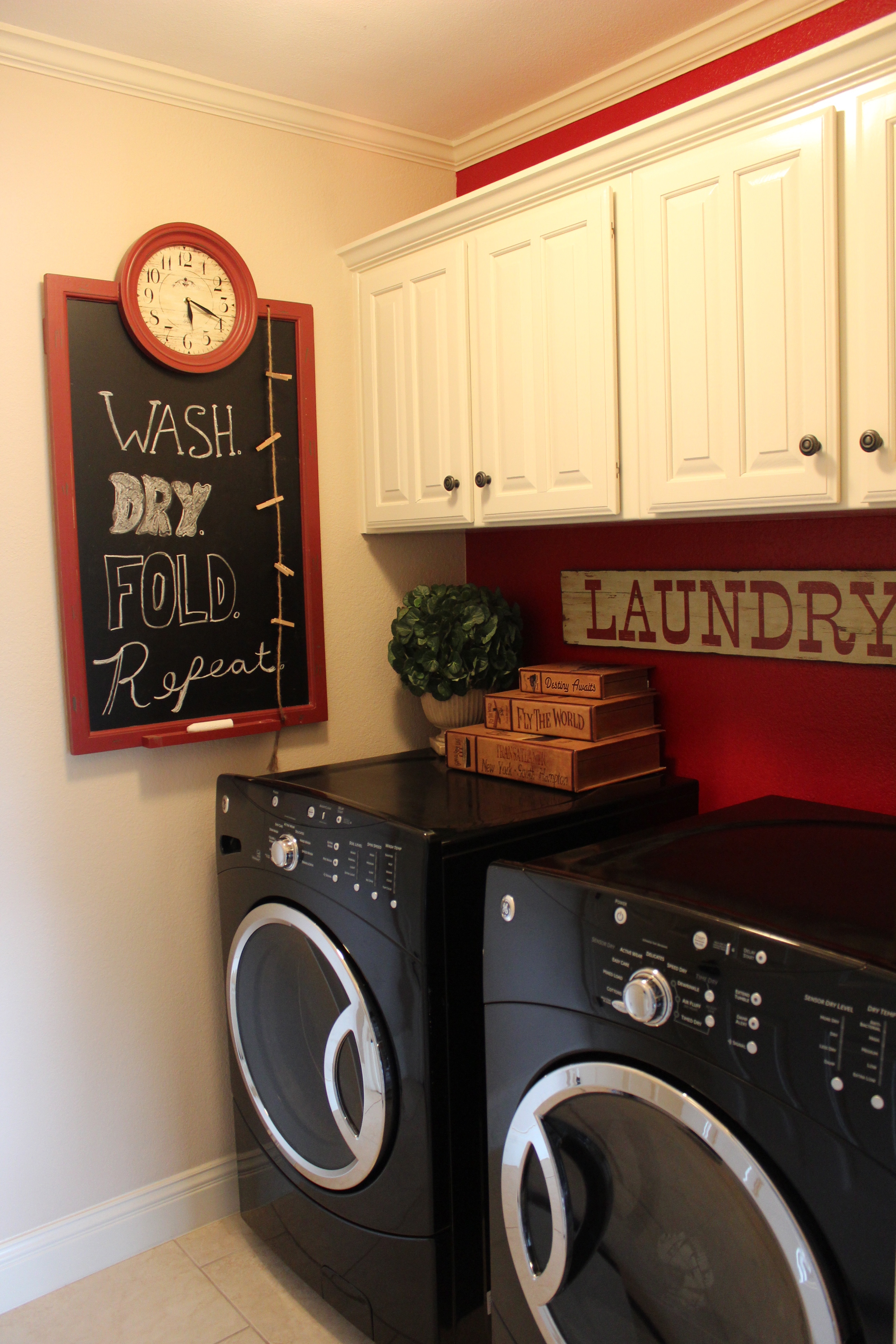 This delightful area packs a massive amount of personality into a minuscule amount of space. A bright red accent wall cheerfully accentuates gleaming black appliances, which provide a delightful counterpoint to the clean white cabinetry. A neutral wall balances the rich, heavy red and provides a perfect backdrop for a cheerful blackboard in a red frame, while an inset clock adds extra usefulness to the piece. A simple plant and a decorative piece tie the whole look together, creating a beautiful, cheerful area in which to do a mundane household chore.
46. Old World Charm Meets Modern Luxury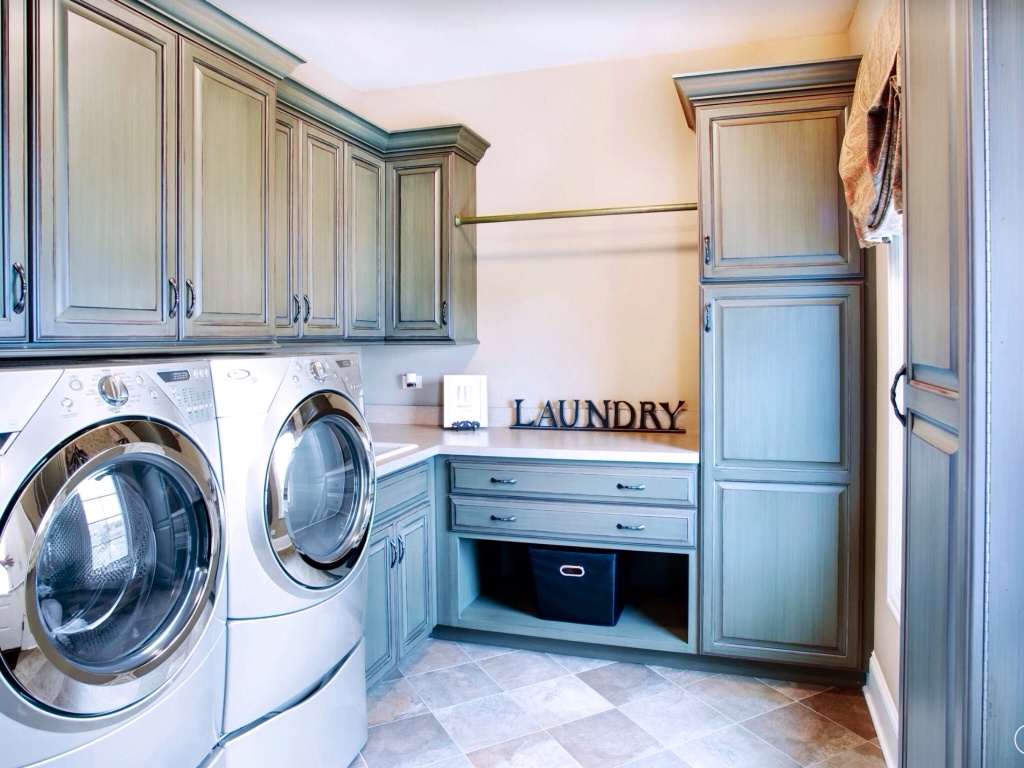 Source: The original source is not available anymore.
Green distressed wood cabinetry melds seamlessly with modern appliances to create a fabulous mix of vintage and modern. Marbled stone flooring and neutral walls create a calm, soothing area that is both durable and easy to clean. A flat cabinet set next to the window creates a highly functional hiding place for an ironing board. Just open the cabinet, lower the ironing board, do your ironing and then raise the ironing board right back into place and close the cabinet. No fuss, no muss, and the ironing board is quickly put away, ready and waiting for the next use. Tall, wide cabinets provide a perfect home for large and bulky appliances like a vacuum or steam cleaner.
47. How Does Your Garden Grow?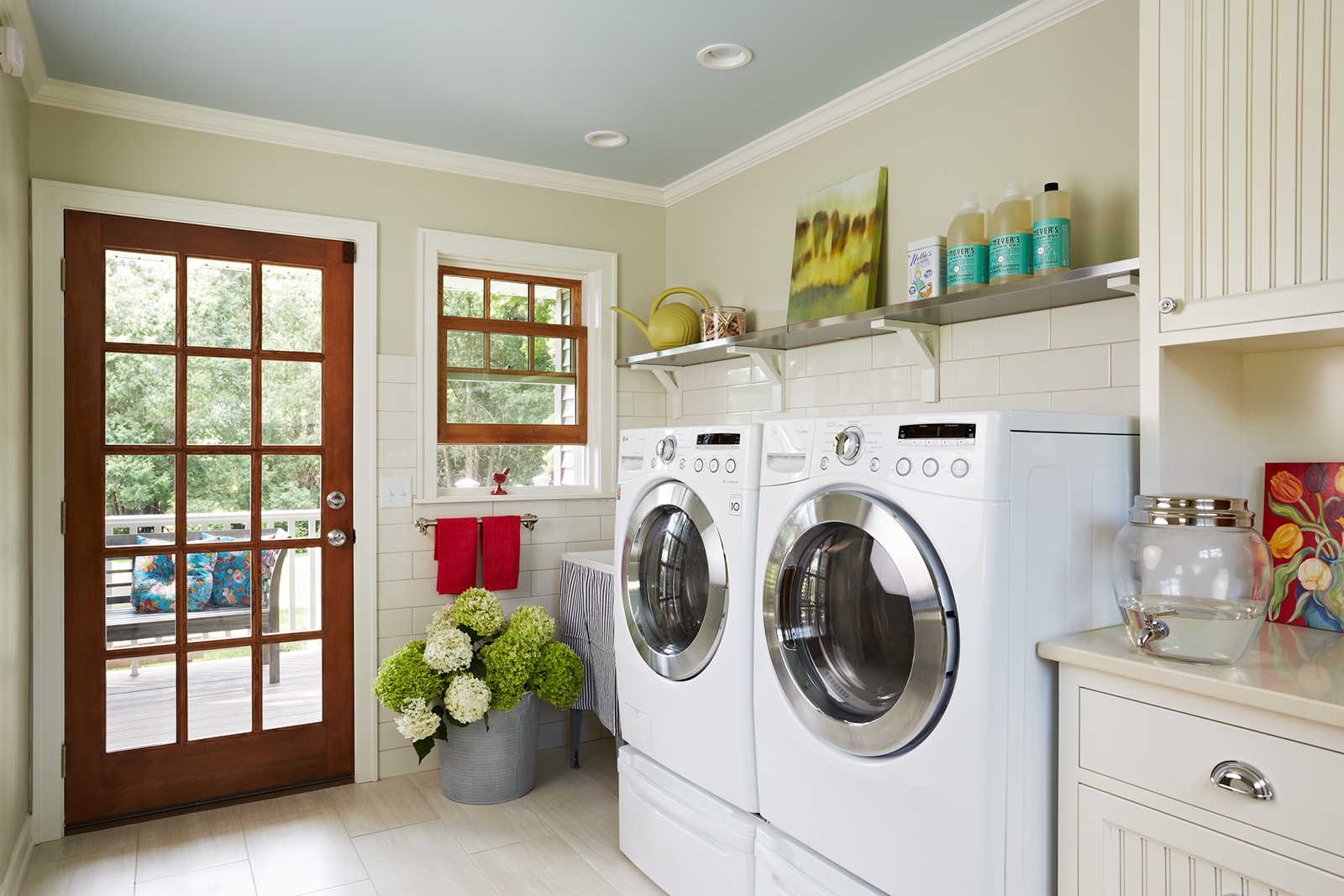 Source: The original source is not available anymore.
An enclosed porch provides a bright, sunny area for laundry appliances to share their space with gardening supplies. Stainless steel shelving provides an eclectic counterpoint to gleaming white machines and a skirted industrial sink. Wainscoting on the cabinetry complements plain white tiles and walls painted with just a hint of color. The palest blue on the ceiling ties the whole room together and gives it a nice, finished look. A large bucket of oversized flowers and a watering can give the room a feel of bringing the outdoors in and flower prints and artwork tie the whole garden theme together.
48. Laundry Closet Anyone?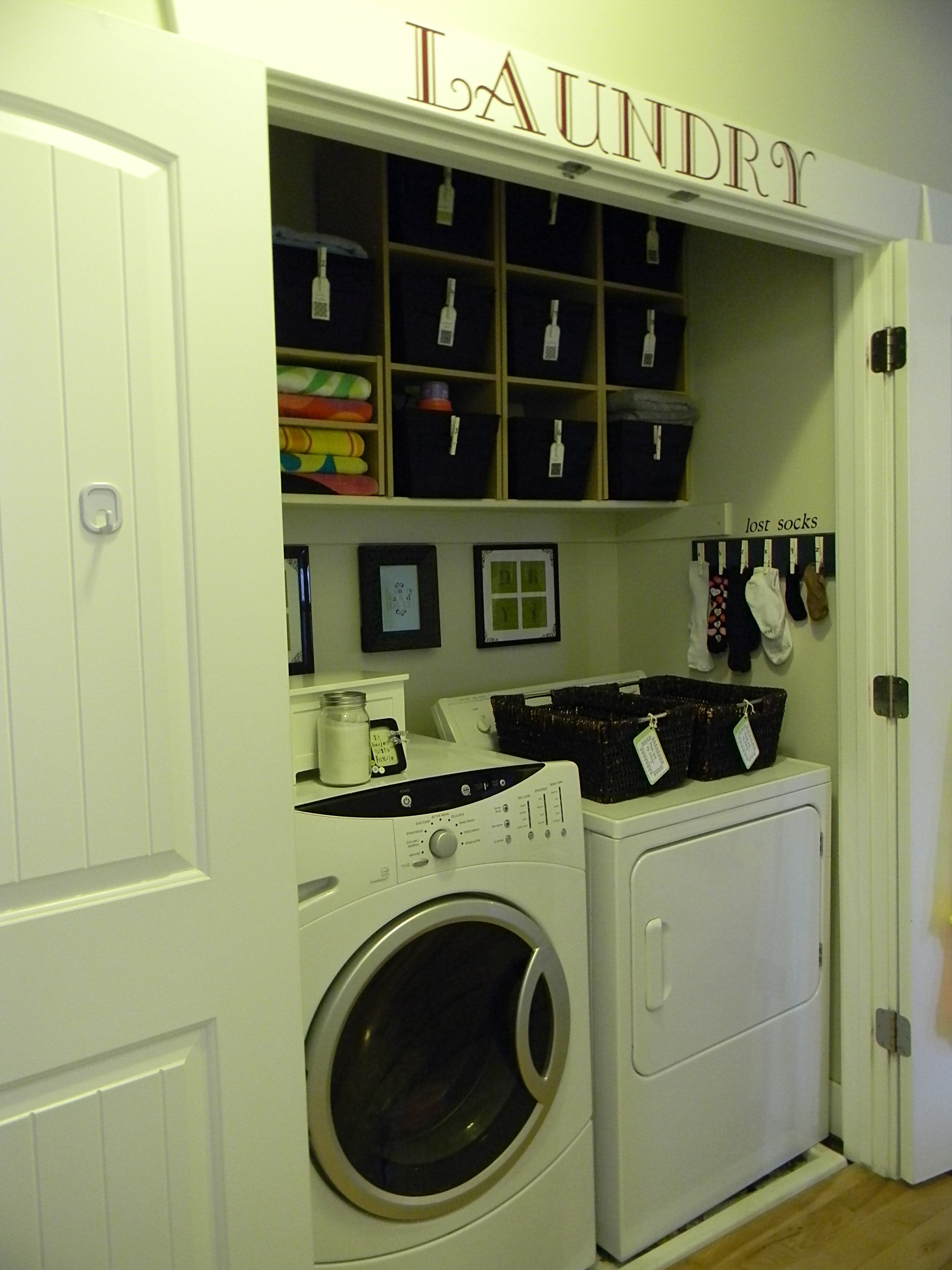 Source: The original source is not available anymore.
Some people get an entire room for laundry, but when all you have is a small closet, there's still a lot you can do with it. An overhead bin storage laundry room shelving system creates a great deal of accessible storage space, while bins placed on top of the front loading dryer keep things neat and tidy. A newer model front loading white washer is paired with an older model front loading dryer, which creates charming compatibility. Another great feature of this small space is the clothespins hung on the wall to hold lost socks until their mate shows up. A great idea for any laundry area small or large.
49. Industrial Delight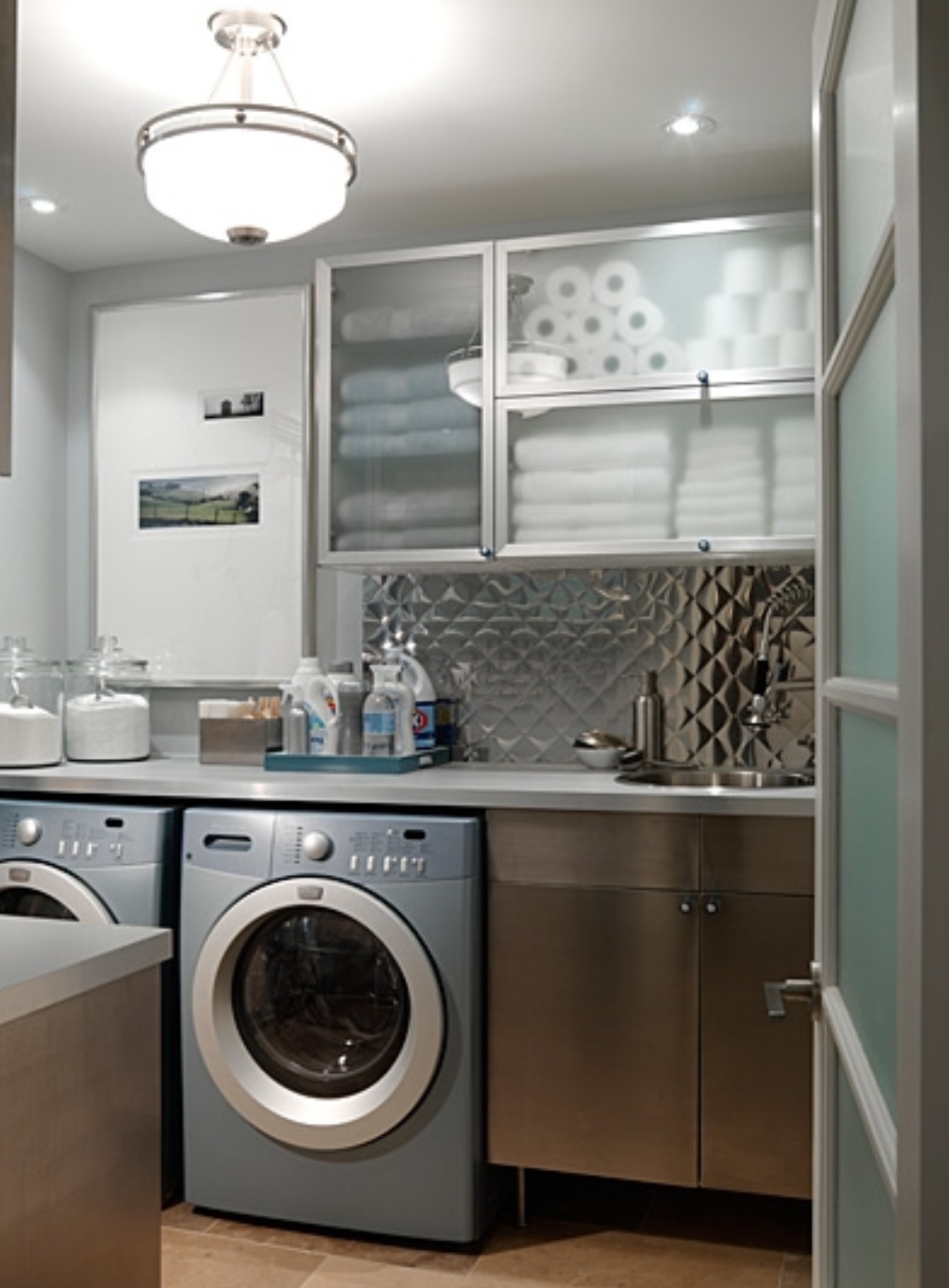 The high strength, industrial feel of this charming space is offset by softer features such as a large white light, oversized white matted picture frame and soft, glossy blue-green appliances. The patterned stainless backsplash provides a nice counterpoint to the stainless fronts on the lower cabinets, while glass fronted overhead cabinets are a nice pairing with a glass entry door. The whites and soft colors tone down the industrial feel of the room, while the industrial touches give a nice edge and character to this unique and charming room.
50. Making The Most of Your Porch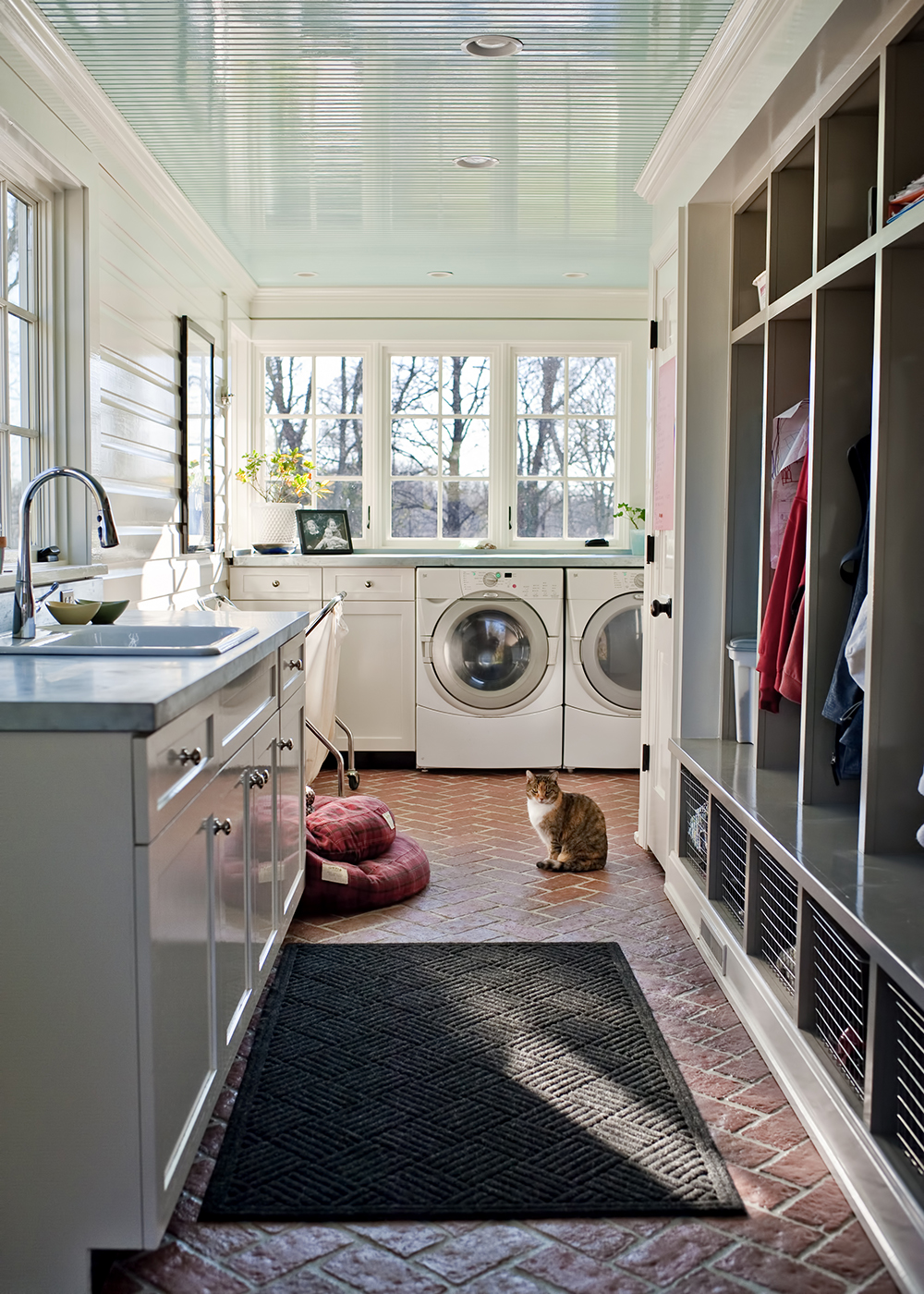 Source: The original source is not available anymore.
This enclosed porch makes the perfect spot for catching some sunshine while doing your chores. A built in unit provides plenty of storage for hats, boots and coats, while the white cabinetry, blue countertops and blue accented ceiling all add color and vibrance to this delightful, sun filled room. A pet bed in the corner under the windows makes this a great space for your furry friends to catch some rays on sunny days.
50 Great Designs for Laundry Rooms On Any Budget
Regardless of how much or how little space you have, there are always innovative ways to use your space to it's utmost. Whether your tastes run to the eclectic or avant-gard to the more modern or streamlined, laundry design offers something for everyone. If you have an entire room to devote to laundry appliances and other storage or whether you need to take just a corner of an already small space to create a bright and functional area for doing laundry, there are a multitude of ideas and ways to make that happen.
Great design also doesn't have to come with a huge price tag either. Inexpensive vinyl flooring and repurposed or do-it-yourself cabinetry are inexpensive ways of giving a fresh facelift to a dreary and utilitarian space. Whatever your space and whatever your budget, great design will always win the day!