Shabby chic or vintage laundry rooms bring a touch of soft country charm to your home. With the pretty vintage laundry room decor ideas on this list, you can transform a room in your house that you dread to one you actually want to spend time in.
45+ Pretty Vintage Laundry Rooms

If you want to give your space just a small touch of the vintage look, try one of the fun and funky laundry signs or DIY wall art projects. This list also has entire vintage laundry room designs to give your room a complete shabby chic over-haul! From counters made of butcher block and antique wood crates to vintage-inspired sinks, these ideas will give your laundry room a charming makeover. They work great in every room, especially the unique storage and organization ideas that maximize your space.
From wash tub shelving to lost sock boards, these projects are both pretty and practical! Finish off your revamp with vintage laundry room decor ideas that are just for fun like an antique washboard and tub display and clothespin cabinet handles as a finishing touch.
If you're looking for some inspiration on how to revamp your laundry room and turn it into the vintage space of your dreams, we've gathered some of our favorite looks that will work well in a variety of homes. Let your creativity take the wheel as you explore these unique ideas that will give you a room so delightful that you might actually look forward to doing your laundry!
1. Whitewashed Faux Brick Wall Paneling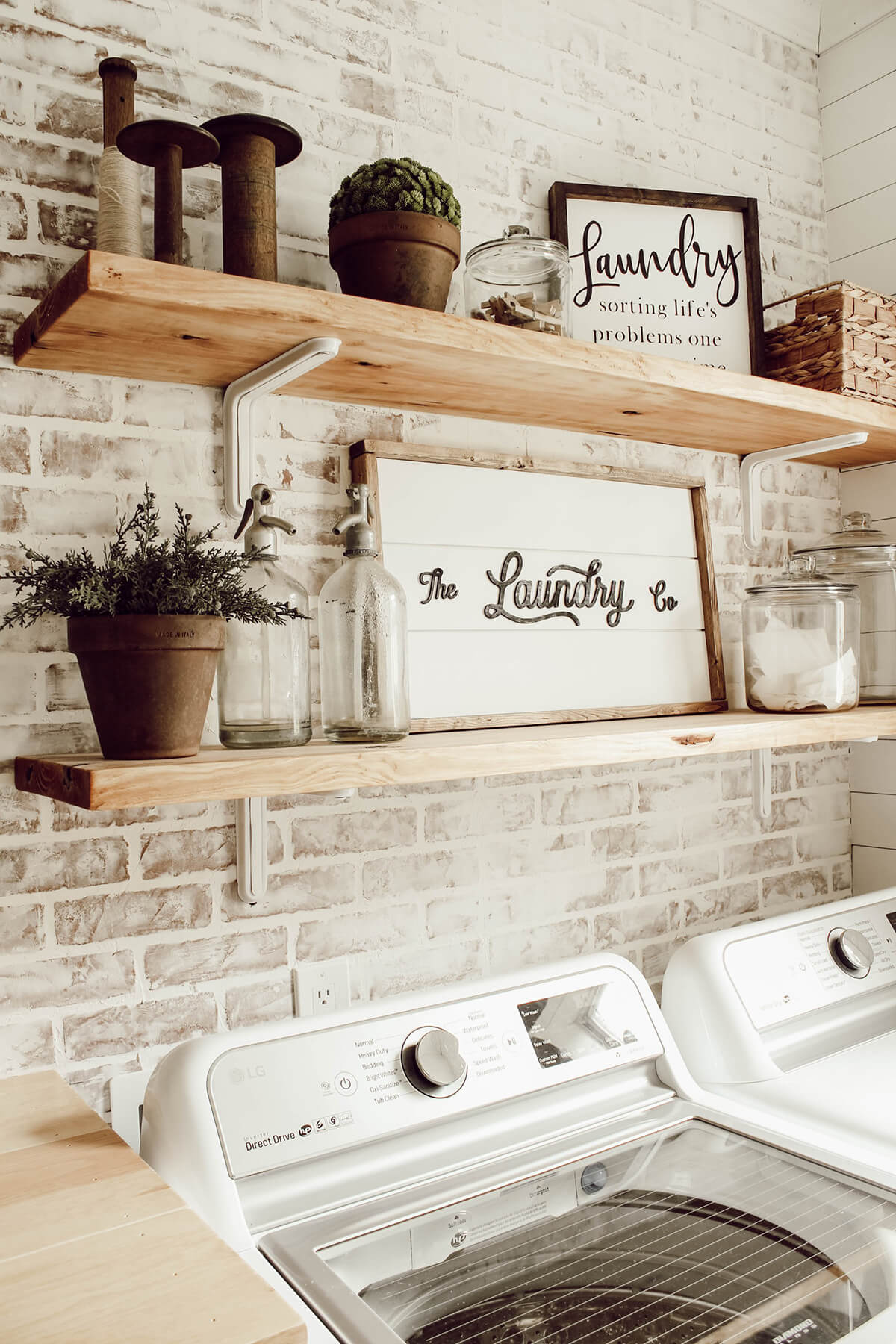 Perfect for that cozy industrial look, no one would ever suspect that this DIY project wasn't the real thing! With some careful measuring and a few simple tools, you'll be able to take your laundry room from blah to beautiful in no time.
2. Laundry Nook with Built-in Folding Shelf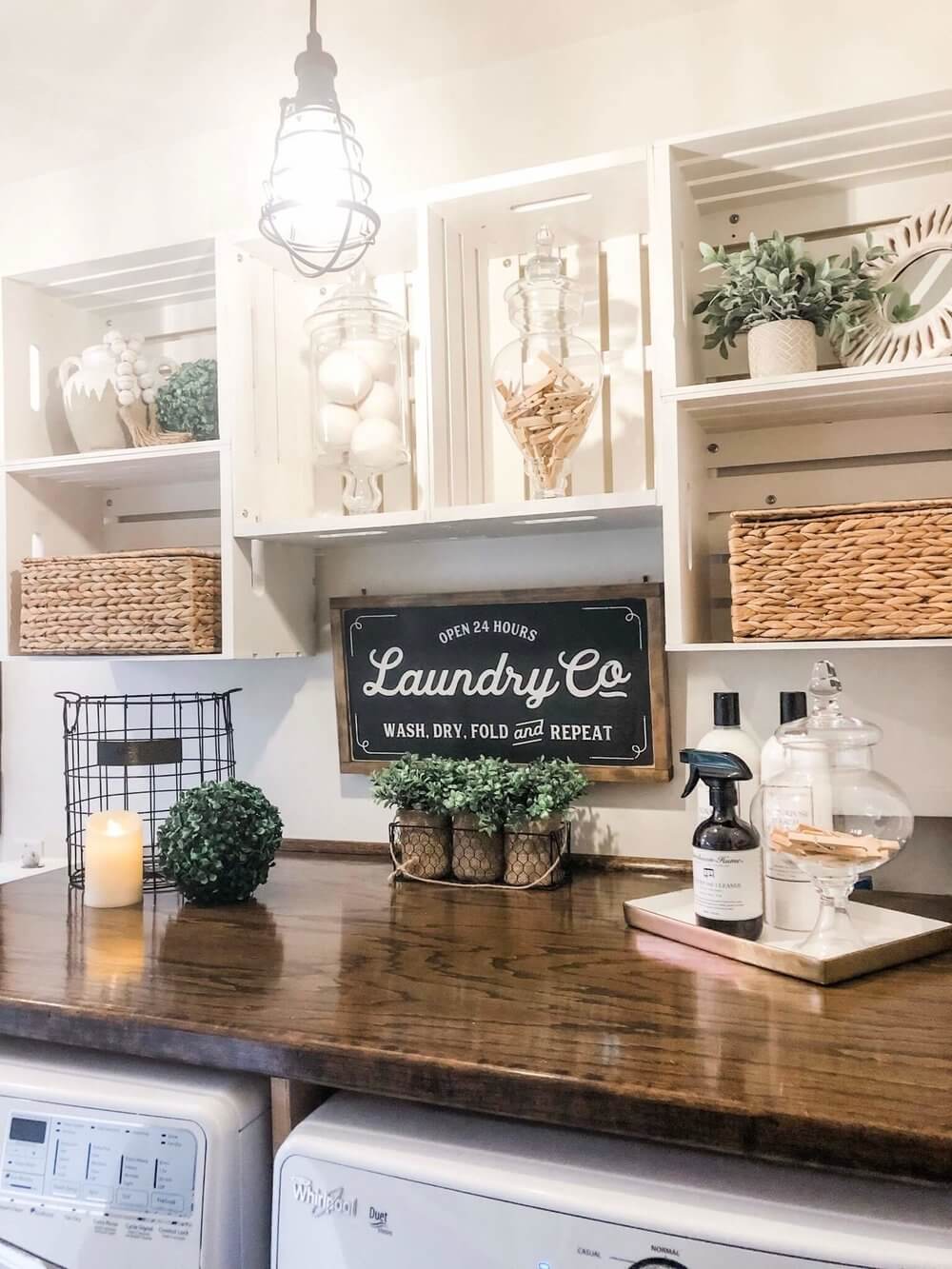 Getting your clothes clean has never been easier or more stylish with these simple upgrades. Open crate shelving and a gorgeous countertop over the washer and dryer allow you to choose both form and function with this adorable vintage look.
3. Small Wooden Barn Door Washer Cover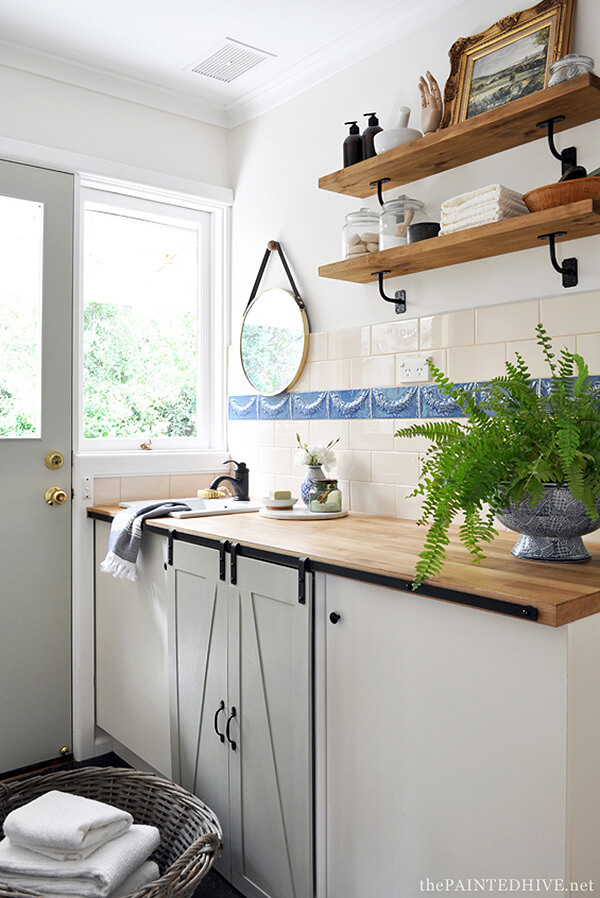 If you'd love a place to hide your unsightly washer from company, this is the project for you! Pick up a few supplies on your next trip to the hardware store, and you'll be able to build a cute and functional way to conceal your appliance in a jiffy.
4. Open Shelf Laundry Storage with Baskets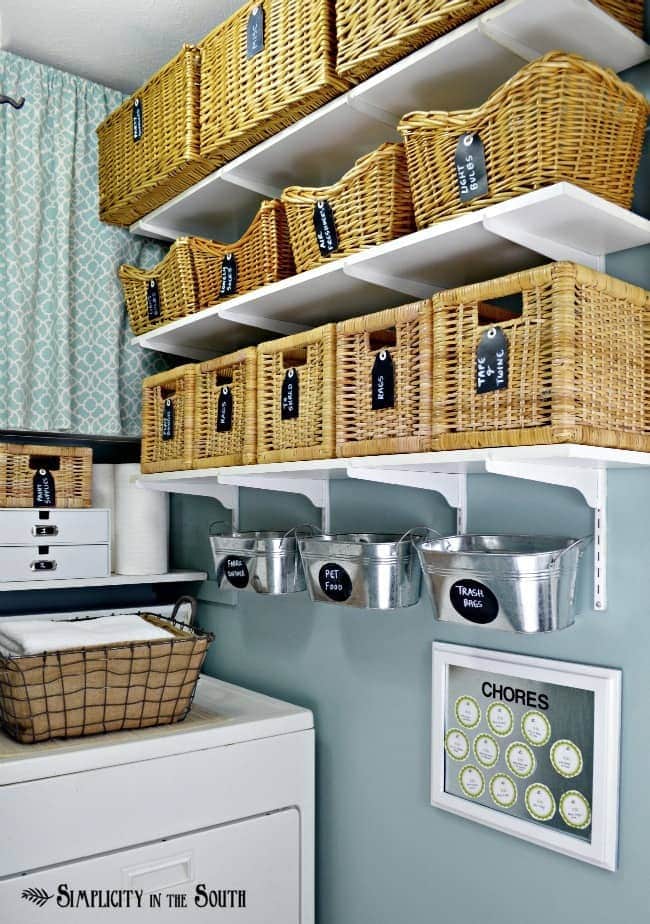 What an outstanding way to organize all of the small items in your house! You'll never resort to shoving things in a junk drawer again with this eye-catching open shelving. Charming chalkboard tags adds a vintage twist while allowing you to know what's inside at a glance.
5. Vintage Laundry Room Vinyl Decal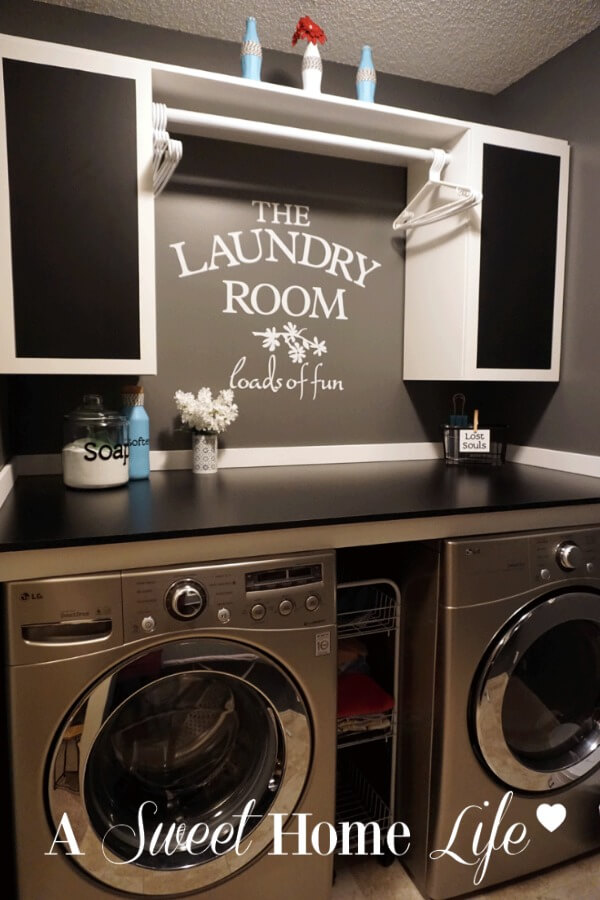 An adorable vintage vinyl decal really pops against the dark color of this laundry room. White cabinets and warm lighting keep this space from feeling too dark and gloomy, while the attached countertop gives you plenty of room to work.
6. Low-budget Farmhouse Laundry Room Revamp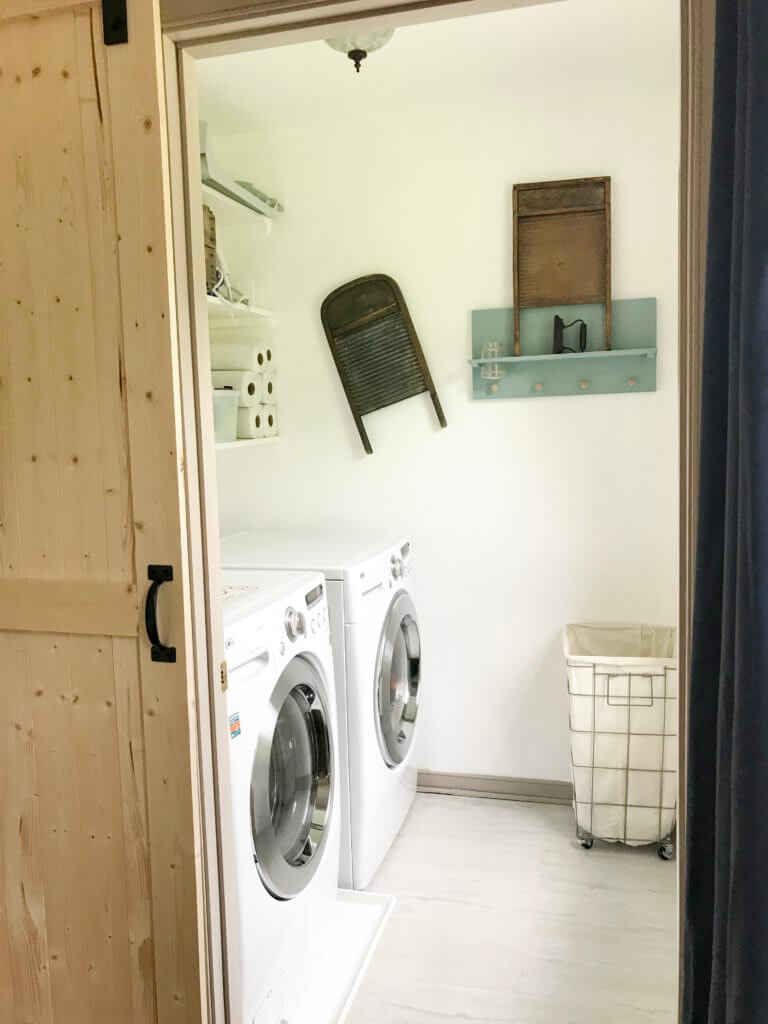 Looking to upgrade your laundry area but don't have a lot of cash to spend? By adding just a few thoughtful details like mason jar containers and a barn door, you can elevate your space without breaking the bank.
7. Laundry Room Penny Tile Backsplash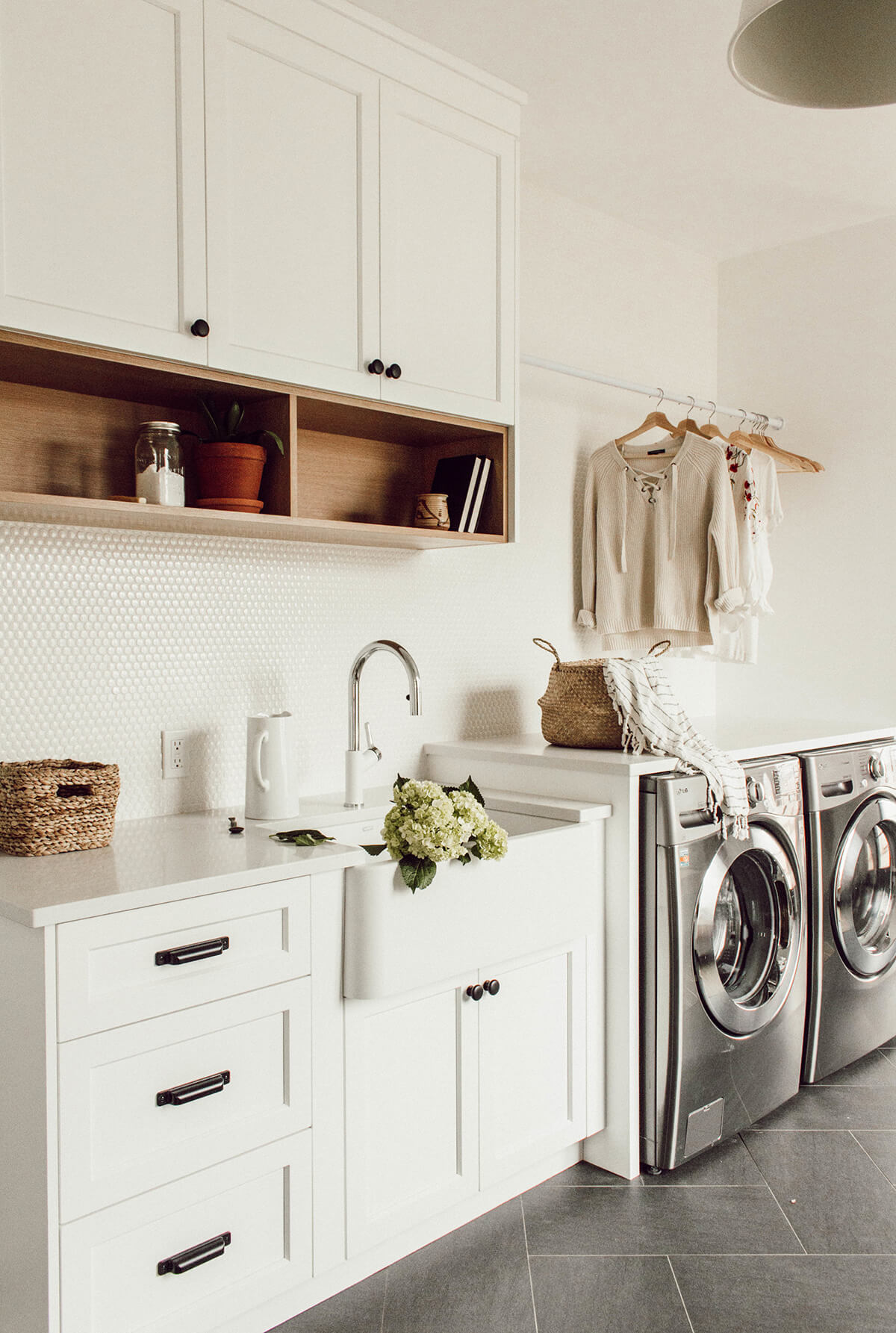 Choosing white penny tile is a classic yet stylish look that will make your laundry room look clean and sophisticated. A simple farmhouse sink and overhead hanging bars mean you won't have to go far to get all your chores done.
8. DIY Recycled Fence Laundry Room Table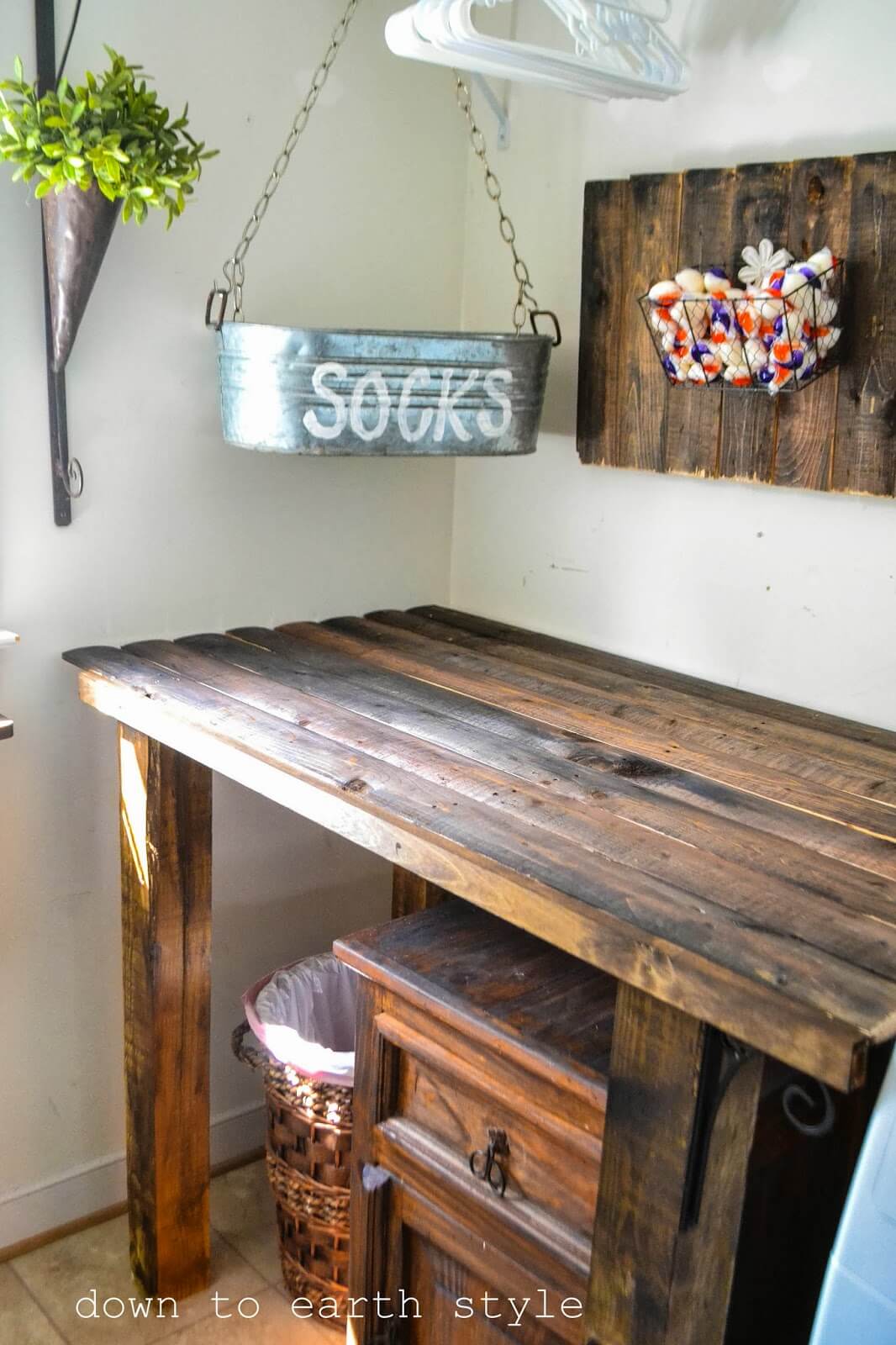 An old fence serves double duty in this laundry room after being repurposed as a folding table and a wall hanging. By attaching a small wire basket to the hanging, you can fill it with convenient detergent pods or add a lovely decorative touch with flowers.
9. Simple Laundry Room Upgrade Plan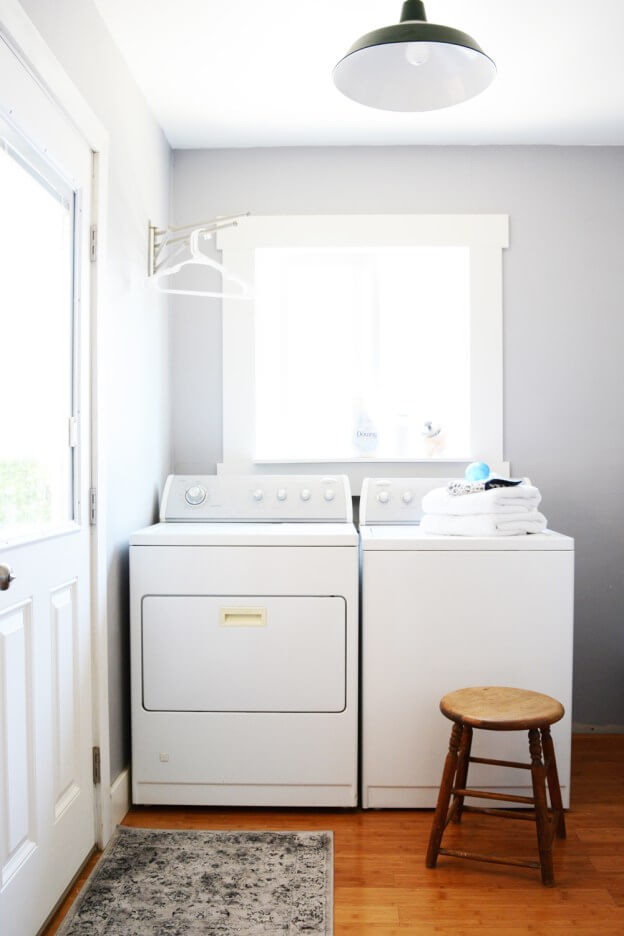 Although it's already pretty as a picture, just a few simple upgrades are going to make this laundry room into a one-of-a-kind space. Check out the ideas and color scheme and how they plan to take this room to the next level.
10. Vintage Shiplap Laundry Room Walls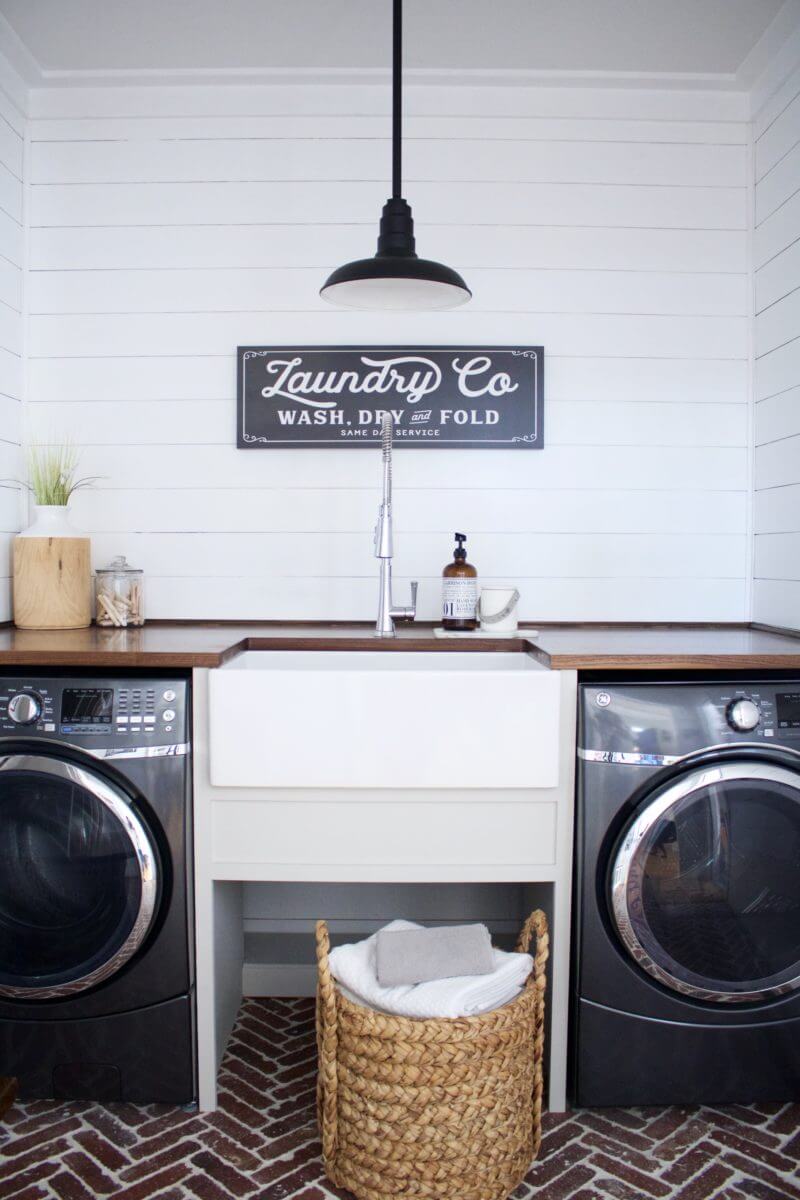 One way to give a drab-looking laundry room a ton of character is to install vintage shiplap throughout the space. Industrial touches like a steel pendant light and an upgraded faucet help complete the look.
11. Rustic Laundry Room Redesign with Open Shelving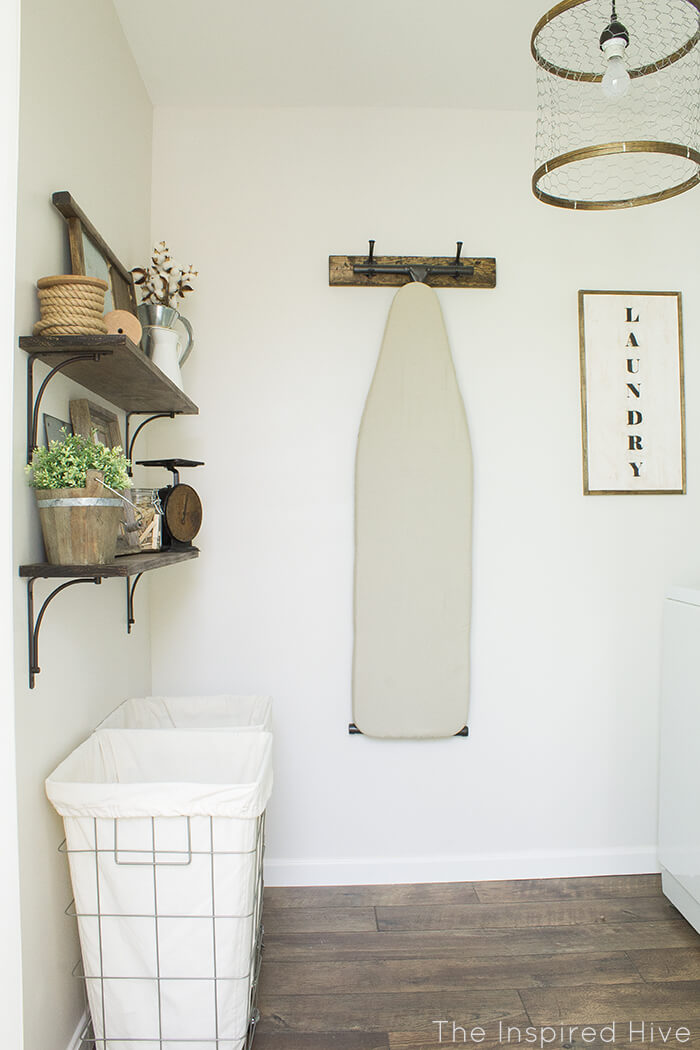 A neutral color palette and weathered wooden shelving help transform this room into a rustic dream. Incorporating fun decorative elements like an old scale and long cotton blossom stems adds visual interest and textures throughout the space.
12. Laundry Room Makeover for Under $100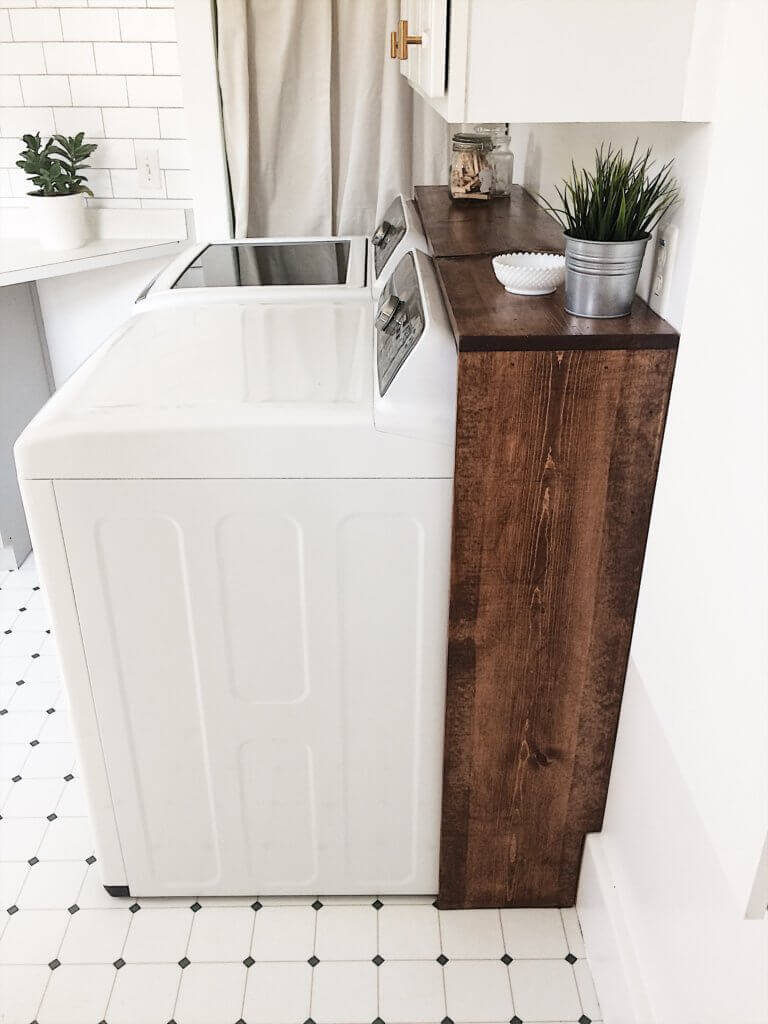 If you're decorating on a budget, check out this fabulous redesign. Peel-and-stick subway tile wallpaper creates a sleek backdrop, while a custom wood table behind the washer and dryer helps disguise ugly cables and pipes.
13. Light and Bright Laundry Room Redecoration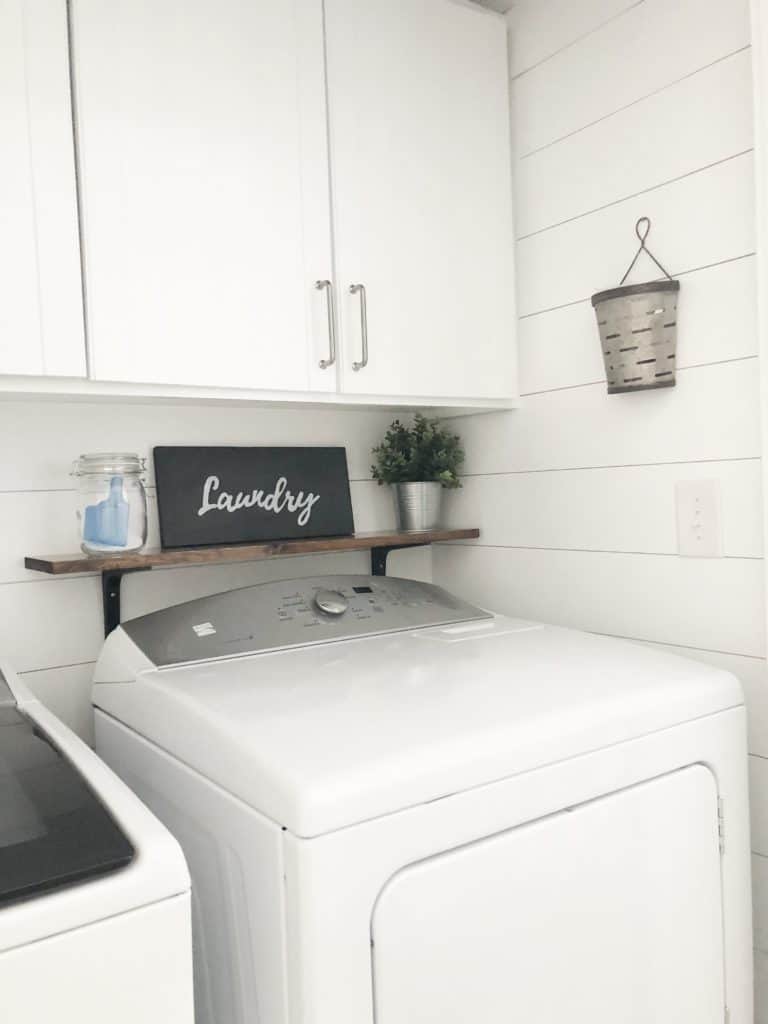 A fresh coat of white paint and some simple shiplap is all it took to overhaul this laundry room. By bringing in elements of nature with some simple greenery, this is a space that will make you breathe a sigh of relief whenever you walk in there. A cute sign and some galvanized buckets finish things off nicely.
14. Stackable Washer and Dryer Closet Transformation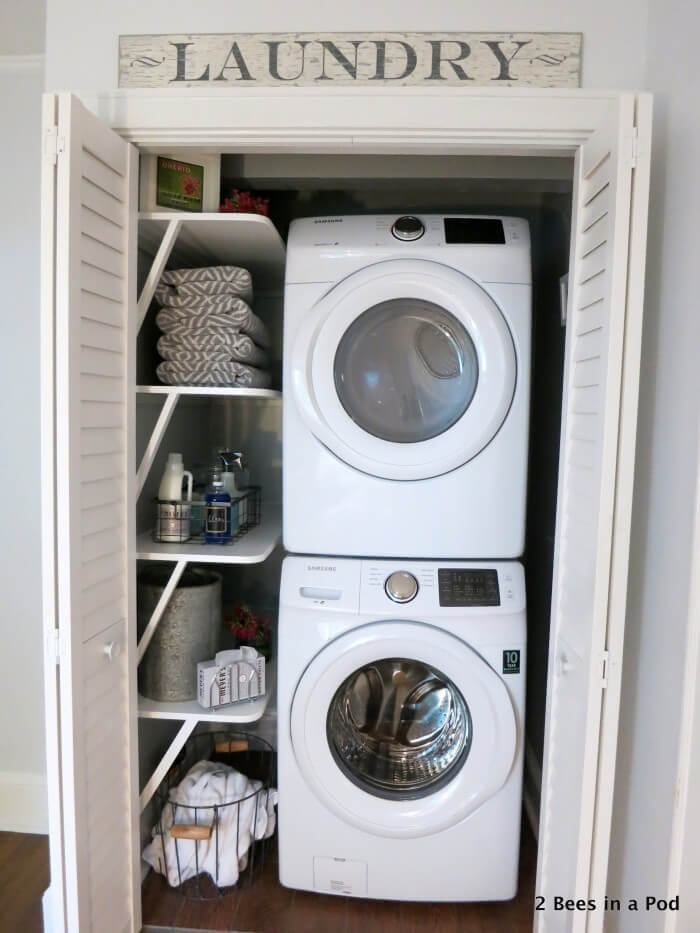 Even if you're tight on room, there's no reason you can't have an adorable space for your laundry! This closet features a stackable washer and dryer surrounded by shelving that keeps all of the necessities within arm's reach, while wire baskets keep everything tidy and organized.
15. Dark and Moody Laundry Room with Damask Accents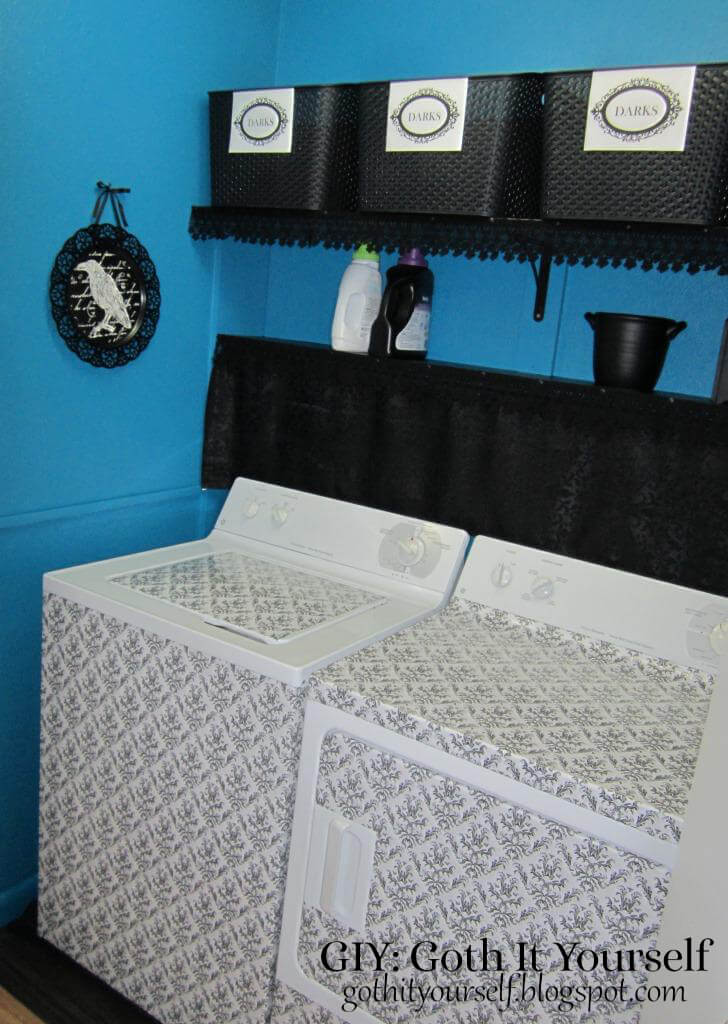 If you're looking for something that's a little edgier than normal, take a look at this outstanding laundry room makeover. Damask shelf liner makes the washer and dryer the centerpiece of the room, while black baskets and shelving pop against the bright blue walls for a truly unique look!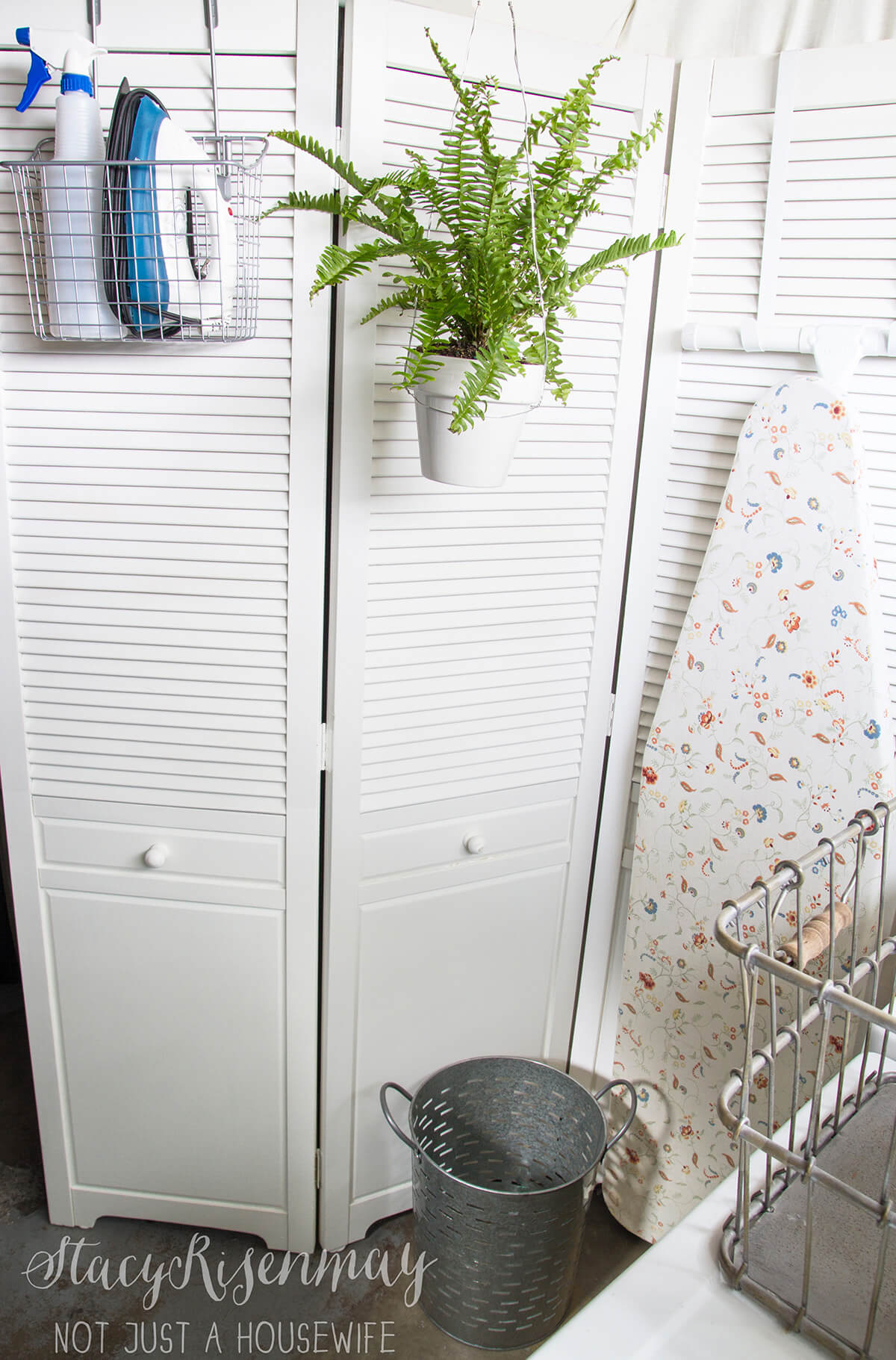 Not every laundry room has a Pinterest-ready layout, but one decorator figured out a great way to hide her ugly furnace while giving the space a great vintage touch. By setting up a slatted room divider, she solved two problems at once and also gave herself a way to add some fun decorative elements too.
17. Decorative Laundry Chute Sorting Cabinet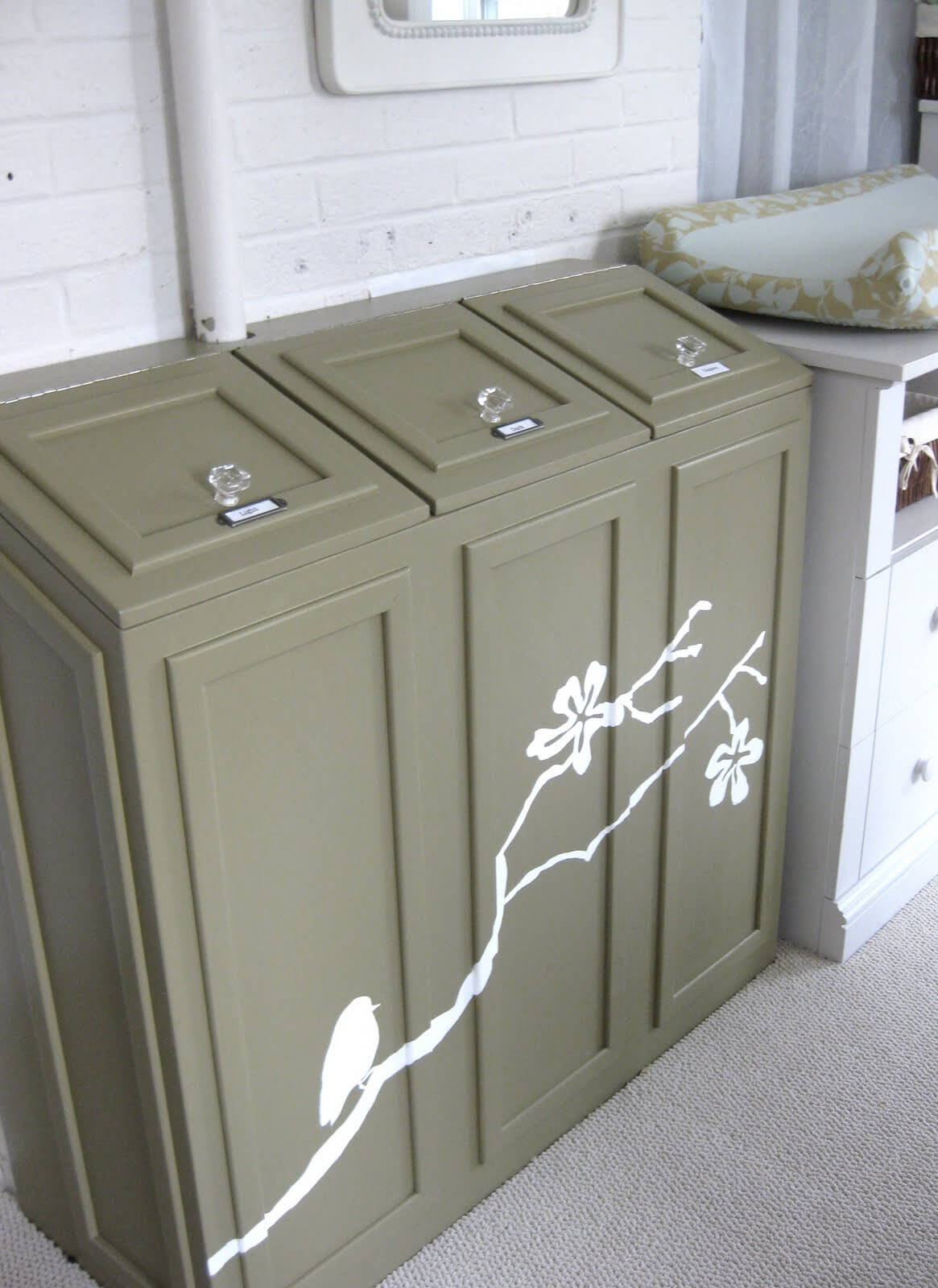 Laundry time is a breeze with this painted cabinet that connects to a basement laundry chute. Even if you don't have a laundry chute in your house, the cabinet itself would still be a great addition to any room to help you stay organized and stress-free.
18. Vintage Industrial Laundry Room Makeover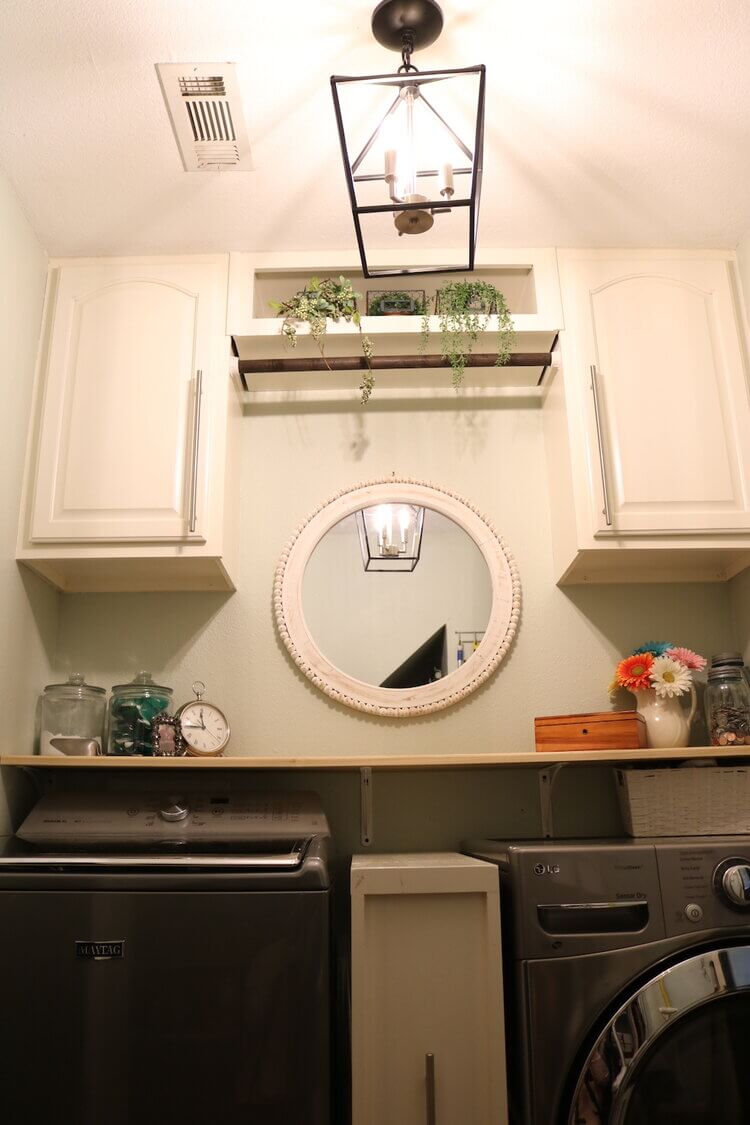 Soft white paint keeps this laundry room looking fresh, while unique lighting and a farmhouse mirror gives it a trendy vibe. A built-in shelf that runs above the washer and dryer gives you room to add some personal touches, while a slim cabinet between the appliances gives you space for all your necessities.
19. 3-Piece Vintage Laundry Room Sign Set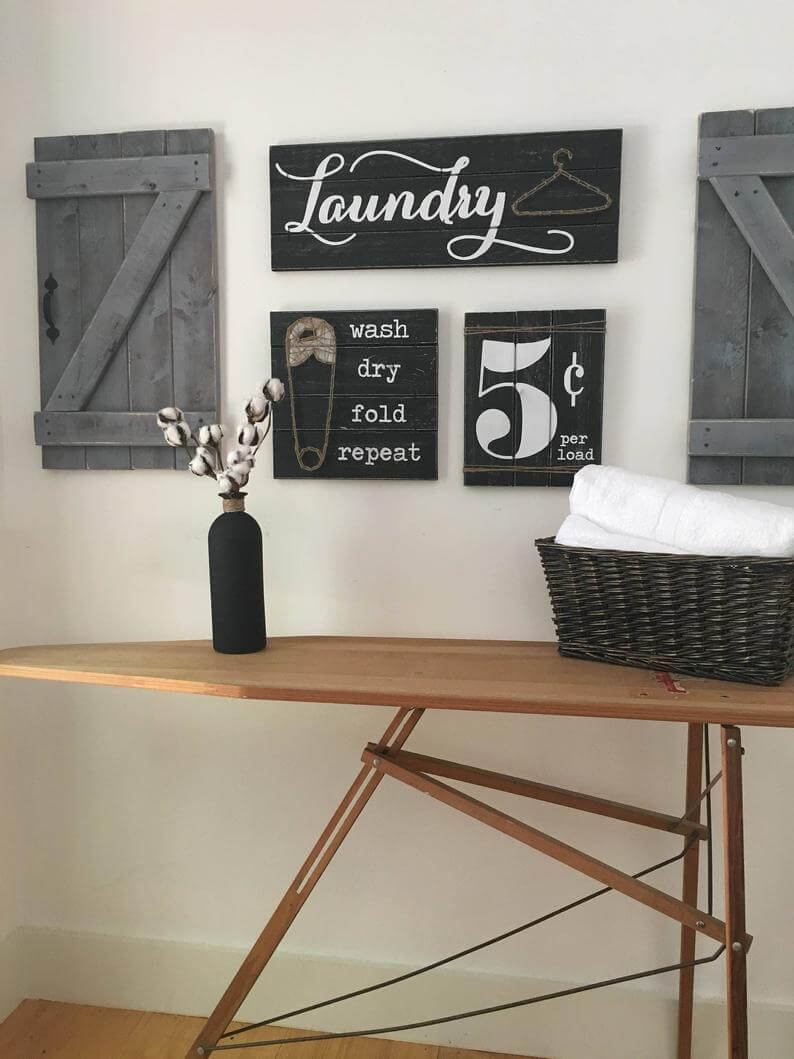 Perfectly weathered with a shiplap look, this trio of wooden signs is accented with rustic jute rope for a vintage feel. The largest sign measures 24" x 8.5" while the two smaller signs are perfectly proportioned to fit underneath.
20. Wash and Dry Vinyl Decals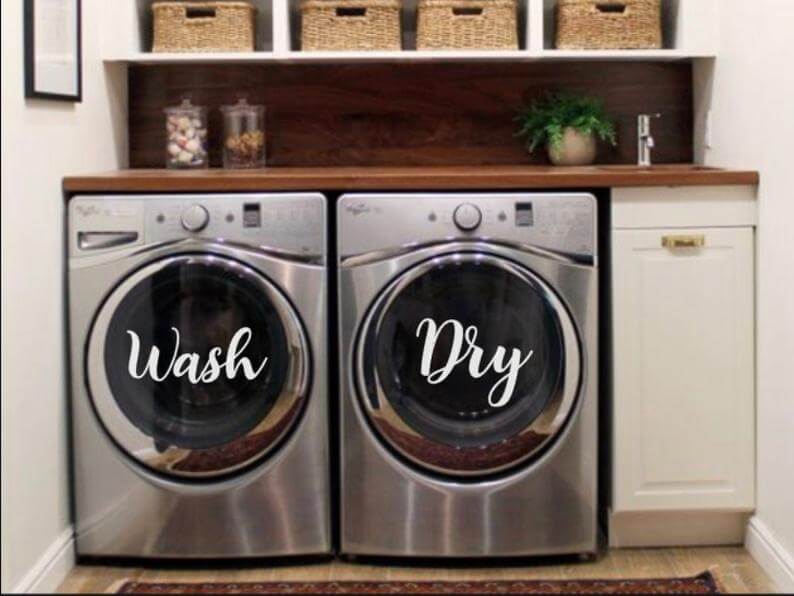 You'll never forget what you're supposed to do with these fab decal signs for your front-loading machines. With the ability to customize both the size and color of your signs, you'll love this unique addition to your laundry room.
21. Vintage Wash and Dry Sign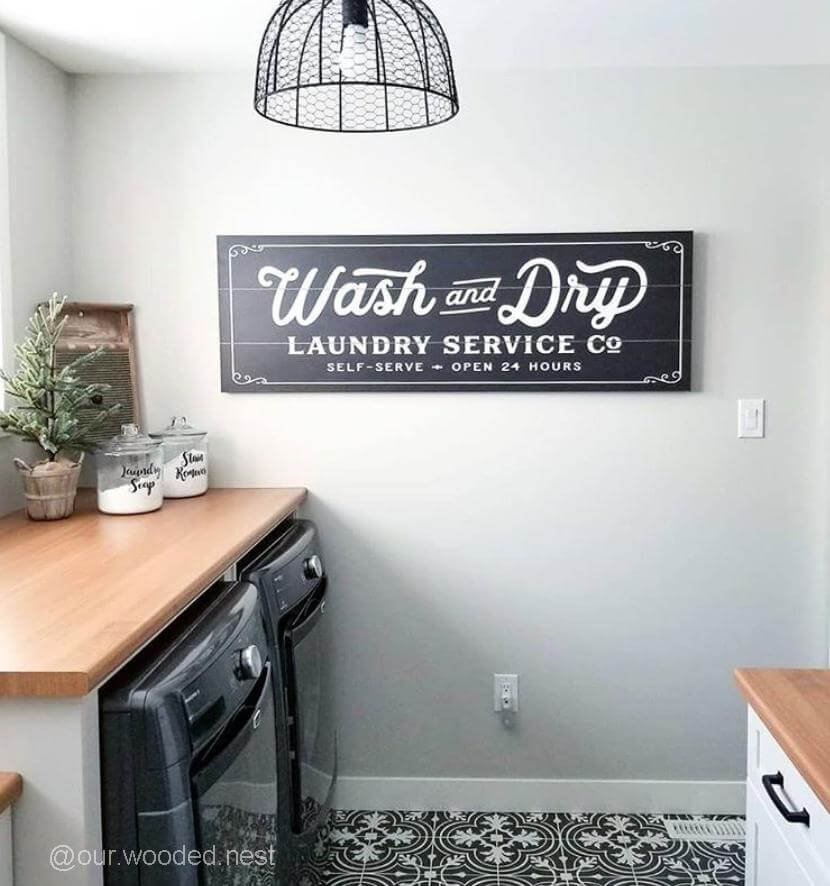 Available in four different sizes, this sign comes in either printed canvas or planked wood options. Its bold, striking look is the perfect addition to any laundry room and is a centerpiece from which you can create an entire aesthetic.
22. Laundry Room Sign with Built-in Hanging Rod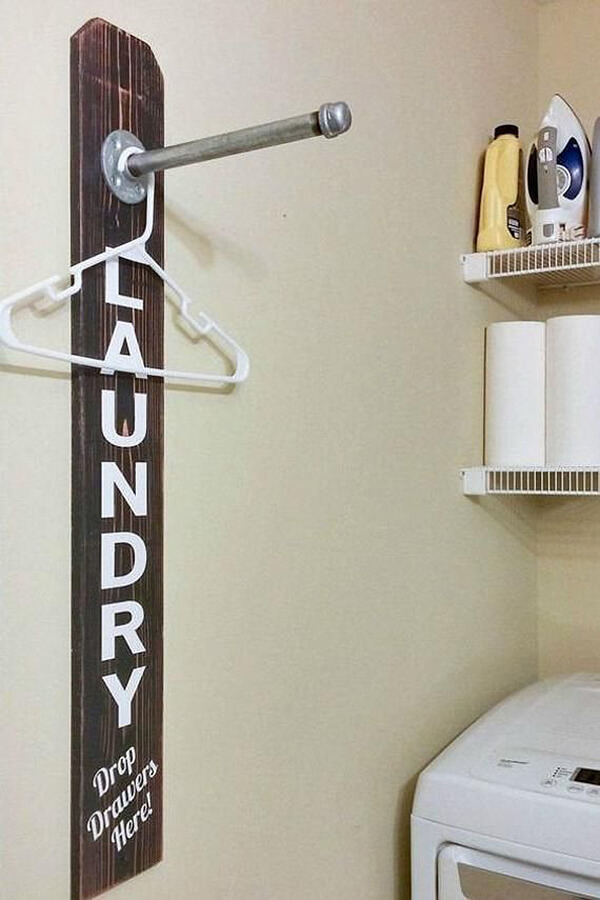 Fashion meets function with this distressed wooden sign. Clocking in at 10" long and featuring an attachable pipe, this lightweight sign holds multiple pieces with ease and is simple to hang as well. Add your own cheeky saying to give you a little chuckle every time you see it.
23. Customizable Family Name Laundry Sign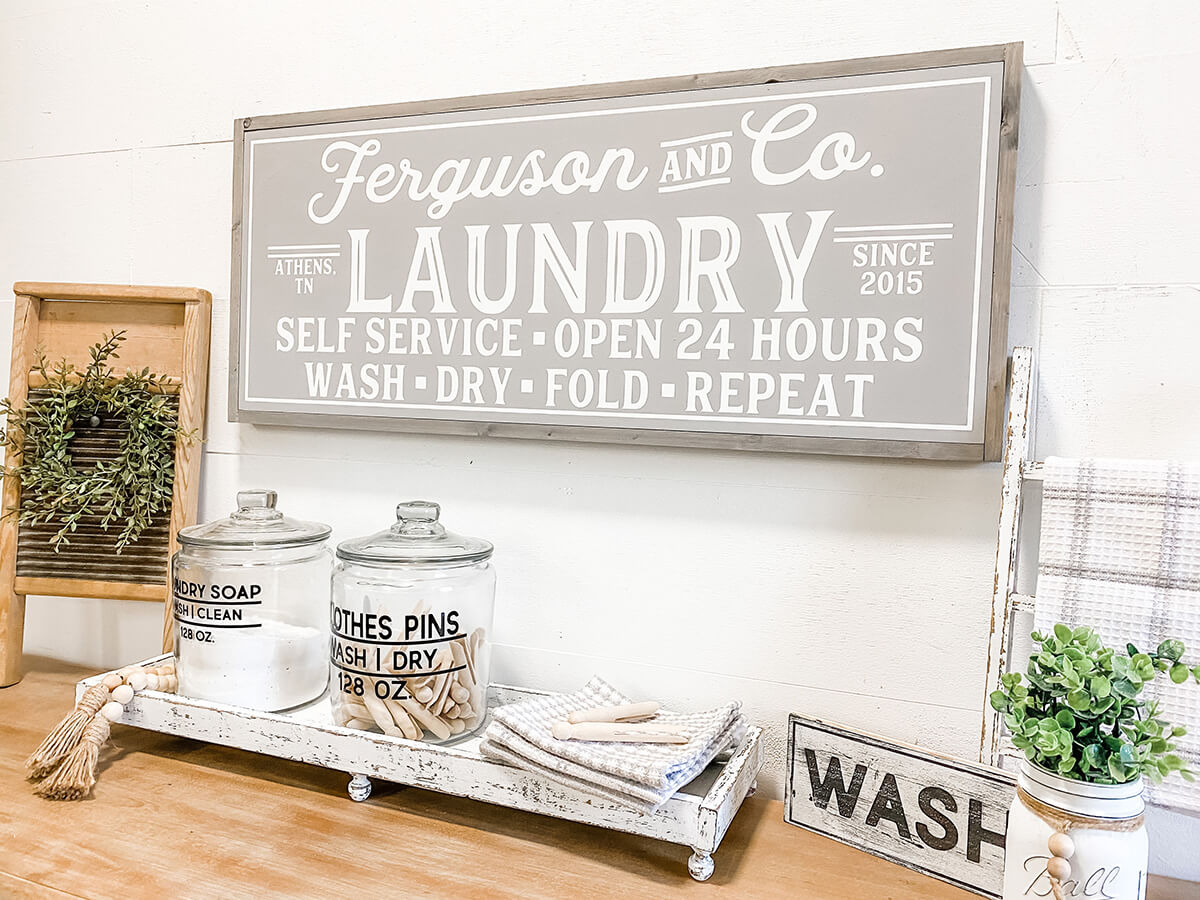 Make your laundry room one-of-a-kind with this custom wooden sign that allows you to add your last name, city, and "established" date. Its vintage feel will blend right into any farmhouse look while still giving you a piece that's truly unique. Available in five sizes, this makes a great newlywed or housewarming gift as well!
24. Hand Painted Wash, Dry, and Fold Sign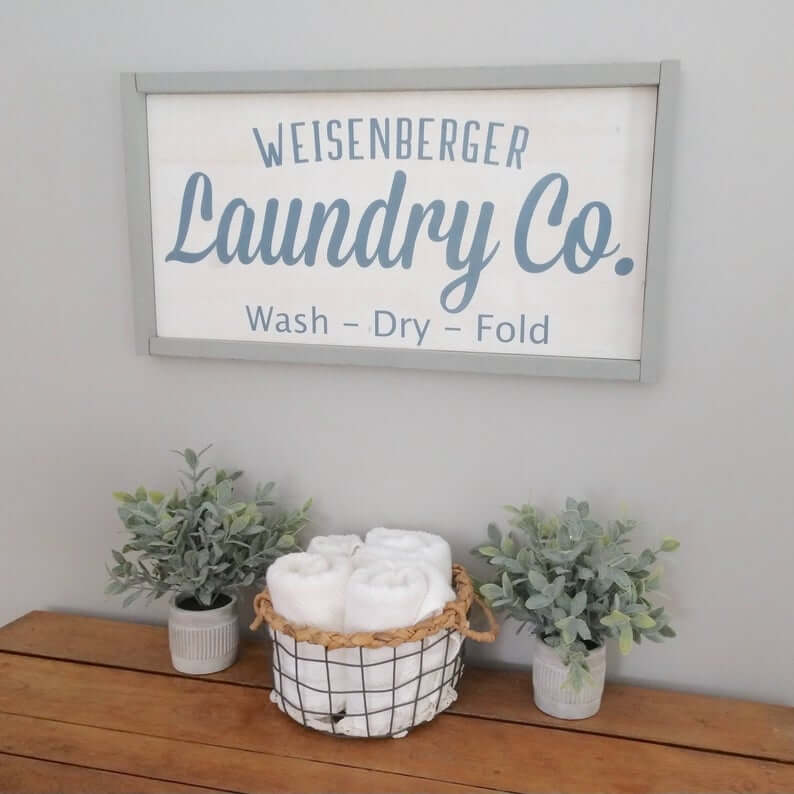 Another great option for adding your own name, this sign is a simple yet elegant option for any laundry room. Each 25.5" x 13.5" sign comes ready to hang with a metal wire on the back, and you have many different color options for the background, font, and wood frame choices.
25. Open All Night Laundry Room Print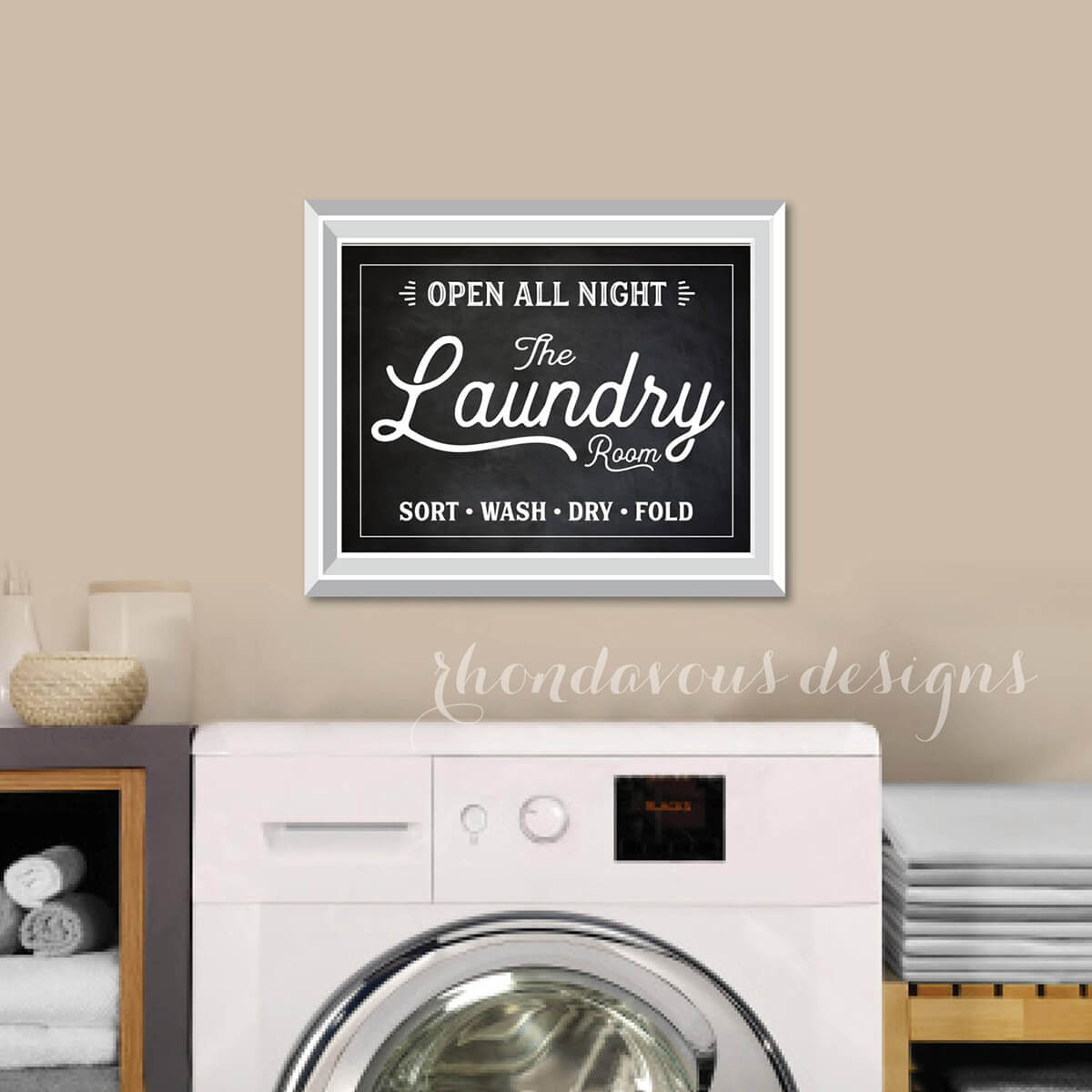 If it seems like your laundry is never-ending, this may be the perfect sign for you! Available in several different sizes on either photo paper that you can frame yourself or as a ready-to-hang canvas, this design is available in a color to match any laundry room.
26. Vintage Laundry Room Ladder Rack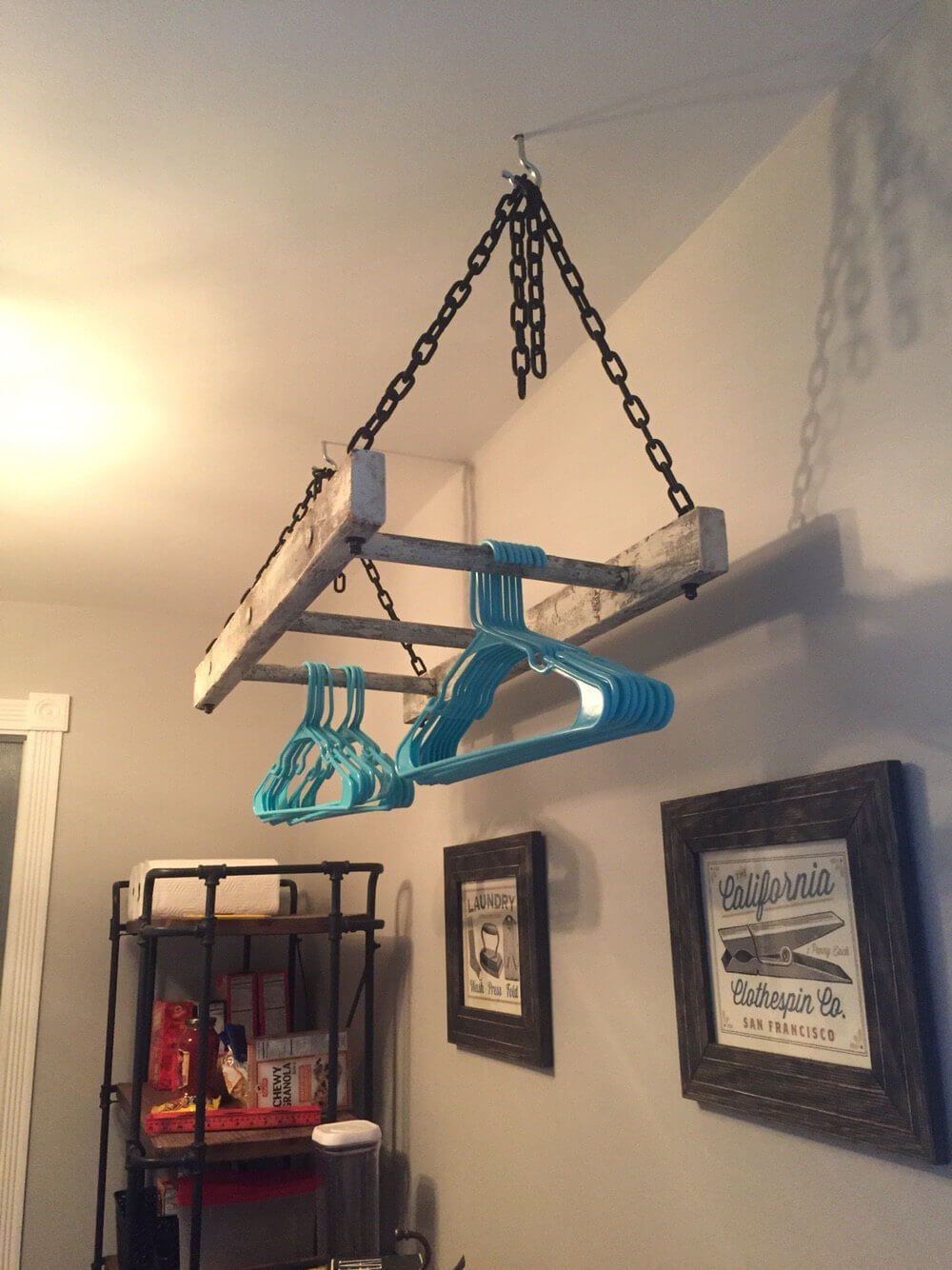 Measuring about 36" long, this rustic wooden ladder comes with a chain to suspend from your ceiling, letting you hang up your clothes without taking up any floor space. Repurposed from real vintage wooden ladders, these racks can be ordered as is with old paint drops that give them a ton of character, or they can be refinished to your specifications.
27. Antique Wash Tub Laundry Sink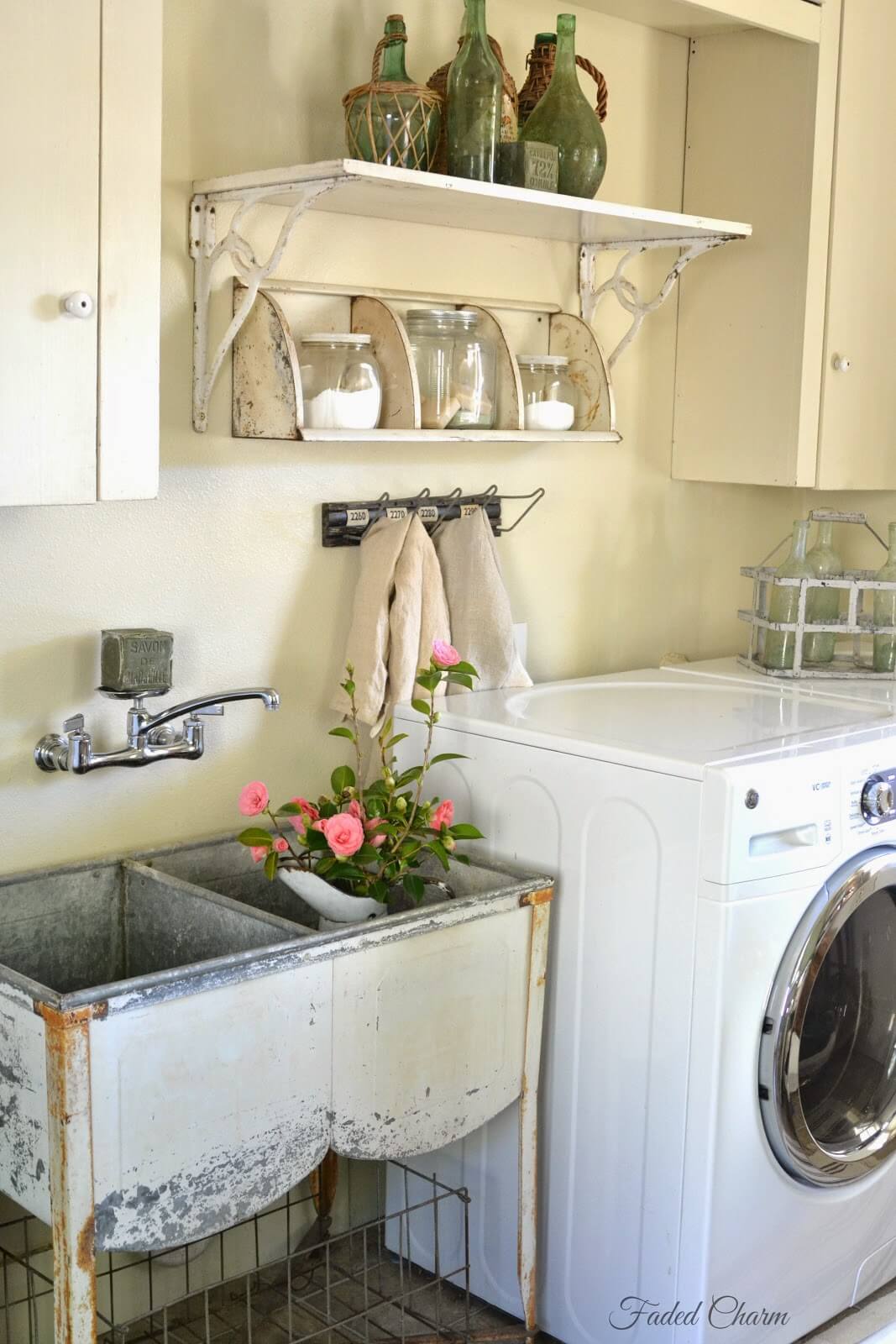 An antique aluminum wash tub gives this utility room instant vintage flair, along with the convenience of a large sink/tub. The vintage tub also beautifully enhances the weathered shelving, for a real farmhouse feel.
28. Funky Vintage Laundry Wall Sign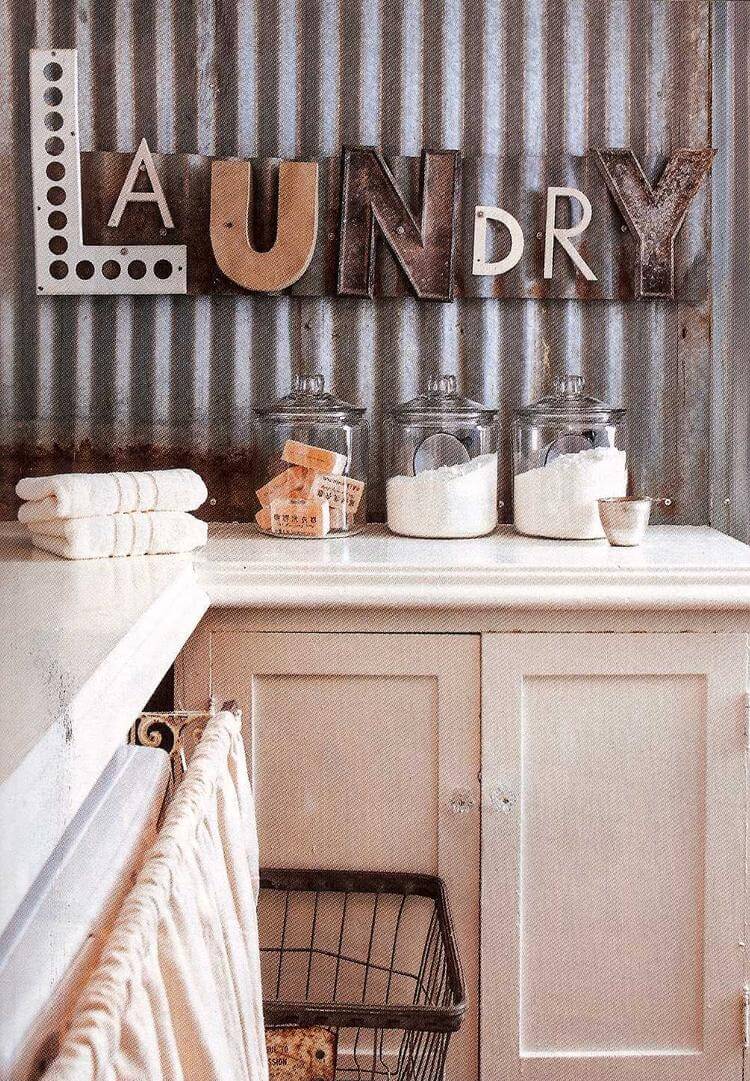 This funky vintage laundry room sign, made of metal found objects, adds a rustic feel to this room, especially when set against the rough edges of a rusty metal repurposed wall piece.
29. Laundry Dictionary Definition and Giant Pins Art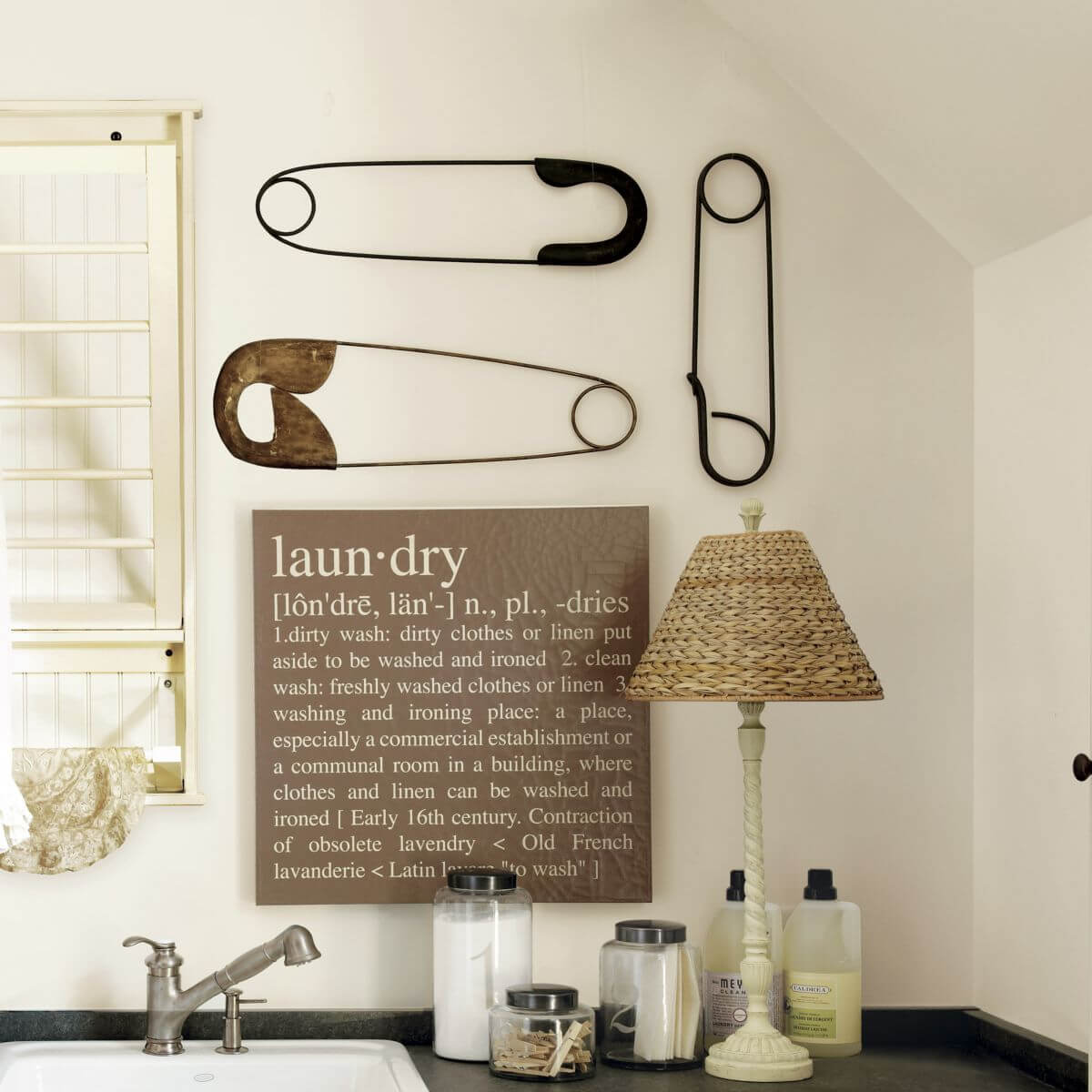 Giant vintage laundry pins combine beautifully with a "Definition of Laundry" wall art sign, to create extra interest in this cleanly decorated laundry room. The overall look is enhanced by a black counter that sets perfectly against off-white walls.
30. DIY Wash and Dry Wall Art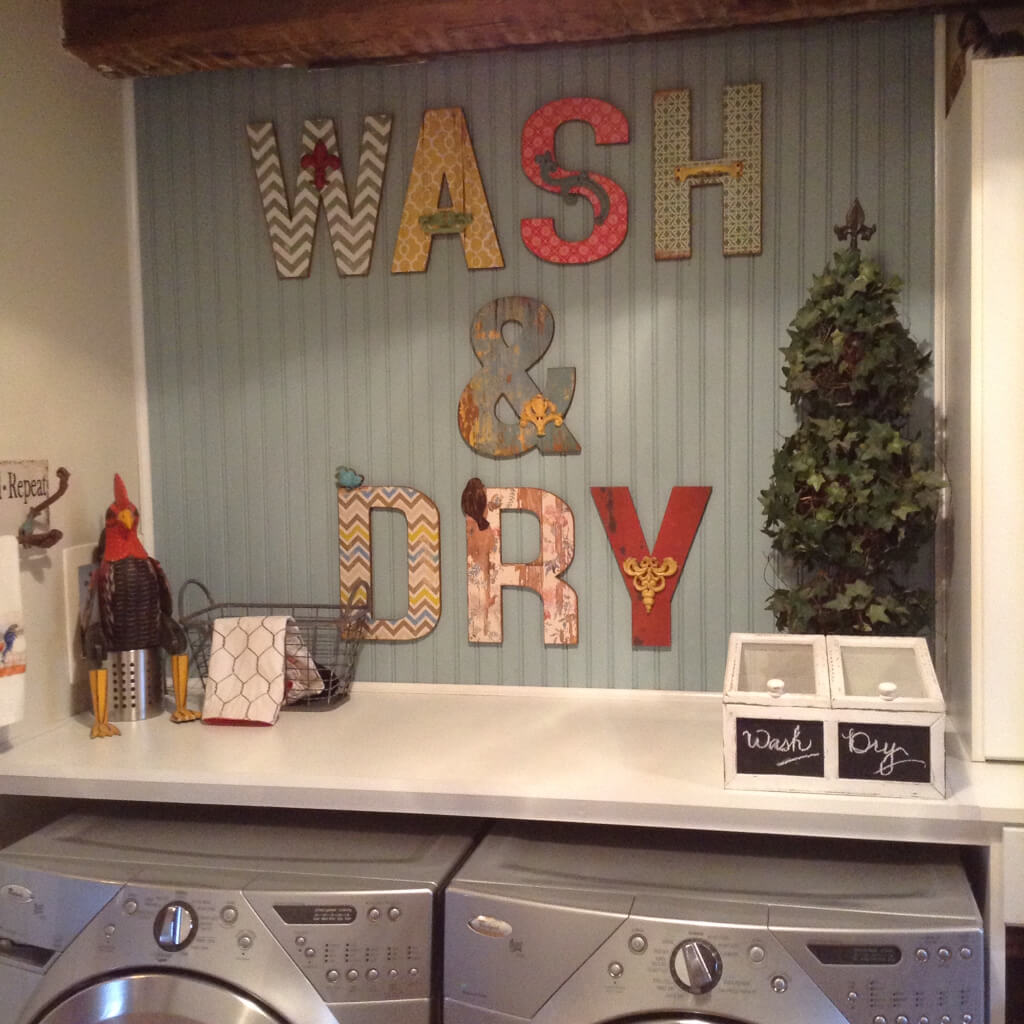 This friendly, homemade "Wash and Dry" sign, made from repurposed and repainted found objects, makes an average laundry area into something friendly and fun. It also looks great with homey decorative pieces, like the chalkboard "wash and dry" chalkboard storage unit, and the toy chicken.
31. Vintage Laundry Room Door with Decal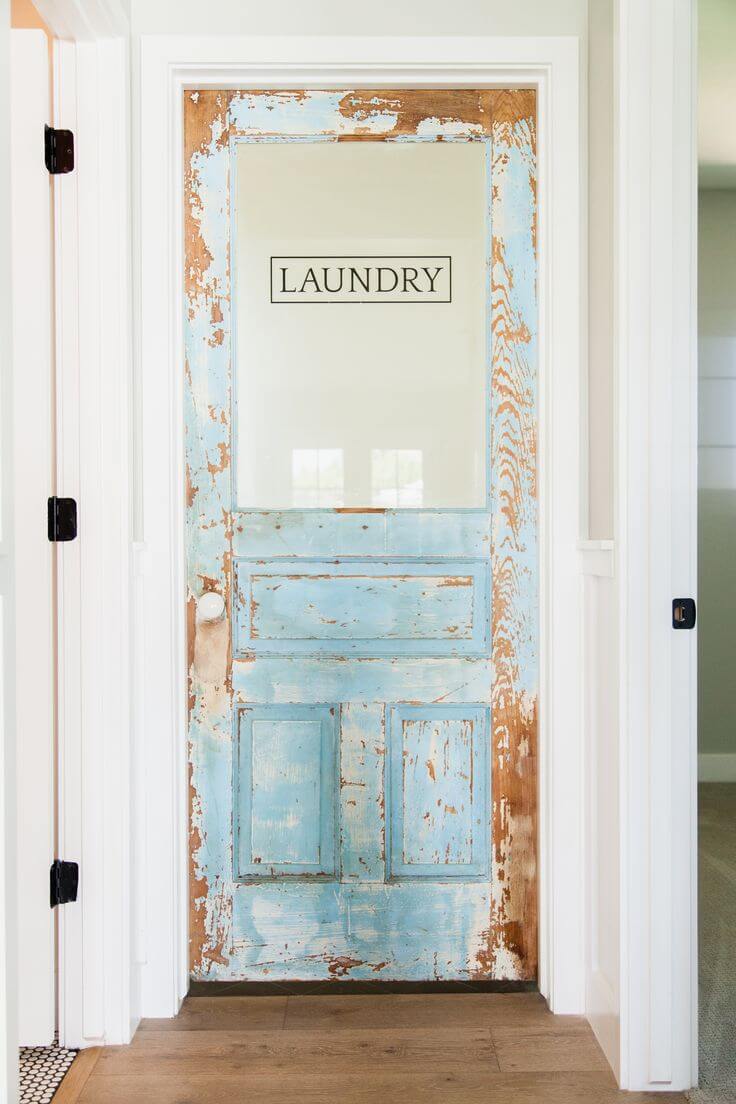 A delightfully weathered farmhouse door gets a touch of class with the clean lettering in the door's vintage glass window. The weathered paint on this door is also gorgeously offset by the clean white lines of the surrounding entryway.
32. Repurposed Wash Tub Shelving Unit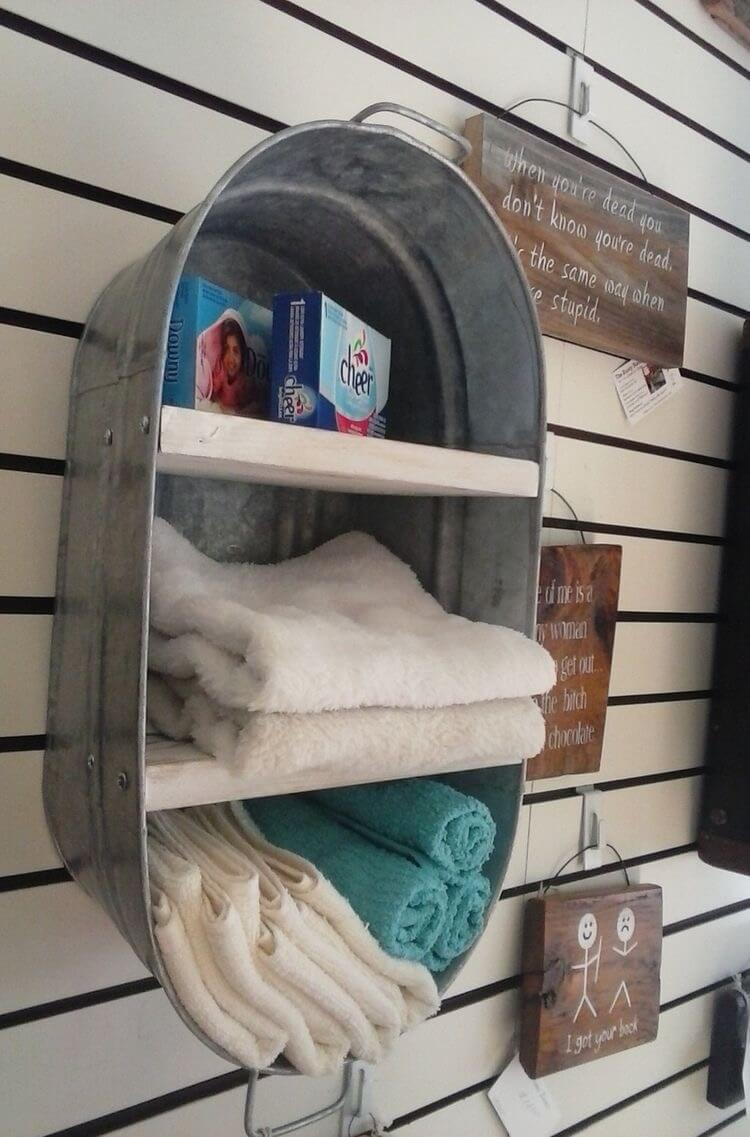 Here's an inventive use of an industrial metal wash tub. Just turn this large tub on its side, install it on the wall, and it's a handy laundry storage piece that adds a fanciful feeling to practical chores.
33. Wood Laundry Sign with Hanger Bar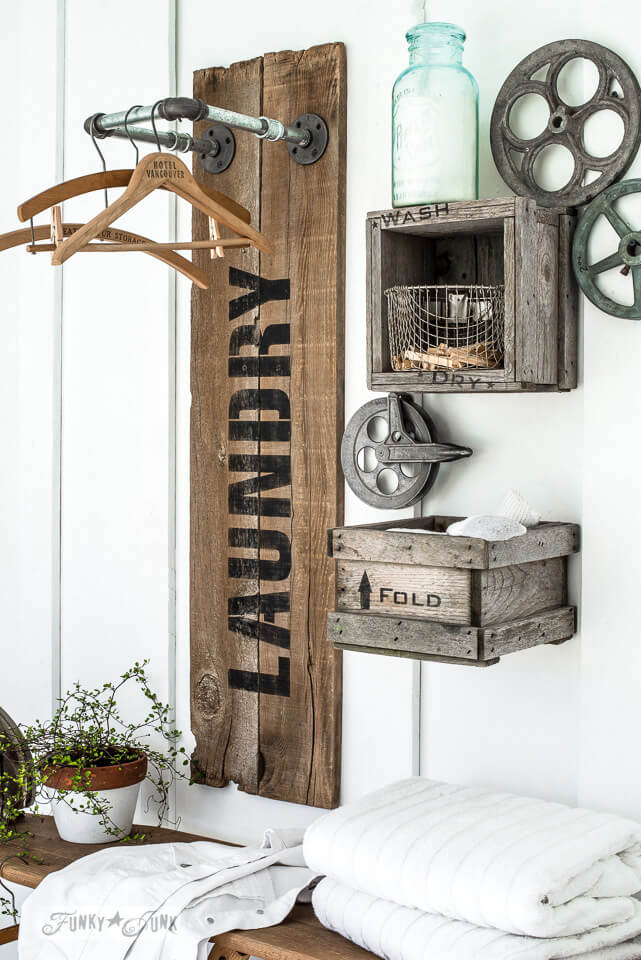 Rustic, aged wood pieces add vintage flair to this laundry room, with the large lettered wood piece creating a charming focal point. Installing a hanger bar is a smart way to hang drying clothes, and charming industrial gears add extra interest on the wall.
34. Country White Laundry Room with Hanging Space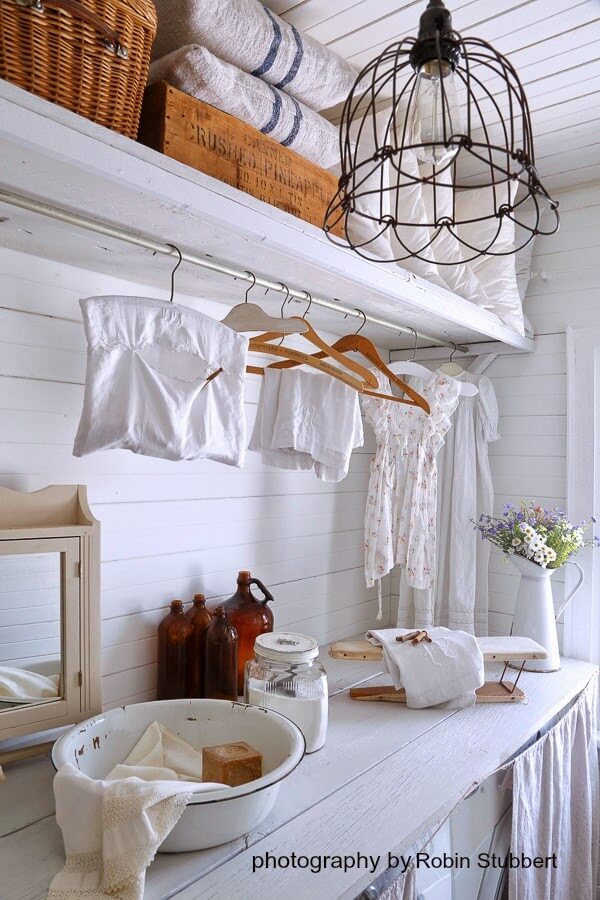 The farmhouse feel of this laundry room is enhanced by the white on white color scheme, and the smart addition of vintage objects, like a metal wash basin and pitcher, that are as practical as they are decorative.
35. Wood Letter Clothesline Laundry Sign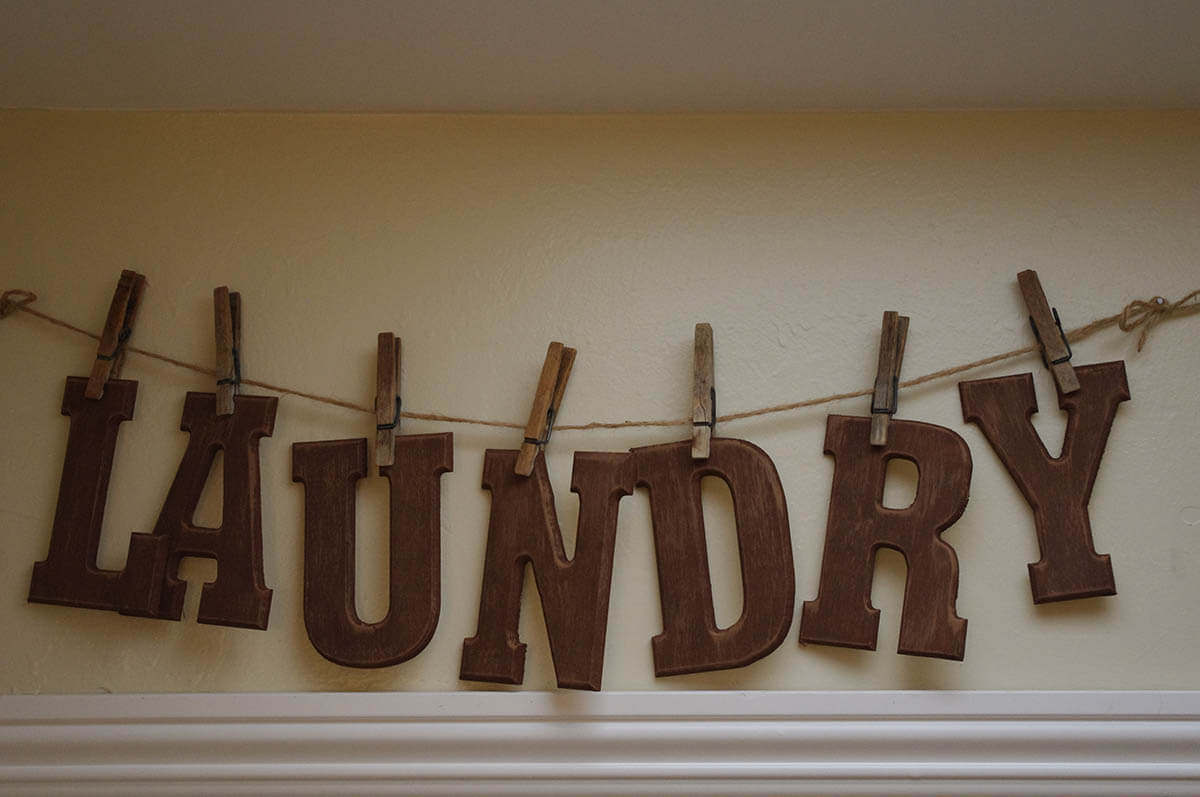 This wood laundry sign suspended in jaunty fashion from wood clothepins adds a sense of fun and light humor to the laundry room. The rustic wood pieces are offset beautifully by the clean lines of the room's walls and white crown moulding.
36. Shabby Chic Clothesline Wall Art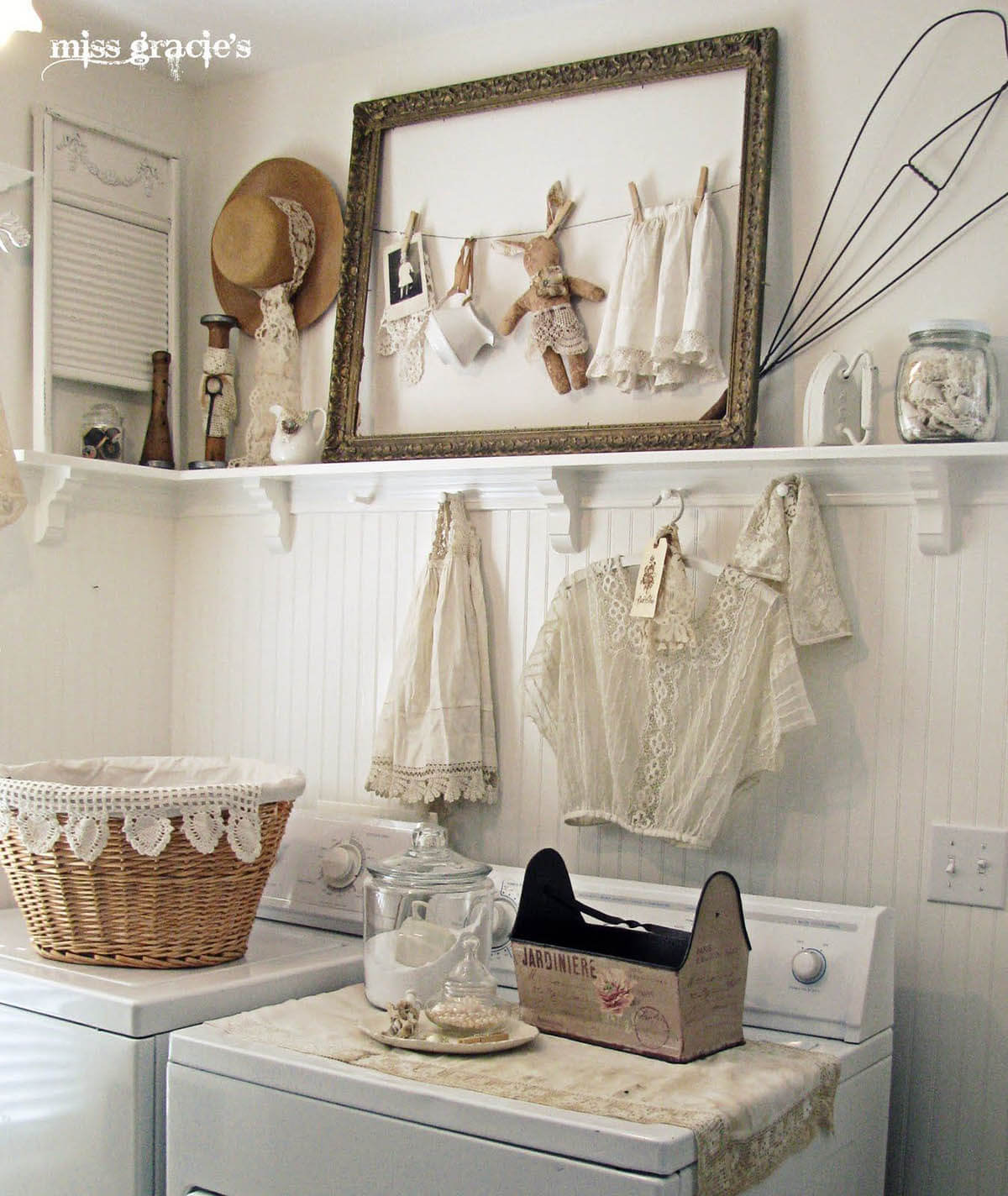 This delightful white and wicker laundry area gets a late 18th Century feel with the addition of vintage lace blouses and skirts, and a darling antique toy. These pieces area all displayed beautifully within an aged metal frame, to charming effect.
37. DIY Laundry Room Shop Sign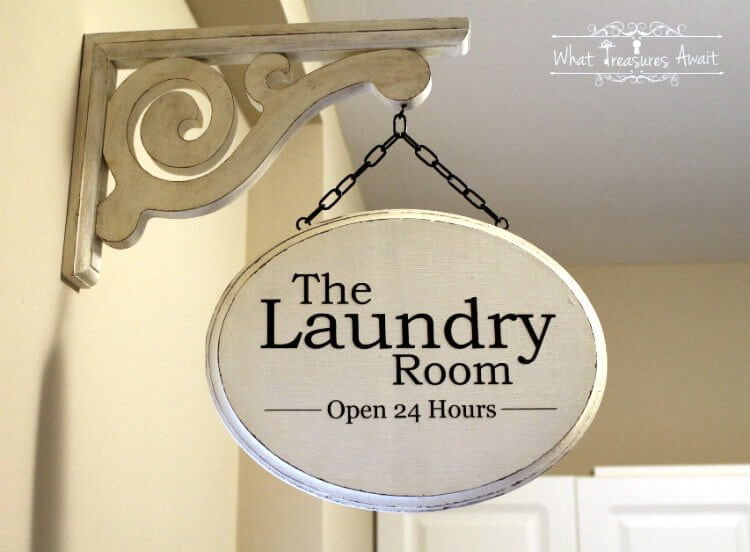 This home laundry room is delightfully enhanced with the addition of a do-it-yourself vintage-style shop sign, beautifully lettered and hung from a rustic, white-washed wood ornamental piece.
38. Vintage Laundry Room with Wicker Basket Storage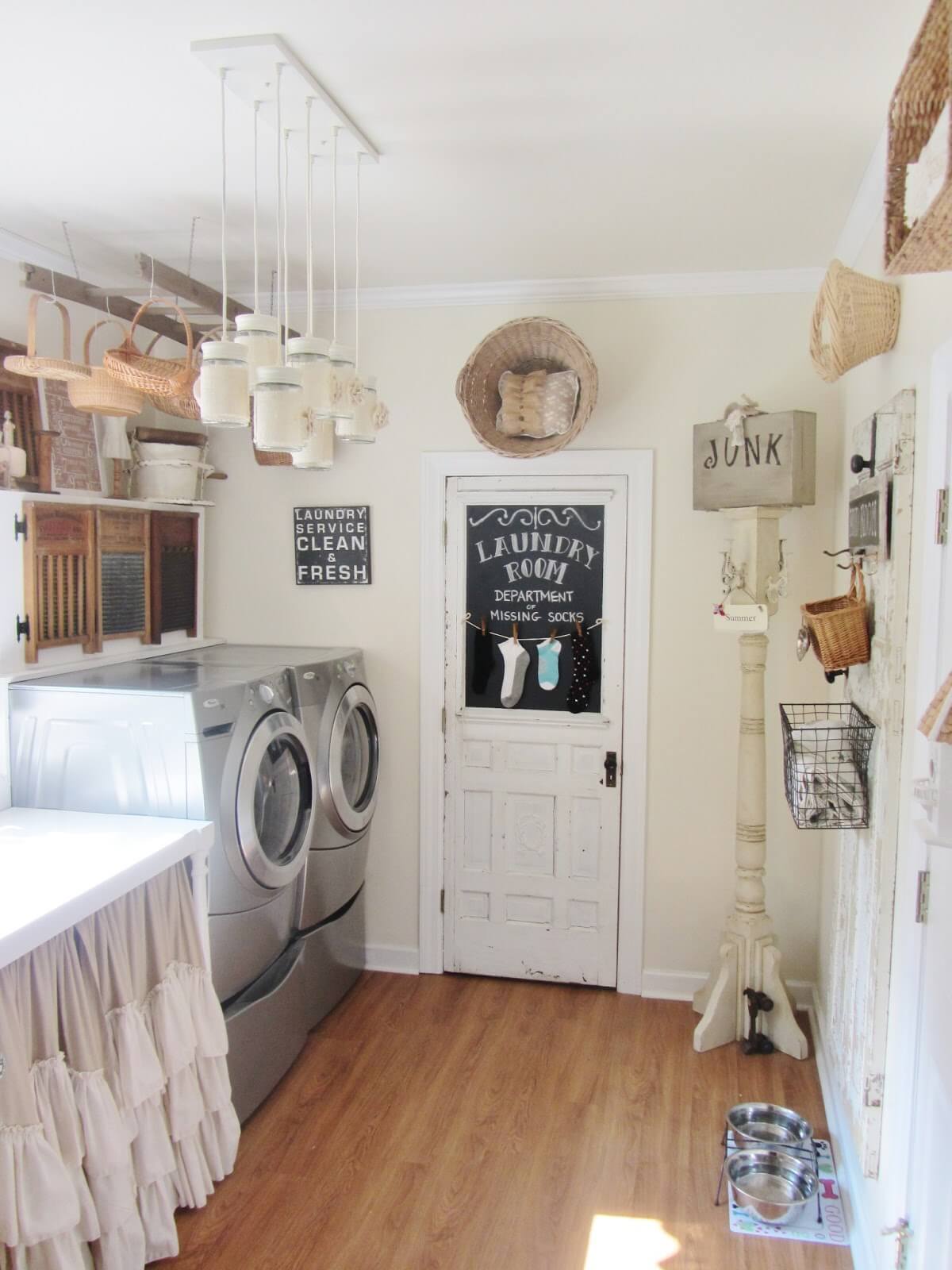 Vintage details give this home laundry extra flair. From the charming farmhouse door with a built-in chalkboard sign to the wicker wall decor and repurposed washboards, this room has charm to spare.
39. Lost and Found Laundry Organizer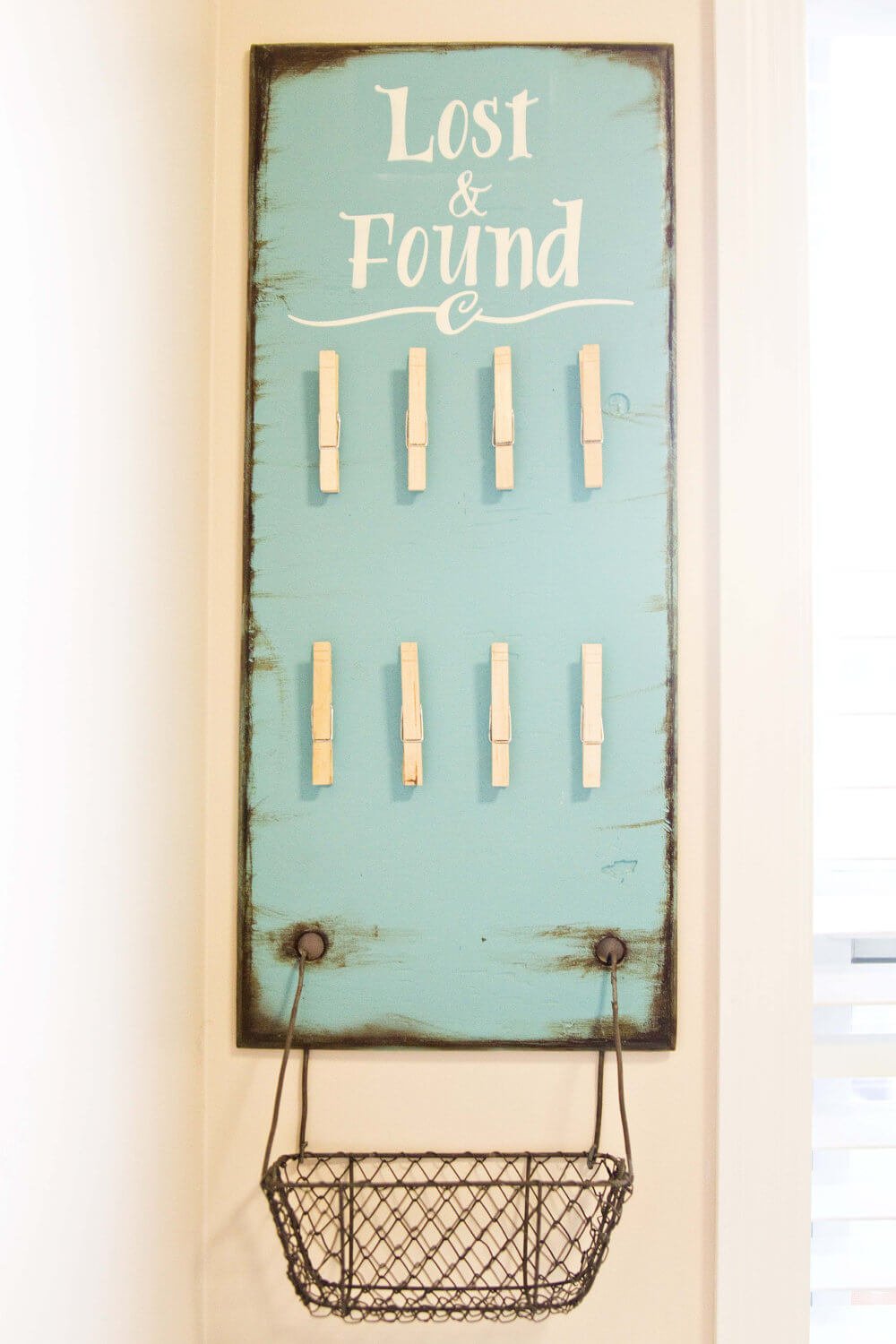 A vintage "Lost and Found" sign in cheerful aqua blue serves a practical purpose in the laundry room, while giving the area a welcoming and fun feel.
40. Rustic Wood Crate Laundry Counter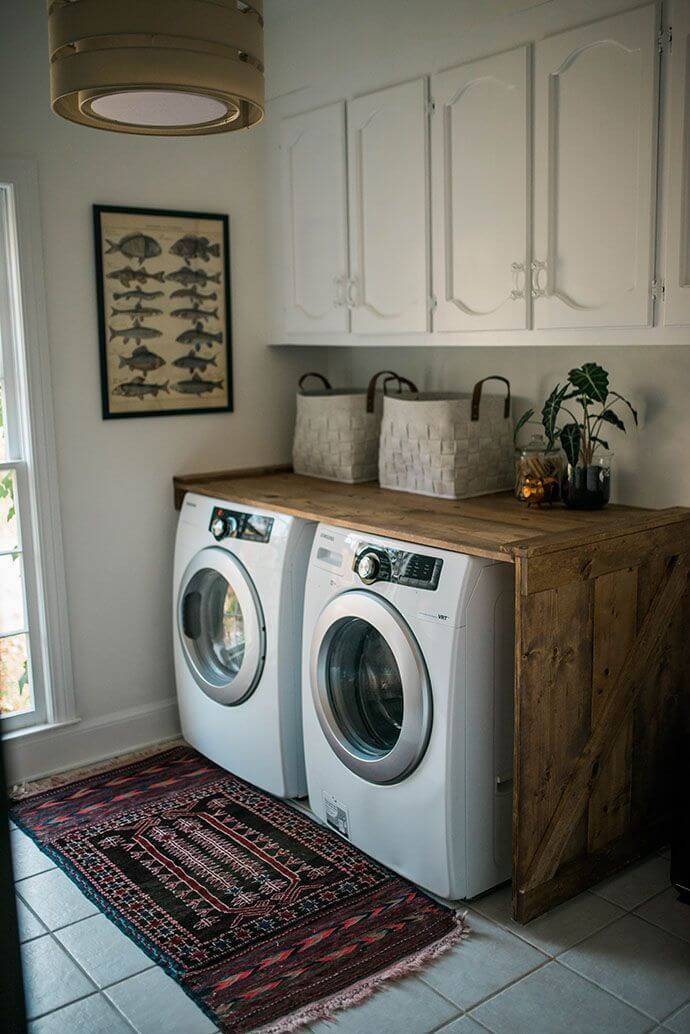 Who would have thought a weathered wooden crate could have such decorative appeal? This rustic wood piece, along with some well-chosen vintage wall art and textured storage pieces, gives this room an unusual charm.
41. Antique Washboard and Tub Decoration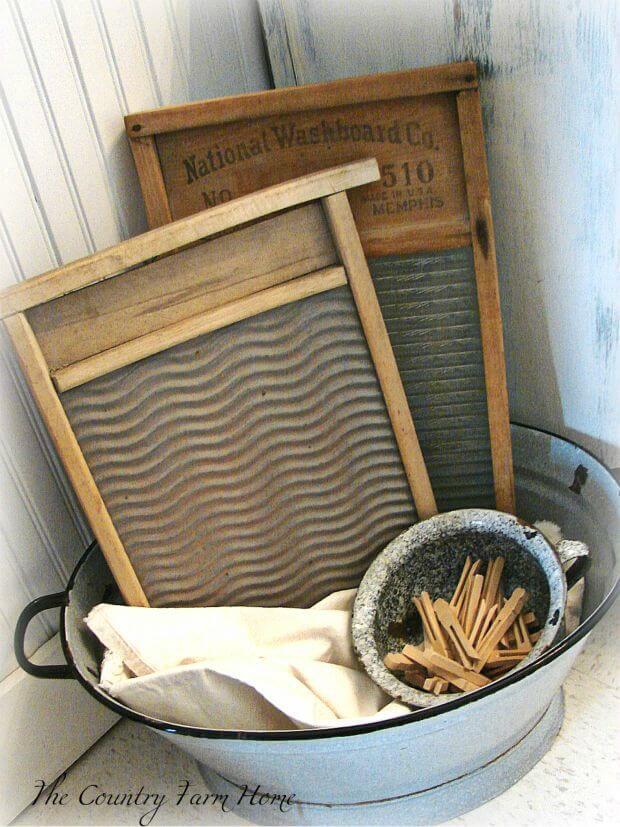 Modern laundry rooms tend to the clean and efficient, yet these delightful vintage washboards add real decorative charm, while also remind us of how the wash was done in days gone by.
42. Shabby Chic Laundry Room with Chandelier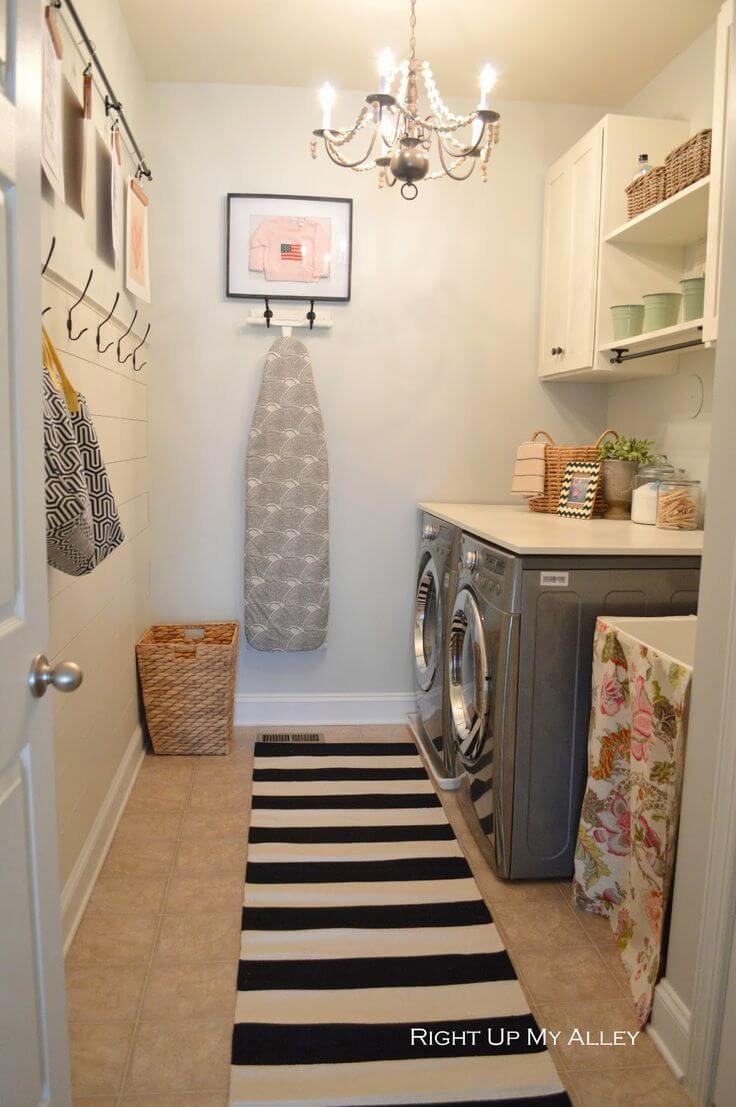 This clean, white and metal laundry room with textured decorative elements gets a dose of extra elegance with the addition of a lovely suspended chandelier. Who says chores can't be glamorous?
43. Farmhouse Sink Plus "Wash and Dry" Sign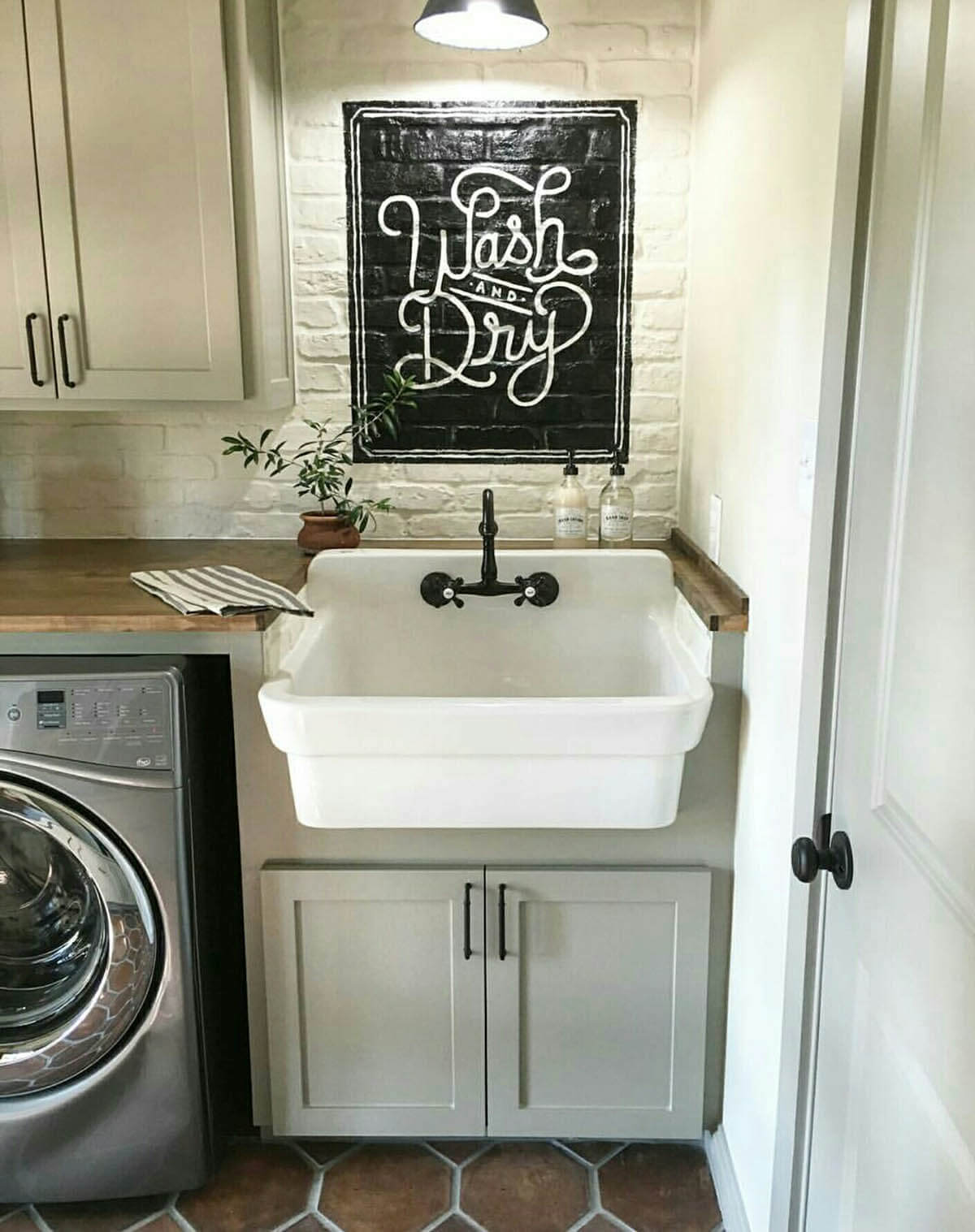 This farmhouse sink has an authentic vintage flavor, greatly enhanced by a charming piece of old-time wall art, set beautifully against the clean whitewashed laundry room brick wall.
44. Grey and White Laundry Room with Wicker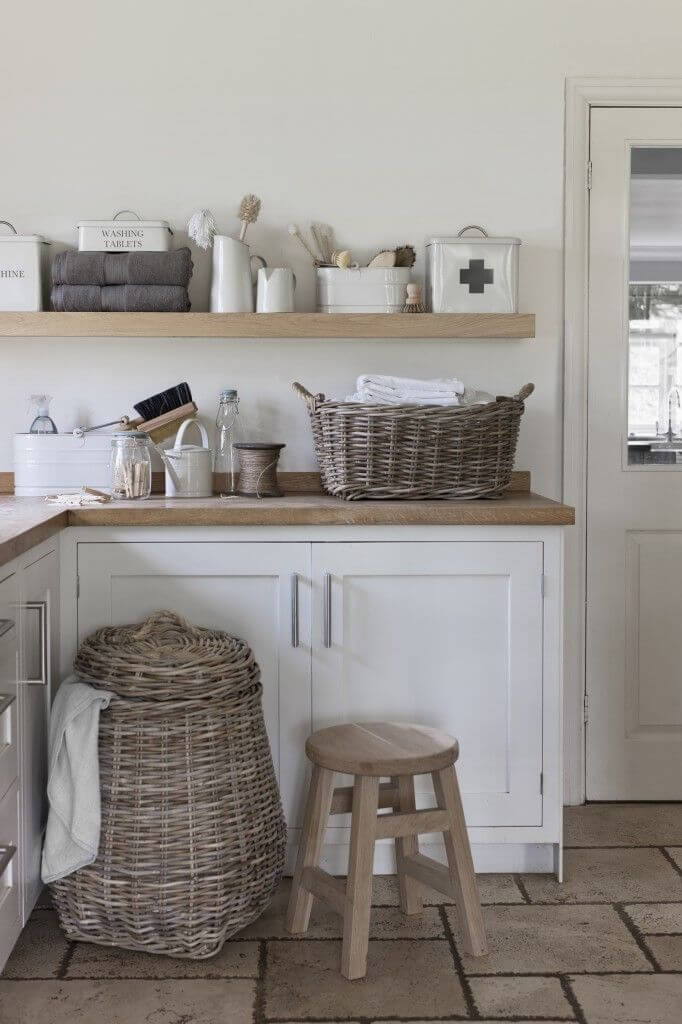 This grey and white and themed laundry room is enhanced by the rustic textures of the wicker and white vintage-style storage pieces, to create a welcoming farmhouse feel.
45. Antique Metal Laundry Room Decor Ideas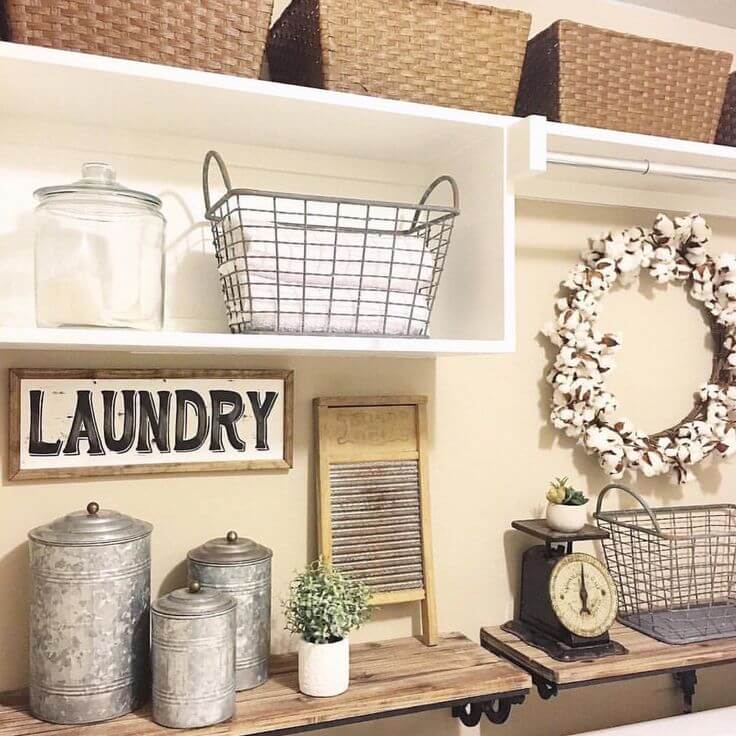 This clean, well-organized laundry room boasts antique metal storage pieces that play wonderfully on the room's rustic wood and metal shelves and off-white walls. Vintage decorative pieces, like an old-time scale, just add to the old-time feel.
46. Clothespin Cupboard Handles for Laundry Room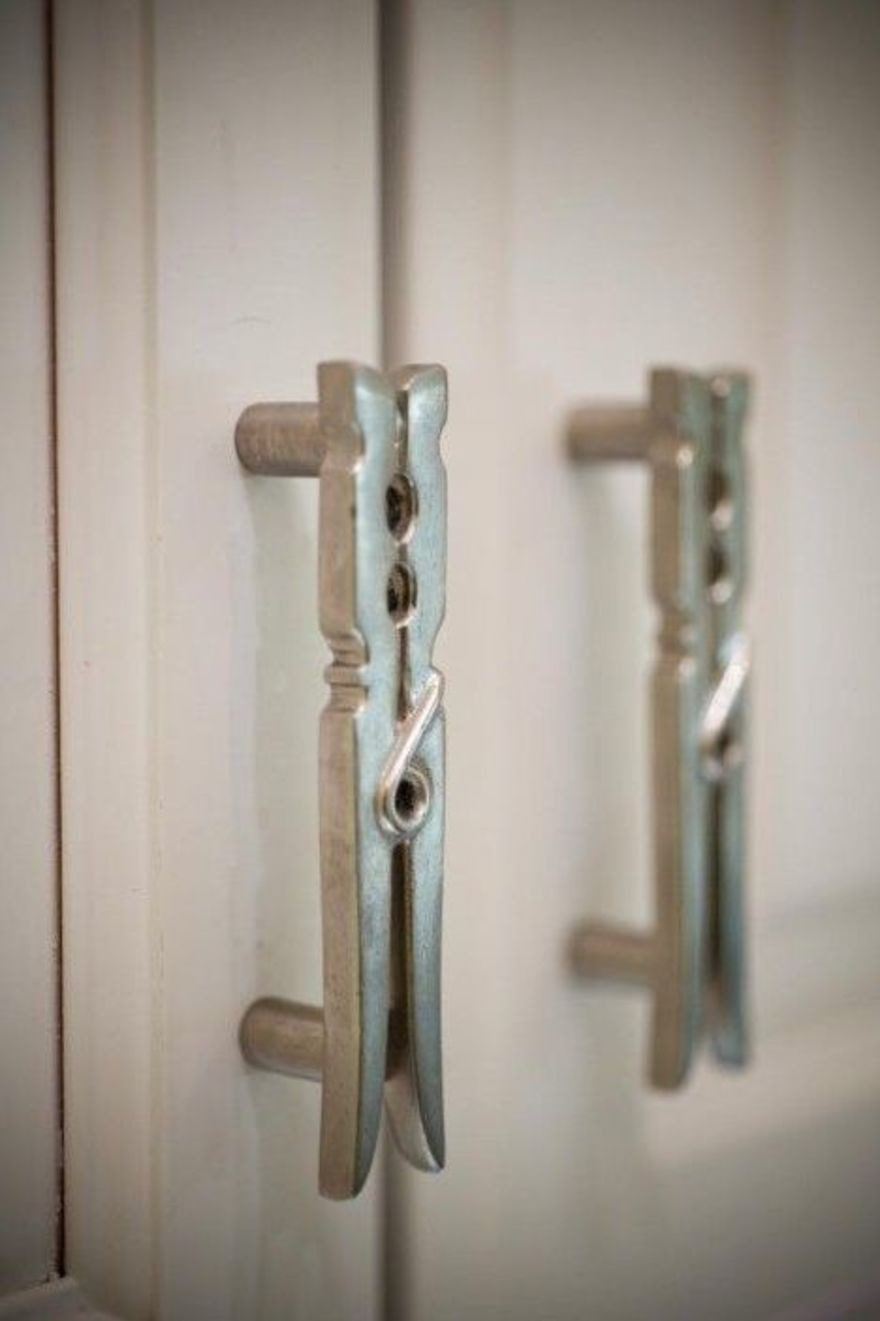 These laundry room cupboards have extra added charm, with the addition of metal cupboard handles styled to look like vintage laundry pins. Durable but delightful, these sturdy handles add a fun commentary to the laundry chore experience.
47. Lost Sock and Change Laundry Room Organizers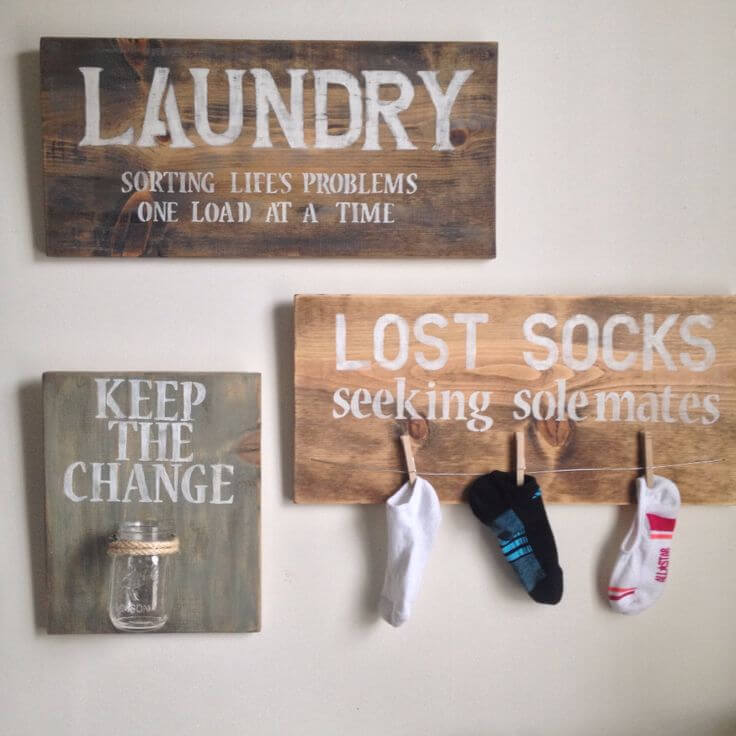 The lost laundry sock problem is solved with these weathered wood laundry room signs. The practical sock-saving laundry pins act as an added sock-saving bonus.
48. DIY Washboard "Wash" Wall Art

Repurposed, weathered vintage wash boards and wood hangers become decorative wall art with the addition of big block letters that make a practical but also delightful laundry-room statement.
49. Vintage Inspired Chalkboard Laundry Sign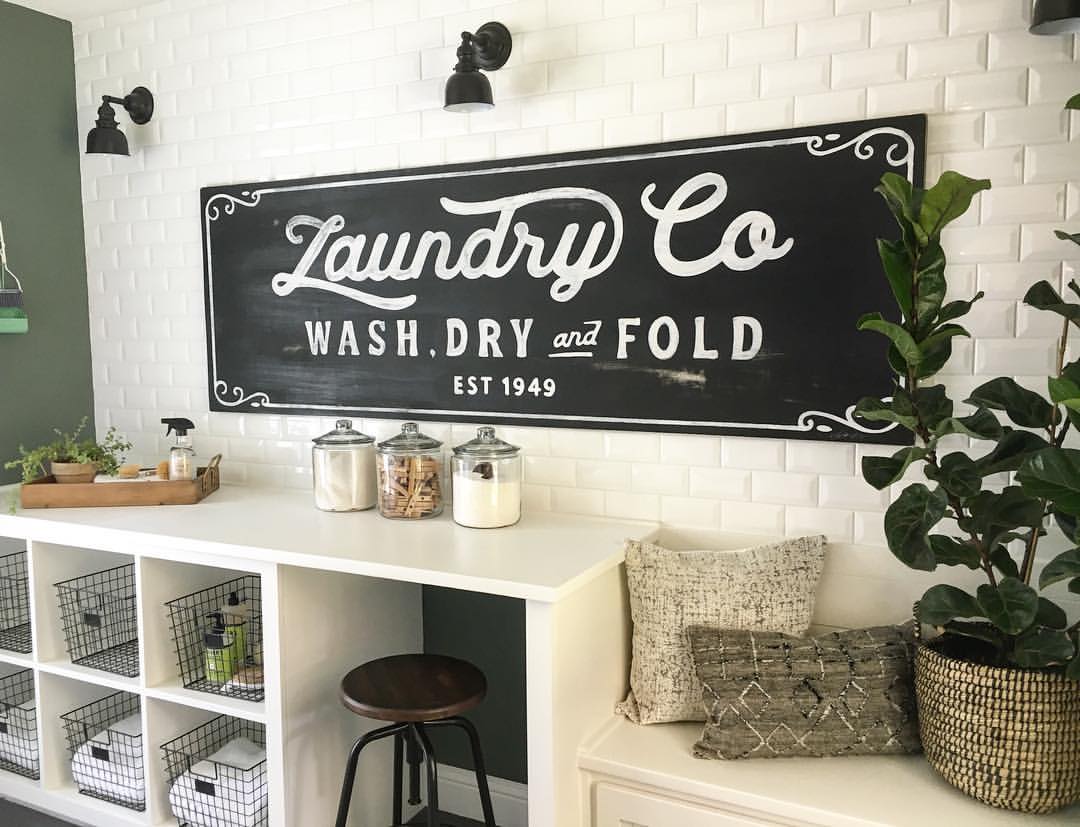 A vintage-look chalkboard laundry room sign makes a charming statement in this utility room, and also looks wonderful set against white subway wall tile and rustic textured pillows and a plant holder.
Choose Rustic Wall Decor Ideas to Make Your Home Warm and Inviting