24. Life's A Beach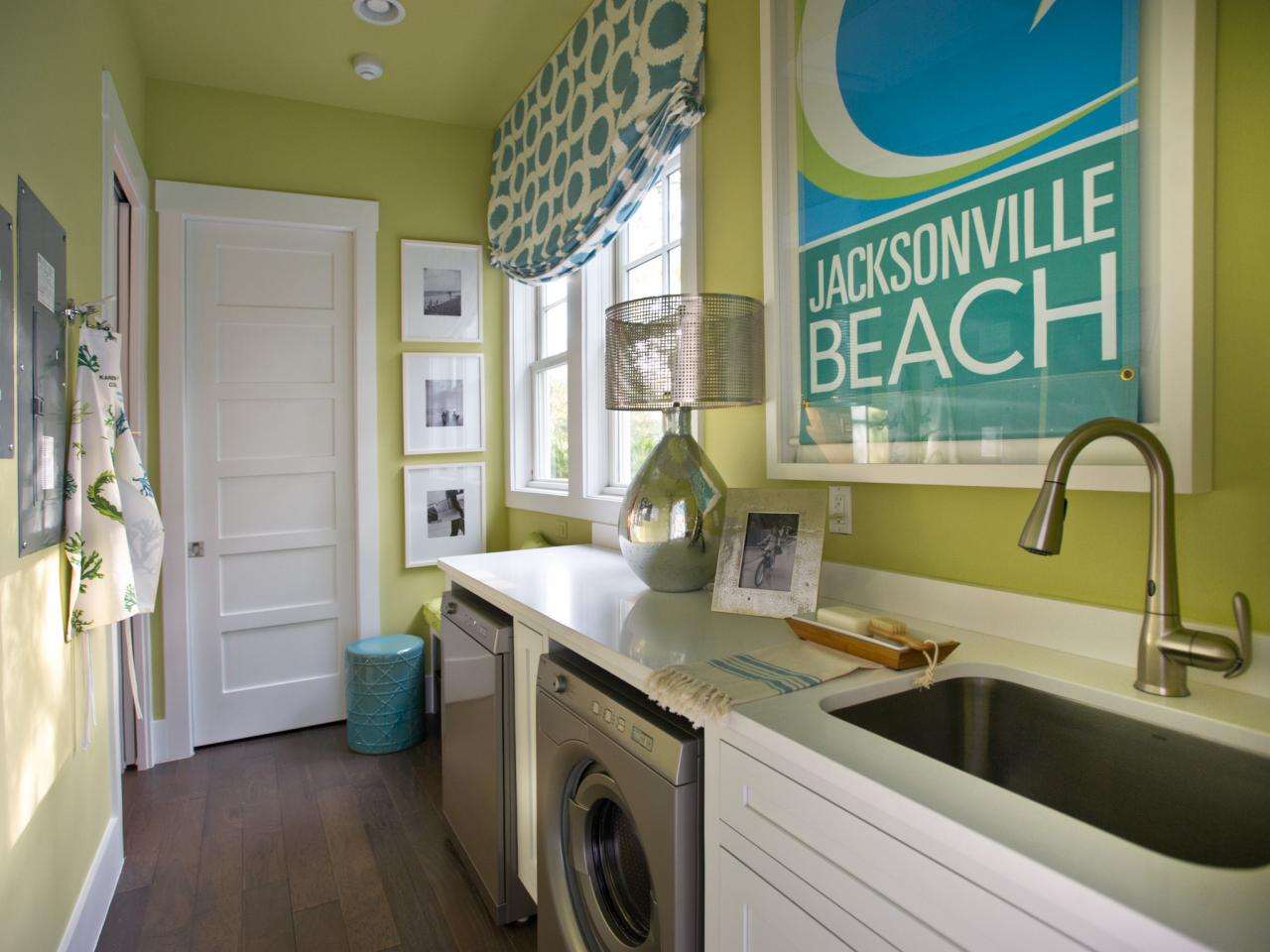 Cool greens and blues offset by white cabinetry, door and window frames and oversized white picture frames combine to create fantastic beach house elegance. A silver table lamp along with a chrome sink fixture adds a few touches of modern elegance, making this a perfect room for either a beach house or just a regular suburban home that houses beach lovers. Medium distressed wood floors and an aqua toned trash can complete this celebration of all things summer.
25. Budget Friendly Makeover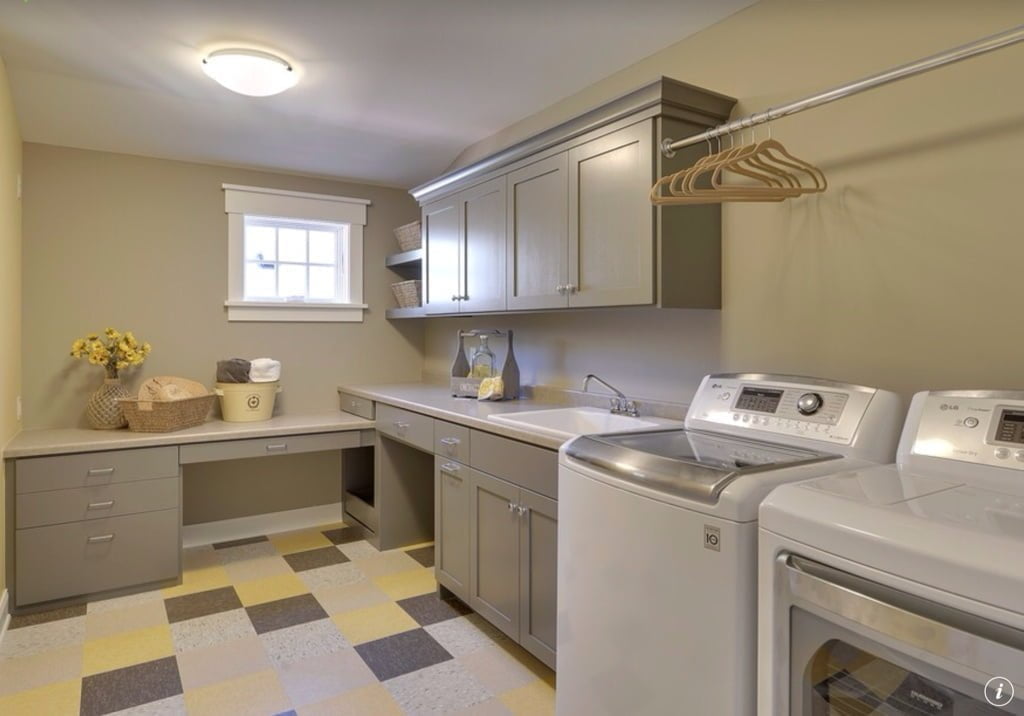 With neutral walls and vinyl floor tiles, this is one of the great laundry room ideas for someone without a huge budget to spend on an entire makeover. Sparkling white appliances pair nicely with neutral cabinetry, neutral walls in a slightly different shade and white window trim. Cabinets are covered in a durable laminate that makes this the perfect laundry room for a rental, resale property or simply an inexpensive facelift for your vintage home. A regular shower curtain tension rod creates a great space for hanging clothes and is a great solution for someone looking for simple and inexpensive laundry room storage ideas.
26. Rainbow Bright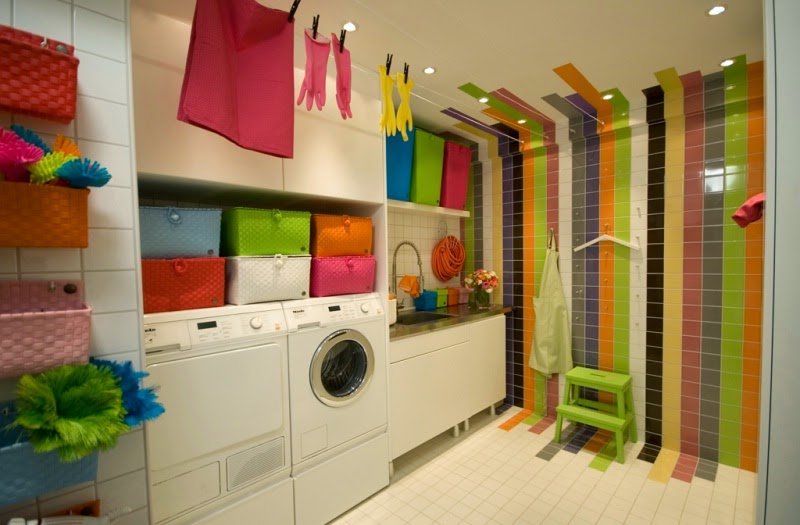 While not everyone will necessarily have the money to invest in a custom tiled wall, there are some great laundry room ideas in this space that will translate well to a less customized space. Laundry room storage ideas abound, from the hanging baskets on the walls, to the coordinating storage baskets stacked on top of the appliances, to the colorful bins over the sink. Simple clotheslines running across the ceiling make a great place to hang damp items to finish drying, and pegs on the wall make great hooks for hanging items for drying or storing. Bright accessories can take a plain white room and turn it into a bright, colorful room in which to do the most mundane of chores.
27. Neutral With Flair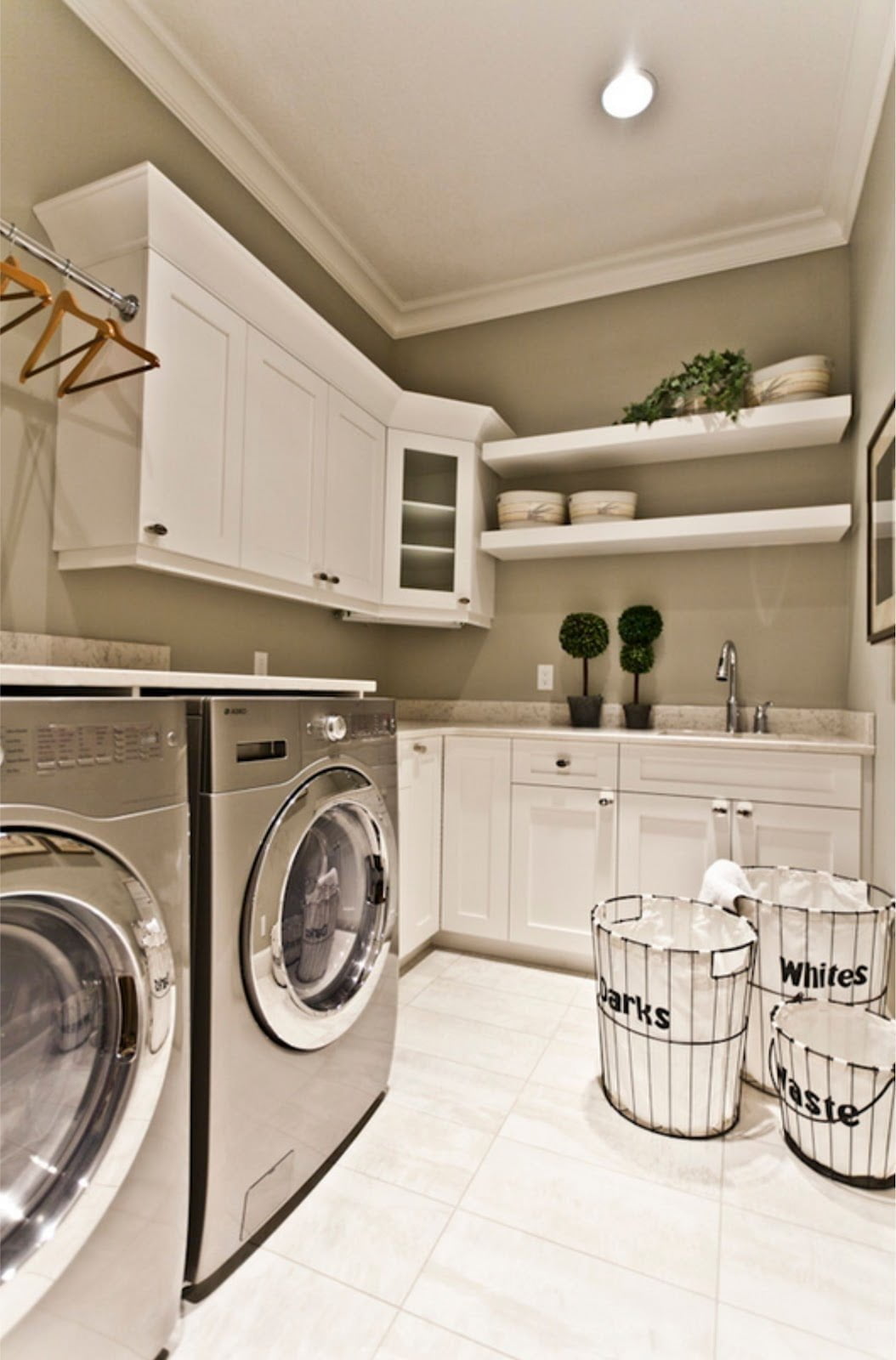 Oversized stainless steel appliances create a smooth, sleek focal point for this delightfully neutral laundry area. White cabinetry, white tile flooring and a trio of white hampers lighten up the neutral walls, giving this area a clean, open feel. Open shelving over the sink provides a great location for plants or other greenery to bring some touches of color to this space. This is another great idea for people working on a budget or designing a space to increase the home's resale value.
28. Baby Fresh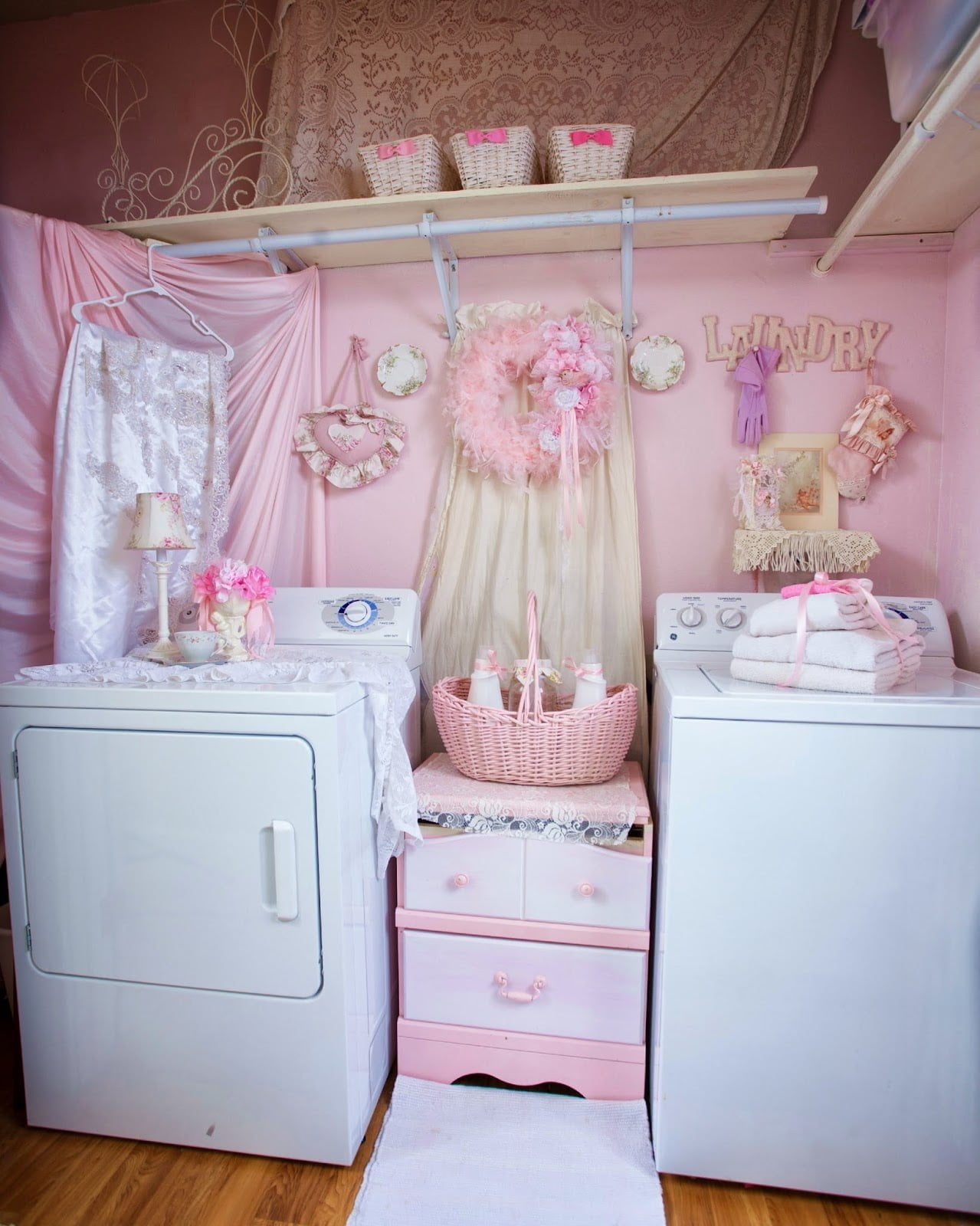 No one can deny that among the many things babies bring into your life is a mountain of laundry. Why not incorporate a small laundry area right into the design of the nursery? A small nightstand between the machines and a high shelf with baskets provides ample storage space for laundry soaps and powders. A pink painted wall provides a sweet touch and a coordinating pink sheet can be used to section off the area from the rest of the room. A white throw rug, pink wreath, woven basket and lots of ribbons and bows complete the look of this sweet little laundry area.
29. Ready For a Latte Laundry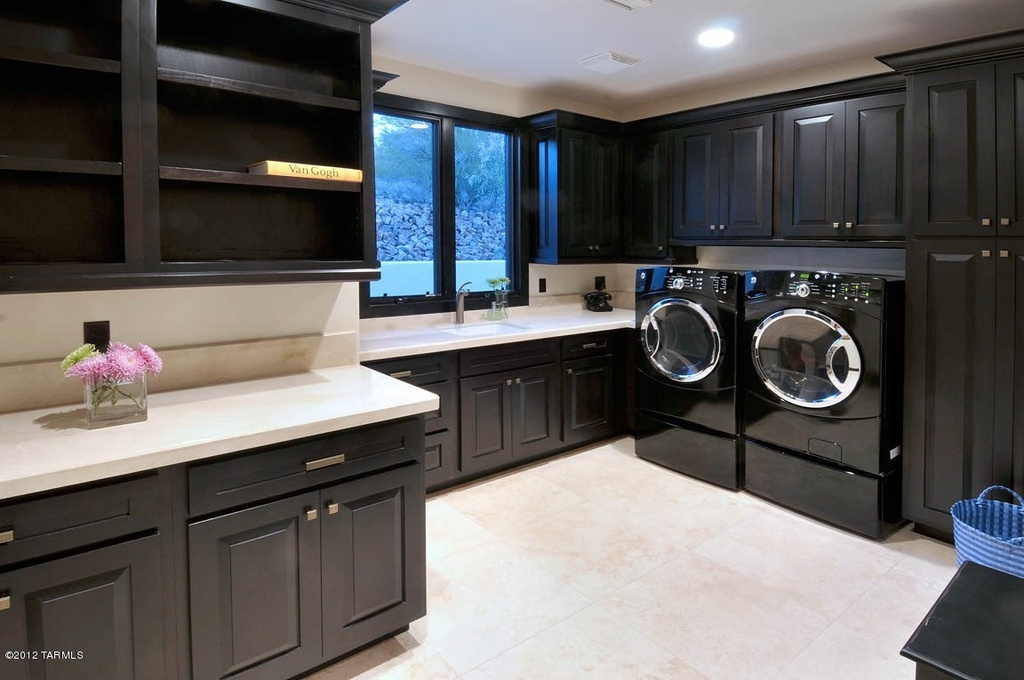 If you're looking for laundry room designs for a large space, this is for you. This large spacious laundry area combines dark espresso cabinetry with cream colored countertops and flooring to create a beautiful, warm open space, reminiscent of many people's favorite drink. Oversized black appliances fit perfectly with acres of cabinetry that are an organizer's dream. Recessed overhead lighting blends perfectly with the smooth clean lines of the room, while a large window adds sunny warmth to the stark contrast of dark and light. A sink and miles of counter space make this a versatile room for engaging in any number of tasks, from crafting to canning to a great staging area for a catered or holiday meal.
30. When Residential Meets Commercial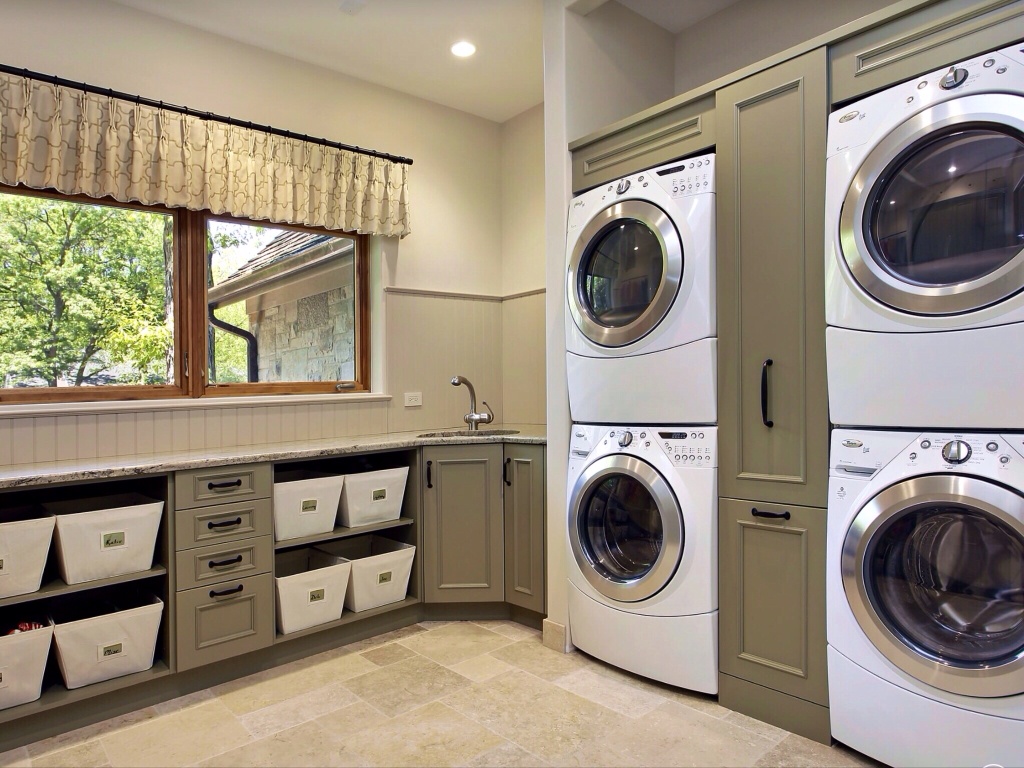 Four oversized washer/ dryers are the dominant feature in this laundry area primed for commercial use. This space is one of many great laundry room ideas for a large family, operators of a bed & breakfast or other vacation properties that requires massive amounts of laundry to be done with a short turnaround time. The appliances leave little room for storage, but if the main purpose is to wash massive amounts of sheets and linens that are immediately put back into use, storage is not as big of a necessity anyway. The remaining space is perfect for all the laundry necessities such as an ironing board, soaps, powders and other basic staples of the laundry area.
31. Laundry Room Meets Mudroom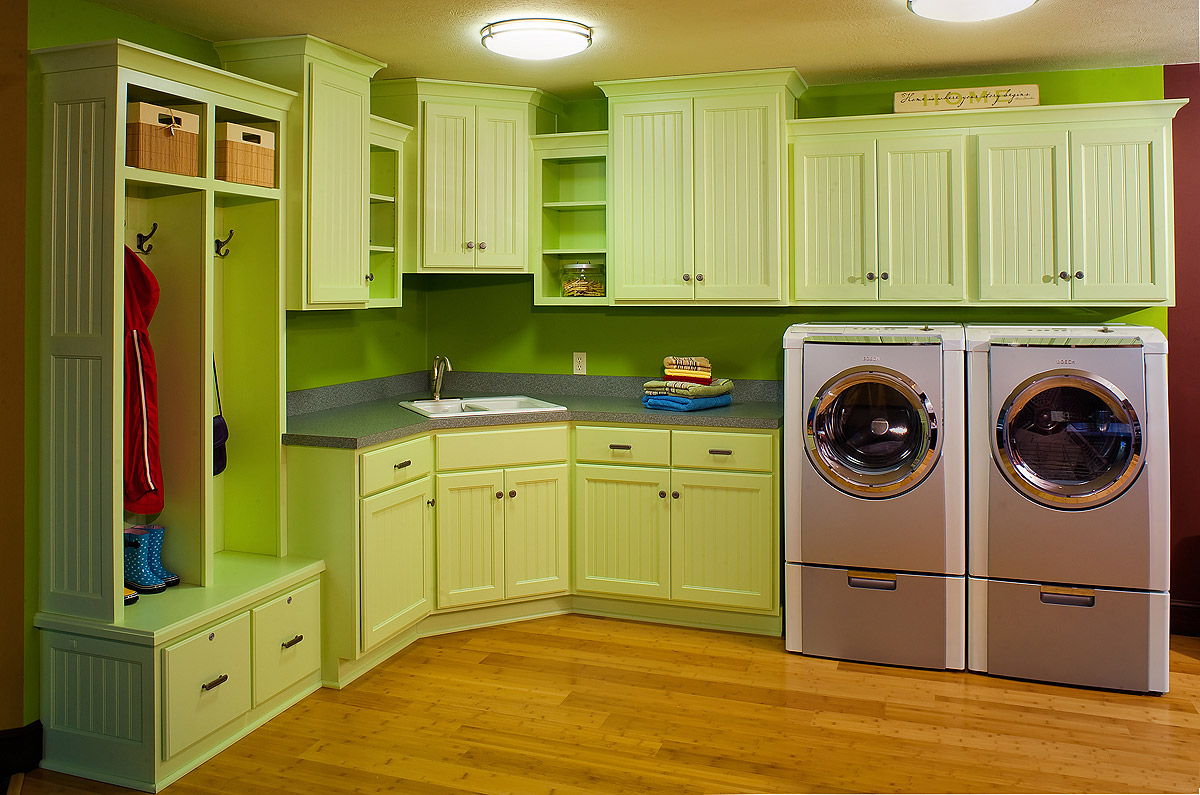 Beautiful hardwood floors make clean up a breeze when the weather turns sour. A nook for hanging coats, combined with a small bench for taking off muddy shoes make this an ideal area for transitioning from muddy outdoor gear to clean indoor wear. The oversized washer and dryer is perfect for immediately throwing in coats or other wet clothing or outdoor wear, and the uniform green cabinetry provides a bright touch of spring to offset the winter dreariness.
32. A Study in Scarlet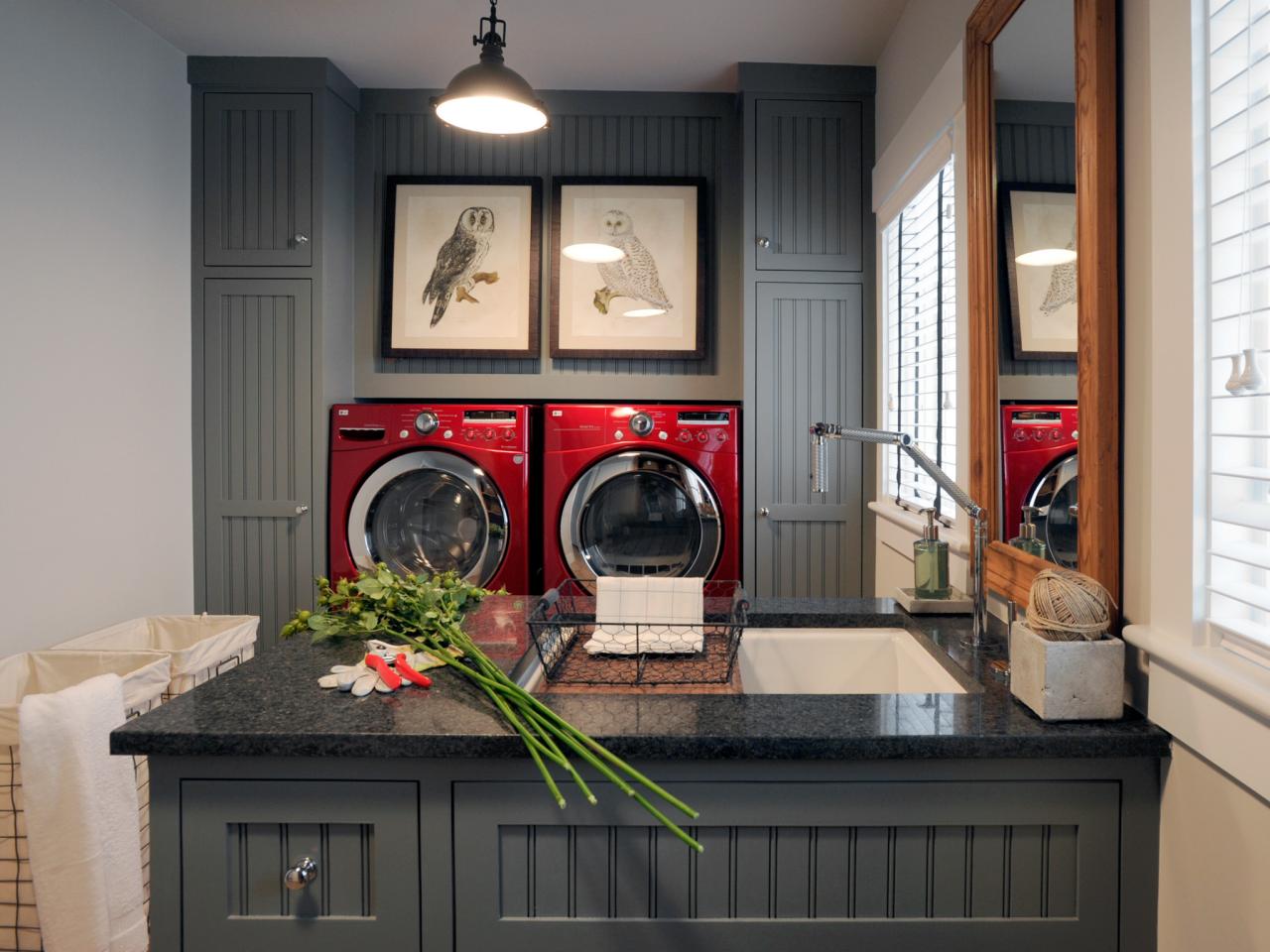 Beautiful, shiny red oversized appliances provide a stunning focal feature to offset the clean grey and white palette of this small but elegant room. Off white linen liners in a gridded iron frame create hampers that blend well with the strong, clean, elegant lines of the small room. An oversized island offers a sink and small work area, while clean white shutters provide a nice counterpoint to the dark grey cabinetry and dark granite countertops. A pair of owl prints break up the straight lines and large wall of grey cabinets.
More laundry room decorations on the next page…