42. Laundry While You Work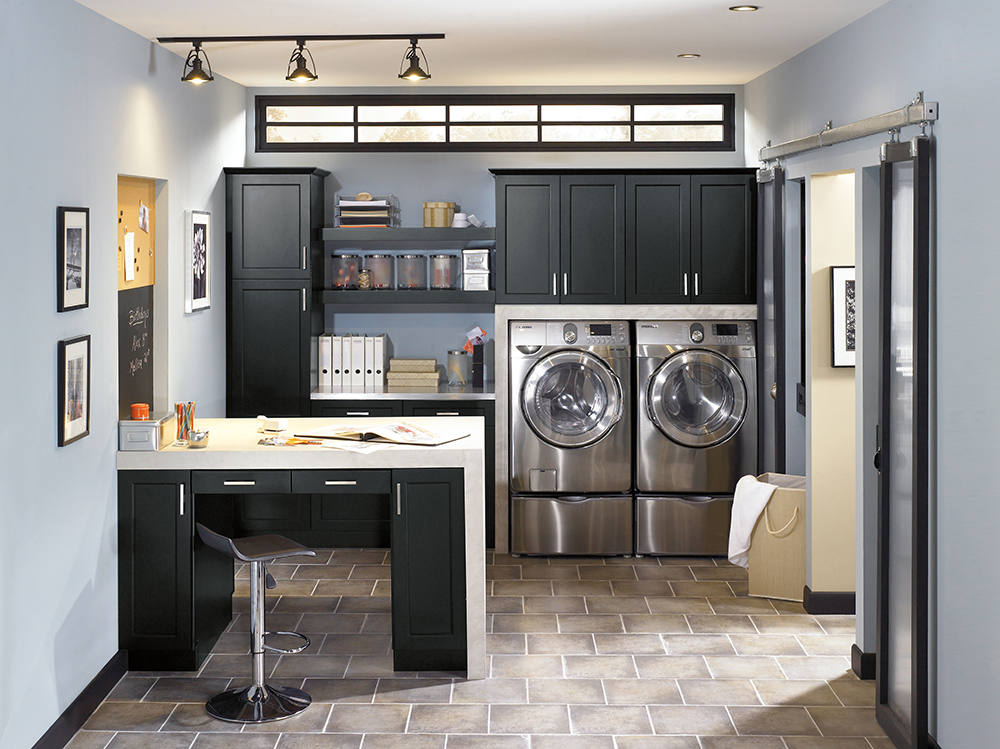 One great feature of modern home design and modern appliances is that they give designers to think outside the box. With appliances that are both beautiful and quiet, they can be seamlessly integrated into a number of different places in the home, so why not a combination laundry room/ home office? A full length window running across the top of the room lets in plenty of light while still leaving ample wall space for cabinetry and other storage. A built in desk provides plenty of workspace, while a counter area next to the appliances provides a great space for folding, sorting or other laundry prep. A sliding panel door opens up the room and provides full access to the wide hallway while still offering privacy if needed or necessary. This area is a great study in both functionality and design.
43. Penthouse Luxury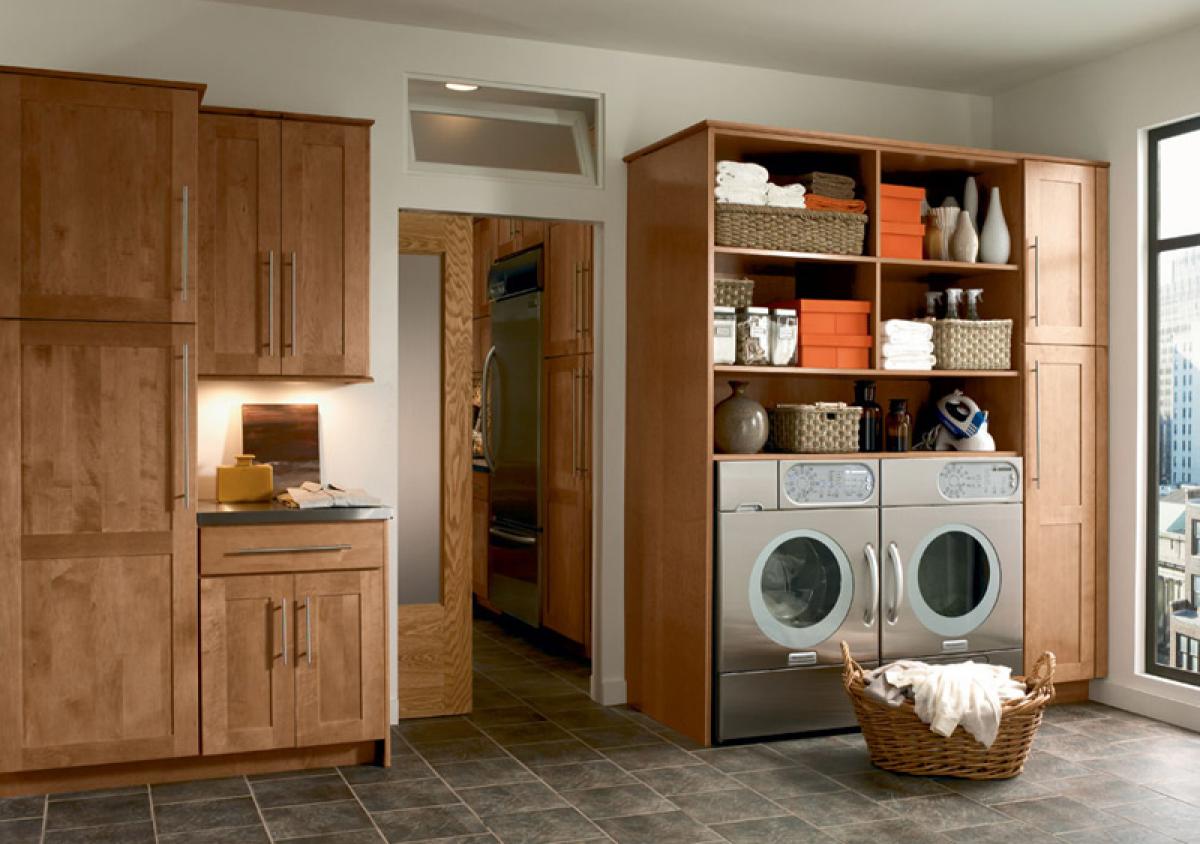 This area provides fantastic design for urban living, where space is always at a premium. Beautiful, tall maple cabinetry provides ample storage, while European flat-fronted appliances fit seamlessly within the unit to provide streamlined elegance. Long cabinets on the end provide great storage for an ironing board and other long cleaning implements such as brooms, mops and a vacuum cleaner, while another storage unit provides a small counter space for laundry prep and other tasks. Marbled floor tiles in neutrals and greens create a beautiful accent to the maple cabinetry and a floor to ceiling window lets in plenty of light and a spectacular view.
44. Small Space, Big Punch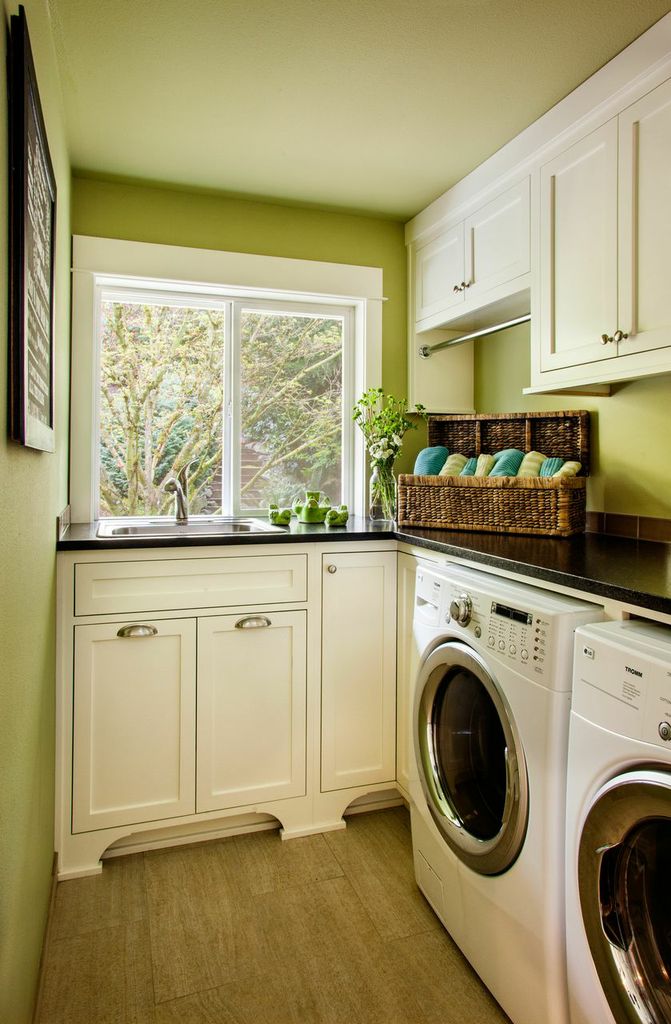 This tiny room packs a lot of punch into a very small space. White cabinetry with gleaming white appliances offset by a gleaming expanse of black counter space beautifully offsets pale green walls. A large window lets in plenty of light, which give the space the appearance of being much larger. Plenty of cabinets offer ample storage space for such a small room, and wrap around counters provide a large corner unit in which to hide bulky or unsightly household items. Setting the washer and dryer under a countertop provides a great workspace for sorting or folding clothes, while a short hanging bar offers up a space for hanging clothes once they are dry or drying damp clothes before they are put back in a closet.
45. Cuz We Got Personality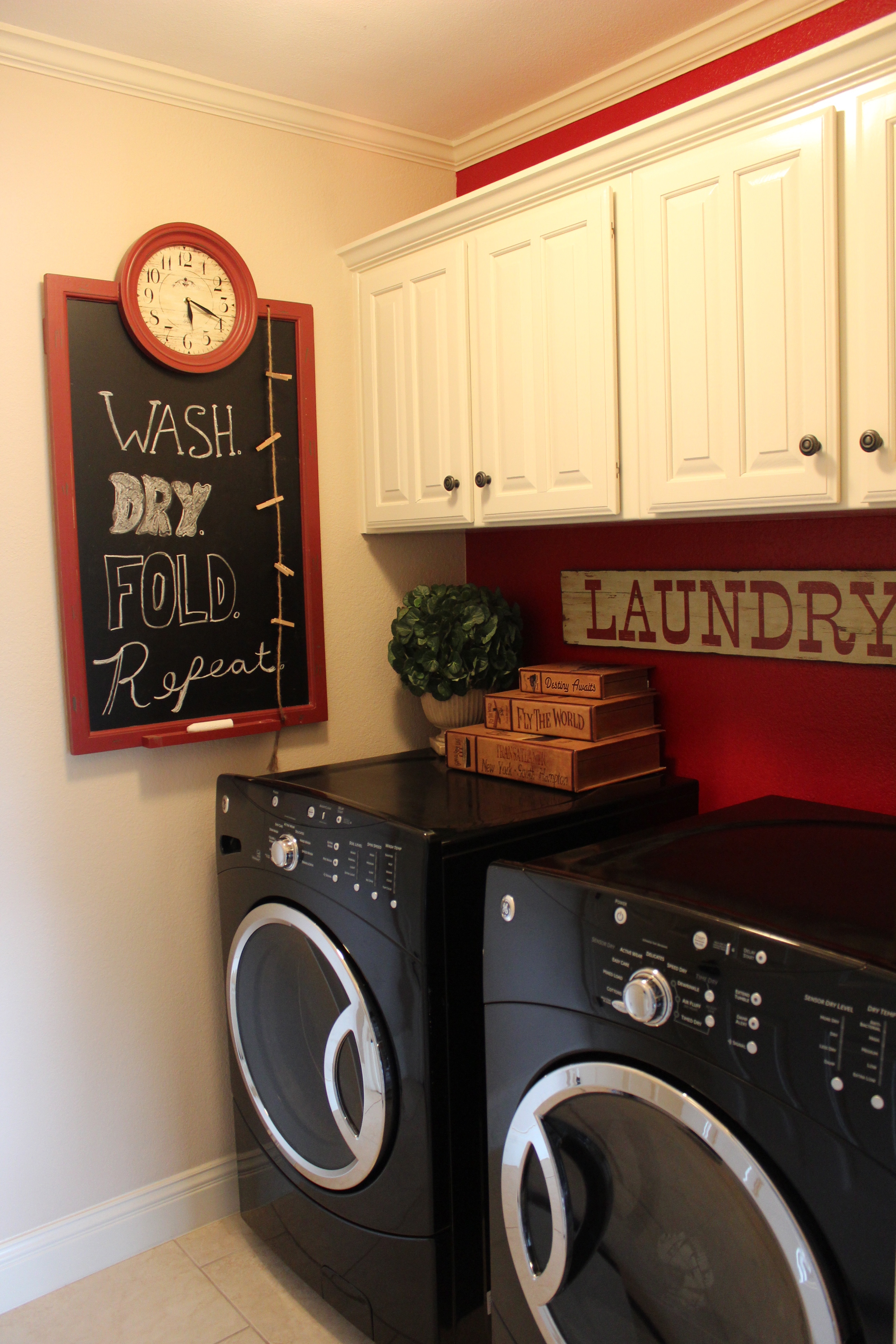 This delightful area packs a massive amount of personality into a minuscule amount of space. A bright red accent wall cheerfully accentuates gleaming black appliances, which provide a delightful counterpoint to the clean white cabinetry. A neutral wall balances the rich, heavy red and provides a perfect backdrop for a cheerful blackboard in a red frame, while an inset clock adds extra usefulness to the piece. A simple plant and a decorative piece tie the whole look together, creating a beautiful, cheerful area in which to do a mundane household chore.
46. Old World Charm Meets Modern Luxury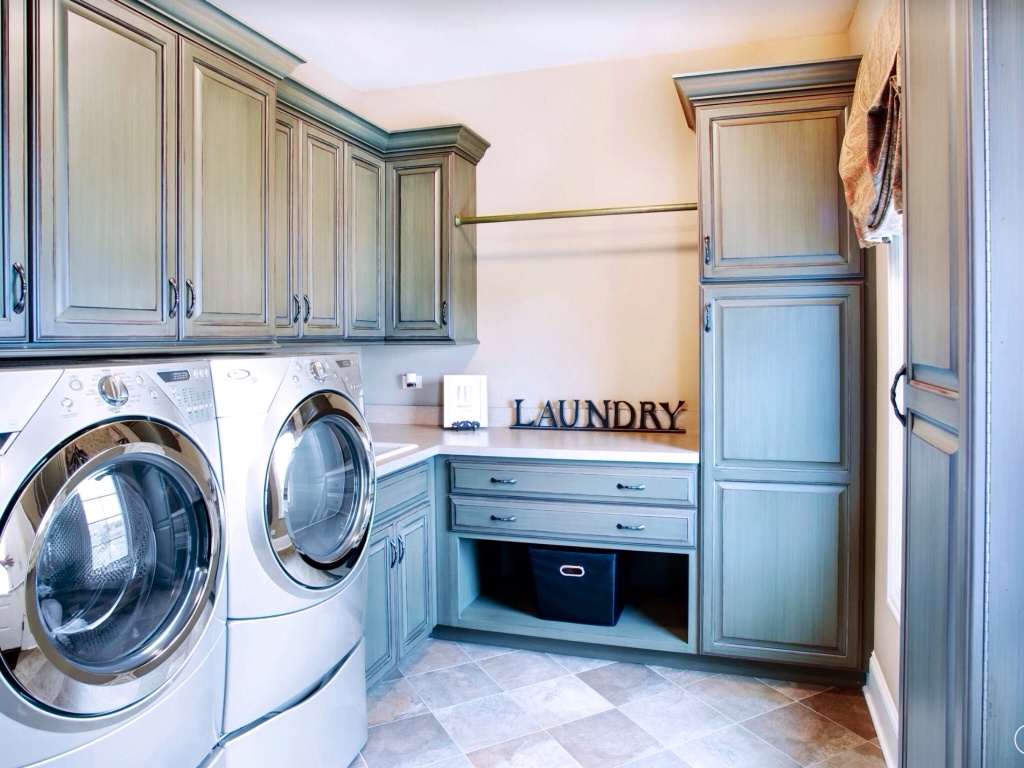 Green distressed wood cabinetry melds seamlessly with modern appliances to create a fabulous mix of vintage and modern. Marbled stone flooring and neutral walls create a calm, soothing area that is both durable and easy to clean. A flat cabinet set next to the window creates a highly functional hiding place for an ironing board. Just open the cabinet, lower the ironing board, do your ironing and then raise the ironing board right back into place and close the cabinet. No fuss, no muss, and the ironing board is quickly put away, ready and waiting for the next use. Tall, wide cabinets provide a perfect home for large and bulky appliances like a vacuum or steam cleaner.
47. How Does Your Garden Grow?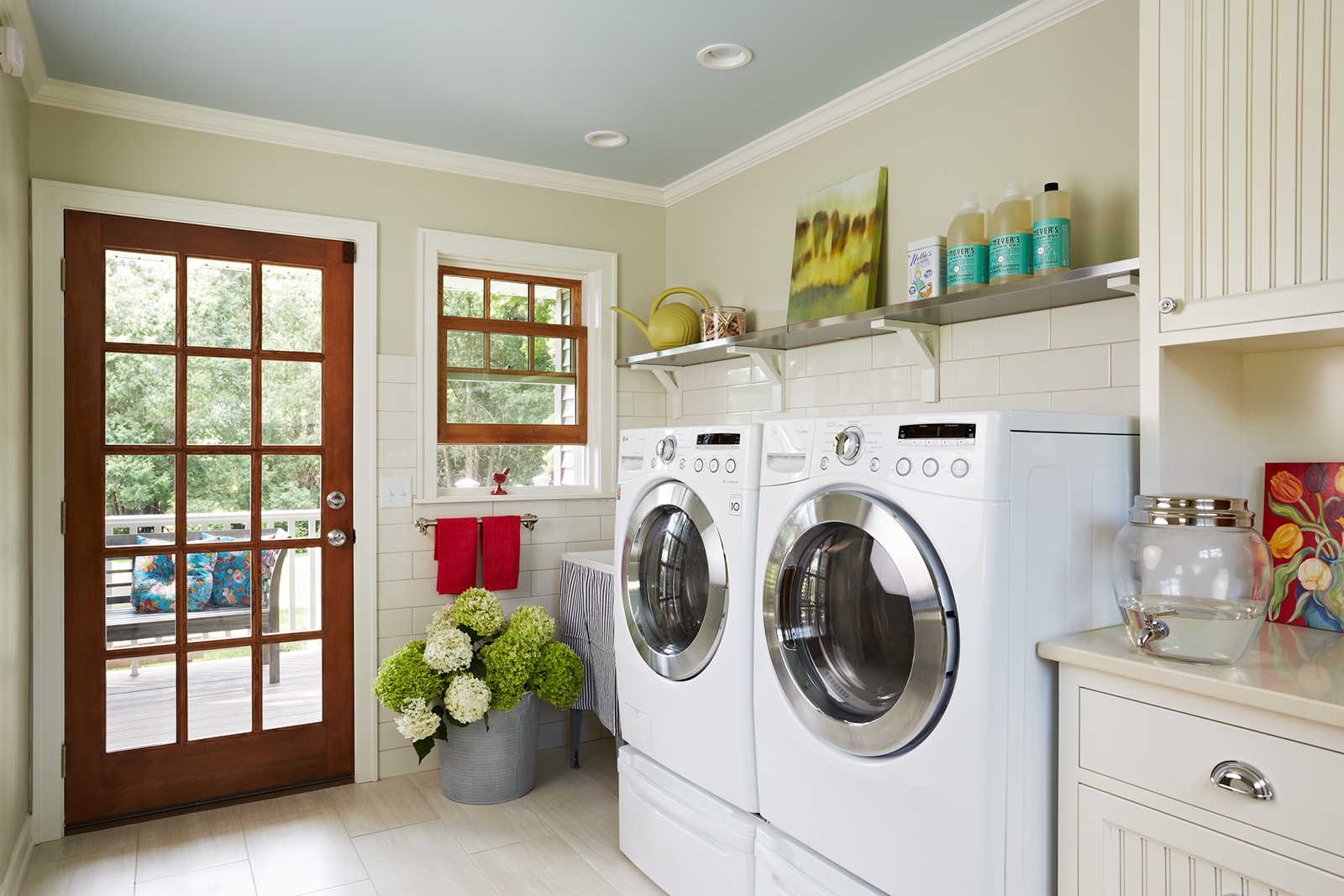 An enclosed porch provides a bright, sunny area for laundry appliances to share their space with gardening supplies. Stainless steel shelving provides an eclectic counterpoint to gleaming white machines and a skirted industrial sink. Wainscoting on the cabinetry complements plain white tiles and walls painted with just a hint of color. The palest blue on the ceiling ties the whole room together and gives it a nice, finished look. A large bucket of oversized flowers and a watering can give the room a feel of bringing the outdoors in and flower prints and artwork tie the whole garden theme together.
48. Laundry Closet Anyone?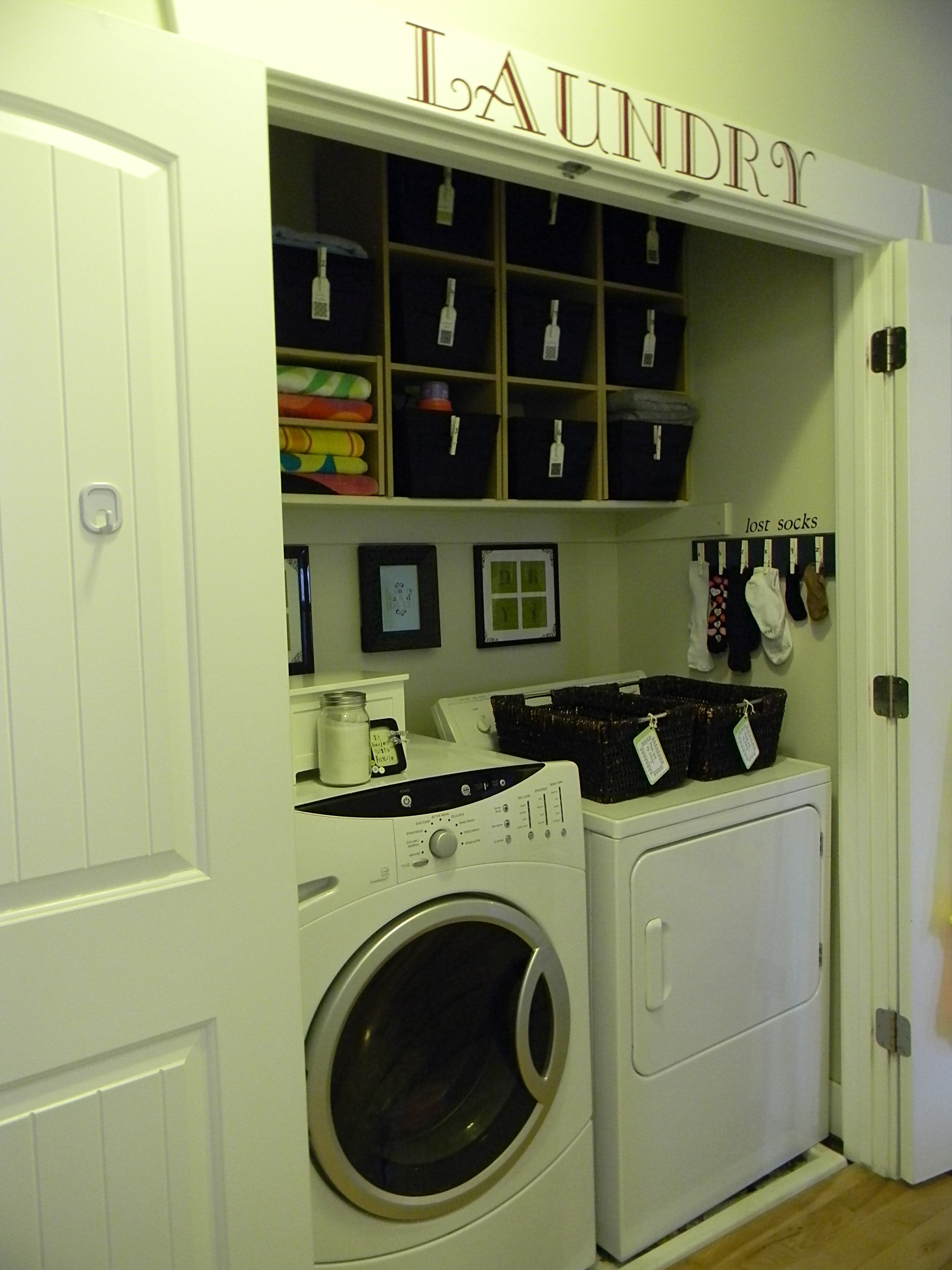 Some people get an entire room for laundry, but when all you have is a small closet, there's still a lot you can do with it. An overhead bin storage laundry room shelving system creates a great deal of accessible storage space, while bins placed on top of the front loading dryer keep things neat and tidy. A newer model front loading white washer is paired with an older model front loading dryer, which creates charming compatibility. Another great feature of this small space is the clothespins hung on the wall to hold lost socks until their mate shows up. A great idea for any laundry area small or large.
49. Industrial Delight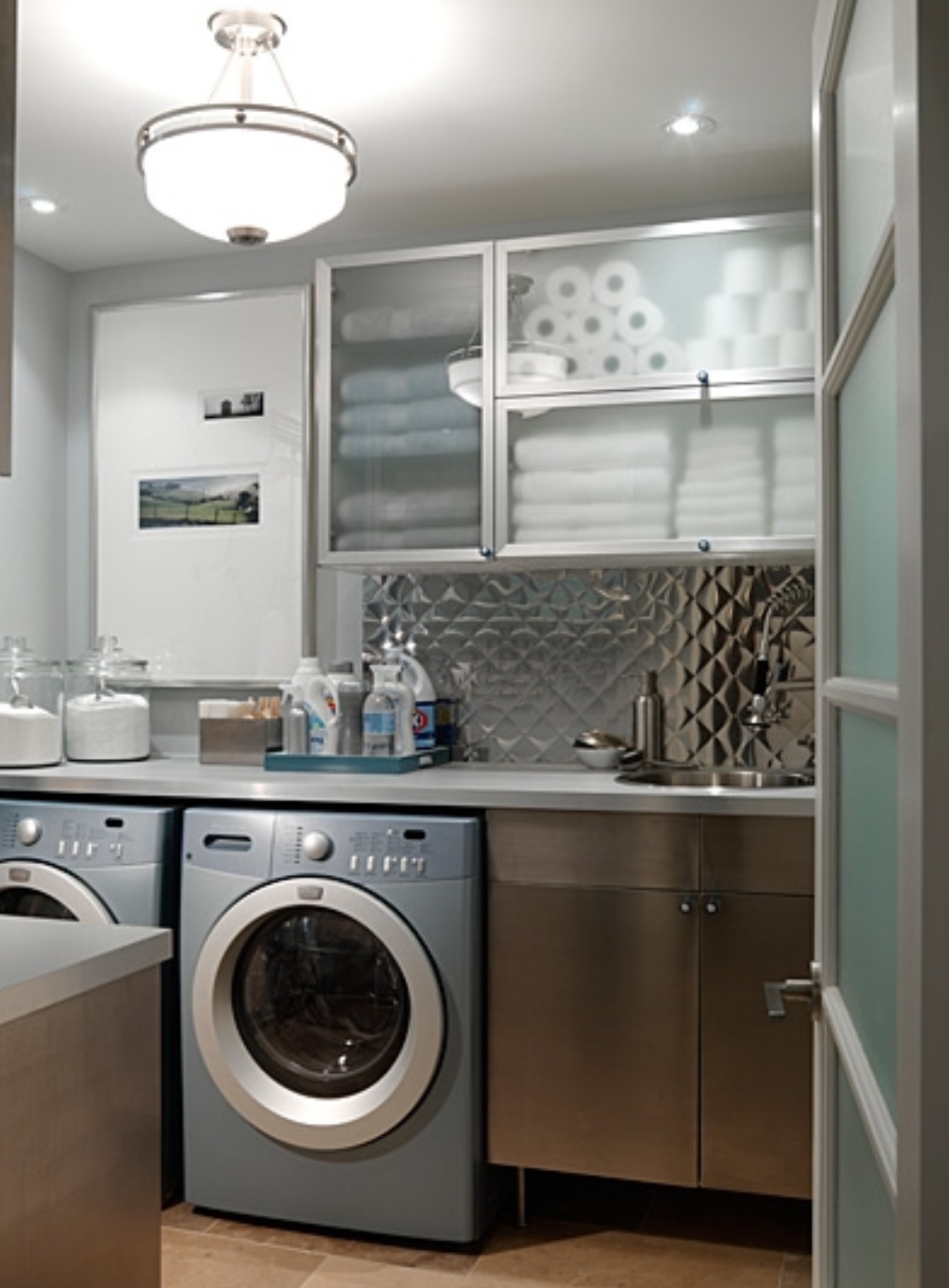 The high strength, industrial feel of this charming space is offset by softer features such as a large white light, oversized white matted picture frame and soft, glossy blue-green appliances. The patterned stainless backsplash provides a nice counterpoint to the stainless fronts on the lower cabinets, while glass fronted overhead cabinets are a nice pairing with a glass entry door. The whites and soft colors tone down the industrial feel of the room, while the industrial touches give a nice edge and character to this unique and charming room.
50. Making The Most of Your Porch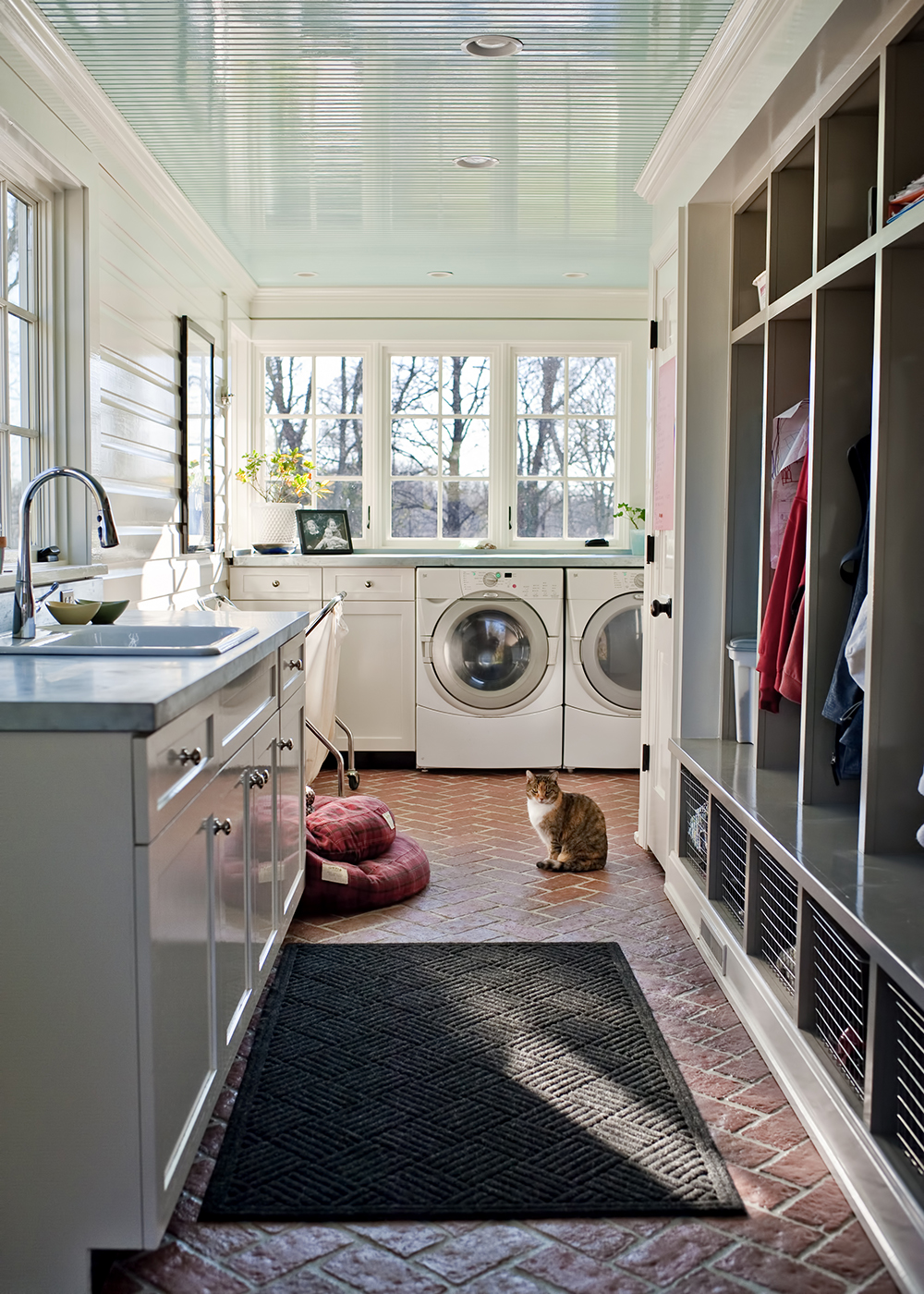 This enclosed porch makes the perfect spot for catching some sunshine while doing your chores. A built in unit provides plenty of storage for hats, boots and coats, while the white cabinetry, blue countertops and blue accented ceiling all add color and vibrance to this delightful, sun filled room. A pet bed in the corner under the windows makes this a great space for your furry friends to catch some rays on sunny days.
50 Great Designs for Laundry Rooms On Any Budget
Regardless of how much or how little space you have, there are always innovative ways to use your space to it's utmost. Whether your tastes run to the eclectic or avant-gard to the more modern or streamlined, laundry design offers something for everyone. If you have an entire room to devote to laundry appliances and other storage or whether you need to take just a corner of an already small space to create a bright and functional area for doing laundry, there are a multitude of ideas and ways to make that happen.
Great design also doesn't have to come with a huge price tag either. Inexpensive vinyl flooring and repurposed or do-it-yourself cabinetry are inexpensive ways of giving a fresh facelift to a dreary and utilitarian space. Whatever your space and whatever your budget, great design will always win the day!