LEGO is perhaps one of the most iconic toys in the world. These little kits of building blocks are loved by children and adults alike. Perhaps this is why when it comes to creating the bedroom of your child's dreams, a LEGO decor scheme can often be the perfect way to go.
In this list, you'll see forty of the world's most beautiful LEGO-inspired room designs. But don't think that every room will be the typical yellow and red LEGO-themed bedroom for little kids. While you'll certainly see some of those designs on this list, you'll also see pink and purple LEGO bedrooms for little girls, subdued white LEGO-inspired rooms for kids of all ages and even LEGO kitchens that are excited, unexpected and gorgeous. You'll also see rooms based on specific LEGO kids, such as Star Wars rooms, pirate rooms and even rooms inspired by Egyptian pharaohs.
So enjoy this list of 40 best LEGO room design tips for the year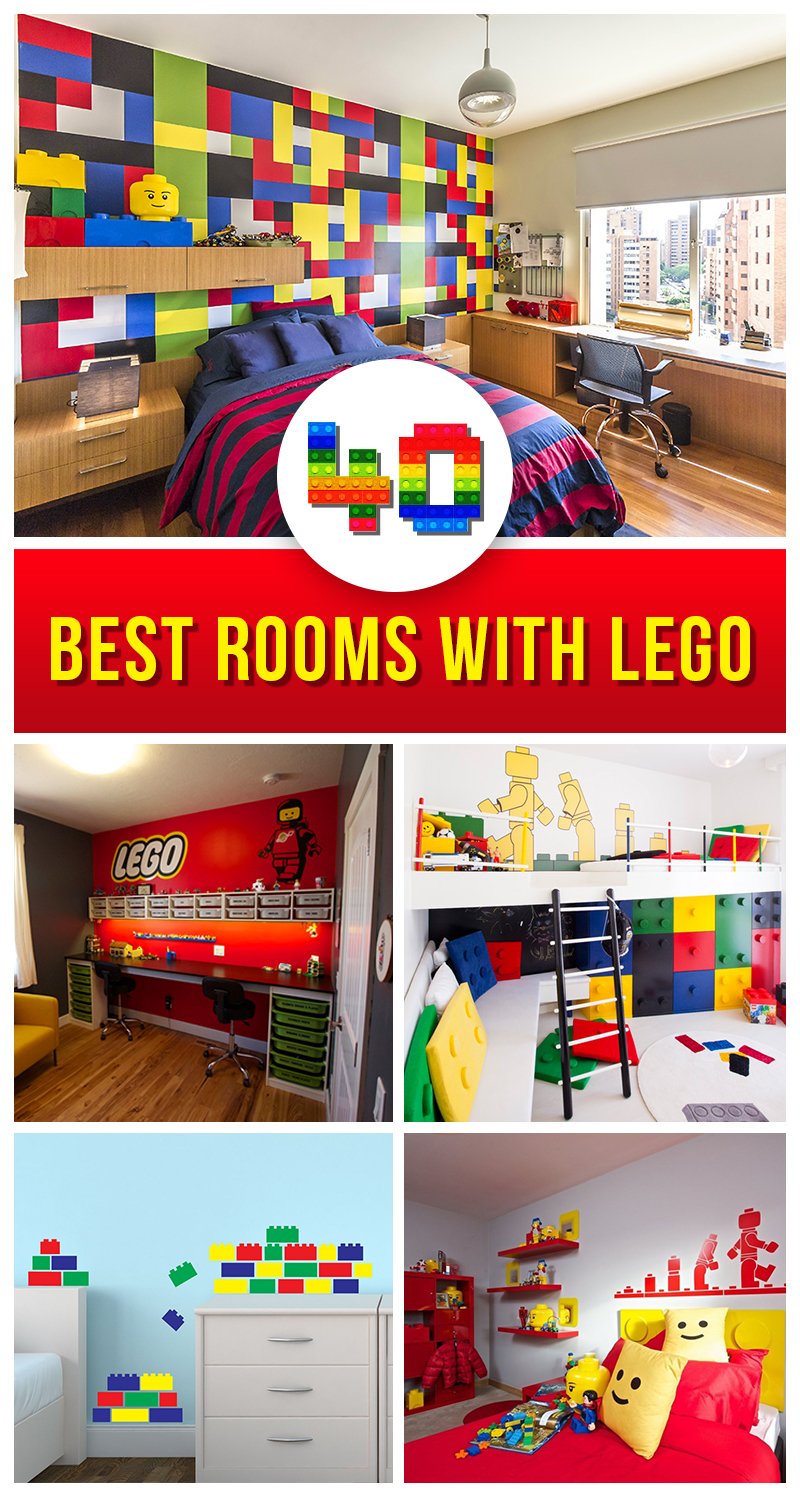 Whether you're a parent who wants to design a LEGO-themed bedroom for your child or an adult who wants to turn their office into a shrine for your favorite childhood toy, you'll find endless design inspiration here. To help you create the LEGO-themed room of your dreams, here are forty designs inspired by the magical world of LEGOs.
1. Classic Colors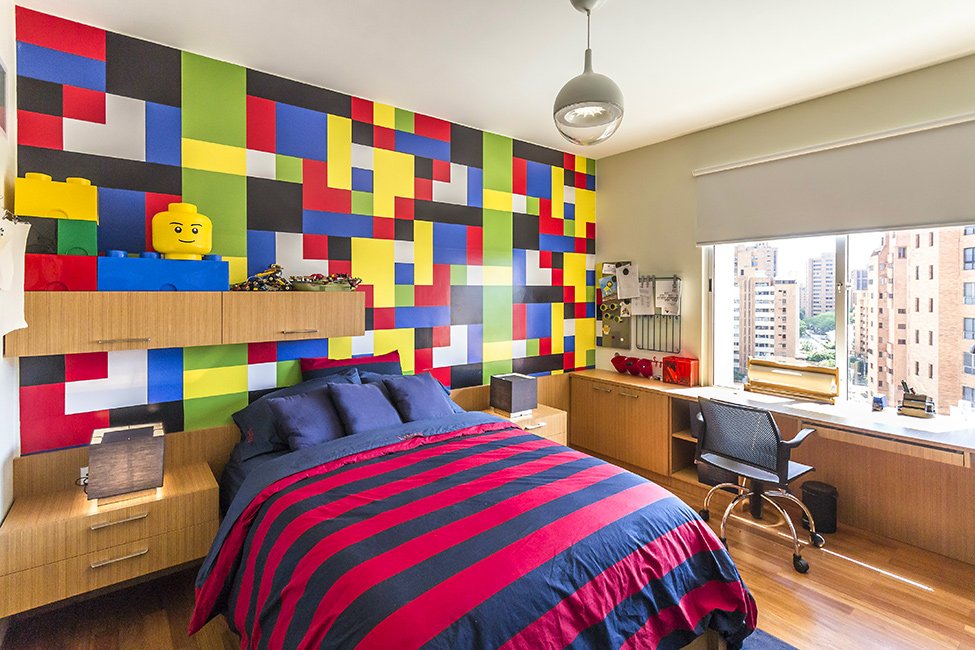 This room is LEGO themed, certainly, but it isn't overdone. Instead of surrounding the entirety of the room with LEGO decorations, this homeowner opted to devote just one wall to the LEGO design. The wall was created by painting LEGO shapes with a variety of colors, creating the illusion that the wall was built from the blocks. This is a LEGO room that will stand the test of time; it's fun and bright enough for a child, but wouldn't be too cartoonish for a teenager. The furniture and bedding are simple, as not to overpower the bright colors of the wall.
2. From Top To Bottom
The unique floor makes this bedroom an especially interesting LEGO-themed room. Inspired by the bright colors of LEGO blocks, this look can be duplicated with carpet or linoleum squares in alternating hues. This room is obviously designed to accommodate a whopping four beds, but the look could be duplicated with a single wooden bunk bed unit, stained or painted a deep navy blue. The red accents on the wall help to tie the whole design scheme together. These homeowners added LEGO branded throw pillows to simple red bedding, which adds a touch of the classic LEGO theme without overpowering the room.
3. A Tiny Little Taste Of LEGO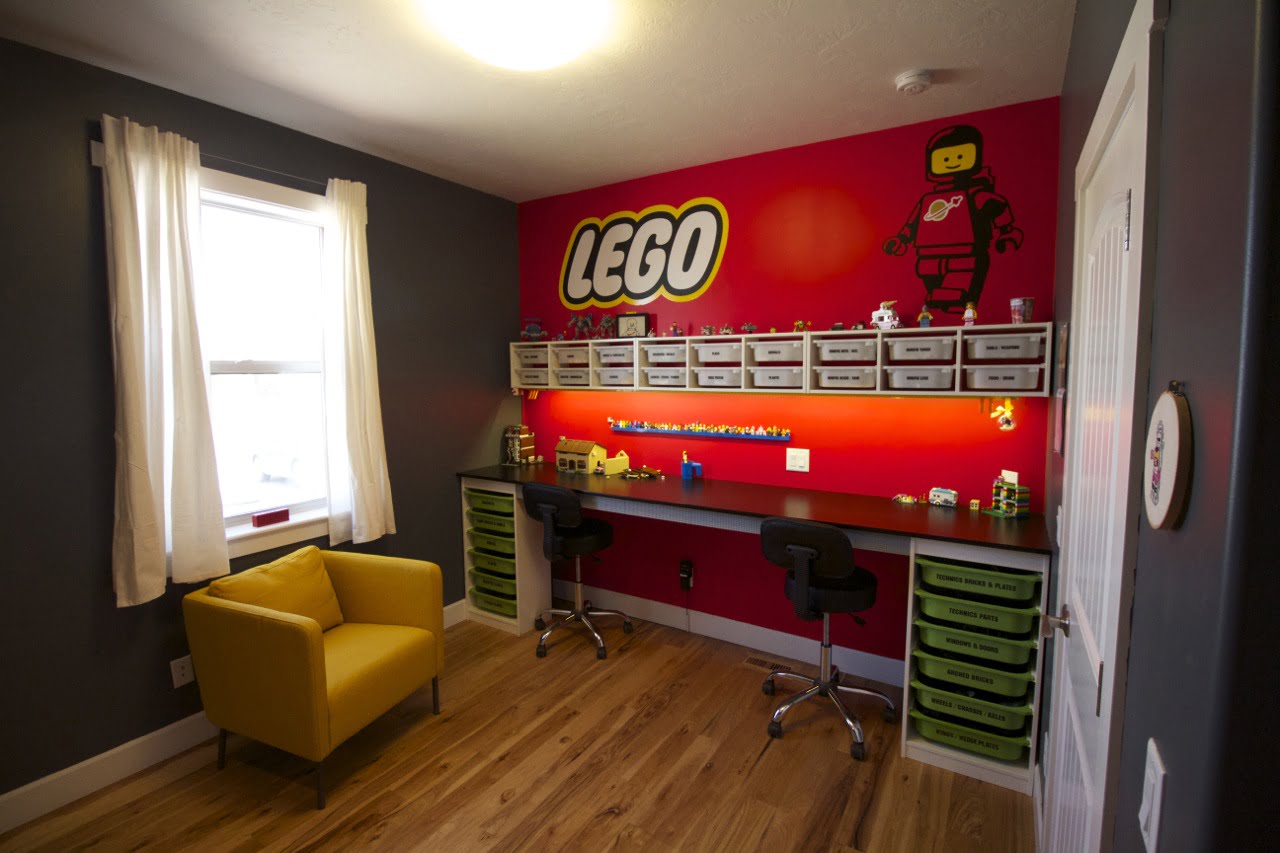 A LEGO theme isn't just ideal for kid's room decor. This homeowner decided to give their tiny office space a little taste of LEGO. They painted one wall a bright red and added two LEGO wall decals. The rest of the room is painted a demure blue, ensuring that the eye is drawn to the accent wall. This is a perfect design idea for someone who wants to spice up their office with a fun little throwback to their childhood love of LEGOs.
4. A Kids' Paradise Inspired By The Classic Blocks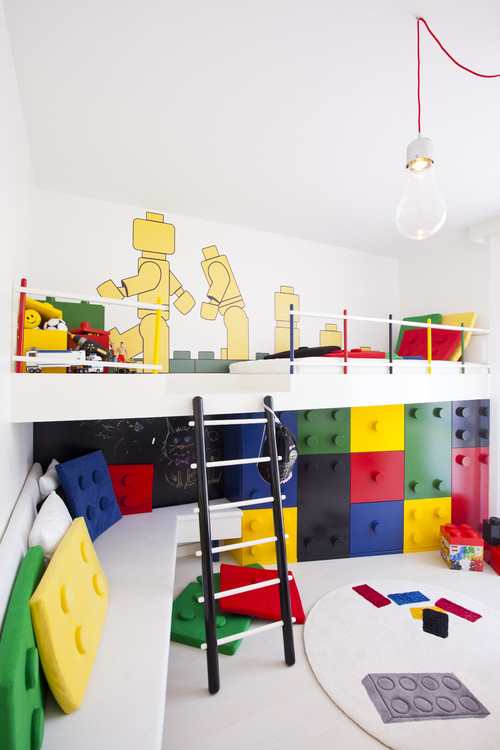 What child wouldn't love having this minimalist yet cheerful room as their bedroom? This homeowner created a truly inspired LEGO bedroom by working with a loft bed. The base of the loft is decorated with multicolored wooden fixtures designed to look like oversized LEGOs. If you're on the hunt for LEGO kids' room design ideas but don't have it in you to build a loft bed, try duplicating this homeowner's ingenious pillow idea. Create these LEGO pillows by sewing a pillow case in the fabric color of your choice. Cover four foam rounds in the same fabric and then use fabric glue to affix them to the pillows.
5. The Force Awakens With This Brilliant Wall Art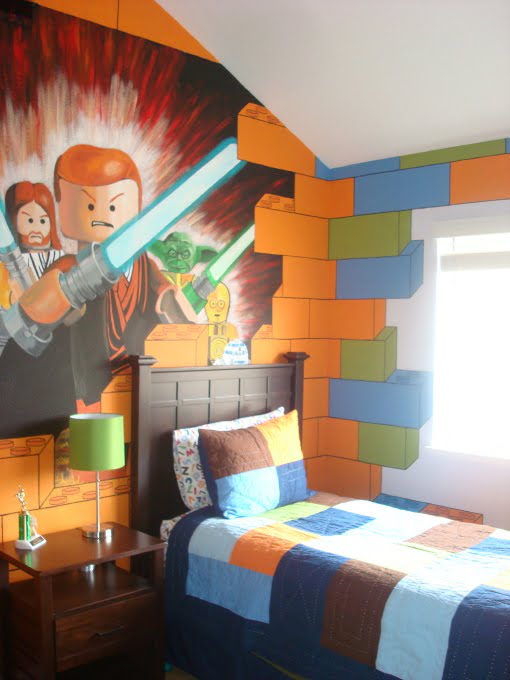 LEGO and Star Wars go hand-in-hand. Indeed, Star Wars-themed LEGO sets are some of the film franchise's most popular branded merchandise. This room design would be perfect for someone who wants to combine Star Wars and LEGO bedroom designs. The homeowner affixed a large LEGO Star Wars mural to their wall and then painted individual multicolored blocks around it to tie the whole theme together. A simple patchwork bedding set works into the LEGO design without overpowering it.
6. A Minimalist Design With Splashes Of LEGO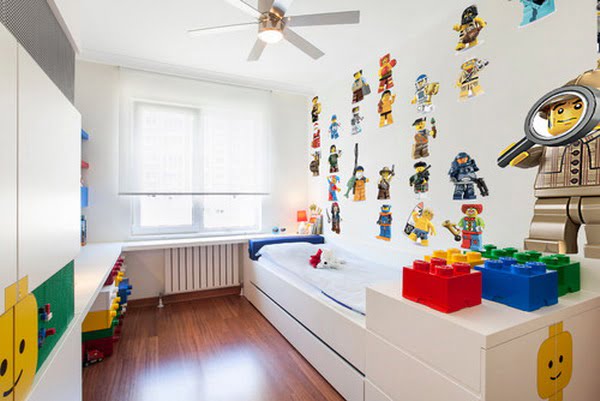 If you're looking for a LECO decoration idea but don't want to completely remodel your child's room, take a hint from this homeowner's simple yet stunning design. Although they did not paint or wallpaper their simple white walls, they added LEGO wall decals, which can always be easily removed as their child grows up. The oversize LEGO blogs are perfect accents, helping to clearly evoke the LEGO theme without making any permanent changes to the room. This is the perfect design for someone who wants to give their child a LEGO bedroom, but knows that their child may eventually grow out of the LEGO design.
7. A Hand-Painted Mural Can Completely Transform A Small Space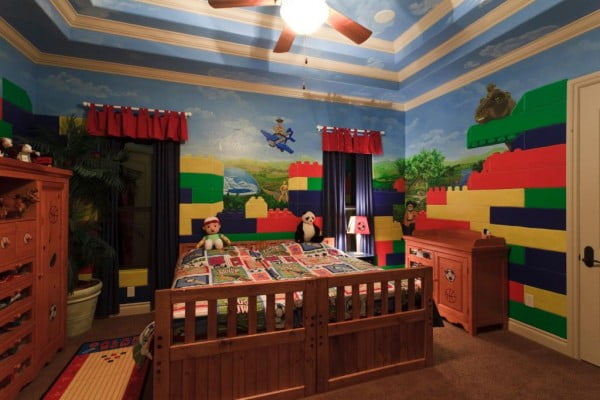 If you're looking for LEGO-themed boy's room ideas but feel limited because you're working with a small space, don't. This homeowner proves that anything can be done, even in a smaller space. If you're artistically inclined, take inspiration from this hand-painted wall art, which features classic LEGO characters against a beautiful cloudy sky backdrop. The simple stained wooden furniture compliments the intricate wall art beautifully and doesn't overpower the design. This sort of mural work can truly create a stunning space that any little boy would be happy to call home.
8. A Lovely LEGO Loft Bed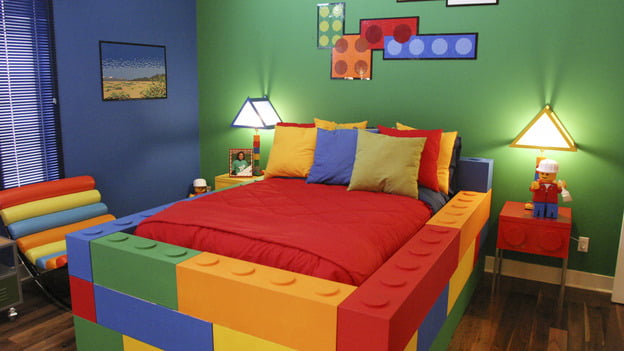 Many LEGO room design ideas use the bed as a focal point and this design idea is no exception. This loft bed can be created by affixing painted wood rectangles to an existing loft bed, alternating colors. Utilize painted wooden circles to create the distinct LEGO look around the perimeter of the bed. The brightly colored chair can be duplicated by using rolls of colored foam or pool noodles and some fabric glue. The use of simple multicolored throw pillows against a bright red bedspread tie this whole look together, giving it a classic but uniquely LEGO look.
9. An Amazing LEGO Accent Wall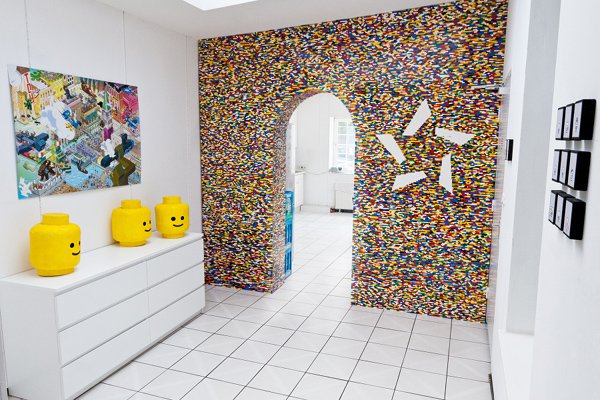 Looking outside of the traditional kid's room ideas, this homeowner used thousands of individual LEGOs affixed to a dividing wall to create a unique entryway to their kitchen. This tactic could also be used to create an accent wall in a kid's bedroom. To create an accent wall made of actual LEGOs, use an extra strong adhesive to affix connected LEGOs to a solid colored wallpaper. This will help you to create this stunning accent wall without permanently adhering the blocks to the wall. Should your child ever grow out of the LEGO design, the wallpaper will make removal a breeze.
10. A Grown-Up LEGO Lover's Paradise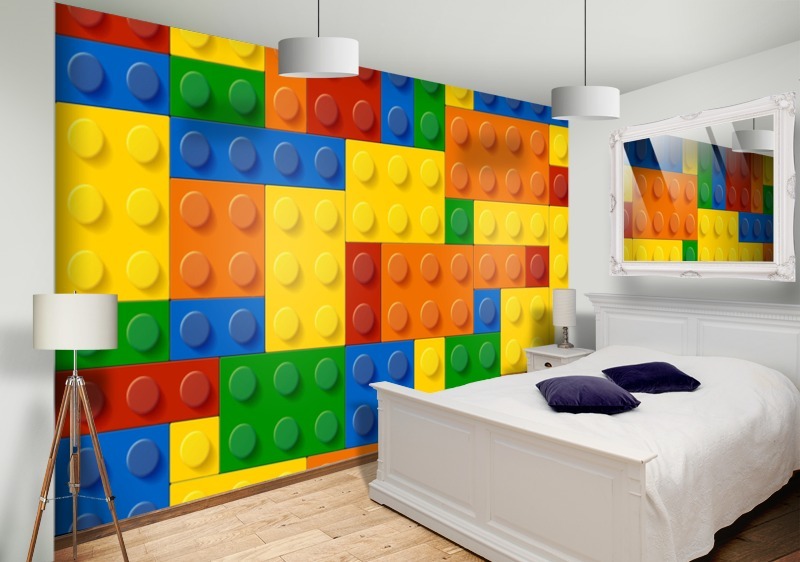 If you're a LEGO lover who isn't on the hunt for kid's room decor, but rather want to bring a little touch of your LEGO love to your grown-up bedroom, then this is the perfect accent wall for you. By dedicating one wall to a pretty painted custom LEGO wallpaper, this homeowner created a fun adult bedroom without rendering the whole thing too cartoonish. The simple while bed with a matching neutral bedding ensures that the LEGO wall is the focal point of this fun bedroom. This design is proof that LEGO room decor certainly isn't just for kids.
11. A LEGO Inspired Headboard And Matching Valance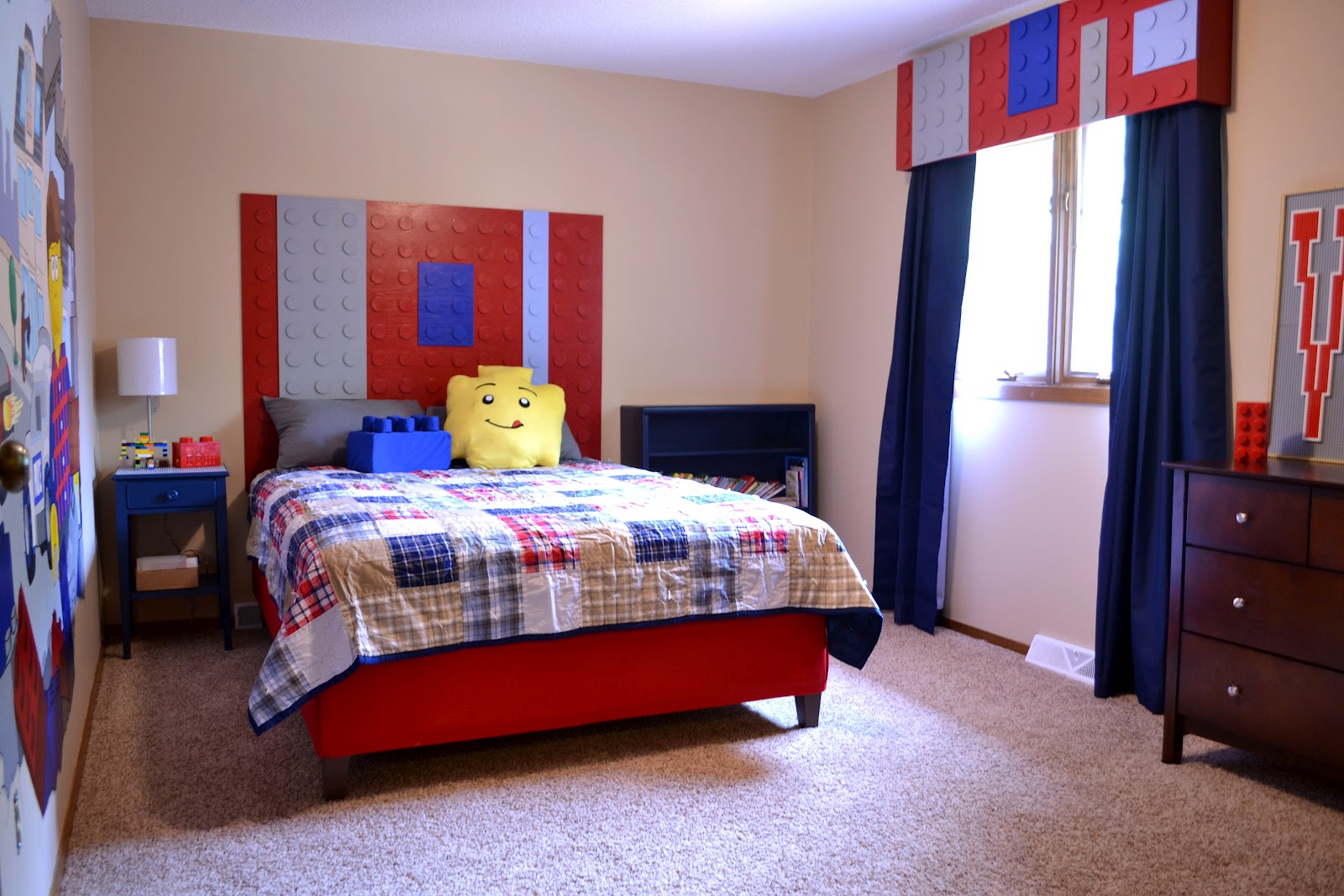 When it comes to home decor in the bedroom, a headboard and window valance can really make or break your design scheme. This homeowner incorporated the LEGO design in a mature, sophisticated way by creating a matching LEGO headboard and window valance. This look could easily be duplicated by affixing colored vinyl sheets to an existing wooden headboard and valance with spray adhesive. Use black and grey paint to create the illusion of raised circles across the design. This decor scheme is perfect for a teenager's bedroom, as it's LEGO-inspired without being too childlike.
12. A Red And Yellow LEGO Lounge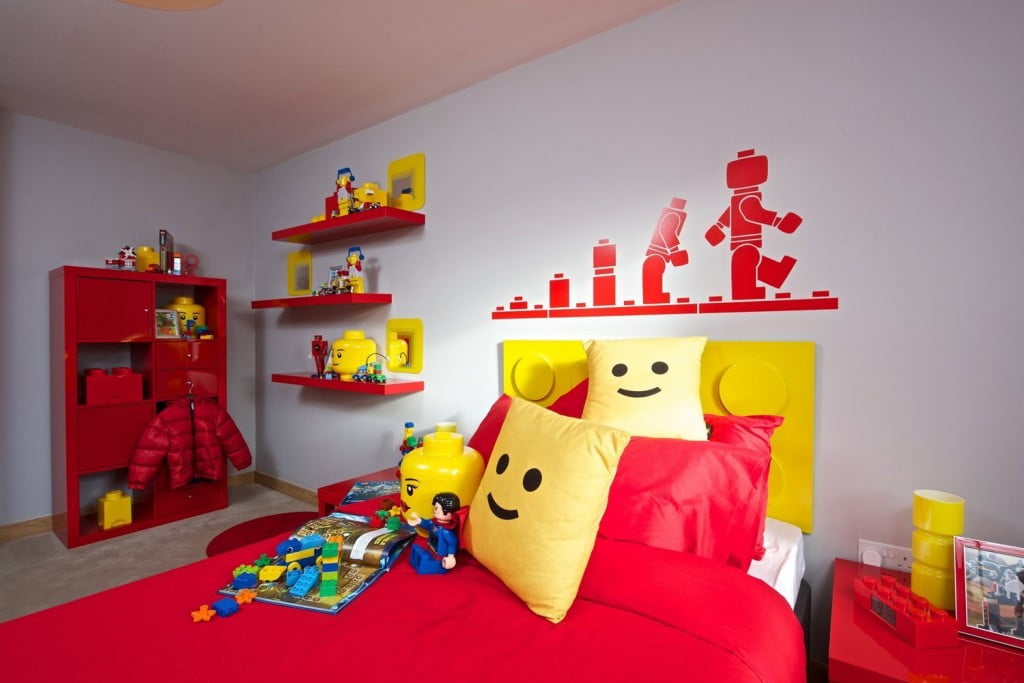 When it comes to LEGO-inspired kid's room ideas, bright colors are the name of the game. This homeowner chose to go with a red and yellow color scheme, which is distinctly LEGO. The yellow headboard, designed to look like a large yellow LEGO block, is beautifully accented by a vivid red bedding set. The homeowner further built on the red and yellow design scheme by installing red shelves, atop which yellow LEGO figurines and accent items sit. The red LEGO wall decal rounds out this beautiful LEGO bedroom design.
13. A Simple Yellow LEGO Room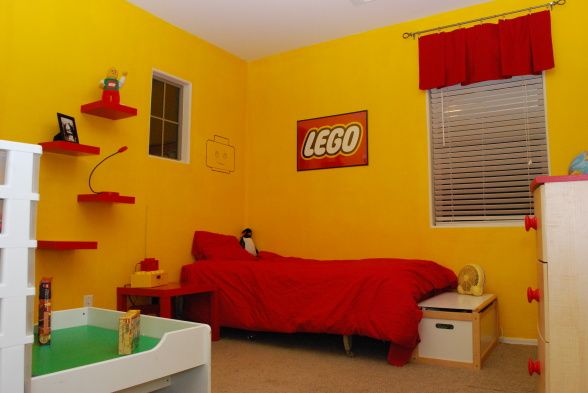 This is another LEGO decoration idea that proves that LEGO room designs don't have to cost an arm and a leg. This homeowner started by painting the room a bright yellow shade. A red bedspread and window trimming evoke that classic LEGO feel. The homeowner put a LEGO poster in a frame, which is the best way to give posters a more dignified look. The red shelves and matching bedside table serve as the perfect storage spaces, for either LEGO decor items or anything else that your child might need. This is a simple design scheme that can easily be achieved on a budget.
14. The Perfect LEGO Pad For Two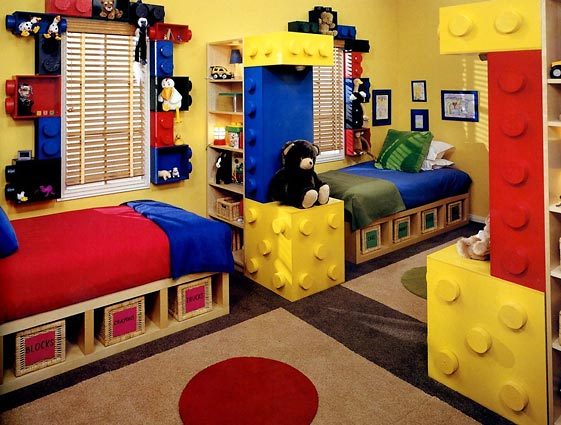 If you're looking for LEGO room design ideas that will be perfect for a room for two, look no further. This homeowner used two design units, painted and decorated to look like large LEGO blocks, to split one large bedroom into two areas. This homeowner turned the perimeter around the windows into extra storage space by affixing cube storage units, painted in alternating bright colors and spaced out with wooden LEGO-inspired blocks. This design scheme demonstrates that you can indeed create a space that is still big and bright for two children, provided that you use space wisely and create plenty of strategic storage areas.
More LEGO room design ideas on the next page…