24. Always Have Fun With Color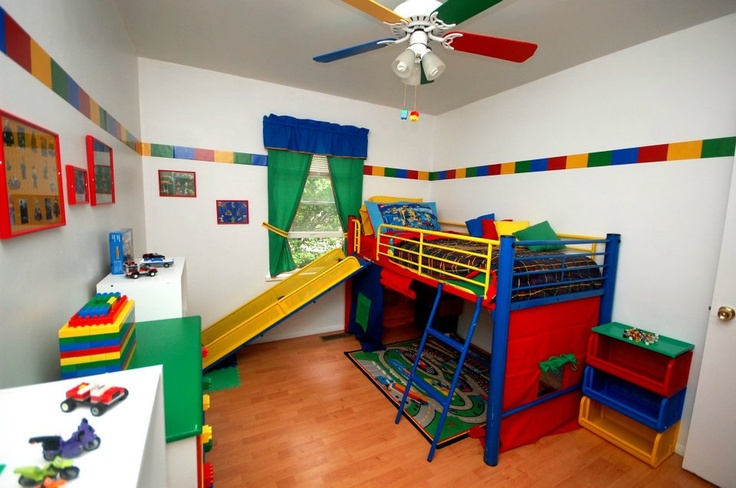 LEGO-inspired kid's room ideas aren't just about putting up jumbo LEGO blocks and figurines. Rather, they are about creating a bright, colorful and cheery space that your child will love. This room design is all about having fun with color. The bunk bed unit has been painted in lovely reds, blues and greens. As a gorgeous finishing accent, the blades of the ceiling fans have been painted in alternating colors. While these multicolored ceiling fans can be found at home stores, you can also DIY by hand painting the blades of a white or wooden ceiling fan.
25. A LEGO-inspired Kitchen? Why Not!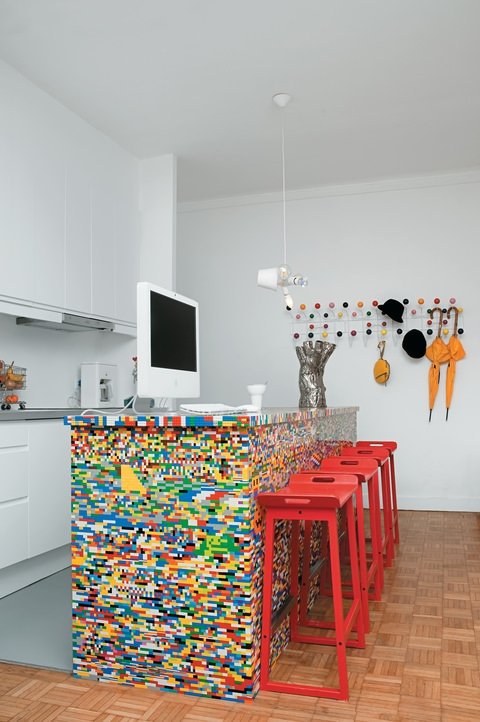 Don't feel bad if you're an adult LEGO enthusiast who isn't browsing this list for a little girl's or a little boy's room ideas. This genius homeowner decided to bring their love of all things LEGO right into their kitchen by attaching block-print backsplash to the entirety of their kitchen island. The super bright red stools compliment this eye-catching island brilliantly. This design is fabulous, because it demonstrates the homeowner's love of LEGO, but it isn't completely cartoonish or childish. The finished product has a modern, contemporary art deco feel to it.
26. A Cool And Customized LEGO Room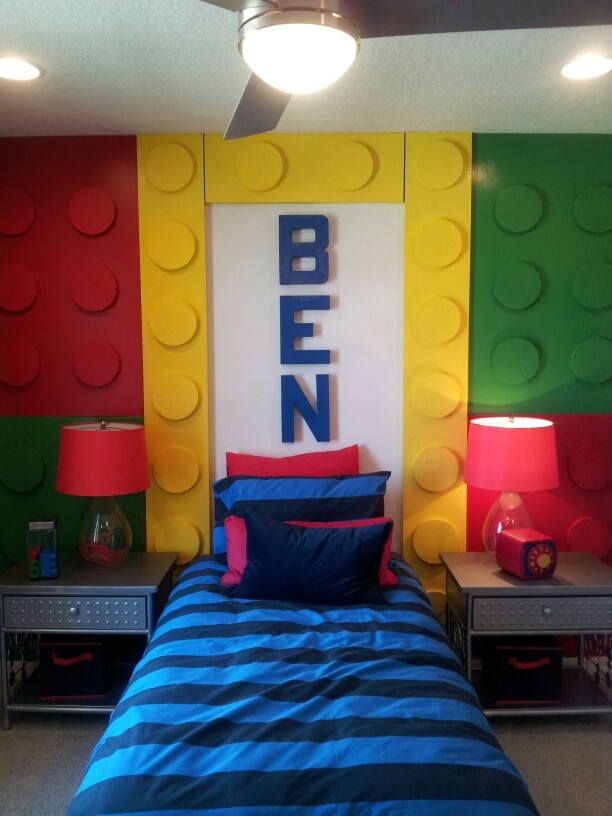 Adding personalized touches is a popular choice when it comes to kids' home decor. This accent wall can be made by using wood panels, painted in bold hues, to create the look of giant LEGO blocks. Large wooden circles painted in matching colors are used to create the look of the blocks. Leave a space open where you intend on placing the bed. Hang wooden block letters from the craft store, painted in your color of choice, vertically to spell out your child's name above the bed. This homeowner chose to paint the letters blue, which matches the gorgeous blue and black striped bedspread perfectly.
27. Brilliant Bursts Of Color Against A Sleek White Space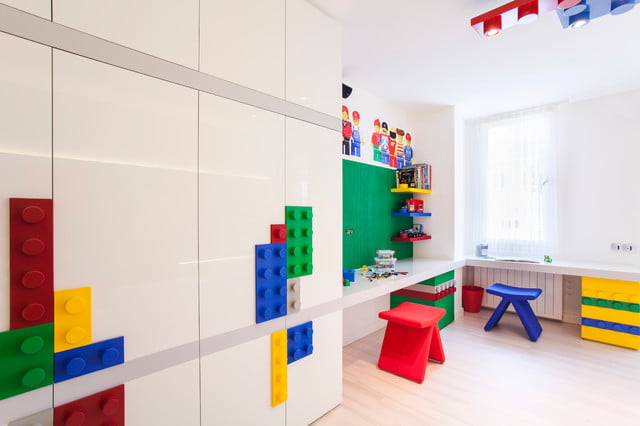 One of the best things about decorating with LEGO-inspired accents is that they can bring bursts of color to an otherwise bland room. This homeowner kept their furnishings and walls a stark white, but added color with yellow, red, blue and green LEGO decals. They also used decals of LEGO figurines to create an absolutely adorable design above the desk. The red and blue stools juxtapose beautifully against the pristine white carpet. Plus, the sheer white window trimmings ensure that this gorgeous room is constantly flooded with lovely natural sunlight.
28. A LEGO Them From Floor To Ceiling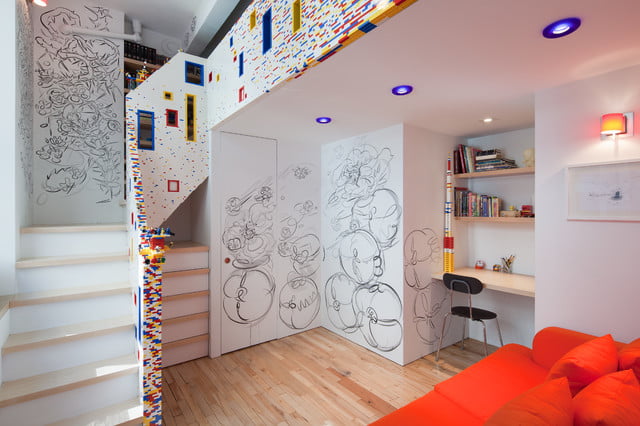 When you're decorating, you won't always be working with a conventional one-room space. This homeowner decided to bring their love of LEGO into a room that features an upstairs loft. They declined to paint the white whiles and instead used some adorable wall decals to tie together the LEGO theme. Flashes of reds and blues pop beautifully against the simplicity of the white walls and the clean neutral hardwood floors. This design scheme goes to show that you can create a uniform design, no matter how large the space, with a little bit of creativity and a lot of color.
29. A Luminous LEGO Light Fixture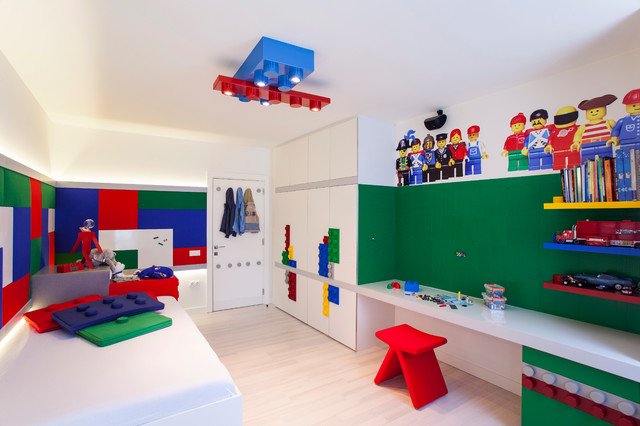 This room uses a design scheme that we have seen in a lot of these LEGO designs, which is to place splashes of color against a mostly white space to create a stunning juxtaposition. However, this room boasts as truly unique detail, which is the brilliant LEGO overhead light fixture. Using an oversize LEGO block, this homeowner drilled holes in the protruding pegs to allow the light to spill out. This is a perfect design project for any homeowner with electrical experience who wants to truly create a beautiful and luminous LEGO room for their child.
30. Windows Are The Perfect Headboards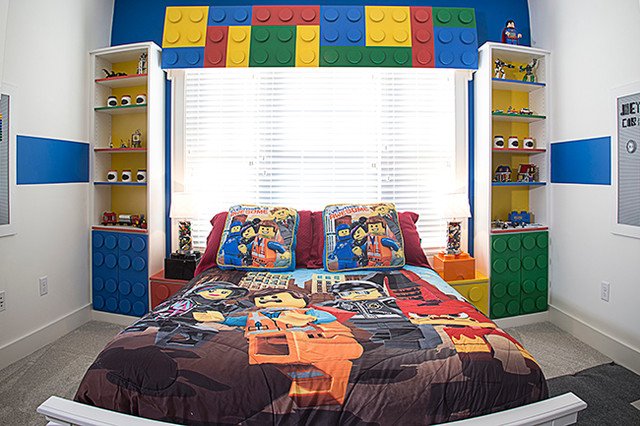 Placing a bed directly underneath a large window is a phenomenal decorating choice for any kid's room. It gives the illusion of a larger space, in addition to ensuring that the bed, which is truly the focal point of any bedroom, is always awash in light. The colorful twin shelving units are decorated with LEGO collectibles and figurines. LEGO wallpaper was used above the window to create a beautiful pop of color. LEGO bedding ties the whole theme together, giving this room's design a whimsical and fun finishing touch.
31. A Futuristic LEGO Room Design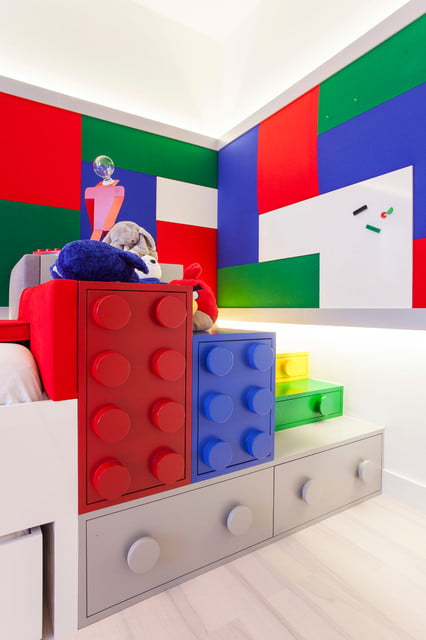 This abstract and modern LEGO platform bed presents a unique design that is both eye-catching and practical. The exterior walls of this raised bed unit feature storage cabinets designed to look like giant LEGO blocks. This design also features two large LEGO-shaped floor level drawers, perfect for storing toys and clothes. This homeowner used track lighting to give this unit an almost ethereal glow, certain to brighten up any room. The walls are simply decorated with geometric multicolored squares, a simple yet exciting design that doesn't overpower this unique furniture piece.
32. Open Up A Small Space With Storage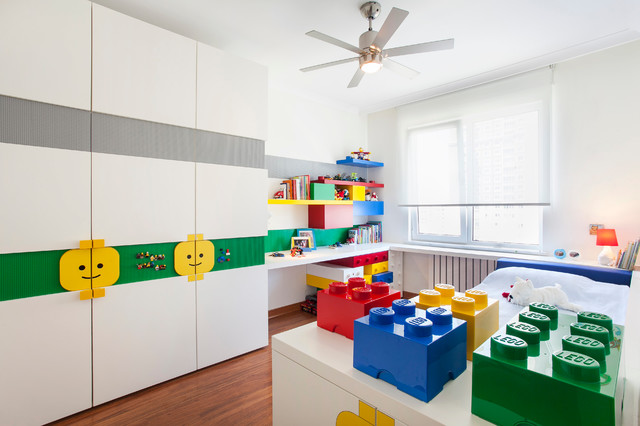 This homeowner took a rather narrow room and used smart design techniques to create a plethora of storage space. The simple white wardrobe blends against the white walls effortlessly. It is adorned with two stripes of color, in addition to two lovely classic yellow LEGO head decals. A bright yellow shelf above the desk serves as both extra space and a lovely color accent. Oversize and multicolored LEGO boxes sit atop a white cabinet at the foot of the bed, creating multiple opportunities for hidden clothes and toy storage.
More LEGO room decorations on the next page…