Some say the kitchen is the heart of the home, and the right kind of light blue kitchen design and decor ideas can help you spruce it up. Many would agree as the kitchen tends to become our most-used space in the home and the place where we gather with family and friends. It's over a home-cooked meal that many new memories are made and others are passed down from one generation to the next. Our home's heart is the place where grandma's cookies continue to bake and homework help abounds, yet we often neglect the home decoration department in this most-loved space.
21 Great Ways to Upgrade Your Kitchen with Light Blue Design and Decor Ideas

While white sits at the top of the kitchen color throne, hues of blue are close by resting in the number two spot. The many shades of blue may span from sky to sea and all the blends in between. So whether you already have a white kitchen or are looking to update your classic 90's oak cabinets, choosing one of the best light blue kitchen design ideas listed here is a great way to warm the space that continues to warm our hearts.
Keeping our kitchens in top notch condition is easy by adding a few minor updates to make them feel fresh and new again. Just like we need an occasional upgrade, our living spaces do too and what better way than to do this with one of the kitchen decor ideas listed here.
1. Seaside Light Blue and Gray Lower Cabinets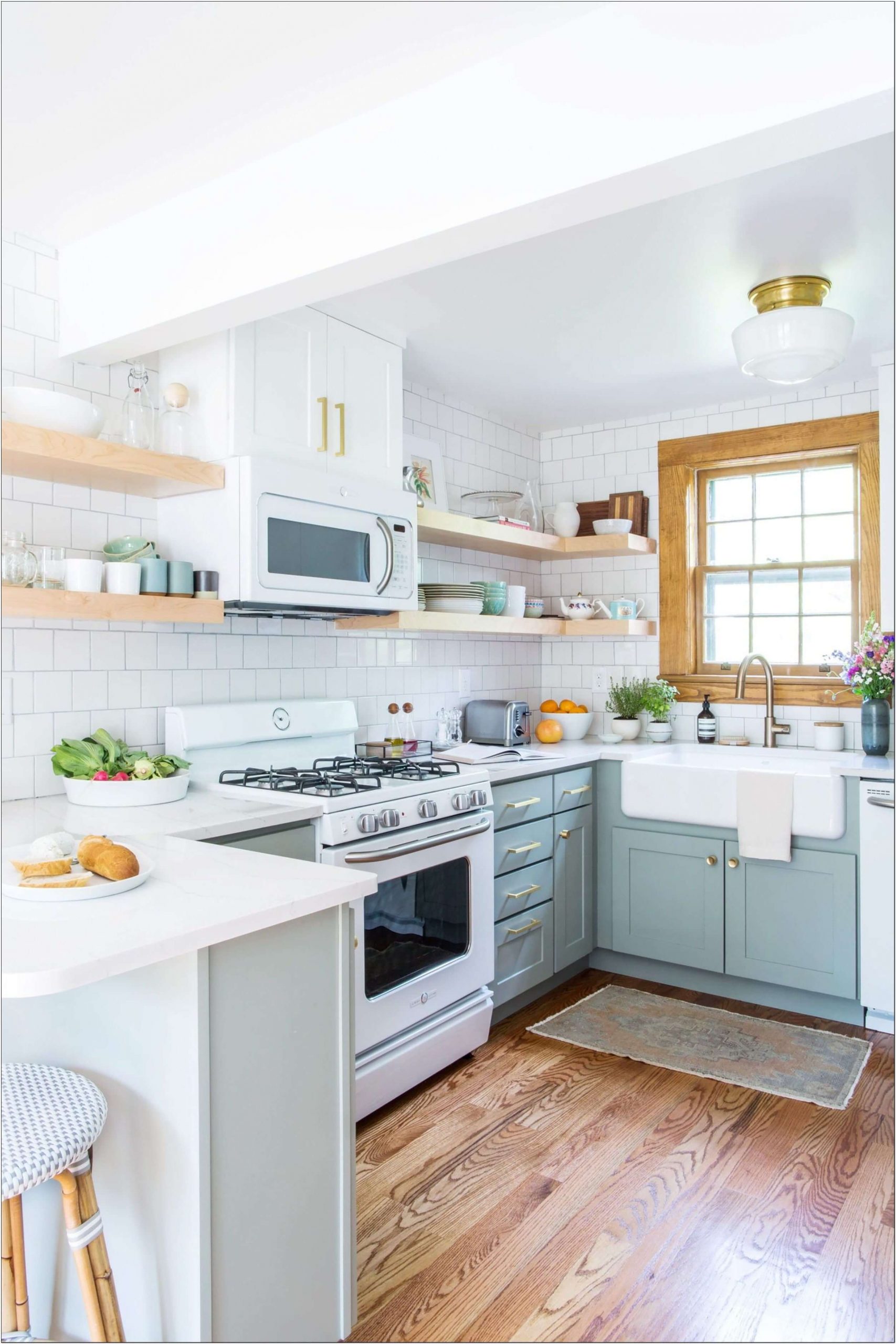 Most modern design elements lend themselves nicely into blending old and new. This incorporation of a light seaside blue/gray painted cabinet works with existing kitchen elements. With only the lower cabinets painted in this patina, the simple shaker style continues the clean lines up and into the white upper cabinets. Completed with stainless hardware, your old cabinets inhale a fresh breath of life as they mix old and new together without sacrificing clean lines and style.
2. Floor to Ceiling Light Blue Painted Cabinets with Blue and White Toile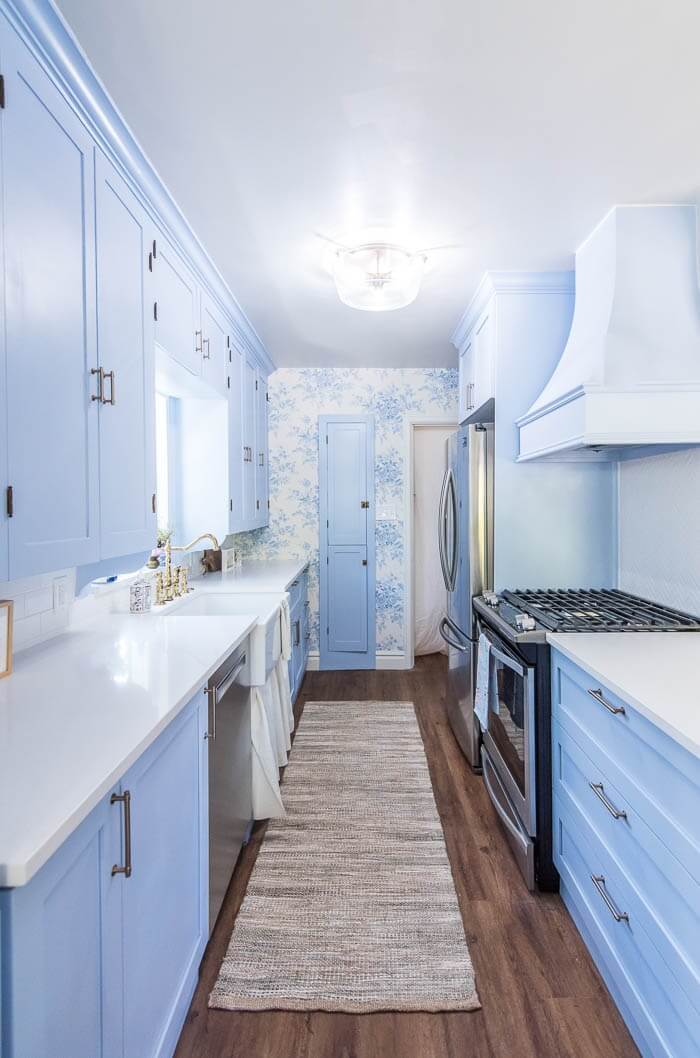 In this galley style kitchen, space is maximized by the use of floor to ceiling cabinetry. Finished in a light blue color, these painted cabinets are the perfect touch for the beautiful blue and white floral toile wallpaper design element used at the end of the room. The use of silver metal knobs and pulls makes this kitchen update quite simple as these hardware pieces are easy to install or replace your old ones.
3. Contrasting Lower Light Blue and Green Cabinets with Traditional Knobs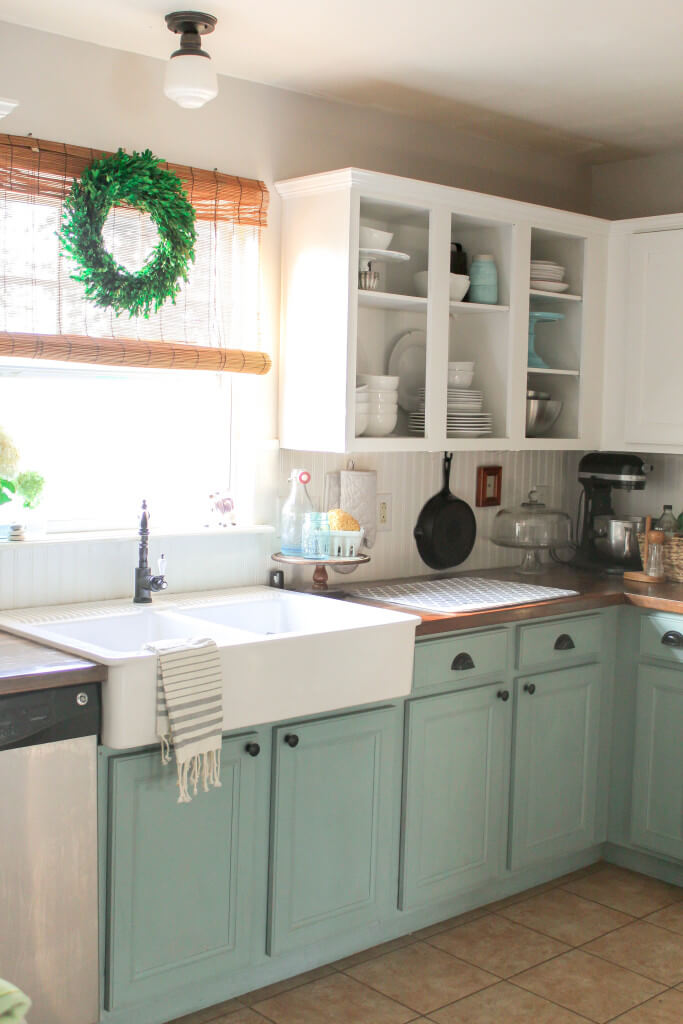 Need an easy update to an existing kitchen space, but don't have the expert knowledge or budget? No problem! Give your old, drab kitchen the modern feel it deserves with a simple contrast to your cabinets. Opening up the upper space with some free floating wooden shelves gives inviting warmth while remaining fully functional. Rolling on some light blue/green paint to the lower cabinets seals the deal to this easy update. Popping out the old, tired hardware and replacing them with some traditional knobs is a simple and budget-friendly option too.
4. Kitchen Island Light Sea Blue with White Counter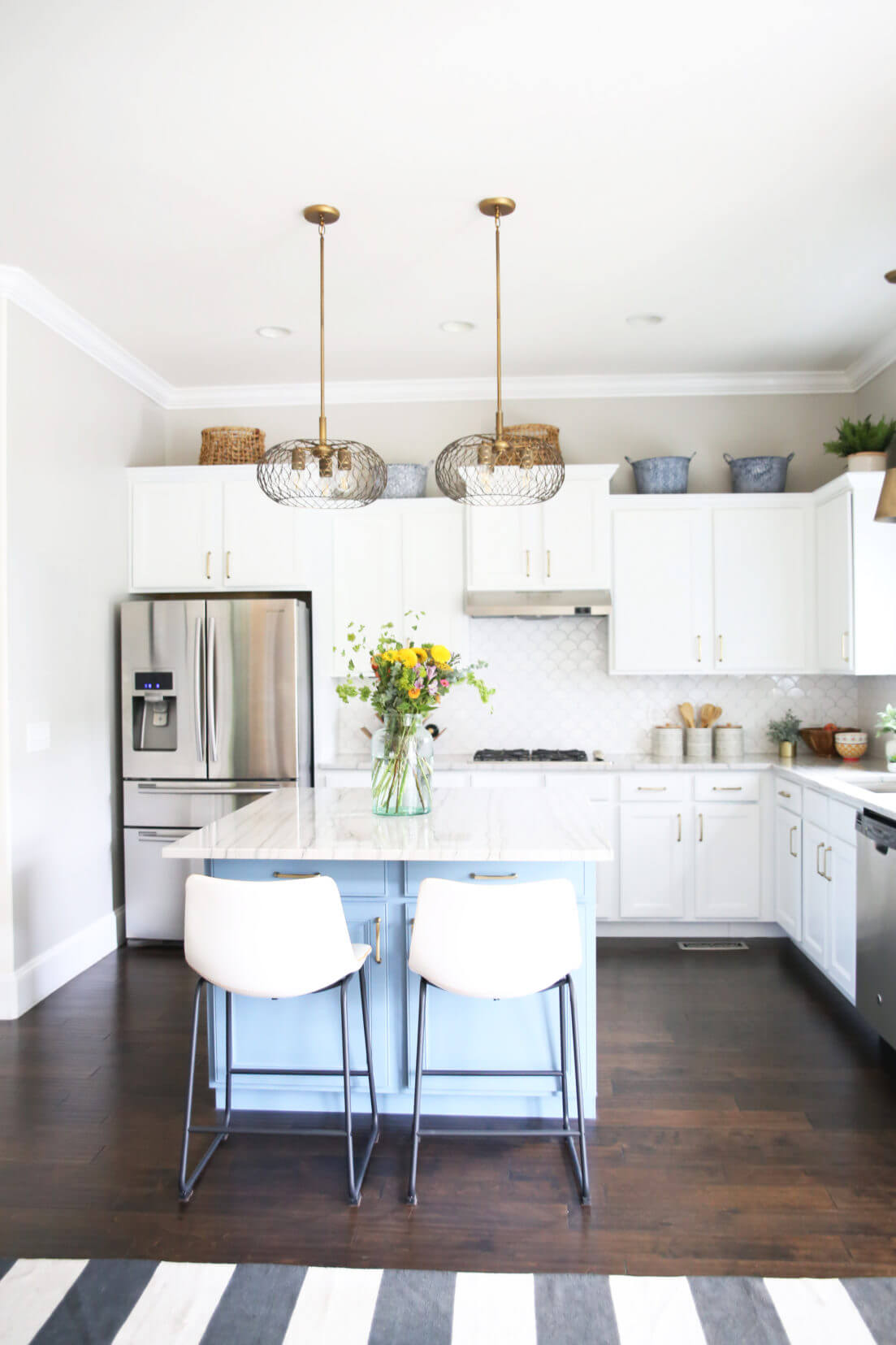 Jazz up the heart of your home by simply adding an element of flair to your central kitchen furniture piece- your kitchen island! By adding a touch of blue to your kitchen, you will not only be on-trend, but also making a simple statement with lots of impact. As your four walls are filled with white, fix your focus on the center with a coat of light sea blue paint on your kitchen island. The coordinating countertops used throughout the space easily connect and makes this contrasting cabinet color work well.
5. Sea Blue Glass Subway Tile Backsplash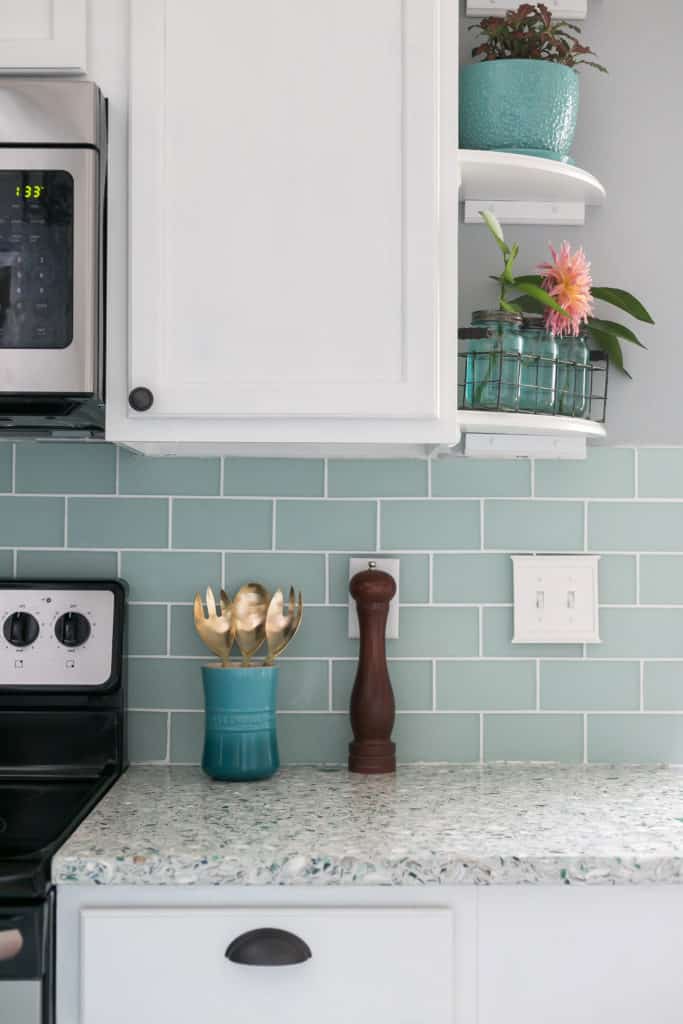 Looking for one of the best light blue kitchen design ideas? Look no further! Embellishing a kitchen with a modern color while adding a little depth and texture is exactly what you'll get with a cool, new backsplash! Using a subway tile pattern for your layout, this traditional pattern is timeless and gets a new feel with the use of the sea glass material. It's the perfect way to make your existing home decorations pop again. What an awesome idea for sprucing up the space without a complete kitchen overhaul! The subtle color of these glass tiles work as they give a gentle nudge to the already used planter on your open shelf. Set with white grout, this backsplash ties into the exiting white cabinets for a total look!
6. Light Blue Hydrangea Mason Jar and Linen Tray Display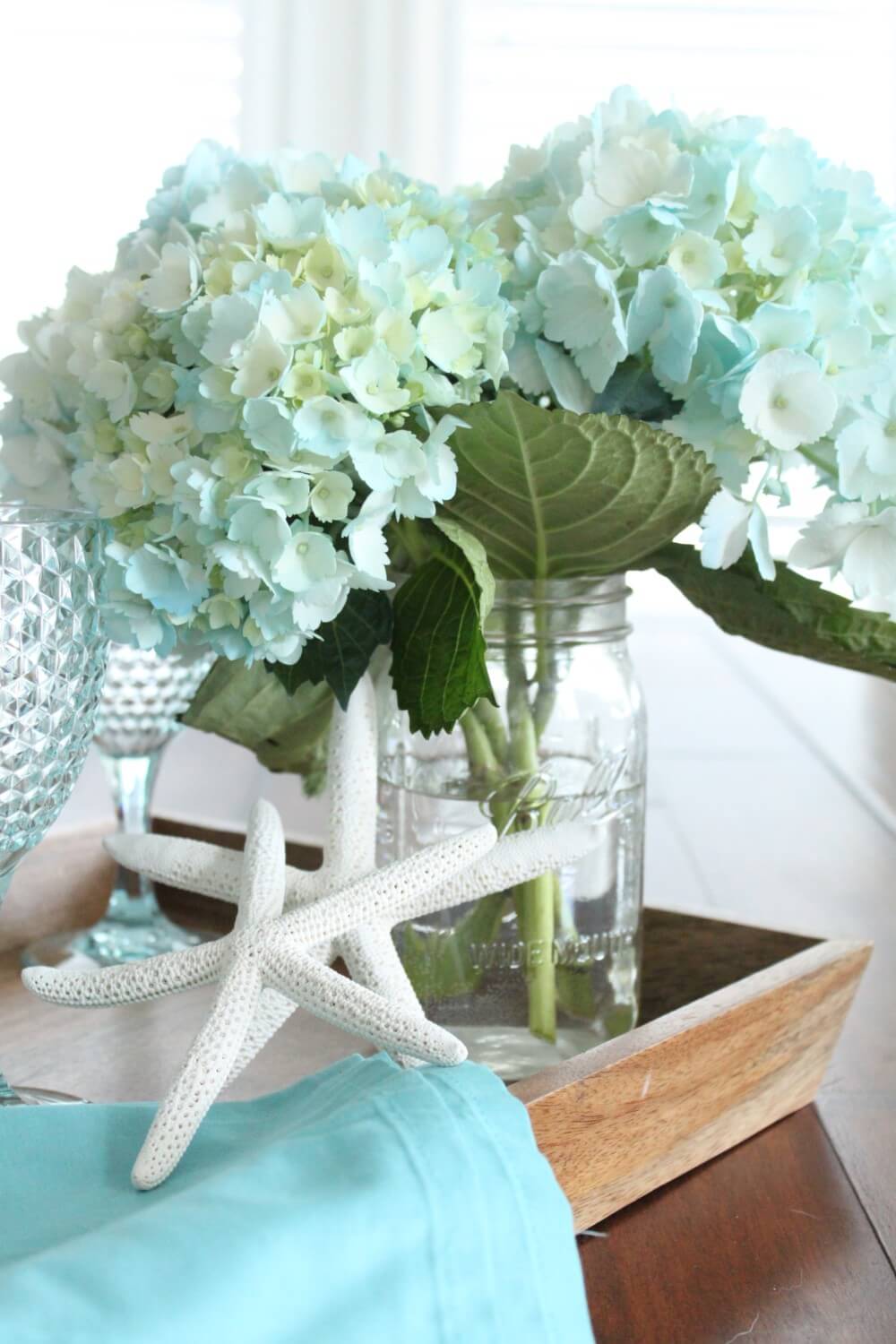 Whether you are looking for an arrangement for your coffee table, nightstand, or hall way space, this wooden tray filled with mixed unique home decorations will do the trick! The use of a blue mason jar filled with a freshly cut hydrangea adds both beauty for both the eye and the nose! The smell of fresh hydrangea is accompanied by fresh linen as a soft and different element of texture. White washed sea stars further accessorize this tray that could be a great way to help organize a space to throw your keys, mail and sunglasses.
7. Tiered Tray for Pretty Storage and Home Organization with Happy Place Sign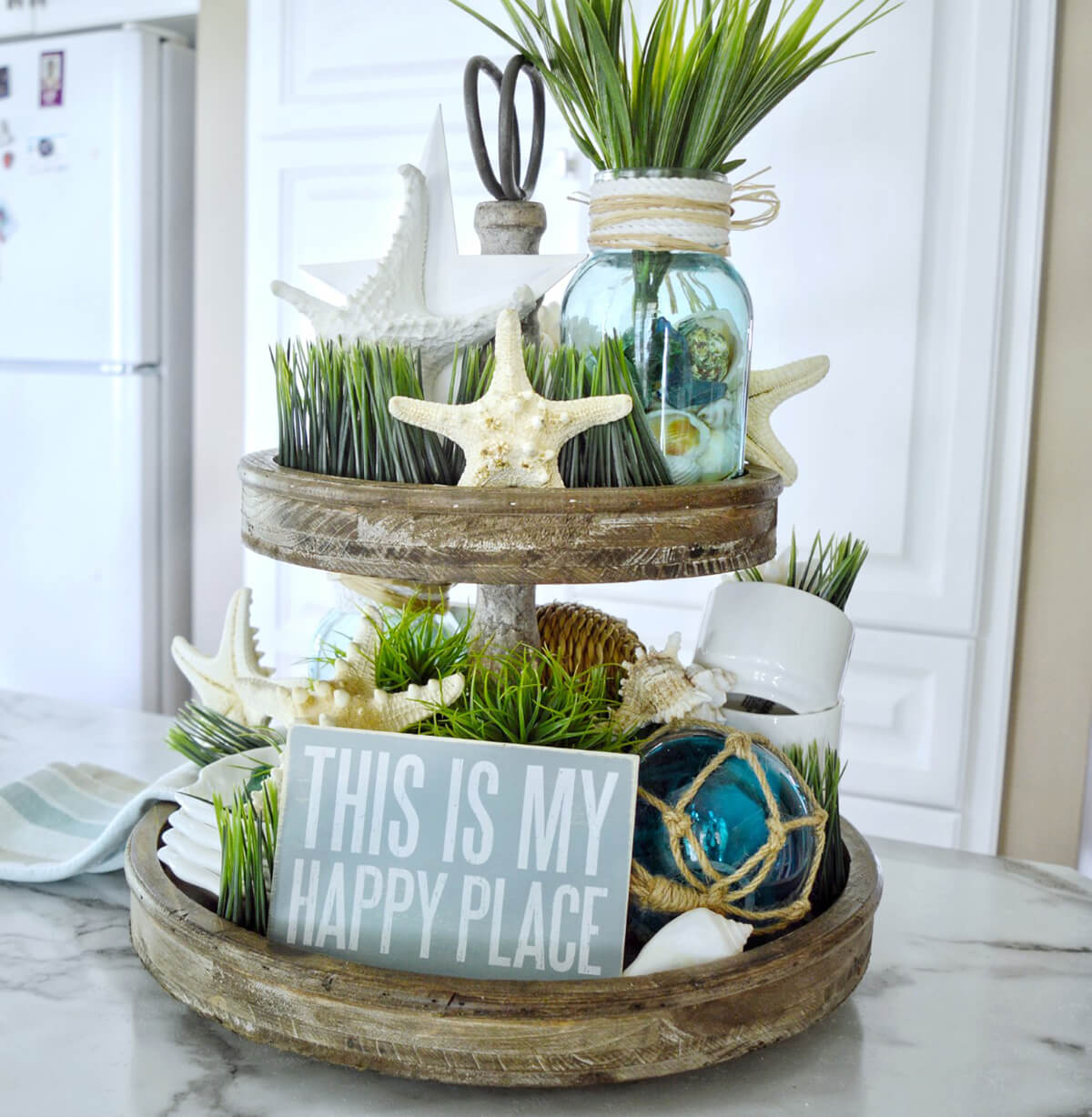 Tiered trays have been all the rage for a few years now and they continue to grab our souls for home decor inspiration. Whether you choose to use them for fundamental storage hubs or fun and playful design ideas is up to you. Working with a variety of shapes, sizes and textures adds to the interest in these towers. Complete with faux grass, the natural elements of shells and glass complement each other on the levels of this piece. Standing out is the Happy Place sign which is featured front and center on the bottom tier.
8. Light to Medium Steel Blue Kitchen Wall Paint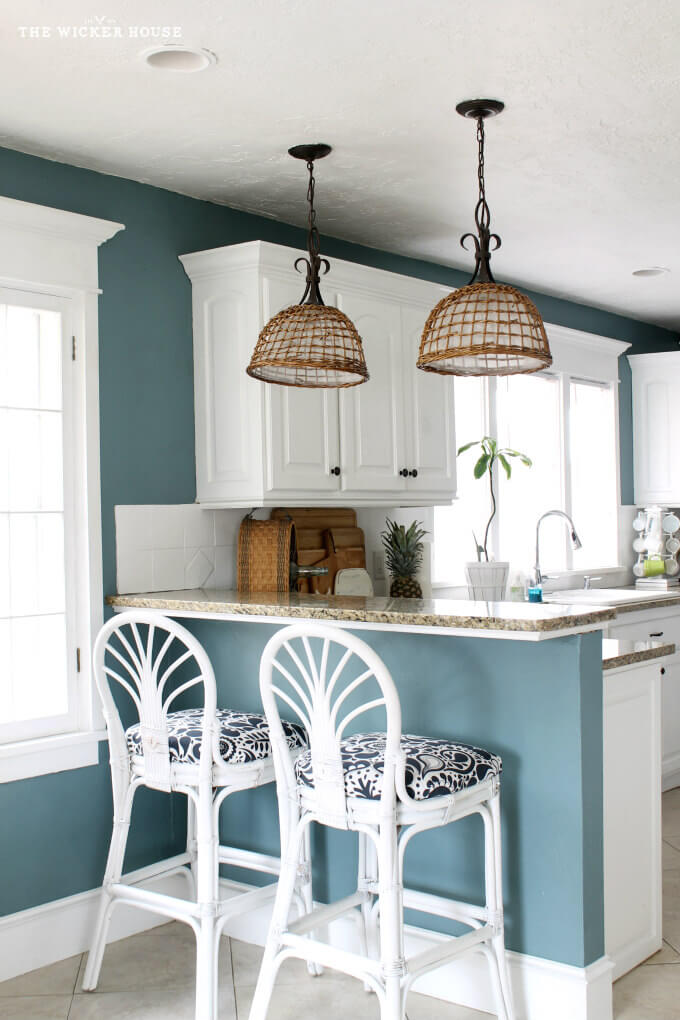 Adding just the right pop of color can be as convenient as changing up your walls. Since your wall space is the backdrop for the entire room, it makes perfect sense to start there! Making a change from a light neutral to a cool, light steel blue shade is a fun way to incorporate the blue kitchen trend into your otherwise white interior space. Accessorized with bold wicker lighting fixtures provides a warm and earthy feel with its contrasting color and texture. The unique design featuring this use of wicker along with the speckled granite neutral counter tops is the ideal means to wrap up the entire kitchen facade into a neat package.
9. Geometric Simple Design Sea Blue and Green with Cream Rug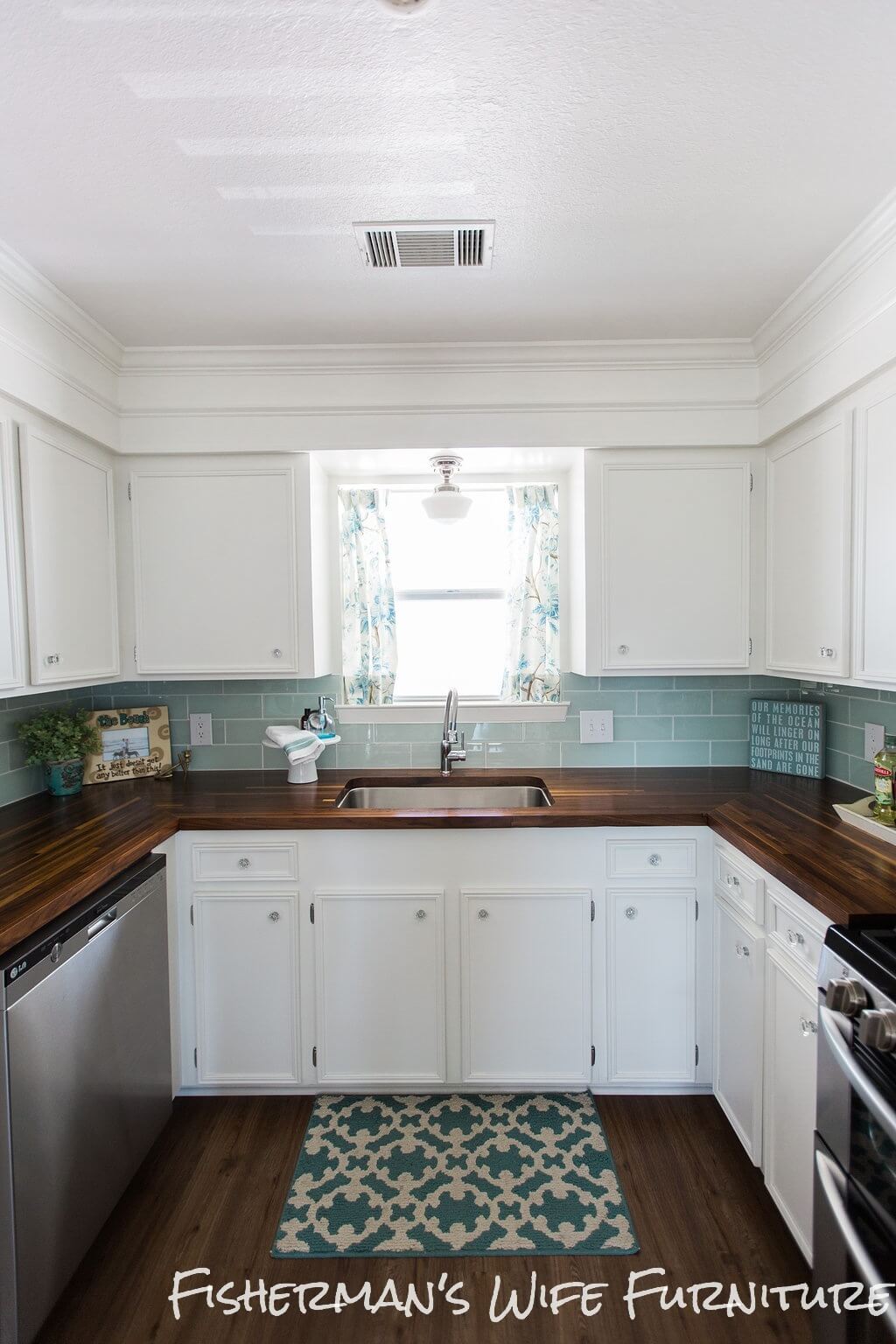 Liven up your kitchen floor with a cool and hip accent rug! Perhaps one of the best kitchen decor ideas, an accent rug is a great way to spice up a space without breaking the bank! Add one at the kitchen sink to make washing dishes a less daunting task by providing style to the room and comfort to your feet. Depending upon the size of your grocery-housing space, you may wish to place one in front of the oven and refrigerator too. The simple geometric pattern works well in most design schemes and offers enough visual interest while not detracting from the overall look and feel of the home's heart.
10. Light Blue and Gray Kitchen Island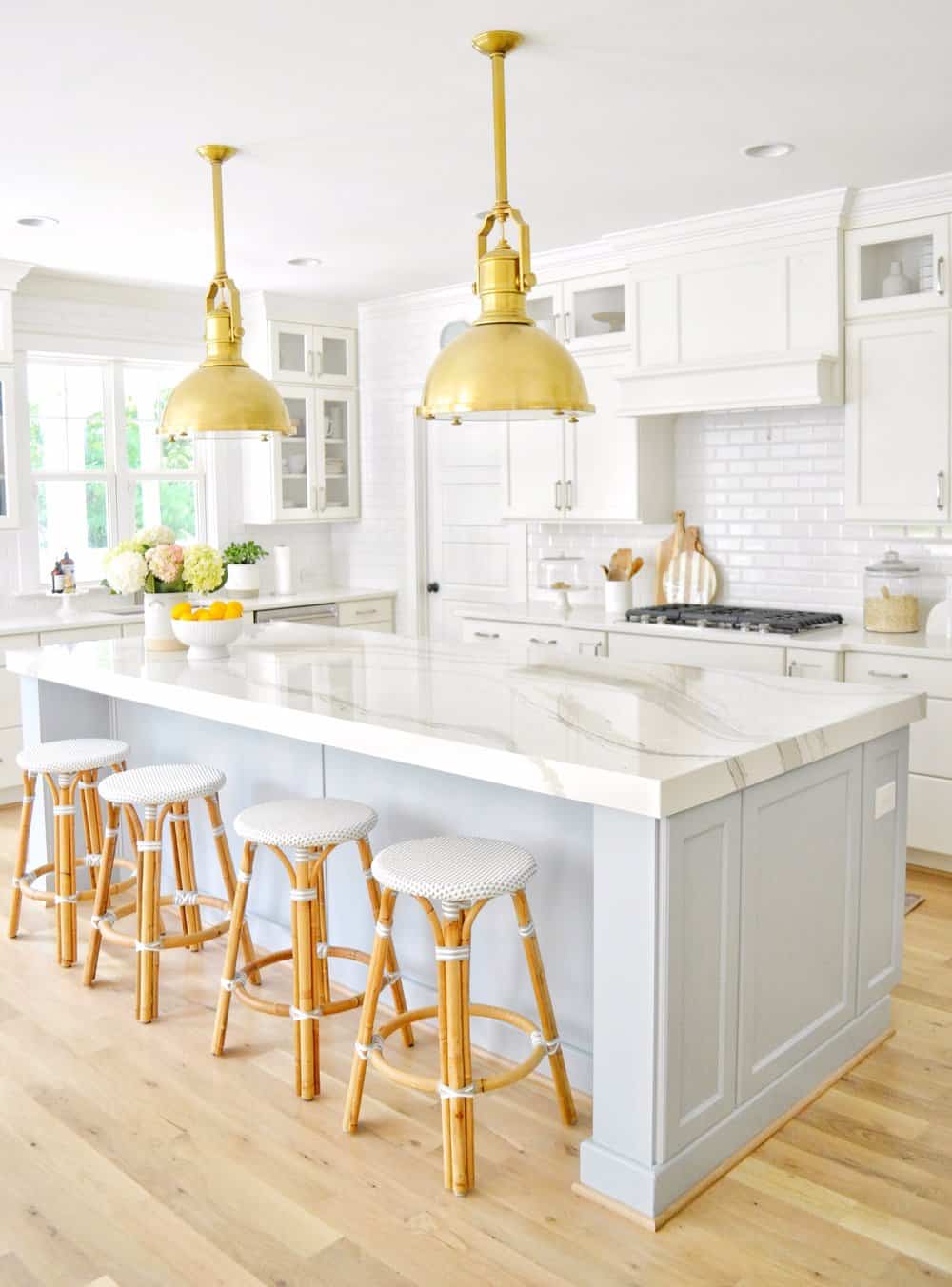 How do you add some interest into an already beautiful, neutral kitchen? It's simple. Just change up the kitchen island structure to take your design level up a notch or two! With a bright, white and airy feel, a beautiful kitchen has added appeal when the central point provides a comfortable contrast to the existing white palette. The addition of rattan stools further weaves a textural element into the kitchen design's complete look. With a marble counter top making a statement on its own, this light blue/gray is the perfect way to add some interest while keeping the color wheel from spinning out-of-control.
11. Blue and White Checkered Kitchen Curtains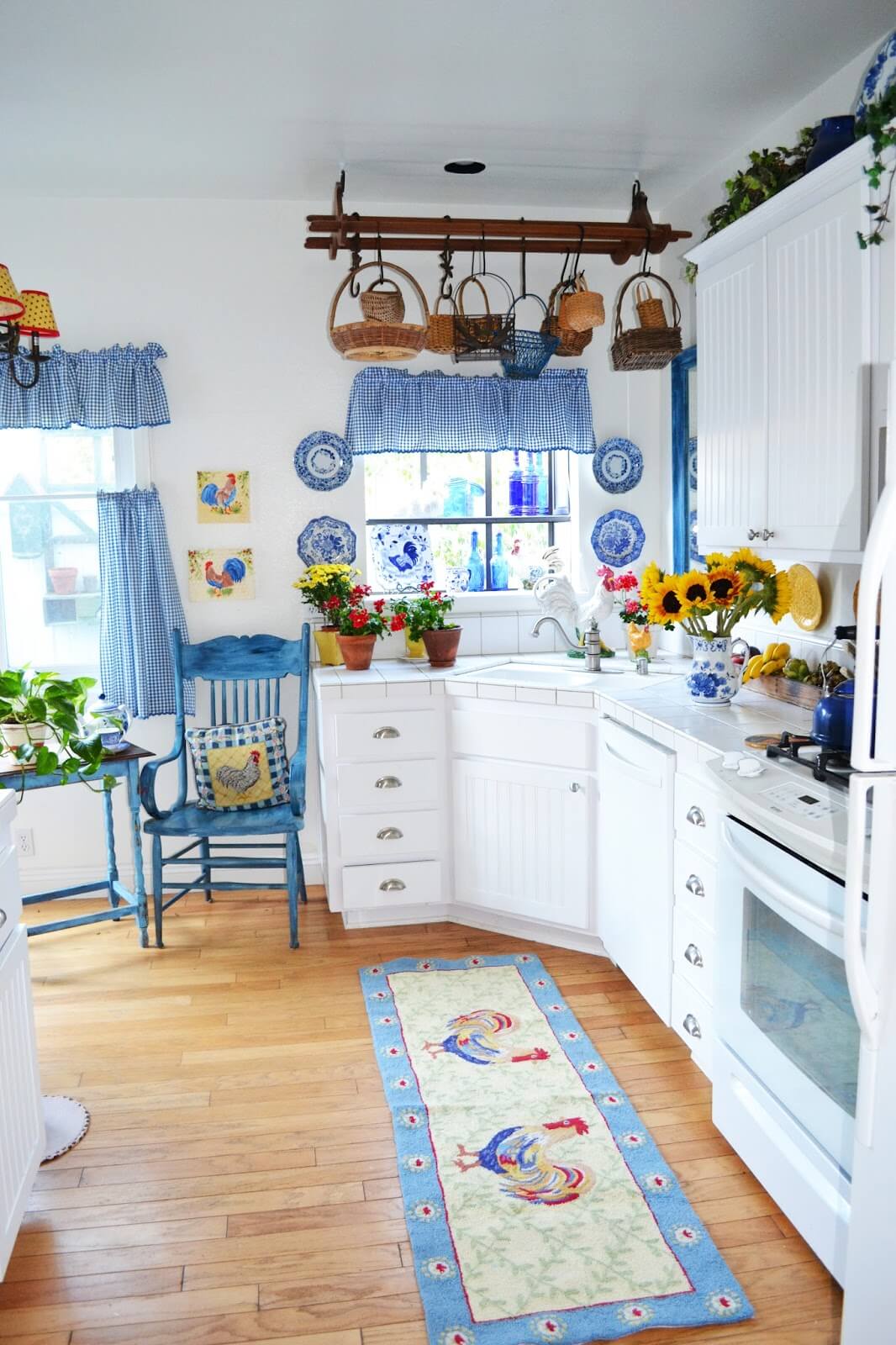 One of the easiest measures in switching up the color scheme in your interior space is with an updated window covering. And since the kitchen is the heart of your home, why not start there? These checkered patterned kitchen curtains with valance are the perfect update in classic and popular blue and white. The color scheme is further carried onto the border of the runner rug, rocking chair and pretty plates hanging on the wall. Letting in a little light, while providing an extra pop of color makes these checkered curtains one of the best light blue kitchen design ideas available.
12. Various Sizes Sea Blue Glass Mason Jars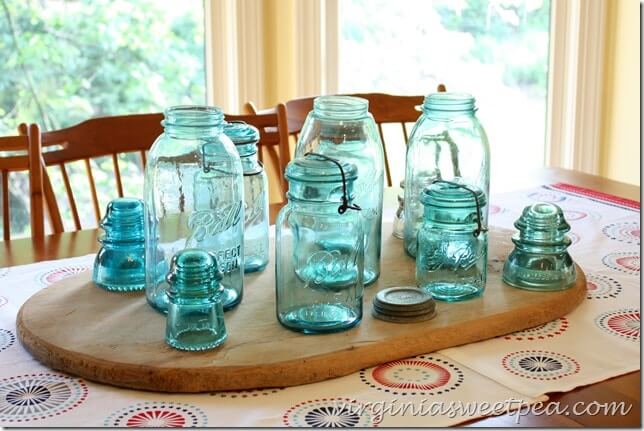 Visually interesting and easy to find, these functional and fun mason jars are a great way to add some pizazz to your tablescape without using the traditional candle and flower arrangement. Placing them according to height or in a mixed manner will be some of the fun ways you'll work to find the desired look your dining table needs. The crispness of the sea blue glass lends a polished feel to the smooth, clean lines featured in today's modern homes without feeling stiff and sterile.
13. Turquoise and Rustic White Bar Stools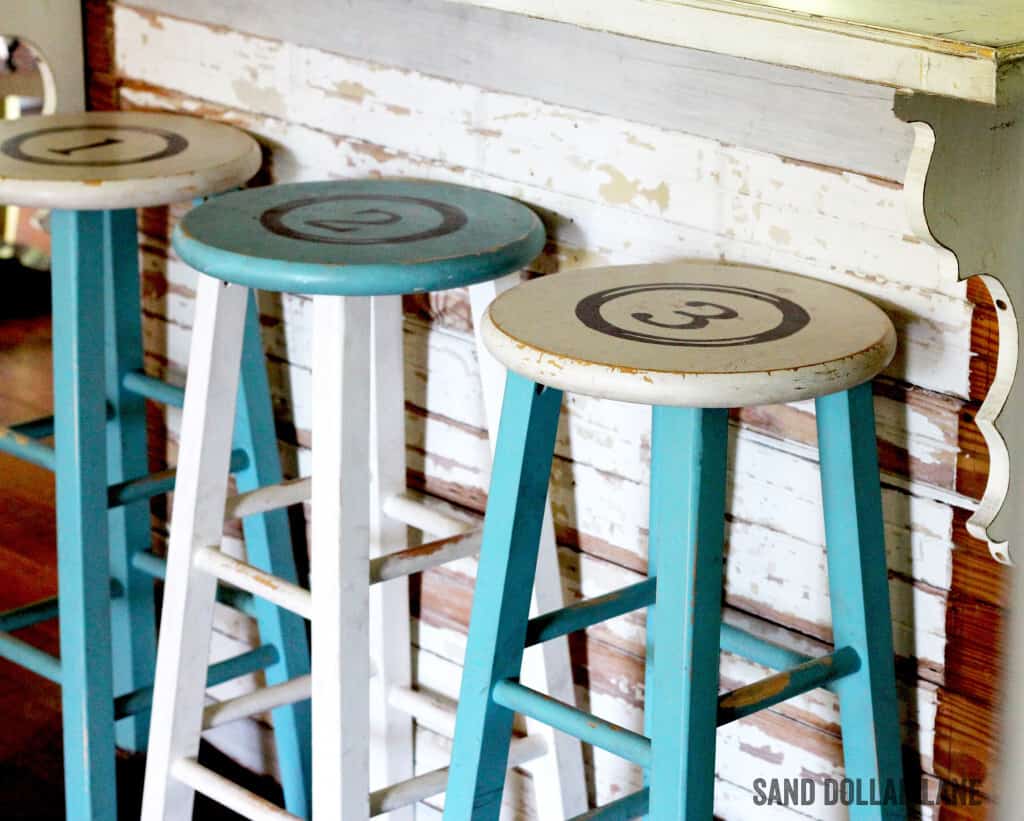 Adding character into a space isn't always an easy feat, but it comes naturally to these bar stools. Creating a simple pattern by alternating the legs or seat painted turquoise or white achieves this quite nicely. The distressed white look gives it a vintage and worn feel making the space feel warm and cozy like it's been lived in and loved. The contrast of these two colors and placement from seat to legs is an awesome idea for adding this element of character into your kitchen design and making your island a more inviting space.
14. Blue and White Striped and Patterned Throw Pillows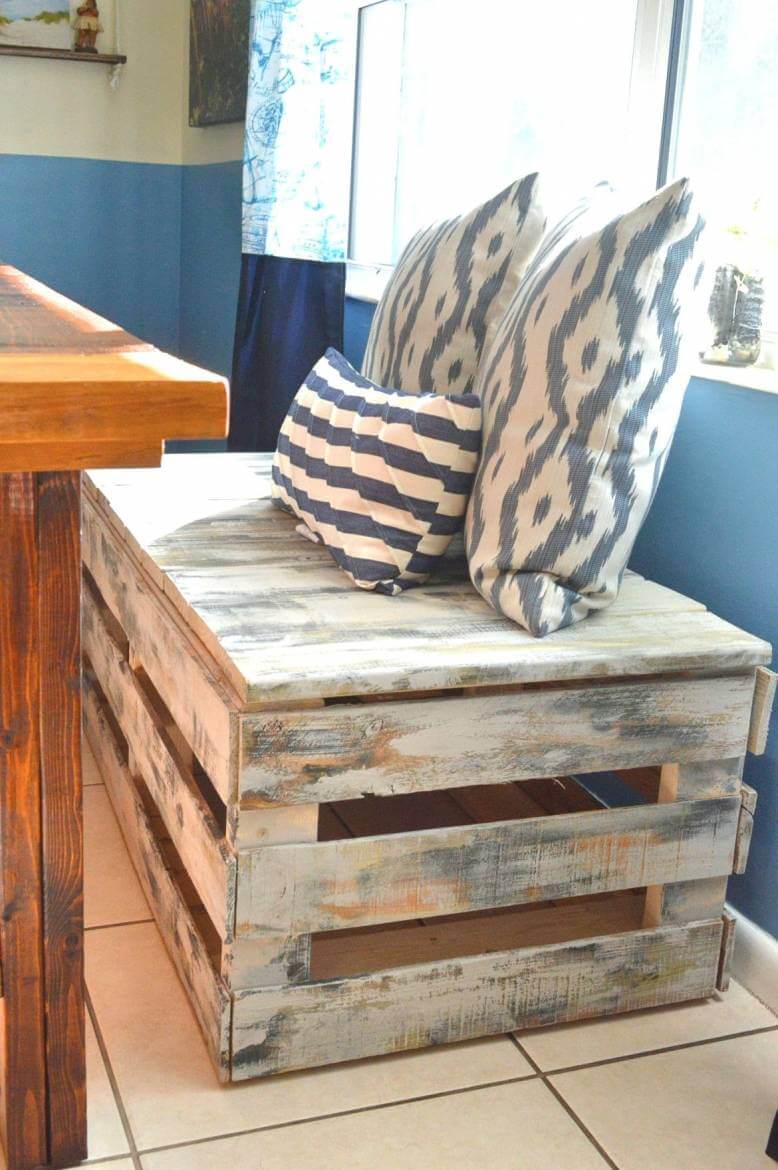 Spruce up your kitchen bench with some fun and classically colored throw pillows. Homework help becomes less of a task and more of a time together when the comfort level for the seating gets an upgrade. From classic stripes to an abstract Indie design, the blue and white color scheme is ideal for most classic kitchen spaces. These accent pillows would work well on the front porch and living room too so consider buying a few extra to connect your entire home in your design plan.
15. Four Squares Geometric Patterned Blue and White Tiles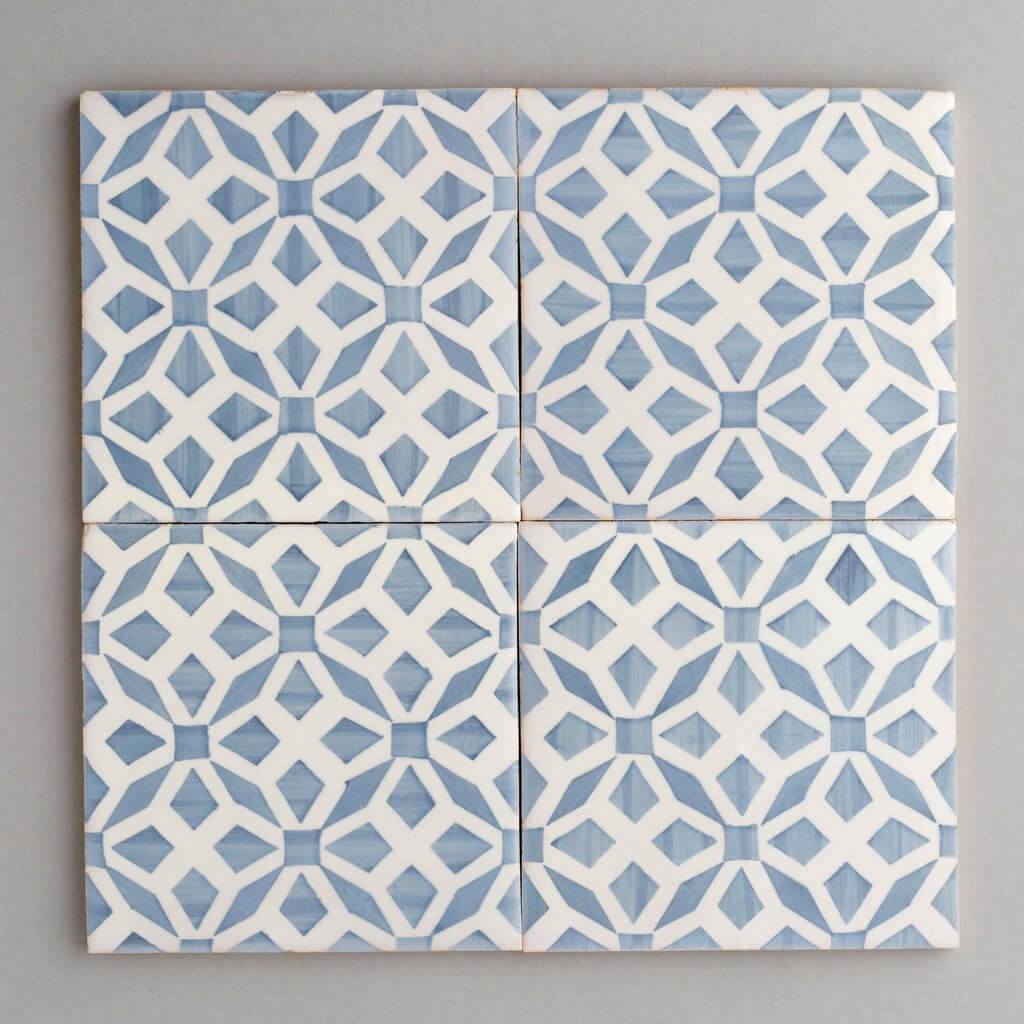 Alone or grouped together, these geometric tiles are a cool way to bring some color into your otherwise neutral space. Using them as a backsplash above your counter or as a standalone piece of art, these tiles showcase the beautiful blue hues in brush strokes throughout the white trimmed design. The square and diamond design brings the beauty of these geometric patterns to life while adding some artistic flair to your kitchen space!
16. Mixed Tiles Wall Paper Design in Blue and White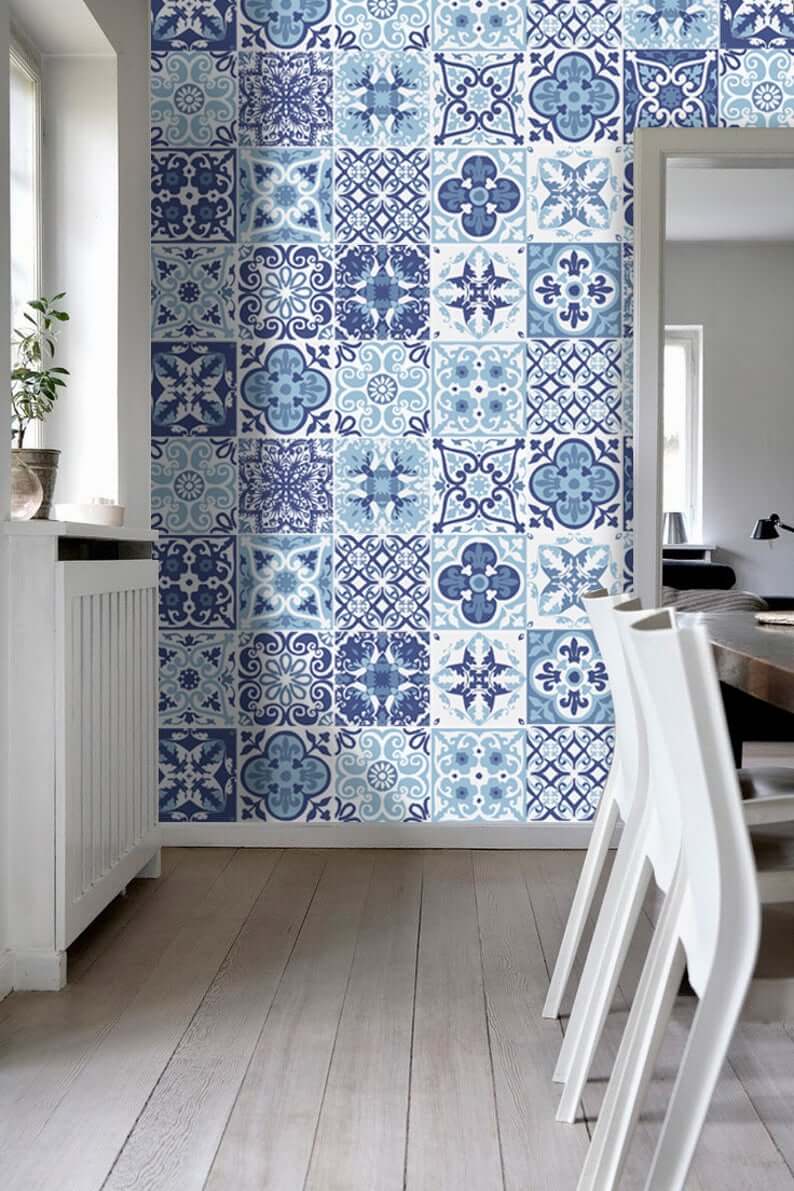 Roll on the style with your best light blue kitchen design in this breathtaking blue and white tile patterned wall paper. With a slew of shades of blue, the detailed design is both nostalgic and modern as it intertwines popular colors and timeless patterns. Popping from blue on white to white on blue over and over gives this two-toned wall covering the edge it needs to invigorate the space. Former wood or white trim and cabinets provide the complimenting sidekick this statement wall demands.
17. Rectangular Rug Runner Geometric Blue and White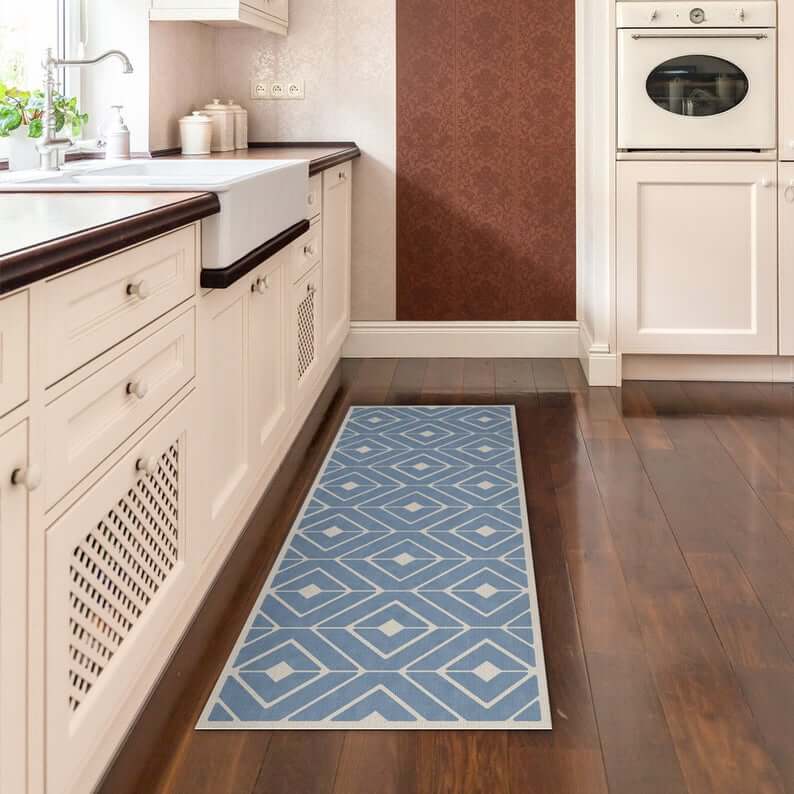 Breathe a fresh breath of life into your kitchen sanctuary with this blue and white runner. The perfect length to provide comfort and style to your work space, this rug is a nice addition to the sink area as well as the kitchen island. You will enjoy treading around your humble abode with these geometric rugs underfoot. The geometric pattern design lends to a more modern and contemporary feel without going overboard and requiring a complete overhaul of your existing kitchen decor idea. This particular rug would work well in the hallway too so consider purchasing more than one if you continue your color scheme throughout your home.
18. Vintage Rustic Blue Scale and Bowl Stand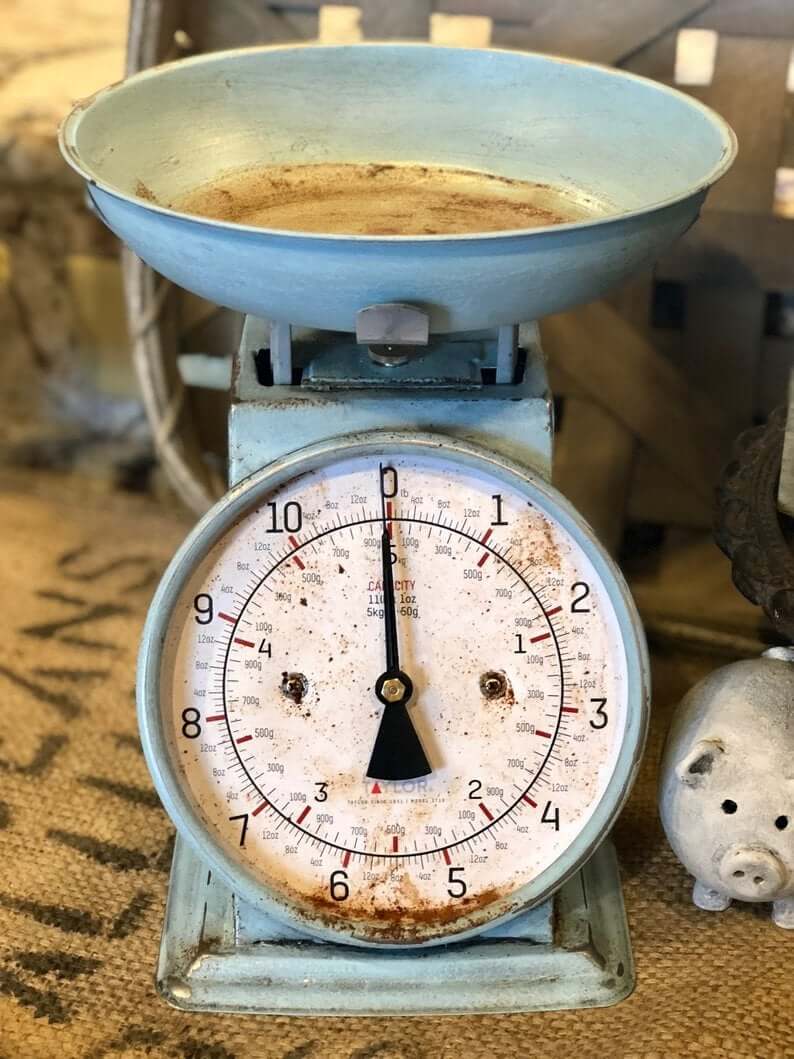 What better way to mix the old with the new by pairing this vintage scale with your kitchen decor! The old world blue color is roughed up just enough to make it rustic in order to maintain its antique appeal. Sitting alone or within a grouping as a central focus, this scale gets the job done! It is one of the best pieces to bring into a modern farmhouse kitchen design while it also works well in a more primitive setting. You may choose to add this to the top of your kitchen cabinet display or place it on an entry way table. The possibilities are endless as this antique vintage blue scale reminds us to never forget the past.
19. Distressed Old World Blue Eat, Pray, Love Sign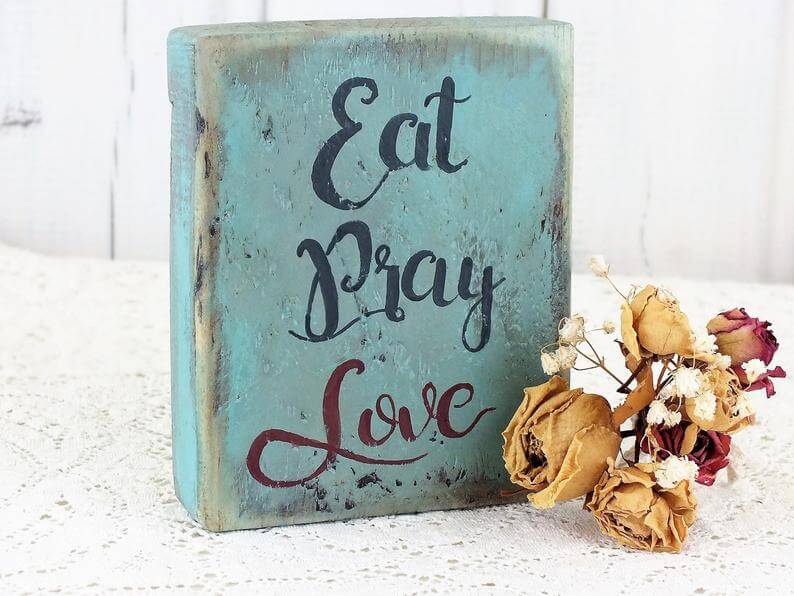 This simple wooden constructed sign is finished in a distressed old world blue paint to make the casual phrase take center stage. Eat, pray, love is prominently displayed in black and red lettering to make a bold statement in a low-key way. Place this script in any nook or cranny of your home to be reminded of your personal mantra. It looks as fabulous on your night stand as it does sitting near your kitchen sink. Wherever you position it, be sure it's readily visible as to serve as a friendly reminder to the three words that mean so much to you and the glue of your family.
20. Glass Blue with Sea Knotted Pendant Light Fixture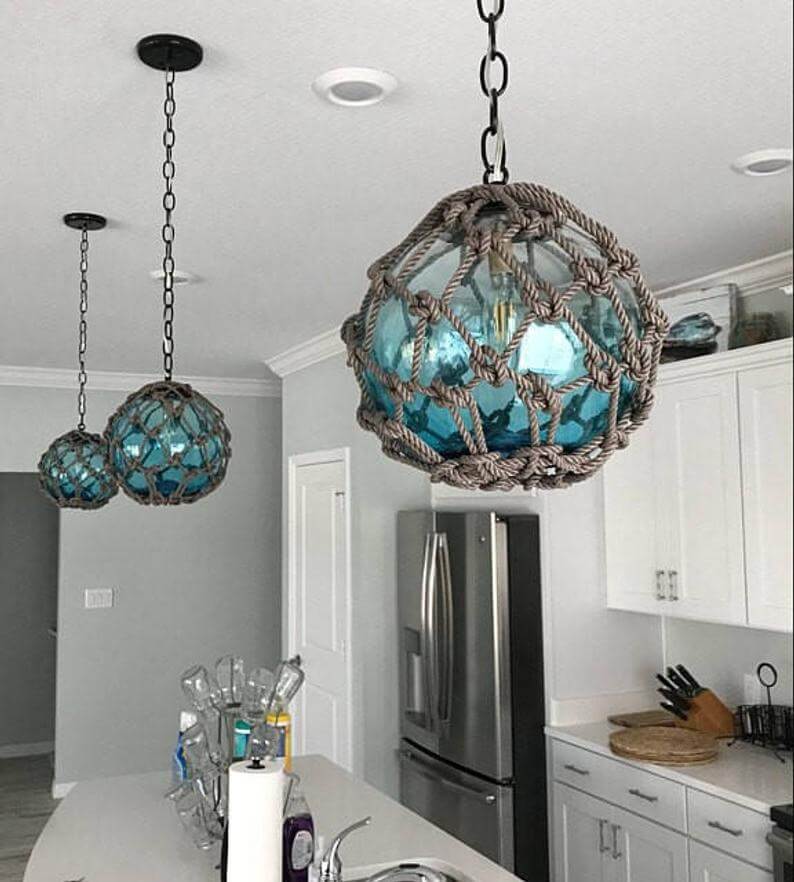 Add some wow factor into your best light blue kitchen design with these unique pendant light fixtures. Strategically placed in a grouping of three overhead of the kitchen island, these pendants are the focal point of the room. They not only light up the room with their functionality, but bring the extra touch that completes the room as the coveted wow factor is achieved. Sea knots and ropes gently caress these gorgeous globes of glass as they are suspended from the ceiling and draw your eye in. The delicate nature of the blue glass set within the ruggedness of the rope cording is a match made in heaven as you set sail into the kitchen of your dreams.
21. Eat and Live to Tell with This Fun, Quirky Kitchen Sign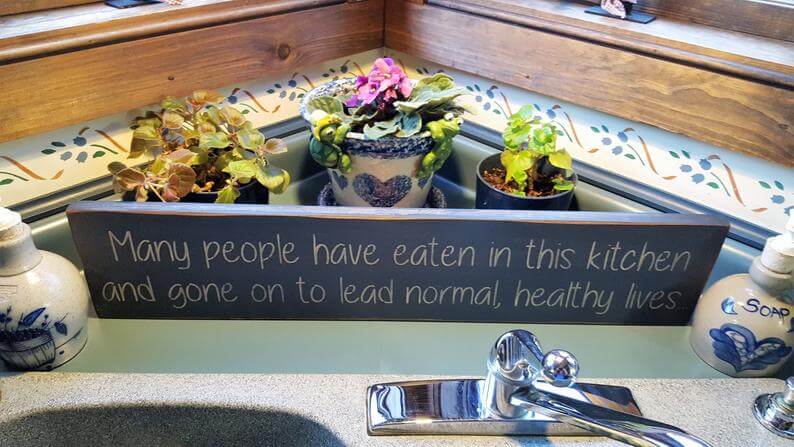 Fun and upbeat sayings fill our lives from the t-shirts we wear to the signs we adorn on our home's walls. And since the kitchen is the heart of it all, why not add a little sass into it? This wooden sign is rectangular and finished with a dark background showcasing white lettering that reads: "many people have eaten in this kitchen and gone on to lead normal, healthy lives." Sure to spark a fun comment or two from guests as a conversation piece, this sign is a fun housewarming gift or girl gift for Christmas or her upcoming birthday. A nice detail is the use of a light blue paint brushed across the top of the board to create a unique accent to the finished piece. Hang this sign on the wall or rest it on the windowsill to add a fresh sentiment to your family's heart of the home.
A User-Friendly Guide to 21 of the Best Light Blue Kitchen Ideas
At the end of the day, we all want a place we are proud to call home. We all want that warm and inviting space where family and friends alike yearn to visit and make memories. What a great way to make all of those gatherings come to life than by keeping your kitchen in top notch condition.
No matter how you choose to update your kitchen, you can't go wrong with the plethora of ideas found here. Maybe the easiest means you can envision is bringing a new sign to change the climate of your space. Or you might want to draw the eye into a focal point like your island. There are so many great ways to make your kitchen island pop out as you can paint the lower portion in a pretty light blue. You can even work with the stools at the bar side as you coordinate a color combination for the legs and seats.
Why not change out your existing light fixtures and make your entire space feel modern and new with sea glass blue pendants? Throwing a couple accent pillows onto the farmhouse table bench or laying down a nice geometric inspired rug makes the space a little bit cozier than before. And if you want to really take your kitchen decor idea up a notch, grab a roller and a can of paint and hit the walls or lower cabinets for a dramatic design! No matter what you decide, you can't go wrong with best light blue kitchen design ideas to achieve the fresh kitchen space you and your family deserve!
Our Favorite Farmhouse Kitchen Decorations to buy on Amazon