The best lime green home decor ideas for your space will depend on what effect you are trying to achieve. Rejuvenating your space with lime green's effervescent energy might be easier than you think. Are you looking for a few pops of lime green goodness or a bold new theme for your space? As you venture down this path, be ready to embrace your wild side. As you look through the list below, imagine your space with as much or as little lime green as your heart desires. Be careful – there is something enchanting about lime green. Once you start accessorizing with it, it might be difficult to stop. But then, why would you want to stop?
15 Refreshing Ways to Harness Lime Green Home Decor Ideas for a Colorful Home

Lime green interior design can come in so many different styles. If you live in a space dominated by neutral tones, imagine adding a few bursts of energizing green. That can come in the form of blankets, pillows, wall art, vases, or wallpaper. Layering these can help define your focal point and add some dramatic flair to your space all at once. For a subtle effect, use a few lime green pieces to cultivate the coveted pops of color. If you prefer a bolder look, it as simple as using more lime green in your space.
Maybe your space is not dressed in neutrals. Can lime green still find a home even when there is another bold color? Depending on your approach, it is absolutely possible for a big personality like lime green to harmonize with another bright color. For tropical jungle vibes, pair lime green with dusky orange, cheery yellow, and lots of natural textures. Give your space a coastal feel with lime greens, rich blues, and white sandy tones. There are so many more sublime color combinations waiting for you to discover!
1. A Green Display to Welcome Spring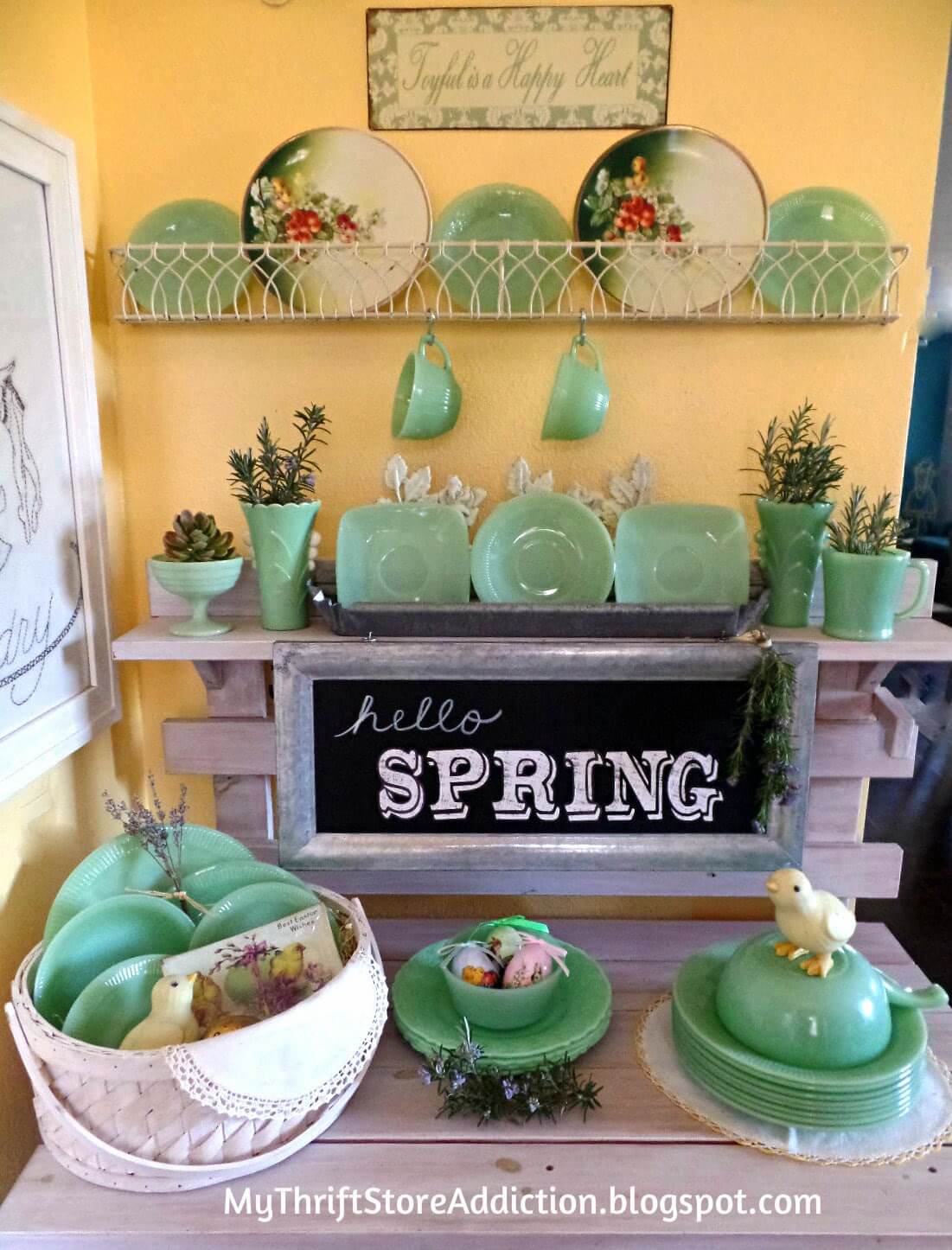 When considered all at once, assembling a display like the one shown in this image can be overwhelming. However, it does not have to be. To avoid losing focus, work on creating little moments. Beyond the jadeite dinnerware, chick statuettes, and cut herbs combine to cultivate a fresh spring scene. In addition to being beautiful to look at, the cut herbs imbue the display with an aromatic fragrance. You do not need to have an extensive jadeite collection to create a successful display. Look around for any lime green decor that you already own, and build your own little landscape.
2. Blue and Green Country French Decor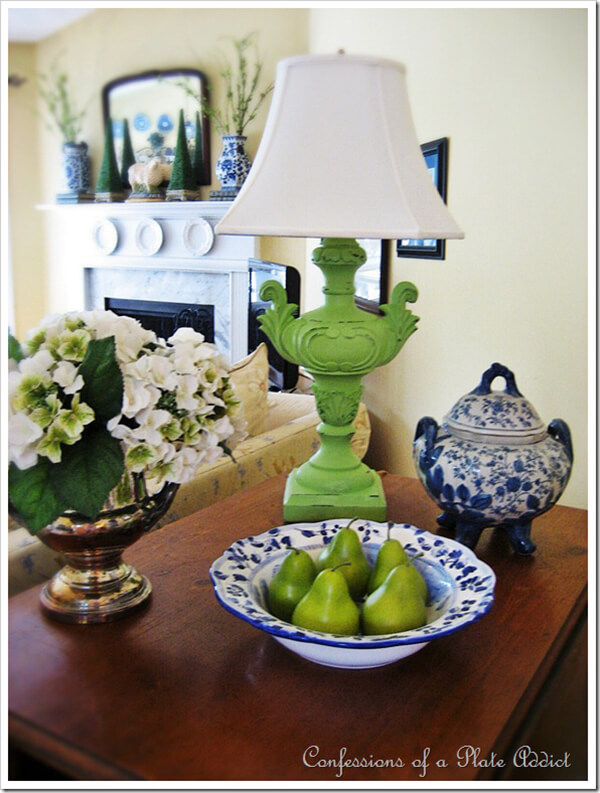 Have you ever found a lime green piece that you really wanted to feature, but were just not sure how to tie it in? To make this possible, this image uses green pears. You could use apples, kiwi, avocados, or, of course, limes. Using fresh fruit that you enjoy eating to create cohesion also gives your space a feeling of bounteous abundance. If eating that much fresh fruit before it spoils is not possible, try some ceramic fruit. Yes, this strategy means that you will be able to display loud colors with big patterns harmoniously in the same tabletop display.
3. Vivacious Lime Green Interior Design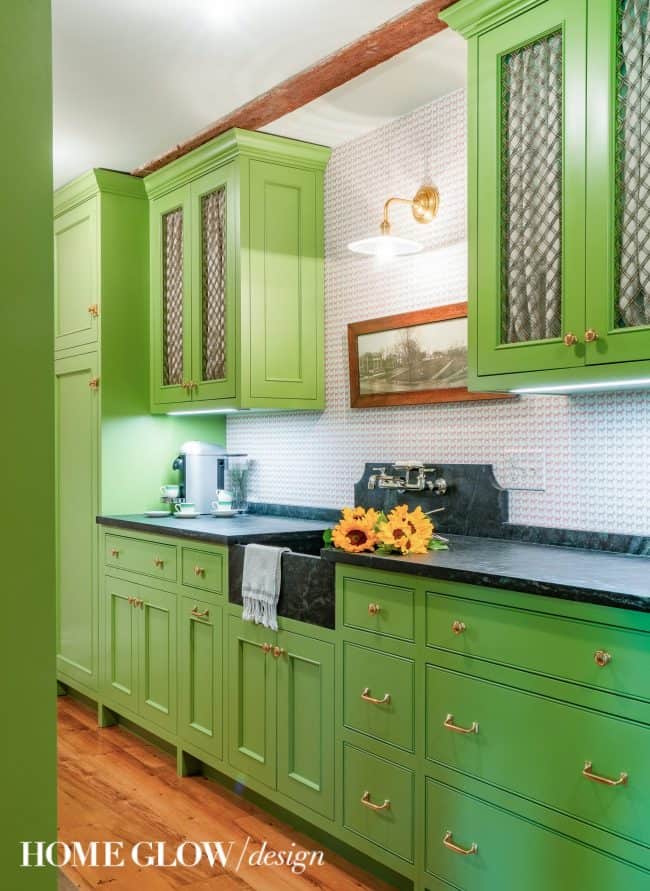 If your decorating style is to go big or go home, this is the look for you. It might take a little courage to paint cabinets lime green, but the result is a kitchen brimming with personality. Pair those green cabinets with pink puppy wallpaper and dark green soapstone counters, and you will have a uniquely whimsical kitchen. Because green is a mix of cool blue and warm yellow, the hardware can help decide whether it warms up or cools down your space. Shown here, brass hardware ties in with the wood to give the space a warm, inviting feel.
4. Modern Country Table Setting with Green Glassware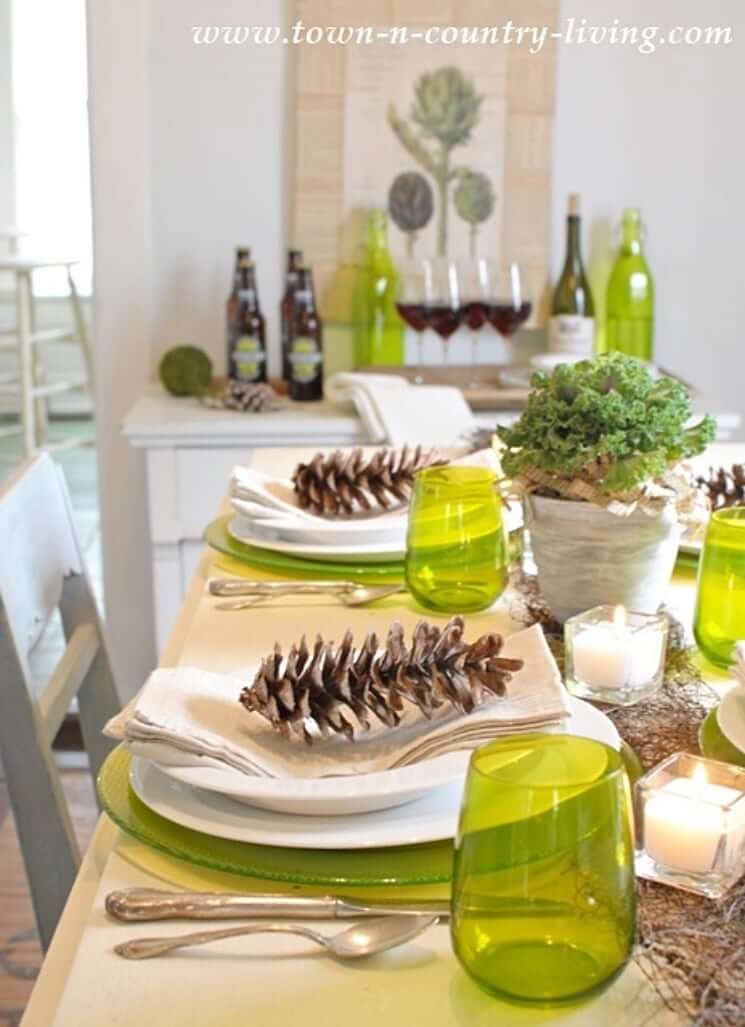 Sleek green glassware is a fun way to give your table setting lots of unique personality. Because it harmonizes so well with almost any theme or holiday, green glassware is among the best lime green home decor ideas. From Christmas to casual dinners, incorporating green glassware into your table setting is an easy way to tie in natural decor like pinecones, floral arrangements, and plants. Combine with rich, jewel-toned accents for a feel of extravagant opulence. With pastels, green glassware can create the perfect springtime table setting. Now that the color is settled, choose glassware silhouettes that match your aesthetic.
5. Adding Green Accents to Neutral Decor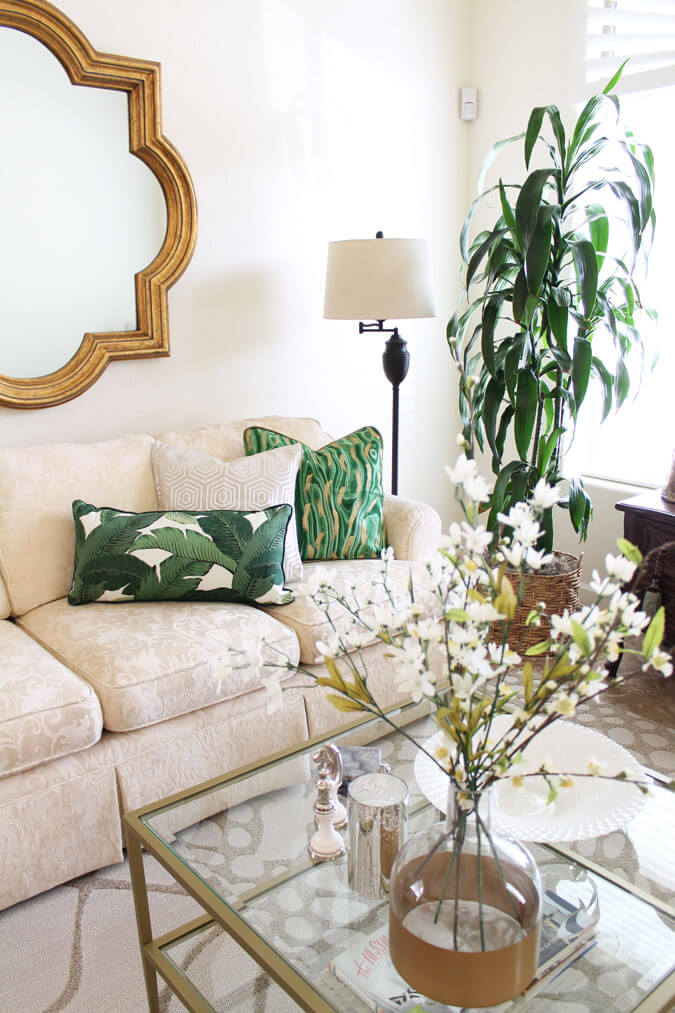 Lime green interior design does not mean that every single aspect in a room needs to be the same solid green. Instead, by incorporating green accents over a neutral base, you can create the perfect balance between the bold and the banal. To do this, add some green pillows, a new plant or two, and some green blankets. Even if a lime green theme is the primary goal, make sure to invite other shades of green to the party. Incorporating both darker greens and lighter greens in your decor can help keep your space feeling alive instead of feeling flat.
6. Easy Green Sea Glass Jar Project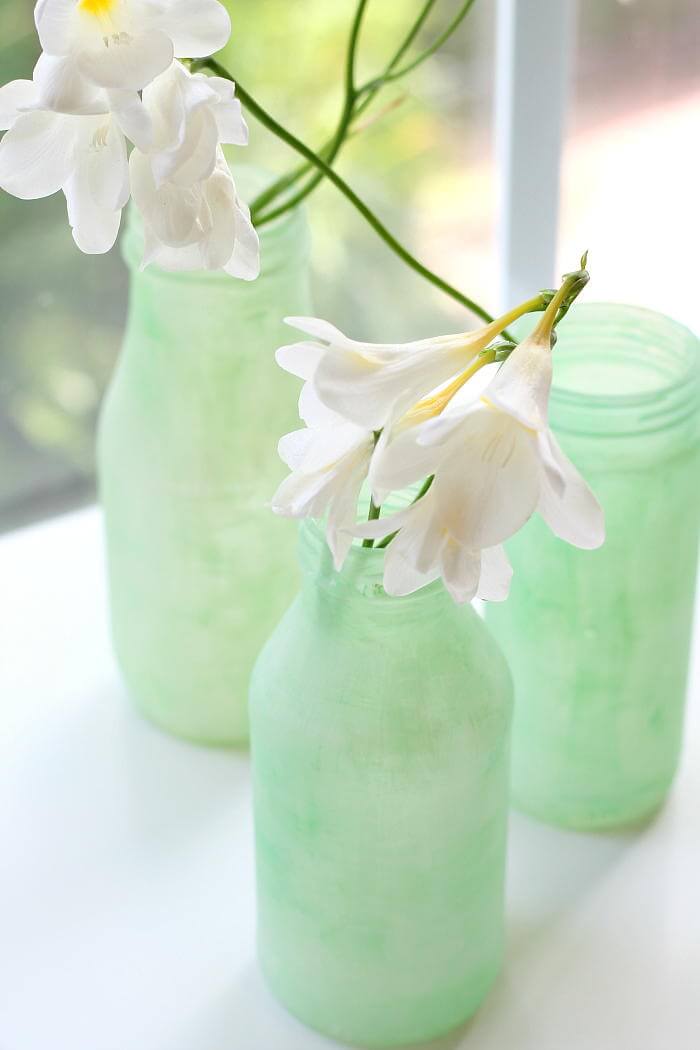 As one of the best lime green home decor ideas you can create yourself, these jars are easy to customize to your decor. To achieve the color seen in the image, layer translucent white and green glass paint. After your glass jars are sufficiently green, imagine all the possibilities. Use it as a vase to hold floral arrangements, pencils, or makeup brushes. This technique works on nearly any sort of glass. When you see anything glass at a thrift store, imagine it in green. A few green glass elements might be the elusive missing pieces of your home decor puzzle.
7. Cool Weathered Green Clock Cabinet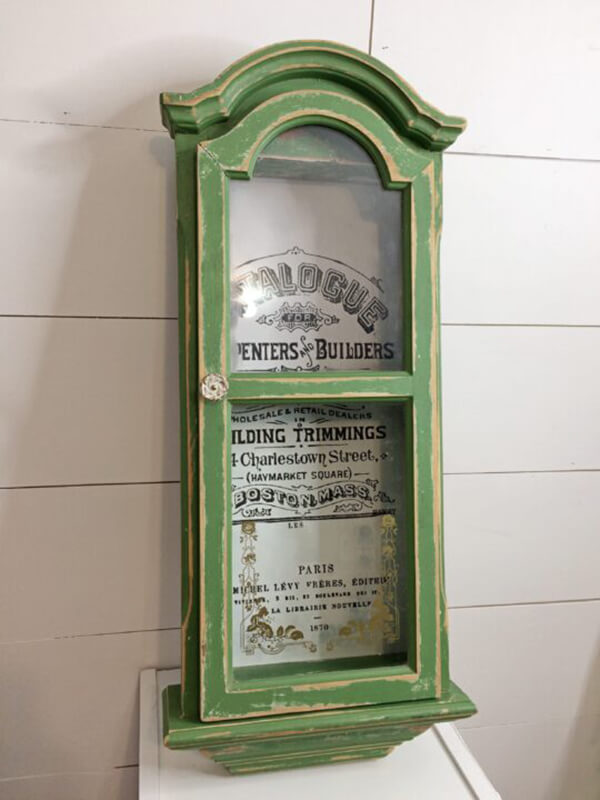 While not everyone has an antique-style clock cabinet floating around, you can still use this technique to create your own hanging shelves. It would be perfect for a hutch, curio cabinet, or any article of open-shelved furniture. Find a transfer that works with your style, and apply it to your project. Because the transfer includes a great deal of detail, the dramatic green color shifts from focal point to background ambiance. If transfers do not sound right, you could experiment with wallpaper to give your open-shelved furniture a facelift. Whichever technique you settle on, you will be creating a design element personalized to your space.
8. Orange and Green Jungle Theme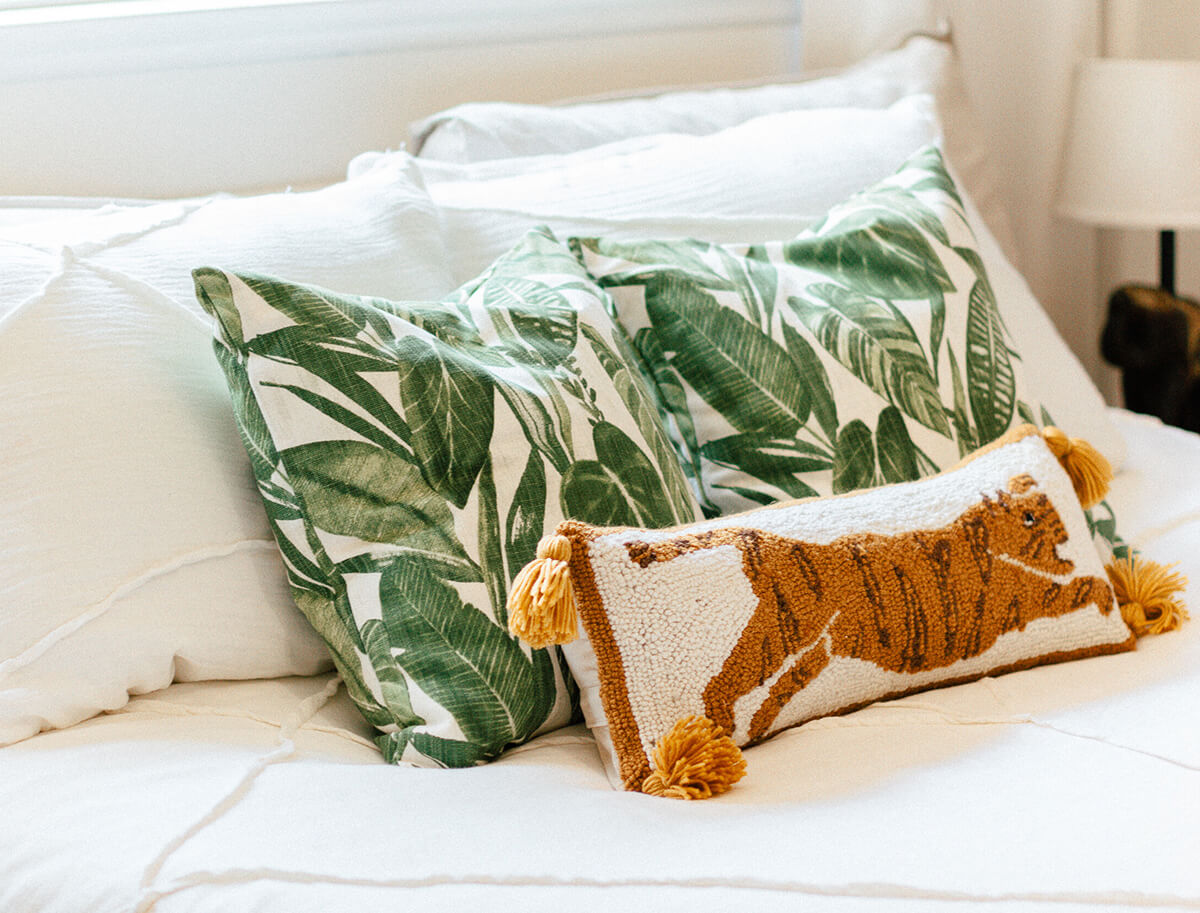 For a fun jungle vibe, let your wild side out a little by pairing lime green with orange. The bright white base keeps these two vivid colors from fighting each other. Play up that jungle feeling with textures like tassels, rattan, natural wood, and, of course, greenery. Even if that greenery is printed onto pillows, it counts. To build a moodier lime green and orange space, incorporate dark woods and brown-black textiles. Use black metal in your space for a more modern jungle feel. Burlap and corrugated metal can help your jungle-themed room flow better in a modern farmhouse space.
9. Boost the Botanical with Palm Frond Wallpaper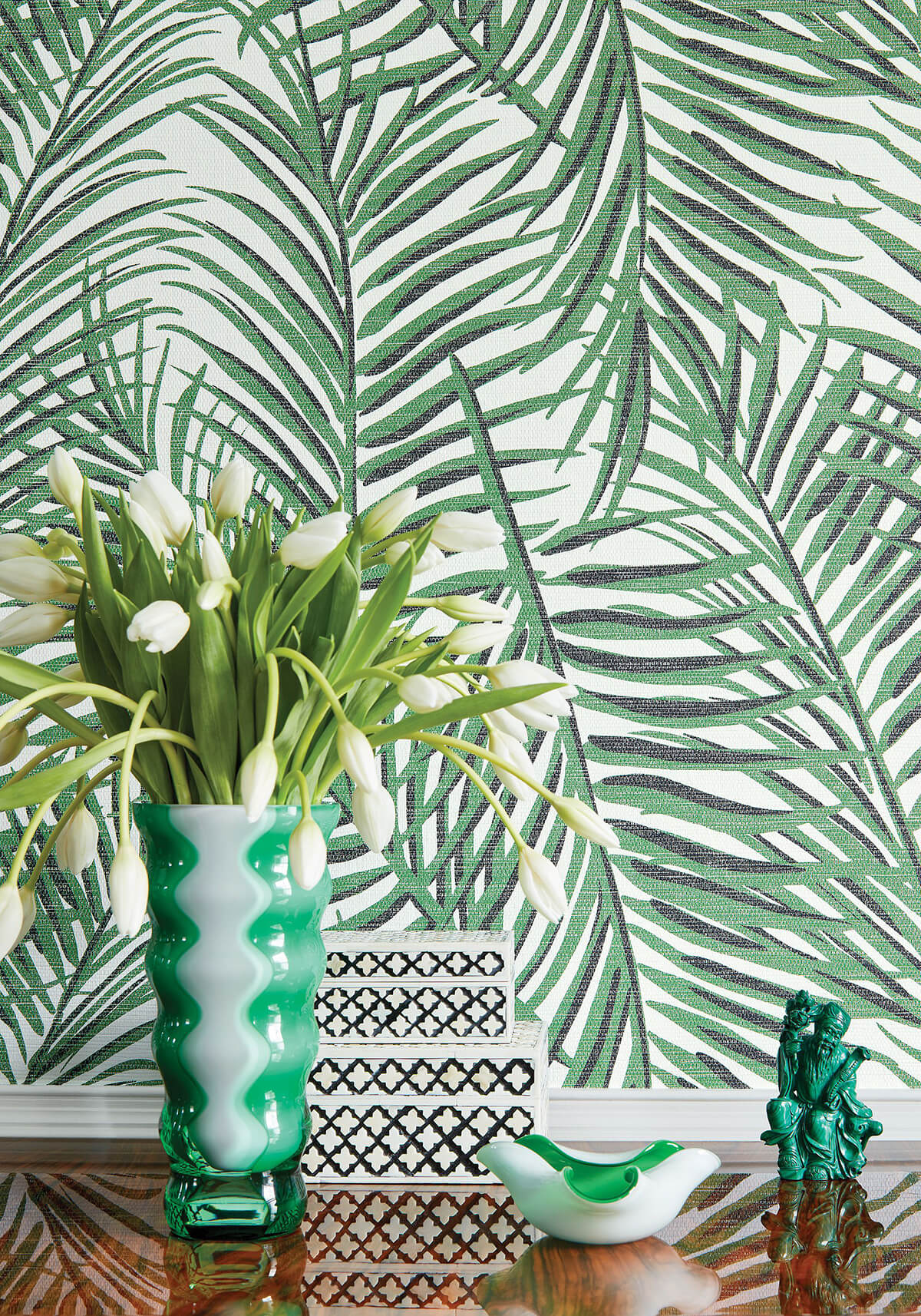 If you are ready to bring your lime green dreams to fruition, consider installing dramatic wallpaper. Edged in black, large green palm fronds contrast in the best way on a white background. A subtle canvas texture makes it a great way to finish your space. Use large panels to define a focal wall or in smaller strips to refresh furniture. The palette will harmonize perfectly with all of your other favorite green decor. Pair this wallpaper with wicker, beige, wood, and candlelight to bring the wild outdoors inside. For even more leafy goodness, hang a mirror on the opposite wall.
10. Shabby Chic Fork & Spoon Set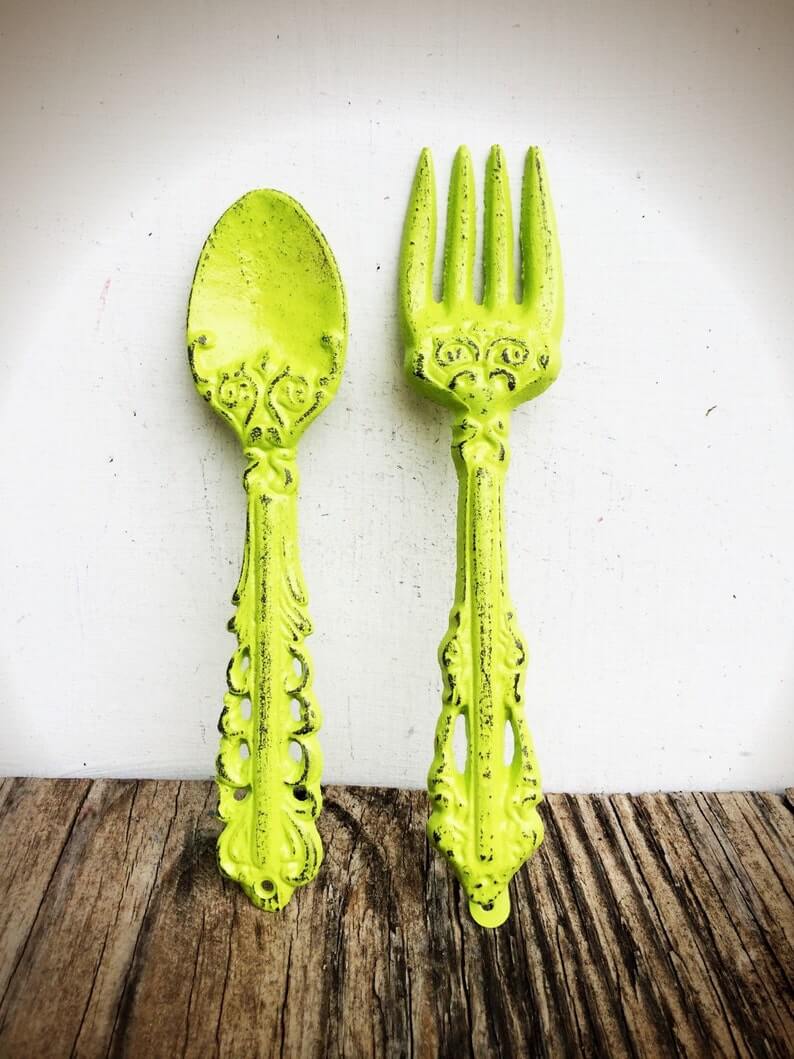 This fork and spoon set is the perfect way to set the mood for your dining room or kitchen. After being painted lime green, they are lovingly distressed to emphasize the ornate details. Add them to your walls to add some shabby chic flair that ties into the rest of your decor. They even arrive with lime green screws so as not to break the illusion. Of course, you could display them flat on a tabletop or console table if desired. If you are not sure about screwing them into the wall, imagine screwing them into a wooden picture frame.
11. Midcentury Modern Lime Green Planter Pot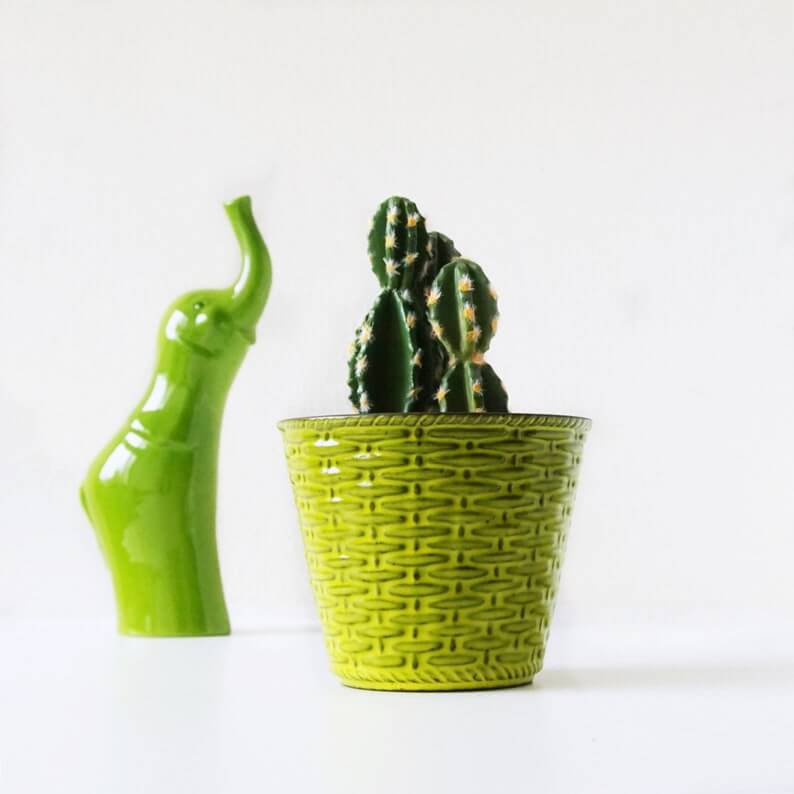 Deck out your midcentury modern space with this authentic planter pot made in Europe. To achieve a dimensional wicker effect, the lime green glaze is just transparent enough to give a glimpse of the darker clay beneath. Although this planter was made when midcentury modern reigned supreme, it is versatile enough to work beautifully in nearly any space. The wicker effect would make it the perfect lime green accent in a modern farmhouse aesthetic. Bright green means it will blend seamlessly into a Bohemian space. Display it with dark blue accessories, and it is just right for a coastal theme.
12. Lime Green Geometric Disc Wall Art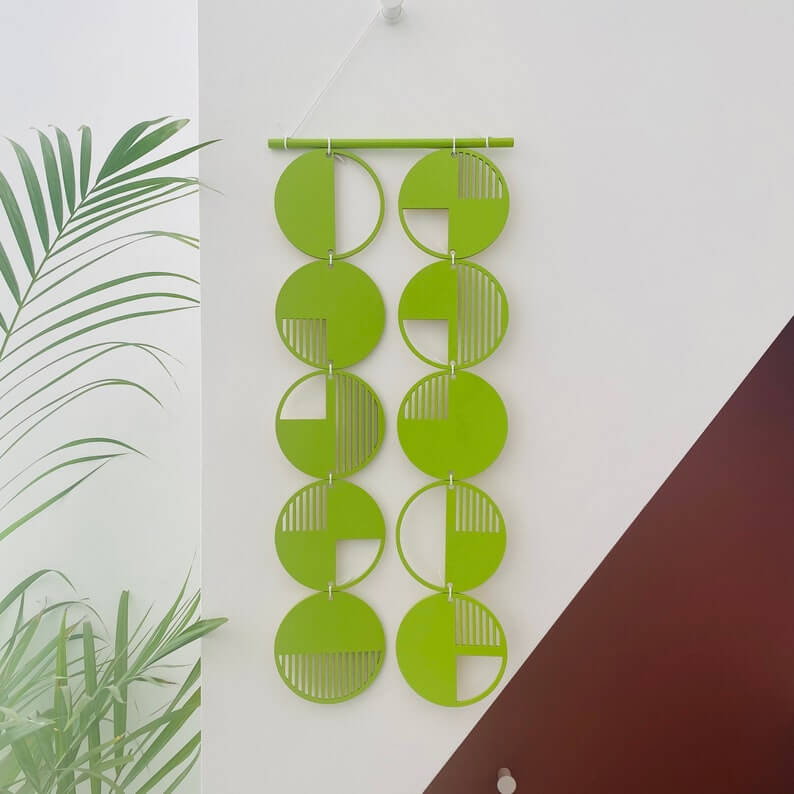 Made from laser-cut birch wood painted an electrifying lime green, these unique wall art discs are a great way to fill in any blank spaces on your walls. Depending on where you hang them, these discs are interesting enough to shine as a focal point or help add another layer to your lime green ambiance. To keep them as the center of attention, pair them with darker greens and neutrals. Because of the laser-cut silhouettes, these discs reach their full potential when hung on a solid-colored wall. The three-dimensional aspect provides some interesting shadows that will shift as light changes.
13. Sassy Cast Iron Sign in Lime Green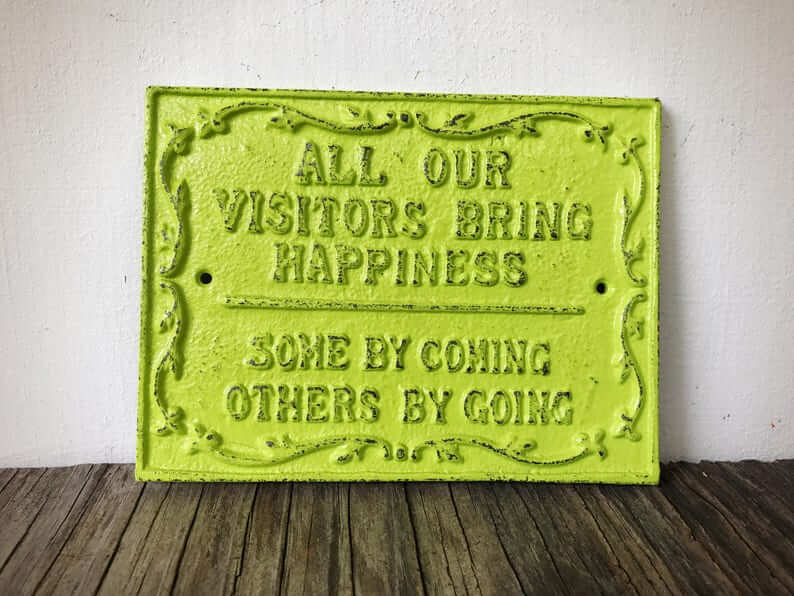 Because this sign is both humorous and bright green, it will lighten up your space in two ways. Although this sign's tongue-in-cheek humor does not appeal to everyone, it has a lovable flippancy that is just right for certain spaces. Hang it somewhere to remind yourself that there is joy in every situation – it just depends on your perspective. Made from sturdy cast iron, the sign is painted and then distressed to give it some interesting character. A clear sealant means you can hang it inside or outside. Framing the text, an elegant vine pattern gives it a vintage vibe.
14. Lime Green Pineapple Damask Pillow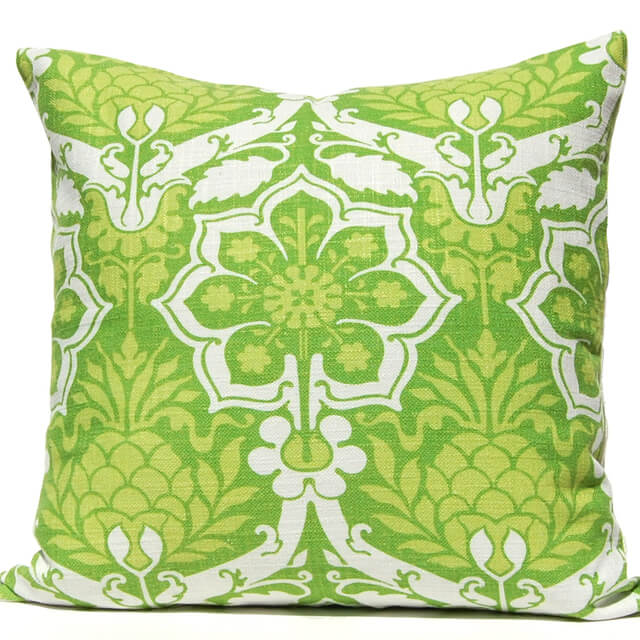 Upgrading your pillows is one of the fastest ways to give your space a lime green facelift. With playful pineapples pirouetting across it, this pillow is an excellent choice to add some playful whimsy to a room. Finding a balance between energy and elegance can be challenging, but this pillow manages it with ease. The tropical vibrance energizes while the ancient damask style adds a sense of gravitas to your decor. Pair this pillow with other tropical colors, dark wood finishes, and natural materials for an exotic jungle feel. Alternatively, use this pillow can jazz up an Old World space.
15. Tropical Green Botanical Egyptian Cotton Bedspread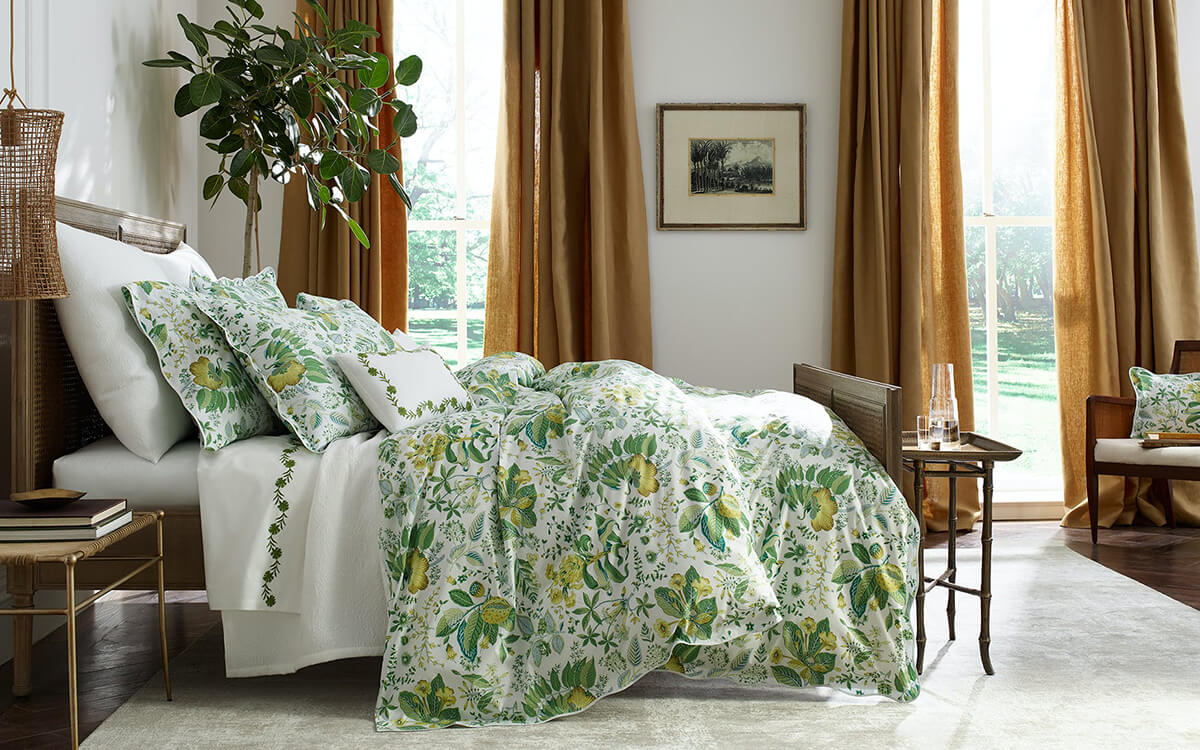 Lime green interior design does not have to be so bright that it hurts your eyes. In fact, if executed correctly, it can be quite classy. Based on a nineteenth-century botanical design, this bedspread is an easy way to refresh your space. A vivacious bedspread pattern helps to define the space. Made from the finest 500-thread count Egyptian cotton, this bedspread is as comfortable as it is beautiful. To add grace and nuance to the overall effect, the edges are finished in a very slight scallop. Display it with as much or as little lime green as you like.
The Top 15 Best Lime Green Home Decor Ideas to Make Your Home Feel Like Paradise
With its many possibilities, lime green can make so many interior design dreams come true. Spicing up a neutral space only takes a few lime green accents, but those accents make all the difference. If you already feature an audacious color in your theme, you can still use lime green to build an exhilarating ambiance. To feel more connected with nature, try layering many shades of green in a single space.
Which textures you use with your lime green home decor can make a big difference in your overall feel. Rough, natural textures, when paired with lime green, give you a taste of the wild outdoors. By contrast, smooth, silky lime green elements feel urbane and sophisticated. Use solid blocks of lime green to draw attention and energize a space. For a subtler, more nuanced feel, stick with botanical patterns and slender lime green lines. With a little finesse, you can harness the best lime green home decor ideas to fit your space for a truly unforgettable paradise.