Choosing the right lighting for your living room is easy when you know how different fixtures function and how their placement can enhance a room's décor or illuminate a focal point. You want to choose from a variety of floor lamps and tabletop models to ensure that your room is properly illuminated and accessorized. The right lamps can create a mood, soften a hardscape, or add drama to traditional, contemporary, modern, or eclectic interiors.
26 Beautiful Living Room Lamps that are Functional and Aesthetically Pleasing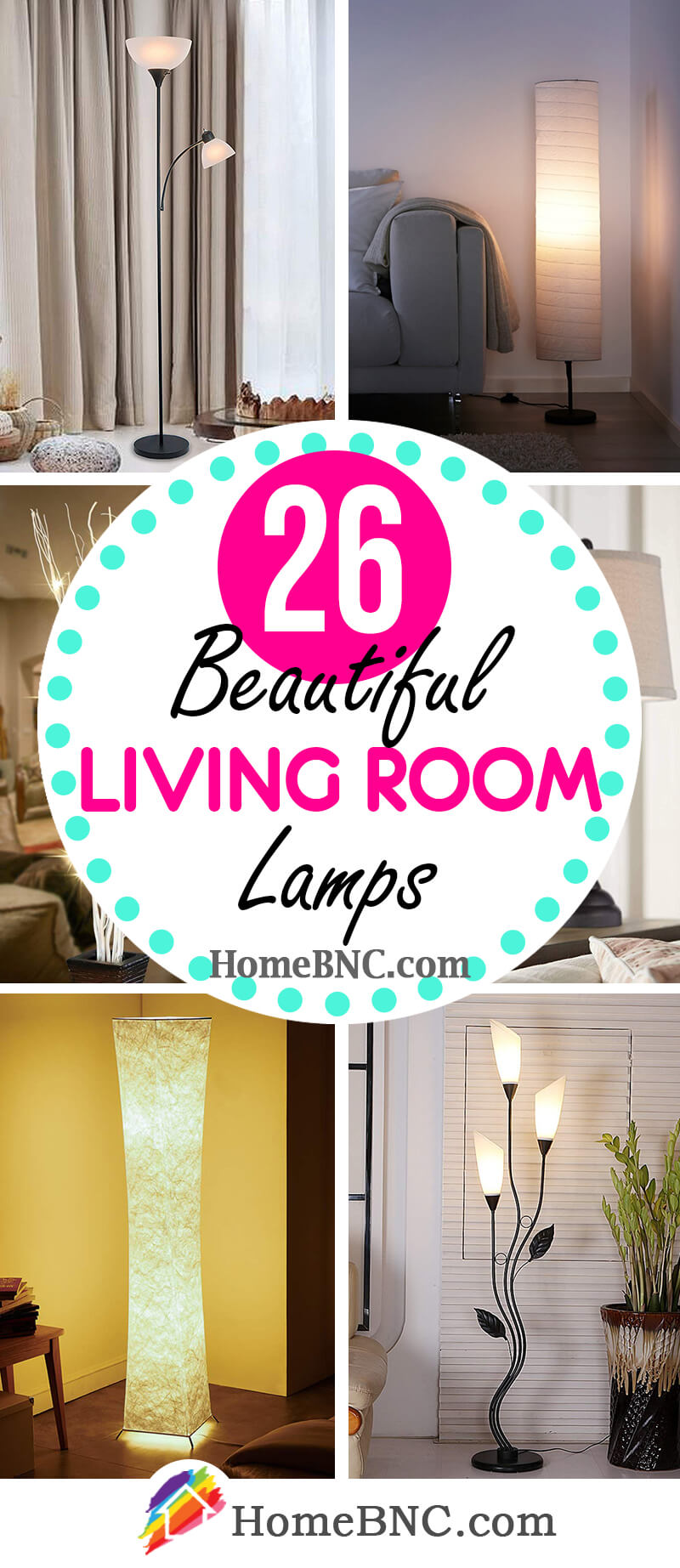 The key to choosing the best living room lamps for your home is to make sure you have fixtures that are not only aesthetically pleasing but also functional and efficient. Choose floor lamps for ambient lighting and to aid in illuminating larger spaces, along with overhead fixtures. Ambient lighting can be important for guests and families, especially older adults, to feel comfortable in your living room without facing a harsh glare or a room full of dark shadows. Ambient lighting helps set the mood for your home and offers guests a warm and inviting atmosphere.
The right task lighting is important to illuminate areas that require brighter light for working, reading, or crafting. Children need task lighting to do their homework, dad requires task lighting for reading the newspaper or a book, and mom will appreciate task lighting that is beautiful and functional for knitting or scrapbooking.
Finally, the best living room lamps for accent lighting can turn a space into a work of art. Accent lighting like strategically placed wall sconces, organic twigs, or sculptural wrought iron fixtures serves to enhance a home's décor and turn an ordinary interior into something that's extraordinary. Whenever possible, use accent lighting to create a focal point and add visual interest.
While there is a myriad of fixtures, the best living room lamps fall into three major types of lighting: ambient, task, and accent. Ambient lighting floods your living room with uniform illumination and helps anchor large pieces of furniture like sofas, tables, and chairs. Task lighting is used in small spaces to illuminate areas you might use for activities require extra focus, like cooking, sewing, crafting or scrapbooking. Accent lighting is used to brighten a corner or spotlight a favorite painting or wall art. All three types of lighting are necessary to design the interior of your living space. Here are 26 models of floor lamps and tabletop fixtures.
1. An Elegant Torchiere Makes a Modern Statement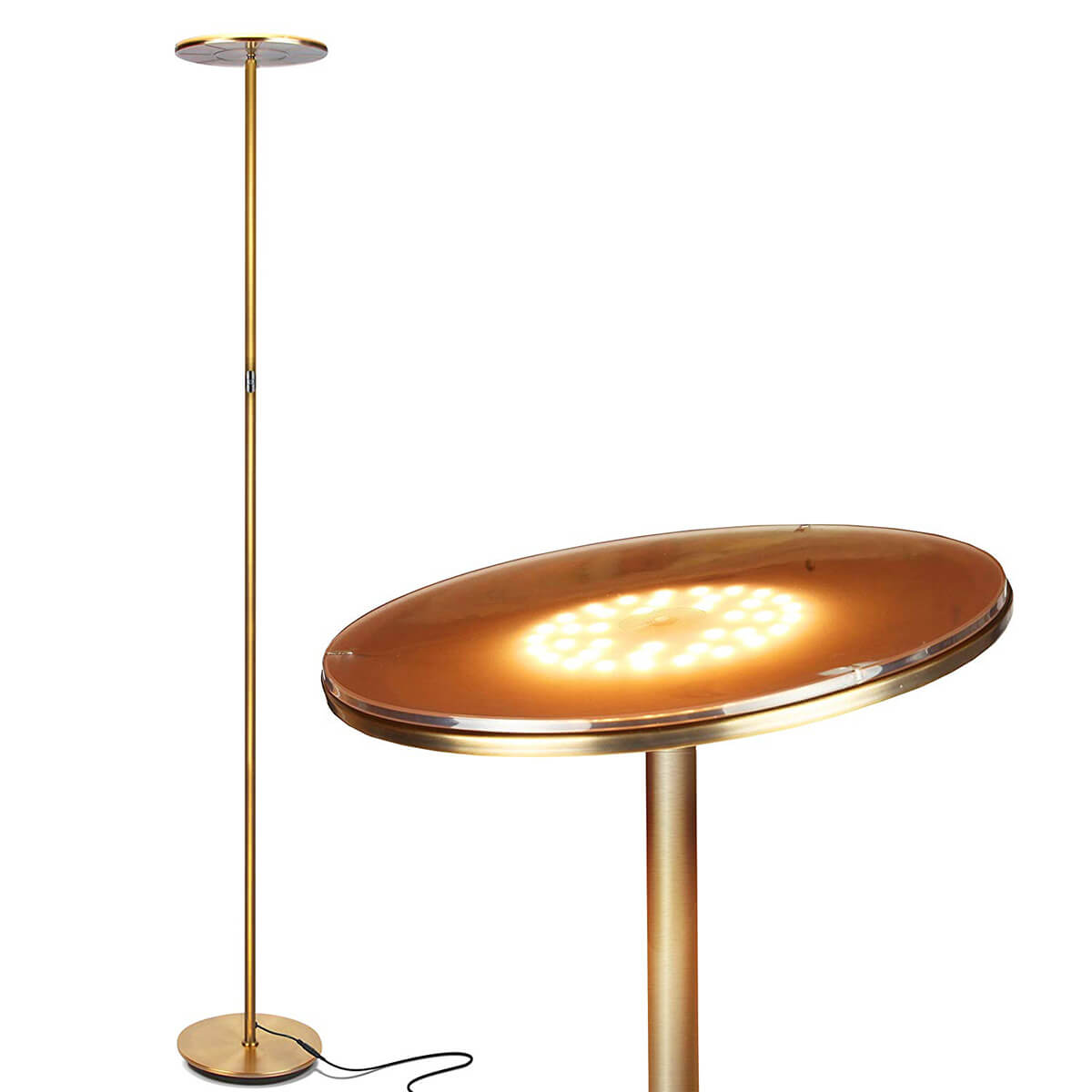 If you love modern interiors, this elegant LED torchiere is sure to please. Designers crafted a sleek torchiere on a reed-thin pole to focus upward and outward and flood your living room with ambient light. What could be more understated than a single disc of light balanced at the end of a copper-hued metallic pole? Tiny LED bulbs offer a source of light without adding heat. The torchiere can be adjusted to varying heights and the disc tilts to focus an up light where you want it.
2. Form Meets Function for Long Range Style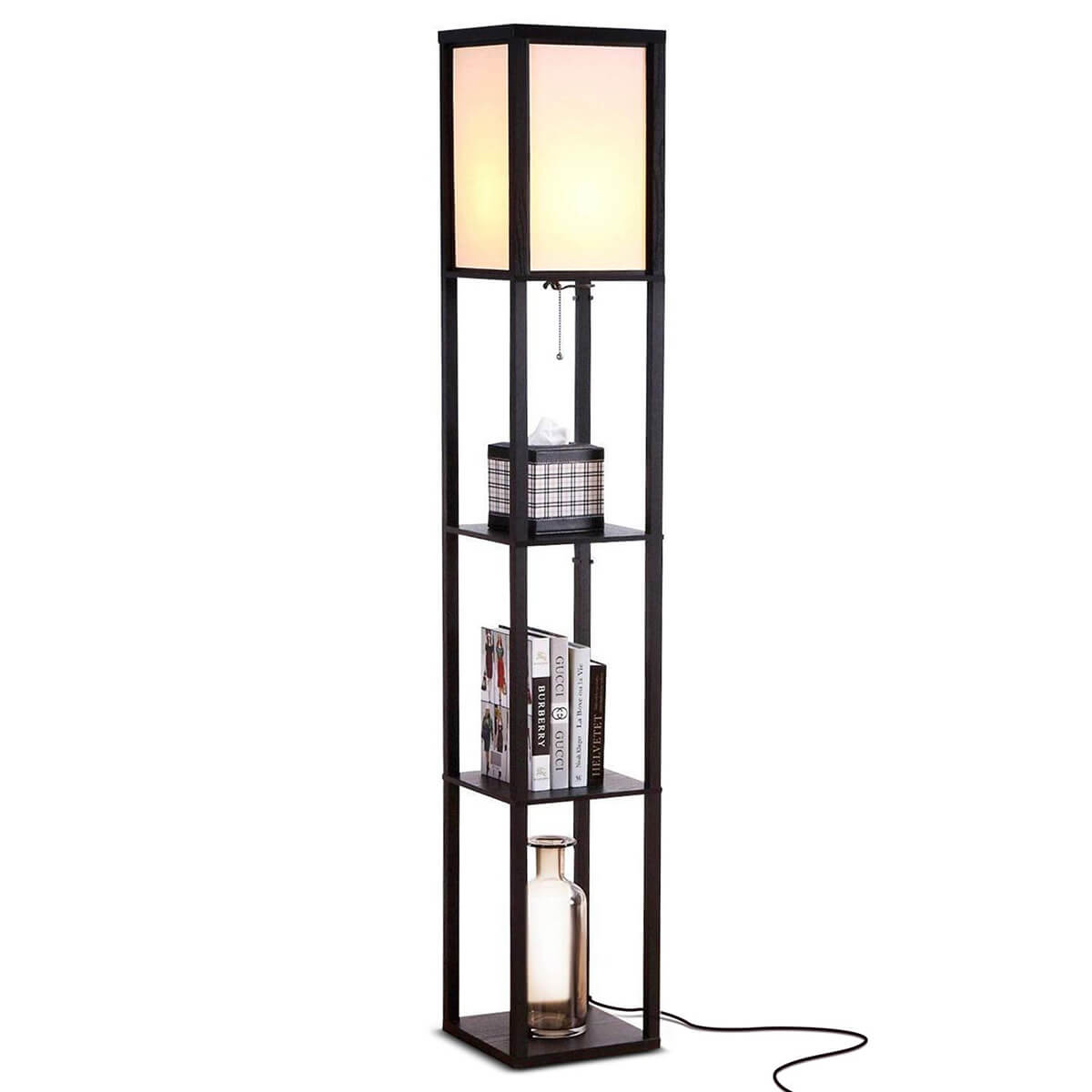 This freestanding light fixture combines form with function to create a rectangular etagere with open shelving crowned with a rectangular lamp reminiscent of a Japanese lantern. Who doesn't crave extra storage space? This unique etagere does double duty as a floor lamp and side table storage for books, knick-knacks, magazines, or crafts. Not only does this floor lamp look amazing but it also complements your traditional, modern, and contemporary décor.
3. Create a Sculpture from a Column of Light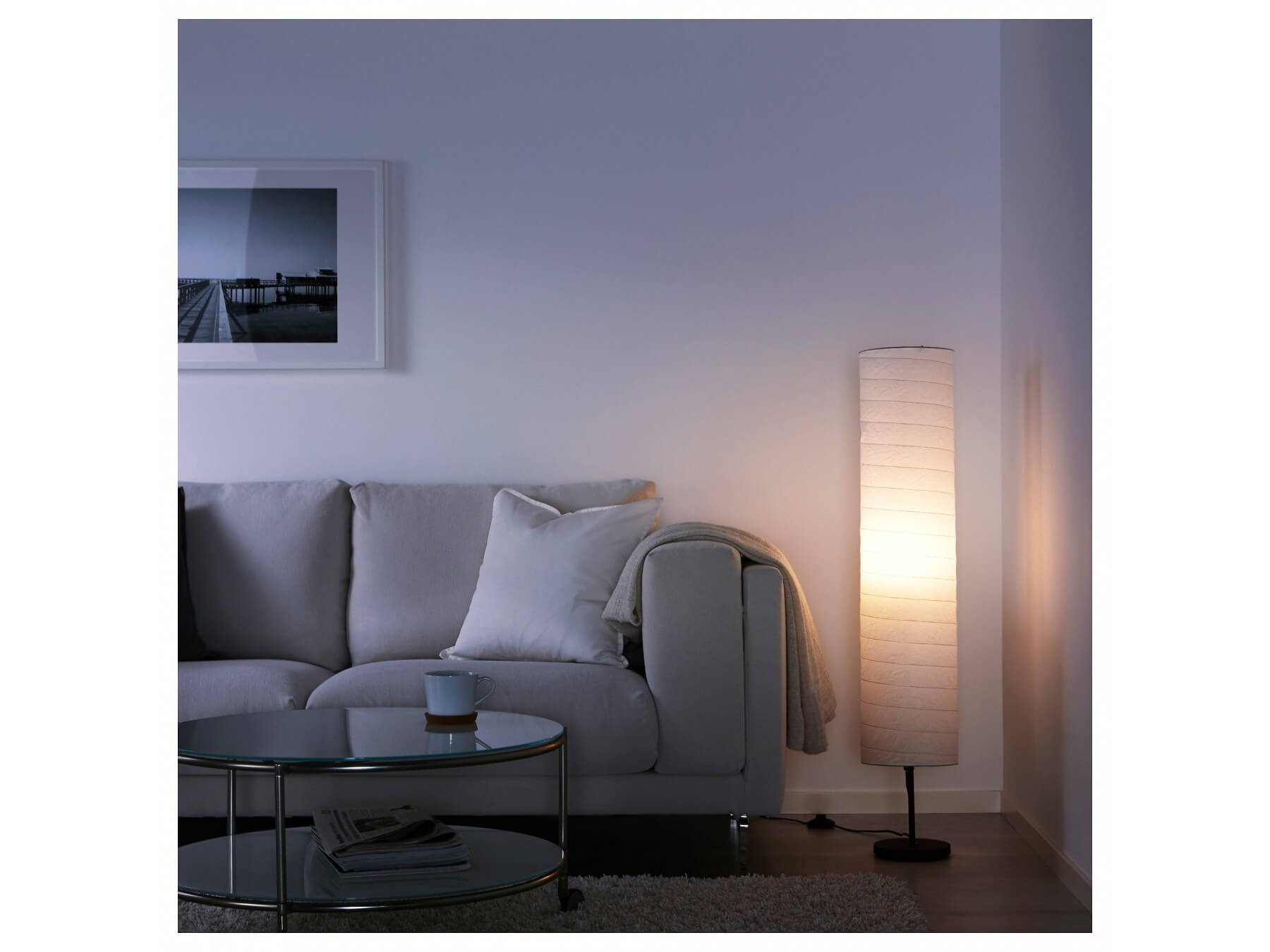 A vertical cylindrical column of pure ambient light brightens a corner and adds an intriguing accent to any décor. The column becomes an ethereal design element and can be moved to any part of the living room or grouped in threes for a one-of-a-kind conversation piece. Clad in a textured fabric, this 4-foot column of light is portable and fully weighted to resist tipping over. Why not let your imagination run wild and group three to five of these light columns in front of a wall to create a sculptural statement piece and add visual appeal?
4. A New Take on a Classic Side Table Lamp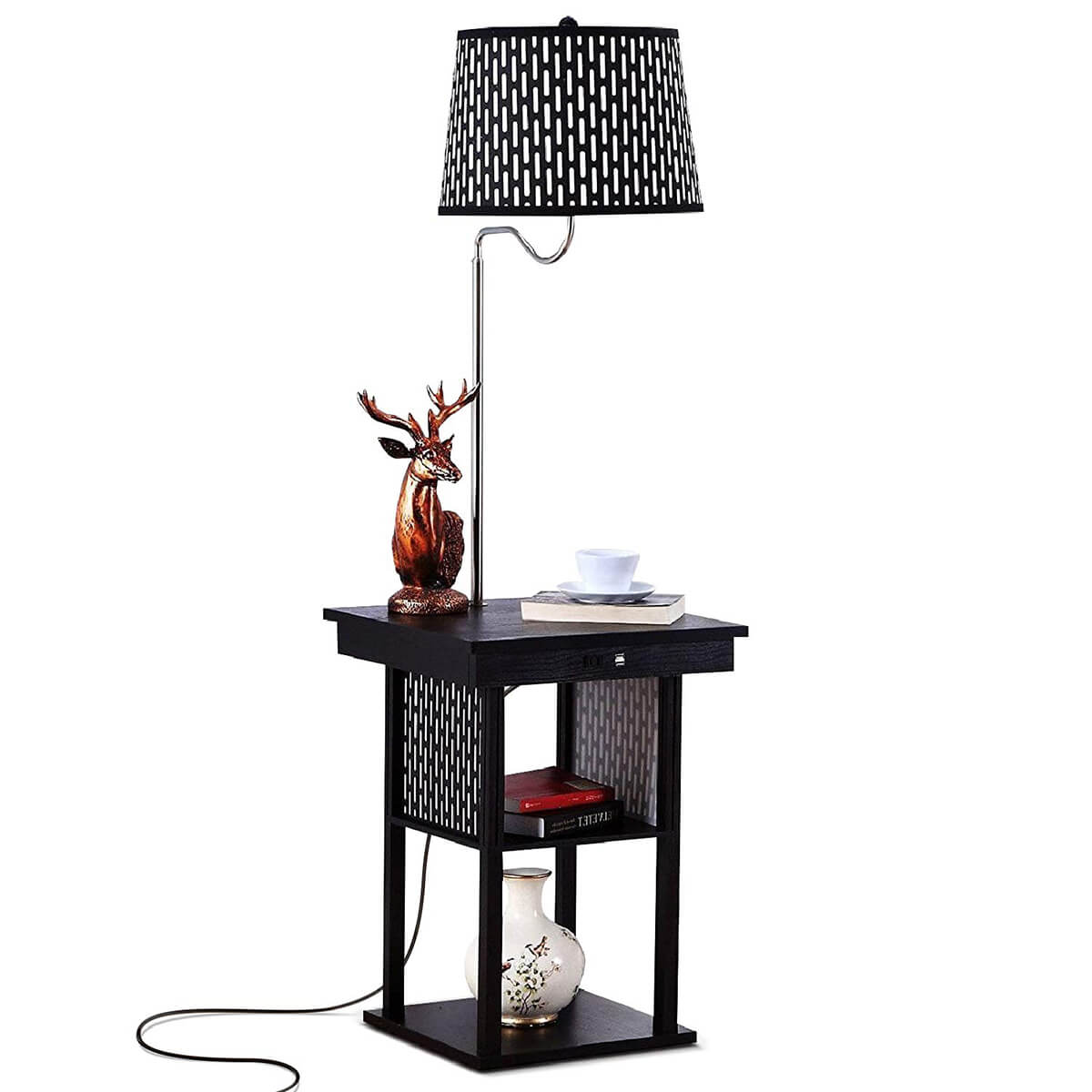 Lighting designers have taken a classic side table lamp and added a new twist with chrome accents, a pull-out drawer, two handy shelves, and a snazzy lampshade in black and white woven fabric. This side table lamp does double duty as an end table and a task light for reading on the sofa on a cold winter night. The ebony wood finish complements almost any décor and adds visual interest to your living room. Buy a pair to place on either side of a sofa or next to matching easy chairs.
5. A Circle Within a Circle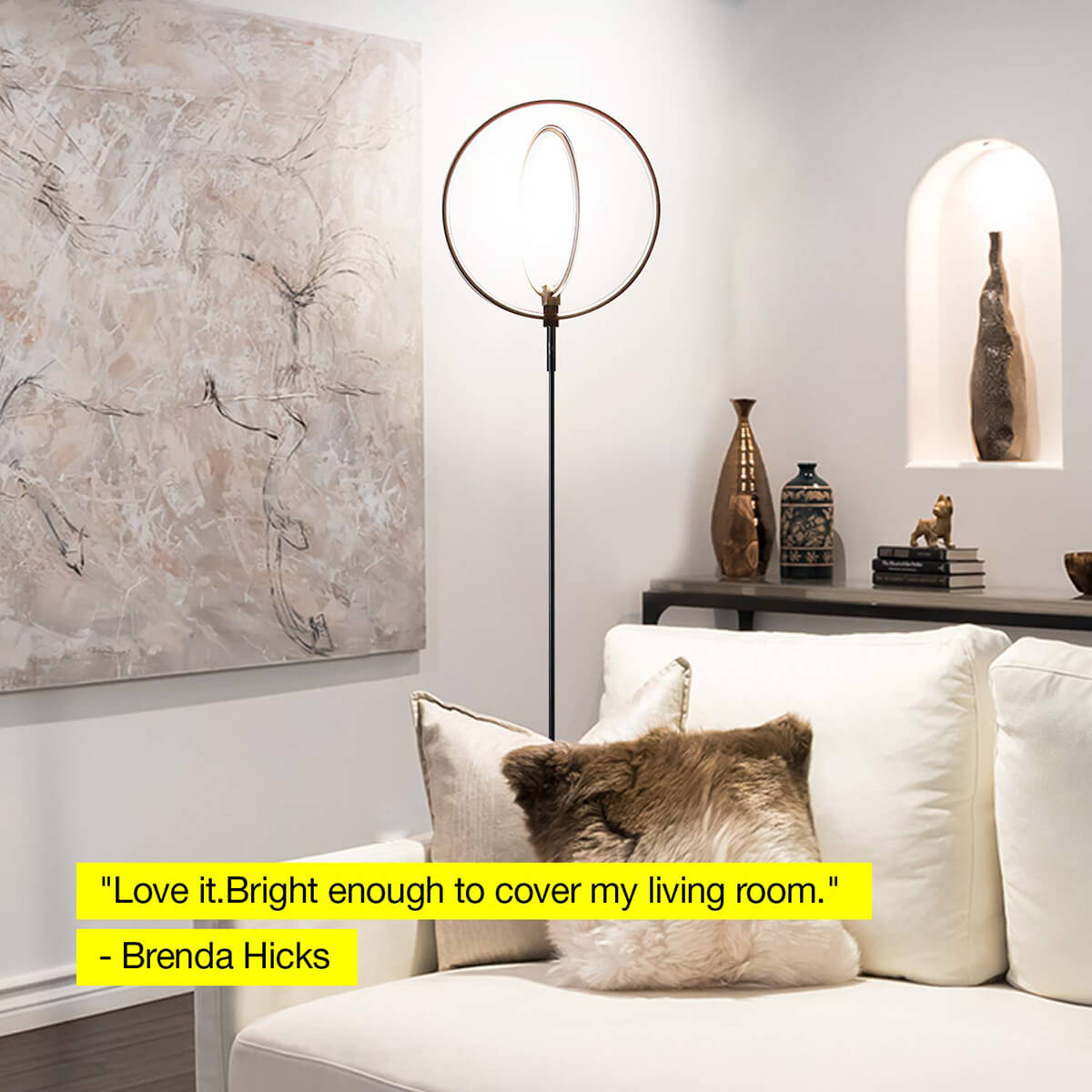 This uniquely designed torchier lamp is the perfect complement to living rooms from contemporary to modern. Looking more like a piece of modern sculpture, an outer circle in gleaming chrome embraces an inner circle of light to add ambient lighting and aesthetic appeal to a distinctive room design. This floor lamp is the perfect complement to a minimalist room with a monochromatic color scheme and clean-edged furnishings. The chrome-trimmed orbs create a halo effect and can swivel for a variation in eye appeal and moved anywhere in your living room for a look that's a showstopper!
6. Natural Elements Add Textural Interest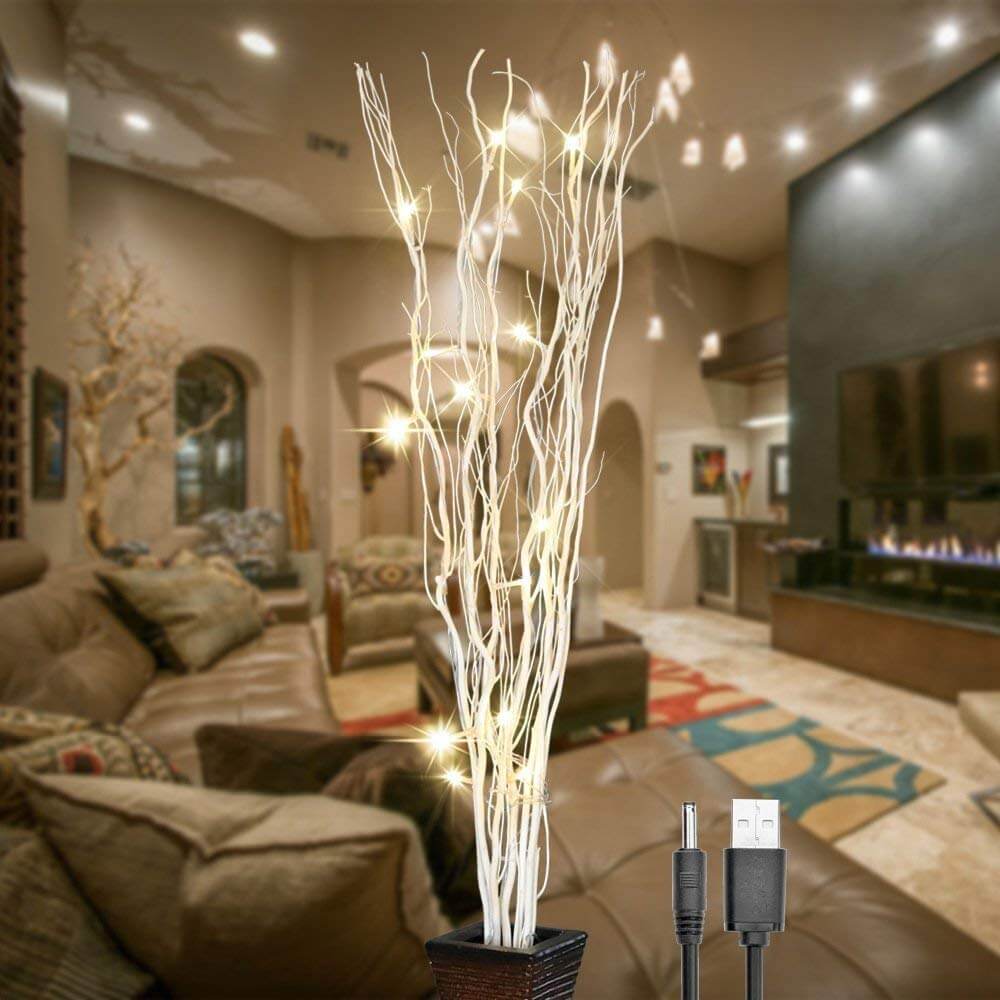 Organic elements add visual appeal and textural interest to any décor. This light fixture is crafted from a real twig, whitewashed and adorned with tiny white bulbs in a black vase. A statement piece that will garner rave reviews, this fixture is a one-of-a-kind accent piece. For added drama, turn the lights off in the room and watch tiny pinpoints of sparkling light play in the dark. A cluster of these amazing fixtures in front of a fireplace, on top of a mantle or grouped along a window would make a stunning focal point in your living room.
7. Mosaic Sets the Mood for a Classic Table Lamp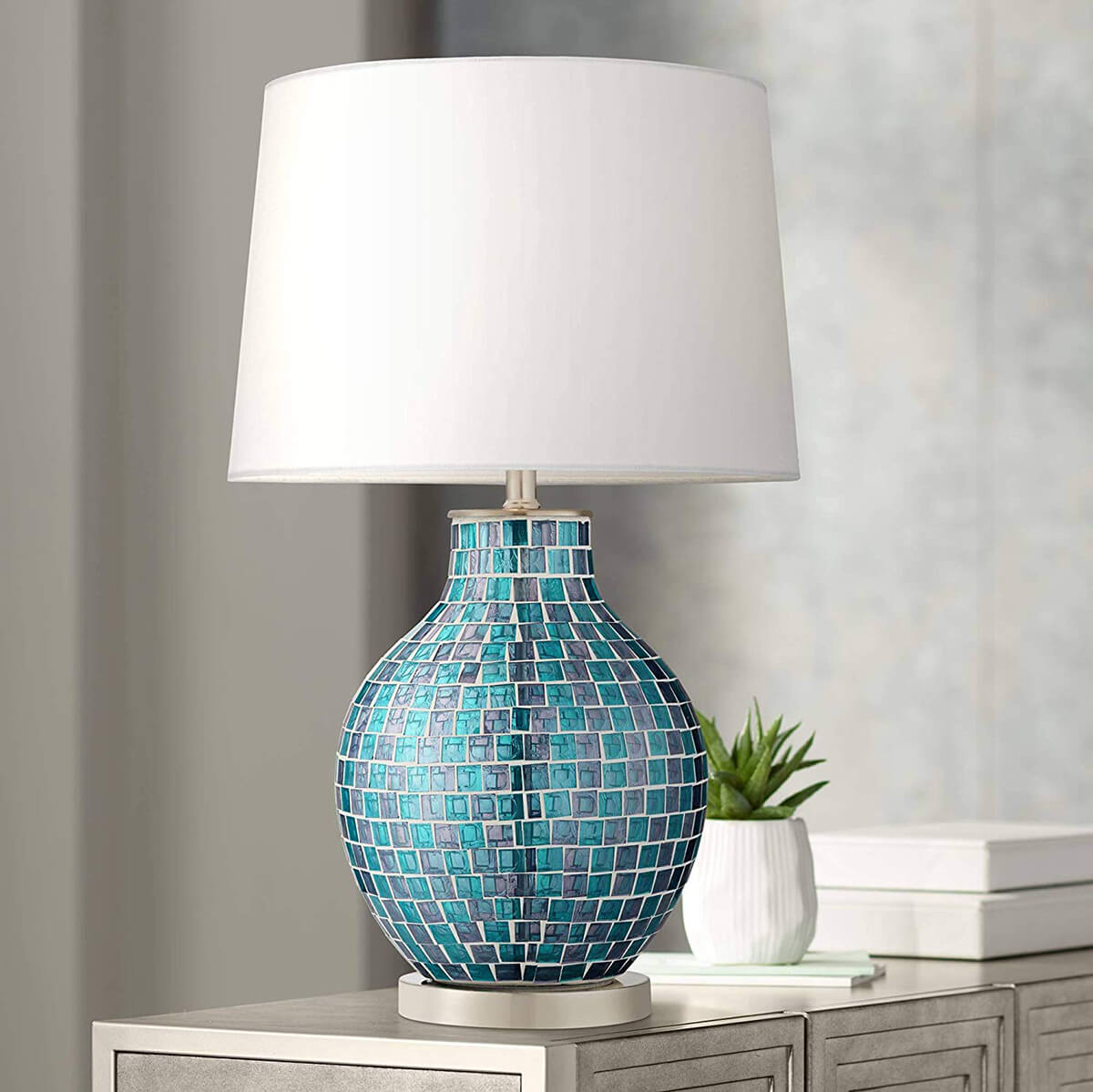 A classic ginger jar silhouette takes on a new look clad in blue-green mosaic tile. The best living room lamps echo styles from yesterday with dramatic elements for today's discriminating homeowner. With a mid-century modern flair, this lamp goes easily from casual to formal and complements nearly any décor. It's a crisp white shade is the perfect accessory for what could readily become your favorite living room accessory. Purchase a matching pair of mosaic lamps to go on either side of your sofa or placed on a credenza for ambient lighting.
8. Torchiere Meets Gooseneck for Versatile Lighting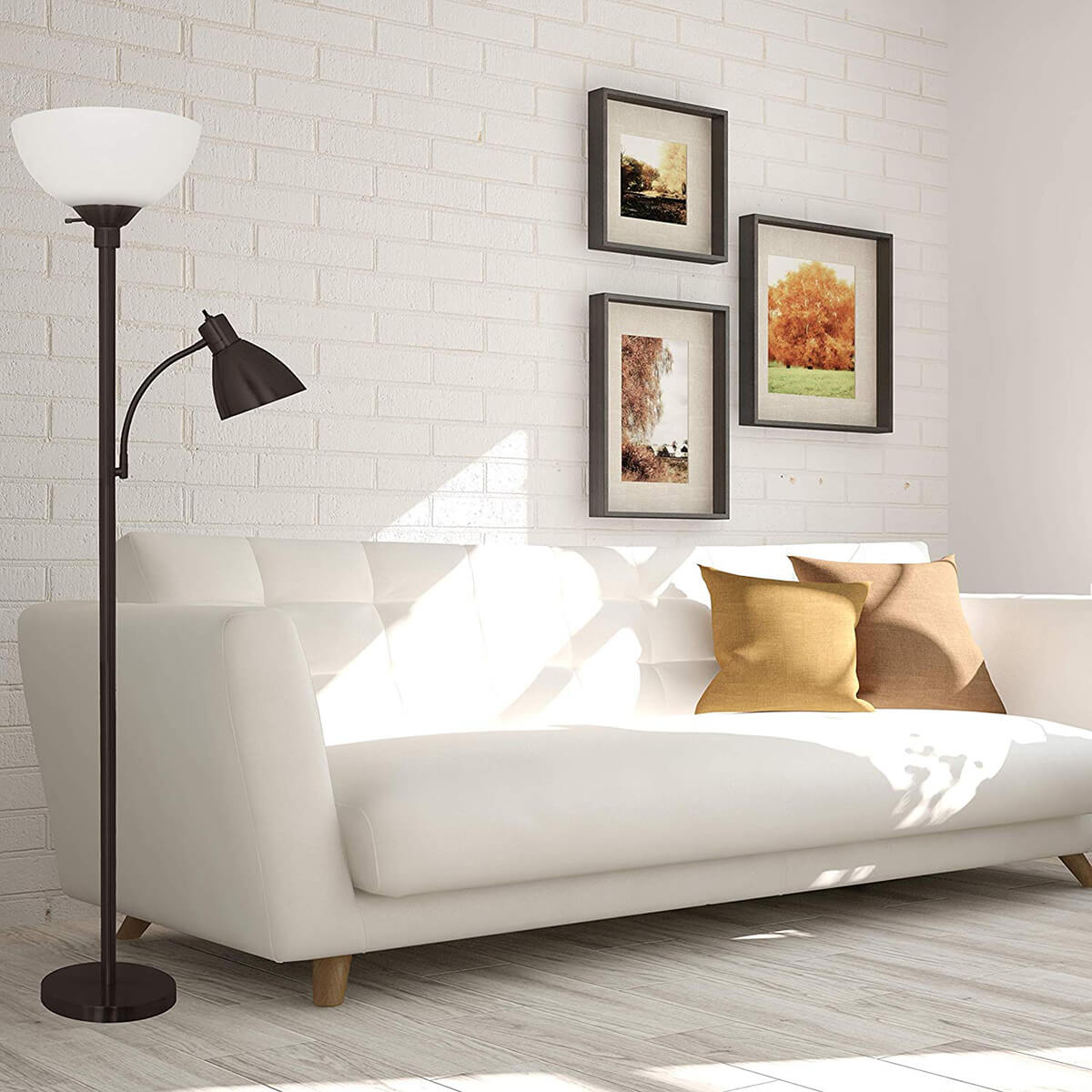 What could be more perfect than two lamps in one? This unique design combines a stately torchiere floor lamp with a weighted base, milk-white globe to flood your space with ambient lighting, and a gooseneck lamp for task lighting, reading, or spotlighting a painting or wall graphic. The best living room lamps are the perfect blend of beauty and versatility and this model delivers both. Constructed of sturdy wrought iron with a durable non-scratch black finish, this lamp complements any décor from modern to contemporary and traditional.
9. Take Task Lighting to a New Level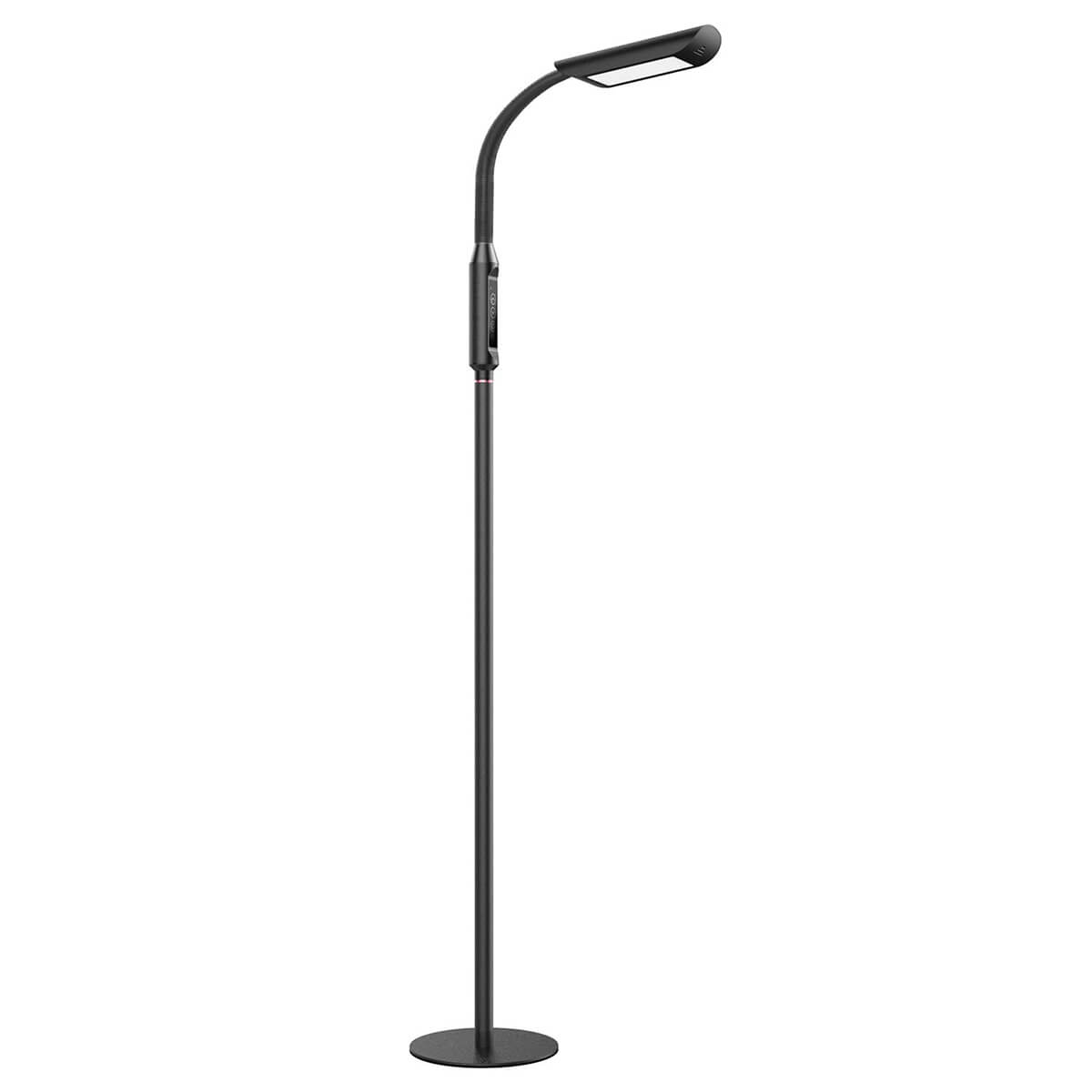 This floor model lamp takes task lighting to a whole new level with a long flexible neck that allows homeowners to tilt the fixture at almost any angle and illuminate any area of the room. The sleek, modern design has an industrial quality without sacrificing beauty and simplicity. Reminiscent of an office work fixture, this floor lamp is a great choice for areas with limited natural light and space. A task lamp with this kind of flexibility, style and poise would be great for a corner workspace or office off the living room, in a home theater, or sewing room.
10. Good Things Come in Threes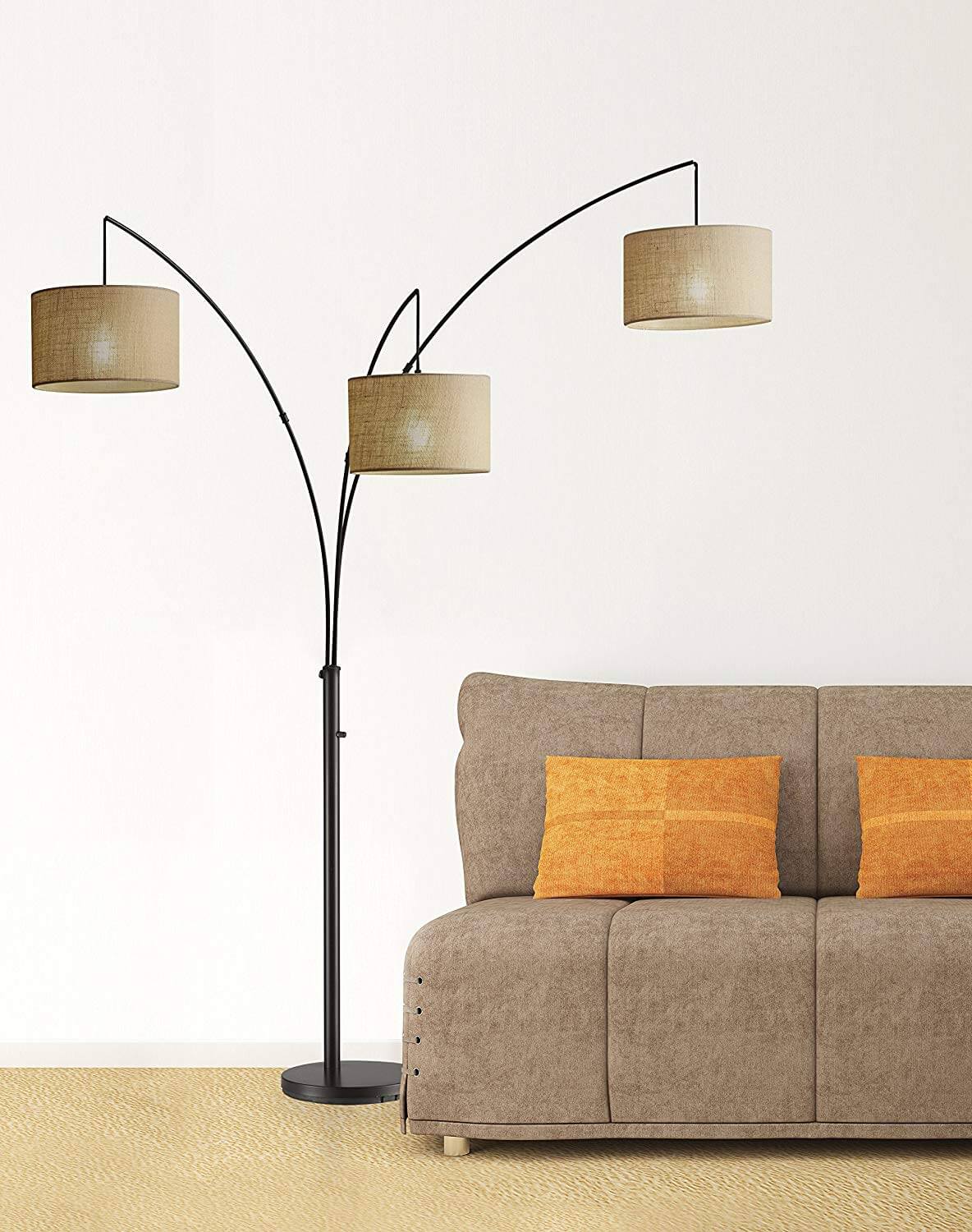 A gorgeous floor lamp with lots of pizzazz, this amazing fixture comes with not just one, but three pendant lamps to bring tons of ambient light to your new living room. If good things come in threes, then this floor lamp brings a triple whammy of style and functionality. The pendants echo mid-century modern and vintage fixtures with a familiar drum shape. The shade is constructed of a tweed fabric reminiscent of the era. You can easily fit this gorgeous pendant lamp into any décor, including modern, eclectic, traditional or contemporary. With clean, sleek lines and triple threat styling, this is one of the best living room lamps on today's market.
11. A Vintage Torchiere Adds a Soft Glow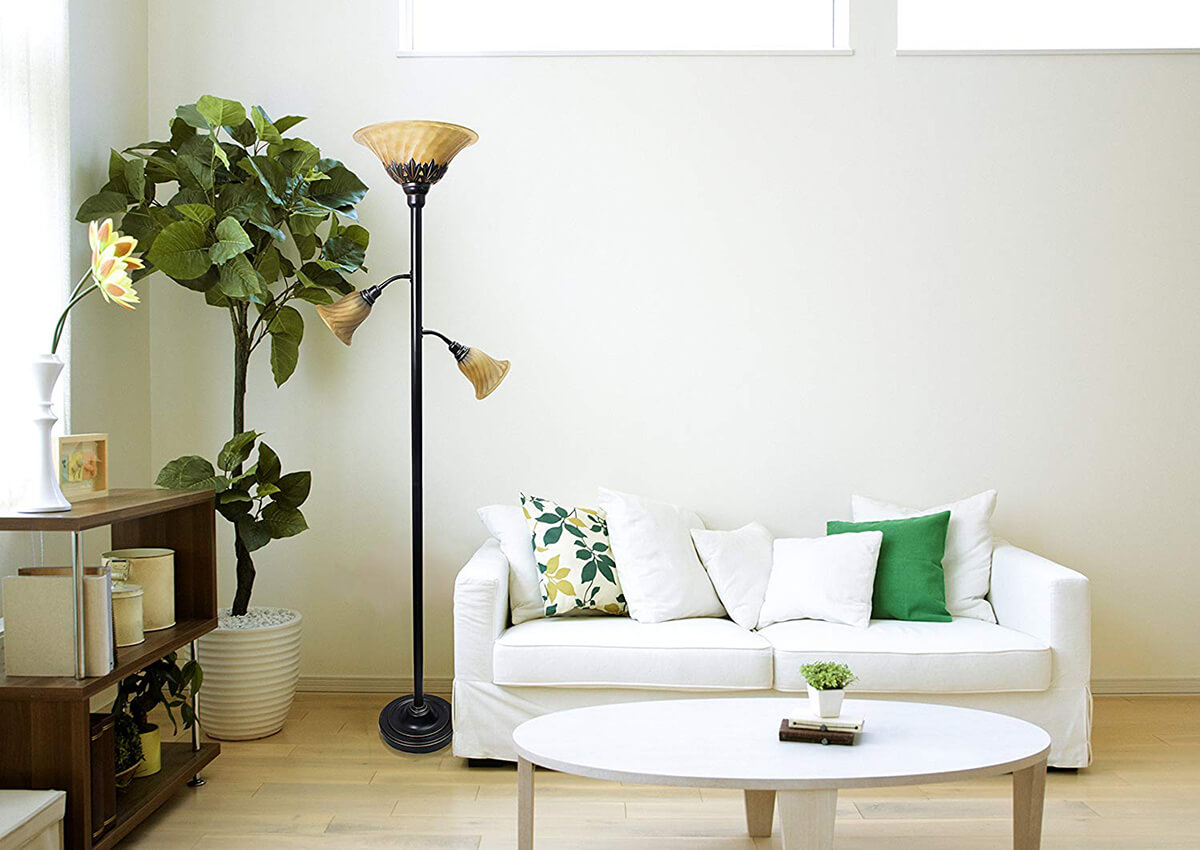 With its rich vintage look and sturdy construction, this traditional torchiere looks like an expensive heirloom. Its swirled glass bowl shade is trimmed in carved brass and seated atop a sturdy oil-rubbed brass pole with weighted base. Secondary lamps provide task or mood lighting for reading or illuminating a dark corner. Convenient switches enable you to turn on each light separately. The best living room lamps emit sufficient light without glare. This model bathes your living room in soft cream-colored light and enhances any color scheme or décor.
12. Crisp Clean Lines for Classic Appeal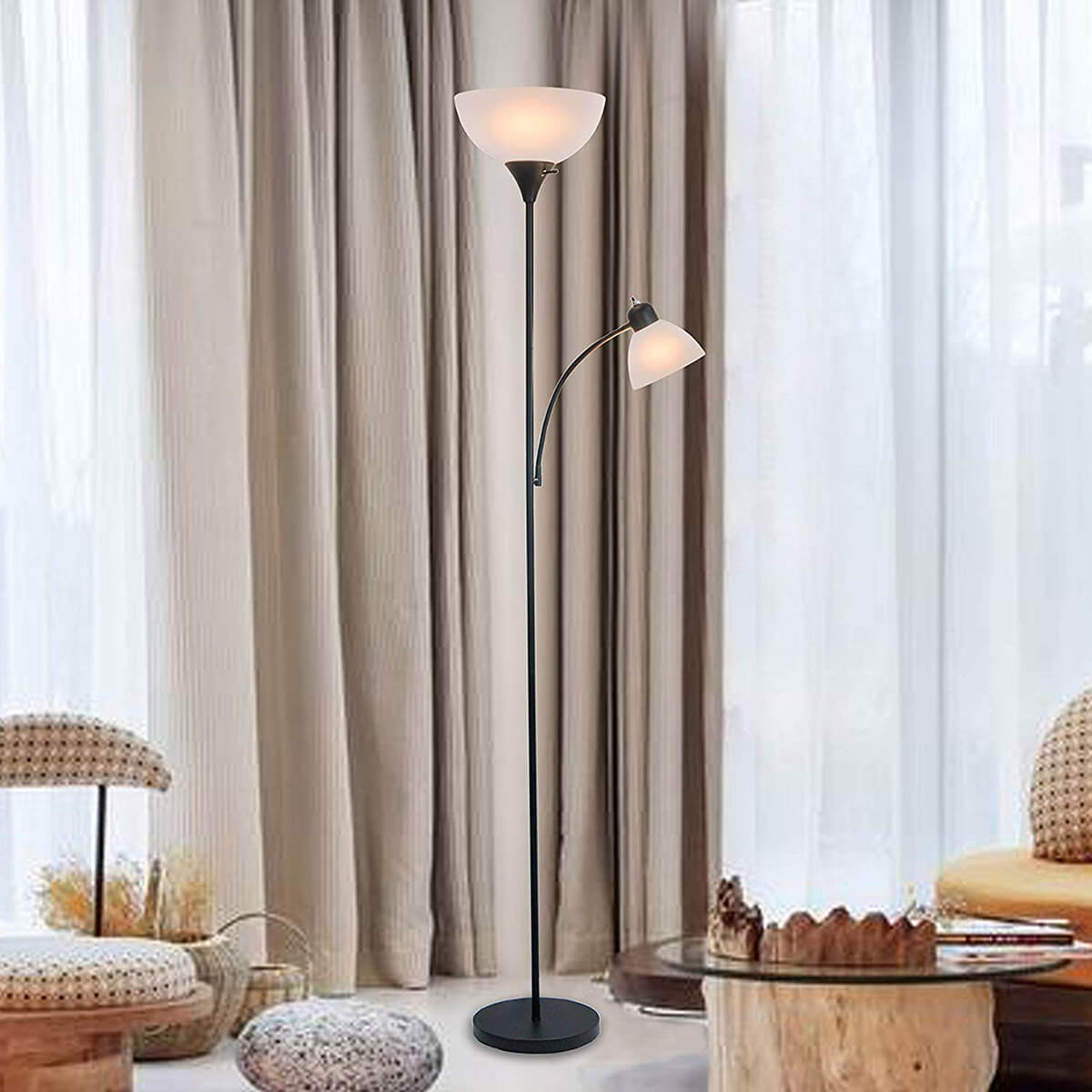 Looking for a minimalist look with high-end style? This two-light model with milk- white large and small globes combined with black metal create a look that's classic and contemporary. This living room lamp has a high-end style and will work well in a living room with minimalist styling. From the center pole, a large bowl shade ascends with a secondary smaller shade hangs from a graceful arc for task lighting or reading.
13. Choose Twin Table Lamps for Twice the Elegance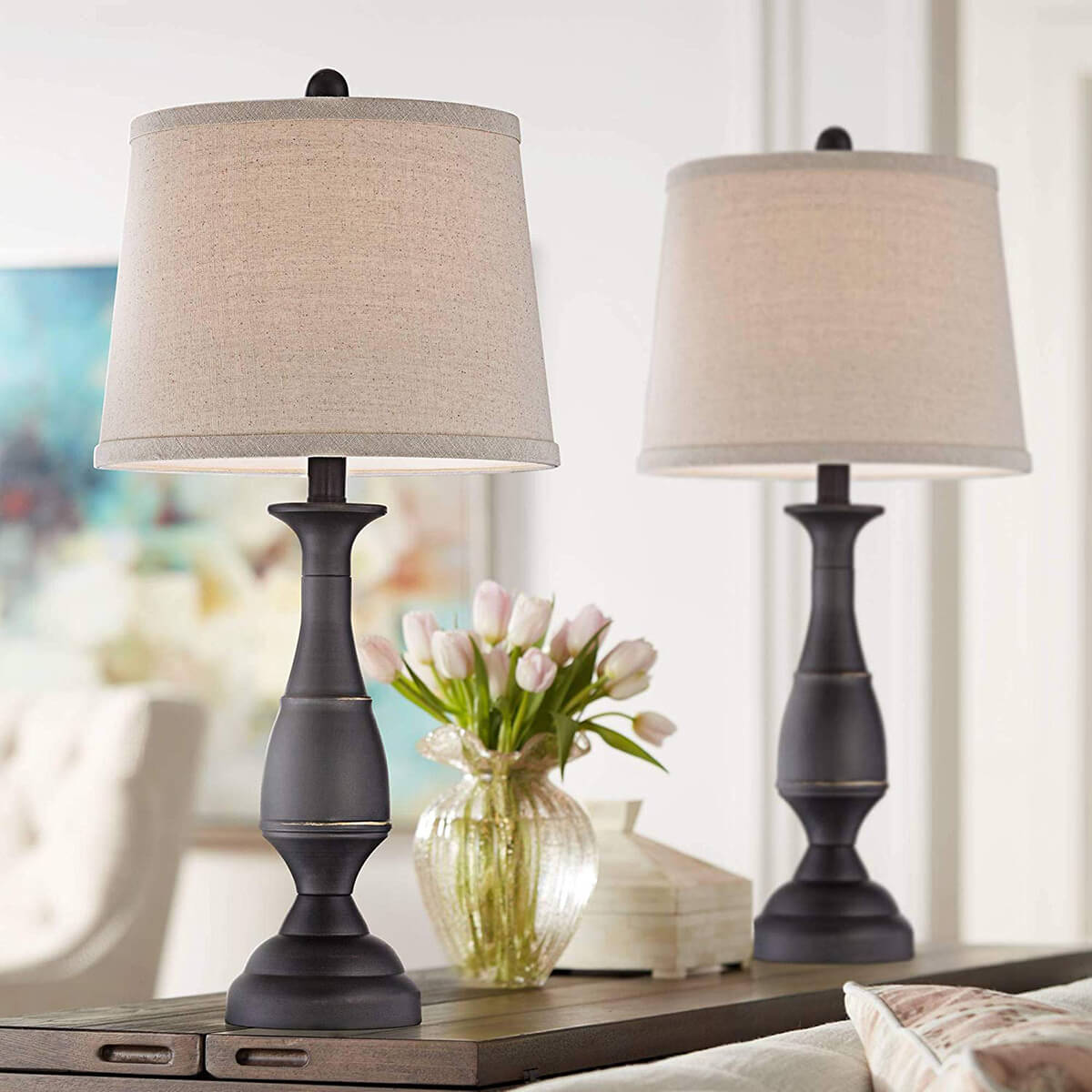 This stately pair of dark bronze lamps with linen drum shades make a definitive style statement. The elegant bronze finish looks like a finely crafted hand-turned corbel. A beige linen drum lampshade is the perfect accent and adds to the pair's styling. These lamps have a formal air but can work well in a traditional or contemporary setting. Place them together on a mantle or behind your sofa or use them alone on a tabletop or to illuminate your favorite wall graphic. The best living room lamps complement a room without overpowering it. This dynamic duo is a wise choice.
14. Nothing Beats a Classic Pharmacy Floor Lamp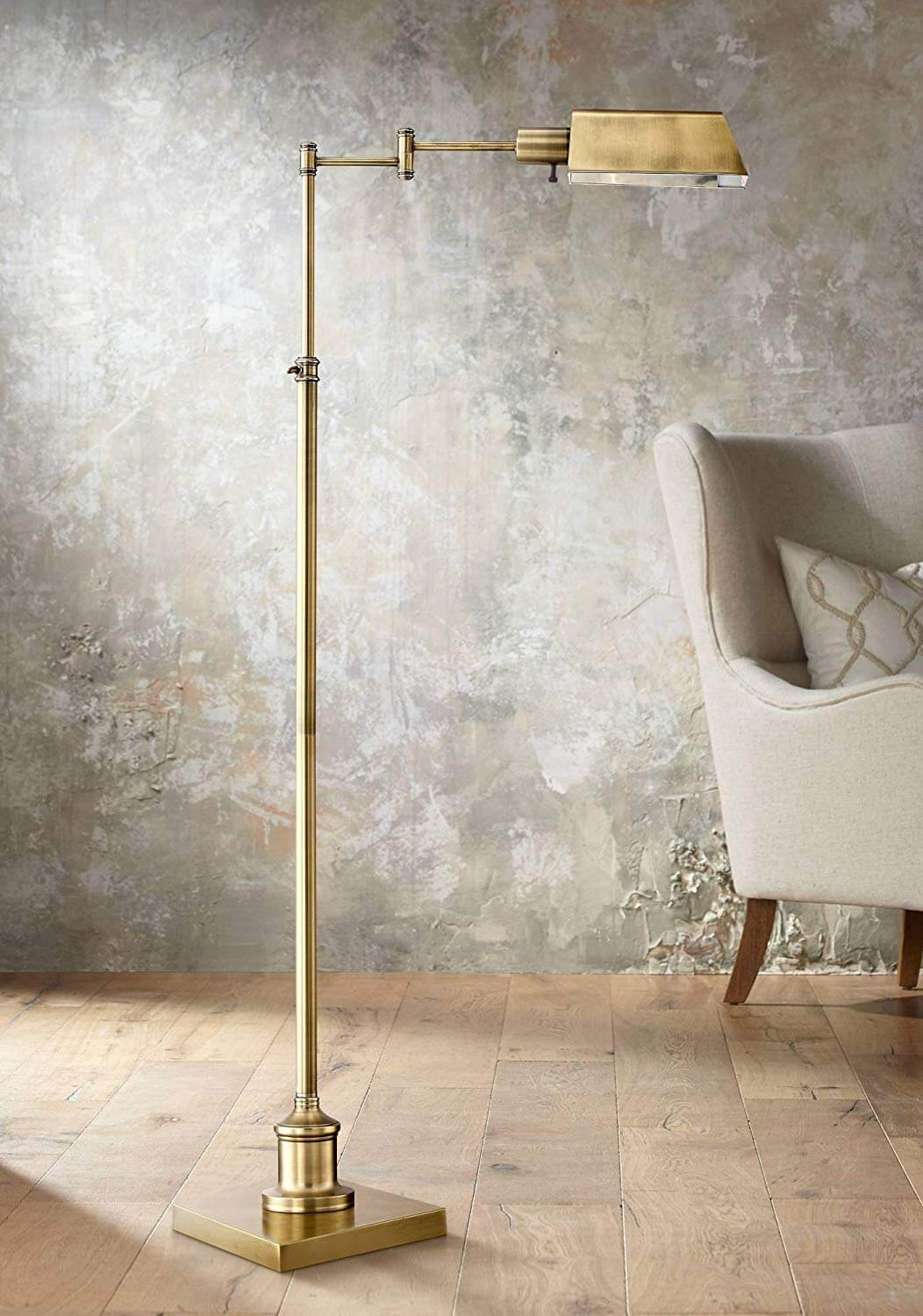 With its distinctive swing arm and antique brass finish, the classic pharmacy floor lamp used to be a favorite for designers and homeowners in the 80s. You can bring back this distinctive style and turn your living room into a state-of-the-art library with this finely crafted reading lamp. When you need a task light that's loaded with functionality without sacrificing style, you can't go wrong with the classic brass floor lamp. Its tented shade with a cool-to-the-touch LED bulb and an adjustable swing arm feature help focus light exactly where you need it.
15. Form Meets Function in a Japanese Inspired Fixture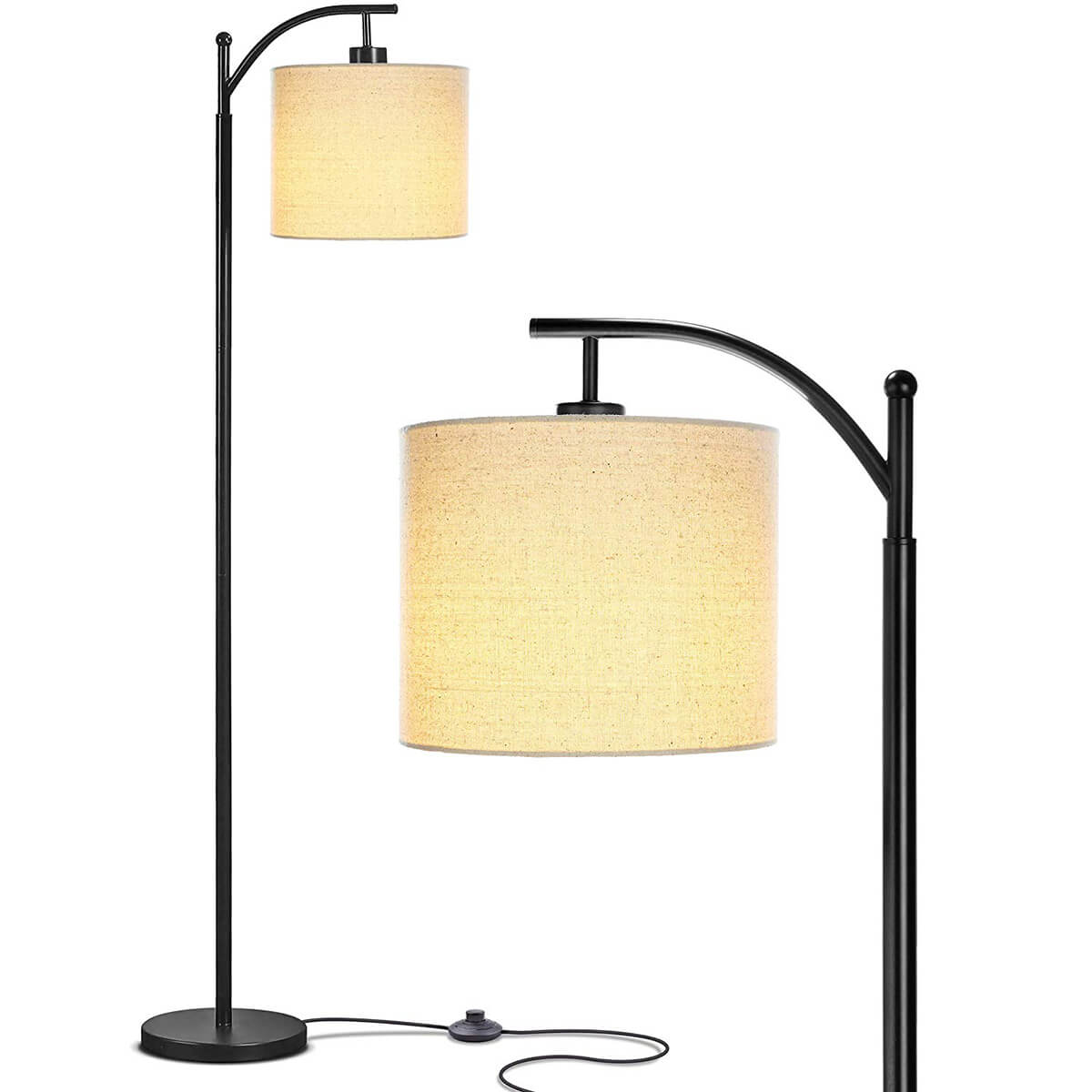 The best living room lamps are a perfect marriage of form and function. Notice how this modern interpretation of a traditional floor lamp uses symmetry to create ambient lighting. Its design is in perfect harmony and exquisite balance. The lamp pole with weighted base ascends to a drum lamp shade hanging from an arch extended from the central pole. Reminiscent of a Japanese lantern this beautifully simple fixture is equally at home with minimalistic décor, industrial interior, modern furnishings, or an eclectic blend of your favorite pieces.
16. A Minimalist Table Lamp Boasts a Digital Element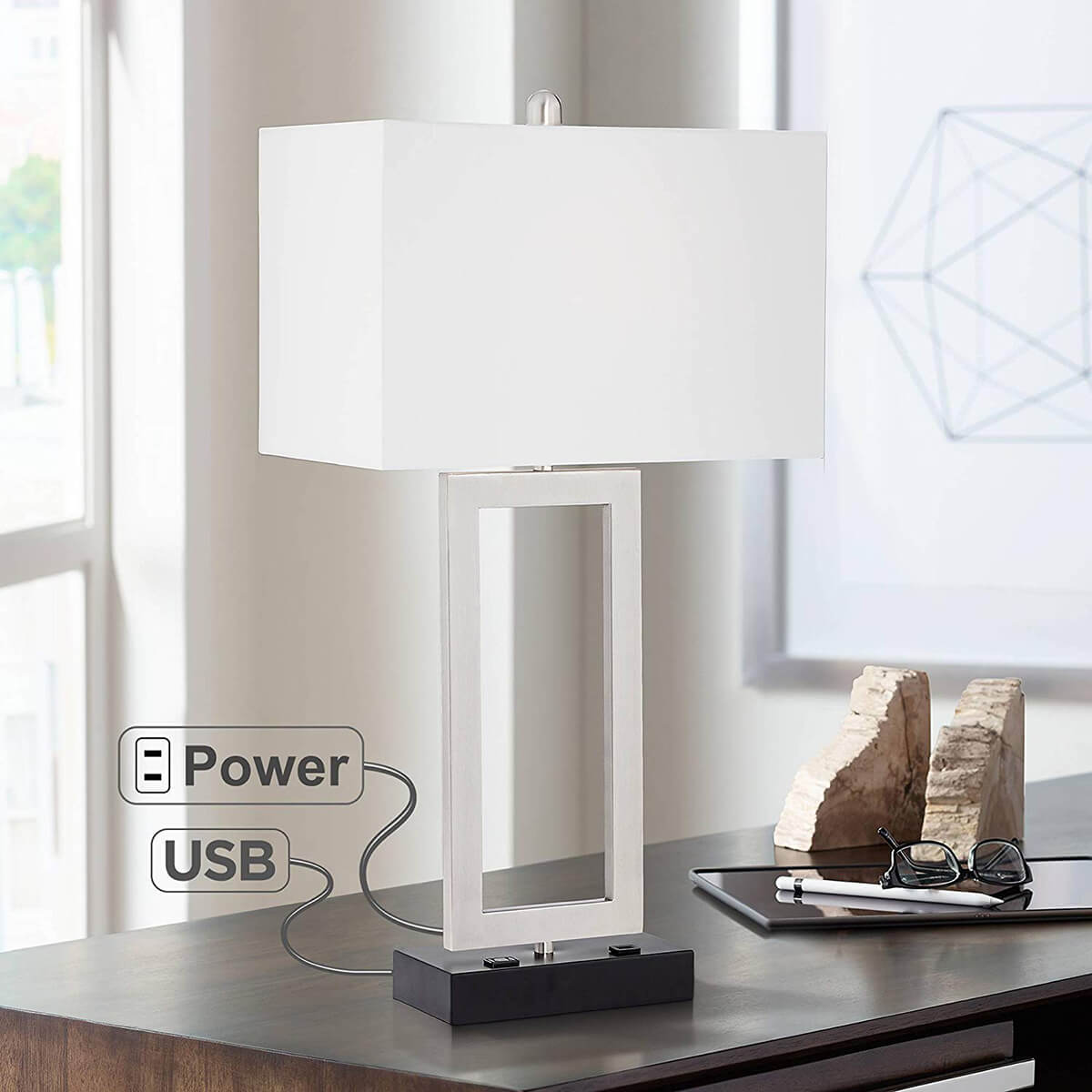 This modern design takes table lamps to a whole new level. Its stunning rectangular design is a work of art and a testament to superior craftsmanship. The designer intrigues the eye with a single vertical rectangle in brushed nickel mounted atop an ebony base. A convenient USB port and an electrical outlet are built into the black lamp base so you can charge a phone, work online, or play video games without leaving the comfort of your easy chair. The pristine white rectangular shade puts a finishing touch on a fashion-forward design.
17. Set the Mood with a Single Column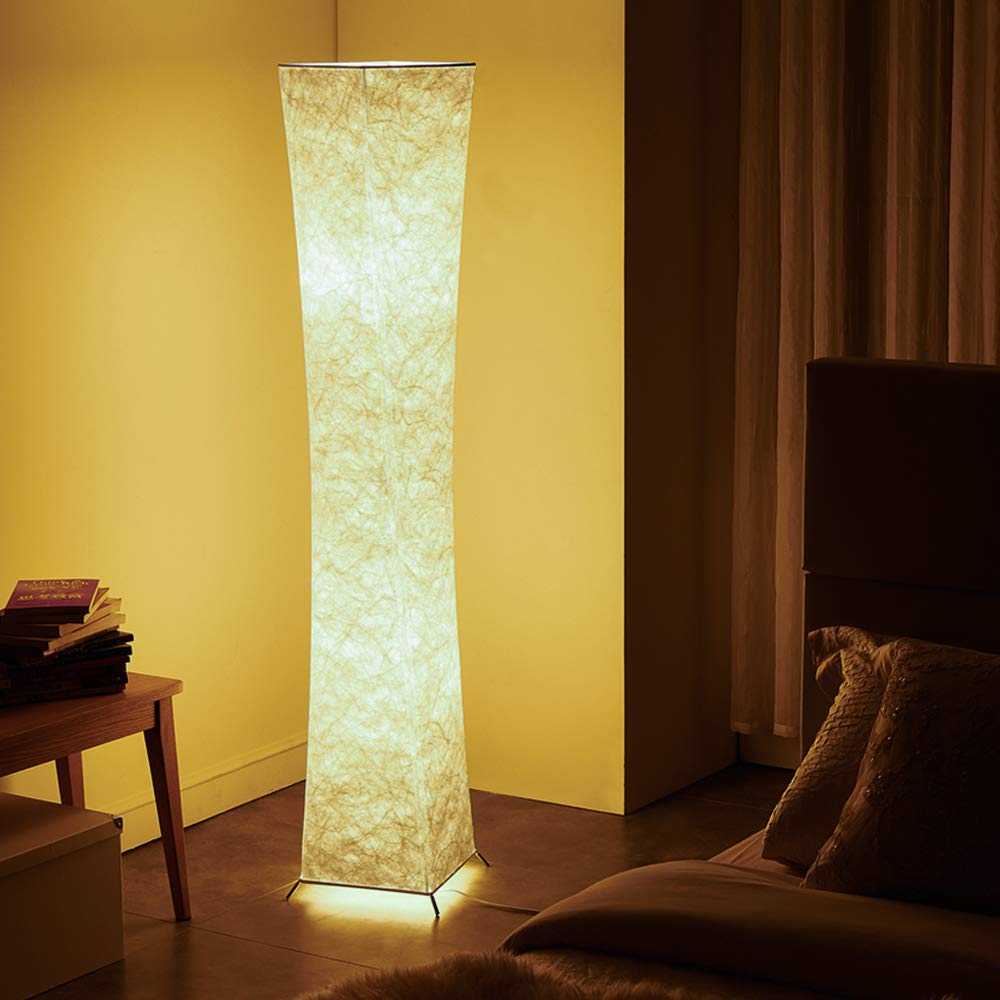 The best living room lamps offer drama and a little fantasy. This 5-foot fabric column is sure to get rave reviews from family and friends. At the touch of a remote, you can change from a warm white to your choice of several mood-setting colors like teal, royal blue, green, red, or magenta. Another touch of the remote and the column turns and twists ever so slightly for a different look. You can use this modern light column in your living room, family room, home theatre, or den.
18. Let There Be Light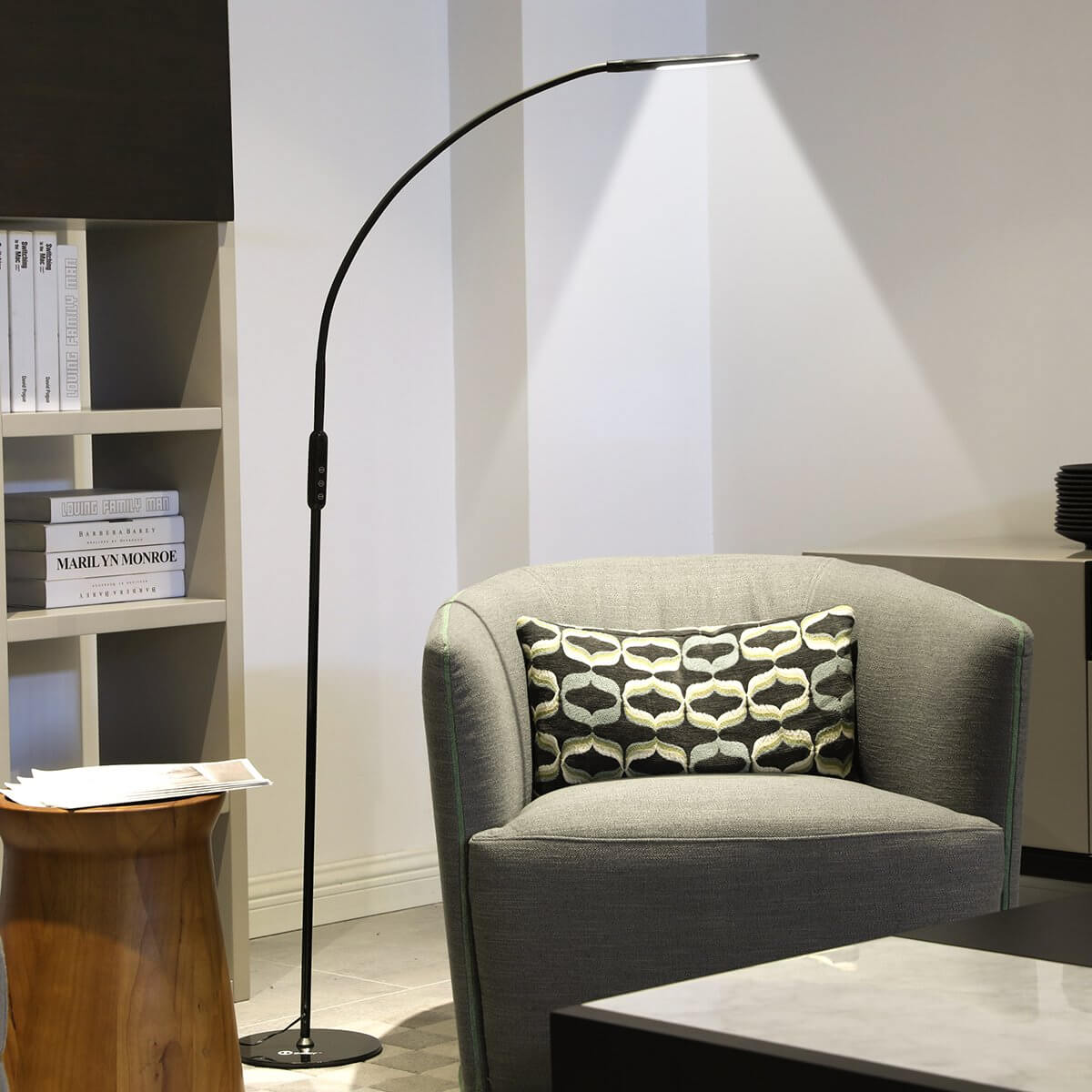 The beauty of this arched floor lamp is not only its unique curved style but also the amount of ambient and task lighting the fixture emits. The LED bulb is cool to the touch but floods the room with soft light. A single arch that seems to defy gravity reaches dramatically overhead to illuminate a dark corner, offer ample light for reading, or focus on your favorite wall art or sculpture. With its weighted base, sturdy construction and distinctive styling, this digital LED floor lamp will find a place in every room in the house.
19. The Mid-Century Tripod Lamp Takes Center Stage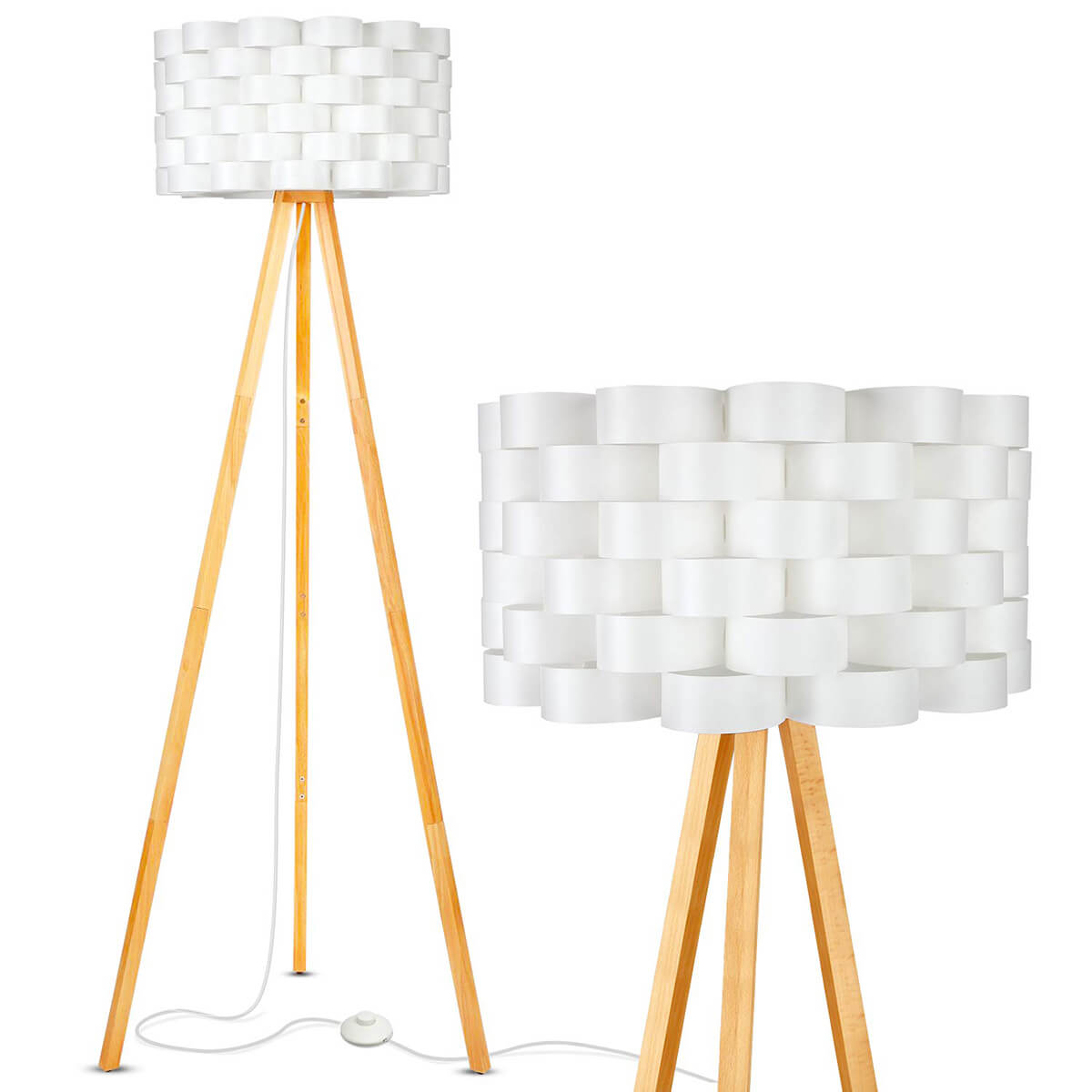 If you love vintage, art deco, or mid-century interiors, this is one of the best living room lamps you can own! Not only is it a beautiful addition to a retro interior but it's also a functional conversation piece. Constructed from natural wood, the tripod looks light and airy, but don't let it fool you—it's sturdy and resists tipping. Atop the tripod sits a white drum shade in a unique basket-weave design for warm ambient light and tons of atmosphere. The basket-weave shade lends itself to décor with natural elements like wicker, wood, or cork.
20. Geometric Shaped Ceramic Adds Textural Interests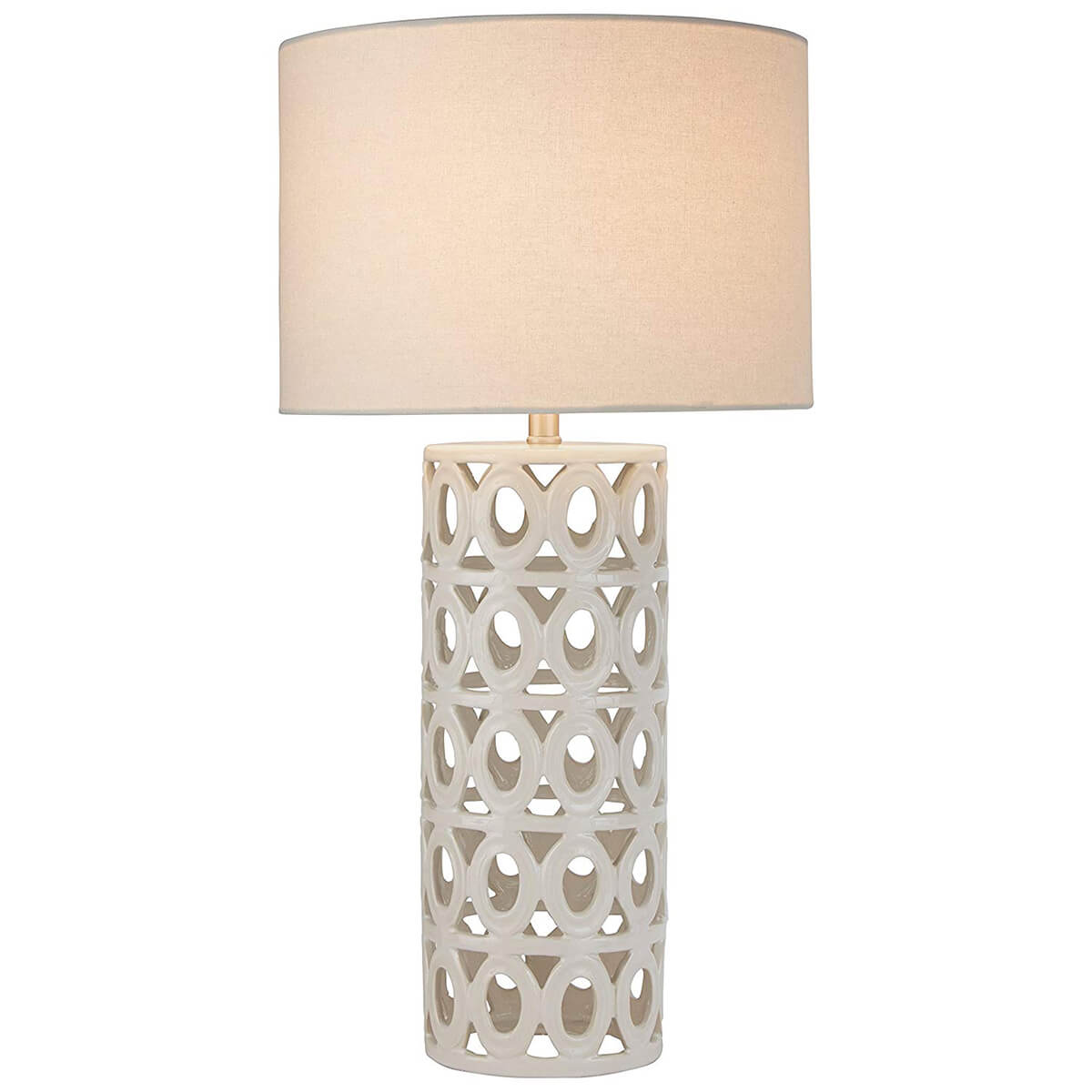 The base of this regal table lamp boasts geometric cutouts in an X and O pattern carved into the ceramic bone white finish with off-white drum shade. The carving is at once rustic, yet modern; contemporary, yet traditional. Add textural interest to your favorite décor by grouping two of these beauties on side sofa tables or use them singly as accent pieces on top of the mantle or shelving unit. The best living room lamps also lend themselves to different color schemes. This lamp would look amazing in an all-white living room or add a pop of color to a neutral earth tone palette.
21. Stylish, Timeless, and Chic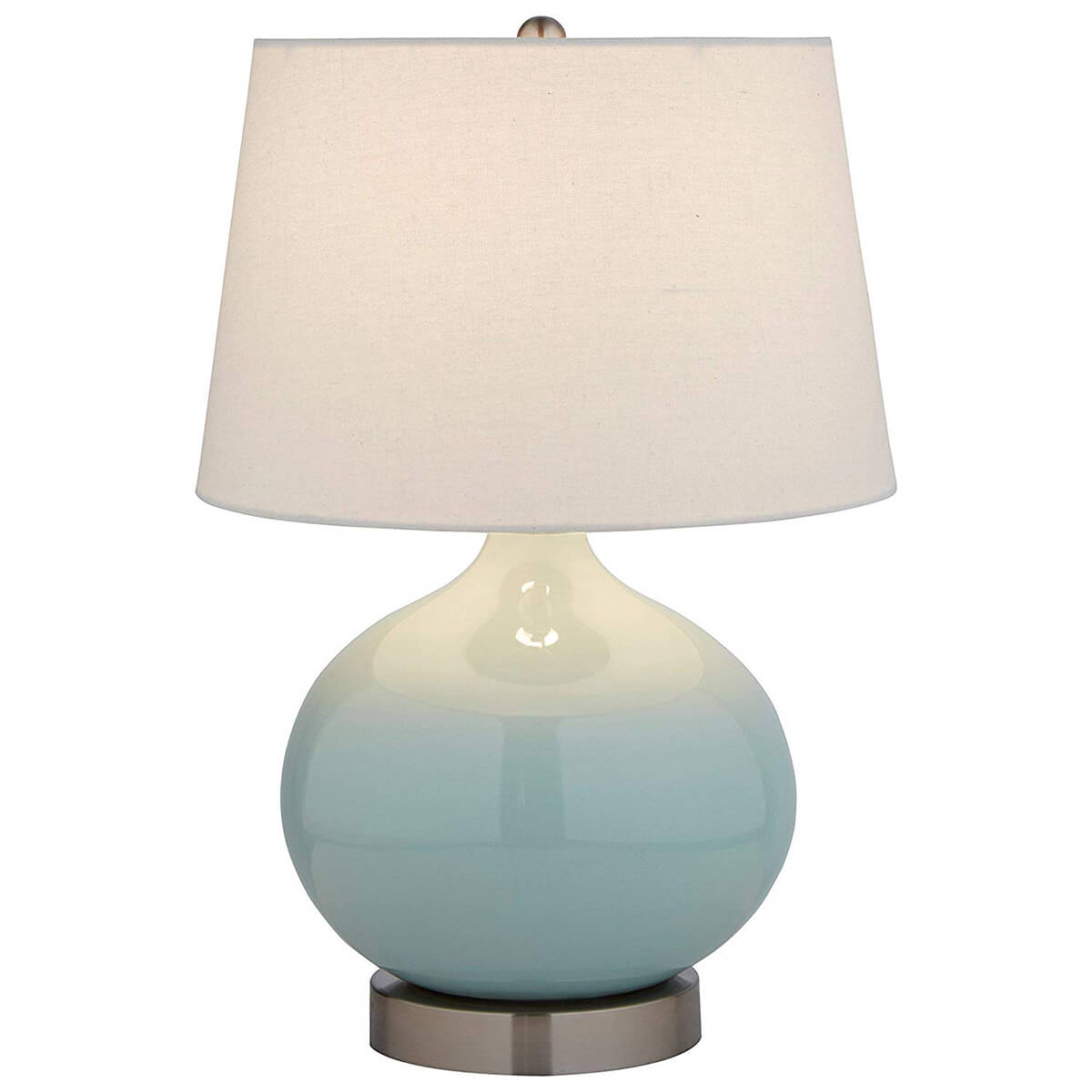 The best living room lamps are beautiful to look at and never go out of style. Take for example this beautiful ceramic lamp with its classic round base and crisp white shade. This is the kind of lamp that fits any décor in any design genre. Its look is so classic and so pure that ten years from now, you will still be getting rave reviews about this amazing fixture. Place it near a plush sofa or armchair for ambient light, in a foyer for an accent piece, or on a wide fireplace mantle for an air of distinction.
22. Minimalist Sconces Make an Inspiring Statement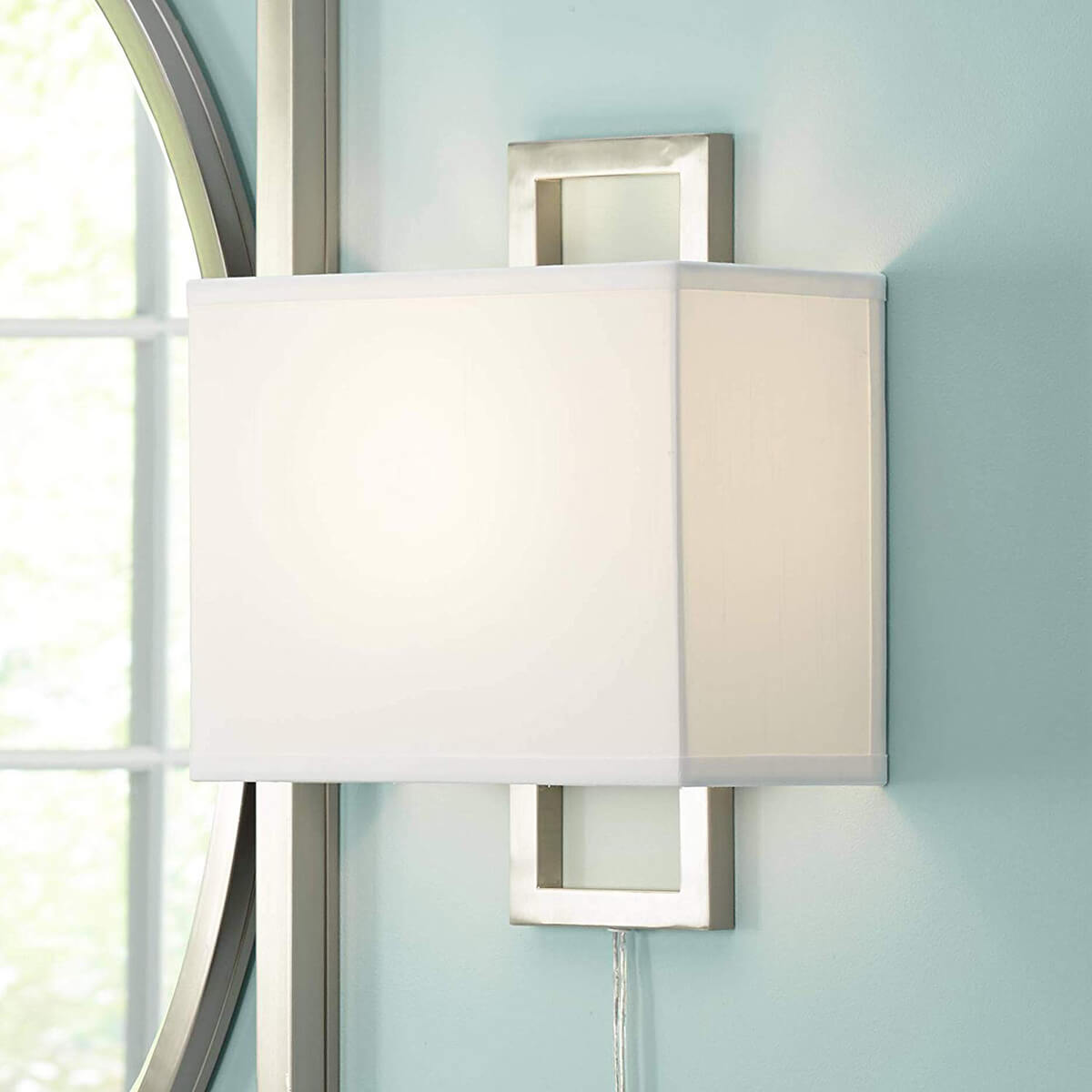 The companion to the designer's rectangular table lamp, this brushed nickel sconce adds a special touch to any contemporary or modern living room. Its distinctive geometric shape and clean lines are best featured in a sleek, modern living room with rectangular furnishings and accessories. Designed with a single rectangle mounted flush with the wall and graced by a horizontal white linen rectangular shade, this fixture has impeccable style and is sure to please anyone with discriminating taste. Pick a pair of these elegant wall sconces to add accent lighting, soften the hardscape of a room while adding an element of intrigue.
23. Rustic Country or Contemporary Complement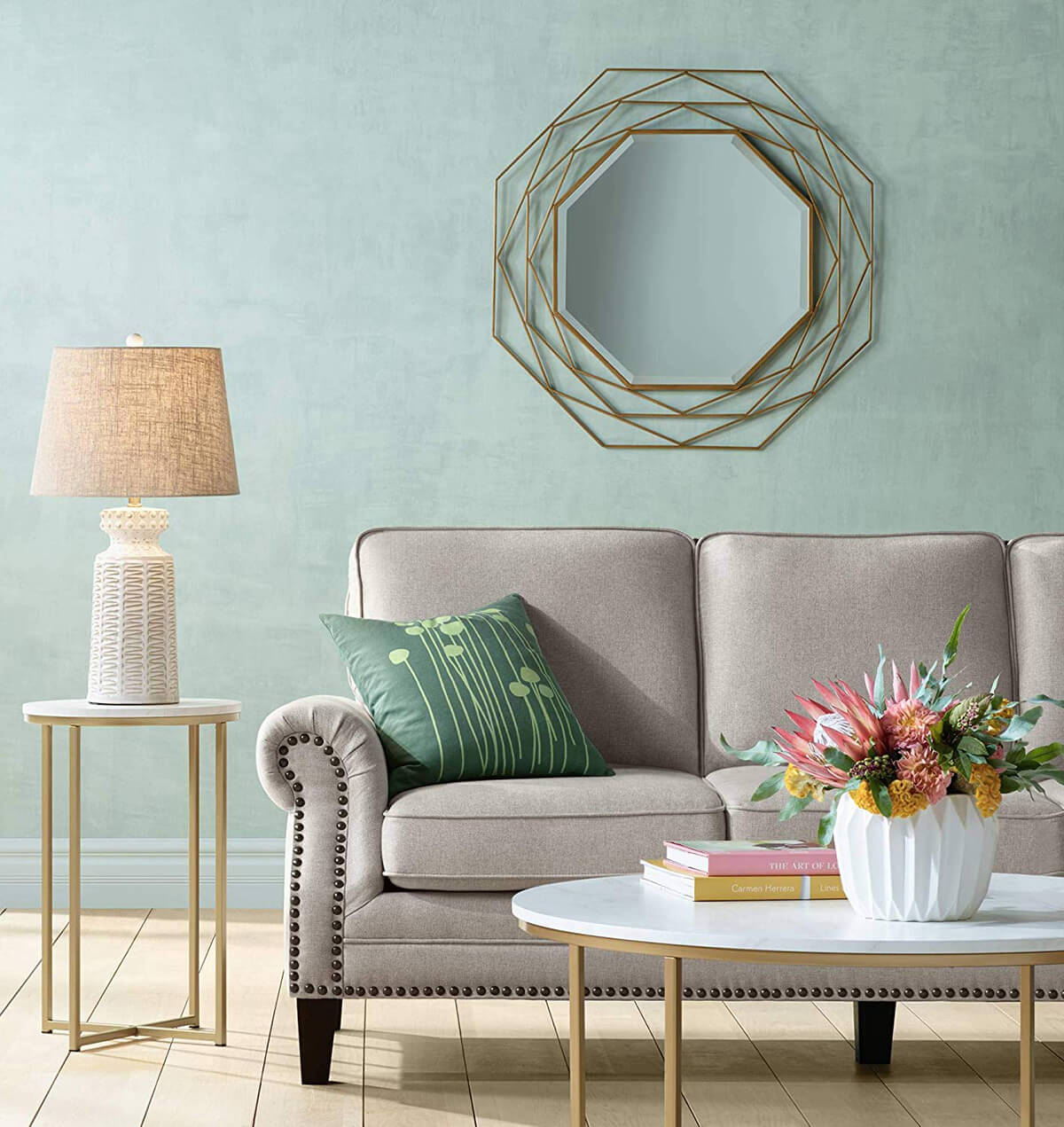 This rustic ceramic table lamp has a white glazed finish that can go from country to contemporary without missing a beat. The white glaze adds handcrafted textural interest in a classic bottleneck shaped base while the bell-shaped linen shade anchors the look and adds an updated flair. With a custom handcrafted look, these ceramic table lamps complement casual furnishings. Rustic glazed table lamps enhance an informal space and help create a warm ambiance to welcome family and friends.
24. Accessorize a Secret Hideaway with a Simple Table Lamp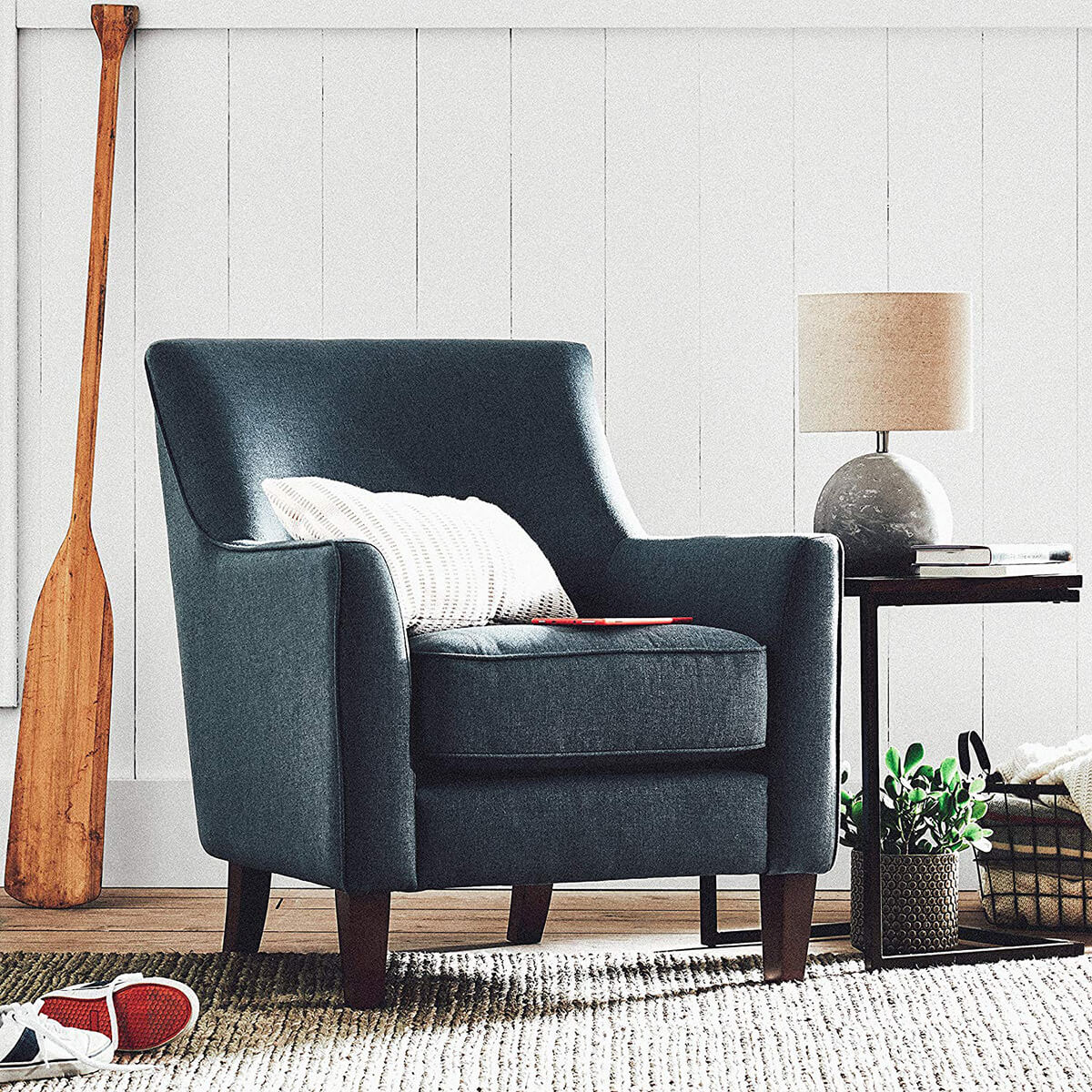 Turn a favorite corner of your living room into a quiet retreat and an inviting space to snuggle up for an afternoon of reading beside this simple tabletop lamp. Adding a comfortable chair, table, and a small lamp turns the space into something spectacular. This lamp will fit in a small space and combines the classic round base with a drum shade for a look that's inviting and timeless. The round ceramic tile base looks like a piece of fine Italian marble and suits almost any décor with its linen shade, a perfect complement.
25. A Mid-Century Modern Lamp Knows all the Right Moves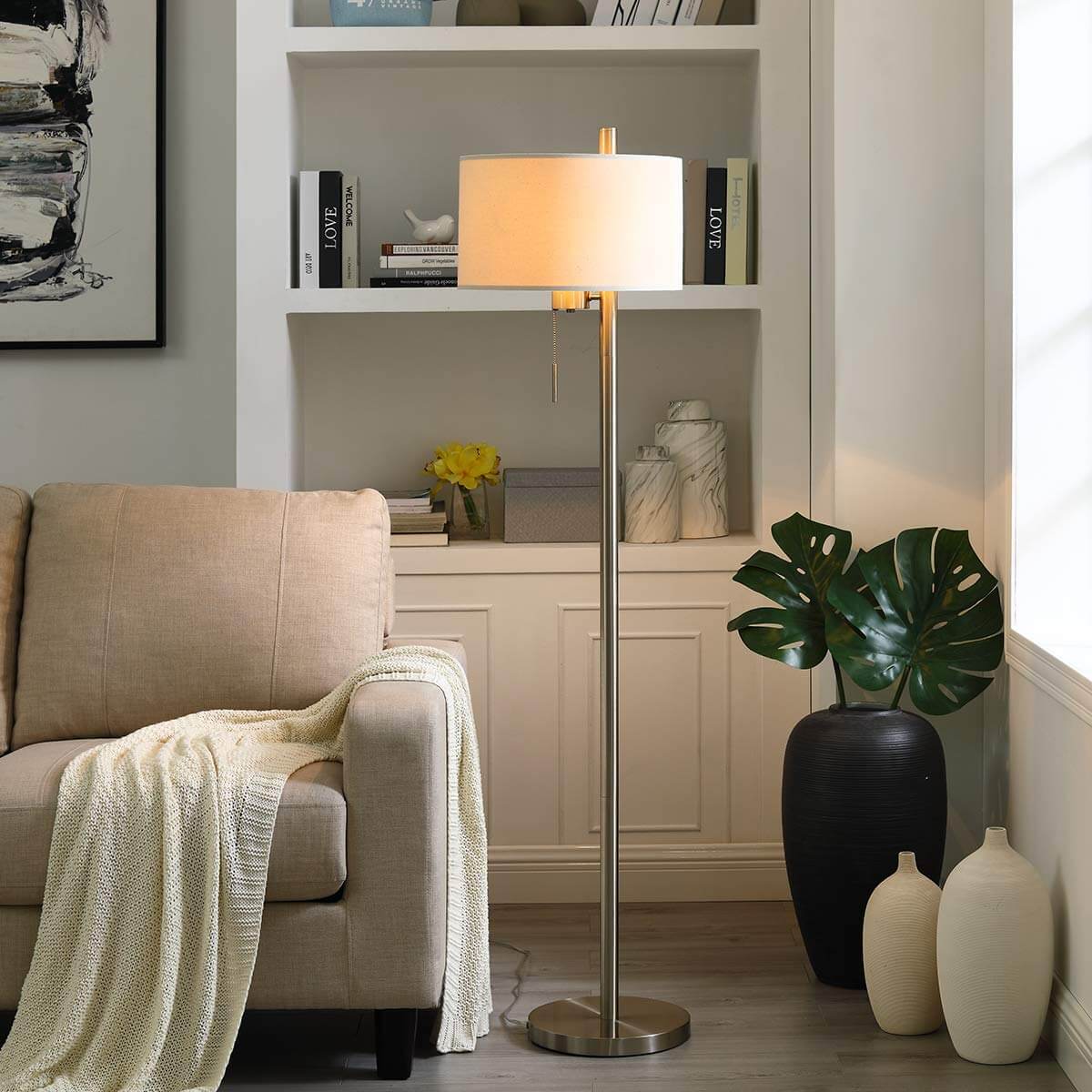 Bring back the look of a mid-century modern interior with an elegant floor lamp. This classic brass finished standing floor lamp illuminates a corner for crafting, reading, or sewing. Mom will love a lamp that serves as a beautiful accent and provides ambient or task lighting. The classic drum lampshade is a light and breezy complement to the brass finish and weighted base. This fixture will fit any décor from classic and traditional to modern, contemporary, or eclectic.
26. A Floor Lamp Becomes a Work of Art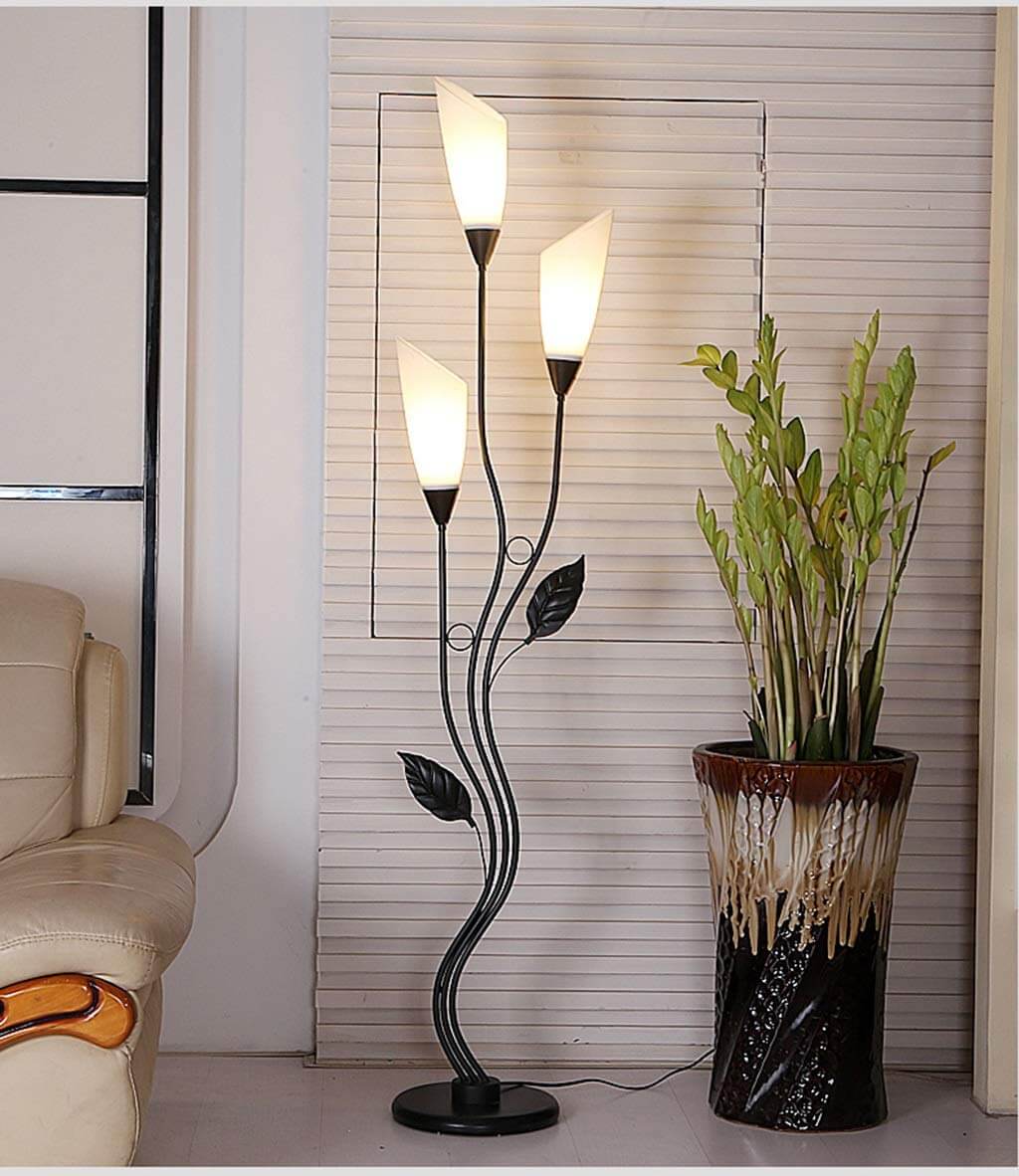 Designed to look like a floral sculpture, this floor lamp looks like a piece of finely crafted art. You will amaze friends and family with this exquisite conversation piece. Constructed from twisted rust-free wrought iron, the unit is welded to look like a budding branch and accented with three shades shaped like large glass "petals" and wrought iron "leaves." For the best visual impact, display your metal floral floor lamp near an entry or foyer off the living room. This beauty offers ambient lighting or an artistic accent for contemporary or modern décor.
26 Unique Living Room Lamps to Ensure that Your Room is Properly Illuminated
Now that you've viewed some unique floor lamps and tabletop models, decide which ones are right for you. Make sure to choose the best living room lamps to complement your home's décor. Traditional furnishings require traditional lamps that complement instead of clashing with your room's interior. Similarly, a modern, contemporary, or mid-century décor requires a selection of lamps in varying heights, colors and materials that are complementary. You may want to consult a lighting specialist at your neighborhood home improvement store or a certified interior designer to suggest the right fixtures. They can develop a lighting scheme to suit your taste and your budget.
Viewing each of the above examples and following these tips on making the right lighting choices will make your home a haven, and a warm, welcoming, attractive place to entertain guests, enjoy friends, and create lasting family memories for decades to come.