Infusing your home with texture adds so much to your design and it's super simple with the use of any of the best macrame home decor ideas found here. Not only does macrame art offer impeccable style to your design, but it is also an affordable route for those crafty DIY folks.
Macrame Makes a Comeback in Today's Modern Home

Purchasing the cotton cord is the first step. Getting creative with natural dyes is optional, but can add some fun and interest to your work. To create the best macrame piece for your home, decide how you will use it. There is a multitude of ways in which to utilize these interesting pieces that add so much texture and depth to your space. You might need to give your accent pillows a quick update, so toss a decorative macrame cover over them, and voila! You've got a cheap and speedy new look for your couch or bed.
Perhaps you have a blank wall space that's screaming for attention. Consider a border of macrame fringe and knots for a modern twist on an old frame. Or you might simply seek the traditional wall art featuring a knotted creation hanging from a dowel rod. Include some variety of knots and leaves to add extra interest and appeal to your design.
Wrap your handiwork around a clock to highlight the one section of the wall that gets the most attention. Maybe you prefer to work on a smaller scale and simply wish to use the relaxing comfort of creating as a form of de-stressing from the busyness of life. Look at the ways you can use macrame to craft a decorative light fixture accessory and a charming wine bottle cover. These small projects make a big impact in terms of style.
Maybe you enjoy the art of crafting with macrame or simply love the finished result. Either way, you can't go wrong with including some new pieces of these macrame decorations in your own home or gifting them to a friend. Stretch your budget and keep your style with these amazing macrame creations.
1. Gorgeous Table Runner Macrame Decoration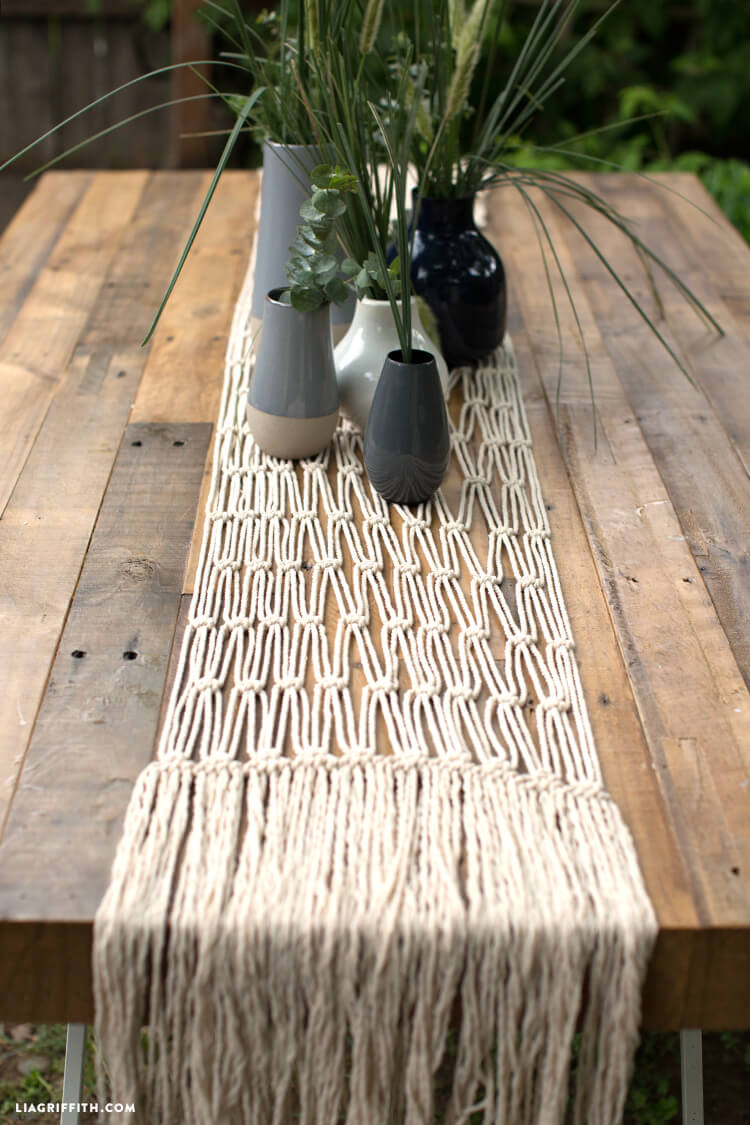 Your outdoor dining experience just got an upgrade! Grounding your centerpiece on this functional piece of macrame art adds a chic simplicity to your look. The ends of your picnic table are accentuated with the falling tassel fringe on each end. This adds depth and drama from every angle of your table. Macrame's cotton-blend rope incorporates a soft chic quality to make your outdoor dining feel like an extension of your eat-in kitchen.
2. Modern Macrame Art Throw Pillow Slipcover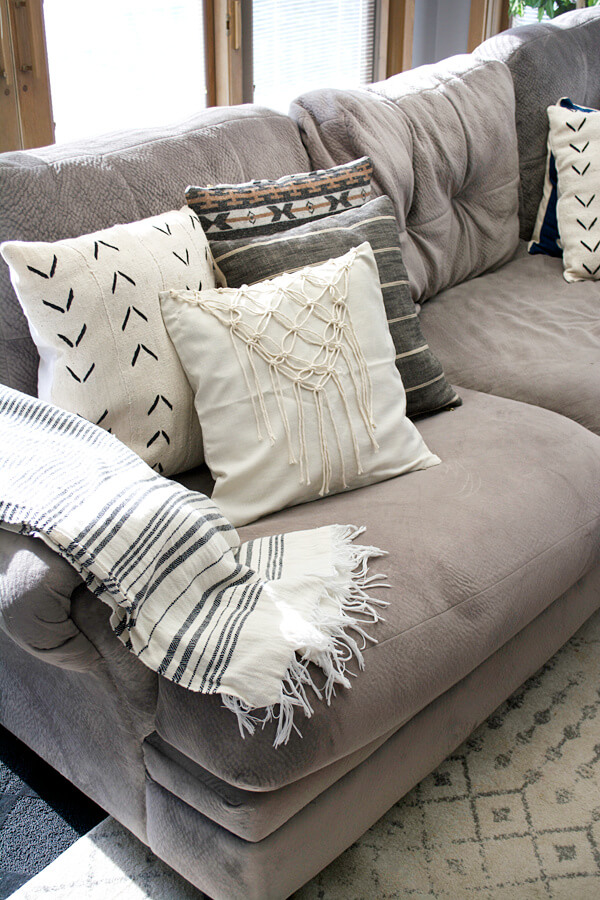 If you only have a short window of free time, but desperately want to freshen up your couch scene then grab your cotton cord and create this modern macrame slipcover! It offers a hint of the bohemian look without feeling psychedelic. As the knotted design falls down the front, the triangular shape with the fringe is a unique and beautiful pillow accent. Create a second version and insert a dowel rod into the top as an awesome idea for a coordinating piece of macrame art for the wall.
3. Fringy and Fabulous Unique Macrame Frame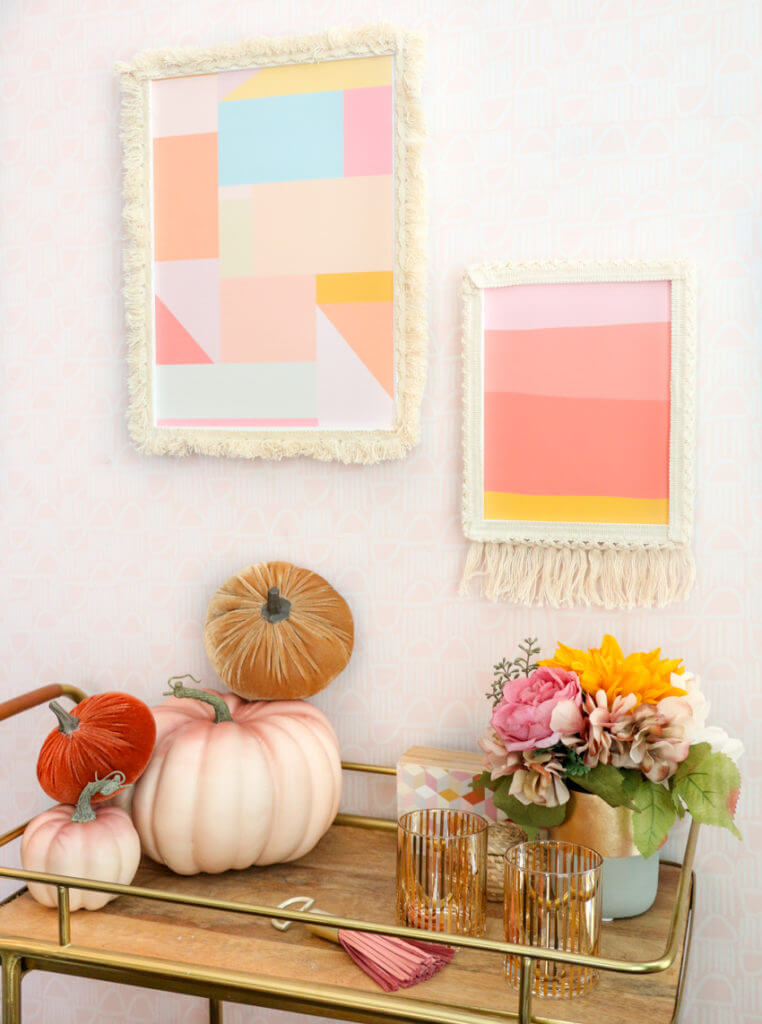 Forget those boring and plain wooden frames of the past and give them a makeover with these one-of-a-kind macrame frame borders. Knotted and braided, your cotton cording will completely transform the look and feel of your favorite pictures. Choose short and thick fringe for a bushier effect or round out the bottom with some long and lengthy tassels for more drama. These would make a cute facelift to the frames in your child's bedroom or playroom to give it a little more style without feeling too grown-up.
4. Classic Knot Woven Macrame Pillow Cover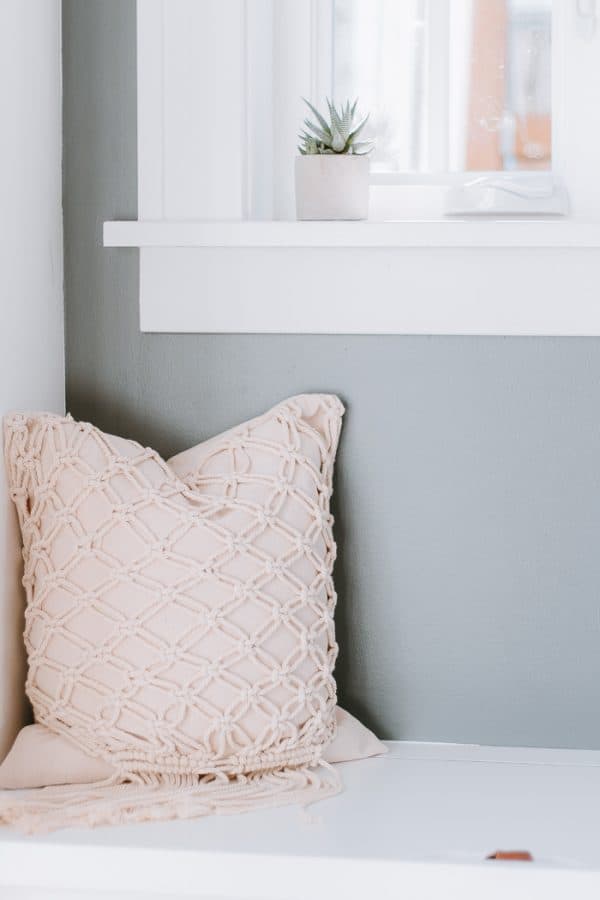 Infuse that essential earth-loving, bohemian vibes for Earth Day for the best macrame DIY project that's not a plant holder. Give your accent pillow a fast and simple update with this woven cover draped over it. Keep the look minimal and modern by using consistent neutrals or rev up the drama with contrasting colors like a dark pillow underneath this airy white cover. The extra-long fringe at the bottom looks fantastic as it forms a macrame stream across the seat of your chair or couch. Choose this pillow cover and you'll be the proud owner of one of the best macrame home decor ideas.
5. Macrame Curtain with Felt Leaves Wall Art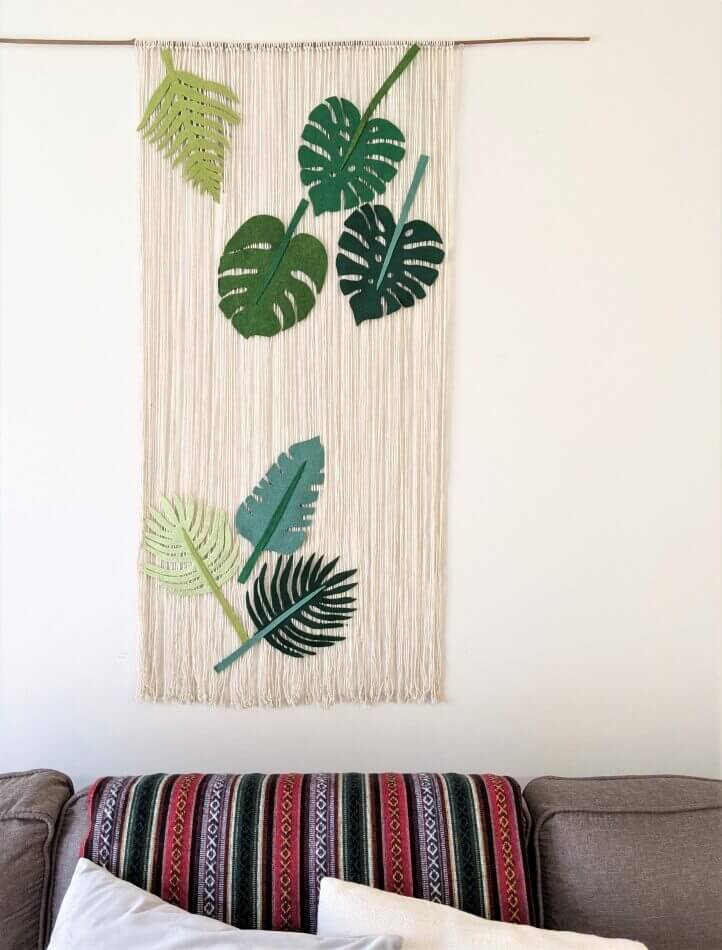 Highlight the main wall in your living space with this long and large macrame wall art. Featuring multiple strands of macrame secured over a rod, this wall curtain creation oozes texture with the addition of felt leaf embellishments. On a solid white background of macrame, these felt leaves pop in their multi-faceted green-hued varieties. Create an urban oasis to make your home feel like a relaxing retreat where the temperatures never plummet. For another decorating option, hang this above the window on your backdoor to give a sense of privacy while allowing all the goodness of the sun to shine through.
6. Hand Woven Macrame Light Fixture Cover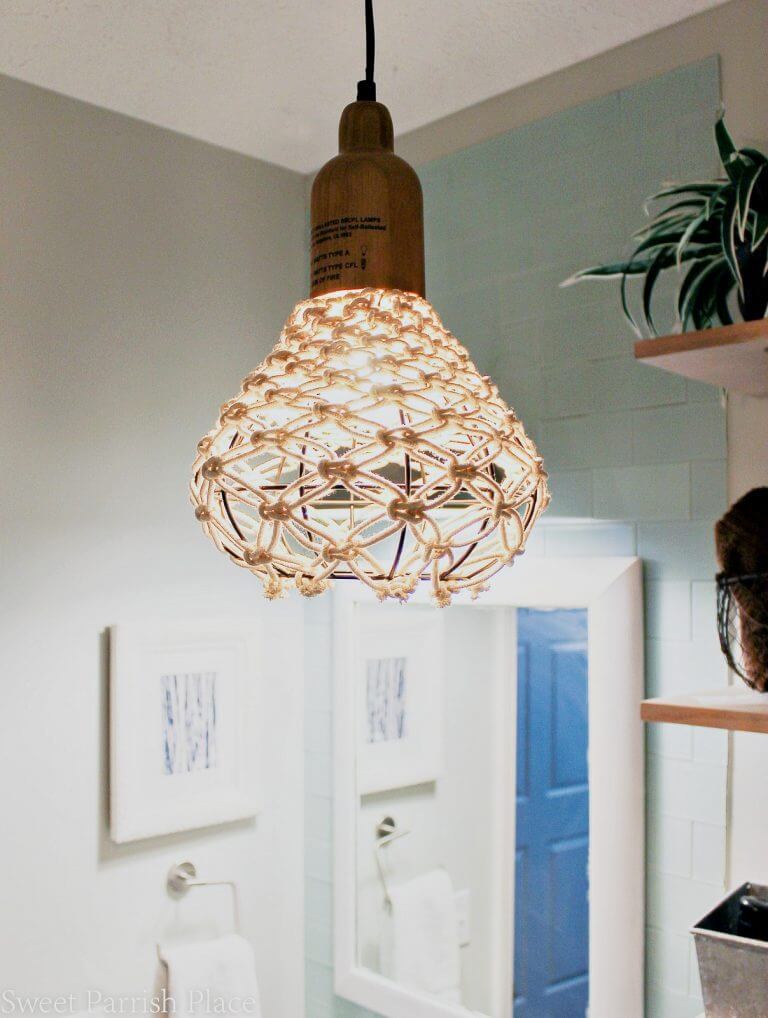 Chic and original is how to best describe this interesting light fixture cover that's been handcrafted from macrame. Channeling the era of bell-bottoms and round sunglasses, this macrame light cover shows off a distinct and modern facelift from the old macrame pieces of the 1970s. The single light in your bathroom will feel special as it boasts this one-of-a-kind cover to give it a fresh facelift. Continue the look and feel of this material by adding a hanging macrame planter with some English ivy to help keep mold at bay in this humid little room.
7. One Woven Wonderwall of Macrame Decorations Art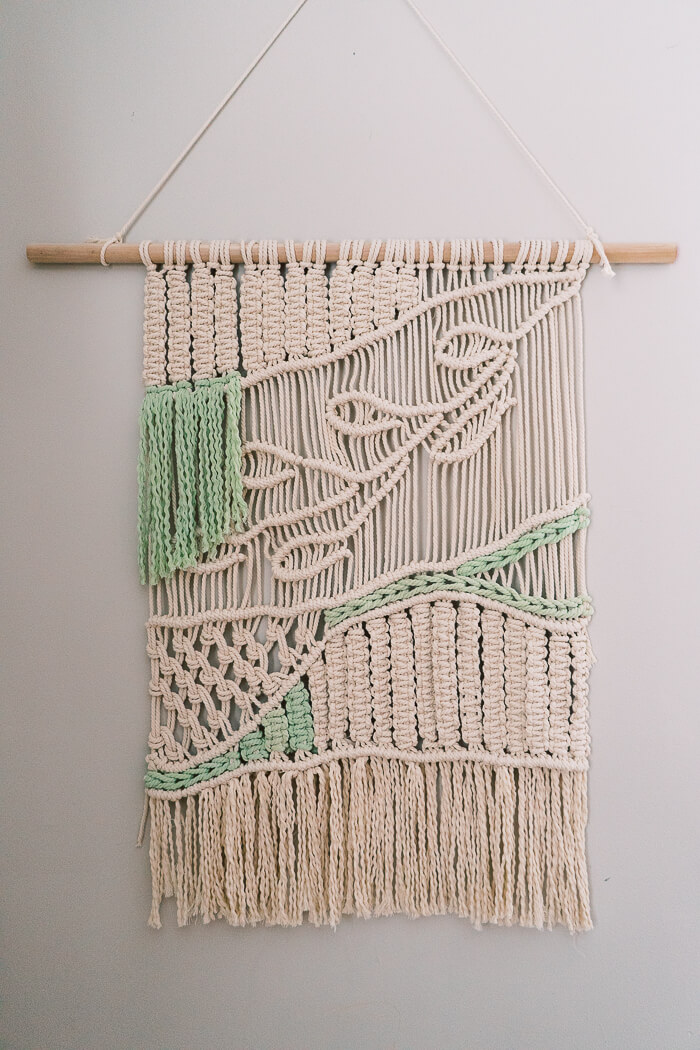 Let your creativity run wild as you infuse your woven macrame wall art with a wide variety of knots. Try your hand at some new techniques and add a splash of color if that tickles your fancy. The gentle waves in this woven Wonderwall along with the branch and leaves welcome a part of nature right into the privacy of your own home. Finishing off the bottom with some simple fringe further adds to the earthy vibe in this woven macrame masterpiece. Place it above the crib in a nursery or hang it on your front door to serve as a welcoming wreath to celebrate the emergence of spring.
8. Pretty in Pink Macrame Plant Hanger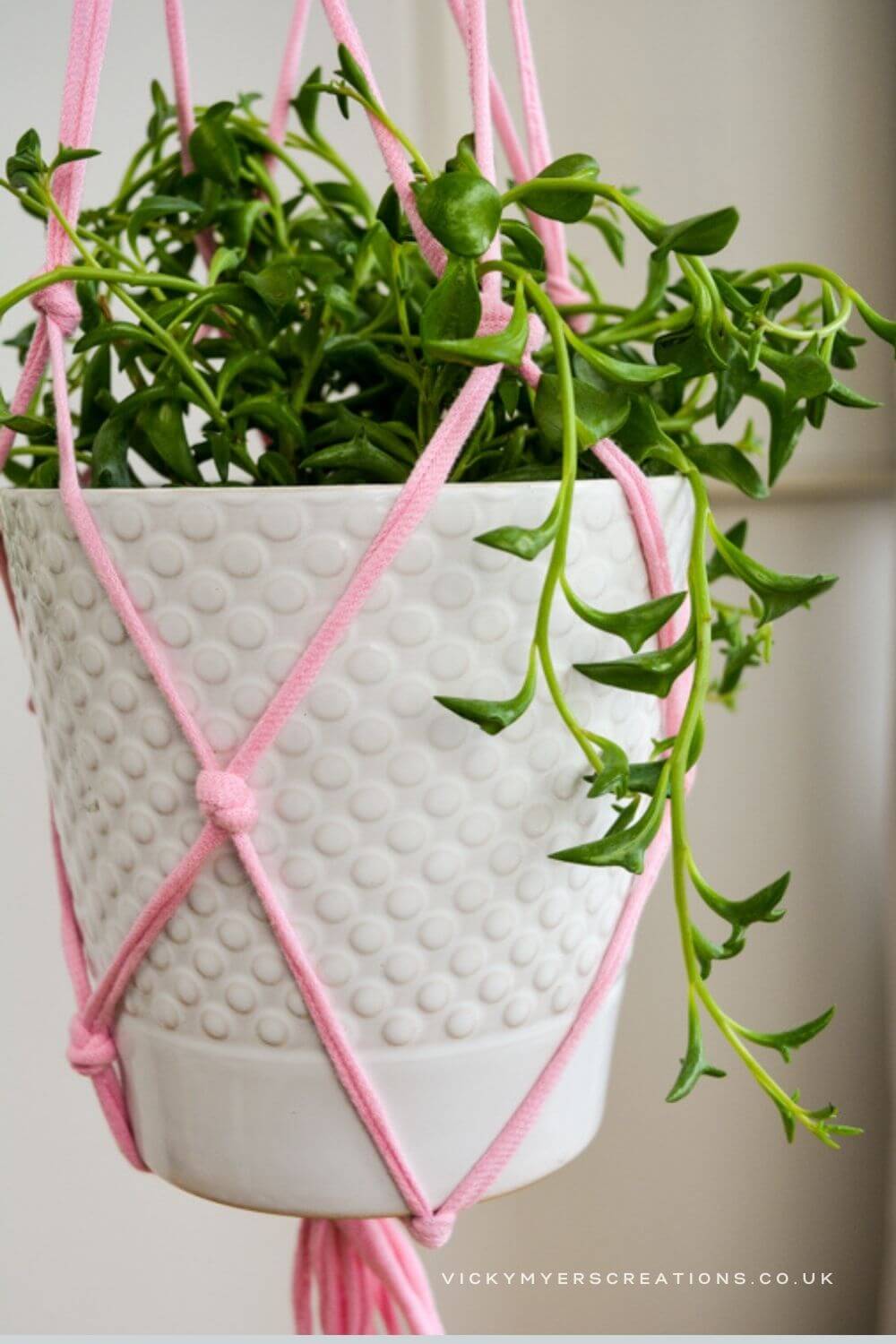 Bring a splash of girl power into your plant hang out with this pretty pink macrame hanger. The color takes center stage as the knots have been kept low-key and simple. At the bottom of the planter, the strands are gathered in the center to create a long and intriguing tassel to add some character to this charming piece. What a perfect gift to start your daughter or niece on their journey of plant collecting! It would also look right at home in the corner of a downtown beauty salon.
9. Unique Twisted Rope Accent Macrame Decorations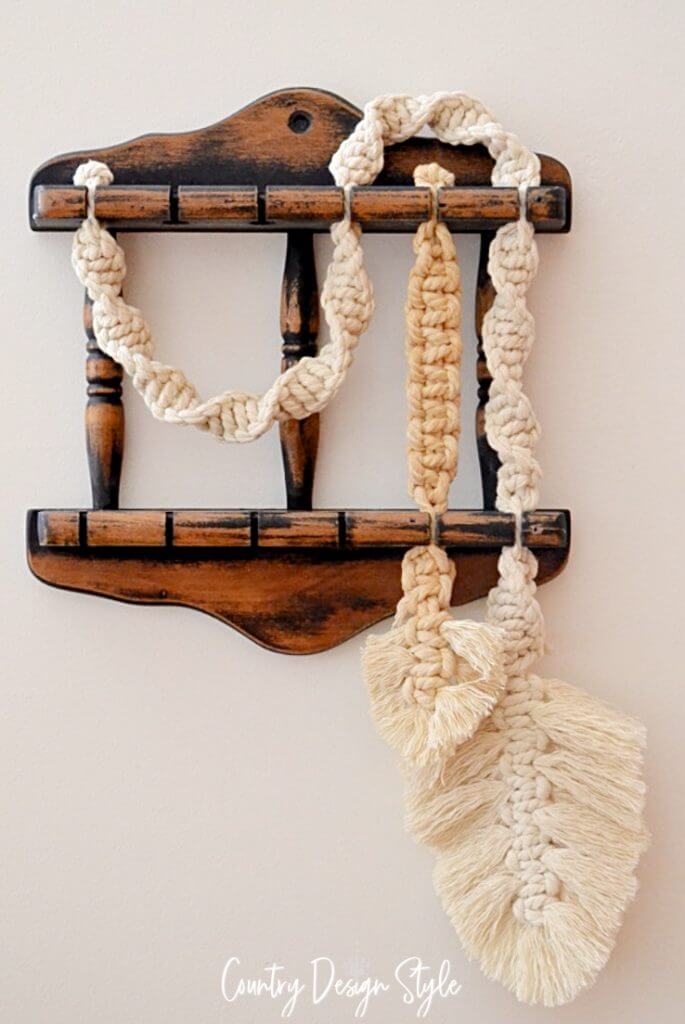 Create an original piece of wall art with this macrame spiral knot and feather decorative rope. To give it a little more personality, you can dye it a vivid color or keep it earthy with a tea-dyed look. Once you've started your knot and have a nice, long piece of macrame garland, you can decide how to show it off. Maybe you want to use it as a garland for a decorative tree or you can simply wind it through an existing wooden shelf to infuse some style into an old decoration to give it a new life.
10. Macrame Rope Pulley System Lights in Baskets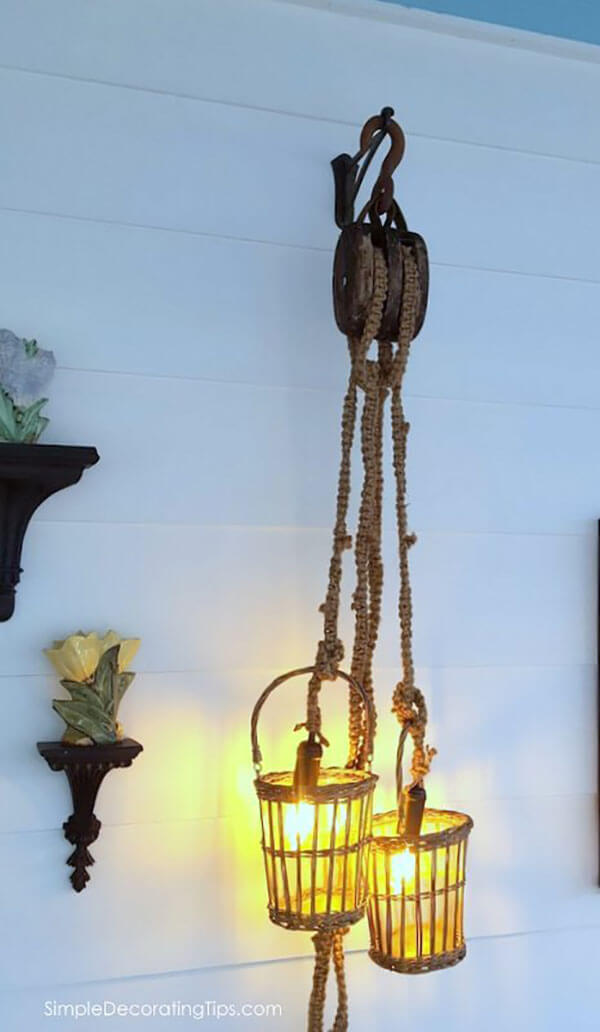 Plants aren't the only ones use for macrame decorations for the home. Check out this unique pulley system that is one of the best macrame home decor ideas. It utilizes an old pulley system and features a knotted macrame cord to hang the baskets. Each basket is formed from a continuation of these macrame knots and includes light within so this pulley system not only looks neat but serves a purpose too! This would be a great choice on the back porch for adding some ambiance after the sun goes down and it also would look inviting as it guides guests down the dark halls inside your home.
11. Bohemian Macrame with Beads Decorative Wall Art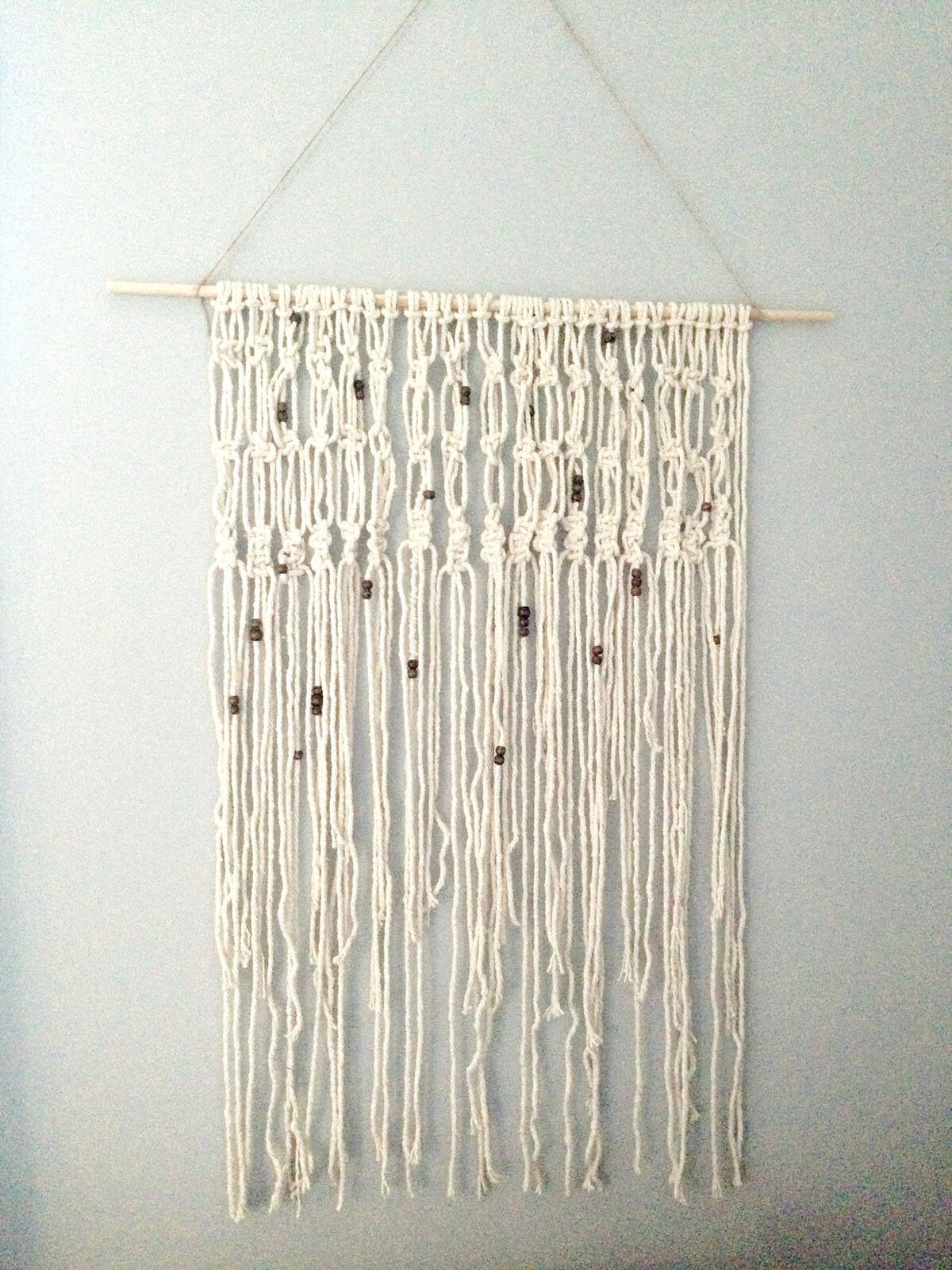 Wall art includes much more than traditional paintings and pictures. Take a look at this magnificent arrangement of macrame strands that work together to form a collective and modern minimalistic piece of wall art making this creation one of the best macrame home decor ideas. With all of the texture and mid-century modern appeal, this larger decorative piece will feel right at home above your bed, mantle, toilet, or at the end of the hall. And what a nice touch it would be as part of a neutral palette baby's nursery!
12. Easy Fold Luggage Stand with Macrame Top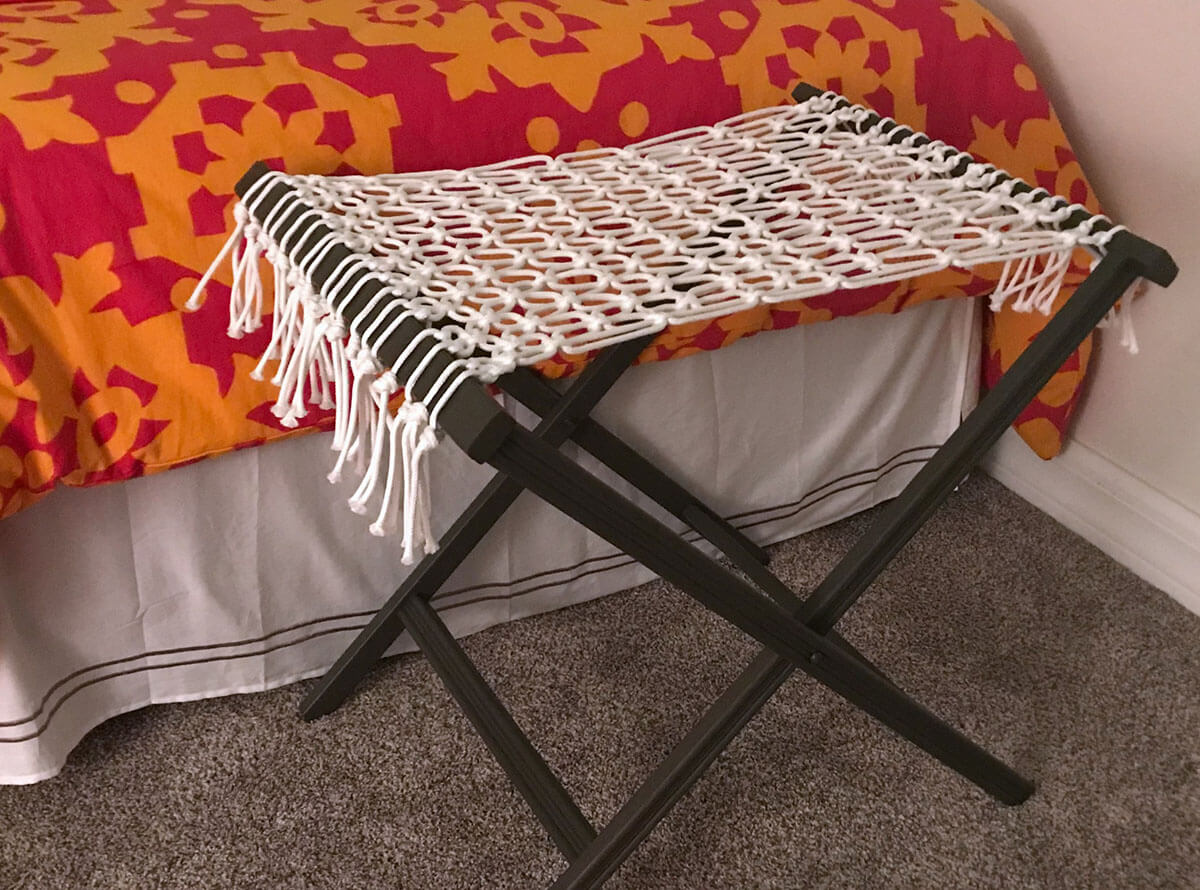 Who doesn't adore the bohemian feel of macrame? Now you can use it in more than just hangers for your hearty house plants. Here's a cool way to apply it to an essential luggage stand or side table. At the top of your table, this stretched-out macrame adds a unique look and feel to this easy-to-fold table. It's the perfect size for small spaces like dorm rooms, campers, and tiny houses alike. Use it next to the bed for placing your electronics and books so they are close by after your luggage has been emptied. It would even be easy to pop up next to the pool while you lounge in the sun.
13. Beautiful Bohemian Bedroom Accessories of Macrame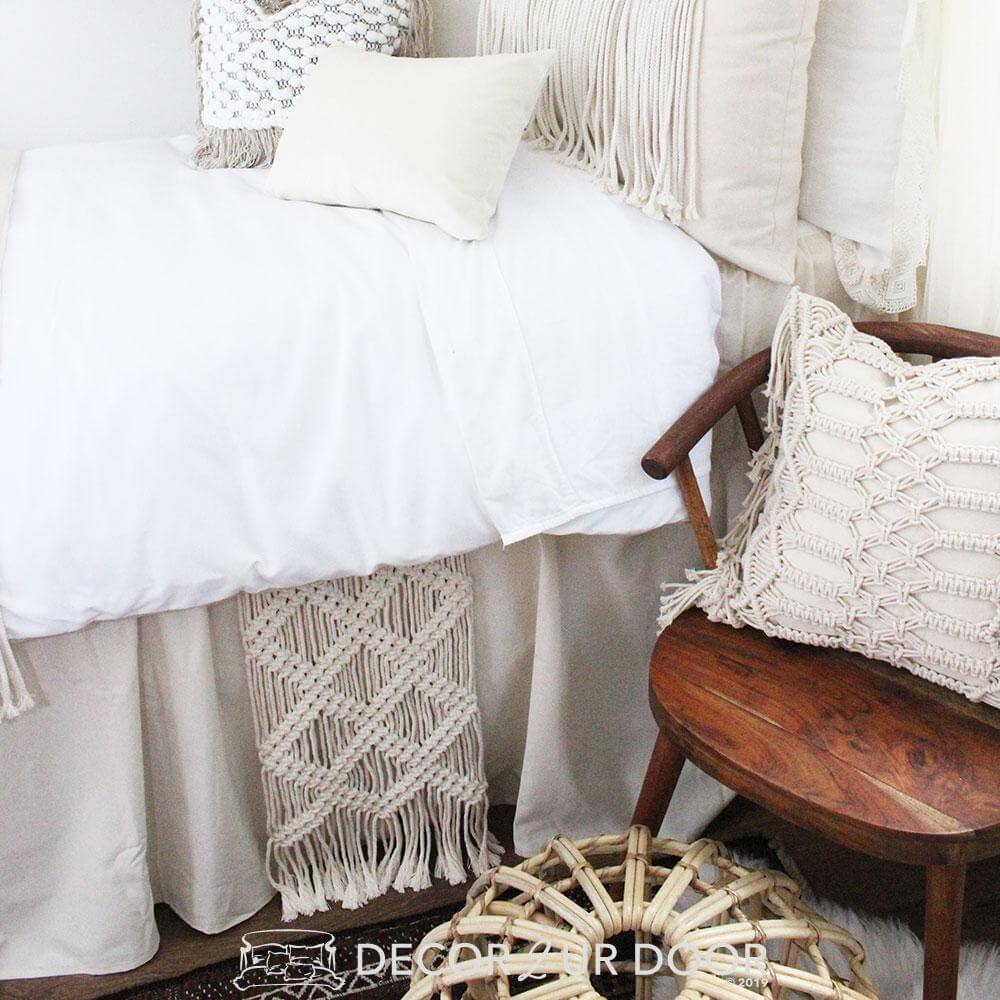 Make the most of the macrame with these awesome ideas for the bedroom. From accent pillow covers to an under-the-mattress runner, you can infuse this mid-century staple in a multitude of ways. With the use of this throughout your room, you can create the neutral, bohemian wonderland of your dreams. Place several pillows on the bed and don't forget to accessorize the small chair next to your nightstand. Shabby chic never looked better than with this use of macrame bedroom accents throughout the entire design.
14. Double Ring Bead and String Macrame Art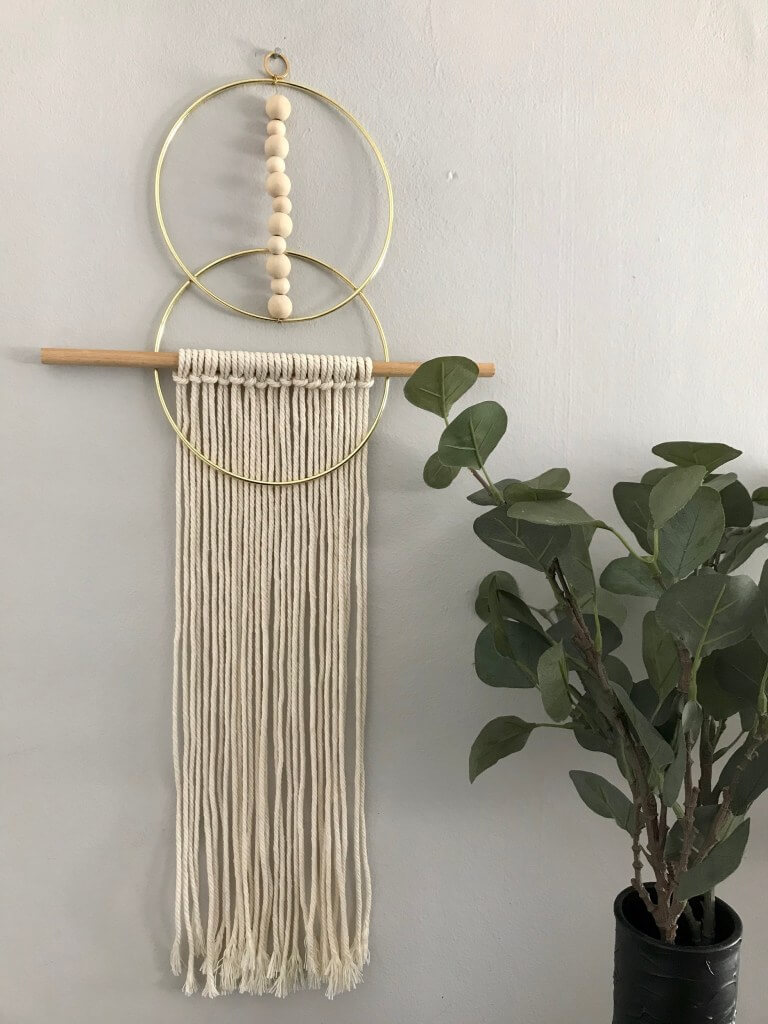 Keep up with the trend of hanging wall art with this unique and beautiful macrame creation. It's large enough to stand alone as a bold focal point on your wall, but not too enormous for a quaint space. The double gold rings add a nice glimmer of metallic gold to the neutral simplicity of the design. With a string of wooden beads along with the dowel rod, the collaboration of all these mixed textures makes for a magnificent macrame wall art home decoration. It's versatile enough to hang in a mid-century modern living room or blend into the baby's nursery.
15. Thick Braided Macrame Curtain Pull Back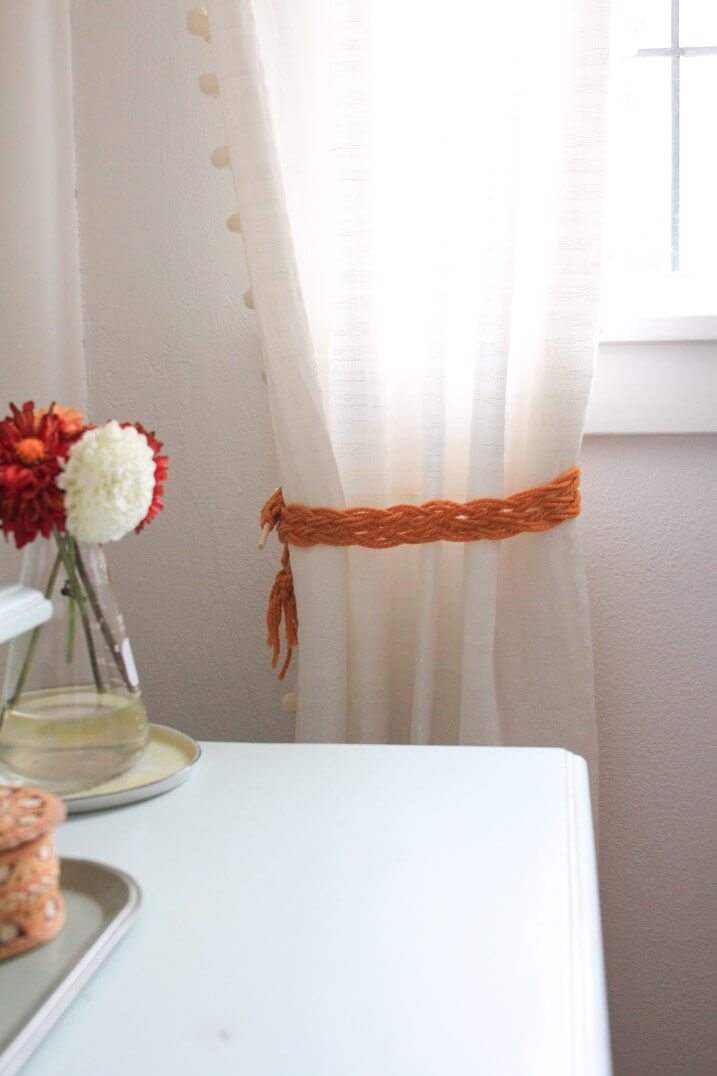 Create a custom look for your window coverings with this cute and cozy braided macrame curtain pull-back. The woven wonders of this unique version of a curtain tie-back give it a one-of-a-kind look and feel. It can be customized with your choice of color as the cotton cording can be dyed to suit your needs. While looking pulled together and quite fabulous, this thick macrame braid is actually serving a purpose. Create one for a new homeowner or a kid that just left for college.
16. Hot Beverage Macrame Woven and Tassel Coaster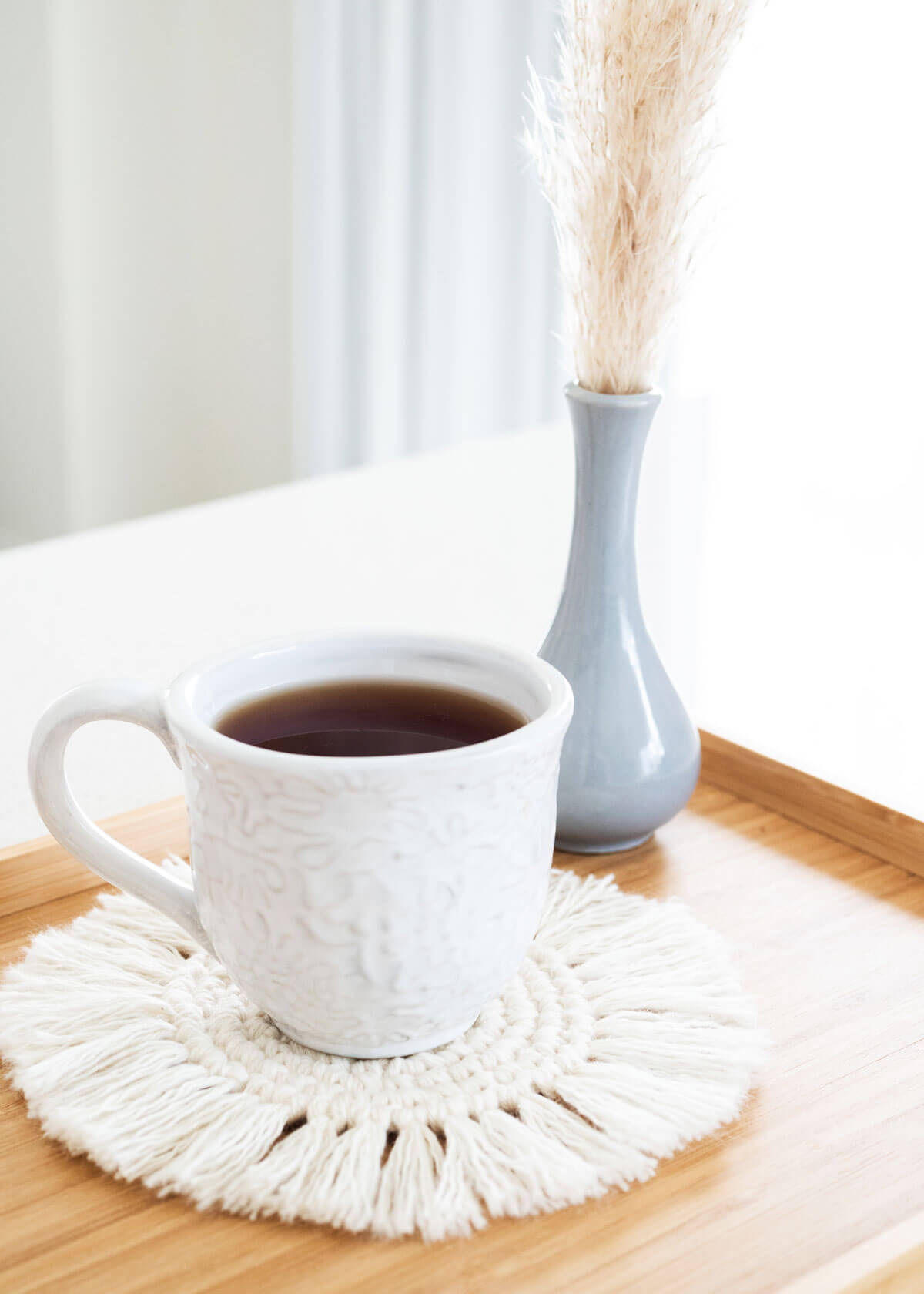 Keeping your tabletops looking fabulous without those annoying cup rings is easy when you use a durable and decorative coaster. These mug rugs are perfect for giving your cup of coffee a nice and cozy place to call home. While you aren't sipping, these coasters are ideal for keeping your tabletop free of any moisture or residue. A quick DIY project of these can result in the basis for an amazing gift basket filled with a fun mug, bag of coffee, a canister of creamer, and mug tree for displaying your collection in your own kitchen.
17. Macrame and Wood Feathered Friend Hanging Decoration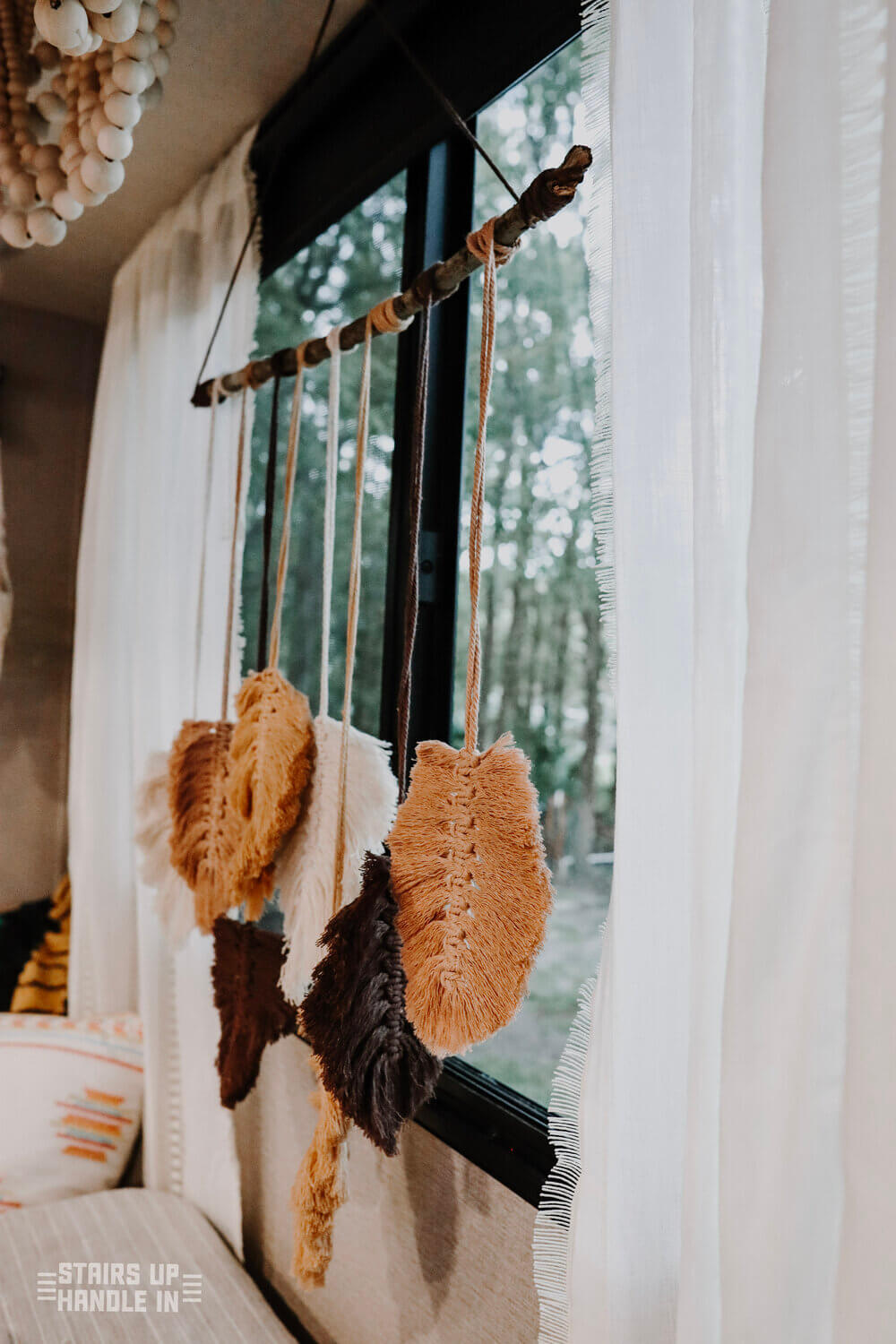 Accentuate your large living room window with this creative cousin to the popular dreamcatcher. A rustic wood stick holds streaming macrame-created feathers in various warm neutral hues to give it a unique and original feeling. This creation blends into most modern decor looks and works well with a Native American or tribal-themed design. The fringed edges of each feather further add texture and style to the overall look and feel of this unique piece of wall art.
18. Large and In-Charge Decorative Patterned Macrame Art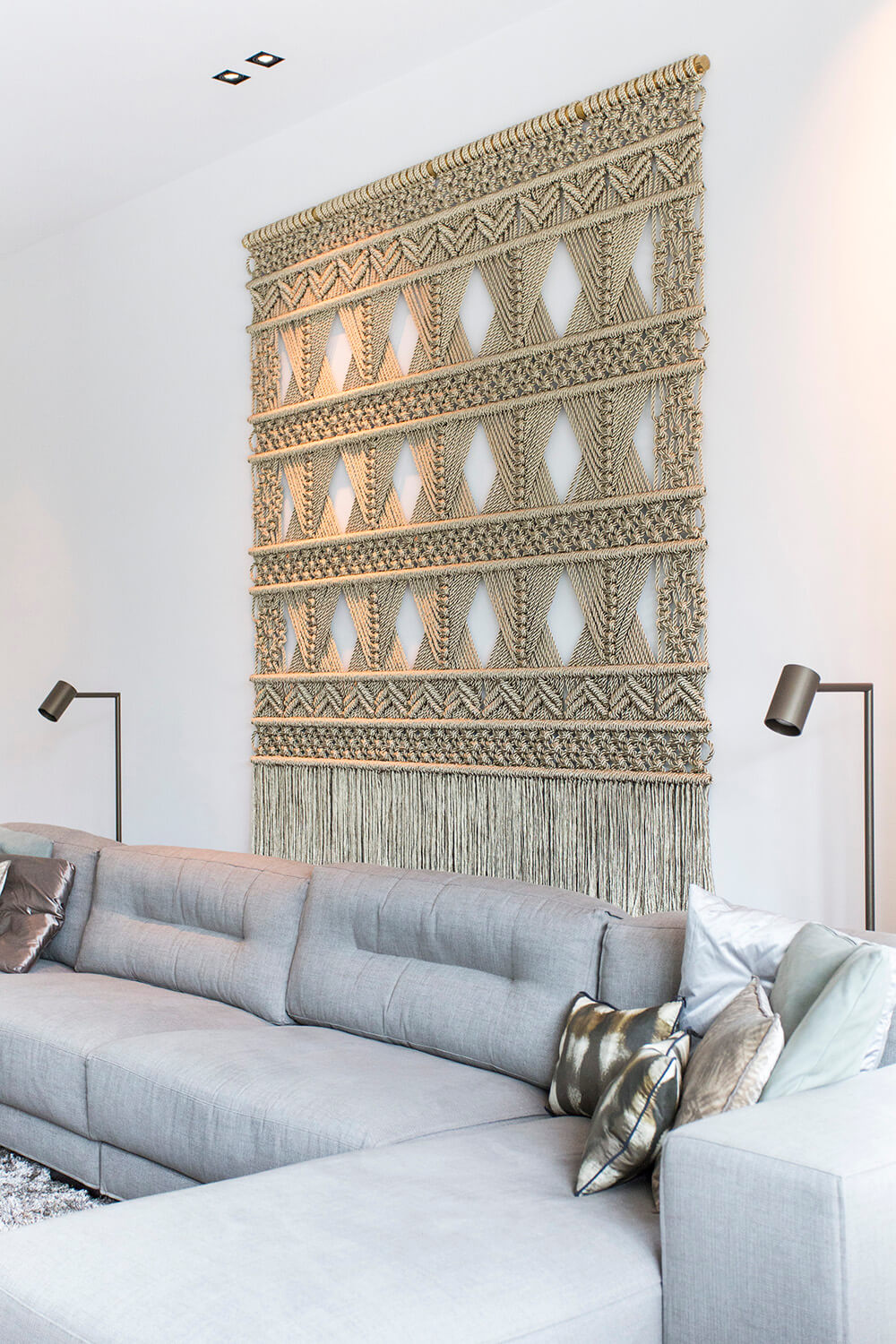 You'll be sure to create the bold statement you've been searching for as you infuse your home with this grand creation of macrame designs housed into one single wall art. The delicate and detailed patterns that appear across and throughout the design are gorgeous and exude a lot of charm and character into your interior design. You can choose to hang this above the bed in your master bedroom or over the couch in your main living space. Either way, it looks amazing and completes the room!
19. Decorative Macrame Palm Leaf Wall Art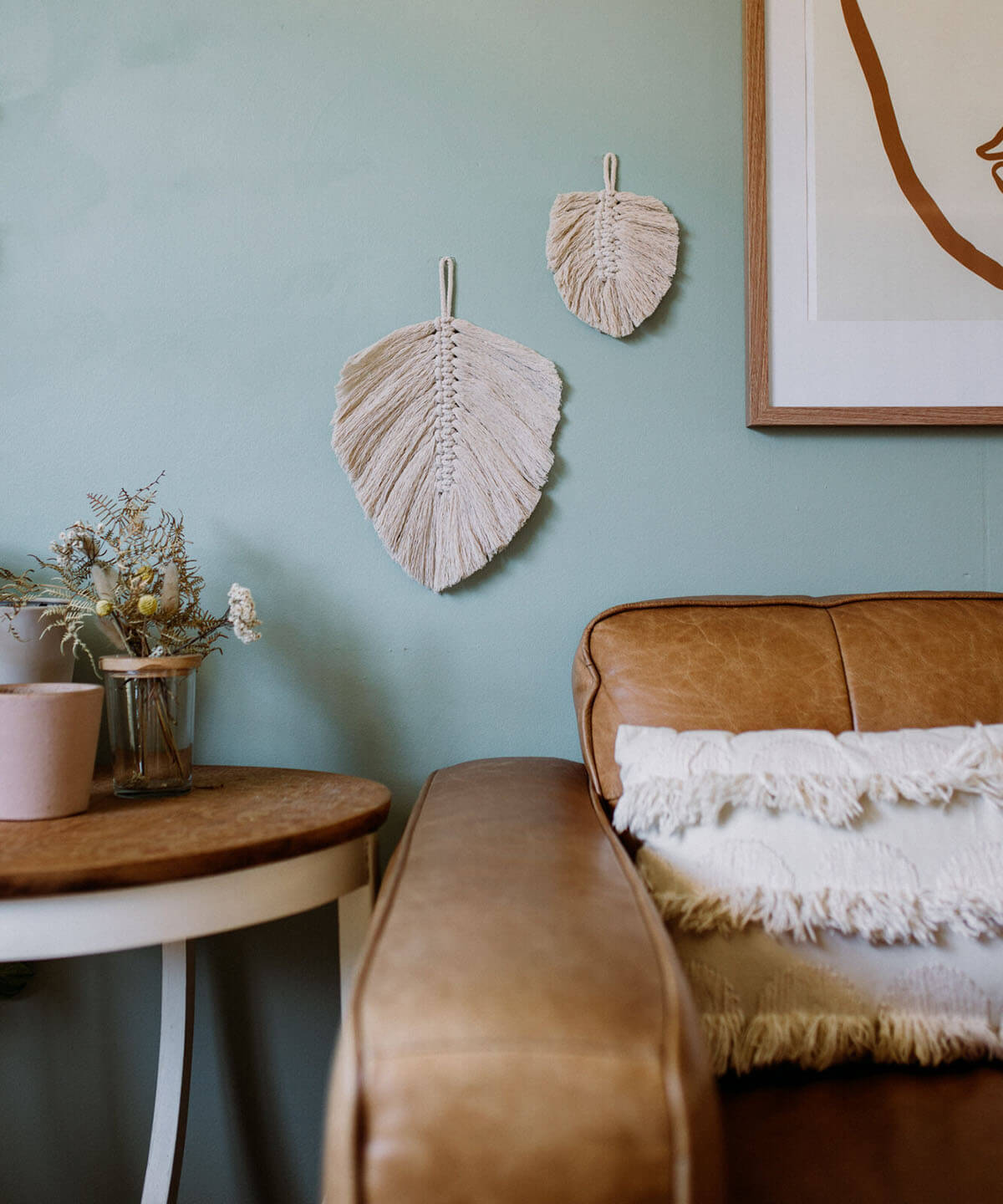 Put some texture onto your favorite wall by adding a pair of palms to it. The macrame creations give a soft, earthy feel to your personal space. With their two differing sizes, they look cute paired together or can be spaced around the room to blend everything together. Using palms in your decor incorporates your houseplants with your interior design unifying the entire look and feel of your home. Create a tropical oasis in your master suite or give your kids a luau-inspired playroom.
20. White and Bright Macrame Hanging Planter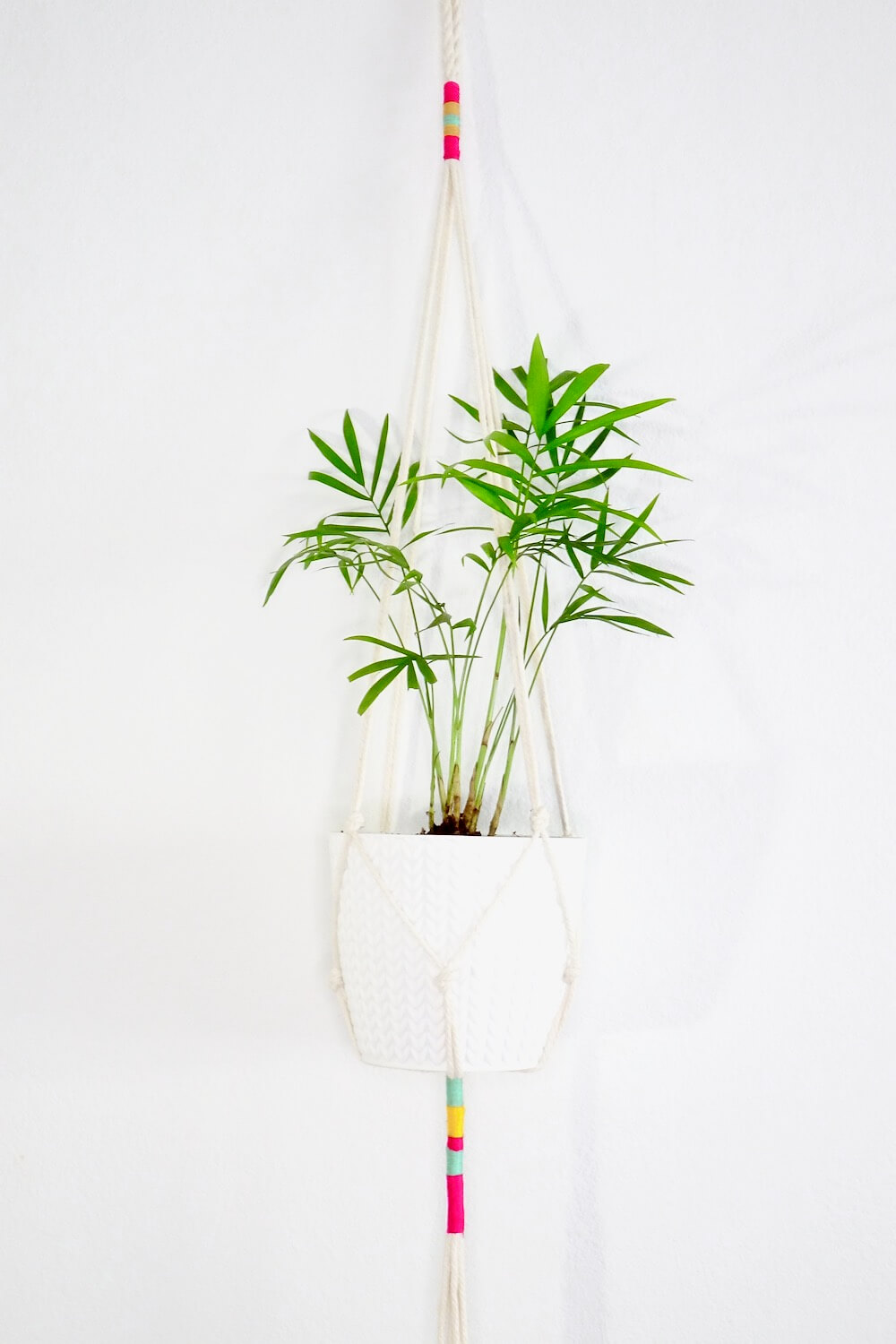 Show off your favorite miniature palm or another house plant with this crisp and clean macrame hanging planter. Created in a white rope, there is a bright pop of color at the bottom and top to bring some fun onto the scene. Welcome summer in a corner of your home with these subtle splashes of pink and blue hues to liven up the room in accordance with the warmer temperatures outside. Hanging from the ceiling, this macrame planter gives you more space where you need it on the counter. It's perfect for hanging in many rooms of your home like the bathroom and bedroom; however, the porch would be a great place for it to call home too!
21. Shaggy and Chic Fuzzy Fringe Macrame Leaf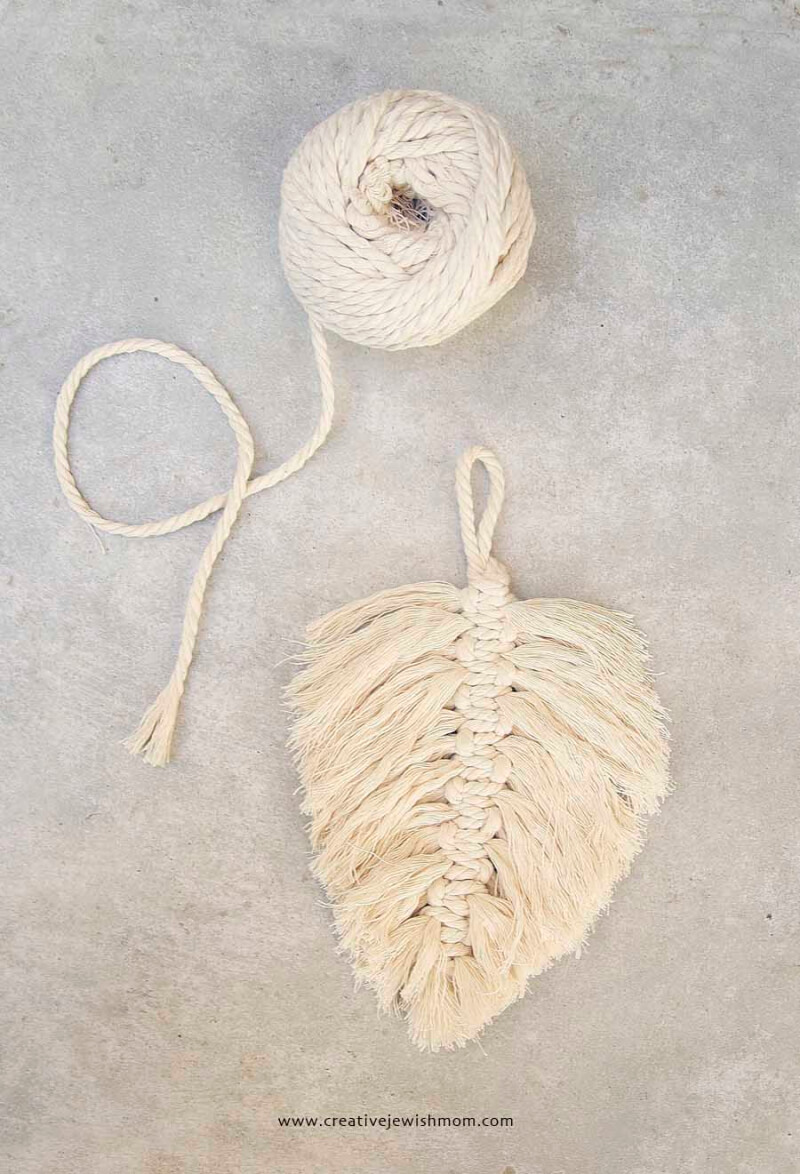 Crafting with macrame can be fun and the options for creations are endless! From large to small, you can create one that's perfect for adding to your existing decor. Check out the immense fringe all around this gorgeous leaf version. The thick central rope establishes a firm foundation for the lively fringe that steals the show in this macrame piece. Use the loop at the top to hang it up or imagine it as a mug rug for use on your coffee table. It would even be a welcomed addition to your seasonal summer centerpiece arrangement in your family's dining room. Add some rich greenery with a few succulents or small houseplants and enjoy the sweet simplicity as you host a laid-back summer potluck.
22. Unique Macrame Cat Hangout Hammock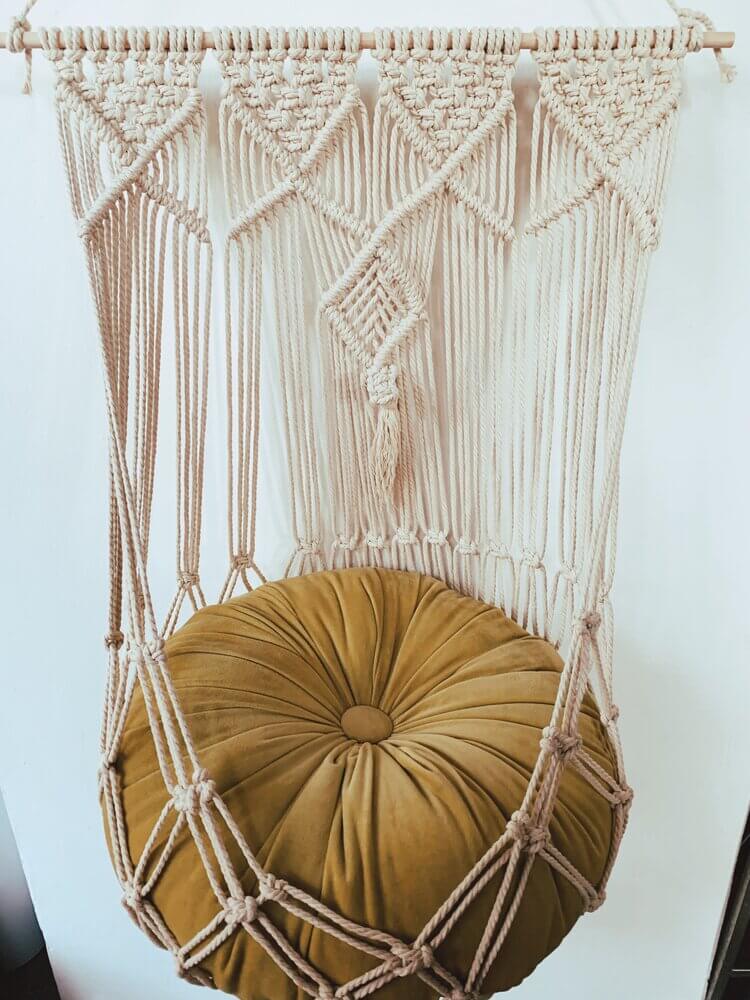 For all those cat ladies, this one's for you! Give your favorite feline a new and exciting place to perch with this "purrfect" cat hammock crafted from macrame. Not only will it be your cat's new favorite hangout, but it also looks like an extension of your existing interior decor. At the bottom of it, you can add your choice of pillow to provide the kitty with a plush and posh place to rest her tush! This would look nice and snug in the corner of your home, preferably in the room your feline spends most of its time.
23. Tropical Leaf and Shell Tassel Decoration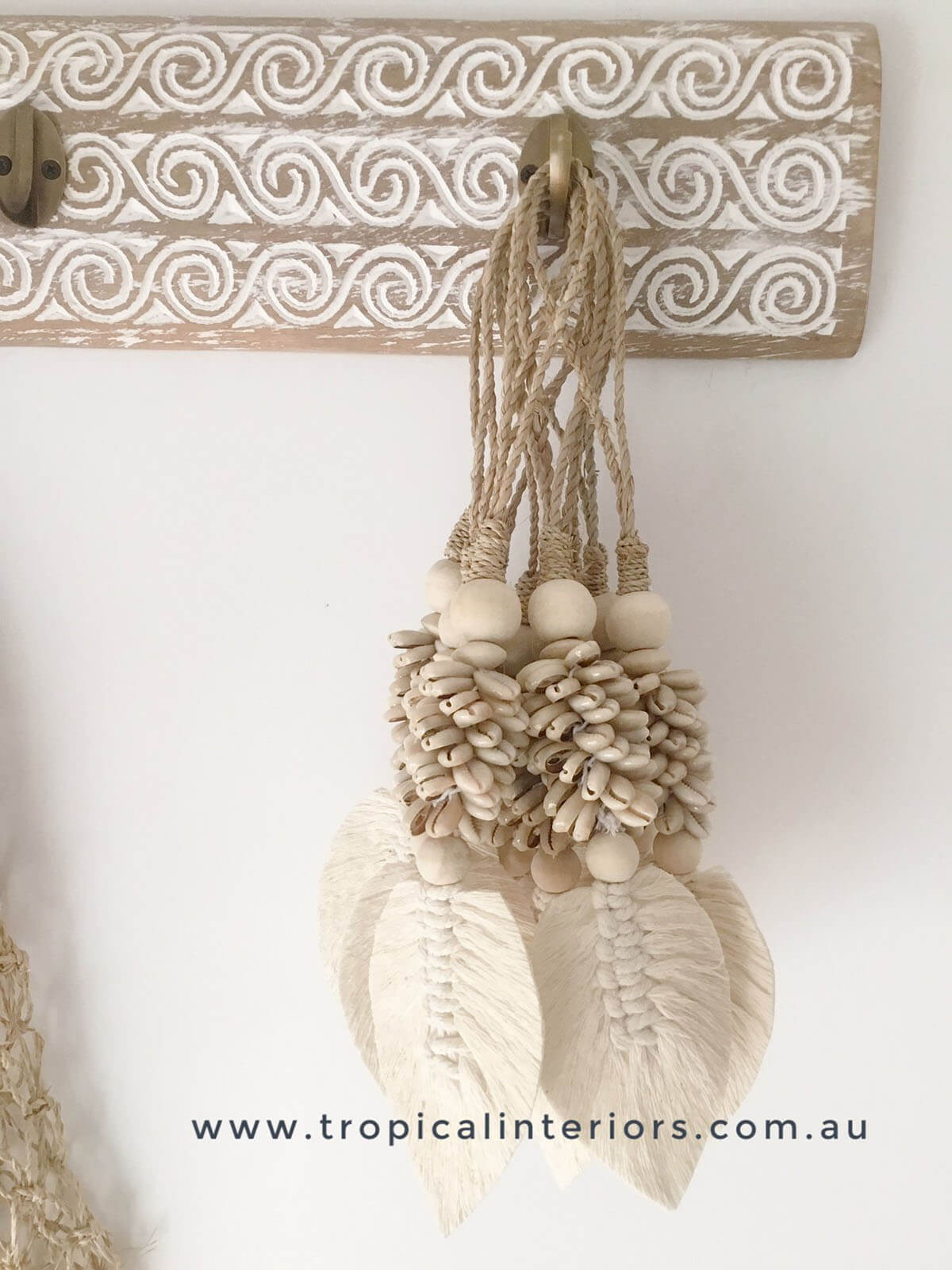 Here's a fun way to decorate your beach-themed Christmas tree! Add these leaf and shell tassels all around to give your evergreen some tropical splendor this winter. They can be tied into the overall design of your space by incorporating them into the room by hanging them on doorknobs, hooks, or ceiling fan pulls. With so many interesting facets in their creation, it's hard to say which part is the best. The collection of shells adds an ocean-loving inspiration while the cotton macrame leaf creation gives a softer and more earthy element to the piece. These would make amazing gift embellishments in lieu of traditional bows too!
24. Woven Macrame Decorative Glass Jar Vase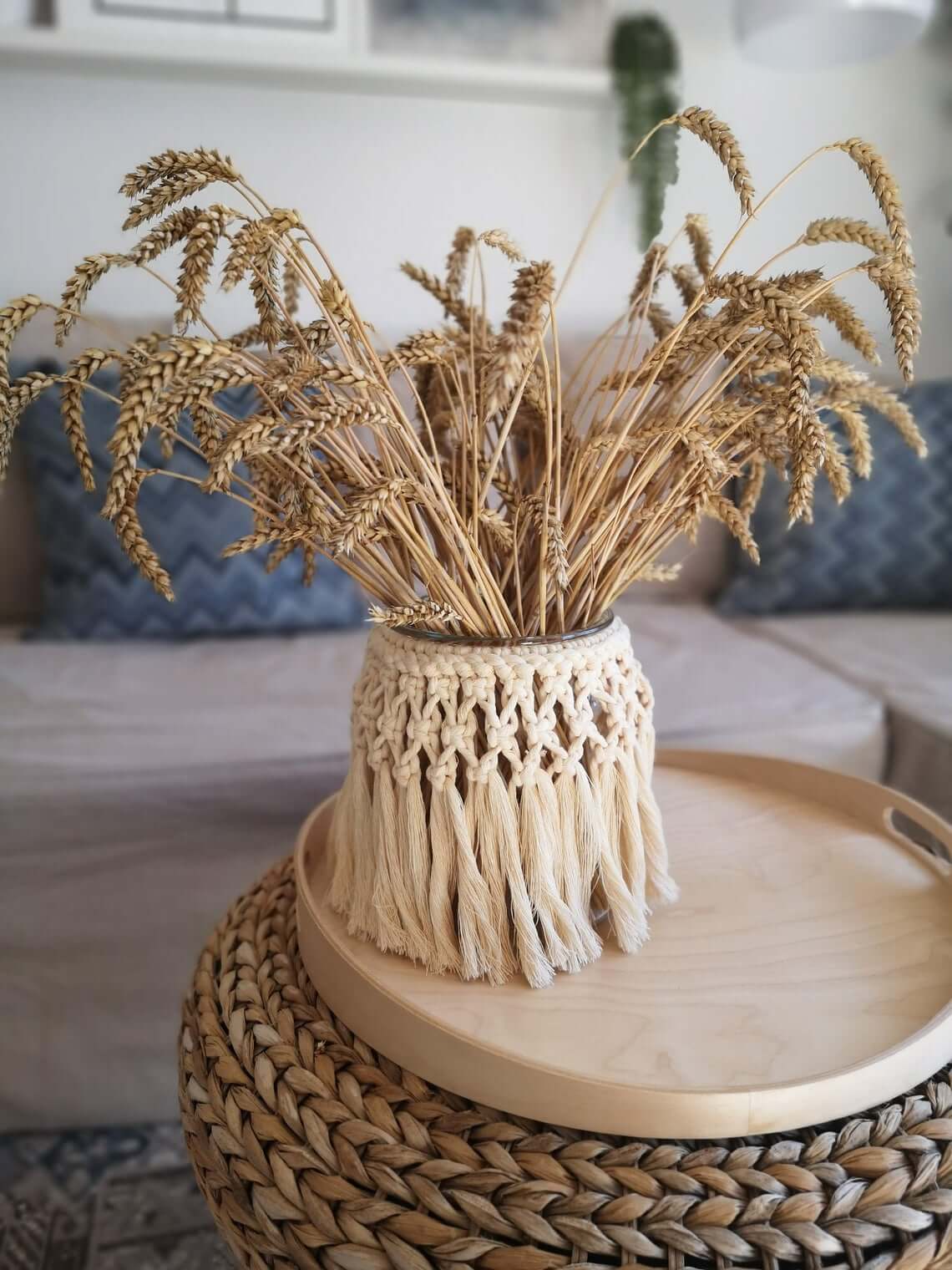 No matter if you choose to add a gentle glow of a tea light or fill it up with plumes of grain, this decorative glass jar is a show-stopper with its macrame jacket. Resting on your ottoman, this small jar takes center stage with its large and in charge design attitude. Hidden within, the glass jar is versatile as it can be used as a lantern or a flower vase. It would also make a cool storage solution for hairbrushes, wands, and accessories in your bathroom.
25. Wine Bottle Woven Macrame Wrap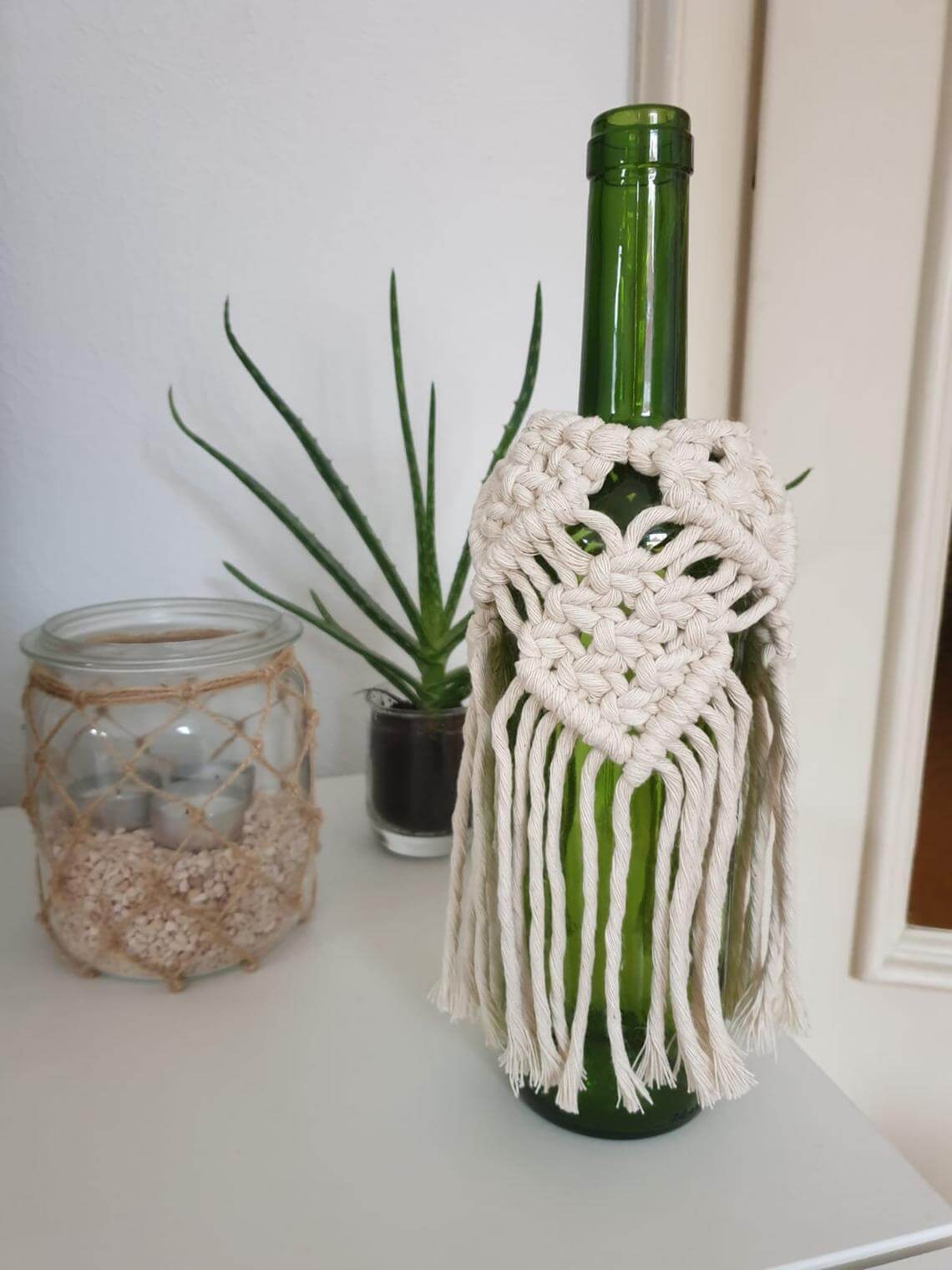 Never go to a party without a gift for the hostess. And when fretting about what to take, a bottle of bubbly is always in style so why not make it stand out with this woven macrame wrap? Displaying pretty interwoven designs, this bottle wrap adds just enough style while still keeping the label visible. Once it's empty, this wrap becomes the perfect accessory for transitioning the bottle into a unique vase for a fresh bouquet.
26. Big Tassel with Fringe Macrame Clock Holder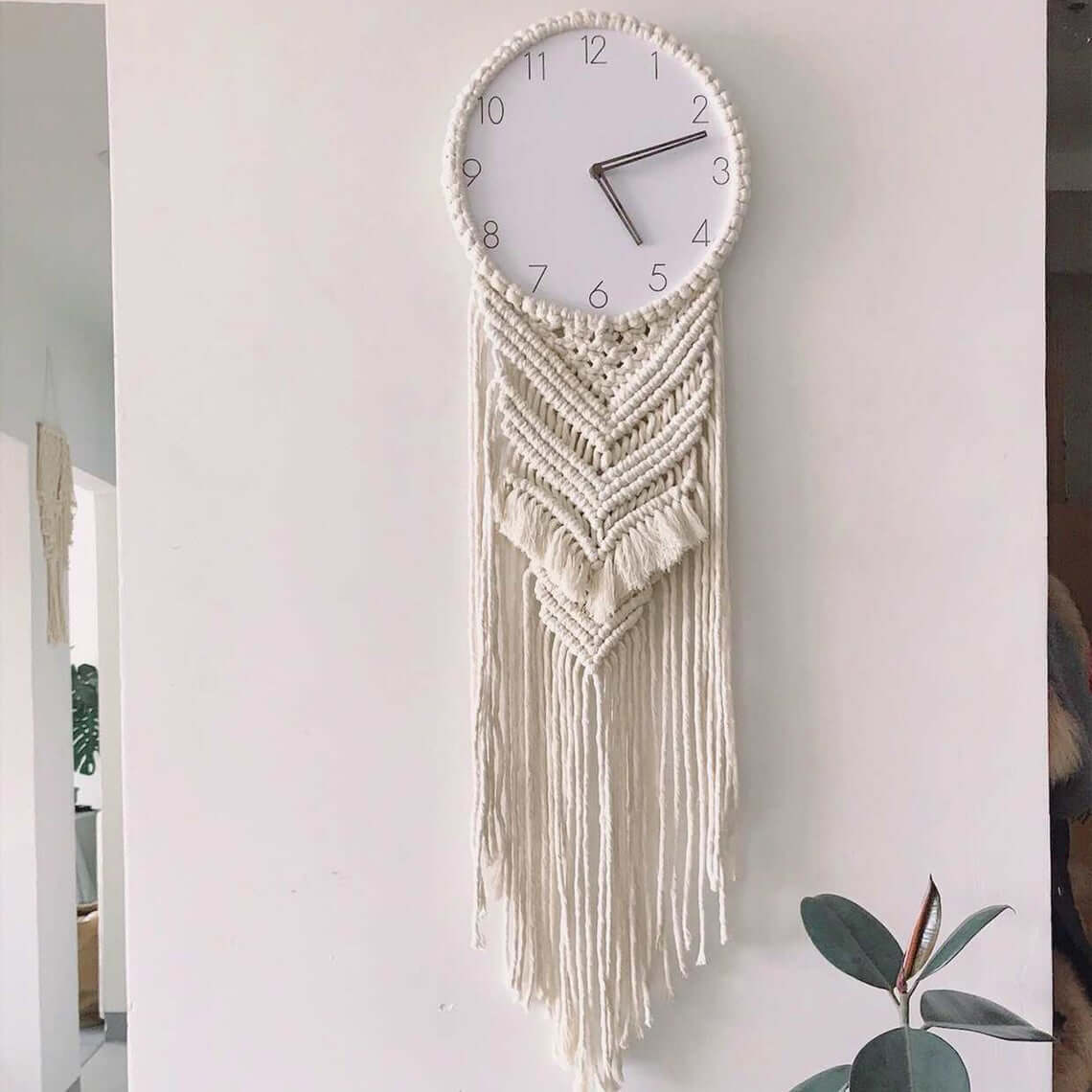 Checking the time never looked so good as it does with this gorgeous tassel and fringe macrame wall clock holder. Nestled inside, this plain traditional wall clock is completely transformed with its tailored chevron-inspired pattern of macrame beauty. Hanging on the wall, this clock becomes a bold decoration that can easily stand on its own. Place it in the kitchen or near the front door so everyone will know what time it is. Consider giving your favorite teacher one to use in the classroom as a great way to say thanks for a great year.
27. Timeless White Folding Macrame Magazine Rack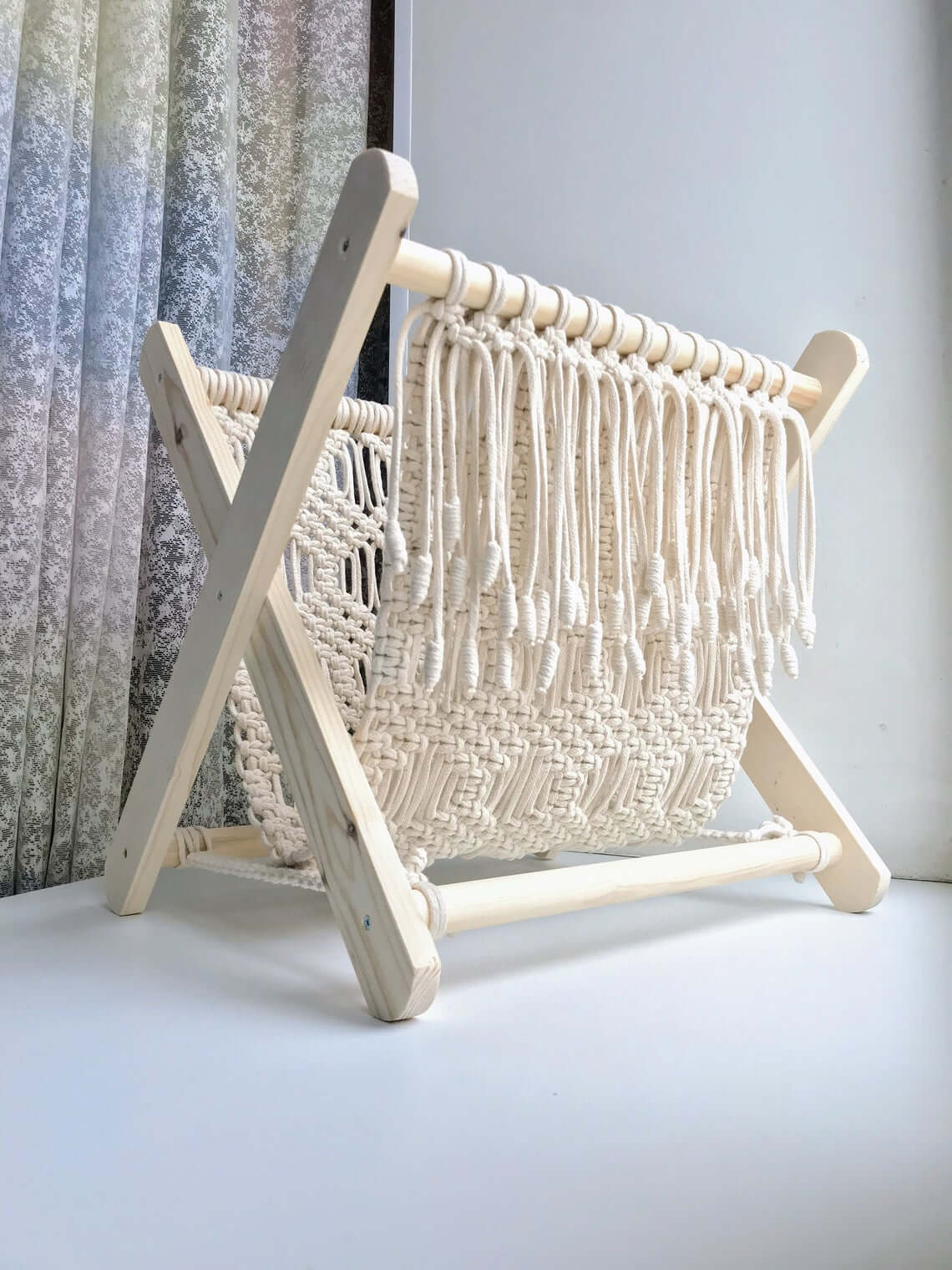 The vintage feel of this modern magazine rack features a gorgeous macrame weaving to give it a bohemian vibe. Placed next to your favorite chair, all of your reading materials are easily within reach. This would make a charming blanket holder as well so you could store your favorite warm and fuzzy throws to cuddle up with as you enjoy some late-night television after the kids go to bed. Your teenage daughter might choose to use it as a hub for all of her electronics while still keeping her off-limits bedroom in style.
28. Charming and Cute Cushioned Macrame Baby Swing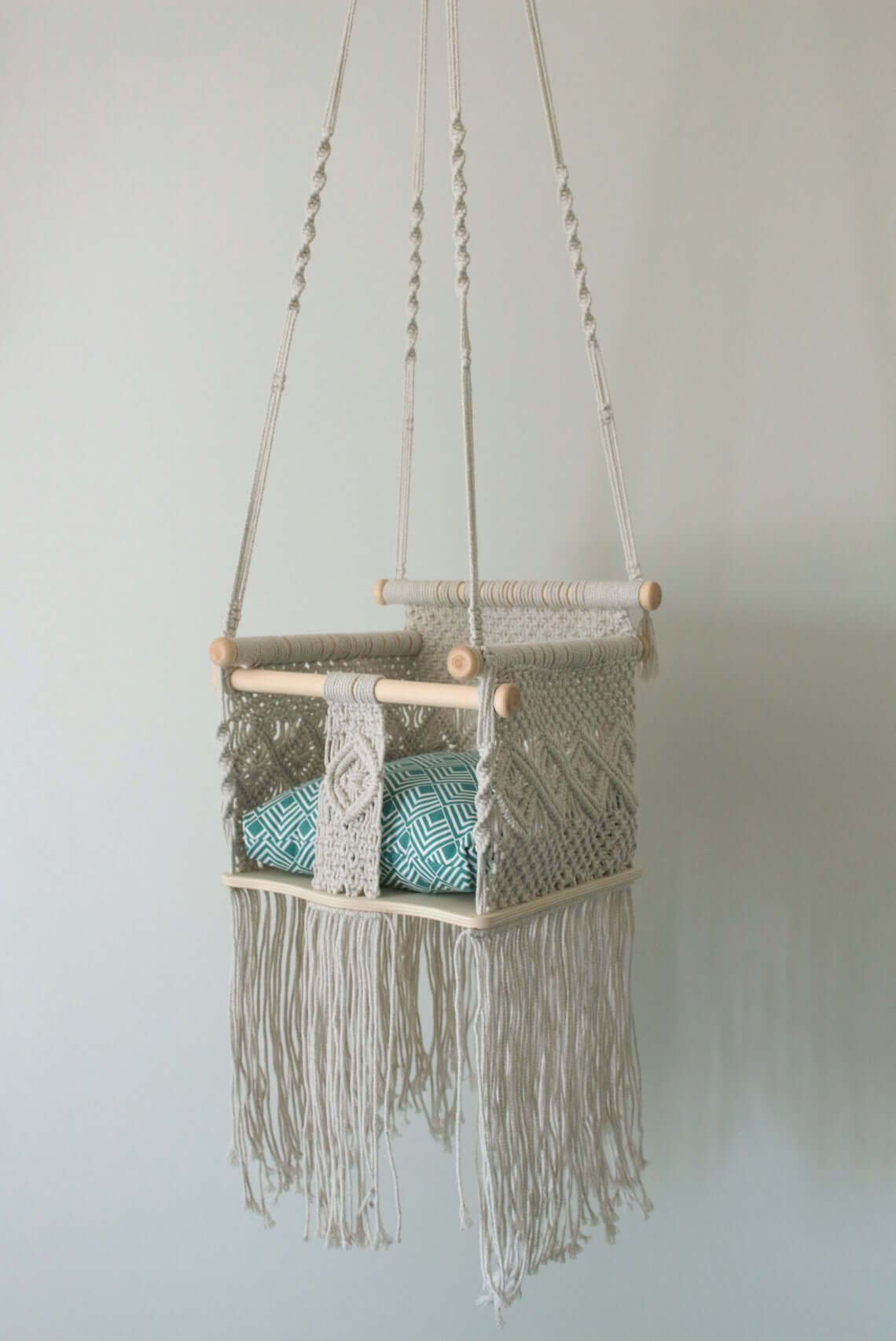 As one of the best macrame home decor ideas for living with a baby, this adorable baby swing will be the most cherished gift of the mother-to-be. Crafted with a cushioned seat for comfort, the look and feel of this baby swing are the product of necessity mixed with style. Truly this macrame baby swing will become a family heirloom and be loved and enjoyed by generations to come. Attach it to some overhead studs in the nursery to use indoors or secure it to the ceiling of the back porch for some outdoor fun.
From Plants to Pillows: These 28 Amazing Macrame Ideas Has You Covered
No matter if you are a craft guru or beginner, one of these macrame decorations has your name on it! Each piece is filled with charm and texture while working with your existing decor so you don't need to do a complete overhaul to update your space. In the bedroom, add a pillow cover or two and maybe even a hanging wall art piece. These two choices are some of the best macrame home decorations in terms of both look and versatility.
On the table, you may wish to ground your welcoming eating area with a nice table runner. Or you may need a unique accessory for a glass lantern to give it a fresh look. Guests will adore your macrame luggage stand that's conveniently located next to the spare bed. They will feel right at home while also being a special guest.
For the younger ones in the family, decorating the nursery with macrame wall hangings or frames adds a nice earthy and friendly warmth to their new environment. Although one of the cutest ways to use macrame for a baby is with the hand-crafted baby swing. Not only will your little love enjoy the motion of the swing, but you'll also love the photo opportunities that present themselves!
Standing the test of time, macrame has been around for a while and continues to inspire new designs and home decor enthusiasts around the world. Keep the look fresh and simple with one of these amazing best macrame home decor ideas featured above.