You have surely fallen in love with the best mermaid home decor at one point in your life. Besides, everything is so beautiful under the sea. While you have to live on land, it does not mean you cannot still enjoy an aquatic-inspired life in the comfort of your home.
27 Best Mermaid Home Decor Artifacts for Your Living Space

By adding a few mermaid-inspired touches to your home décor, you will be surprised by the level of personality you can achieve in a room. What's more, they blend splendidly with antiques to give your home a stylish and glamorous look.
The ideal home decoration will involve the strategic setting of artistic or colorful items that complement the existing space. These items could be as simplistic as wall portraits, wallpapers, or more complex items like carvings and sculptures.
In any case, you want to accessorize with items that speak volumes with regards to who you are. You want your decoration to speak of the living standards that you prefer, the comfortability of the living space, as well as to attain a certain degree of appreciation from your guests.
In essence, mermaid house decor allows you to create a marine environment once you step into the decorated space. You can relate mermaid house decor to themed parties, where specific elements are applied to complete the feeling you are looking for.
Like the unicorn trend, the mermaid trend tends to skew more to the young or cheesy aspect of a room. While it is true that most mermaid décor is impeccable for a kid's room, there are plenty of mermaid home decoration ideas and concepts that will work for an adult space better.
Exploring the world of interior design doesn't have to be an expensive endeavor. It is all about the details and style, and the mermaid home decoration ideas below fit the description.
1. Glamour Mermaid Turtle Enjoys the Ocean Floor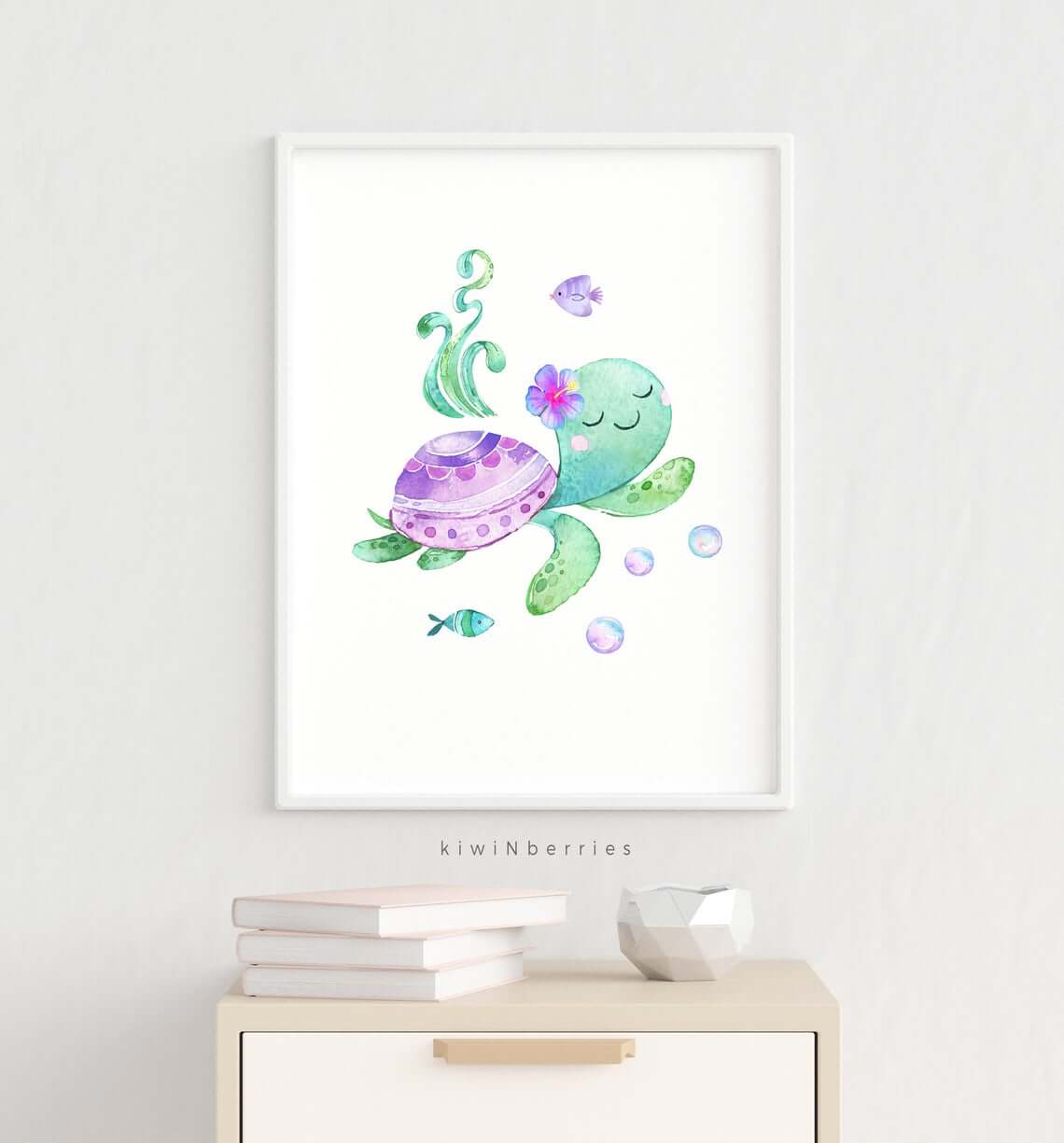 Small mermaid artworks and decorations can instantly turn your home into a wonderland. Depending on the aesthetics you are looking to achieve in your room, there is a wide selection of mermaid artworks and decorations in the market.
You will find this captivating portrait of a glamorous turtle enjoying the beauty of the ocean blue along the rock bed. The beautiful imagery compliments the bright background in your living space. This is the feeling of calm and beauty with that touch of a soothing ocean breeze. You would enjoy adding that splash of color to put a positive spin on your life.
2. The Mermaid bar Happy Hour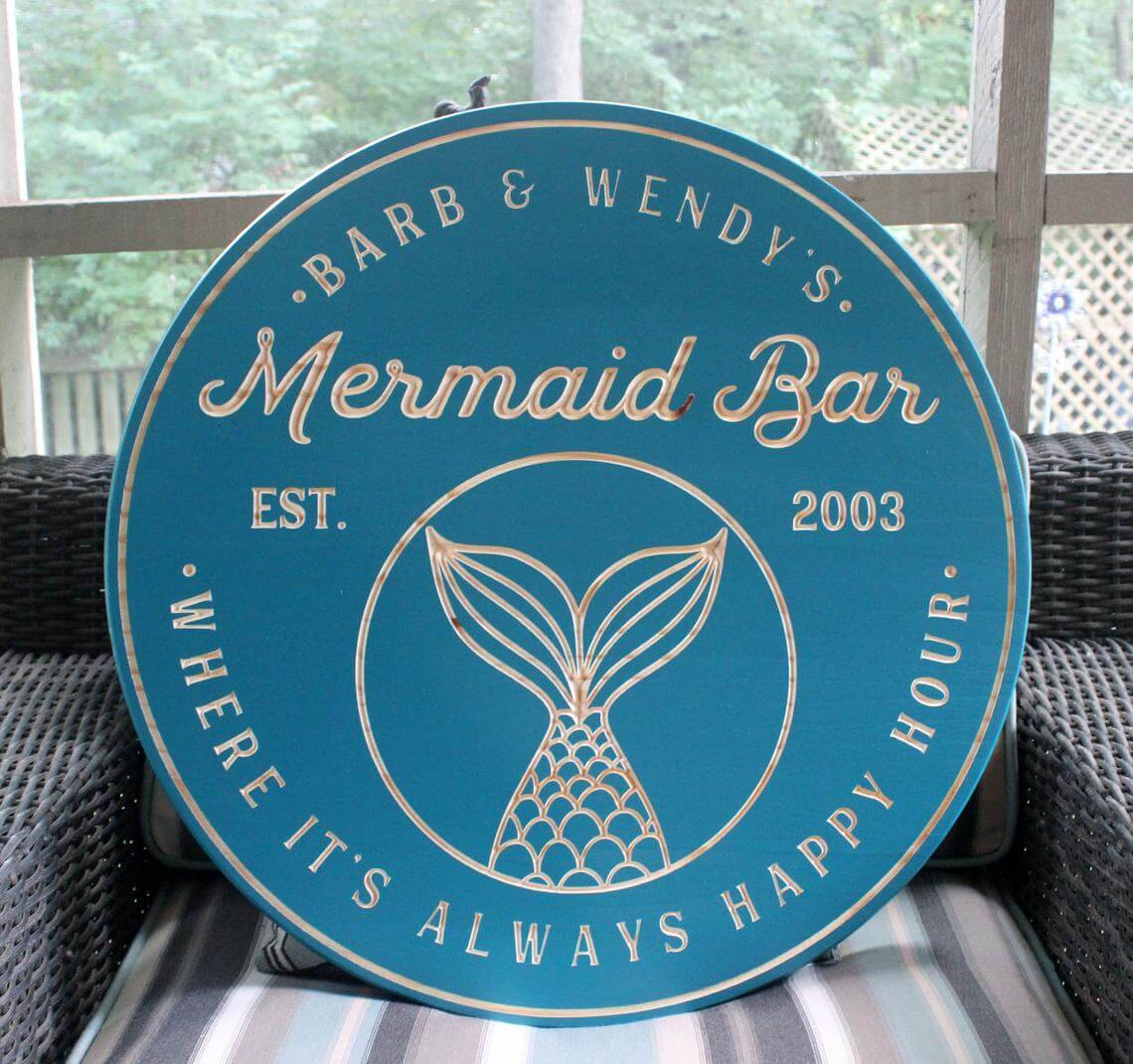 Corals, shells, starfish, and other sea-related decorations are very popular and can introduce the spark you want in bird cages, aquariums, dishes, bowls, and boxes. There is no limit to mermaid decorations and artworks as displayed by this unique artifact that reminds you of that great time by the beachside chill spot.
The antique mermaid bar sign can be placed on countless surfaces in your living space and bring out beautiful memories during that summer. You can almost feel that cool breeze, that sizzling feeling when sipping a margarita when staring at the deep blue.
3. Luminescent Mermaid Princess Valerie by the Beachside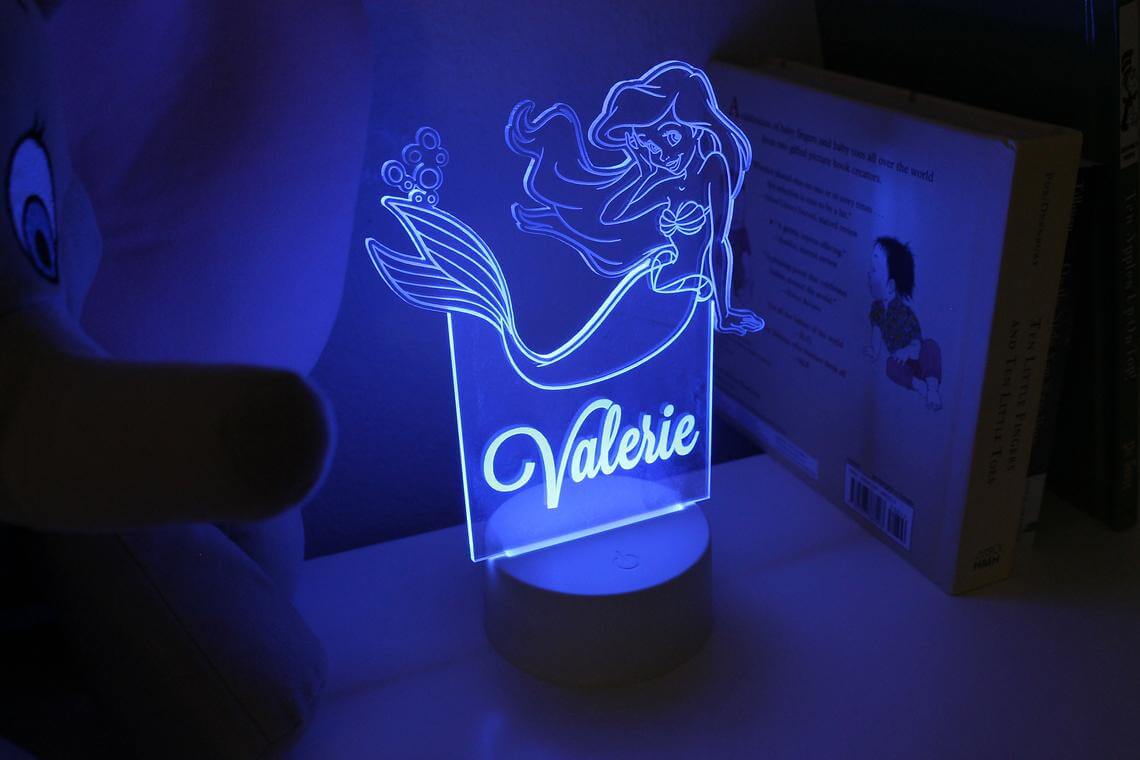 You could create a whole art wall from different paintings or photos to make you and your guests feel under the sea. Nothing makes you feel this effect more than the illuminated sea princess Valerie on a dangling blue luminescent light.
If you're looking to install something unique, consider finding this mermaid candlelight holder for your living space. This dazzling décor also incorporates that translucent feel when you are underwater.
What's more, the radiating blue light will travel through your living space, creating a unique aquatic ambiance within your environment. This particular piece is ideal for your bedrooms, living room, or even your amazing balcony.
4. Modernistic Fish Scale Mermaid Home Décor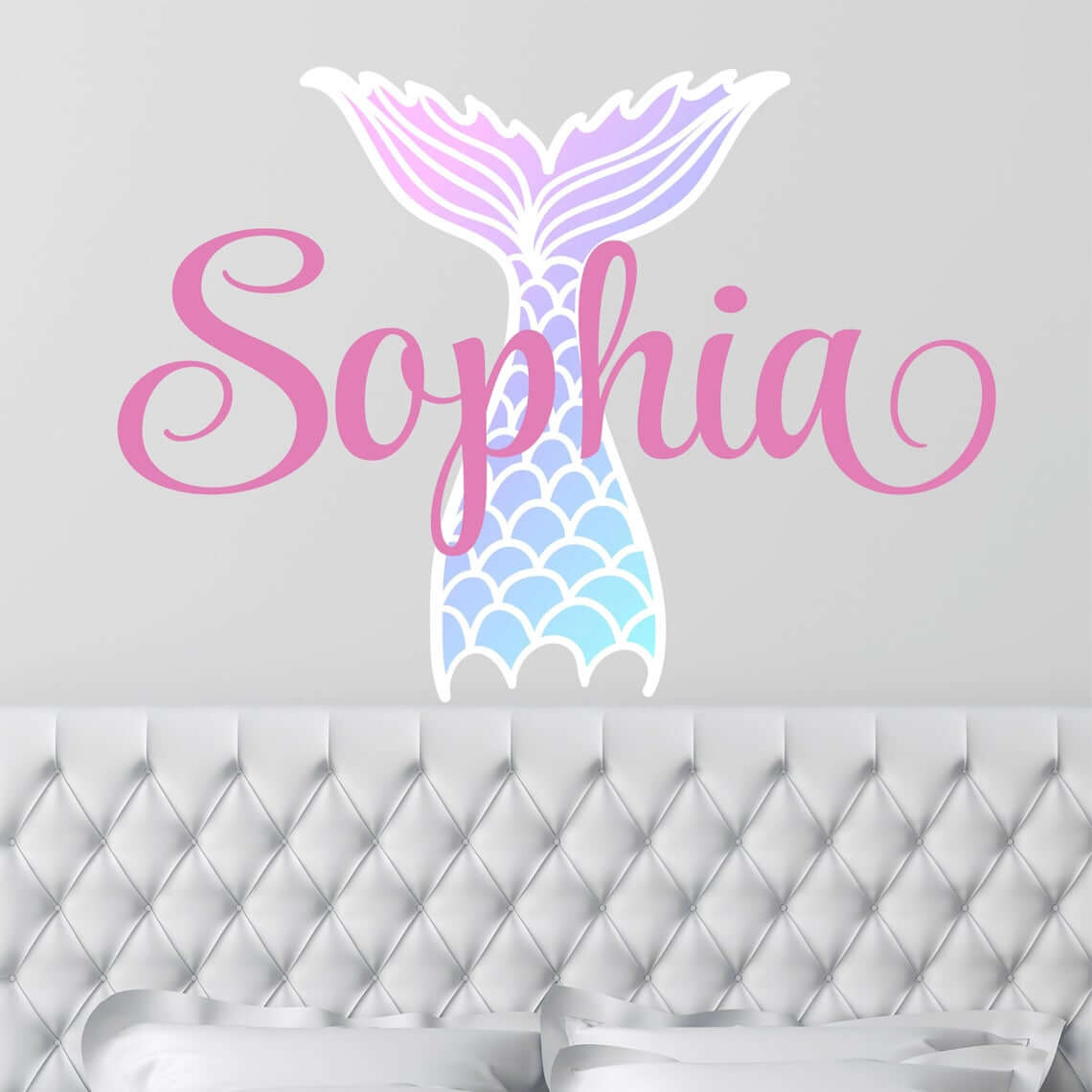 Imagine having creative and flamboyant fish scale art for your bedroom or your Livingroom. There are countless ways to infuse a mermaid-inspired accent into your home décor. Your only limit is your creativity.
You can incorporate this colorfully drawn wallpaper of a tailfin in your quarters. More so, you can also customize the name that best suits your desired memory or feeling. It is, however, essential not to overdo it, or your rooms will end up looking too cheesy.
The wallpaper offers an ingenious way of infusing the mermaid accent with your home décor without overdoing the artwork or the color accent. Simple and classy.
5. Golden Rustic Mermaid Queen of the Sea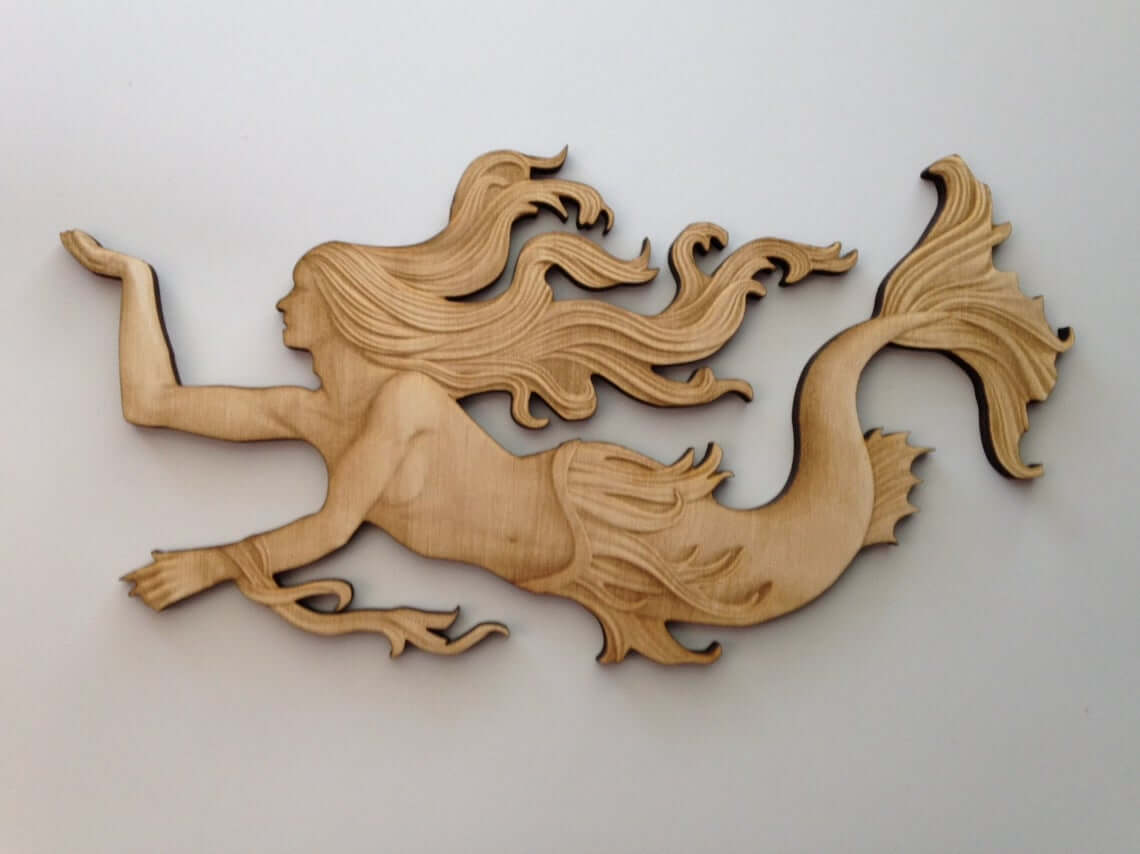 Sculptures are the best mermaid home decor artwork pieces for your living area. What's more, they present texture in one of the most uniquely flamboyant ways to accessorize. Cabinets, chairs, tables, and other furniture can be easy to ignore when considering home décor.
What if you consider installing a small mermaid wooden sculpture that added texture to your living space? The mermaid sculpture plays a critical role in defining the style and feel of your home.
Moreover, you can attain more ambient effects from the rick khaki gold and black color of the artifact. This unique style brings out the rich Oceanside vibe in your living space.
6. Aqueous White and Blue Mermaid Signboard Décor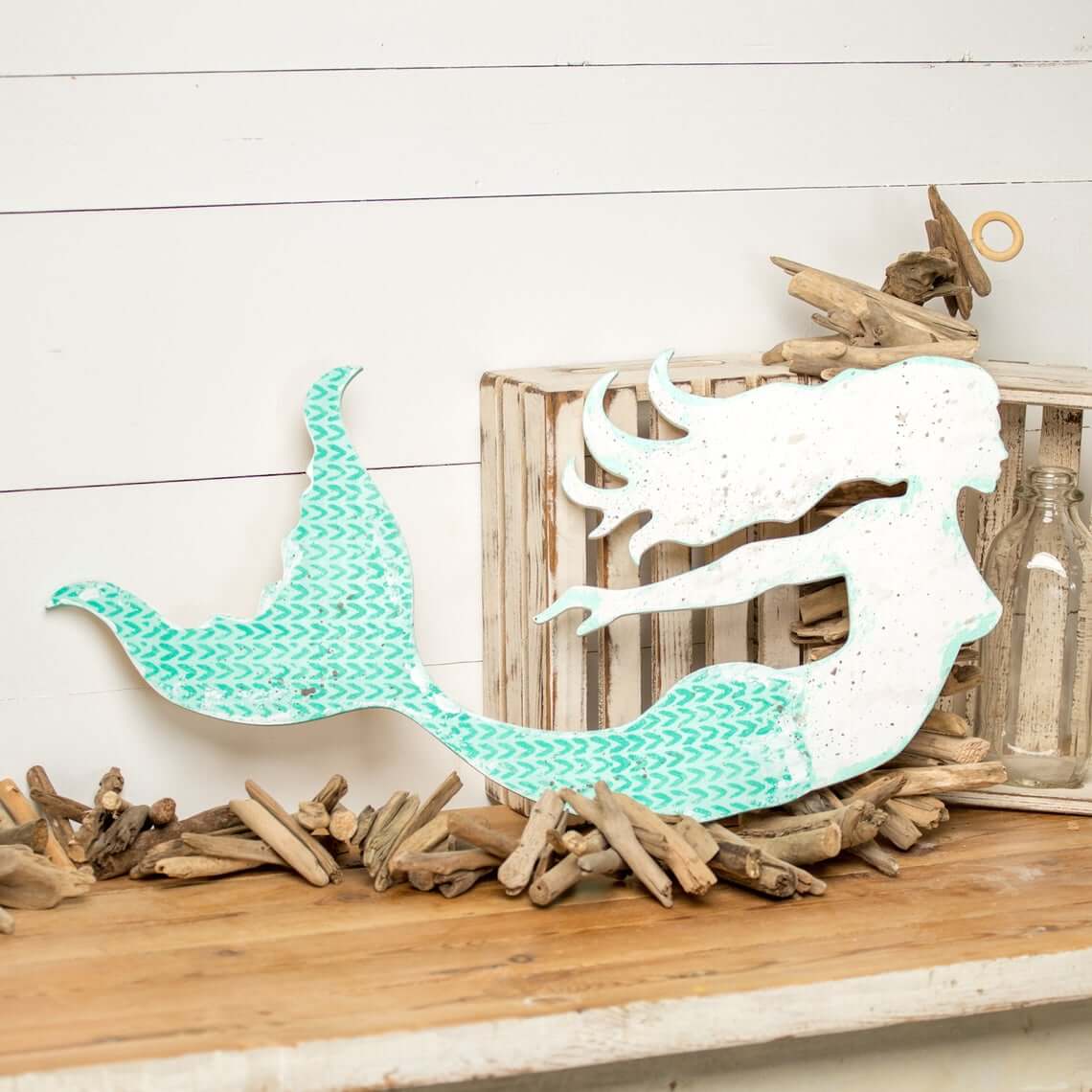 You can find brilliant artwork ideas from displaying collections of pearls and seashells within your living area. How about displaying signboards of glamorous long-haired mermaids on wall surfaces in your living area? The white and aqua blue décor is exemplary for any surface, with a rich application of color contrast that takes you to the seaside.
While you can benefit greatly from incorporating gallant texture into your living space, the mermaid décor also allows you to create an immersive feeling of wonder and soulful curiosity.
Furthermore, this stylish mermaid décor can be installed at any height level within the living space, making it perfect for countless surfaces within your living space.
7. Spectacular Impressionist Fish Scale Wall Portrait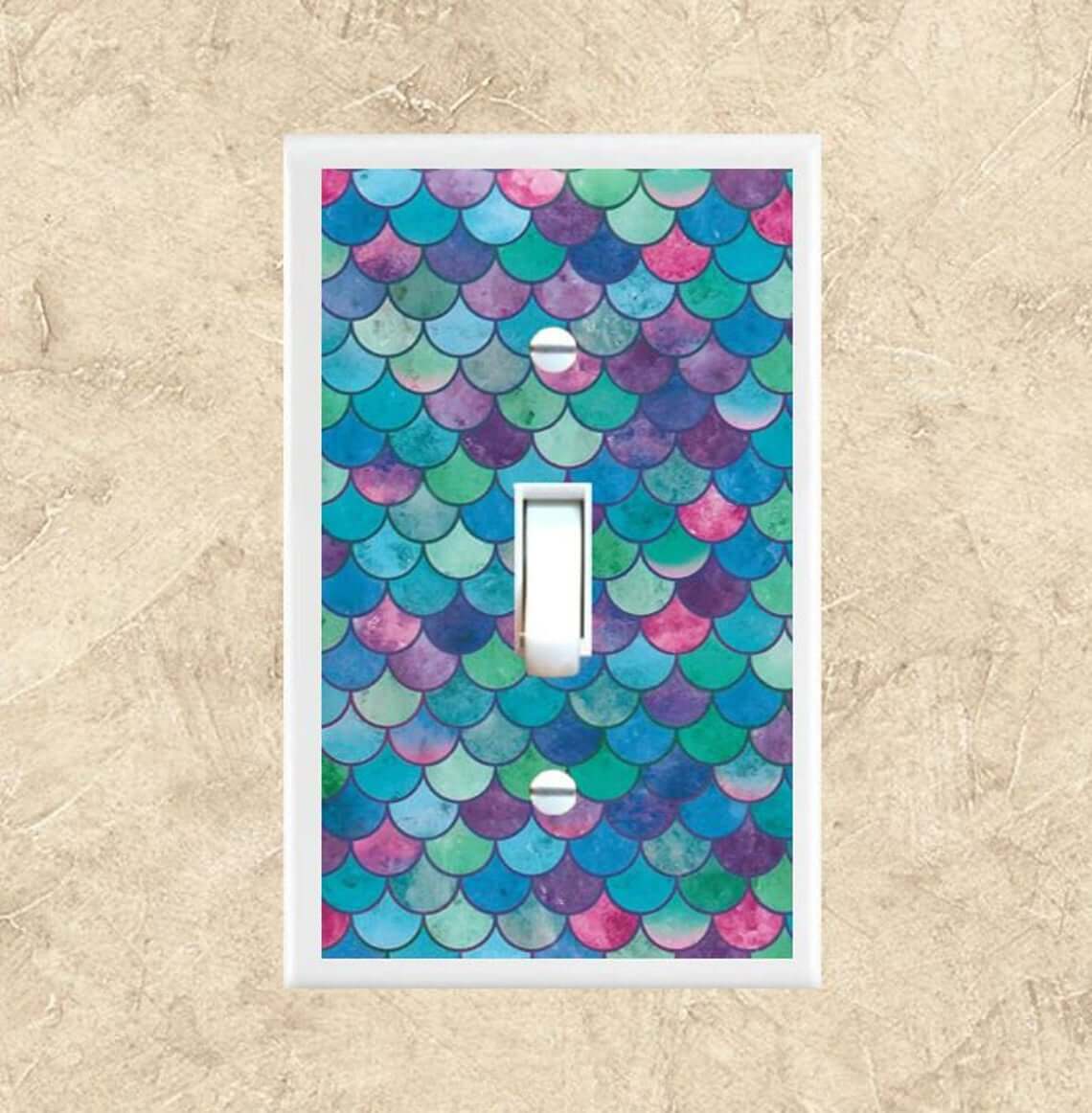 This is a cool piece of fish scale art to put on that empty corridor wall connecting all other rooms in your living space. The perfect blend of rich blue colors is excellent for multiple-colored background surfaces.
This is the ultimate portrait that makes you stop to stare at it. Think of the feeling of wonder when you pass around and having to stop to have a glimpse of this dazzling piece of artwork. It's like touring an art gallery. Further, it is easily relatable to any of your guests as it cuts across the realms of creativity and pure bliss for any who steals a glance.
8. Colorful Mermaid Princess Wallpaper Décor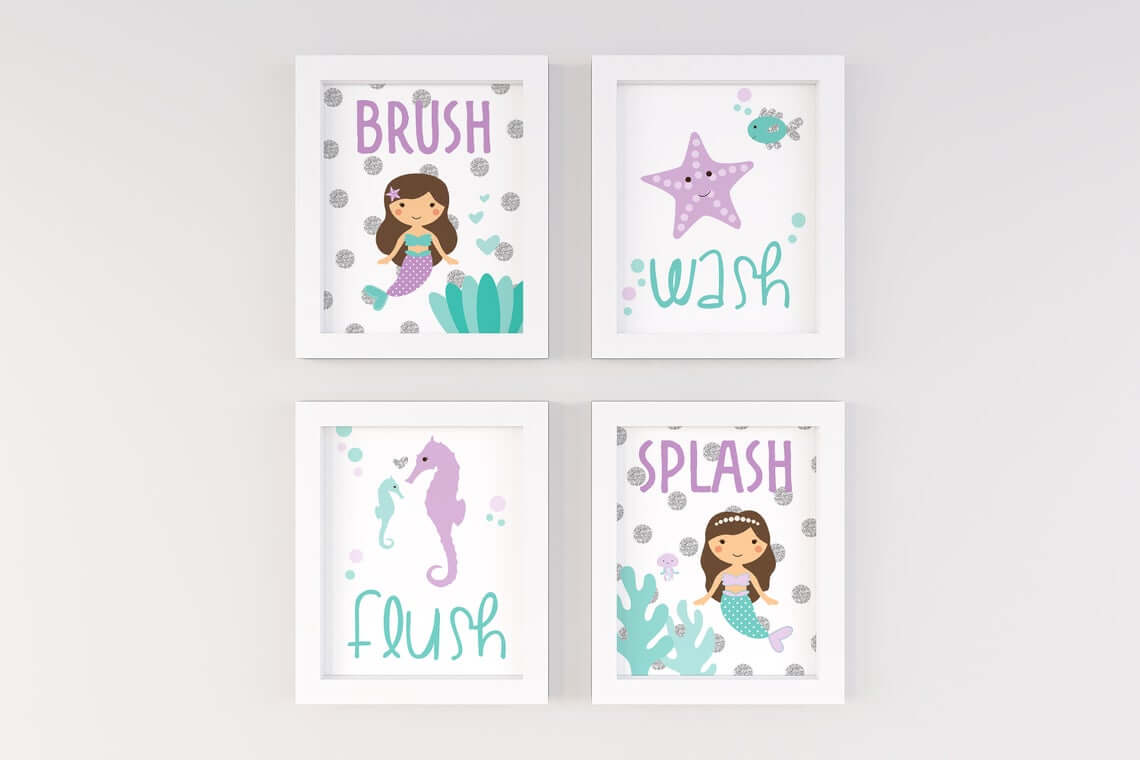 The four-set painting is a great mermaid décor for your little girl's room. The set inspires a joyful and playful mood, ensuring that your little girl will always be cheerful when they wake up in the morning.
Further, this décor does not have any sharp edges, which is advantageous as you avoid any papercuts that might arise when getting close to the portraits.
The creative blend of words and images also vividly depicts the awe and inspires that fairytale feeling of love and tenderness. You will find much joy in having your daughter enjoy the company of a cute mermaid princess.
9. Classical Socket Mermaid Lampshade Décor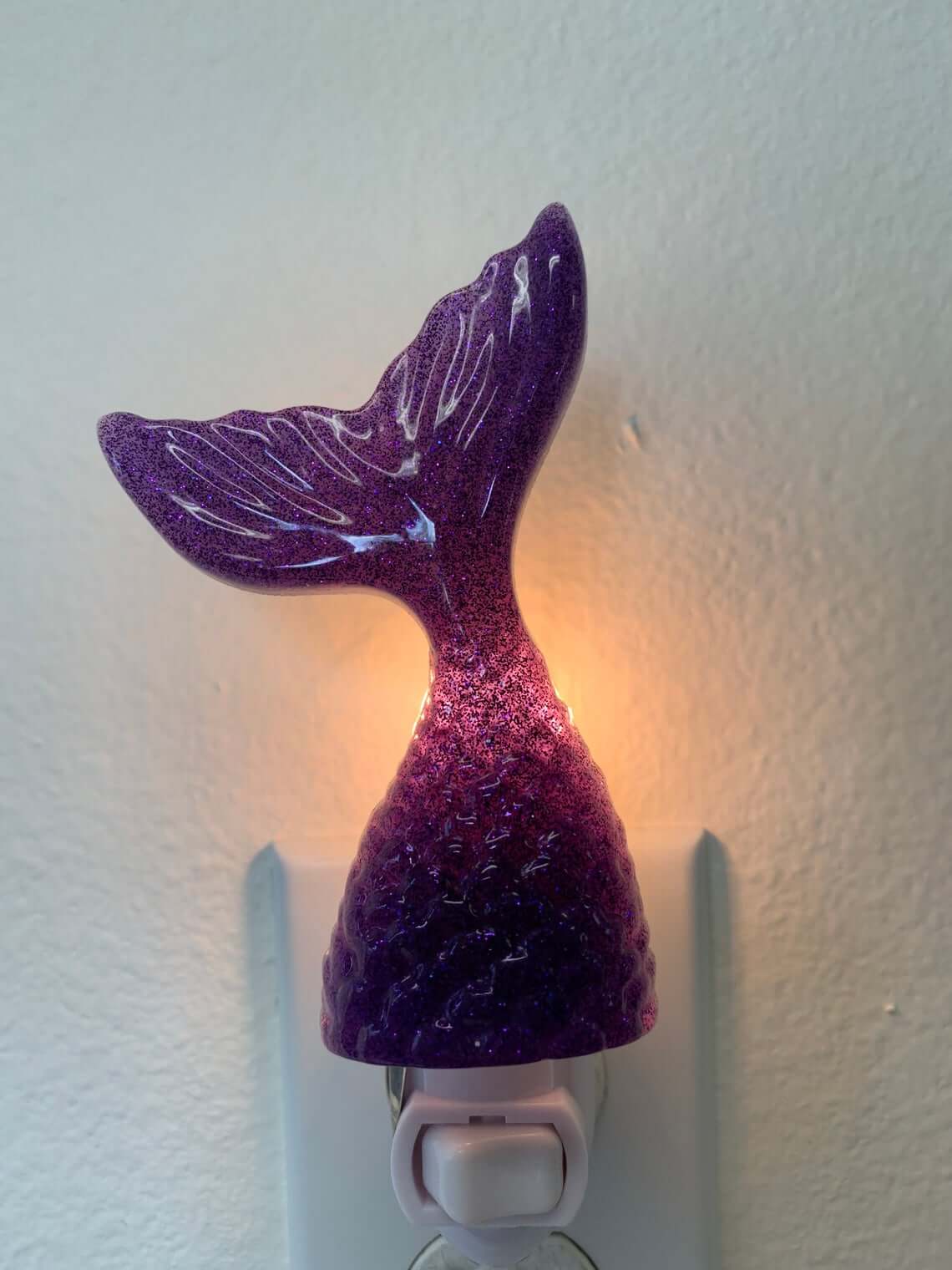 What a beautiful purple fish scale lamp holder to complement the radiance in your Livingroom. It has an in-built switch that makes it easy for you to switch on or off, depending on the time of day.
During the day, the deep purple tailfin is an exciting artifact to have attached to the lower belt of your living space. The view is even more illuminating during the night as the thick purple rays hit the walls of your bedroom, creating an oceanic ambiance and a relaxed seaside vibe.
10. World Class Mermaid Wall Carving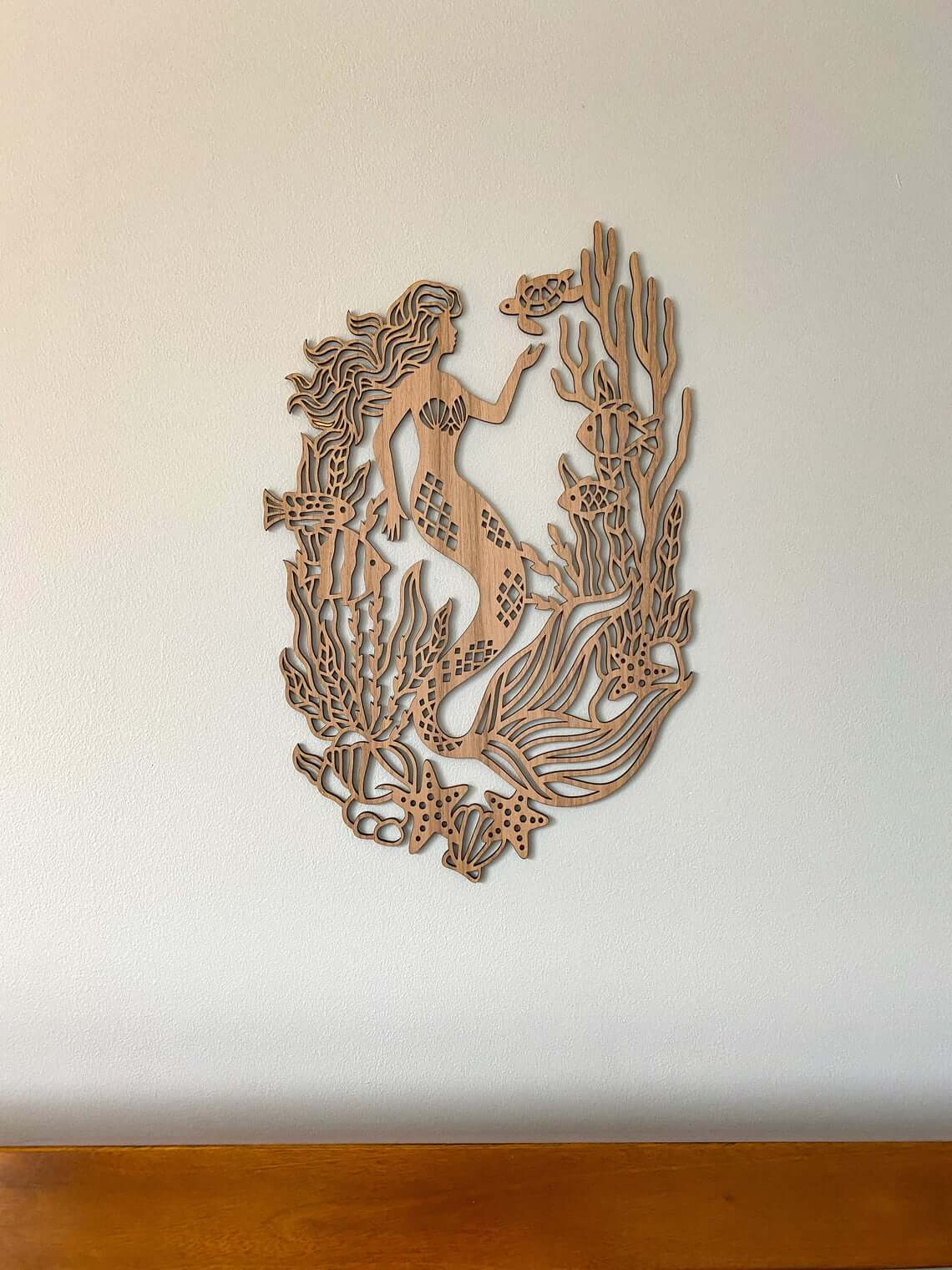 You will be amazed at the incredible detail that the sculptor put into the antique mermaid in the ocean. The image depicts the mermaid and her gallant features and incorporates other sea life such as turtles, fish, starfish, and even plant life in its caption.
More so, the rich metallic gold color complements the wooden background of your house skirting and furniture, creating a subversive aura of ocean times. In addition, you will find that this artifact is perfect for any room within your living space and will give your home the classy finish that you are looking for.
11. Small Glittering Mermaid Sticker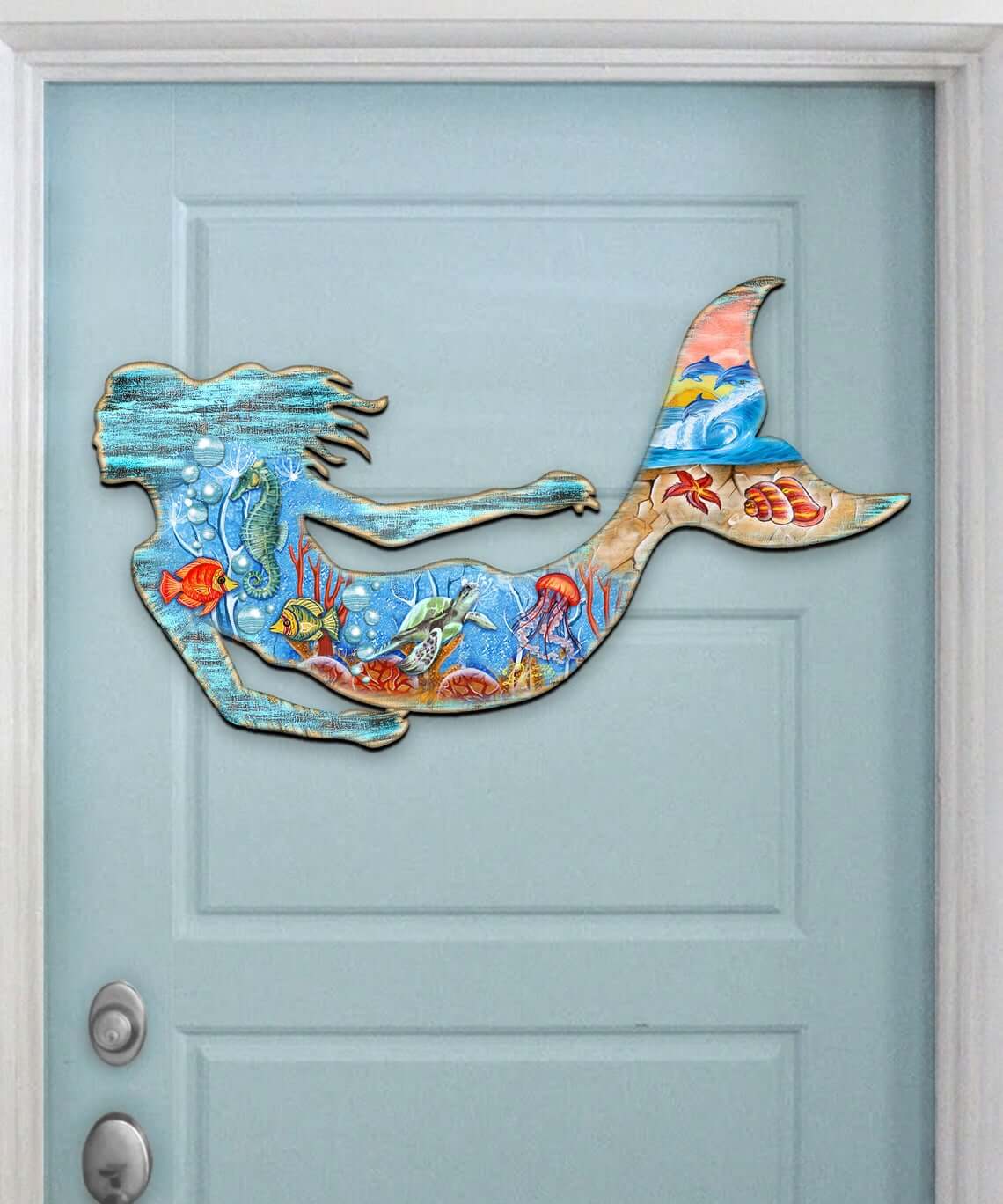 There is no limit to the creative mermaid artworks you can find that accentuate your home into beautiful ocean scenery. Looking at this mermaid sticker, you will notice that the colored animals within the structure of the mermaid help liven up the mood as they are vivid depictions of thriving life within the ocean.
Further, this blend of color closely resembles that of the aquatic life in the beautiful ocean backdrop. This will be perfect for your bedroom door or your children's bedroom doors. What's more, it can also complement that beautiful aqua color of your bathroom door and create a lively atmosphere within your living space.
12. Gallant Wooden Tailfin Mermaid Display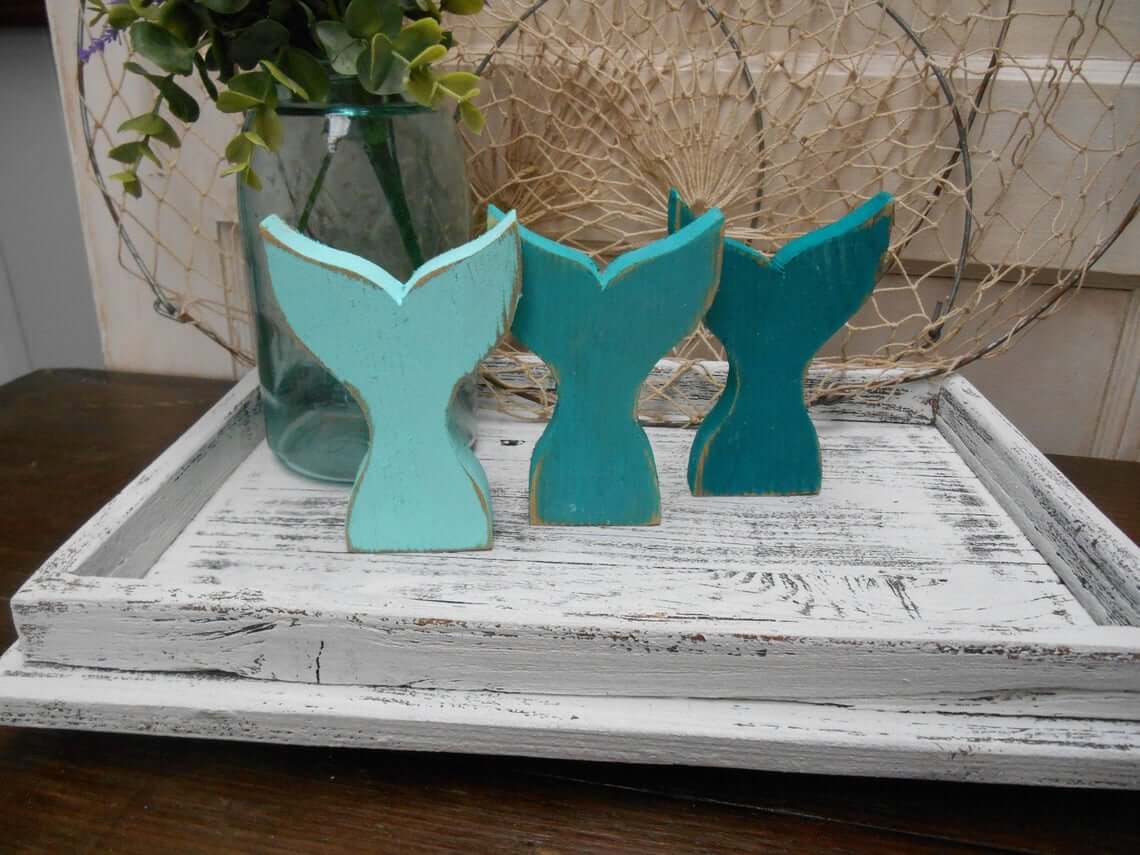 The set of varying oceanic blue tailfins tells that tale of a beautiful adventure into the ocean side. You will find that you can place these unique antique pieces of mermaid home décor on countless surfaces within your living space.
You can place it by the fireplace in your living room, your kitchen shelf, by the balcony side, or beside your bed in your bedroom. This is because the amazing artistry adds different shades of aqua blue to the ambiance and includes texture in your living space.
13. Antique Golden Mermaid Carrying Sea Life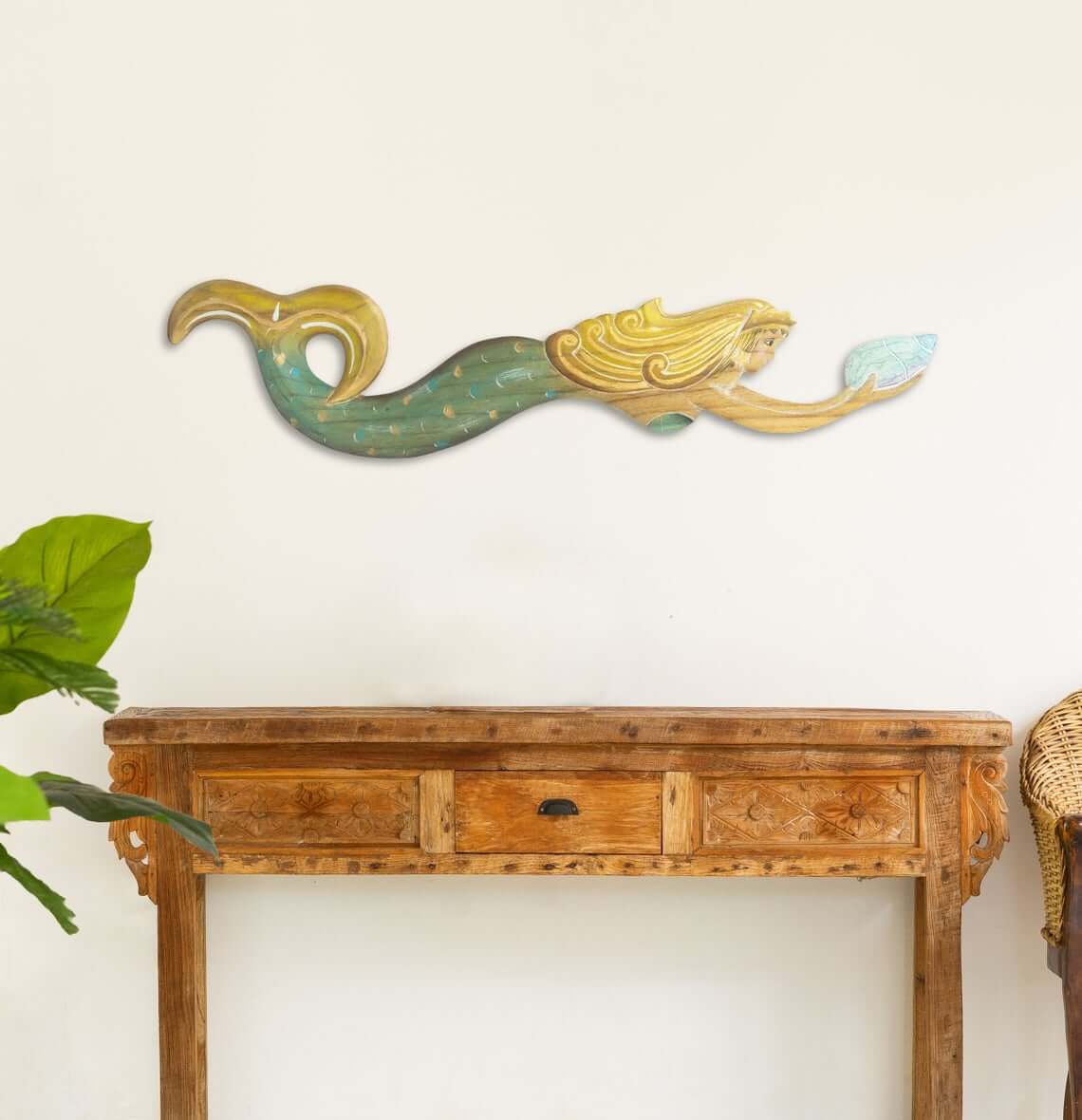 Countless structures of mermaid forms can complement an oceanic and aquatic feel within your living space. This artifact perfectly creates an aura of the marine environment from the impressionistic drawing applied on the tailfin of the mermaid décor.
Further, the golden blonde and tail also help alleviate that joyous and wondrous fairytale atmosphere in your living space. It is perfect for your balcony of the corridor connecting you to other rooms within your living space.
This exemplary artwork is perfect for adding that touch of magic that you need in your life. Even your guests will be able to sense the magic in your living space.
14. Simple Vintage Mermaid Sign for Home Décor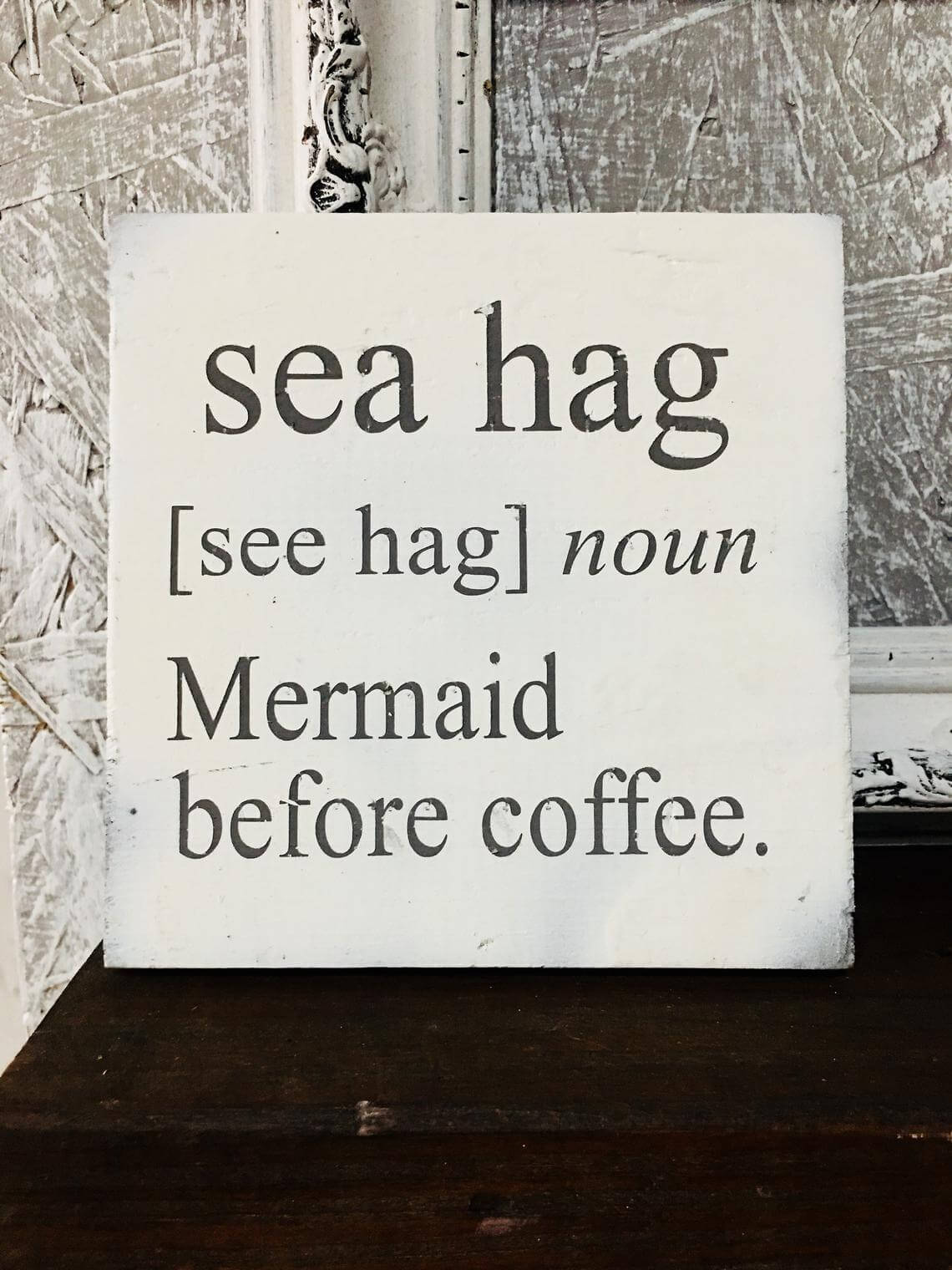 Most times, you find that it is the simple things in life that accentuate your lifestyle. Simple can be classy, as illustrated by the glaring white wooden sign of a sea hag or mermaid. The very articulate concept behind the writing not only informs you of what a sea hag is but also sparks creative thinking as to why there needs to be an elaborate explanation of the word in the first place.
This artifact can complement your bright background, such as your home walls, among other surfaces. Furthermore, it is perfectly suited to blend into any texture of the surface in your living space. Whether it is that rugged cardboard texture or a vanished polished floor surface, you cannot go wrong with the simple yet classy home mermaid décor.
15. Classic Mermaid Retreat on the Ocean Floor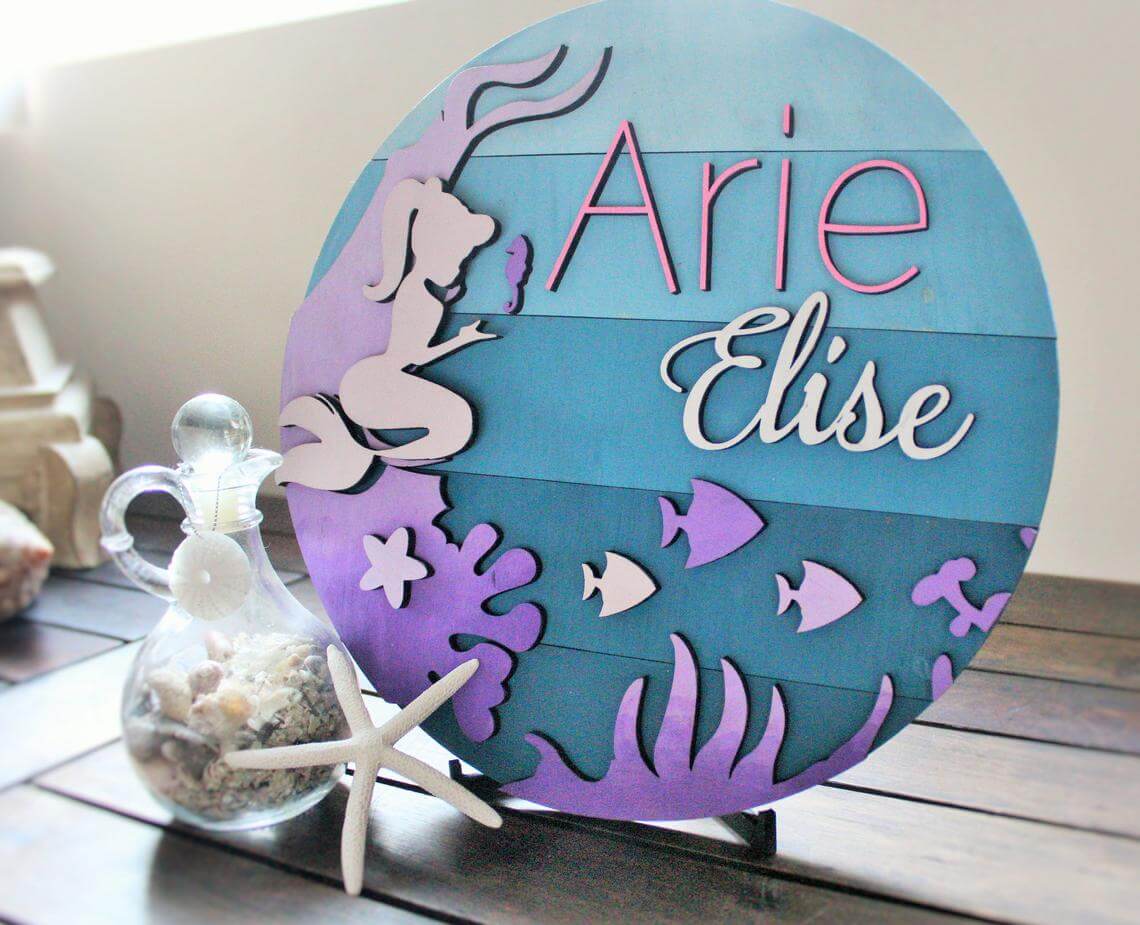 You will not find a more authentic collection of mermaid-themed home décor than you will find in this amazing artifact. You'll want to achieve that dreamy feel within your living space while maintaining the originality of your living area.
Imagine having an alluring image by the kitchen counter or by that wonderful wooden shelf in your bedroom. This classy piece of the mermaid-themed wooden vale is the perfect piece to add that spark what you want in your bedroom or Living room. It is excellent for all sceneries as it can accentuate the marine environment.
16. Authentic and Neat Mermaid Fabric Décor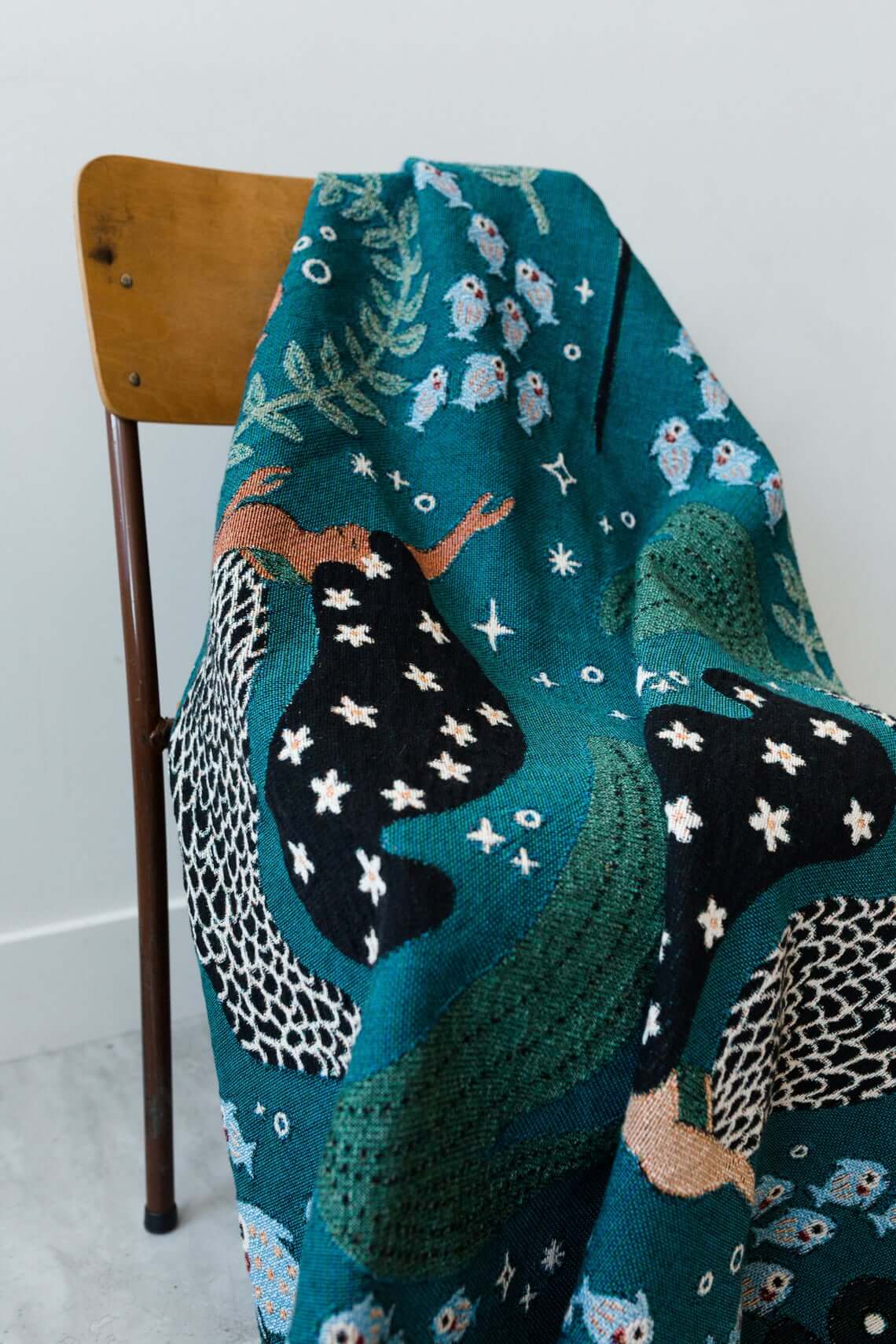 Fabric mermaid decorations are perhaps the most fitting for your living space. Choosing the right one may not be as straightforward as you may presume. However, the trick to balancing the accents in your home through installing mermaid-decorated fabric is in color.
While most of us love bright colors in fabrics, you may want to consider purchasing fabric that complements the décor in your home. For instance, if your living area features white walls, it is best to install fabric with black and white accents, in addition to the aqua color that already brings the ocean feel into the living space.
17. Scaled Mermaid with Starfish Home Décor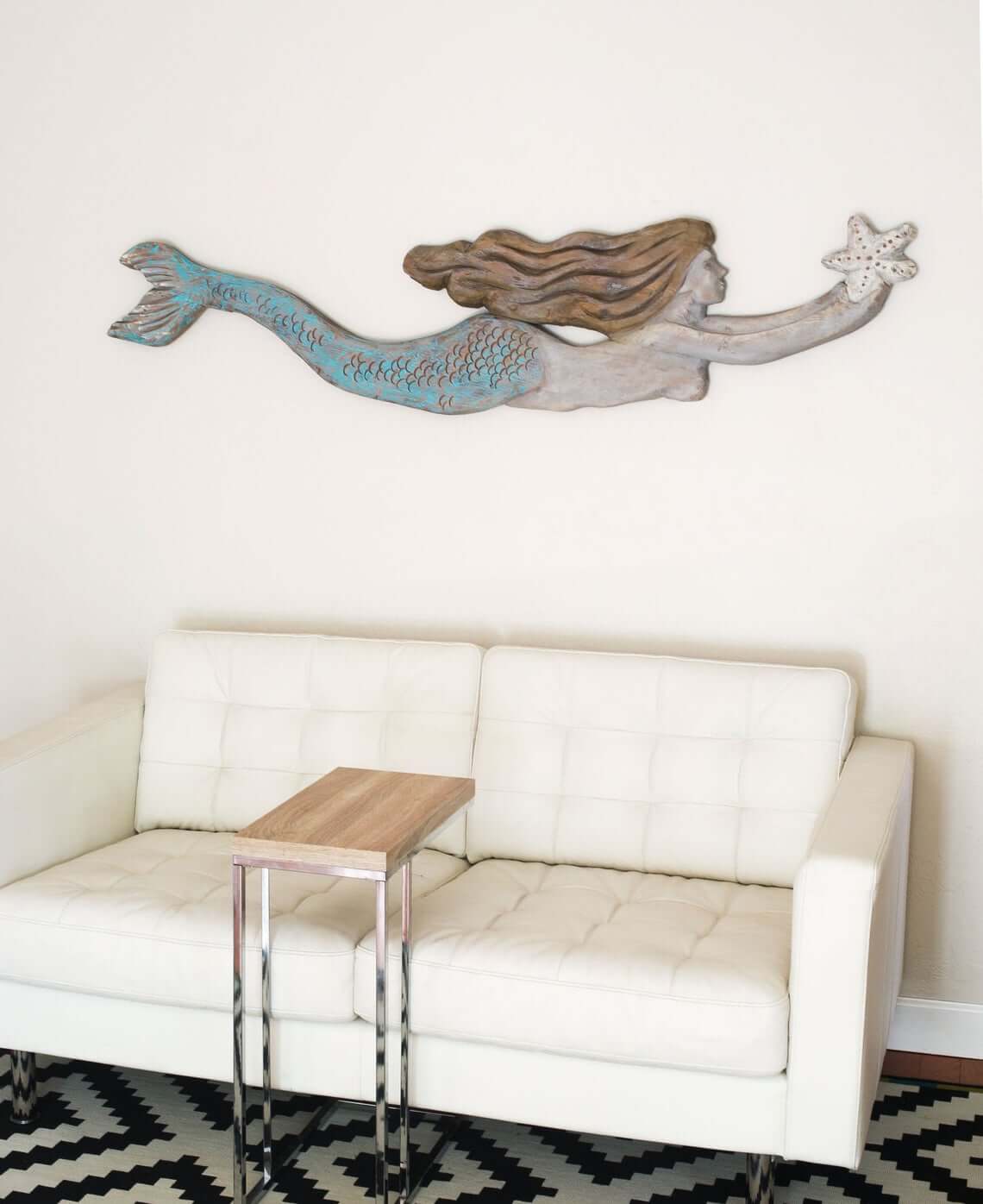 Try installing scaly artifacts to your living room furniture to bring out an ocean flavor to anyone that enters your living area. Scales have a unique way of presenting texture in your living area as iconic and rustic.
Various ingenious applications could suit your mermaid décor in your living space. Not only could you use it on your wall surfaces, but you can also try installing mermaid cutouts on your existing furniture to highlight your gorgeous bedroom or Living room.
The silvery look in the artifact also helps illuminate the shimmering effect, realizing the ocean flavor even more.
18. Into The Deep Oceanic Blue Portrait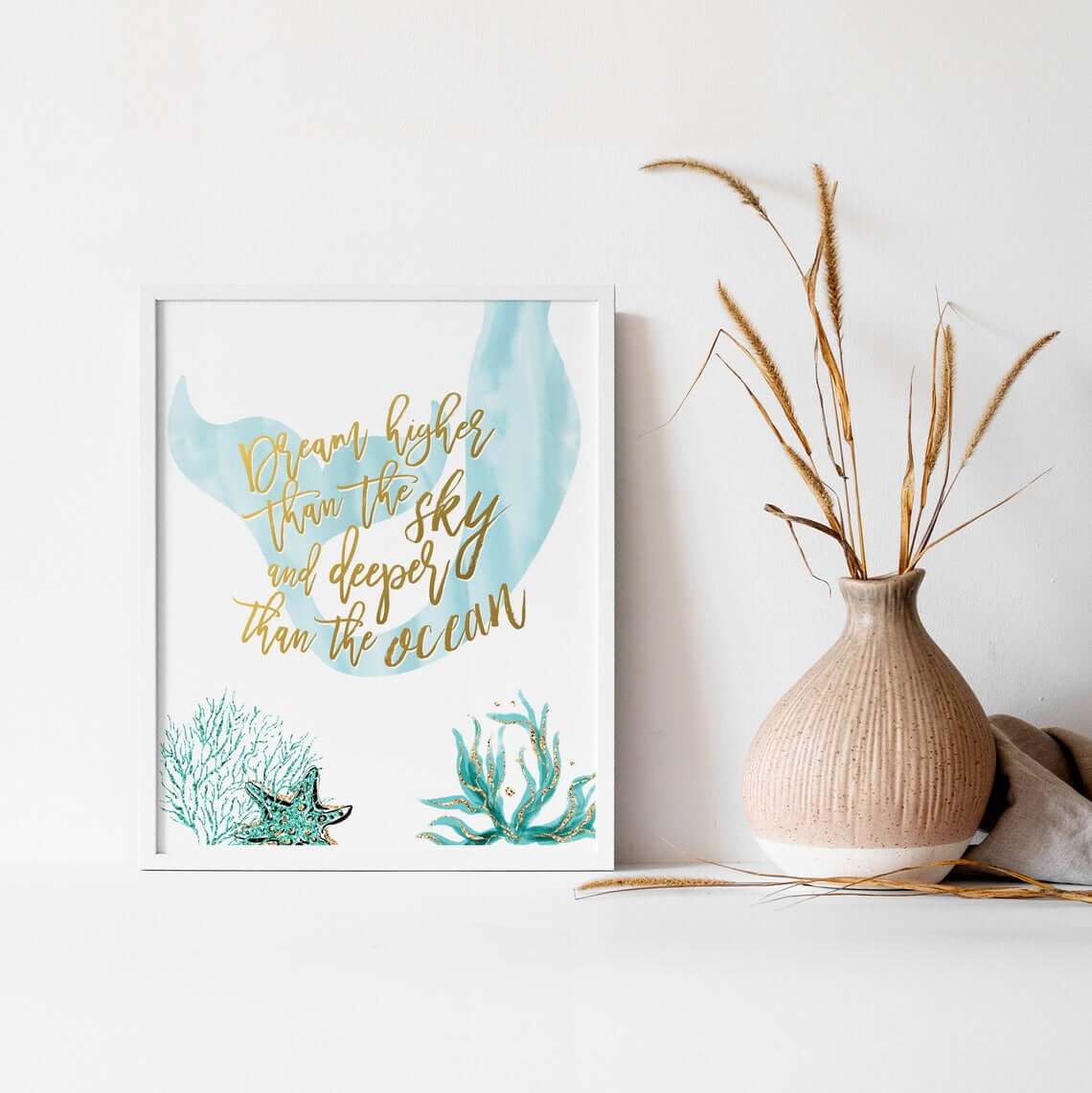 Most of us are looking to add that dreamy feel to our living spaces. Mermaid-inspired portraits may be the best way for you to add that spark to your home. There are hundreds of mermaid-inspired portraits, clocks, and pendants available in the markets.
However, it would be best to consider purchasing one that complements the accent of your living space. You will find that this portrait is excellent for almost all color backgrounds. Even so, it is perfect for brighter backgrounds and surfaces as it tends to pop out the oceanic blue background more on a brighter surface.
19. Spectacular Mermaid Themed Pillows and Beddings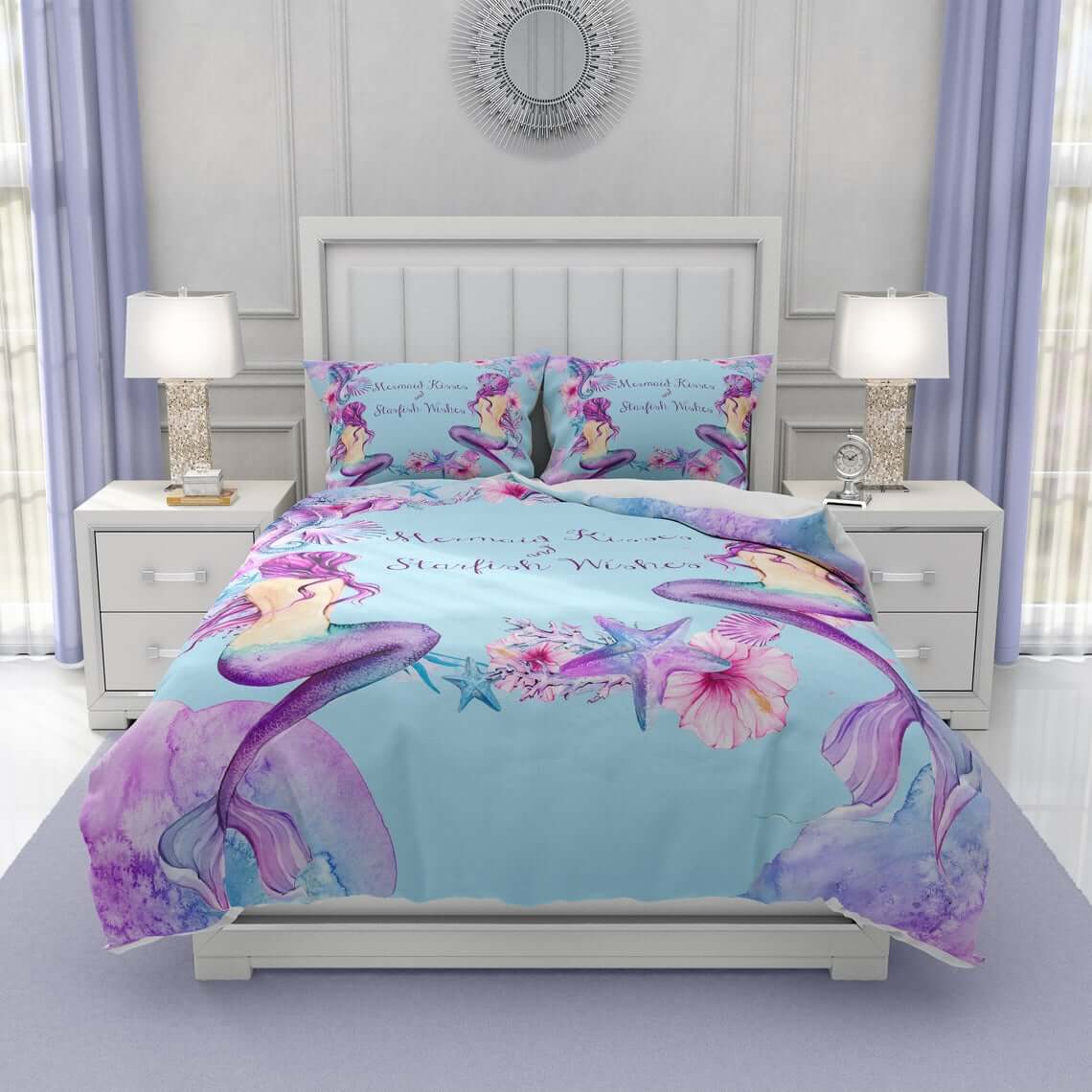 While mermaid-themed bedrooms are often meant for kids, some simple bedroom mermaid décor ideas are ideal for adults. For instance, you could try adding a mermaid-themed bedcover to your bedroom.
It could introduce an exciting touch to the overall atmosphere of your bedroom, which is ideal for bright mornings as well as peaceful nights. Your bedroom accessories go a long way in making your day a joyous one, especially if you have yourself a mermaid-themed pillow set. They let in the morning light and give that breath of life to your bedroom.
20. Antique Vintage Mermaid Lamp Holder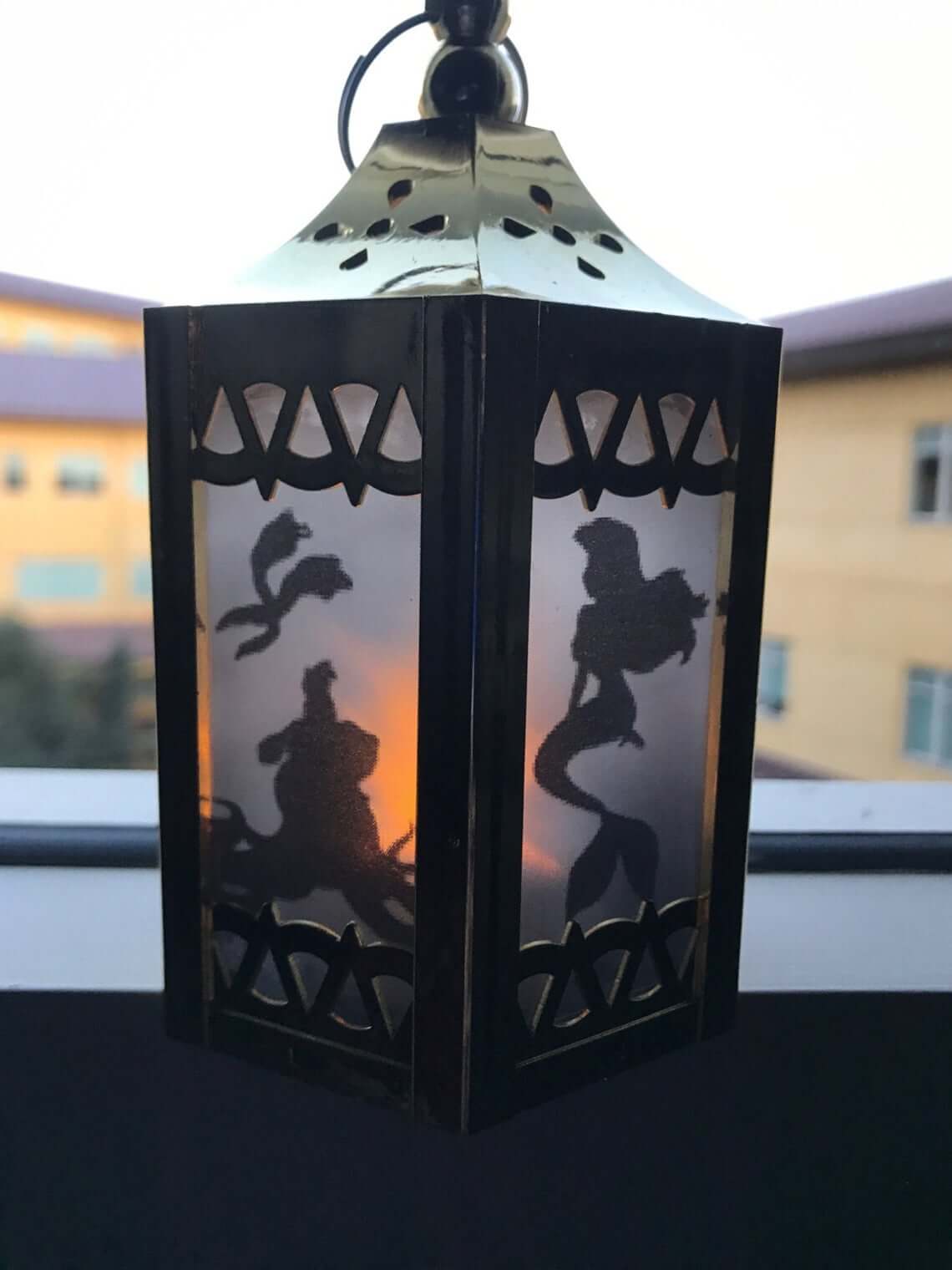 You likely already know that your glass artifact offers one of the most important aesthetics to your living space. They are essential features that tell us how elegant we are, especially when heading to work or social gatherings.
A unique lamp holder with a translucent glass cover should also bring out personal touch in the spaces they are hanged. One amazing way to achieve this is by having your engraved lamp shade in mermaid-inspired art. As you might have seen in a few movies, few ways could bring out the vibrant underwater feel than a decently engraved mirror.
21. Simple Classy Flower Vase with Mermaid Print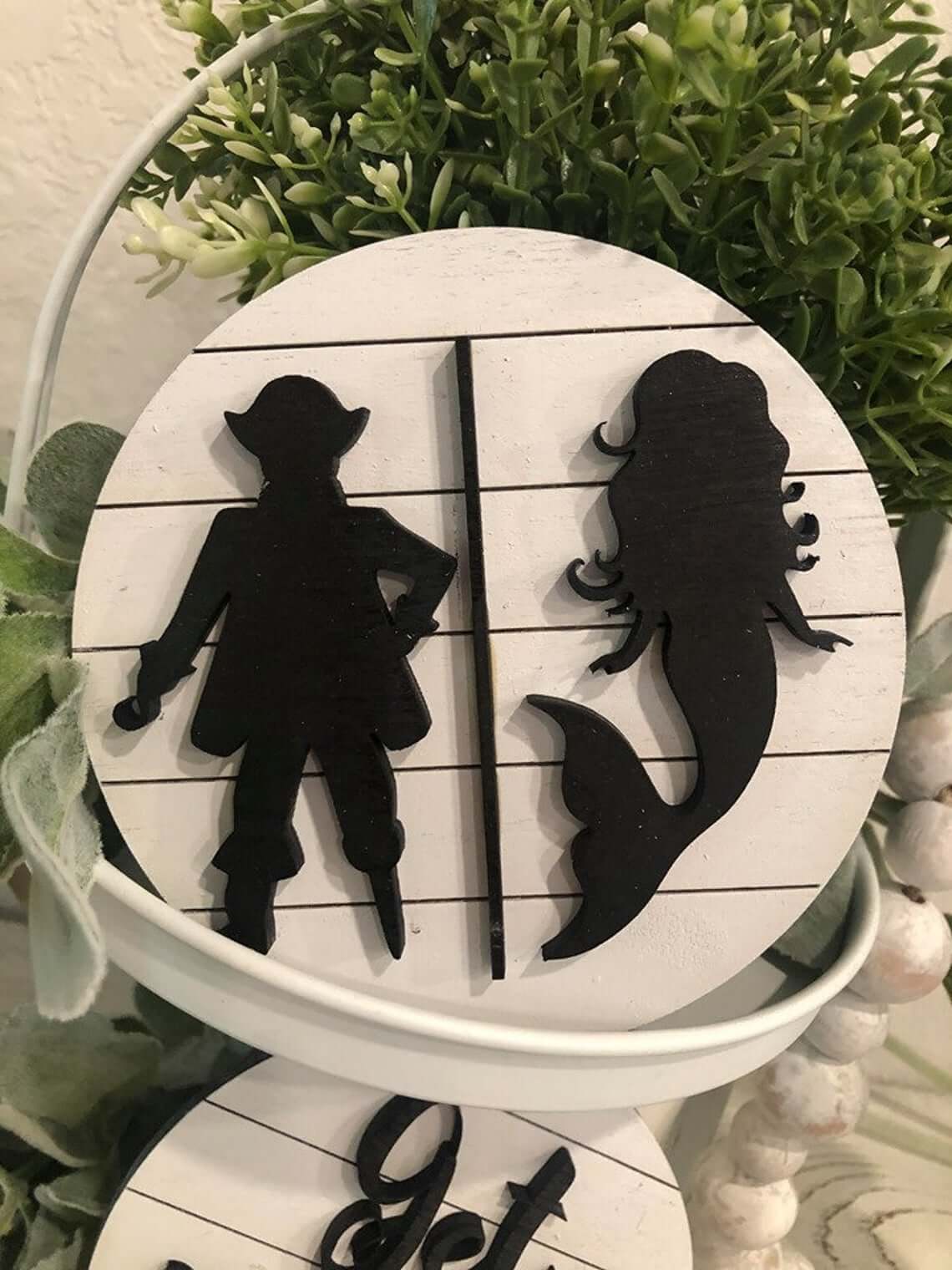 One of the most rudimentary forms of decorating your house is adding flowers to inspire that lively feeling of life in the Living Space. While you might be used to the typical glass or earthen flower vase, the mermaid-themed wooden flower vase might do the trick for your living room, dining room, or balcony area.
This rare antique piece has a simple black and white accent that nourishes the aquatic environment's simplistic yet classy feel. It is enough to associate your gorgeous living space with that wow feeling of being alive.
22. Beautiful Mermaid Queen on the Door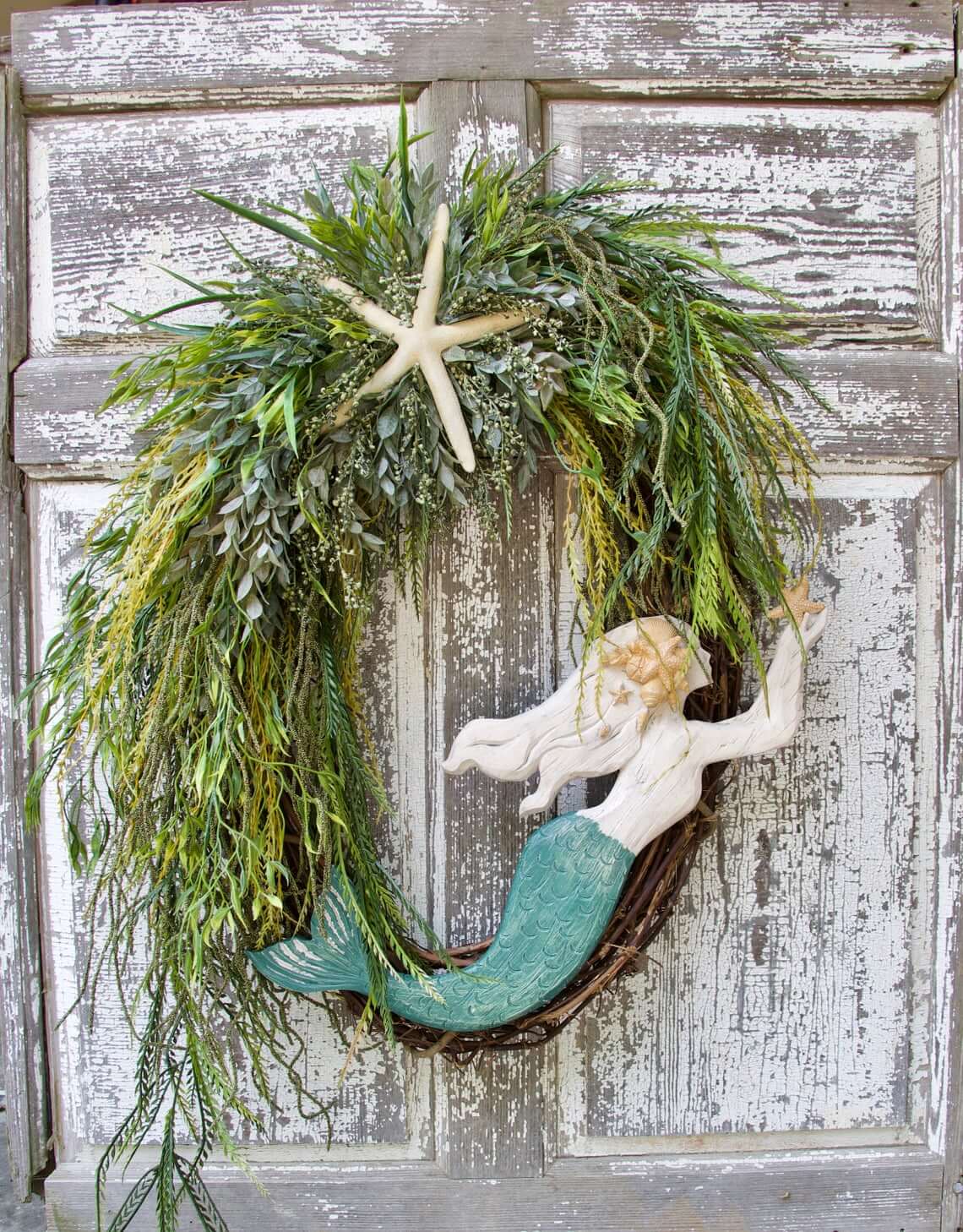 A brilliant artwork idea would be displaying collections of pearls and seashells on buffets in your rooms or a birdcage. Seashells and pearls are thoroughly refined, and their shimmer hints of life under the sea bring out life in one of the most compelling ways. But, you cannot compare that to the actual infusion of live plant life and a beautiful mermaid queen accentuated in the artifact.
This antique piece is perfect for your outside door, allowing your guests to have that calm and relaxed seaside feeling even before they enter your home. Furthermore, it will give you the confidence that you need to express yourself freely to the surrounding.
23. Fabricated Mermaid Tailfin for Relaxing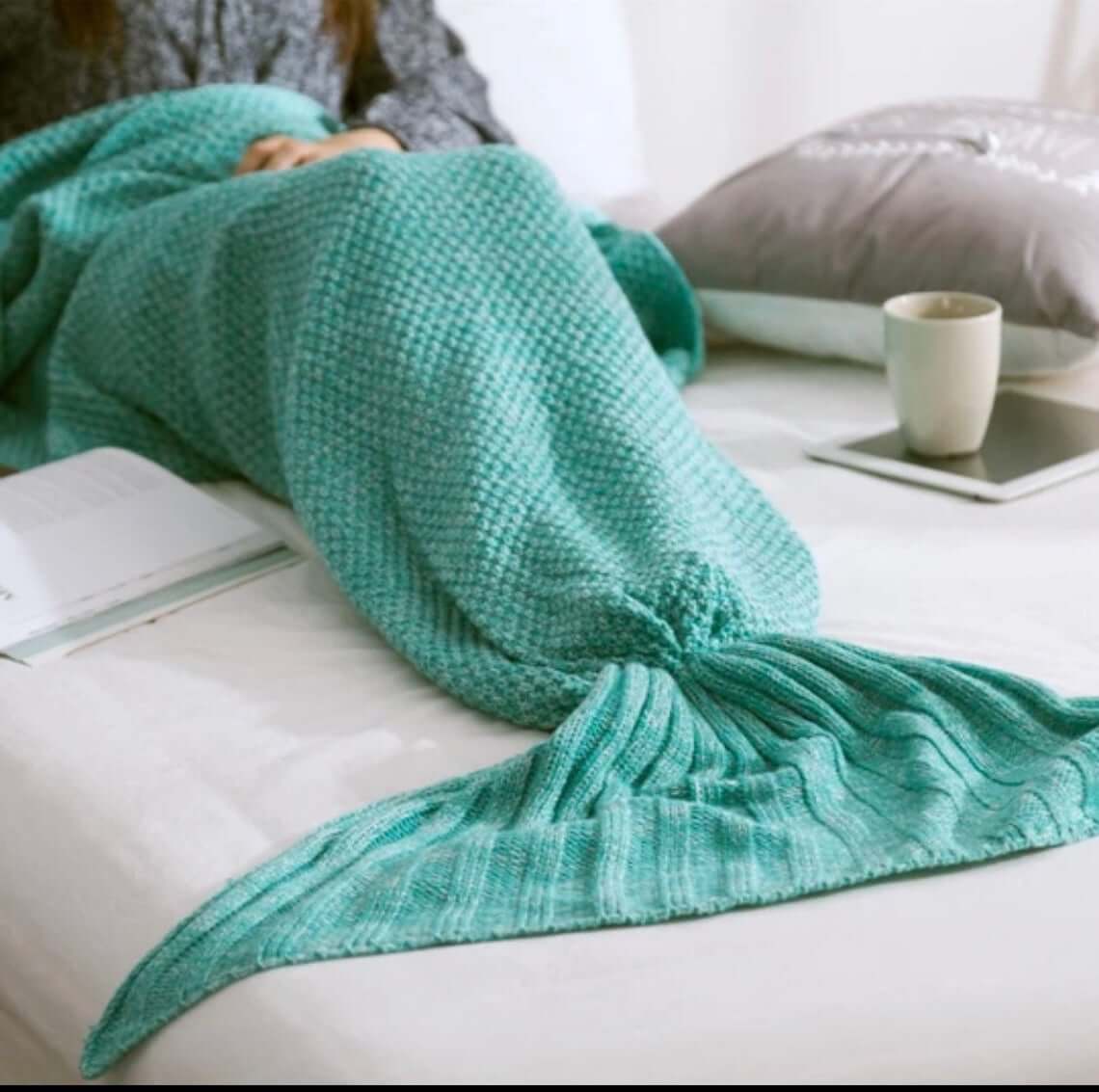 Nothing can top off the essence of home décor than the desire to apply the decoration to yourself. Blankets and duvets are the lifeblood of our moments of rest. With a nice, warm blanket, it is hard to lack some sleep.
A soft blanket brings a lot of comfort and warmth. There are tons of mermaid tail blankets on the internet that come in variations of mermaid colors, including blue, green, purple, and pink. It is only human to consider purchasing one with mermaid-themed prints.
With this much choice, your only hassle will be getting to your couch in time to cozy up and watch some TV.
24. Antique Sensual Golden Mermaid Queen Sculpture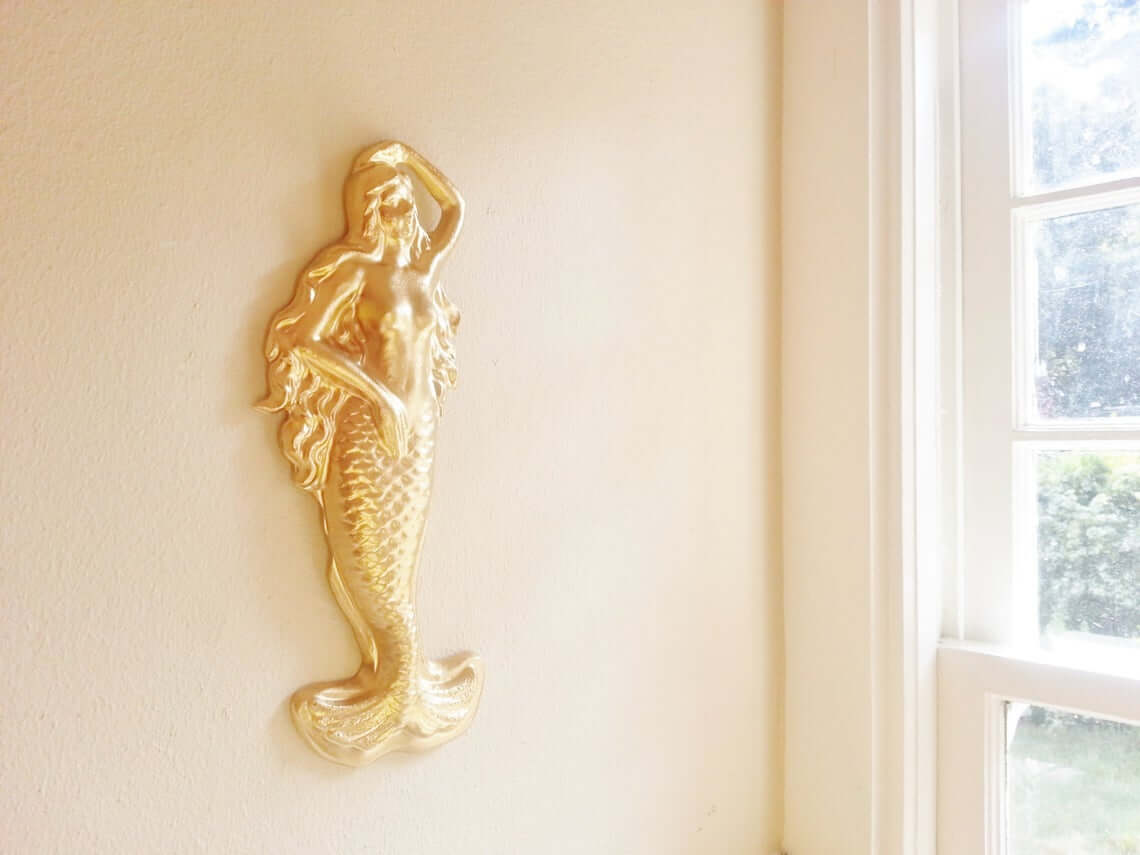 Since most adults do not prefer décor that is too flashy in their living rooms, it is best to consider embellishing simple antiques like the bed lamp or the mirror or an erotic Golden Mermaid sculpture in your living space.
However, some of us have no problem going all out. To keep the décor from appearing too flashy, try balancing the colors in your living space with those in your mermaid-themed artwork and antiques.
For instance, a white, aqueous, or creamy background can easily complement this gorgeous artifact and bring that classy oceanic flavor to your living space.
25. Glimmering Pink Mermaid Alphabets for Your Home Décor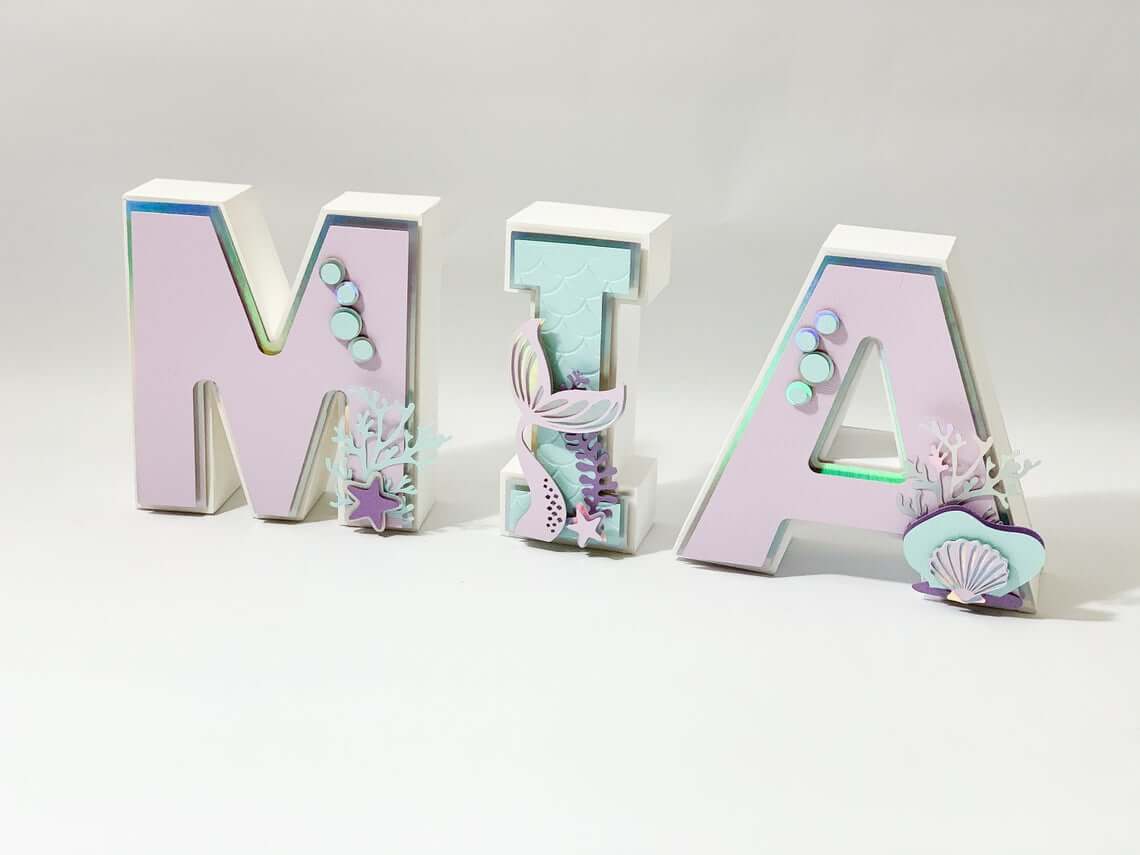 We all have valued name artifacts in our homes, computers, and phones. They are essential features in the modern world that help us stay in touch with the ones we love and treasure. However, they could do more than that: you could turn your name artifact into a piece of art that complements your home décor.
Mermaid-inspired artifacts will pull attention to your room's walls and enchant whoever takes a glance at them. What's more, they complement the general aesthetic of your room's walls and bring harmony to the ambiance of your space.
26. Amazing Mermaid Themed Shell Antiquity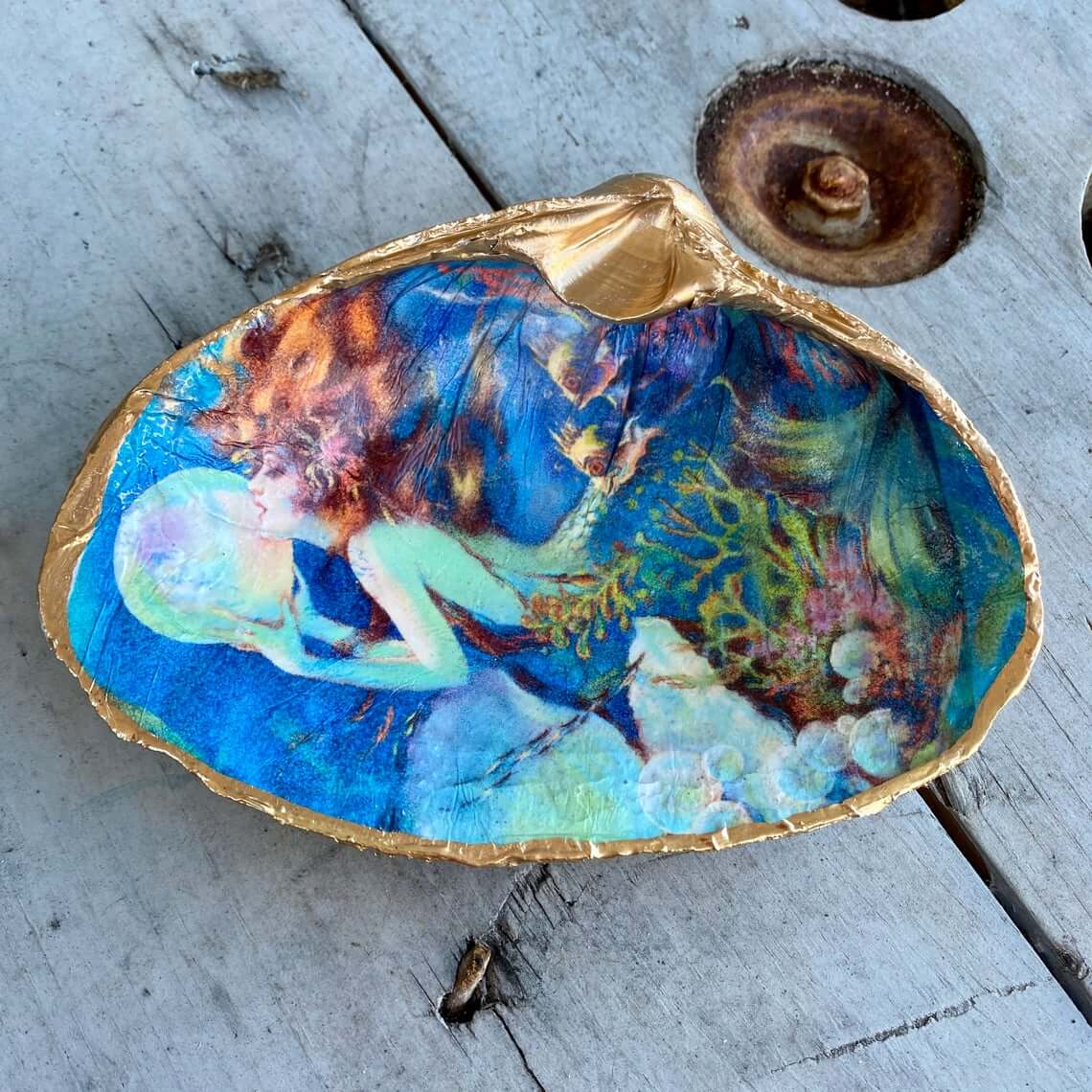 The frog's kingdom is where we rid ourselves of the sweat, boredom, and tiresomeness of the day. It is only natural to make the bathroom space serve you with an aesthetic that matches the feel of peace and relief.
What better way than to install a bathroom décor that is mermaid-inspired? It is, by default, the most practical space to have mermaid décor in your house. Try adding the unique seashell to the suspended décor, soap dishes, or towel hanger.
The picture of the deep ocean corals and creatures could be the perfect addition to your bathroom's aesthetic. Regardless of the mermaid-inspired décor you want to install; it is almost impossible to go wrong in the bathroom space.
27. Rustic Mermaid on the Rock Portrait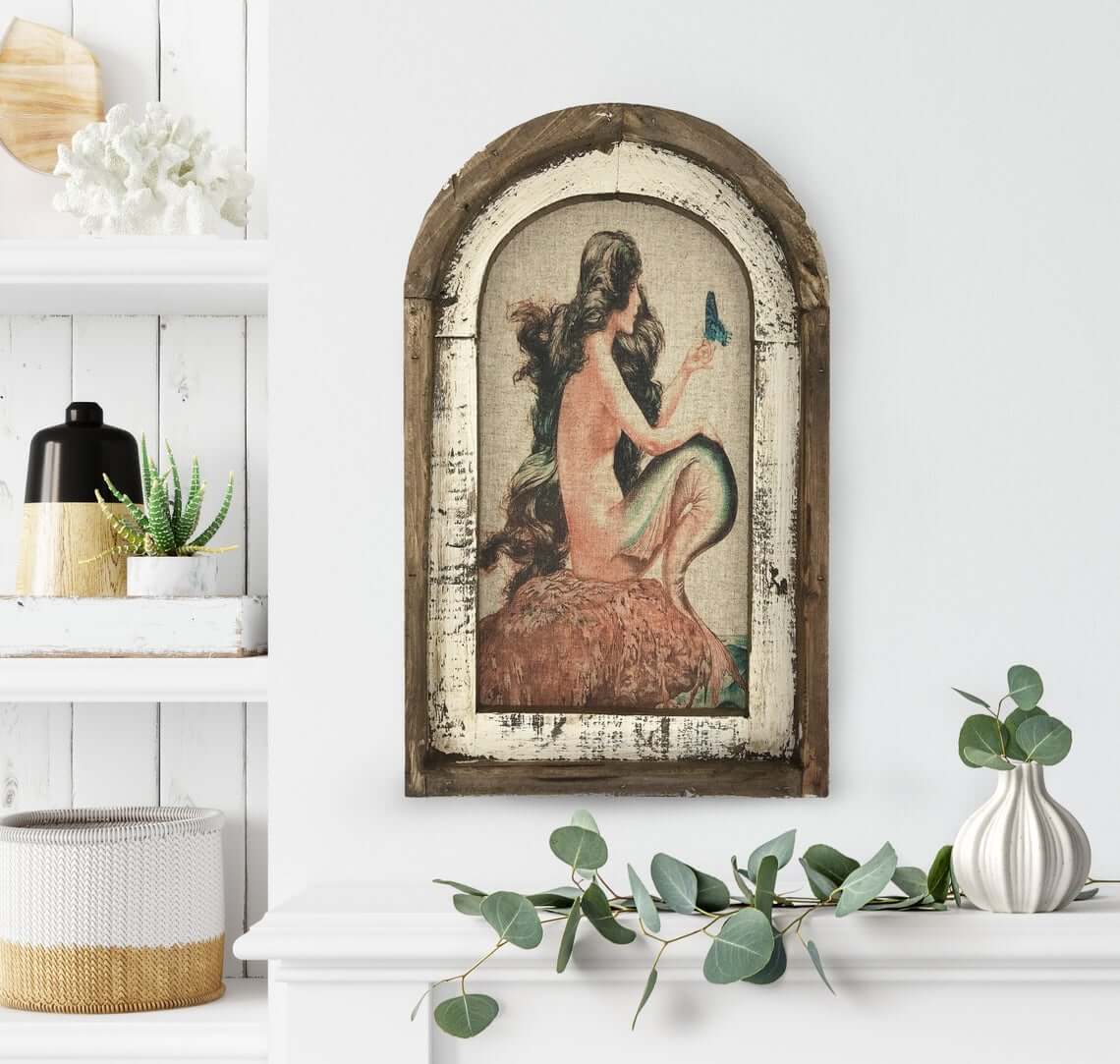 Portraits are useful parts of your home's antiques: They represent your style, personality, and taste. But, should that be their only function in your home? I would say NO!
As much as your couch, curtains, tables, and chairs, portraits should be able to offer the inhabitants of your home delight. You could try incorporating a touch of turquoise in your clocks and calendars to bring out the rustic feel of the ocean, or you can try out this amazing portrait of a long-haired mermaid basking in the Oceanside by rocks.
This is the feeling of bliss and relaxation in your living space.
27 Glamouring Mermaid Home Décor That You Want for Your Home
While you have an extensive range of mermaid home decoration ideas that might liven up your home, your home should be able to welcome all while representing an extension of yourself. If you are lucky enough to find one of the rare mermaid-inspired side tables, it would be a marvel to look at for you and your guests.
As intriguing as they are, these pieces can also blend with a wide variety of styles. Various furniture and appliances also compliment this feel. What's more, for those of you working with a limited budget, you could try installing mermaid prints on your furniture to bring out the under-sea texture in your home décor. Prints are among the best mermaid home decor ideas.
All these items and diverse options signify that you have endless options when it comes to decorating your house with mermaid-themed artifacts and antiquities. These are pretty easy to install, with thousands of artists ready to carry out the decoration for you.
The prints could also make your furniture priceless and earn you a few bucks more. Other items such as coasters are a practical necessity in most homes, and adding a touch of the best mermaid home decor art will bring out the feel of class and style in your living space.