A lot of people are initiated into the farmhouse trend with the ever-popular farmhouse table. If that's true of you, then chances are you've got a beautiful piece of statement furniture and a lot of bare walls. Our gallery of 50 farmhouse wall decor ideas will help you to create complete and cohesive interiors with a designer-worthy finished look.
45+ Charming Farmhouse Wall Decor Ideas to Fit Spaces Big and Small

While floor décor and table accents can add up and quickly contribute to a cluttered look, walls are a great way to bring more of the farmhouse aesthetic into your home. The following list has a wide array of designs. Some were made with a specific season or holiday in mind while others offer timeless appeal. Lighting, mirrors, and shelves also offer solutions that are both pretty and practical.
Get ready to cop some great farmhouse wall decor ideas. Ingenious lighting solutions? Check. Elegant architectural salvage projects? Check. New rustic sign designs and unexpected ways to use mason jars? Check and check. Whether you're looking to add a single piece to an existing interior or want to make over an entire wall, the following list is sure to have a stylish suggestion.
1. Gather with Galvanized Steel Planters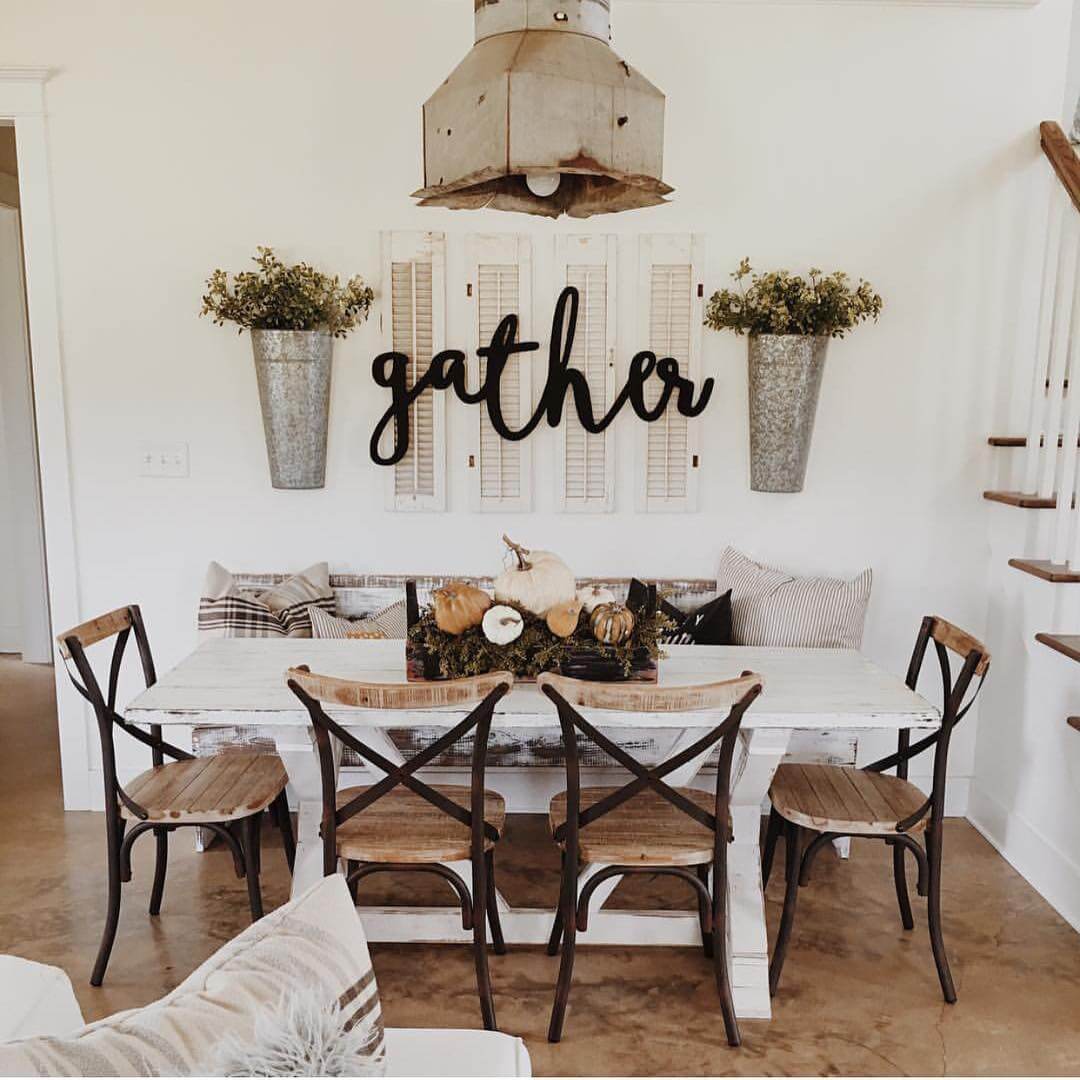 This rustic wall decoration is perfect for a dining room because it's the perfect place to gather your family together as the sign indicates. The sign's positioned on small white shudders and on each end you can find galvanized steel planters that create a more homey look. This wall décor is behind a wooden table that accentuates the design.
2. How to Decorate with Spring Wreaths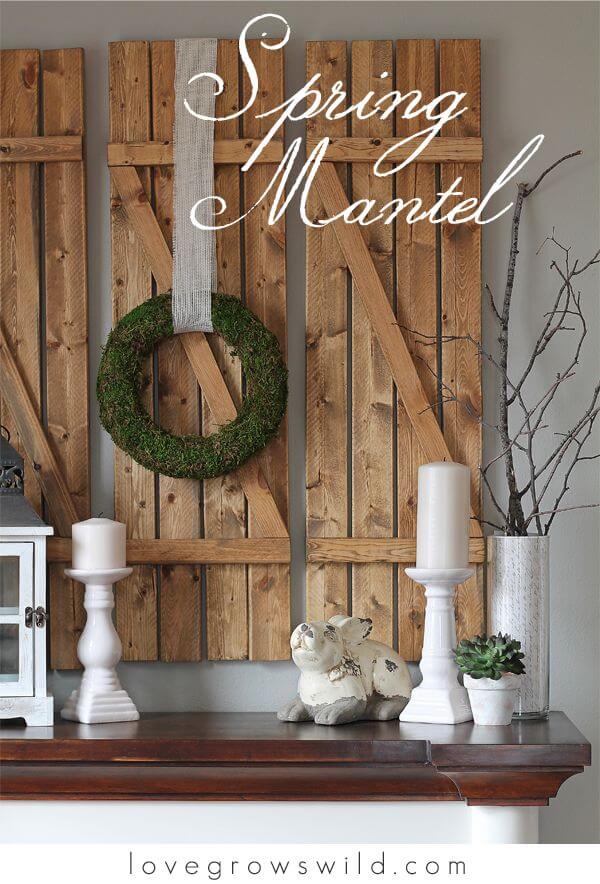 During the spring, adding a splash of green to your home is important, and this moss wreath creates a look that's perfect for a fireplace mantle. The white candles and the white rabbit on the mantle add a delightful contrast to the dark wood of the mantle and the miniature barnyard doors that are positioned on the wall.
3. Pretty Battery-Powered Floral Fairy Lamps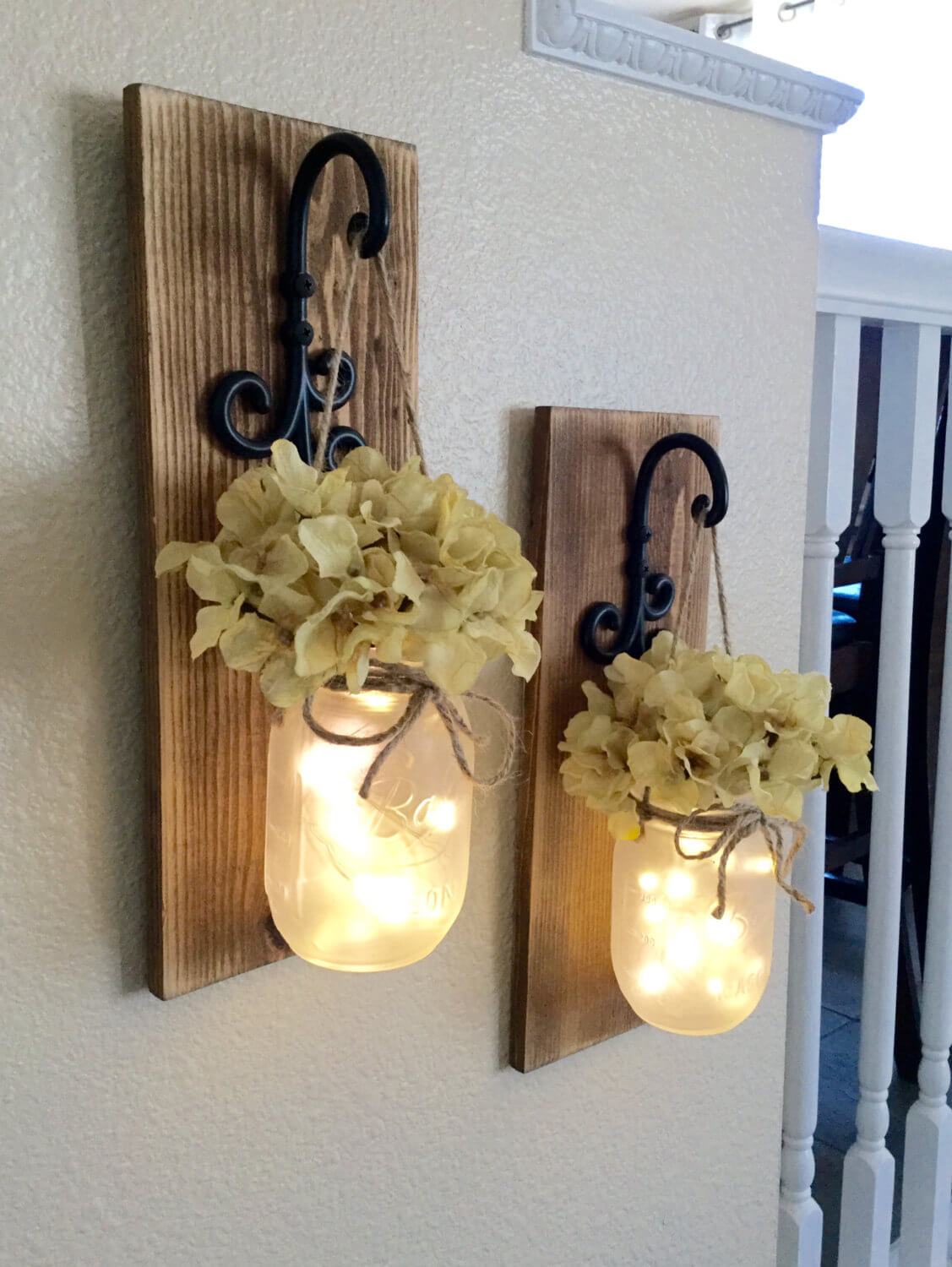 Lighting on the walls of your home adds a bit of romance to your décor, especially when flowers are involved. These mason jar lights are positioned on a wooden background that is stained and sanded to look antique, and the actual jars are frosted a bit so that the light is subtle, making it perfect for evenings at home.
4. A Trio of Shabby Chic Mirrors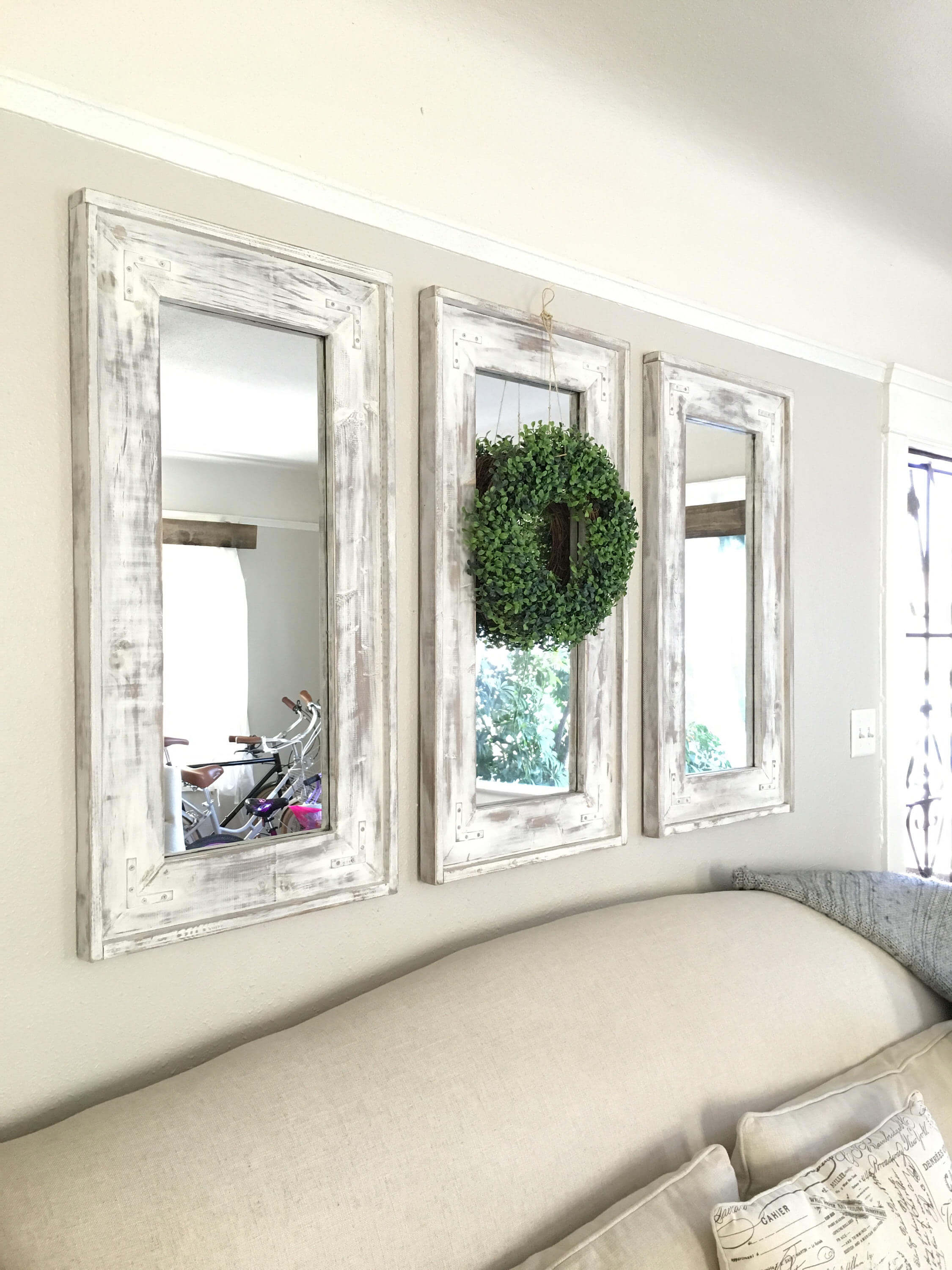 Mirrors are a great way to make your living space look larger, and this trio of shabby, yet chic mirrors are great for a formal dining space. The wood around the mirrors is painted and sanded to give it more of an antique look, and the wreath over the central mirror adds a splash of color to the design.
5. White Porcelain and Wire Country Christmas Display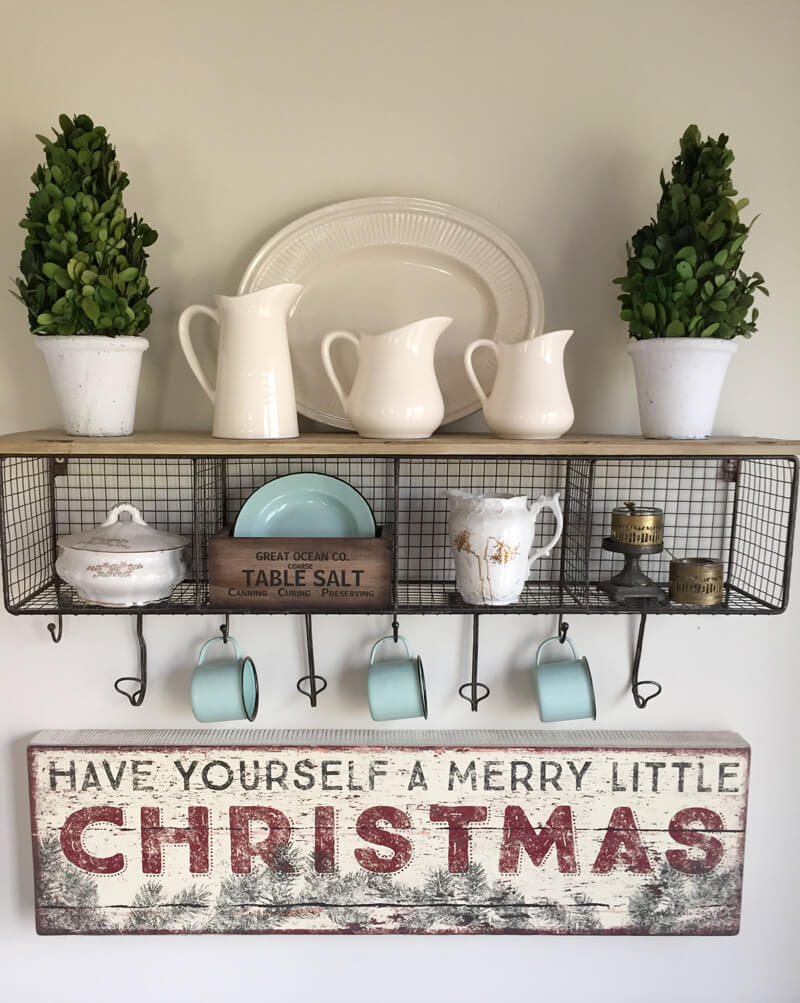 This worn sign that wishes you a merry little Christmas is spotted with evergreen needles that add a festive look to the already existing décor. The wire rack's filled with porcelain plates and dishes that are lovely in their own right, and on the top of the shelving, there are two succulent bushes that help brighten the wall display.
6. Mix and Match Sign Medley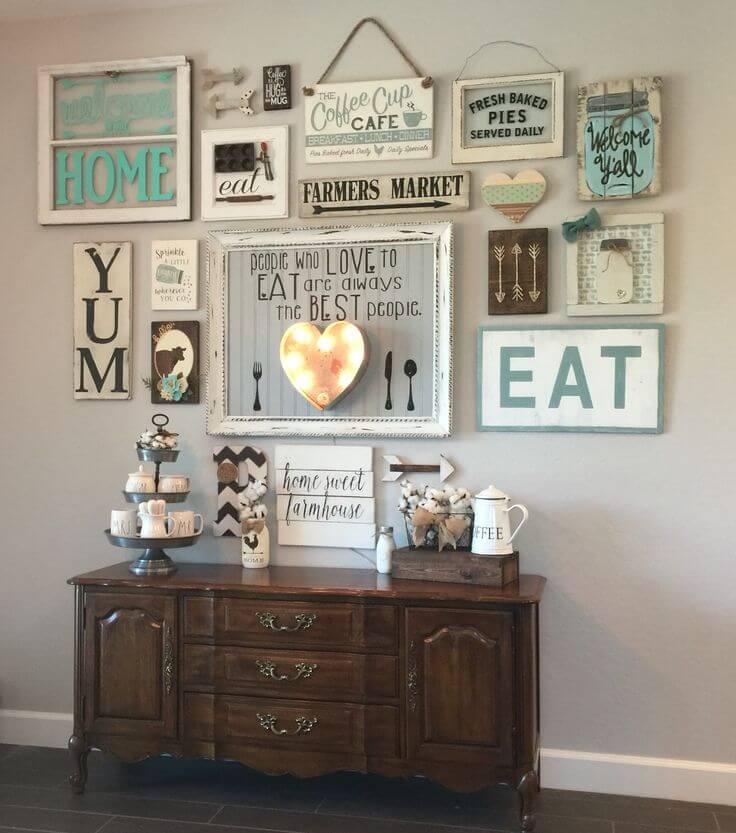 Decorating with signs is a unique way to give your home a look that you would find in a traditional farmer house.This design is one that lets you know your way to the kitchen, and it displays a few sayings that make you want to eat. In addition, the center image is a framed quote from Julia Child.
7. Home Is Where the Wreath Is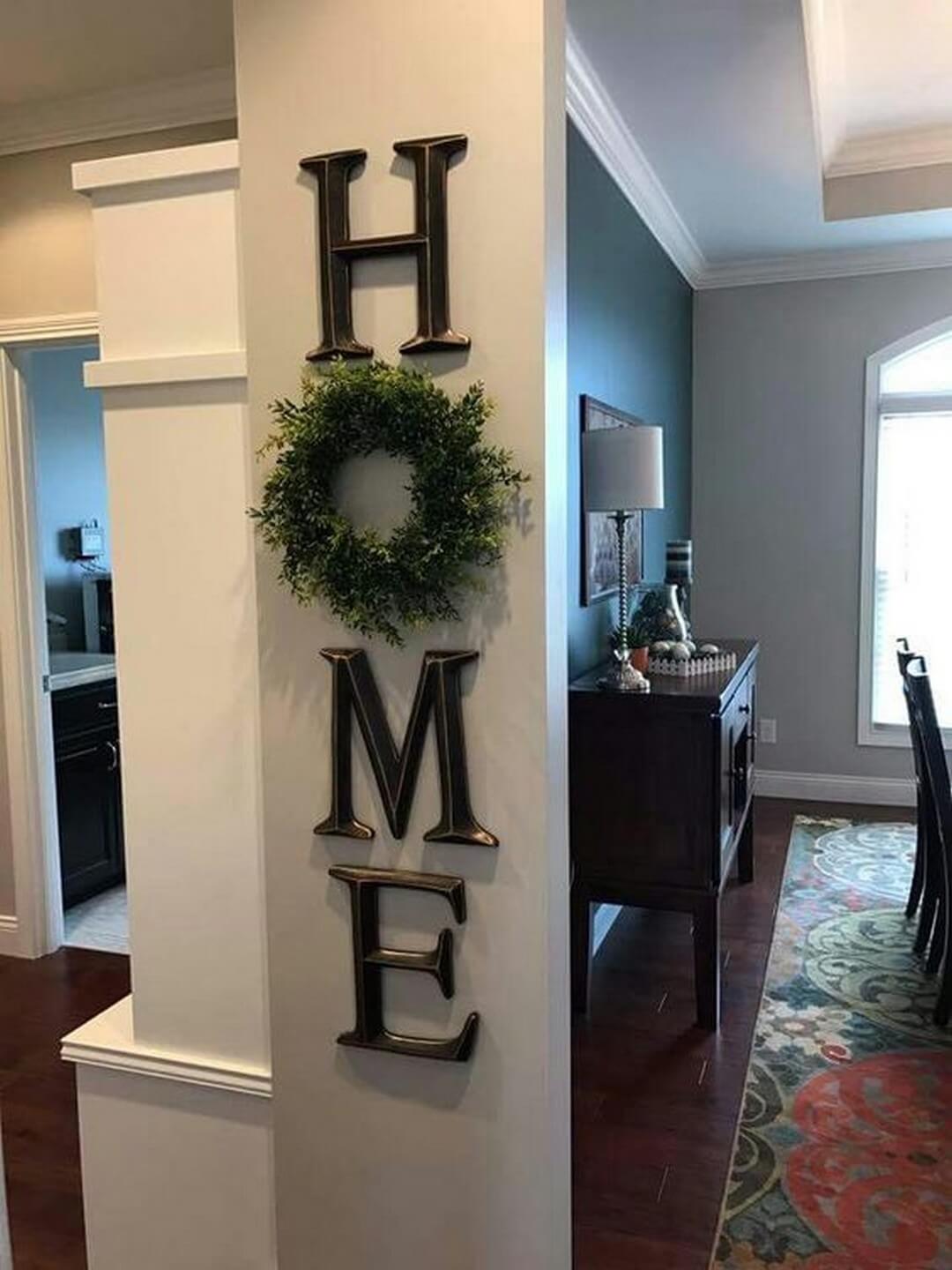 In this simple, modern home, the color combination of this room is designed to perfectly accentuate the welcoming sign that is on the wall. The word "home" is a simple brass design that uses a wreath for the "o" to make it look a bit more festive as you enter the living space.
8. Gothic Window Inspired Architectural Silhouettes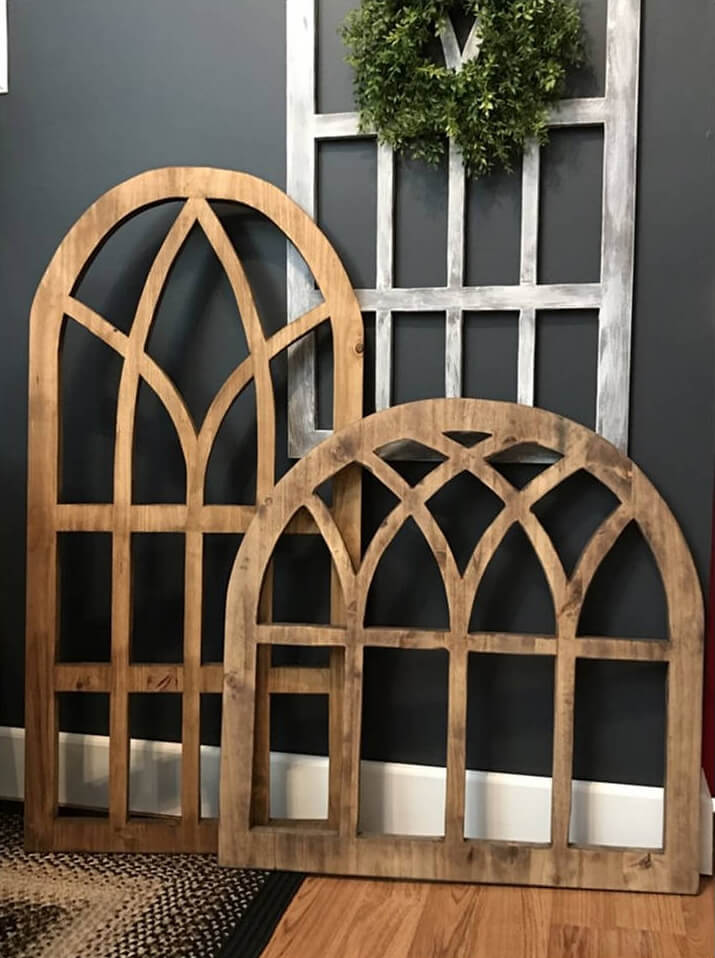 Farmhouses have large windows that are designed to let in a lot of natural light. If you like the silhouette of a farmhouse window in your home, then these arching hand-made windows can be positioned on your walls to give your home a more rustic feel; in fact, each piece of maple is also stained to increase the farmhouse feel.
9. Farmhouse Wall Decor Ideas with Barn Doors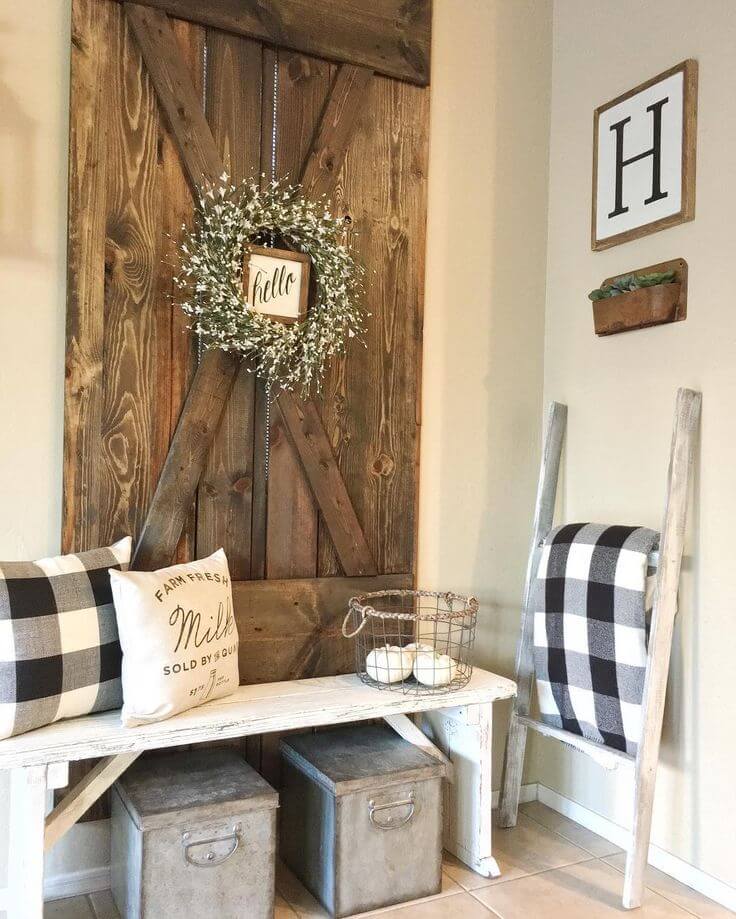 Wooden barn doors create a sense of warmth in a home, and when used as a feature of your wall décor, it can add a lot to your home. Here, the door becomes part of the wall in the seating area, and though the door is not an entrance way, it still has a welcoming hello displayed on it.
10. A Coffee Shop in Your Kitchen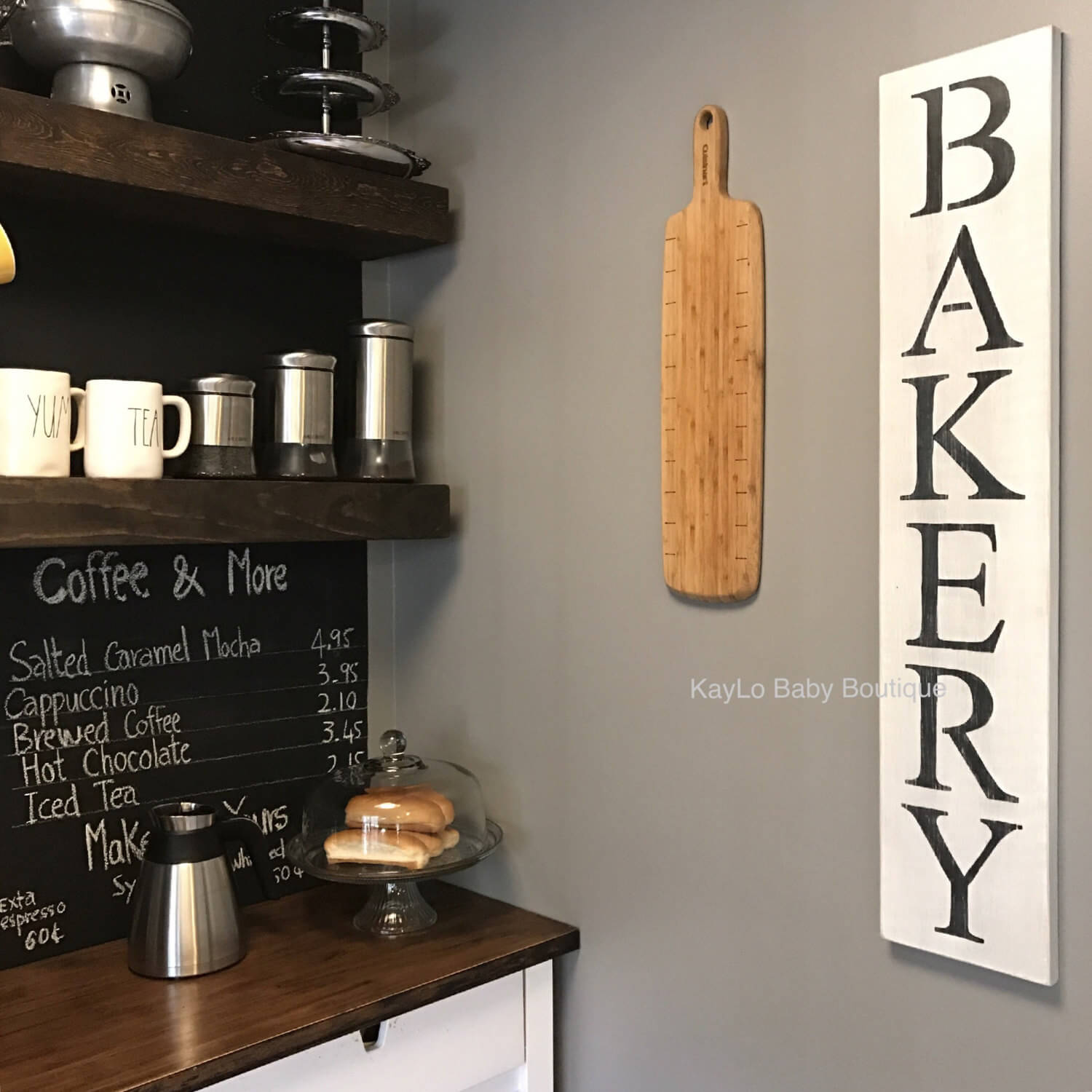 This bakery sign is a great way to make your kitchen feel more like a small bakery in the mornings. The sign is painted with a chalk white paint that is made to look a bit worn, and it is positioned right next to a countertop where you can make some coffee or warm your Danish in the morning.
11. Choose Happy and Love You More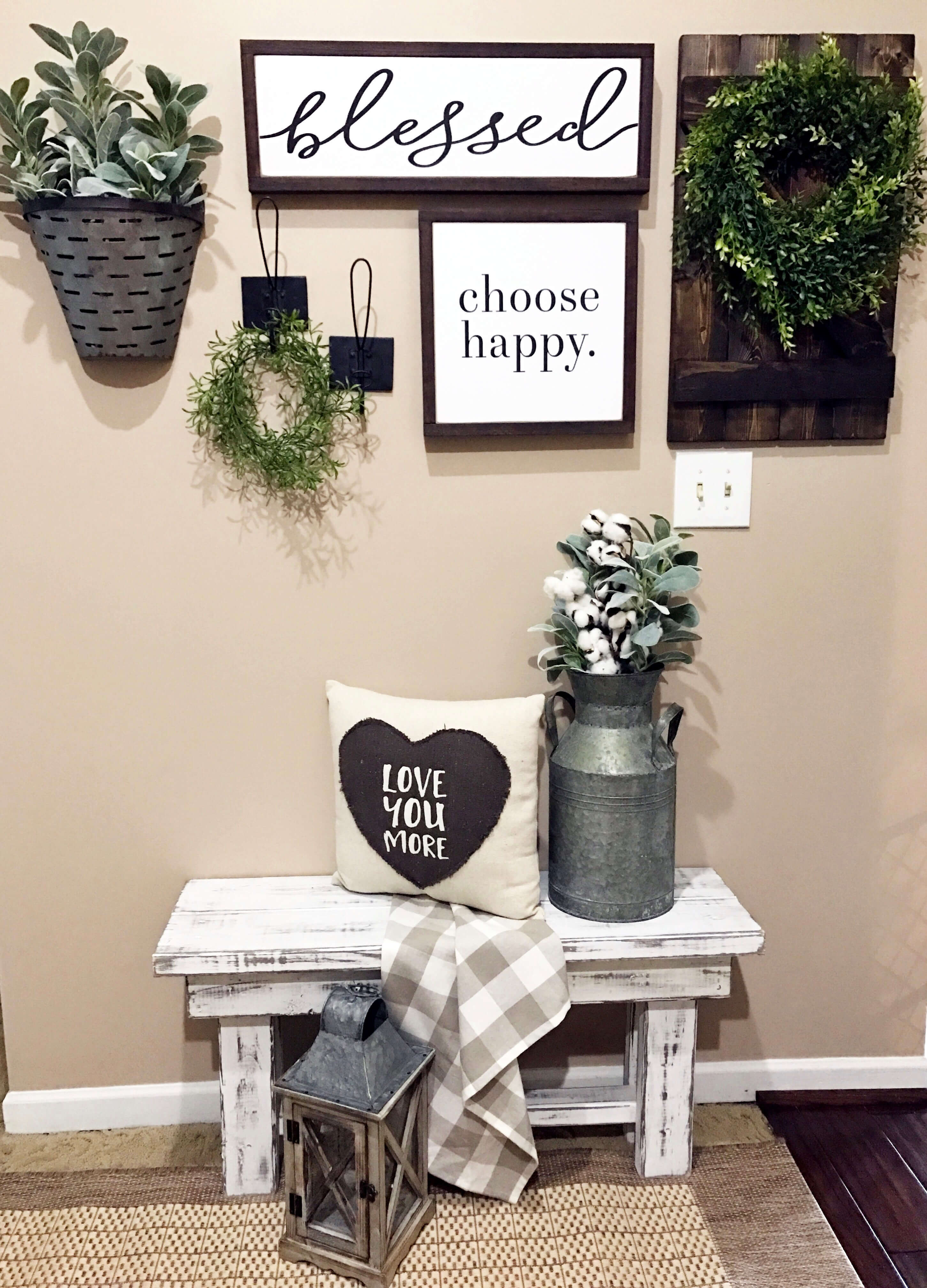 This décor is perfect for a wall that your guests will see when they first enter your home. It features phrases like blessed, choose happy, and love you more, which are comforting coming from a friend. Around the signs, there are planters full of succulents and wreaths that add a bit of life to your otherwise neutral colored wall.
12. Home Sweet Home with Displaced Door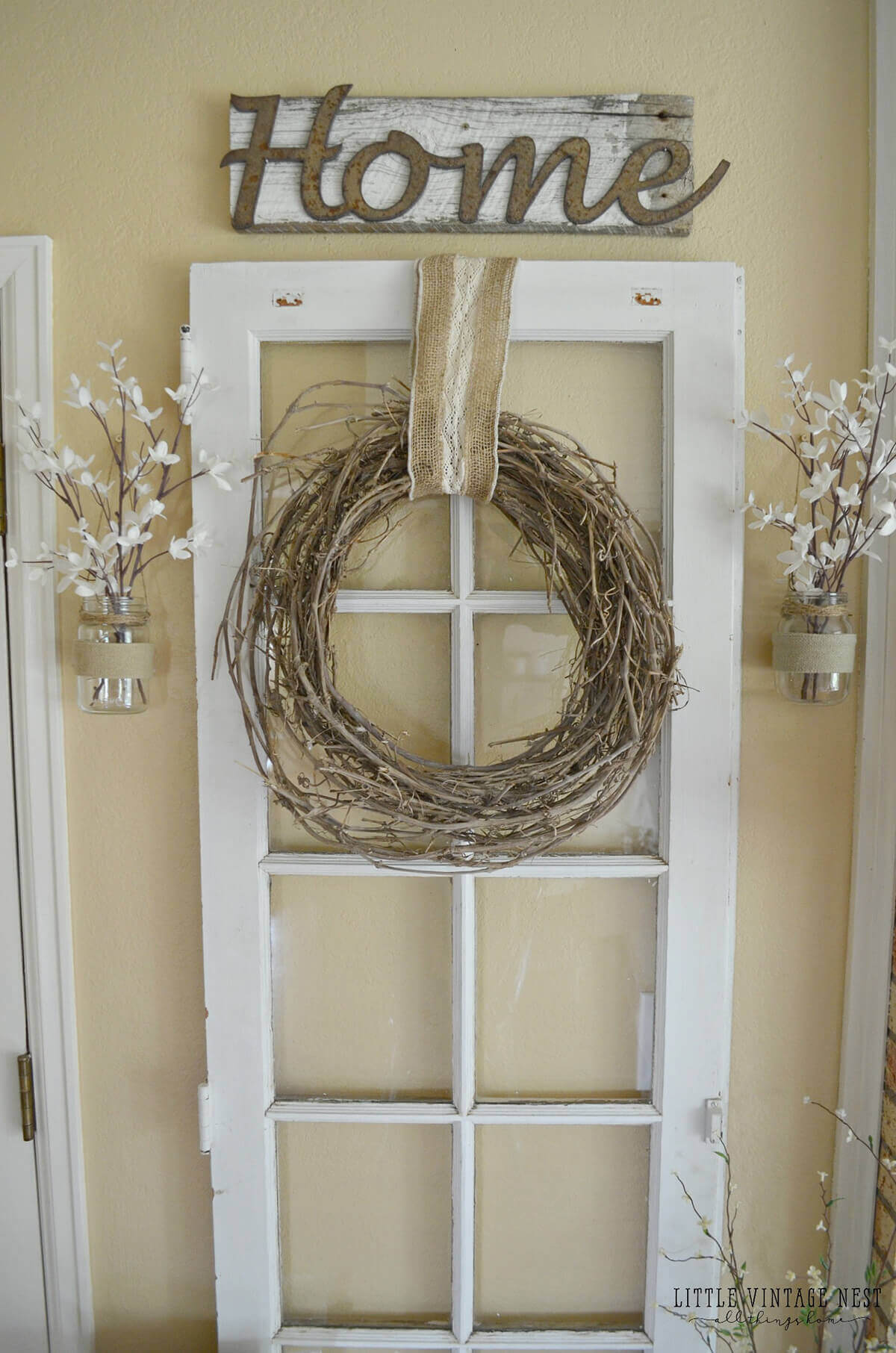 Home is where the heart is, so when you have a door in the middle of your wall décor, you make an effort to make it a welcoming part of your home. There's a stick wreath on the door itself, and on either side, you will find a jar with some white blossoming plants against a darker painted wall.
13. Fun Signs and Photo Canvases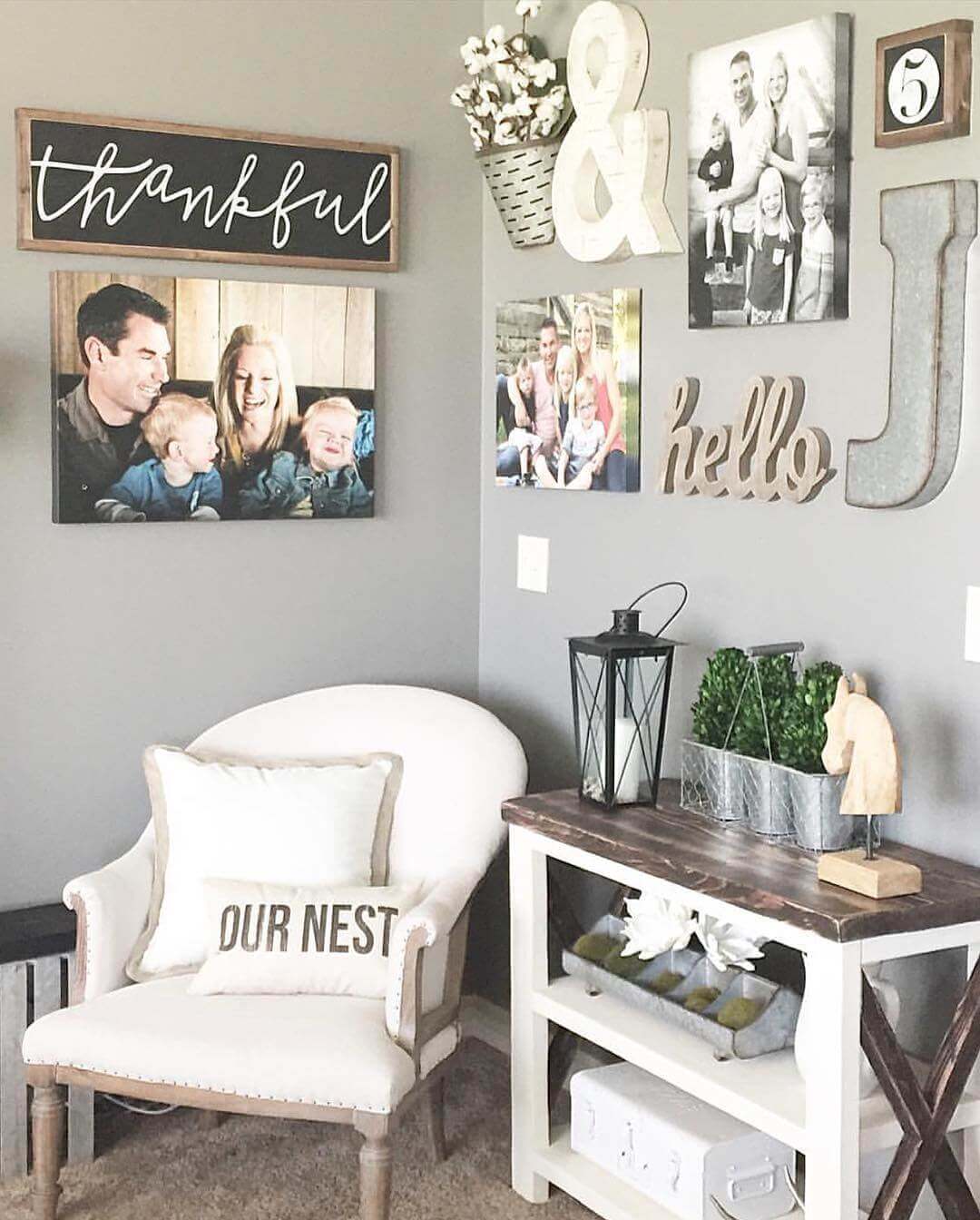 Nothing completes a farmhouse wall like images of your family for everyone to see. This idea is based around placing a lot of family pictures on the wall and surrounding them with fun signs and words that will give them a more fun feel. You can also incorporate a few plants into the décor to make it feel more alive.
14. Dimensional Barn Wood HOME Accent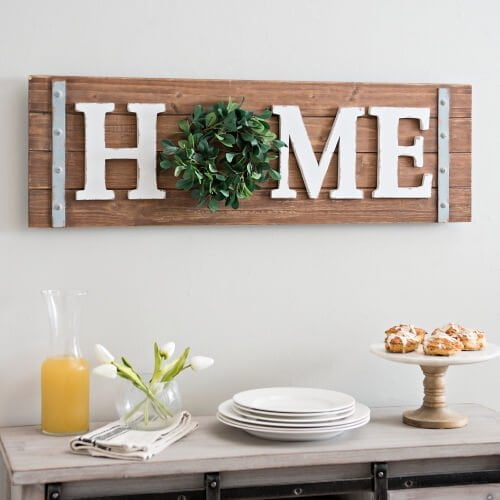 If plaques in your home are something that you enjoy, then this home plaque that is designed out of barn wood is an ideal décor idea for your farmhouse. The letters are made from a shiny metal that draws your attention, and there's even a plant that's shaped like the letter "o" that creates a chic look for your dining area.
15. Double-Sided Rustic Found Wood Décor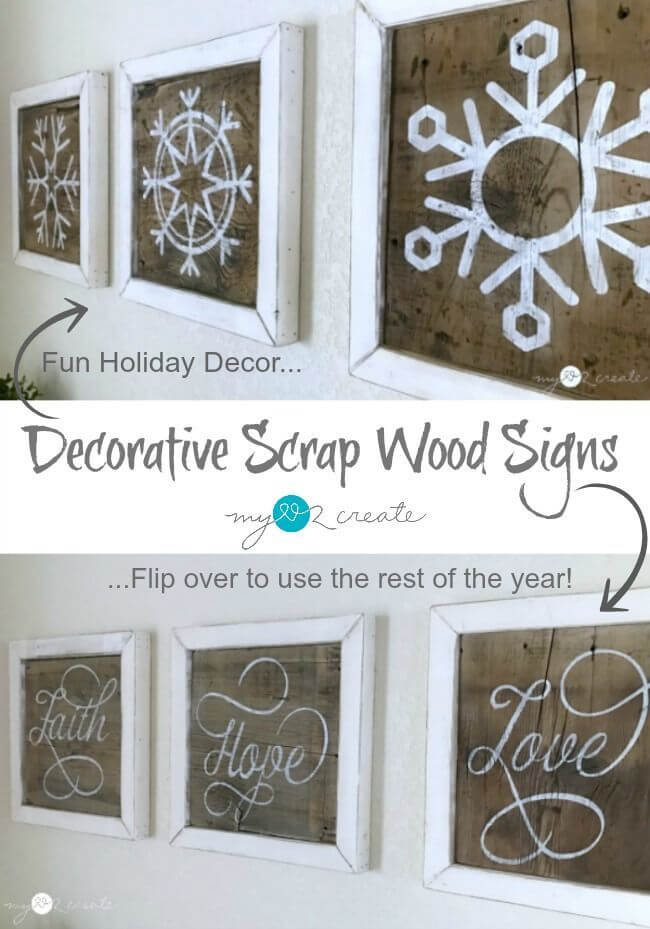 Scrap wood that you have laying around your home can be used to create a lovely wall sign that you can use throughout the year. Decorate both sides of the décor so that you can use one during special occasions and use the other for the remainder of the year. Use bright white paint to create a contrast to the wood.
17. Authentic Antique Outdoor Advertising Billboard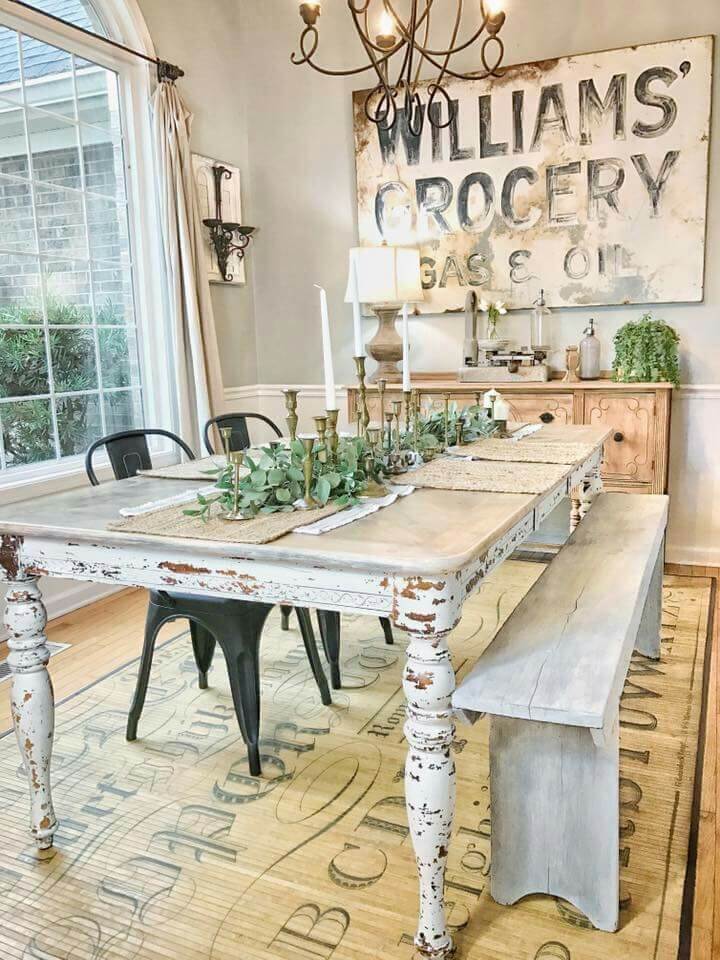 This type of outdoor advertising billboard can be a great way to make your dining area look even more rustic, especially if the signs are authentic. The table seen here is worn quite a bit, but the paint chips make it look even more antique. You can even create a chandelier with a design to match your farmhouse motif.
18. Mod Wood Accent Table with Oversized Quote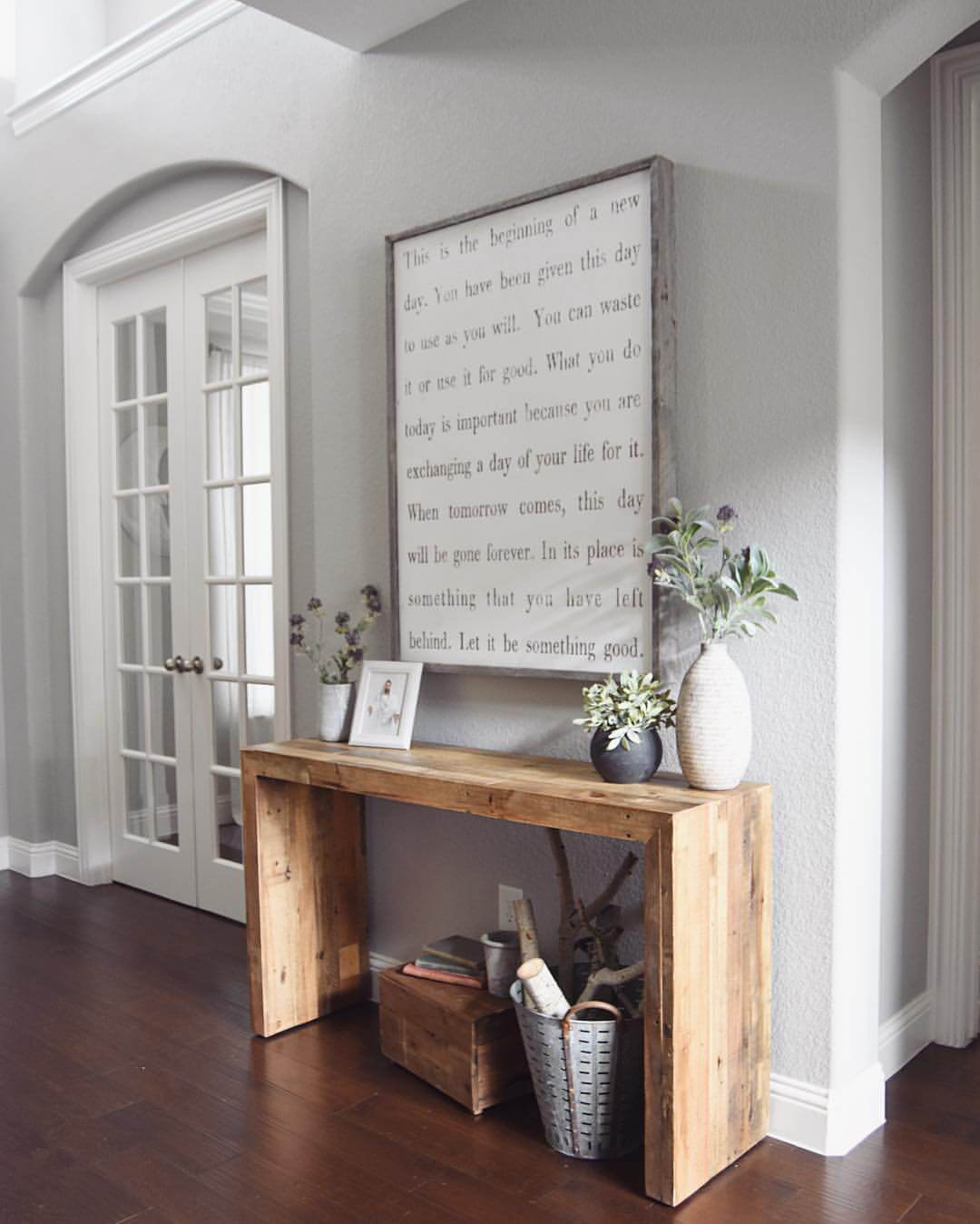 Life is full of inspirational quotes that we like to display in our homes. This one, which is about making today count because once tomorrow comes, the time is gone forever. The plaque is displayed on a wall that is painted a neutral color, and there are a few simple plants on a wooden bench below the framed words.
19. Retro Metal Diner Style EAT Art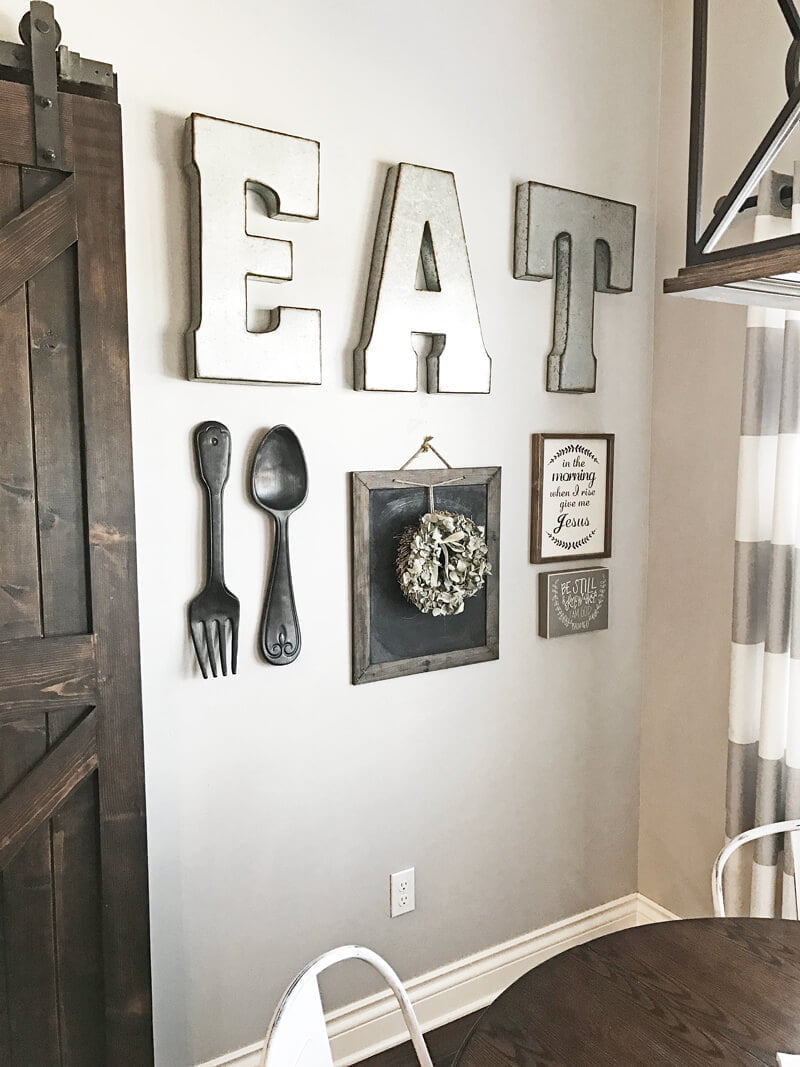 Have you ever noticed the décor in a retro-style diner? This décor idea perfectly recreates that style using metal letters that spell out the word "eat" as well as a fork and a spoon that are positioned nearby. The gray striped curtain and the wooden barn door only add to the farmhouse look that you're trying to create.
20. Distressed 3D Cutout Gather Plank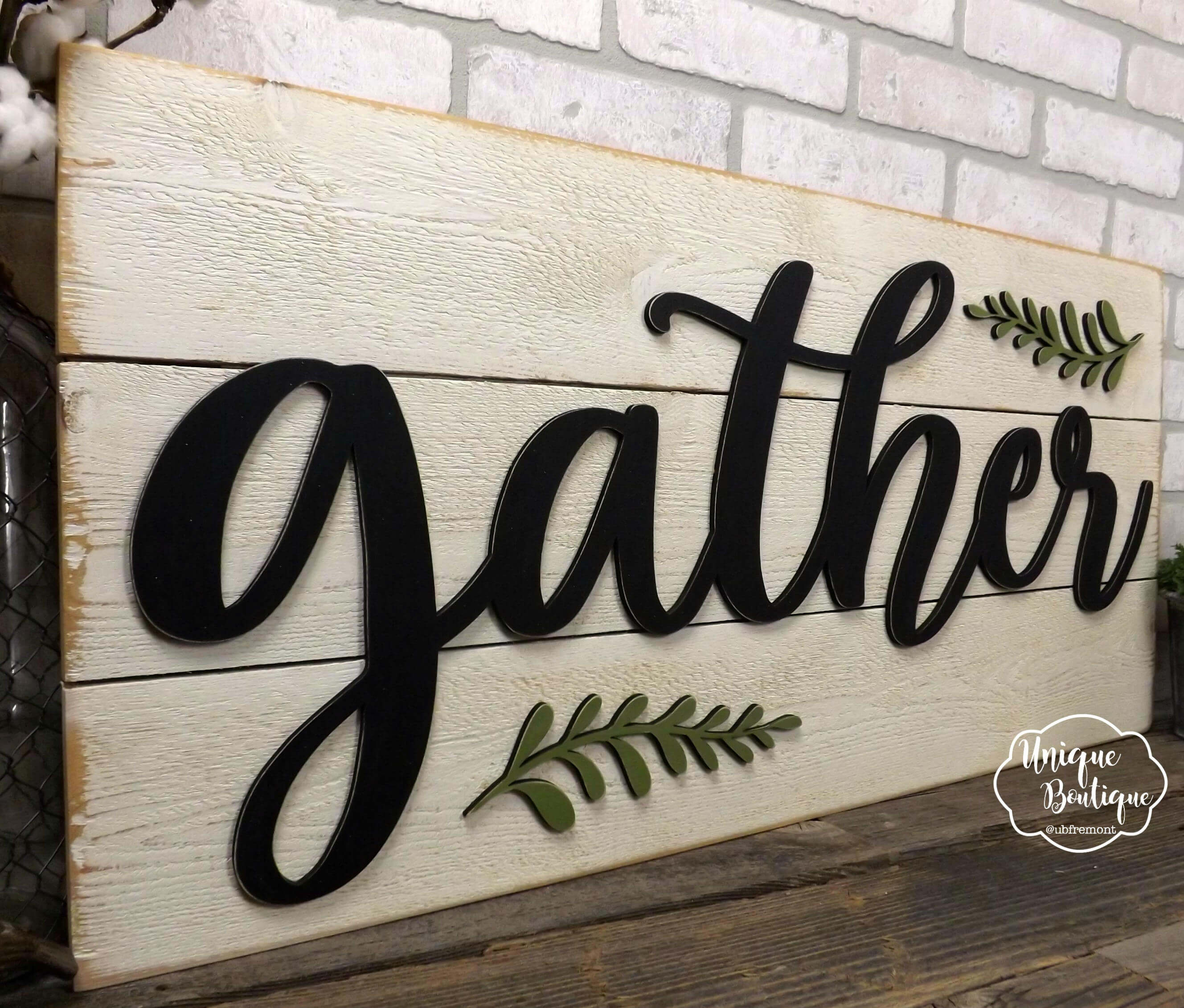 This plank is a great option for your farmhouse décor; it says gather on the white painted wood, and there are even olive branches on the plank that add a pop of color to it. This can be used on the wall of your home, or you can create a bench back for a seating area in your home.
21. In Letters 3 Feet High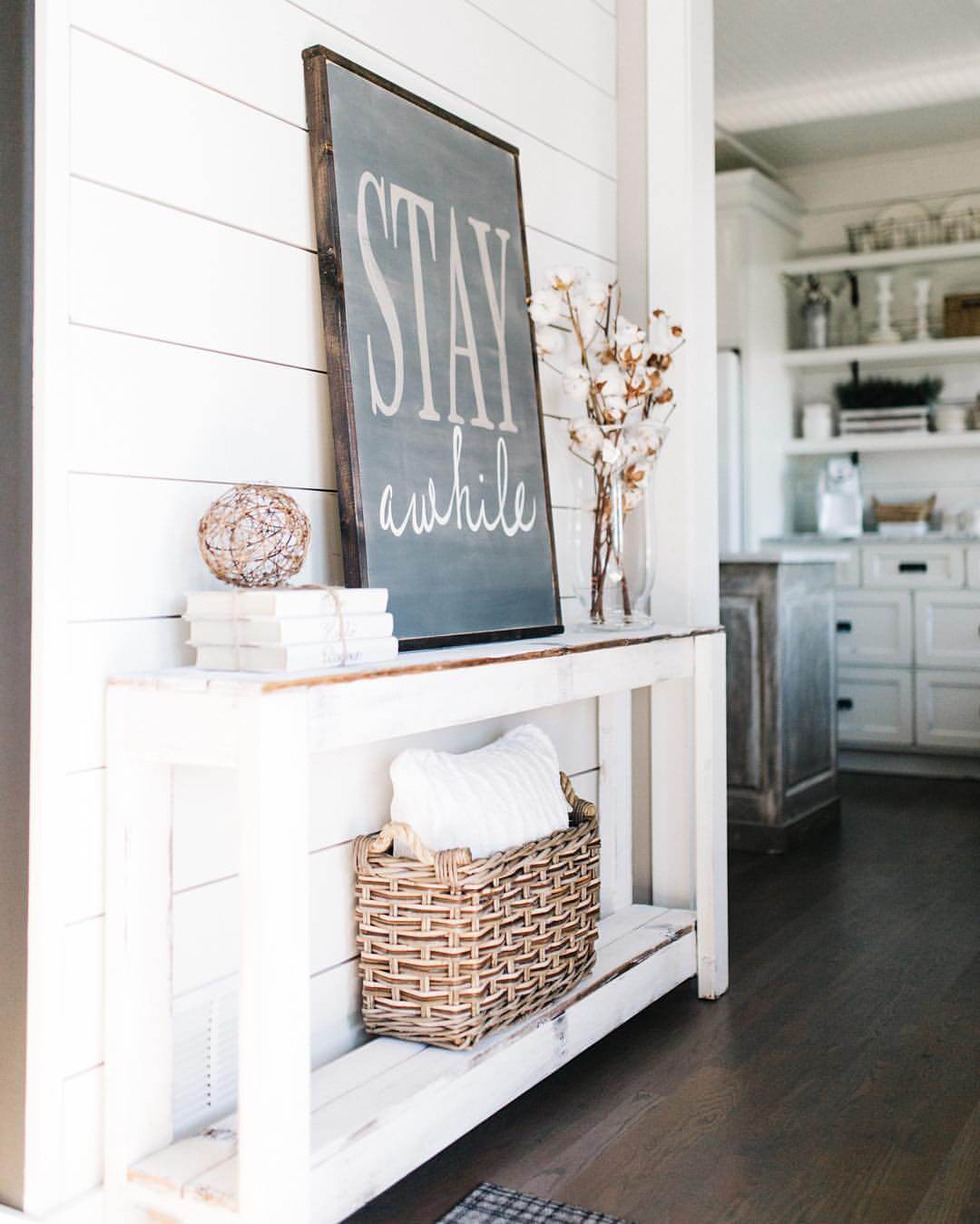 trendcrafts.com
Make your guests feel welcome with this tall, chalkboard-style display that simply invites your guests to stay awhile. This sign can be positioned on a bench, a table, or even directly on your wall. Add a wicker basket and some plants to add even more personality to the display. The sign is perfect for an entryway.
22. Church Bench, Barrel Clock and Wicker Basket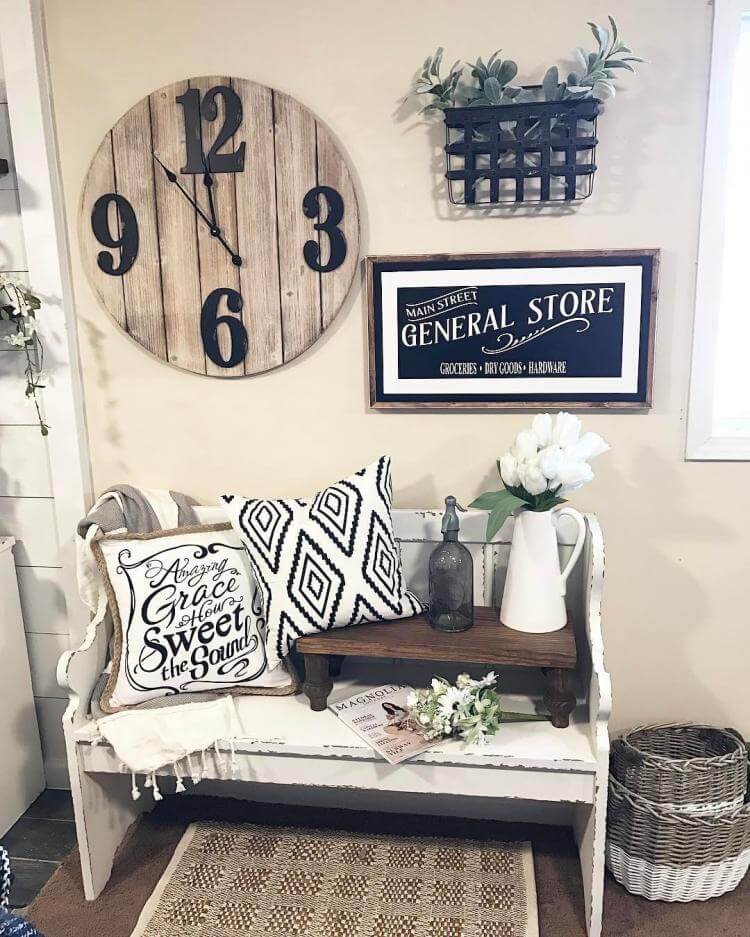 This décor idea has a lot going for it that can help create a farmhouse décor. The bench is old and worn looking, and the clock is simply a barrel that has been treated to preserve the wood. There are also plenty of plants and wicker baskets around as well, making it the perfect addition to a back porch.
23. Fall Bounty Pumpkin and Pinecone Assemblage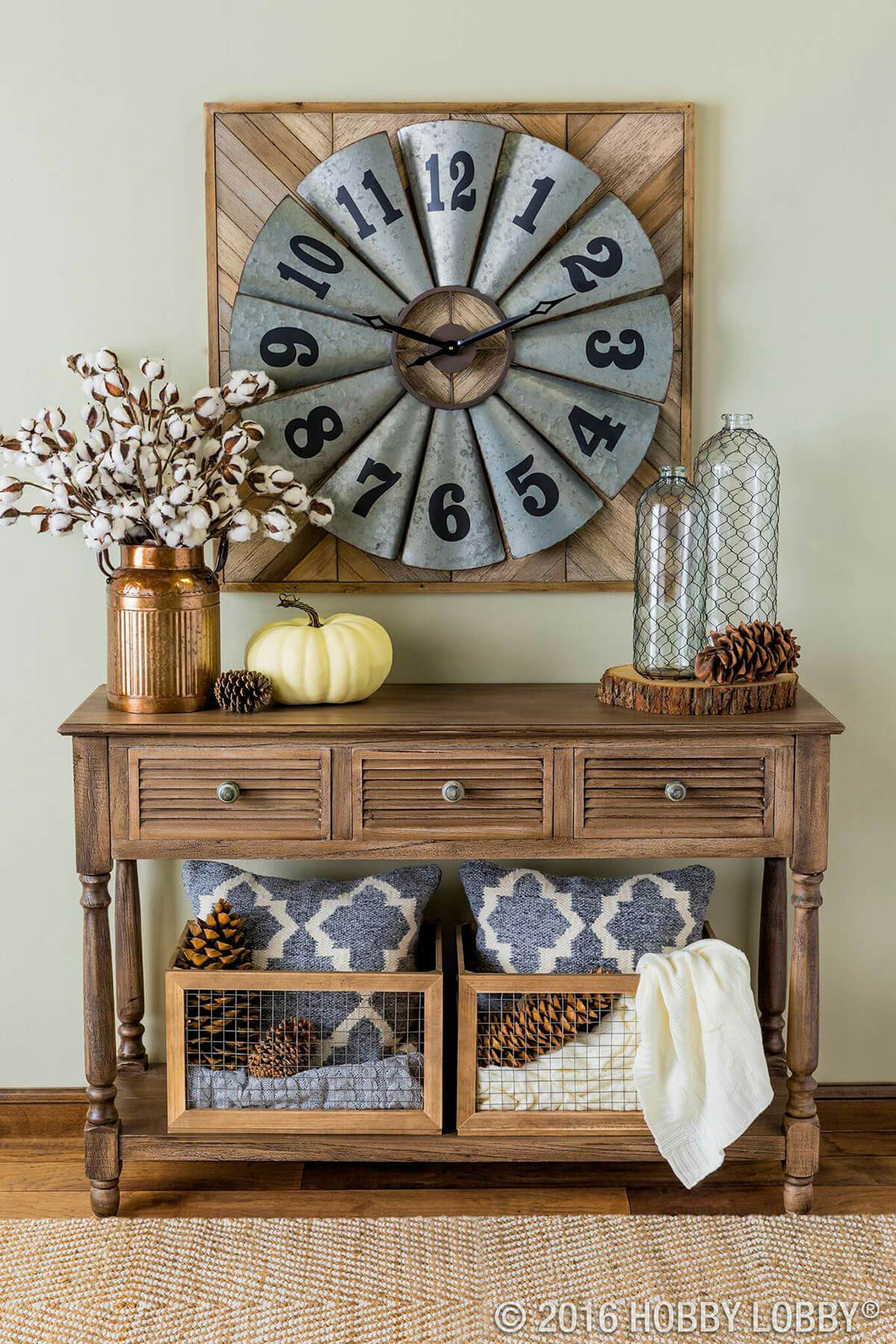 Incorporating pumpkins and acorns into your farmhouse motif is a great addition for the fall months. This small stand is ideal for lifting everything up off of the ground, but the steel clock that is positioned on the wooden slab on the wall adds a bit of a rustic appeal to the layout, which is perfect for the entryway.
24. Figural Windmill HOME Wall Art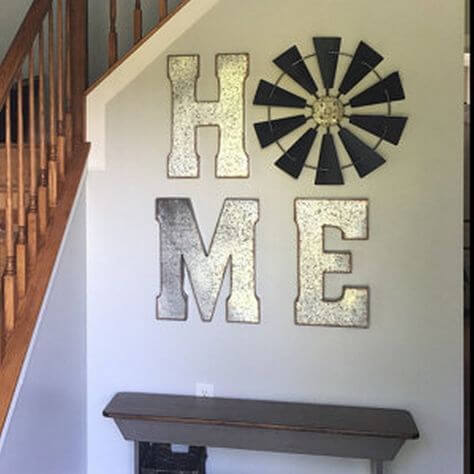 Wall art is comforting in a home, so when you find an opportunity to use it, you should always attempt to incorporate the design into your home. The staircase is not a large area, but it is perfect for this "home" wall art. The letters are metallic, and the "o" is designed in the shape of a windmill.
25. Weathervane, Buckets, Pillows and Washtubs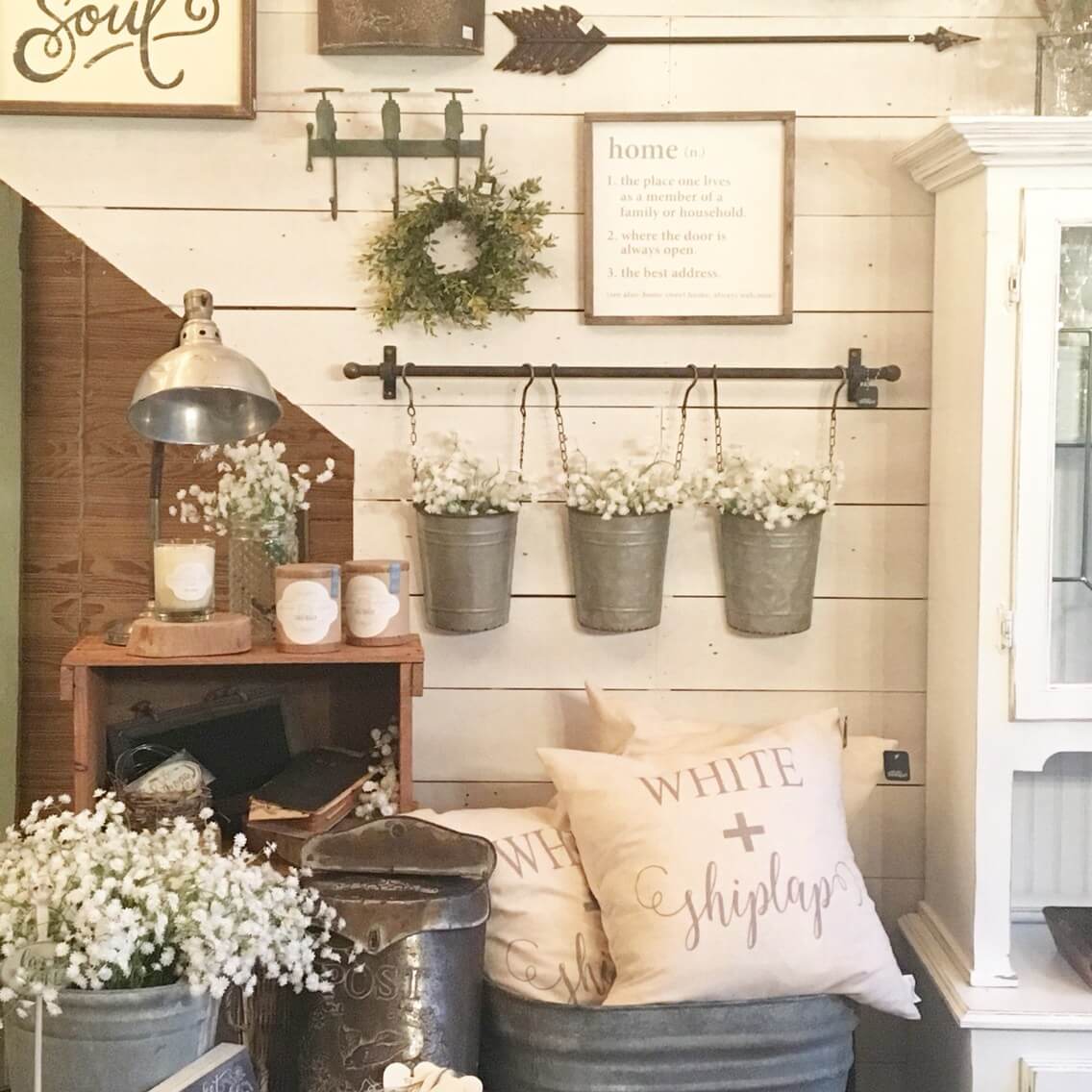 Washtubs and buckets are often seen on the farm, so your farmhouse décor should incorporate these metal objects into the design of your home. The washtubs can be used to store things, the buckets can easily be hung from the ceiling, and if you want this to be an outside creation, then adding flowers can make it feel complete.
26. Floor to Ceiling Farmhouse Window Frames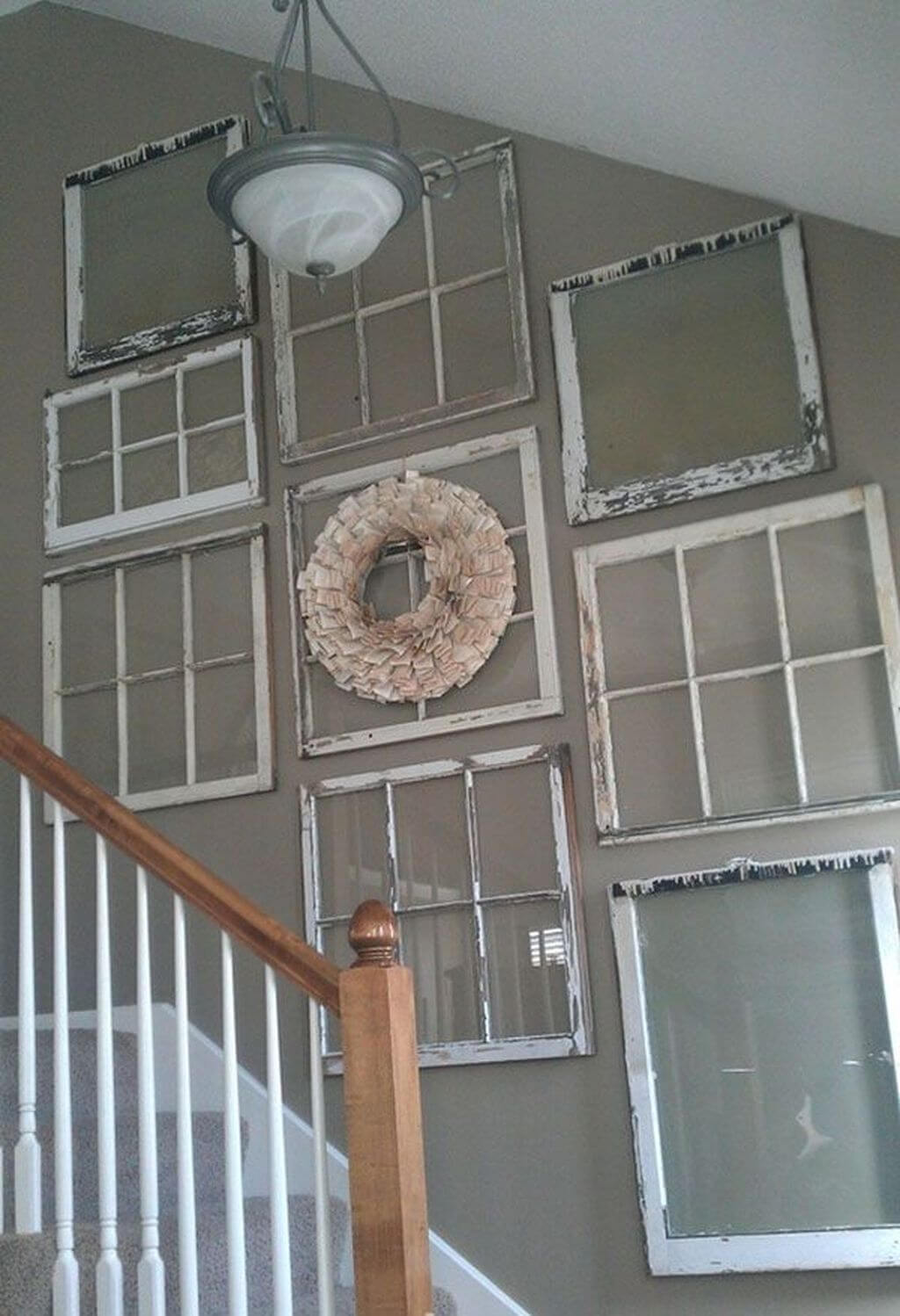 Windows add a lot to a home, but using window frames to create a unique stairway can give your home a warmer feel that's perfect for farmhouse décor. With this design, you are going to want to sand off some of the paint that's present on the windows before positioning them on the walls to make them look older.
27. Raw Cotton, Lavender and Gingham Bouquet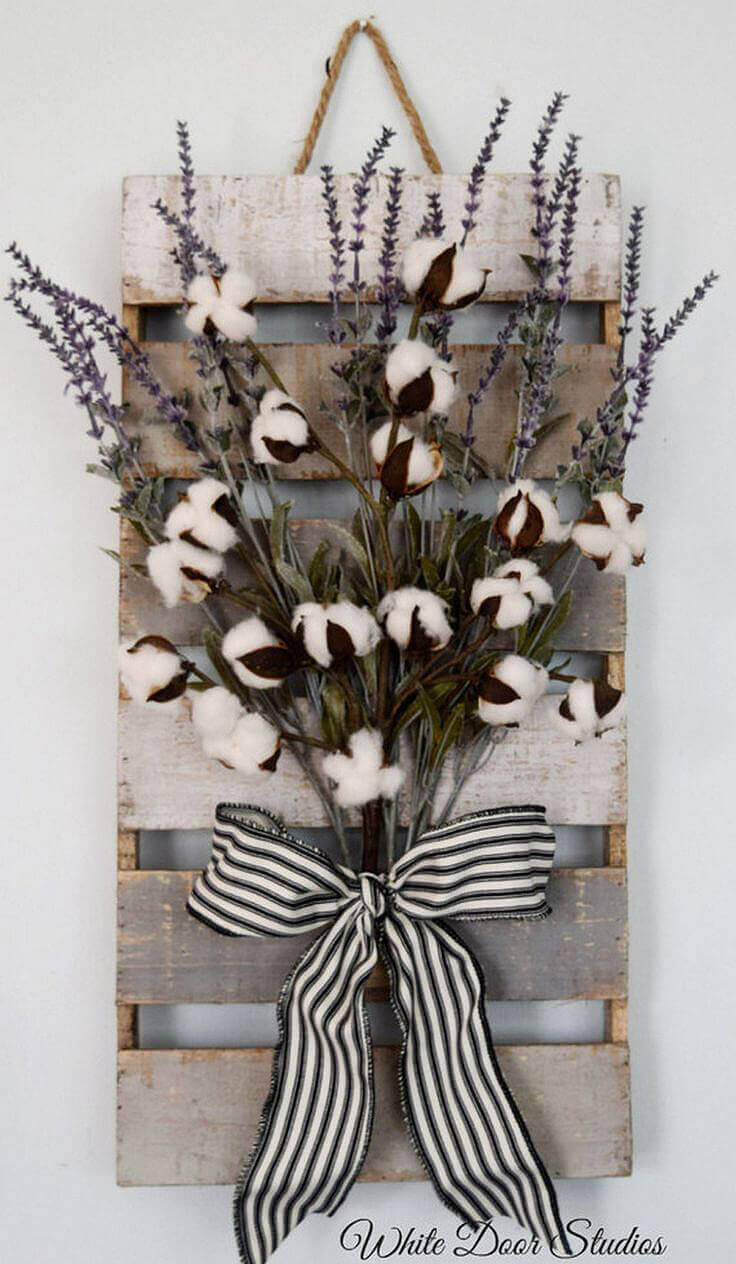 Farmhouse elegance does not need to be complex, in fact, this décor idea is a simple bouquet of lavender and cotton. The lavender will leave your home smelling wonderful, and the bouquet that you create is quite lovely, especially when it is placed on some wooden boards that add contrast to the design. This bouquet can be hung from anywhere in your home.
28. Cool Country Barn Wood Chevron Design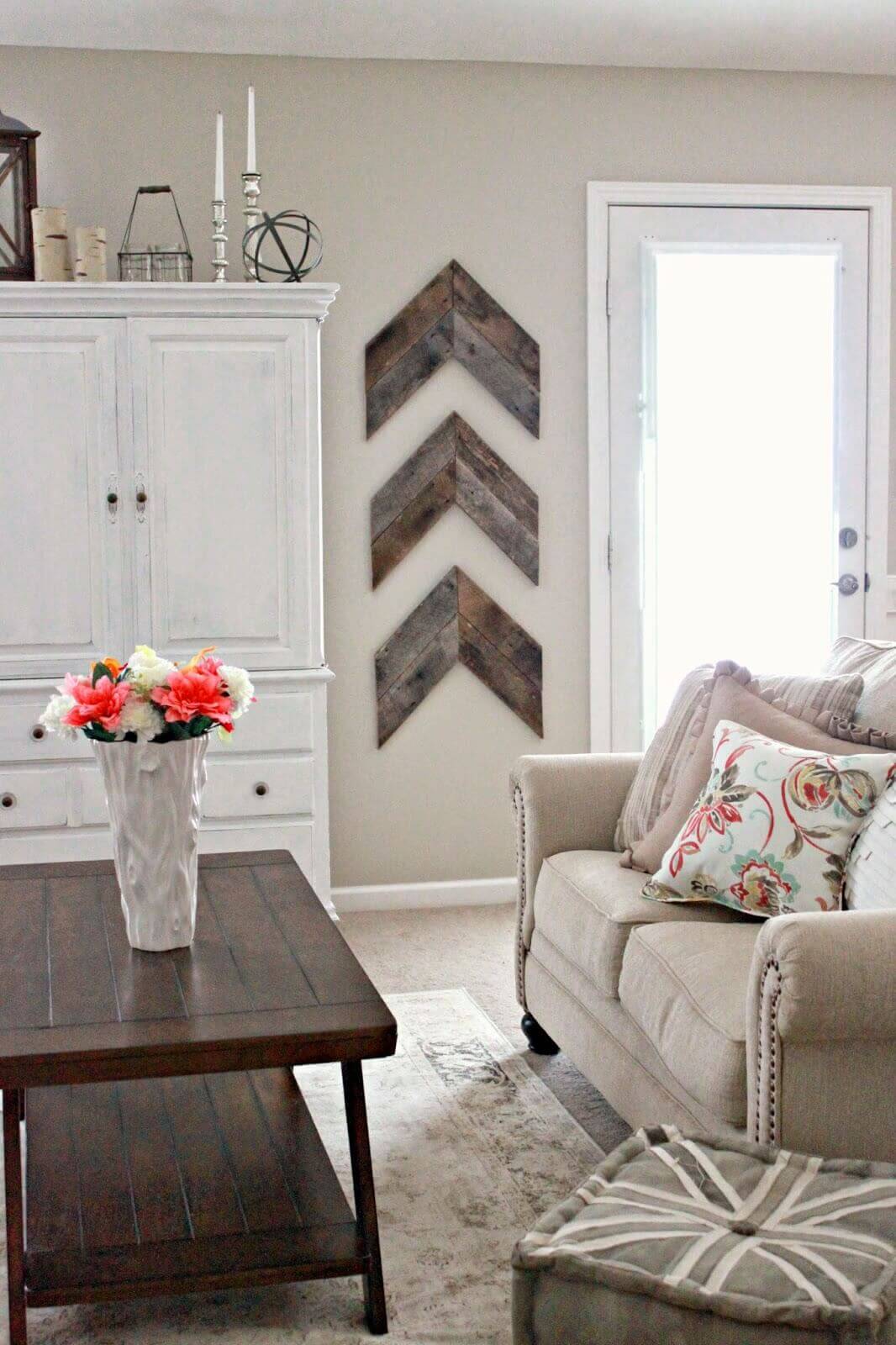 Chevron designs are lovely in any home, but when you can use a few cuts of rustic barn wood to create this design against a light colored wall, you'll find that the wood adds quite a bit to the design. If you want to make the design even more unique, then add different hues of stain to the wood.
29. Rustic Family Names Wall Crossword Puzzle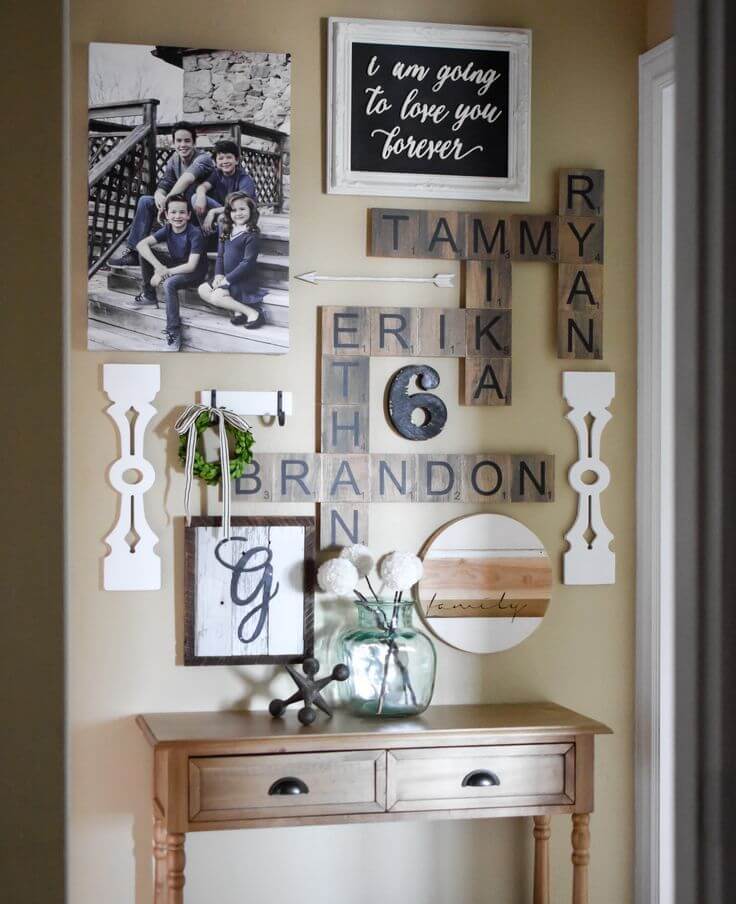 If you and your family enjoy word games like Scrabble, then creating a wooden board on your wall with each family member's name is a great décor idea that you can use in your home. In fact, you can even put pictures of your loved ones amongst their names if you'd like to add a bit more to the design.
30. Burlap Wreath and Chickenwire Keepsake Frames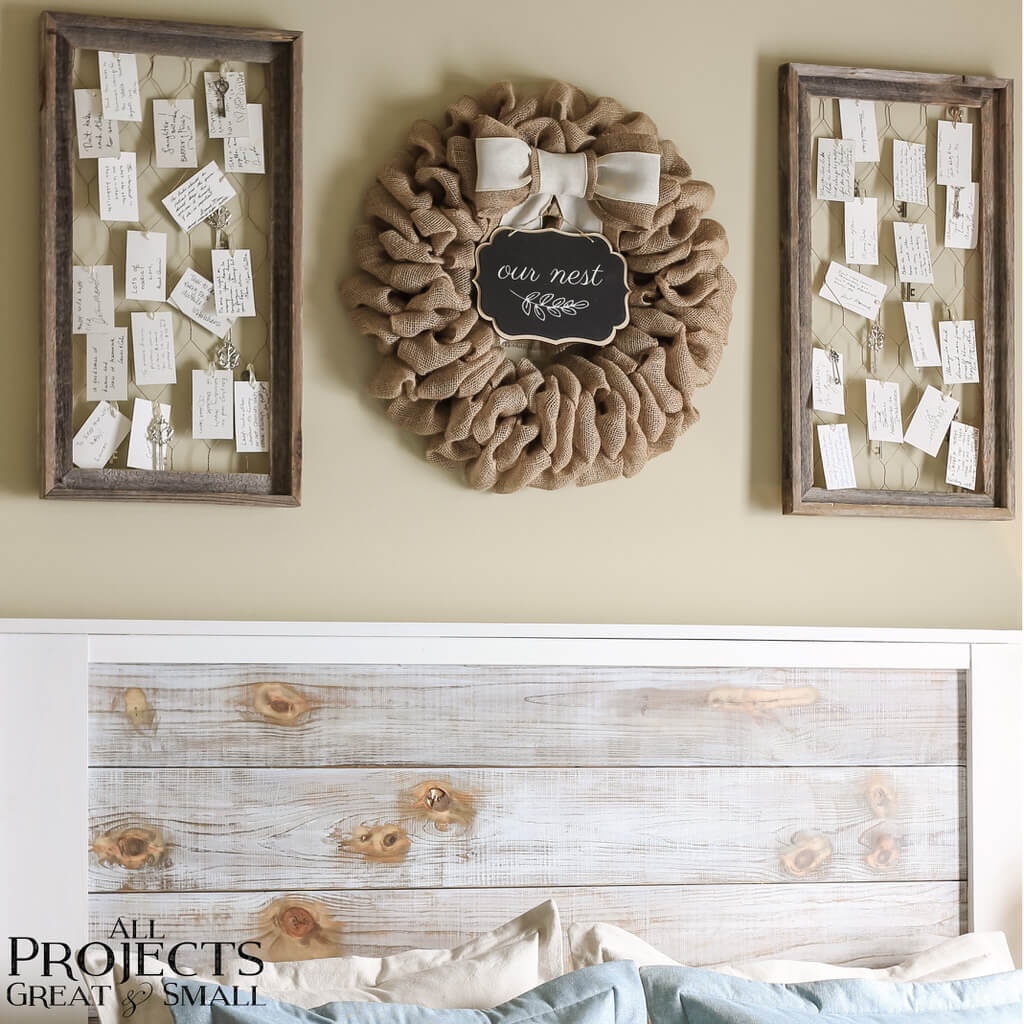 Having a wreath in your home can be very festive, but it doesn't always create a farmhouse effect in your décor. The next time that you want a wreath in your home, try making it out of burlap. The keepsake frames that are on either side of the wreath is made from chicken wire, which keeps the farmhouse theme alive.
31. A Fresh New Way to Style Succulents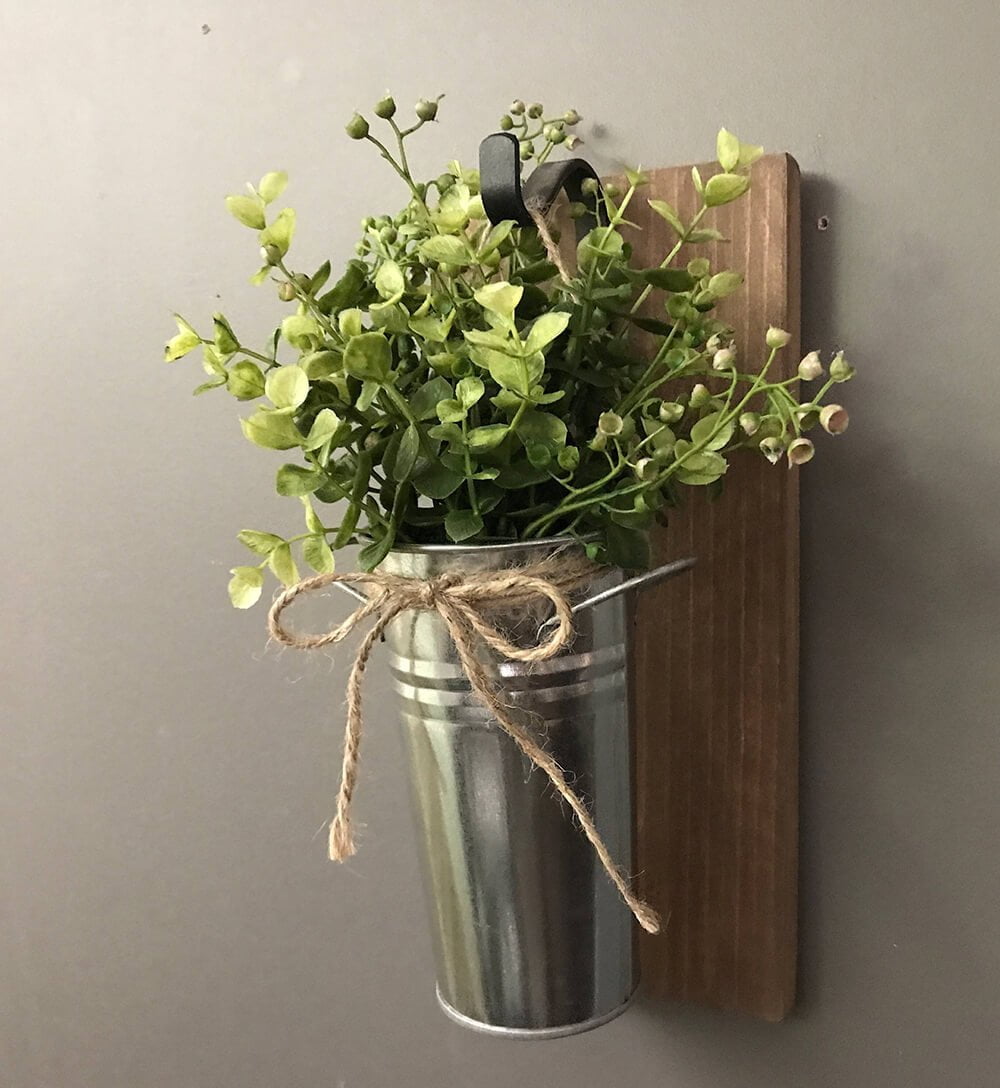 Succulents are plants that don't need a lot of water to survive, which makes them a great option to add to your wall and make part of your décor. This lovely succulent plant is potted in a metal bucket, which helps create the farmhouse there that you are looking for to hang from your home or your front porch.
32. Farmhouse Wall Decor Ideas for Bathrooms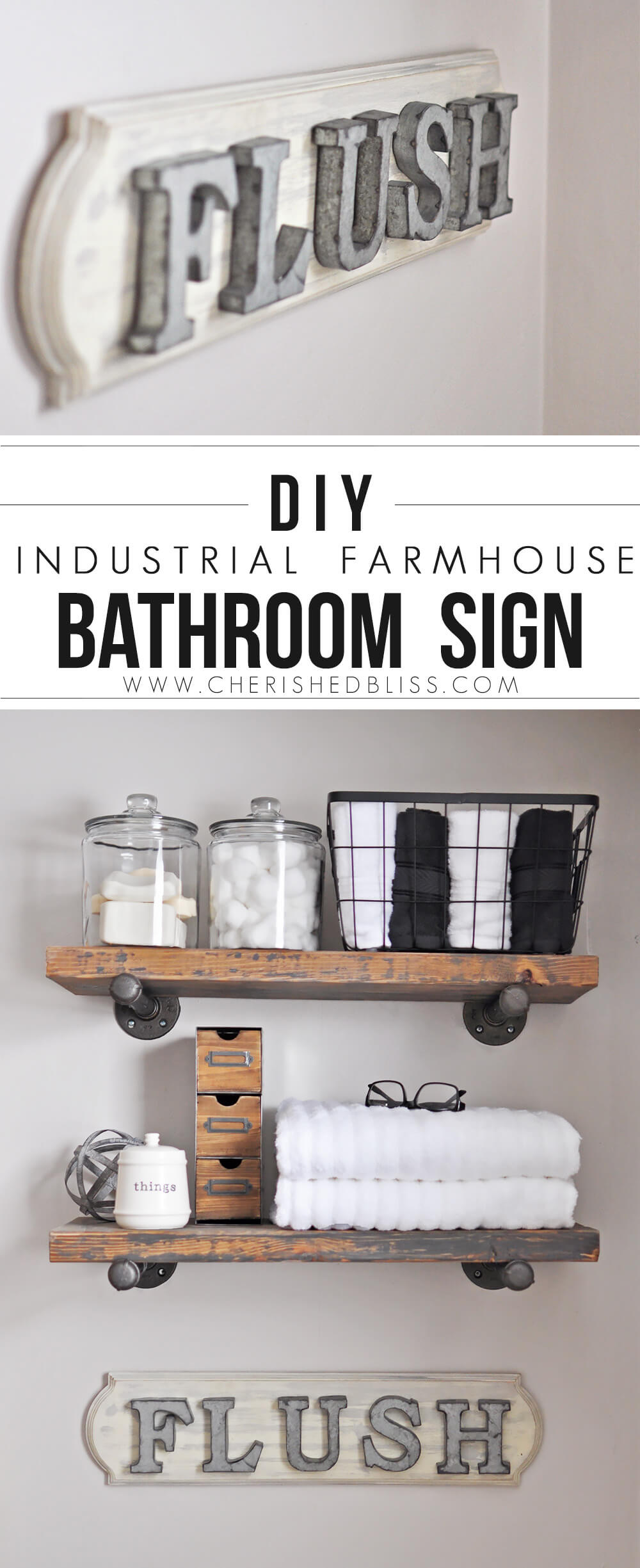 This sign is a farmhouse décor idea that is perfect for a bathroom. The wood is painted and sanded until it achieves the rustic look that you are going for. When the paint dries, the metal letters that spell out the word "flush " can be nailed to the wood before it is positioned on the bathroom wall.
33. Modernist Cabin Faux Deer Mount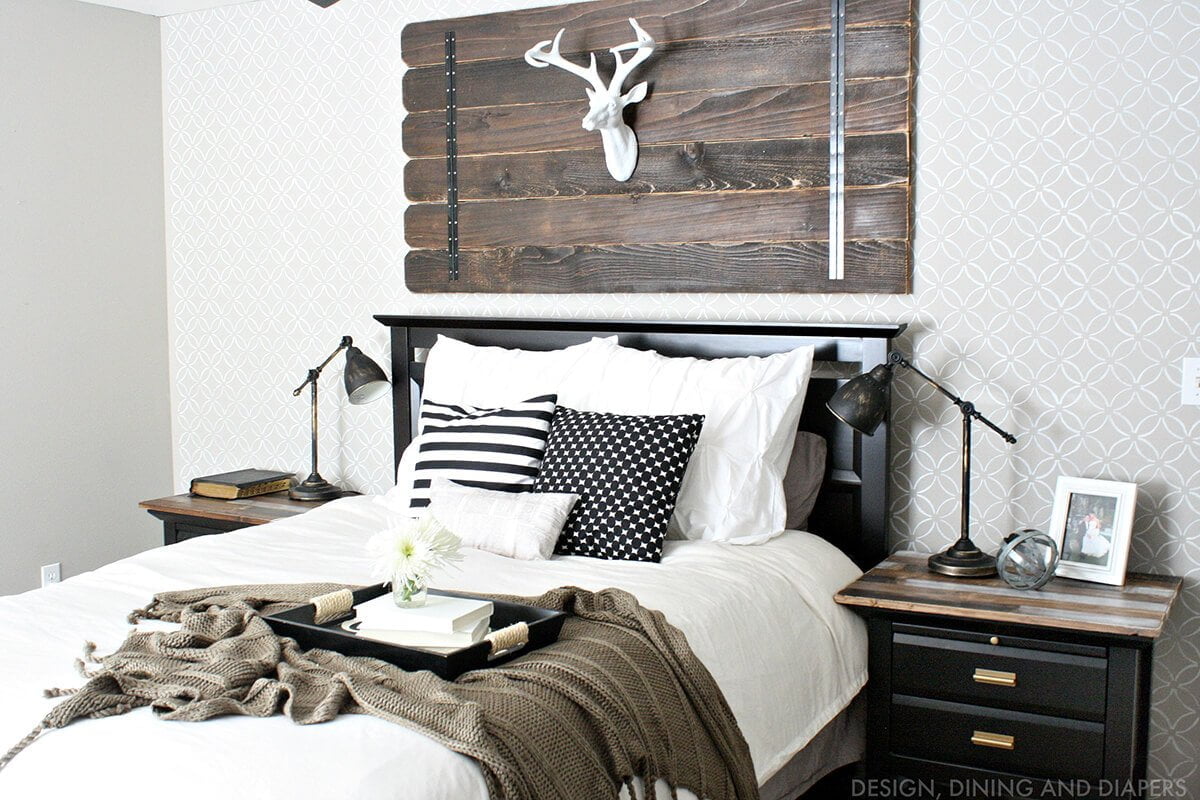 Don't forget to incorporate a farmhouse décor into your bedroom as well. You can use some barn wood that has been stained and sanded to get the texture that you want as a headboard. If you position the wood slightly above the bed, you can incorporate some deer mounts into the design. With wooden nightstands, this will really look great.
34. Repurposed Window Shutter Statement Wall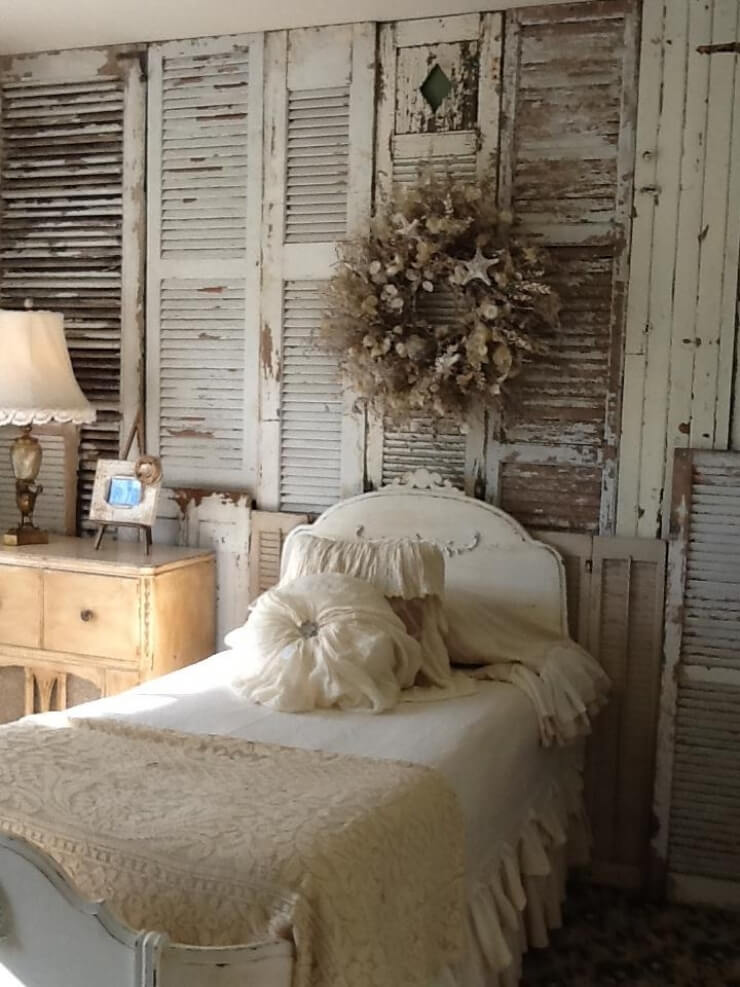 Window shutters are pointless to have on the outside of your home when they become damaged, but they make a great rustic farmhouse wall inside your home, especially when the paint is worn and they have an almost antique look. Creating a wall of shutters can be a great way to add personality and flavor to a bedroom.
35. Central Avenue Meets Middle of Nowhere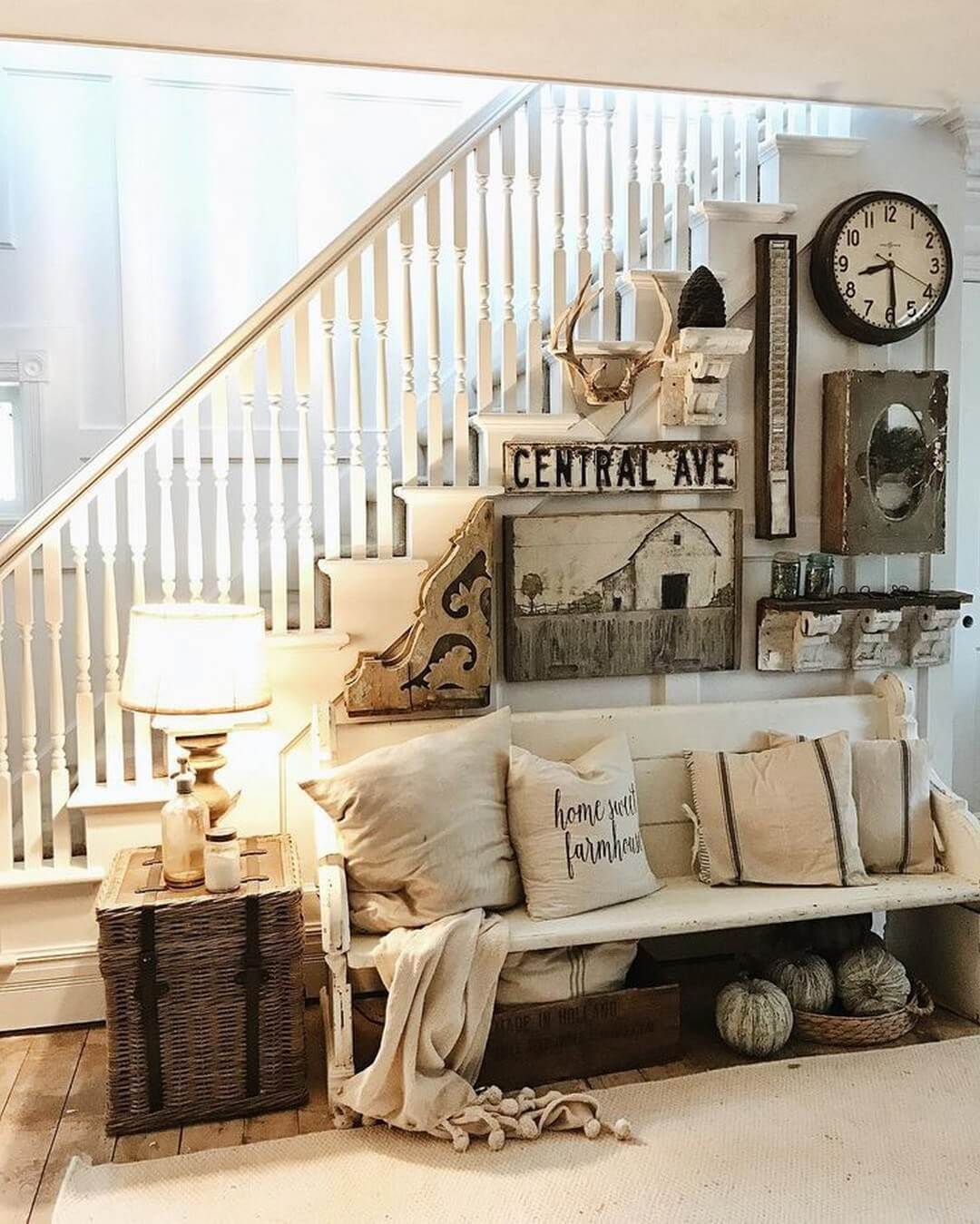 Wooden figures, pictures, clocks, benches, wicker baskets, and hand sewn pillows can all be found on Central Ave. When you create a farmhouse décor in your home, using items like these near your stairs or entrance way can make the area look more rustic, especially if you are able to add items on the floor like benches and baskets.
36. Gather for Tea Knickknack Shelf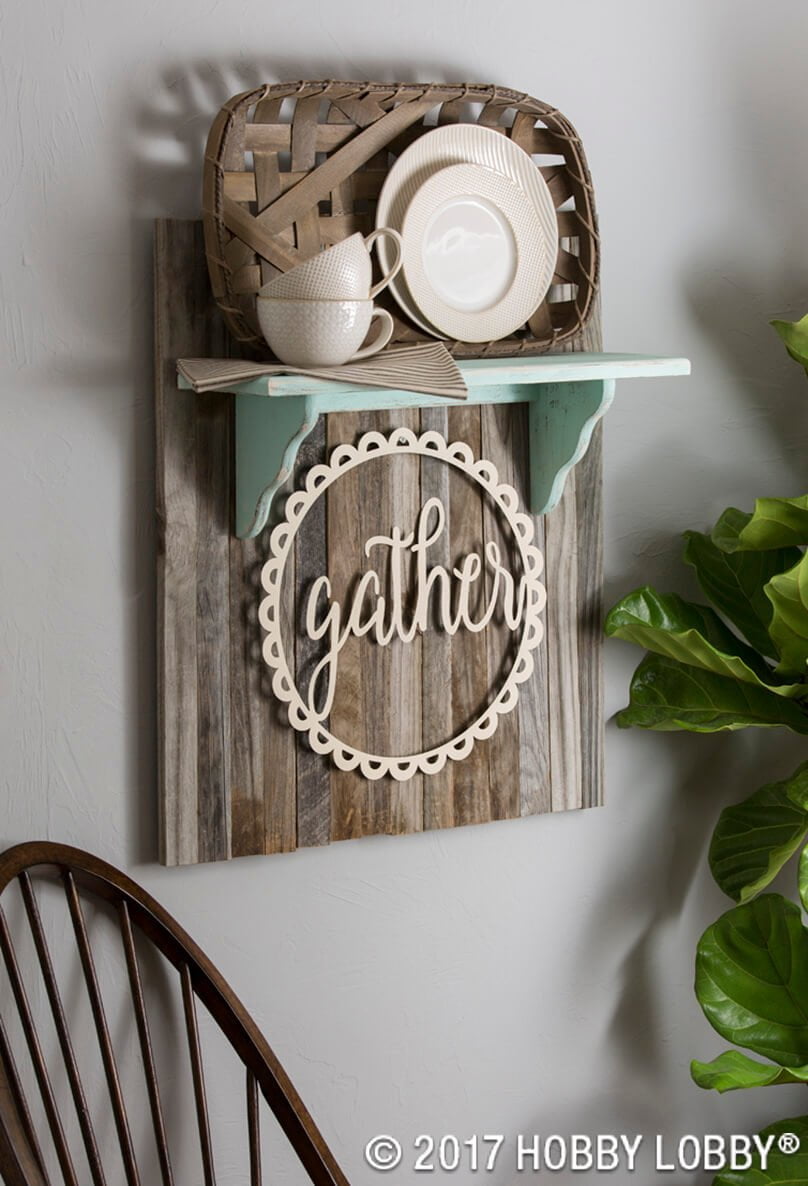 This wall décor is perfect for an area where your family gathers for a meal. The background features a wood panel design that has a shelf that is positioned near the top. On the shelf, you can see a basket and some china dishes. Under the shelf, there is a sign that says gather that brings it all together.
37. Three Hanging Wildflower Filled Ball Jars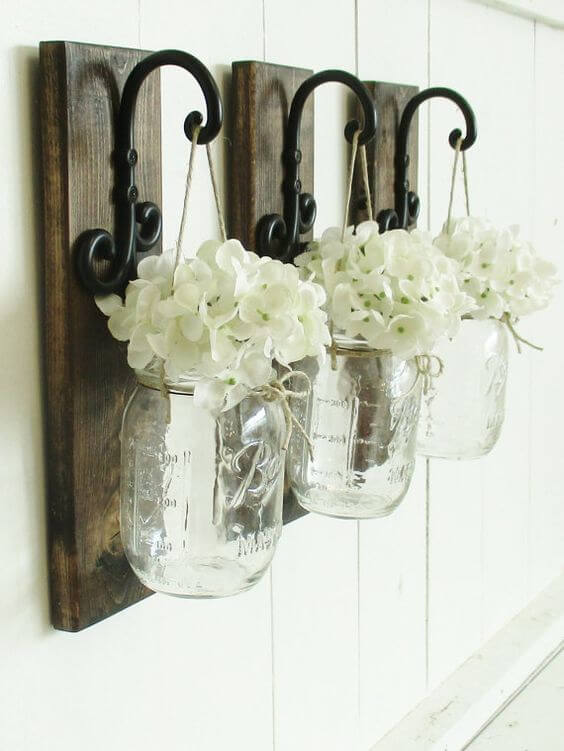 Wildflowers are a great addition to any farmhouse motif, and these hanging mason jars are part of the allure that makes a regular home into a rustic farmhouse feel that you will adore. Hanging these with a few strong pieces of twine, and if you want, you can even leave longer stems on the flowers to see through the jar.
38. Say Welcome with Fresh Flowers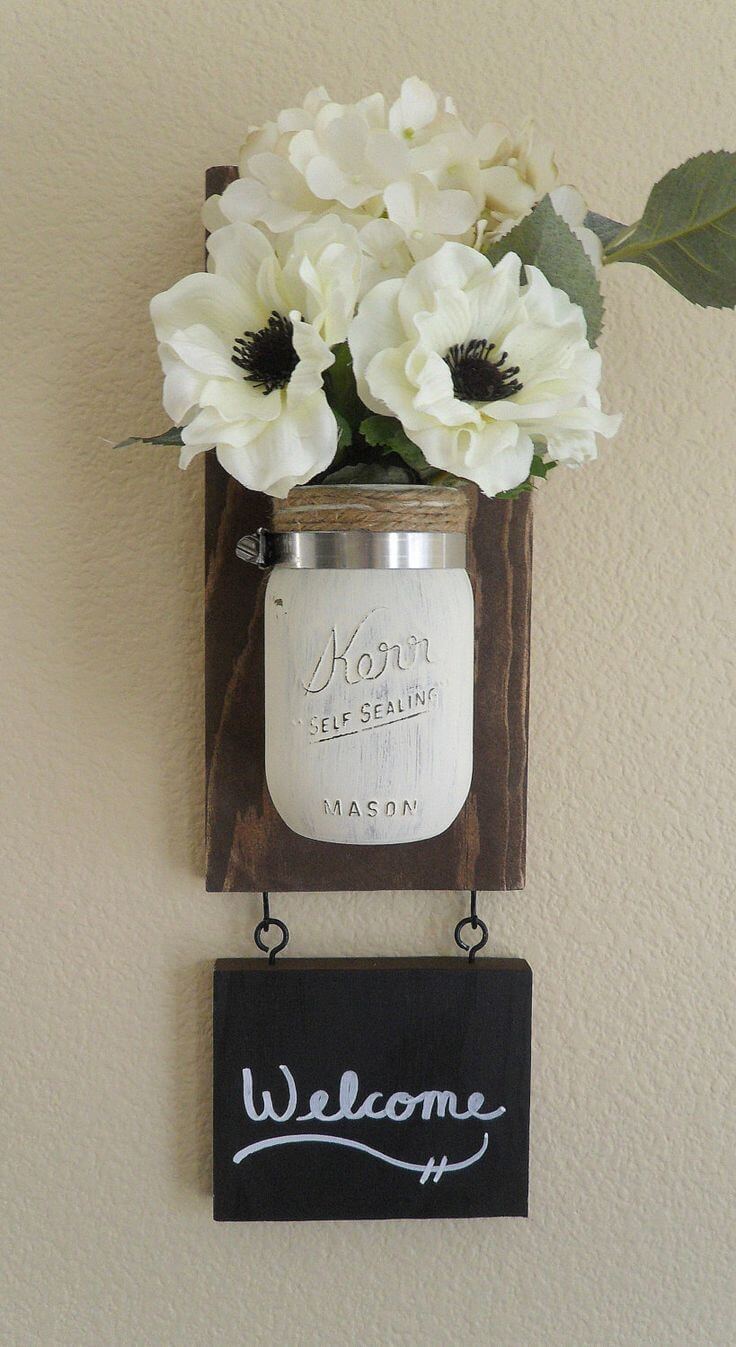 If you want the smell of fresh flowers in your home, this jar planter can give you a hanging option that will give your home some farmhouse flair. The jar is painted white to hide the soil from the display. The rim is also encircled with twine and connected to a wooden plaque that can hang on the wall.
39. Farm White Ceramics and Upcycled Drawer Shelves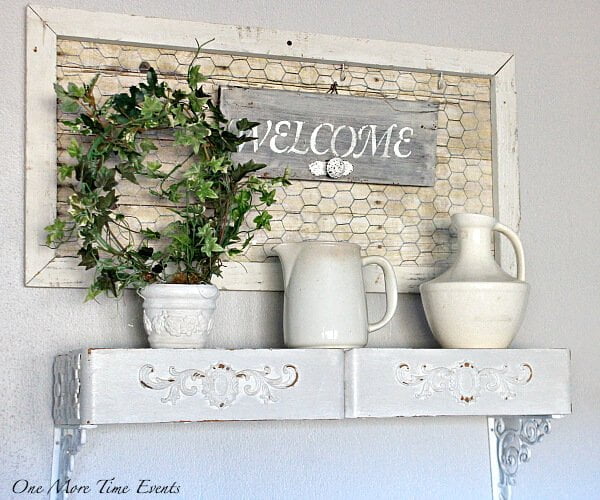 Farmhouse décor often stems from antique furniture and used accessories, so if you have some old drawers in your home, you can create a shelf for your porch where you can create a rustic look with white ceramic pots. In this design, there is even a welcome sign that utilizes wood, chicken wire, and a bit of greenery.
40. Roman Numeral Punched Tin Windmill Clock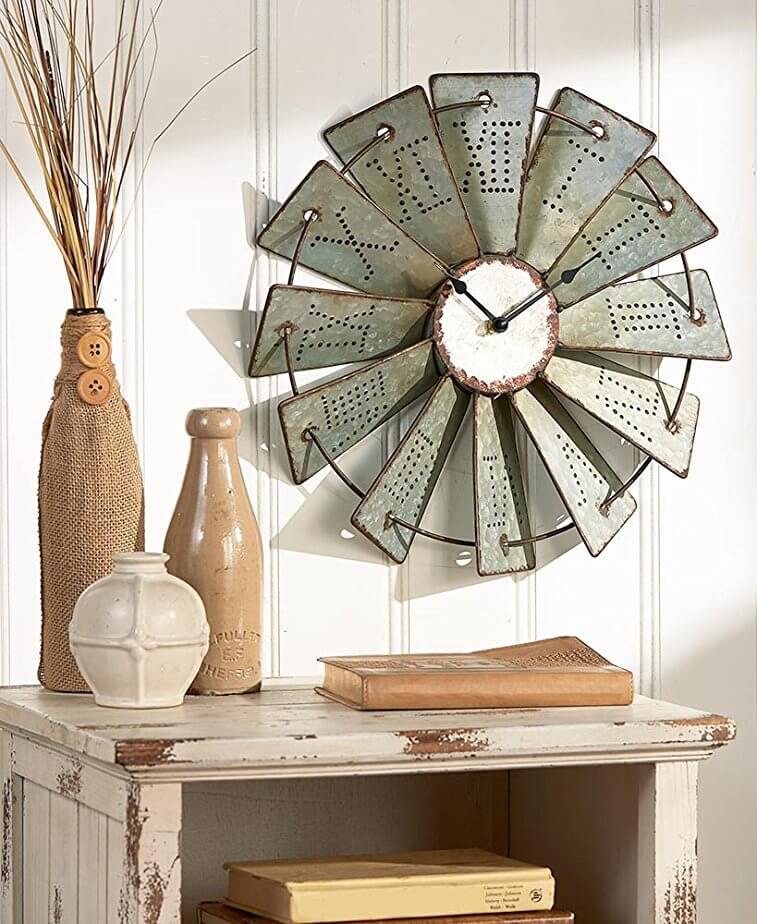 There is nothing more creative than using tin that is shaped like a windmill to create a clock that you can put on the wall in your living space. The center of the clock can be sanded a bit to give it a more rustic feel, and the antique stand and the bottles in this design complete the look.
41. Washing Board Backed Wire Organizers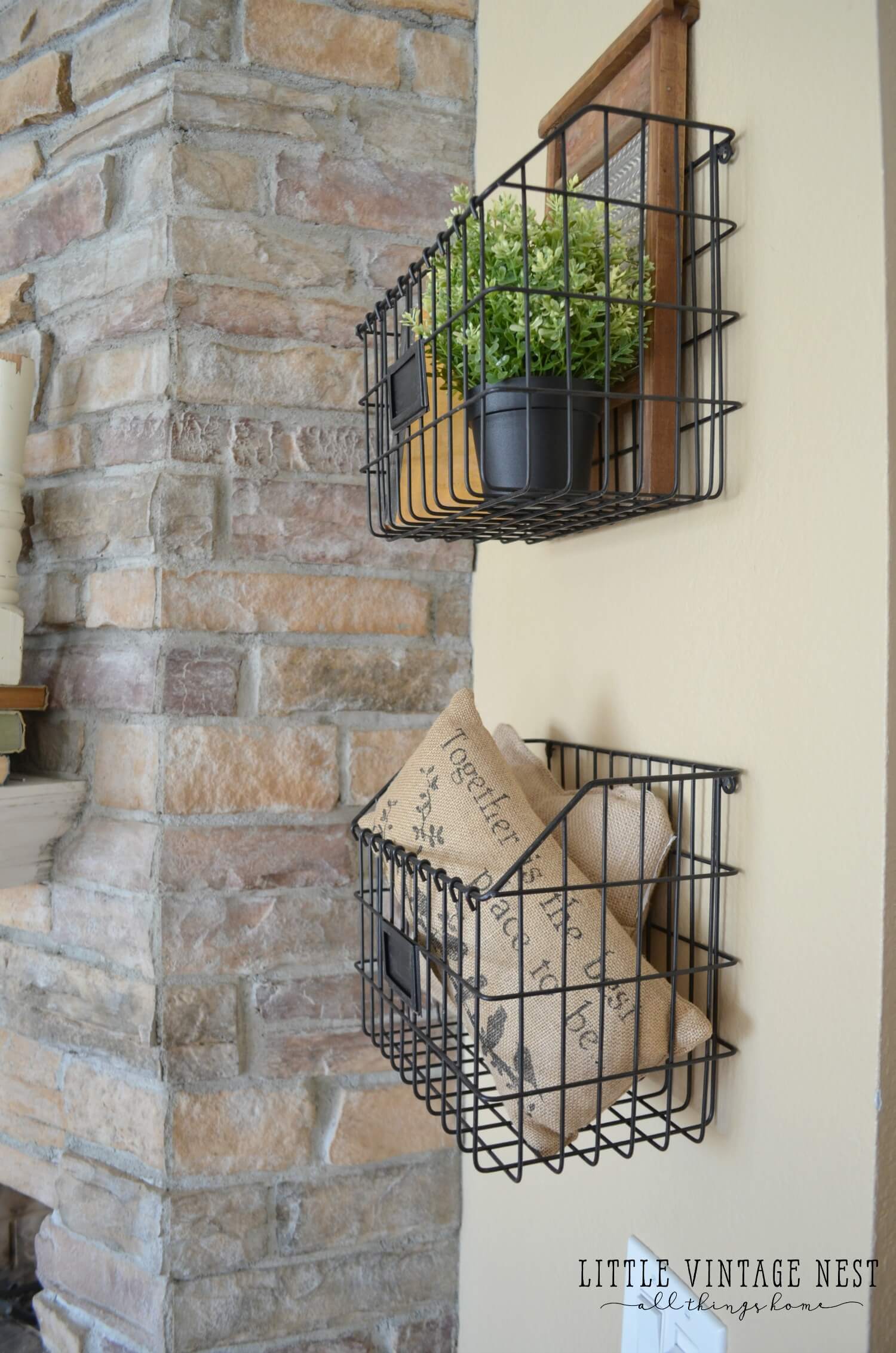 Wire organizers are a great way to tackle a bit of clutter in your home, and they can even be hung on the wall with ease. In this design, a washboard is used for the back of the unit, and there are plants in the front. The second basket is filled with pillows, which are handmade using burlap and twine.
43. Pretty Paper Peony Frame Arrangement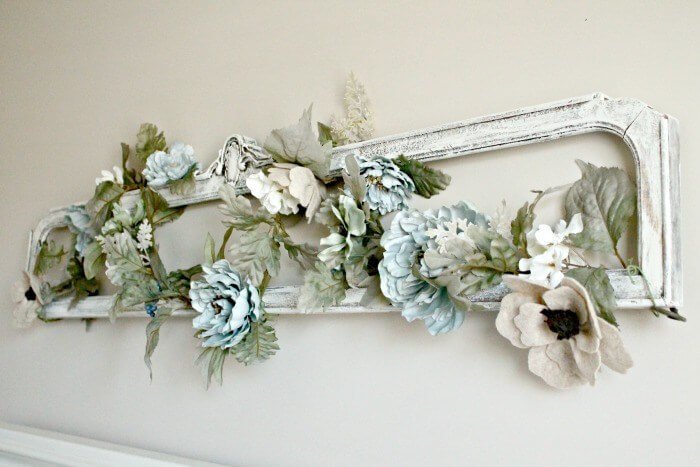 Sometimes a little design can do wonders for a blank wall, and this simple peony frame arrangement is a great point of detail for complementing farmhouse farm décor. The flowers are made from paper, which means they will not wilt, but the slight color on the petals and the leaves add a bit of warmth to the pale walls.
44. Gathering Basket Mirrors and Sewing Cabinet Shelves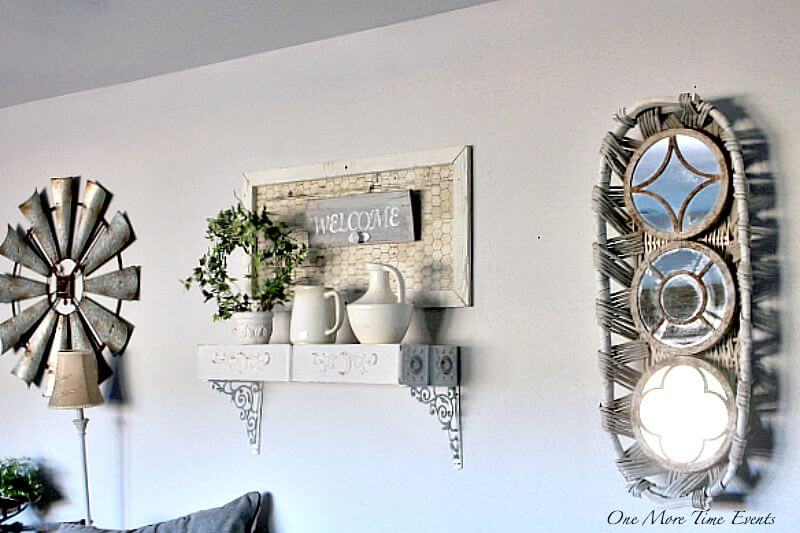 Mirrors and shelving are an important part of any farmhouse décor, but this gathering basket with the three mirror design is quite unique. Each mirror has a design over the reflective part that enhances the design, and as you can see, the mirror can easily match shelving, furniture, or other wall décor that you already have in your home.
45. Wrought Iron Piecemeal Prairie Wall Decorations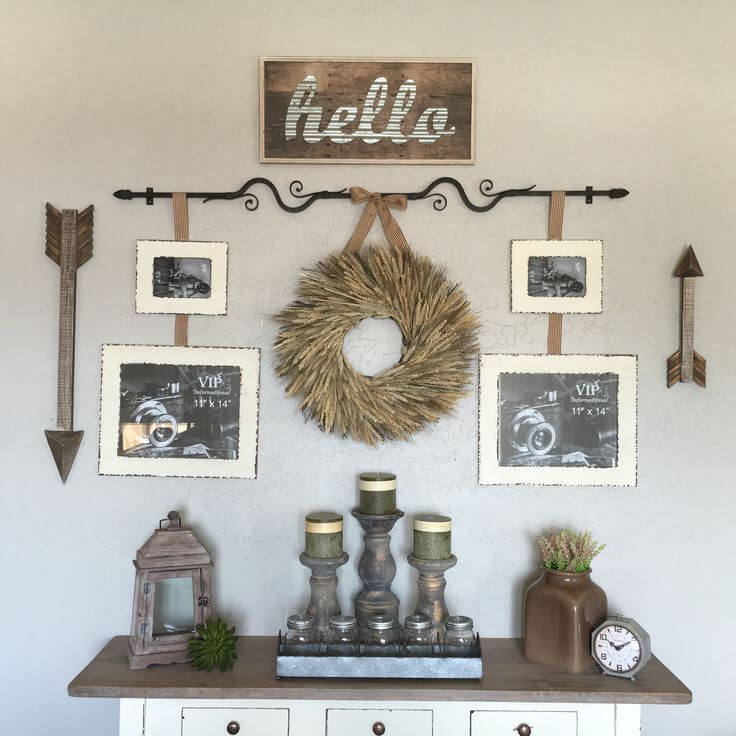 Wrought iron is something that you often see around the farm, and this décor idea really incorporates it into the wall design. The iron's perfect for hanging photos and other images, and it can serve as a central focus of a wall in your home. The wreath in the center of the iron also adds a bit of style.
46. All the Animals in the Barn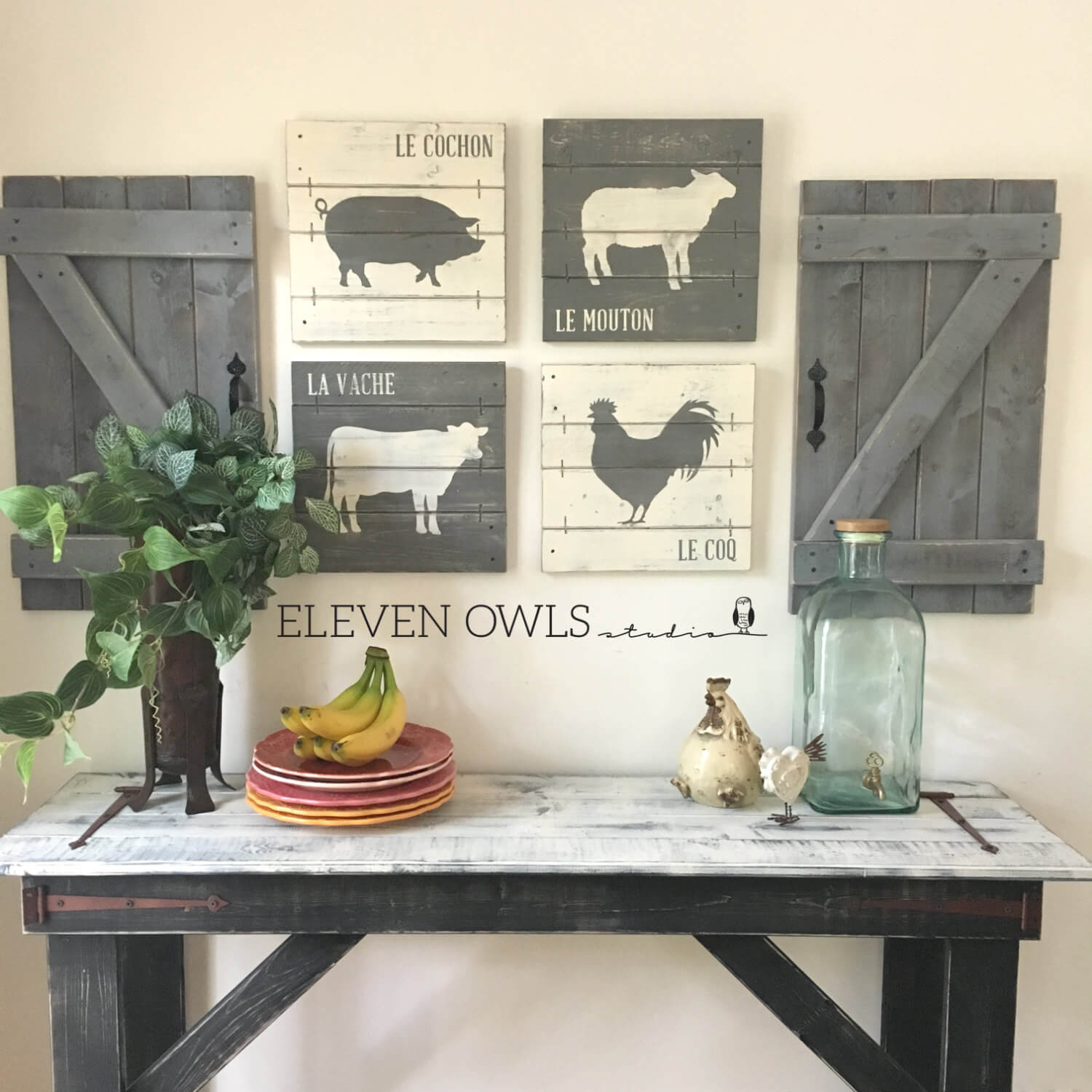 If you have an area in your home that is perfect for a window, you can create a wall design that resembles a window. Start by creating four window panels that you can stencil animals on, then enclose then on the sides with small barn wood doors that resemble shutters. You can even use two different colors for contrast.
47. A Rustic Bathroom with Modern Amenities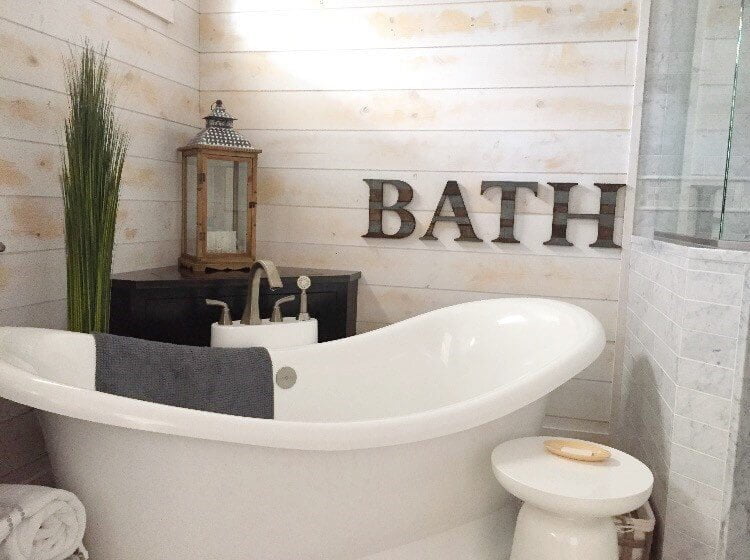 A bathroom is not the easiest location to create a rustic look, especially if you have a modern tub and other amenities in the space. This décor idea's perfect for creating a wall that has a rustic design using older-looking wood; you can also add a bath sign along the wall to create a focal point in the room.
48. Chicken Wire Framed Family Monogram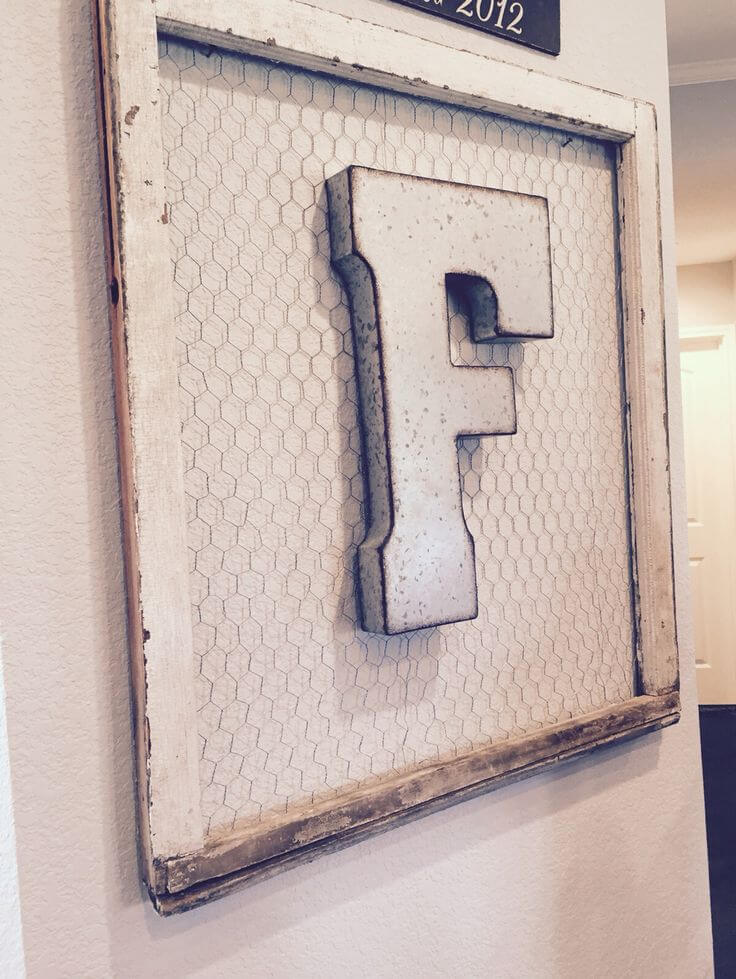 A lot of homes display a monogram on their front porch or in the entrance way of the home so that guests can see it as they walk into your home. This design features a chicken wire backing with a big letter positioned directly in the center. The frame is scrapped and nicked to maintain the rustic farmhouse feel.
49. Heart-Shaped Pallet Wood Family Art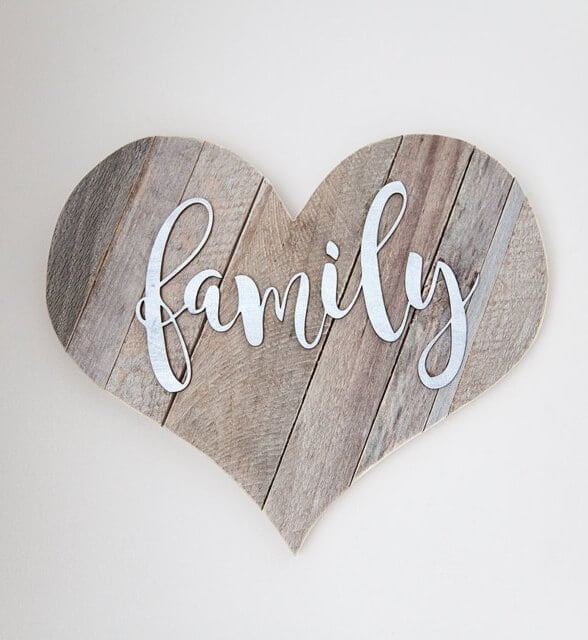 Wood makes lovely wall decorations, and this heart-shaped piece of décor is made from pallet wood that has been sanded and rearranged to create a heart that varies in color. On the top of the wood, you can see the word family, showing that your home is a welcoming place for the family to gather.
50. Laidback Farmhouse Look with Mahogany Furniture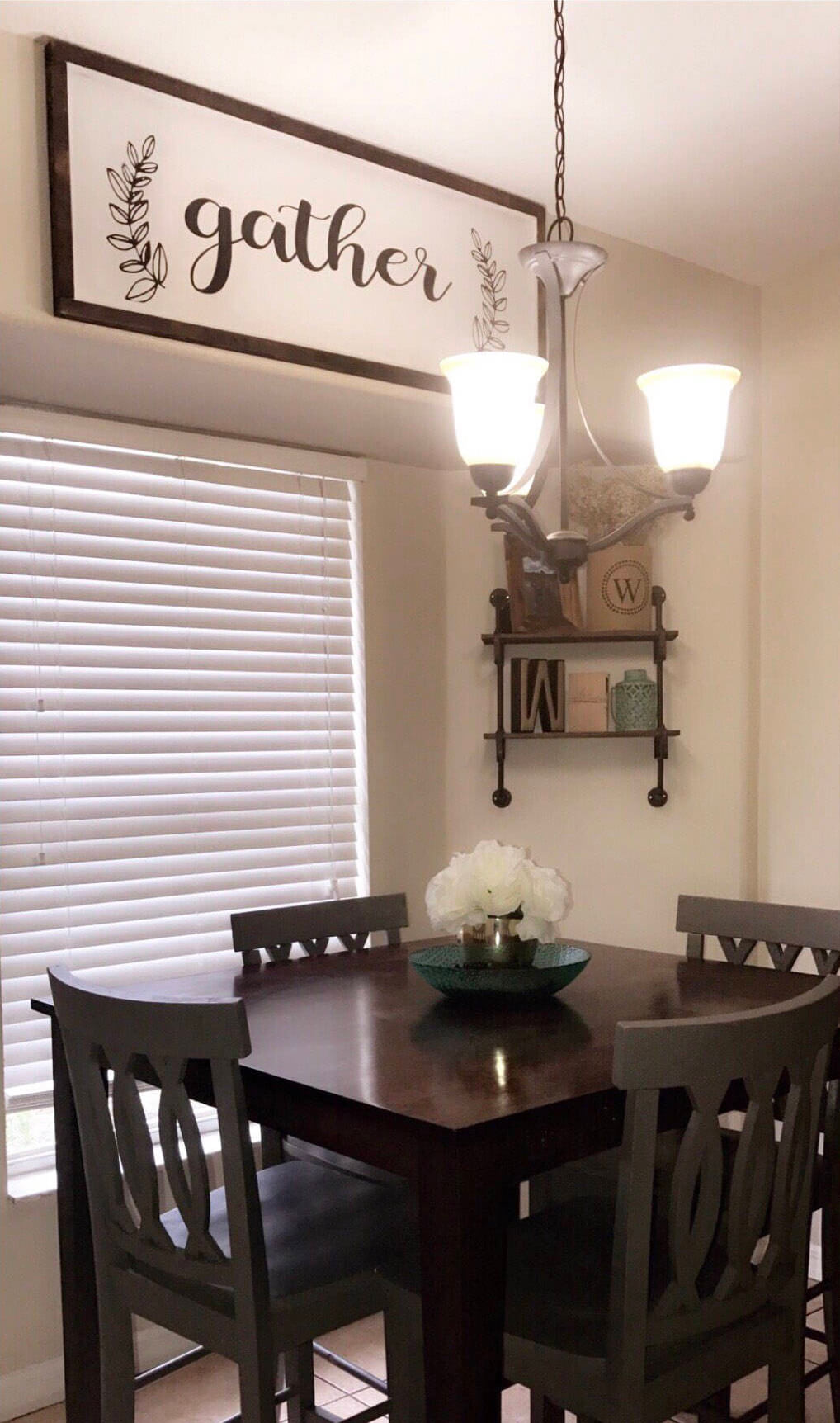 One of the aspects of your home that is not often decorated is the wall close to the ceiling. Crown molding is nice, but having a nice handmade sign that is inviting can add a farmhouse feel to your home, especially in the dining area. The rustic chandelier in this idea actually illuminates the décor, brightening the space.
51. Wooden Cathedral Style Farmhouse Window Frame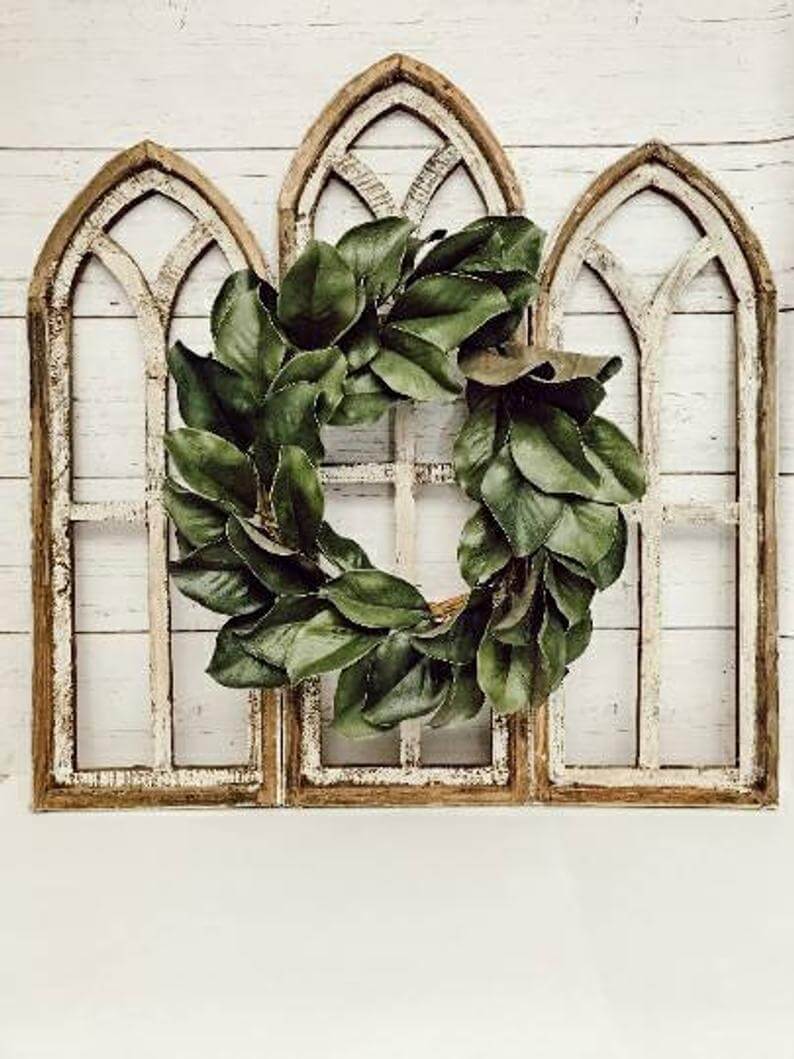 Available in several sizes and combo sets, this cathedral-style window frame features a fun vintage appearance. It features a cream distressed finish that will suit any room. They're wonderful to use to offset additional decorative items you may have for your wall.
52. Rustic Hanging Mason Jar Sconces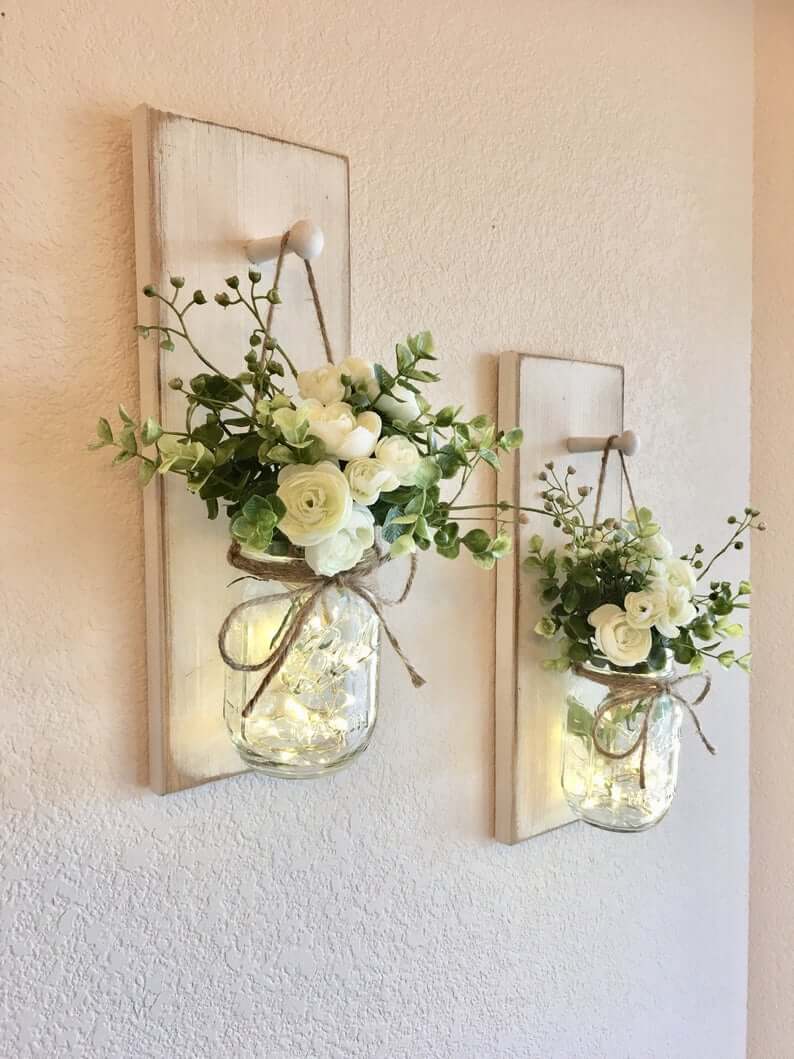 With these Mason jar sconces, you can effortlessly create a shabby chic vibe in the room. For the wood, there are more than a dozen different finishes you can select so you can get the best color to suit your home's theme. The cute LED fairy lights inside are also optional.
53. Modern Farmhouse Floating Shelves Storage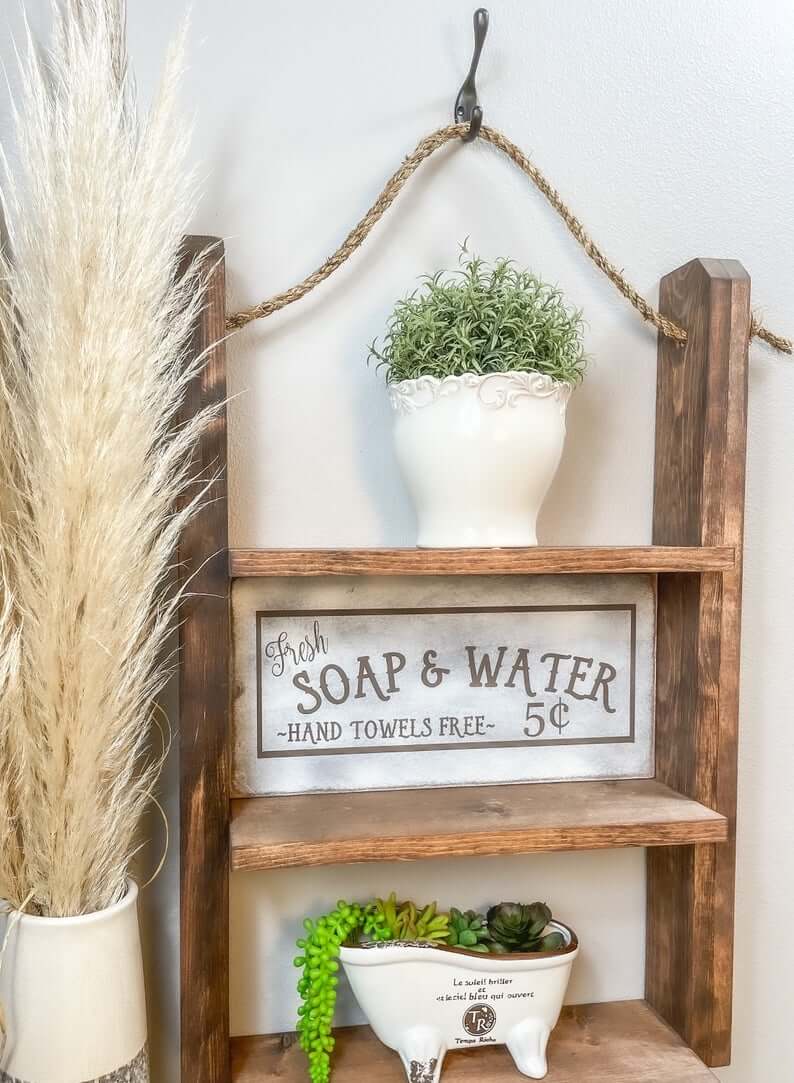 Easily organize a bathroom or laundry area with these handmade floating shelves. It's held by a heavy-duty rope that further cements the farmhouse feel. Also, it comes with a hand-painted sign, and you can select the font colors for it. For the wood, it has a nice distressed appearance, and it can be made in several colors.
54. Fun "Wash Your Hands" Bathroom Sign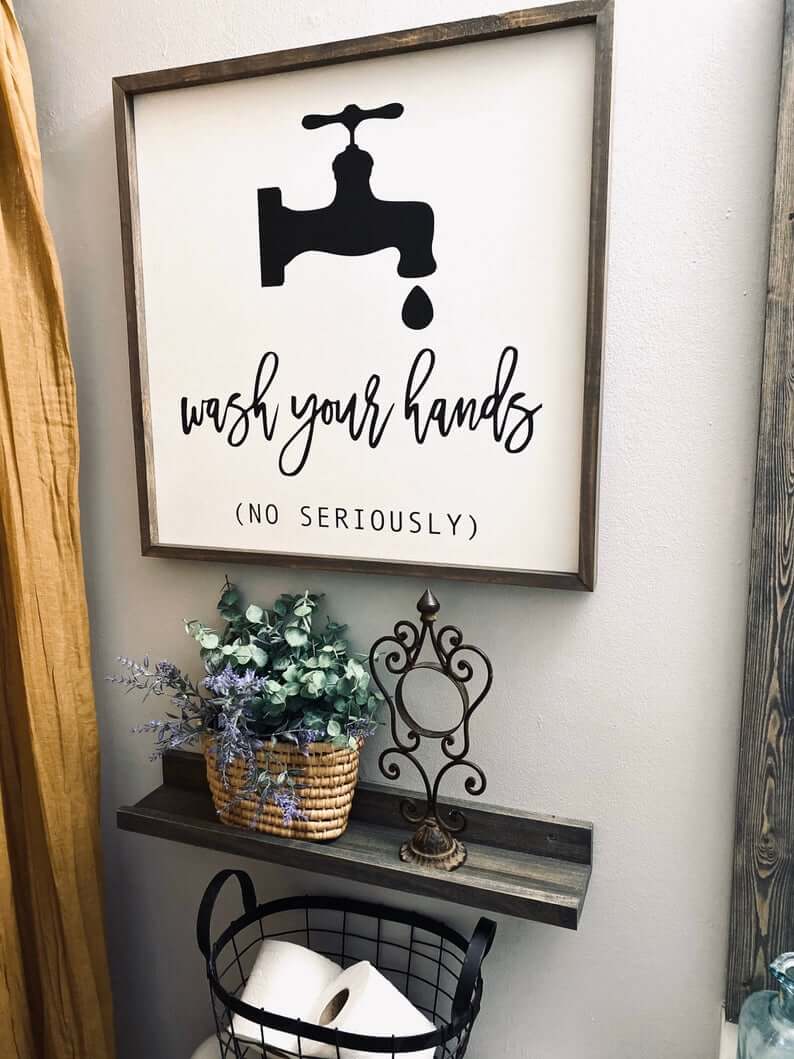 There is nothing like reminding people of the importance of hygiene than with a cute sign. This one, in particular, won't look off-putting in a farmhouse-styled bathroom either thanks to the nice wooden frame that comes in different colors. There are five sizes available too so you can get the right one for your wall.
55. Stunning Oversized Customized Rustic Clock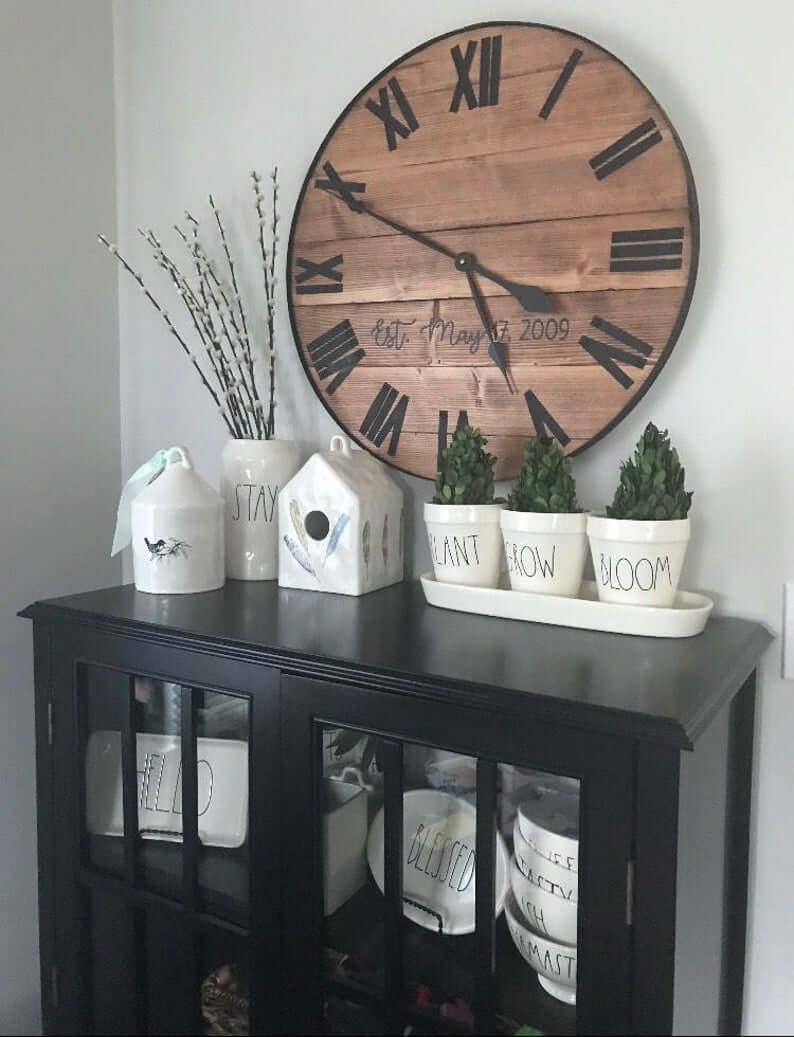 Made with pine wood, this custom clock is wonderfully oversized to instantly steal attention anytime anyone enters the room. It's made with standard Roman numerals that are created out of metal and painted to match the metal ring around the clock. You can request custom lettering too.
56. Jumbo Clothespin Towel Storage Holder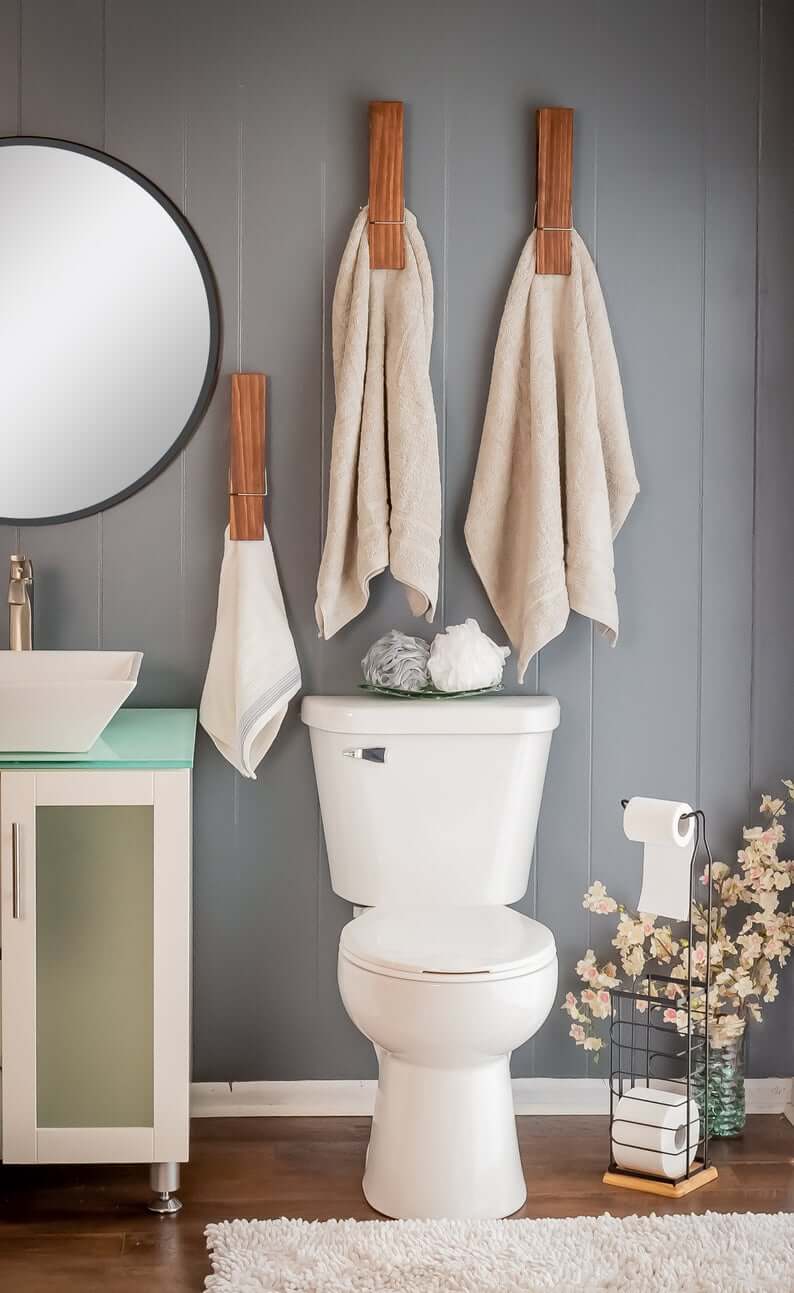 Rather than use a standard hook to hang up a towel, check out this cool jumbo-sized clothespin holder. It creates a more unique feel that's perfect for a farmhouse setting. You can purchase it unfinished or in several colors that fit your room's theme. Also, it works well in a bathroom or even a nursery or child's room.
57. Customized Wooden Farmhouse Sign Décor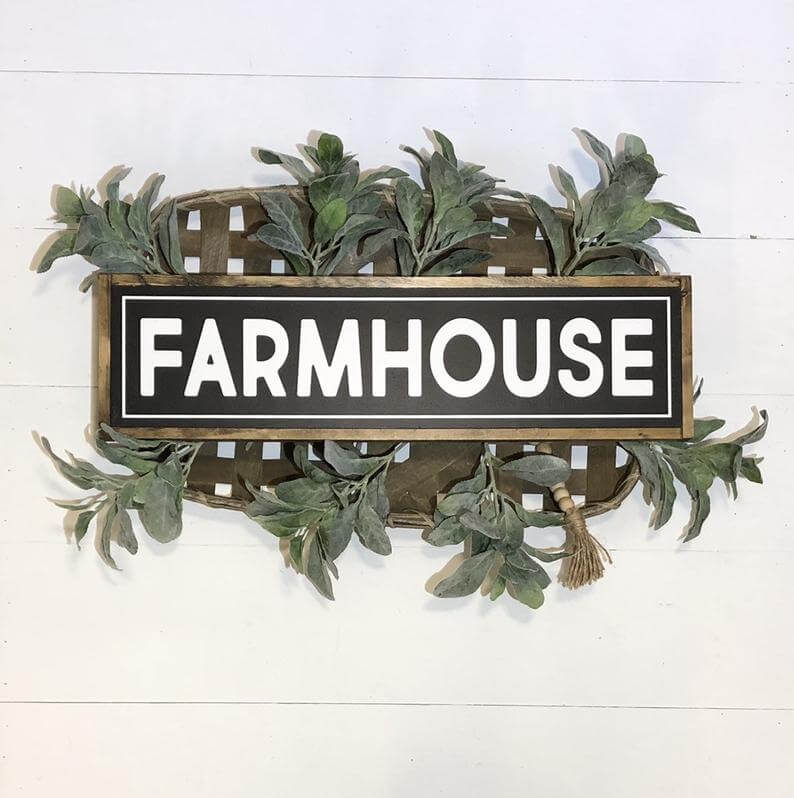 A simple sign is sometimes all you need to step up your wall's décor. With four sizes to choose from and a handful of frame color options, this sign can be a wonderful talking point for guests. For personalization, you can customize what word you'd like, the background color, and the text color.
58. "Home Sweet Home" Hanging Scroll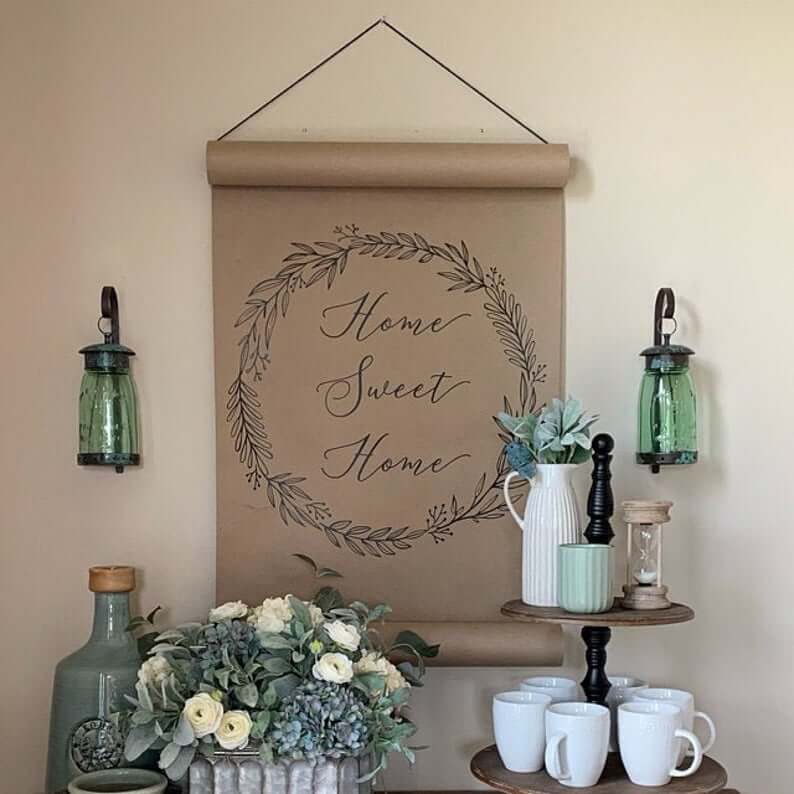 This classic phrase is given new life with this attractive scroll. The elegant wreath around the words helps them stand out more. It comes in various colors too. Regardless of which you choose, the scroll itself has a wonderful farmhouse style to it, and it can work in just about any room.
59. Petite "hello" Wooden Shiplap Sign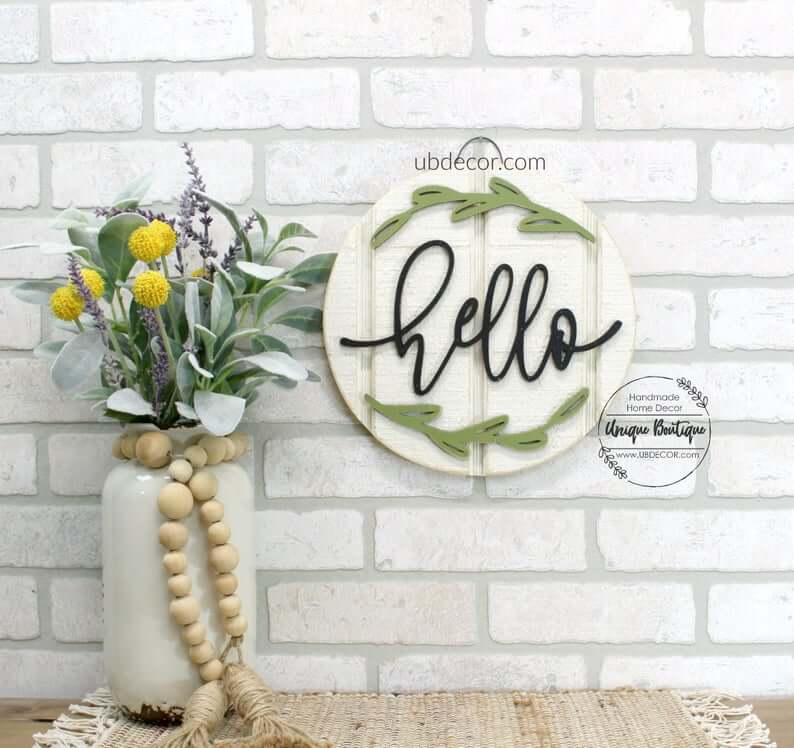 Add something cute to your décor with this mini "hello" sign. The script is bold and pairs well with the artistic green botanical leaves that frame the word. Everything has a distressed finish applied, giving it a down-home feel while still coming across as modern.
60. "Welcome to Our Beautiful Chaos" Display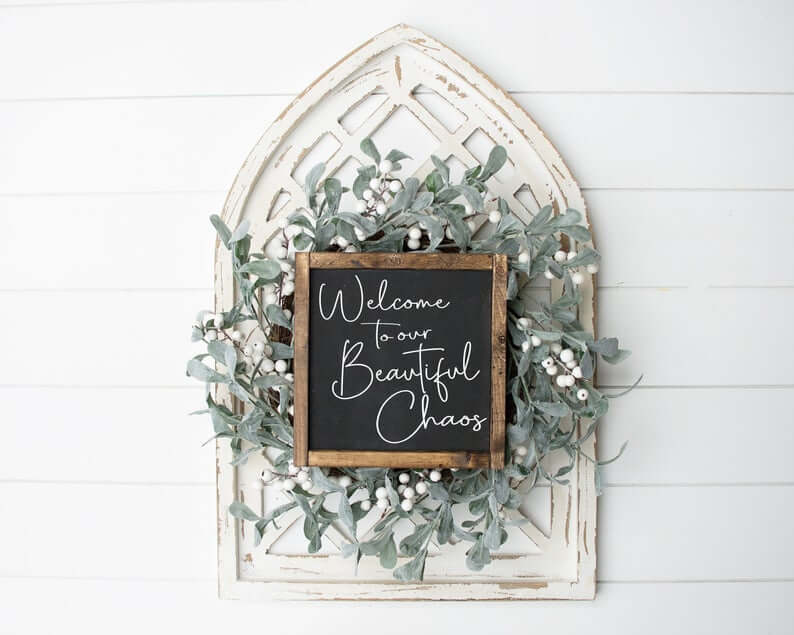 With this hand-painted wooden sign, you can elevate the decorations on your wall to create something impactful and meaningful for your family. The custom frame is stained with your choice of coloring as there are more than a dozen to pick from. Since it's handmade, every piece winds up being unique.
61. Hanging Rustic Wooden Bedroom Sign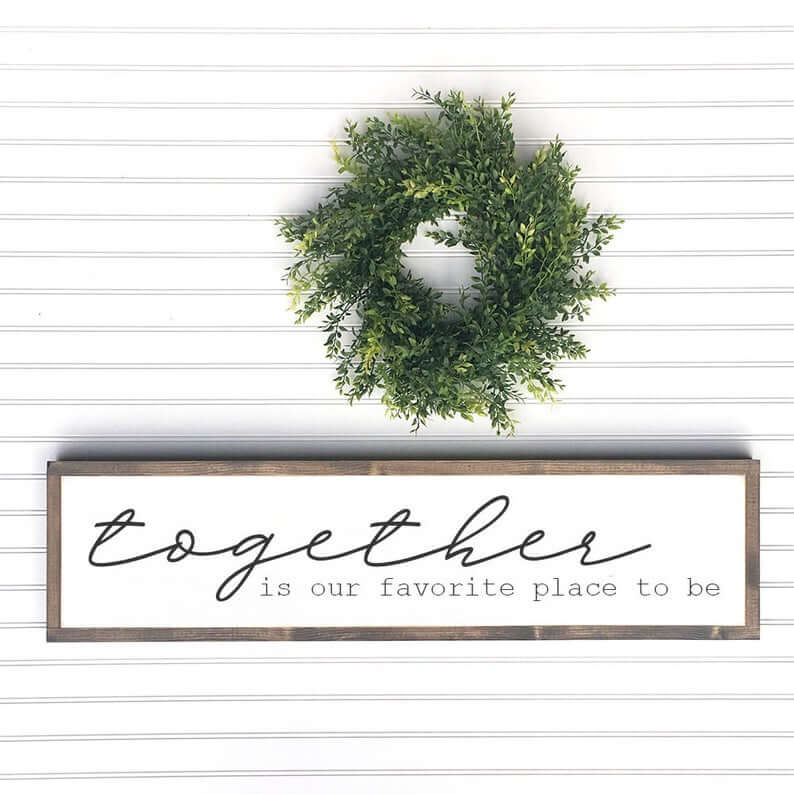 Made on high-quality wood with natural wood notches, this sign features a beautiful saying that will look great hanging above a bed or in a living room surrounded by pictures of loved ones. It blends an elegant script with more straightforward lettering that further gives it a rural-like style.
62. Painted Mason Jar Wall Sconce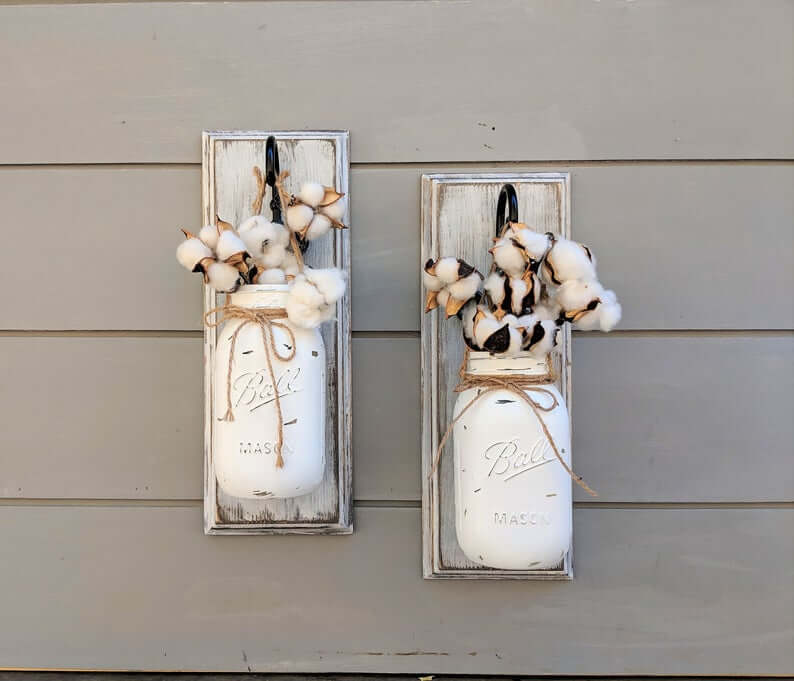 Wall sconces are great décor ideas to frame other items that you may have on your wall. These Mason jars stand out thanks to the distressed-like paint job applied. You can select from several different paint colors too. They fit well against a vintage wooden frame.
63. Cute Velveteen Rabbit Quote Sign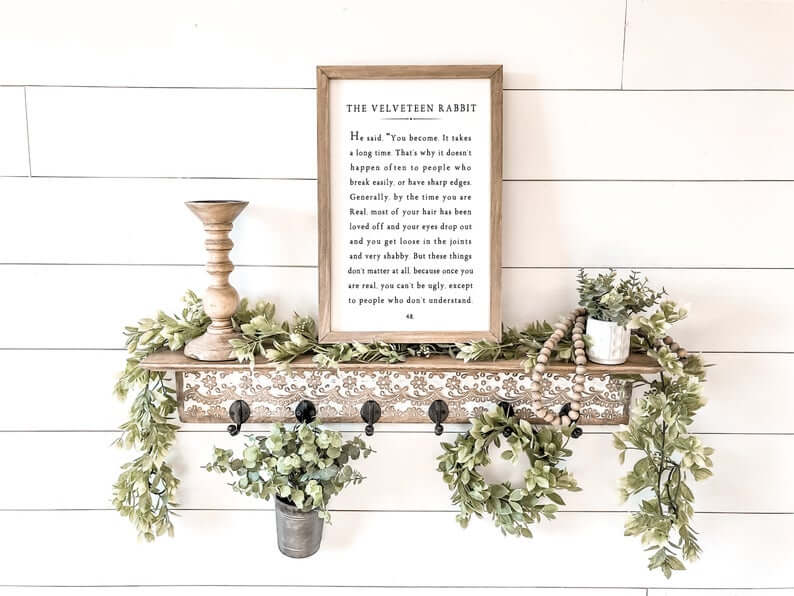 Featuring a quote from the popular children's book "The Velveteen Rabbit", this sign is an awesome idea to hang in a family room or a child's bedroom. It's written in an easy-to-read font, and there are several different sizes available. Even better, there are three frame choices so you can get something more weathered and vintage if you'd like.
64. Fun Variety Kitchen Wall Décor Signs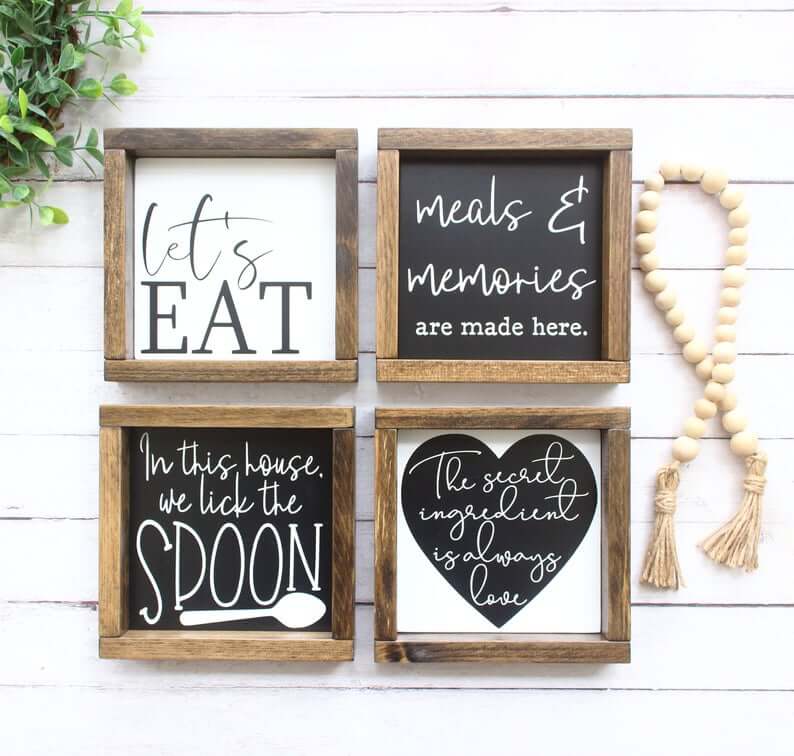 Need to liven up your kitchen a little? Then try out these adorable kitchen signs. There is a variety of sayings, so you can choose just one or mix and match several of them. All of them feature a warm wooden frame, and there's an option to choose the background color.
65. Shabby Chic Rustic Kitchen Décor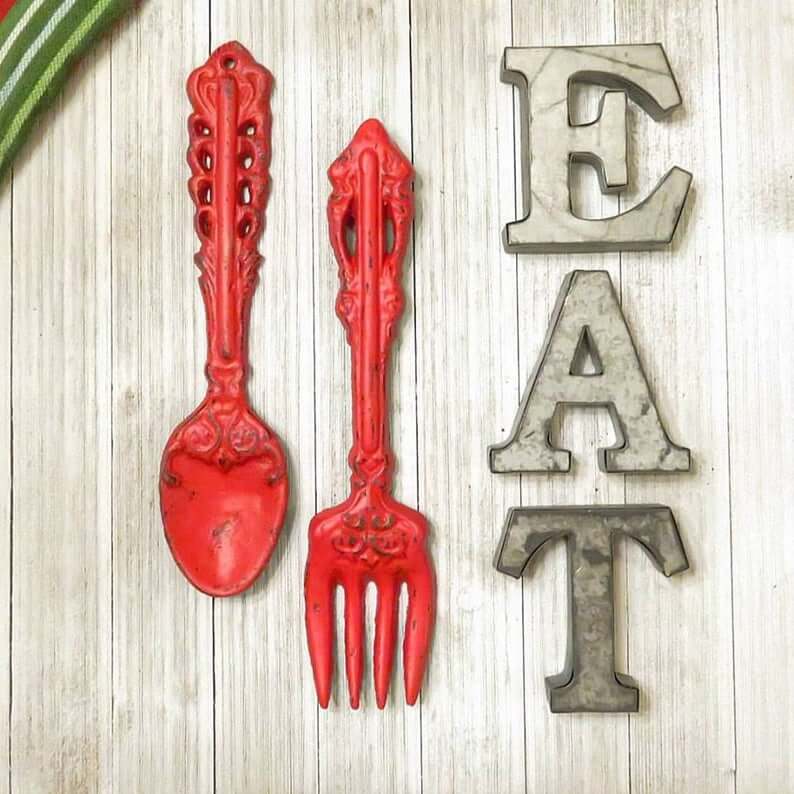 There are plenty of fun ways to decorate the walls in a farmhouse kitchen, and these signs do the trick well. The "EAT" wall letters are simple, yet perfect. They are accented well with the cast iron fork and spoon that give the letters more personality.
66. Personalized Cutout Mason Jar Sign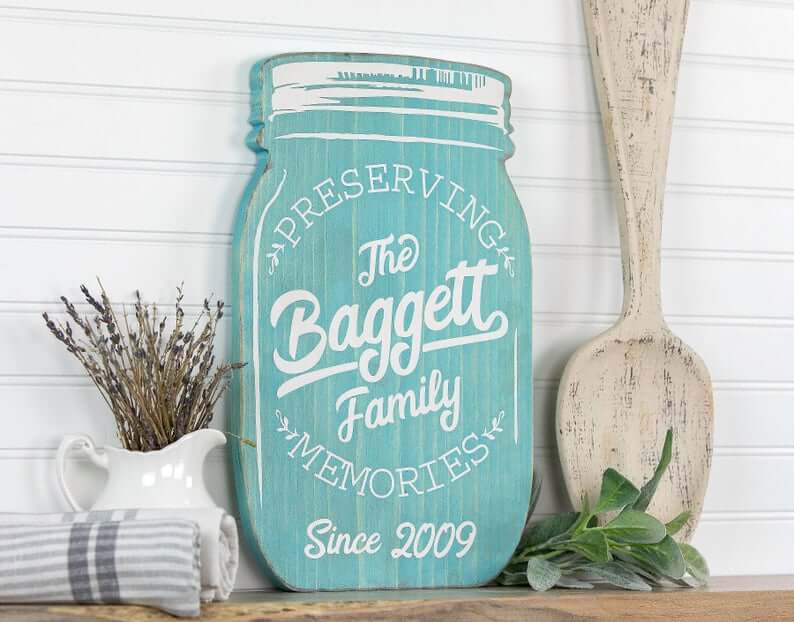 Mason jars go hand-in-hand with farmhouse style, but this one takes a distinctive approach by making the jar be a wooden cutout. It has a retro feel to it, and you can select from an impressive amount of colors to suit your décor. This can even be customized with your family name and a year of your choosing.
67. Farm Ranch Style Decorative Signs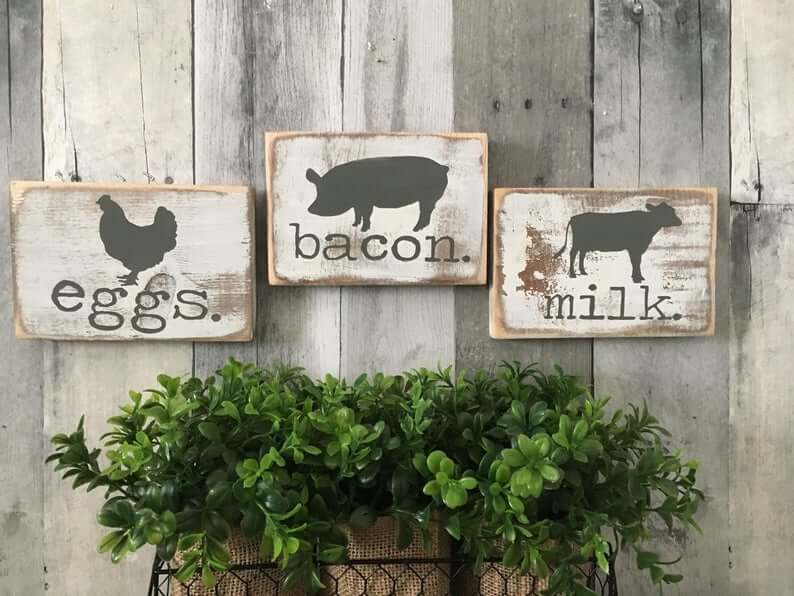 These simple, effective signs are perfect for the kitchen. You'll get an "eggs" sign, a "bacon" sign, and a "milk" sign. Each of them wonderfully has a blackened outline of the corresponding animal. The distressed wood gives it that extra special touch.
68. Large Painted Wooden "HOME" Letters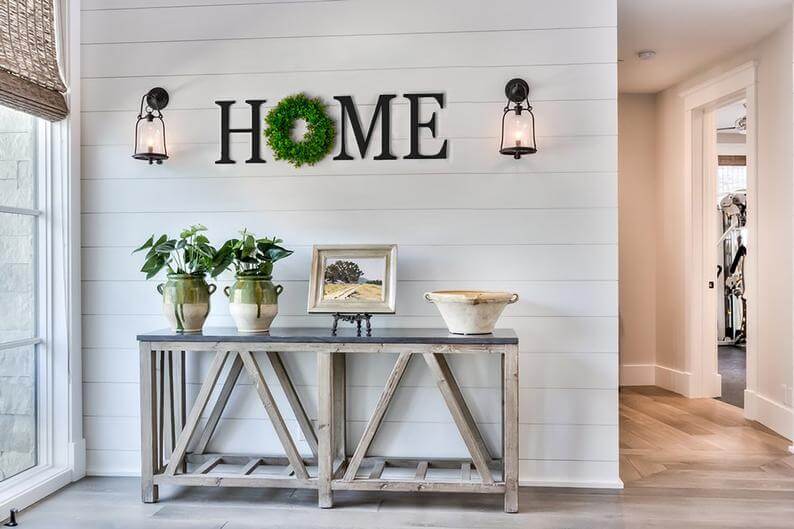 Made in a serif font, these letters can make anyone feel welcome in your home. Rather than an "o", however, it utilizes a bright green wreath. It gives it that perfect pop of color. Of course, you can request it without the wreath. You can get the words painted in either white or black.
69. "Relax Unwind Refresh" Cool Signs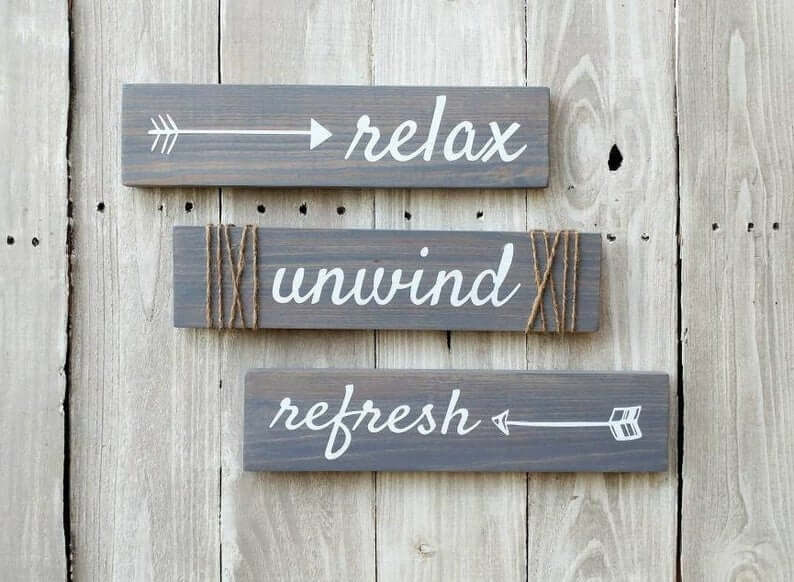 Simple sayings remain a popular choice in home decoration, and these allow you to jump on that trend while sticking with a farmhouse theme. They come in several colors with a rustic feel to them, and they arrive ready to hang. To stand out, two of them feature a cool arrow painted on them.
70. Funny Food Pun Wall Displays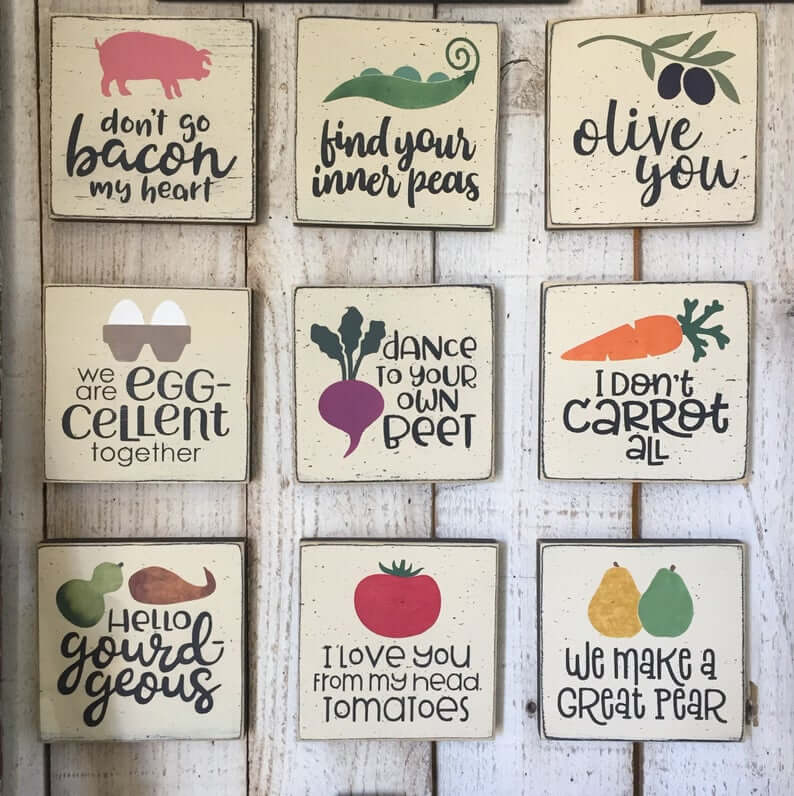 Perhaps your kitchen needs a touch of humor on top of a rural theme. In that case, these clever food pun signs will keep anyone chuckling. You can choose from an assortment of specific food puns from olives to pears. They're not only quirky but remarkably well-made too.
71. Rustic Large Window Pane Mirror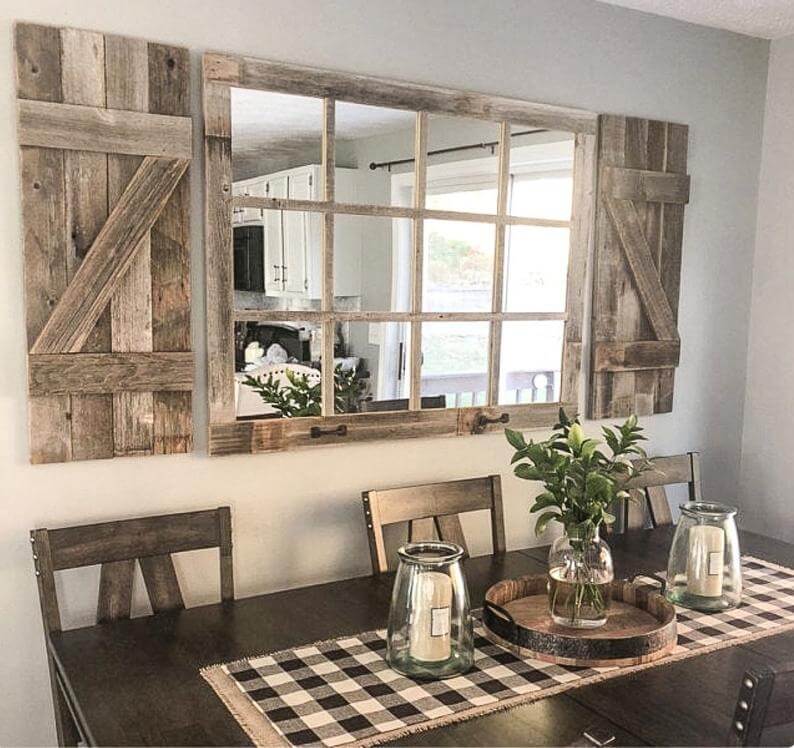 This window mirror offers a great way to add a mirror to your wall without it being plain. Made with aged barn wood, it has the perfect amount of farmhouse-style applied, and with its large size, it can work great in a dining room or sitting room setting.
72. Antique Wreath Wooden Window Frame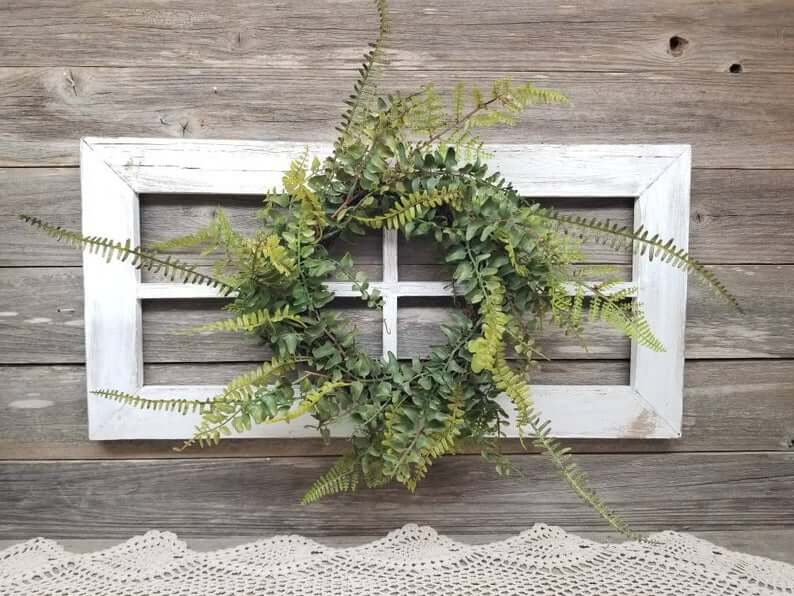 Available in several colors and a few different sizes, this antique window frame features a bold artificial wreath in the center as a great focal point. The reclaimed wood in the background gives it an additional layer of wonderful charm.
73. Inspirational and Motivational Wall Art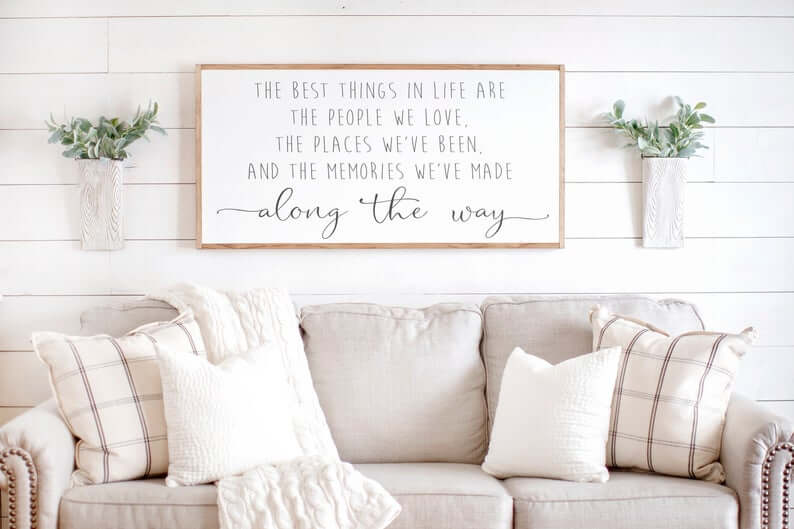 This handmade sign offers a beautiful quote to inspire those who see it. It has a nice wooden frame that can be in various colors, including a distressed style. Also, there are numerous sizes and colors for the lettering available so you have a near-endless amount of ways you can decorate with this art.
74. Make Yourself at Home Sign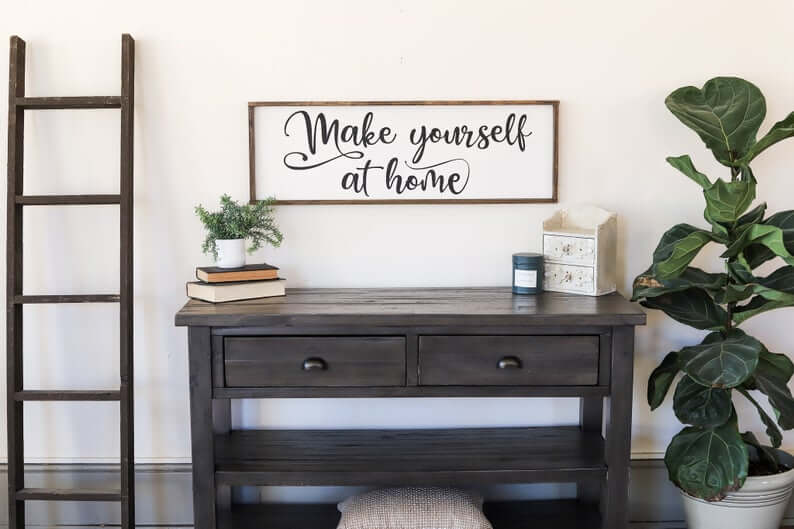 Another simple statement is given an elevated lift with this display. You can add it anywhere in your home and have it fit effortlessly with the décor. This is especially true considering you can choose the size, the background and lettering color, and even the frame color.
Choose Rustic Wall Decor Ideas to Make Your Home Warm and Inviting