A fire pit is a wonderful way to bring people together in a backyard, and if you want to truly set your home décor apart, you should consider the best metal fire pit ideas to help spruce up your style a bit.
29 Awesome Metal Fire Pit Designs to Modernize your Backyard

An amazing thing about a metal fire pit is how versatile it is. Fire pits themselves are well-known backyard staple whether they're sitting further out in the yard or set up nicely on a patio. Metal fire pits, in particular, give off a different sort of vibe than your common pit. Depending on the design of them, they can either be more rustic or modern. Some may even be an incredible combination of both, taking your décor to another level.
Metal fire pits are also made in such a variety of sizes and designs so that anyone can find something they like that is eye-catching and attractive, encouraging people to flock toward the area at any given time of the day. You don't even have to light the fire pit up to take in its beauty. However, if you do, many metal fire pits feature intricate designs so the flames and lights show through in beautiful ways.
They also have, of course, a practical approach. Several metal fire pits have screens to handle the flames, and these can help contain the heat so that you and everyone else around the pit feel cozier during those cooler months. If you're unsure what kind of metal fire pit will best suit your backyard, consider checking out some of these amazing outdoor fire pit ideas to get a spark of inspiration for your next home decorating project.
1. Rustic Steel Fin Fire Pit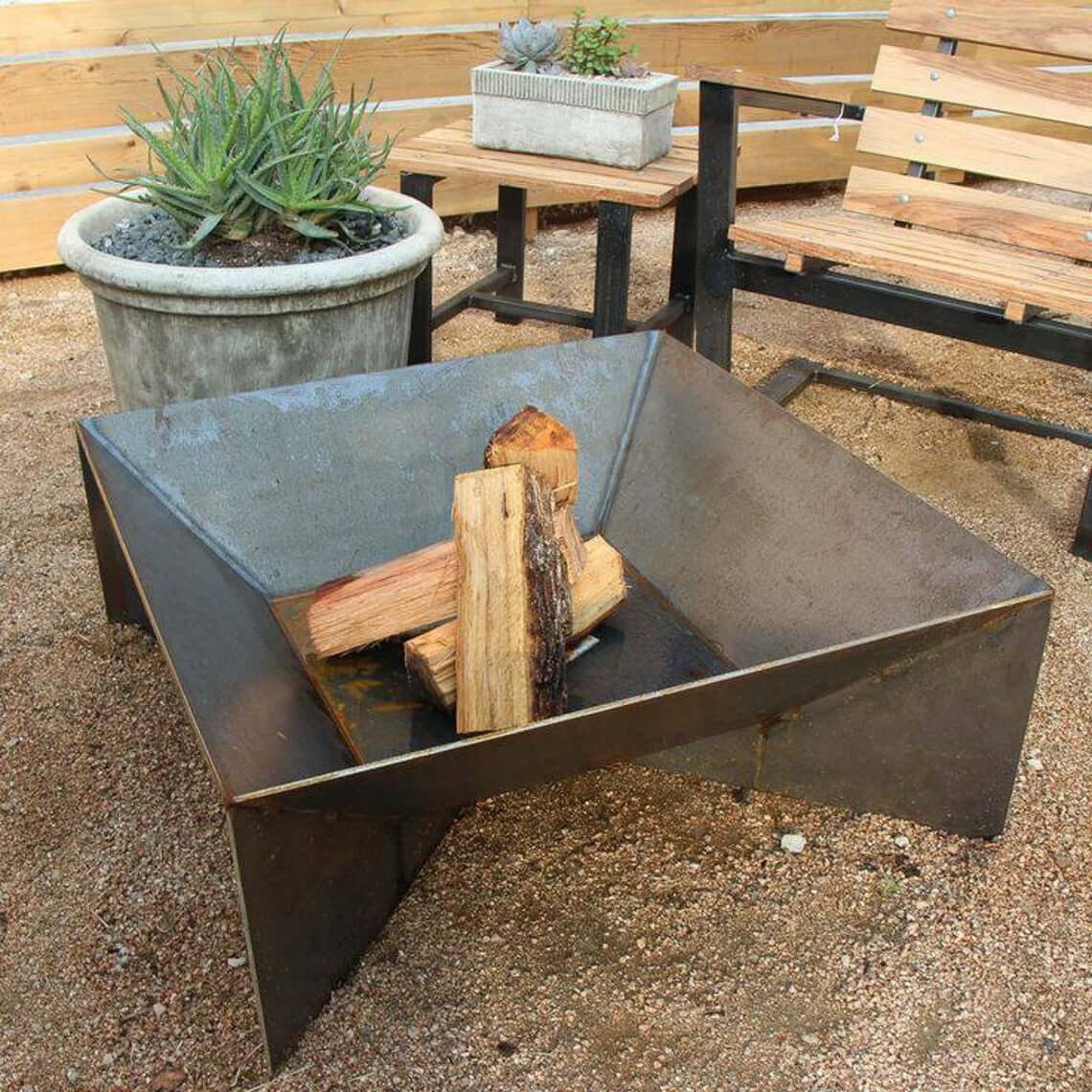 Appropriately named off the unique "fins" on its base, this fire pit is made using durable, unfinished, raw steel. By taking a natural approach, the fire pit is allowed to rust on its own to a brown patina tint for a more rustic appearance. Beyond the rural appearance, this pit is constructed using straight, clean lines for a more geometric-like style as well. If you want to further enhance your décor or you simply want to cover the pit when it's not in use, you can purchase a top made to fit the pit perfectly. This top comes in either cedar or ipe.
2. Striking Yanartaş Fire Pit and Grill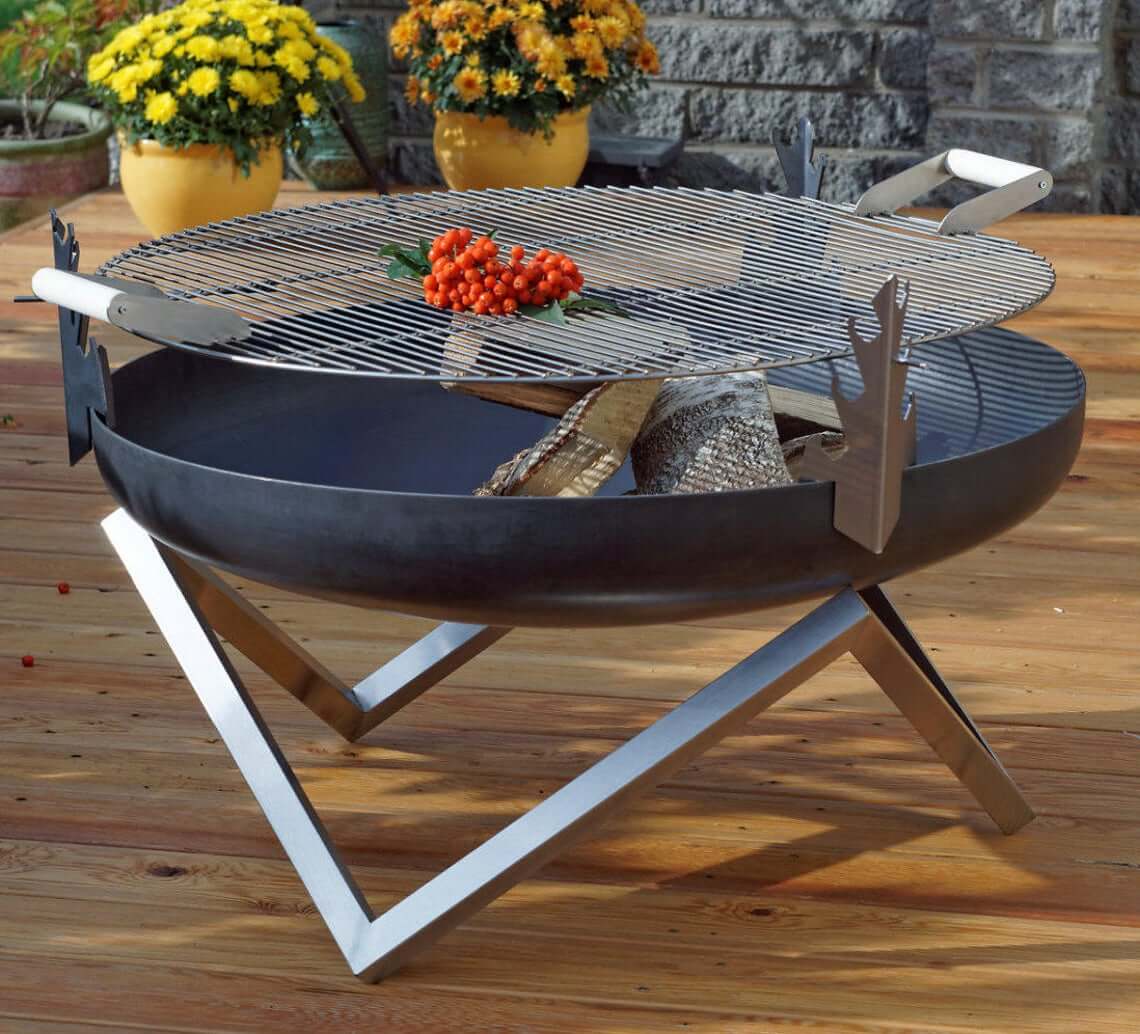 Inspired by Yanartaş, the Mediterranean land notorious for its constant burning flames, this fire pit and grill combo places fire in the middle as a central element. The shape is large and bold much like the land it's named after. On the surface, the steel is sanded so that it encourages the fire pit to develop its natural rust for a more well-used appearance. This is not only an awesome idea for a backyard metal fire pit, but it's wonderful if you want to use it as décor and to cook with since it comes with a grate. It also comes with an optional rusting or stainless lid.
3. Cool Steel Aspen Fire Pit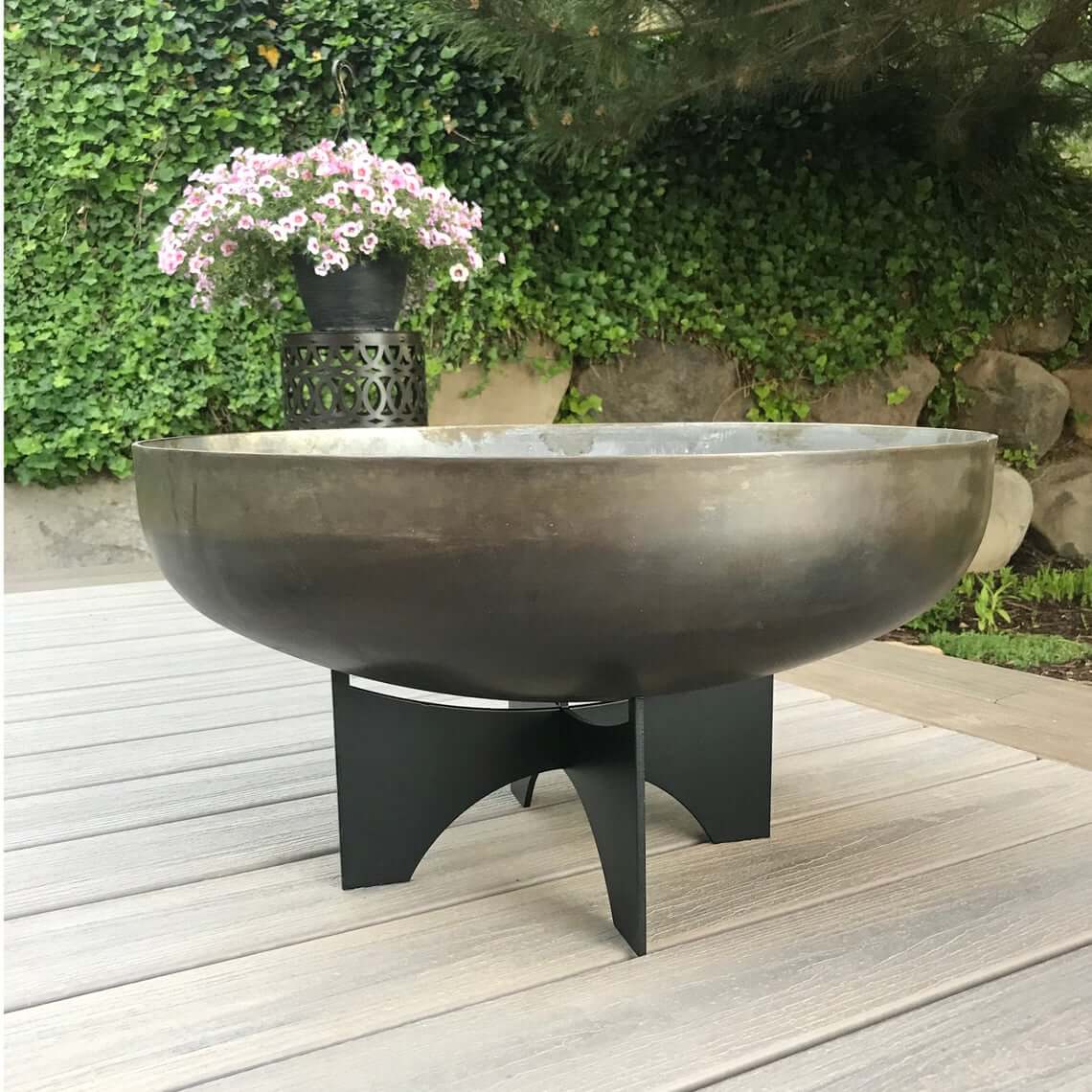 Some outdoor fire pit ideas are simplistic in design, yet they still provide just enough in terms of design to be aesthetically pleasing. This remarkable fire pit manages to do just that. It features heavy-duty Corten steel construction for the main bowl to ensure that it's both functional and reliable for long-term use. The fire pit isn't overly large so that it may fit well on your backyard patio surface. Much of its sturdiness is also found in the geometric base. It's built using thick aluminum that's topped off with an attractive high-temp black powder coat finish.
4. Personalized Chiminea Metal Fire Pit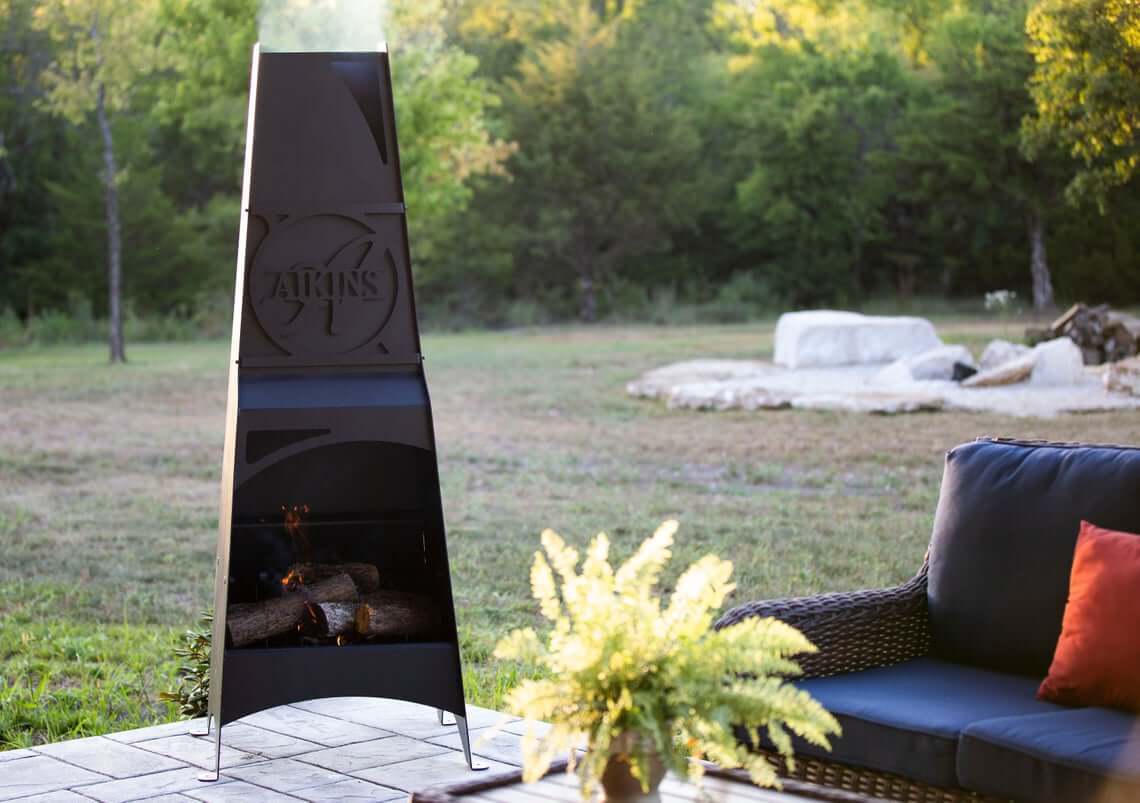 Among the best metal fire pit ideas are those that allow you to add a personal touch. This chiminea fire pit gives you the space to customize it using a monogrammed plate where you can add whatever you wish such as your family name. Overall, it is unique in design since it is more vertical like a fireplace rather than simply rounded or closer to the ground like common outdoor fire pits. This can add a touch of style to your backyard as you can still enjoy the warmth from the fire or you can attach the removable grate, transforming it into a functional grill.
5. Versatile Hot Rolled Steel Fire Pit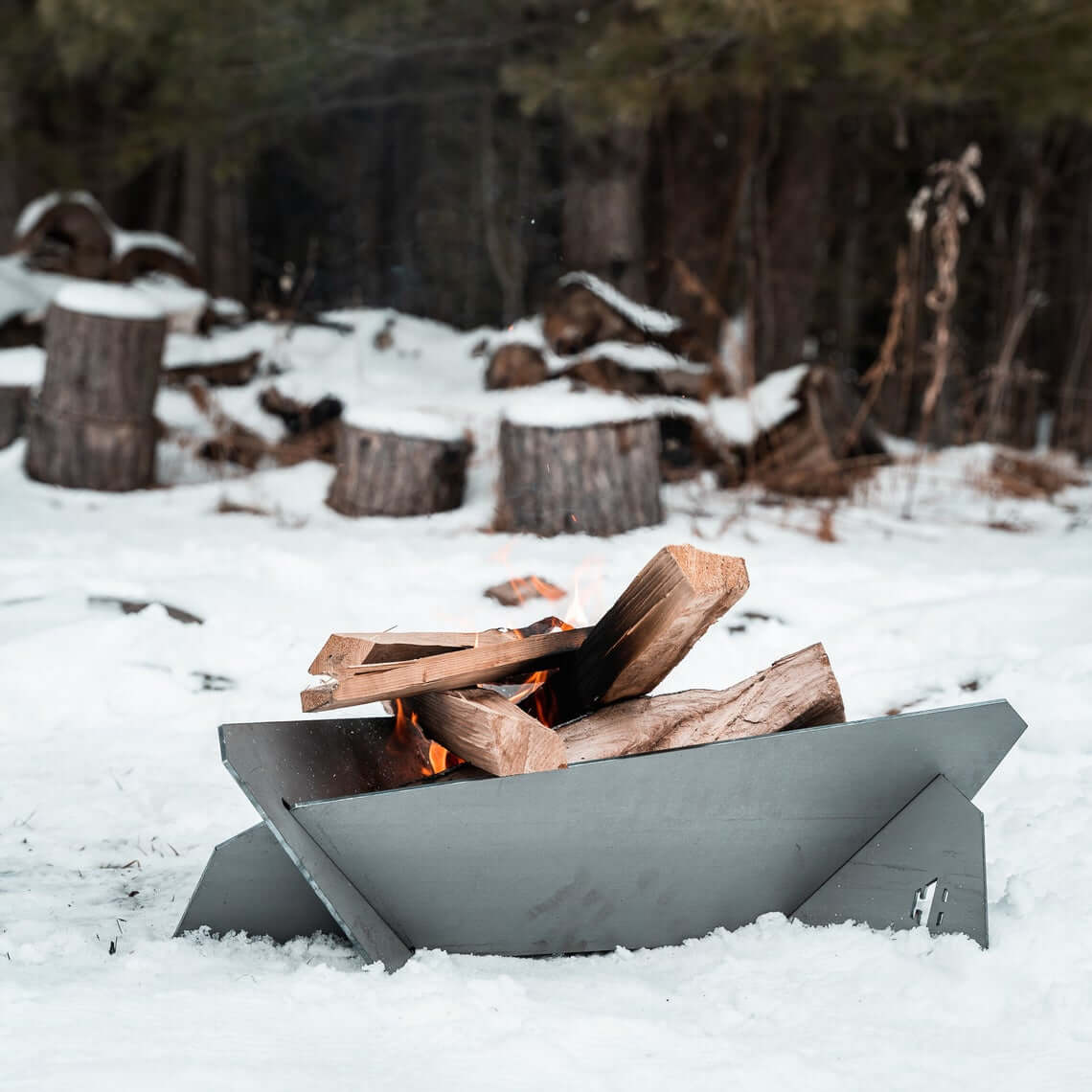 When you talk about searching for a truly distinct, attention-grabbing style to your backyard, this fire pit expertly answers the call. Unlike most fire pits, this is built so that you can assemble and disassemble it as needed. This can be the perfect option if you don't have the room of ability to leave a fire pit in your yard and instead use it for entertainment purposes. The fire pit features a sliding slot system so that you can easily set up all four pieces in little time. Made from hot rolled steel, this fire pit should naturally weather as time goes by for that rustic look so many people enjoy.
6. Savannah Garden Lights Fire Pit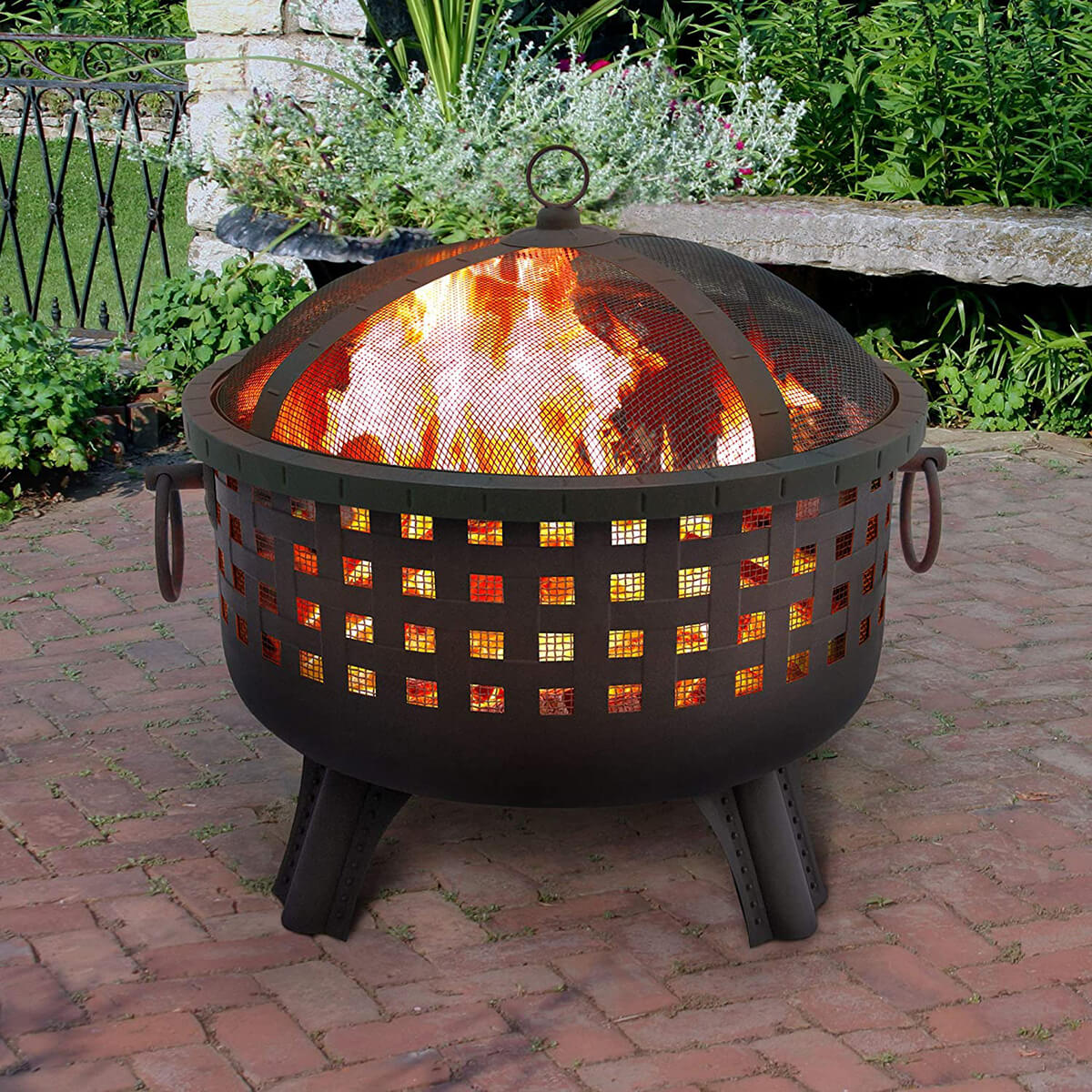 Are you looking to add a touch of elegance to your backyard? Consider this beautifully crafted Garden Lights fire pit. On closer inspection, you will notice the attention to detail thanks to the intricate decorative designs throughout the entire pit from the bowl to the legs. When lit, the cutouts allow the flames to provide gorgeous ambiance lighting. The bowl itself is rounded and made deep enough to properly contain firewood. Safety and functionality are as important to this fire pit as the aesthetics are. The open weave pattern is great for airflow so that the flames burn longer, while the spark guard ensures no embers fly out.
7. Awesome Half Sphere Goblet Fire Pit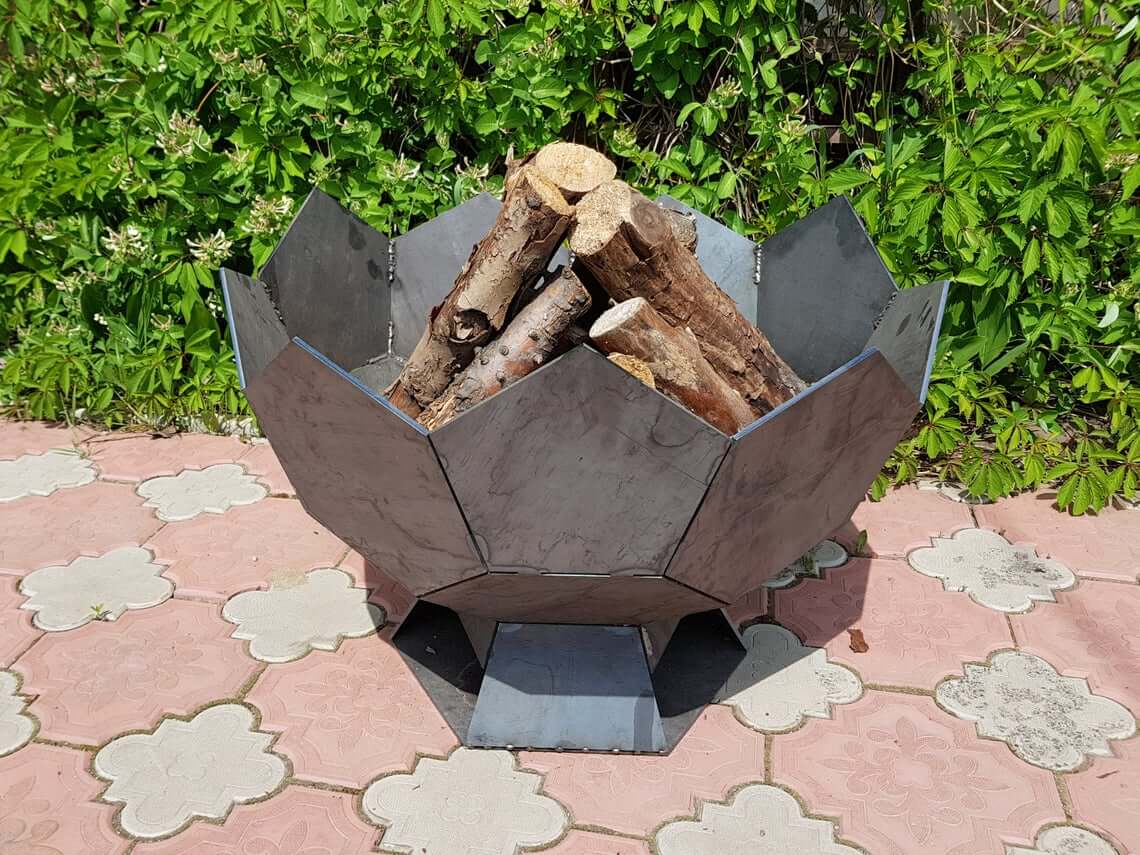 This particular fire pit is unique in the sense that what you purchase isn't the actual fire pit. Rather, it's the schematics and designs for a goblet-style pit. You can either build it yourself with laser cut CNC or plasma or you can take it to a metal fabricator and have them do it for you. This is an awesome idea if you're more interested in creating a piece that is truly yours where you can even decide what type of metal you want to use. No matter if you do it yourself or have someone else step in, you will receive an exceptional metal fire pit with a loud, bold design to capture anyone's attention.
8. Stackable Custom Travel-Friendly Fire Pit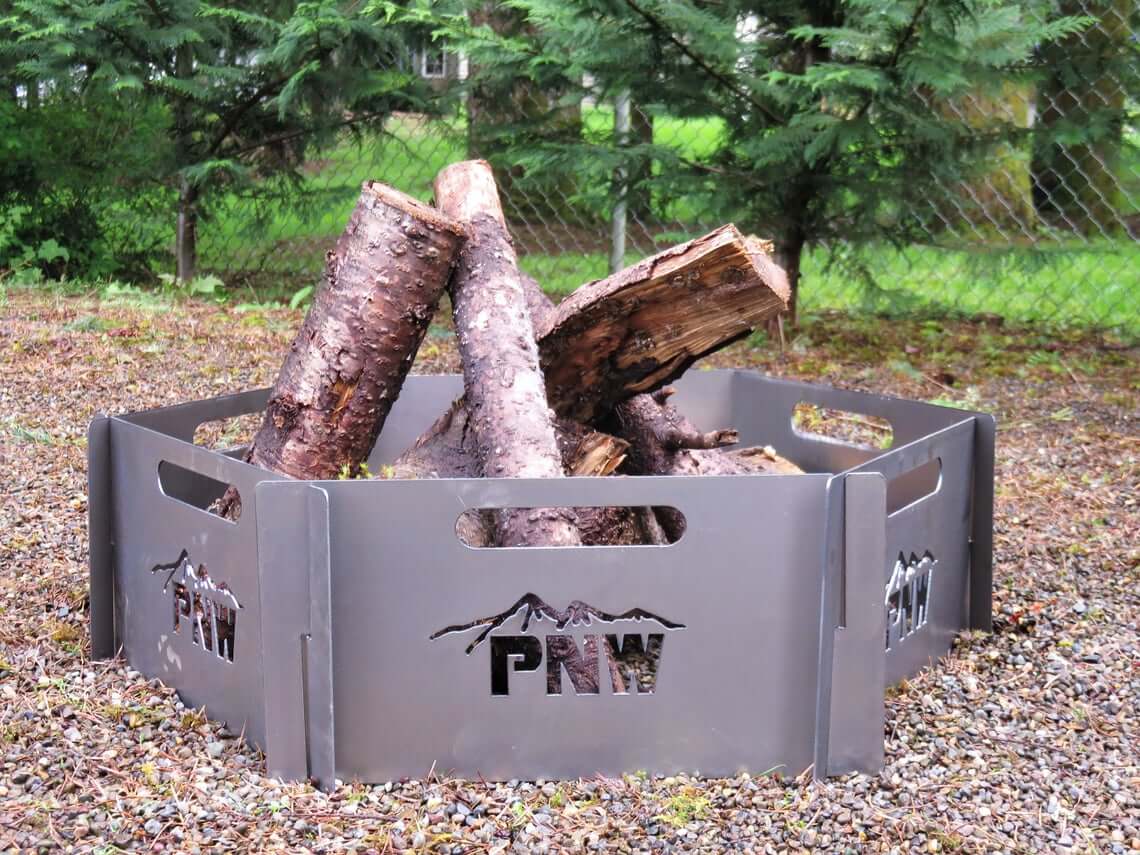 Perhaps you are eager to bring your cozy backyard with you anywhere you go like at the campsite or on the beach for a fun party? You can now with this portable metal fire pit. Created using various metals such as stainless steel and aluminum, you can easily take this pit apart for storage or travel purposes, and the setup process is just as straightforward. This is available in a six-piece build, an eight-piece build, or an eight-piece custom build that lets you add your spin to the piece with a distinctive design.
9. Chiminea Outdoor Fire Place Pit DXF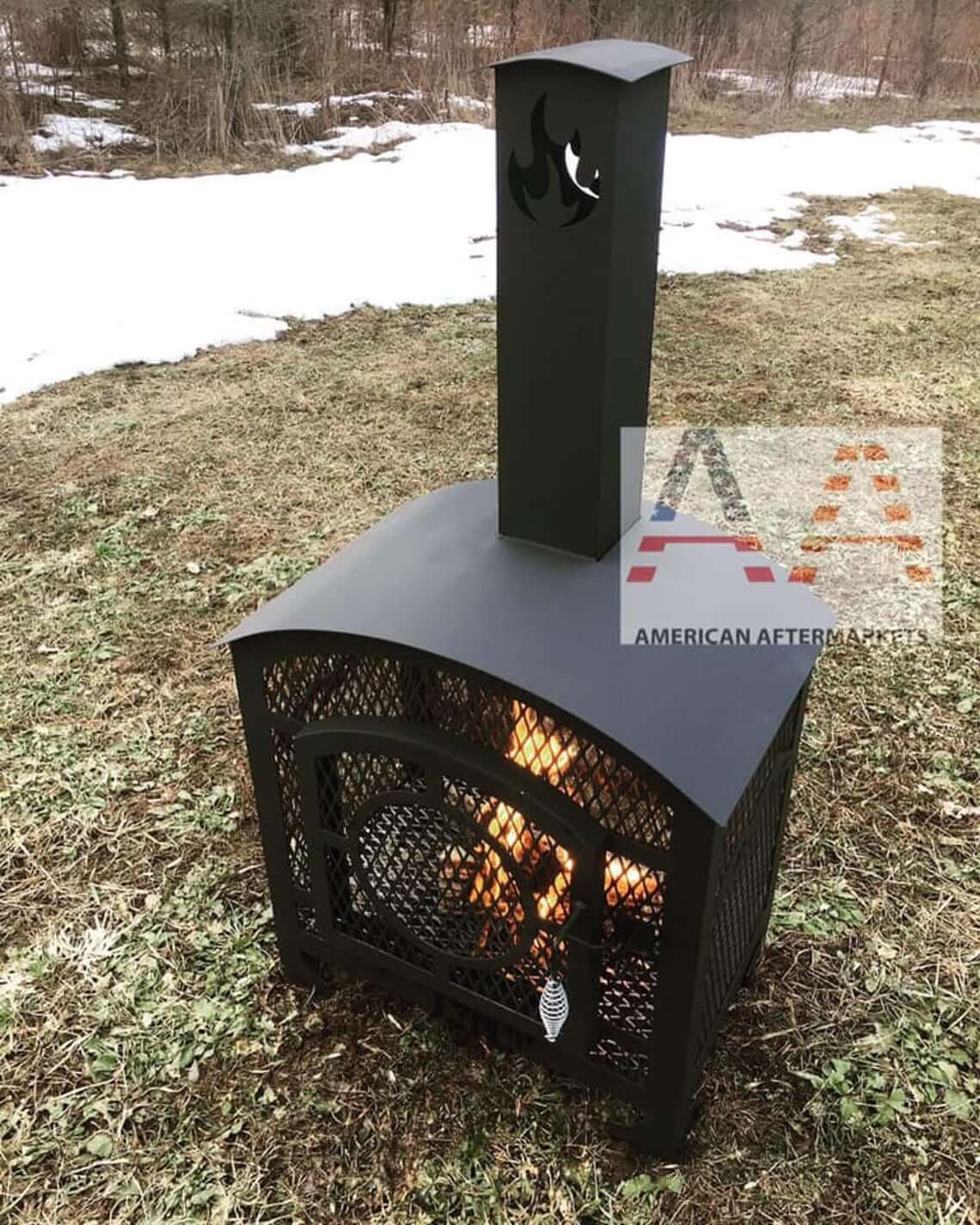 This is another opportunity to print out templates for metal fire pit designs. For this one, you aim to construct (or have someone else build) a fire pit that is more akin to an outdoor fireplace. The provided template gives you just enough freedom to customize your fire pit so that it fits into your outdoor décor. There is room for you to add whatever CNC design you want on the template, but it does come with a file for the deer and the mountain artwork if you wish to use that on your fire pit as well.
10. Beautiful Custom Metal Fire Pit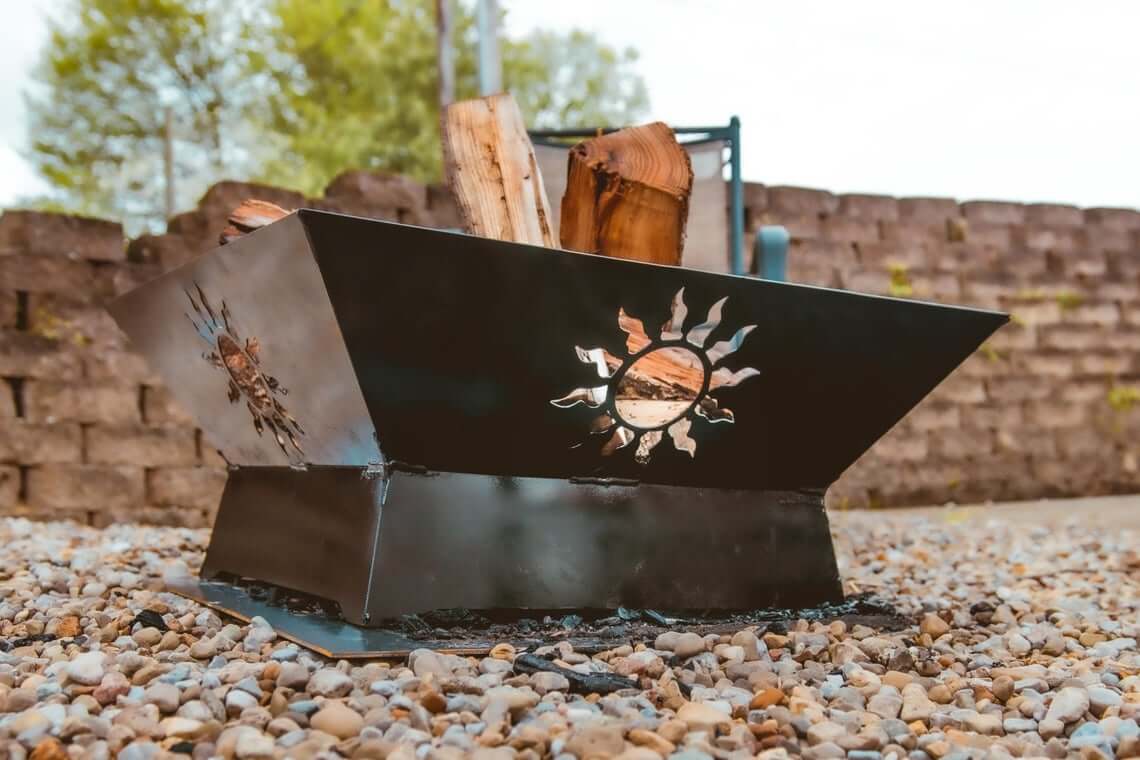 Oftentimes, a perfect metal fire pit is straightforward in terms of design while still offering you room for personalization. Check out this incredible pit made with high-quality metal with a heat-resistant powder coating applied so that it may continue to look new through frequent uses. You do have the option to select the black color or you can simply receive it with the bare metal, but do note that the bare style will rust due to weathering. No matter which color you choose, you can input a custom design whether it's a name or a specific logo. This can complement the simple design so your fire pit proudly stands out.
11. Handcrafted Snuffer Lid and Fire Pit Top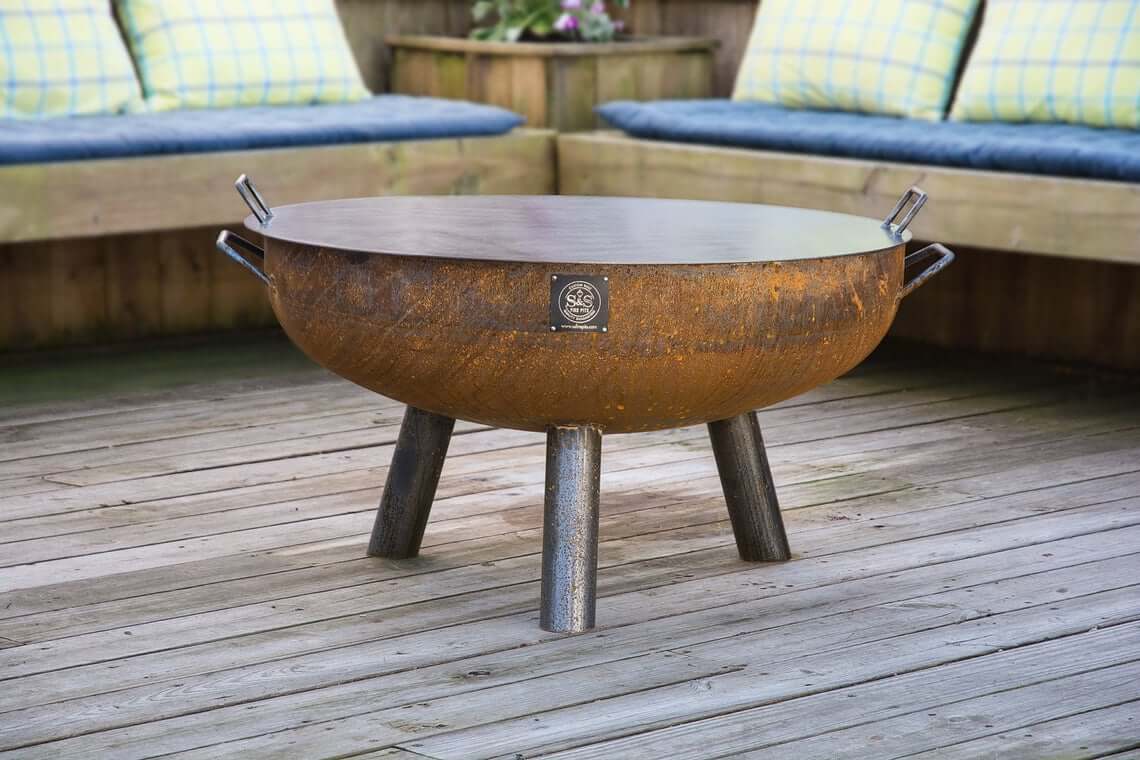 Fire pits are enjoyable, but safety should still be a priority as well as long-term maintenance and care. This handcrafted snuffer lid can smother the flames so you can rest comfortably knowing there are no lingering embers. At the same time, it is an awesome idea if you need a fire pit top that can blend effortlessly into the rest of your décor. What's even cooler about this snuffer lid is that it is constructed so that it will go through the same oxidation process as your fire pit, allowing it to develop that authentic rustic look.
12. Solid Steel Sanded Fire Pit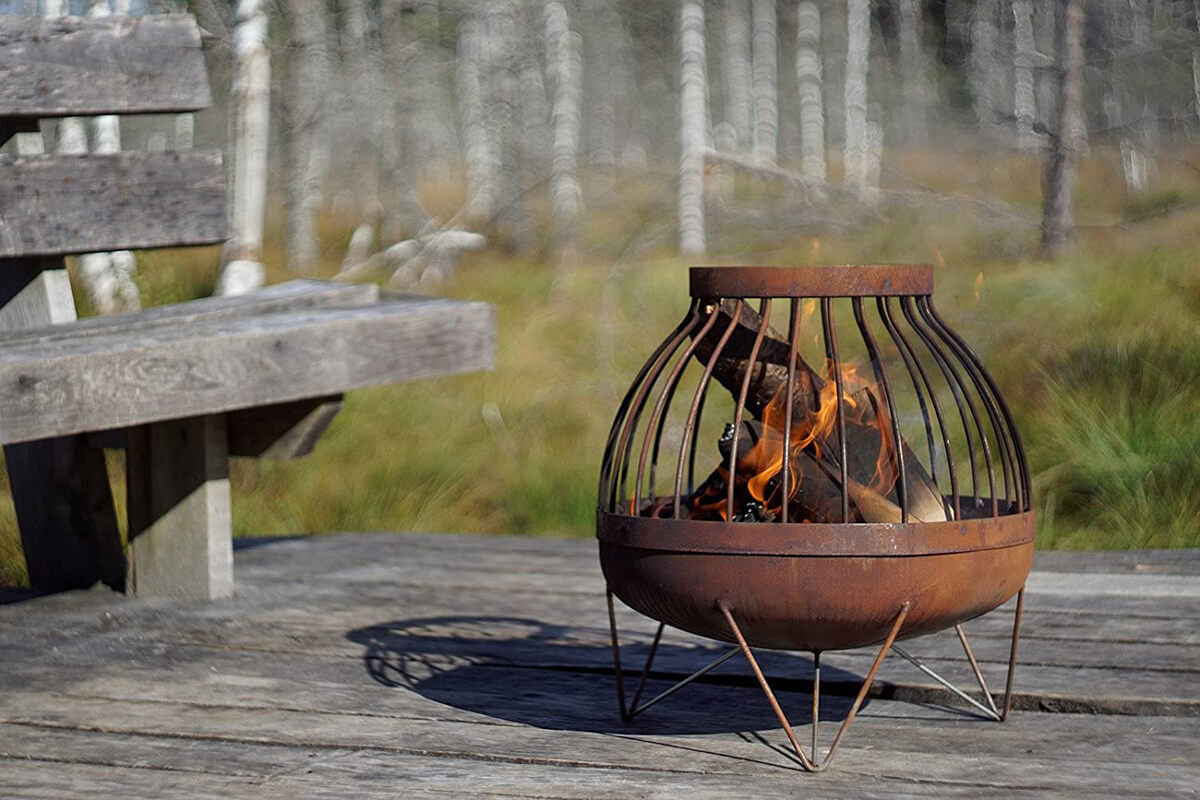 Constructed from solid carbon steel, this fire pit puts its spin on the contemporary style. Although when you purchase it, it will arrive almost chrome-like in appearance, the sanded surface is made in a way to encourage natural rust to develop over time. What you will have in a few weeks is a rugged fire pit that won't look out of place among modern backyard décor. Using and caring for this metal pit is just as easy as rusting it as the top simply comes off.
13. Attractive Black Metal Fire Pit Ball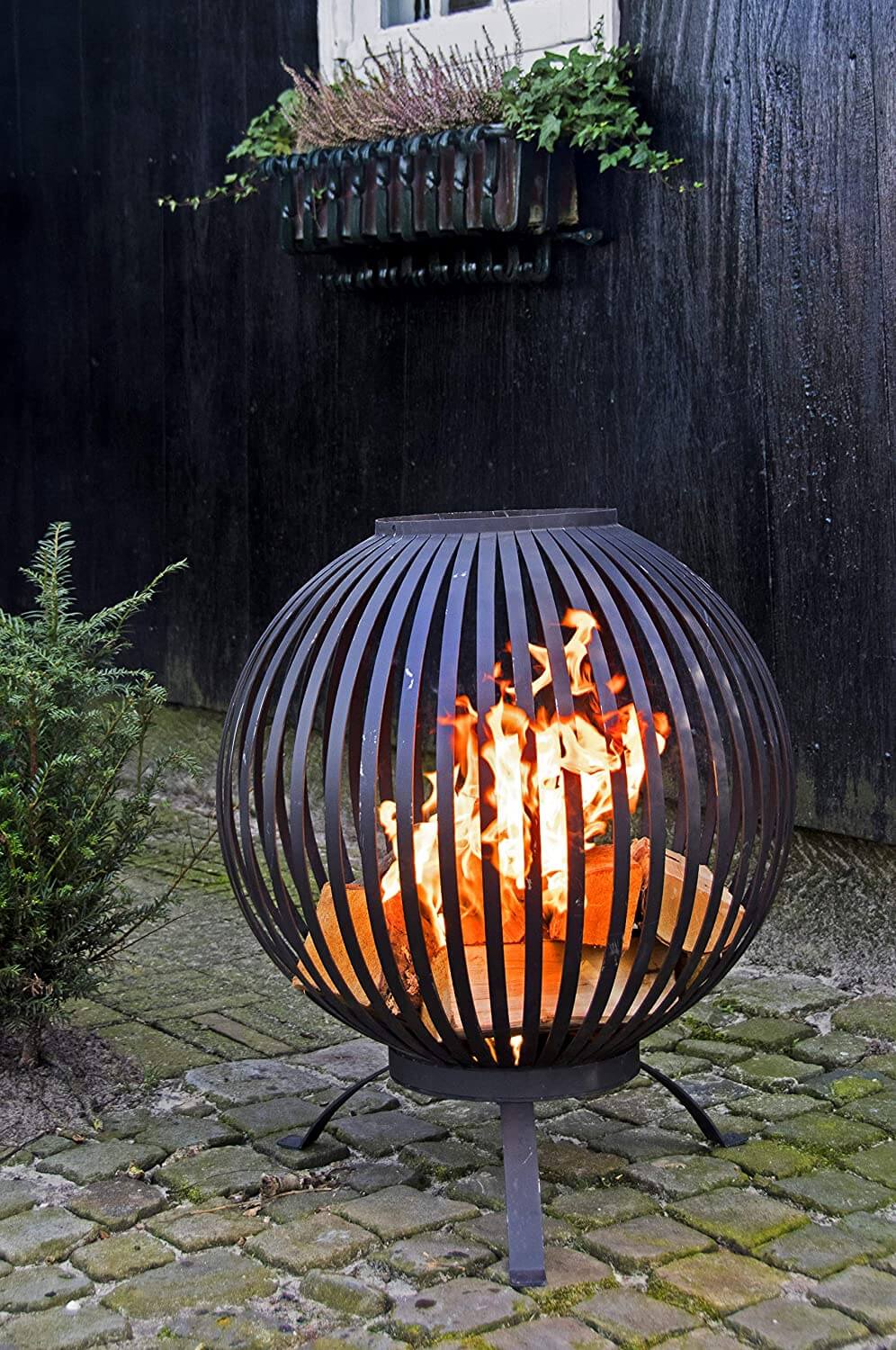 This fire pit ball can be the perfect way to make a statement in your backyard. It is made in such a unique style that it still can blend with little effort into any type of outdoor décor. This features clean lines to form the ball, and these lines also help create a relaxing lighting effect at nighttime once you fire up the pit. The sturdy metal base features a black oxide finish to withstand high heat and fluctuating temperatures, ensuring that your fire pit will last throughout the seasons looking brand new.
14. Rugged Chevy C10 Metal Fire Pit Grill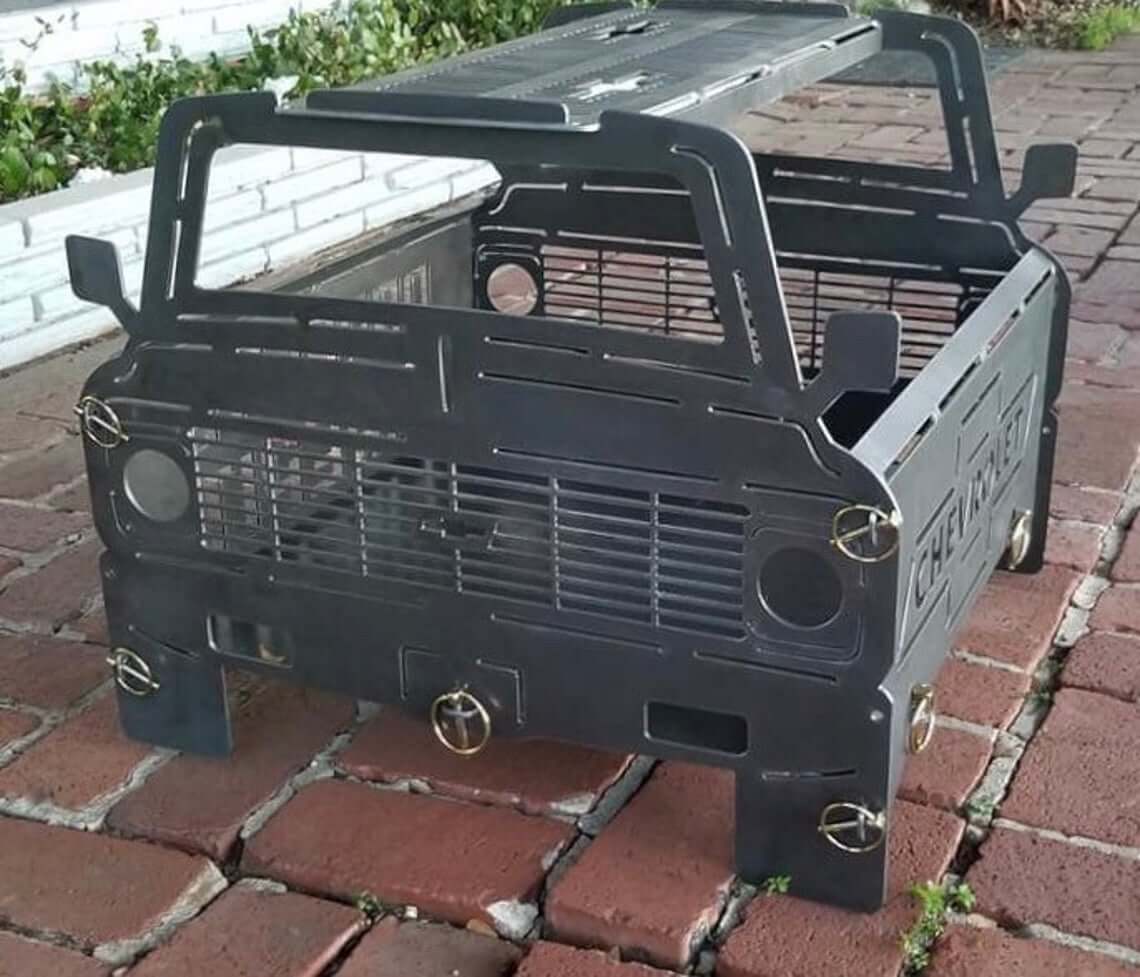 Bring your love of Chevys and your desire to be in the outdoors together with this awesome Chevy C10 metal fire pit. Plenty of time went into this product as it features numerous cutouts similar to the truck it is inspired by. Some assembly will be required, but it shouldn't be difficult. Once this is all put together, you can light up your backyard in style. Also, the grate on top is not just meant for decoration. You can use it to transform your pit into one of the coolest grills around.
15. Solo Stove Metal Bonfire Pit
Out of all the outdoor fire pit ideas, this sits high on the list of uniqueness. At first glance, it doesn't look like your common fire pit. It is a cylinder in shape and there isn't much else in terms of design. However, this allows the bonfire pit to blend in rather well with a home setting that features a minimalistic style. But it isn't designed this way for looks. The fire pit has a double-wall construction so airflow is maximized. Also, it encourages low smoke at an efficient burn. If you want to show this unit off, it comes with a carrying case so you can pack it up and go wherever you need to.
16. Steel Fire Pit Bowl and Stand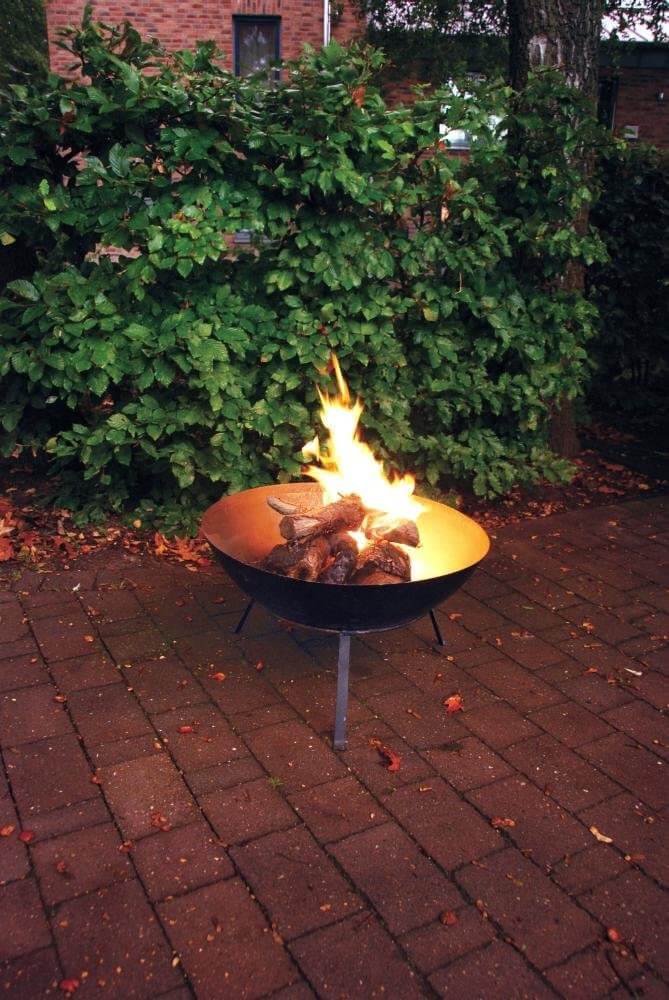 Bring the campfire home to your backyard with this striking fire bowl pit. It's made using black cast iron that provides it with a cleaner, modern look. This is spacious and deep, allowing for numerous logs to burn for as long as you wish. It sits atop a nice, sturdy stand to keep it safely elevated. The design and size can help people sit all the way around. If you wish, the style of this fire pit allows you to lay a grill on top of it so you can enjoy cooking on it as well as you enjoy simply lounging outside and watching the flickering flames.
17. Handcrafted Metal Hemisphere Fire Pit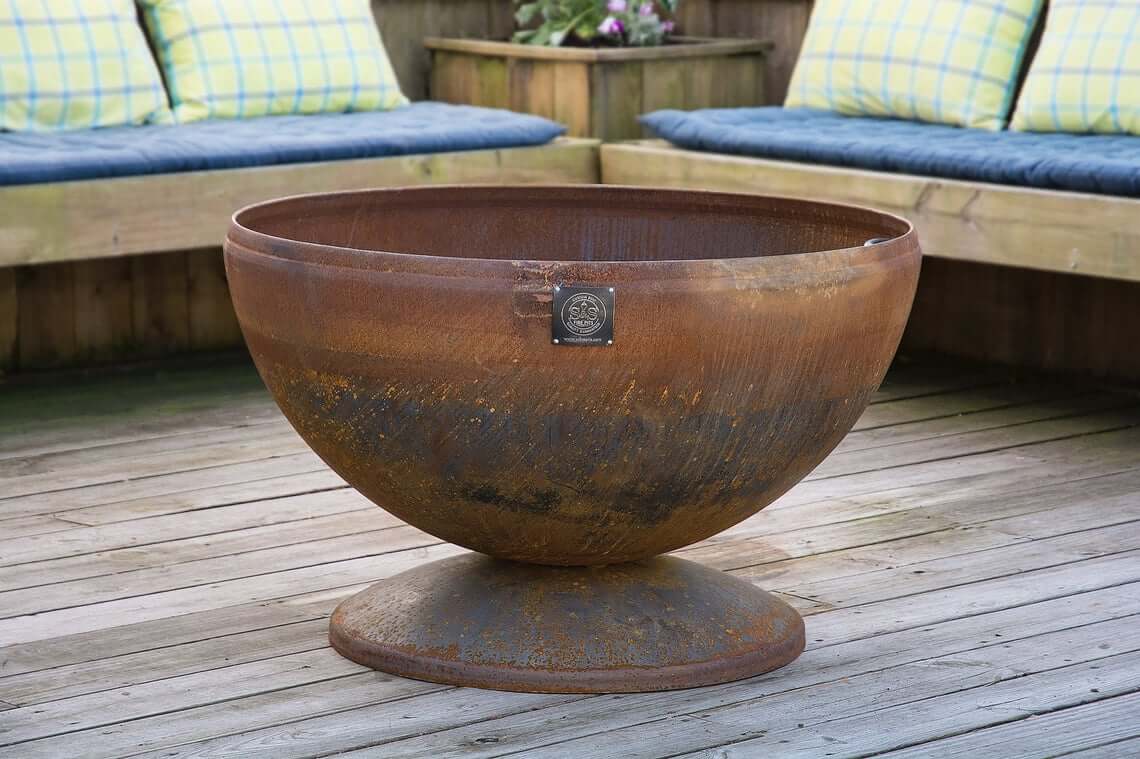 Crafted in a hemisphere shape, this metal fire pit is a great size if you need to entertain more than a dozen people at your next backyard get-together. It is given a wonderfully weathered appearance, allowing it to have a more old-school feel. If you're also interested in products made from repurposed items, you're in luck as this fire pit has a few repurposed features. The hidden handles inside are from repurposed truck springs, while the base itself is a used flanged tank head. As a bonus, you don't just receive the fire pit with this purchase. You will also get a handcrafted fire poker to go along with it.
18. Great Custom Portable Metal Fire Pit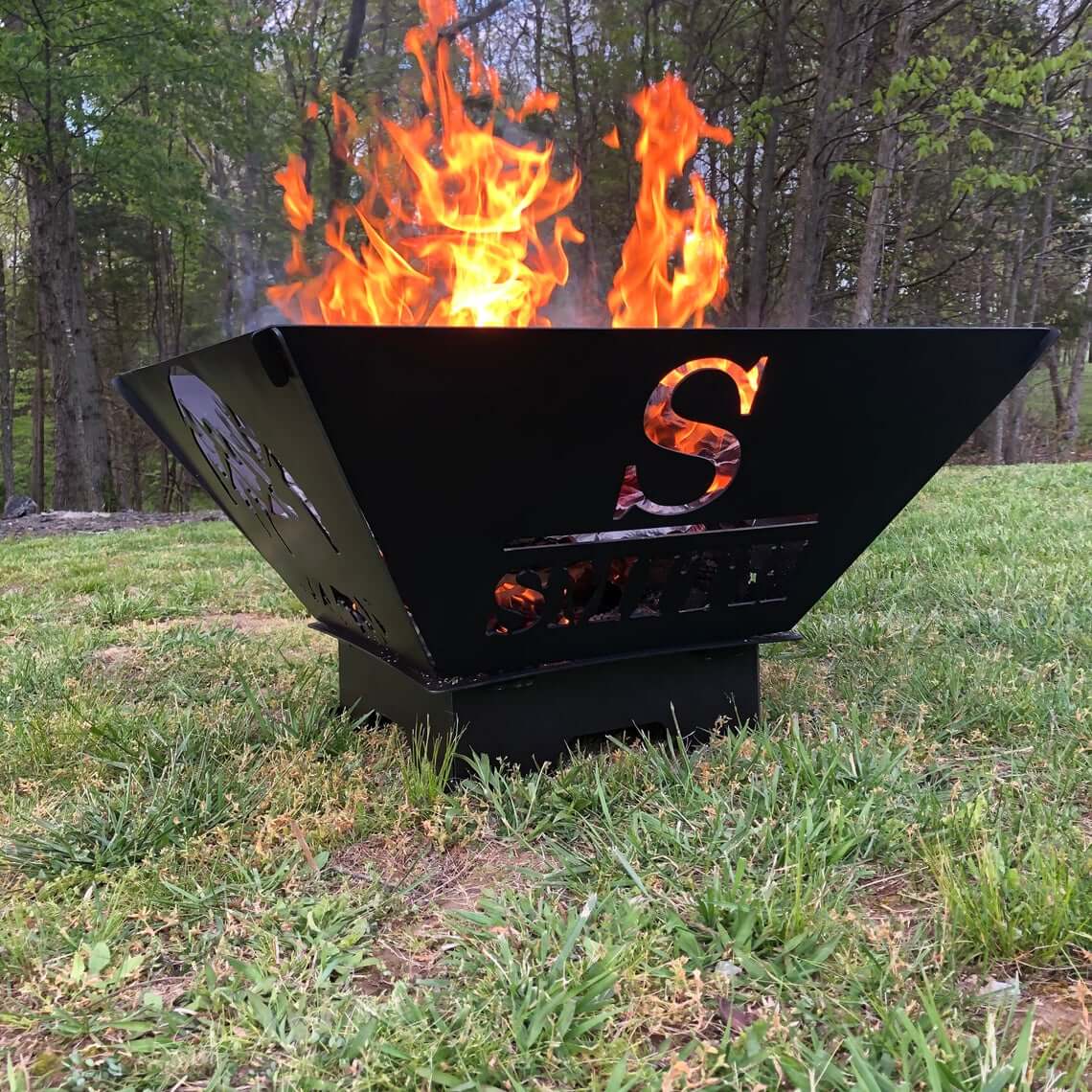 This metal fire pit takes customization and ease-of-use to another level. Made from steel, this fire pit comes in nine pieces that assemble and disassemble with ease. Because of this, you can pack up the pit when you're not using it or take it apart to bring with you on the road. The pieces all fit back together without the use of any sort of hardware. As for the custom aspect of this metal fire pit, you have a couple of options. The first is selecting what side design you would like such as the cutout of a deer or horse, some large pattern, or even a single letter. Another option is adding a name along with a specific pattern. No matter what you choose, you have a remarkable opportunity to personalize your fire pit.
19. Penta Pit Outdoor Fire Pit
With this custom made fire pit, you can put an artistic spin to your backyard décor. It takes a different approach to the outdoor chimneys as it is more geometric in style. The pit is also made using unfinished steel. An unfinished approach here will help the metal prematurely age to a brown rust finish. No matter how it looks though, this pit is made to last thanks to how thick the steel plate. Another factor that stands out is the overall chimney, but it does have a purpose, however. It works to collect smoke and siphon it upward. By doing so, you and guests can enjoy the flickering flames rather than inhaling smoke.
20. Beautiful Northwoods Metal Fire Ring Pit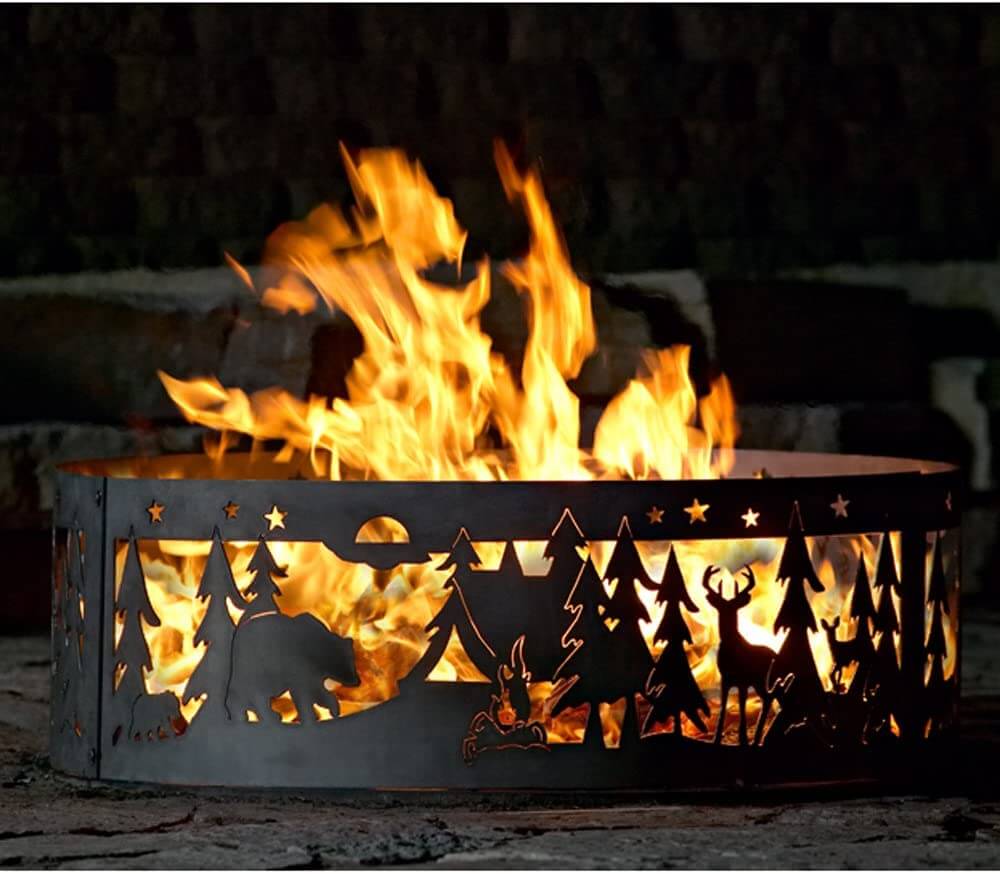 Not many of the best metal fire pit ideas take you back to nature as this one does. The first compelling trait is its shape. It is indeed a fire ring, and across that entire ring is intricate, stunning artwork of the woods. There are trees, animals like deer and bears, and pleasing cutouts of stars across the top of the ring. These cutout styles can also do more than catch your attention. Once the flames are roaring, the cutouts grant your backyard area more mood lighting. Also, when the 12 gauge steel begins oxidizing it for a natural rust finish, you will be left with an incredibly stunning work of art.
21. Modern West Lynn Fire Pit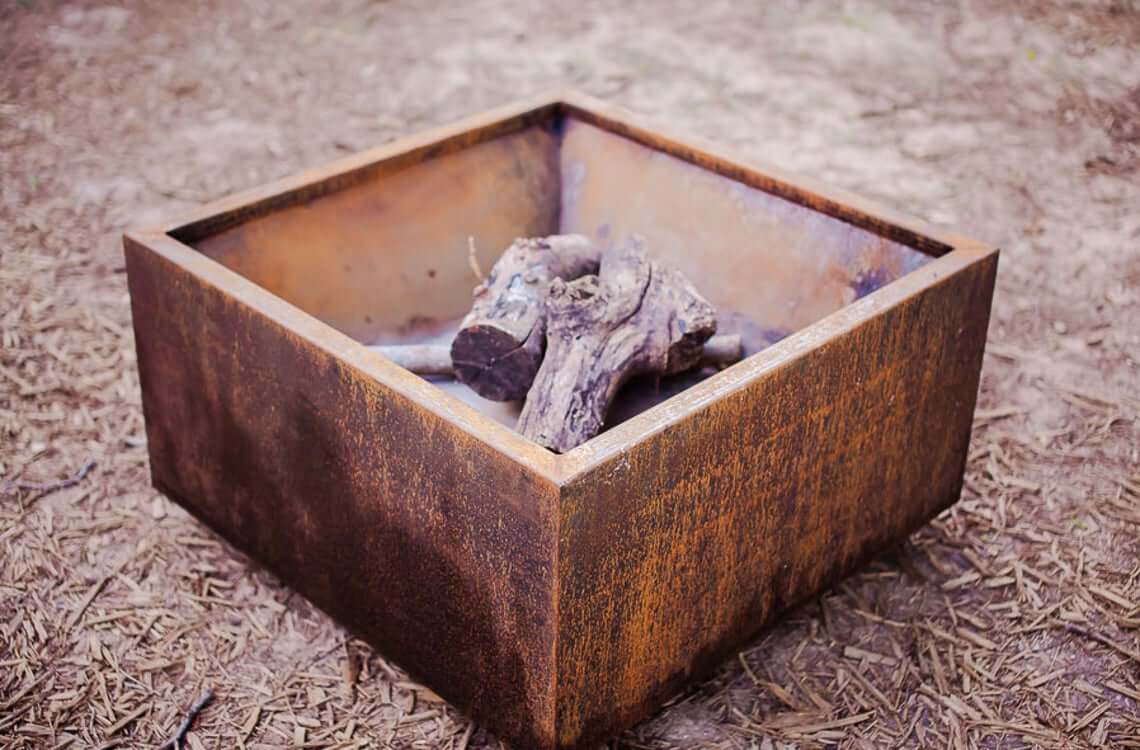 Available to buy in two different sizes, this fire pit features a straightforward design so it would blend in with various home décors from modernists to traditionalists. Natural weathering will, of course, provide it with a deep brown rust patina as time moves on. You don't have to worry about buying a top for this separately as the company provides the option to get it from them. Simply select which type you want from cedar to ipe and have them craft it for you alongside the fire pit. Alternatively, you can opt to receive the pit without any top or you can go for the DIY brackets.
22. Contemporary Zilker Steel Fire Pit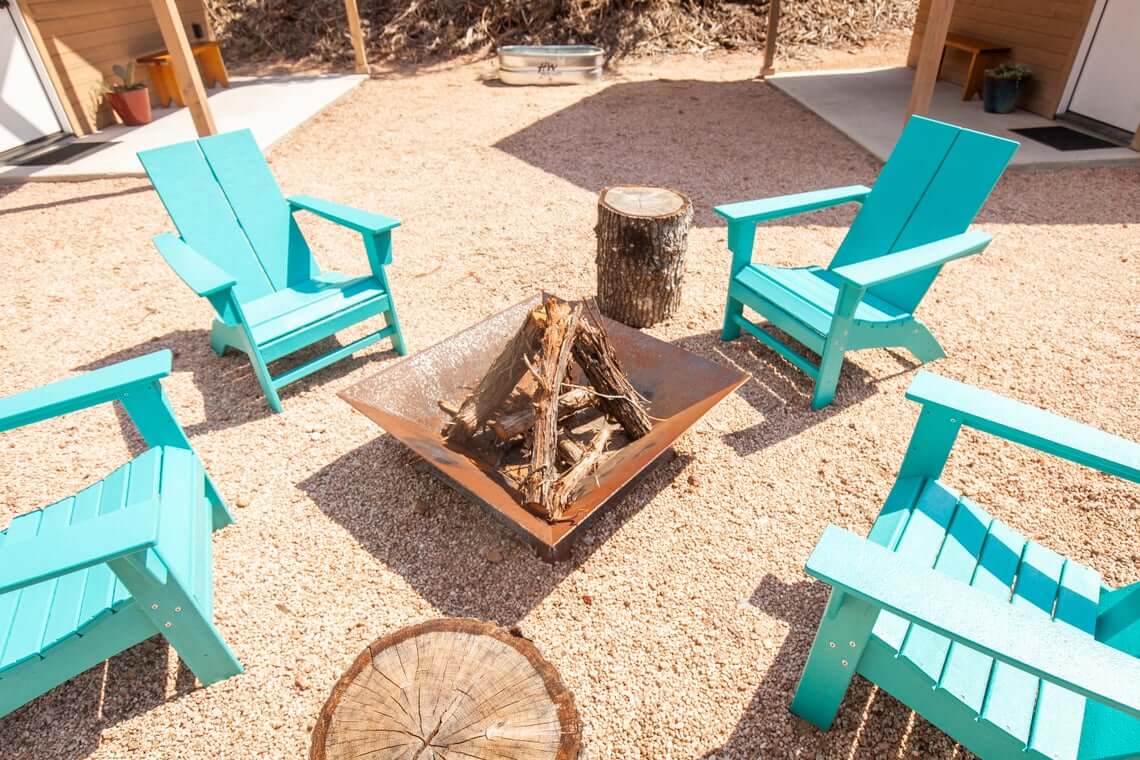 As you are fixing up your backyard, perhaps you realized you need a fire pit that is functional and decorative. The Zilker fire pit manages to accomplish just that. Like many other fire pits, this one is constructed so that it will rust naturally over time since it is made from raw steel. You don't even need to use it as a fire pit since the bold, bowl-like design can stand out well enough on its own. If you do light it, there is just enough space in the pit for you to comfortably get a small or slightly large fire going. For safety purposes as well as adding more décor to your fire pit area, you can purchase the optional top cover or simply get the brackets from the company to make a top yourself.
23. Hexagon Modular Fire Pit Kit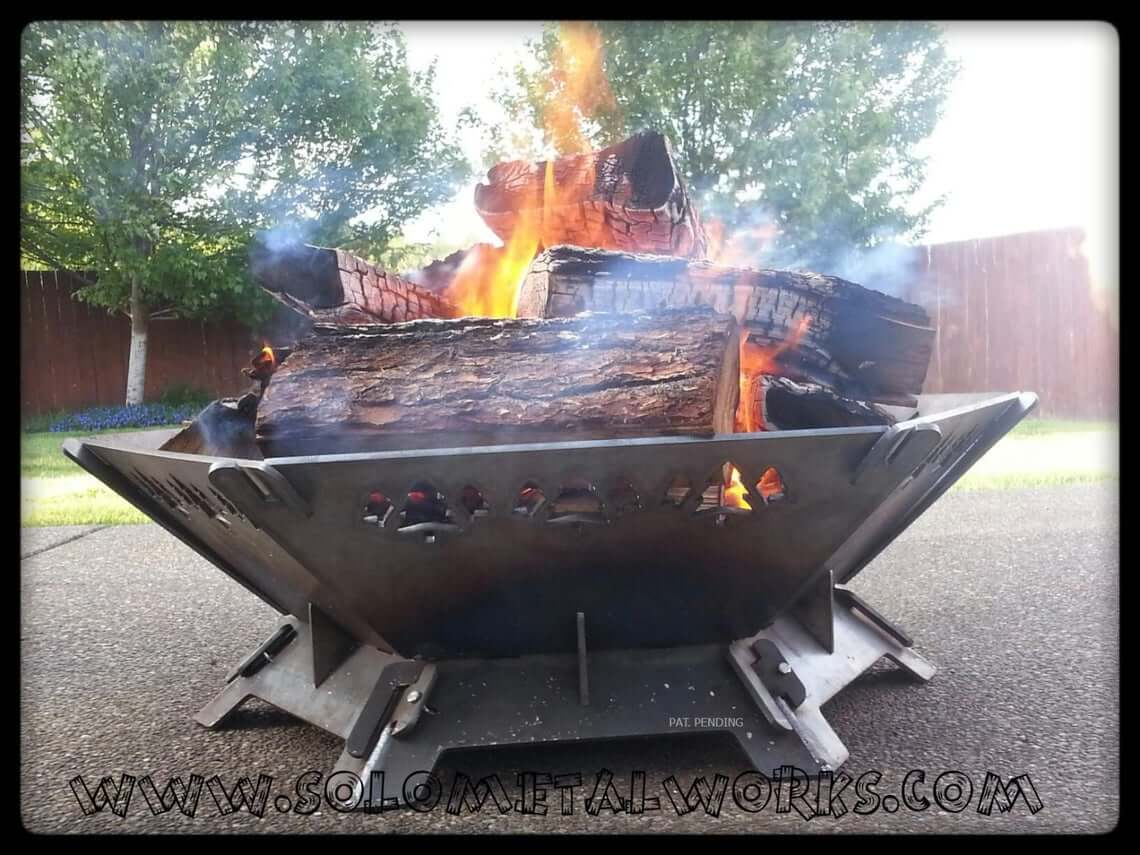 Featuring a "no weld" design, this fire pit kit is easy to assemble in less than 30 minutes. Once you set it up, you will have a stunning, handmade hexagon modular pit that features artistic tree cutouts all around. Made from mild steel plate, this construction should allow the fire pit to last you a good deal of time. If you wish, you have the option to paint over it using high-temp paint, or you can simply leave it as is if you want to get that natural weathered look on it instead.
24. Aurora Steel Gas Fire Pit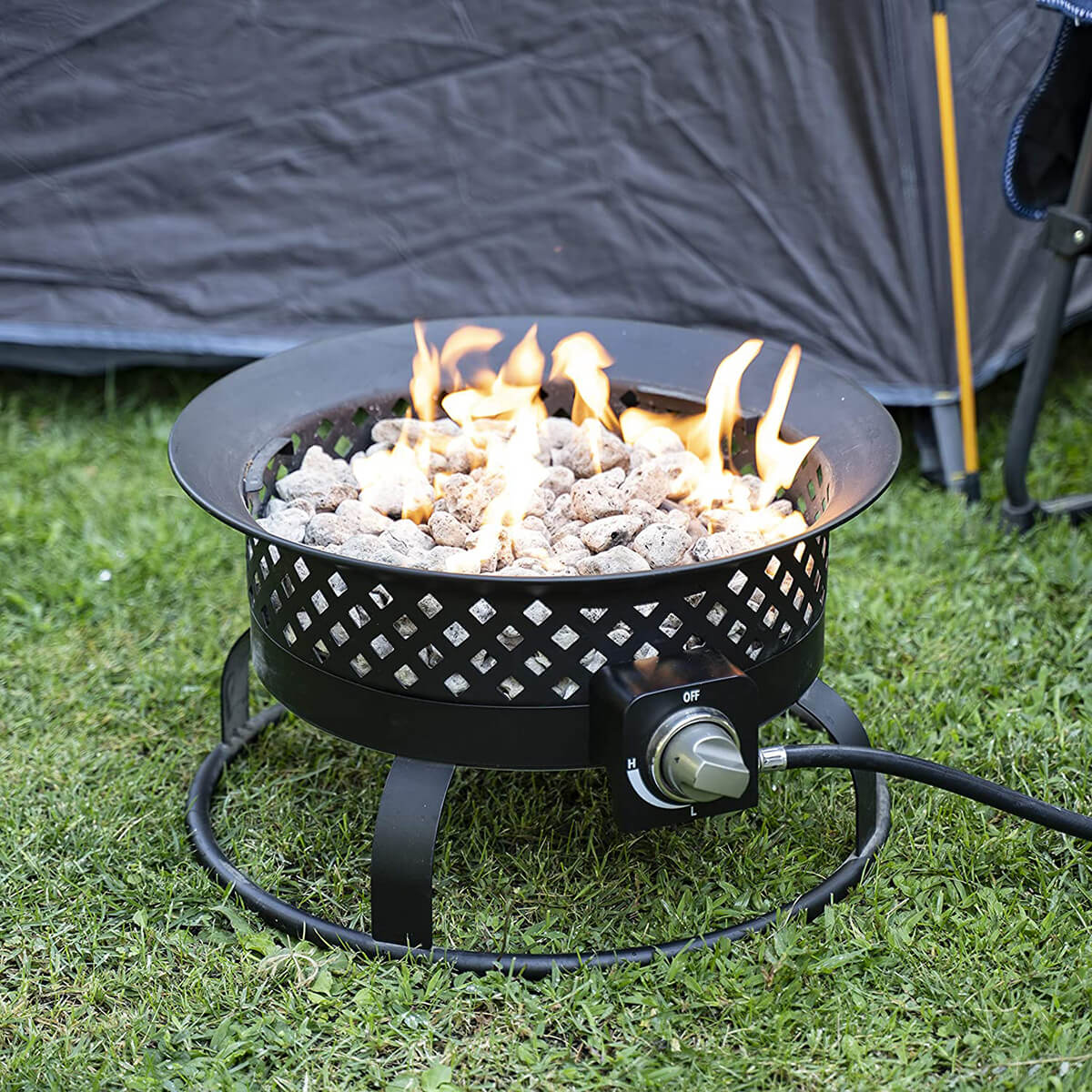 Nothing is quite as modernizing as this Aurora Gas Fire Pit. It features an interesting design when compared to most fire pits in that it is more compact, lighter in weight, and runs off of propane rather than simply wood. Manufactured from a steel frame and rubbed with a bronze finish, this intriguing fire pit is safe to use on your wooden deck. It also features a locking lid so that you can store it away or take it with you. Out of all the metal fire pit designs, this is one of the most portable ones as you can bring it camping, tailgating, or even use it on the beach. No matter where you are at, you can witness the gorgeous sight of the flames lighting up the pumice stones inside.
25. Table Top Rim Fire Pit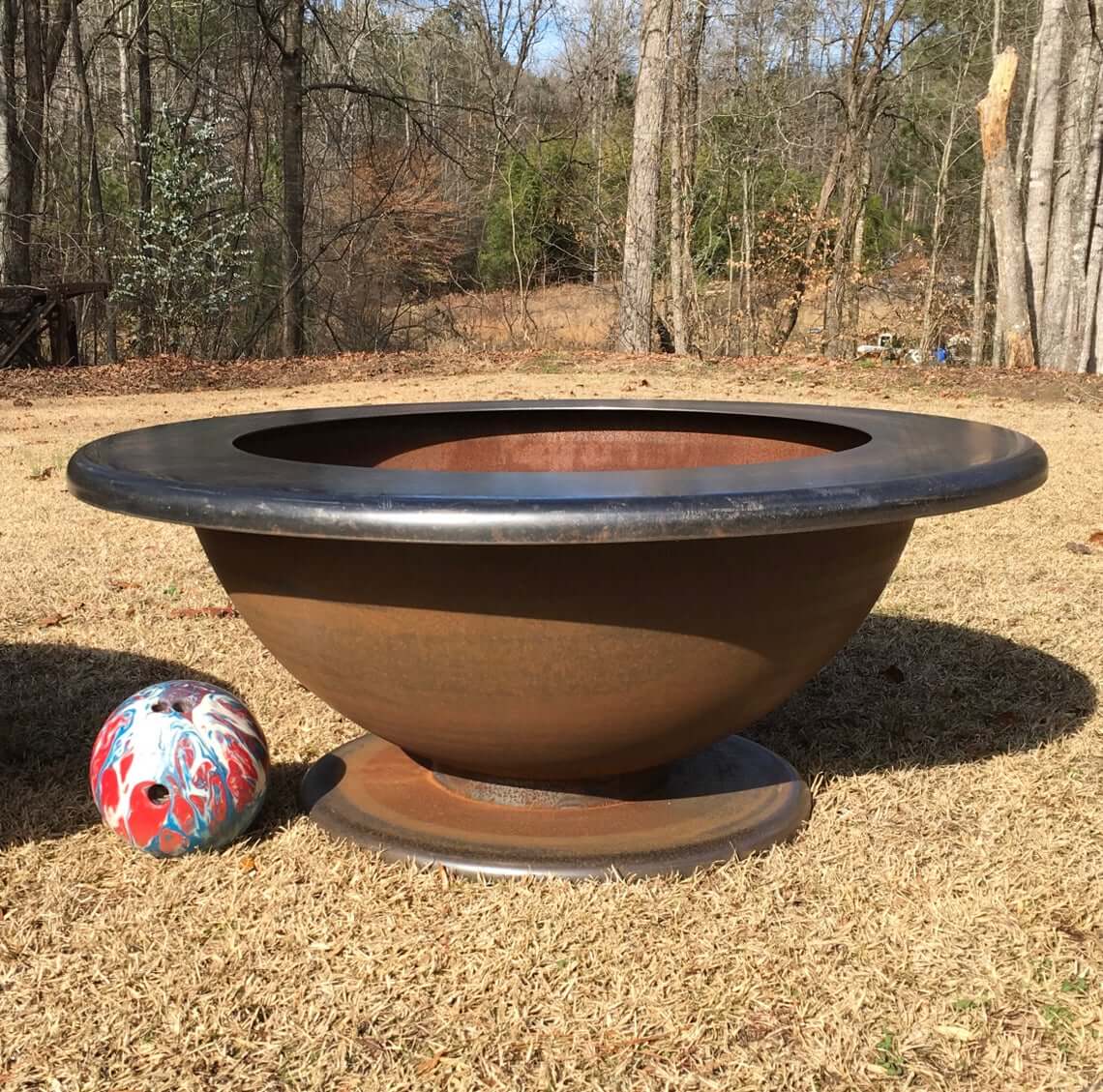 Some of the best metal fire pit ideas allow you to enjoy the warmth and ambiance of the fire as a large group. This table top-inspired pit comes in two height options where the shorter one is best for having those relaxing, cozy experiences with friends and family while the tallest one gives you more space to hold a good deal of firewood. Regardless of which one you buy, both of them offer a spacious rim that is large enough to hold various items like plates and cups if you're eating by the pit. Depending on the heat in your area, you may notice this pit begins to weatherize naturally after a day of leaving it in the sun. If you wish, you can purchase a snuffer lid to match up with this pit.
26. Cool Fire Pit Bowl with Footrest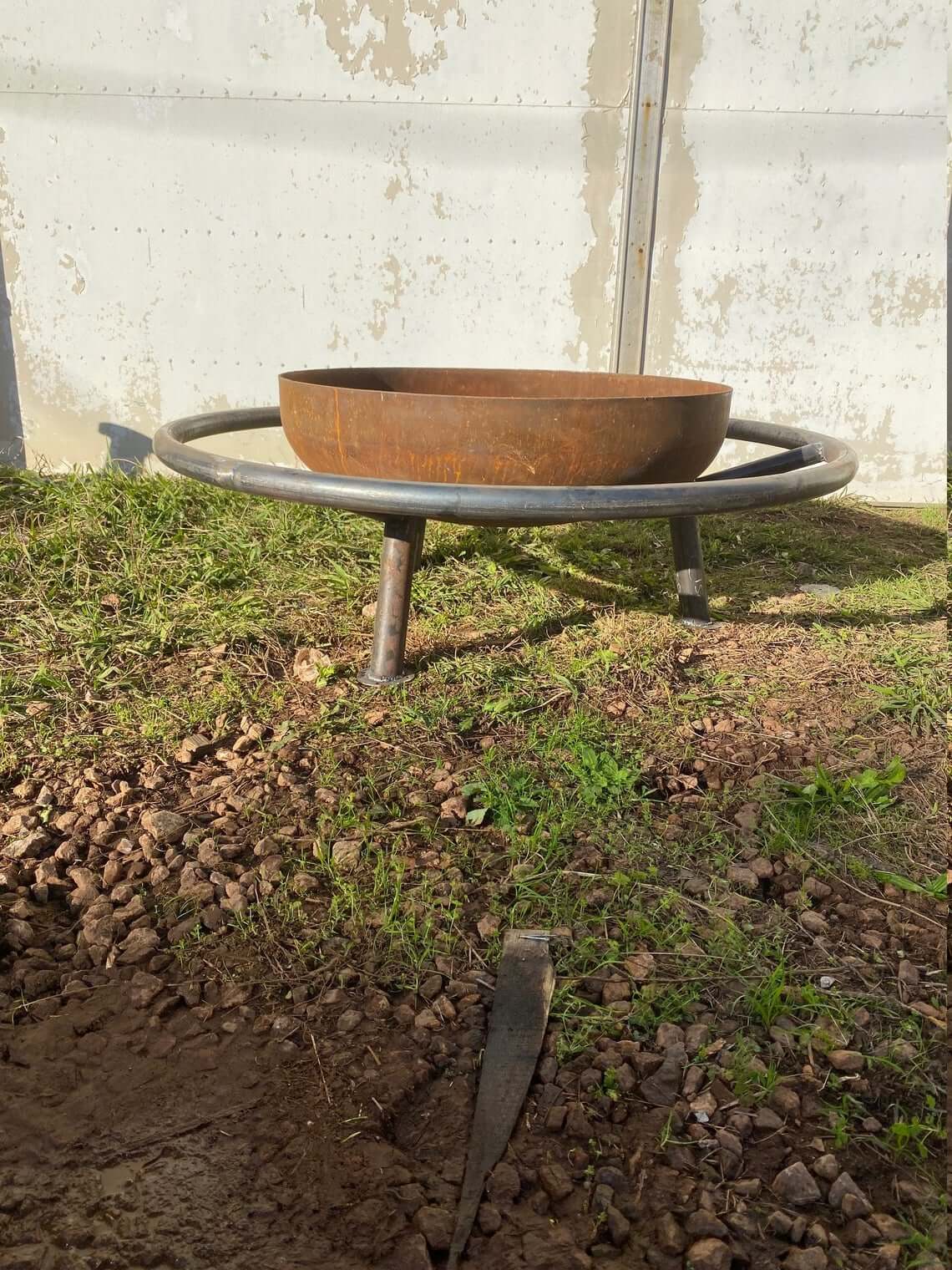 This fire pit is a variation of another bowl from the company, but it is nonetheless eye-catching in the simplest of ways. That is thanks in large part to the added ring around the pit. It can be seen as a protective area, but the intention of it is to be used as a safe and comfortable footrest. Now, you can lounge around the fire with a small group and each of you can rest your feet up without the worry of getting too close. The fire pit itself remains a durable steel construction that turns into a pleasant patina over time.
27. Unique 7-Piece Steel Log Set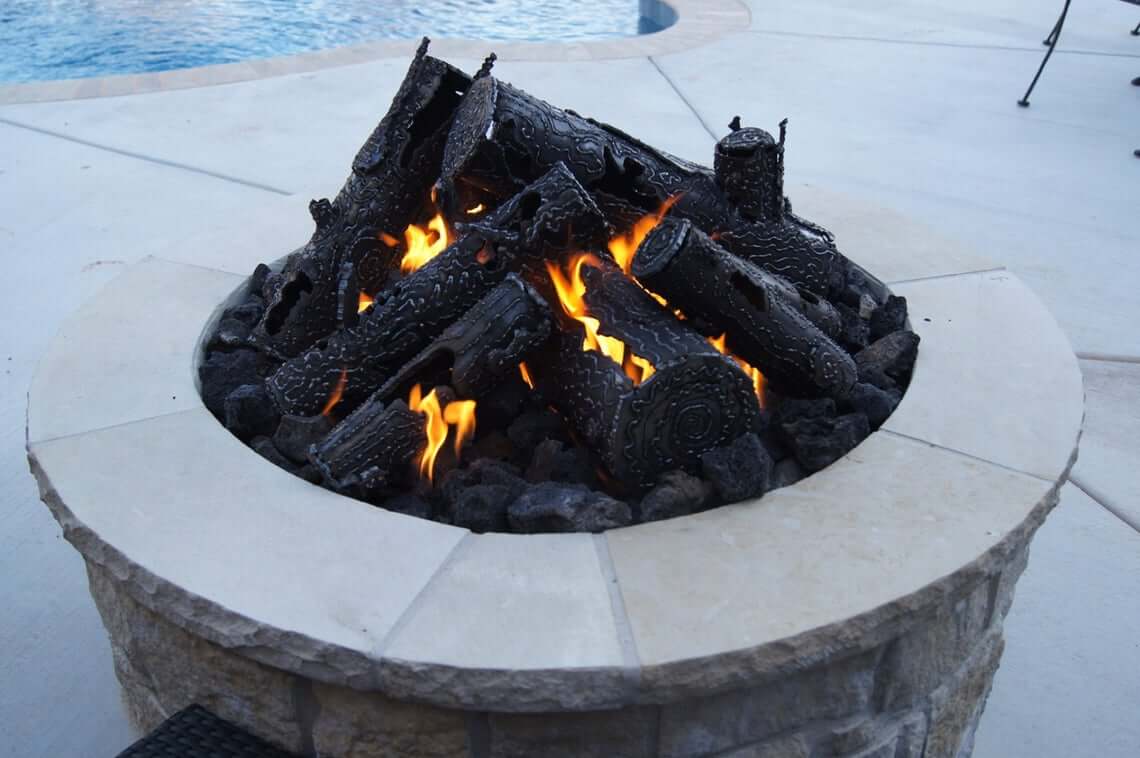 This log set is an awesome idea if you have a contemporary gas fire pit in your backyard rather than a traditional one. In this set, you will receive seven distinctive logs. There is a single extra-large piece, two large logs, two medium, and two small ones. Each log should stand out from one another since they are individually handcrafted, allowing you to receive something unique every time. Steel logs are an excellent choice for gas pits since they are safer and the metal heats up faster for better radiant heat. When they are not lit, they simply add a beautiful aesthetic to your backyard fire pit setup.
28. Rustic Fire Ball Metal Pit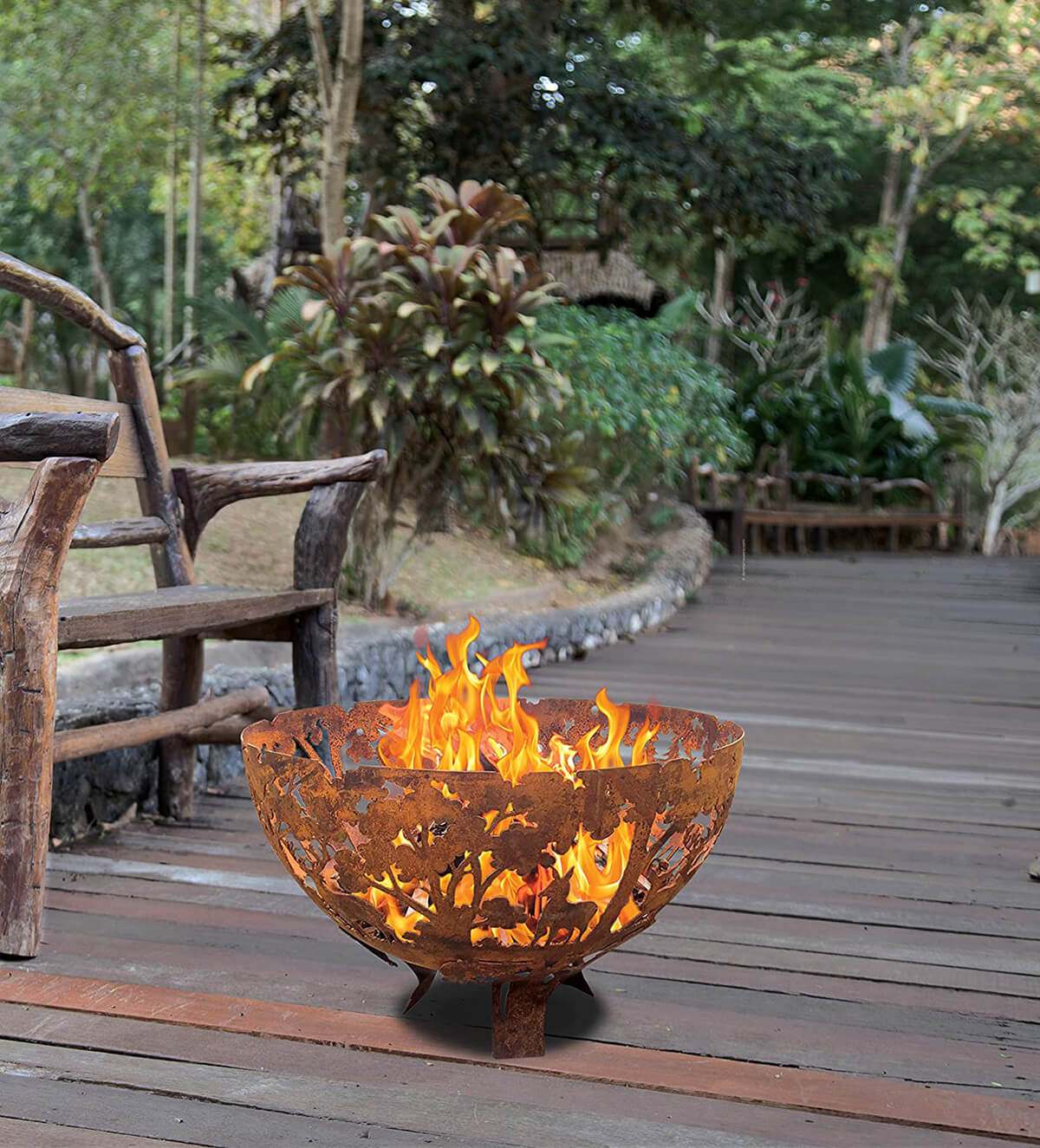 Place a stylish addition to your backyard with this rusted fire ball pit. It features a pleasantly versatile design that won't look out of place in a home with different décor from modern to traditional. This is thanks to the sleek, artistic construction of the piece. It is freestanding in design so you can set the pit up anywhere you would like. Also, thanks to the spherical layout along with the raised base, fires should last a good deal of time so you can enjoy the outdoors longer.
29. Endless Summer Outdoor Gas Fireplace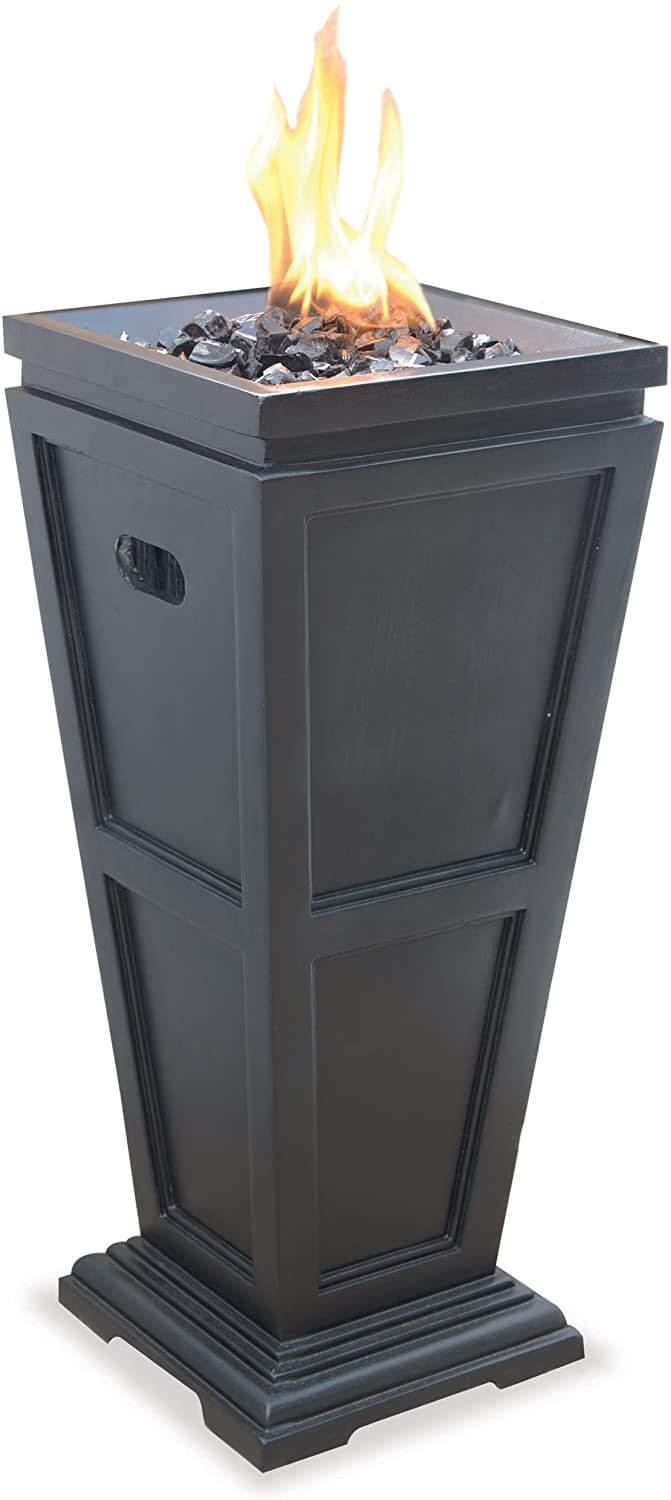 With a streamlined design, this Endless Summer LP fireplace is a great way to personalize and accent your backyard décor. It features a slate finish using faux stone construction. What's incredible about this is that the decorative base does more than add style to your yard. Rather, it hides the propane tank and control panel out of sight. Doing this ensures that all anyone will notice is an attractive, sleek centerpiece to gather around.
29 Incredible Metal Fire Pit Ideas to Personalize your Outdoor Space
Metal fire pits never seem to lose their popularity when it comes to home décor. This is due in large part to just how naturally reliable and long-lasting the pits are. The fact that they come in a variety of designs and sizes allows you a great deal of freedom to decorate according to your taste and style. Such an assortment of fire pits does make it difficult to choose the best one, so it may be better to focus on what you and your yard need to find the one most suited to you.
For instance, some of the best metal fire pit ideas focus on portability. If you want to take the pit with you while camping, or you simply can't leave it out in your yard all the time, consider finding a pit that focuses on transportation. These are either small or can break down into pieces. For those of you who don't mind leaving your pit out, you can focus on the larger, stationary ones. Or maybe you seek a fire pit that allows you to grill on it as well, and thankfully, there are plenty that comes with grill grates. No matter which way you lean, you are bound to find a quality, well-made pit with a distinctive design that can make lounging outside a more enjoyable experience.
Our Favorite Outdoor Decor Sculptures to buy on Amazon