Minimalistic style is at the forefront of home decor, and you can learn how to show it off with these best modern concrete home decor ideas. Sleek, smooth, and modern all come to mind with this gorgeous collection of concrete decorations we have found at Etsy for you. Artists from all over the world are creating new and exciting pieces as we have never seen before.
30 Fabulous & Modern Concrete Home Decor Ideas to Create Your Contemporary Style

Concrete used to be just an outdoor thing. People thought of it as cold and boring, but now our imaginations are being stretched way outside of the box to show that concrete is neither one of those. That cold feeling is warmed up with modern paint colors, including metallics such as gold and copper. Concrete could never be boring when you add plants, succulents, or flowers. There are so many ways to make concrete cool these days, so be sure to expel those old beliefs about concrete before reading on.
We are taking concrete indoors with these beautiful items from Etsy. There are many great items to choose from including planters, trays, and candlesticks. Each will add to the beauty of your home decor style by bringing in touches of modern, minimalistic design. Some pieces are simply elegant. Other pieces are just totally fun. From gold-dipped letters to wall clocks, there really is so much to see that is truly interesting and new.
Have you been wanting to try concrete decor, but did not exactly know where to begin? You have to check out our fantastic Etsy finds. There are so many items that are perfect for bringing in a little bit of concrete to keep you on-trend. Even lighting takes on a whole new look with concrete-covered, wooden lighting fixtures. Dive in and see what is available by reading on to learn more about the best modern concrete home decor ideas.
1. Stylish and Sleek Concrete Decorative Tray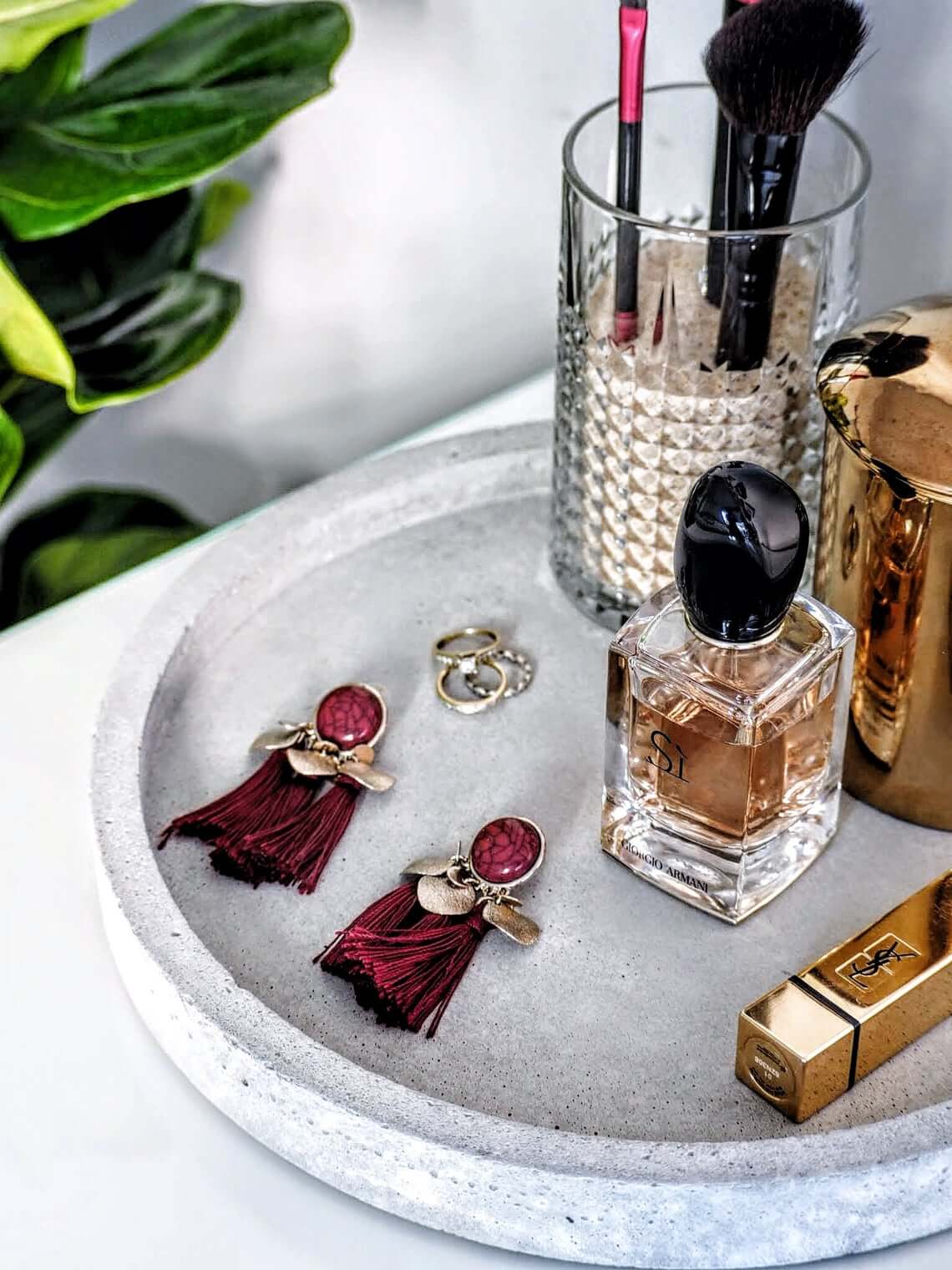 We all have things lying around that would look much more purposeful if they were collected on a tray. This gorgeous tray is a simple solution to anchoring small items into one uniform look. At thirty inches in diameter, it is super useful in any room in the house. In the kitchen, it can be a small coffee bar. It is a great place to organize makeup in a bathroom or bedroom. It is also a nice catch-all for remote controls and magazines in the family room. The simplistic style allows it to blend in with any home decor.
2. Set of Concrete Bookends with Vases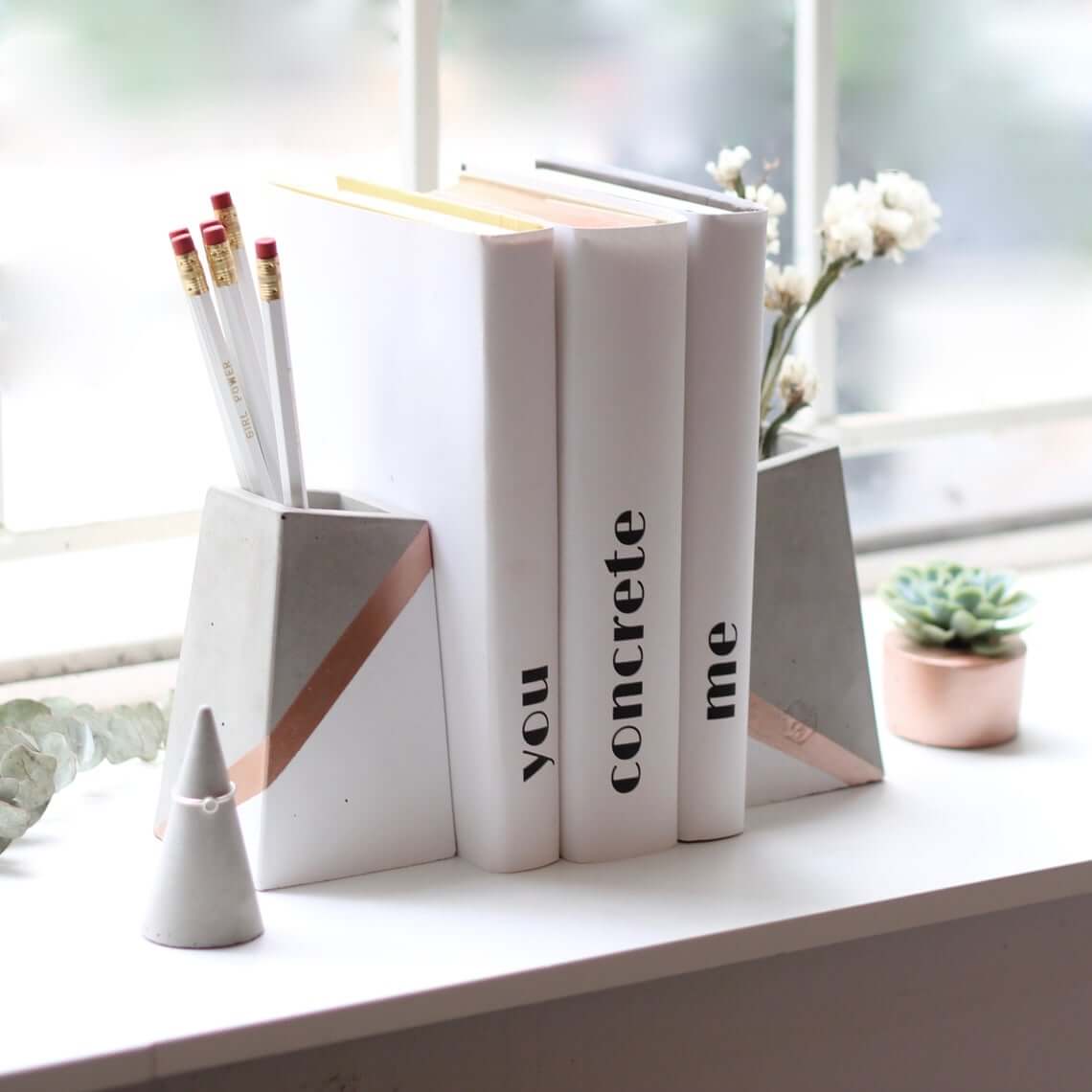 These unique, angled bookends double as vases, and there are so many different ways that you can use them. Your books can be displayed between some gorgeous flowers or greens. In the kitchen, you may use the bookends for cookbooks while the vases hold cooking utensils. You could also use the vases to hold other things like pens, pencils, and highlighters. Maybe you have some art books that you could display between the bookends with paintbrushes or markers in the vases. There are so many excellent ways to show off your style with this terrific pair of concrete bookends.
3. Concrete Letters Dipped in Gold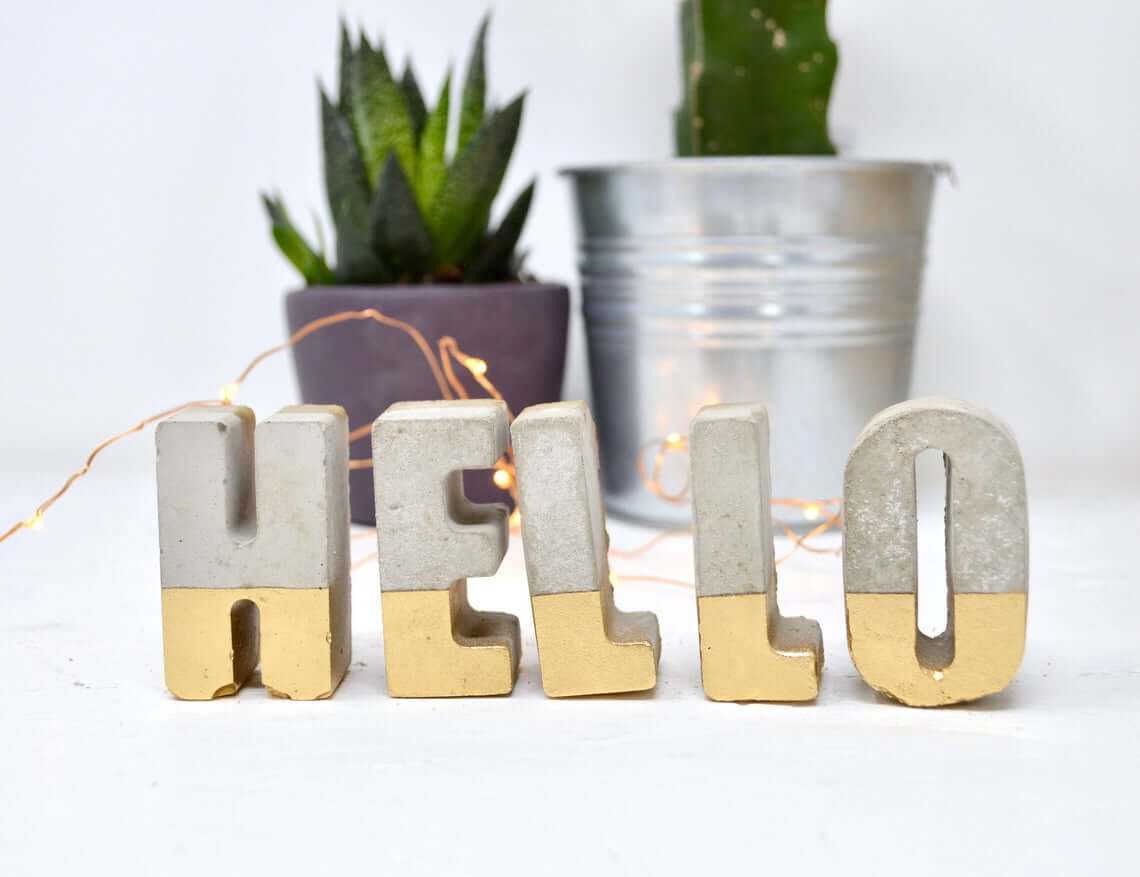 Do you need a little pizzazz in your office? Perhaps your mantle could use an update? These gold-dipped letters are just adorable, and they will certainly add some interest to any decor. The letters are ordered separately, so you can spell out anything that you would like. There is also a hashtag symbol as well as a small and a large heart available. These are awesome for making customized hashtags or for showing some love. A simple heart between two initials would also make an amazing gift for newlyweds. If you know someone who runs her own business, "#boss" would be a great gift.
4. Cylindrical Shaped Concrete Table Lamp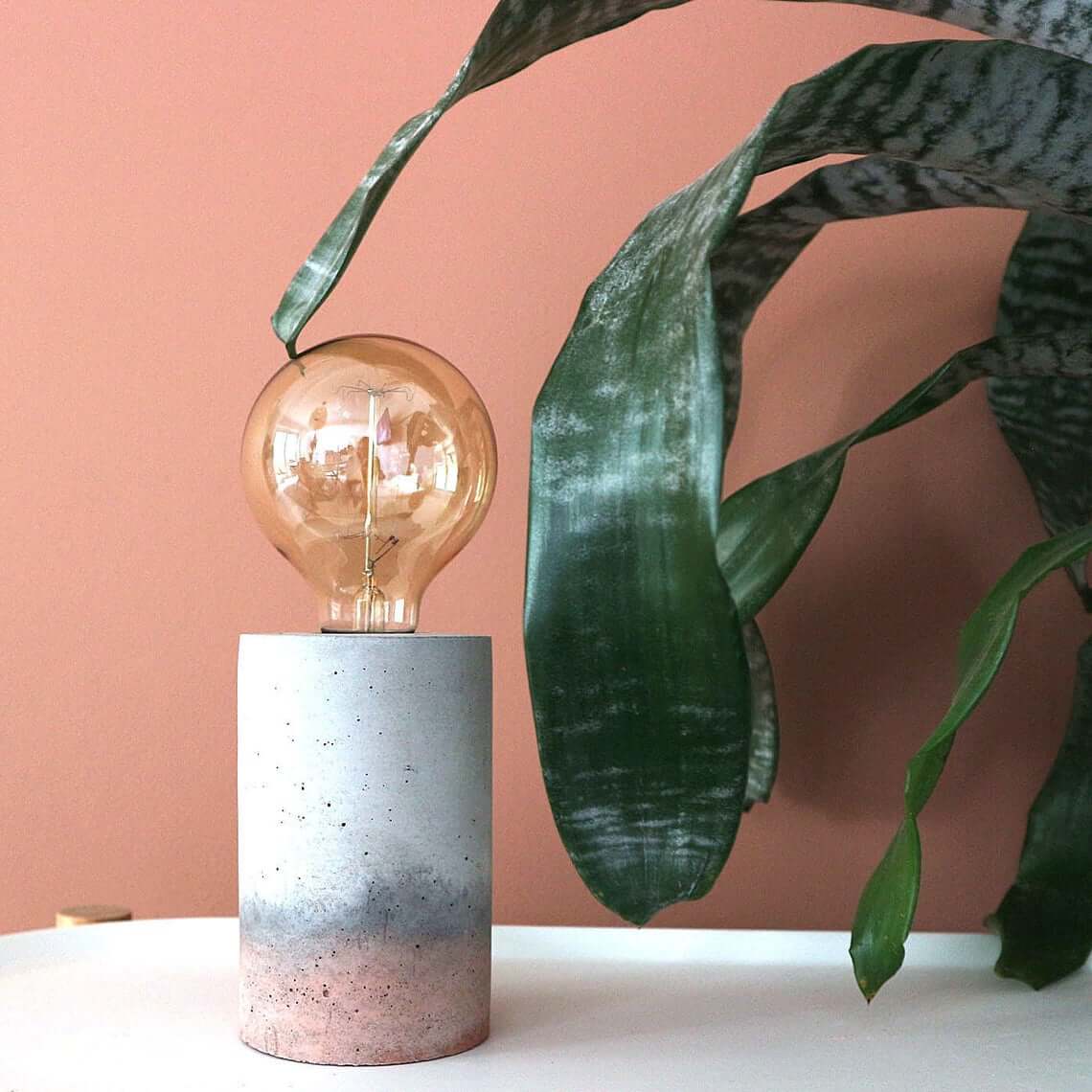 Are you looking for some interesting, artsy lighting? This table lamp is truly one-of-a-kind, and it takes concrete design to a whole new level with its lighting feature. A soothing, ambient light is given off from this stylish table lamp, so it can be enjoyed rather than just give off light. It is meant to relax and bring about calm. With four different color combinations available, you will be sure to find one that looks fantastic with your current decor. A convenient in-line cord switch is included so you can easily turn the lamp on and off.
5. Cool Hexagon Shaped Concrete Organizer Tray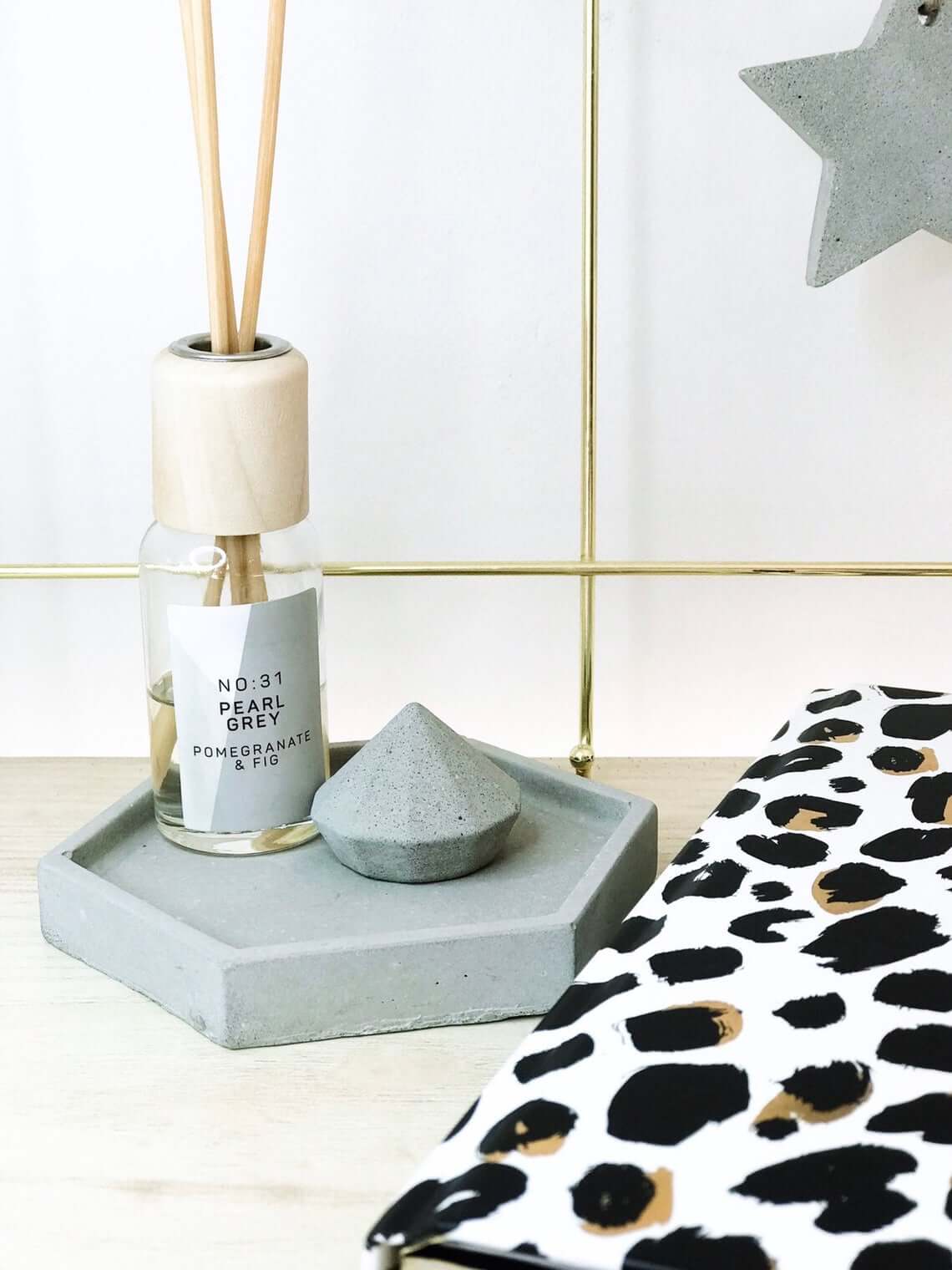 These cute little trays are nice for holding small trinkets, jewelry, or a plant. They can also be used as coasters. These hexagons look awesome when used together because they resemble a honeycomb, which is a totally trendy pattern right now. Each piece is hand-crafted, so there will be some variation in them. As with any concrete design, each piece will be unique and may include some bubbles or other minor imperfections, adding to their overall beauty. Each one is sealed, and a layer of cork is added to the bottom to protect surfaces. The cork also makes it easy to move around.
6. Concrete Planters with Rainbow Design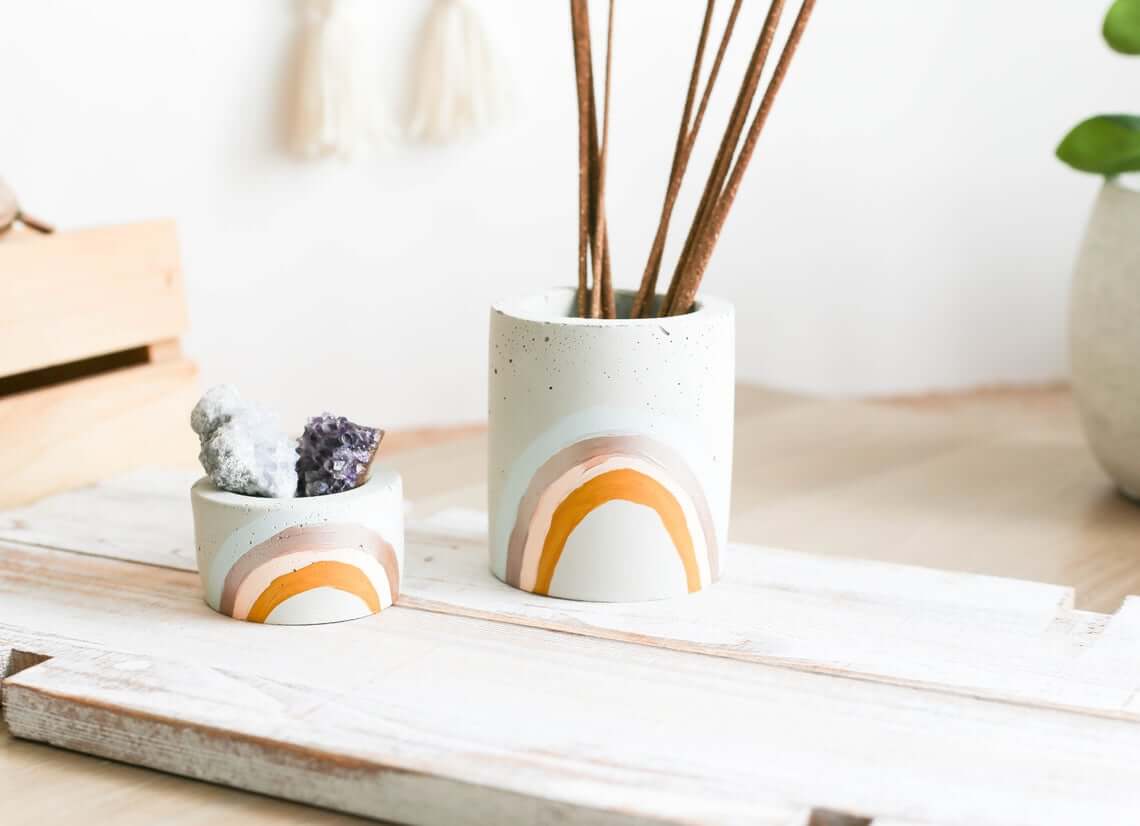 The best modern concrete home decor ideas use all of the trendiest colors and styles in their pieces, and this one is no exception. This rainbow is not your typical rainbow. Instead, it includes metallics, rose gold, and a soft blue. These earthy tones are excellent for blending in with any colors that you already have. The planter comes in two sizes. The smaller of the two is perfect for potting succulents. The larger one could be used as a regular planter, or it could hold paint brushes, makeup brushes, pencils, or reeds for diffusing essential oils.
7. Best Concrete Decor Succulent Planter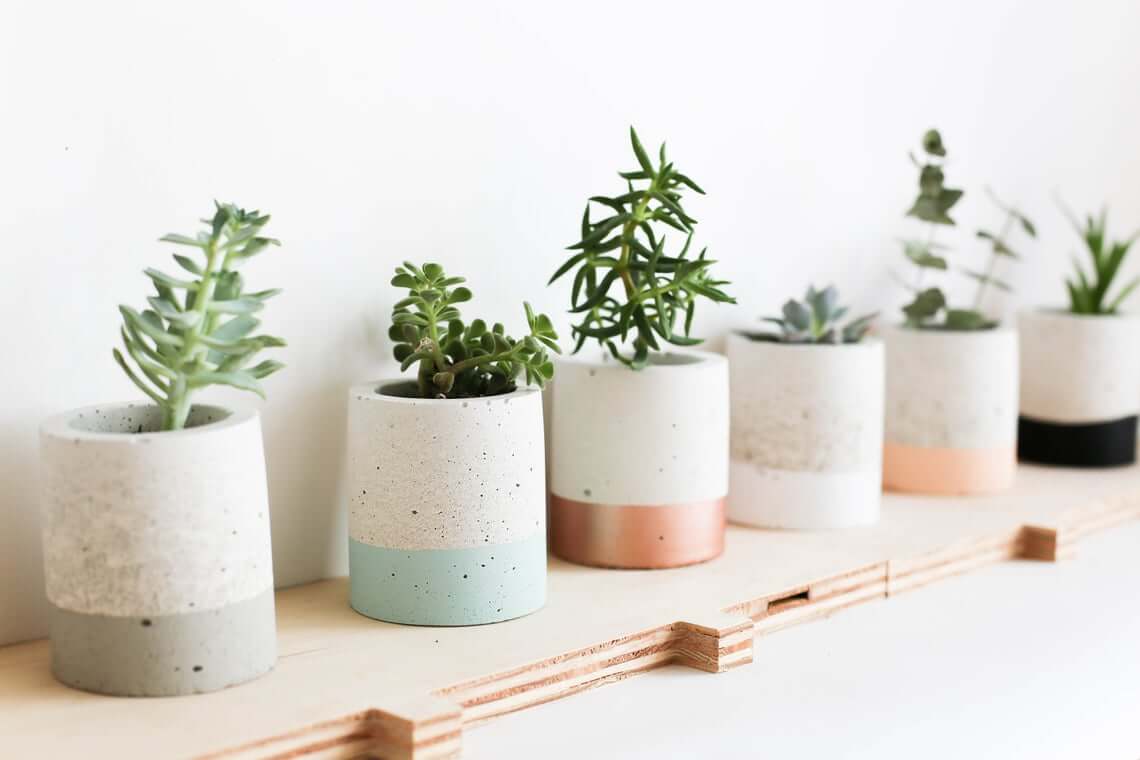 Adding some of these modern concrete planters into your existing decorating will help give it an update so you can keep on-trend. At almost four inches tall, they are simply perfect for tucking in beside a picture frame, a lamp, or a larger potted plant. These planters are must-have accents and will bring in all of today's most stylish colors. The top is plain cement. The bottom has a stripe, and you can choose the color from the following: white, black, rose gold, peach, soft blue, grey, gold leaf, rose gold leaf, or a custom color of your choosing.
8. Textured Concrete Design Mountain Paperweights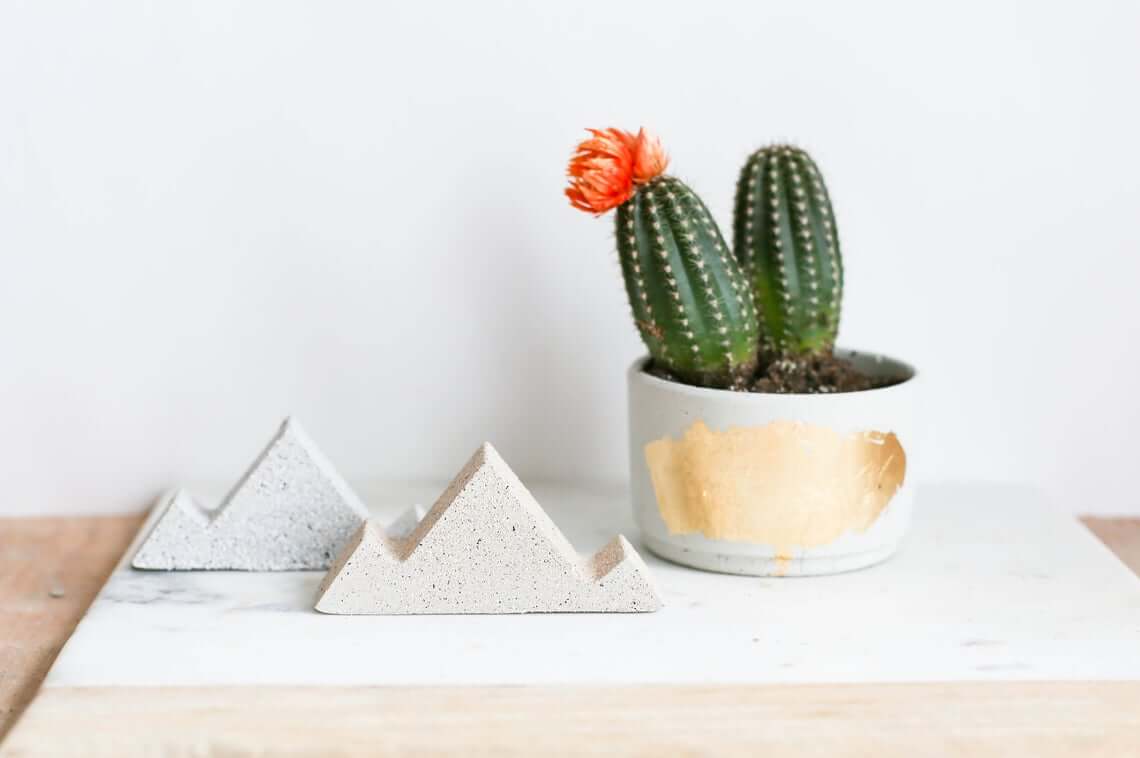 These one-of-a-kind paperweights make excellent gifts for your fellow mom bosses, office workers, or stylish friend. They are listed as paperweights, but they can really just be a beautiful stand-alone piece for a shelf. Since they are small, they would look fantastic amongst some books, beside a vase or near a planter. This design is available in either a light grey with textured speckles or a light brown with textured speckles. Either choice will look wonderful. These neutral shades will work with any color scheme that you already have. Their simplistic design also looks nice with many different styles of decor.
9. Concrete and Wood Geometric Pendant Light Trio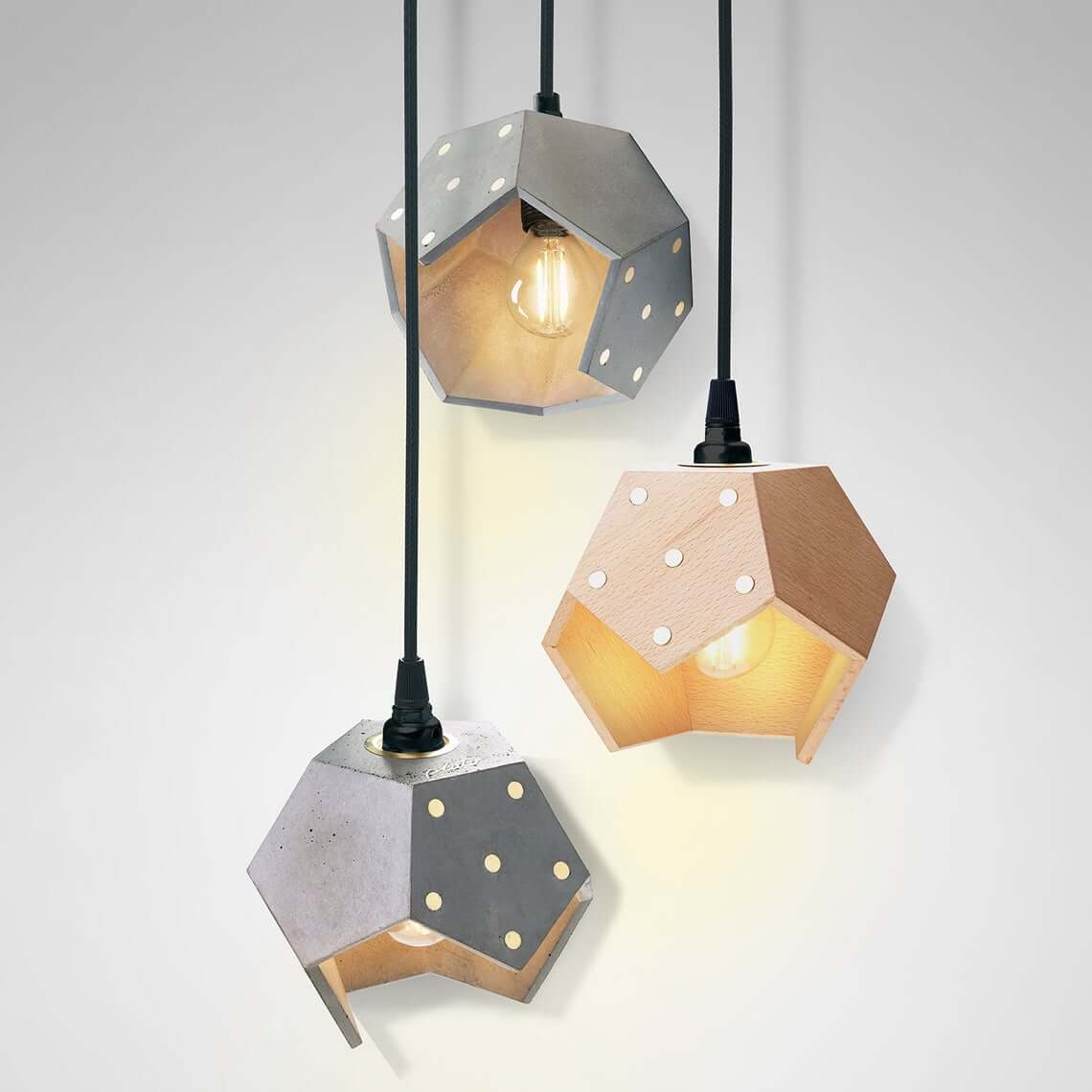 This is one of the absolute best modern concrete home decor ideas for a stylish, on-trend home today. The three-dimensional design is gorgeous and leaves just enough of an opening to still provide very good lighting. Three come in a set, and each is made of wood. Two of them have a layer of concrete added to the outside for a unique look. To make this design even more outstanding, three sides of each light are magnetized. This allows the owner to create different shapes with the trio so that it looks like one. These lights look terrific hanging over a table.
10. Concrete X-Shaped Bookends or Paperweight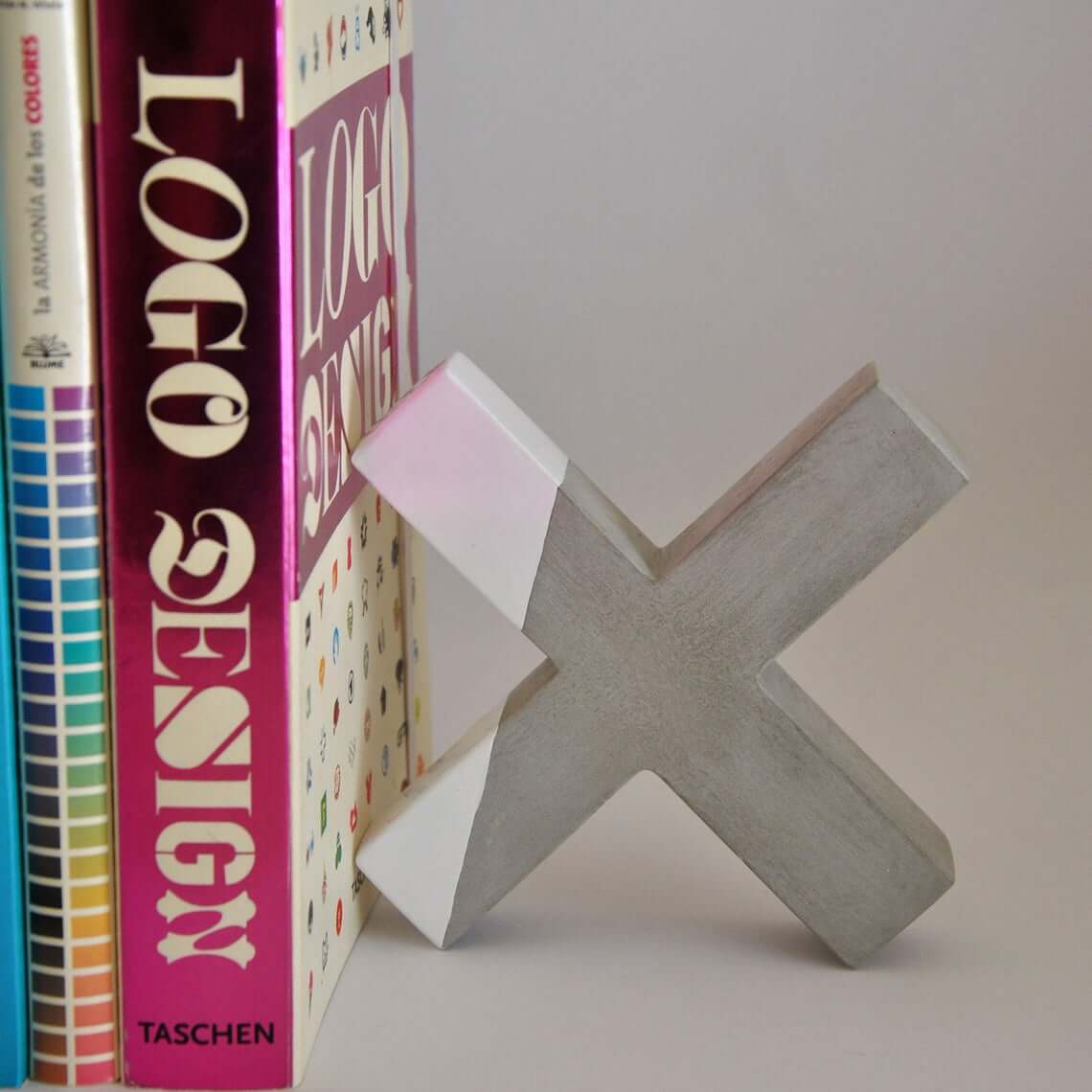 This beautiful concrete decor, shaped like the letter x, stands just a little over five inches tall. It is the perfect height to be either a bookend for medium and small books or as a paperweight. It has a stylish stripe along one side. You can get the stripe in red, white, gold, or copper. These hand-crafted pieces look awesome by themselves, but they also look really cool when multiple pieces are put together. The options of ways to intertwine them are endless. Experimenting with design elements like these will keep your decor fresh and on-trend.
11. Wood and Concrete Circular Wall Clock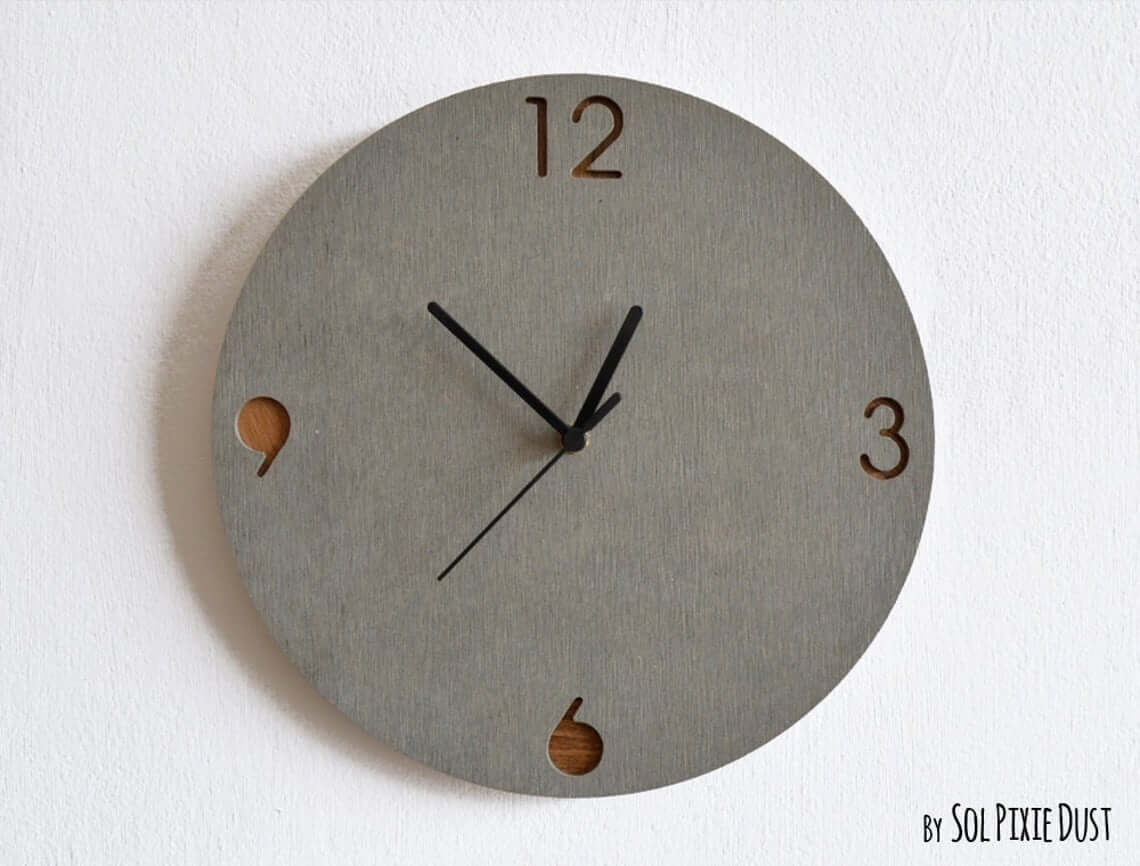 This sleek piece combines a wooden background with a cement face for a totally trendy combo. The numbers three, six, nine, and twelve are cut out from the face, and you can see the wood in the spaces they leave. The wood can be painted in one of twelve different colors of chalk paint or stained in one of eight different colors of stain. The clock hands are available in red, white, or black. There are so many beautiful combinations that you can choose from and the results are simple, yet stunning. This clock would look great in any room in your home.
12. Concrete Decor Piece in Shape of Gemstone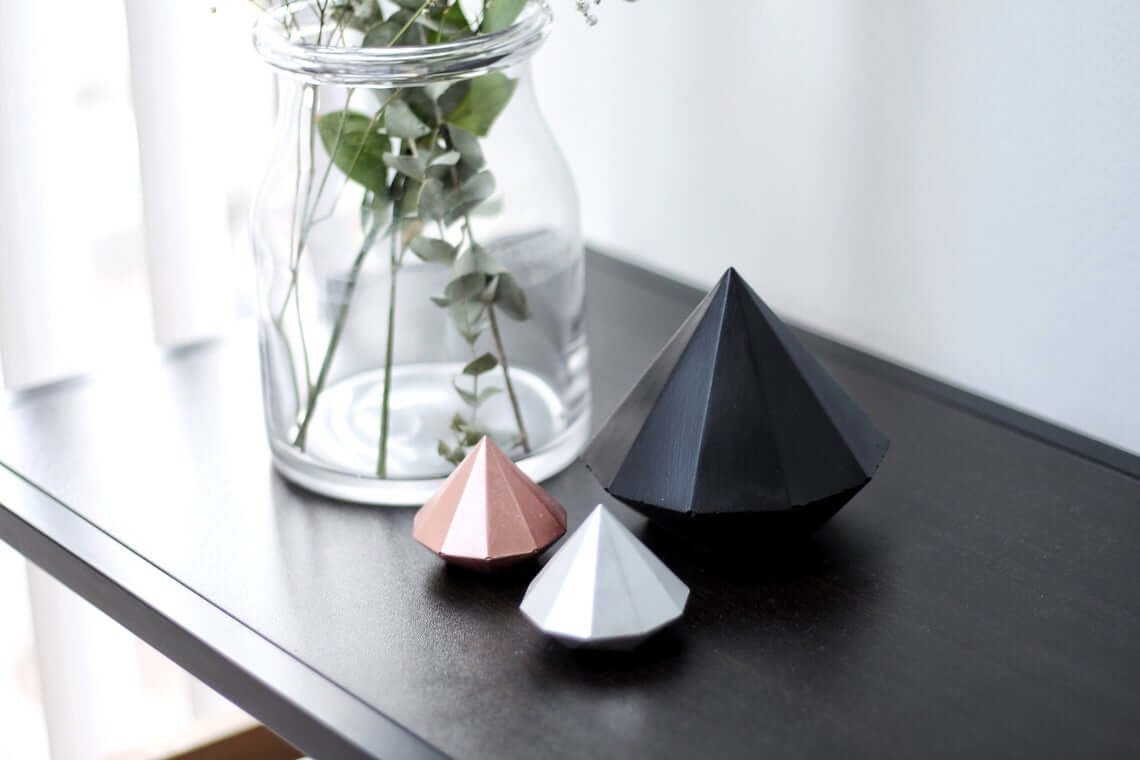 This cool diamond-shaped piece of home decor is hand-poured. It is then sanded, painted your choice of seven colors, and sealed. You can choose from gold, rose gold, silver, gunmetal grey, marble, and black marble. There are also three sizes available, and they look fantastic together. These one-of-a-kind pieces look nice displayed next to a jewelry tree, beside a vase or even as a paperweight. They can be tucked-in with existing decor to give it a quick refresh. These also make excellent gifts for the person who seems to have everything. They will love having something new that is totally unique.
13. Set of Two Concrete Geometric Planters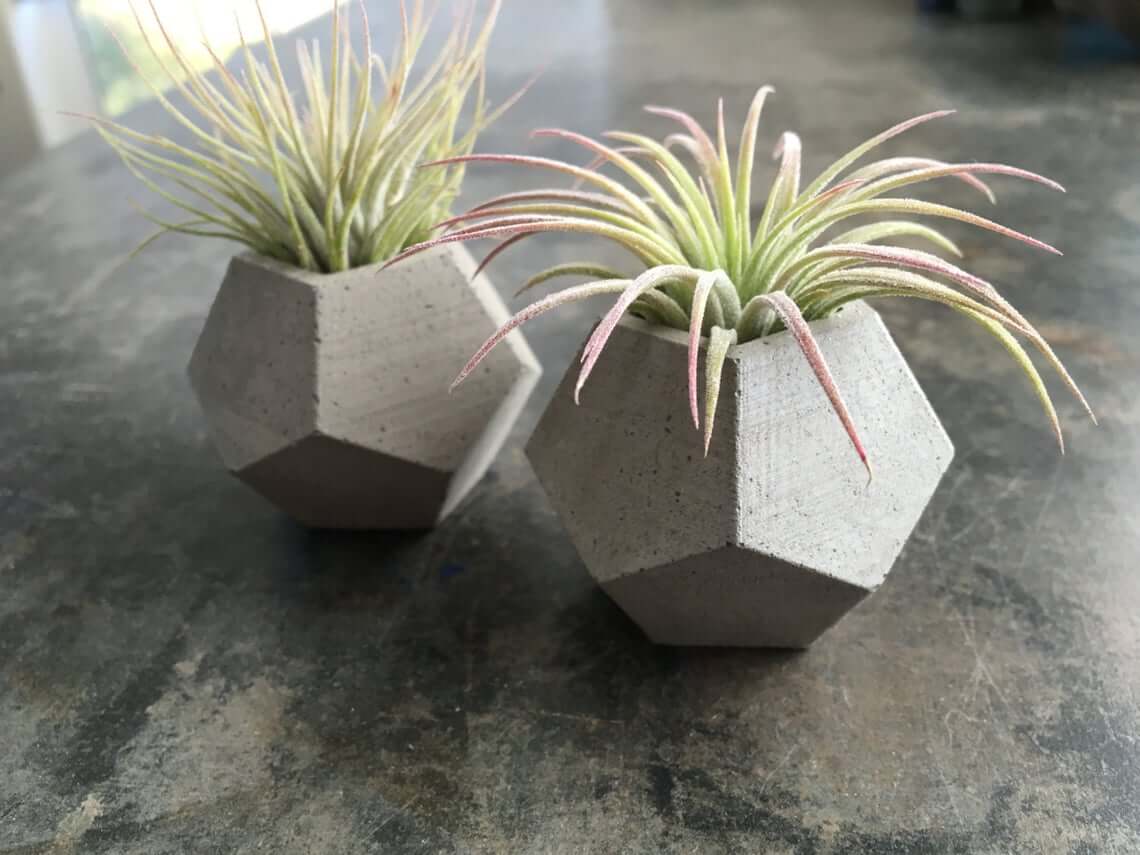 These gorgeous concrete planters come with two in a set and are available in natural grey, charcoal, or a combination of the colors. You will also have the option of purchasing air plants to go with them. They look fabulous in the planters and will not require much upkeep. Because of the interesting geometric shape, these planters can sit with the opening at the top, or with the opening angled downward a bit. This allows for height changes in the plants, even though the planters are the same size. They would look nice tucked-in anywhere.
14. Concrete Candlestick Holder with Brass Feature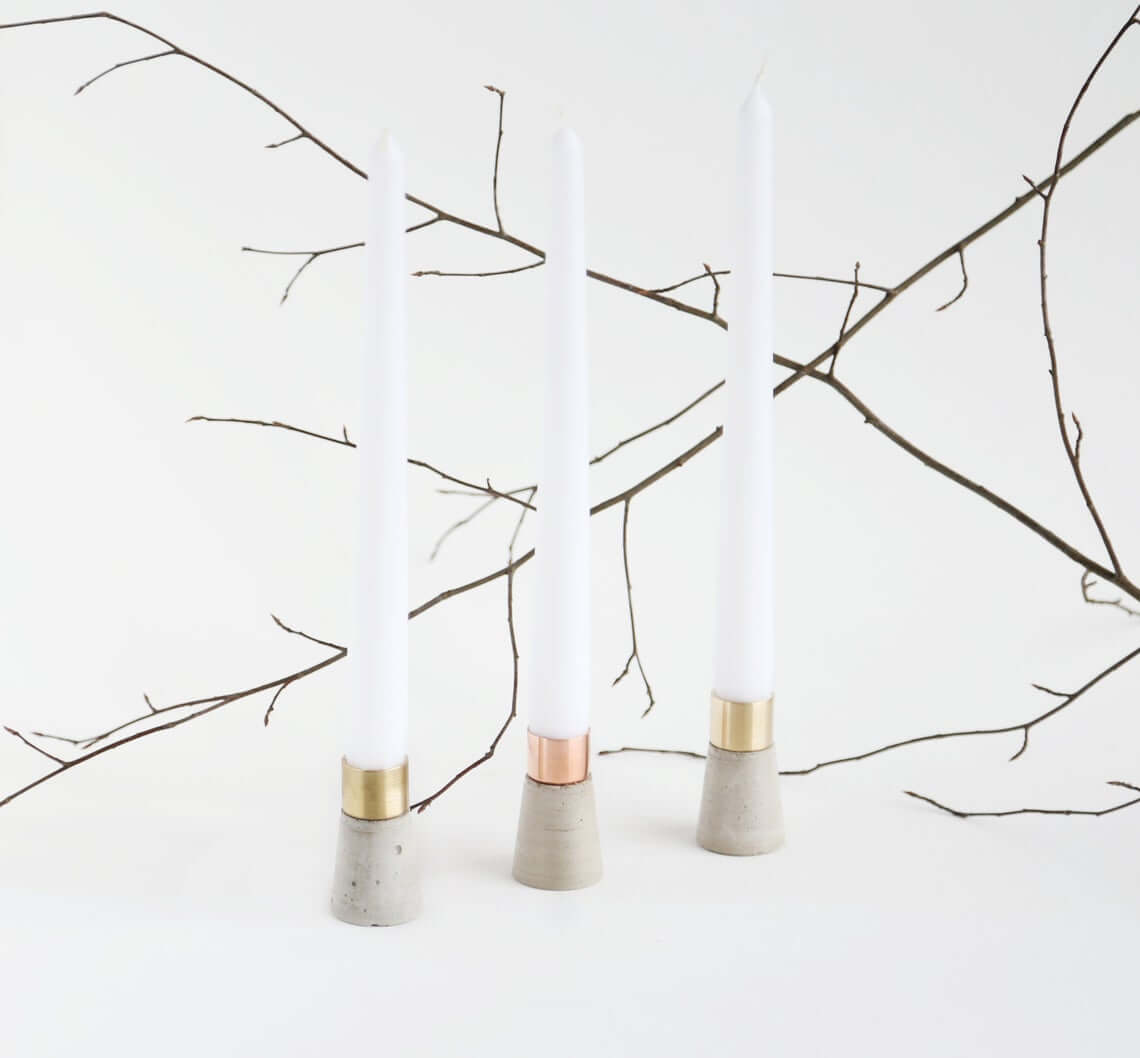 This candlestick is created by hand, using a handmade mold for the concrete. A brass piece is added to the top of the concrete for a bit of elegance and clearly a lovely juxtaposition. These are sold individually, so if you are looking for a set, be sure to order two. Because the concrete and brass are both considered neutral colors in home decor, these will look terrific with any color of the candle. These would make a stunning addition to a mantle scape or a tablescape. They look fantastic alone, but you could also surround them with greens.
15. Cement Bud Vase or Desk Organizer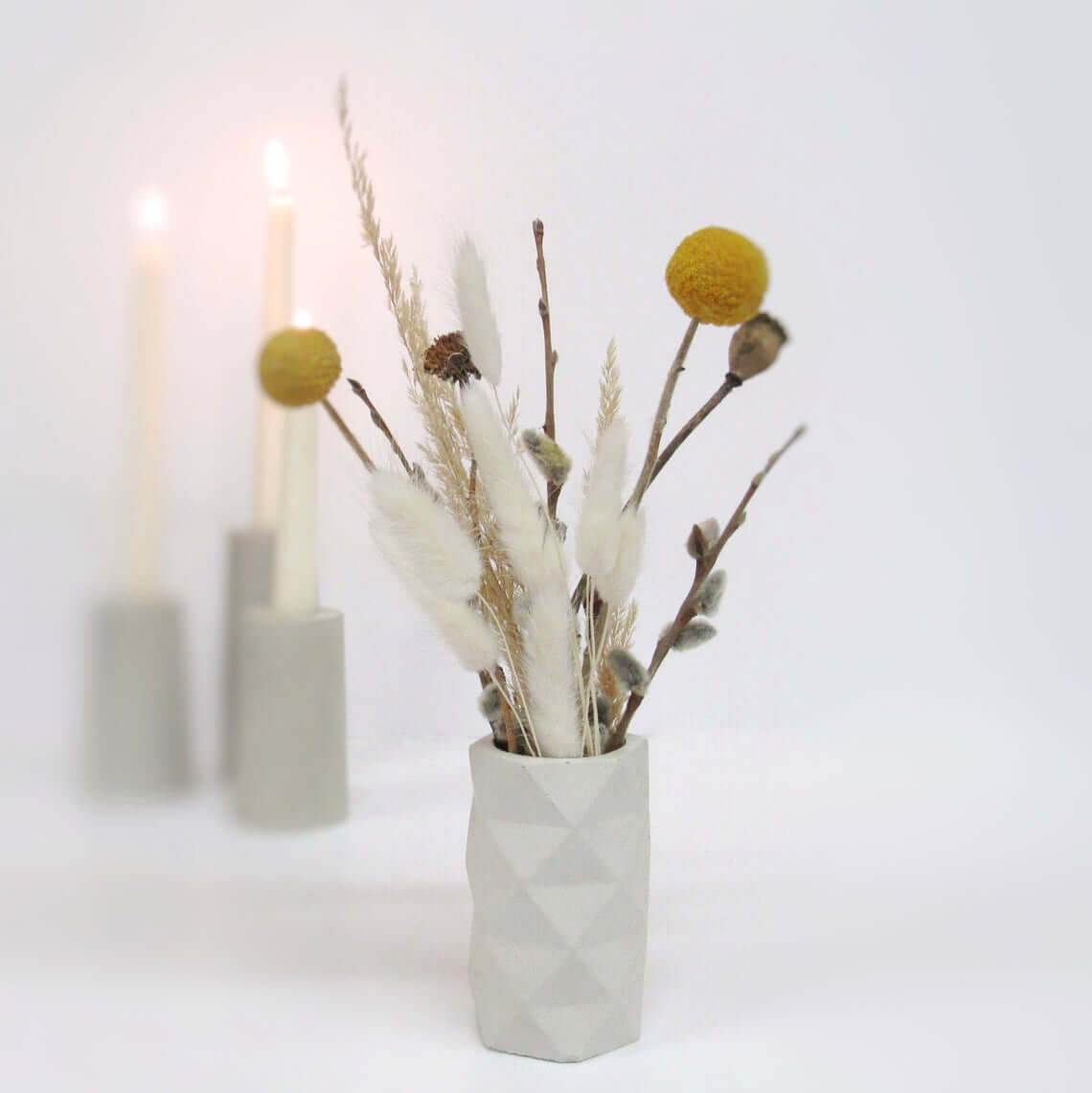 Whether you use this beautiful piece as a bud vase or as a pen holder, it will truly up-level your home decor style. It has a unique geometric pattern all the way around, rather than just a plain, cylindrical shape. The pattern causes light and shadows to have an interesting effect on the overall look and color of the vase. In addition to holding flowers or pens, this awesome piece would also work well for makeup brushes or paintbrushes. In the kitchen, it could hold straws. Totally stylish, this is one of the best modern concrete home decor ideas available today.
16. Glass Tumbler with Handmade Concrete Vase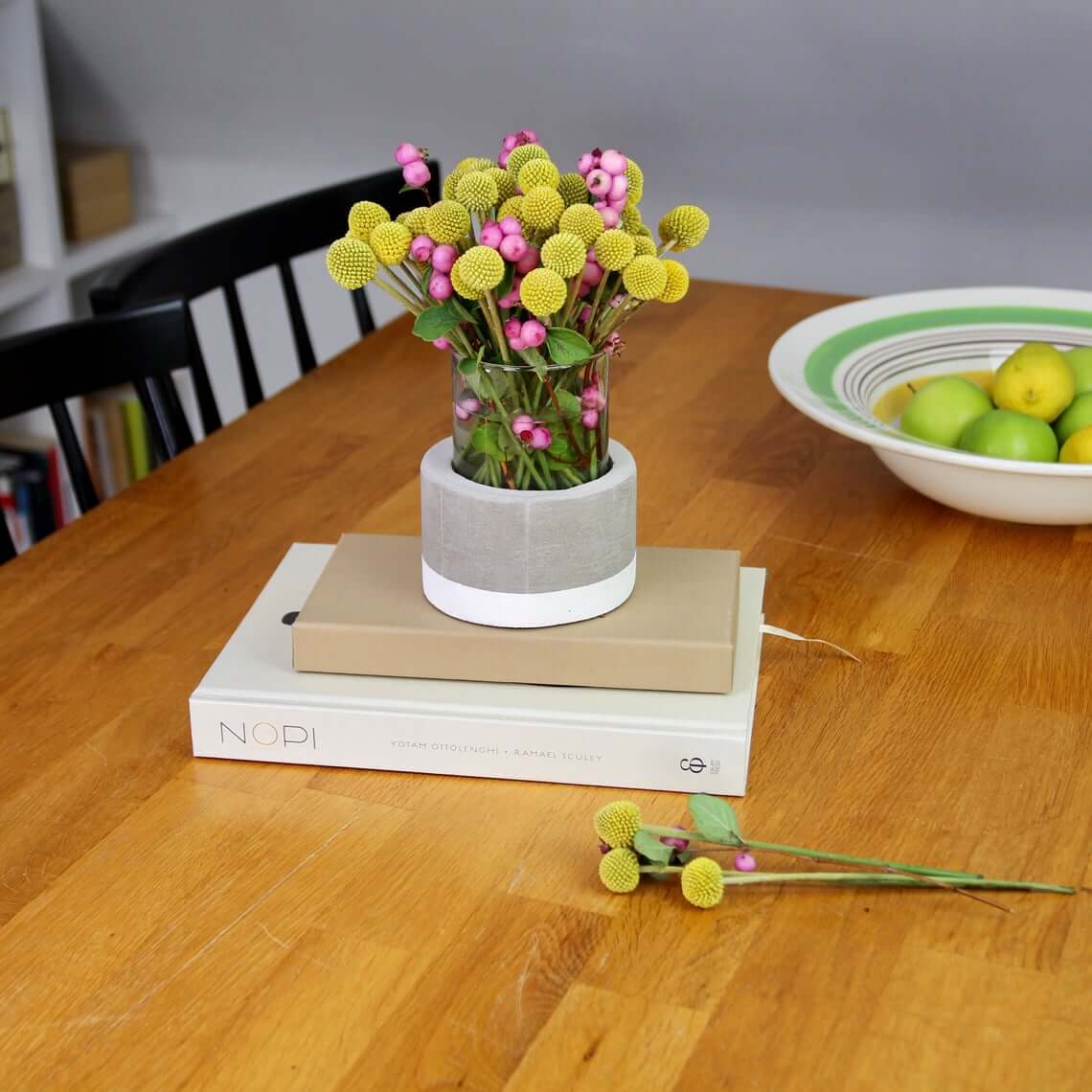 This glass tumbler is surrounded by a gorgeous concrete vase. The vase has a white stripe painted along the bottom, grounding it and adding interest. The vase is half the height of the glass so you can still see the beautiful glass as well. The delicate glass against the sturdy concrete creates a unique juxtaposition that makes this set one-of-a-kind. The glass tumbler is removable for easy cleaning. This is meant to be used as a flower vase, but it could be used to hold anything that you like. It will look fantastic in any room.
17. Stylish Three-Dimensional French Bulldog Picture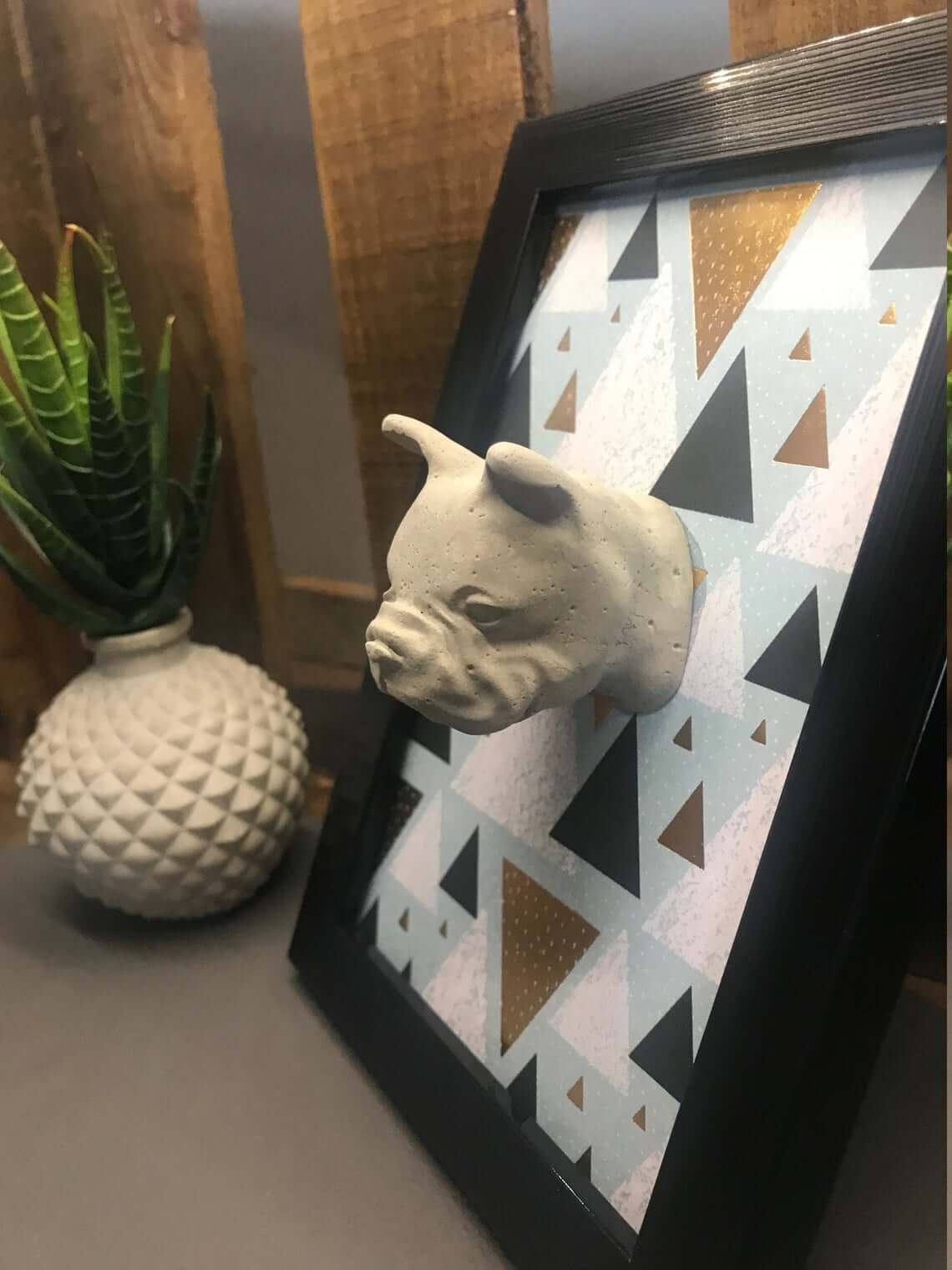 If you love dogs, then you must check out this cement French bulldog picture. The head is molded concrete and will definitely be a head-turner. It is mounted on a wooden background, painted light blue with a design of triangles in gold, black and white. It is then framed in plastic. The piece can be hung or can sit on a shelf. It looks fantastic as part of a mantle scape, along with some greenery, a vase, or some candles. With the neutral color palette, this cute doggie can be tucked into your existing decor to add a touch of trendy fun to your home.
18. Trendy Minimalistic Style Concrete Doorstop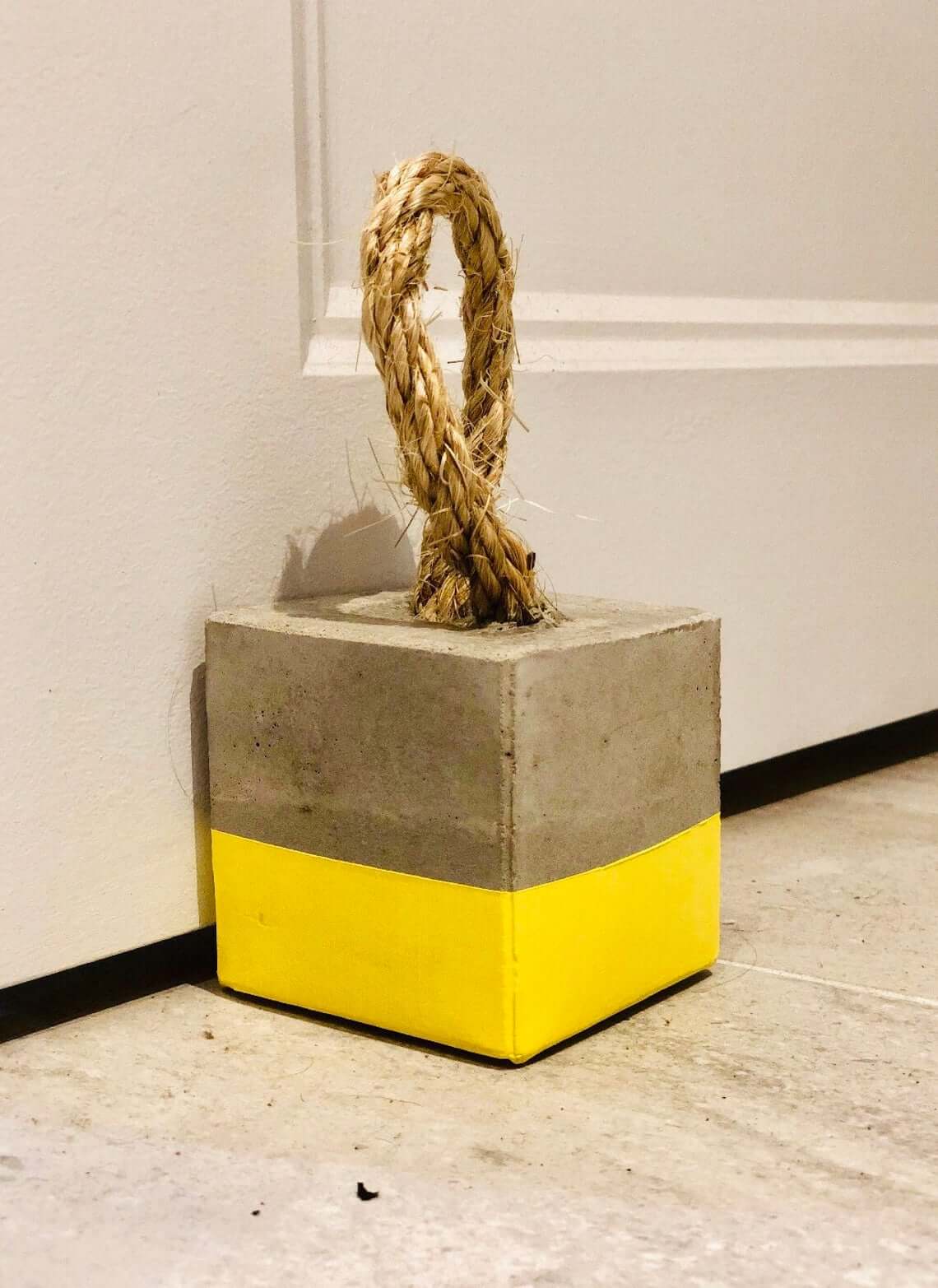 Doorstops are meant to carry out the simple purpose of keeping a door from moving, but that does not mean that they should be boring. They can be stylish as well, and this one surely has a modern, minimalistic style that will look great in any home. It is handmade and is made to order so that you can choose the color you want. Eleven different colors are available for the bottom half. A rope handle is added to make moving the doorstop easy. Since this piece is only three inches square, it could also be used as a bookend or a paperweight.
19. Star Cutout Cement Planter with Macrame Hanger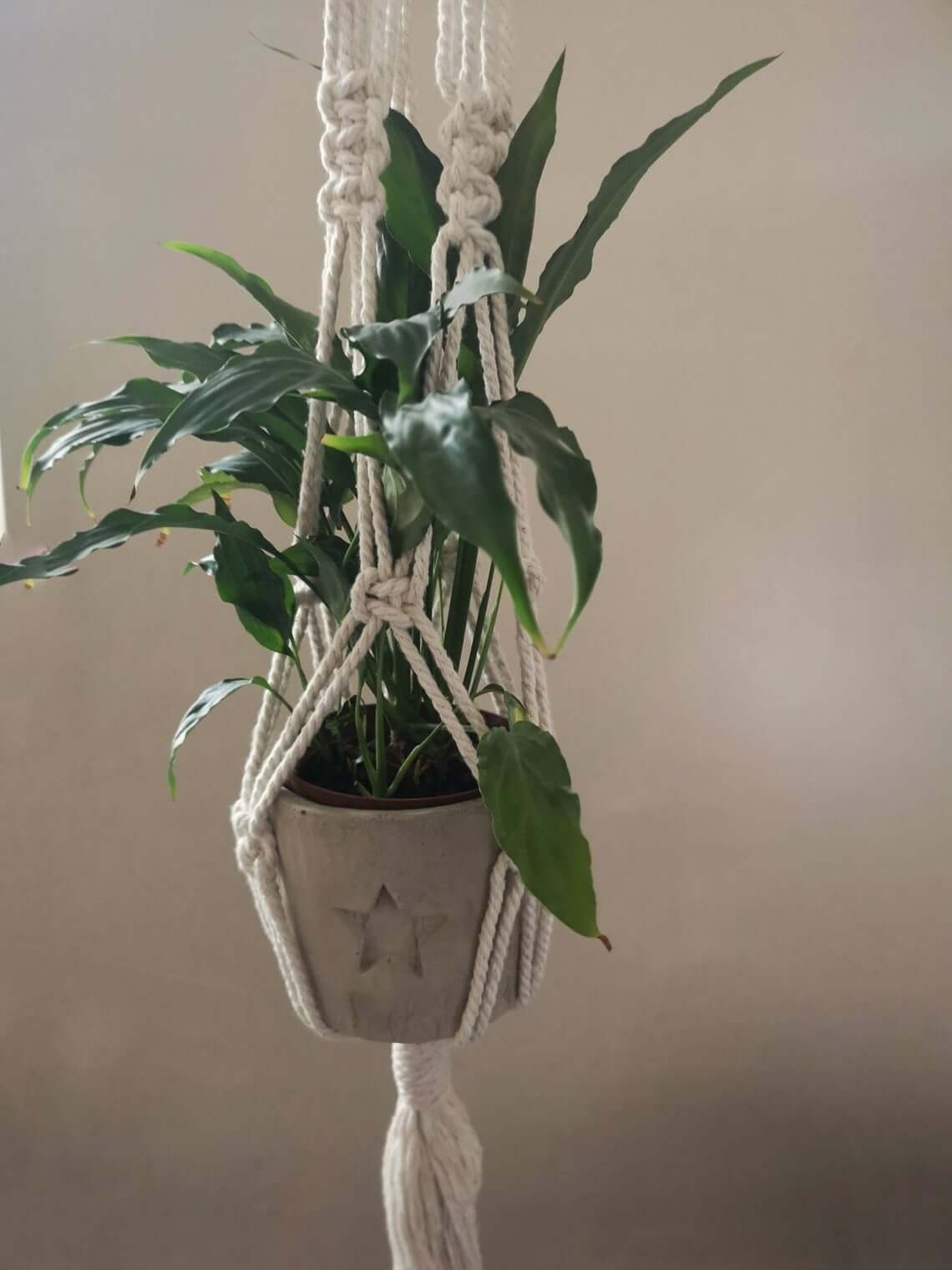 This cool flower pot is molded in concrete and has an adorable star cutout. It sits in a beautifully handmade, macrame plant holder. You can purchase it with a grey-colored pot or a cream-colored pot. The cord for the macrame hanger is off-white ecru. These neutral colors will look amazing anywhere in your home. They will blend perfectly with an existing color-scheme that you are using for your home decorations. These would be terrific additions to a sunroom or a screened-in porch. The pot is sealed and a cork base has been added to protect surfaces that it may touch.
20. Set of Three Concrete Spheres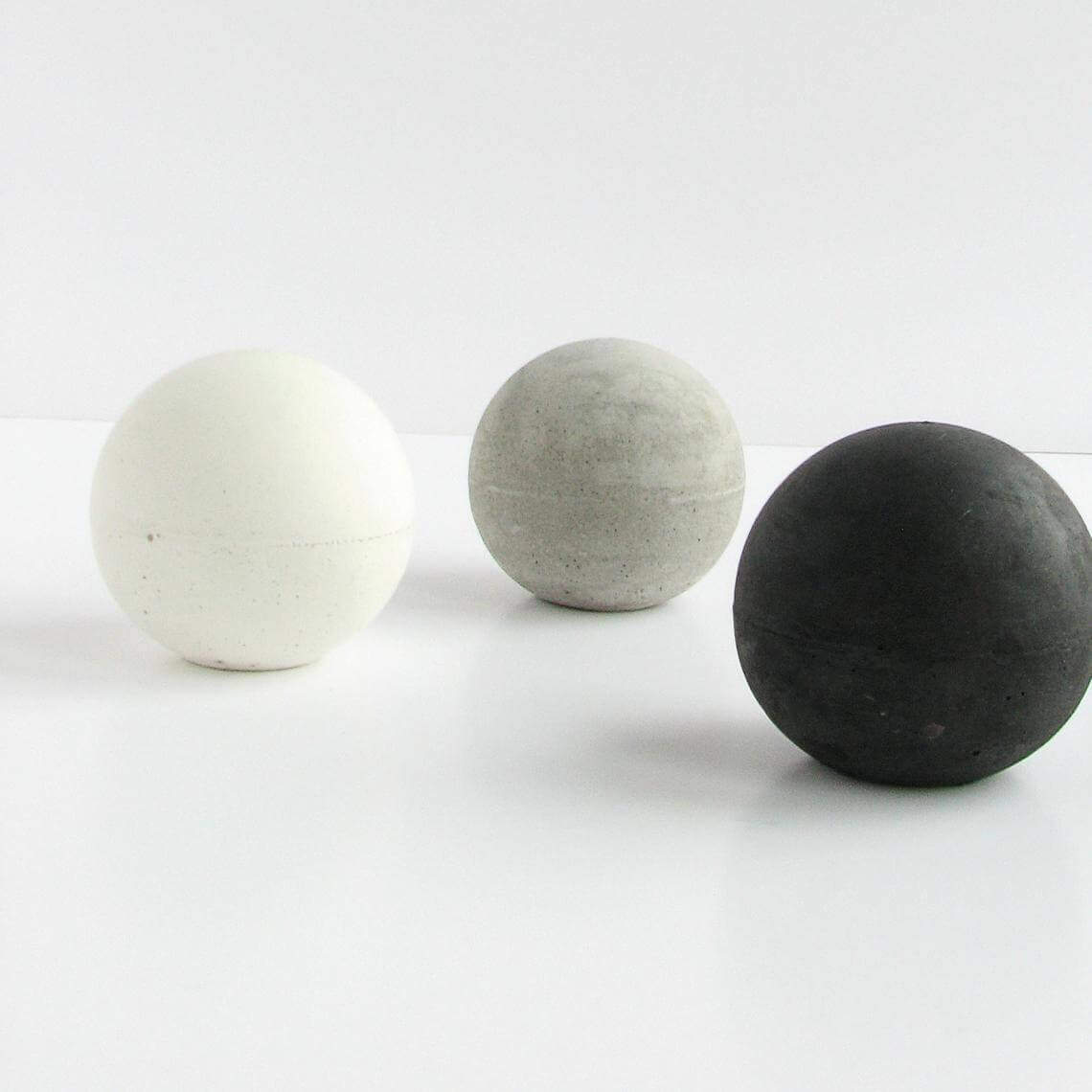 This set of spheres shows off a minimalistic design at its finest. Each ball is two and a half inches wide, tall and deep. This set includes one white, one grey and one black sphere. They look fantastic on decorative trays. They can also be tucked in around existing decor. Add some to your shelves, mantle or dining room table for a little spark of geometric interest. These also make nice planter decorations. You can rest them right on top of the soil of your potted plants, near the edge where they can be seen easily.
21. Mix and Match Concrete Wall Hooks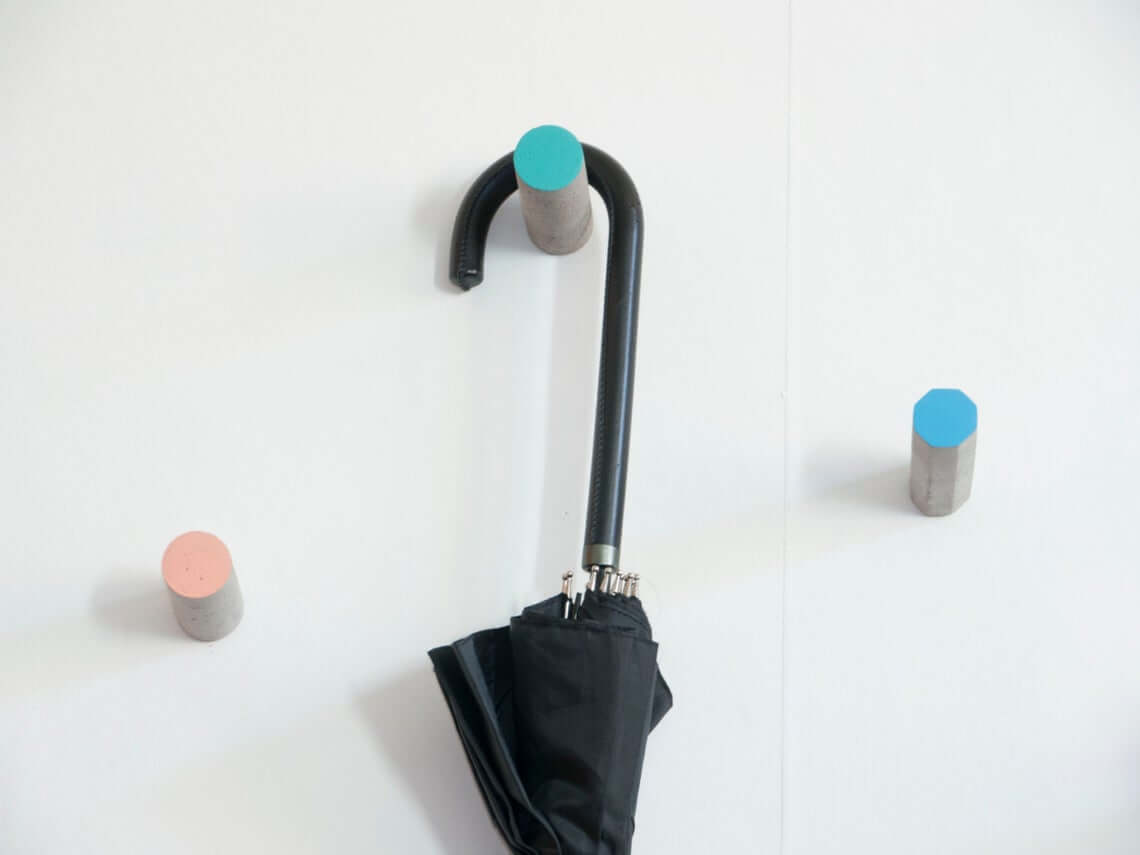 You get to mix and match your own colors for this set of three concrete hooks. They are very sleek and modern and consist of a simple cylinder with a painted end. Choose from ten different colors or a combination of colors. The mounting hardware and instructions are both included with the hooks. The hooks are handmade in custom-made molds, using a concrete mix that the designer also makes. They are sanded and sealed with a waterproofing sealer. These would be best for hanging bags, coats, towels, bathrobes, or decor items like dream catchers and signs.
22. Handmade Incense Holder from Concrete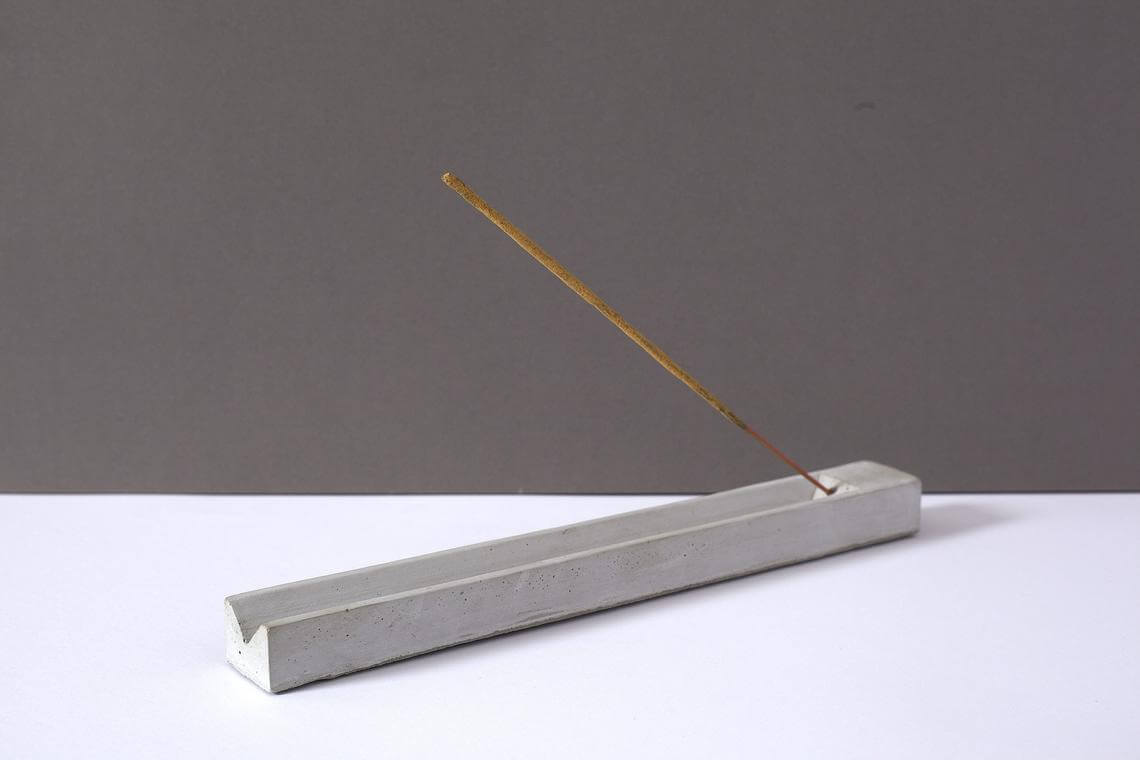 This awesome idea is perfect for your incense. The concrete is heavy, so you will never have to worry about it getting knocked off of a table while burning incense. The sleek design is simple and minimalistic. Because of the neutral-colored concrete, it will look great in any room of your home. It will match any decor that you already have as well. The holder is twenty-five and a half centimeters long and three centimeters wide. It stands two centimeters tall. It is certainly sized well to fit all of your incense-burning needs.
23. Concrete Minimalist Star Ornament Decoration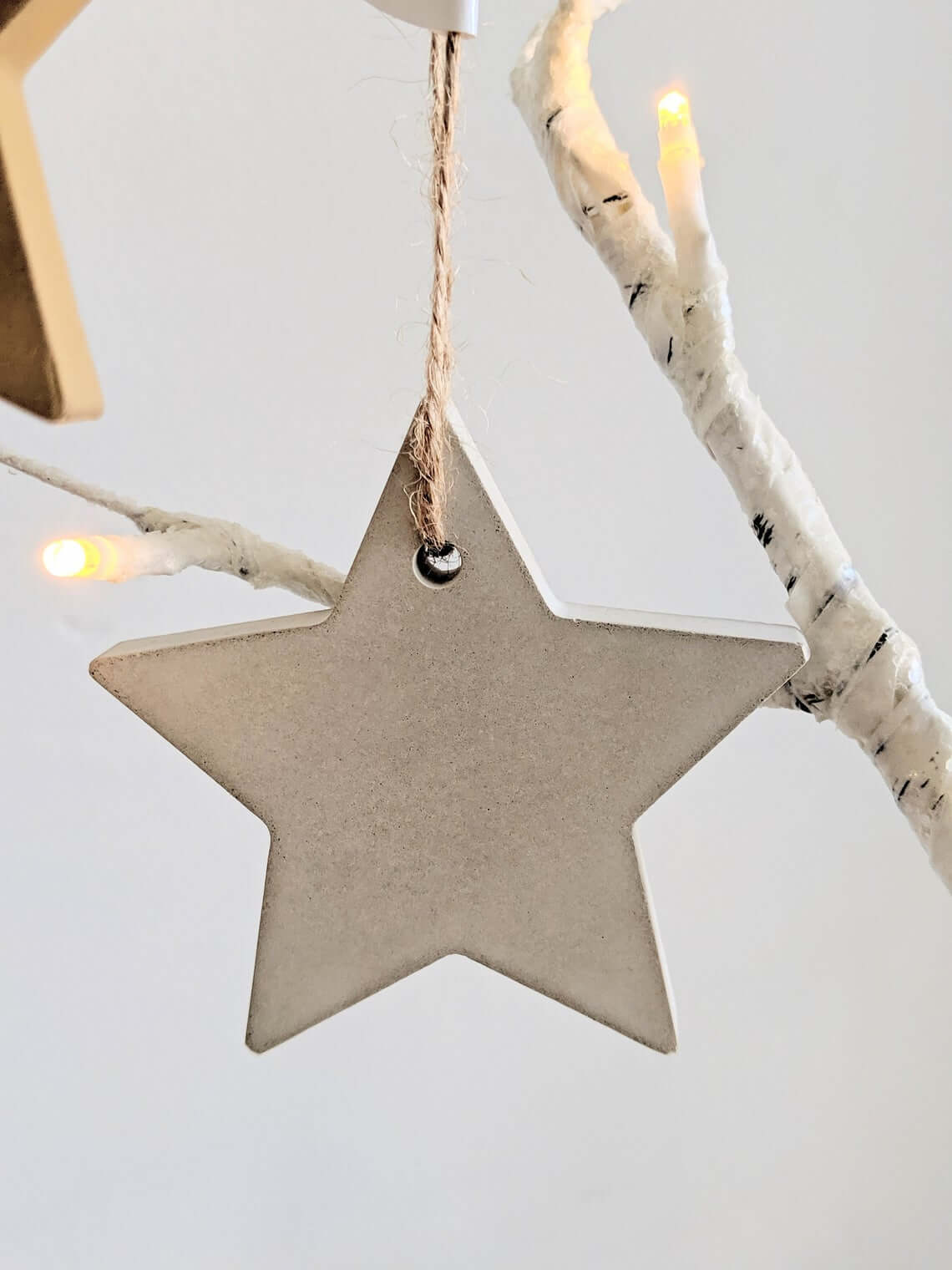 These star ornaments are simply adorable. At two and a half inches tall, they are just the right size to use on a holiday tree, but they also have many other uses. They would look nice on a wreath or tucked into a centerpiece on a table. They look fantastic hanging from knobs on kitchen cupboards as well. Available in seven different colors, this concrete decor is unique because the pigment is worked into the concrete, rather than being painted on afterward. The effect is a beautiful ornament that shows off the concrete texture nicely.
24. Concrete Pumpkin Fall Decor Set
Show your modern decorating style with this set of three cute pumpkins. They are about three inches in diameter and stand about two inches tall. They are the best size for using on a mantle scape or in a centerpiece. They even look awesome just sitting on a shelf or an end table. The set comes with one each of black, grey, and white. You can also purchase all three in one of those colors. If you prefer other colors, you can message the artist to put in a custom color request. Each pumpkin is hand-poured. It is then polished and sealed.
25. Concrete Candle Holder for Tea Lights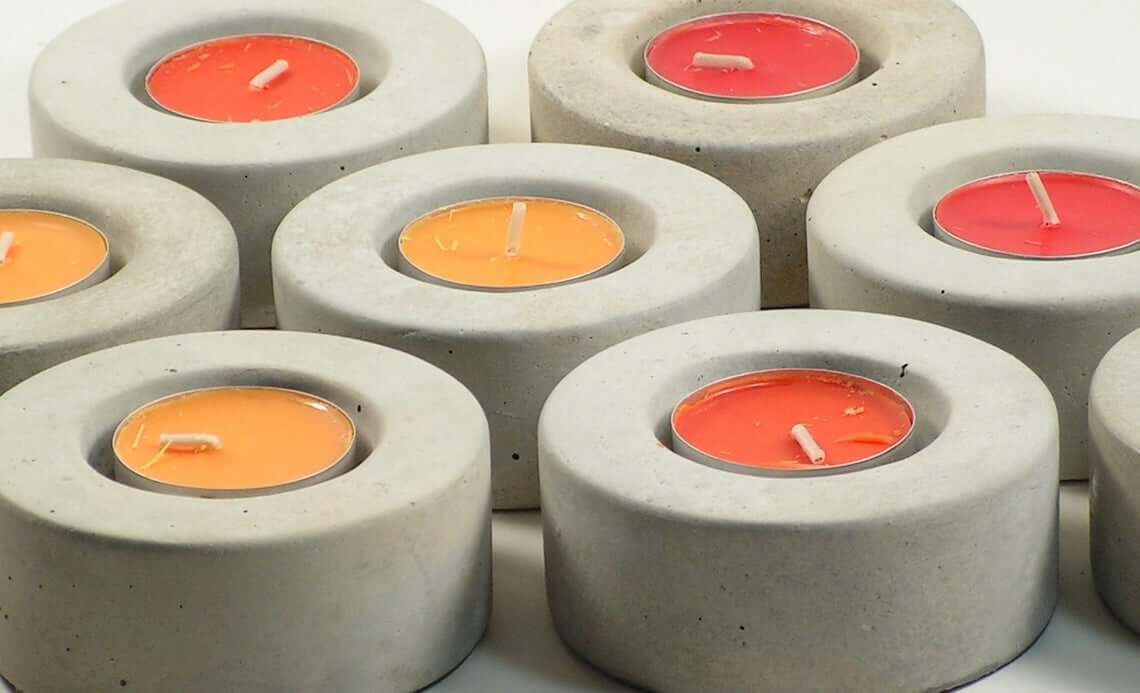 This set of four candle holders will be a hit at your next party. They are the exact size needed for holding tea lights. They are left a natural cement gray, so the color of the tea light truly shines. These are awesome ideas for decorating for a baby shower or wedding shower. They would also look nice on the deck for a pool party. For a minimalistic mantle, simply line up the set across the top and light each one for a beautiful, yet simple glow. Each candle holder is sealed with a natural-looking sealer and also has a felt pad on the bottom.
26. Rectangular Decorative Tray in Concrete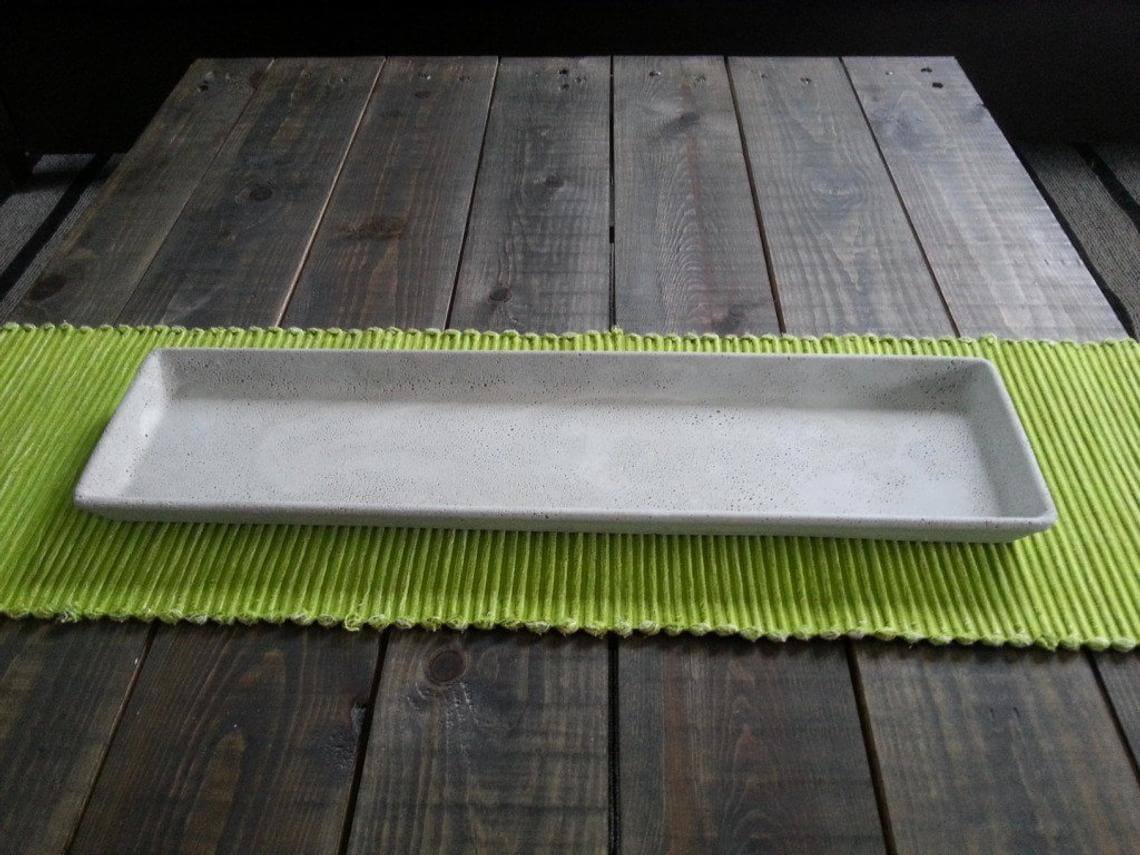 Available in four different colors to meet your style needs, this decorative tray will show off your decorations in style. It is suitable for knick-knacks, plants, and geometric concrete decor items. It could also be used to hold makeup, perfume bottles, or jewelry. It could even be used as a serving tray for appetizers. Each tray is handmade and is finished with a high-quality treatment to protect the surface from any moisture so you will not have to worry about plant water or spilled drinks. This tray is the perfect accessory for your decorative and dining needs.
27. Hexagon Concrete Coasters with Rose Gold Detail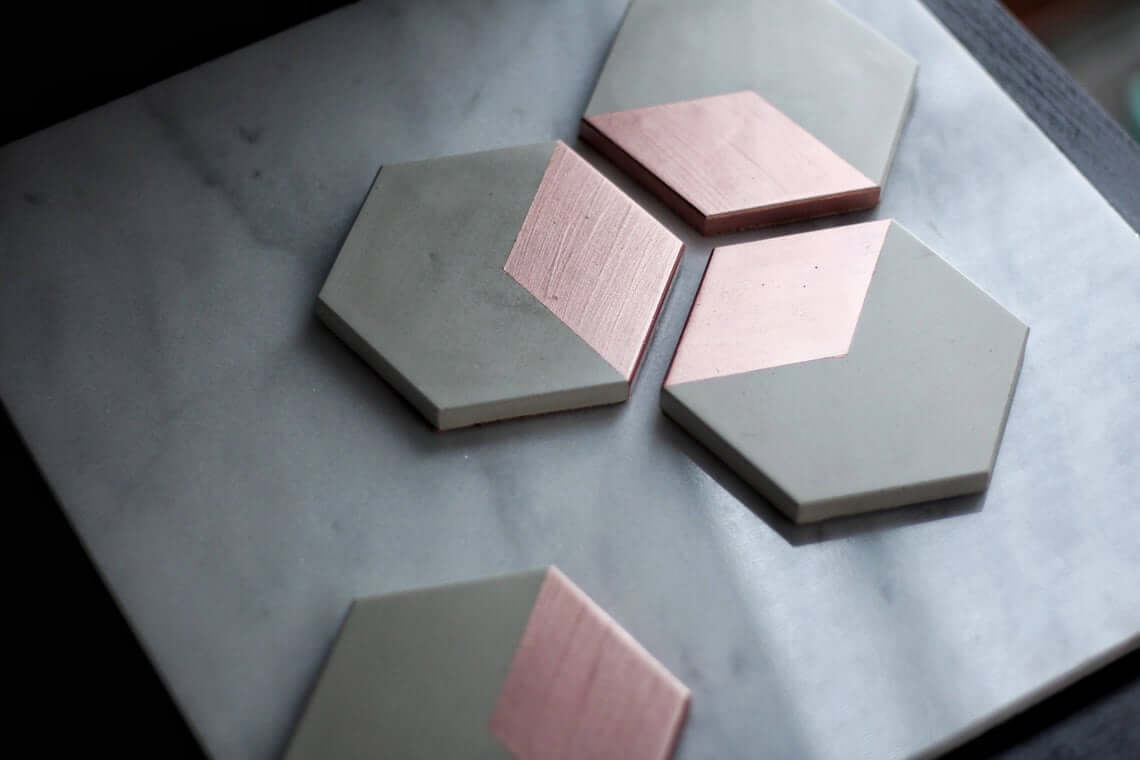 This gorgeous set of coasters truly looks stunning together. The artist had an awesome idea to paint one-third of each coaster in rose gold, and the rose gold section on each creates a hexagon when they are pushed together. It is simple, yet it looks so stunning. They can certainly be used apart, but they look amazing together just as a decoration. Each one is hand-poured and sanded. After being painted, they are sealed and a cork bottom is added to protect surfaces. These would look nice on a coffee table, an end table or as a centerpiece on a dining table.
28. Decorative Concrete Heart Shaped Candle Mold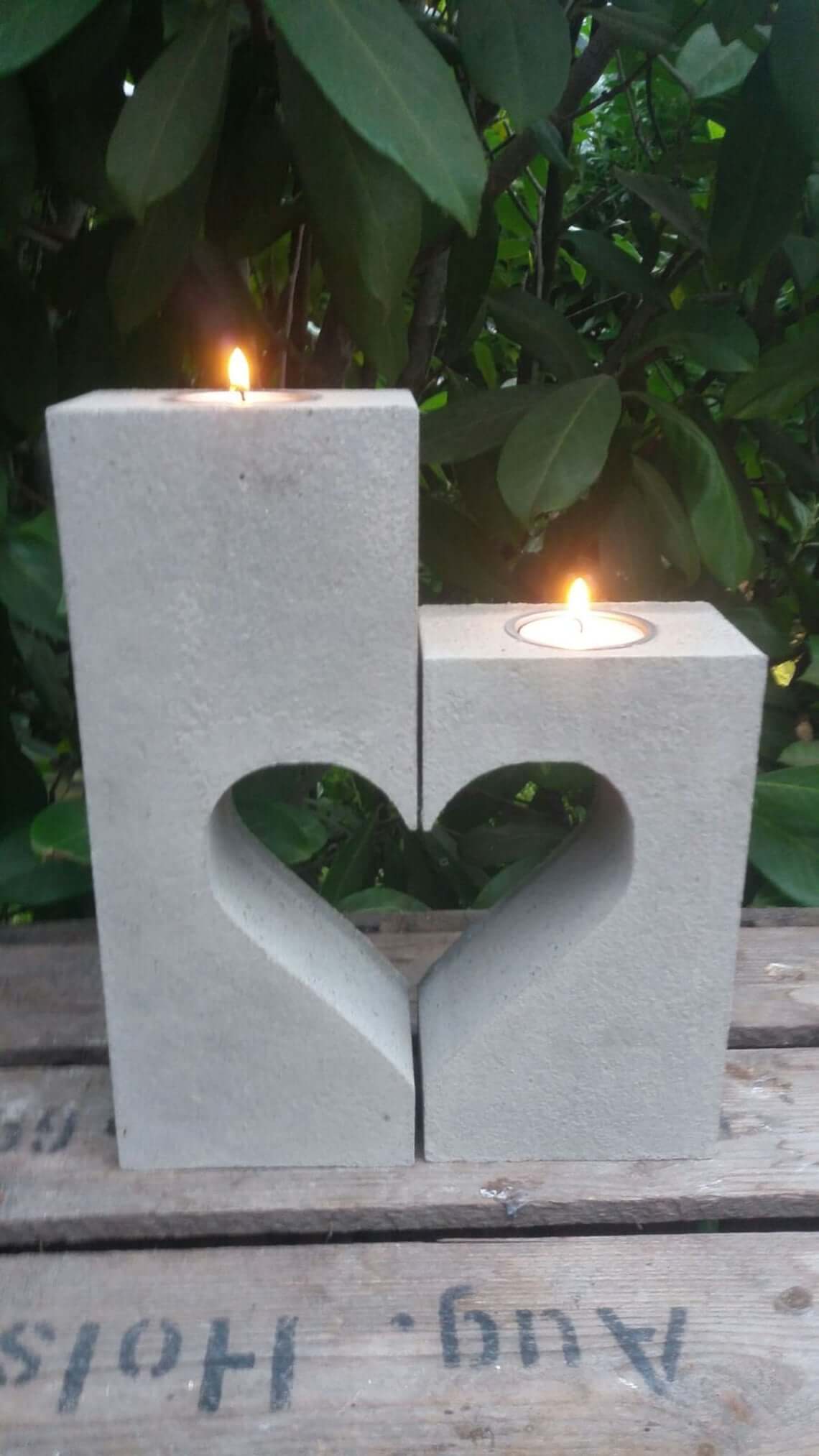 This is one of the best modern concrete home decor ideas available today. Two separate candle holders, at two different heights, each have half of a heart shape cut out on one side. When pushed together, you can see the whole heart. The top of each one has an inlay to hold a tea light. The two different heights create a lot of interest without over-complicating the style, so it is still just right for minimalistic decor style. This listing is to purchase the mold to make your own set. Instructions are included, so you can learn to make it yourself with ease.
29. Octagon Shaped or Cylinder Shaped Wall Hooks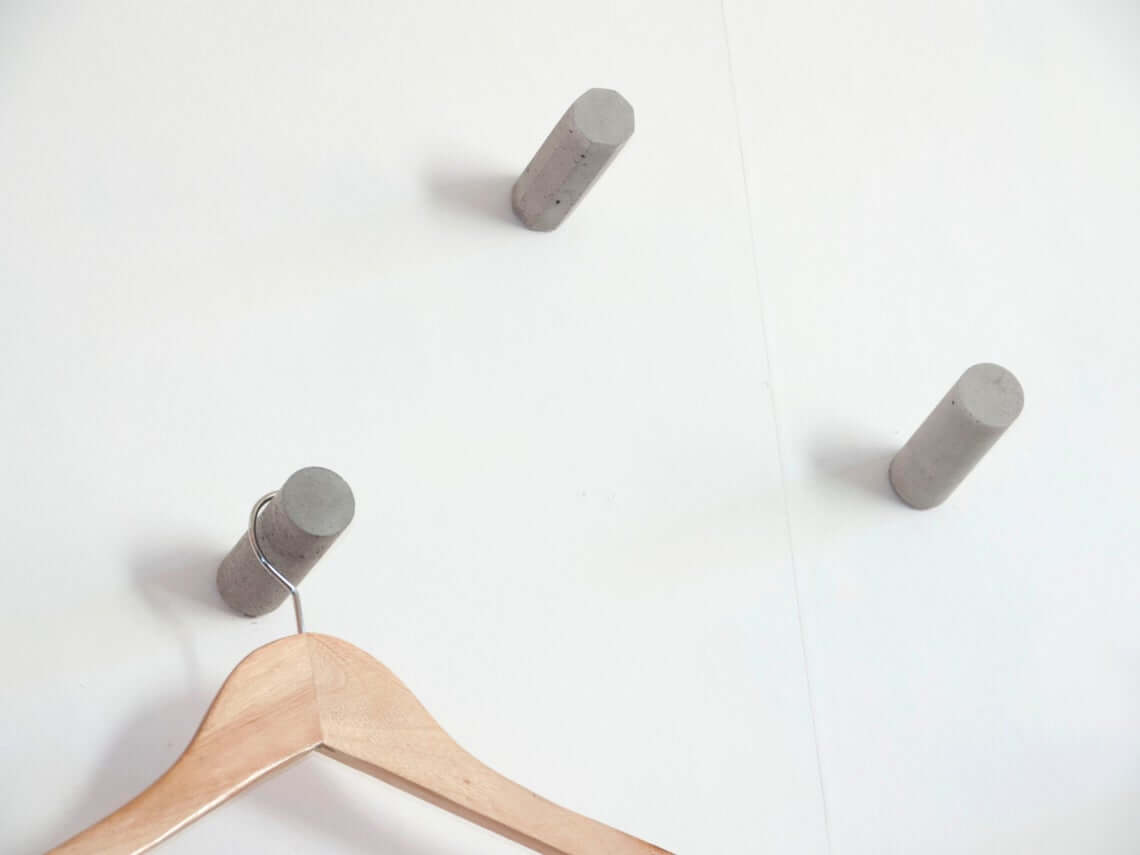 These cool, minimalistic wall hooks are available in either octagon shapes or cylinder shapes. The end of each is painted in one of ten colors of your choosing. You can also choose a mix of the colors and shapes if you prefer. You receive three in order. The artist has created a concrete mixture that leaves a super smooth finish so that your towels or clothing will not snag when hung on the hooks. These hooks also work well for hanging decorations that hang from a string. The hook then becomes part of the decor.
30. Elegant Simple Concrete Window Sill Planter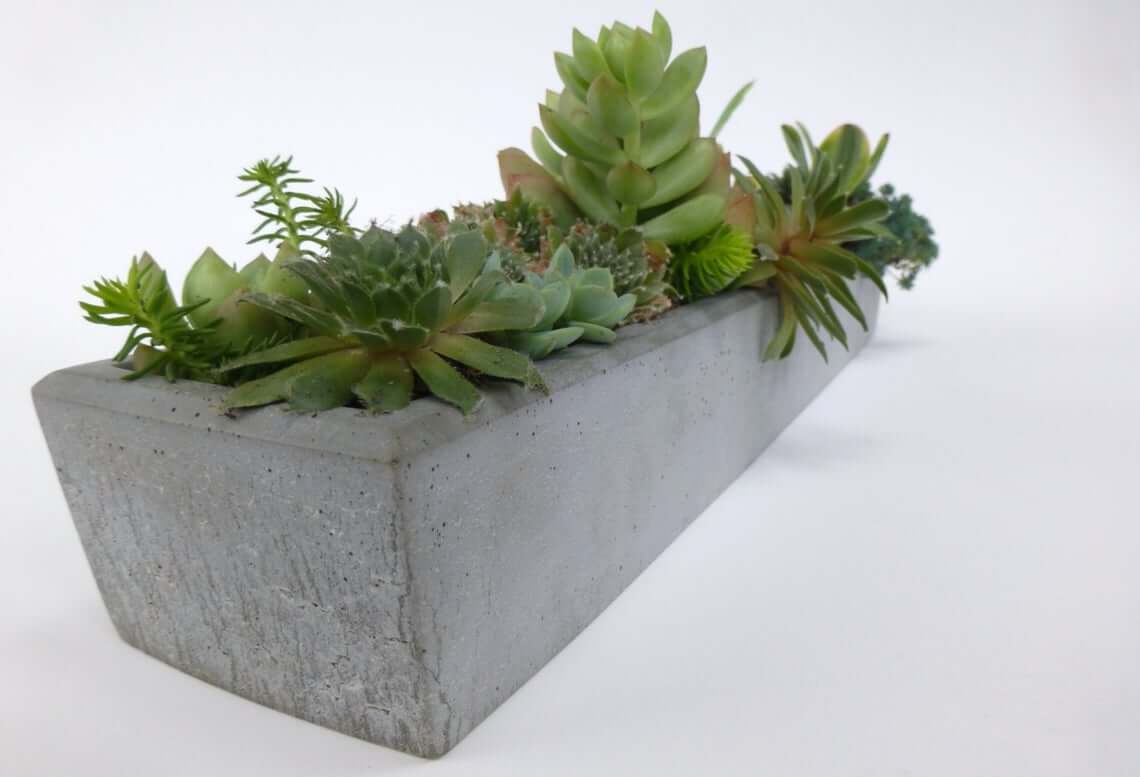 This trough-style planter is designed to sit on a window sill, but it would also look fantastic as a centerpiece on a dining table or on a mantle. It is perfect for smaller plants and succulents. The planter is available in four different colors including white, light grey, grey, and charcoal. The top has a beveled edge and the ends are slightly angled to give the planter an elegant look. It is twenty inches long, three and a half inches wide, and two and a half inches tall. It could also be used on a counter in the bathroom for small items.
30 Modern Concrete Home Decor Ideas to Show Your Minimalistic Style
Concrete home decor items are unique and beautiful. There are many ways to incorporate concrete into the decorations that you already have. You can add a touch here and there with smaller items such as succulent planters, tea light holders, or spheres. You can also bring it in, in a much bigger way, with items such as the wall clock or the three-dimensional French bulldog picture. However you choose to add concrete to your home, you will definitely be a trend-setter.
How will you get started with concrete home decor? Maybe choose one room, to begin with, and go from there. In the office, you could add gold-dipped letters to spell out your business name. You could add a concrete lighting fixture or a concrete table lamp. Bookends and paperweights are also perfect for the office. Maybe you could begin with the dining room. Include a tray for the table centerpiece with some plants on it or perhaps an oil and vinegar set. Be sure to add candlestick holders and maybe some planters.
Once you get started decorating with concrete home decor items, you will want to include every room in your home. Keep the inspiration going.