When decorating a home or office in contemporary or modern styles, you need to know the best modern furniture stores online as much for ideas as for shopping. Visiting online stores provides the virtual equivalent of window shopping with the added benefit of no salespeople pressuring you. You can develop your ideas, build mood boards, peruse blogs, and register for mailing lists that can earn you a significant discount on your first purchase. These fifteen online furniture store websites offer the widest selection of cool and unique furniture and home accessories, so you can find the perfect headboard from home or wall art to make a great housewarming gift.
15 Online Stores for Finding the Best Looking Modern Furniture

1. Blu Dot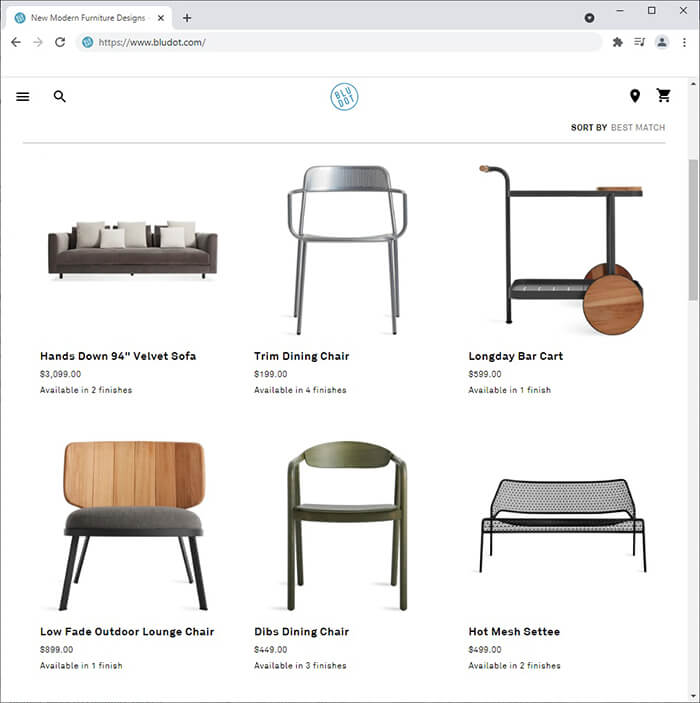 See website: bludot.com
Established in 1997 by three architecture buddies, Charlie Lazor, Maurice Blanks, and John Christakos, Blu Dot caters to the minimalist decorator. Whether you need to decorate your living room, bedroom, outdoor spaces, child's room, dining room, or office, you can find it here. From linen or leather couches to round acacia side tables, you will find it at Blu Dot. It also carries accessories including rugs, bed frames, art, and lamps. A separate lighting section provides a selection of fixtures ideal for modern décor. The store also offers an outlet, so you can nab deals on items that have almost sold out or did not sell as intended.
2. Inmod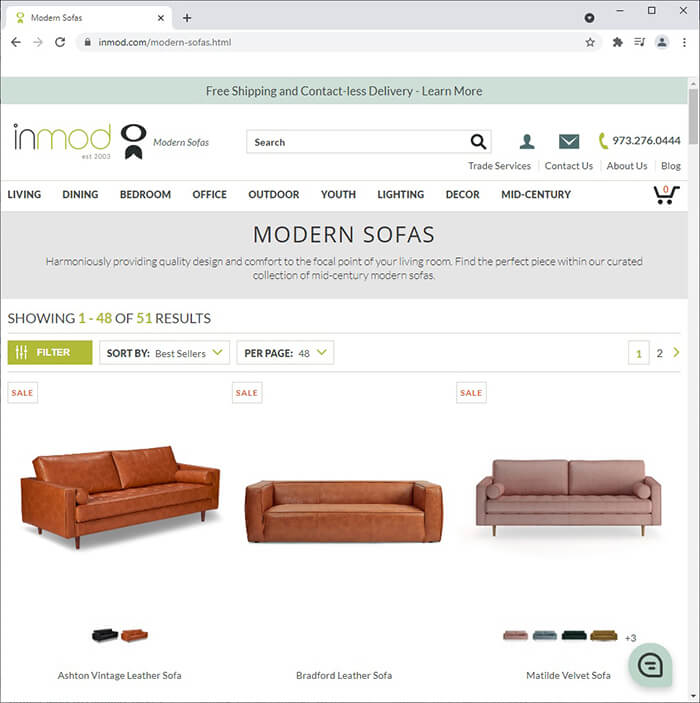 See website: inmod.com
Find your modern décor at InMod. Shop this online shop for modern furniture if you favor mesh, upholstery, modern, metal, and furniture resembling sculpture. You can snap up a velvet or micro tweed sofa in the Danish style. You can find pieces for your living room, bedroom, outdoor spaces, child's room, dining room, or office at InMod. You can also find a boutique within the store that specializes in Mid-Century pieces. If you want to re-create the interiors of the 1950s and 1960s, you can. It offers buffets, sideboards, lounge chairs, and sturdy round dining tables to give you the set of "Leave It to Beaver" in your home.
3. Modloft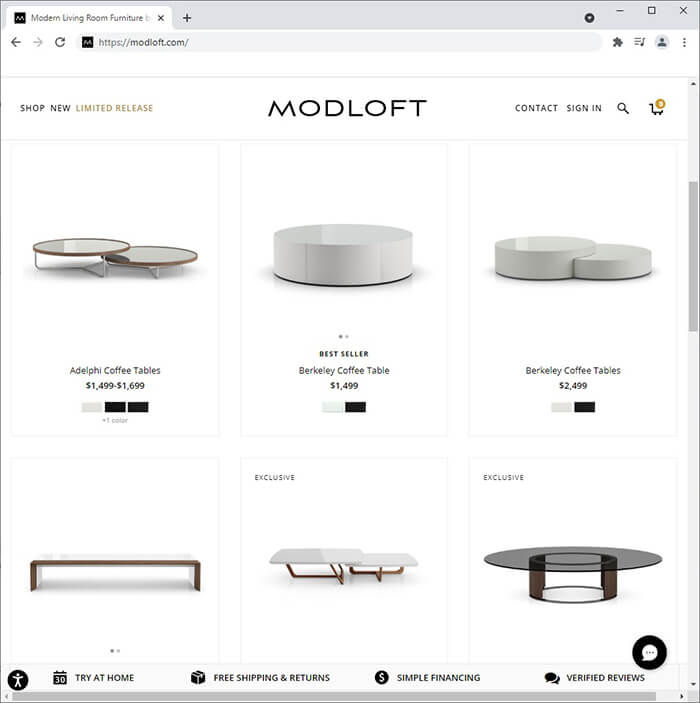 See website: modloft.com
Decorate with concept furniture. If you aren't sure what that means to you, no worries. The Modloft folks offer a 30-day risk-free, in-home trial. The modern options in this shop include a white marble-topped table with a black glass base and polished stainless steel frame. While you can find items for every room in the home plus your outdoor entertainment areas, Modloft also carries items for recreation. That means ping pong tables in two different finishes plus custom paddles. Crush the competition in style as the purveyors of these fine furnishings advise.
4. Cantoni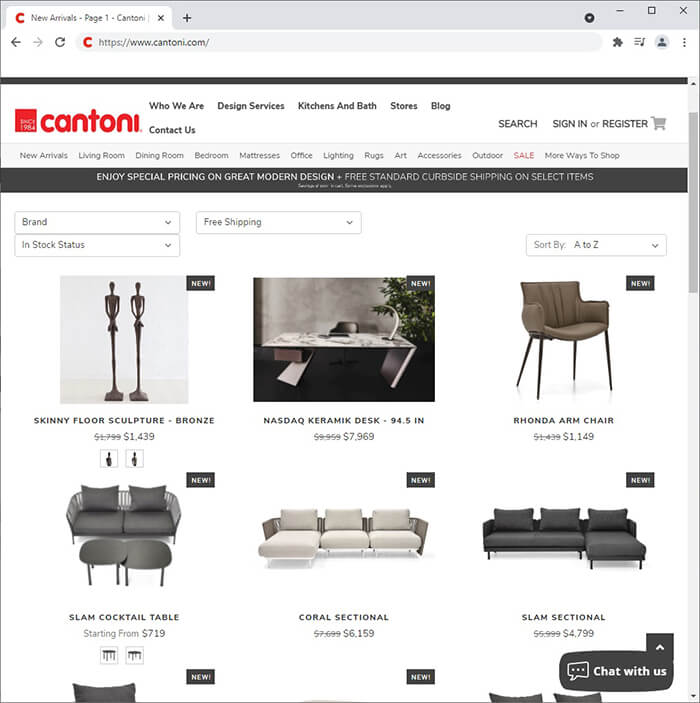 See website: cantoni.com
At first blush, you will probably find the contemporary choices at Cantoni similar to those at Modloft and Blu Dot but persevere. Two things make this story very different — its collection of organic wood artwork and its local stores. Most of the other online furniture store websites in this buying guide ship but Cantoni has stores in California, Georgia, and Texas. The breathtaking notion of this fact is that you can sit on it before you purchase it. You can touch it and feel the weight of the fabric plus its softness. This proves helpful when you consider one of the organic artwork furniture pieces, especially since you cannot tell by looking if a chaise lounge or bench carved from exotic wood makes a comfortable place to sit.
5. Apt2B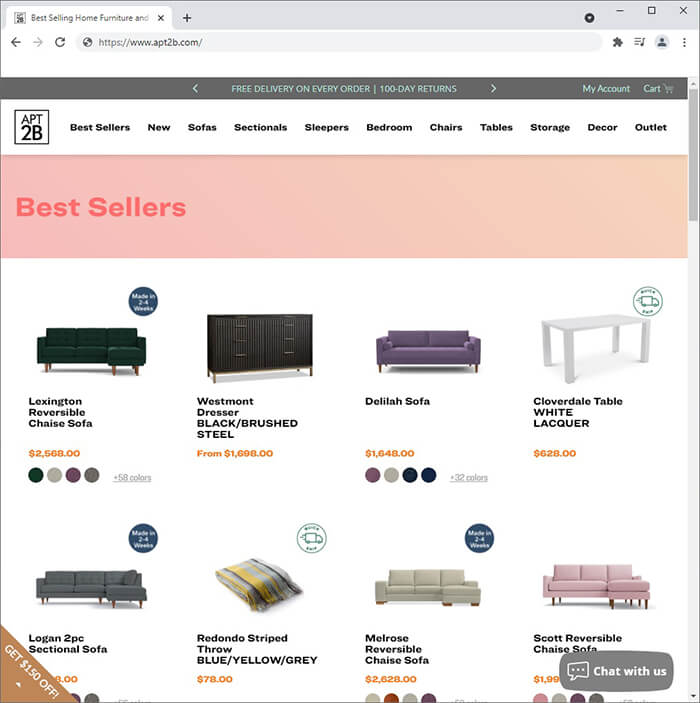 See website: apt2b.com
Shop Apt2B if you decorate in retro Mid-Century and always wished that your grandma's tufted couch could also turn into a recliner. Tweed headboard? Check. Hot pink sofa? Check. Tiny retro square side table of wood barely big enough for a fruit bowl and water glass. Check. This store has your whole house covered plus it specializes in sectionals. If you have had a tough time finding a contemporary or modern sleeper sofa, shop here. Besides their beautifully quirky selection, this is one of the few stores that offer storage solutions. You can also find an outlet boutique to pick up something on clearance. Another item that sets them apart is the made in the USA accent chairs boutique which puts them on the list of the best modern furniture stores online.
6. LA Furniture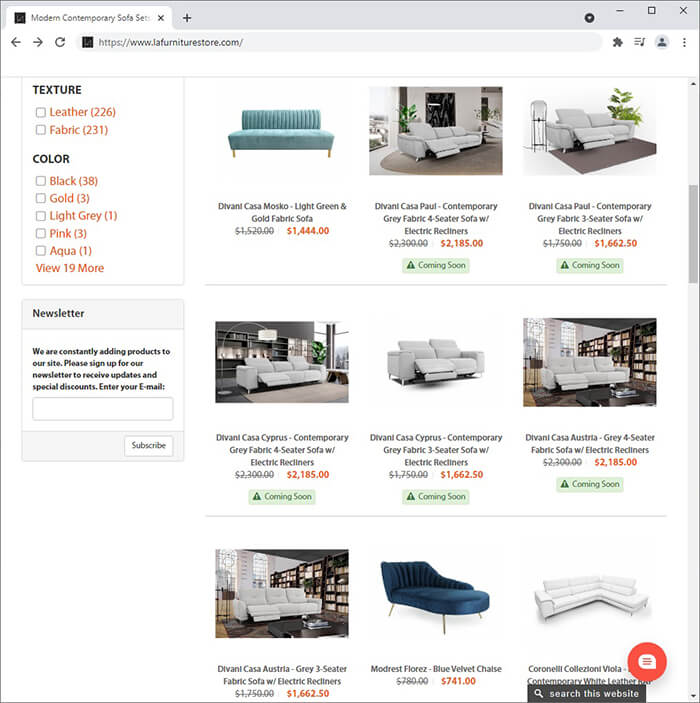 See website: lafurniturestore.com
Take a cue from the LA in the title because this store loves its recliner couches in ultra-modern design. Choose from light grey, black, or contemporary gray which resembles a white couch under blue light. Whether you favor fabric or leather, LA Furniture has it. Their selection of mirrors and dining tables sets them apart. The extendable glass dining table looks like no piece seen in any of the other stores. Check out their unique collections to find a special selection from Italian designers. From rugs to seating, if you want to create an Italian homage room in your home, LA Furniture provides the starting place in the US.
7. Allmodern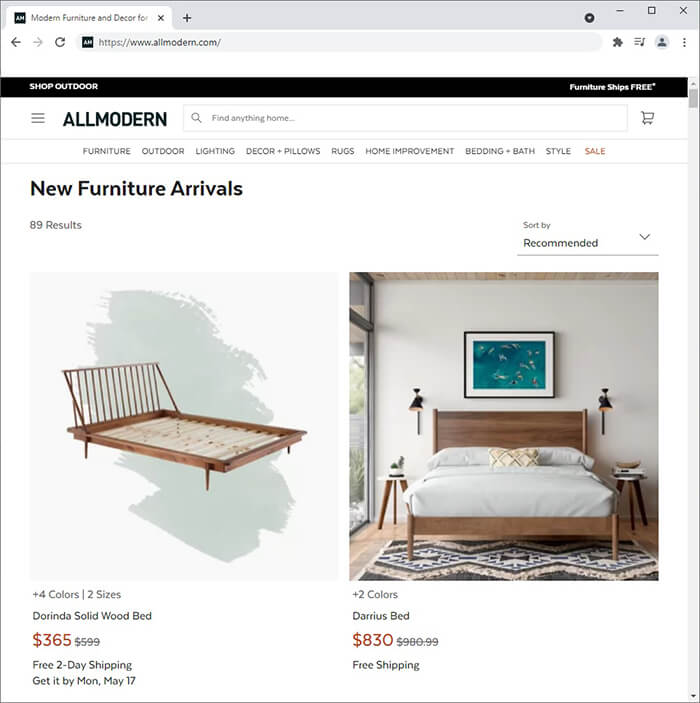 See website: allmodern.com
Yes, Allmodern covers all the same rooms the other stores do, but it adds a section for pillows and home improvement. You can buy the bedframe here and the pillows and throws to match at this online shop for modern furniture. The other guys only offer furniture and artwork. You can also find poufs. That's the interior designer word for bean bag chairs made from luxury fabric. You could find a silver, leather pouf from Nathan to use as a seat or ottoman or a Hamrick square leather pouf in six colors. The comfy jute choices also offer a mini-rainbow of hues. Allmodern offers free shipping on many items and that, too, differentiates it from most furniture stores.
8. Structube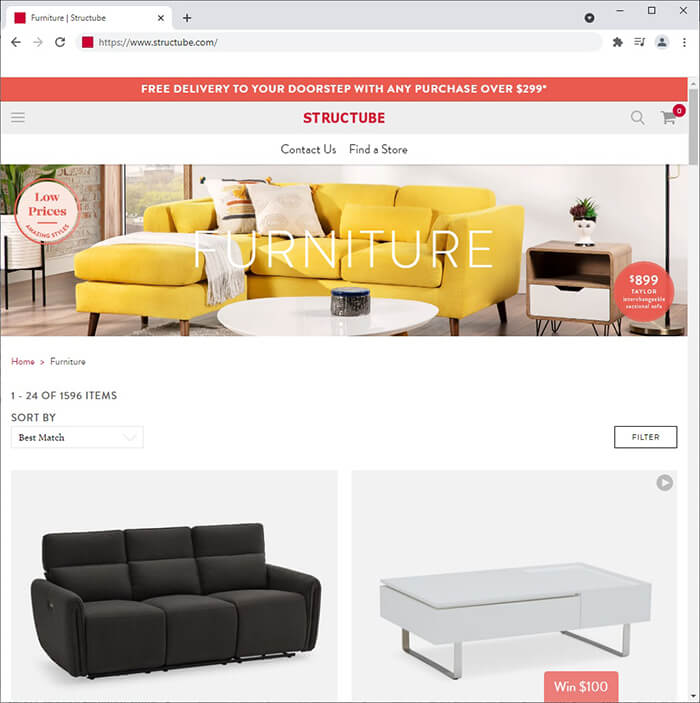 See website: structube.com
Stop by the Structube website to decorate your home office. It offers an expansive selection of office desks, chairs, file cabinets, and bookcases. They carry furniture for other rooms of the home but specialize in offices. Shop here first if you live on a tight budget because they have a boutique for those on a "small budget" and, yes, that is the title of the boutique. This shop also offers open-box discounts, another rarity. You can find ongoing sales, plus they have brick-and-mortar stores. Based in Canada, if you reside in either Ontario, Quebec or Nova Scotia, you have a store near you.
9. Gus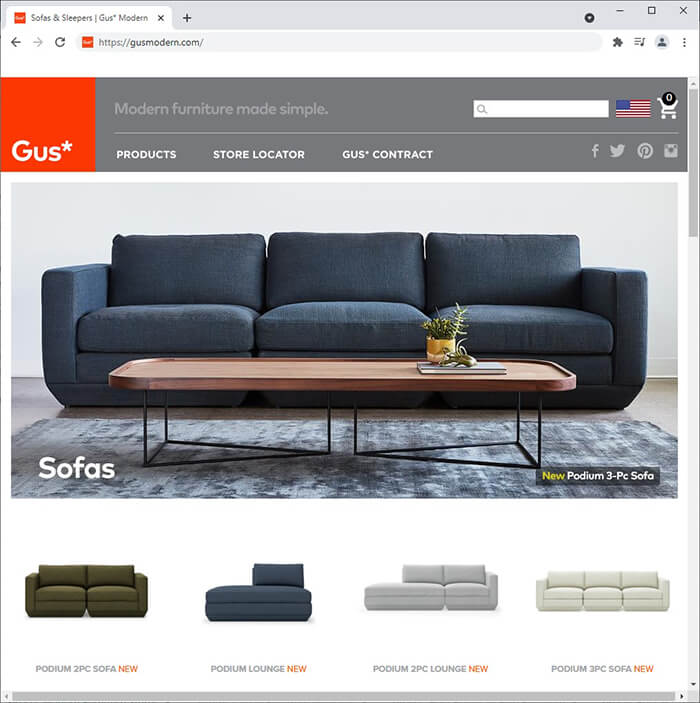 See website: gusmodern.com
At Gus Modern, you can find those little pieces of modern décor that eluded you in other stores like a standing magazine rack. This store also offers items like an acrylic wine rack or aluminum picture rail sturdy enough to hold potted plants. Gus also helps you meet the challenge of decorating an efficient apartment in style with its modular three-piece sectional consisting of a chaise lounge the size of a twin bed and a couch. Array it as you like and enjoy quilted comfort. What makes Gus Modern one of the best modern furniture stores online is the quirky items rounding out its selection, such as oval and triangular coffee tables and a purple ash-topped table with a lime green metal base.
10. Modshop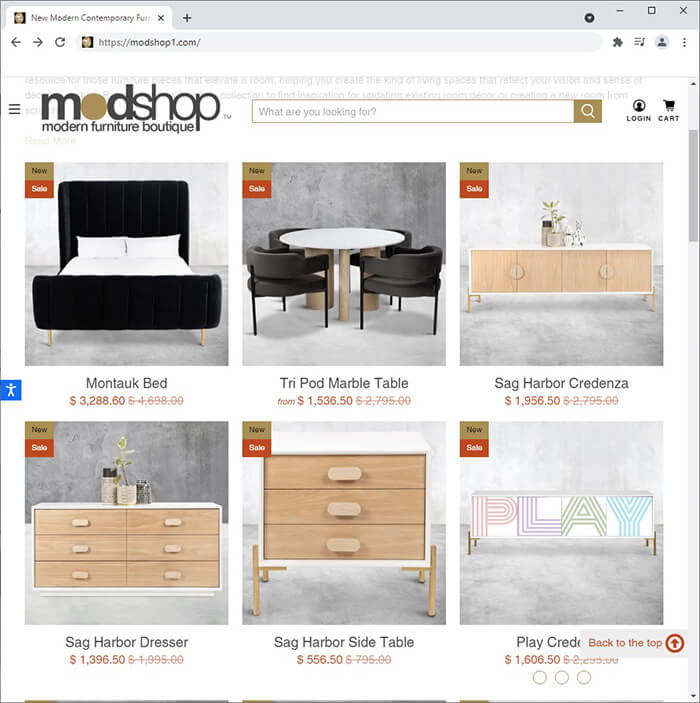 See website: modshop1.com
Sofa shop at the Modshop for fabulous finds that appear nowhere else. The store's selection includes a navy velvet sofa, a tufted ombre linen couch in three shades of pink, plus a massive double-sized daybed sofa in grey velvet with matching pillows. It measures 108 inches in width and 70 inches in depth. The store warns that most rooms aren't large enough to hold it. It would work beautifully on the set of a Quentin Tarantino movie though. You can also pick up a bar cart, ceramics, art, and rugs at Modshop. Among the boutiques it offers, the Art Deco boutique offers the most unique pieces considering what its competitors offer. Choose from dressers, credenzas, and side tables.
11. Modern Miami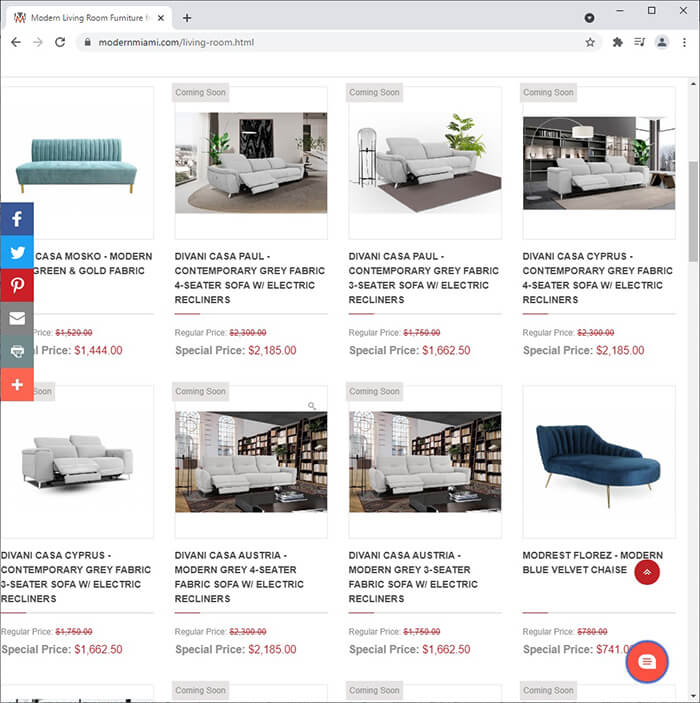 See website: modernmiami.com
Picture yourself in the most luxurious 1970s dining room or 1980s living room, and you picture the selection at Modern Miami. Grey leather couches with metal frames, red fabric chairs with zipper accents, white lacquer coffee tables, stainless steel, and crystal lamps, and beautiful artwork populate this store. They offer a virtual tour of their brick-and-mortar store in Miami, Fla. Read their blog for actionable content that shows you how to mix the pieces in their store to create a vibe. Shop the blog of this modern furniture website if you want a cool apartment or home comprised of the perfect pieces, but you have no clue how to decorate and no inclination to hire an interior designer.
12. Eurway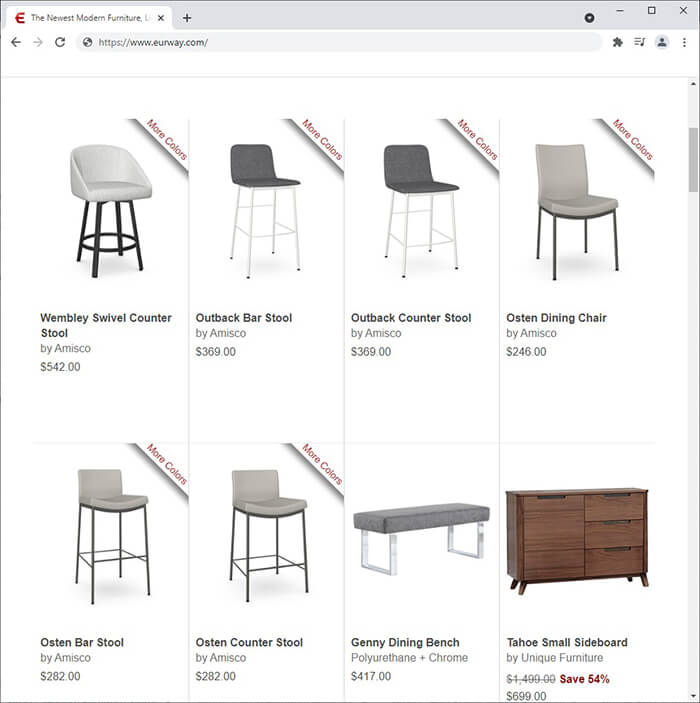 See website: eurway.com
The Eurway store offers what no other does — vegan apple skin leather furniture. Find any piece of contemporary concept furniture you can envision. If you dreamed of owning a kitchen table like the one in The Jetson's cartoons, Eurway provides it. Founded in Dallas, TX in 1980 and now located in Austin, TX, the shop ships most items. Shop its classics boutique to outfit your office or home with the 1960s look. The Marriott hotel chain does its shopping here which will explain it if you often travel and think, "I've sat on that very couch before."
13. Design Within Reach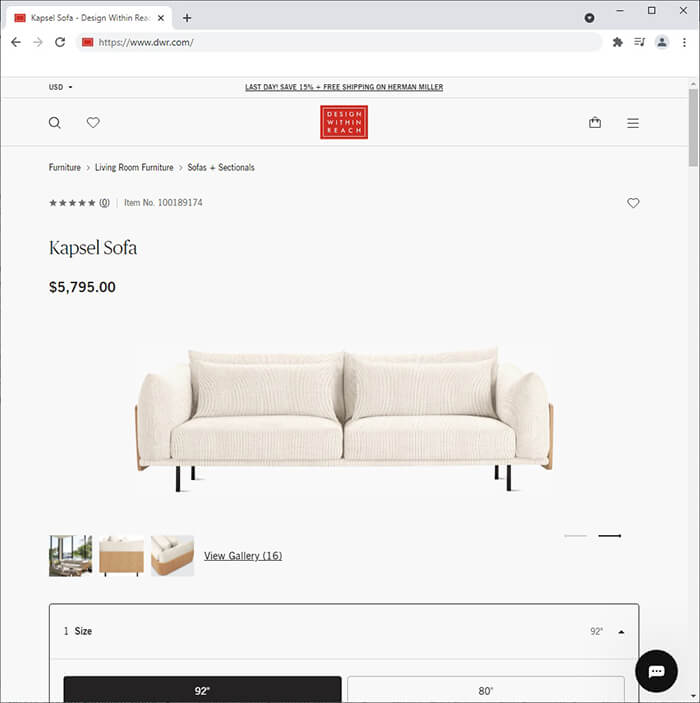 See website: dwr.com
Part Mod Squad, part modern beach house, the furniture at Design Within Reach provides ambiance and comfort. The shop helps you prepare for time away from your vacation home by offering furniture covers. From your sofa to your chaise lounge, DWR offers a cover to protect it from the sun and dust while you travel. This store also caters to a much-ignored room — the bathroom. You can find fair trade items such as Ethiopian rugs, storage solutions, thirsty towels of aero cotton or terrycloth. Where else will you spot a teak bathmat?
14. Mitchell Gold + Bob Williams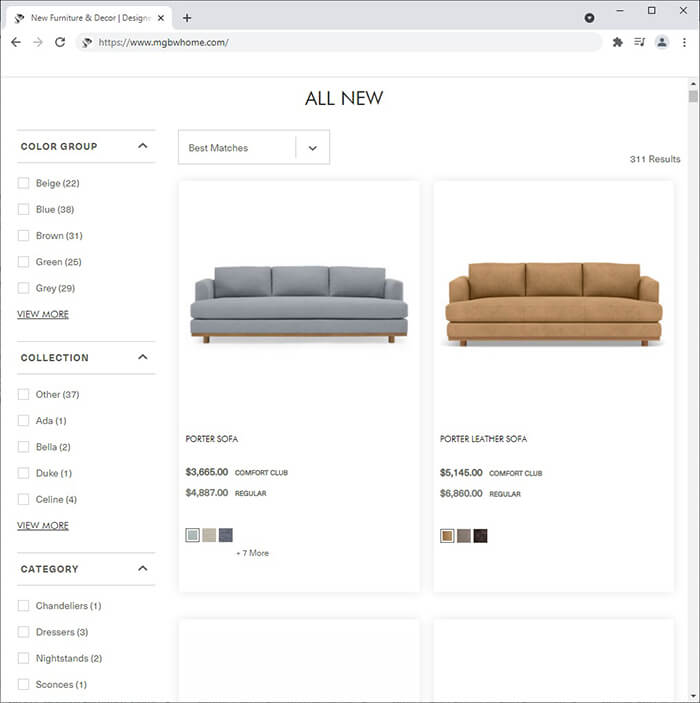 See website: mgbwhome.com
At Mitchell Gold + Bob Williams you do not so much shop for furniture as you theme your home. Make your first stop the swatches section to peruse every fabric available on their furniture selections. You can craft a virtual mood board on the swatches page and have the store send you up to ten swatches of the fabrics. This option lets you touch and feel them before you make the big buy. This modern furniture website offers huge discounts, too. If you spend at least $3,000, Mitchell Gold + Bob Williams knock 30 percent off. Many people, including interior designers, shop this store to obtain full room or full home décor. They're often the only luxury online furniture store you can find with a media console and media center selection. Also, check out the artwork and sconces to complete the décor.
15. Hive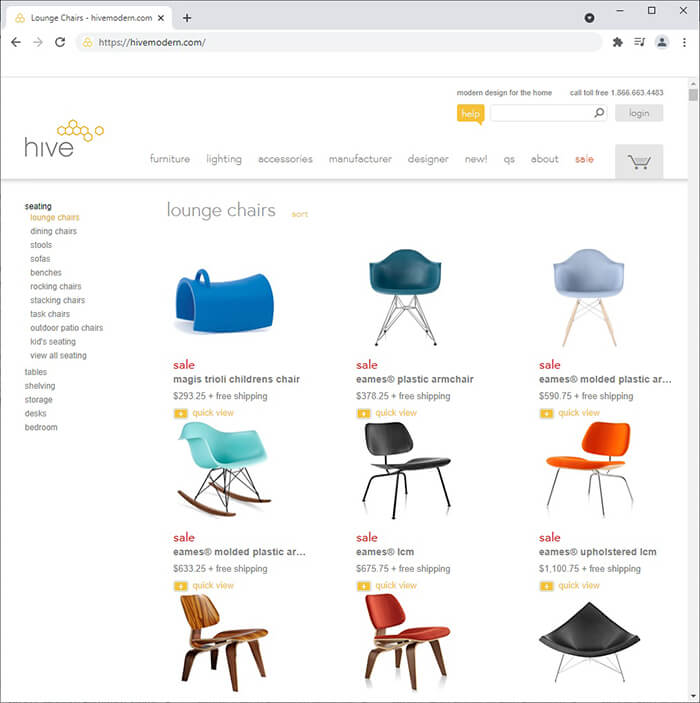 See website: hivemodern.com
Shop hive for its great selection of Herman Miller furniture and its immense selection of home accessories, including sculptures designed by Jaime Hayon. Funky clocks, smiley face wall art, eclectic organizers — Hive Modern has it all. Shop this modern furniture website to find what no other retailer has whether it's Vitra miniatures for your child's dollhouse or an umbrella stand or coat rack to complete your living room. It's the only luxury shop on this list to offer a fireplace boutique. You can even pick up a fire pit for your patio from Hive. The store offers free shipping on some items but charges for others. It makes this evident on each item, so you go into your order without any surprises.
Find Your Favorite Modern Furniture in these 15 Online Stores
That's it for the best modern furniture stores online. When you want to craft a home one piece at a time and decorate in the modern or contemporary style, choose these options. You can find an online shop for modern furniture that ships as most of these options do. Some of the fifteen in this list also have brick-and-mortar stores which makes it simple to determine if you simply love a piece or merely like it. Creating home décor should only include pieces you love, so you luxuriate in surroundings that create a vibe of happiness for you whenever you step inside your front door. Shopping these online shops provides a convenient way to access designer furniture no matter where you live and to design a home interior that represents your personality.