Today's kitchens are far removed from those of our mothers and grandmothers. Traditionally, their kitchens were a little old world and country, with roosters and apples galore. They may have had some diverse elements (though not many!) and certainly had a more rustic feel. Warm wood was the texture seemingly everywhere, from the floor to the cabinets and even the table. The devil is in the detail with both past and present, but the meaning is vastly different.
Cabinetry in traditional kitchens was often framed or flush inset. They featured a glazed or antiqued finish, with raised doors and exposed hinges. There were often ornate moldings in and around the cabinets as well as the islands and walls themselves. Farmhouse sinks abound. Decorative lighting, such as that now found more in dining rooms (think crystal and brass chandeliers or lanterns), were often seen in more classic kitchens.
44 Reasons Modern Cabinets are the Stars of the Kitchen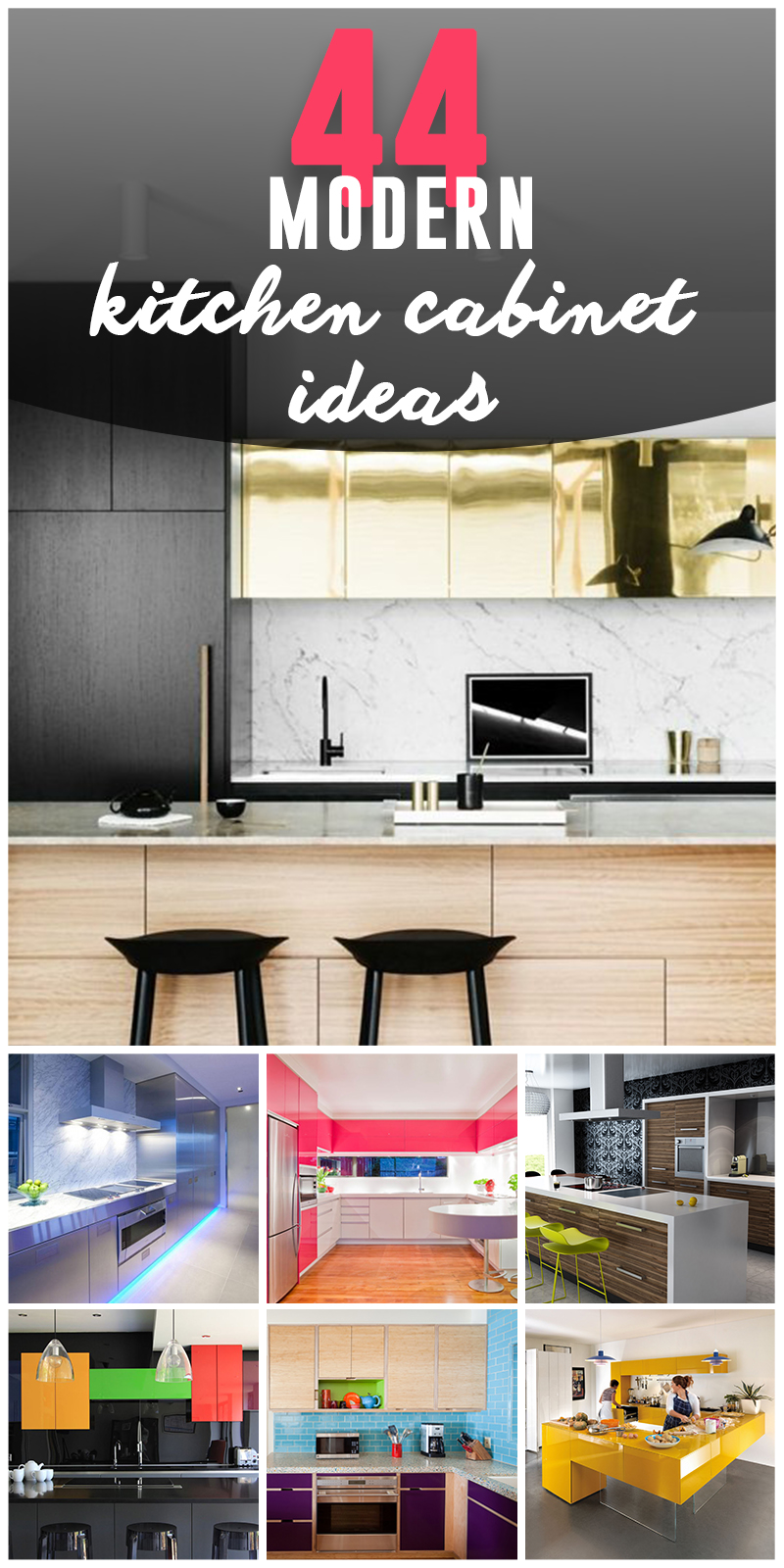 Now, these trends have given way to sleek lines and clutter-free design. Cabinets are no longer the ornate and etched beauties they once were; they are now seamless and smooth, yet functional. White is an excellent choice for modern style. However, you are not restricted as there are almost limitless choices for cabinet colors now. Hardware is largely unnecessary in these kitchens and actually fights the clean and unpretentious design. Often the cabinets are pull-out like the drawers for added convenience, and if there is hardware, it is likely industrial in feel.
Wood and brick of the kitchens of yore have been replaced by stainless steel. It is new and shiny in appearance – and not limited to the appliances. People today often opt for stainless steel in surprising elements, including the countertops, which add to the sought-after industrial feel of the space. Other choices for modern-style counters are concrete, marble, quartz and unpolished granite.
Another buzz word for kitchens today is modular – something unheard of in past decades when speaking of kitchens. Open floor plans are all the rage, as are massive islands to provide a gathering space. The following 44 images will introduce you to the modern marvels and offer a broad range of options for your own kitchen design ideas!
1. Pseudo Built-In Beauties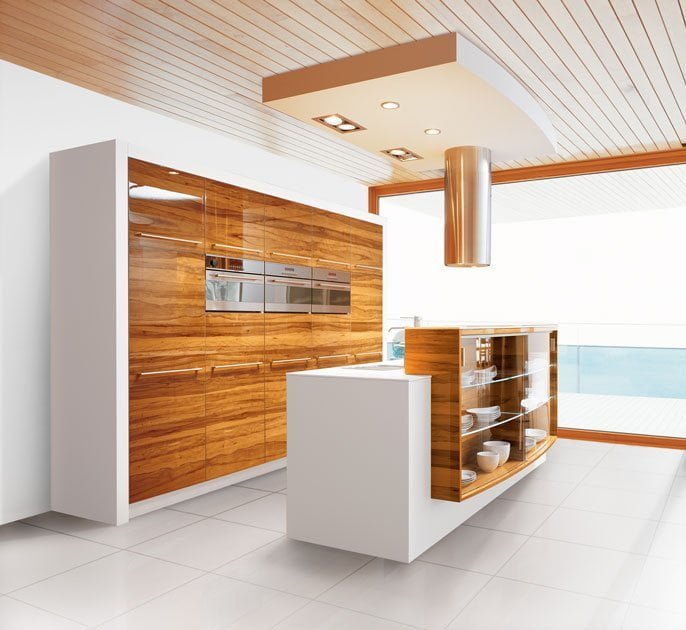 Love the look of built-in cabinets but don't want to tear down any walls? Turn your cabinet space into a wall unit for the look – sans the hassle! Doing so creates a masterpiece of kitchen design like shown in this modern kitchen. The high-gloss wood-grained cabinets feature low-profile, clean handlebars in polished silver that are set off by the matching built-in appliances and exhaust. The island performs multiple tasks that keep this space uncluttered, as it is home to the sink, stovetop and serves as a serving piece showcase that perfectly matches the cabinets and brings the whole room together.
2. Retro Red Modern Kitchen Cabibet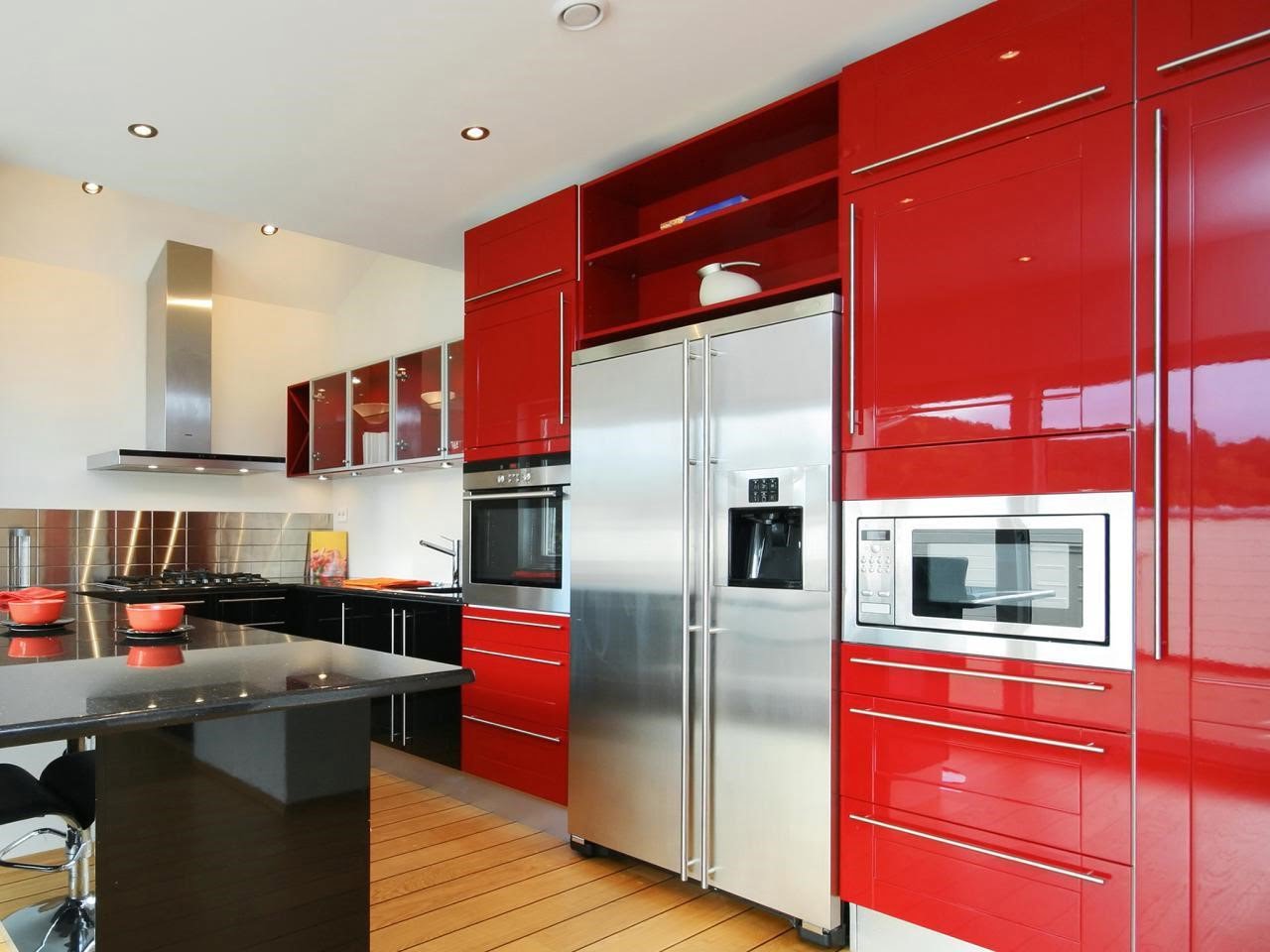 Source: The original source is not available anymore.
There is something about a bright, shiny red that screams nostalgia. From old time diners to fiery '57 Chevies, the color can make one reminisce of times that were as simple as they were tumultuous. This duality can shine in homes as well, giving a retro feel to a space in a highly modern way, especially in kitchens. Chrome gives way to stainless here, with the hardware embellishments and the built-in oven and microwave. When going bold with red cabinetry, be sure to keep the space balanced by keeping other colors to a minimum – black and white are all you need.
3. Clean and Functional Costars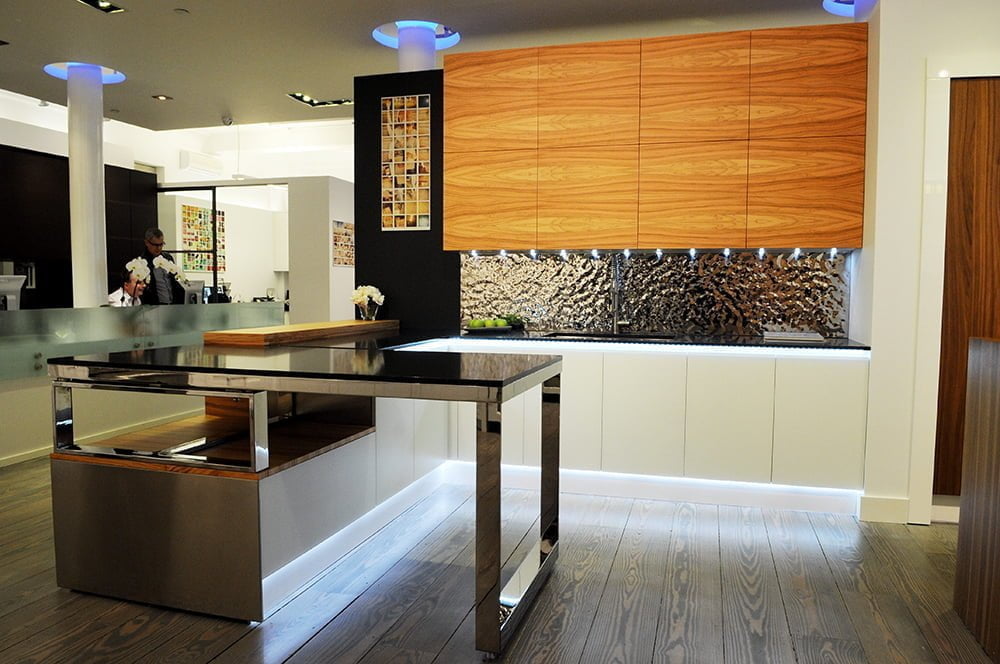 Source: The original source is not available anymore.
When your kitchen is a showroom, your cabinets can play a supporting role in some unusual ways. For example, the island is the star of this kitchen decor, yet the Oscar would go to the sleek and simple cabinetry for the way they make the headliner shine. If you want to set off plain-faced cabinets, a creative backsplash can draw the eye and set the entire tone of the area. Go for bright colors or unusual textures to enhance plainly painted or wood-grain cabinet fronts. If you are on a budget, try adding an interesting backsplash to enhance the look of your cabinets!
4. Geometry Lesson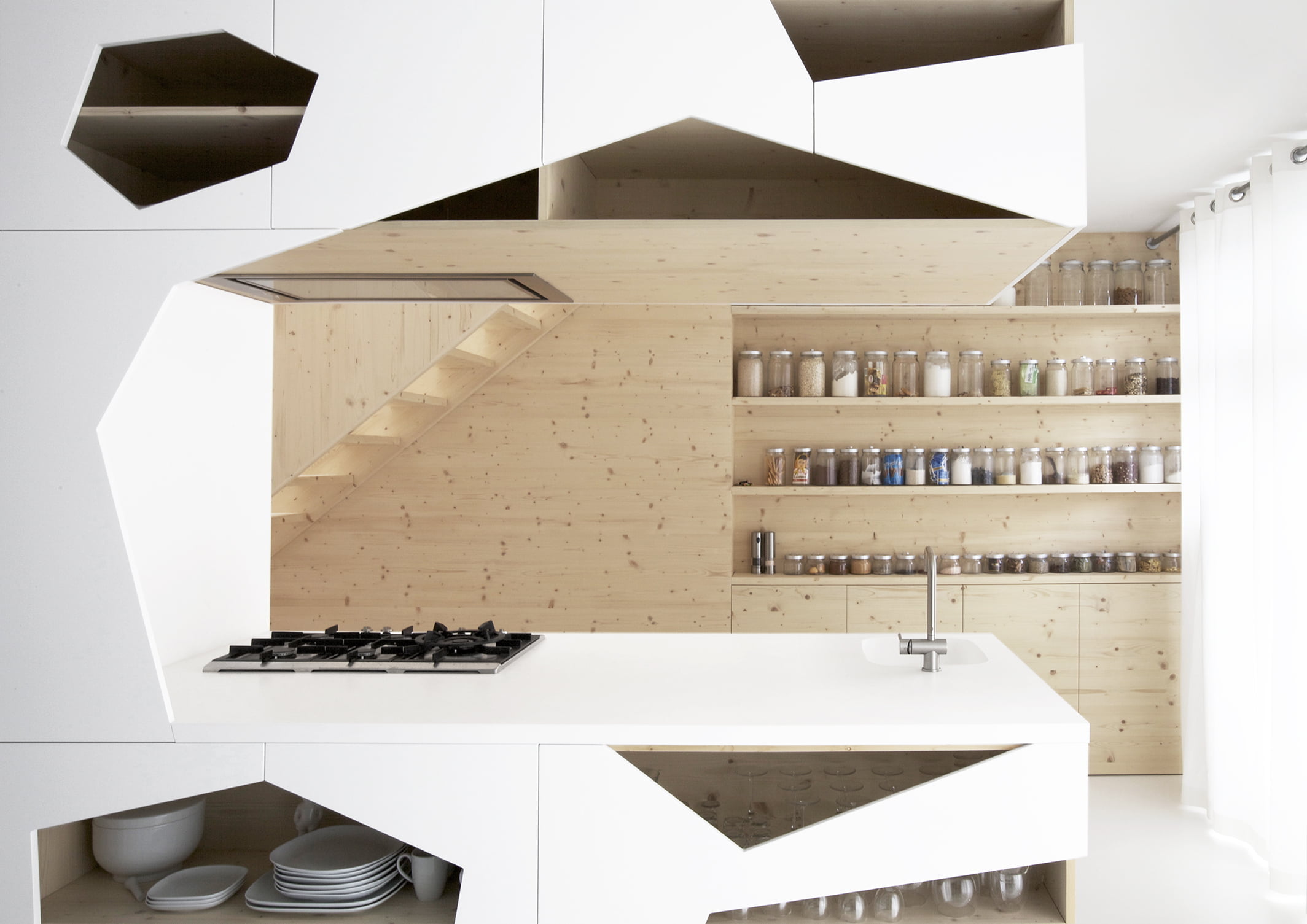 Source: The original source is not available anymore.
One thing to remember when designing a room is that there are no rules. This is your space. It is your go-to zen place where you will laugh with friends and family, share all of your trials and tribulations and help loved ones in times of need. Just as a circle does not fit neatly into a square hole, you should not try to conform to what other people's ideas of style are. If you want to build fun and funky geometric cabinets that can double as a math lesson for your kids, do it!
5. My Favorite Kitchen Cabinet Color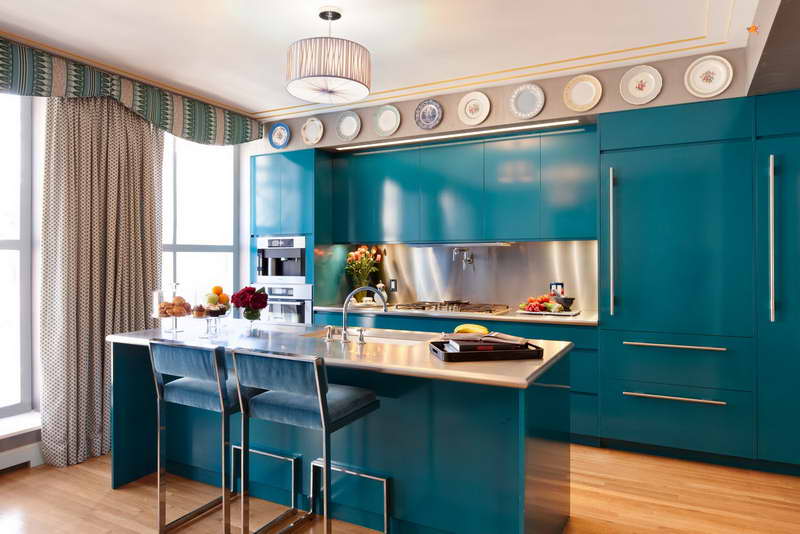 Source: The original source is not available anymore.
Some people have THAT color. It is the hue they cannot live without. It is prioritized and primary in their closets. It decorates their cars and may even be the color of their vehicle. It is the one shade that speaks to their soul; that resonates with them and that they cannot go without seeing in every corner of their home decoration. If you have YOUR color (if you aren't sure, rest assured that you don't!) bring it into your kitchen with gusto – just use neutral accents and decorations to keep from being overwhelming.
6. What Inspires You?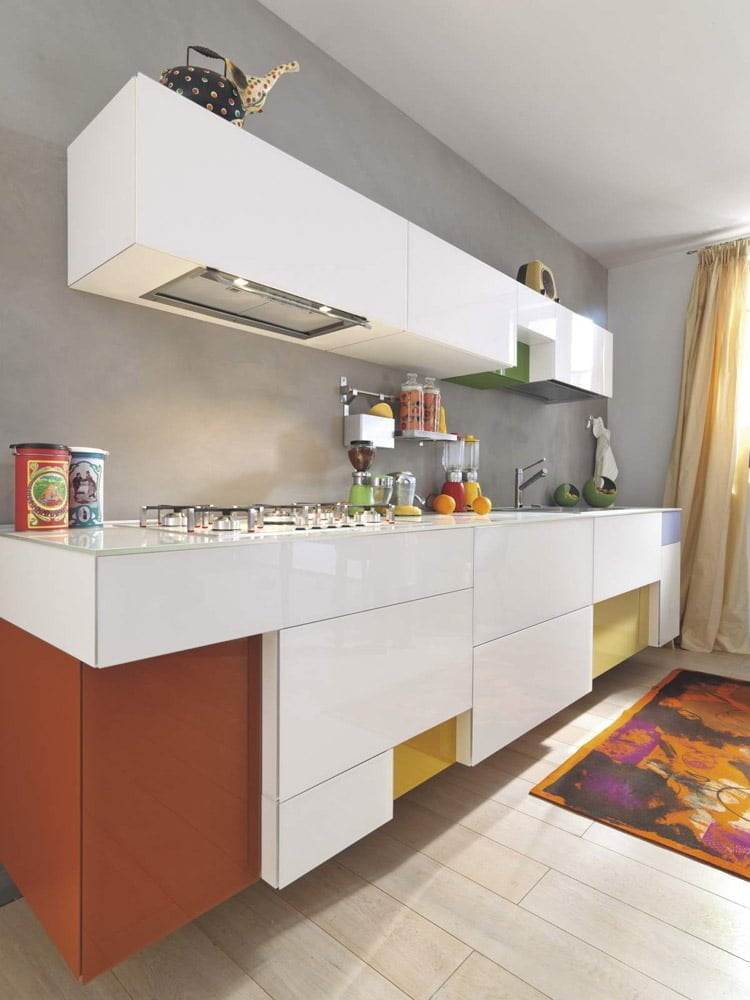 Source: The original source is not available anymore.
Look at your life and the things you love when trying to come up with kitchen ideas. What excites you? What do you find fun and fabulous? Inspiration can come from the most unlikely sources, even a favorite video game! These cabinets feature various shapes that fit together perfectly and would make any Tetris champion proud to call their own. To show off design ingenuity when using a conventional core color, add a few splashes of other colors here and there to add some whimsy.
7. Bold Sunshine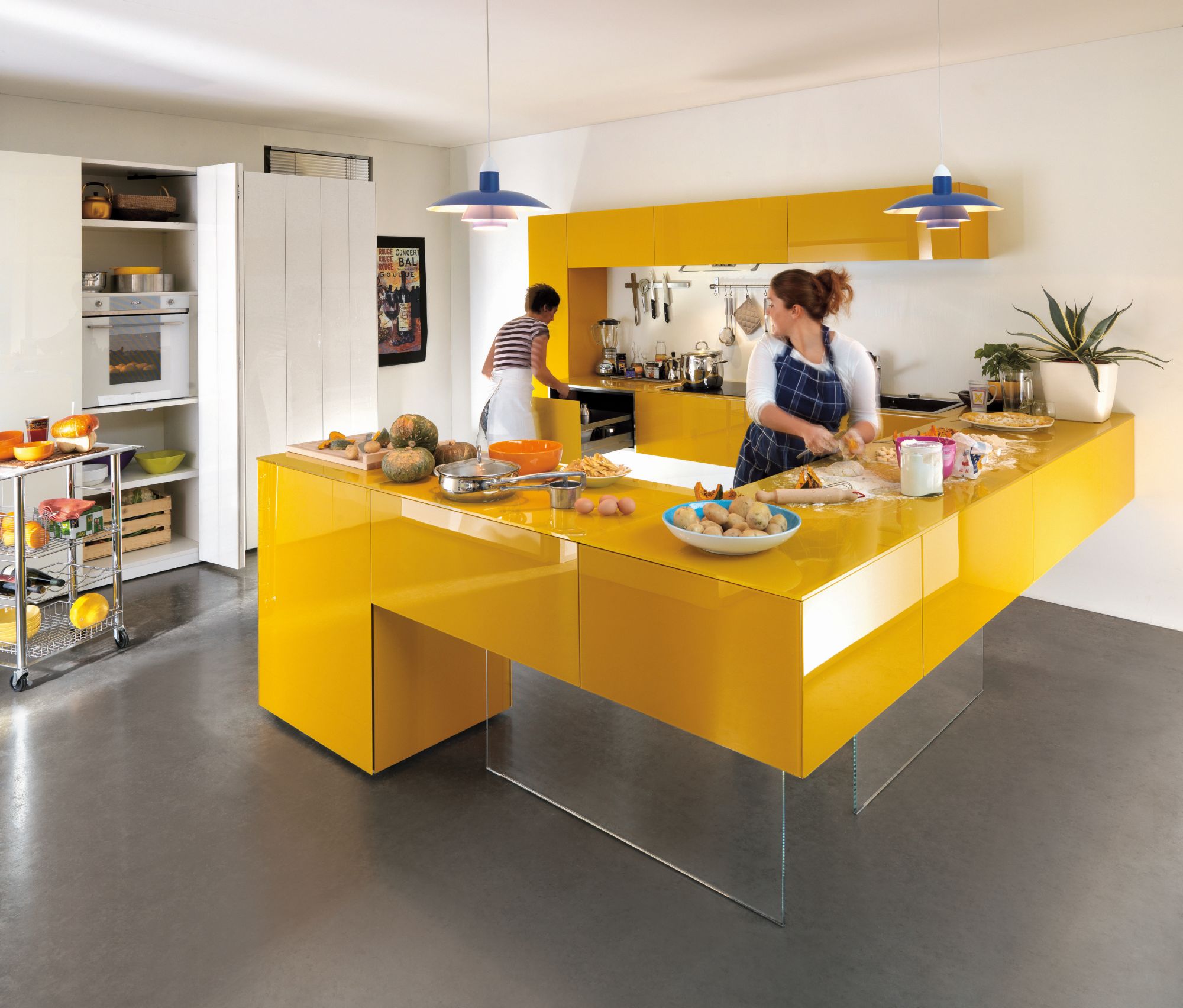 Yellow is a bold color in any room, and it can indeed shine in kitchens with modern cabinets. If you want to make it the main color in your cooking space, clean lines matched with neutral colors will help this vibrancy from becoming too much. White is an excellent choice as it provides a smooth transition and will not contrast as harshly as a darker color. When using a color this vivid, even the floor should be minimal so that the space does not get lost within itself.
8. Modern Wooden Retro Meets Corian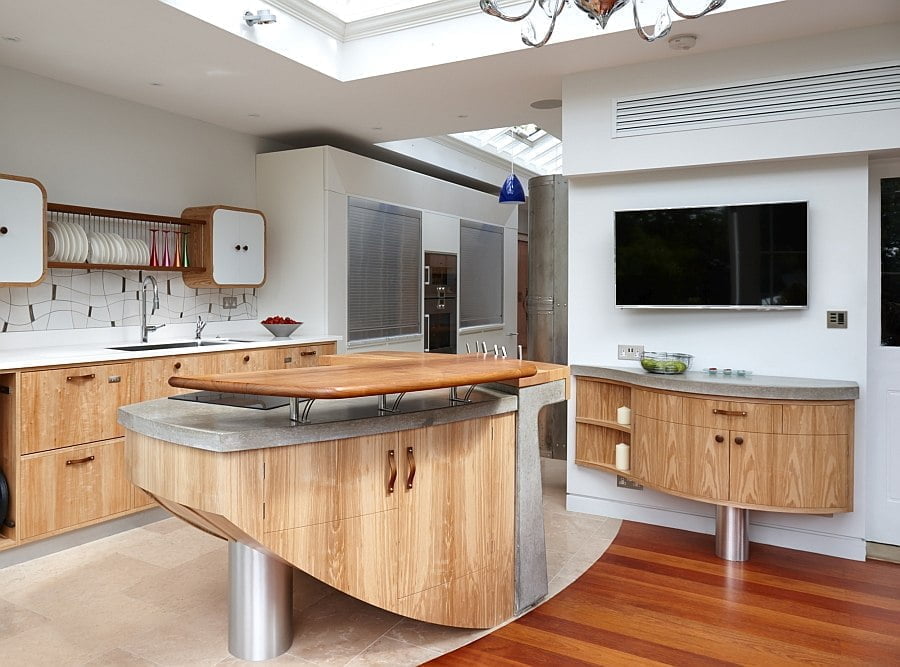 There was one thing about the 70's and all of the psychedelia of the era that has managed to remain a stronghold in kitchen decor – smooth concentricity. Combine the flowing lines with fresh materials such as lighter wood and concrete for a modern look. The new trend of appliance garages – complete with aluminum doors that slide down to hide them when not in use – can be set off with white Corian cabinets for an impressive statement. Add indirect halogen or LED lighting to keep the area inviting into the night.
9. Black Beauty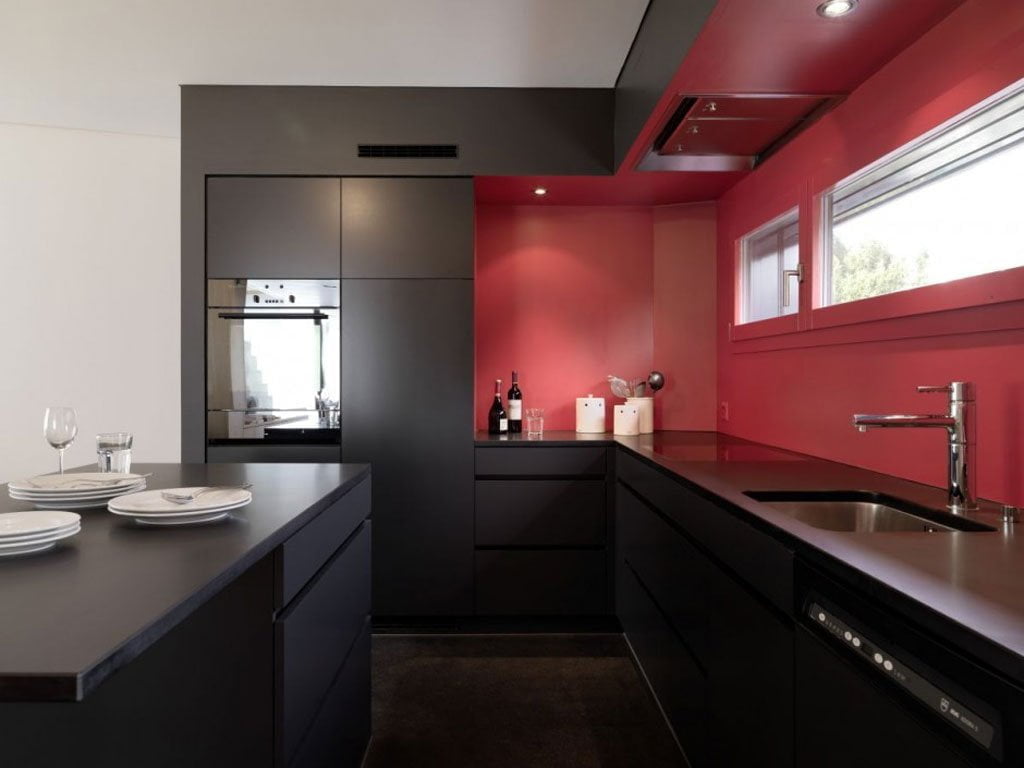 Source: The original source is not available anymore.
Who says you can't have black cabinets? These pictures of kitchen cabinets show the wide variety of choices available, and they are truly endless. The black kitchen storage cabinets featured here do not include any hardware, but if you prefer to have it, chrome would give the space an even edgier look and is perfect for this bachelor-pad style. Any color goes with black, but the red inset here actually lends a distinctive dynamic to the space. What color would you pair with black cabinets?
10. Fantasy Retreat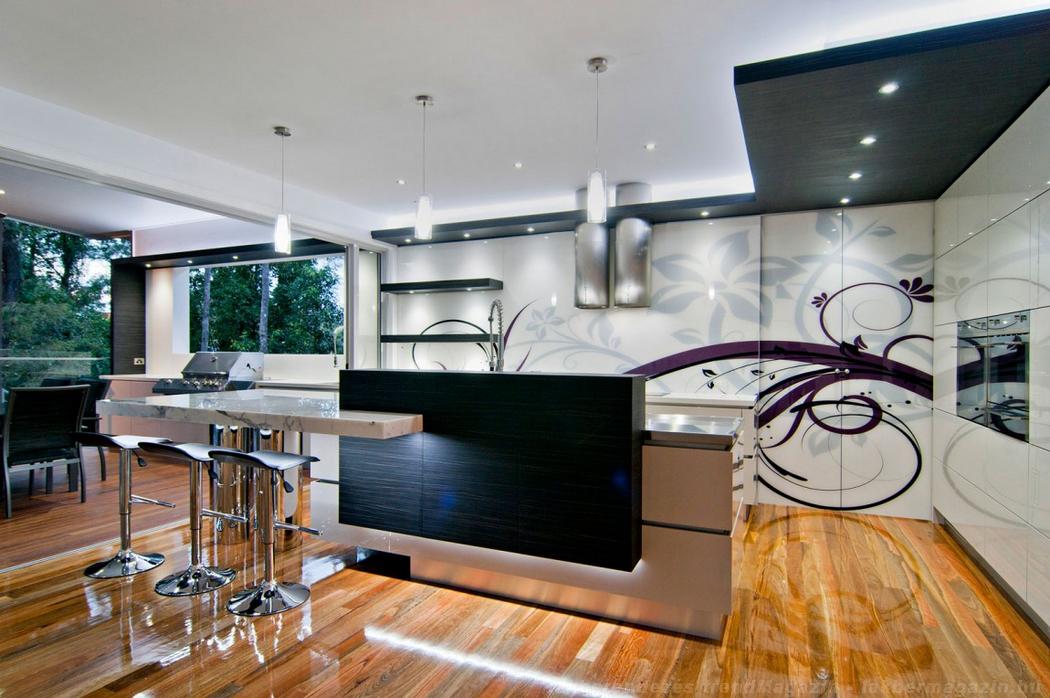 Source: The original source is not available anymore.
It is estimated that the average woman spends 18 years in the kitchen, so why not make that time the most magical it can be? You can, as this beautiful fantasy retreat by famous designer Kim Daffin illustrates. A retractable glass panel with a floral design is set off by a playful purple swirled pop of color and hides away pots and pans. There is more storage in the matching island, and the all of the cabinet doors are sleekly designed to be opened by pushing on them lightly, removing the needs for any handles or knobs.
11. Backlit Sensations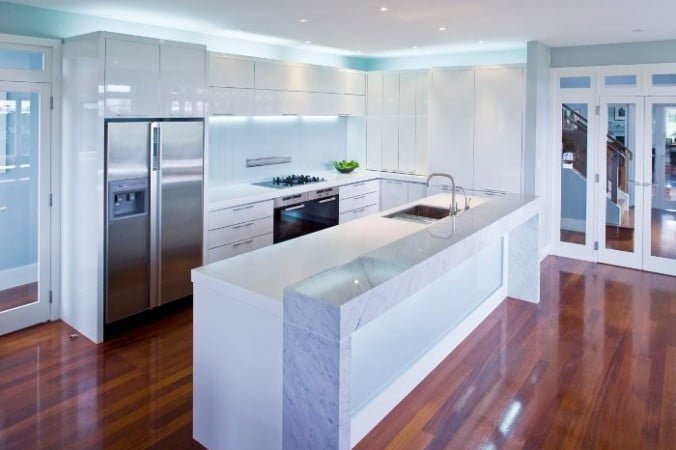 Source: The original source is not available anymore.
If you want something truly magical in your kitchen cabinets, look no further than Mal Corboy. These beauties are known the world over for their use of surprising materials and innovative lighting built right in to highlight their beauty. You cannot skim through a catalog of these unique pieces, however, as they are one-of-a-kind creations created specifically for each individual client. When you are stuck for kitchen design ideas, just looking through these spectacular pictures of kitchen cabinets will give you a myriad of ideas of the magic that could be yours.
12. Modern Avant-Garde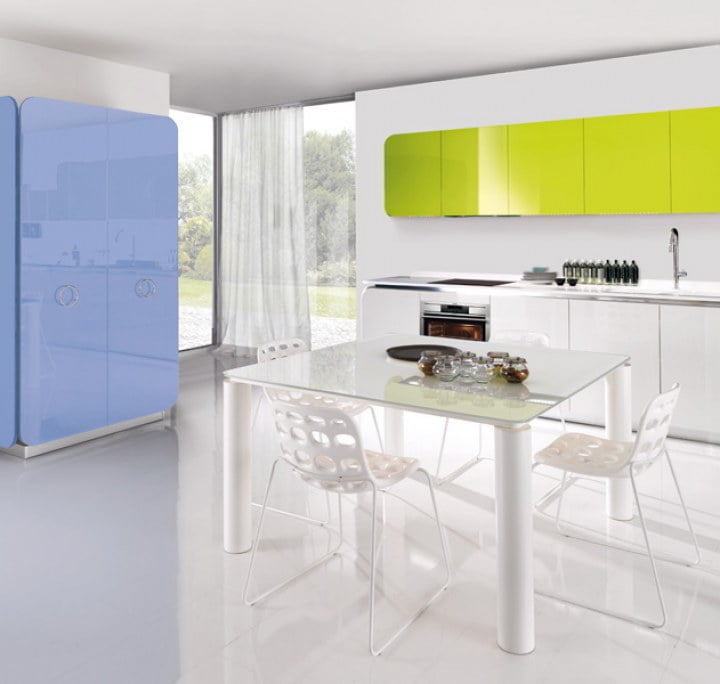 Source: The original source is not available anymore.
The definition of avant-garde is "new and unusual or experimental ideas". Today, modern kitchen cabinets are daring, innovative and mesmerizing. They combine form and functionality with unusual materials, unexpected lines and bold colors. People nowadays are learning that home decor is not about keeping up with the Jones', it is about building a space that is an extension of yourself and all that you love. When coming up with kitchen design ideas ask yourself – what unusual ideas do YOU have? Plan it out and then make it happen!
13. Contemporary Elegance with Modern Kitchen Cabinets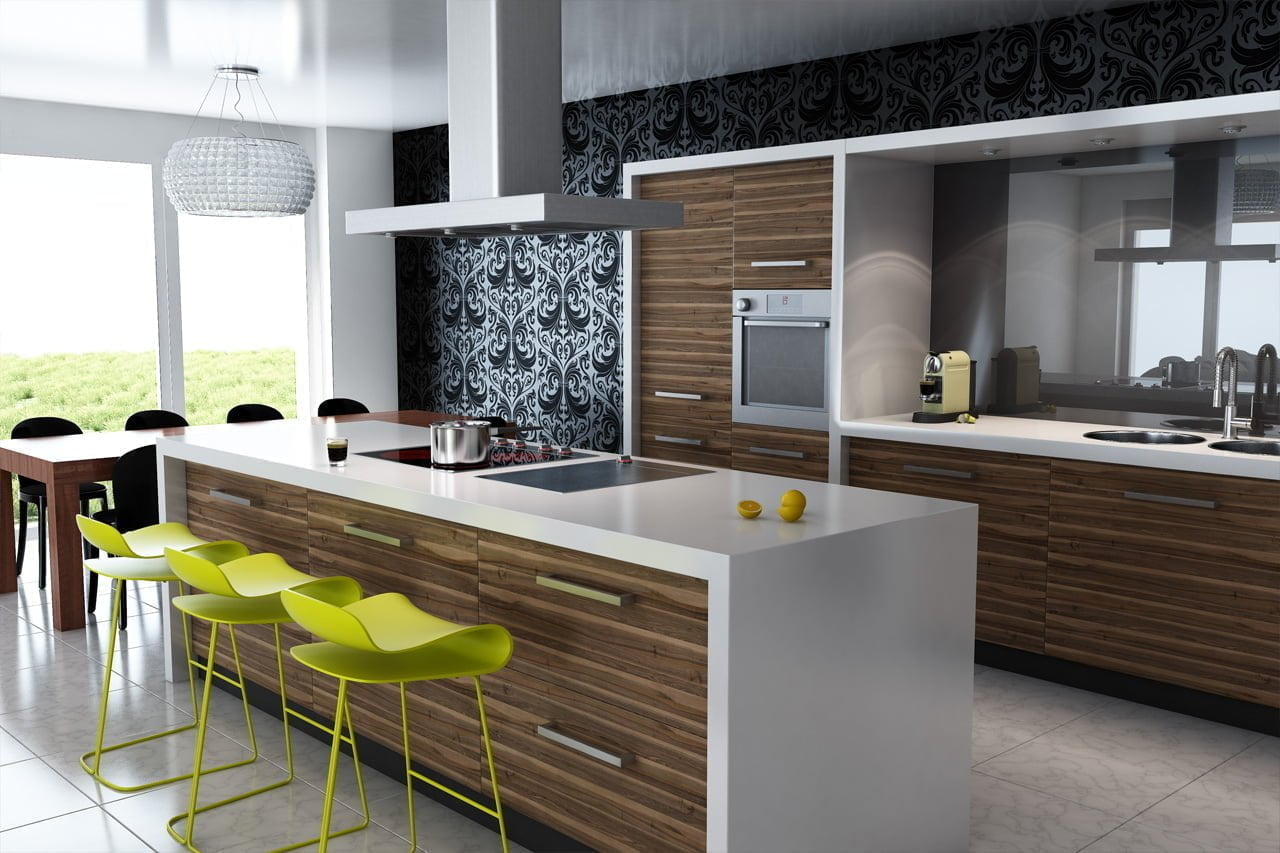 Source: The original source is not available anymore.
Modern kitchen cabinets can be an eclectic mix of old and new. They do not fit into one niche. They do not conform to standard rules. They can be both fresh and fabulous as well as contemporary and elegant, just as much as their proud owners! If you love classic looks but want modern style, spruce things up with an amazing backsplash or a bit of gorgeous wallpaper. Sometimes when generating kitchen cabinet ideas, you may realize that your current cabinets can shine with new hardware or a fresh splash of color around them.
14. Daring and Bold Modern Kitchen Cabinet Idea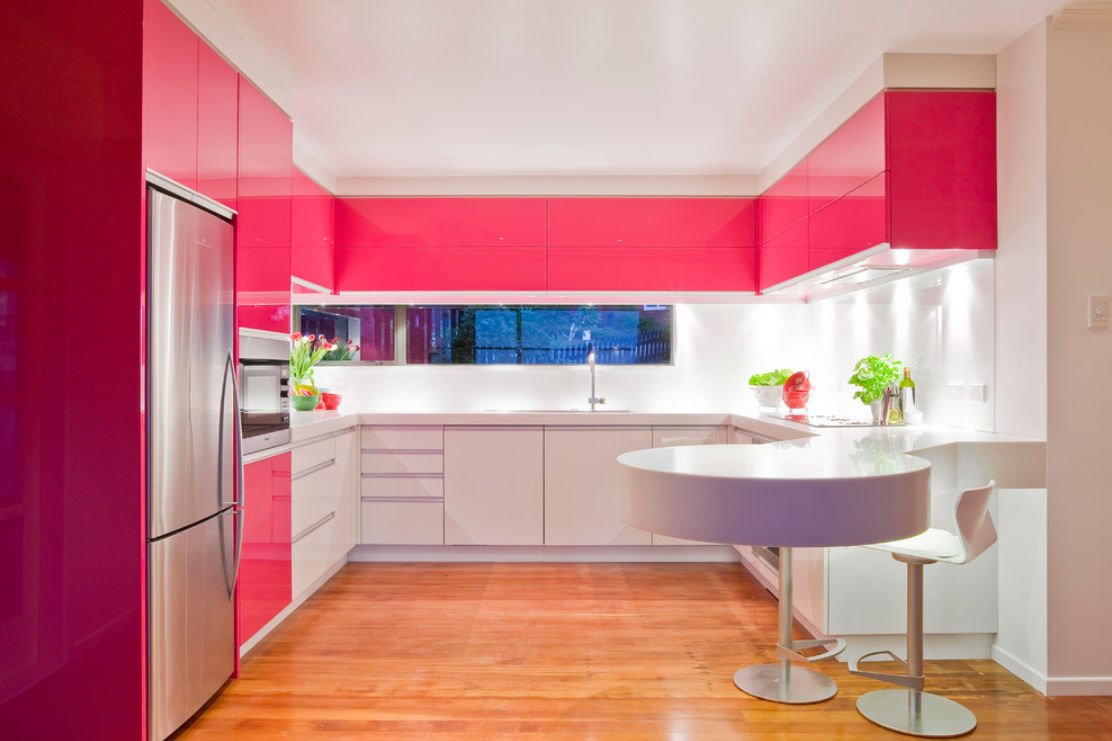 Source: The original source is not available anymore.
When you walk into a home that features kitchens with modern cabinets, you really cannot picture it in your head prior to seeing it as they are so unique to the creator. A traditional kitchen brings to mind wooden cabinets set off by wallpaper or trim. You may picture dish towels and curtains boasting roosters and apples. Modern cabinets scoff at this image with an in-your-face statement that says it is now their time to shine. No longer are they a home decor afterthought; they are the focal points!
15. Sophisticated Space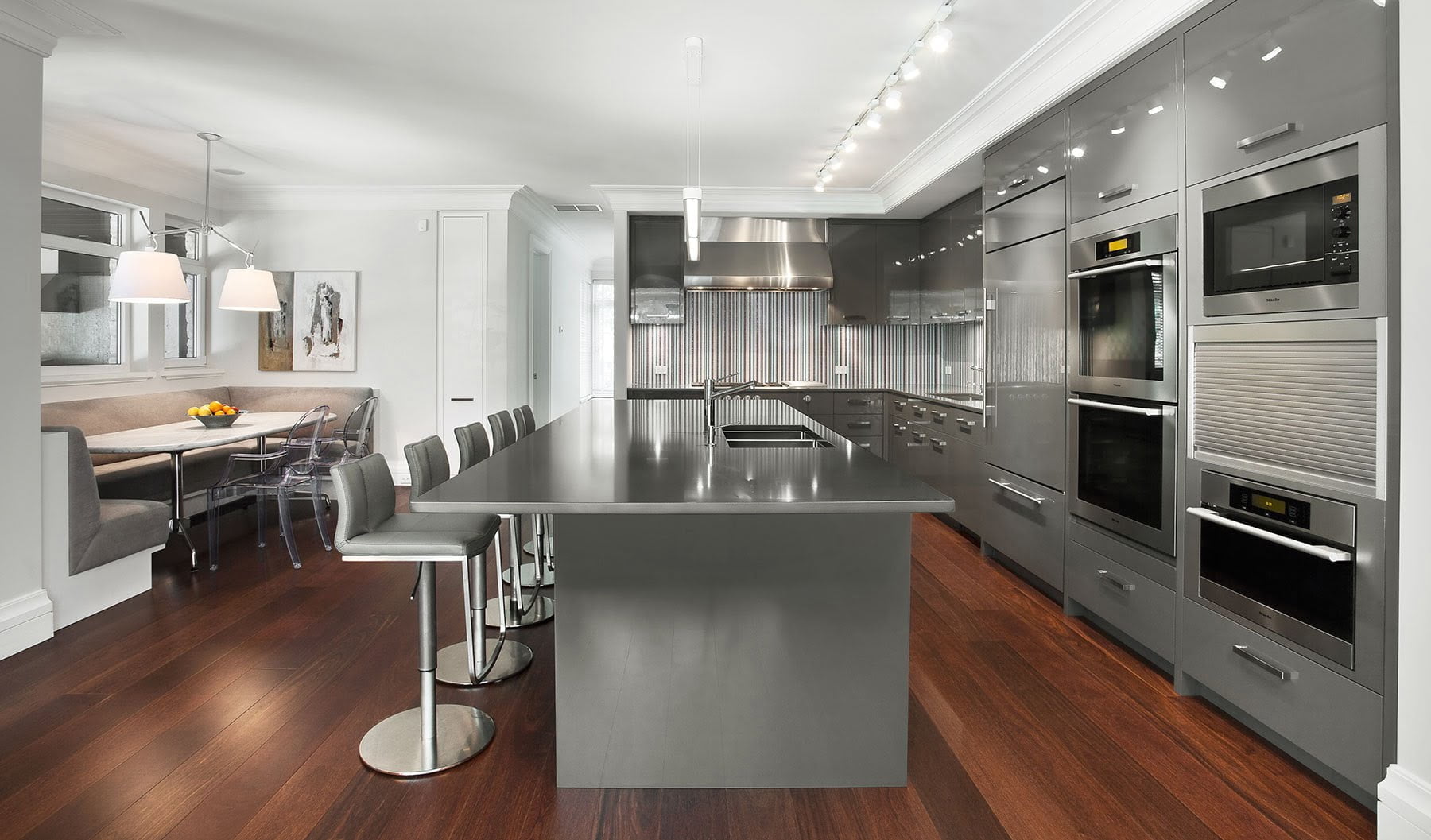 Are you a discerning person who wants their kitchen to be as refined and sophisticated as yourself? The metal here flows and perfectly matches from the sink to the counter and cabinet doors in a sleek and sexy way. The wood floor sets off the perceived coldness of all of the stainless steel and warms up the look of the monochromatic design of these kitchen storage cabinets and appliances. This style of home decoration lets people know that you are confident in who you are, are keenly aware of what you desire and are a force to be reckoned with.
16. Dramatic Color Blocking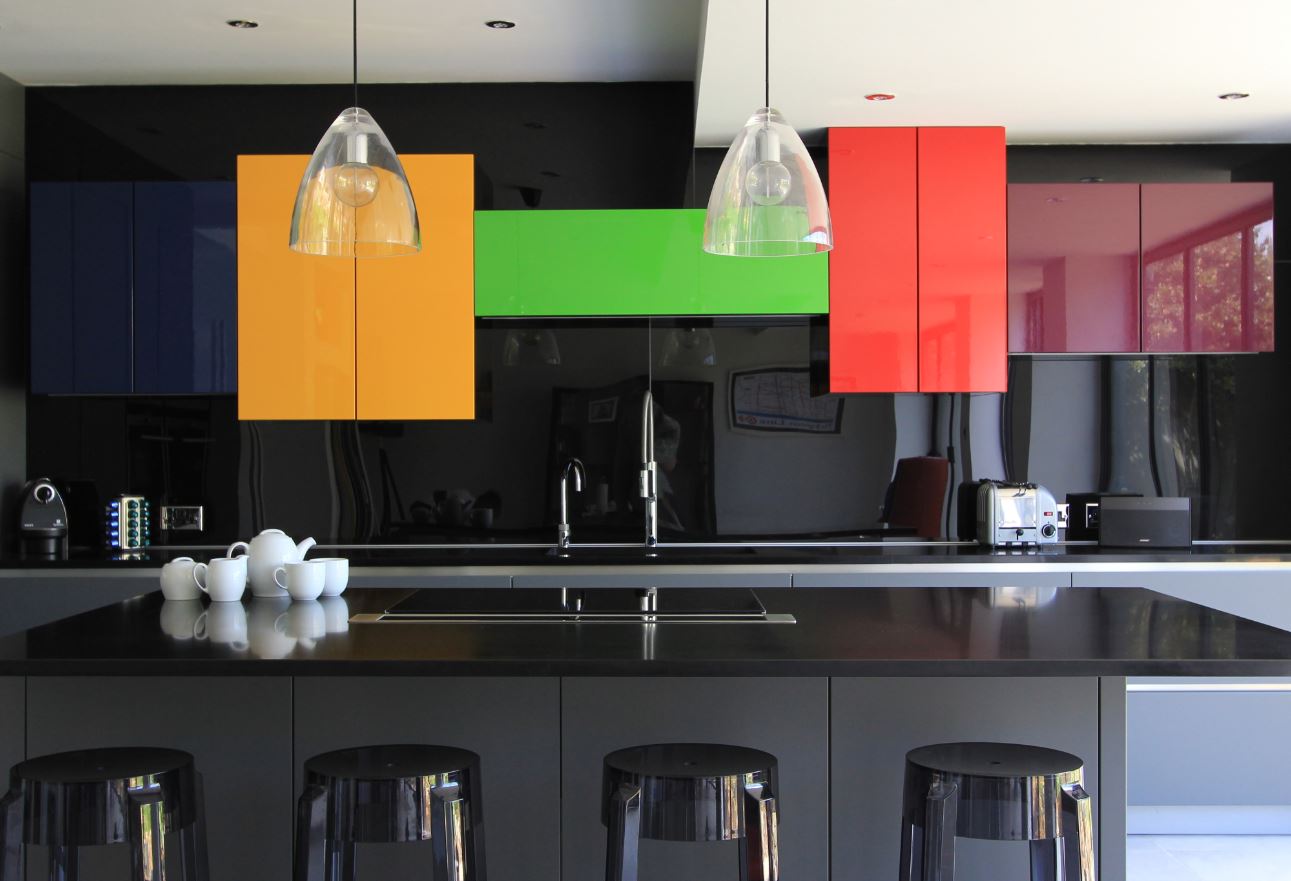 Source: The original source is not available anymore.
Do you love the color blocking trend of modern cabinets but are afraid to try and pull off the look? Kitchen ideas featuring modern cabinets of varying colors have taken off across the nation, but you do not have to start off as bold as the images portray if you are new to the trend. Start with small yet bright pops of brilliant color and see how that goes, then go bigger with future changes. Conversely, if you want to jump right in, use a different vibrant color for each cabinet and show them off with a black background!
17. The New 'I'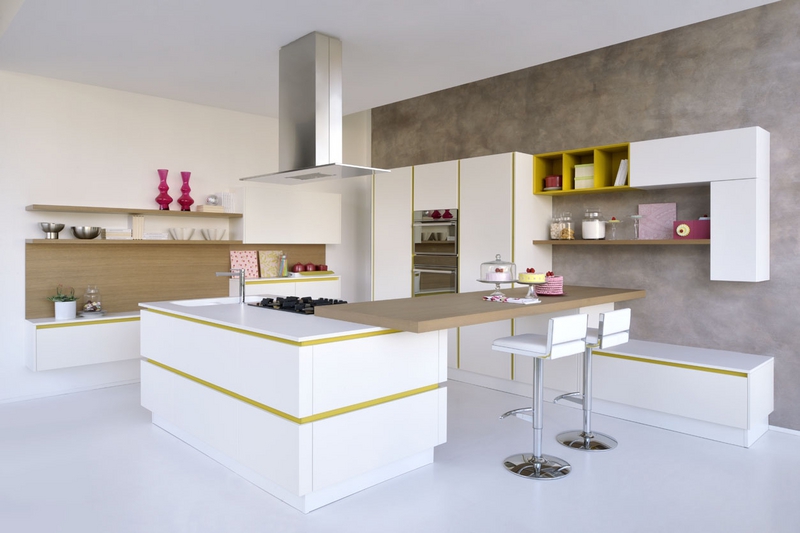 Source: The original source is not available anymore.
Typical kitchens with an island are designed in an I-shape. These days, it is all about breaking the rules – or, at least, bending them a bit! Chop off the bottom line of a capital 'I' and what to you get? An impressive island with wrap-around cabinets and seating that beckons family and friends to have a seat and stay a while! The white in this modern kitchen is set off with minimal color pops that have a maximum impact, as well as an impressive accent wall.
18. Blue Contrast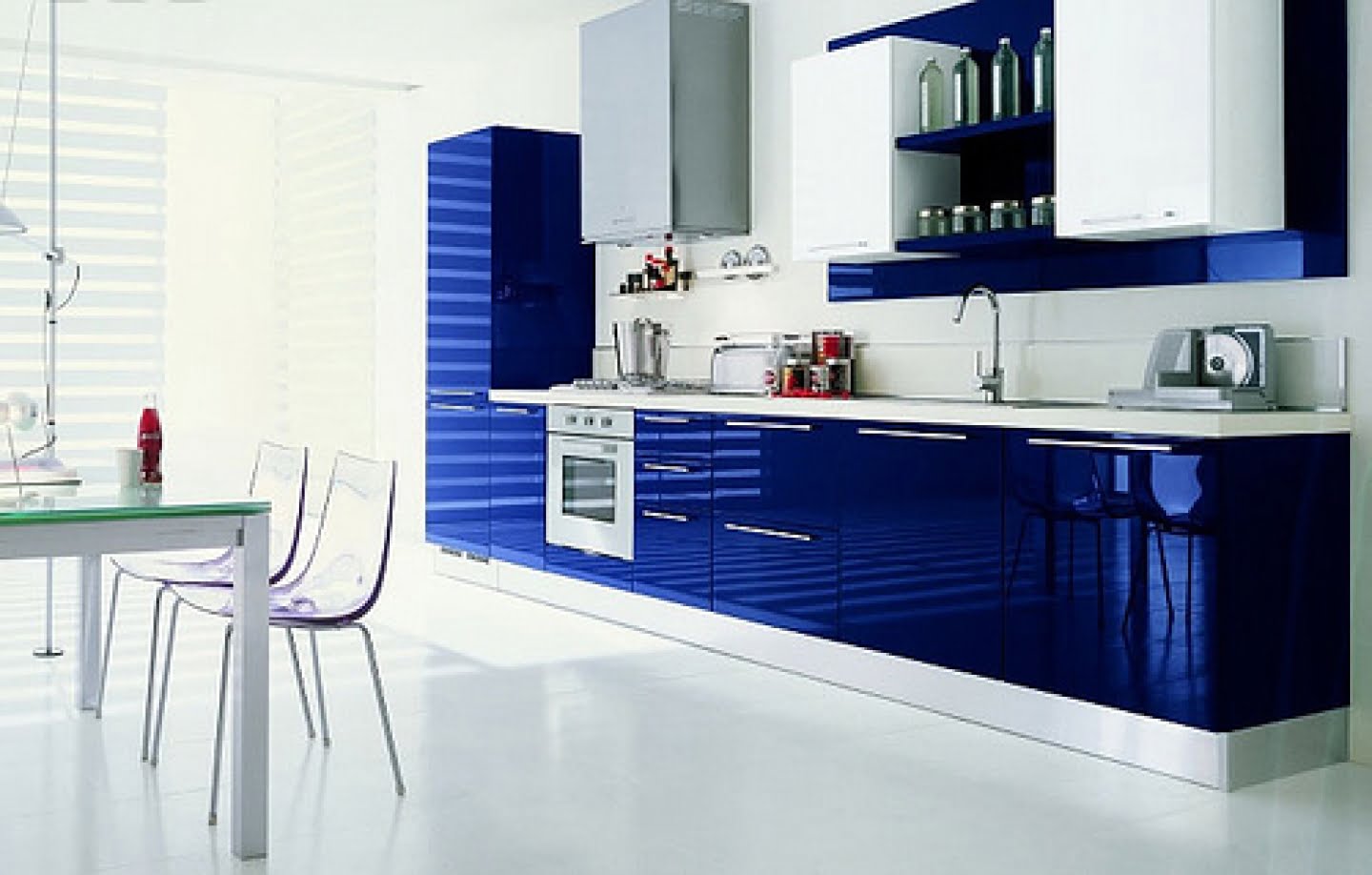 Source: The original source is not available anymore.
How can you possibly make a room more intense than only using black and white? Turn that black into blue! The beautiful contrast of blue and white works just as well with either color in the background, and alternating the two in one space makes for a jaw-dropping effect. The white walls accent these bold kitchen cabinets perfectly. To break up the wall and create a focal point, the design includes a blue color block featuring shelves of the same color and transitional white cabinetry. Perfection!
19. Clean and Simple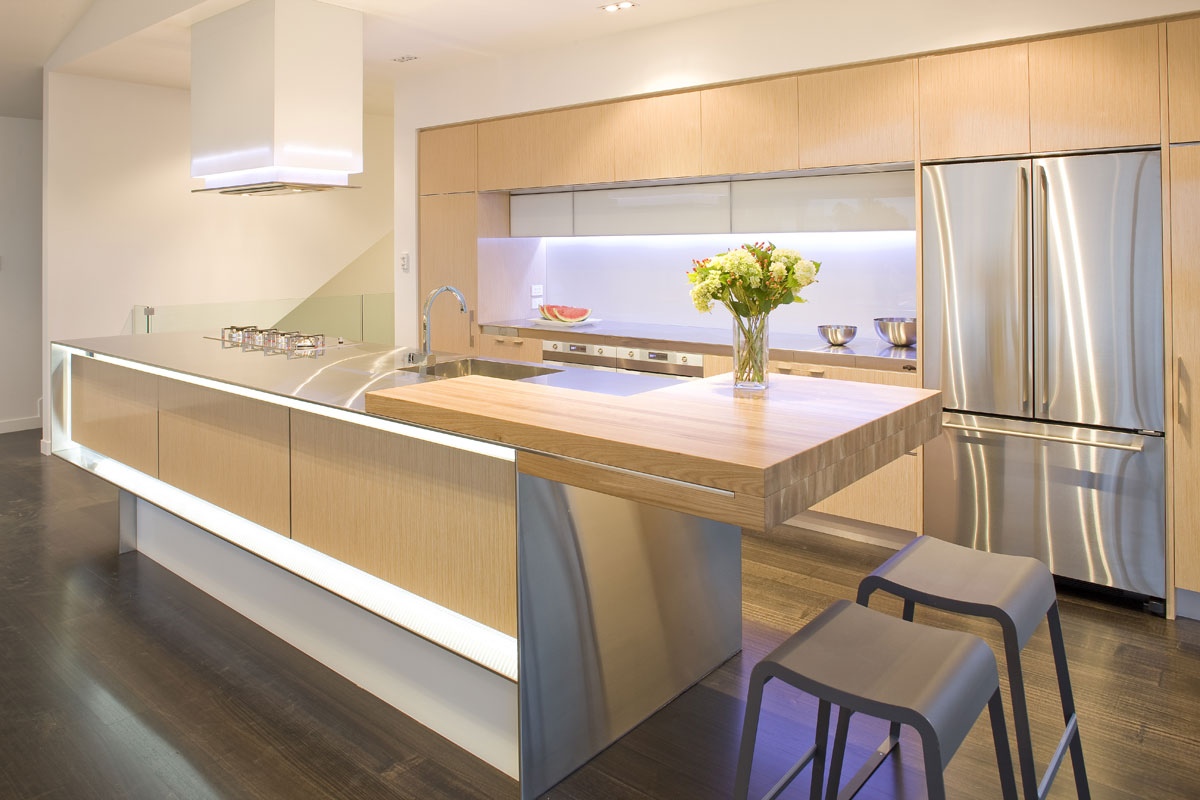 Source: The original source is not available anymore.
Kitchen cabinet ideas do not have to be fantastical or way out in left field in order to be modern. Sometimes, we just want things to be simple, clean, manageable and not over-the-top. Light wood and stainless steel bring a contemporary look to this open-air galley style kitchen. There is plenty of open counter space to cook up your favorite dishes, and guests can keep you company at the oversized island. Soften sharp lines by limiting hardware and adding chairs and accessories that feature curves instead of straight lines.
20. Funkified Retro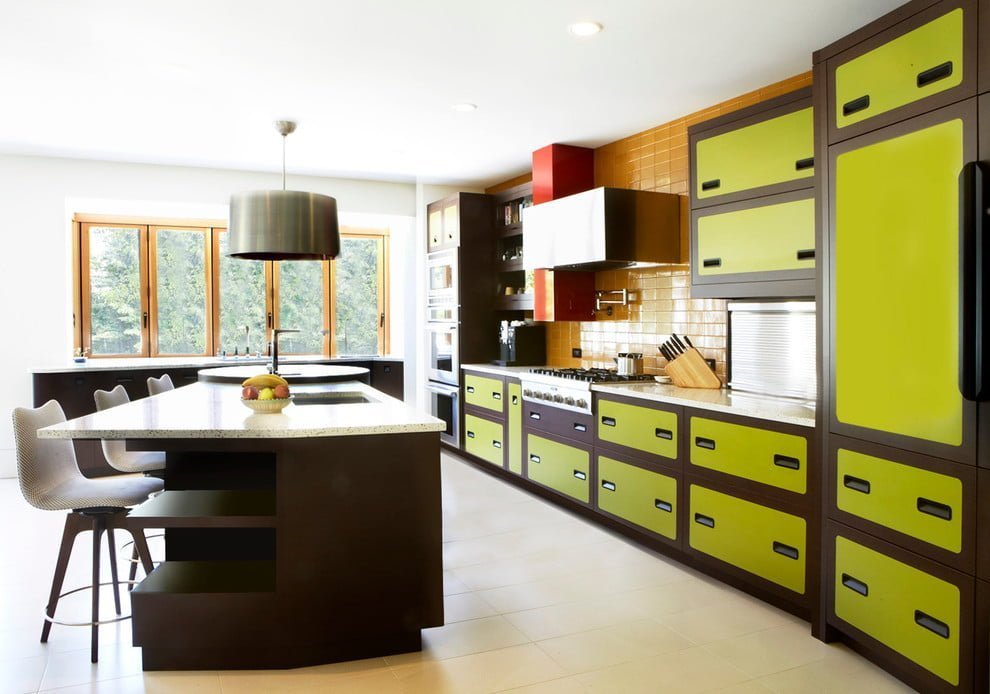 Lime green cabinets? Cool, man. You can almost hear Janis Joplin in the background when looking at this refreshingly retro yet modern kitchen. Brown was prominent throughout the decade, as was vibrant oranges, yellows and greens. Dark brown contrasts well with the lime green and the orange backsplash give it even more of that 70's groovy feeling. Inset handles remove the need for hardware and lend to the retro feel, as do the chairs offering seating for guests around the matching brown island. Storage space is optimized with even more cabinets below the windows.
21. Shelves and Cabinets and Cubbies, Oh My!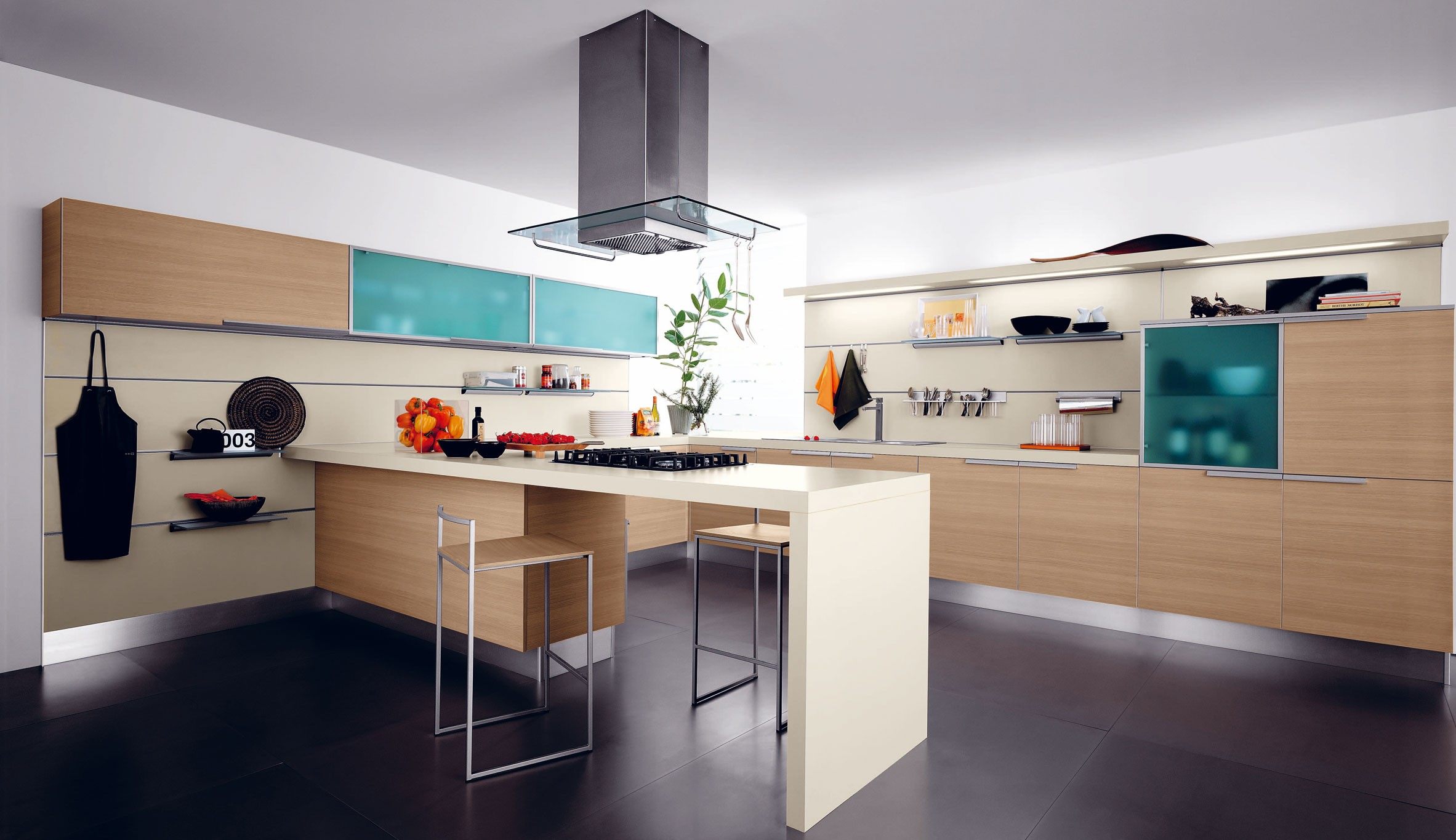 This ultra-urban kitchen oozes with charm in every nook and cranny. Oversized kitchen storage cabinets hide your appliances and clutter, but only those you want to be hidden. They are surrounded by an excellent array of hooks, shelves and colored, semi-see-through glass doors to hang, place, and half show-off every trinket you can think of. Changing up the scenery in a kitchen like this is as simple as hanging something new or rearranging the shelves – how cool is that?
22. Magnificent Minibars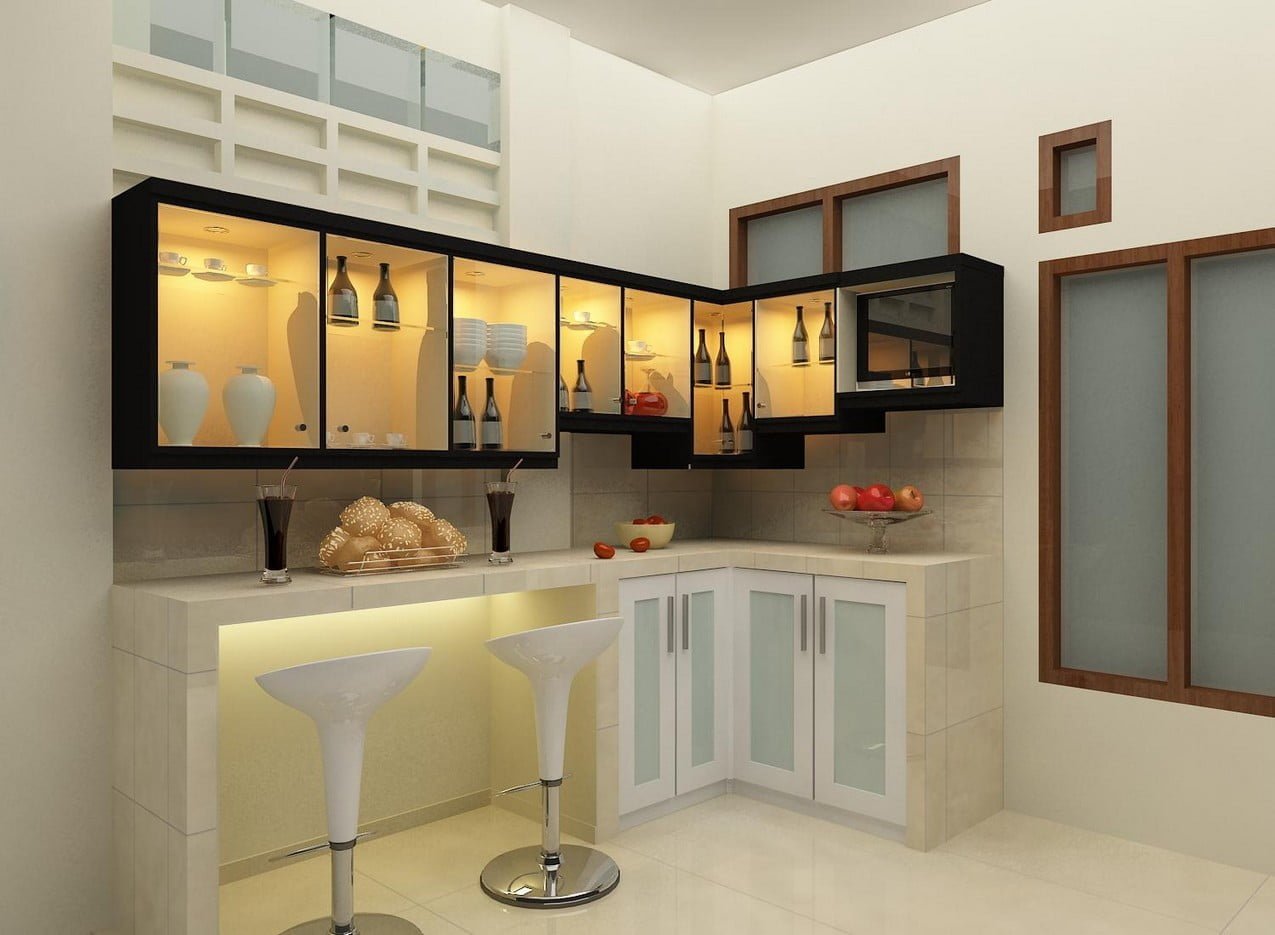 Do you have a corner in your kitchen that you just are not sure what you want to do with? Maybe there is a desk there that seems to be better for collecting junk than anything else? Put in a minibar! Modern kitchen cabinets with no doors can be installed above a small counter bar. Add in recessed lighting with some lovely glasses and bottles of your favorite beverages for function and ambiance, then add in some seating and voila! – you have a corner minibar to rave about.
23. Modern White Kitchen Cabinet Design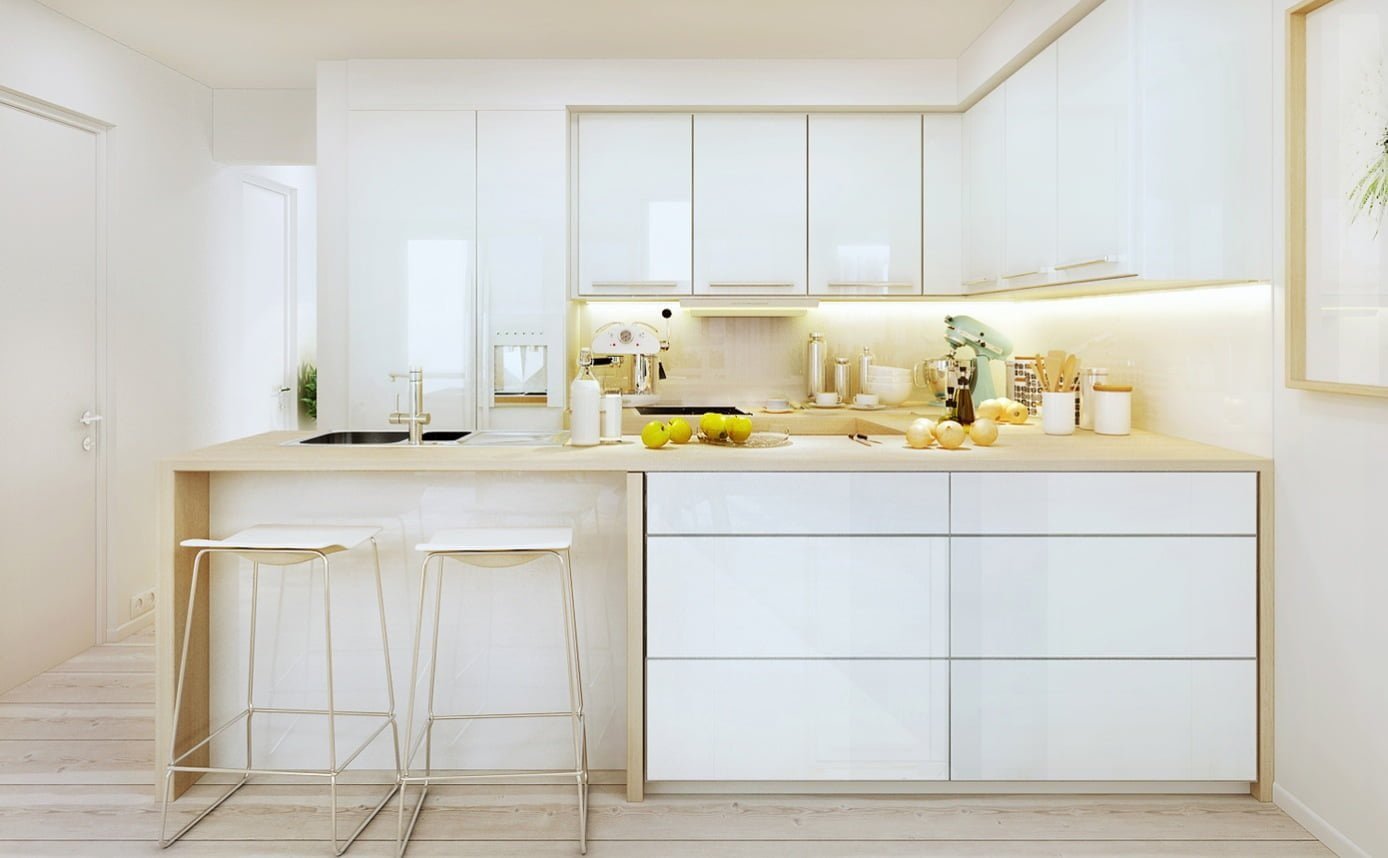 Nothing says crisp and clean quite like white. Everyone wants his or her kitchens to be tidy, fresh and inviting, and one great way to accomplish this is by making the kitchen white. Then add more white, and then more! White wooden floors add an air of old-world luxury. The cream countertops give breaks to the white and beautifully tie in the floor to the white cabinets. Worried about keeping them clean? Thermofoil kitchen cabinets create a high-gloss look that is easy to clean, too.
24. The Optical Illusion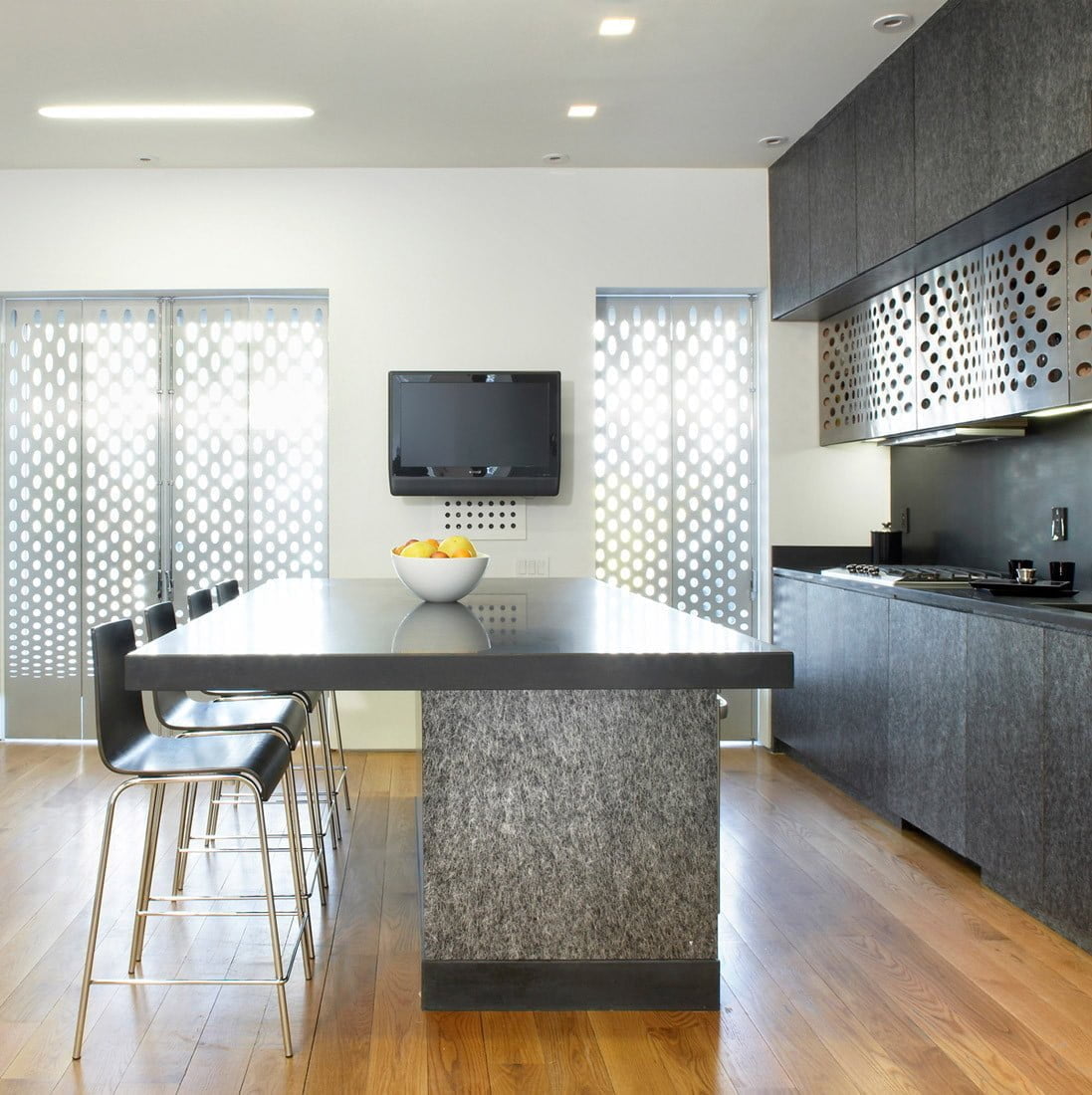 Kitchen ideas focusing on silver and black give the owner the opportunity for a lot of cool customization possibilities. Here, black granite countertops are set off by laminate cabinet fronts above and below. Mid-level cabinets are aluminum punched with ovals and circles that make them look like they wave in and out, but in reality, they are flat across. The matte black backsplash helps the space from becoming too busy, and the wood floor keeps the space inviting.
25. Optimal Organization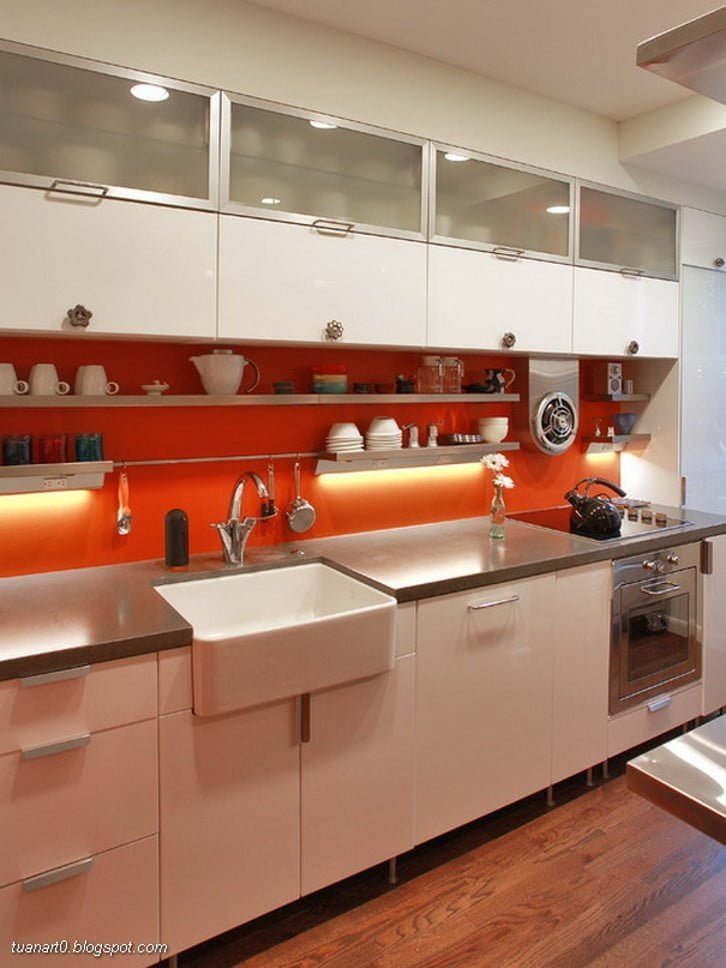 Source: The original source is not available anymore.
Often, there does not seem to be enough room for all of the trinkets we want to have in our kitchens – showcased or not. While cabinets are the main thing a person sees and they should be aesthetically pleasing, it is wise to remember they are primarily functional and must provide space for storage. That does not mean they have to be boring, though. Eccentricities can be as small as having them open up and down instead of side to side, and the backsplash in between can easily be fitted with shelves to optimize space.
26. The Executive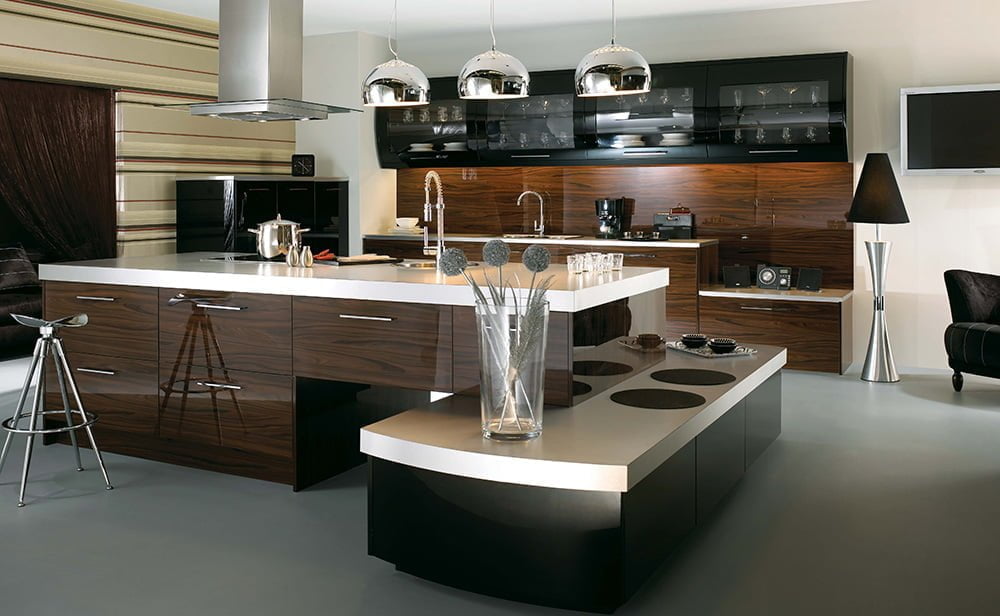 Source: The original source is not available anymore.
Elegant furnishings and embellishments in classic woodgrain, black and silver give this kitchen a classic executive look with modern style. The different heights seen here make the space truly unique. The drawers below the counter match those in the island and are reminiscent of filing cabinets while the upper cabinets offer a peek to what's inside through glass surrounded by black. The white island topper and counter space break the darkness in a lovely way.
27. It's All About the Lighting, Baby!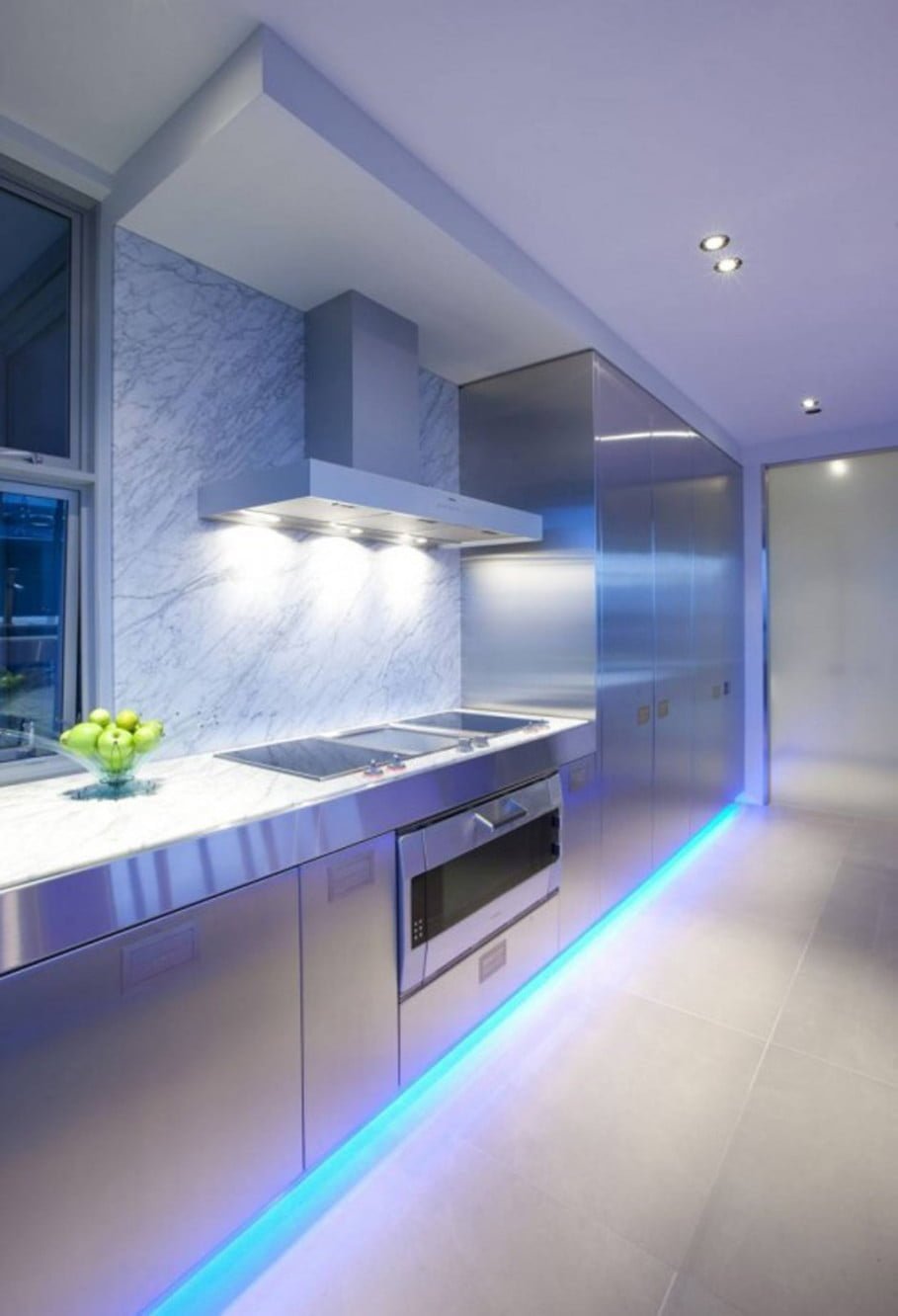 Stainless steel appliances and custom stainless cabinets make this kitchen shine. Breaking the monotony is a gray marble backsplash behind the range and blower. What REALLY makes this kitchen shine, though, is the strategic placement of some fabulous lighting. The area would be different enough with the track lighting and those above the stove, but the turquoise rope light running the length of the lower cabinets creates an out-of-this-world glow. When deciding between kitchen cabinet ideas, keep in mind what can go around them to make them stand out as well.
28. Lines of Love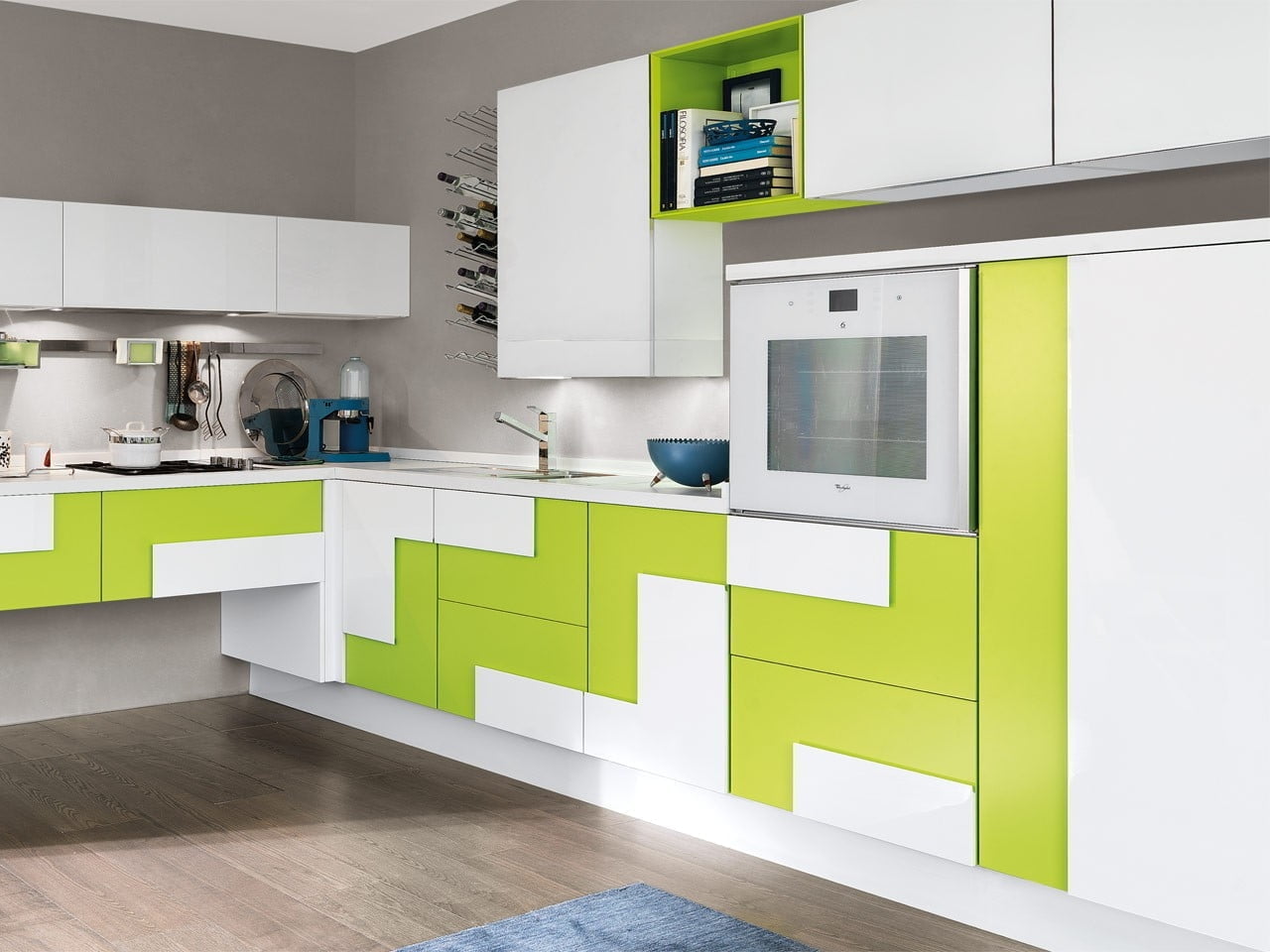 Source: The original source is not available anymore.
Kitchens today are usually sleek units of character and style. Built-in appliances, cubbies, and bursts of color are often key features of kitchen decor in this day and age. The minimalist cabinet fronts here are a fun mix of colors and lines below the counter area. Above, simple white cabinets are set off by a matching lime green cubby hole. To design a room like this, be sure to check out coordinating color swatches for that perfect complimentary color, seen here in blue. Use that color on the rug, a strategically placed vase, books and more to break up space and create focal points.
29. The Look That's All You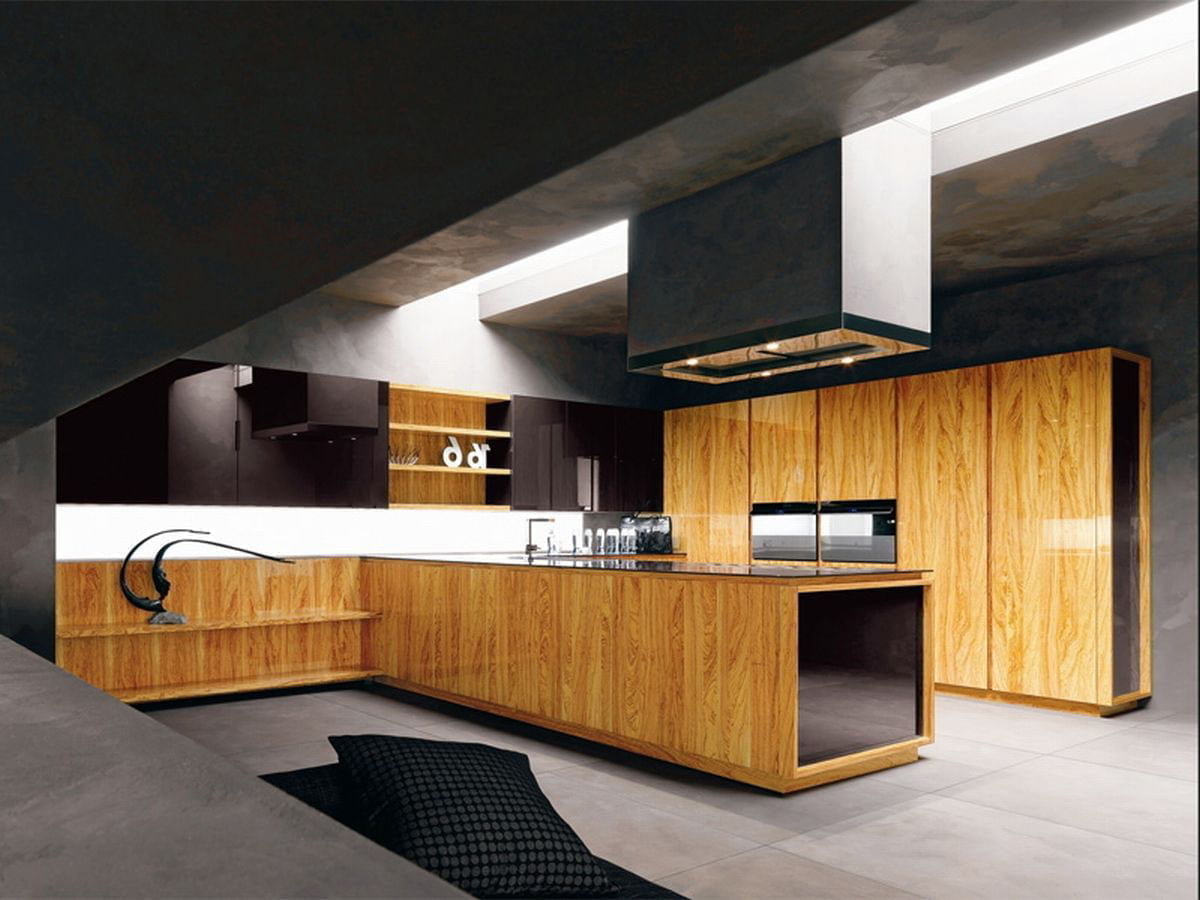 Source: The original source is not available anymore.
People want fresh, new and elegant style in their kitchens now. Worktops and modern cabinets vary as much as home decorations do, and the customizations and ways to make your kitchen yours is truly limitless. Are you looking for a design more suited to large family dinners or entertaining? Do you need a built-in bar or want an island that provides ample seating? Whatever you need, there are bound to be perfect cabinets that will match your heart's desire and pull the whole room together!
30. Swimmingly Superb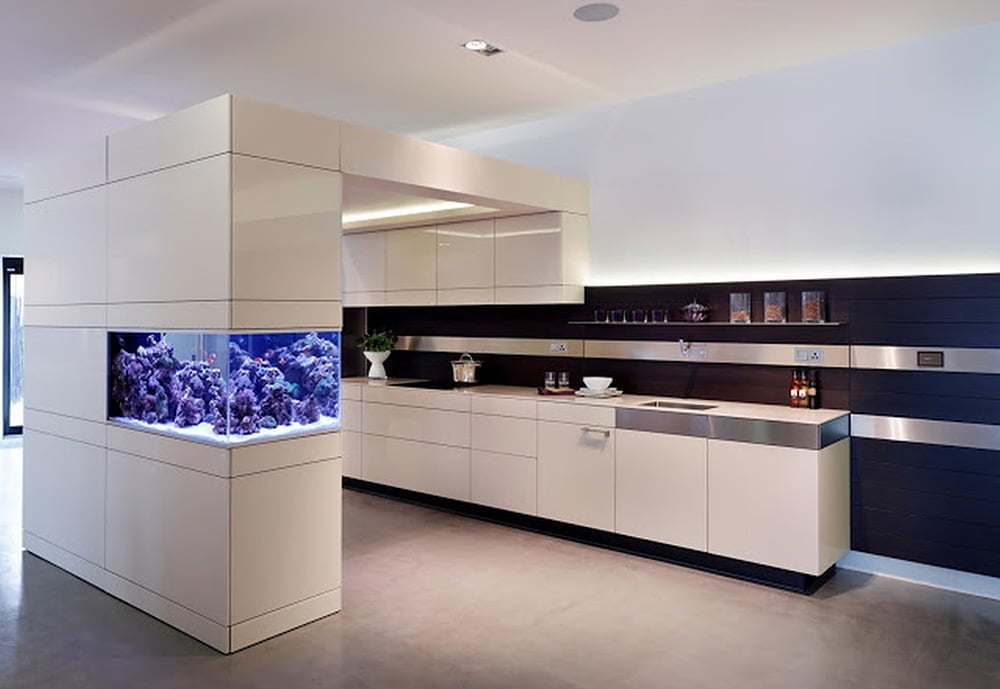 Source: The original source is not available anymore.
Minimalist white Corian cabinets and countertops are set off by a bold, dark-colored paint. This style is well suited for highly-traveled spaces in upgraded bed and breakfasts, hostels or even high-end extended stay hotels. The benefit to this design is the easy installation that is also long-wear and easy to care for. The open design would also work well in a studio apartment where the advantageous use of space is critical. And, what is more fresh in a kitchen space than live fish? This surprising touch is a pleasant focal point that adds color in a lively way.
31. Over the Rainbow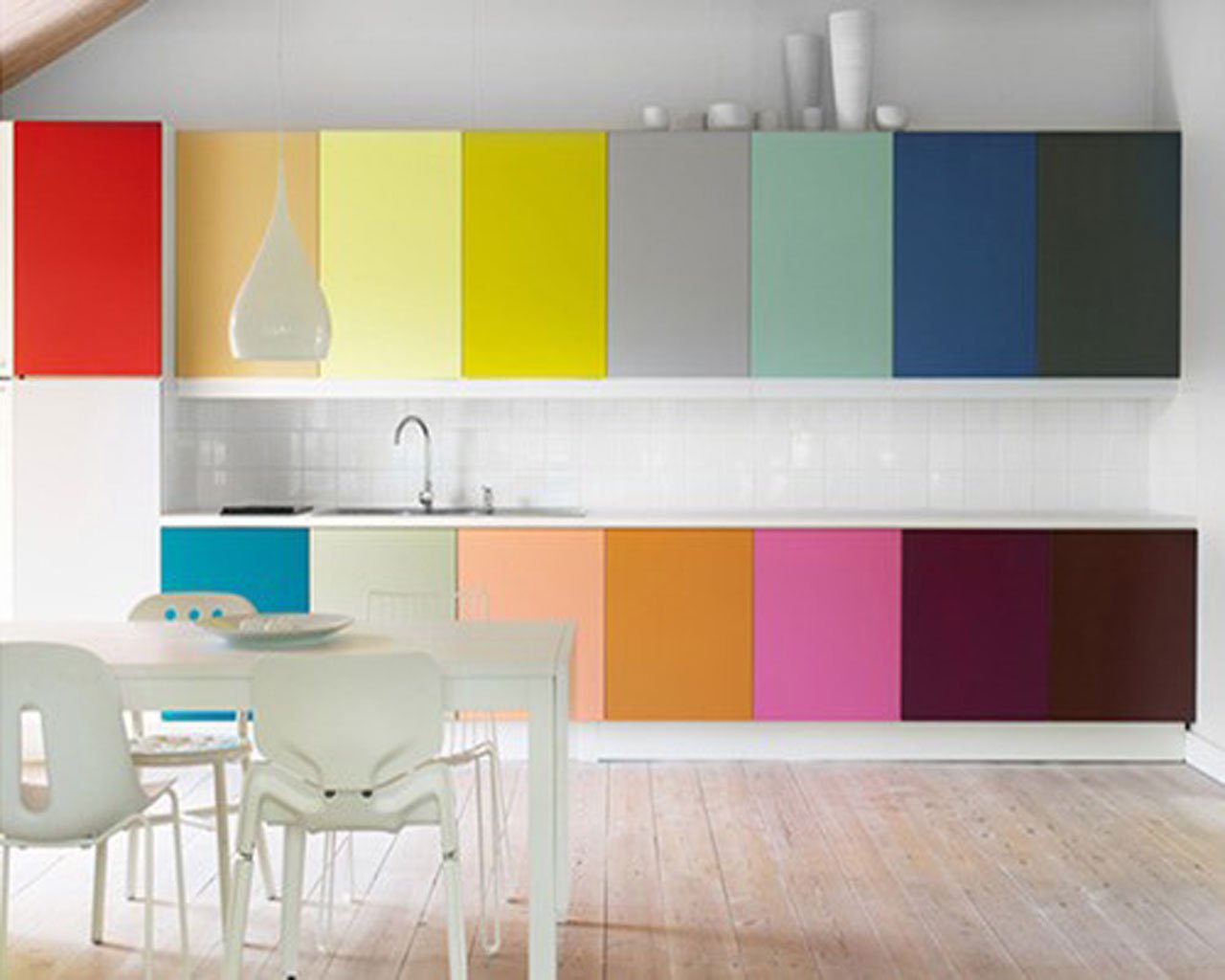 Can't decide on a color for your cabinets? Why not use them all? If this creative color choice does not inspire you, I am not sure what will. This is perfect for those who want artistic inspiration with their morning cup of coffee or for those who just decide to be indecisive. When going this bold, little else is needed in the way of color or accessories as the cabinets speak for themselves. Subdued white tile and furnishings with a light wood floor let these cabinet fronts stand out and be the focal point they are meant to be.
32. All That Glitters is Gold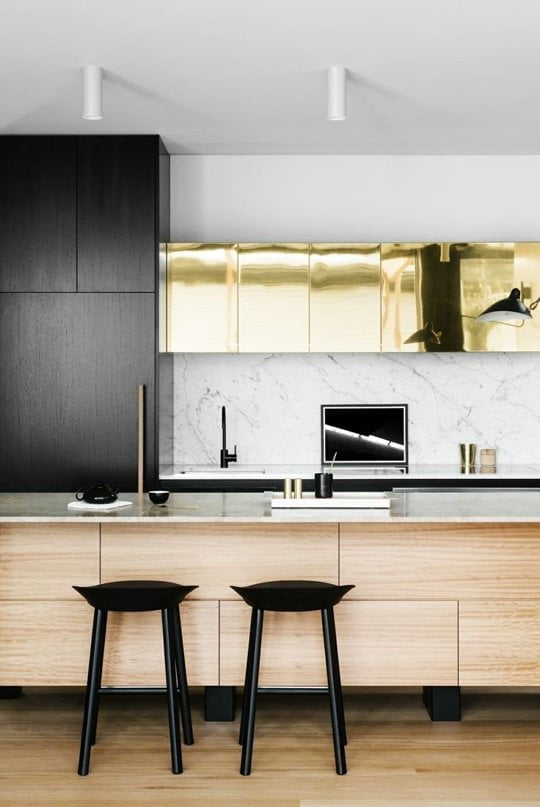 Source: The original source is not available anymore.
Gold cabinets? Well, why not? It is your space so why not bring your sense of style in the wardrobe into your kitchen? To keep the area toned down and not gaudy and pretentious, be sure not to go overboard when going bold with metallics. The designer perfectly illustrates the requisite restraint in this kitchen, where the gold is limited to upper cabinet faces. Set off by a magnificent light gray marble backsplash, the only other gold adornments in the room are found in the salt and pepper shakers. The black pantry and wood island are perfect complements.
33. Why Be Straight?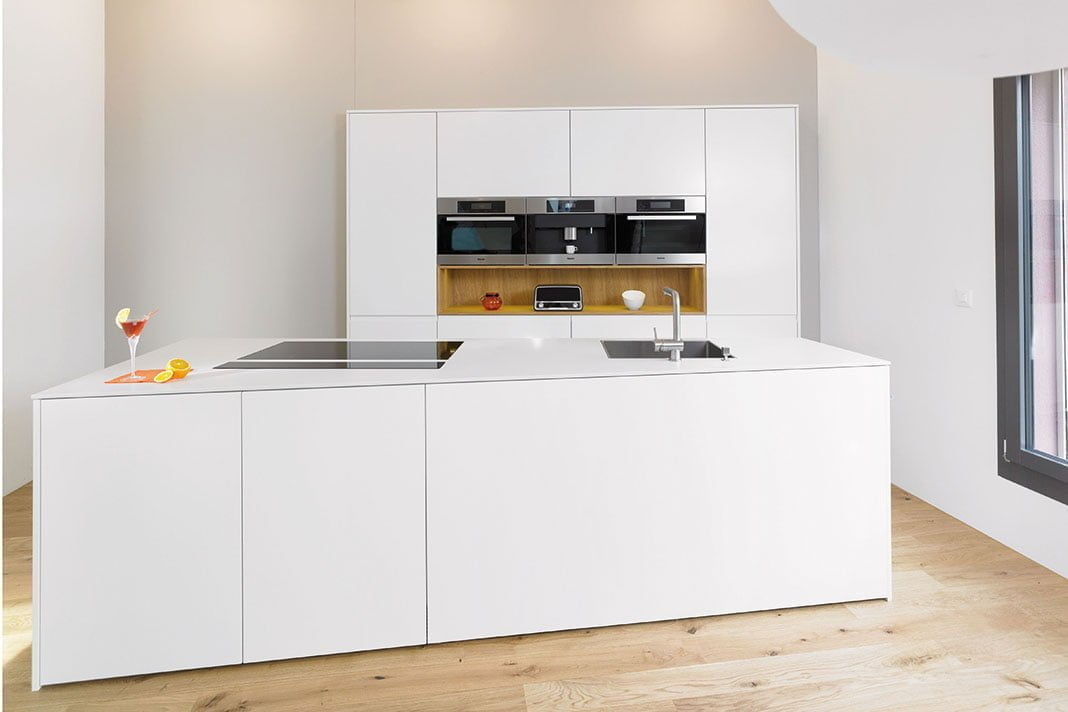 Source: The original source is not available anymore.
A kitchen island that is perfectly rectangle – how boring is that? Why have a perfect quadrilateral when you can create an instant conversation piece with unusual shapes? The cabinets serve as a flawlessly uncomplicated backdrop when viewing this room from beyond, and are large enough to serve double duty as a pantry space as well. Clean lines are kept tidy by using cabinet faces that do not require hardware, and wood inserts save the wall unit from being monotonous.
34. Multi-Dimensional Modern Kitchen Cabinet Design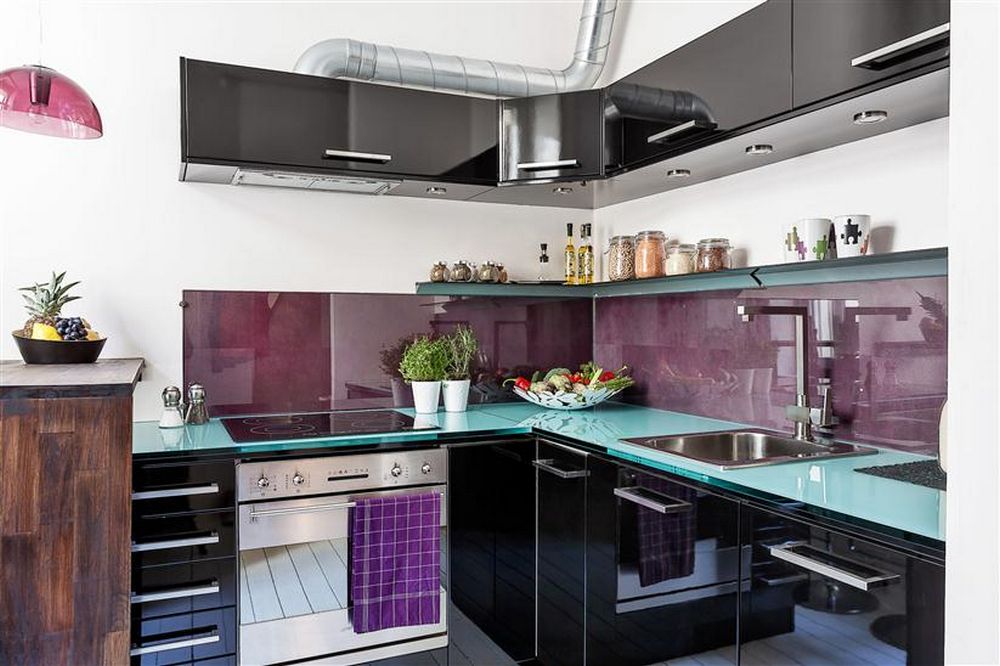 When working with smaller spaces, a combination of light and dark colors can really open the area up by drawing the eye in different directions without being too busy. Leaving the stove fan pipe exposed lends an industrial touch that doesn't feel cold. Instead, it lends to the height of the room and makes it feel taller and roomier. The mirrored cabinet finishes give the illusion of more space as well. If storage is limited and there is no room for additional cabinet space, install shelves where possible, as seen here.
35. In the Red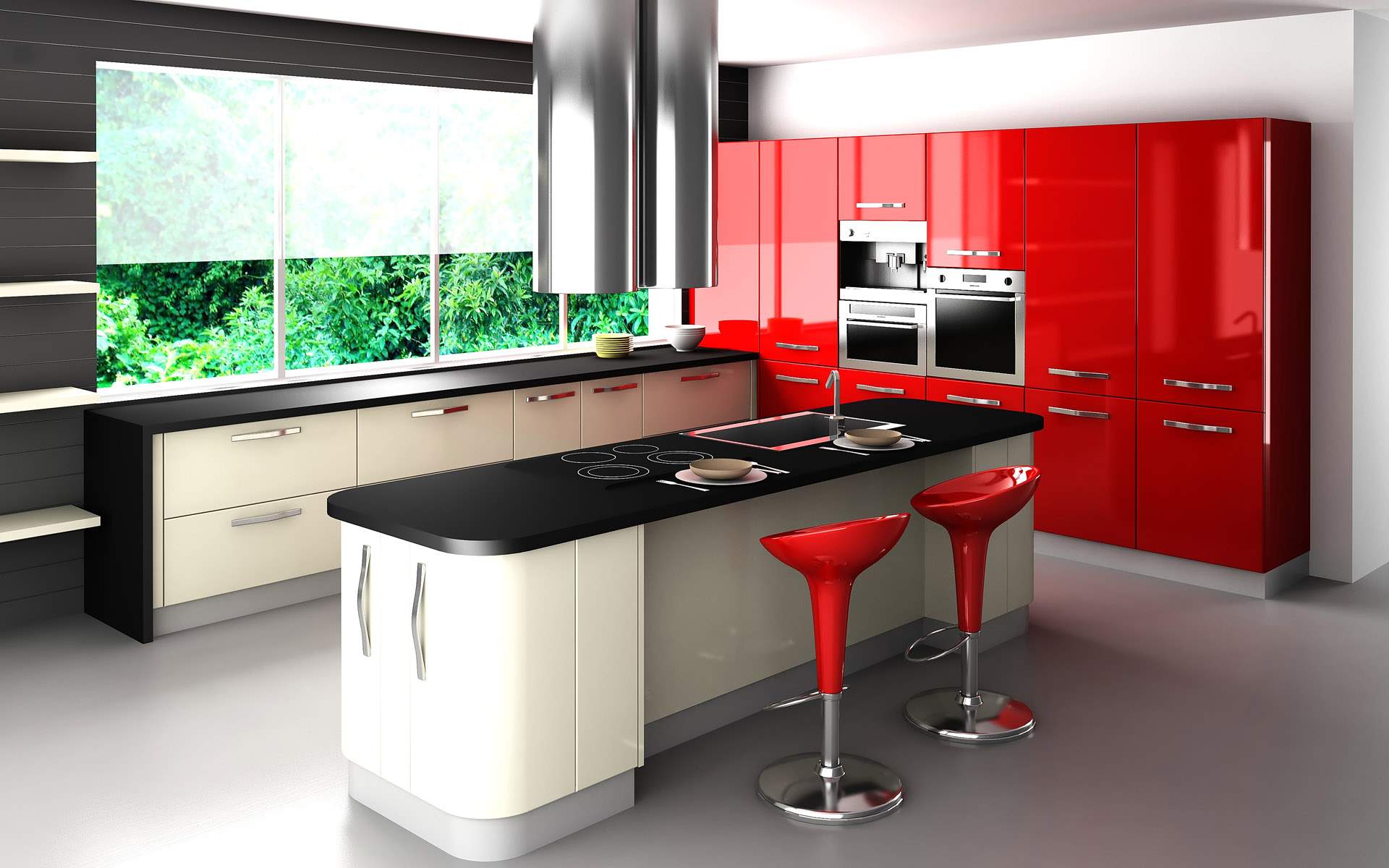 Source: The original source is not available anymore.
Some people cook as a hobby. Some cook as a chore and because well, food is sustenance. Others burn water. For some, though, cooking is a passion. It ignites a fire in them that cannot be doused or tempered. They are happiest in the kitchen, whipping up specialties and rejoicing in the smiles that inevitably come from that first delectable taste. What color better represents passion than red? It is a perfect color for the kitchen and cabinets provide an ideal surface to present the love you feel for cooking to the world (or at least to YOUR world!).
36. Vertical Paragon Modern Kitchen Cabinet Idea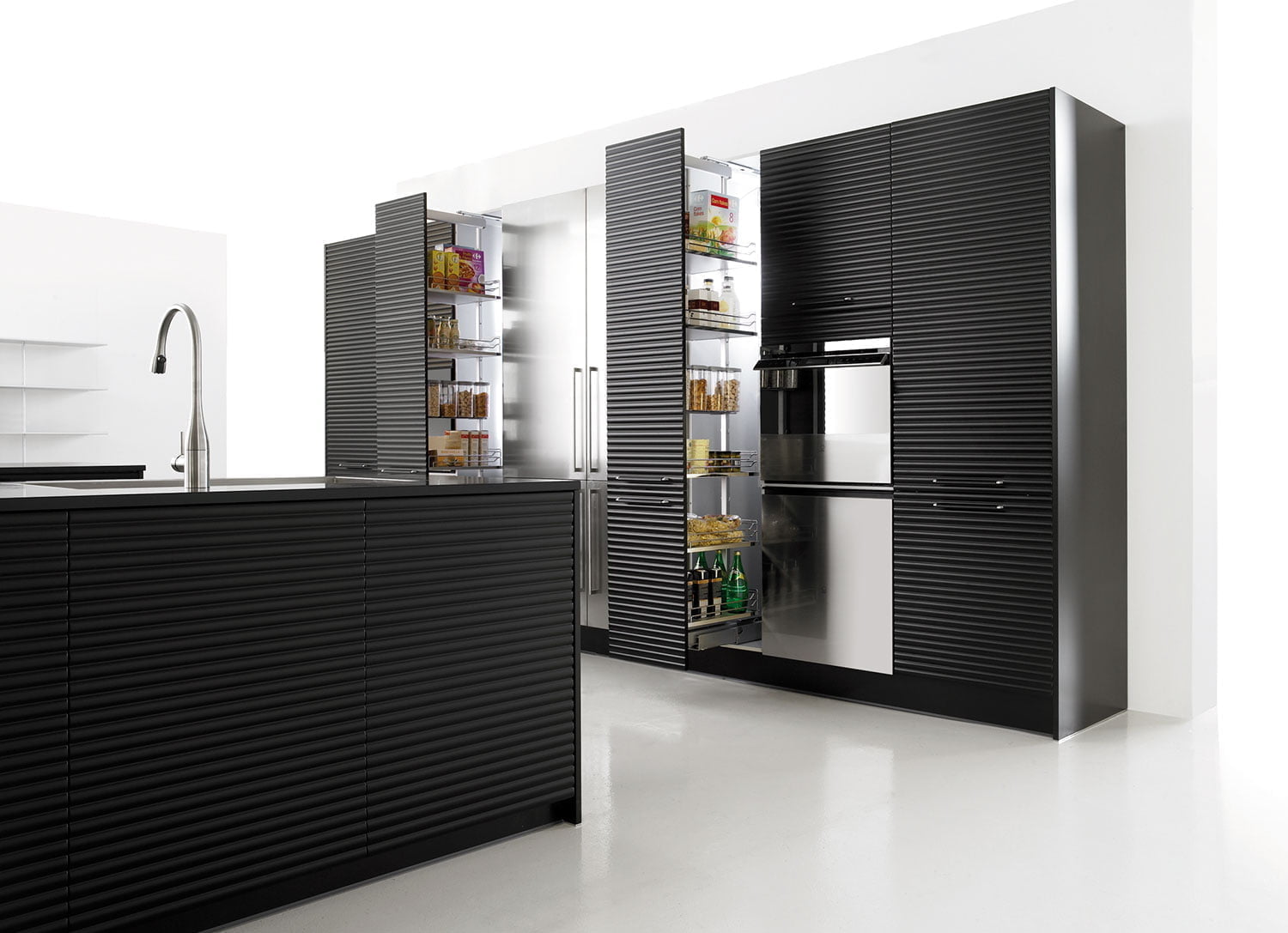 Source: The original source is not available anymore.
Modern kitchen design is all about pushing against the norm. Spanish manufacturer Mobalco is the vanguard of this movement, known the world around for their innovative use of space, color and texture to create visually stunning marvels that are as functional as they are beautiful. Here, they lay the standard horizontal cabinetry by the wayside and take storage to new heights, opting for vertical units in their place. The textured black cabinet faces and island wrap harmonizes supremely with the sleek steel appliances.
37. Tertiary Touches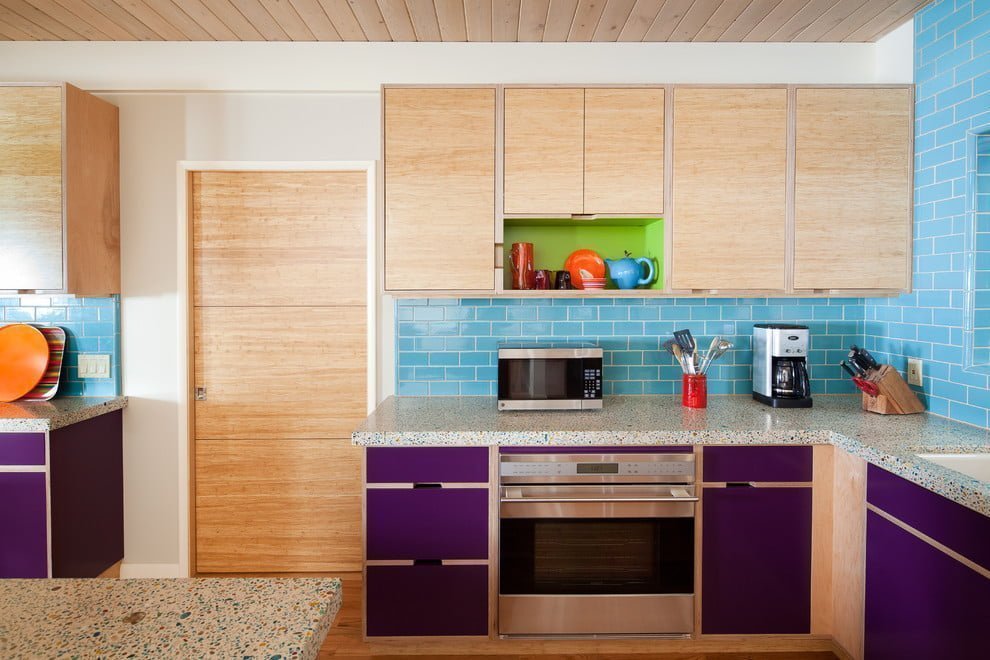 Source: The original source is not available anymore.
This isn't your grandmother's kitchen. Long gone are the days when choosing cabinets boiled down to which wood grain was the favorite and would match our natural floors the best. Today, the possibilities for color combinations vary as wildly as our imaginations will allow. If we can think it, someone somewhere can make it happen. Colors are not an issue either. As you can see from the unexpected splash of aquamarine ceramic tile in the backsplash to the pronounced purple of the lower cabinets, kitchen design ideas can feature more colors than the latest Disney movie! Even more color can be added with the help of your local paint store. Be daring, be bold and most importantly, be you.
38. Coexistent in Time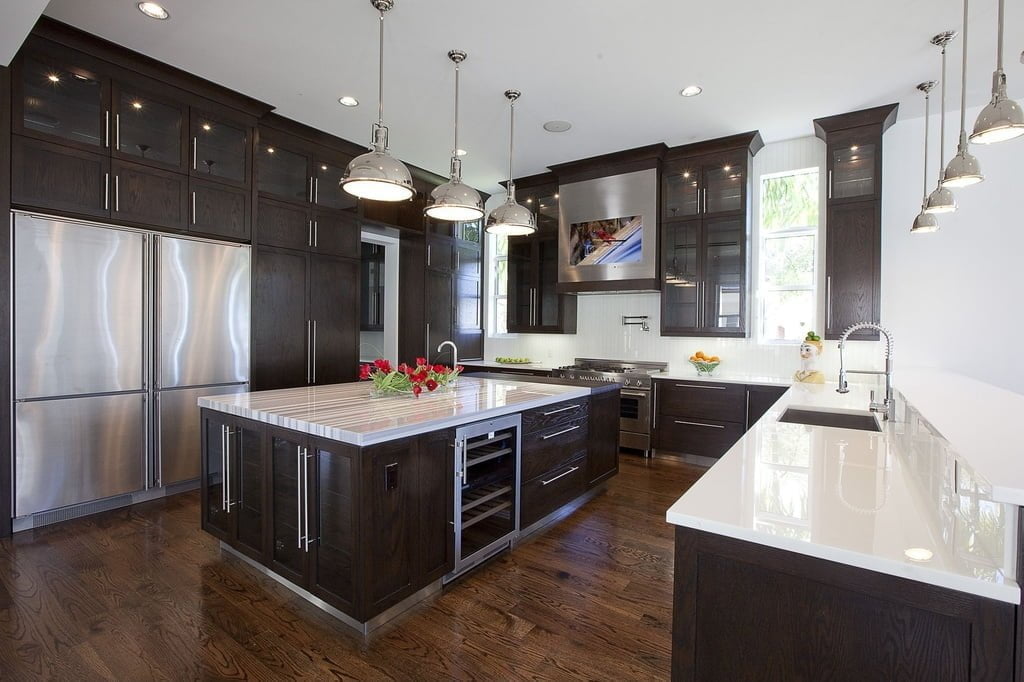 Source: The original source is not available anymore.
If you love the classic look but want to incorporate modern touches, do it! This ultra-contemporary design takes all the best attributes of old-style kitchens and updates them, making them into lovely new pieces with a comforting and familiar feel to them. Wood cabinets get a fresh look with sleek handles that complement the appliances, and the addition of glass allows for a peek at what's inside. To add a splash of color to a space like this, the inside of the cabinets and shelves could be painted with a color of your choosing, and accessories in that color could be placed sparingly about.
39. Magical Modulars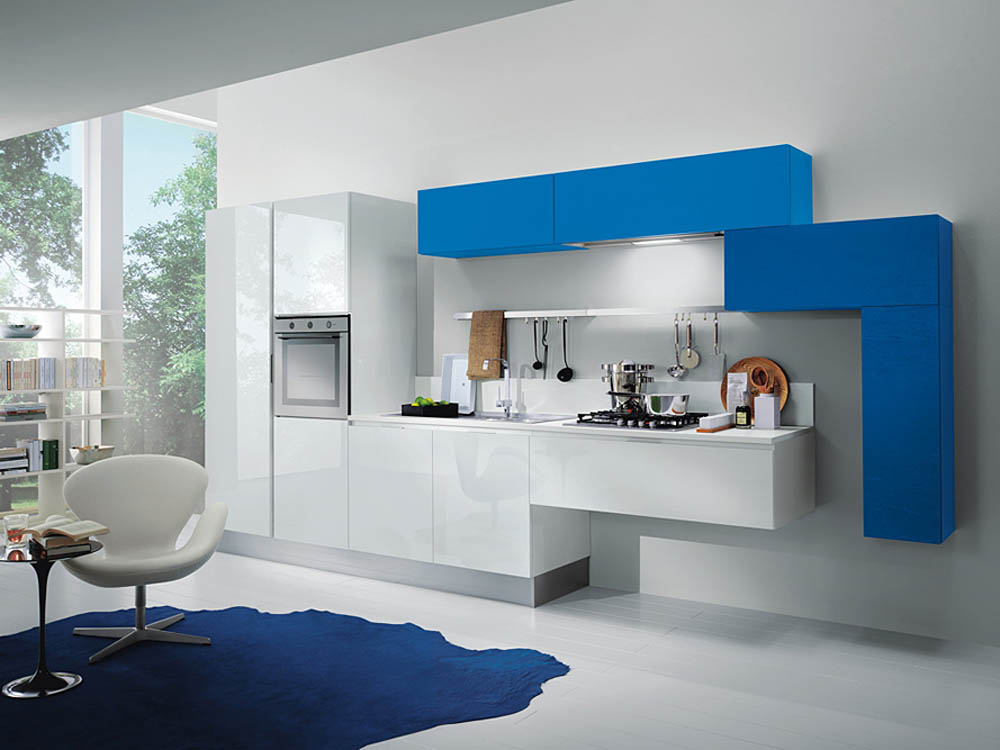 Source: The original source is not available anymore.
Whether it is to optimize a small space or redo an entire room, many folks are opting for modular pieces. Modular kitchens can be found in straight, parallel, L- or U-shaped and island-incorporated designs. These factory-built wonders can be as uncomplicated or intricate as you wish, and the styles and color options available make the final design looks nearly infinite in variation. Browsing through all of the options available will open up a whole new world of kitchen ideas you have not previously considered. They are perfect for anyone on a budget or just wanting a change!
40. It's the Little Things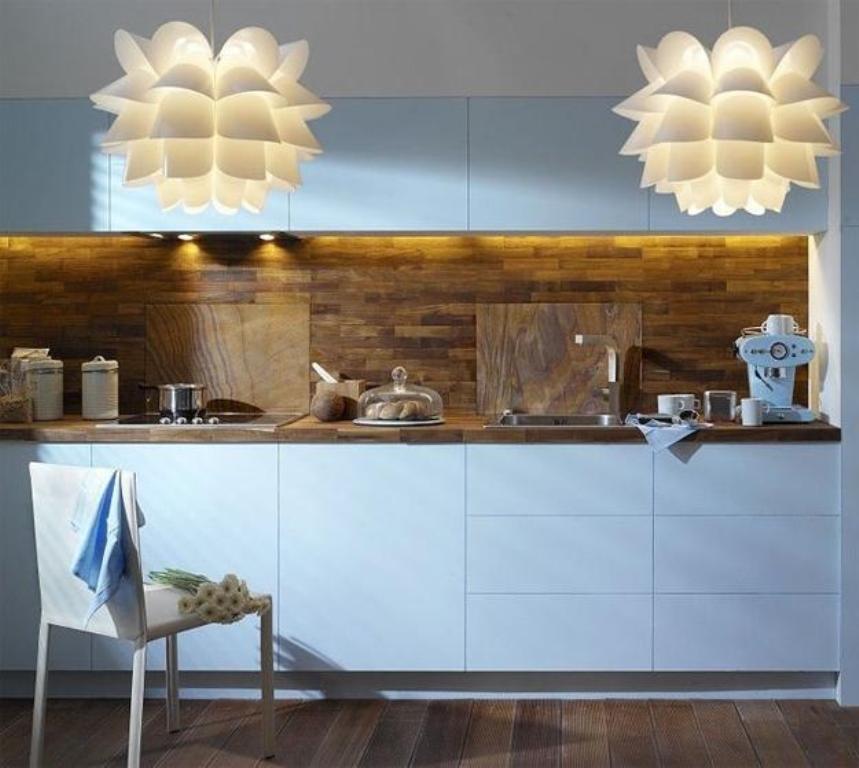 Source: The original source is not available anymore.
Plain-faced baby blue cabinets could be subdued and fail to impress if care is not taken in the rest of the room's decor, but that is certainly not the case here. Instead of stopping with wood floors to balance the cool blue, the warmth of the wood is extended to the countertop and backsplash. Extra attention should be paid to the wood used for these surfaces; you have to make sure that they can withstand the abuse that these areas are subjected to on a daily basis. Even the backsplash should be completely water-sealed – you'd be surprised how much can splash back there!
41. Purple Passion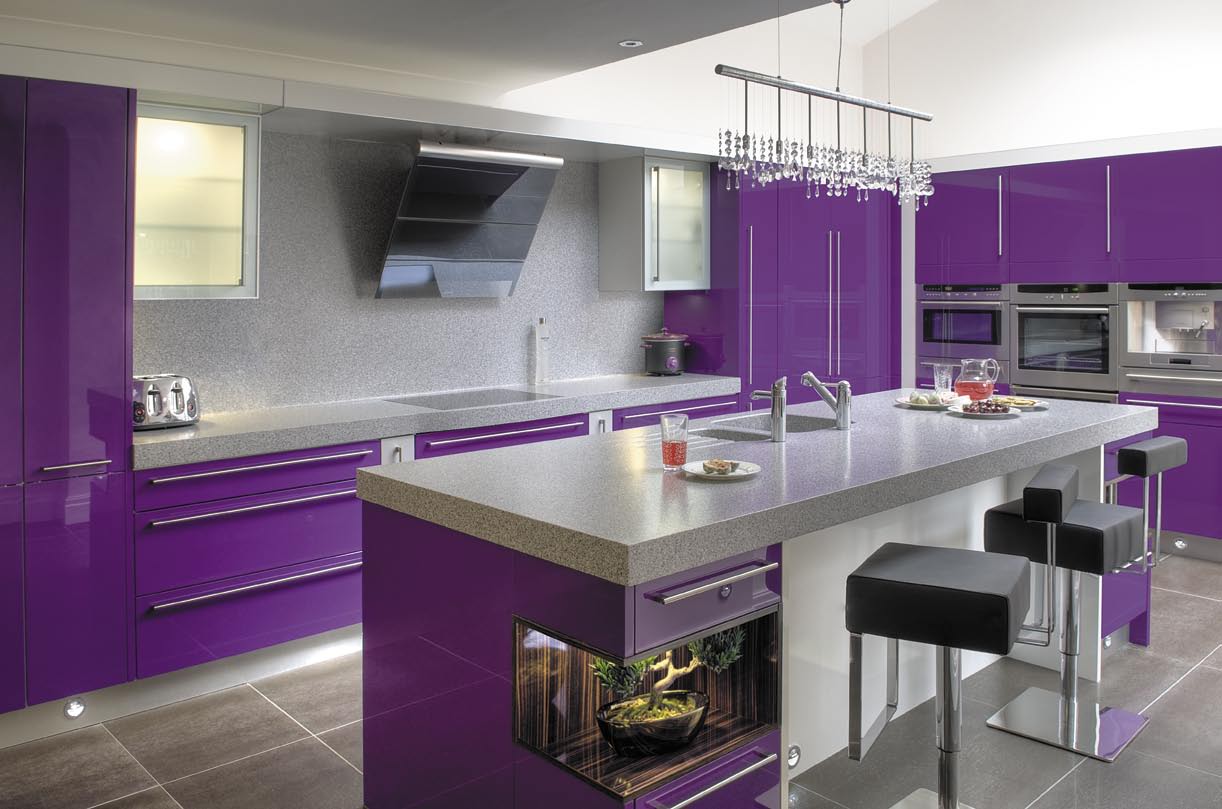 The kitchen becomes the star of open floor plans in homes when they are boldly colored, as this beautiful lighter aubergine one is. The rest of the furnishings as well as the floor are monochromatic in whites, grays and black, which allows the distinction of this cabinetry to become the focal point of the entire room as well as the surrounding areas. Design advancements today allow people to be as fearless as they wish and let their personalities shine through in their homes, and daring color choices are no longer eccentric, they are deemed modern and fresh.
42. Mathematical Marvels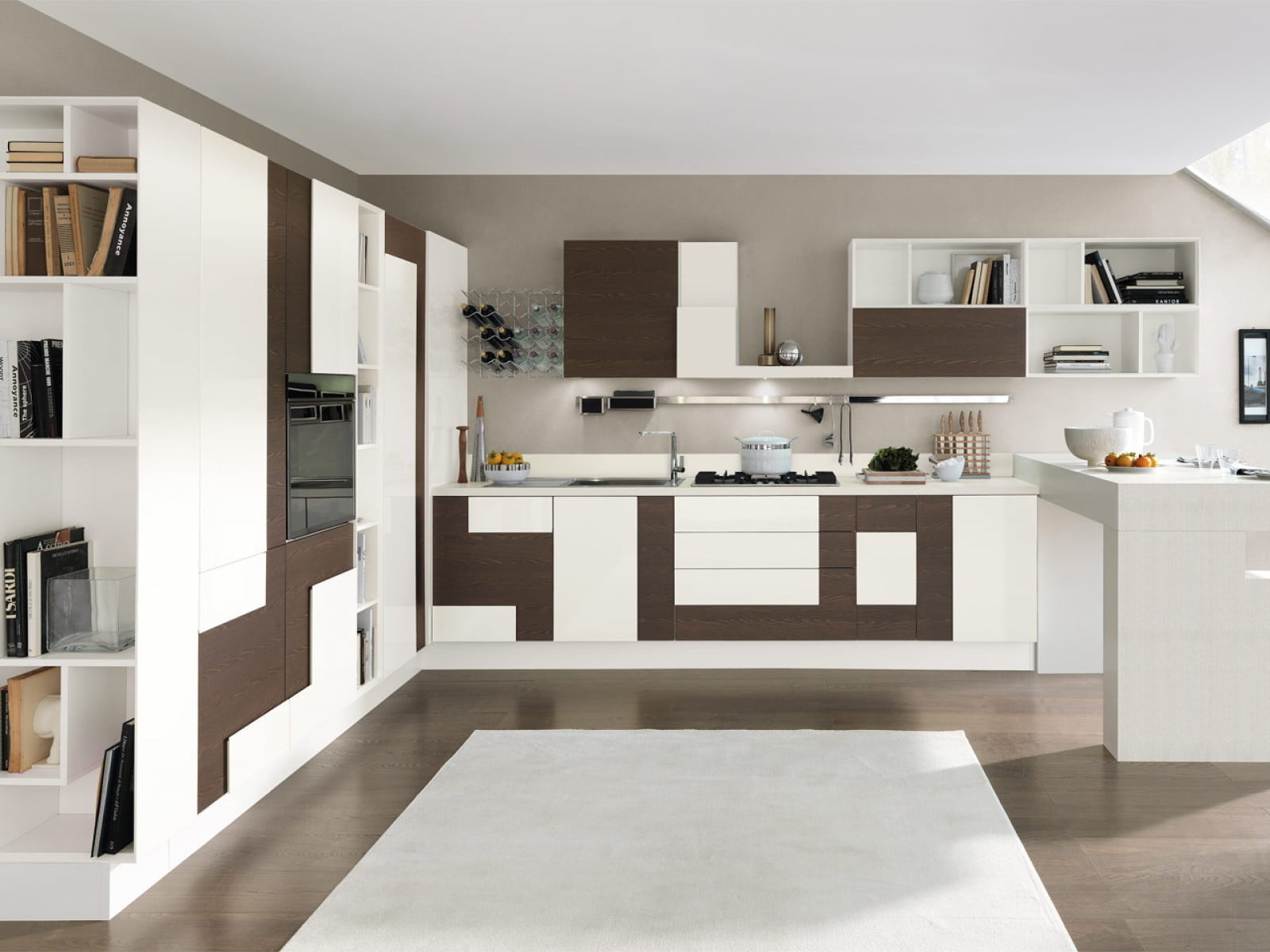 Geometric shapes are all the rage in home decor, and they intrinsically fit in modern kitchen cabinets. It goes without saying that cabinets come in square and rectangle shapes, which of course are geometric. Somewhere along the way, however, someone had an idea that they could be so much more – and the design world ran with this idea. What resulted is an endless array of choices for the room in which we spend a large percentage of our time. The various shapes can be fit and colored in so many different amalgamations that kitchen cabinets have become the veritable snowflakes of housing decor!
43. Color-centric Modern Kitchen Cabinets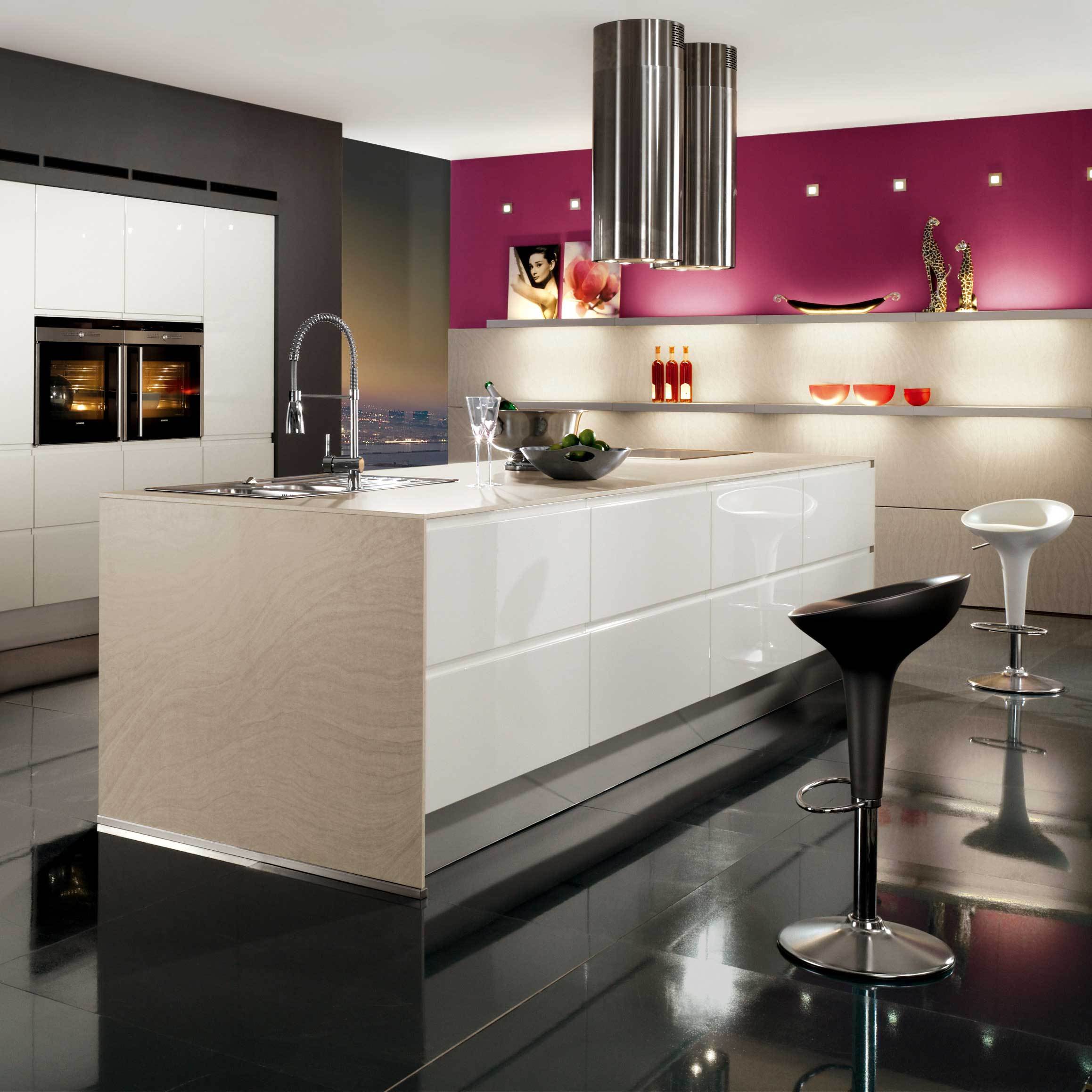 Source: The original source is not available anymore.
Cream and brown go together as well as black and white, and both combinations match bold color accents almost equally. Here, we see all four colors combined in aesthetically-pleasing unison. Sleek white cabinets envelope a built-in, lighted cruvinet. The cabinets themselves are enveloped in dark brown, which gives the entire wall the look of a framed art print. Space and storage are maximized with additional cabinets in the front of the island, which itself is wrapped in cream granite. Black accents match the floor, and the whole area is set off by the fuschia accent wall.
44. Wait – That's a KITCHEN?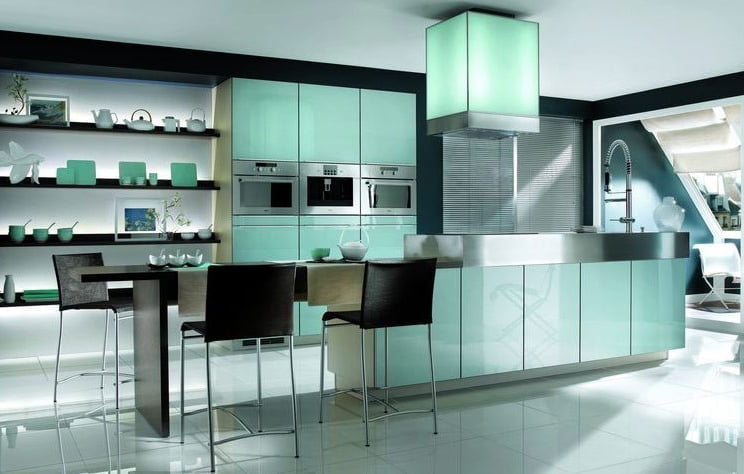 Source: The original source is not available anymore.
The beauty of today's interior design is that it can be so unexpected and remarkable. There are times when walking into a modern room that one must do a double take to recognize exactly what the space is designated for. Many of the images above have shown this, but perhaps none quite so much as this stunning black and white beauty with turquoise cabinetry and accents. Looking more like a futuristic office space, upon further inspection this kitchen is actually as functional as it is pleasing to the eye. To bring a bold cabinet color seamlessly into an otherwise monochrome kitchen, add accents of the color throughout.
44 Ways That Modern Kitchen Cabinets Can Rock the Room
Modernizing a kitchen space means to relate it to the present instead of resurrecting the past. Many people may fear that what is 'modern' now may go out of style as soon as the next shiny thing comes along, but great design is not something that is quick to go out of style. There will always be something new that can be added to spice things up, but a strong underlying concept will remain fresh for years to come.
Instead of focusing so much on what is new and 'in', focus first on yourself. This is paramount for any project, whether it is renovating a room in your home, landscaping your yard or even updating your wardrobe. Better Homes and Gardens magazine will forever be featuring some up-and-coming design trend, and there will invariably be a new look on the catwalk every season. Does this mean you have to keep up? Of course not! Everyone has stylistic qualities and tastes that are unique to them. Use yours to your advantage when planning ANYTHING that you are going to have to live with for an extended period of time.
Is your favorite color purple? Use it! Do you love the look of wood countertops but don't think they are industrial enough for your modern desires? Who cares? Use them! Don't be afraid to mix and match and incorporate the old and new into a cohesive design. Doing it your way is ultimately going to make you happier than pulling something directly off of a magazine page. YOU are the one who is going to be cooking and entertaining in this space for years to come, so be sure to make it the most enjoyable and comfortable space for you!