Today's kitchens are far removed from those of our mothers and grandmothers. Traditionally, their kitchens were a little old world and country, with roosters and apples galore. They may have had some diverse elements (though not many!) and certainly had a more rustic feel. Warm wood was the texture seemingly everywhere, from the floor to the cabinets and even the table. The devil is in the detail with both past and present, but the meaning is vastly different.
Cabinetry in traditional kitchens was often framed or flush inset. They featured a glazed or antiqued finish, with raised doors and exposed hinges. There were often ornate moldings in and around the cabinets as well as the islands and walls themselves. Farmhouse sinks abound. Decorative lighting, such as that now found more in dining rooms (think crystal and brass chandeliers or lanterns), were often seen in more classic kitchens.
44 Reasons Modern Cabinets are the Stars of the Kitchen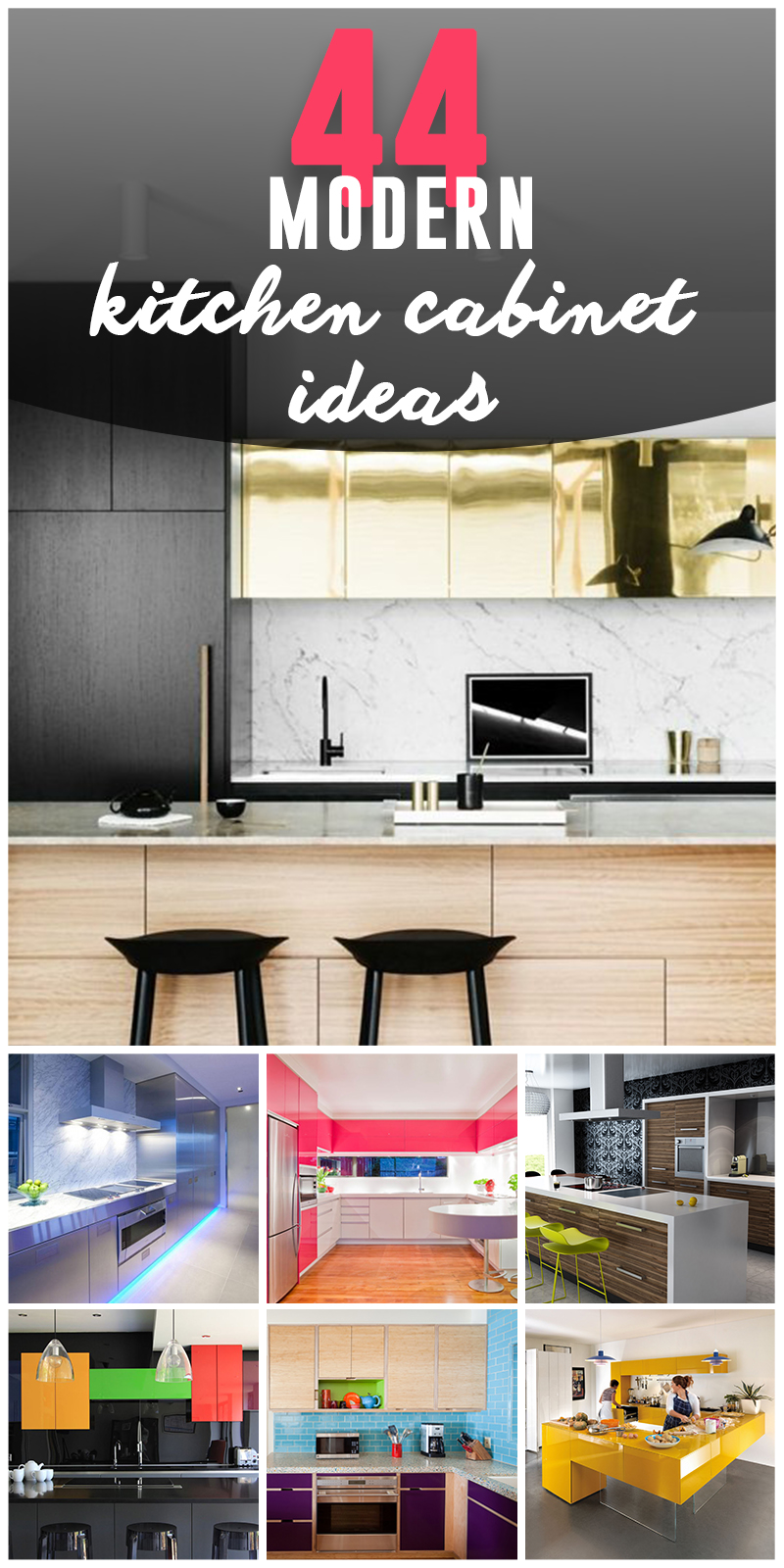 Now, these trends have given way to sleek lines and clutter-free design. Cabinets are no longer the ornate and etched beauties they once were; they are now seamless and smooth, yet functional. White is an excellent choice for modern style. However, you are not restricted as there are almost limitless choices for cabinet colors now. Hardware is largely unnecessary in these kitchens and actually fights the clean and unpretentious design. Often the cabinets are pull-out like the drawers for added convenience, and if there is hardware, it is likely industrial in feel.
Wood and brick of the kitchens of yore have been replaced by stainless steel. It is new and shiny in appearance – and not limited to the appliances. People today often opt for stainless steel in surprising elements, including the countertops, which add to the sought-after industrial feel of the space. Other choices for modern-style counters are concrete, marble, quartz and unpolished granite.
Another buzz word for kitchens today is modular – something unheard of in past decades when speaking of kitchens. Open floor plans are all the rage, as are massive islands to provide a gathering space. The following 44 images will introduce you to the modern marvels and offer a broad range of options for your own kitchen design ideas!
1. Pseudo Built-In Beauties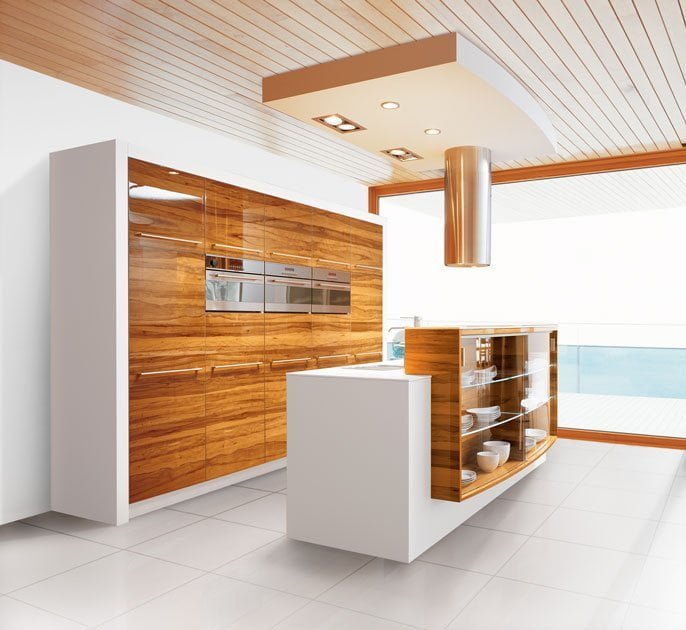 Love the look of built-in cabinets but don't want to tear down any walls? Turn your cabinet space into a wall unit for the look – sans the hassle! Doing so creates a masterpiece of kitchen design like shown in this modern kitchen. The high-gloss wood-grained cabinets feature low-profile, clean handlebars in polished silver that are set off by the matching built-in appliances and exhaust. The island performs multiple tasks that keep this space uncluttered, as it is home to the sink, stovetop and serves as a serving piece showcase that perfectly matches the cabinets and brings the whole room together.
2. Retro Red Modern Kitchen Cabibet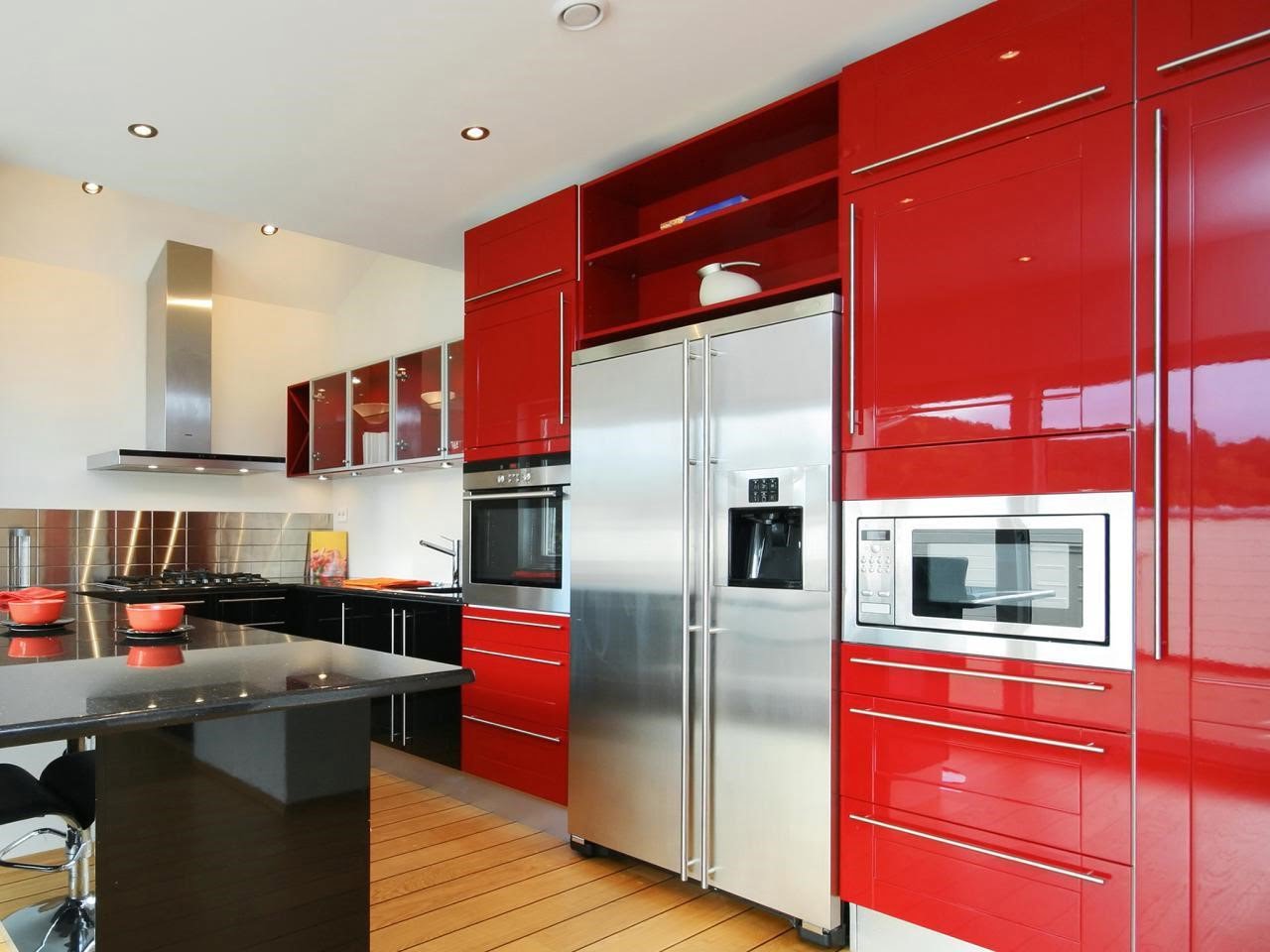 There is something about a bright, shiny red that screams nostalgia. From old time diners to fiery '57 Chevies, the color can make one reminisce of times that were as simple as they were tumultuous. This duality can shine in homes as well, giving a retro feel to a space in a highly modern way, especially in kitchens. Chrome gives way to stainless here, with the hardware embellishments and the built-in oven and microwave. When going bold with red cabinetry, be sure to keep the space balanced by keeping other colors to a minimum – black and white are all you need.
3. Clean and Functional Costars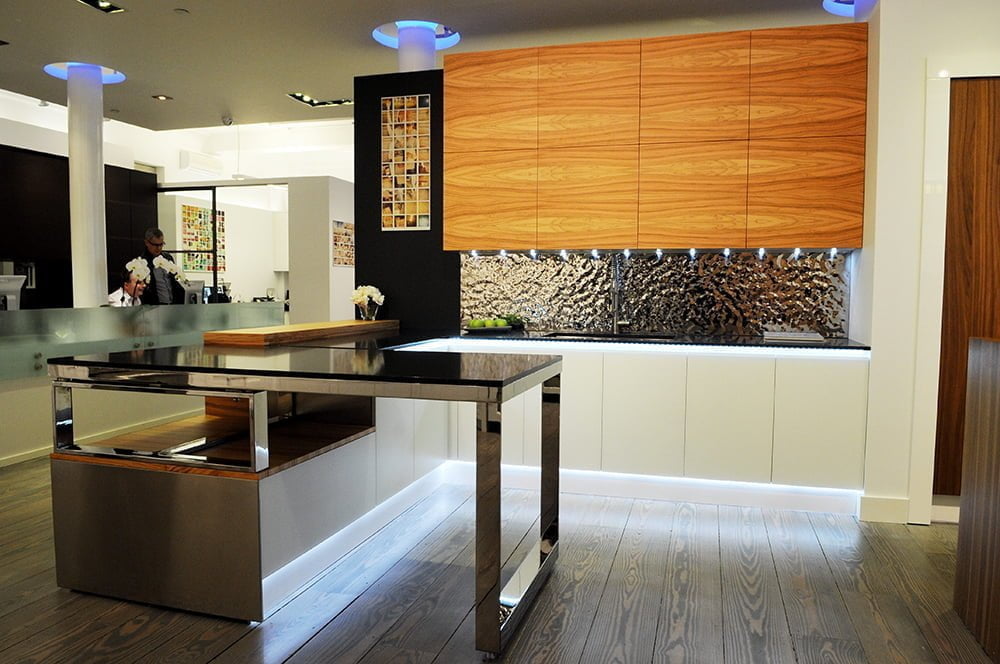 When your kitchen is a showroom, your cabinets can play a supporting role in some unusual ways. For example, the island is the star of this kitchen decor, yet the Oscar would go to the sleek and simple cabinetry for the way they make the headliner shine. If you want to set off plain-faced cabinets, a creative backsplash can draw the eye and set the entire tone of the area. Go for bright colors or unusual textures to enhance plainly painted or wood-grain cabinet fronts. If you are on a budget, try adding an interesting backsplash to enhance the look of your cabinets!
4. Geometry Lesson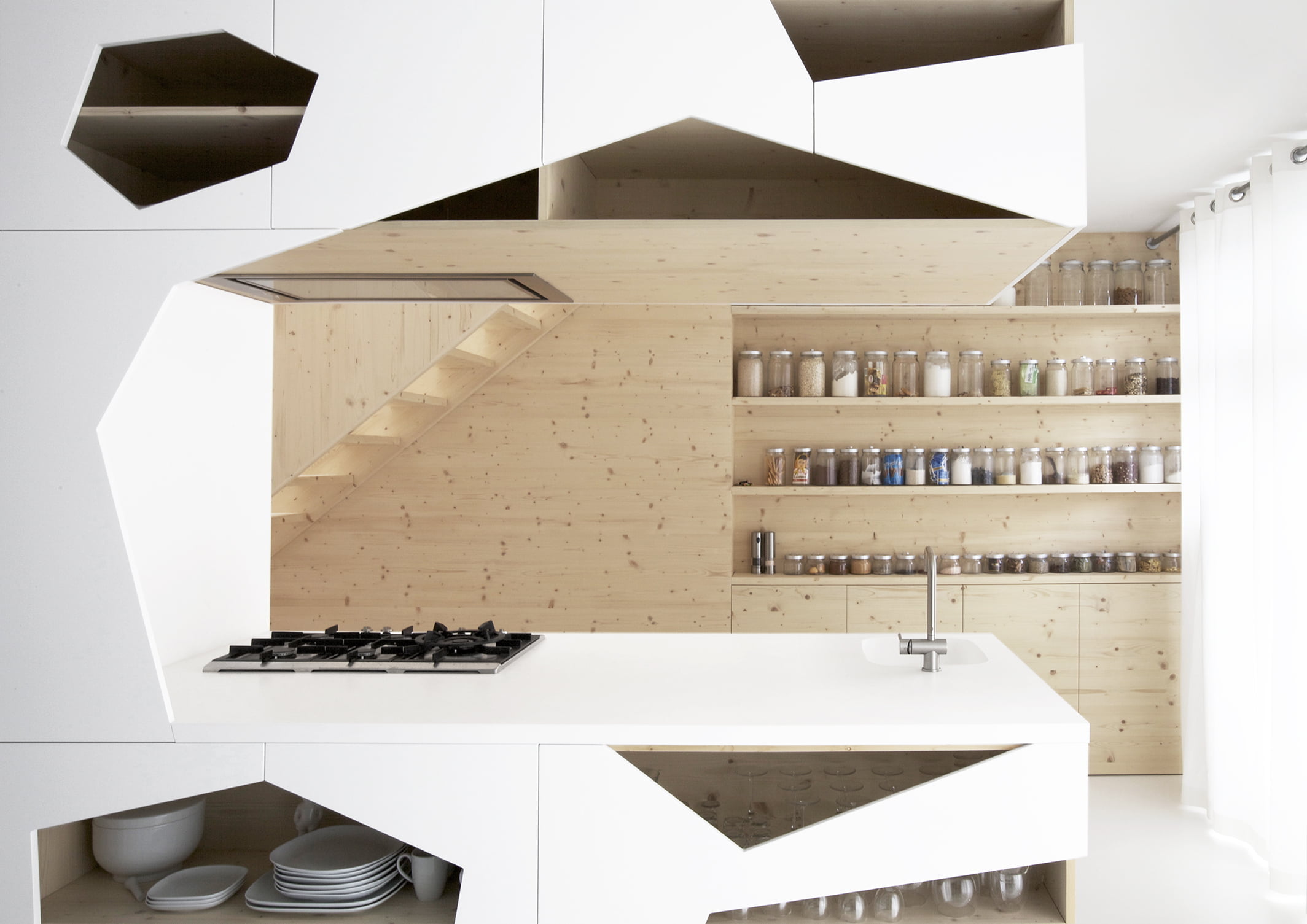 One thing to remember when designing a room is that there are no rules. This is your space. It is your go-to zen place where you will laugh with friends and family, share all of your trials and tribulations and help loved ones in times of need. Just as a circle does not fit neatly into a square hole, you should not try to conform to what other people's ideas of style are. If you want to build fun and funky geometric cabinets that can double as a math lesson for your kids, do it!
5. My Favorite Kitchen Cabinet Color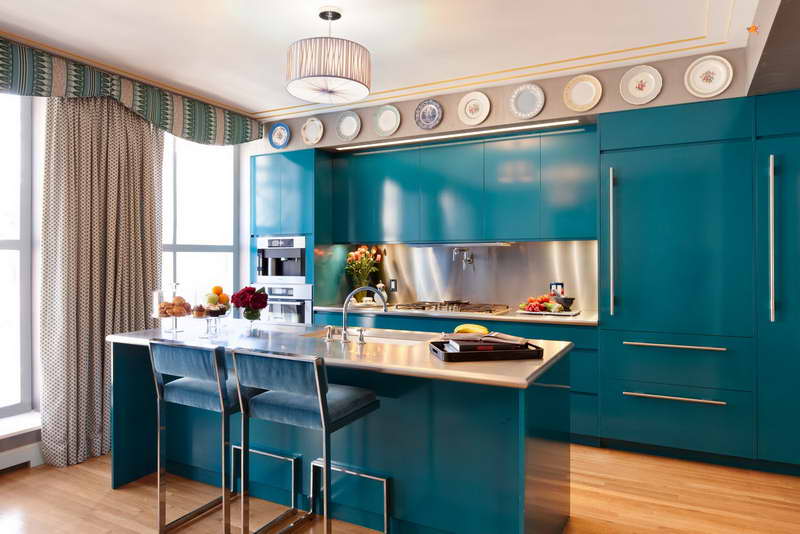 Some people have THAT color. It is the hue they cannot live without. It is prioritized and primary in their closets. It decorates their cars and may even be the color of their vehicle. It is the one shade that speaks to their soul; that resonates with them and that they cannot go without seeing in every corner of their home decoration. If you have YOUR color (if you aren't sure, rest assured that you don't!) bring it into your kitchen with gusto – just use neutral accents and decorations to keep from being overwhelming.
6. What Inspires You?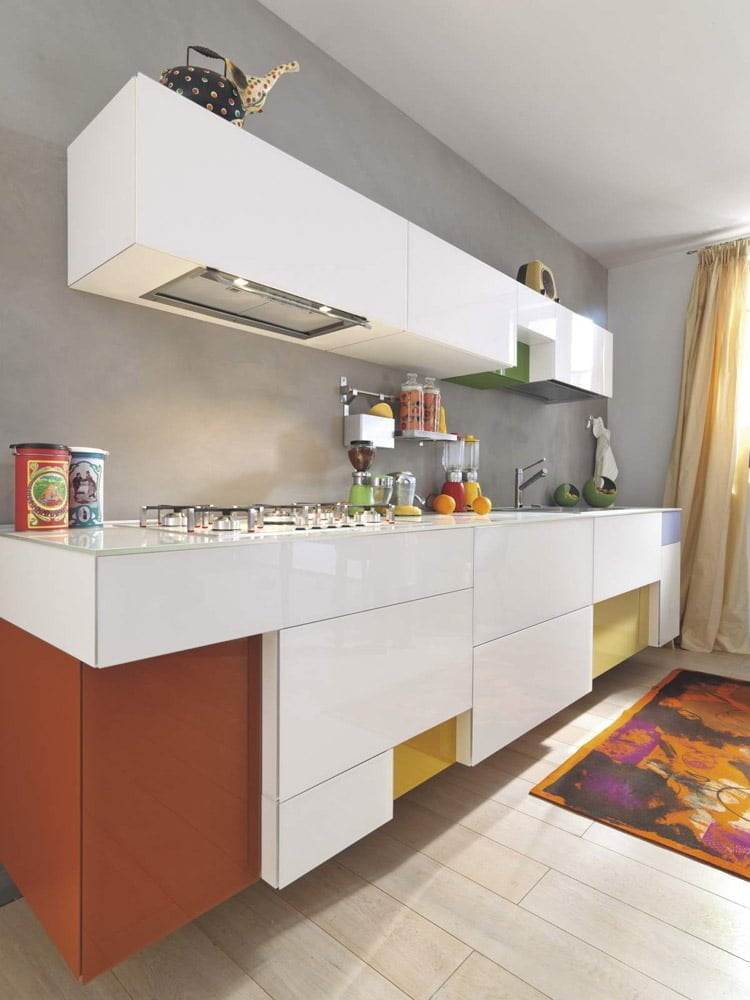 Look at your life and the things you love when trying to come up with kitchen ideas. What excites you? What do you find fun and fabulous? Inspiration can come from the most unlikely sources, even a favorite video game! These cabinets feature various shapes that fit together perfectly and would make any Tetris champion proud to call their own. To show off design ingenuity when using a conventional core color, add a few splashes of other colors here and there to add some whimsy.
7. Bold Sunshine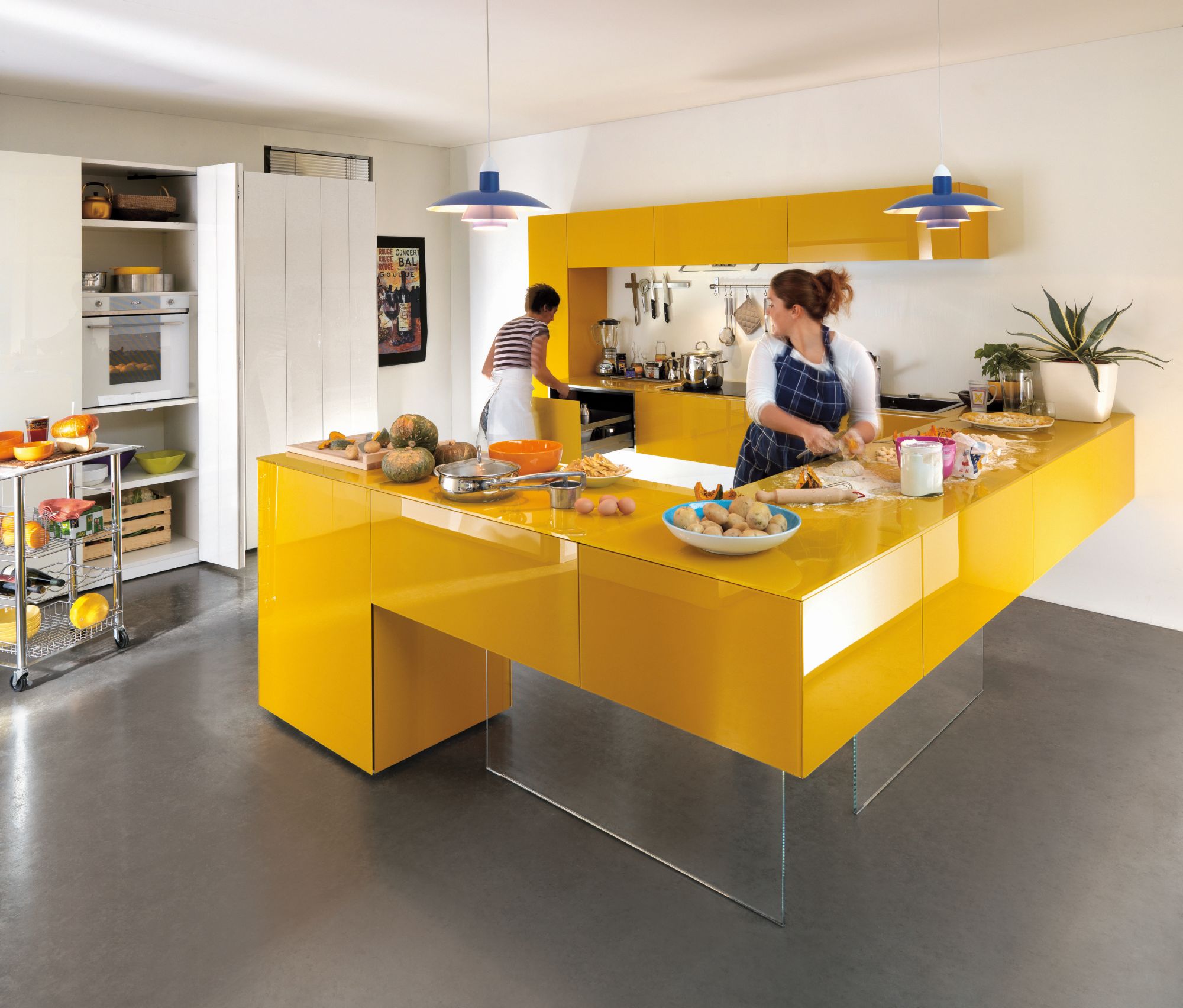 Yellow is a bold color in any room, and it can indeed shine in kitchens with modern cabinets. If you want to make it the main color in your cooking space, clean lines matched with neutral colors will help this vibrancy from becoming too much. White is an excellent choice as it provides a smooth transition and will not contrast as harshly as a darker color. When using a color this vivid, even the floor should be minimal so that the space does not get lost within itself.
8. Modern Wooden Retro Meets Corian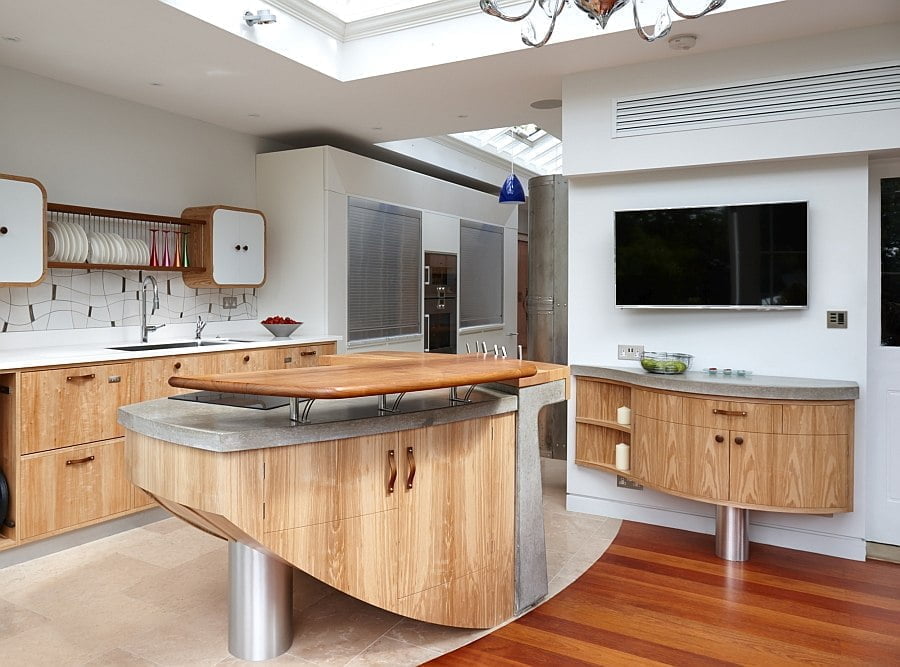 There was one thing about the 70's and all of the psychedelia of the era that has managed to remain a stronghold in kitchen decor – smooth concentricity. Combine the flowing lines with fresh materials such as lighter wood and concrete for a modern look. The new trend of appliance garages – complete with aluminum doors that slide down to hide them when not in use – can be set off with white Corian cabinets for an impressive statement. Add indirect halogen or LED lighting to keep the area inviting into the night.
9. Black Beauty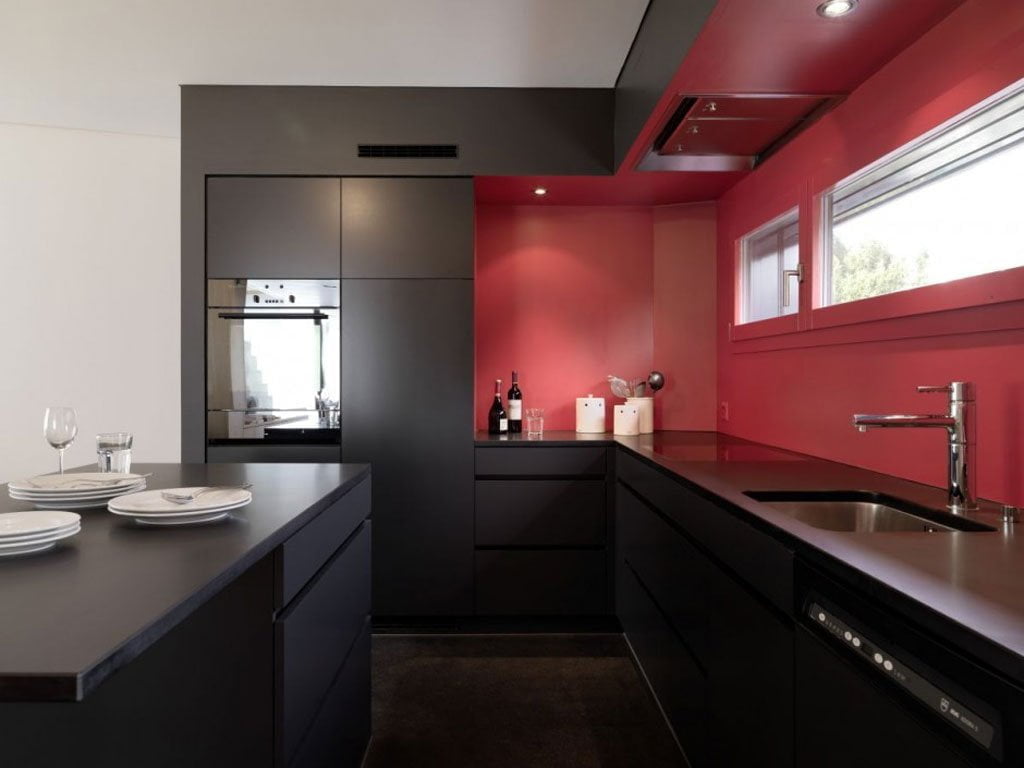 Who says you can't have black cabinets? These pictures of kitchen cabinets show the wide variety of choices available, and they are truly endless. The black kitchen storage cabinets featured here do not include any hardware, but if you prefer to have it, chrome would give the space an even edgier look and is perfect for this bachelor-pad style. Any color goes with black, but the red inset here actually lends a distinctive dynamic to the space. What color would you pair with black cabinets?
10. Fantasy Retreat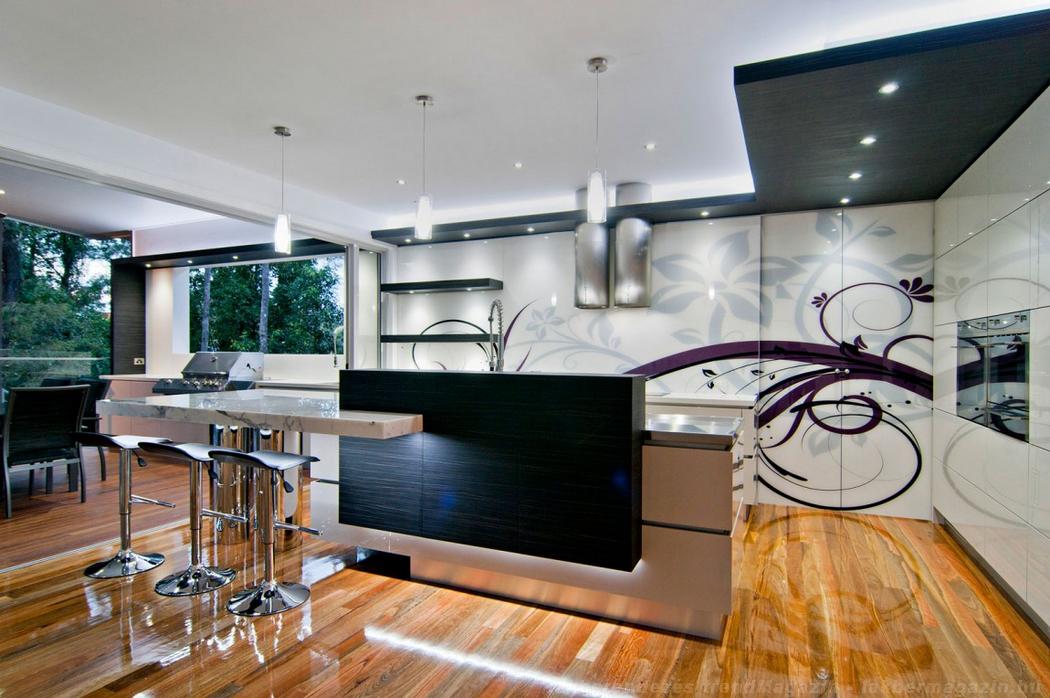 It is estimated that the average woman spends 18 years in the kitchen, so why not make that time the most magical it can be? You can, as this beautiful fantasy retreat by famous designer Kim Daffin illustrates. A retractable glass panel with a floral design is set off by a playful purple swirled pop of color and hides away pots and pans. There is more storage in the matching island, and the all of the cabinet doors are sleekly designed to be opened by pushing on them lightly, removing the needs for any handles or knobs.
11. Backlit Sensations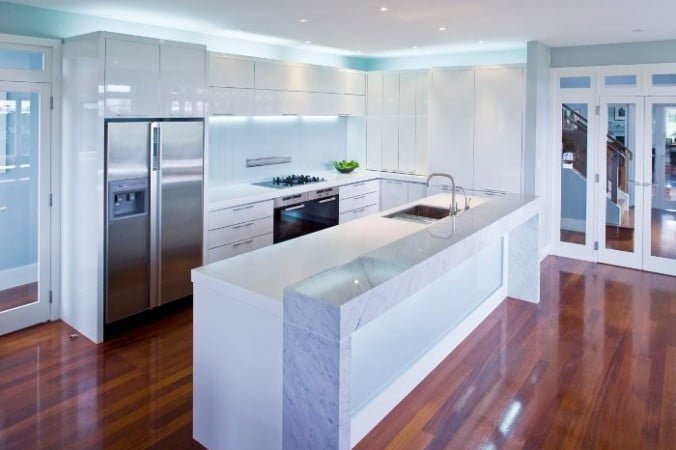 If you want something truly magical in your kitchen cabinets, look no further than Mal Corboy. These beauties are known the world over for their use of surprising materials and innovative lighting built right in to highlight their beauty. You cannot skim through a catalog of these unique pieces, however, as they are one-of-a-kind creations created specifically for each individual client. When you are stuck for kitchen design ideas, just looking through these spectacular pictures of kitchen cabinets will give you a myriad of ideas of the magic that could be yours.
12. Modern Avant-Garde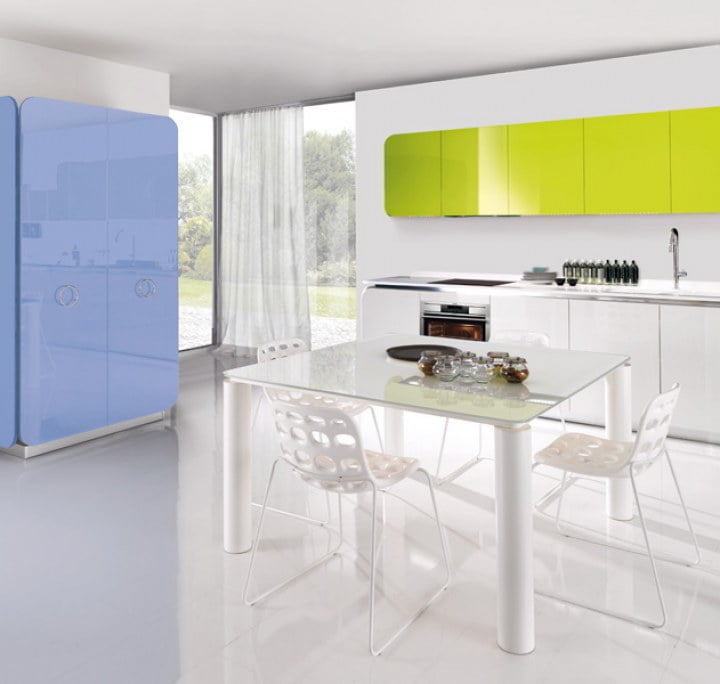 The definition of avant-garde is "new and unusual or experimental ideas". Today, modern kitchen cabinets are daring, innovative and mesmerizing. They combine form and functionality with unusual materials, unexpected lines and bold colors. People nowadays are learning that home decor is not about keeping up with the Jones', it is about building a space that is an extension of yourself and all that you love. When coming up with kitchen design ideas ask yourself – what unusual ideas do YOU have? Plan it out and then make it happen!
13. Contemporary Elegance with Modern Kitchen Cabinets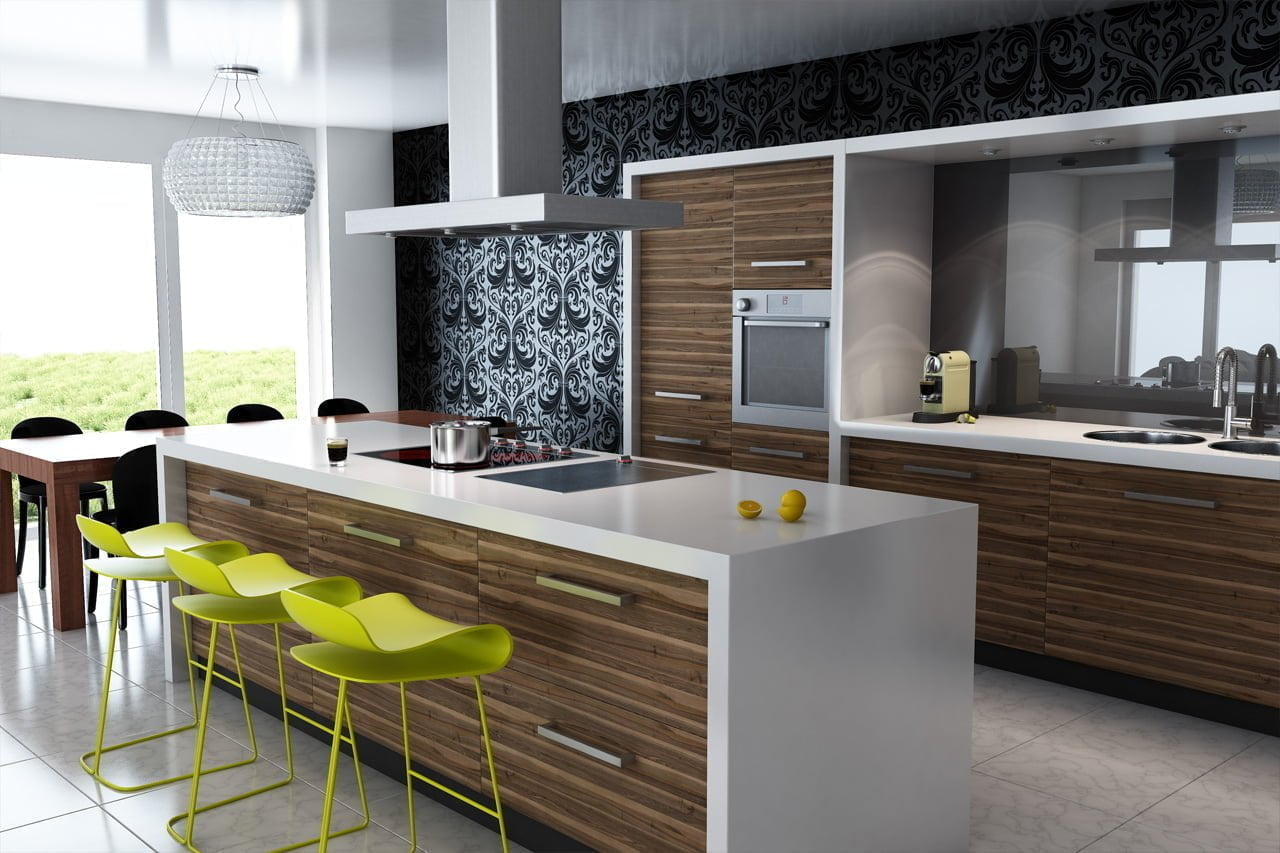 Modern kitchen cabinets can be an eclectic mix of old and new. They do not fit into one niche. They do not conform to standard rules. They can be both fresh and fabulous as well as contemporary and elegant, just as much as their proud owners! If you love classic looks but want modern style, spruce things up with an amazing backsplash or a bit of gorgeous wallpaper. Sometimes when generating kitchen cabinet ideas, you may realize that your current cabinets can shine with new hardware or a fresh splash of color around them.
14. Daring and Bold Modern Kitchen Cabinet Idea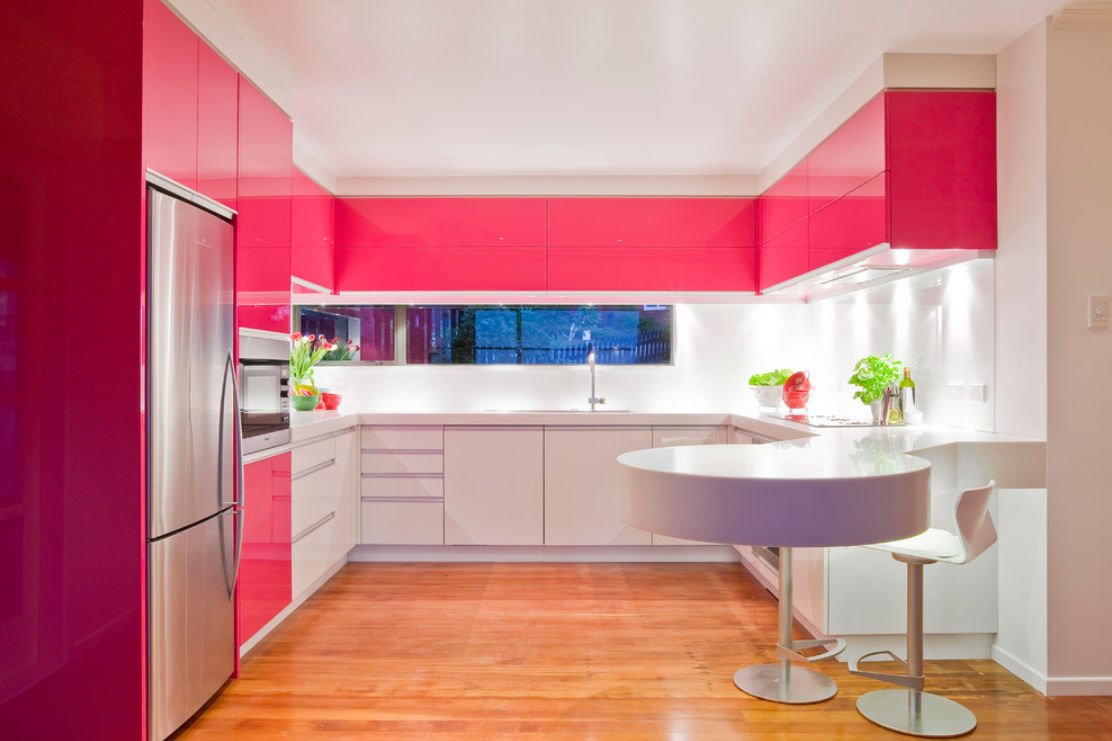 When you walk into a home that features kitchens with modern cabinets, you really cannot picture it in your head prior to seeing it as they are so unique to the creator. A traditional kitchen brings to mind wooden cabinets set off by wallpaper or trim. You may picture dish towels and curtains boasting roosters and apples. Modern cabinets scoff at this image with an in-your-face statement that says it is now their time to shine. No longer are they a home decor afterthought; they are the focal points!
More modern kitchen cabinet design ideas on the next page…