15. Sophisticated Space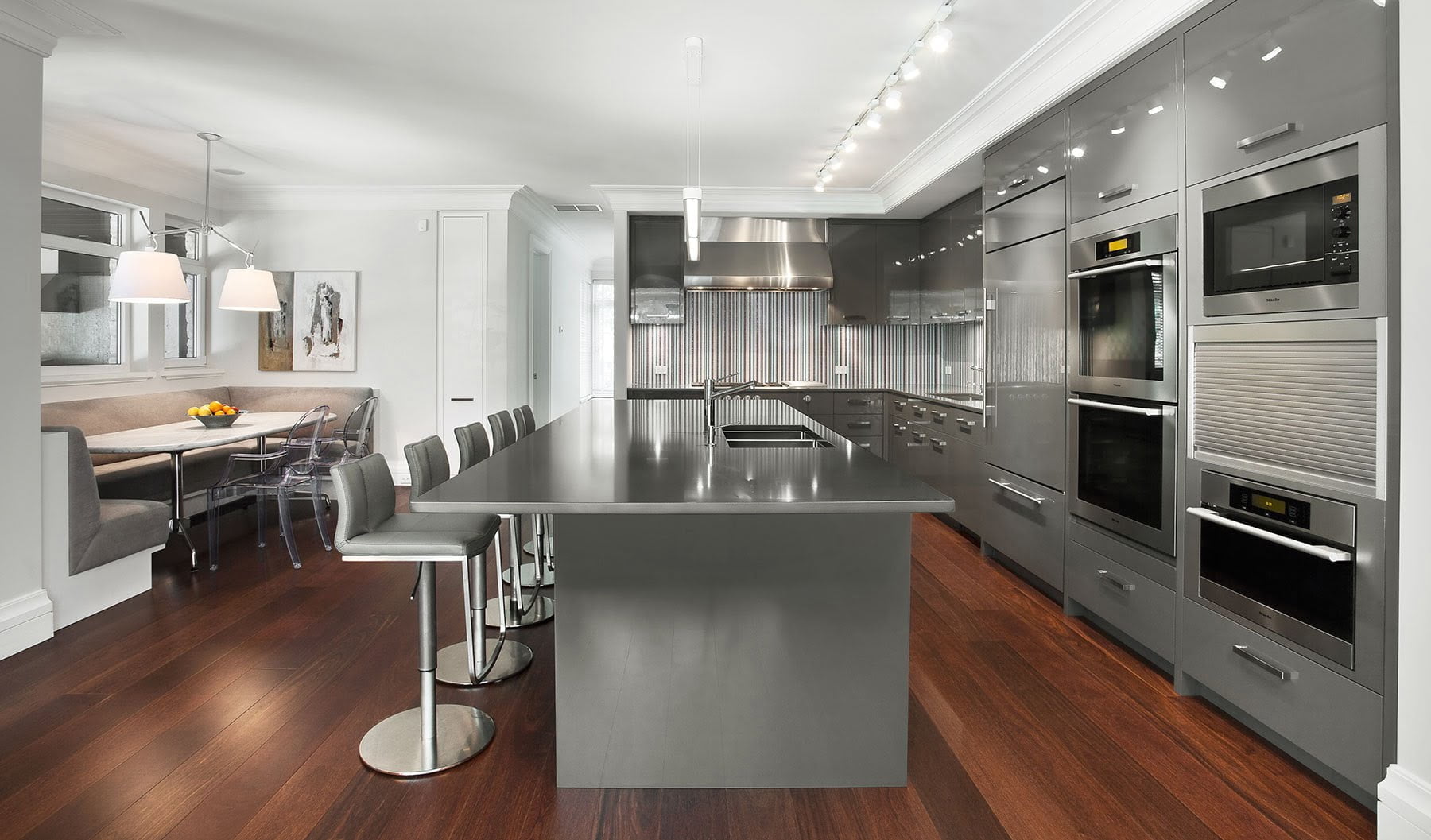 Are you a discerning person who wants their kitchen to be as refined and sophisticated as yourself? The metal here flows and perfectly matches from the sink to the counter and cabinet doors in a sleek and sexy way. The wood floor sets off the perceived coldness of all of the stainless steel and warms up the look of the monochromatic design of these kitchen storage cabinets and appliances. This style of home decoration lets people know that you are confident in who you are, are keenly aware of what you desire and are a force to be reckoned with.
16. Dramatic Color Blocking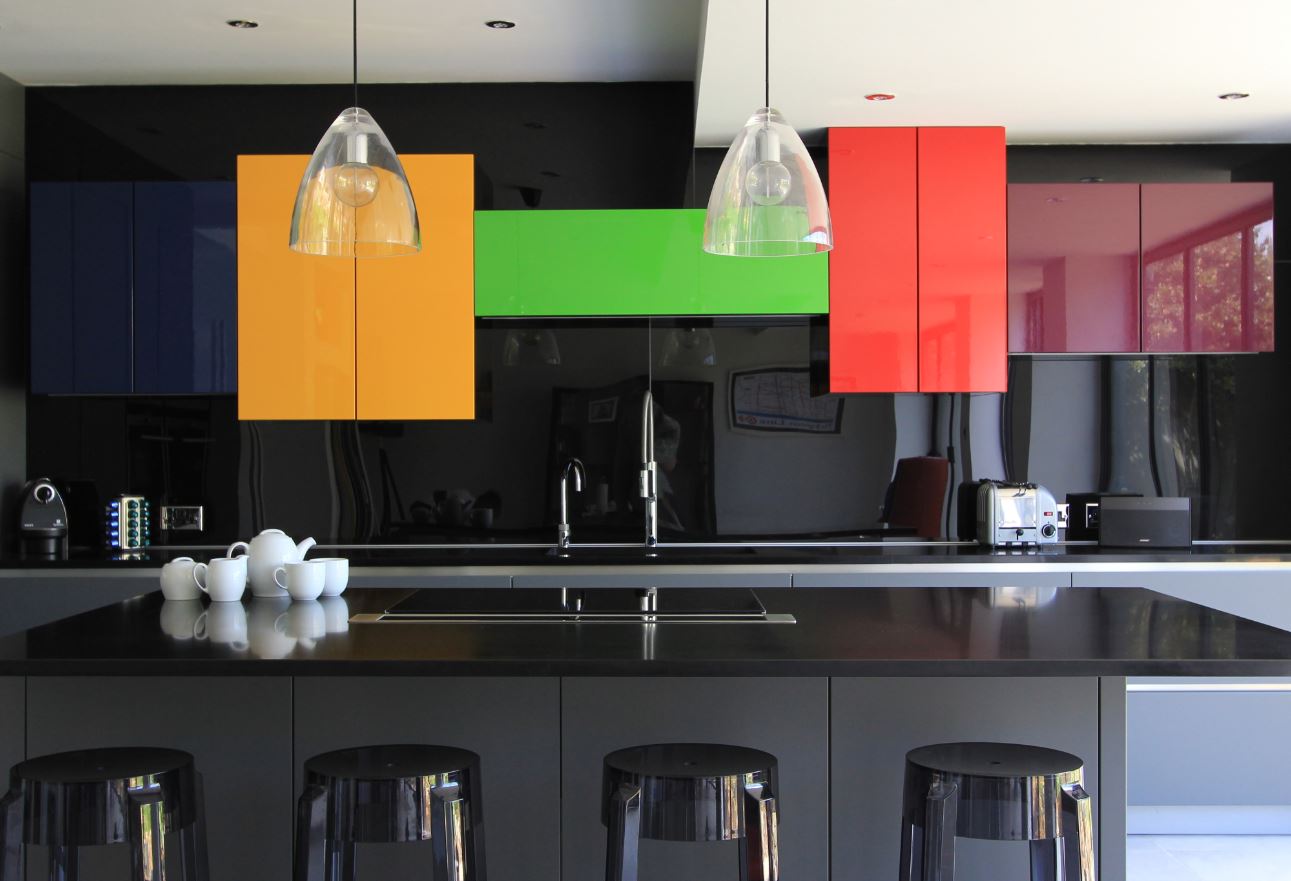 Do you love the color blocking trend of modern cabinets but are afraid to try and pull off the look? Kitchen ideas featuring modern cabinets of varying colors have taken off across the nation, but you do not have to start off as bold as the images portray if you are new to the trend. Start with small yet bright pops of brilliant color and see how that goes, then go bigger with future changes. Conversely, if you want to jump right in, use a different vibrant color for each cabinet and show them off with a black background!
17. The New 'I'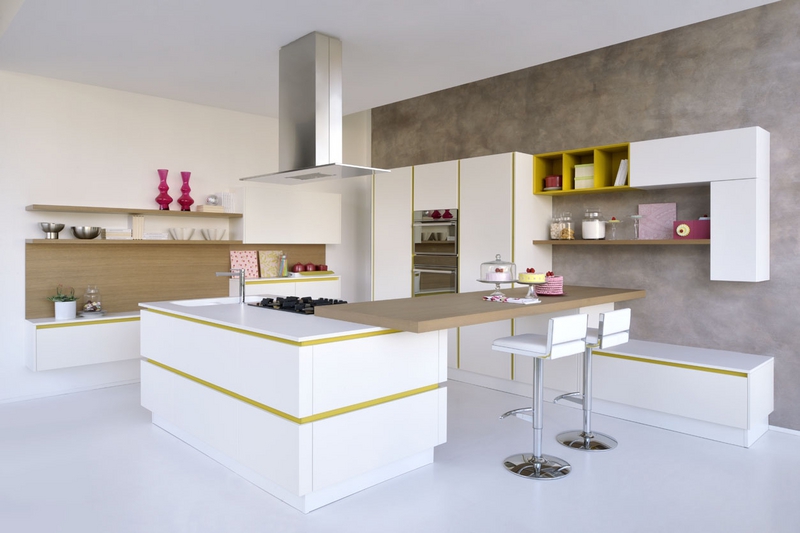 Typical kitchens with an island are designed in an I-shape. These days, it is all about breaking the rules – or, at least, bending them a bit! Chop off the bottom line of a capital 'I' and what to you get? An impressive island with wrap-around cabinets and seating that beckons family and friends to have a seat and stay a while! The white in this modern kitchen is set off with minimal color pops that have a maximum impact, as well as an impressive accent wall.
18. Blue Contrast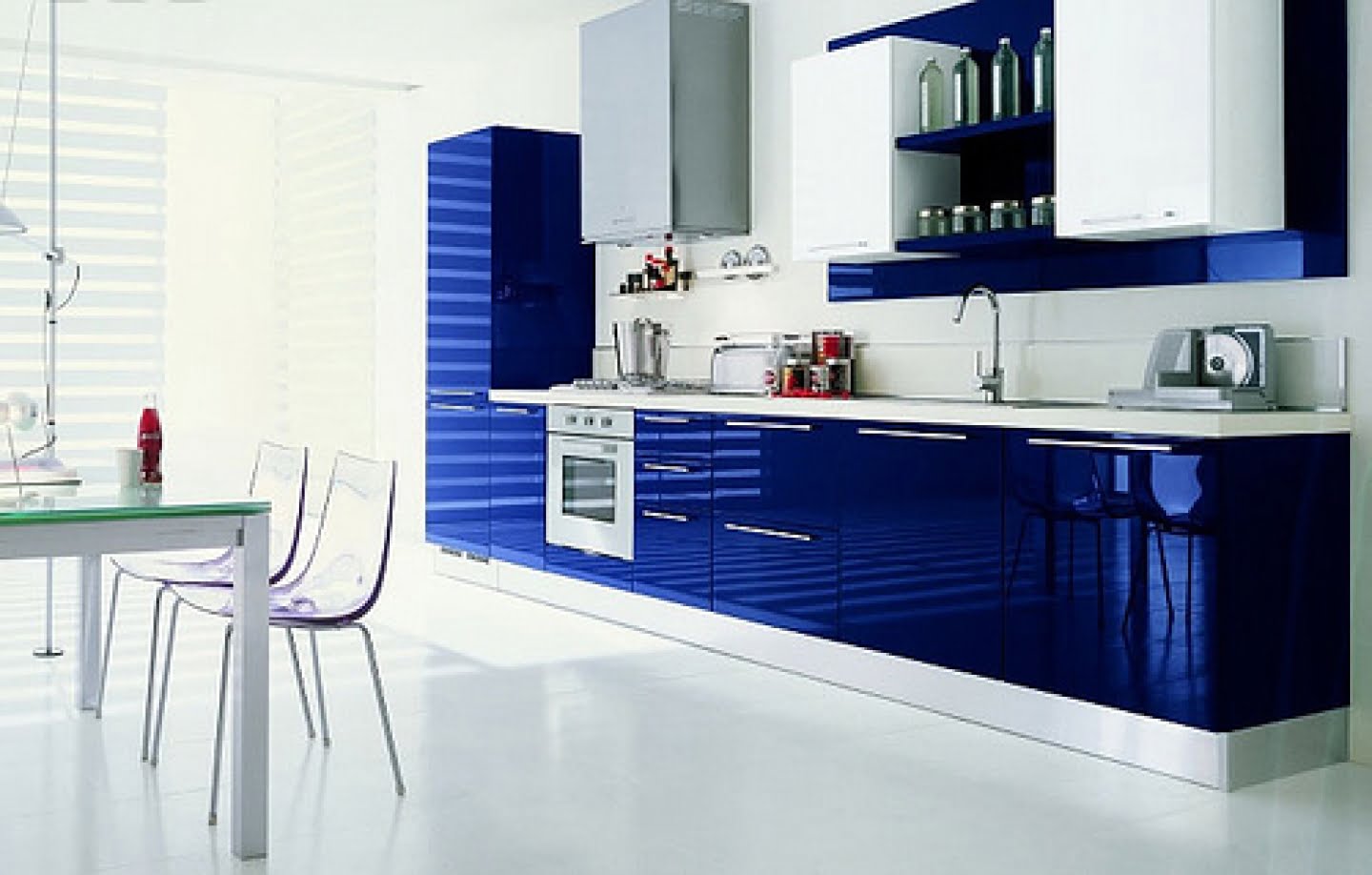 How can you possibly make a room more intense than only using black and white? Turn that black into blue! The beautiful contrast of blue and white works just as well with either color in the background, and alternating the two in one space makes for a jaw-dropping effect. The white walls accent these bold kitchen cabinets perfectly. To break up the wall and create a focal point, the design includes a blue color block featuring shelves of the same color and transitional white cabinetry. Perfection!
19. Clean and Simple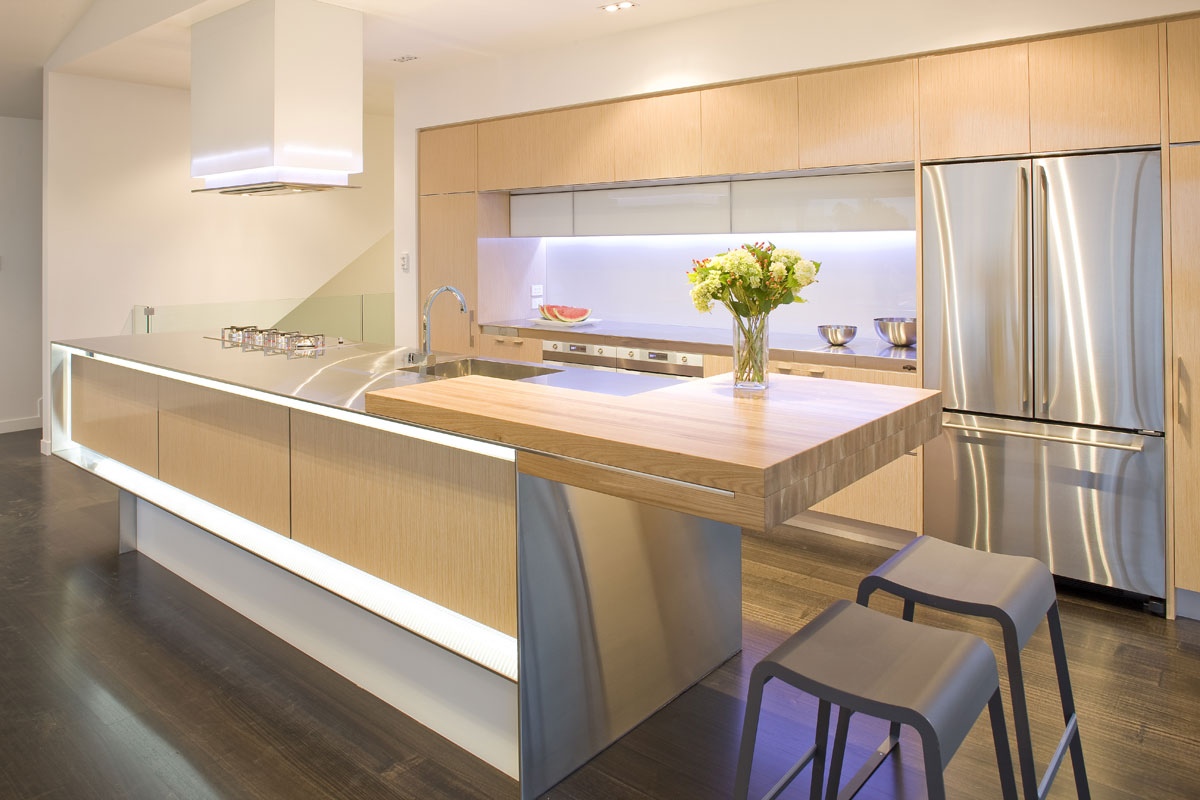 Kitchen cabinet ideas do not have to be fantastical or way out in left field in order to be modern. Sometimes, we just want things to be simple, clean, manageable and not over-the-top. Light wood and stainless steel bring a contemporary look to this open-air galley style kitchen. There is plenty of open counter space to cook up your favorite dishes, and guests can keep you company at the oversized island. Soften sharp lines by limiting hardware and adding chairs and accessories that feature curves instead of straight lines.
20. Funkified Retro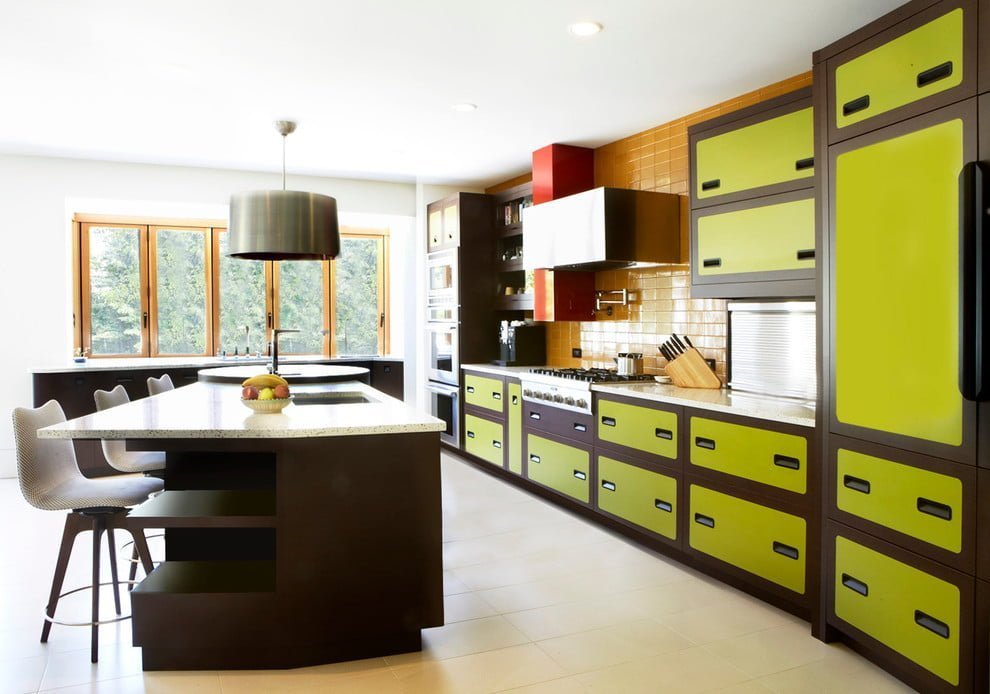 Lime green cabinets? Cool, man. You can almost hear Janis Joplin in the background when looking at this refreshingly retro yet modern kitchen. Brown was prominent throughout the decade, as was vibrant oranges, yellows and greens. Dark brown contrasts well with the lime green and the orange backsplash give it even more of that 70's groovy feeling. Inset handles remove the need for hardware and lend to the retro feel, as do the chairs offering seating for guests around the matching brown island. Storage space is optimized with even more cabinets below the windows.
21. Shelves and Cabinets and Cubbies, Oh My!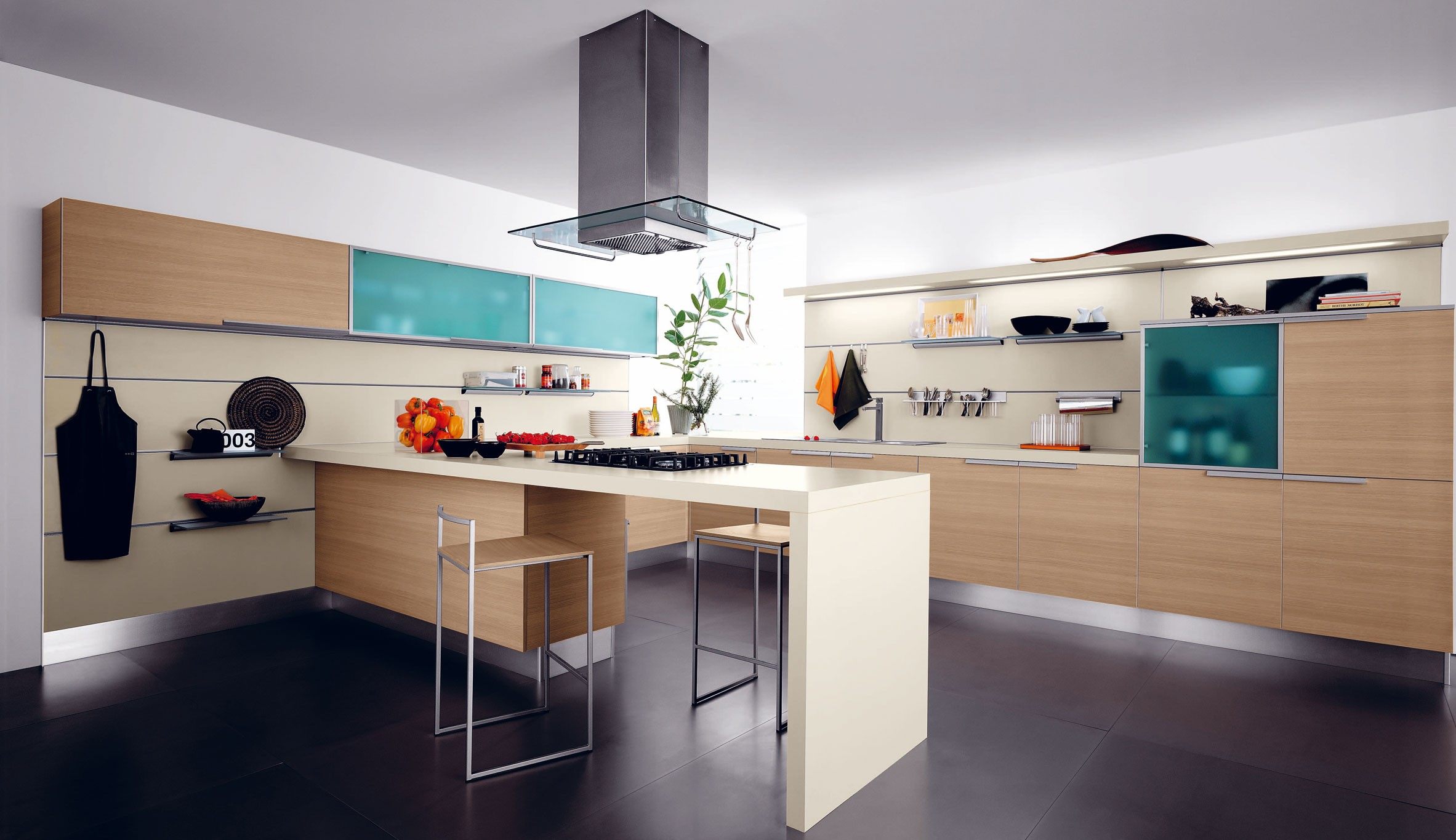 This ultra-urban kitchen oozes with charm in every nook and cranny. Oversized kitchen storage cabinets hide your appliances and clutter, but only those you want to be hidden. They are surrounded by an excellent array of hooks, shelves and colored, semi-see-through glass doors to hang, place, and half show-off every trinket you can think of. Changing up the scenery in a kitchen like this is as simple as hanging something new or rearranging the shelves – how cool is that?
22. Magnificent Minibars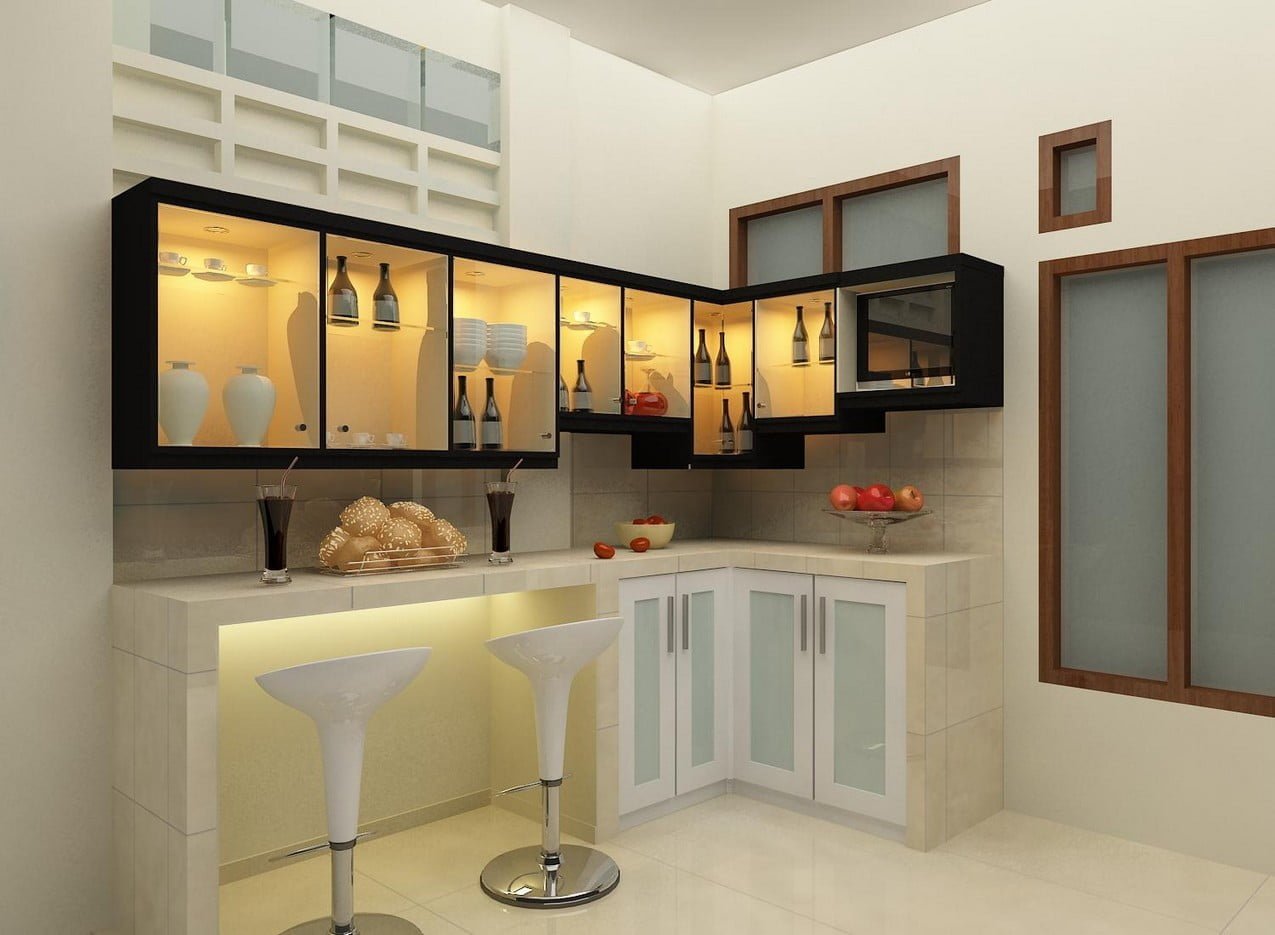 Do you have a corner in your kitchen that you just are not sure what you want to do with? Maybe there is a desk there that seems to be better for collecting junk than anything else? Put in a minibar! Modern kitchen cabinets with no doors can be installed above a small counter bar. Add in recessed lighting with some lovely glasses and bottles of your favorite beverages for function and ambiance, then add in some seating and voila! – you have a corner minibar to rave about.
23. Modern White Kitchen Cabinet Design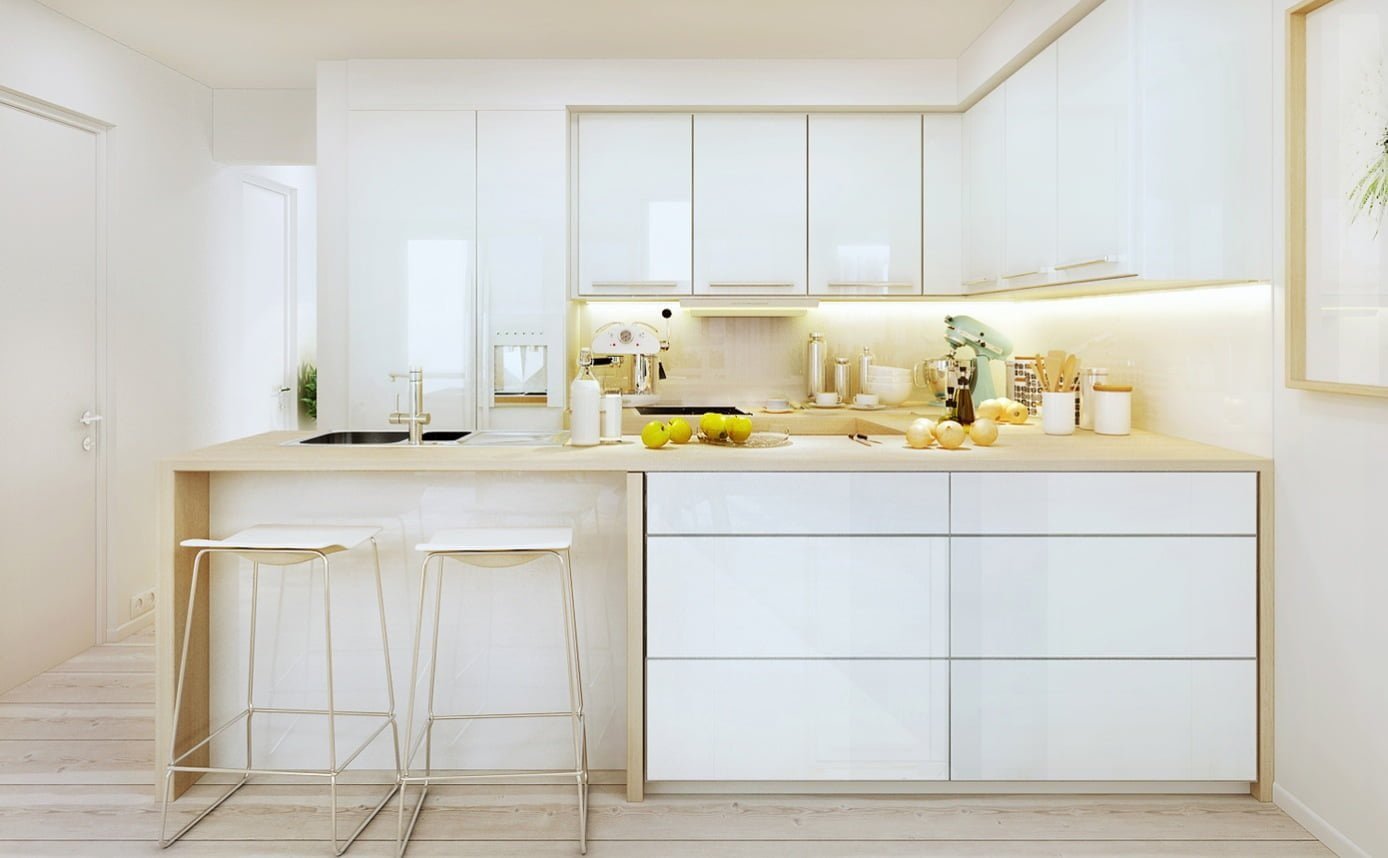 Nothing says crisp and clean quite like white. Everyone wants his or her kitchens to be tidy, fresh and inviting, and one great way to accomplish this is by making the kitchen white. Then add more white, and then more! White wooden floors add an air of old-world luxury. The cream countertops give breaks to the white and beautifully tie in the floor to the white cabinets. Worried about keeping them clean? Thermofoil kitchen cabinets create a high-gloss look that is easy to clean, too.
24. The Optical Illusion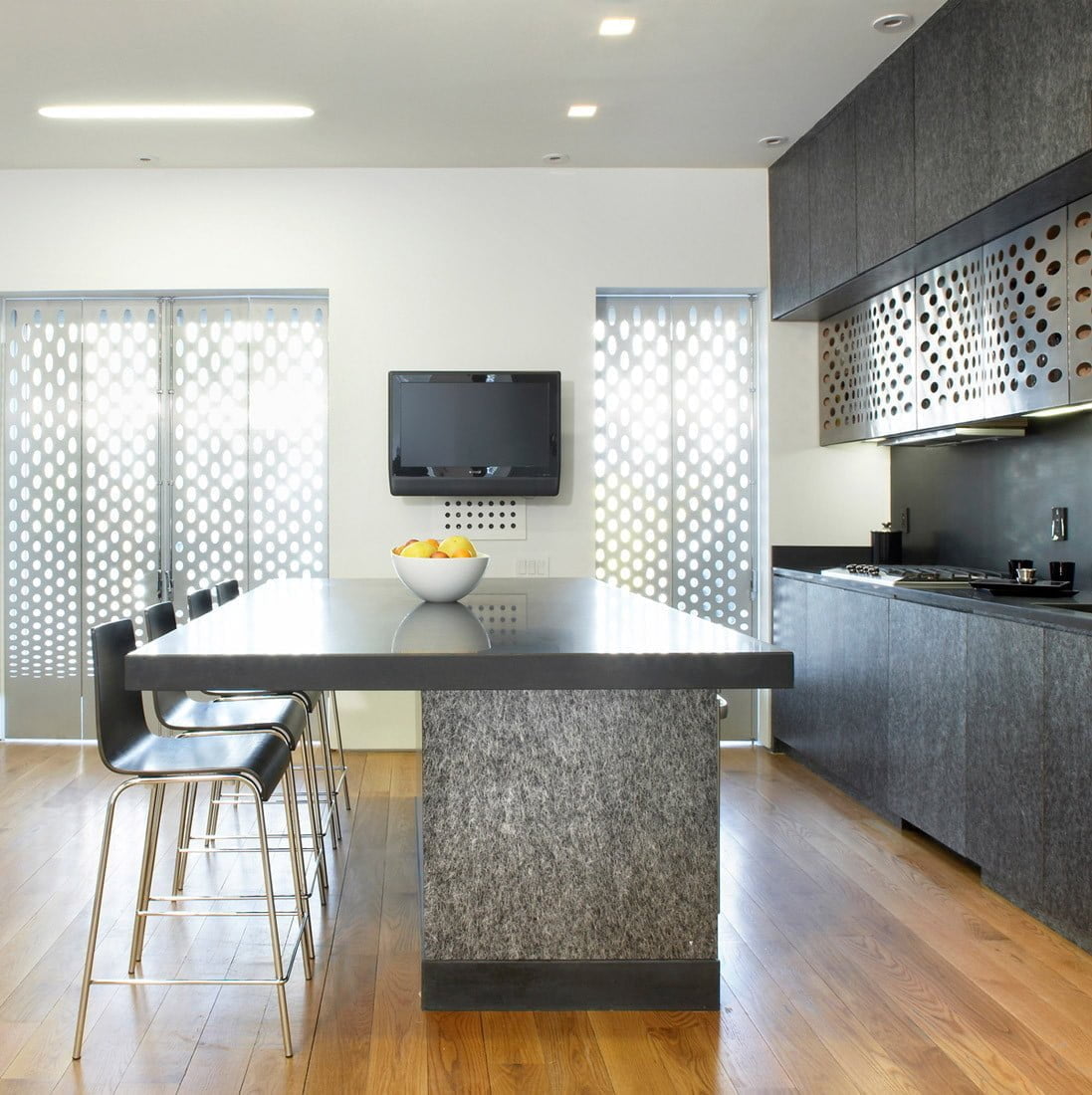 Kitchen ideas focusing on silver and black give the owner the opportunity for a lot of cool customization possibilities. Here, black granite countertops are set off by laminate cabinet fronts above and below. Mid-level cabinets are aluminum punched with ovals and circles that make them look like they wave in and out, but in reality, they are flat across. The matte black backsplash helps the space from becoming too busy, and the wood floor keeps the space inviting.
25. Optimal Organization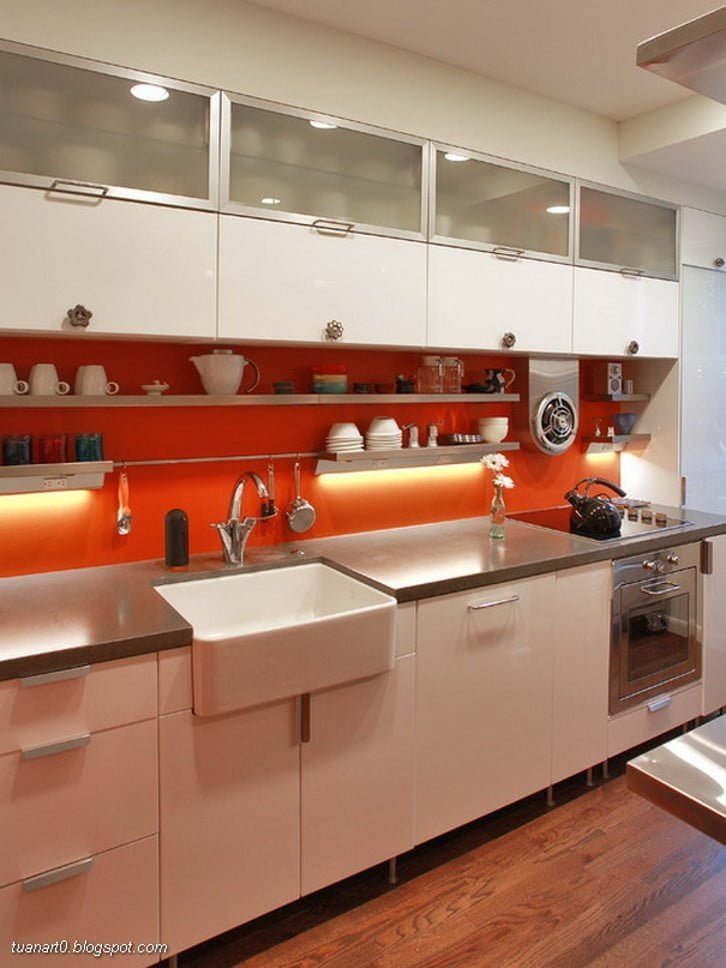 Often, there does not seem to be enough room for all of the trinkets we want to have in our kitchens – showcased or not. While cabinets are the main thing a person sees and they should be aesthetically pleasing, it is wise to remember they are primarily functional and must provide space for storage. That does not mean they have to be boring, though. Eccentricities can be as small as having them open up and down instead of side to side, and the backsplash in between can easily be fitted with shelves to optimize space.
26. The Executive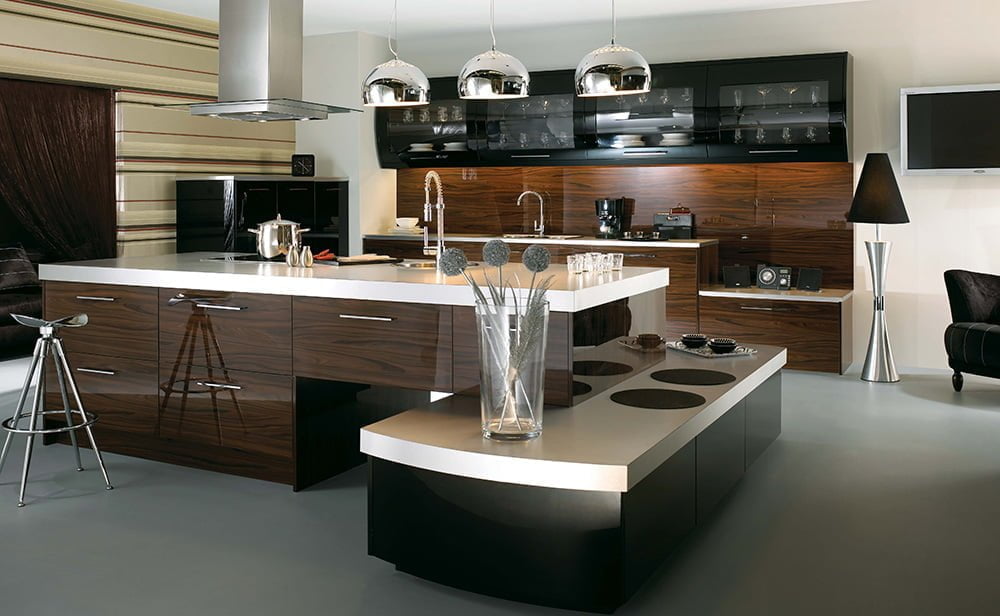 Elegant furnishings and embellishments in classic woodgrain, black and silver give this kitchen a classic executive look with modern style. The different heights seen here make the space truly unique. The drawers below the counter match those in the island and are reminiscent of filing cabinets while the upper cabinets offer a peek to what's inside through glass surrounded by black. The white island topper and counter space break the darkness in a lovely way.
More modern kitchen cabinet decoration ideas on the next page…