27. It's All About the Lighting, Baby!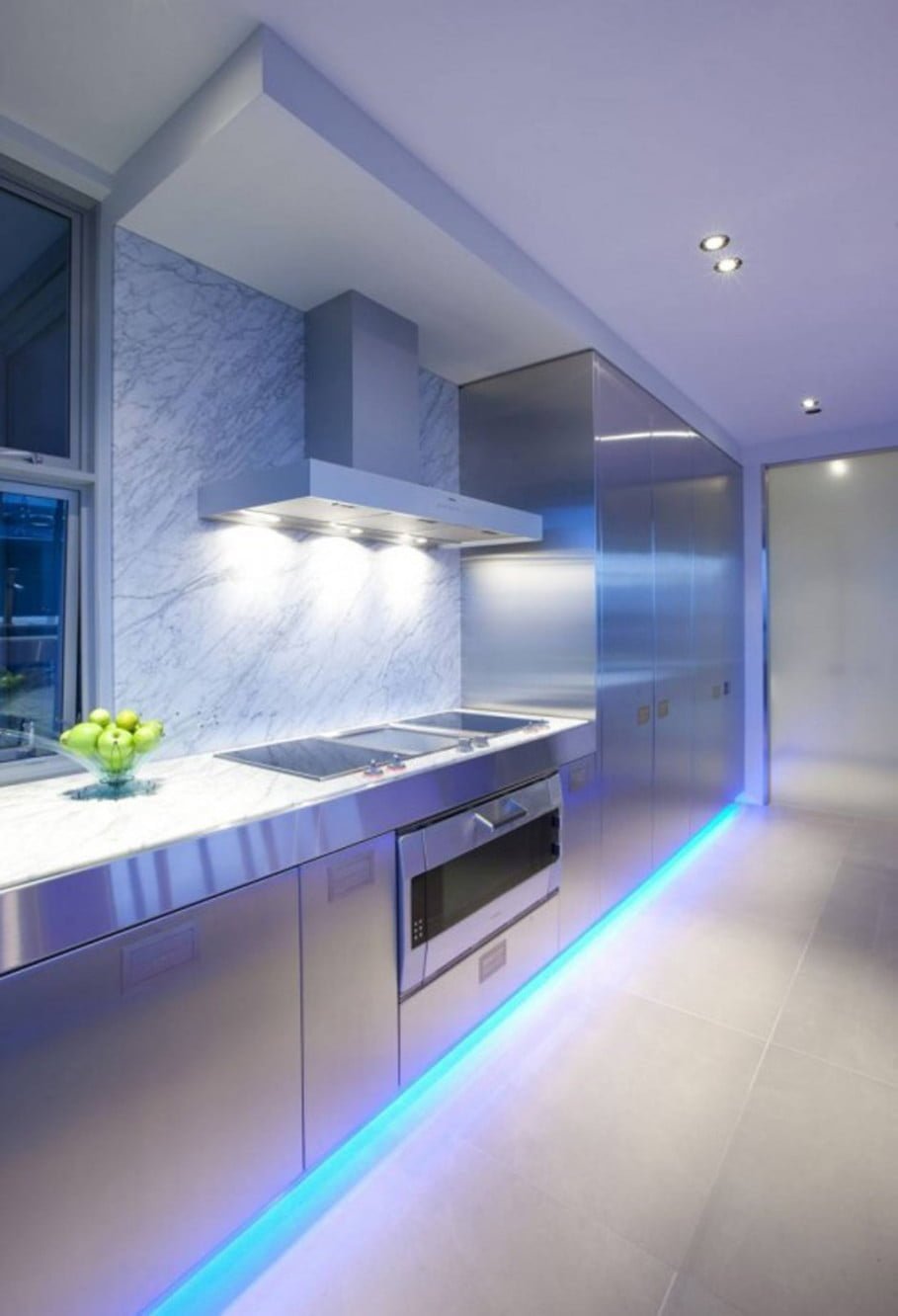 Stainless steel appliances and custom stainless cabinets make this kitchen shine. Breaking the monotony is a gray marble backsplash behind the range and blower. What REALLY makes this kitchen shine, though, is the strategic placement of some fabulous lighting. The area would be different enough with the track lighting and those above the stove, but the turquoise rope light running the length of the lower cabinets creates an out-of-this-world glow. When deciding between kitchen cabinet ideas, keep in mind what can go around them to make them stand out as well.
28. Lines of Love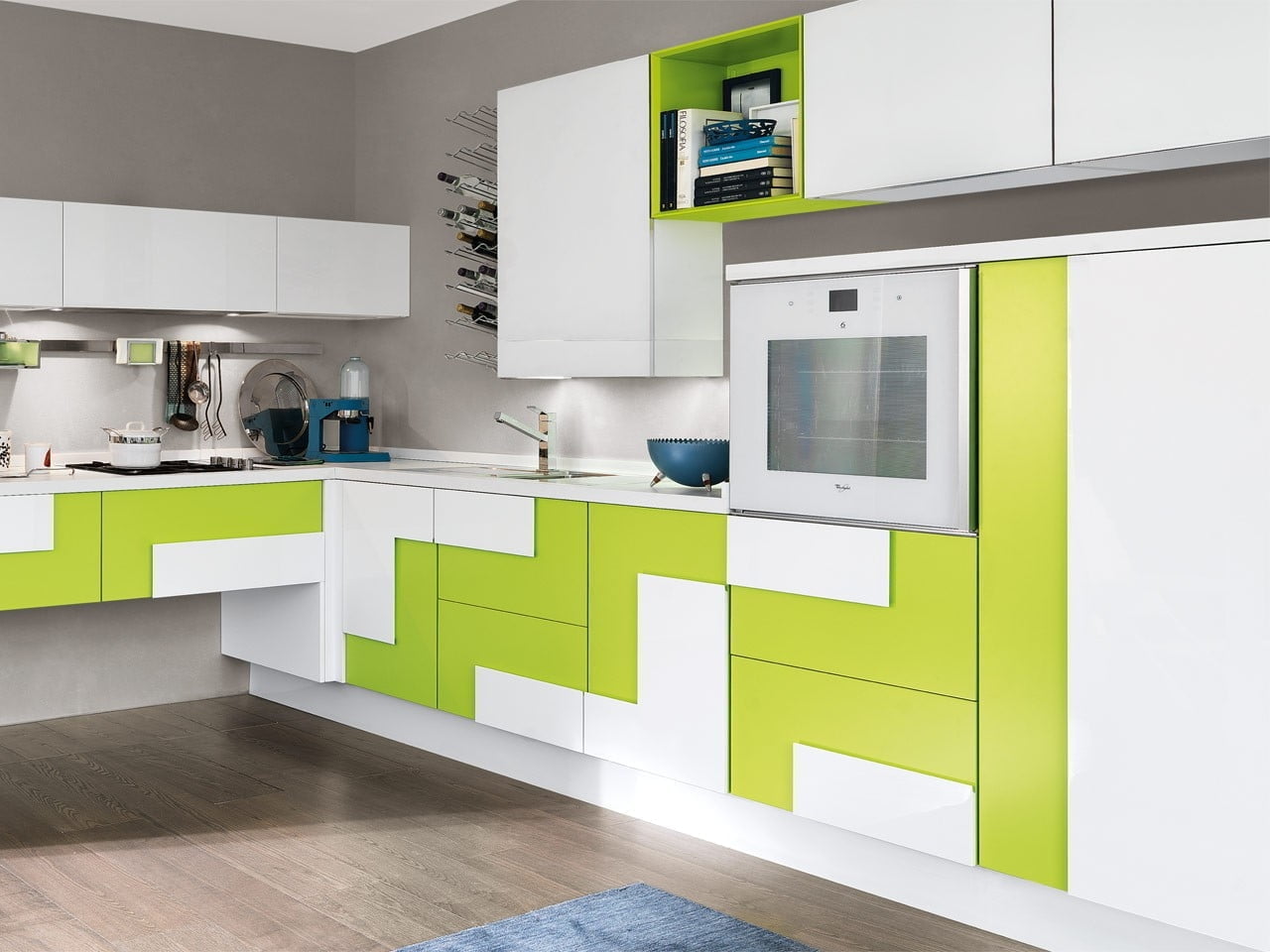 Kitchens today are usually sleek units of character and style. Built-in appliances, cubbies, and bursts of color are often key features of kitchen decor in this day and age. The minimalist cabinet fronts here are a fun mix of colors and lines below the counter area. Above, simple white cabinets are set off by a matching lime green cubby hole. To design a room like this, be sure to check out coordinating color swatches for that perfect complimentary color, seen here in blue. Use that color on the rug, a strategically placed vase, books and more to break up space and create focal points.
29. The Look That's All You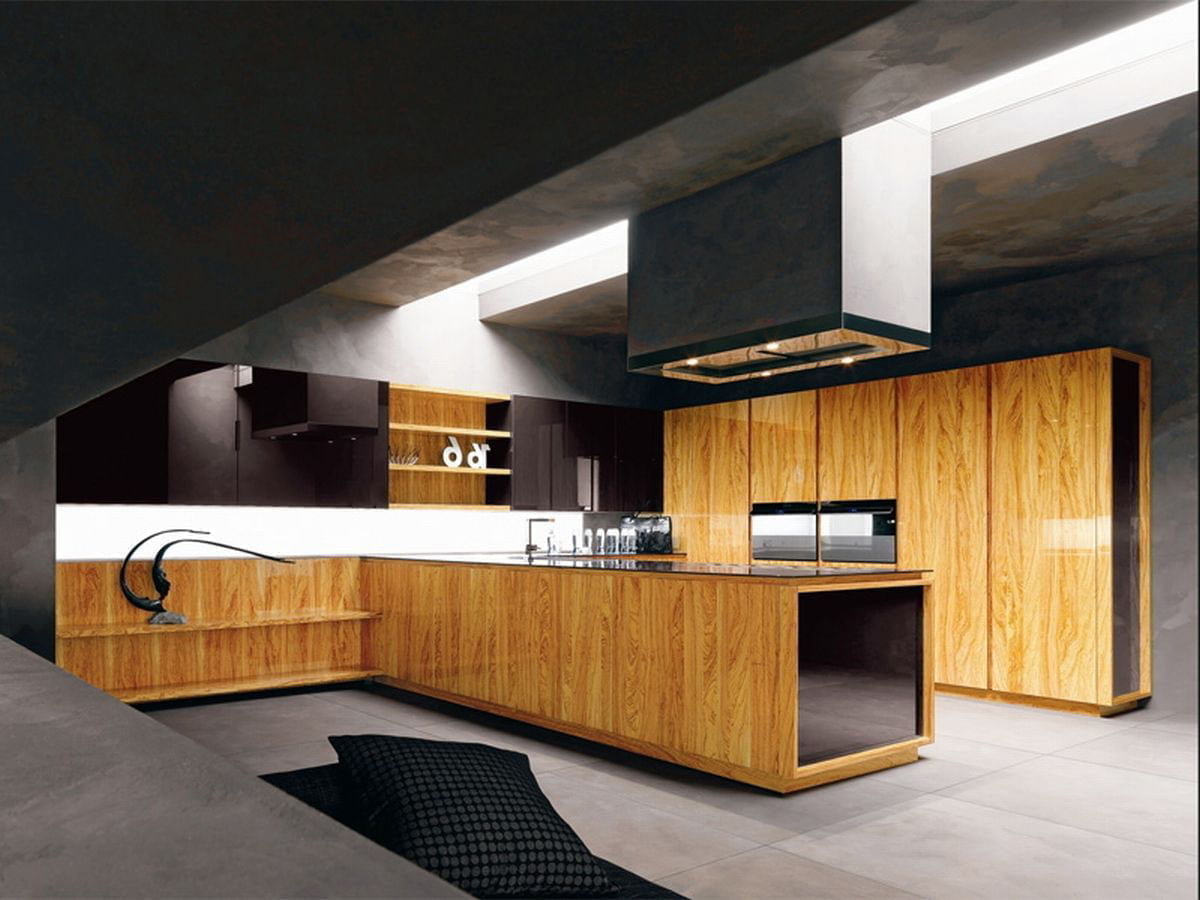 People want fresh, new and elegant style in their kitchens now. Worktops and modern cabinets vary as much as home decorations do, and the customizations and ways to make your kitchen yours is truly limitless. Are you looking for a design more suited to large family dinners or entertaining? Do you need a built-in bar or want an island that provides ample seating? Whatever you need, there are bound to be perfect cabinets that will match your heart's desire and pull the whole room together!
30. Swimmingly Superb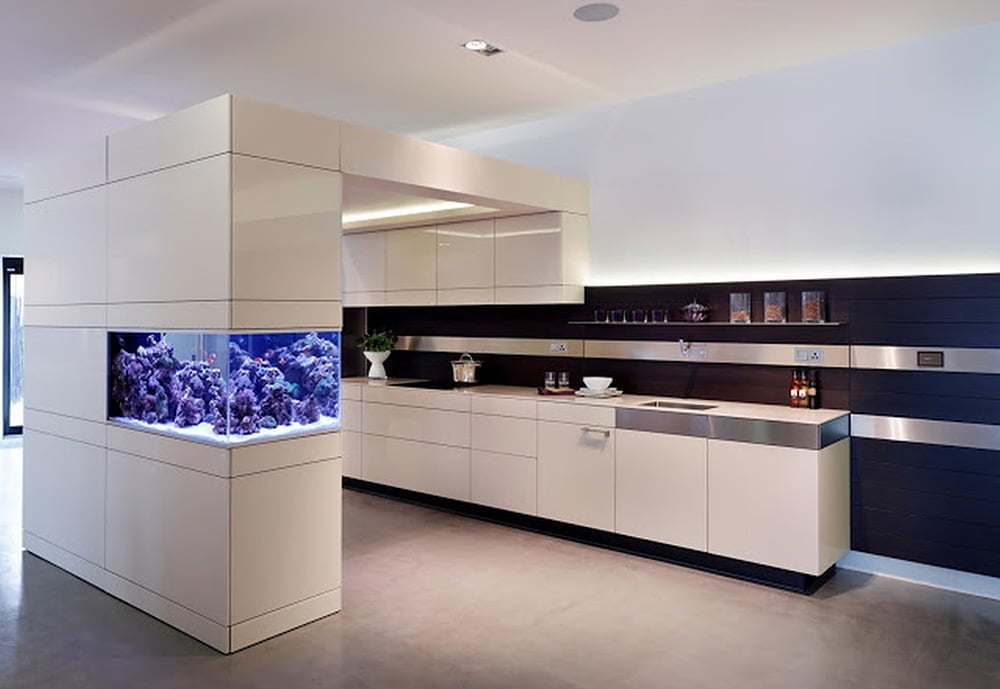 Minimalist white Corian cabinets and countertops are set off by a bold, dark-colored paint. This style is well suited for highly-traveled spaces in upgraded bed and breakfasts, hostels or even high-end extended stay hotels. The benefit to this design is the easy installation that is also long-wear and easy to care for. The open design would also work well in a studio apartment where the advantageous use of space is critical. And, what is more fresh in a kitchen space than live fish? This surprising touch is a pleasant focal point that adds color in a lively way.
31. Over the Rainbow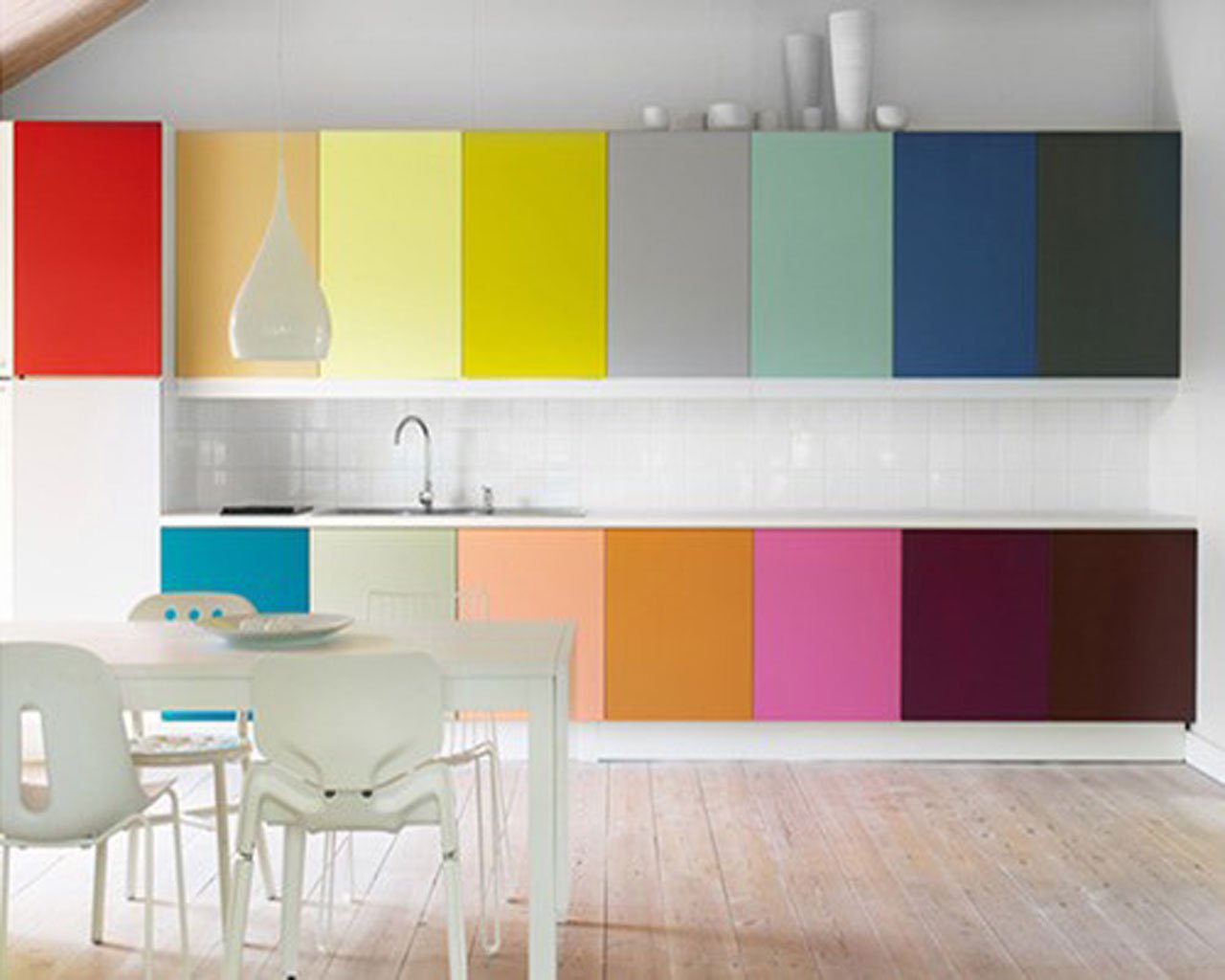 Can't decide on a color for your cabinets? Why not use them all? If this creative color choice does not inspire you, I am not sure what will. This is perfect for those who want artistic inspiration with their morning cup of coffee or for those who just decide to be indecisive. When going this bold, little else is needed in the way of color or accessories as the cabinets speak for themselves. Subdued white tile and furnishings with a light wood floor let these cabinet fronts stand out and be the focal point they are meant to be.
32. All That Glitters is Gold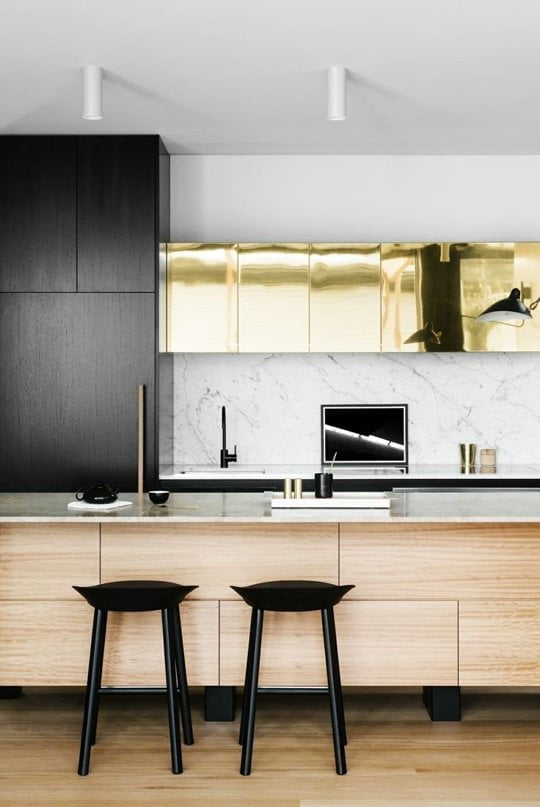 Gold cabinets? Well, why not? It is your space so why not bring your sense of style in the wardrobe into your kitchen? To keep the area toned down and not gaudy and pretentious, be sure not to go overboard when going bold with metallics. The designer perfectly illustrates the requisite restraint in this kitchen, where the gold is limited to upper cabinet faces. Set off by a magnificent light gray marble backsplash, the only other gold adornments in the room are found in the salt and pepper shakers. The black pantry and wood island are perfect complements.
33. Why Be Straight?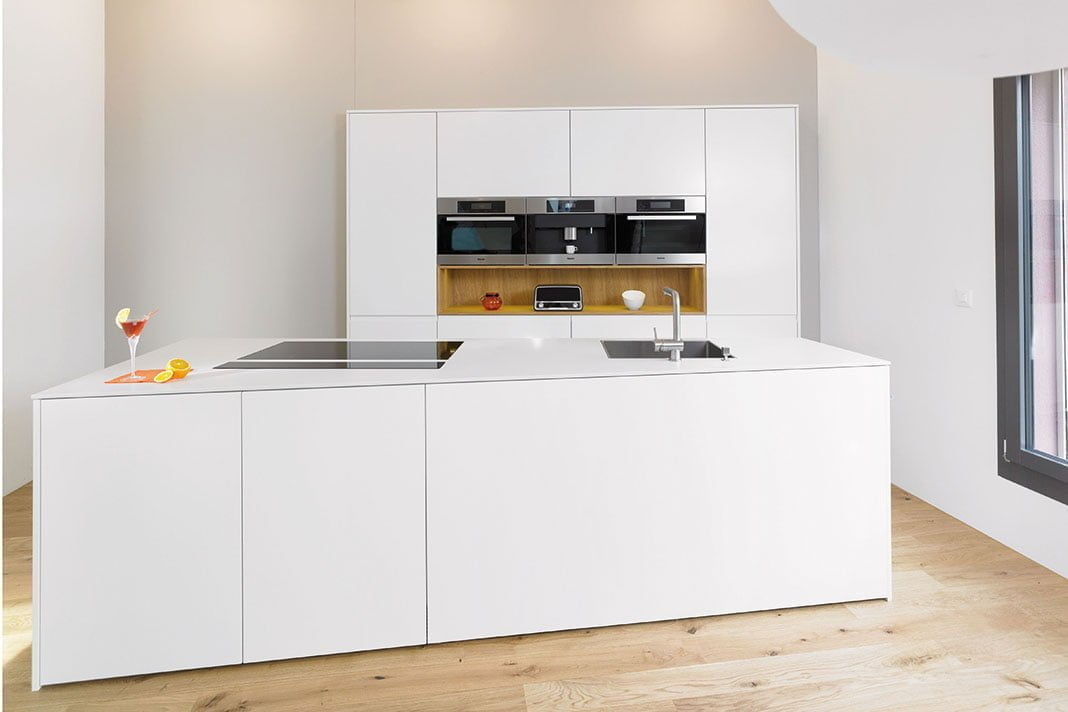 A kitchen island that is perfectly rectangle – how boring is that? Why have a perfect quadrilateral when you can create an instant conversation piece with unusual shapes? The cabinets serve as a flawlessly uncomplicated backdrop when viewing this room from beyond, and are large enough to serve double duty as a pantry space as well. Clean lines are kept tidy by using cabinet faces that do not require hardware, and wood inserts save the wall unit from being monotonous.
34. Multi-Dimensional Modern Kitchen Cabinet Design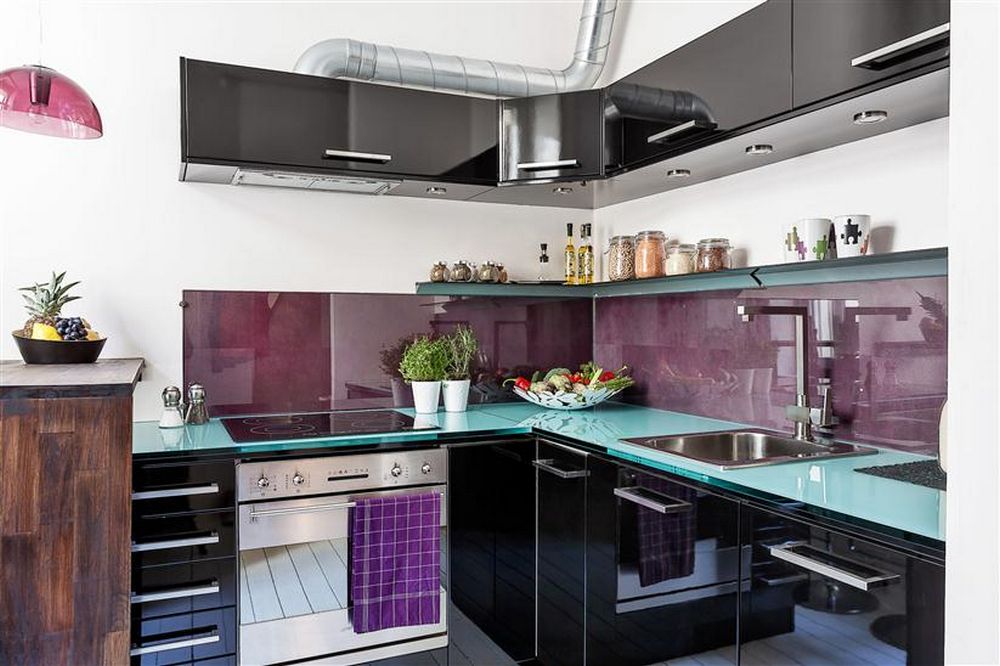 When working with smaller spaces, a combination of light and dark colors can really open the area up by drawing the eye in different directions without being too busy. Leaving the stove fan pipe exposed lends an industrial touch that doesn't feel cold. Instead, it lends to the height of the room and makes it feel taller and roomier. The mirrored cabinet finishes give the illusion of more space as well. If storage is limited and there is no room for additional cabinet space, install shelves where possible, as seen here.
35. In the Red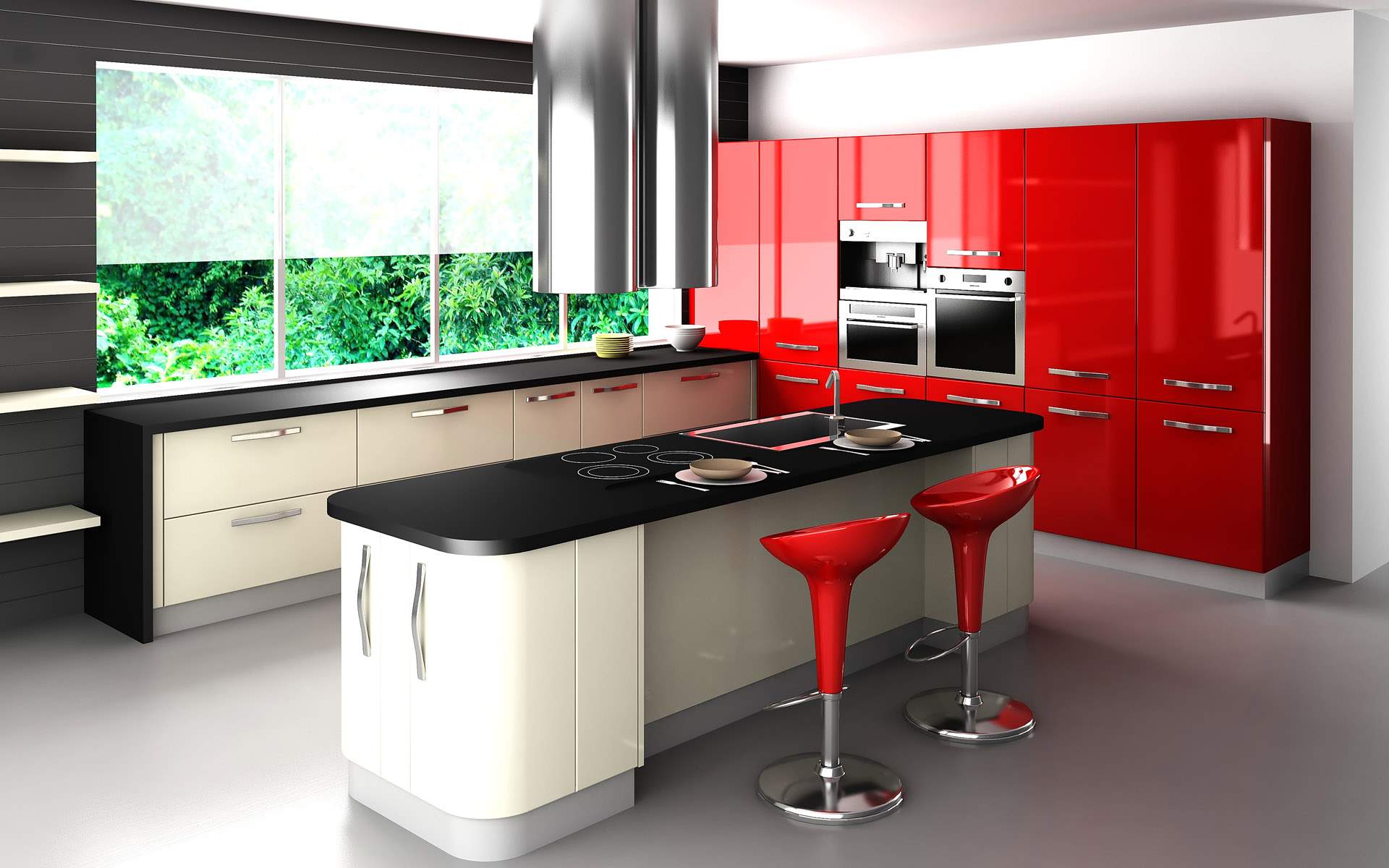 Some people cook as a hobby. Some cook as a chore and because well, food is sustenance. Others burn water. For some, though, cooking is a passion. It ignites a fire in them that cannot be doused or tempered. They are happiest in the kitchen, whipping up specialties and rejoicing in the smiles that inevitably come from that first delectable taste. What color better represents passion than red? It is a perfect color for the kitchen and cabinets provide an ideal surface to present the love you feel for cooking to the world (or at least to YOUR world!).
More modern kitchen cabinet decorations on the next page…