Whether you just moved into a new home that desperately needs some updates or you're tired of your last living room remodel, we've got 26 modern living room decorating ideas to suit any space or style. You don't have to have a big budget or hire an interior decorator to get a magazine-worthy look. Just browse our gallery of picture perfect living rooms and make a list of the colors, accessories and arrangements that you like best.
26 Welcoming Modern Living Room Decorating Ideas that will Add Warmth to Your Home

Living rooms aren't one size fits all. You'll probably spend more time in that space than anywhere else in your home. It's important that you live the finished product. That's why we've compiled a list of ideas that offers something for everyone. While the layouts and textures are diverse, the end product is always light and airy. You'll feel like you're lounging around at a high-end resort with these fresh new living room designs. Grab an old-fashioned pen and paper, open a new folder on your desktop, or get ready to start pinning. Here come the newest and best living room decorating ideas.
1. Breezy and Bright Modern Living Room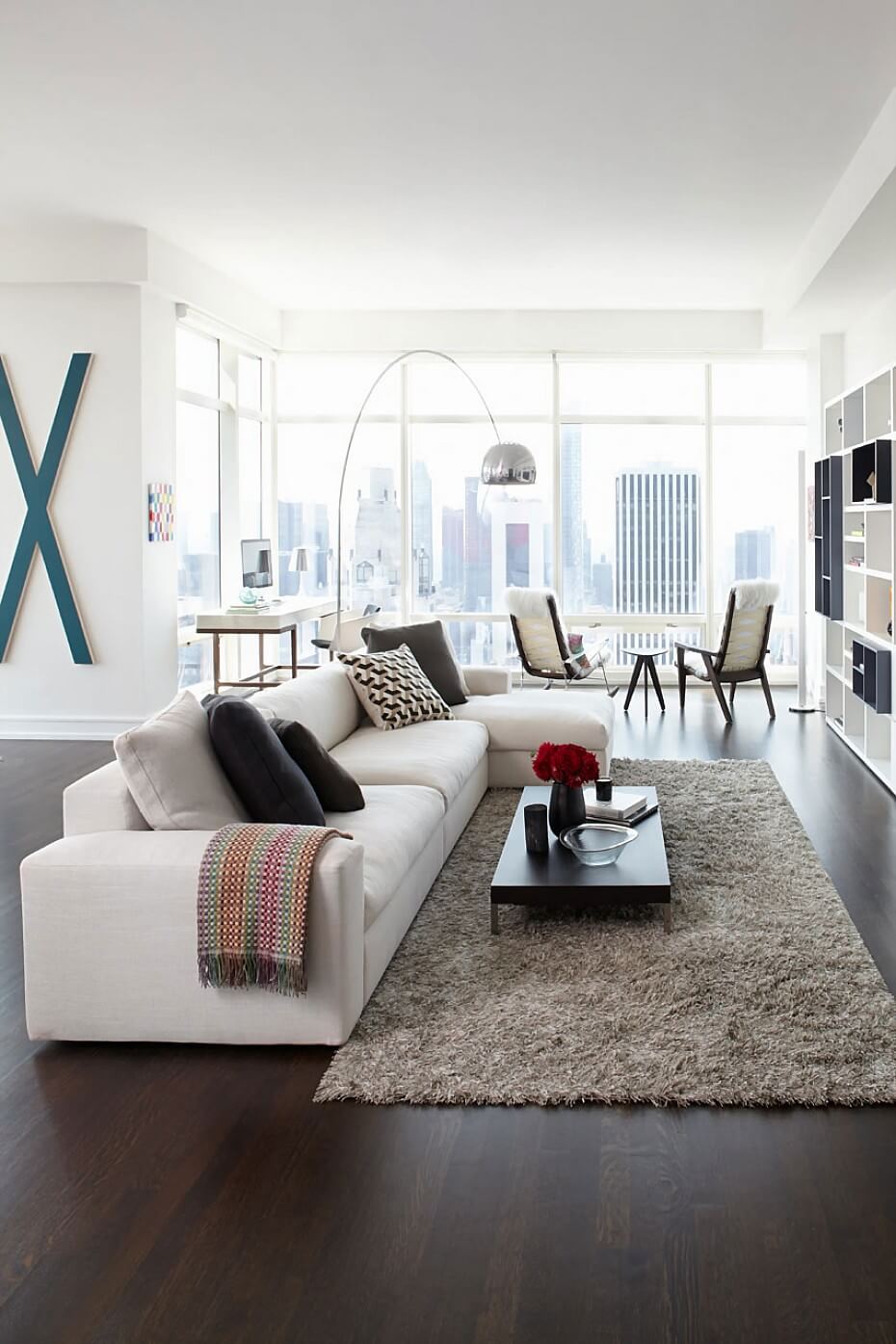 The focal point in this modern living room is the city skyline seen through the floor-to-ceiling windows. Low-profile furniture intentionally keeps the focus on that impressive view. Color palette is another tool used to achieve this airy effect. Brilliant white emphasizes the natural light. While white is central to this design, black accents anchor the space. A few patterned accents add a dash of interest, but could easily be switched up when you are ready for something new.
2. Fireplace, Wood and Warm in Modern Living Rooms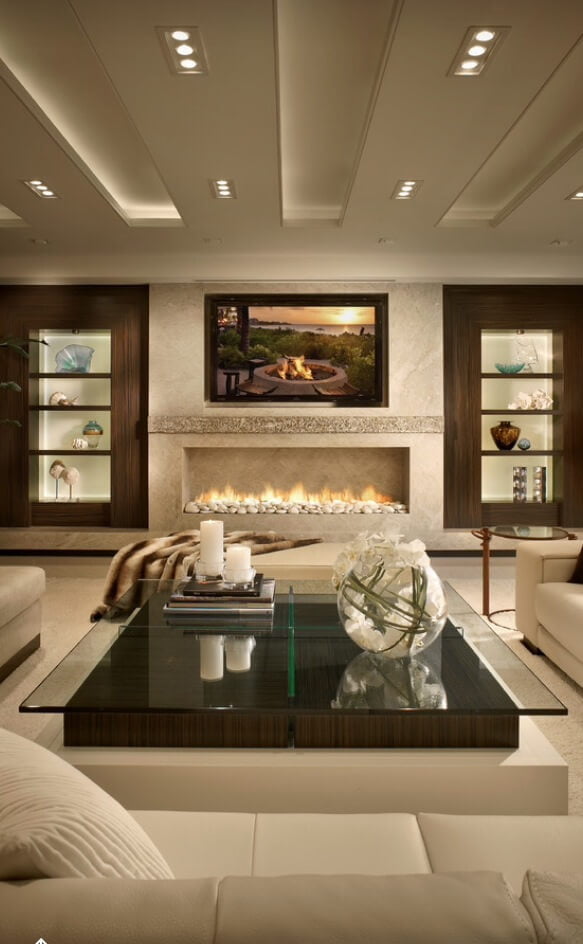 Yes, it is possible to design a modern space that feels warmly welcoming. Besides incorporating nature into the room, the dark wood provides a spa-like soothing ambiance. A glass-top coffee table keeps the space feeling chic. The ribbon-style fireplace offers a stylish alternative to more traditional options and showcases the sleek lines that characterize modern decor. While squares and rectangles reign, a spherical floral vase and cylindrical candles soften the space. The final relaxing touch is the fur throw.
3. Neutral Colors to Brighten your Living Room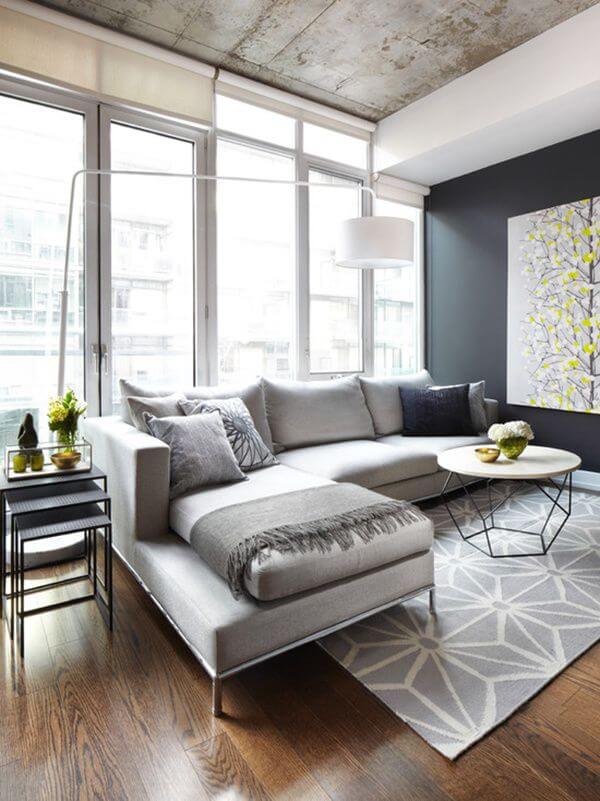 Neutral colors like black, gray, and white are a great way to go when brainstorming modern living room ideas. To add a touch of glamor, experiment with small colorful accents like the golden bowls shown in this image. Flashes of bright green seen in the flower arrangements and wall art are the perfect way to invite nature to the party. Straight, geometric lines in the rug and coffee table with geometric energy breathe life into the space and keep it feeling modern.
4. Cozy Minimalist Modern Living Room Decorating Ideas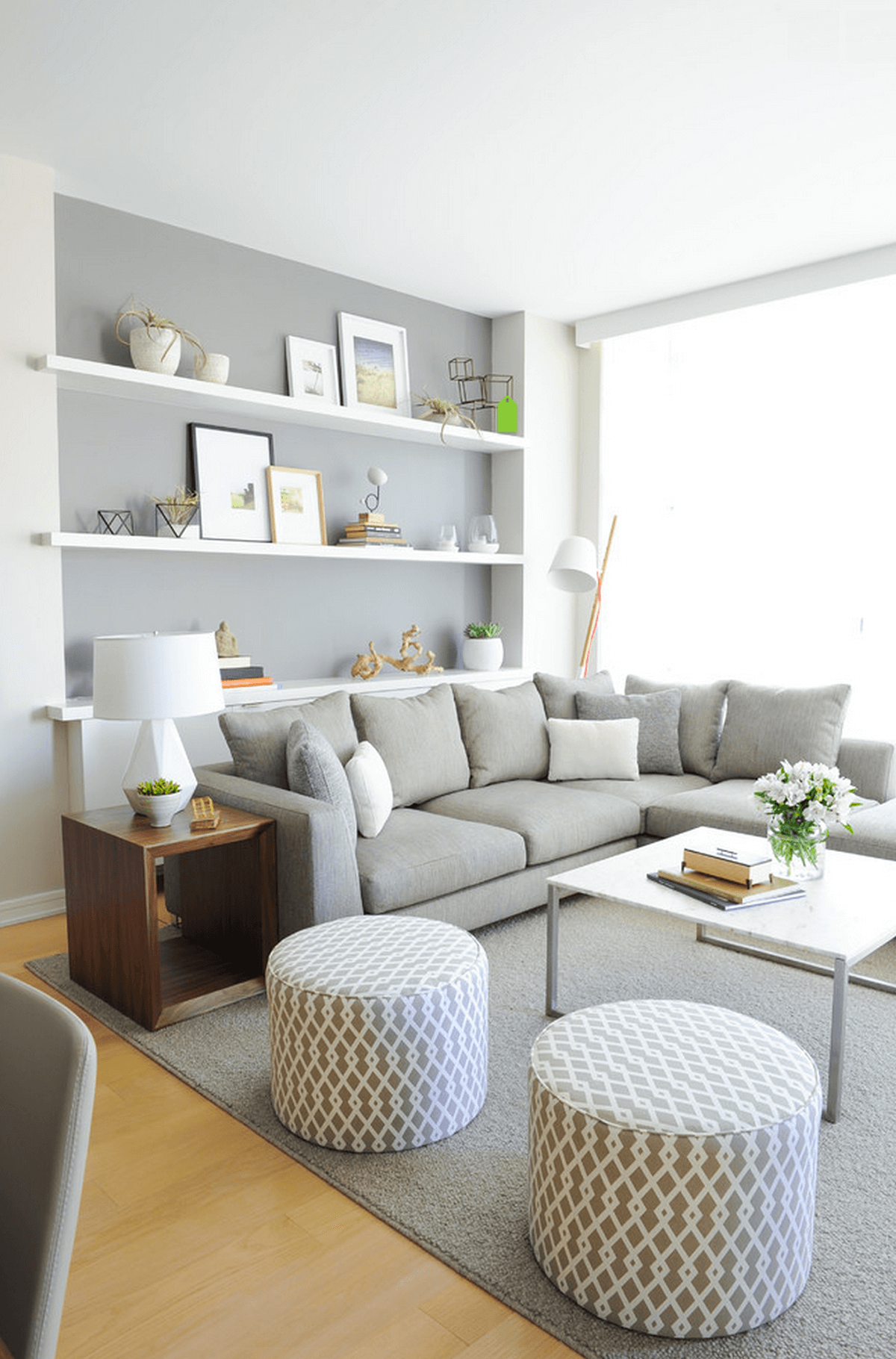 If you are designing a small living room, minimalism makes use of every inch of precious space. One example is the wooden end table – its design features simple geometry, but it can be used to hold items on top like the lamp and, if needed, items below. Plush textiles soften the space while organic elements like plants and driftwood create a hospitable aura. Plenty of natural light provides a warm welcome to anyone who steps into this room.
5. Warm Woods, Soft Textures Living Room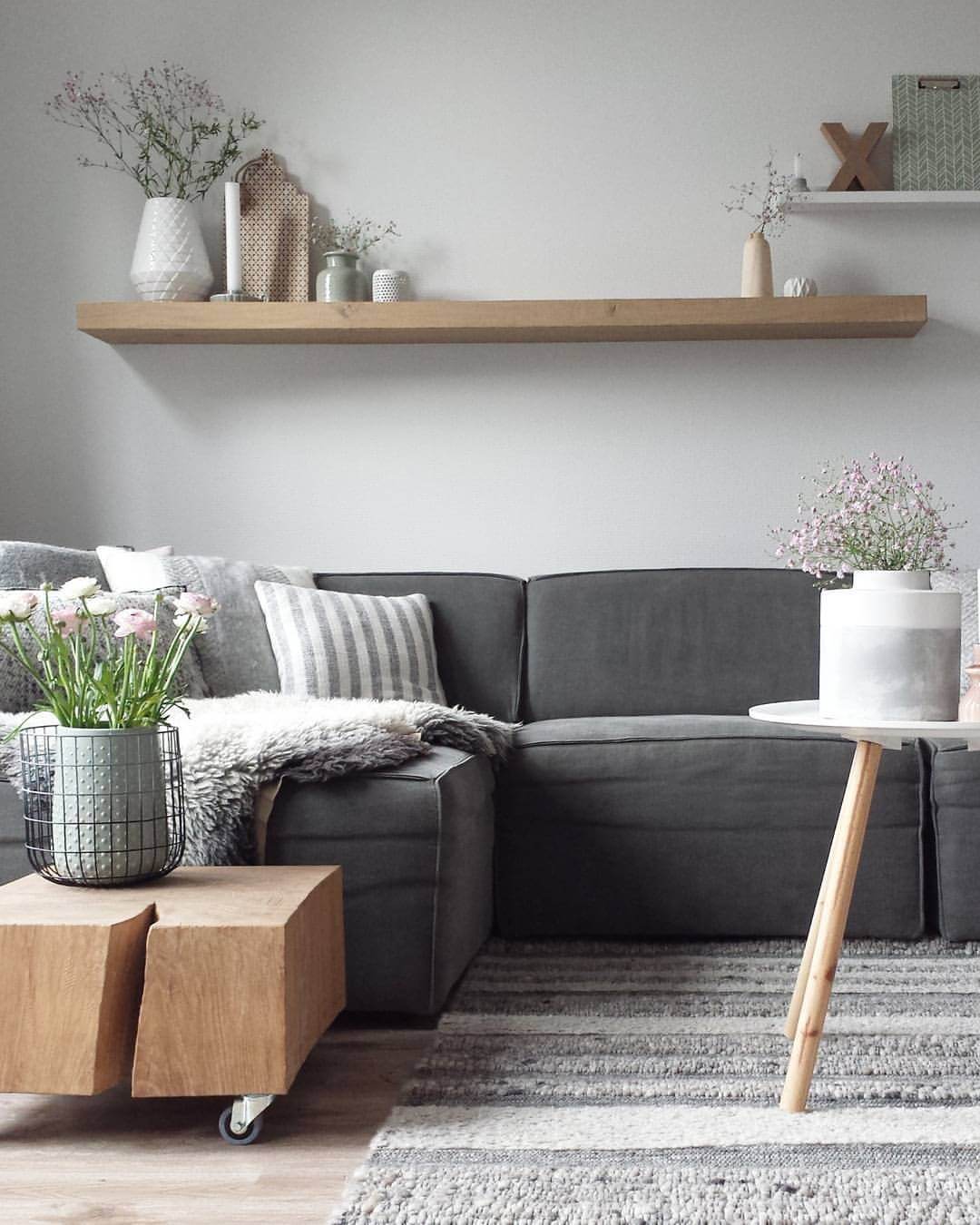 It is unusual for a person's style to entirely fall into a single theme. By mixing natural wood and hygge-inspired textures, this modern living room is dancing to a Scandinavian beat. While the grays in this room offer a cool, calming environment, the wood provides a connection to nature. However, the benefits of this setup go beyond the aesthetically pleasing. Installing castor wheels on an end table is incredibly practical for anyone who frequently switches up their decor.
6. White Dream and Bold Design Living Room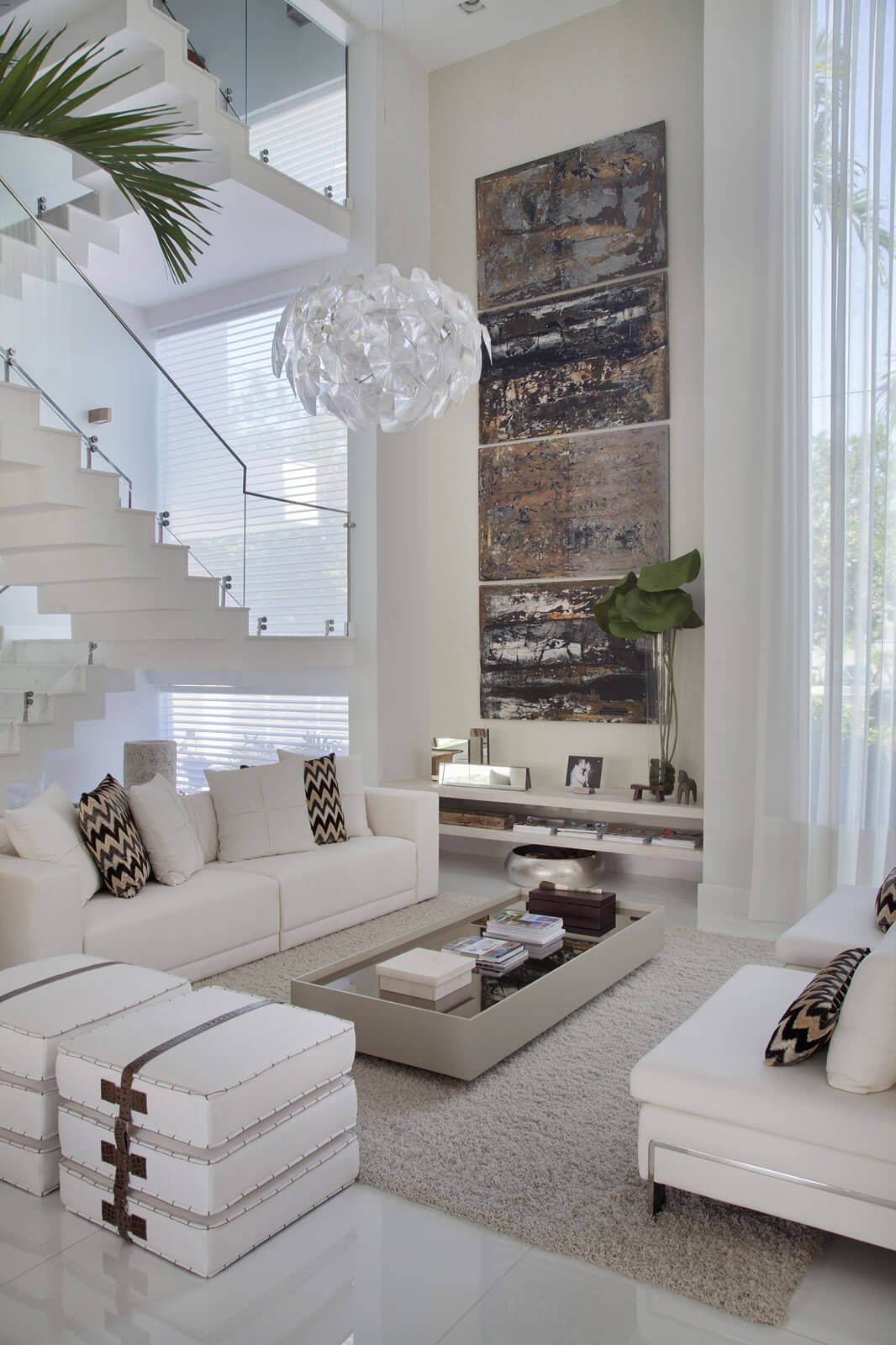 By anchoring the space, white plays a pivotal role in this dramatic living room. With moody blacks and browns, the forceful zig-zag patterned pillows tie into the striking modern art panel. A unique chandelier forges a link with the tropical greenery to create cohesiveness throughout the space. Although there is plenty of vertical space, low-profile furniture keeps the room feeling open and airy. To add a sense of hygge, a thick carpet softens the slick stone floor.
7. An Inviting Artist's Living Room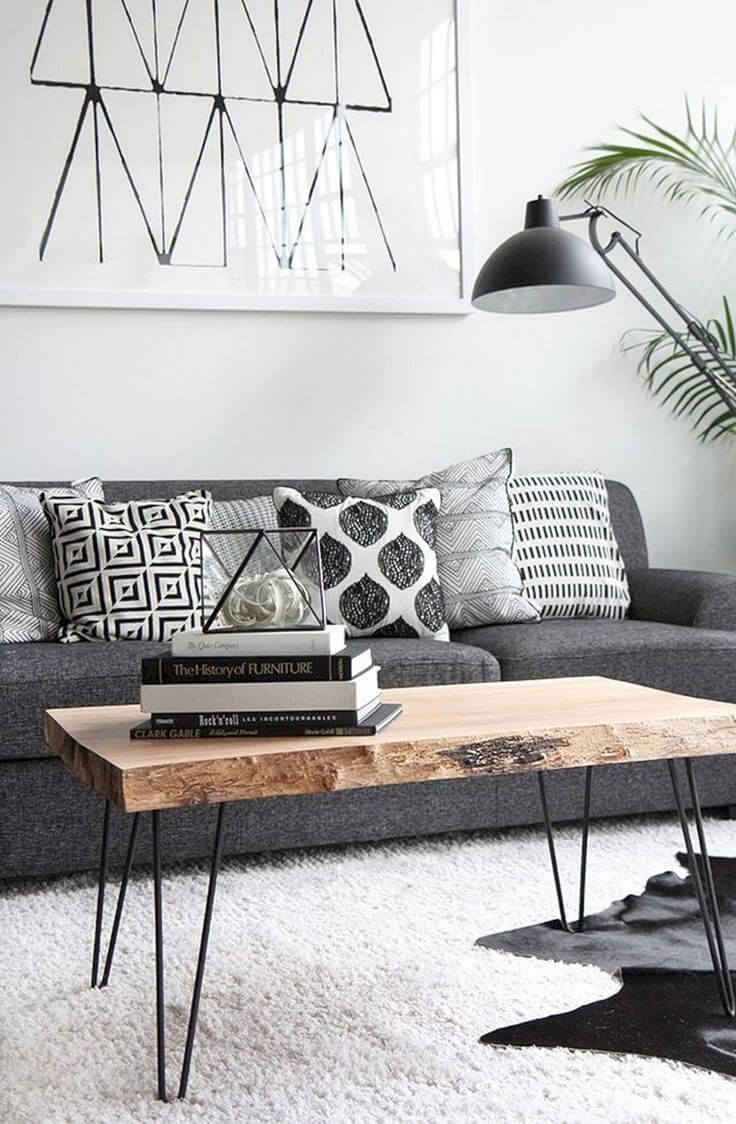 Who says that all of your patterns need to match? Mixing patterns in the same color scheme is an excellent way to give your space artistic flair. Straight geometric lines are echoed in the table legs, wall art, and even the palm-like plant. Because nearly all the decor from the pillows to the coffee table books falls within the black, charcoal, and white color palette, this modern living room offers a sense of cohesion.
8. A Sunny but Sophisticated Living Room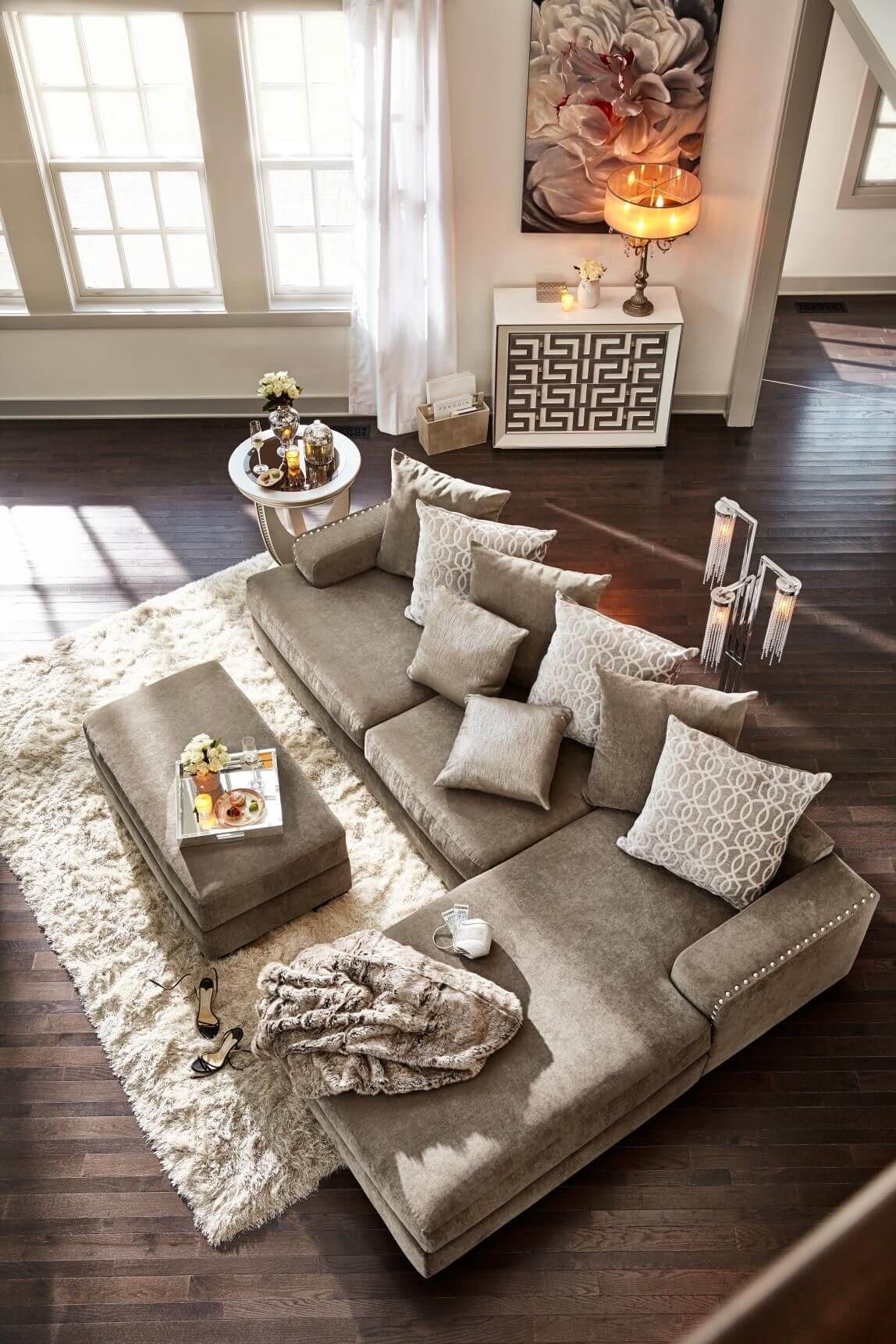 A significant part of interior design is being intentional with lighting. Before making big decorating decisions, consider how your selections will look in all the types of lighting they might experience throughout the day. In this image, you can see sunlight illuminating warm gray tones for an overall effect of unrestrained hospitality. To give this space a modern vibe, a small sideboard makes a statement with its high-contrast pattern.
9. Bold Palette Modern Living Room Decorating Ideas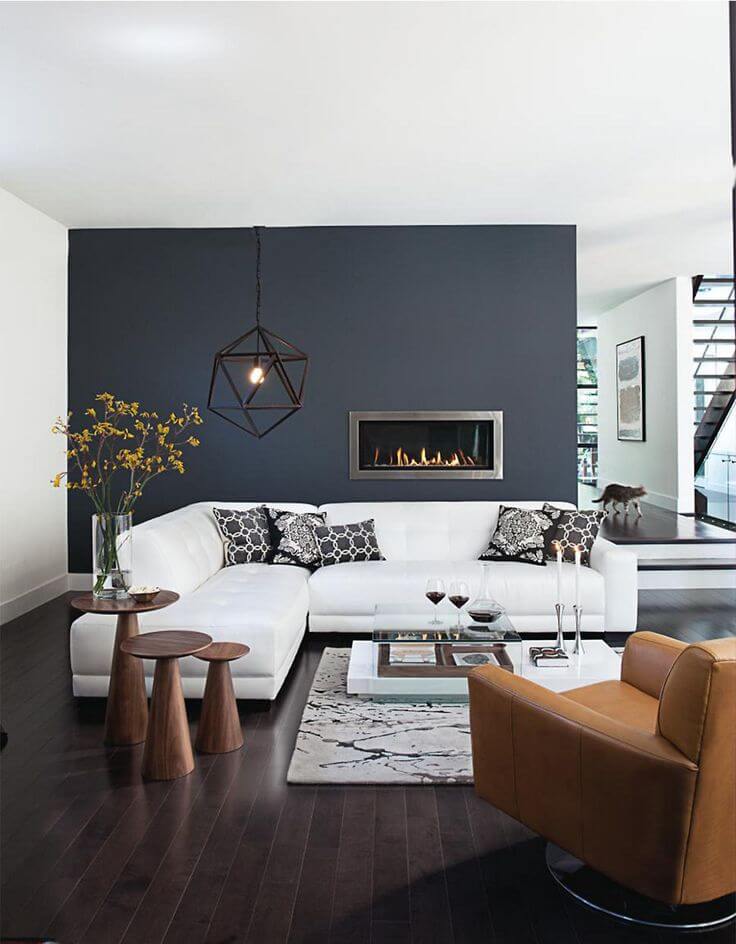 Although white is often used as the dominant color in modern decor, this example takes a different approach. Because the sectional is bright white while the rest of the colors are darker, the sofa shines as the star. A bold bleu canard wall provides much-needed contrast but is subdued enough to stay in the background. A plush leather chair and wood tables with modern silhouettes offer some warmth to the space.
10. Exposed Brick Living Room Design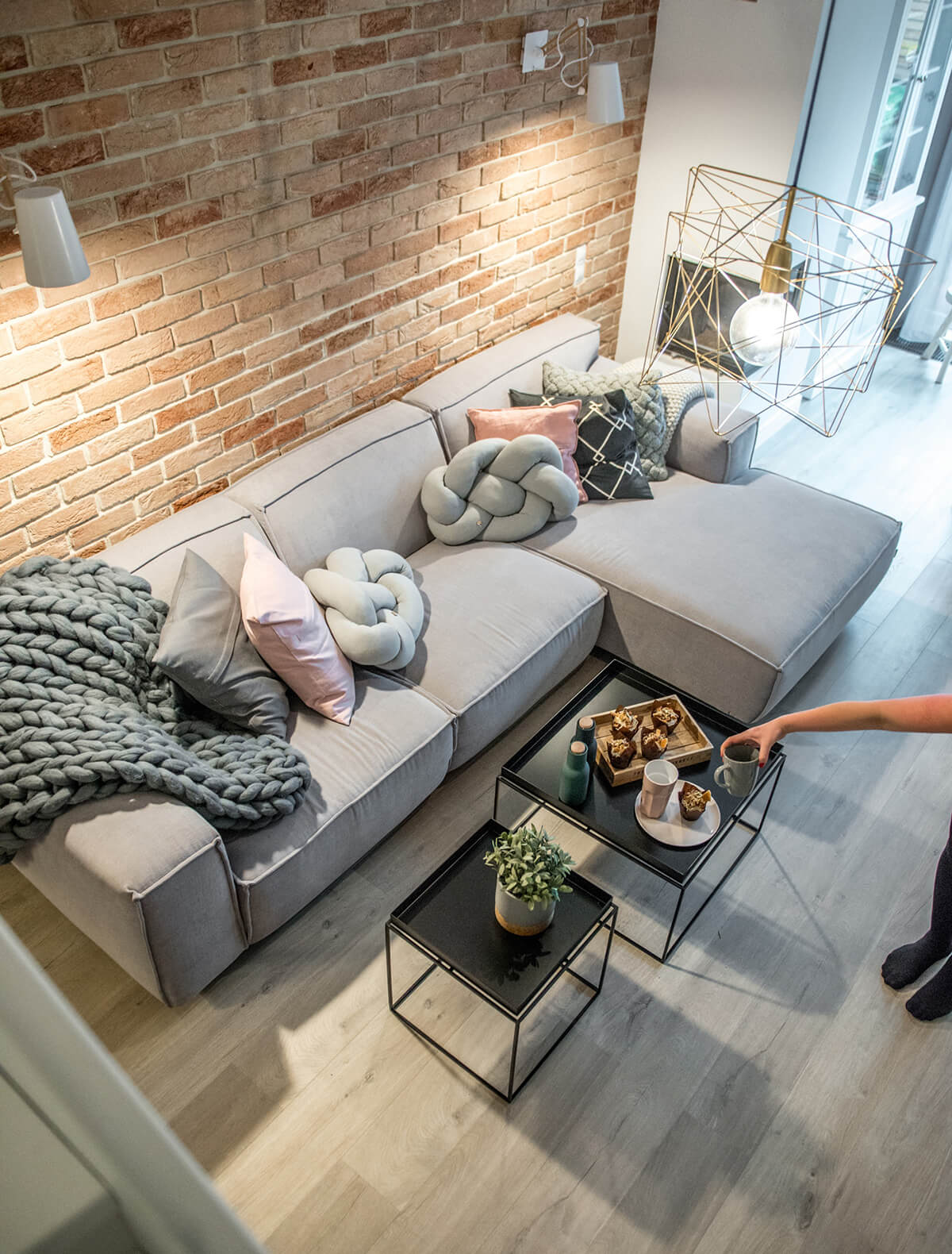 Instead of using color to attract attention, this living room design relies on texture. From the chunky yarn blanket to the exposed brickwork, this small living room is all about contrasting textures. Sconce lights mounted in the brick wall highlight that exposed brick to its fullest potential. However, color does play a role in this design – blush pink pillows soften the space while small black tables provide some tonal depth.
11. Everything in Place Moder Living Room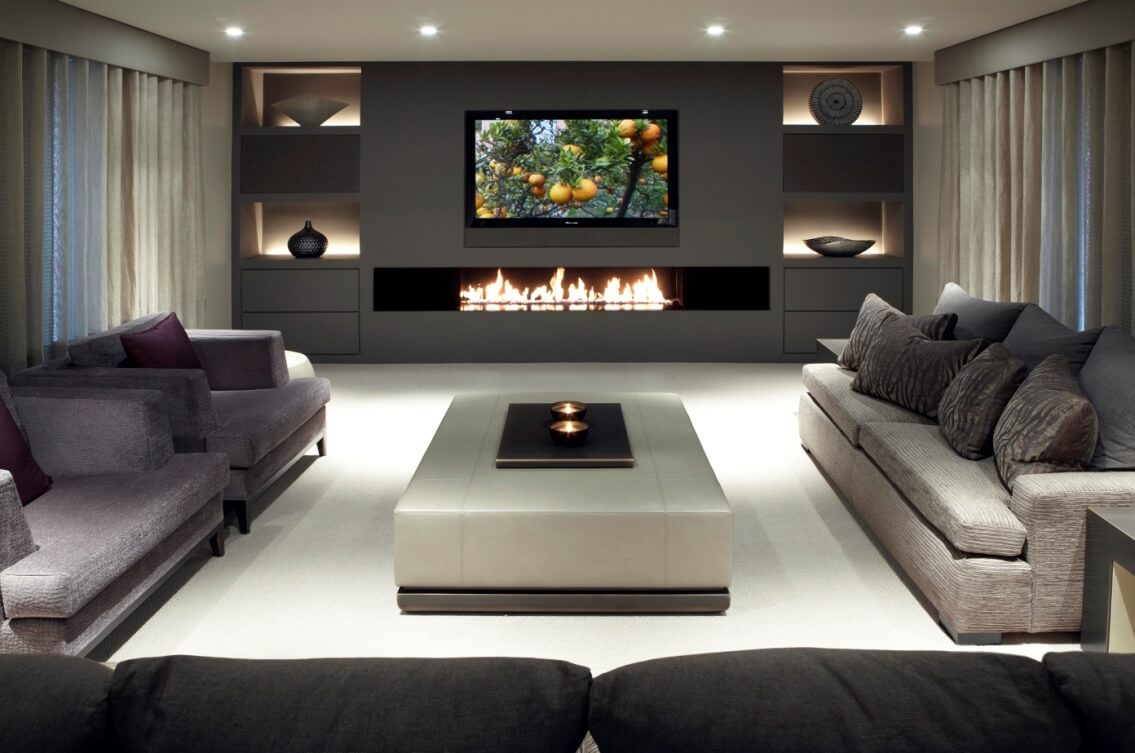 If you enjoy a sense of calm order, draw inspiration from this example's symmetrical composition. While the living room furniture layout is identical from one side of the room to the other side, the exact details do offer a little variety. This dissimilarity is echoed in the artwork displayed in the built-in shelving. Pottery, a ribbon fireplace, and minimalist furniture combine to cultivate an irresistible sophistication. When sophistication and symmetry work together, you build a room perfect for relaxation.
12. All You Need Is White Grey Green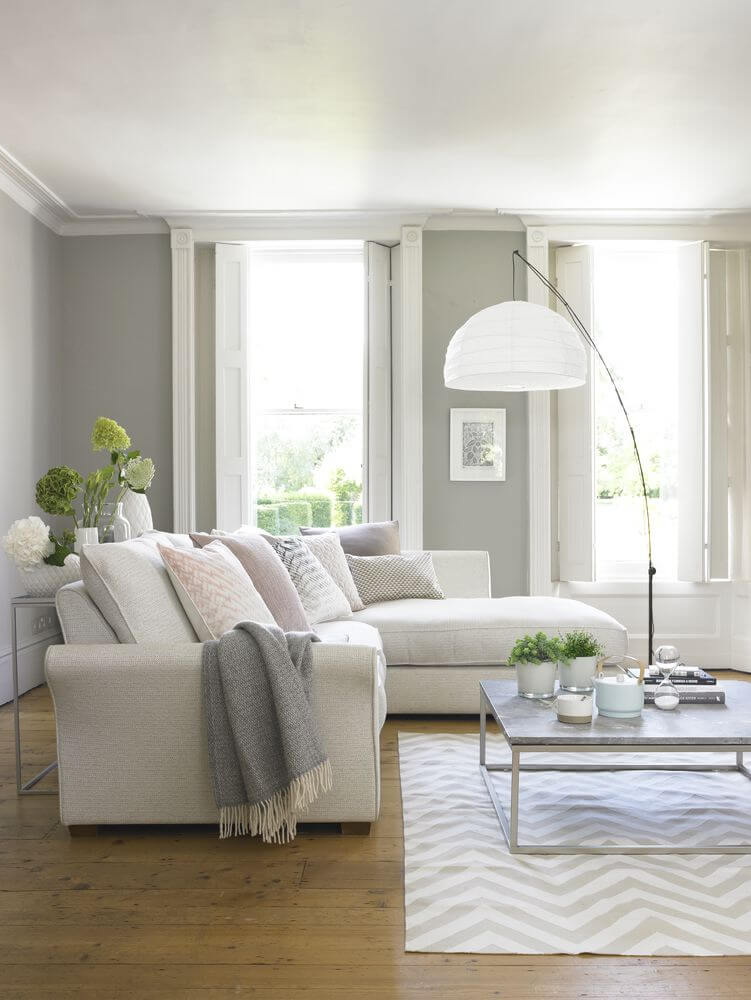 Sometimes, the best way to put the focus on nature is to use a limited gray and white color scheme. Subdued colors help the bright green pop and fill this high-ceilinged living room with a voluminous ambiance. Natural light opens the space up, and a distinctive lamp is ready to provide soft lighting at night. With only one piece of living room wall art, this example weds a minimalist approach with modern style.
13. Modern Living Room Decorating Ideas for Families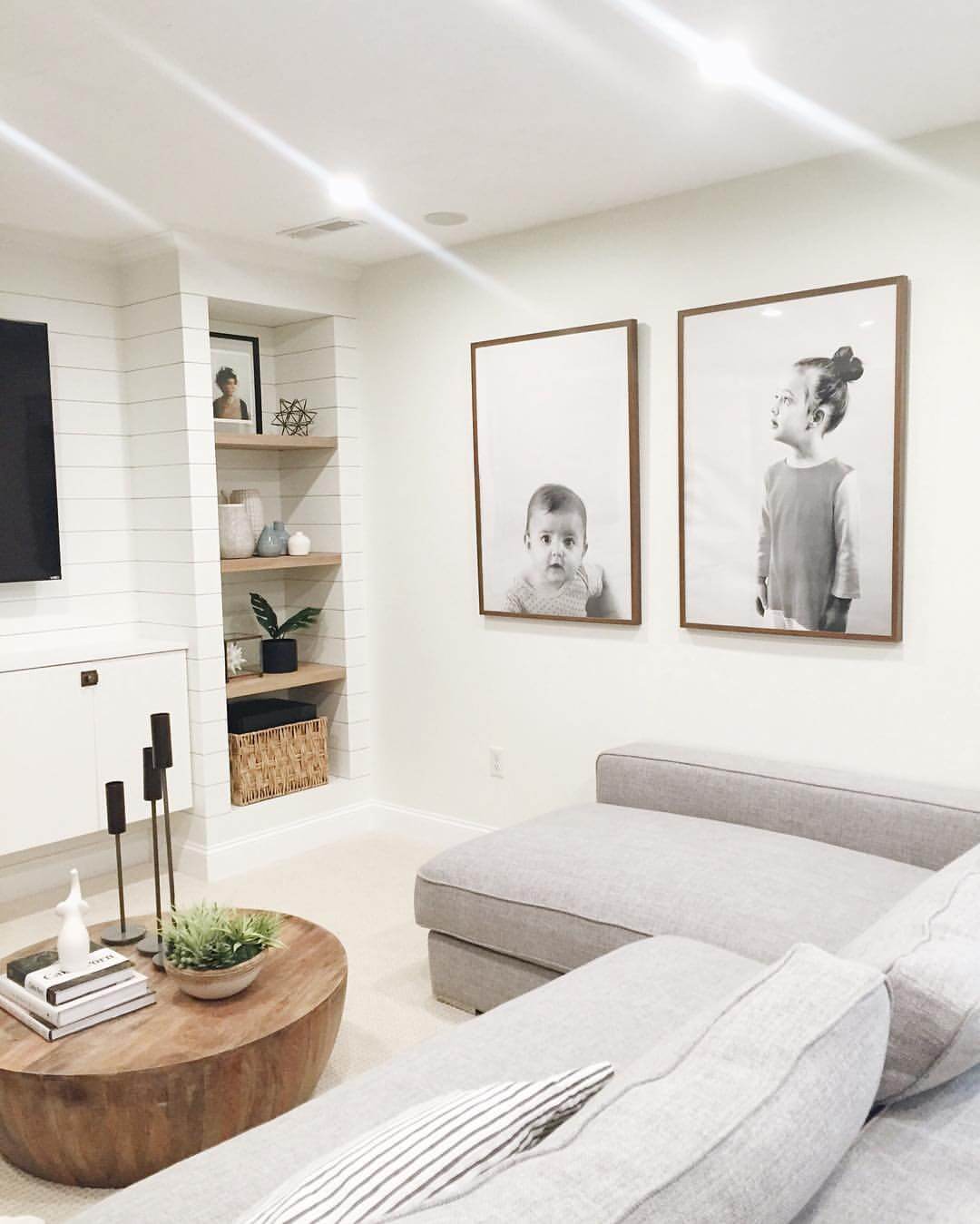 Even those who live with young kids can enjoy all the aesthetics of a modern living room. Grayscale photographs with wood frames provide a focal point that fits with the rest of the space. One of the best modern living room ideas for those who live with children is to incorporate storage that ties into the rest of the space. This example uses a woven fiber basket that mimics the other natural elements in the room.
14. Edgy Modernist Living Room Design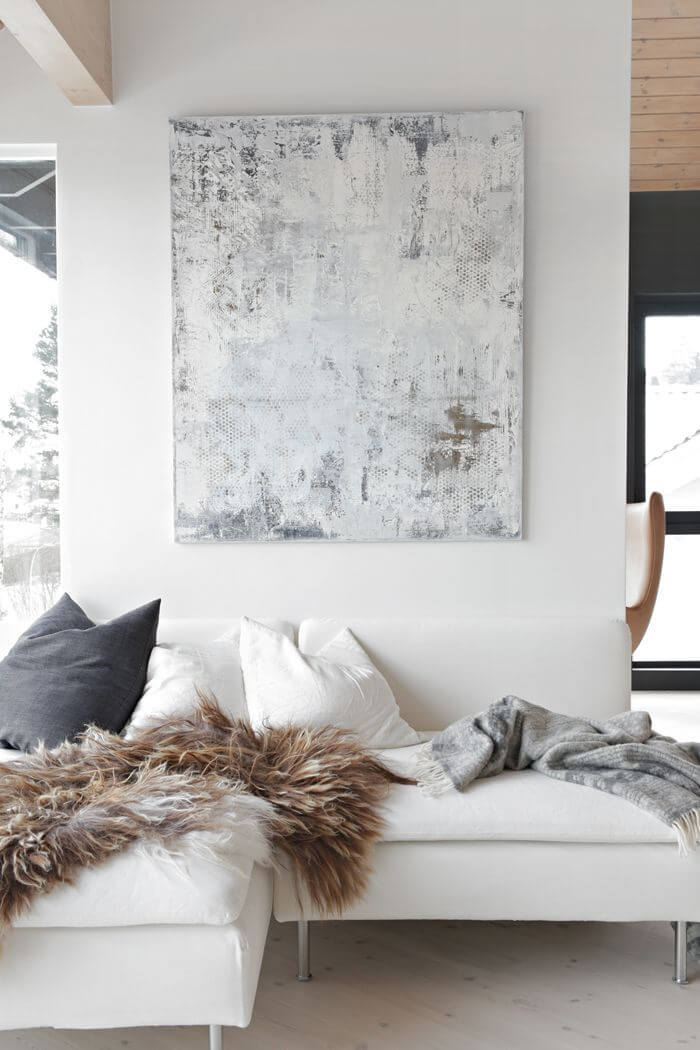 Provocative modern art is an excellent way to set the desired mood. While the painting provides a grunge undercurrent, the shaggy throw blanket offers a dash of rugged romance. Because the remaining elements are restrained colors like white and gray, the electrifying wall art and furry throw take center stage. This approach can easily be modified for your space – all you have to do is use artwork that resonates with you and your favorite faux fur blanket.
15. Monochromatic Look Modern Living Room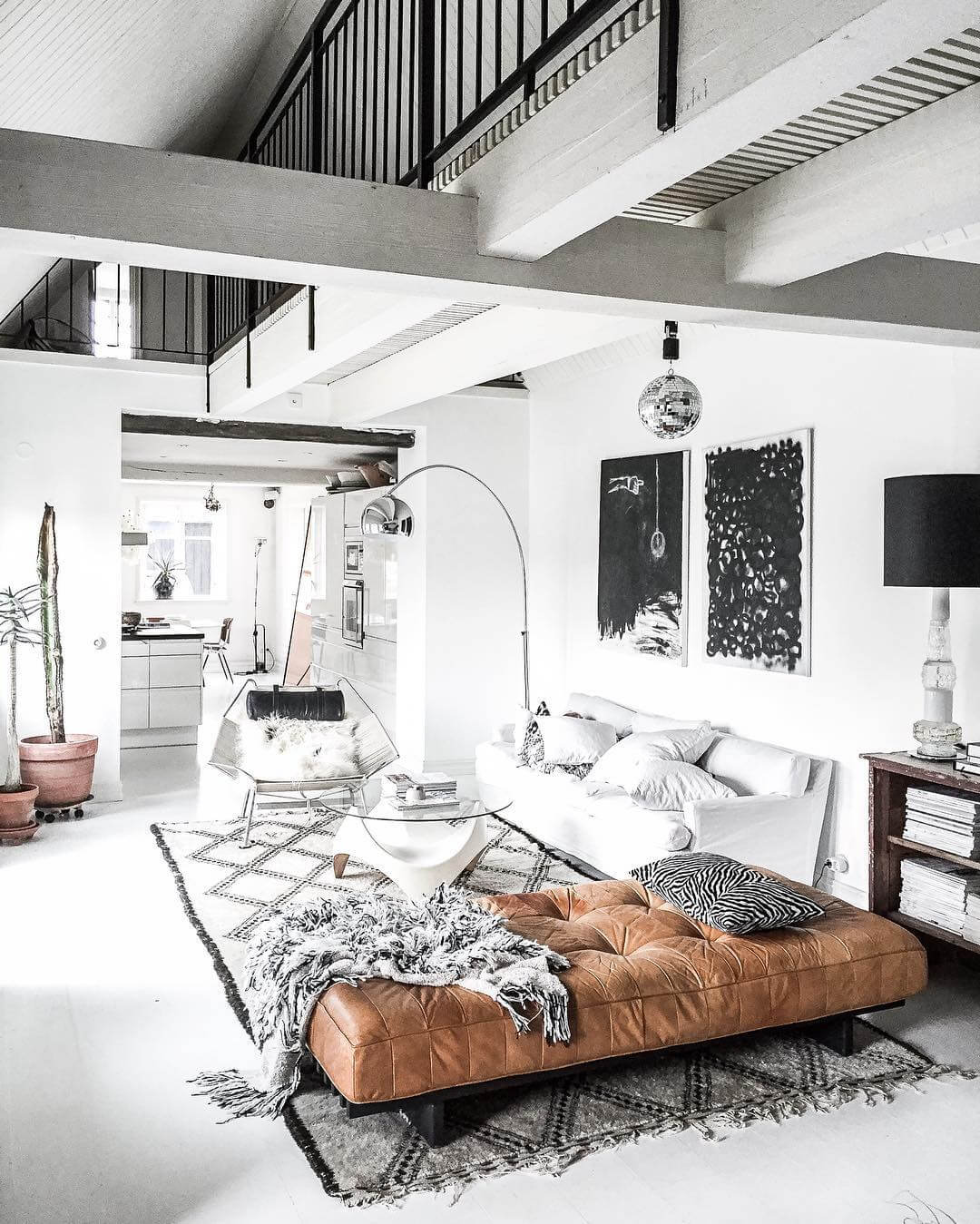 Black, white, and brown are a compelling color scheme perfect for minimalist living rooms. High-contrast combinations like black and white are great for creating a dramatic space, but this spectacle is softened by the brown leather and terracotta plant pots. This space is a study on how effective using opposites can be. The glamorous disco ball and highly reflective silver light are an excellent balance to all the soft textile textures.
16. Neutral Color Scheme Modern Living Room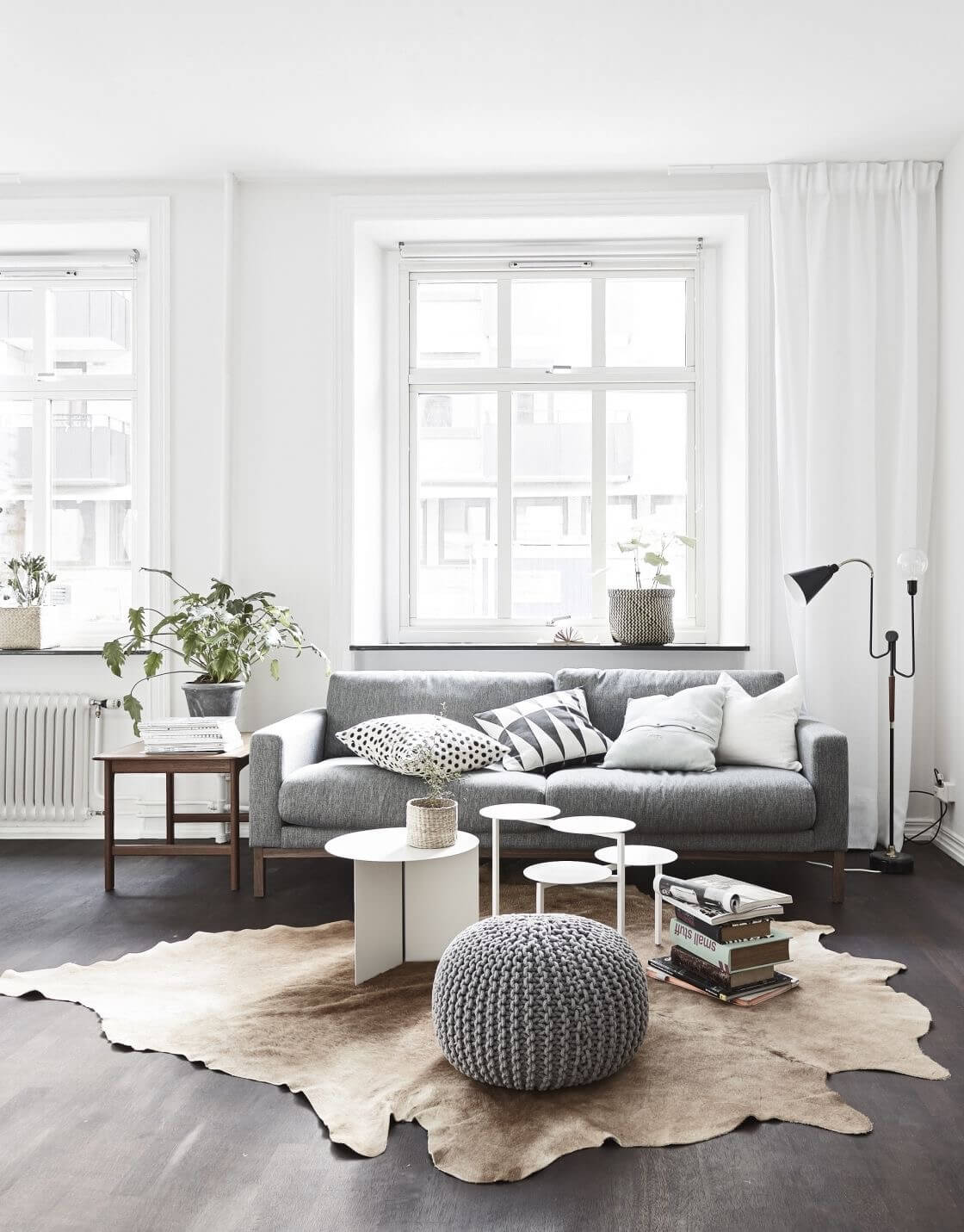 Filling your home with neutrals can create a surprisingly relaxing atmosphere. Because this space stars soft grays, gentle beiges, and dusky greens, the people filling the space will give the room all the personality it needs. Chunky textures and an unusual rug add interest and distract attention from the moody dark floor. An abundance of natural light makes this minimalist living room look like the perfect place to take a deep breath and disconnect from your worries.
17. Create a Living Room with Little Space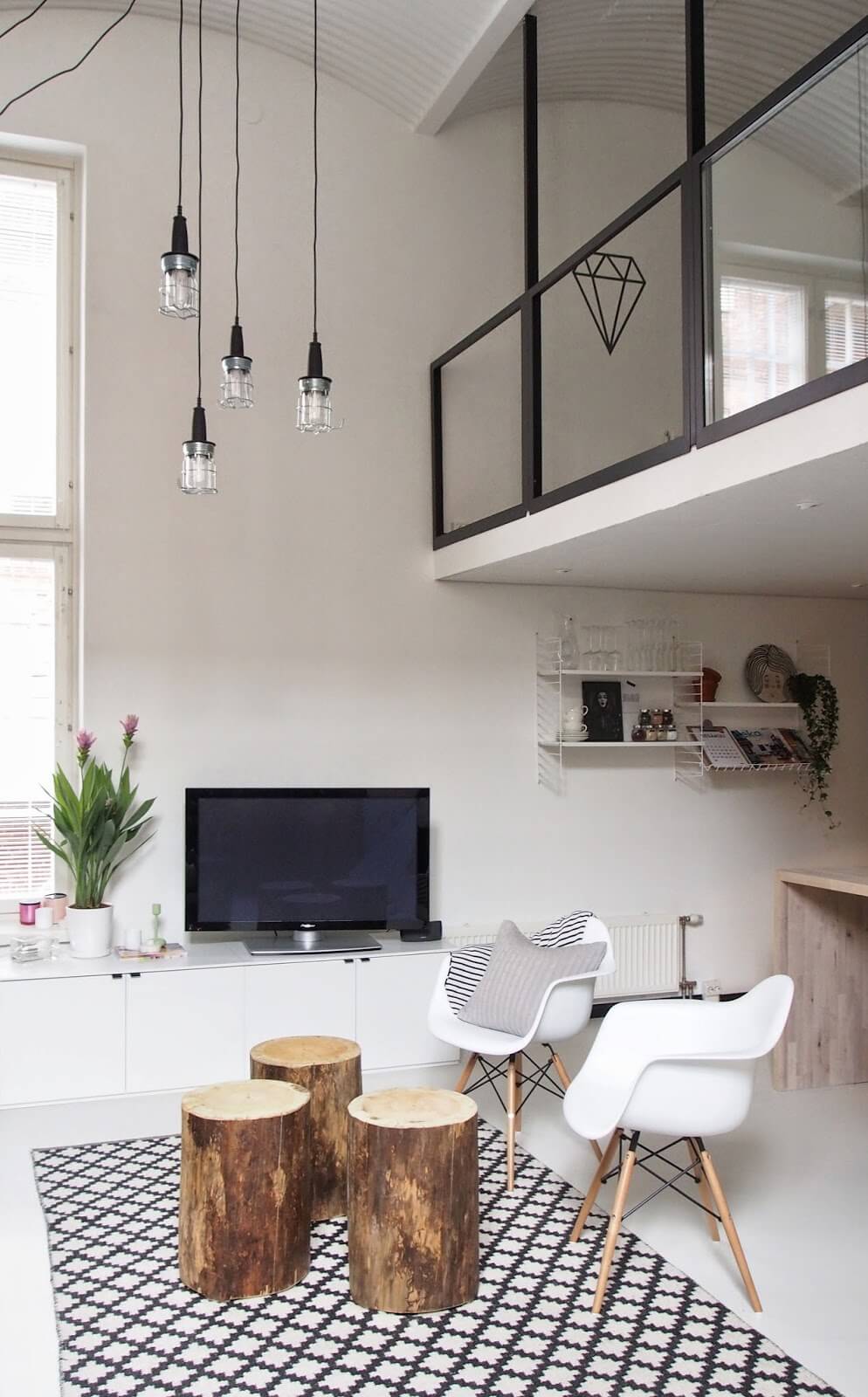 Modern furniture makes it easy to take a small nook and transform it into a living room. In this case, logs act as coffee tables as well as a connection to nature. In fact, these log coffee tables offer more versatility than traditional options. Depending on your needs, they can be arranged in any number of configurations. Look around your home to see if you already own something unexpected that could serve as coffee tables.
18. Modern Living Room with a View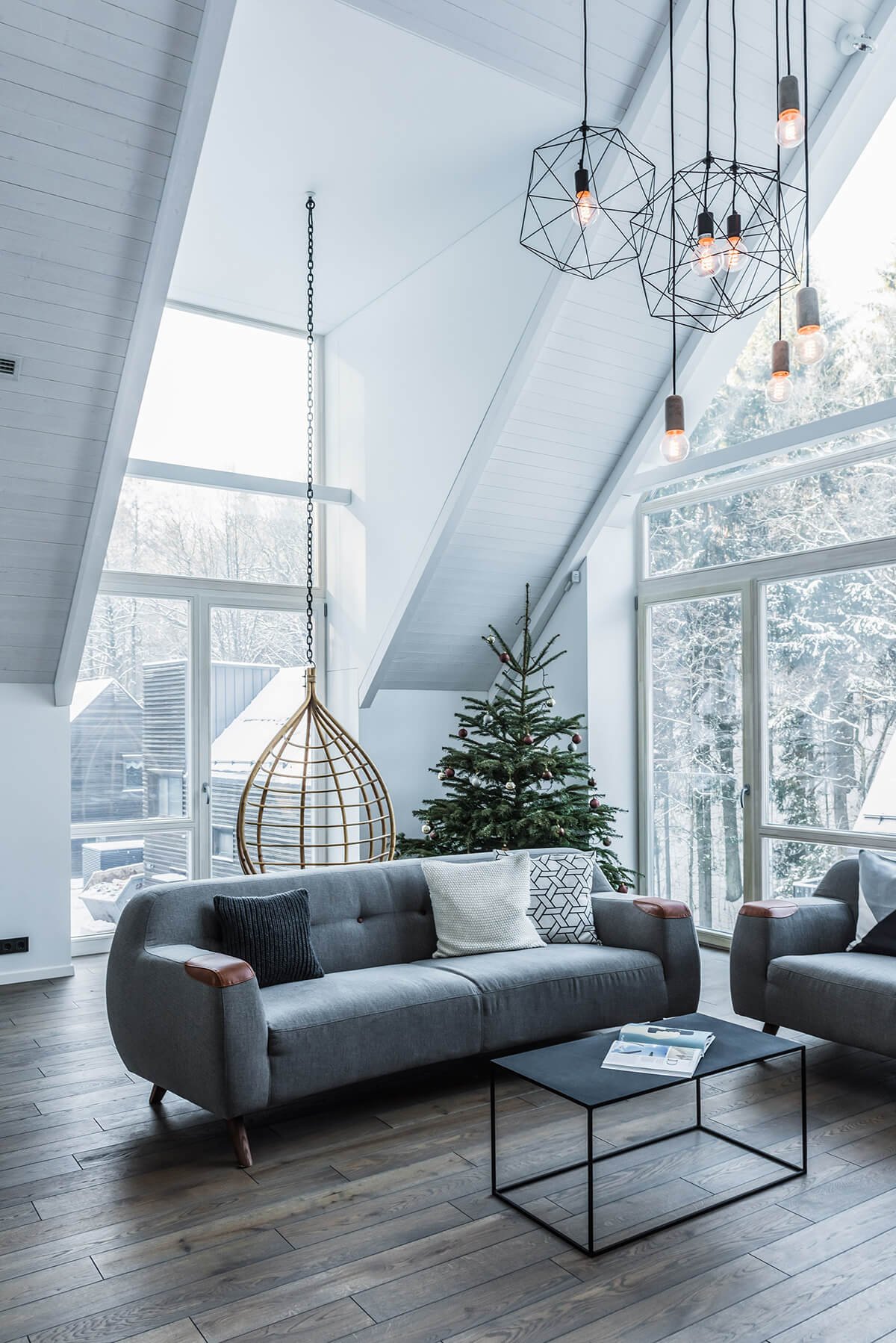 When there is a stunning woodland view just outside, it is important to carry that theme forward into your interior design. Hardwood floors fit beautifully with the view and the sofa's rounded silhouette ties into the organic landscape outside. To keep the space feeling thoroughly modern, however, a geometric wooden table and a swinging basket chair showcase energizing straight lines. As the final touch, subtly patterned throw pillows offer a comfortable place to land.
19. Romantic Relaxation Modern Living Room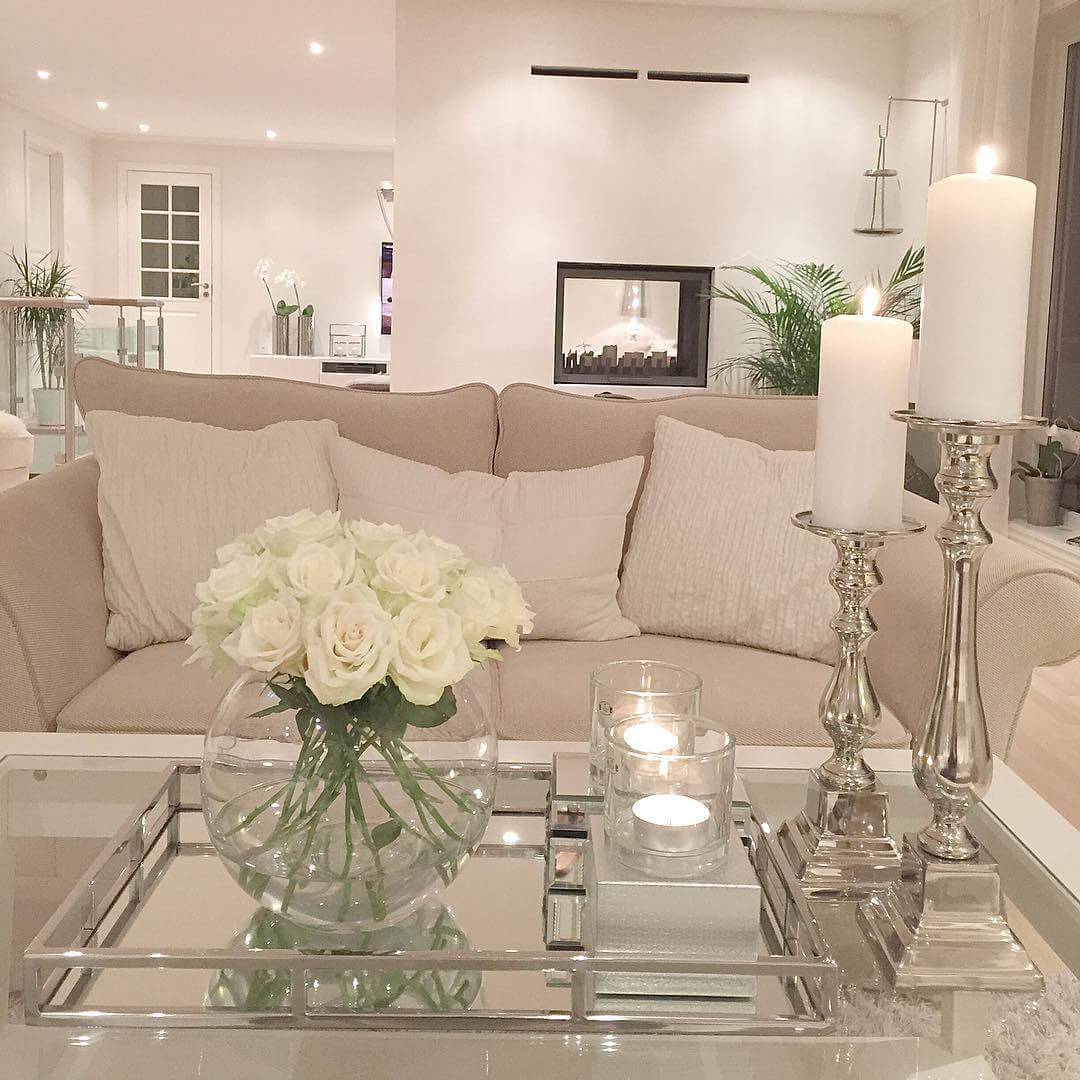 Creamy whites, shiny silver, and reflective glass come together to create a living space designed to de-stress. Notice how the table is styled – no two accents are exactly the same height. Candlelight and white roses add a sense of romance to the space. Of course, if you prefer a more classic romance, choose luscious red roses instead. Because neutrals dominate this modern living room, any type or color of flowers will work beautifully here.
20. A Multi-Era Living Room Arrangement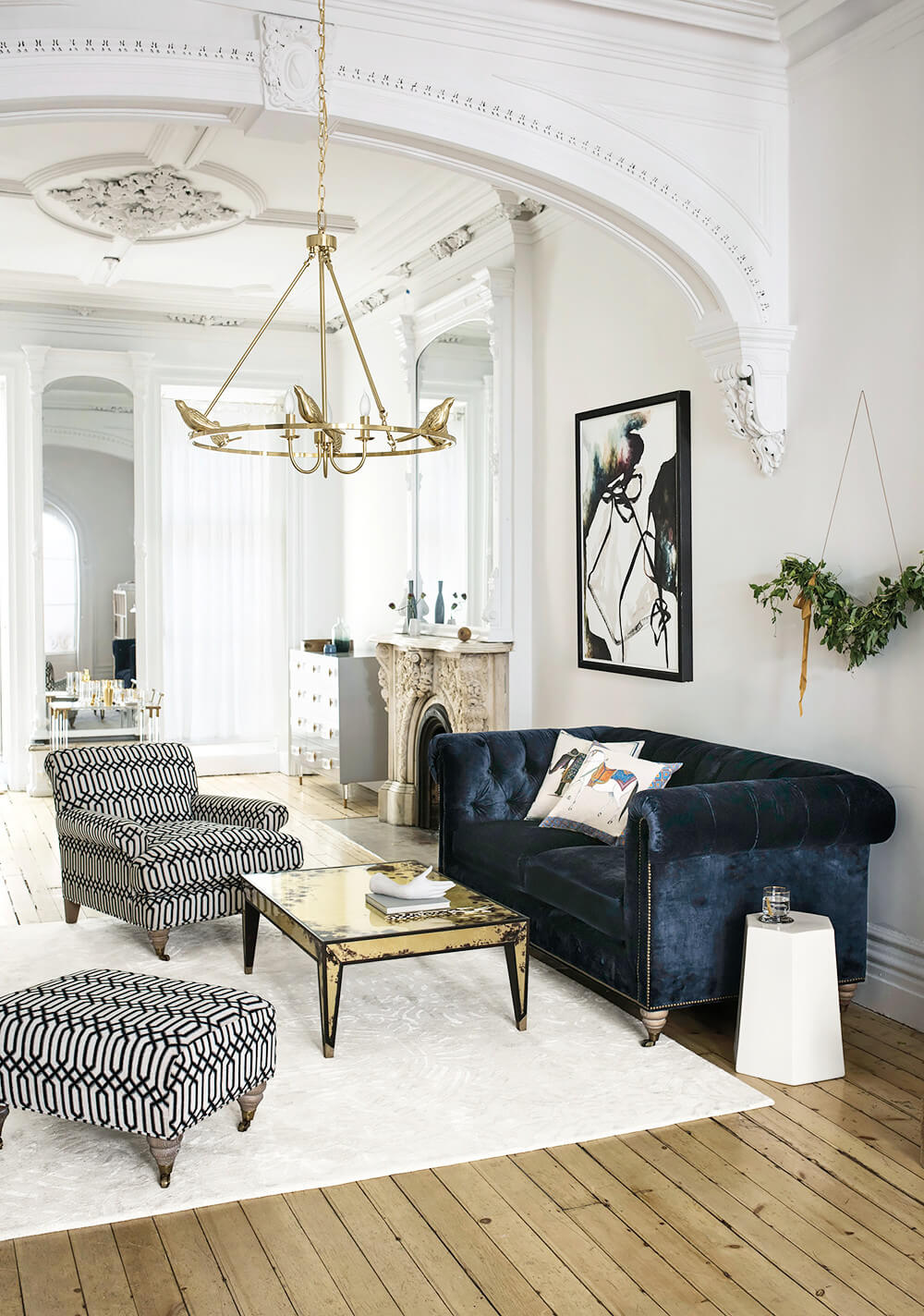 Even if your living room happens to be in a space with ornate molding from decades past, it is possible to decorate your living room with a modern style. Instead of fighting the traditional, embrace it. You might be surprised by the luxurious results. This example pairs a glamorous velvet sofa with ties to the past with a sleek coffee table and modern chandelier. With birds perched atop the chandelier, it holds some baroque charm without going overboard.
21. Fun and Unexpected Living Room Design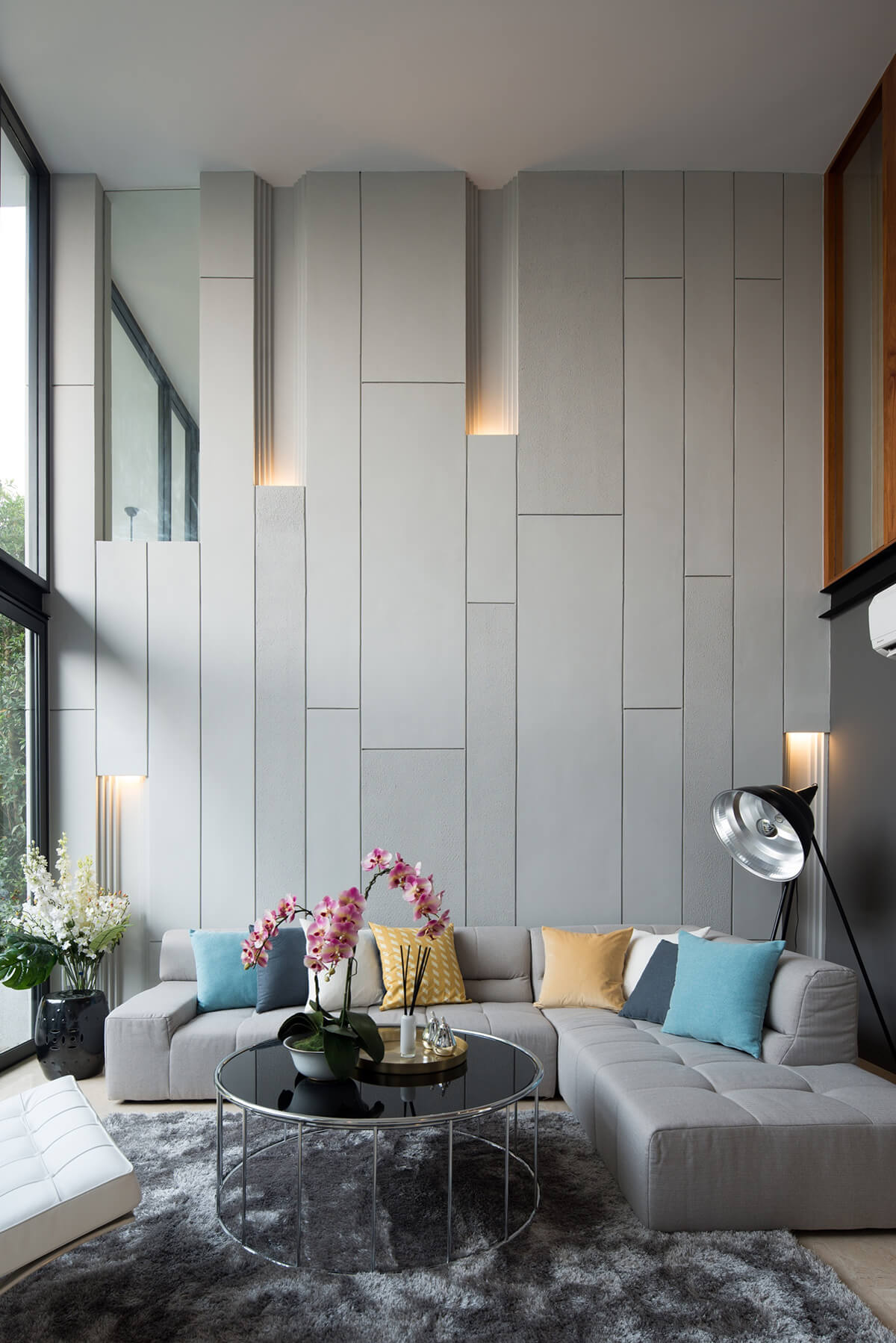 As a modern twist on traditional Thai architecture, the gouged concrete walls create a sense of limitless vertical space. While grays dominate this room, accent colors like blue, yellow, and even pink orchids provide an unexpected pop of color. Floor-to-ceiling windows offer a relaxing view as well as a profusion of natural light. Check out how cozy the sofa looks – this example shows that modern furniture can be comfortable as well as sophisticated.
22. An Industrial but Homey Living Room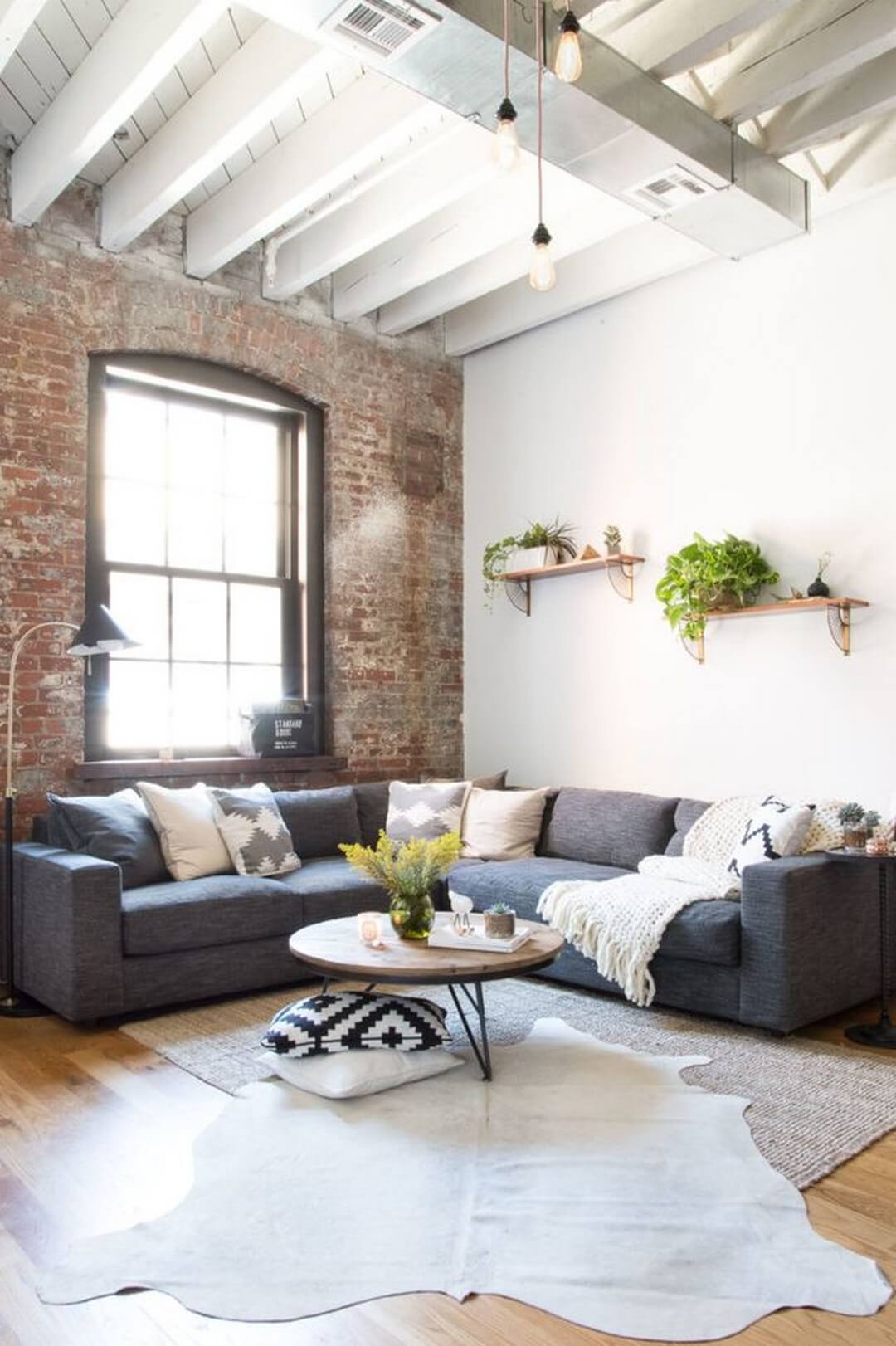 With industrial features like exposed rafters and an industrial brick wall, this modern space still feels friendly. How do you achieve the fine balance between industrial modern and hospitality? Comfortable furniture, soft rugs, and cozy blankets are key. For a touch of nature, add a few plants. The patterned throw pillows in this example showcase an invigorating pattern, but you could switch them out for something softer if you prefer a little romance in your living room.
23. Heavy Metal in Your Living Room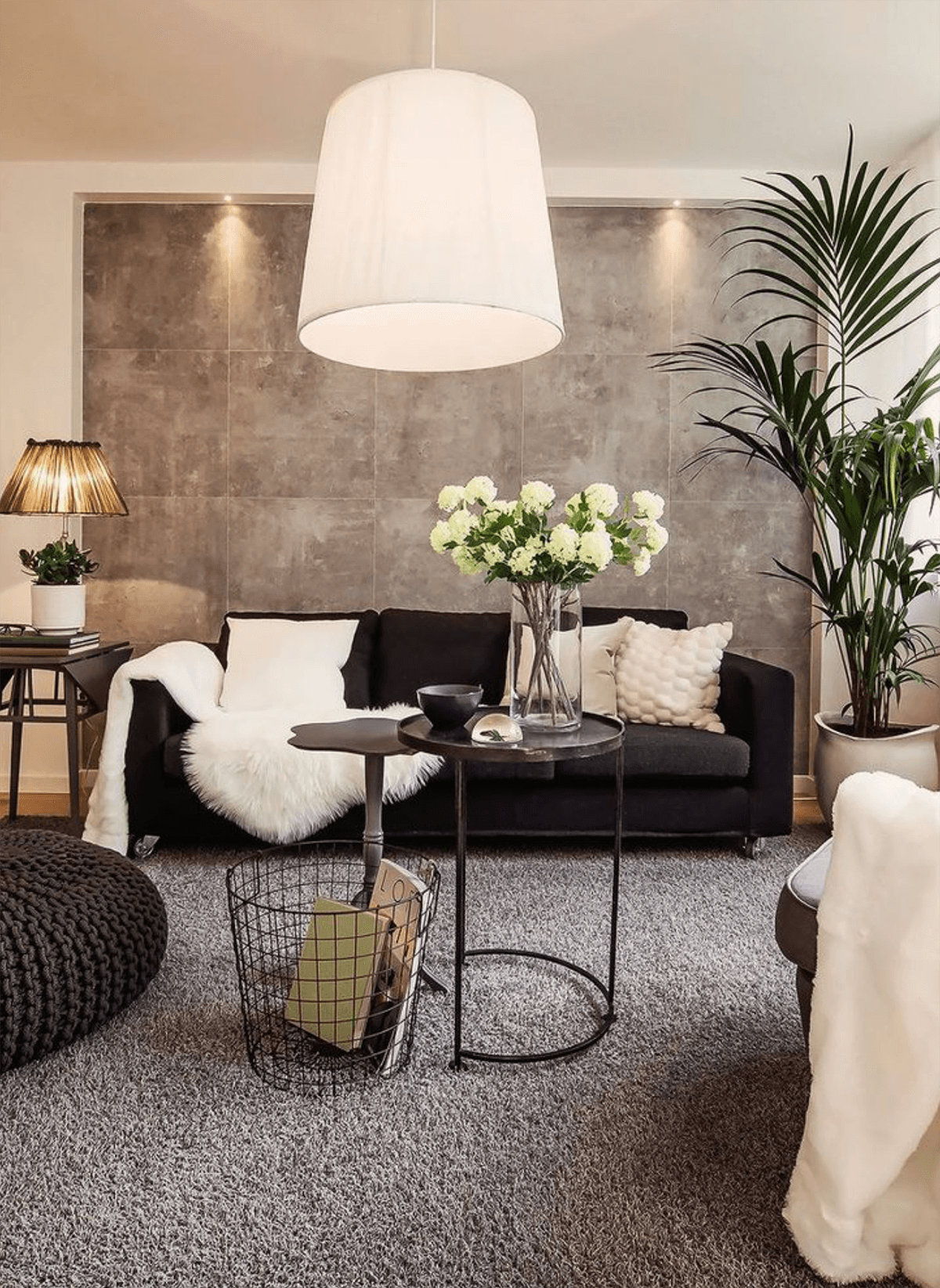 If you love the modern aesthetic, incorporating metal with your living room furniture can cultivate a fascinating variety of textures. However, be aware that the more metal is used, the harsher your living room will feel. To balance out all the metal used in this space, try including thick carpet, soft pillows, and a faux fur throw blanket as shown here. To lighten the space, this example uses white accents and an exotic plant in a cream ceramic pot.
24. Cozy Modern Living Room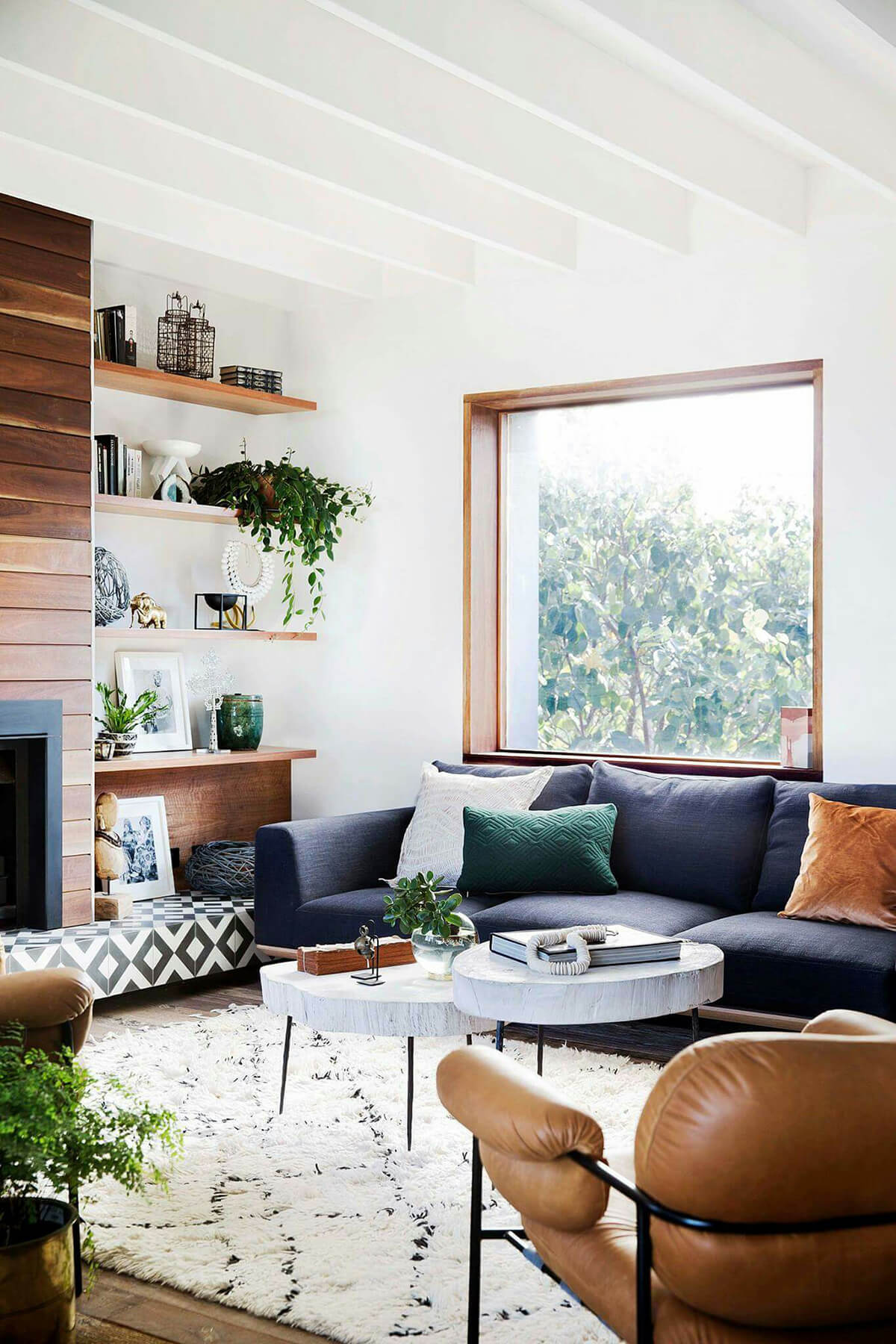 As you can see in this example, modern and comfortable do not have to be antonyms. Plush furniture and lots of pillows make this space look like a great space to sit down and enjoy a conversation. The fuzzy carpet not only features a subtle pattern that ties into the hearth but also looks like a fantastic place to sink your toes. Leafy plants help tie the space into the view seen outside.
25. Winter White for All Living Rooms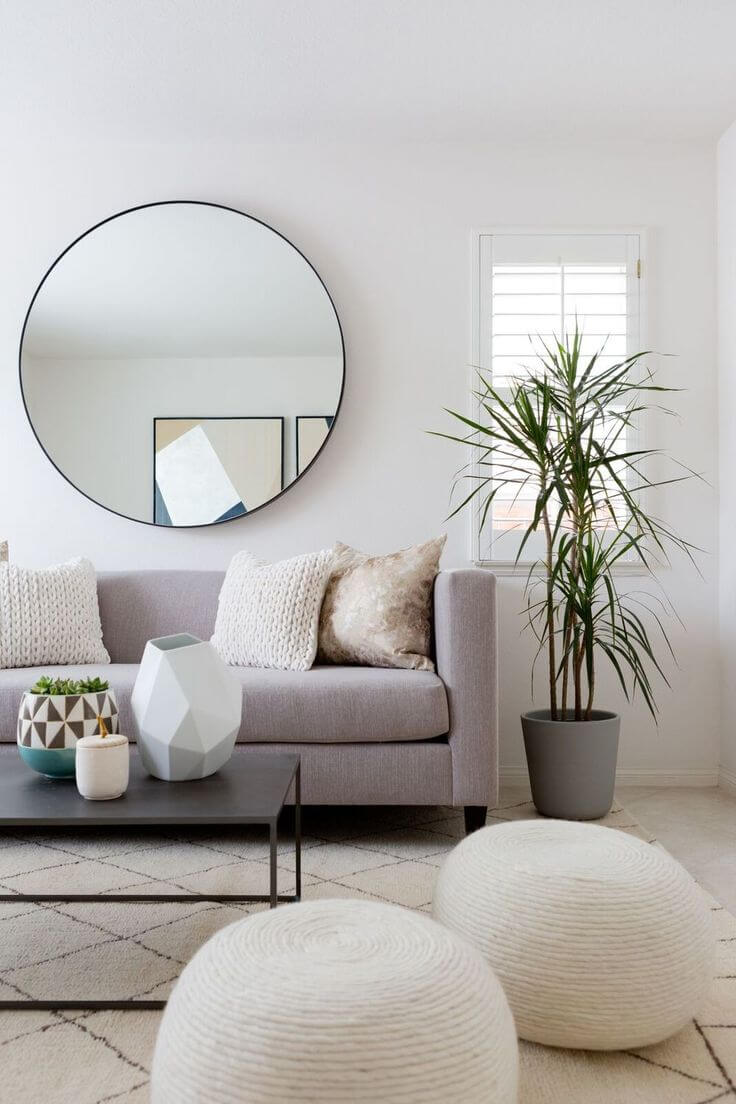 If your dream is a minimalist living room, draw inspiration from this example. White paint and light-colored decor open the space up and amplify the natural light. An easy way to double your artwork's impact is to hang a mirror opposite, as shown here. Tasty textures from the pillows and poufs vitalize the space and provide interest. Not to be outdone, the geometric vase's appearance will change throughout the day as the natural light changes.
26. Multiple Stations for Spacious Living Rooms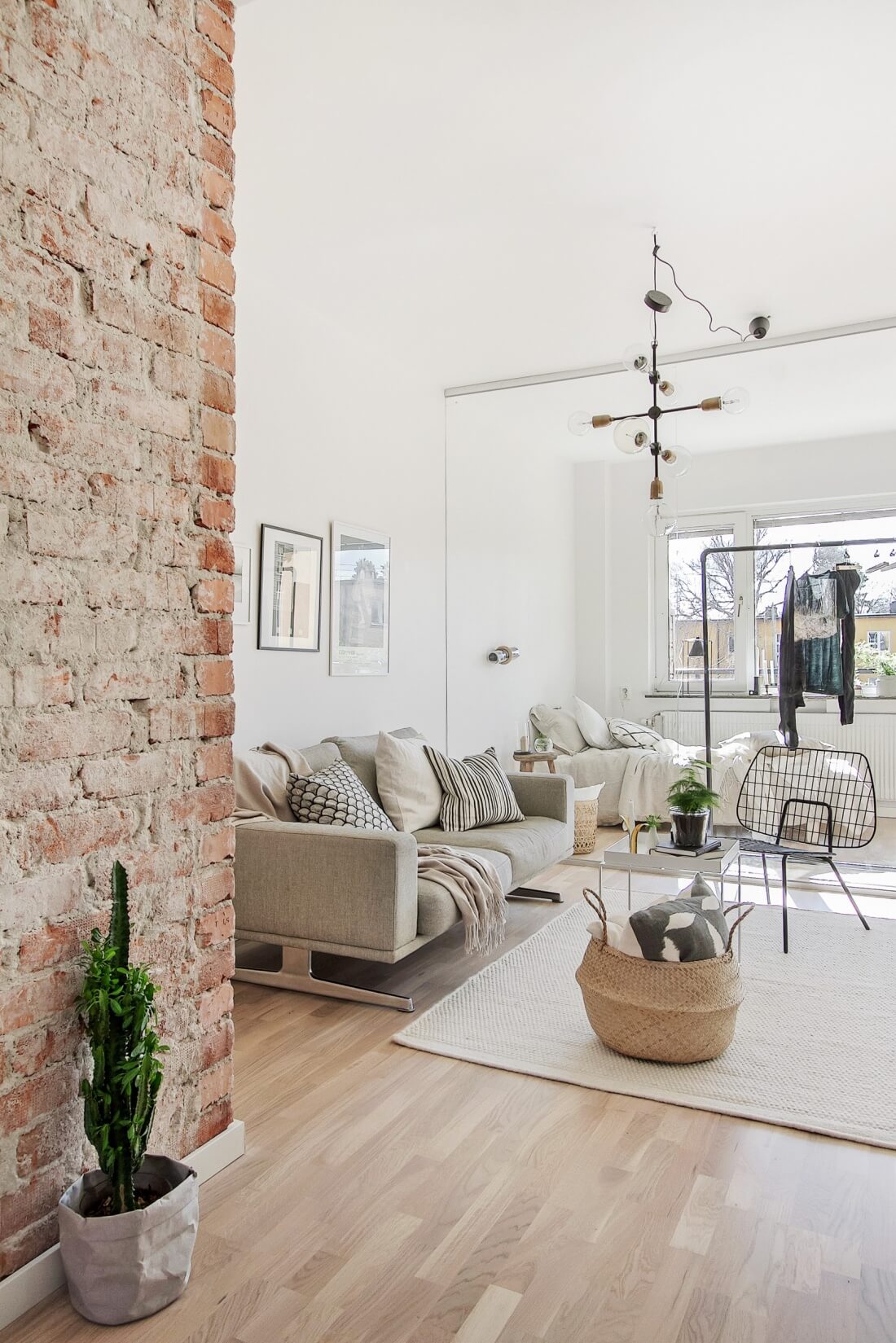 A glass wall is the ultimate in minimalist modern decor – both rooms feel larger, and natural light floods the entire space. Of course, this approach is also a great incentive to keep your bedroom uncluttered. Exposed brickwork, a woven blanket basket, and a fun rug add texture, and plants provide the only non-neutral colors. To finish the look, a wire-backed chair, and unique chandelier add an unexpected metallic touch to this modern home interior.