There are many decorating styles from farmhouse to vintage that has remained trendy to this day, but organic modern has climbed up the ranks and held a firm place in the contemporary home, so we're giving you the best modern organic decor ideas to help you capture that aesthetic.
19 Stunning Organic Modern Interior Design Ideas for your Next Project

Organic modern focuses on blending sustainability with fashion, and all without things being overwhelming so it can have a touch of minimalism woven in. It is especially a great choice for those of you who want some more eco-friendly items inside your home, or if you simply want to bring in more signs of nature without it being completely farmhouse-like.
When decorating with this theme, certain colors work best. Everything seems to be earthy. Items use a more neutral palette with colors like tan, black, gray, and even white as these colors work well at making the room feel warm and inviting. Concerning texture, opt for cozy and comfortable textiles that will help the room maintain its modern vibe. This is easily done with the likes of rugs and throw pillows. Don't be afraid to toss in some greenery around the place either as that firmly helps maintain the organic style.
With all this said, perhaps you still don't know exactly where to begin. Well, you can start in any room as this theme is fitting for a whole-house makeover. In our list, we will reveal a few examples of how you can give a room a complete overhaul by changing only just a few items. Additionally, we will also explore some must-have products from wall art to blankets that will work as unique accents to your overall décor.
If you're ready to reinvent your home, let's take a look at some of our favorite organic modern interior design ideas that you are sure to love.
1. Minimalist IKEA Based Bedroom Makeover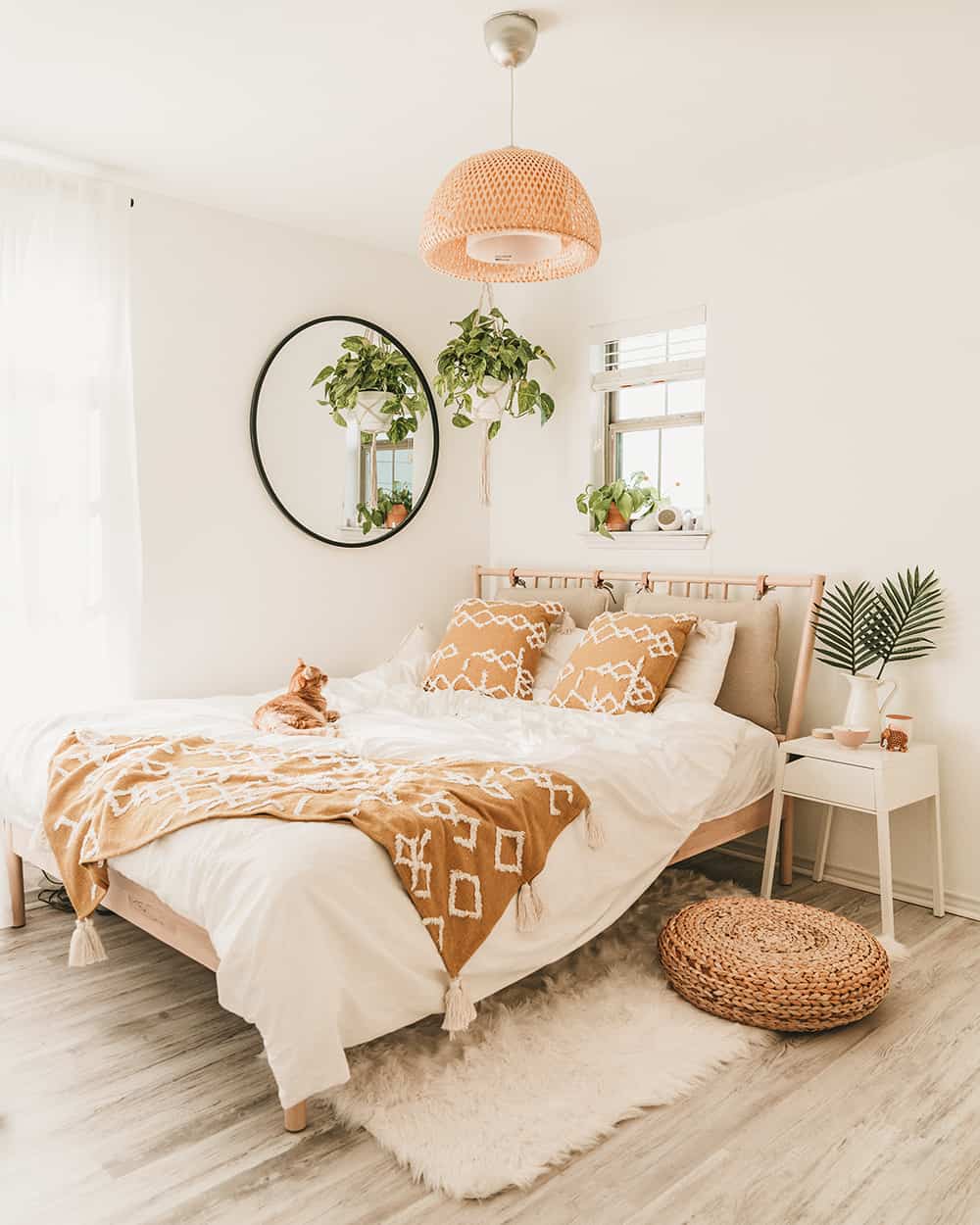 Just because you don't have space, that doesn't mean you can't decorate. In fact, organic modern takes a lot from minimalist designs. When decorating a smaller bedroom, for instance, you can focus on those warmer colors. If your walls are white, then they will play off each other well. Also, you can balance colors via your bed set by going for two different tones. For example, use white for the comforter, while going for warmer colors for the pillows. A nice, shaggy rug can help cement the modern side of this theme too if you have hardwood flooring. Otherwise, you can toss in some plants around for a pop of color.
2. Cool and Cozy Organic Sitting Room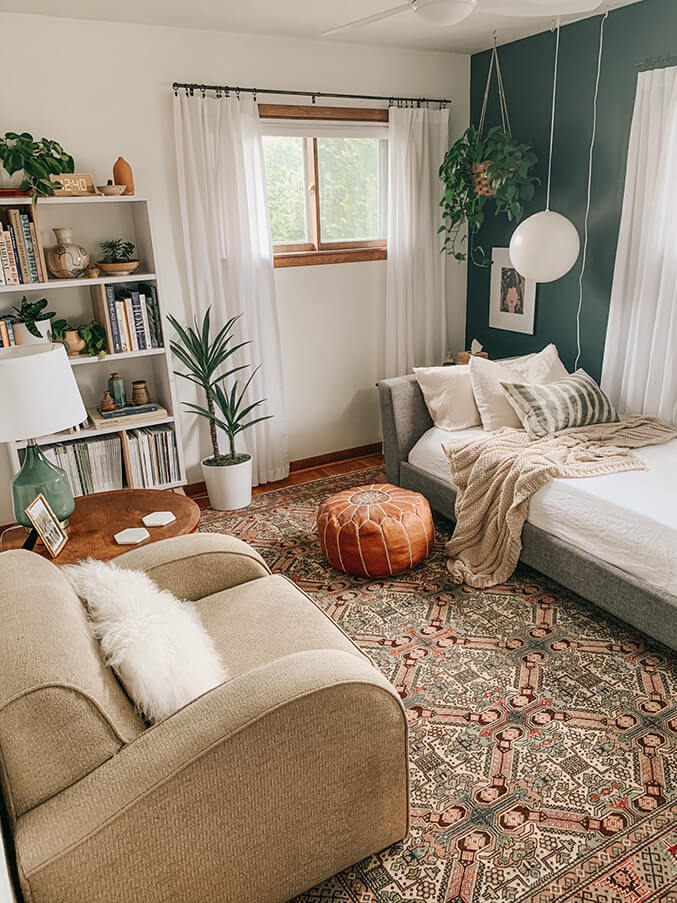 If you have a bit of space available, then you have more than enough room to make it a far more comfortable place to relax by focusing on organic modern pieces. A sitting room is perfect for such décor. If there are windows, then think about adding some long curtains, preferably lighter in color if the walls around it are darker in tone. This can help offset the walls better, making the room flow a lot better. This is further helped by adding some more natural pieces around the room. You can do this with an end table, coffee table, etc. Don't forget the throw pillows and blankets on the couch either for that cozy feel.
3. Earthy Boho Farmhouse Laundry Room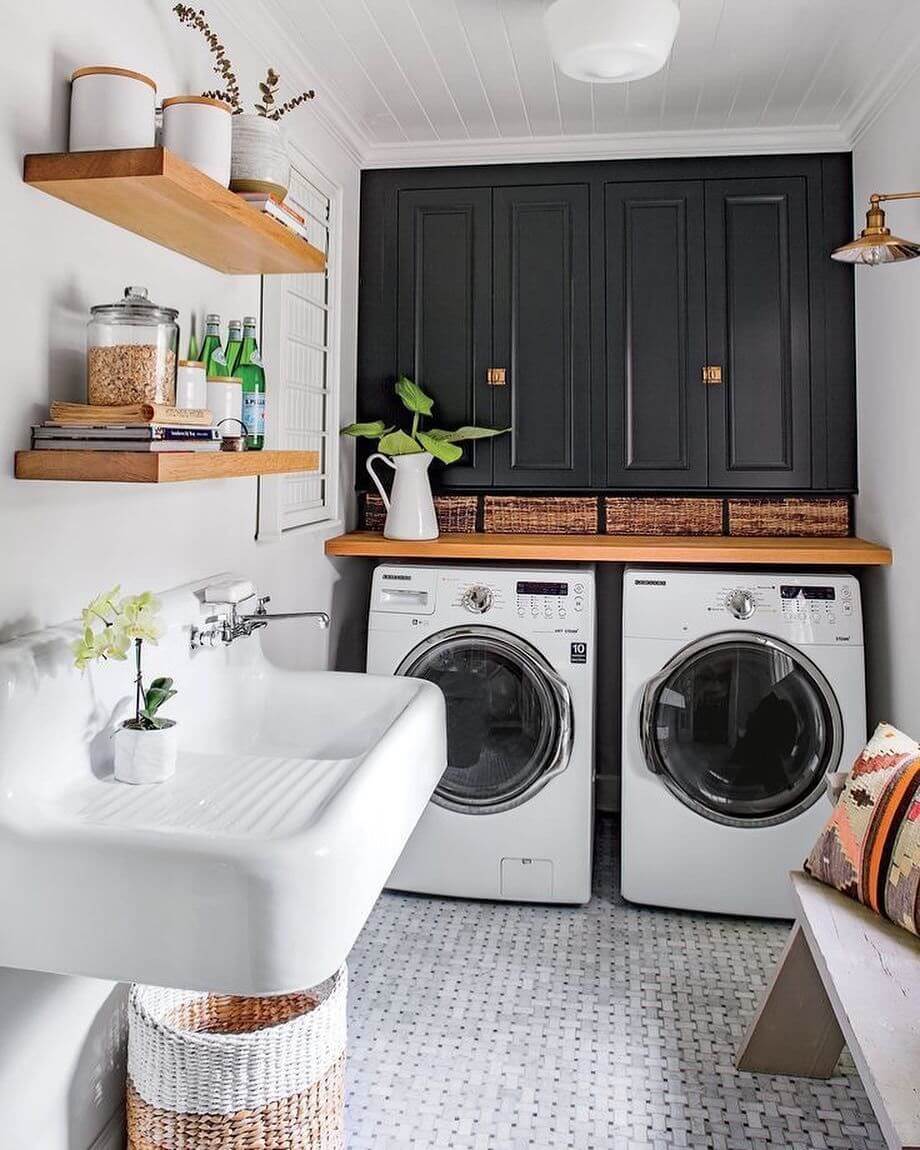 An exciting thing about organic modern interior design is that it combines other elements that you may already have such as boho and farmhouse-themed items. This is the case with this stylish, yet comfortable, laundry room layout. Although white is the primary color in the room, it manages to balance it with other tones such as black and tan for a wonderful contrast. Using a few plants, faux or real, are excellent ways to throw in some more color in a gentle way that doesn't take over the rest of the room. If you have any seating, consider a throw pillow or two for some different texture.
4. Classic Organic Modern Autumn Decorating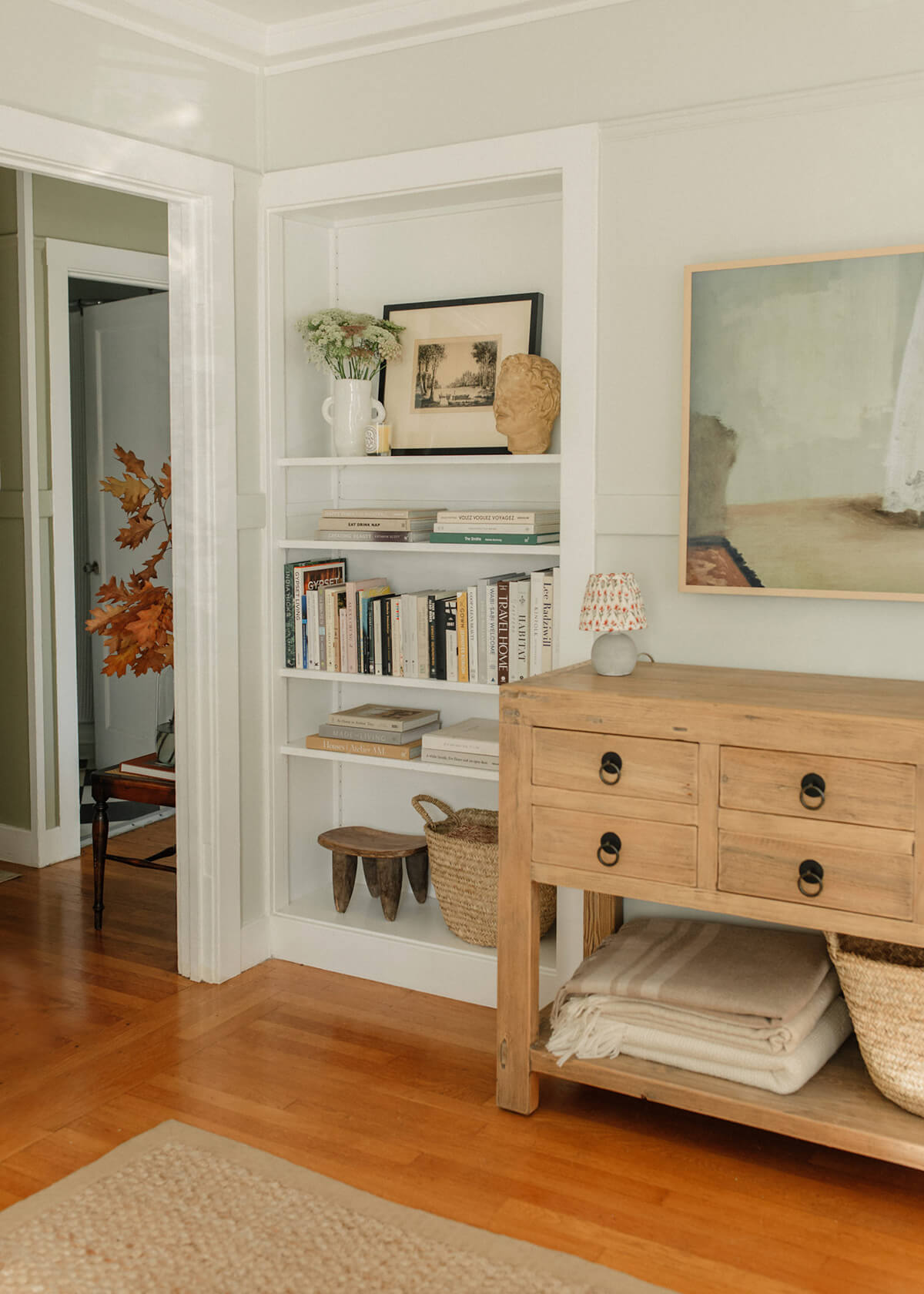 For those of you who already have mainly neutral colors around, then you are already halfway there in transforming various rooms in your home into a lovely organic modern style. You can lean into autumn or even Halloween-like theme by using some darker décor items from picture frames to seasonal blankets and throw pillows. Grays and blacks still work well with natural, earth-like tones. Of course, some seasonal plants will work well too. Not only does it add color, but it can contribute to throwing more texture in the room. These types of décor are pleasant to use in various rooms from the kitchen to the living room.
5. Rustic Wood Professionally Matted Gallery Wall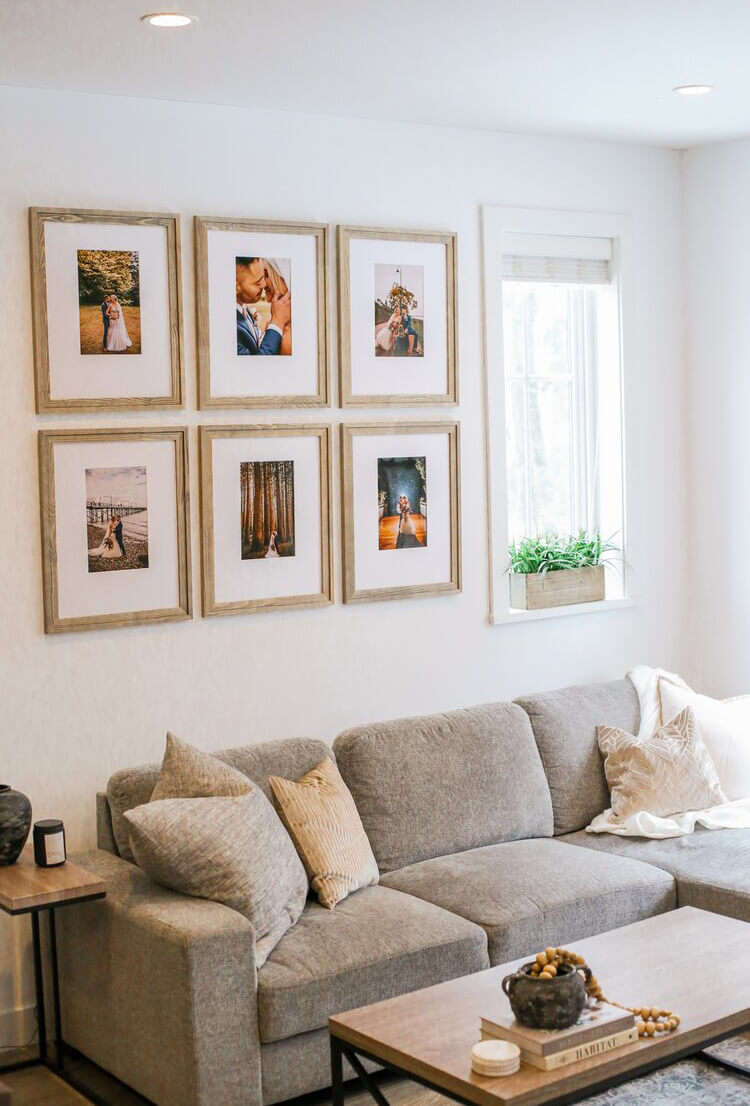 Creating an awesome gallery wall in your home is easy and doesn't have to cost a fortune. The key is to include some frames you adore with professional matting to trim out each picture. With custom mating available, it's never been easier to put your own touch on your mating and framing needs. Choose a set of frames that catch your eye, then decide the look of mating you crave. Together, these two powerhouses unite to deliver the bold design that makes the gallery wall stand out from the crowd. Feature a grouping of your treasured wedding photos, pictures of your children, or random vintage family throwbacks. No matter if you go with a collected theme or keep it totally random, the beauty and style of your gallery wall will speak for itself.
6. Boho Chic Blooming Blush Wall Bedroom Renovation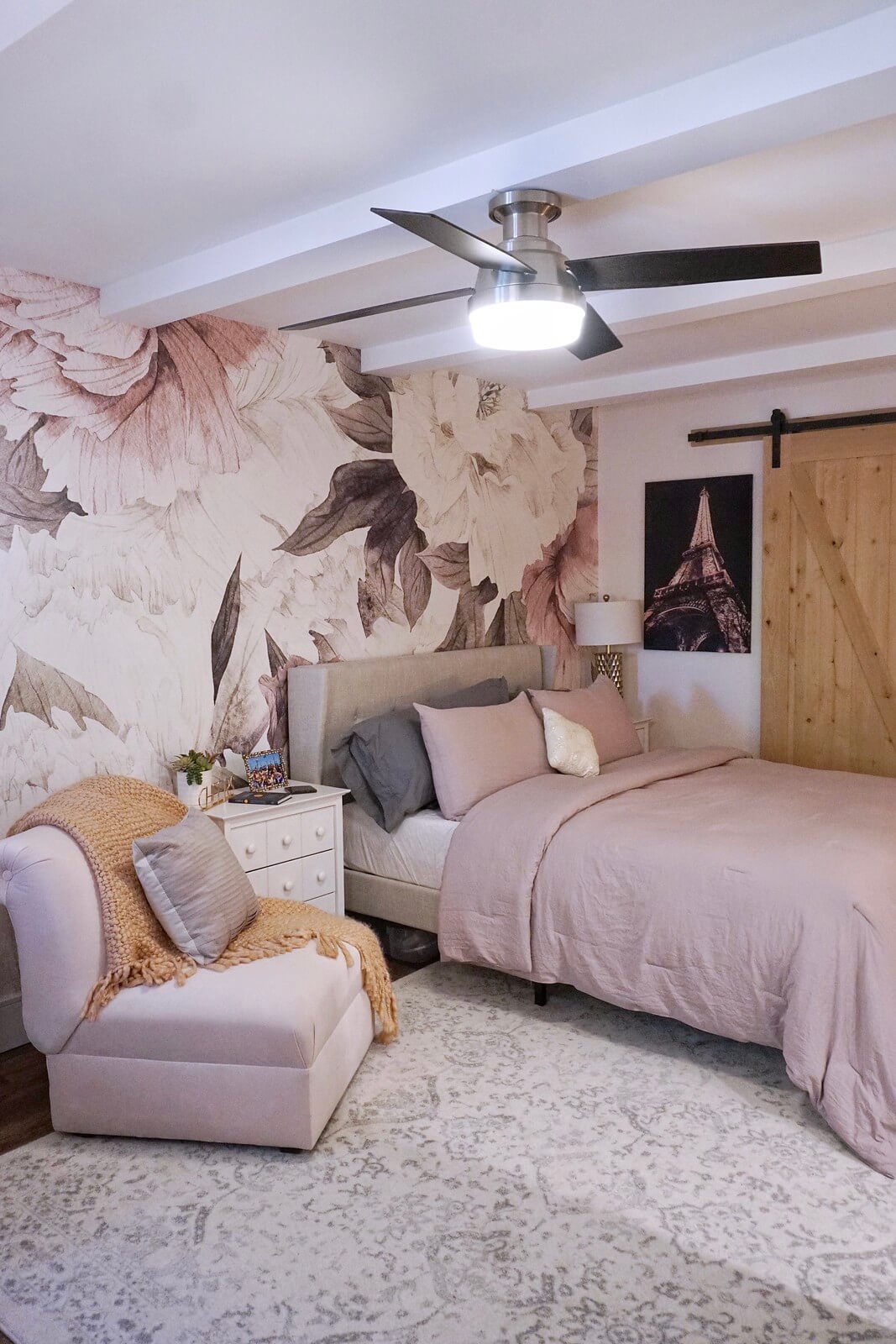 Take a blank bedroom space and transform it into your personal feminine bohemian retreat. With a large wall mural bursting to life with blush blossoms, the inner femme fatale comes to life. With a rustic sliding barn door, there is an additional boho feel as you effortlessly access your closet to find that perfect outfit. Continuing the muted blush tones throughout, along with some black accents, packs a powerful punch for bedroom style power. Ground the entire look with a vintage-inspired light-colored rug to keep this neutral powerhouse on top of its game.
7. Set of 5 Boho Baskets Wall Art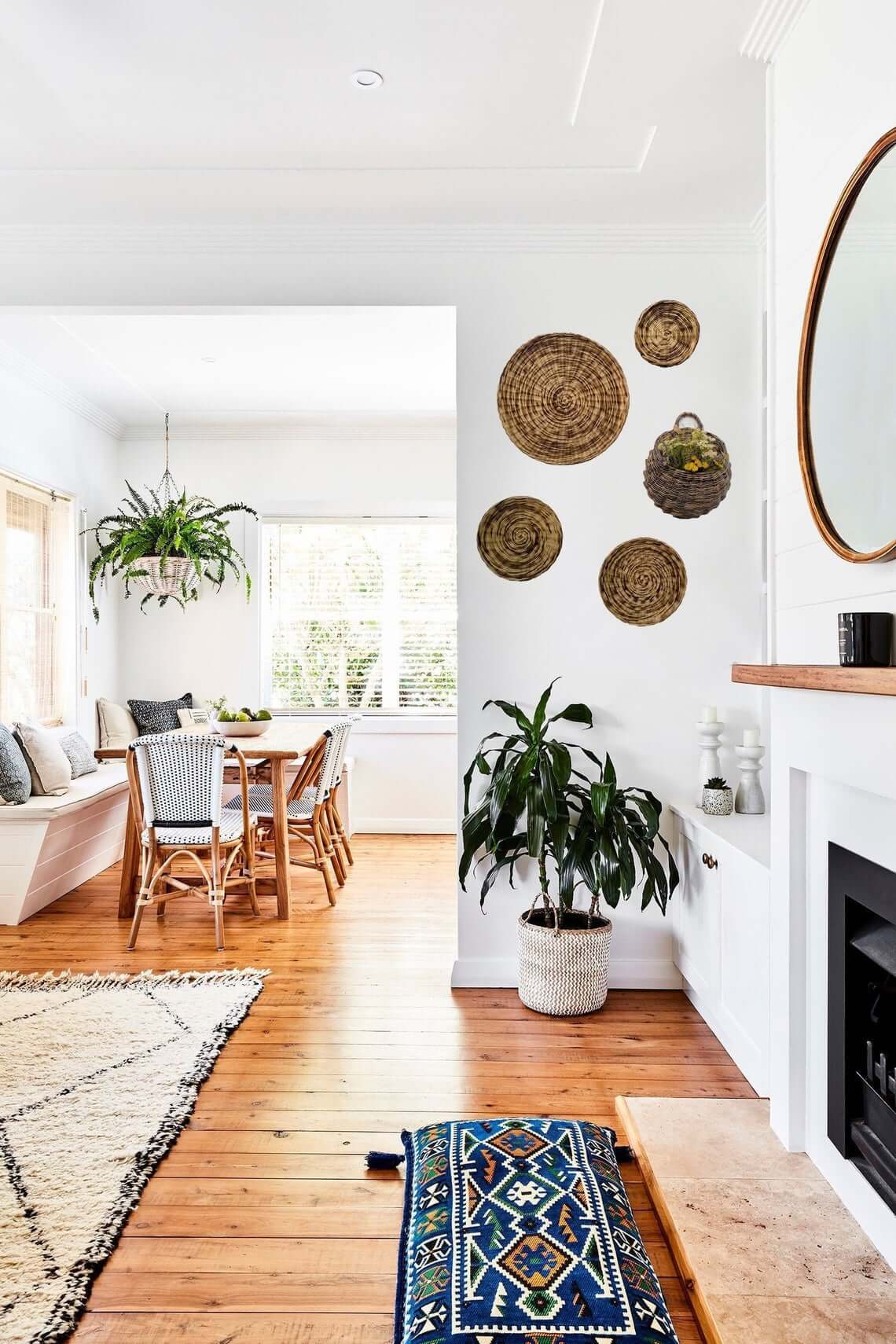 Fill up some of that empty space on your wall with some wall art like these chic boho baskets. In this set, you get five round wicker baskets. All the baskets are made of different sizes, allowing you the freedom to set them up in various ways that best suit your specific décor situation. The natural earthy colors are wonderfully used too. In fact, they are perfect when you need to add some more of this tone to your room to completely fit with the organic modern style. Furthermore, the wicker baskets are handmade using environmentally friendly materials. Not only do they have the natural look, but they are truly organic. They're even easy to maintain and clean so that they will last longer.
8. Set of Black and White Abstract Art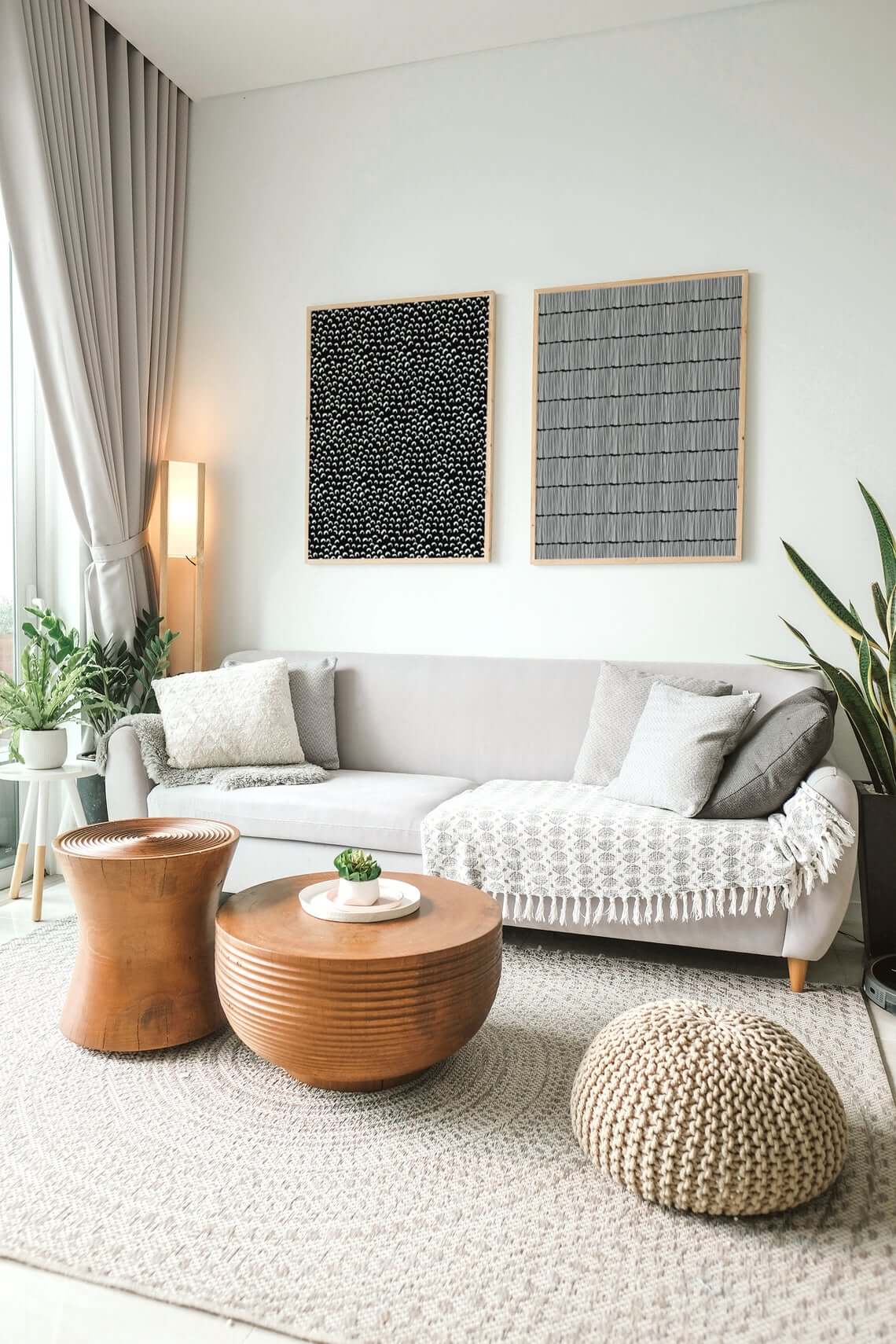 Wall art is a clean and easy way to add some of that compelling organic modern décor to any room in your home. At first glance, this art seems rather simplistic. It's a good way to lean toward minimalist design too. However, there is plenty going on with the art that makes it stand out. There are simple patterns that still seem intricate at the same time on each art piece. The use of darker color tones, even though one of the pictures uses white as an accent color, makes them even more interesting. They take a unique approach to blending in with any other organic modern décor you may have around in the room. All you have to do to get this is to simply purchase and download it. You can even request a custom size if you need it.
9. Double Bed Mocha Boho Blanket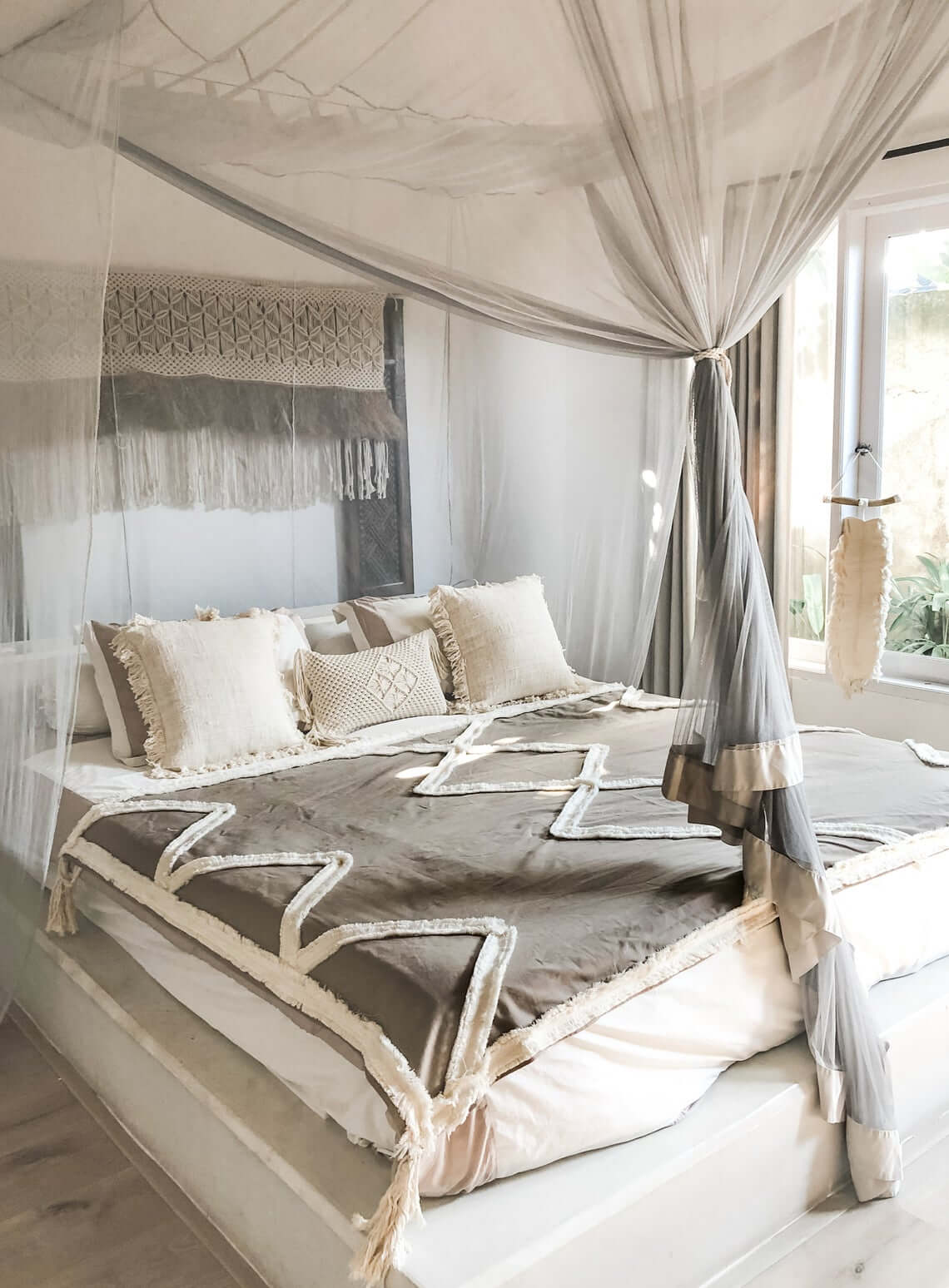 Perhaps your bedroom needs that extra touch to match the modern style you seek. Thankfully, this blanket has a strong boho theme without losing any sophistication so that it fits in a more contemporary-leaning decorated bedroom. It is even handmade from organic cotton. Combined with its darker, earthy color and cool tassel design on each tip, the blanket makes for excellent natural decoration. It can complement white or lighter colored bed sheets and pillows as well for some pleasant diversity. This way, each piece will stand out better in the room.
10. Bohemian Style Fringed Throw Pillowcase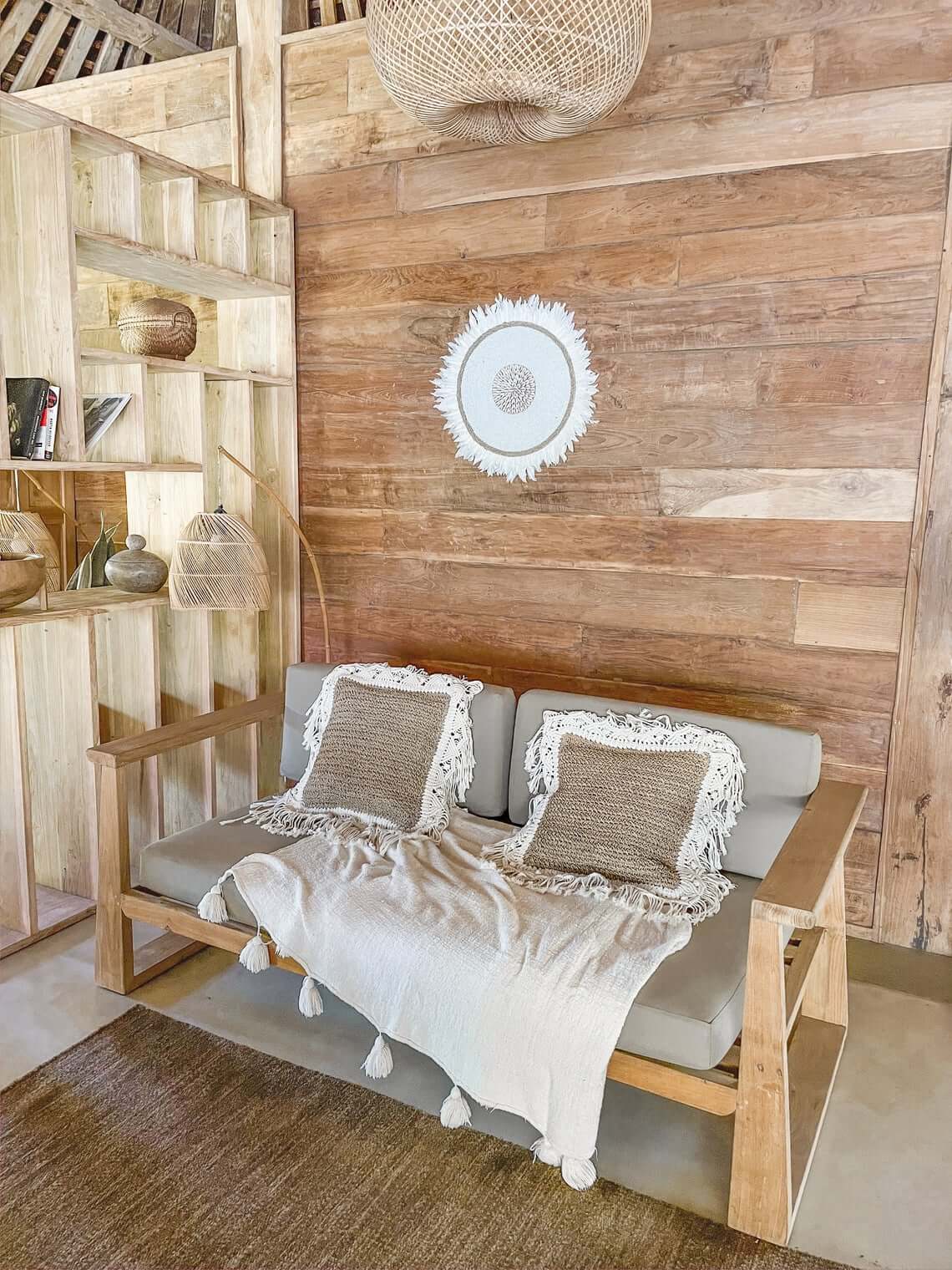 When looking for the best modern organic decor ideas, this boho-inspired pillowcase is an excellent route to go down. It's made in a square style, and as far as environmentally friendly things go, this tops out as it is made with a cotton fringe and seagrass. This is also completely handmade too, so each pillowcase has a distinctive appearance no matter what. From its style to its color choice, this can work well if you place it against either a lighter couch or one that's just a few shades darker. You can get it in two sizes as well: 42cm or 52cm.
11. Spiritual Yoga Woman Body Poster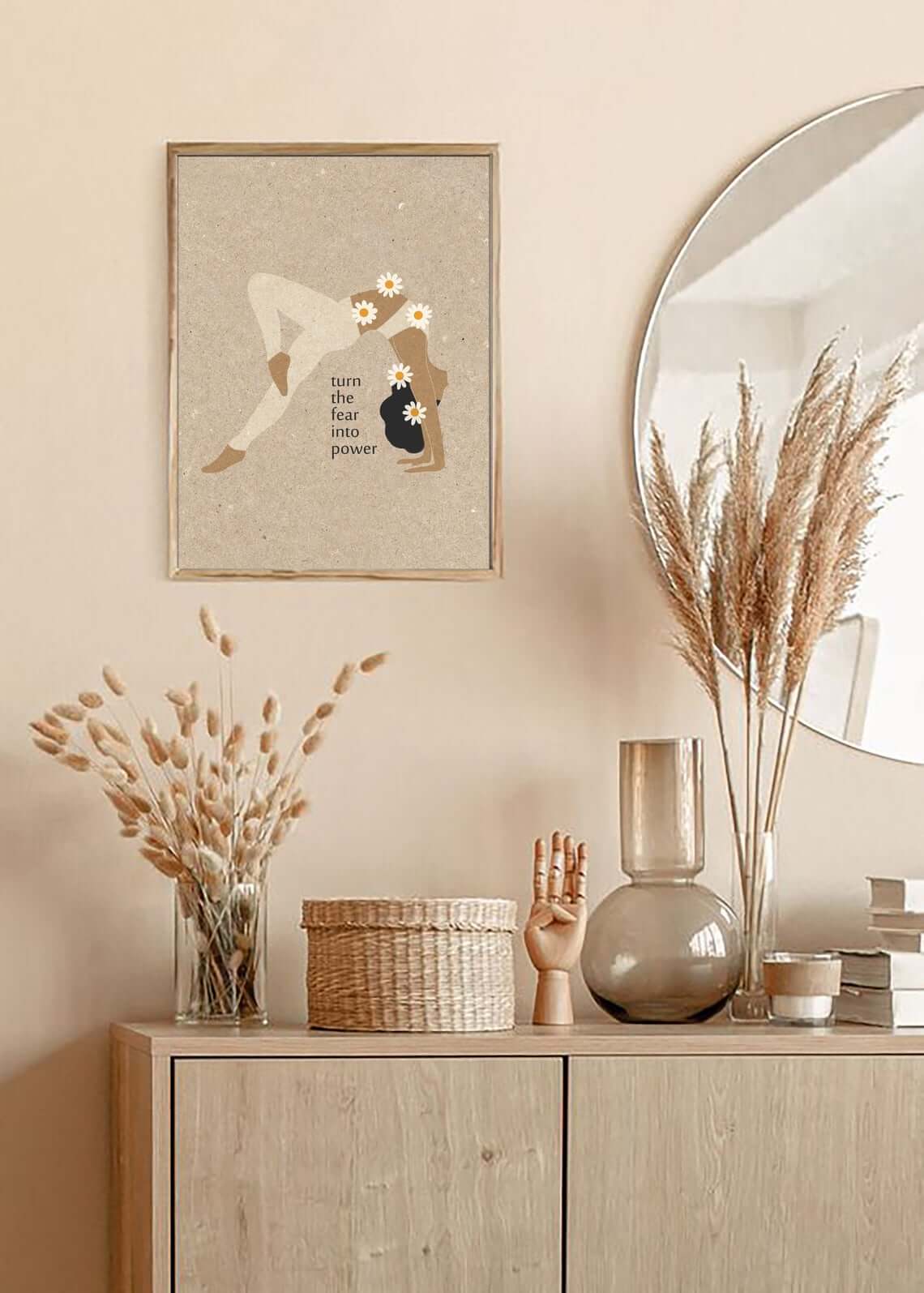 Perhaps you need a bit of motivation, and if that is the case, this yoga wall art is the right tool for the job. This features a nice drawing of a woman in a yoga pose with effective, motivational writing underneath her. There is a lovely spiritual message that comes along with this, making it a good choice to hang up in a bedroom, office, or even an exercise room. Besides the messaging, the colors used make it fitting for an organic modern decorative room too. It successfully uses darker, earthy tones like different shades of brown and tan with just a few pops of color thanks to the tiny flowers on the woman.
12. Rosemary and Lavender Art Prints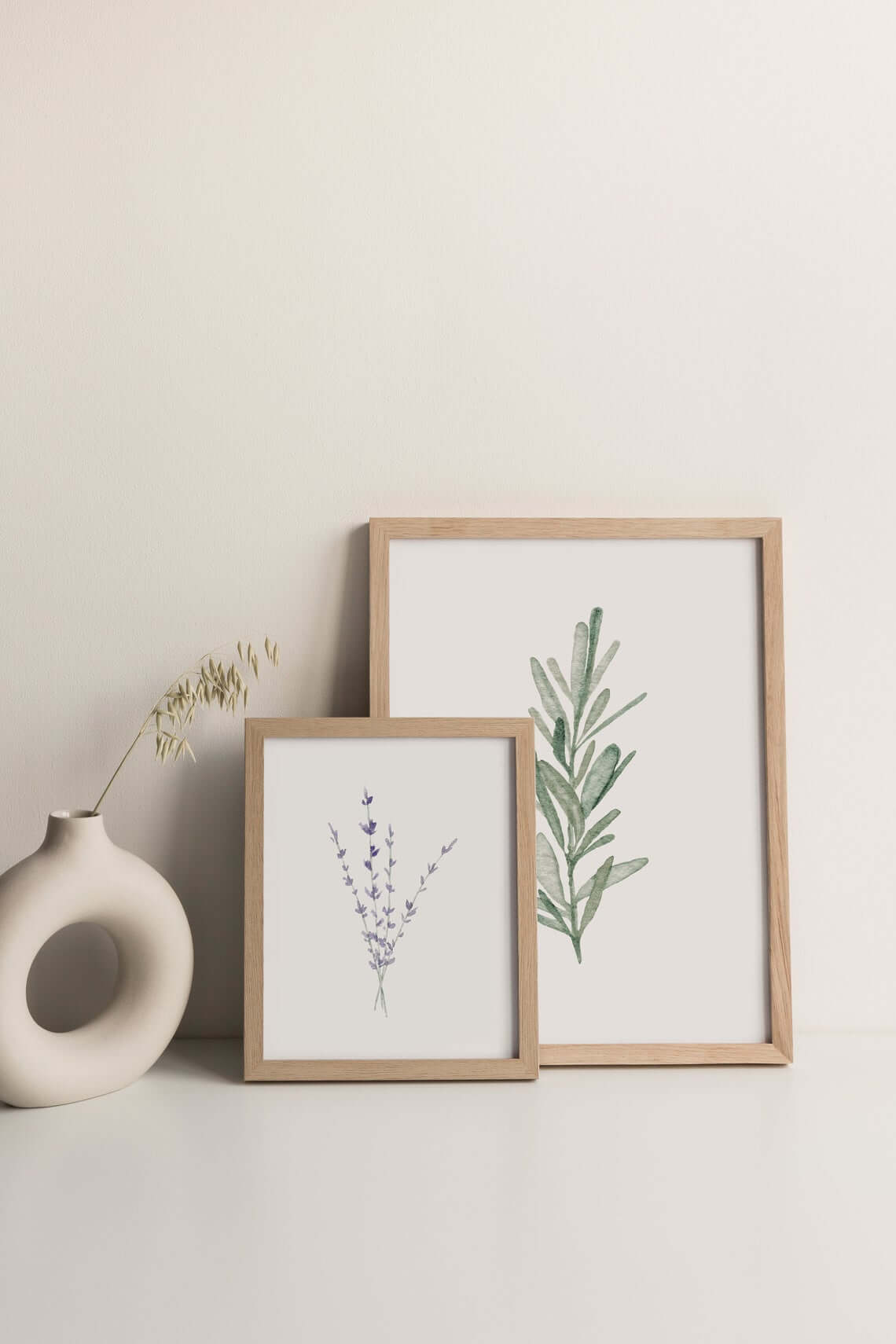 Using nature to create an organic vibe never hurts. When you want to bring that modern element into it as well, then consider using artwork such as these prints. This is a set of two as you will get a downloadable print of a rosemary drawing and one of a lavender drawing. The artwork is centered with plenty of white space around them both. This creates a minimalist appearance that makes it even more fitting for the theme. The colors are still subdued enough so that they don't completely take over the décor, and instead, complement it.
13. Cool Dried Palm Fan Leaf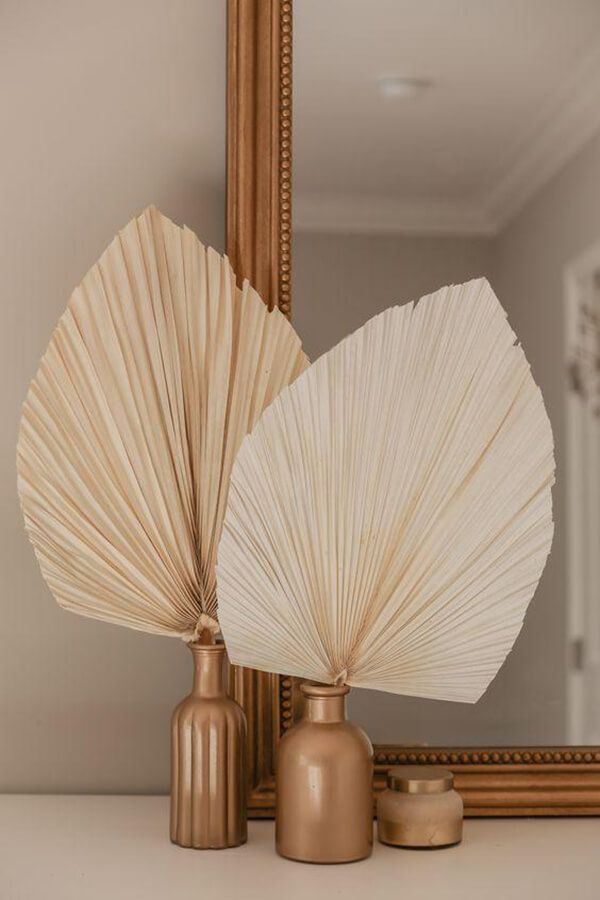 With this dried palm fan leaf, you can bring some nature into your home without using the typical plants. This leaf is a warm, earthy color that instantly brings forth cozy vibes. It can work just as well in a vase as it does in an arrangement with other flowers or items. Use it in your living room, dining room, or even bedroom. It is such a versatile item that it can work just about anywhere and still give off the same pleasant vibe that effortlessly blends organic style with modern. For those of you who may not have the time to handle plants, this leaf is maintenance-free so you can set it up and leave it purely for decoration.
14. Wood Pendant Hanging Light Fixture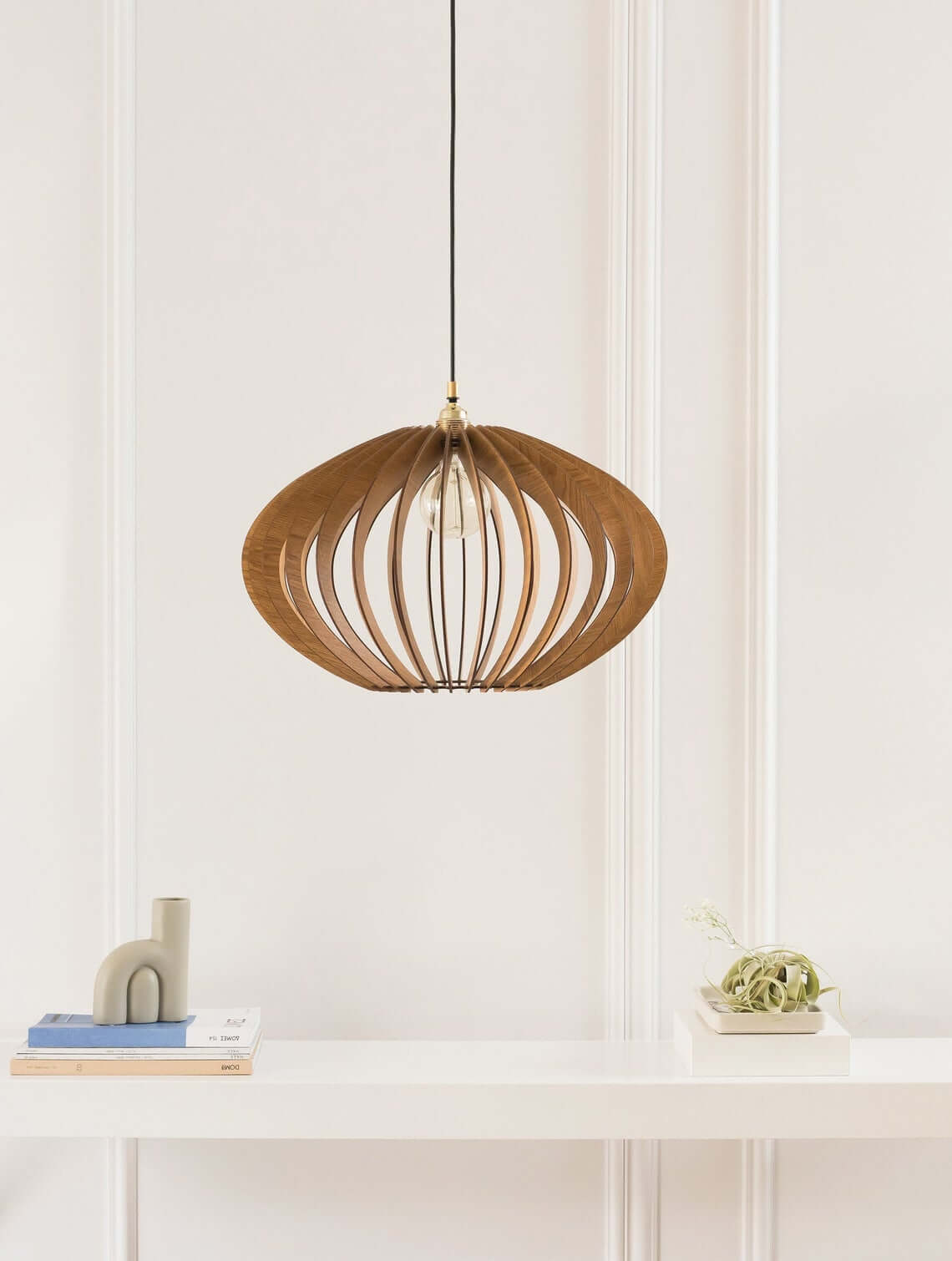 One area to focus on when you want a modern, organic decorative theme in a room is the lighting. This also has touches of a mid-century theme to it, creating a versatile decorative piece that will instantly attract attention no matter where you decide to set it up. The thing that makes it so distinctive is the overall design. It is made so that when you turn it on at night, there is an interesting pattern of light on the ceiling. Besides the aesthetic, the lamp is made from green materials, capitalizing on the organic nature of it all.
15. Botanical Abstract Wall Art Painting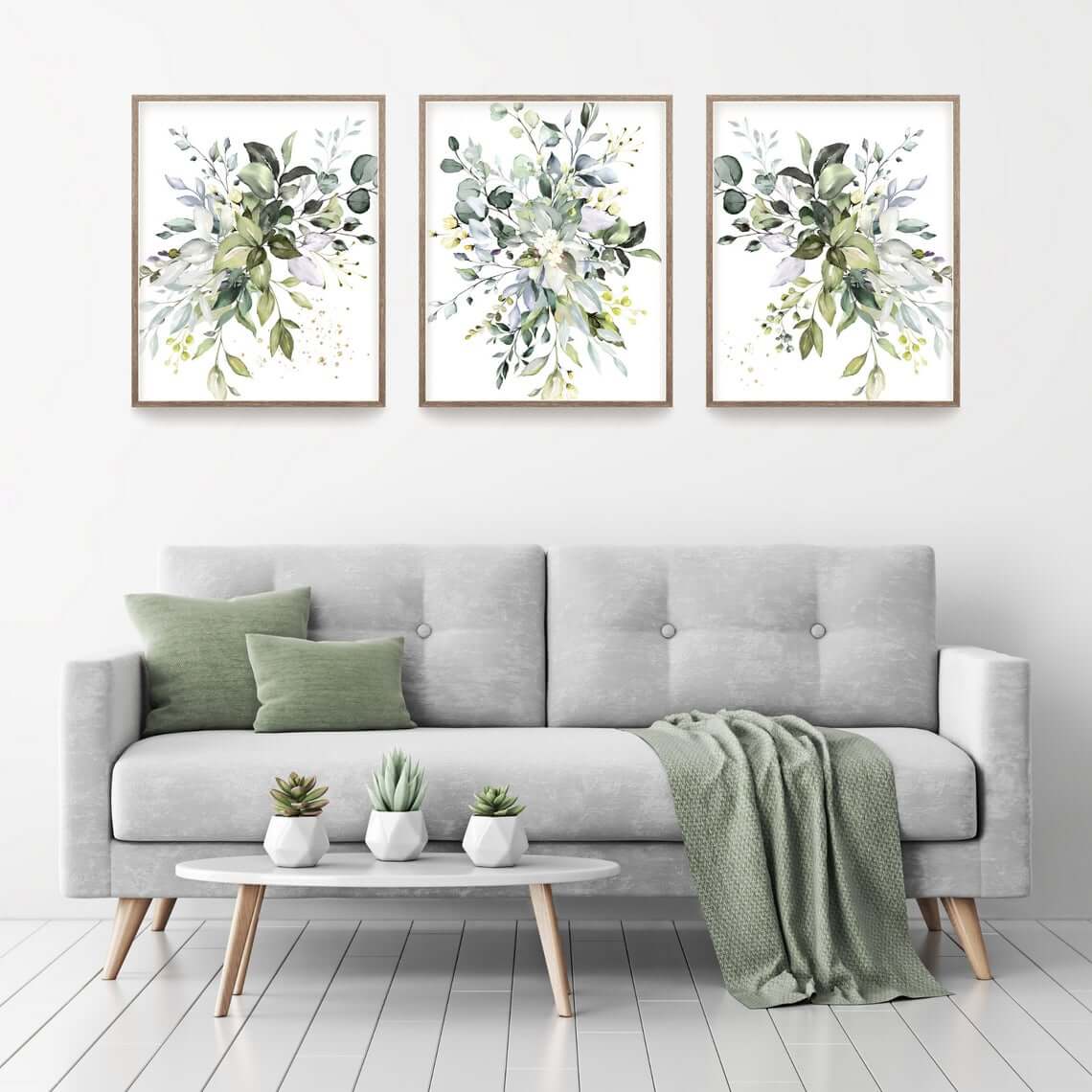 Paintings can always add a nice touch to your walls. These in particular bring nature right into your home without you needing to have real plants. This set offers you three watercolor paintings of floral and botanical bouquets. The foliage uses color perfectly. There is plenty of life found in the paintings, but they are not overly bright. They are just enough to leave some accent colors on your walls. Best of all, you can simply download them and place the paintings in a frame of your choosing.
16. Various Textured Throw Pillow Pairings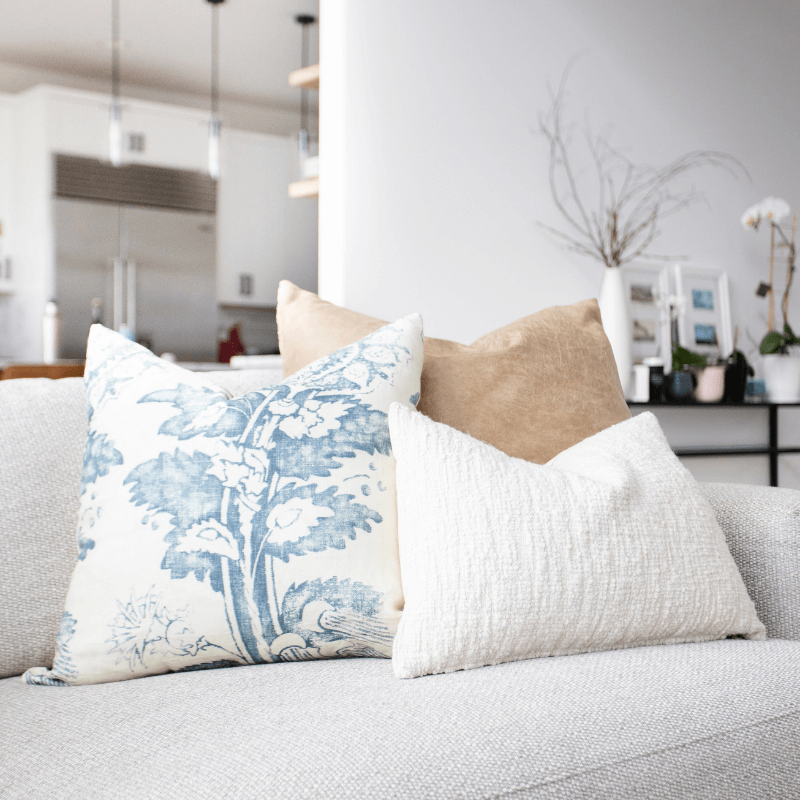 Throw pillows remain great go-to options when searching for organic modern interior design ideas. However, the only way that they can work is if you know how to use them properly. The colors you already have for your couch will play a large role in what color your pillows will be. From there, you can play around with patterns. Blend a pillow with a solid pattern with one that has something like floral artwork or even just stripes. This way, there is a beautiful sense of flow found among your pillows. They don't fall victim to disappearing into the background, while they also don't overwhelm the space.
17. Tribal Print Natural Jute Decorative Headboard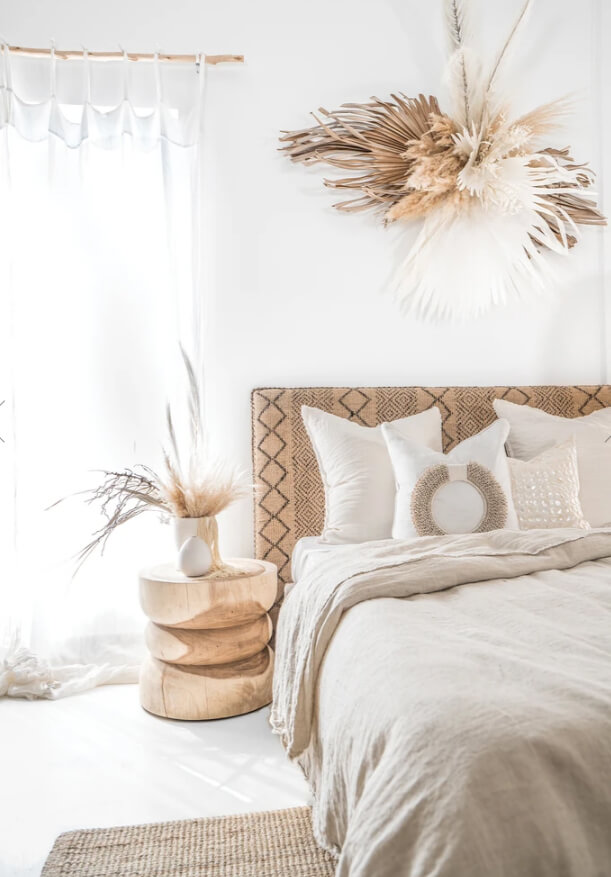 One of the best modern organic decor ideas is easy to install in your master bedroom. The inclusion of texture and style comes together in this natural headboard that delivers a unique and classic look. Featuring a natural brown-hued jute background, the black-painted tribal patterns work their way across the width of your bed like nobody's business. This decorative headboard makes a nice touch for a bachelor pad or a couple's retreat as well. Pairing it with a low-key and simply styled neutral-toned bedroom is the way to go.
18. Low Profile Wooden Spindle Back Bed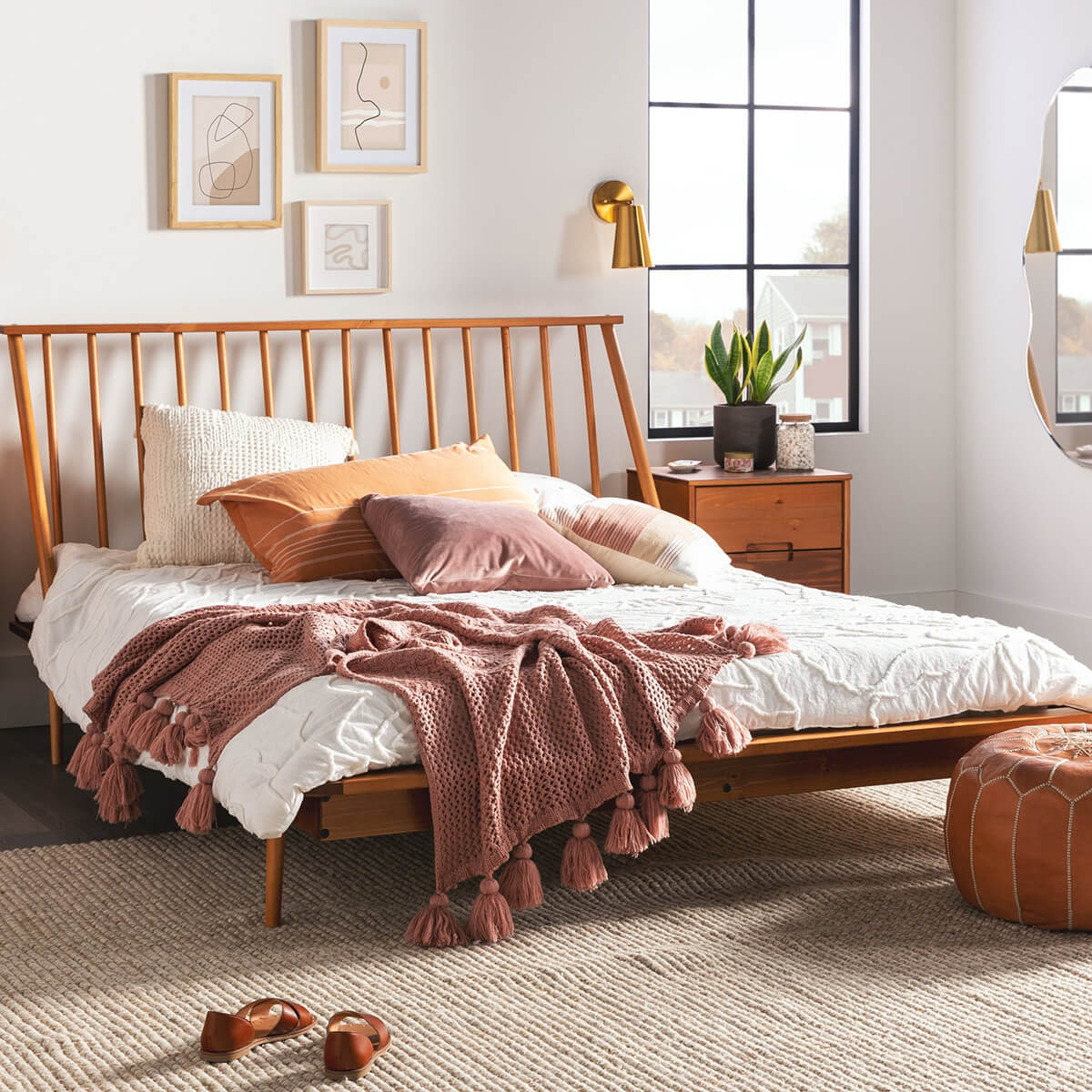 Bring a blast from the past back with a bang with one of the best modern organic decor ideas in this Mid Century Modern styled bed. The low-profile platform base creates a stylish foundation with no box springs required. At the head of the bed, the gorgeous wooden spindles create a unique and stylish furniture piece that makes a perfect update to your existing master bedroom. Including this spindle back bed in your home will allow you to blend in with modern farmhouse, contemporary, or classic Mid Century Modern design. Getting in and out of bed is a breeze with the low height from the mattress to the floor. The detail of the visible slanted spindle legs underneath further adds to its beauty and grace.
19. Intriguing and Interesting Modern Line Wall Art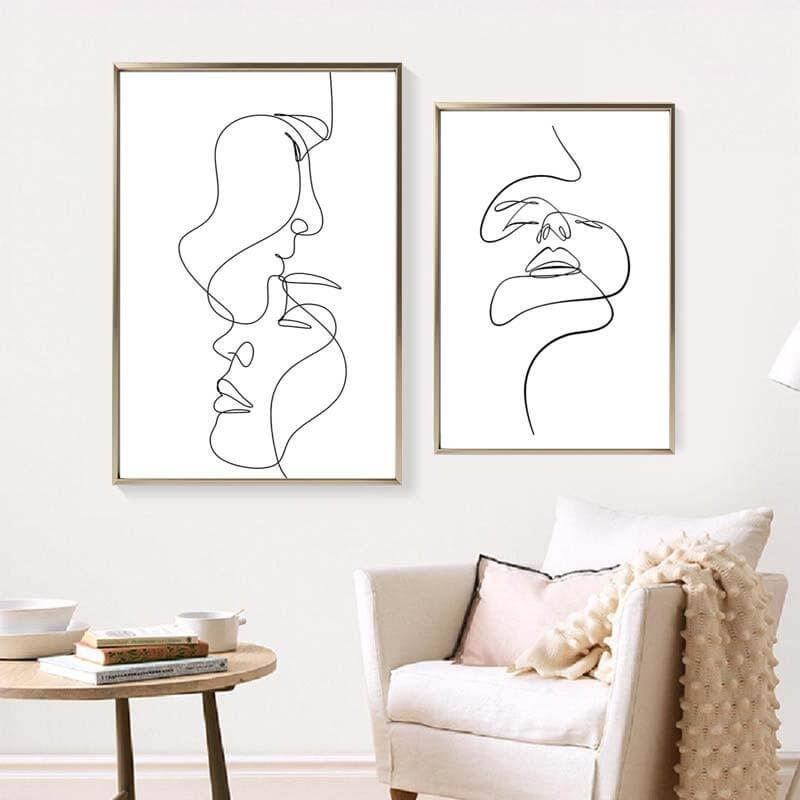 Enhance the intrigue and interest of your home with these stunning organic modern interior design pieces. Printed on a durable white canvas, hanging this beauty in your home is a guaranteed head-turner. The brilliant lines effortlessly create the perfect outline of a single or pair of faces bestowing a modern style for the artwork in your home. Such an interesting line wall art would look amazing on any wall of your home, but specifically in the main entryway, living room, or bedroom. The artistic flair in these modern creations would be perfect adorning the walls of a trendy hair salon too.
Best Modern Organic Decor Ideas to Create Help you Create an Eco-Friendly Home
Blending styles is always a fun way to decorate your home, and organic modern is one of the more recent avenues that has steadily gained traction over the years. This tone has successfully popularized the standard minimalist designs, elevating them with natural touches that still create something comfortable and trendy at the same time. With its ever-growing recognition, it is only natural that you may not know exactly where to get started when it comes to decorating your home. That is why we hope the ideas we've laid out serve to give you a good place to start.
There are numerous ways to go about creating the perfect aesthetic such as using rugs, wall art, and light fixtures. An incredible aspect of this style is that there is no limit as to where in your home you can use it. Whether you decorate your bedroom with this theme or focus on the living room, organic modern works anywhere. So, feel free to reflect on some of the best modern organic decor ideas that we've discovered for you as you plan out your next big decorating project.