From the screen of HGTV to the pages of your favorite home magazine, everyone can't get enough of the popular modern farmhouse trend in some of the best farmhouse wall art pieces. Whether barn doors or shiplap are calling your name, you can channel your inner Joanna Gaines with the variety of wall art pieces to make the look your own!
31 Modern Farmhouse Wall Art Ideas to Make Your Space Up-to-Date

A refined rustic room may be just what you need to update your space. Many do-it-yourself weekend warrior types utilize old, worn down pieces and re-purpose them into new, usable items that fit perfectly in your home. Pallets now become the new age canvas on which to create an artistic masterpiece or simple saying.
Farm animals and equipment fill the artist's inspiration book as we see old trucks, windmills, mason jars and chickens like never before. Be sure to accessorize your space after you find the perfect wall art your space is craving. It's always important to incorporate a variety of textures throughout your design so consider including ones that pair nicely with this farmhouse theme like: feed sacks, leather, wood, metal and plants.
1. Inviting Grateful Hearts Gather Here Dining Room Sign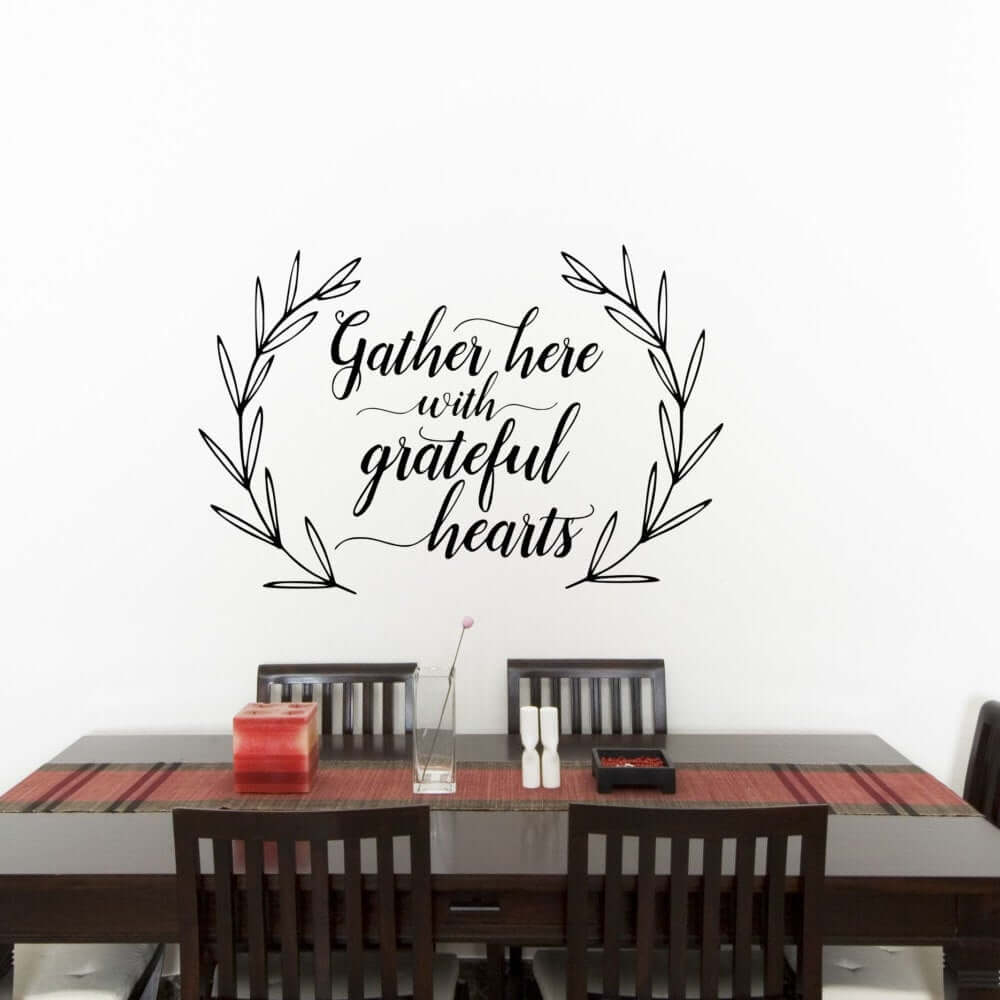 From the moment you enter this inviting dining space you will feel right at home! The black vinyl letters jump off the walls as they deliver a very gracious welcome into the room. Scripted in a pretty and delicate font, the phrase "Gather here with grateful hearts" is written and surrounded by a curved vine with leaves on both sides. Dinner party guests and extended family alike are certain to feel right at home in this space as it beckons the "mi casa es su casa" mentality.
2. Pallet Box with Flower Blossom Hanging Wall Art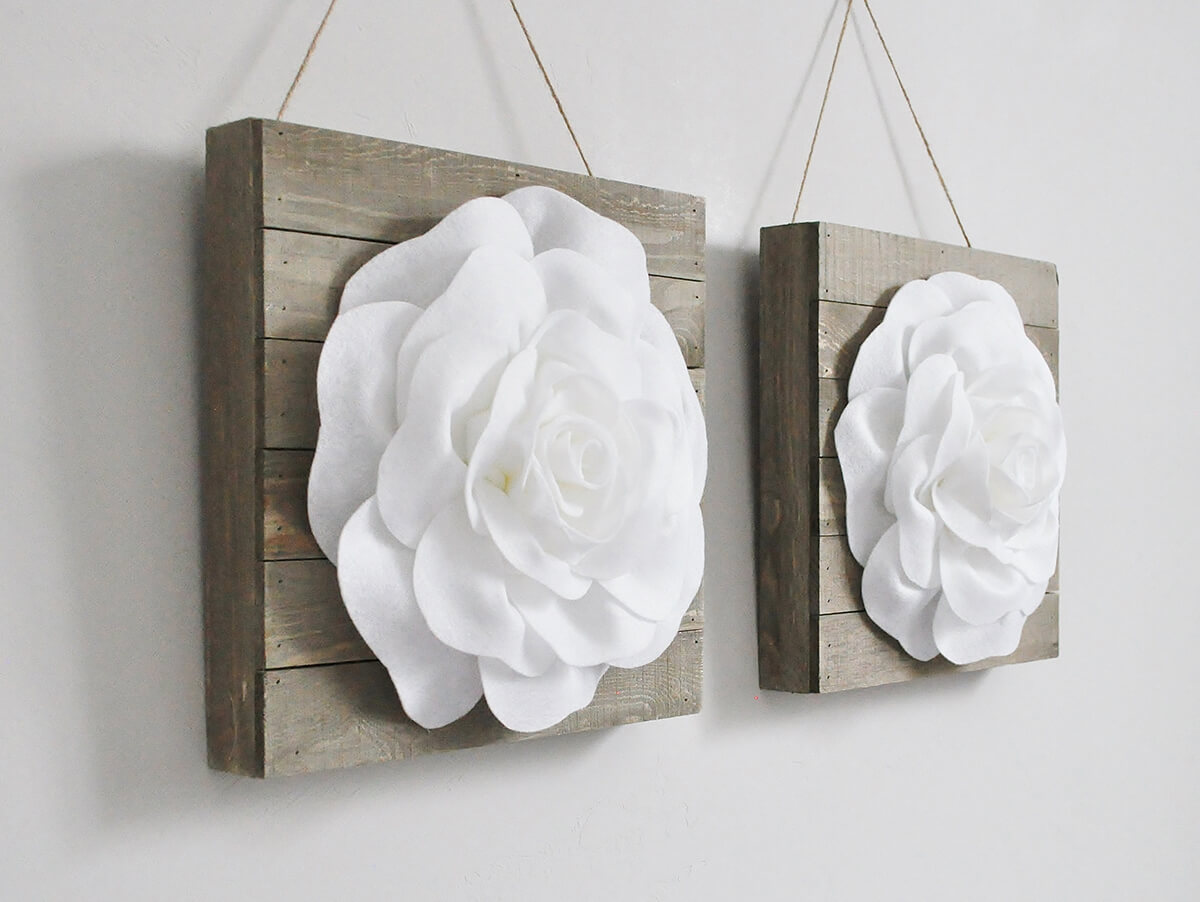 One of the best farmhouse wall art to buy might just be the pallet box with flower piece. Bringing the simplistic beauty of nature with a white flower set upon a rougher textured gray pallet background is a winning combination. The set of hanging living room wall art is suspended from a twine string to add to the overall farmhouse appeal. Feature this flower box on a smaller wall for added appeal.
3. Create Your Family's Awesome Gallery Wall with Letter Tiles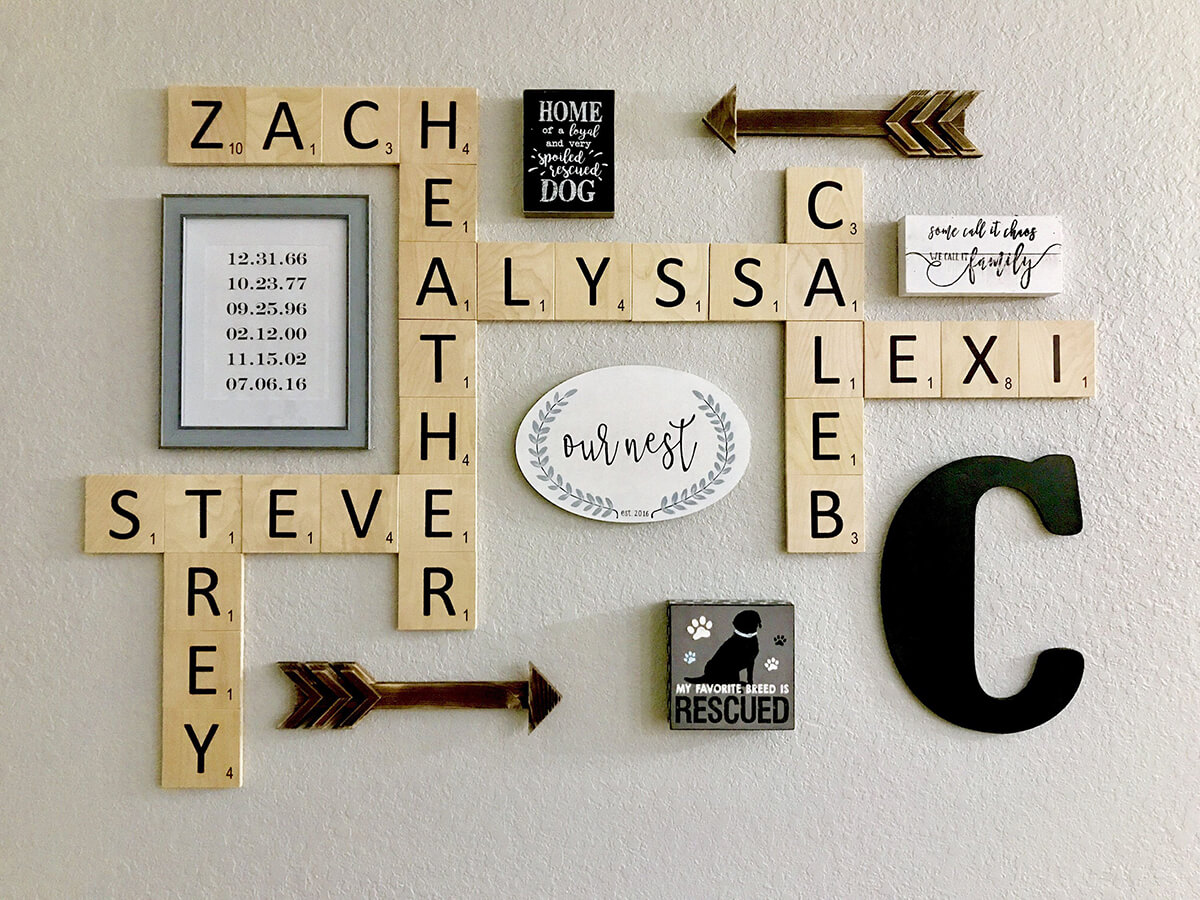 Gallery walls are all the rage and super simple to create! One of the best parts of this design element is the ability to unleash your creativity and let those unique juices flow! A short and simple list of important family dates like birthdays and anniversary add to the interest in this wall. And now is the time you can write on the wall as you can list your family's names with the use of larger-than-life letter tiles. Display names, dates and any objects or design that is sure to make your family come to life on the wall.
4. Set of 3 Industrial Farmhouse Black and White Pictures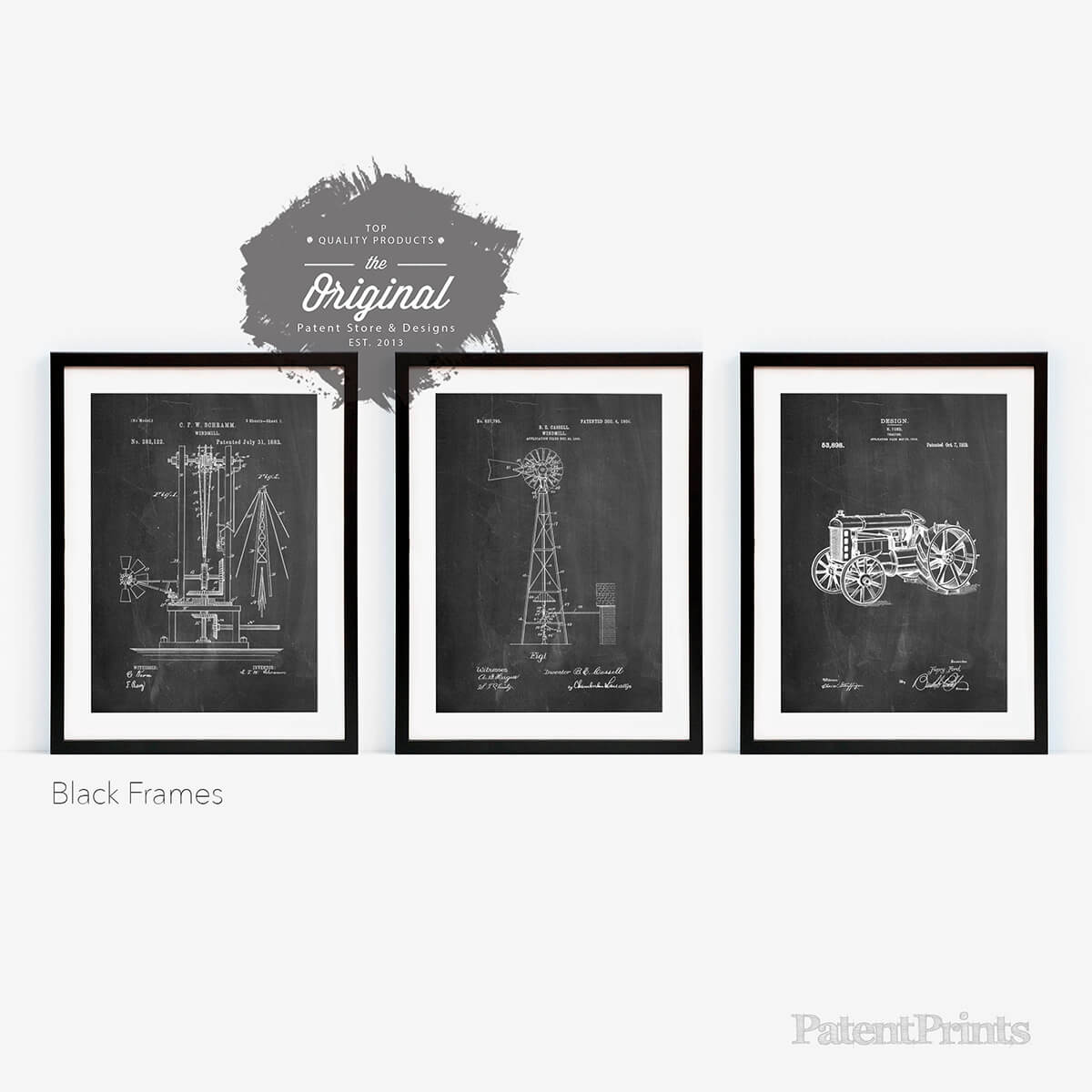 Housed within a black frame with a bold white border around the image, these industrial farmhouse prints capture the typical scenes from off the farmhouse porch. From machinery to equipment, the fundamentals to farm life are depicted in white set on a black background to illuminate the most used and loved tools of the trade. This just might be one of the best farmhouse wall art items to add to your existing walls.
5. Live, Laugh, Love: Set of 3 Happy Wall Art Hangers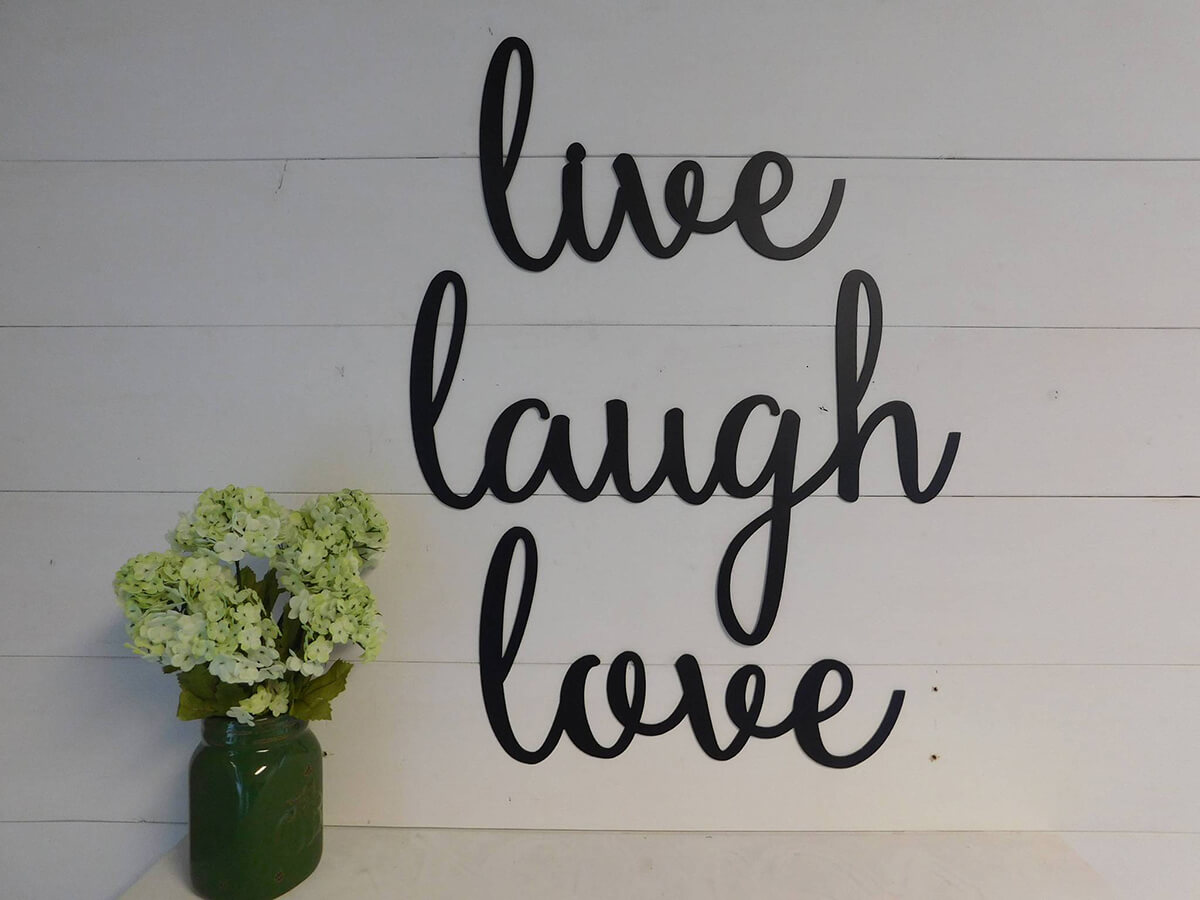 Fashioned out of classic black vinyl, this 3 piece set of words feature some of the best mantras out there for the modern woman. Sometimes we get so caught up in the busyiness of life that we often forget to take a breath and moment to live and experience some of life's greatest treasures- love and laughter. Arrange them as a grouping on one wall or around the room on 3 separate backgrounds to really focus on each word alone. Either way, the sentiment is sure to lend itself to a pleasant environment for everyone in the humble and happy abode.
6. Psalm 23:2-3 Black and White Bible Verse Wall Art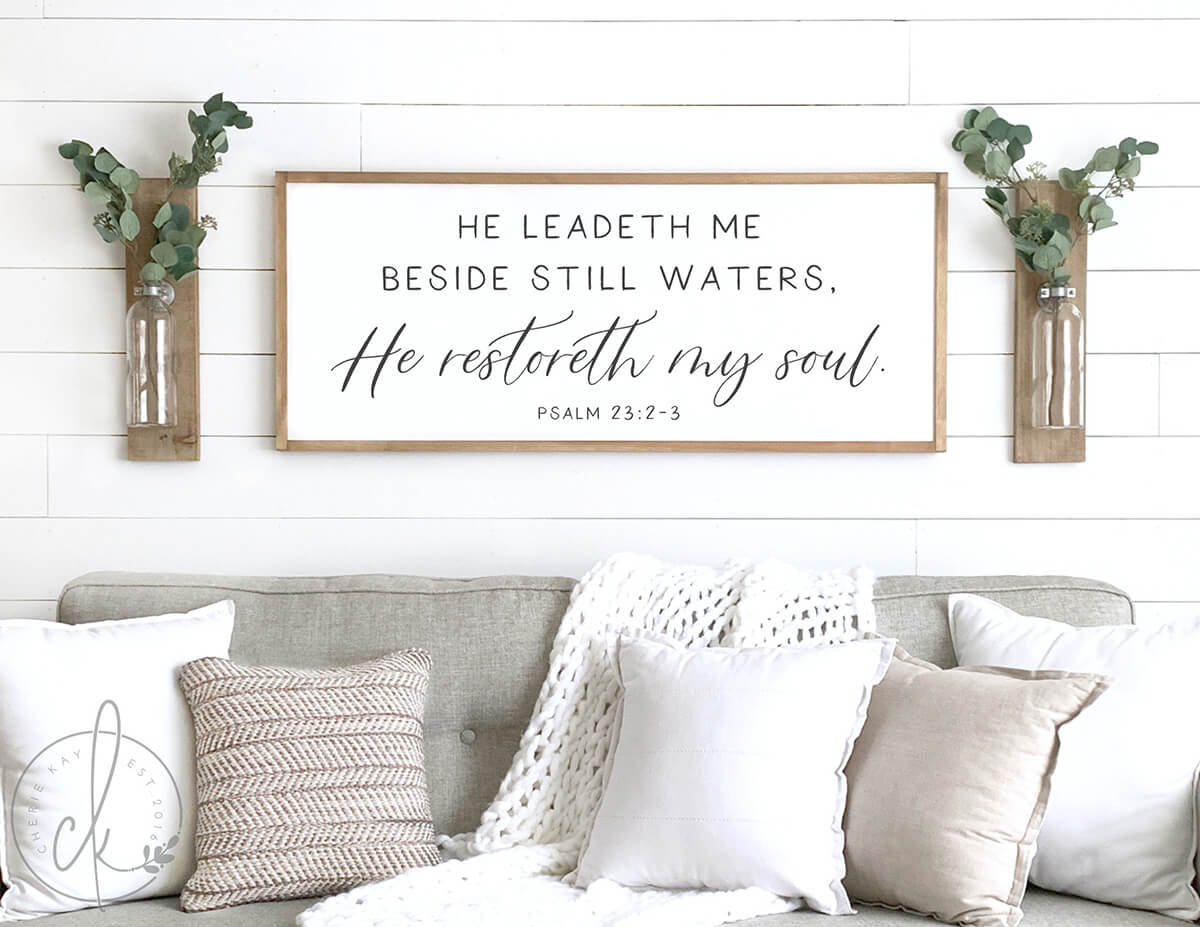 Add a little bit of your religion into your home decor design with this plain and simple special message from Psalm 23. A peaceful and serene setting comes to mind when you read this verse as it serves as a gentle reminder of the Lord's never-ending presence as He is always with you. No matter what you are going through, this verse provides comfort. This would be a great gift for a friend or family member and especially for someone going through a tough time. Proudly display it prominently in your entryway or behind your couch to be sure every guest who arrives is certain to see it.
7. Personalized Stained Wooden Kitchen and Coffee Sign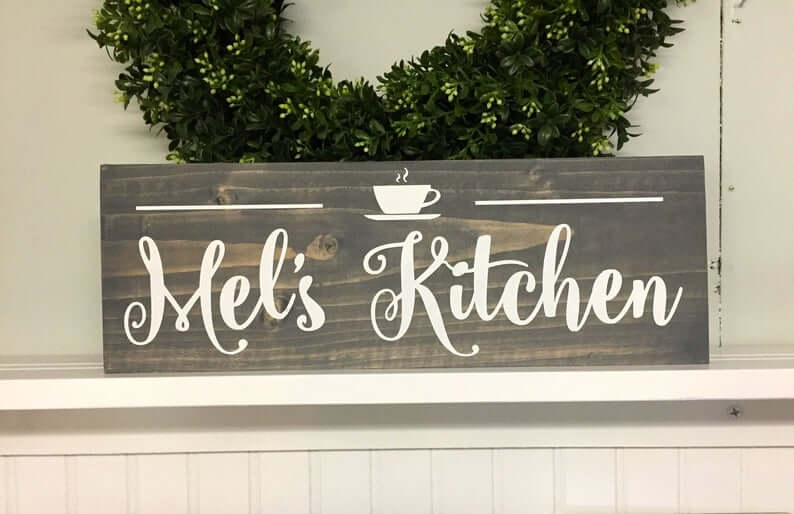 Beautifully displayed on a piece of gorgeous stained wood, this personalized kitchen sign will warm the heart of any morning person or barista! The long rectangular design features the owner's name with a hot cup 'o joe taking center stage. What an awesome idea for adding a little personal touch to your home coffee bar! Here at the family's morning fueling station, this piece is one of the best farmhouse wall art and provides a great backdrop for enjoying the caffeine you crave each day!
8. Family Tree as Wall Art with Framed Prints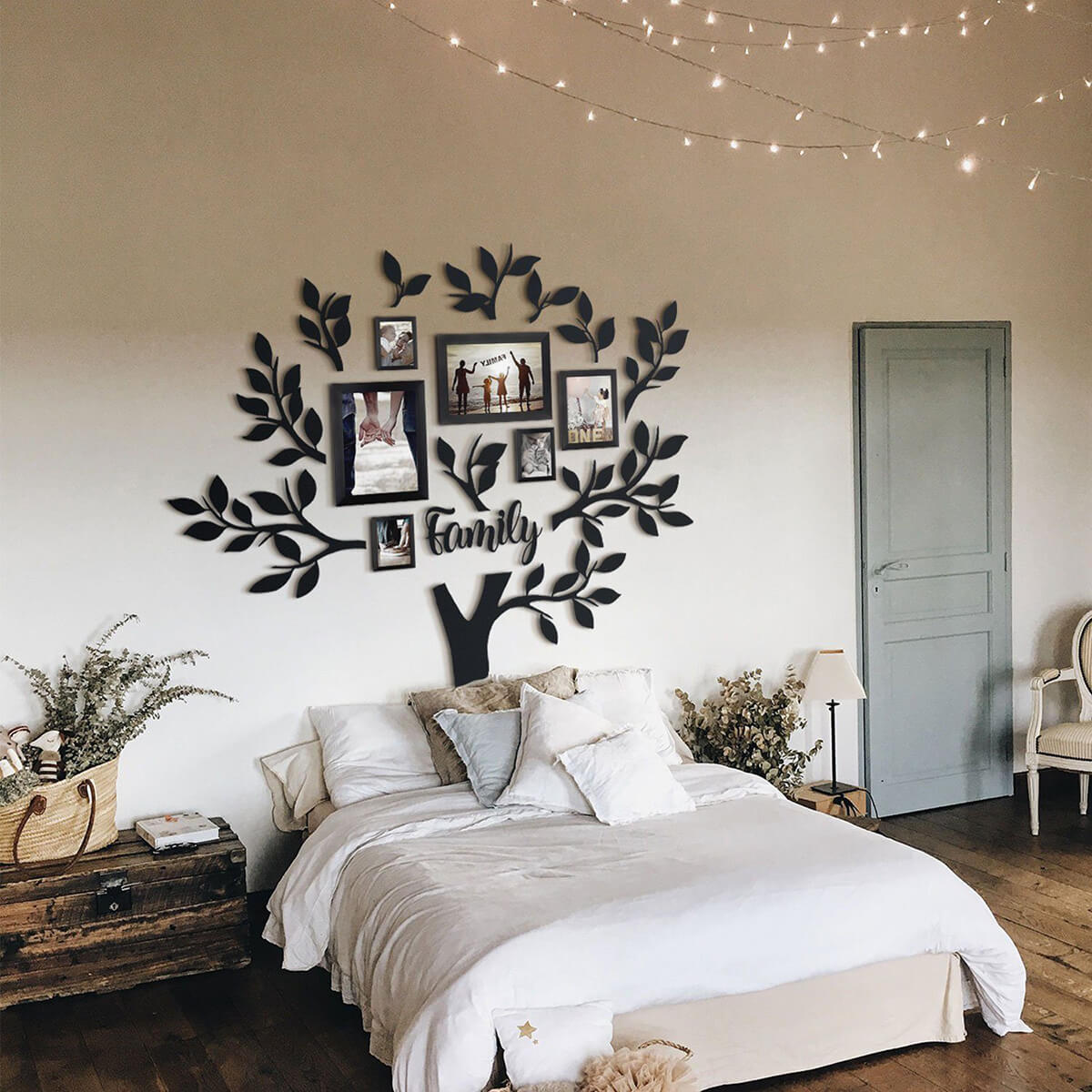 The family tree is a quintessential heirloom of each and every family so why not make it a prominent piece of your home decoration? Planted behind the couch in the living room or nestled above the bed in the master bedroom, this unique version of the family tree is the way to go. Created with black branches, this tree rises from the floor with its trunk and extends all over the wall with its stems and leaves. Interspersed throughout its vibrant size are several photo frames to add more depth to the family's genealogy.
9. Vintage Honey Bee Farmhouse Wall Art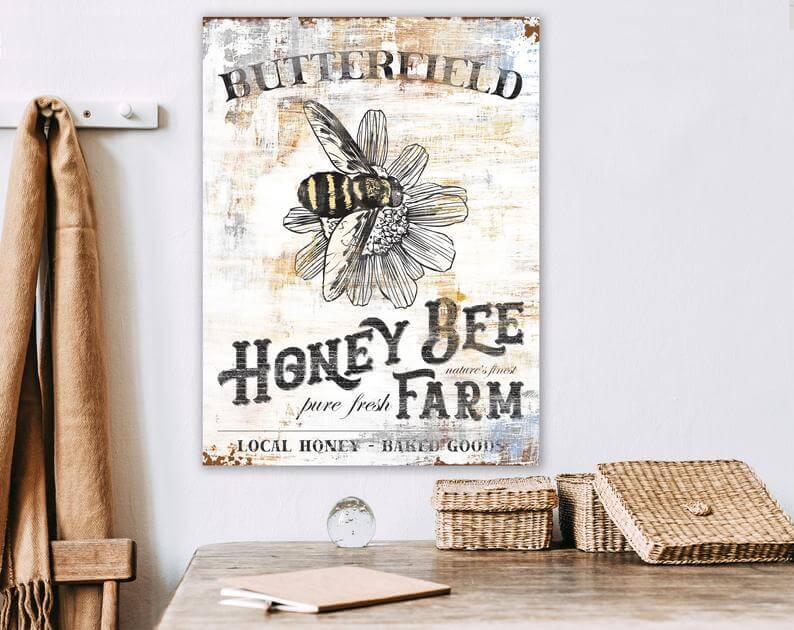 Add a touch of whimsy to your modern farmhouse with this distressed white washed honey bee sign. With black lettering, the white wash is the ideal backdrop for the fun and playful bee with a throwback vibe. Mixing nature and one of mankind's most important friends, this honeybee picture is one of the best farmhouse wall art designs to bring the dynamic duo together.
10. Family Home with Date of Establishment Old Wooden Wall Art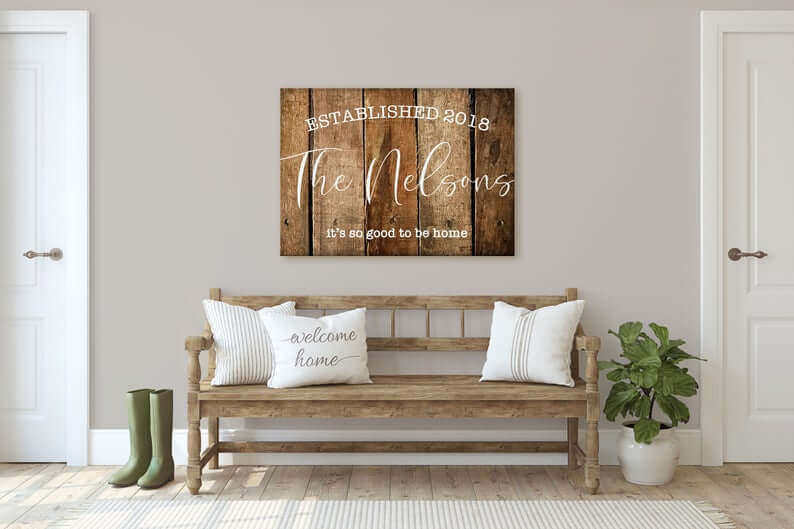 Is someone you know tying the knot and you don't know what to gift to give him/her? Here is the answer you've been waiting for! This wooden piece of wall art produces a beautiful gift in both sentiment and style with a personal touch of the newlyweds surname and year of marriage displayed in a creative way. The bottom of the sign notes "it's so good to be home" which adds a warm and cozy touch to the piece of wall art.
11. Pink Pig Modern Wall Art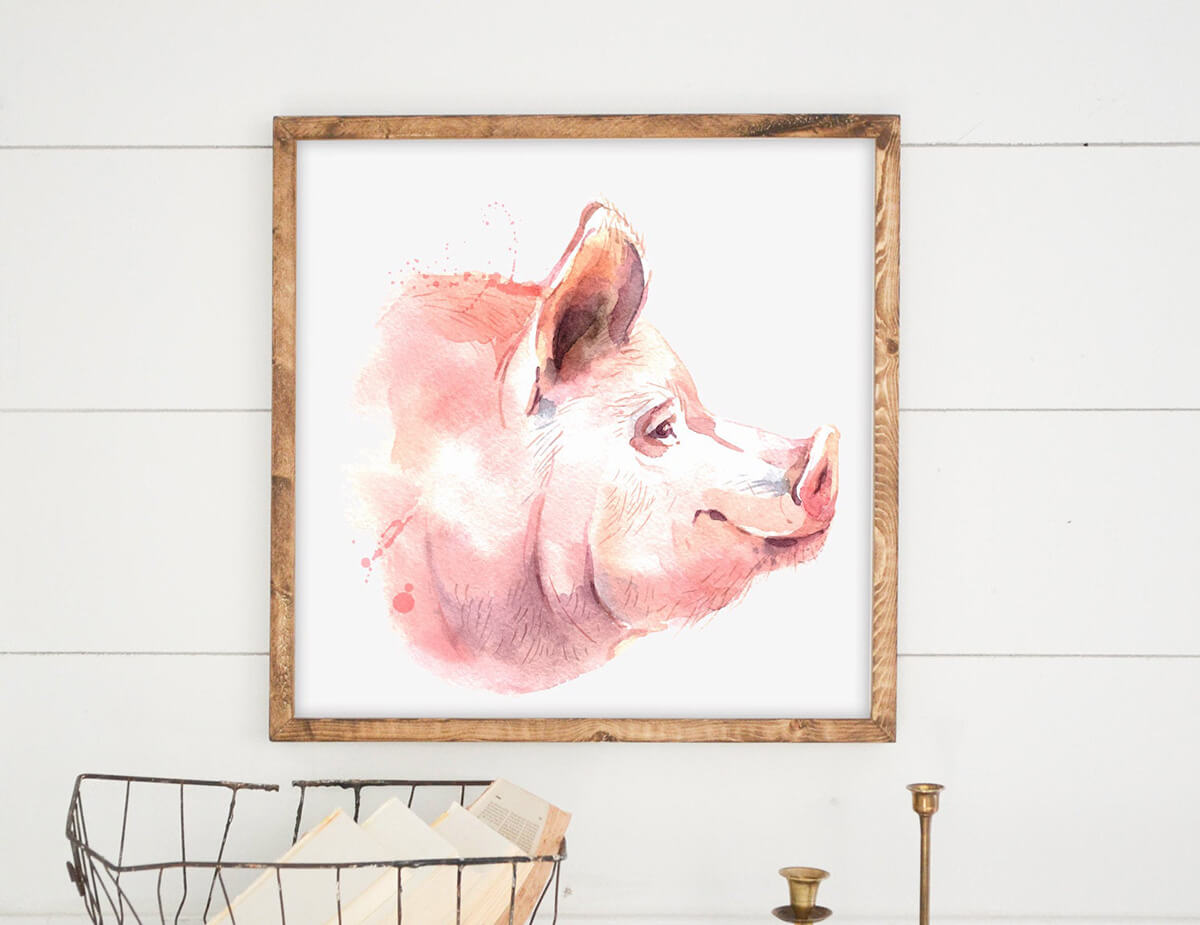 When we think about farmhouse design it's hard to forget about all the fun animal friends in the barn. Play a little homage to these friendly swine with this pink pig modern print. A rough wooden frame trims out the picture that is created on a white background. The poignant and proud pink pig is posed to perfection as he seems to be focused on engaging you in conversation. Regardless if it's hung in a kitchen, kid's room, bath or hallway, this pink pig print holds its own on the wall.
12. Pun on the Farm Set of Fun Farmhouse Wall Art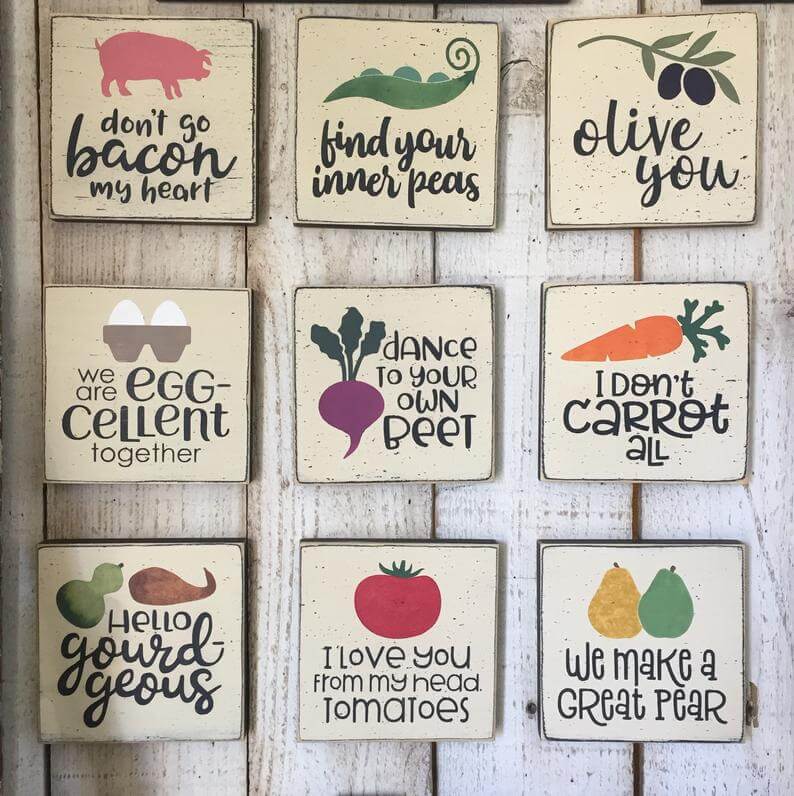 You are sure to delight in this set of 9 interesting and entertaining farmhouse wall art set. Witty and precise, these pictures take a common farm garden item and punch up the humor. Such puns like "I love you from my head tomatoes" and "I don't carrot all." The secret ingredient in this garden is humor and it's stocked quite nicely in these cute and fun farmhouse pun signs.
13. Industrial Art Deco Modern Metal Wall Clock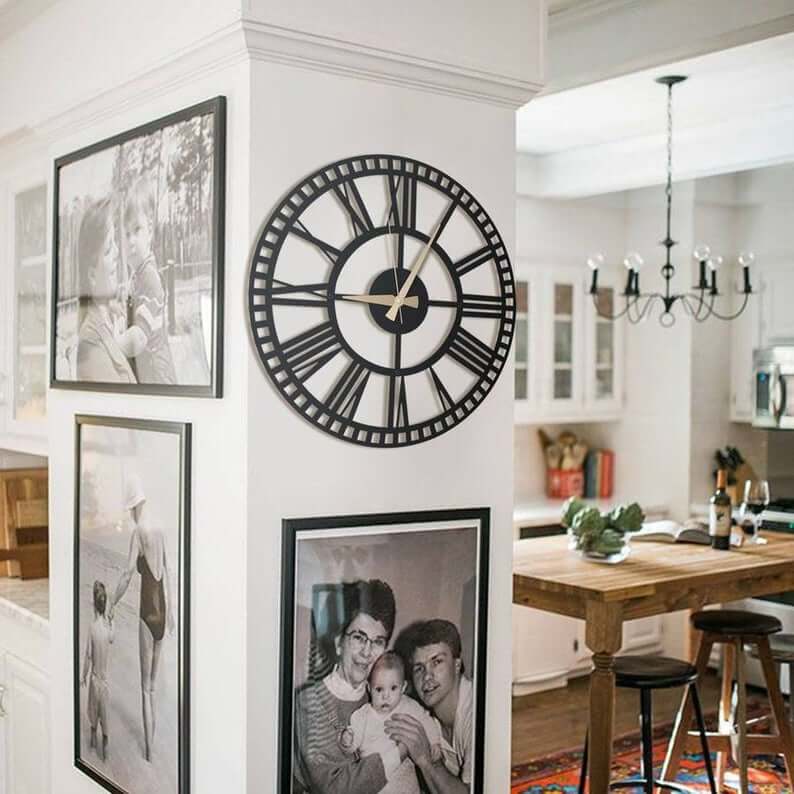 Add some industrial feel to your space with this large metal wall clock. With roman numerals, this black clock knows what time it is! An awesome idea for a man cave, urban city loft or in the family room of the home. Every home needs a time keeping gadget so why not incorporate function with a little flair. This modern metal wall clock bestows the size and grandeur needed to easily keep track of the time of day.
14. Felt Ball Flat Mobile with String and Wood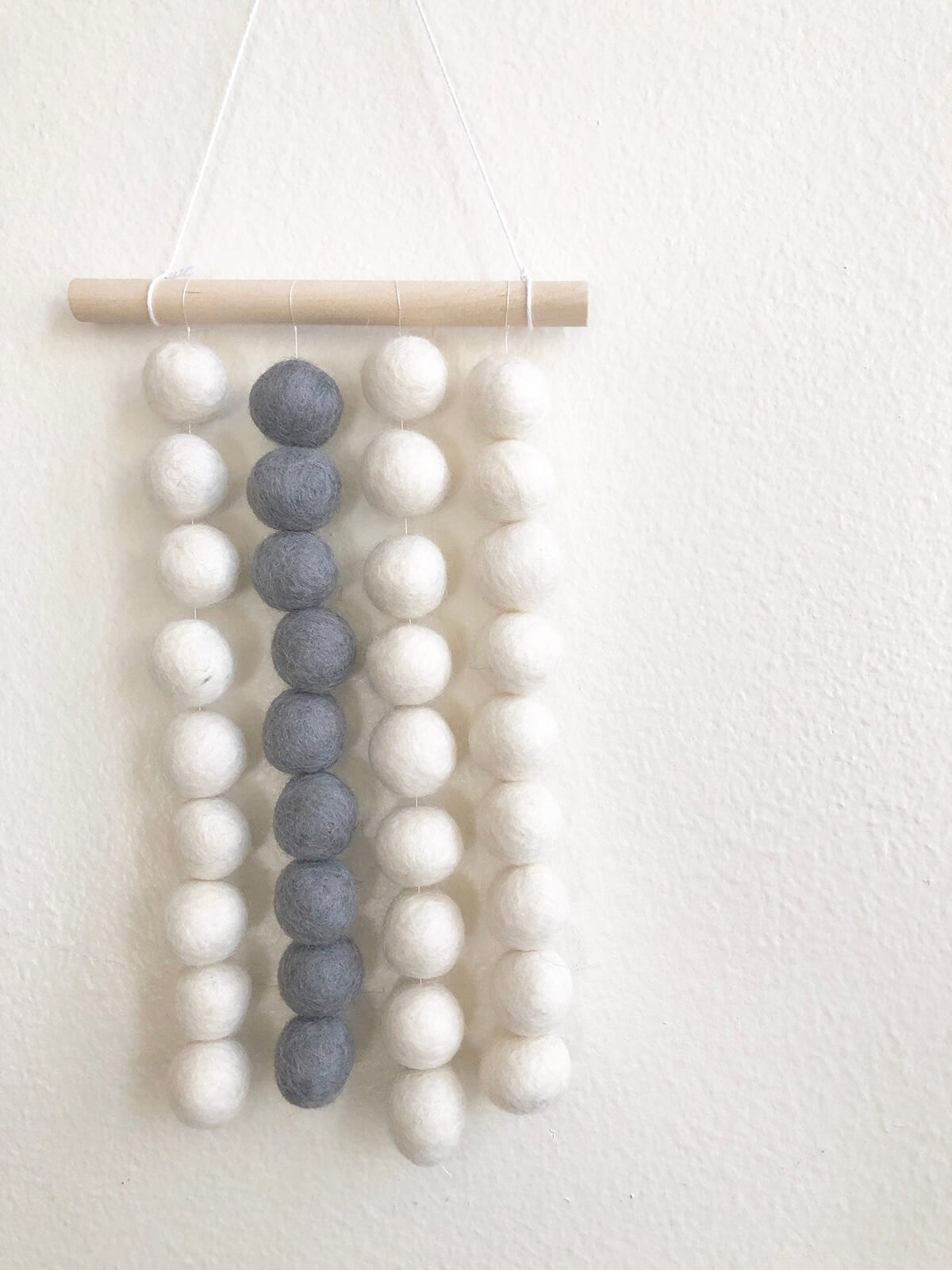 Here's the concept of a mobile that breaks away from the traditional suspension and is easily hung on the wall like a picture. From a string, a wooden bar is the foundation for the cascading white and gray felt balls as they nearly float in the air. Suspended from the wood, the texture of the felt adds some playful softness to the overall look and feel of this farmhouse wall art design. Great for kid and adult spaces alike.
15. Lamb with Floral Halo Farmhouse Wall Art Print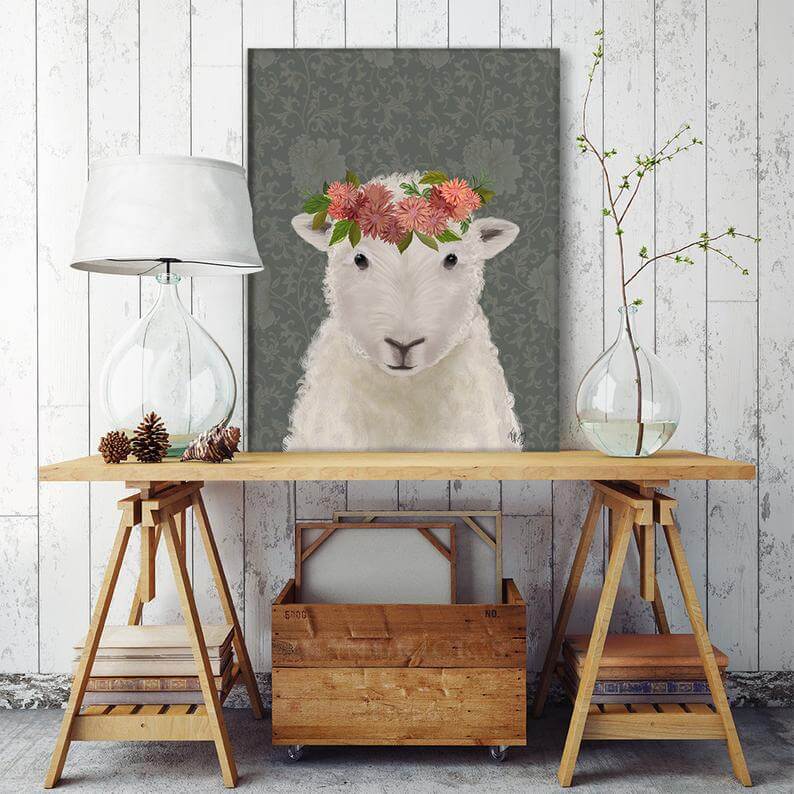 Set on a floral design in black and gray, this dark background provides the platform for this adorable white and fluffy lamb. For a piece of the best farmhouse wall art, consider adding one of the barn's favorite friends with this little lamb. Posed to perfection in her dainty portrait, this cute little lamb shows her sweet side while wearing a pretty rose and mauve colored flower halo as she intently looks into your eyes. What a great idea for adding a little fun to your daughter's room or some interest in your guest bath!
16. Beverage Bar Farmhouse Kitchen Sign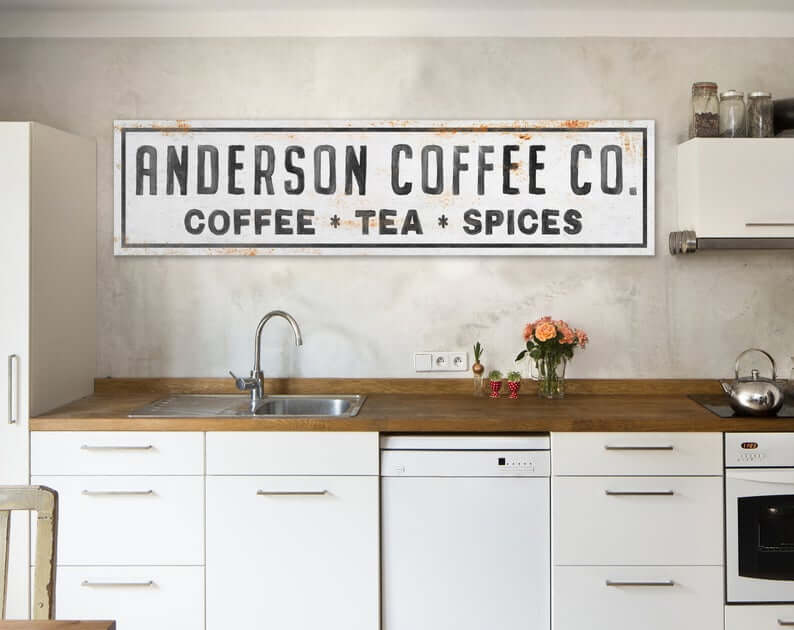 Constructed in a large rectangle, this modern farmhouse sign adds a little character to your kitchen. Highlighting some of the morning's most coveted caffeine crew, this kitchen sign pays respect to coffee, tea and spices. Creating your own cool and comfy kitchen space is easy with this vintage sign with a little added rusting to spruce up the overall look and feel. Hang it on the main wall in the kitchen or nestle it over the beverage bar to create your desired look.
17. Wildflowers Hung Out to Dry on the Line Wall Art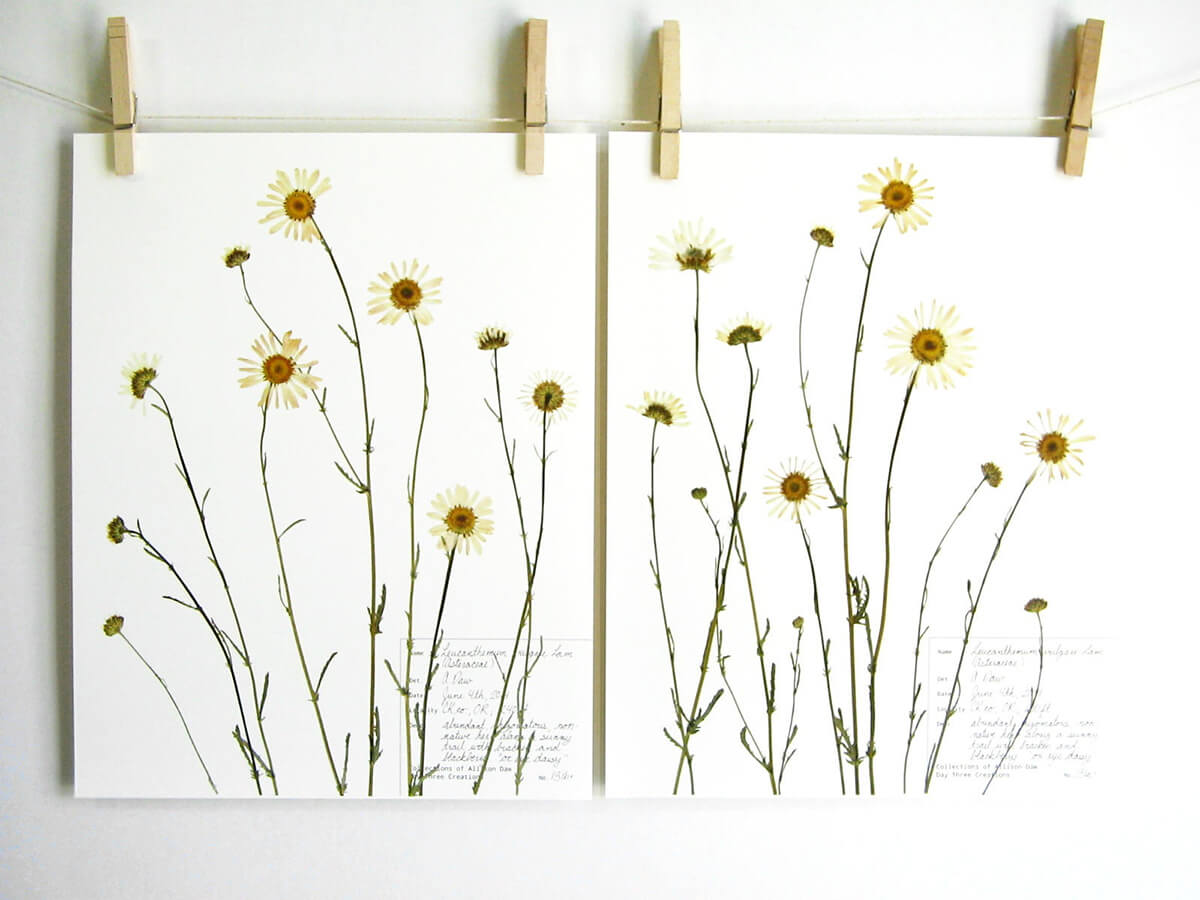 Perhaps hanging out the laundry to dry on the line is a thing of the past, but the spirit of that fresh scent doesn't have to be left in the cold. Bring some of that timeless American spirit into the home with a piece of wildflower wall art suspended from clothespins on a line. One of the best farmhouse wall art pieces to try, this simple yet elegant collection features a wildflower like a daisy captured in its most endearing way- gently growing and spindling in style. While some stems extend up to the sky and others bend over in grace, these flowers are pretty as they are displayed upon a white background. Huddled in the bottom corner of this print you will see an identification card to add some impressive information while providing some added visual interest and appeal. This farmhouse print is a fun way to put some peaceful decor into your hall, bedroom or bathroom.
18. Mountain Forest Adventure Together Wooden Pallet Wall Art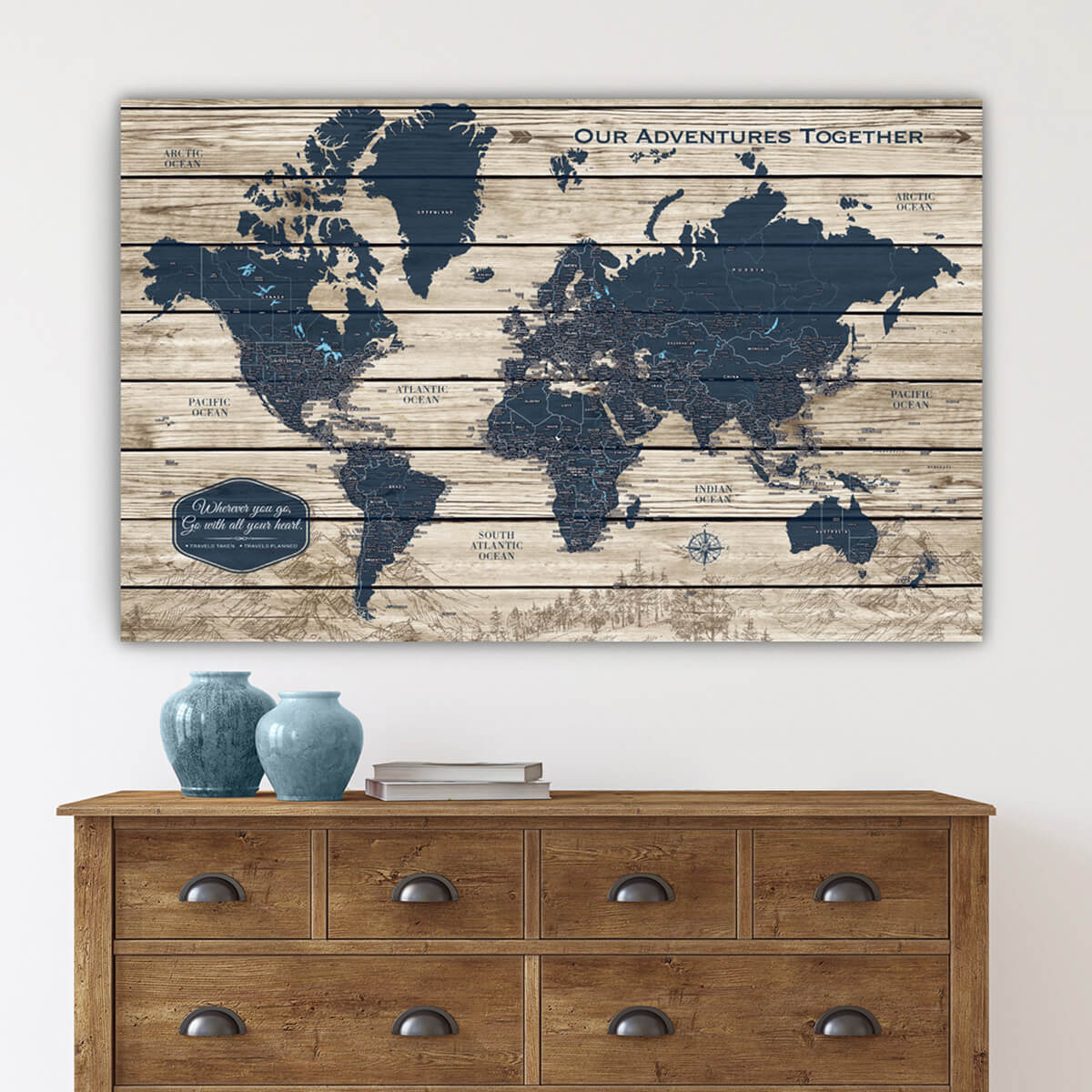 No journey is impossible when you endure it together! And what better way to share in each other's lives than to document all of your favorite adventures. In this "Our Adventure Together" map, you'll find an ideal collection of all of the countries in the world set upon a black background. Near the bottom, there is some added intrigue as a beautiful landscape of mountains and trees completes the overall look and design. It might be the best farmhouse wall art to buy for the person wishing to incorporate some modern farmhouse appeal without overhauling all of her existing decor. Add some pins or tacks to trace all of your travels and this home decoration becomes a functional way to display some family memories. Finishing the bottom off with "wherever you go, go with all your heart" offers a sweet sentiment as this pallet wall art piece hangs in your family's favorite living space of your home.
19. Distressed White Wash Gather Farmhouse Wall Art Sign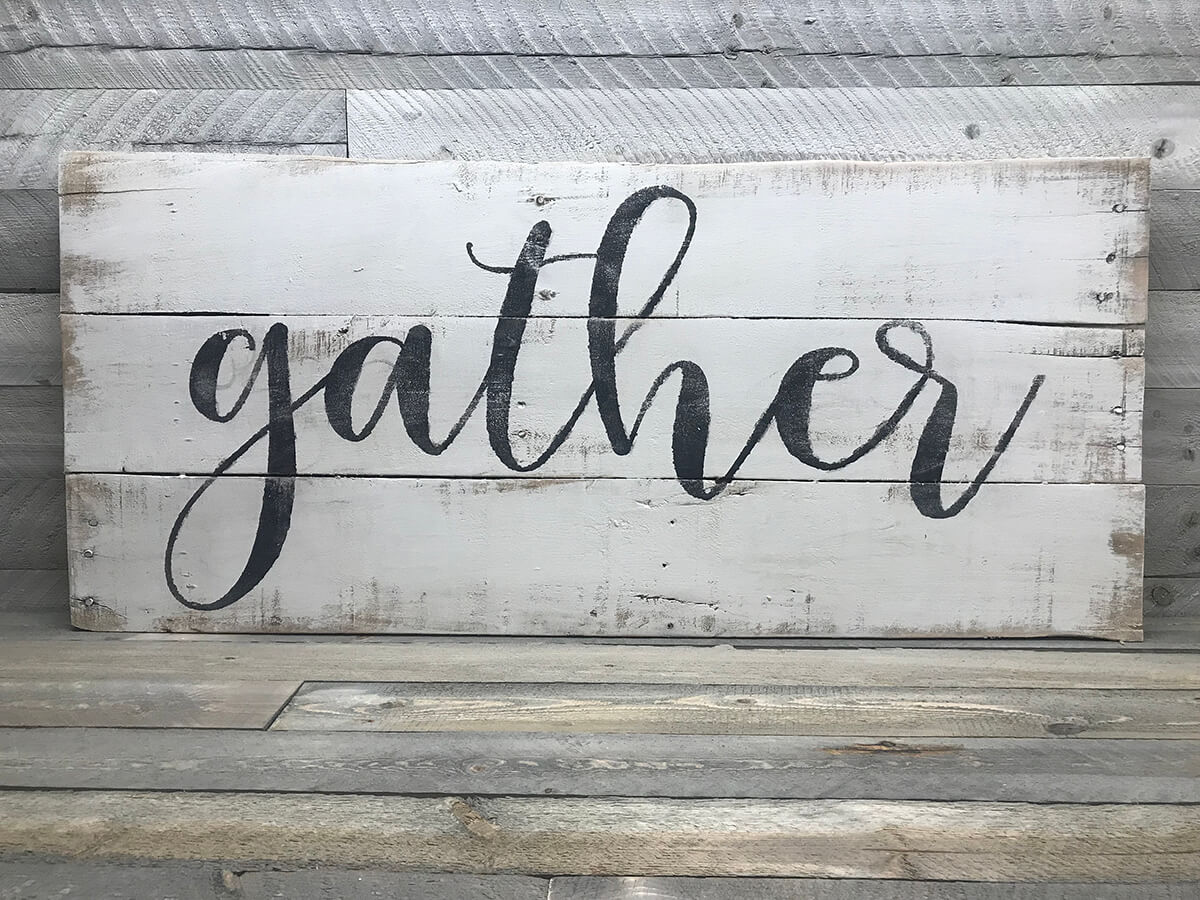 Pieced together from what seems to be an old pallet or left over lumber, this vintage-looking sign is constructed from white washed boards that have been a little distressed to give it a rich, lived in feeling adding some character to this new piece. The oblong design works perfect in most any rooms of the home where a crowd typically congregates. Proudly displaying the word "gather" in classic black lettering, this wall art is a universal message for our greatest desires of the heart. Everyone looks forward to getting together with family and friends. Here's a great way to incorporate some modern farmhouse style into your home with one of the best farmhouse wall art to buy with this simply stated message. Add it in your dining room, on your entryway wall or place it atop your inviting couch in your living room.
20. Weathered Wooden Chevron Rustic Wall Art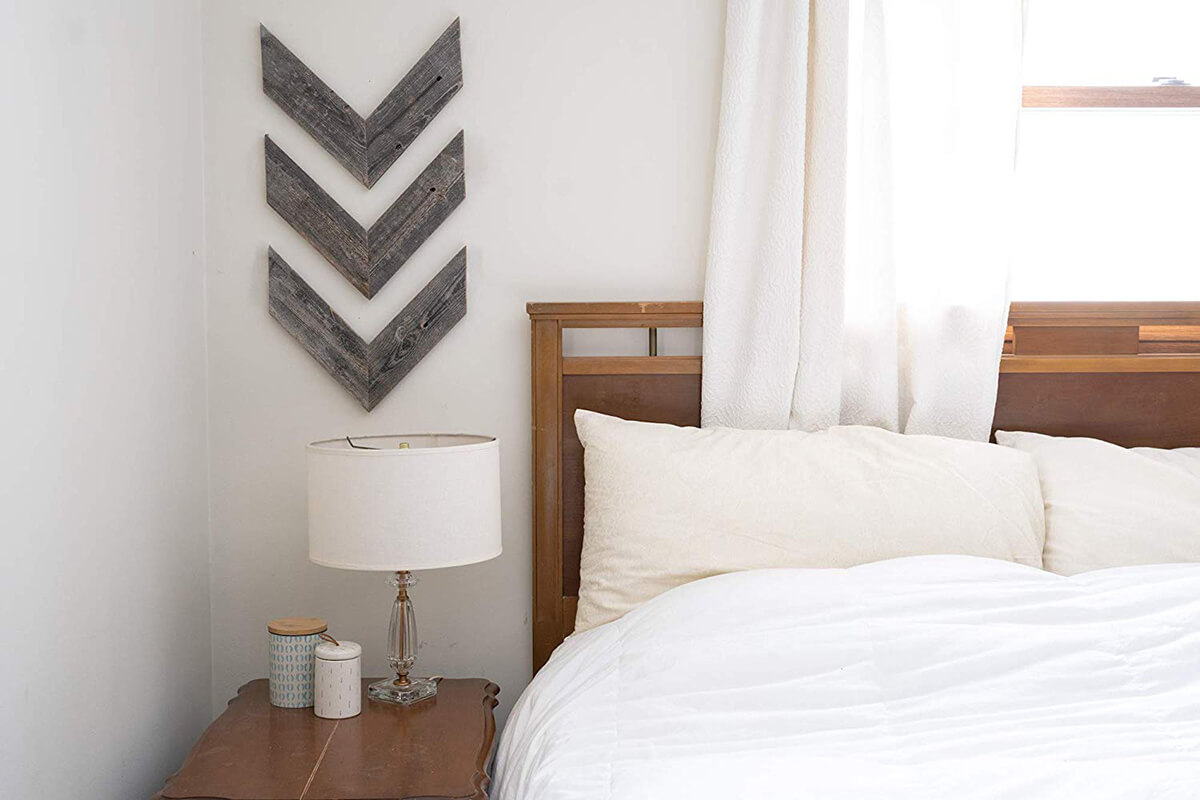 In the elements of design, home decorations are best served when they include different elements of texture. And it's never been easier to add some depth and dimension into your living space than with some of the weathered wood pieces popping up all across the country. Here is a perfect example. This old, weathered, gray wood comes to back to life in one of today's hottest shapes- namely, the chevron. Blending seamlessly into any decor, the chevron design is great in any space regardless of age or gender. Arranged together in a grouping of three, these weathered gray chevrons warm up a door way or give some character to your gallery wall.
21. Mason Jar Modern Farmhouse Wooden Wall Art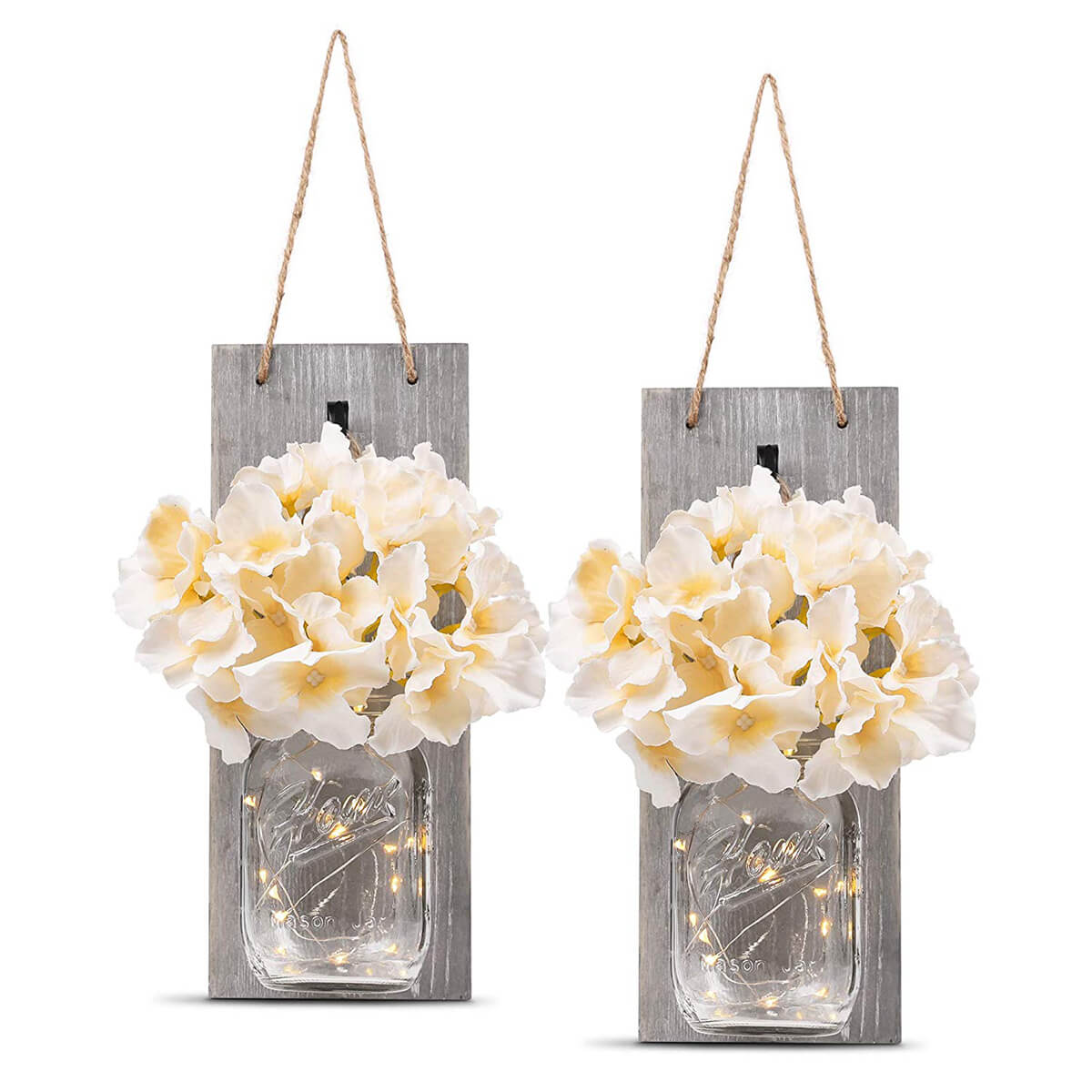 Using some simple string of twine to hang this wooden board adds a fun touch of farmhouse to your home. Nothing screams farmhouse louder than a mason jar and that's what makes this piece perhaps the best farmhouse wall art to buy as it incorporates a mason jar with the rugged gray wood and twine. It all ties together quite nicely as a mixture of soft, hard and warm design elements. Add your personal touch to this piece by filling the jar with some pretty white fairy lights or a beautiful freshly picked flower bouquet. Either way, you can change it up as often as you like with minimal effort. Continue the mason jar design element by placing a grouping on your kitchen island, dining table or side table filled with whatever you see fit. The kitchen island might be a great place to group some homework helpers like pencils, rulers and sharpies. Or have some fun rounding up your remote controls in one housed on your side table in the family room. Whatever you choose, I'm sure you'll find this mason jar piece to get the job done!
22. Intricate Design Metal Wall Art Tiles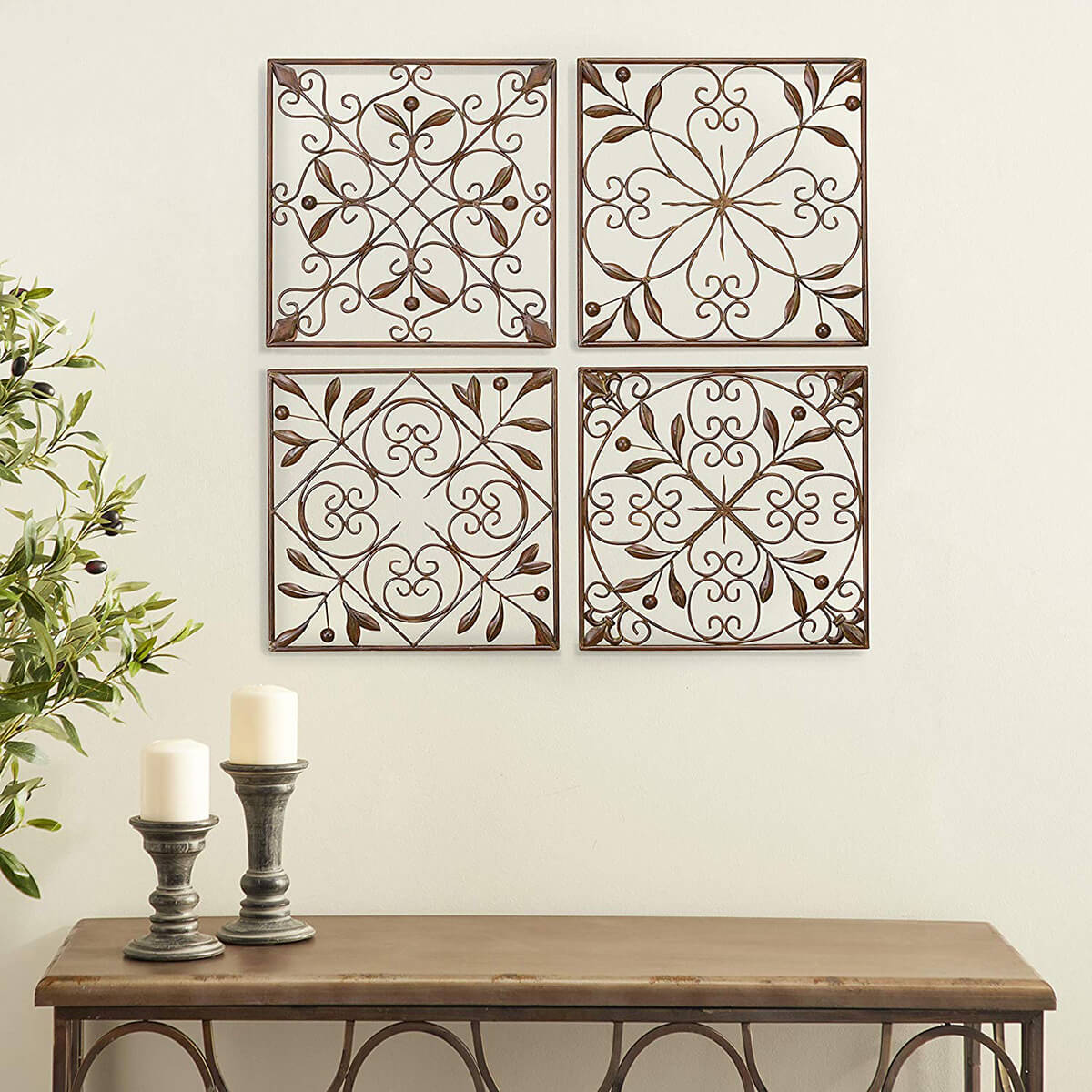 Don't be a square, well unless you are one of these fabulous pieces of metal tile that are an amazing addition to your home decoration. You can gather them in a group for a bold statement or separate them to tie the entire room together. The possibilities are nearly endless as you add these delicate designed patterns into your home decor. By adding the element of metal, you are infusing a new texture into the overall scheme and making it a much richer look. These metal tiles are sure to shine in a variety of design themes from modern farmhouse to rustic Italian villa. They can be hung in almost any room as well since they lend themselves nicely to young and old taste and have no gender preference.
23. Metal Half Windmill Weather Vane Farm Decor Wall Art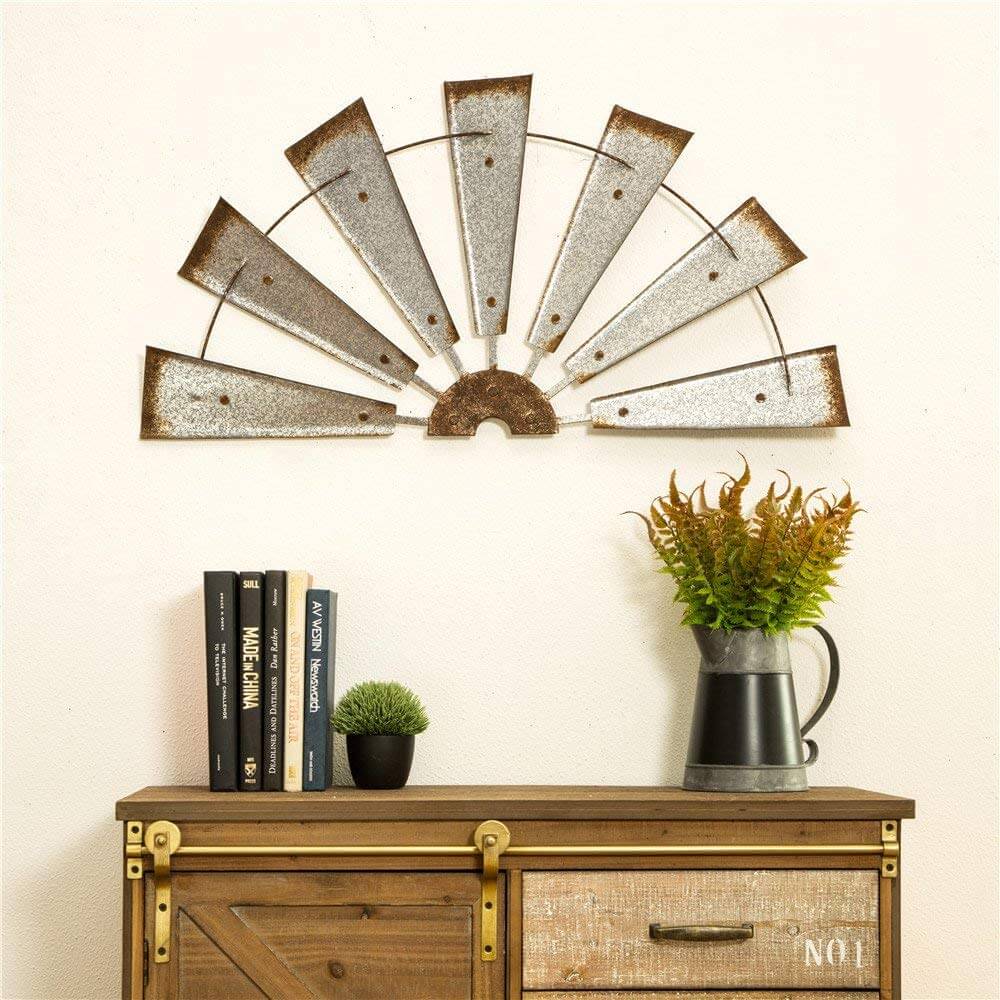 Any way the wind blows you are sure to stay out of the elements by bringing your weather vane into the comfort of your home. Such an authentic piece adds a lot of character and flair into your farmhouse decor. This cool metal art needs to be displayed where it can get the attention it deserves. Add a touch of fun and whimsy with a friendly rooster perched nearby for a realistic touch. The windmill blades are curved and weathered to add to its overall appeal. An ideal location for this decoration would be above a framed print or in the midst of a gallery wall. Kitchen and dining rooms would be happy to house this weather vane, yet it would work well in most living rooms and bedrooms too.
24. Make a Wish Breezy Dandelions Vintage White Print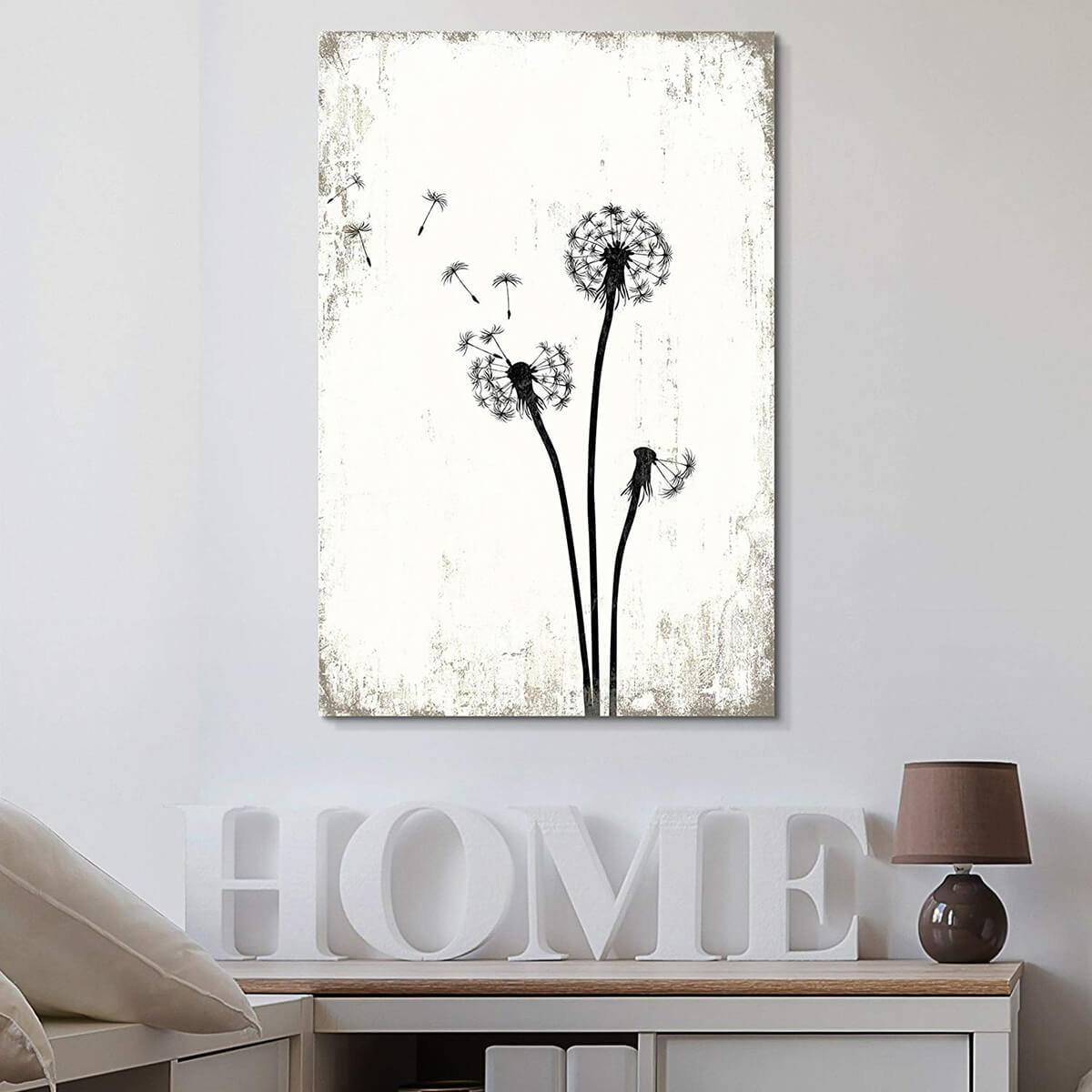 Add a feminine touch without being too girly with this soft and vintage dandelion print. Framed in roughed up wood, the edges are a direct contrast to the delicate nature of the dandelion who has been spent and is now blowing in the breeze. Better make your wish before it blows away forever! The flowers are done in black and take center stage on the white background that is distressed around the edges. Shabby chic and farmhouse decor are united in this piece. Possibly one of the best farmhouse wall art ideas since it can transition into similar and existing decor. Grab your hammer and get to work hanging this cute and fun breezy dandelion in your entryway or your family's half bath.
25. White and Wood Arrow 3 Piece Set Wall Artwork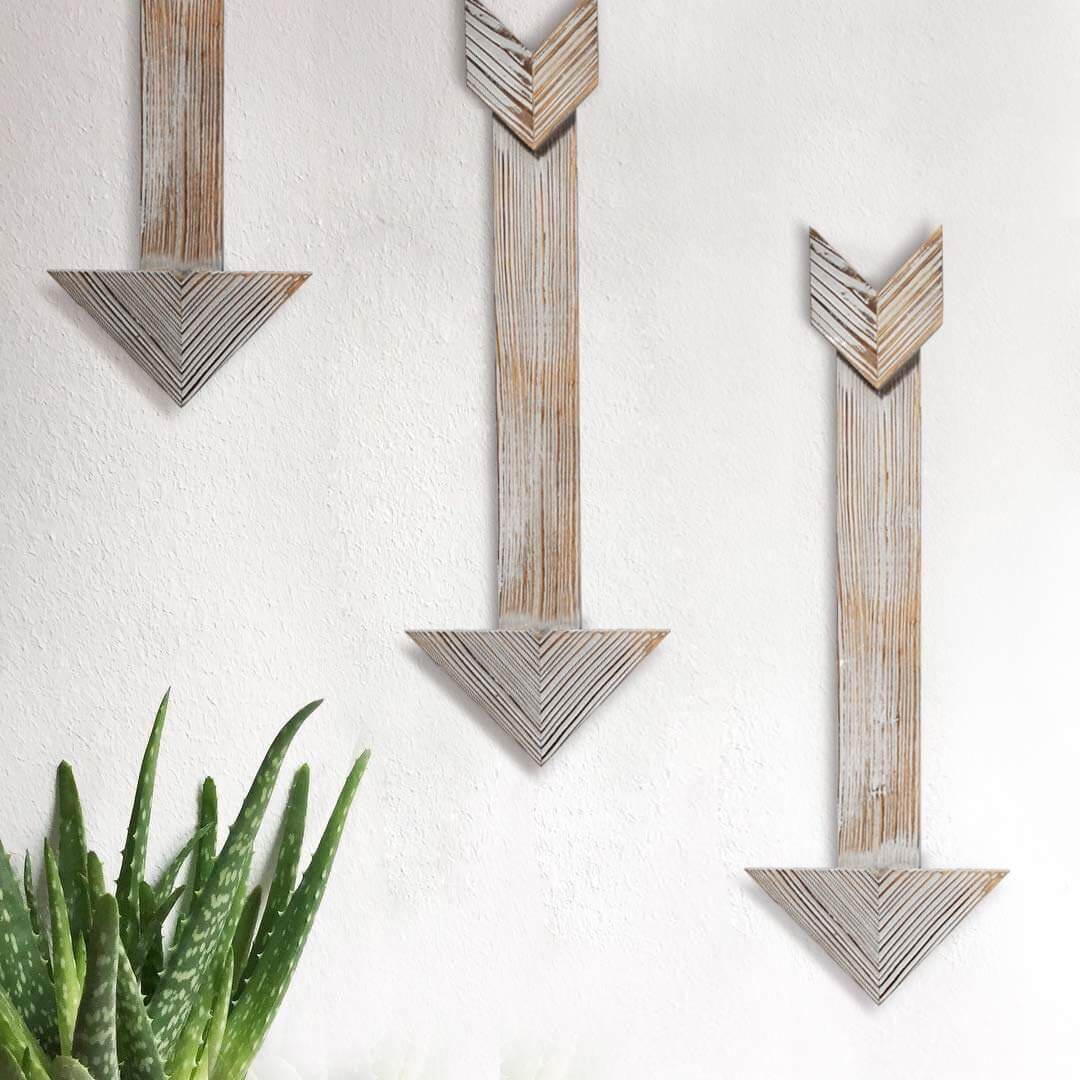 Grab the attention you want with this 3 piece arrow set. Constructed in wood with a white washed distressed finish, these arrows are sure to hit the bullseye on your farmhouse design dreams. Placed together on a wall as a single grouping or individually as a highlight around the room, the bow is in your hand as you decide how and where to give them a home. A great addition to a boy's room with a mountain scape or map wall. These arrows also get the job done by pointing to the important information on a family's gallery wall.
26. Liquid Bronze Illuminated Wall Sconce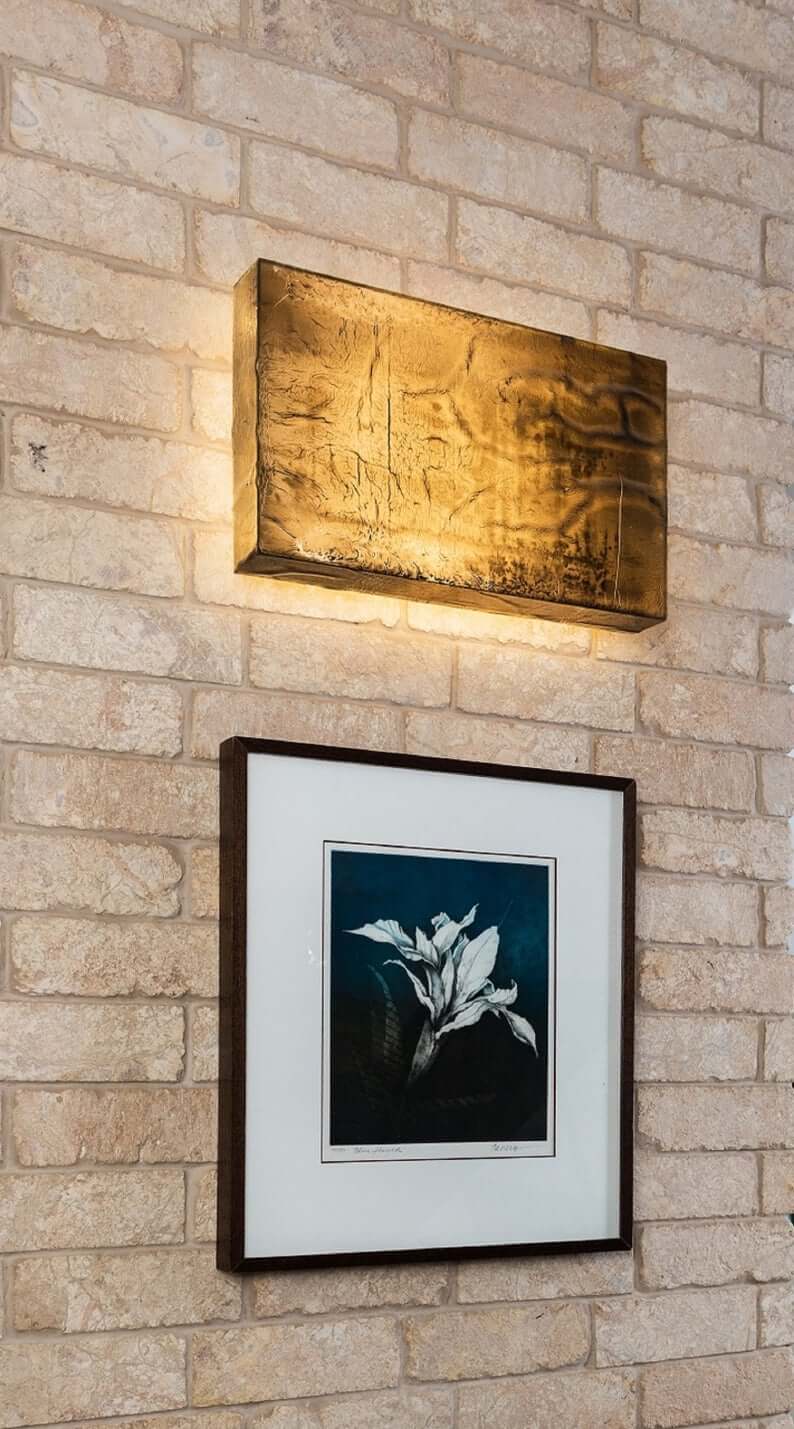 Wishing to add a conversation piece to your home? Look no further than this liquid bronze illuminated wall piece. A twist on the traditional wall sconce, this piece of wall art lights the interior path down the hall or the cozy corner of a reading nook. This artistic display is lit like no other. Featuring warm and golden bronze colors that seem to flow like a running river, this wall sconce shines and provides a warm and inviting welcome to guests. So light the way for your family, friends and all who enter your humble abode with this special and unique illuminated wall sconce.
27. Power of God's Word Black Vinyl Wall Script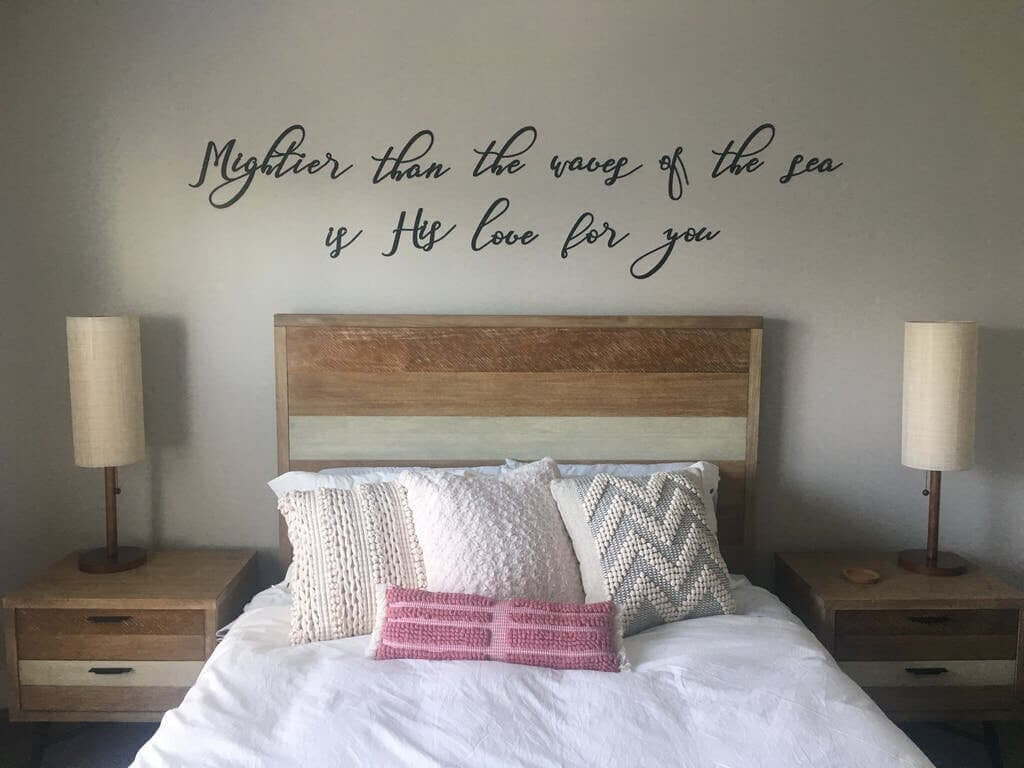 Enter your bedroom with a renewed spirit and peace of mind with this captured Biblical phrase prominently displayed above your headboard. Written in a beautiful script, the phrase "Mightier than the waves of the sea is His love for you" creates an atmosphere where rest and relaxation are sure to follow. What a wonderful way to end your day and start your morning than with the warm reminder of God's love for you. This could also be used on the hallway to your bedrooms and bath so guests and other family members in the house can enjoy the refresher as often as needed too.
28. Pumpkin Patch White Wash Farm Wall Art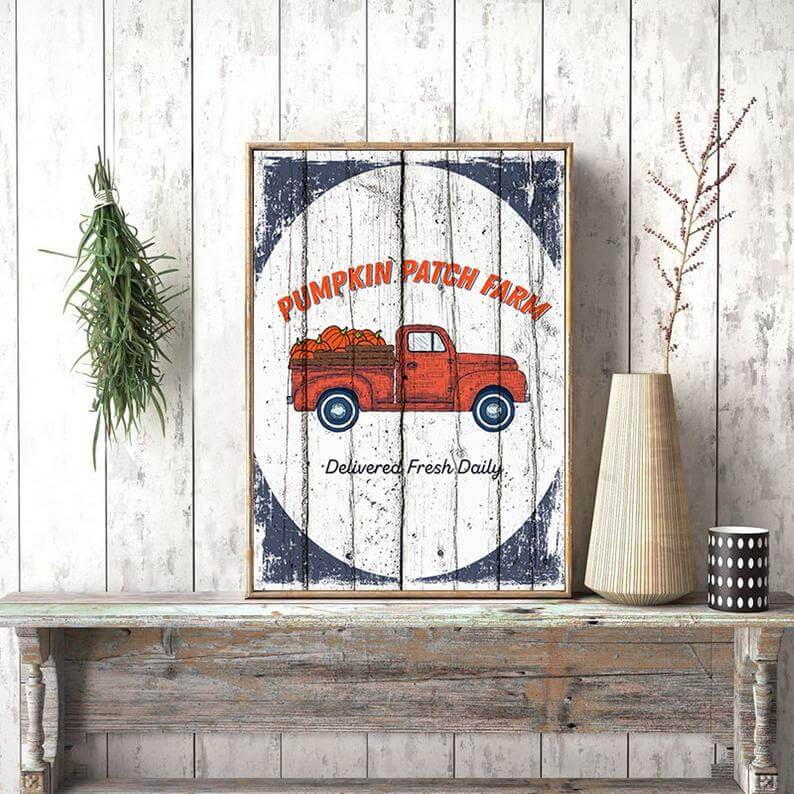 Taking up space in your home and heart is this cute pumpkin patch sign. With a white washed wood background, the rusty orange of the pumpkins and the vintage truck add just the right pop of color. Framed out with corner embellishments of black, this weathered-looking sign would be the perfect seasonal decor for fall or hand-picked prize for your farmhouse kitchen. Whatever you decide, bring a little bit of the pumpkin patch inside with one of the best farmhouse wall art seasonal pieces.
29. Round White Shiplap Floral Nursery Sign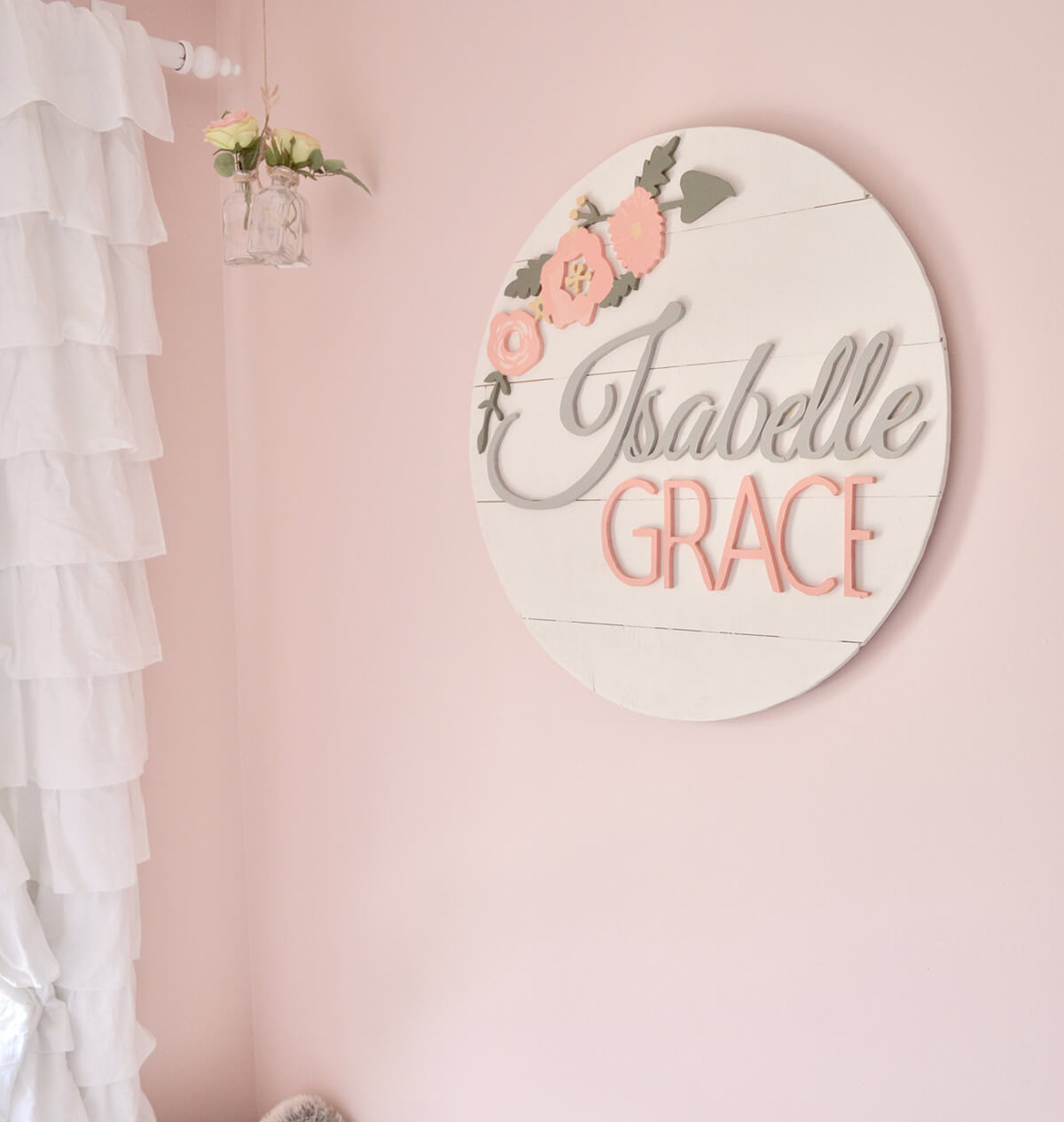 Welcome the new bundle of joy with a tribute to their hand-picked name with this gorgeous floral and shiplap sign. One of the best farmhouse wall art options for a nursery, this round sign changes it up by switching from the traditional square and rectangular shapes. A definite hint of feminine flair is added with the gray and pink flowers while not overpowering the piece into something that is too girly-girly. Shiplap is one of the essentials in modern farmhouse design so it lends itself as the ideal canvas for this pretty piece of wall art. The choice of gray lettering piggybacks to the on-trend feel as this color is everywhere. Give the gift of this precious sign to complete the nursery of the new mama's dreams!
30. Over-sized Multidimensional Wooden Square Wall Art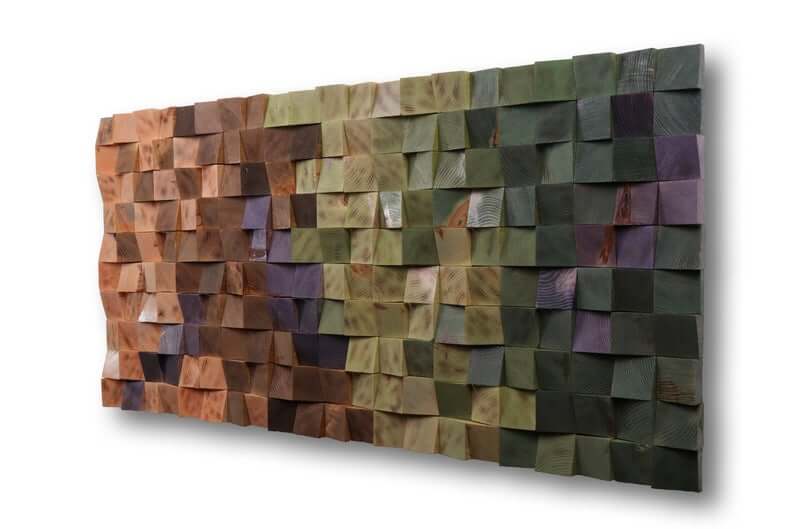 Size matters when it comes to dramatic art and this multidimensional wooden square piece delivers! Created with what would seem to be square scraps to the untrained eye, this work of art seems to move across the wall with its varied layered effect. Featuring browns, greens, and blue tones, these colors add interest and draw you in to the movement of the moment. Proudly display this massive piece above the mantel or behind the sofa for a striking conversation piece.
31. Baby's Breath and Wildflower Collection of Vintage Shabby Chic Prints
Get your ducks in a row and display this beautiful collection of flower fillers at their best! This set of 3 packs a punch with a classic white background trimmed out in a thin wooden framing. From wildflower weeds to the timeless elegance of baby's breath, the featured flowers are inviting and practical. Arrange the group of three above the dining buffet or the headboard in the guest bedroom for a tender touch of thoughtfulness.
31 Modern Farmhouse Wall Art Ideas that Keep Your Home Trendy
Mixing old and new decor has never been more fun or easier than with today's modern farmhouse trend! Some of the best farmhouse wall art pieces can be found in this selection. From shiplap to metal, there is a never-ending list of materials that work well in the construction of these designs.
Looking for something to update an old space or simply envisioning a new room? The sky is the limit with these fun and creative farmhouse pieces on ETSY and amazon. Most of these choices are functional in multiple spaces. It is easy to swap a kitchen or dining room wall art for the tired piece behind the couch. Or even revive some life into your dreary bedroom with an updated farmhouse piece with your favorite saying.
If farm-friendly critters are at the center of your heart, be sure to include them as well into your decor. From lambs to pigs, there is definitely the right one for you. Regardless of your existing farmhouse decor, picking one of these new pieces is all it takes to make an old space feel new again without breaking the bank!