Signage is a great way to add personalized charm to your farmhouse home. These signs combine some of the most popular sayings with the special styles common to farmhouse décor. Most of these signs are centered around simple themes of home, love, and spirituality.
40+ Modern Farmhouse Sign Ideas to Add Beauty to Your Home

When choosing a sign for your farmhouse home, first think about what you would like it to say. Are you looking for a sign for your kitchen or for your bathroom? Customize your sign with any sentiments you would most like to show. Signs can be quirky, funny, or sentimental in nature. Use a variety of typefaces and background colors to make your design stand out.
Many of these farmhouse signs use weathered, reclaimed, or distressed wood either for the whole sign, or for the frame. Using distressed wood will bring an old-fashioned charm to your farmhouse sign. Colors like gray, white, and dark wood stains match the farmhouse style best.
A few of these signs are in creative shapes, like the house-shaped sign with "Love Grows Best in Little Houses Like This."
Whatever modern farmhouse sign ideas you choose, your guests will be charmed by your personal sense of style. Try adding a sign to your farmhouse home and express yourself.
1. Shabby Chic You Are Loved Farmhouse Sign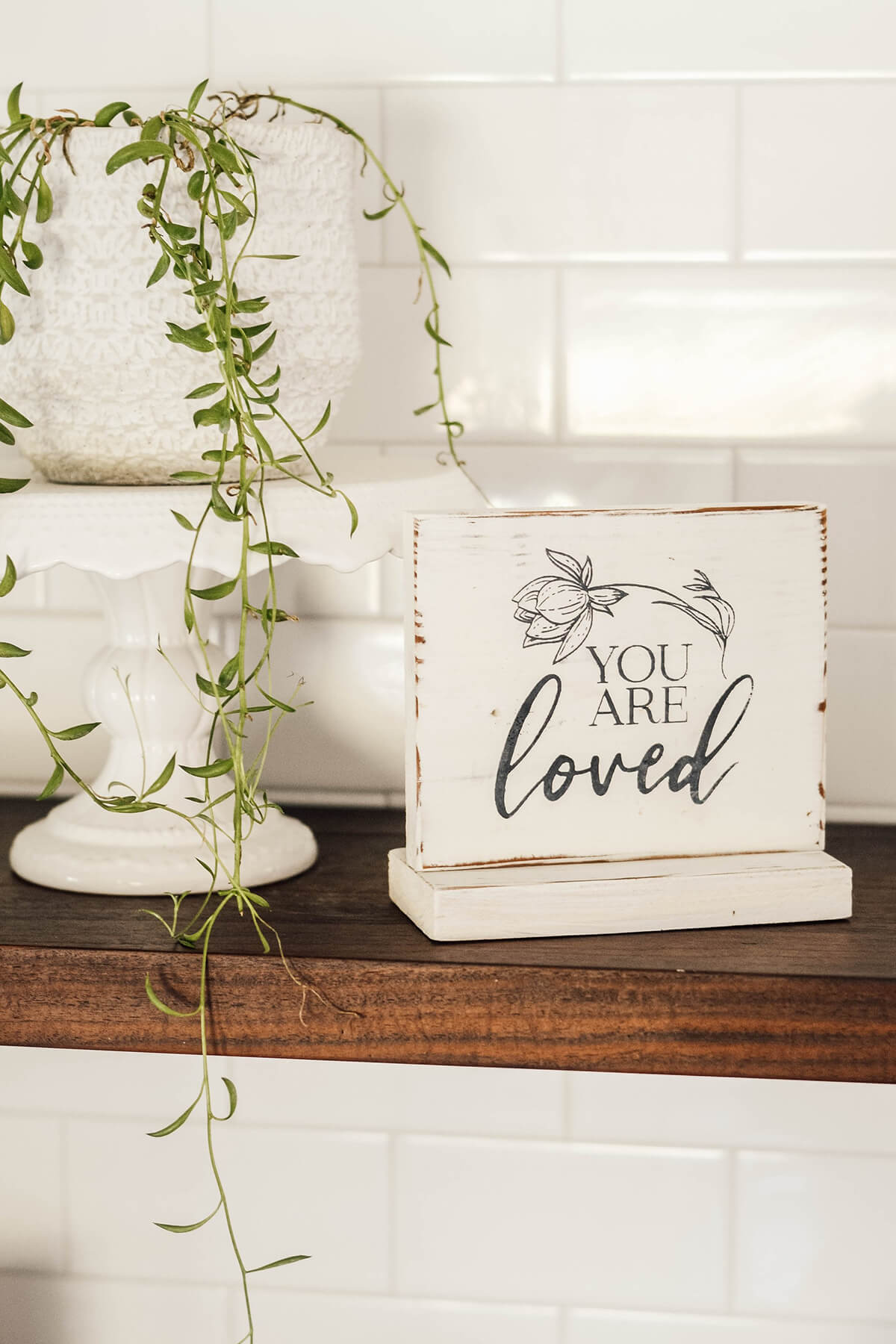 Here's a great gift for that special friend, family member, or co-worker who might have forgotten how incredible and special she is. Made in a small size, this farmhouse-style sign comfortably fits on the corner of your desk or along your windowsill. Give it as a single gift or include it as part of an inspirational gift basket to make someone's day.
3. Distressed Edges Farmers Market Long Sign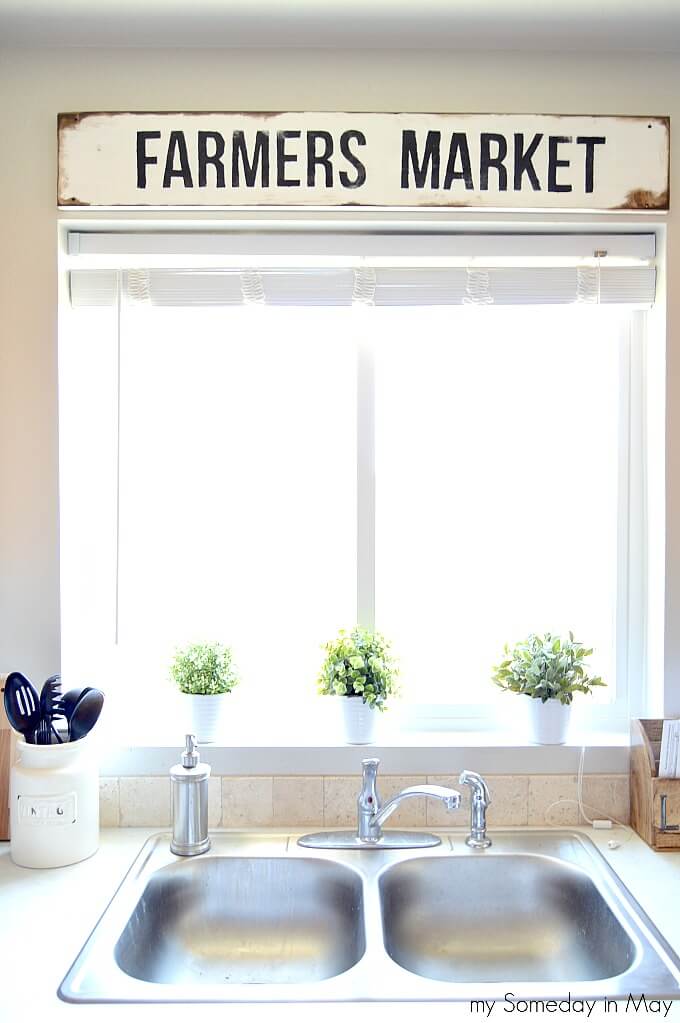 Over your sink window is the best spot for this vintage-looking farmers' market sign. While you spend countless hours washing pots and pans, at least you can enjoy the scenery around you at your kitchen sink hub. The edges appear worn giving them a nice distressed and vintage charm that refrains your space from looking new and cookie-cutter. This sign would also be a nice accent to an outdoor gardening space to highlight the goodies harvested for the farmers market itself.
4. Power of Faith Farmhouse Wall Hanging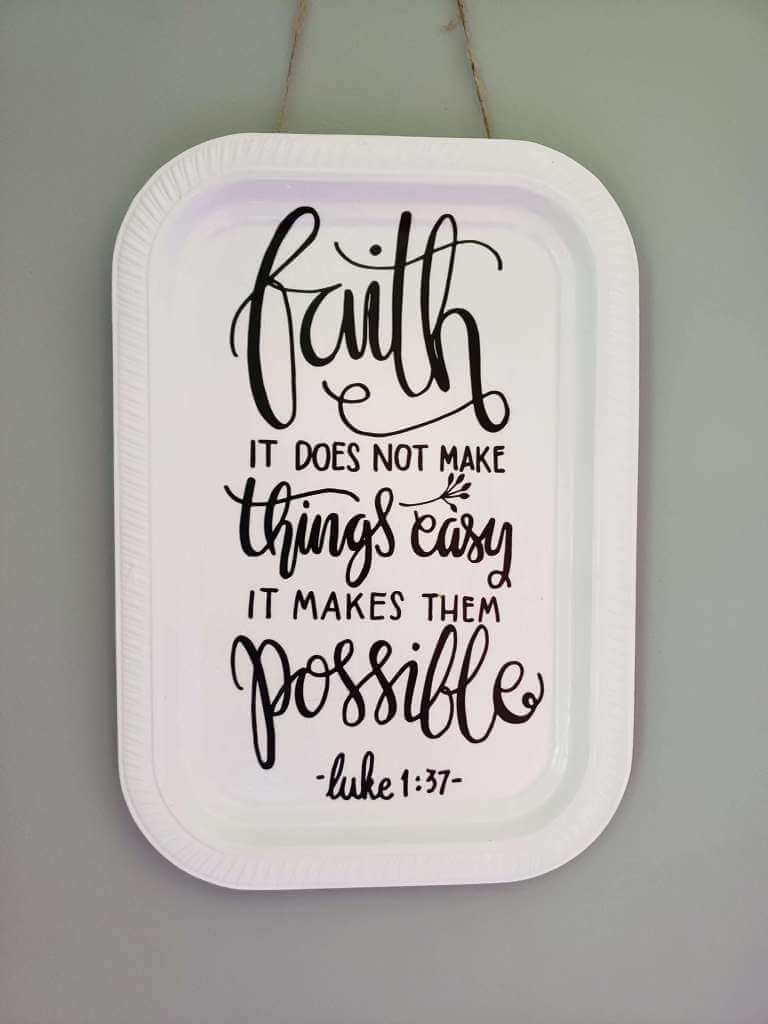 Incorporate your personal beliefs into your home decorating with this farmhouse wall hanging that prominently features a favorite Bible verse. As you are reminded of God's presence in helping you through life, this pottery dish is a great choice for adding to your modern farmhouse decor. It would make an excellent housewarming gift or secret sister present too.
5. Colorful Vintage Bright Side of Life Sign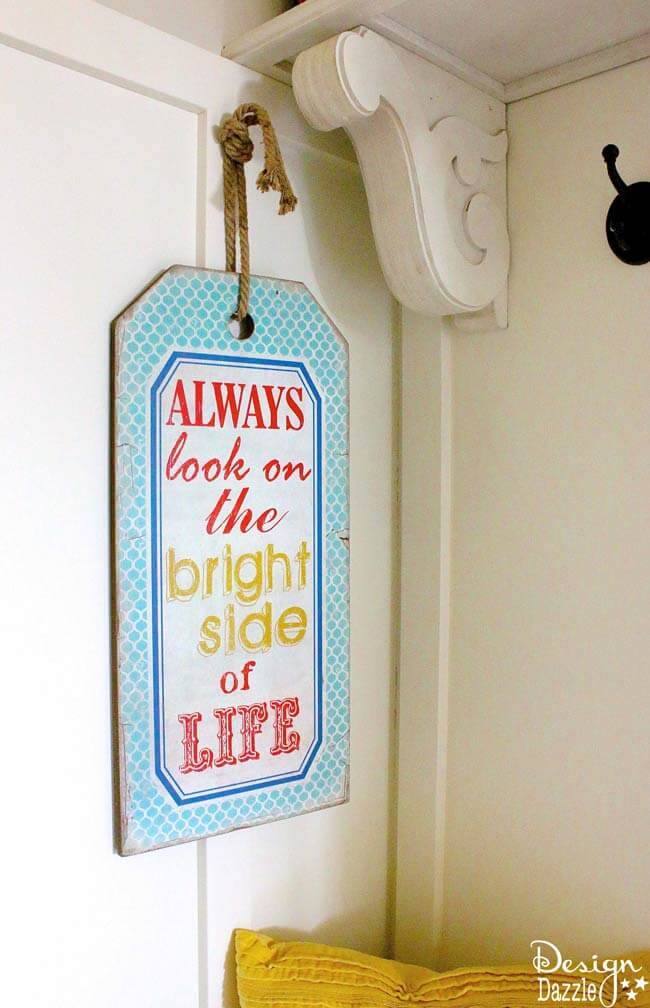 Add a touch of vintage flair to your modern farmhouse with this fun and colorful sign. It features a familiar and perfect phrase for keeping your head up and thinking positively. Within your existing design, it will be a welcomed pop of color to make a bright impact on your living space. Crafted in a gift tag shape, this wall sign would be a nice gift for someone going through a rough time as a way of letting him/her know you care.
6. Plain and Simple Classic Colored Gather Sign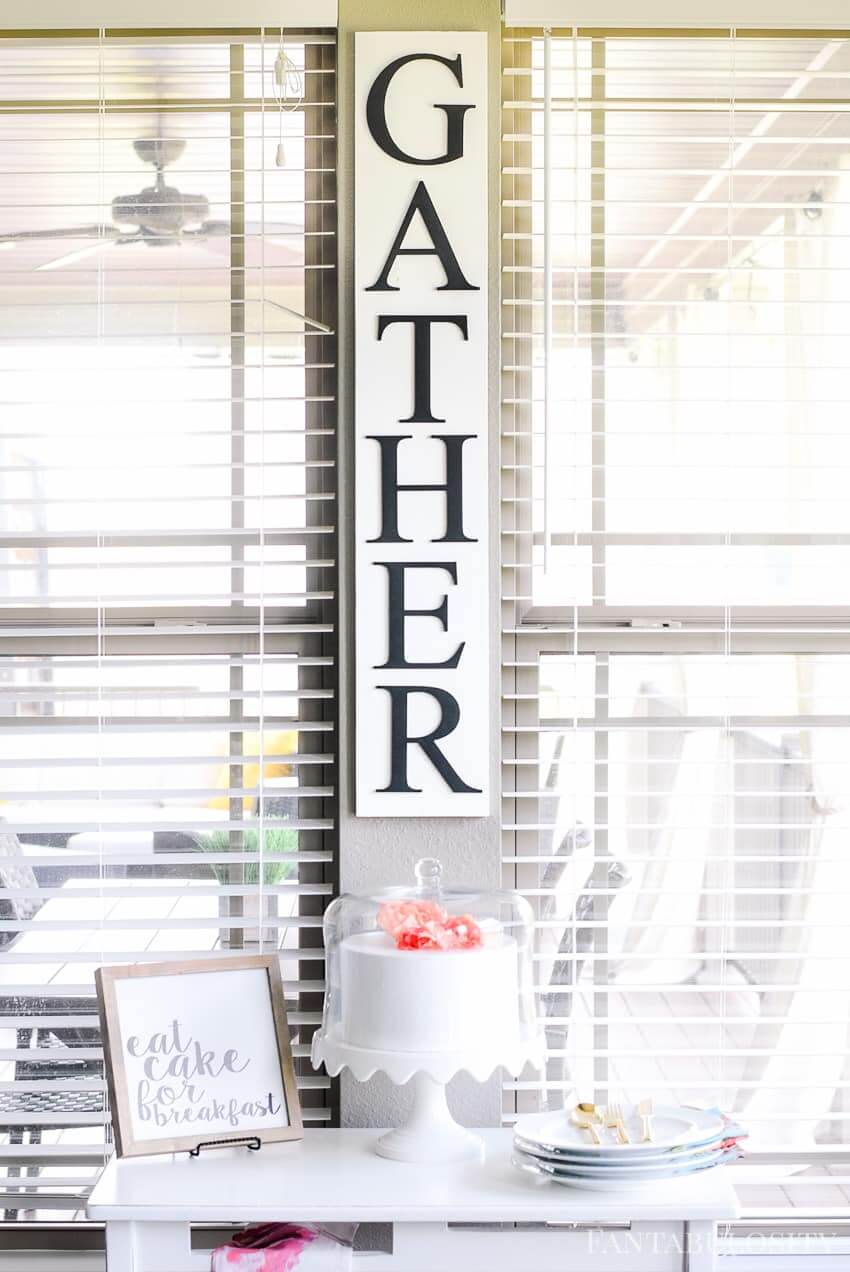 With a traditional style of font and the basic color combination of black and white, this plain and simple gather sign will be the perfect addition to your home. Hang it next to the cabinets in your kitchen, between a pair of windows in the living room, or beside the front door for a welcoming climate to your home. For an upcoming wedding, this makes a nice shower gift as well as a caring present for a grandmother's house where the family meets for Sunday dinners.
7. Adorable Laundry Themed Hanger Picture Holder Set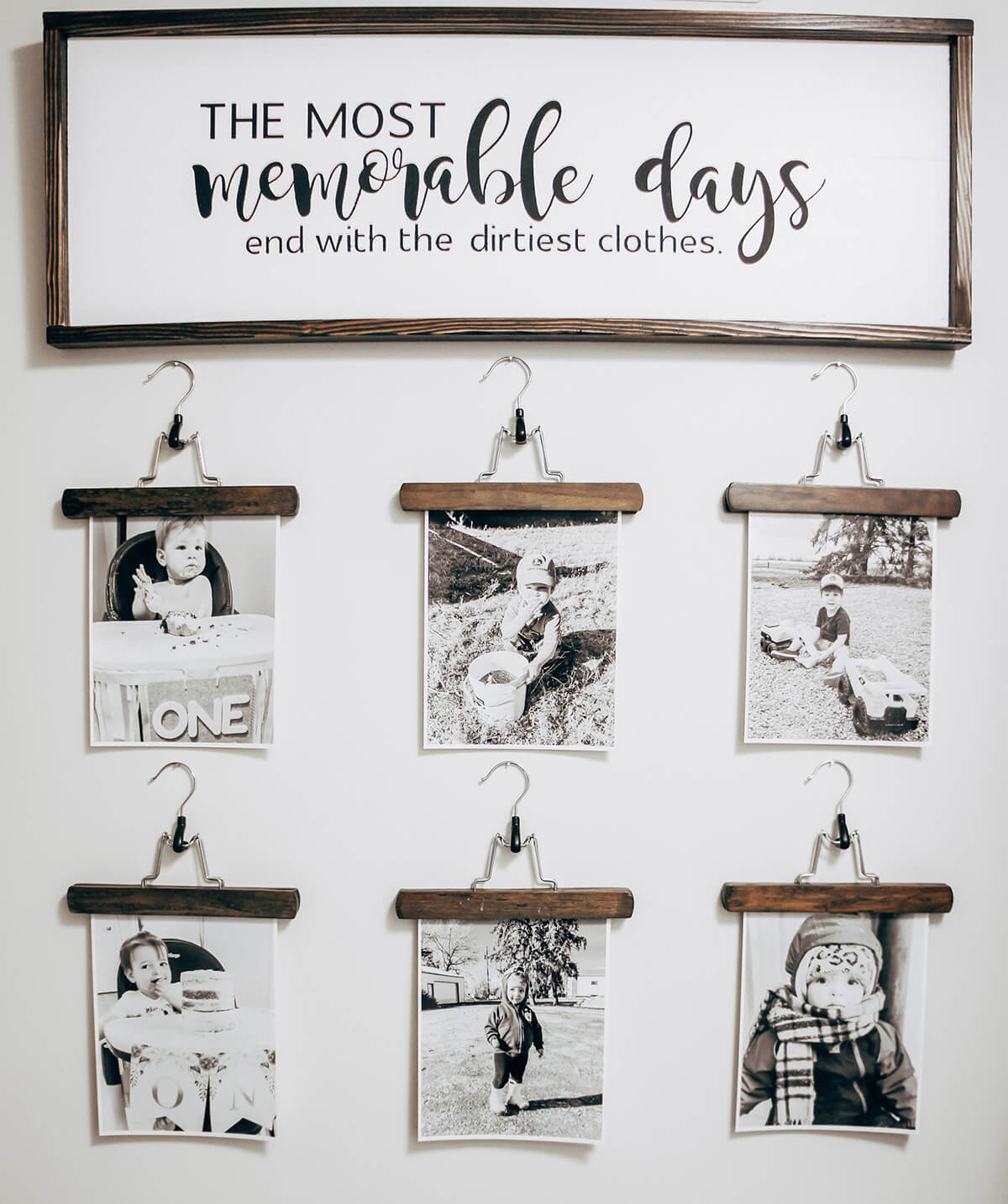 Discovering new and exciting ways to show off your pictures is often challenging, but consider this adorable laundry-themed set that is sure to make you smile. A perfect idea for gifting to a grandparent, each picture holder is a miniature clothes hanger that ties into the theme of the included sign. Take a little of the hassle out of the load as you are reminded that some of the best memories are made from the dirtiest clothes!
8. Personalized Blended Family Farmhouse Sign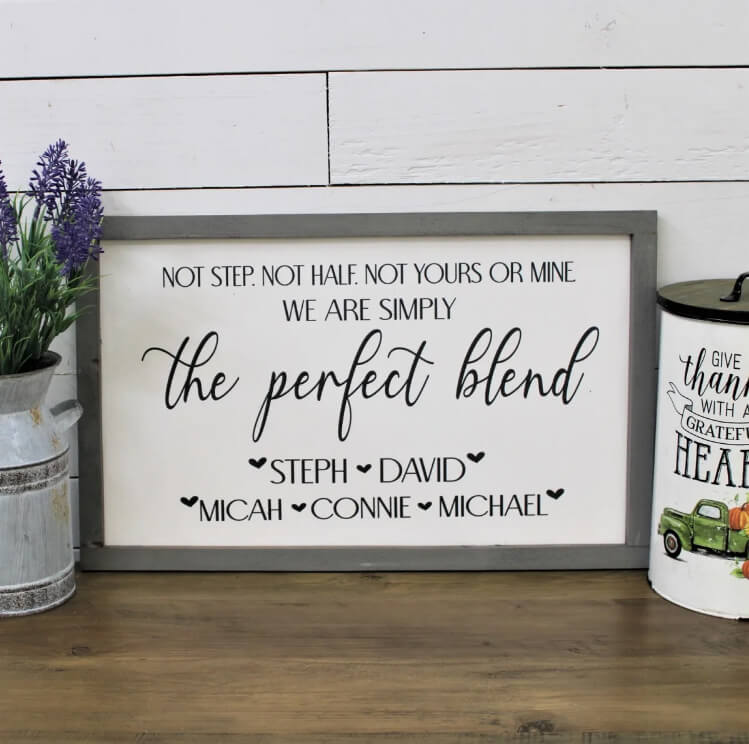 Make everyone feel welcome in your home with this modern farmhouse-style blended family sign. Forget the labels of yours and mine and turn instead to the perspective of ours when thinking of your children. In a world where there is no normal family, celebrate your unique situation or a friend's with this warm and thoughtful modern farmhouse sign.
9. Farm Themed Cork Art on Chicken Wire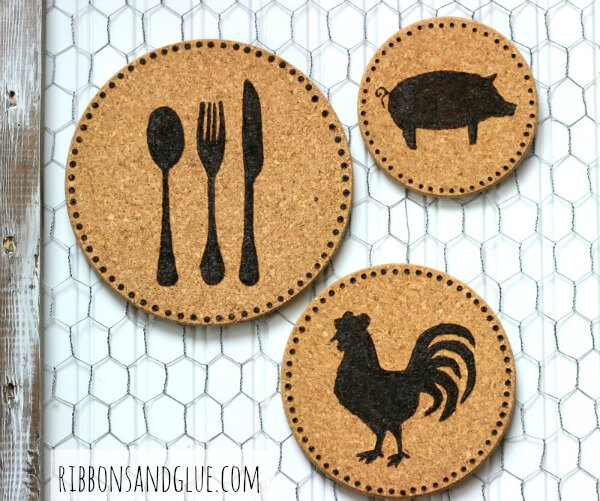 This unique piece of wall art features some of the farm's most-loved animals and one of everyone's favorite hobbies- namely eating! Circular cork rounds have been stamped in black to show off a set of utensils, a pig, and a rooster to channel that farm-loving vibe. Adhered to a backdrop of chicken wire, this interesting and original piece of wall art is a great gift for a farming friend or 4-H advisor who loves to help pass on the importance of agriculture and farming to the next generation.
10. Rustic Vintage Modern Farmhouse Milk Sign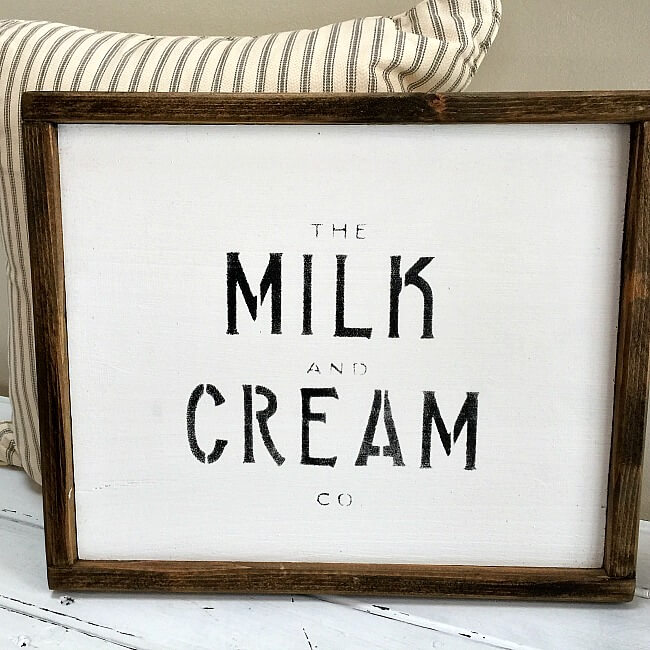 A warm and rich brown wooden frame adds some character to this charming milk and cream farmhouse sign. Feature it as part of your coffee station in your kitchen to highlight the best partners for your coffee beans. Fashioned in white and black, this sign continues the modern farmhouse feel of classic neutrals while blending in with other textures and pieces throughout your home.
11. Black, White, and Wood Farmhouse Porch Sign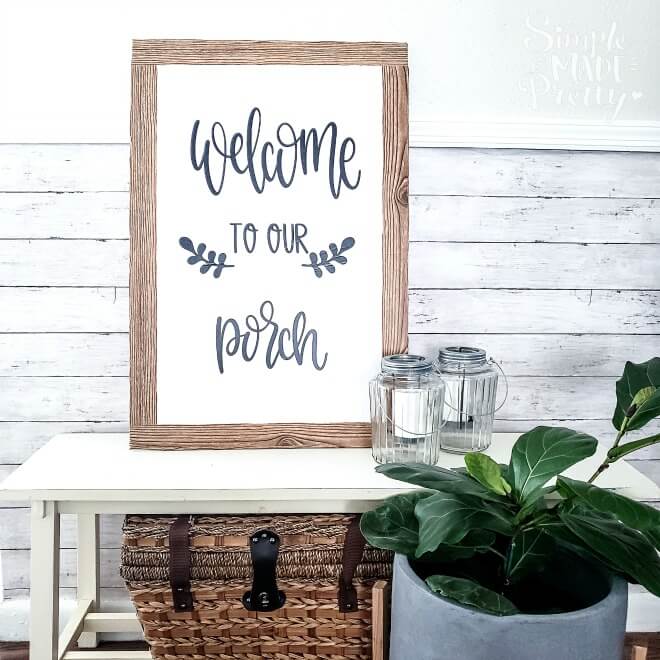 Tackle the three basic elements in modern farmhouse design to give the porch that looks and feel you love. Combining the classic color combination of black and white alongside a wood element makes for a perfect design for this style of decor. A sign created with this trio in mind offers a simple, yet beautiful accent to give your porch the curb appeal it needs.
12. Pretty and Pink Love One Another Sign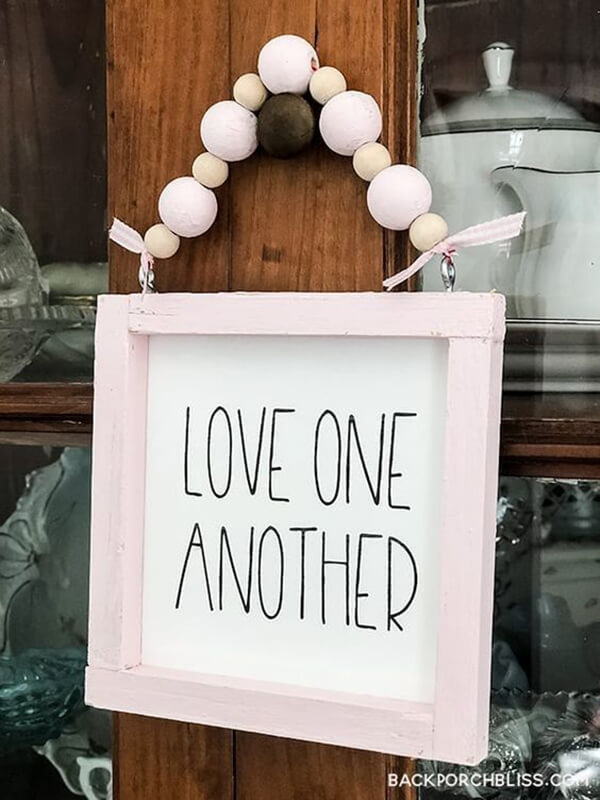 Hanging on a strand of large wooden beads, this cute and pretty farmhouse sign would be perfect for a little girl's nursery or dining room space. Written in Dunn fashion, the lettering adds the modern farmhouse flair, while the pastel colors set a calm and serene mood. With the chunky wooden bead hanging strand, it's easy to decorate on a doorknob or any hook on your wall.
13. I Will Follow You Christian Wall Art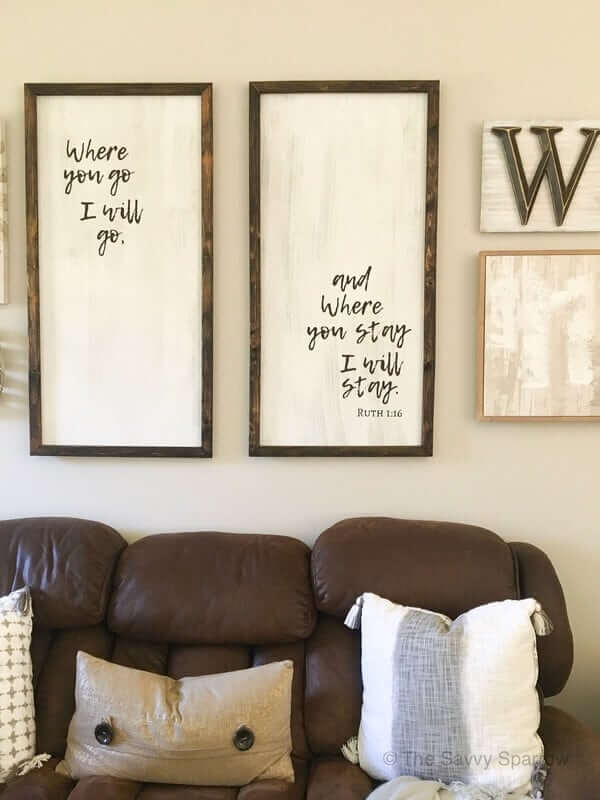 Enjoy this set of Christian-themed wall art that will make a bold statement on the wall in your home. Hanging above the couch, these two pieces partner up for a special Bible verse focusing on walking with God and trusting Him to lead the way. The simple and classic design with blank space and quaint lettering allows the message to remain strong. Give this to your preacher for Pastor Appreciation Week or enjoy it on any wall in the comfort of your own home.
14. How Great Thou Art Modern Farmhouse Sign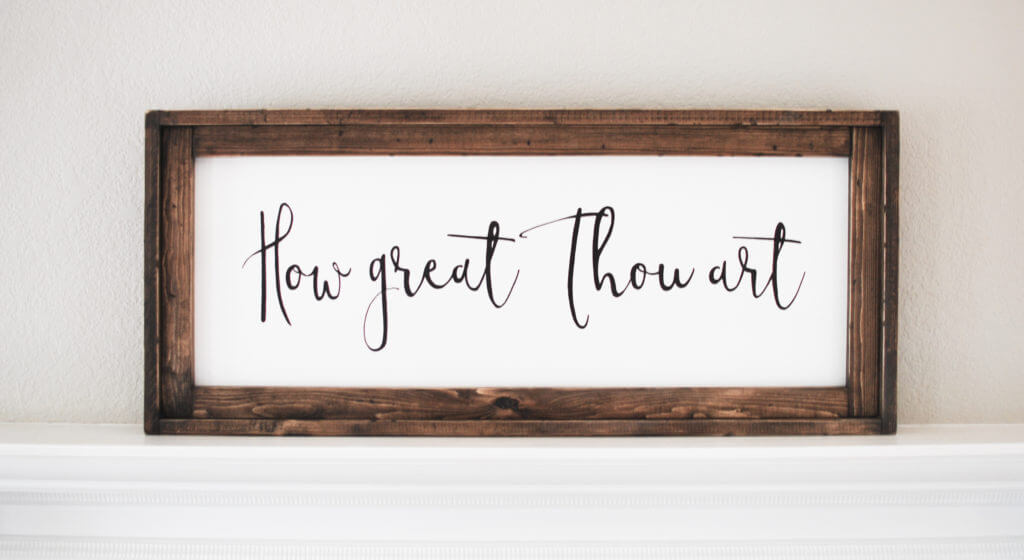 Written in a gorgeous script, this modern farmhouse sign makes a great addition to your home or a perfect present for a friend. The rectangular design enables it to hang in almost any spot of your home and looks exceptionally great above a doorway or window. Let this sweet sentiment serve as a gentle reminder to humble yourself as you face the world. Keep your priorities in line with the sweet submission of living your best life while honoring the creator of the universe.
15. The World Needs You Rustic Letter Art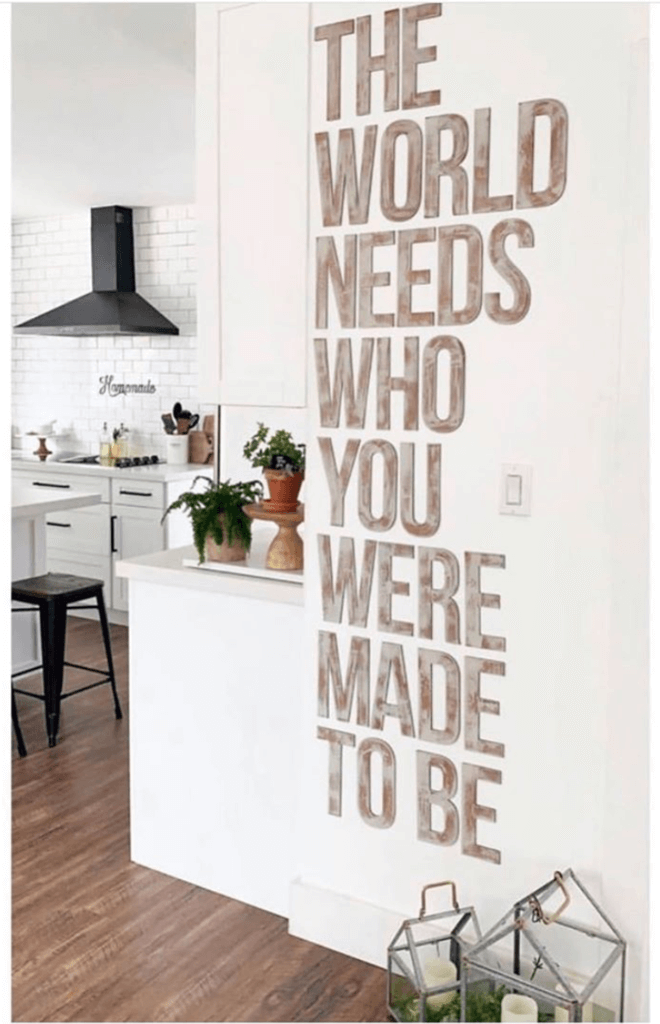 Give your home some encouraging words as you decorate it with these rustic and distressed large letters that form an inspiring and motivating wall art. Hang them in a vertical formation in your kitchen for added intensity to their meaning. You could also hang them horizontally down the hall or along with the large wall space behind your couch. They offer a simple sentiment in a large way with their big presence on your wall space. With a rustic and distressed finish, they work wonderfully in the white and wood look of your modern farmhouse design.
16. Subway Tile Design Gathering Place Sign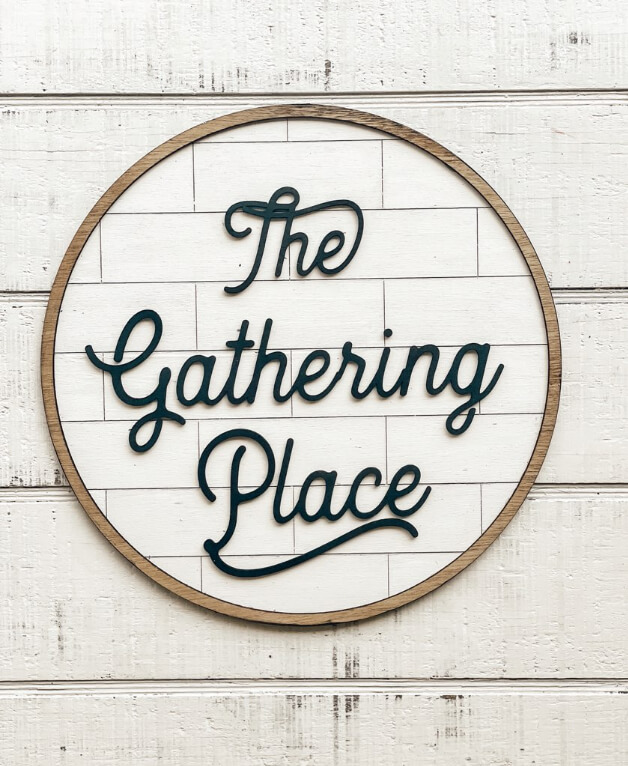 Infuse your home with a sign that has a modern feel with a lived-in appeal. This round sign features the scripted "The Gathering Place" to give a name to the space in which everyone loves to congregate. Your family and friends will feel right at home as they sit down and relax in the heart of your house that feels like home to everyone. Using a classic subway tile pattern as the background, this sign would look beautiful on a wall in your home or hanging on your front door.
17. Yellow Buffalo Plaid Fresh Lemonade Farmhouse Sign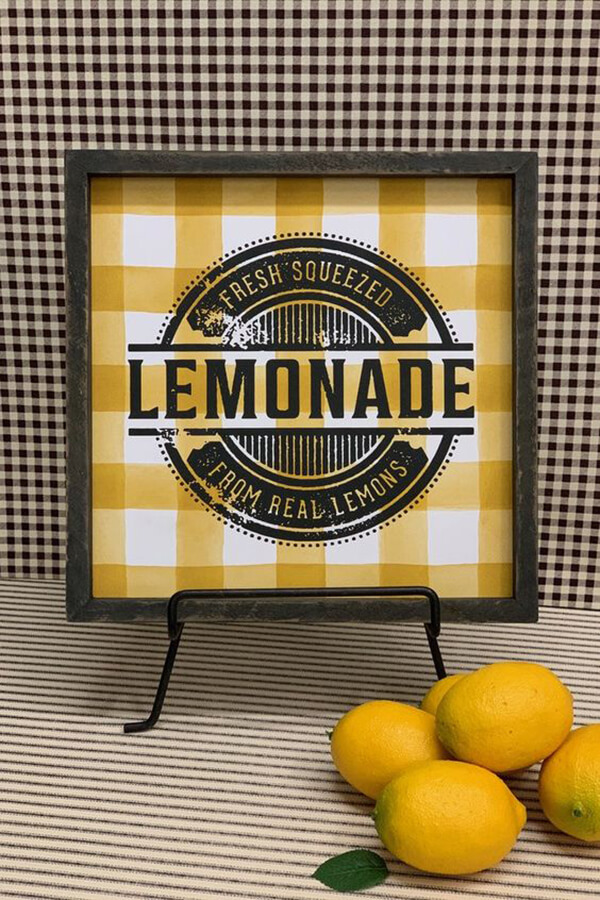 Nothing welcomes summer more than yellow plaid and lemonade. Give a warm nod to the dynamic duo with the addition of this charming farmhouse sign for your home. It would brighten up any summertime display or look equally cute standing on its own. The richness of the yellow plaid will certainly pop in your mostly white modern farmhouse space. Pair it with a mason jar vase filled with fresh flowers or a large bowl full of lemons for more seasonal flair.
18. I'll Choose You Set of Farmhouse Signs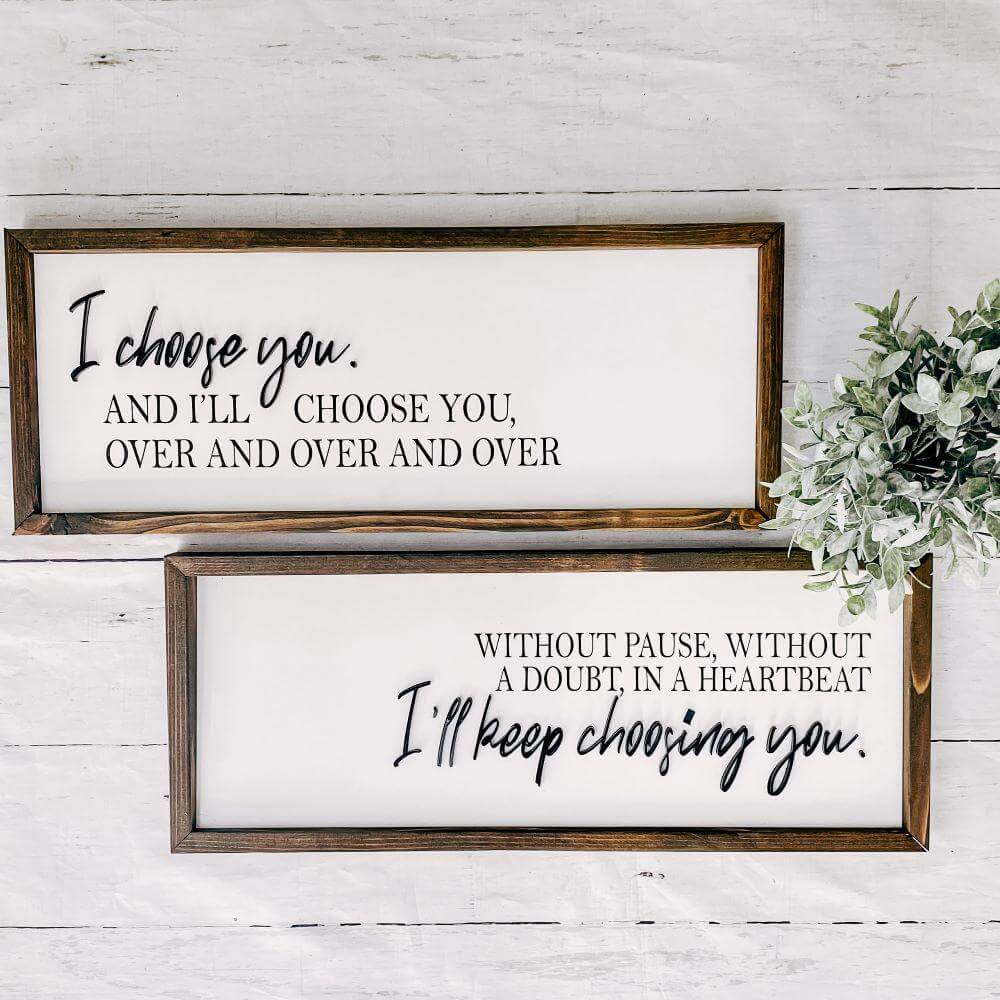 There's always room for romance in the home and you can mix it in without being mushy! These farmhouse signs are crafted in the classic white background, black lettering, with wood trim that you've come to love in modern farmhouse decor. Paired together, they add visual interest to an otherwise boring wall space. Over the head of the master, bed is where they'd look amazing as the bold statement in the room. Or they would be charming and cozy in the main living space of the home for everyone to see.
19. Fresh Goodness Farm to Table Farmhouse Sign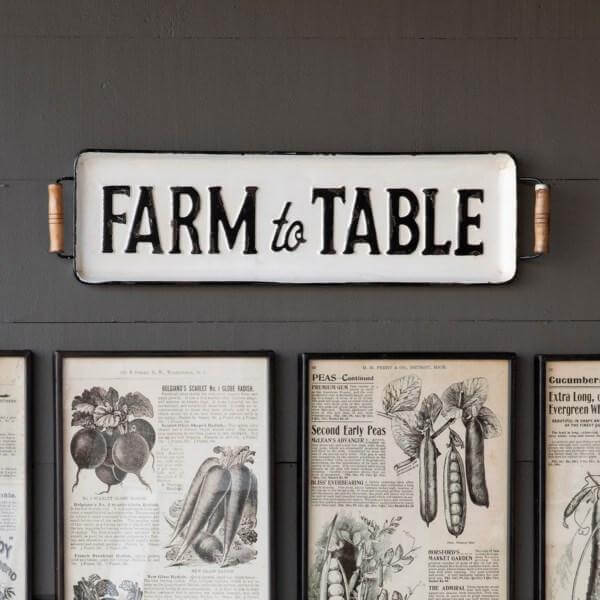 Nothing tastes better than fresh fruits and vegetables. Farm fresh goodness ties right into the design in mind when decorating in a modern farmhouse theme. Paying homage to this country staple, your kitchen will adore this charming white and black sign showing off the bounty of your harvest. Mix in some vintage magazine pages featuring produce and gardening to complete the entire look.
20. Lovely Laser Cut Wooden Leaf Square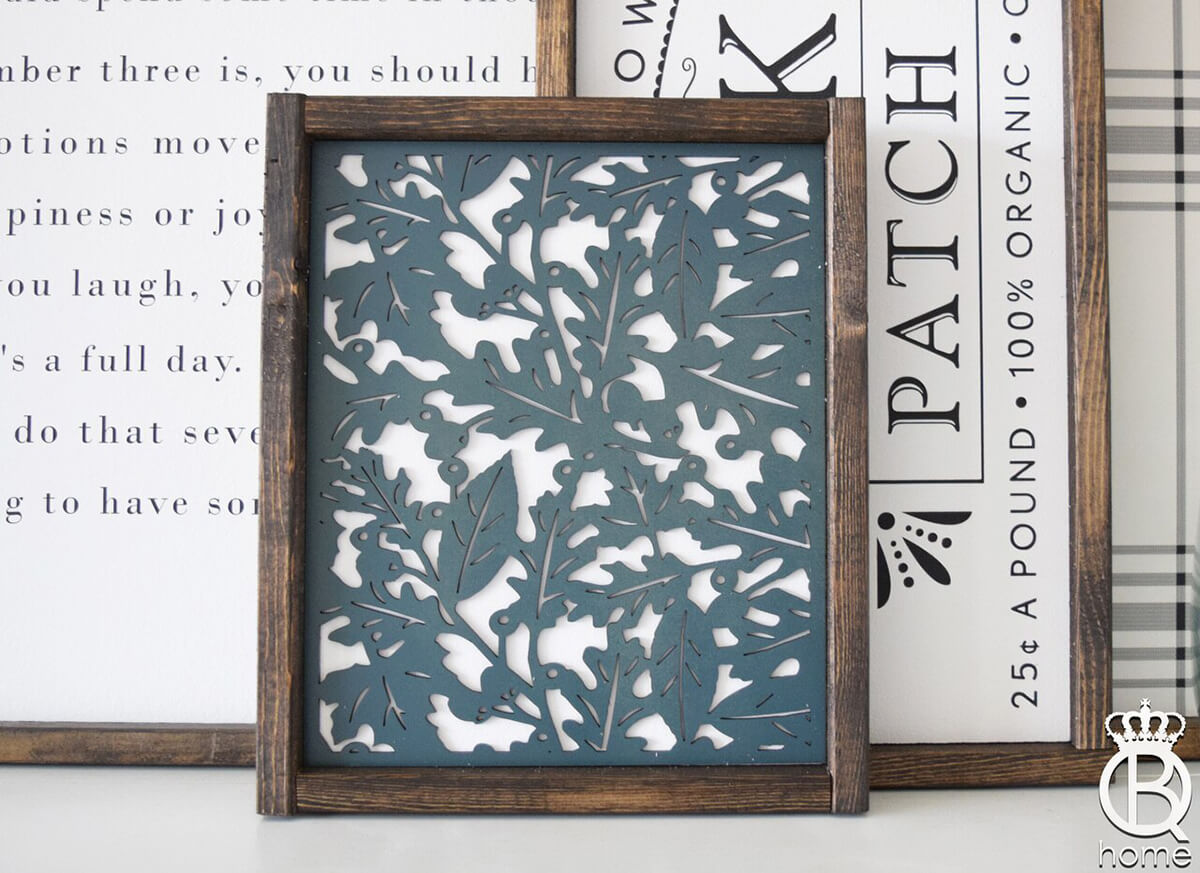 Enjoy the beauty offered from all of the intricately detailed workings of today's laser cutters as you own a piece for your personal collection. You'll combine your love of nature with design as you enjoy this square tile sign that features a delicate laser-cut collection of leaves to achieve a unique wooden wall art piece for your home. In your choice of stain or paint, the design will look even more beautiful in its one-of-a-kind patina that gives each piece a distinct look and feel.
21. Heart of the Home Wooden Kitchen Tray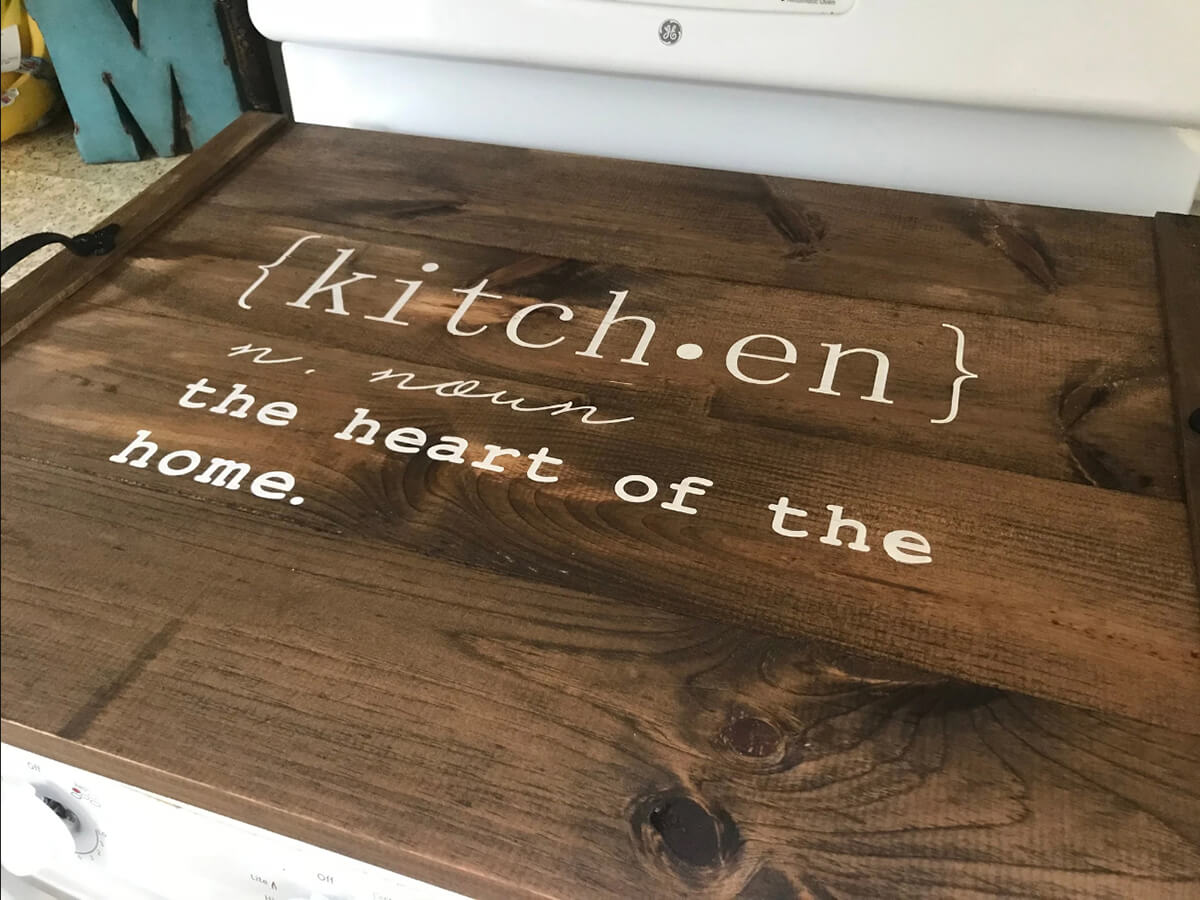 Those who love to cook as well as those who love language will enjoy this decorative wooden kitchen tray. The deep, rich stain shows off the beauty of the natural grains and knots in this wood adding loads of character to the design. With black metal handles, you can carry this tray if you choose to use it for serving too. The vinyl white lettering of the dictionary definition of kitchen adds a charming touch to this home decoration that's perfect for your modern farmhouse.
22. Farmer's Market Tray Wall Art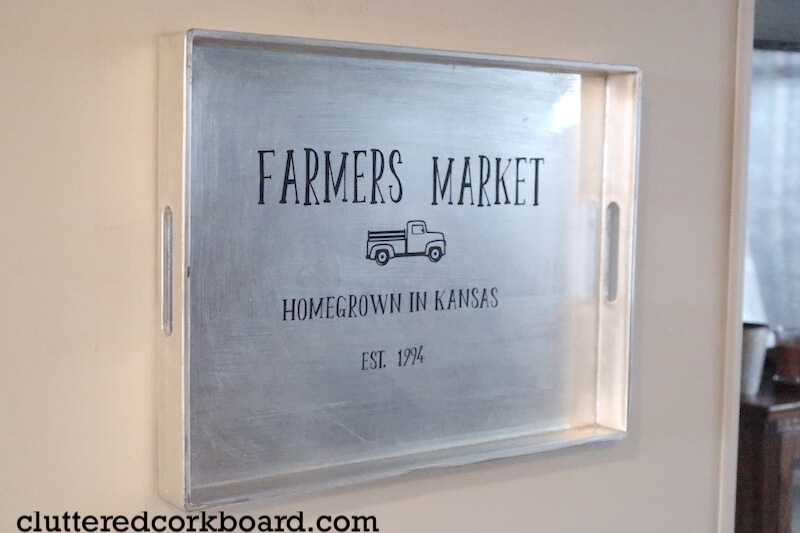 Turn a traditional serving tray into a piece of modern farmhouse wall art with a farmer's market reference and vintage truck. The silver sheen echoes the stainless steel appliances as the embellishments infuse the farmhouse appeal. Hang this on the wall in your kitchen, dining room, or as you enter from the back door. Make it personal by including the couple's wedding year and state of residence in the design.
23. Botanical Single Stem Flower Art Trio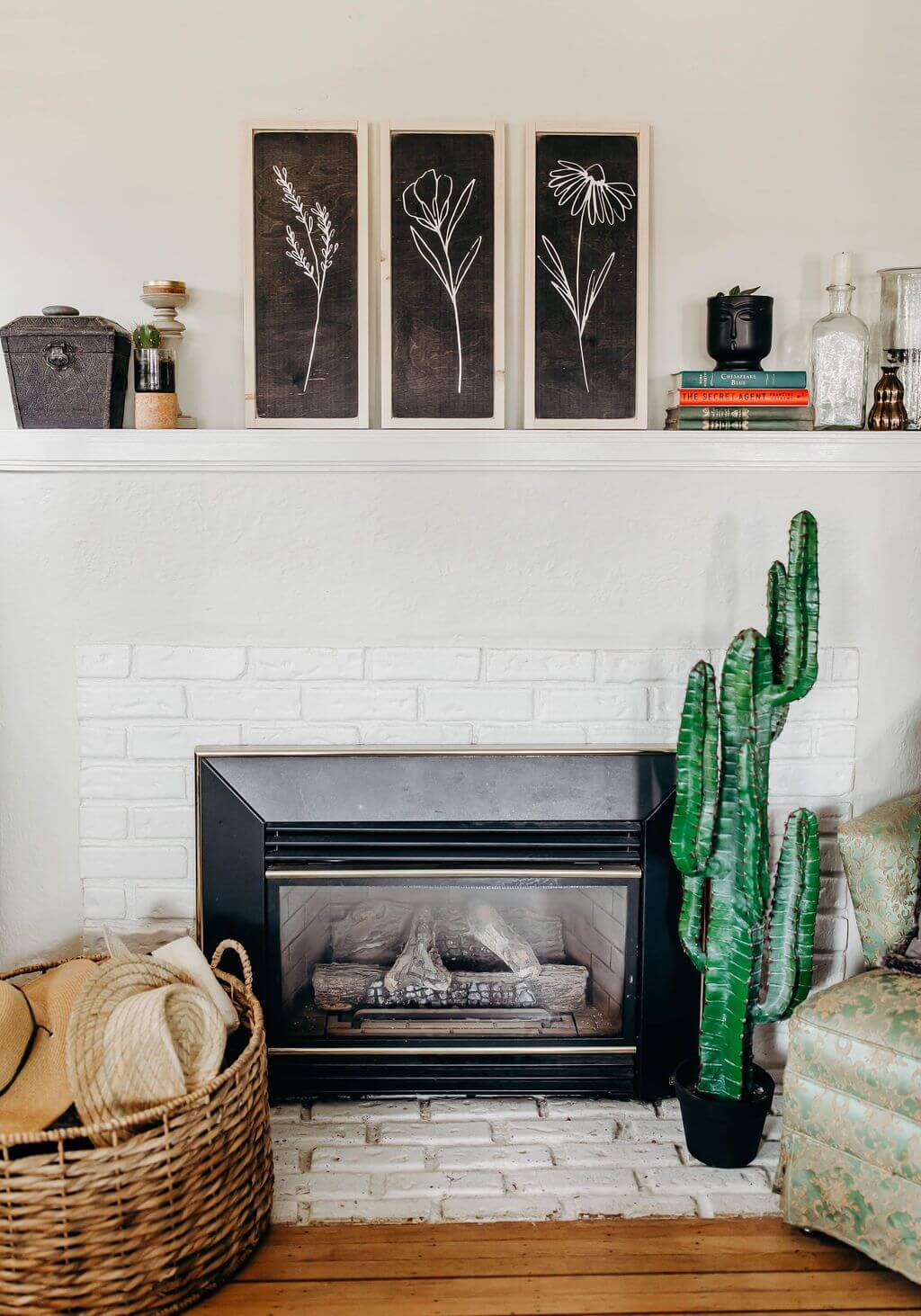 Hanging above your mantle or down the hall of your home, this trio of single-stemmed flowers blends right in with the modern farmhouse design you crave. With a black stained wood background, the white flower stems really stand out and are complemented by the white trim of the frame. Another great location for these three beauties would be above the headboard of your bed.
24. Many Names of God Farmhouse Sign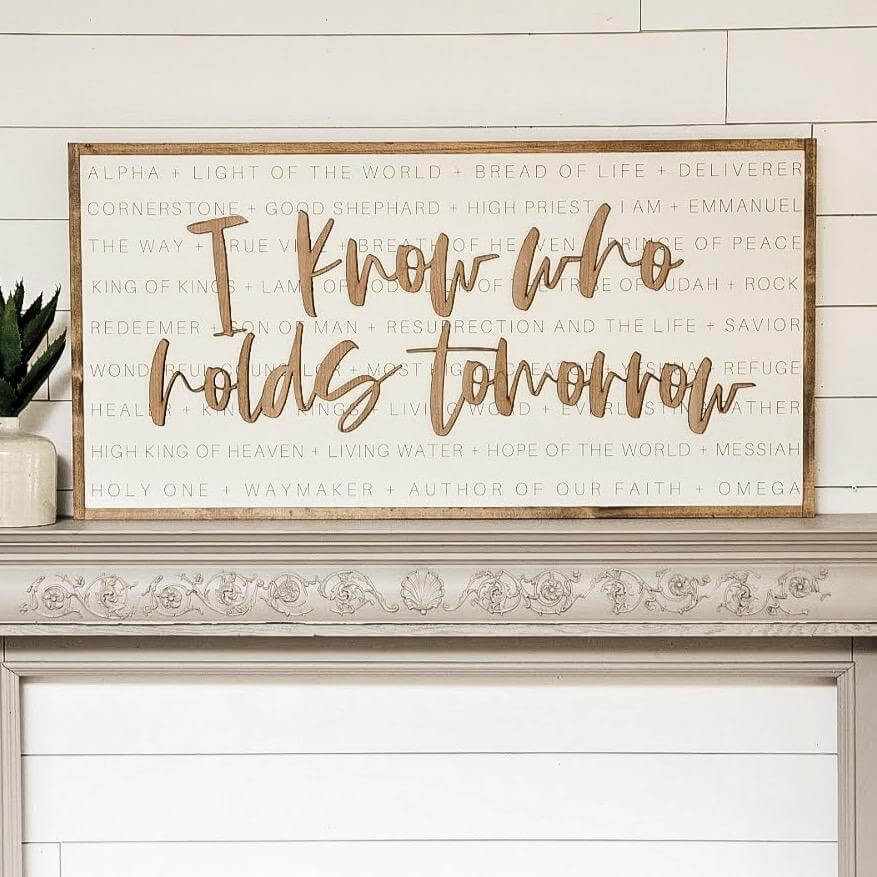 From the Good Shepherd to the Bread of Life, you'll easily recognize the multitude of names that refer to our Lord God Almighty. His overwhelming presence and power is evident in the many ways we identify his grand existence. Place this long sign on the mantle for all the world to see your faith openly displayed in the comfort of your own home.
25. Song of Solomon Romantic Farmhouse Sign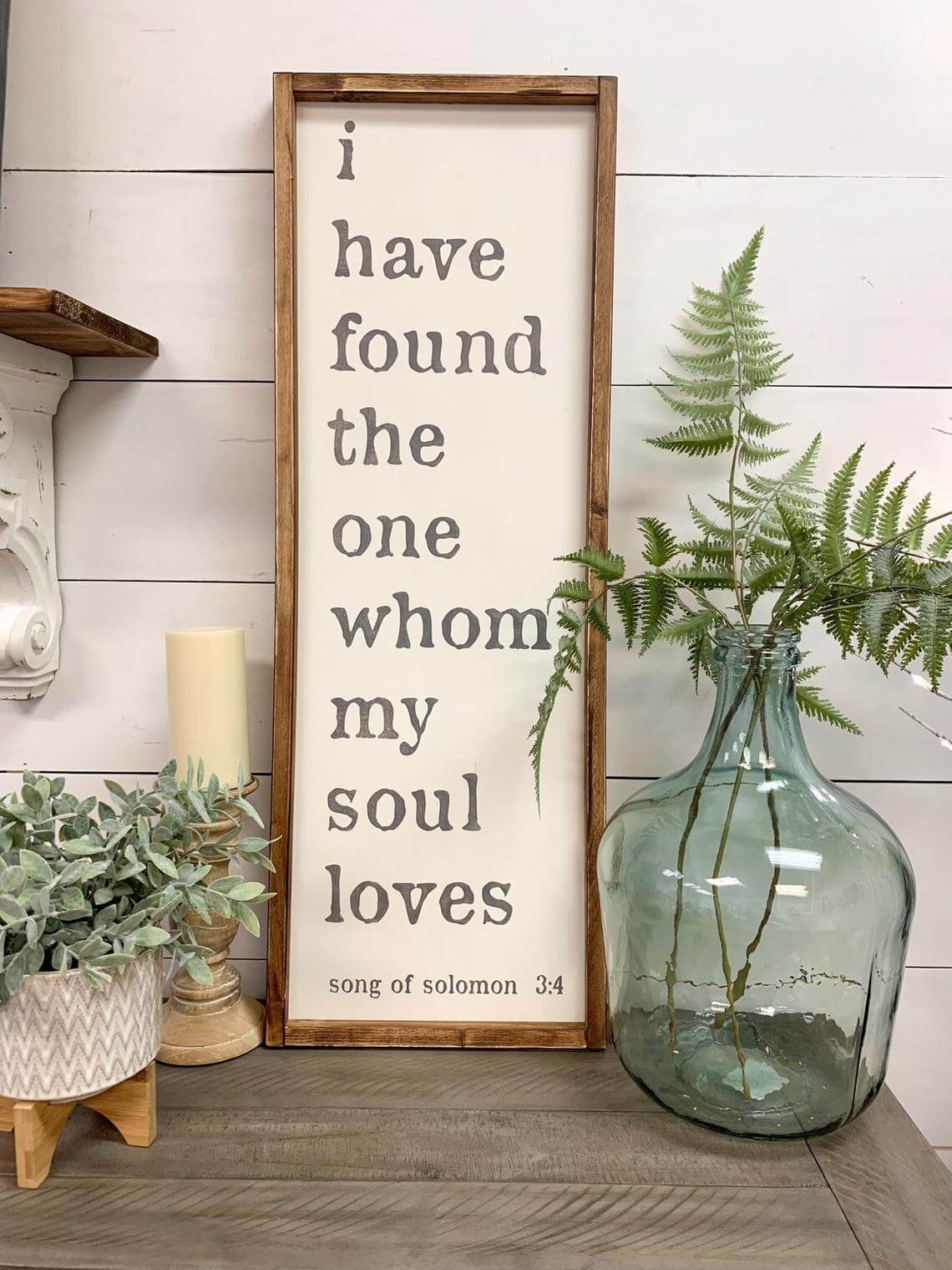 Closely resembling a sonnet from the Renaissance era, this farmhouse sign features a verse from the Bible that reflects the joy of discovering your soul mate. Whether you are a romantic at heart or not, this sign makes a great accent in the soft and serene setting of your master bedroom. Any newly married pair would adore receiving this sign as a gift to help commemorate their special day!
26. Comfy and Casual At Home Wall Sign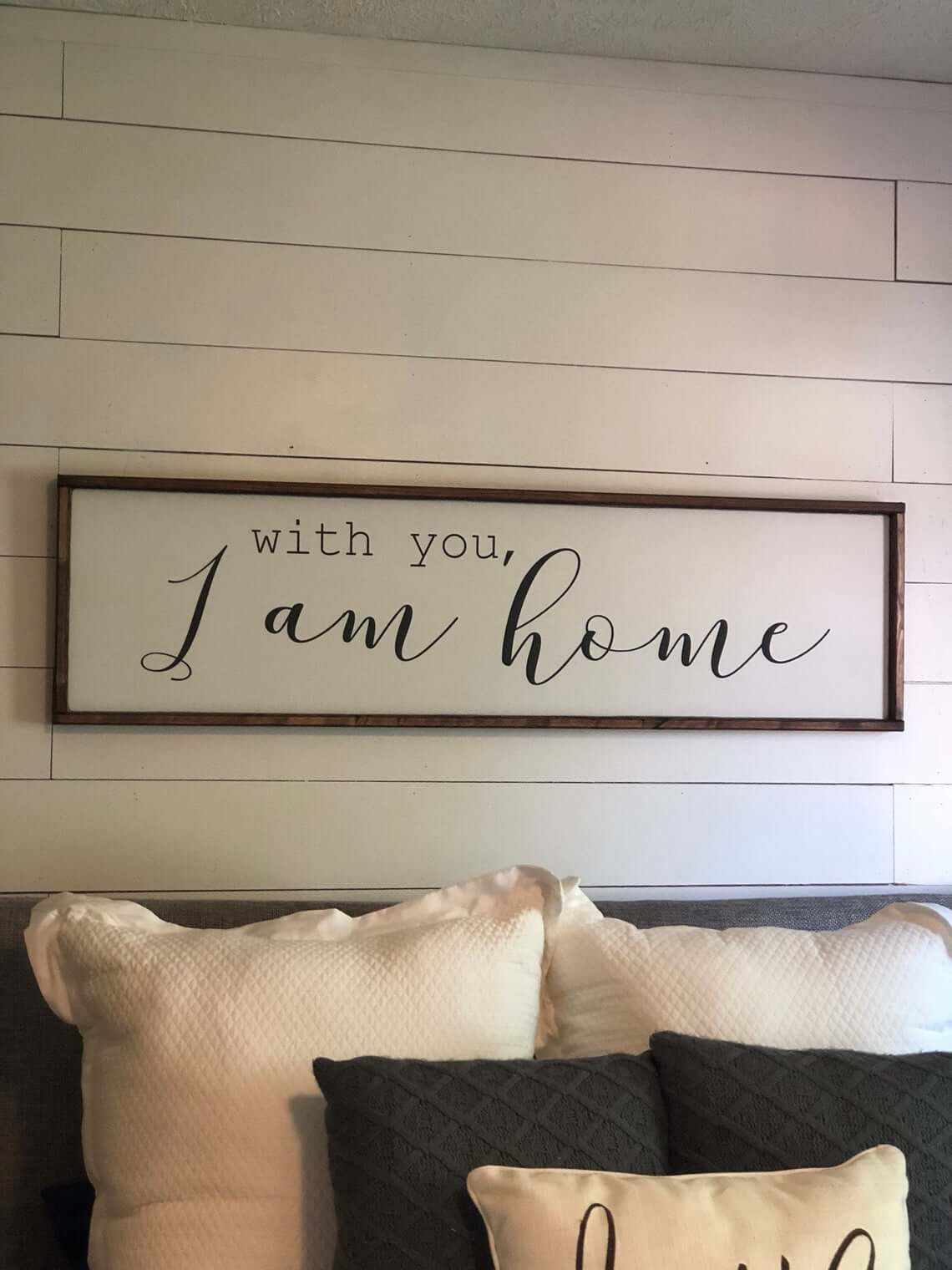 Farmhouse signs with simple phrases are always a hit with home decor lovers. The use of two different fonts in this sign adds to the interest and appeal as a welcomed accent sign for your home. Stretching across the wall above the sofa or overhead of the main opening in your living room, this sign works well in your modern farmhouse design.
27. Modern Farmhouse Moment I Loved You Sign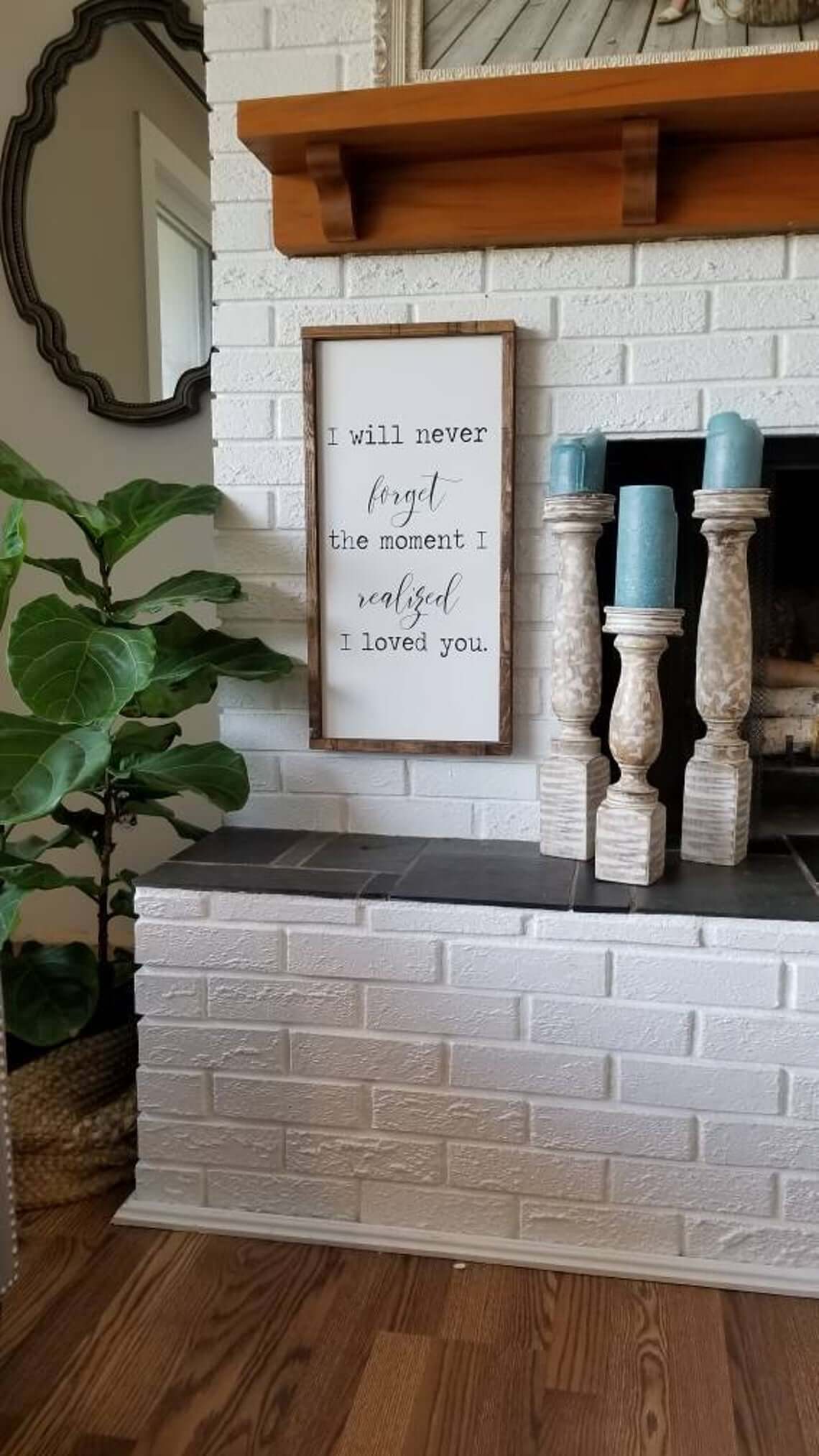 Sometimes it only takes a few words to share the sentiment you feel for someone and this modern farmhouse sign states it quite simply. With a thin rustic wooden frame, this sign utilizes white and black to create the essential palette for achieving your farmhouse goals. Near the hearth or beside the bed, this lovely sign is a kind way of reminding your nearest and dearest just how special they are and how much they mean to you.
28. Rustic Farmhouse Bee Kind Small Sign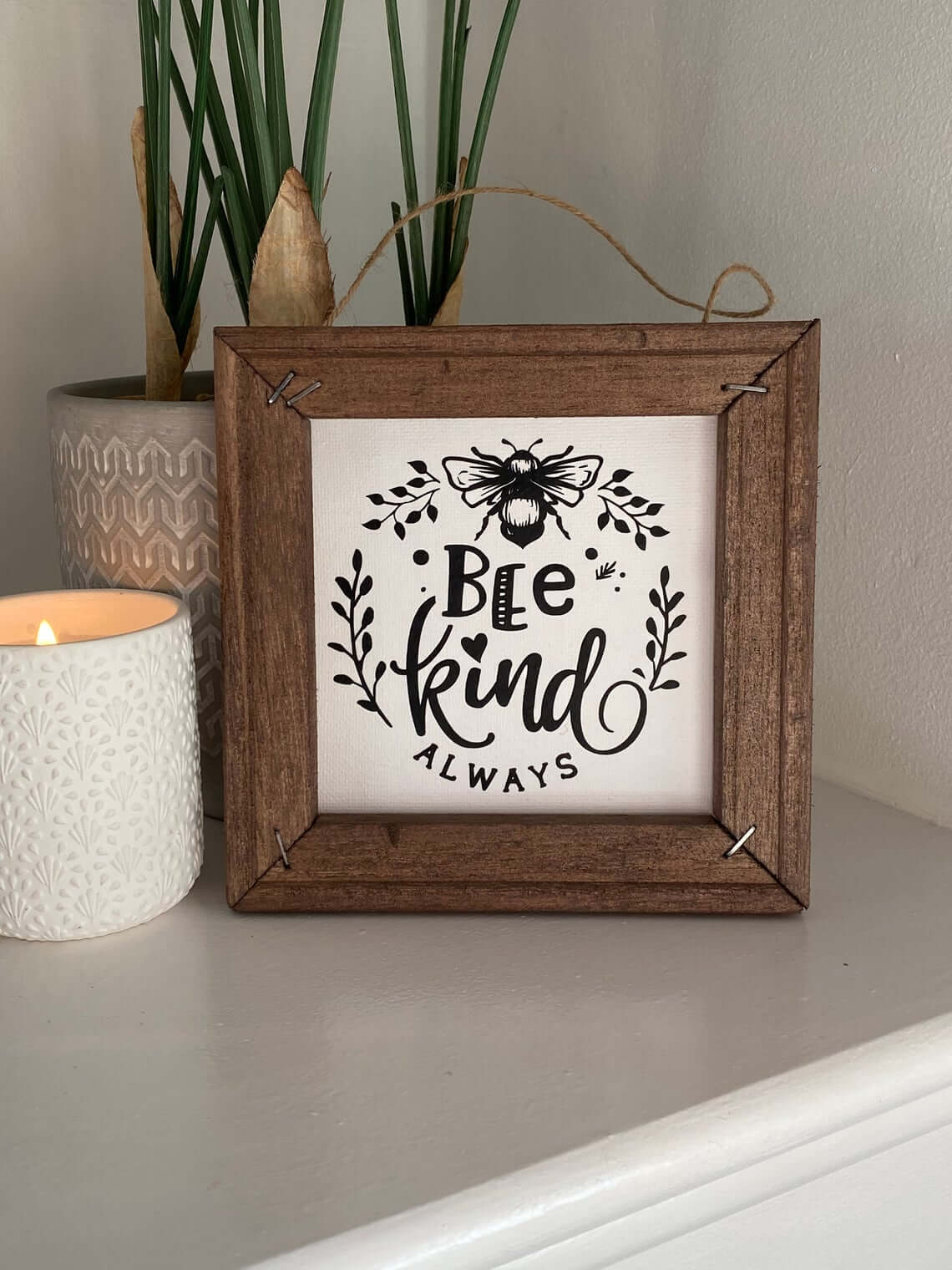 A warm wooden frame borders this sweet and small sign with the use of staples to infuse some character into this farmhouse design. Paying homage to the sentiment of always being kind, this decorative sign fits within any of your existing tabletop displays or can sit alone on a windowsill or shelf. Including a bee picture, this would be a great summertime display in your trendy tiered tray.
29. Kitchen Sign for Luck and Good Food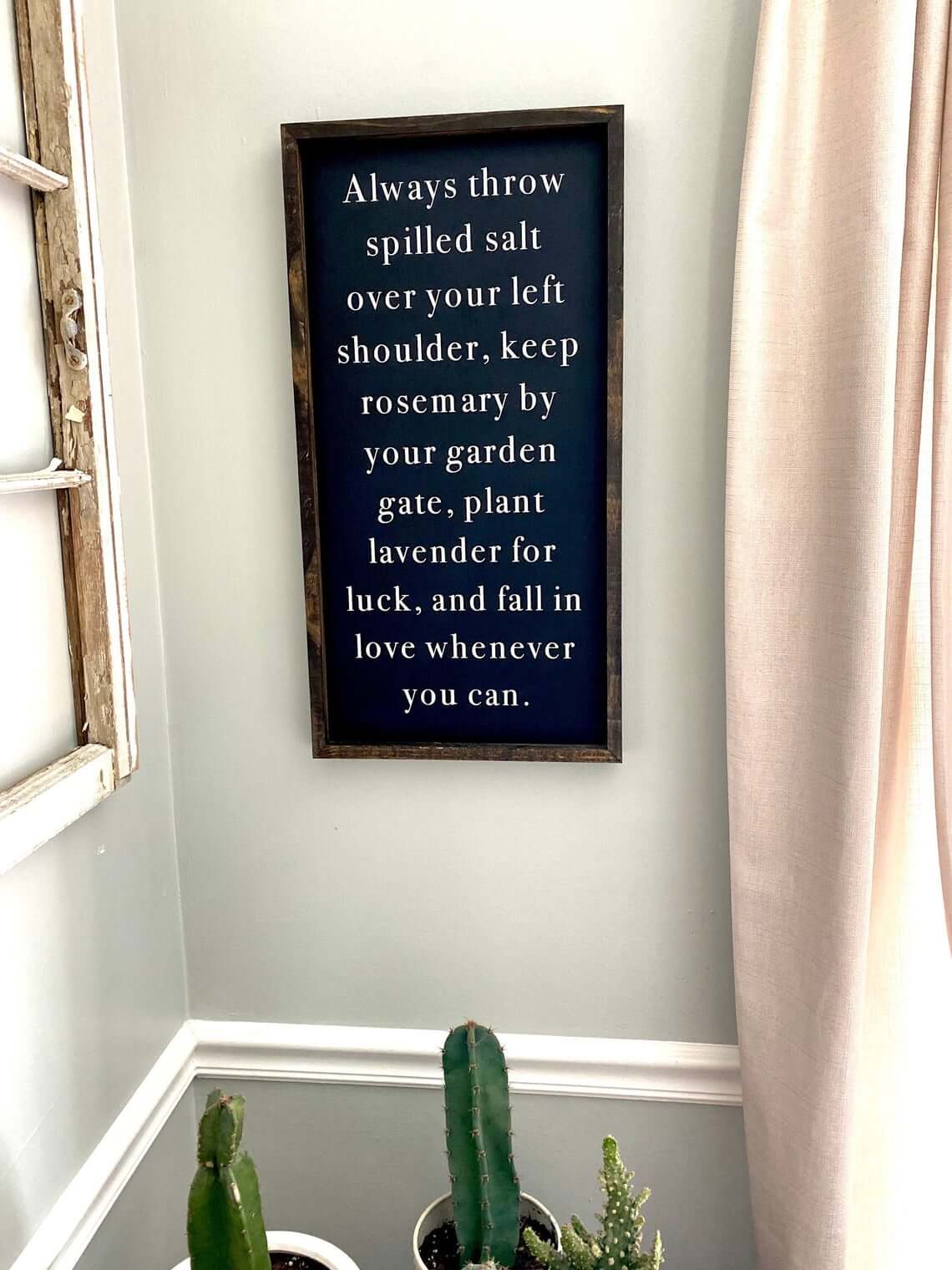 Plan and prepare your family's favorite dishes in your kitchen as this loving and fun sign adorns your wall space. From throwing some salt over your shoulder to planting some rosemary, you'll enjoy the cooking references that have most likely been passed down in the generations of your family. The dark wood trim with the black background makes this sign a statement piece that looks like an elegant styled modern farmhouse decoration.
30. Blessings Around the Table Family Prayer Sign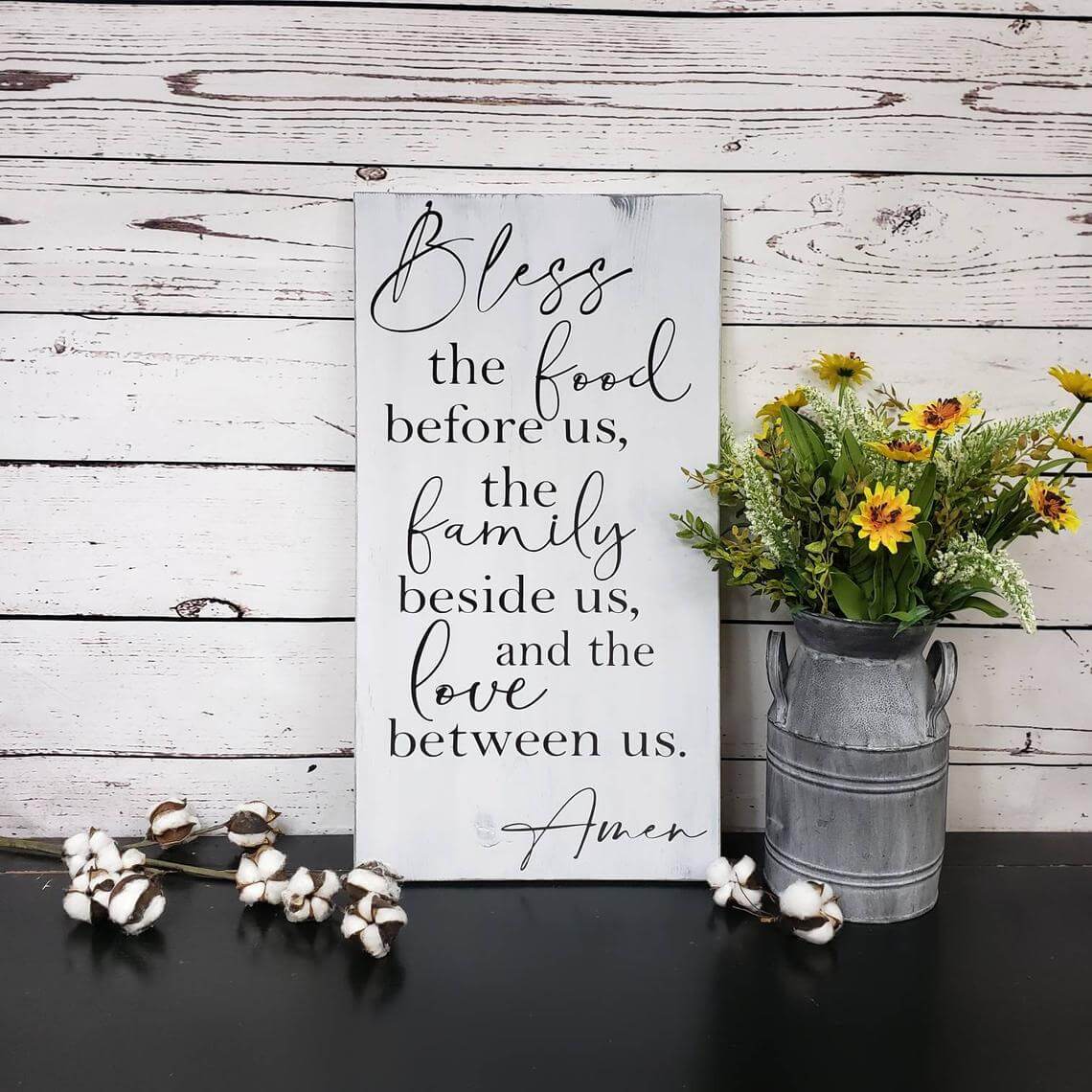 One of the most popular and easiest prayers to recite that gets right to the point of giving thanks is featured on this farmhouse sign. A great choice for your dining room, this farmhouse sign blesses the food, family, and love shared as everyone joins together for a home-cooked meal. Help your kids feel more comfortable saying grace by featuring this sign for them to quickly glance at when they fret about blessing the food at family meals.
31. Kitchen Humor Lick the Spoon Farmhouse Sign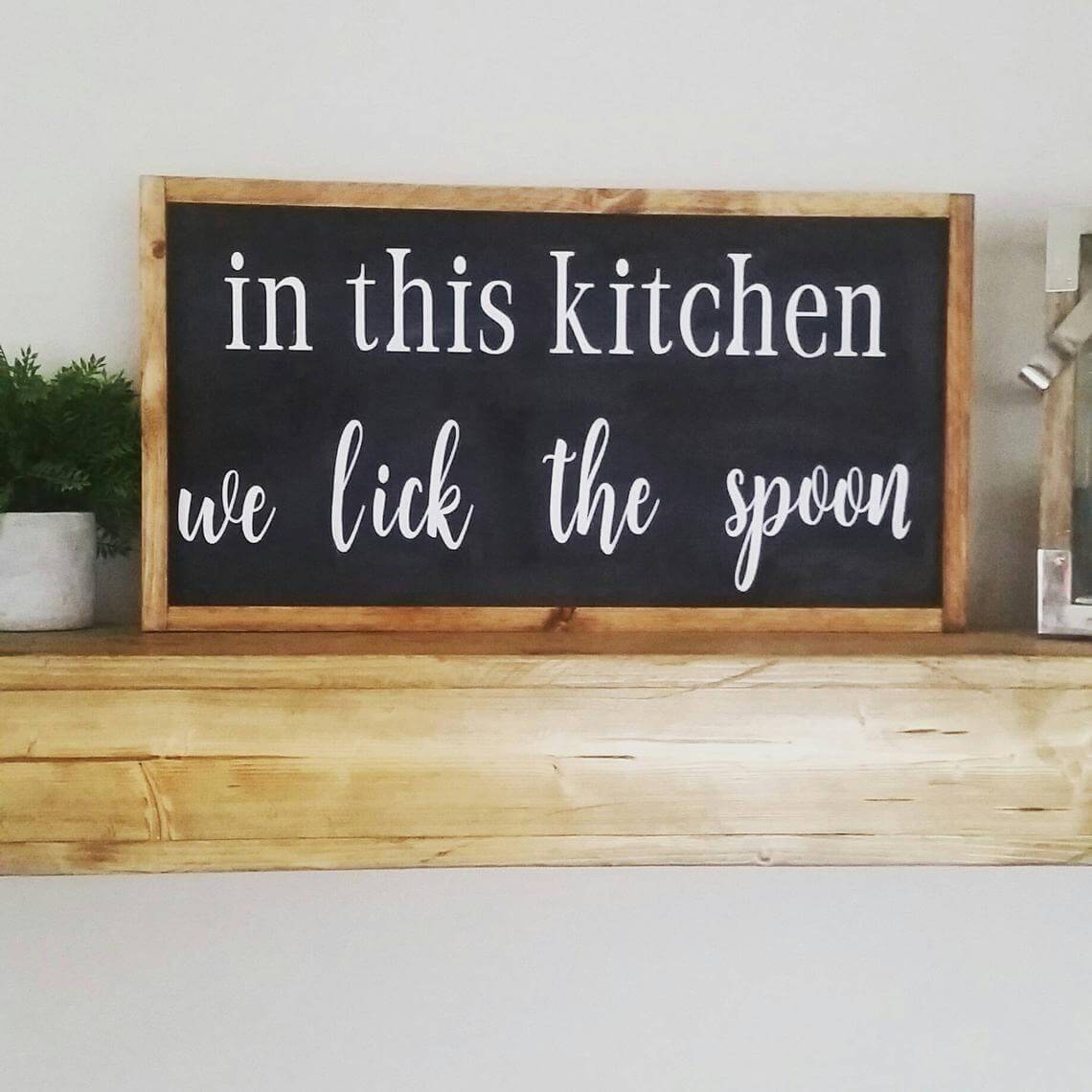 It's always a great idea to sprinkle some humor into any recipe in your kitchen so adding a funny farmhouse sign seems like a great fit! Highlighting the phrase, "in this kitchen we lick the spoon" is a fabulous gift idea for a grandma who simply adores sharing the love of baking with her sweet grandchildren. Keep the memories (and the mess) in her kitchen as you encourage many more brownies and cupcakes with the gift of this funny farmhouse sign.
32. Oversized Vintage Style Grateful Heart Wall Art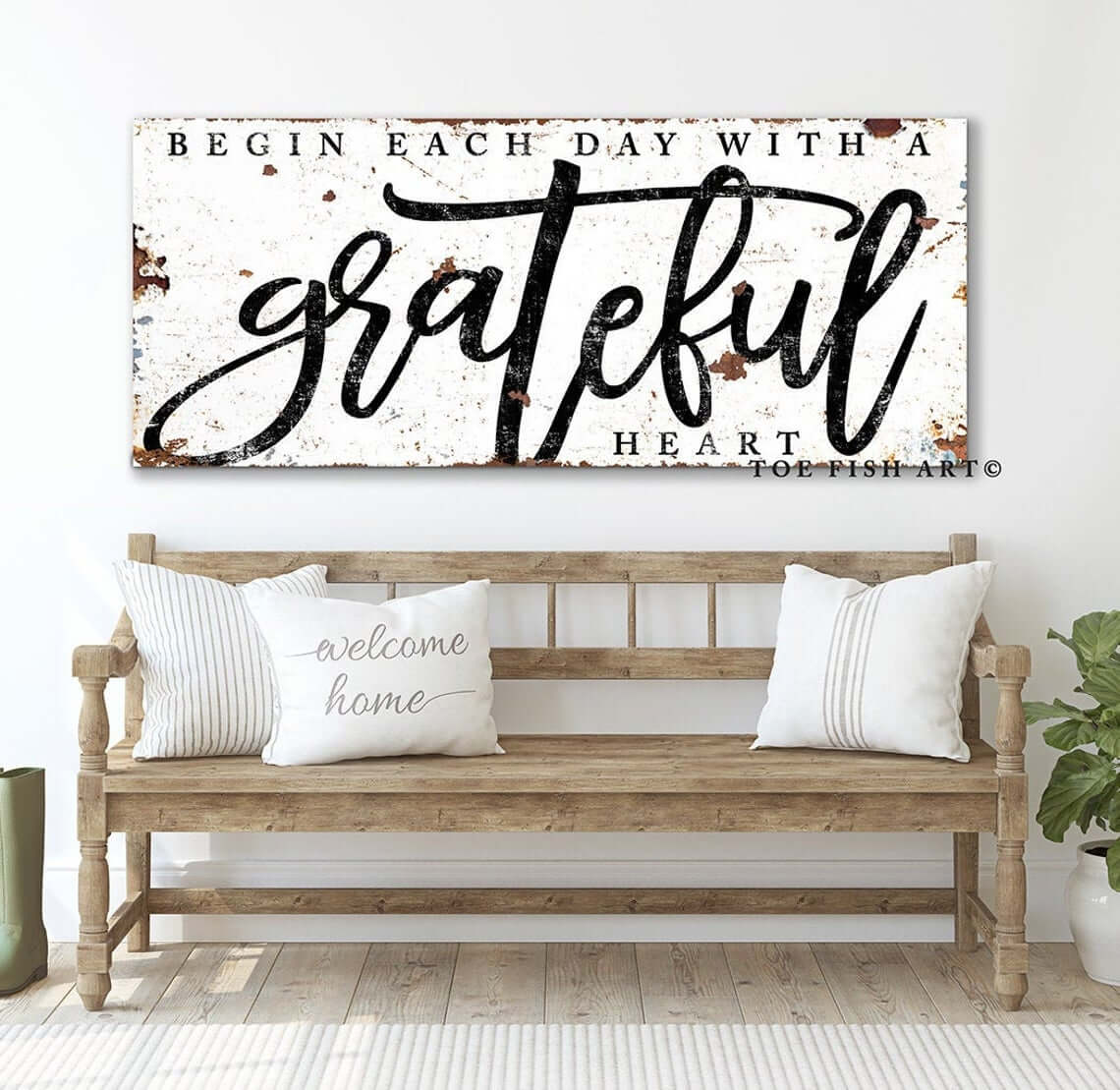 Hang this oversized vintage sign above the bench in your entryway or mudroom to tell everyone the importance of having a grateful heart. In a simplistic home design, this super-sized sign makes a bold statement on your wall. The use of black and white colors keeps the farmhouse feel flowing into every corner of the room. If you have a large porch, this would look amazing hanging there as well.
33. Black Metal Our Little Coop Sign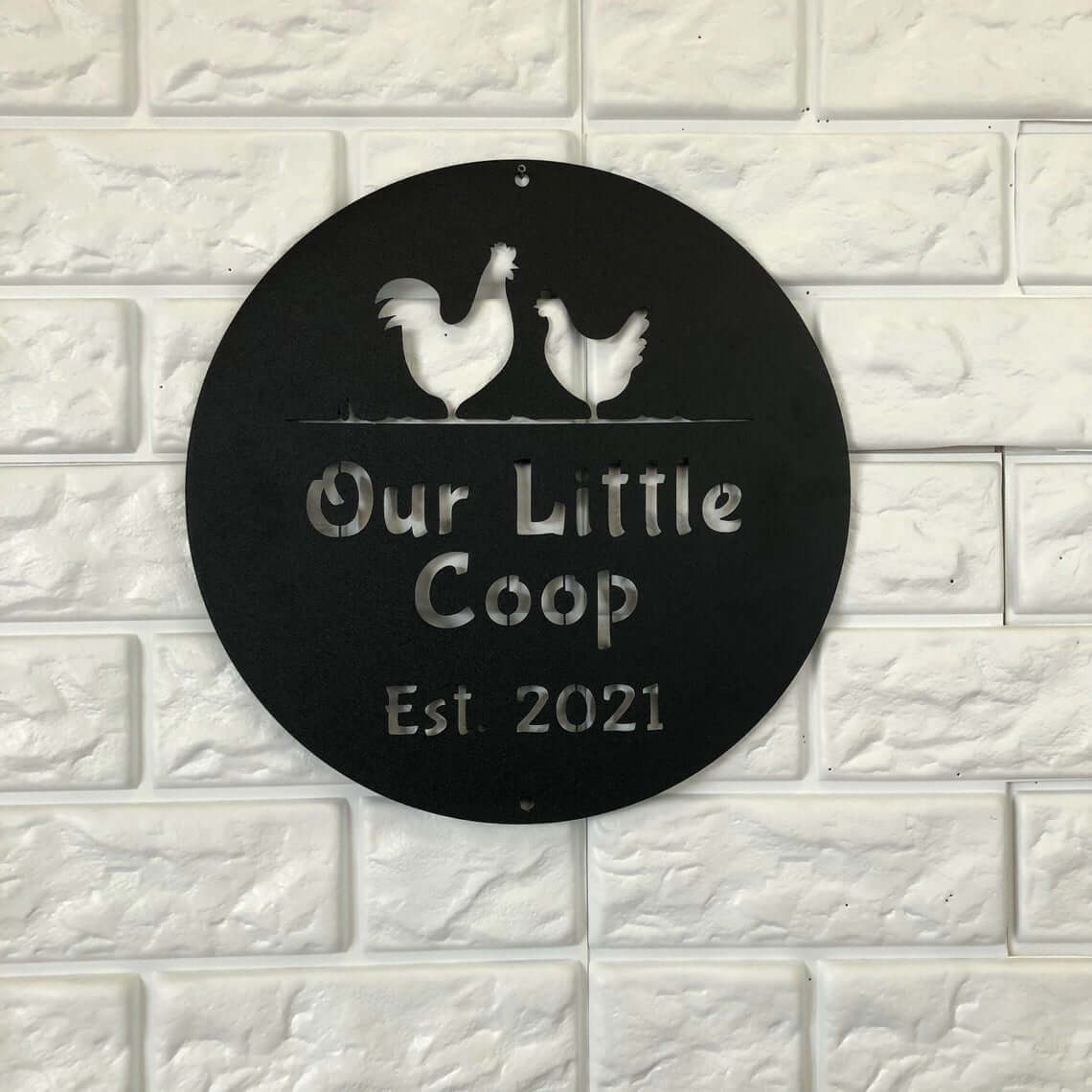 Incorporate the smooth simplicity of metal into your modern farmhouse design with this cut-out black metal sign. With a custom date to recall the year you became a family of your own, this cute chicken sign is the perfect touch for hanging over your stove or above your sink. With a pair of chickens highlighted in the design, your own heart of the world will enjoy this sentimental decoration.
34. Simple Upper Case Farmhouse Sign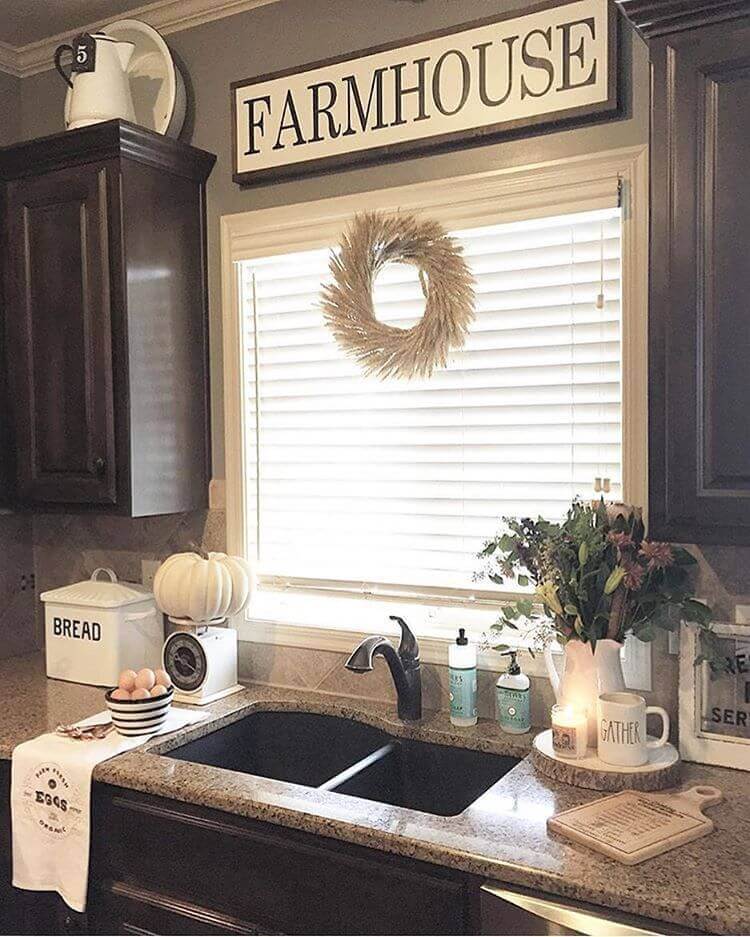 35. Inspirational Saying on a Vertical Sign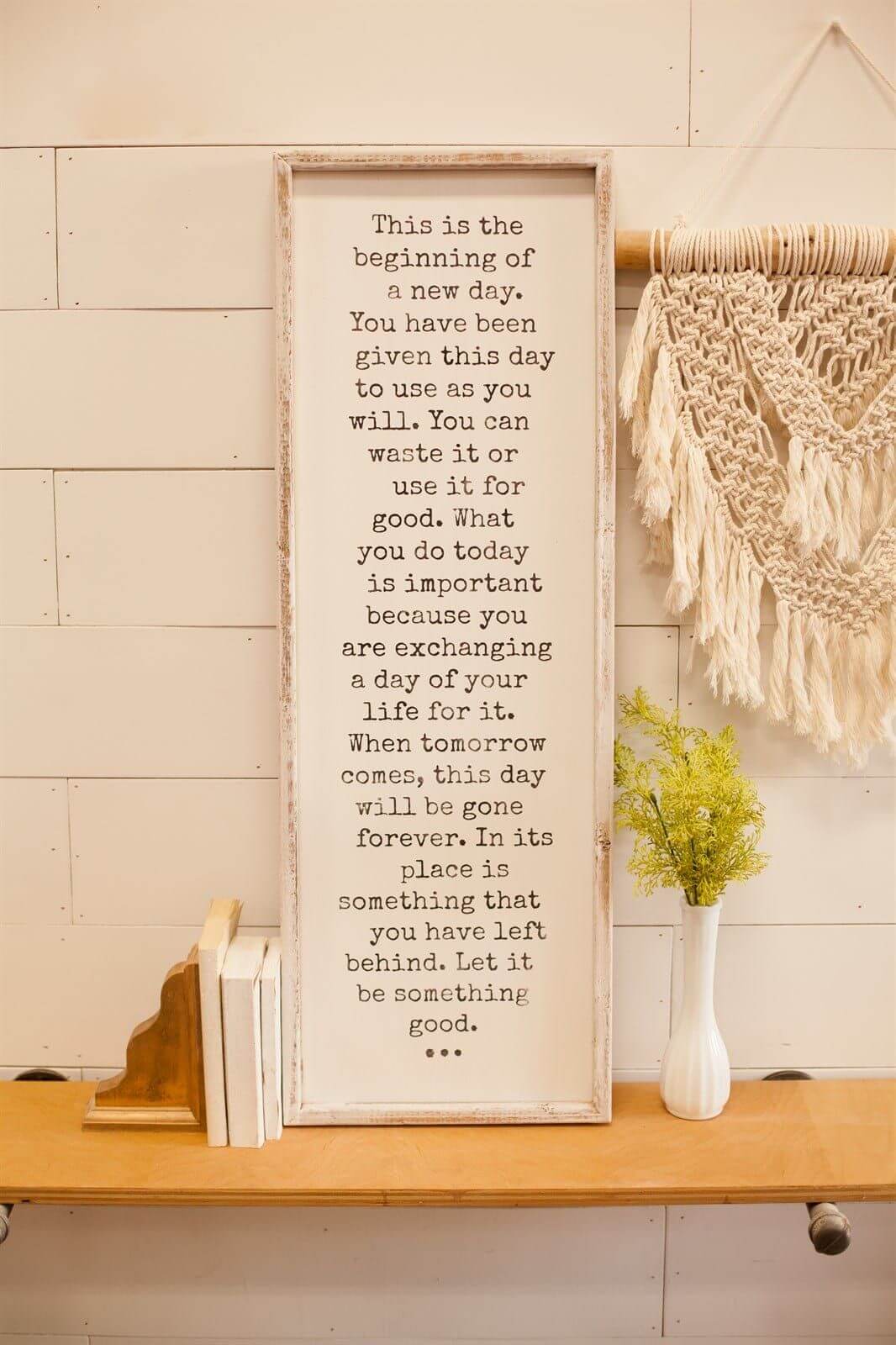 36. Farmer's Market This Way Sign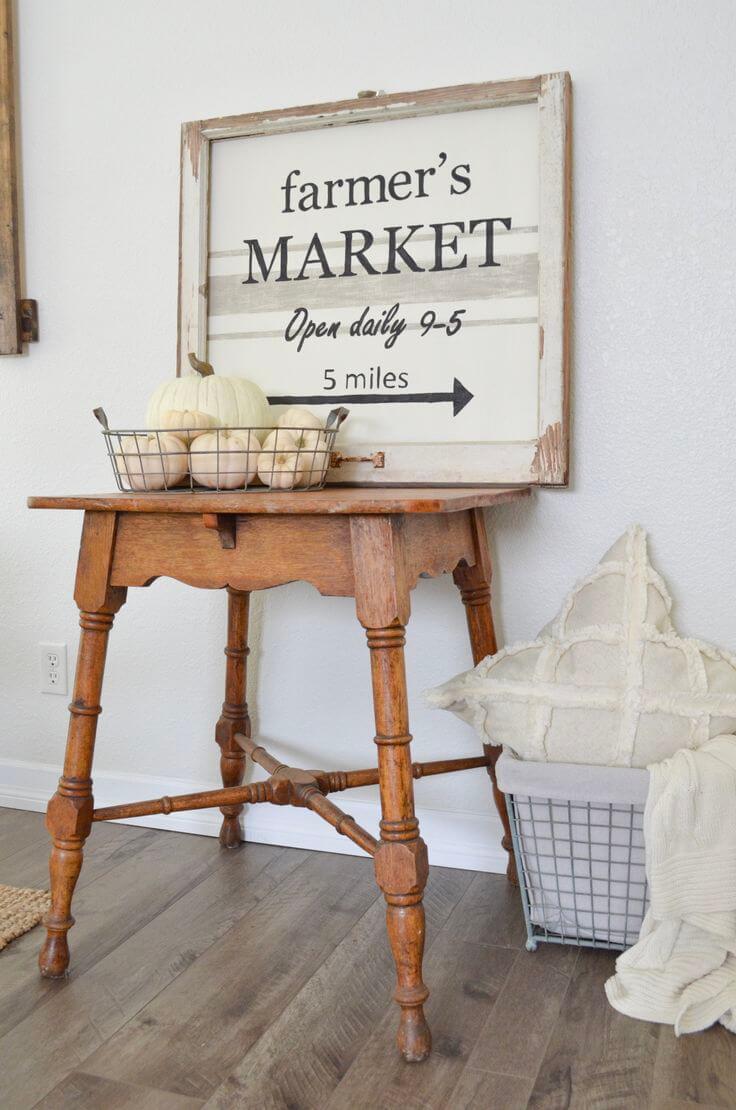 37. Chalkboard Sign with Biblical Saying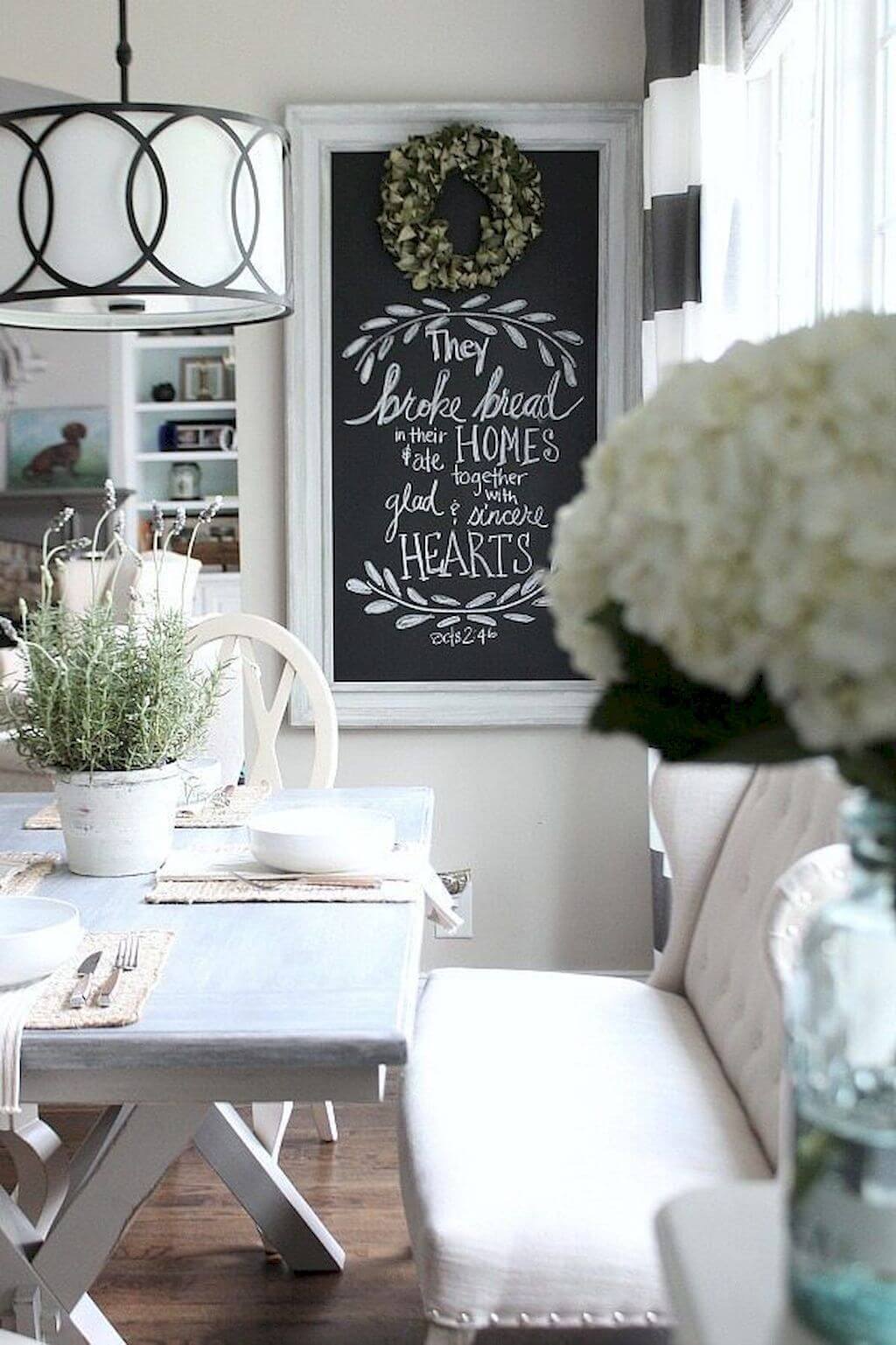 38. "Family" Sign with Reclaimed Wood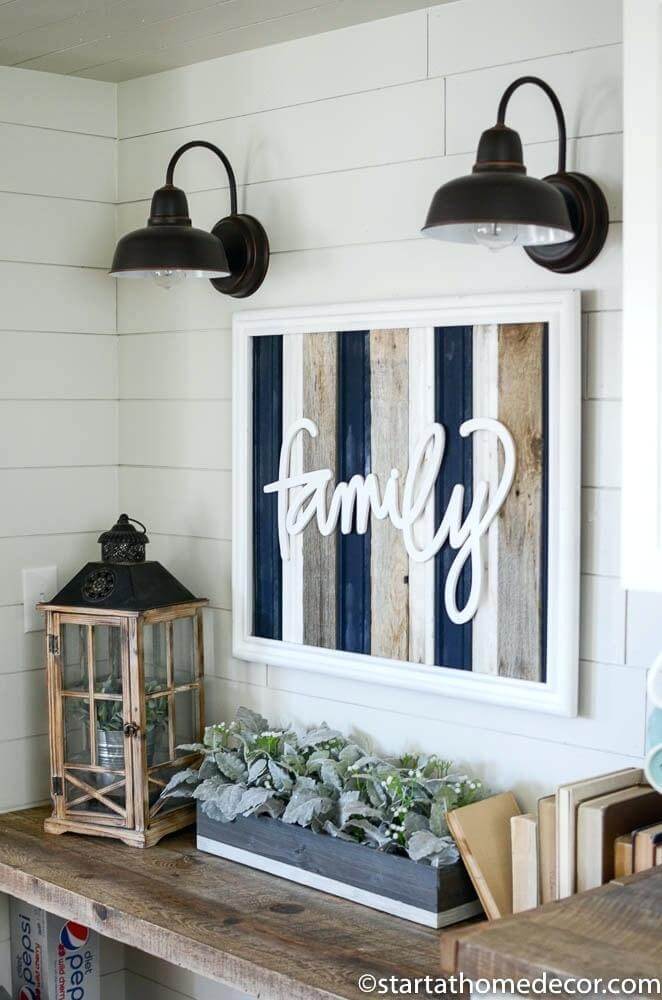 39. Horizontal Sign with Script Lettering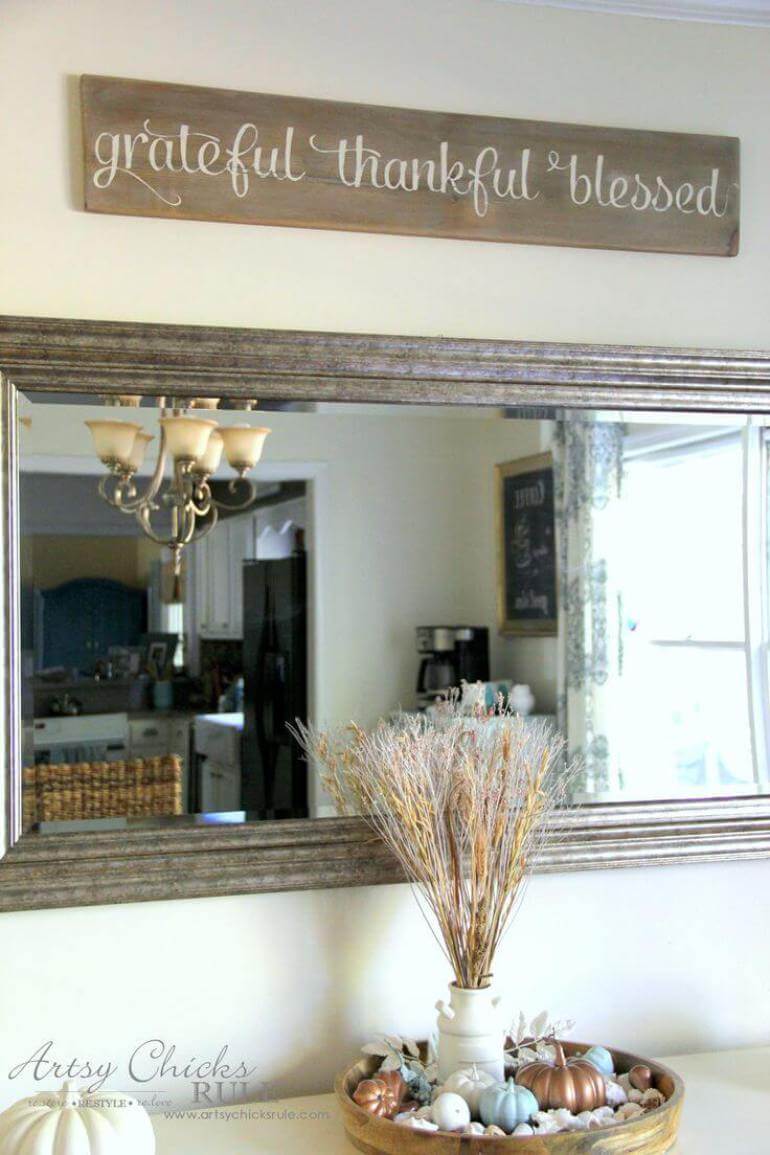 40. "Gather" Sign on Weathered Wood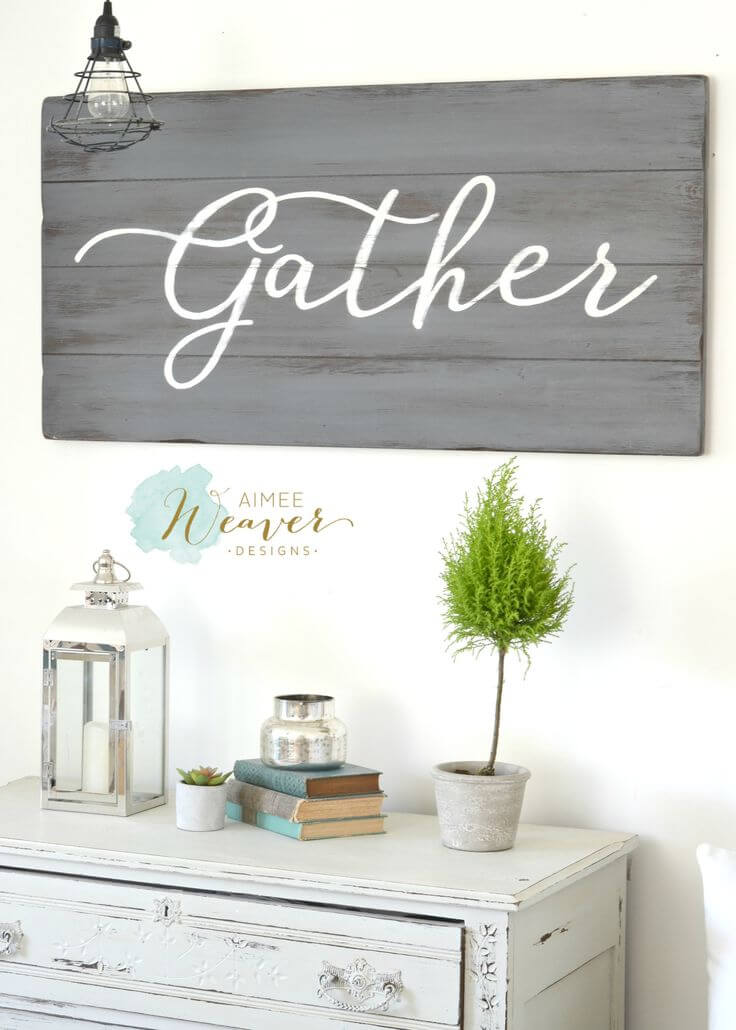 41. Three Part Bathroom Sign with Twine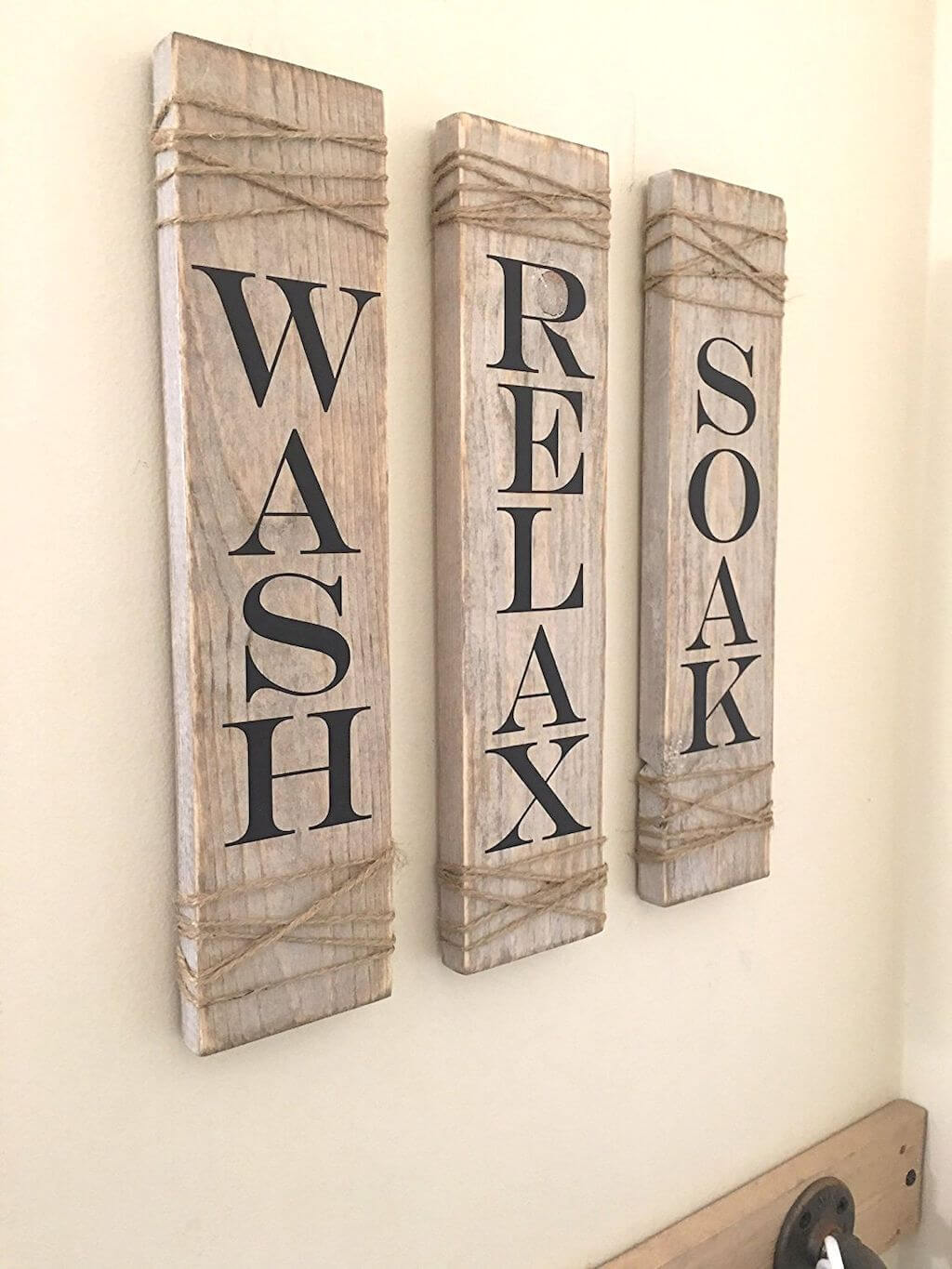 42. Shadow Box "Love" Sign with Matching Shelf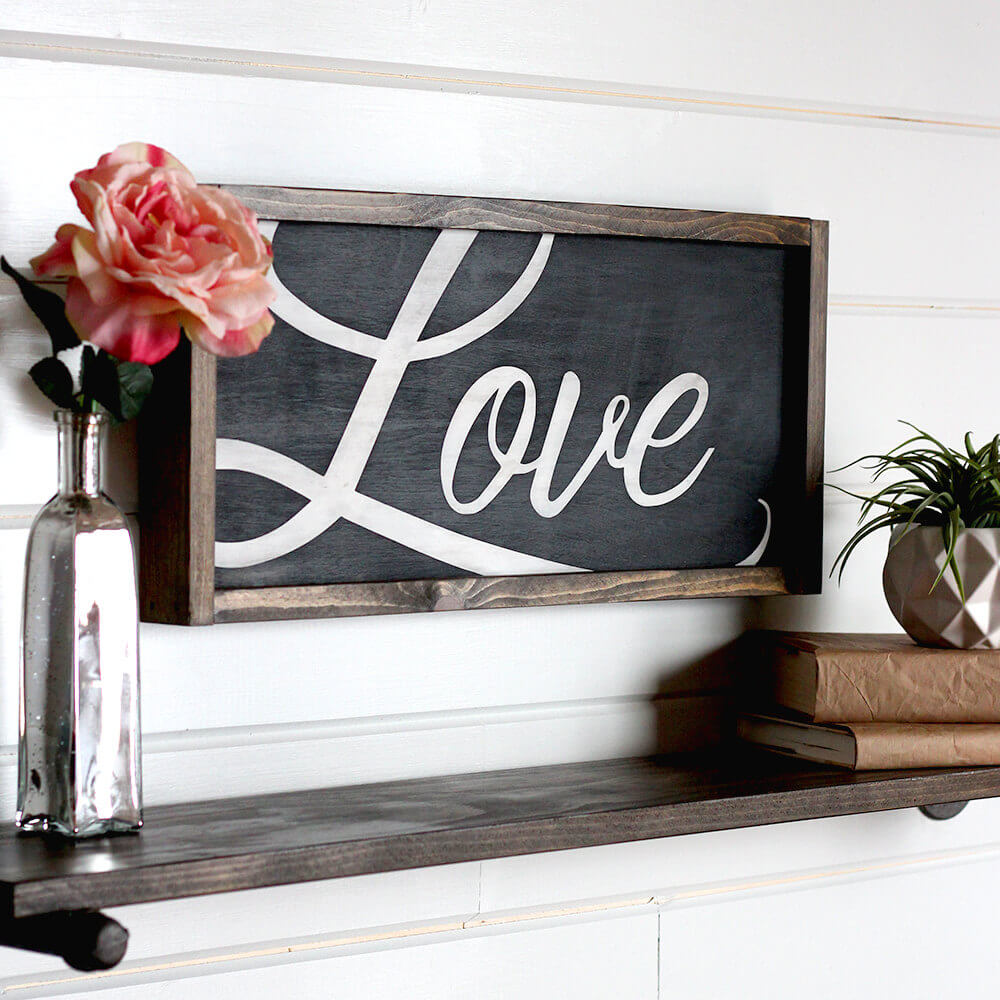 43. Initial Letter Sign with Leaf Circle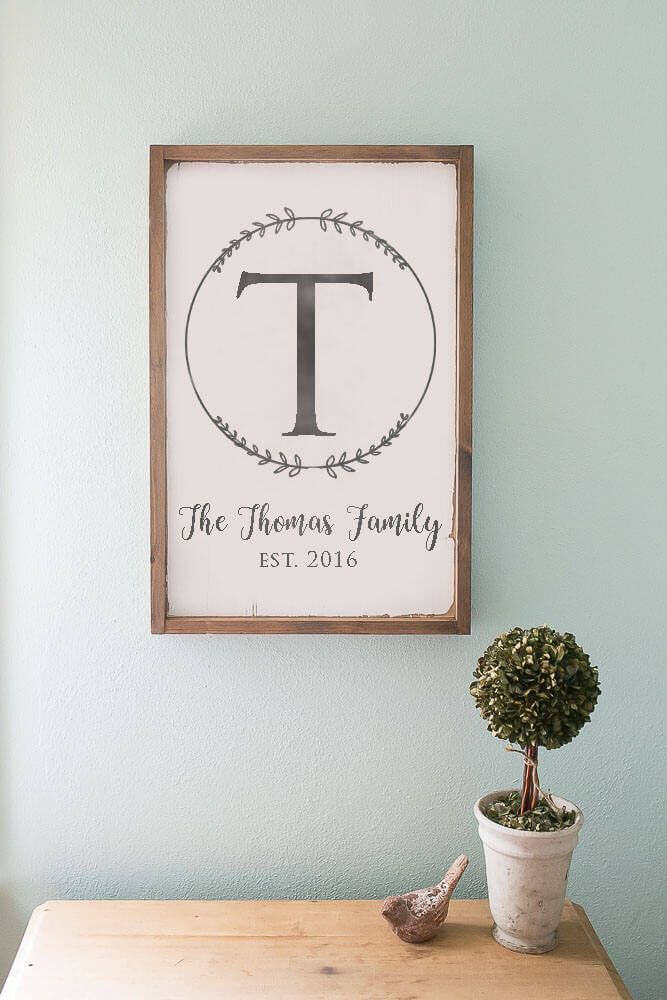 44. Bold "Gather" Sign on Distressed Wood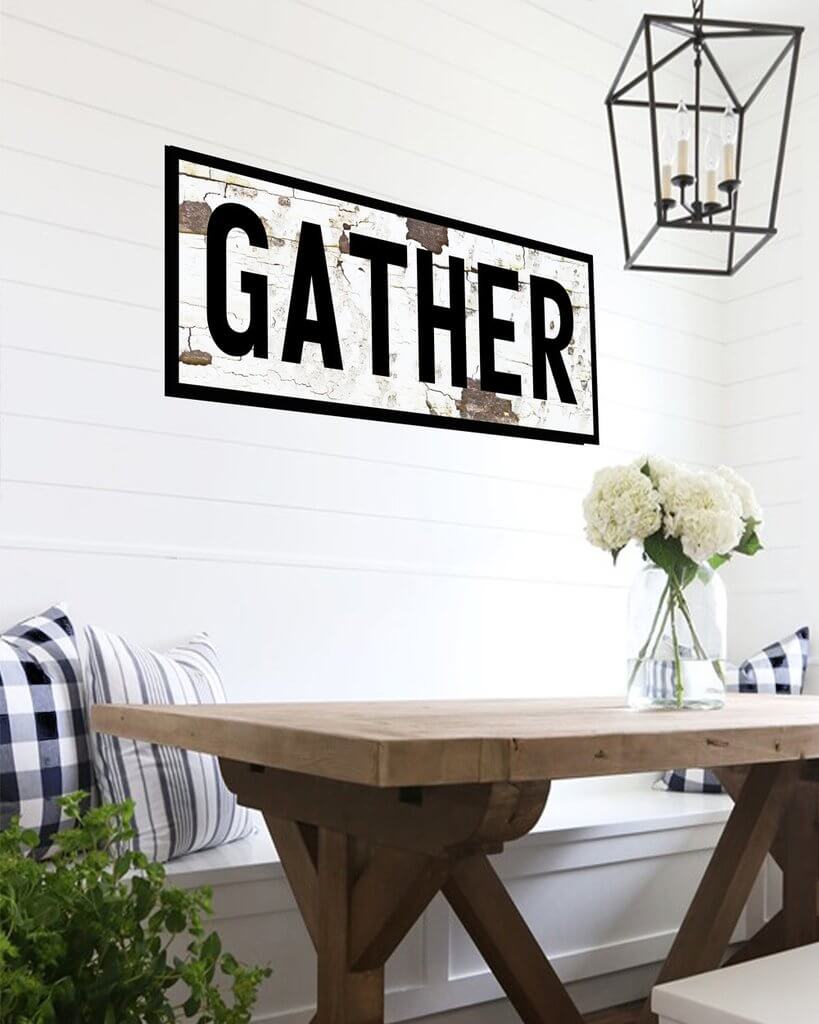 45. An Assortment of Cute Signs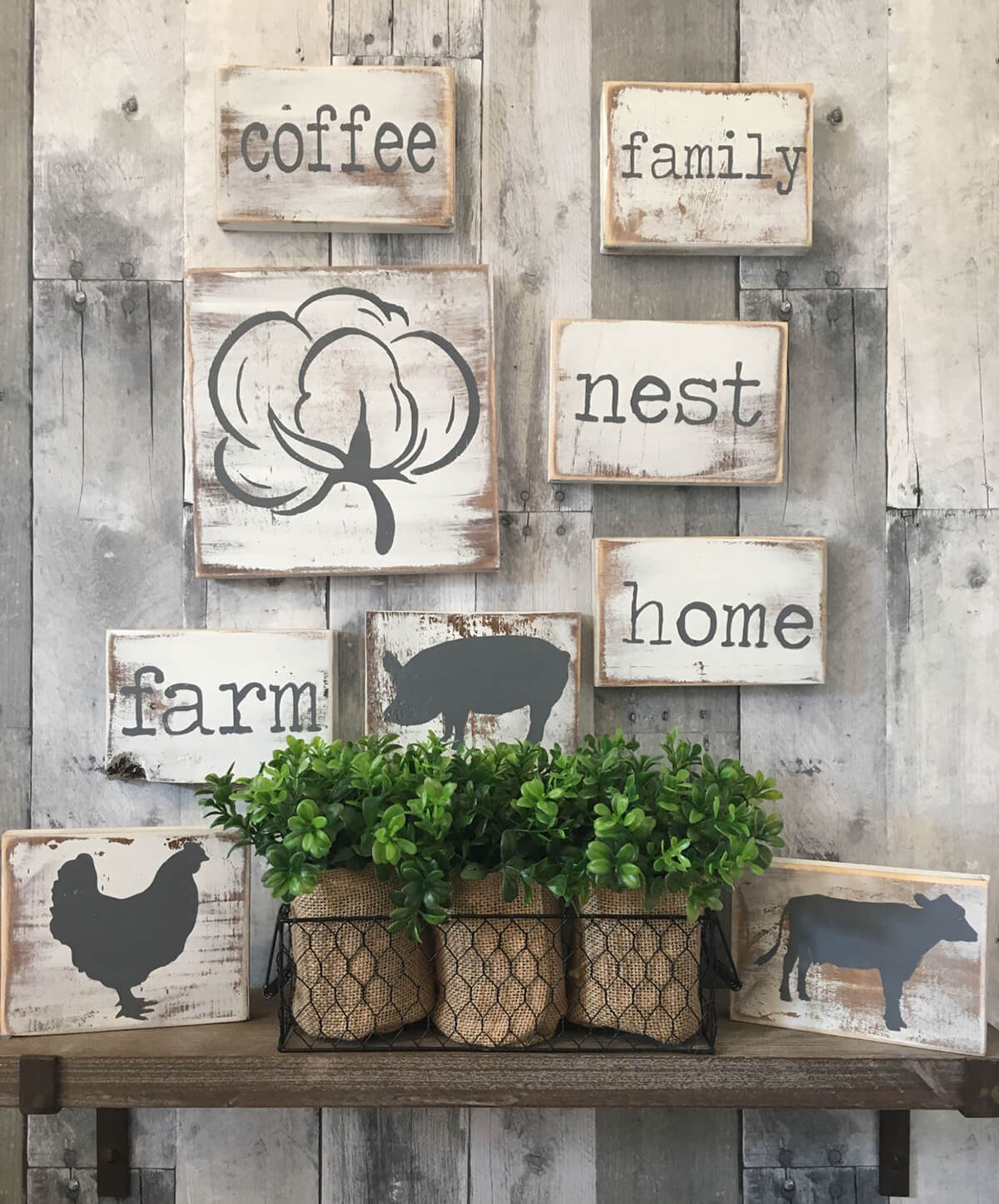 46. Modern Farmhouse Sign Ideas with Weathered Wood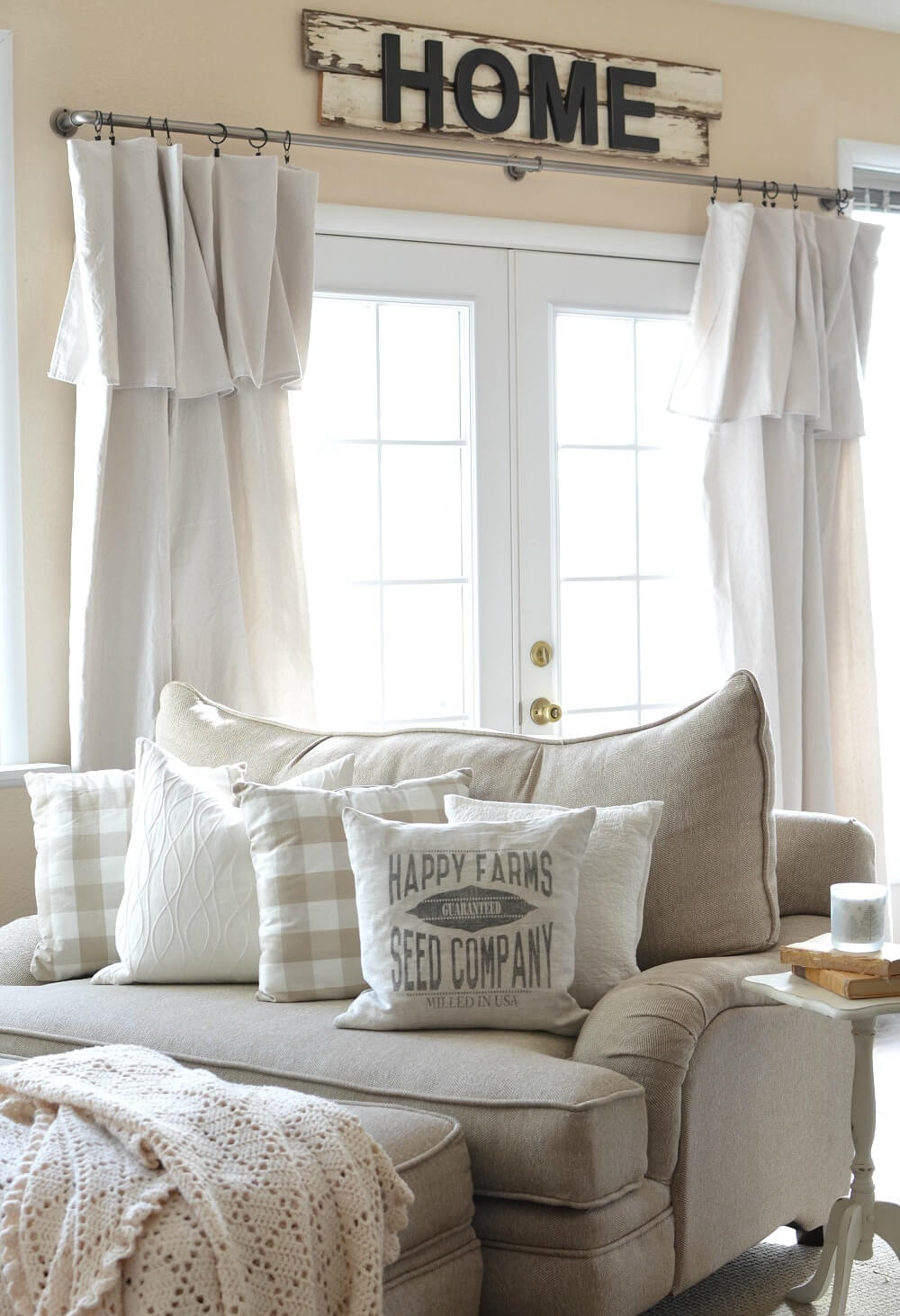 47. Lovely Saying for a Child's Room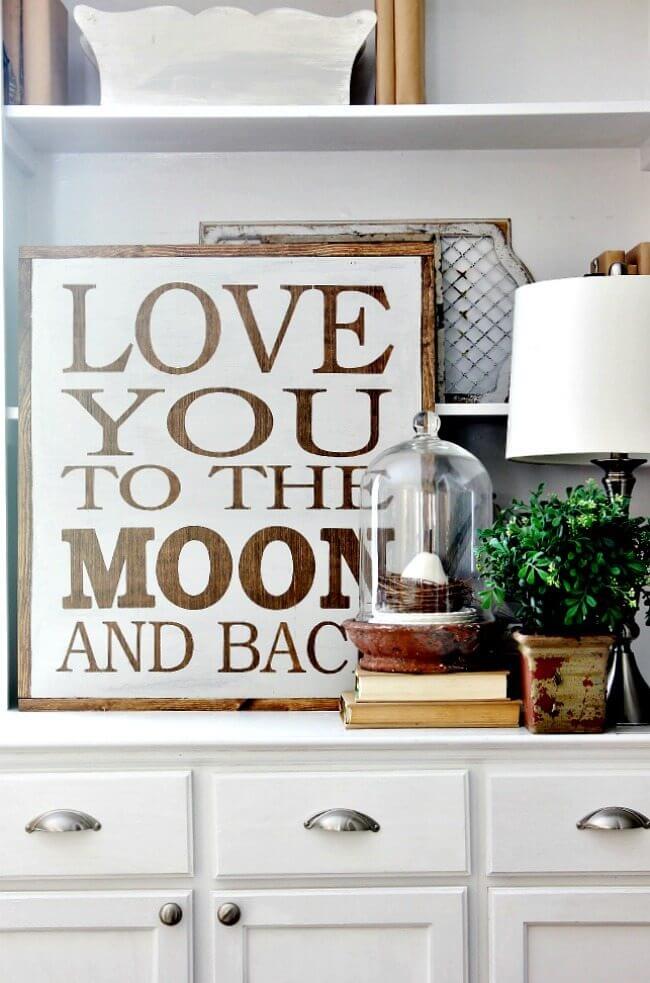 48. Latitude and Longitude of Home Sign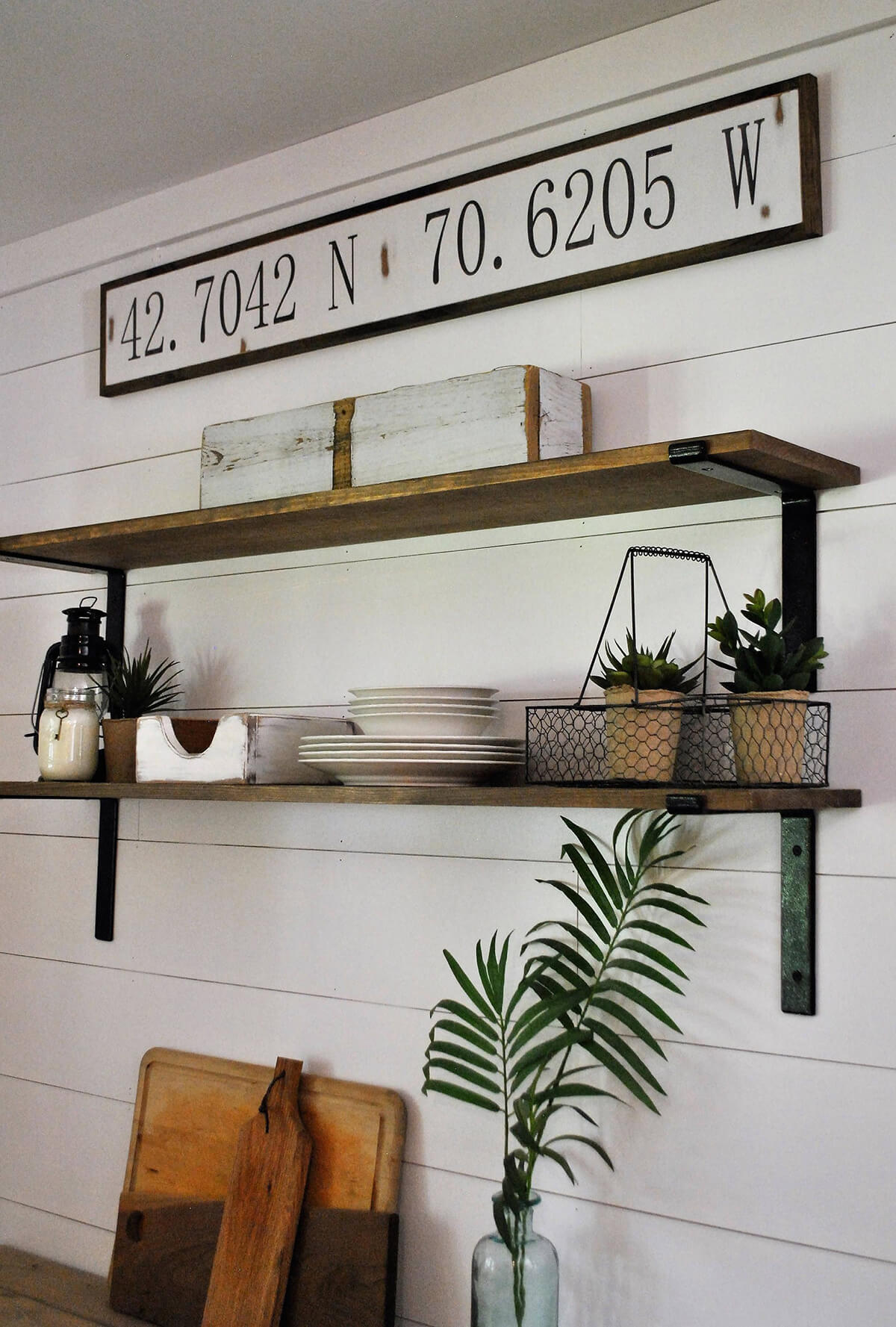 49. "Let's Stay Home" Sign for the Kitchen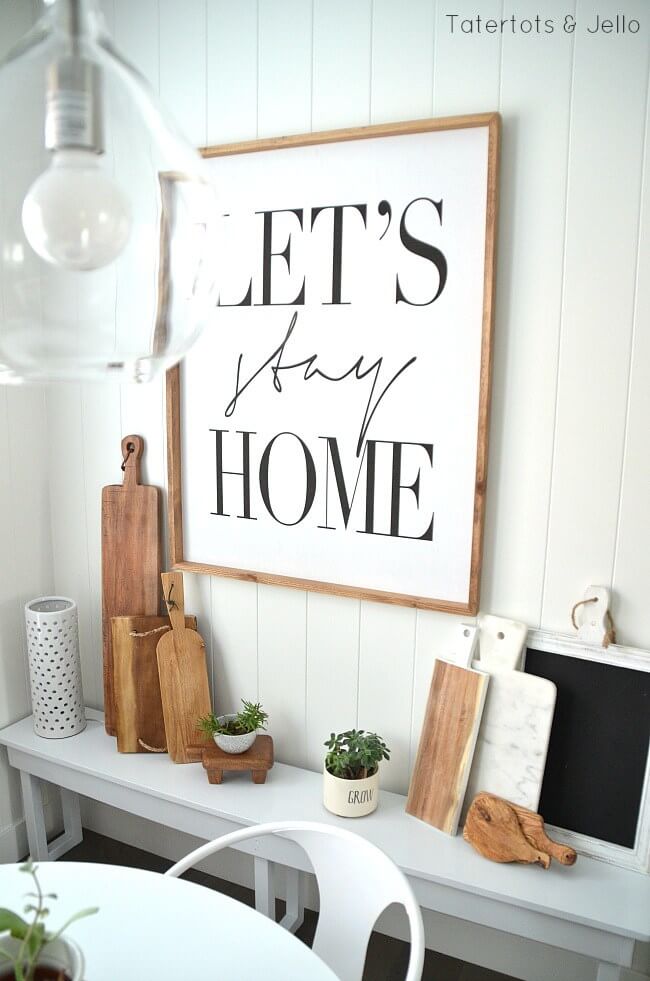 50. House Shaped Sign with Sweet Saying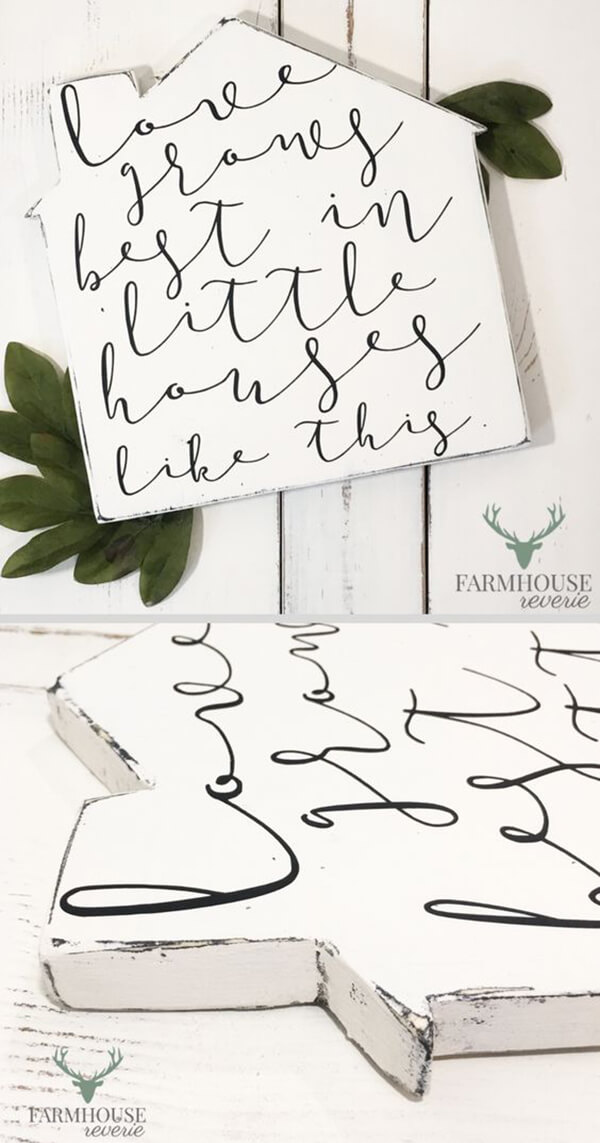 51. Window Sign for a Seating Nook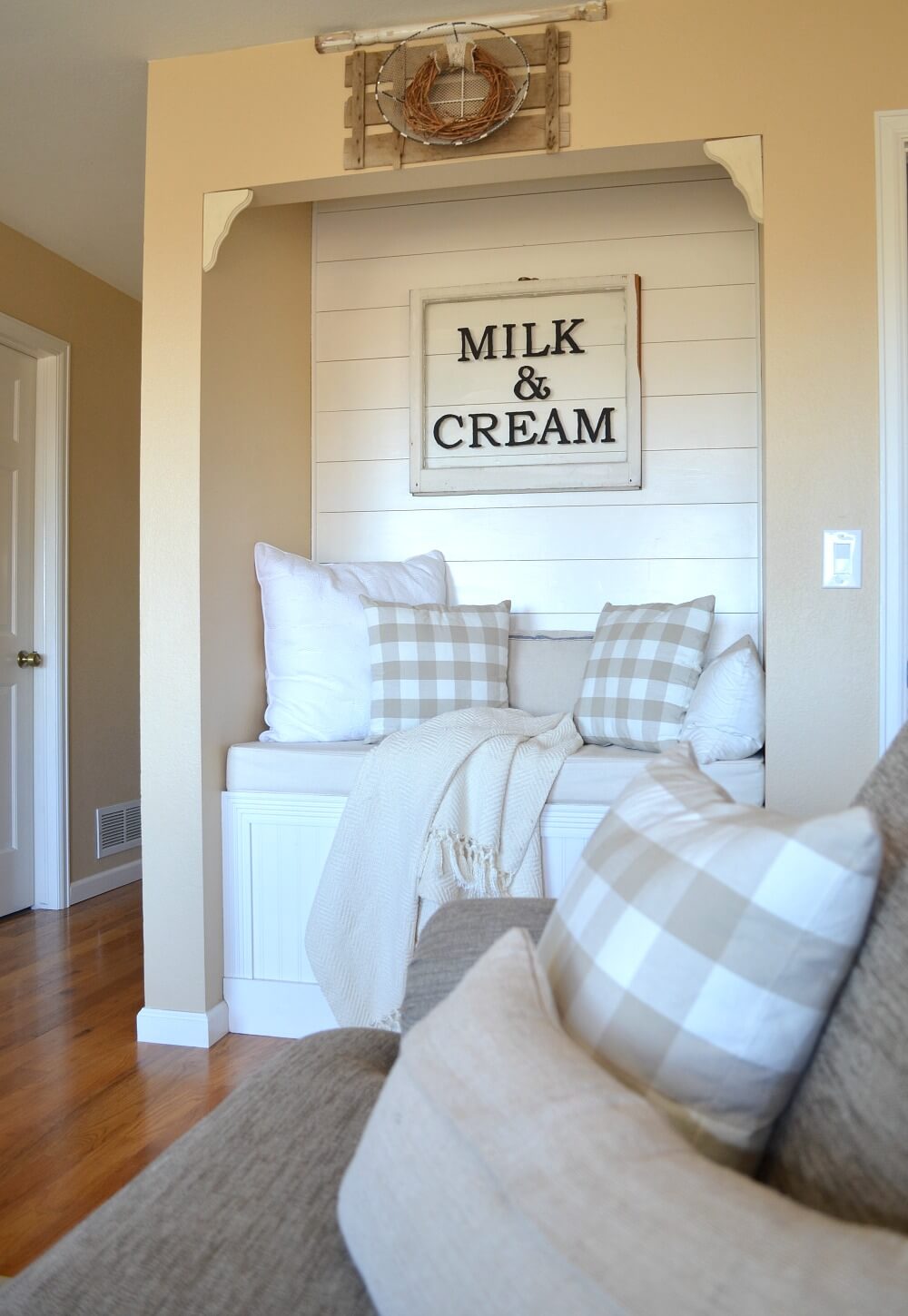 52. Grateful Gathering Sign High on the Wall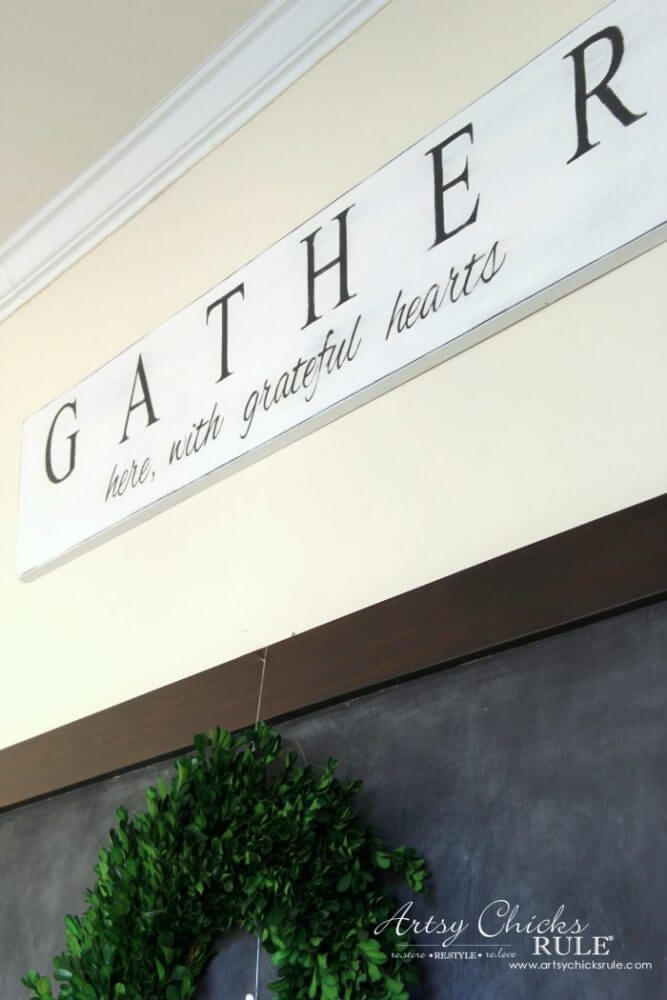 53. Weathered White Frame with Mixed Type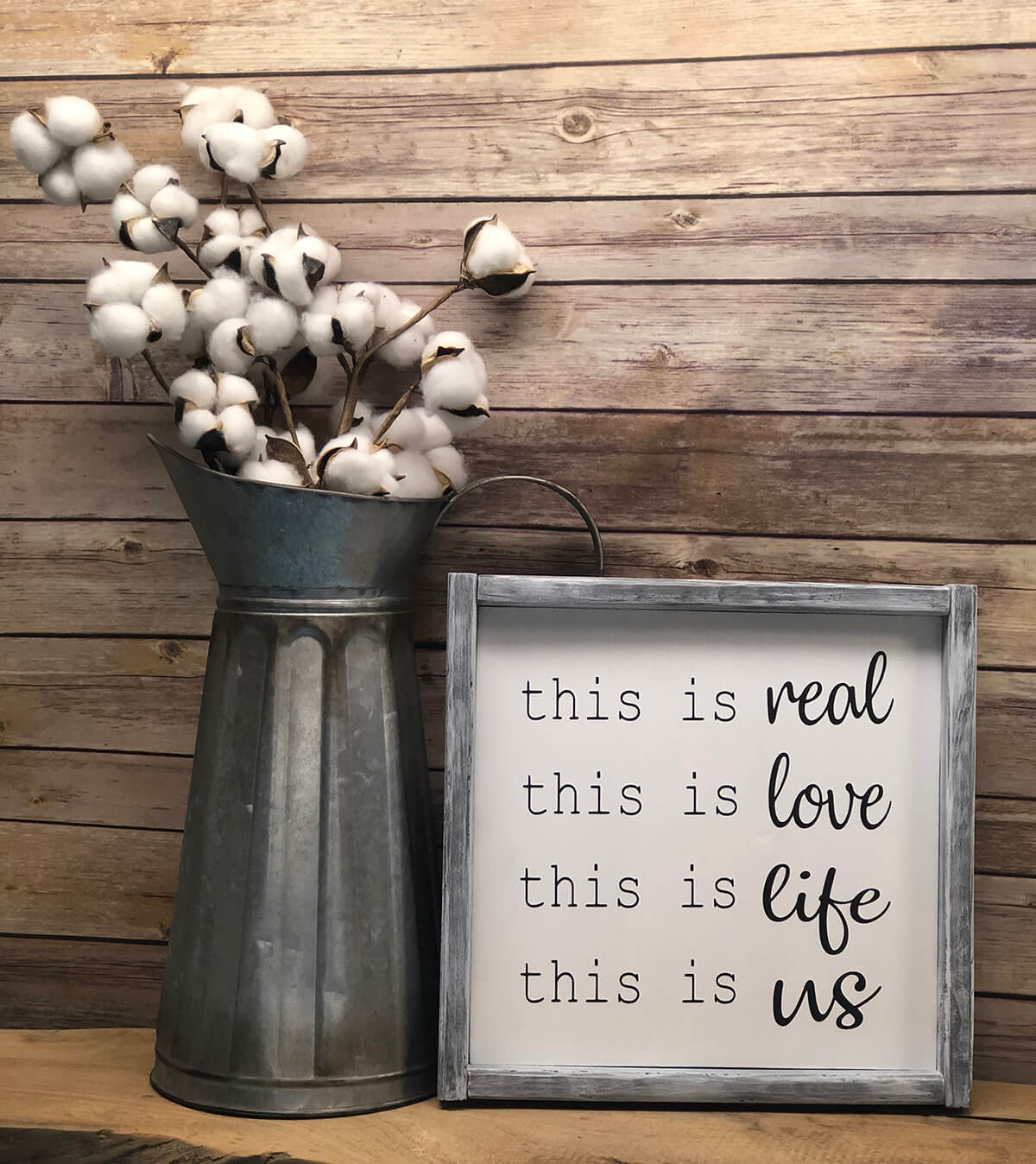 54. Bold Lettered Kitchen Sign about Baking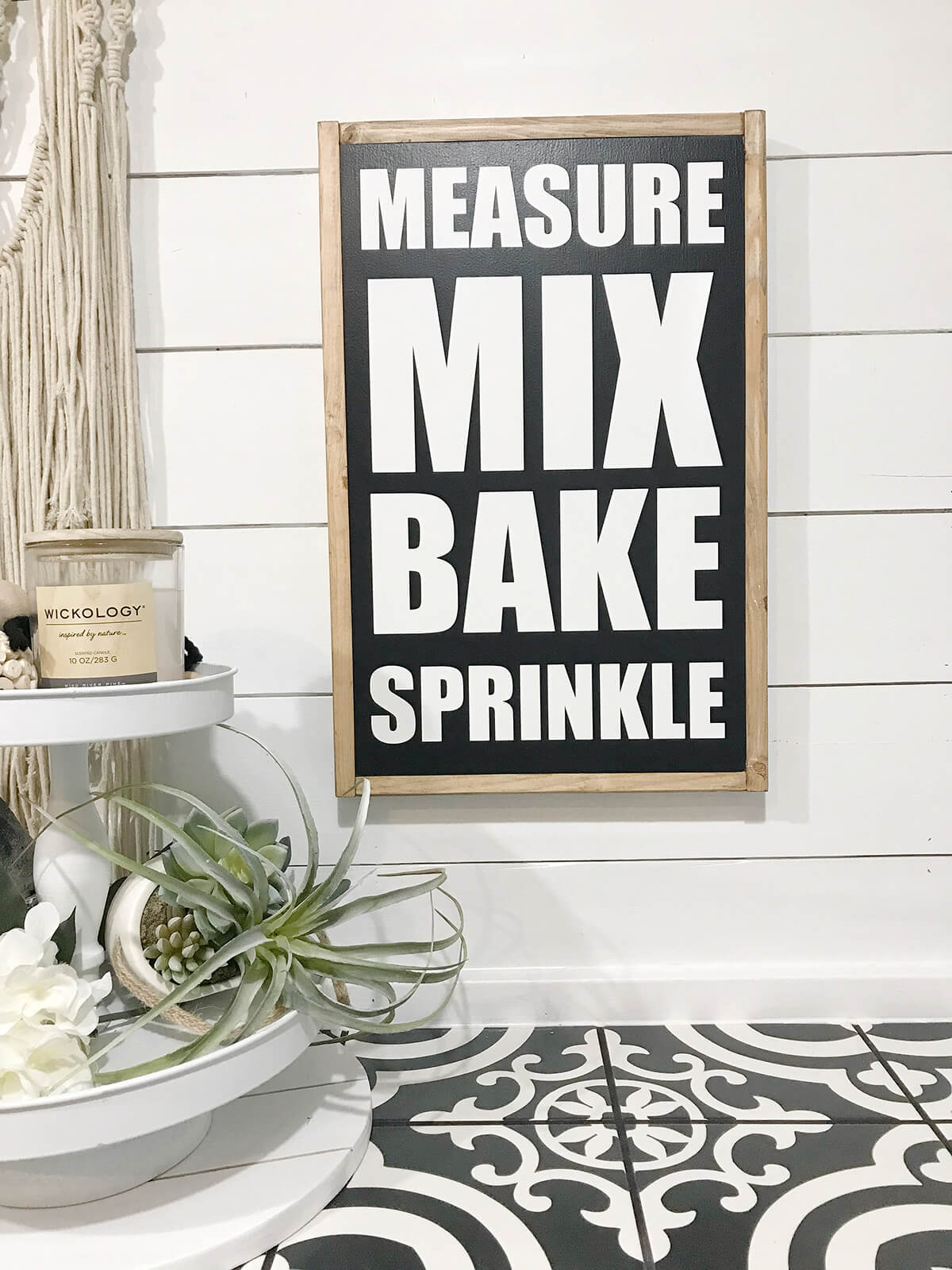 55. Laundry Sign Painted on Sliding Door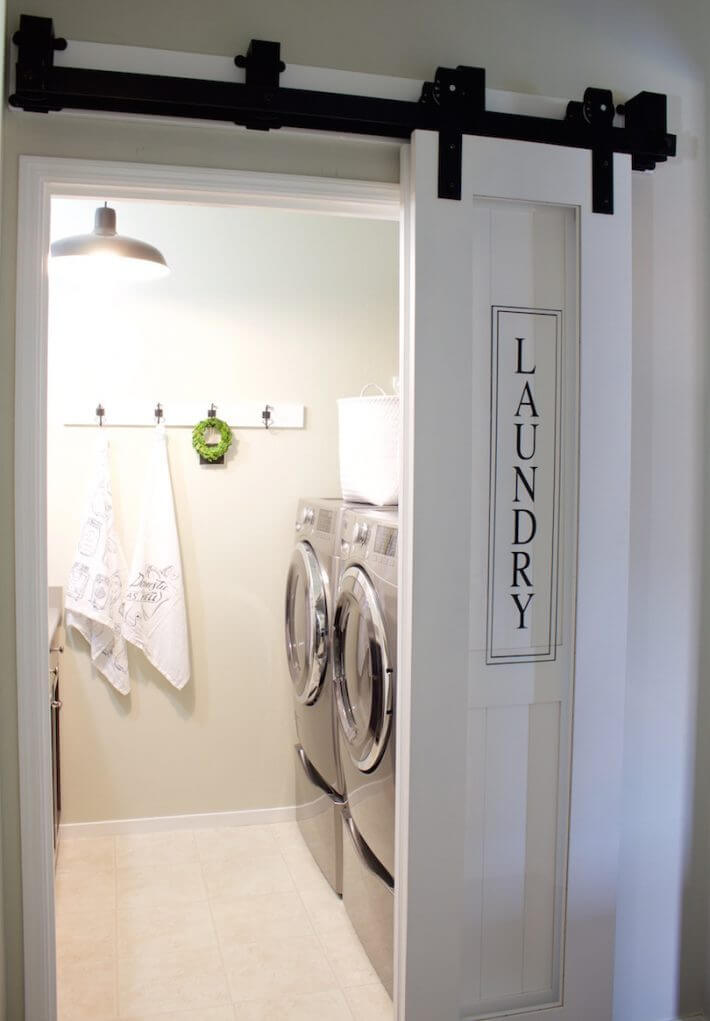 56. Modern Farmhouse Sign Ideas with Sweet Sayings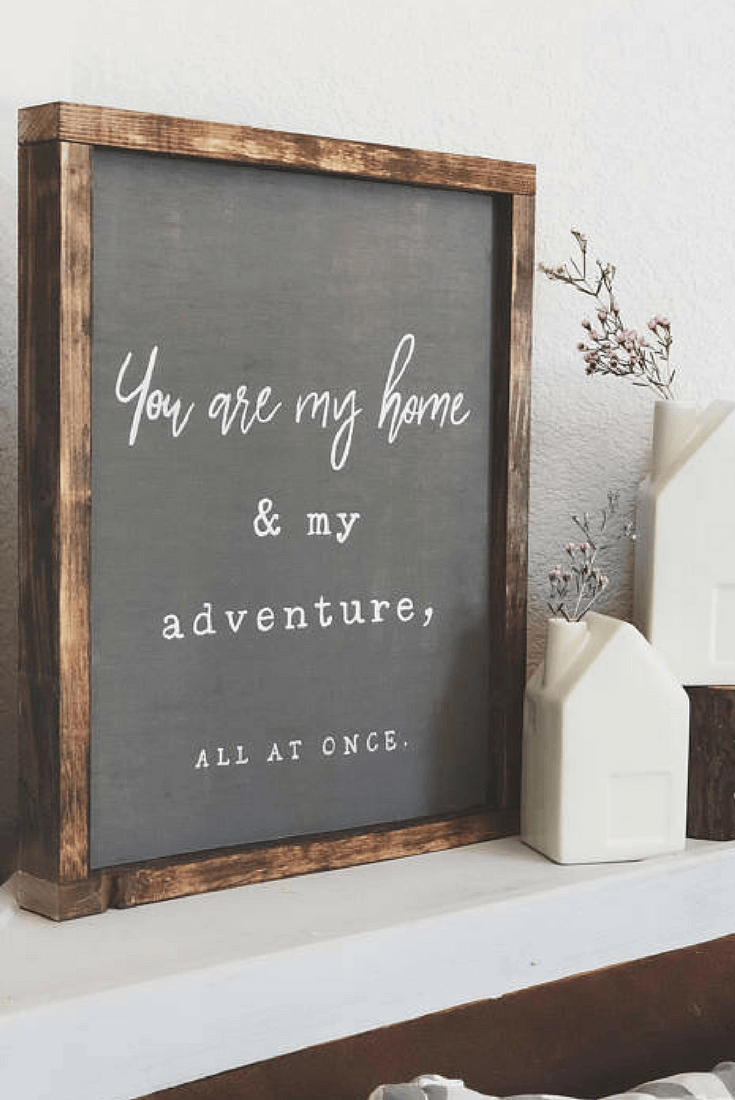 57. Scripted Sign to Show Your Love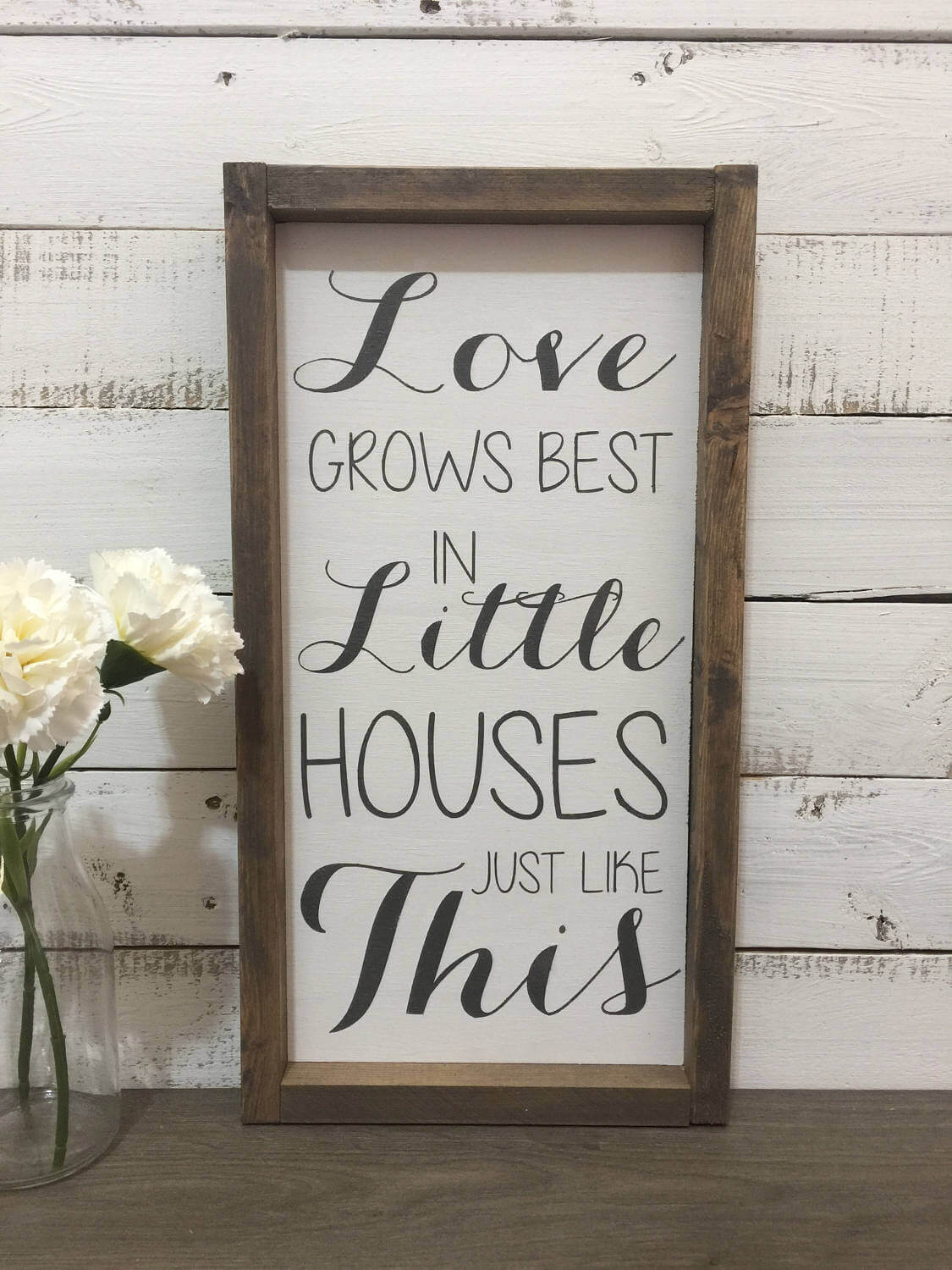 58. Vertical "Gather" Sign for the Kitchen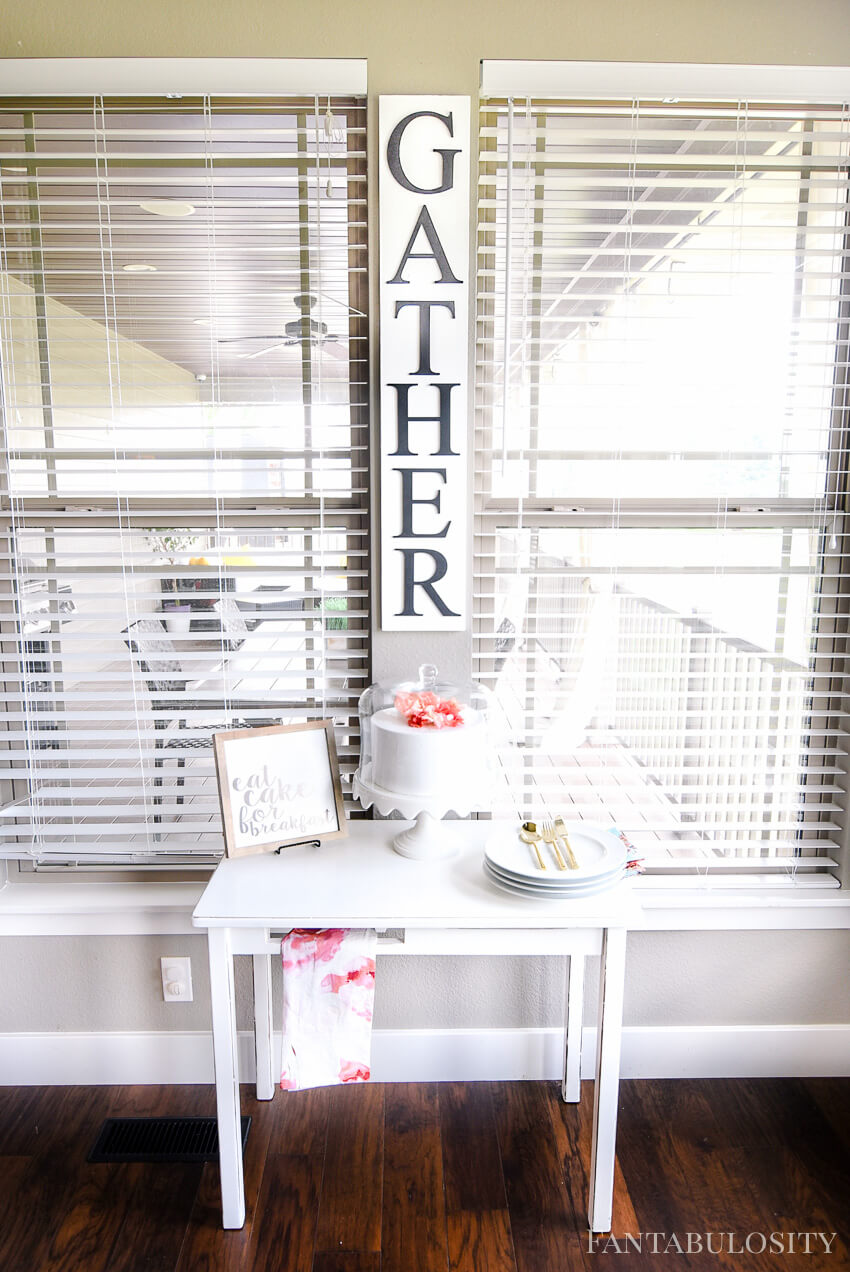 Choose Rustic Wall Decor Ideas to Make Your Home Warm and Inviting