The interior decor world started shifting in favor of some of the best moss wall art ideas and designs, and it has not stopped since. This is because of the healing aspects discovered in nature and more so having it in your living space. Vegetation, especially its green color and overall appearance, has been said to lift moods, increase productivity and concentration, improve memory, reduce fatigue, and even freshen the air. Medical experts have pointed out that proper air circulation in homes might be one of the leading causes of respiratory conditions such as asthma.
29 Beautifully Designed Moss Wall Art Ideas for Your Home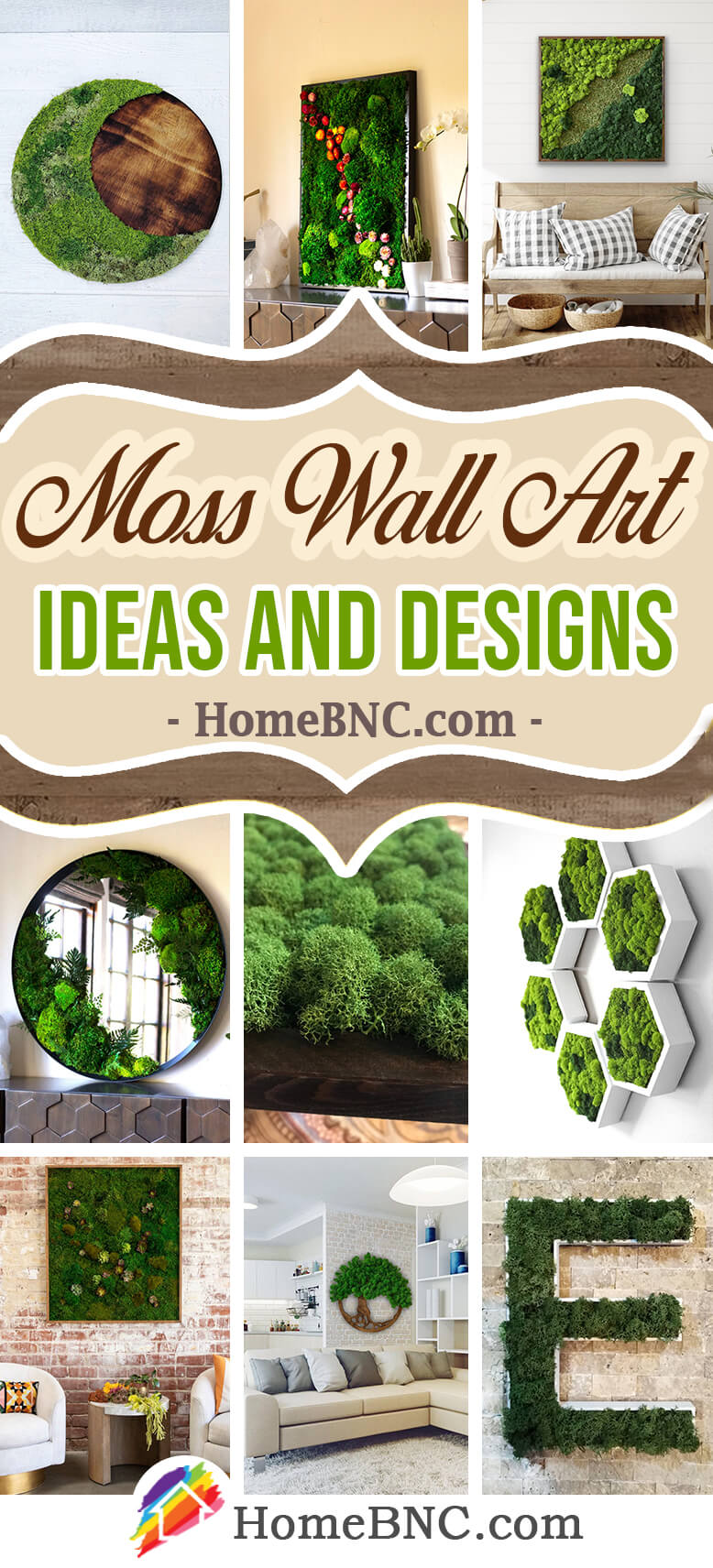 However, the trend has moved from basically adding random plants in our living spaces to decorating our home interior with moss. Moss designs and art have cropped up from all parts of the world, and people are going crazy about them. Moss is a beautiful and unique decoration for your home, but that is just the tip of the iceberg. It needs little to no maintenance. You have to keep it in a damp area or spritz it with a little water to stay fresh. Moss is also very efficient when it comes to absorbing unpleasant fumes and generally purifying the air. Some designs even have soundproofing capabilities. Isn't that amazing?
We have put together a list of the trendiest and best moss wall art ideas. Keep reading to review each one and pick your best choice.
1. Bohemian Moon Sign Moss Design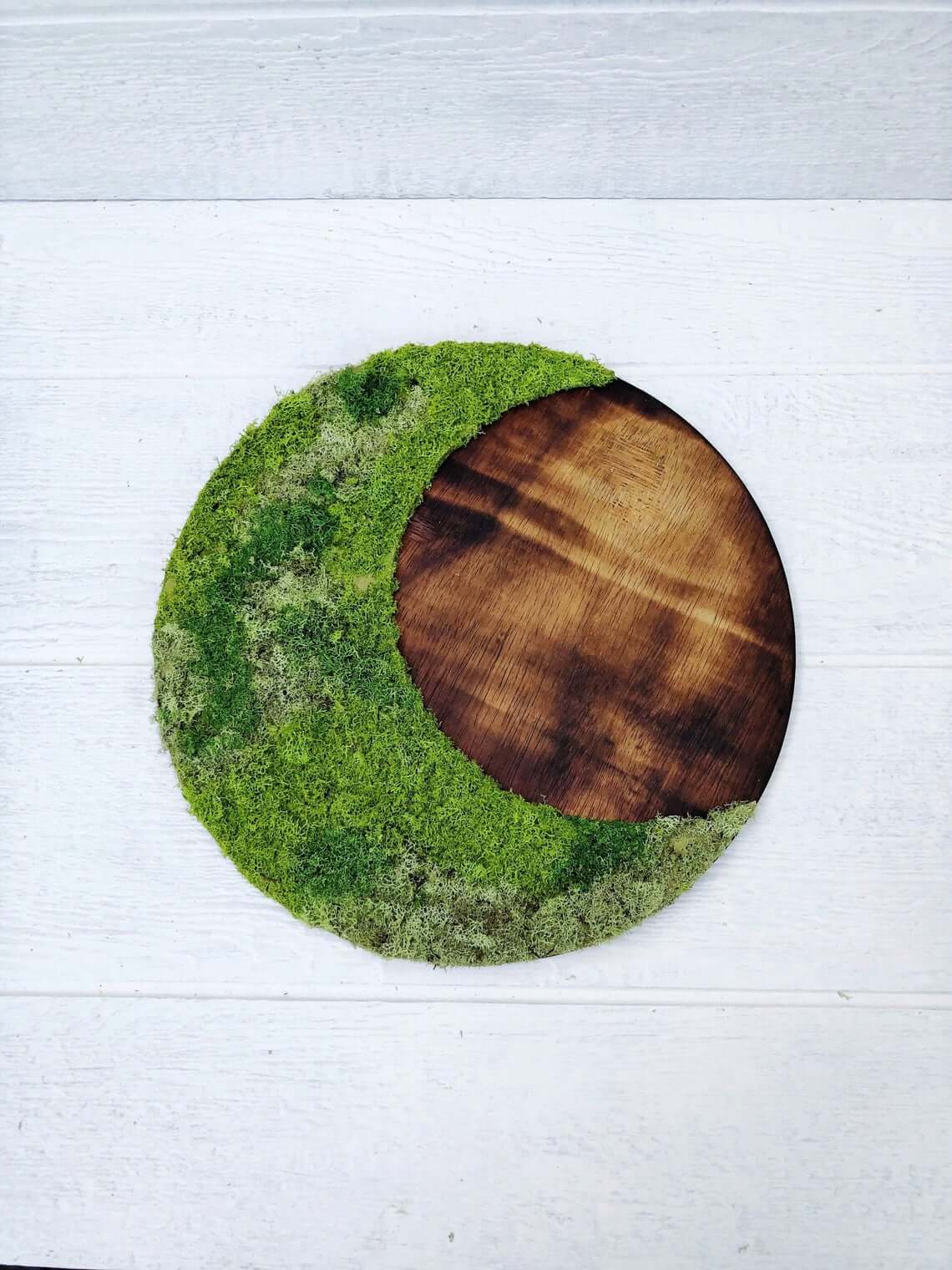 This 3D depiction of a moss-covered moon is calling for a place on your wall, and you should heed its call. The piece is a large circular wooden board designed in a moon pattern. You can choose from a variety of colors to be incorporated in your moss moon, and you also get to pick the color of the circular board. Our favorite aspect of this moss art is how naturally the moss color and texture capture the eye. It is like watching a moon made from shrubs and plants coming to life right before your eyes. You will be glad to know that this piece is very similar to a painting in maintenance terms. You do not have to water it, trim it, or even take it out into the sun.
2. Preserved Terrarium Moss Wall Decor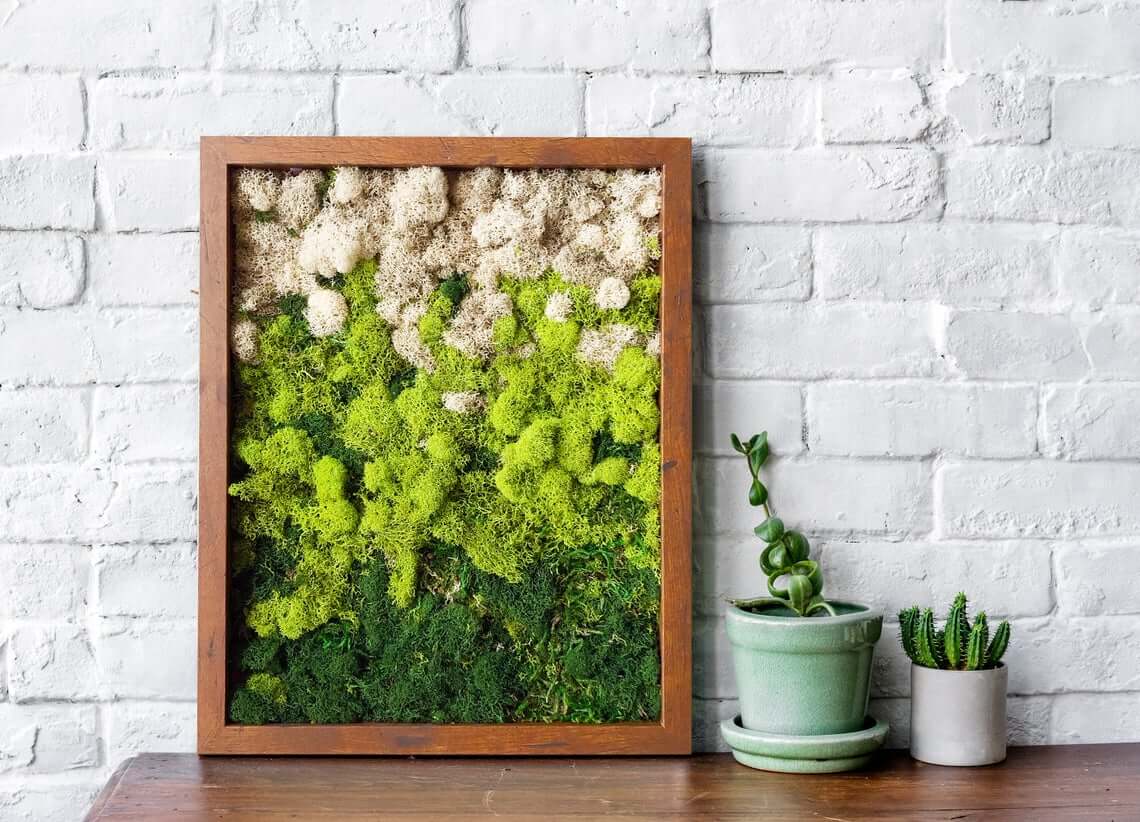 How would you like a little garden right in your living room? This colorful and very lifelike moss is framed with high-quality wood and comes with a saw-tooth hook for hanging it easily, whether you want it to be horizontal or vertical. You get to enjoy the perks of greenery in your home without the hassle of weeding and caring for real plants. All you need to do is install it and let it work its magic in your space. You better brace yourself for all the wows and questions you will undoubtedly get from your house guests due to this cool design.
3. Colorful Dried Moss Art Frame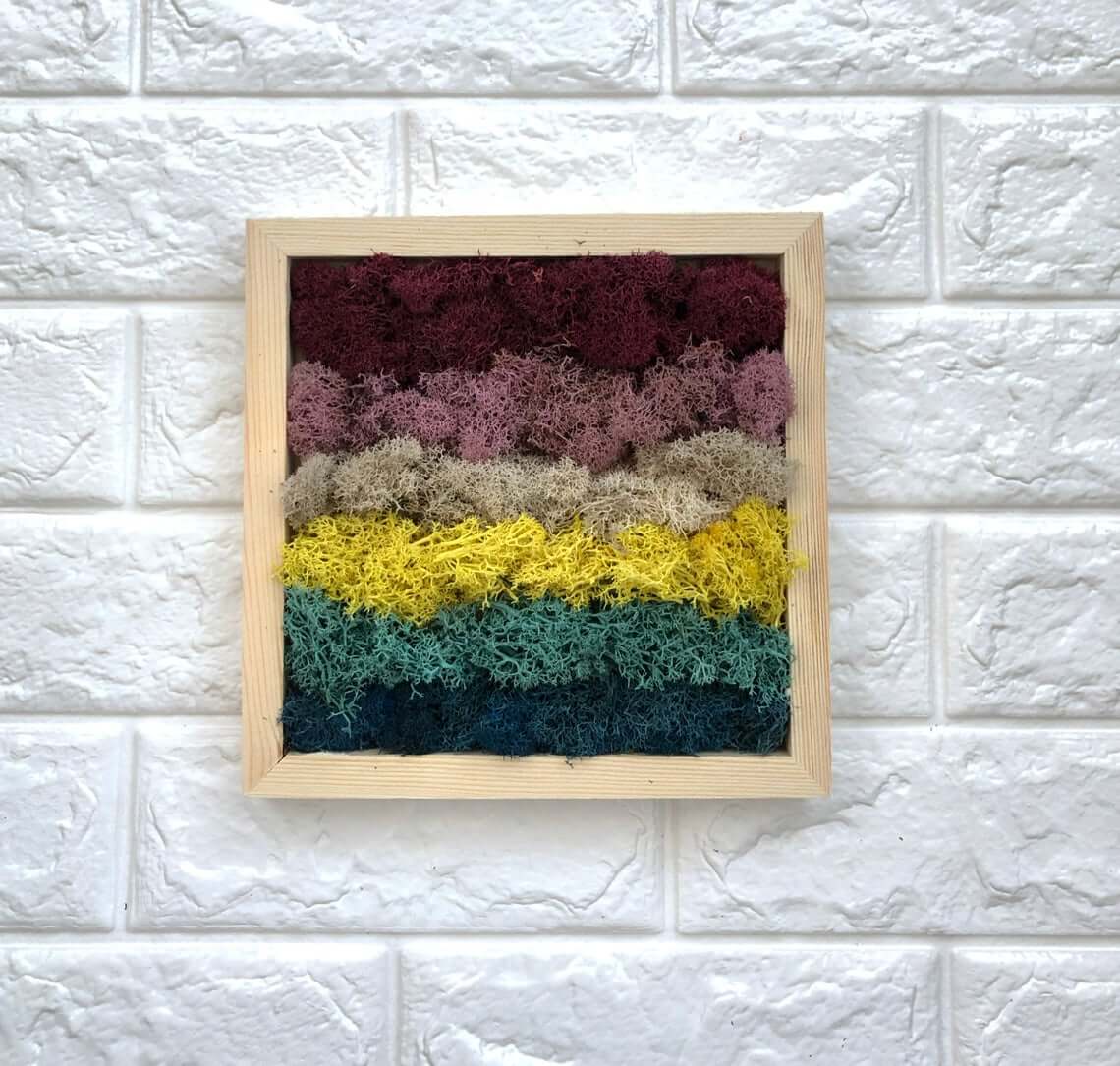 This framed moss art design against a simple neutral colored wall will bring a pop of color and style you will come to love and treasure. Unlike most moss art patterns, which mainly portray green growth and texture, this one has been put together with different shades and colors, lined up to form a beautiful abstract. The colors and trends are not fixed. You can have your custom made to fit your requirements or complement a particular aspect of your home. Art isn't about going with what everyone else is doing. It is about stepping away from the crowd and into your unique identity: this gem right here will help you achieve that effortlessly. The moss does not require sunlight or water to remain in good condition.
4. Beautiful Map Moss Wall Decor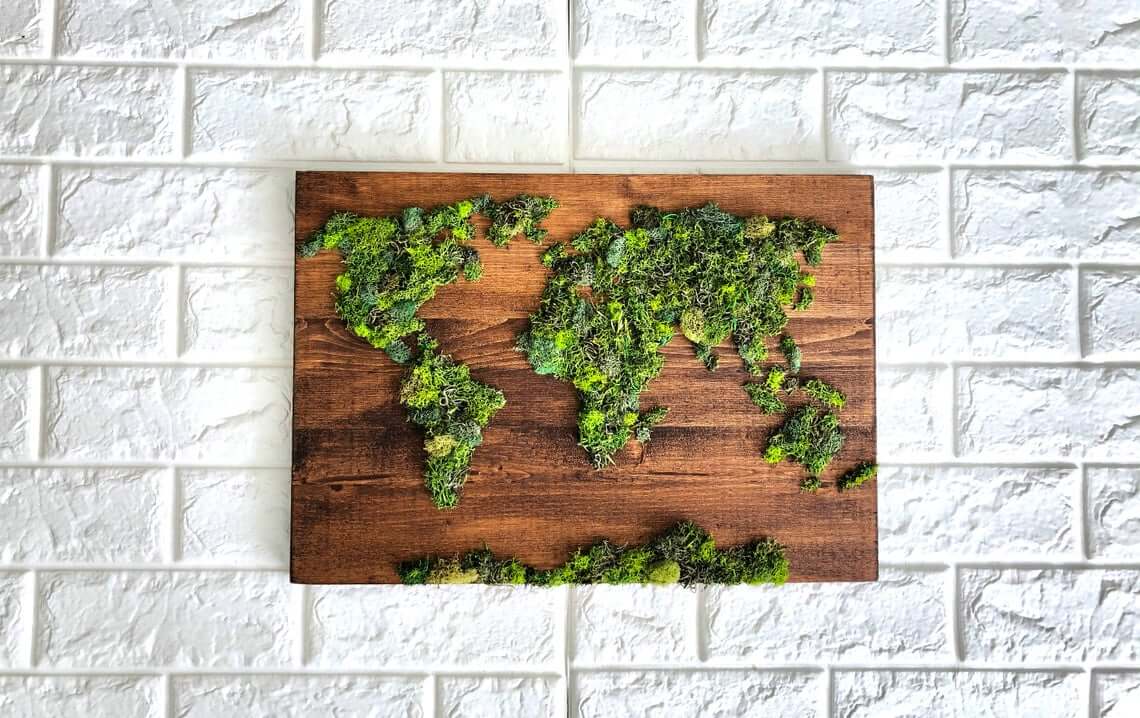 What speaks better about your personality and love for nature than a moss art map? This piece is made from preserved moss and lichen that has been artfully laid out on a wooden board to depict the world map. You can have it in various sizes, map choices, and board colors, whatever feels best for your living space. You can even order one with different moss colors to represent different continents. This work of art will go nicely on any wall and is especially suited for a large empty screen. It is advisable to keep it away from sunlight so that it doesn't appear dull and faded. Other than that, there are absolutely no maintenance requirements for your moss map.
5. Juicy Wall Hanging Moss Art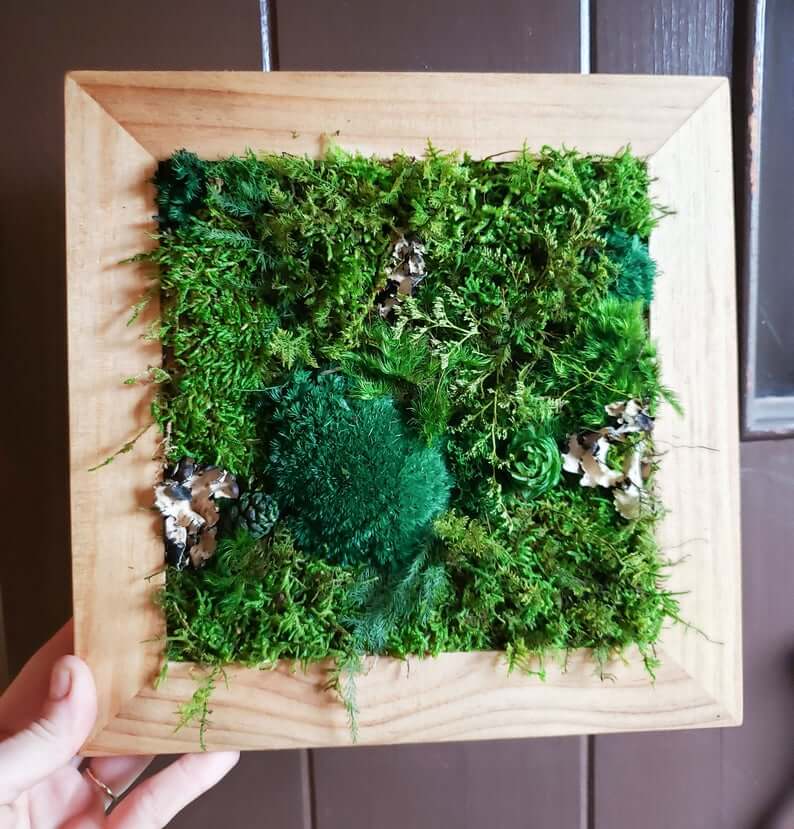 Live preserved moss is lovely with its lavish green color and density, and this particular design has lived up to its name. It is a beautiful and artful design comprising of moss and flowers that bring nature right into your home. It has little shrubs and ferns to add to the style of the overall piece. You can have yours designed in smaller or larger pieces. This moss art design is self-sufficient. You may spritz it with a little water from time to time if you like tending to the items in your house, but we assure you that it will remain the same if you do not touch it for years. Hang it on your wall or place it on a bare shelf and watch its beauty unravel into your living space.
6. Real Flower Power Moss Wall Decor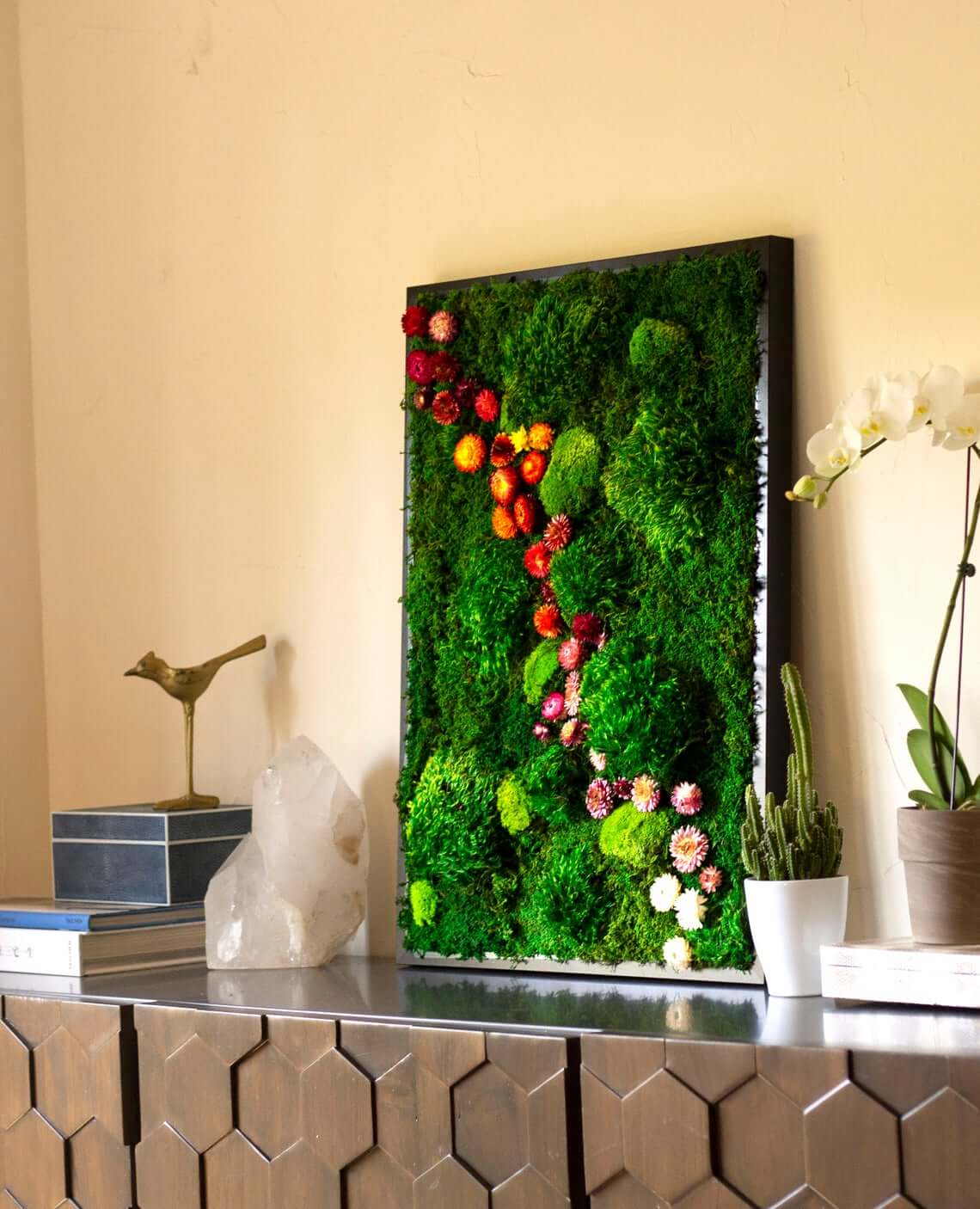 This moss masterpiece has blown our minds, and we guarantee that it will astound you too. It is professionally crafted to fit perfectly in any home. Unlike most basic moss art designs, this one comes with dried flowers arranged systematically to provide the feeling of life and nature within those frames. Now, dried flowers aren't as bad as they sound. They have been preserved appropriately to ensure that they remain firm, vibrant, and as lifelike as possible. These preserved components are very convenient, especially if you are always leaving for work or traveling. They do not require water, sunlight, or any maintenance for that matter. The flowers come in different colors and designs, and you are welcome to choose other varieties.
7. Spherical Moss Art Wall Design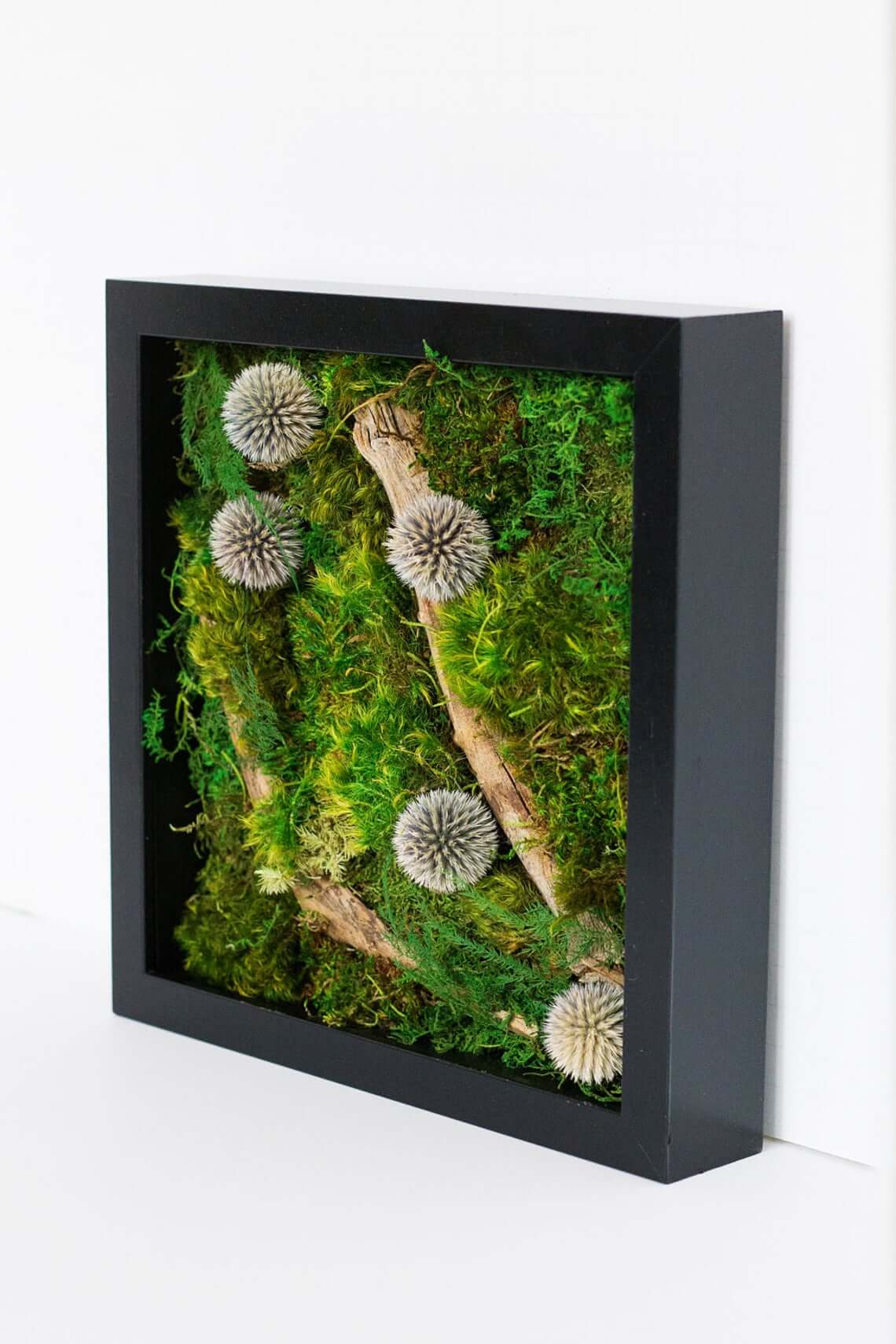 Did you know you could have real moss hanging from your wall? That's right. This lush combination of moss and thistle is a unique piece from preserved moss that does not need any maintenance. You can create a little garden on your wall, and rest assured that it will remain green and full. It comes in a medium-sized box made from high-quality wood that will undoubtedly withstand the test of time. You can have the sphere made into a smaller or larger design, depending on your needs. This piece's texture is visible even from a significant distance, making it more than just an item on your wall.
8. Mixed Moss Wall Garden Decor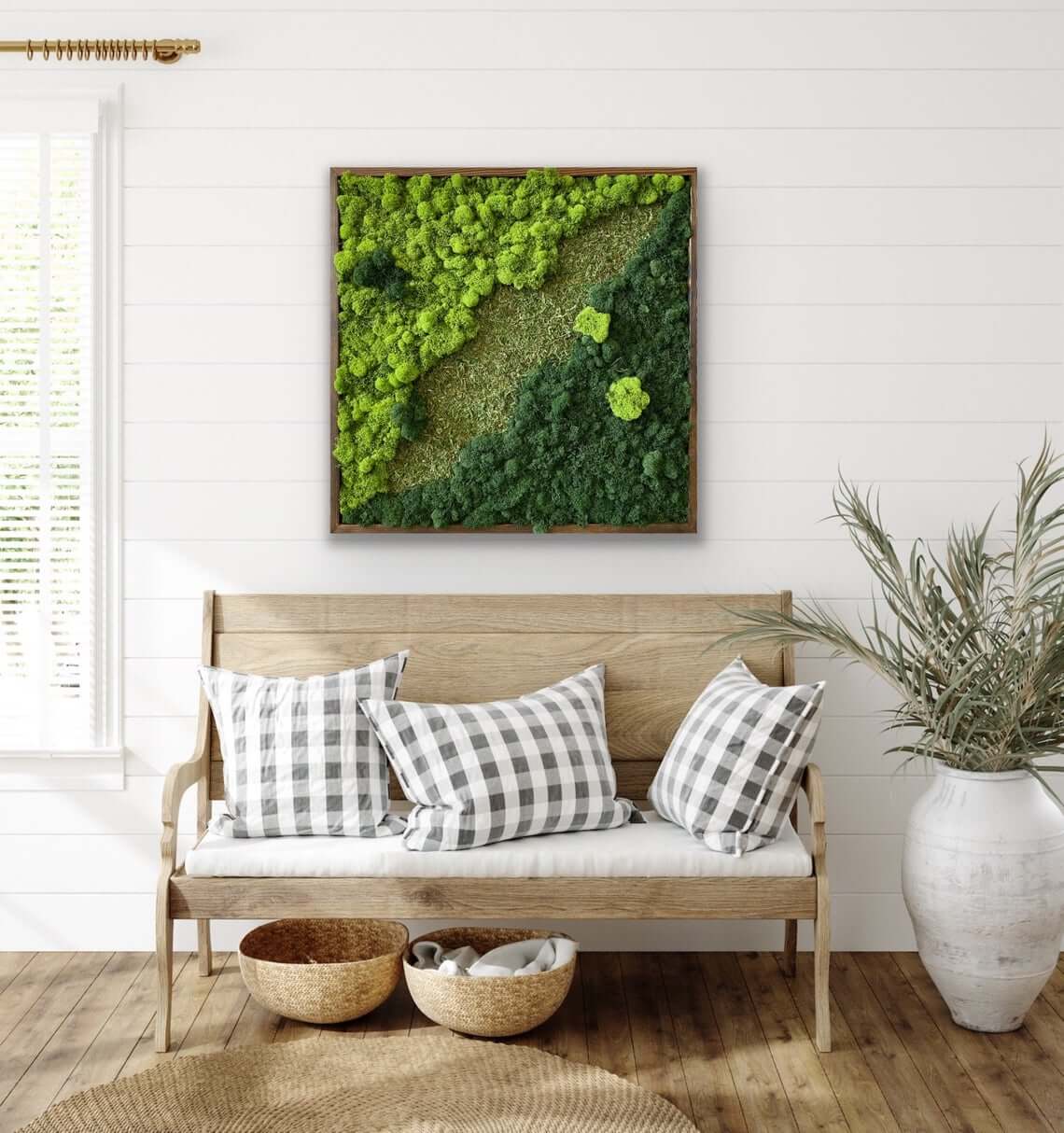 A hanging garden inspires this concept with a variety of reindeer and sheet moss. It portrays a naturally diverse pattern of dense, light, and low-level moss. You do not have to come too close and squint your eyes to see the design. The moss used is healthy, soft, and it pops out of the frame to capture the interest of anyone in its vicinity. You can hang it high on your wall or place it on your kitchen countertop; either way, it will rejuvenate your space and relax your mind.
9. Moss and Bark Preserved Wall Decor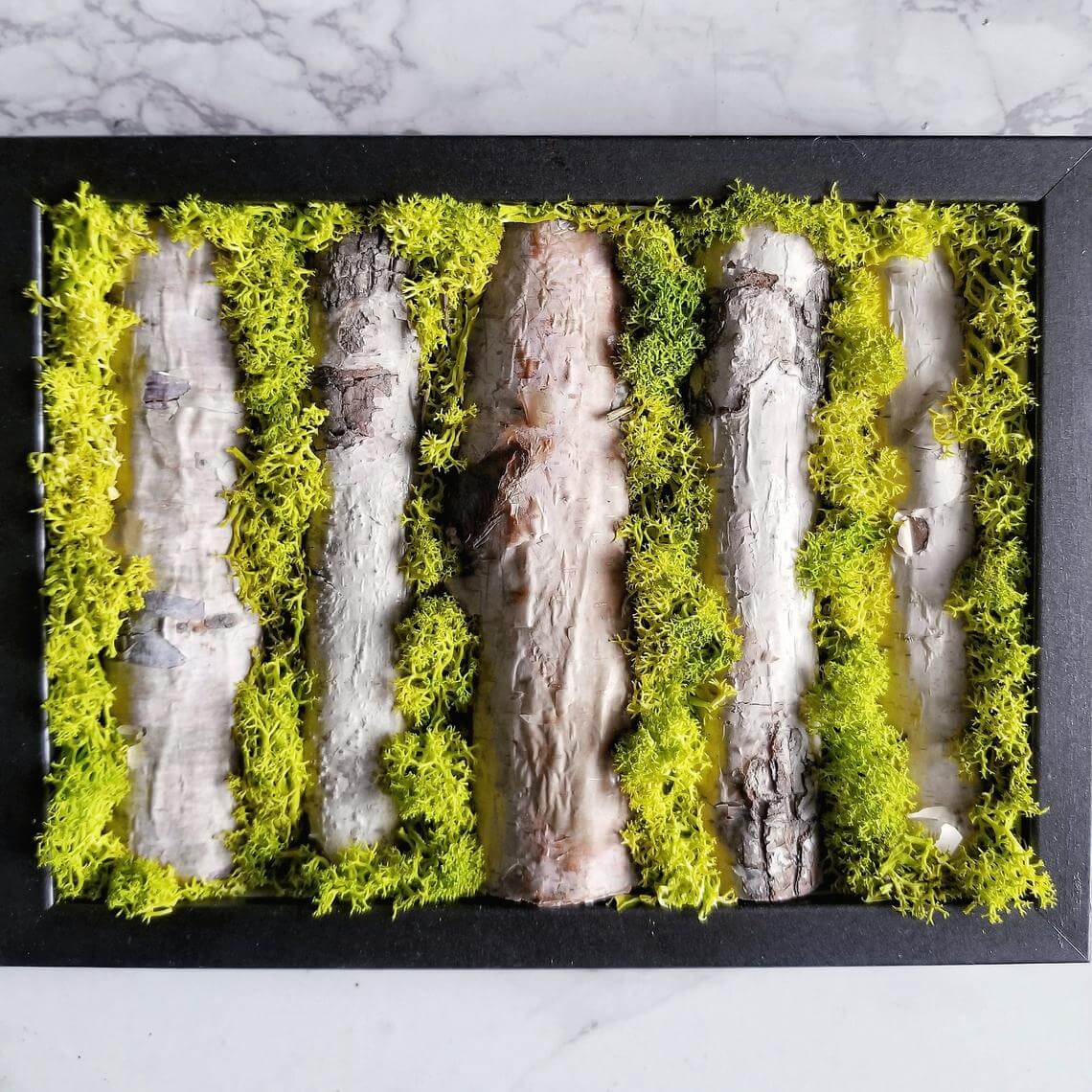 Why go simple when you can be sophisticated? This design qualifies for our best moss wall art idea because of its uniqueness and general style. It is a cool combination of moss and bark to produce a great addition for your wall accessories. The piece comes with a hanger affixed to the back so you can put it up on your wall quickly. You can hang it horizontally, vertically, or even diagonally to provide the feeling that you desire. It does not require any maintenance whatsoever.
10. Lush Framed Moss Wall Design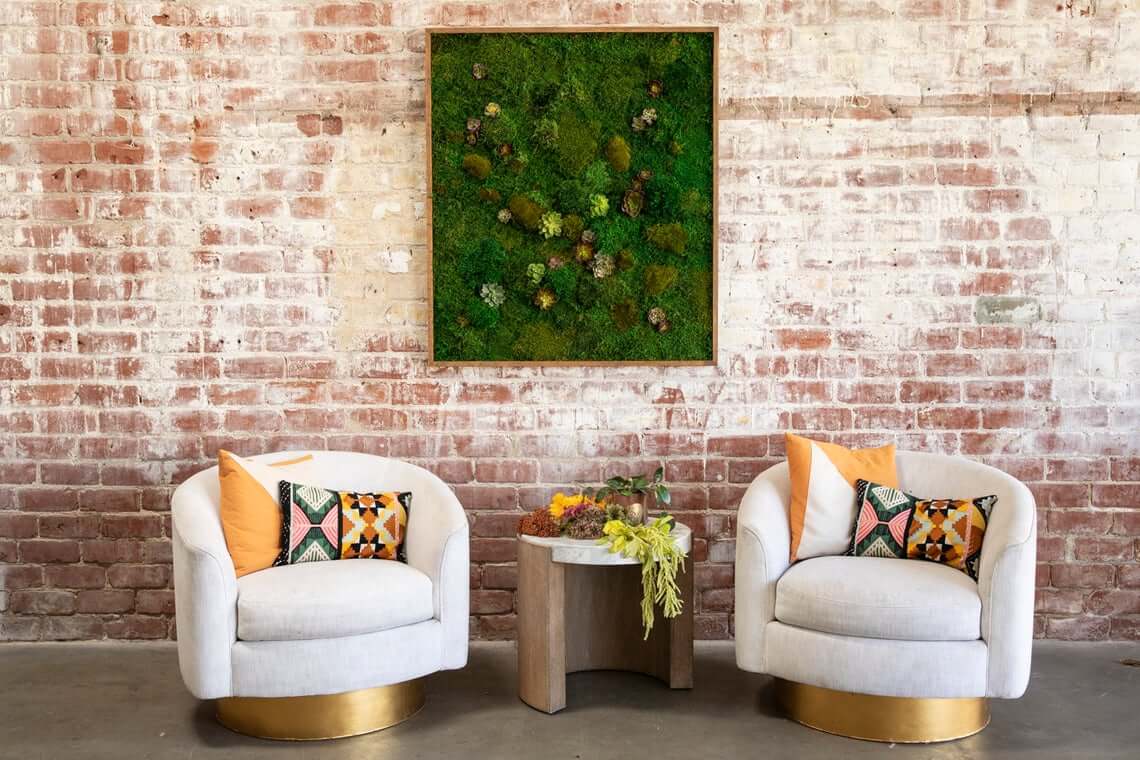 The richness in texture and color of this art piece will surely make you fall in love with it and is the sole reason it's in our list of the best moss wall art ideas. The moss has been keenly selected and arranged with thistles and moist faux plants to add to its vibrant appearance. It is made with real moss that has been professionally preserved to ensure that you do not go through the hassle associated with having green plants in your home. You can choose between a white, black, or dark brown wooden frame. It is ideal for a busy homeowner since it does not require any form of maintenance. It is advisable to leave it out of the sun because it can make it appear dull and dry.
11. Moss Art Framed Wall Piece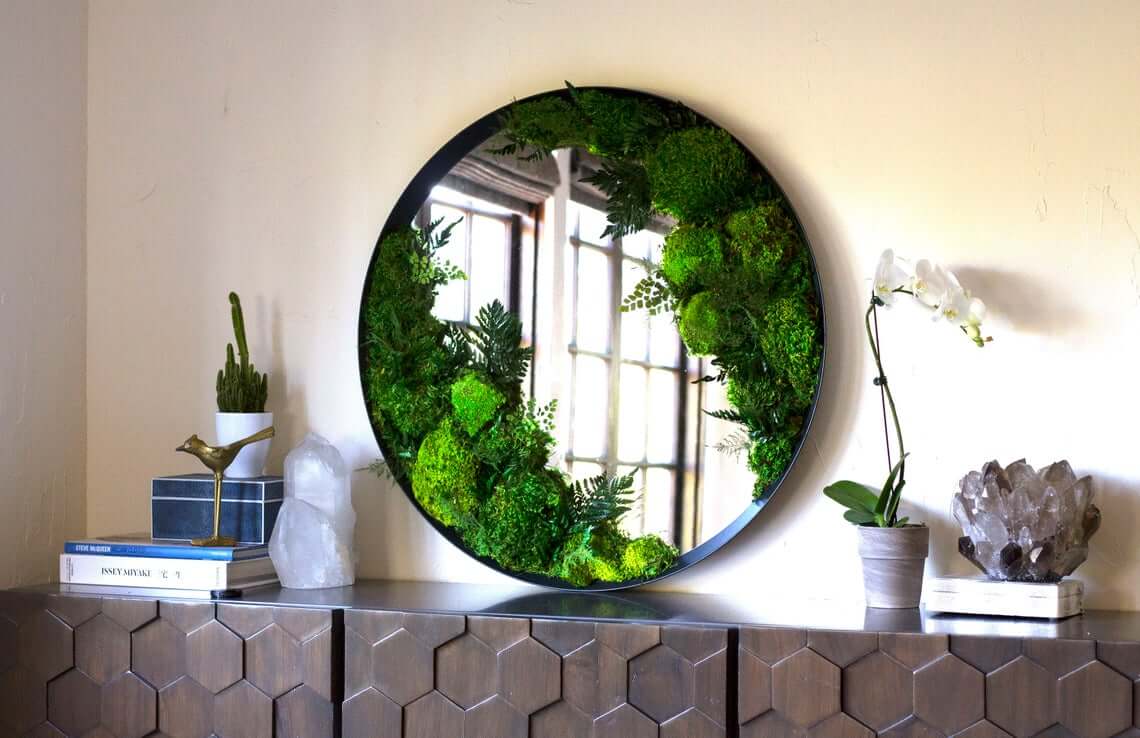 This contemporary interior decor piece is an artful combination of moss and ferns on a mirror. By itself in any living space, a mirror adds style and a touch of sophistication guaranteed to give any room a complete makeover. Now imagine a mirror designed with rich moss sitting on a table or hanging from your precious walls: I see myself making the flimsiest excuses to look at myself through it. The piece is unique and very striking in appearance. Its mirror is 100% functional, and no maintenance is required. Seriously, hang it up and let it do the rest.
12. Moss Frame Nature Room Decor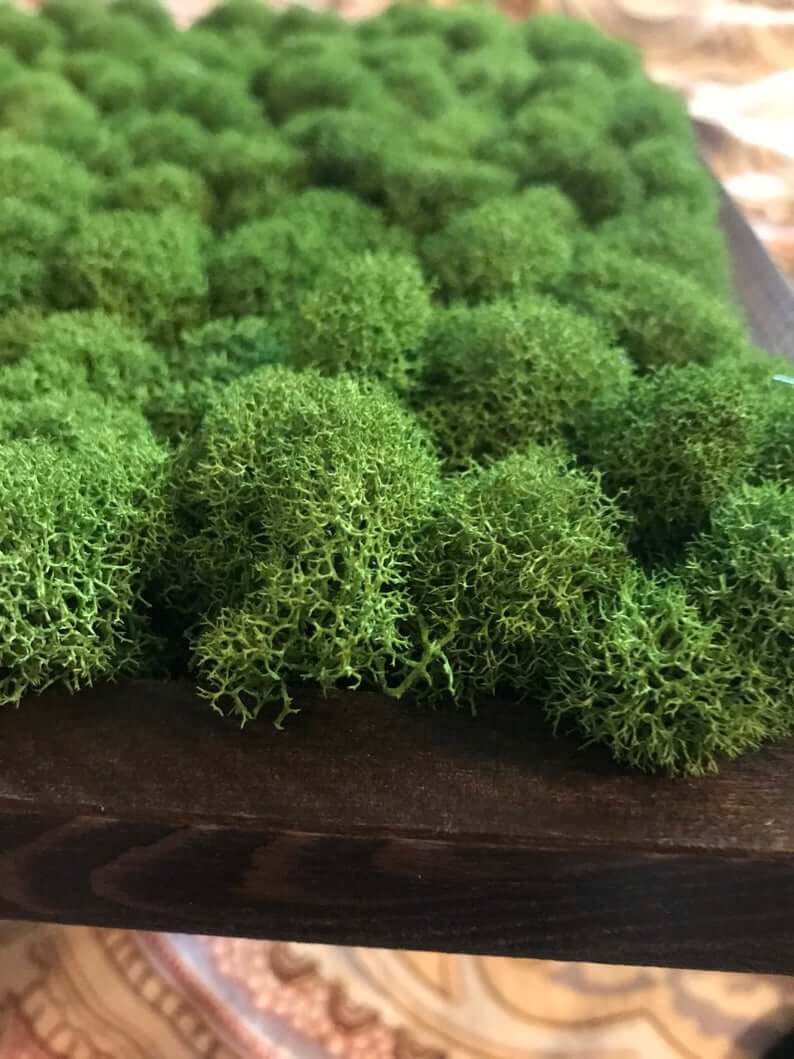 The design depicted in this moss art is called honeycomb. The moss has been arranged on a wooden board that comes in black and brown colors. It appears very lifelike, with the moss plants a significant height above the level of the board. This piece is ideal for hanging in your bathroom or your bedroom, above the headboard. This particular type of moss is beneficial for your home. It absorbs dust particles from the hair around your house to give you cleaner and fresher air. The moss is also hypoallergenic, so you can rest assured that you will not experience any undesirable reactions to this masterpiece.
13. Reindeer Moss Hedge Wall Art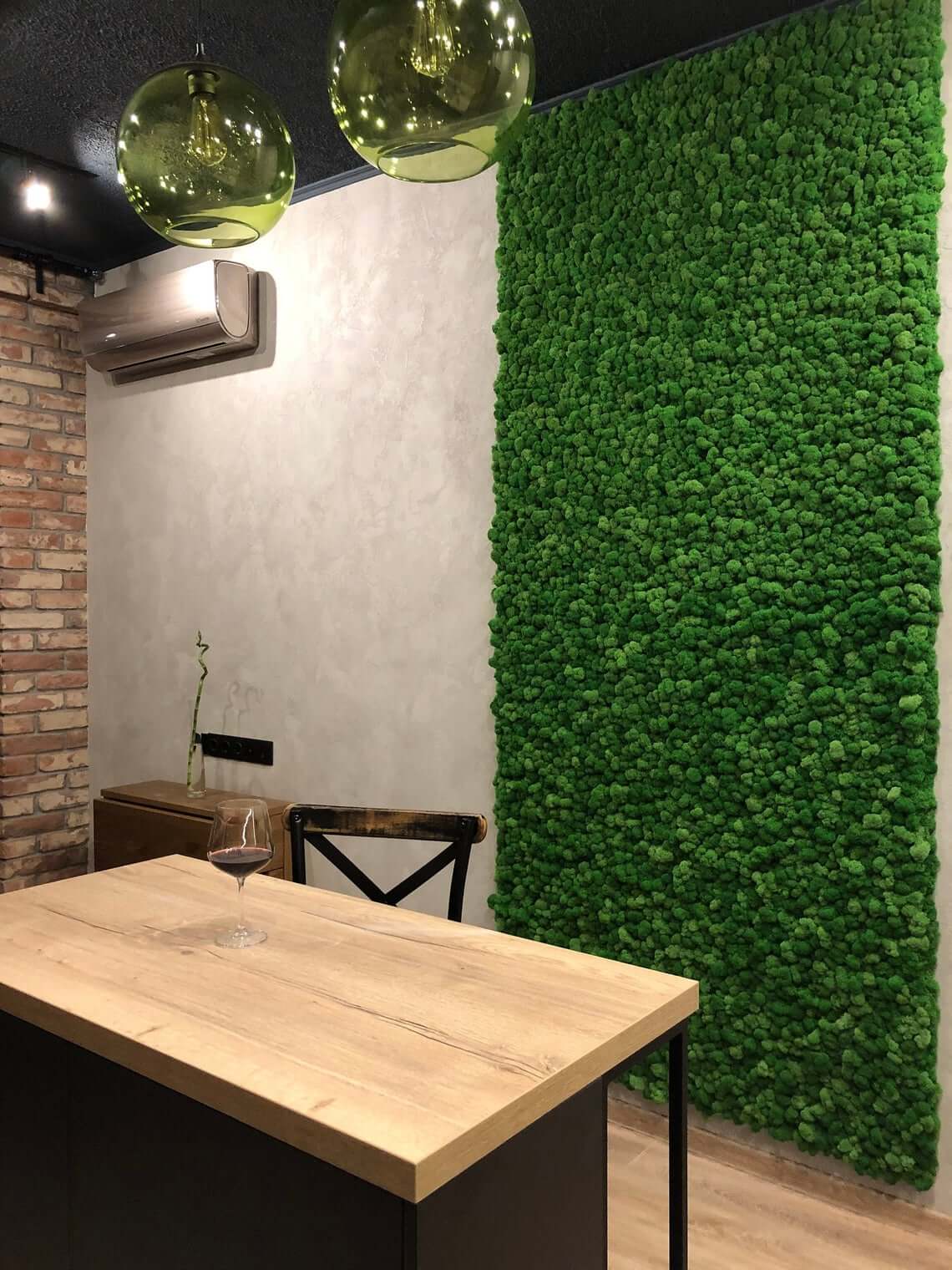 If you have always wanted a wall with a significant portion of it being green and shrubby, this is the moss art for you. It has been perfectly crafted into a beautiful panel that will go superbly with a white wall. Consider installing it in a room where you have wooden furniture to add even more style to it. This moss panel is made from one of the most high-quality moss varieties: this guarantees that it will stay in pristine shape and color and might as well outlive its owner! It is important to remember that this moss design is specially made for the indoors. You might be tempted to use it on your garden wall, but the sun will certainly dry it up. Install it in your relatively darker rooms like your bathroom or kitchen and watch it transform your wall.
14. Walnut Green Moss Wall Art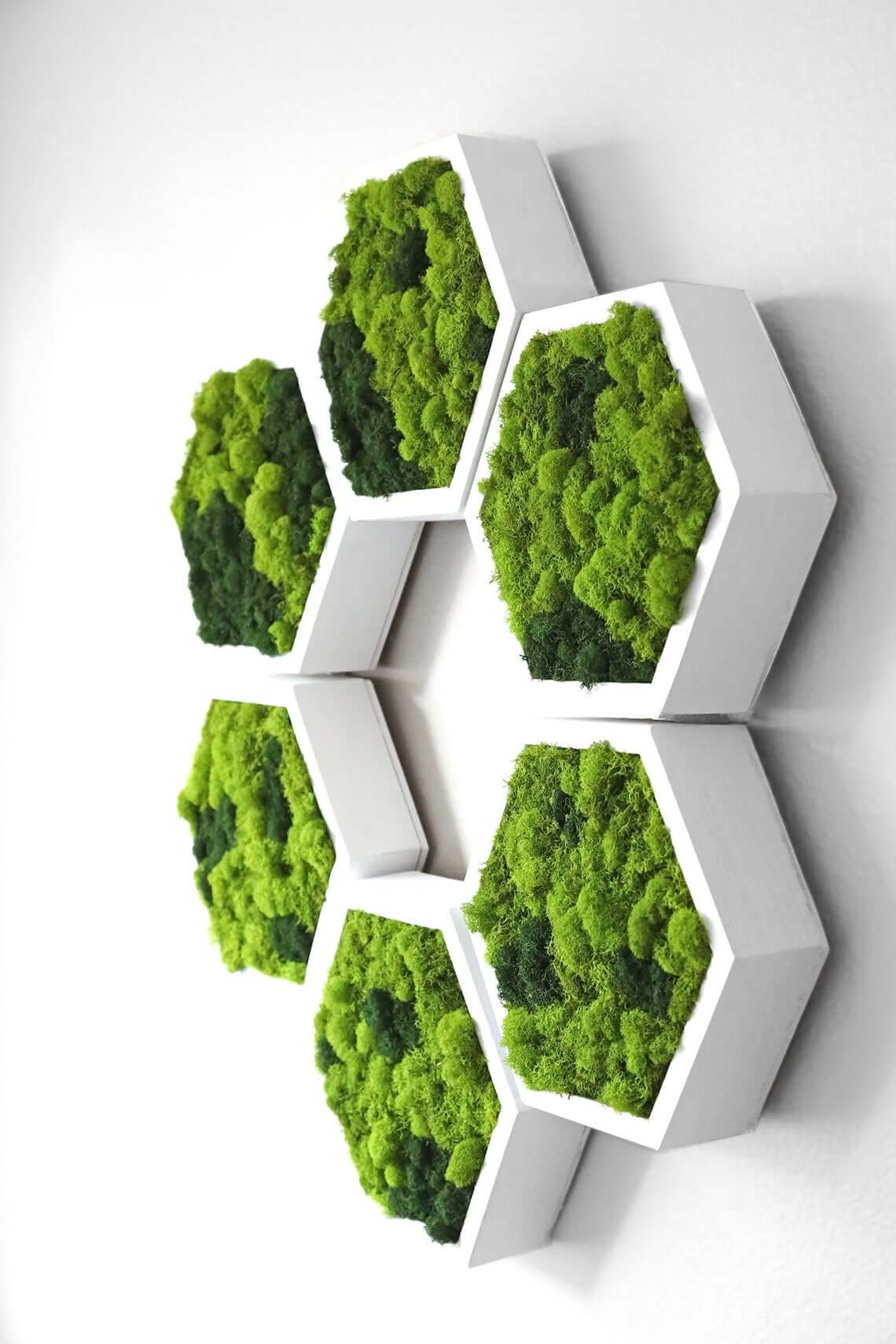 There is no better way to incorporate your personality's uniqueness and style than with this sophisticated moss design. The wood fixtures have been laser-cut to provide a simple, polished yet mellow appearance for your living space. Although this design is crafted with live moss, its maintenance is very minimal. The moss stays green and fresh by absorbing the humidity in the room. Adding a humidifier to your house will be highly beneficial to this piece of art gold if you do not have one already. If your air is arid, you can spritz a little water on it now and then so that it remains soft.
15. Green Scandinavian Moss Picture Decors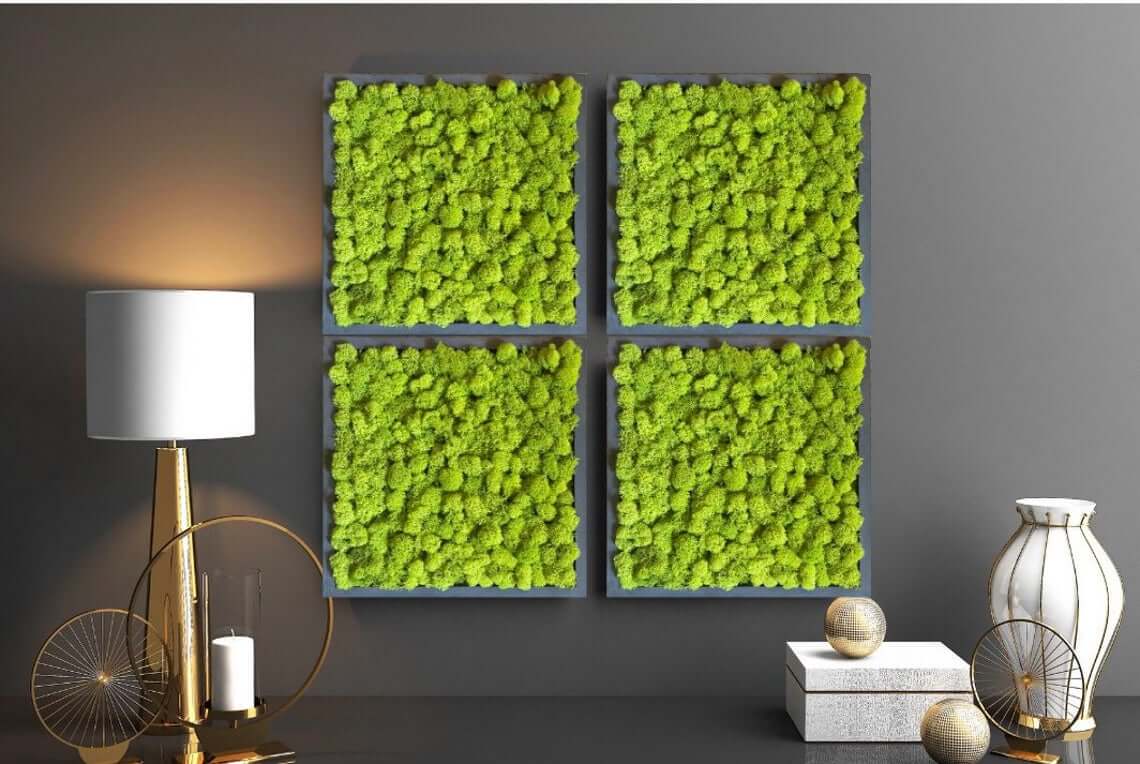 This design is made from 100% pure moss that has been preserved to maintain its luster and texture. It is comprised of a lush green color that will instantly liven up your space. These pieces come in a set of four square designs that go well on several surfaces. You can line them on a white or neutral colored wall, stack them to form a bigger square with partitions, or even slant them to form little diamond-like designs on a wooden screen. Professionals have crafted this set, and it looks the part. It has additional benefits too. The moss is thick enough to absorb and muffle high sounds, so placing it strategically will enable you to enjoy your sound system without noise complaints from your neighbors.
16. Fancy Motif Moss Art Board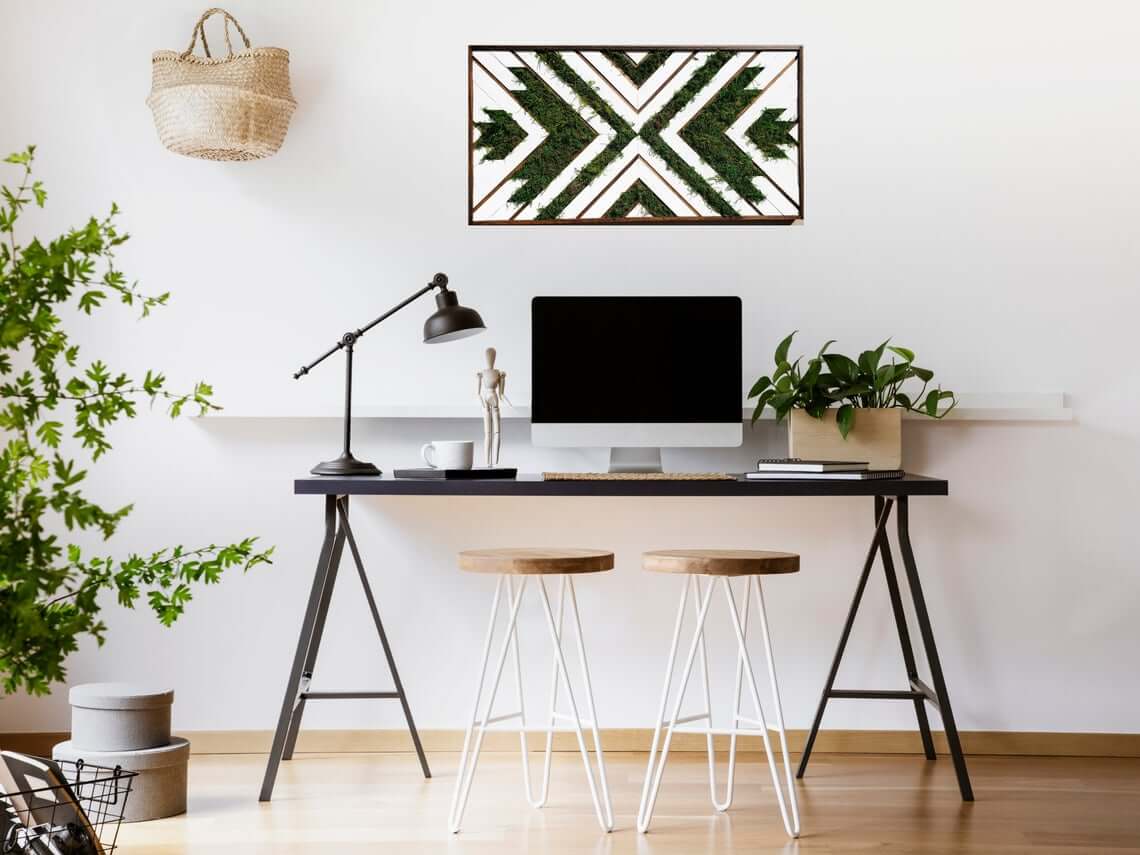 /a>
This fancy motif art is perfect for adding style to your living room space, more so if you have a small work station set up at an open corner. The board on which the moss design stands is made from a combination of top quality birch and plywood. The inspiration behind this abstract-like design is a Bulgarian tradition that depicts powerful energy. The piece itself embodies traditional, modern features to create a unique peace for your home office or kitchen wall. It does not stop there. The design art is medium-sized and very portable so that you can buy a piece for any of your loved ones. The color portrayed is the standard design, but you can have one custom made to include different colors, sizes, and even additions to the pattern.
17. Custom Moss Covered Wall Piece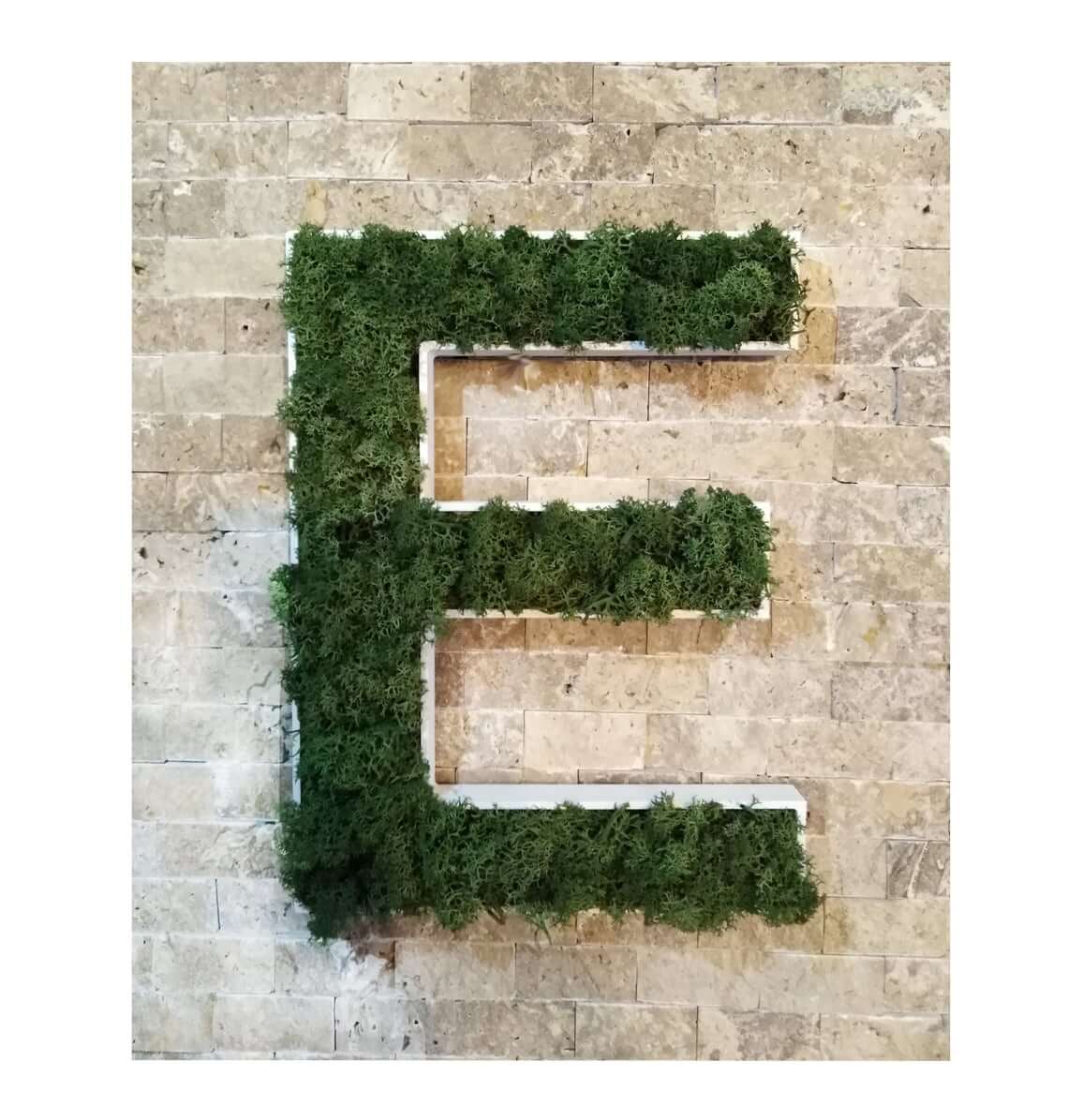 Who said moss art has to come in a frame? This moss design is an example of a wide range of custom letters designed with wood, moss, and lichen to make a beautiful piece. You are free to choose the letters you want and even their fonts, then have them expertly filled with moss. That's not all. You get to pick from more than fifteen colors, including five shades of green. One can also combine different letters to form a set of initials or a full name. Isn't this the coolest gift idea? As long as you keep it away from direct sunlight, you are going to enjoy a long and satisfactory service. The moss is preserved and dried, so you do not need to water it or maintain it in any way.
18. Tree of Life Moss Home Decor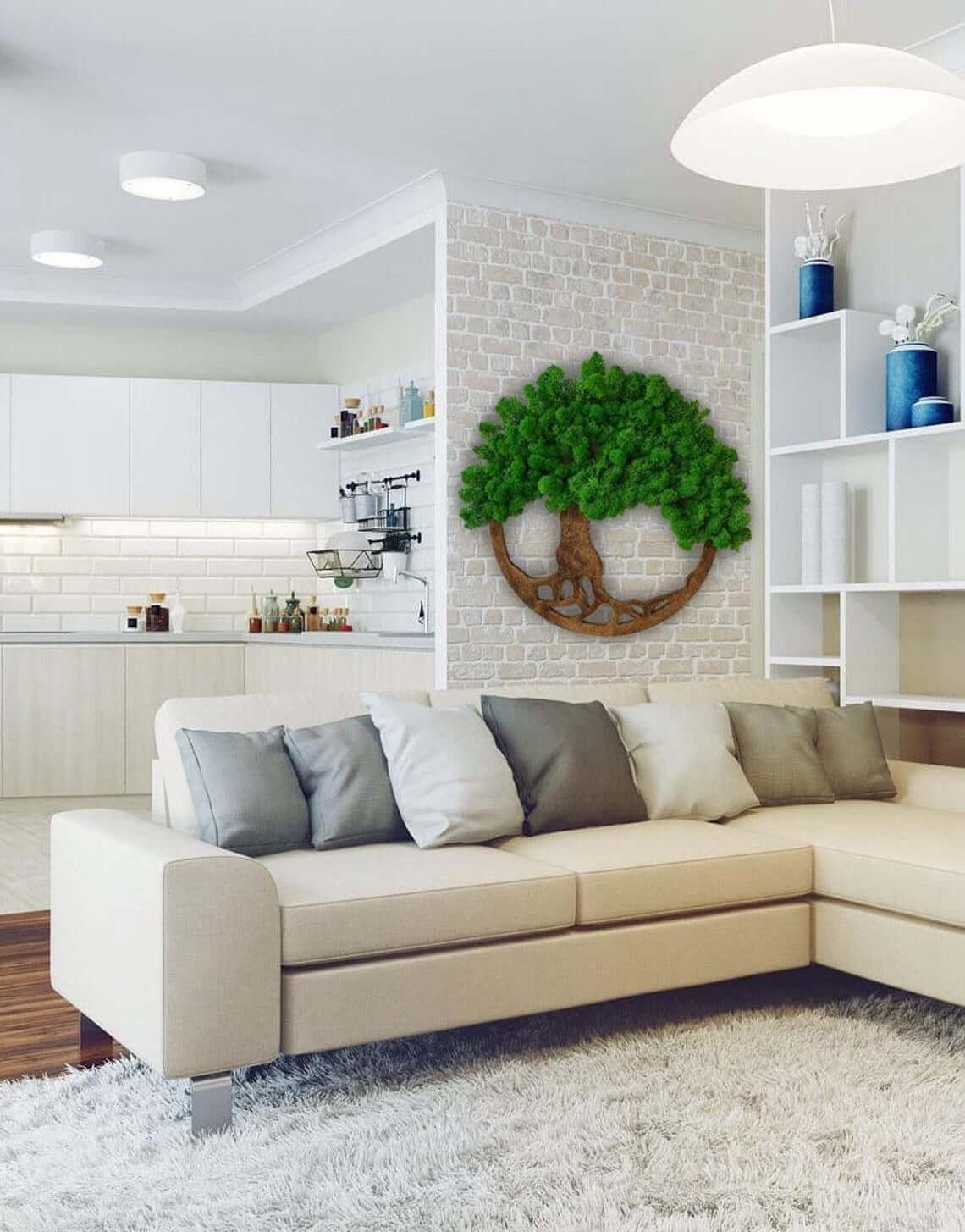 This uniquely fashioned moss design is the perfect accessory for not just your living room wall but any space that needs a little sparkle. The piece is constructed to portray the tree of life, a symbol of abundance and long life, that should become your choice centerpiece. The best part about it is that it requires no maintenance. You can spray it with a little water if you like, but it won't change in any way if you don't. Are you conflicted about what to buy that special someone for the holidays? Here is a perfect idea.
19. Modern Flat Moss Wall Panel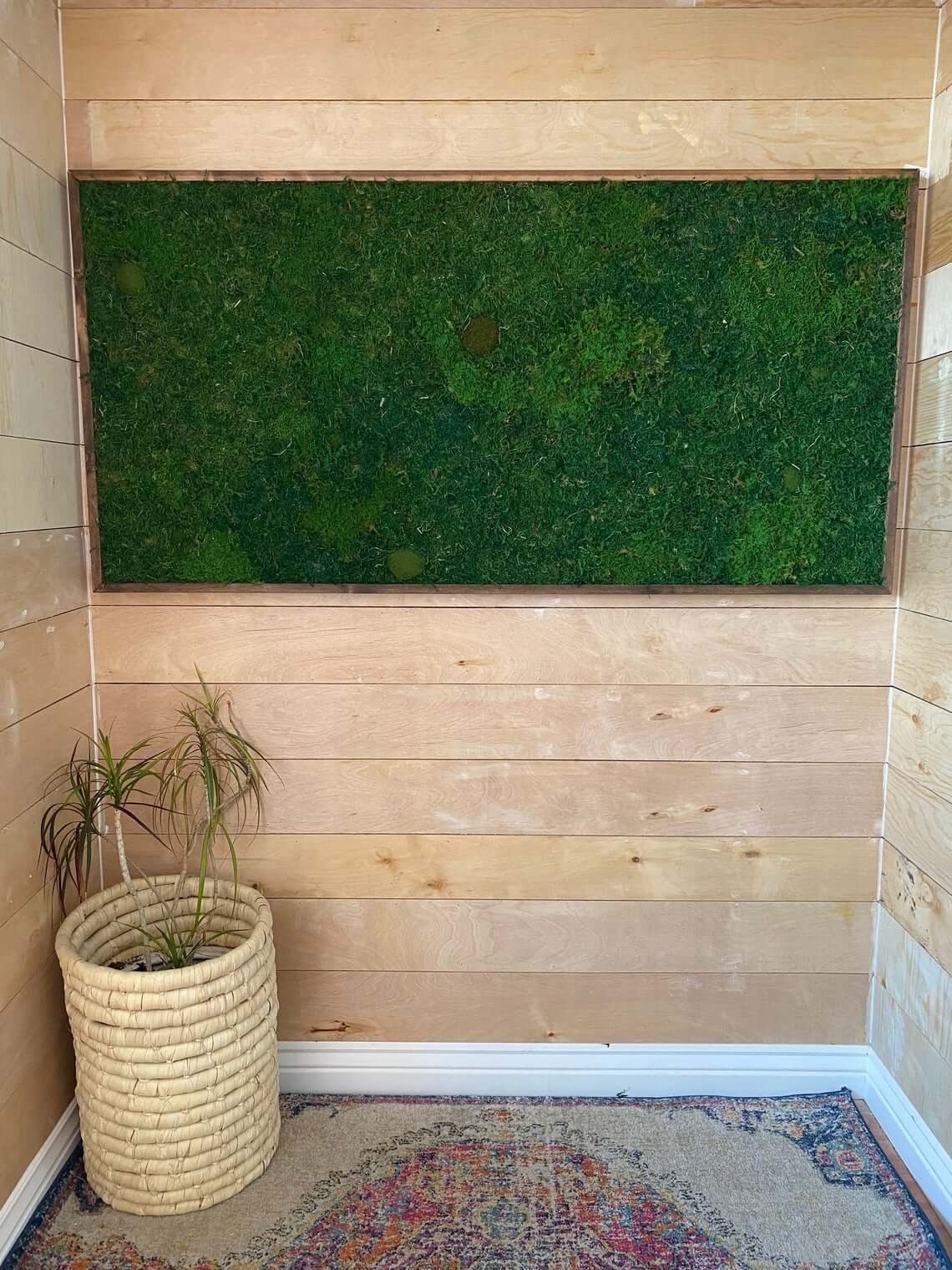 A flat moss panel is a way to go if you want to spruce up a section of your house but are worried about going a little overboard. You can install it anywhere from your bathroom wall to the kitchen, and it will still add a natural and organic feel to your home's overall appearance. It is pretty low maintenance, no, if not no maintenance at all. You are advised to leave it be and keep it from direct sources of heat or sunlight. A humidifier will go a long way in ensuring that it remains lush and healthy for years.
20. Custom Moss Home Quotes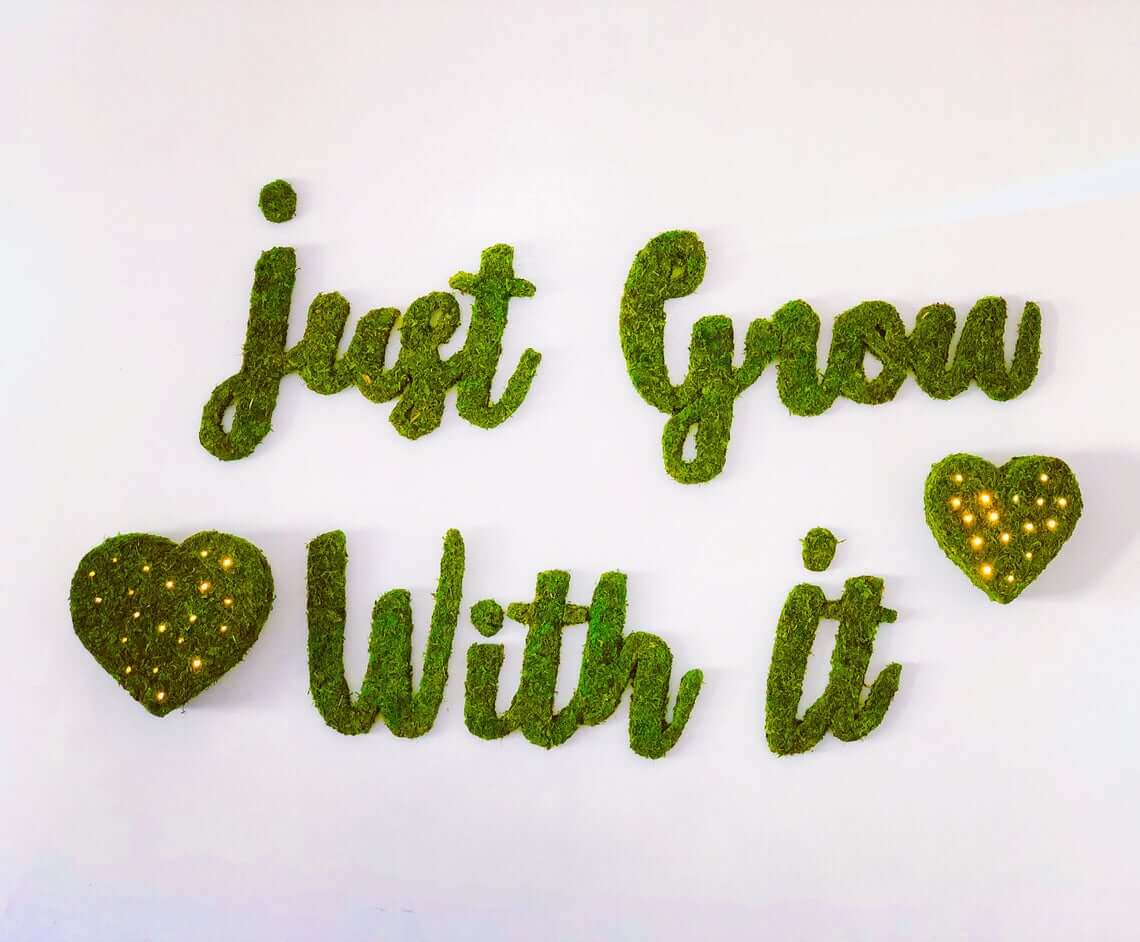 Make a bold and welcoming statement with this cool moss art design. You can have yours designed to say anything from witty quotes to motivational words. They come in various fonts and sizes, and you order designs with additional colors to make it fancier. Although this art piece does not require maintenance, it would be best to remember not to expose it to water, rain, or sunlight. The moss is perfectly capable of holding its color and texture for years without any additions. Since the design is relatively thin compared to other designs, it can't support itself. As such, you will need to hang it with nails or lean it against a surface. The letters are mounted on high-quality pine so that they can be more durable.
21. Hexagon Moss Terrarium Wall Designs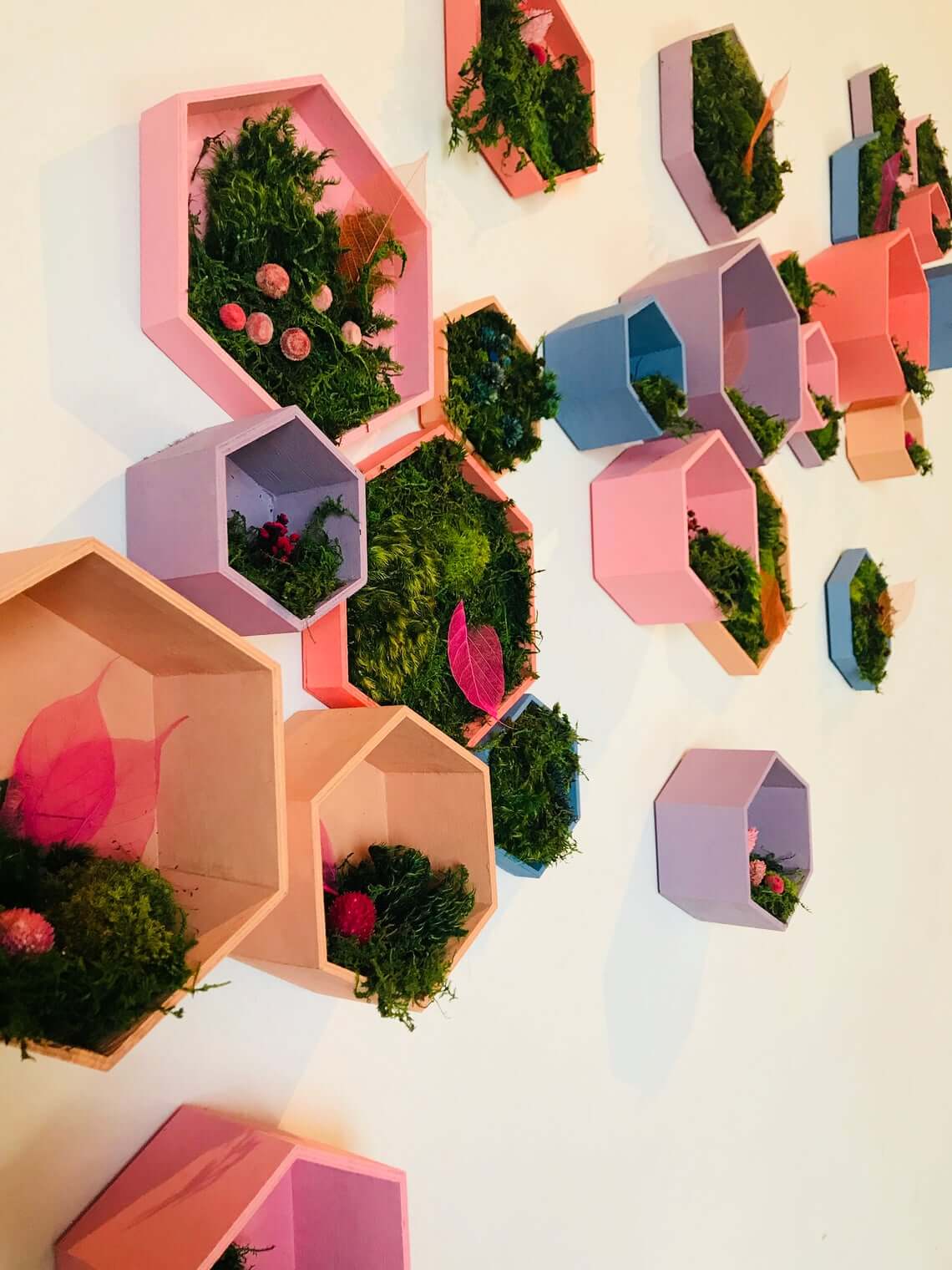 How would you like an entire wall of art in your living space? You will be smitten by this piece because it one of our best moss wall art ideas. The seamlessly cut wooden boxes hold different moss art designs with flowers, leaves, ferns, and all the colors you can think of. This design is perfect for a large home and a massive living wall. You can arrange them in patterns or stack them together to form a network of the most stunning art your eyes have ever beheld. If you are a lover of plush color and intricate designs, look no further. Can you believe that this unique array of perfect mosses is maintenance-free? All you need to do is have them installed, and you can go about living your stylishly full life.
22. Inspiring Custom Wall Art Sayings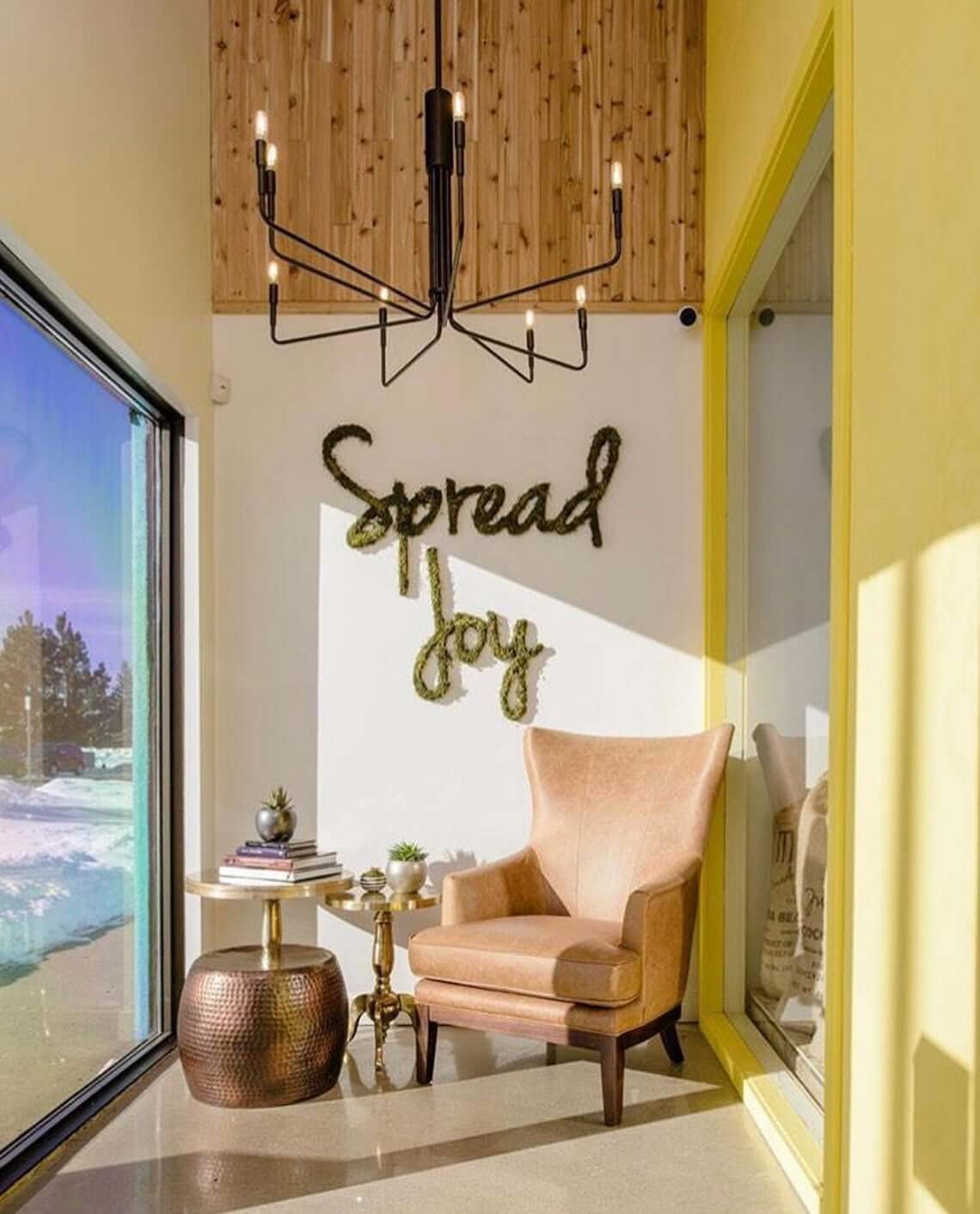 Nothing warm the vibe of a home better than a cheerful or meaningful quote on the wall. The words displayed here are not cut and dry. You can order your custom design with whatever saying is closest to your heart, or that best resonates with your home. Choose from an inexhaustible variety of fun fonts and colors to add some personality to your design. The letters come with hooks to help you install them on your wall, while others must be fixed with glue. As with most moss art designs that we love and recommend, these beautiful words do not need to be maintained. You will enjoy having them brighten the corridors of your home for years, even decades.
23. Real Starburst Living Moss Art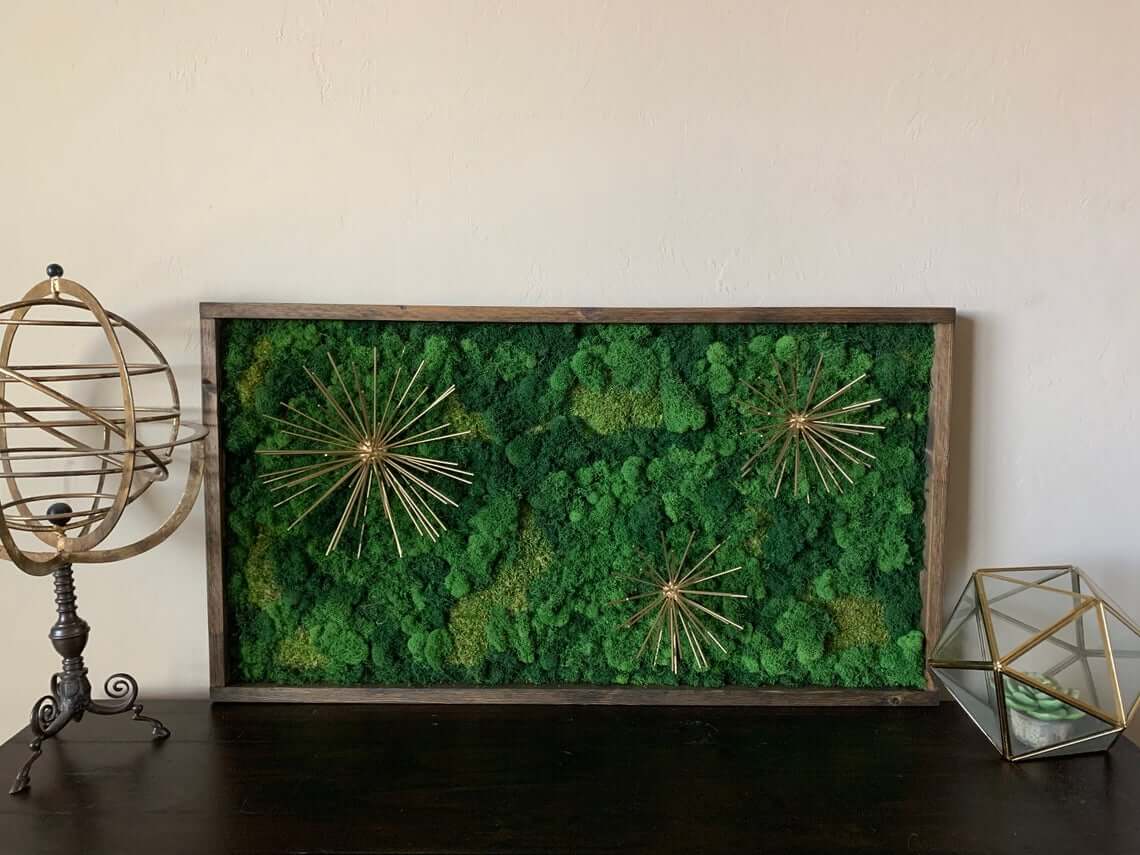 Finding a piece of art that stands out from the rest of the noise is not easy. Well, it does not get any easier than this astounding moss art design. It comes in a 48 by 28-inch frame, which is the size of a medium-sized flat-screen television. You can place it on the top of a cabinet or a wooden desk, and we promise you that it will be the first thing anyone sees when they walk into your home. It is a stylish arrangement of real preserved moss embellished with gold stars to make it even more appealing. Do not let the term "real moss" scare you into thinking that this piece of art requires a ton of work. All you need to do is hang it up and let it be. You can also choose to have your frame painted or stained, depending on your taste.
24. Green Circular Moss Wall Art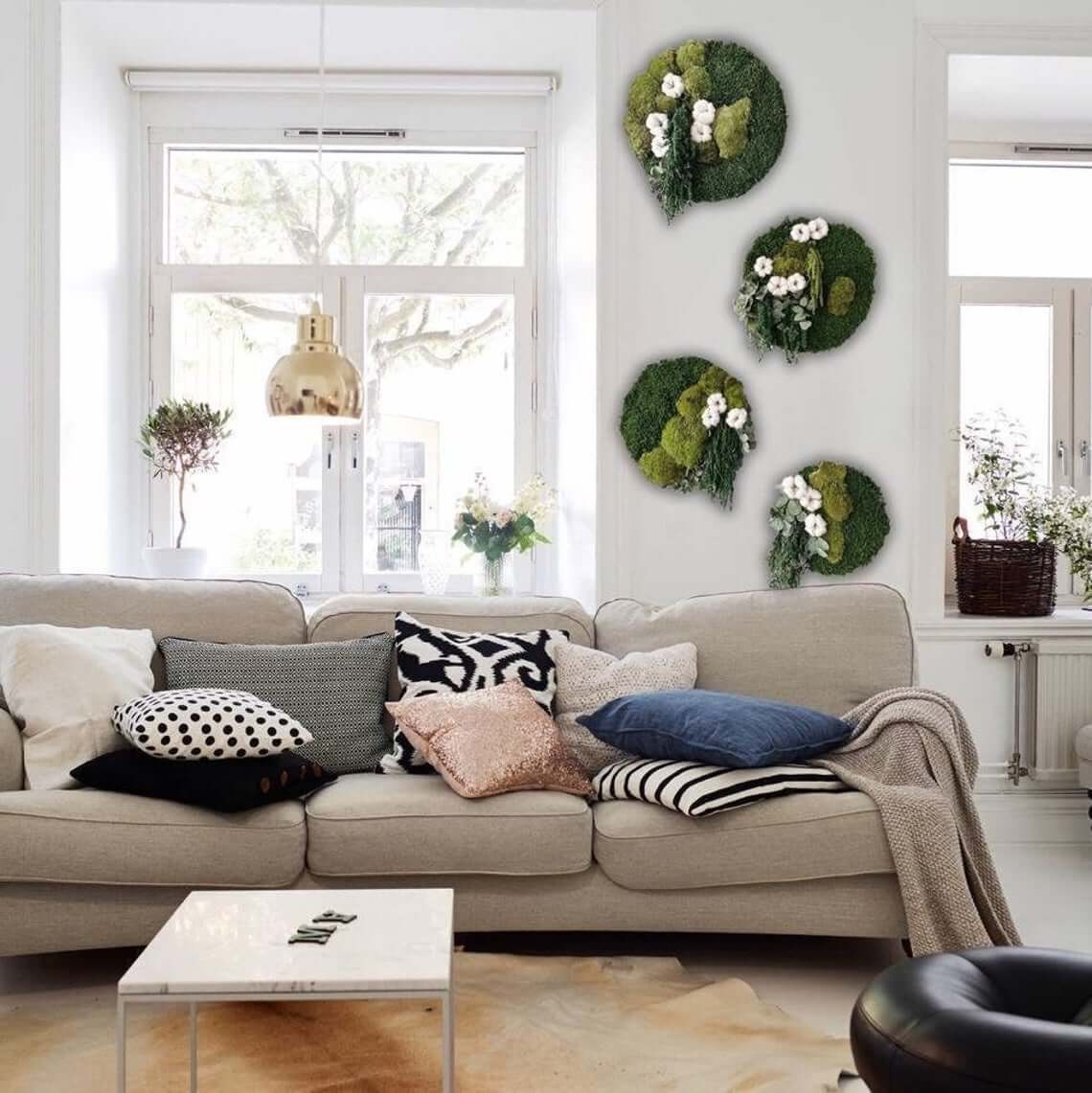 This moss panel is the kind of design that will give your home a welcome lift. It comes in a set of six circles that have been designed with cotton and moss to make a very natural and appealing structure. You can hang them in your desired pattern, whether it's on your living room wall or your dining area. Since it is a very sophisticated design, you might prefer to hang the circles on a wall devoid of any other art pieces. The pieces come with specific instructions not to spray them with water, however little because it might ruin the entire outline. It would be best if you also kept it out of the sun not to dry up. Other than that, this is a very cool and unique art piece to have in your home.
25. Modern Home Vertical Moss Garden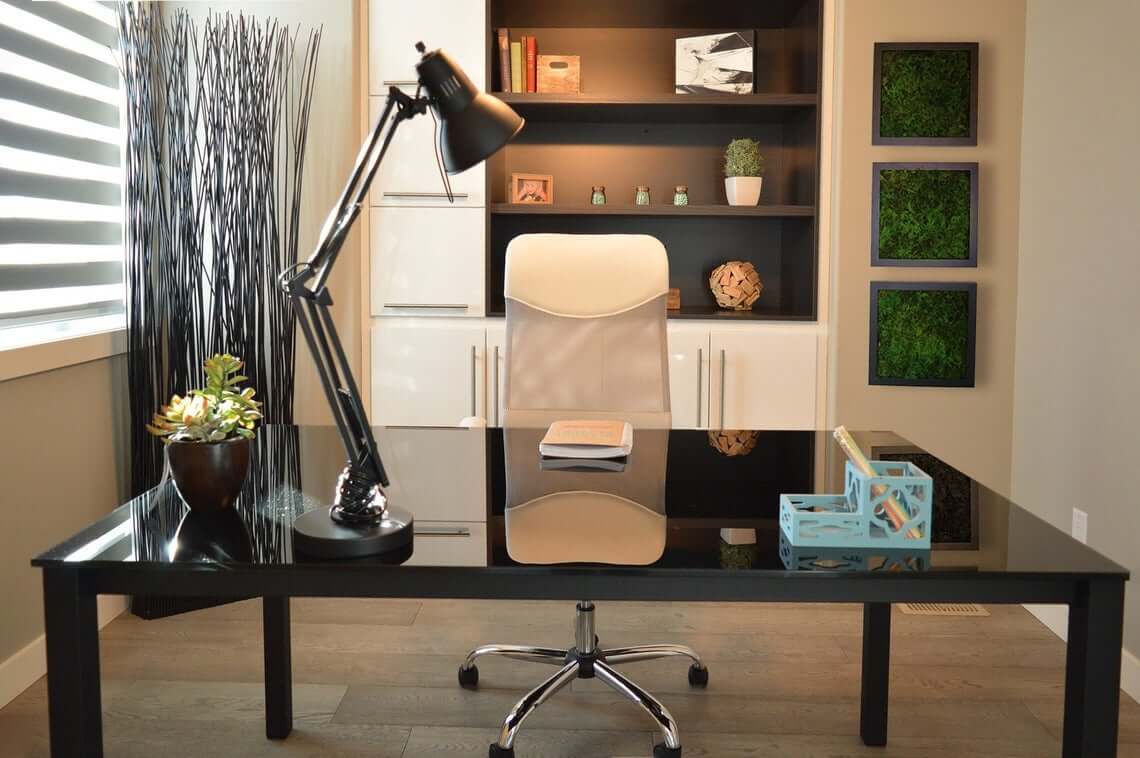 Do you know what is better than one piece of art? Several more pieces of art! This moss art design comprises three beautifully packed panels guaranteed to transform any bare wall into a dashing and trendy space. If you love taking pictures or even hosting in your home, these panels will surely intrigue your friends and colleagues. What's more? You get to enjoy these lovely pieces without the hassle of watering and general maintenance.
26. Quartz Moss Wall Clock Design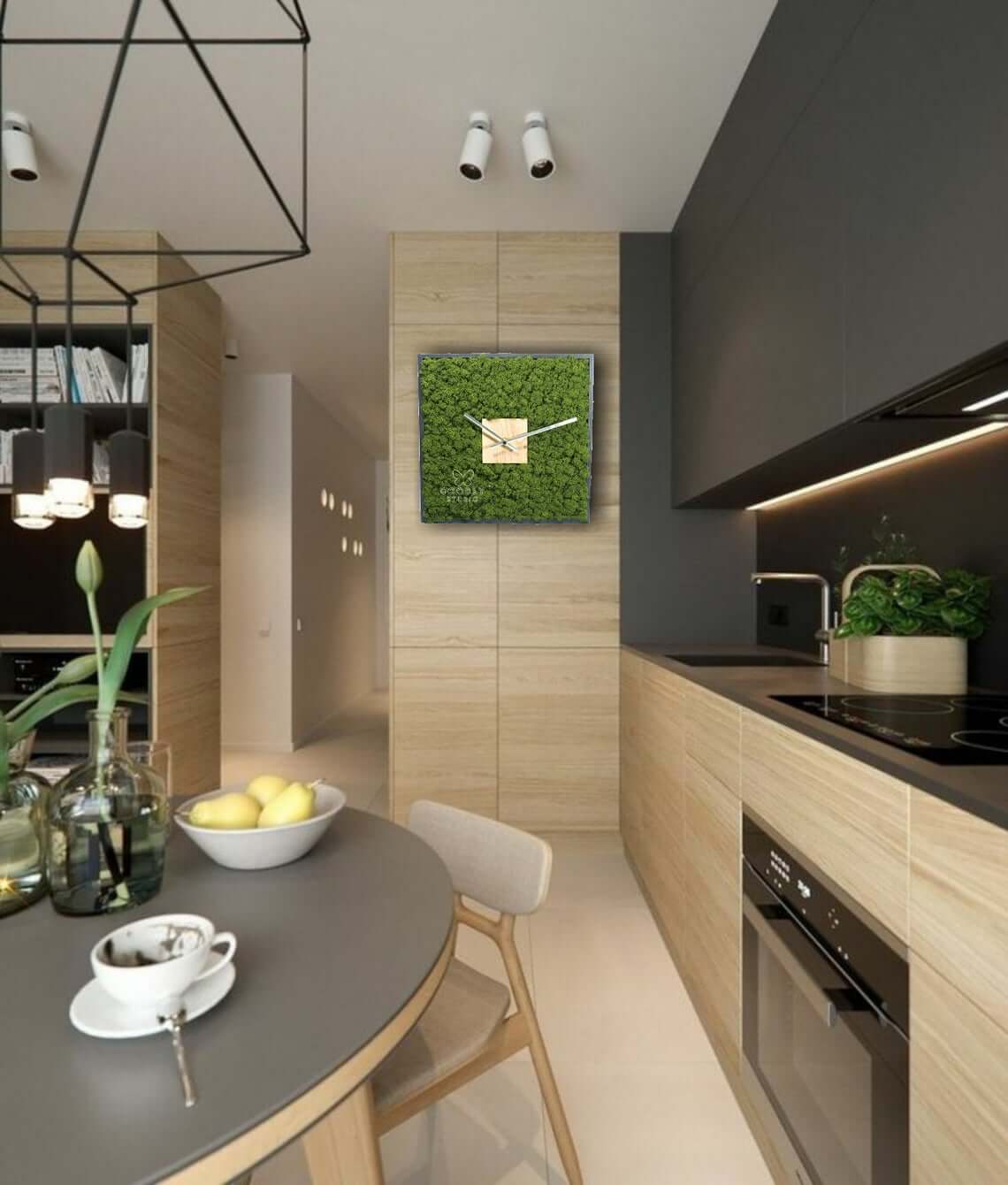 This unique piece of moss art doubles as a wall clock and is bound to wow anyone that sets their eyes on it. The clock itself is made from high-quality hardwood with a section of it left bare so that the moss does not interfere with the clock's hands. Most people shy away from classic quartz clocks because of the distracting ticking sound, but this particular wall clock is fitted with a silent mechanism for your comfort. The clock part of it is 100% functional, and it runs on a battery that can power it for at least six months before it needs replacement. You may be pleased to know that this design's moss has been stabilized to ensure that it lasts for more than a decade. Be sure to keep it away from sunlight, heat sources, or radiators. Although spraying it is not recommended, the moss will require a bit of humidity to remain fresh and bouncy.
27. Succulent Living Moss Art Design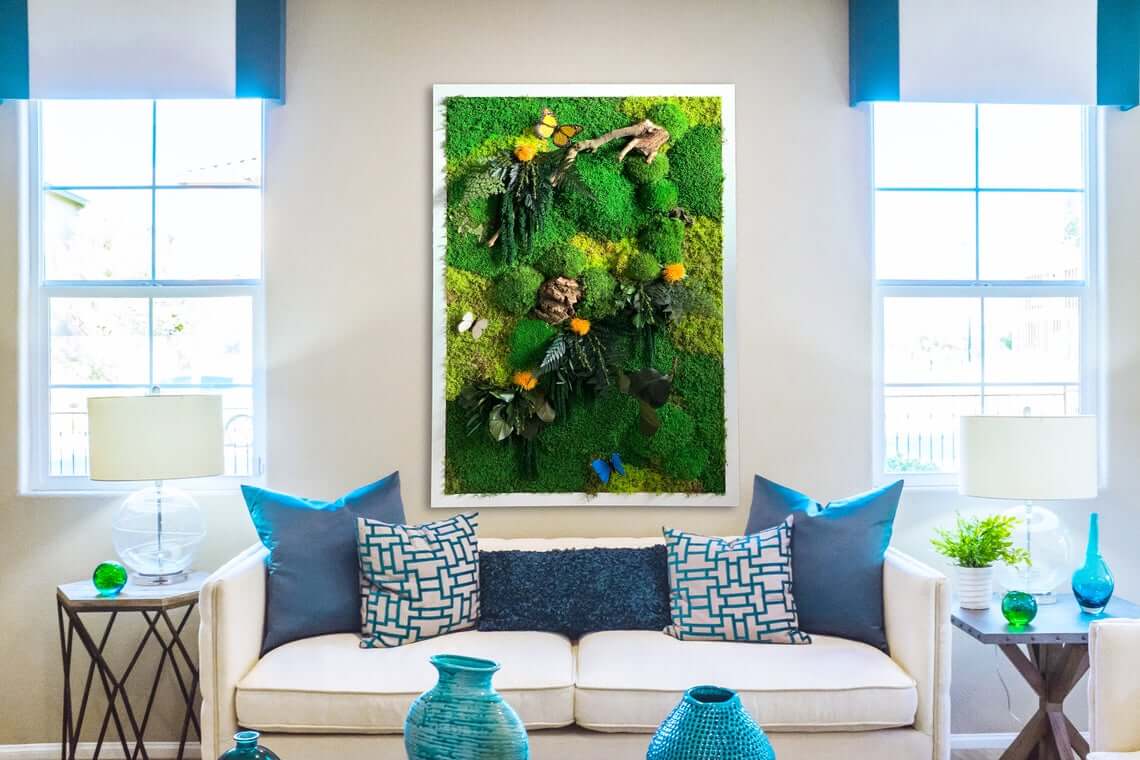 Fantastic art is begotten from creativity, and so is this incredible idea of moss artistry. We cannot stop marveling at the unique moss frame that can also be used to hold your candles. You get to protect your valuable furniture from damaging wax while maintaining a level of style all your peers will envy. Did you know that moss absorbs fumes? Any unpleasant fumes emitted by the candles will not waft to you because the moss will ultimately take them. The moss design on the wall is a thick and lustrous piece that is warm on the eyes and soft to touch. If you want your home to portray your style and elegance, this is the way to go.
28. Honeycomb Green Moss Wall Art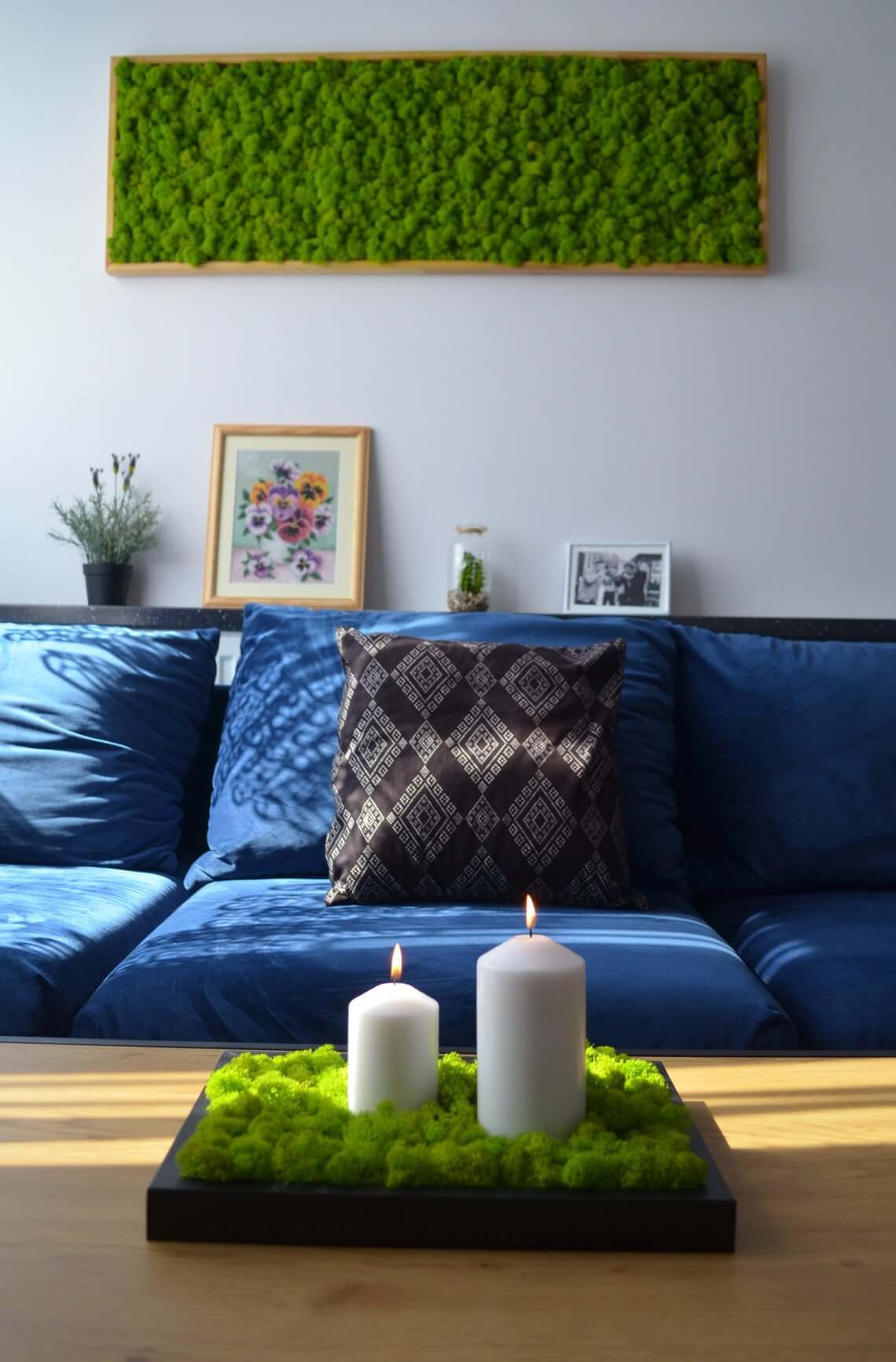 This botanical screen instantly gives life to any room where it is mounted, especially your living room. Its lush green color is calming to look at and has been seen to transform a dull room into a warm haven. This fascinating piece of art against a neutral painted wall will provide the exact effect you want to a serene and welcoming home. You need not worry about the design clashing with the color of your furnishings and sofas because guess what? Moss goes with everything!
29. Unique Circle Home Moss Wall Art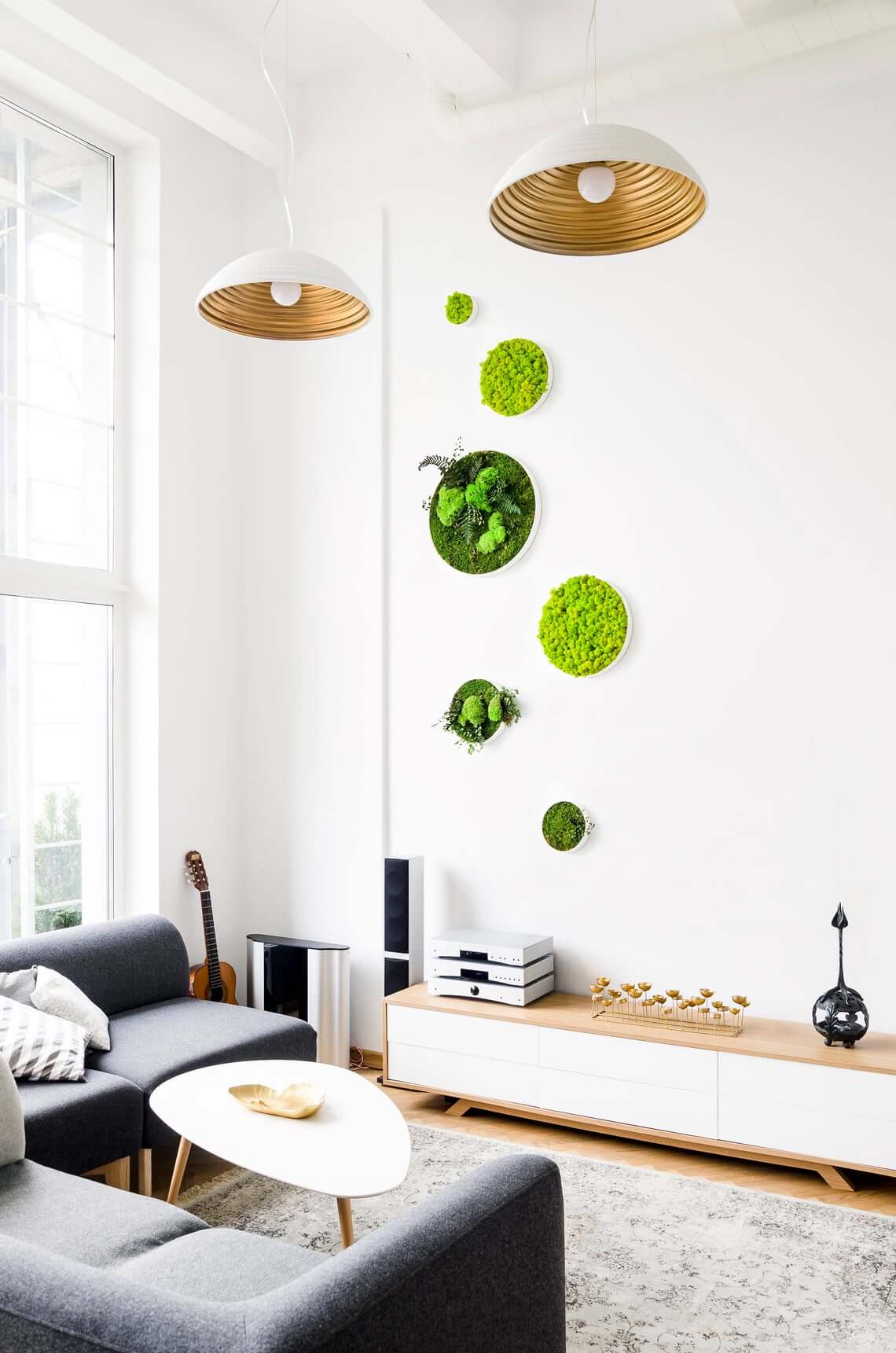 Circular fixtures are becoming very popular in interior design, and now you can join the trend with these great fun-size designs. They have been crafted with plastic, moss, and other plant pieces. The moss is arranged skilfully on a plastic base, which has a hole at the back to help you hang it over a nail. The circles come in two sets of three large designs and three small ones. Can you imagine all the beautiful patterns you can create with these little gems? They might look like much on their own, but arranging them in a pattern of your choice on a large living room wall is guaranteed to give your home an ultramodern look.
29 Insanely Dashing Moss Wall Art Designs to Decorate Your Home
Great moss wall art designs complement any spaces they are added to and allow you to enjoy the luxury and benefits of having greenery in your home without the work that comes with real plants. You do not have to handle soil, weed, or even take them out into the sun. We thought you might need some insight into the best moss wall art ideas, and we sincerely hope you found this post helpful. Browse through our top picks and suggest them to a colleague who you know who needs them as much as you do.
Choose Rustic Wall Decor Ideas to Make Your Home Warm and Inviting