If you've ever wanted to try your hand at filling your life with unique decorations that are a little outside the norm, the list below contains the best neon sign decor ideas on the market today! There are plenty of reasons why you might want to start straying away from the mainstream decorations you usually put up all-around your house. Given the usual market trends, you're probably quite used to keeping your home filled with traditional decorations. It's about time that you let your personality speak for itself with these great neon light decor items!
27 Best Neon Sign Decor Ideas for a Colorful Flair Inside An Inviting Room

From your child's bedroom to the coffee bar in your living room, utilizing neon lights can be an amazing way to open up any space. Not only that, but these options are an amazing way to light up the night in the most environmentally friendly way. Yes, you heard me right! Neon lights are extremely energy efficient and eco-friendly so they don't consume very much energy for any given use. This also means these colorful decorations are not only stylish, but they're quite long-lasting as well.
Although many people mostly associate cool neon signs with an edgy look, they can also be dressed up to help you celebrate some of the most special days of your life. Place the initials of you and your significant other in a bright white neon sign or plaster your new last name in neon lights on a row of beautiful flowers. When it comes to incorporating neon lights into any form of decorations, don't be afraid you're going to do it wrong! The numerous different options associated with this fun design technique allow you to experience complete creative freedom whenever you choose to use it next. Browse through the list below discover some new ways you can decorate with neon for the upcoming holiday season!
1. Stay Sassy Customizable Neon Sign Wall Decor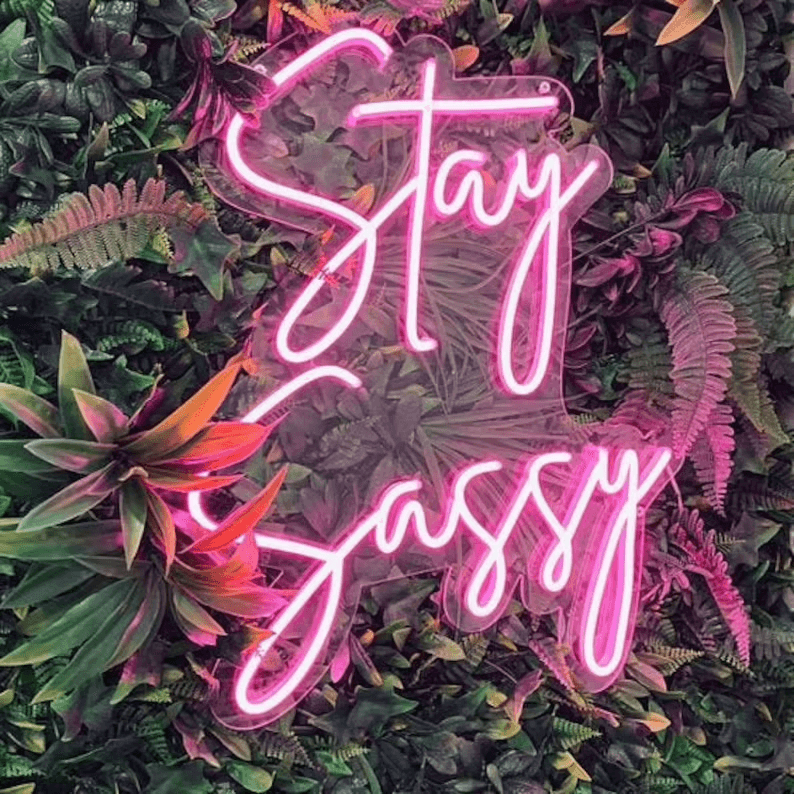 Has your room had the same boring decor for some time now? If you're truly ready to switch up your normal style, take advantage of this completely customizable neon wall decor. Adding just the slightest touch of personality to your bedroom can really help you feel more comfortable in your own home. Maybe your teenagers are in serious need of some college dorm room renovations. Giving them a neon decoration that reminds them who they are can be just what they need to help them keep pushing forward in their journey. Imagine the mood change just one neon sign can bring to your life!
2. Personalized Pretty Neon Hanging Wall Art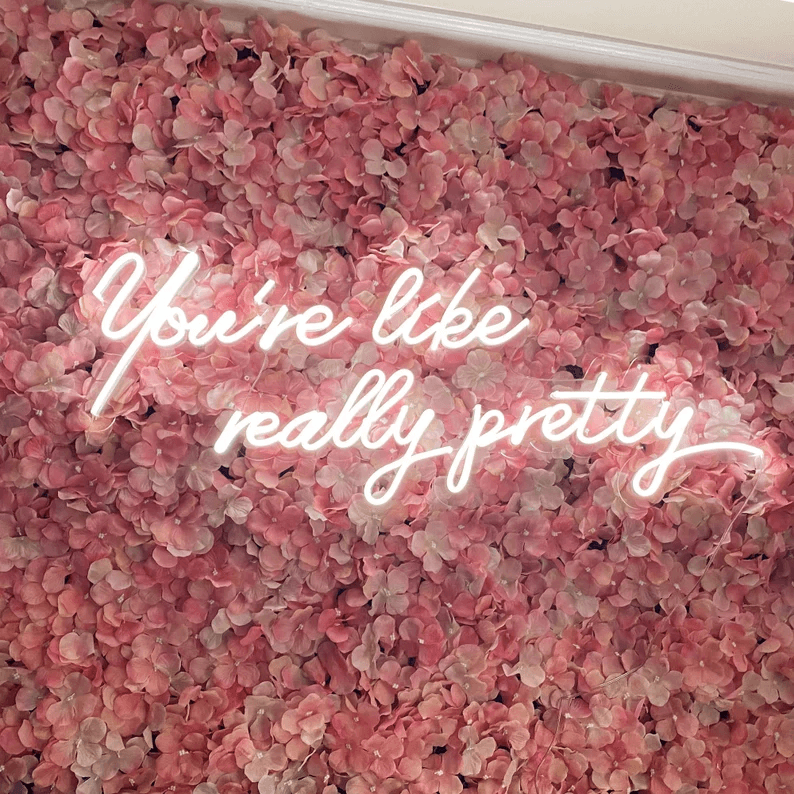 There is nothing wrong with being a girly girl at heart! Even if you're not a huge lover of the color pink, you can still use neon to support your unique personality. These handmade "you're like really pretty" neon signs are a fantastic way to wake up every morning with a positive affirmation hanging right above your head. It's extremely easy to get caught up in your worldly struggles instead of taking a moment to realize how truly far you've come. You and your loved ones deserve to be reminded how great you are every single day!
3. Cute and Colorful Rainbow Neon Night Light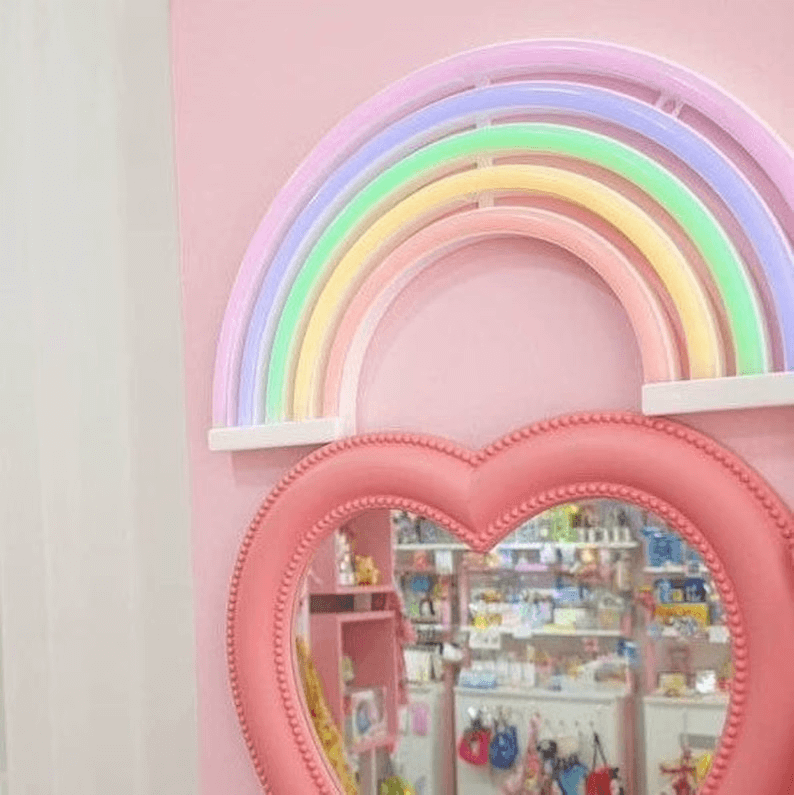 Your children are the most precious and heartwarming aspect of your life. Why not spruce up their room with a beautiful neon rainbow? Think back to when you got your first night light as a child. That was probably an amazing experience you'll never forget. This handmade rainbow can be used as the best night light for a child that tends to get more scared when trying to overcome the darkness of night. Even if your child is never one to fear the dark, this rainbow decoration is still a great addition to any bedroom. If you're a rainbow lover, get one for yourself as well!
4. It Was All a Dream Bedroom Neon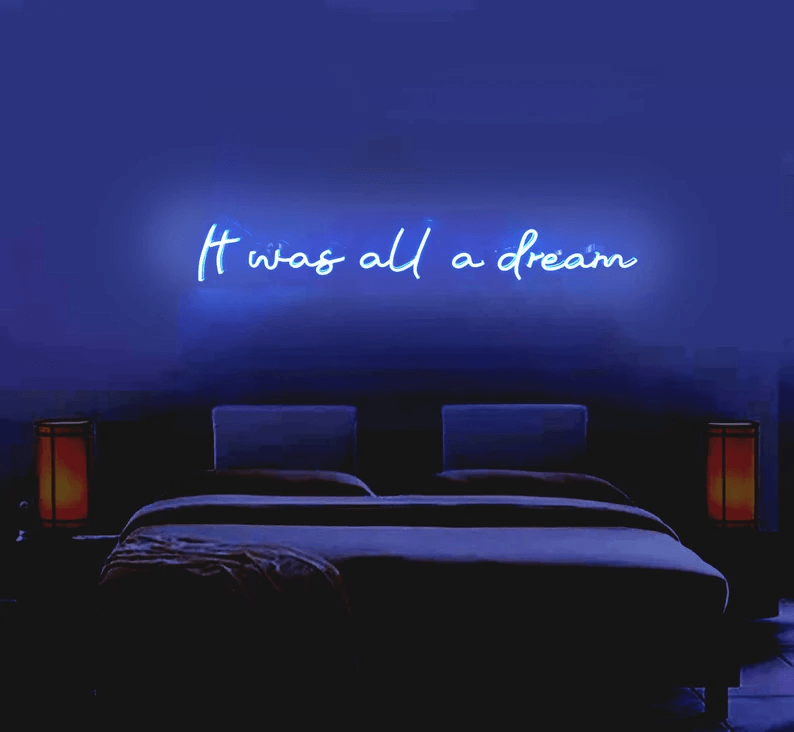 This neon sign is absolutely perfect to use as a wall art piece above your bedroom! As soon as you've eaten dinner and are ready to settle in for the night, you'll have the ability to turn on your LED neon light! The proprietary PVC molding technology allows for a very high-level design and a high-quality experience as well. This neon sign can be the last light you see before you finally fade off to sleep after a long day. Additionally, you easily take advantage of the installed dimmer to ensure the lighting isn't too overpowering when you're ready to rest.
5. Perfect Bar Party Cheers Neon Sign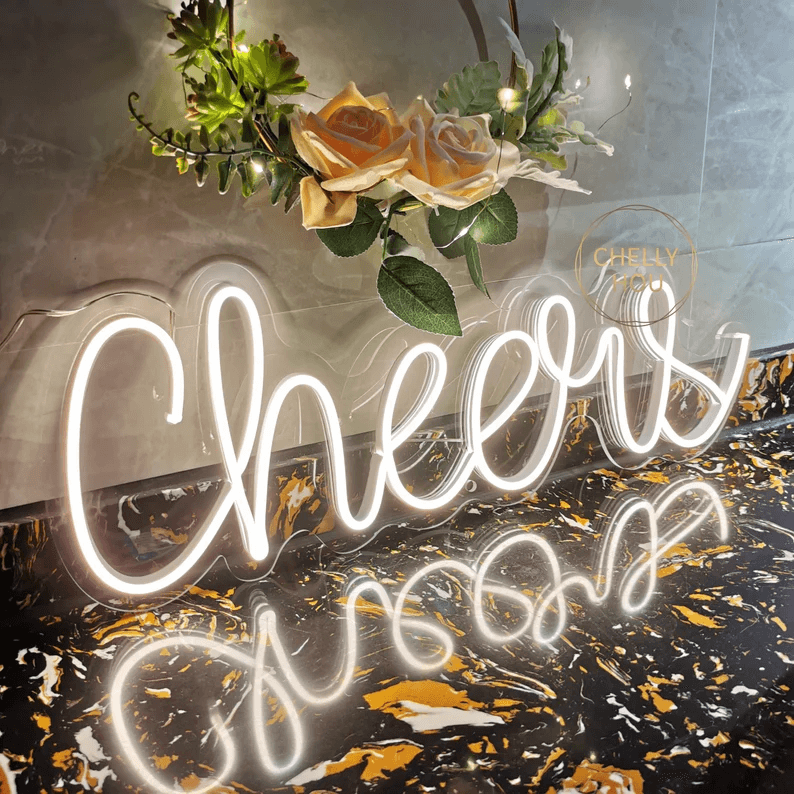 As the holiday season continues to draw near, now is the perfect time to brainstorm how you want to decorate your home for each social occasion. If you have a more outgoing spirit, this cheers neon sign is incredible for a fun bar party! This sign is customized to fit into any space you have available. Once you choose the size and shape, your new sign will be ready to create. Imagine ringing in the new year with this amazing sign that makes all guests feel more than welcome to let loose and enjoy your company!
6. Unique Business Brand Neon Wall Decor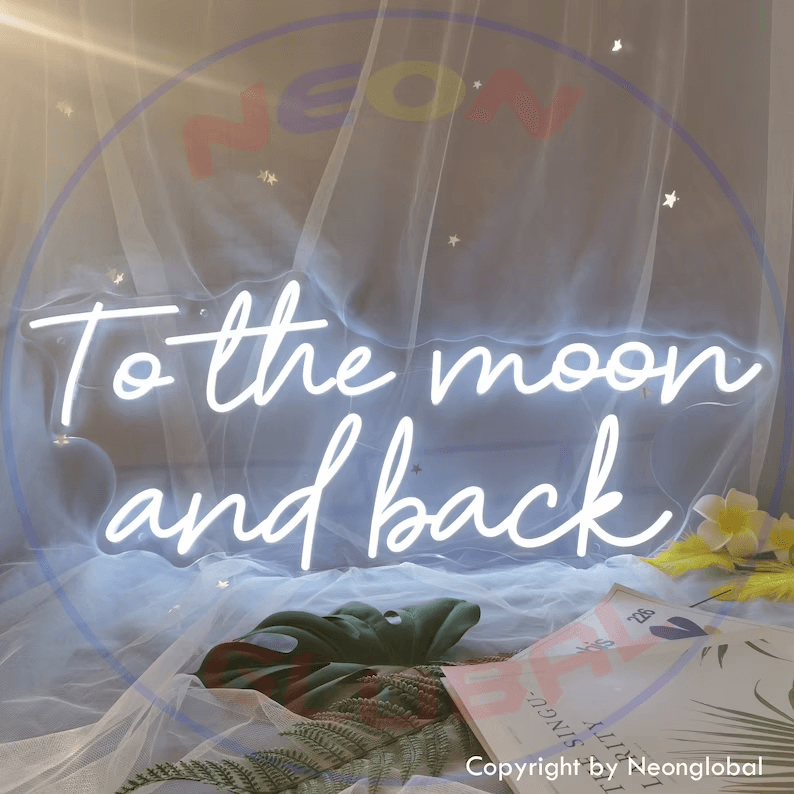 From business brand logos to positive affirmations, this neon wall decor truly can't be beaten! If you're an up-and-coming small business owner who is still trying to find your footing, this neon sign will help you do just that! The LED technology is extremely durable so you don't have to worry about how it will fair on exterior surfaces. The flexible silicone tubes allow you the opportunity to choose exactly what you want this sign to say. Aside from just business logos, this personalized neon sign can also be used for various home decorations, social events, room décor, and so much more!
7. Good Vibes Neon Home Decor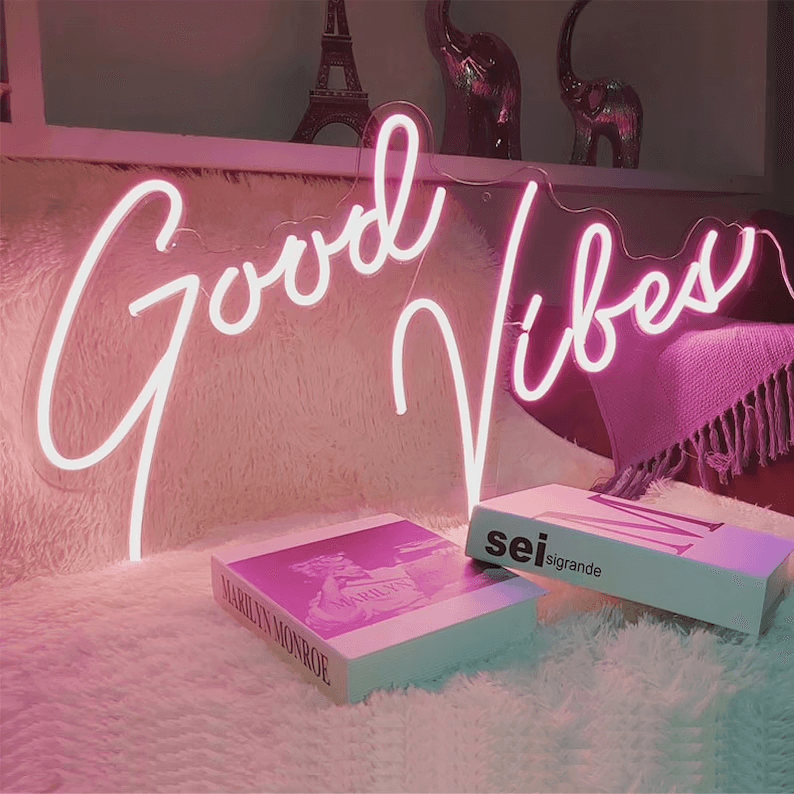 Use the "good vibes" neon sign as a way to dispel all the negative energy that tries to take root in your life. This sign is an outstanding way to add a positive flair to your bedroom that also represents your personality. If any of your loved ones are going through a tough time, this can be just the right encouragement they need to know they're not alone in their fight. With this beautifully handcrafted wall art, you'll be able to provide someone you care about with an extremely special birthday gift or wedding present. There is no such thing as too many good vibes!
8. Majestically Neon Angel Wings Wall Art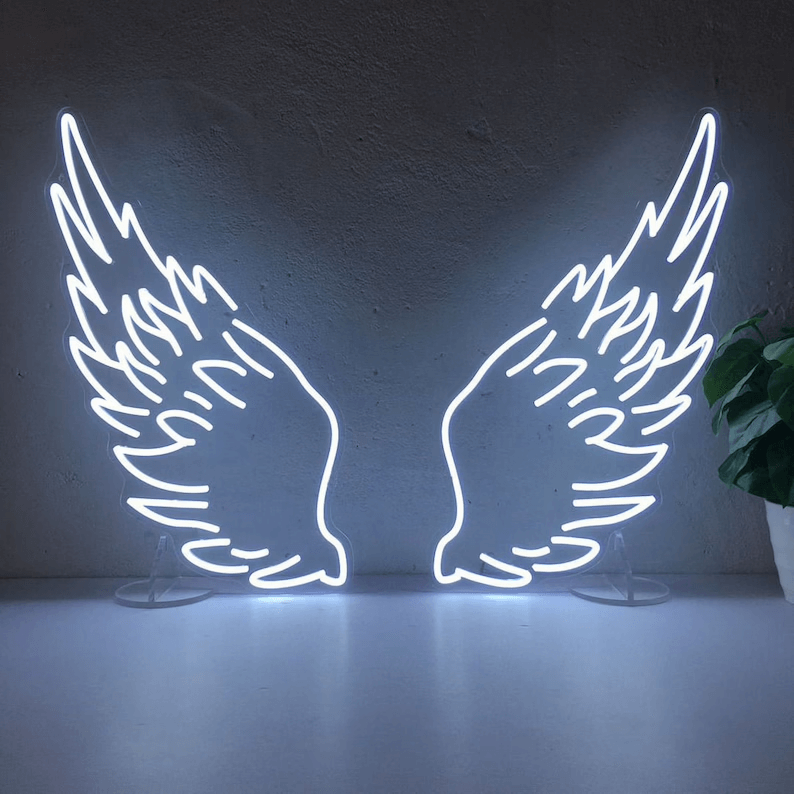 Get into the spirit of Halloween by dressing up your bedroom with these bright white angel wings! You have complete creative freedom with this design so you can go a different direction if white really isn't your color. These LED angel wings can be easily hung up on your wall with high-quality acrylic backboards. Feed your love of photography by using this neon wall art as an incredible background for your most updated social media posts. As soon as you mount these on your wall, you're going to instantly fall in love. If you have a teenager who would really appreciate this sentiment, purchase a set of wings for them as well!
9. Beautiful Garden Bridal Neon Sign Decor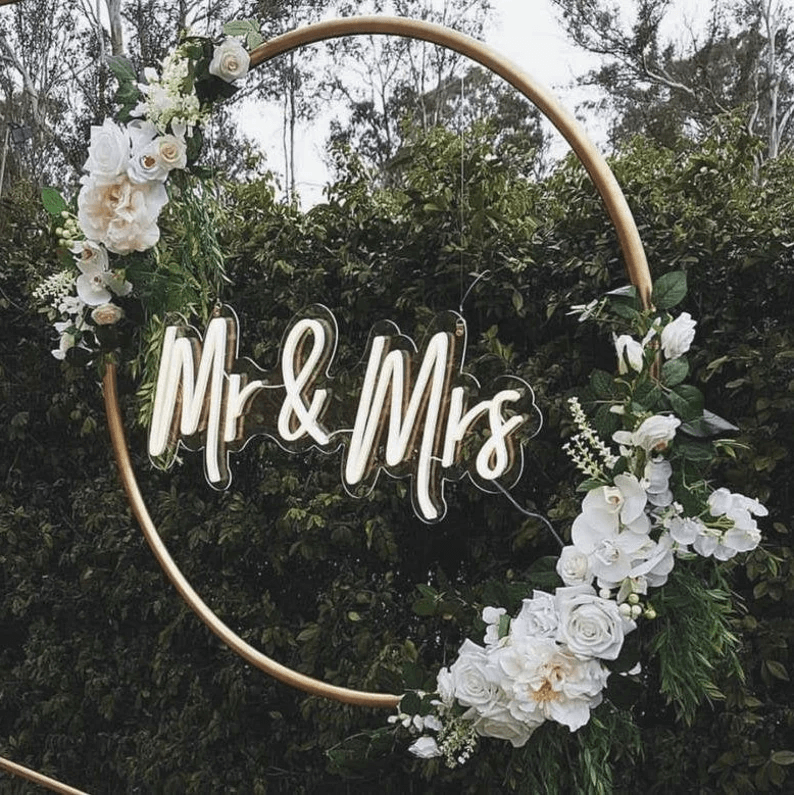 Your wedding is one of the most special days of your life. Why not add a little bit of your personality to this already remarkable day? This "Mr. & Mrs." neon sign will go great in the center of a floral circle just for you. Your wedding day can also be quite stressful if you don't take the necessary steps to plan ahead. Utilize these free design drawings to add an exceptional spark to your day at a price you can afford. If you're never really on to go outside of the box for decorations, your guests will never see this one coming!
10. Customizable Neon Lights Wedding Sign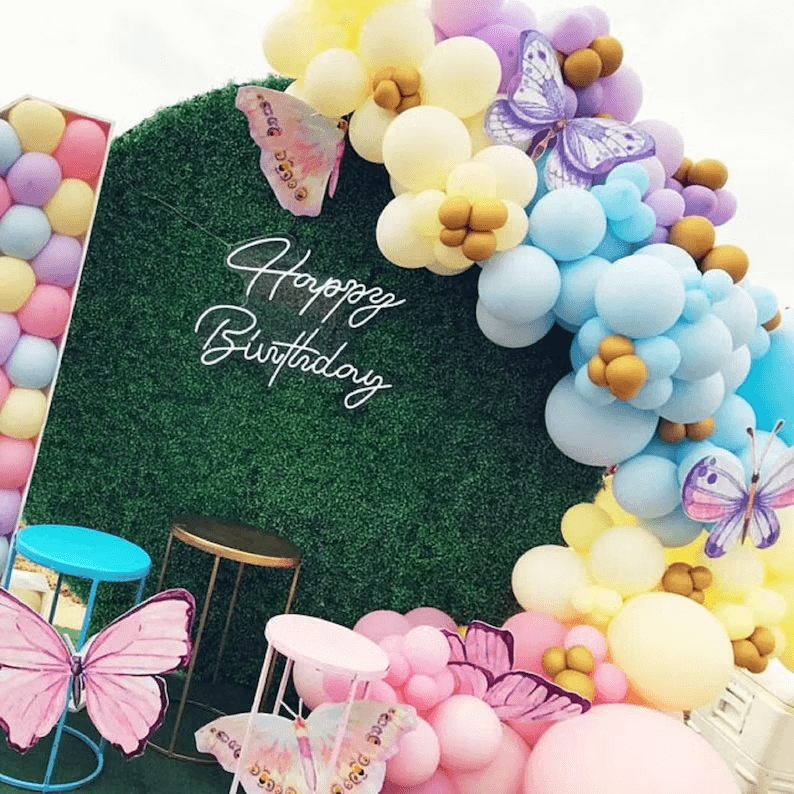 Finally sharing the last name of the person you love most can be such an amazing feeling. You deserve to broadcast this exciting time in every way possible. You only get one wedding day so you have every right to customize your decorations in any way you please! Once you pick the color scheme of your wedding, you can pick a neon light color that matches perfectly. This sign will align well with the actual wedding ceremony or fun reception afterward. If you want your surname to be represented for both portions of this entire event, that can also be quickly arranged!
11. Classic Neon Bar Sign for Cocktail Hour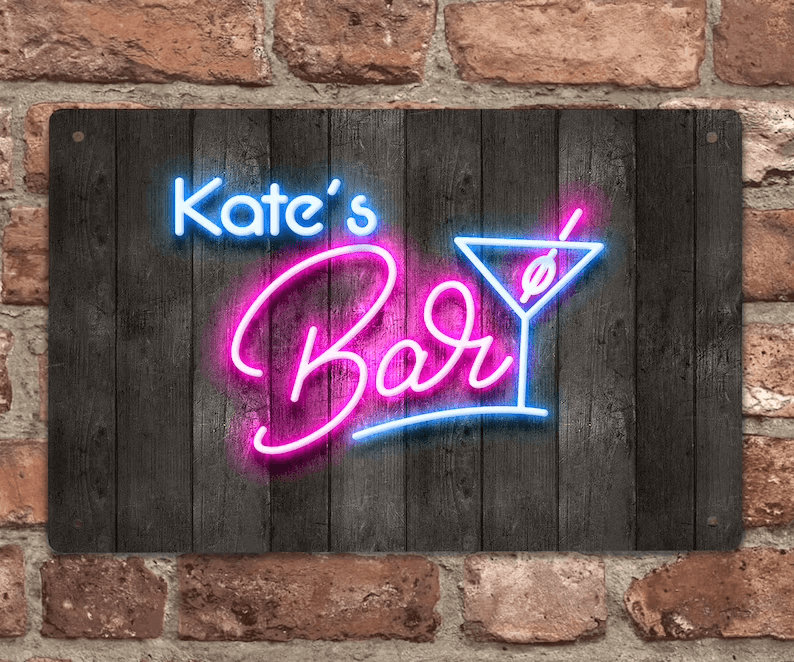 This neon sign provides you with a classy spin on the typical light-up version. The design you choose is printed onto an aluminum base so you can use this either indoors or outdoors. The glossy finish really brings to life your business name or company logo. You don't just have to use these creative signs for your business, they can also be used to deliver a bit of style to your garden or kitchen area. Maybe you don't truly have a bar business to call your own, but the amazing drinks you mix up in your kitchen may cause quite the buzz in your neighborhood!
12. Kid's Room Neon Sign Personalized Name Plate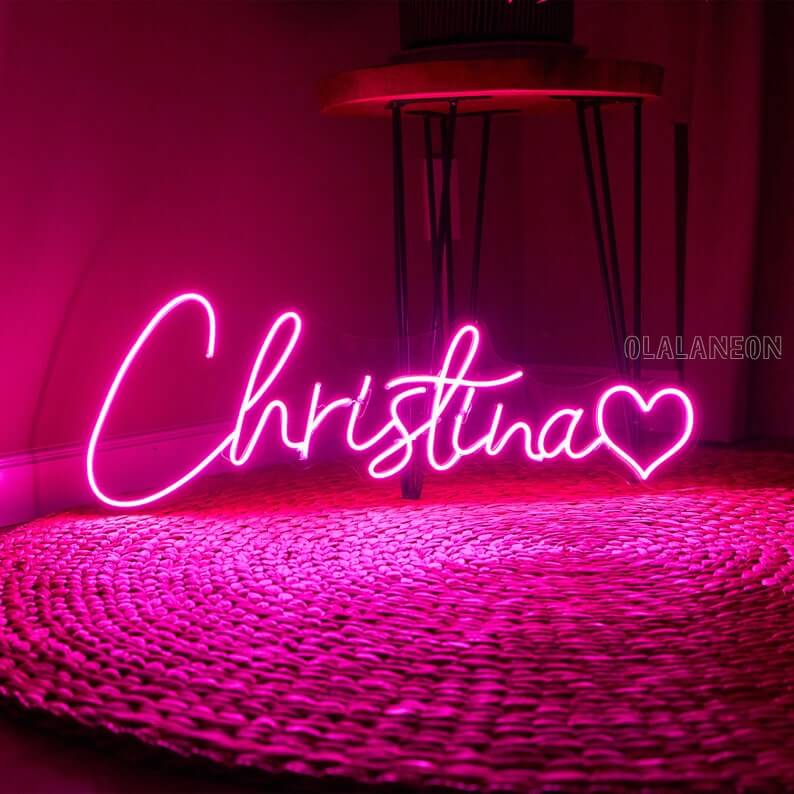 What better way to show your children the enormous amount of love you have for them than to give them a custom-made neon sign with their name on it! This can be an extremely special birthday gift for your younger children. If you have a young adult who is now in college, this is the best way to allow them to personalize their dorm room so they don't get swallowed up in the hallows of endless studying.
13. Great Den Room Gameboy Neon Sign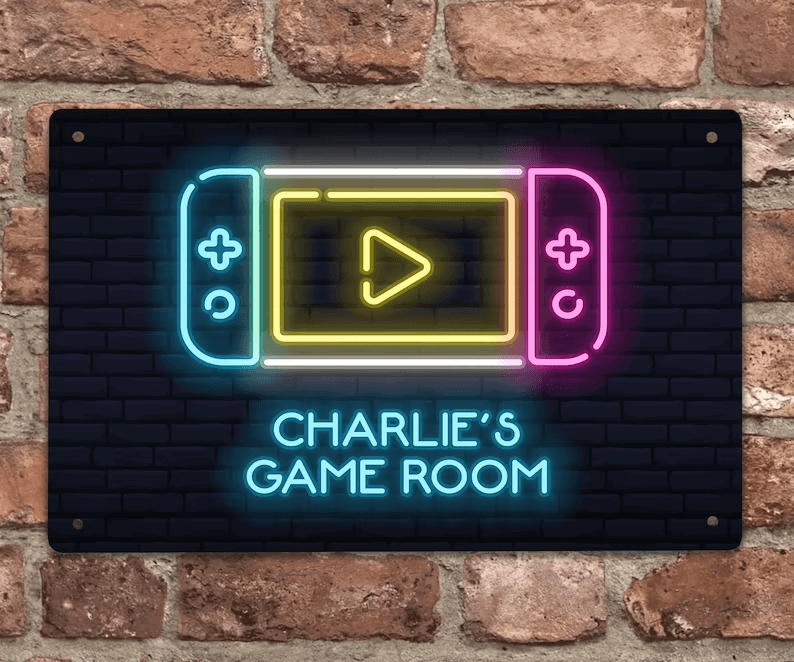 Nothing says game room like a neon light perfectly shaped into a Gameboy! You may not be a gamer yourself, but this wall art can be a great addition for a teenager or a friend who loves to immerse themselves into the gaming world. Redecorate your den with this fun alternative to traditional wall art. This sign mainly focuses on the people who consider themselves to be master gamers, but there is always room to personalize the message that's attached underneath. The gamer signs come in both small and large sizes so you can customize the sign to fit whatever space you have!
14. Wedding Reception Surname Neon Wall Art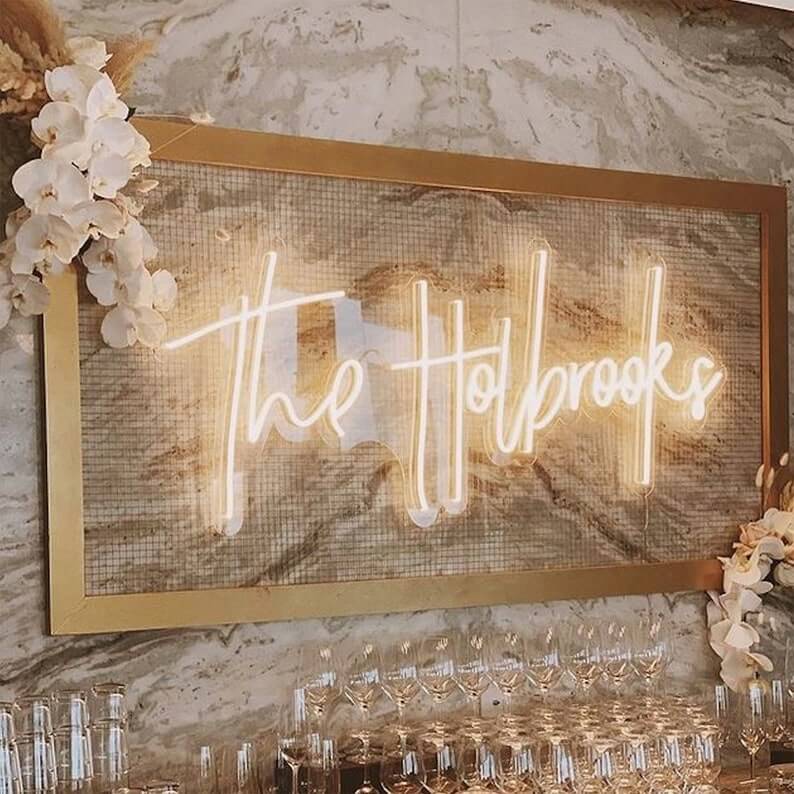 Surname wedding signs are one of the best neon sign decor ideas because you have the ability to completely customize the sign you decide to purchase. You can use these signs for either the wedding ceremony itself, just the reception, or maybe even both. Whatever scenario you choose to utilize your sign will add a nice romantic feel to your incredible wedding day. With this warm-toned neon sign, you will be able to add the perfect lighting ambiance to your special day. Every wedding scene is different so once you choose your favorite color arrangement, you can customize the neon sign to match the exact vision you desire!
15. Personalized Yes to Champagne Party Sign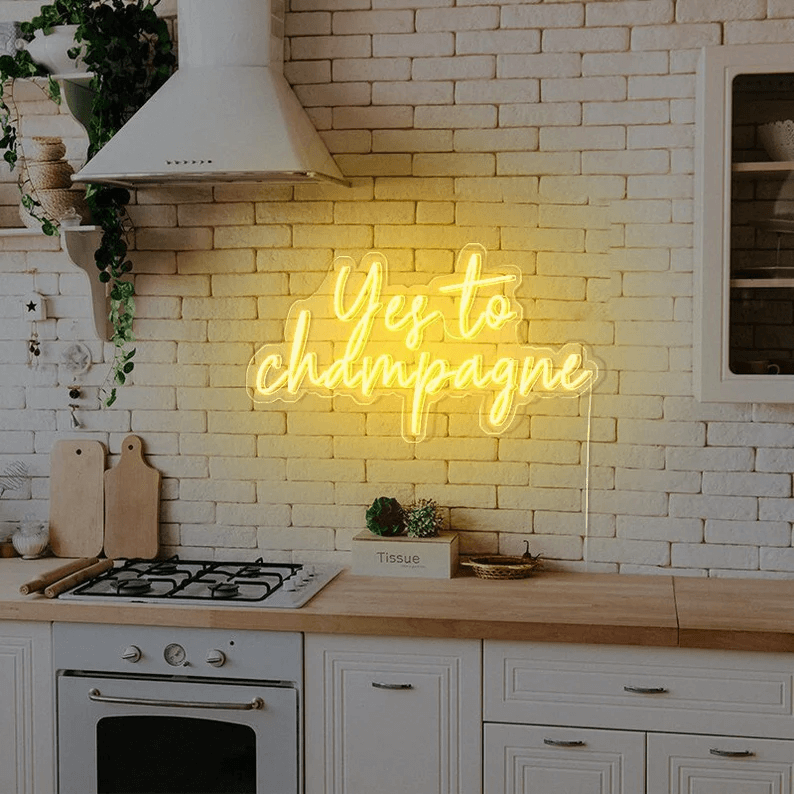 Creating a kitchen scene that perfectly represents who you are is an amazing way to start off the holiday season! This is the time of year when family and friends will gather in your home to celebrate the strength of the bonds you've formed over the years. This "yes to champagne" sign is a great way to spruce up your kitchen area without putting in an extremely large amount of money, time, or effort. With this particular sign, you are able to customize the font as well as the color to make it truly stand out and align well with your personality.
16. Romantic Red Lips Neon Wall Sign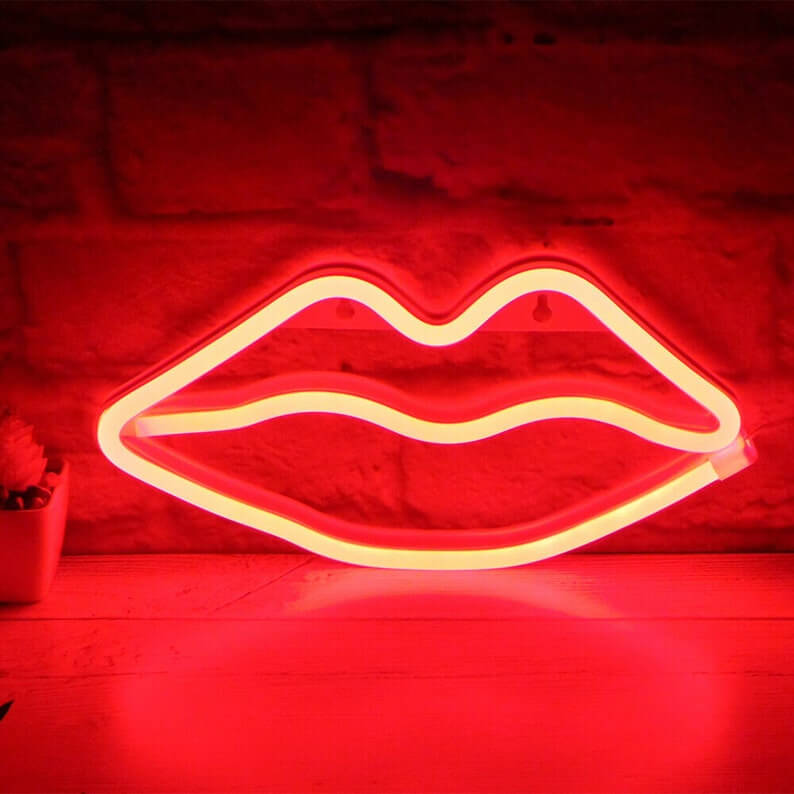 This glowing red sign is a perfect addition to any bar or bedroom scene. Let your personality shine through with this fun yet exotic wall art that can truly be placed on any wall in your home. If your home is already supremely decorated for the fall season, take advantage of this neon wall art in your restaurant or your club if the nightlife is more your scene! Some days when you're feeling a little down, turn on this neon sign in your bedroom to remind yourself how confident and dedicated you are to fulfilling your purpose in life. The fast delivery and quick switch will cause you to instantly fall in love!
17. Handmade Coffee Bar Circle Neon Decor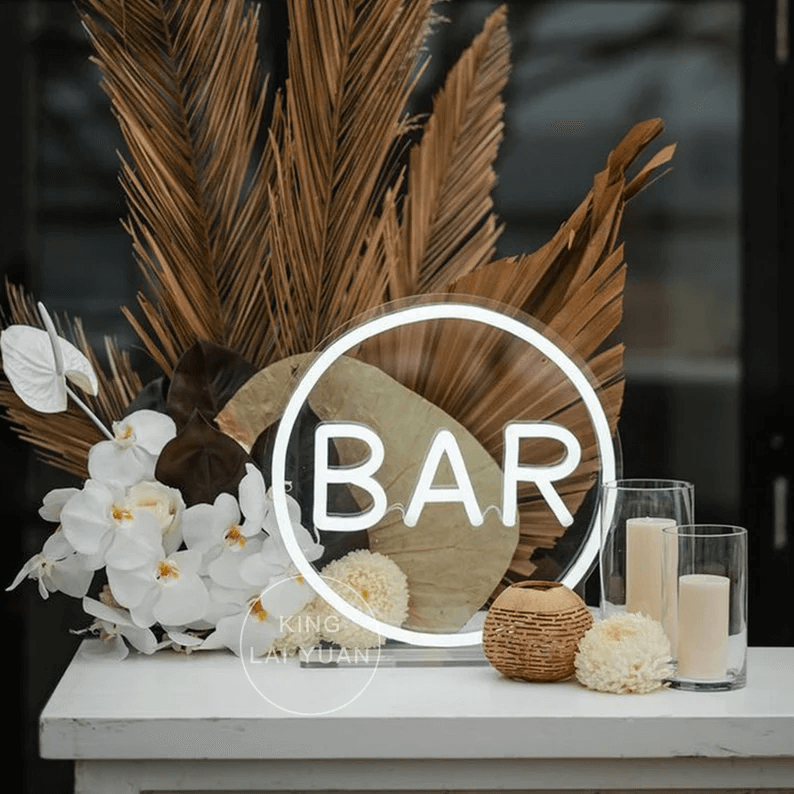 This circular bar sign will help you add the finishing touches to the coffee bar in your living room. The fall season brings pumpkin spice lattes and all things cinnamon! This is an amazing time for you to set up the cozy coffee station in your living room you've always wanted. To truly make it stand out, add a handmade neon sign with ten different color variations for you to choose from. Depending on the size of the table you have, you can quickly and easily align the size of your sign with your new beverage hotspot!
18. Unique Flying Saucer Neon Room Art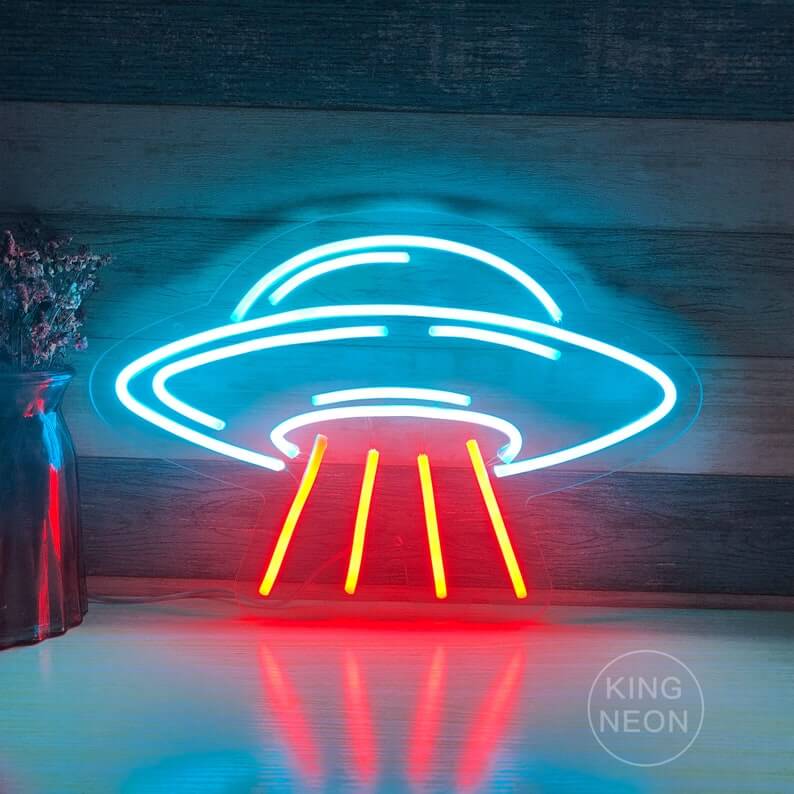 A UFO neon sign makes an amazing present for your child! If you know someone who is very intrigued by aliens, this sign will be a great addition to their bedroom wall. A flying saucer sign can be the encouragement they need to start adding a few more neon additions that will transform their bedroom into outer space. Having a flex LED neon sign is much better for larger decorations because it's not fragile and will last your loved ones for a very long time. This multi-colored sign is excellent for both indoor and outdoor use as well!
19. Custom Initial Newly Wed Neon Sign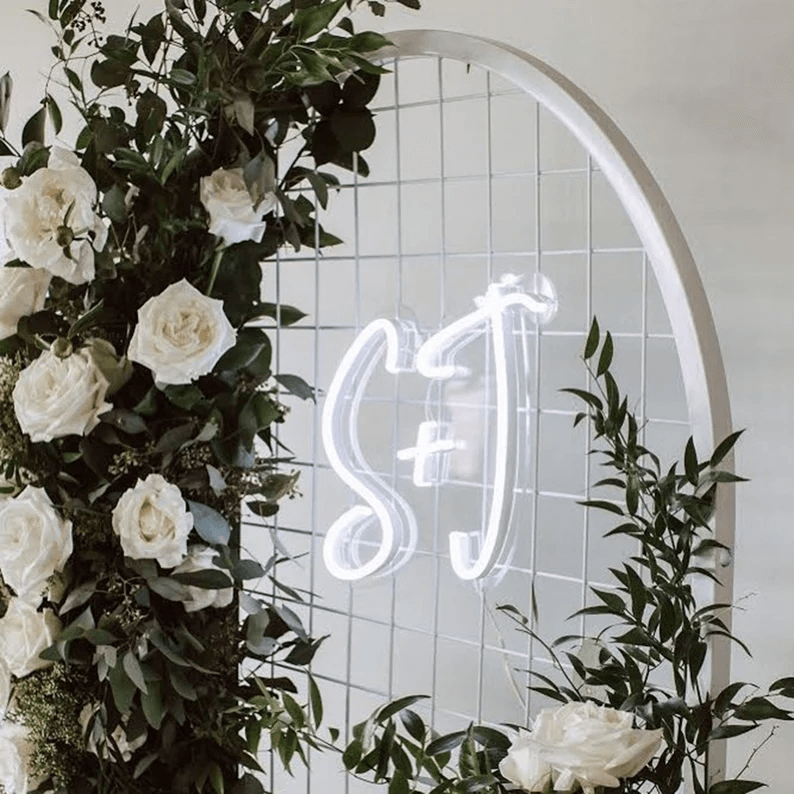 Broadcast the love you have for your significant other by surprising them with this neon sign that has both of your initials. What a great way to show them your never-ending love is in the air! These bright initials come in numerous color variations and can be successfully used for any special event you choose. This high-quality LED neon sign will be a memorable decoration your guests will never forget. If you use this sign for your wedding, you can then place it above your bed to never forget the amazing day you shared surrounded by all the people who love you most!
20. Bright White Cloud Neon Wall Art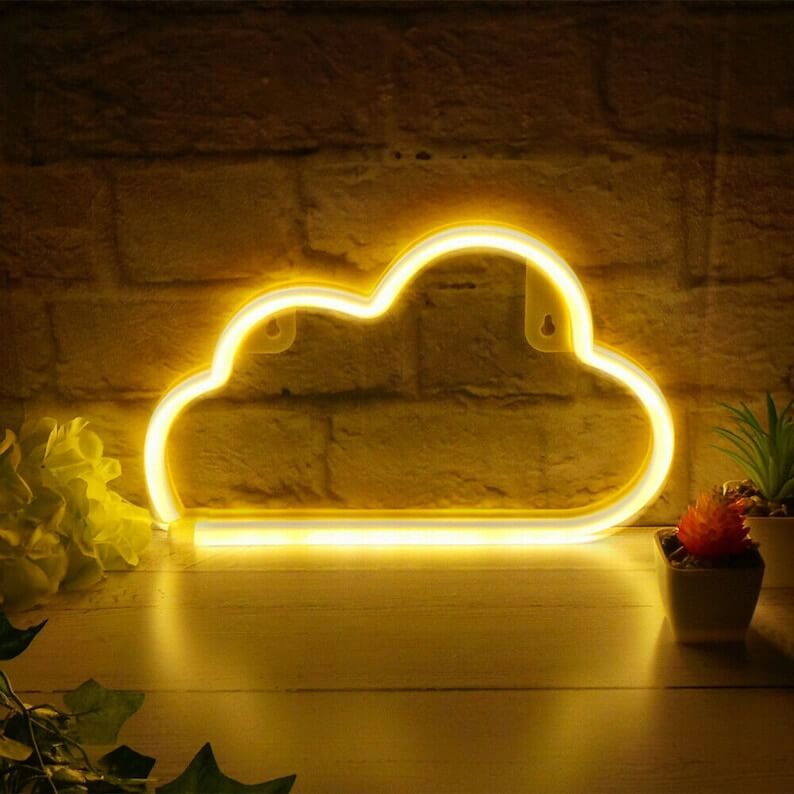 Float away on this wonderful white cloud of captivating neon light. Your bedroom could always use a makeover so start with this cute decoration. The simple shape allows you to appease the more minimalist side of your personality while still satisfying your creative edge. This warm color is extremely inviting and can be used for any room inside your house! The soft lighting that is produced by this particular light is great for a child's room as well. If you want to get even more creative with this warm cloud, use it as the final decoration for your next social event!
21. Customizable Neon Bedroom Wall Decor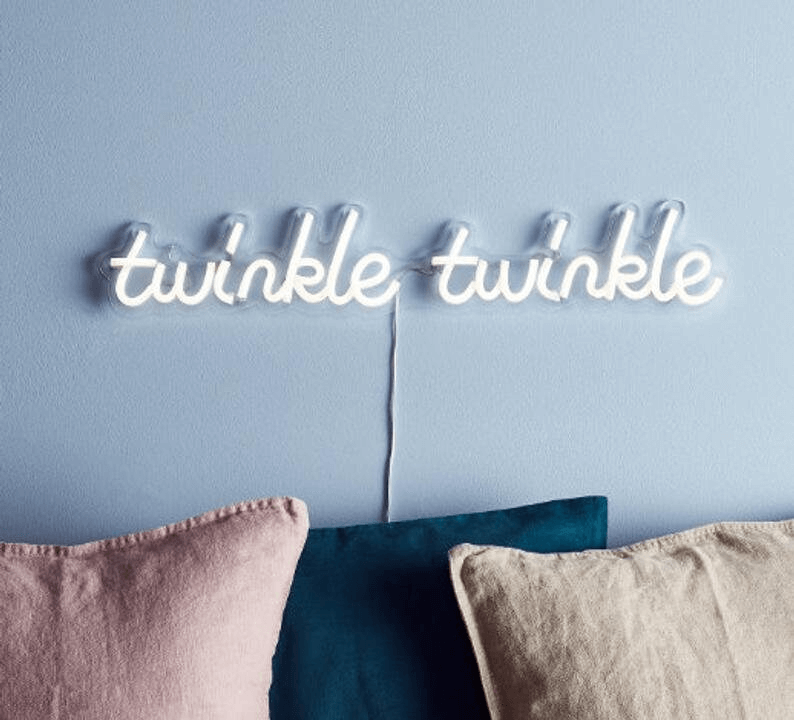 Maybe you've just moved into your new house and you're looking for a few ways to spruce up your bedroom walls. Fortunately, this customizable neon sign is just what you're looking for! You get to choose the design and the color to make sure the end product is exactly what you want. Pick your favorite phrase and turn it into a sign that shines in bright neon colors right above your headboard. Also, you can create a positive affirmation sign that sits right above your office desk and motivates you to keep pushing!
22. Music Lover Guitar Night Light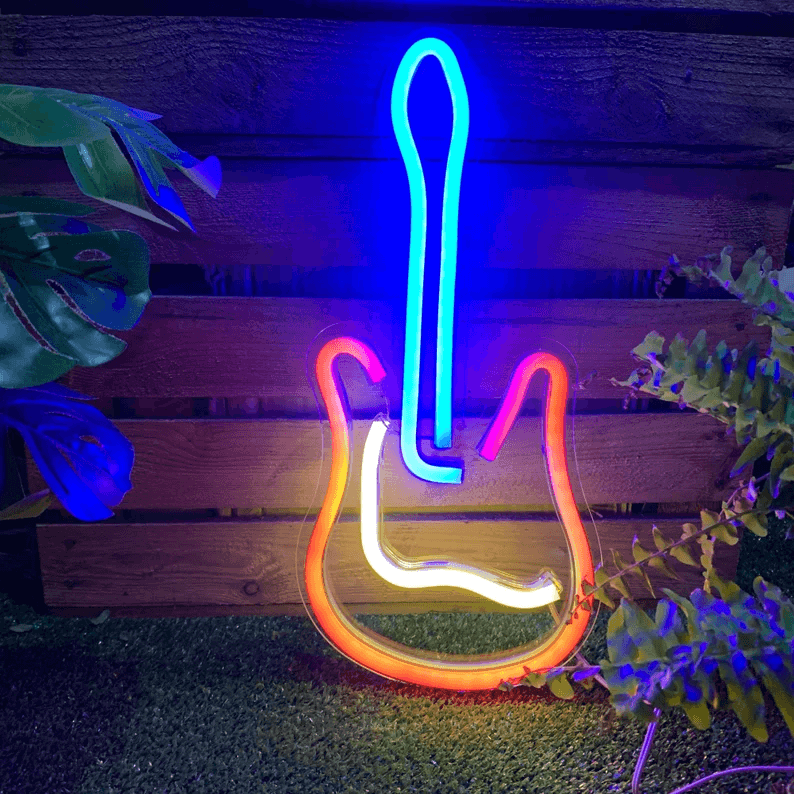 Are you an avid lover of all aspects of the music industry, especially guitars? Prove to everyone how much of a rockstar you can truly be by purchasing this neon sign to mount on your bedroom wall. The red, blue, and yellow colors all blend very well together to truly form a masterpiece that can quickly take root inside your home. If you want your living room or kitchen area to have an edgy flair, hang this neon sign up on the walls and let the guitar do all the talking for you! Your guests will truly enjoy the fun environment this neon guitar creates.
23. Perfect Valentine's Day Loving Neon Pink Heart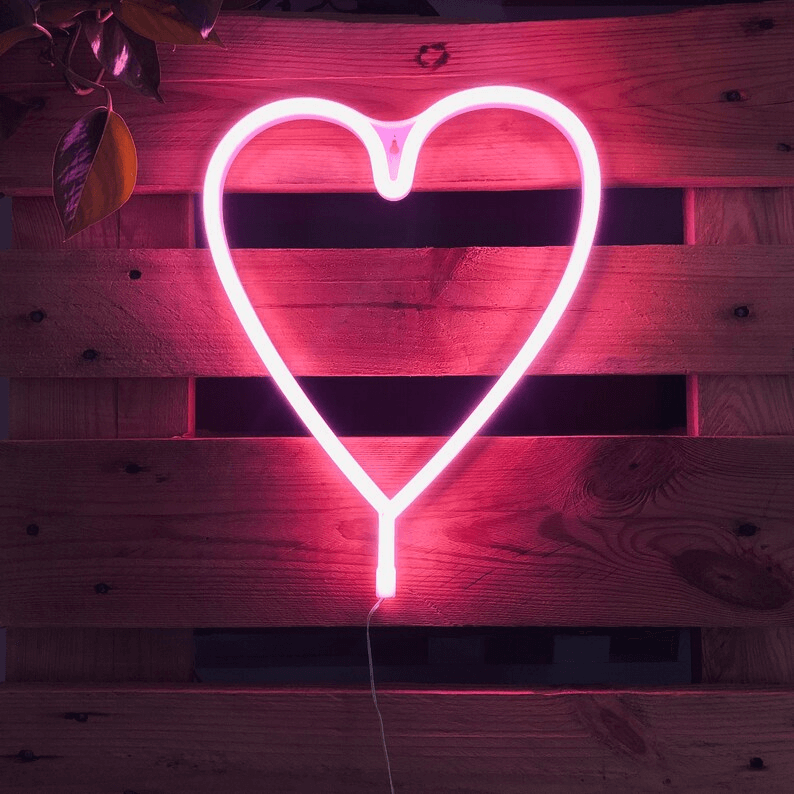 Start preparing yourself for the loving environment Valentine's Day brings for everyone involved. If you haven't quite decided on the right present for your significant other, use this as a little nudge to get them this beautiful neon heart. The amazing pink color quickly lights up any room and sets the perfect mood for date night. If you'd like to make the experience a little more personal, place this neon wall art right above your bed. If you don't want to use this for your own special events, you can also give this as a birthday present to your loved ones.
24. Wedding Newly Wed Celebration Neon Sign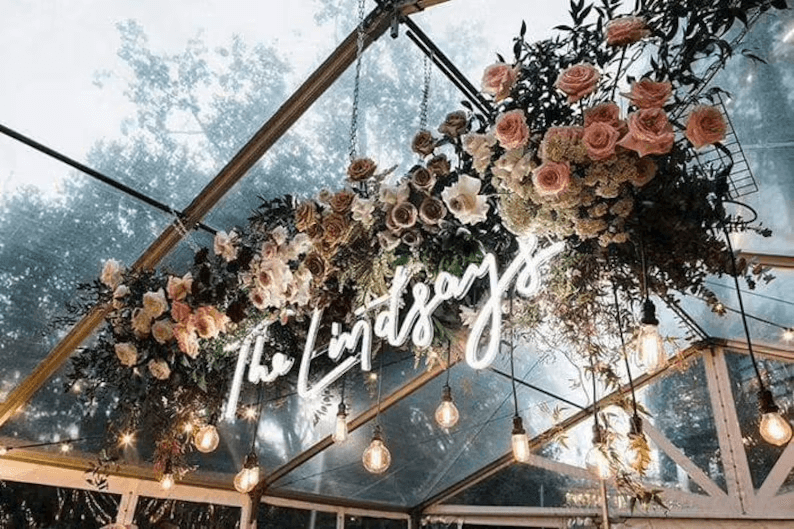 This is one of the best neon sign decor ideas What's a wedding celebration without a gorgeous neon sign to go with it? This surname wedding sign will look stunning right in front of your favorite flowers. Everyone gets flowers for their wedding day, but you could also add your own design by including a neon sign in the font and color of your choice. If your wedding has long passed you by, think about some of your friends who may be experiencing their own special day very soon. This could be the amazing gift that will tie their whole event together quite nicely!
25. Cool Radio Station On Air Neon Flair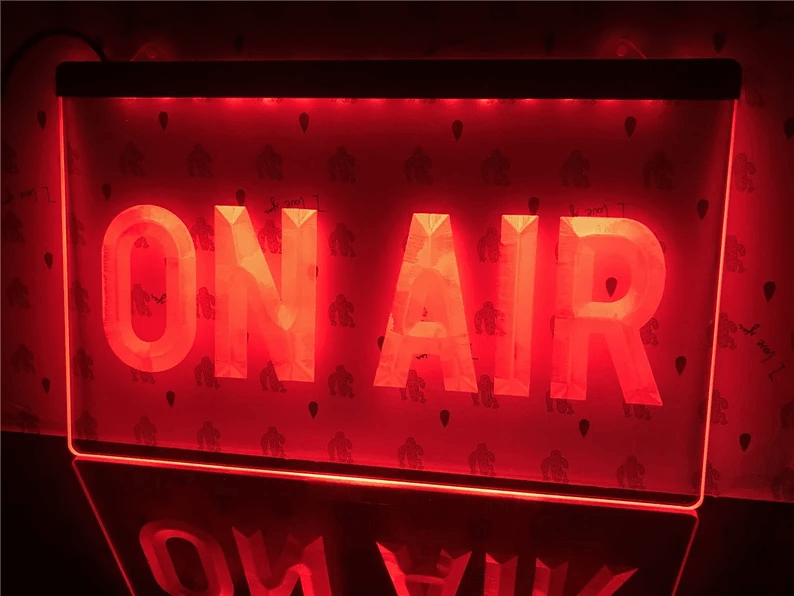 Do you listen to the radio every day when you're trying to or from work in the morning? Maybe you've always dreamed of being a radio talk show host. Allow your dreams to become a reality with this eye-catching "on-air" neon light decor! This sign is always an awesome option for your bedroom walls, but you can also take it a step further by using it for your next social gathering. These LED decorations don't produce any buzzing sounds that may distract you from your business while working at your office desk or sleeping soundly in your bedroom. If you're slightly behind with your current decorations, there's no problem a fun neon sign can't fix!
26. Planet Neon Sign Outer Space Bedroom Theme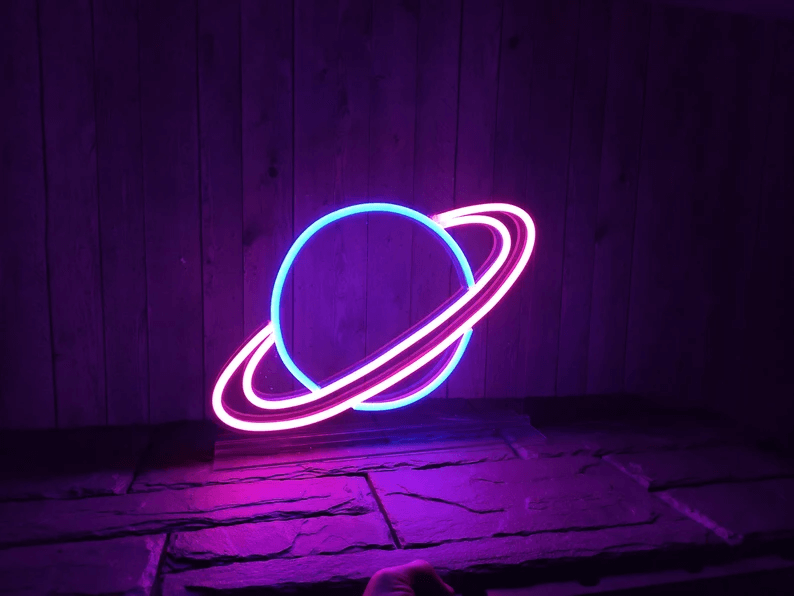 Have you ever taken a trip to outer space without even leaving the comfort of your own bedroom? This amazing planet neon light wall art provides a warm light to any room you choose. Whether it be your bedroom or the bedroom of your kids, this light provides just the right amount of life for any situation. The 40 cm dimensions provide you with a perfectly sized sign that will align well with the other futuristic decorations you already have inside your bedroom. Each light has a nice silicone frame that is resistant to accidental falling and mechanical damage. Once you mount this planet on your wall, it's not going anywhere!
27. Unique Chemistry Dopamine Neon Wall Art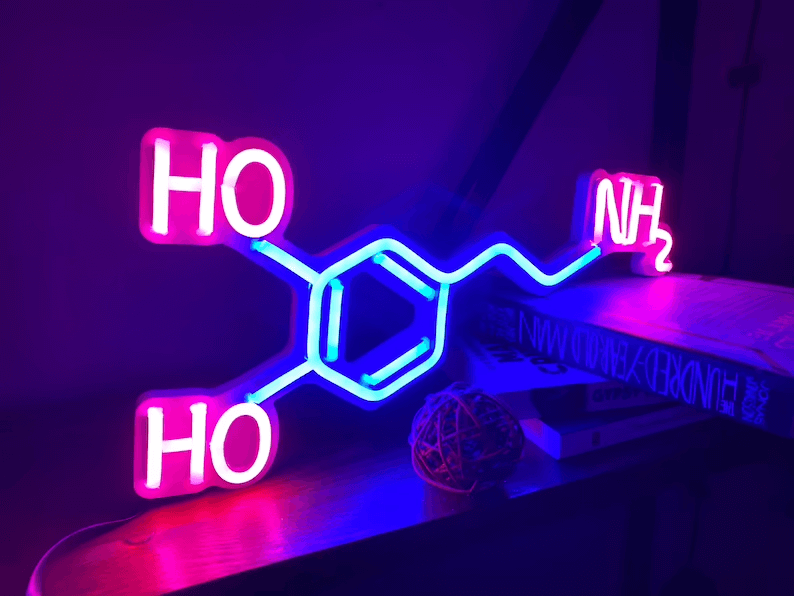 How often are you able to find a neon sign that also appeals to the more academic side of your personality? Take advantage of one of the best neon sign decor ideas by purchasing this one today! Although you may not be a science nerd yourself, one of your kids may be really fascinated by this subject. If not one of your kids, then maybe you know some close friends who always had a knack for complicated science equations. This could be a wonderful birthday present that shows them you care while also representing their unique personality!
27 Perfect Neon Sign Decor Ideas That Will Symbolize the Edgy Side of Any Personality
Who would've thought there could be so many different ways to dress up neon? This is a rare decoration that can truly be used for any kind of event or location. Also, age doesn't matter when considering this design because people of all ages can truly enjoy the bright illumination neon lights bring to every scenario. If you're a lover of nightlife, you've probably seen neon lights used on the interior as well as the exterior of your favorite bars and clubs. Am I right?
Picture this, you've just gotten all dressed up to enjoy a night out on the town with your girlfriends and you finally pull up to your favorite club. As soon as you see the welcoming ambiance of those neon lights, you're probably instantly assured that this is going to be a night to remember! Why not bring this amazing feeling into the comfort of your own home? There are so many different options to choose from and there's no need to go overboard with your neon light decor. Just a touch of neon in a few main areas of your house can be just enough to create a show-stopping environment that all your guests will absolutely love!