Getting a neutral bedroom look just right can be a difficult task. You don't want your space to look dull or generic, yet you want to keep everything subtle and refined. This list will help inspire you to create that just-right balance.
20 Comfy Neutral Bedroom Design and Decor Ideas to Help You Rest Easy

Listed here you will find a few whole-room inspirations along with individual items from – where else – Etsy, that motherland of all things crafty. These pieces will give you fresh, tasteful ideas to get you going on your quest for the perfect neutral blend. With some careful selection and curating, you can use a neutral palette to turn any bedroom into a relaxing and calming haven. After all, neutrals exist to give a sense of ease and nature to our lives, speaking simplicity through the décor.
A neutral look not only can serve as a welcoming and restful canvas, but it can also bring balance to a bright and vivid life. If you are full of sparkle and shine, take rest in the cozy softness of a clean white comforter. If your days are full of blossoms and fireworks, find respite in the comfort of soothing grays and tans. And remember, just because it's beige, doesn't mean it's boring.
1. Rest easy in Eco-friendly Bedding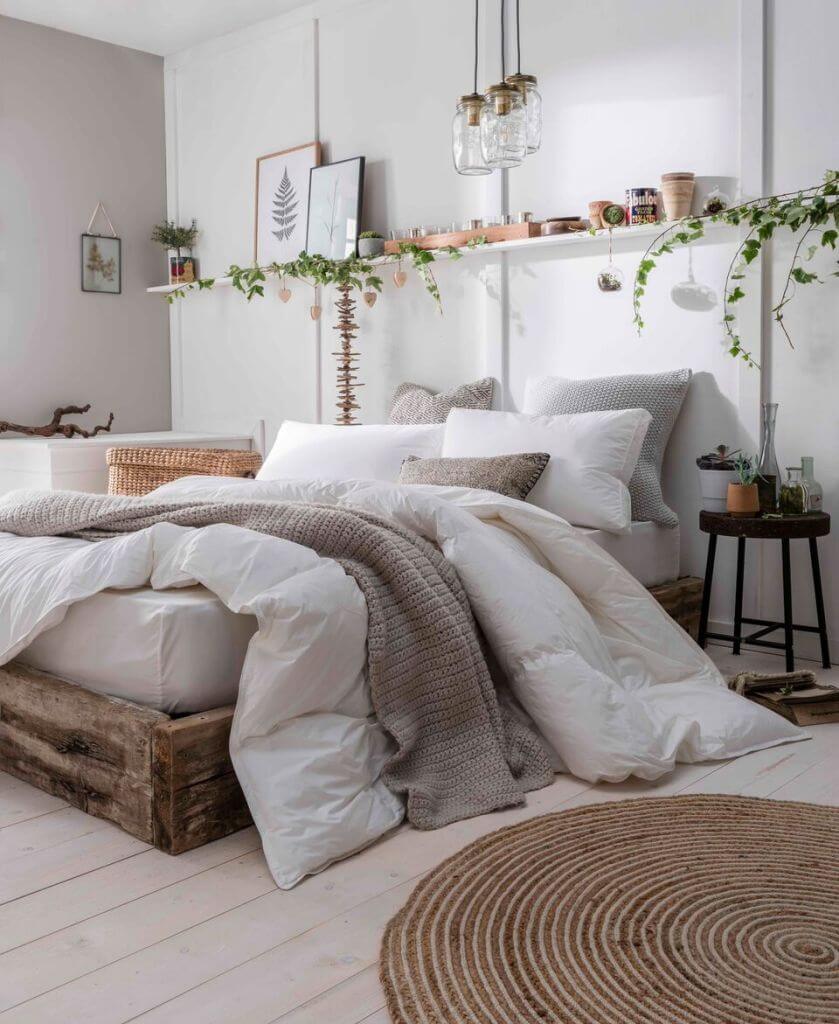 This room set up, with its off-whites and earth tones, not only exudes a sense of oneness with nature but also delivers on it in a real way. The bedding in this room's décor is all eco and vegan-friendly. Add that to the room's earthy vibe and you have yourself the perfect all natural bedroom haven.
2. Bright Whites for Restful Nights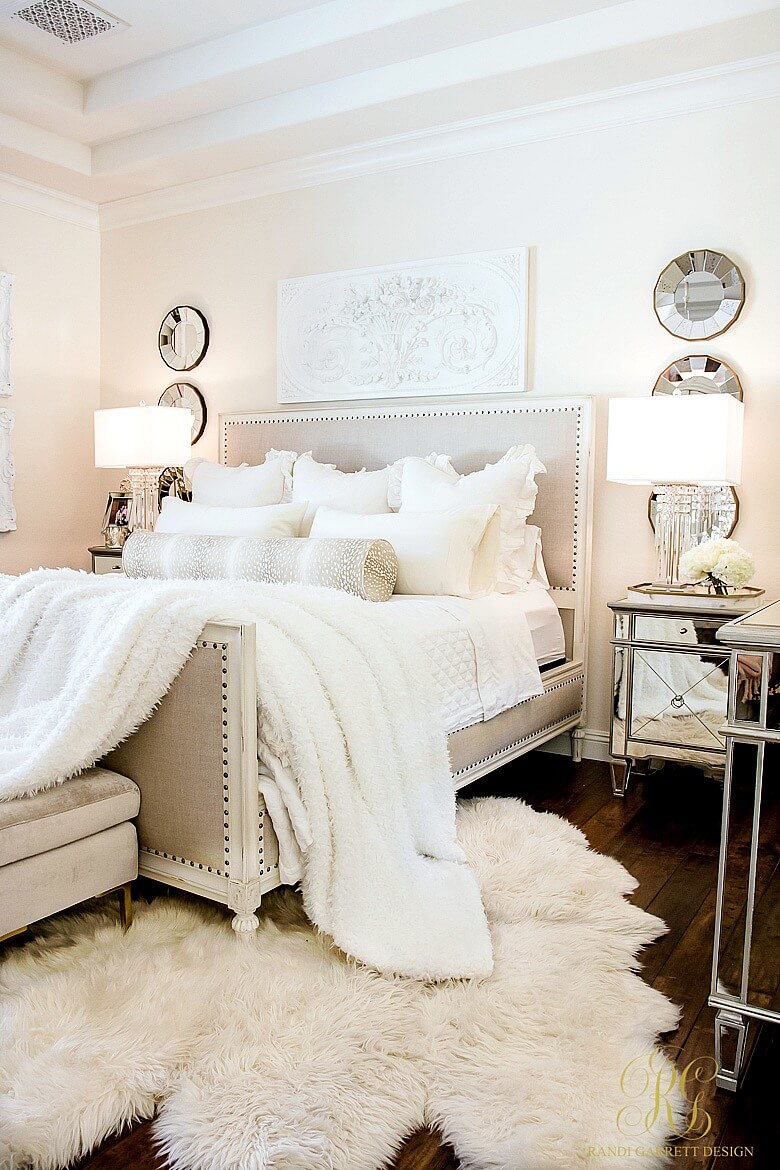 There is something extremely pleasing and comforting about plush white bedding. A white room exudes cleanliness and peace and, with the addition of mirrors, has a sense of weightlessness and ease. In choosing a bedroom design such as this, you spend every night enveloped in sweet downy softness and wake every morning to another bright day.
3. Sweet Neutrals with a Kiss of Pink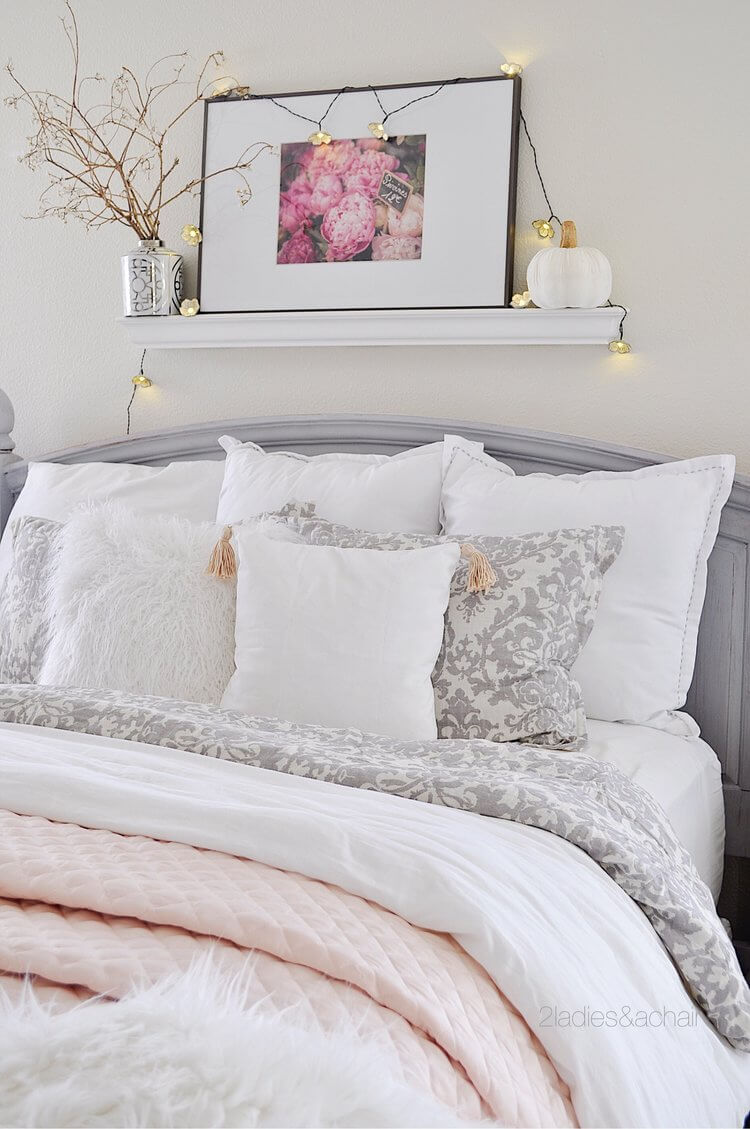 If you prefer a mostly neutral bedroom look, but still desire a small peek of color, then this room will satisfy both your muted and your wild side. With just a small nod to a gentle floral blush, this décor is executed with a gentle hand. Fluffy pillows, blankets, and carpets make this room all the more dreamy.
4. Comfy and Cozy with a Farmhouse Charm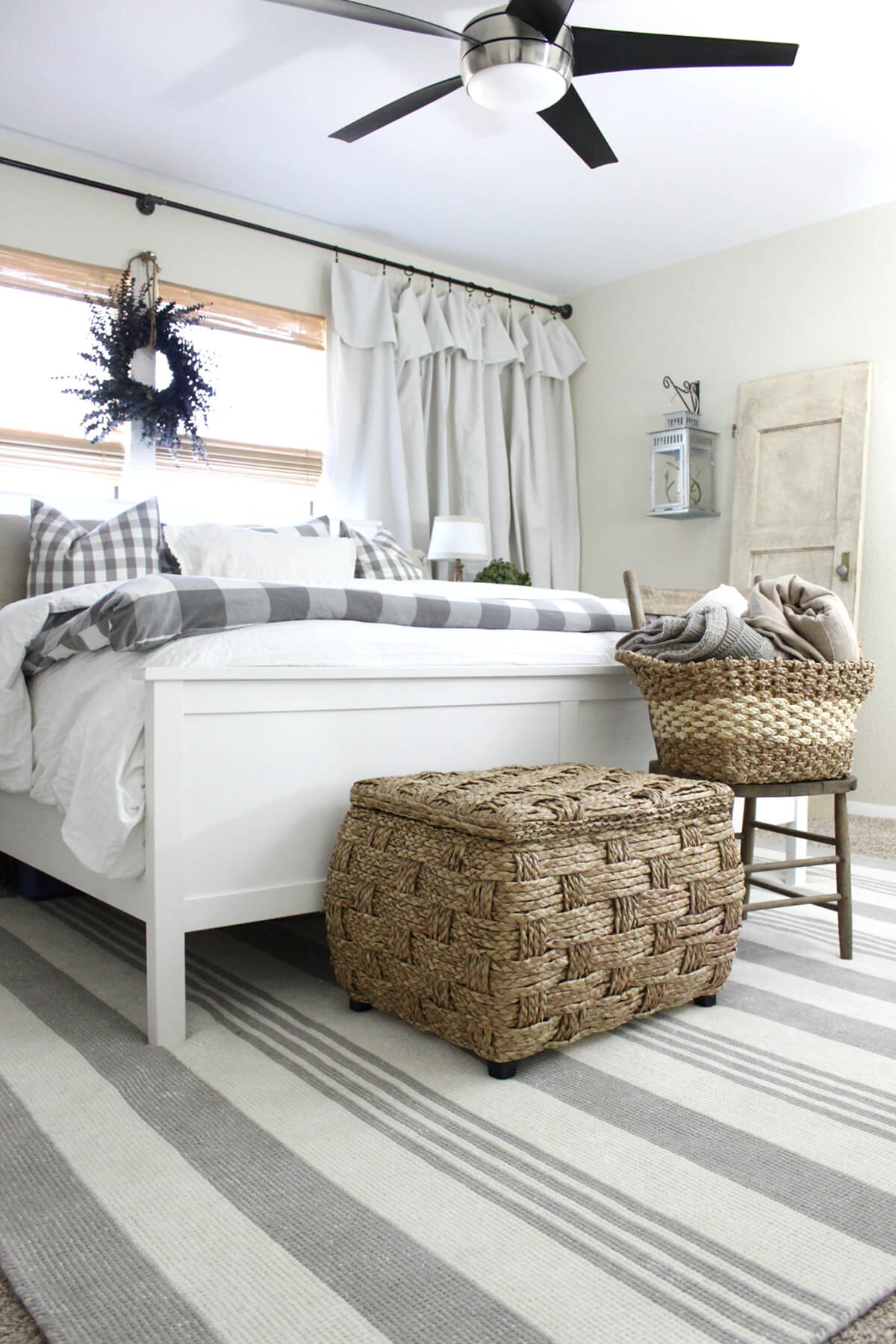 This inviting room keeps everything simple, with touches of a farmhouse cottage scattered here and there. The beautiful wicker baskets are the perfect nod to fine country living, while the cute and fun décor give this design a bit of cheek. The hanging floral wreath is the perfect way to add a pop of color and bring a natural rustic element to the room.
5. Neutral Bedroom Décor with Southern Sensibility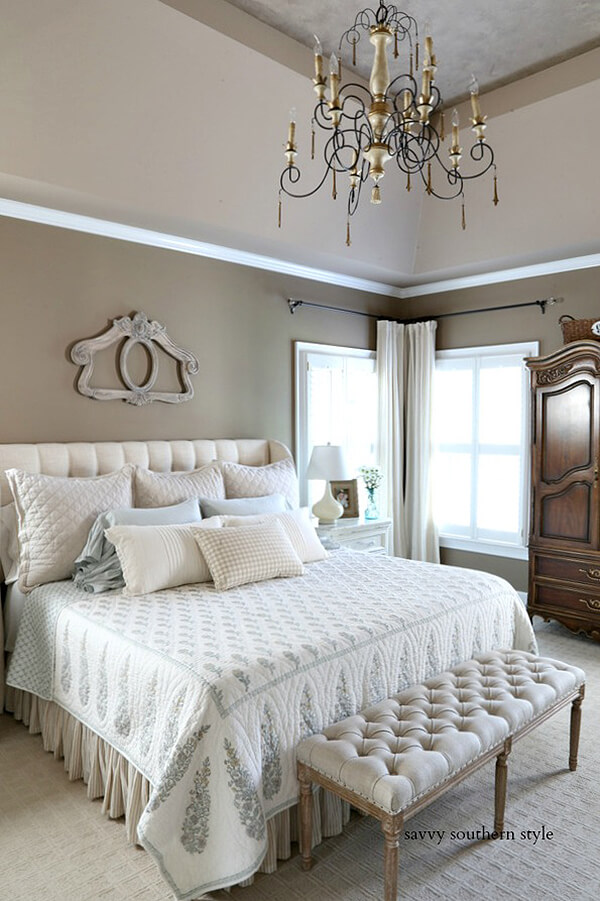 Southern style is all about comfort, warmth, and class. This room provides it all. Keeping the bedding simple with a beautiful quilt and just the right number and colors of pillows, this design makes you feel cozy even before you've snuggled up under the sheets. The subtle antique-inspired décor add to this room's elegant charm.
6. Relaxed Two-Piece Sweet Dreams Wall Art
The airiness of the background on these matching pieces makes the words almost feel as though they are being whispered. Everything from the neutral colors to the light font radiate a warm gentleness, offering calming bedtime wishes. The darker wood on the trim will pair perfectly with any natural colored bedroom set.
7. Perfectly Huggable Neutral Body Pillow Cover
A body pillow can be a big statement, which is why a simple yet sophisticated cover is practically a necessity. This geometric, nature-inspired neutral cover will help your extra-long pillow blend right into any bedding. There is no reason to hide that body pillow in the closet when you can cover it in something as lovely as this.
8. Soft and Adorable Pom Pom Area Rug
If you are hoping to have that luxurious feeling when you step onto your area rug, then a felt rug is the way to go. Fun and fresh, this neutral-toned white rug remains low key in color and design but really sings when you sink your toes into its warm and luscious New Zealand wool.
9. A Neutral Bedroom Nightstand with a Twist
When you are designing your bedroom around neutrals, consider adding some elements with fun or interesting designs to bring life into the space. This nightstand takes out the "stand" and leaves you with a floating shelf and extra floor space. This piece is the perfect size for any nighttime needs and even has a drawer for out-of-sight storage.
10. Picture Perfect Vintage Frames
These vintage shabby chic frames are a natural addition to any room or event that you are designing around neutral colors. They can be used to frame photos or art, of course, but they can also be used as art pieces in and of themselves. Consider using these to frame some of your favorite black and white prints.
11. Downloadable Instant Mandala Art
With the digital age we live in, it is no wonder that you can now purchase beautiful wall art and simply download and print it yourself. This gorgeous neutral colored mandala gives any room a touch of boho chic and can help to tie a room together. Consider framing this piece on its own or mix and matching with other similar prints.
12. Romantic Hand-Painted Bedroom Signs
Sweet and to the point, this set of super cute bedroom wall art is a great reminder to every couple at bedtime. Cozy up with your partner under these hand-painted pieces and feel yourself breathe easy. The clean design maintains a simple charm while the off-centered text reminds us that, like you and yours, the pieces are made for one another.
13. Simply Keeping Time
Every room needs a clock, but finding one to complement a minimalist, neutral look can be a challenge. That is what makes this simple and to-the-point clock the perfect piece. You don't have to bother with frills, gadgets, or even numbers; just hang this clock anywhere and it will do what it does best, keep time without any fuss.
14. Warm and Cozy Luxurious Rug
When looking to add luxury to neutral inspired décor, a sheepskin rug is a no-brainer. Adding texture and warmth to a bed, floor, or armchair, this throw will definitely pump up the volume of any room while staying true to a neutral aesthetic. Just be sure to keep other design elements simple to let this focal piece shine.
15. Rustic yet Elegant String of Tassels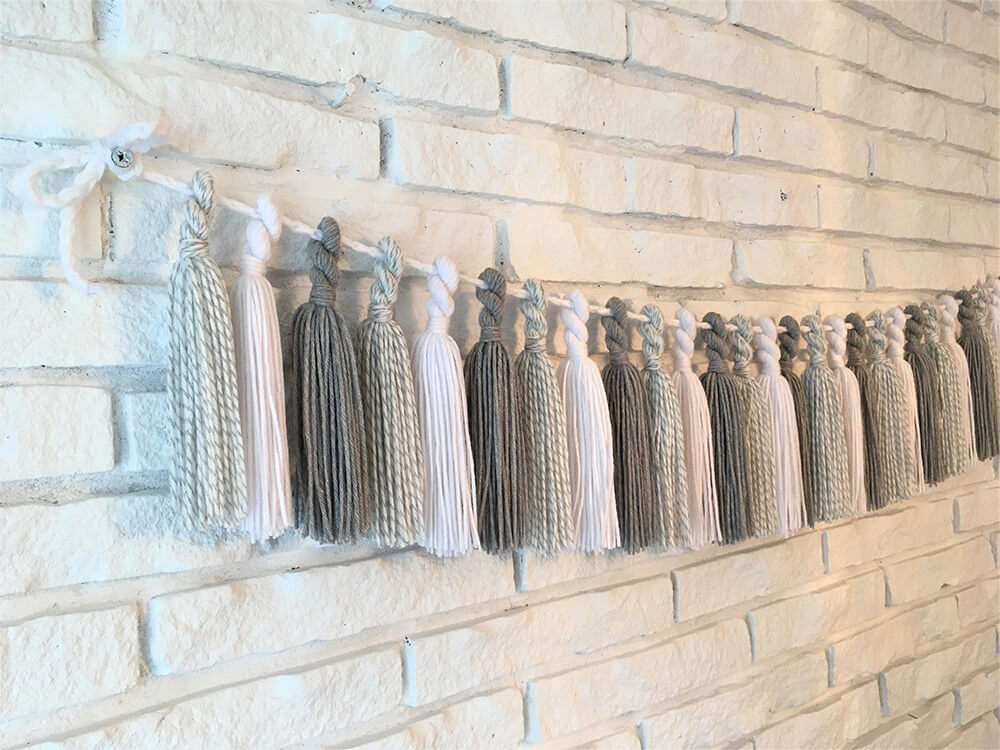 With the elegance of a string of pearls but the rustic simplicity of yarn, this wall decoration takes familiar materials and transforms them into a sophisticated look. It's the details that lend this piece its special charm: the perfectly uniform knots tying each tassel, the tidy bow at either end of the yarn, the grin-like curve of the tassels dangling along the string.
16. Farmhouse-Inspired Handmade Bed Frame
If you're wise enough to appreciate the difference between home-assembled and handmade, then this hand-crafted wooden bed frame surely will speak to you. While precisely measured and solidly constructed, this piece bears the mark of any well-made artisan furniture. Slight imperfections and distressing on the white, off-white, or black finish remind you of the great care that went into its creation.
17. Airy Striped Beige Curtains
It is remarkable how much design a simple stripe can add. These curtains are cut with four perfect white stripes to help break up and give height to any room. With their creamy tan color, they will pair perfectly with any neutral bedroom decor and add a touch of gentle drama with their floor-to-ceiling soft linen blend.
18. Soft and Casual Throw Blanket with Tassels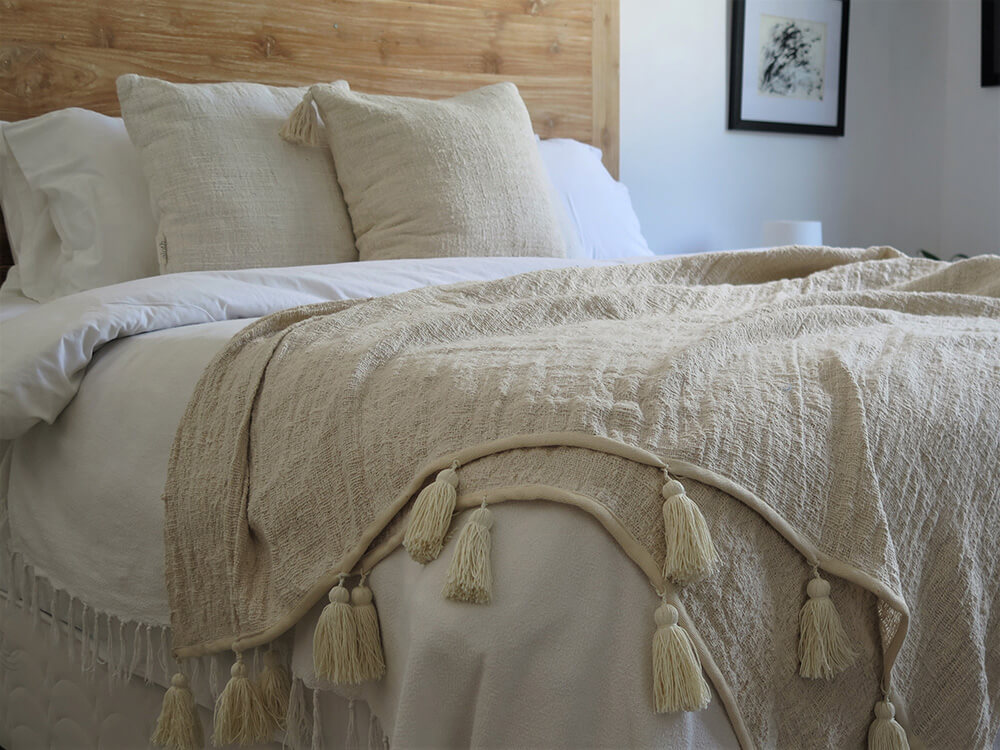 If you are looking to develop a rustic bedroom theme or maybe just want to add some interest to your bedding, this beige blanket is the perfect find. Lightweight raw cotton will be comfortable in all seasons, breathing in hot summer months and easily layering for warmth in the winter. Plus, how can you get any more adorable than those bell-shaped tassels draped along the sides?
19. Elegant "I Choose You" Wooden Headboard
Sometimes it is the simplest message that means the most. Remind your sweetheart every day how dear they are to you with this timeless headboard message. A basic rectangular frame and a charming cursive font let the focus remain on what counts – your enduring love for one another. With available colors running the neutral palette gamut, this piece can be customized to blend perfectly with your bedroom theme.
20. French Farmhouse Mirror with Distressed Wooden Frame
Whether your aesthetic is modern or shabby chic, this gorgeous mirror will brighten any bedroom, dining room, or entryway. The frame's intricate floral design complements the distressed wood finish, giving it an effortless blend of luxurious and casual. You will look nothing short of regal in this piece that seems as if it had been discovered in some royal estate vault.
Our Favorite Farmhouse Baskets and Bins to buy on Amazon