The best New Year decoration ideas will resonate with your style, invigorate your guests, and fill your soul with a sense of excitement. Because that looks different for everyone, there is no single best way to decorate for the New Year's Eve party of your dreams. Your ideas will also depend on your party's audience.
21 of the Best New Year Decoration Ideas that will Exhilarate and Energize your Guests

A common theme includes cultivating drama with shiny gold and silver décor. To balance the glamor, black is often used to anchor the ethereal gold and silver. For a more sophisticated effect, one approach is to choose a single metallic. If that is the route you choose, warm gold can ignite a space while cool silver will add a sense of refined elegance. Your audience will also help determine what décor is right for your space this year. If you plan on celebrating with younger children, there are plenty of easy New Year's Eve crafts that can build cherished memories. For those celebrating with drinking-age adults, a splash of bubbly and a bar cart might be more fitting than a craft table. However you choose to decorate for this year's party, remember to enjoy yourself as the new year begins.
1. Creating a Chic Parisian Dessert Table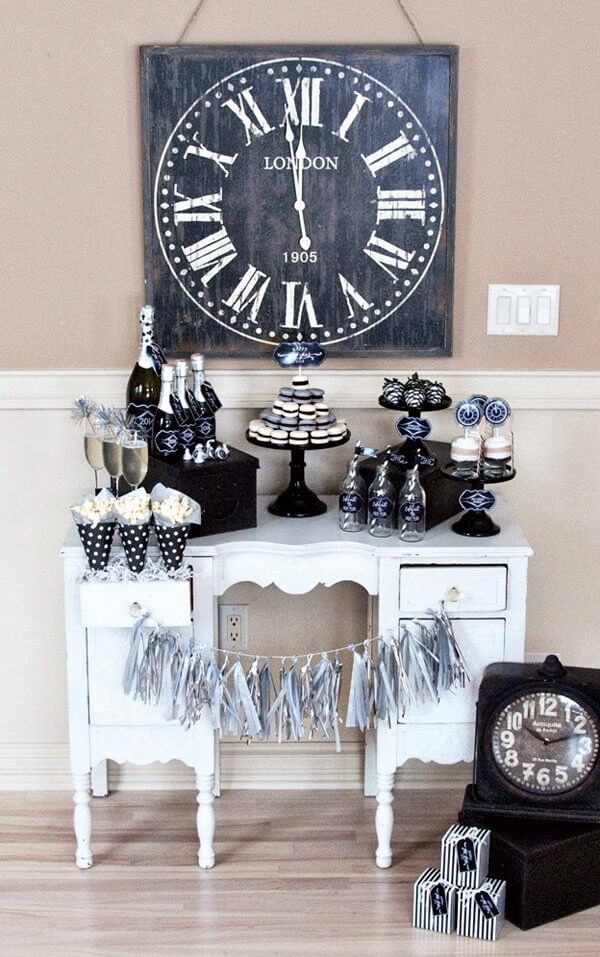 Instead of loading up on glitzy gold and flashy silver, why not choose a sophisticated black-and-white theme? This high-impact approach is perfect for ushering in a new year filled with elegance. To achieve this effect, showcase black and white décor as shown here. A cool silver and matte gray garland softens the drama and adds a splash of dimension. To give your party European panache, choose desserts like macarons and a clock that features Roman numerals.
2. Incorporating Clocks into your New Year's Decorations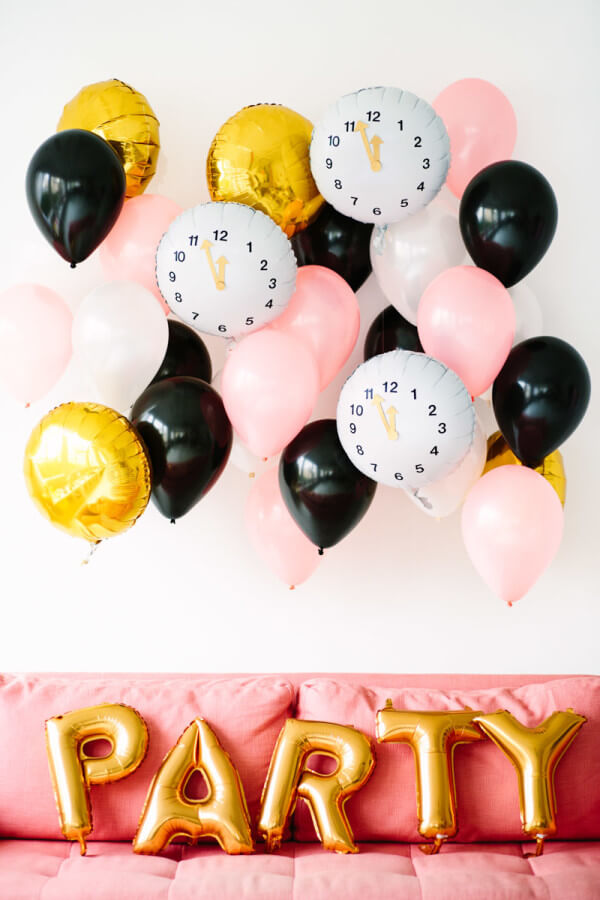 To give the balloons at your New Year's Eve party an upgrade, consider adding clock faces. Because of their flatter shape, foil balloons make the best timepieces. Mix and match white foil balloon clocks with whichever balloons work best with your other party décor. This example features foil clocks, golden party letters, and latex balloons in shades of blush, black, and pearl. When it comes to choosing colors for your clocks, try to include colors already found in your decorations.
3. Cultivating a Cool Ambiance for Your Party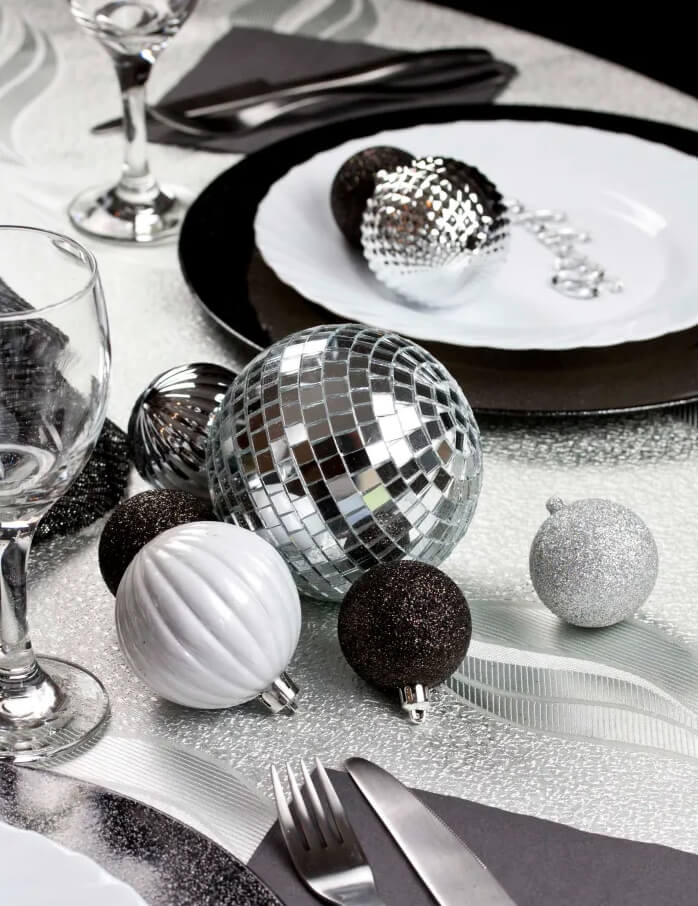 Although gold is a popular choice in New Year's Eve party decorations, choosing a simple silver and black color scheme can imbue your celebration with refinement. The key to making a more exclusive palette work is selecting high-contrast colors and including layers of texture. In this image, smooth ceramic plates act as a solid base for the glittering Christmas ornaments and shiny disco balls. To invite a little warmth to your space, include candlelight in your design.
4. Silver Balloon and Disco Ball Fireplace Scene
A floor-to-ceiling cascade of silver balloons and streamers captivates the attention to create a fun focal point. By mixing glossy and matte silver balloons, this scene cultivates dimension. While the shiny balloons and streamers steal the show, soft floral arrangements in blush and subdued neutrals provide a dreamy counterpoint. Disco balls reinforce the evening's festive theme while coordinating impeccably with the balloons. If the silver-dominated theme does not vibe with your style, try adding a few coordinating colorful balloons to the pillar.
5. Dramatic New Year's Eve Decorating Ideas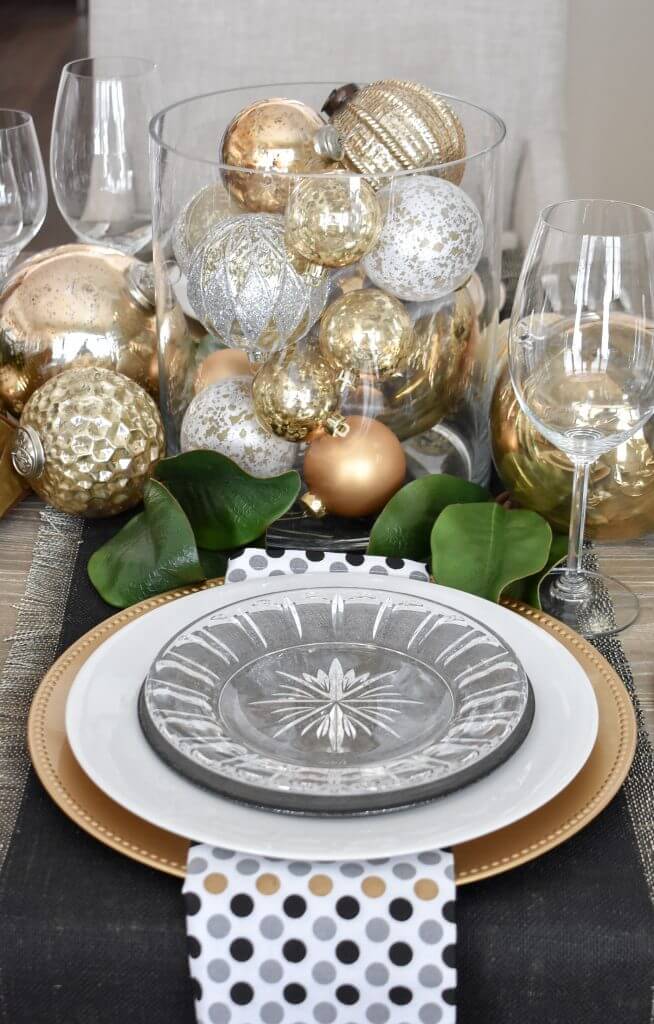 When paired, black and gold offer an exhilarating color palette. To give your décor a little lift, add accent layers in shades of white, silver, and crystal. Beyond color, this image also showcases something unique: Christmas ornaments. Whether or not you have holiday decorations stowed away for the season, metallic Christmas ornaments can magnify the occasion. Incorporating them in your New Year's Eve decorations is as easy as selecting and displaying only those that fit your party's color scheme.
6. Low-Stress New Year Party Decorations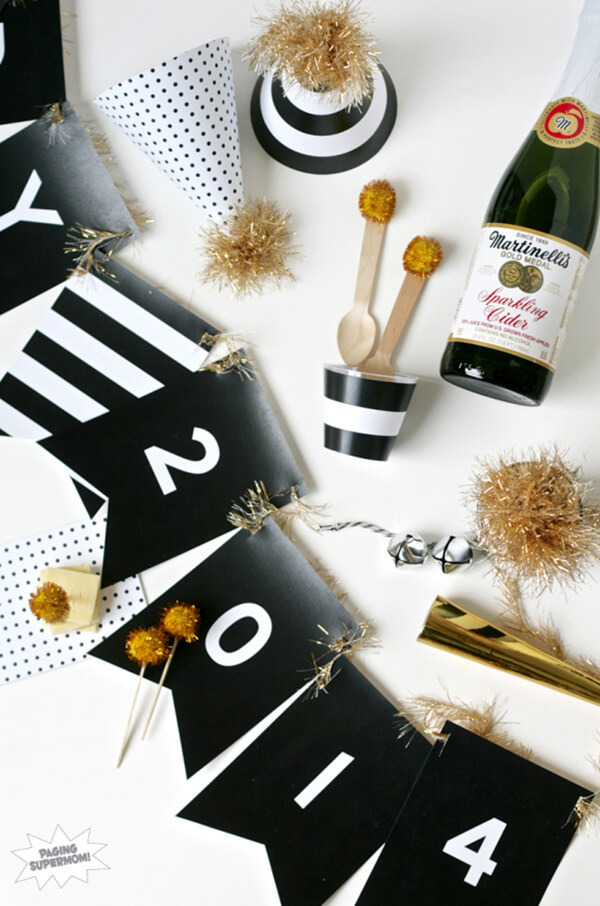 After getting the Christmas decorations put away, it might feel nice to take it easy with your New Year's decorations. Surprisingly, all you need to transform standard party supplies into something special for your celebration are a printer, pom-poms, and eyelash yarn. Glue the pom-poms and yarn to hats, utensils, and other décor to create a festive atmosphere. To transform clear party cups into a cohesive part of your celebration, add a printed cup sleeve like this one.
7. Celebrate the New Year with Mixed Metallics
New year party decorations begin at the front door, and this wreath is a magnificent way to greet guests. While gold garland flecked with silver squares mimics confetti and streamers, the sphere in the wreath's center serves as an homage to the ball drop in Times Square. To finish the look off, this tutorial recommends adding the new year in glittering cardstock. Even if you already have a wreath for your front door, this project would look fantastic inside.
8. Styling a Stunning Refreshments Table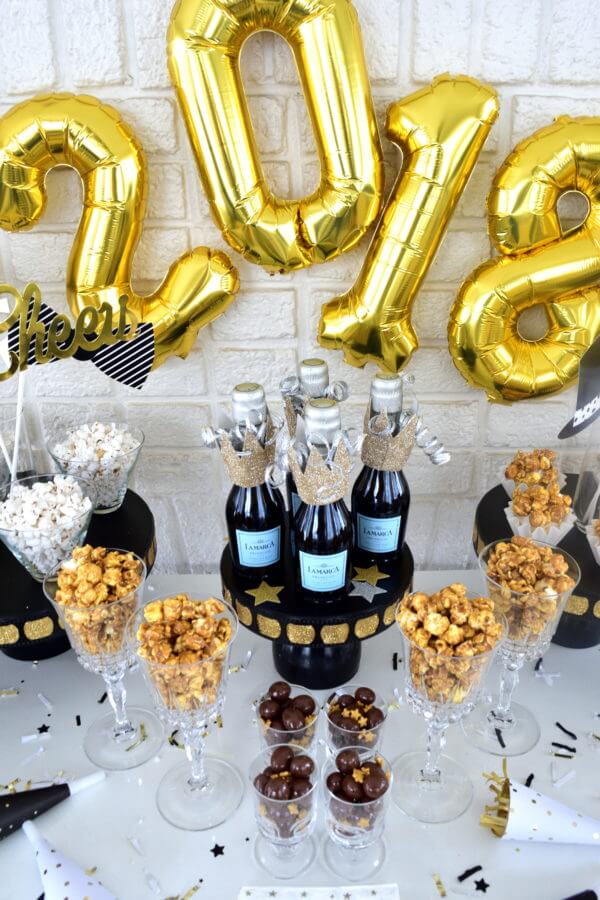 Like all the best New Year decoration ideas, this refreshment table features a lavish spread with a captivating color palette. Black anchors the metallic gold, glittering silver, and refreshing white. Crystal goblets are a creative way to offer individual servings of tasty treats in keeping with the decadent theme. Beyond taste, choose snacks that offer a pleasant visual contrast like those shown in this image. Chocolate-covered nuts, caramel corn, and white cheddar popcorn reflect the colors featured in this décor.
9. Going Wild with New Year's Party Games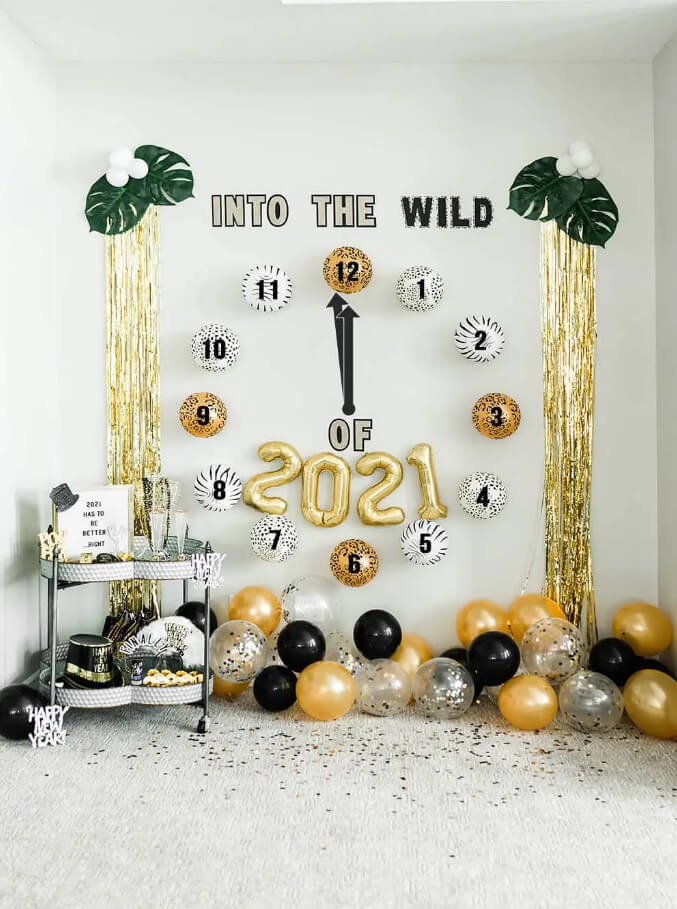 Transform your balloons into a fun focal point by filling them with confetti and popping them as the hours advance. While you could bring this vision into reality with solid-colored balloons, animal print takes this countdown clock to the next level. Notice how the clock is framed by gold streamers, monstera leaves, even more confetti-filled balloons, and a line of text. This framing not only defines the scene but also emphasizes this activity as the party's focal point.
10. Celebrate the New Year with a Kiss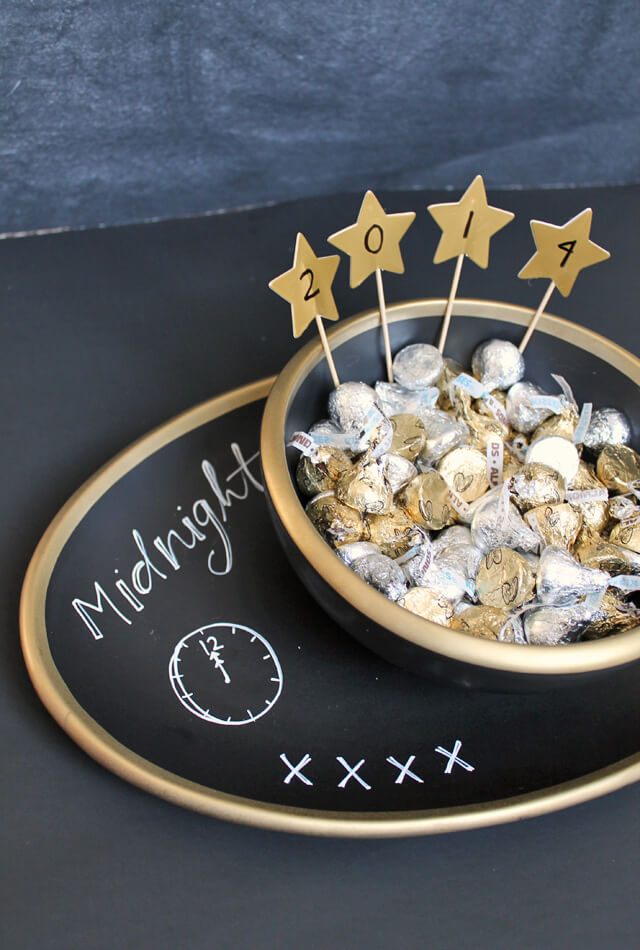 A bowl of chocolate makes any party a little sweeter, and the elegant presentation is easy to replicate for your own celebration. In addition, Hershey's Kisses are a great way to alleviate any awkwardness resulting from the tradition of a kiss at midnight. While this display uses gold-accented ceramic serving ware embellished with chalk, this idea can be realized in many ways. The hardest part is finding chocolate candies with wrappers that coordinate with your theme.
11. Maximalist New Year's Eve Decorating Ideas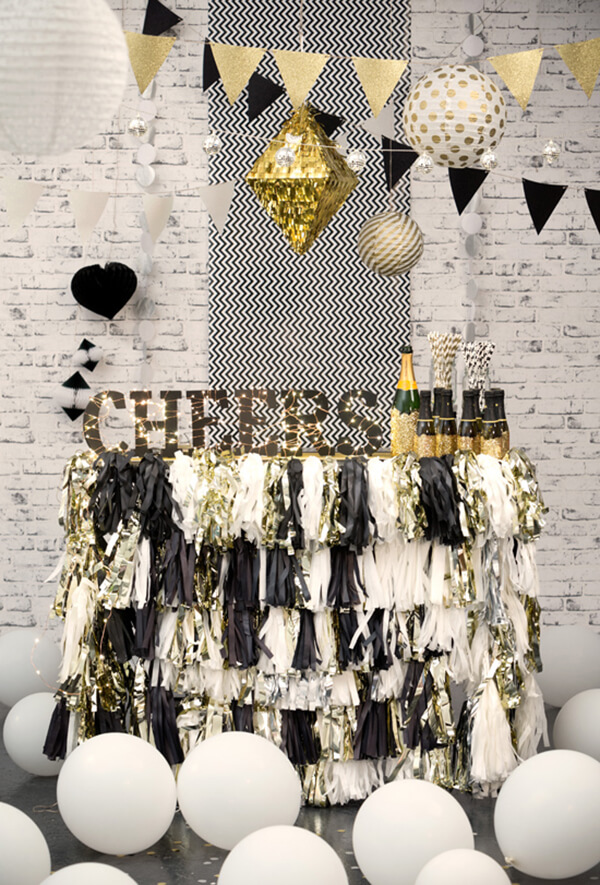 Sometimes, simple decorations are just not enough. If you want a party that goes over the top in all the best ways, draw inspiration from this example. Tiers of black, white, and gold streamers decorate the bar while furnishing an abundance of texture. White balloons adorn the floor and garlands and paper lanterns complete the look. Lighted marquee letters present a focal point to the scene. For a more ordered look, be intentional with the streamer colors to create stripes.
12. Perfect Packaging for Party Favors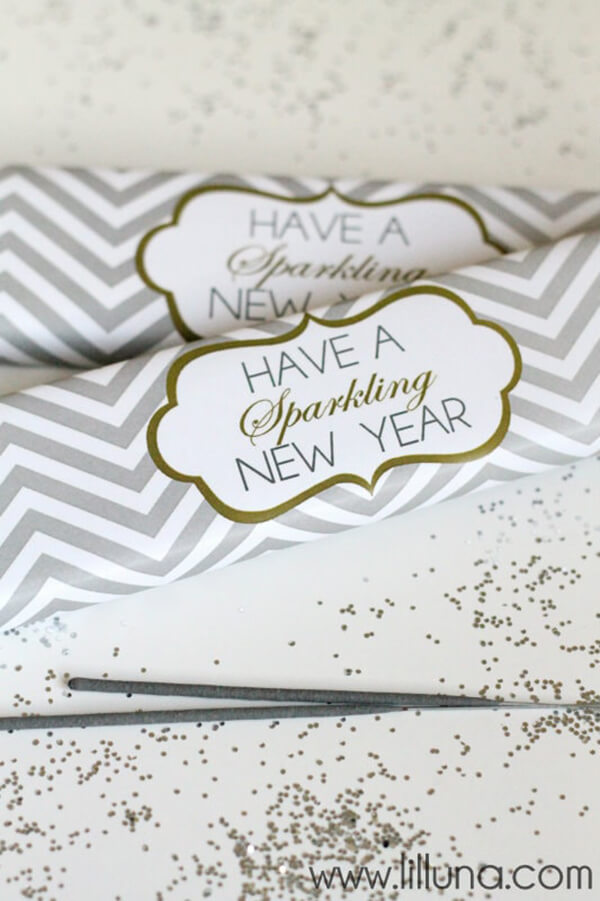 What party would be complete without favors for the guests? If sparklers are legal where you live, they make a fantastic New Year's party favor, especially when presented in such a chic way. If the soft gray and white zig-zag pattern does not fit your New Year's aesthetic this year, do not hesitate to switch it out for wrapping paper that does. All you need is a label that reads something similar to the message shown here.
13. Ringing in the New Year in Style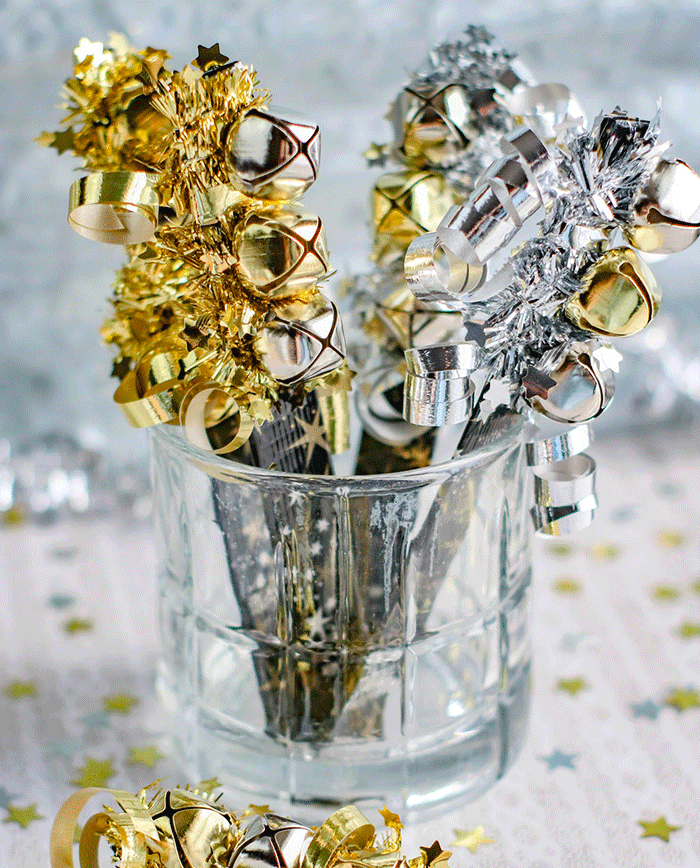 If you are celebrating the New Year's holiday with small children, this is a project they can help create. Of course, you can also make these fun noisemakers ahead of time to enjoy the joyful jingles as the new year arrives. While this image shows gold and silver variations with decorative tape handles, there are so many ways to customize this craft to fit your New Year party decorations and the skill level(s) of anyone crafting them.
14. Glamming Up Your Party with Glitter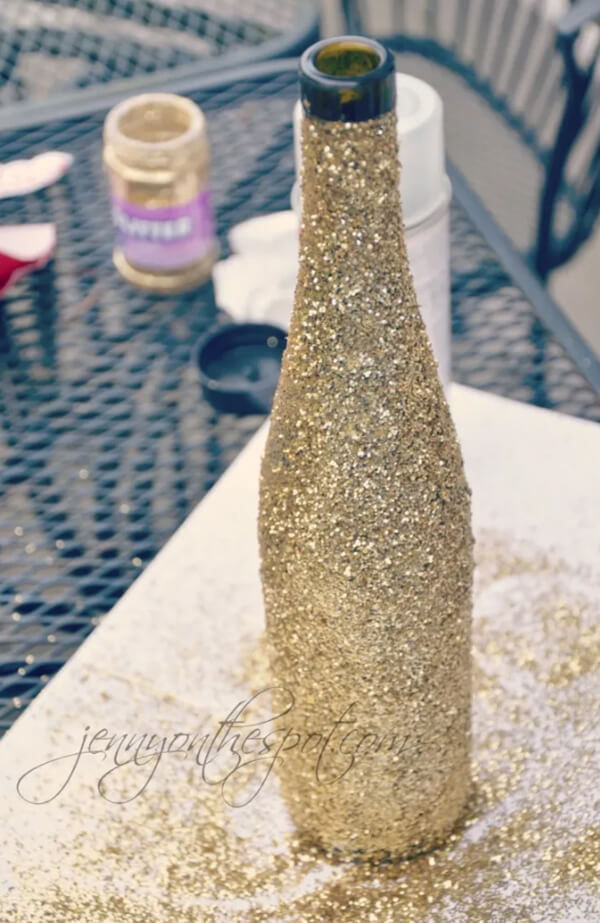 Instead of recycling an empty wine bottle, why not transform it into the ultimate glittering vase for your New Year's Eve party? Use it to hold a small floral arrangement, feathers, streamers, or anything that feels like a New Year's party to you. This tutorial uses a mix of gold and silver glitter, but you can experiment with black, gold, silver, or any glitter that complements your color scheme. For even more glamor, add gemstones and sequins.
15. Sparkling Silver Alarm Clock Wreath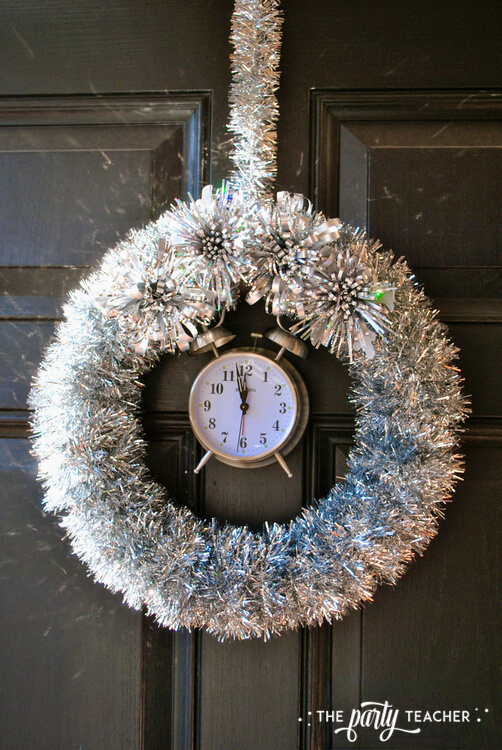 Tinsel, bows, a wreath form, and an alarm clock are the only ingredients required to assemble this enchanting New Year's wreath. While the monochrome silver look exudes irrepressible joy, choosing contrasting bows would give this wreath more dimension. However, this approach would mean less emphasis on the alarm clock. To add a unique layer to your decorations, bring this wreath indoors, set the alarm to ring at midnight, and bask in your guests' excitement when the alarm jingles at midnight.
16. Kid-Friendly New Year's Countdown Clock Craft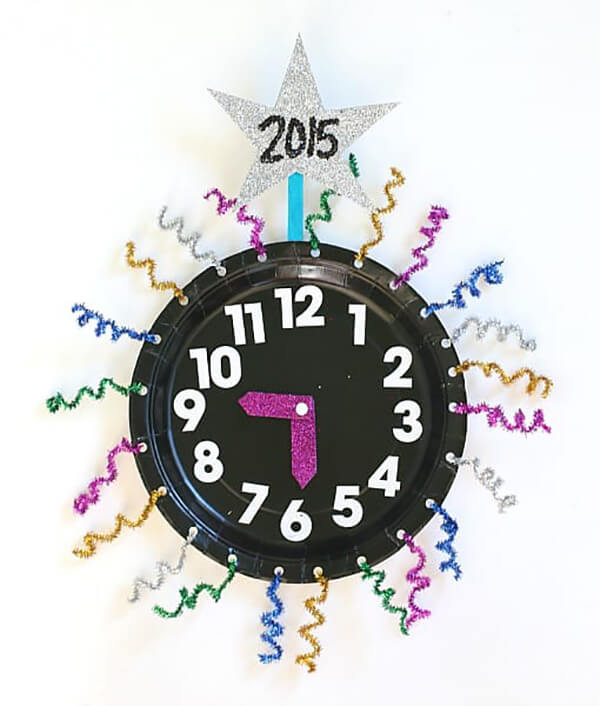 Give your little ones a way to follow along with the evening's celebrations with this easy clock project. The black paper plate, white numbers, and explosion of glittering decorations help give this project a festive feel. If you are making this craft with children too small to stay up until midnight, try concluding the countdown at noon instead. The beauty of this craft is that it can be as simple or as extravagant as you desire.
17. Reusable "Happy New Year" Pennant Garland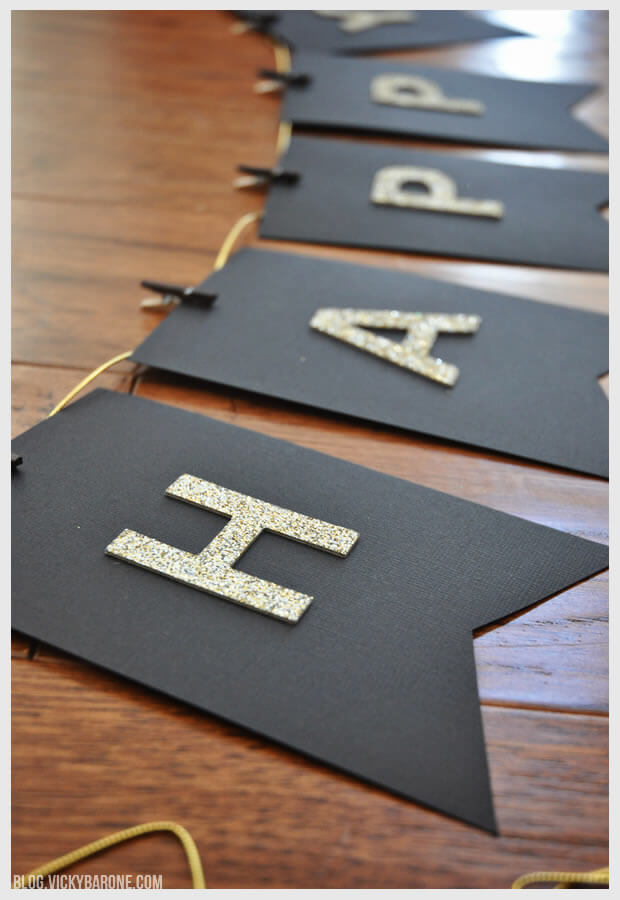 Black scrapbook paper provides a minimalist base for this easy-to-create garland. If your tastes lean to the more opulent, switch out matte black for a paper pattern with a little more presence. Glittering silver letters will coordinate with most New Year's Eve party themes which means it can be displayed for many years to come. Because miniature clothespins attach the pennants to the string, it would be easy to switch out numbers to display the appropriate year.
18. New Year's Eve Decorating Ideas: Instant Garland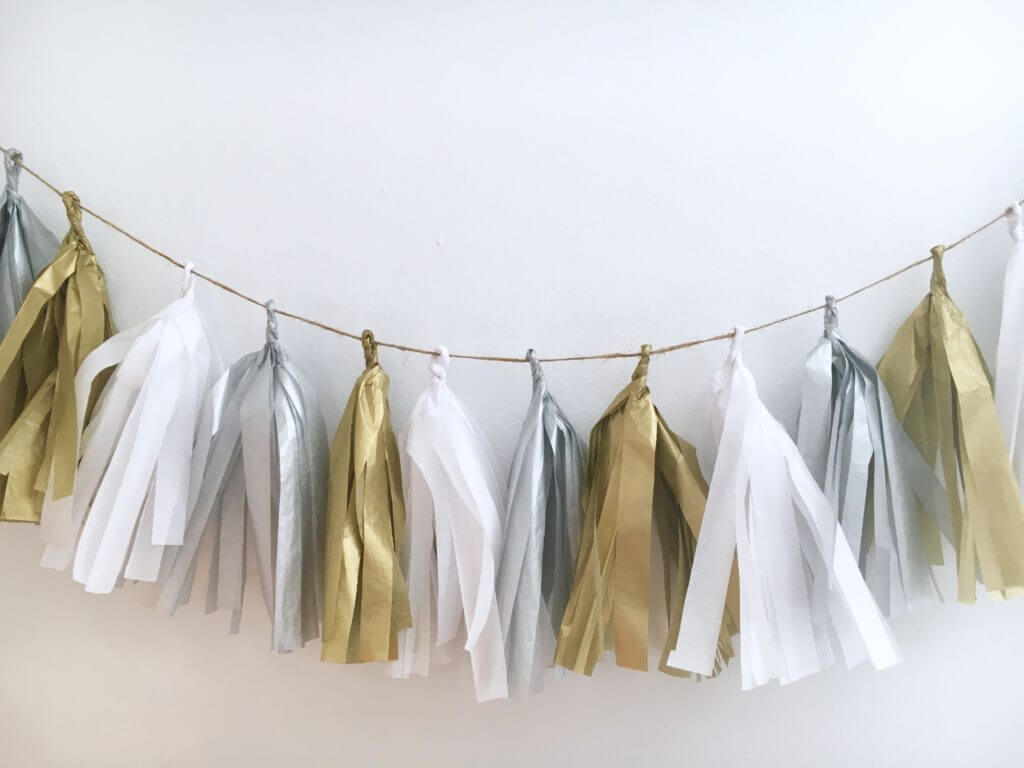 Although garland is rarely the focal point, it will infuse your party with festive ambiance. Beyond filling awkward blank spaces on your walls, this quick-to-create garland reinforces your palette without breaking the budget. The only materials you need are tissue paper, scissors, and a string to suspend your garland. Because you can find tissue paper in nearly any color, this garland opens the door to endless customization. Experiment with alternating colors as shown here or sticking to a single color.
19. "Kiss Me at Midnight" Gold Foil Garland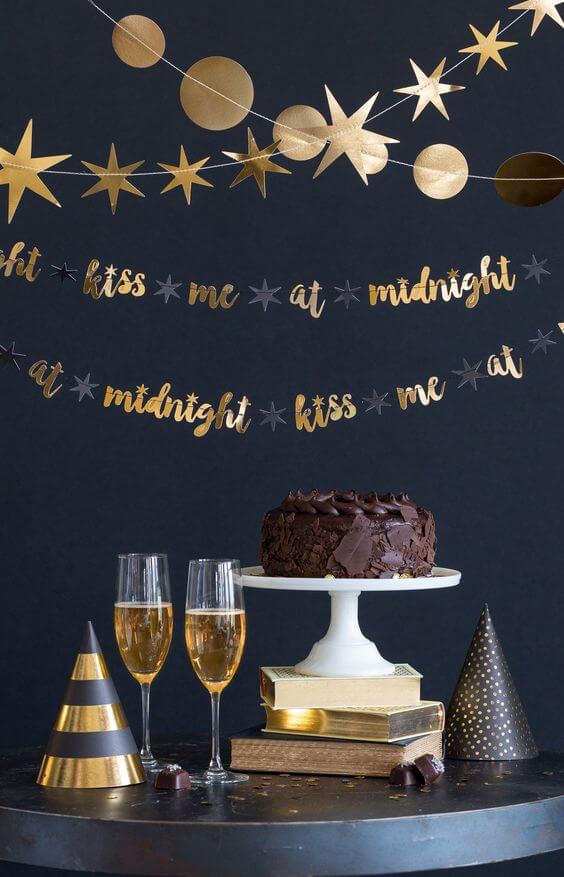 One of the easiest ways to fill out your new year party decorations is to include a garland or three. Made from flashy foil, this garland will catch the light and give any stretch of wall the boost it needs to be photograph-worthy. Gold starbursts separate each word and will create a cohesive space when paired with any other celestially-inspired décor. Imagine how great this garland will look in a photo booth or as a dessert table backdrop.
20. A Simple & Sweet New Year's Theme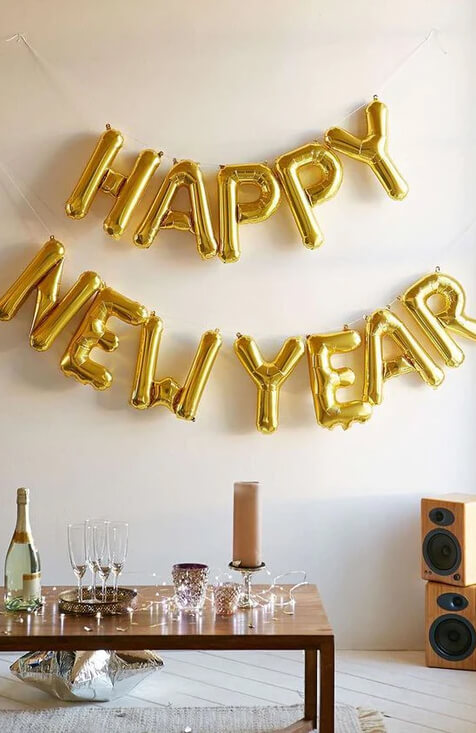 While many of the best New Year decoration ideas include over-the-top extravagance, a simpler theme might suit your style better. In this example, a gold balloon banner sets the mood while crystal glasses, an adult beverage, and a candle holder fill out the decorations. One way to boost the New Year's theme with such a casual gathering might be to include themed napkins. For this party, picking napkins that feature gold foil accents would coordinate beautifully with the balloons.
21. Paper Pinwheel "Happy New Year" Banner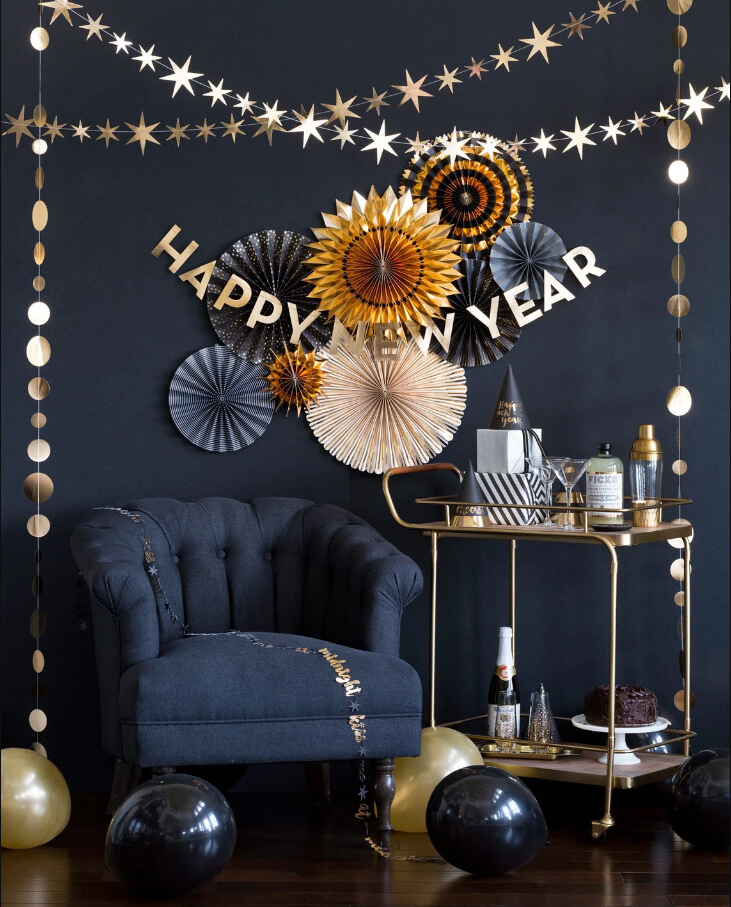 Energize your space with this explosion of gold, black, and white sunbursts. Because it does not include a year and is made from durable heavy-gauge cardstock, you will be able to bask in its opulence for many New Year's celebrations to come. Gold foil letters mean it coordinates with any shiny gold décor that you display. While that can include balloons and garland, it also embraces functional pieces like the bar cart shown in this image.
21 of the Best New Year Decoration Ideas for Parties Large and Small
Whether your style is bold or subdued, there are ways to decorate your space for New Year's Eve that stay true to your style. No matter which direction you decide to decorate in, it is possible to develop an ambiance bursting with excitement to ring in the new year. After running the Christmas decorating marathon, designing your décor for New Year's Eve should be rejuvenating. This holiday is all about how you want to celebrate the arrival of a new year, and that can be as formal or as low-key as you desire. The best New Year decoration ideas should emphasize where you find joy.