Are you looking for a way to inject some new life into your home décor? Let us suggest a way to achieve some Zen while doing so with our ocean blues home decor inspiration. A color palette featuring blue can be fresh, cool, and calming, but also evoke the joy of beach and cottage carefree summers. We are in love with ocean blues this season. Use these blues as a highlight against a neutral palette, or be bold and use a variety of these blues (and other analogous colors, like greens or purples) in your new color scheme.
33 Ocean Blues Home Decor Inspirations to Bring Some Zen to Your Home

Your options and commitment levels are endless. You can completely revamp your room from floor to ceiling, inject a bit of blue with some accent items, or simply use wall paint to create your new ocean blue look. Ocean blue is an obvious choice for outdoor spaces and bathrooms, but let us show you how it can work in every room of the house, both indoor and out. Use our ocean blues home decor inspiration to get your creativity flowing—there's plenty of summer left to enjoy your new bathed-in-blue living space.
1. Cool Sea Blues Compliment Your Dining Space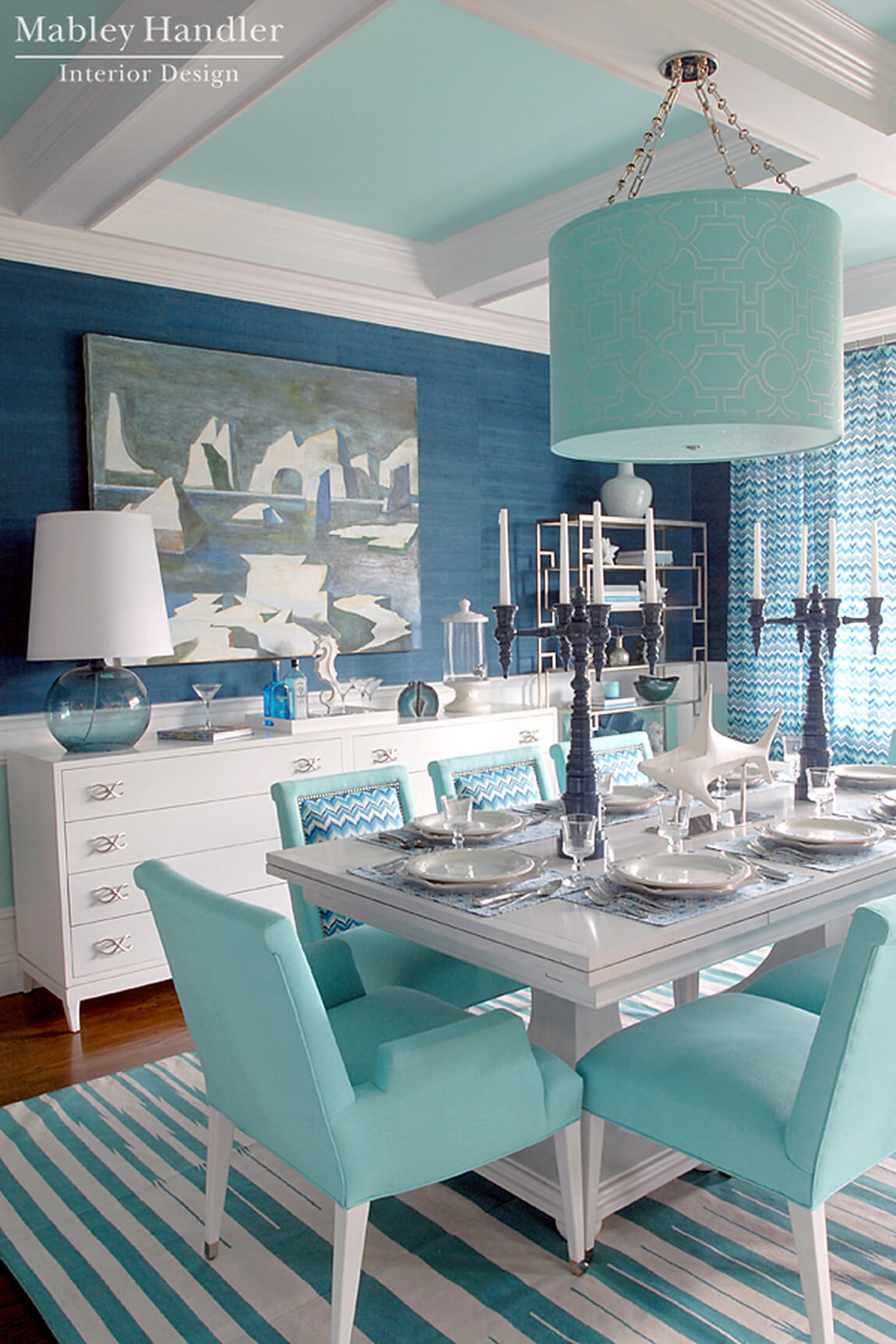 2. Touches of Bedroom Blue Are Calming
3. Blue Glass Collections Make For An Easy Update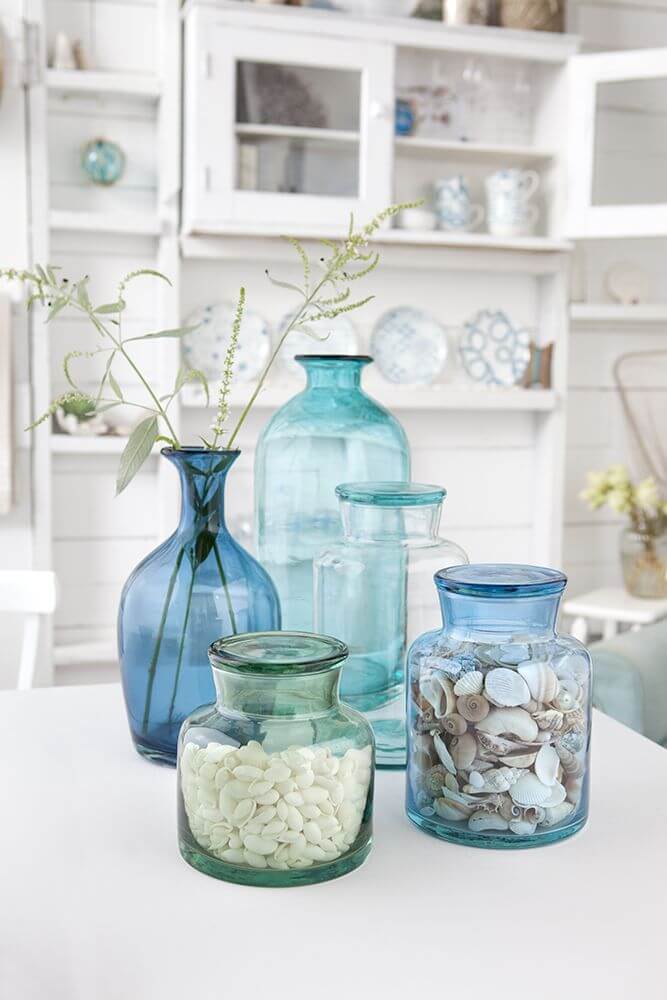 4. Bold Turquoise In The Bedroom for a Whimsical Sea-Inspired Retreat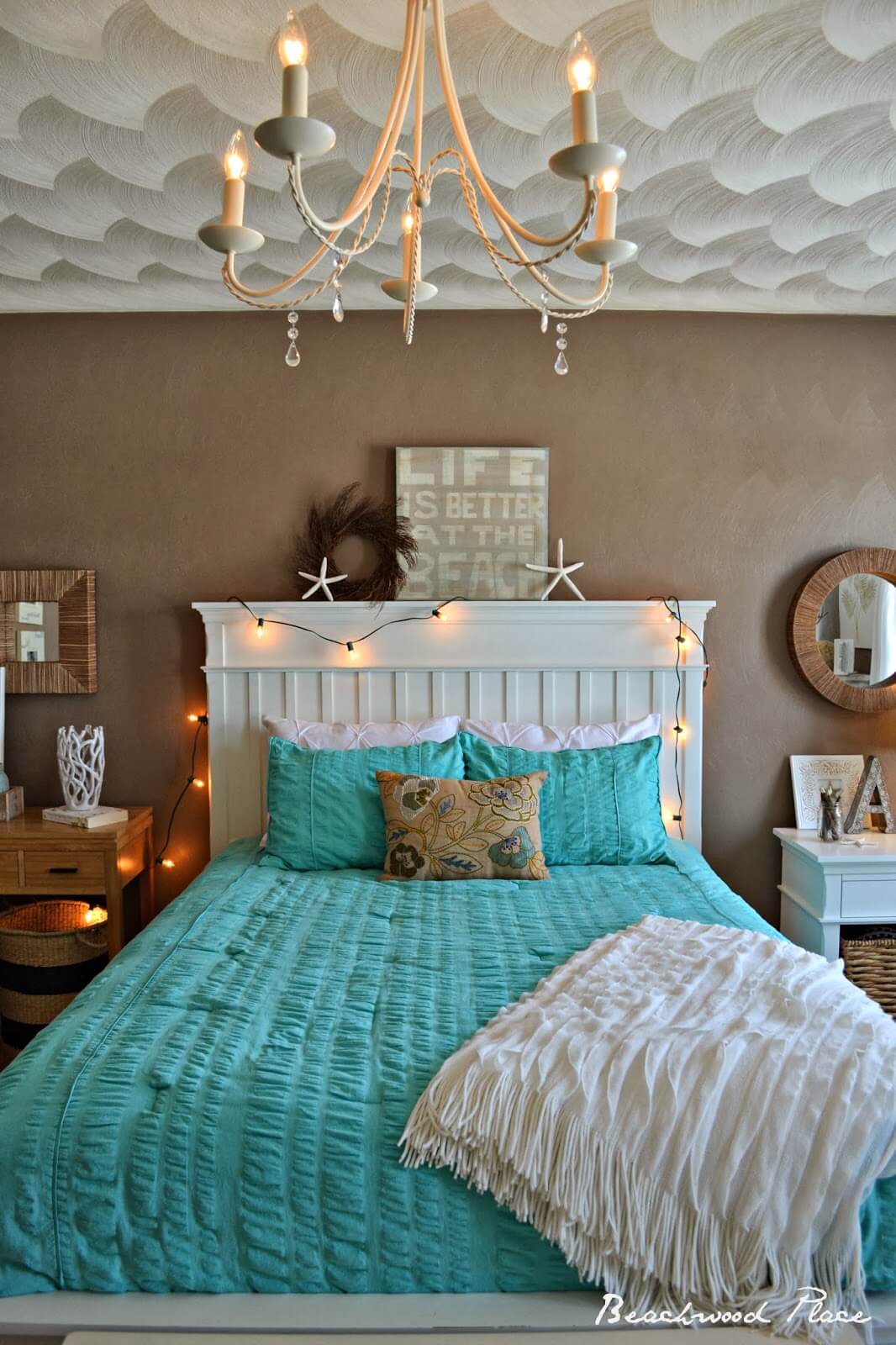 5. Soft Subtle Blues Add Depth to a Neutral Palette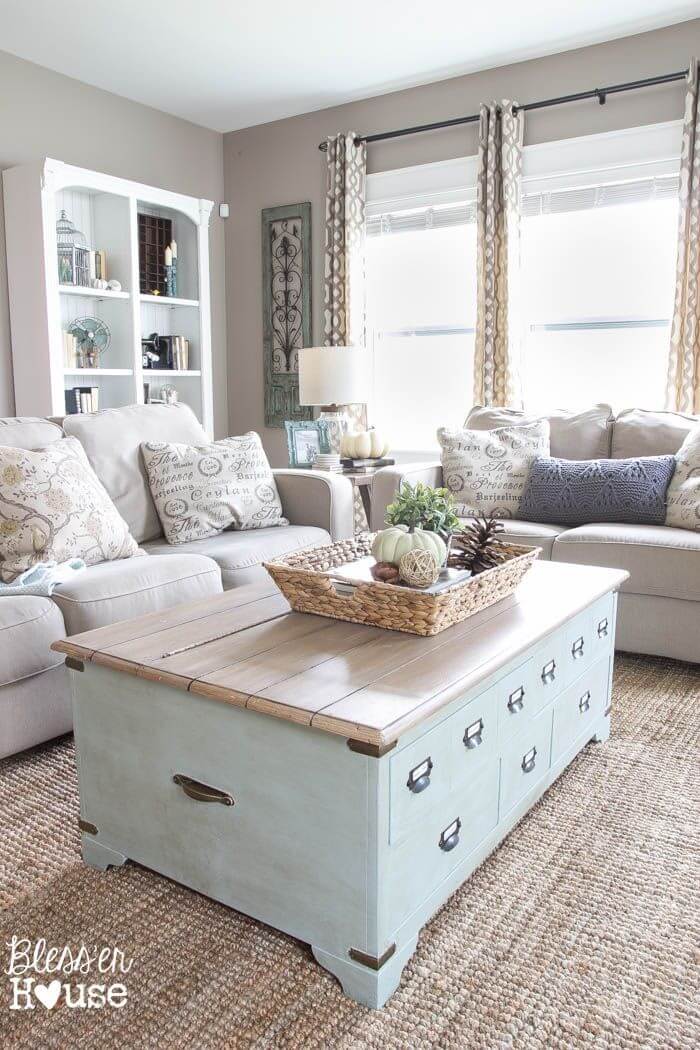 6. Fabric-and-Found-Object Art in Bold Blue Patterns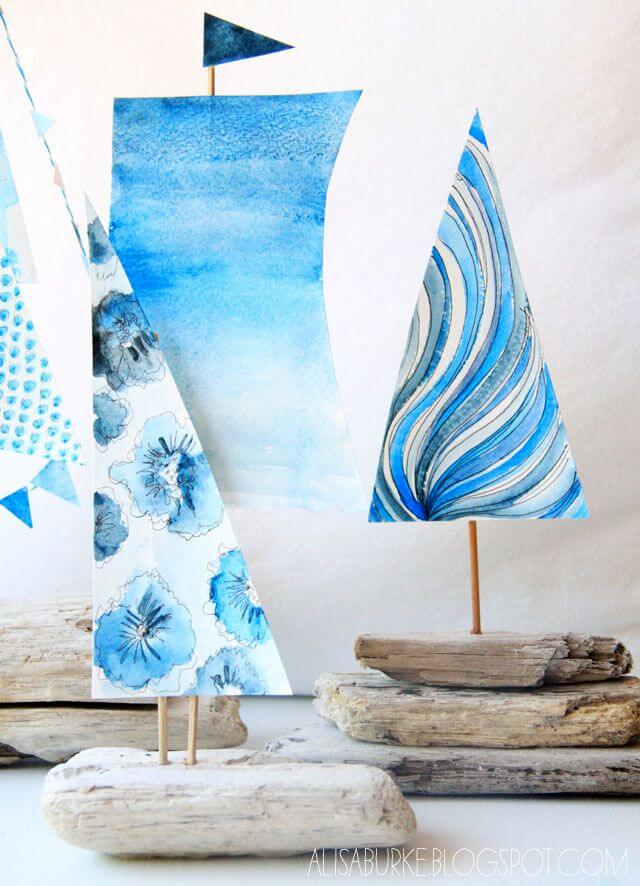 7. Make a DIY Triptych Featuring Sea-Inspired Blues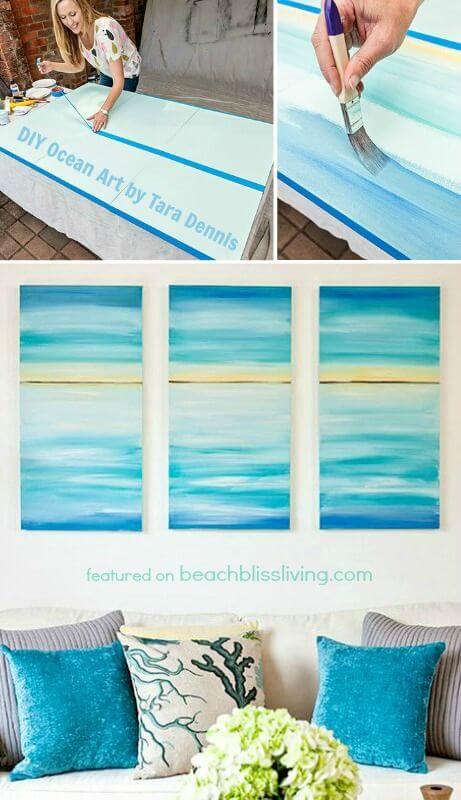 8. Pretty Blue Tile and Glass Compliments an Airy Kitchen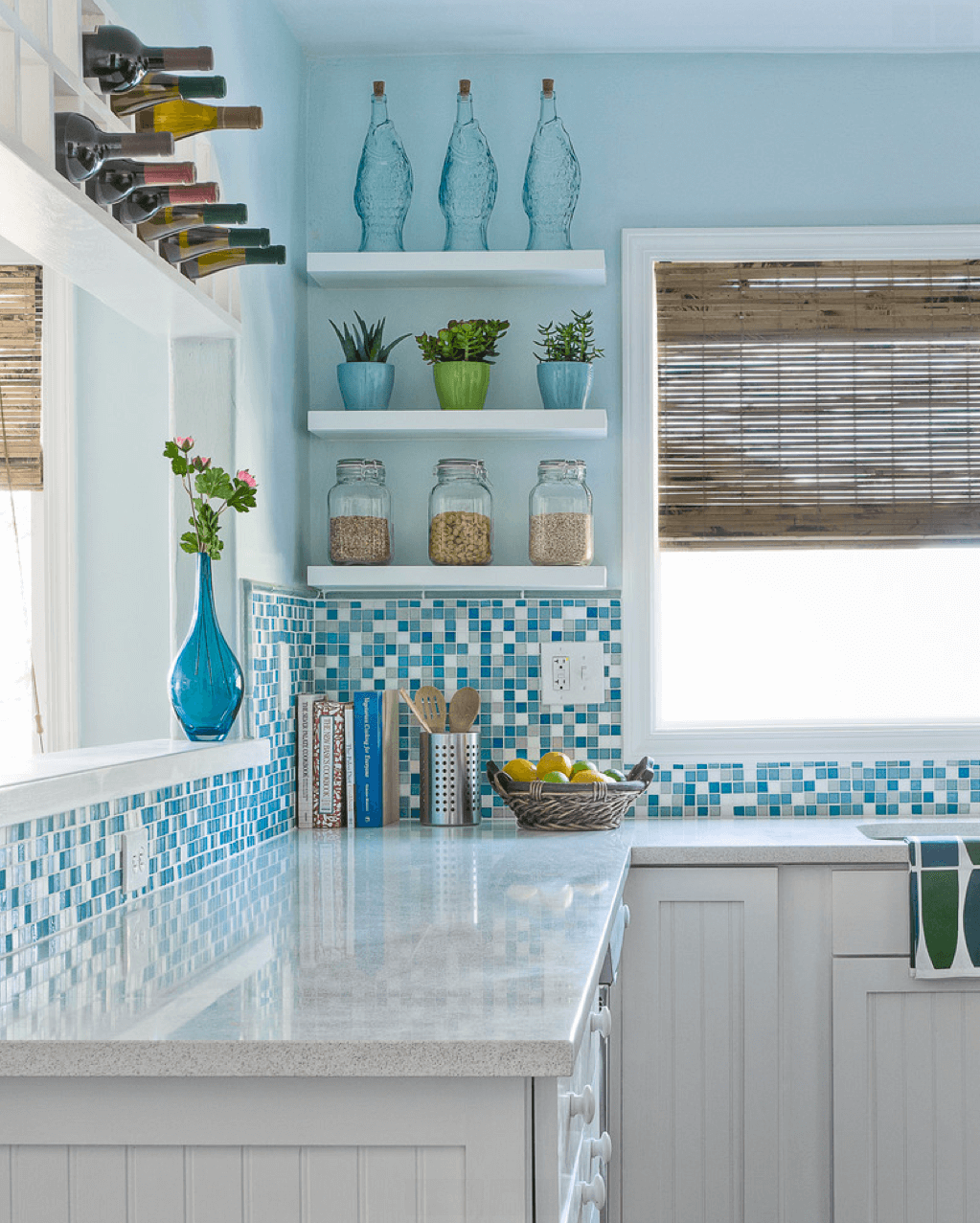 9. Blue-Green Hues Are Cool, Clean, and Calming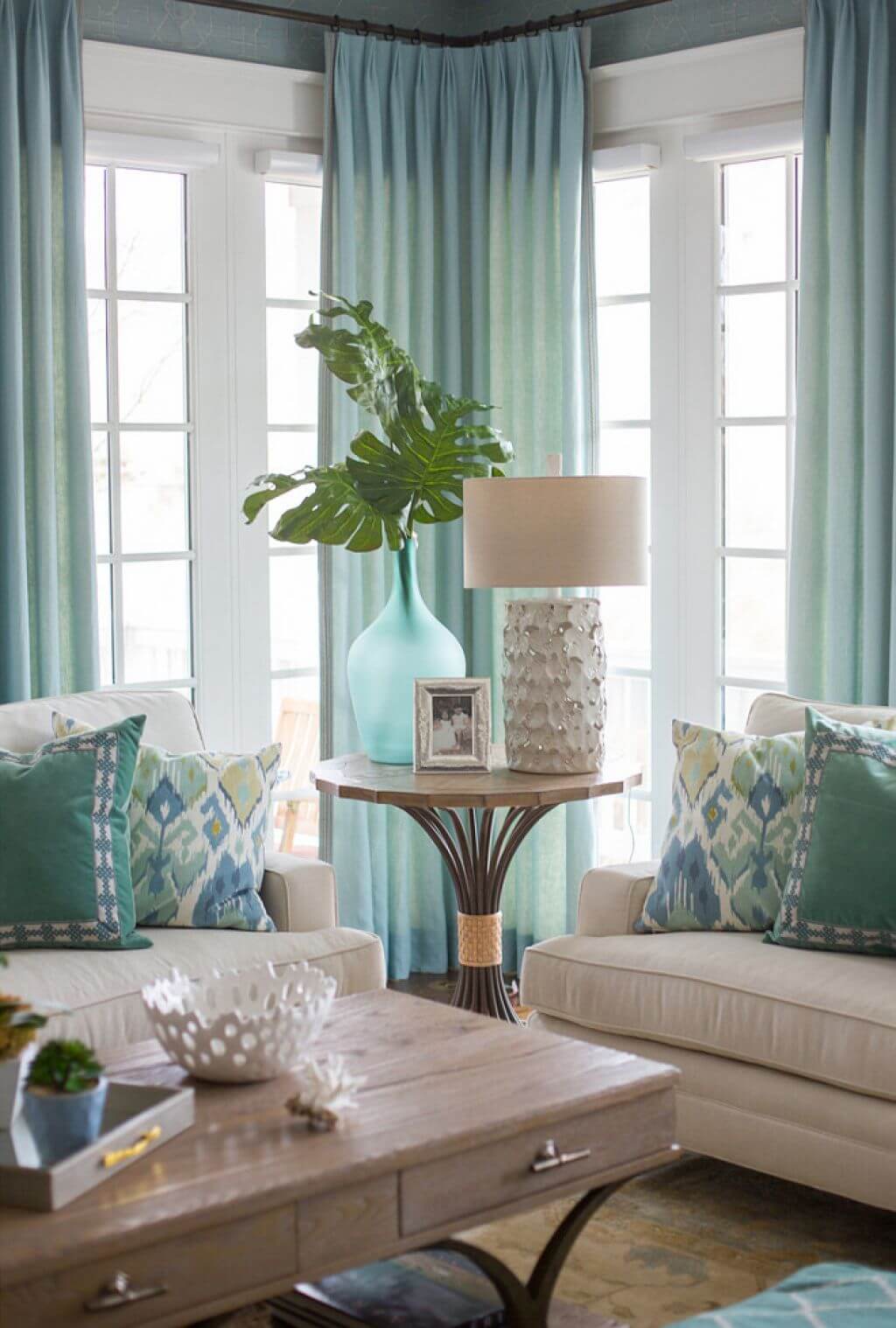 10. China Blue and White for a Classic Look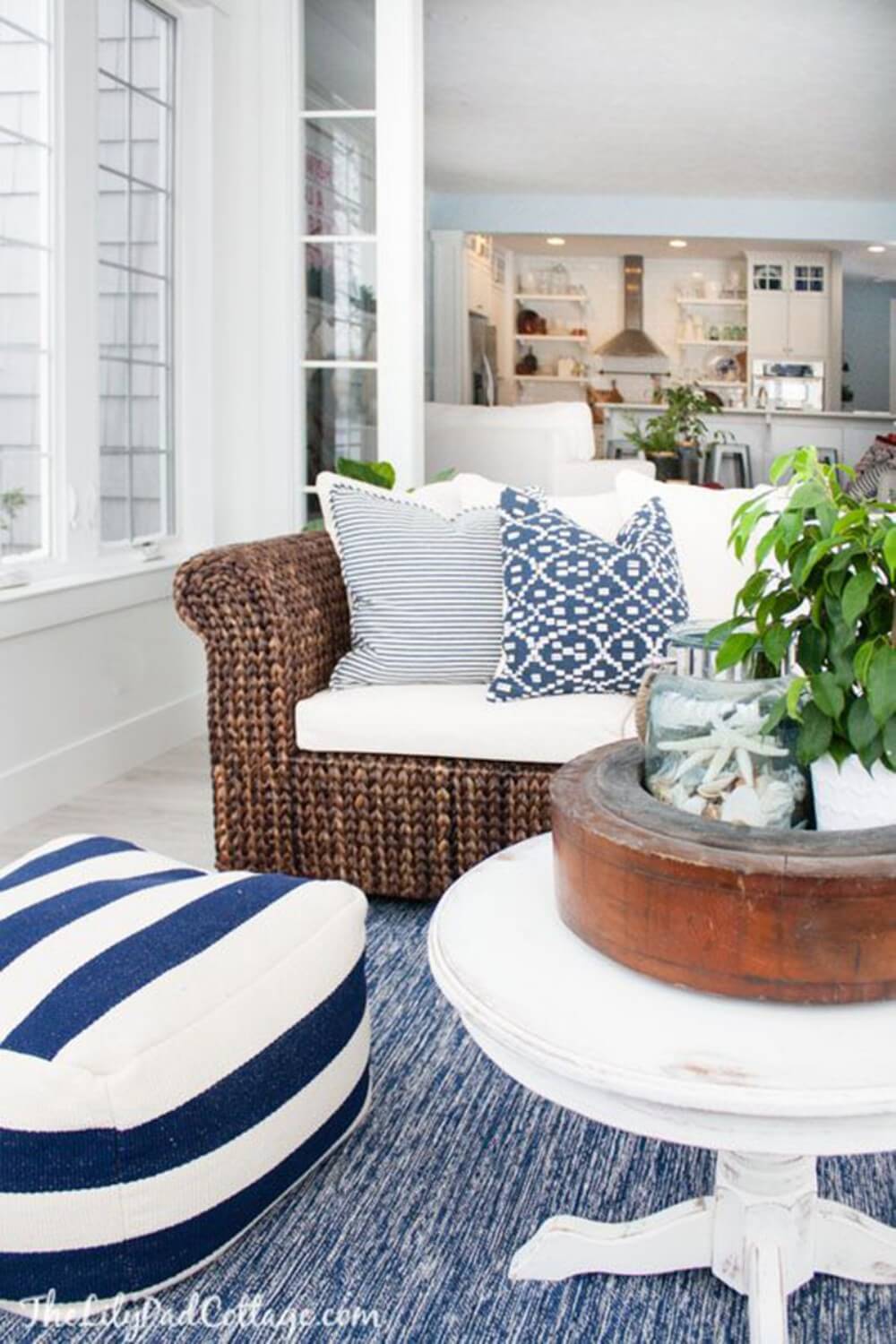 11. Glass Bottle Blues Are Perfect Beachy Touches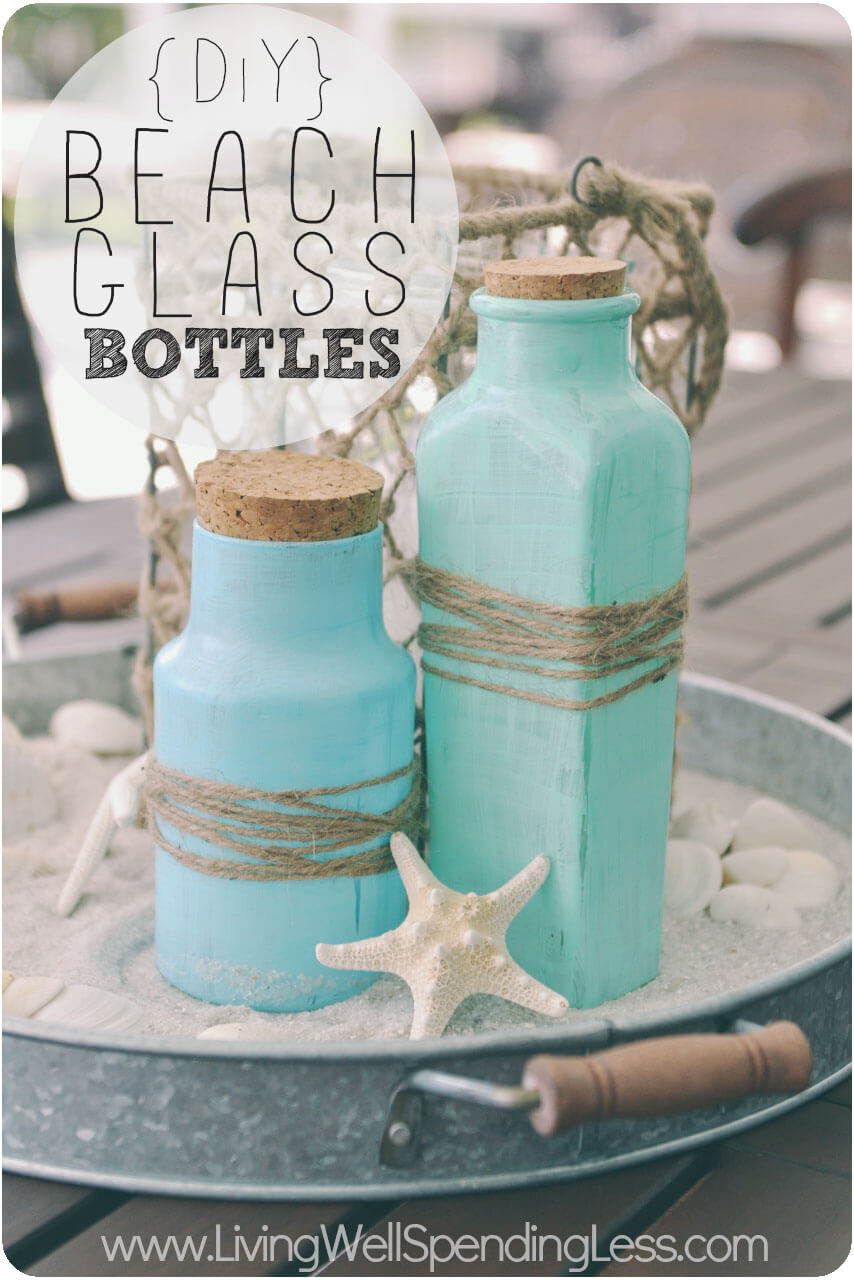 12. Soft Bedroom Blues for Blissful Sleep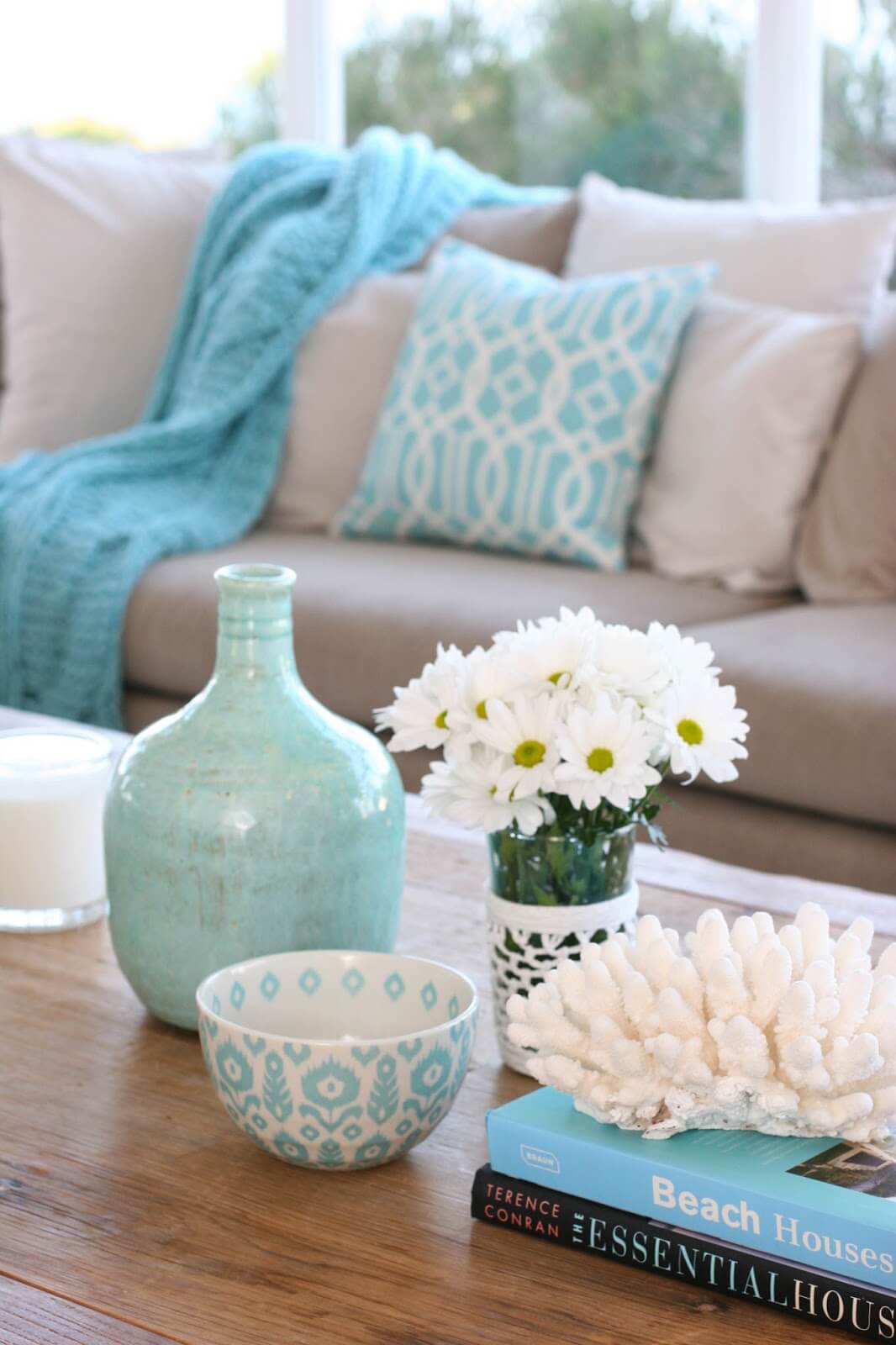 14. Robins Egg Blue for a Vintage Look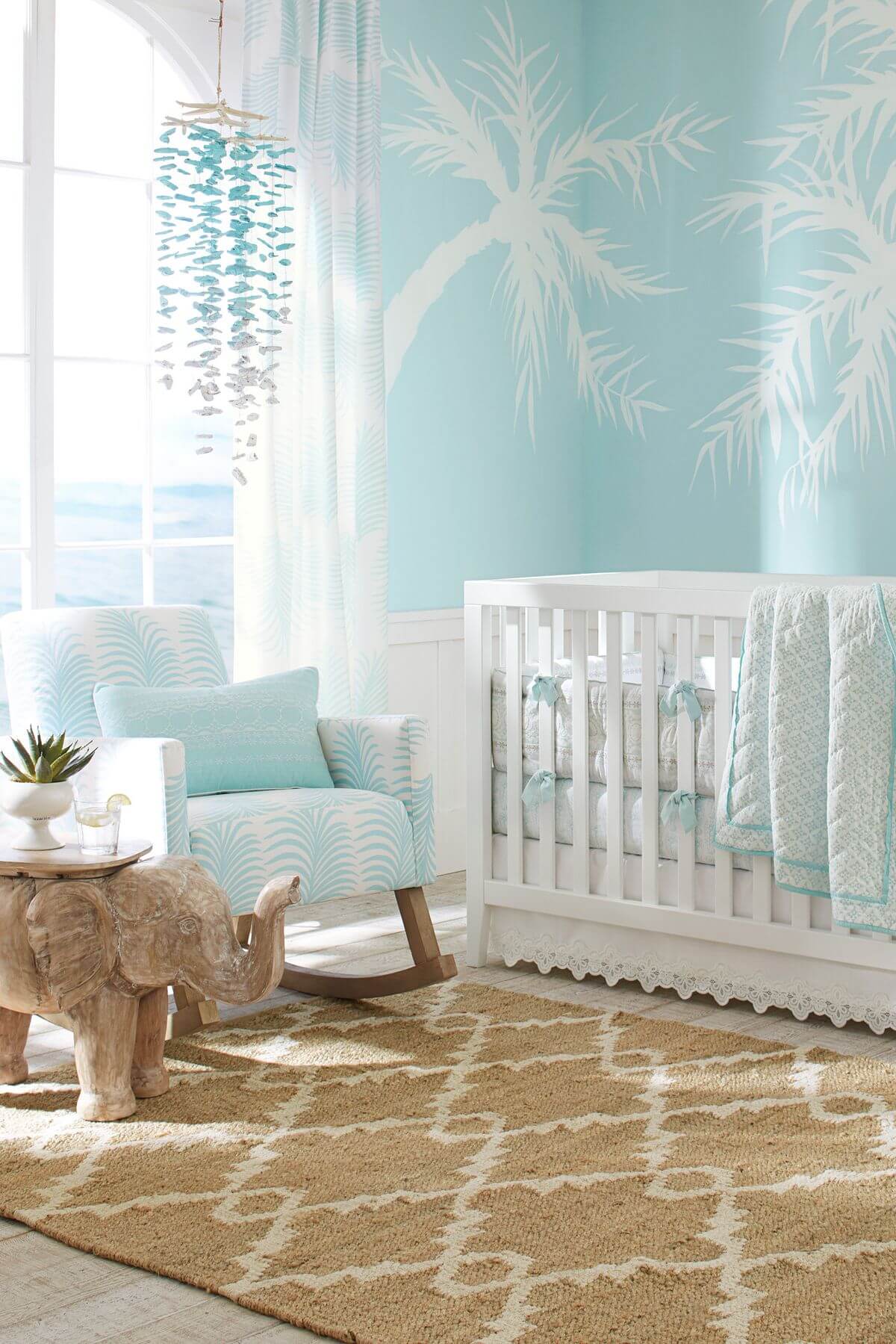 15. Blue Accents are a Low-Commitment Way to Update Décor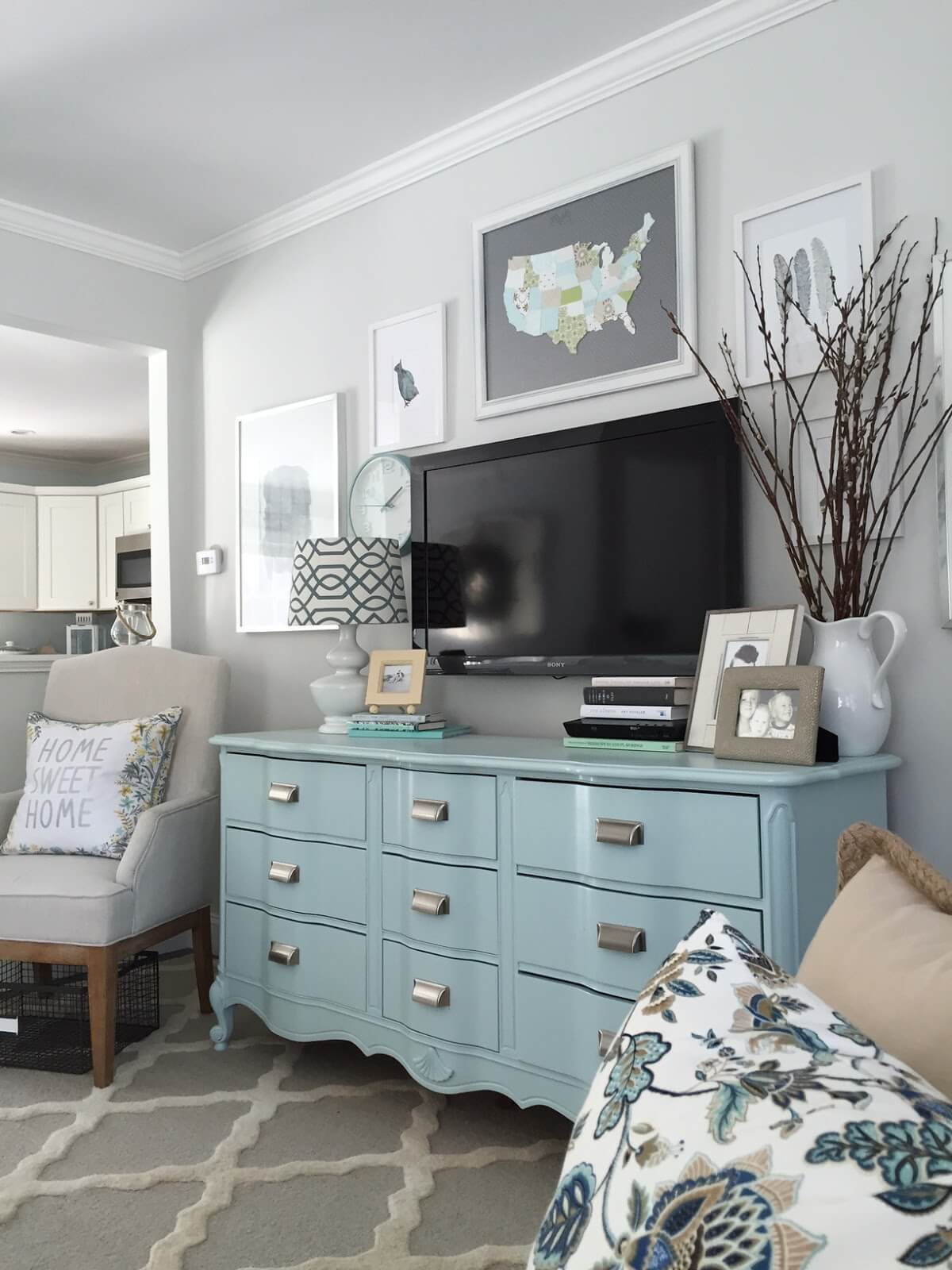 16. Beachy Blue Whimsical Wall Art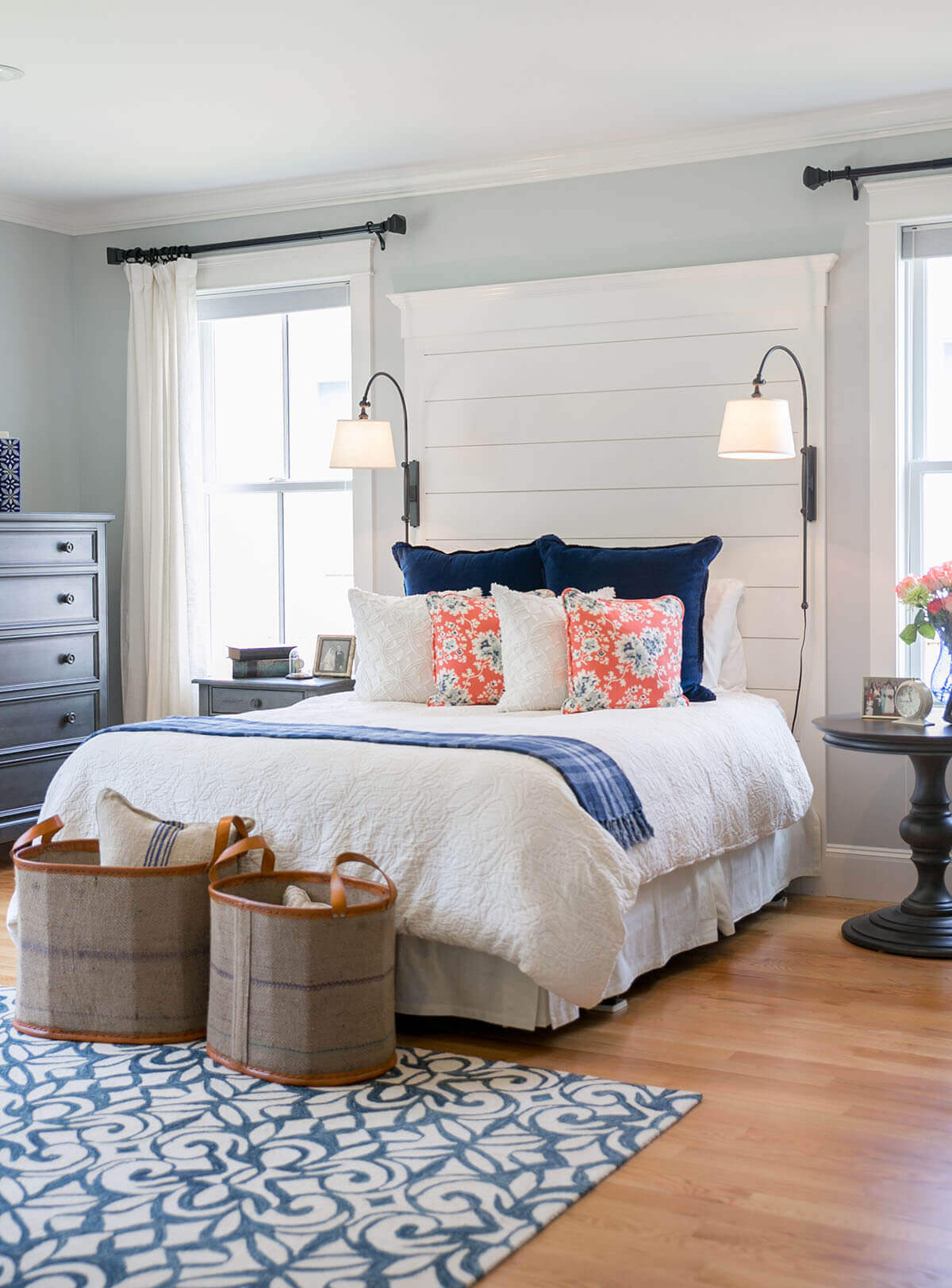 17. Gorgeous Barely-there Delicate Blues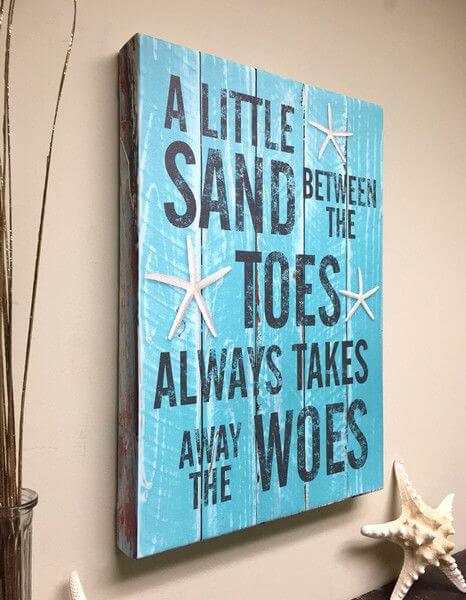 18. Introduce Ocean Blues with Paint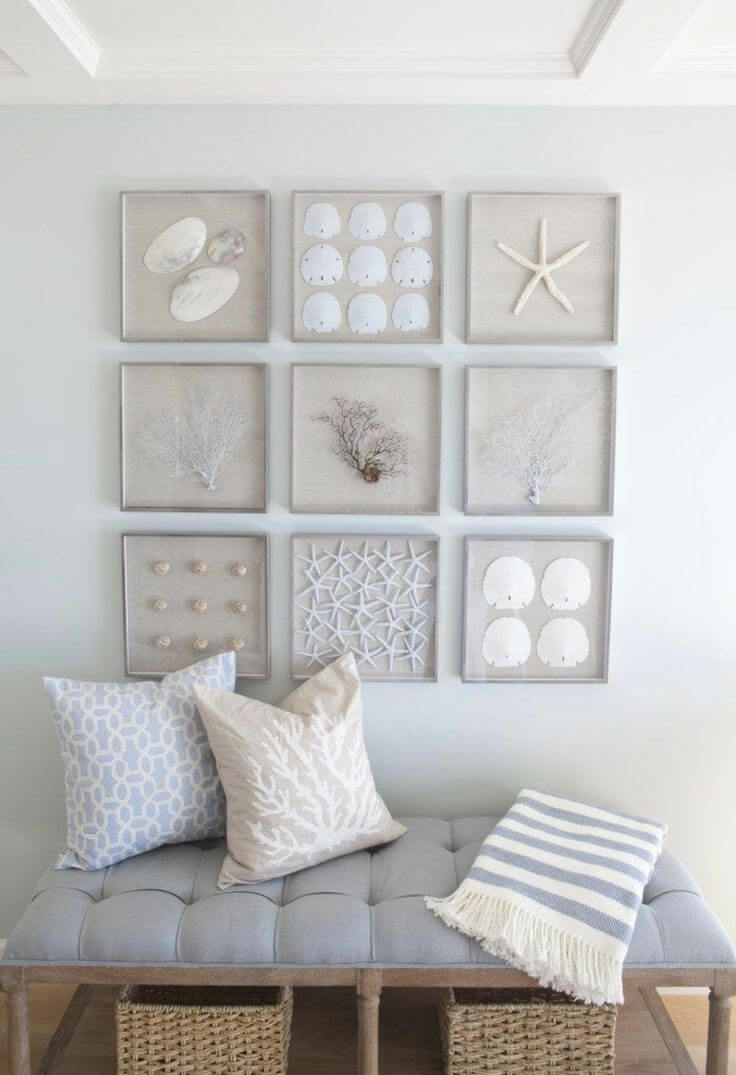 19. Lovely Blue Accents With Clean Neutrals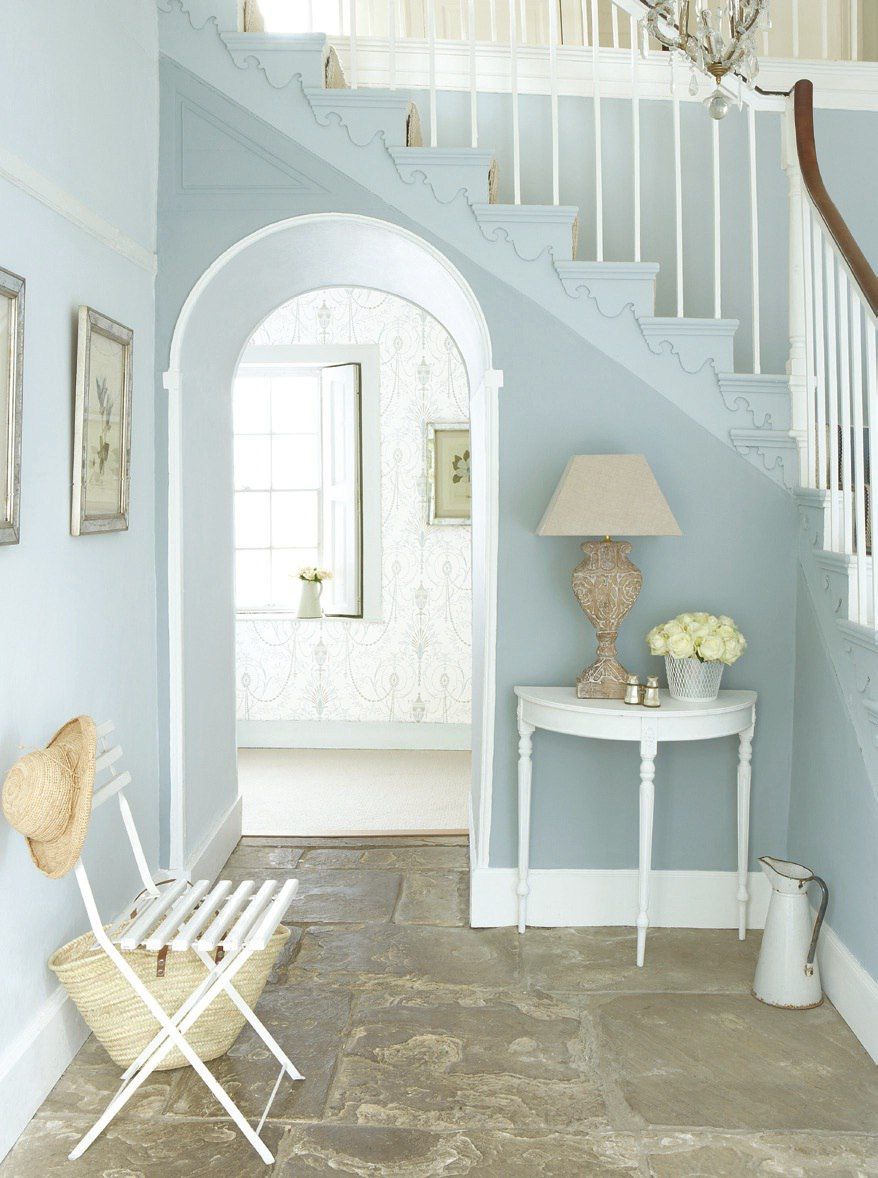 20. Blue Accents Against Warm Brown for a Summer Cottage Feel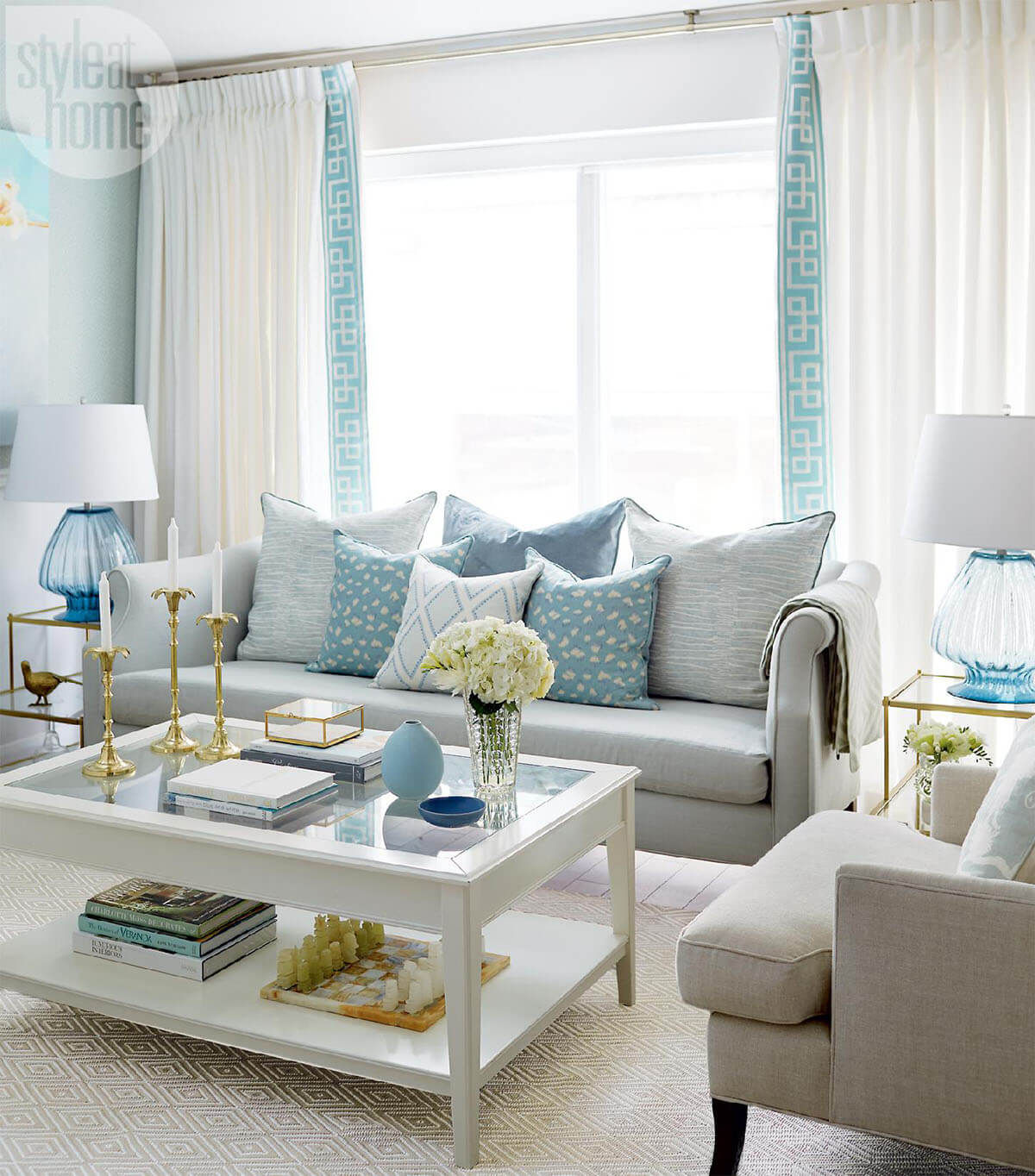 21. Fun Whale Wall Art Brings in Blue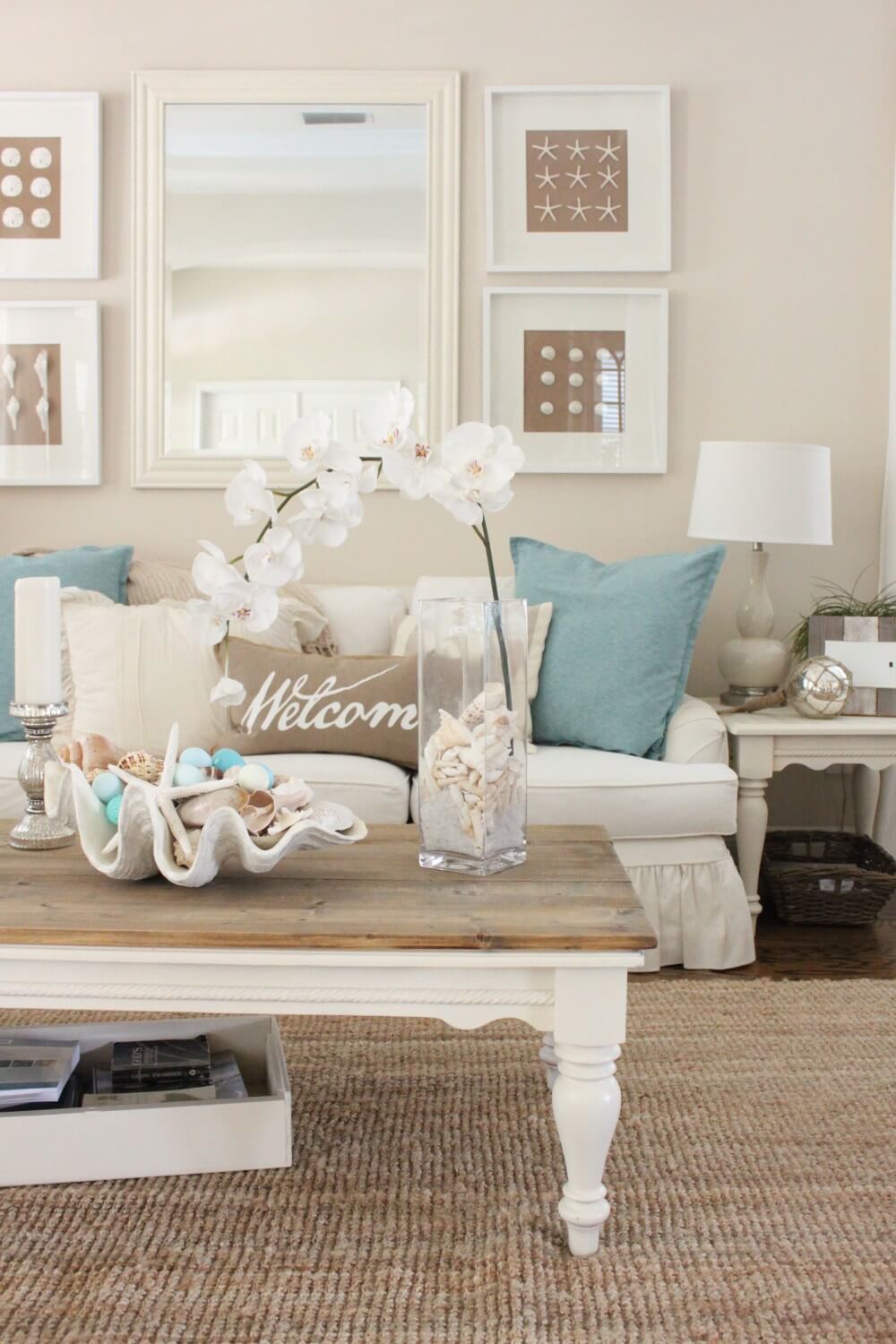 22. Classic Blue Ball Jars are a Perennial Favorite
23. Combine Subtle and Bold Blues for Depth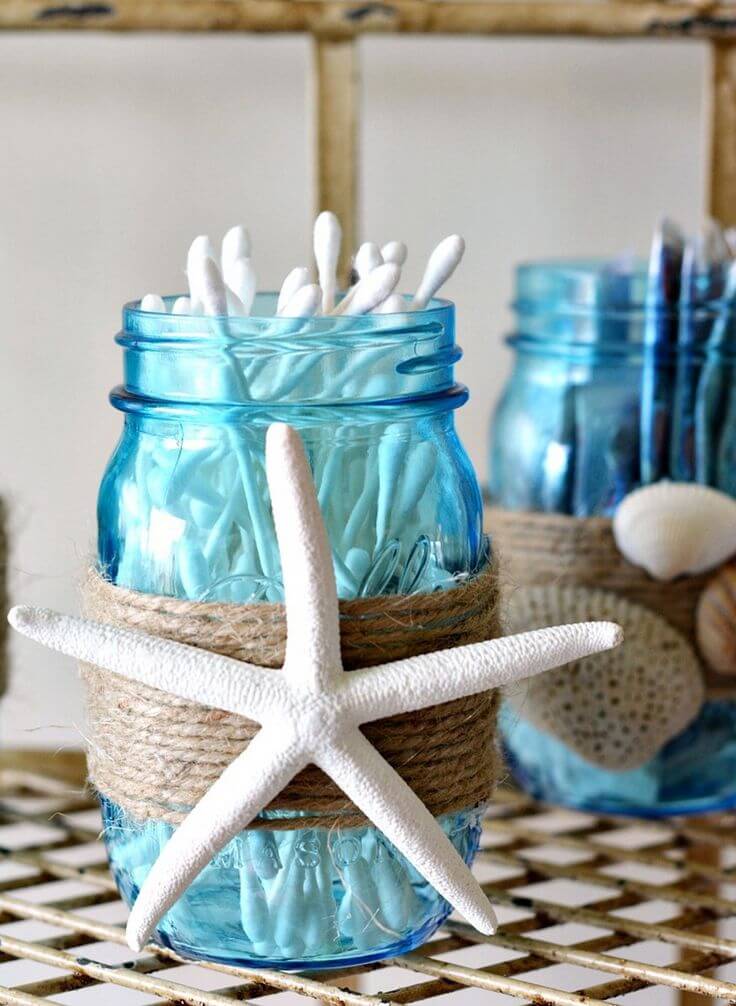 24. Paint Your Focal Piece in Blue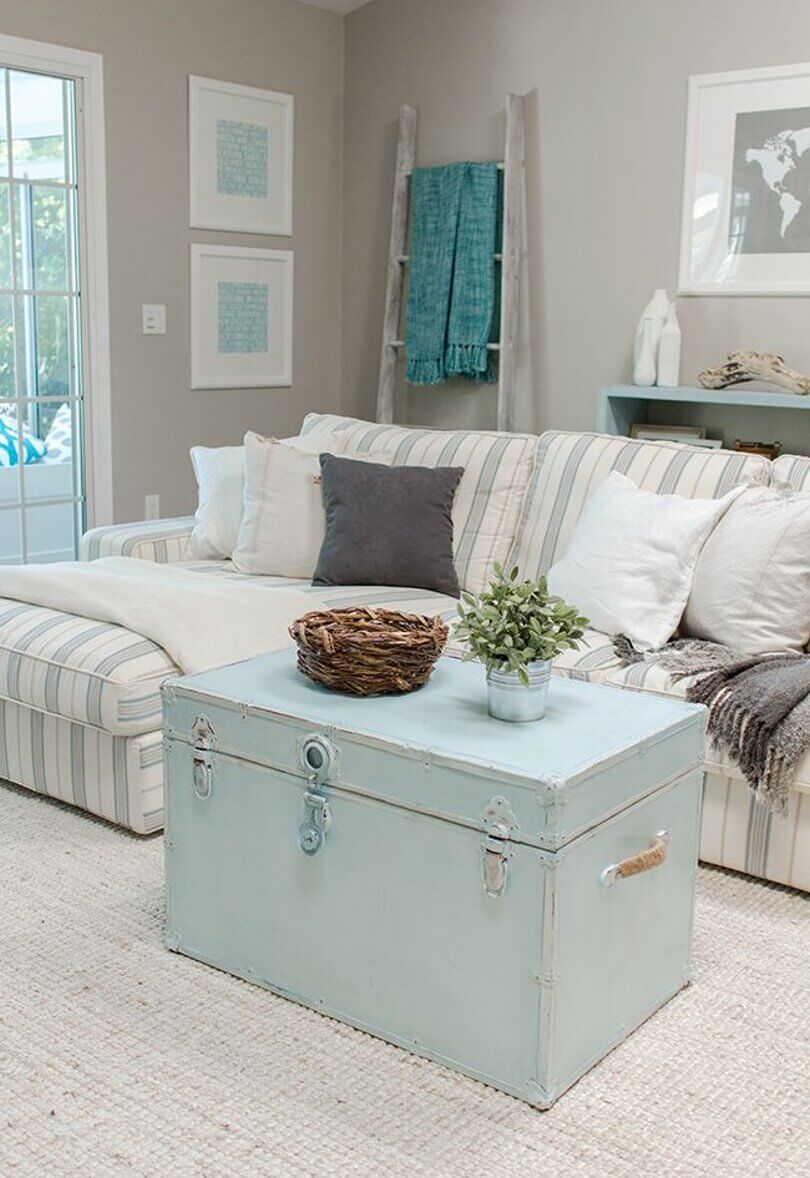 25. Light Blues for a Vintage Vibe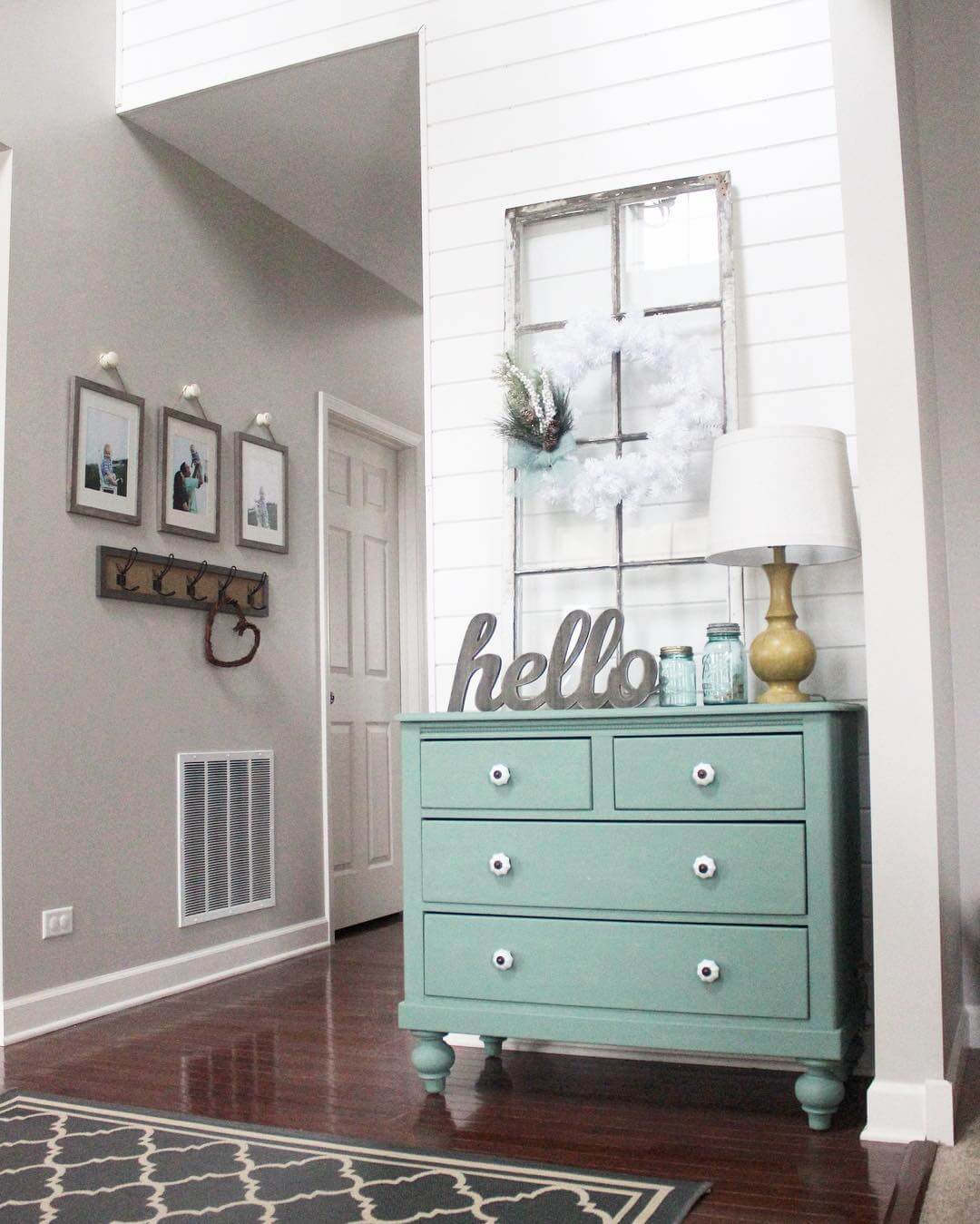 26. Pillows and Vases are Easy Ways to Add Blue Highlights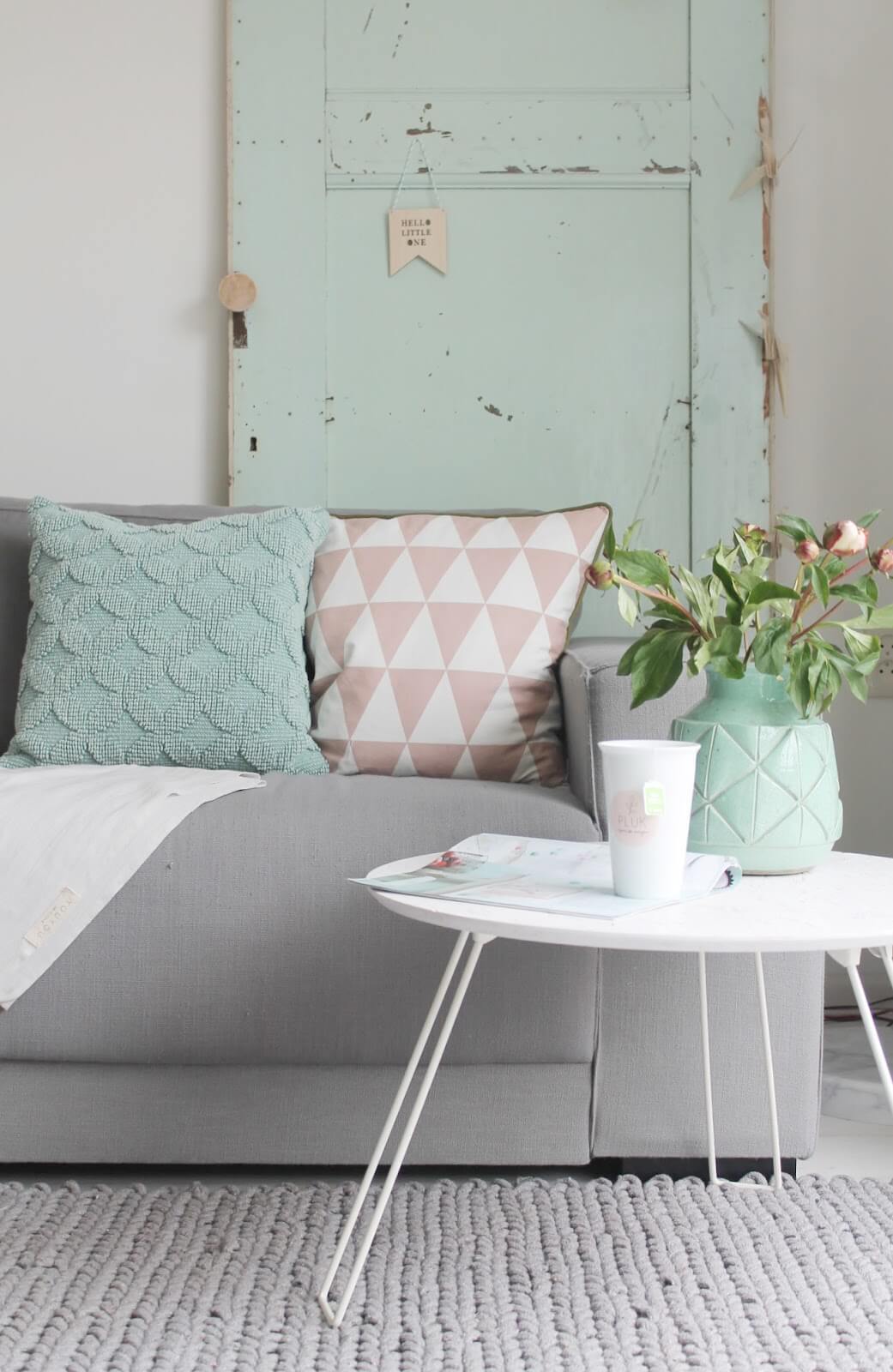 27. Bright Blues and Graphic Prints for Visual Punch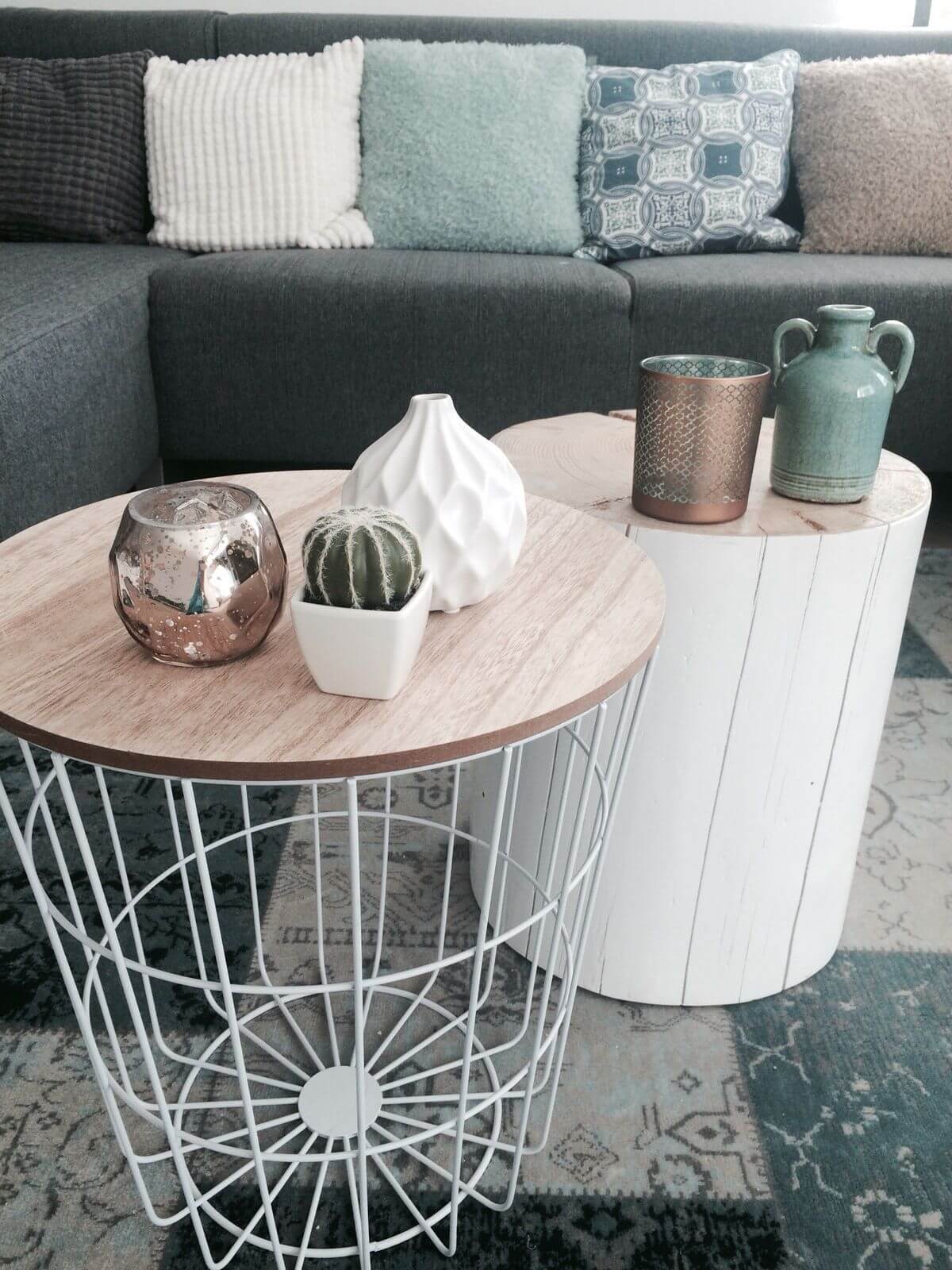 28. Farmhouse Blue Wainscoting for Old-Fashioned Charm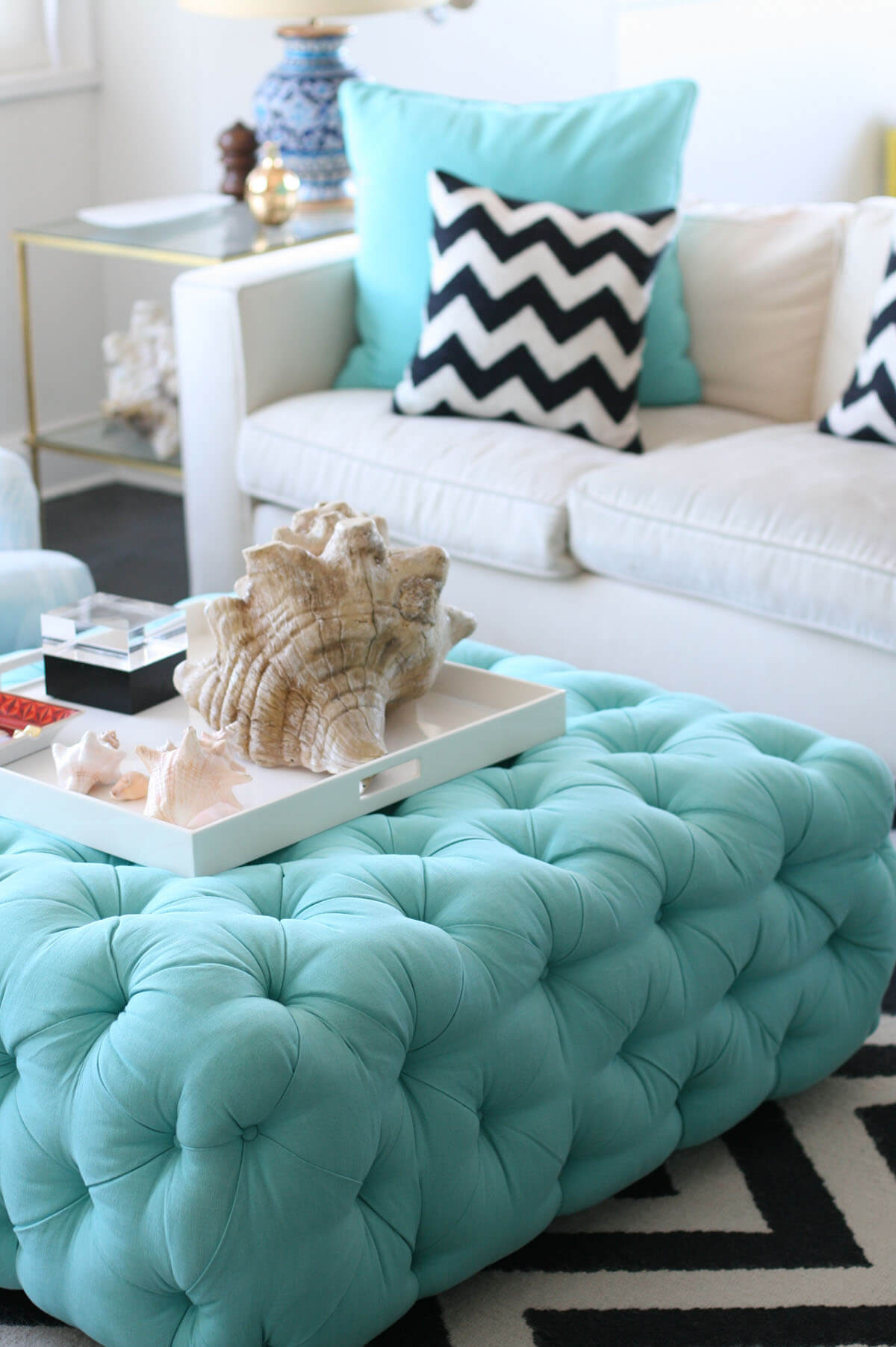 29. Ocean Blues Home Decor Inspiration for the Bathroom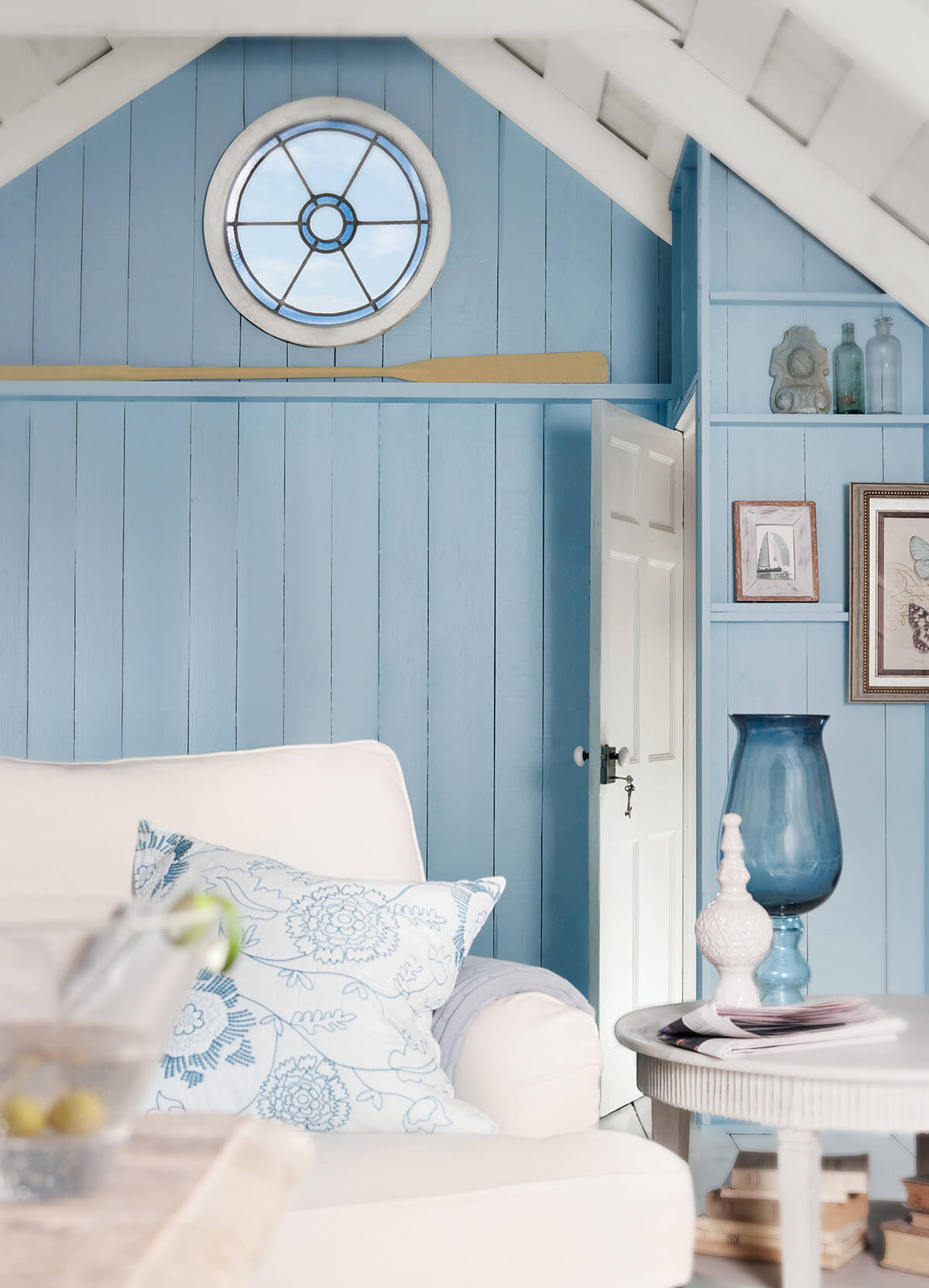 30. Bring in the Blues with DIY Crafts
31. Combine Blues with Ombré for an Easy, Fresh Look
32. Summer Sea Shell Begs for an Ocean Blue Background