DIY old window projects give a new take on window treatments and design. Windows provide our homes with light and warmth needed to balance our environment. These projects allow us to look at windows in an entirely different light. They inspire us to use window materials in ways never imagined. If you are looking to repurpose the framing of your windows, a DIY project can inspire you to create different finishes that promotes an inviting space that is eye catching and aesthetically pleasing.
23 Lovely DIY Old Window Projects that Add Charming Character to Your Home

Refinishing a window frame in an antique finish not only gives a new take on the actual window, it incorporates a new decorative element into the space. With these types of projects, you can totally forgo the use of window treatments and allow the beauty of the windows to shine through. This is especially helpful in homes where there are individuals who have allergies. DIY old window projects create a unique design element.
Window framing materials are not only a cool way to redesign your windows, they are an excellent design element for a naked wall. DIY old window projects infuse charming elements into a space and provide great focal points for a hallway, entryway or an oversized wall. These types of projects are excellent for creating over the top looks on a limited budget. It is a way to provide a wonderful backdrop for smaller pieces of design work such as art work or wall plaques.
Window framing materials of these DIY projects can be used to provide the extra pop of interest needed to make smaller pieces really stand out. There is no denying these DIY old window projects provide the beautiful design element that will take a room's decor over the top with high design and warm character.
1. A Wonderfully Awesome Idea for Interior Window Design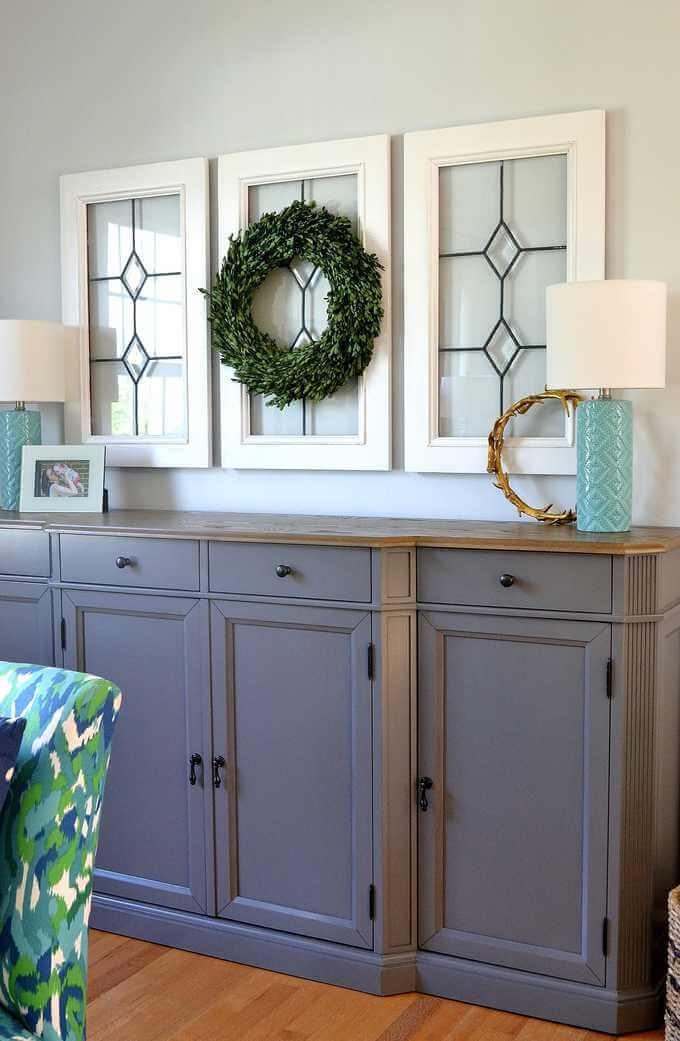 What a beautiful way to incorporate a wonderfully designed window frame into a home's decor. This is a beautiful substitution for art and creates a sense of warmth and charm while infusing an open and airy feel in your room's decor. This design element allows you to layer decorative pieces and incorporate additional design features into your room's space. It is beautifully designed and perfectly coordinated to accentuate the character of your room while providing a subtle yet warm touch. This design element is a nice surprise and a different take on wall art. It infuses a sense of pleasure while tying the room together in a cohesive design.
2. Literally a Perfect Idea To Create Warmth and Charm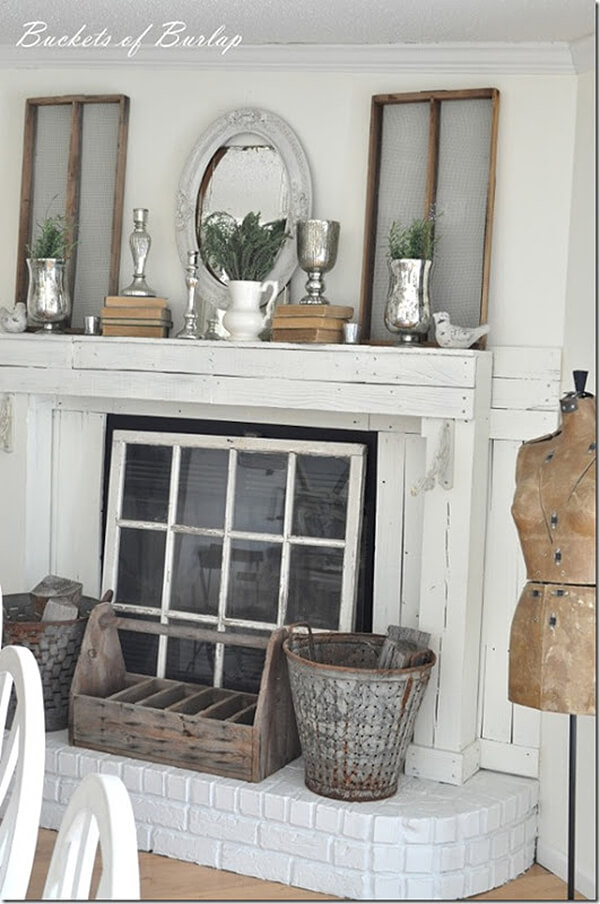 This design feature uses multiple window designs to incorporate the best old window DIY projects into the home. The way this design element incoperates window frames into the fireplace's decor allows it to infuse a light and airy feel into a space that is inherently warm and charming. By combining all of the decorative elements on the hearth of the fireplace, you've successfully incorporated a contrasting feel of warmth and charm with light, airy and free flowing design. This is a cool yet warm way to create a welcoming and inviting space for your home. This makes a welcoming place to gather for laughter and love.
3. An Adorably Perfect Reflection of Antique Window Charm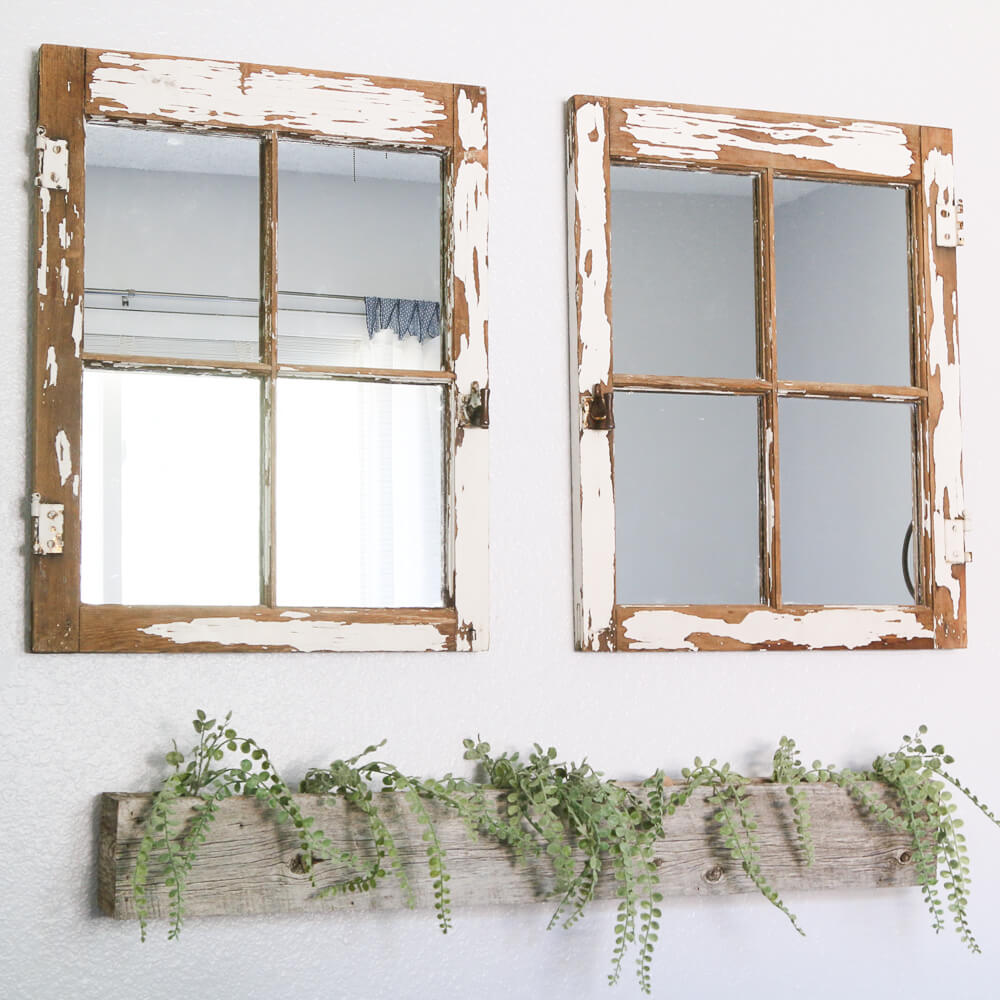 Not only does this beautiful design element incorporate window framing materials, it is also a beautiful reflection of how mirrors can be incorporated into a space to create a wonderfully blended design. This focal piece creates interest, infuses charm and elegance and helps to create an illusion of additional space. The beautiful distress finished framing infuses rustic charm and delightful elegance into the room's space. By combining it with greenery, there is an infusion of nature that helps to incorporate a natural flow and is indicative of old world rustic charm and natural design elements.
4. Beautiful Home Decoration Idea for Equestrian Charm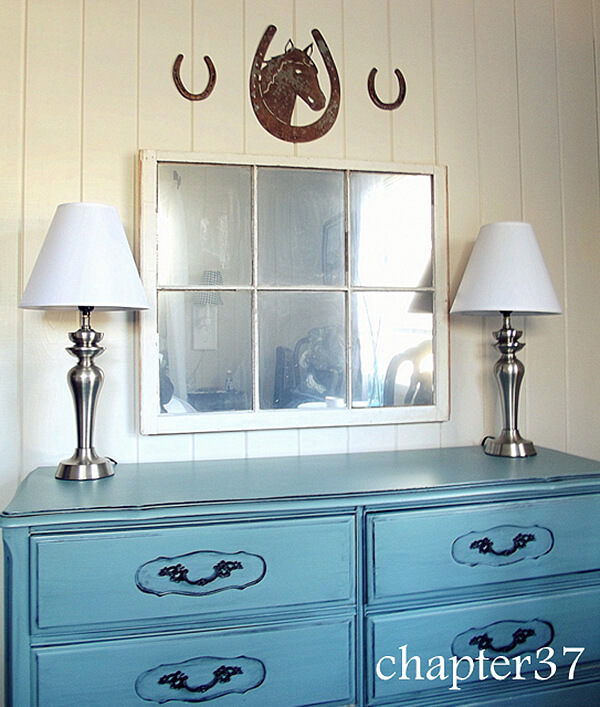 This is a bold yet elegant way to infuse wonderful equestrian charm with window frame decor. The antique finish of the window frame provides a beautiful rustic charm to a refined and elegant space. It incorporates subtle cream tones with beautiful blue hues to create a warm and inviting space fit for any equestrian lover. The beautiful and refined lamps are a wonderful contrast to the rustic and distressed finish of the window frame. The glazed finish of the furniture piece creates a wonderful and beautiful contrast for this beautiful home decoration design display.
5. Charmingly Cool and Elegant Duplication of Beauty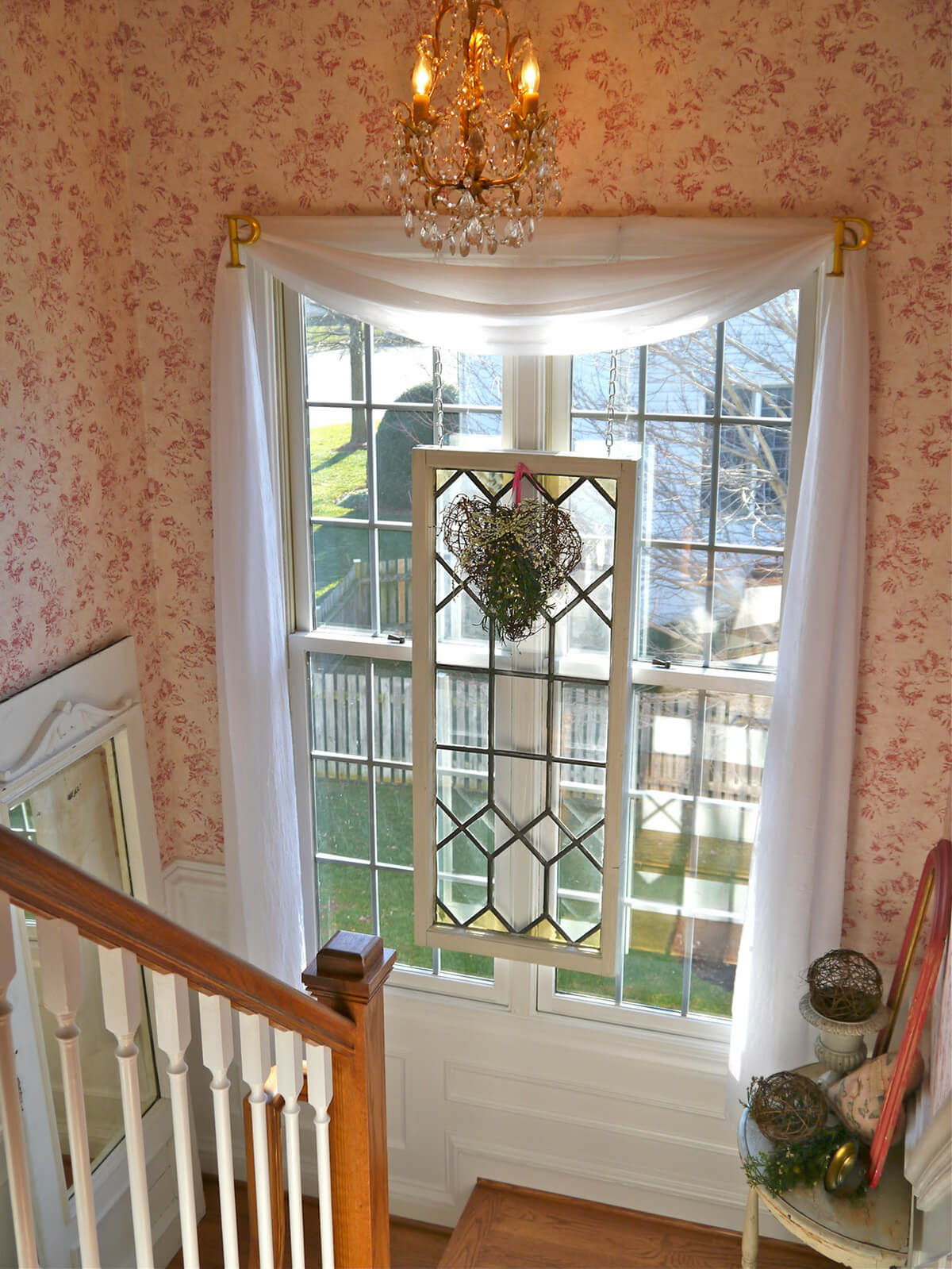 What a beautiful way to adorn a sprawling staircase then with a window accented with window frames. This is a beautiful take on the duplication of beauty where the windows duplicate each other. The play on materials allows the accents to create a beautiful and inviting focal point that is eye-catching and elegant. This traditional and charming display draws the eye to the window frame elements and straight through to the natural elements of the yard. Using beautiful, flowing and elegant window treatments helps to accentuate the beauty and charm of the structural peace and brings both elements together in a wonderful display of traditional charm.
6. A Magnificent and Unique Way to View the World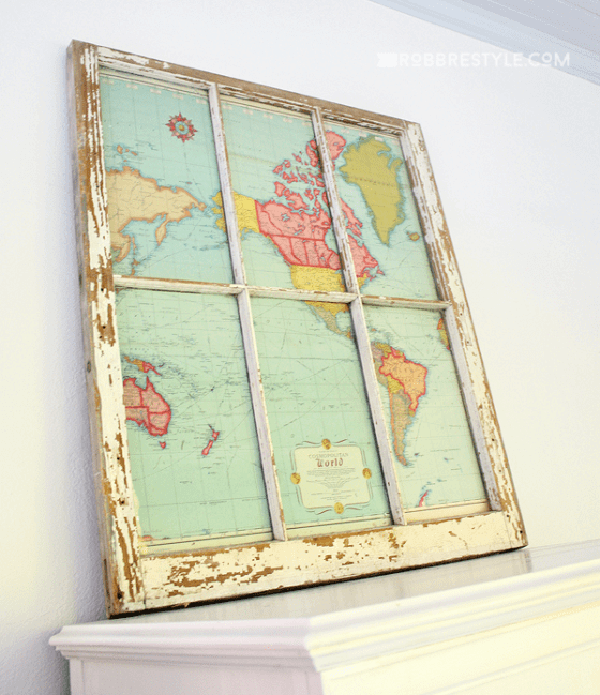 This is a beautiful take on touring the world. Using an antique and distressed finish window frame to outline a map of the world is an interesting way to display a global map. The charming elements of the wood play off of the beautiful blue hues of the world map to create a beautiful and inviting decorative piece fit for any room of the home. Whether you're displaying this over your fireplace mantel in your living room or as a special display in your home office, this piece is sure to draw the eye to all wonders the world has to offer.
7. Illusionary Window Frame Decor for Nature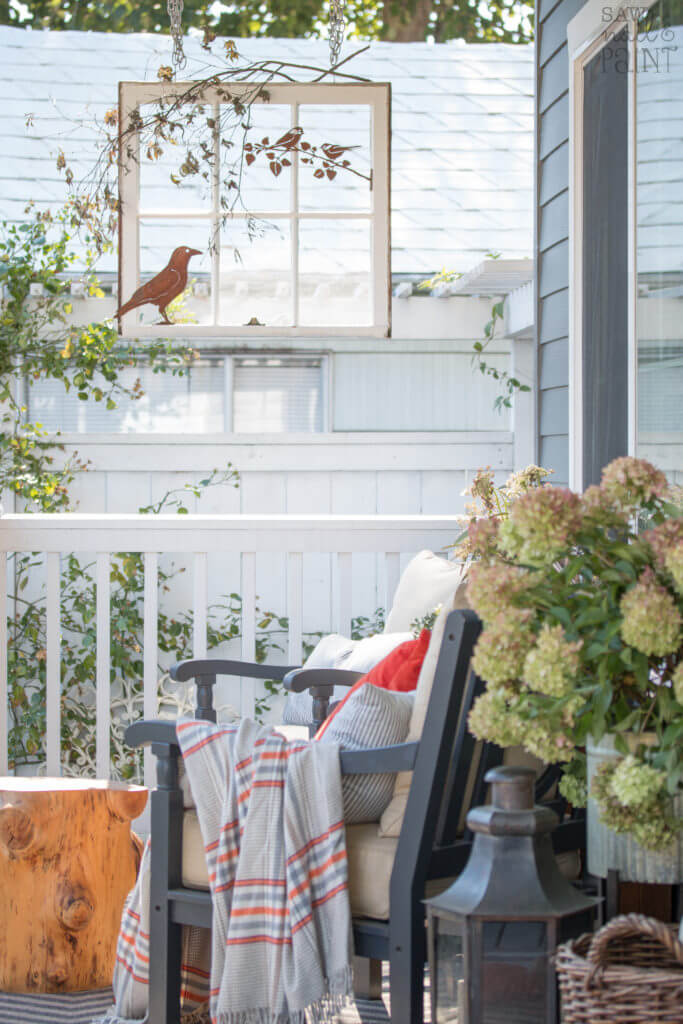 This is one of the best old window DIY projects because it creates an illusion of windows on the exterior of the home. This is an excellent way to create an inviting and eye catching display for the exterior of your home. It invokes a sense of country and elegant charm for your front porch design. It is a cute way to infuse the natural elements of nature with a simple window frame. Using this design feature as a decorative feature for your exterior design is a way to tie together the other country elements that surround your home's exterior. With the whimsical and playful throw blankets and pillows coupled with the elegant charm of hydrangea flowers, this beautiful DIY window project is an excellent focal point to create just a touch of illusion and beauty.
8. A Wonderfully Cool Look For the Day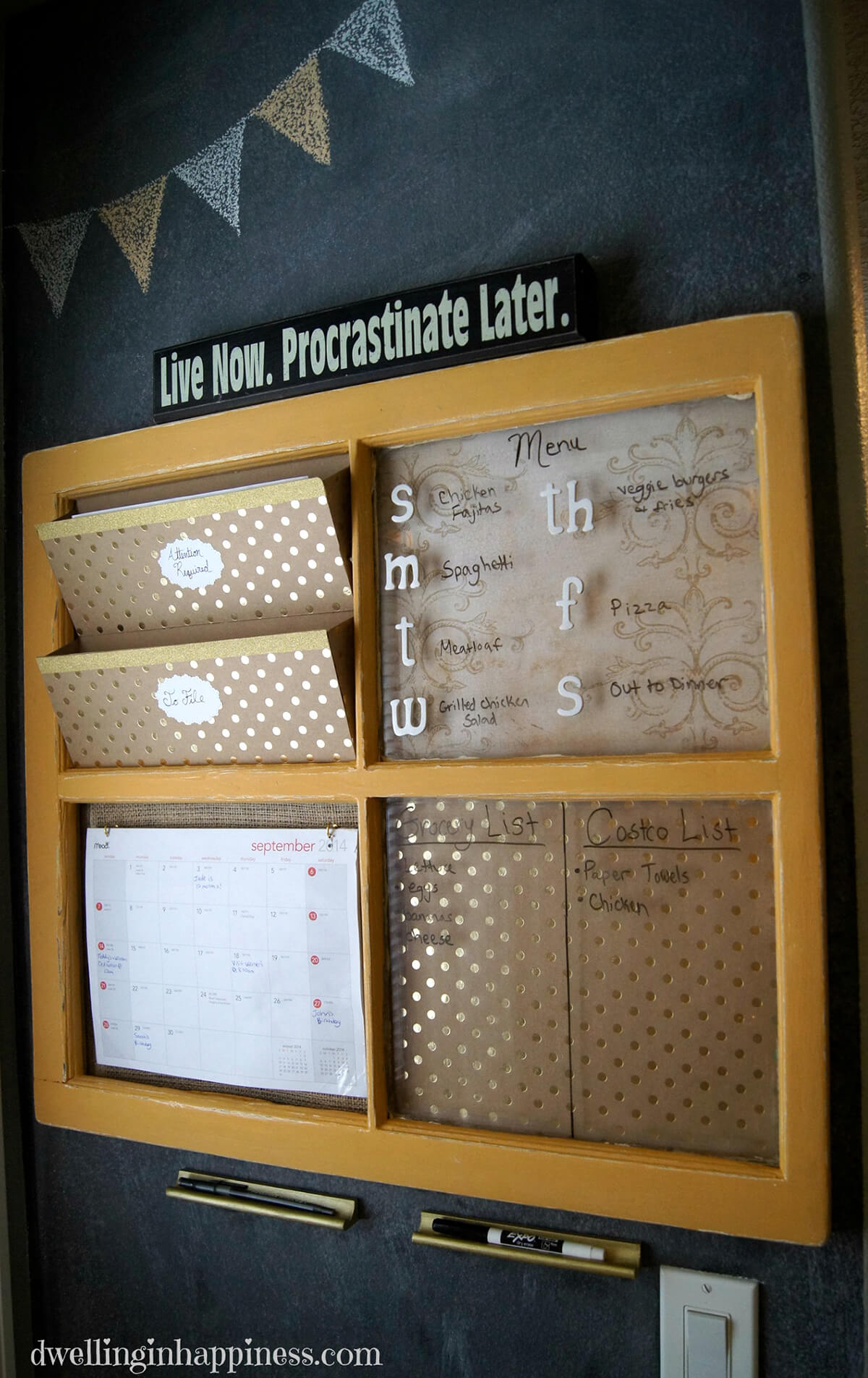 Procrastination is not the order of the day with this uniquely designed window frame. This is a beautiful and charming way to create an organization system for you and your family. The simple lines of the window frame provide defined spaces for different tasks. It gives you a stylish and charming way to stay ahead of the day's tasks and keep all of the members of your family in line and organized. Infusing a glass element is an excellent way to use a grease pan to display handwritten messages for perfect family communication. There will be no missed appointments with this organization system.
9. A Timeless and Cute Take on Natural Elements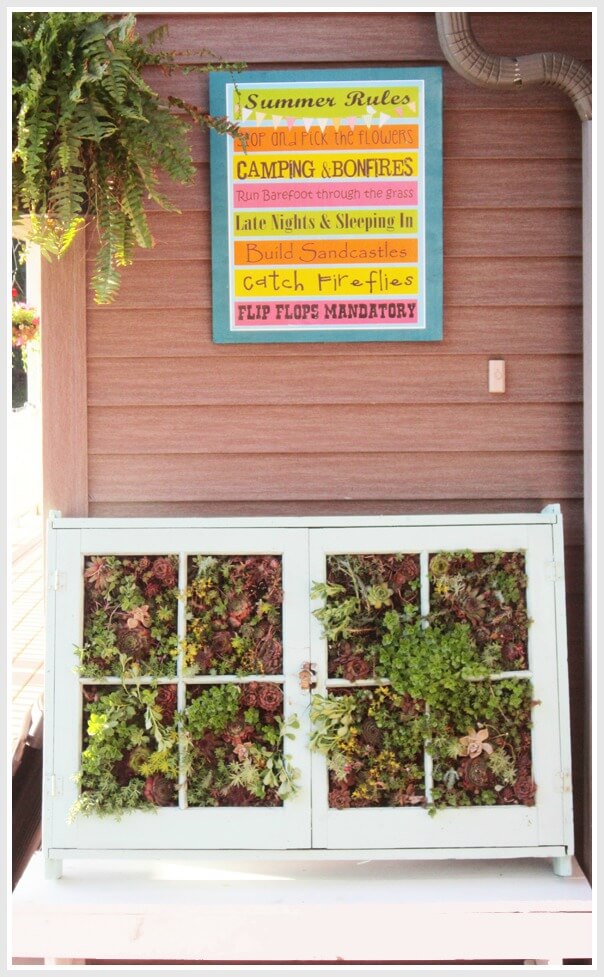 This is a beautiful way to combine a window frame decor with a cute flower planter. Whether you are growing fresh herbs for beautiful succulents, this combination of window frame and flowers is a different take on planters. It allows you to prominently display the harvest of each wonderfully grown succulent. It's a beautiful infusion spring color and provides an easy way to change floral arrangements by removing one flower and substituting it for another. Not only is it beautiful and functional it is also flexible and ideal for incorporating natural elements with the charm of a window frame.
10. A Beautiful and Cool Way to Bring In the View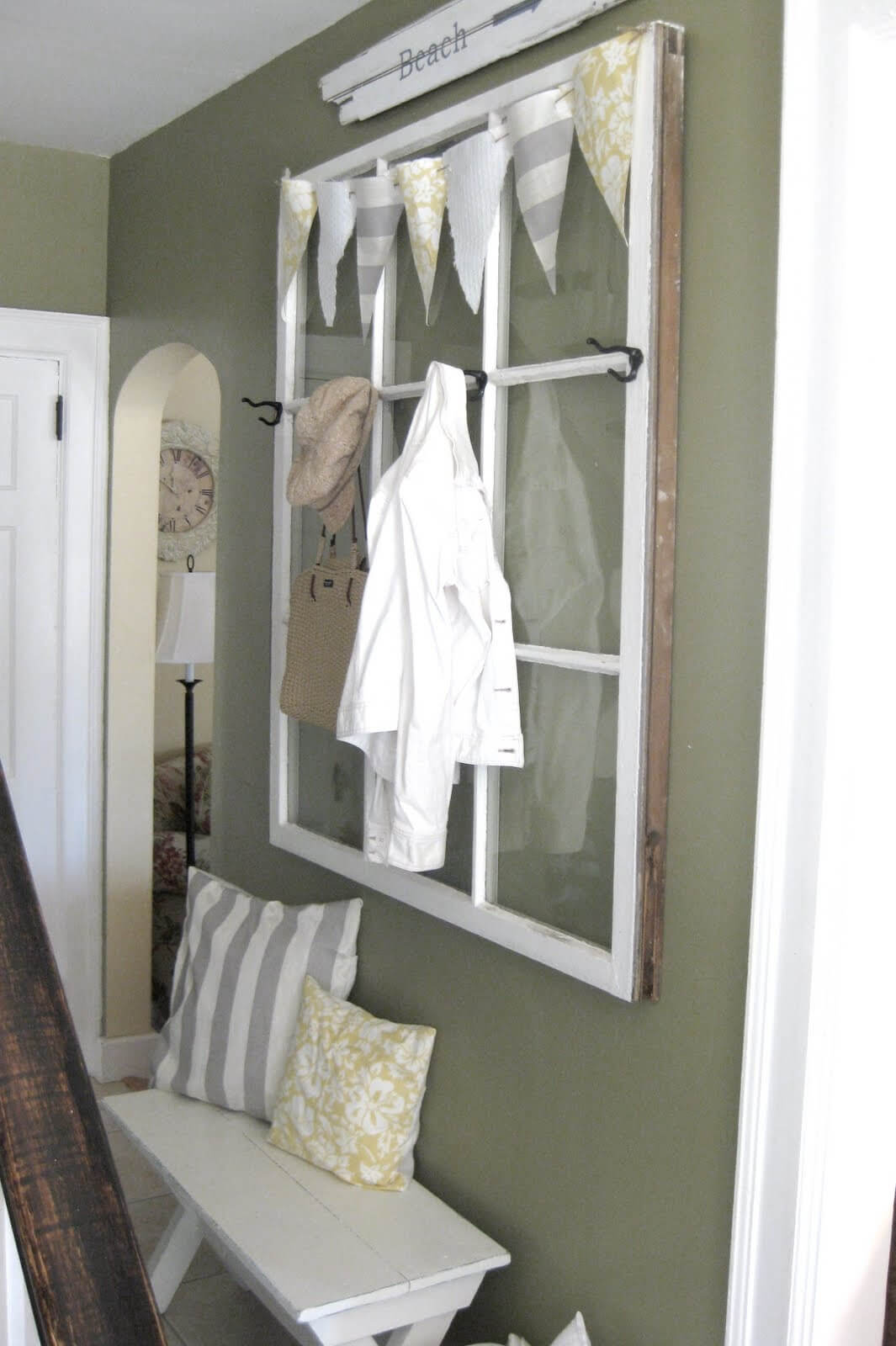 How neat it is to creatively decorate a mudroom with window frames, glass and hooks. This simple yet elegant window frame project blends perfectly into your home's space to create beauty and functionality. The beautiful elements of the hooks provide an interesting and delightful contrast to the cream distressed paint of the wood frame. It invokes rustic charm while maintaining a unique elegance. By pairing it with a simple bench and a couple of throw pillows, you have successfully created a beautifully designed element for a functional space. No mud room would be the same without this wonderful decorative element.
11. An Awesome Way to Create a Focal Point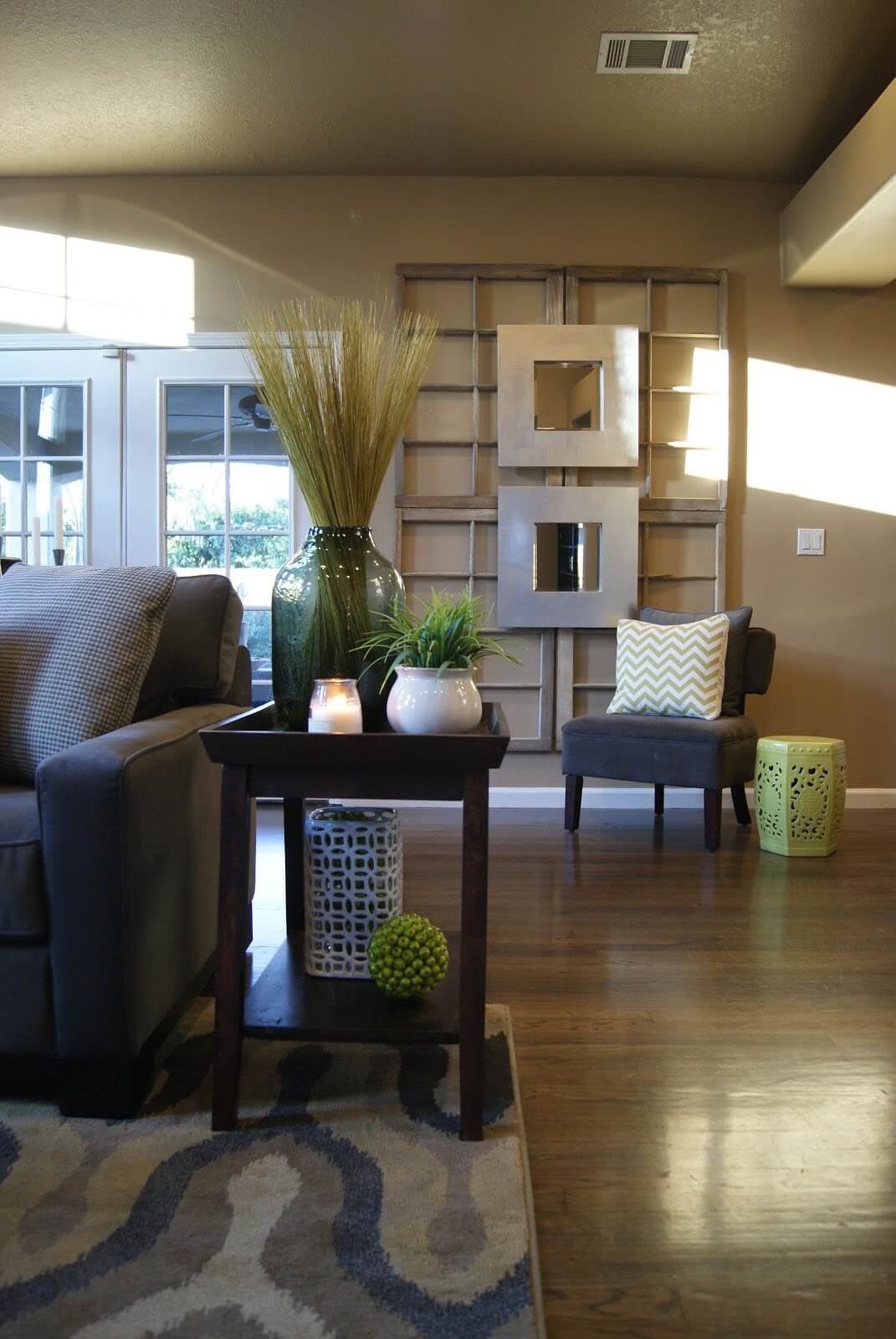 This stately and bold design is an excellent way to create an over the top focal point for your room. Combining four window frames and hanging them from floor to ceiling not only creates interest, it creates height for the room. It gives the illusion of taller ceilings and is a wonderful back drop for additional decorative pieces that you choose to layer on top of the frames. Whether you're using beautifully designed artwork, wonderfully framed mirrors or intricately designed plaques, this design element is a beautiful and stately way to create a room's focal point. It is an excellent way to make the corner of a room pop with flair and design.
12. Beholding The Unique View in View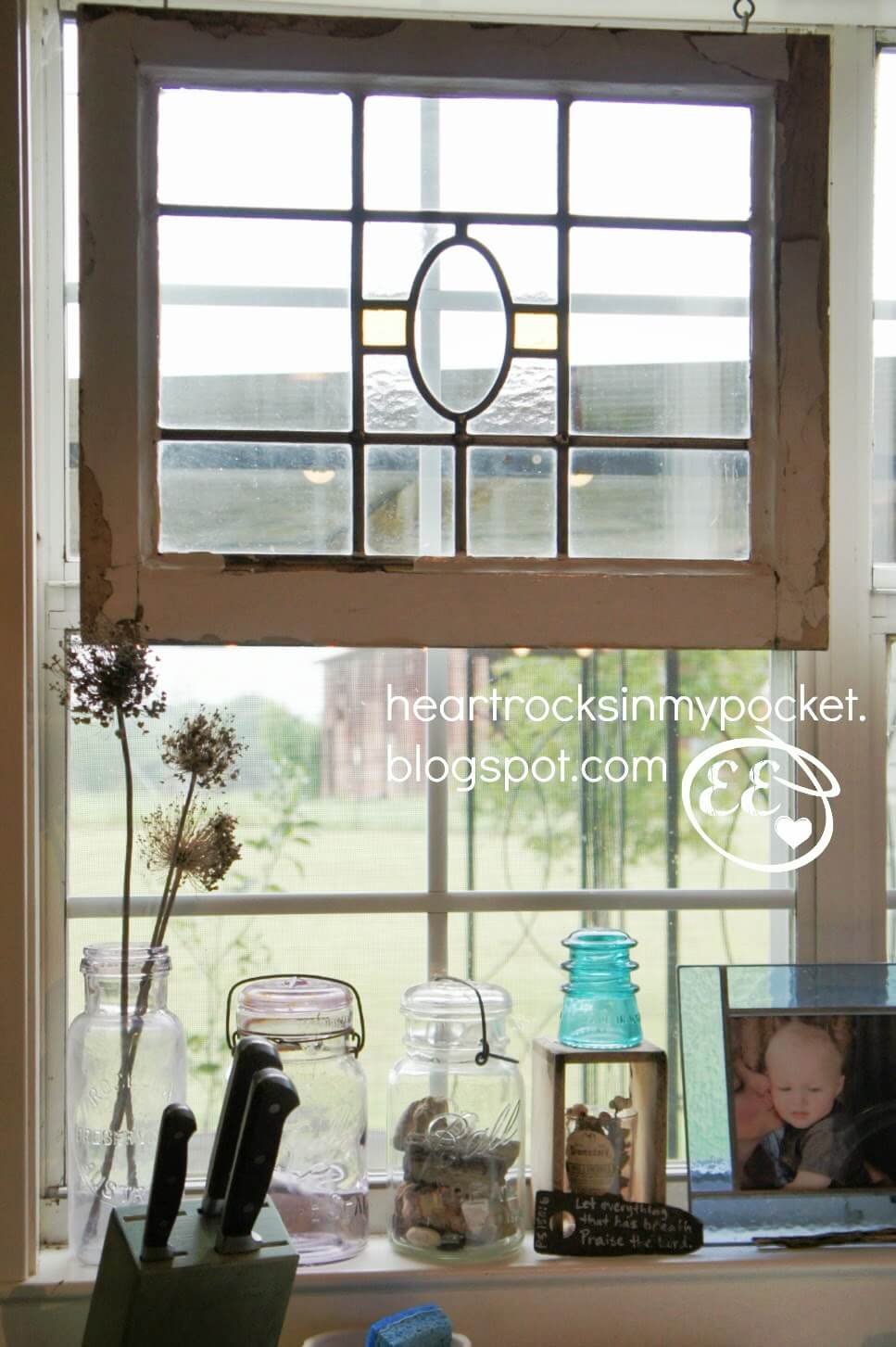 It's all about perception with the intricately designed combination of these decorative elements. It is beautiful how all of the pieces of this feature come together to make a frame in frame decor that is eye catching and appealing. Not only do the design elements draw the eye to the window frames, it accentuates to beautiful and homely items on the ledge of the window. The attraction of this focal point catches the attention and draws the eyes directly to the natural elements of the outdoor splendor of your yard. The different design components work to create a wonderful feature that is charming yet elegant.
13. Wonderful Window Renovation Ideas for Charming Decor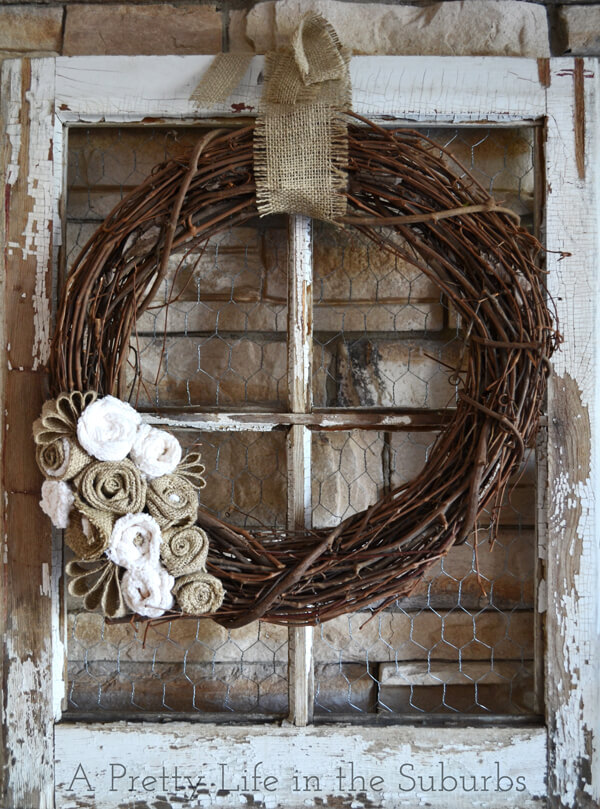 The country and rustic elements of this design feature come together for the greater good. The distressed finish of the window frame creates an eye catching and decorative feature. Pairing this rustic element with the viney twiggs of this decorated wreath is the perfect combination of rustic elegance and country charm. The chicken wire adds a wonderful element that allows you to incorporate additional design features should you choose to. The raffia bow provides the perfect way to hang and display this wonderful design feature. With a multitude of the eye-catching elements of this focal point, you are sure to attract plenty of compliments.
14. A Perfect Way to Find Value Within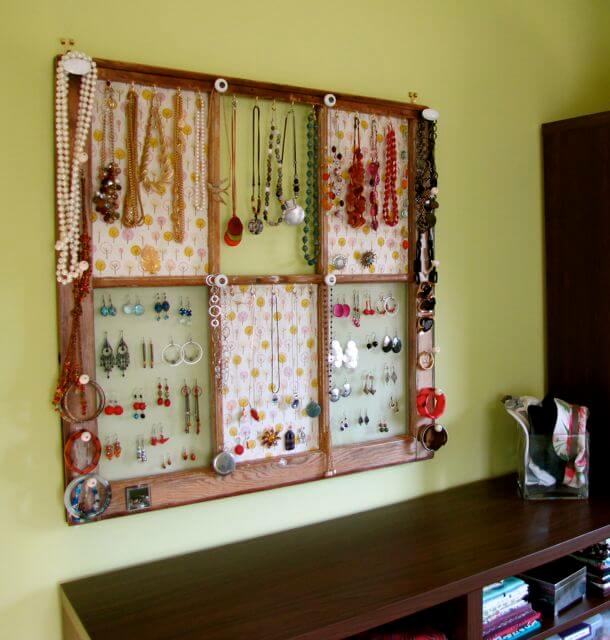 There's no better way to combine beauty and functionality than with the use of a perfectly functional and beautifully designed window frame. This is the true characteristic of the best old window DIY projects. They embody many design elements and provide functionality for the user. There is no better way to display jewelry or other fashion accessories than with the use of a unique and charming window frame. This is a cool take on storage and allows you to stay organized while creating a beautiful focal point for your space.
15. An Awesome Idea for Pane Display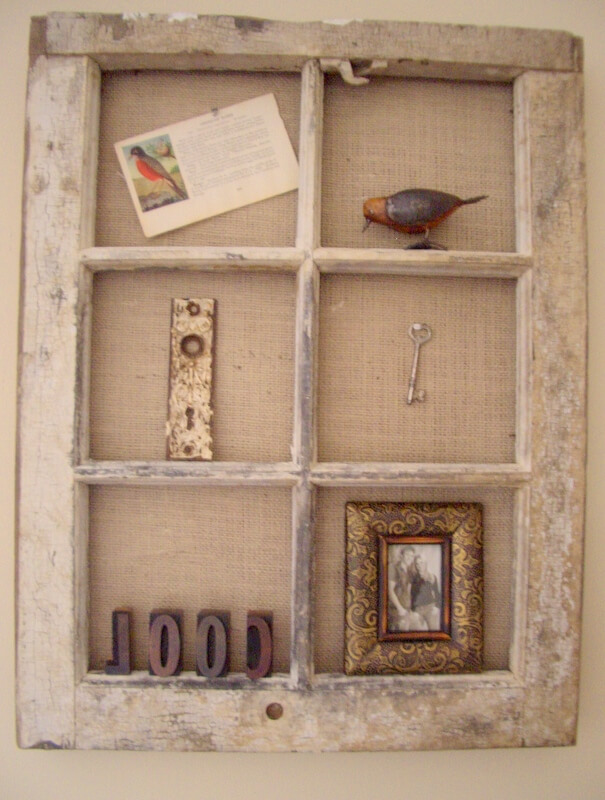 Cool is the one word that describes this rustic window frame design. Not only is it beautiful, it is highly functional. Using this DIY window frame project is an awesome idea for displaying notes, decorative items and inspirational words and messages. This is a wonderful way to showcase the items that are most significant in your life. Displaying these important items in such a charming way, creates a beautiful and aesthetically pleasing decorative element that is functional and complements any room design. Utilizing raffia material and support backing, you are able to use this design feature as a message board or to display any items that have a significant meaning.
16. Beautiful Window Frame Decor as Furniture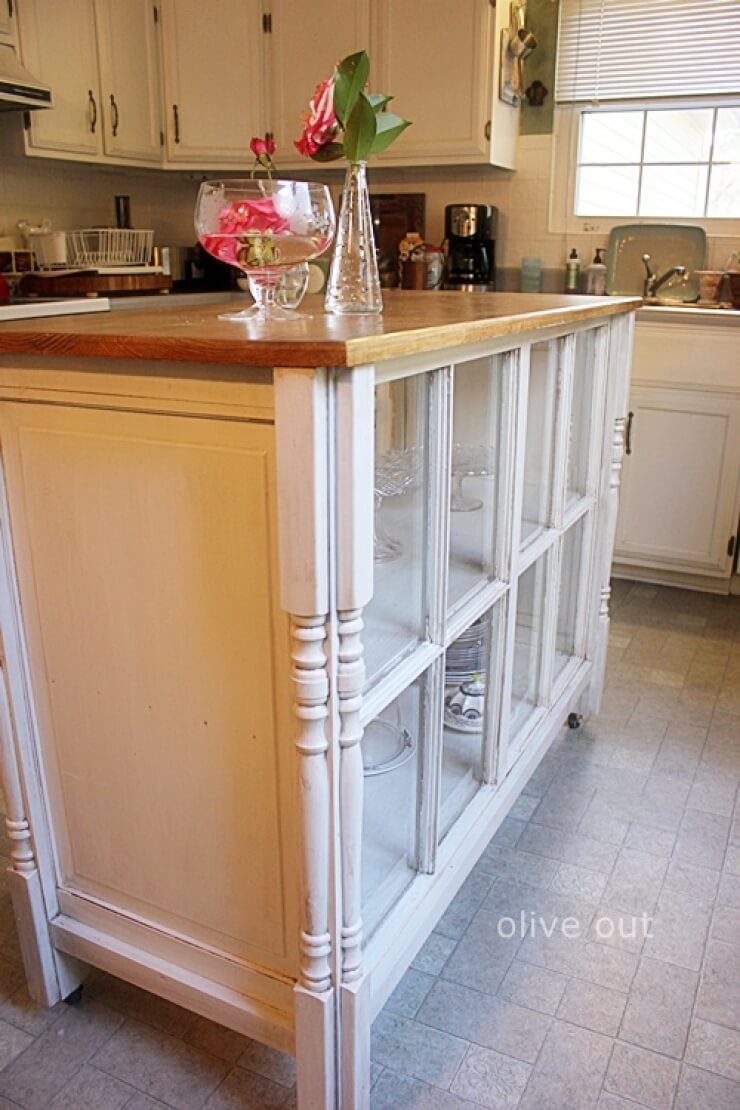 DIY projects don't get any better than this. This is a subtle yet eye catching way to incorporate the old world charm of a window frame into your kitchen's decor. By utilizing this window frame as a display piece for your kitchen's Island, you have successfully incorporated charm, elegance and a unique flavor of decorative intuitiveness into your home's space. If you're looking for a way to incorporate glass cabinetry into the kitchen design, this is an awesome idea as an alternative and could possibly save money in replacing the cabinetry in your kitchen.
17. A Quaint Take on Window Renovation Ideas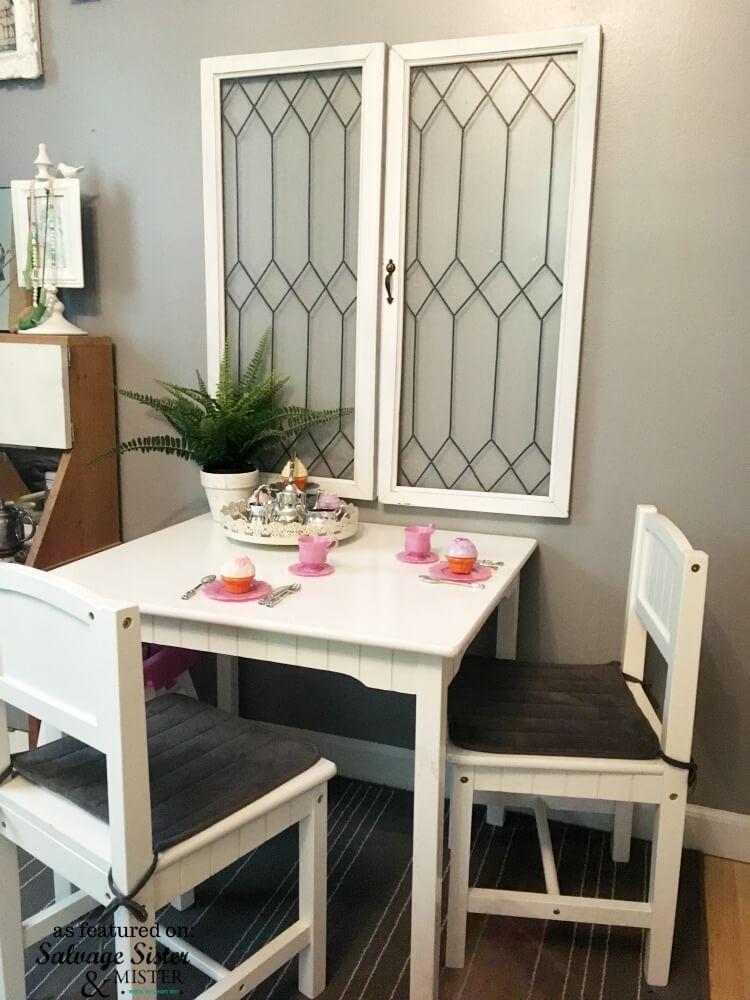 Whether you want to invoke a country hometown feeling or the feelings of a quaint French cafe, this beautiful window frame project does it all. The intricate detailing of the glass panes provide an eye catching element for this window frame project. Installing them over a small and quaint kitchen banquette is a wonderful way to infuse a charming French country style into your dining space. Paring it with the right color coordinated dining accessories creates a beautiful, elegant and inviting dining space for you and your family to enjoy. What an ideal way to enjoy your morning croissant.
18. A Beautiful and Cool Stroke of Beauty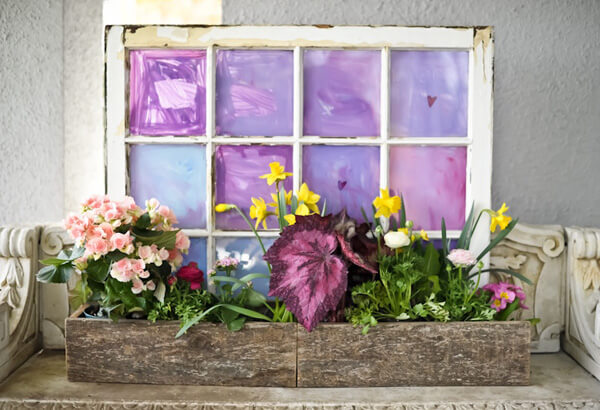 The stroke of beauty creates a sense of rustic charm and whimsical beauty that is eye catching and delightful to look at. The antique and distressed finishing of the wooden window frame is the ideal starting point for this artistic expression of abstract beauty. The combination of colors blends perfectly into the wall yet creates a warm and inviting contrast to the distressed furniture pieces that surround it. Coupling this artistic masterpiece with the beautiful and colourful flair of florals creates an eye-catching, whimsical and natural design that is fit for a beautiful display.
19. A Great Use of Window Frame Decor for Organization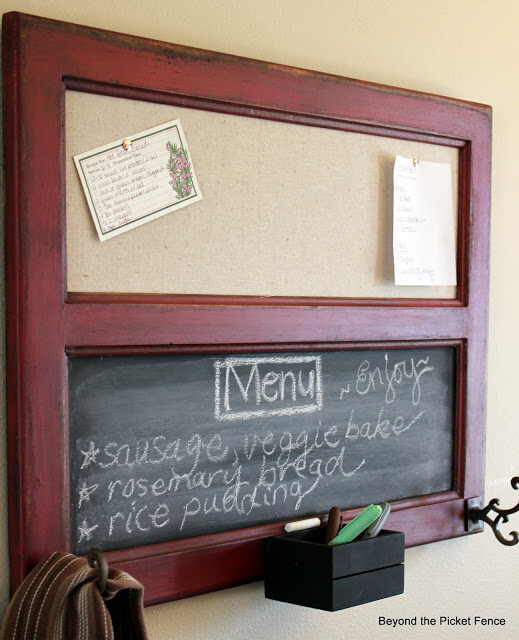 This is an ingenious way to incorporate traditional charm with delightful functionality. The combination of function and beauty make this piece the ultimate way to communicate with your family and organize your day. Not only is it beautiful and functional, it is also an excellent place to hang your hat or scarf after a long day's work. A simple and quaint storage bin allows you to neatly store essential items that are relevant for your communication between you and your family. This beautiful and decorative element allows you to get organized and stay organized.
20. Absolutely The Best Old Window DIY Projects
This is hands-down the best way to infuse simplicity, charm and a sense of nostalgia into your home's space. This rustic and charming window frame provides a decorative element and beautiful backdrop of the wonderful memories created by you and your family. Using the rustic and contrasting elements in comparison to the antique rustic finish of the window frame, you're able to infuse rustic charm with shabby chic features. Adorning this country window frame with a raffia designed wreath further enhances its rustic beauty.
21. Crafty, Adorable and Cute Window Project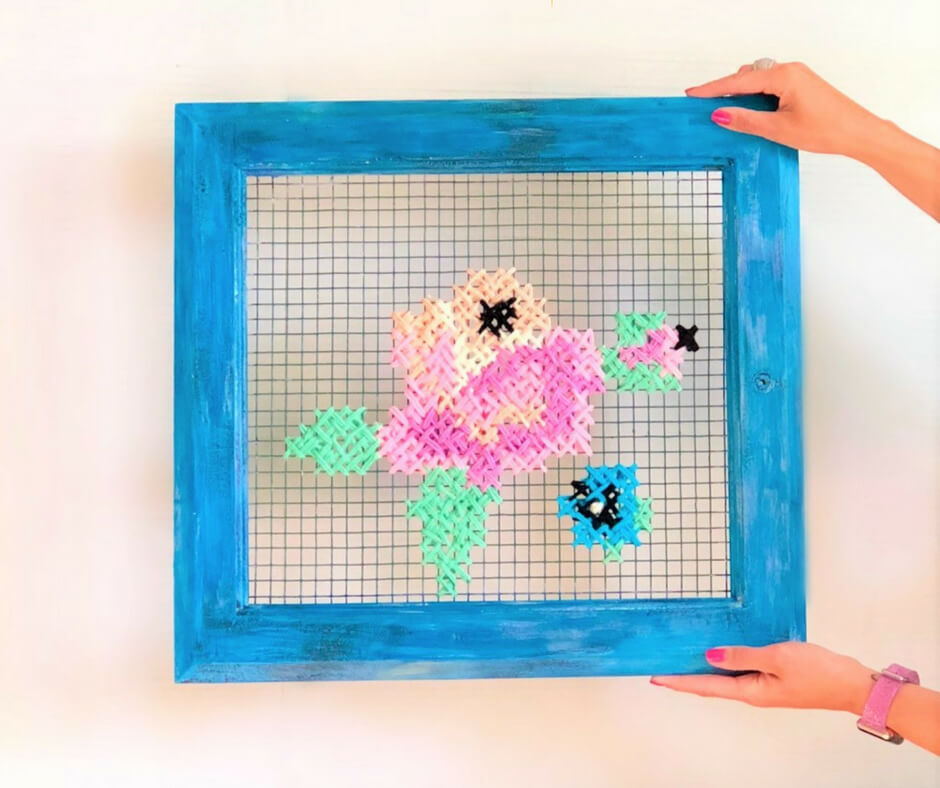 Cute is the most appropriate word to describe this design piece. Fun is the order of the day with this charming and whimsical window frame design. This is a wonderful craft project that can be displayed in the family room, kitchen area or your office. Every time you look at this decorative project, you won't be able to do anything but smile at the whimsical elements of this design. With its childlike charm, it is sure to invoke a sense of playfulness and youth. Displayed in the right spot, you are able to use this design project as a way to focus on younger days.
22. Beautiful and Unique Way to Say Welcome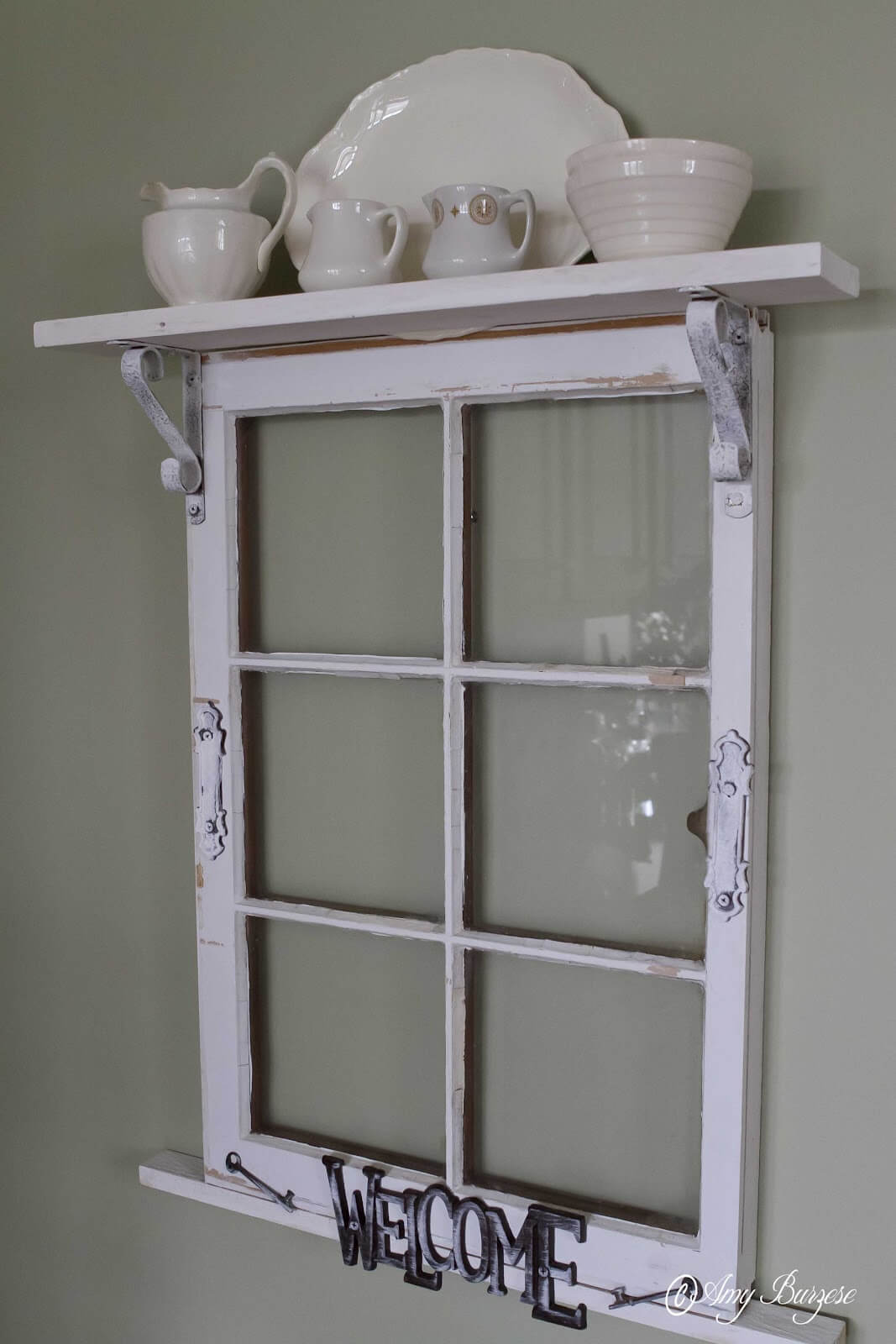 This is a charming way to say welcome to family and friends. Not only is this beautiful window frame a perfect way to say welcome to others, it is a wonderful way to welcome yourself home everyday. After a hard day's work, you can find peace and solace in beholding the charmful beauty of this rustic design combination. The rustic charm of the window frame invokes a sense of natural roughness, while grandmother's china infuses a sense of nostalgia for the days of old. The wonderful combination is the perfect way to infuse charming joy with memories of the past. The glass accents infuse a sense of elegance to behold.
23. The Perfect Way to Stay Organized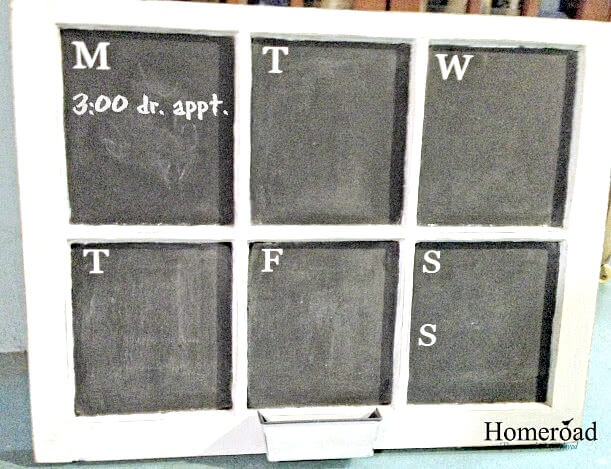 With this functional and beautiful design element, you'll never forget another appointment. This ingenious design combines beautiful decorative elements with functional everyday uses. The white wooden frame provides a beautiful contrast against the chalkboard used for messages. You are able to organize your life all seven days of the week with this functional yet elegantly designed showpiece. Not only is it functional and elegant, it also provides a space to store your chalk pieces for convenient scheduling.
23 Cute DIY Old Window Projects that will Inspire Your Creativity
DIY old window projects give a room a wonderful design element that is eye catching, warm and charming. These projects are essential in incorporating a new take on window design. Not only are the window design elements useful for an actual window, they are great design features for a bare wall. When done properly, DIY old window projects can really accentuate the beauty of any space. Windows are a great way to incorporate light and warmth into our homes.
These DIY projects are an excellent way to incorporate a beautiful design element on the walls and the windows. A beautifully done project can alleviate the need for window treatments and provide its own unique element for the space. Window renovation ideas can inspire truly appealing designs in any room. The warm character of these ideas are beautiful, charming and elegant.
If you are looking for a way to infuse a truly unique look into your room's design space, start with the best old window DIY projects. They will give you a totally different perspective on window frame decor and inspire new creativity in different areas of your home. These window renovation ideas are the ones that are the least expected, but the most eye catching.
Choose Rustic Wall Decor Ideas to Make Your Home Warm and Inviting