The best olive green decor and design ideas make it possible to bring the outdoors inside. Because green is soothing, it is an excellent design choice to build relaxing spaces. Whether you are renovating from the ground up or refreshing with a few updates, there are lots of ways to transform your space into an olive green sanctuary. When a major remodel is happening, options like olive green tile, wallpaper, and furniture can provide a more permanent backdrop. However, this is not always an option. Small touches like pillows, vases, and bedspreads can transform a space into olive green nirvana.
26 of the Most Electrifying Olive Green Decor and Design Ideas to Energize Your Environment

Just as no individual's style fits into a single box, olive green design ideas spill out of traditionally defined style categories. If you are trying to construct a room that follows a specified design aesthetic like farmhouse, Scandinavian, or Bohemian, it is actually pretty easy to add pops of olive green while staying true to the design style. For a space filled with neutrals, a green infusion not only looks fantastic but also brings nature closer. Olive green can add an energizing zing to a space that feels lackluster and lifeless.
Because it is so versatile, olive green decor can be used in a lot of different ways. As you begin your quest to find the perfect ideas for your space, remember that the list below shows examples. Like any idea, they can be customized to fit harmoniously in your space. Keep your creativity handy and imagine how these 20 ideas could realize their full potential in your space. If you have lived in your comfort zone for too long, this is a great way to break out of that rut and begin a new adventure. As you travel on this olive green decor journey, remember to have fun.
1. Easy Olive Green Design Idea: Vanity Refresh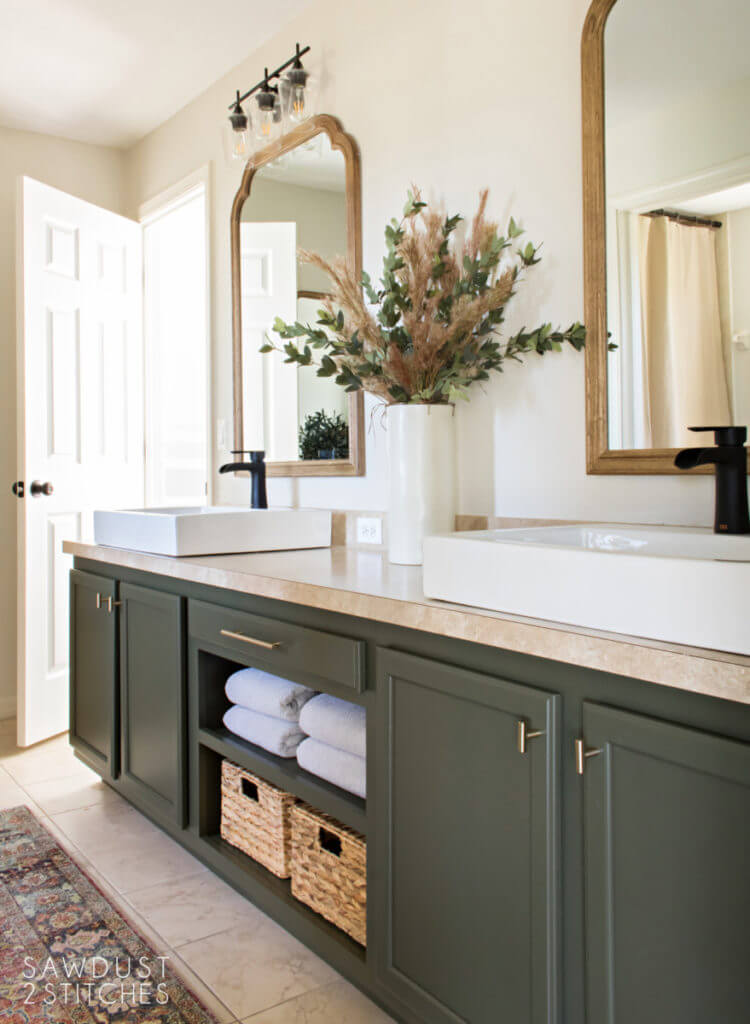 If you do not have the time or the budget for a complete decor overhaul, refinishing a vanity and repainting a room are accomplishable options. To give your vanity an imposing presence like the one in this image, choose a darker shade of olive. Pairing it with natural elements like pampas grass and woven baskets brings it back to earth. Of course, this tutorial is not limited to vanities. Renewing a room is as easy as painting nearly any furniture olive green. Imagine bookshelves, desks, dressers, or drawers showcasing a new coat of olive paint and creating a cohesive space.
2. Creating a Focal Point Using Olive Furniture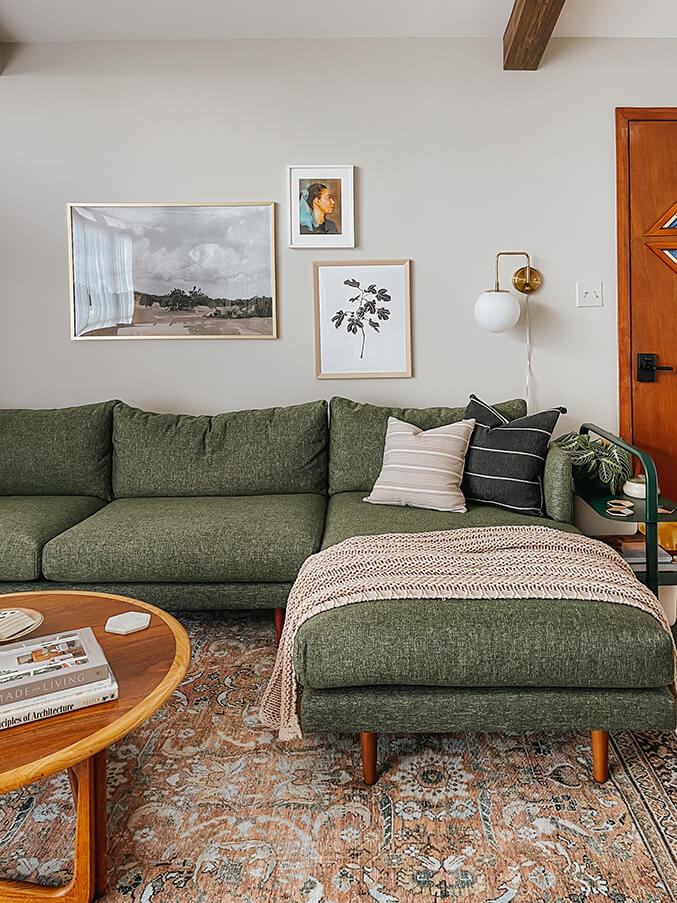 Integrating olive green into your room decor can be as simple as choosing a large piece of furniture to shine as the room's focus. Although the rug and botanical wall art in this image incorporate olive green, the solid-colored sectional emphasizes this room's purpose. While this focal point is an olive couch, you could choose a different article of furniture for your olive green decor dreams. Identify the furniture that defines a room's purpose, and find a way to make it olive green. Then, it is as simple as picking a palette that compliments the look you want to achieve.
3. Adding Fresh Flowers to Olive Decor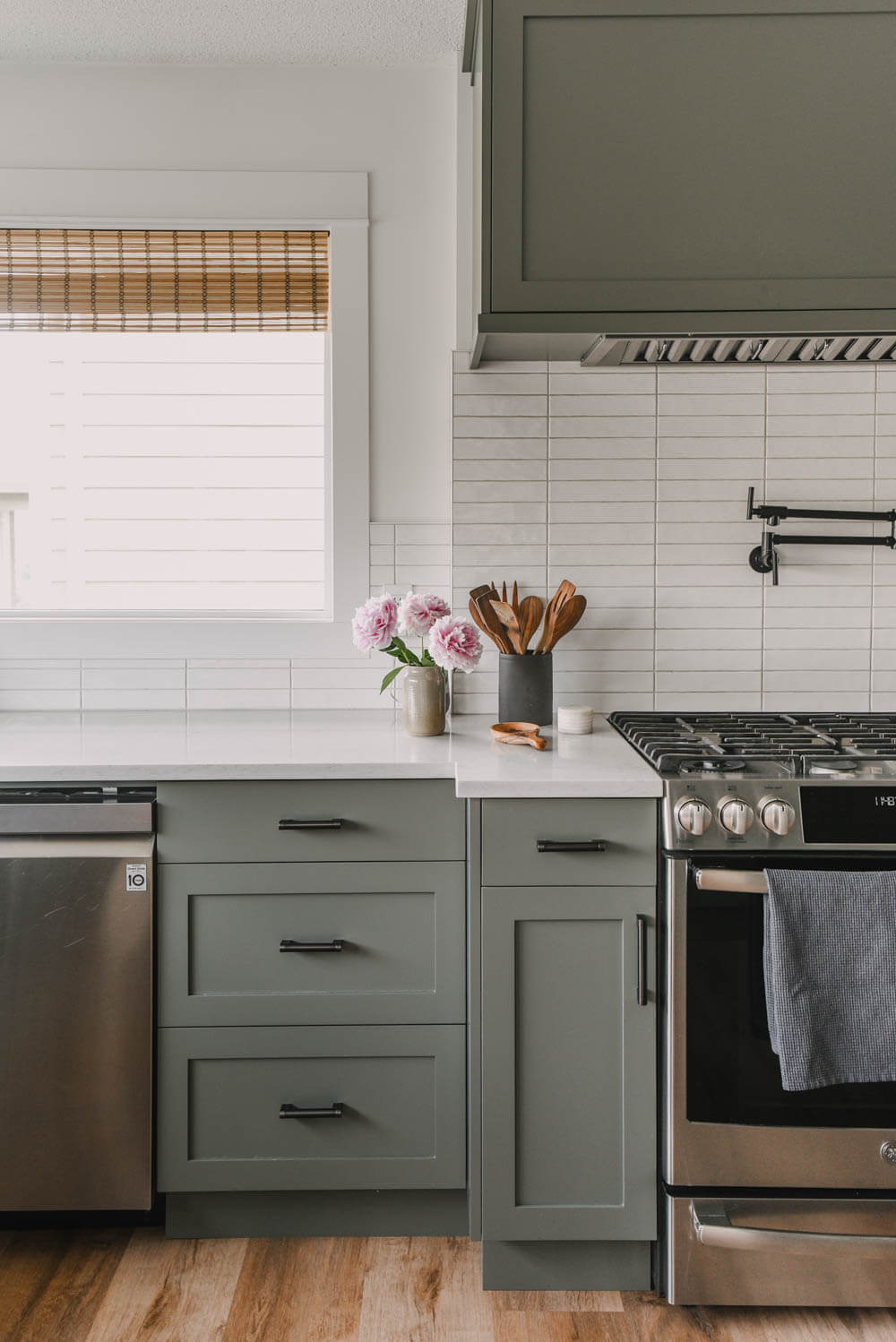 One of the best olive green decor ideas is to add some fresh greenery to your space. Because there are so many types of plants to choose from, you can cultivate a look all your own. Like this image, you can add a few blushing peonies to boost the romance in your space. Fresh flowers add more than vibrant life to a space – they also add a delicate fragrance to a room. Grow your own cut-flower garden to have your favorite fresh blooms all season long. However, a flower garden takes time, space, and energy that might be impossible right now.
4. Combining Earthy Tones with Olive Green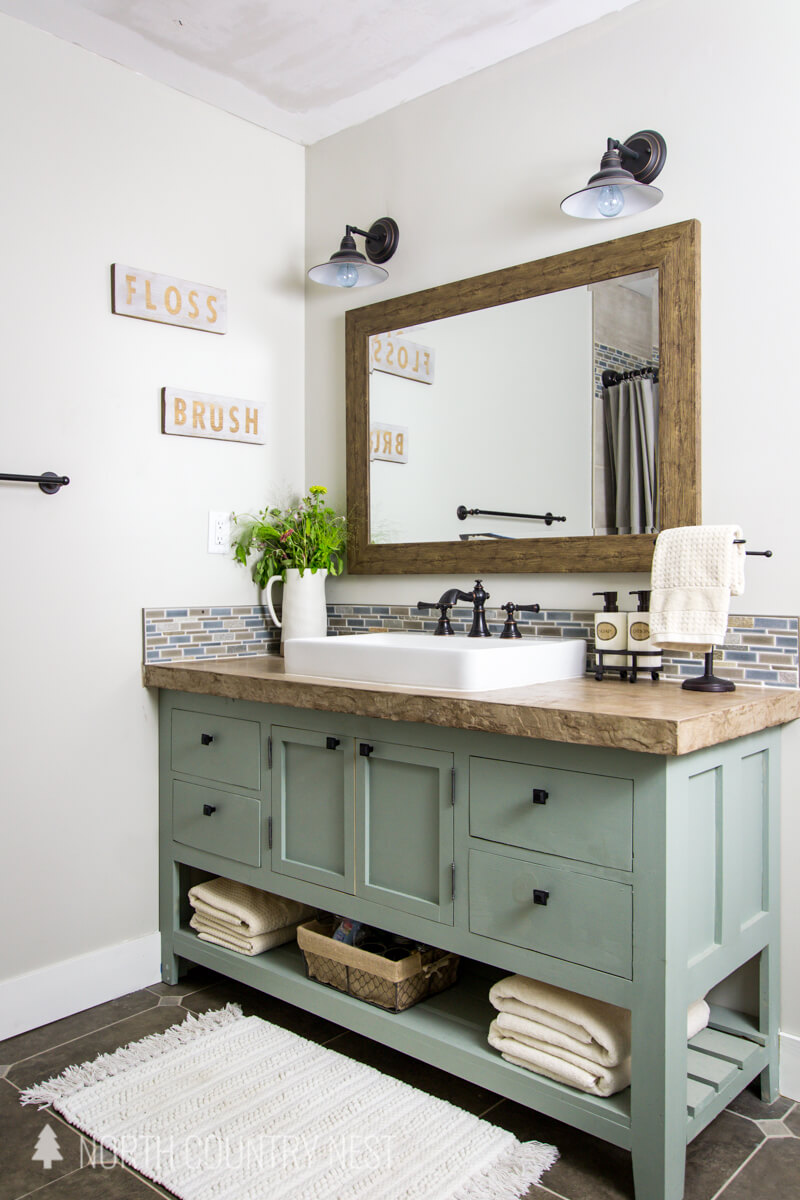 If you love how rustic spaces feel, one of the best olive green decor ideas is to incorporate natural textures into your design. Helping to connect the indoors with nature is as easy as pairing olive green and natural materials such as the unique stone countertop and rugged wooden mirror frame shown in this image. Balancing energizing straight lines and soft woven materials creates magic. If the worded signs are too farmhouse for your style, imagine a spray of greenery or a sepia-toned photo of your favorite landscape. You could take this design idea in a lot of different directions.
5. Dino-mite Decorating with Olive Green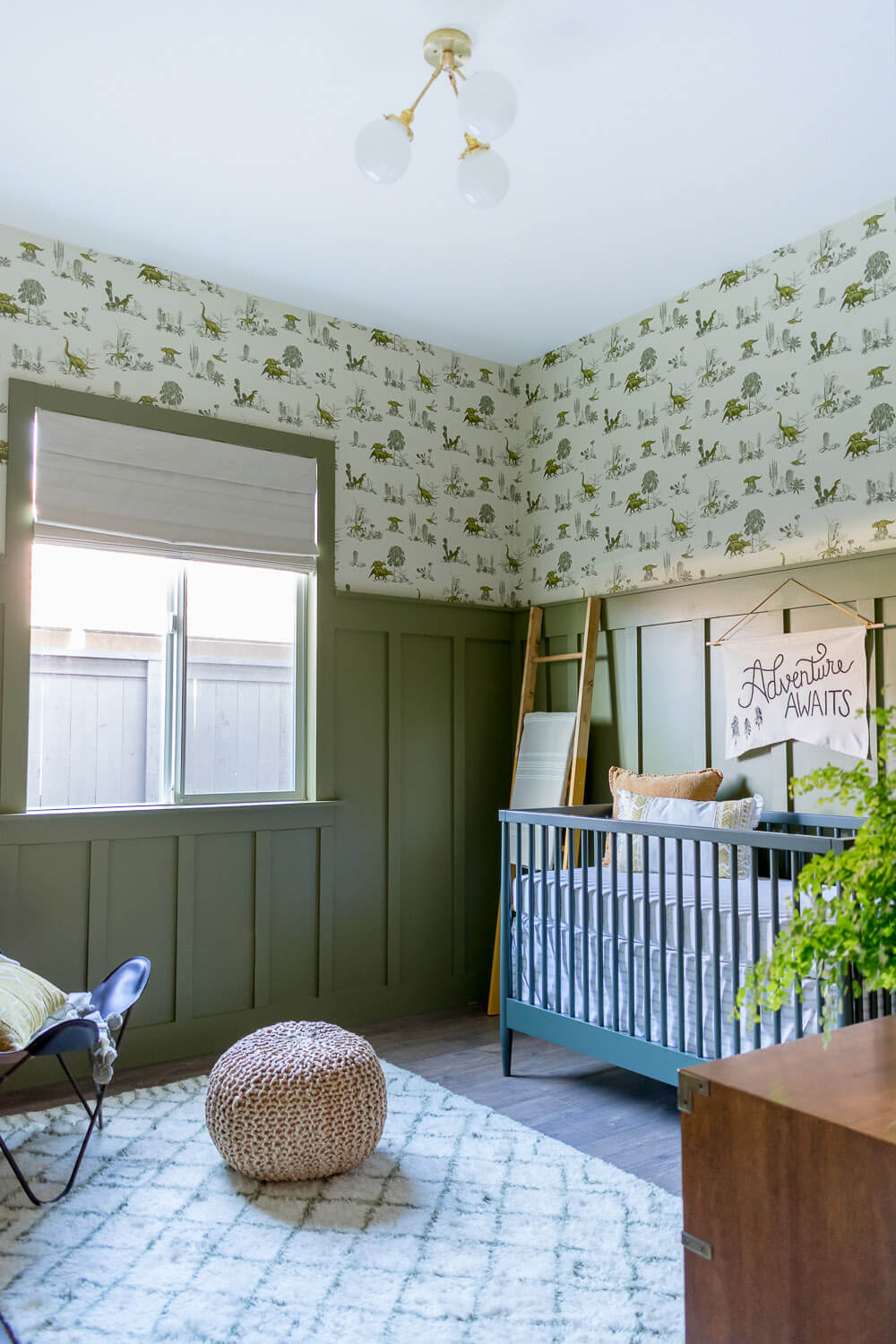 Dinosaurs make a dynamic design choice for a little boy's room. Here, they are the featured creature in vintage-inspired wallpaper. To keep the focus on this amazing print, add some beadboard around the bottom two-thirds of the room so the paper will be on display at the top. Painting the board a nice olive green helps to frame the green dinosaurs of the print quite well. Keep the rest of the room low-key and simple with soft and neutral blankets and round it off with a healthy houseplant.
6. Green and Gold Festive Fall Table Runner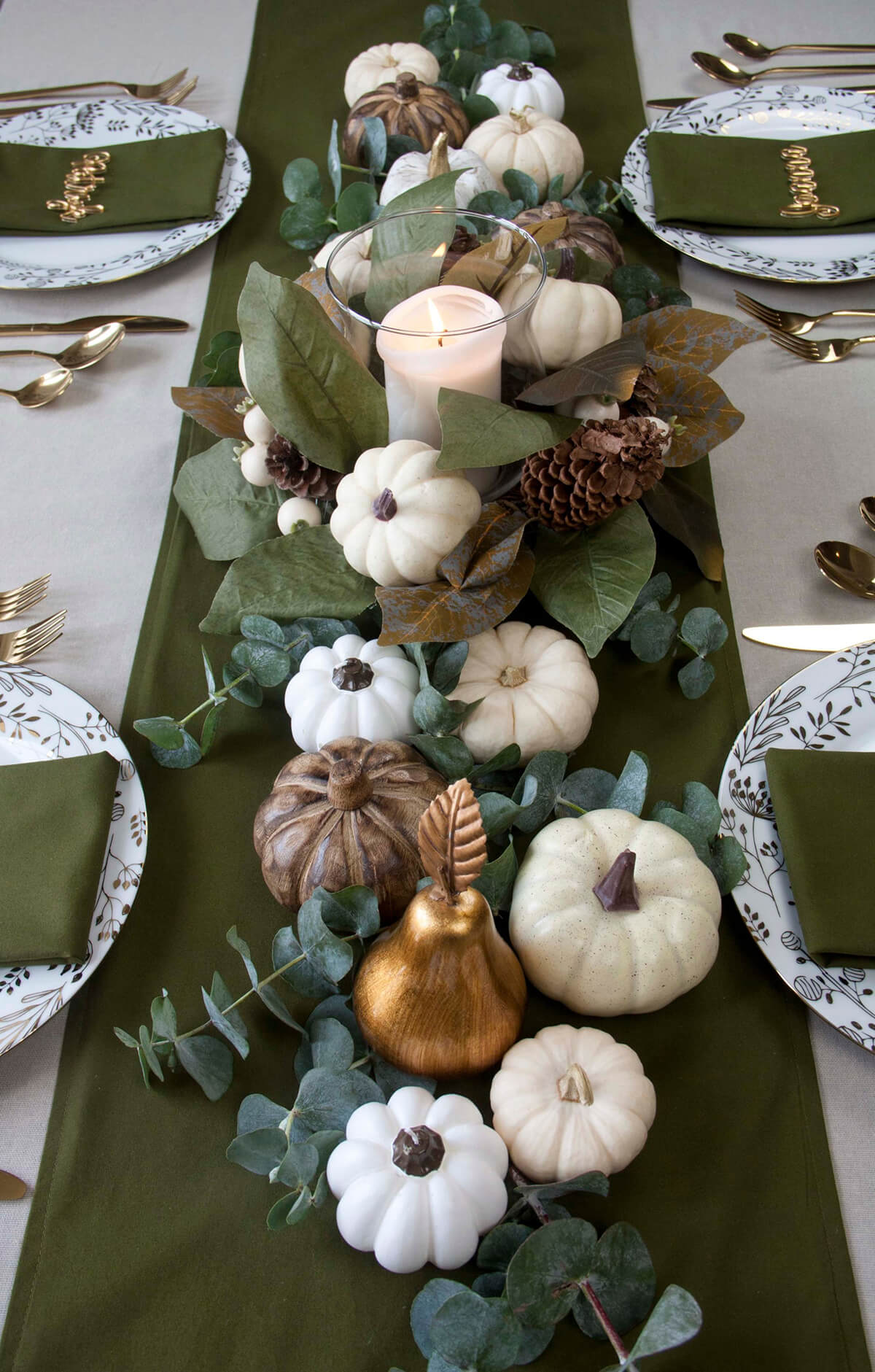 Feast your eyes upon this festive gold and green tablescape for your entertaining needs this fall. While traditional seasonal goodies like pumpkins and pinecones line the middle of the table, their finish is what stands out. Trimmed with golden stems and brushed with white and green paint, they are true works of art. Your table runner looks amazing with eucalyptus meandering throughout this medley of natural items. A rich and deep olive green fabric cloth runner grounds the overall look that is topped off with the glow of a white vanilla candle.
7. Ripe Olive Green Painted Wooden Cabinets
For an amateur DIYer, this feature of olive green painted cabinets should be on your radar. First, it adds such a distinct and original sophistication to a traditional room without feeling trendy. Next, it's cheaper than removing the old cabinets and installing an entirely new set. All you really need is the ability to paint. So head to your nearest home improvement center to find the shade of olive green that's just right for you. Pairing this alongside lots of white makes a very modern look while giving a crisp, clean finish to the room.
8. Gold Accents with Olive Green Tile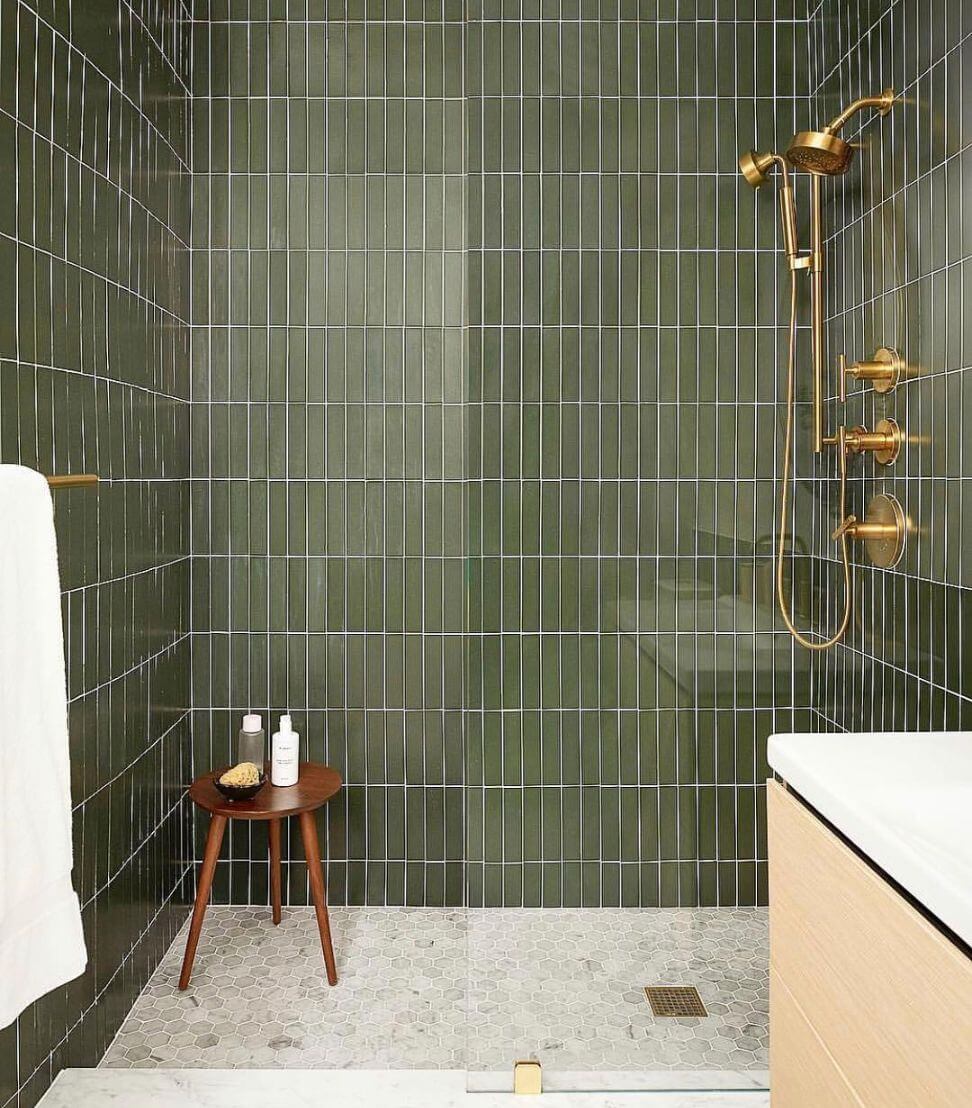 Building a bathroom with a wall of colored tile might seem intimidating. A few ways to keep your room from feeling overwhelming are to use white grout, choose a lighter-colored floor, and find the right hardware. Wood accents and gold hardware help emphasize the warm tones in the olive green. However, picking hardware with cool tones can achieve a calming ambiance. Of course, lots of lighting is another important piece of that puzzle. If the floor-to-ceiling olive green is not your style, you can still draw inspiration from this tutorial by using white tile to break up the solid color.
9. Olive Green Wall-Sized Woodland Mural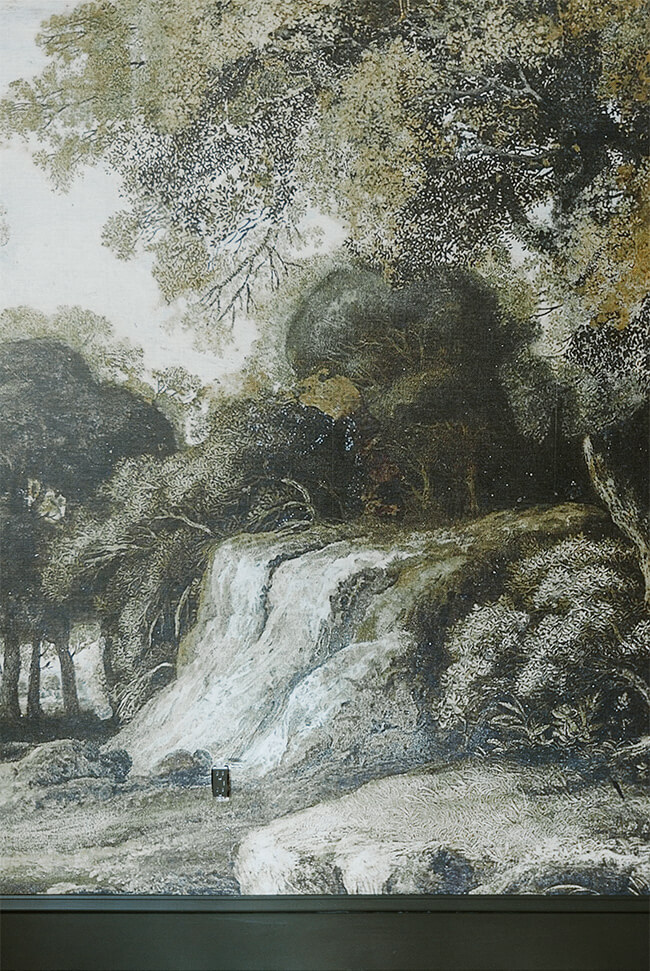 Although transforming an entire wall into a piece of art is a bold decision, it can have breathtaking results. This mural is actually made up of several strips of wallpaper. This means it is easy to install and actually pretty affordable. While this tutorial uses genuine artwork complete with the canvas print, you could tailor this technique to create your own olive green focal point wall. This particular mural looks great in a large room but might make a small room feel claustrophobic. If you are looking for ways to spice up a smaller space, try wallpaper with a smaller pattern.
10. Scale Up the Drama with Complete Contrasts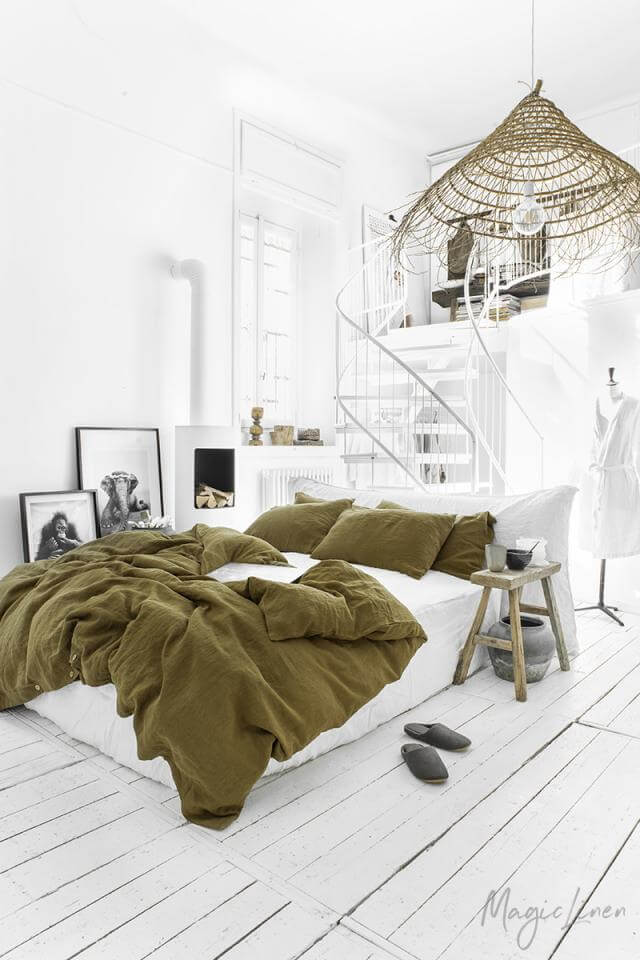 As one of the most powerful tools in a designer's arsenal, contrast can create some truly striking effects. The olive green accents in this room immediately draw the viewer's focus. The best olive green decor ideas include multiple senses, and this duvet and pillowcase set is no exception. Made from soft linen, this set is a feast not only for the eyes but also to the touch. The olive-hued lampshade adds delicate lines and visual interest. This image takes this look to the extreme – it might not be feasible to decorate your space with this high percentage of white.
11. Faux Greenery for Effortless Olive Flair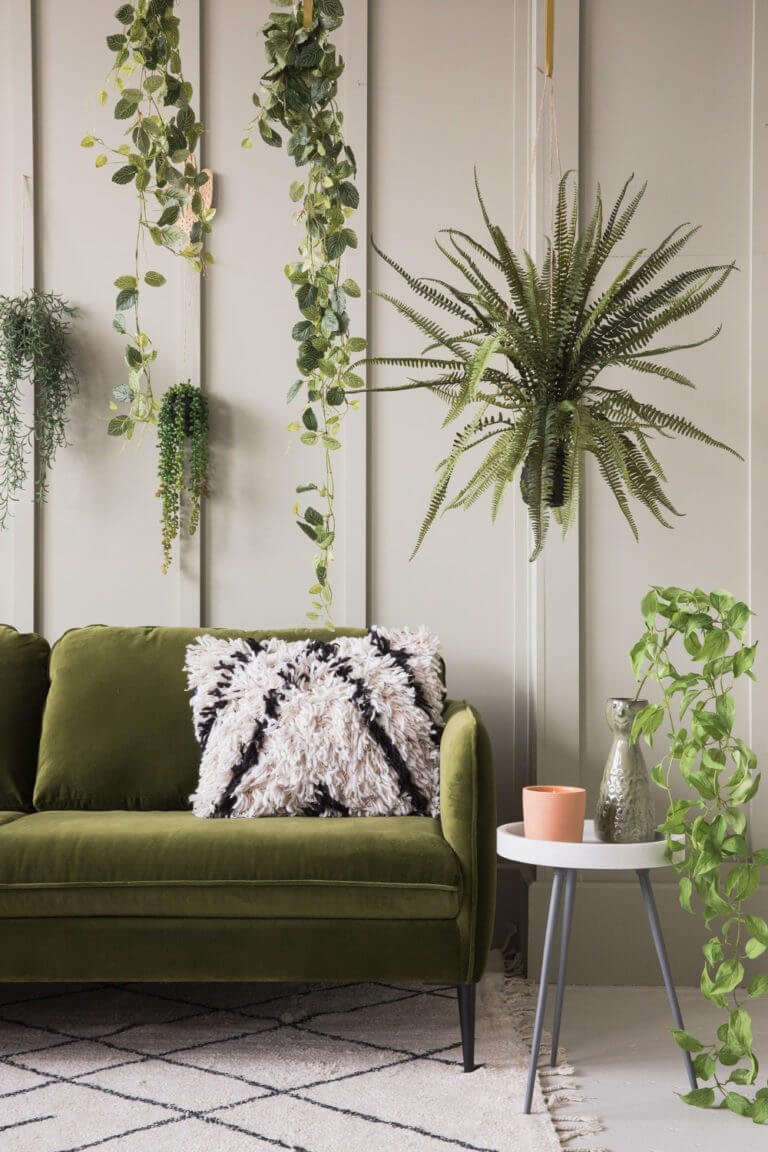 When it comes to greenery, your general choices are cut flowers, live houseplants, and artificial plants. Because fresh flowers have a limited lifespan and live plants require time and care, artificial plants make it easy to brighten your environment. Faux plant quality has come a long way in the past few years, and they are now virtually indistinguishable from their living counterparts. From a feathery fern to cascading vines, you can select the perfect faux plant silhouette for your space. Choose a few faux plants with foliage that harmonizes with the olive green in your space to add vivacious cohesion.
12. Expressive Floral Peel and Stick Wallpaper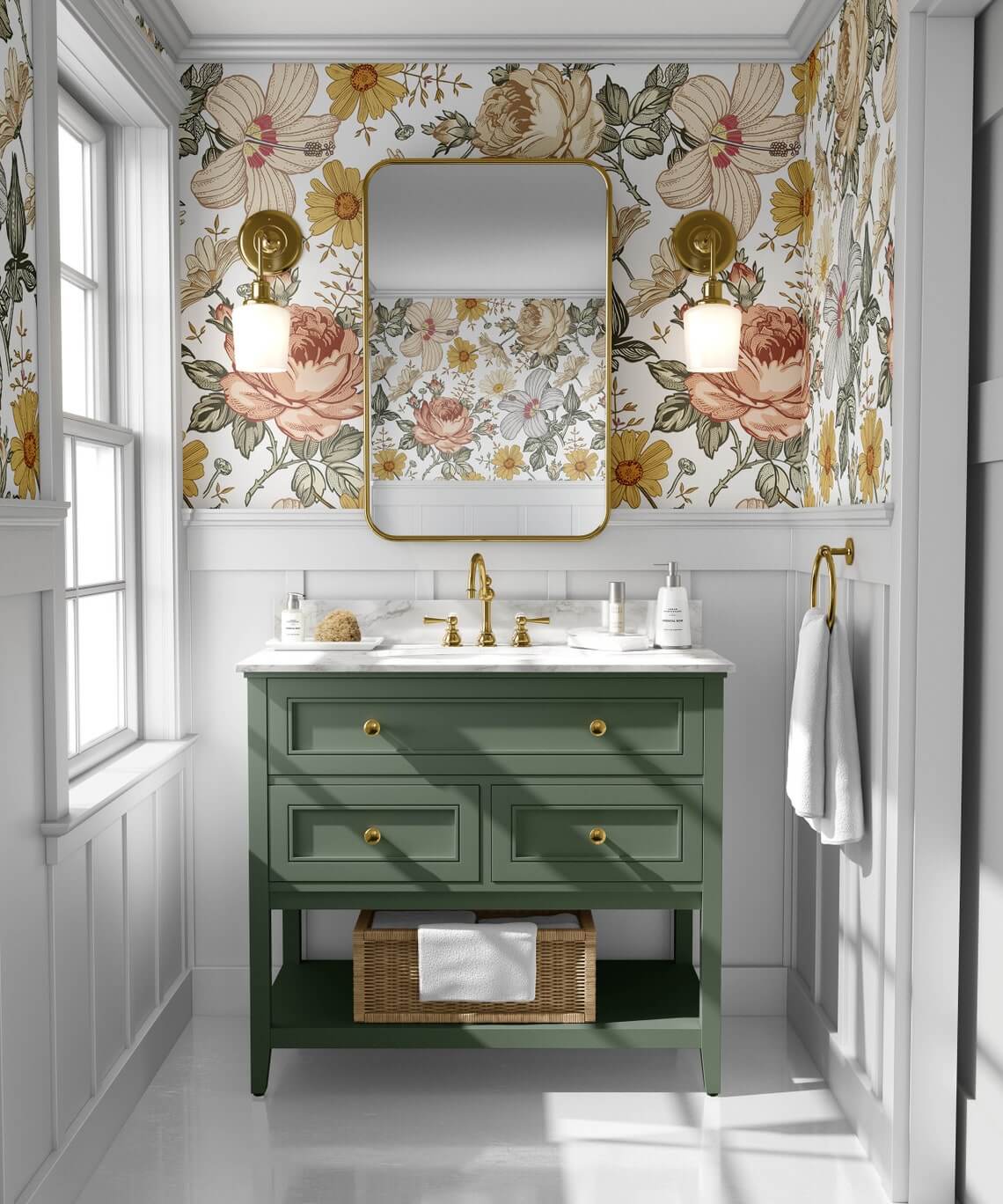 When developing your olive green design idea, it can be easy to overlook the need for other colors. However, the subtle gold tones and soft pink shades featured in this wallpaper can create a warmer, more dimensional ambiance than using only olive. The classic, artistic style means that this wallpaper is equally at home in a bathroom, nursery, or adult bedroom. If your space is too small for a dramatic application like the one shown in this image, imagine using it in small swatches to elevate furniture. A bookshelf, dresser, wardrobe, or vanity can really shine after a wallpaper makeover.
13. Handmade Olive Green Linen Sheet Set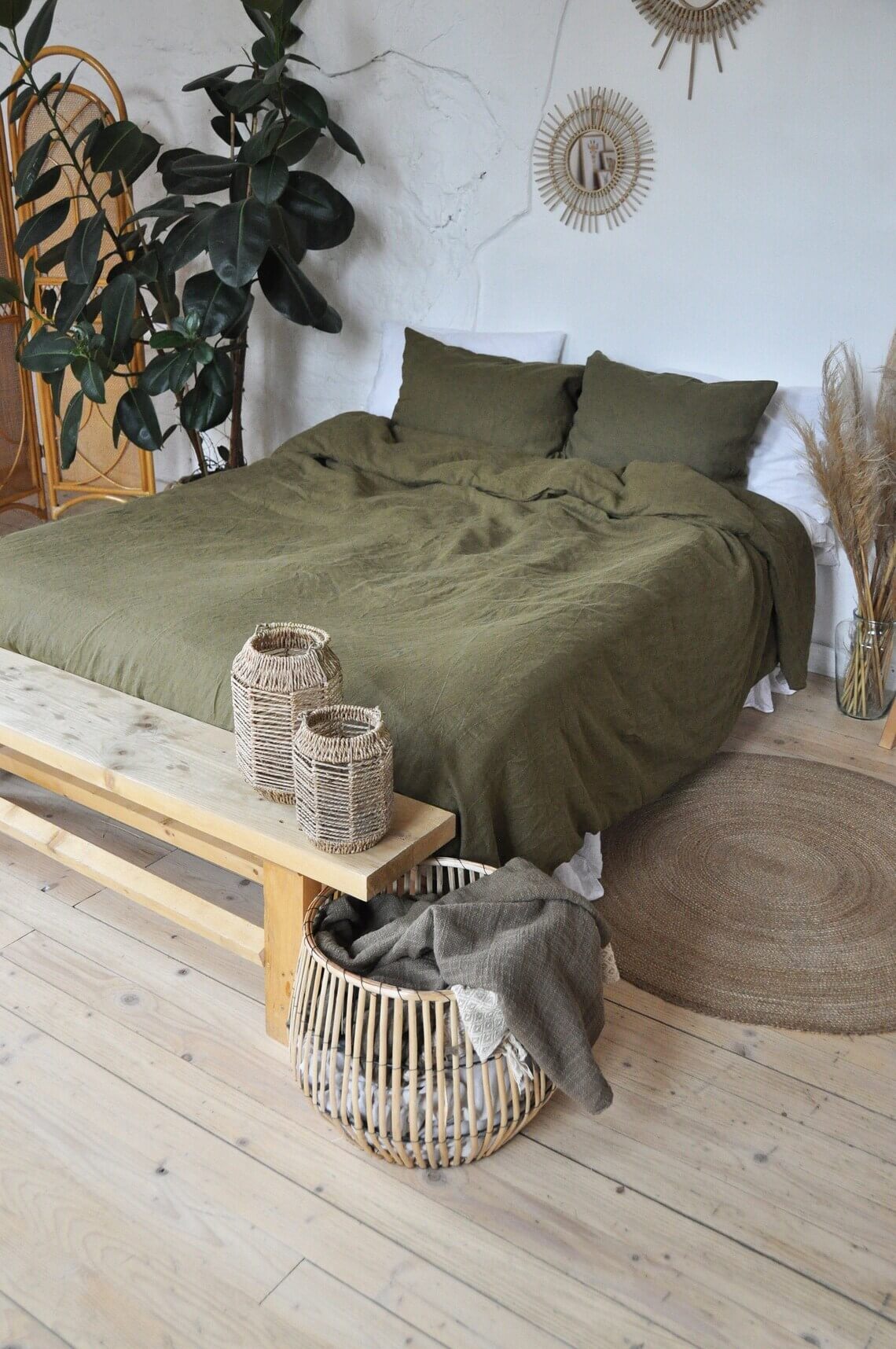 When a full renovation is not possible, investing in high-quality bedding is an excellent way to rejuvenate a room. This sheet set is handmade from European flax and is available for nearly any bed size. Choosing a bold color like olive green for the bedding means that you have fun mixing and matching with accents and another olive green room decor to achieve some joyful effects. All the natural textures in this image give it a very informal, Bohemian feel. However, pairing this bedding set with a gray, black, or white palette can make a space feel stately and dignified.
14. Unique Leather Hardware Handles & Pulls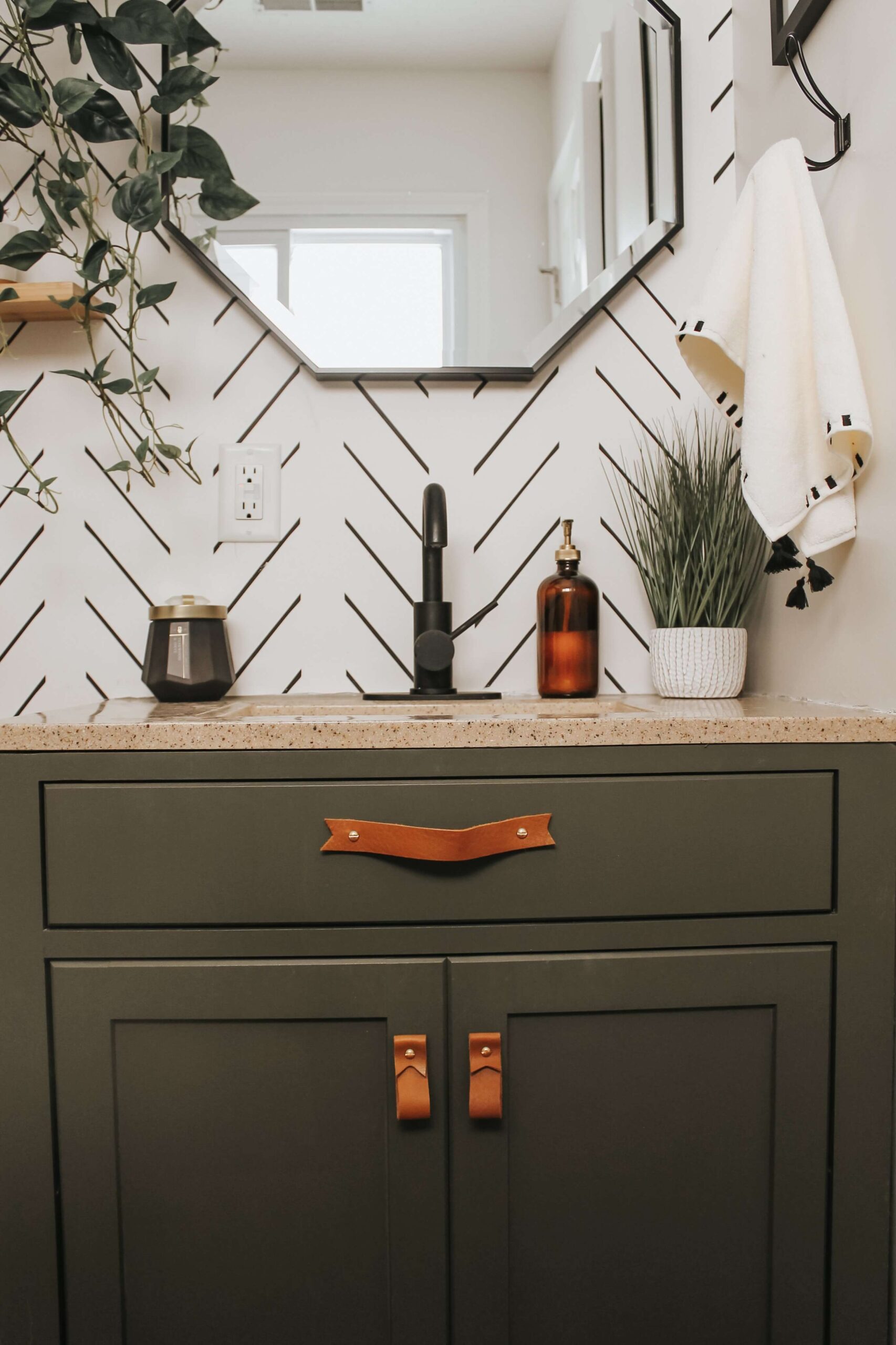 Layering textures adds some much-needed dimension to a space. This particular shade of leather creates a stunning contrast against olive green and really sets this vanity apart. Beyond the visual, leather is also much warmer to the touch than metal hardware. To create an exact look, this shop creates every handle set to your specifications. If the size you have in mind is not listed, you can create a custom order. These eye-catching leather pulls are not limited to vanities, however. Switching out cool metal hardware for warm leather is a very tactile and unique way to soften a room.
15. Handmade Macramé Olive Green Design Idea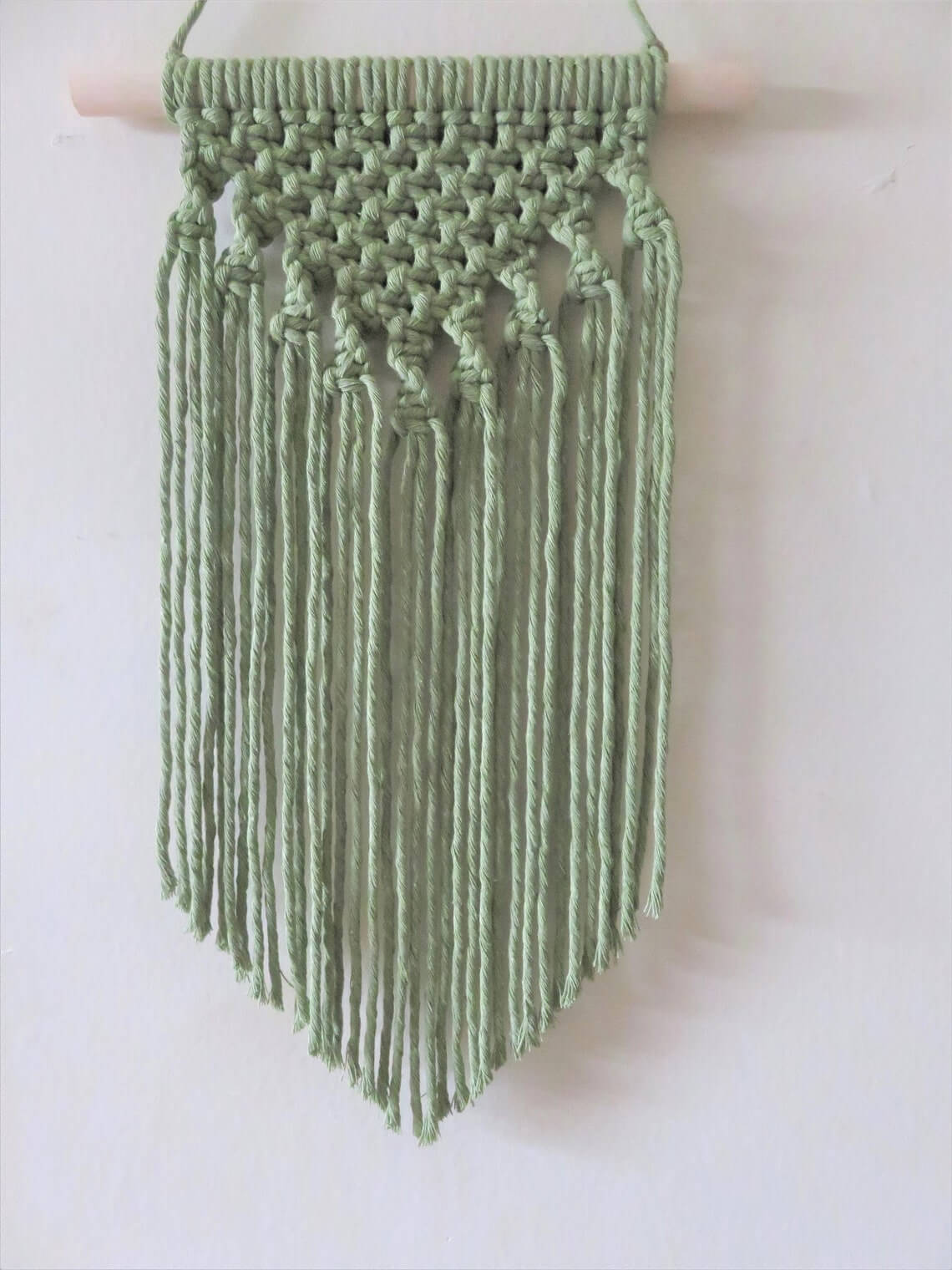 Textile art is a great way to add dimension and texture to a space. Depending on how you light your room, you can create interesting and ever-changing shadows. Because it is small, it can add ambiance in spaces both large and small. Vertical lines and petite size help even a small room seem bigger. Adding macramé artwork to your space is a fantastic way to make greenery look intentional. Although macramé has a Bohemian reputation, it can actually fit in a variety of themes. The blonde wood dowel and tight weave can add some visual variety in a Scandinavian space.
16. Handmade Olive Green Ceramic Flower Frog Vase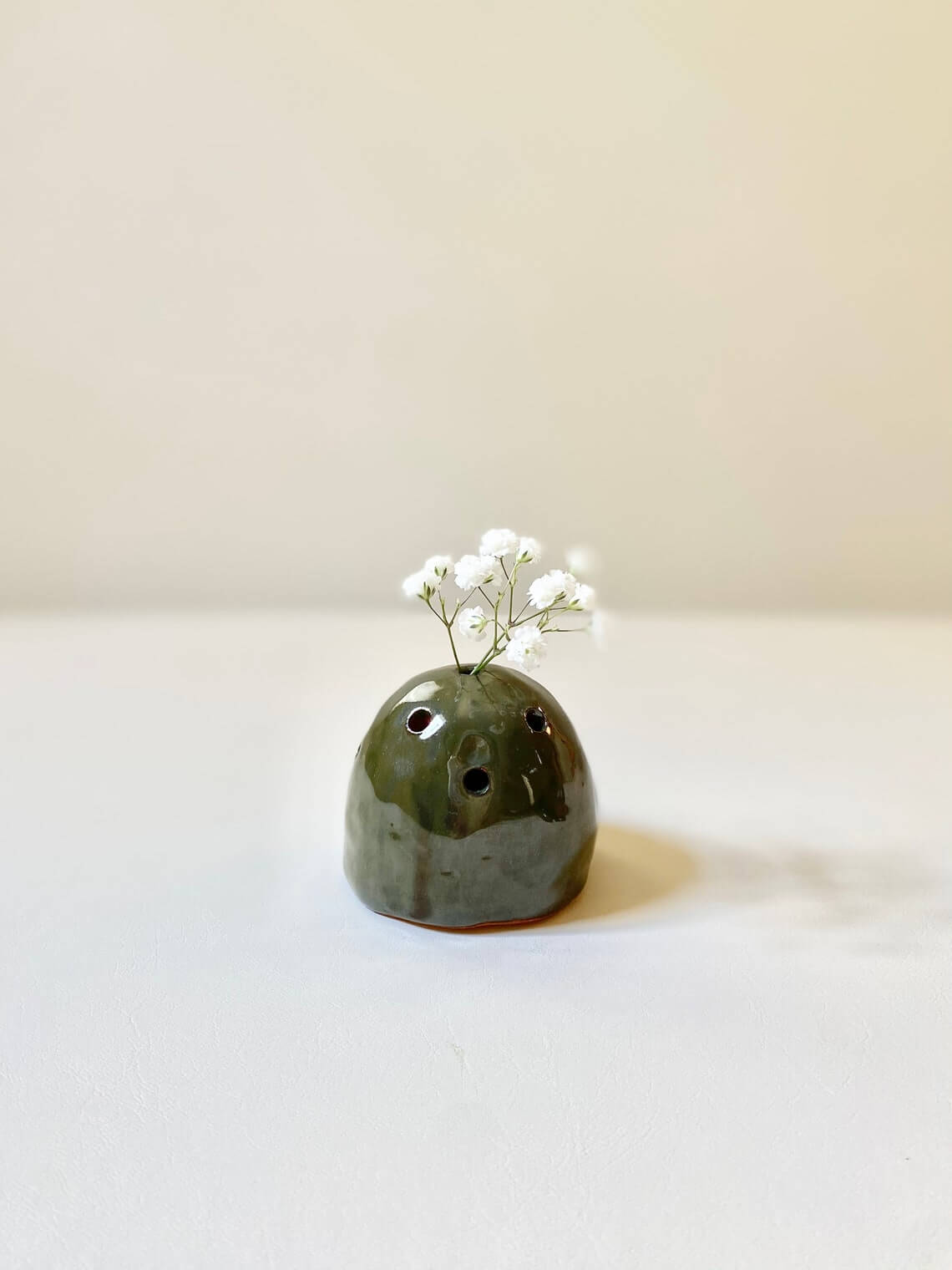 Before being fired in a small batch, every single aspect of this exquisite flower frog was built by hand. Glossy green glaze with subtle streaks captivates without stealing the spotlight. For those unfamiliar with these devices, flower frogs are often placed in larger vases to ensure flowers remain precisely where you put them. They can help create bouquets worth photographing. While you could hide this flower frog in a larger vase, it is charming enough to shine in a more visible display. Including glazed ceramics in your design is an incredibly easy way to add graceful polish and unforgettable elegance.
17. Custom Botanical Olive Green Wallpaper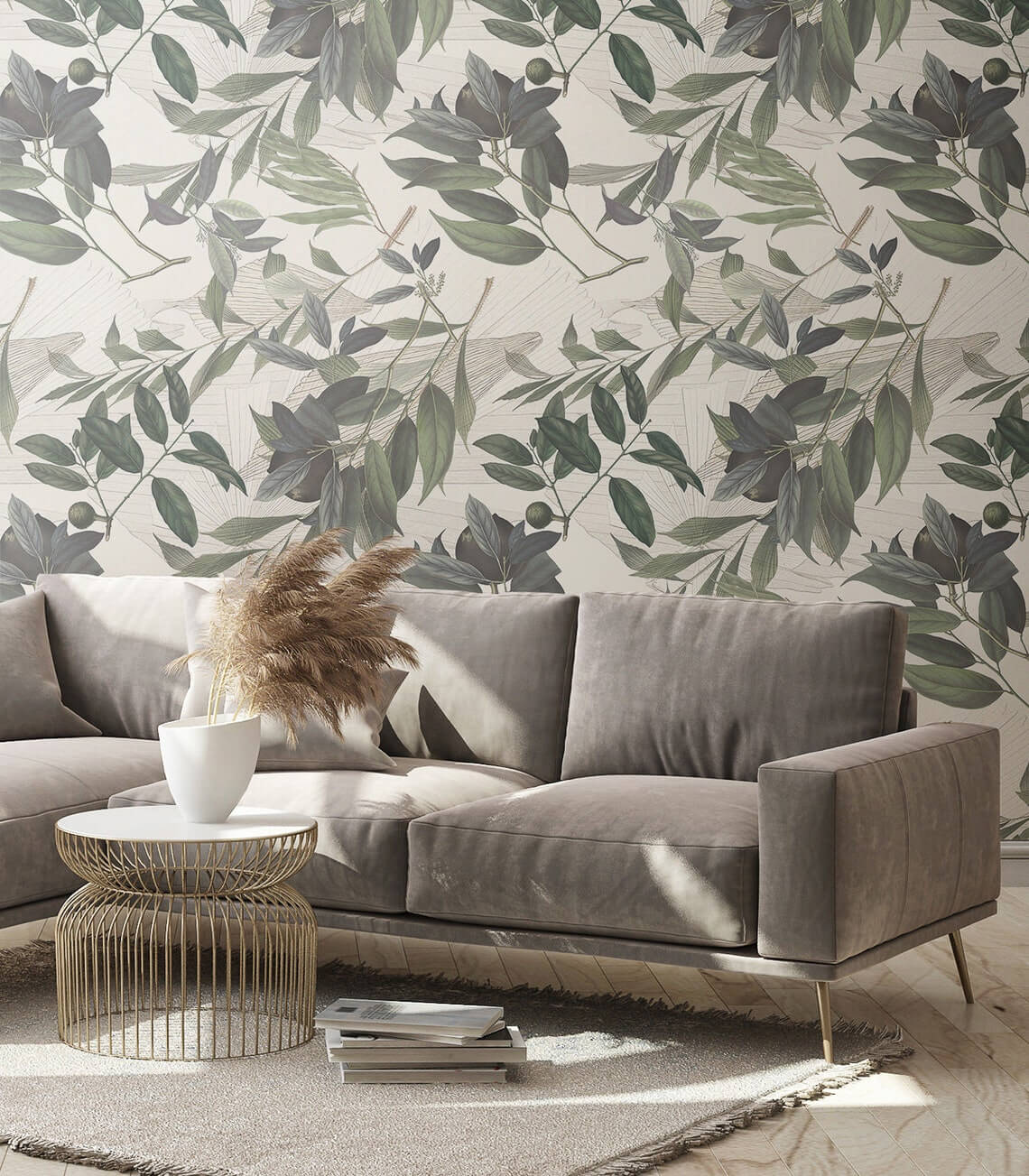 Using botanical leaves in your olive green room decor is an elegant way to channel nature. This wallpaper uses a classic, vintage illustrative style to add a layer of sophisticated refinement to a space. Because it does not include floral elements, it can look at home in a wide variety of spaces. To best fit your vision, it is available in a variety of finishes. With this olive branch and lemon leaf wallpaper, you can have a unique accent wall in no time. Using panels of this luscious leafy wallpaper on furniture can create stunning focal points without being overwhelming.
18. Downloadable Botanical Prints for Instant Olive Bliss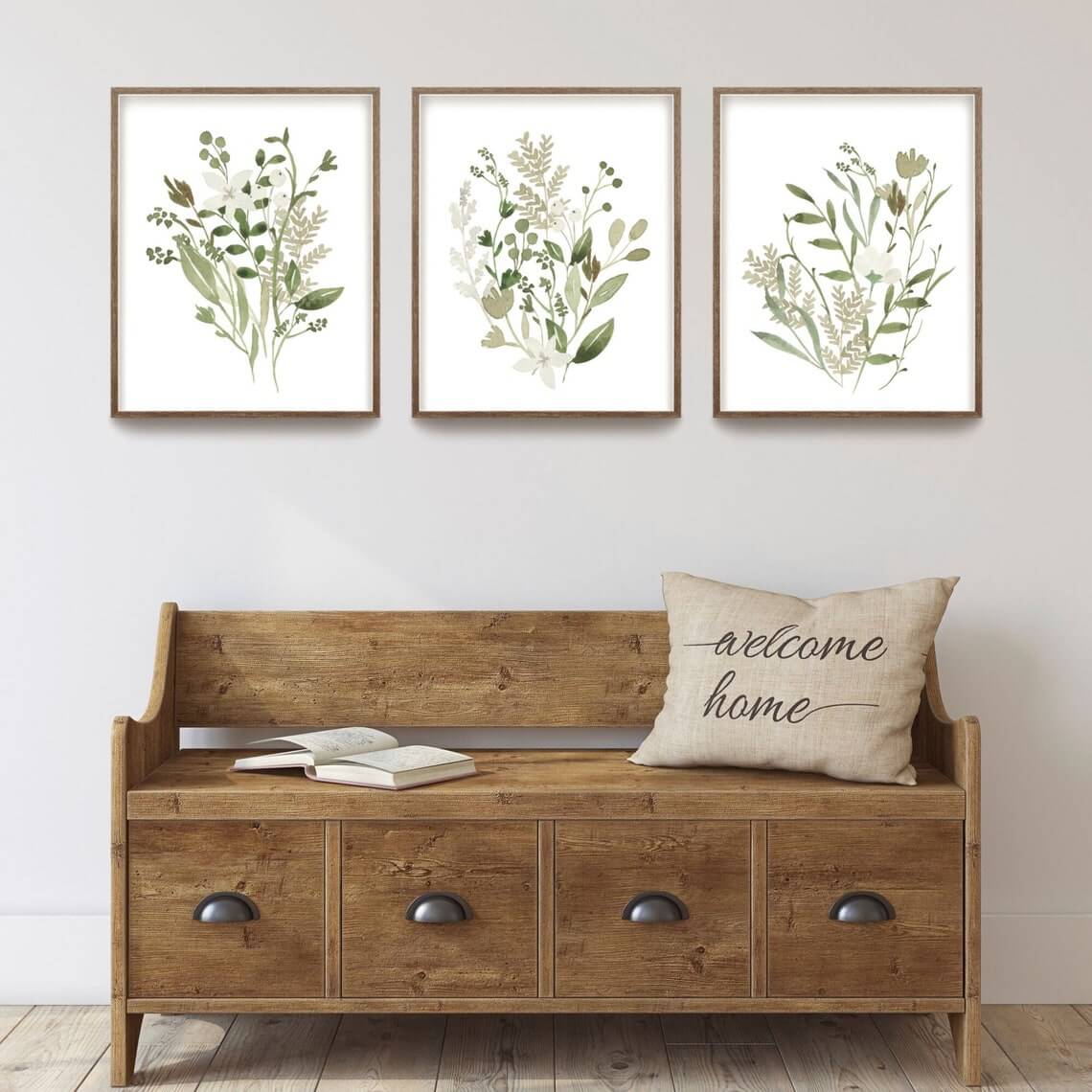 If you are working towards a fast facelift, downloadable prints are a way to quickly add some olive green ambiance to a space. After downloading this watercolor print set, you control the finish and the frame. As a set of three, you can also decide how to display them. For maximum effect, line them up in a row as shown in this image. By using them in different parts of a space, you can cultivate a sense of cohesiveness. Because each print features a variety of green hues, you can display with a variety of green décor to delightful effect.
19. Linen Curtains: An Olive Green Design Idea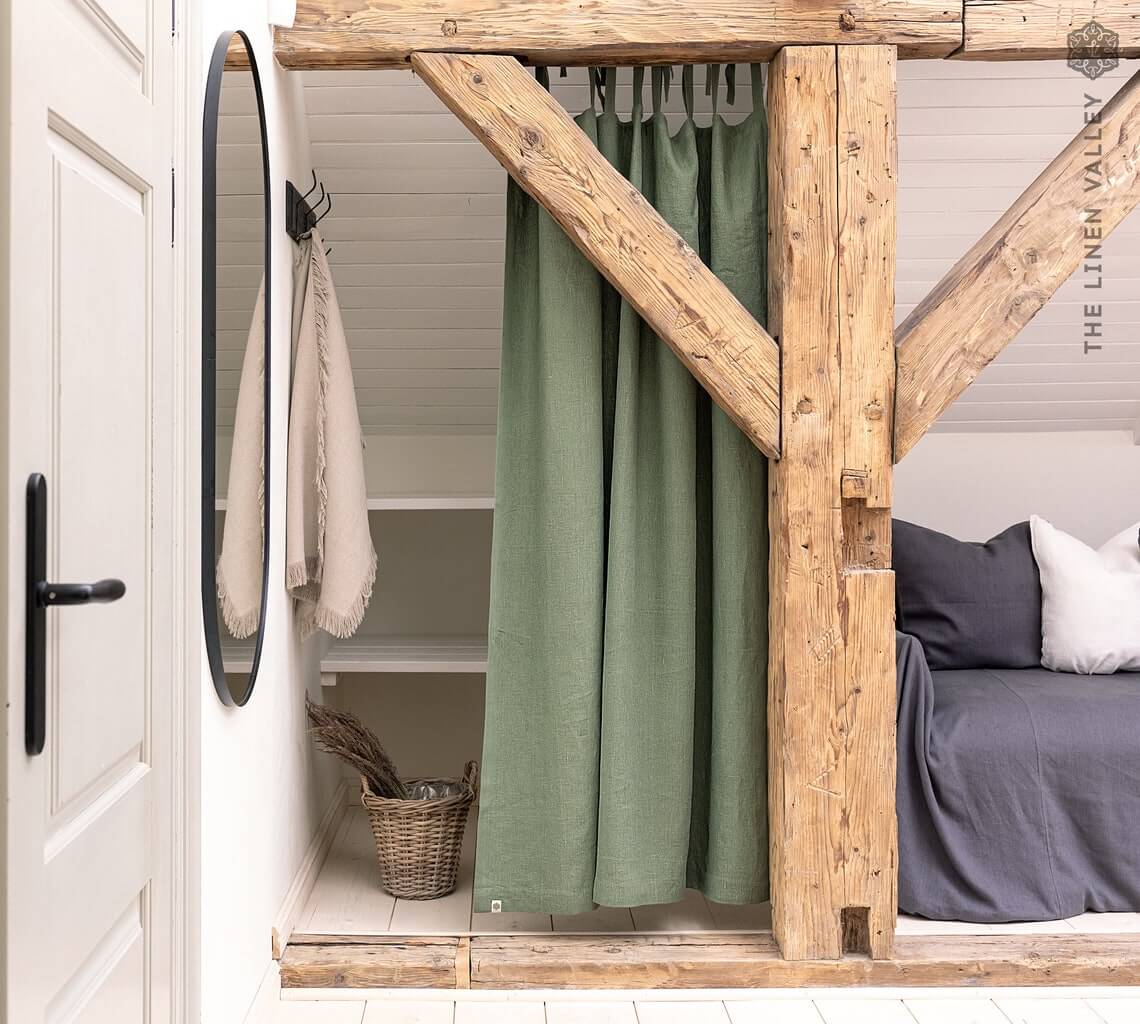 As an alternative to doors, curtains offer a gentler way to separate a space. This shop offers a variety of size options and, if none work for your design, will accept custom orders. For the perfect finish, this Baltic linen curtain is stonewashed prior to shipping. Because the curtain is hung with ties, you can use whichever hanging method fits your space best. Should it get soiled, it is machine washable. Beyond the practical, draped linen contributes a soft texture and dramatic vertical lines to a room. When shown with wood as in this image, a curtain achieves rustic charm.
20. Glossy Green Cascade Ceramic Vase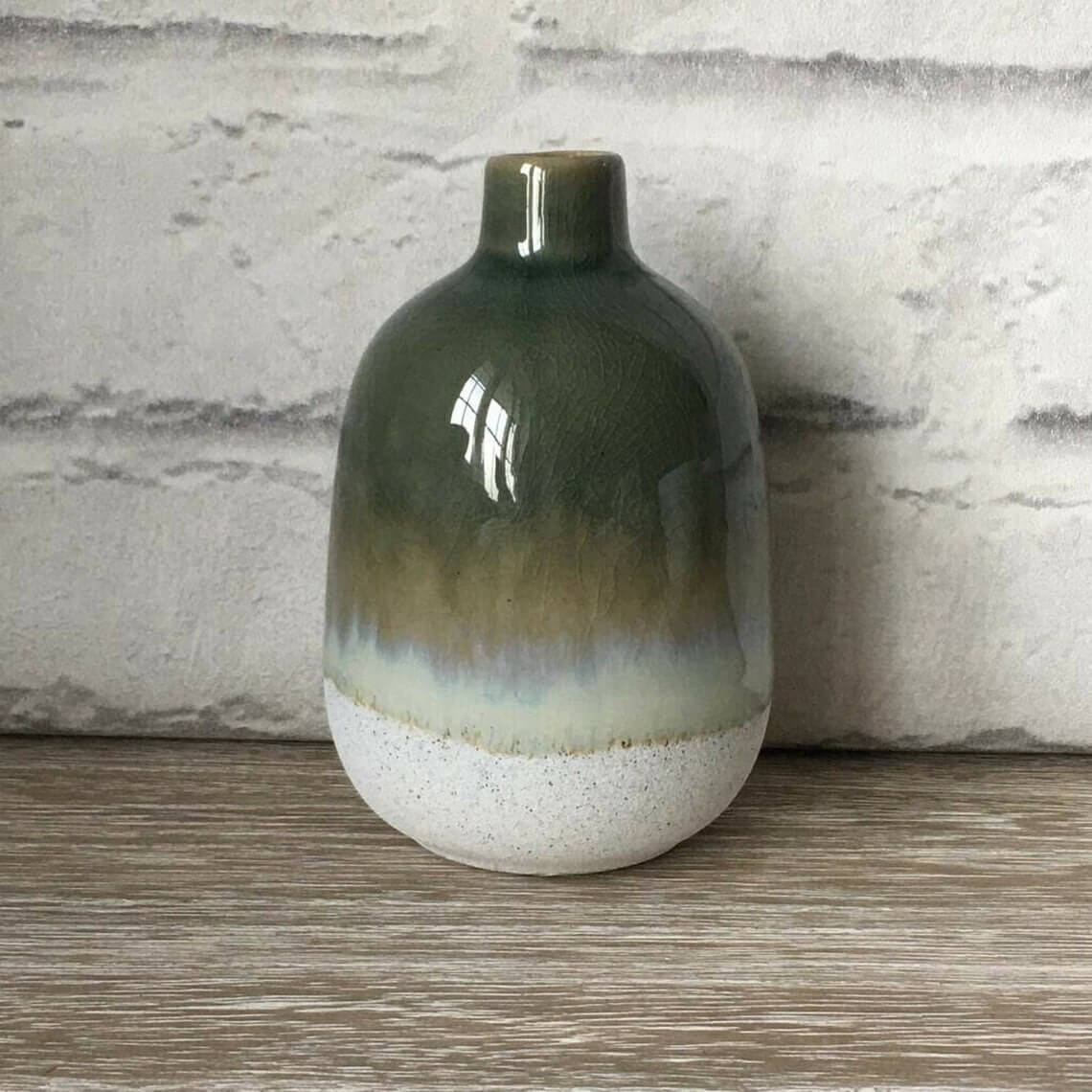 With a rounded shape and a wonderland of color and texture, this green vase is an artwork in its own right. The gradual fade from dark green to pale sage means it can help tie a variety of green accents into your space while the stone base is just the right amount of natural texture. This vessel is perfect for peonies or whichever cut flower catches your fancy. For a softer effect, use it to hold pampas grass or a spray of fluffy feathers. However you decide to display this vase, it will add an elusive earthy elegance to your space.
21. Geometric Handmade Wooden Wall Art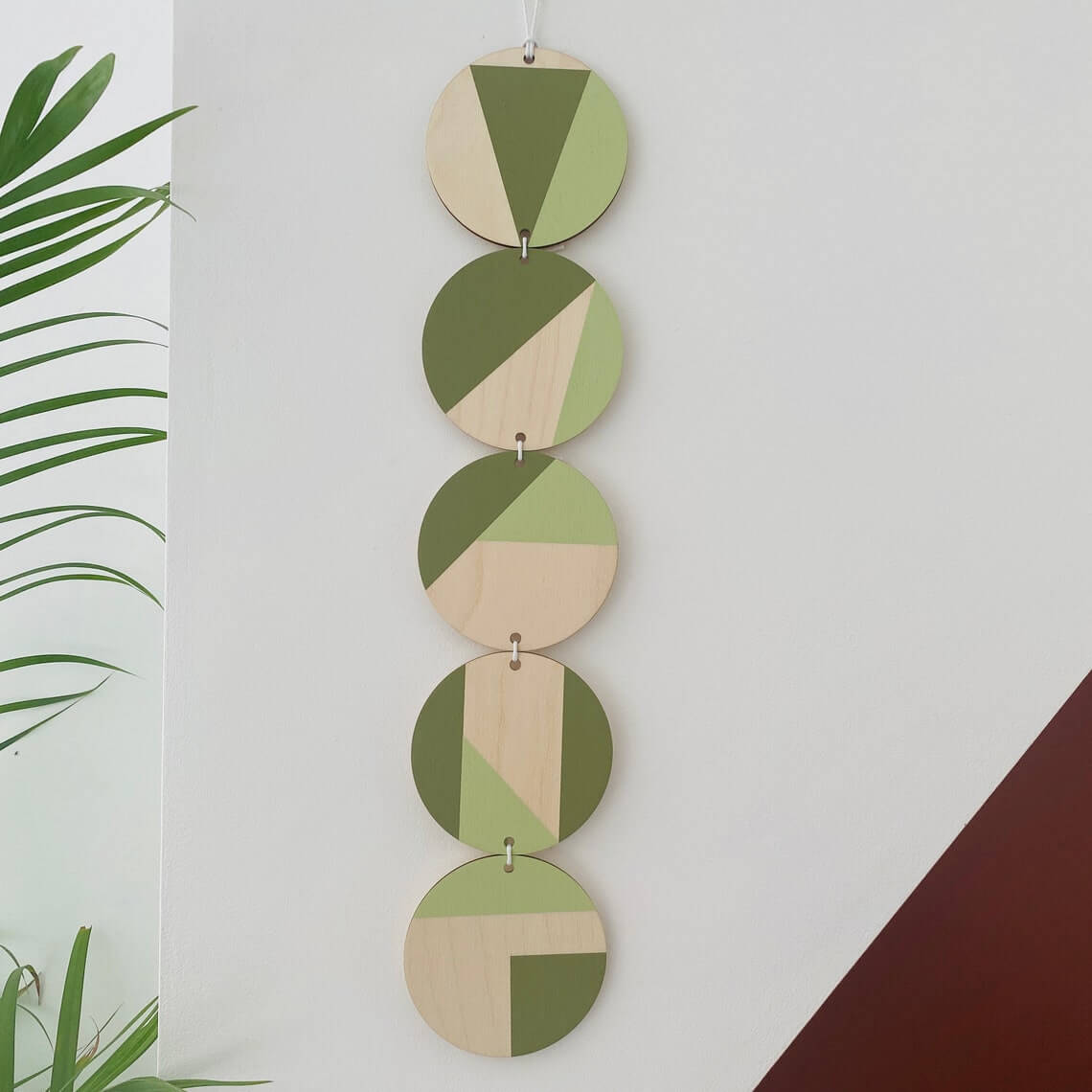 The best olive green decor ideas often incorporate other shades of green. By integrating olive, sage, and natural wood grain, this wall art is the perfect way to embrace nature in your interior. Strong lines on soft circles seem to achieve alchemy: this wall art is able to energize without being aggressive. Each disk is a laser-cut birch plywood that is then painted by hand. Because the natural wood grain shows through, this piece is the perfect way to incorporate some olive green flair in your Scandinavian or Zen space. To maximize the effect, hang it on blank wall space.
22. Luxurious Olive Green Velvet Pillow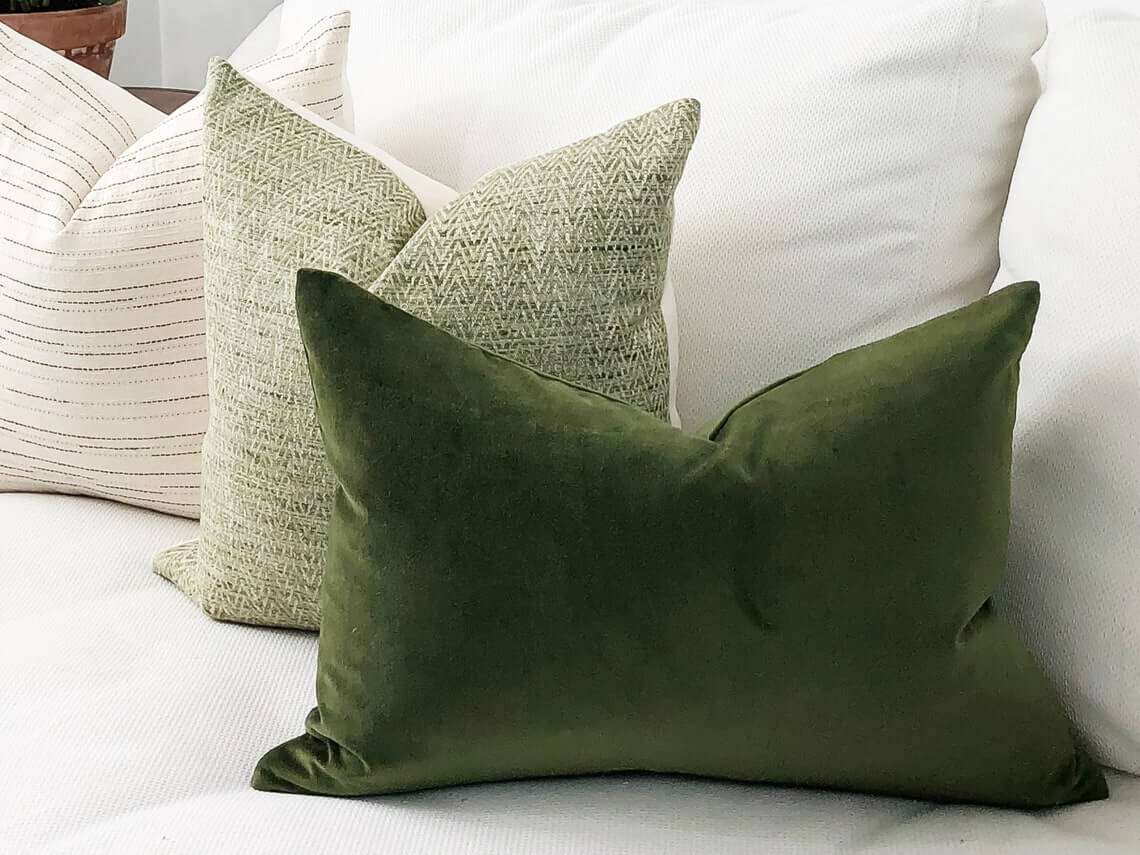 If you are refreshing a room's decor, updating the pillows is an easy way to integrate larger furniture pieces into the new theme. Without having to purchase or reupholster a sizable furniture article, a tasteful pillow can make it seem as if it were chosen for the new decor. Velvet is an excellent material to make that happen. It is opulent, lustrous, and an absolute pleasure to touch. Mixing and matching with velvet can be very fun. For some regal glamor, try pairing velvet with brocade. Alternatively, burlap and velvet can take your farmhouse style to a whole new level.
23. Wooden Bead and Jute Door Pulls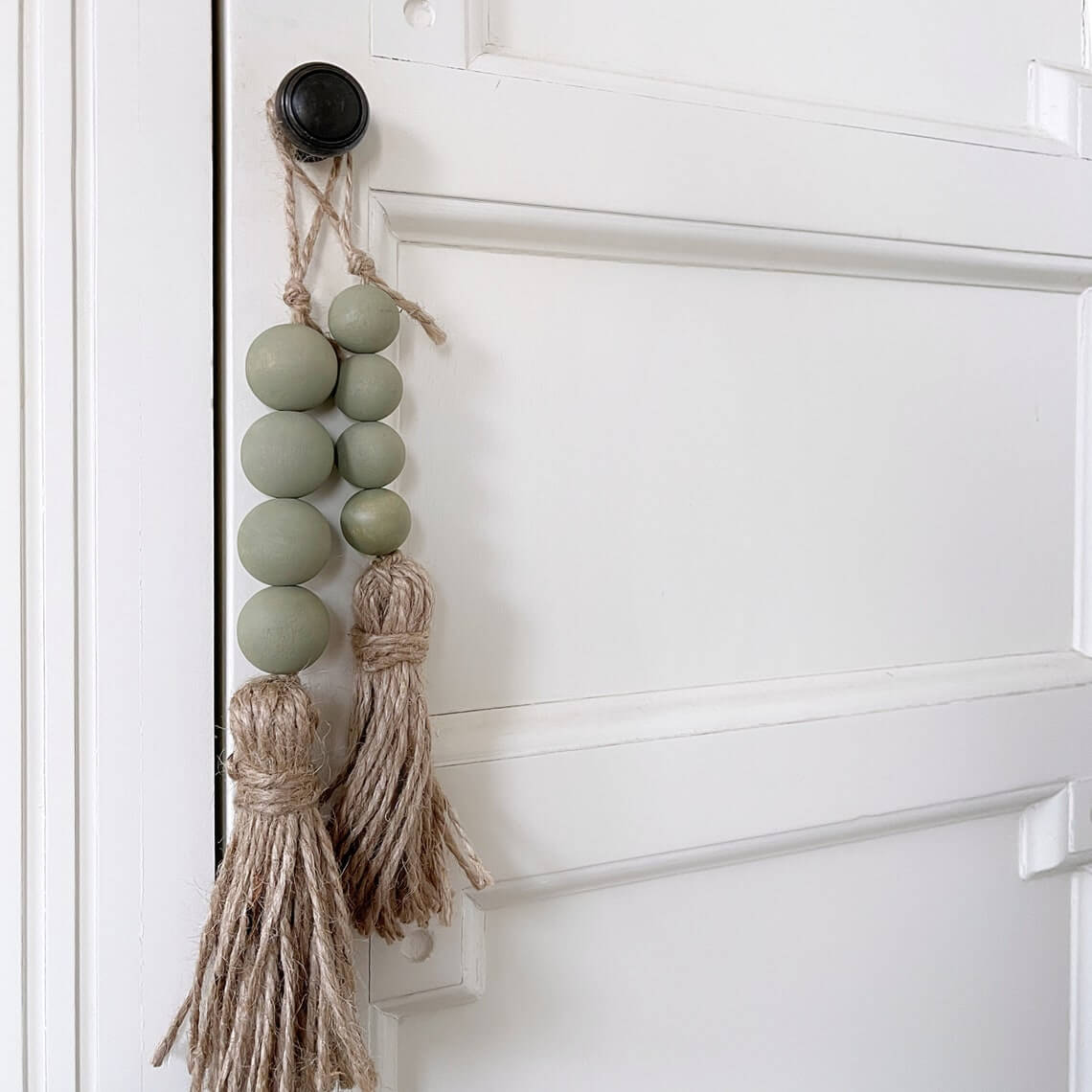 Who knew that accessorizing doors could be so much fun? Adding a tassel to your door might just be the finishing touch you never realized you needed. Hand-painted wooden beads harmonize with another olive decor without stealing the show. Chances are that if your space is already decked out in a variation of the farmhouse, shabby chic, or country cottage, the jute tassel will look right at home. Of course, these bead tassels could add some Bohemian flair to a space as well. Use these on doors, cabinets, drawers, or anything with a handle for an exciting new layer of texture.
24. Dark Olive Green Linen Bed Cover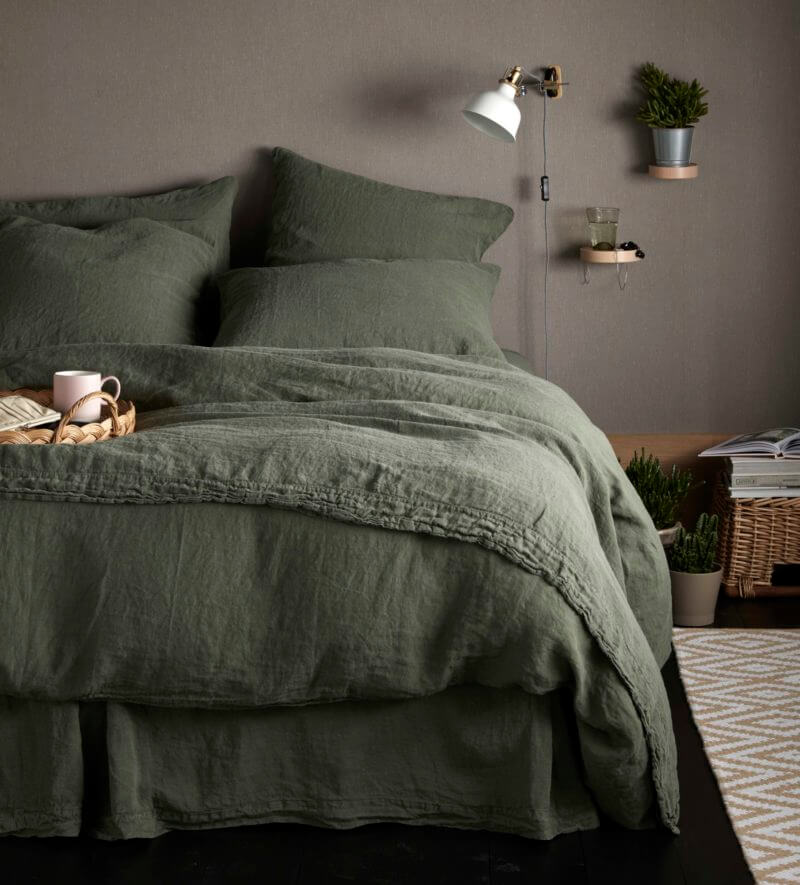 Changing up your bedding is one of the quickest and easiest ways to add a fresh new look to your bedroom. Swapping out an old, outdated comforter for a modern duvet is a great way to start. Consider a bold color to make a dramatic new look for your room. This rich and hearty dark olive green remains neutral while adding a bit of color to your design. It's a perfect choice for a beige and mushroom brown space and the inclusion of a few plants makes this duvet feel right at home.
25. Nature-Inspired Wood Panel Olive Green Wallpaper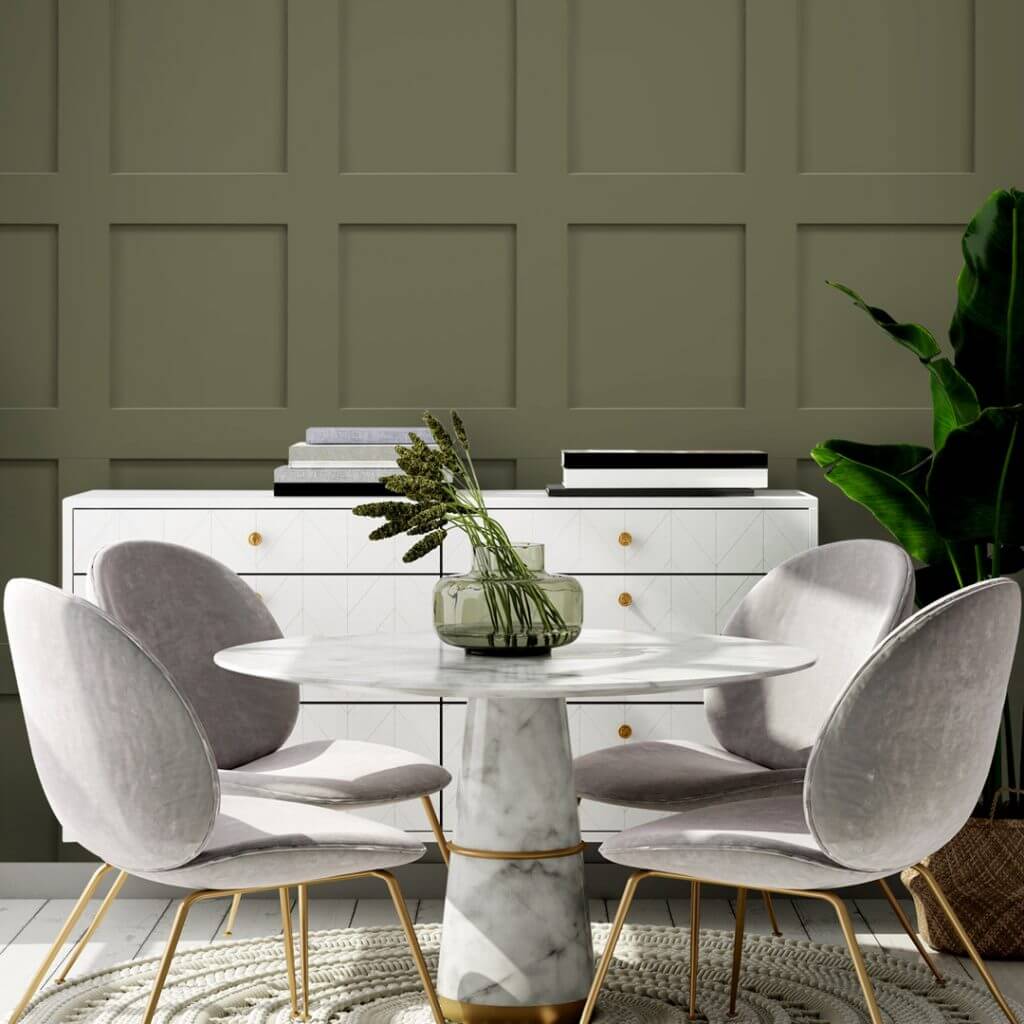 Bring some casual elegance into your home with this wood panel wallpaper. Featuring a rich olive green that's taken straight from nature, it will be the star of the show among your dark wood home accents. Such a bold and beautiful green easily exudes a simplistic elegance and dresses up a dining room without feeling snooty. The texture of the wallpaper adds some extra style to the room giving a united look to your wall. Consider using golden accessories with it for a winning combination. For a modern glam room update, showcasing an olive green textured wall is the way to go!
26. Creamy Beige Comforting Lumbar Pillow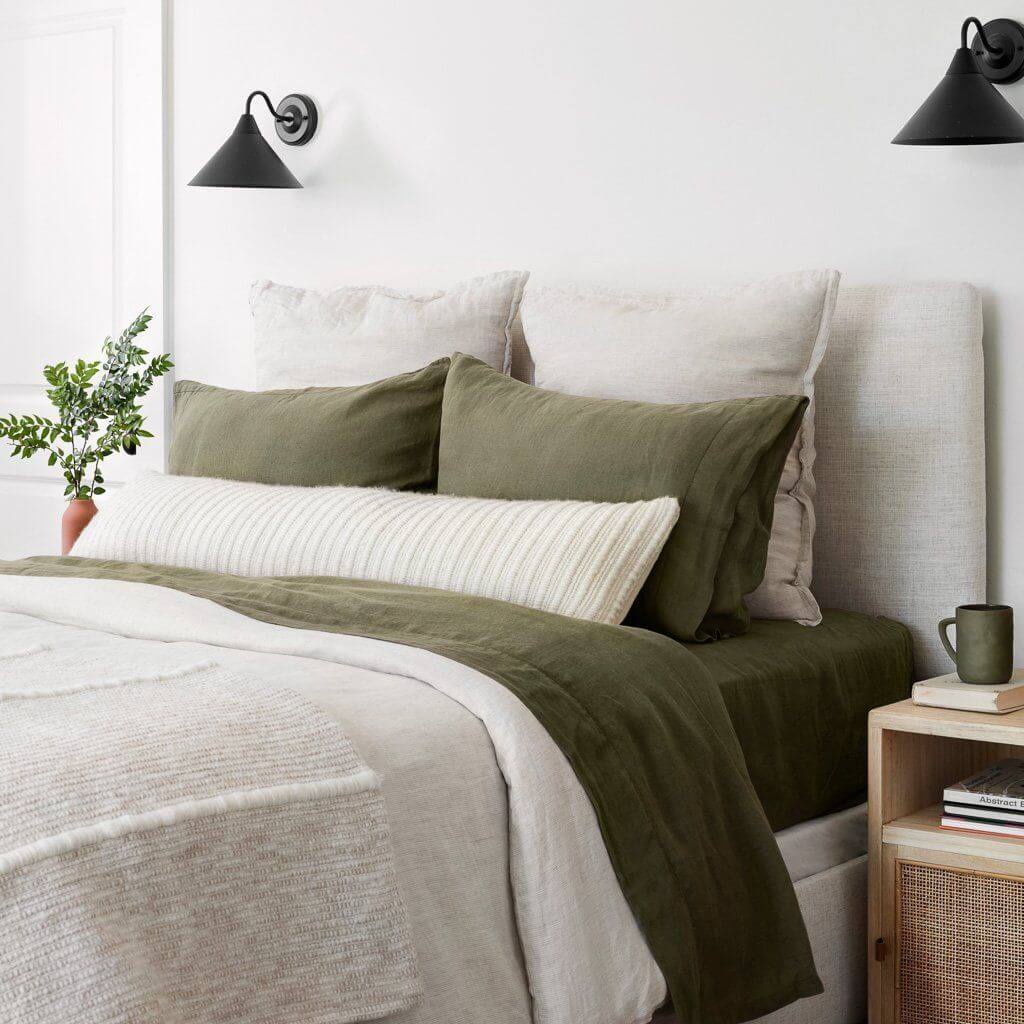 Tossing this pillow onto your bed provides more than a neutral accent to your olive bedroom. A firm lumbar pillow comes in handy when you need a little extra love for your lower back. Crafted in a creamy beige tone that's the perfect neutral for any space, this lumbar pillow is a great fit for your bedroom. The attention-to-detail in the hand braiding adds character to its overall design and gives it an additional element of texture to an otherwise plush and soft pillow.
The Top 26 Ways to Personalize the Best Olive Green Decor and Design Ideas for Your Space
One of the biggest reasons to embrace the best olive green decor ideas is to feel closer to nature. Greenery, whether living or artificial, is a great way to put the "green" in your new olive green decor. If plants do not fit into your plans, there are plenty of ways to integrate green growing things into your design. Instead of featuring plants, imagine incorporating botanical designs in wall art, wallpaper, pillows, or blankets. Even being surrounded by pictures of the outdoors can add a serene ambiance to your atmosphere.
Using solid green can be striking too, as it seems to encompass nature's very soul. You can start small with a pillow, a vase, or maybe even a small spray paint project. Or, you can surprise everyone and do it all at once. Whatever timeline your olive green room decor project is on, you can have fun seeing what your imagination can make possible. Whether you stay in your comfort zone or find ways to think outside the box, redecorating with a new color is exciting. When that color is olive green, you have a lot of options, ideas, and possibilities to be excited about and bring into reality.