If you're looking for the best online furniture stores, there are plenty of great options out there. Shopping online is a great way to conveniently browse for furniture ideas and instantly find prices on whatever you need. Whether you're looking for indoor, outdoor, modern or classic furniture, there is definitely an option out there for you. Like every online shopping experience, some stores are better at certain aspects than others. We're here to break down the 15 best online furniture stores and help you decide which one best fits your online furniture shopping needs.
15 Online Stores Where You Should Get Your New Furniture

1. Pottery Barn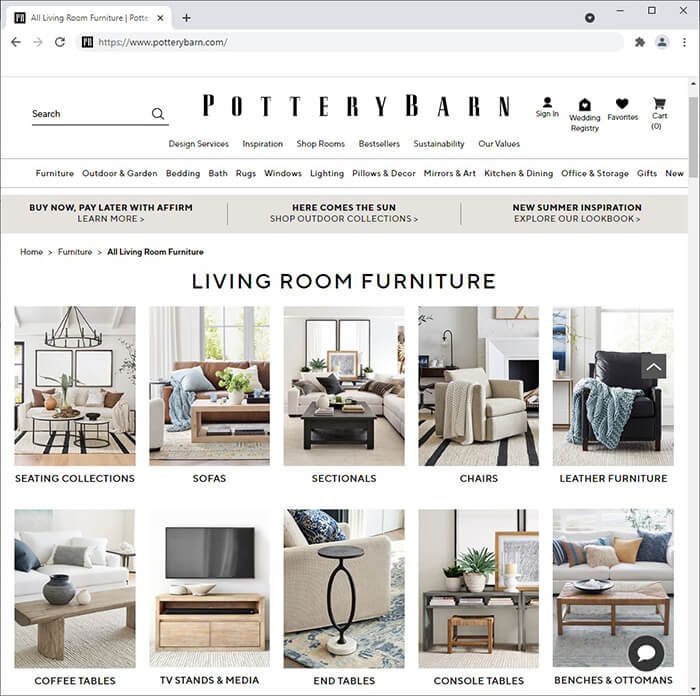 See store: potterybarn.com
For the perfect combination of modern and rustic furniture, Pottery Barn is the best online furniture store. They have everything you need to decorate your home just the way your want it. Their huge selection of furniture offers unique takes on traditional pieces.
Pottery Barn is using their popularity to make a difference. For every piece of indoor wooden furniture that they sell, they plant a tree. Their goal is 3 million trees in 3 years. They have plenty of furniture for indoor and outdoor decor, and their accessories are the best way to add accent pieces to your home. So if you want unique furniture but want your purchase to mean something, then check out Pottery Barn.
2. Birch Lane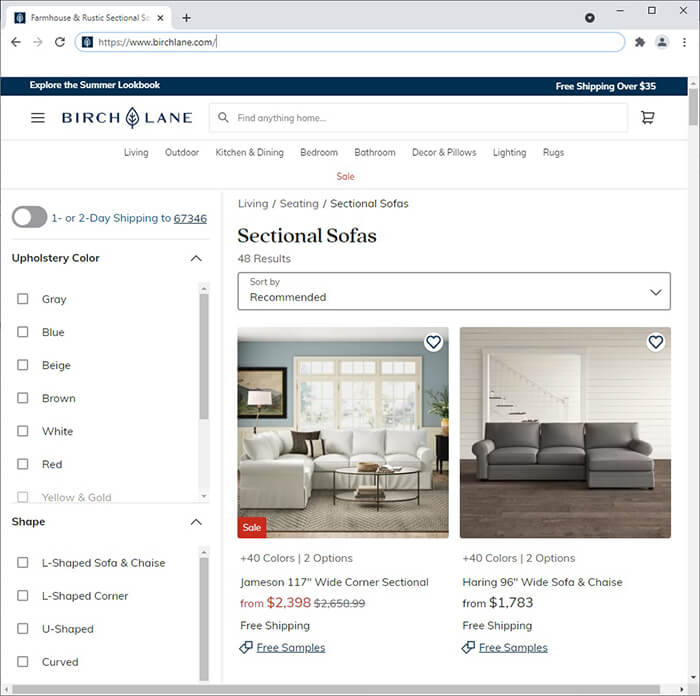 See store: birchlane.com
Birch Lane offers beautiful farmhouse-style decor. If you're looking for traditional furniture, then this is the place for you. Birch Lane offers a wide variety of outdoor and indoor furniture that can help bring that wonderful traditional style to your home. They also offer kitchen decor, pillows, rugs and even towels. So, you can make sure that your farmhouse feel is felt all through your home.
Along with farmhouse furniture, Birch Lane offers a wide variety of coastal-themed furniture to help design your home. Whether you live close to the beach or just love coastal decor, Birch Lane has you covered. So, check out their website for a wide selection of farmhouse or coastal furniture. Traditional is what they do best.
3. IKEA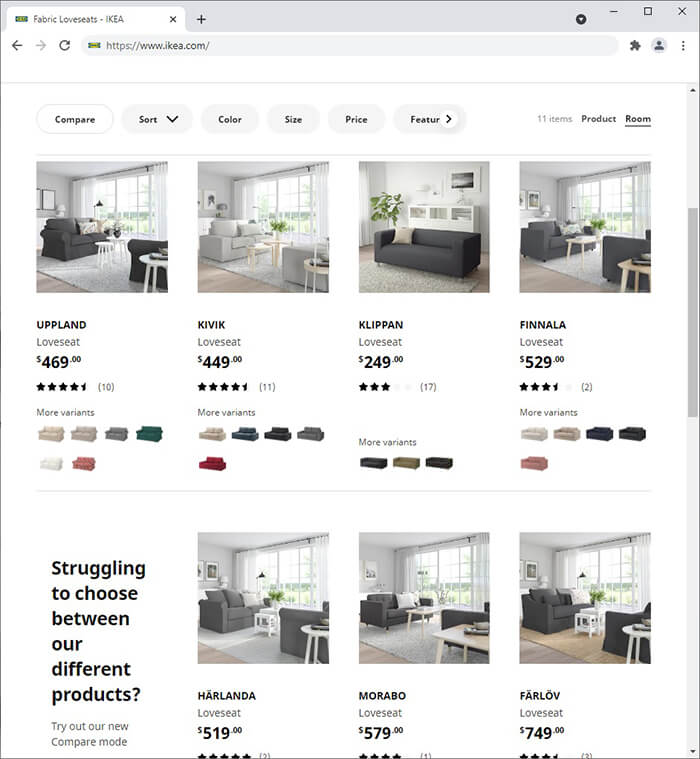 See store: ikea.com
Most people by now have been to IKEA for their furniture needs, but their online store makes ordering their furniture so much easier. Thankfully their website is easier to navigate than their stores. No matter what type of furniture you are looking for, IKEA's website has a category for it.
Their innovative website offers the ability to furnish a room in 3D. This allows you to truly see how furniture will look put together before you order it. So, consider using this new technology at IKEA to help plan your home decor before you buy to ensure you're getting exactly what you want.
4. West Elm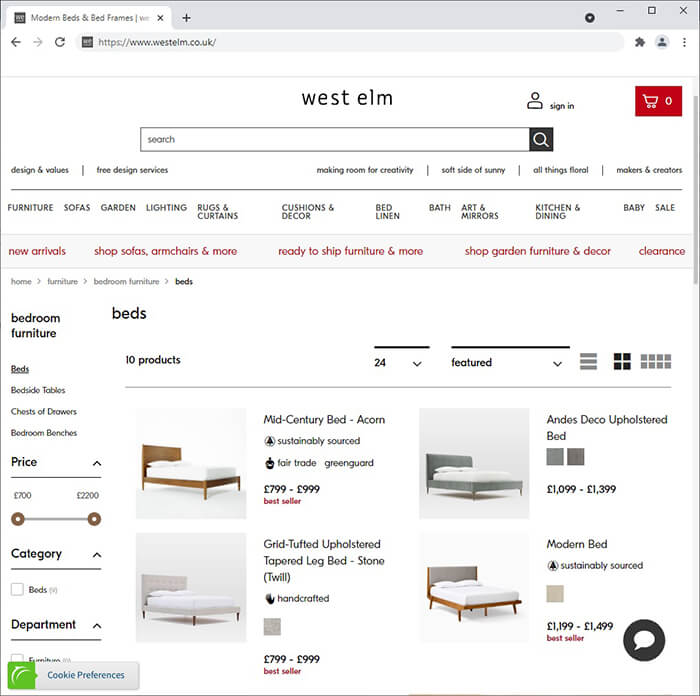 See store: westelm.com
This online furniture store has many options for quality furniture that will match your home decor. West Elm loves to combine classic colors with occasional pops of color to draw eyes to your decor. Whether it's a comfortable couch with brightly-colored pillows or an artistic vase, they have plenty of furniture and accessories that will draw any eye to them immediately.
West Elm has a wide variety of indoor and outdoor furniture, but that's not all. They also carry curtains and kitchen accessories. So, you can make sure that all of your decor matches perfectly. No risk of clashing here. So, check out West Elm for classic designs and wonderful pops of color.
5. Lexmod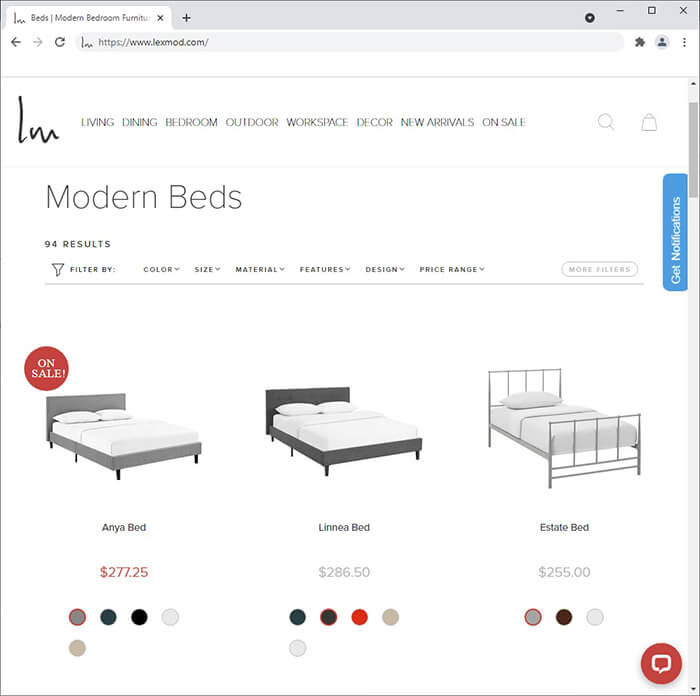 See store: lexmod.com
Lexmod is one of the best places to find furniture for modern fans. If you want to see new trends and what is in right now, then look no further than this website. They are consistently adapting to new trends in furniture. So, what you see is the most up-to-date modern furniture that you can buy.
Lexmod has a large selection of workplace furniture. Whether you are working from home or bringing new life to your office, there are plenty of innovative pieces to choose from. They offer living room, bedroom and even kitchen decor with many different colors and designs available. So, check out Lexmod for the most updated, modern furniture choices.
6. Wayfair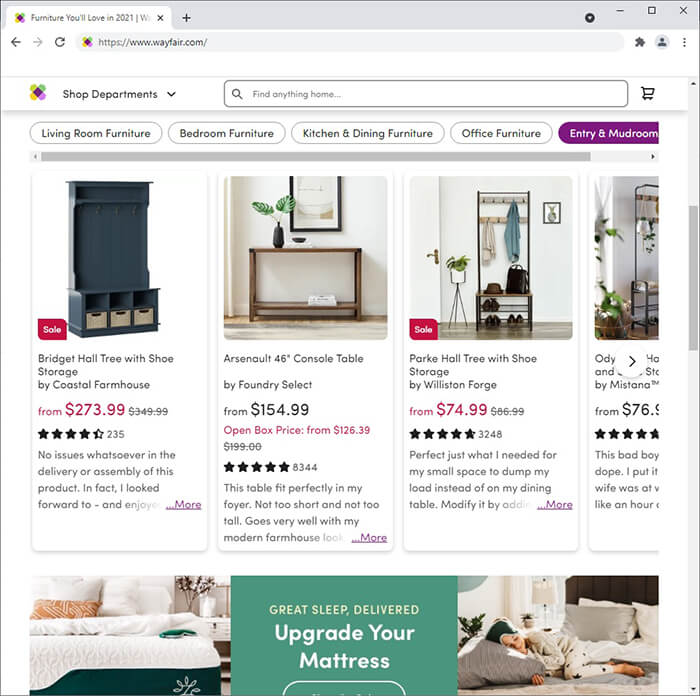 See store: wayfair.com
Wayfair has a huge selection of furniture no matter what you're looking for. If you can't decide which type of furniture that you want or what colors might interest you, then Wayfair's wide variety can help you find just about anything you need. From more basic sofas to mounted swing chairs, they have plenty of classic and modern choices. Their color variations are truly unbeaten for almost any furniture store online.
With perhaps the widest variety on the internet, Wayfair can even help with organizing and renovating your home. They also sell appliances like coffee makers, washers and dryers. So, for the widest variety of furniture, colors and other household items check out Wayfair.
7. One Kings Lane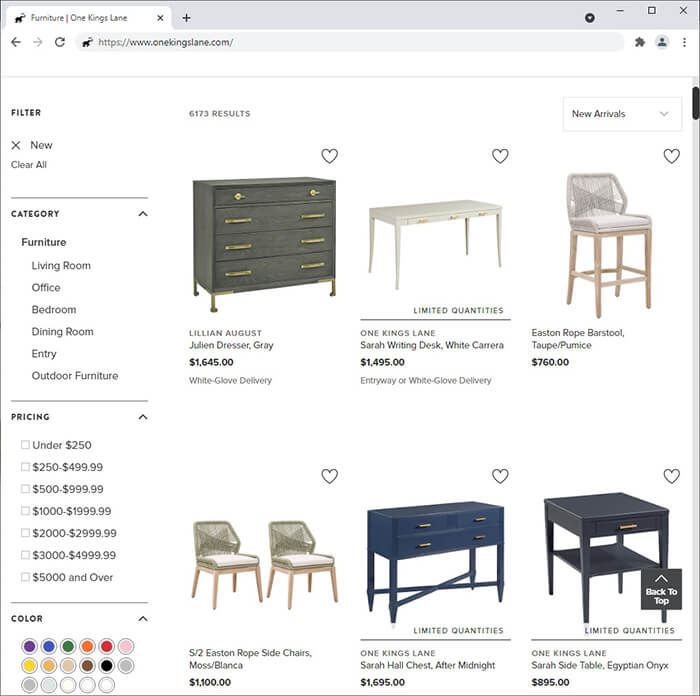 See store: onekingslane.com
One Kings Lane is one of the best places to find furniture that is vintage with the occasional touch of modern. Not only do they offer a great selection of indoor and outdoor furniture, but they also have a wide selection of rugs to match. Instead of worrying about matching an area rug to your couch after your purchase, get ahead of it with One Kings Lane and buy them together.
Their traditional, vintage coffee tables can match almost any decor while bringing a classy look to your home. One Kings Lane has plenty of marked-down furniture for bargain hunters out there, and they are constantly getting new furniture designs to keep their items fresh. If you love anything vintage, then check out One Kings Lane for a classy addition to your home.
8. Serena & Lily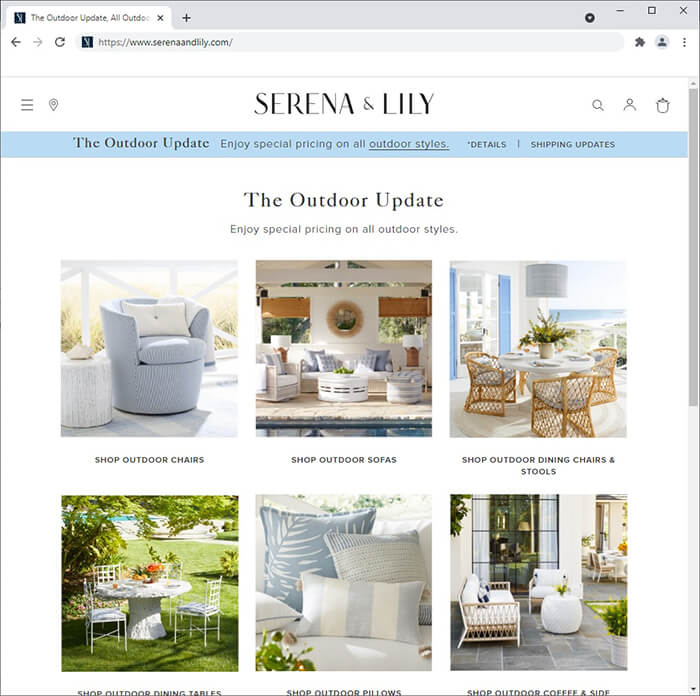 See store: serenaandlily.com
If you're looking for timeless furniture with plenty of pastel choices, then Serena & Lily won't let you down. They have a beautiful selection of outdoor and indoor furniture with plenty of accessories to help bring your home decor together beautifully.
Serena & Lily is a website with furniture that can easily match your existing decor. Also, check out their art collection to add an artistic touch to your home. They have beautiful indoor furniture, but their outdoor furniture truly stands out. There is plenty of outdoor seating including pool-side lounge chairs, and they have cool outdoor blinds to help keep the sun under control on your deck or patio. So, check out Serena & Lily for elegant, pastel furniture choices.
9. Dot & Bo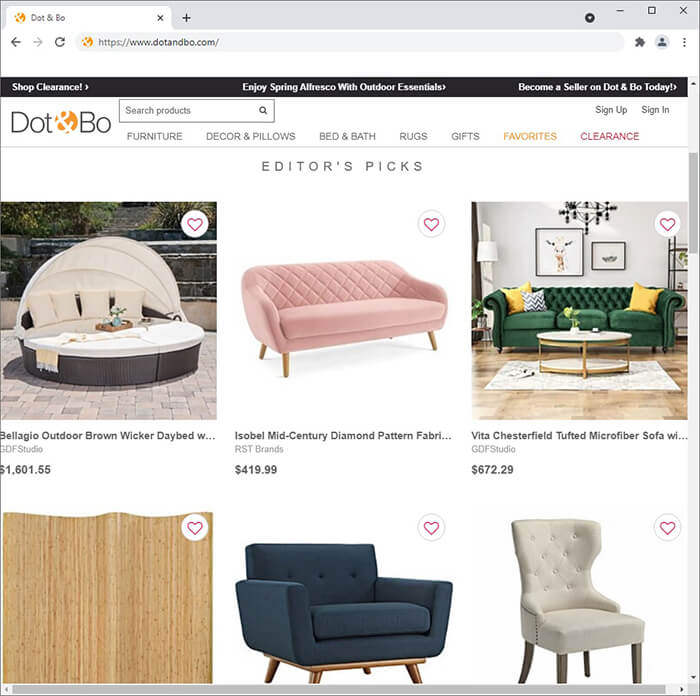 See store: dotandbo.com
Dot & Bo is one of the best online furniture stores for those who love a rustic look with a touch of modern. The rustic feel of their indoor and outdoor furniture is given new life with brilliant pops of color. Dot & Bo has a wide variety of lighting fixtures and cozy pillow and throws.
Whether you want traditional farmhouse rustic or a more modern touch, they have the perfect selection for you. Their one-of-a-kind mirrors and wall decor can help add flair to any room. So if you want furniture and accessories that are cute and cozy, then this is the right place for you.
10. Sweetpea & Willow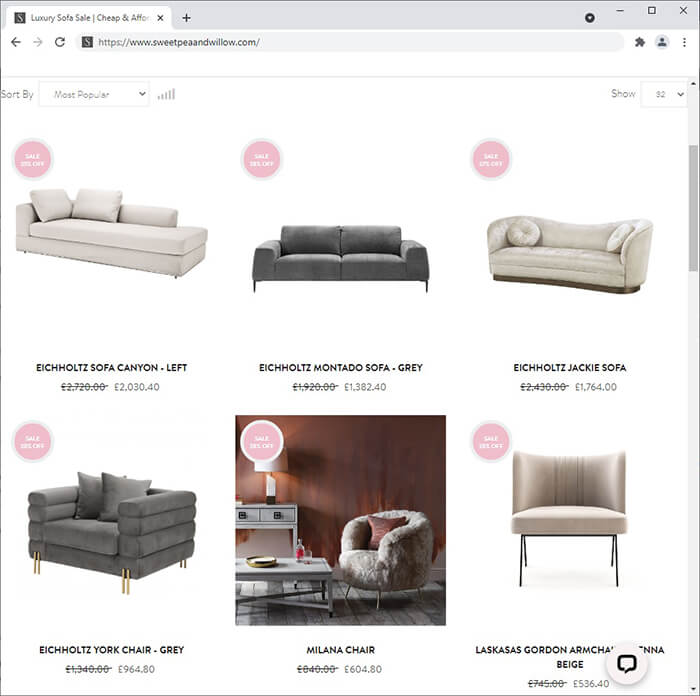 See store: sweetpeaandwillow.com
One of the best online furniture stores for designer quality products is Sweetpea & Willow. From indoor and outdoor furniture to lighting and mirrors, they've got the bases covered. This website is especially convenient for buying gifts as they have an entire section on their website dedicated to gifts for different people. Definitely check out Sweetpea & Willow for designer gifts.
That's not all this online furniture store has to offer. They offer free fabric swatches for those who aren't quite sure what they are ordering. It can be fun to try new material and a swatch is the best way to do that without worrying about returning anything. Sweetpea & Willow also offer price matches for those bargain hunters out there. So, check them out for unique designer gifts and statement furniture pieces.
11. Blu Dot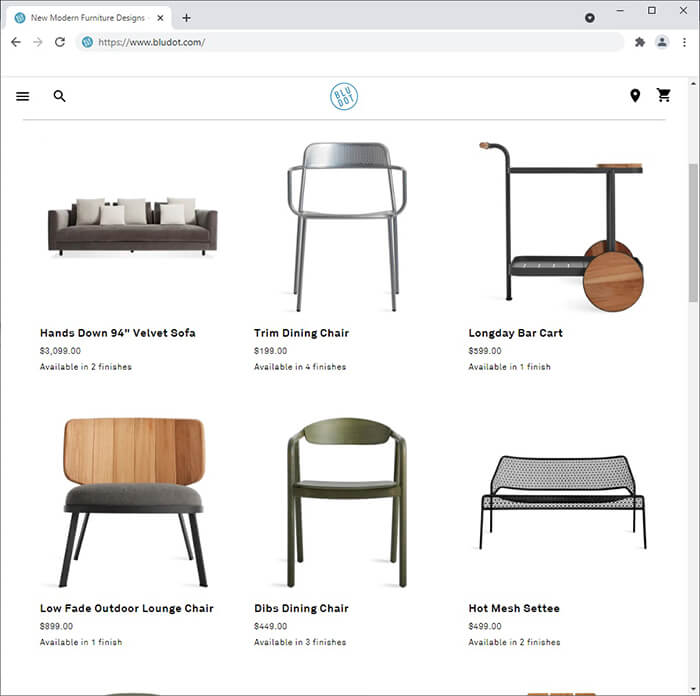 See store: bludot.com
Blu Dot is one of the best online furniture stores for unique products that no one else will have. Their modern furniture might not be a hit with everyone, especially those who like a more classic look, but if you're looking for something more daring, then look no further than Blu Dot.
Blu Dot proudly considers itself a place for cool, unique furniture that can modernize any living space. One of the best things about this online store is that they are constantly innovating and designing new styles. So if you're looking for modern furniture that will stand out in your home, look no further than Blu Dot.
12. Overstock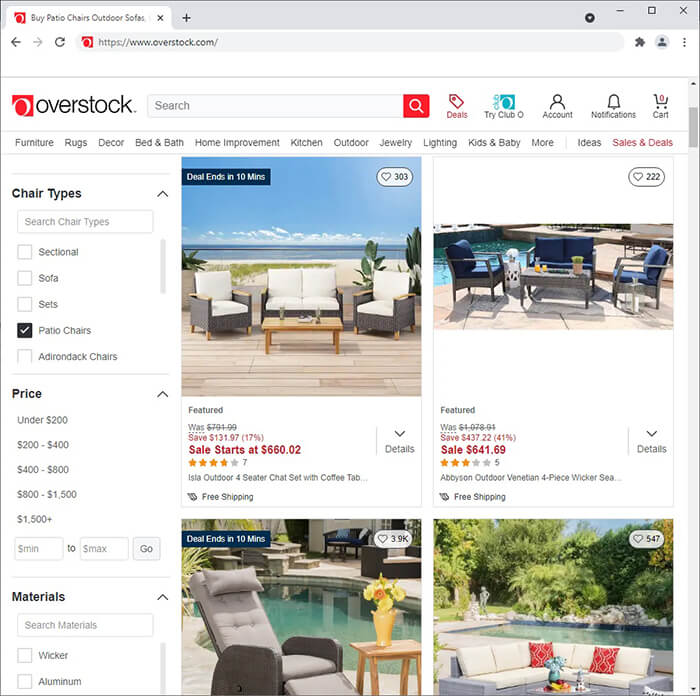 See store: overstock.com
If you're looking for a furniture store online with plenty of options and great prices, Overstock won't let you down. They have always boasted low prices with ever-changing deals and mark-downs. Their website is easy to navigate with plenty of categories marketed for whatever you may be looking for.
Overstock has its own reward program for its members to get special deals. So if you are buying a lot of furniture or plan to buy again soon, then a membership could save you money on your new furniture. Overstock is a dependable website that considers itself the best in low prices and in-stock furniture.
13. AllModern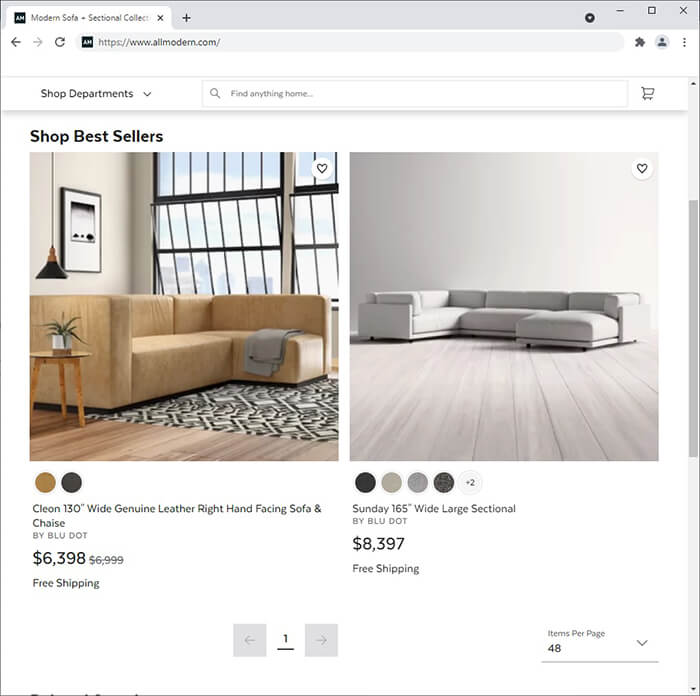 See store: allmodern.com
If you're looking for a furniture store online that offers plenty of outdoor options, then AllModern is the perfect option for you. From fire pits to patio umbrellas, they have plenty of unique outdoor options for you to choose from. AllModern also has a full section for lighting, both inside and outside.
One of the most unique features of their website is that AllModern offers an entire section dedicated to home improvement. If you're looking for a website with furniture and home improvement options, then this store is worth checking out. From vanities, tiles, faucets and even toilets, AllModern is certainly a one-stop-shop.
14. Apt2B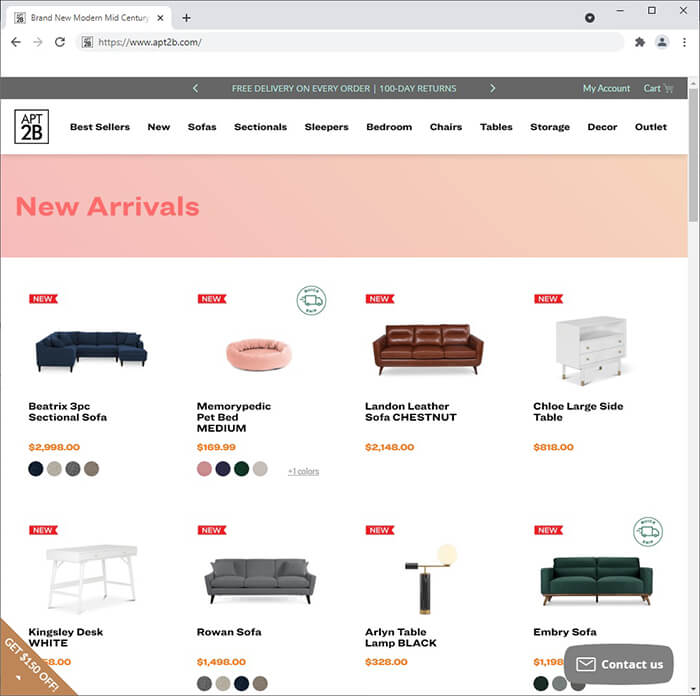 See store: apt2b.com
Apt2B is a unique website with furniture options that are modern, cool and affordable. They offer returns within 100 days. So if you want to try out some furniture without being stuck with it, then Apt2B may be the right choice for you. Their wide variety of furniture for every room in your home truly sets them apart from other stores. If you're looking for one-of-a-kind designs and fresh colors, then they certainly have it.
With their constant flow of new arrivals, you can see what brand new colors and trends are in at the moment. Apt2B is the best place to find furniture that fits your modern lifestyle. They also offer pet beds for your furry friend. So, you never have to worry about the dog's bed clashing with your other furniture.
15. World Market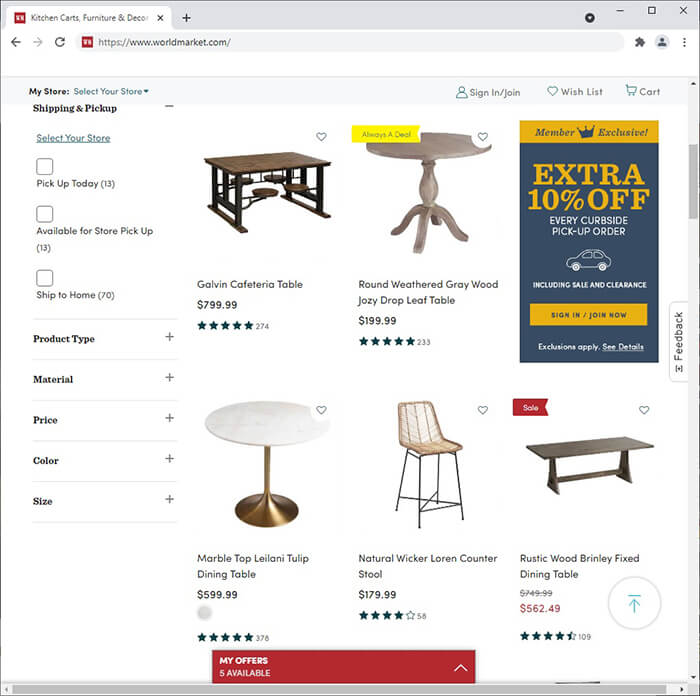 See store: worldmarket.com
World Market is one of the best places to find furniture if you're looking for a great deal. They have a huge sale section where you can comb through all their sale items. The unique variety that they offer is sure to give you inspiration for finding the right furniture for you. World Market offers shipping and pick-up options so you can get your order however you want.
Their website has a helpful section for those who haven't quite decided what type of furniture they are looking for. Their inspiration section allows you to get some refreshing ideas for what to do in your home. So, if you're looking for fresh ideas and a decent sale section, check out World Market to find exactly what you need.
Upgrade Your Furniture Easily with these 15 User-friendly Online Stores
In conclusion, there are plenty of amazing furniture choices out there, and no matter what you're looking for, these online furniture stores are the best places to go. Find whatever you need at these places, whether you're looking for modern, vintage or completely unique items. The best way to save time shopping is to know which online stores offer the options that you need. So whether you're looking to redo your living room, dining room, kitchen or home office, these stores have you covered.