It's that time of year again. The holidays are upon us, and if you're like most of us, you are looking forward to them with equal parts trepidation and joy. Yes, this is the season to spend time with friends and family, but it is also the season your relatives conduct their thinly veiled semi-annual home inspection. Between extra decorations and extra people, your home can start to feel like a hobbit hole. Save your sanity and keep your guest comfortable by taking the time to invest in simple hacks that help you organize your home or apartment now before the holidays arrive.
16 Clever and Nifty Organization Ideas for Every Room in Your Home

Yes, getting organized can be a hairy proposition, especially if you live in a smaller home or apartment. However, using a few simple tips you can learn how to clean up the clutter, ace adulting and maximize space with plenty of time left to trim the tree. Keep reading for 16 brilliant organization ideas you don't have to be Martha Stewart to make the most of.
1. Maximize Shelf Space with Mason Jars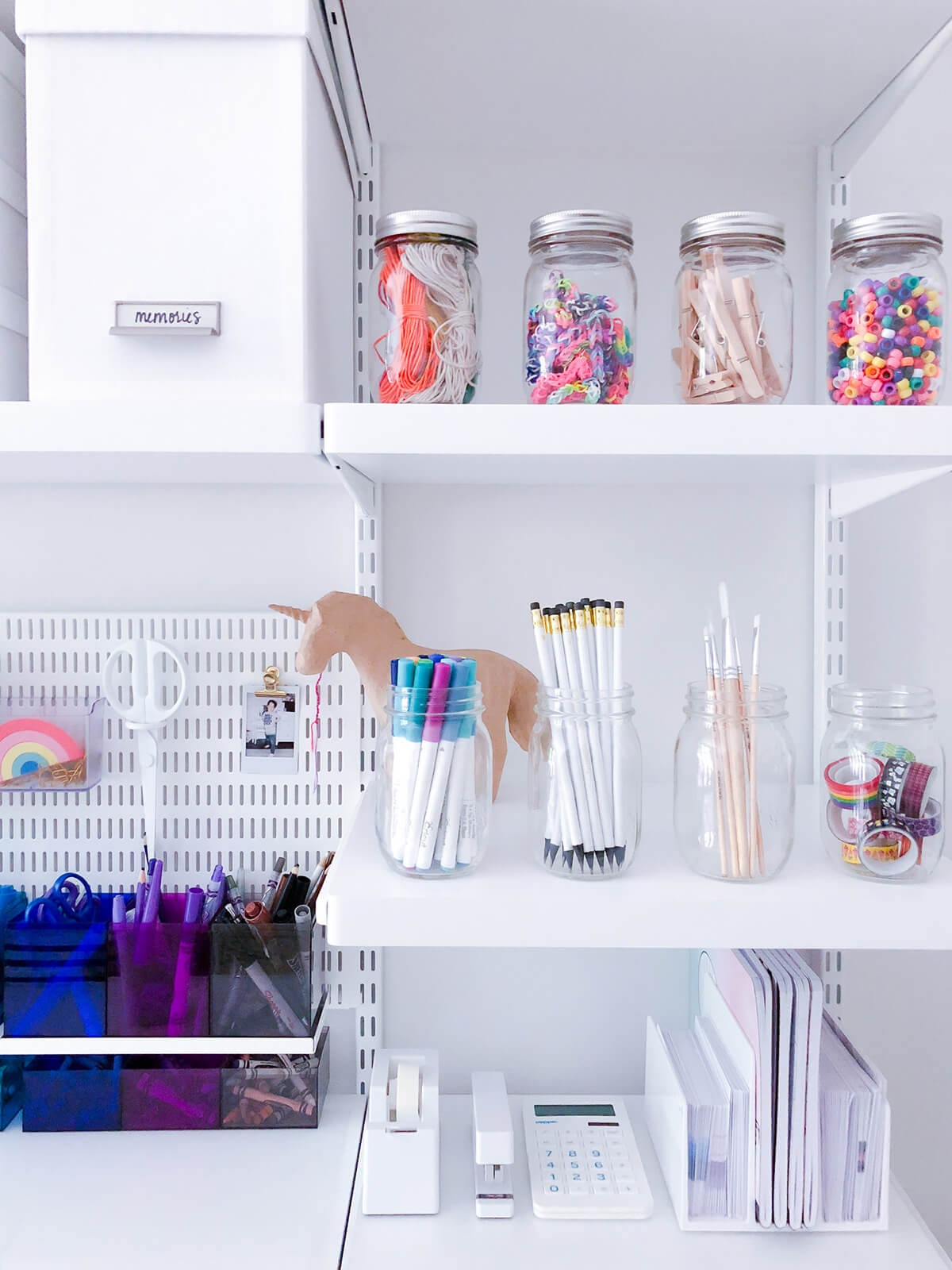 Office supplies like push pins, binder clips, and ink pens have a tendency to get lost over time. Keep small and medium-sized items from rolling all over your desk drawers by storing them in mason jars instead. Don't forget to put a lid on the jars that hold smaller items like beads and paper clips.
2. Tighten Up Under Sink Area with Tension Rods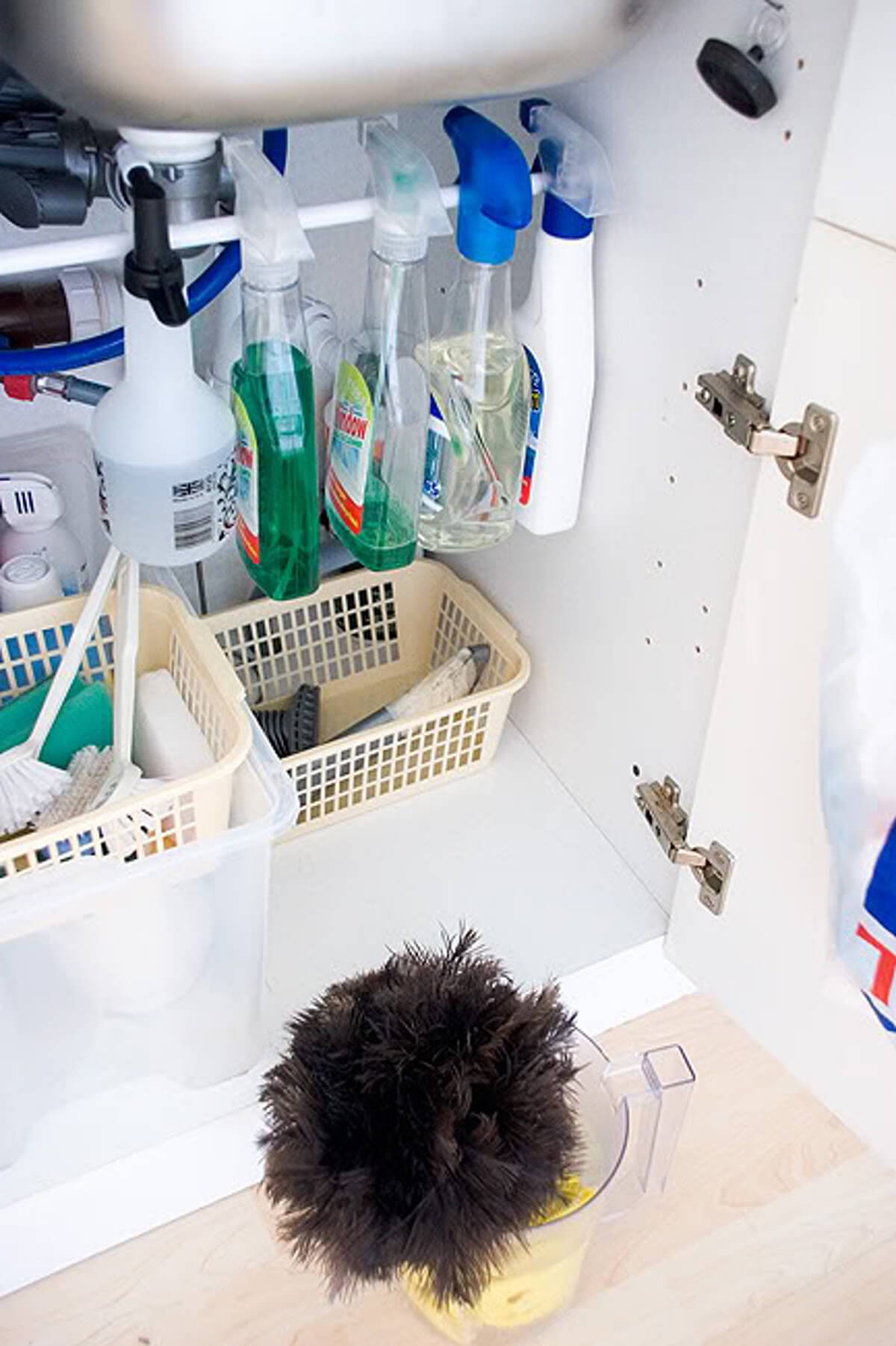 The under-sink area is one of the most difficult places to keep neat. By installing a tension rod, you have a place to hang cleaning sprays, extra dishcloths and bar towels. Add a few shoe storage containers or a shower caddy to keep larger bottles organized, and you'll have a space even your mother in law can't find fault with.
3. Pink Pegboard for Tools and More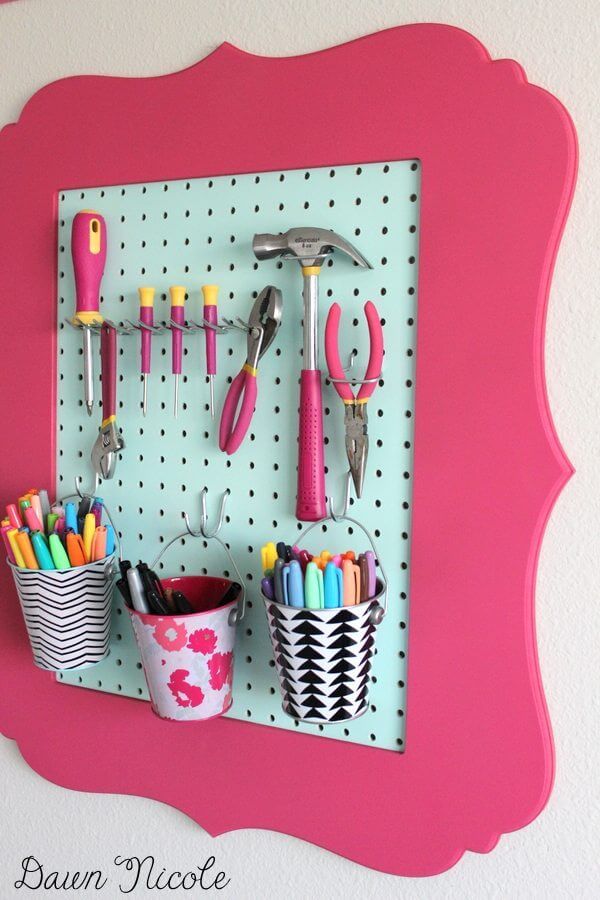 Instead of a toolbox that is unwieldy and has to be hidden out of sight, why not use a pegboard to display and store items? Pegboards are great because the way you can use this organizational idea is endless. Keep your keys in sight and your tools close at hand by purchasing a variety of hooks to accompany your board.
4. Over Door Storage Makes Giftwrap a Snap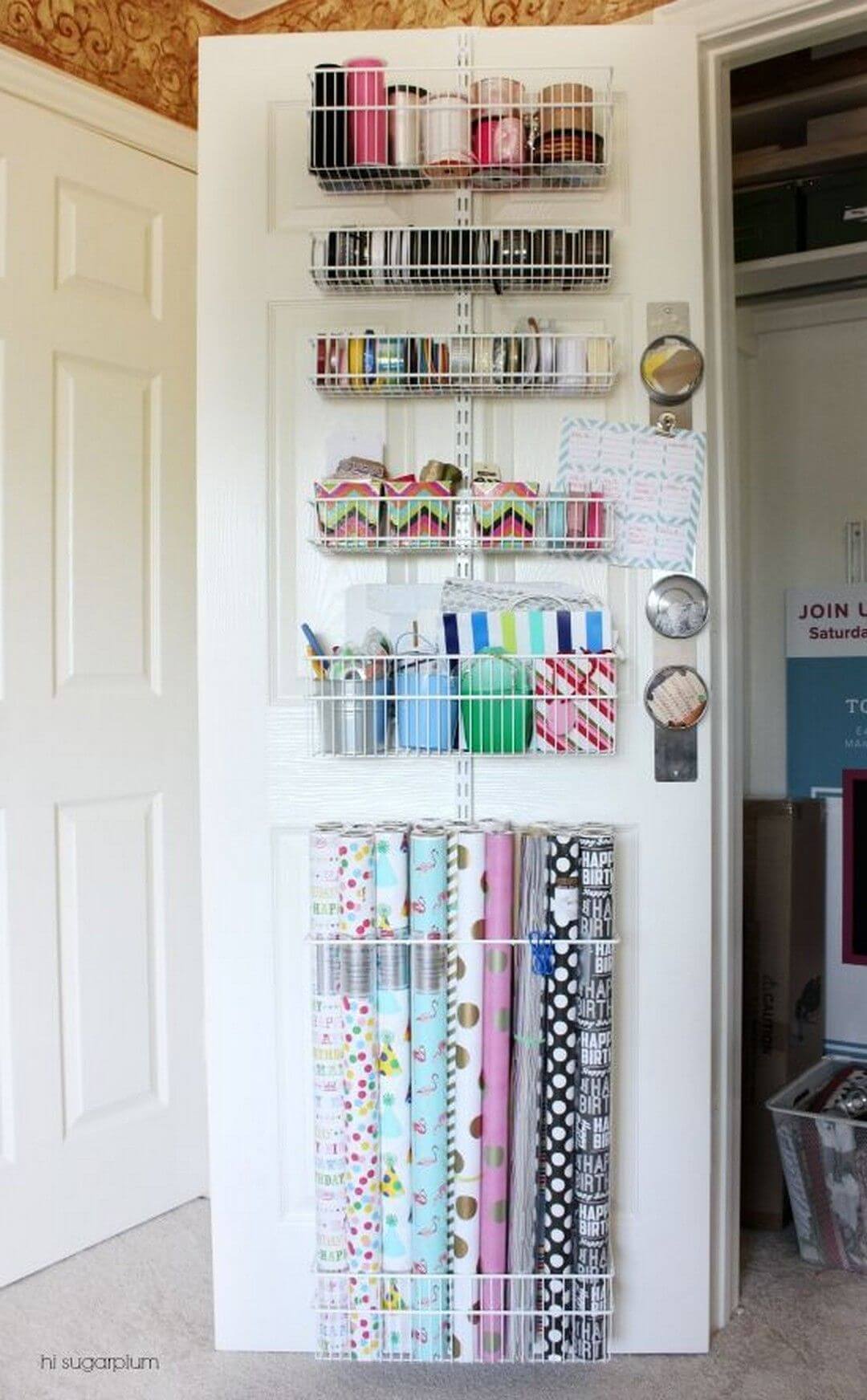 I like to receive beautifully wrapped presents as much as the next girl, but I don't like purchasing rolls upon rolls of ribbon and paper that I will only use half of and that will go missing or get destroyed by the same time next year. This organizational hack maximizes closet space and minimizes potential damage to fragile paper.
5. Wire Baskets Get You All Sorted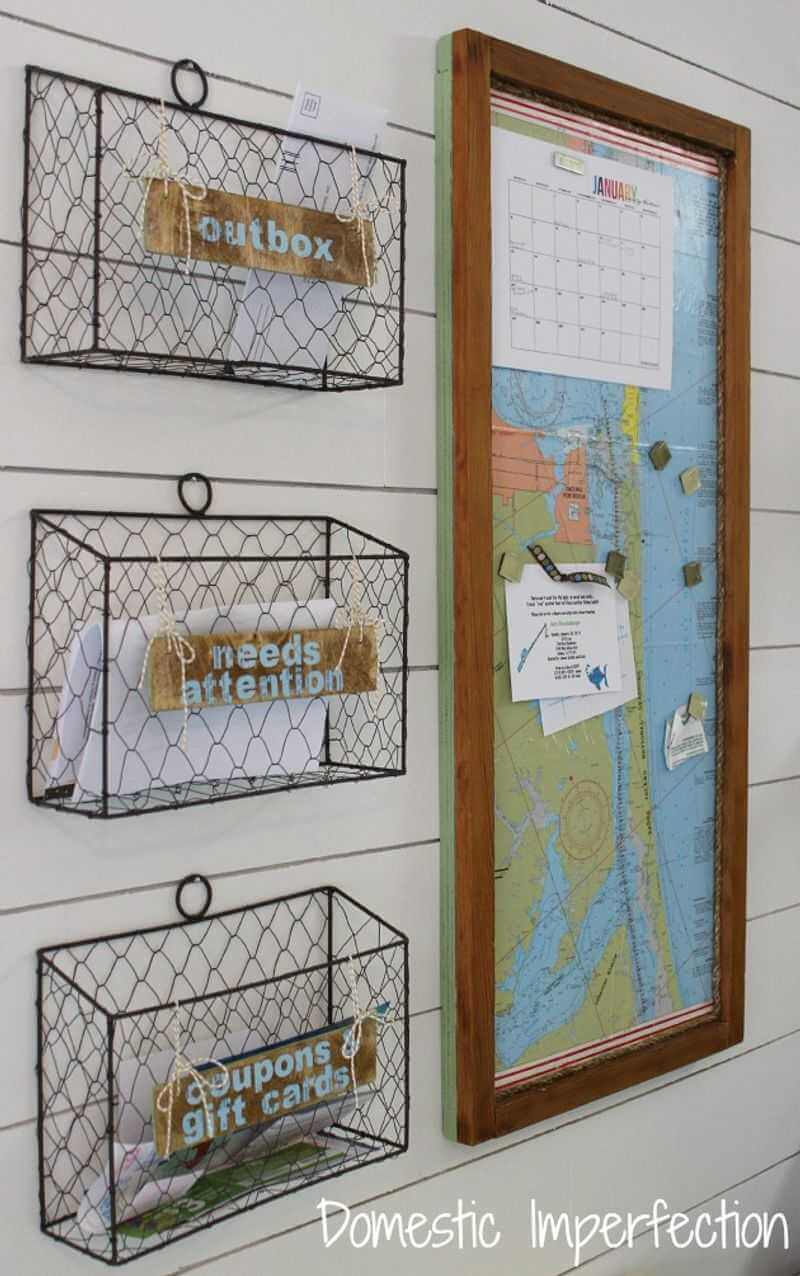 It seems like you get extra circulars around the holidays. Keep your tables decluttered by sorting mail immediately. This doesn't have to be a complicated system, in fact, simple is better. Wire baskets for outgoing mail, bills and coupons are plenty to start with. Anything that doesn't fit into those categories is probably safe to throw away!
6. Keep Drawers Organized to a Tea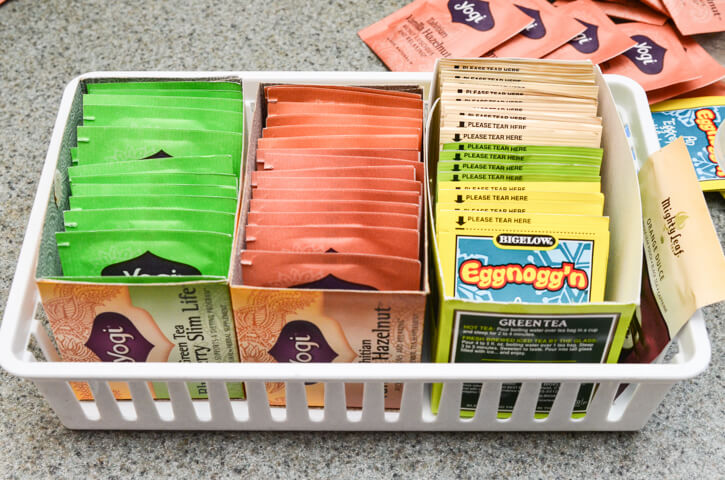 Here's a cool hack. Cut or tuck in the top of your tea box and store your tea in a small plastic bin to keep it organized. You can leave this right on the counter or slide it in a kitchen drawer to keep tea close at hand during winter months when you find yourself making more hot drinks.
7. Magnetic Refrigerator Strips Save Space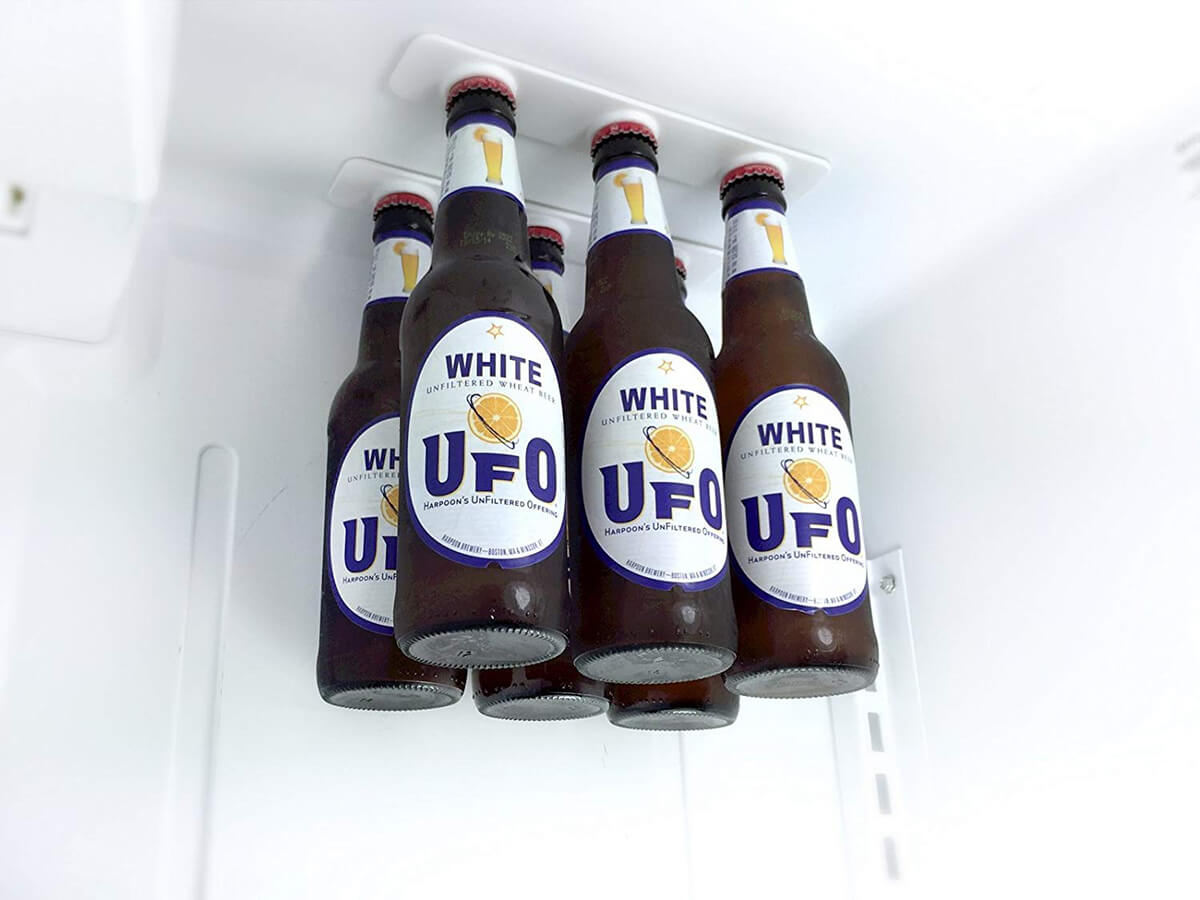 Organization ideas that maximize fridge space are always essential during the holiday season. Make more room for Turkey with these magnetic strips that allow you to hang beer and soda bottles from the top shelf, saving refrigerator door and shelf space at a time when space is at a premium.
8. Avoid Clutter by Keeping Bags Organized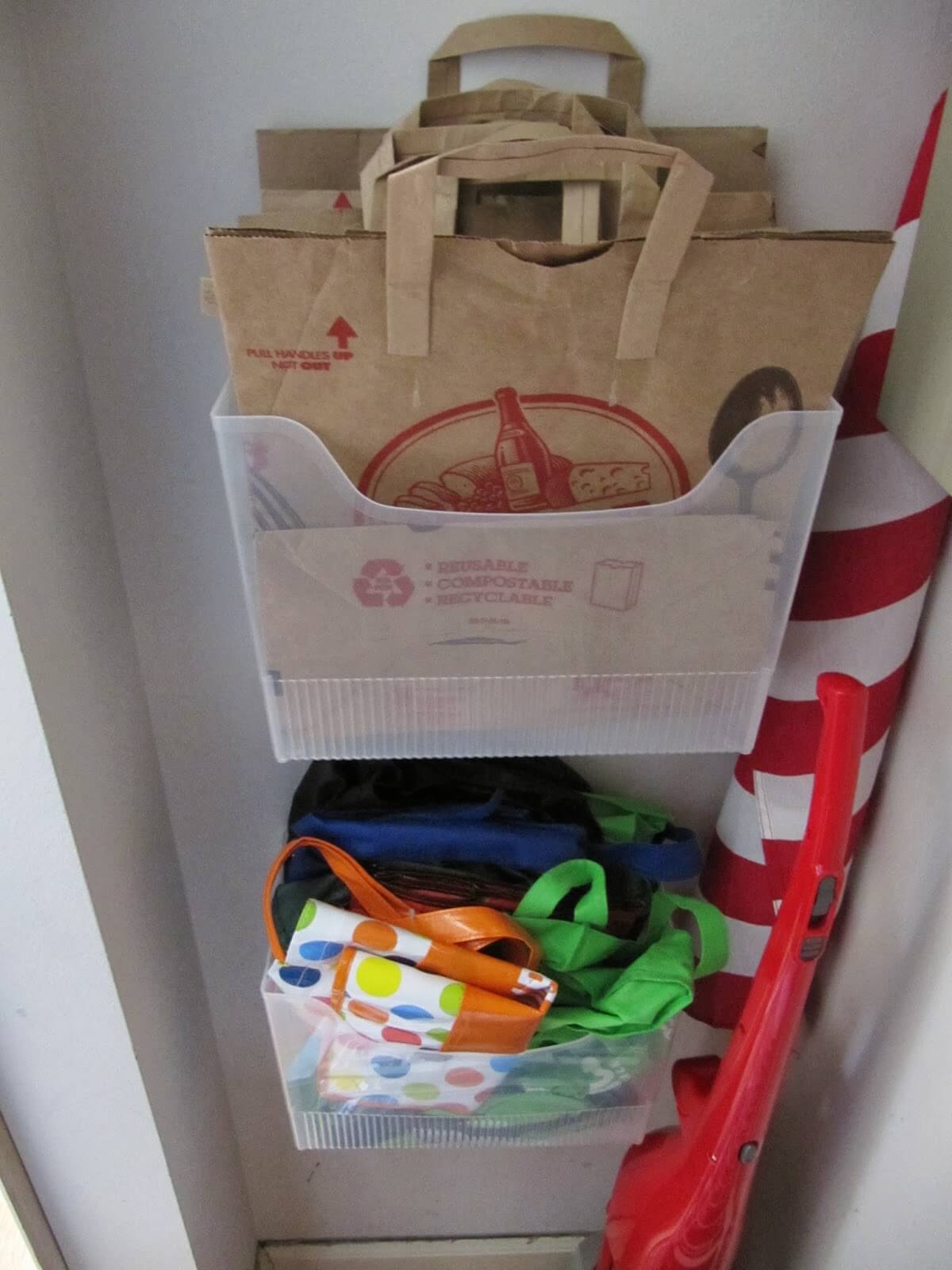 Maybe you hang on to grocery bags to reuse for smaller garbage cans. The problem is, over time they end up all over my floor or hiding in corners and you get frustrated and throw them all out. This tip helps keep bags neat and organized while still keeping them in plain sight for easy access.
9. Pimp Your Pantry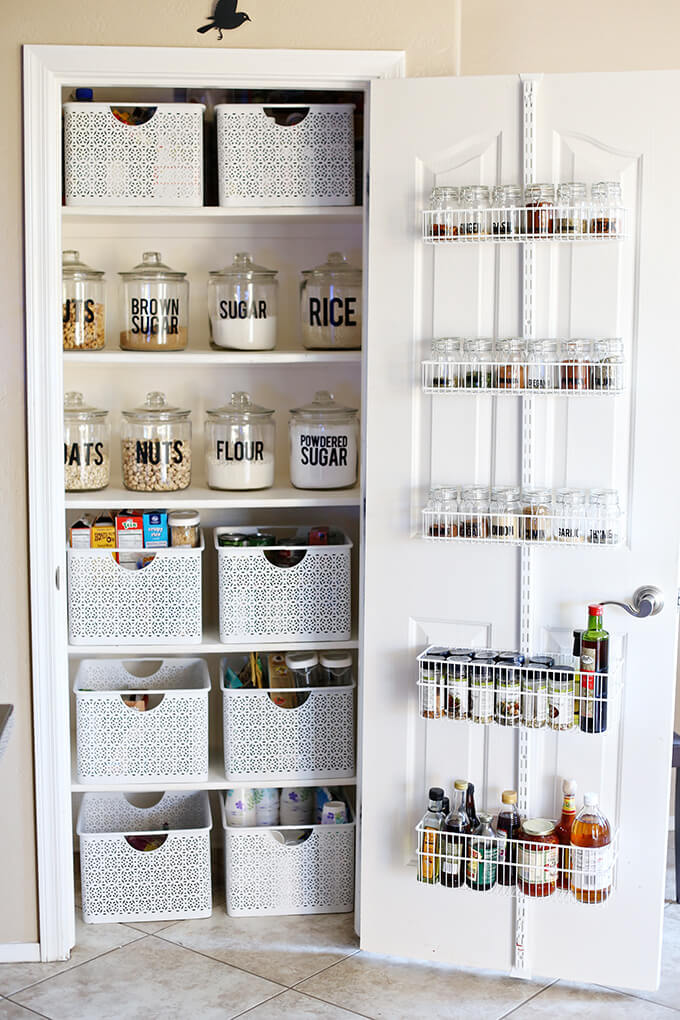 Putting all of these organization ideas into action will take some doing, but it's worth the effort to know you have an immaculately organized pantry. Black sticky letter on glass storage containers makes it easy for visiting friends and family to know how to put everything back in its proper place.
10. Put a New Spin on Spice Racks
Spice racks take up a lot of cabinet space and are a pain to keep well organized. Some of the spices you use most often end up lost in the back of your cupboard. This DIY magnetic 'spice wheel' solves saves you space and frustration by keeping frequently used ingredients easily accessible.
11. Binder Clips for Small Space Solutions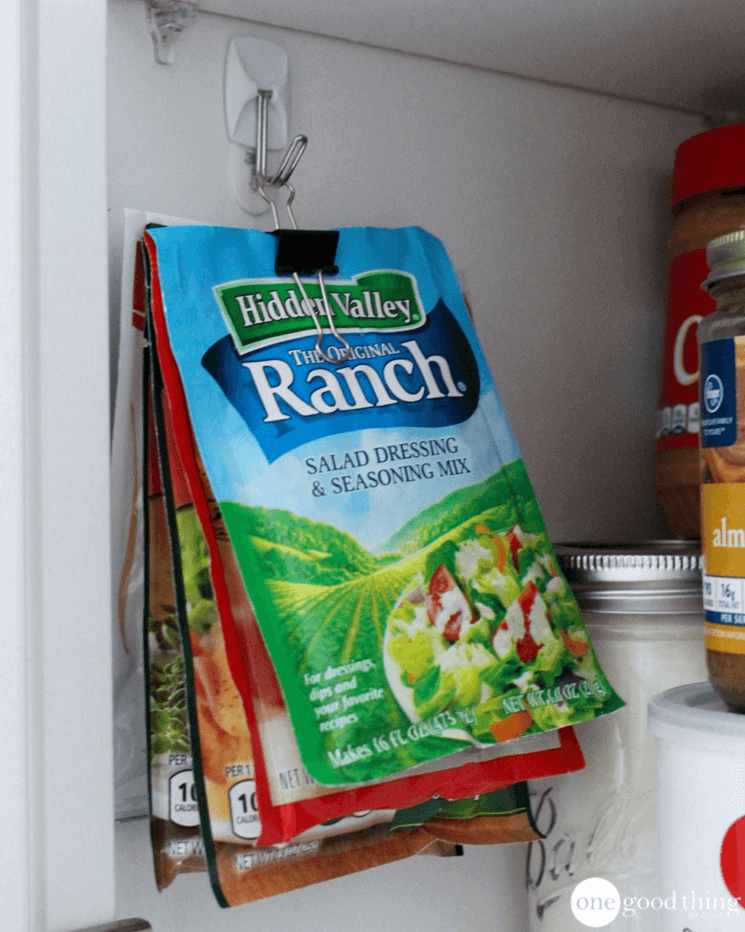 There really are a million ways to use binder clips. All you need is a binder clip and a command hook to turn any available surface into storage space. Keep track of large spice packets after opening by clamping them with binder clips and hanging them inside your pantry or spice cabinet.
12. Stackable Rubbermaid Bins Keep Basements Beautiful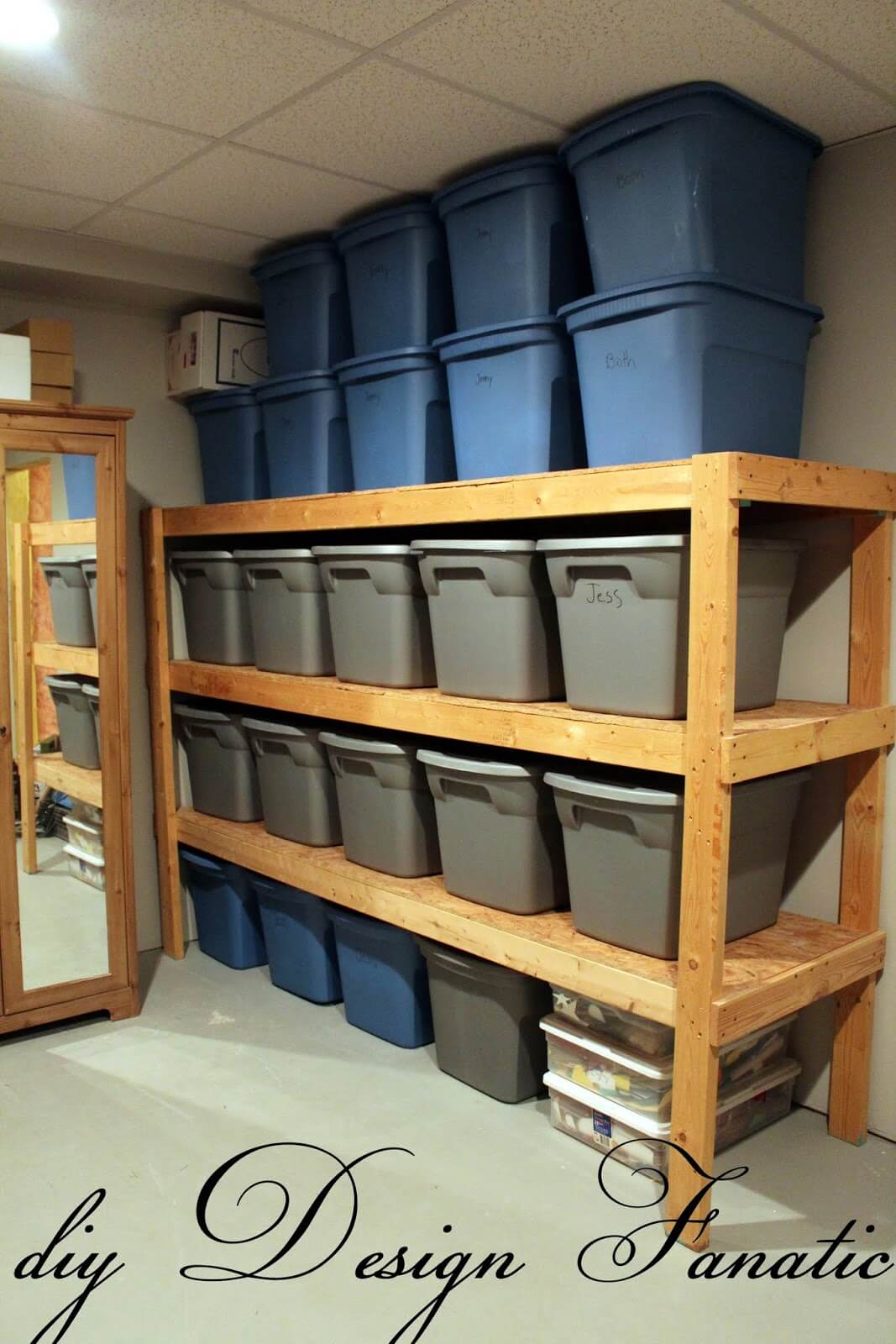 Save space by packing away summer clothes and supplies like portable coolers and box fans. If you have an old bunk bed frame, it easily transforms into shelf space you can stack your storage crates on. If not, this is an easy and affordable DIY project to that only takes a few nails, a drill, lumber, and time.
13. Rolling Carts Keep Things Moving Forward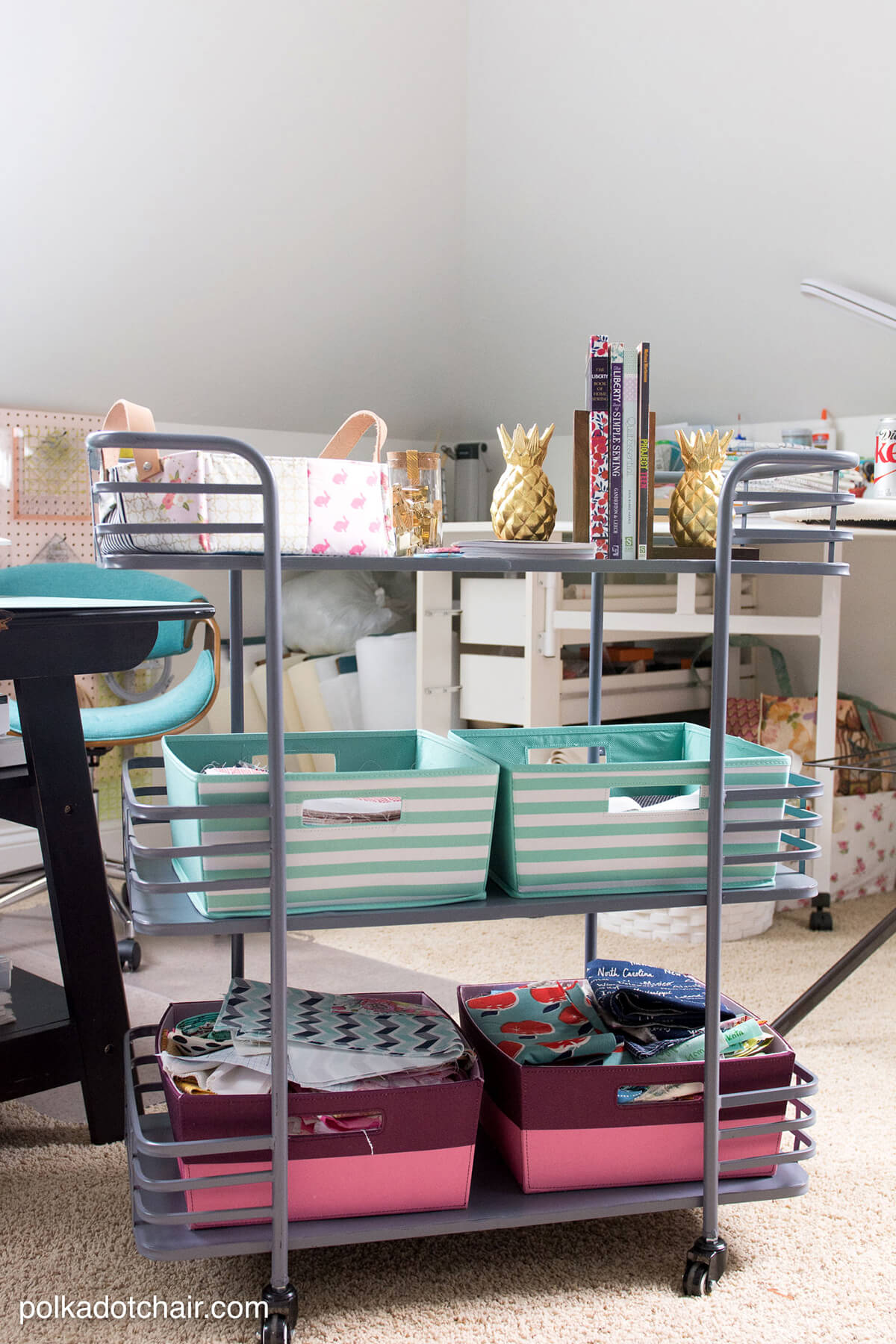 Rolling carts are great for more than just serving holiday-themed cocktails. They can be used to store and sort important papers or office supplies. With the addition of a few decorative cardboard and collapsible cloth boxes, you can easily minimize clutter and turn a simple rolling cart into an office on wheels.
14. Cleaning Supplies Simplified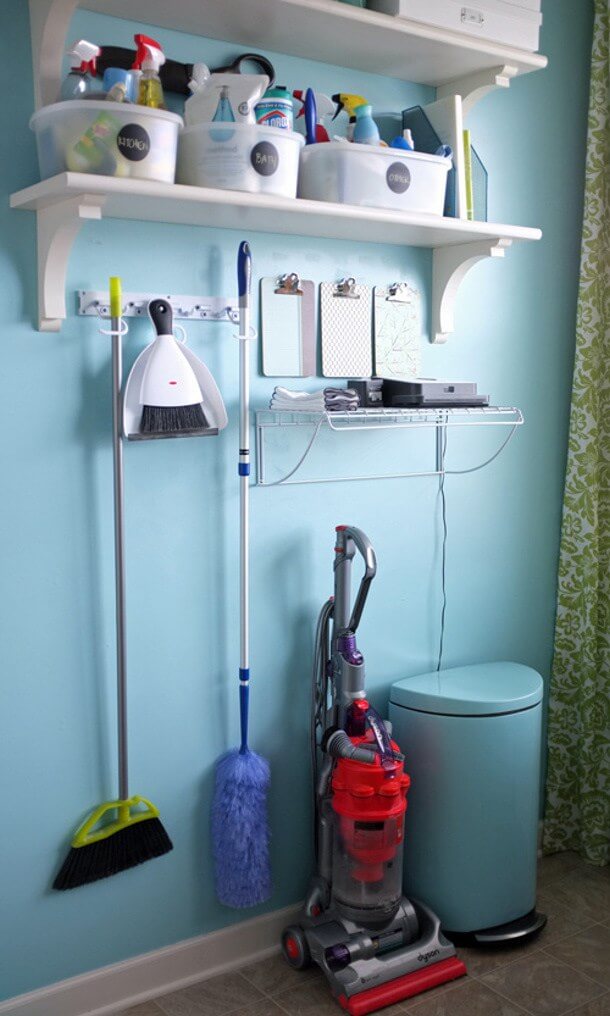 Winter snow and road salt tracked in on peoples boots can ruin your floors, so you need to keep cleaning supplies around at all times. Instead of stashing cleaning supplies in multiple rooms, simplify and de-clutter by setting up a cleaning station? Command strips keep your mop, broom, and dustpan out of the way but still easy to find.
15. Keep Teeth and Towels Neat with a DIY Organizing Rack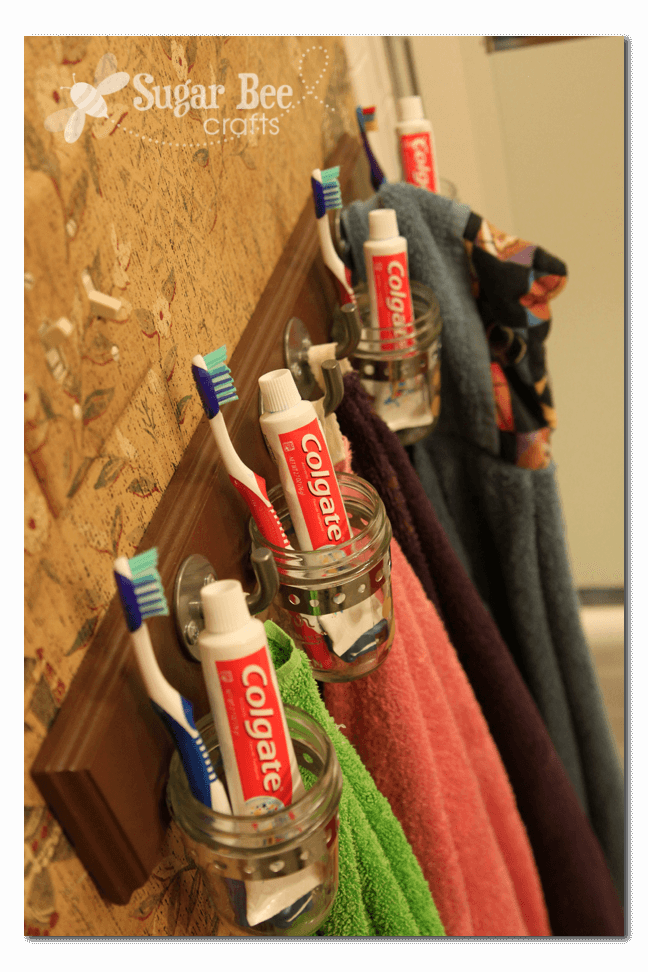 If you have a house full of people, you probably have a bathroom counter full of toothbrushes, toothpaste, and razors. Repurpose a candle holder rack by adding hooks you can use to store towels. We can't guarantee this will stop grandpa from borrowing your razor, but it's definitely worth a try.
16. Maximize Medicine Cabinet Space using Magnets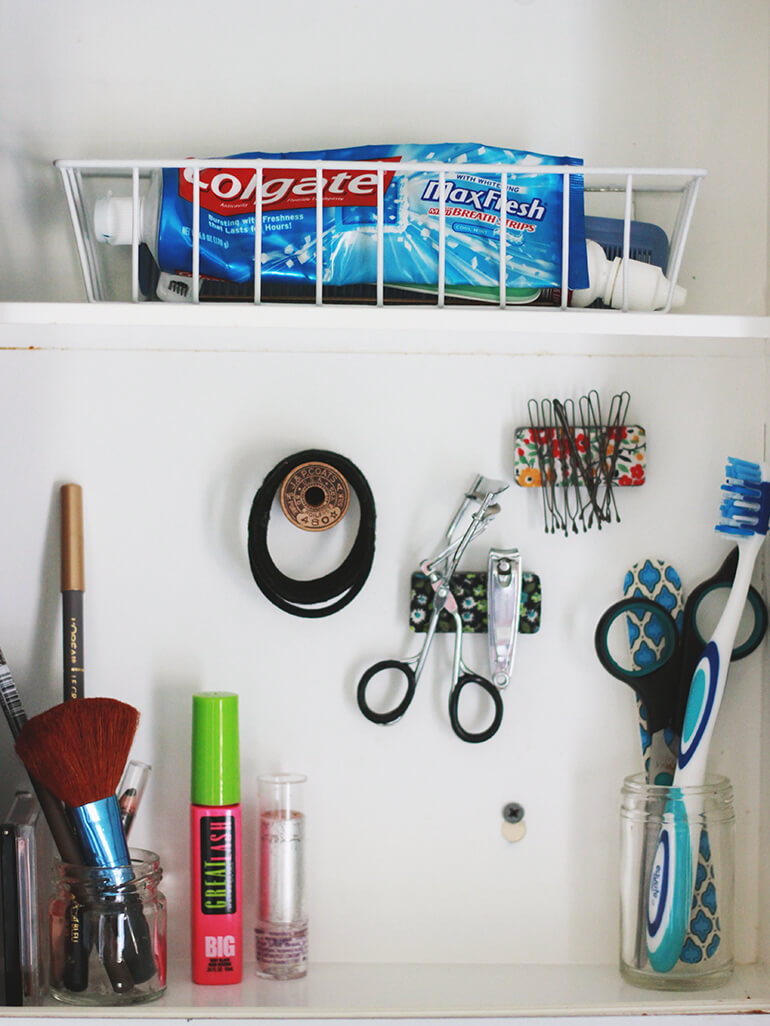 Magnets are a perfect way to keep track of easily lost items like bobby pins, eyelash curlers, and tweezers. Add a drawer or desk knob handle to your medicine cabinet to keep track of ponytail holders. Other small items like makeup brushes and mascara tubes fit neatly in old jelly jars.
Our Favorite Farmhouse Storage Items to buy on Amazon