15. Yuletide Votive Logs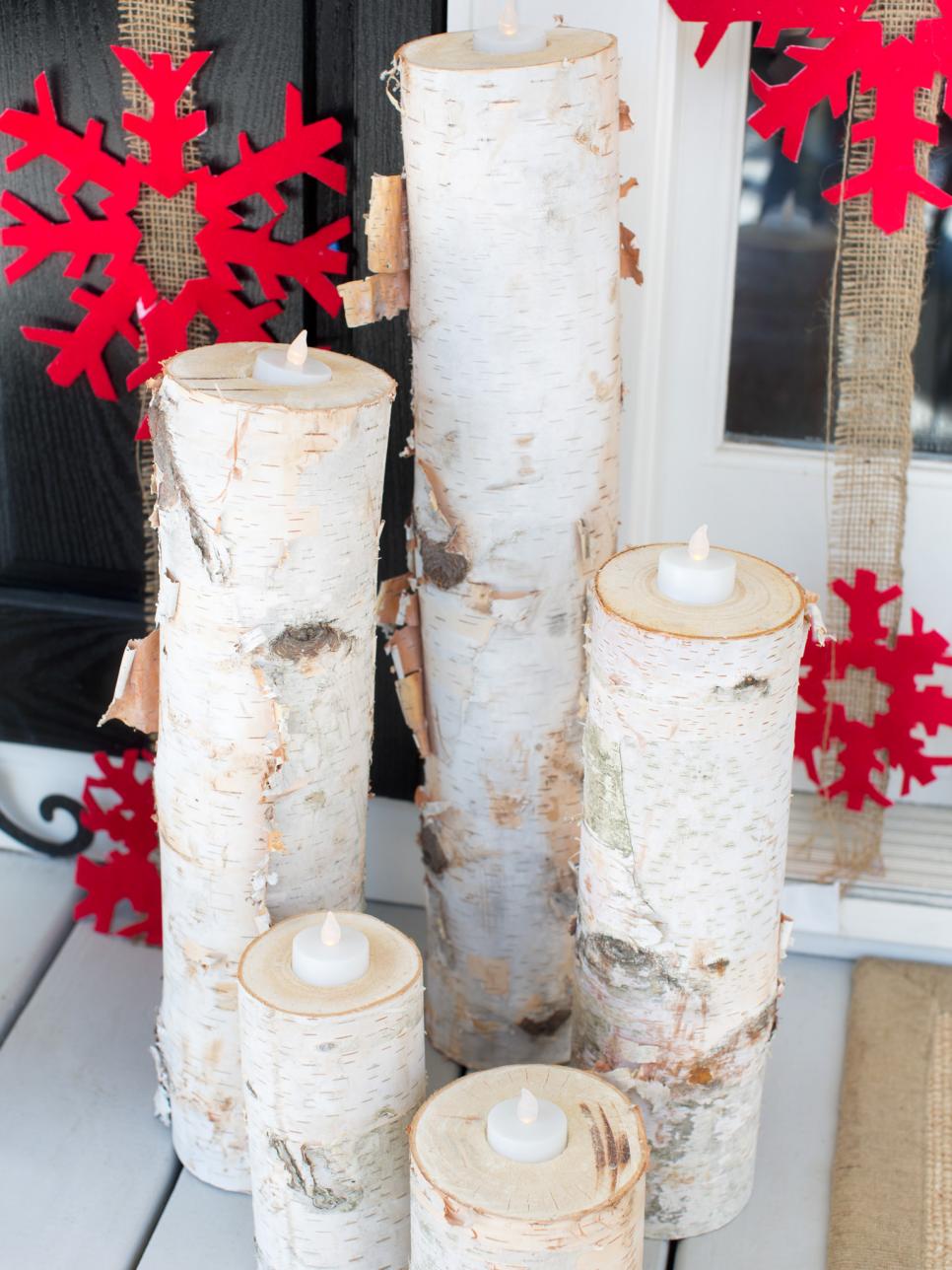 This idea uses logs found in your fireplace or outdoor log storage area to create a lighted Christmas decoration. Carve out holes on one side of the log and place a votive candle in the middle of it. The candles can be the same color or various colors. They can be lighted with matches or to protect your children and pets battery operated. Simply slide the switch and illuminate your entryways with these holiday lights. This decoration can stay out past Christmas and be a winter decoration. Once finished, the logs can be recycled.
16. Poinsettias Galore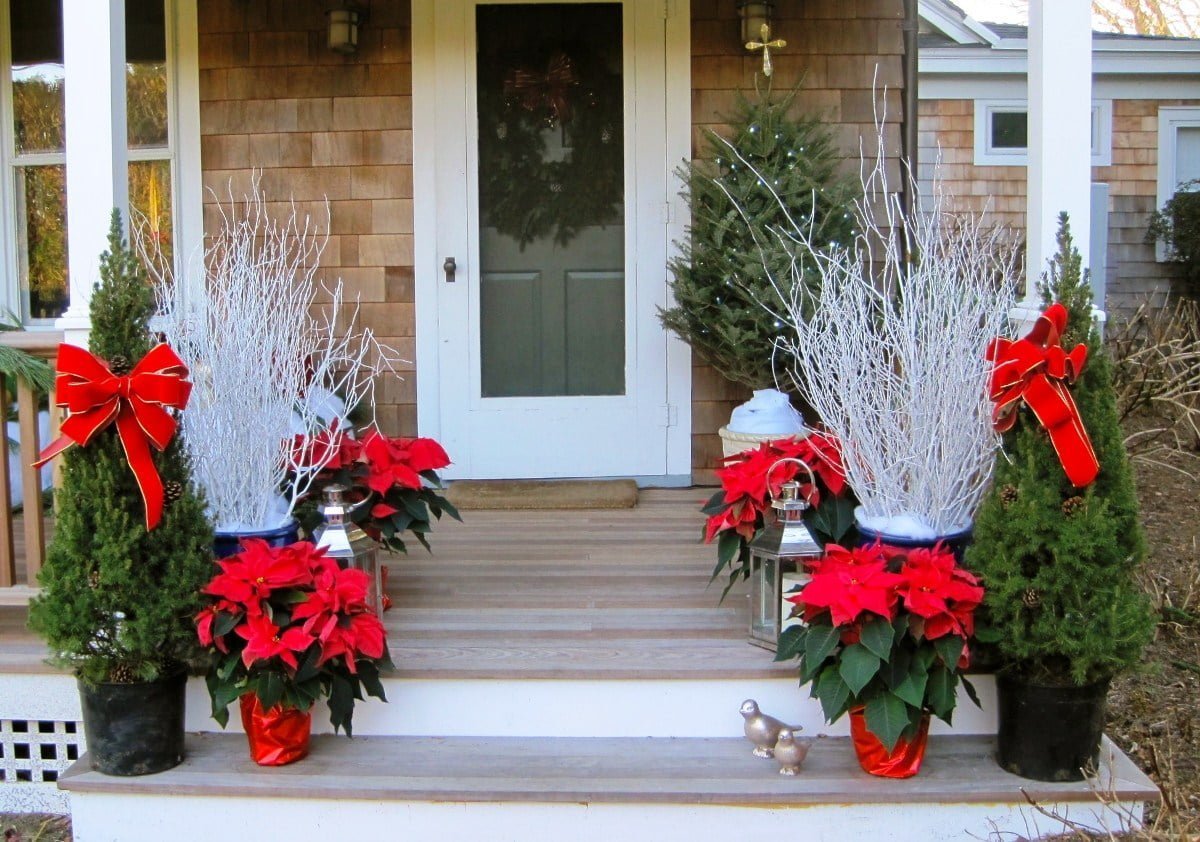 Source: Pinterest
These Christmas outdoor decorations combine many elements to illuminate and decorate steps leading into your home. In this idea, the outdoor Christmas decorations come in pairs – the boxwood trees, the white branches, and the glass lanterns are displayed on each side of the staircase. Since the focal points are the bright red poinsettia plants, place four of them on the steps, two on each side. Tie your looks together by placing red bows, the same hue as the poinsettias, to each of your boxwood trees. You can spray paint the branches white to create the look featured.
17. Framed Entryways Outdoor Christmas Decoration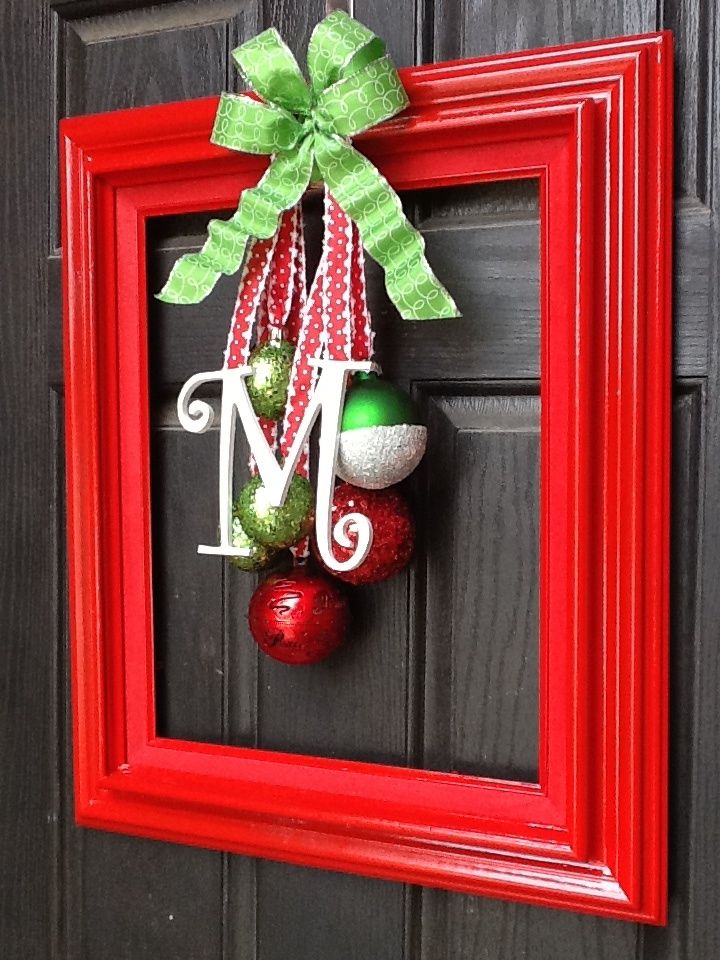 For those looking for an idea to mix up the traditional hanging of a wreath on their home's entrance door, hang a frame in place of a wreath and adorn accordingly. Find an old frame at a garage sale and paint it bright red. This will function as the wreath frame. While the idea features a square frame, you can use a circle or oval shaped frame. In the middle display a green bow and hang ornaments down the middle of the frame with bright red and white ribbons. Add your monogram to complete the look.
18. Oh Starry Lights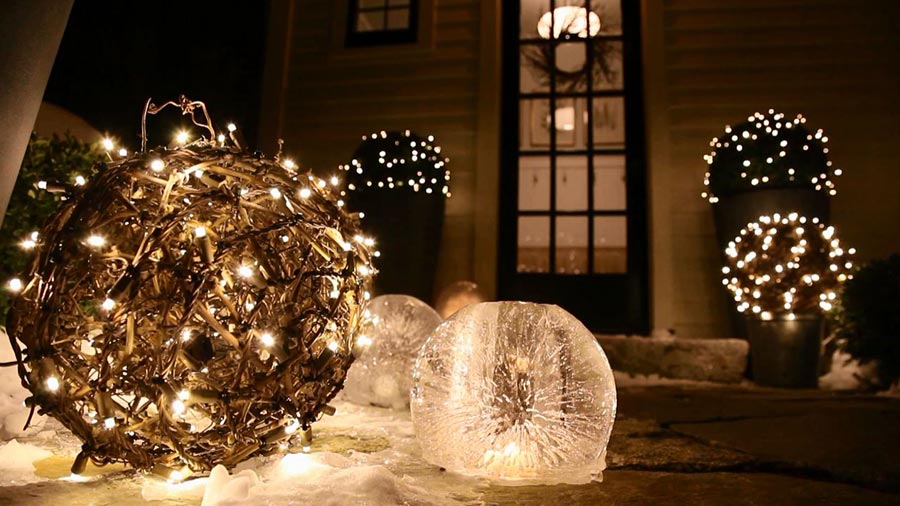 This idea uses objects found in your entryways and then adds several more objects using a similar theme to illuminate dark areas, complement starry skies, and connect you with the winter season. Here, the three planters contain round topiary or shrubs that are decorated with clear lights. Grouped close to the home's entry way the spheres are the shape to follow. The yard contains a large sphere made of twigs that has electric lights strung all over it and two large clear balloons with electric lights inside that create the illusion of large illuminated ice cubes.
19. Cinnamon and Pine Needles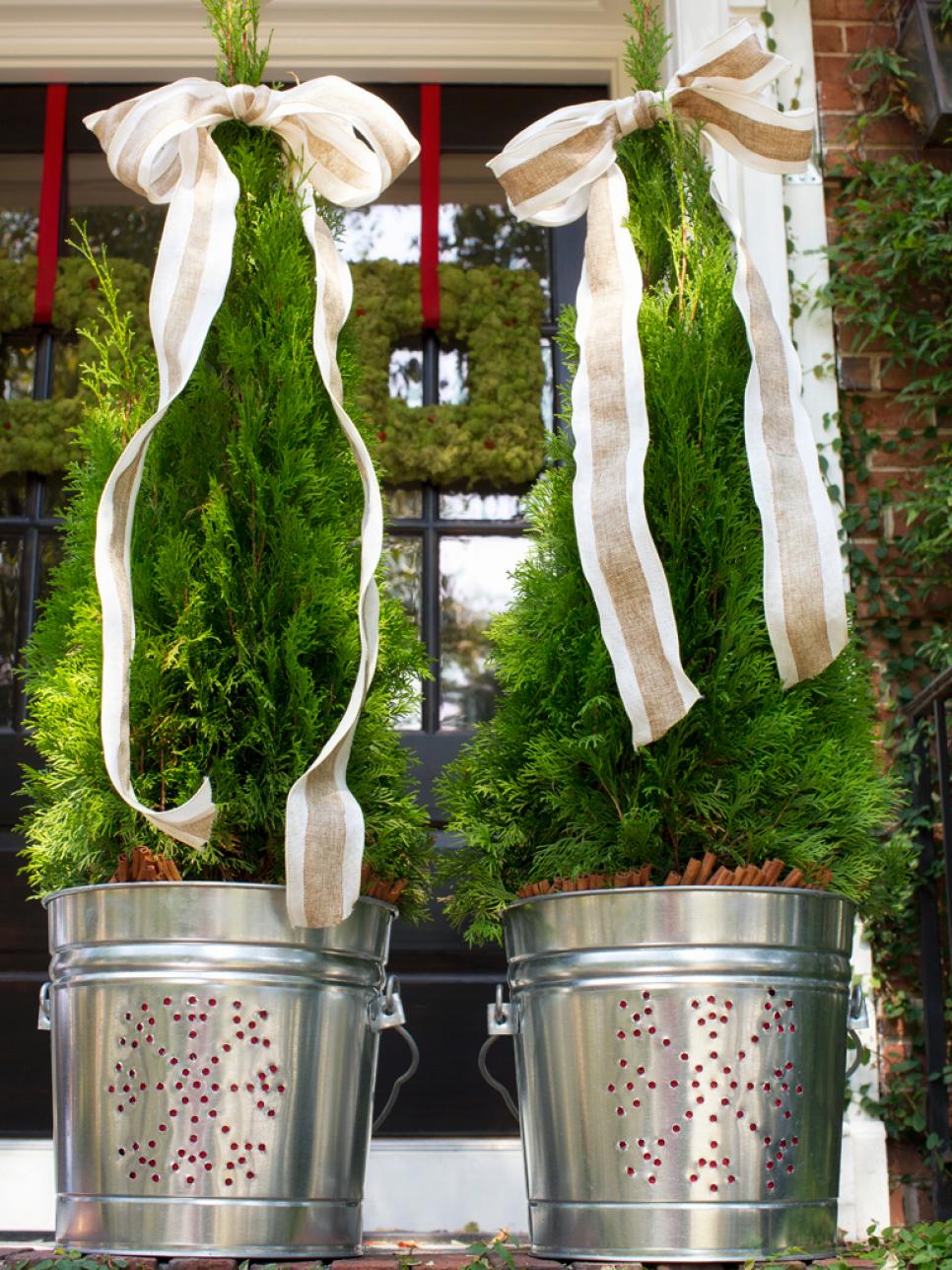 Nothing says Christmas like the scent of cinnamon and pine needles. This decorative touch adds both sensory and visual appeal to your homemade Christmas decorations. From a distance the idea highlights two pine trees, simply decorated with a tied bow and white ribbons hanging down the length of the tree. The trees are placed inside silver metal buckets. Upon closer inspection however, the buckets contain holes punched out to form the image of a snowflake and the top of the bucket is lined vertically with cinnamon sticks, lending a unique sensory appeal to the decoration.
20. Chalkboard Reindeers Christmas Decoration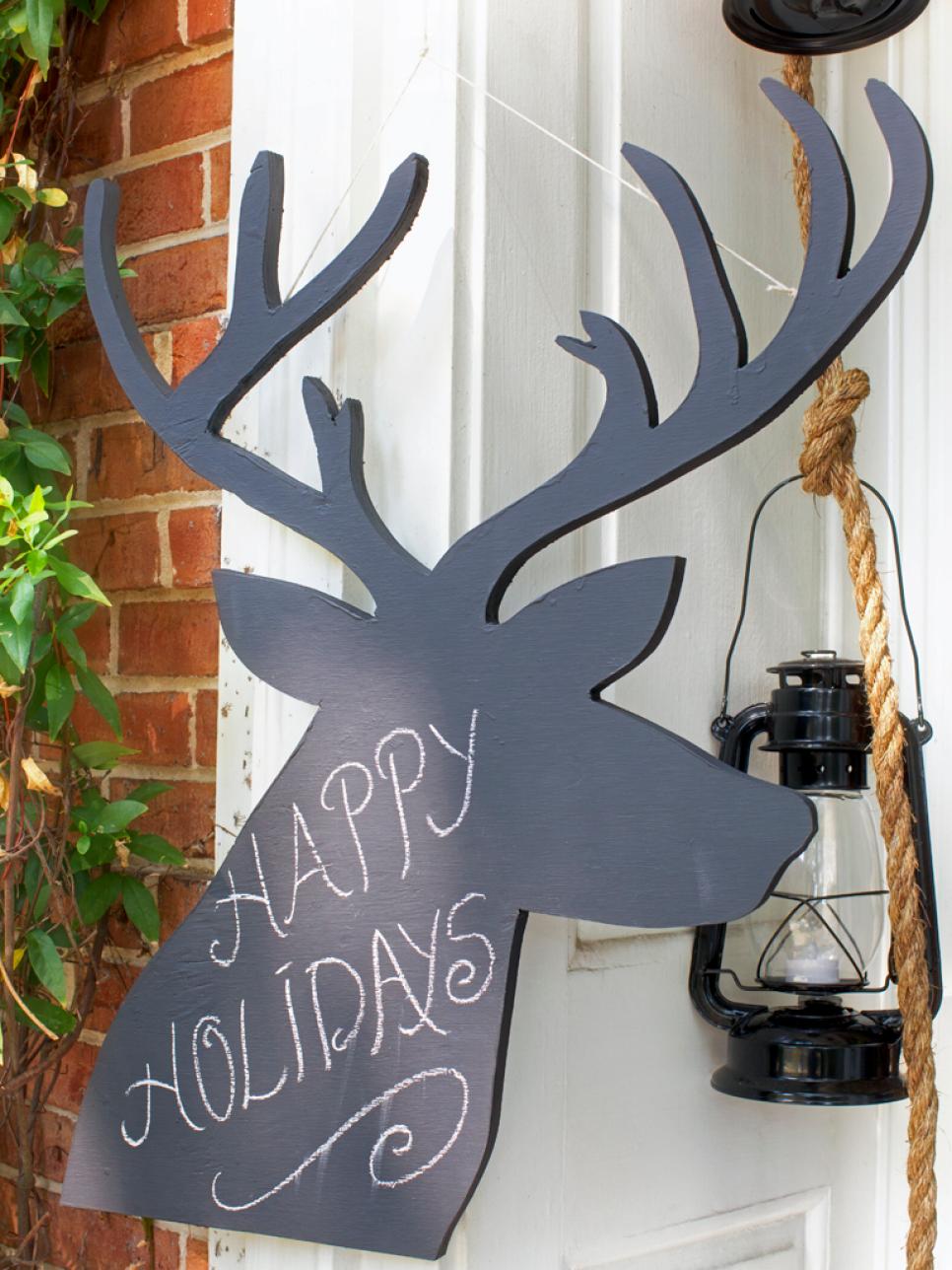 Chalkboards have seen resurgence in home décor. Usually found in kitchen command centers, this idea takes an inside decorating idea and places it outside. You can write a holiday message for your friends, family, and neighbors using chalk. Don't worry though you will not need to lug slate around to make this holiday idea. The chalkboard effect is made by a paint color called chalkboard. Cork, poster board, or cardboard are painted using this paint to create the chalkboard surface. The image comes from a stencil and is carved out using a paper cutting tool or box cutter.
21. Christmas Lights Fantasy Decoration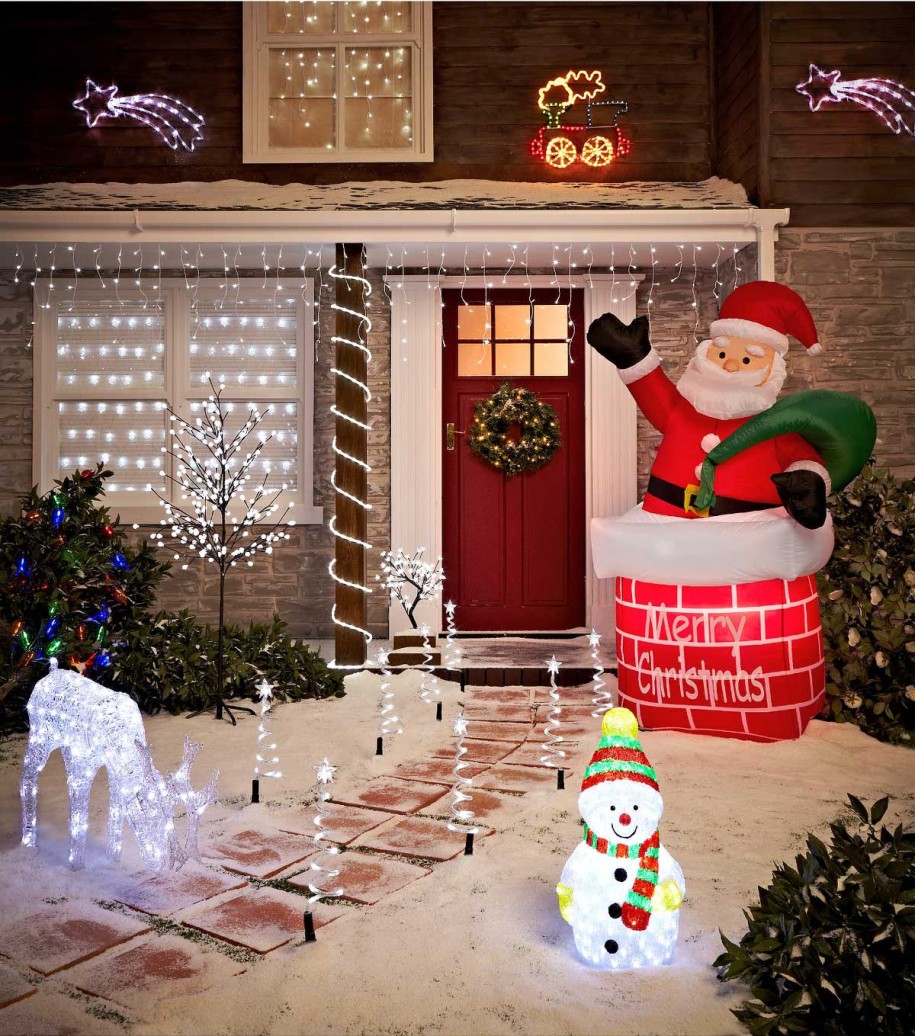 Source: Pinterest
One of the neatest things about this idea is that this decoration is premade and lighted Christmas decorations. Your job is to place the decorations in your yard or on your house to create the desired theme. Here the idea is a collection of holiday images, a deer, snowman, sparkly lights on you walkway, and Santa coming down the chimney with a bag full of gifts. Multiple rows of traditional electronic Christmas lights illuminate the windows and columns of the house. The shooting stars and train along with the icicle lights complete this Christmas lights fantasy.
22. A Countdown to Christmas Décor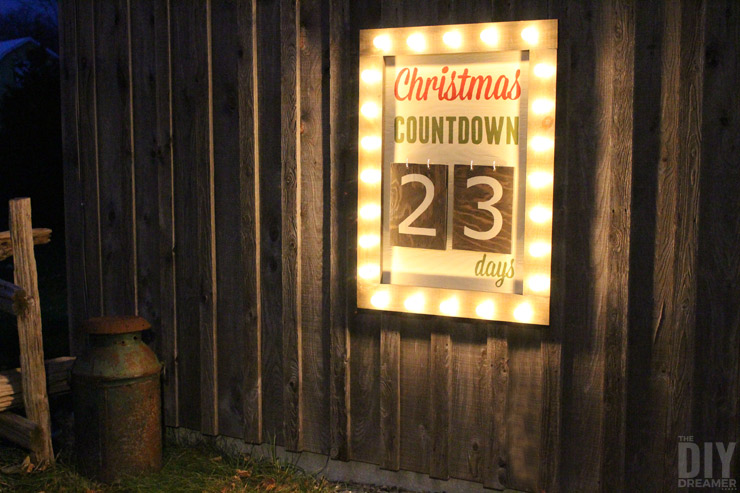 Many of you like to countdown the days until Christmas. This sign is illuminated and framed for display outside. The letters are in traditional green and red, while the numbers are in white with a black background. Make numbers for all the days you are tracking and then remove one of them daily until Christmas Day. You can make the sign using an old frame and adding electronic Christmas lights for night time illumination. A poster attached to heavy cardboard or cork board can be used inside the frame to display the words and numbers. Enjoy!
23. Christmas Wreaths Fence Décor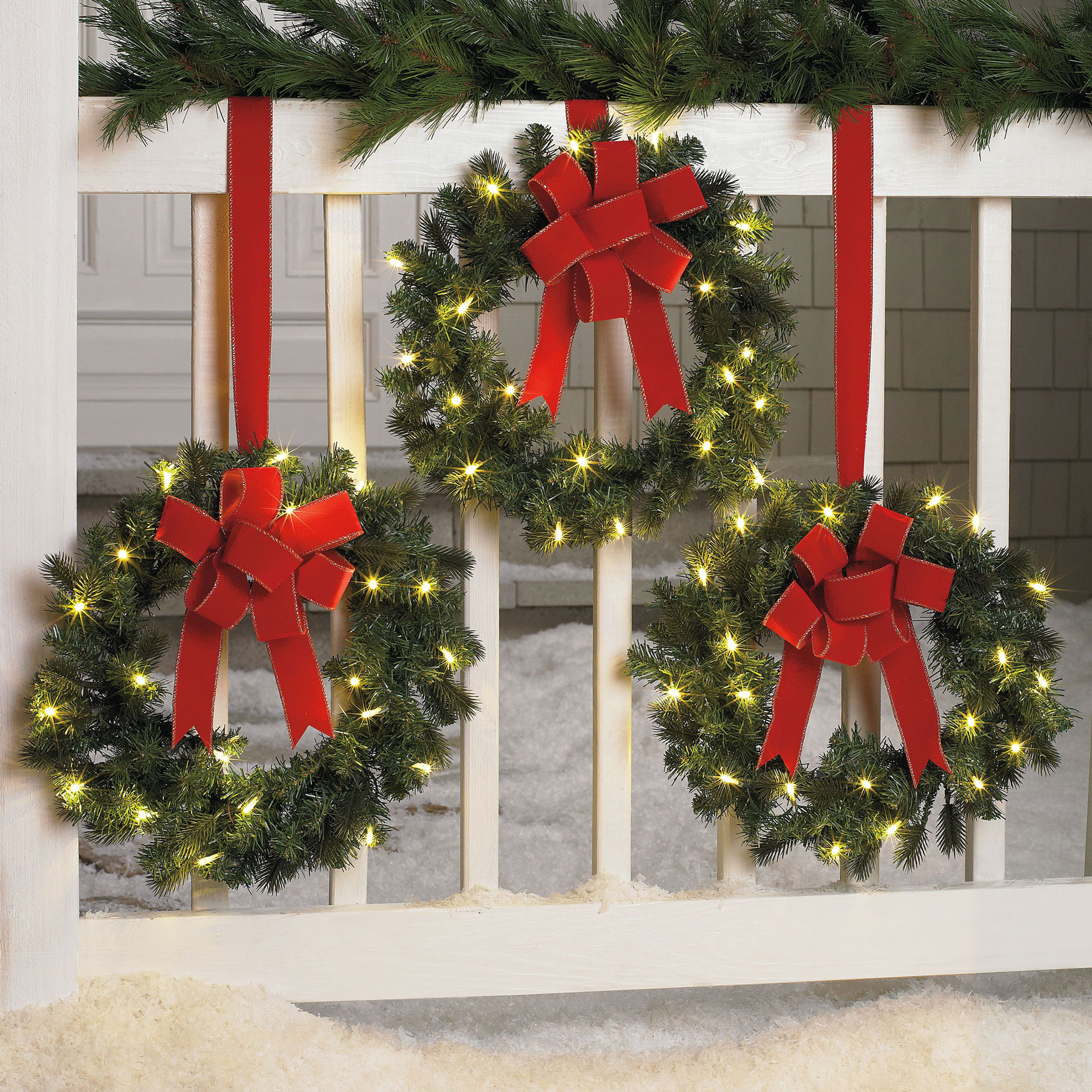 Many people hang wreaths on doors and windows, but would you consider hanging wreaths on your fence in your yard or the fence that wraps your balcony? This is a fresh idea for hanging wreaths. This trio of wreaths is simply decorated with plastic wreaths and electric lights for night time illumination. The bright red bow matches the ribbon used to hang the wreaths. Hang at different lengths to create visual interest. Cover the top of the fence with green garland. This idea can also be used to decorate a gate or large doors in yard.
More outdoor Christmas decoration ideas on the next page…