42. Low Tech Sparkle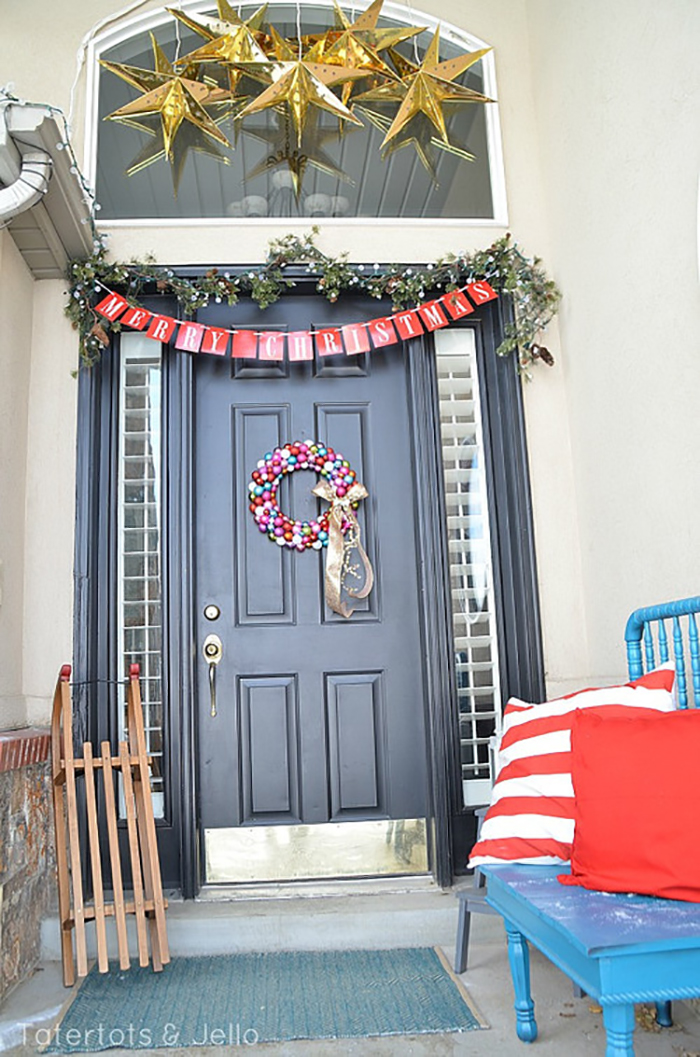 An energy efficient low tech way to make sparkling Christmas outdoor decorations without utilizing electricity is to buy paper lanterns shaped like stars and hang them over your door. Available in a variety of colors and patterns on matte or glossy finishes, the paper lanterns used in this idea are shiny and bright gold stars. Below the shiny stars is a simple green and white garland that sits on top of the door frame followed by a paper sign. Add decorative pillows and a sled to any existing benches to complete this low-tech Christmas design.
43. Starry, Starry, Wreath!
Help the star shine bright with this Christmas décor idea best used on peaked or thatched roofs. The wreath fits nicely in the peaked roof occupying the entire space for optimal display. The trim is adorned with electric Christmas lights and lighted snowflakes. The centerpiece of the design idea is the lighted star. Don't worry about running more electric lights, they now sell battery operated timed ornamental decorations to make illumination simple and effortless so you only need to pull out the ladder twice – when you put up the decorations and when you take them down.
44. Bright Shining Christmas Lights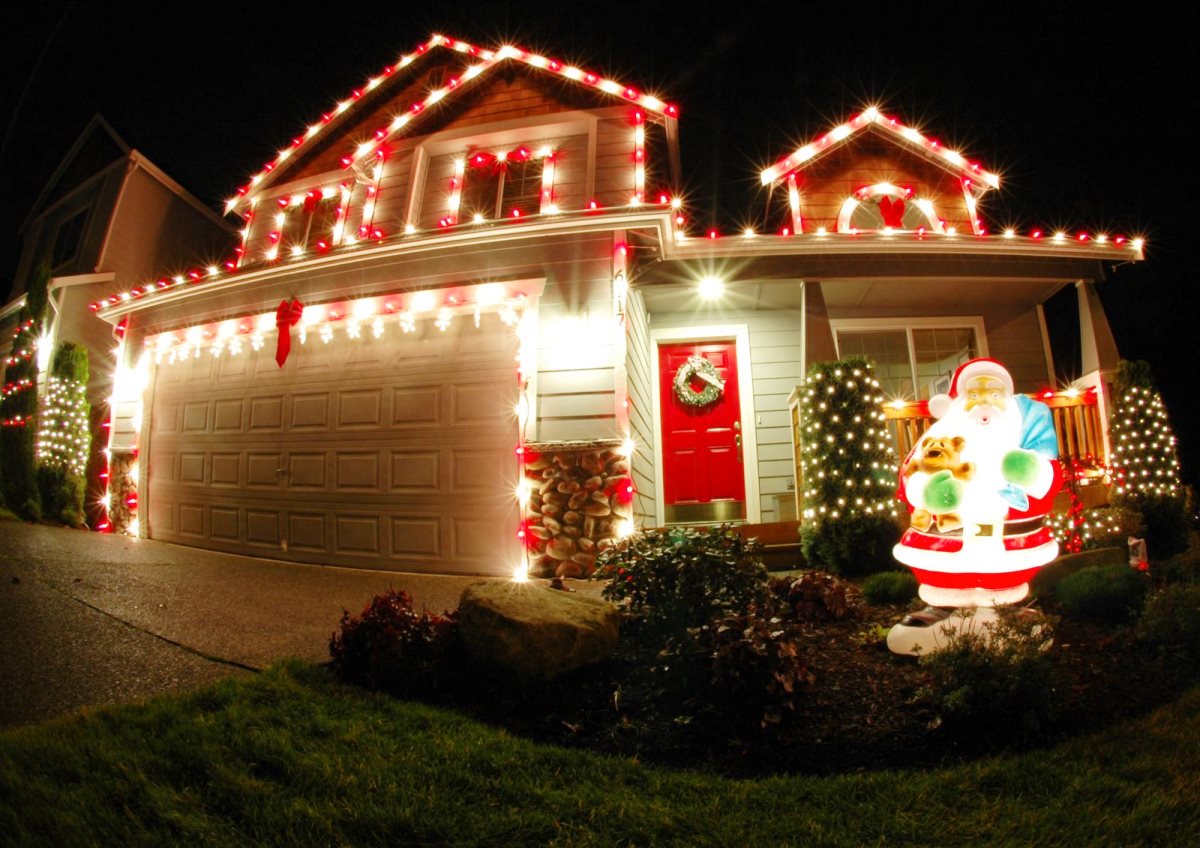 Source: Pinterest
For many of you, nothing symbolizes the holiday season like electric lights. Electric lights are a necessary and wonderful addition when you prefer nighttime holiday decorations. Stringing lights is awe-inspiring and a magical way to express the Christmas spirit. Use the frame of your house as a guide and apply lights on the moldings. The lights can be a single color, multiple colors, or as is the case here, two colors – red and white. Complete the light show by adorning bushes with clear lights and placing an inflatable lighted Santa in center of the yard.
45. Jingle Bells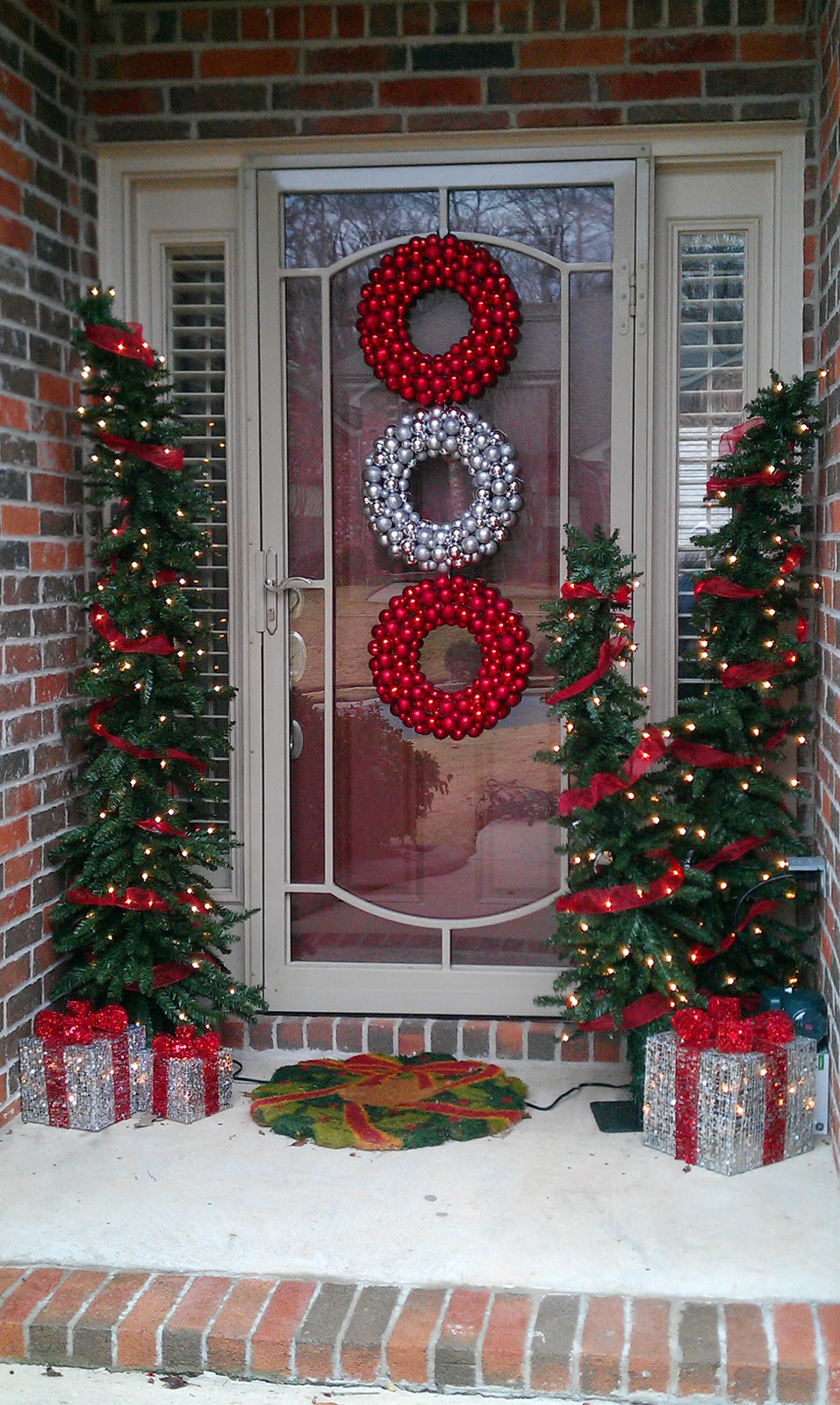 These homemade Christmas decorations are a great way to unleash your inner creativity skills during the winter holidays. This holiday decorating display uses various Christmas crafts ideas to help complete the overlook look shown here. The wreaths are made from lively metal jingle bells, placed one beneath the other in multiple colors, for an audible and visual delight throughout the festive holiday season. The pine tree plants on either side of the door are decorated in lights and red ribbons and are anchored by lighted gift boxes with red bows on top, similar to your indoor tree.
46. Holiday Elegance White Cranberry and Ivy Wreath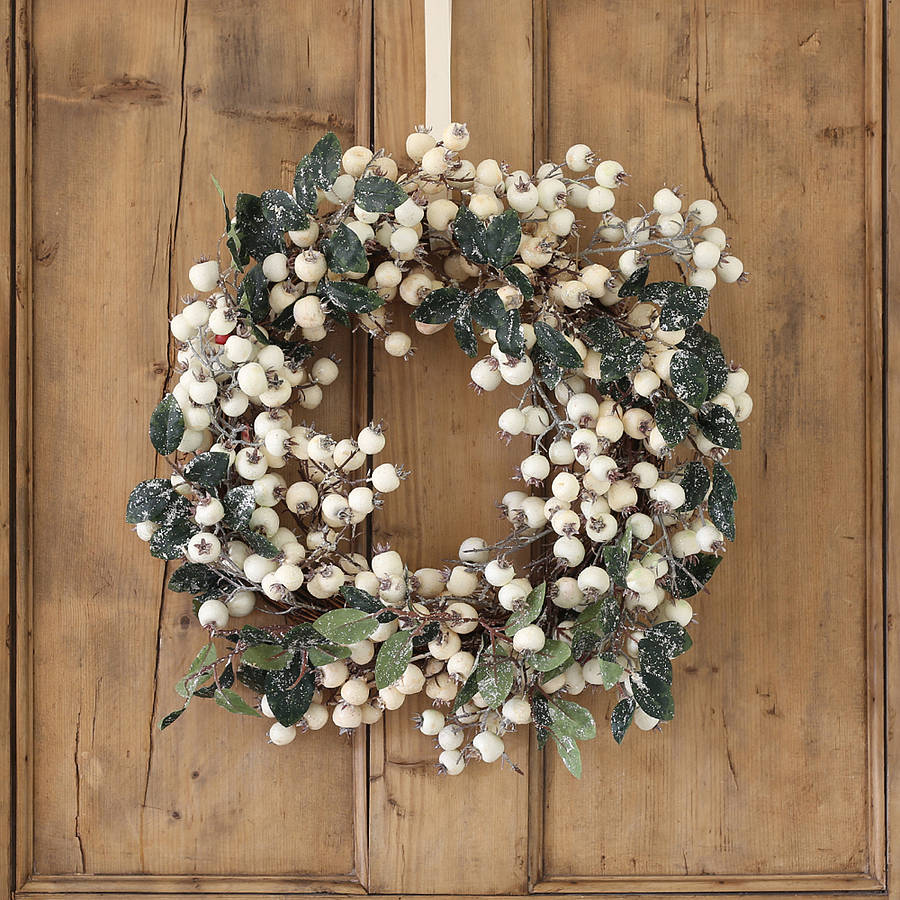 Some of the best holiday ideas come from and are inspired by nature. In this elegant idea, a medium sized wreath is adorned with white cranberries around the wreath ring. You can use dried cranberries or buy cranberry branches to place around the wreath. Ivy, which stays alive in all weather environments or any other leafy evergreen, is then placed around the cranberries to add some color, depth, and embellish the wreath. This inspiring elegant idea can stay hanging up year round by simply replacing the ivy leaves or adding colorful ribbons.
47. Hanging Lanterns of Babylon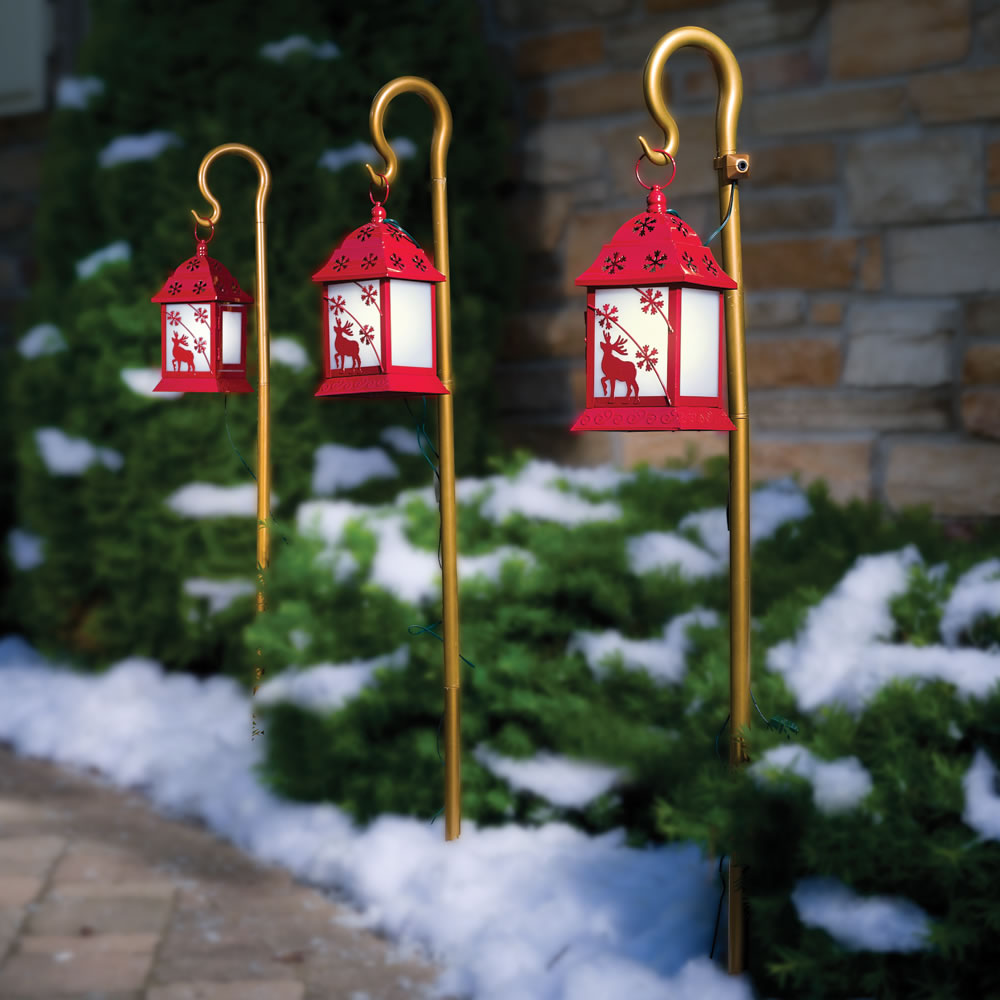 Source: Pinterest
Paper lanterns are so much fun to create. They are especially fun to make with children. Create paper lanterns using scenes from the holidays and colorful paper to hang by your walkways. The scene can be the same or different. A bonus is that you can use hooks to hang flower arrangements in the spring. Add electric candle lights to show off your design cut outs at night and to light the way into your home. These homemade Christmas decorations are a fun way to involve the whole family in Christmas crafting and keepsake making.
48. Drawers Full of Holiday Joy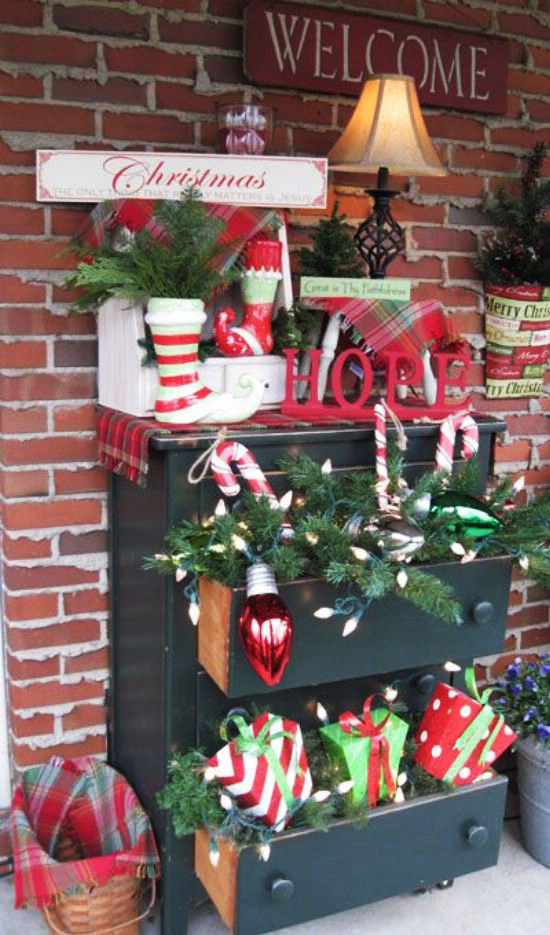 The focal point of this decorating idea is the old dresser full of drawers. This is a Christmas decorating idea that involves the entire family. Start with a wooden dresser that you can paint hunter green or red, as shown here, and fill the draws up with holiday decorations, symbols, and messages. Here you find green garland, electric lights, signs with holiday messages, elf shoes, an old lamp, throws, wrapped gifts and candy canes. There is something for everyone in this display. Open the draws and stuff them full of holiday joy.
49. No One Has To Know You Made This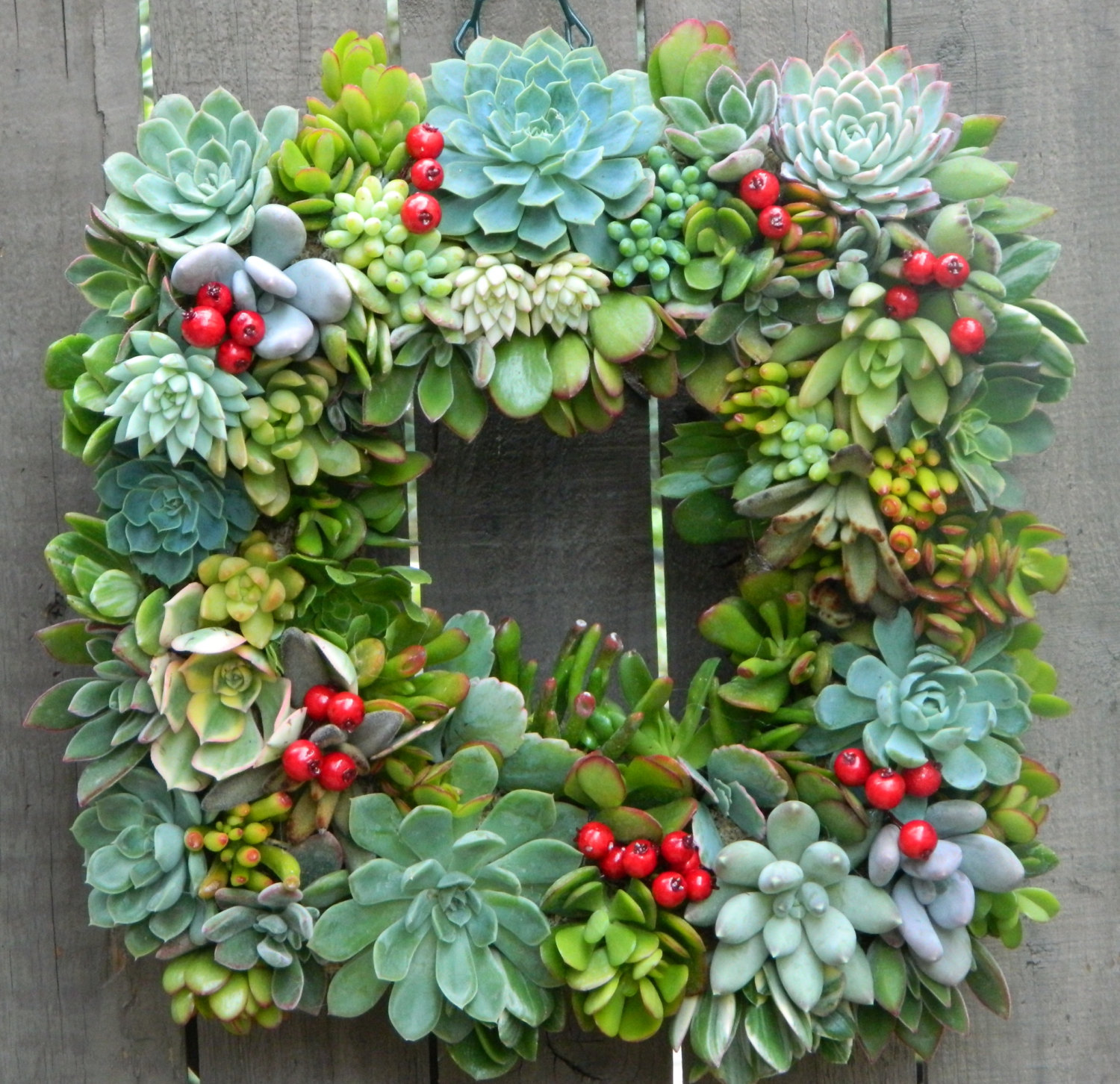 This beautiful square wreath, looks professionally designed, and is made from luscious succulents – a living wreath. Place the plants on plant foam, readily available in craft stores or at your local florist shop. Remember to water regularly by removing wreath and soaking foam in water. Pick plants in various shapes and sizes and arrange around the square ring completely covering the plant foam base. The plant foam base is available in green to keep the minty green color scheme or blend in with your plant base leaves.
50. A Global Affair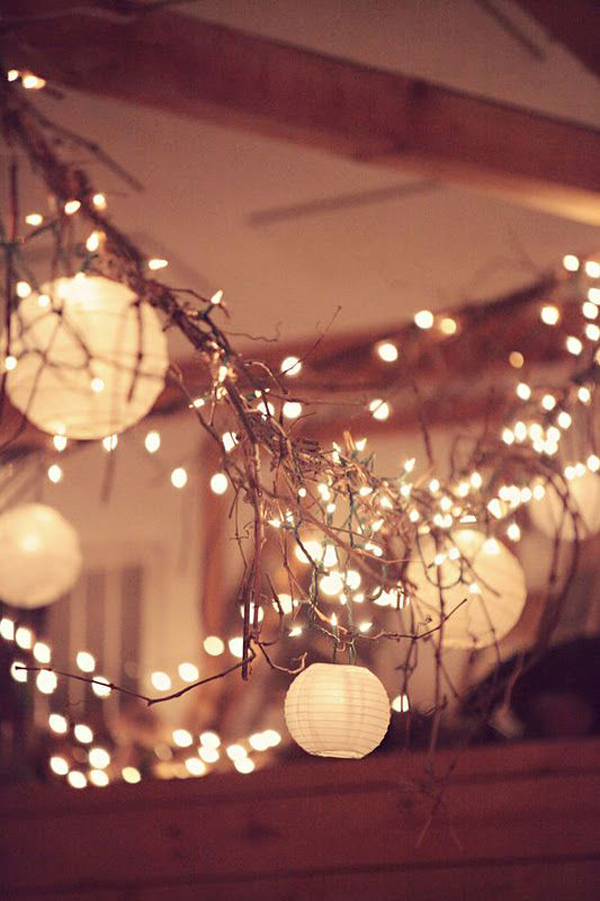 A wonderful way to end this outdoor holiday decorating ideas feature is to pour yourself a glass of champagne and sit under these bright lights. There is something magical about hanging paper lanterns and Christmas lights. Ideal for use in a patio, deck, balcony, or outside seating area, this decorating idea uses twigs as the garland. The lights are strung around the twigs which follow the outdoor frame. Lighted paper lanterns are then hung throughout the frame to create this grand atmosphere. The white paper lantern color brings an understated air of elegance and makes your outdoor seating area sparkle.
Be Merry And Bright This Holiday Season With Outdoor Christmas Decorating Ideas
As you can see from the ideas spotlighted in this article, the possibilities for outdoor Christmas decorations and Christmas crafts are only limited by your imagination. From the complex adorning of the entry doorway with holiday greens to the simple lighted signs with holiday messages next to your home entrance – there is something for every taste here. Homemade Christmas decorations are a wonderful way to get in the holiday spirit. You can get help from elves or your friends, family or children, to execute some of the grandest of ideas. Outdoor Christmas lights, Christmas decor, and Christmas craft ideas are all in your holiday decorating toolbox.
Use these Christmas outdoor decoration ideas for your home or as gifts for your friends and neighbors. Not only do they make great gifts that can be used for years, but they are also sure to light and sparkle your Christmas outdoor decorations.
Don't worry about the Christmas theme. Many of these ideas will outlive the Christmas holiday season and can be continued or modified for display for the rest of the winter season. Remember to think big, even if you live in small spaces like an apartment. All of these ideas are scalable and adaptable for small, medium, large, and extra large spaces.
Lastly, some of these Christmas crafts can be made by children and their friends in their school, church, or neighborhood group activities to help share the decorating tasks. Have your children or nieces and nephews help come up with the DIY decoration project you will utilize. Creating DIY Christmas decoration projects is an activity all can share for creating lasting family memories.