The best outdoor dog house ideas incorporate elements of the dog and owner's personality and always enhance an outdoor space. If you feel like your current pooch's house is an eyesore and doesn't add any aesthetic appeal, this list is perfect for you.
18 Absolutely Adorable Outdoor Dog House Ideas for Your Favorite Pooch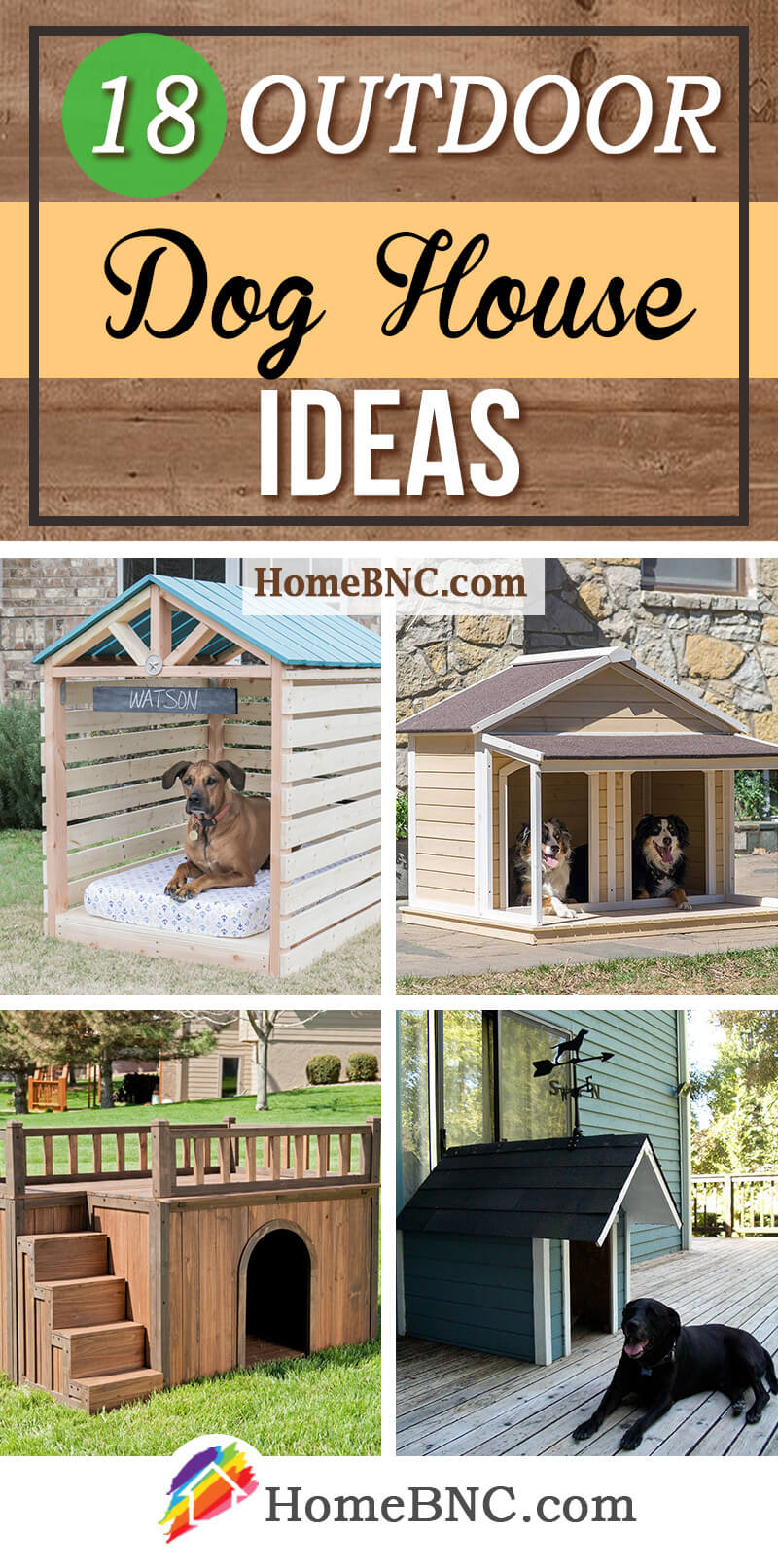 The outdoor dog house ideas presented here are cute and unique in their own ways and span a wide variety of styles and looks so that you will surely see something that fits your home and your dog's personality. With options from classic peaked roofs to two-story designs with a deck for sunbathing, your pooch is going to be so grateful for a new place to rest his head after a long day of fun play.
If you decide to create a DIY dog house, be sure to check your measurements. You will want to allow enough space for your dog to comfortably lay and move a little. Plus, you will have to account for the dog bed and any other accessories that accompany your canine companion at night. Often, you can scale the plans yourself, and, if you like a premade dog house, you may be able to contact the owner to order a custom size.
No matter what you pick, as long as your dog can comfortably fit, they should be very pleased. We all know that the dog house design is about the last thing on pup's mind. He is busy running, playing, lapping up water, and making friends — or enemies, as may be the case — with the critters in the trees. His thoughts dwell on anything but design choices, aesthetic appeal, and durability. Nonetheless, he will be happy as can be when he tuckers out and has a nice cozy spot to duck out of the elements and enjoy that much-needed rest.
1. Dark Blue Dog House with a Porch Light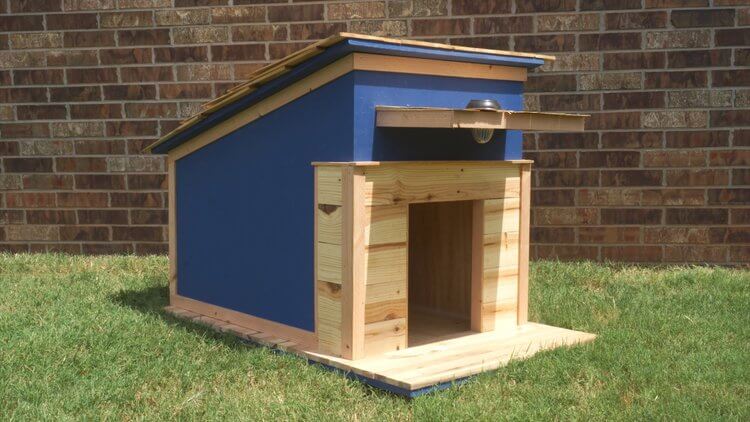 A few great dog house ideas include color, fun details, and a comfortable space. This look gets those all right with bold blue siding, a cute "porch" light, and a cozy dark space for your pup to get a good rest all night long. With just a few sheets of plywood and some shingles, pallet wood, and trim, you can create this deluxe masterpiece on your own. Just add a solar light and your choice of bold paint for the finishing personalized touches, and you will have a dog house that the cat is sure to be jealous of.
2. Cozy Daytime "Dogzebo" for Any Sized Dog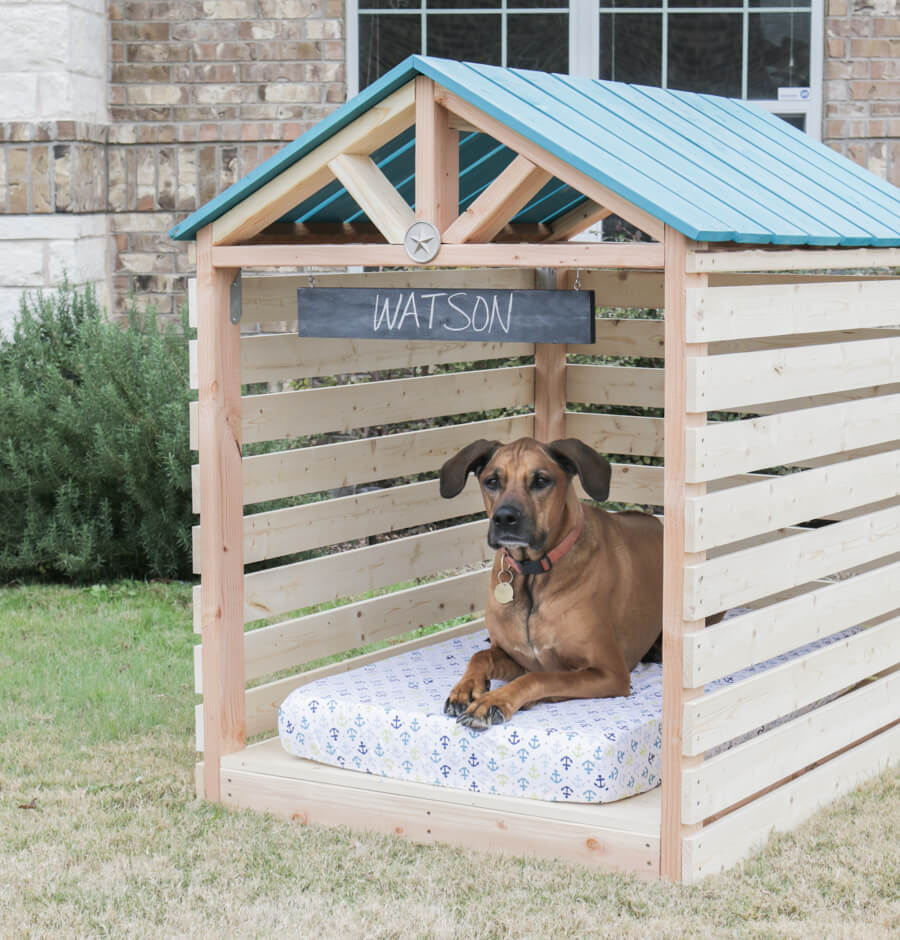 This awesome idea takes the daytime pleasures of a roofed gazebo and transforms it into a great space for your dog. The best feature of this design is that it was originally crafted with a large dog in mind, meaning if you follow the DIY instructions you should have a space big enough for nearly any pooch. The high ceiling allows the dog to get more comfortable in the space and not feel crammed, and the mattress is not actually a dog bed but a durable papasan cushion. Get this for one big dog, or for a few small critters to share.
3. Beautifully Embellished and Whimsical Dog House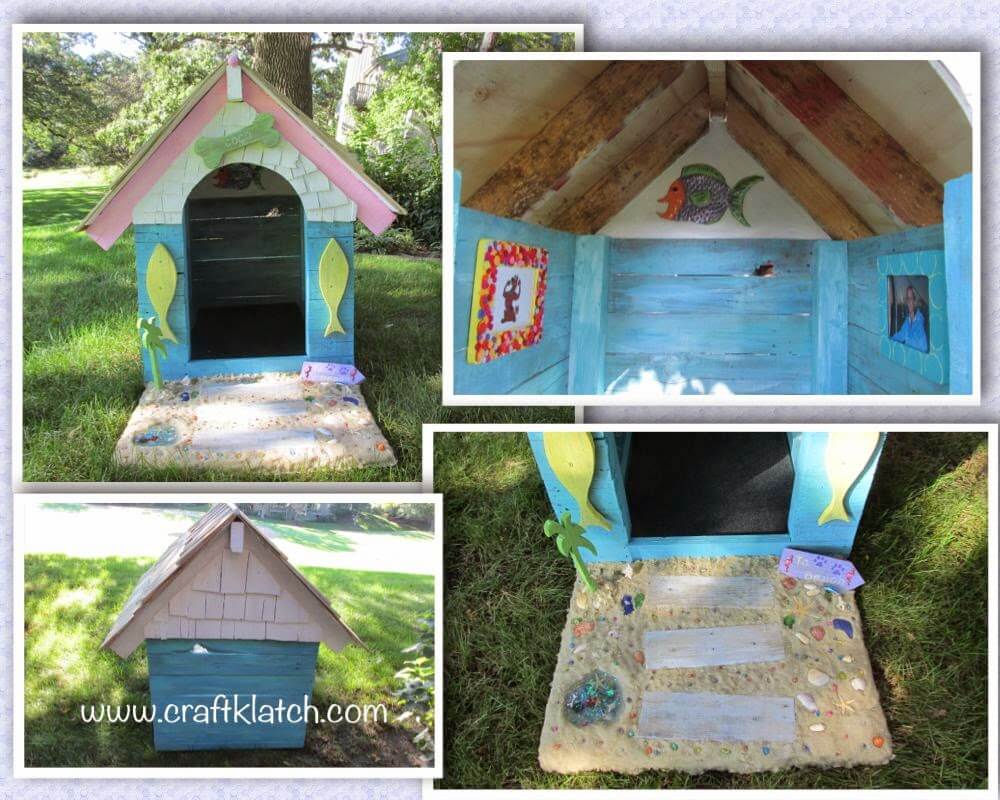 Outdoor dog house ideas can incorporate classic playhouse elements. After all, most dogs are sort of like forever children, anyway. This playful piece turns a classic dog house design into a sweet beachy paradise with seashell embellishments and even some interior wall art. This house is a good choice for a creative and playful dog and for an owner who enjoys bright colors and fun designs. The small touches like the framed owner photo, the hanging fish, and the amazing sand really elevate this look and make it something special and completely unique.
4. Doggy Door DIY Dog House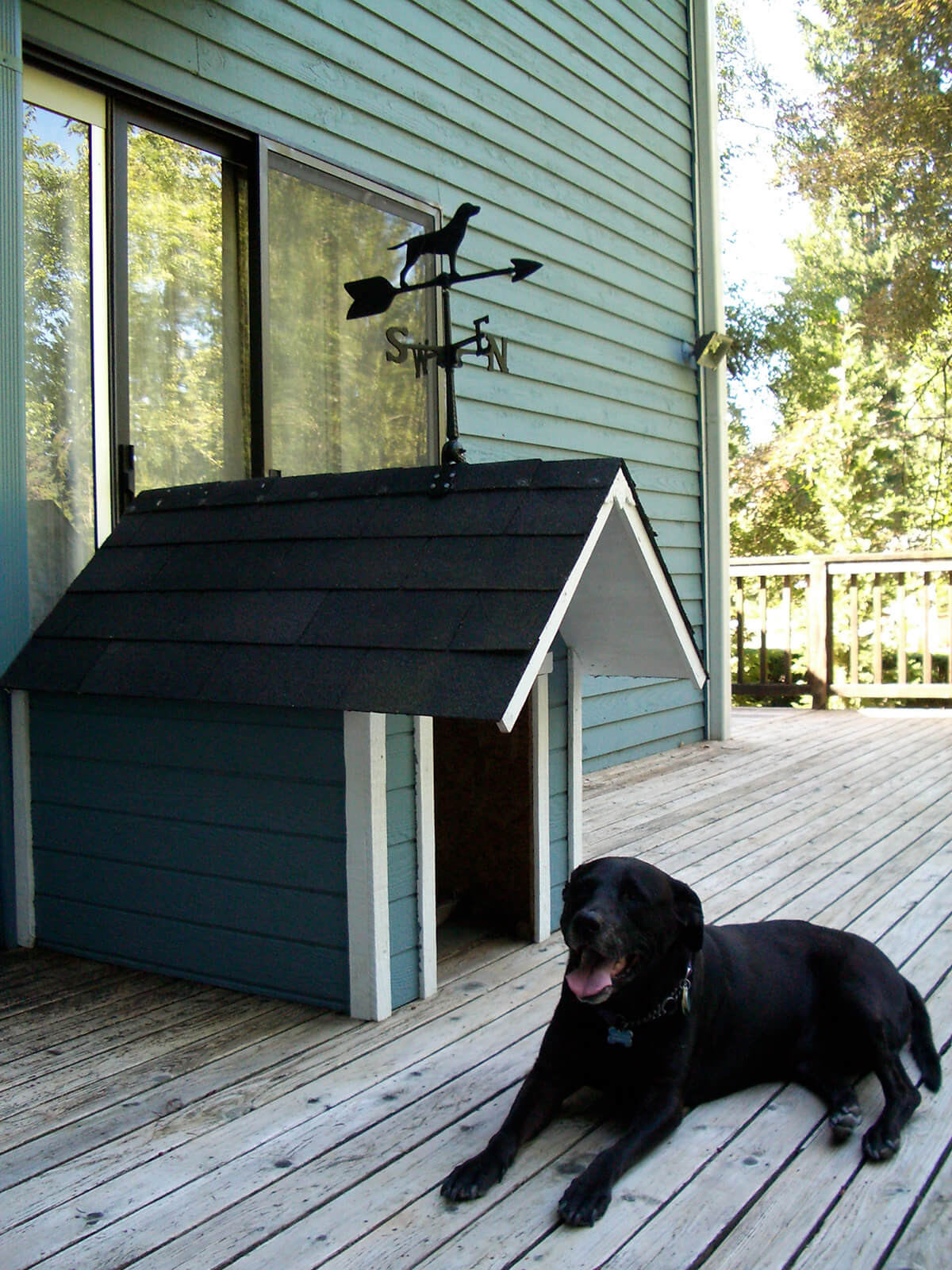 If your dog spends most of his time inside but likes to get out of the house on occasion, this great dog house that is connected to the dog door leading inside is a good option. It allows the dog to get some outdoor time but hopefully stay out of the mud when it rains. It also allows him to feel close to home and somewhere familiar even when he is outside. The plans for this dog house are pretty basic, other than the additions of the walk-through and adorable weather vane. Add your own personal touches and use these for inspiration.
5. Super Cool Outdoor Dog Kennel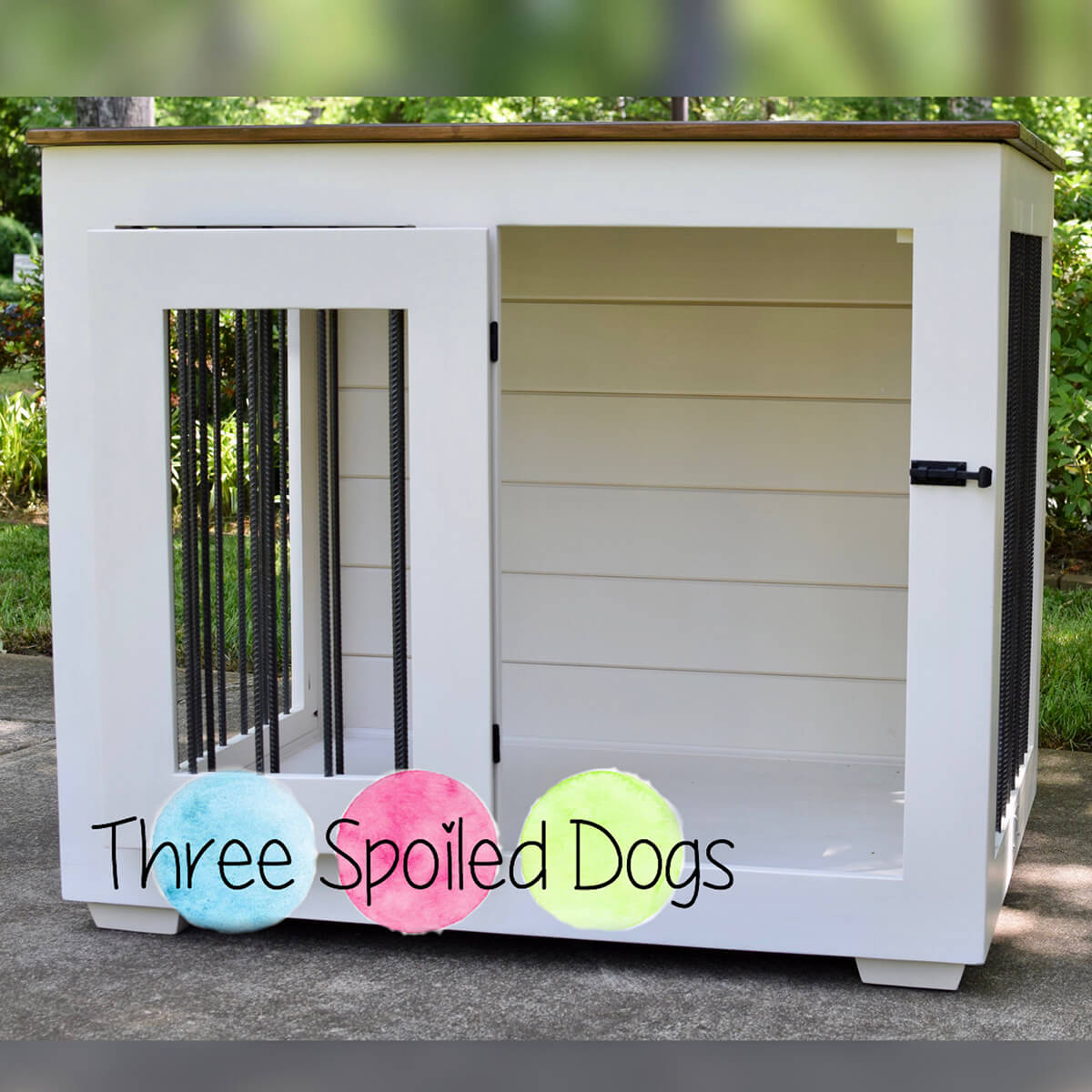 This beautiful wooden kennel is the perfect choice for any dog. The door folds open entirely, making it usable as a daytime dog house when swung open or, when closed, as a convenient outdoor kennel that is super functional and looks fabulous. This crate comes premade so you don't have to worry about construction, if that isn't your thing. Best of all, you will be able to use it as soon as it arrives. The look of this kennel goes great with a farmhouse design but would fit in well with nearly any outdoor space as it is clean, simple, and elegant.
6. Adorable Small House for Dog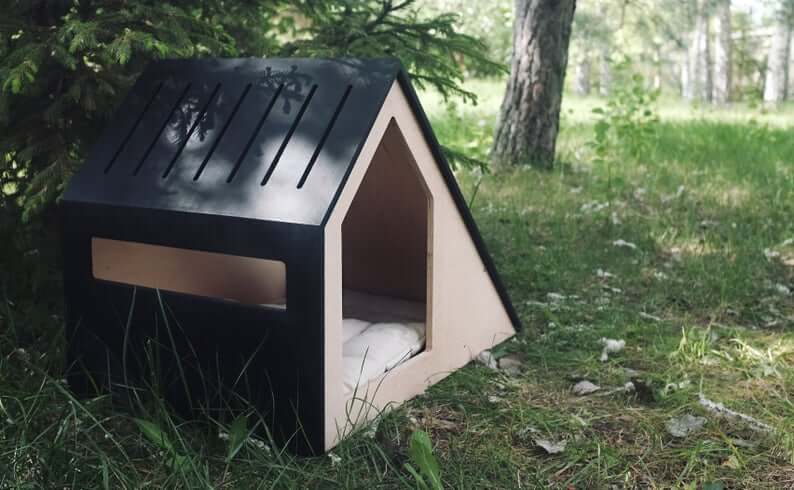 This perfect small dog house design is interesting looking and has all the comforts your little loved one needs. The angled roof is perfect for repelling rain, and the small slots give the interior a cozy feeling. This dog house is made from plywood and is about 19 inches high, so you will want to be sure your pup fits before ordering. This house is made by dog lovers, and it shows in the attention to detail. It is large enough to fit a small bed so that your dog will be even cozier in his brand new little modern dog house.
7. Deluxe Outdoor Double Dog House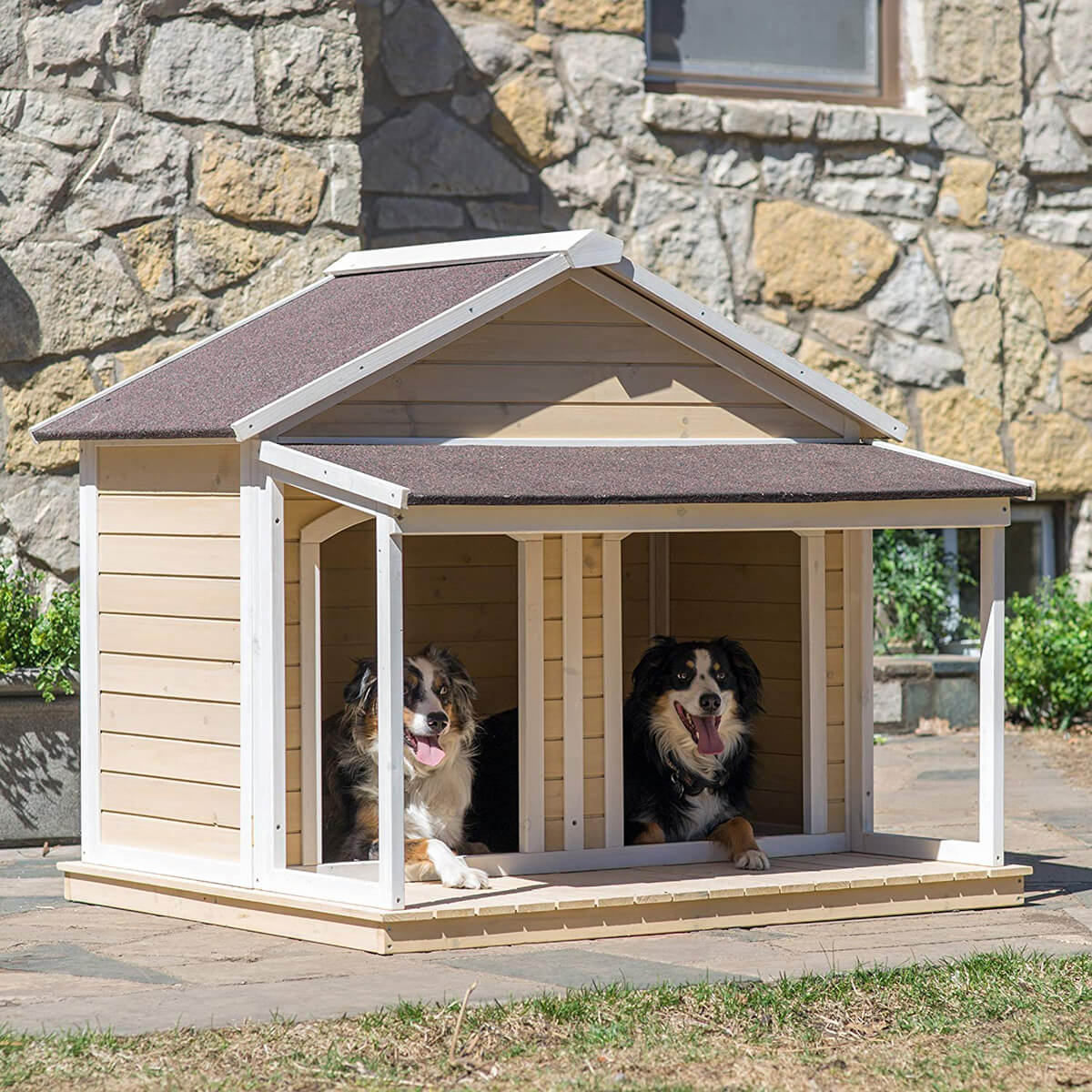 Some of the best outdoor dog house ideas utilize solid materials to ensure sturdy and weather-proof houses. Just like in your own home, you don't want leaks or damage in the shelter housing your pup. This large two-sided house is perfect for a home that has more than one dog. They will both be able to enjoy their own private space but are never too far from their buddy. It even features an adorable little porch that they can hang out on under the awning, come rain or shine. With the look of a real house, your dogs will feel loved, warm, and safe in their new home.
8. Spacious Dog House with a Rooftop Patio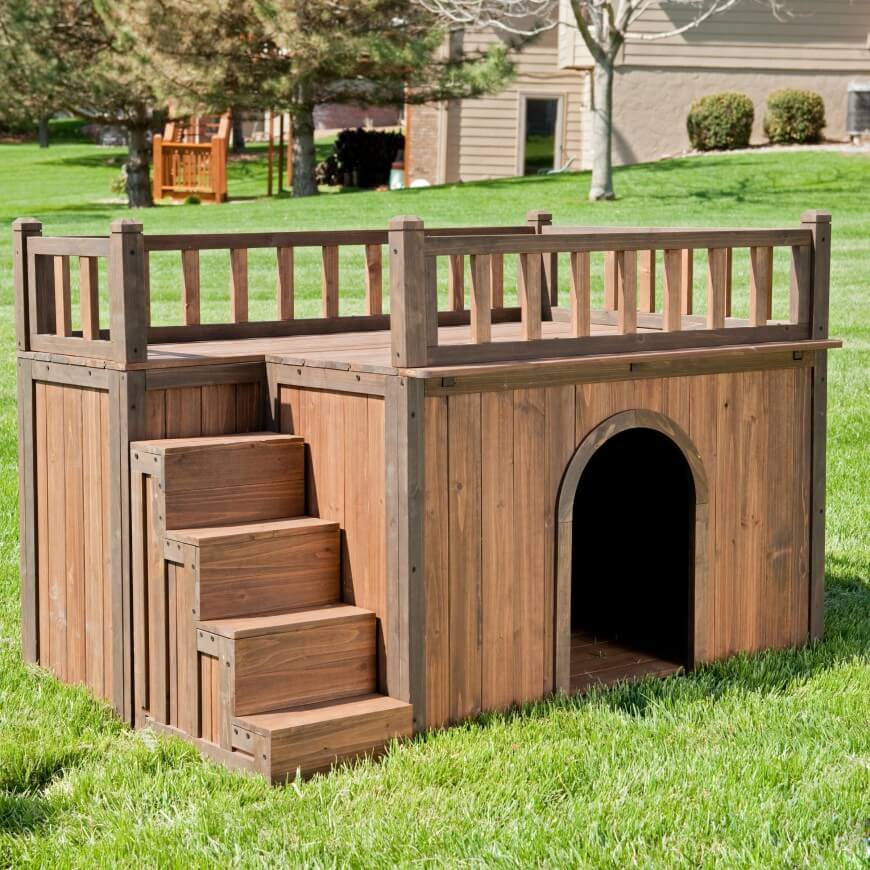 Dog house ideas that incorporate unique and creative elements always stand out and are sure to be enjoyed by your dog. This lovely wooden structure is great for any dog. Not only will it protect them from the elements, but it also encourages a little exercise with a small staircase up to their own private patio. Your dog will love sunbathing on the deck, where the wood will get nice and warm for an afternoon snooze in the summertime. This is also a great place for kids to play with the dog if you happen to have children.
9. Two-Sided Outdoor Dog Kennel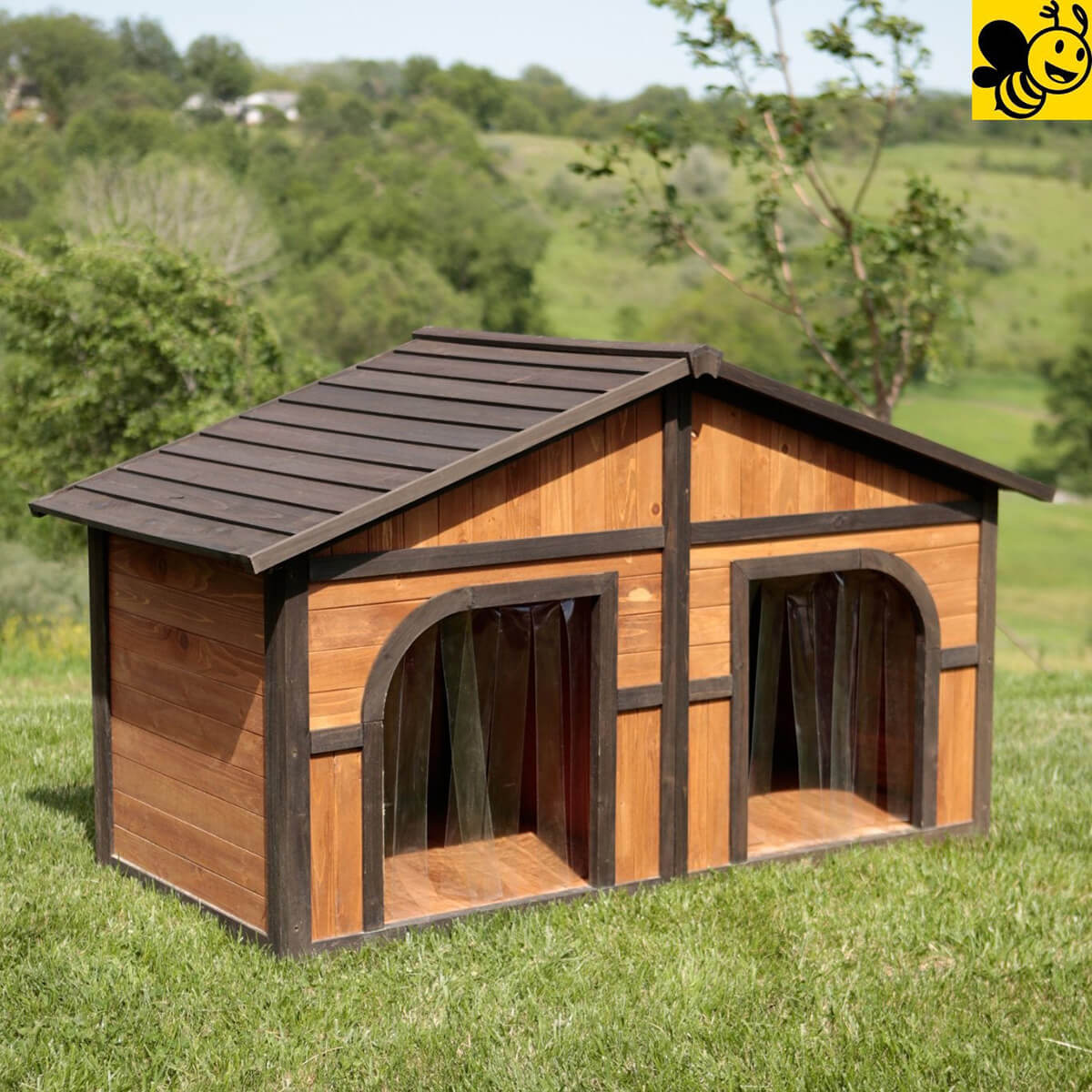 Sometimes it can be hard to find a design that is right for two dogs. You want to be able to give each their own space; however, you don't want to have to buy two separate houses for each of them. This option allows you to save space and money by just buying one house, but it still provides the luxury of having two separate "apartments." Your dogs will love being close to each other while having their own room, and a few strips of plastic at the door will help keep them warm and safe from the elements.
10. Small Laser-Cut Plywood House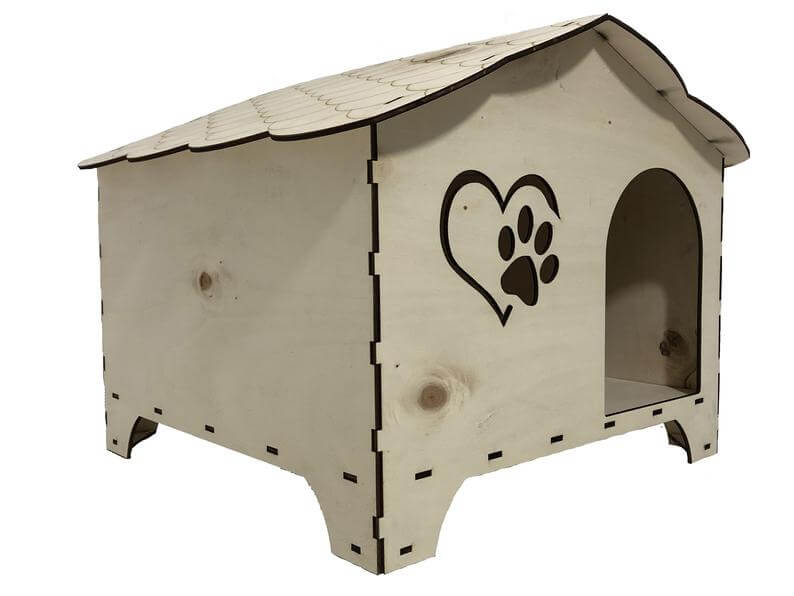 Some outdoor dog house ideas start with a structure that may have been intended for someone else entirely! This beautiful little cat house would make a perfect outdoor doghouse for a small breed. It features an adorable heart and paw print design and some cute little faux shingles. It is made quickly and fairly inexpensively, making it an easy choice when you are looking for quick and easy lodging for a little friend. It also sits elevated slightly off the ground, which will help ensure that the bottom boards of the house do not get soggy or ruined during wet weather season.
11. Raised Floor Simple Outdoor Dog House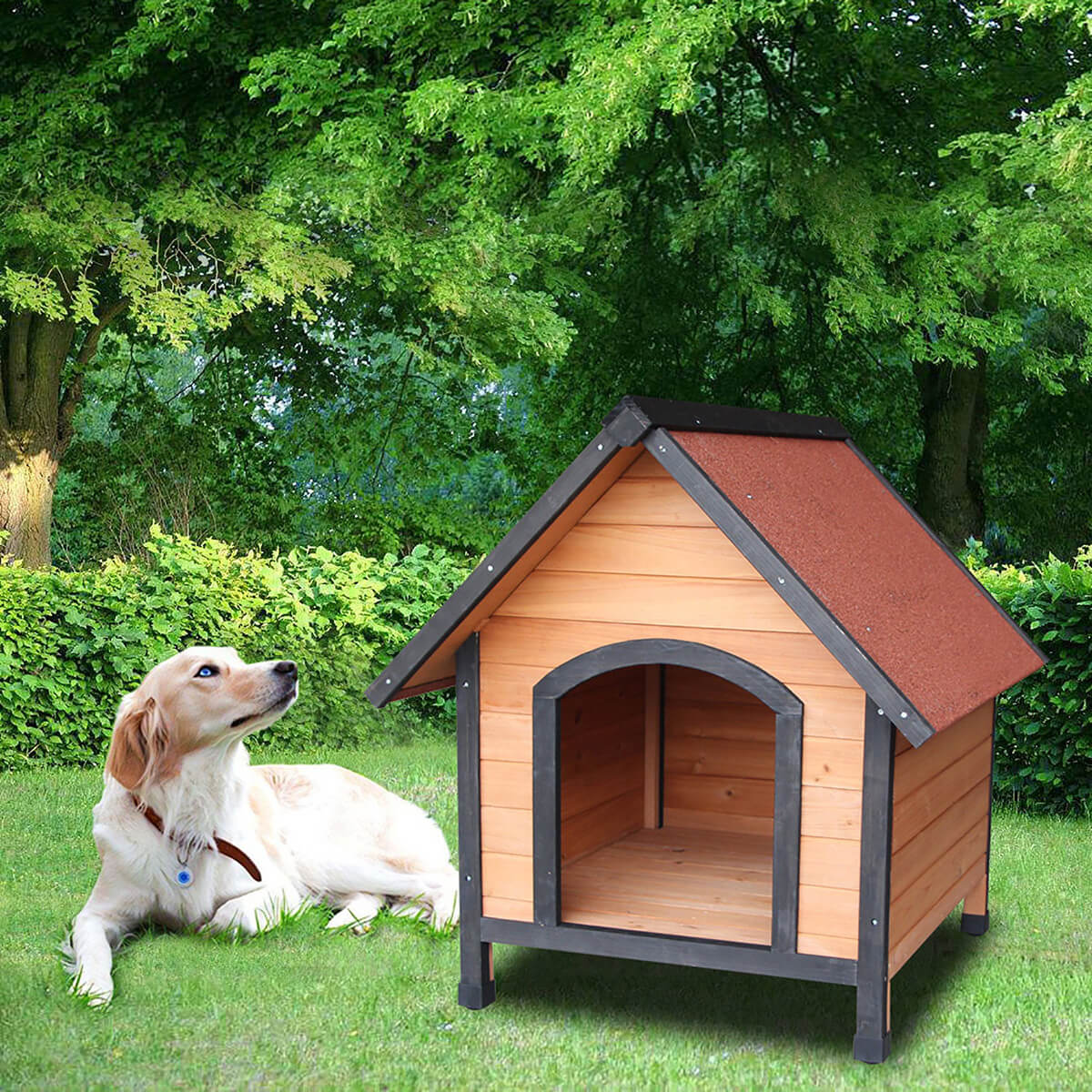 Having an outdoor dog house is an all-around awesome idea. Even if your dog spends most of his time indoors, being able to enjoy the outdoors and sometimes sleep in nature is good for your pup and for your home. It can give you a chance to take a breath and tidy up, and it can provide a great alternative when you have house guests who may be wary of or allergic to dogs. This house is the perfect spot for a pooch and has a very unassuming design that would fit in with nearly any home and garden.
12. Beautiful Classic Cedar Wood Dog House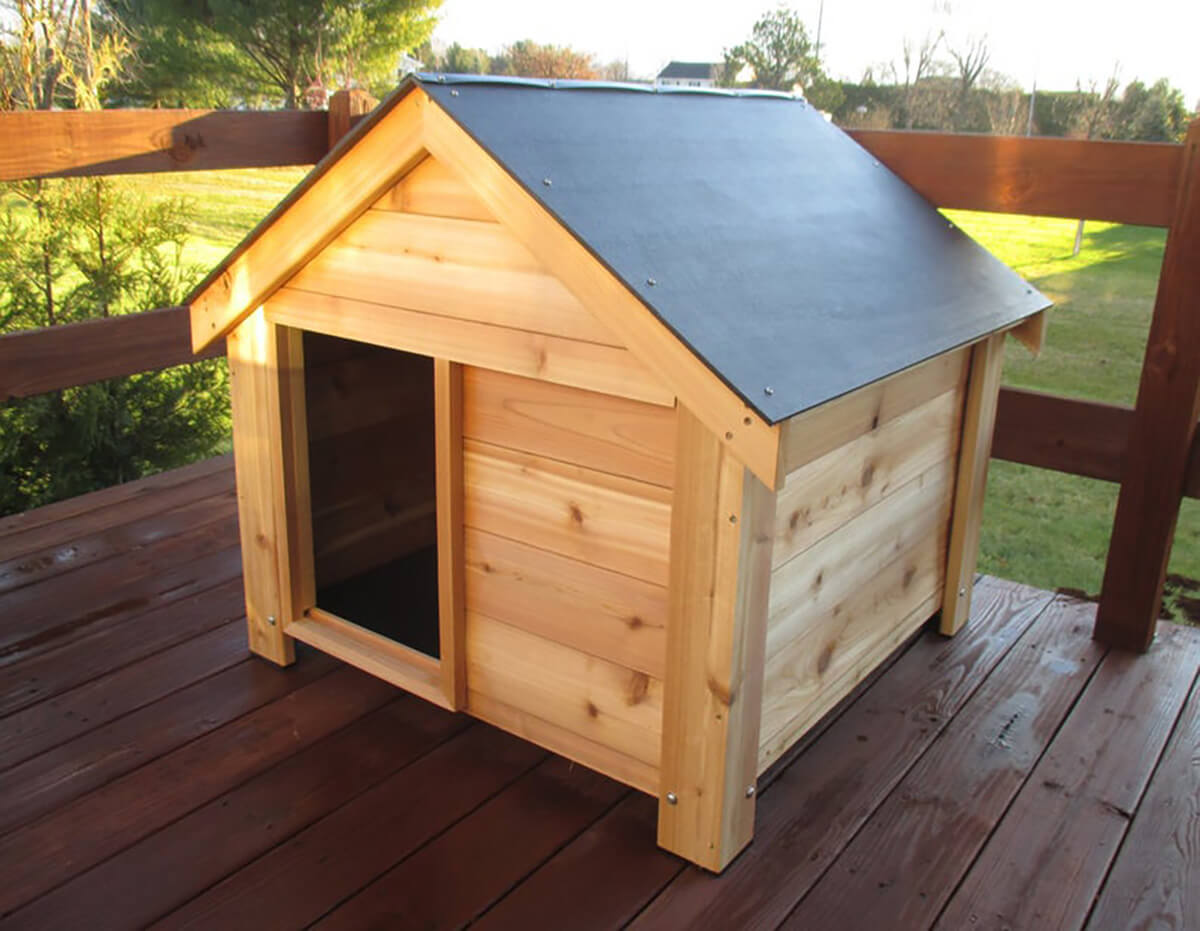 If you have a classic home, this dog house will go perfectly. Outdoor dog house ideas that eliminate frills and fuss tend to keep things simple and solid. You won't have to worry about it falling apart or leaking as this house is expertly made from one-inch-thick cedar deck boards. It has a tight weather seal to last your dog his whole life. The door is slightly offset to protect from wind and rain, and the floor is slightly elevated to guard your dog from having to sit in water and to allow him an easy way in. Your dog will enjoy this beautiful handcrafted masterpiece.
13. Pretty Custom Doghouse on a Pallet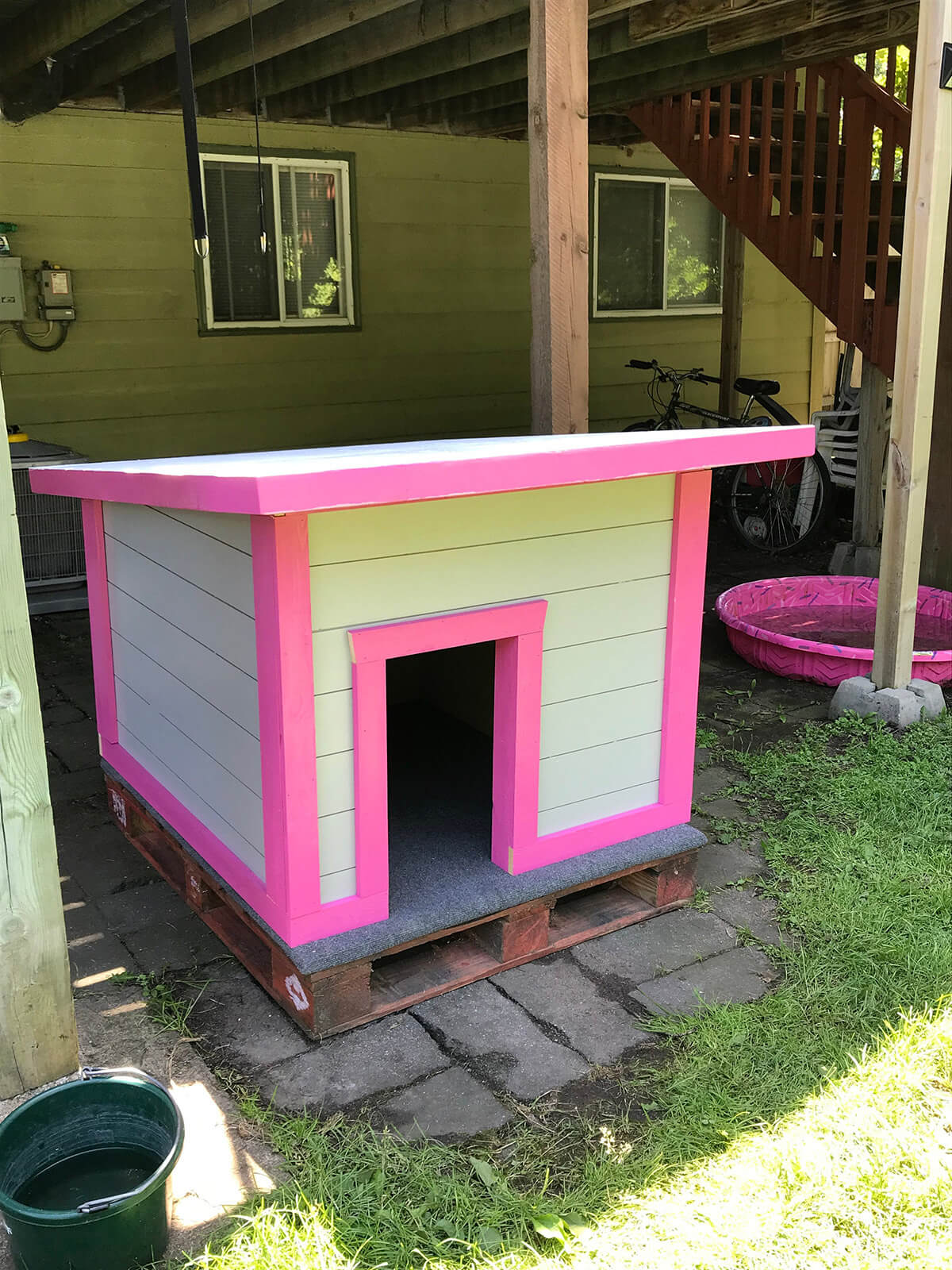 Great dog house ideas are sure to consider things such as insulation and weather protection. This doghouse does both and will keep your pooch cozy and comfortable outdoors all year. Since these houses are custom made, you can select any color you want to create a look that matches your home and your dog's personality. The pallet that this plywood house sits on keeps it away from cold or damp ground, and the slanted roof helps avoid any damage. This house would work well for any size dog and is large enough to fit a comfortable bed.
14. Whimsical Storybook-Themed Dog House Design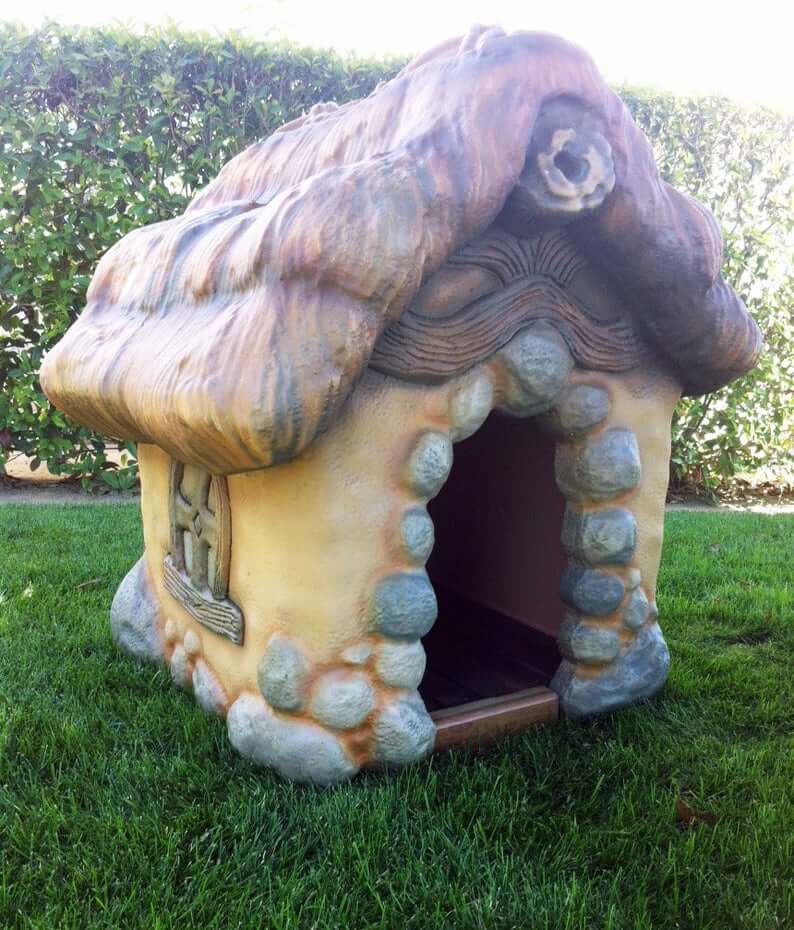 This house is so much fun and perfect for a playful small pooch who thinks he is a big adventurer. It is made of EPS foam, reclaimed wood, and a hard coating for a cool dog house that looks straight out of Wonderland, Narnia, or Middle Earth. Available in two colors, this dog house would be nicely situated in a garden and may even attract a fairy or two. If you are a fantasy fan or lover of storybook magic, this house is a must for your little pup. He will love it forever and will feel like a real hero.
15. Petite Outdoor Dog Kennel for Daytime Use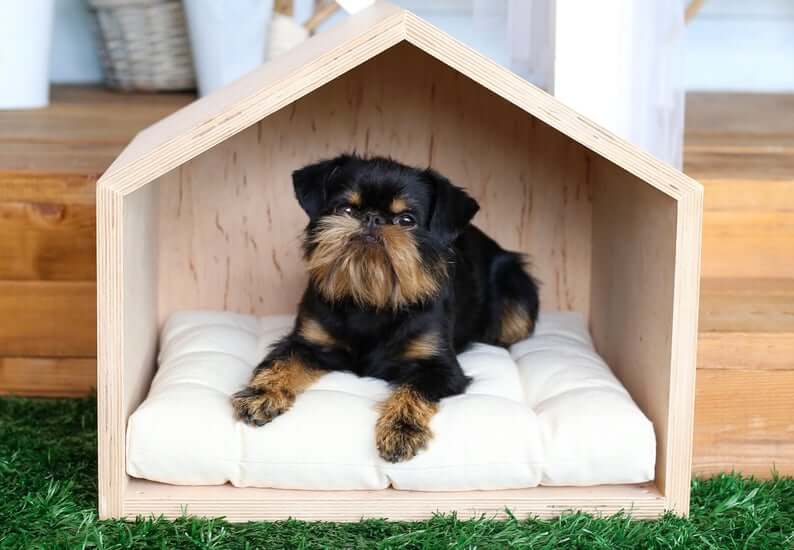 This super modern small dog house is a great option for your pooch outside during the day and can easily be moved between inside and outside depending on where he sleeps. Since it only has three walls, you may not want to leave your little pup in there overnight outdoors, but he will love resting on his small bed in his little alcove on any warm summer day. Since this modern option is so small, you will have no trouble finding a place for it on a porch, in a yard, or on a deck. It can go anywhere, is easy to care for, and is available in many colors.
16. Extra Large Reclaimed Wooden Luxury Dog Home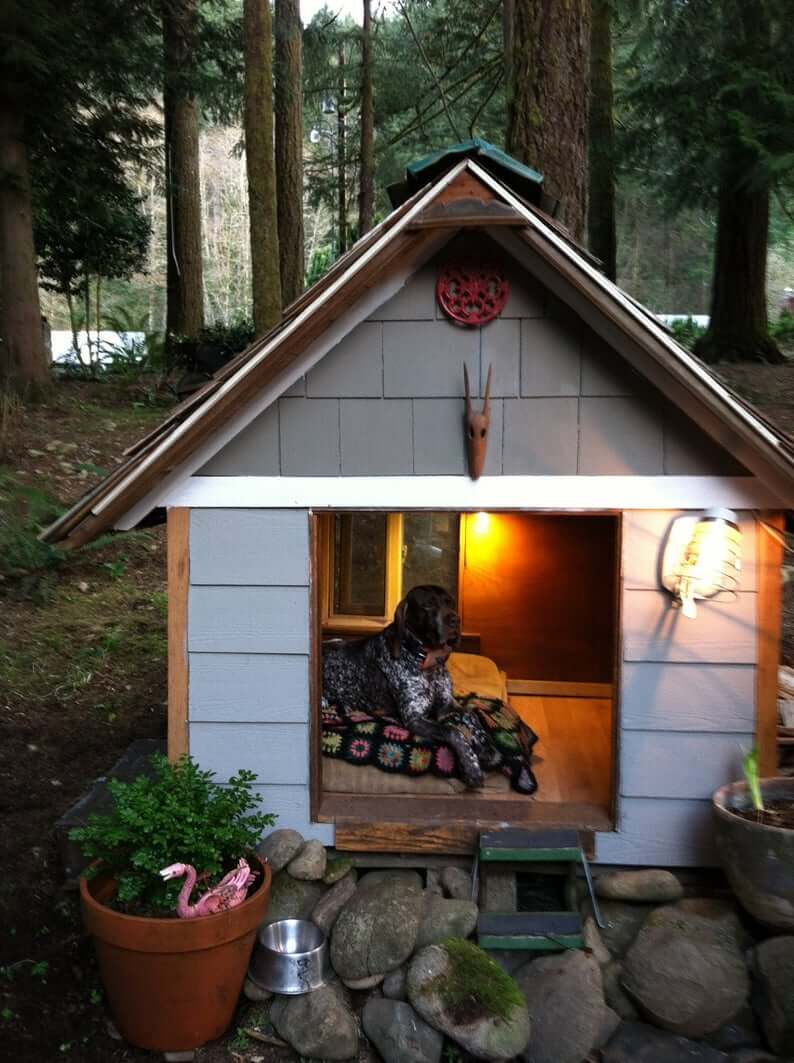 When it comes to deluxe outdoor dog house ideas, not many outshine this amazing handmade option. Each house is built to order and can be customized to meet your and your dog's needs, style, and personality. Some features include a window that can open or close, hardwood floors, and even indoor and outdoor lighting. Many people feel as though their dog is part of the family and a house of this caliber will really make your dog feel like that is true. Although it may be a bit expensive, it is entirely unique and will be adored by every canine and human alike.
17. Lovely Dog Home with Covered Porch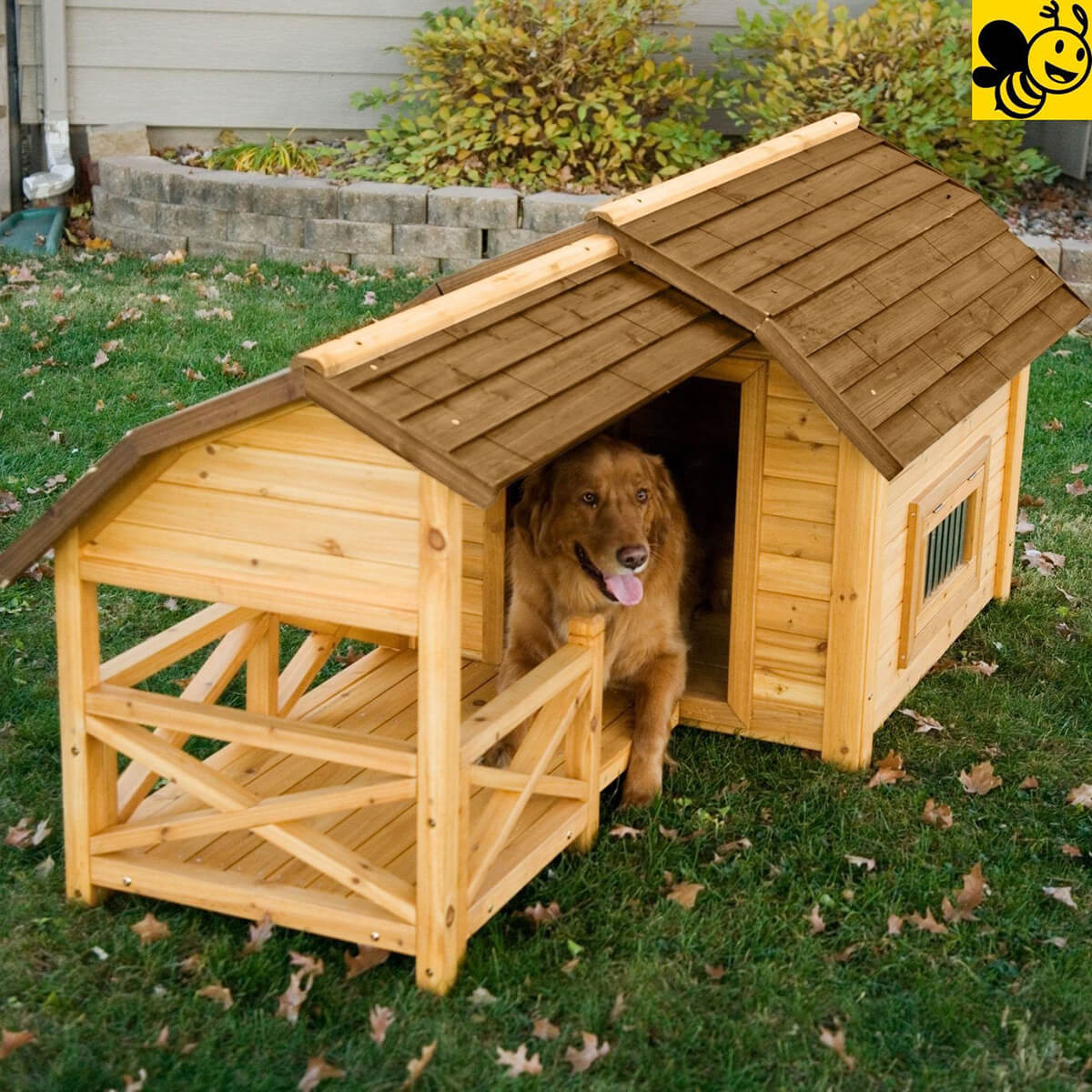 If your dog loves to lounge and needs some space of his own, this house, which features an extended roof and covered patio, is an excellent choice. There is ample space inside for pooch to curl up and stay cozy, or, when weather allows it, he can lounge on his long covered deck. Made of beautiful light wood and a dark shingled roof, this design is not only practical but also beautiful. It does take up a little more space than an average dog house, but your canine friend will thank you on those warm summer days when he prefers to lounge outside.
18. Paw Printed A-Frame Beautiful Dog House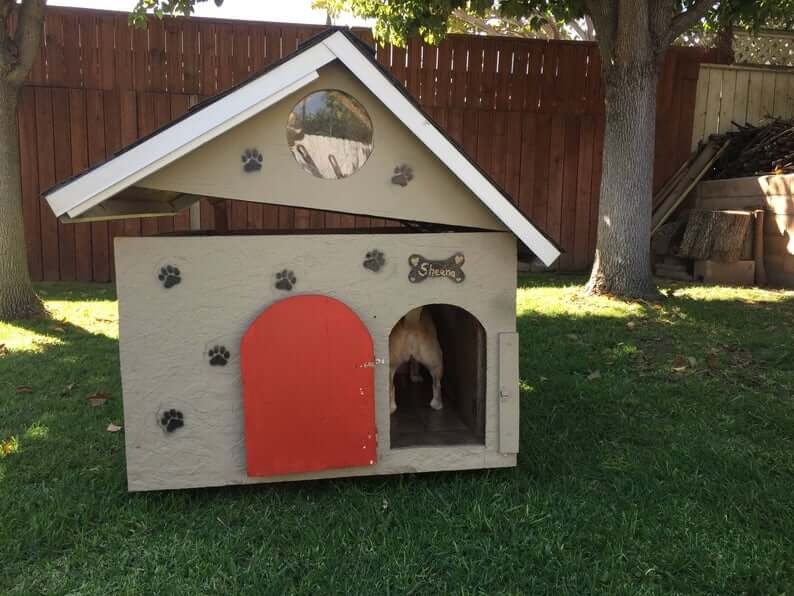 Clever dog house ideas are so fun to come across and often incorporate features that, even though they make good sense, for some reason are just not super common. This house, for example, has a roof that opens on a sunny day to allow for more warmth, sunshine, and even some extra play opportunities. The door on this house does close and lock, so you may use it as kennel if you like or just keep it shut without the lock on days when the weather is particularly harsh. The large square interior is great for a medium or small dog and could probably even accommodate two small dogs.
18 Super Cute Outdoor Dog House Ideas for Your Favorite Furry Friend
The life of a dog is a pretty simple affair, isn't it? Sleep, eat, play, and then — well at that point it's either sleep, eat, or play again. What it must be like to exist happily without worrying about shelter or online shopping or DIY projects?
While we can't experience the utter simplicity of a dog's life, we can certainly do our best to make the dogs in our lives as happy and as loved as possible. And you can be sure that if dogs did wonder about things like choosing the right dog house (and if they had the dexterity to use a computer and access the internet), they would no doubt consult this list of outdoor dog house ideas for inspiration. Why? Because what other source of information could they possibly need? With this array of options, they could choose a classic-looking abode, a modern design with luxurious features, a clever DIY dog house project, or any number of other outdoor shelters. They could find that perfect marriage of functionality, style, and sturdiness, and they could pair it with their owners' yard aesthetic.
But of course, they can't do any of that themselves, so your choices will have to do. Shop thoroughly and choose wisely. A dog's rest depends on it.
Our Favorite Outdoor Decorations to buy on Amazon