Welcome the season of spring from the outside in with all of the perfectly pastel pieces that are part of the best outdoor Easter decoration ideas conveniently provided for you right here! From eggs to bunnies, there is a wide selection of spring time favorites included. Too often guests have to enter our homes to see our spring time welcome, but not anymore. Bring the decor right out the front door and onto your porches and lawns. When your Easter dinner guests arrive, they are sure to feel a warm welcome as soon as they step out of their car!
18 Fun Ways to Spring into Easter with Outdoor Decorations

The first order of outdoor decor typically is hanging a wreath on the front door. And while this is always a win-win, you don't have to stop there. Cozy up a corner on your porch with wooden cut-outs or over-stuffed baskets. Better yet, liven up the landscape around your exterior with a few over-sized Peeps and eggs to really draw in the eye and enhance that curb appeal.
No matter which pastel path you choose, brightening up your outside space is simple with all of the unique Easter yard decorations listed below. Depending on what you already have on hand at home, you might want one, two or a few of these great pieces.
1. Yarn Art Pastel Egg Wreath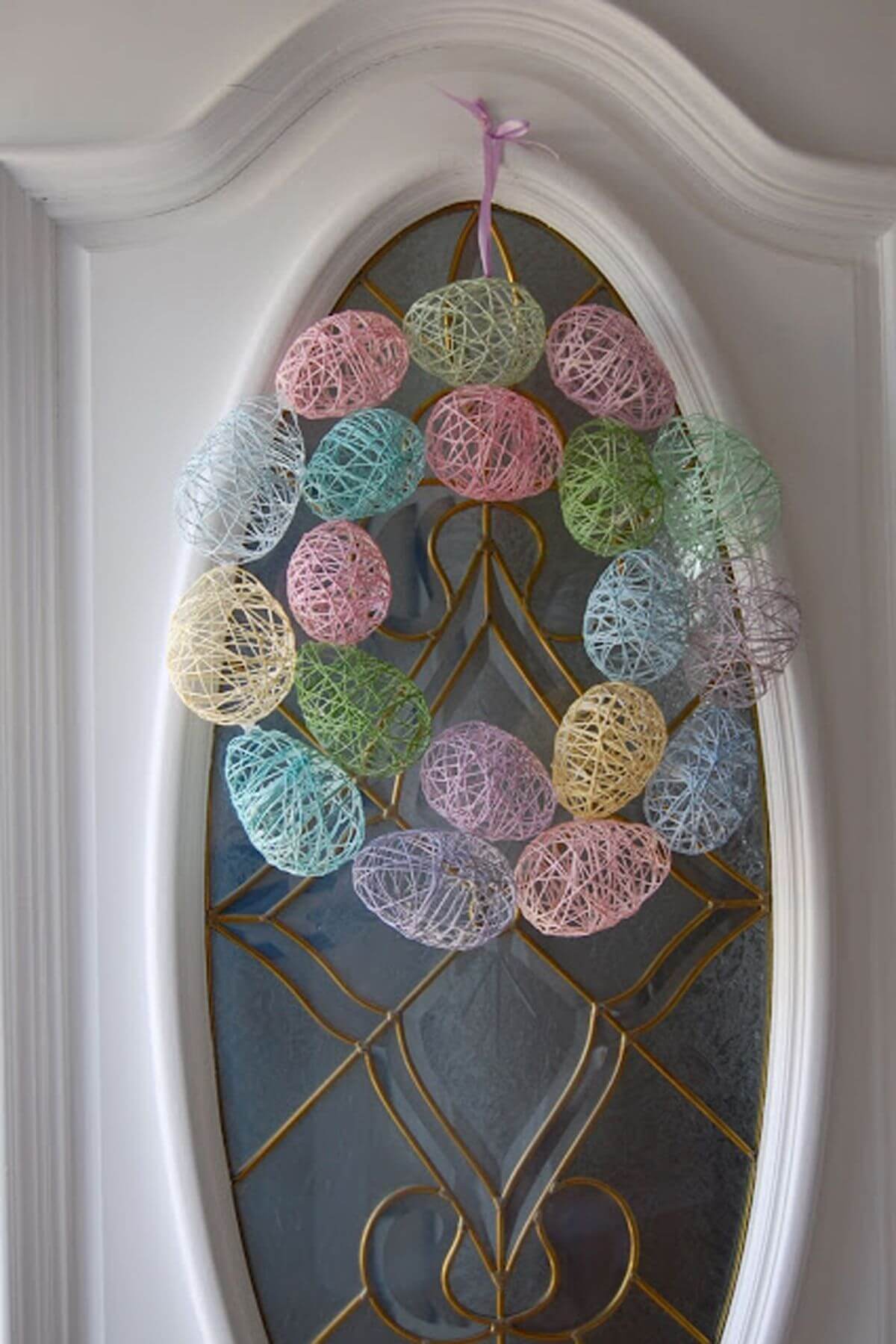 Clustered together in two pretty rows, these yarn art eggs are a perfect sign of spring. With their multicolored pastel hues, these oval beauties are a shift from the traditional plastic egg wreath and created to be a definite eye-catcher! Hang it on your front door or use it on top of a porch table to circle around a bunny statue or basket. With a little yarn, starch and love you could make this DIY yarn art wreath together with your favorite kids for a fun springtime craft that doubles as a great home decoration. This creative circle lands as one of the best outdoor Easter decoration ideas to hit the scene.
2. Standing Wooden Bunny Cut-out with Ribbon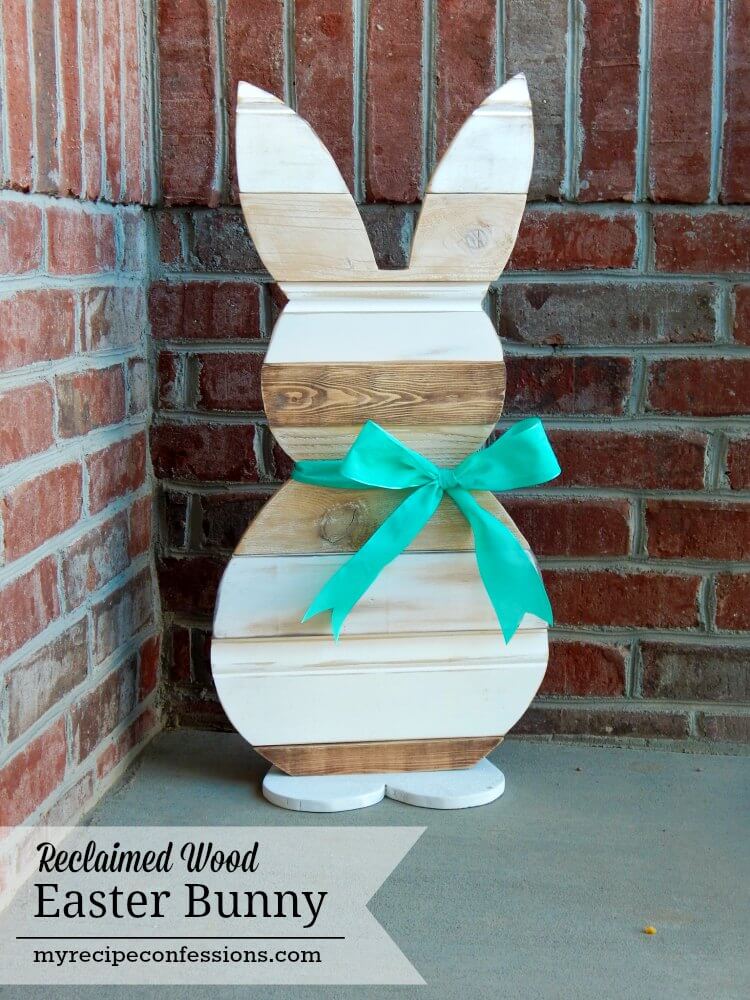 Snug as a bug in a rug is where you'll find this awesome idea of a cute cut-out on the front porch! Right in the corner behind the front door, this hopping friend is standing proud with a beautiful turquoise ribbon tied around his neck. Sure to greet guests with a grin, this reclaimed wood decoration re-purposes materials adding some character and charm to this otherwise new piece. Stand him on your top step to help line the way to the celebration of Easter day.
3. Hatched Egg Easter Tree Ornament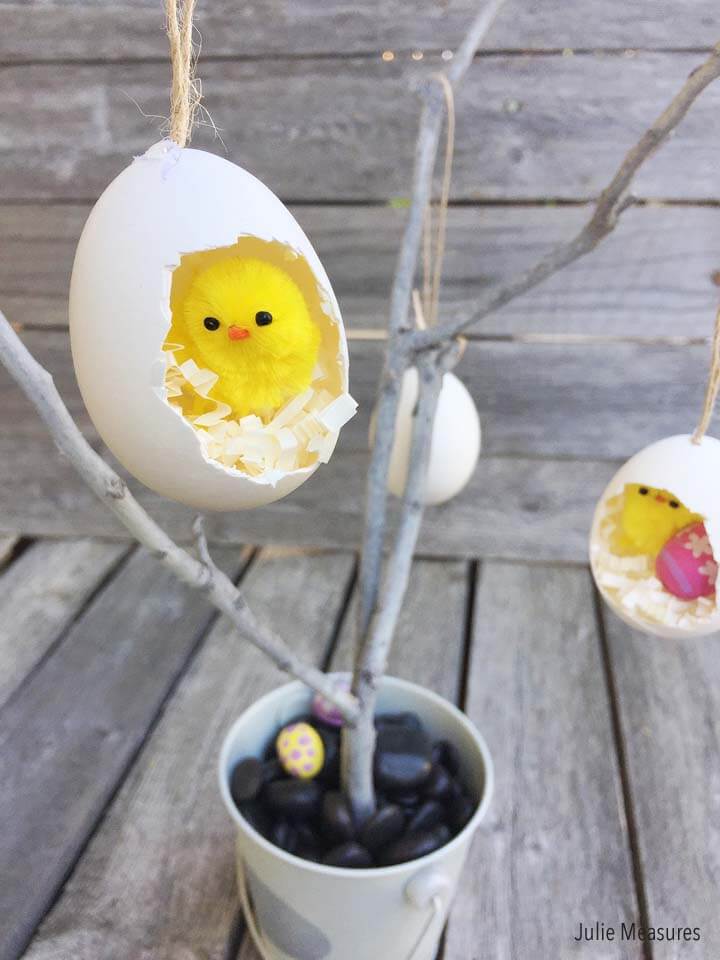 Pine trees are a staple for Christmas decor so why not add a tree to your Easter-scape? Here's a cool and awesome idea- grab a branch, stick it in a pot of dirt, moss and/or rocks and voila- you've got an Easter tree! And these adorable, darling little ornaments are just the thing you need to complete the look. Featuring an egg that has just hatched, look inside to find the fuzzy chick nestled behind the rubble of egg shell crumbs. This is a fun and playful Easter decor idea that is sure to be loved by young and old. Display this Easter tree on your front porch or on the entryway table of your home. Don't be surprised if all of your guests decide to add an Easter tree into their holiday decor next spring too!
4. Larger-than-life Yard Peeps Outdoor Decorations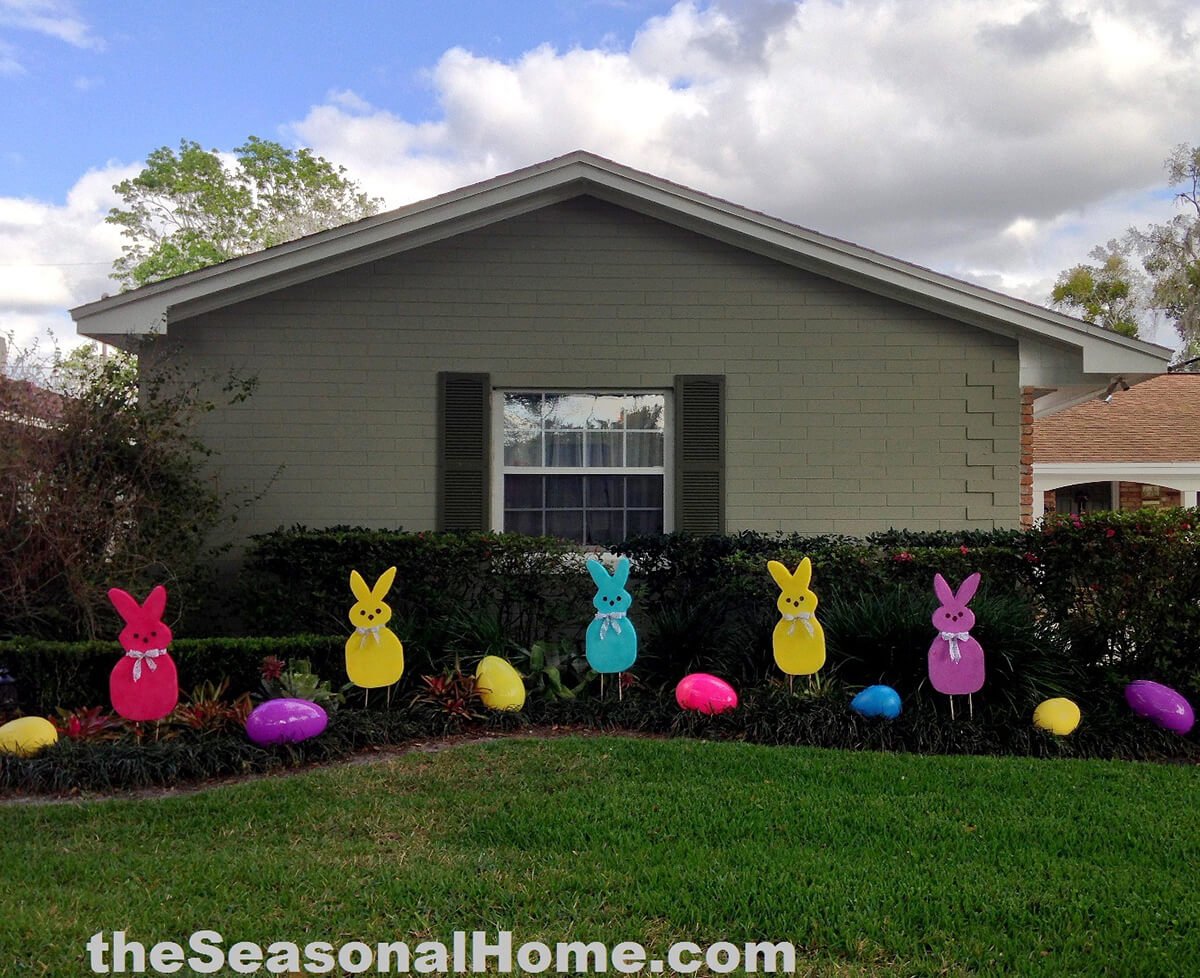 What happens when you combine one of Easter's most coveted sugary treats with outdoor spring decor? Bam! Bring on larger-than-life Peeps! All of the fun and cuteness without the calories, these cool and colorful candies make a perfect pop of color in your front yard or lining the path of your driveway. Add a few extra large plastic eggs to finish the look and your neighbors will enjoy the view from across the street during this spring! These special creations are sure to be popular and one of the best outdoor Easter decoration ideas.
5. Rustic Wooden Box Planter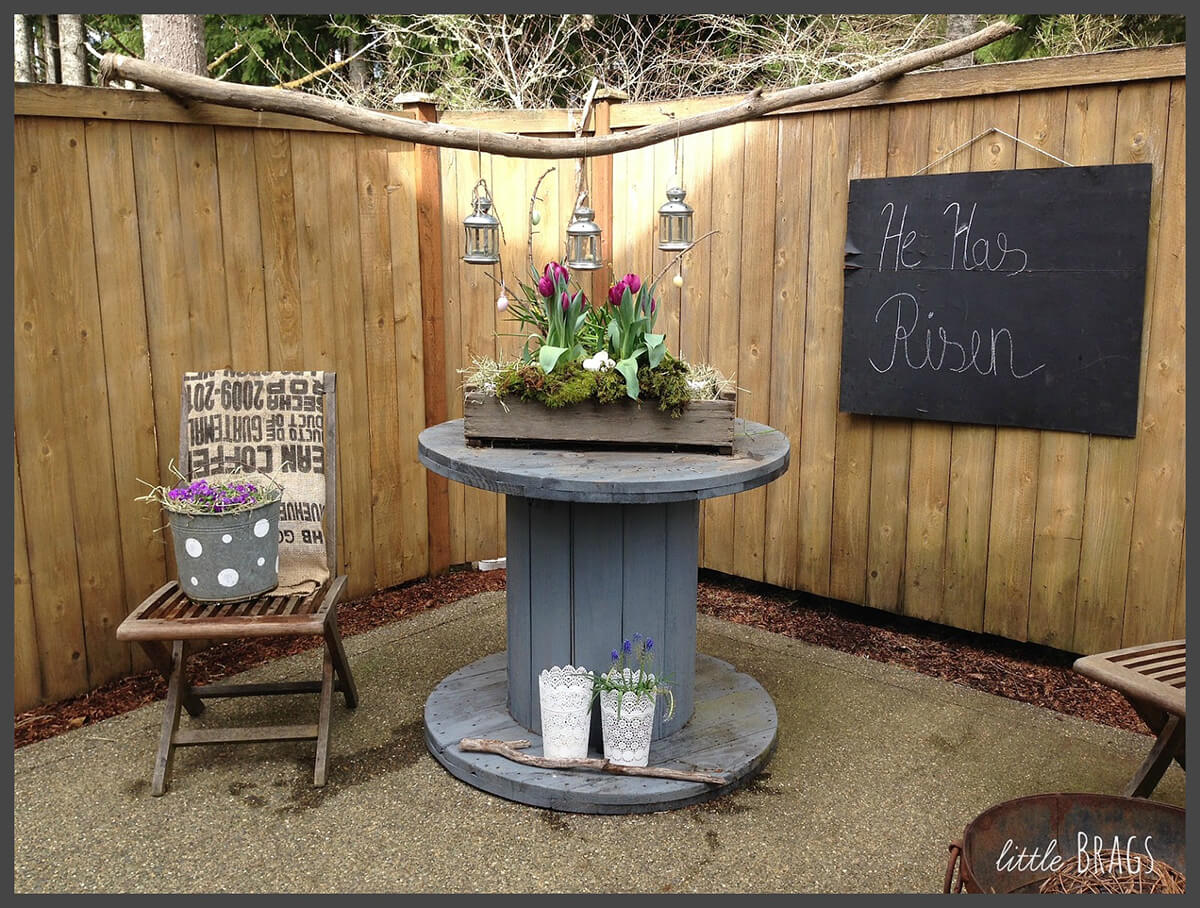 Liven up your outdoor space with a rustic wooden planter on your patio. Filled with twin purple tulips, this rectangular plant home makes an impact without taking up too much space. Intertwined with moss and greenery, the tulips are a true signal of the spring season and the ideal flower to place front and center in your patio playground. This awesome idea is tried and true as the go-to for flower fortresses and brings the forest to your fingertips as a fun Easter yard decorations. When the season begins to fade, you can always cut back your tulips and plant some summer blooms as well and make this wooden planter a permanent fixture in your outdoor space.
6. Wicker Planter Stand with Rabbit Statue and Floral Display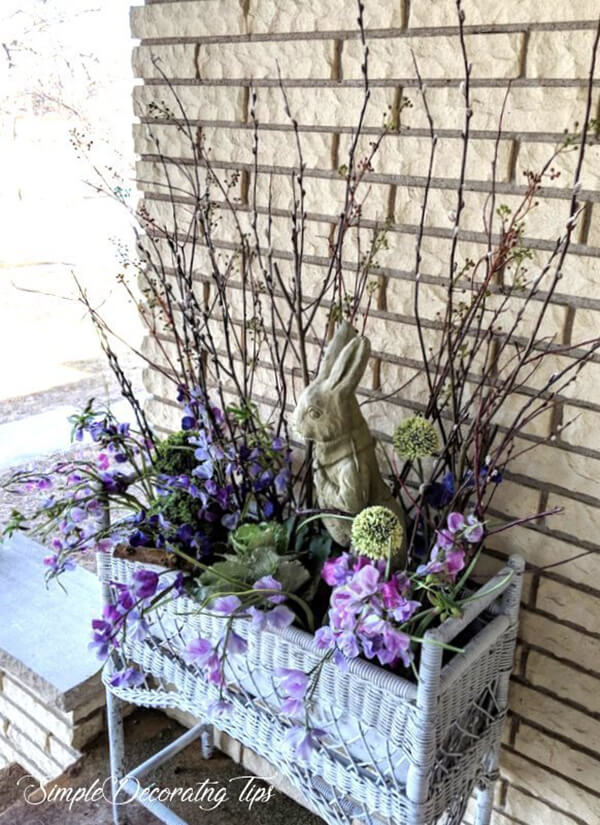 Standing tall is this white wicker planter filled with dramatic interest and flair! Center-stage is owned by the rabbit statue while dozens of flowers and branches stretch out from all sides and angles to create an interesting floral display like never before. Blues, purples and greens spring to life in this floral arrangement and surround the season's furry mascot in a most unique way. Perch this planter near your front door to provide a pretty greeting for each guest this season.
7. Pastel and Polka Dot Grosgrain Ribbon Egg Yard Decoration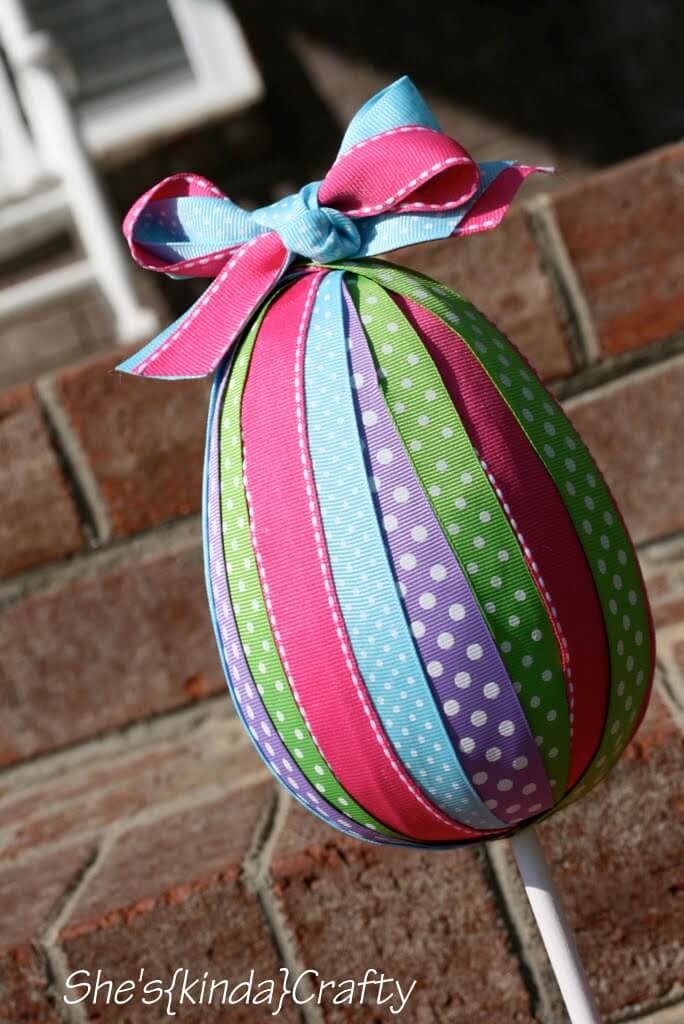 Vibrant pastels pop into life as this ribbon egg yard decoration brightens up your front yard and signals the start of spring. Featuring polka dots and vivid pastel colors, this cool egg is polished off with a feminine touch as a tied bow rests at the top. Constructed from ribbon, this egg adds a different texture to the great outdoor space. Stick one of these in your flower bed and let the fun begin! The creative use of ribbon strips to create the rounded oval egg stand out from the norm and are sure to be the talk of the town!
8. Moss Covered Pot with Little Bunny and Pansies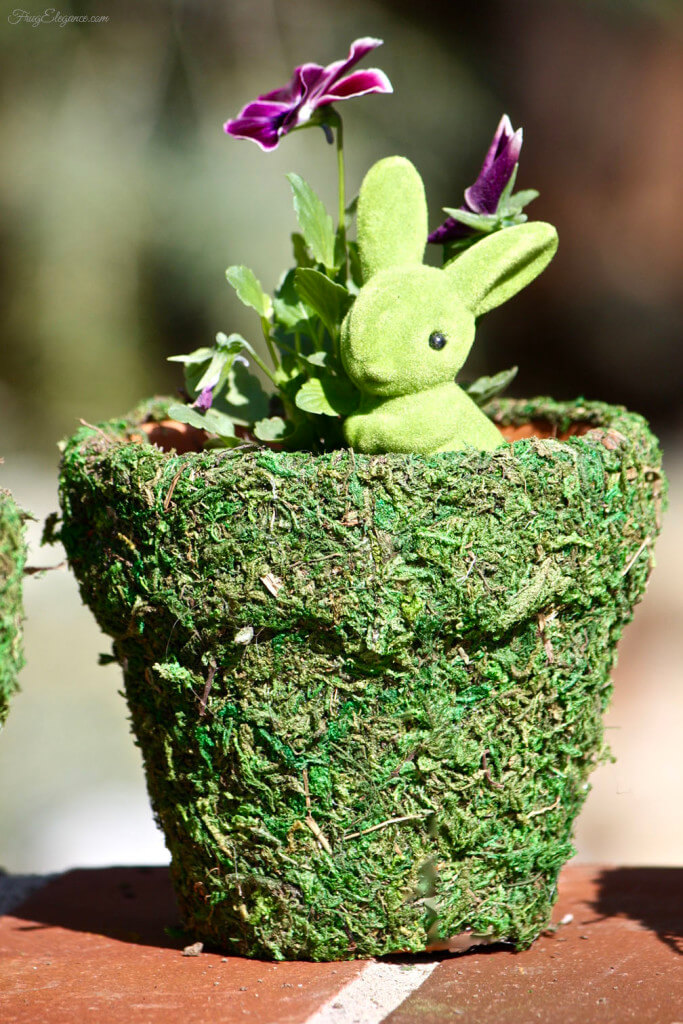 One of the first flowers able to withstand the cold spring mornings is the pretty pansy. Coming in bold purple, bright pink and yellow, these hardy blooms have found a great place to call home in this moss covered pot. The addition of the small bunny amid these flowers is the right touch to bring two of the season's favorites together. Line your front porch steps with a few of these or place one on a stand near your front door. It's a great way to display these hardy beauties and welcome guests into the warm and inviting comfort of your home.
9. Grouping of 3 Plant and Egg Display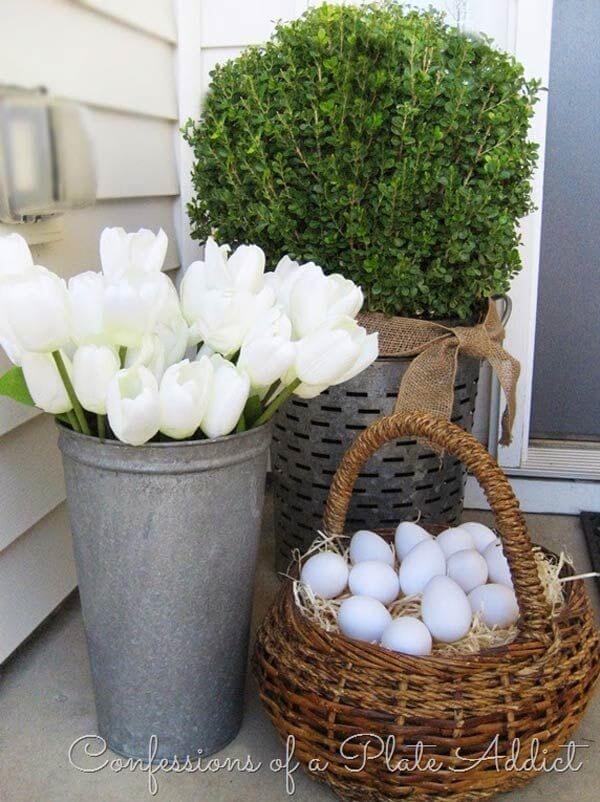 For some added height, the gray metal flower holder is filled with fresh cut silk tulips in white to give some dimension to the arrangement. Check out the metal slatted container in the back. This tall container is just right for the boxwood plant inside and is wrapped in a modern farmhouse burlap bow to finish it off. Then, the groping is complete with a warm brown basket filled with white decorative eggs. Three is a very popular number and for good reason. Groupings of three are appealing to the eye and this set doesn't disappoint. Find a porch or patio space with enough room to fit this bundle and give your home a much needed face lift for spring.
10. Square White Box Planter with Short Legs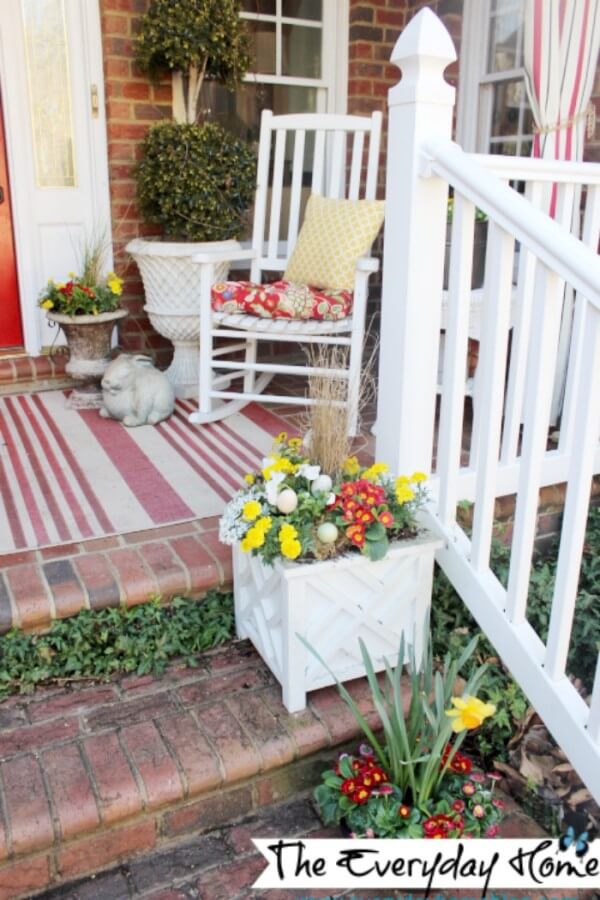 Short and sweet and to the point. This square white planter comes with its own short legs to stand alone and hold whatever flowers the season beckons. For spring, fill this square planter with a variety of colors and be sure to add some visual interest with a some tall grass placed in the center. Set a few on the sides of each porch step or along the back wall of lattice on your patio. Alone or in a grouping, these square planters are both functional and fun and certainly get the job done!
11. Burlap Bunny Applique with Spring Time Bow on a Circle Frame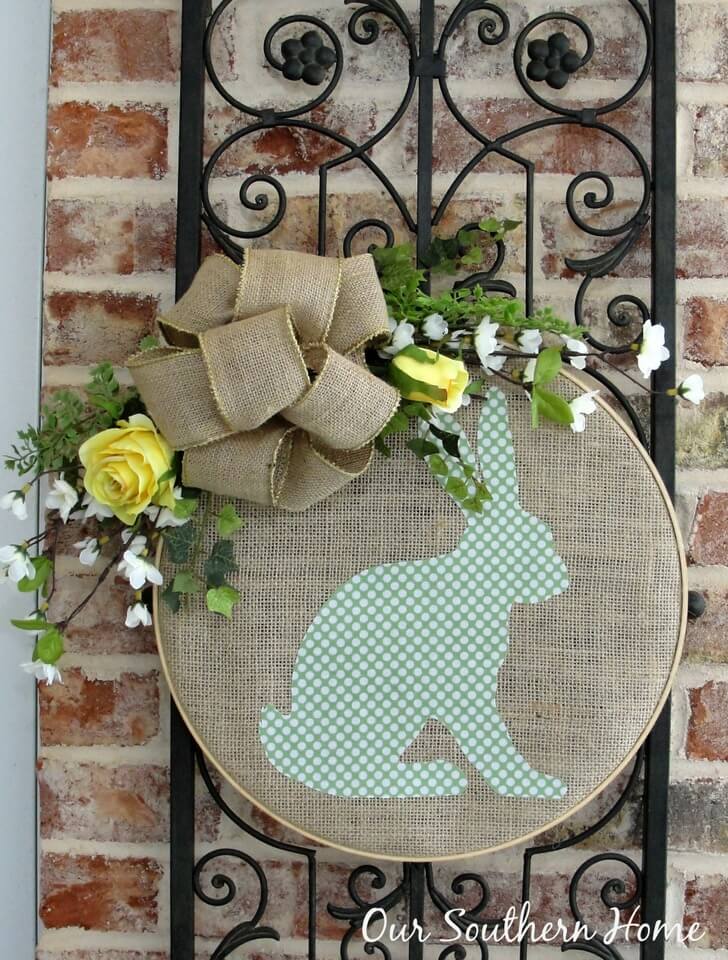 Don't throw away those unused embroidery circles! Turn them into something beautiful for spring like this piece of spring swag. Constructed with burlap for the background and bow, this home decoration combines modern farmhouse with spring. The embellished burlap bow is adorned with cute white flowers, greenery and a yellow rose. The silhouette of the bunny brings the Easter Bunny to your front door- no more waiting in long lines at the mall. Hang it so guests will see it as they enter your home from the patio, porch or garage. Hop on in to welcome spring!
12. White Wire Basket with Stick Cross and Easter Decorations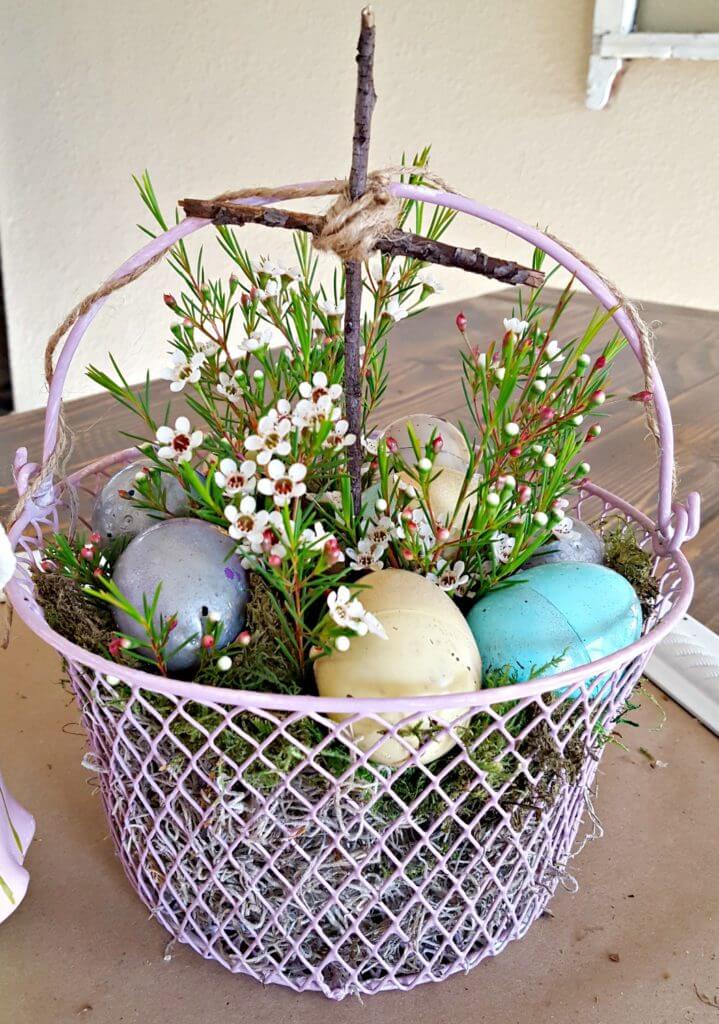 White is the ideal color for spring and this wire basket takes notice of that. Filled with a variety of sprigs of tiny flowers and some muted plastic eggs, this basket has a nice collection of typical Easter decor ideas. The reason for the season is proudly placed in the center of this basket as a cross constructed from raw sticks has been secured with a little twine. Charming and full of hope, this wire basket with stick cross is a great addition to your patio side table or next to your porch swing.
13. String Covered Egg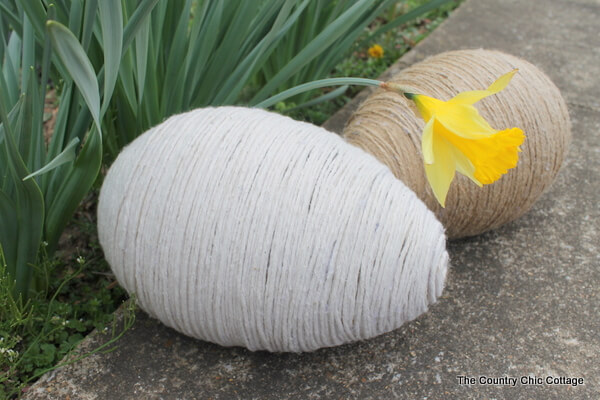 Available in brilliant white or toasted tan, these medium to large sized eggs are larger than life and add a nice touch of Easter without all the fuss of pastels everywhere. These eggs that have been fully wrapped up in string, are works of art that are a step off the beaten path. Place one or two on your porch swing or chairs instead of your traditional throw pillows for an update to your porch's curb appeal. The neutrals lend themselves nicely to more modern and mature looks which is a nice option from the bright pastels and plastics of the popular kid-friendly designs.
14. Orange Chevron Carrot Pallet Sign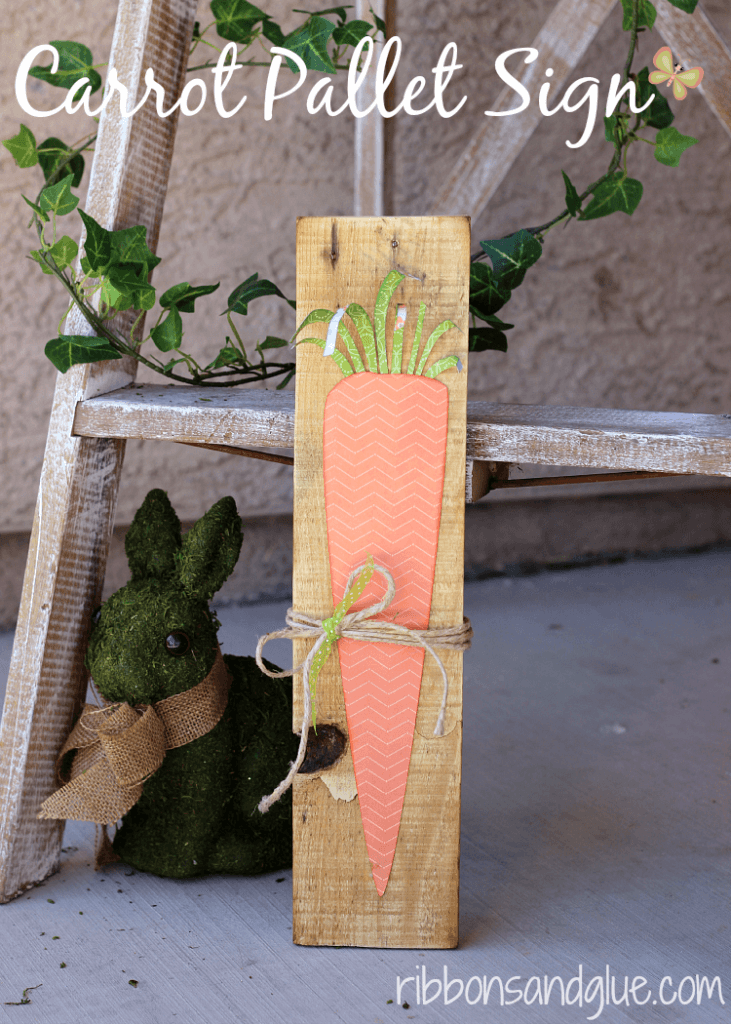 This upright rectangular sign features a bold and bright orange carrot constructed in a chevron pattern and topped off with strips of patterned lime green print to complete the look. The entire sign is wrapped in a bow of twine at the center for a whimsical touch. Take this look from spring to summer as it would seamlessly transition from your porch to garden space. It's fun to add a touch of the season's top vegetable into your outdoor Easter decor.
15. Carrot and Bunny Garland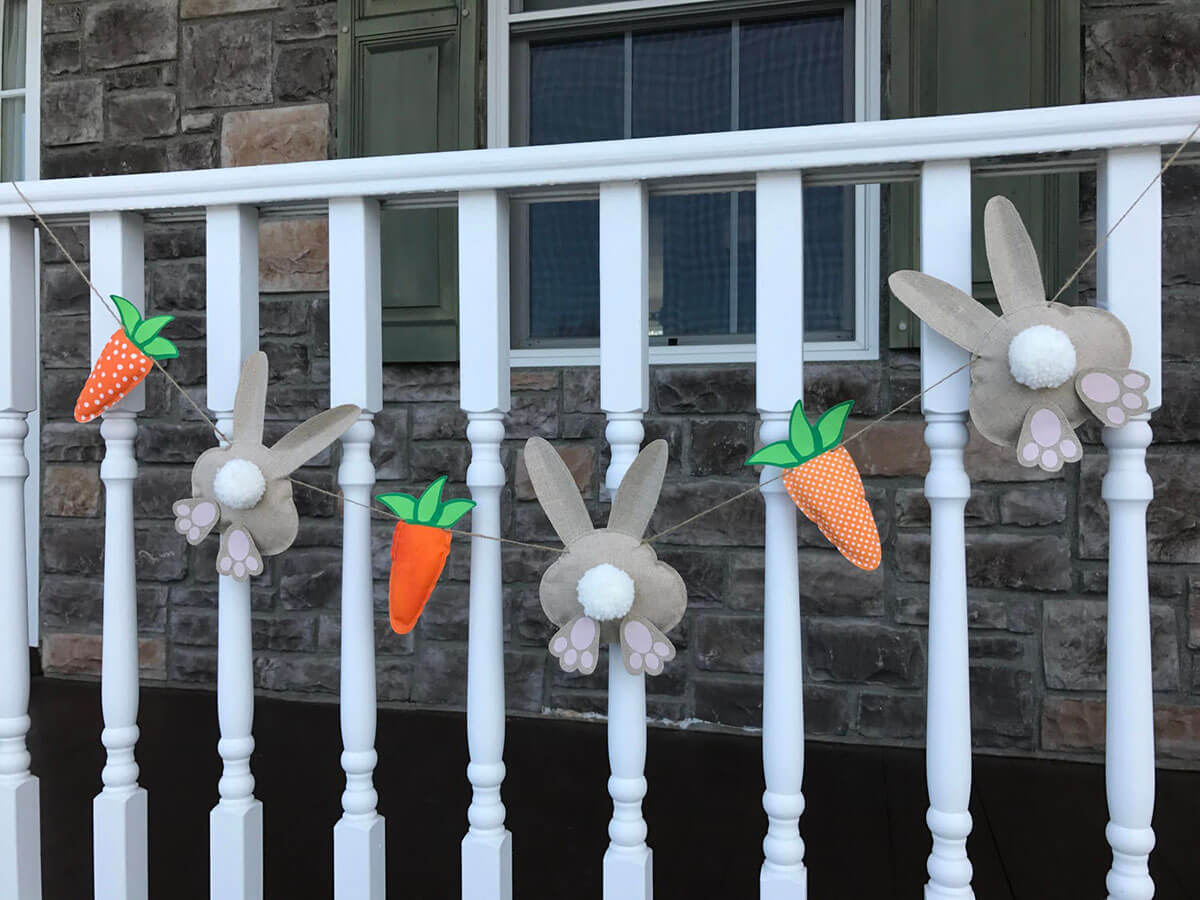 Take a piece of twine and what do you have? The perfect foundation for a seasonal spring garland! Featuring a pattern of carrots and bunny butts, this fun garland is sure to breathe some fresh life into your decor for spring. The gray bunny's backside is complete with a white furry tail too! How adorable! The carrots are orange but filled with charm as each one has a different print in this hue from big to small polka dots. Hang one above your kitchen sink and one across your front porch railing to add some seasonal charm to your cozy cottage!
16. Happy Easter Wooden Porch Sign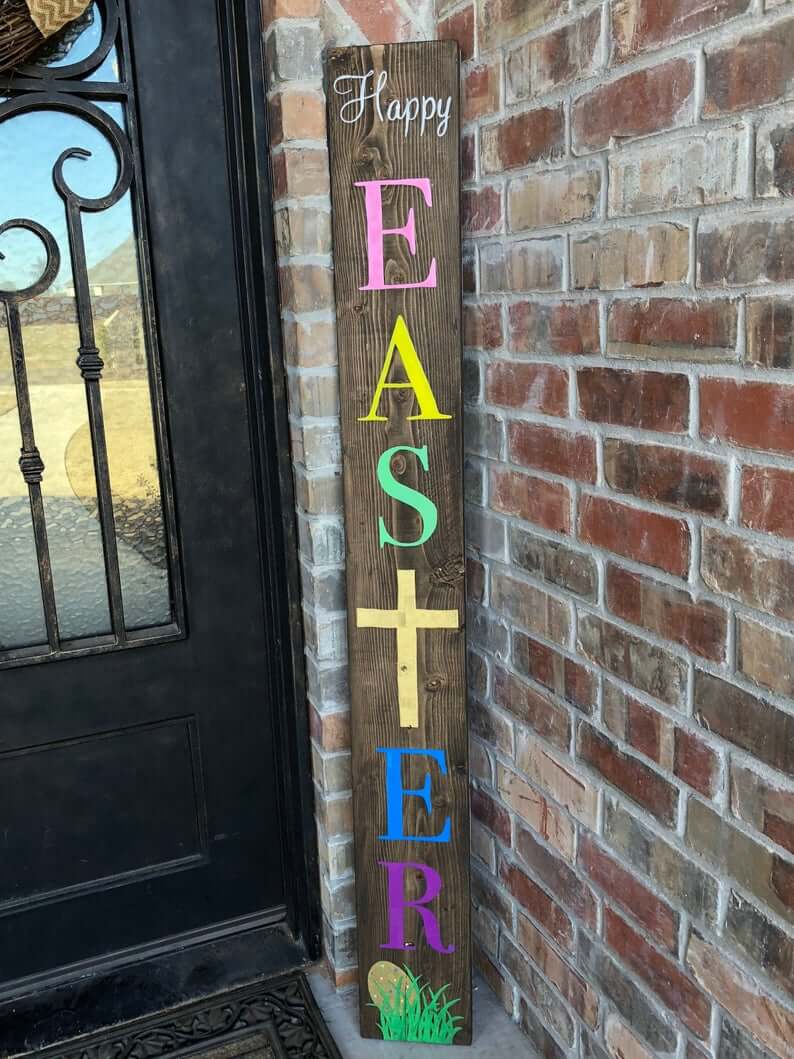 Make your Easter greeting easy to see with this large wooden Happy Easter sign. Simply prop up this pretty spring time addition to your outside decor for a friendly welcome to all who step onto your porch. The dark wooden background provides the perfect backdrop for the pastel letters of Easter. The "t" on the word Easter is also a cross so it coordinates with the miraculous event of the season. At the bottom, you will find a pint-sized egg hunt as one egg is magically placed amid a cluster of grass.
17. Extra Large Pastel Wooden Eggs Lawn Decorations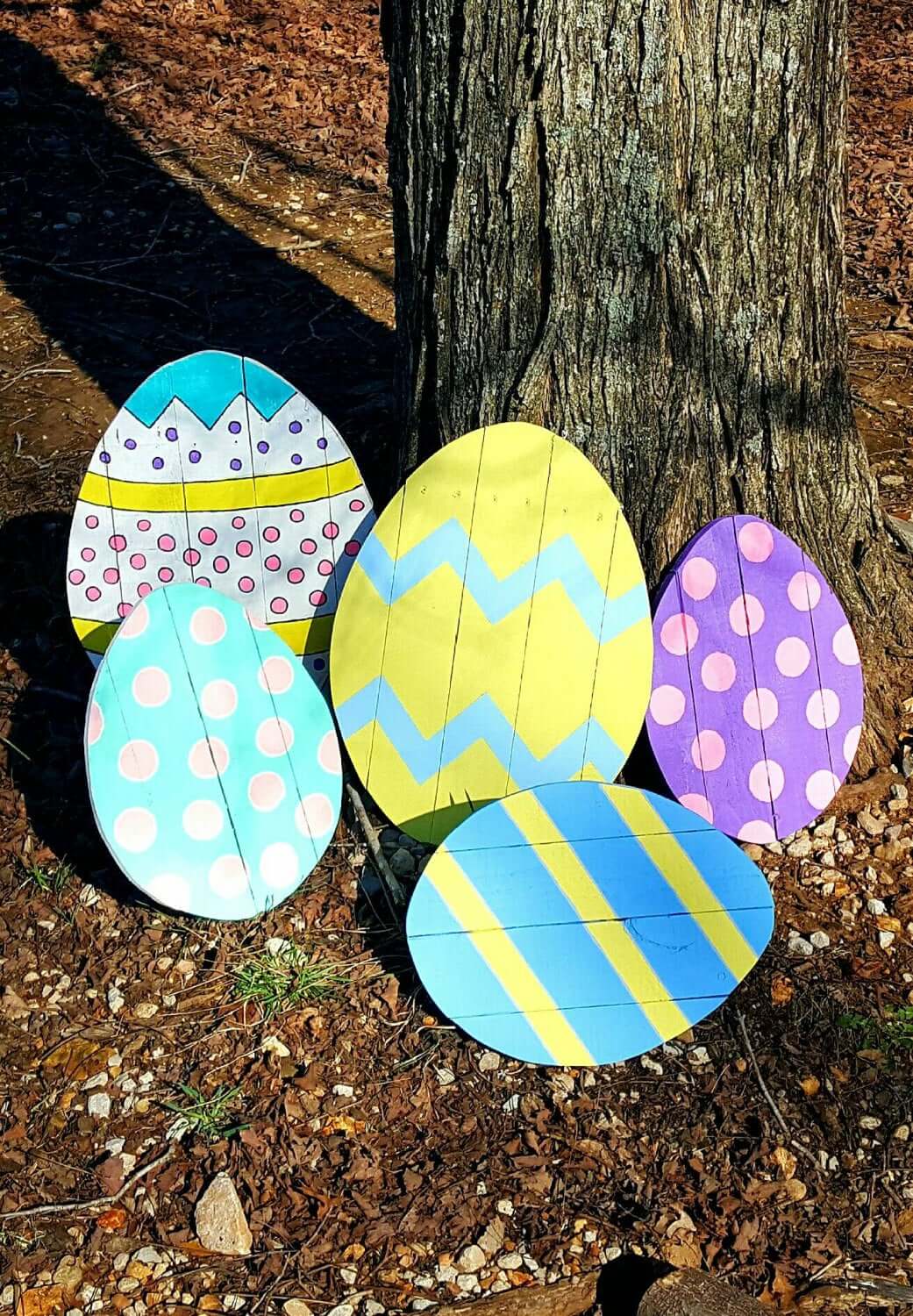 Coloring eggs is one of the traditions passed down from one generation to the next and now you can put a modern twist on this family routine by taking it outdoors. Think outside the kitchen and onto the front lawn as you display some larger than life wooden Easter egg cut outs. You can choose to decorate them just as beautifully as you would your dip dyed eggs inside. From stripes to polka dots, the creativity is up to you! Featuring zigzag in all the pretty pastel colors you love, these enormous yard eggs are sure to brighten up your front yard in a way that will be cherished by children of all ages.
18. Pale Pink Wooden Rabbit Cutout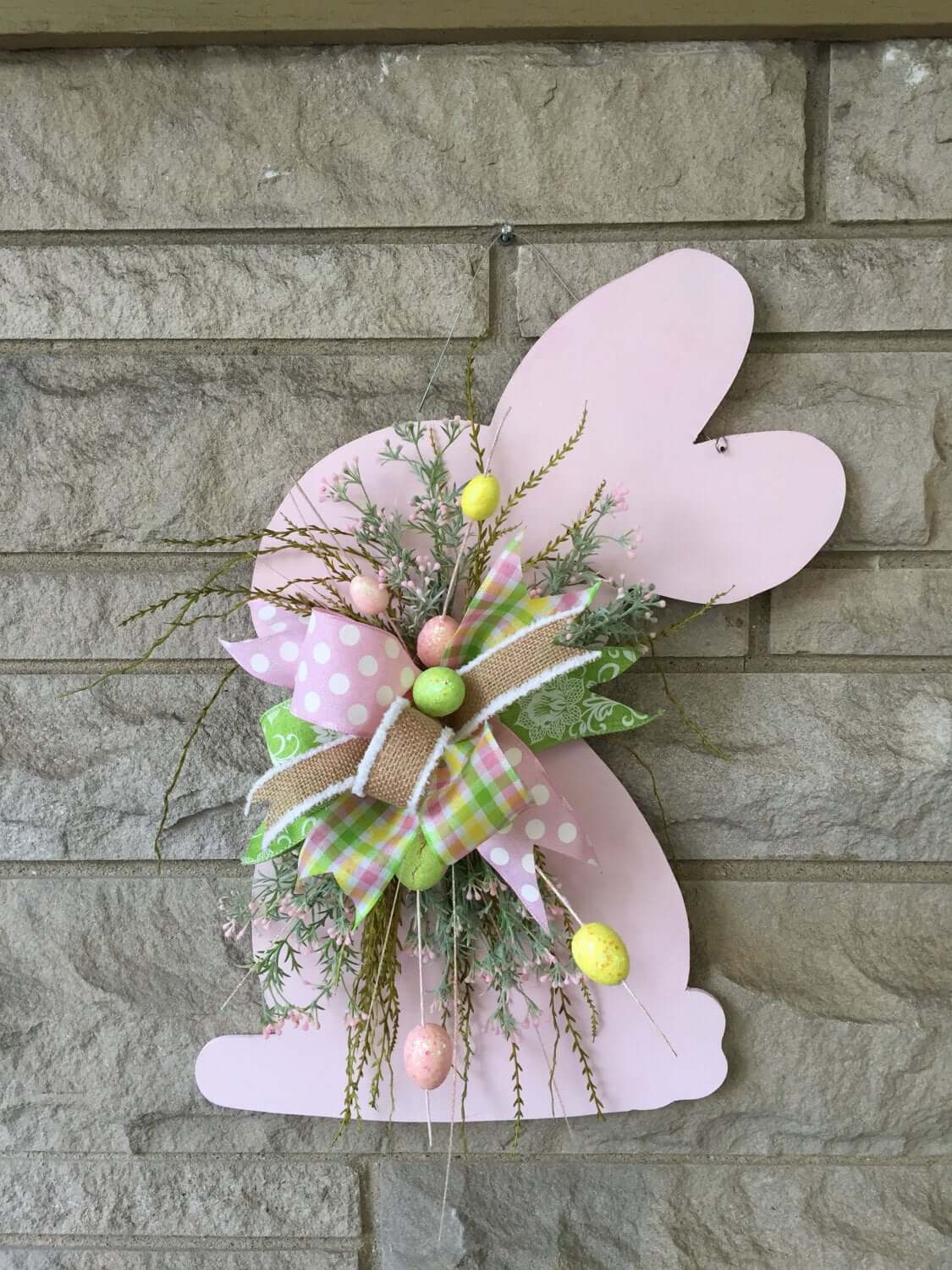 Lovely is the most appropriate way to describe this pale pink rabbit. The most delicate of all pink shades, this pale pink bunny wears a big bow around her neck made from a mixture of gorgeous ribbons. From burlap trimmed in white to pink, yellow and green plaid or polka dots, these ribbons tie the entire season of spring into one decoration. Precisely placed eggs suspended on long sticks also serve as an embellishment projecting from this unique bow. Whether it's hung on your porch or side door, this lovely bunny is a cute addition to any Easter decor.
18 Pastel and Pretty Picks for Your Outdoor Easter Decorations
So, be sure to plan your spring decorating with your outdoor space in mind with some of the best outdoor Easter decoration ideas. Sprucing up the great outdoors with an extension of your interior design is much more than hanging a wreath on your front door. Creating a warm welcome is always at the forefront of an ideal entryway and the front porch is the first step in conquering this.
Spring brings rebirth and what better way to use your best outdoor Easter decoration ideas than with the addition of some spring time flowers. From pansies to potted tulips, the blooms scream spring and their vibrant colors are a friendly contrast from the winter blues. A grouping of metal containers and woven baskets makes a visually appealing display and so does a rustic wooden planter that can stand alone. No matter which container you choose to hold your flora and fauna, these sprigs of spring accessorize the season in a naturally beautiful way.
And the front porch is just getting us started! Take a leap off the front step and into the yard where there are larger than life eggs and bunnies making their home. Staking these cutouts along the border of your flowerbed or down the side of the driveway, the extra sized Peeps and eggs are head turners to all passersby.
So no matter where or how you choose to vamp up your outdoor space for Easter, consider using more than just a wreath. Think outside the basket too and let the lawn be your oyster!
Our Favorite Outdoor Decorations to buy on Amazon