Outdoor showers are a common fixture in the backyards and pool decks of warmer cities and countries all over the world. When the weather is hot all day and all night, it's easy to need multiple showers throughout the day. What better way to enjoy one of these showers than to do so outside in the open air?
14 Relaxing Outdoor Shower Design Ideas to Inspire You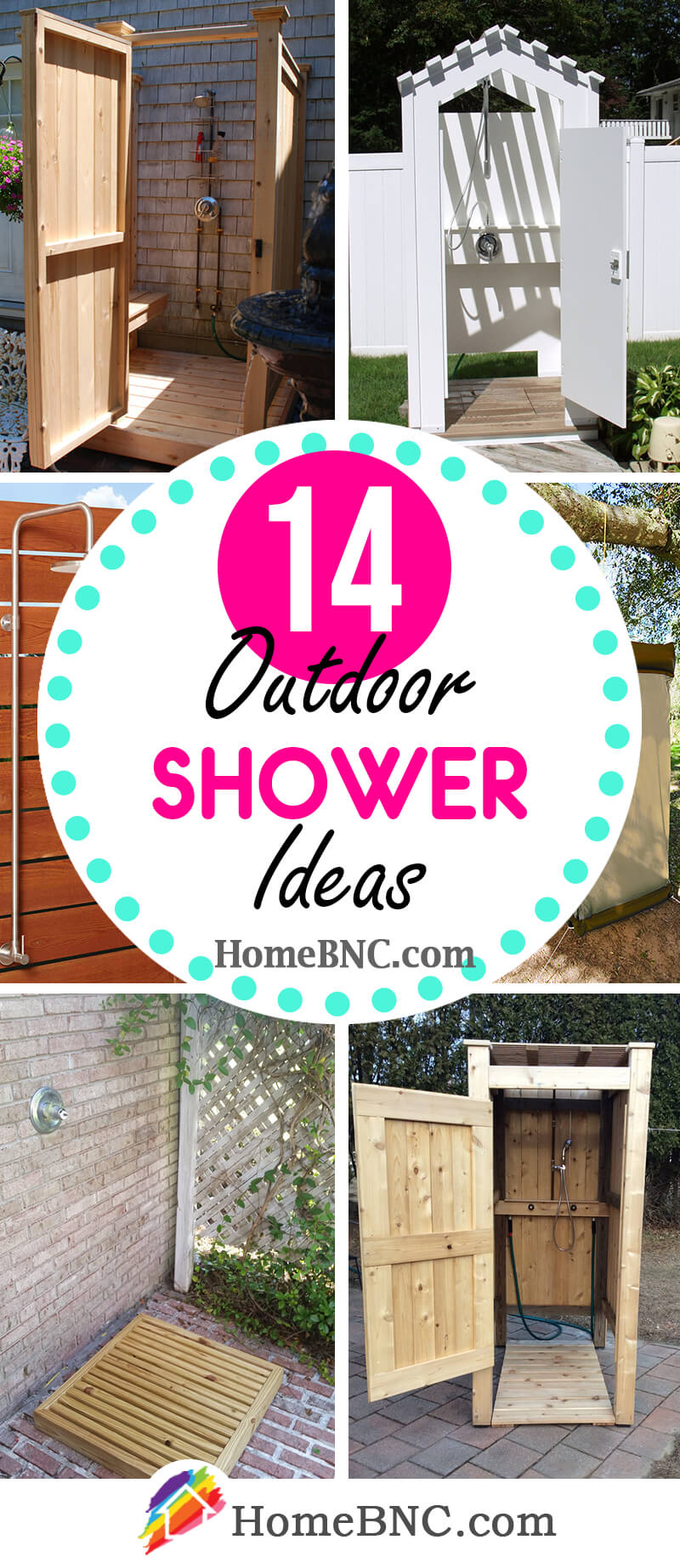 Whether these showers are built solely for the purpose of washing off or they're carefully constructed with aesthetically pleasing design in mind, an outdoor shower is a feature all homeowners stand to benefit from. Though many people primarily invest in these open-air showers in order to cultivate a luxurious and spa-like atmosphere outside of their homes, there are many practical reasons to invest in a shower like this.
Bathhouse style showers can serve as saunas that make it easy to rest and relax after a long day at work or working out in the gym, while a basic shower makes it easy to wash off after taking a dive in the pool or even after a trip from the beach. Some of the more extensively designed showers serve as an additional 1/2 bath for any guests that may be staying over. As there are so many different varieties of shower designs and reasons to build one, homeowners have to pick the style that will best suit their needs and the aesthetic of their homes and backyards.
If you're considering putting in your own outdoor shower, don't hesitate to start looking for inspiration. Many homeowners never realize that with the help of a plumber, a little bit of research and a few boards of wood, they can build their very own outdoor showers. For most shower designs, all that is required is a basic understanding of plumbing, a platform to stand on, a handle, and a shower head. While the more elaborate shower designs add in things like towel holders, doors, walls, and other features, many homeowners find it incredibly rewarding to build their own DIY showers themselves.
If you have some spare time to take on a new home renovation project, start building your outdoor shower. With the right ideas, you'll decide on a shower design that works perfectly with the rest of your home and garden. Read on for 14 outdoor shower designs to help you gain inspiration for your new backyard shower.
1. Simple Wooden DIY Outdoor Shower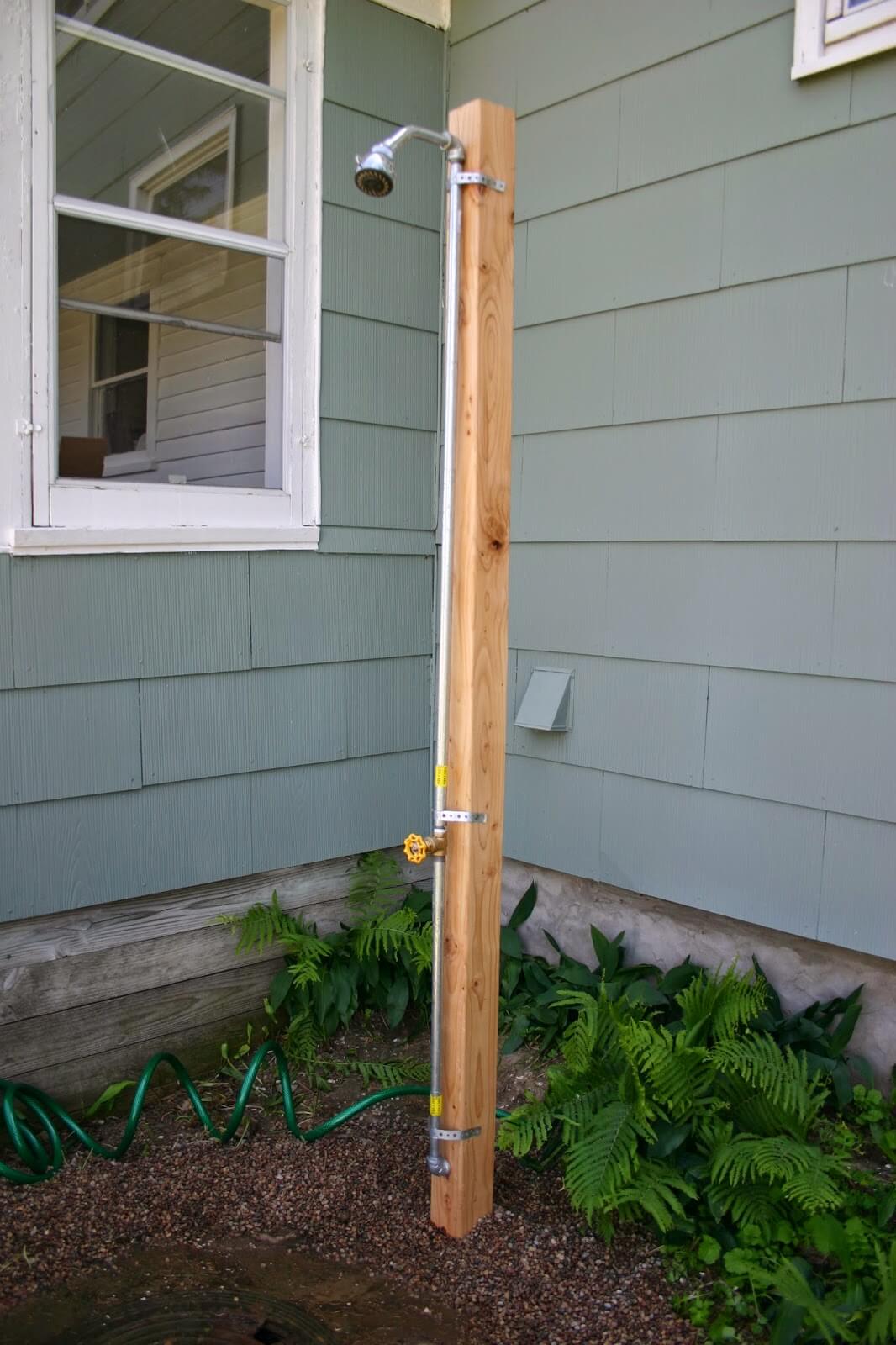 Make your backyard the highlight of your home with this DIY outdoor shower. This design is inspired by the rustic aesthetic, making your backyard feel even more relaxed the addition of a shower.
Whether you're building this shower to remodel your home or you plan to turn your backyard into a spot of rest and relaxation, this design is an excellent take on the outdoor bath trend. While this shower design itself is relatively minimal, it's simple and efficient. As you use this shower to wash off, the water runoff will go into the ground and plants nearby–making your shower a sustainable addition to your home.
2. DIY Outdoor Shower Attached to Wall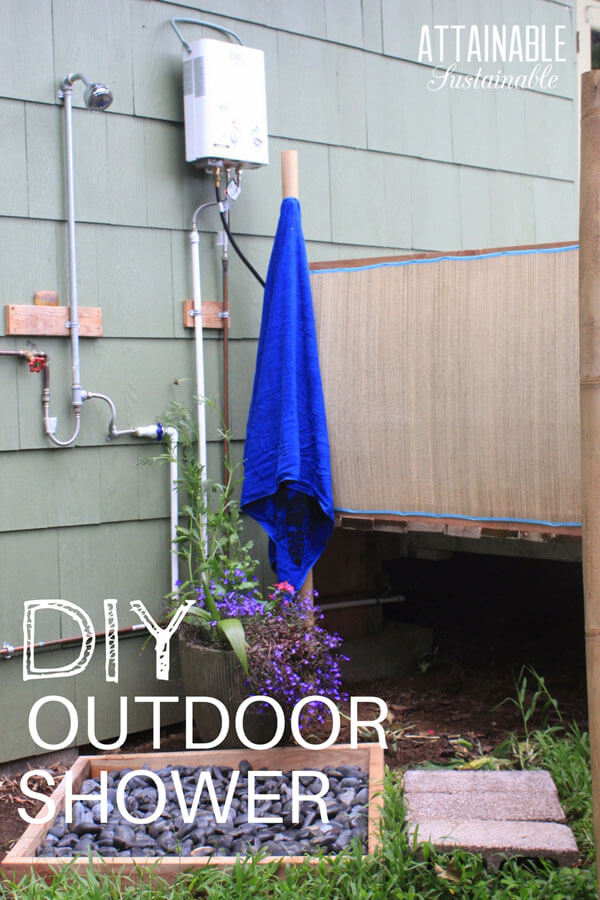 This easy shower design features a minimal style that will fit perfectly into any corner of your backyard, regardless of how small or large it may be. This design features pipes attached to the side of your house with the excess going into the stone-filled box on the ground.
Made complete with a post for a towel or robe, this outdoor shower makes do-it-yourself projects look easier than ever. Build this shower yourself by constructing a wooden box with stones for the shower floor and setting up the shower itself alongside the wall of your home.
3. Wooden Outdoor Bathhouse for Backyard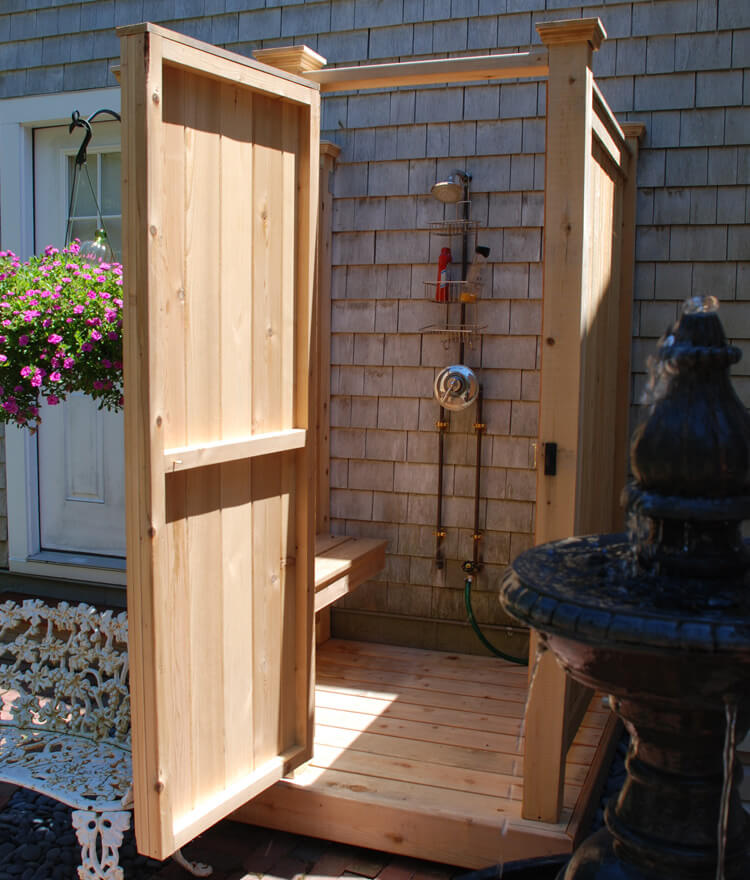 This weekend project bathhouse idea is the perfect way to combine the experience of showering in luxury with a love of the great outdoors. Built almost entirely from wood, this outdoor shower idea is a great way for any homeowner to add value to their backyard.
Whether you're washing off from a dip in the pool or you simply want to shower off while enjoying the gorgeous natural air, this outdoor shower is just the way to do that. Complete with a wooden bench and completely enclosed space, this shower is sure to make anyone that uses it feel at home right in their backyard. This bathhouse design makes this outdoor shower one that family and friends staying the night can use to wash off. As it is totally enclosed, anyone will feel completely safe showering in this space.
4. Portable Shower Tent for Outdoor Use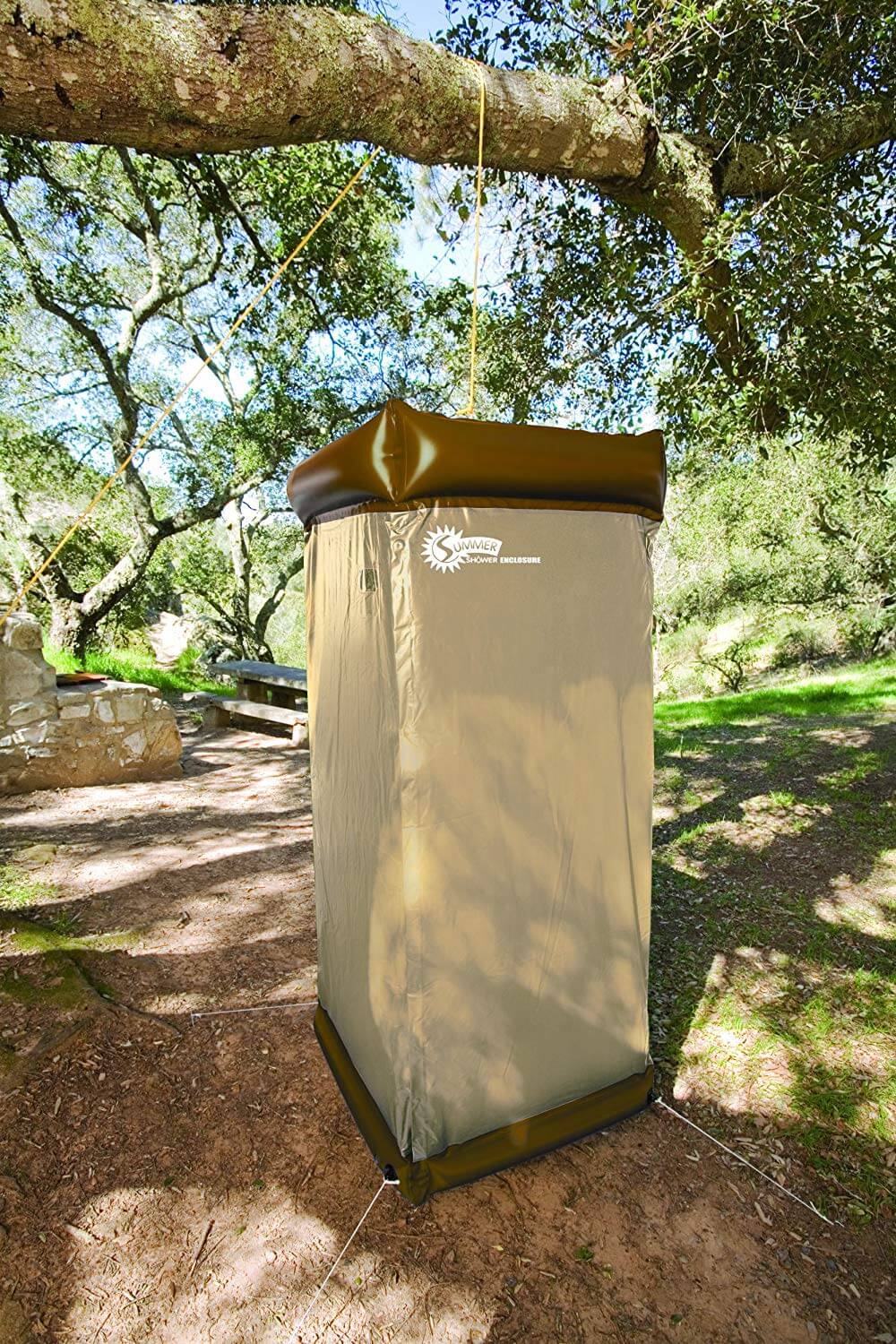 Fans of camping and long road trips will love this innovative idea. This portable shower tent solves the issue of showering on-the-go when camping. While the setup may require a bit of effort, this shower will come in handy after a long day of hiking, rock climbing, swimming and the like.
To set this up, easily suspend this shower from the nearest tree and be sure to peg the bottom to the ground. Once it is stable, it will be ready to use.
5. Modern Outdoor Bathhouse for Backyard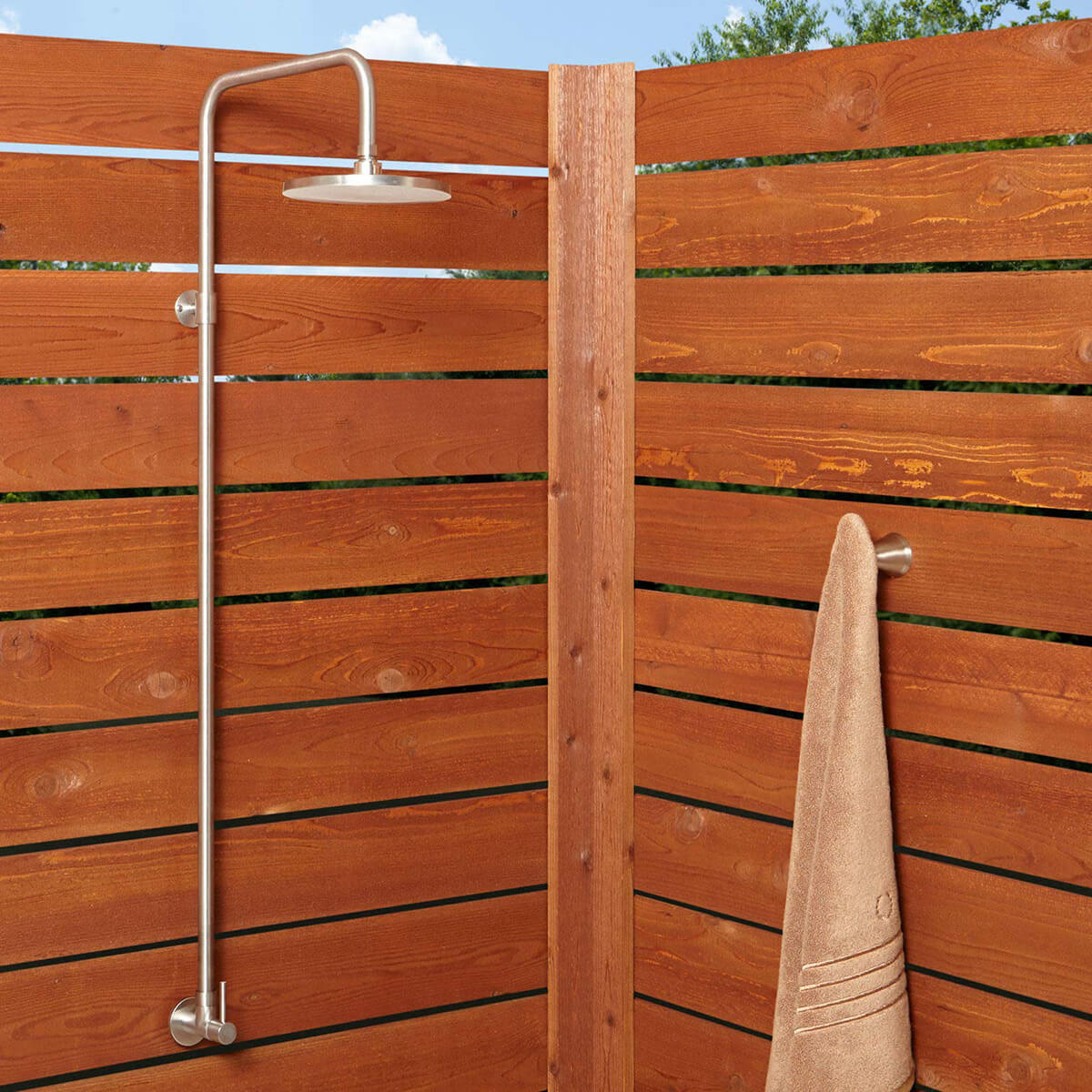 Bring a bit of contemporary glamor to your backyard with this wooden bathhouse. This beautiful modern design is the perfect outdoor shower for any homeowner with a jacuzzi or pool.
Take the relaxation up a notch with this gorgeous outdoor shower. Whether you're hosting a pool party or just hoping to enjoy the evening air during your nightly shower, this bathhouse idea is sure to be a big hit. With the addition of this well-designed outdoor shower, your new shower is sure to boost your home's value.
6. Minimal Wooden Garden Outdoor Shower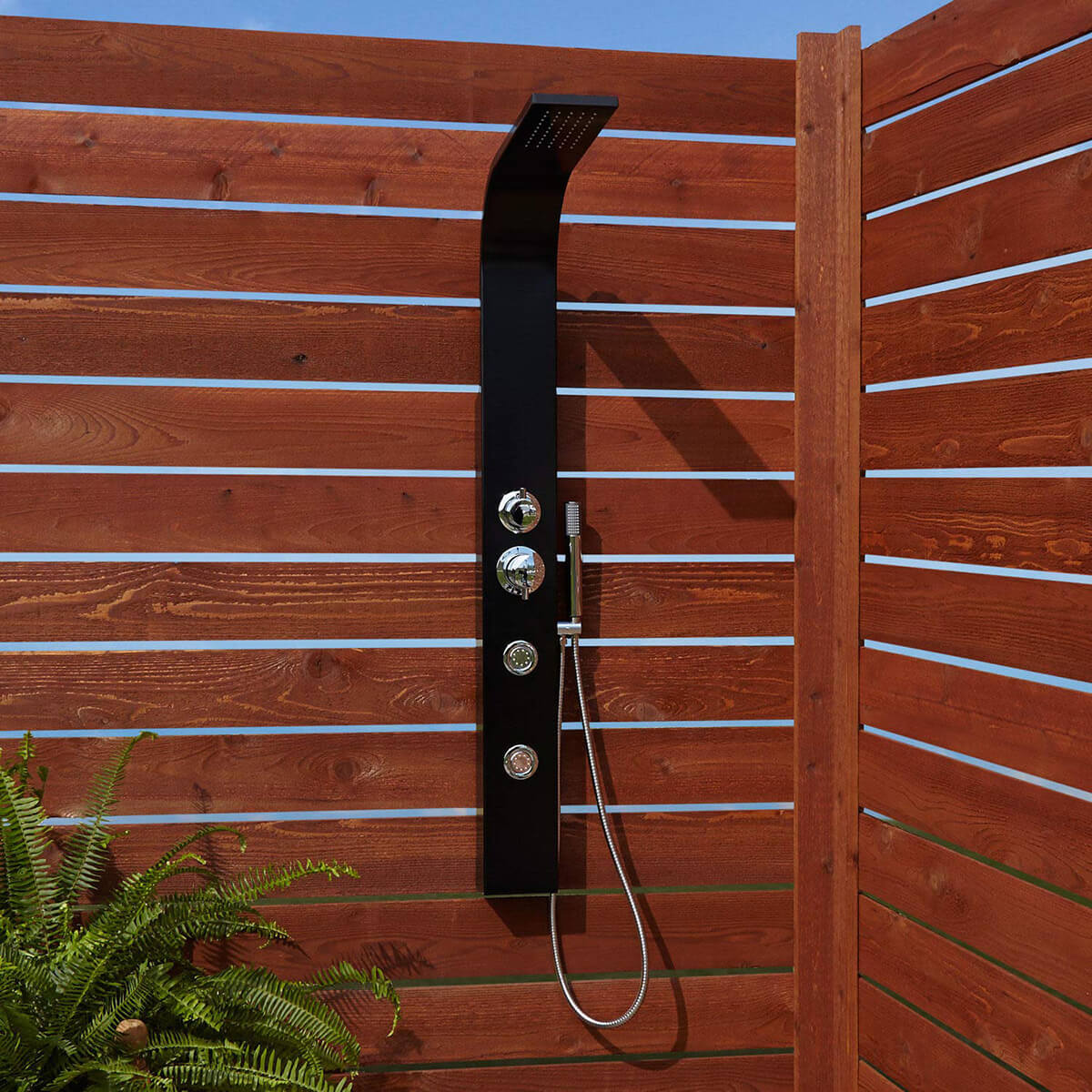 Bring the indoors outside and vice versa with this incredible shower. The beautiful sleek black and silver shower features really compliment the warm tones of the brown wood in the outdoor shower.
Whether you build this bathhouse yourself or you hire an expert team to create this piece of art for you, you'll find that you have a newfound passion for showering in the great outdoors. Once the shower is ready, feel free to add a personal touch with your choice of plant. As the shower runs, your plants will be watered.
7. Outdoor Surfboard Shower on Patio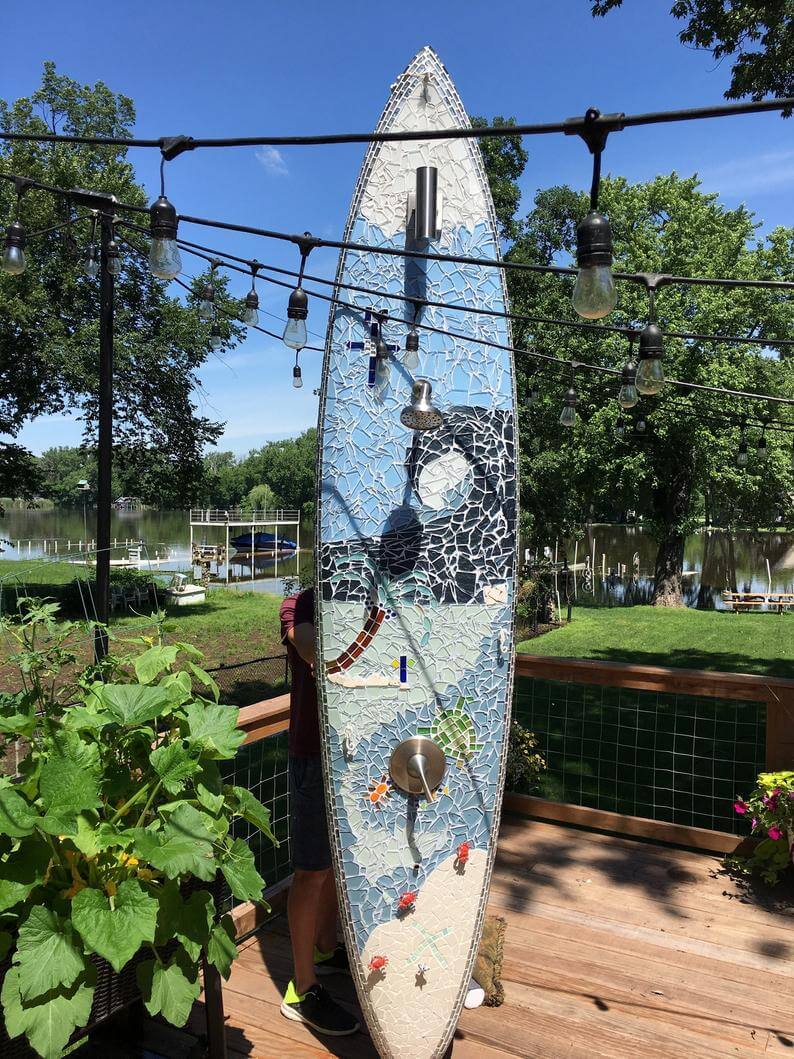 This decorative mosaic surfboard makes for a creative outdoor shower. This repurposed surfboard features a light, faucet, and other shower handles that will make showering outdoors a moment to remember.
While this surfboard can be installed anywhere, it's a great addition to any backyard by a lake or beach. After taking a swim or sunbathing on the sand, simply head to the surfboard and get all washed off. If you're considering this design, be sure to consult a professional to make sure the structure is balanced enough to guarantee that the board will stay in place.
If you're feeling especially creative, consider altering this design by using something else in place of a surfboard. Any flat structure like a piece of wood, a sculpture, or similarly designed object are all creative options for your outdoor shower.
8. All White Wooden Outdoor Bathhouse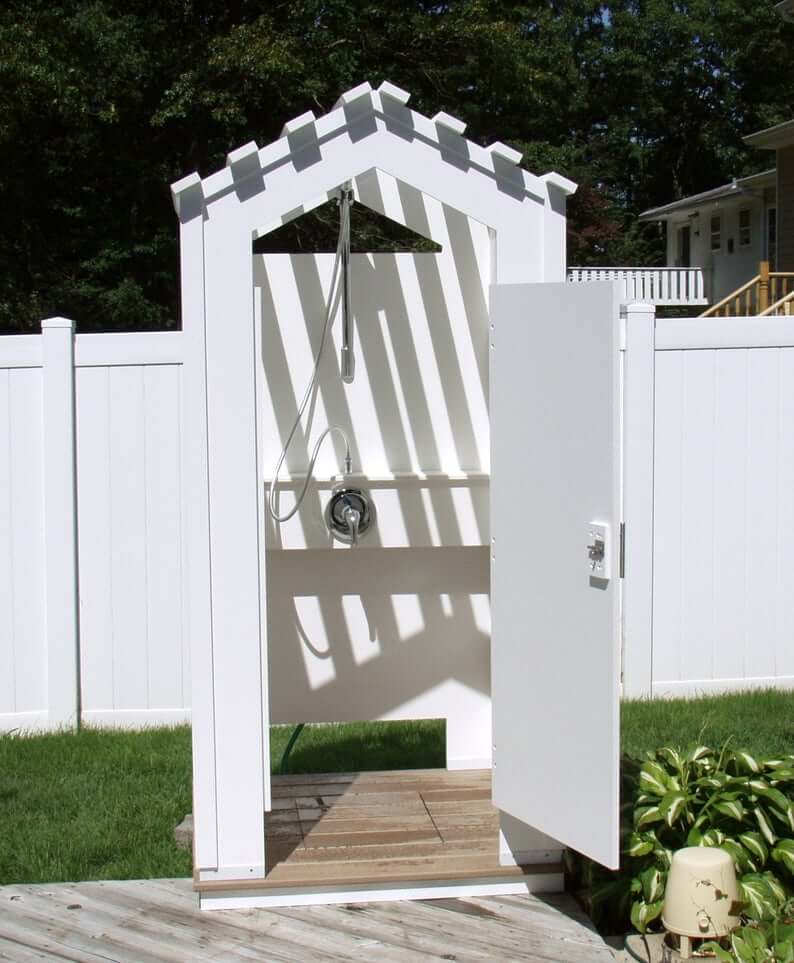 Make the most of your backyard with the outdoor bathhouse design. This all-white outdoor shower helps to make any backyard feel like a true summer escape into nature.
Small and minimal, this design has all the essentials you'll need in your favorite new shower. Featuring just a hanging shower head and a handle, this simple shower is built to make quick work of rinsing off after a hot summer's day. As this shower design is completely enclosed, this outdoor bathhouse is perfect for guests to use when they come over for a pool party or a dip in the jacuzzi.
Spice this shower design up by adding a splash of color. If you really hope to make a statement, pick a bold color for the outside of the shower. This color will turn your shower into an accent piece and help make your backyard garden look that much more vibrant.
9. Quick Outdoor DIY Washing Station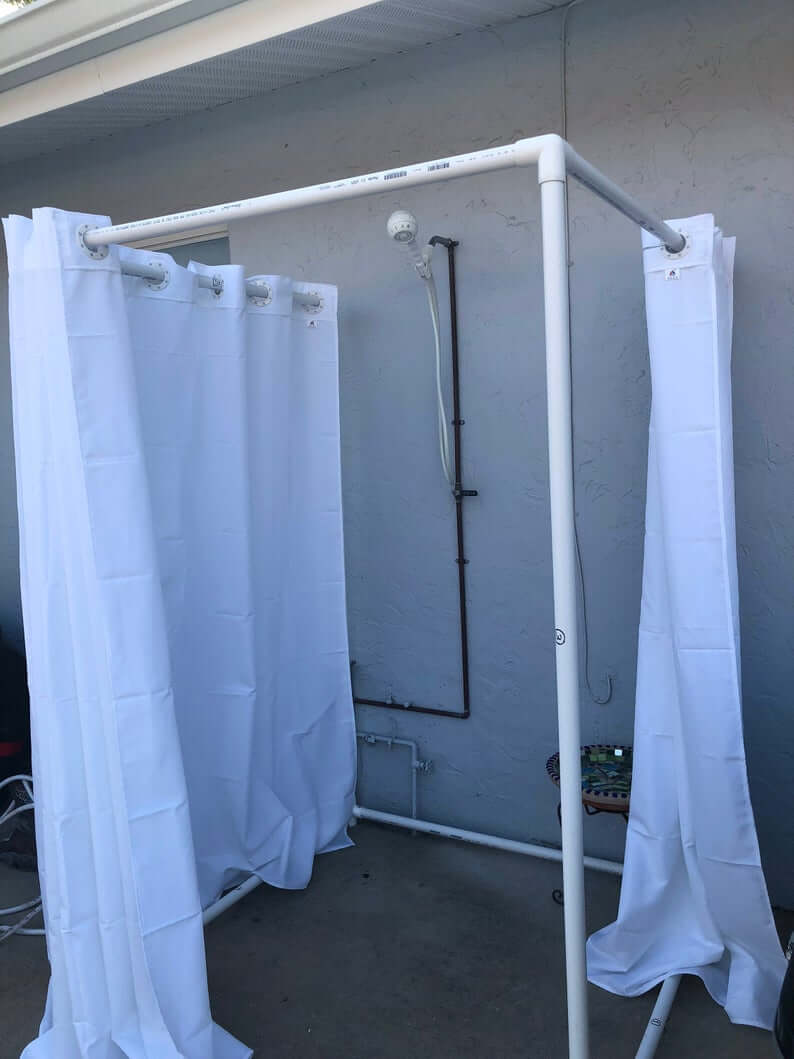 In need of a quick solution for all your outdoor showering needs? Look no further than this DIY washing station. Built with PVC, shower curtains, and efficient plumbing, your new washing station will be as minimal as possible but very effective.
As this type of outdoor shower is easy to build, you can definitely create a larger or smaller shower to fit your needs. This design is an excellent choice for any homeowner with large animals or equipment that could benefit from being washed off as well. If you want to decorate this bare-bones design a bit more, consider upgrading the quality of your shower curtains and painting the PVC pipes.
10. Sleek and Simple Wooden Outdoor Shower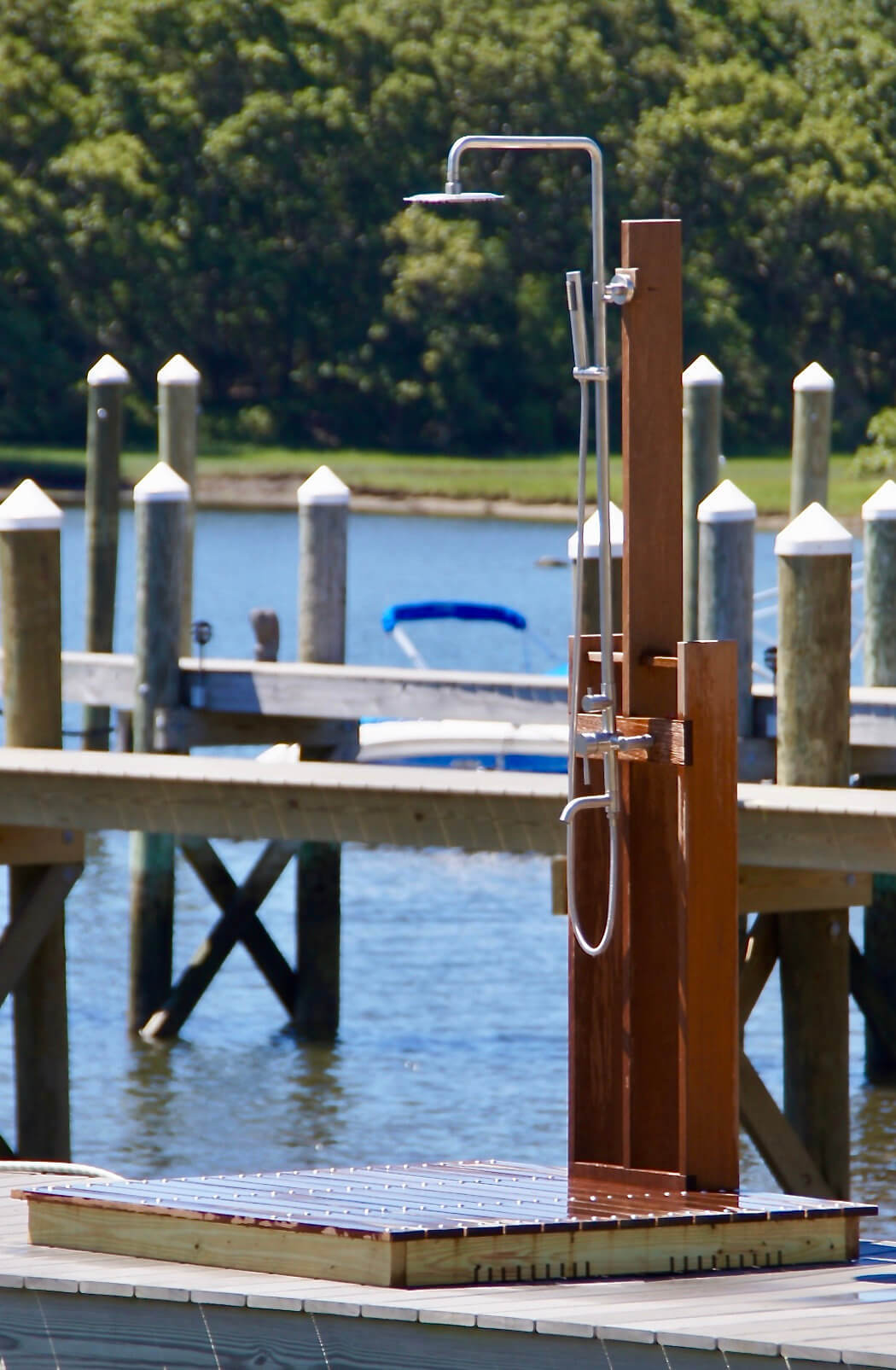 This simple outdoor shower uses a few pieces of wood and beautifully sleek features to create one of the most attractive designs ever. Whether you build this shower in the backyard of your home or by the dock at your lake house, this design is one that will fit well with a natural wooden aesthetic.
11. All Wood DIY Outdoor Shower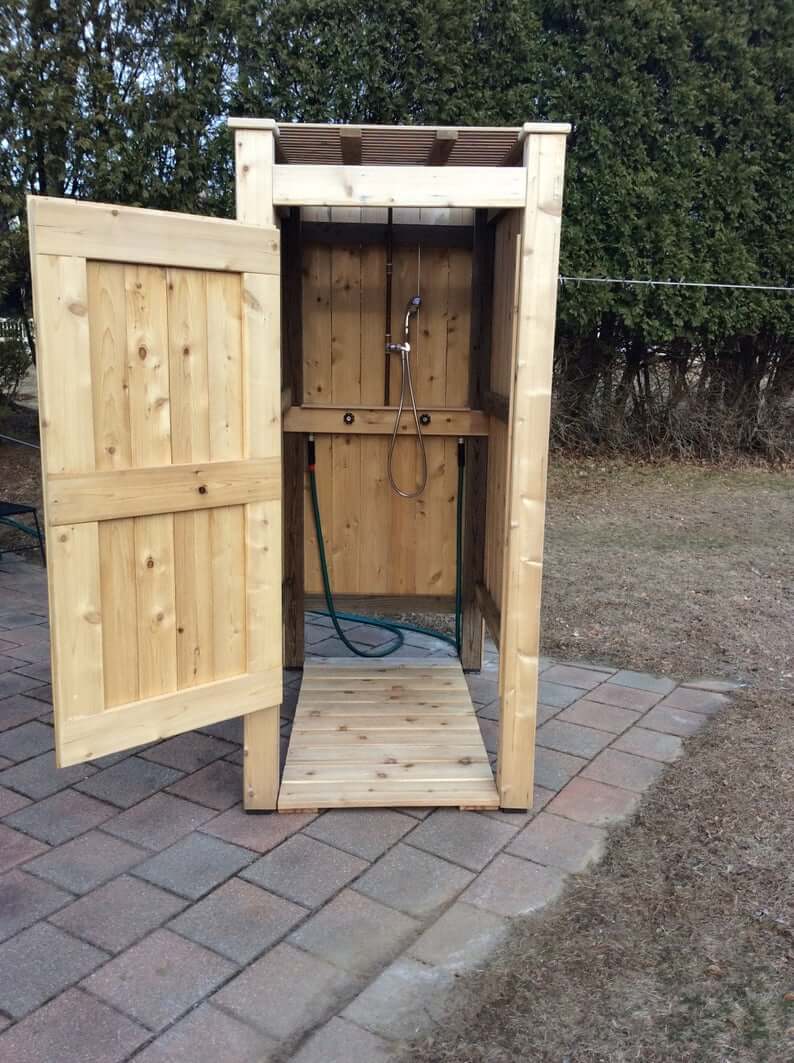 With a few slabs of wood, some plumbing prowess, and a shower head, you can construct your own wooden shower outside. This minimal design creates a simple shower-for-one that's easy to move anywhere around your backyard.
As this shower is completely constructed of wood, you can keep the style totally natural or you can use your choice of wood stain to add your own touch to the design.
12. Minimal Wooden Outdoor Garden Shower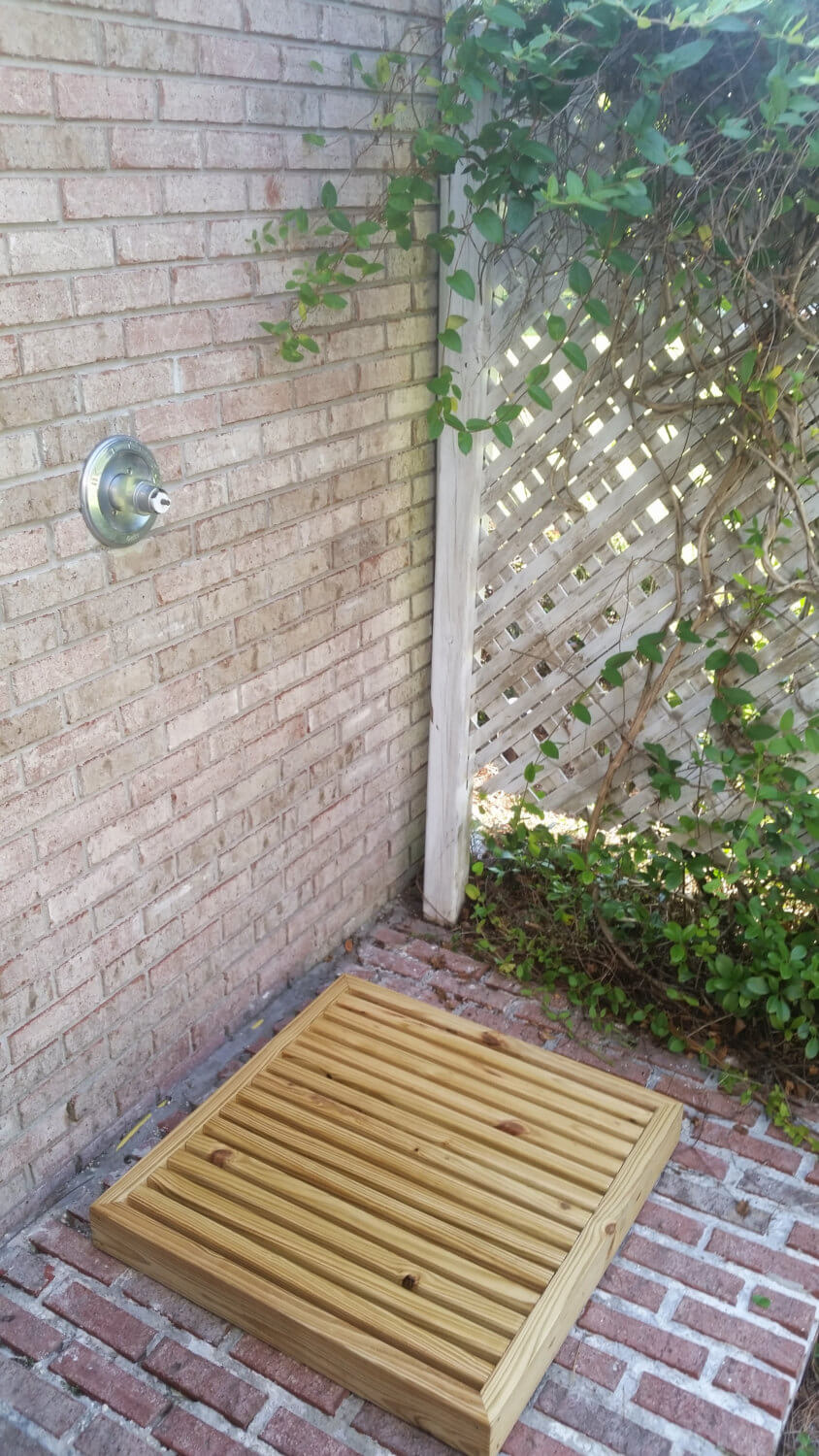 If you're not a fan of the boxy look for an outdoor shower, consider this design. This style is a very modernized and understated take on the typical outdoor shower. With just a shower head and wooden platform, this design is quite simple yet a perfect fit for any backyard garden.
What this shower design lacks in walls and doors it makes up for with a 360-degree view of your backyard. If you truly want to shower while taking in the beauty of nature, this design is the best choice for you.
13. Simple Outdoor Shower Attached to Fence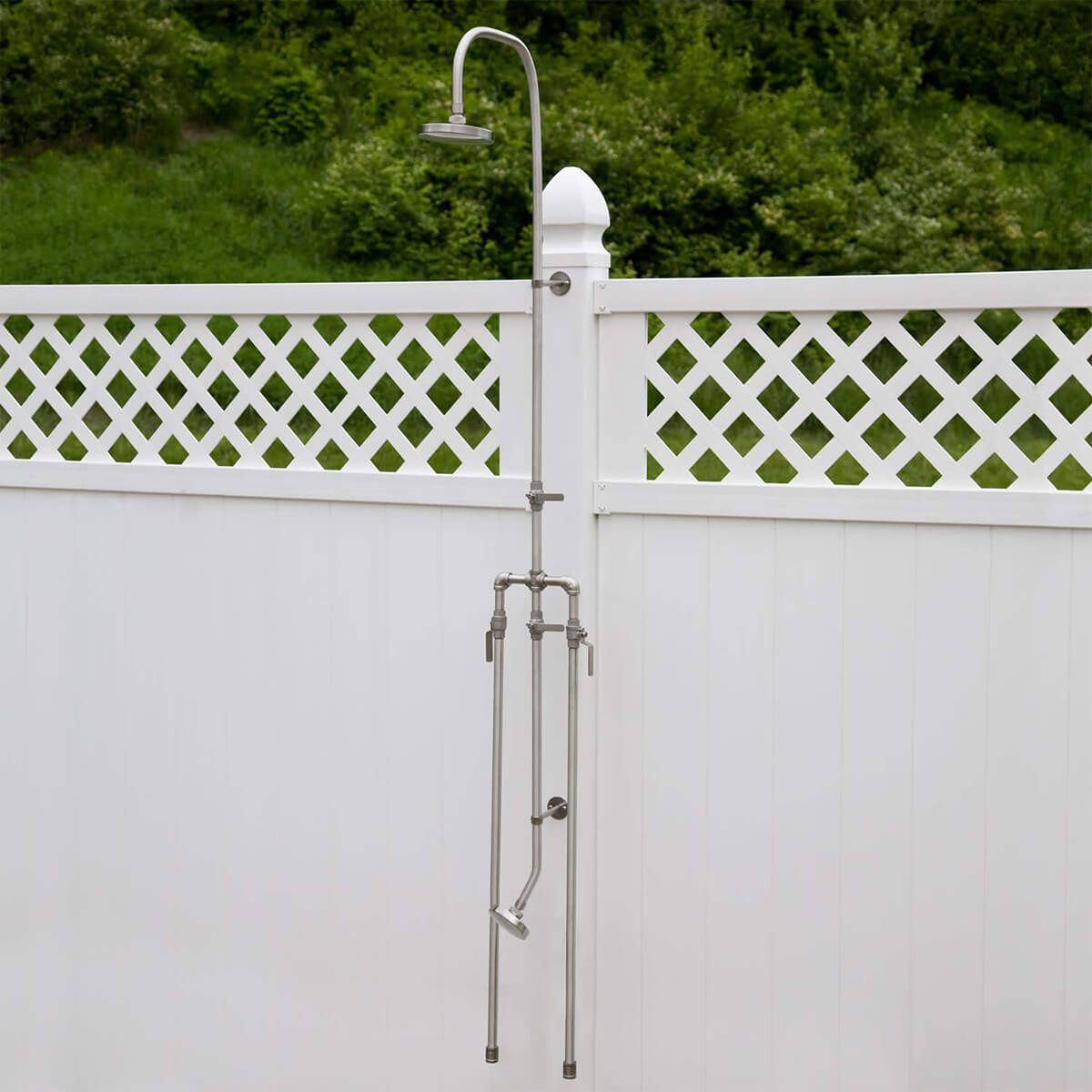 Want to build an outdoor shower in your backyard but aren't sure where to find the space? Try this simple shower. With the shower head and pipes attached to any fence, you can create this basic shower anywhere you have a few inches of wall space.
Switch up the style of this shower with your choice in shower head, faucet, and pipes. Since the shower design is so minimal, be sure to pick something that is sure to make a statement.
14. Standing Wooden Shower for the Backyard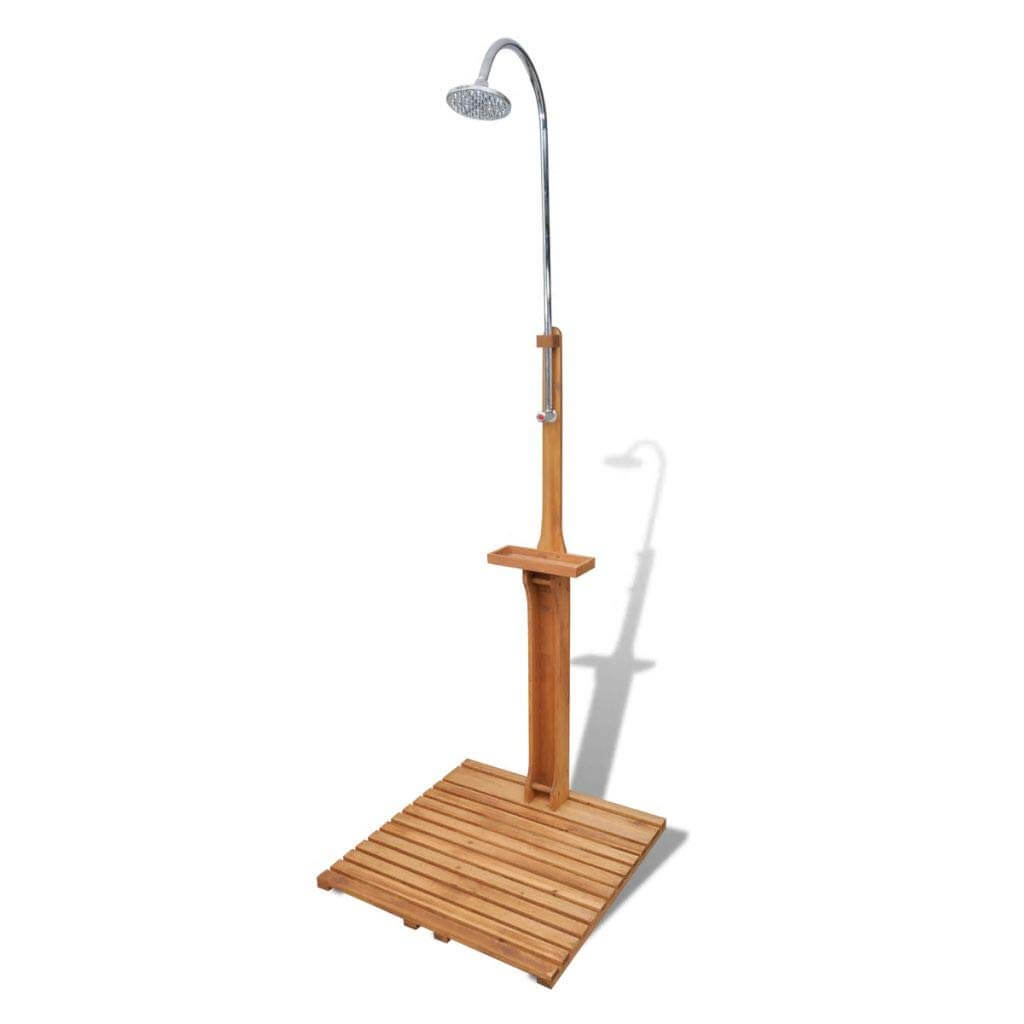 A standing shower like this one is easy to install and is a great fit for any backyard. Featuring a shower head, a soap rack, and a wooden platform for the floor, this small shower will make a big difference anywhere in your outdoor garden.
Outdoor showers are incredibly convenient and a great renovation idea to add value to your home. These showers make it easy to wash off after your daily run, rest and relax in a sauna-like atmosphere, or take advantage of a gorgeous day by showering in the great outdoors. Whatever your reasons for wanting an outdoor shower, you'll absolutely love having one in your backyard.
As you continue to be inspired by these great shower designs, think about how you can customize your own shower. Choose your own style of building materials, features, amenities, and the like to make your outdoor shower truly one-of-a-kind.
Our Favorite Outdoor Decorations to buy on Amazon