The best outdoor sitting area ideas come in many sizes, shapes, and colors, you need to carefully consider the space available for use and what you want to do to satisfy your personal needs. A few leading questions will help you nail down precisely what you can do. Will this sitting area be in the back yard or the front? Will it be on a deck, patio, or in a location all it's own? Is the space tiny or expansive?
24 Outdoor Sitting Area Ideas to Sit Back and Relax

The answers to these questions create your foundation. Next, you will want to know what the purpose of the sitting area will be. Is this area meant for quiet solitude, entertaining, outdoor dining, family enjoyment, or perhaps some other objective? With this information handy you can begin to envision your perfect set-up.When you start building your sitting area you will want to acquire all the necessary items. Does this furniture set fit my needs and budget, or do I want to refurbish the old dusty set that's been haunting the garage? Will these candles work for lighting, or do I need another solution? Should I incorporate some potted plants, or will fresh cut flowers do the trick?
After you have the basics arranged for your sitting area is time to add personal touches. Do you have any space to artfully display your handcrafted wooden sign or sculpture? Is there storage space for your current reading materials? Which blankets and throw pillows fit the area best, but also show a bit of personal flair? What do I have lying around that can be used as a table or stand for occasional use? Do I have any knick-knacks that can blend into the scene well? Would my great-aunt Hilda's antique throw rug add value to space? What else can I do to make this an excellent outdoor sitting area?
1. Welcoming Backyard Sitting Ideas for Entertaining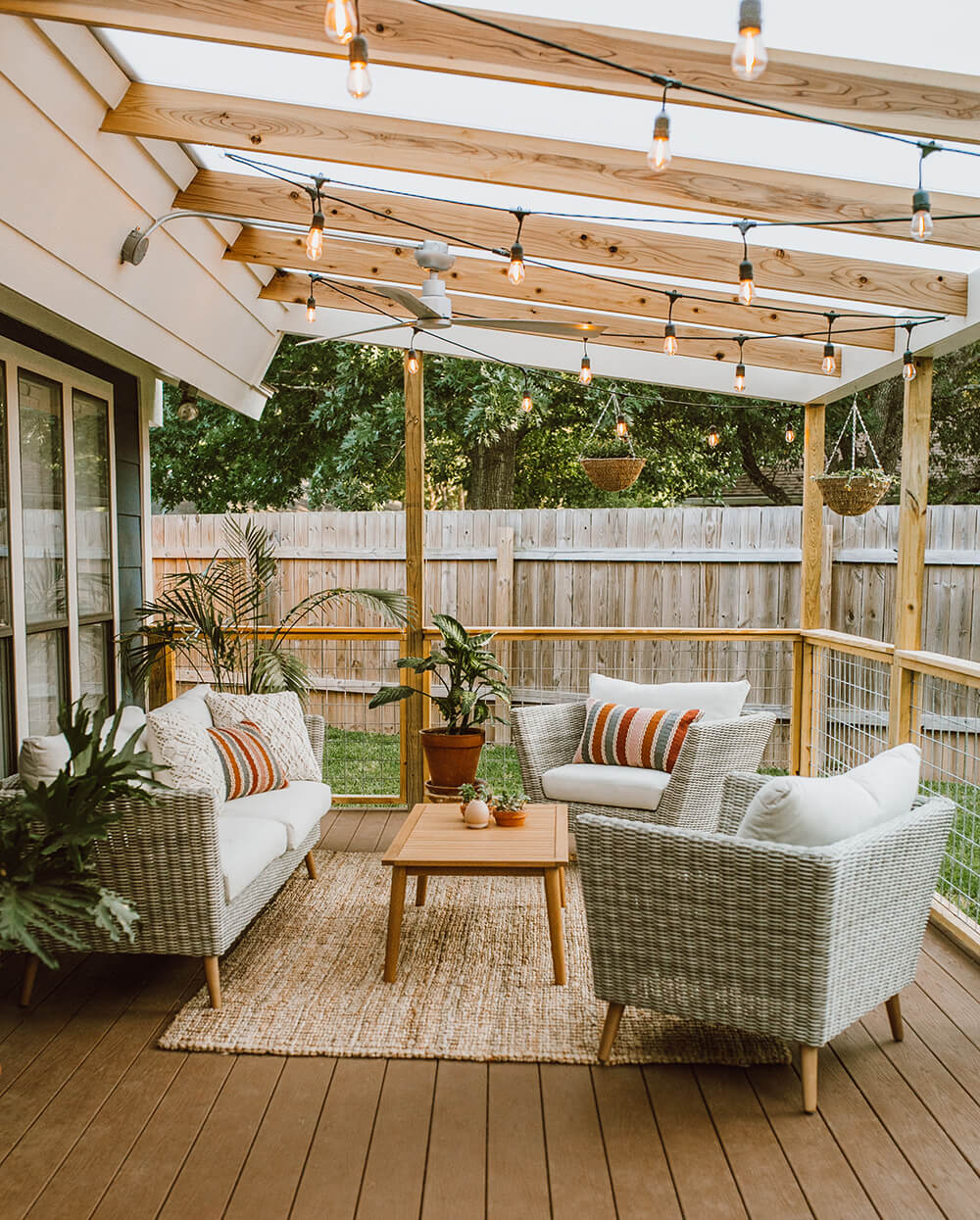 Creating a living room outdoors has never been easier or more satisfying. Fill the space with a simple wicker couch, two wicker chairs, and a table. Make them more comfortable with some cushions and various colorful throw pillows. Potted plants help keep the air clean and add beauty to any area. Ample lighting means you can enjoy summer evenings as much as any day time events. The ceiling fan will help keep you cool on those hot summer days. The addition of a simple throw rug really brings the space together and solidifies the charm of your outdoor living room. Gather your family here to swap stories and enjoy a pitcher of iced tea.
2. Creative Home Decoration for Patio Improvement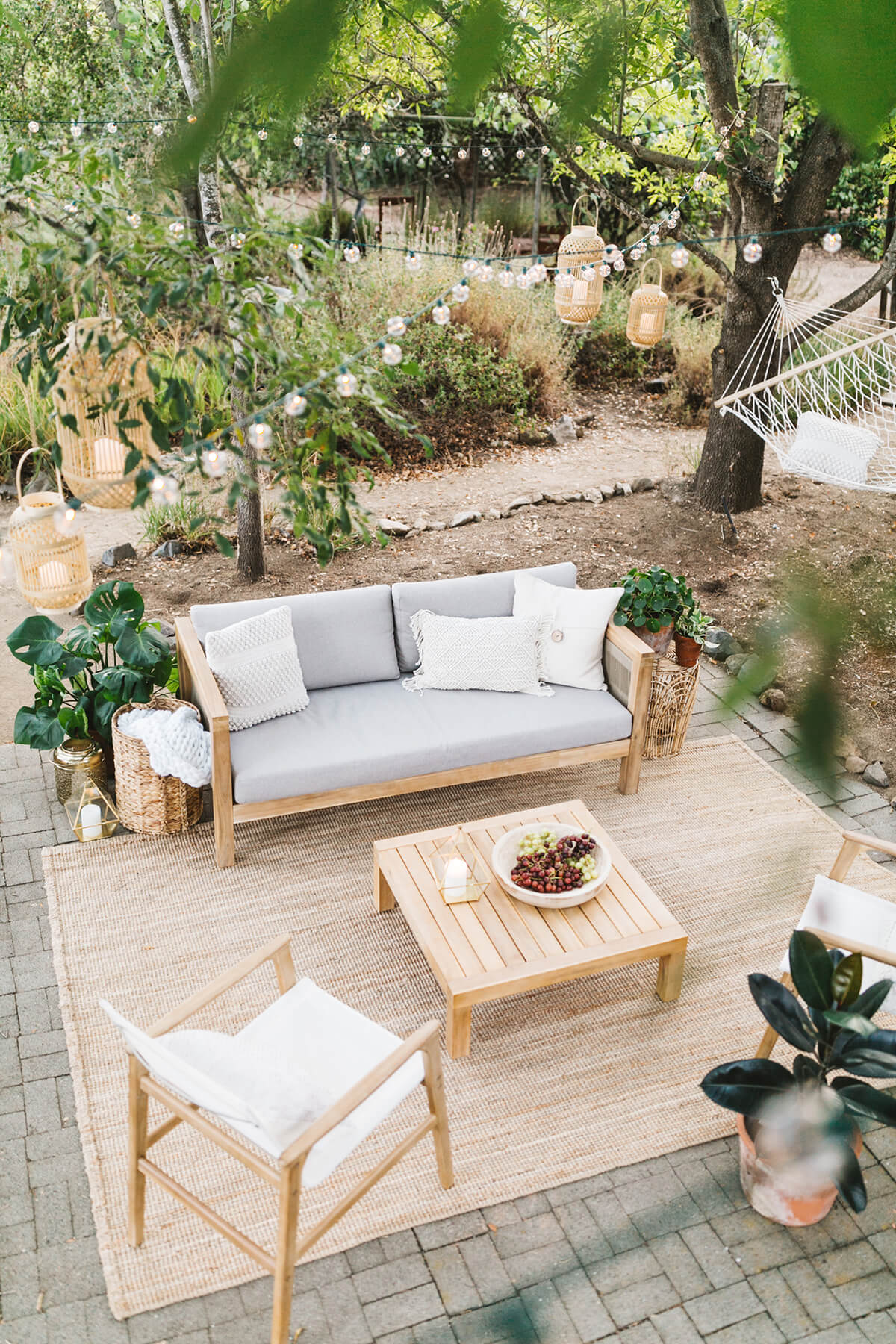 This lovely backyard sitting idea features a comfortable-looking wooden couch and a couple of chairs. The white throw pillows make this space feel clean and fresh. Stash a blanket and a good book in the wicker basket. This cute little table is big enough for afternoon snacks and refreshing beverages. Unique lighting adds character and a very island feel to the space. The addition of the hammock ties in with the island theme. A couple of potted plants bring even more green liveliness to your patio island getaway. A simple throw rug ties all of the pieces of this space together.
3. Unique Back Porch Living Room Utopia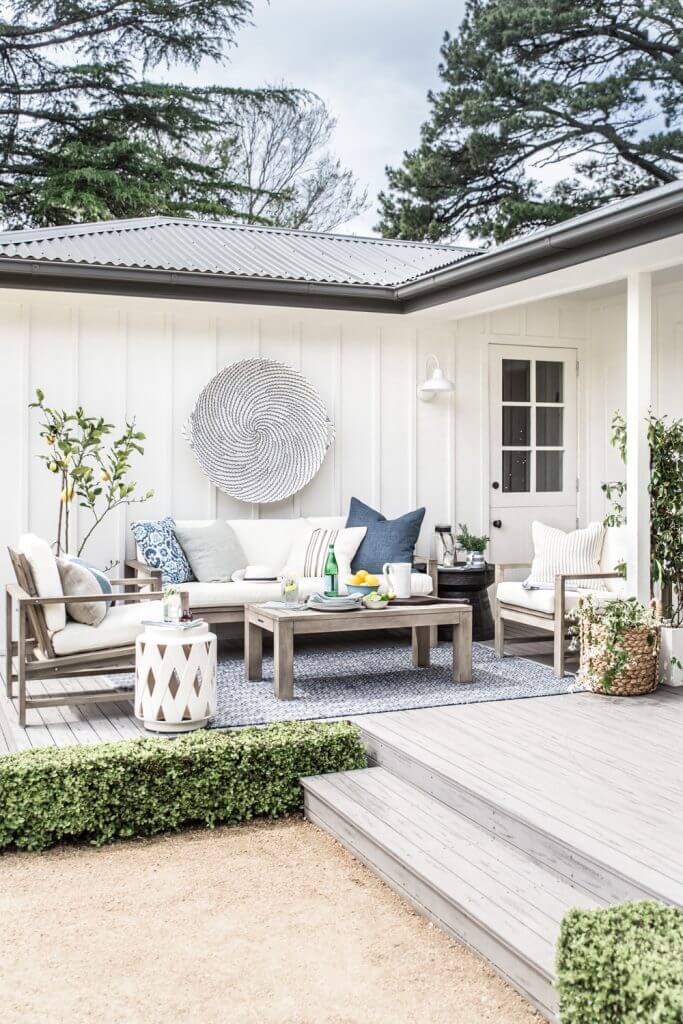 A wooden couch and two wide chairs bring a bit of inside to the outside in this fabulous living room for your back porch. Stuffed with cushions and ample throw pillows, everyone is certain to be comfortable here. A couple of repurposed barrel-shaped items add character and can be used as end tables. A decorative wall hanging and various potted plants add appeal to this living space. The center table is perfect for food and drinks. The lovely woven rug ties the room together and adds a sense of warmth to your back porch living room. Invite friends over this afternoon to catch up on all of the latest goings-on.
4. Perfect Lounge Area Enhances Outdoor Tranquility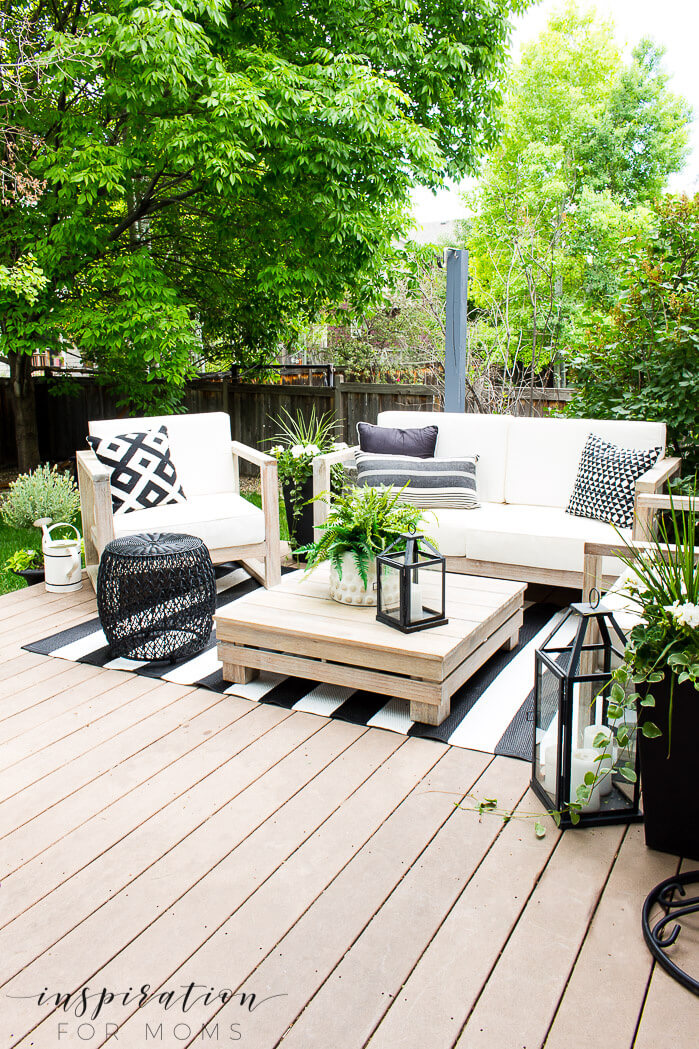 This bleached wood furniture couple with white cushions creates the ideal canvas for patterned throw pillows. Black wrought iron planters and candle holders help to augment this simple palette. The black wicker side table is a fabulous location to place your favorite reading materials. The black and white striped floor covering binds this space nicely. Overall, the starkness of the black and white tends to bring out the vibrant greens in such a pleasant way. Partaking in evening drinks outdoors by candlelight has never been more appealing.
5. Inviting Back Porch Sitting Area is Soothing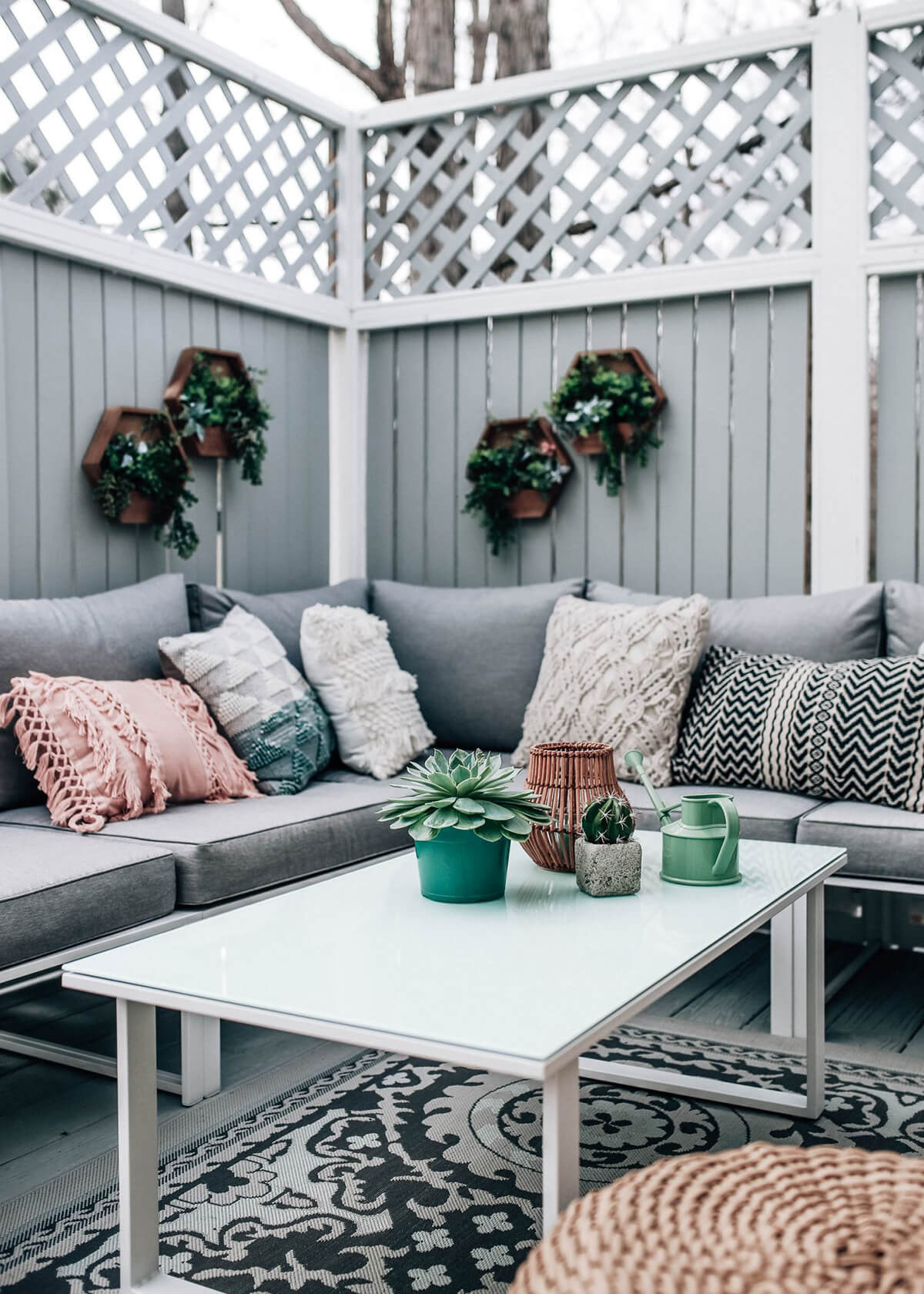 This wrap-around cushioned couch is enhanced by several knitted and comfortable looking throw pillows. Bring a good book or magazine, stretch out and relax. On the other hand, this looks like the perfect space to enjoy a nap. The pretty pink wicker basket is perfect for storing your favorite throw blanket. The simple metal table creates utility. A touch of greenery and home decor adds a touch of life to this attractive space. The interesting pattern in the rug is quite mesmerizing. The subtle pinks, blues, and greys are calming. Lazy Sundays just became even more attractive.
6. Awesome Idea for Outdoor Seating That Shines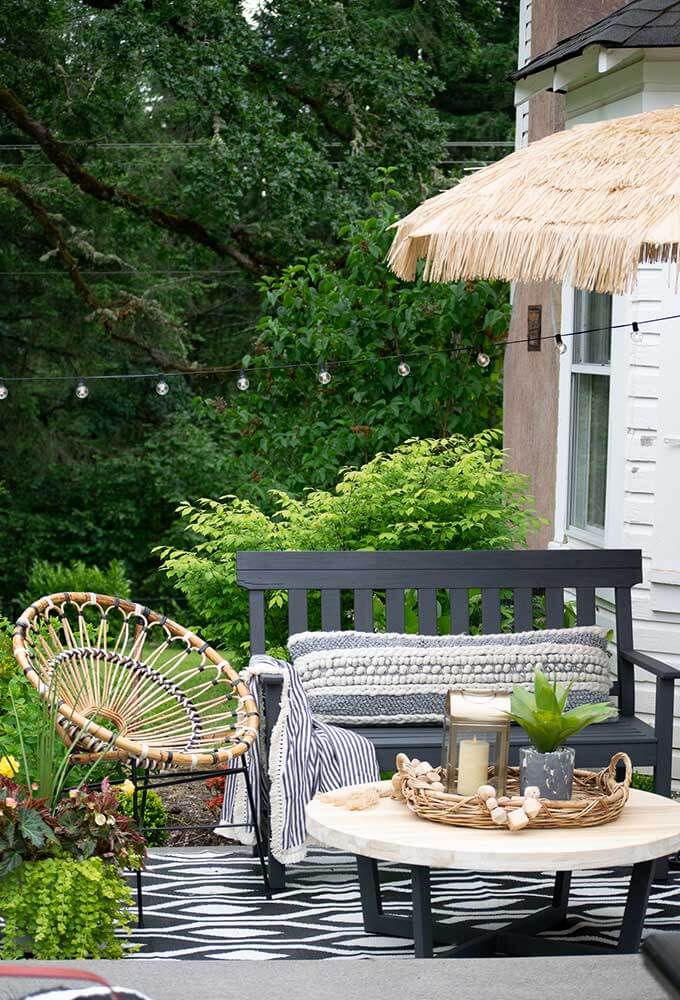 A grey wooden bench and a bowl chair create the basis of this sitting area. A fluffy body pillow and throw blanket make this space look comfy. A stunning stone-top table makes a perfect home for the serving platter inspired basket. A small plant and candle along with some decorative rocks placed in the basket soothe the soul. A string of lights makes this an ideal space for spending a quiet evening. The patterned throw rug contains the space nicely and adds a feeling of well-being. The steel grey with whites and beiges makes this area look smart and luxurious. Crack open a good book and savor your Saturday afternoon.
7. Cool Backyard Sitting Ideas Increase Deck Value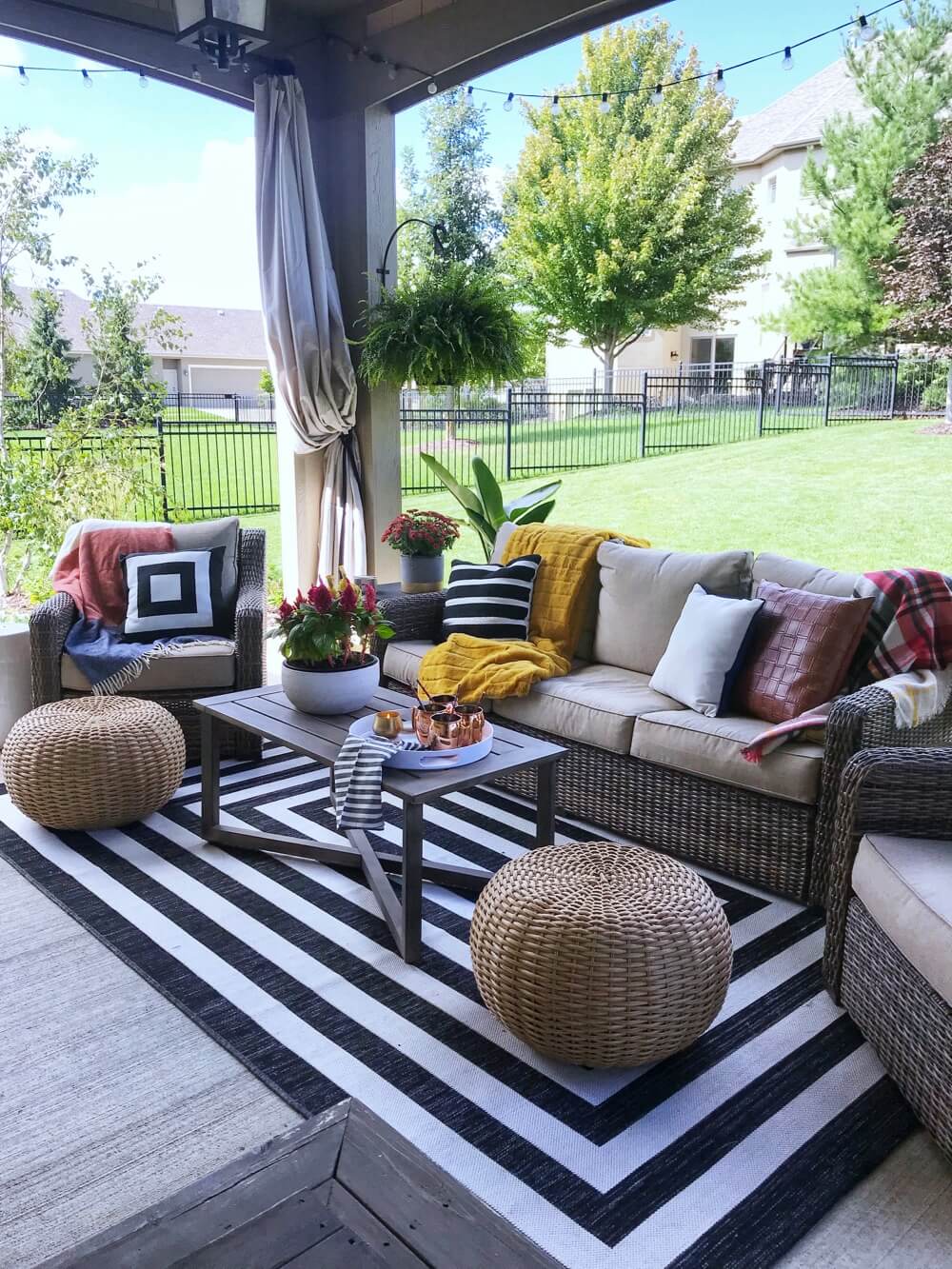 This simple wicker furniture has been transformed into something quite fantastic here. To start with, these plush cushions make for a welcoming sitting area for you and your closest friends. The variety of throw pillows and blankets in both design and texture adds personality and a feeling of freedom. A pair of cute wicker ottomans give out an invitation to sit back and relax. Assorted plants and flowers add a sense of joy to space. A simple wooden table is a perfect place for your tea service. A string of lights adds character and a nice atmosphere for evening gatherings. Placement of a dignified rug is the cherry on top.
8. Cute Backyard Rest Area is Pleasant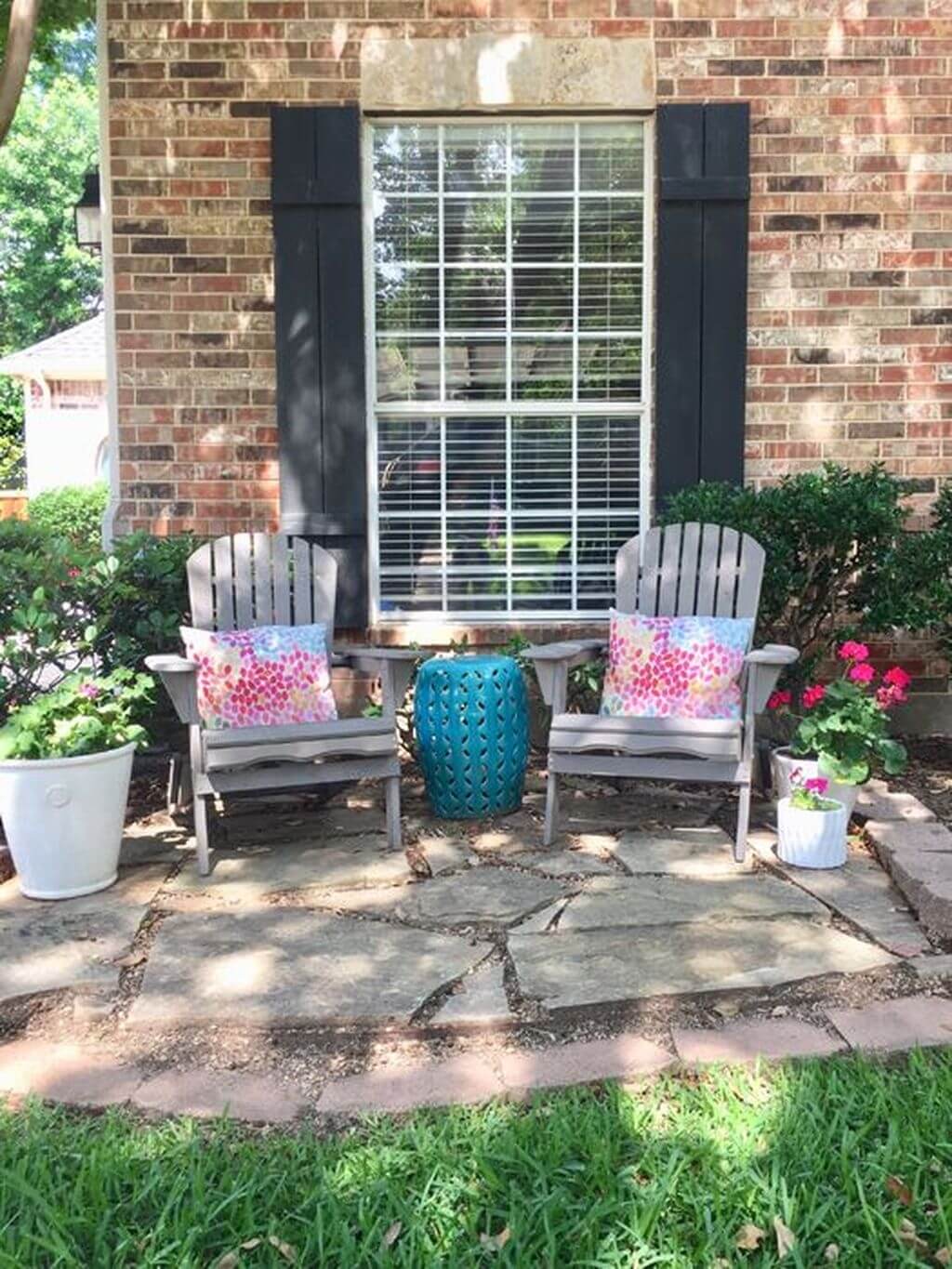 A couple of simple wooden chairs get livened up with the addition of colorful throw pillows. A patterned cerulean occasional table connects the two chairs and adds another blast of color. Various white pots filled with beautiful flowers boost an already vibrant aura. The broken stone flooring gives this space a pleasing rustic feel. The backdrop of green shrubbery forms a warming border between the cold brick and your luscious sitting area. The window adds a nice open quality to your back yard rest area. Invite your neighbor over to idle away an afternoon with interesting conversation and a nice cup of tea.
9. Elegant Balcony Dining Area is Satisfying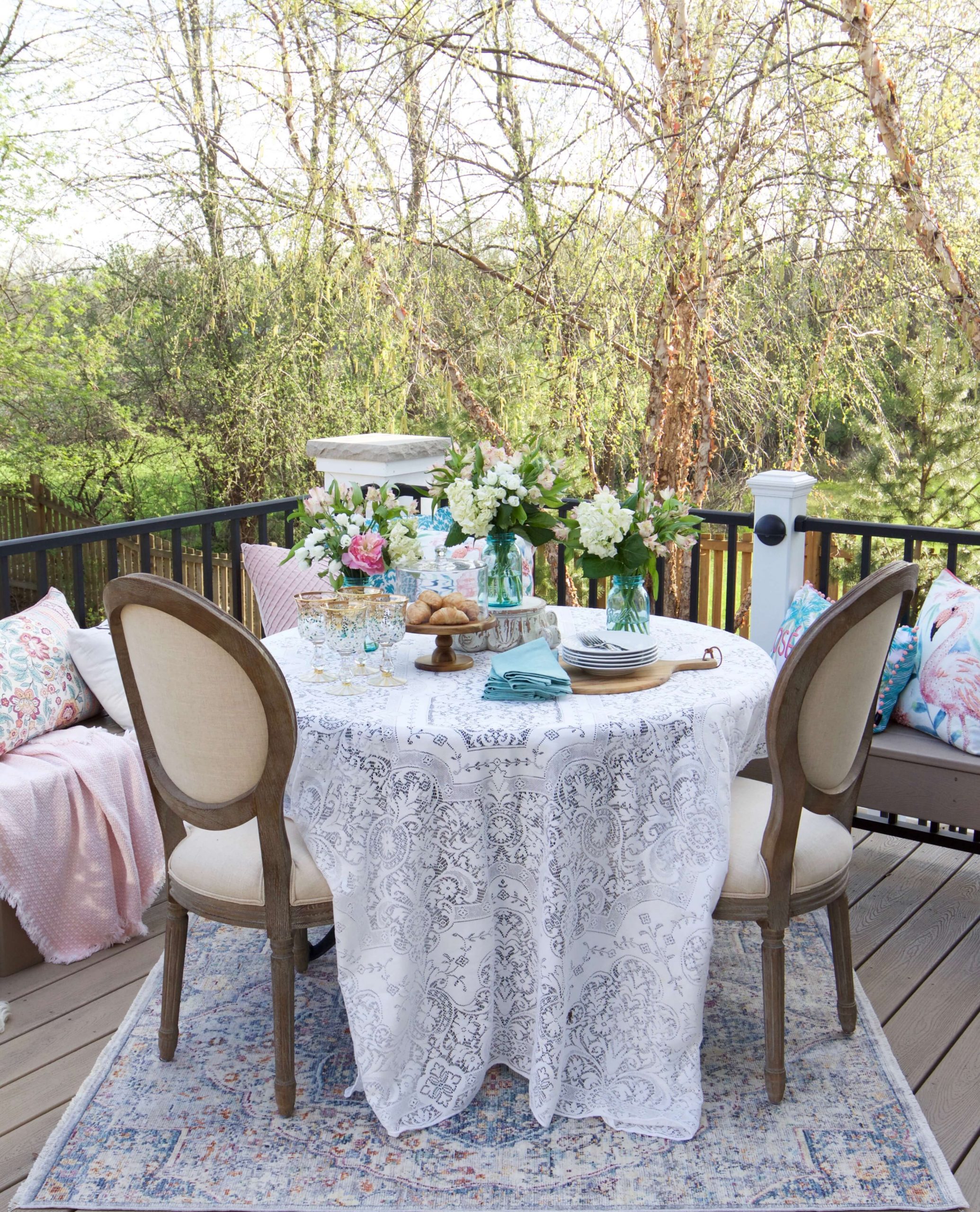 This impeccable little breakfast nook area is a great way to start your morning. A small round dining table covered in a delicate lace cloth is a classy look. Enjoy your meal sitting in the stylish padded chairs. Once breakfast is over move to the inviting bench space to sip coffee and drink in your wilderness surroundings. Some throw pillows and a blanket add comfort and a bit of warmth for the chilly dawn air. Vases of cut flowers can add a delicious scent, or simply be pleasing to gaze upon. Complete this charming look with a nice heirloom throw rug.
10. Simple Sitting Area for a Coffee Break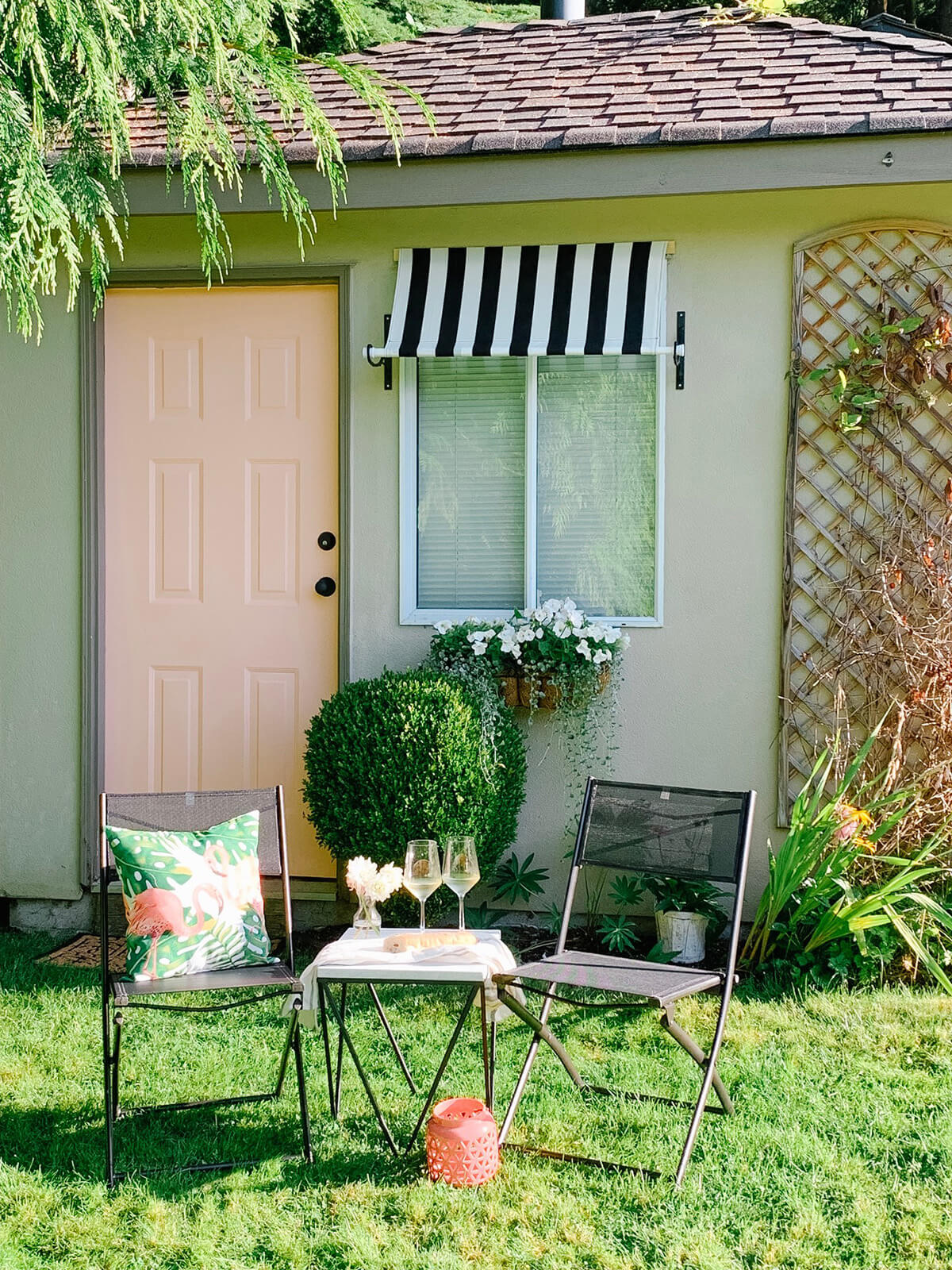 Some of the best outdoor sitting area ideas are also understated. Folding black chairs and table cover the essentials. A decorative throw pillow adds comfort to your otherwise plain chairs. After a long morning of work in your garden cut some flowers to place in a vase on your table. Sit back and enjoy your efforts with a hot cup of coffee, or a refreshing glass of sparkling water. A small pink lattice container adds a bit of charm or could be a nice home for some more cut flowers.
11. Comfortable Deck Seating for Your Leisure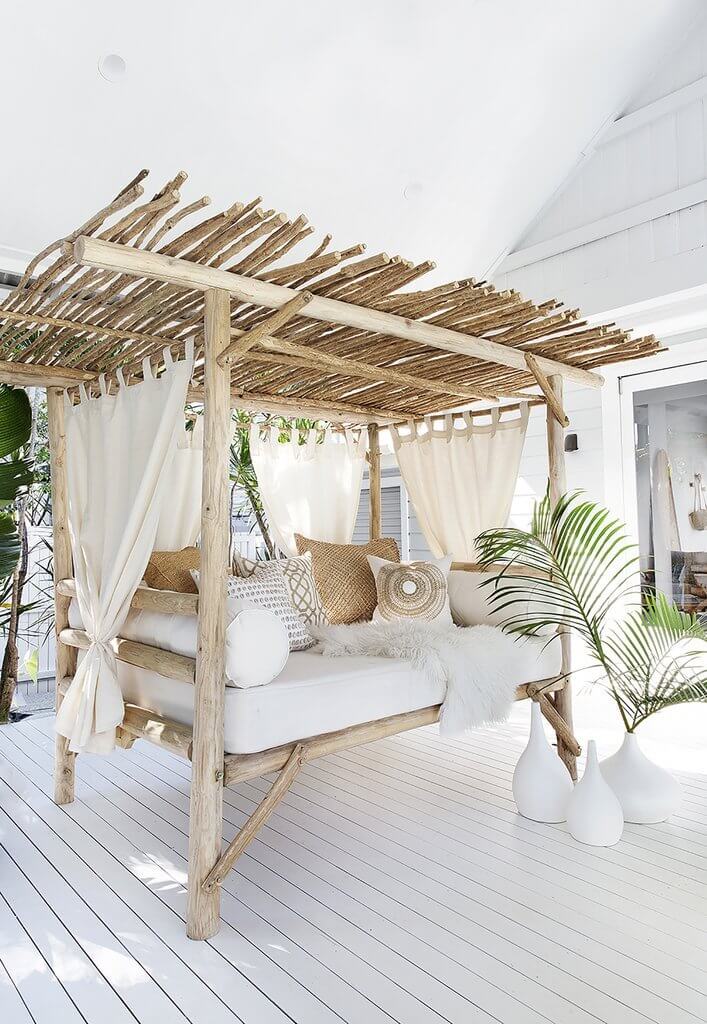 This simple looking backyard deck seating is simply perfect. This rustic looking wooden couch is partially covered to provide some protection from the blazing sun. Cotton drapes can be tied up or let down depending on your preference. A mattress-sized cushion and a handful of throw pillows make for a comfortable place to relax. Add a fluffy blanket to curl up with while you read a good book. A few artsy vases add a nice flair, especially with some decorative plant offshoots. This seating area is open but includes a sense of privacy while you savor the outdoors.
12. Cozy Farmhouse Bench Creates Comfort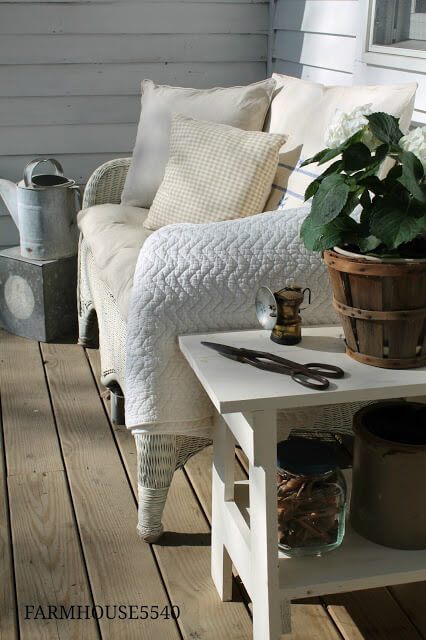 A white wicker loveseat is sublime in this quaint seating area. A couple of quilts and throw pillows create real warmth and comfort. A stylish white workbench turned end table provides a nice display area for antique farmhouse odds and ends. A potted plant is always friendly and adds a touch of color. A simple metal watering can be sitting upon an unassuming metal box rounds out the rustic look. Envision yourself sitting here with a steaming hot cup of cocoa to watch the sunrise and set your plans for a productive day.
13. Awesome Idea for Sitting Outdoors in Luxury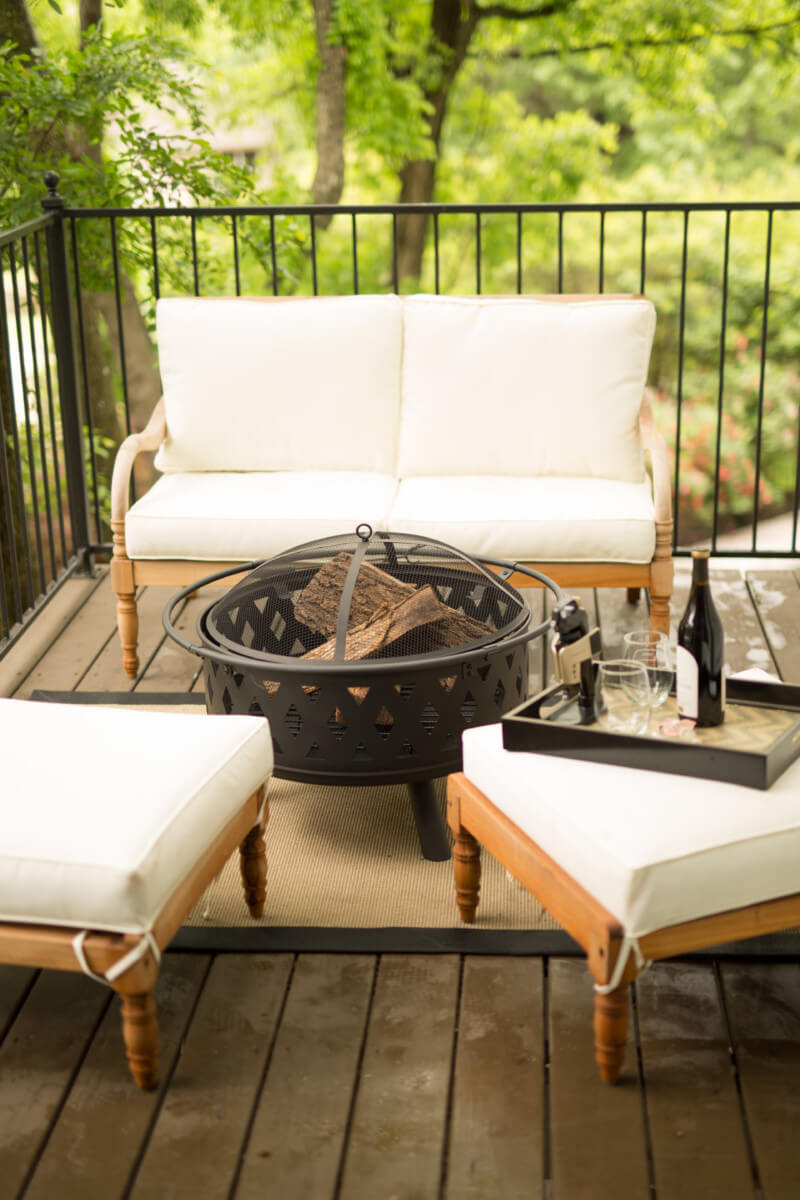 Spice up your balcony with a Windsor-legged loveseat and ottomans. The ottomans can be used for resting your feet, additional seating, or as a table. Simple white cushions provide comfort and look attractive. The fashionable wrought iron fireplace creates warmth for chilly nights or ambiance for wine tasting. Add a serving tray with a bottle of wine and glasses for a sophisticated look and convenience. A small floor mat will protect your decking and ties the space together. This outdoor sitting area is ready for any season or time of day.
14. Great Backyard Sitting Ideas Include Home Decoration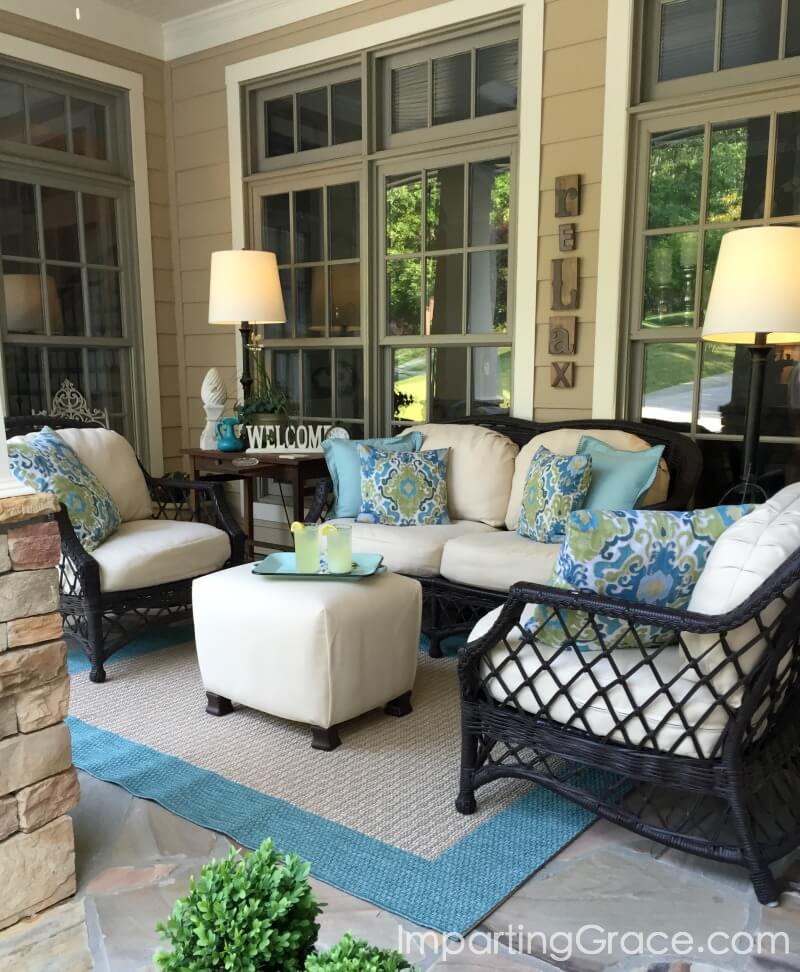 Black wicker furniture is transformed into a delightful sitting area with the addition of plump white cushions, and decorative blue and patterned throw pillows. A nice writing table makes an ideal location for a table lamp and a couple of pieces of home decoration. The lighting makes this a great place for reading a good book. The table even has a convenient drawer to store some magazines. A small center table is a splendid place for your serving tray of fresh-squeezed lemonade. A few pieces of sign art add to the cozy feel of this space. The white rug with blue trim brings this space together in a satisfying way.
15. Relaxing Porch Sitting Area Enables Tranquility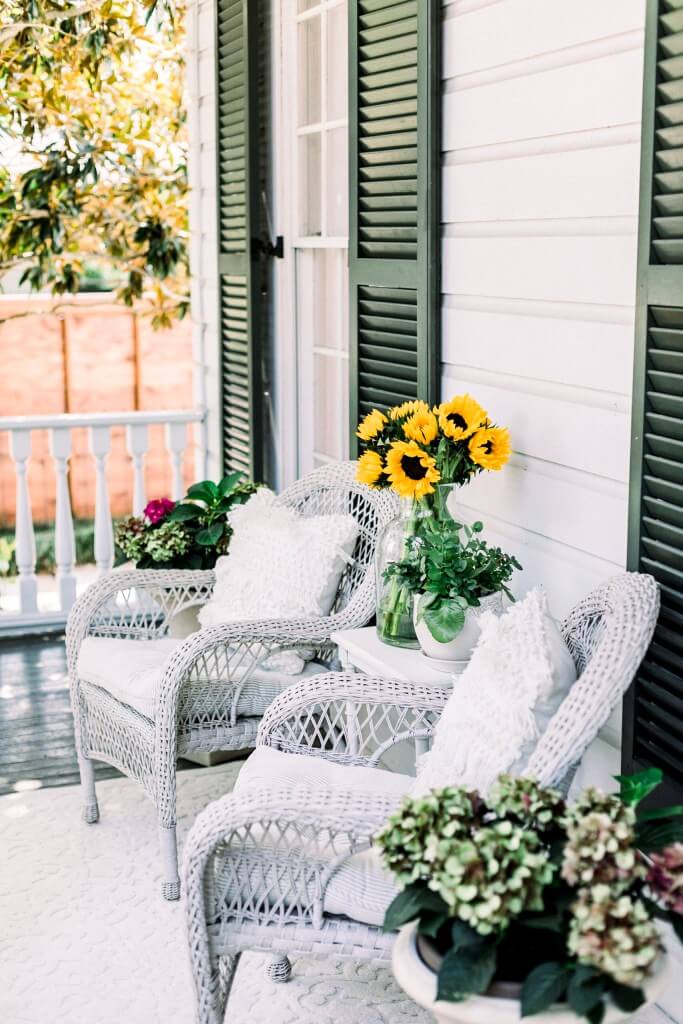 Bring a country look to your porch with these white wicker chairs. Nice white cushions and fluffy pillows add comfort and look like an invitation to relax. Fresh cut flowers placed on this white wooden table add a pop of color to this ensemble. Additional potted plants around the area create a very zen balance to this sitting area. The intricately designed white rug holds the space together and is soothing to your bare feet. Sitting out on the porch and watching the sunset has never felt better or more enticing.
16. Unique Porch Swings Keep Your Deck Fresh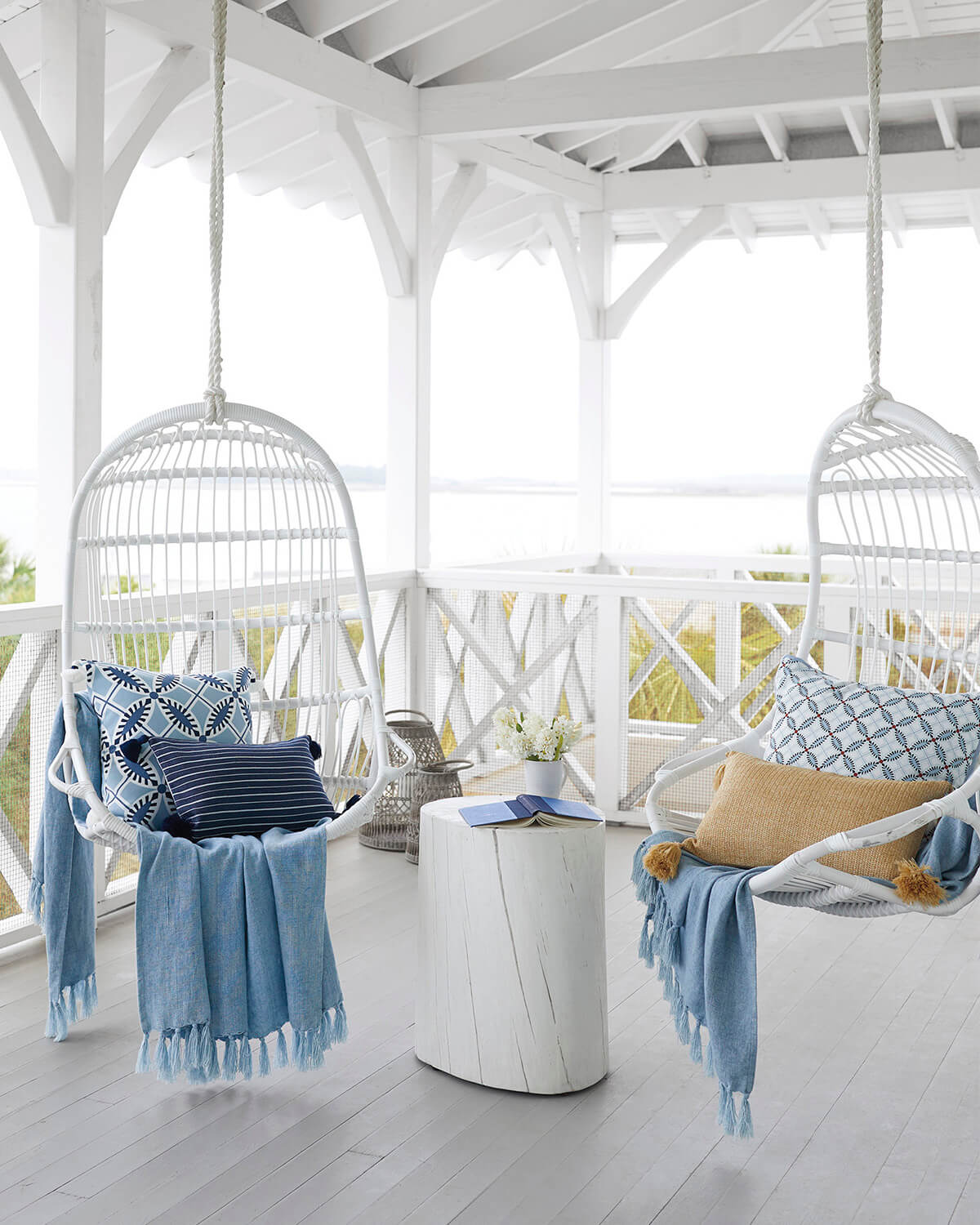 These egg-shaped hanging seats aren't something you see every day. Accents of dapper throw pillows and blankets are both charming and practical. White paint on a chopped wooden log makes for a unique and beautiful table. A mug of flowers is cheerful and looks like it belongs on this table. The decorative baskets in the background are a fantastic storage idea to organize your reading materials. Feel the weight of the world dissipate as you gently swing back and forth in your distinctive porch swing while enjoying a well-deserved breath of fresh air.
17. Lovely Seating Area in the Shade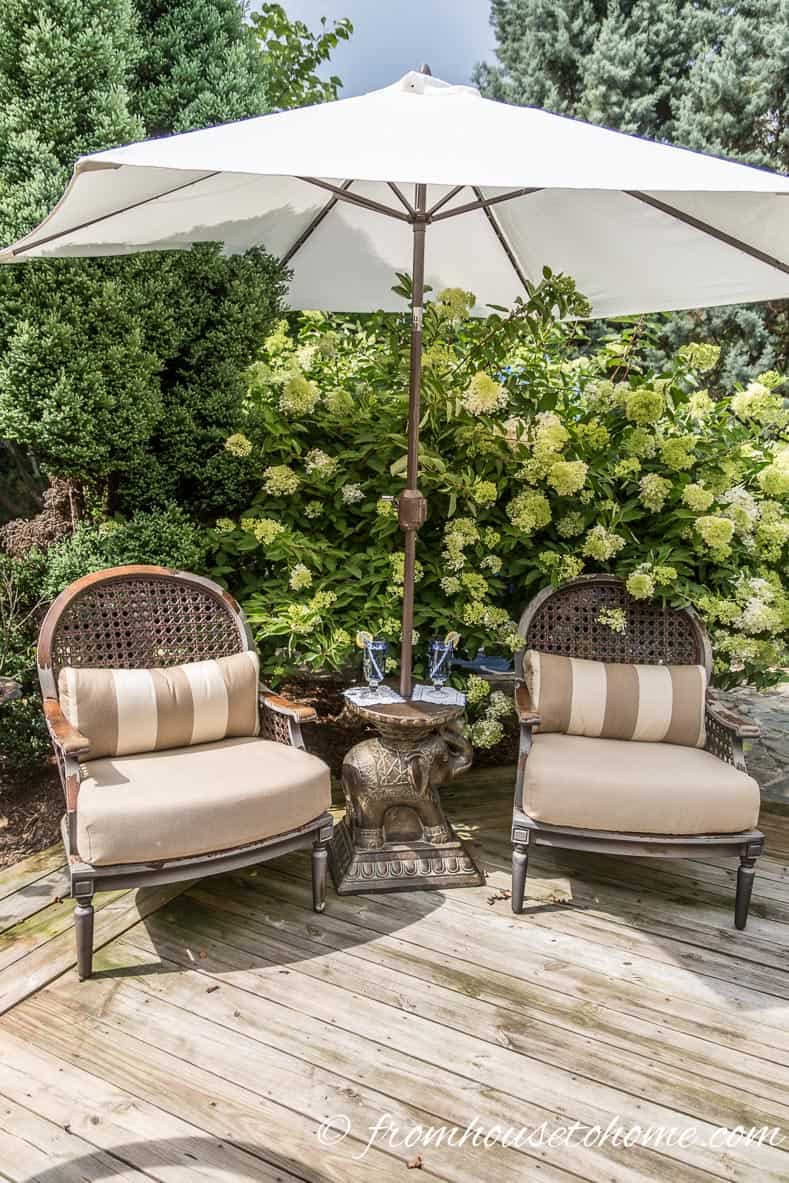 An area like this is superb for enjoying a break from your yard work. The slightly weathered chairs are quite comfortable with the addition of those ample cushions and back pillows. The light browns and beiges blend well with the decking and allow the brush in the background to shine. The intricately sculpted elephant is the obvious centerpiece of this backyard sitting idea. It serves as a stand for the generous shade umbrella, but also a small table space great for planting your iced tea. Once refreshed you'll be inspired to continue molding your yard into the beautiful scene you desire.
18. Ornate Bench is a Perfect Yard Enhancement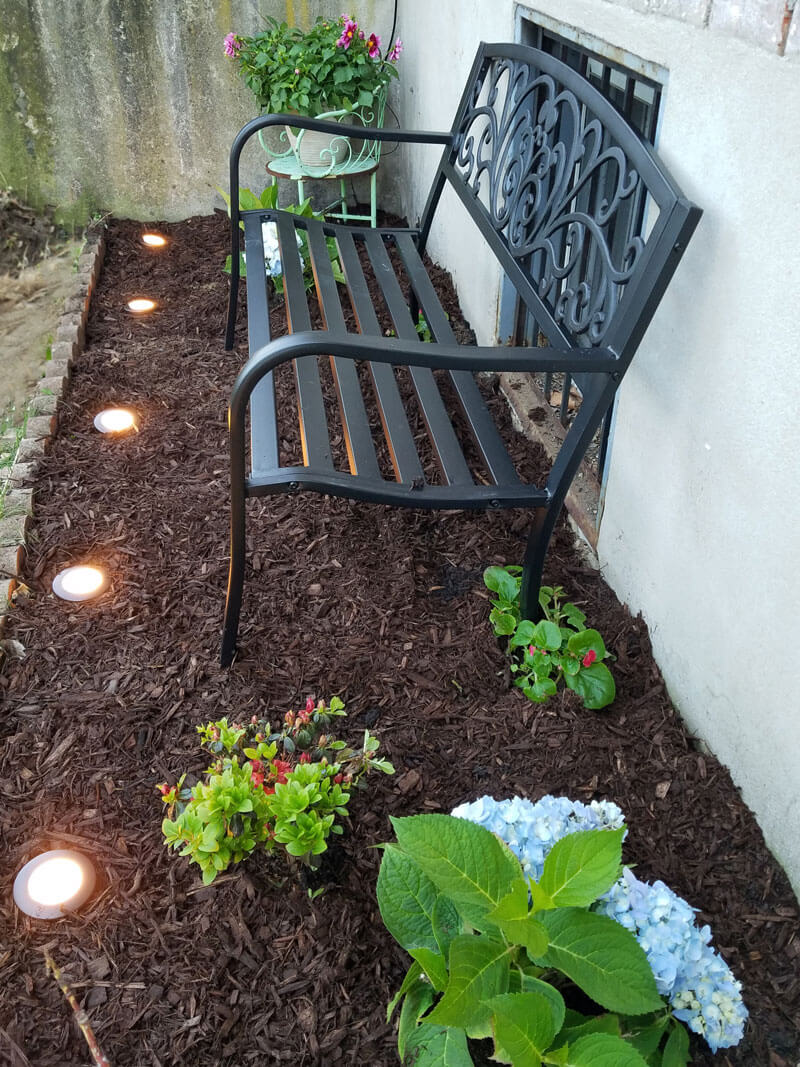 The sophisticated design of this wrought iron bench is an attractive and useful sitting area for your yard border. Surrounded by a sprinkle of plants and flowers helps to make you feel refreshed and alive. The plant stand in the corner is an impeccable spot to add a potted plant or perhaps a vase of fresh-cut flowers from your garden. The recessed lighting is a great way to be able to enjoy your handiwork in the evening. Sit back and relax on your bench while you survey a job well done.
19. Colorful Backyard Seating for Added Fun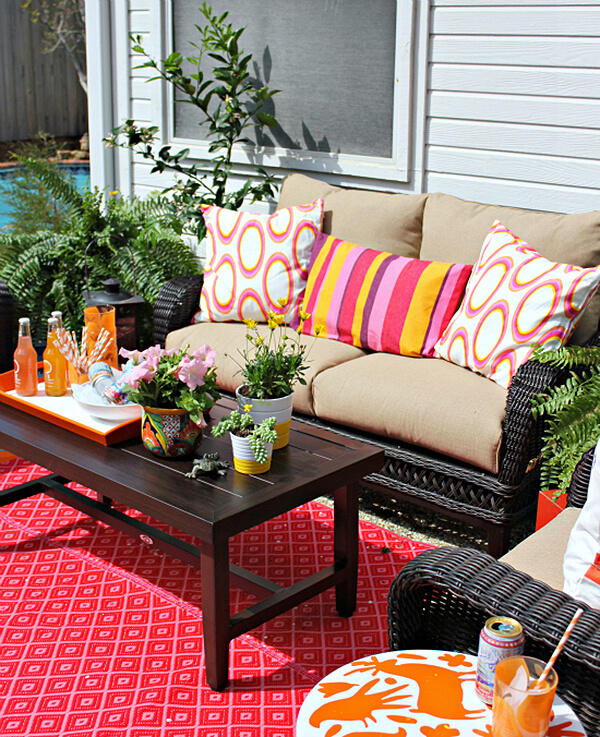 Nothing says pool party quite as much as this vibrant backyard sitting idea. Cushioned wicker seating accented by a variety of vivid throw pillows is both attractive, and comfortable. The coffee table serves as a great place for treats and refreshments. Whimsically designed end tables add even more happiness to an already joyful backyard sitting idea. Several potted plants and flowers splashed amongst this seating is soothing and grounds your seating in the outdoors. The bright carpet will feel nice on bare feet and binds this sitting area smartly as one.
20. Peaceful Patio Sitting Area for Enjoying Tea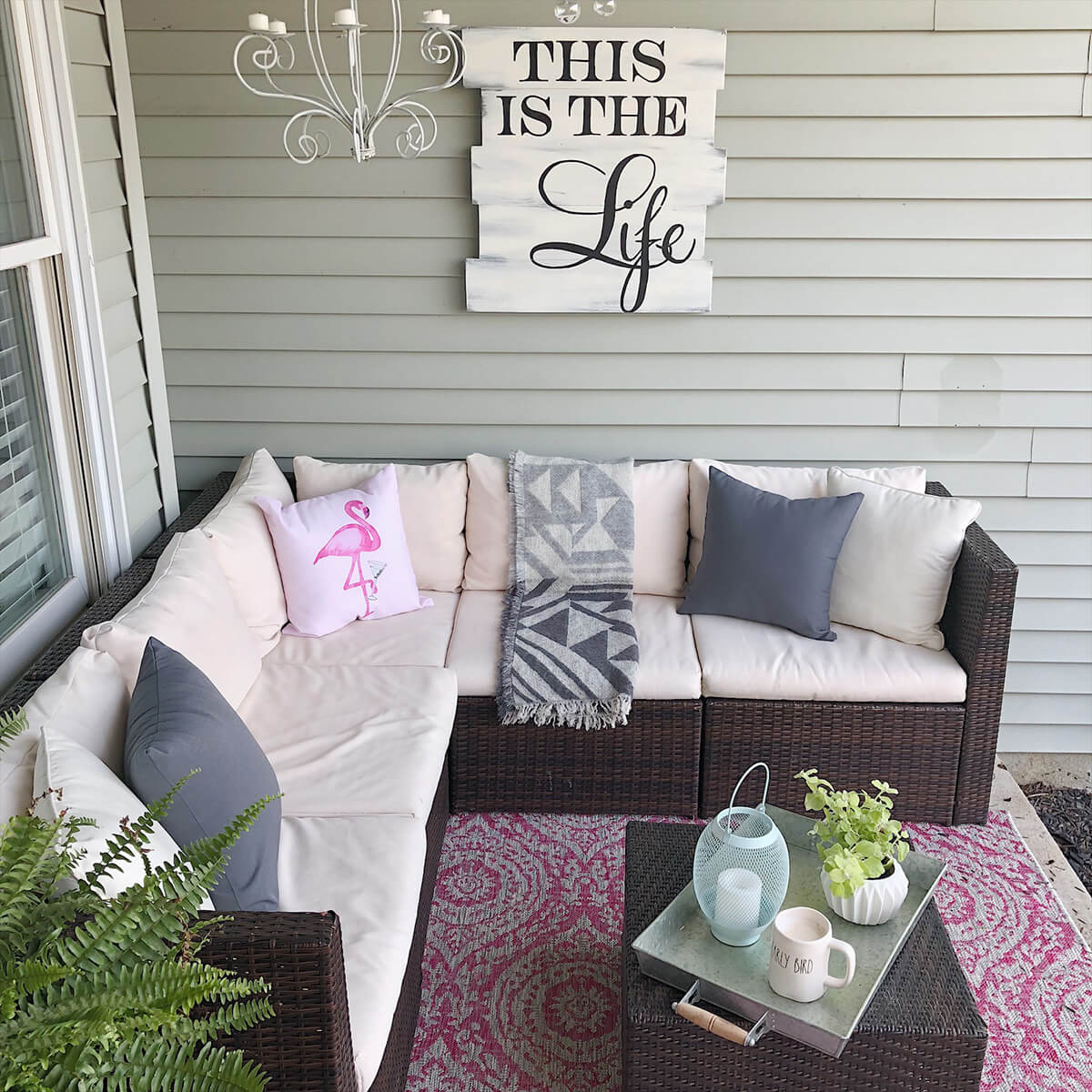 This generously cushioned wrap-around wicker couch is a superb way to turn a patio nook into a pleasurable sitting area. Throw pillows and blankets are comforting and fashionable. A square wicker table provides a resting space for a decorative metal tray. Fill the tray with a candle and potted plant to create the ideal ambiance. Of course, space is still available for a nice cup of tea or hot coffee. An inspirational sign in the background is an excellent reminder of your accomplishments. A delicate candle style chandelier adds to the relaxing mood. An exquisitely designed throw rug adds the perfect amount of hominess to this setting.
21. Pleasant Backyard Sitting Idea Invites Serenity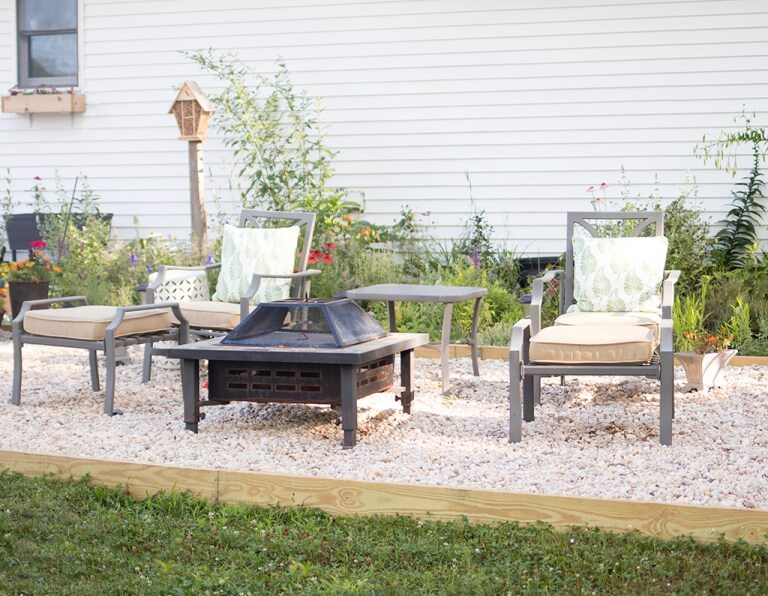 The best outdoor sitting area ideas are multifunctional. This modern-looking outdoor furniture set can be arranged to serve an assortment of purposes. The chairs and table can be used as a sitting area to enjoy coffee and conversation. Alternately, the ottomans can be sat in front of the chairs to create a makeshift chaise lounge. The fireplace can be used for warmth and lighting to savor an evening glass of wine with your best friend. A rocky canvas helps contain your outdoor haven, while also delivering a crisp look. A bit of wild plant and flower growth in the background is a reminder that the world is a curious and beautiful place.
22. Delightful Outdoor Seating Invites Conversation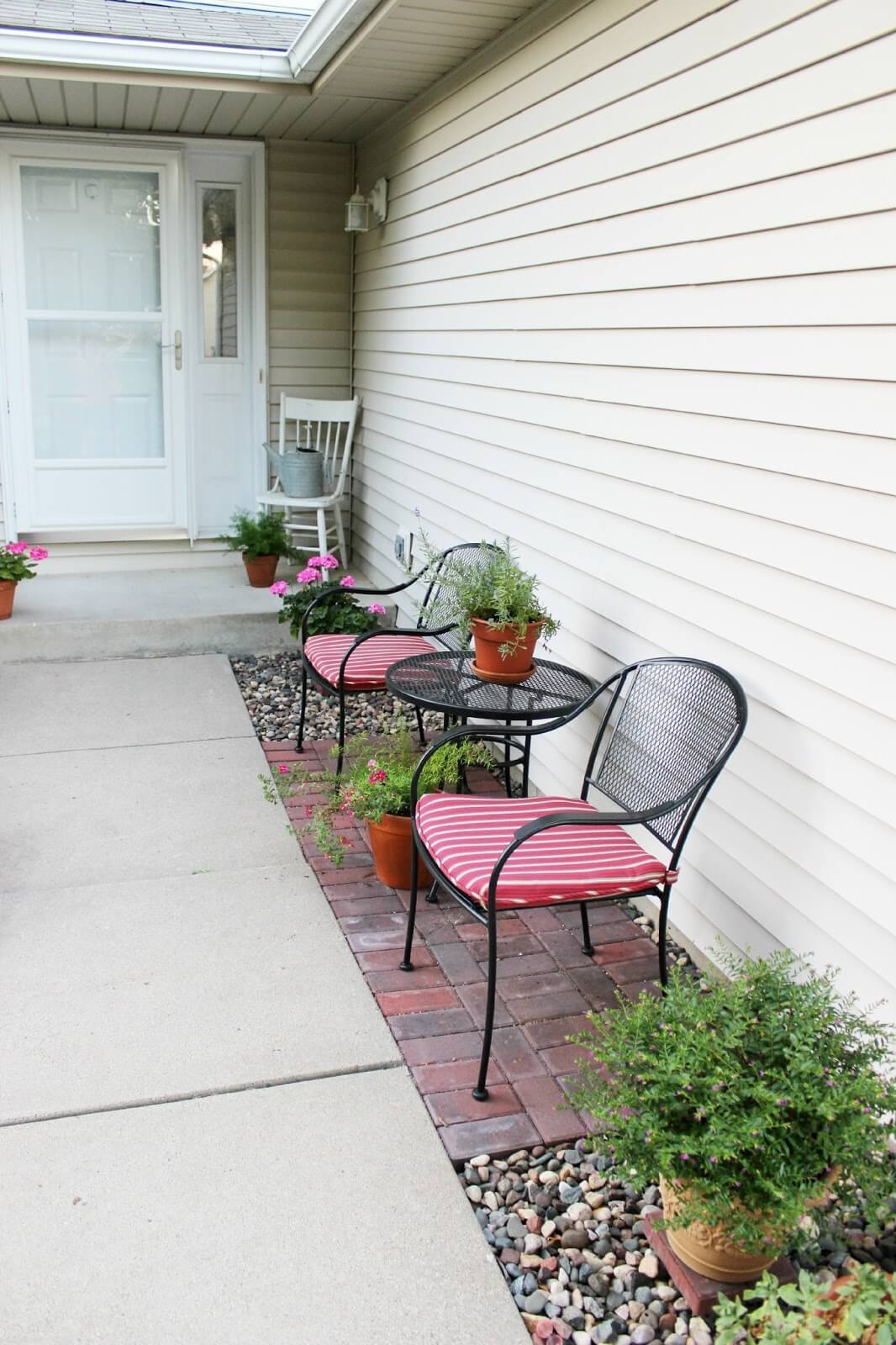 These simple black metal chairs and table are brought to life by the cute pink and white striped pads. Situated a few feet away from your front step and off of your walkway, this sitting area is both convenient and excellent use of space. An array of potted plants and flowers brings vitality and color to a brick and cement setting. Multi-hued rocks keep this space looking tidy while acting as a pretty border for your sitting area. A wooden chair in the corner is both a great home for your watering can, and adds a stylish touch to this environment. Take a short break from yard work and enjoy a fresh glass of water sweetened by the enticing aroma of your flowers.
23. Charming Patio Seating for Your Enjoyment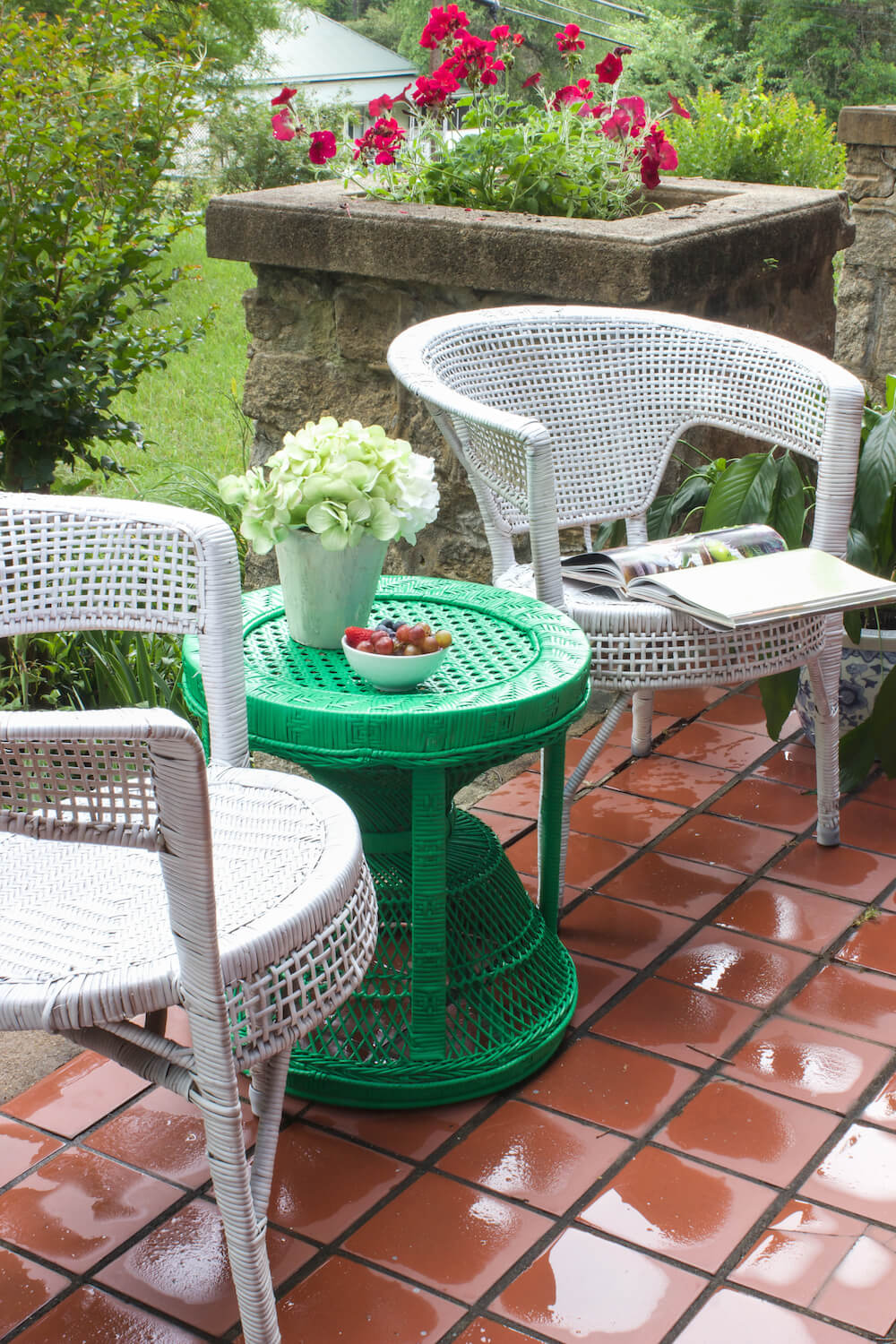 A small patio can easily be turned into a delightful retreat. These round wicker chairs are a great place to rest weary feet while you flip through your favorite cookbook for dinner inspiration. This dynamic round table is a splendid home for a stunning potted plant. There is still a bit of room to stash the bowl of fruit you have been snacking on. Additional plants and flowers create an enticing backdrop that will have you choosing this space for quiet relaxation time and time again.
24. Serene Seating for Back Yard Relaxation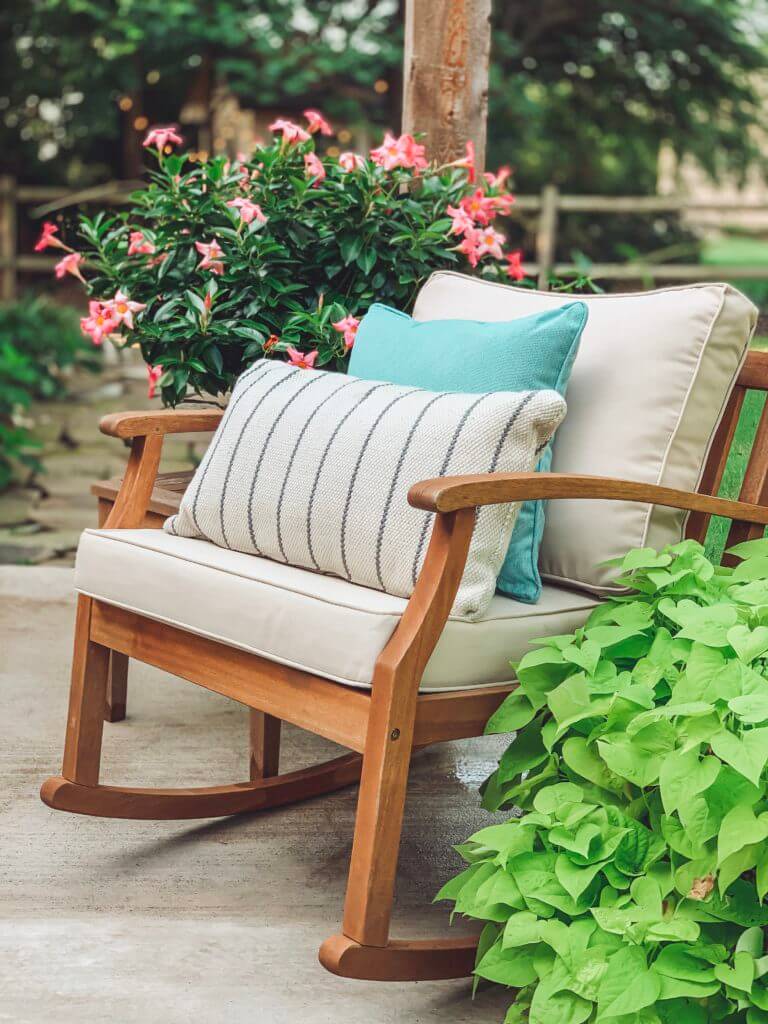 A sturdy wooden rocker stuffed with ample cushions and throw pillows are a foolproof enhancement to any back porch. Surrounded by beautiful plants and flowers, you will have no choice, but to feel at ease. The subtle variety of colors creates a sense of peace and familiarity. The outdoor setting stimulates feelings of vitality and reinvigorates your spirit. Setting aside this small corner of your porch for a sitting area is not only a great way to spend precious extra minutes, but also the right thing to do to increase your bliss.
24 Outdoor Sitting Area Ideas to Increase Your Bliss
As you can see, there are quite a few different ideas for the best outdoor sitting area. You can make a nice sitting area whether your available space is teeny-tiny, or huge. Many of these designs can be altered to fit any budget or even no budget at all! After all of these inspiring concepts, you are no doubt well armed to create your own outdoor sitting area. All that will be left to do is sit back and enjoy the fruits of your labor. Does that mean snuggling up in a warm blanket with a good book and a hot cup of tea? Perhaps you'd rather enjoy a family meal outdoors while you watch the sunrise? For some, it might include inviting friends over for wine tasting and engaging conversation while you watch the sunset. You may just want a simple space to breathe in the fresh air, clear your head, and rest weary feet. No matter what you choose to do, it is clear that an outdoor sitting area can give everyday life a much-needed boost.
Our Favorite Outdoor Decorations to buy on Amazon