With the flowers blooming and the birds chirping it's hard to miss the coming of spring, and there is no better way to prepare for the season than coming up with outdoor spring decoration ideas. This season is filled with restoration, hope and rejuvenation. It's a time of the year when old things have faded away and new things are gently emerging. The longer days of spring allows us to experience more of the positive energy this season has to offer.
18 Awesome Outdoor Decoration Ideas for Springtime Charm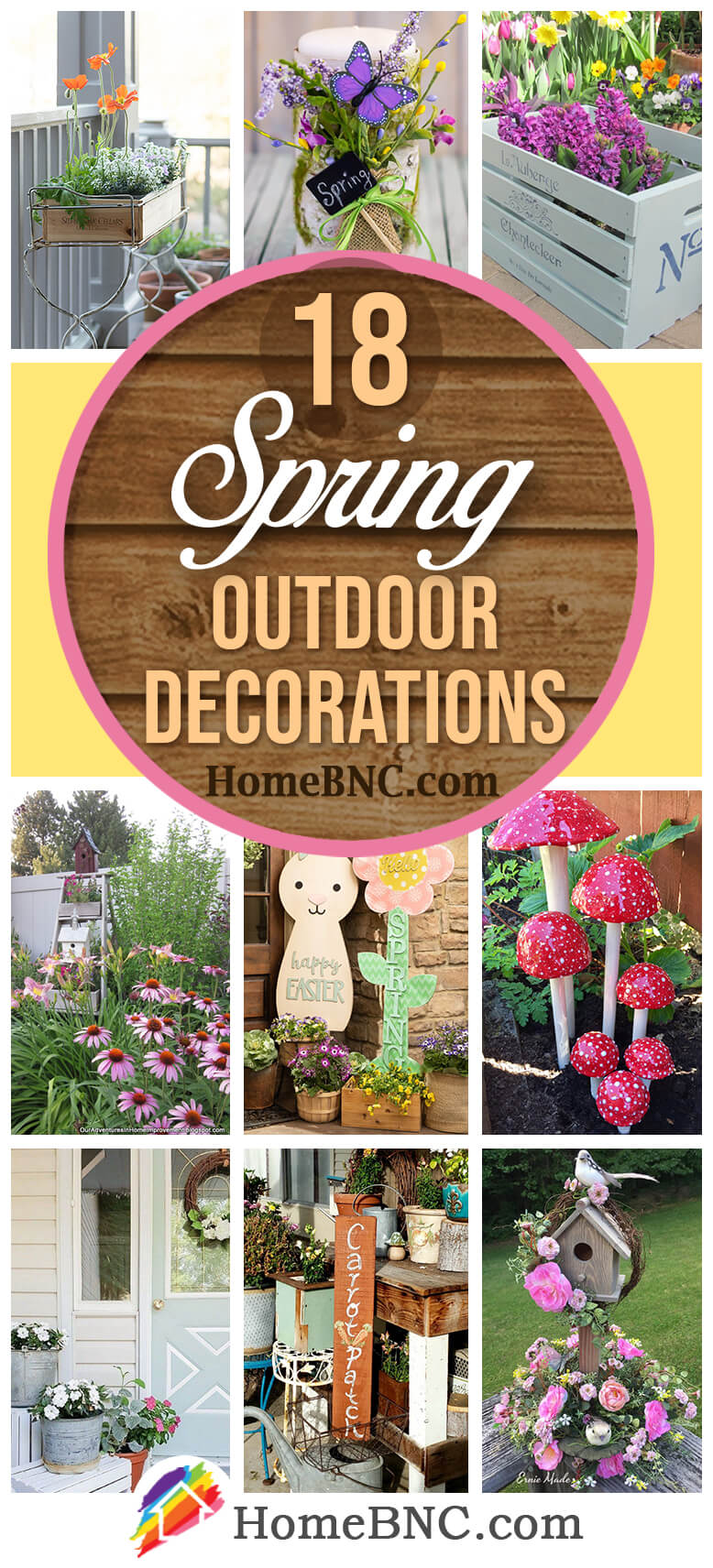 With more daylight, there's a sense of happiness and joy that endures to extend the nostalgic feelings. The thought of sitting by the lake sipping on a glass of iced cold tea makes you smile with glee. The warmer temperatures motivates us to do more with an overall sense of wellbeing. Longer days and rising temperatures stimulates us to move more and have more stimulating interactions with family and friends. Springtime is a natural mood enhancer that keeps our spirits lifted and our faces smiling. The season inspires us to surround ourselves with all the beauty spring has to offer.
There are many cool and unique ways nature can inspire us to incorporate this wonderful season into our personal spaces. There's nothing like waking up to a colorful bouquet of flowers or peering out the window to catch a glimpse of a rustic rocking chair on our own front porch. Adding a green plant to the corner of our living room gives us a feeling of rebirth and rejuvenation in our own personal space. This representation of life reinforces the feelings of spring.
Sitting at your breakfast table in the morning while reminiscing on the days when you and your friends played on the front porch as children while trying desperately to wash the red stains of pomegranate juice off of your hands makes you slightly chuckle for the days gone by. Springtime is definitely the most perfect time of the year.
1. Delightfully Perfect Charms of Spring To Welcome Your Loved Ones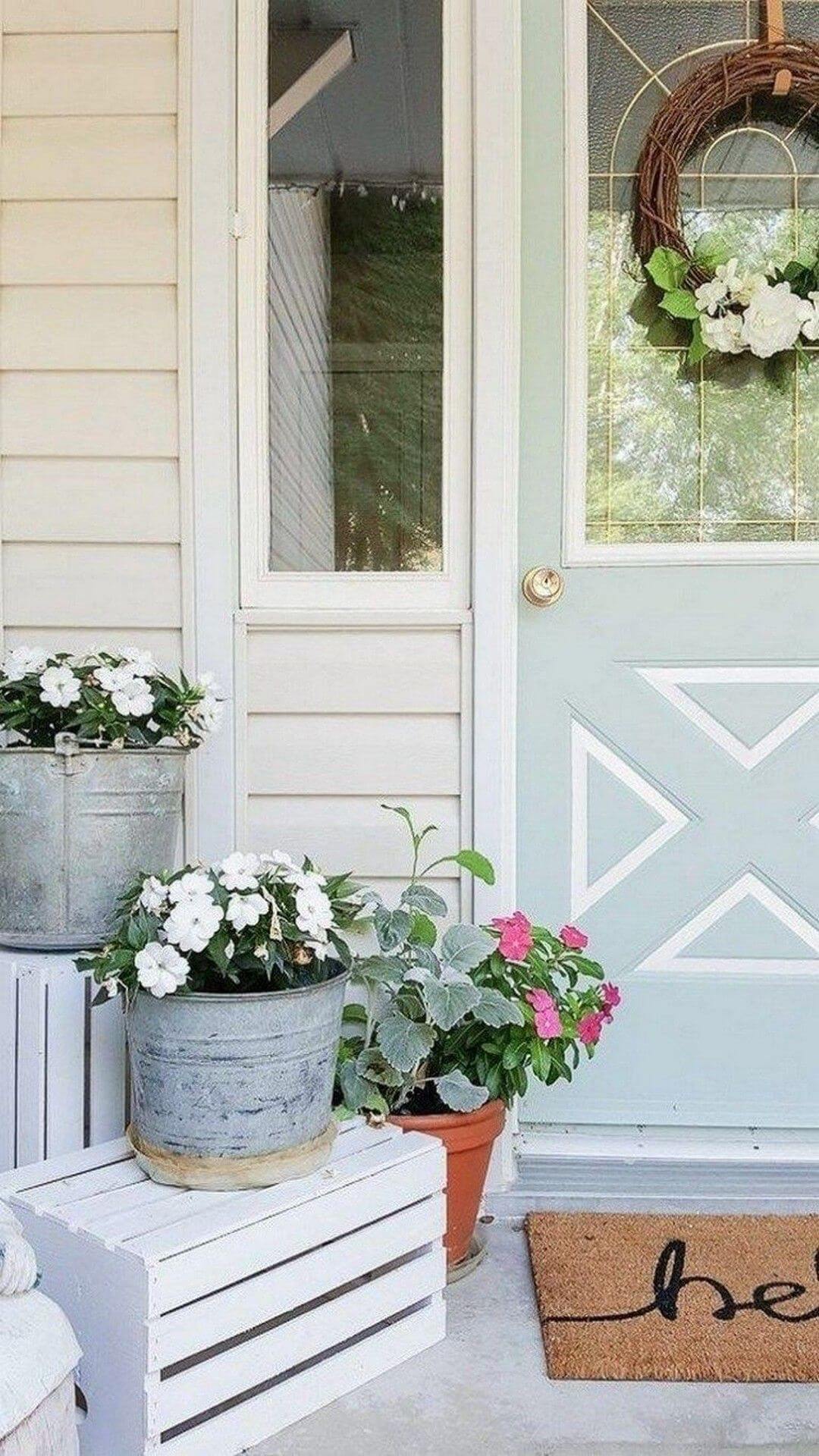 This cute floral layout is an excellent way to greet your guests as they approach the entry of your home. The country floral trio is one of the best outdoor spring decoration ideas to embrace your family and friends before they enter your home. This beautiful arrangement of fresh florals is a great way to inspire you to get out and water the plants on drier days. Combined with the welcoming wreaths and the rustic charm of the doormat, this floral ensemble is perfect for a touch of spring for your entryway.
2. Adorably Cute Country Box Filled with Love For Your Enjoyment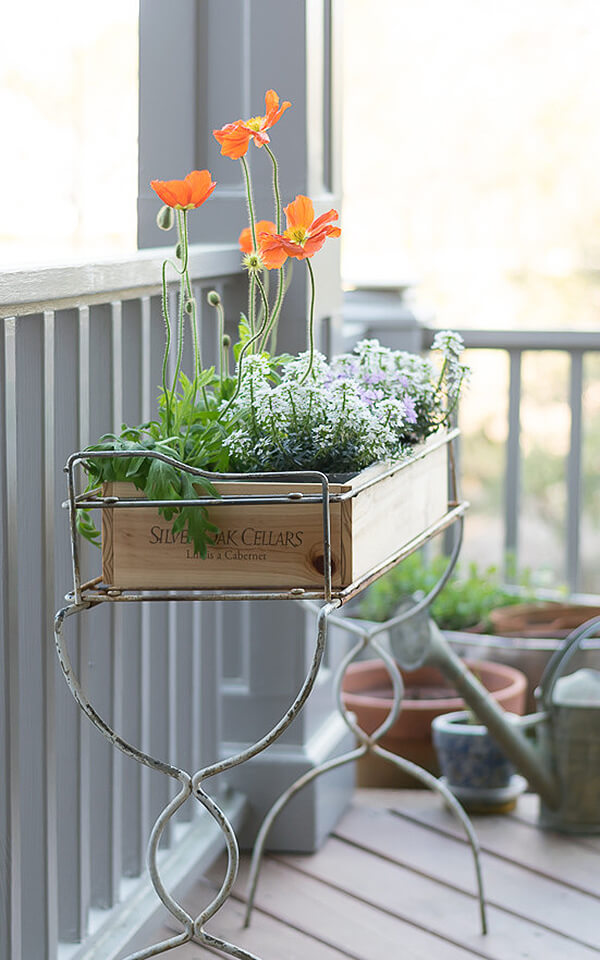 Exterior home decoration should embody the spirit of the season and your home. This is an excellent way to incorporate spring garden decor in a space with limited soil. The elegant and charming stand introduces a refined element for this country rustic look. The coral flowers add a sense of interest and warmth to grace a beautiful patio design. With the neutral tones of the rustic box, it is sure to coordinate perfectly with any outdoor furniture pieces. This combination incorporates refined elegance with a rustic, charming and country feel for spring.
3. Calm, Cute and Country Style To Grace Your Porch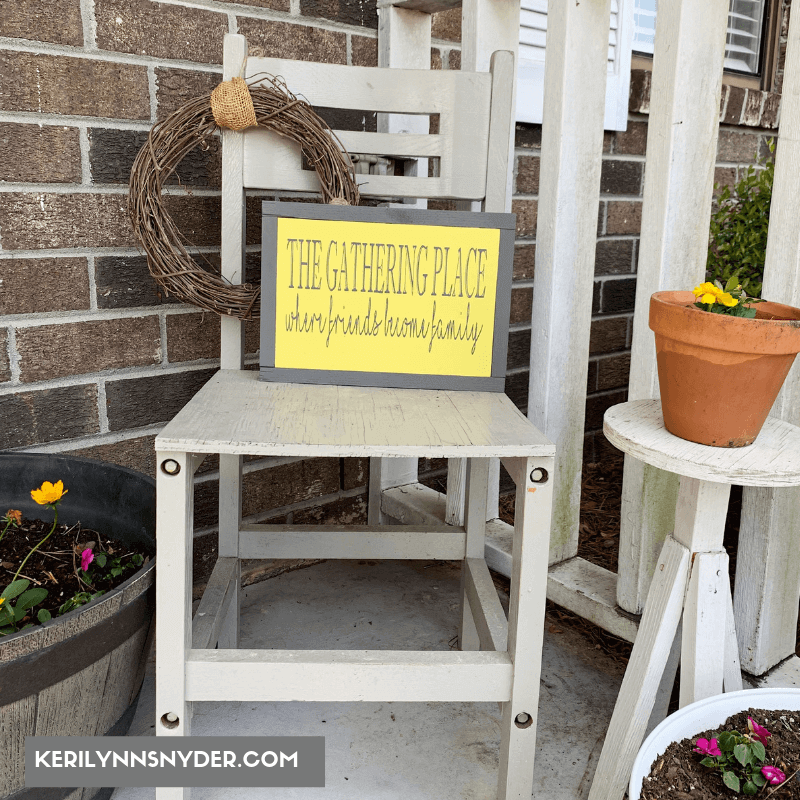 With the gentle floral buds peeking through the soil, this is further evidence of the anticipation we feel for spring. As we care for these delicate buds and nurture the plants that grace our porch, there's a hope and expectation for full blooms to completely spring forth to life. The country rustic chair cloak in a cream antique finish paint is the exact element needed to embody a country and charming feel. Draping a country wreath over the back of the chair further enhances the rustic charm of this look. This combination surely embraces the concept of the gathering place.
4. Lovable Spring Garden Decor To Enhance Springtime Joy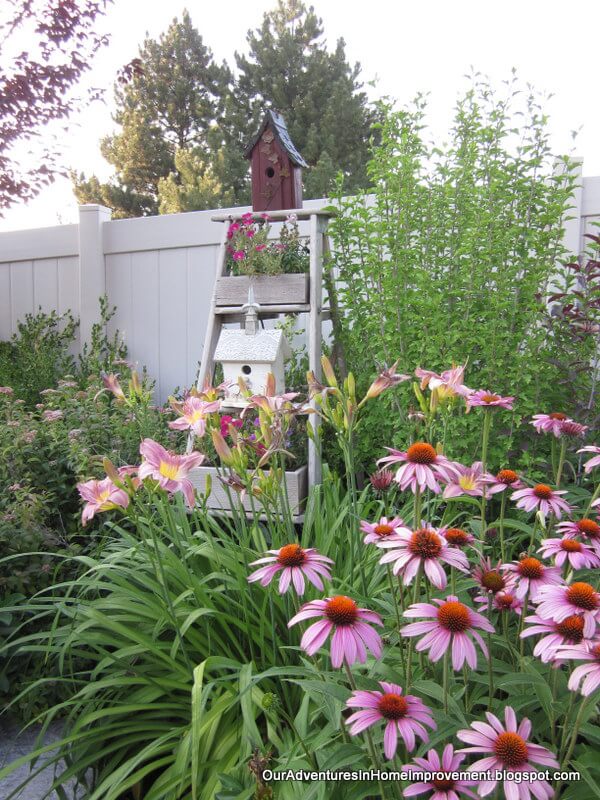 The lush greenery of this inspired look embodies the feel of spring. The greenery represents the fullness of life and all that it has to offer. With interesting aspects of color such as light pinks, oranges and lavender, this romantic garden is sure to set your mind at ease. Accented with a country decorative ladder and adorned with rustic birdhouses, this combination of nature is sure to excite your senses for spring. The stately yet whimsical shrubbery creates a sense of excitement and joy when walking through this beautiful garden. For further inspiration, it would be a cool idea to add bird seeds at the top of the ladder.
5. Super Duper Cute and One Word Says it All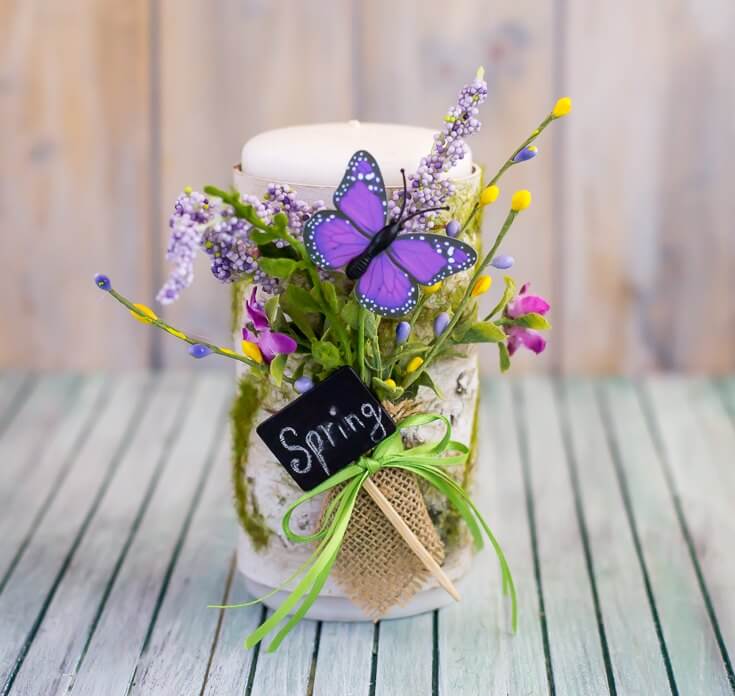 What a great way to incorporate spring into an outdoor decor. A white candle adorned with beautiful raffia and delicate springtime flowers is an excellent way to welcome the spring season. With the word spring elegantly etched into the center of this masterpiece, this look completely embodies the spirit of the season. Imagine sitting outdoors with family and friends and lighting a trio of these beautifully delightful decorative candles. Not only would this be a conversation piece among the group, it could create a sense of envy that is reminiscent of the green foliage included in this design.
6. A Vibrantly Colorful and Unique Take on Spring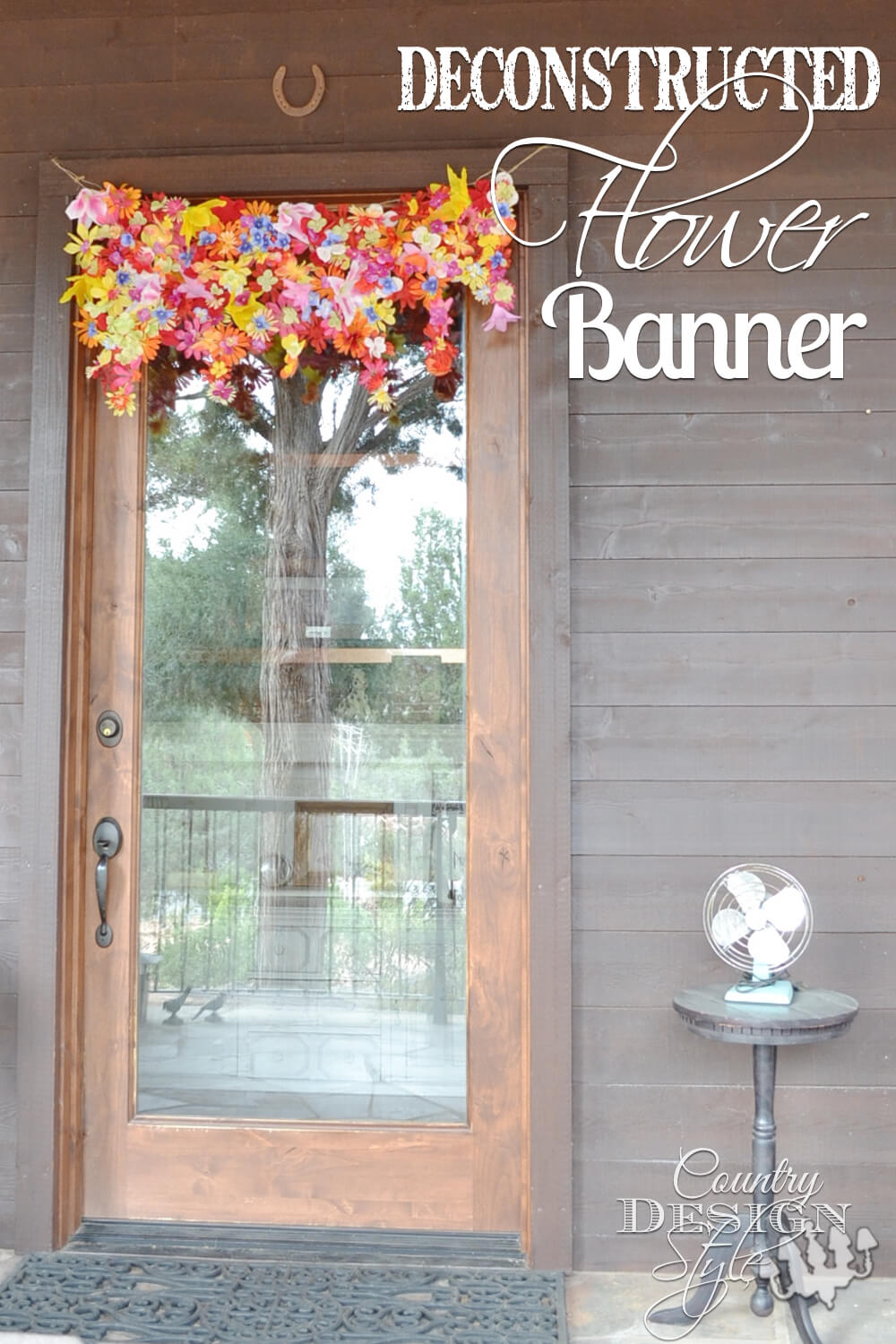 This beautiful festival banner of floral delight is eye-catching, bold and sure to draw the attention of bypassers. This is an excellent way to celebrate the festivities of spring. By incorporating multiple colors and displaying it proudly for all to see, you are doing your part as a good neighbor to create contagion for springtime love. With this colorful banner sprawled from corner to corner at your front door, you will certainly draw the luck of the season. Combined with a lucky horseshoe just above the entryway may be an indication your luck is changing for the better. This may be a good time to play your favorite numbers in the lottery.
7. Calm and Awesome Ideas to Welcome The Lazy Days of Spring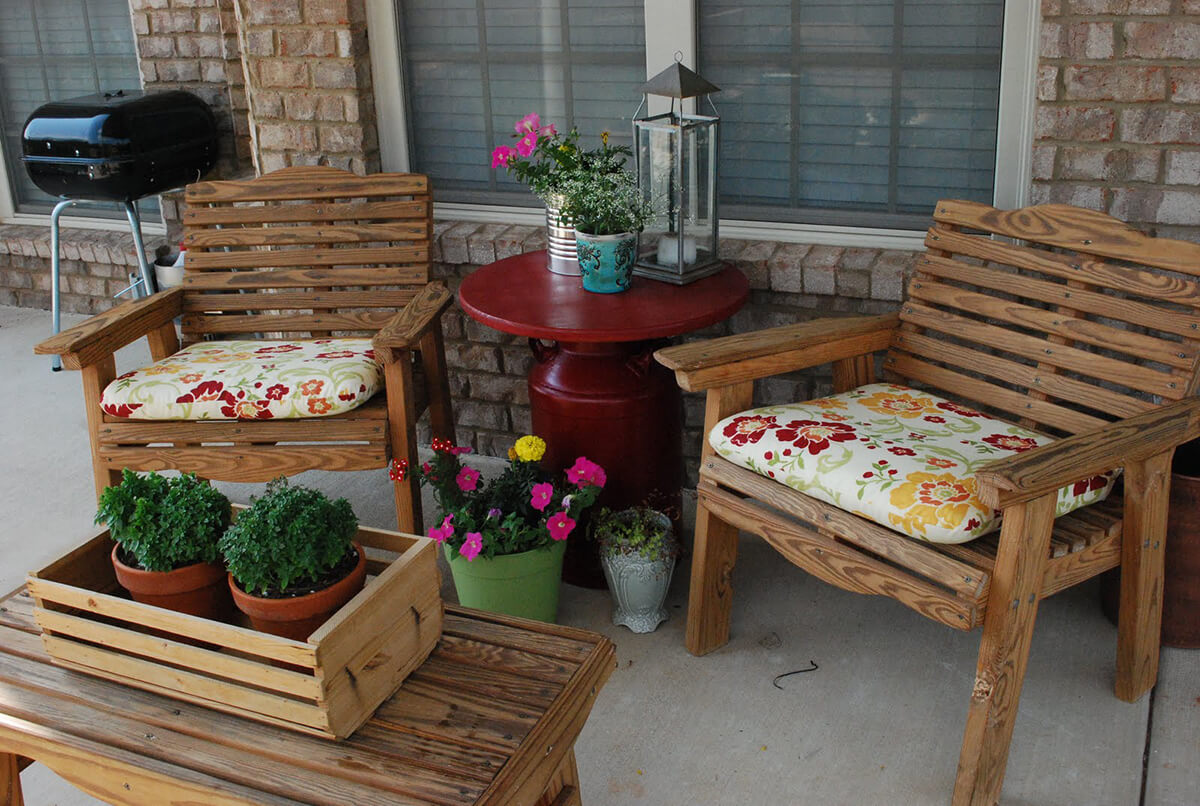 This colorful combination of rustic and floral pieces is an awesome idea to invoke the laid back spirit of the season. Exterior home decoration ideas such as this, motivates you to escape from the hustle and bustle of everyday life. Imagine sitting on your porch with your beloved sipping on two iced mint juleps sharing pastime stories of joy. Just the thought of kicking back, laughing and drinking with your favorite person is enough to make you forget about all the stresses of life. This rustic springtime setting will motivate you to throw a couple of steaks on the grill while you watch the sun gently fade away into the horizon.
8. Whimsically Perfect Touches of Springtime Magic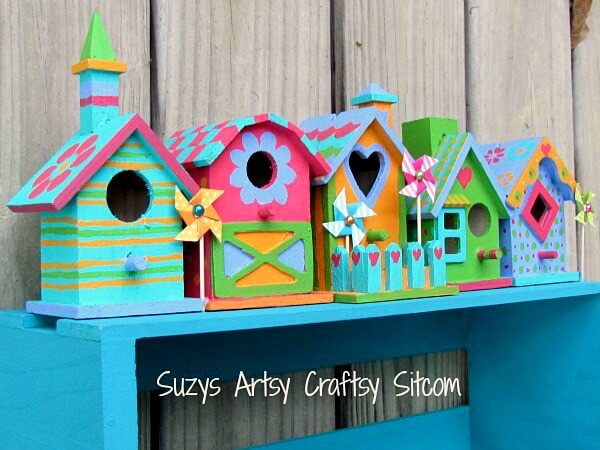 There are three words to describe this whimsical and magical look. Cute, cute and cute. This colorful and charming look embodies the spirit of joy and laughter. The unique combination of birdhouses would be an excellent focal point for any treehouse. If you've exhausted all possibilities in searching for the best outdoor spring decoration ideas, look no further. You just found what you're looking for. By hanging this on the ledge of your window sill or proudly displaying it next to your favorite rustic rocking chair, you can incorporate whimsical and colorful elements that are sure to invoke a sense of laughter and joy.
9. The Perfect Trio of Herbal Delight to Entice Your Senses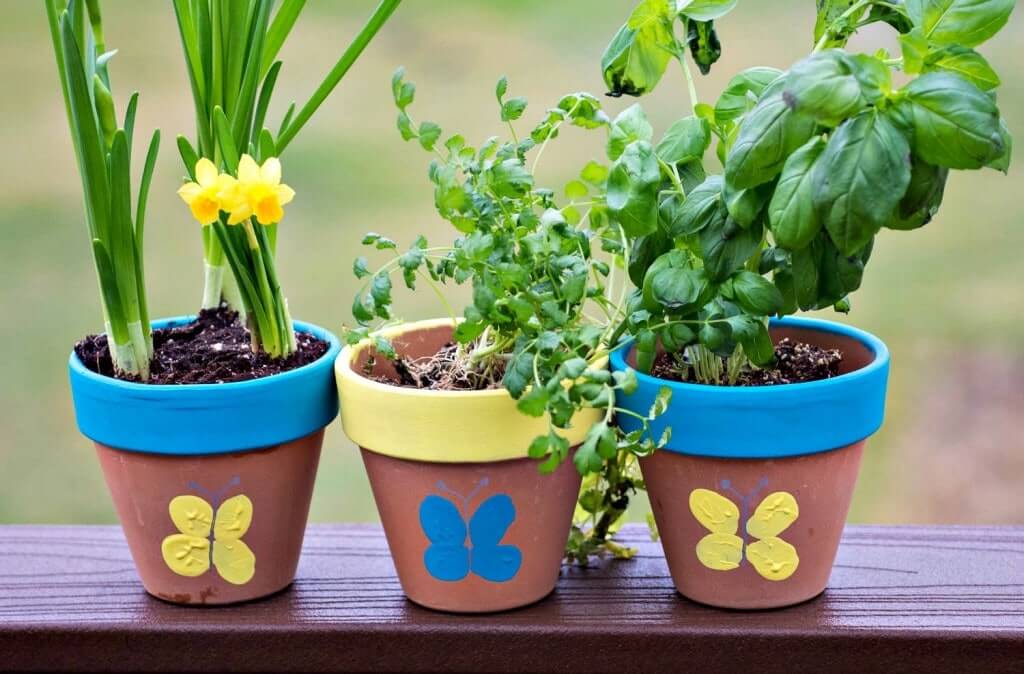 These beautiful handcrafted flowerpots are an excellent way to display your favorite herbs. Whether you are displaying them on the edge of your balcony or in the corner of your kitchen, this trio of eye-catching greenery is sure to motivate you to live your best life. This trio embodies beautiful and simple spring garden decor. The simple elements of the flower pots gives a sense of innocent delight. Having fresh herbs at your disposal also encourages a healthy lifestyle and diet. By infusing your surroundings with herbal delight and consuming freshly grown foods, you are sure to look good and feel good for the springtime season.
10. The Beautiful and Cool Reflections of The Season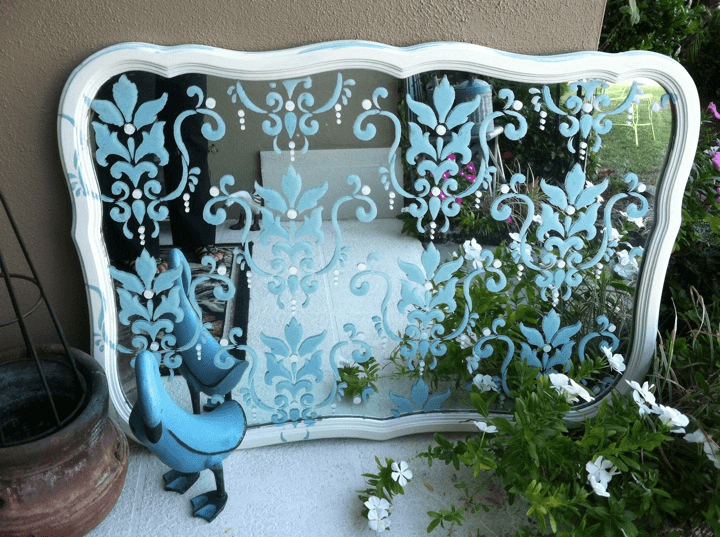 Incorporating mirrors into the best outdoor spring decoration ideas is a wonderful way to duplicate the beautiful surroundings of nature. The scalloped edges of a delicately painted mirror and the rustic elements of nature merge together to create an eclectic decorative display. This combination of elegance and rustic charm gives a uniquely refined reflection of the season of spring. The lush gardens adjacent to the elegant mirror give us a true representation of what spring is all about. The rustic flower pot opposite the mirror, is an excellent way to incorporate flowing vines of ivy to further enhance the call of spring.
11. Hopeful and Awesome Ideas to Keep Easter Hopping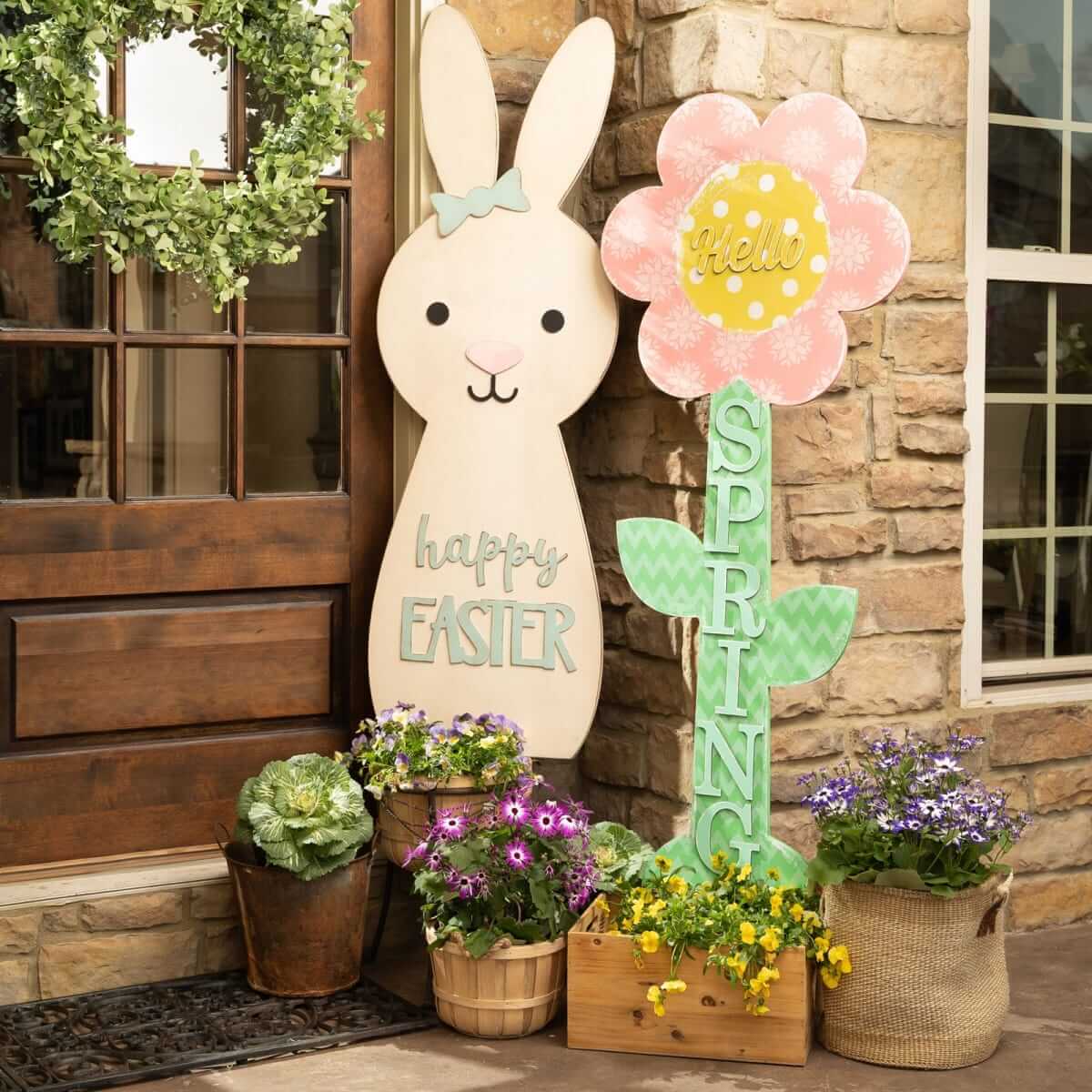 This display of Easter decorations is an excellent way to welcome family and friends for a delicious Easter dinner. The whimsical sunflower paired with Peter Cottontail himself makes for a delightful welcome for your Easter guests. The combination of flower pots add an interesting and eclectic blend of rustic beauty that enhances the beautiful lush greenery and the colorful flower buds. The lush green wreath also adds a touch of springtime charm and further enhances the rustic feel of this combination. Happy Easter everyone!
12. A Charming and Great Idea for Reclaimed Wood and Potted Flowers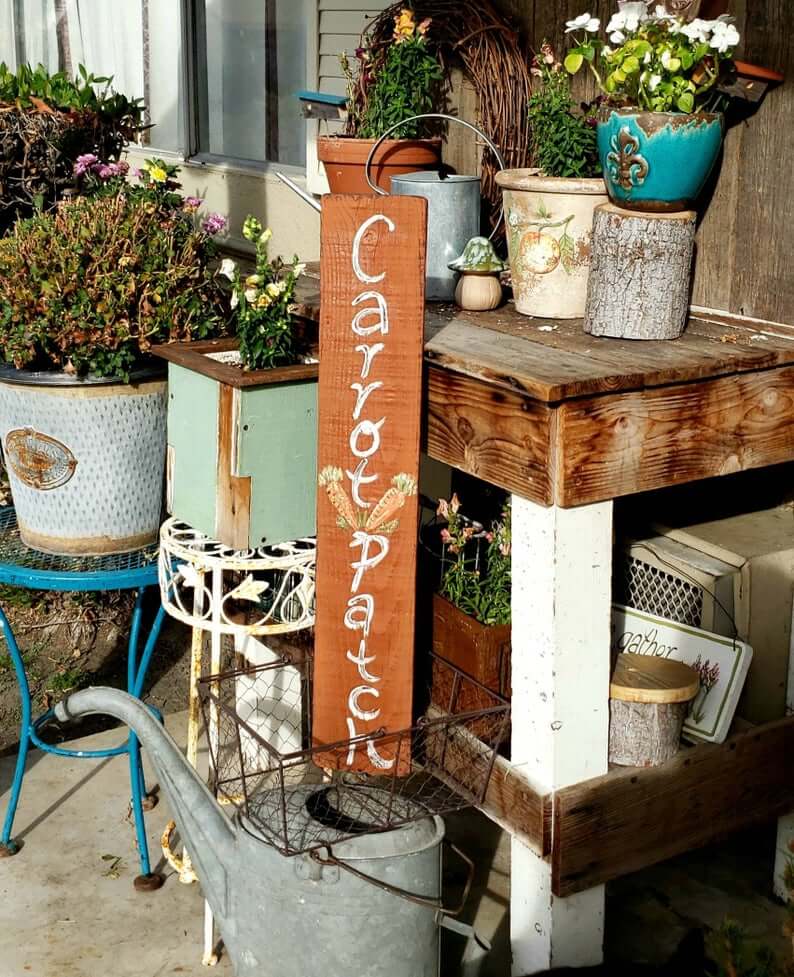 This display of reclaimed wood with potted flowers gives a homie and nostalgic feel for the springtime season. The harming table makes you feel as though this furniture piece came straight from grandpa's garage. The charming combination of rustic brown woods combined with white antique legs makes you reminisce about the days when you sat at your grandfather's side while he made wooden furniture and beautiful flower pots. The green shrubbery and colorful flower stands create an attention grabbing display for anyone who's excited about spring. This combination invokes the sense of springtime memories that will last forever.
13. Pretty Home Decoration Strawberries for a Quaint Garden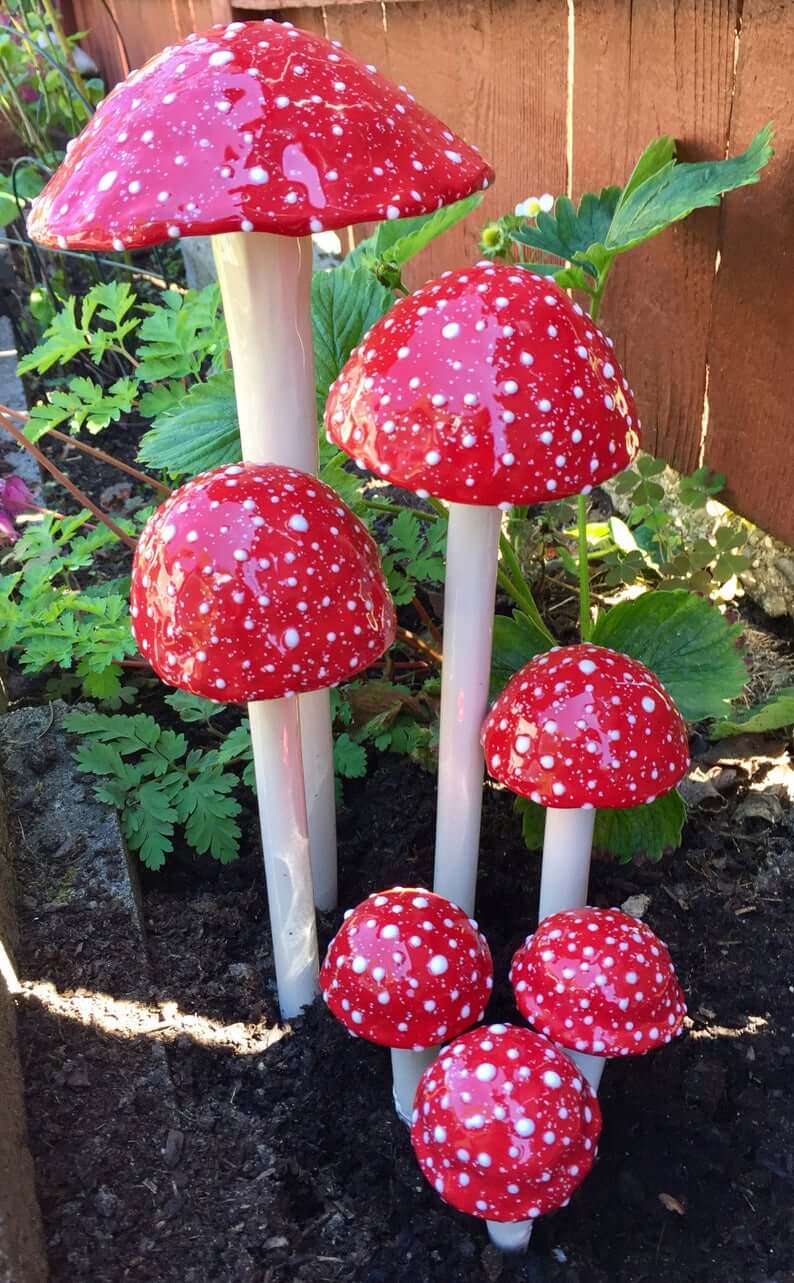 This grouping of porcelain strawberries is sure to add a pop of color to any garden. The whimsical and colorful features of these porcelain statues can create a sense of laughter while you perform your regular garden duties. With a pop of color that's infused into the natural elements of your garden, it's almost certain there will never be a dull moment while planting your tomatoes or pruning your roses. These porcelain statues can provide a sense of inspiration and motivation to keep you pruning and planting well into the spring season.
14. A Fabulous and Unique Idea for A Flower Wall of Memories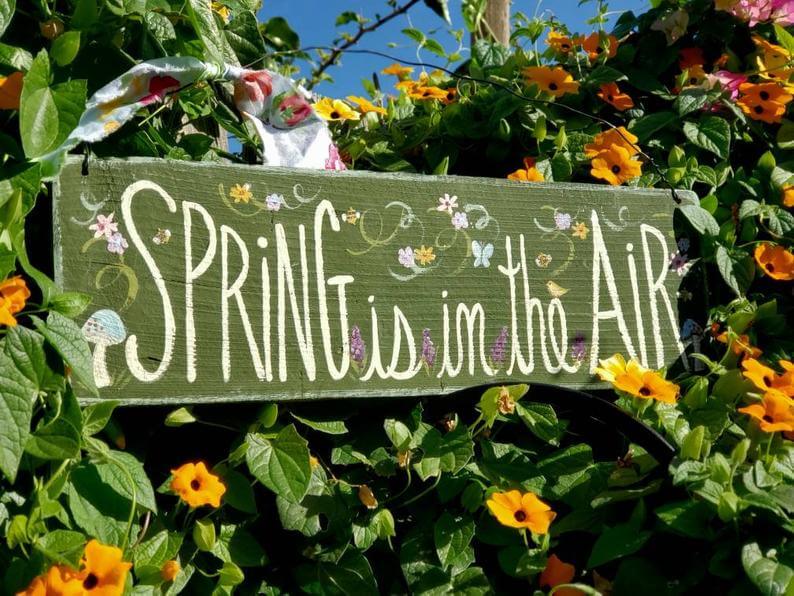 With the much anticipated spring season, comes a sense of freedom and lightheartedness that only the season can bring. This springtime floral wall is an excellent way to usher in the season. This is an excellent design idea for photo opportunities at a party or a way to simply enjoy this beautiful masterpiece in the privacy of your own yard. The combination of lush green ivys with vibrant yellow flowers blooming is sure to be a pleaser for family and friends. The best outdoor spring decoration ideas combined beauty, color and pure creativity to create thought-provoking creative design show pieces.
15. A Lovely Spring Garden Decor Birdhouse with Floral Delights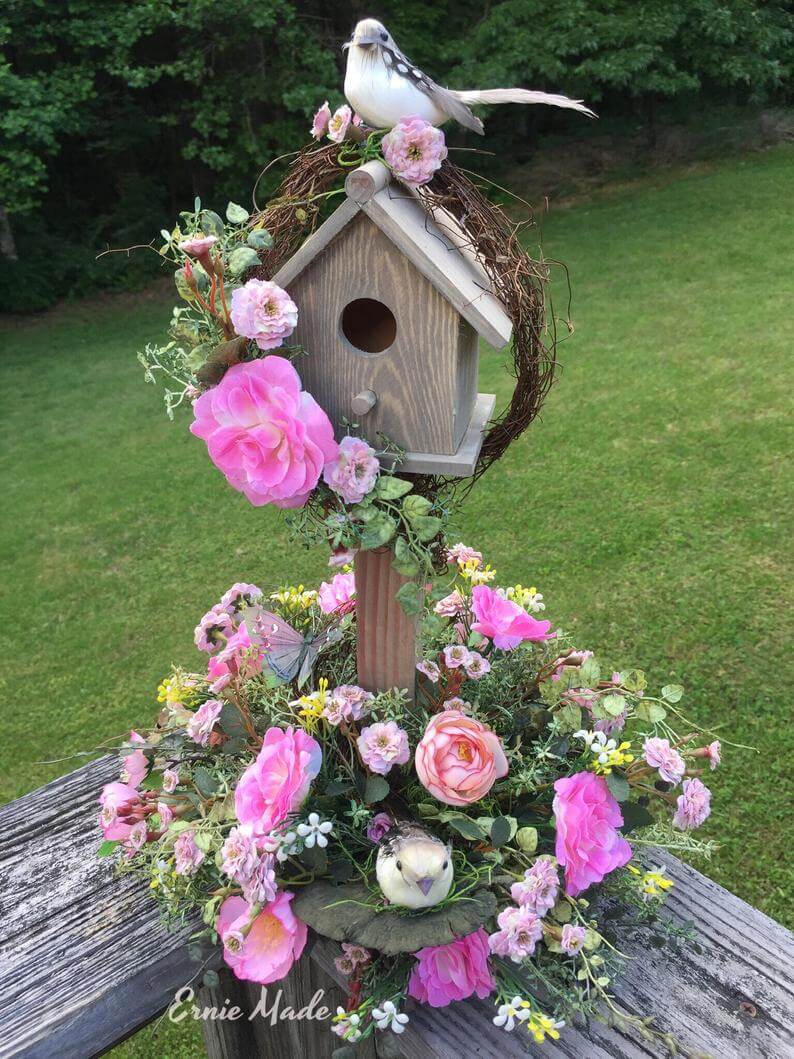 This creative and whimsical design feature incorporates floral majesty with rustic twigs. The beautiful birdhouse sits amidst an elegant and beautiful springtime floral arrangement that is so pretty it almost looks animated. The pale pink colors combined with tiny yellow flower buds create a colorful display that embodies the spring season.The lush green elements of this floral nest is sure to attract birds of many species. Imagine sitting at your kitchen table enjoying your morning cup of coffee only to see a bird nesting atop this beautiful and whimsical creation. The only thing that's missing from this decorative element is a ledge for bird seeds.
16. A Delightfully Perfect Infusion of Color for Nature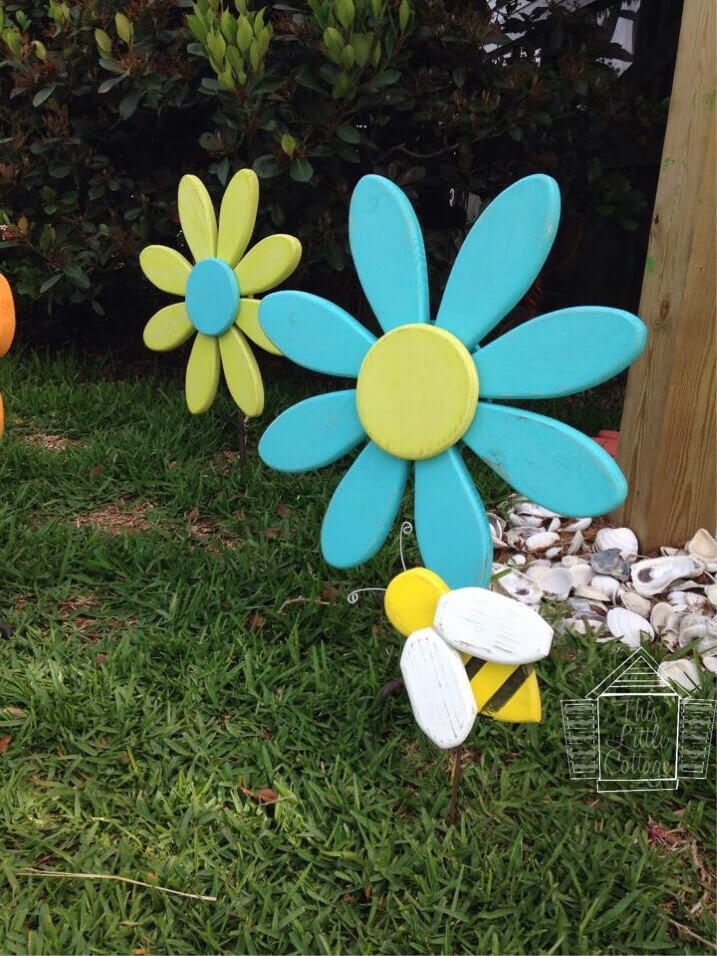 This colorful combination is an excellent way to put the sting in springtime. With the colorful elements of these acrylic flowers coupled with a bumblebee off to the side, the only thing that's missing are Easter eggs and baskets.This design element is an excellent way to incorporate a touch of whimsy and a pop of color into your lush green garden. Sitting on the edge of your porch enjoying a nice cold soda only to glimpse up at the infusion of color you've incorporated into your garden is an excellent way to celebrate the lazy days of spring.
17. A Simple and Unique Way to Say Spring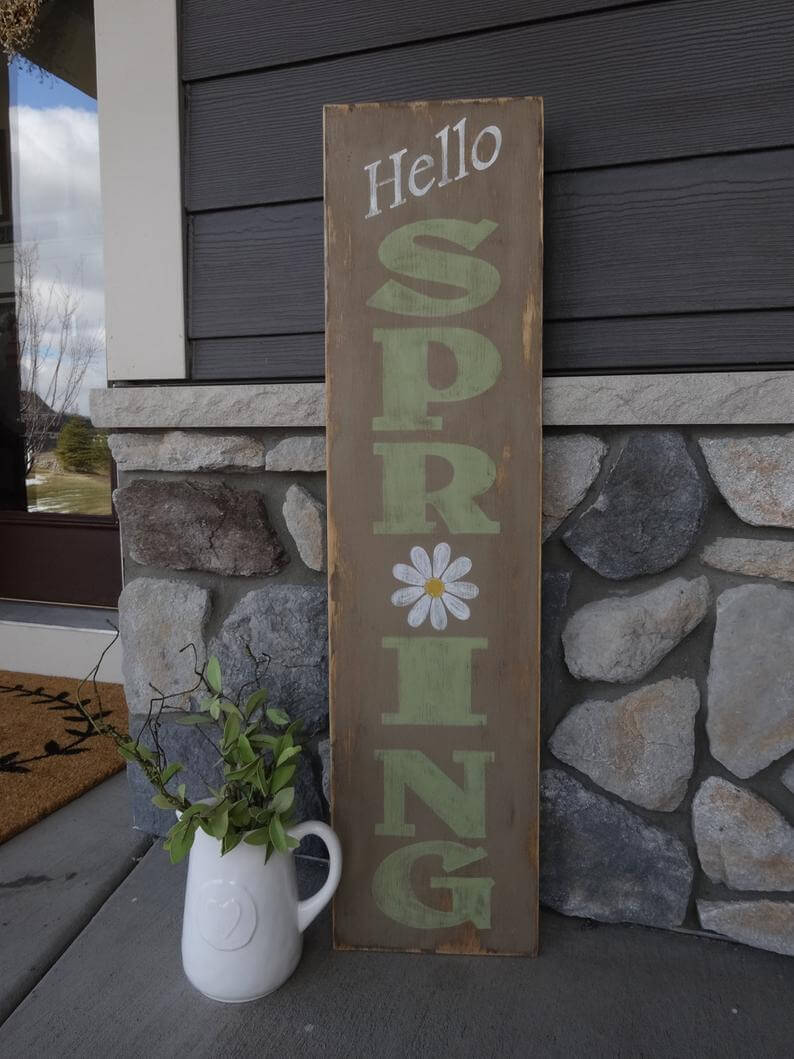 There's no better way to celebrate springtime than with a great big sign that says " Hello Spring". It can be a bit on the nose, but after all, it is springtime. This is a time of year to reflect on the days gone by and rejuvenate the soul to prepare for long days and milder temperatures. It's a time of year to reminisce on the days gone by and to celebrate nature's way of incorporating beautiful colors for our delight. This sign says it all. This is a simple yet bold way to usher in the season of spring and to start making new memories.
18. Elegant and Perfect Colors of Rustic Charms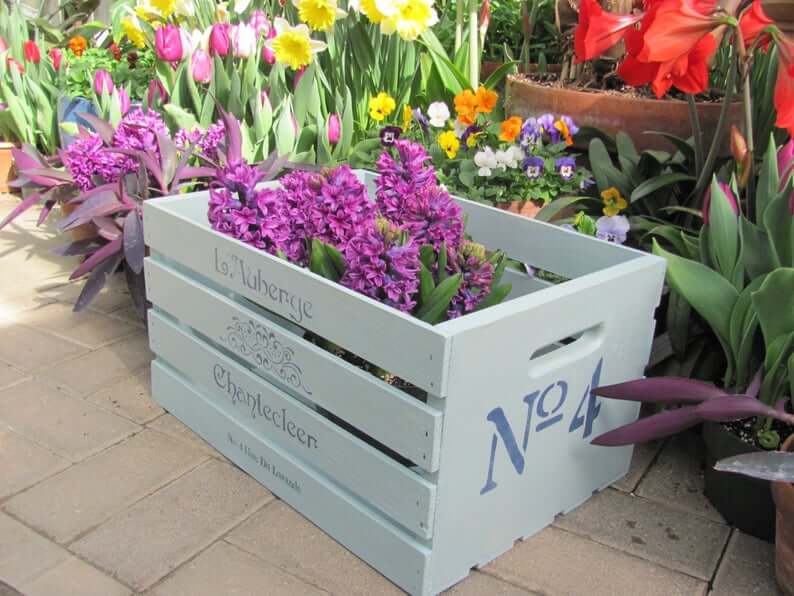 The best outdoor spring decoration ideas have a unique and uncanny way of enticing our senses and making us feel joyous and free. This colorful design combination is beautiful and effortless. It is a true representation of what springtime is all about. With an array of color combinations, this colorful floral blend creates an eye catching and bold design that is perfect for your front porch or your private garden. With an elegantly painted rustic box containing purple flowers, this is a perfect reflection of springtime magic. All that's missing from this scene are bumble bees and chirping birds.
18 Adorably Cute Spring Decor Ideas to Spruce Up Your Outdoor Space
Springtime is one of the most wonderful times of the year. It's a time of the year when we all anticipate the new beginnings of ourselves and the decorative elements that nature provides. With the flowers in bloom and birds chirping, it is hard to ignore the change of seasons. Springtime is the season that refreshes us and revives us. It is a time of year where we feel motivated and inspired to live our best lives in the hope for new and exciting things to come in the year. The longer days and warmer temperatures ignite overwhelming emotions of joy and exhilaration.
Incorporating outdoor decorative items around the exterior of our home is a way for us to celebrate this auspicious season. With a sense of eagerness and excitement, we are ready for the new and wonderful things that only the spring season can bring. There is no greater feeling than to sit on your front porch while enjoying a nice cold beverage and embrace the decorative elements that you've incorporated into your own private space.With the exterior decorative elements that we incorporate into our space coupled with the natural springtime elements from Mother Nature, we are sure to enjoy the season of spring to the fullest.
Our Favorite Outdoor Decorations to buy on Amazon