As we head into summer, most of us are looking for ways to spend time outside with our families and loved ones. Whether you've got a big backyard with a wide porch or a cute balcony with a city view, high quality outside furniture can turn any space into a cool, relaxing hangout spot.
25 Simple Outdoor Tables for All Your Summer Fun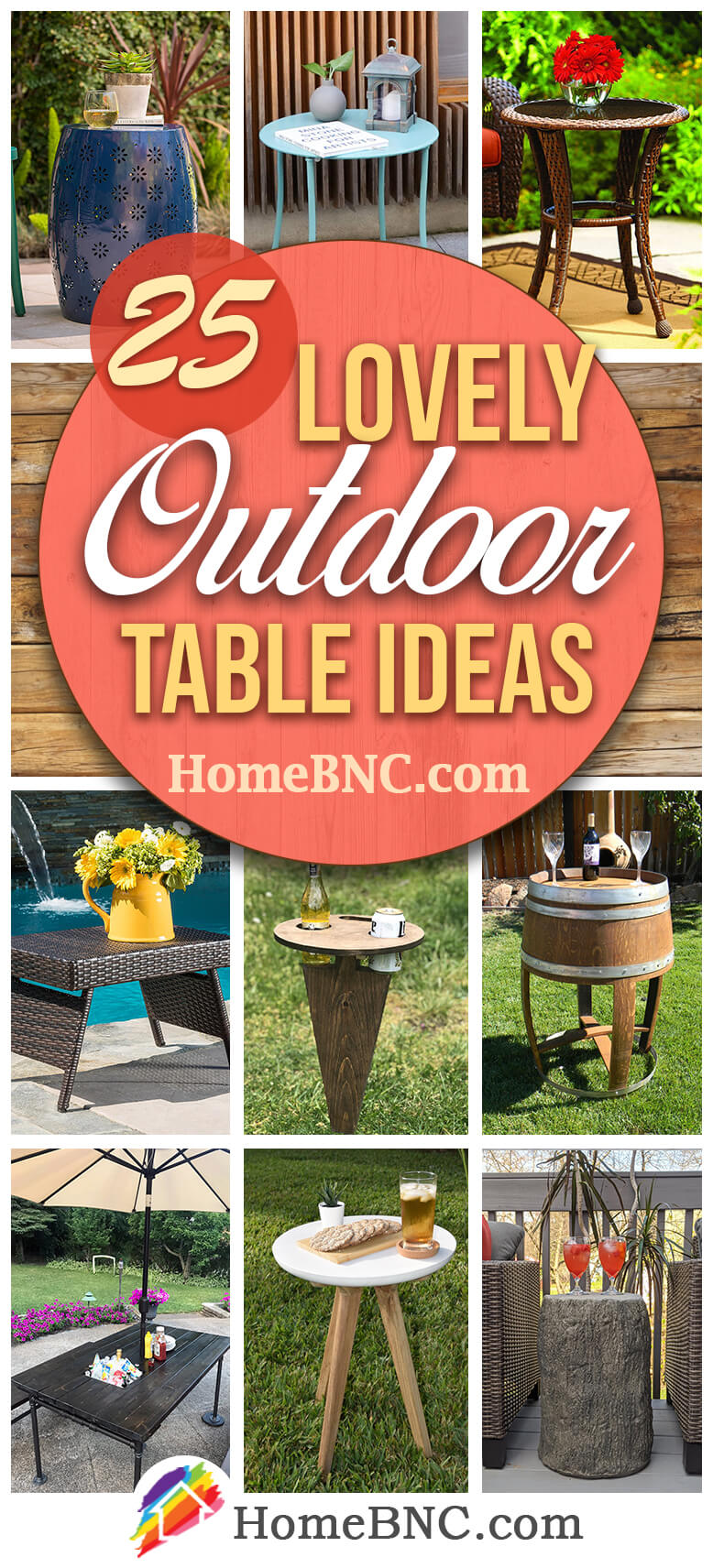 Especially if you plan to spend more than a few minutes soaking up the sun, the right outdoor table can tie a space together and provide a practical tool in your belt to tackle those long summer nights. The best outdoor table ideas are simple, stylish, and able to handle whatever you throw at them.
No matter the amount of space you have available, finding the right outdoor table can go a long way towards making your outdoor space feel like the best place to be as the weather heats up. Before you start looking for furniture, take some time to consider what you'll be using the table for, the amount of space you want it to take up, and what elements it may have to weather.
While those specifics may vary based on where you live and what you plan to use your outdoor space for, it never hurts to have a plan of attack in your mind before you start checking out all of your options. There are a lot of great choices available on the market today, and having some sort of guideline already laid out will help you narrow down your decision-making process.
Once you've set your parameters, you should be ready to start shopping! We've compiled a list of some of the best outdoor table ideas to provide a jumping-off point as you get ready to take on the long, hot summer with a simple, practical, and always-stylish bit of flair!
1. Cute, Quaint, and Oh-So-Cool Cut-Outs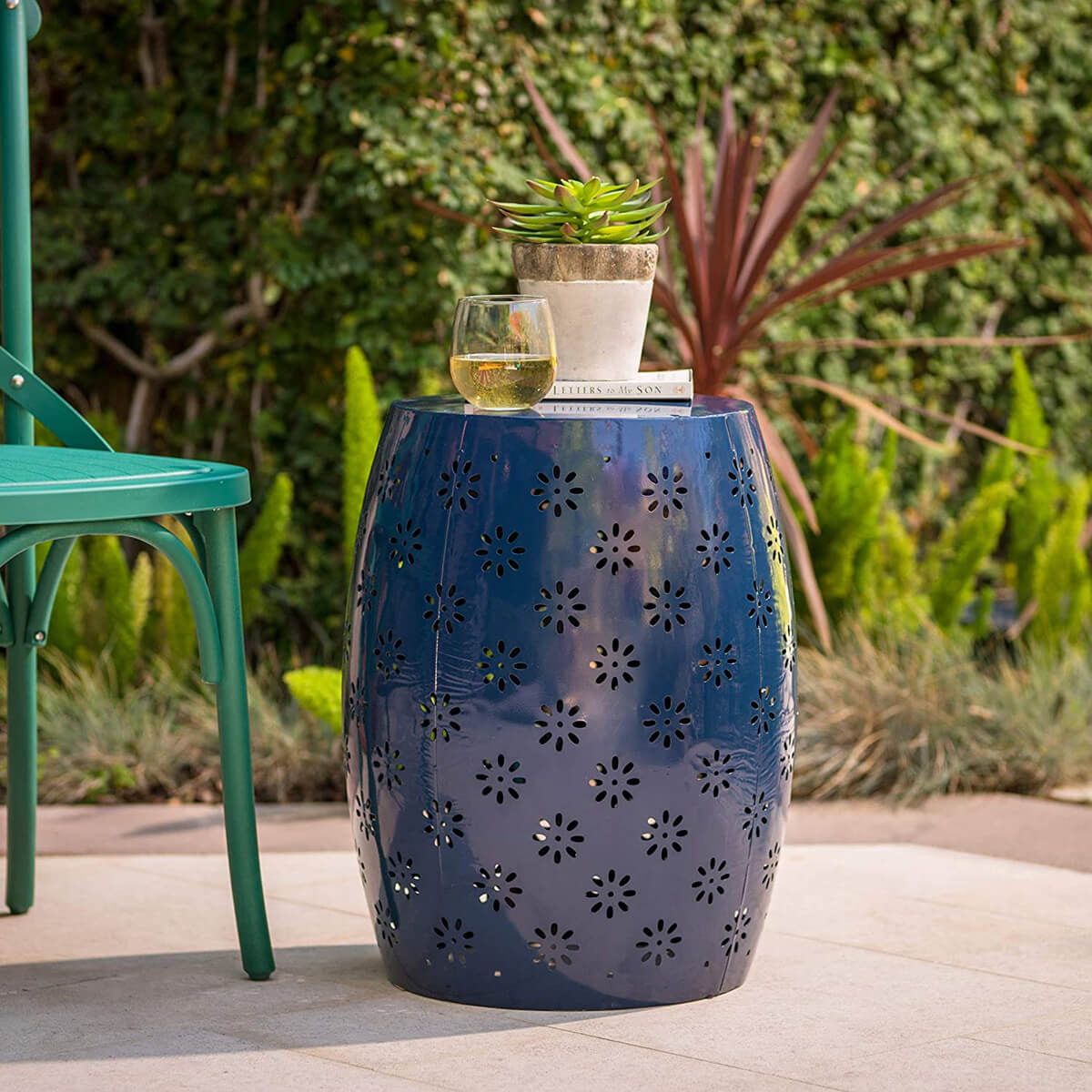 For a bit of old-world European style, the Christopher Knight side table is made of cast iron and features a charming cutout design that lets enough light through to brighten up the dark blue color.
Nearly 18 inches tall, this table is the perfect height for an end table or just for setting down your books while you sit outside in the light of a summer afternoon! The all-metal table comes in a variety of colors other than the one pictured here, but our favorite is still this very dark blue tone, thanks to its calming look and cool presence.
2. Breakfast (Table) at Tiffany's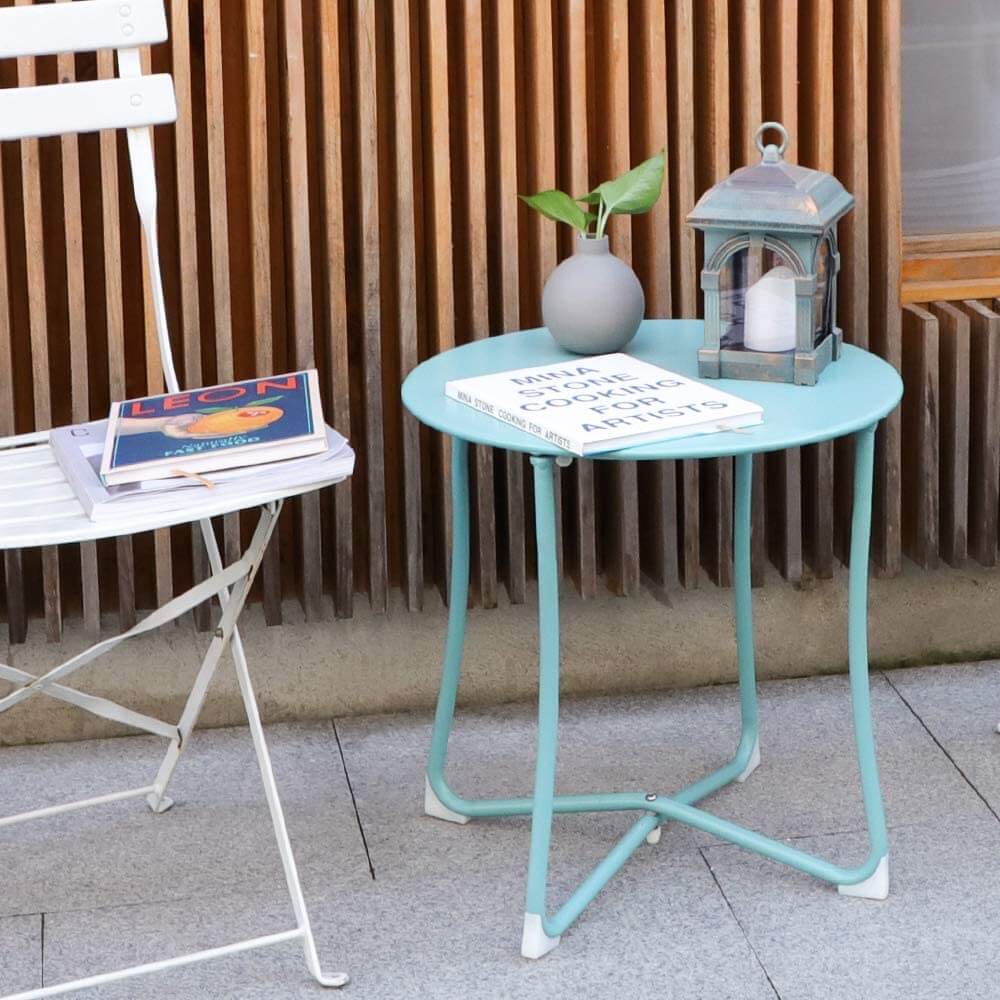 Tiffany Blue may be a bit played out when it comes to interior design, but when applied to an outdoor table, it can be just the right pop of color to really tie a space together! The Amagabeli outdoor coffee table may look sweet and innocent, but its solid steel frame lets it hold up to the elements and still come out looking as glamorous as ever!
Thanks to its relatively small build (17.7 inches wide by 17.7 inches tall), this table is a great choice for saving space while still letting you have that morning coffee in the sun!
3. Three Legs Are Better Than One (or Four)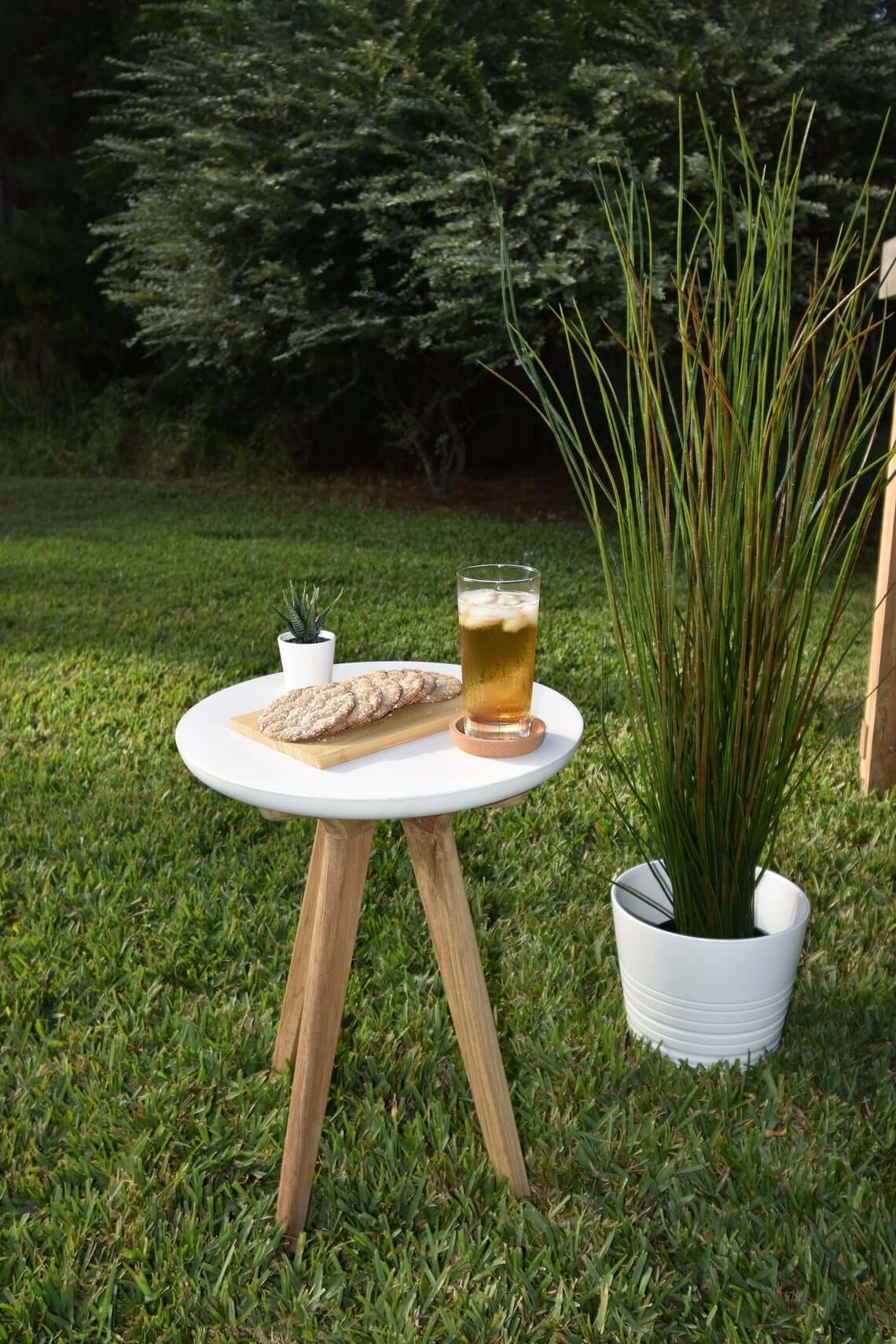 A tripod shape is probably one of the sturdiest designs found on the planet, which means that this table is a lot tougher than it lets on at first glance! The three-legged build weighs only 16 pounds, but it's every bit as dependable as it is attractive.
The legs are made of reclaimed teak wood for a bright, outdoorsy look, while the tabletop is made of brushed and polished concrete. The end result is a bright, sophisticated table that's still tough enough to handle the wind and rain and sunshine of summer without losing its look!
4. Art Deco Angles and Brilliant Blues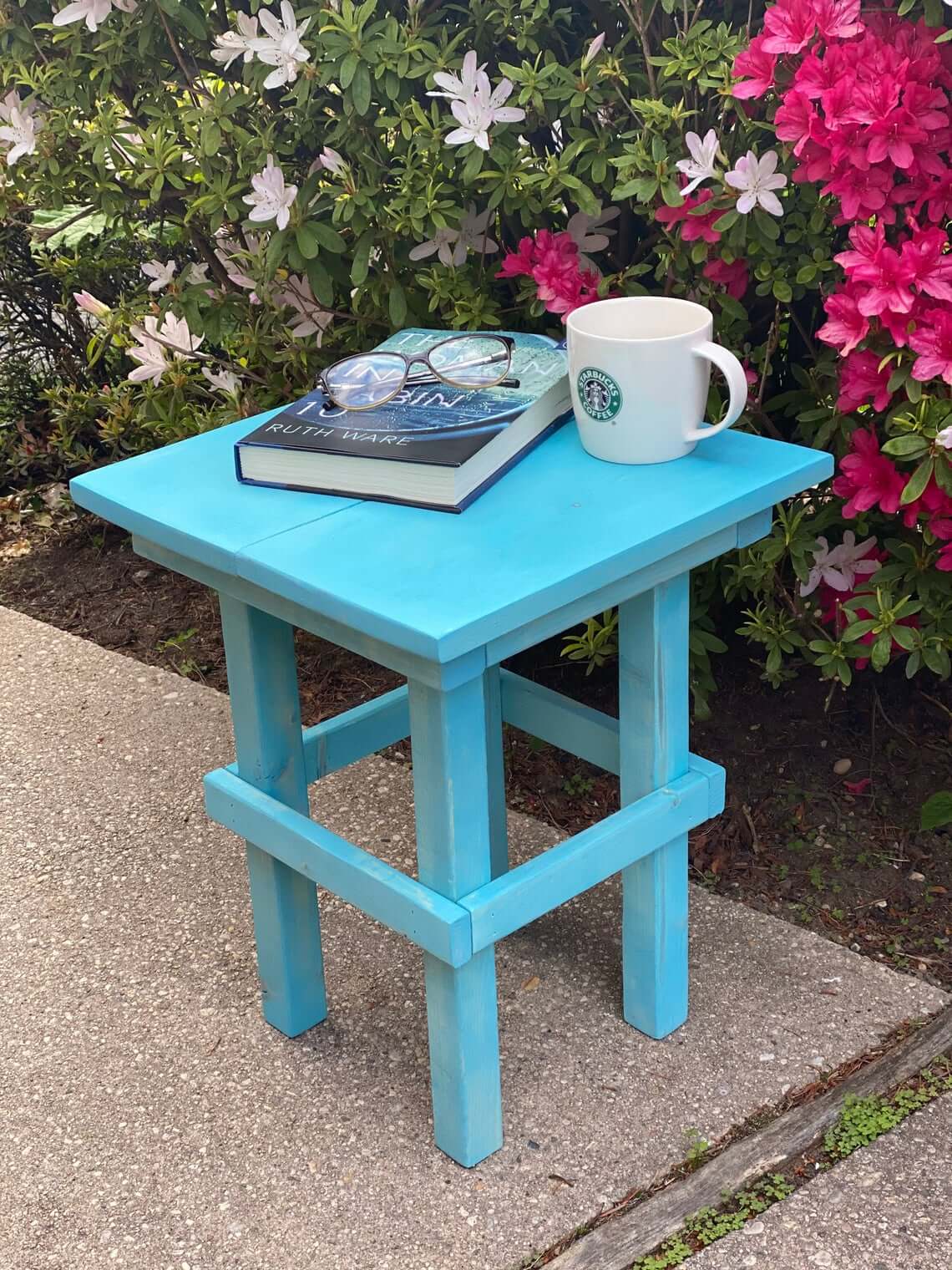 Every living space needs a pop of some cheerful color, and your outdoor space is no exception. The best outdoor table ideas use the setting to their advantage in order to present a cute, charming tableau to visitors and family members alike, and this super-cute table clearly proves that point.
The table is designed at 18 inches tall by 14 inches wide, but Blank Canvas by Potter is more than happy to work with you to create a table that fits the space that you have! Custom colors are available as well, so you can be sure to find a table that suits you.
5. Cruisin' For a Bruisin'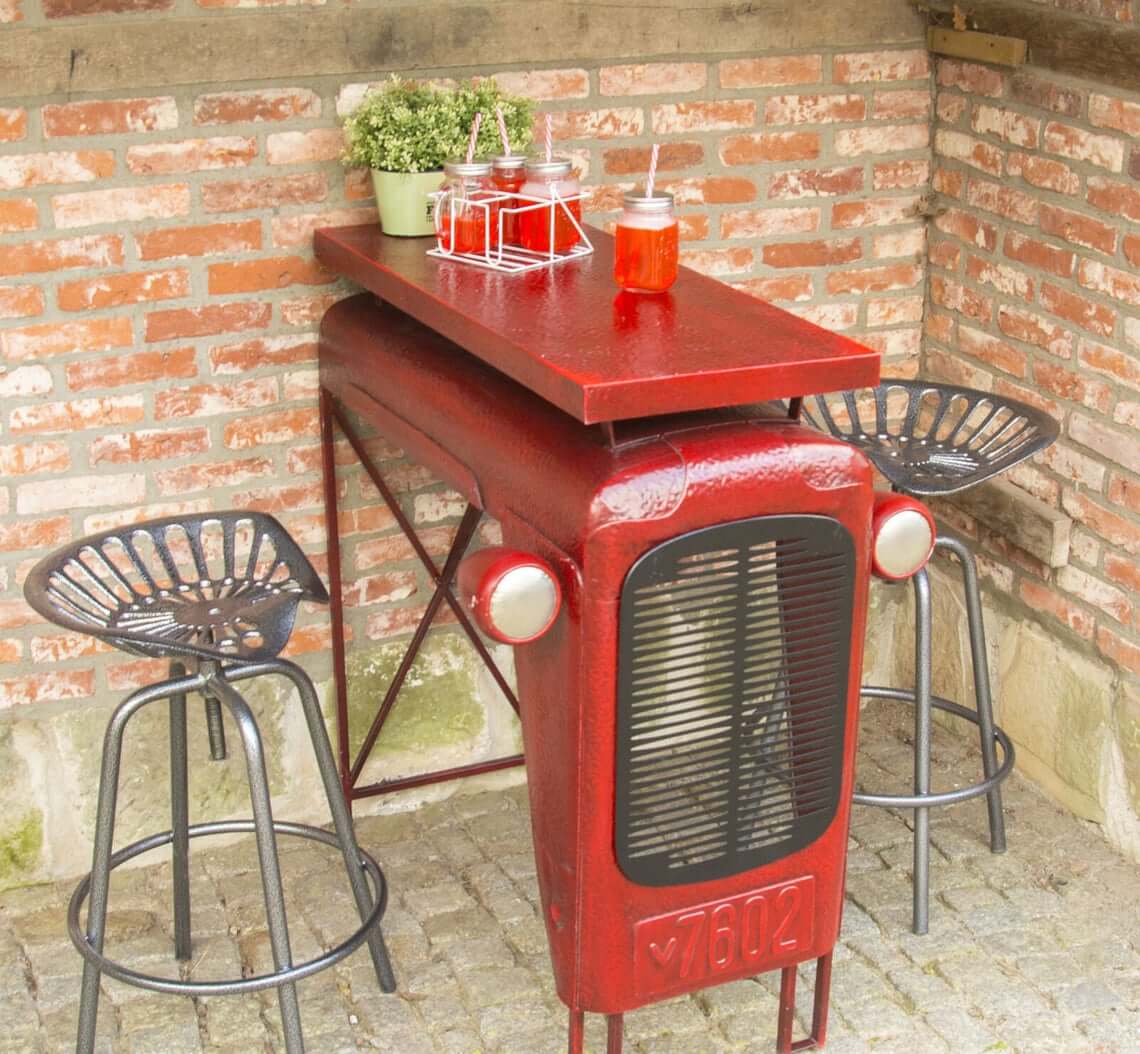 A tractor isn't exactly the fastest set of wheels on any given road, but when turned into an eye-catching table, it's sure to make everybody else slow down to take a look! The bright colors and cute vintage design of this table make it a charming addition to any outdoor space, and the brushed tin construction means that it's as dependable as it is attractive.
At 104 centimeters in height, the tin and the wood-topped table is the perfect height for pulling up a few bar stools and watching the world around you roll on by from your completely stationary tractor!
6. Some Sweet and Simple Wicker for That Old Southern Charm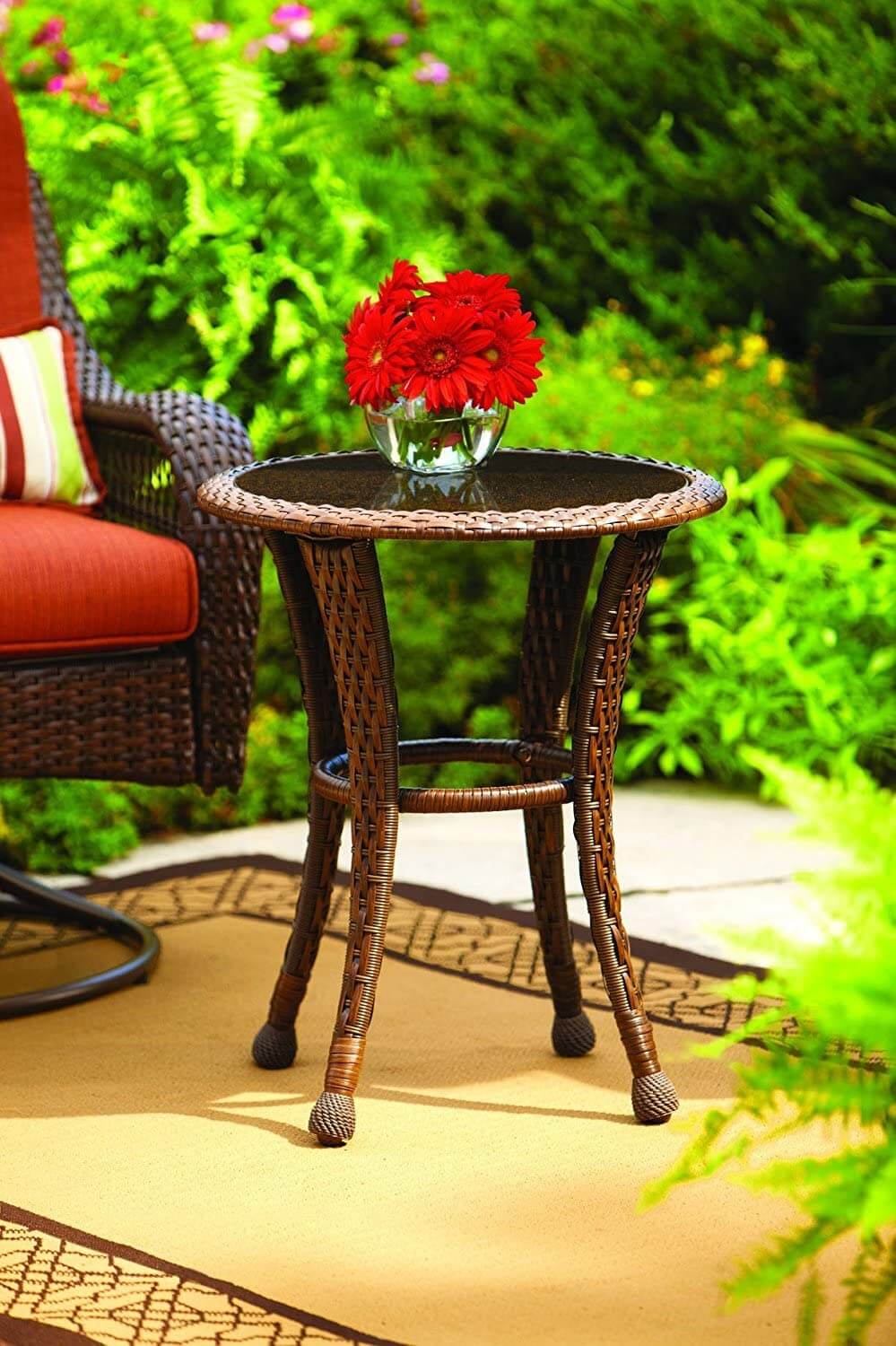 Wicker may have risen to prominence in the old South, but today its charm is enjoyed around the world! With a glass top and a metal frame that's covered in loosely woven wicker, this table provides all of the pretty design without sacrificing its structural integrity.
Some assembly is required in order to get this table set up in your backyard, but once assembled, the sturdy frame is rustproof and weatherproof, and the glass top is easy to clean. With its practical design and high-quality build, this table is sure to be a treasured piece in your outdoor space!
7. Summer Style That's Set in Stone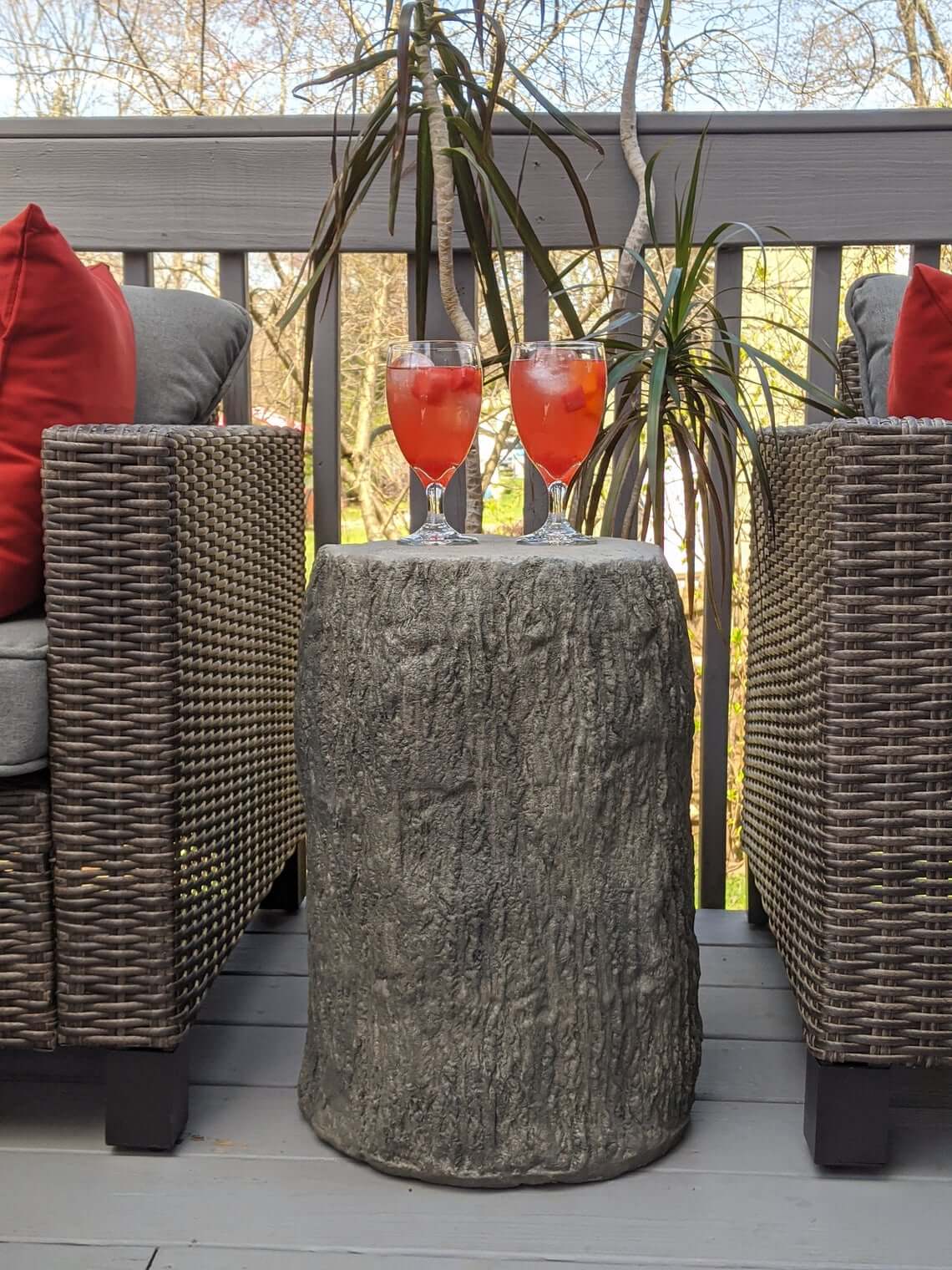 Sometimes the most simple design is the one that we really remember. This log end table may look like a solid-hewn rock or a petrified log, but it's actually made of heavy-duty, weather-treated concrete that's easy to move and put in place, but still more than capable of taking whatever Mother Nature throws its way.
22 inches tall and 13 inches in diameter, Inspired Ornamental's design comes in a wide range of colors. No matter the design or aesthetic of your outdoor space, you're sure to find a color combination that makes this solid concrete log table feel at home!
8. On-the-Go Tables for the Wanderer in All of Us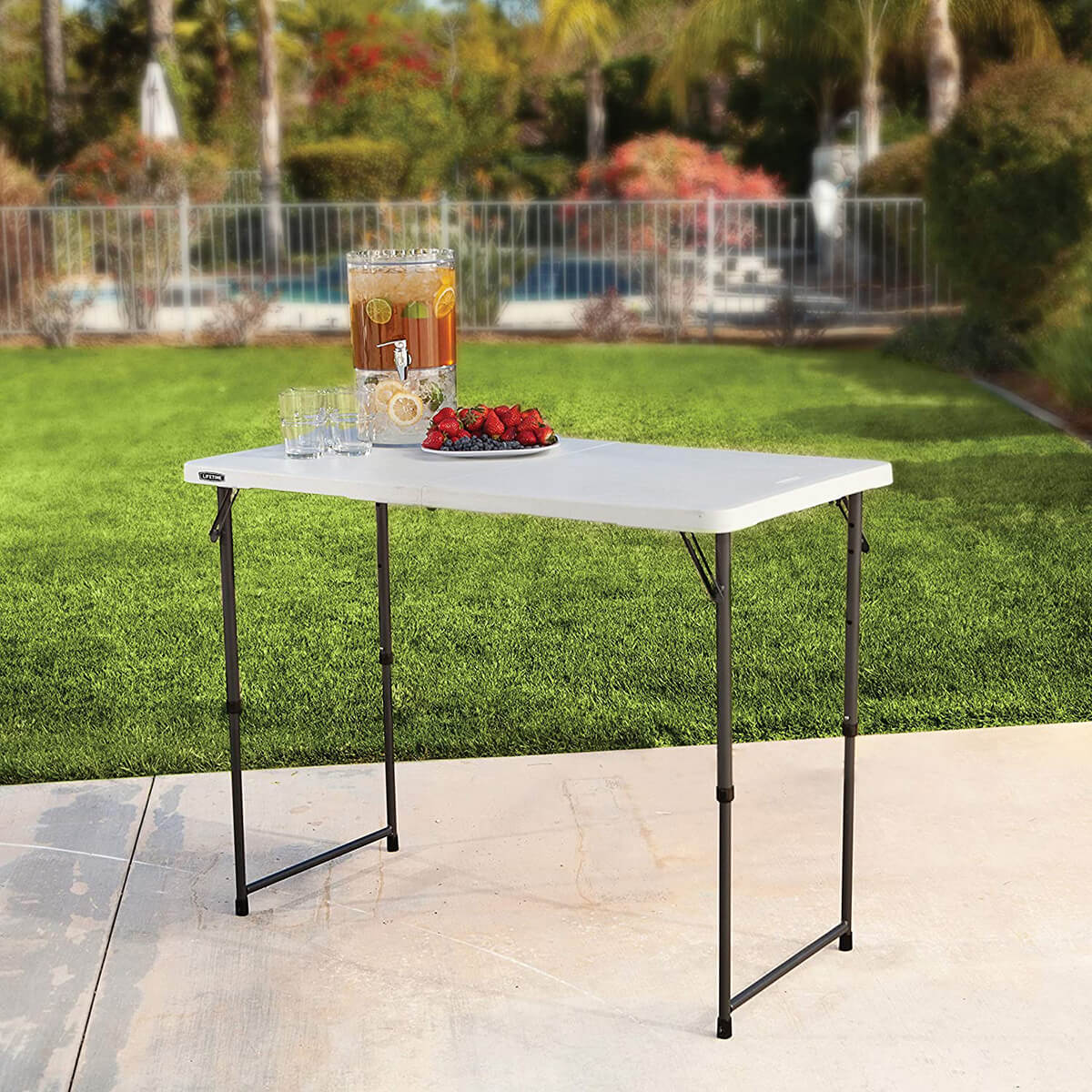 Not every outdoor table has to be a permanent fixture. If you have young children, or even if you're just the kind of person who likes to be in a new setting as often as possible, a pop-up table provides the stability you need with no strings attached!
Measuring four feet long and two feet wide, this classic folding table features a molded plastic top that's easy to clean and even easier to store without fear of damaging the top. The legs are powder-coated steel that can hold up to the elements without rusting or splintering with age and exposure.
9. Cast Iron Elegance With Practical Storage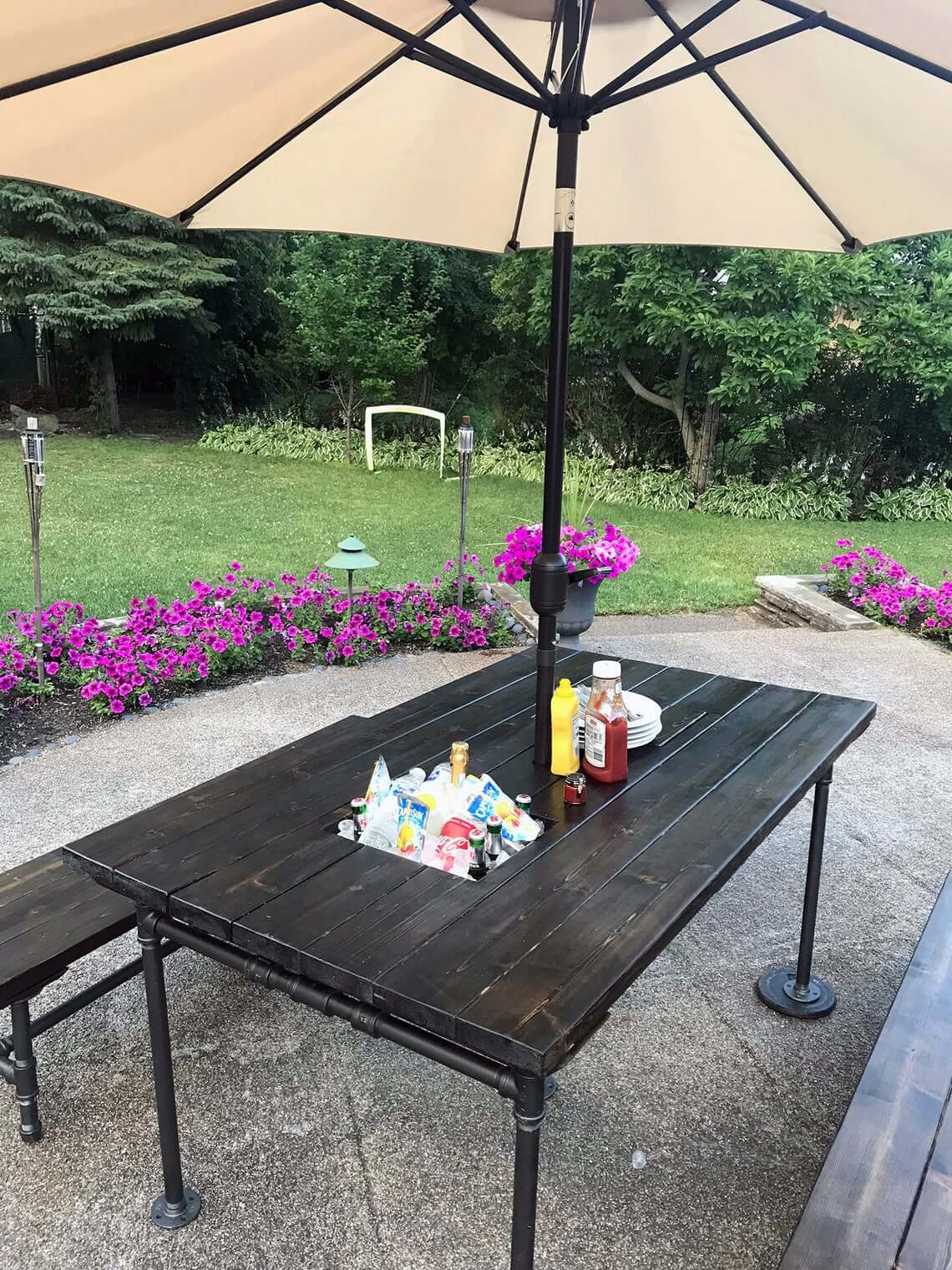 As fun as it can be to chill out on the back patio, it can be a little bit of a hassle to go in and out of the house for supplies. That's why this table, from Industrial Designs by B, is such a crowd-pleaser!
The built-in coolers provide plenty of space for a cold drink or some light refreshments, while the umbrella holder lets you carve out a shady moment in the middle of even the hottest days. The industrial pipe legs provide a modern gastropub feel to what otherwise looks just like that classic outdoor picnic table design!
10. Perfect For Cracking Open a Cold One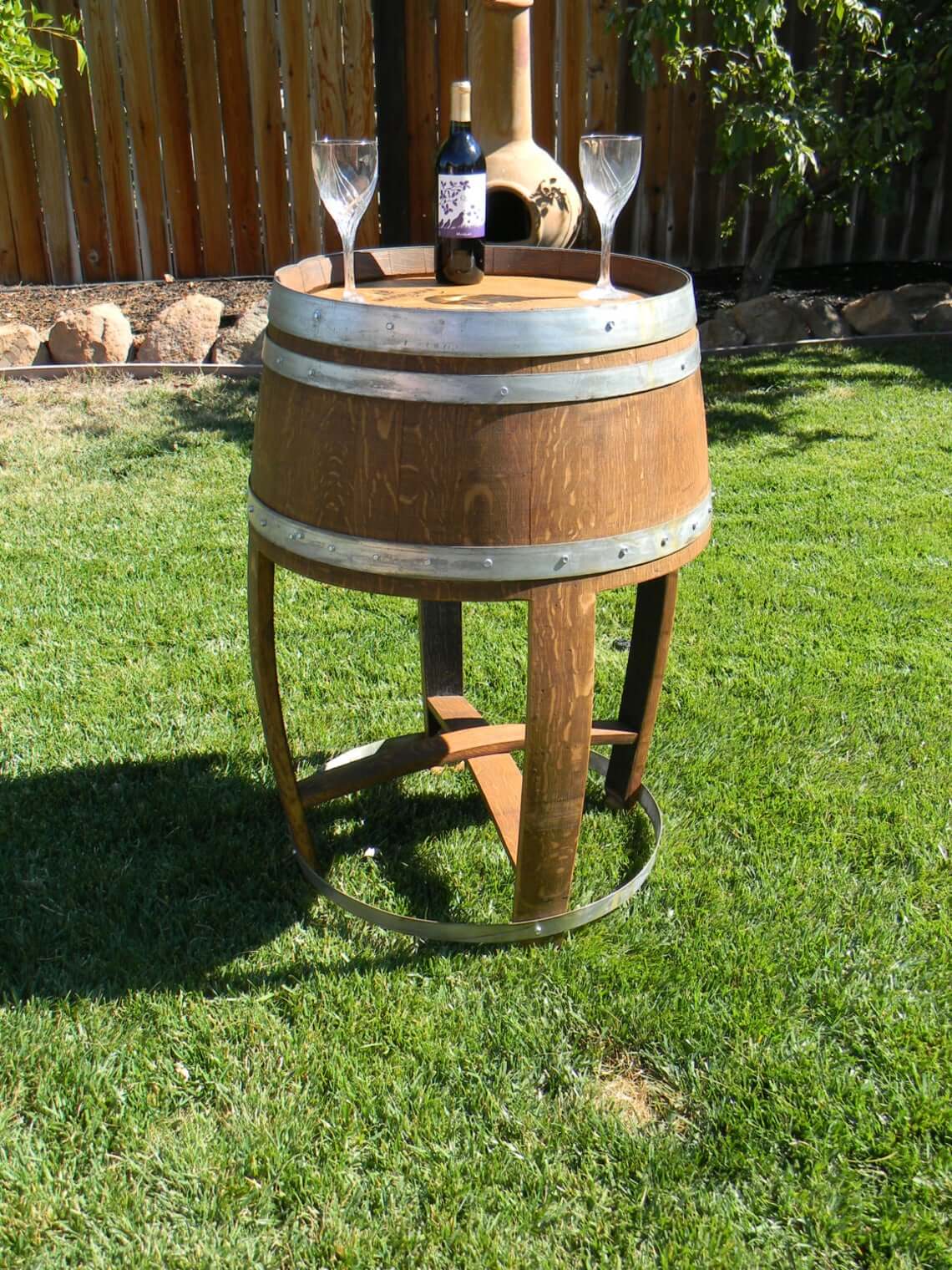 As the weather gets warmer, most of us are looking for ways to kick back and beat the heat, and this reclaimed wine barrel table has a few subtle suggestions as to the best way to do just that! Made from an authentic Sonoma County wine barrel, the Wine Country Wood design is as fun and playful as it is sturdy and dependable.
No matter what vintage you prefer, this table boasts plenty of wine country character, as each barrel features the unique aging and weathering that goes into making each bottle of wine as truly treasured as the next.
11. A Bamboo Table For That Tropical Flair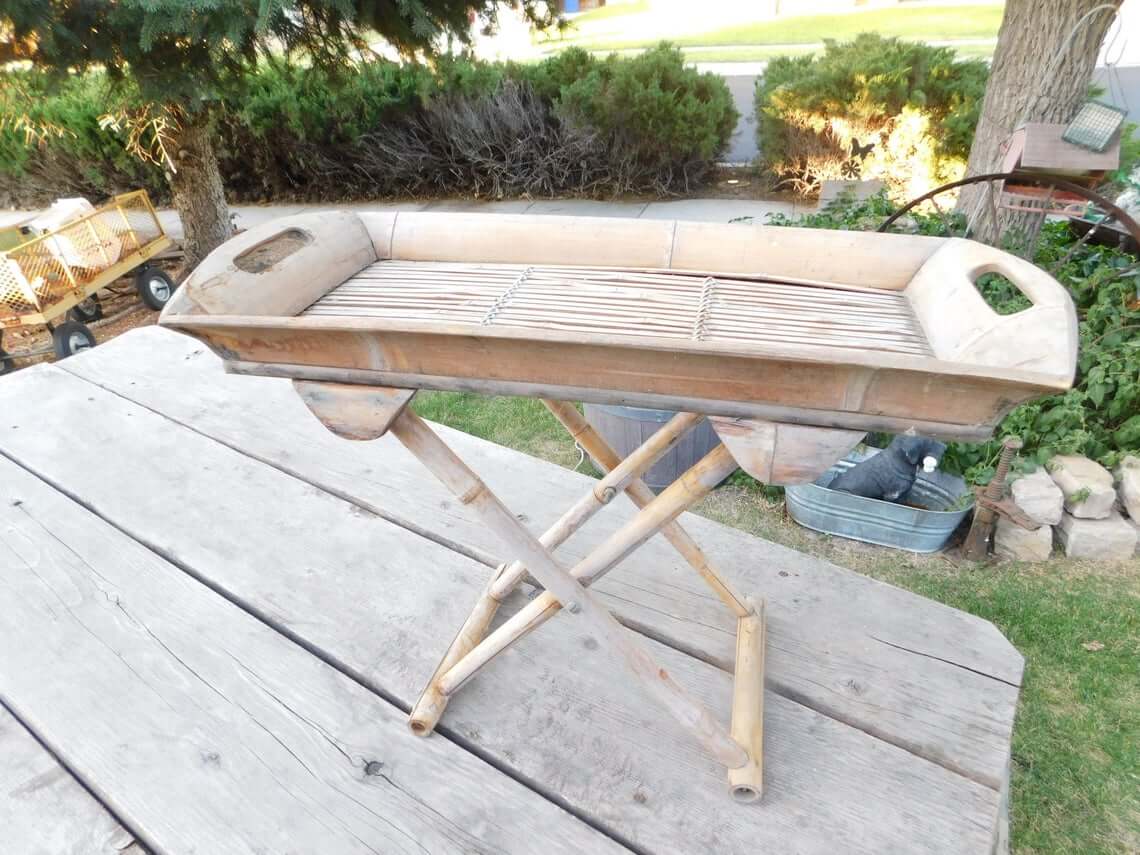 For a vintage look that still provides plenty of outdoorsy charm, a bamboo folding table can be a great way to bridge the gap between two distinct styles. The lightweight nature of bamboo makes this table small, light, and easy to transport, which makes it a great choice for summers on the move!
Because this table is made of reclaimed and salvaged wood, the slight weather wear on the edges and around the frame give it a feeling of history and time. Perfect for the outdoor setting that needs a little history, this table is the best of both worlds!
12. A Poem (or Table) as Lovely as a Tree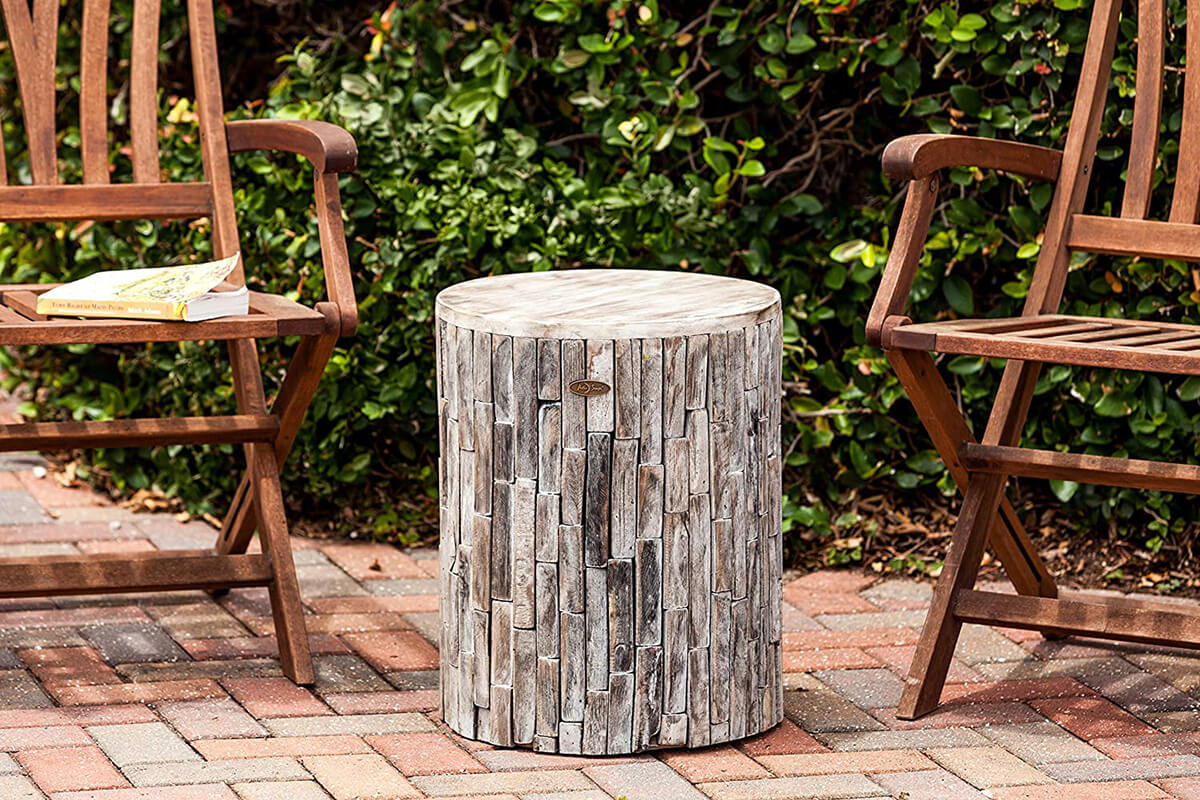 While a tree trunk on its own may not be the most practical addition to any outdoor furniture lineup, the best outdoor table ideas often draw inspiration from nature. In this case, the Patio Sense garden stool doubles as a side table that wouldn't look out of place in the middle of a forest!
The wooden tiles that line the table are made of pine, acacia, and rubberwood. Each tile has been pressure treated and kiln-dried in order to stave off damage from heat, water, or any chewing insects that may want to make this stylish table their home!
13. Craftsman Style and Vintage Charm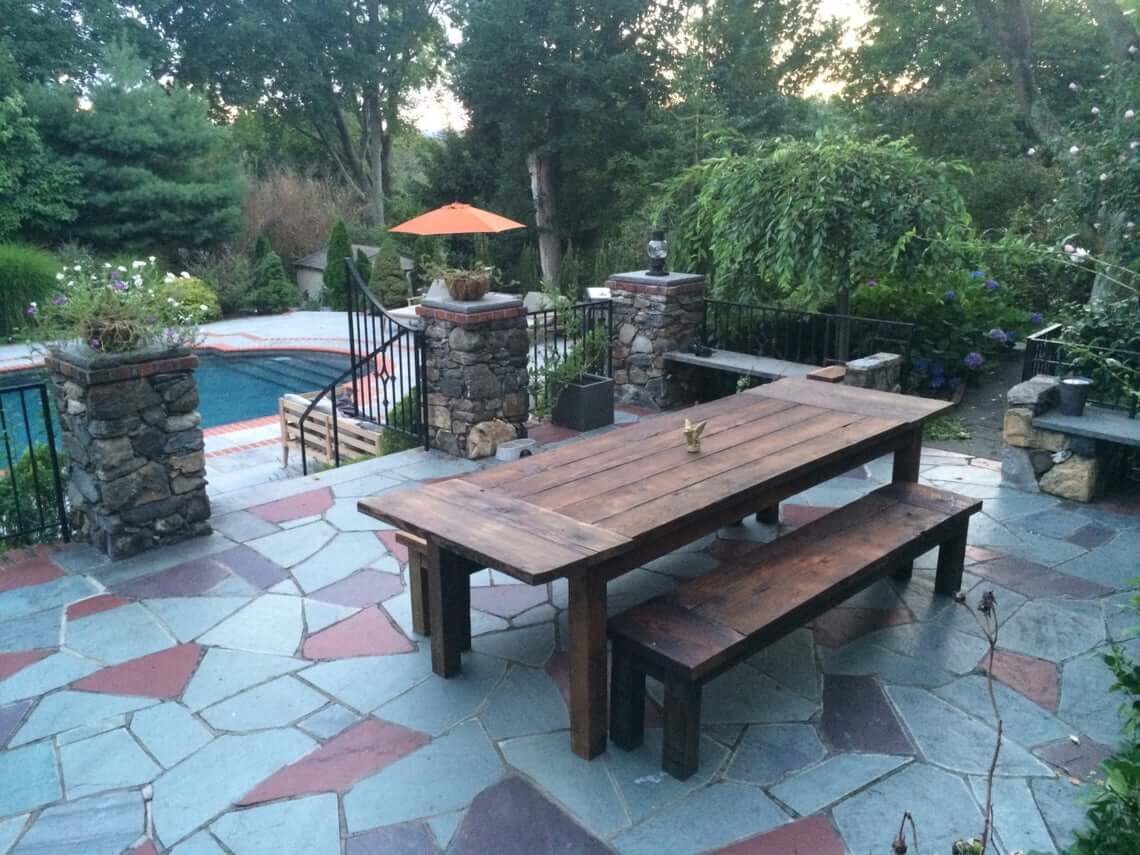 The craftsman style is having a bit of a comeback at the moment, and with pieces like this outdoor table, it's easy to see why! Wicked Grain's farmhouse extension table is an awesome idea for the family that needs plenty of room to sit and relax outside.
The table is made up of a mix of several high quality reclaimed woods, including pine, cedar, and fir. Each table is made to order and comes with two extension leaves that measure in at ten inches apiece. This can add up to twenty inches in length for just a little extra space.
14. Simple and Light for You and You Alone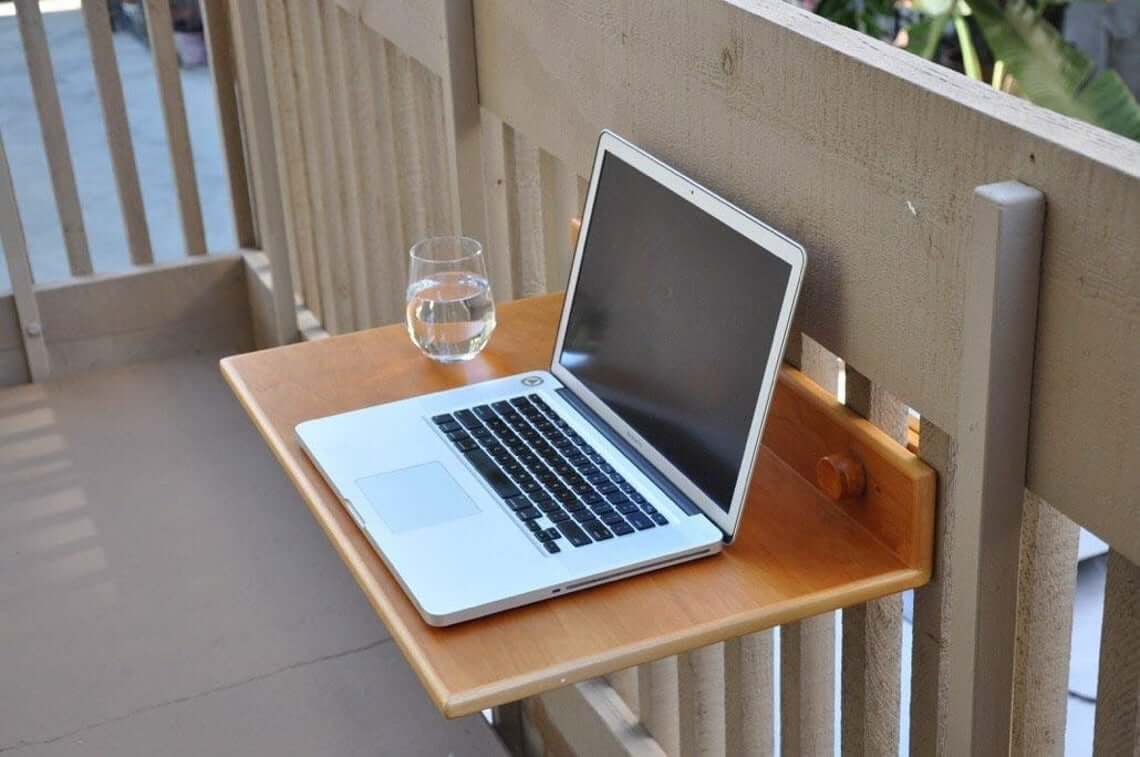 Not every outdoor table needs to be able to sit fifteen people in order to tie a space together! If you've got enough space for a chair, then you've got enough space for a personal outdoor table that gives you the ease of access and practical use that you need without cluttering up your outdoor area.
The Balatea balcony table may have a lightweight look, but it supports up to sixty pounds of weight. Setup is a breeze, as no time-consuming assembly is required, so you can get started using your own personal outdoor table as soon as it arrives!
15. Cool Concrete Slabs for a Modern Vibe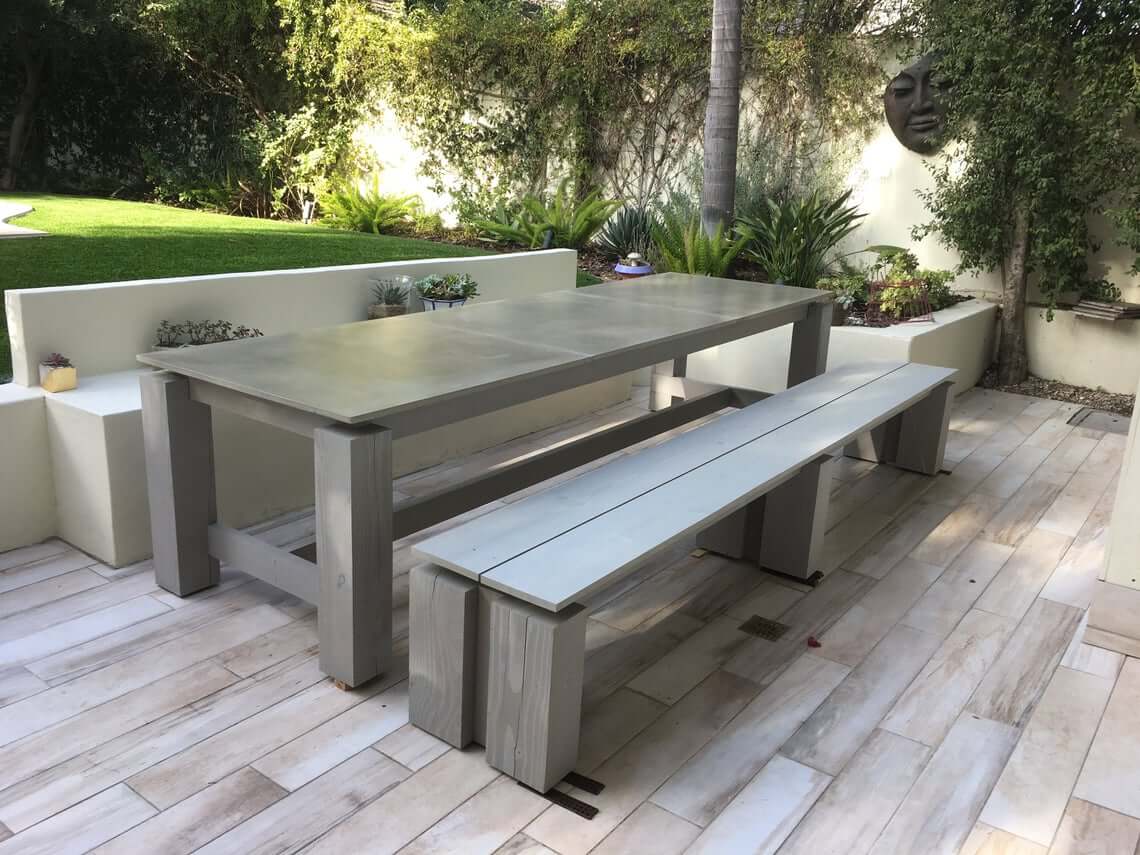 If you need a seriously heavy-duty outdoor table but don't like the rustic feel that most outdoor furniture provides, why not try something a little bit more modern? This custom made tabletop is made of smoothed and highly polished concrete, while the legs are made of high-quality Douglas fir.
The cool grey look of this table makes it the perfect piece of deck furniture for homes with a more modern or minimalist aesthetic. Jacobsen Furniture makes each table to order, so if you're worried about space, your specific table can be adjusted to fit the room you have!
16. Bright Colors and Old World Charm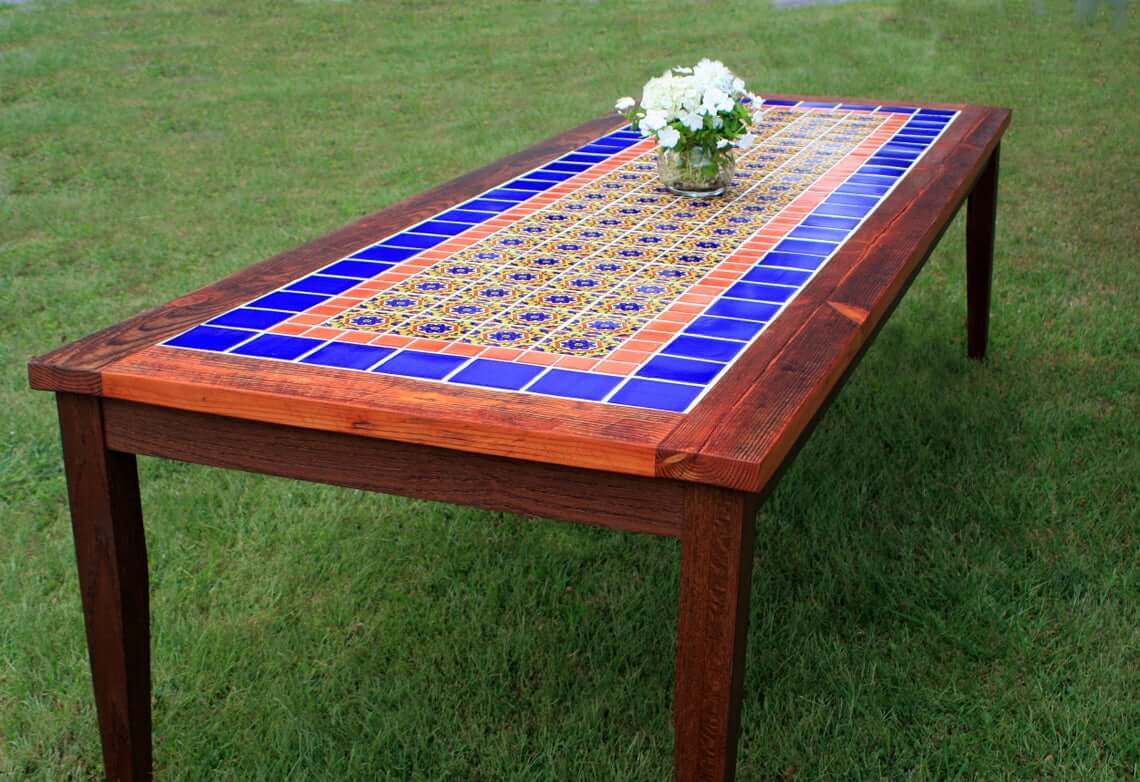 If you're looking to add a burst of color to your outdoor space, then this truly unique design may be just what the doctor ordered! With an old Spanish flair and bright tile design, this table stands 114 inches long and 41 inches wide.
The frame for the design is made of highly polished rosewood, and the warm colors of the woodwork beautifully with the tiles that serve as the centerpiece. Handmade by artisans, each table is made to order, and the creators are happy to work with you to make sure you get a table that you love.
17. Get Back to the Basics With a Beach-Worn Look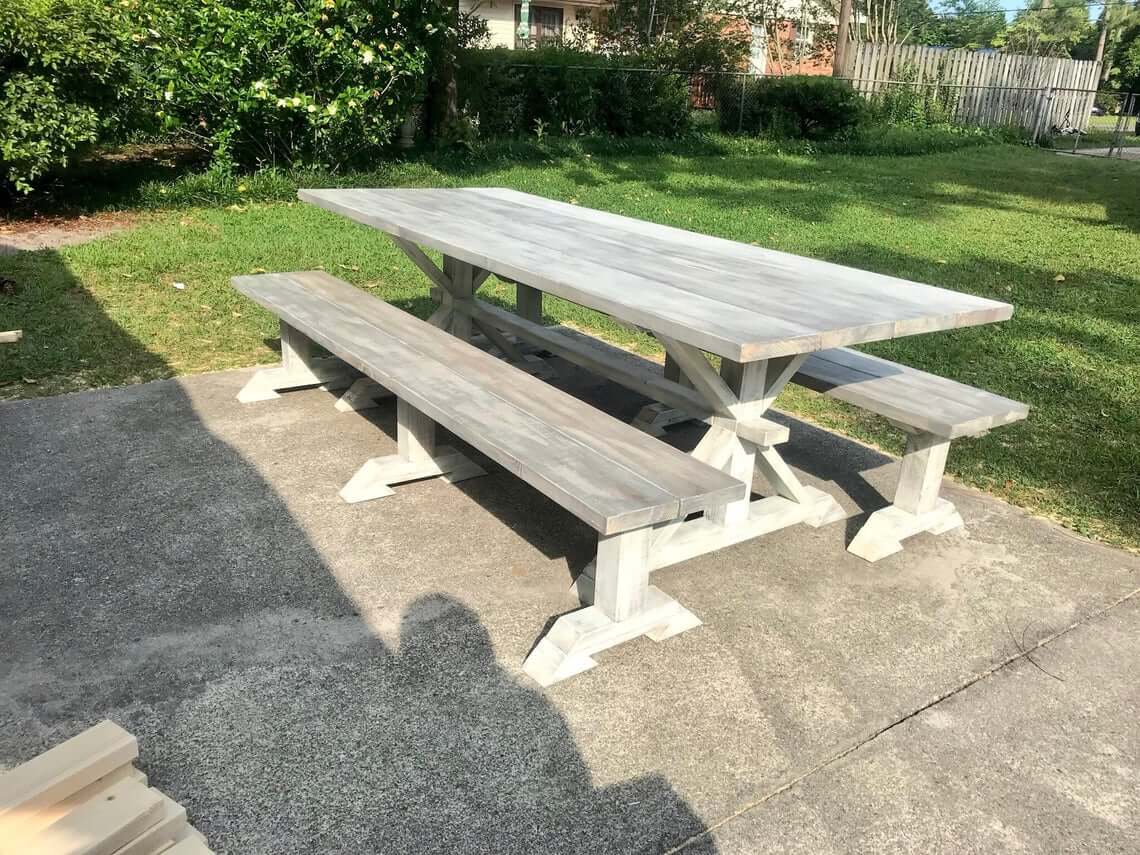 In this day and age, it sometimes feels like every piece of deck furniture (or indoor furniture) has to have some sort of gimmick to make it stand out. This table eschews any pretension in favor of a simple, solid build and a classic design that doesn't seem to be going out of style anytime soon.
Eight feet long and over three feet wide, this grey-washed table wouldn't look out of place overlooking a sandy beach somewhere—or nestled in a corner of your backyard, ready to take on whatever you and the summer have in store for it today.
18. Recycled Wood Makes a Table With History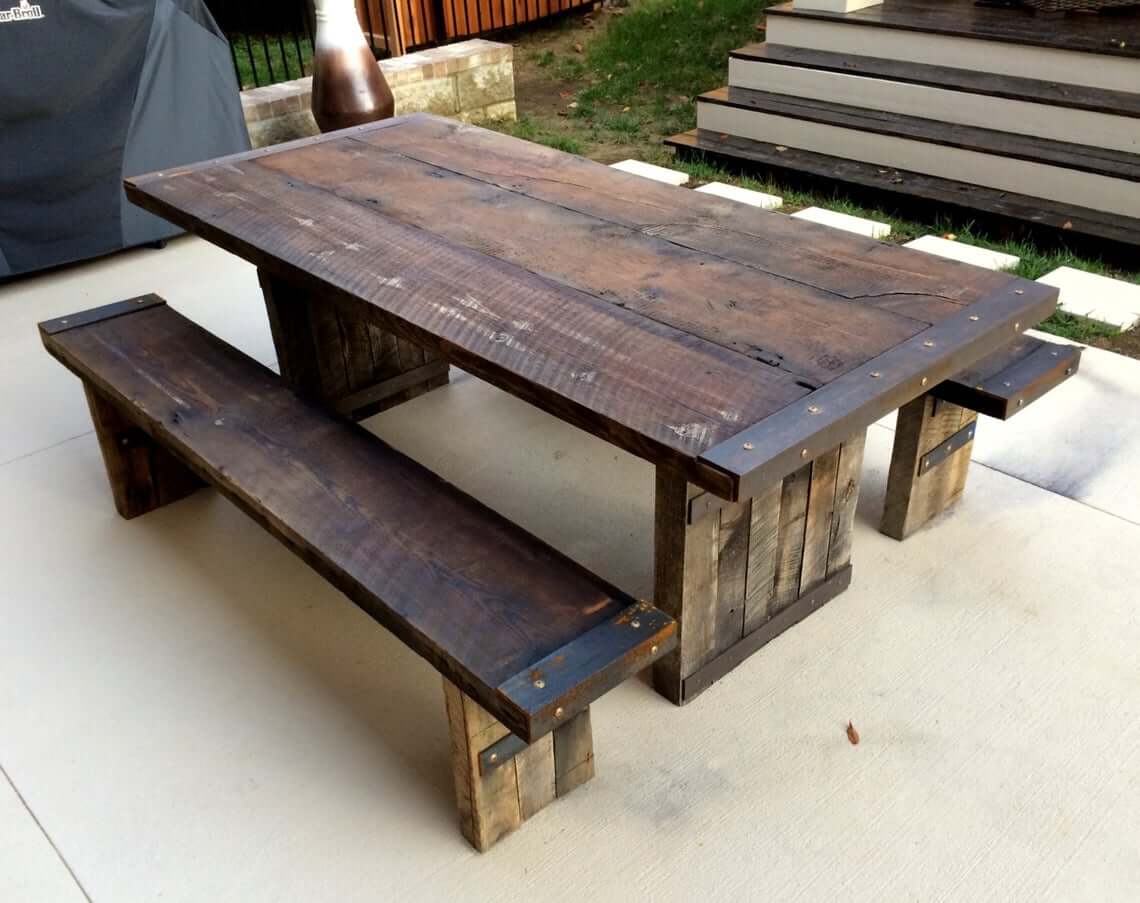 There's something so eye-catching about the rugged style of reclaimed wood, and the industrial appeal of worn and weathered metal boasts its own modern charm. This table uses reclaimed barn doors and pallet wood to give the whole design a grounded, lived-in feeling.
The metal brackets on the edges of the table are made of 1/4-inch-thick iron. Both the iron and the wood have been treated and aged in order to provide that rough, outdoorsy feel. Whether you're obsessed with the industrial design or just want something with a little more weight, this table is up to the challenge!
19. When Traffic Cones Don't Always Mean "Slow Down"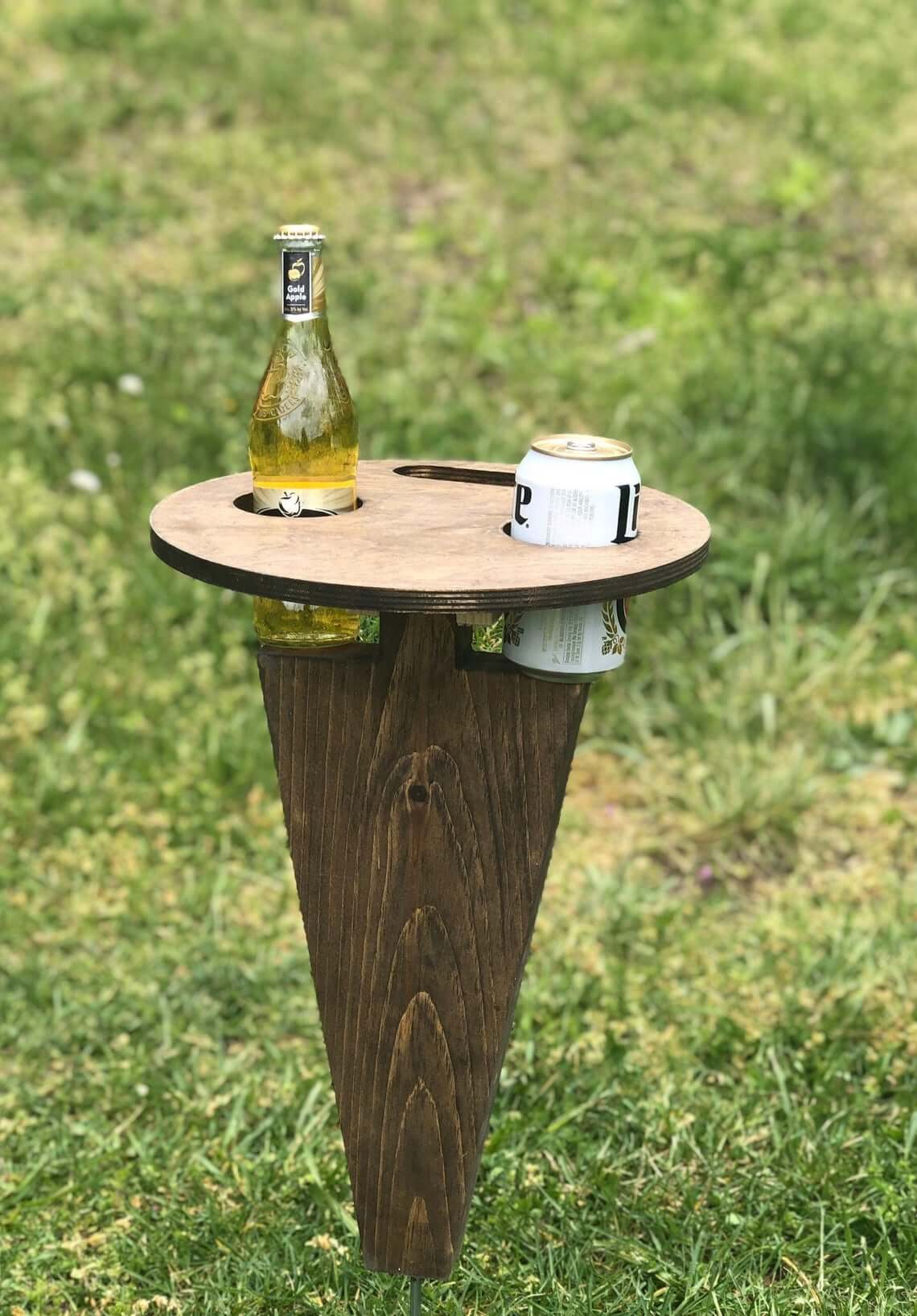 Some of the best outdoor table ideas come from looking at a pre-existing design and thinking of ways to make it even better! This folding beer table may look a bit like an inverted traffic cone, but its small profile and easy storage make it a vital item on your list of deck furniture must-haves.
The drink holders that come built into the table are an awesome idea for the family or friend group that loves to party, and the table even boasts a built-in bottle opener for easy access, so that the good times don't have to pause ever!
20. Clean Wicker and Wide Angles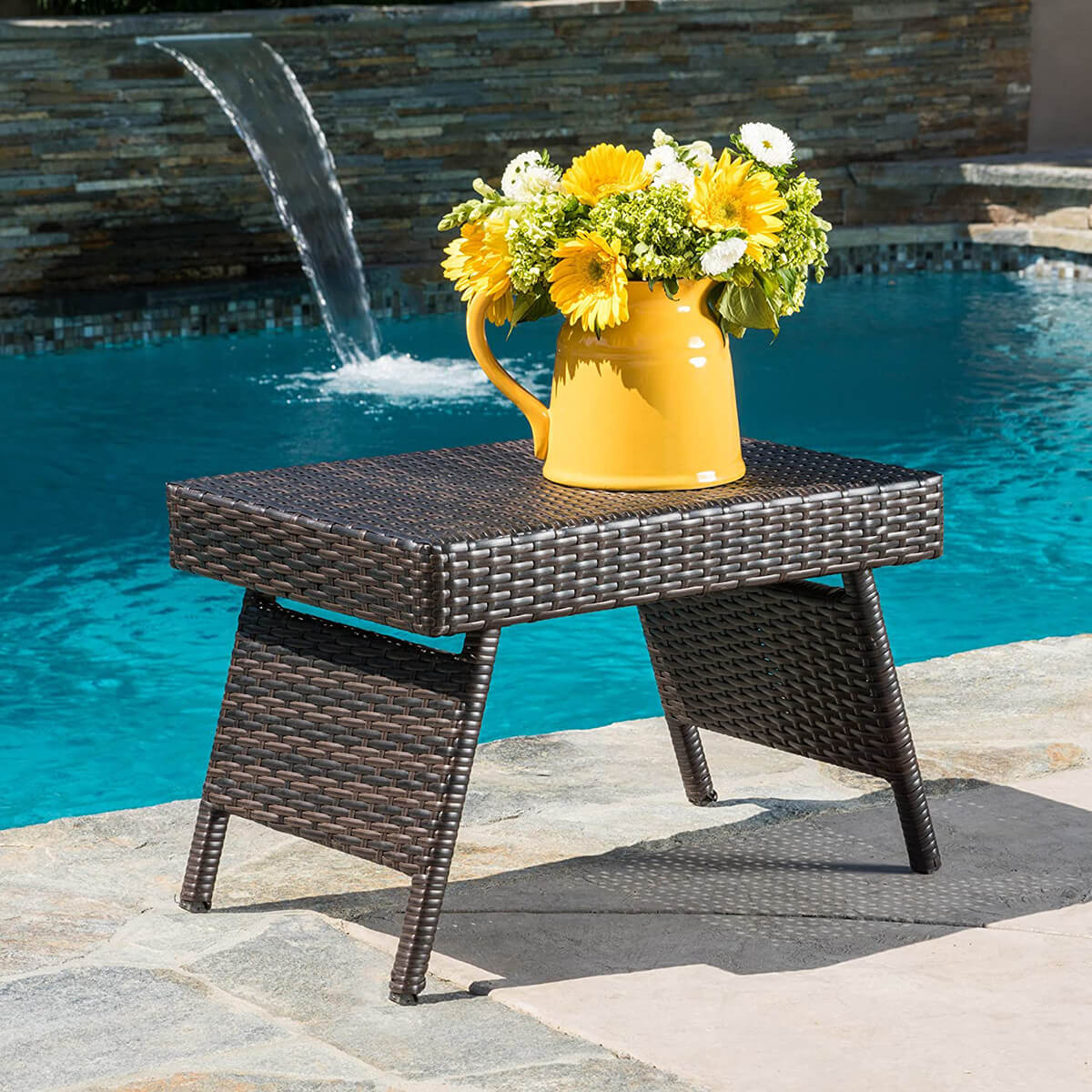 When it comes to folding tables, we all love the ease and practicality but some of us may hesitate over the look of the average folding table. This Christopher Knight Home table does away with those concerns by providing a bold, dramatic folding table that still retains all the practical benefits (size, storage, portability) of a portable table.
With no assembly required, it's easy to set up this table as soon as you get it, which means that you save time on setup and can move straight into the decorating or even entertaining portion of your plans for the summer!
21. Chevron Patterns for Cheerful Charm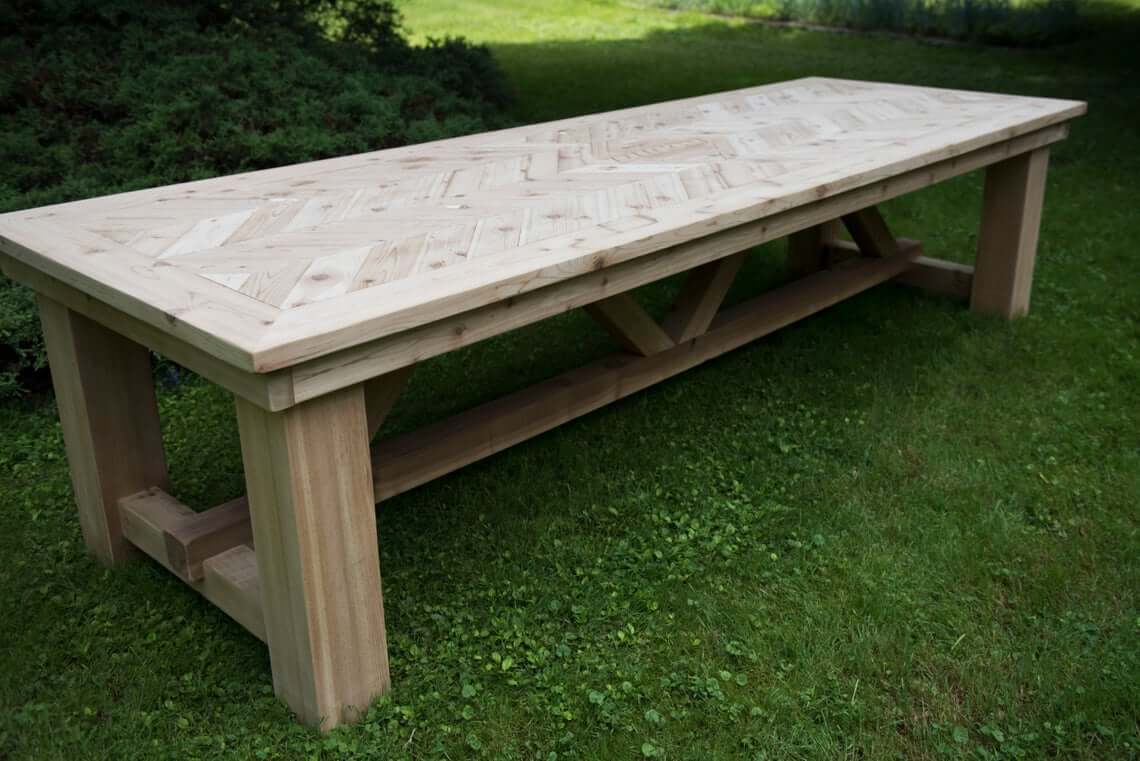 If you love being able to sit outside and soak up the sun, but want something that feels a little bit more substantial than your average outside furniture, this solid cedar farmhouse table is a great choice! With its solid, heavyweight build and sweet chevron design, the outdoor dining table manages to balance a light, spontaneous feel with an imposing, dependable build.
Each table is handmade and built to order. Whether you prefer the lighter, unfinished look or a more treated, polished final product, AcornMill creates high-quality pieces of outside furniture that are sure to stand the test of time.
22. Greco-Roman Mosaic Patterns Make Any Space Feel Grounded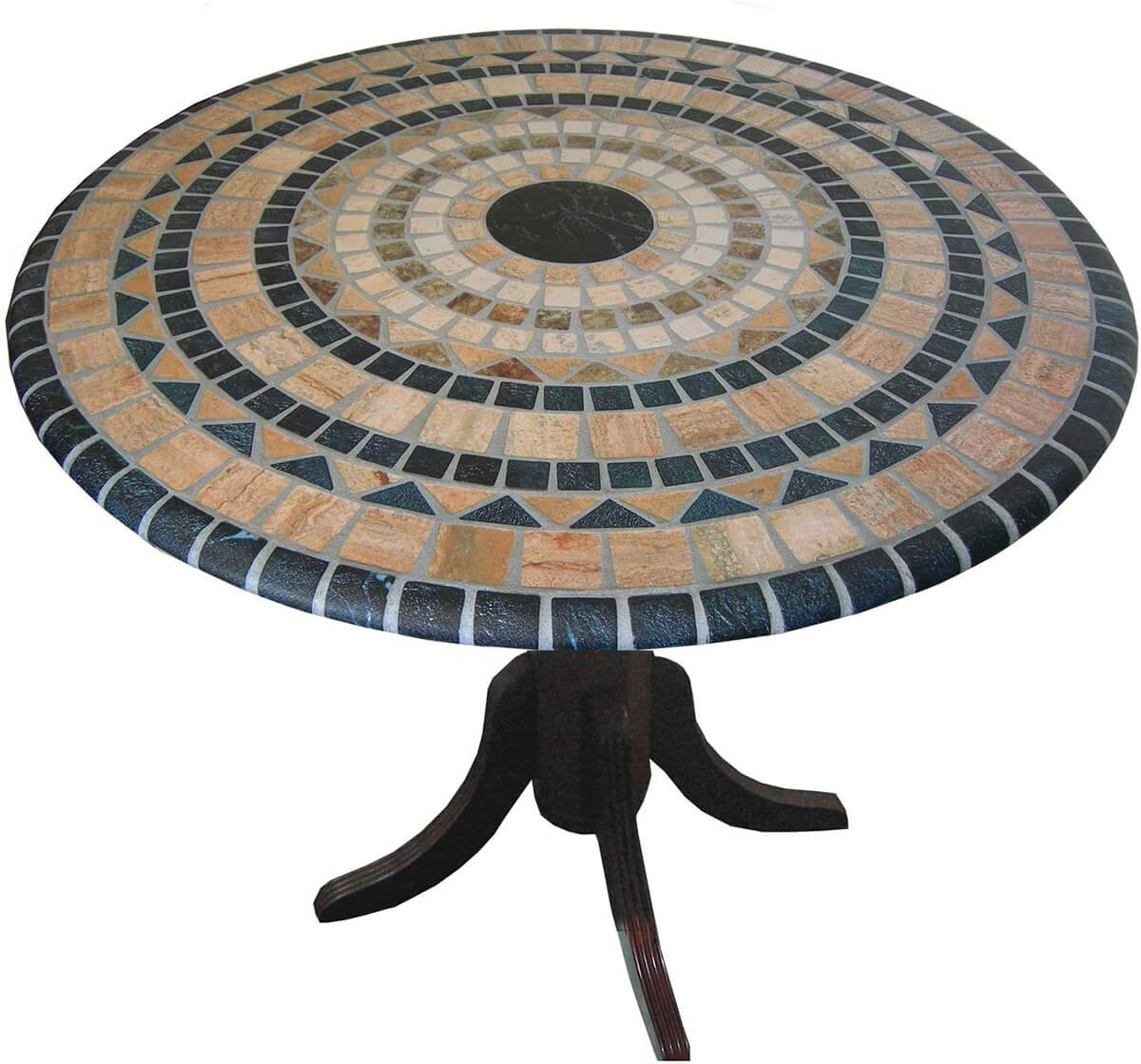 Outdoor furniture has come a long way since Caesar's time, but that doesn't mean we can't still appreciate some of those ancient Roman styles! This Vesuvius stone pattern lends a sense of old-world history and charm to any outdoor setting while still preserving a modern feel in the legs and framework.
The triple layer process used to set this design holds up in even the harshest weather. Perfect for anyone who wants to feel a bit of the mystery and history of the ancient world, this charming stone pattern brings a sense of gravity to even the most modern setting.
23. Wicker and Wine: a Match Made in Heaven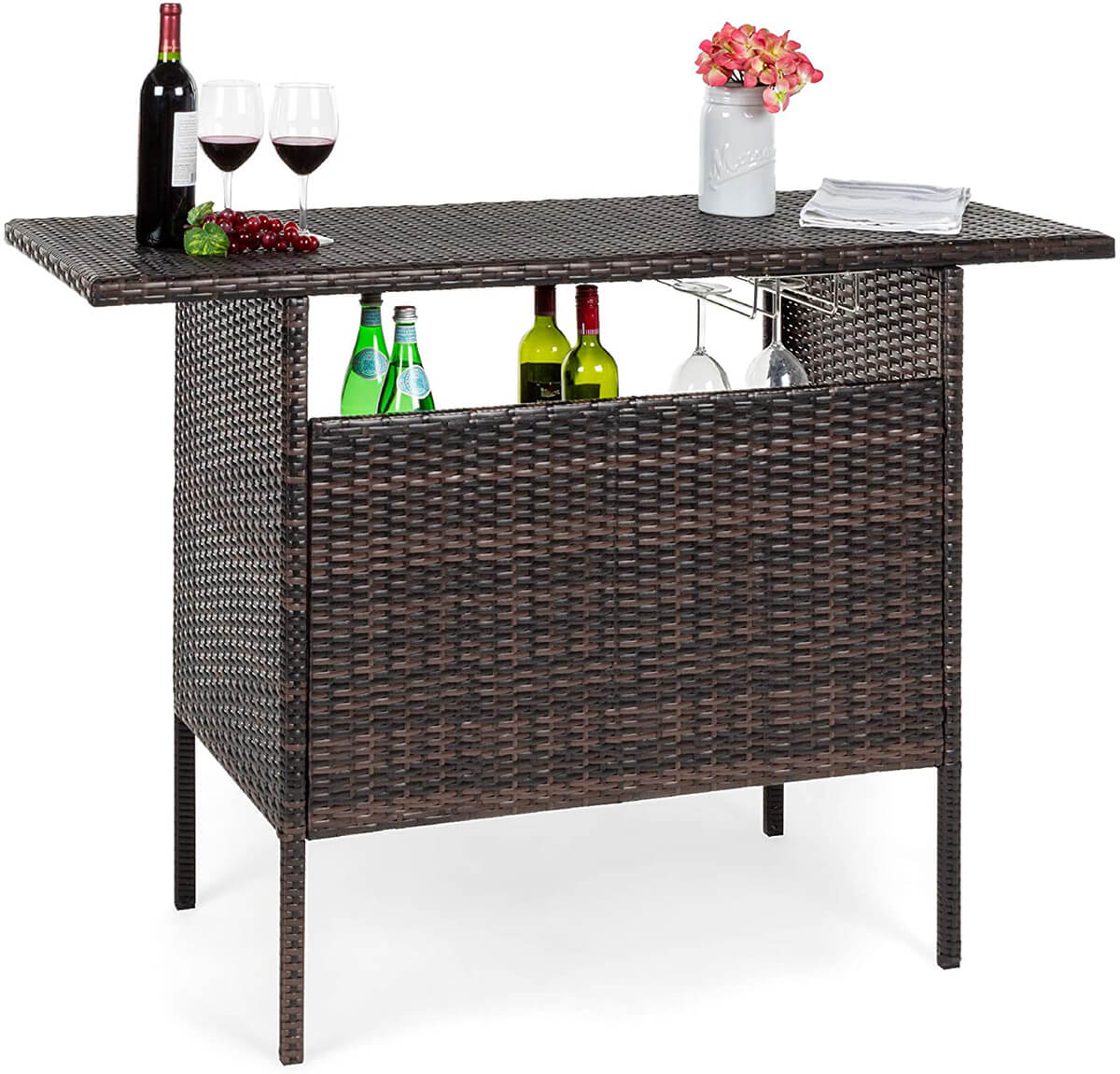 Wicker may look pretty and delicate, but this table's made of much sterner stuff below the surface. With a heavy-duty steel frame wrapped in a cute wicker design, this patio bar counter table is more than ready to handle the weight of a few wine bottles or the aftereffects of a late summer cloudburst.
The table stands just a little over three feet tall, and the shelf on the back of the bar includes two racks for hanging wine glasses as well as a solid steel construction to keep your choice of beverage chilled and protected against heat and rain.
24. Simple Folding Tables With the Same Stylish Look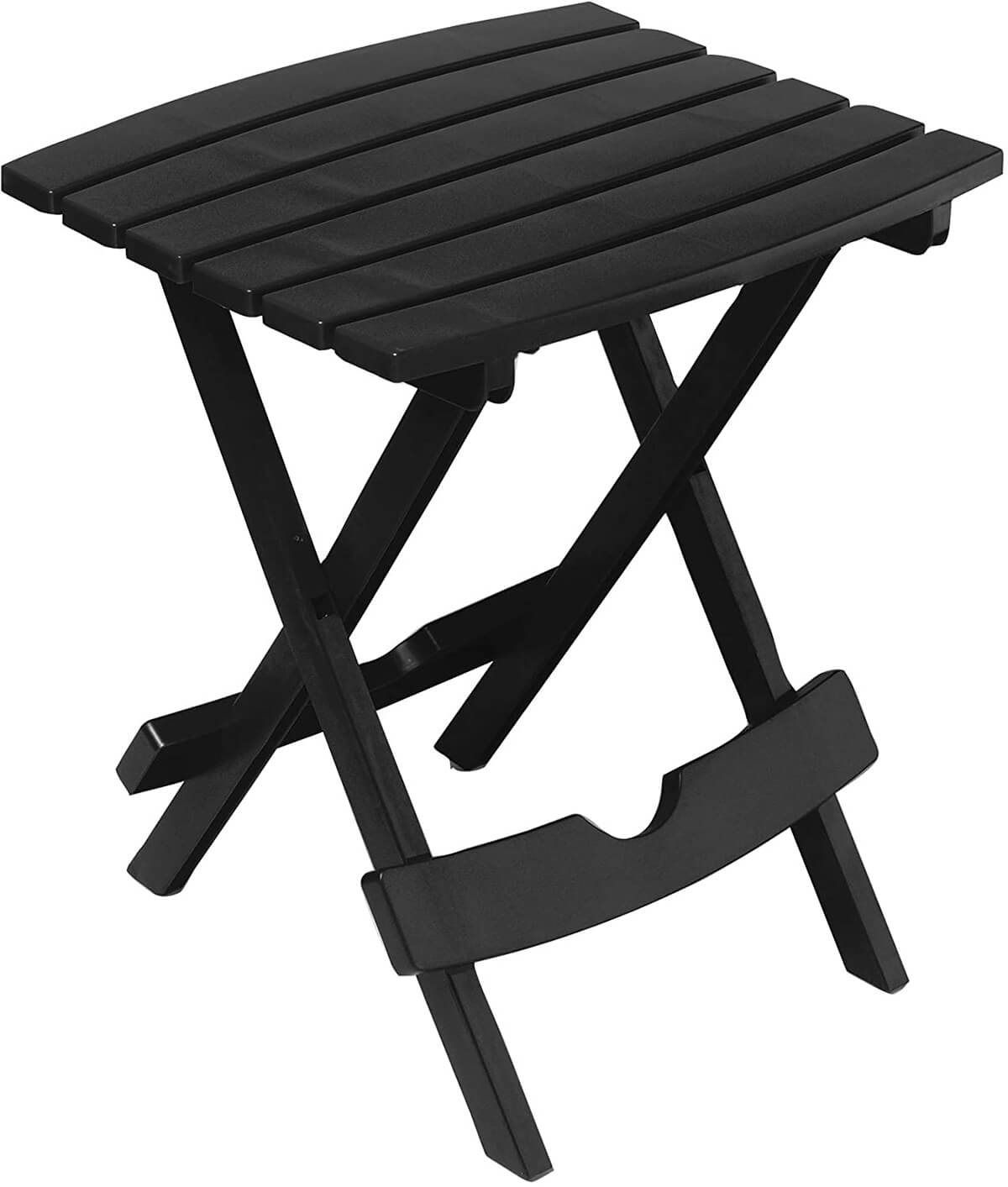 If you're worried about space or if you just want a table that's easy to pick up and move, then this simple folding table lets you get the functions that you need without sacrificing form. While black is the most popular color, the roughly 20-inch tall table comes in a wide range of colors that make it a perfect match for any outdoor design!
The table holds up to 25 pounds of weight, and the super-durable resin construction is treated with a special UV protection filter in order to keep whatever color you choose looking bright and vibrant for years!
25. All the Space You Need for the Real Essentials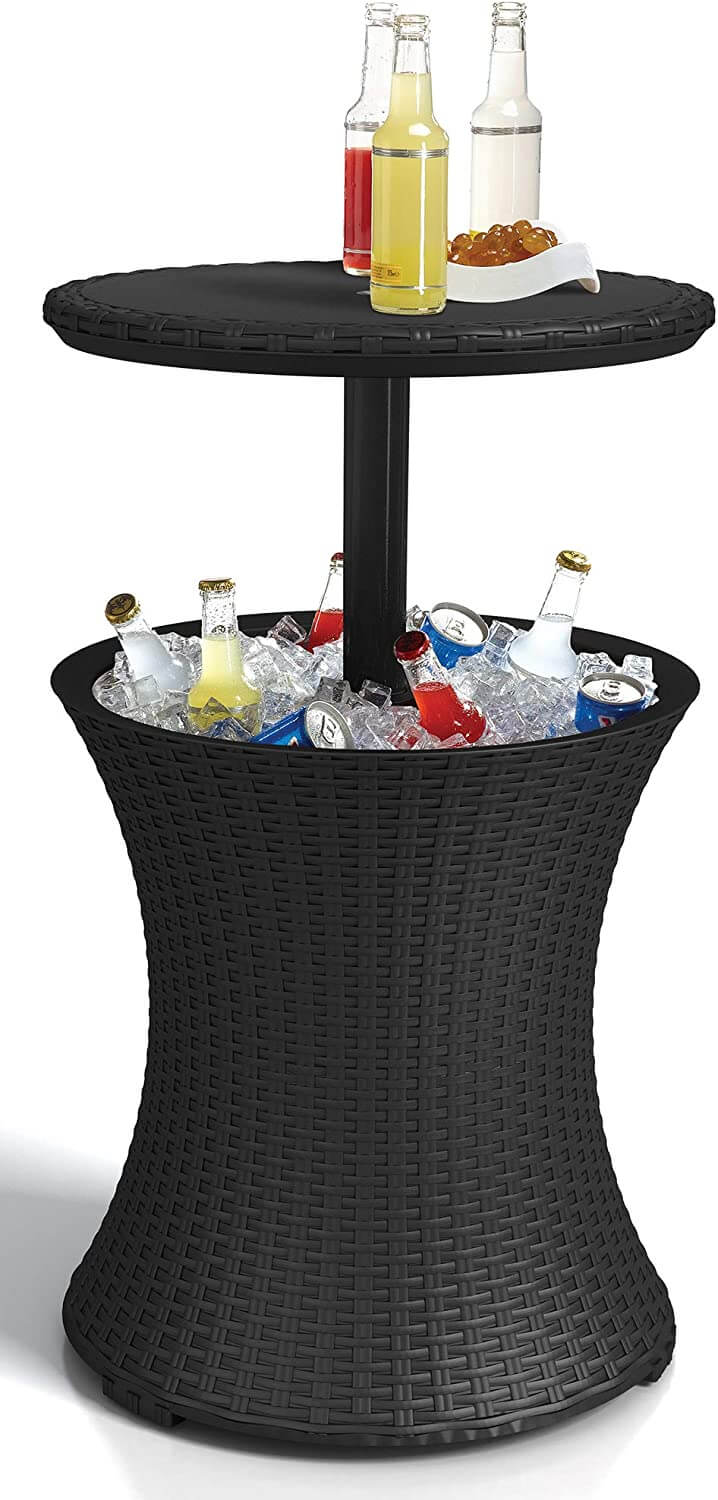 We've seen a few wicker tables on this list already, but this table sets itself apart with the sheer amount of storage available. The beer and wine gallon, hidden beneath the table face, boasts up to 7.5 gallons of storage space that can be sealed off by the table face when not in use.
The body of the cooler and the table itself may look like just your ordinary wicker, but they're actually made of a super tough resin weave that can hold up against some serious wind and rain exposure without losing any of its laid-back, relaxed summertime vibes.
25 Amazing Outdoor Tables to Keep Your Backyard Looking Cool
Whether you've got plenty of room to grow or just enough space to get a few breaths of fresh air, the right outdoor furniture can make or break any outdoor space. Fortunately, it's pretty hard to make a bad decision, as any of the tables listed above make an excellent addition to any dreams of outdoor living.
As a general rule, the most important factor to consider when shopping for an outdoor table is the size that the table takes up. Measure your outdoor space before you start looking for a table so that you can be sure that the furniture you end up loving will still fit in the room you have for it.
Each home and each family has a unique sense of design and aesthetic, and your outdoor furniture should reflect that as well as any indoor furniture does. Find a table that fits your own personal style, and you'll be able to use it as the centerpiece around which your whole outdoor space can revolve.
Let us know which of the tables you liked best! We love to hear from you, and we're always on the lookout for the next big thing in outdoor furniture design!
Our Favorite Outdoor Decorations to buy on Amazon