There is something so homey and familiar about Mason jars. Their distinct shape and usage for homemade jams and other treats have kept them recognized as a tried and true kitchen essential. However, in recent years, their potential has expanded beyond the kitchen, and they have found their place among rustic home décor.
28 Creative and Artistic Painted Mason Jars for a Fanciful Touch

The standard clear Mason jar with its tin lid is a great decorative item on its own. It can be used to hold candles or pencils or can even serve as a drinking glass. Yet in the realm of décor, even this beautiful and functional glass can benefit from some upgrades.
The pieces shown here are all gorgeous and creatively crafted. The idea of how a Mason jar looks and what it can be has evolved, making these clever designs wonderful additions to your home or event décor. With some inspiration and an artistic hand, you, too, can craft these jar masterpieces in the style and colors right for you.
Let these 28 ideas inspire you to look at Mason jars as more than storage containers and to embrace all their potential. Who knows – you may even come up with a whole new design or use of your own.
1. Yummy Candy Corn Fall Inspiration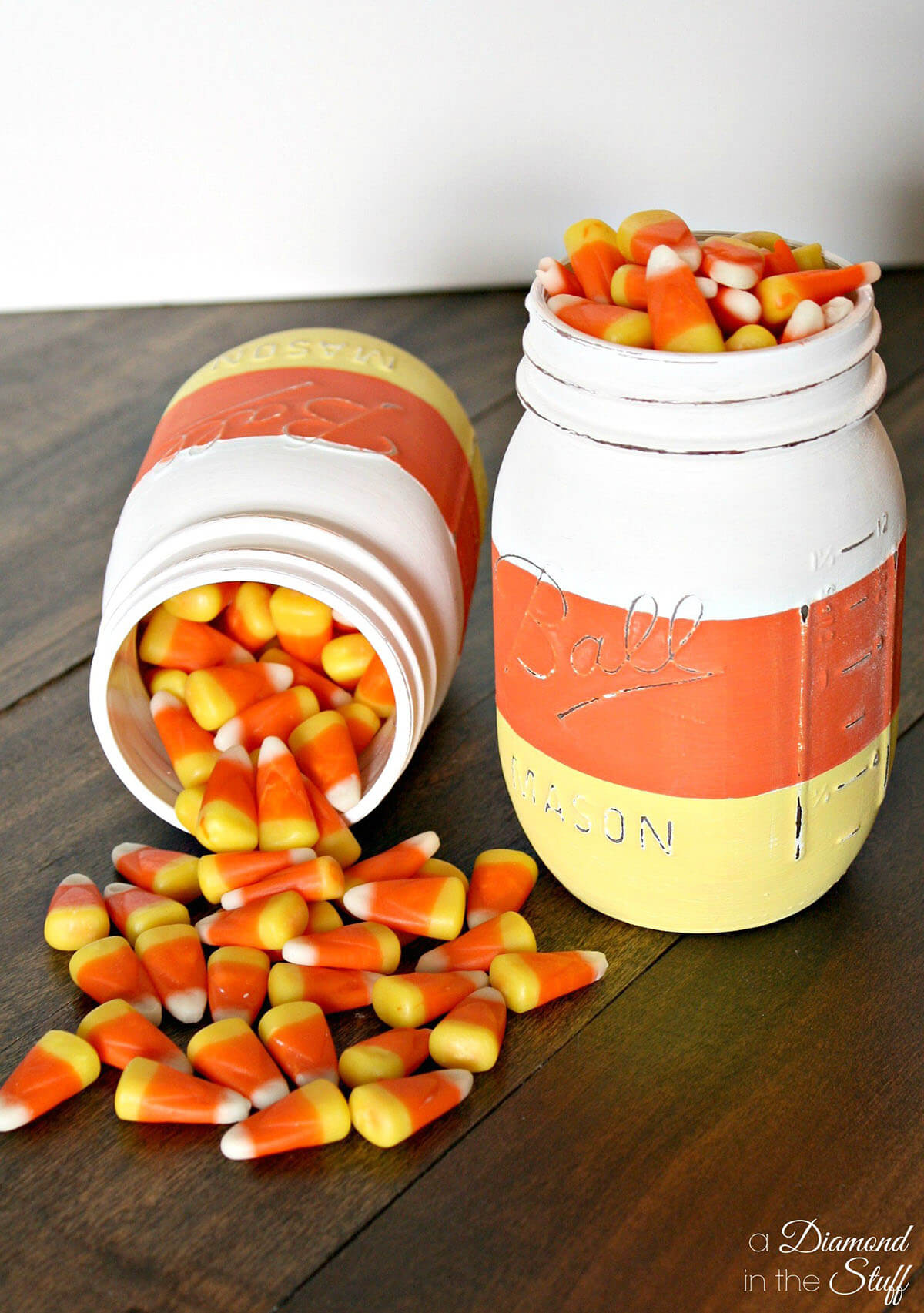 There is something very satisfying about a decorative jar that matches its contents. These yummy-looking jars will have you craving a piece of everyone's favorite fall delicacy before you can even see what's inside. Fill these jars with candy corn or some of your fall decorative essentials for a well-themed autumnal display.
2. Scratched Paint Fourth of July Votive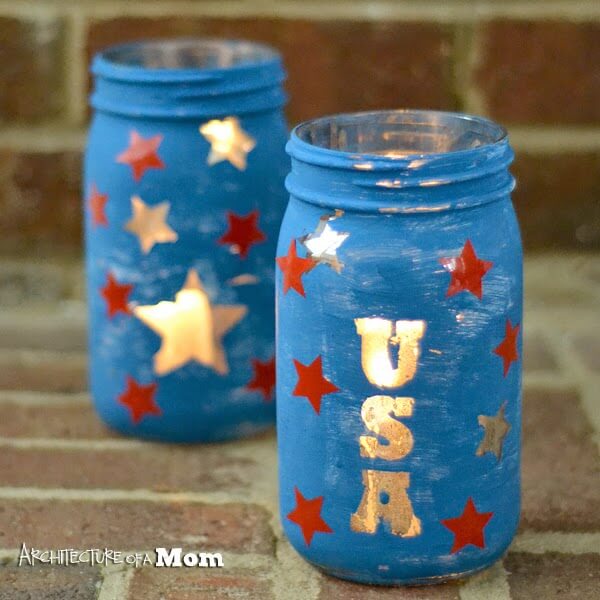 This craft is an easy project to complete but has a very cool outcome. Simply paint your jars the color of choice and either tape off areas you want to leave blank or have fun scratching them off once the paint has set. You can also add colored stars to give it a bit of flair without having to add more paint.
3. Clever Mason Jar Tissue Container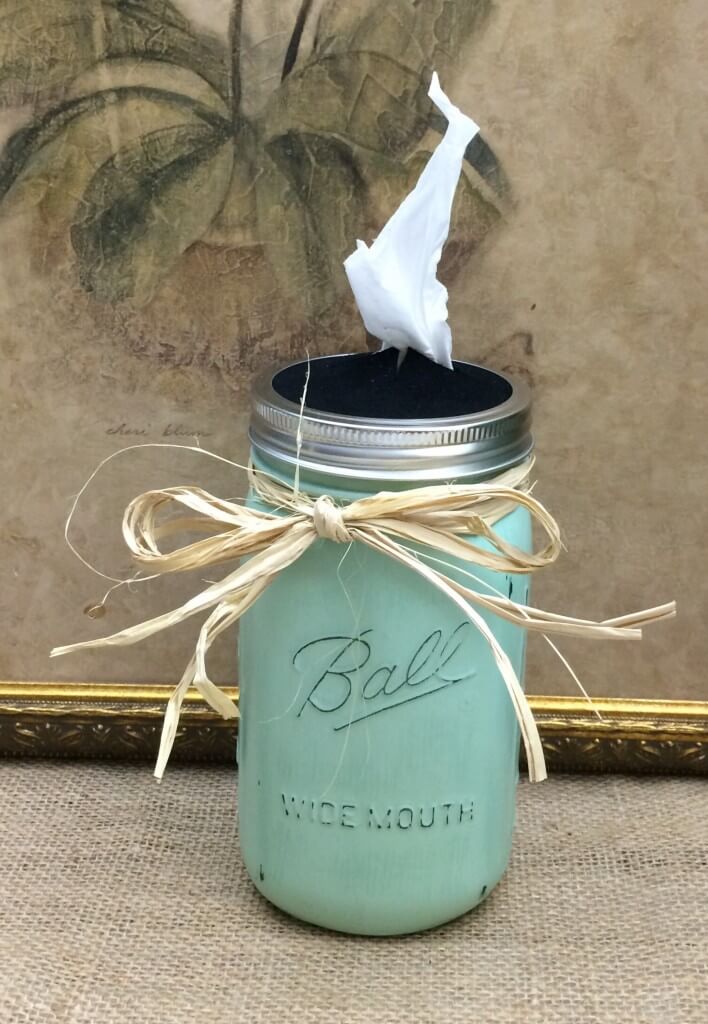 There is no reason that our tissues have to stay in a plain boring box. Once you have created for yourself this awesome personalized tissue jar, you will never need another cardboard box. Paint and decorate to your heart's desire, and be sure to add a strategically cut piece of felt for your tissue jar topper.
4. Adorable One-of-a-Kind Salt and Pepper Shakers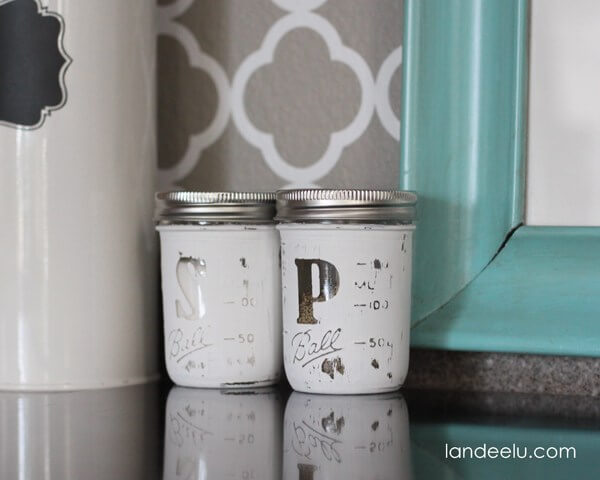 There are so many cute and clever salt and pepper shakes out there, but nothing beats a homemade design. These special jars are painted to match, with a big "S" on one and "P" on the other. The letters create a sort of window into the shakers so you can always see how full they are.
5. Colorful Speckled Springtime Craft Jars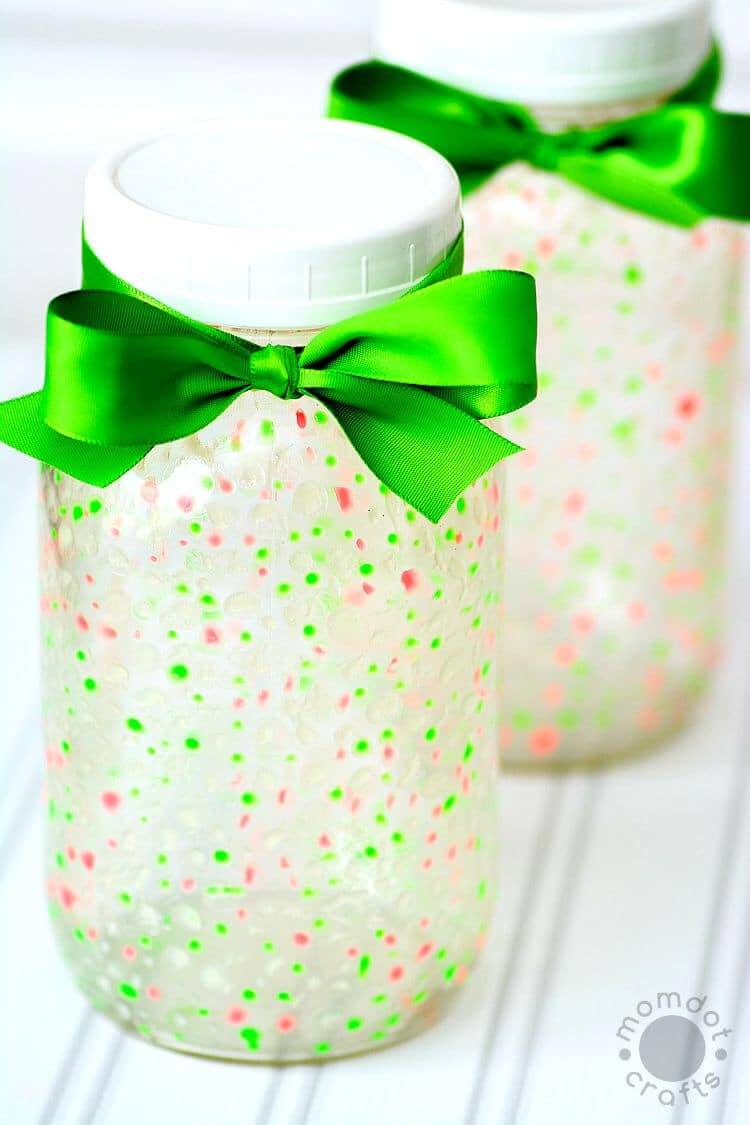 This jar is a fantastic project for any day at home when you have some paints and are looking to get creative. Simply pick a few of your favorite colors and give each jar a few dabs of fun. Add a matching satin bow to complete the look. It's that simple!
6. Classroom Pencil Inspired Pencil Holder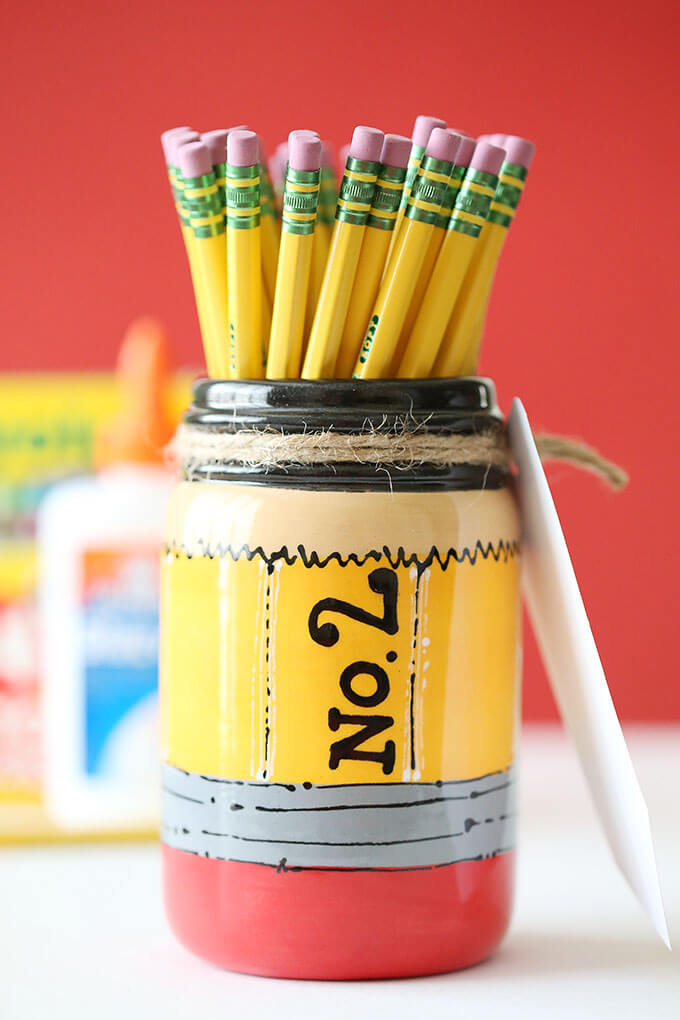 Sometimes, you want to take a jar and turn it into something truly new. That is what has been done here: you may find it hard to even see the jar that this amazing pencil holder once was. This clever design is perfect as a gift to a favorite teacher. The pencils may be number twos, but this design is number one.
7. Delicate and Decorative Matte Blue Floral Vase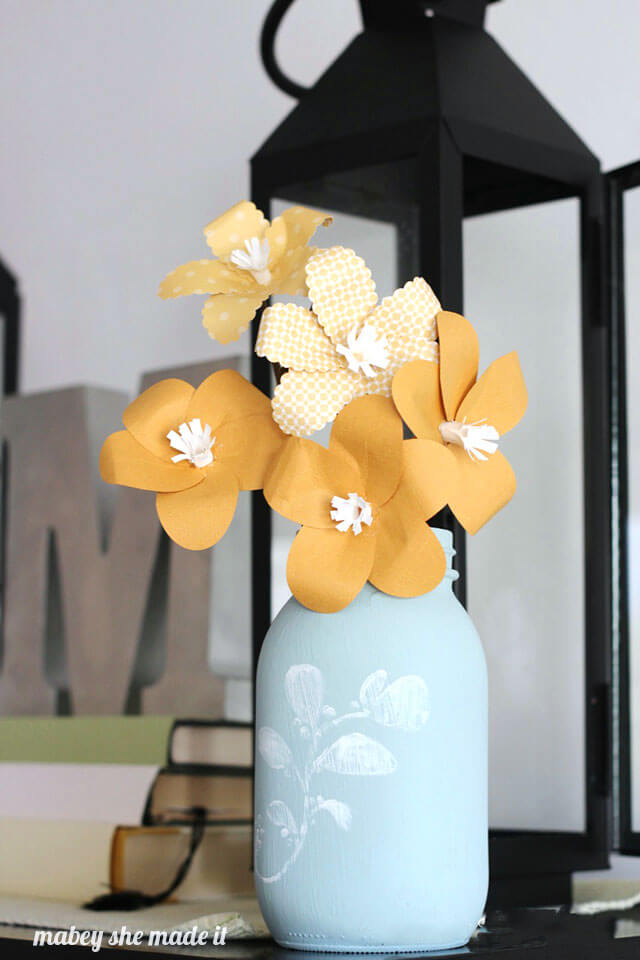 A perfect way to make a jar look expensive is to give the whole thing a solid paint job and add a compelling decorative touch. This transforms the jar into something new and makes it a solely decorative piece, never to be associated with jams again but instead with flowers and décor.
8. Fun Marker-Colored Stained Glass Container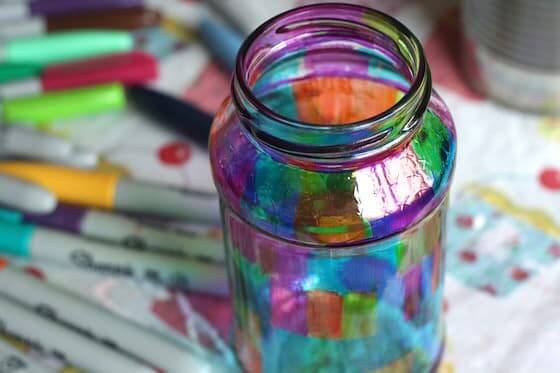 If you are looking for a fun Mason jar project the whole family can enjoy, look no further. This project takes simple jars and, adding color with permanent markers, creates a design reminiscent of a stained glass window. However you pattern and color your jars, they will add a colorful touch when placed in the sun.
9. Prim and Peachy Jar Desk Organizers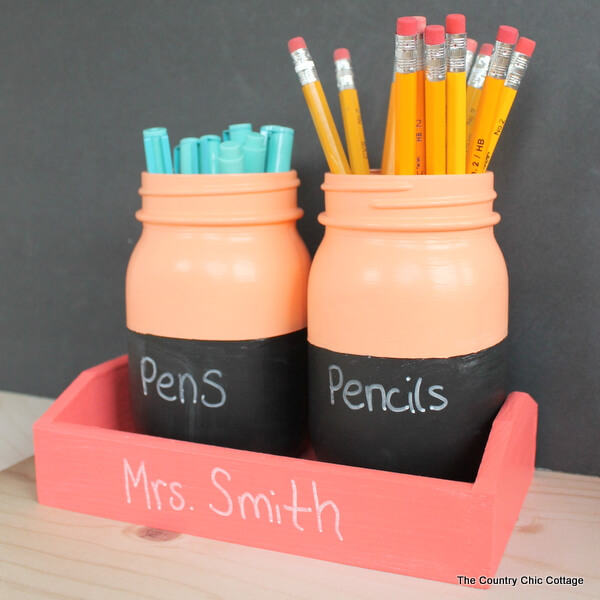 Jars make the perfect desk organizers. Large jars like these are great for pens, pencils, and scissors, and small jars can also be used for paper clips, tacks, and other desk essentials. Adding a band of chalkboard on the jar gives you the ability to label but the freedom to rearrange.
10. Shimmery Silver Wintertime-Inspired Jars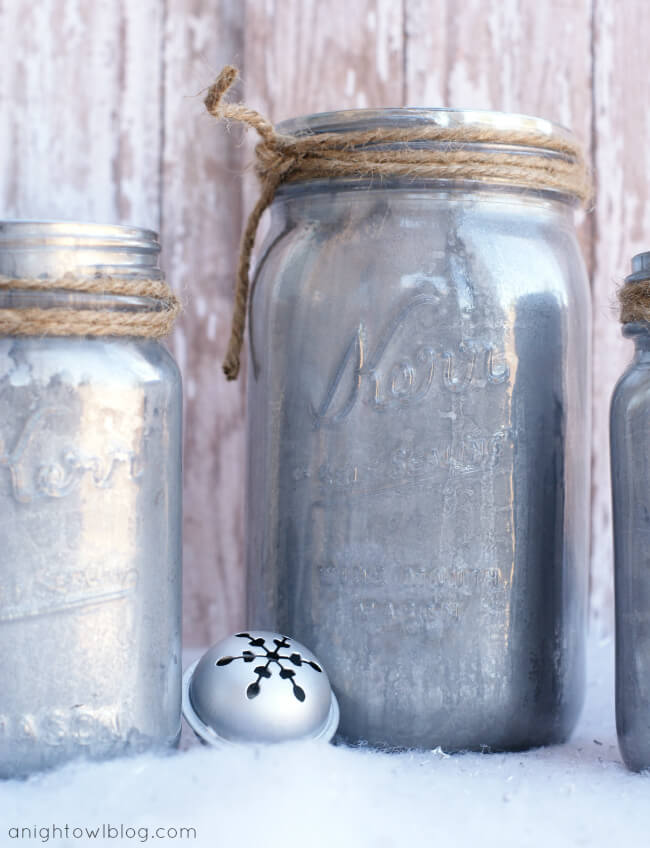 When wintertime comes, everyone loves frosty and cool looks. These solid silver jars look like something you would see on a sleigh ride and can be filled with holiday treats or décor. Painted on the inside, their paint won't scratch or fade as easily, and you don't get uneven paint over the jar's label.
11. Robin Egg Speckled Fun Décor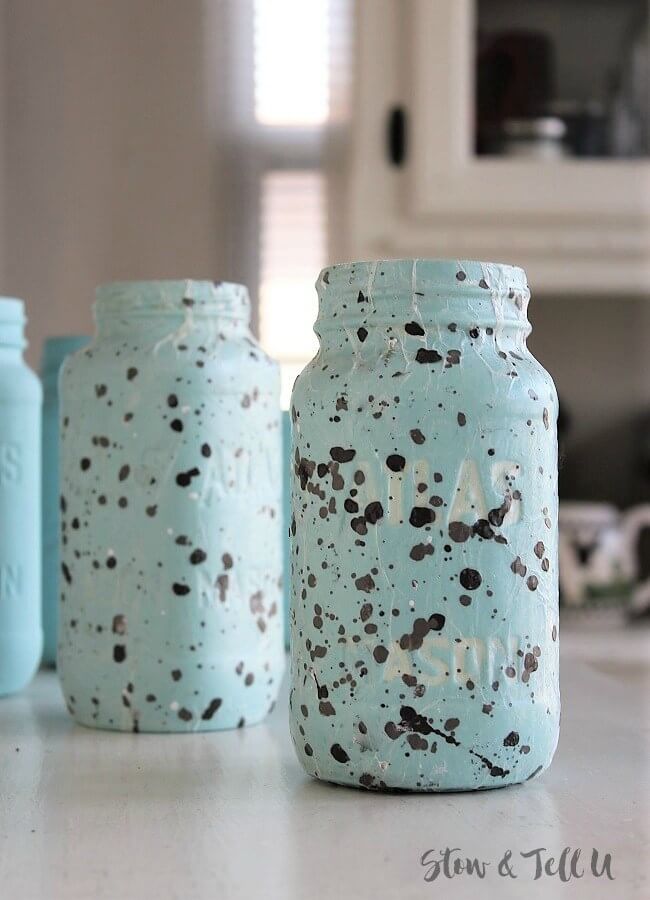 A natural and light blue base gives this jar a lovely foundation for fun flecks of black paint. The effect is similar to a robin egg and has elements reminiscent of a Jackson Pollock. Use these jars for storage around the house or in the garden, or fill with your favorite flowers for a complete natural look.
12. Doin' it in Style Flamingo Vases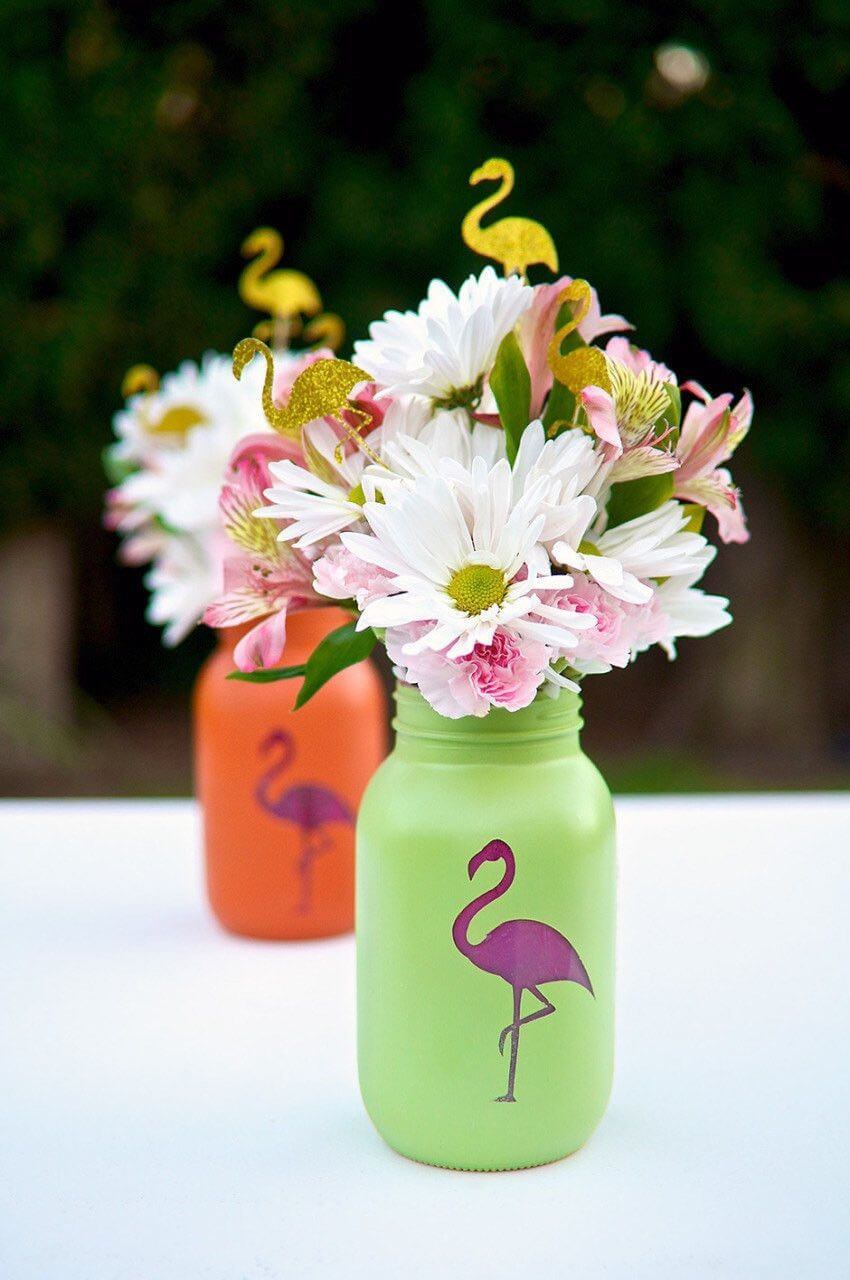 Super chic and modern, these centerpiece Mason jar vases make a fun and funky statement. They are perfect for a summertime event where you want guests to feel comfortable, welcome, and ready to have a good time. When creating a design like this, clean lines and thorough paint coverage is important.
13. Stardust Sprinkled Mason Jar Votive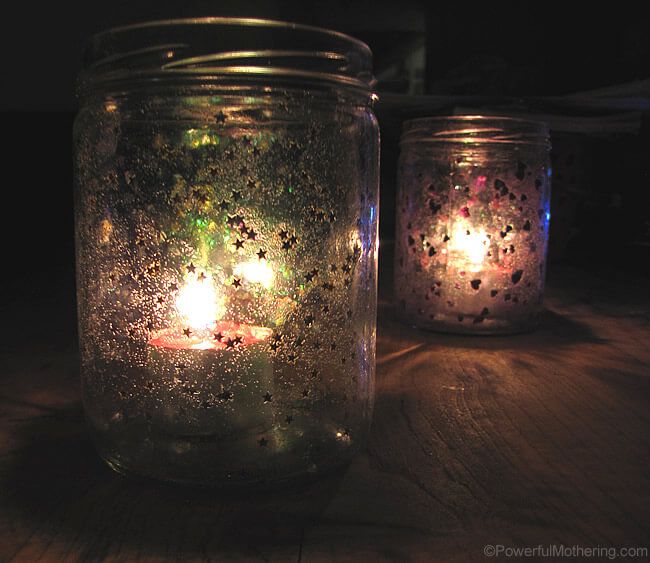 If you are looking for a design that is as magical and memorable as those warm outdoor summer nights, then these are a stellar choice. Keeping the jar clear, you need only add some of your favorite star-dusted glitter to give each tea light a romantic and whimsical sparkle as their flames flicker.
14. Playful Peekaboo Pineapple Candy Jar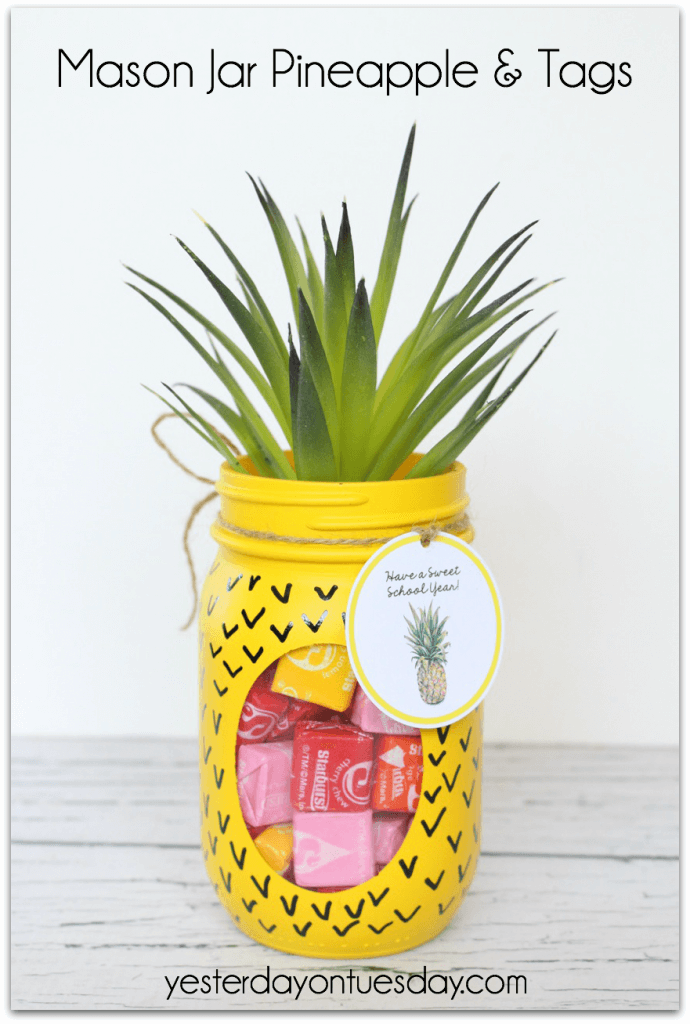 A great gift, this super cute pineapple candy jar is easy to craft at home. When laying out your design, be sure to completely cover the spot you wish to use as your window. Add a succulent or even the top of a real pineapple as well as your favorite candies to complete the look.
15. Bright and Fun Transparent Hanging Décor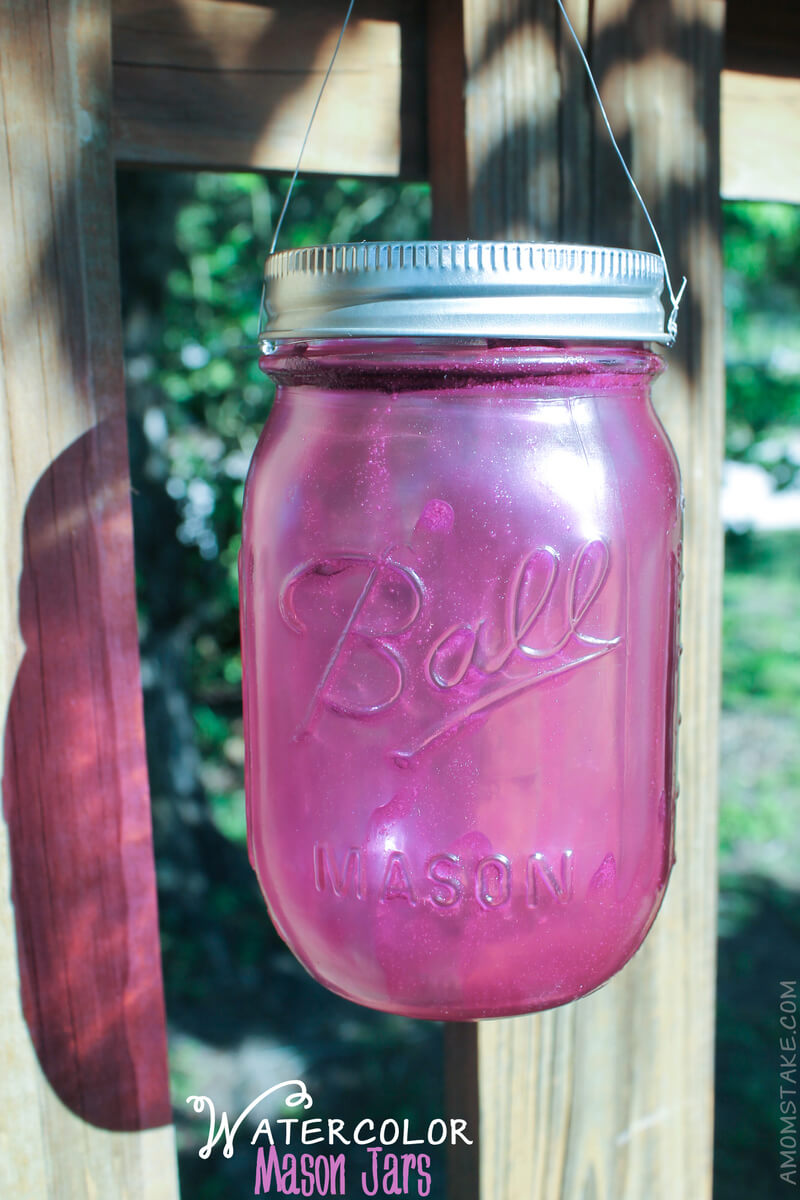 Hanging décor in the garden is always a great way to go. There are so many options with trees, fences, and posts for hanging décor to shine. In this particular instance, it will be shining both literally and figuratively, with a shiny transparent paint that creates a stained glass effect on the surfaces where its light is reflected.
16. White Washed Rustic Wildflower Jars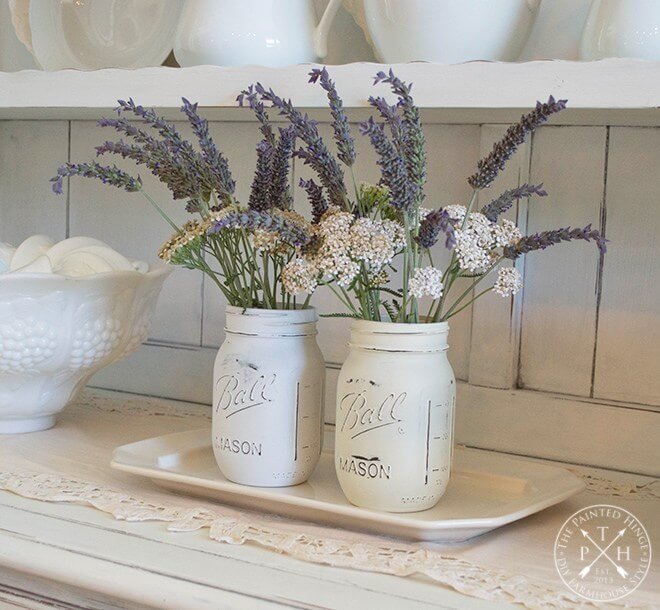 A chic and simple way to turn plain jars into something that looks like it came straight from a high-end home décor store is to paint it matte white. There is something very farmhouse elegant about a well-painted matte white jar with just a touch of distressing to give it character.
17. Prim Pink Kitchen Containers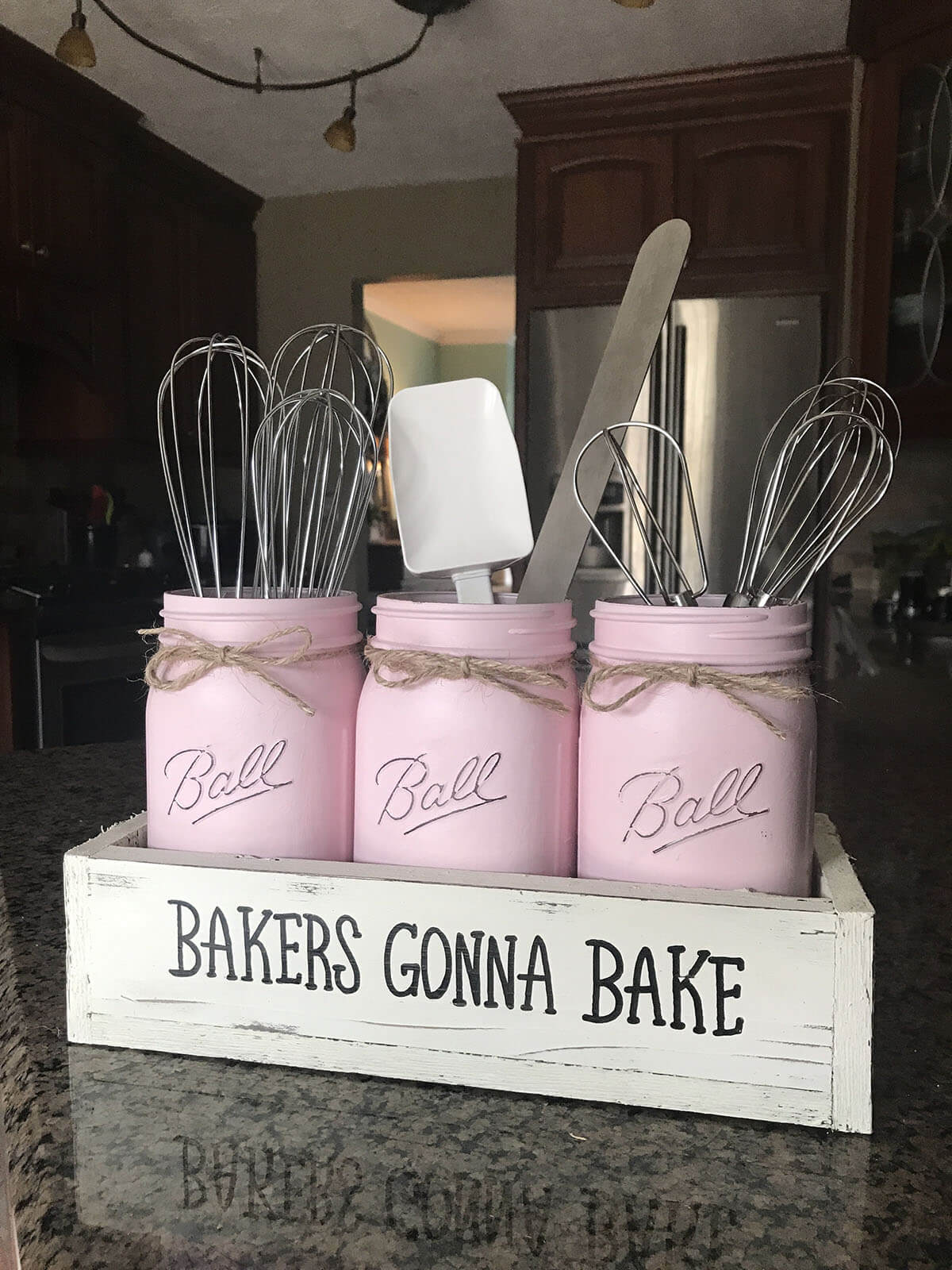 When creating a set of jars for your kitchen utensils, be sure to get big jars like these ones. From there, painting them to match and adding a sweet touch like the burlap bow takes these to decorative perfection. If you want to emphasize their origin, be sure to gently sand or scrape away the paint over the jar's logo.
18. Adorable Mason Jar Night Light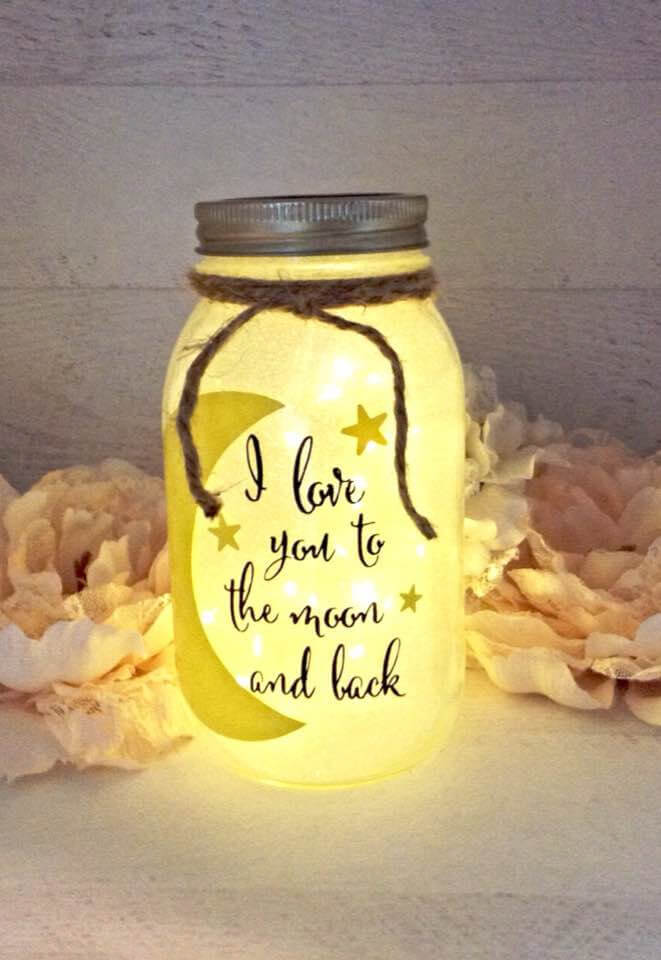 If your kid is at the age where they beg for a night light or you are just looking for something to light up the hall in the evening hours, then this is an effective and adorable option. Using battery-operated fairy lights, you don't have to worry about messy cords and can contain your light like fireflies in a jar.
19. Two-Toned Spray-painted Vases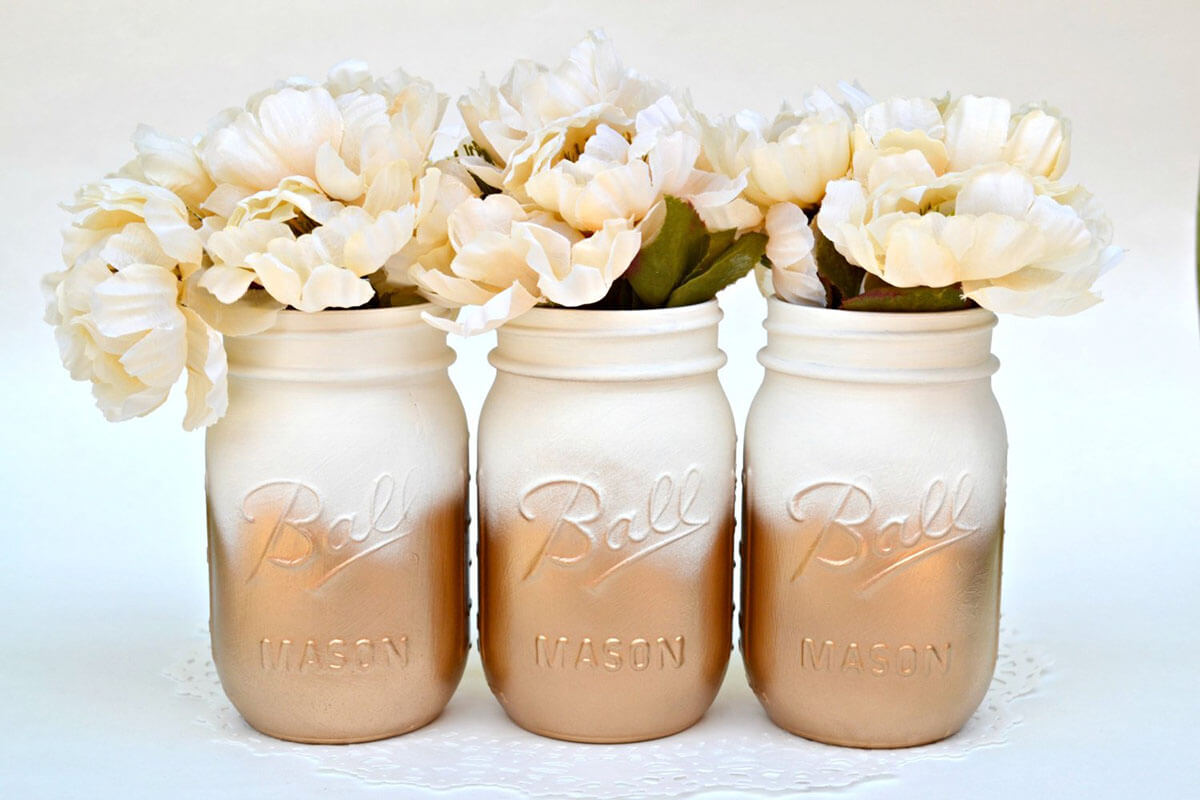 As any DIYer will tell you, a fast way to decorate your old jars is to use spray paint. You can even layer the paints for a multi-toned look that can be quite chic. Be sure to pick complementary colors, but feel free to mix matte finished and shiny ones for a varied look. Don't forget to always spray paint outside.
20. Frosted Glass Jars for Flowers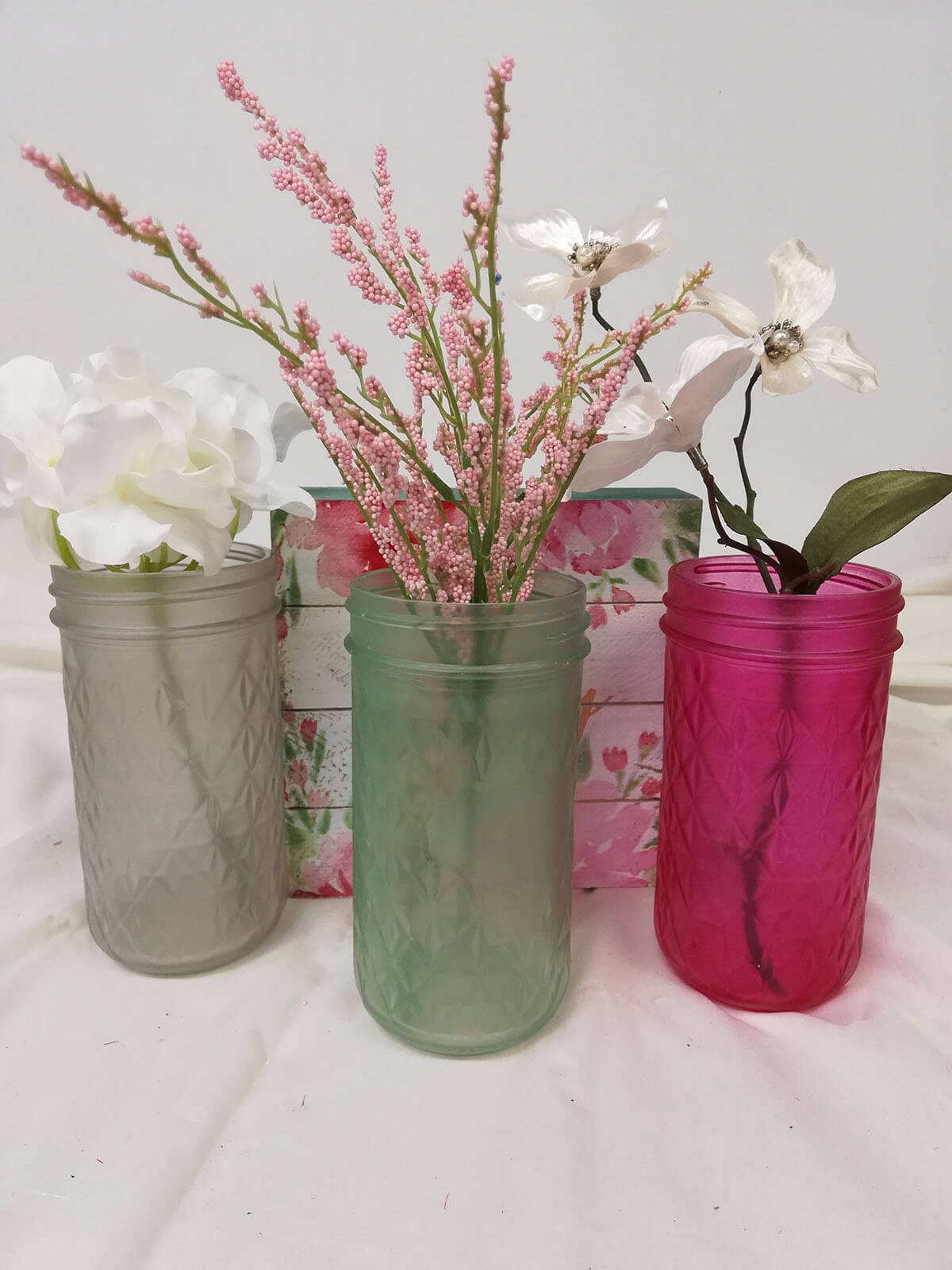 Sometimes keeping the jar looking close to its original state is the right thing to do. With these pretty and tall jars, all that was needed was a little paint to transform them into beautiful vases for long stemmed-flowers. Pair these with multiple colors or stick to one or two shades for more of a statement.
21. French Farmhouse Painted Lavender Blooms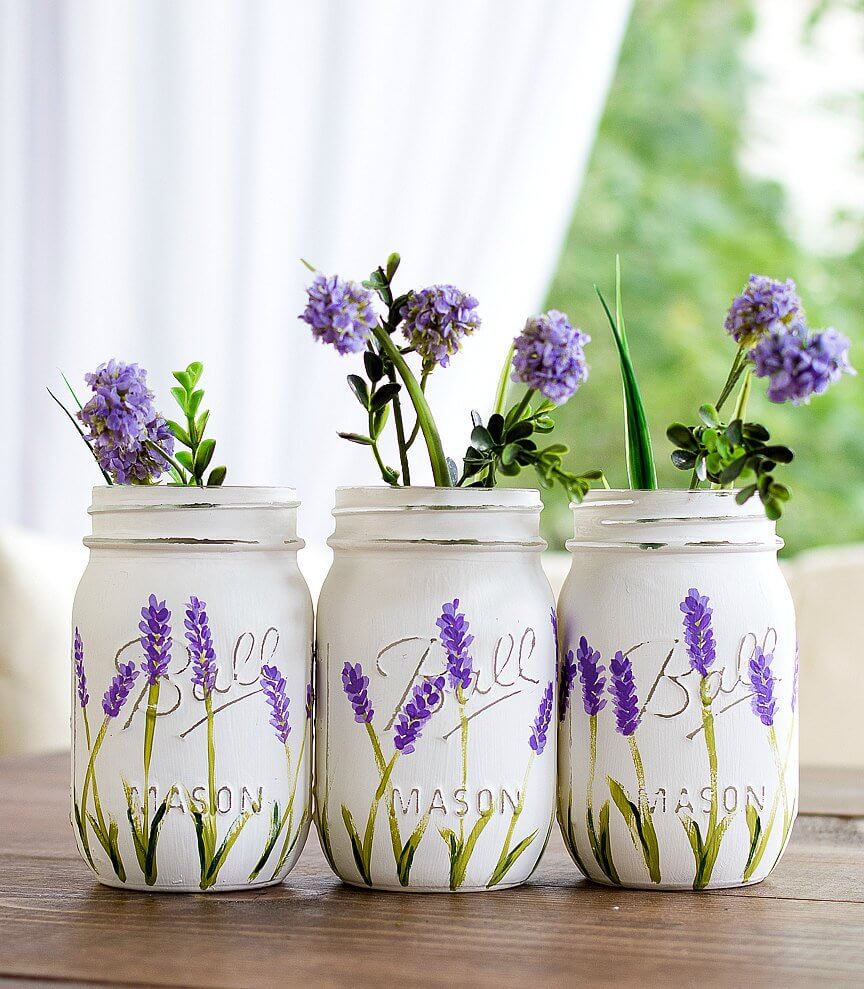 These whimsical and romantic flower jars are magnifique for fresh spring and summer blossoms. The homey feel of a classic Mason jar goes hand-in-hand with the natural look of handpicked wildflowers, creating a perfect piece of décor. Be sure to stencil out your designs before painting, and have fun matching your jar flowers to the ones in your garden.
22. Modern Gray with White Polka Dot Jars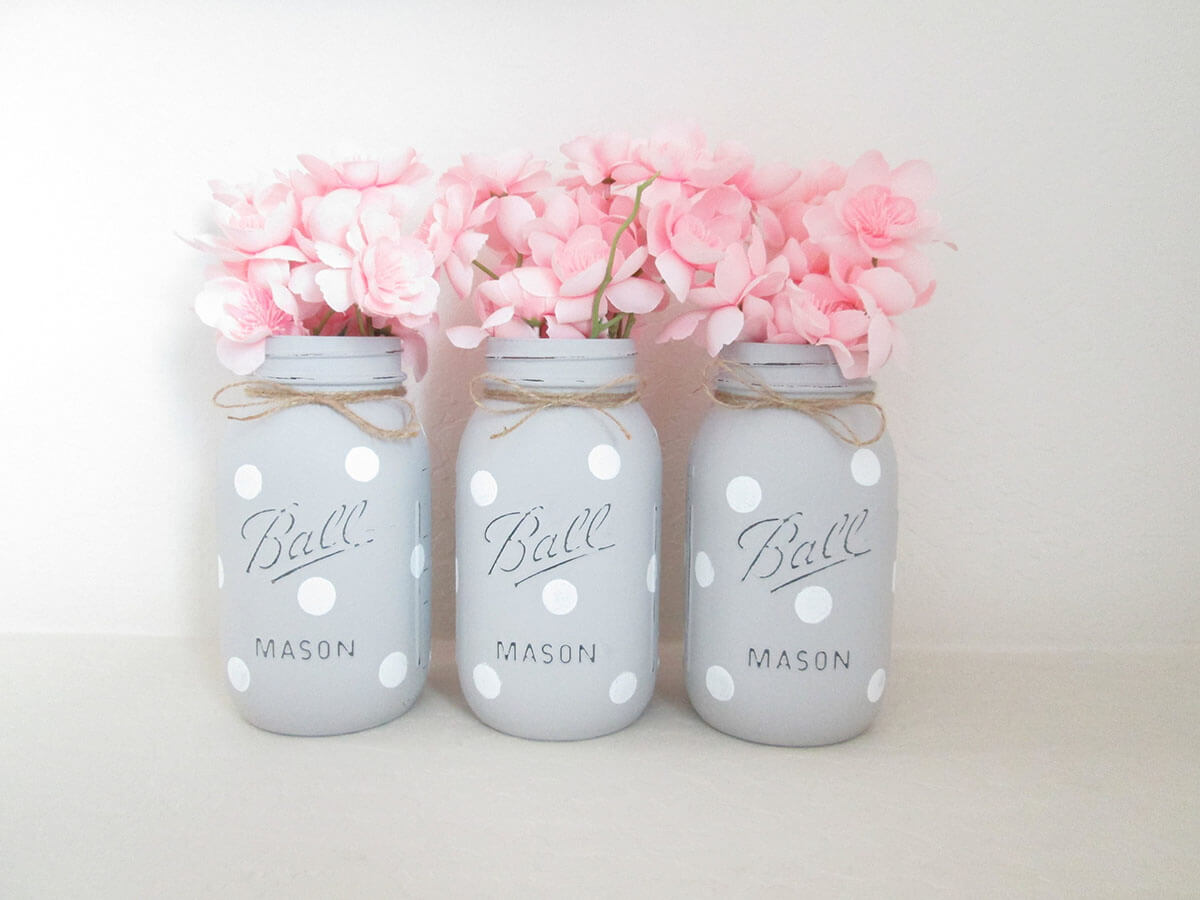 An excellent way to use Mason jars even when your home décor isn't farmhouse themed is to give them a bold and modern patterned look like these cute and trendy polka dot jars. The Ball Mason logo is still visible to pay homage, but everything else about these is bright and modern.
23. Multi-Sized Jar Bathroom Assortment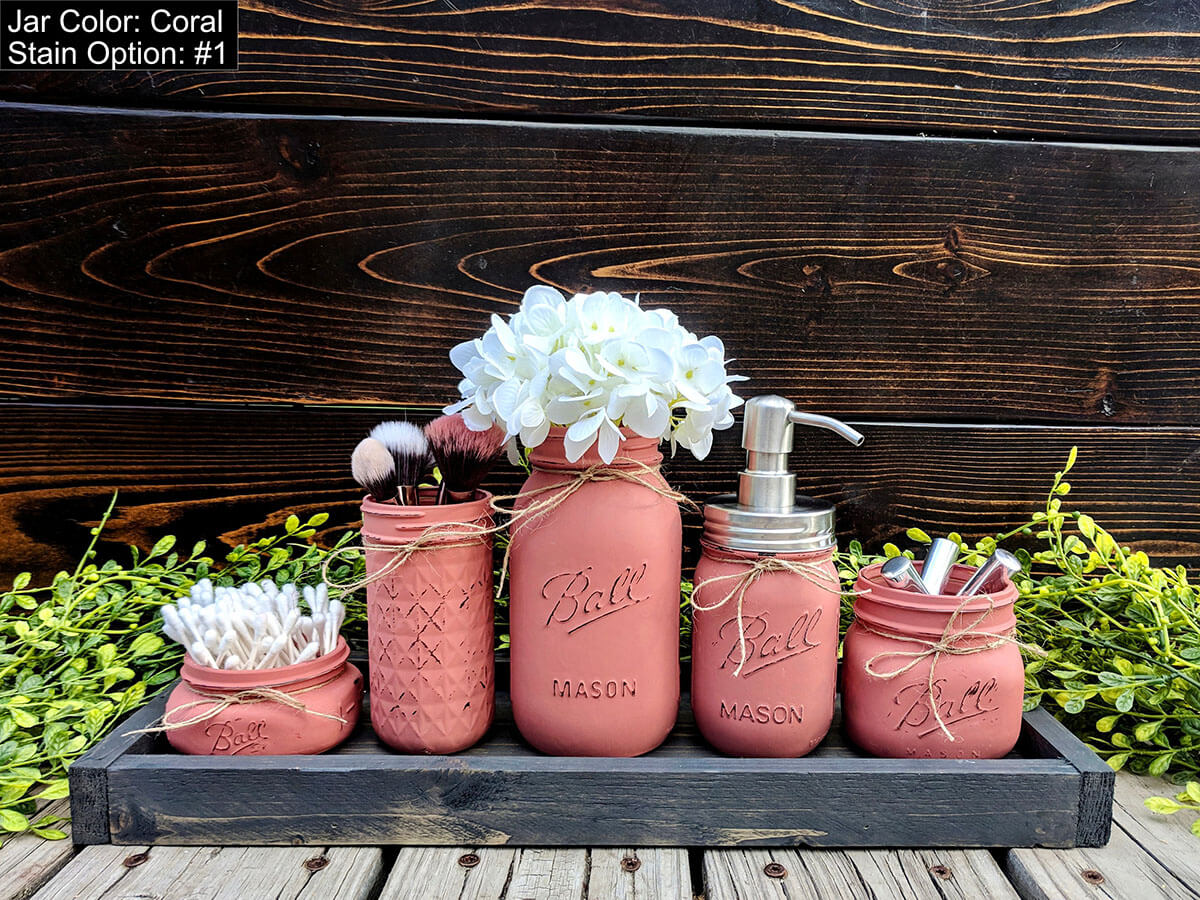 If you are lucky enough to come across a set of jars with varying shapes and sizes, creating a bathroom caddy like this is a good option. Each piece serves a distinct purpose, yet with a matching paint job, they are a very cohesive set. Place on a weathered tray and add a few personalized touches for a complete bathroom design.
24. Fresh and Fruity Summertime Art Supply Holders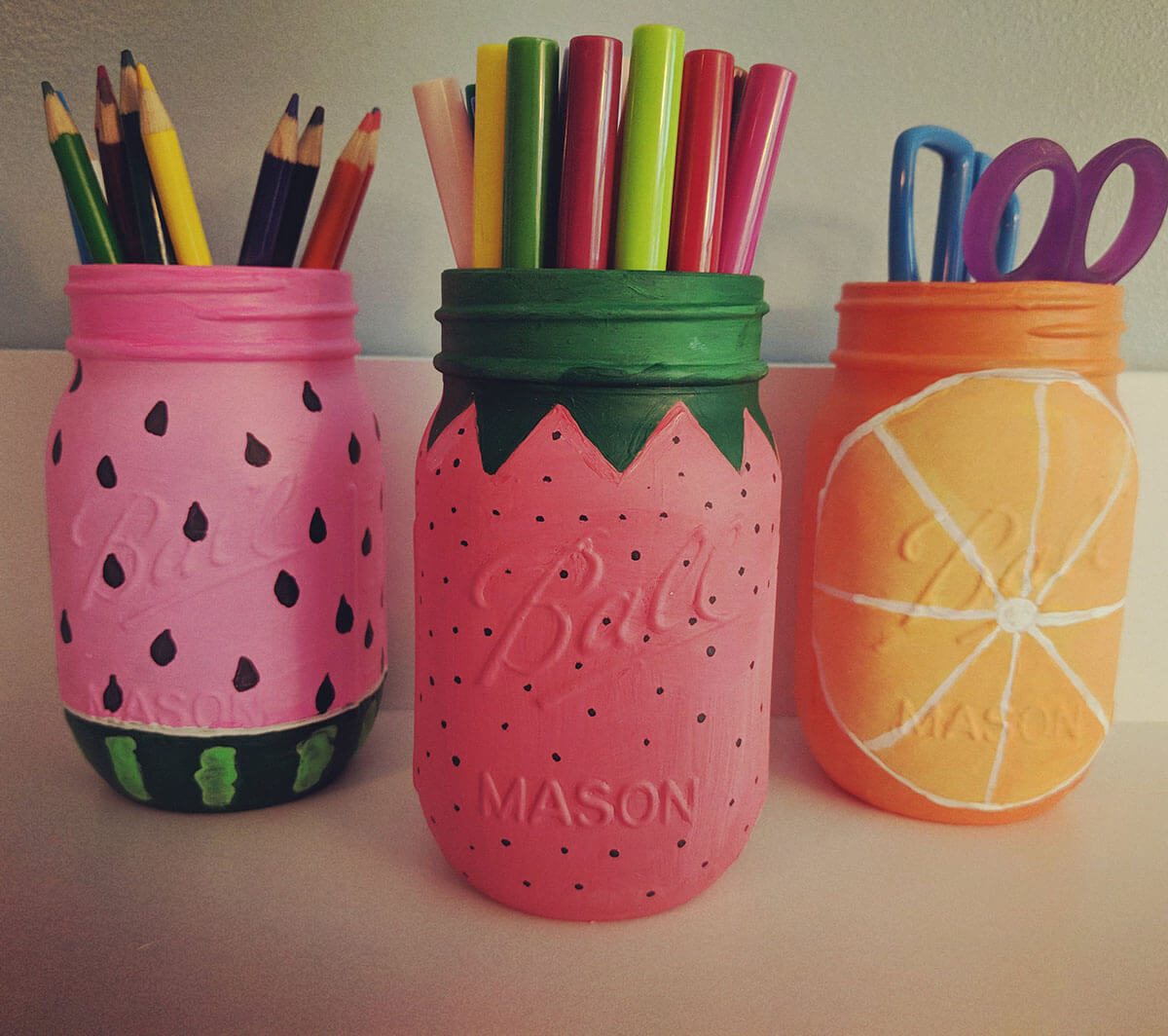 Whether it's your pens, pencils, scissors, markers, or other supplies, keeping everything organized is a little more fun when you add a squeeze of your favorite summer fruits. These fruit-inspired jars offer bright colors and fun designs for a playful look that makes everyone long for those warm days of summer and cool summer treats.
25. Friendly Pink Flowers on a White Jar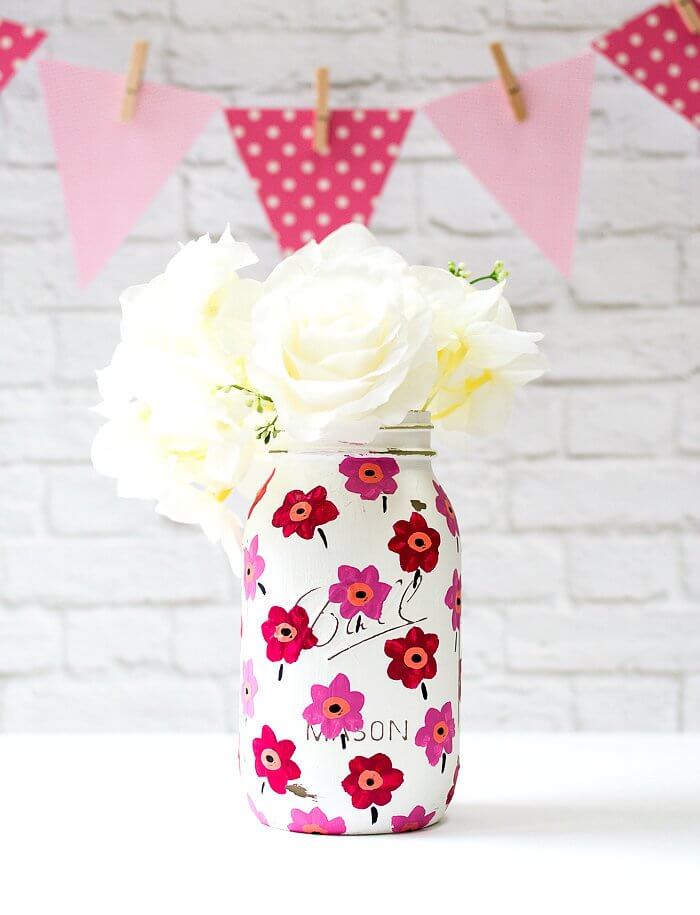 If you are looking for a way to paint your mason jars that will brighten your day and make everyone smile, this sweet and simple idea is the way to go. The bright pink flowers are great for a baby shower or birthday party and can hold flowers, gifts, or any little treat you can think of.
26. Intricate Hand-Painted Golden Décor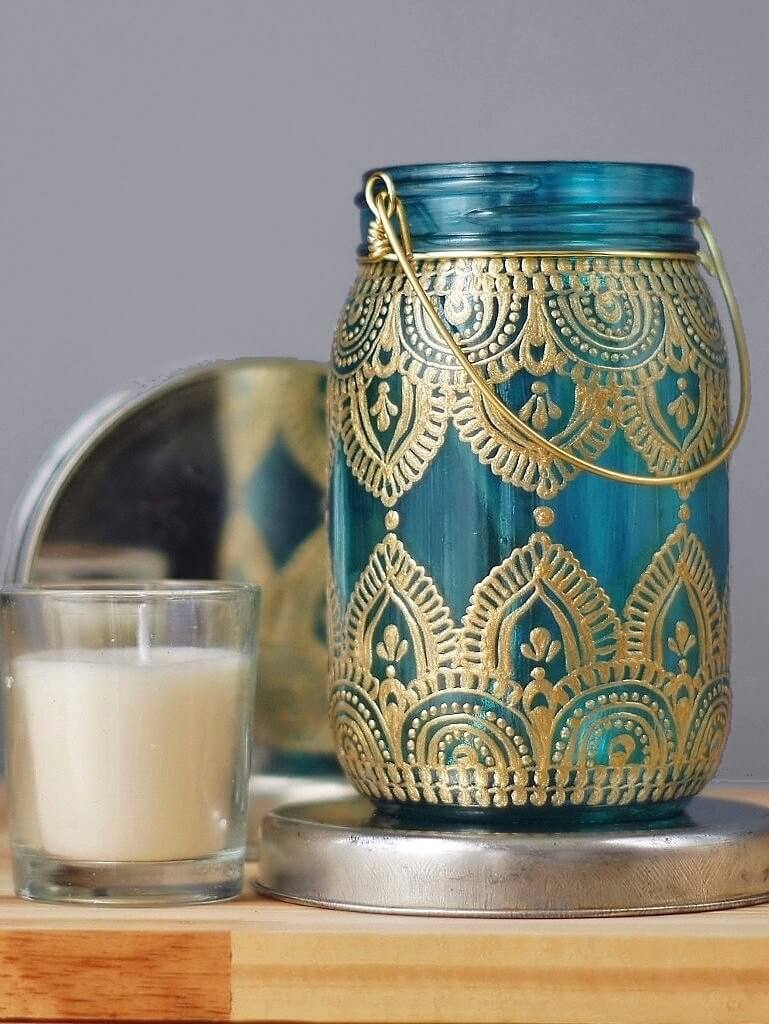 Reminiscent of henna tattoos, this beautiful Indian-inspired décor has a touch of fun and a load of elegance. The raised paint gives the look depth and texture while the transparent cool blue base keeps the look grounded. The addition of a coiled golden wire hanger gives this piece more decorative options.
27. Shiny Metallic Jars for Décor or Special Events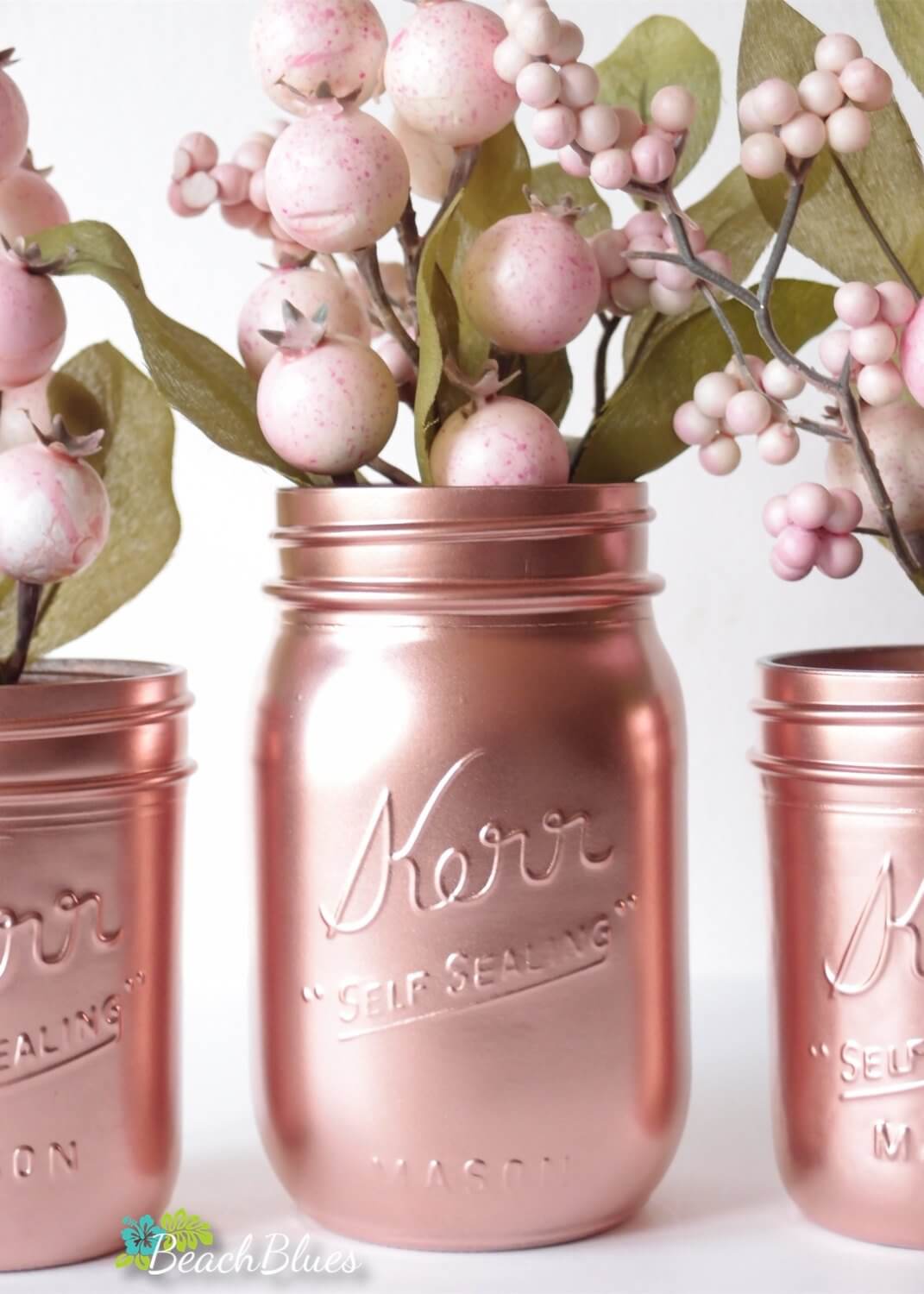 Solid colored décor can make a big statement, especially when that solid color is bright metallic rose gold. These jars are great for wedding décor, or they can be used to add a romantic touch to your home. Be sure to spray them evenly and completely for the full effect; nothing looks shabbier than a half-done paint job.
28. Cute Bless You Colored Tissue Jar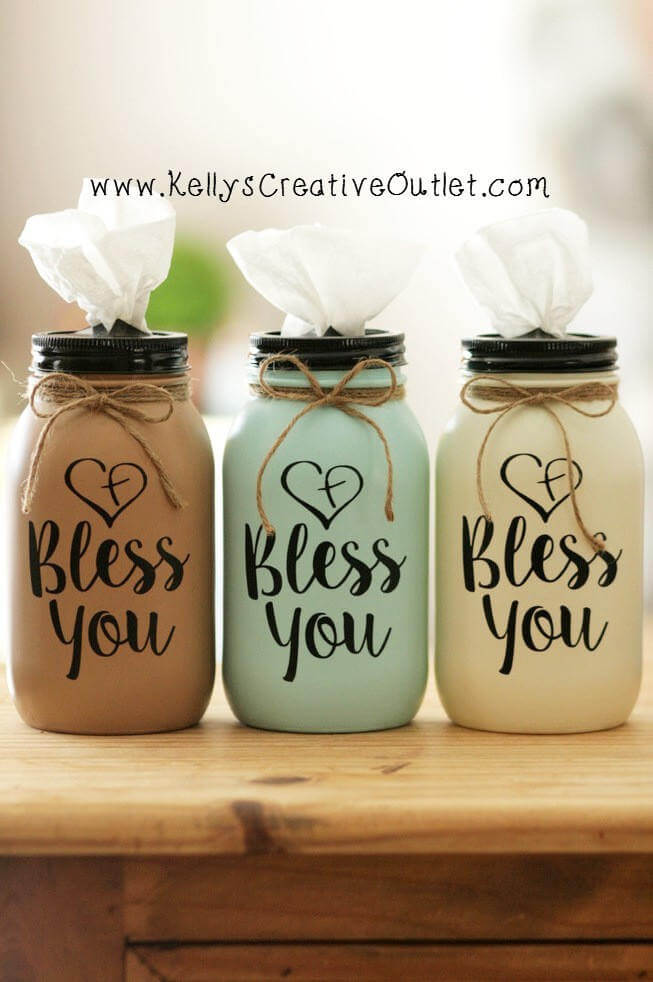 There is no better phrase to add to a tissue jar than "bless you." It says it all for you right on the jar. The creative design of using a jar for tissues is a fun, playful twist on the standard box. Use your favorite colors to add a personalized touch.