Shabby chic is a hot contemporary trend, and painted reclaimed wood perfectly fits the bill. Reclaimed wood is a fantastic base for any look, whether you are leaning more toward shabby or more toward chic. It can also be treated to look either old and weathered or bright and fresh.
36 Fabulous Painted Reclaimed Wood Ideas to Give Your Home a Fresh New Look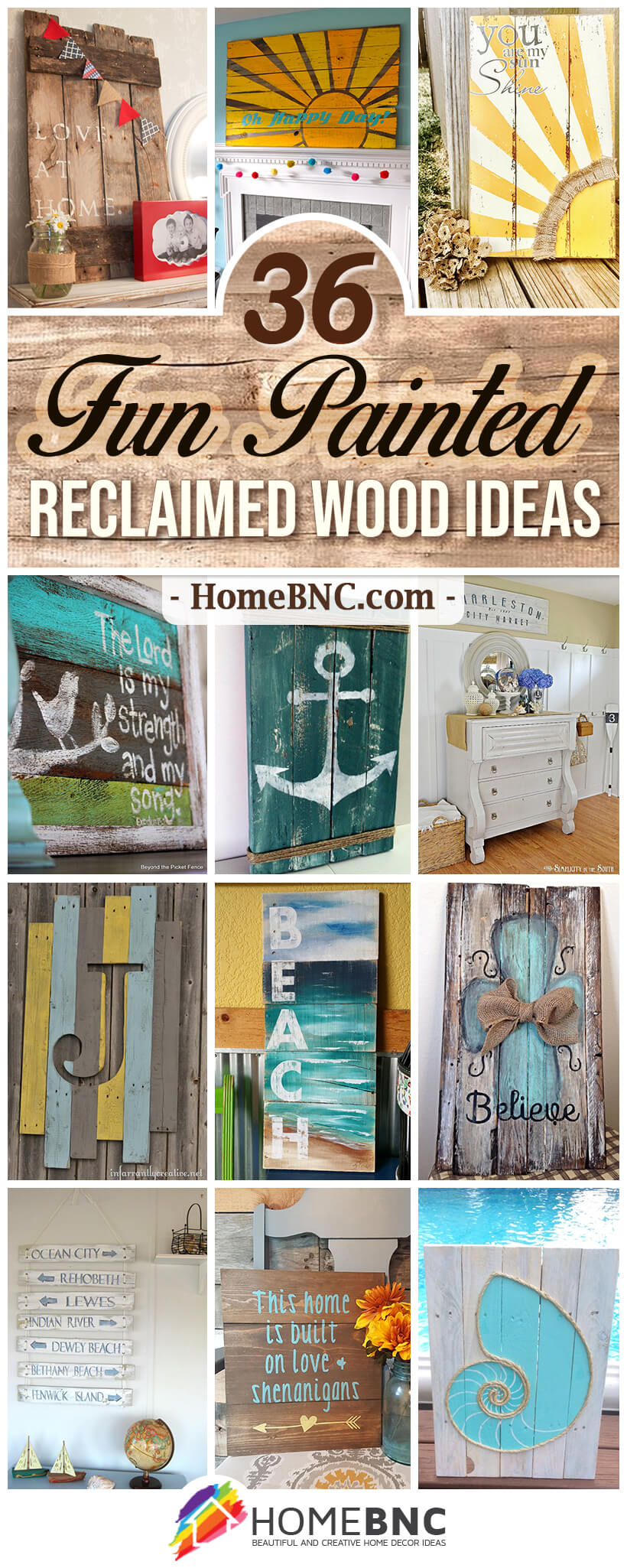 Painted reclaimed wood is a fun DIY project, but there are also many amazing artists using this medium on Etsy. If you are the artistic type, you should try your hand at this cool craft, but if you prefer to simply enjoy a beautiful creation, than take to Etsy, where you can find what you are looking for or find someone willing to craft it.
One amazing part about reclaimed wood décor is its versatility around the house. Indoors it is just as usable as any piece of canvas, but it has the added advantage of being outdoor appropriate as well. Most pieces have some protection against the elements, and the wooden canvas always looks great in a natural setting.
Wherever you choose to feature your painted reclaimed wood décor, you will be happy with your choice, and you will have a piece that brings joy to everyone who sees it.
1. Cute Songbird Bible Verse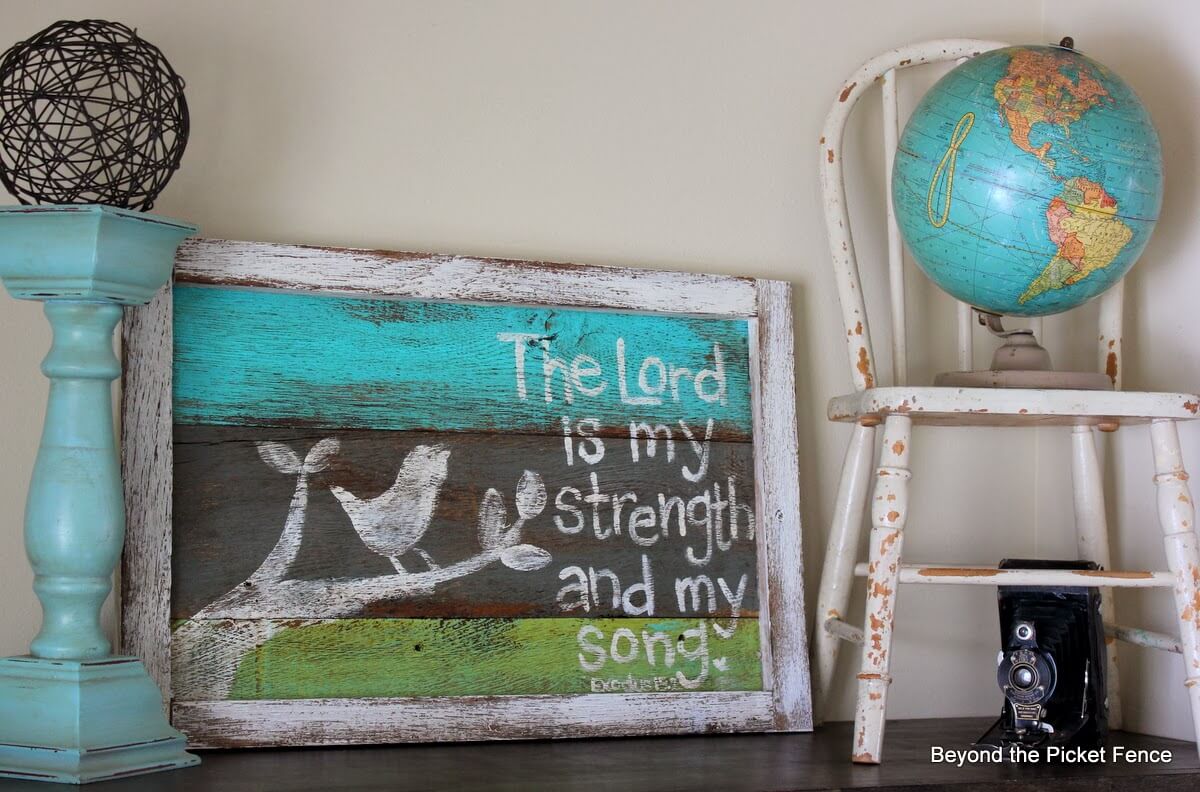 This adorable multicolored piece is small but offers a big reminder. The choice of bright chalky paint gives it an air of levity, and the bright white makes for a great border and centerpiece. It has a very natural feel with the wood and a fun and playful feel with the use of chalk paint for a cohesive overall look.
2. Throwback Retro Painted Business Sign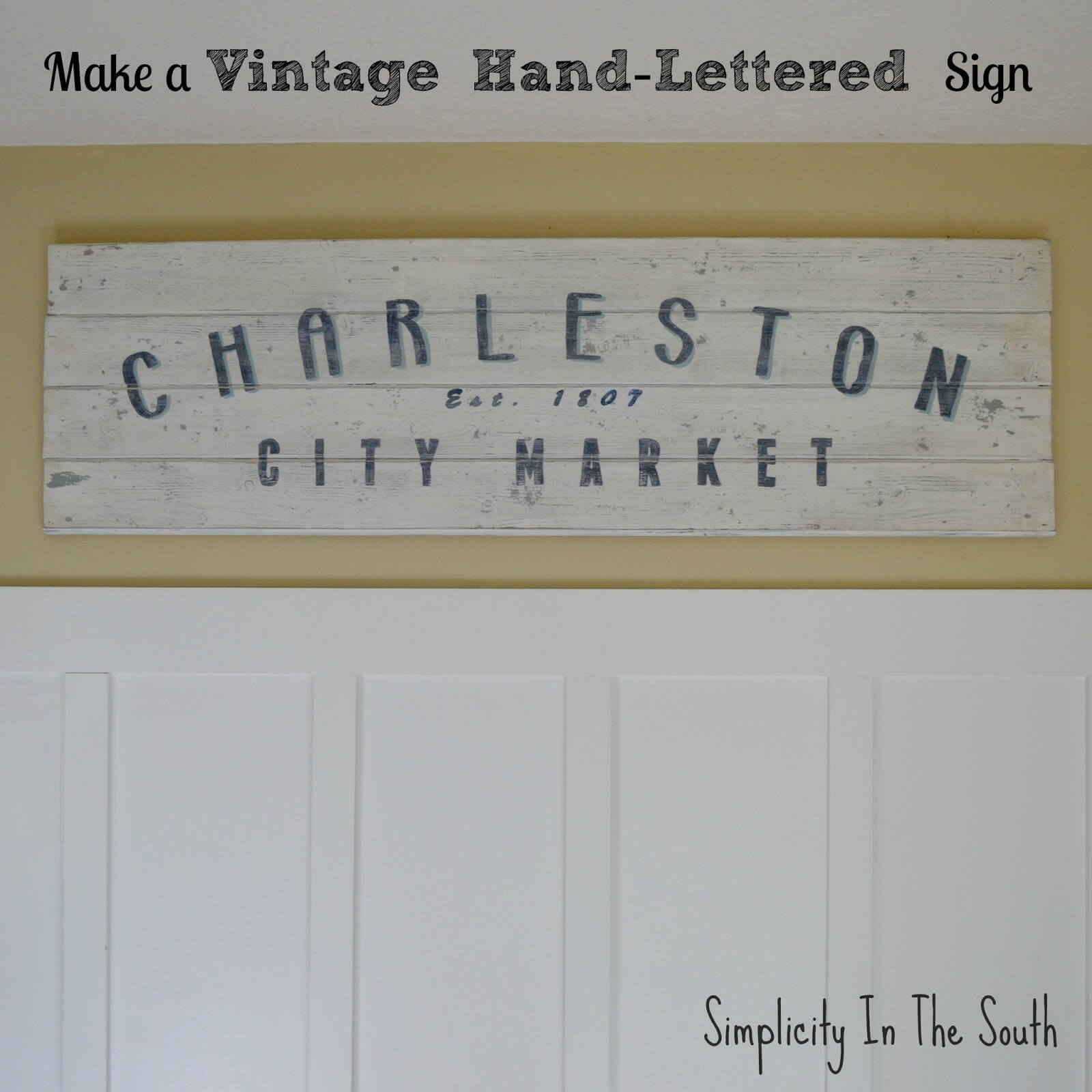 Gone are the days of sweet and simple wooden signs marking our favorite businesses. However, even if this old-school style may not be seen on the streets anymore, it sure does make for fabulous décor. If you are creating a piece yourself, choose a favorite local business to showcase on your sign to give a friendly nod to the neighborhood haunts.
3. Simple and Pure Bare Board Piece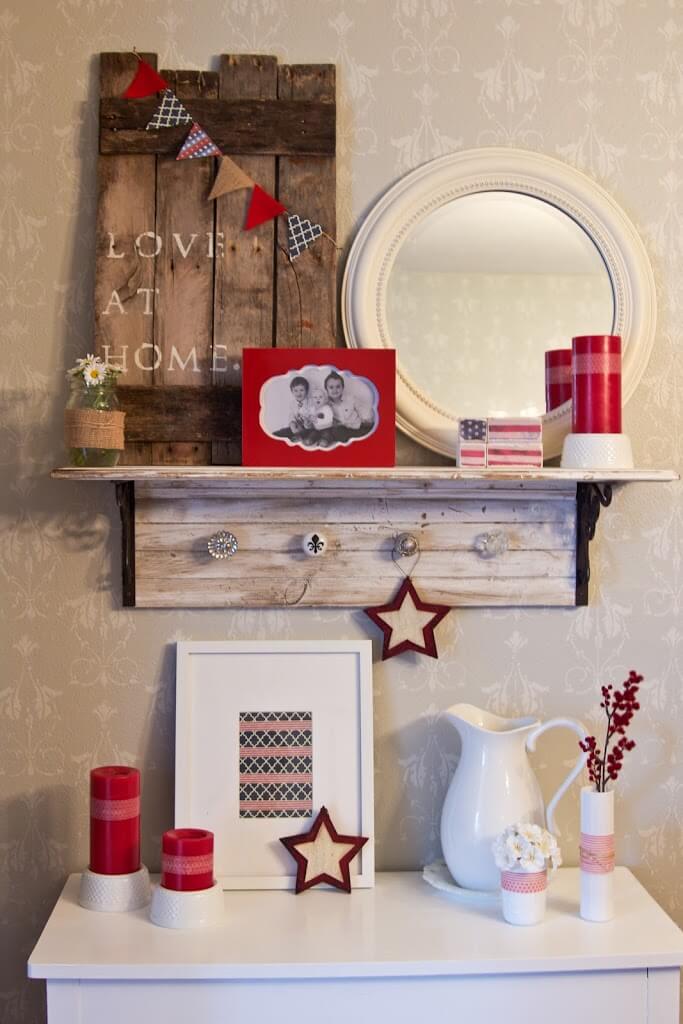 One of the easiest and most impactful methods to use when creating a painted reclaimed wood piece – surprise, surprise! – is to keep it looking like wood. Leave the boards as they were when they were found if you are going for a true farmhouse feel. Just be sure no nails are poking out.
4. Blending in While Standing out Fence Décor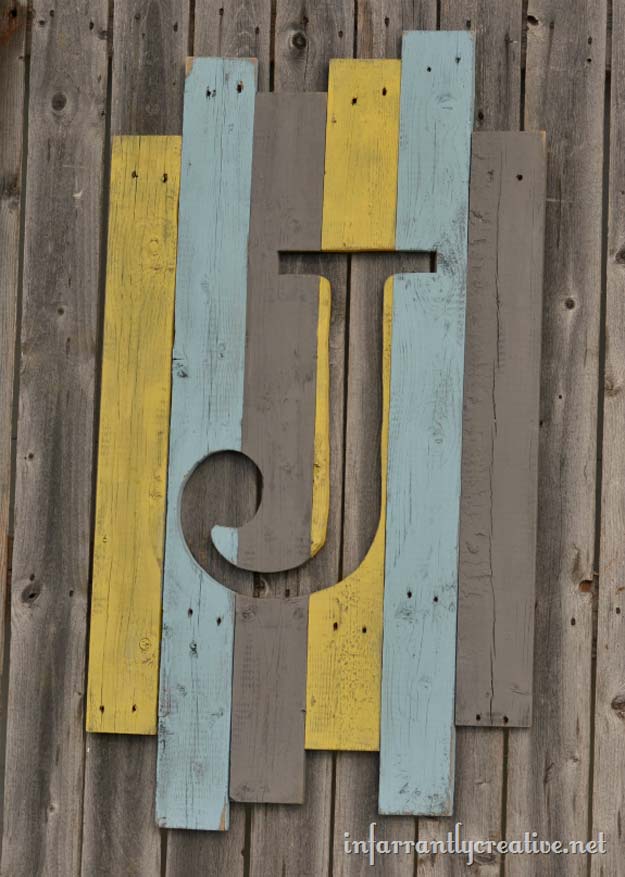 A cool place that you may not think to add wood décor is on a fence. These playfully colored boards lay right atop your fence to add your family monogram wherever you choose, coming in whatever colors fit your outdoor decorative theme. Consider creating multiples of these for trendy outdoor wedding décor.
5. Beautiful and Weathered Multi-Colored Heart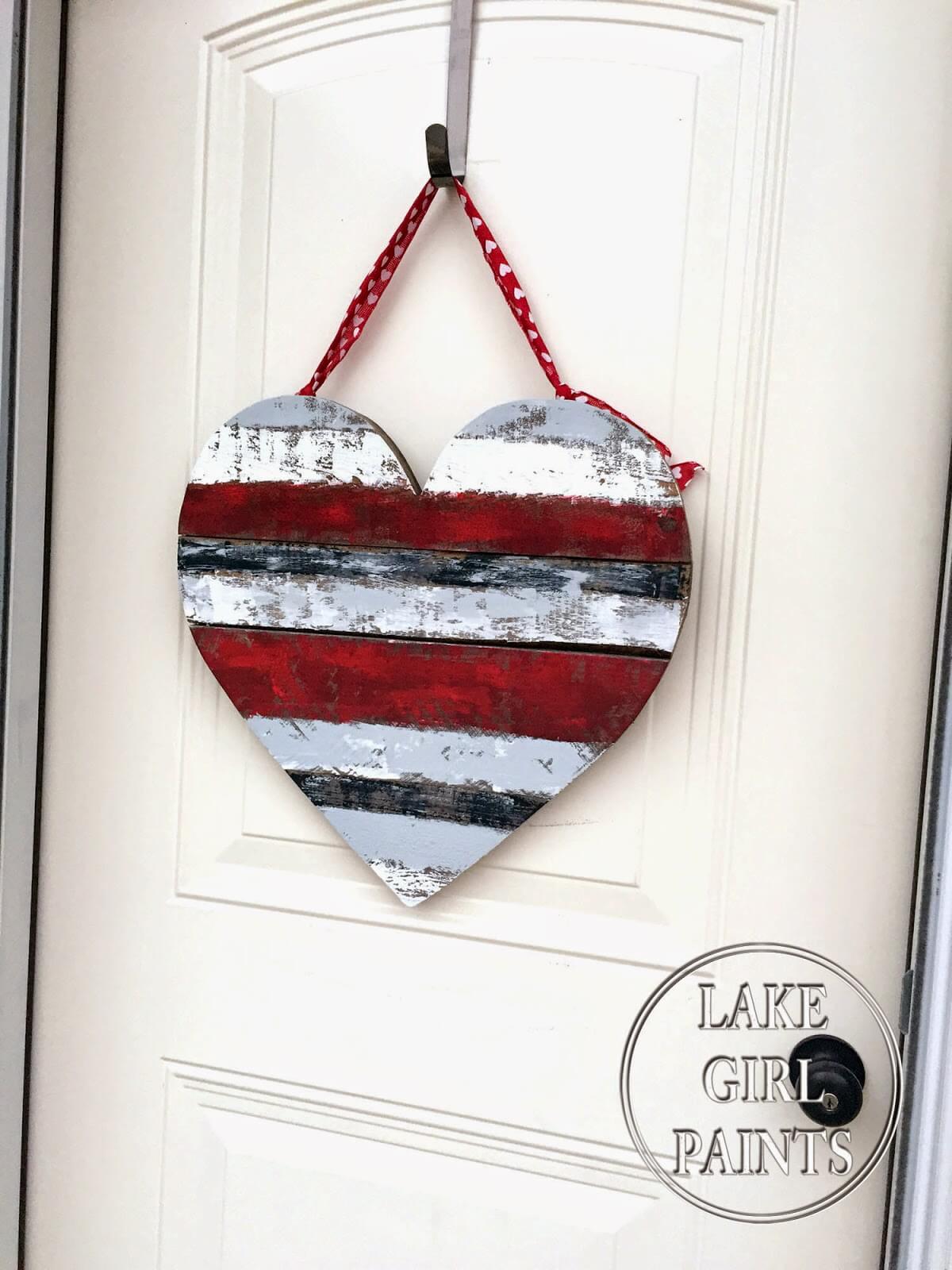 When you want to truly showcase the fact that a piece uses reclaimed wood, this heart design is an ideal option. Featuring multiple boards, each is weathered and painted in its own way to give the appearance of a heart made with variety, like a family of boards, each one its own color but coming together to form a picture of love.
6. Elegantly Designed Sign for Home Décor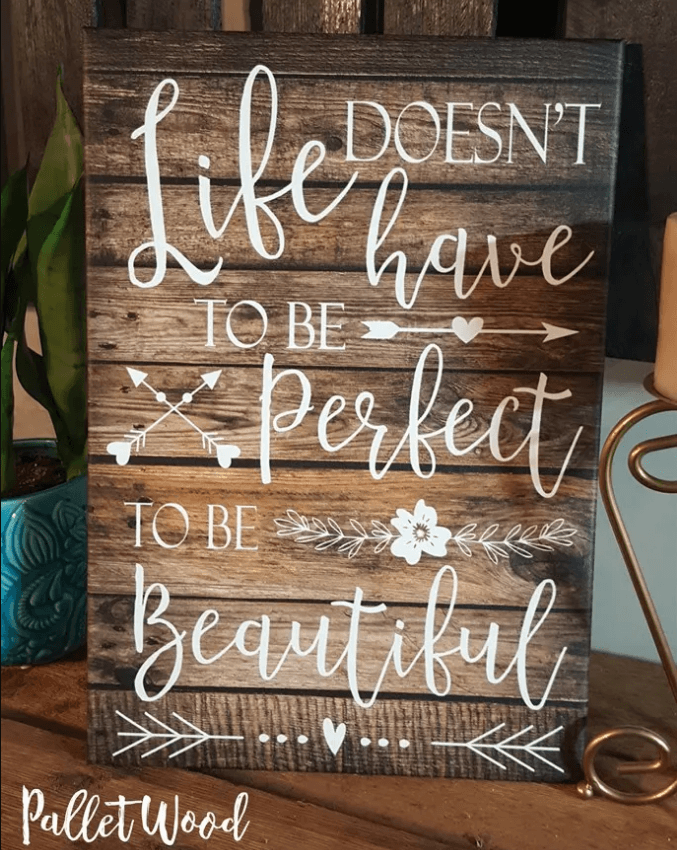 This piece looks gorgeous on well-treated and trimmed dark wood. The bright white multi-styled font pops perfectly, and each of the little embellishments is placed with precision. If you decide to craft this piece yourself, be sure to use a stencil and select a font that is bold enough to be easily read.
7. Pink Reclaimed Wood Hanging Heart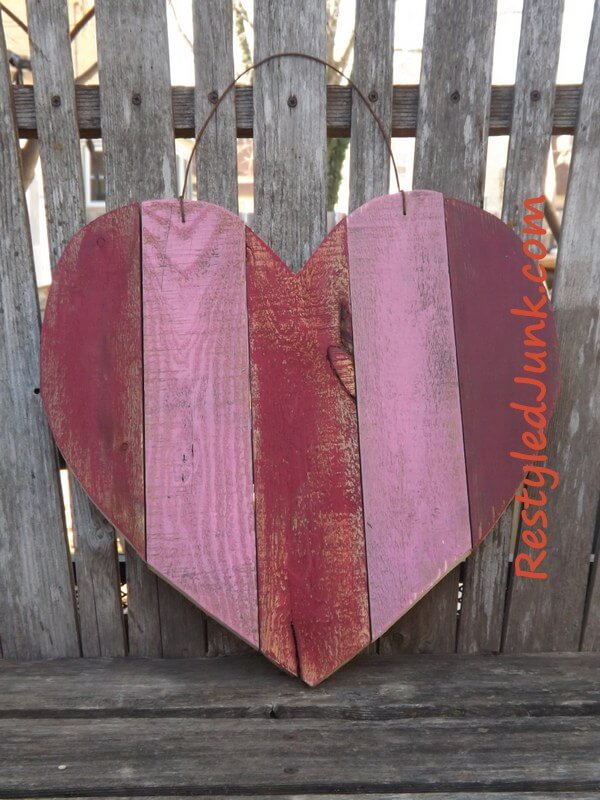 If you want something to hang out in the garden to remind you of all the love in your life, then this cute pink heart is a lovely choice. Have fun choosing complementary colors and painting each piece to your desired coverage. Feel free to leave spots; it adds to its shabby chic charm.
8. Playful Hanging Wall Directional Décor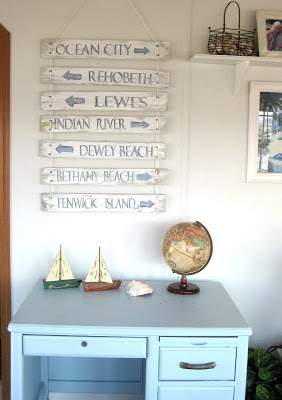 This piece is fun since there are so many customizable pieces. You can have your directions pointing towards your family's favorite places or, like this one, your favorite beaches. Use a white base with a soft blue for that classic seaside vibe. If you can't be at the beach itself, this adorable sign is second best to the real thing.
9. Friendly and Loving Bright Blue Reminder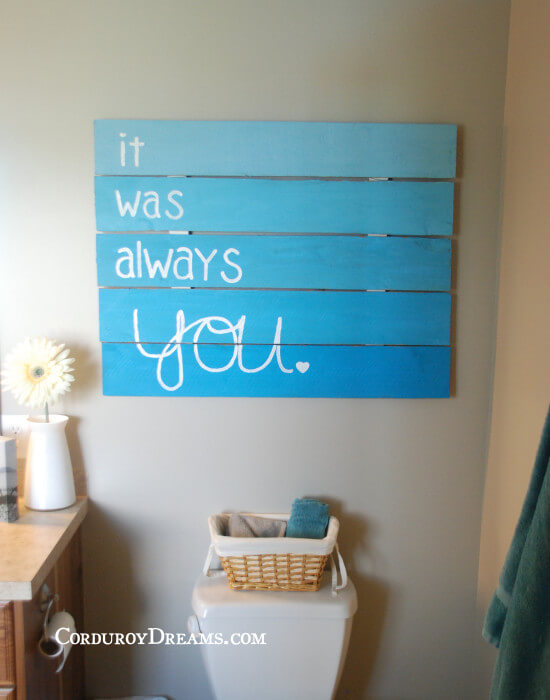 This piece uses the wood simply as a base and covers it completely so as to have less of the rustic look. The gentle ombre has tremendous impact, and the use of one word per board until the final "you" is dramatic, emphasizing what is most important. The use of blank space is also effective, matching the sign's succinct message.
10. Rustic Up-Cycled Mechanic Sign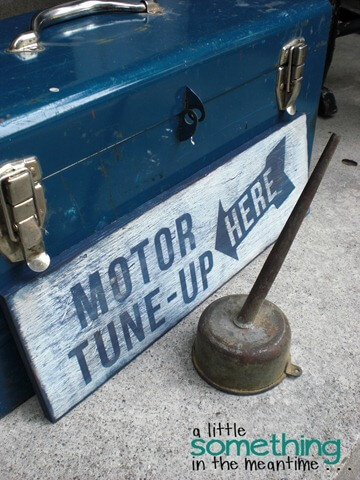 A classic mechanics sign is a fun addition to a garage or even kitchen when you are looking to introduce more of a playful theme. Even though the effect is fun, the sign itself is professional quality and uses a wonderful stencil to create an arrow and letters that feature the darker background color.
11. Fun Summertime Sunshine Wall Décor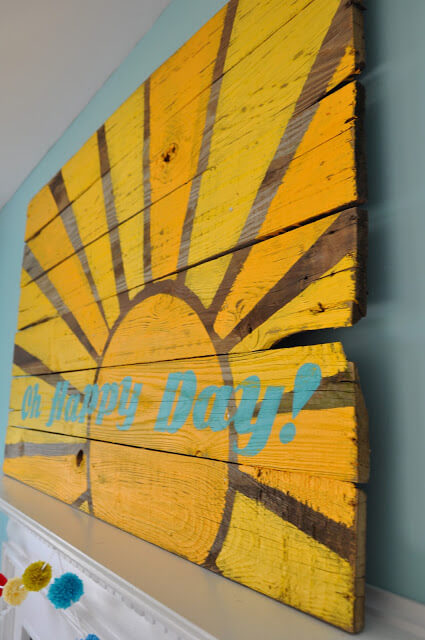 With a gorgeous beaming sun that is reminiscent of the '70s and a fun, bright, and cheerful font to match, this piece will have everyone smiling and longing for bright sunny days. The way this is painted on slightly imperfect boards adds to its retro charm. It's cheaper than a time machine, and a heck of a lot cuter.
12. Gorgeous and Loving Light Wood Sign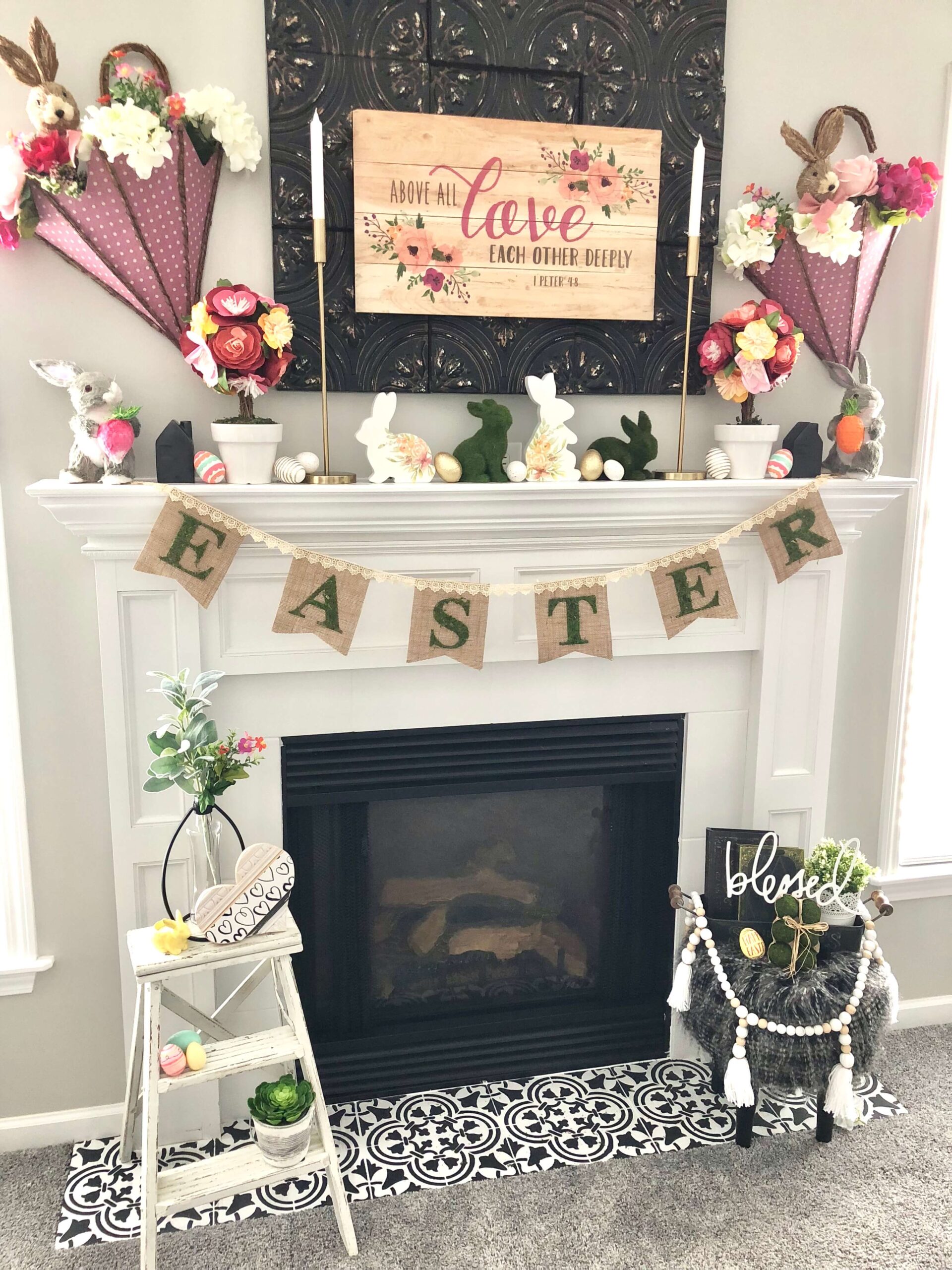 When creating decorative pieces using verses or quotes, it is good to consider the words first and then use them as inspiration for the rest of the design. This verse, which is about love, works well with the flowing font and blossoming flowers. In addition, the light bare wood adds a welcome sense of gentleness.
13. Faded and Painted Best Things Board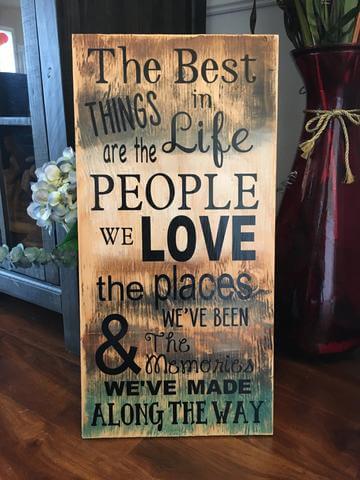 When you are making a sign with a lot of words, it is important to carefully consider the background. This one fades nicely from very light to dark and green, with an almost burnt look in some spots. Then, over the top in a variety of fonts is very clean and clear lettering to make for a fabulous fun look.
14. Farmhouse Family Dark Wood Décor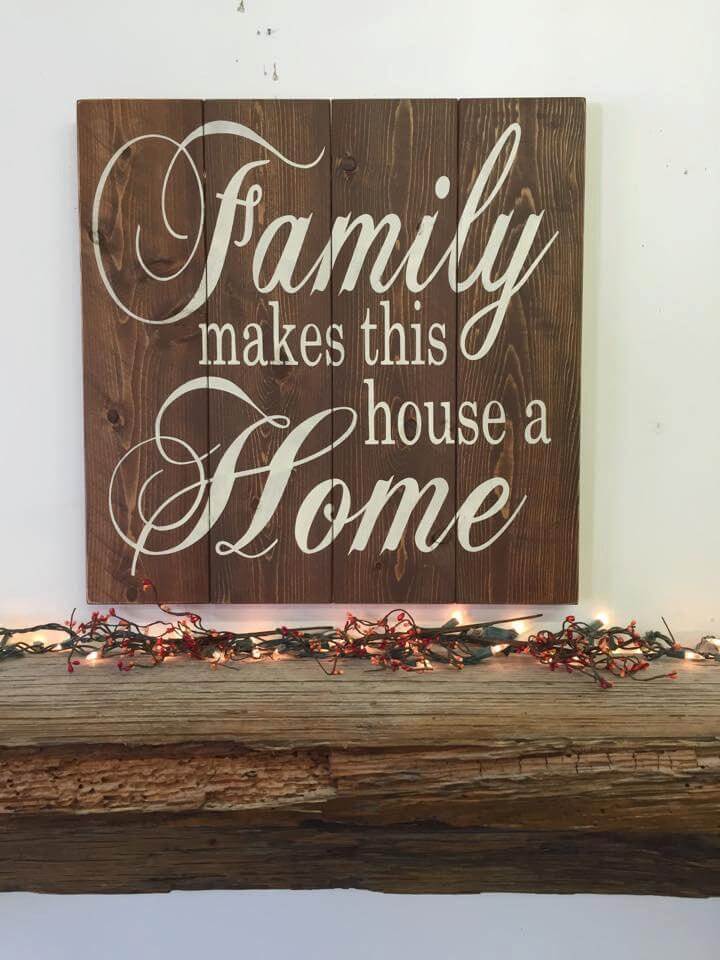 There is something very warm and welcoming about a natural timber sign and white cursive font. It produces feelings of home and heart, with a touch of rustic charm. This is a perfect piece for a bedroom, hall, or mantle, and with its clean edges and crisp font, it will look good year in, year out.
15. Fairytale-Inspired Humorous Sign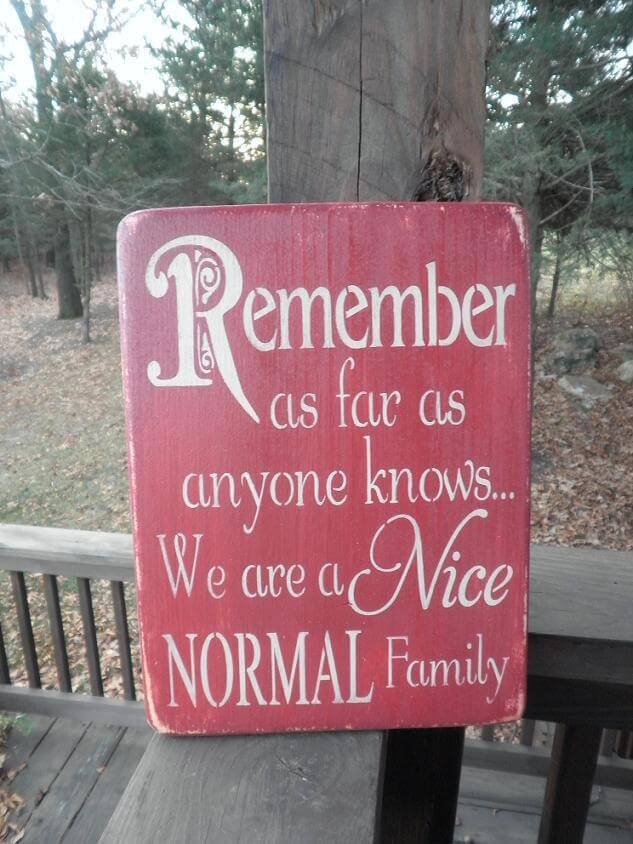 Finding a board large enough for a sign without having to nail things together can be tricky, but when you do, it is fun to get a little playful. This sign, with its deep red coloring and fancy flowing initial, looks like something out of Snow White but actually offers a funny inside joke for the family to share.
16. Boarded and Burlapped Sunshine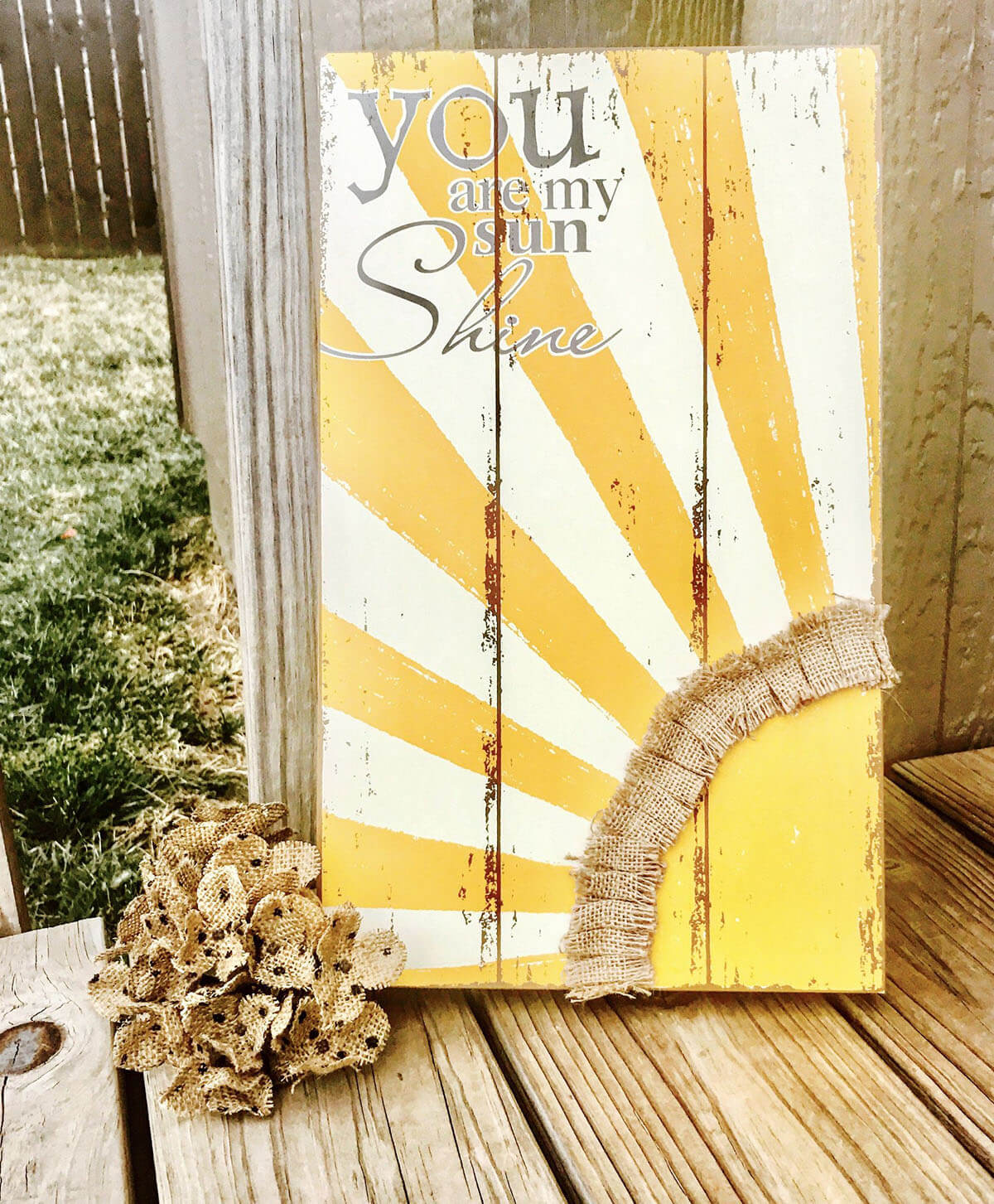 Great for indoors or outdoors, this lovely sign will remind you of your favorite people and how much they are loved. The paint offers small glimpses of the wood beneath while the burlap adds something entirely new to this piece. Altogether, it is a fun and creative use of textiles and design.
17. Anchors Away Weathered Sea Blue Board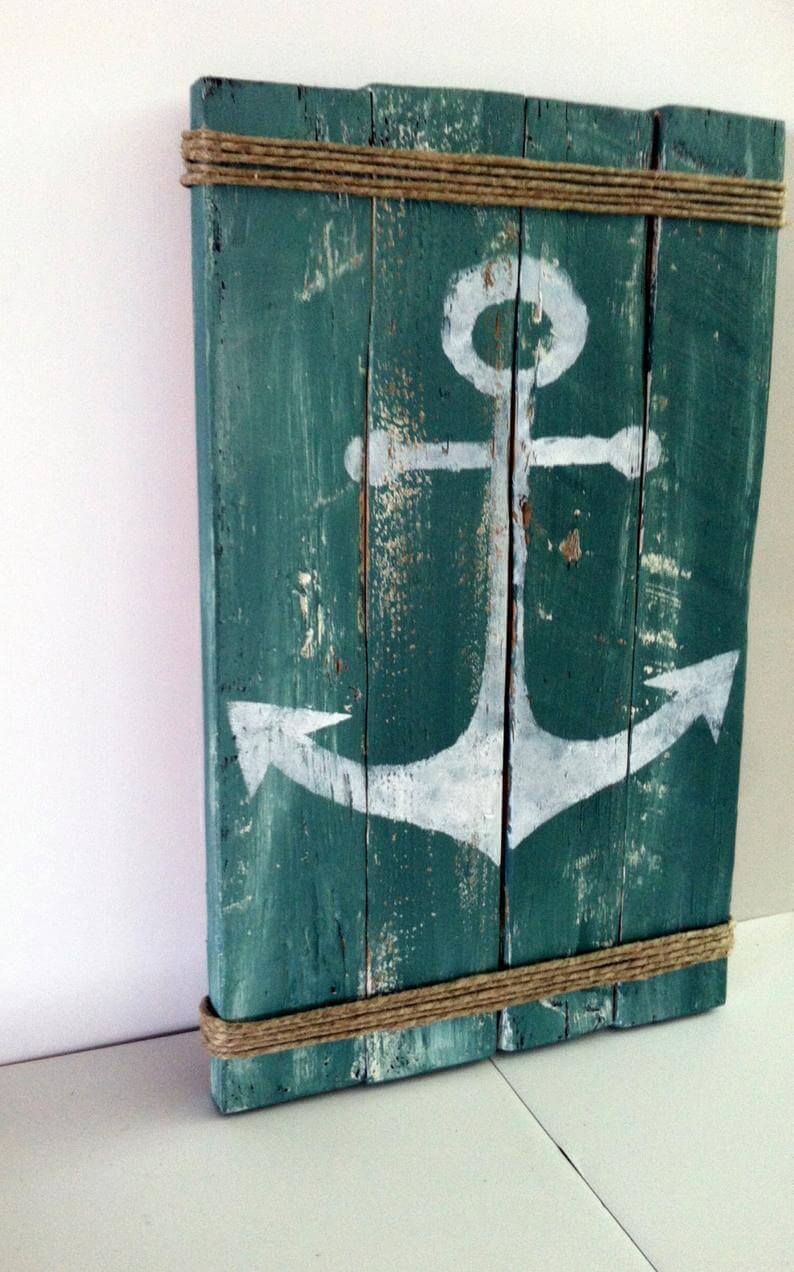 If you have any nautical décor in your home, this piece makes a splendid addition. It has all the elements you'd expect: an anchor, sea-beaten boards, and sturdy rope. These are the key ingredients of any good piece of sailor-inspired décor. The beautiful white against the marine-inspired blue green is the perfect color choice for this piece.
18. Artistic End Piece Collage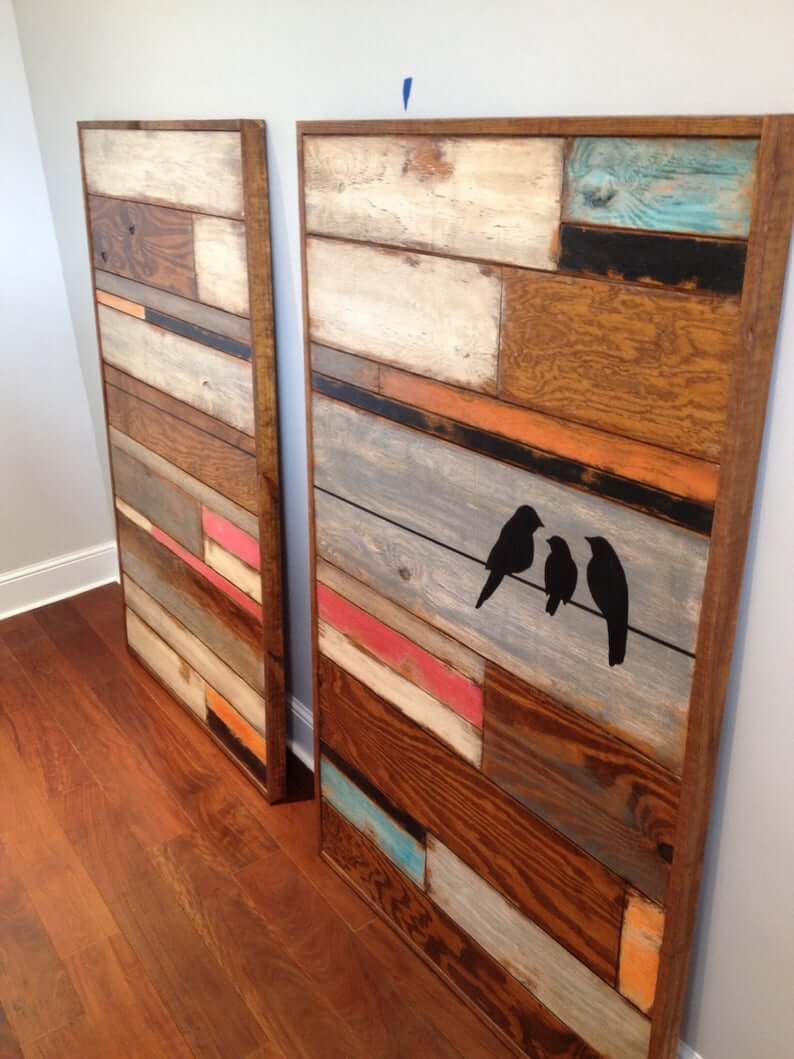 These side-by-side matching pieces offer a variety of looks, shapes, and sizes for a cool and artsy feel. Offering a patchwork of sorts is a great idea to begin with, but then painting each one a different shade adds even more to the beauty and fun of this piece. The finished edges and cute bird art are perfect finishing touches.
19. Surf's Up Paneled Turtle Art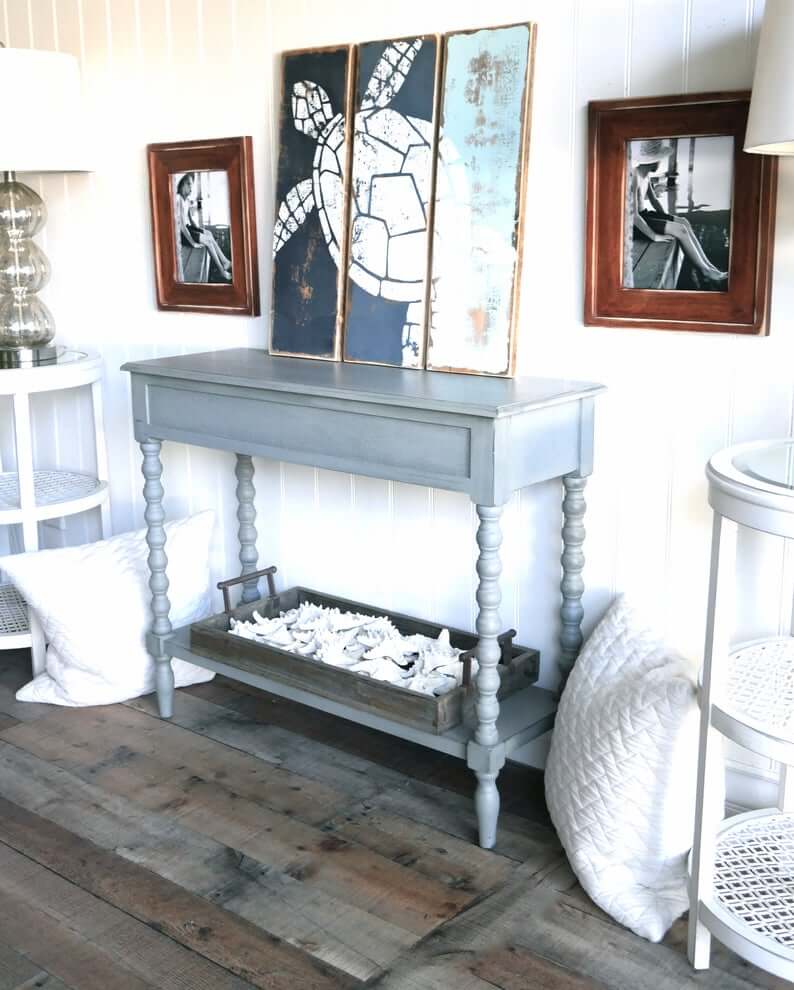 This lovely turtle is swimming free across three panels of varying colors and levels of distressing. Pick three shades of your favorite blue for this look and be sure to select a trusty stamp for your turtle art. Hang or lean these together as part of your cute and beachy décor.
20. Professionally Finished Sunshine Two by Four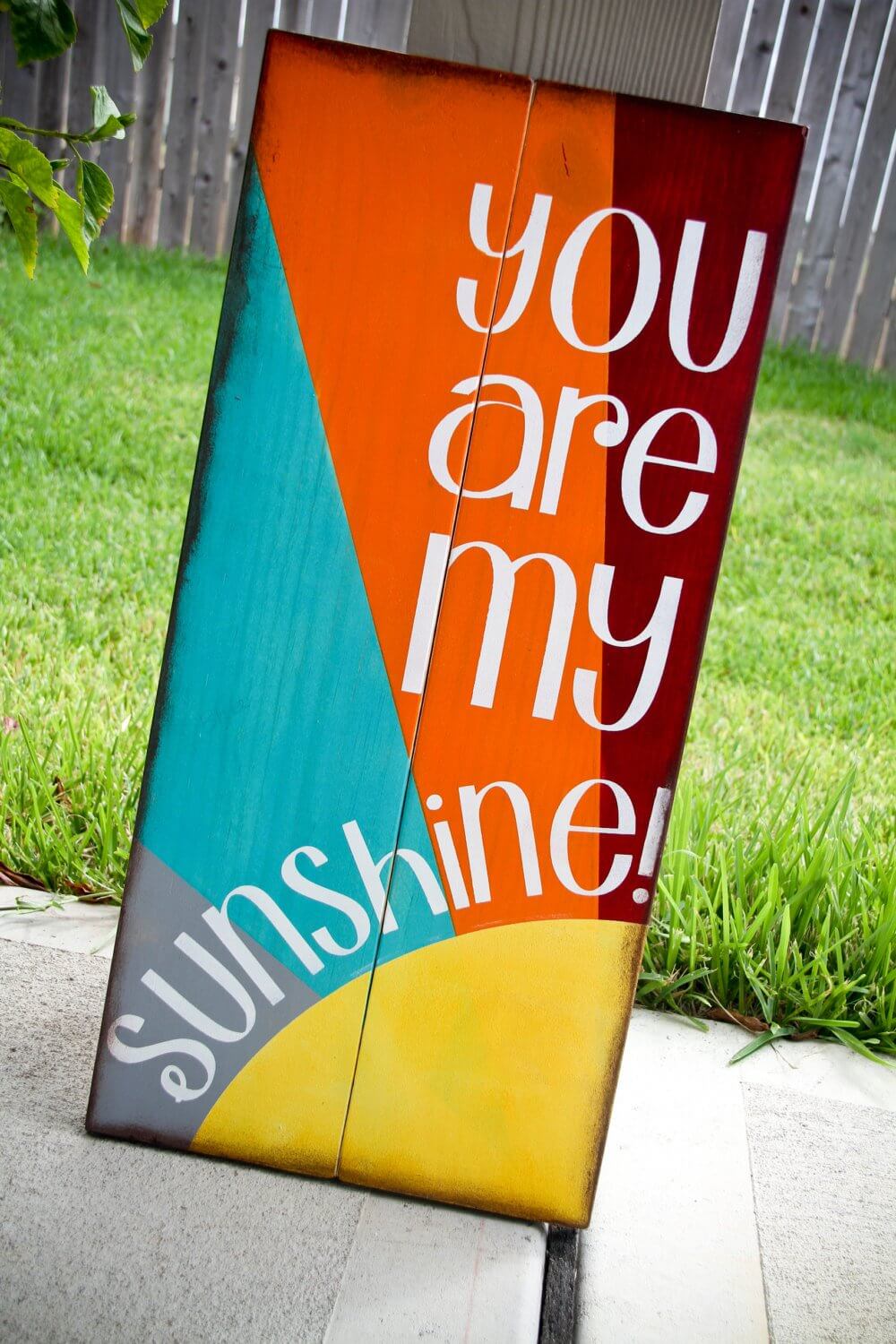 After many home projects, you may have extra boards laying around, and your thrifty DIY spirit says its best not to waste them. Still, sometimes you want to create something that doesn't look as rustic as you might expect from painted reclaimed wood. This piece is a great example of taking bare boards and creating something bold, colorful, and polished.
21. Farmhouse-Themed Breezy Dandelion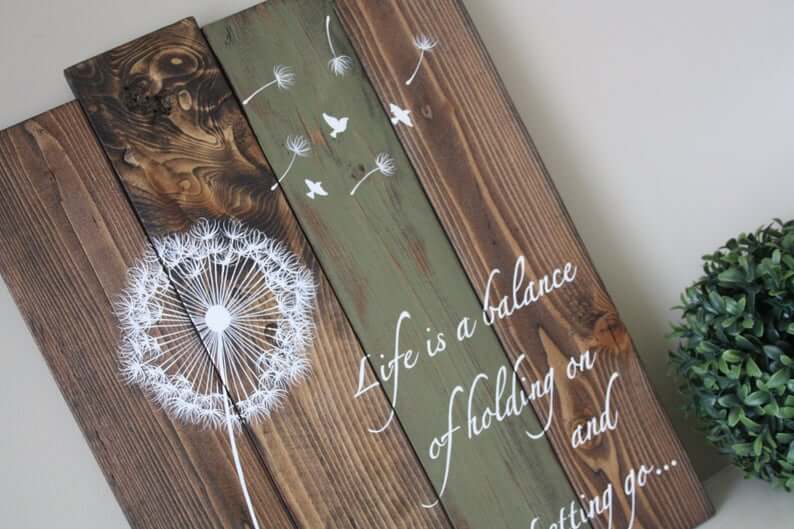 Dandelions remind us all of childhood wishes and long summer days. This piece has a rustic farmhouse feel with beautiful boards set at varying heights and an exquisitely crafted dandelion. The quote goes perfectly with the idea of letting things float away on the breeze like the seeds of the flower riding off on the wind.
22. Playful and Simple Shenanigans Sign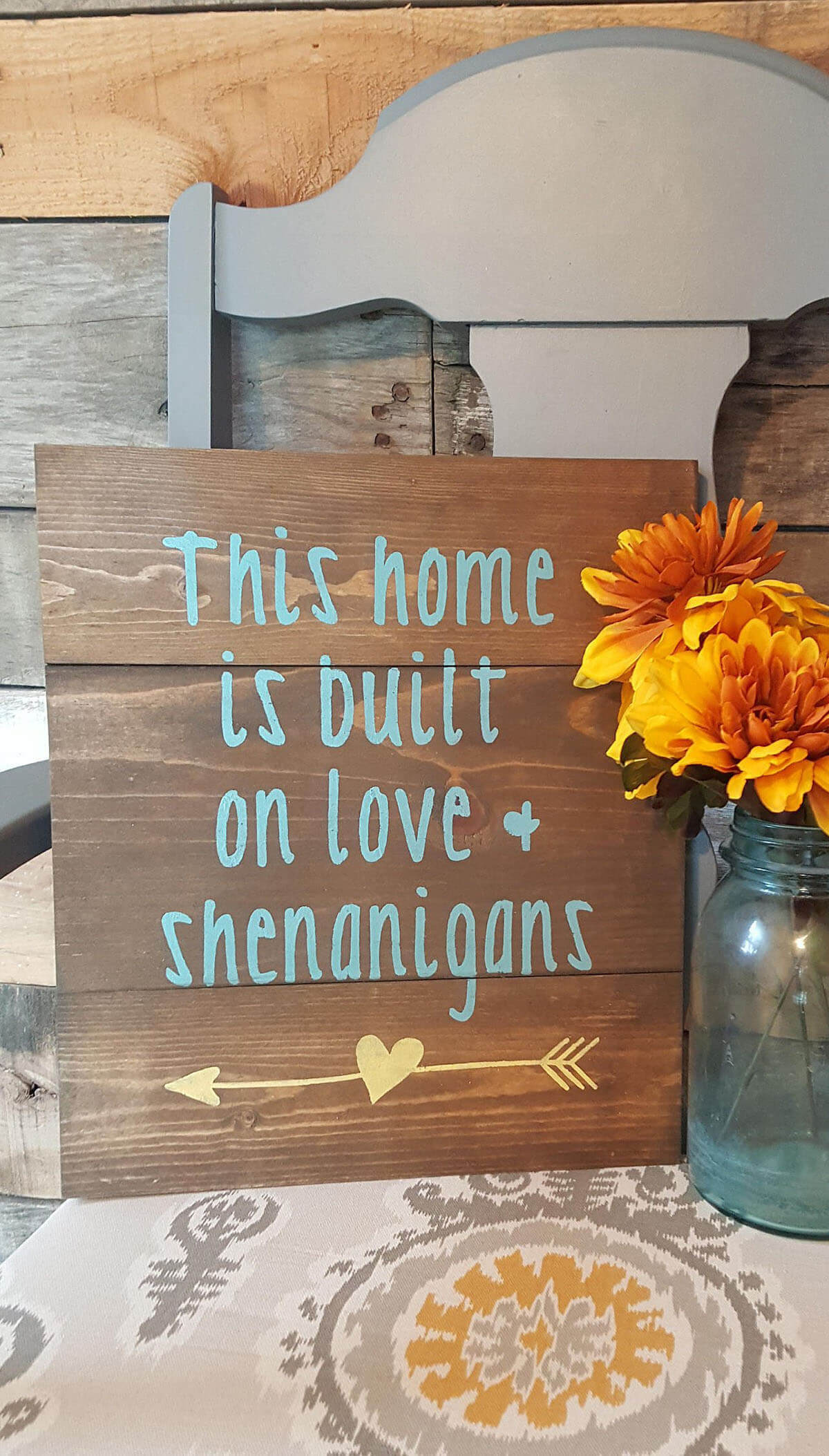 Sometimes keeping it simple is the best way to go. This decorative sign can be created quickly with a few pieces of wood, a stencil, and your favorite paint. Pick a quote that represents your family and be sure to add a little decorative flair for a fun and playful touch.
23. Poolside Paint and Rope Shell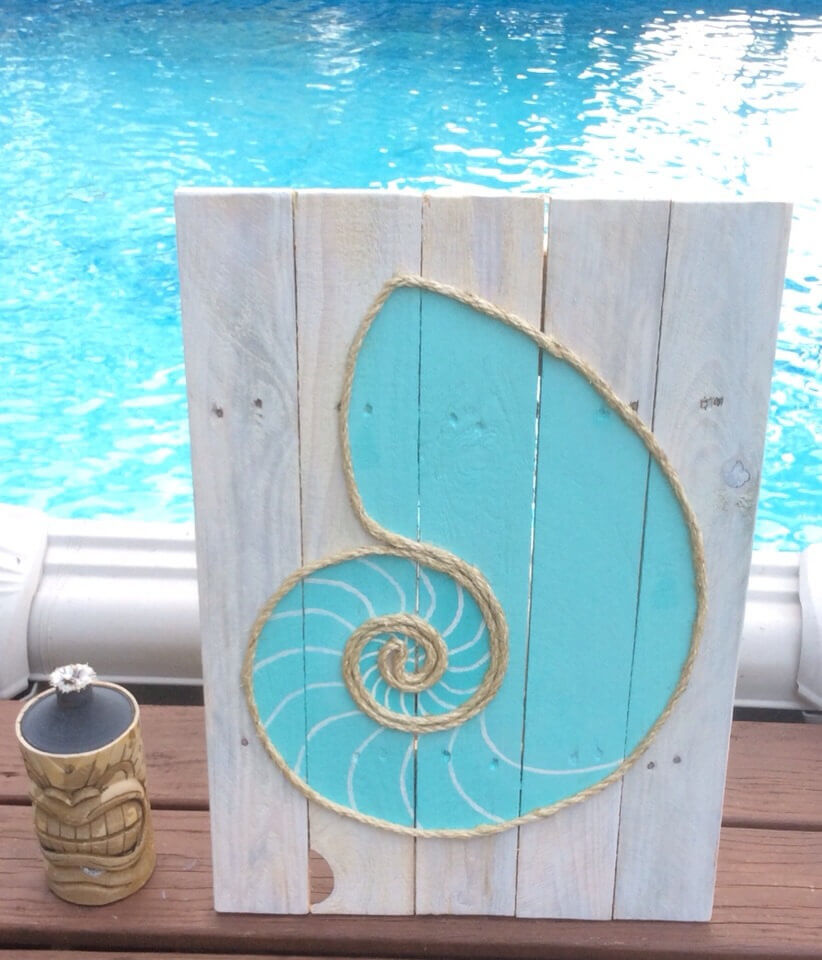 Decorating for a home at the beach or one with a pool often centers around the aquatic. This sublime seashell is a superb addition for just such a home. With simple boards resembling fencing when pieced together, you can craft your own swirling shell. Adding rope to accent the edges adds some seaside charm.
24. Better at the Beach Boards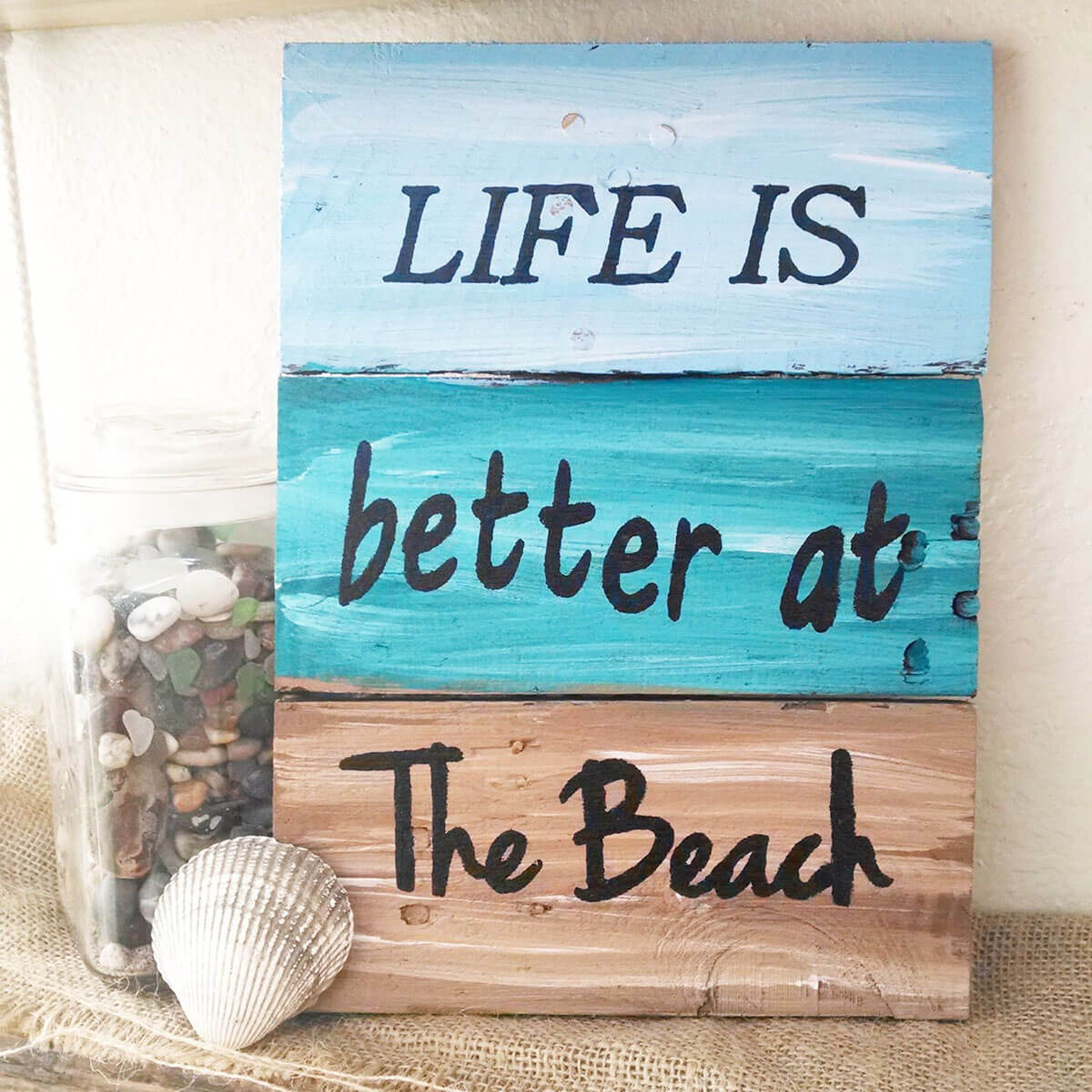 This sign, while appearing simple, offers many cool touches that add a lot of character. First, each board represents a different element of the beach: sea, water, and sand. Second, if you look closely at the font, it softens as it moves down the work, ending with a flowy font to represent the relaxation you find at the beach.
25. Seaside Seagulls Wooden Art Piece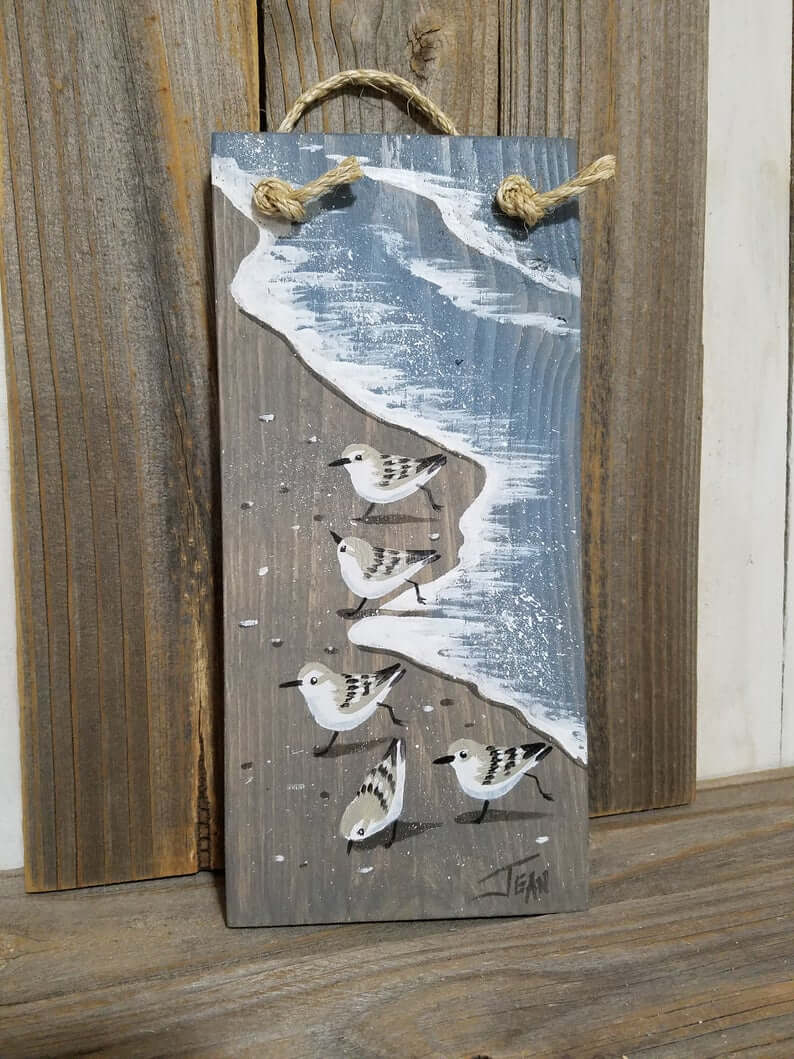 If you are artistically inclined, you should try tossing aside your canvas and creating a piece on wood. The artist of this piece does not shy away from the natural colors and grain of the wood, instead turning it into the sand. When attempting a piece like this, be sure to get in some good practice before finalizing it.
26. Beautiful Burlap Bow Believe Sign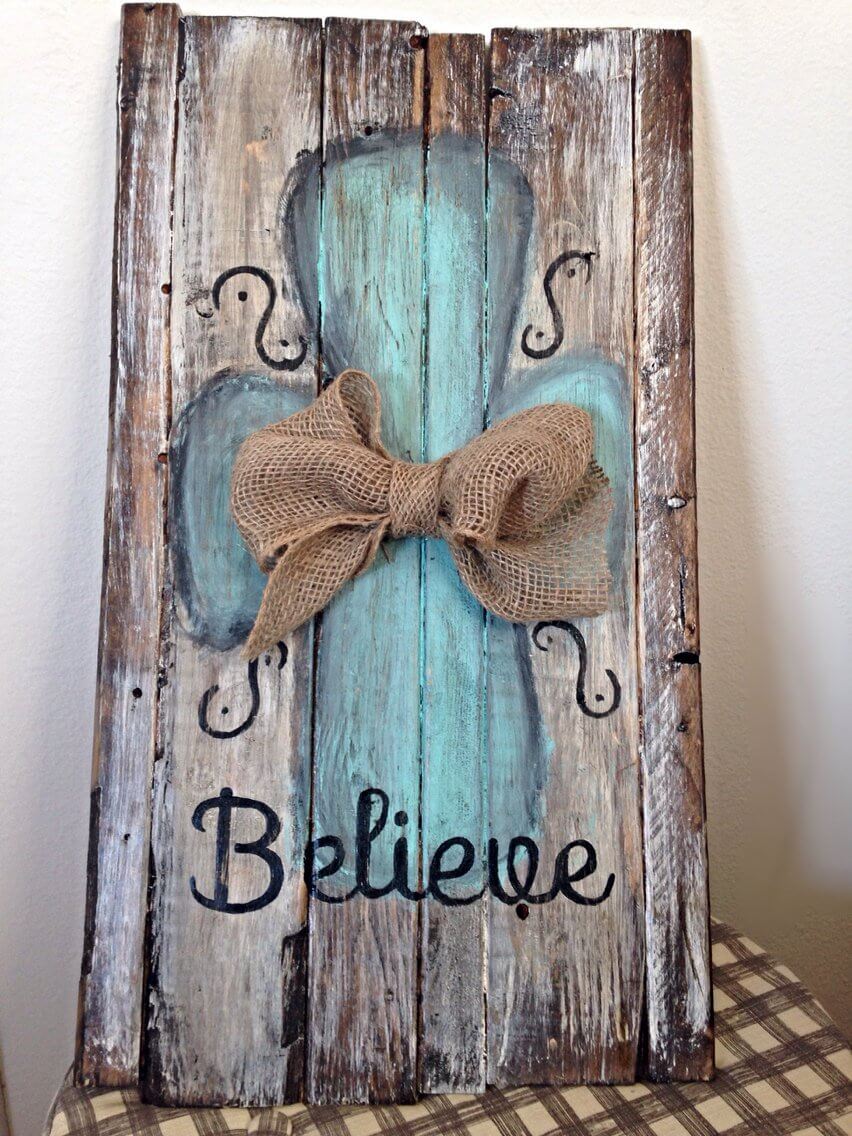 Expressing one's faith through home décor is a popular trend and can be done creatively. This sign incorporates religious elements and symbols with farmhouse rustic chic for a look that fits your beliefs and your home's decorative aesthetic. The addition of burlap adds a charm all its own, and the weathered and distressed wood gives this sign a well-loved feel.
27. How Great Thou "Art"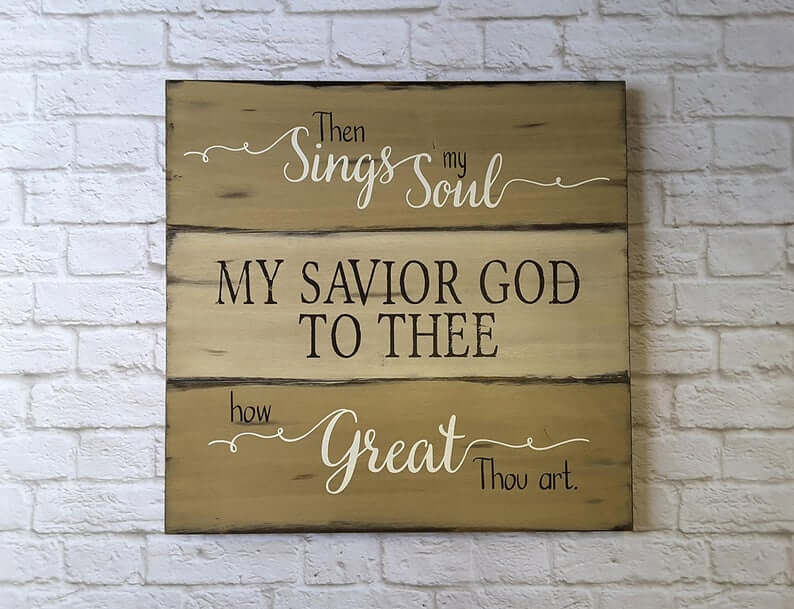 A great blend of rustic and polished, this piece blends the two perfectly. The paint offers a homey and handmade feel with uneven coating and lines, but the clean edges and the perfect font give it a classic and chic vibe. Choose your favorite hymn to display for all to see.
28. Positive Mandala Wall Art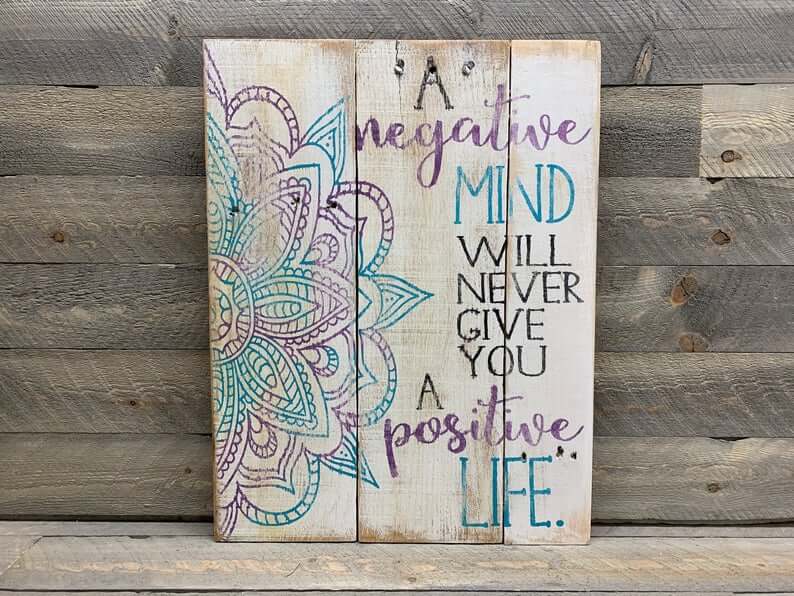 This sign is rustic chic meets hippy. With an uplifting quote and some super cool art, this is a great home addition. Mandalas are fun to create and can express many things. This one, with its layered leaves and multiple colors, marries perfectly with the quote for a cool, positive, and relaxed feel.
29. Dark Wood and White Text Sign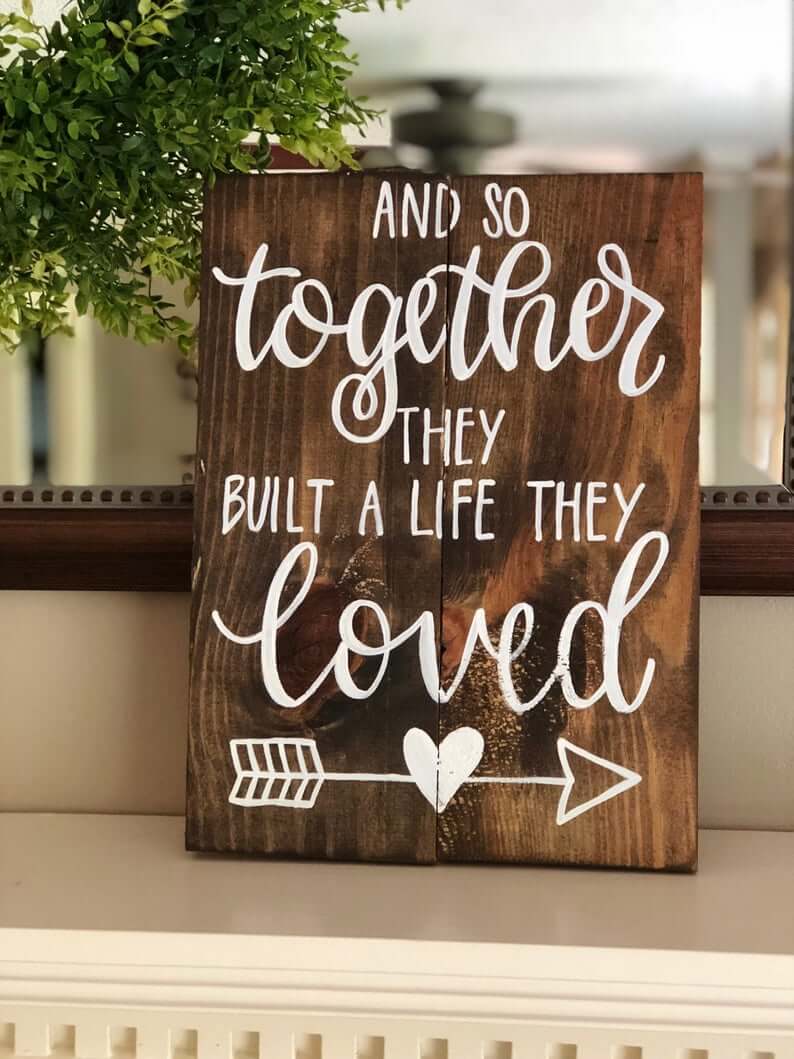 Great for a wedding or anniversary gift, this sign can be cherished in any home. The choice of dark wood pairs well with the bold and bright white paint used for the text. If you want to create wood of a specific color but can't find what you are looking for, don't be afraid to stain it.
30. Solid, Simple, and Bold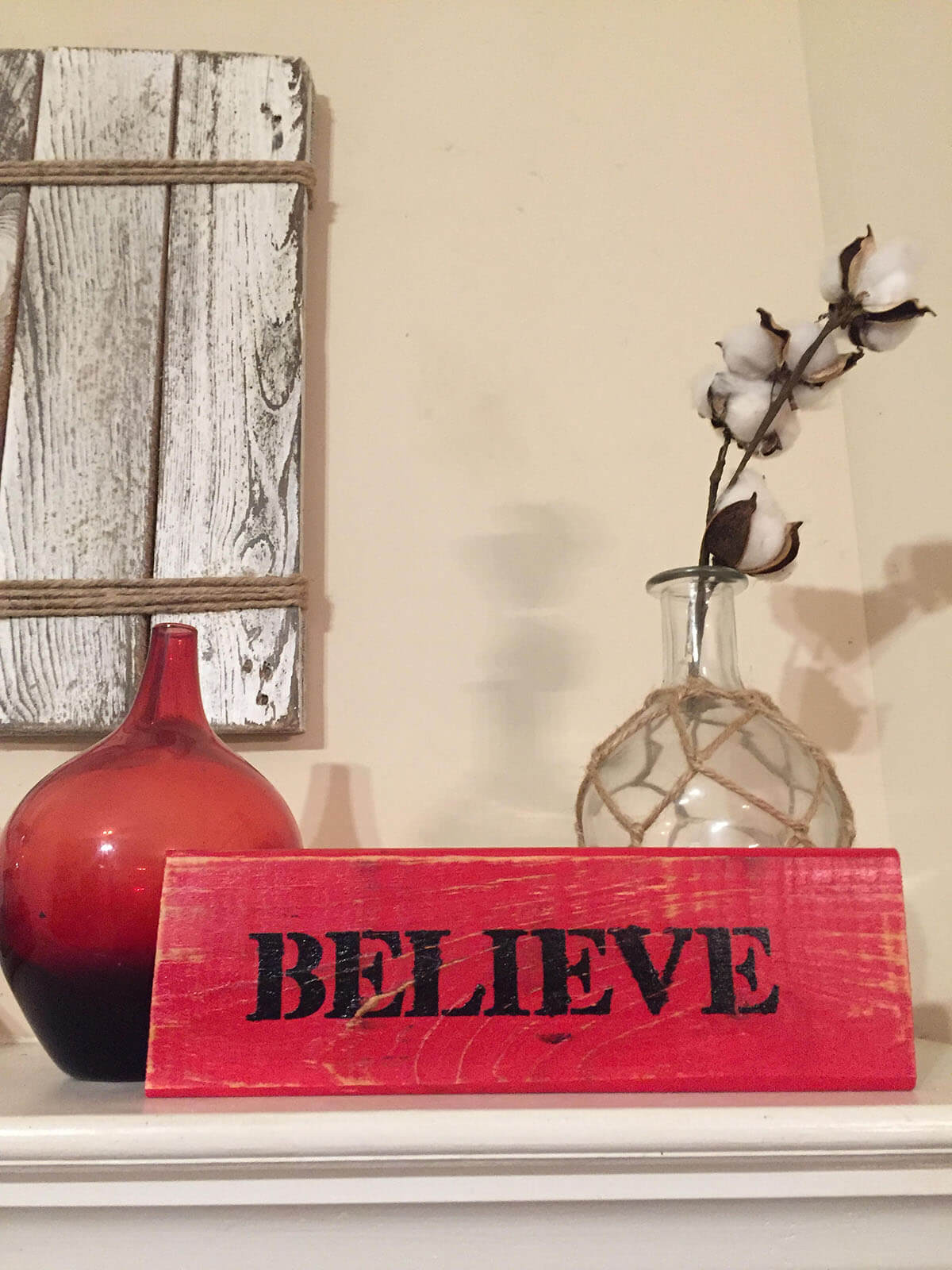 If you are looking to create something quick but cool, then you should try a piece like this. Since it consists of just one board, you don't have to worry about connecting multiple pieces; you just need to focus on what colors to use and what message to say. One word with a bold font makes a big statement, like the piece shown.
31. Modern Watercolor Floral Design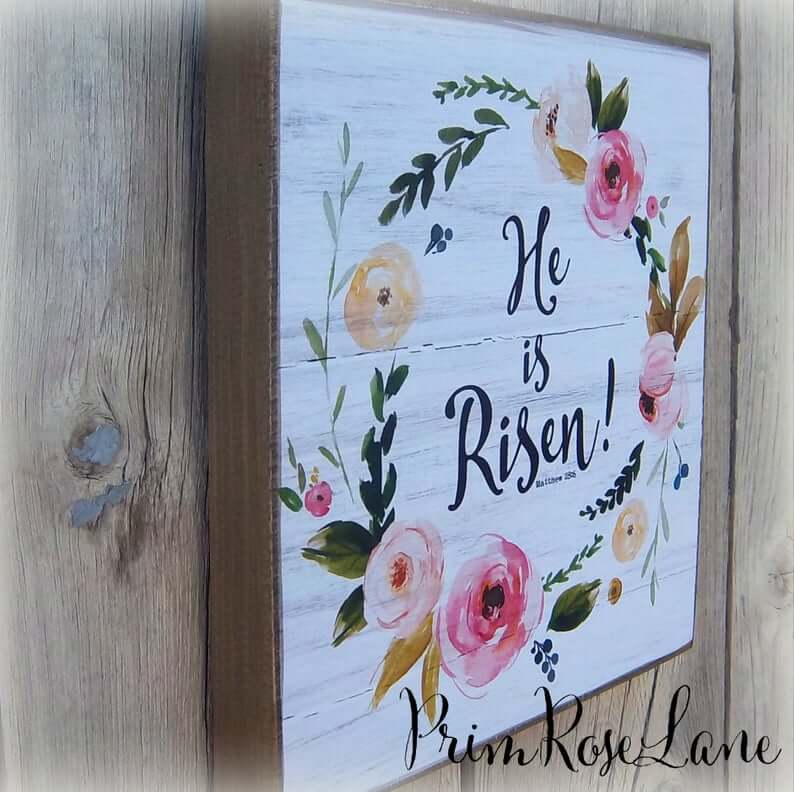 One of the best ways to add femininity and softness to a piece of painted reclaimed wood is with delicate and thoughtfully crafted watercolor flowers. This piece displays a Bible verse inside a wreath of gorgeous flowers for a look that is rustic yet perfectly lovely as well. Choose a flowy font to complement the delicate florals.
32. Take it to the Beach Sign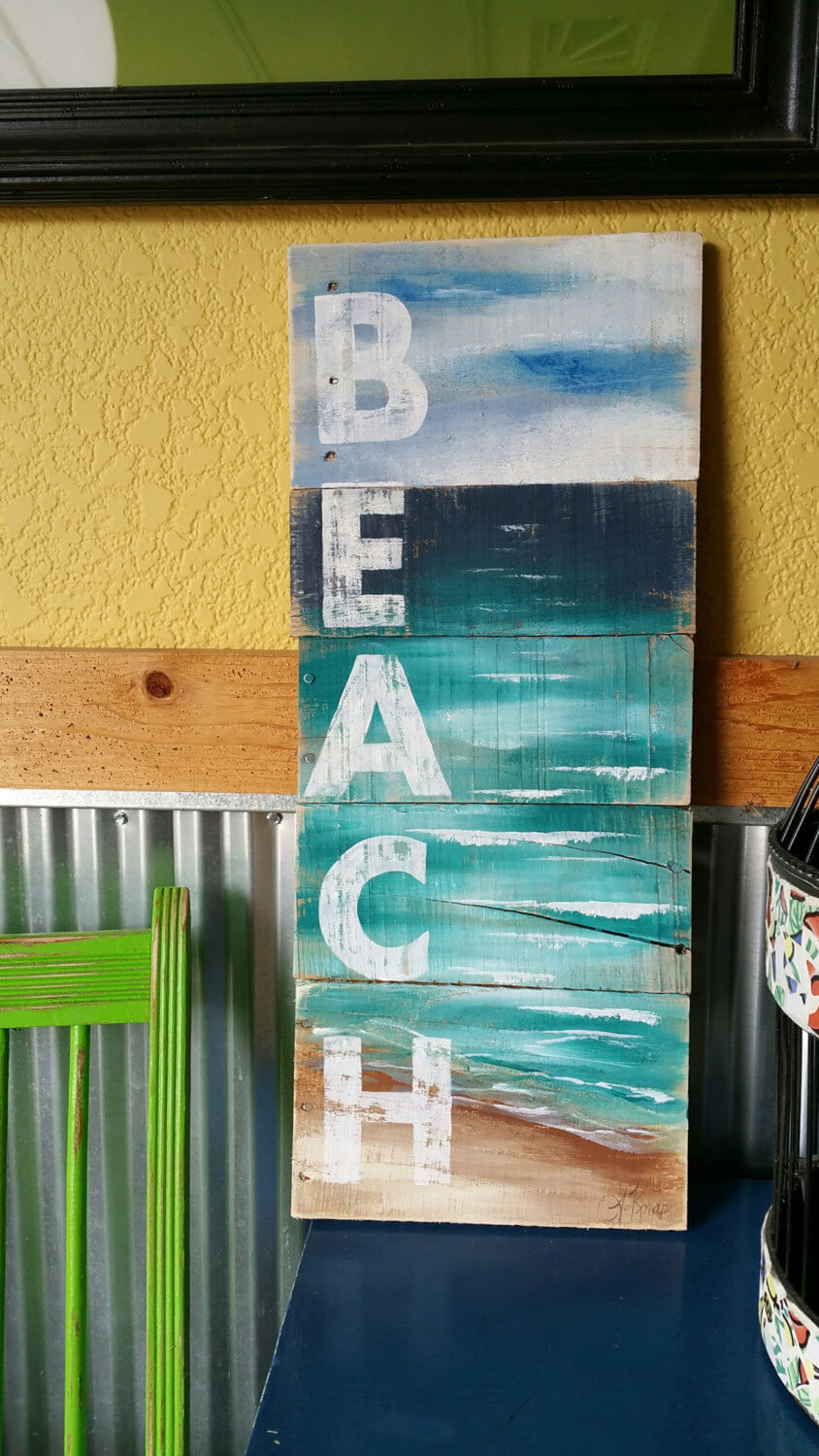 This cool piece fades easily from the sky to the sand and features three panels dedicated to the gorgeous ocean waters. This wooden wall art is great for anyone who is lucky enough to live at the seaside – or for anyone who dreams about it. There is a freshness in the colors that reminds one of crisp ocean air.
33. Meditative and Humorous Quote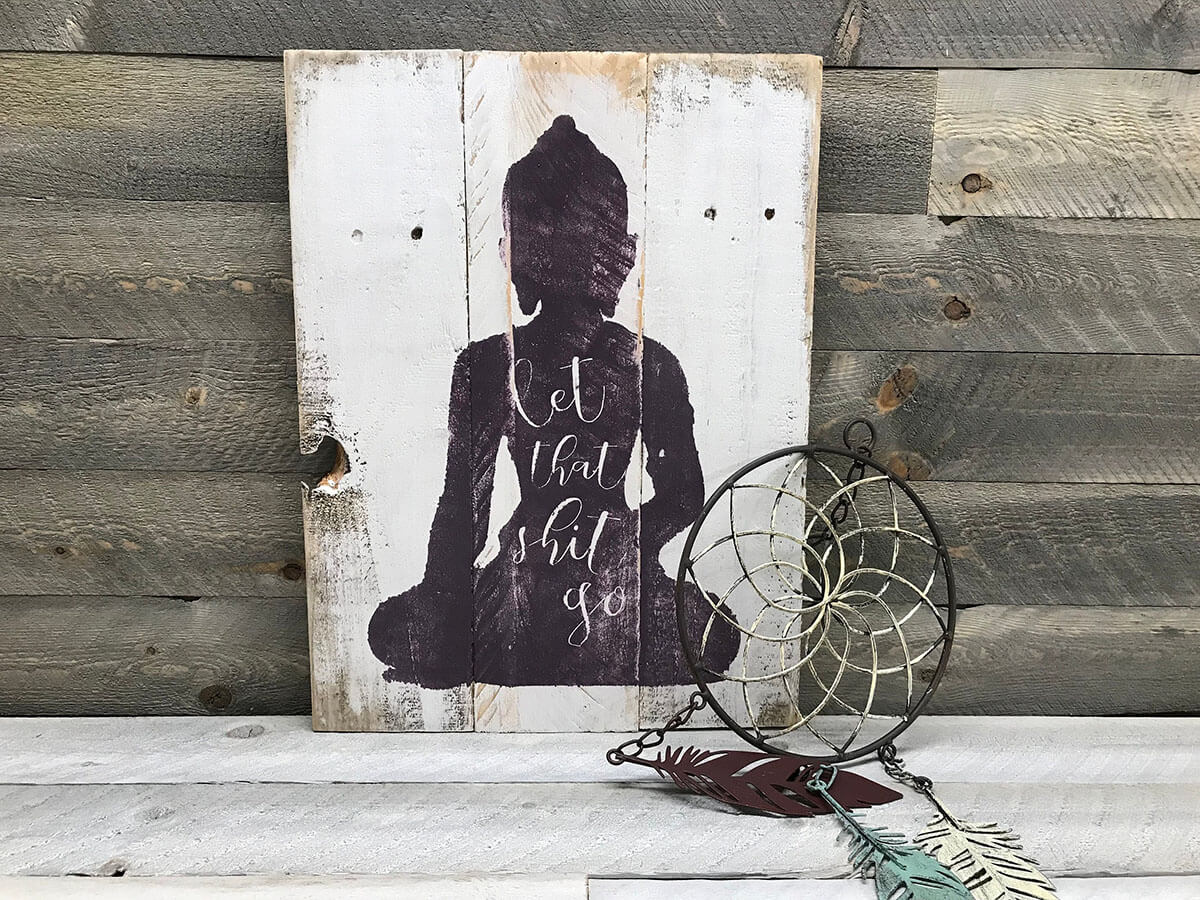 Combining the serious with the light can make for fun art. This piece combines a meditative image with a somewhat humorous quote for a combo that looks great on painted wood and is sure to make people feel good when they see it. The use of darks and lights on this piece also adds to the contrast of elements.
34. Floral Explosion, Springtime Welcome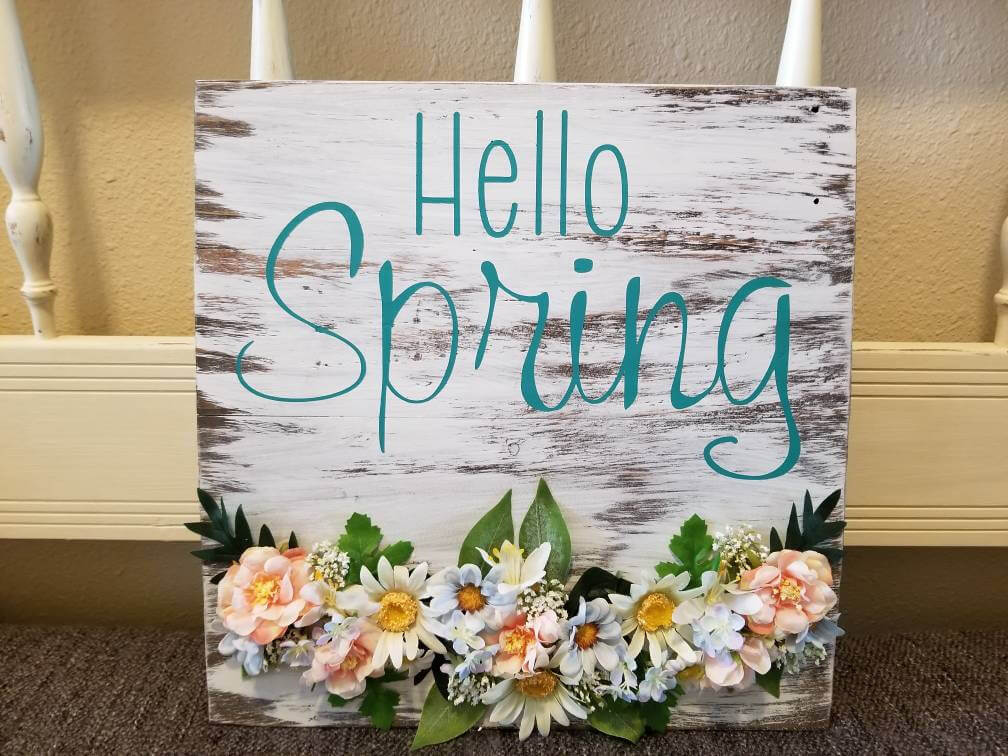 Everyone loves spring, so why not welcome it in with this beautiful mixed medium sign? Looking like it is straight from the garden, this sign can be incorporated into your favorite springtime silk blossoms with an upcycled board to create this fun seasonal piece. Be sure to choose a bright and playful color and font for this vibrant hello spring sign.
35. Utterly Adorable Camper Love Sign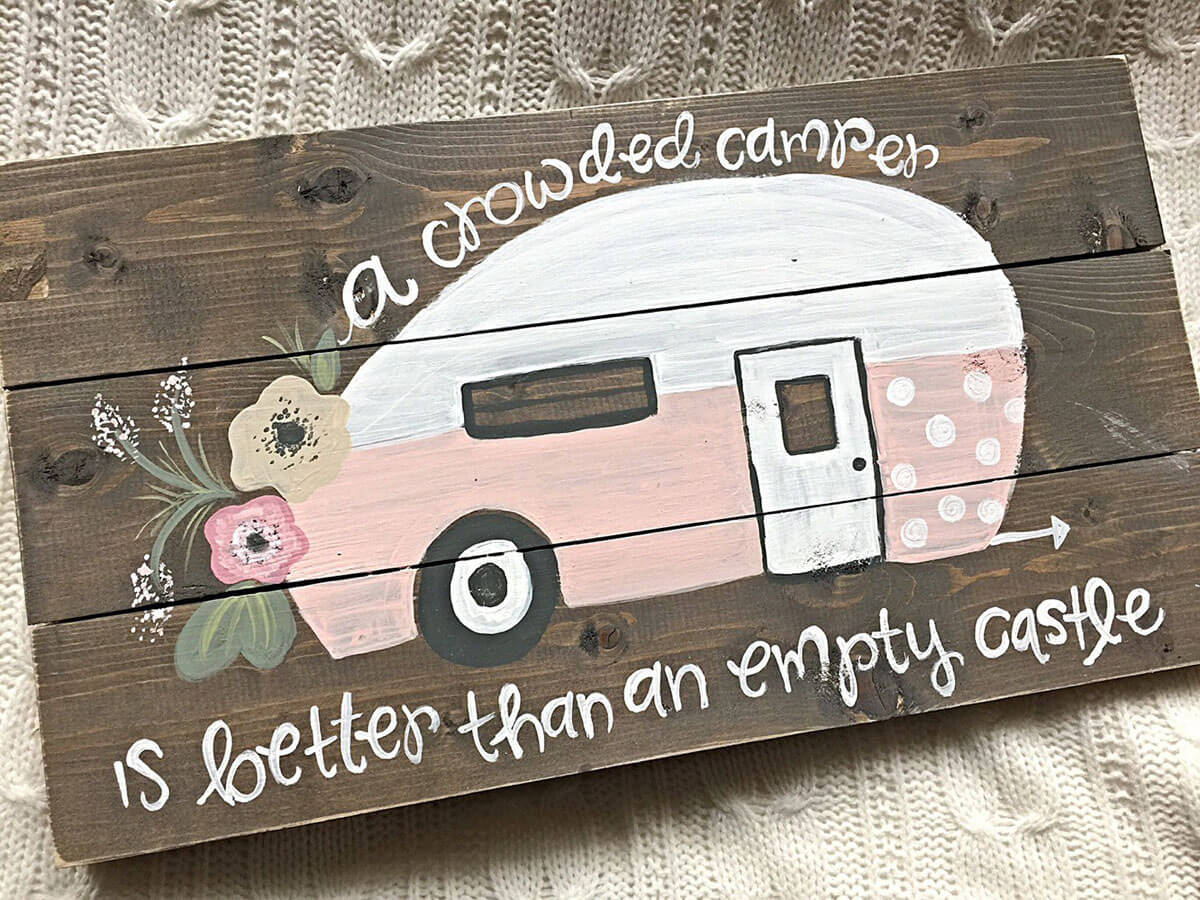 Enjoying being with the ones you love is the essence of this sign. It reminds everyone that even small and simple with good friends is better than big and grand alone. In a similar vein, this hand painted sign is sweet and humble, though it does offer personal insight and touches for a piece that is homey and special.
36. Harvest and Garden Welcome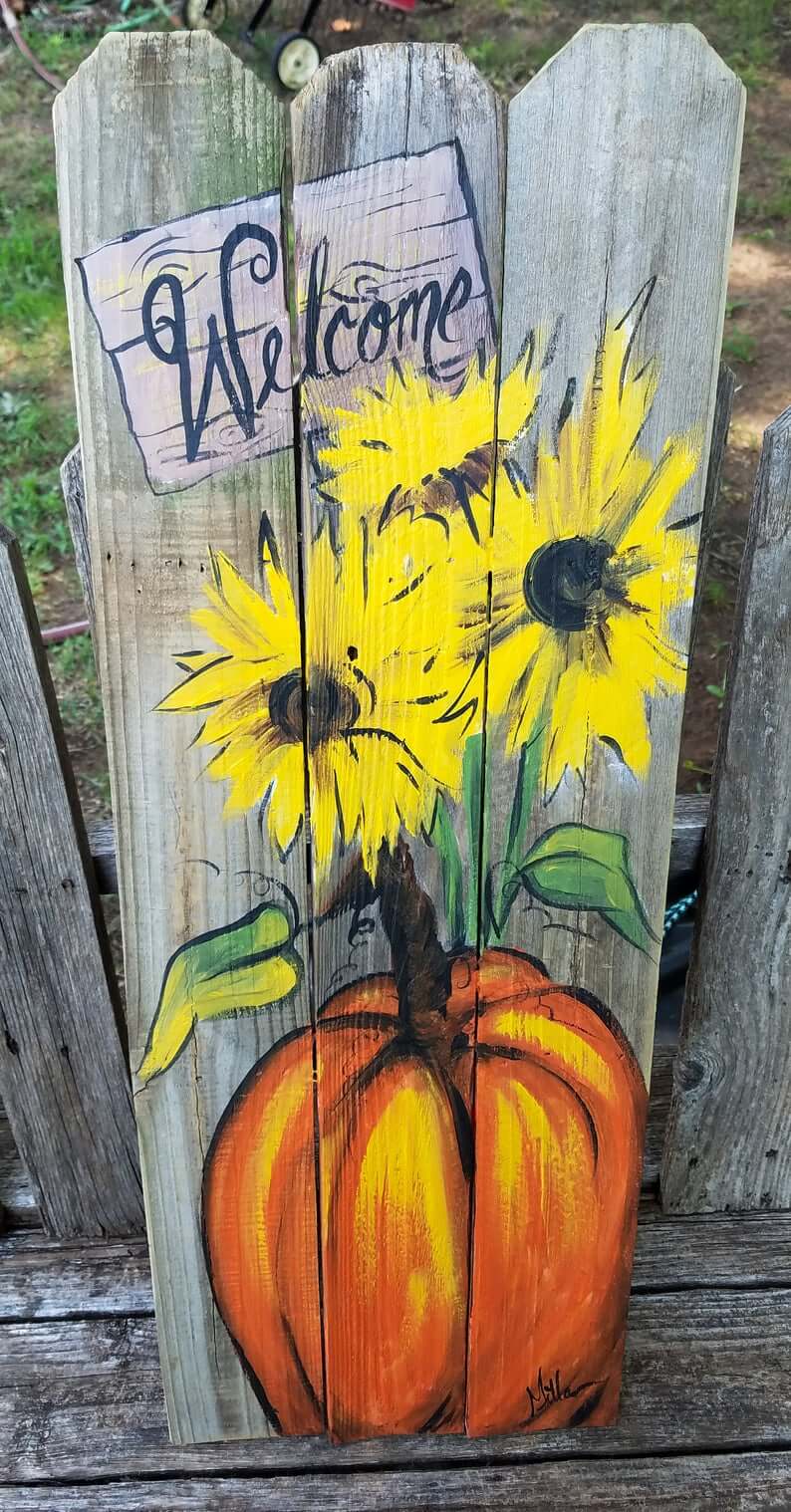 This sign, made from three fence posts, is perfect as a welcome to a pumpkin patch or home garden. This example is painted with fall harvest favorites – pumpkins and sunflowers – but you could always personalize it to your own favorite season or even create a rotating board for each one.
Choose Rustic Wall Decor Ideas to Make Your Home Warm and Inviting