Pallets and reclaimed wood are the perfect solution to all of your decorating needs. They are easy to find, versatile, and sturdy. With a clean set of materials, the world is your canvas – or in this case, your porch.
13 Stylish Pallet and Reclaimed Wood Porch Decoration Ideas to Freshen up your Exterior

Your porch is your chance to make a warm first impression on your guests. A simple sign welcoming them to your home can make such a difference in how they feel approaching your front door. That first impression is why you might consider adding a bit of flair and fashion to your porch. Why greet guests with a bland, cookie-cutter façade when you can start the party at the porch?
Using these 13 inspiring pallet and reclaimed wood designs, decide what look is right for you and go for it. Whether you want to capture the feeling of a certain season or create a more timeless sign that will last all year long, there are options for everyone here.
Although wood often exude a rustic farmhouse feel, these designs work with all types of home décor and can be easily added whether your style is retro, rustic, or contemporary. There is never a reason to shy away from this amazing material. The options are endless!
1. Thankful Autumnal Wreath and Sign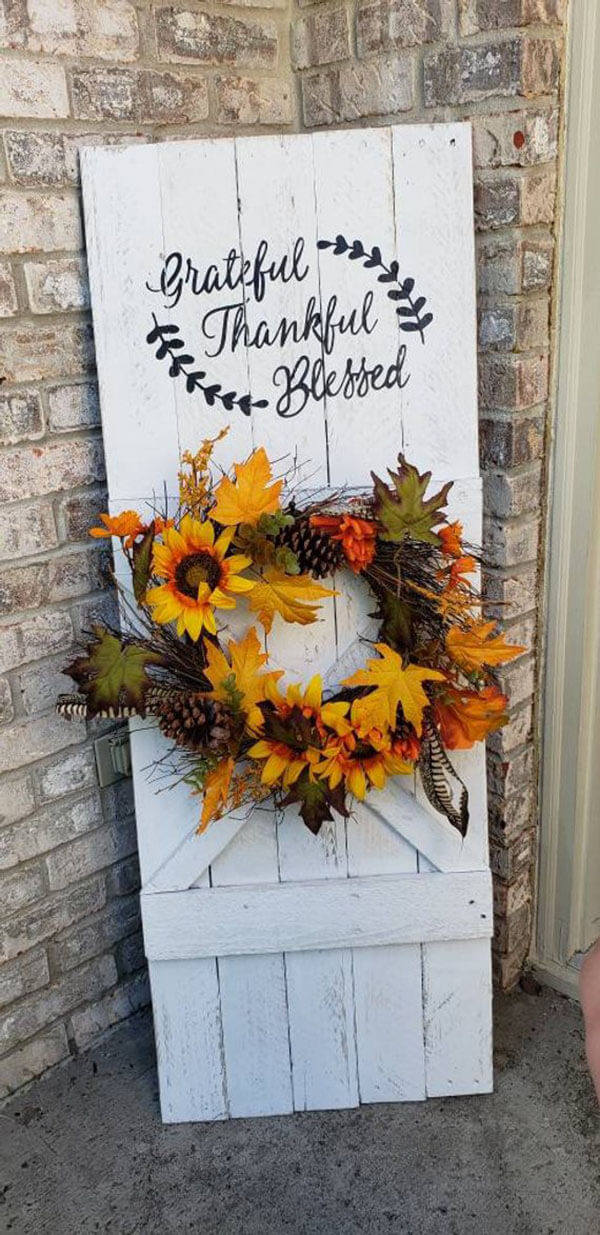 One terrific use of reclaimed wood is to frame them as a backdrop for other lovely décor. This large white painted sign plays the perfect host to this gorgeous fall-colored wreath, and it even includes a sweet reminder penned at the top. Add this to your home during harvest to be reminded to count your blessings.
2. Professional and Polished Wooden Sign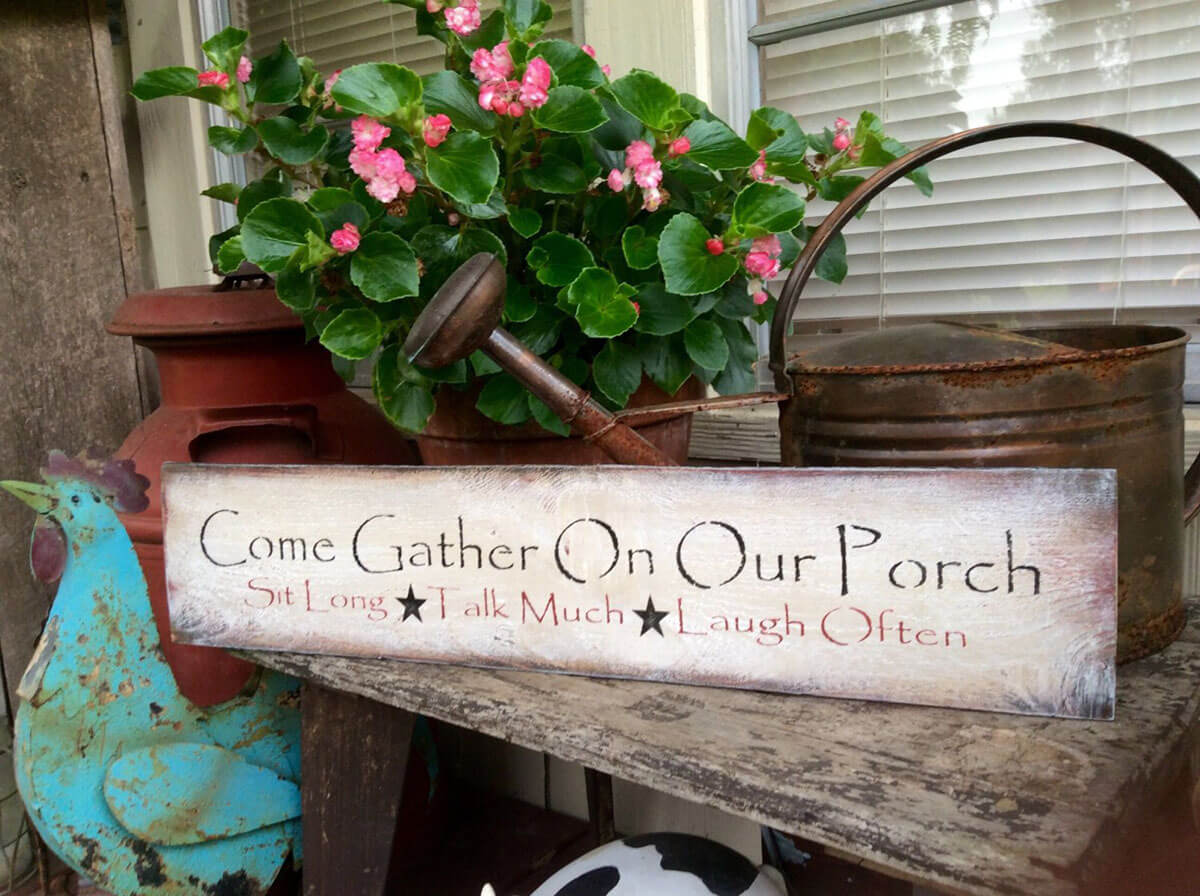 Sometimes, when a single piece of wood is treated just right, you can hardly tell where it came from. This beautifully designed and perfectly painted single sign is very professional in appearance. It also conveys a sweet sentiment: you are invited, you are welcome, and you are loved. This sign is a great way to greet any guest.
3. Three Cheers for the Red, White, and Blue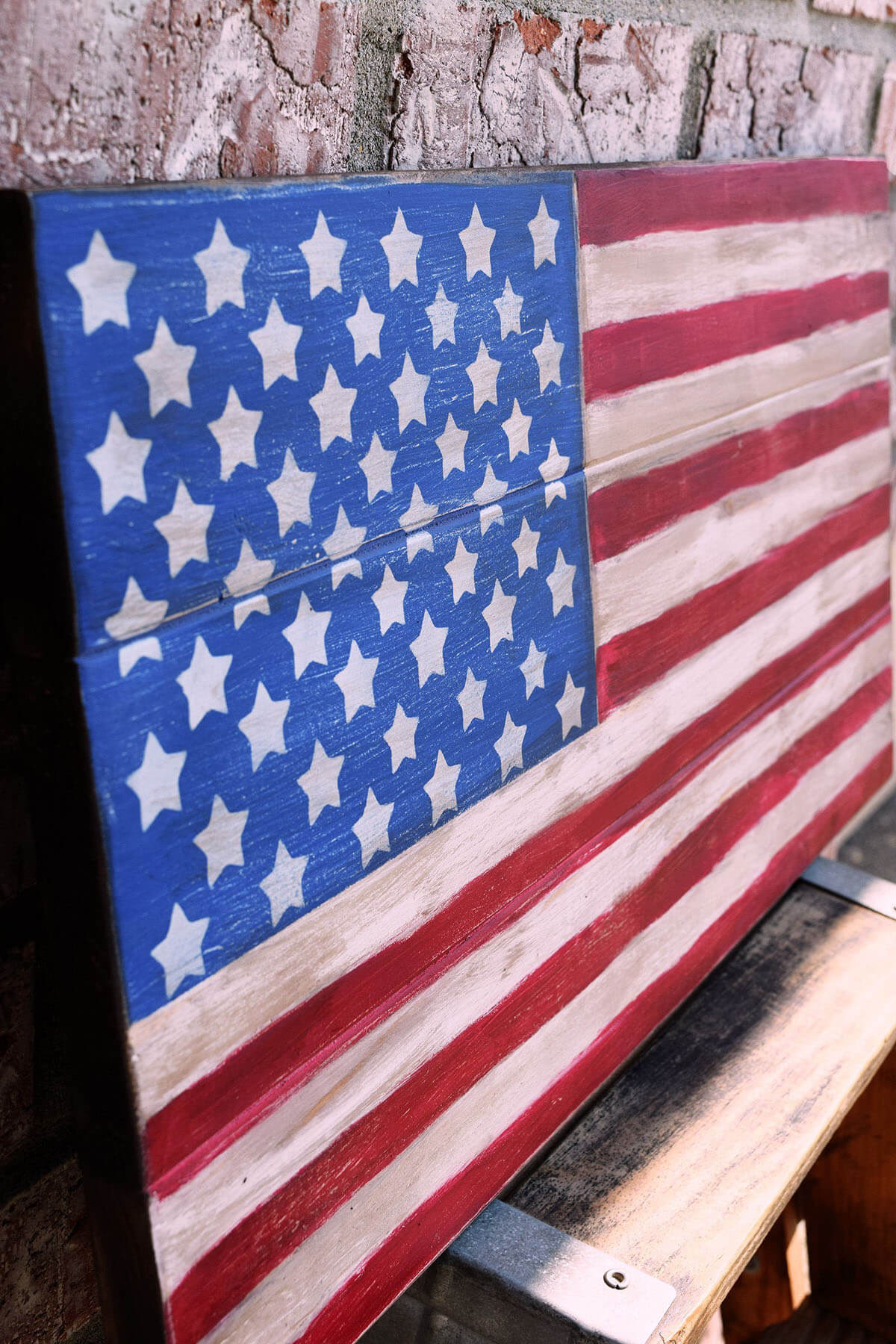 If you are looking for a way to display your patriotism that will withstand the elements, then consider a painted wooden American flag. Rendered true to life, this piece has all fifty stars and all thirteen stripes and is a novel way to demonstrate your support. If you are proud to be an American, this porch prop is a prime choice.
4. Classic Free-Standing Rustic Welcome Sign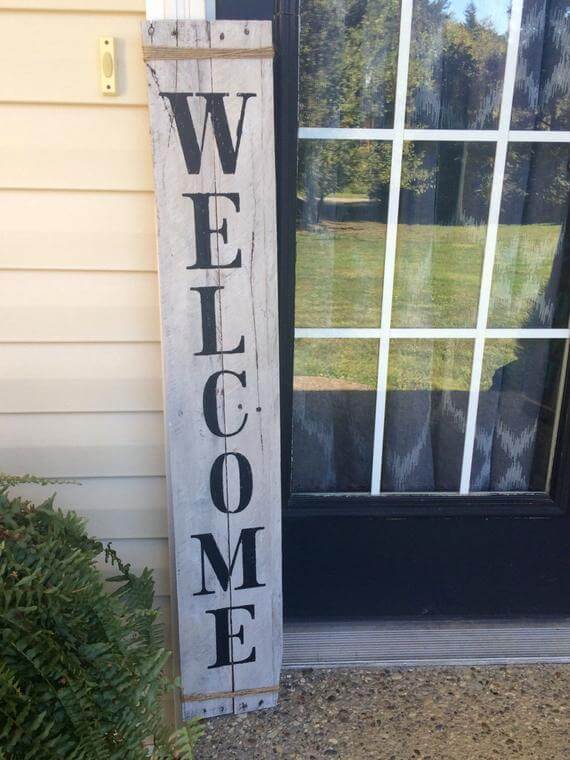 Made from two long pallets wrapped together at either end with some twine, this tall welcome sign lets guests know they are wanted. Before they even make it to the doorbell, they will know that you are happy to see them. This design can work for any home but does go especially well with a farmhouse look.
5. Cute and Friendly Stylized Welcome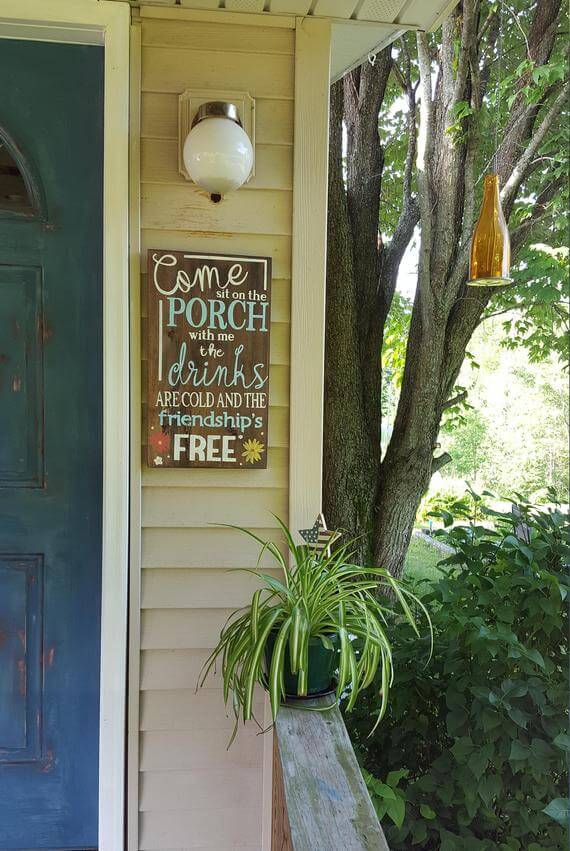 This hand-painted sign on dark natural wood offers varied colors, fonts, and a few sweet flowers, sharing a simple but welcoming message of camaraderie. This warm sign is well suited for the summertime, when the lemonade is freely flowing and you want nothing more than to sit on your porch catching up with good friends.
6. Dark and Weathered Wooden Sign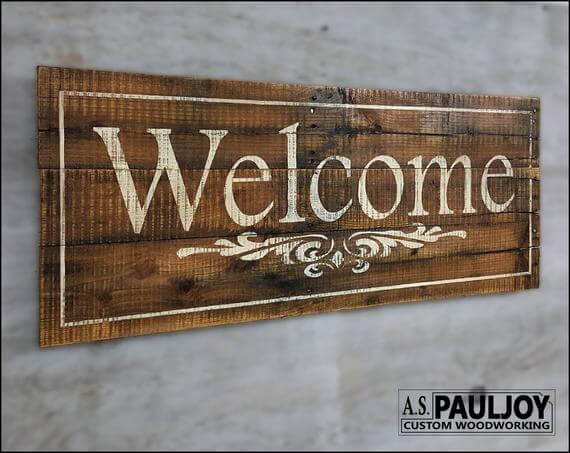 Made from reclaimed wood treated with a dark stain, this sign does exactly what it says: it welcomes your guests. The white font pops perfectly with the darker wood, and the beautiful embellishment underneath adds a touch of flair. The white border gives the sign a sense of completion.
7. Cool Custom Wheeled Cooler Box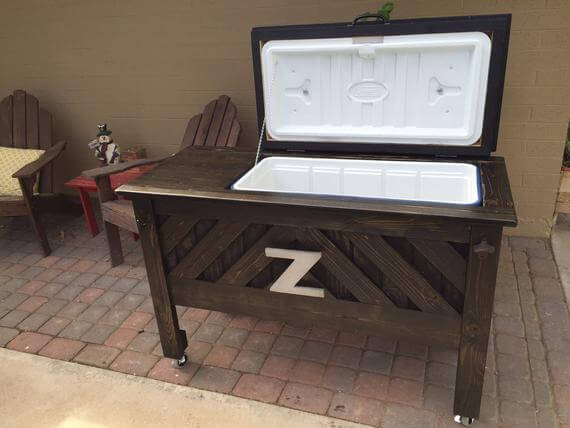 If you love lounging on the porch but don't like the look of a traditional plastic cooler, then this beautiful box is for you. With customizable color and style, this ingenious design can be made to go with any porch or patio. Thanks to its added wheels, you have the convenience of easy transport from fridge to porch and back again.
8. Bold Dark and White Welcome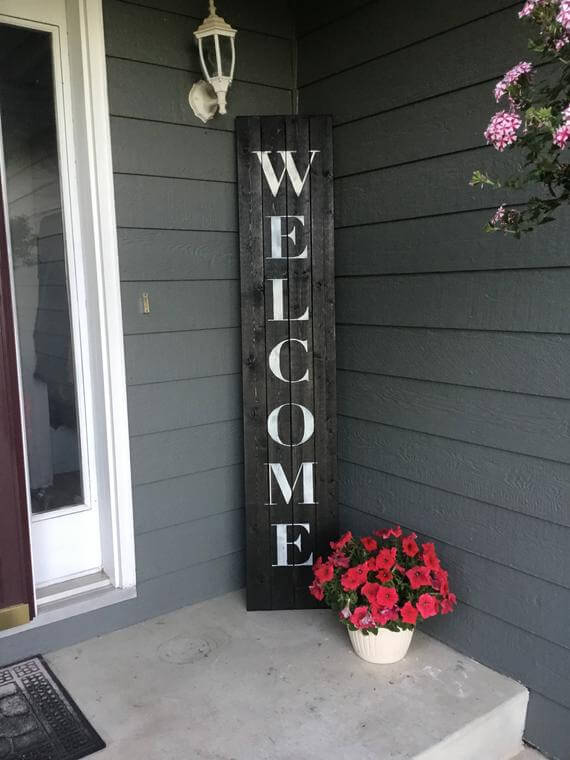 Standing six feet tall, this free standing rustic welcome sign will give your guests a big hello. Available in eight colors, all with contrasting lettering and base coat, this sign is big, bold, and friendly – like you. If you're more the subtle type, there is also a petite version that stands just above one foot.
9. Enjoying Wine in the Great Outdoors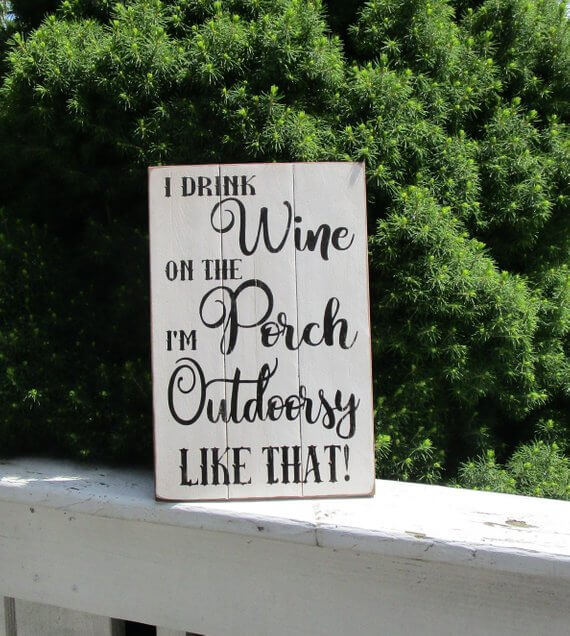 This sign gives everyone the right impression when they first step up to your home: you're fun, you're friendly, and you like wine. With font alternating between feminine, flowy, and cowboy, the lettering captures a rustic farmhouse vibe with that nuanced and cool touch of chic.
10. Beautifully Decorated Sign to make Guests feel Welcome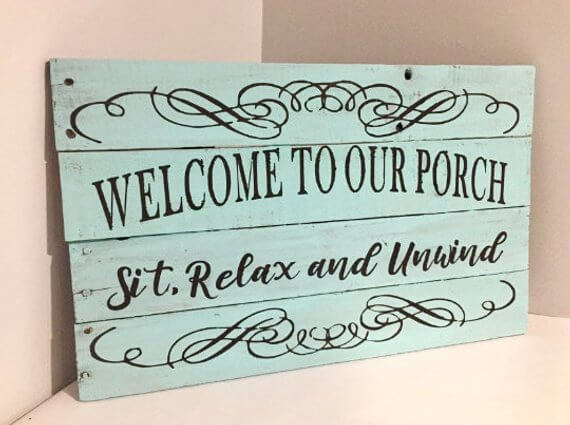 Gorgeous flourishes frame this rustic sign for an elegant yet relaxed vibe. With an invitation to sit and relax, your guests will feel at ease from the moment they step up to your door. Sign and font colors are totally customizable, so no matter what your front door or porch may look like, you can get the right colors to match.
11. Lazy Summer Days Pallet Porch Swing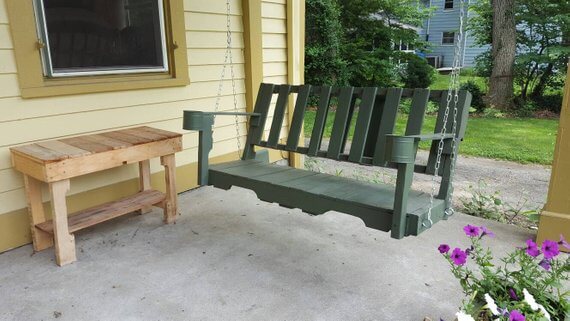 This well designed and handcrafted porch swing is the perfect pallet addition to your porch. Its simplistic ease reminds one of long summer days, icy cold drinks, and great conversation with friends and family. The tin can cup holders add an element of rustic charm to this already adorable piece of outdoor furniture.
12. Elegant and Chic Welcome Home Sign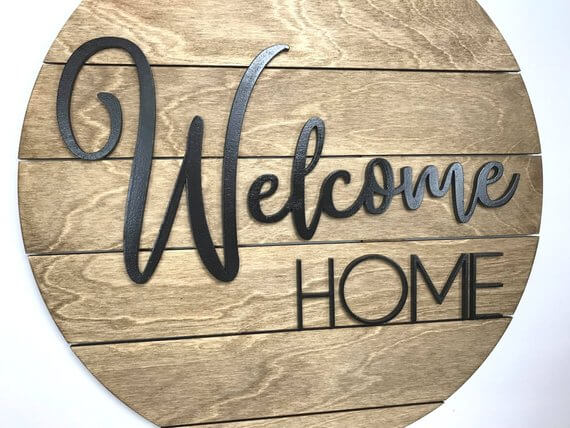 If you are looking for something chic with just a nod to the pallet, then this circle cut "Welcome Home" sign is the perfect choice. With classy and expensive-looking lettering, you can welcome your guests in style. As with many handmade items, the color of both the wood and lettering are totally up to you.
13. Festive Shamrock Porch Décor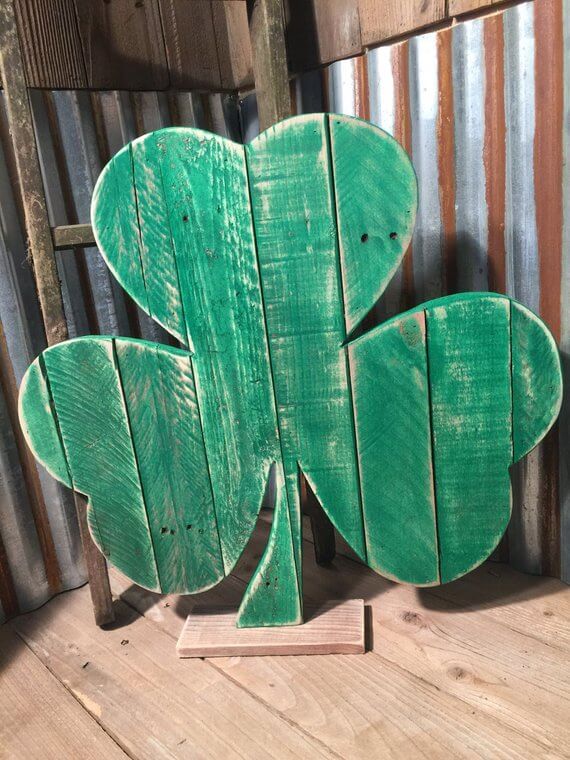 Great for the spring – or any time of year you are feeling lucky – this bright and fun shamrock is a great addition to your porch. Since they are available in many different sizes, you can buy a few and have a whole garden sitting on your porch, or you can opt for the hanging version if ground space is limited.
Our Favorite Outdoor Decorations to buy on Amazon