Sometimes our homes fill with clutter because we simply don't have any cool storage options, so that's why we found some of the best pallet storage ideas to lend you a hand. Customized storage racks, shelves, chests, and a mixture of all three are commonly used to organize items throughout the home. Pallet wood successfully tackles these styles head-on to create beautiful, rustic products that can be either vintage or modern based on the design at hand.
24 of the Most Charming Pallet Storage Ideas for your Rustic Home

If you need something to hang in your bathroom, there are several ideas out there for you that utilize pallet wood. There is even something found if you have to de-clutter your pantry, make space in your living room for books or pictures, or even create a fun coffee station where everything you want is within arm's reach all the time. The ideas available using pallet woods are near-endless.
It's easy to feel overwhelmed with just how many ideas are floating around. So, we narrowed things down to 24 of our favorite projects that you can either do yourself or find from other crafters. Each one successfully utilizes pallet wood for storage around the home.
1. Vintage Pallet Shelf Charging Station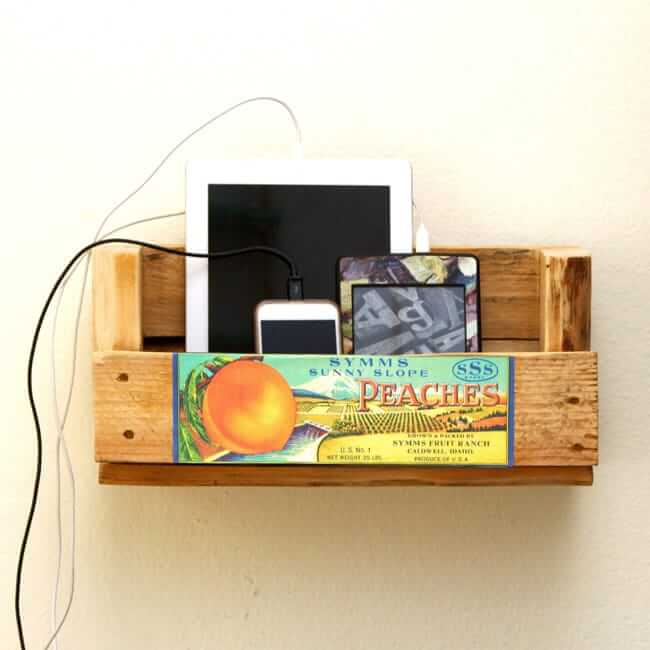 What's better than a handcrafted pallet project that not only adds to your home decoration but is also helpful every day? In this technological world, we're surrounded by devices such as Smartphones and tablets, but all these fun gadgets have to charge. All these cords can easily tangle up, but with this pallet shelf, you keep everything tucked in their nook for a more organized charging experience. Another cool part about this project is that you can set it up on a desk in a home office or place it up on the wall where anyone in the house can make use of it.
2. Rustic Coffee Station Pallet Organizer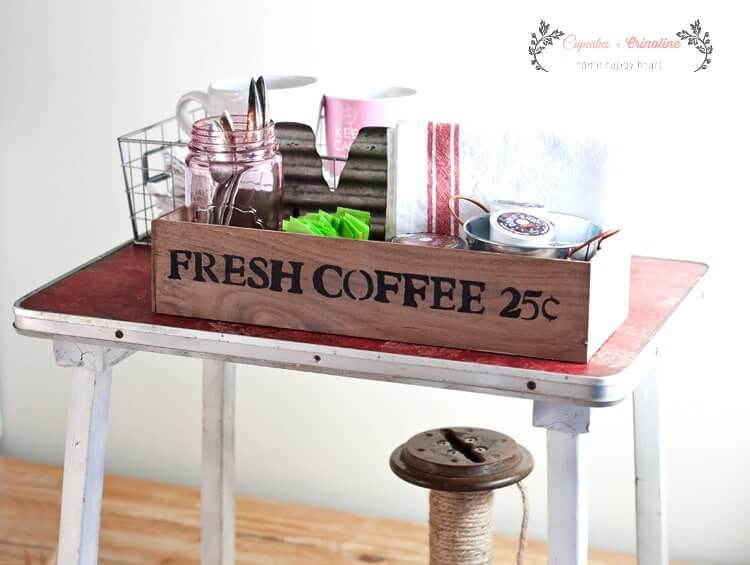 Considering the popularity of homebrewed coffee and various coffee makers, large and small, it's no surprise that there are different storage options available. However, how many of them can provide you with space not just for those little cups, but also for everything else you need to create a delicious cup of coffee such as sugar and stirring spoons? Well, this simple pallet project gives you just that. It's an awesome idea to transform a few pieces of wood into a beautifully rustic coffee station that you won't mind looking at every morning. As a bonus, it can even direct guests, overnight or otherwise, right to where they need to go.
3. Plate Rack Hanging Kitchen Organizer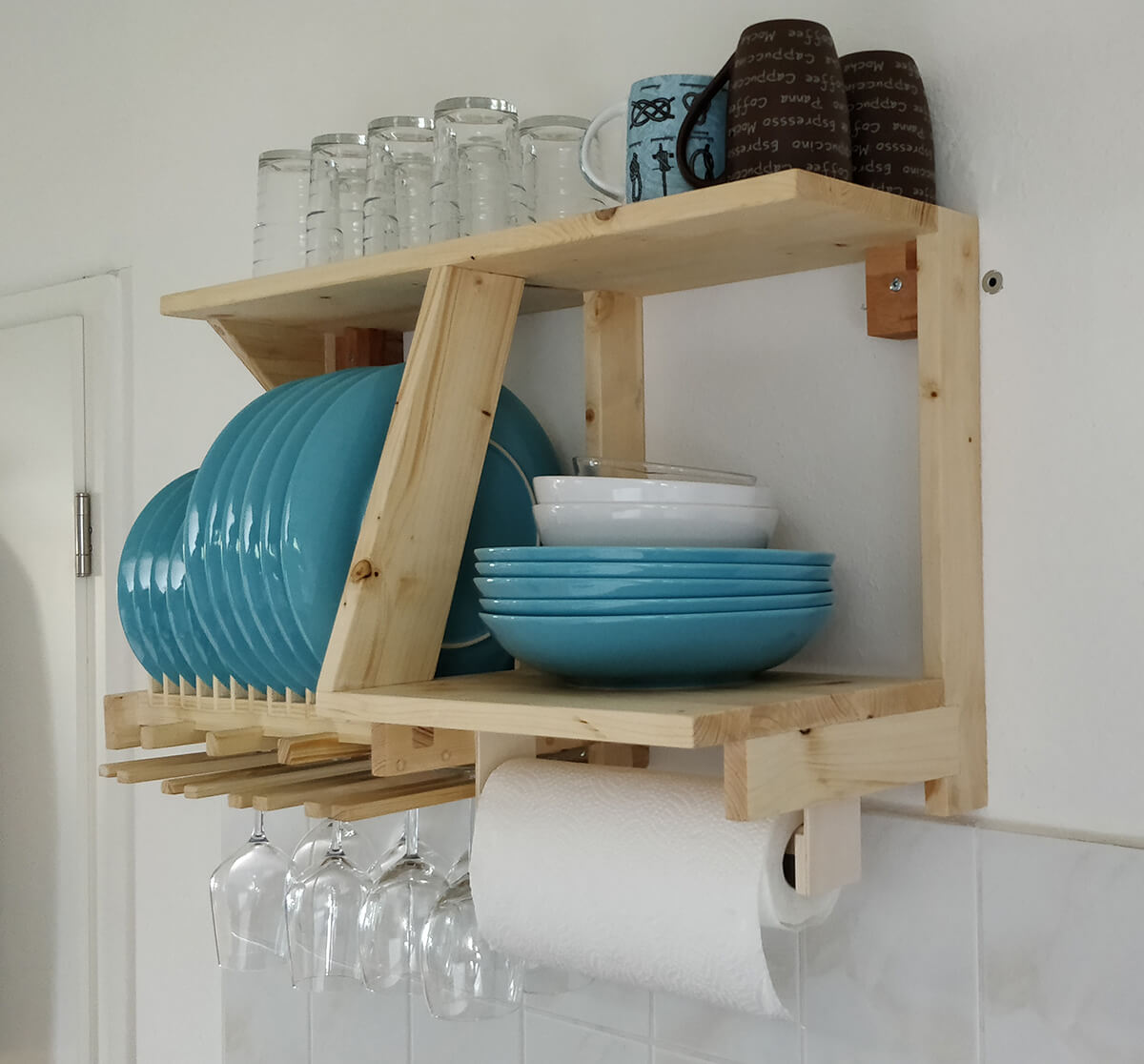 Sometimes, the cupboards in your kitchen are just not enough to hold all your dishes. Perhaps you're in an apartment with minimal room and you need to utilize each space accordingly. Thankfully, some of the best pallet storage ideas give you room for multiple items like with this plate rack kitchen organizer. It is the perfect way to free up some space. There are sections for various sized plates, an area on top for mugs and glasses, and a nook for bowls. You even make space to hang a paper towel roll. Everything you need is within sight and within reach at all times as the organizer hangs effortlessly on the wall.
4. Coffee Pods and Mugs Hanging Station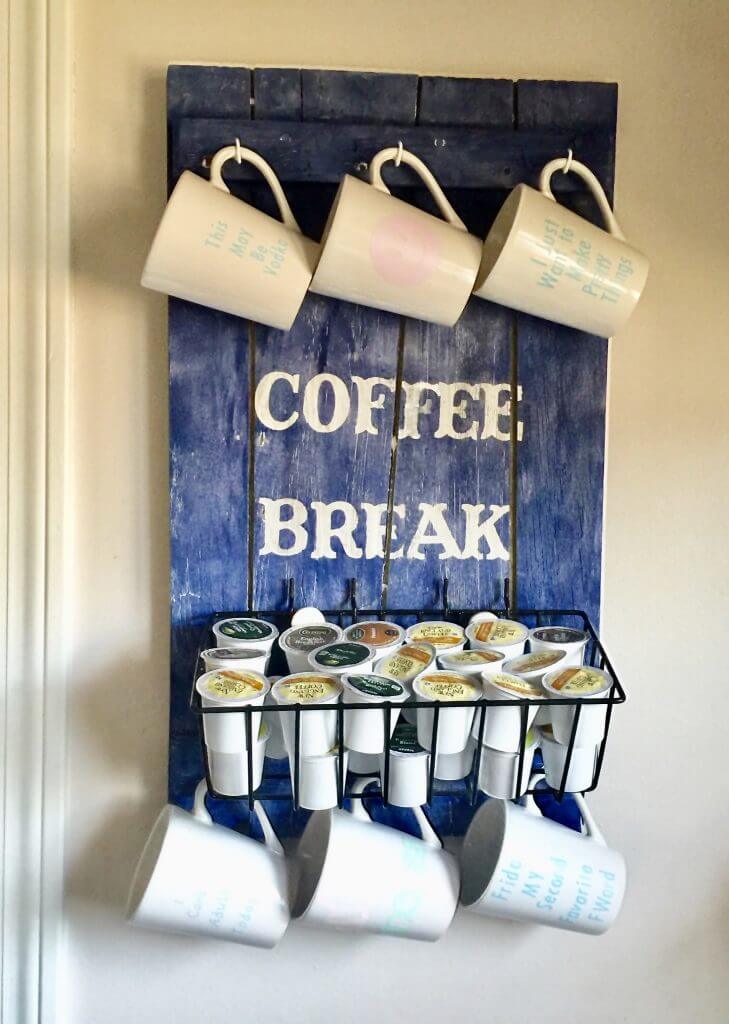 There are lots of homes these days with coffee makers that use those little pods like k-cups. You can indeed find drawers and towers to house those pods, but don't you want something more unique with some personality like this hanging station? This pallet furniture design is simple and eye-catching all at once. There is a great wire basket to hold all of your pods in a way that's easy and quick to sort through. Meanwhile, there is room near the top and underneath the basket to hang up all of your favorite mugs. If you have the room, this pallet station hangs well on a wall near your coffee maker.
5. Stylish Pallet Corner Storage Bookshelf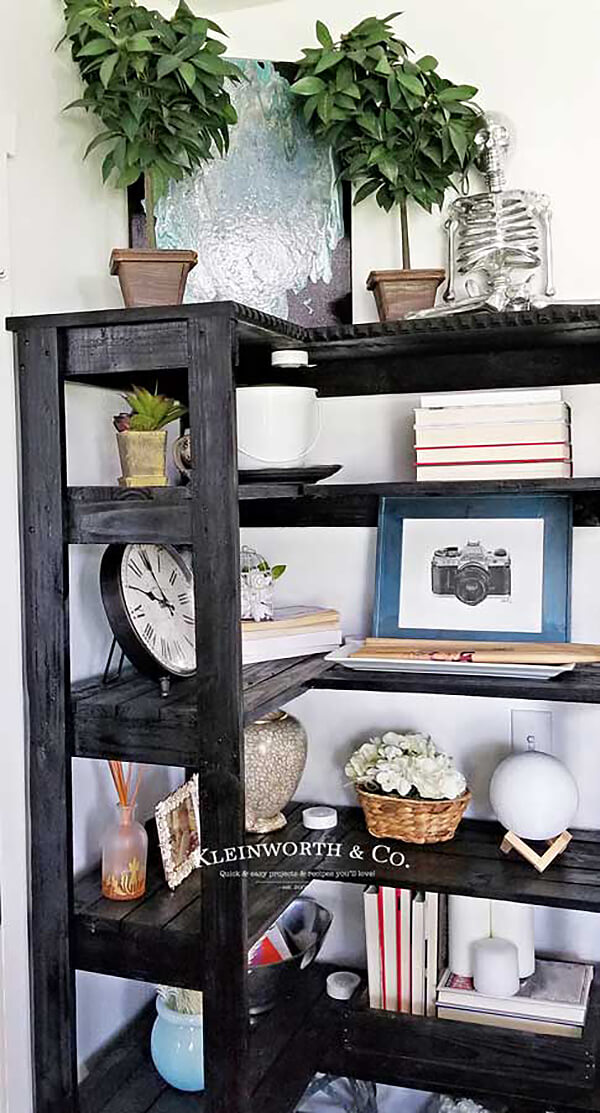 With simple wooden planks and some paint, you can create a decorative corner bookshelf that is perfect for a modern home. Just make sure that it remains open so you can fit numerous items of different sizes on it. One of the best things about this bookshelf is that it can help you clear up clutter by allowing for versatility in your organizing. You can easily fit your beloved books so that you reach them anytime you want, but you can also mix things up with other office gear, small plants, or anything else that matches the overall décor of the room.
6. Rural Single Pallet Potato Bin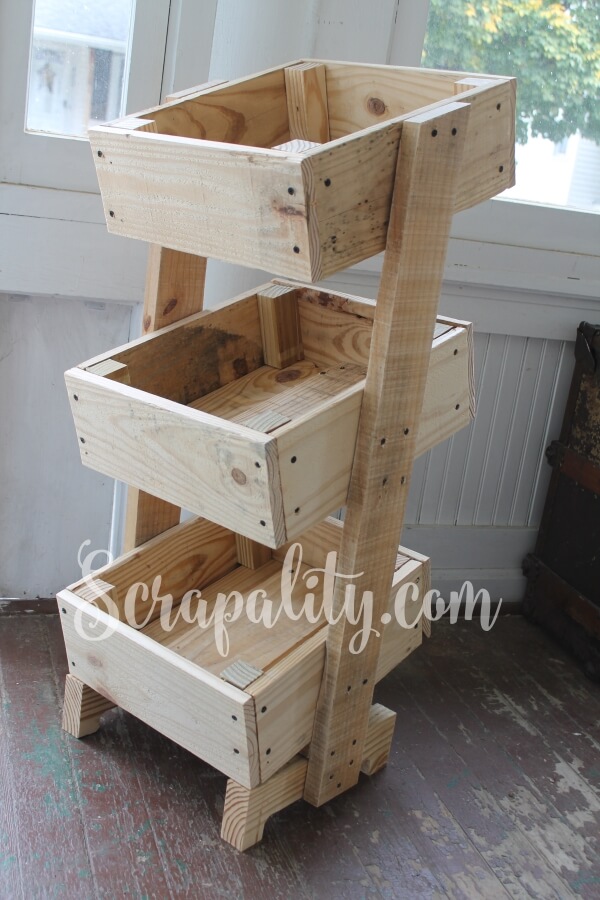 You don't have to worry about finding several pallets to create something cool. This potato bin project only requires a single pallet, and it is all you need to build something decorative and functional. You get three deep and spacious areas to hold some veggies so that they stay fresh, organized, and within reach. Measurements aren't noted in this build, but that gives you ample room to experiment and simply wing it, which can make for a fun, exciting pallet project. It is simple to distress this to add a more rustic feel to the bin so that it can fit in with a country-style kitchen.
7. Simple Upcycled Pallet Bath Shelf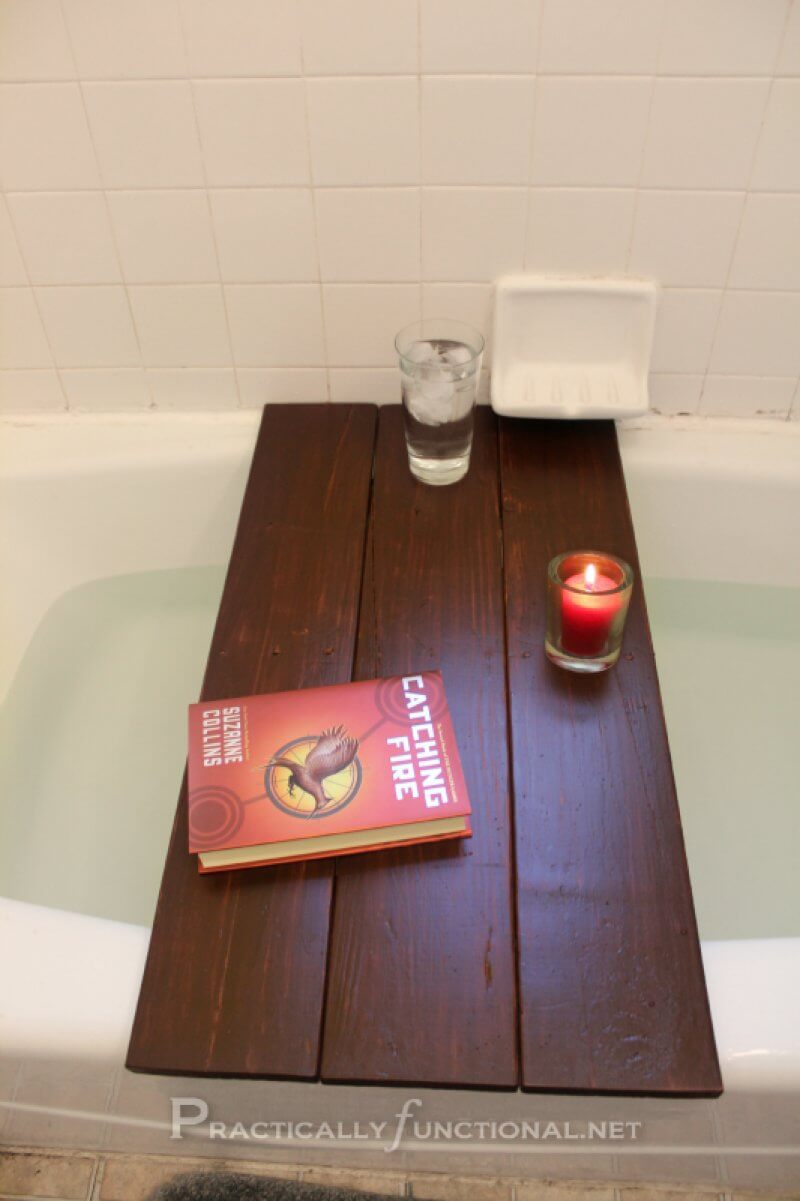 Not every pallet furniture design has to be large or hang up somewhere in the kitchen for everyone to see. Sometimes you need to create something that is just for you like this bath shelf. It's a pallet project that is so simple it's cute. Bath time for us grownups is a chance to unwind and relax, and it helps if there's a place to hold everything like candles and books. This shelf is remarkable as it's wide enough to hold multiple items without cluttering anything. Be sure that you clean the wood so it's as smooth as possible, and don't forget to stain with some polyurethane so that the shelf has some water-resistance.
8. Pallet Window Curtain Rod and Shelf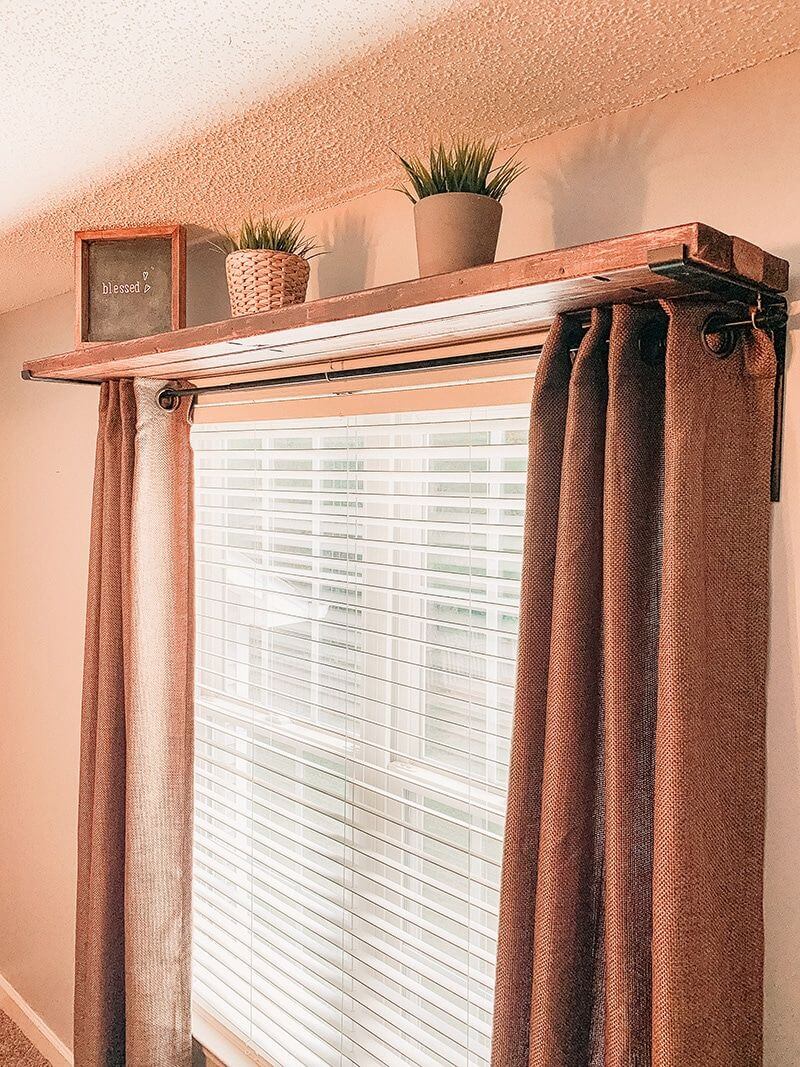 If you require the best pallet storage ideas that make use of your windows, then consider this curtain rod and shelf combo project. This pallet crafting job is wonderful as it gives you a necessary rod so you can hang up some curtains while also providing you with space to further decorate the room. The shelf on top is as long as the rod itself, but it's also wide. You can set up a selection of items from pictures to some greenery to add more life and personality to your room. As it is set up with the window, the layout and light source can pull anyone's attention in.
9. Over-the-Sink Pallet Window Kitchen Shelf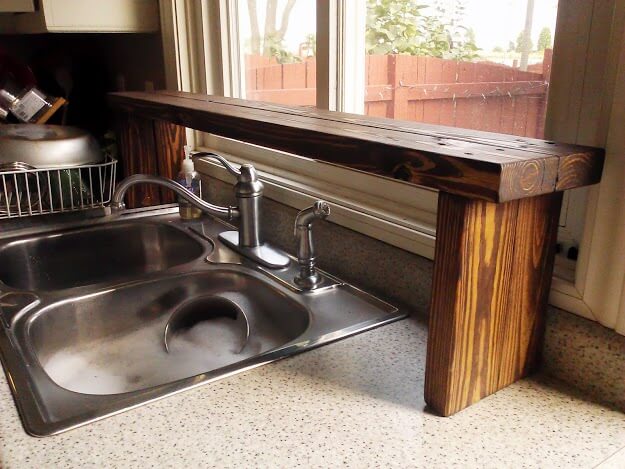 Is it past time that you updated your kitchen? This window sink shelf is a great way for you to make use of some woodworking skills. It is also an awesome idea if you happen to have a cluttered kitchen with next to no counter space. This shelf is big enough that it can hold beneficial items like sponges and soap without being too large that it overwhelms the area. If your sink so happens to sit in front of a window, then the shelf is amazing for managing plants and herbs.
10. Mason Jar and Pallet Board Storage Rack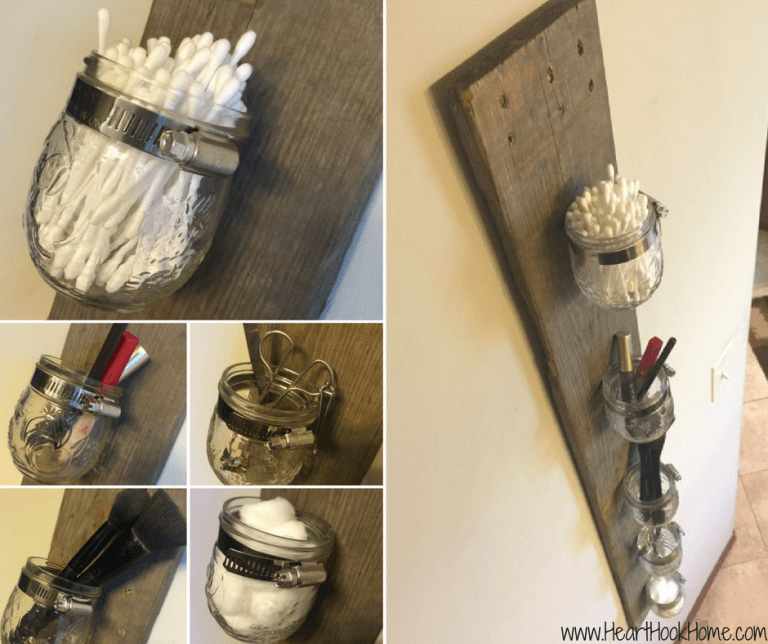 Do you fumble around when trying to find bathroom supplies like cotton swabs or even your makeup brushes and other small tools? Then perhaps this unique design that combines pallet organizing with Mason jars can take some of the stress out of your daily routine. The amount of jars you can fit depends on their size as well as how long the board is. This is a home decoration project that anyone can benefit from since it keeps all those small items properly separated so you can locate them as fast as you need to. Another fun feature is that it can work as versatile décor that's both homey and chic.
11. Practical Farmhouse-Style Pallet Towel Rack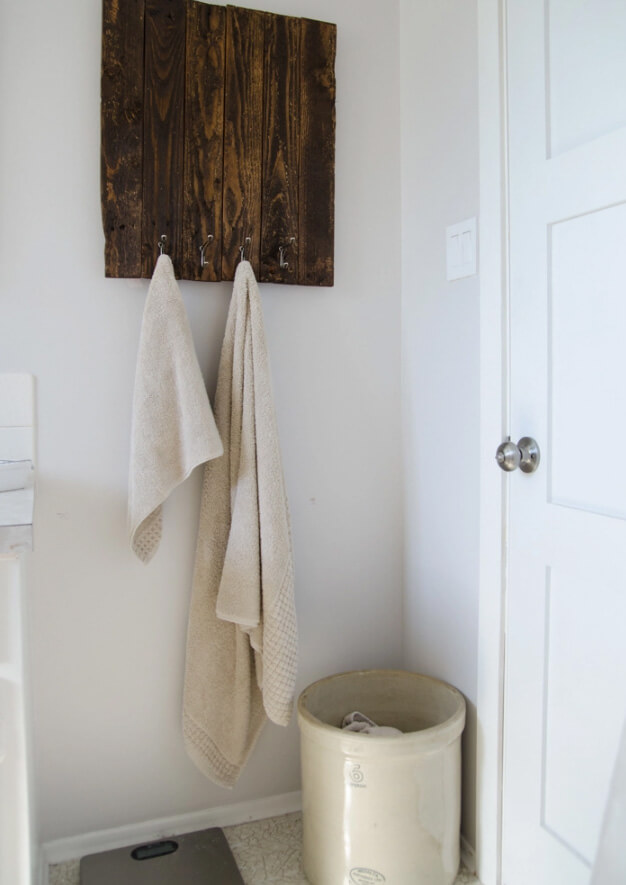 It's often that you find the best pallet storage ideas in an uncomplicated packet. This is what you get with the rustic bathroom towel rack. Not all bathrooms have a rod for towels, so why not make your own? It boldly stands out and adds texture to the room. This shouldn't take up much room, but at the same time, this pallet rack gives enough space for you to separate wet towels so you won't have a bathroom filled with sour smells. It can also serve as the perfect family rack whether you have to share the area with everyone else or you have multiple kids who have a private bathroom.
12. Large Wooden Storage Chest and Bench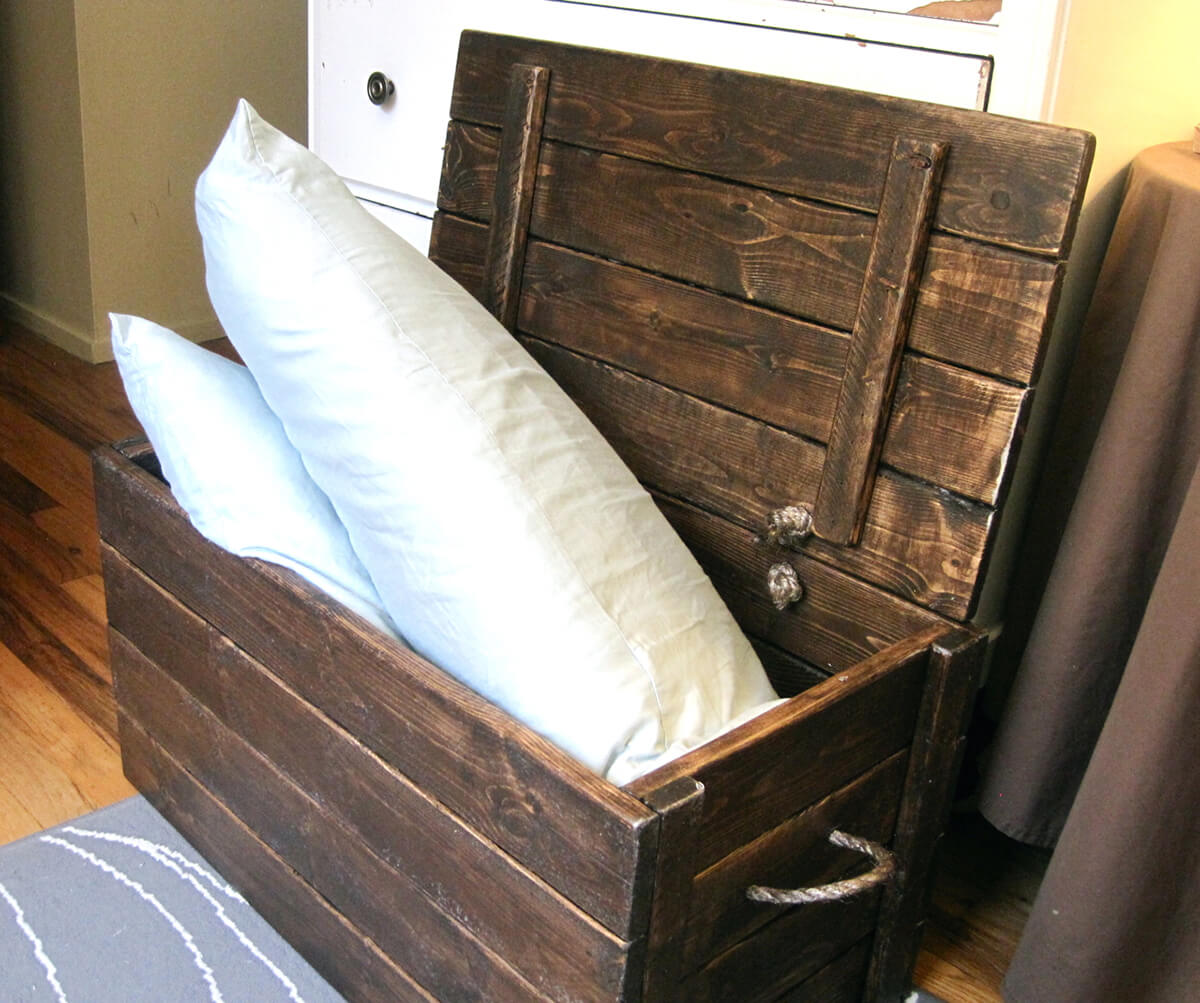 It's amazing when a pallet furniture design can create something long-lasting that you can keep in the family for years to come. This large wooden storage chest features rope handles and rope hinges to add warmth to an already homey decoration. There's so much space this project leaves you with that you can tuck anything in here from pillows and blankets to toys if it goes in a child's playroom. Another cool feature is that the design and strength behind the project allow you to use the top of the closed chest as a bench. This can make it a fun shoe holder in a mudroom or an entryway.
13. Wooden Bathroom Organizer Shelf and Rack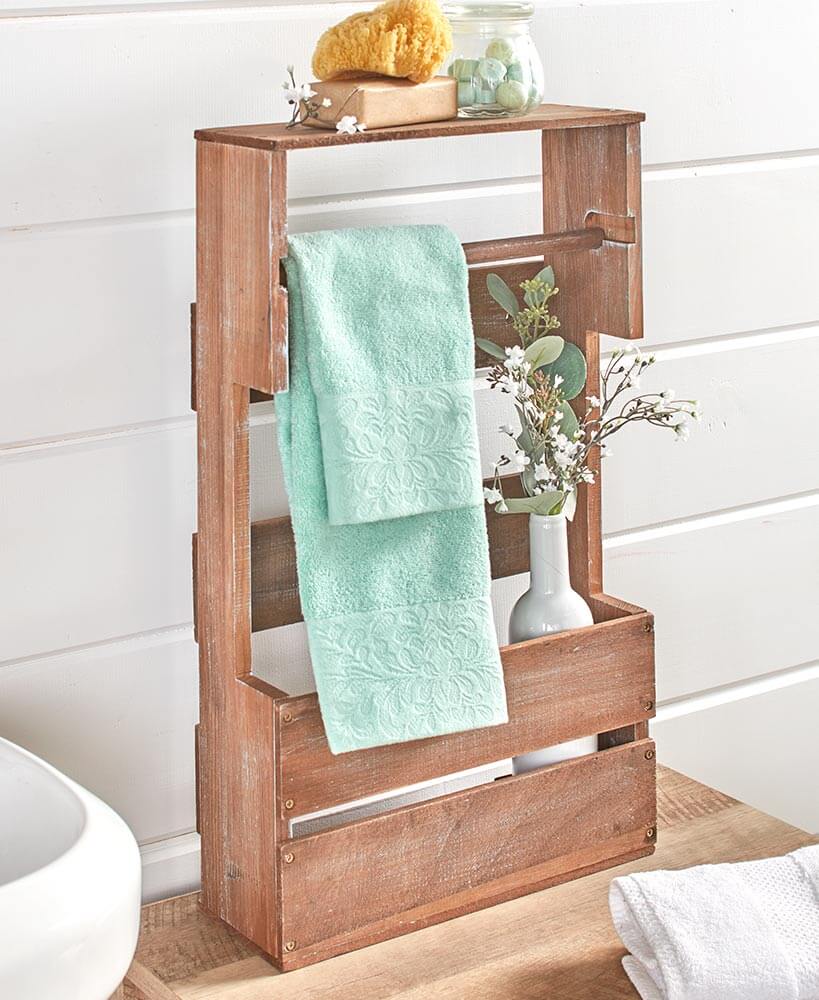 Not all of the best pallet storage ideas require you to build the item yourself, and this shelf and rack combo for the bathroom is a prime example of that. It still has an awesome distressed appearance while maintaining a contemporary look. This is also slim enough to fit with ease inside a bathroom of any size. In a compact package, you have space to hang a small towel or roll of toilet paper, stash some magazines on the bottom, or set up candles or other toiletry supplies.
14. Pallet Board Rustic Rope Shelf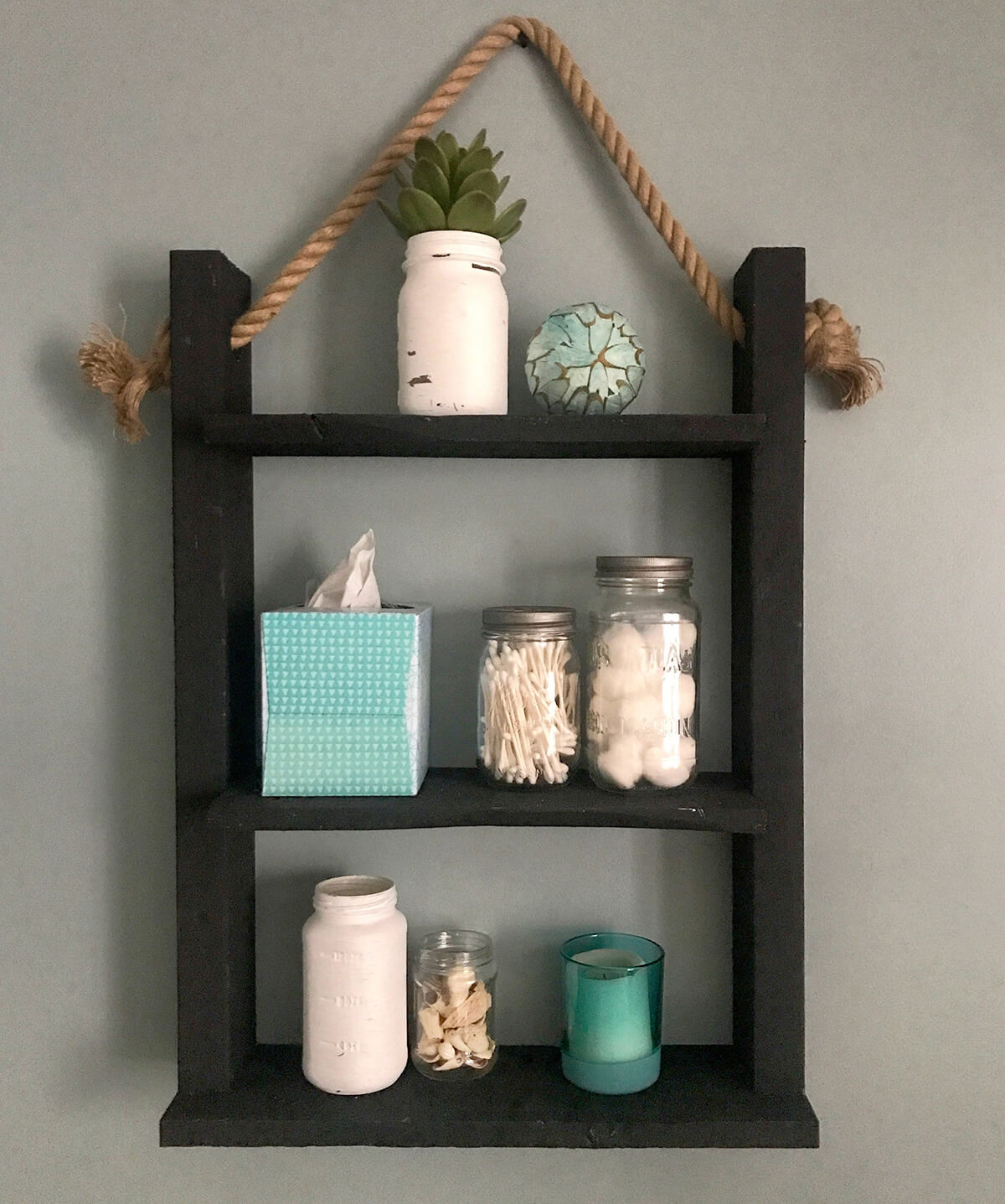 A cute way to put up some small trinkets or candles is with this hanging rope shelf. For starters, you can customize this shelf with three different colors (black, gray, or white), and you can even select the size so that it better fits into your room of choice. The thick rope adds an interesting aesthetic touch while also aiding in supporting the shelf and everything you load onto it. This can hang well inside a small bathroom to take advantage of some empty wall space, but the modern look can work well in any room in the house.
15. Pallet Shelf with Storage Chest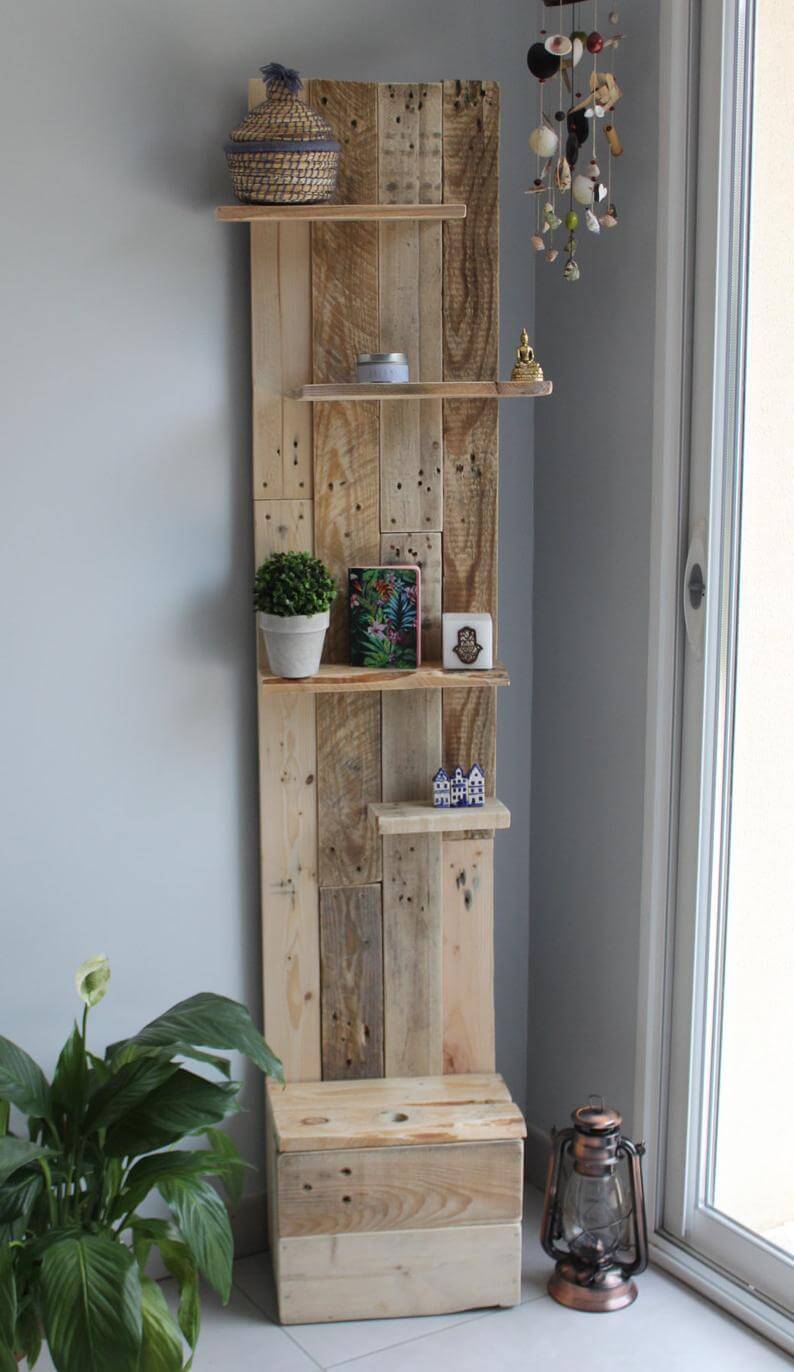 This wooden creation is an amazing farmhouse-style décor idea that incorporates shelves and a storage chest in a single package. It offers a sort of bright domestic charm. The spacing of the shelves gives this a more open appearance that leaves you with room to explore various setups as you organize your home. Feel free to liven it up with family photos, some greenery, or general trinkets and décor items you've accumulated. You can even make full use of the chest at the bottom. If you wish, you can also customize the furniture by selecting a certain number of shelves or changing the size of the chest.
16. Pallet Kitchen Vegetable Crate Organizer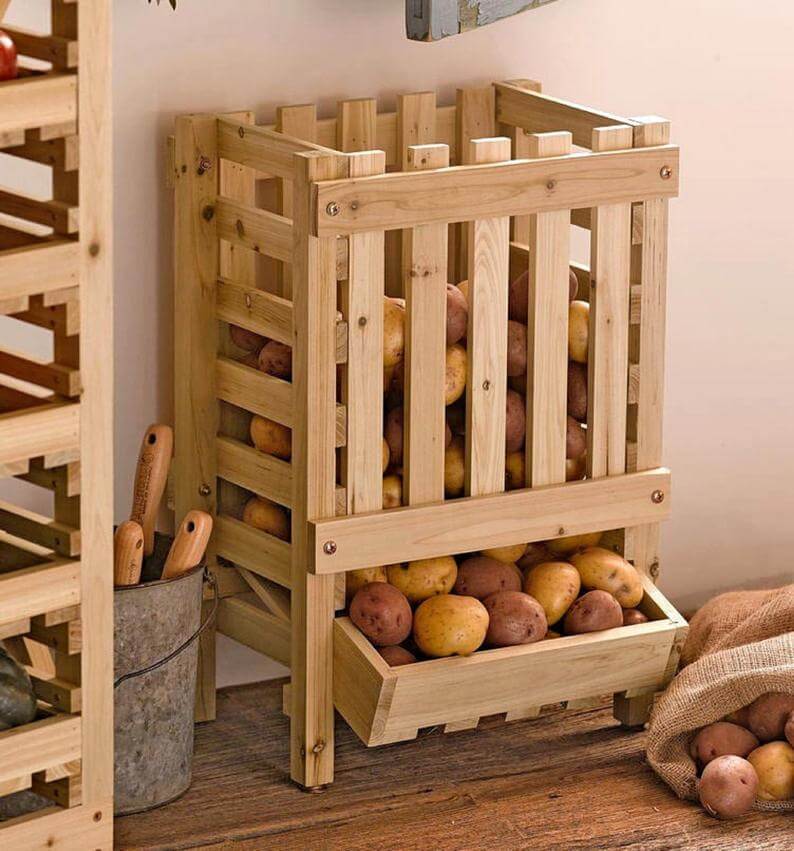 Are you looking to emphasize your farmhouse kitchen? Why not add in this charming vegetable crate organizer? This handmade bin utilizes both pinewood and birch to create a useful kitchen organizer that proves you can say a lot using a simplistic design. It's even designed in four colors for you to choose from (black, brown, white, and beige). This is not just an awesome idea for a rustic décor style, but it's beneficial to the long-term health of your produce like potatoes and onions. The bin is plenty wide at the top so you can quickly drop stuff inside, and the bottom opening is spacious enough to allow you easy access.
17. L-Shaped Pallet Wood Kitchen Organizer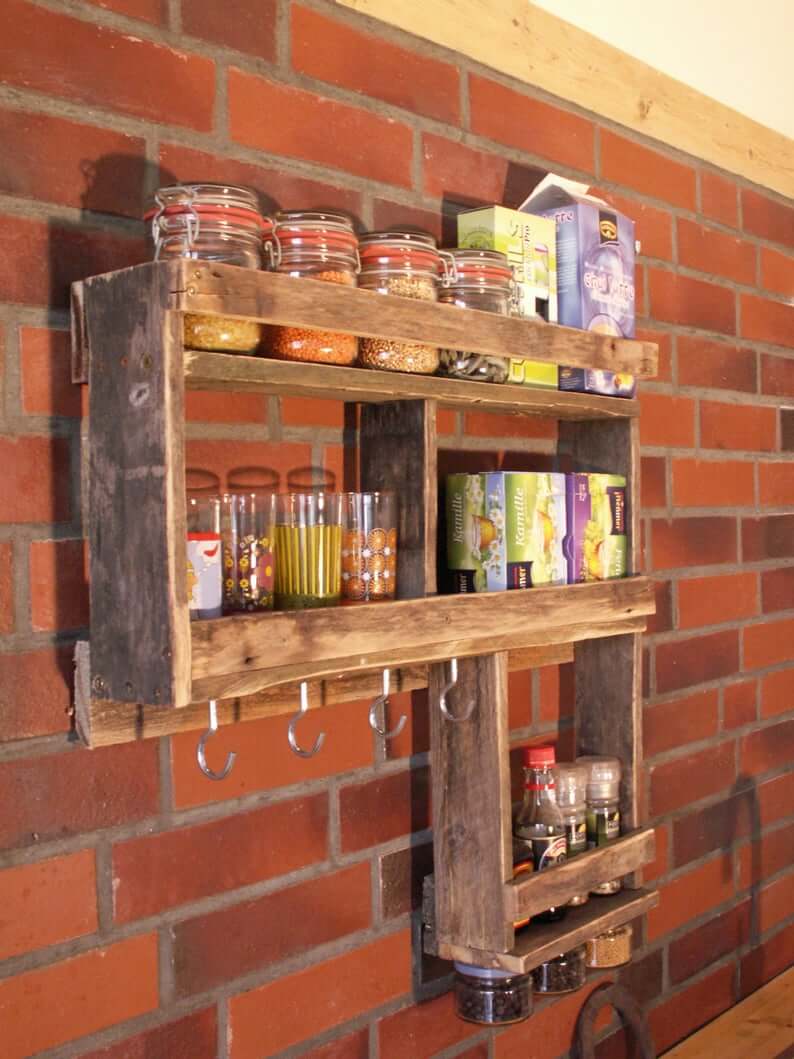 Every classic-styled kitchen needs a proper spice organizer and utensil rack to hang on the wall. This L-shaped pallet wood shelf is a perfect fit that brings out items that you usually hide in cupboards and drawers. There is plenty of room for your frequently used spices, a few cooking utensils, and even larger items like glasses. What's fun about this shelf organizer is that each product is created individually so that you always receive something unique. You get the best of a handcrafted pallet furniture design without having to make it yourself.
18. Custom Pallet Wooden Spice Rack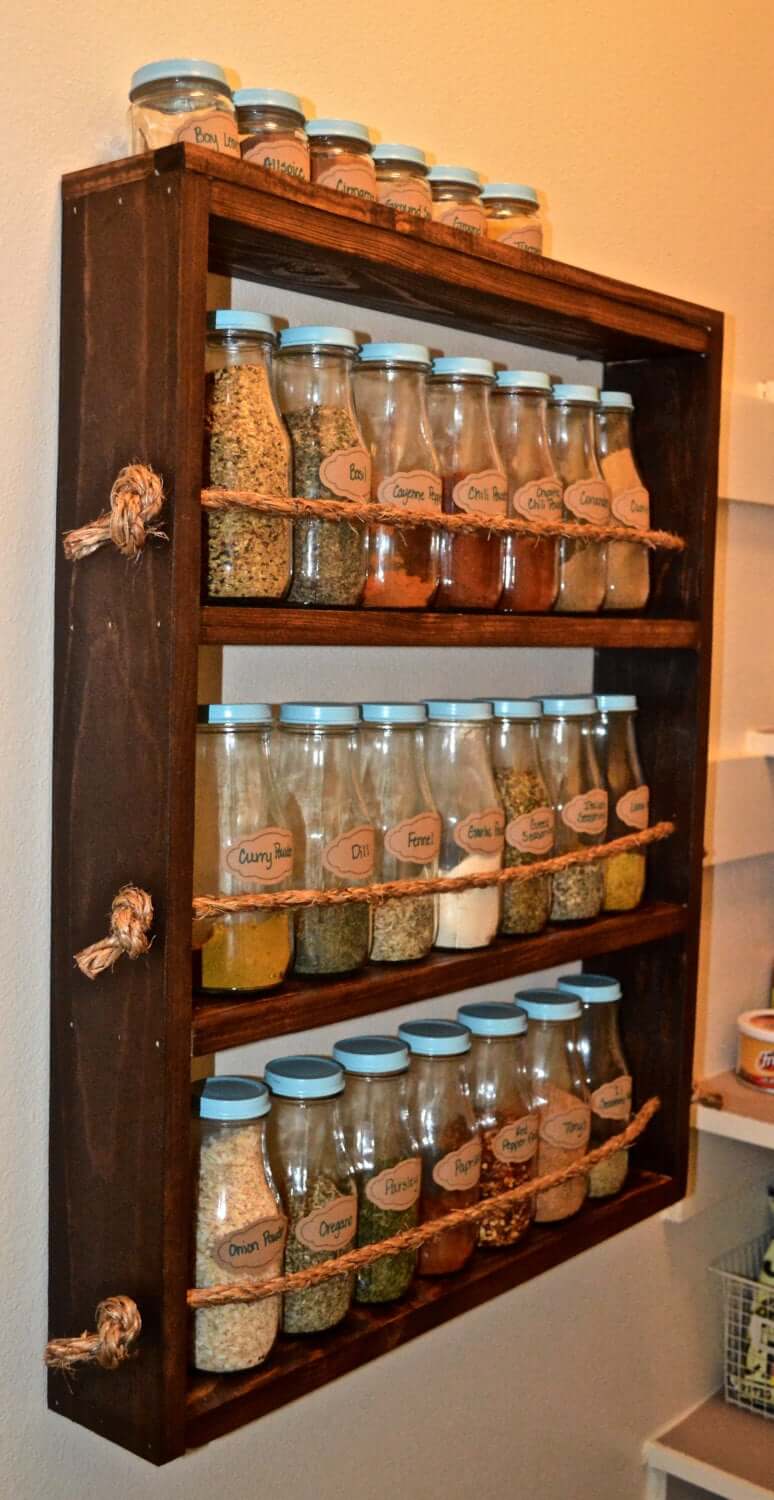 Nothing is quite as pleasing to witness in a rustic kitchen than a quality wooden spice rack. This particular rack can work great anywhere there is empty wall space in your kitchen, or you can stash it comfortably inside a walk-in pantry. No matter where you decide to place it, it will always be nice to look at. The wood itself is distressed just enough to give off that rural feel, while the rope barrier that lines each shelf is as cool as it is practical. With this shelf, there is no mistaking your spices, and everything is separated enough for easy access. You can even choose to personalize this rack by choosing more or fewer shelves or even a different color to better match your décor.
19. Reclaimed Wooden Home Storage Shelf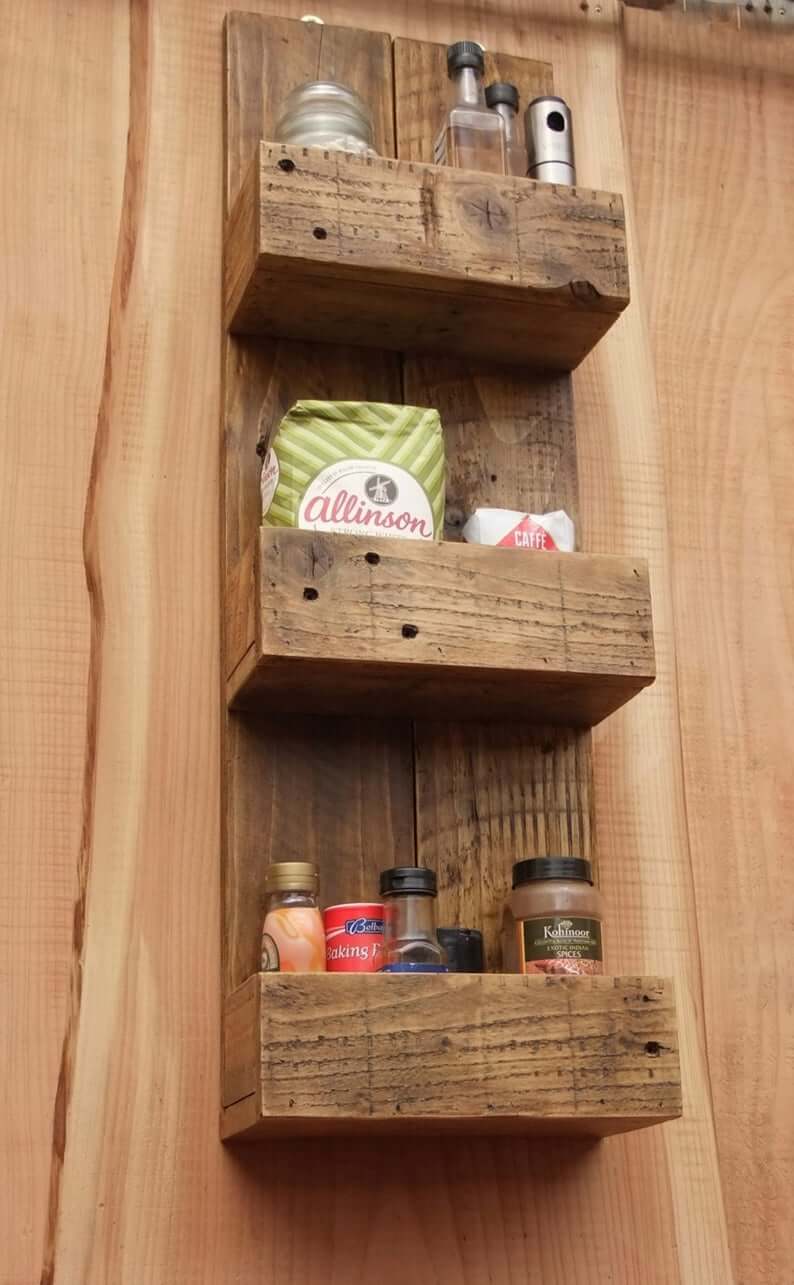 Do you have some extra wall space in your kitchen or your bathroom? If so, you can fill it with this cool storage shelf made from reclaimed wood. It's a fun upcycled design piece that can provide more character to your home décor whether you use the shelf inside the kitchen or the bathroom. You can select rustic pine wax as a finish or Jacobean wax for a richer, darker color. For those of you who wish to hang this in the bathroom to place frequented items nearby, then it's recommended to go for the un-waxed design. No matter what you choose, the entire handcrafted shelf can capture anyone's attention.
20. 10-Section Wooden Rolling Pin Wall Hanger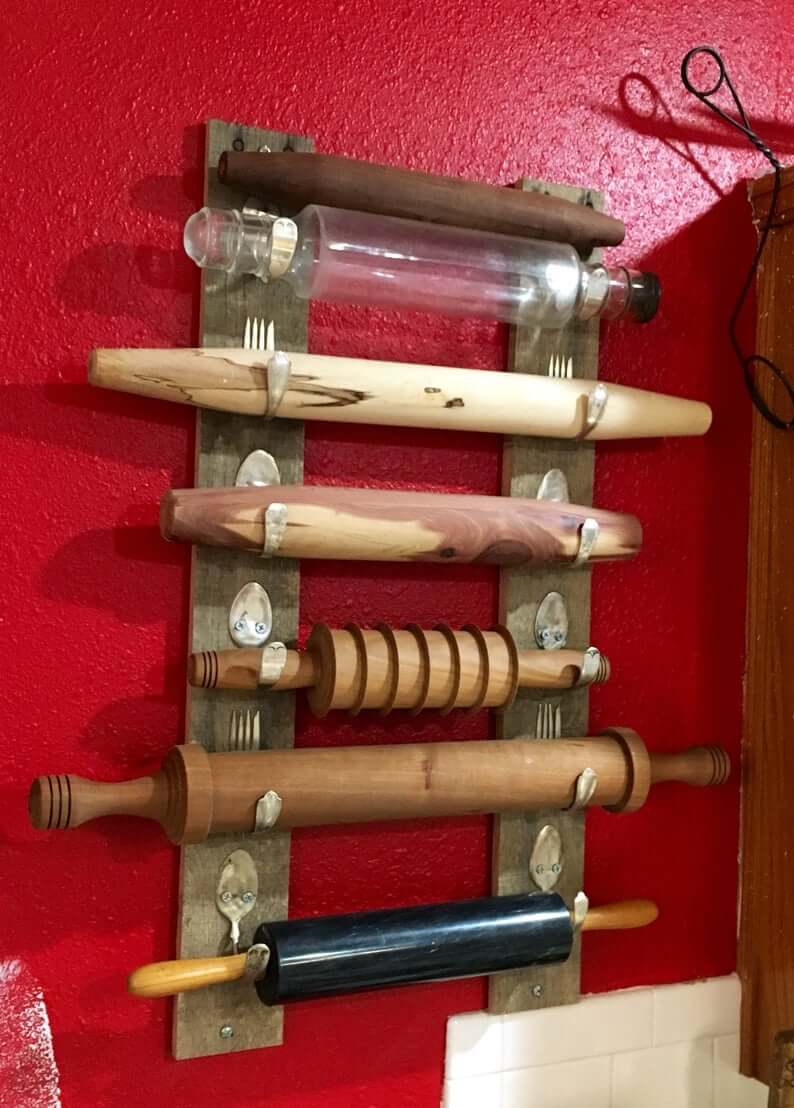 Some of us have so many rolling pins of various designs and sizes that we have no idea what to do with them anymore. If you throw them in drawers, they're simply out of sight and mind. However, you can display them proudly with this vintage rolling pin wall hanger rack made from pallet wood. It is a unique approach to kitchen storage as it uses antiqued silverware to support the rolling pins instead of traditional hooks. You can mount this incredibly crafted piece right to the wall, stamping your kitchen with purposeful décor.
21. Hanging Pallet Wood and Wire Basket Organizer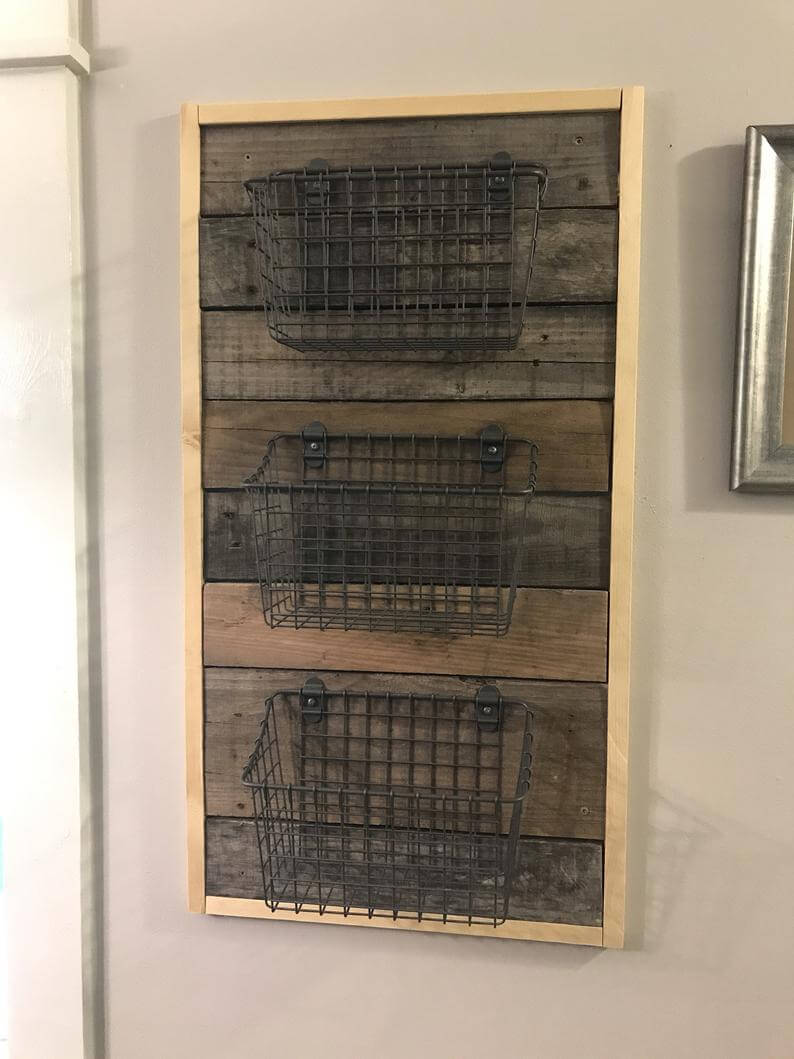 Wire baskets are always a good choice for any organizer as they can separate items while still allowing you to know what's inside them at one glance. When you combine those baskets with pallet wood, you can receive a useful and decorative item to hang up anywhere in your home. The pine or poplar trim along the pallet wood helps make the piece more prominent, and the wire baskets offer a cute touch to add a slight decorative touch to your storage. This doesn't take up too much space so it may even fit on a door if you don't have much wall space available.
22. Handmade Pallet Wood Kitchen Storage Box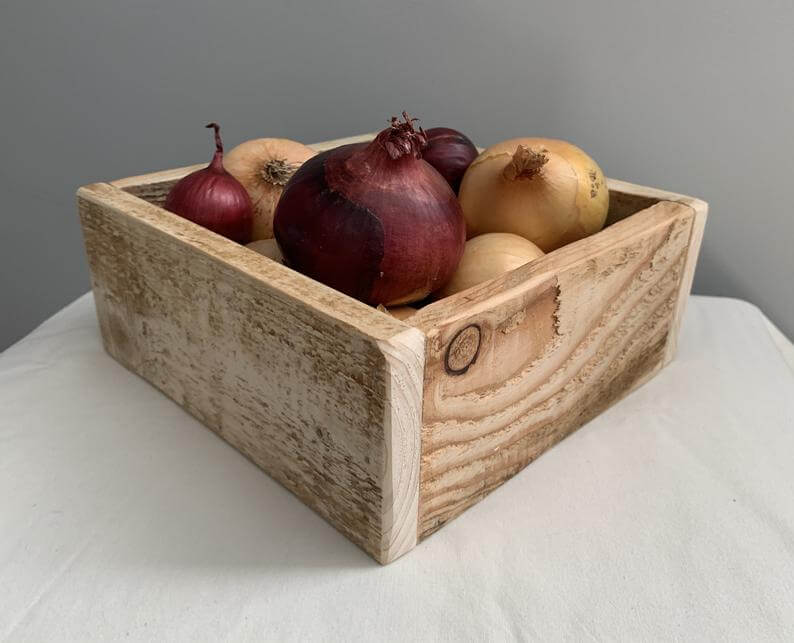 A centerpiece can draw the eye of anyone who enters a dining room or kitchen. So, what's a farmhouse-style kitchen with a charming rustic centerpiece to lay on the table or island? This one is exceptional in the sense that it serves various purposes. To look at it simply, the handmade creation utilizes simple, yet effective woodworking skills with reclaimed pallet wood to act as a centerpiece. Since it's hollowed inside, it's also a storage box where you can hold your fruits and veggies. It's a great way to add some decoration to your kitchen without going overboard.
23. Stackable Wooden Crate-Style Display Shelves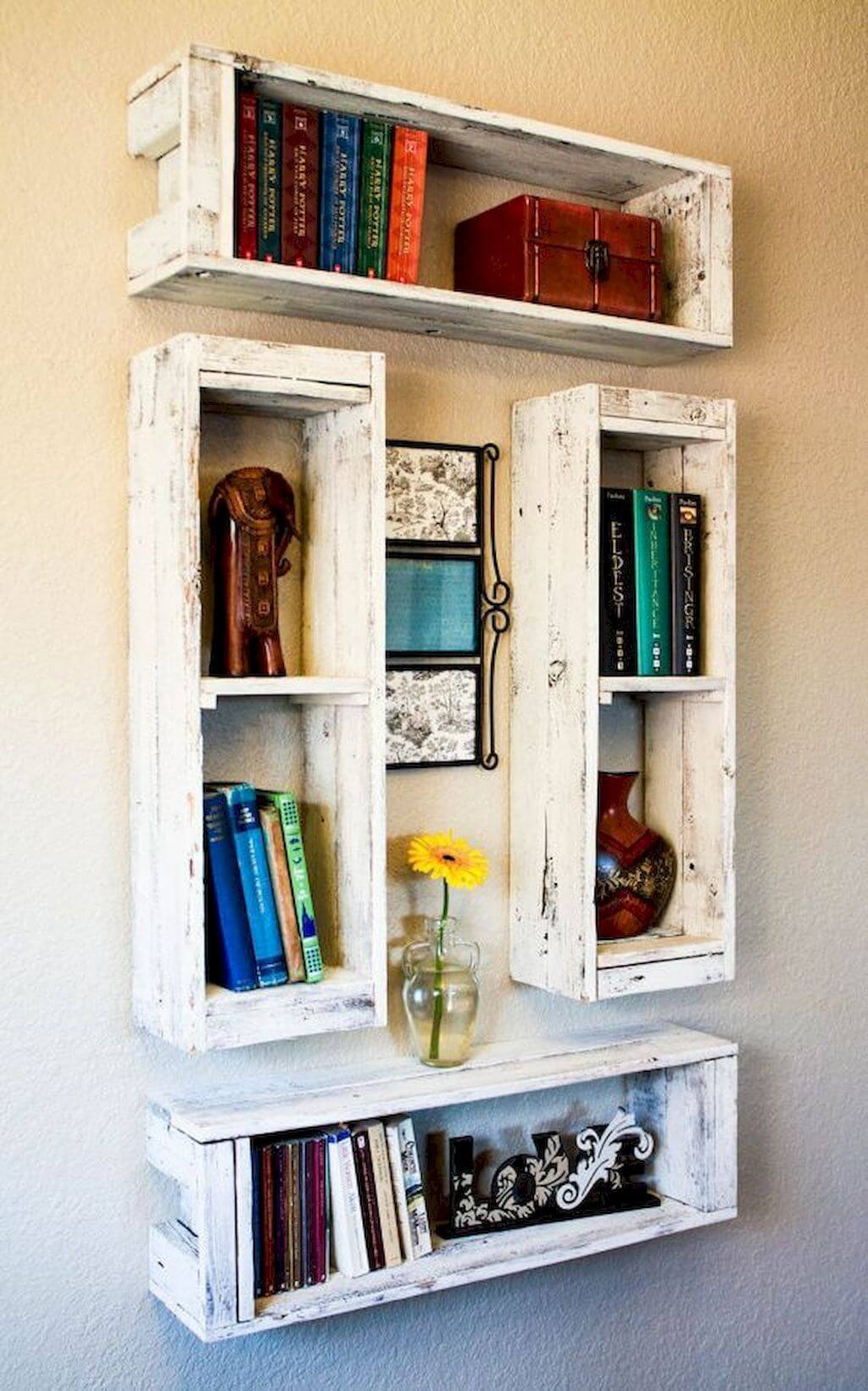 If you want to a fun style to your home that's a mixture of rustic and industrial, then look no further than these crate-style wooden display shelves. The wood has a great amount of distress to help them stand out no matter the finish that you choose. They are known as floating shelves as well, which means that you have some versatility in how you want to set them up. You can mix and match the way you hang them such as vertically and horizontally, or you can even stack them. Either way can allow you to utilize the storage space to the best of your ability.
24. Hanging Pallet Wood Storage Shelf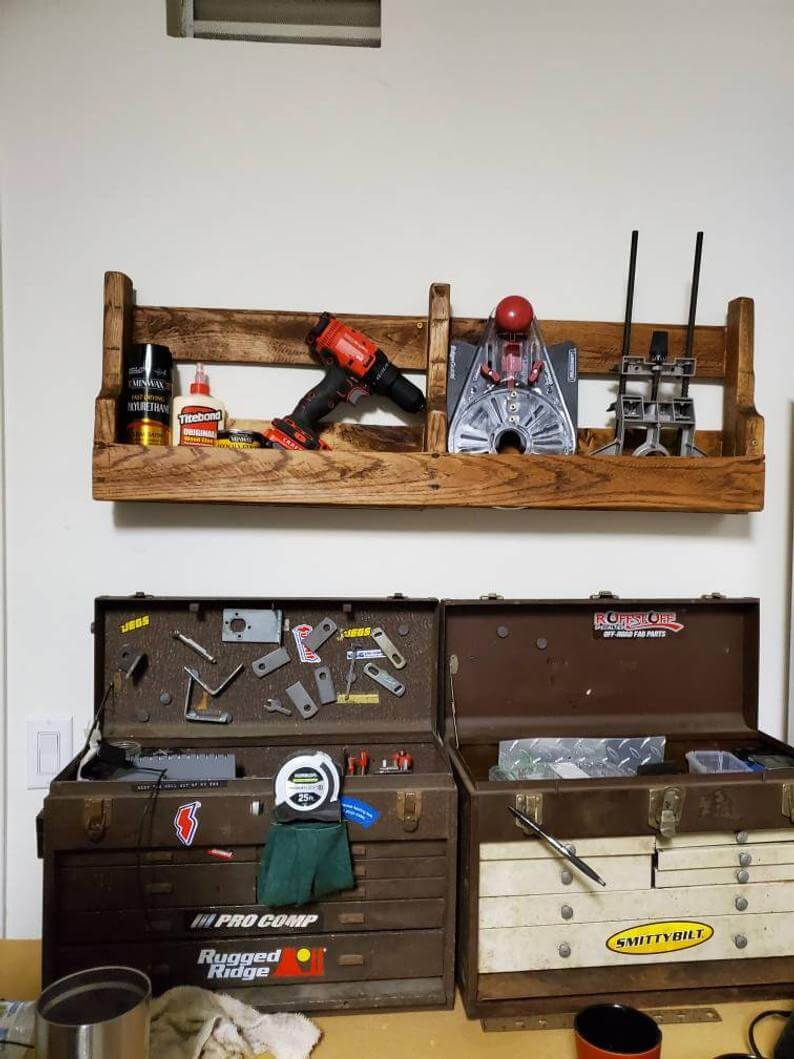 Sometimes simple is all you need to reach your organizing goals and still maintain your home's décor. This pallet furniture design can serve as wall art if you leave it empty, but thankfully there's more than enough room to fill the shelf with important items. It is made compact with a low profile so that you can hang it up almost anywhere in the house. If you want to match a room that already has rural decorations, then this shelf can work well against the wall so you can stash decorative items. You can also hang this up in a garage as it is strong enough to hold some power tools without faltering.
24 Unique Pallet Storage Ideas you can Create Yourself
There's no need to use traditional storage options when you can just as easily utilize pallet wood to create a homey feel instead. Whether you put your skills to good use and build the item yourself, or you purchase a handcrafted rack or bin from other creative crafters, pallet wood provides a great amount of versatility when it comes to storage.
You can discover beautifully designed racks and shelves for the kitchen to hold spices or even serve as a coffee station. Other designs work better in the bathroom to free up clutter, or you can simply add some décor to the rest of your home. No matter what you choose to go with, pallet wood has a proven track record of enhancing décor while providing practicality at the same time.
Our Favorite Farmhouse Storage Items to buy on Amazon