We've found some wonderful pantry door ideas that can add interest to your kitchen, ranging from sleek and modern or uniquely functional to flat-out fun and even whimsical. There's great value in making many of the utilitarian components of your home – such as interior doors – uniform, but there's also value in making some of them outstanding to the point of flat-out calling attention to themselves. A great place to do that is in or near the kitchen, specifically with your pantry door. Certainly, there is no shame in using a generic interior door for your pantry, but why not do or use something different? Doing so can serve to call attention to the door itself; add interest to a room; or simply add a touch of whimsy to an otherwise mundane barrier between one room and another.
23 Creative and Pretty Door Ideas for your Pantry

A well-selected pantry door also can serve not only to add general interest, but also to support or enhance your home's architectural character. That's an important point for vintage homes where it's important to have modern conveniences while maintaining character, but it's also important in newer construction that may be light on character of its own. That's where creative pantry designs can help. You can add that character with some well-placed features, one of which can be an interesting and perhaps unexpected kitchen pantry door.
Admittedly, pantry storage definitely is a utilitarian need in every kitchen. Entry into that utilitarian area need not be solely utilitarian, however. Create your own pantry designs to suit the needs of your own kitchen and your family, of course, but make the entry into that beautiful pantry storage area truly pretty in whatever terms you define the word. Your definition of preferable may be a generic interior door that matches all other interior doors in your home. If that's what you prefer, then that's fine. It's your home, after all. If, however, you prefer something somewhat less predictable, then consider any number of attractive alternatives. You can use a mirrored door, which provides interest but camouflages the pantry's interior. How about a sliding barn door? You also could use a more standard door simply painted in a contrasting color. There are many alternatives available to you! We're presenting a few of those pantry designs and pantry door ideas here.
1. Make the Door a Storage Unit in Its Own Right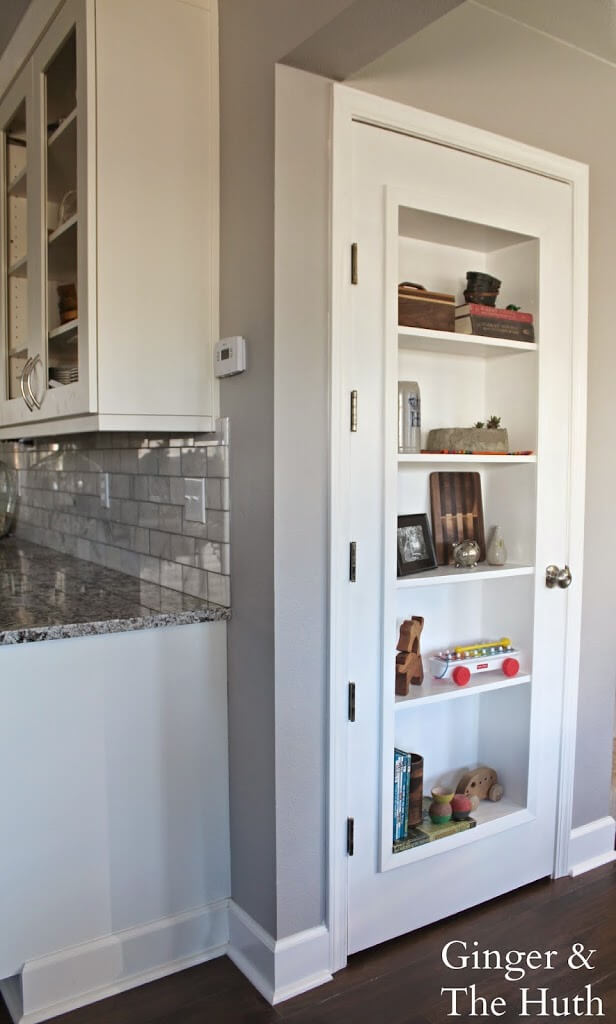 Why shouldn't your pantry door also be a storage unit? Build – or have built – a pantry door that also incorporates shelves. These shelves likely won't be appropriate for heavy cookbooks, but they can provide great storage areas for kiddie art supplies or for frequently used spices. They also can be useful for purely decorative items, especially on the highest shelf levels far out of the reach of children. Imagine the pleasure of being able to direct children to readily available markers or crayons while preparing a meal, or the freedom of simply going to the pantry door to retrieve your favorite chili powder without actually having to enter your pantry. This is a pantry idea that truly allows the pantry door to do double duty.
2. Boldly Label Your Pantry Door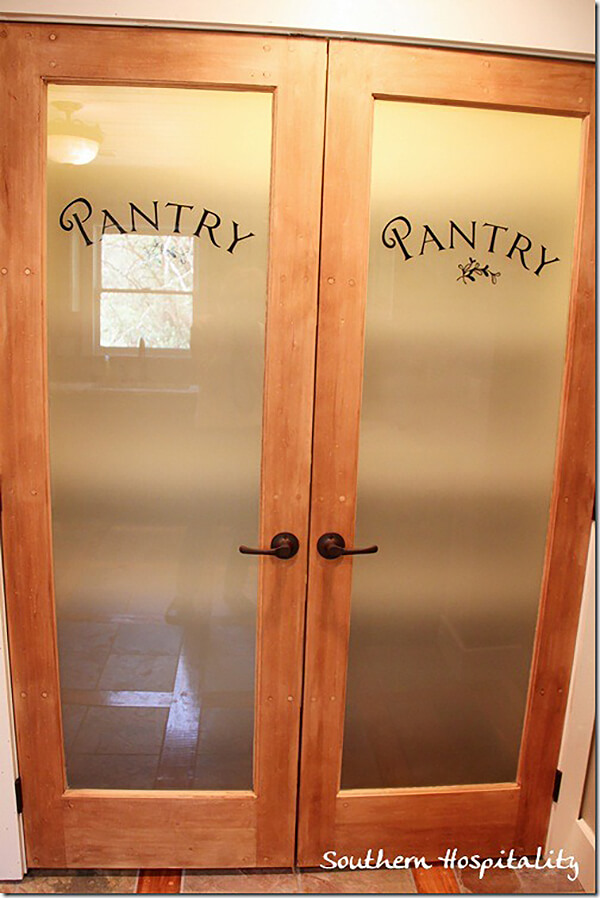 This particular pantry door is a double door with a natural wood finish. It's very pretty, but the design also is highly adaptable. The frosted glass obscures full view into the pantry, but the label leaves no doubt as to what's on the other side of these double doors. No room for a double door? That's not a problem; simply adapt the design to a single door. Frosted glass is nice, but it isn't necessary when adapting this pantry idea for your own home. The natural wood finish also is quite pretty, but the overall design also lends itself to more modern designs including the all-white kitchen.
3. The Beautiful Sliding Barn Door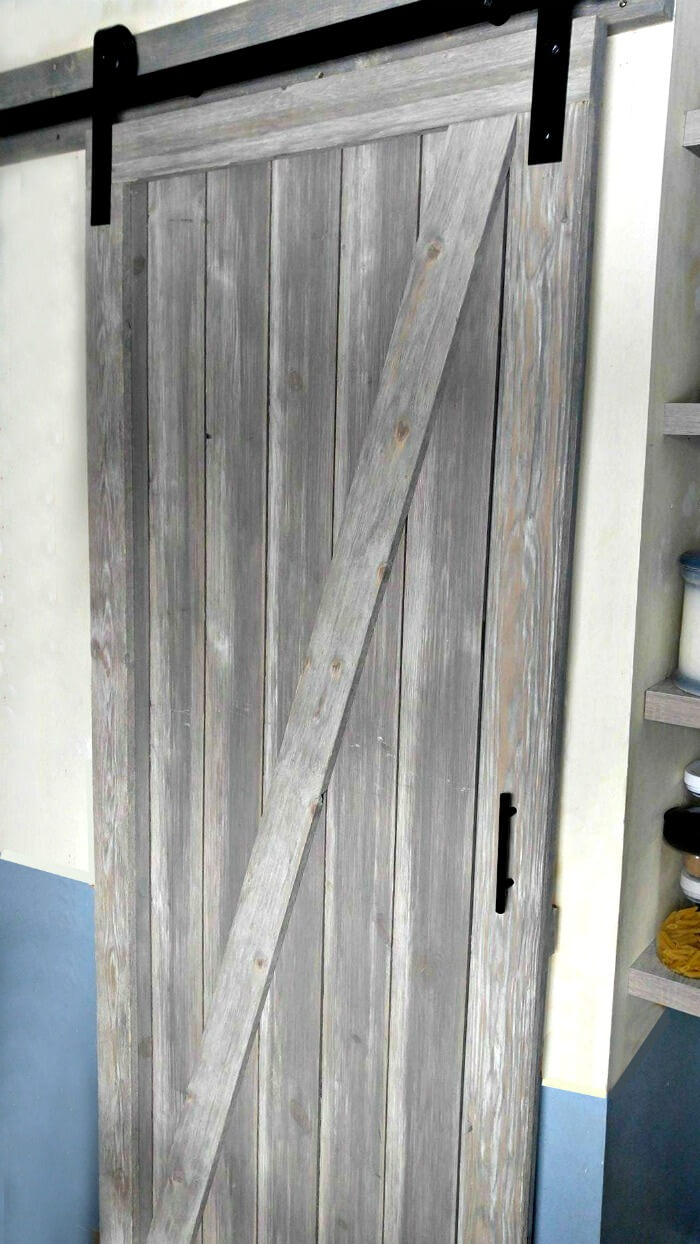 Doesn't this design just make you want to slide the door aside to see what's inside? The sliding barn door lends itself to myriad designs and styles. It can warm up a stark and very modern kitchen or support and enhance a country kitchen design. There are many trendy designs that likely will fail the test of time, but this certainly is not one of them. The sliding barn door design is one that can shout hominess or lend warmth to highly modern designs.
4. See-Through Leaded Glass Insert Doors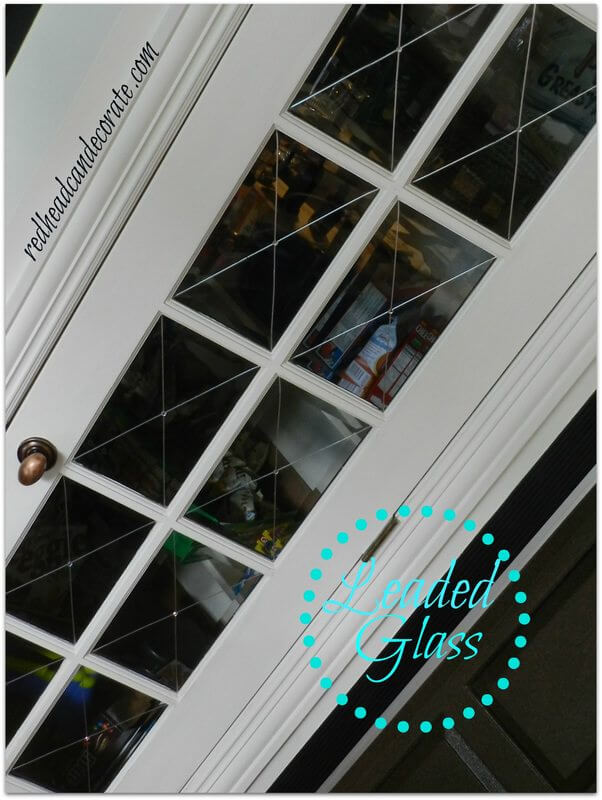 Many of us don't want others to be able to see inside our kitchen pantries, but the more organized among us not only don't mind, they're also proud of their meticulously organized pantries. This is the door for those folks. They're organized and proud of it – as well they should be – but the real star of this particular kitchen pantry idea is the leaded glass. This specific type of pantry door can support the character of an older house or lend character to newer construction.
5. Use an Unexpected Pantry Door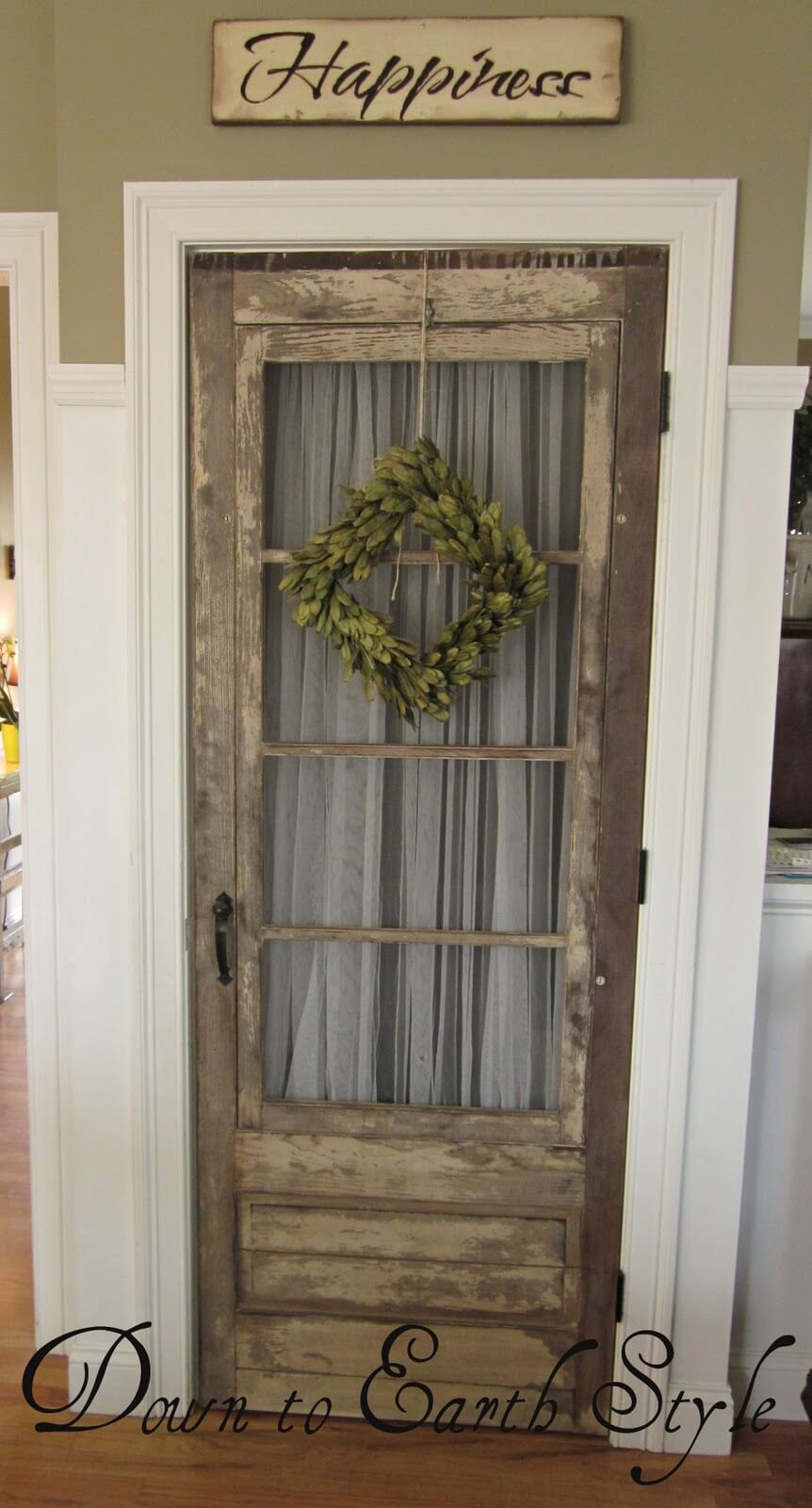 A reclaimed or antique door can provide intriguing interest when repurposed as a pantry door. This particular door has not been fully refinished but rather was cleaned up and distressed, thereby adding to its character. A designer graciously added a sheer window covering on the pantry side of the door, creating an attractive picture without revealing the contents of the kitchen pantry. This is one of the pantry door ideas that can serve as an unexpected added element in any style home, ranging from historic to new construction. This door can be at home even in an otherwise all-white and stark kitchen, lending warmth and contrast through its naturally distressed wood. The shirred sheer fabric on the pantry side of the door adds another vintage element.
6. Take the Distressed Look to the Extreme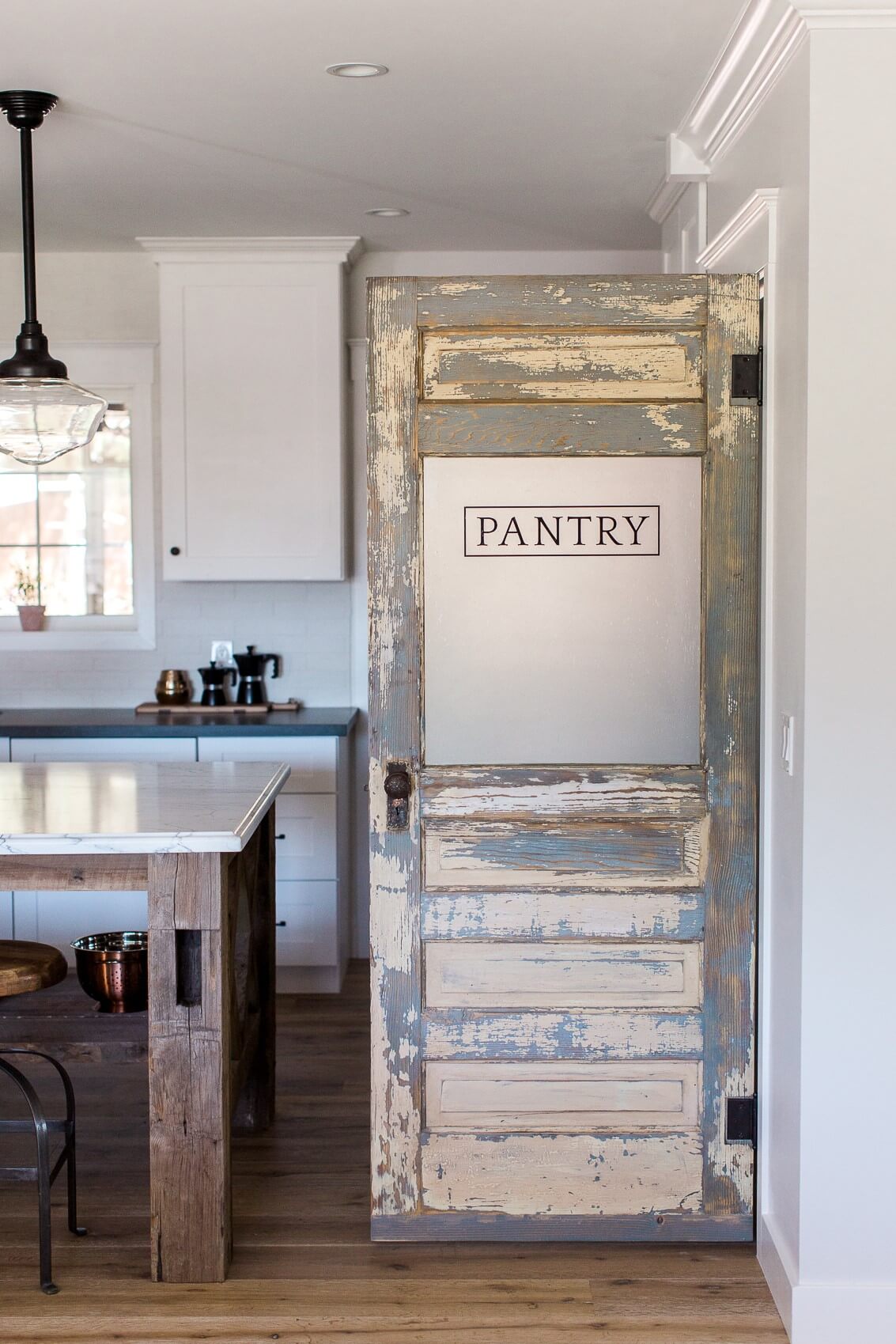 This pantry door gives new definition to the term "distressed!" Obviously taken from a very old house, this is one of the pantry door ideas that combine age with whimsy. Note the very old hardware on the door, which supports authenticity of the door's vintage status. The frosted glass is a plus in that it hides the pantry's contents; the "pantry" label is another feature that adds to the door's design impact. This specific door won't work everywhere, but it is highly effective in appropriate settings.
7. Just Make it Red and then Antique It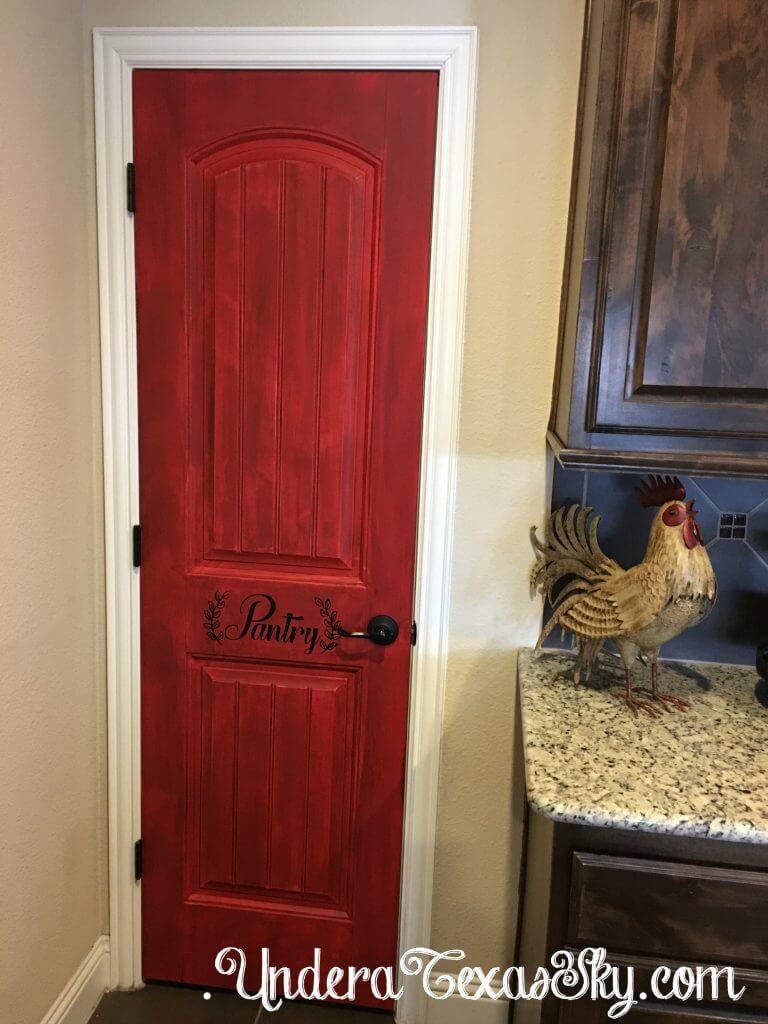 How much fun is this pantry door? Though the door itself is nondescript, the property owners chose to make it distinctive by painting it a bold color in great contrast to its surroundings. The antiquing glaze mimics a distressed finished while also toning down the bold color, and the "pantry" label leaves no doubt as to what lies behind the beautiful red door. The label and its decorations appear to be stenciled, so look for stencils and don't fear any lack of artistic ability when striving to reproduce this door look for your own home. This is one of the pantry door ideas that's very easy for virtually anyone to duplicate.
8. Make Your Pantry Door Do Double Duty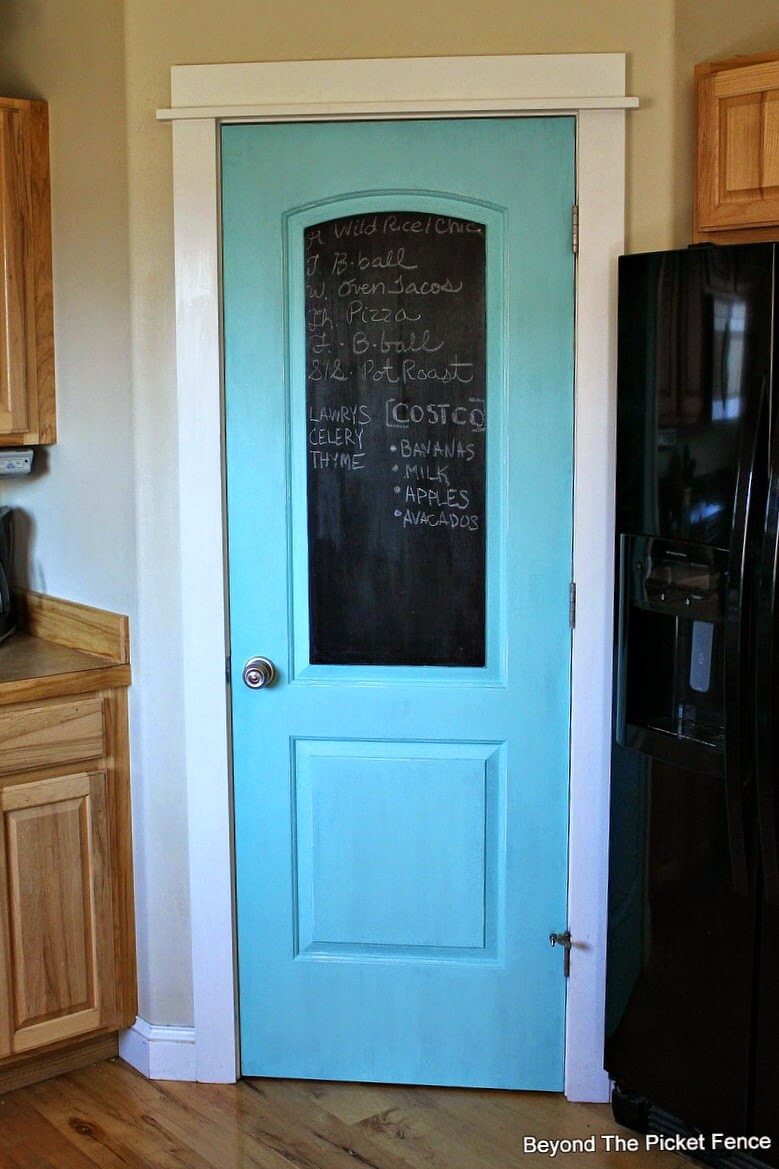 This is just another generic, mundane interior door, or it was before a creative type added a coat of bold color paint and a touch of blackboard paint in a central area. This great pantry door manages to hide the goods behind it while also calling attention to itself, all while serving as a perpetual and ongoing grocery list and even a family command center if necessary. This is a great splash of design and color in what appears to be an unexpected space. Its blackboard paint central panel provides a convenient place for weekly menu planning, ongoing shopping lists, ever-changing family schedules and more. It also falls into the category of pantry door ideas that can serve to entertain children during meal preparation or cleanup time.
9. Double Sliding Barn Door Joy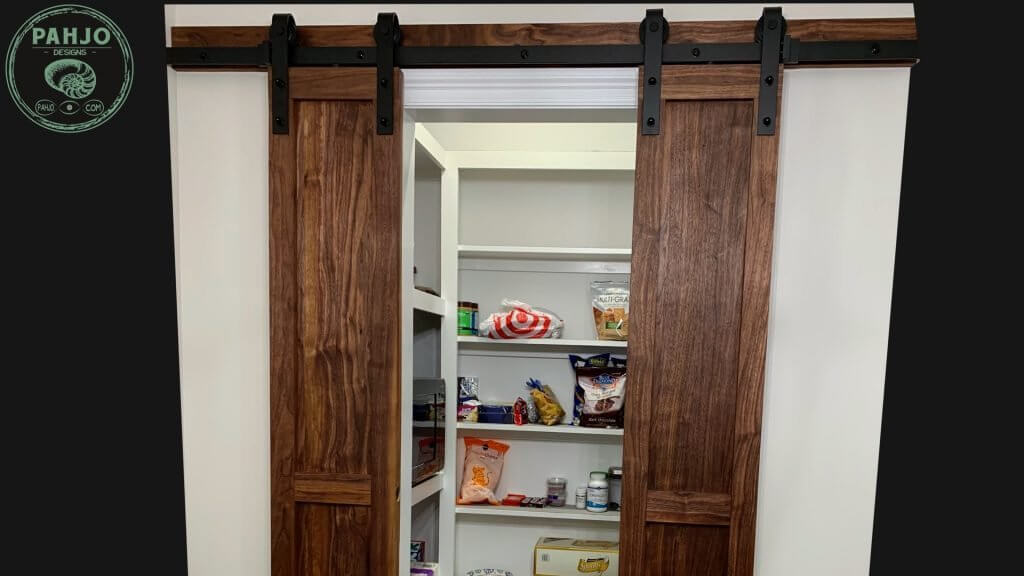 What's better than a single sliding barn door? Two sliding barn doors, of course! Where wall space for a larger sliding barn door may be limited or when homeowners simply prefer two smaller doors, this double sliding barn door design can be just the ticket for achieving the look while avoiding the physical and visual weight of a larger, single door.
10. Introduce a Vintage Element for Your Pantry Door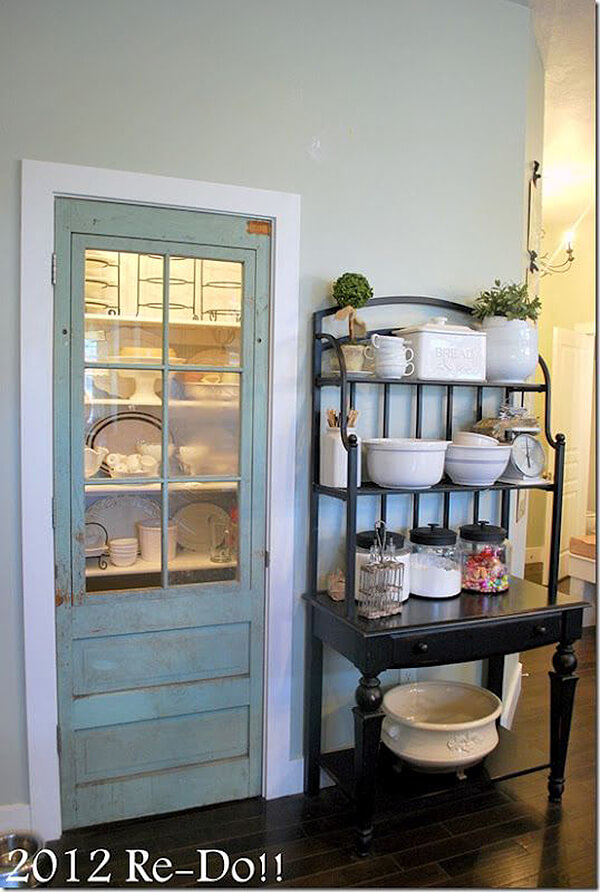 How beautiful is this door where you want to add a vintage element? Its construction conveys its age. Its clearly see-through glass also serves to show off the pantry's contents. This certainly isn't the door designed to hide any messiness that may exist on the other side. Rather, it invites individuals to explore what's on the other side. This beautiful door highlights the kitchen pantry entry as well as what's contained inside. Yes, we all need to "hide" items that aren't quite so visually appealing. You can do that on the wall adjacent to the door, leaving the most visible far wall beautifully decorated and arranged. This is one of the pantry door ideas that combine full visibility with an area concealed from view.
11. Beautifully Functional Barn Door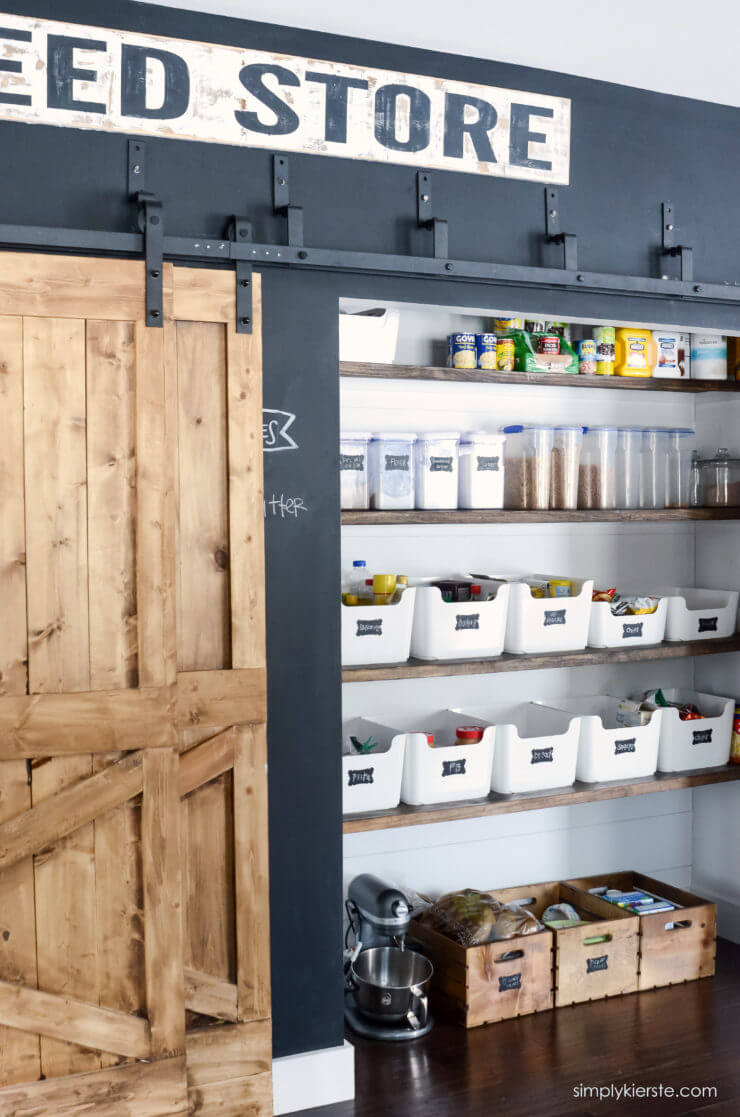 It's very nice to see or make overtures to barn door use in a variety of settings. It's great to see a utilitarian use, however. This big and beautiful sliding barn door both hides and reveals a highly useful storage area, one that can be opened in a single slide of the door to reveal an array of baking supplies, vegetable storage, kitchen appliance storage, or any other number of things that you want to keep handy but not have cluttering your countertops. This pantry door very nearly opens another room to the one in need of use of the kitchen. It reveals everything you'll need that you also don't want to have cluttering your kitchen's countertops, shelves or cabinets.
12. Keep It Private, but Make It Interesting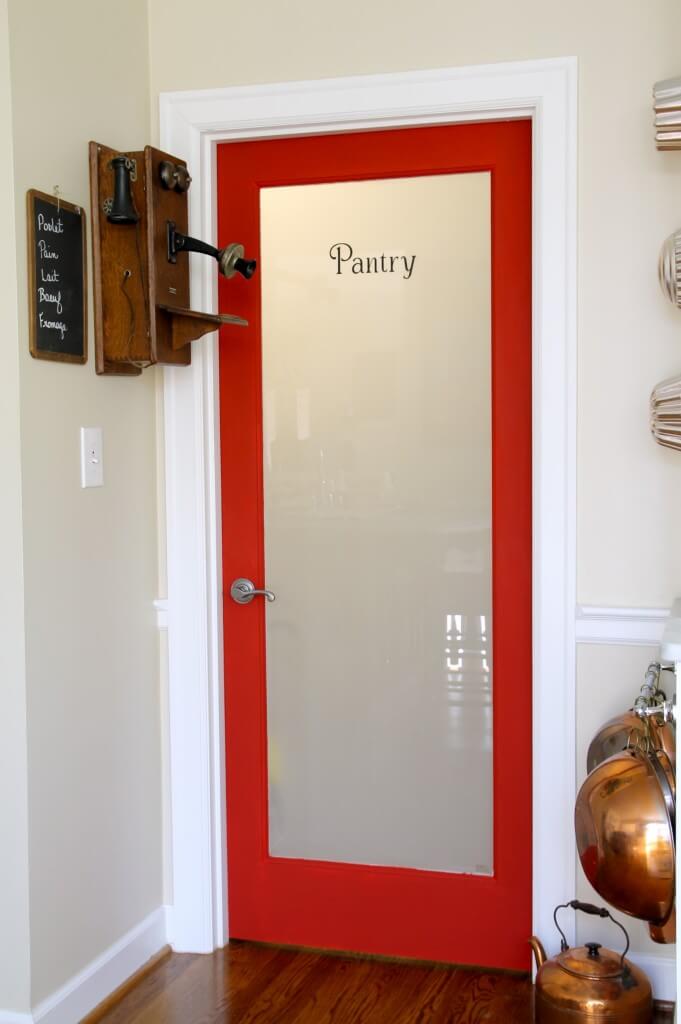 It's good to label the kitchen pantry; it also can be good to frost any glass door. We all see beautiful pictures of wonderfully organized kitchen pantries. Some of us even keep wonderfully organized kitchen pantries. Many of us don't, however. We have great plans but then "life" gets in the way. One errant package of pasta lands in the wrong spot and before we know it, our wonderful kitchen pantry storage becomes disorganized. This approach to kitchen pantry door use can promote the image of meticulous organization while also camouflaging minor – or not so minor – slip-ups. So, frost the door and project the image of immense organization even if reality doesn't quite match.
13. Turn the Pantry Door into an Art Space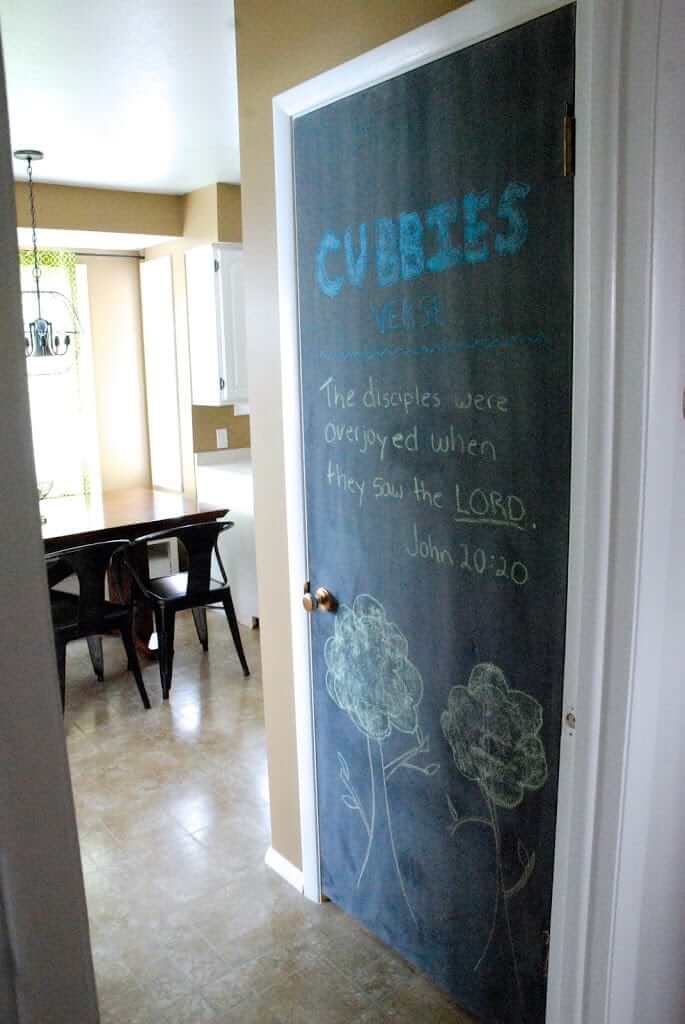 It's always good to have the kiddos entertained and occupied while the adults are working on dinner! This pantry door idea combines the best of all worlds. It camouflages the contents of the kitchen pantry while also providing a free expression space for the kids. They can draw and create until their hearts are content while mom and dad work on producing their dinners. It also can provide artsy entertainment when there's no dinner production underway, providing safe and imaginative entertainment for the little people at any time.
14. Add Character and Let Everyone Know What's Behind the Door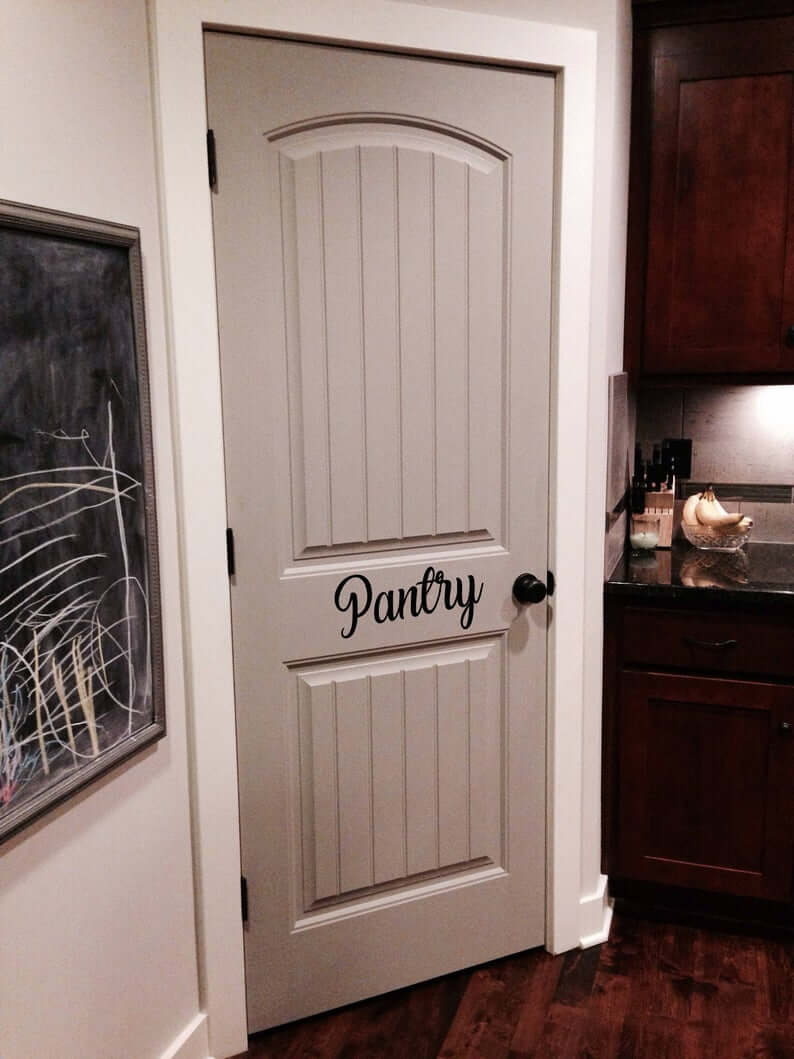 Here's a pretty alternative for an in-kitchen pantry entry. Its label lets everyone know just what is behind the door, and its lovely design adds character to the kitchen and even to the entire home. At the same time, it totally hides everything that's behind the door. Are pantry contents organized? Is the pantry clean? No one who doesn't open the door will ever know. As kitchen pantries can tend to lose their organization over time, a fully concealing kitchen pantry door can be a godsend.
15. The Non-Barn-Door Barn Door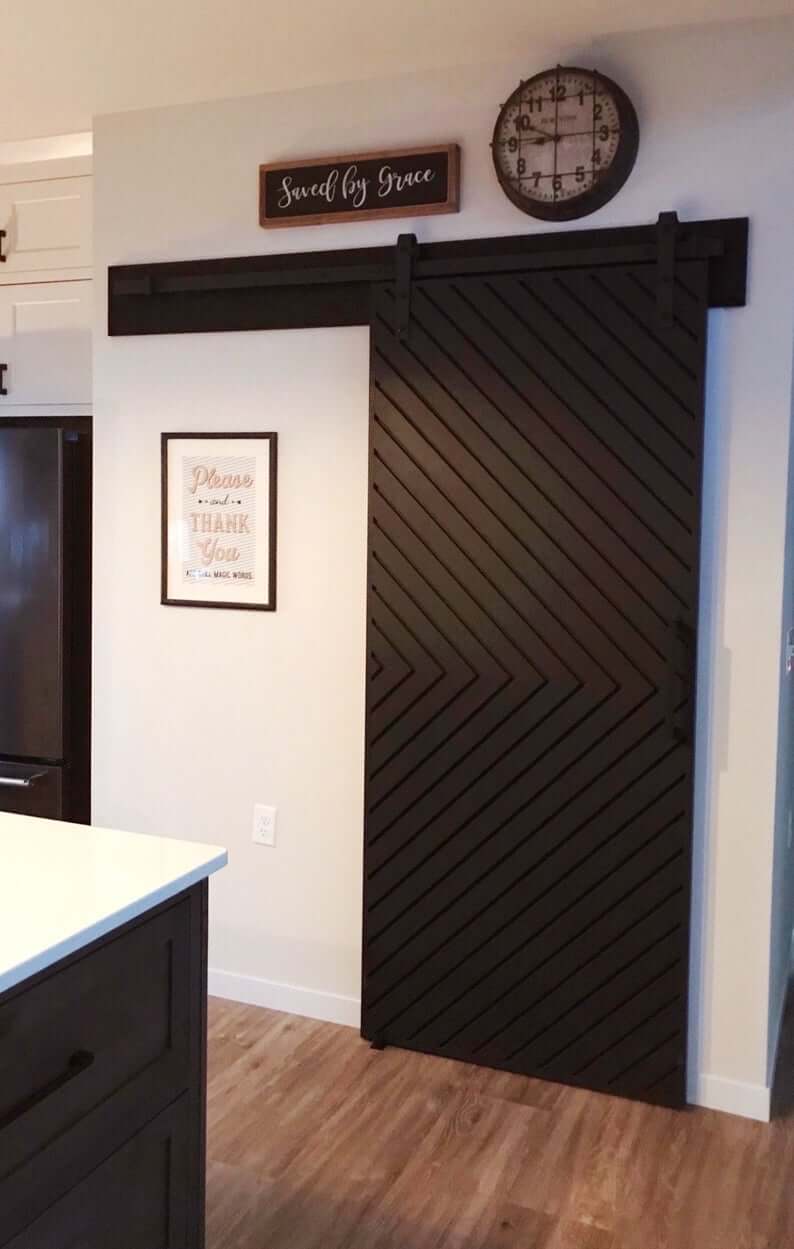 Love the concept of the sliding barn door but not the rustic design? Then a more contemporary design based on the same concept may be the way to go. This lovely door is far from barn like, yet retains the same charm and convenience while carrying a contemporary design. You can impart any design style you choose while still retaining the convenience and functionality of the sliding door.
16. Is There a Pantry or a Room Behind This Door?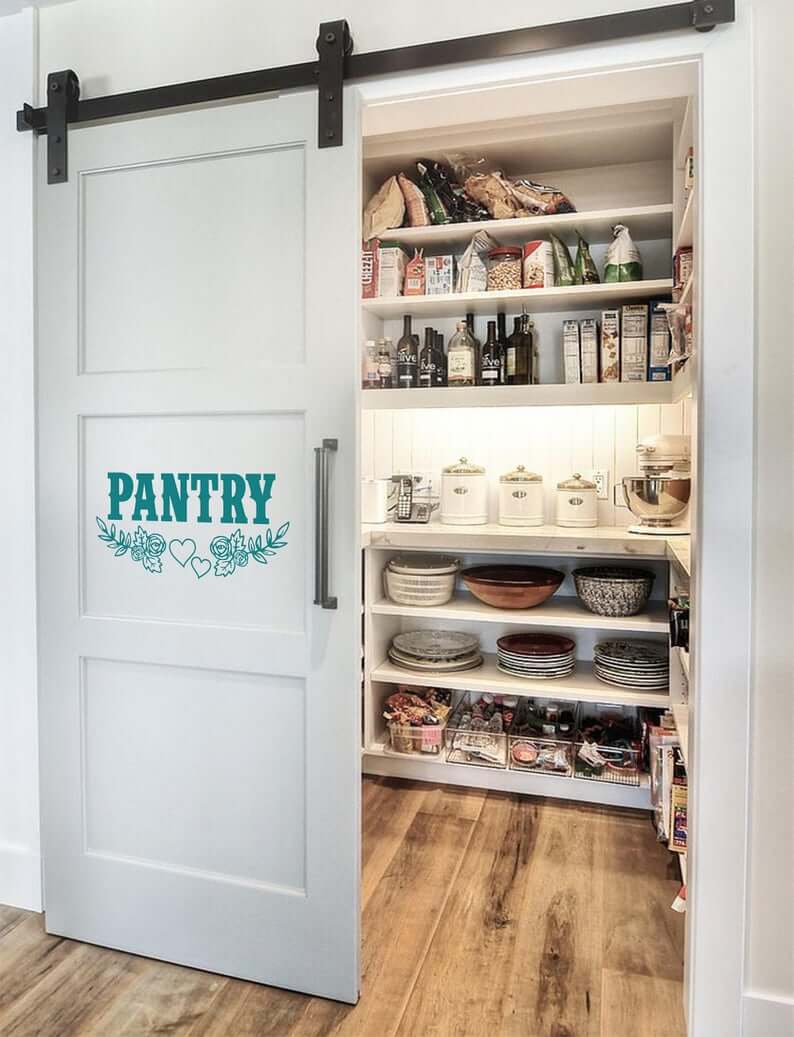 This kitchen pantry door opens a surprising horizon for the individual who chooses to enter. The sliding door design is highly attractive, and the "pantry" label alleviates any question as to what the beautiful sliding door conceals. It's reasonable to assume that any individual sliding the door aside would expect to encounter a closet of some sort, rather than entering into an entire room that has been well organized according to contents and content use.
17. An Eye-Catching Kitchen Pantry Door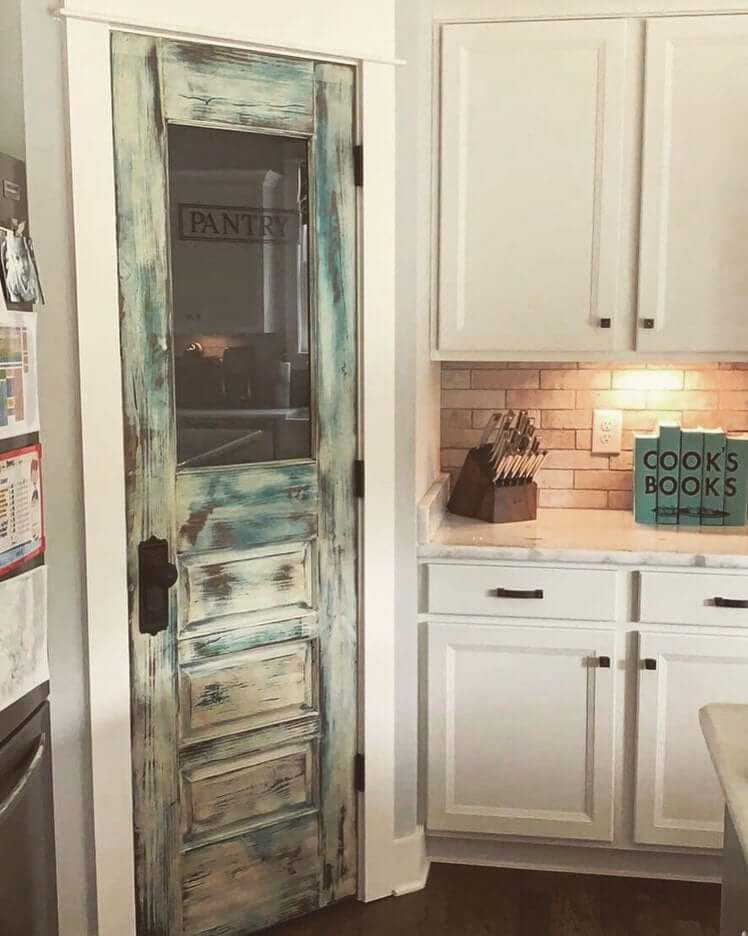 Depending on perspective, this specific door can be seen either as a wreck in dire need of paint or as a treasured antique door being repurposed as a kitchen pantry door. Though this door may be too distressed to suit the tastes of some, it provides a magnificent focal point, particularly in an otherwise picture – perfect and perhaps even an all – white kitchen. Though initial urge may be to refinish this door to make it perfect, its beauty may be that it is perfect as it is.
18. Natural, Inviting, and Revealing Pantry Door Idea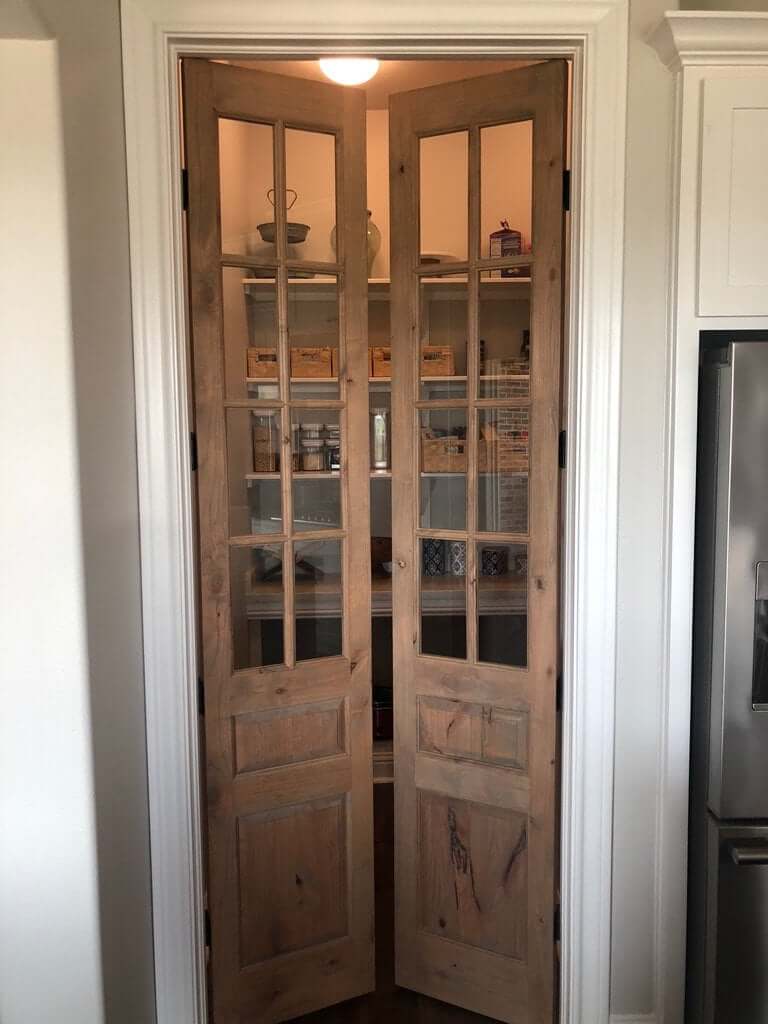 Is your kitchen pantry beautiful and organized? Then show it off with doors such as these. They're eye-catching for the room and thereby create a point of visual interest, but they also afford a glimpse into the pantry itself. That's good if the pantry is well organized and visually appealing, which is the goal of many. It's also a goal of many that has not yet been realized. If you're one who has reached the goal of being totally organized within the pantry, then by all means, show it off!
19. Use an Artistic Non-Barrier Pantry Door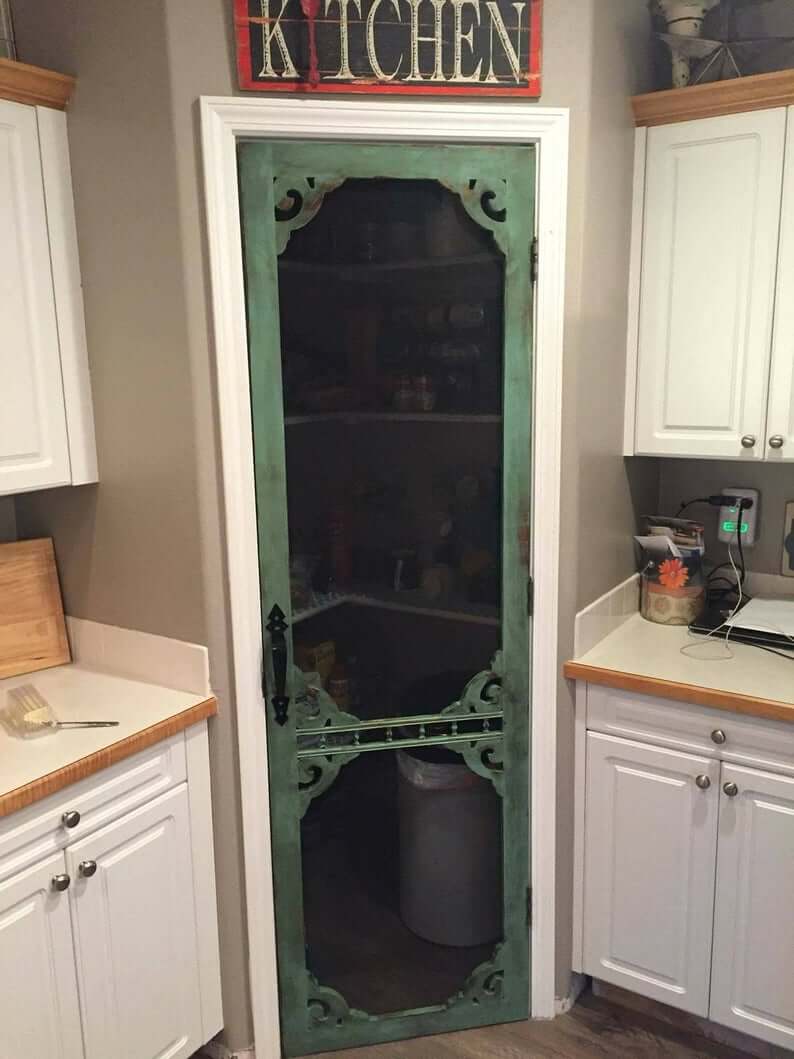 Here's a pantry door idea that either can help you show off your superlative organization skills or admit to everyone that you may still have some organization to do. It's up to you! Using a vintage and repurposed screen door can provide visual interest as well as physical separation for the kitchen pantry. This beautiful door invites exploration while also providing inspiration for remembrance to earlier experiences at grandma's house.
20. Chic Separation with Clear Purpose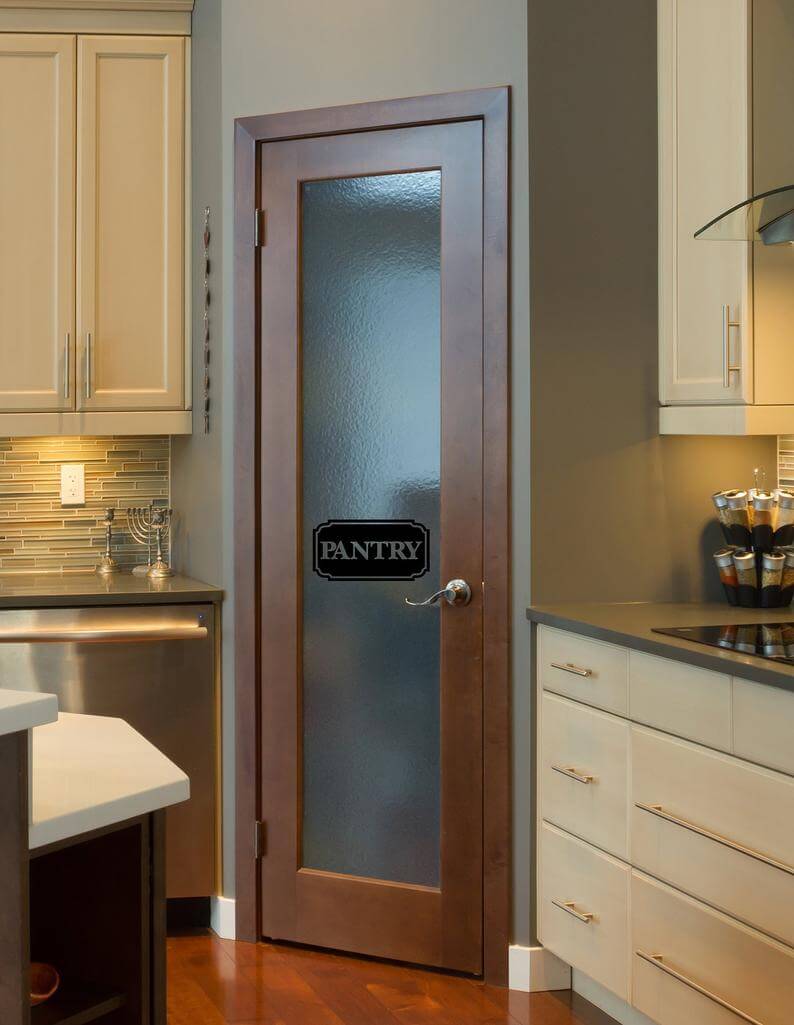 This pantry door's clean lines and frosted glass provide clear separation while also letting everyone know what is contained behind it. This is a sophisticated look that also lends personality with its welcoming and very clear label. Its frosted glass gives a lighter feel than would a solid panel door, serving to lighten up the entire corner while yet keeping the pantry's contents out of direct view. An added bonus of the frosted class is that it is easy to clean and won't show fingerprints between cleaning days.
21. A Hard Working Multi Duty Door with Style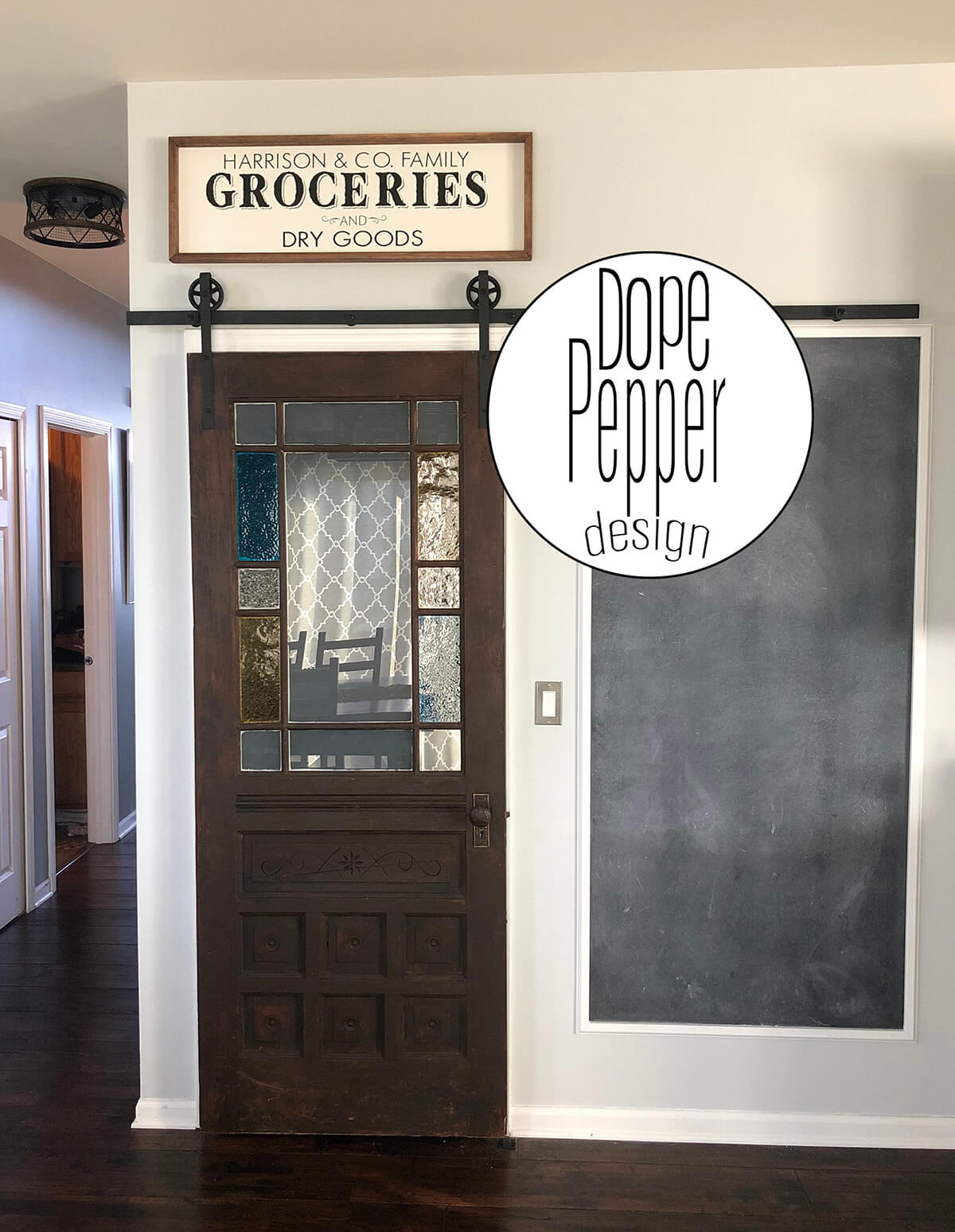 This is a masterful combination of several design features, all included in a single door that becomes a lovely focal point as it serves up practicality and separation for the home's pantry. As a sliding door, it never infringes on either room's floor space but also has an appearance that distinguishes it from virtually all other sliding door styles. It even incorporates a door knob to give it a more conventional appearance. Its panes of varying sizes add visual interest, and their unexpected colors add even more. The mirrored central pane very nearly serves as another window as it reflects natural light entering from the other side of the room. This is a wonderful variation of the sliding door that takes advantage of the practical benefits while also lending beautiful design.
22. Take the Challenge to be Bold and Stylish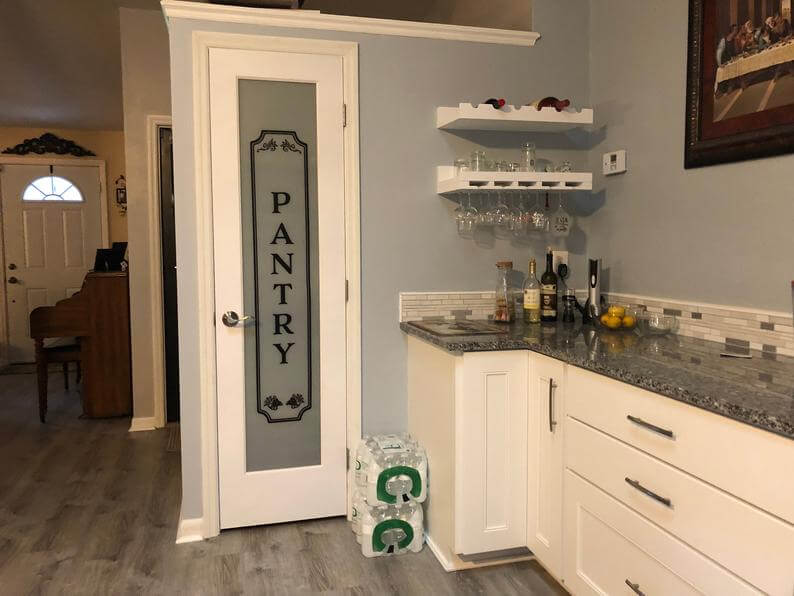 If there's no space for a feature wall, try a feature door instead. This door provides entry into a small but functional storage space, boldly calling attention to itself while serving its utilitarian purpose of hiding what's behind it. Guests will have no problem in finding the pantry or differentiating it from the powder room.
23. Back to the Past: The Doctor Is In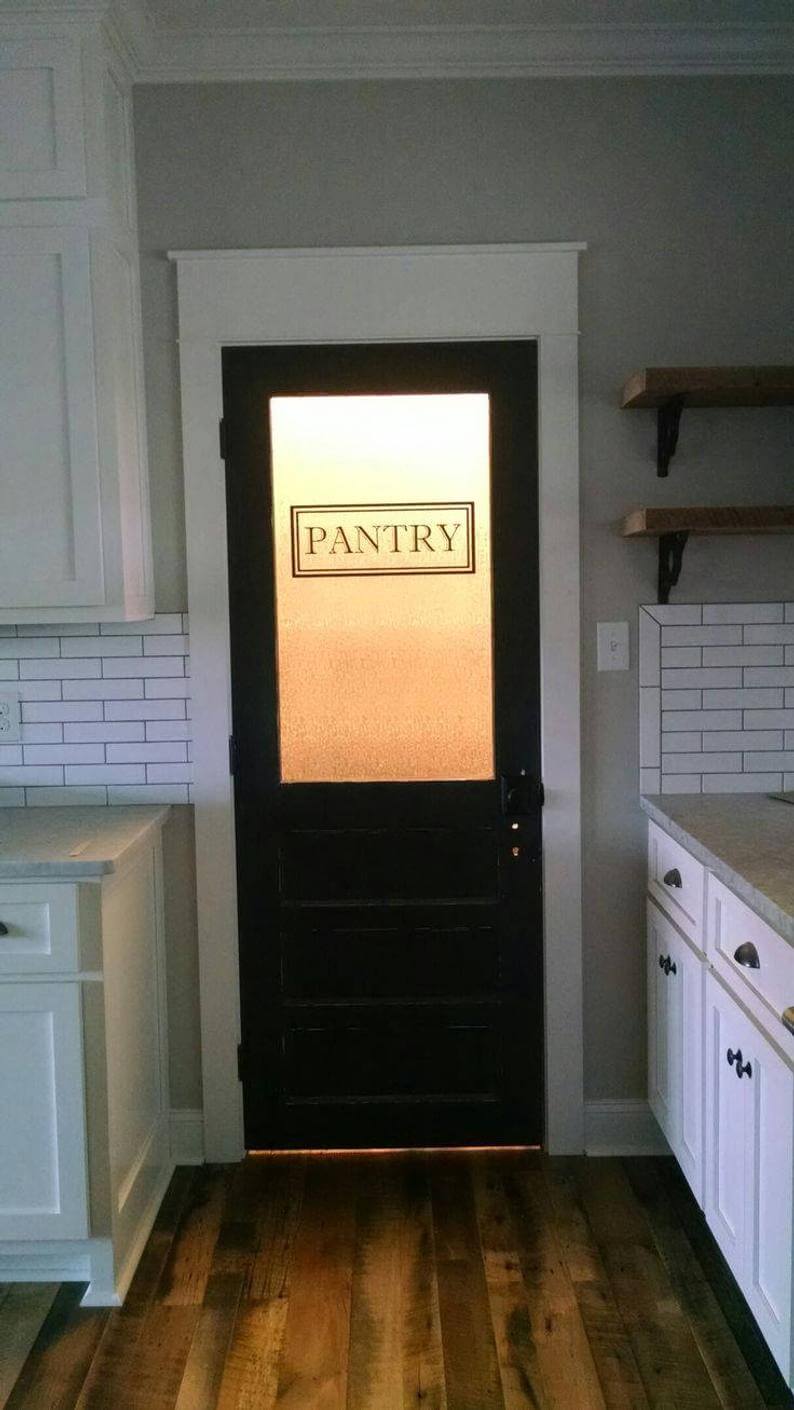 Isn't this door reminiscent of an old-style doctor office, or perhaps an administrative office in an old public building? It serves its purpose of defining the pantry while also hiding its contents, but does it with style and character. It also works well with the wood floor leading to it. The door and the floor serve to add warmth to the mostly-white kitchen. The door also serves to visually break up some of the height of the small wall in a room with wonderfully high ceilings.
23 Out-of-the-Box Pantry Door Ideas
These are only a few of the pantry door ideas available for making the entry to your pantry storage area fun, intriguing, or stylish in addition to fulfilling the door's purpose as a point of separation of the pantry from the main kitchen area. It isn't practical to take bold liberties with many of the doors of your home, but the pantry area gets a pass. The pantry door can block the view into the pantry, or it can simply serve as a see-through separation in the manner of the lovely vintage screen door featured above.
Another benefit of choosing creativity for your pantry door is that it doesn't have to be set in stone and totally permanent. You can change one door for another in the future, or refurbish your existing one if you decide later that you want a new look for a while. A new and nondescript relatively inexpensive door can provide a canvas for a room-changing look. Sources for older or vintage styles include architectural salvage stores, yard sales, online but local sellers, estate sales, or even old garages. Truly older doors may require a good bit of cleanup work, but they also add character that can be missing in newly constructed homes. The point is that the possibilities are endless. With change always possible in the future, an imaginative pantry door can serve to change the entire look or feel of a highly functional kitchen area and its associated pantry space.
As you can see from the pantry door ideas presented above, your pantry door can be distinctive while either blending with your home's style or totally diverging from it to create interest and perhaps a little surprise. There are many options that can create great fun while still providing utilitarian separation of your kitchen storage and function spaces.