Flowers are one of the best ways to add life and color to any décor. Whether it is a wedding, birthday party, baby shower, or a simple dinner party, a floral display is always appreciated. Of course, the obvious problem with fresh flowers is that they die. However hard we work to preserve those springy blossoms, even the heartiest eventually succumb.
32+ Hip Paper Flower Decorations to Add a Pop of Fun to Your Home

So how does one get around this problem of wilting blooms? A superb solution is paper flower decorations. Paper flowers can be crafted from many different types of paper to create looks that can be playful or romantic, simple or complex. There are designs that look genuinely close to the real thing, and then there are others that embrace bold and whimsical colors for a more fanciful look. Whatever your aesthetic, there are ample options for you.
Another great thing about paper flowers from Etsy is that many offer templates, meaning you have the freedom to create your own flowers at home without the hassle of creating your own design. The work has been done for you; you can just have fun crafting. Of course, ordering them pre-made is always a good way to go as well. This list provides options of both styles to ensure you have exactly the paper flowers you're looking for.
1. Full and Fabulous Paper Dahlias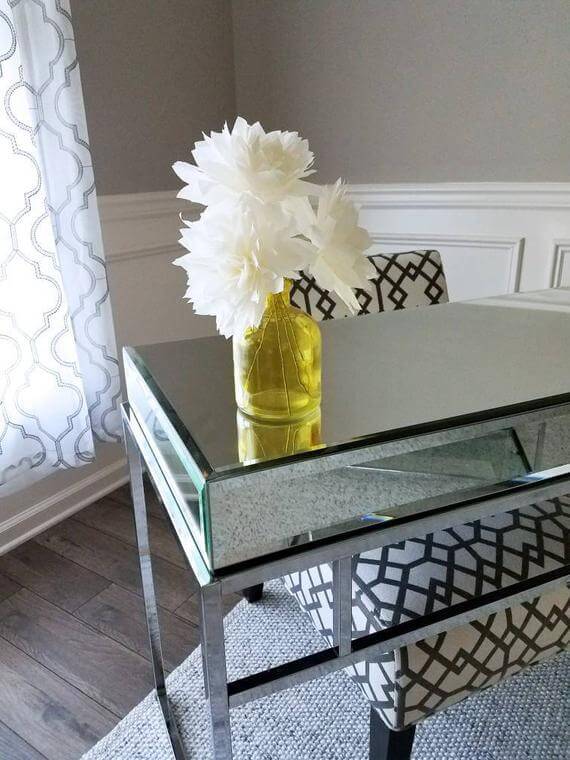 Simple and pure, these delicate paper dahlias are the perfect floral choice for any occasion that could use a bright floral burst. Available in eleven different colors, each flower is one foot tall and five inches wide, making it perfect for a vase, cake topper, or part of a centerpiece.
2. Hanging or Wall-Mounted Giant Flowers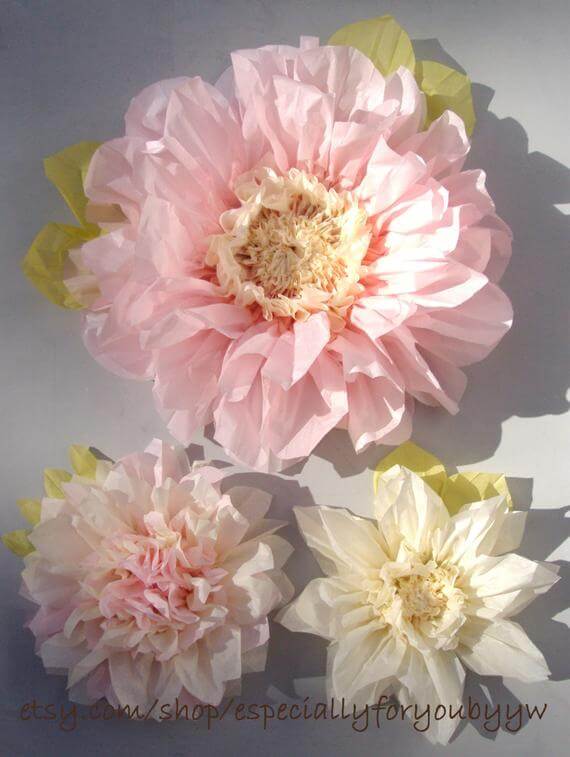 Lovely light pink and yellow wall flowers are wonderful for any special occasion, no matter the season. These flowers will brighten up a room, making them perfect for special occasions such as weddings and bridal or baby showers. Since they can be hung from the ceiling or mounted on the wall, you are sure to find a great spot for these flowers.
3. Big and Bold Pink Flower Decorations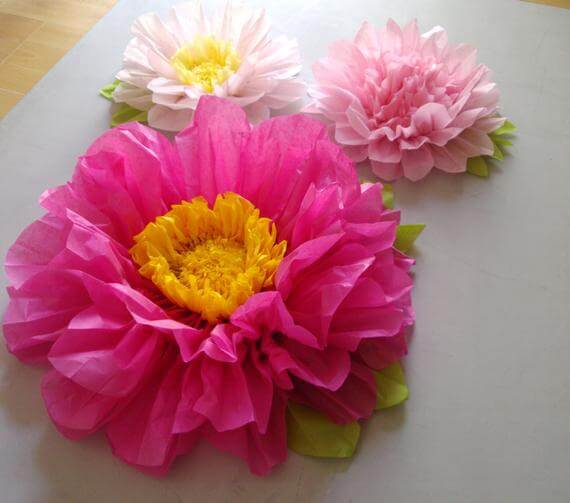 A bright punch of hot pink will no doubt brighten a room. This set, featuring three lovely shades of pink, works well for a baby shower or gender reveal party. The large bloom measures a full 19 inches, and with two supporting 12-inch flowers, you will have yourself a complete and attractive decorative display.
4. Delicate Hanging Multi-Colored Wisteria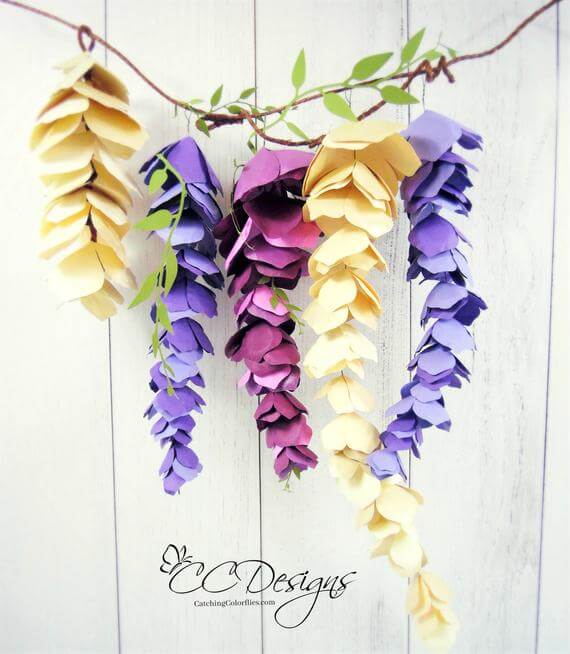 There is something incredibly romantic and charming about wisteria. This beautiful flower is near impossible to use indoors; however, the effect can be rendered with these flowing paper flowers. This template allows you to create these delicate strands in whatever color and whatever length suits your event or decorating needs.
5. DIY Large Rose Décor Templates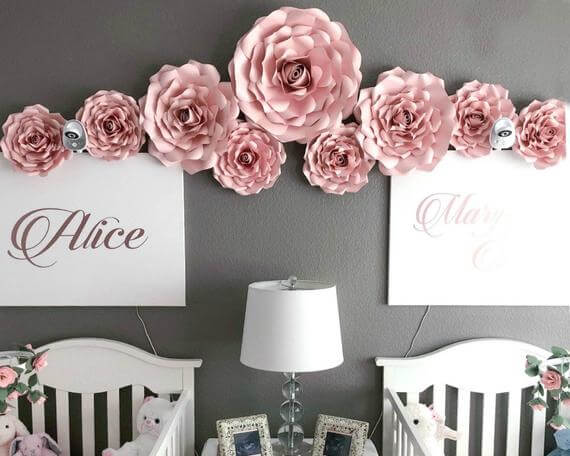 If you like to create your own decorations but are having trouble finding a good place to start, then this template is perfect for you. With patterns for three different sized roses, you can use the exact colors and textiles to match your space. Save this pattern to reuse for other decorating needs for years to come.
6. Template for a Perfect Peony Paper Bouquet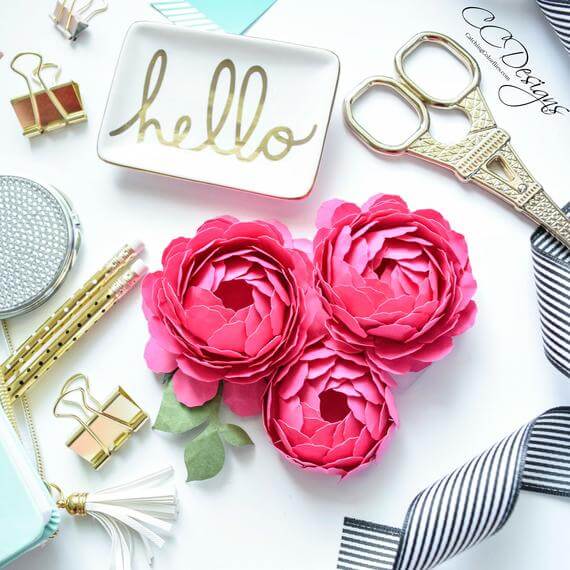 This inexpensive template is a fabulous way to create gorgeous flowers that last. You can make the flowers and stems any color to create a bouquet fit for any centerpiece or even for a bridal party. Available as soon as you complete your purchase, this template is ideal when you need to create your flowers right away.
7. Unique and Handmade Crepe Peonies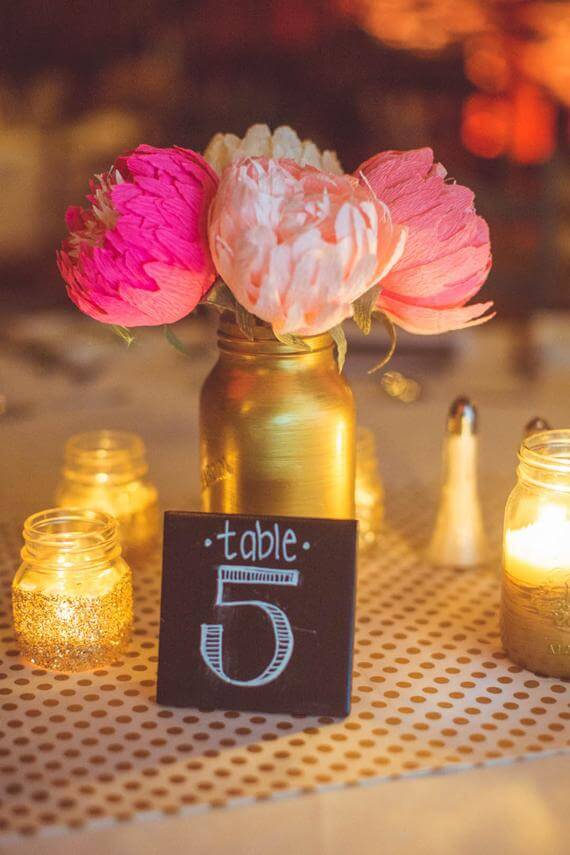 Crepe paper is an ingenious stand-in for peony petals. Peonies are naturally wafer-thin and light yet full and robust. These elements are captured wonderfully in these beautiful and naturally colored crepe flowers. An arrangement like this is great if you are looking for a way to keep your bouquet forever, not just for one day.
8. Gorgeous Twelve-Flower Wall Display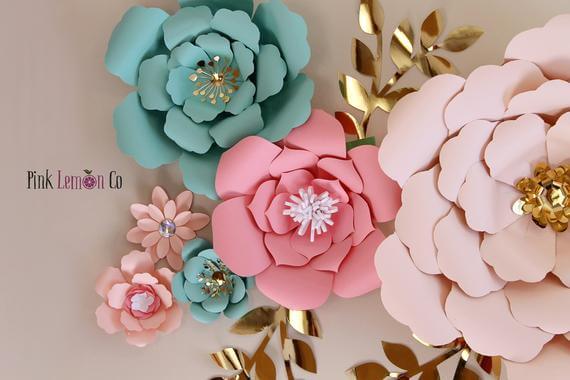 If you are looking for a paper floral display to be the centerpiece of a room, then this gorgeous multi-colored and sized piece should be one of your top choices. With the option to add a personalized golden name, this is the perfect decoration for a colorful and floral-themed nursery or child's room.
9. Giant Lifelike Bright and Beautiful Sunflowers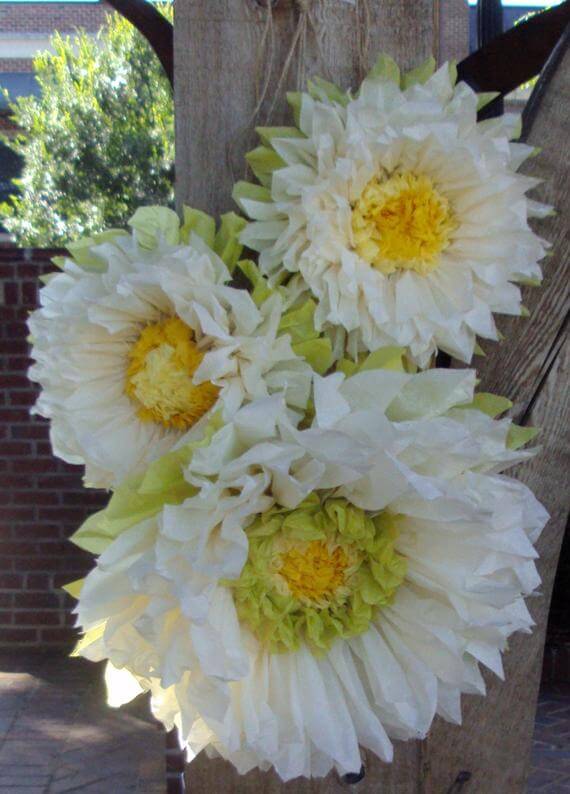 Perfect for an outdoor wedding, birthday, or other occasion, these decorative paper flowers sing summer. With their bright yellow centers and big white petals, these flowers make a statement while maintaining a gentle and natural air. Order more than one set to hang from trees and fences all around your garden space for a cohesive and impactful look.
10. Delicate and Smooth Rose Template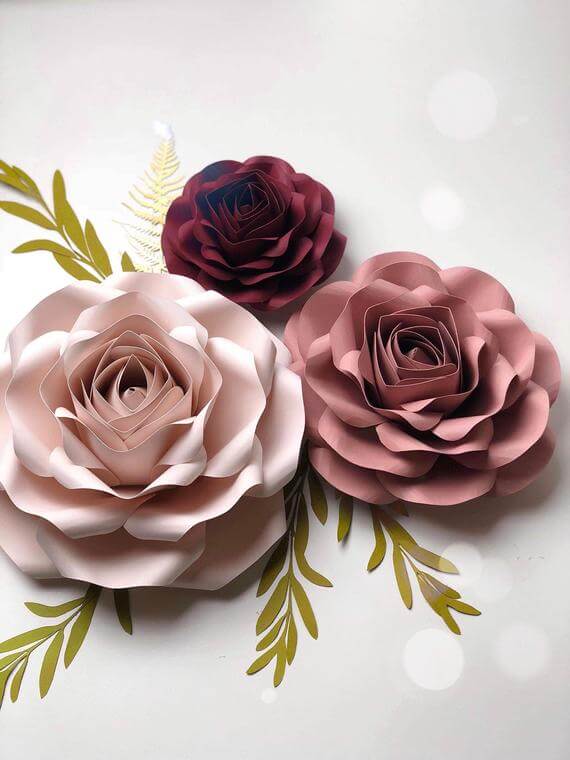 With sweetly curved edges, it is hard to distinguish this paper flower from the real thing. This downloadable PDF template will guide you through creating these true-to-life masterpieces on your own and with whatever materials and colors you see fit. Once you have mastered these flowers, you can use them for nearly any occasion.
11. Petite and Pretty Peach Paper Roses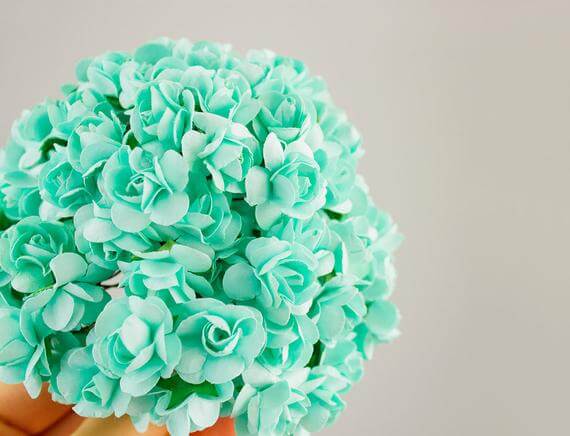 Available in the quantity of your choice, you can use these lovely roses as accent pieces here and there, or you can go big and order ten dozen for an impressive120-flower bouquet fit for any bride. No matter the quantity, the quality of these handmade flowers is always apparent and brings them to life wherever they are displayed.
12. Giant Paper Flower Wall Décor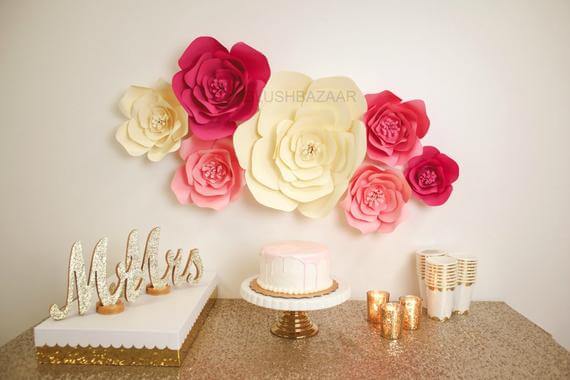 Use these lovely flowers to create any sized design that you wish; you can even fill a whole wall with these beautiful blossoms for a memorable photo opportunity. However you choose to use them, be sure to get multiple colors for a look that has some depth. Multiple sizes will also add variety to your décor.
13. 3D Tropical Hibiscus Flower Template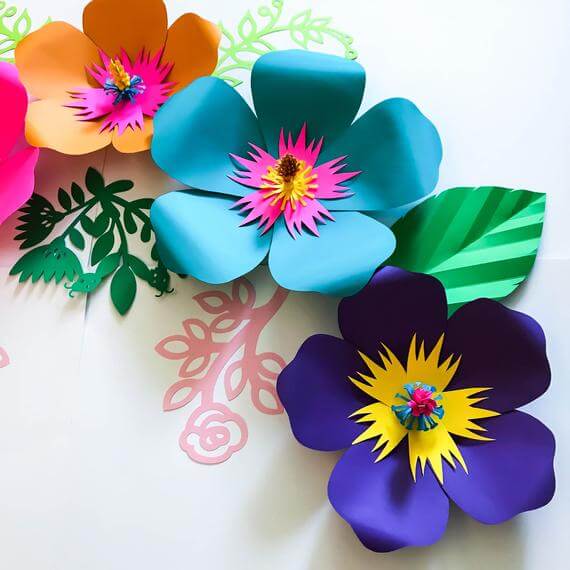 Designed to feature bright and tropical colors, these flowers will fit right in with a luau or summery event where people want to feel like they are enjoying the warm Hawaiian sun. With the template in your hands, you can create your own look by mixing and matching outside petals and centers and by playing with different color schemes.
14. Lifelike Gentle Paper Flower Arrangements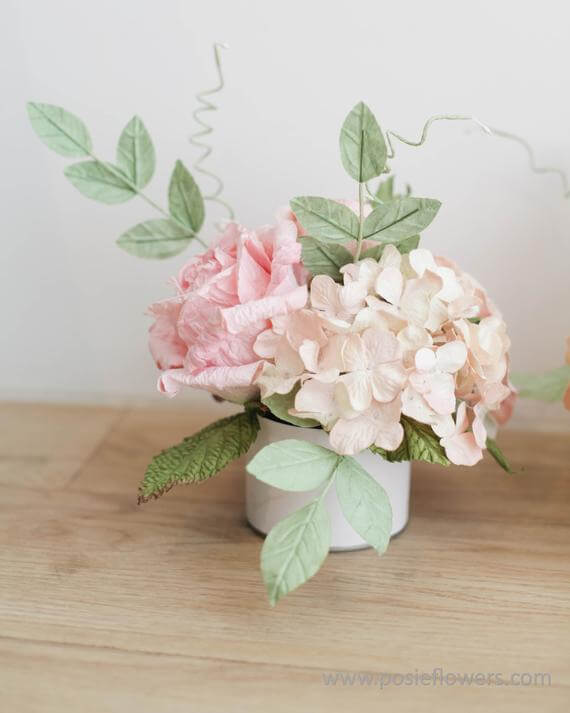 Unless they feel these flowers with their own fingers, your guests will have a hard time guessing that they aren't the real thing. Hydrangeas are known for being difficult in bouquets and arrangements, so this paper option is the perfect way to incorporate them without the worry of brown spots ruining your look.
15. Lush Multi-Sized Template for Full Roses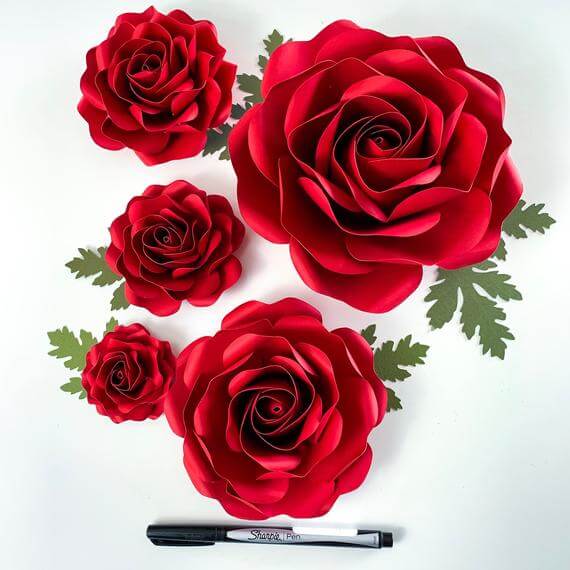 When creating your own rose garden, it is nice to have the option of different sizes. Not all natural roses are a uniform six inches, after all. This template gives you six different options for your cutting machine and provides simple instructions so you can have a natural and lush looking-bouquet in no time.
16. Template for Small Dahlia Display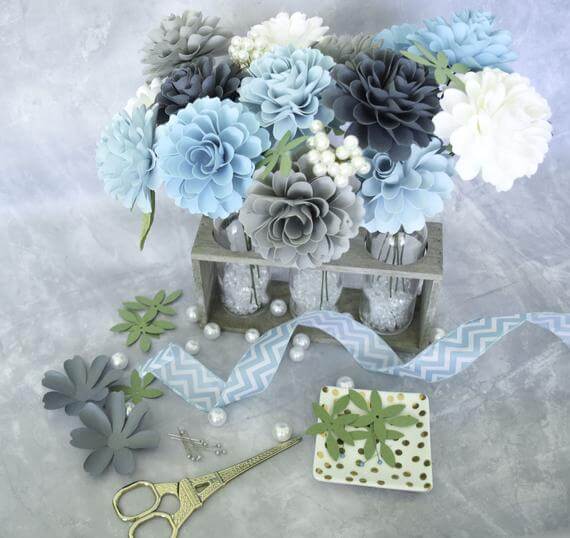 One way to have as many flowers as you want at a reasonable price is to create your own paper flowers. This template offers full instructions and supply lists for you to create a whole garden of 4-inch dahlias. Group them all together for a full bouquet or spread them out to add a pop of charm and color.
17. Sweet and Simple Rose Template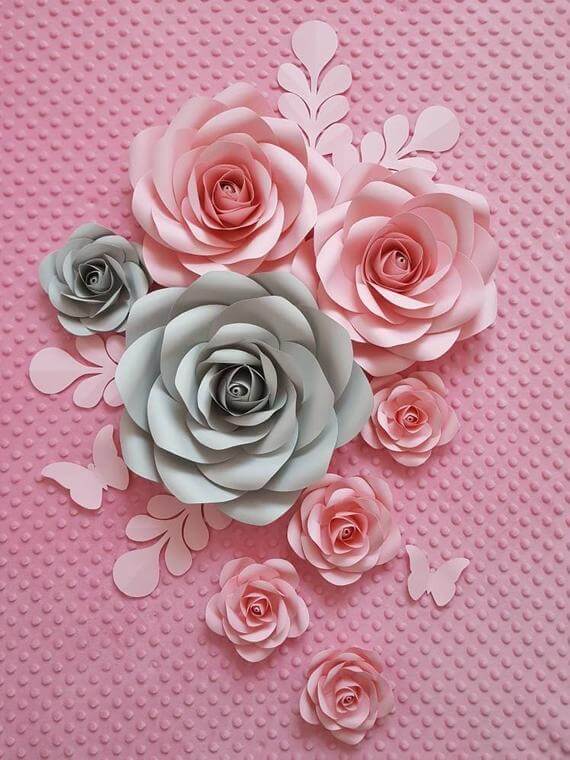 You can create a whole rose garden with this template, which offers six different sizes of flowers. Use these photos for your own business or for personal parties, photo shoots, or décor. Once you have a template like this, you will be able to use it for a lifetime and will always be prepared to create exquisite floral designs.
18. Full and Fabulous DIY Blossoms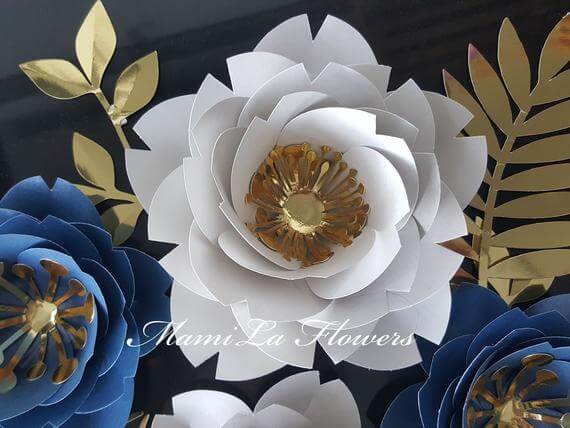 These flowers look amazing on their own or with the addition of a cool centerpiece. This template allows you to create your own flowers with paper and materials you have at home. Thanks to a downloadable design and simple instructions, all you need is your cutting machine and creativity, and you are ready to get crafting.
19. Full and Playful Floral Designs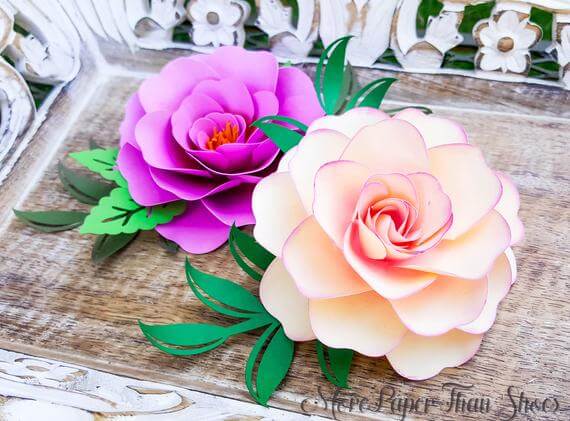 This template will show you how to create your own flower petals and leaves that you can then use for anything you can imagine. Perfect for topping gifts or for creating your own beautiful artwork, these flowers can be used practically anywhere, and, since it is an at-home template, you can easily experiment with different textures and colors.
20. Giant and Sunny Gerber Daisy Template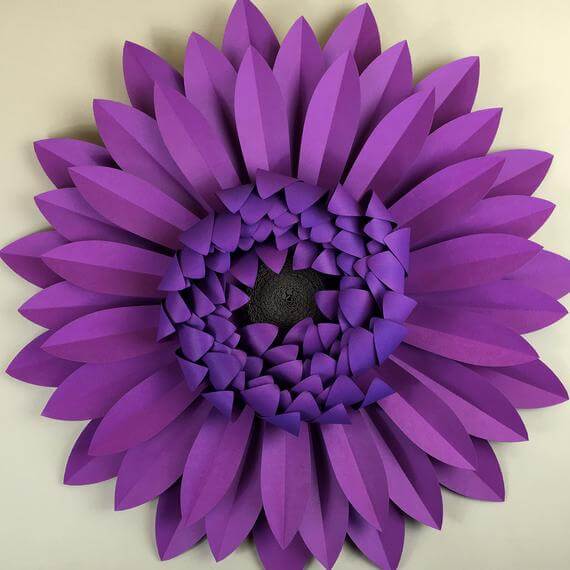 One of the friendliest flowers is the daisy. With its large, long petals, it has a warm and sunny feel. Using this template, you can create your own giant, 19-inch flowers. With is multi-dimensional look, this flower may seem difficult to create on your own, but an easy-to-follow tutorial will have your blossoms blooming in no time.
21. Hanging Pom Pom Paper Flower Decoration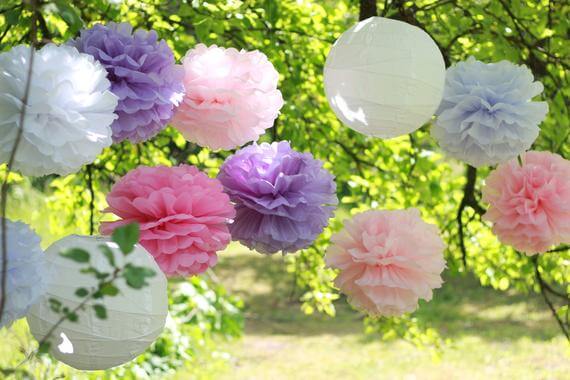 These soft and fluffy spheres are great for hanging outdoors or indoors and can add a charming whimsy to an event. Order them in specific colors for your wedding or get a whole rainbow for a fun party. The options and pairings are endless. For an even more magical look, try hanging these with string lights.
22. Wire-Strung Rose Garlands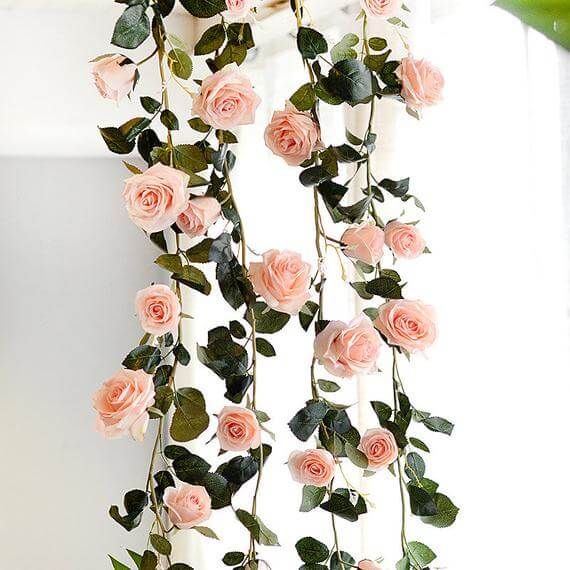 These rose garlands flow gently to create a cascading effect. You can also wrap them around a centerpiece to add a pretty touch. With a wire frame, these strands are easily manipulated and can be twisted to fit any layout you have in mind. Order one to add a delicate touch or acquire a bunch for a lush rose garden effect.
23. Paper Wedding Bouquet Replica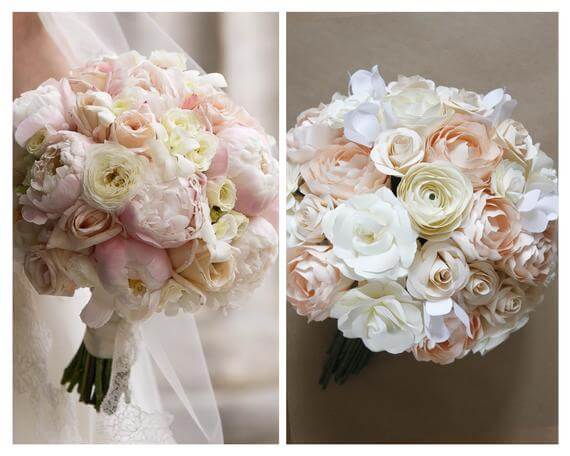 This gorgeous handmade wedding bouquet replica makes an amazing gift for a first anniversary, where the traditional gift is paper. The designer at this shop will hand craft a custom replica of the bouquet from your wedding for an amazing and heartfelt gift that captures the magic of your special day forever.
24. Pretty Pink Decorative Door Wreath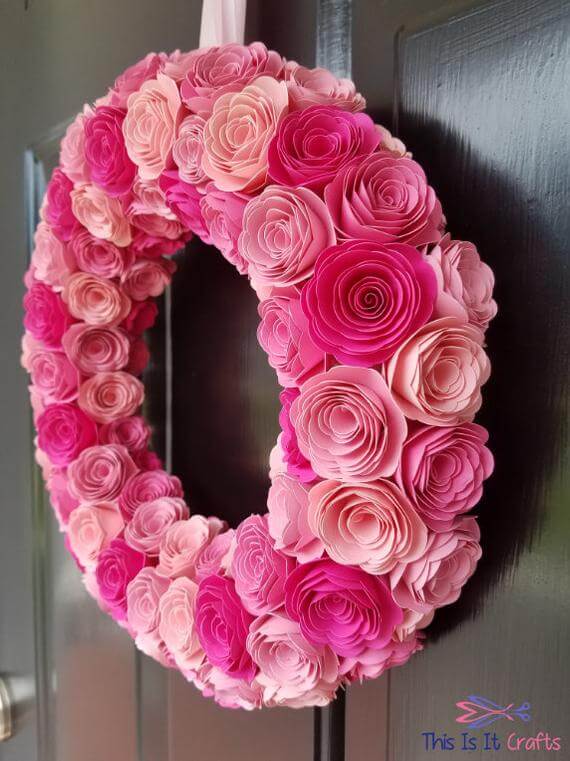 Springy and inviting, this wreath will give a warm and friendly welcome to anyone who visits. Perfect for May Day, Mother's Day, a wedding, a shower, or simply to bring in the spring season, this wreath is overflowing with beautiful paper buds in all shades of pink. Mounted on a satin ribbon, the whole look embodies a soft elegance.
25. You Initials or Age in Roses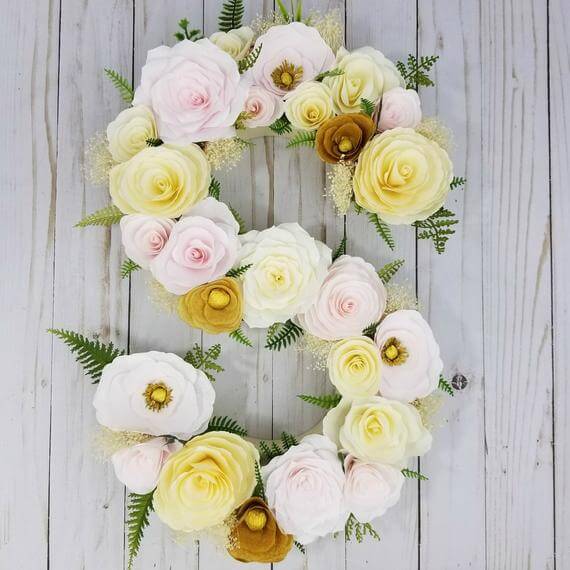 This amazing handmade floral display is perfect for featuring the initials of the bride and groom or for showcasing the birthday girl's age at her birthday bash. Standing 16 inches tall, these roses can be hung, mounted, or leaned up against the gift table. Keep this piece of décor forever as a reminder of your special event.
26. Romantic White Floral Backdrop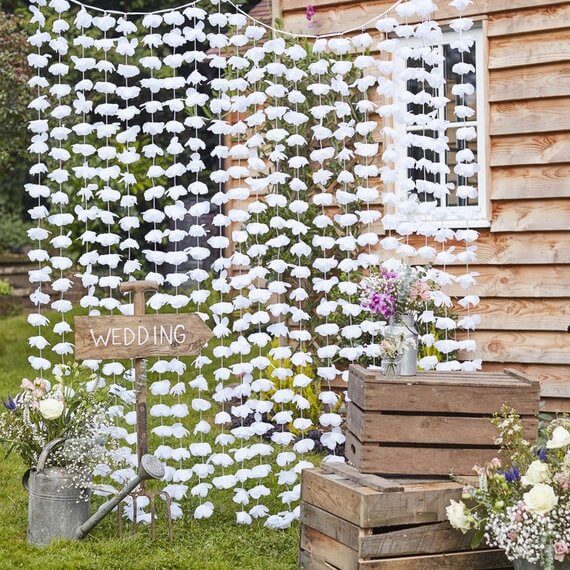 Perfect for a photo booth or as a divider, these lovely strung white flowers are romantic and delicate. The flowers work well with any style of event, from rustic chic to black-tie elegance. Simply place them where they best fit, and they will add movement, elegance, and charm to your home or venue.
27. Big Multi-Tiered Floral Template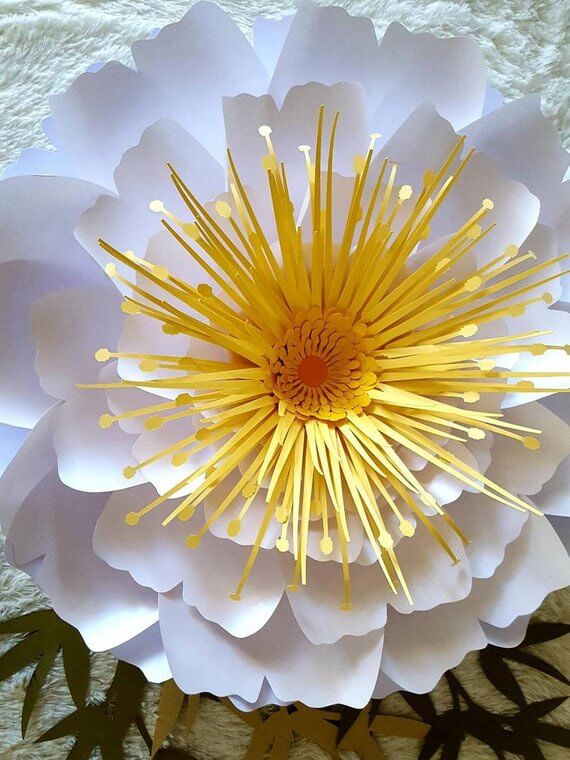 This big and bold template offers five sizes of petals so you can layer your look to create three-dimensional flowers. The centerpiece is not part of this design, so feel free to find the perfect complement for your blooms. Or, if a sparse aesthetic is more your taste, leave them as is for a more open and lighter look.
28. Moonshine Full Paper Bouquet Sign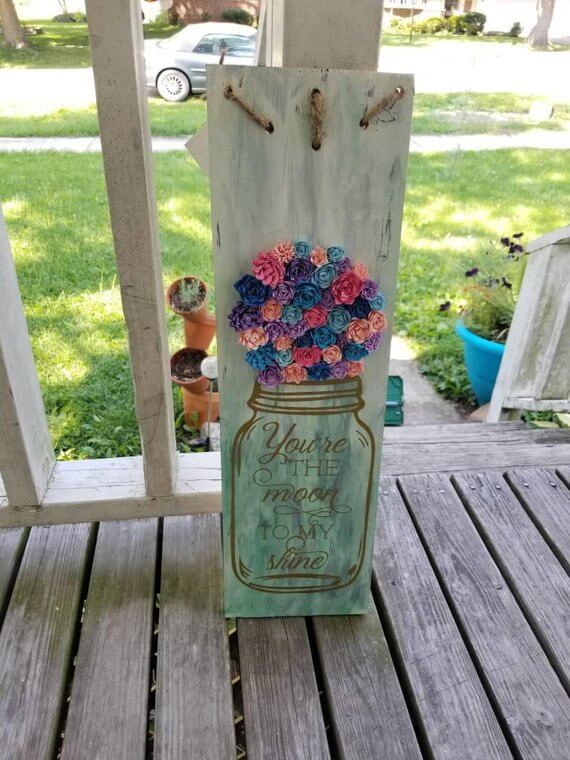 Great as a gift, event décor, or even just an accent for your porch, this sign is so adorable that you would be hard-pressed to find someone who didn't love it. The simple board and jar design, along with the cheeky saying, makes a wonderful canvas for the rainbow of paper flowers that literally pop off of the wooden background.
29. Flower and Ivy Crepe Paper Garland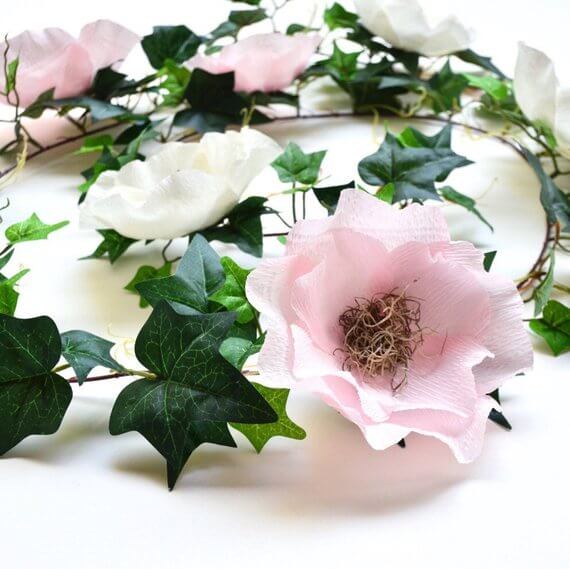 Wear this around your neck or hang it from a chandelier for a magical forest feel. This beautiful garland has bright green ivy and multi-colored flowers for a whimsical yet realistic look. With dark centers and delicate petals, each flower stands apart and looks very similar to its living counterpart. This is the only garland that will last all summer long.
30. Hard Silver Leaves with Soft Paper Flowers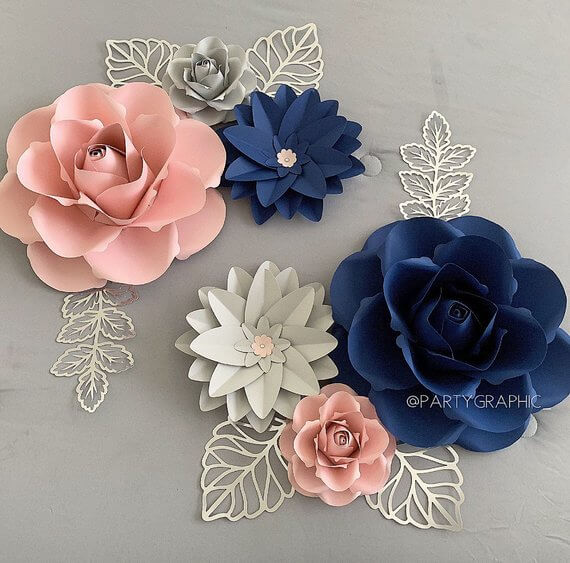 The playful juxtaposition of hard and soft is always appreciated, and that is not lost in this beautiful design. The metallic silver flat flowers enhance the colors and dimensions of these blooming beauties to produce an intriguing decorative effect. Use these around the house or in a nursery to create a soft and pretty display.
31. Multi-Designed Fancy Pink Blossoms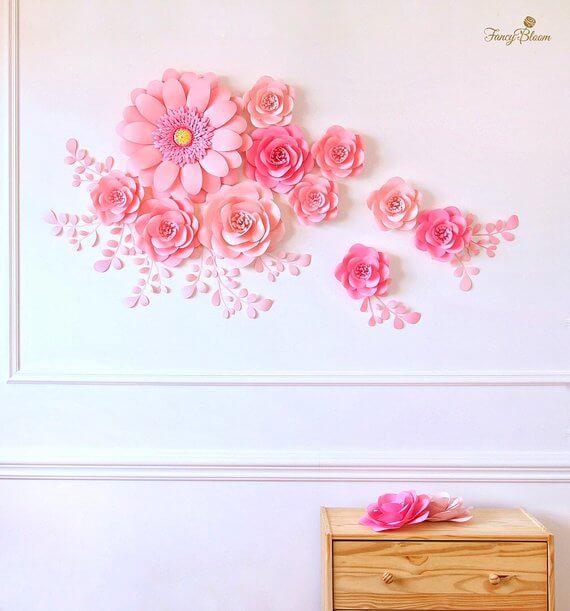 This display has it all: different types of flowers in different shapes with friendly sprigs, all presented in a sweet pink hue. These flowers are perfect for your baby girl's room or for next photo shoot. They are made with high quality paper and maintain their beautiful look with no maintenance. Brighten any wall of your home with these cheery flowers.
32. Two-in-One Chrysanthemum and Daisy Template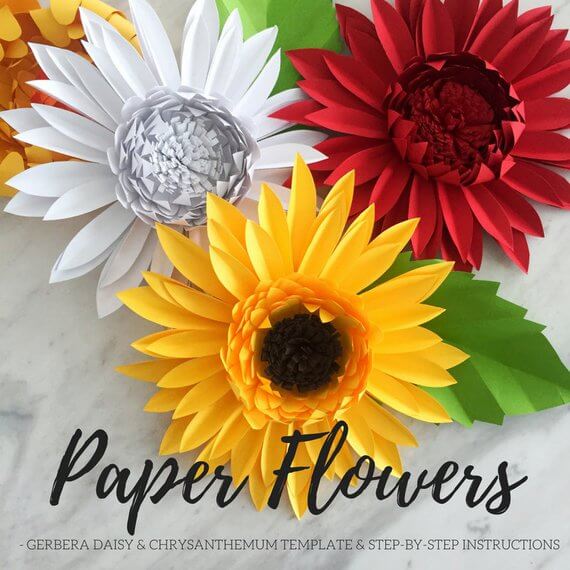 Make your own big bright friendly daisies with this easy-to-follow downloadable template. Then, when you are ready for a different flower, take the same template used for the center of the daisies and modify it to create full and layered chrysanthemums. These two flowers look great together in a beautiful garden display.
33. Tiny 1-Inch Mauve Roses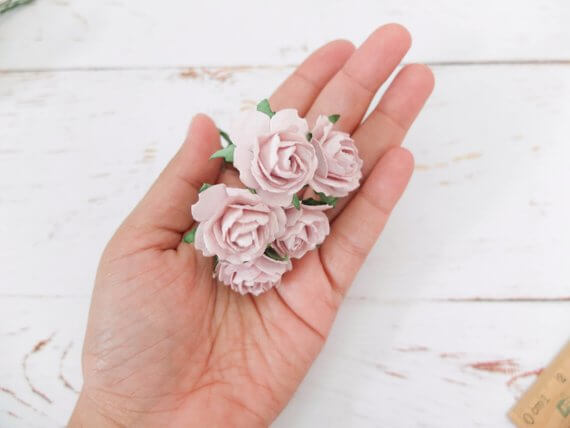 These miniature roses are a small but delightful addition to décor, gifts, or even hair accessories. Add a miniature romantic and floral touch wherever you like with these little roses. Their wire stems make it simple to attach them wherever an extra touch is needed, and their small size make them an easy fit.
34. Large and Luscious Pink Peonies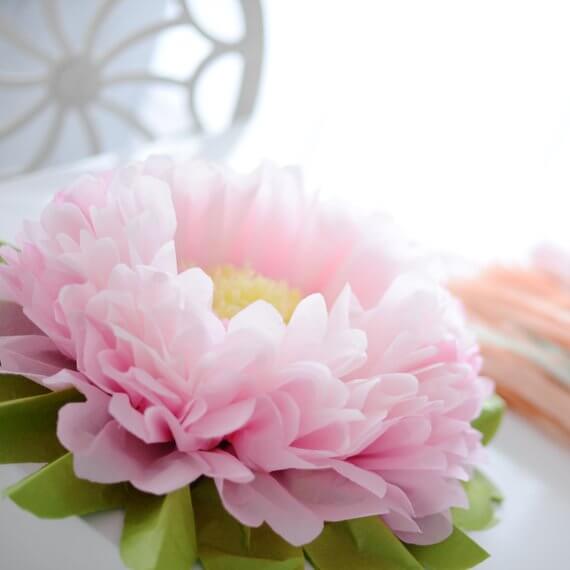 These over the top beautiful peony paper flowers are a colorful addition to any event décor. They add a sophisticated charm and – a saver's dream – can be used over and over. Available in many shades, you can order bright colors for a big bold pop or go for many shades of the same primary color for an ombred look.
35. Geometic Template for Stunning Whimsical Flowers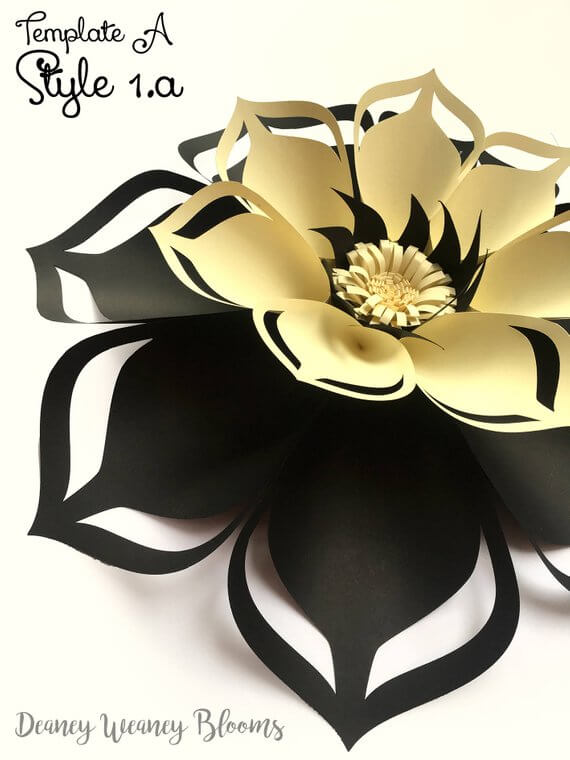 These designs look complicated and would be hard to replicate were it not for this amazing template. With the plans in hand, you can create your own multi-layered paper flower decoration with these fun petals featuring symmetrical cut-outs. Great for everything from a wedding to a baby shower to Halloween, they can be done in solid colors or in a sampling from the whole rainbow.
36. Three Incredible Floral Templates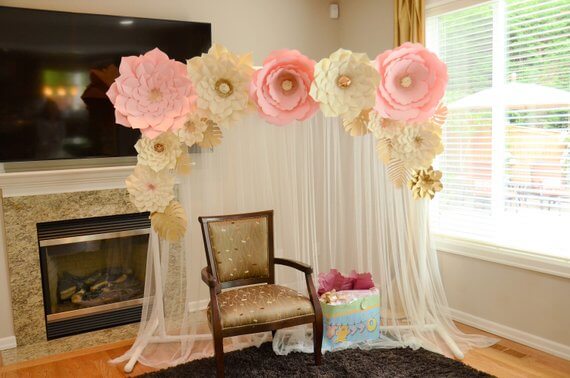 Great for a backdrop or altar, these templates offer just the right design for your home décor or event. Featuring plans for giant 22-inch flowers, medium-sized 15-inch flowers, and smaller 10-inch flowers, you can use these to make a display exactly to your liking. With the addition of a few leaves here and there, you will have a lush effect.
37. Springtime Color Bursting Paper Poppy Template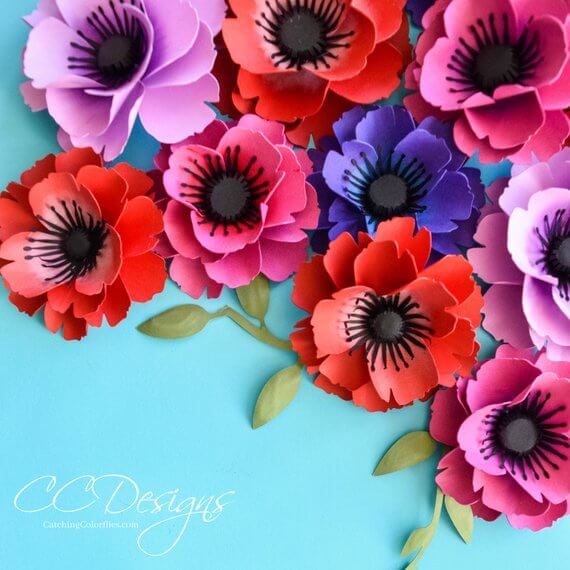 Poppies can have deep significance for many people. Representing veterans, the poppy is a popular flower across the United States. This bright and friendly flower is found in so many colors in nature, making it an obvious choice for creating a colorful paper flower display. You just cannot go wrong with a beautiful array of poppies.
38. Delicate Crepe Flower Bouquet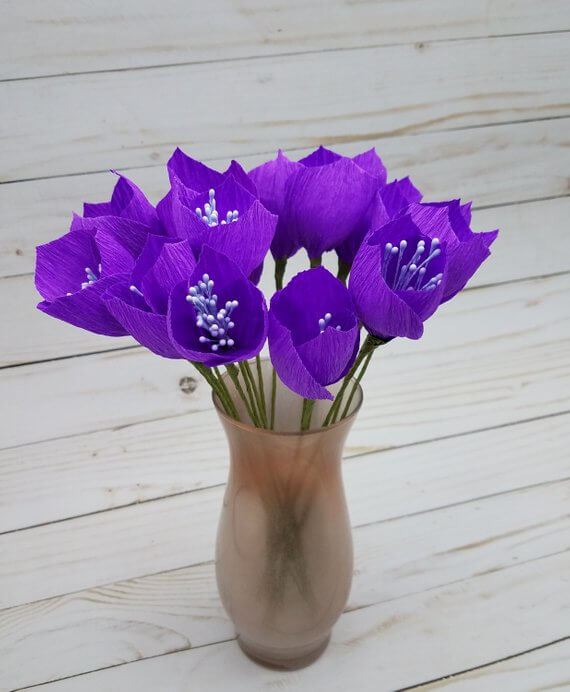 Of all the possible options for a paper flower decoration, crepe always look the most delicate. Replicating the soft thin texture of a real petal, crepe flowers have a similar look and feel to that of a real flower. The long wire stems make this an ideal option when you want flexibility in how to use each stem.
39. Pretty and Personalized Ombred Floral Laurel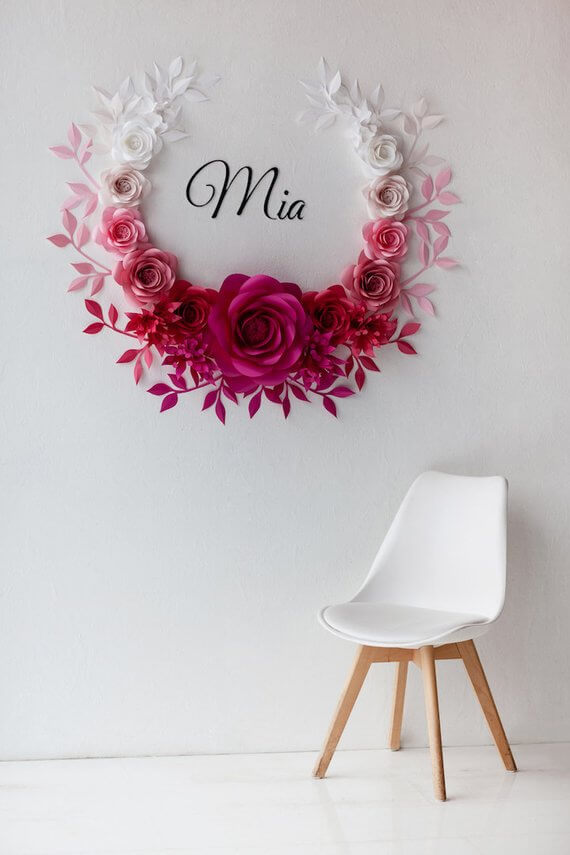 This made-to-order floral wreath is absolutely stunning. If you are looking for a showstopping centerpiece, you've got it right here. All you have to do is choose from among the many available colors, stick the blossoms in place, and you have your beautiful piece. You can also mix it up and create your own design with these gorgeous pre-made flowers.
40. Dainty Bouquet of Lavender and Pink Peonies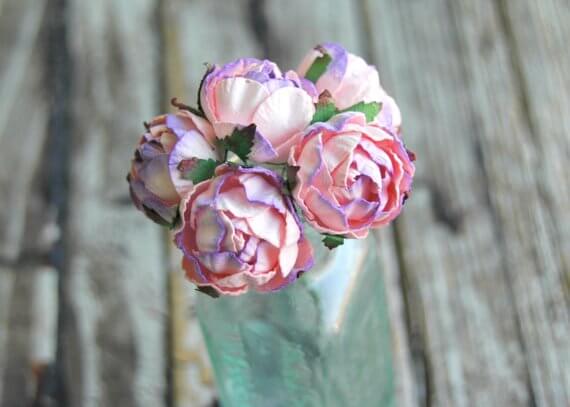 Just as nature can produce astounding color combinations, the winning feature of this paper flower decoration is its beautiful blend of lavender and pink. Using a delicate purple dye on the tips of pink paper, this Etsy design looks charming on its own as a bouquet, or it can be repurposed into a floral crown or as dainty wall décor.
41. Truly Giant Paper Peony Blossom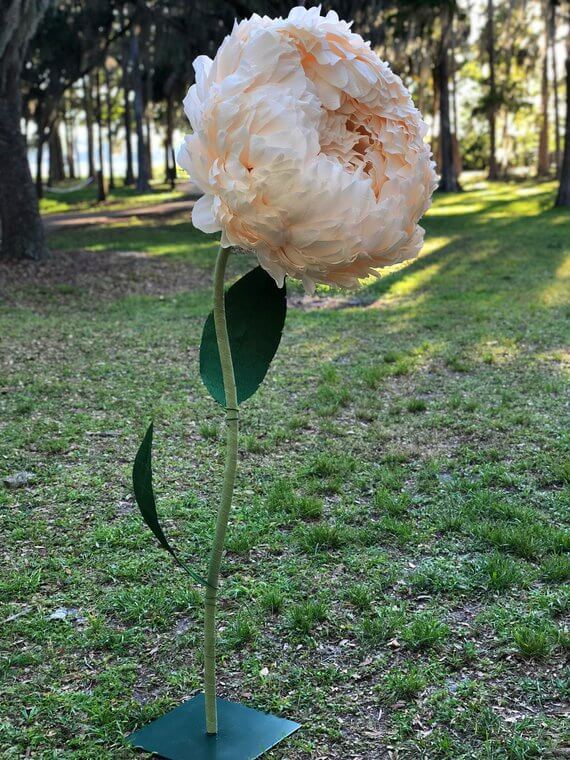 This design is straight out of Wonderland. This flower measures about 2 feet across and comes on a nearly 5-foot stem that includes a metal base. This flower is great for garden décor or for a bright whimsical touch at any event. Buy a whole set for a truly magical garden.
42. Beautiful Hand-Cut Flower Box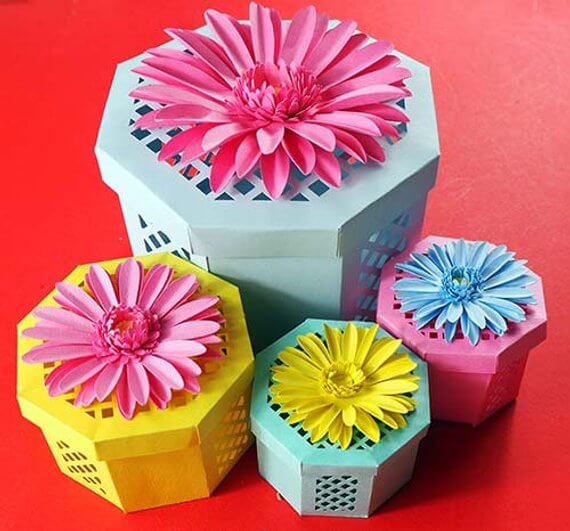 These amazing boxes are made using a surefire template that you can download and use right away. If you have a paper cutting machine, these boxes will practically make themselves. You just need to pick your colors and do some of the final shaping. These make great gifts for friends and family for any occasion.
43. Large Artist Paper Romantic Flower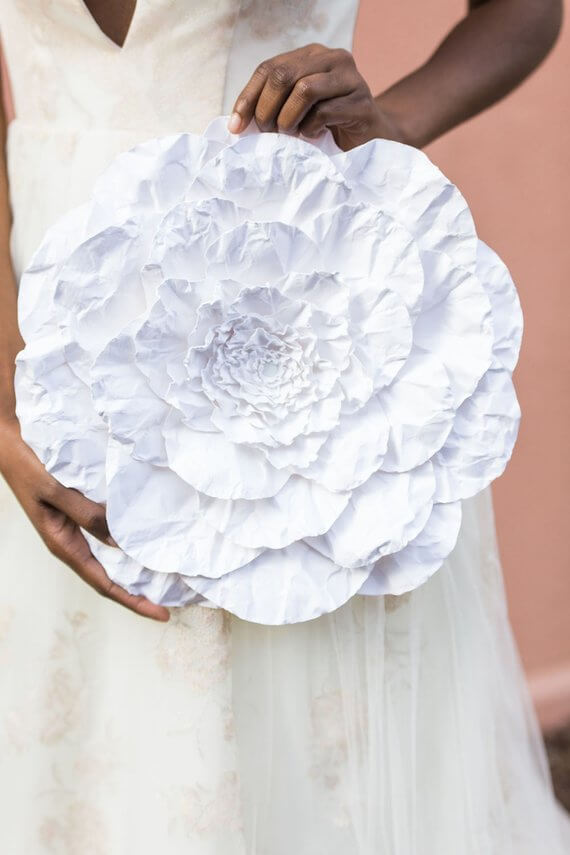 Reminiscent of the flow of a wedding dress, these petals fold and curve in all the right places to create a large paper flower decoration that can be used as a bouquet or as additional décor. It comes available in many colors, and you can order one flower or a whole set. Made with care, these will last throughout your event and beyond.
Use these Fun Paper Flower Decorations for a Kiss of Spring All Year
For as beautiful as fresh flowers are, they also hold a certain sadness because they remind us that nothing lasts forever. Plus, from a practical standpoint, fresh flowers require constant care and must be replaced nearly every week.
With paper floral designs, you can enjoy the shape, color, and variety of flowers without ever having to bid them farewell, and often with spending a fraction of the cost. As with fresh flowers, these paper flowers are incredibly versatile, looking gorgeous as a simple bouquet but also serving as wall decoration, a porch accent, a centerpiece, or even a hair accessory.