The best pastel room decor ideas will help you discover the many ways you can use pastel coloring throughout your home.
If you need something that's gentle on the eyes while still being vibrant and powerful, pastel colors are the perfect option. It's why so many people opt to use them to decorate a nursery or a child's room. They invoke a sense of calm, and they offer a nice way to show off a soothing personality. However, this color theme works in any room in the home. All you need is the right method. Of course, you can paint the walls with pastel colors whether you choose shades of pink, green, blue, yellow, etc. However, you can also opt to use specific items that are pastel-colored.
24 Gorgeous Pastel Room Ideas that will Live Up Your Home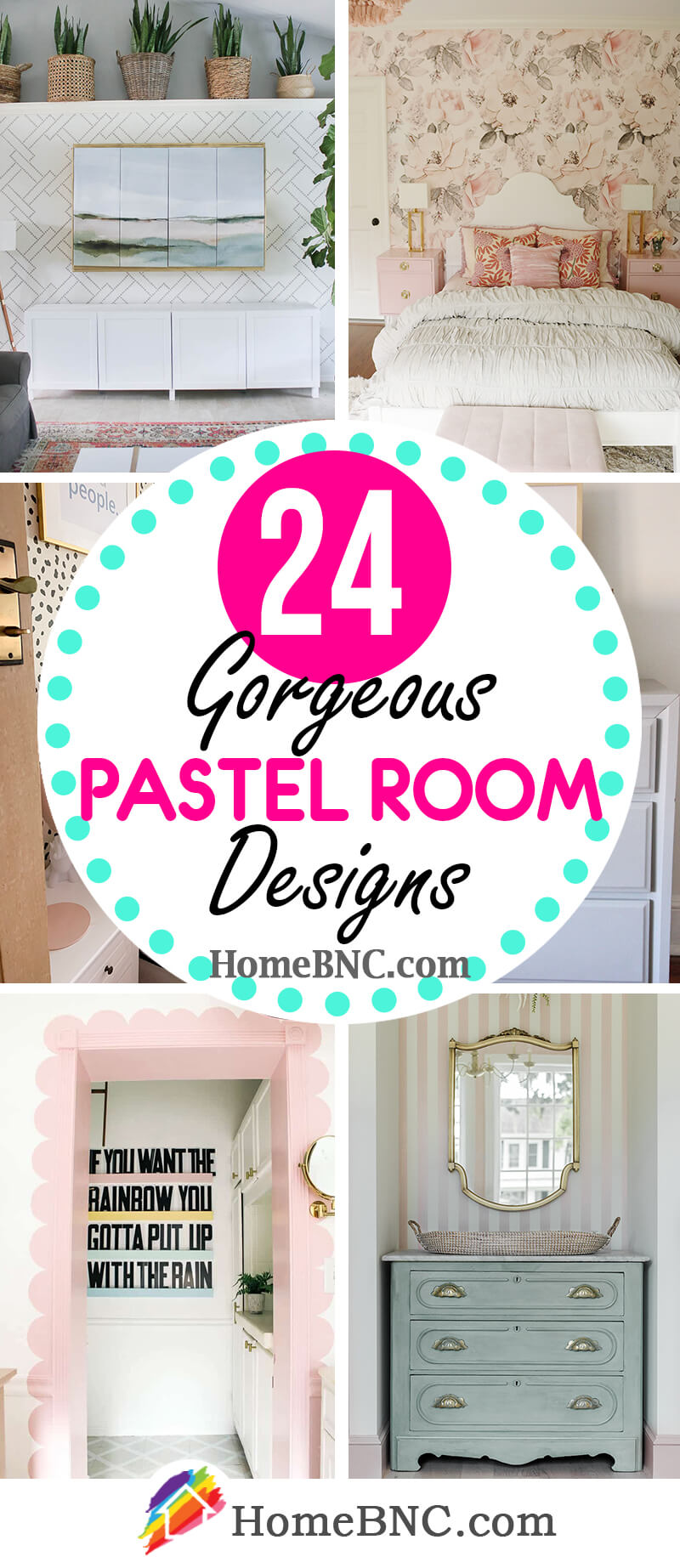 When it comes to decorative items, the sky's the limit. There is some incredible wall art available with pastel coloring that can completely change the way a room looks. The same goes for vases where you can add some greenery or even white flowers to help breathe some color into a room. Or you can go all-out and leave pastel coloring throughout the entire room from the walls to the decorations.
With the great mood effect pastel coloring provides, they can create a peaceful atmosphere in the bedroom. Alternatively, they can bring good vibes to your office space, leaving you feeling energized and ready to tackle the day anytime you wake up and get to work. But as we said, there are many ways you can go about making this a reality. So, if you're ready to give a room (or rooms) in your home an overhaul, our favorite pastel room ideas should help you get started.
1. Gorgeous Hidden TV Frame Wall Art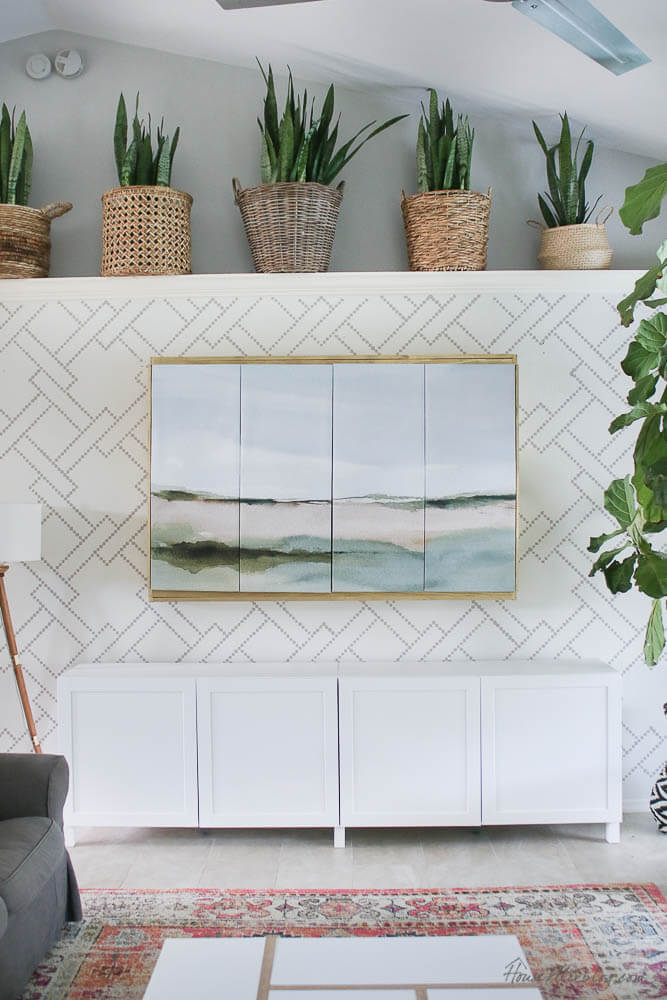 Are you in need of a way to decorate while still saving space? Then perhaps it's time to add some functional decor to your living room. This pastel-themed wall art looks wonderful on its own. It has an ocean-like quality to it that further brings forth those peaceful, laidback vibes. However, it's functional too since it hides away a wall-mounted TV. This way, you don't have to sacrifice anything to decorate your room, making this ideal for those of you that may not have enough free wall space to decorate on and hang a TV too. This way, you can simply do both.
2. Floral Pastel Boho Themed Bedroom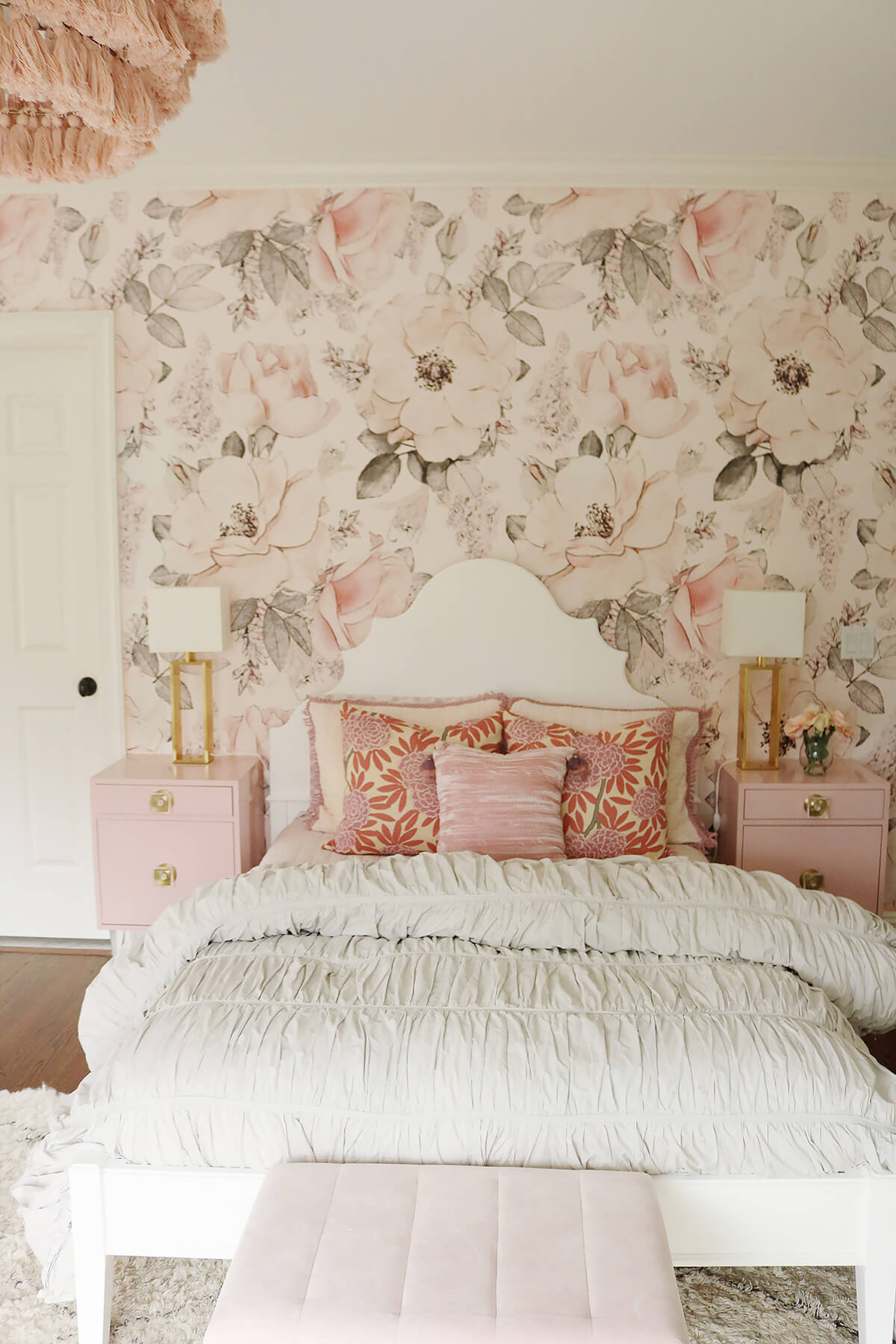 When you really want to cement that relaxing and light style, then you can combine pastel coloring with a floral theme. The flowers take over the entire wall in this case, but the pastel coloring allows them to add some brightness to the room. Meanwhile, the green in the leaves adds much-needed contrast so that the flowers don't blend too much into each other and become lost. Instead, each one stands out. Everything else can easily fall into a boho theme such as the multi-colored pillows. If you want to throw in even more contrast, then consider the solid colors for the nightstands.
3. Muted Colors Pastel with Gold Accent Bedroom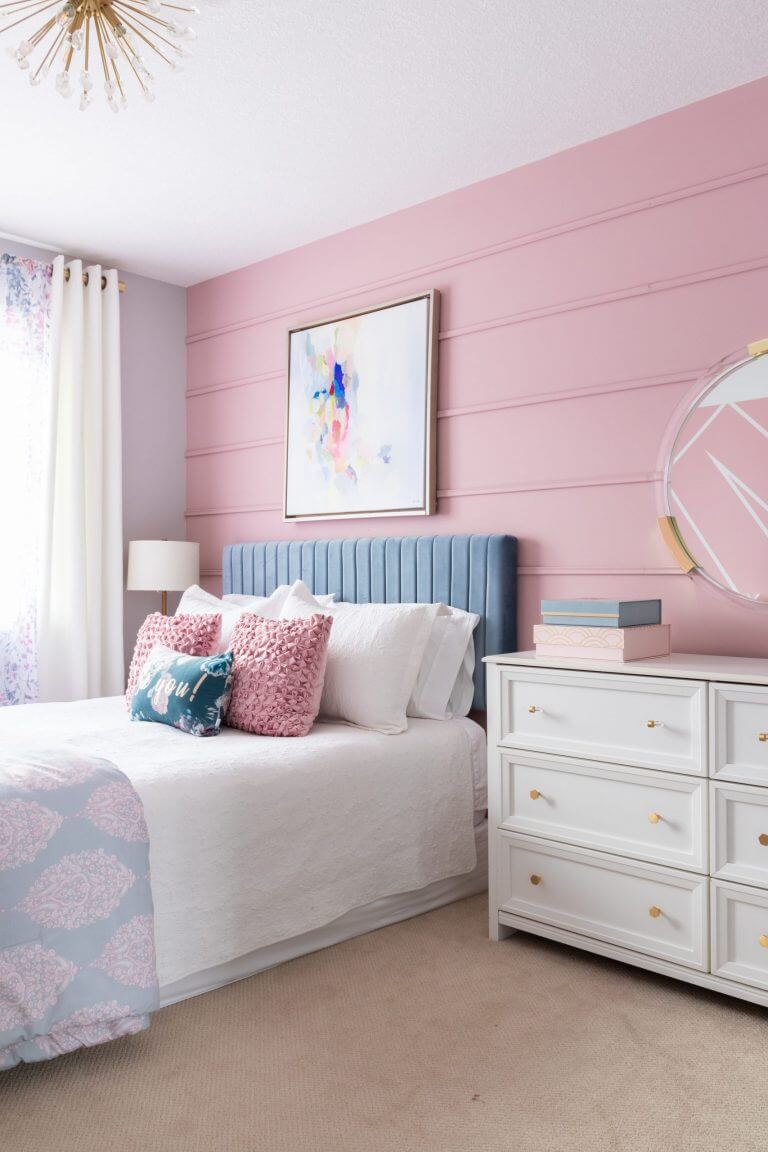 Create a teen space that's colorful without being too loud. Applying a combination of muted colors keeps the space neutral-free and gives the occupant some style as she grows. A key component to making muted colors work in a bedroom is using the correct accent color. Notice the gold accent pieces used throughout this room. From the large overhead lighting fixture to the hardware on the drawers, the sheen of this warm metallic tone gives a polished finish while pulling together the entire room.
4. Adorable Pink and Green Pastel Changing Nook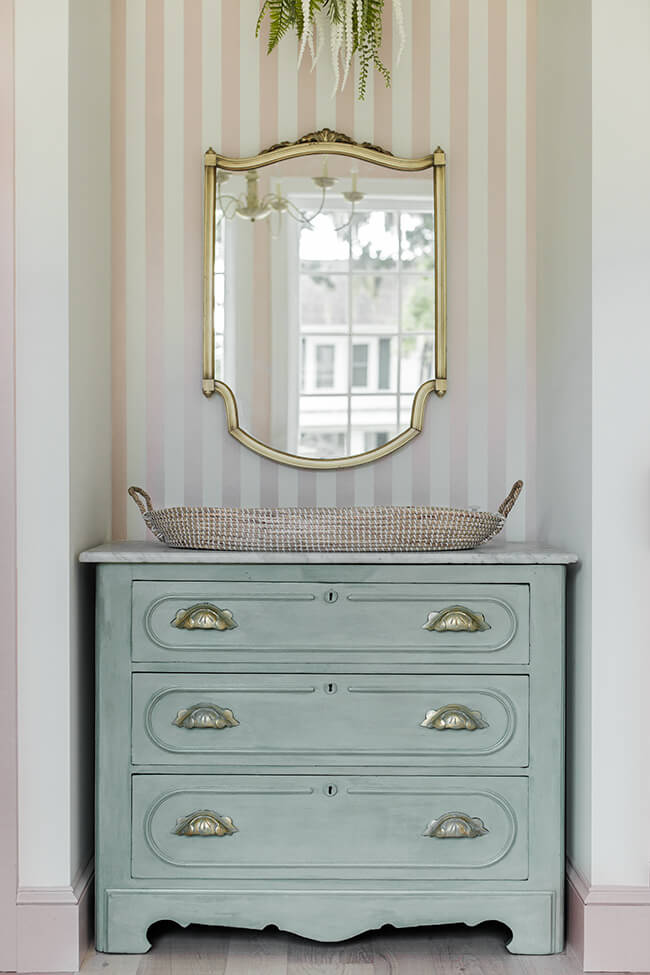 If you want something a bit more unique in terms of nursery decor, consider this appealing changing table nook. It does well at blending in both green and pink pastel colors. The striped styling laid out on the wall leaves a lovely impression, so you can consider going for that approach for just an accent wall or the entire wall. It does work nicely for an accent wall when used in between two solid pastel colorings though. This pairs well with the rest of the decor when you go for solid coloring throughout like with the bold pastel green changing table or the golden mirror. It leaves behind a look that's chic and fitting for the stylish baby.
5. Pretty in Pink Board and Batten Bedroom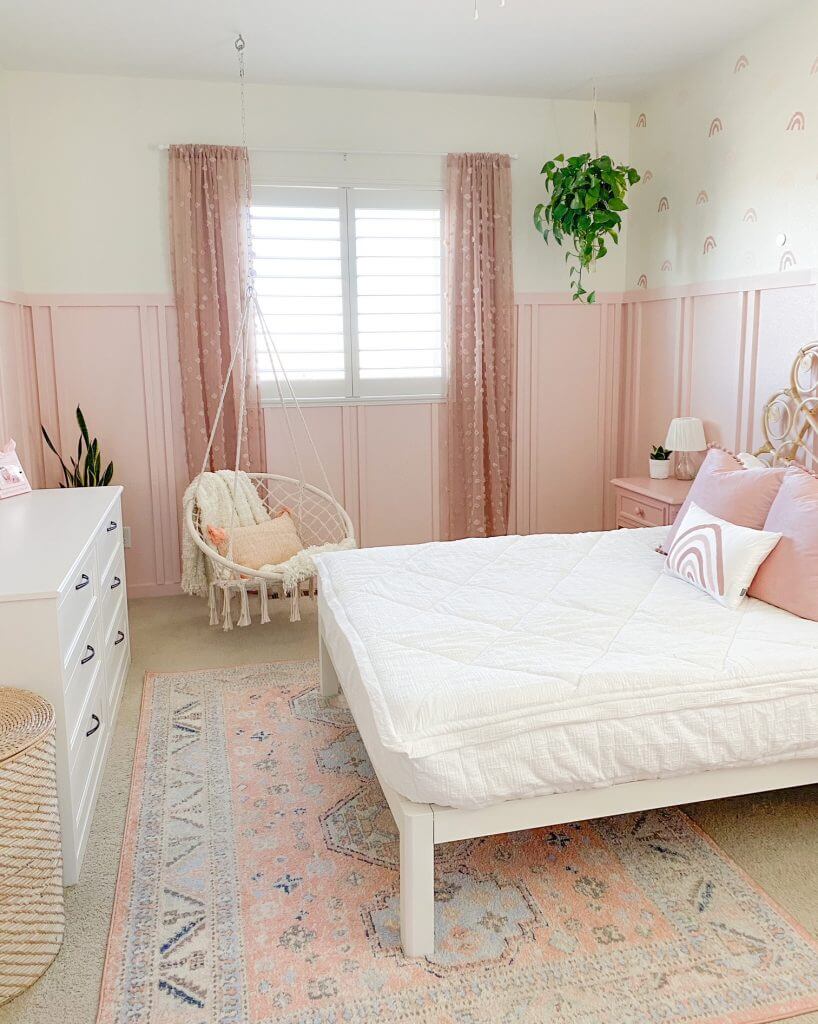 Every little girl would adore a pleasantly pink bedroom. Make her dreams come true with this pretty board and batten version. The walls have another dimension that goes two-thirds of the way up giving a unique and cool look to the entire space. By keeping the board and batten this height, the top continues to provide a neutral and plain space that perfectly balances the room. Textured curtains further add to the intrigue and tie the hue of pink into the room with the DIY rainbow wall stamps, accent pillows on the bed, and the painted side table nightstand.
6. Incredible Pink Pastel Scalloped Doorframe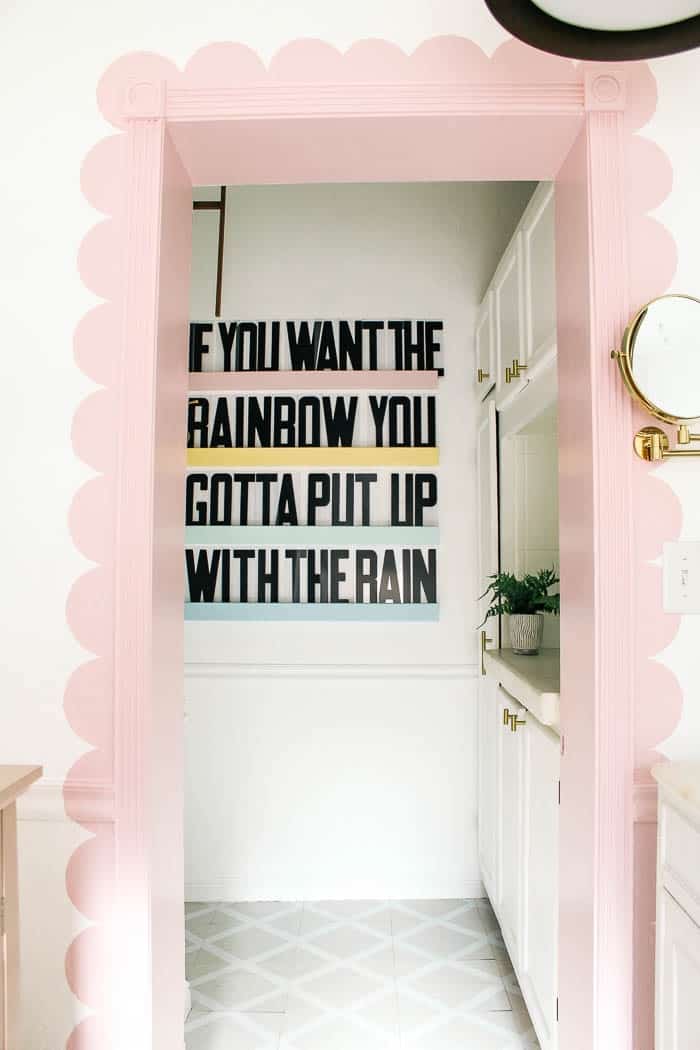 Of all the things in a room to decorate, not everyone thinks about changing up their doorframe. It's the literal entryway into a room, the first thing anyone sees. So, why not pull that into your pastel room aesthetic? This scalloped doorframe is a wonderful idea too. Not only does the bright pink pastel coloring snatch attention against the white walls, but the scalloped layout pulls your eye to follow it. This gives the doorframe such an appealing sense of movement. It is also undeniably girly and lovely that it will work out well in a girl's bedroom, playroom, and especially a nursery.
7. Pleasing Pastel Rainbow Wall Art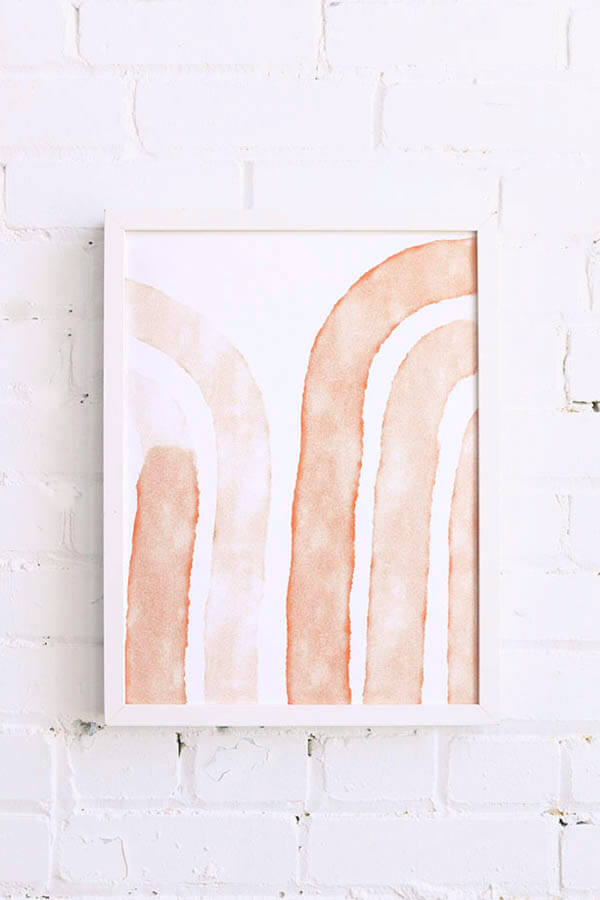 Are you looking for wall art that's simply peaceful? This rainbow art will work out well for that feeling. It's unique in terms of a rainbow too as it's not the typical multi-colored style. Instead, it perfectly uses shades of pastel blush coloring and a white background to bring this rainbow to life. This art is fun, happy, and will look well hanging in various rooms in the home from a child's bedroom to the family room. Even hang it up around your workspace to ensure you always invoke a laidback, cheerful vibe every time you look at it.
8. Powerful Multi-Pastel Colored Bedroom Design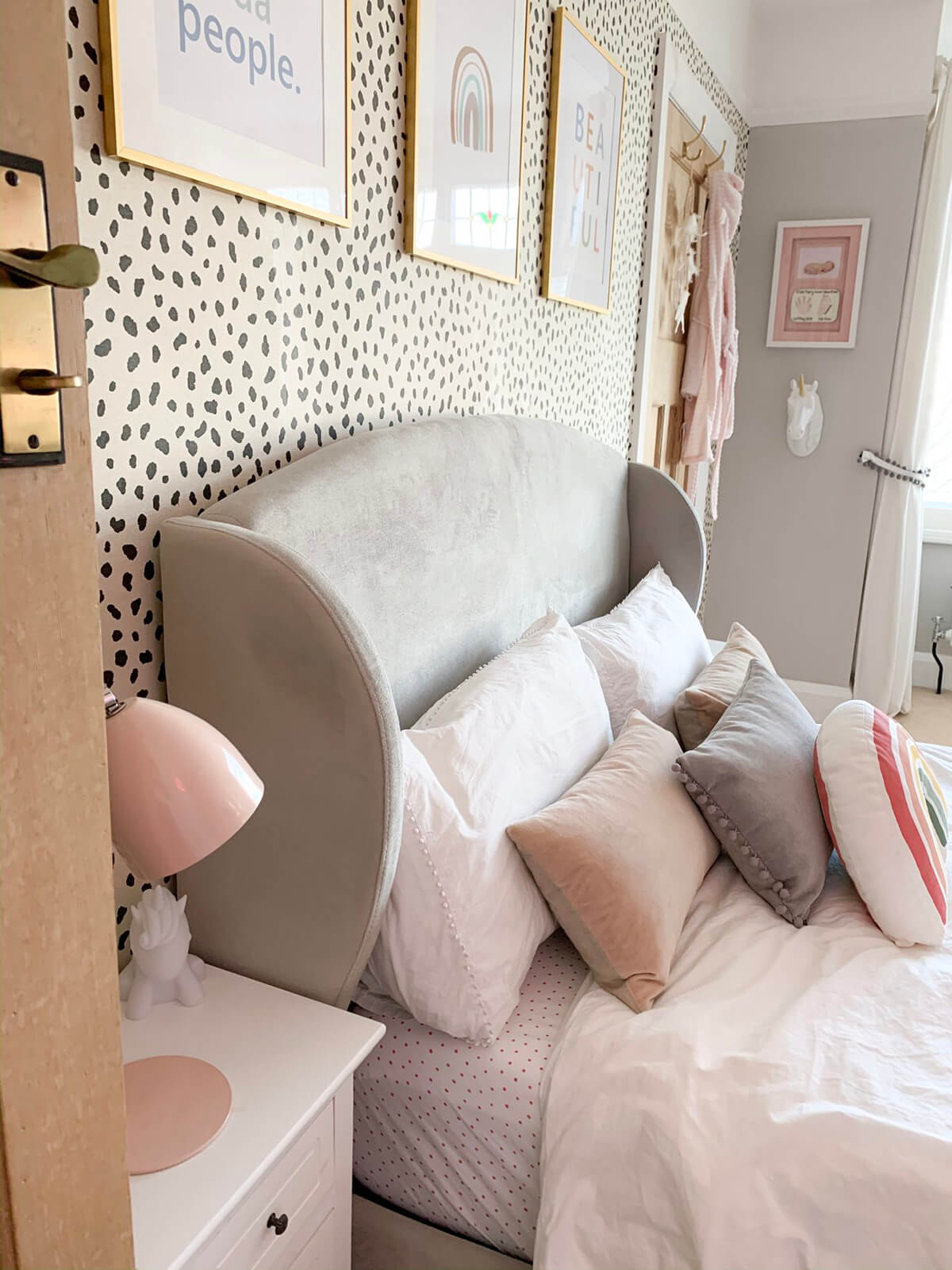 Sometimes, the entire room is in need of an overhaul, and pastel coloring will come in handy throughout. Consider looking at the bed itself from the simple bedframe to your choice of comforter and pillows. Choosing a variety of colors works out in this case as they are all pastel and work in tandem with each other. Even a rainbow pillow will do the trick in this case. If you do go for colored pillows, then you can always stick with white sheets or a white blanket to keep some flow going with the decor. Don't forget the walls either. If you don't opt for pastel-colored walls, you can always add in some nice artwork instead.
9. Pink Themed Abstract Wall Art
If you are aiming for a pink style using pastels, then consider finding some abstract art like this one. There are several shades found within too, so this way, you can easily align such art with various color styles in the room that fit such as blues. Also, the art against a white background whether the canvas or the wall allows the pastel colors to truly stand out. This can work especially well when you have darker items in the room as well like a coffee table or console table in a living room, or even a nightstand in a bedroom.
10. Multi-Color Pastel Girl's Bedroom Idea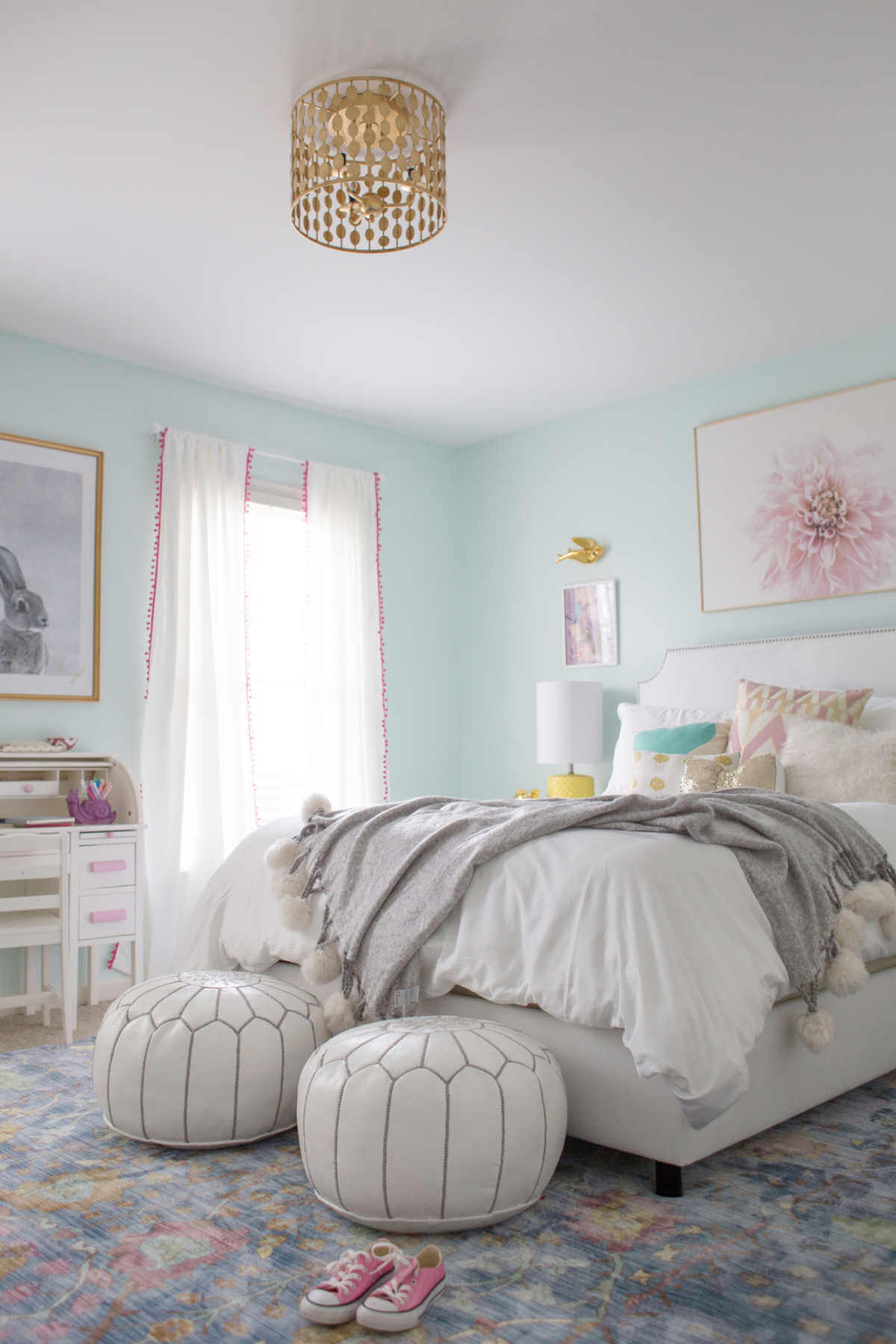 There's no need for a child's room to look childish when you use pastels in such a way. In fact, the colors leave behind a look that is mature while still being light and refreshing, suitable for any child to enjoy. The use of blue and yellow is a nice move away from the typical pink coloring used in kids' bedrooms too. A blue pastel wall easily breathes life into the room overall, and it also frees you to decorate the walls and everything else with different suitable colors. With the main portion of the bed sticking to white, the pastel coloring further stands out. This also allows you to add in a variety of pastel-colored throw pillows that fit with the peaceful theme.
11. Pastel and Tropical Themed Room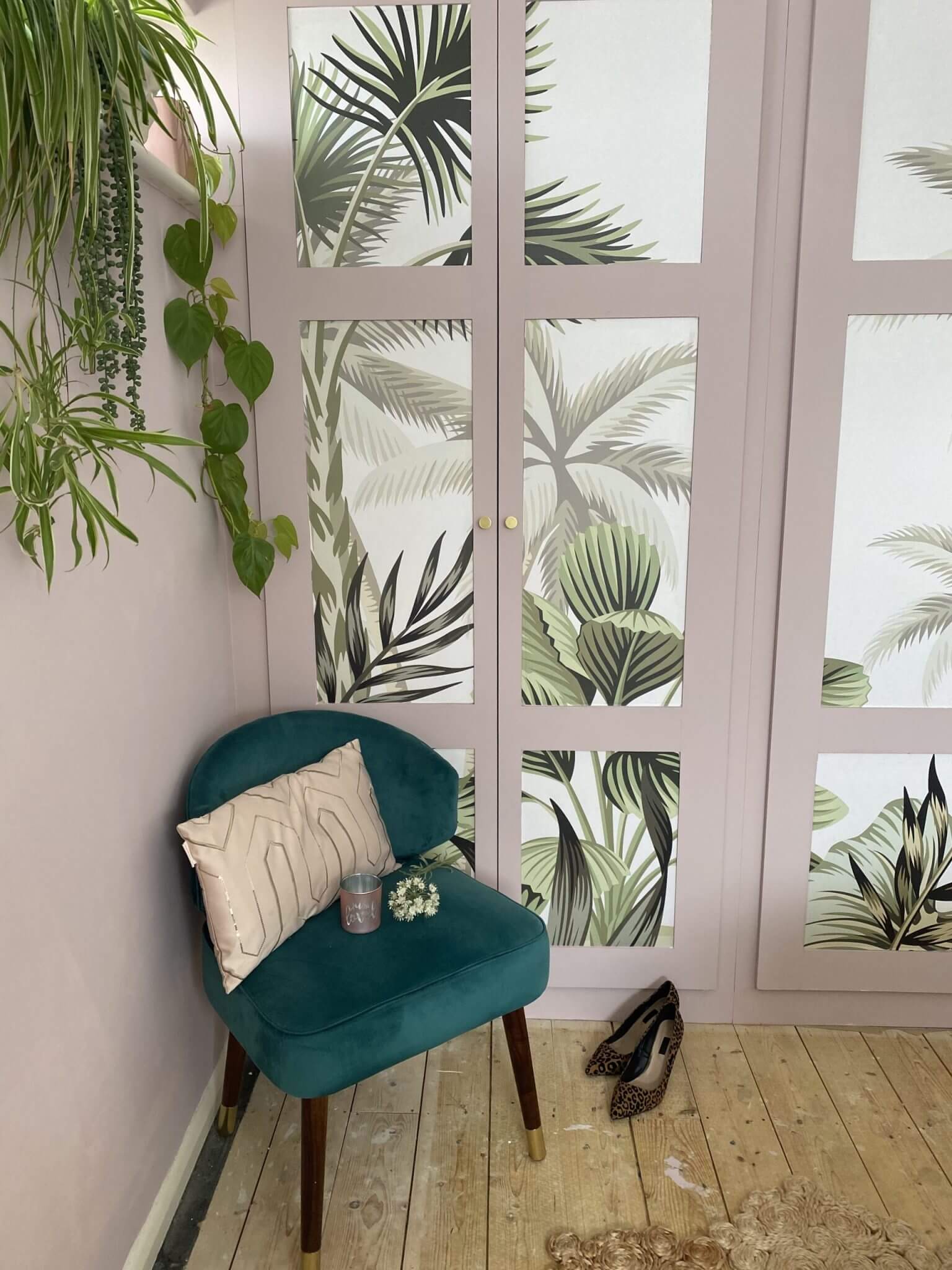 Pastel and tropical style goes together surprisingly well. Both of them tend to focus on creating a relaxing environment, so they do especially well inside of a bedroom. This approach is more distinctive with how the tropical theme is spaced out with the palm trees woven in between the pastel coloring along with the door. It adds flow and contrast to the area. And don't shy away from adding some real or faux greenery to the room as well as this helps blend the decorations even more and allows you to further stick to the theme at hand.
12. Cool Pastel Themed Dresser Design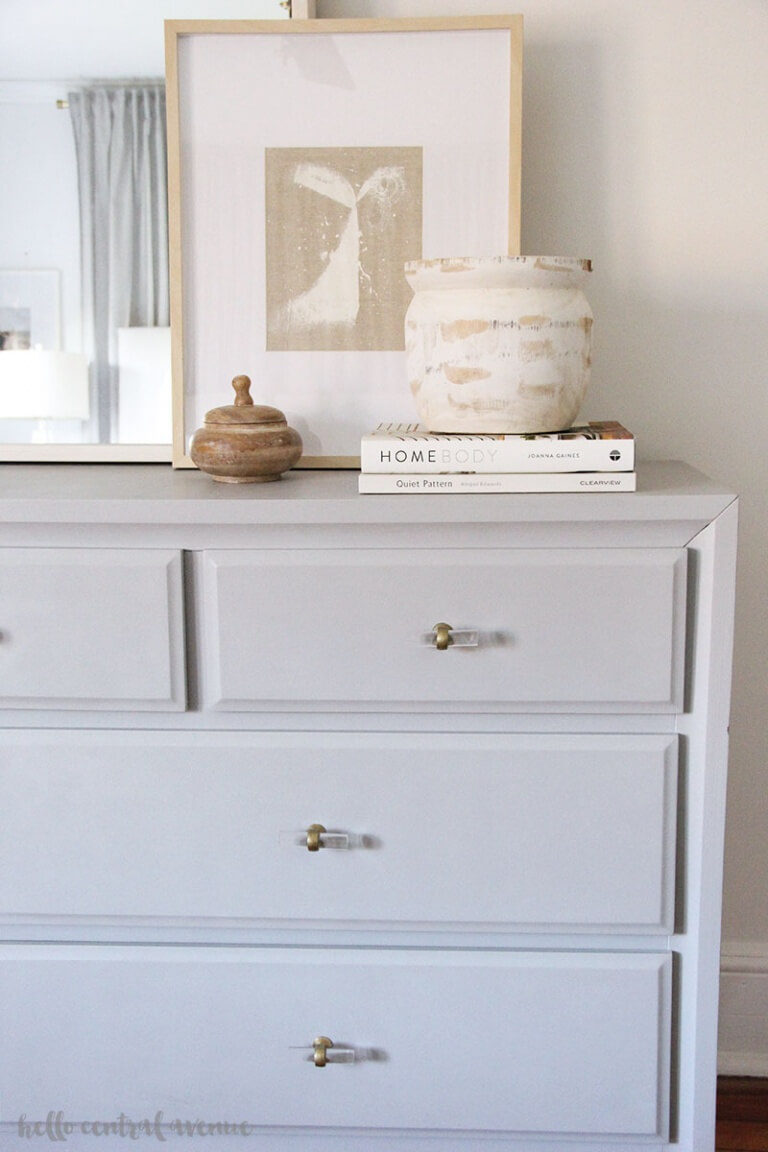 A cool blue pastel color is a nice way to bring a hint of color to your bedroom while still going for a more minimalistic approach. It isn't exactly vibrant, but it is bold nonetheless. This coloring approach stands out more against lighter decorations such as a white wall or lightly colored items on the dresser. So, consider adding in some more colors when sprucing up your dresser decorations from artwork to books. A blend of darker and lighter coloring can help the dresser capture attention more too.
13. Light and Cozy Fall Bedroom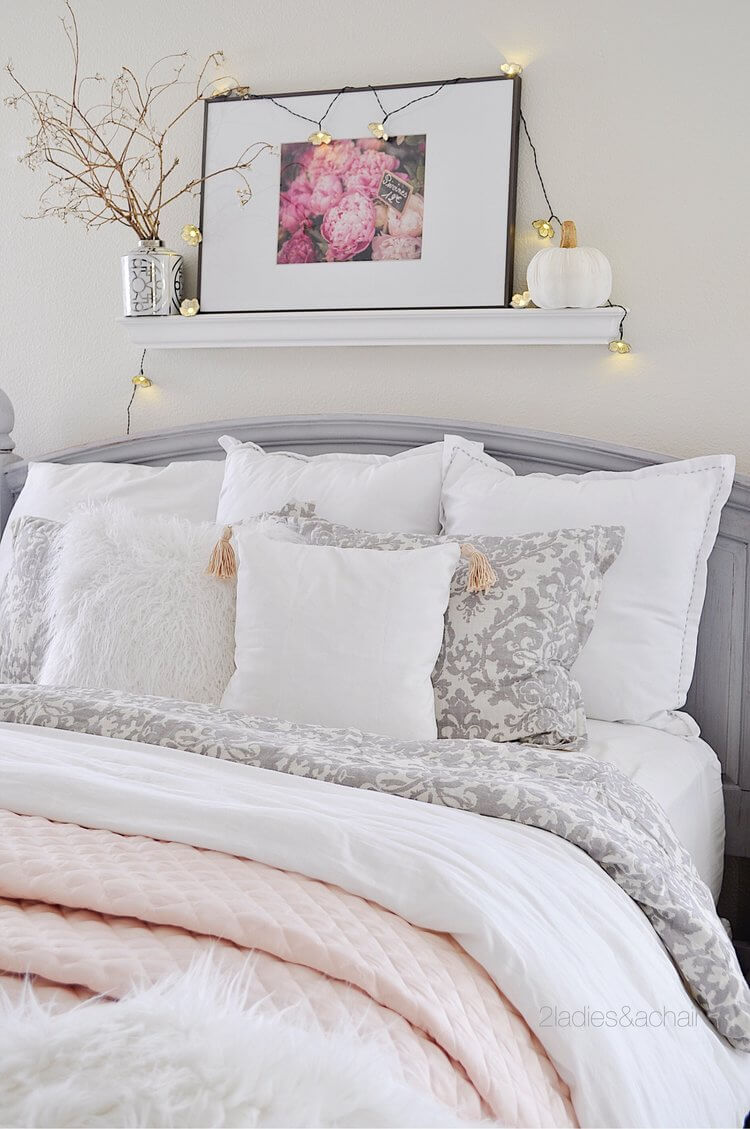 You can blend in some pastel coloring along with your fall decor easily enough. Simply add in some typical fall decorative items like pumpkins and some branches and use them alongside pastel decorations like light-colored artwork on the wall. Even the bed utilizes pastel coloring well. Beyond the light gray bedframe, tossing in some brighter colors on the bed like a gentle pink is just enough to give your room that splash of color. Also, think about using some different textures in terms of the throw pillows instead of going with just a solid color if you want to add some more flair to the bedroom decorations.
14. Perfect Pastel Room Corner Decor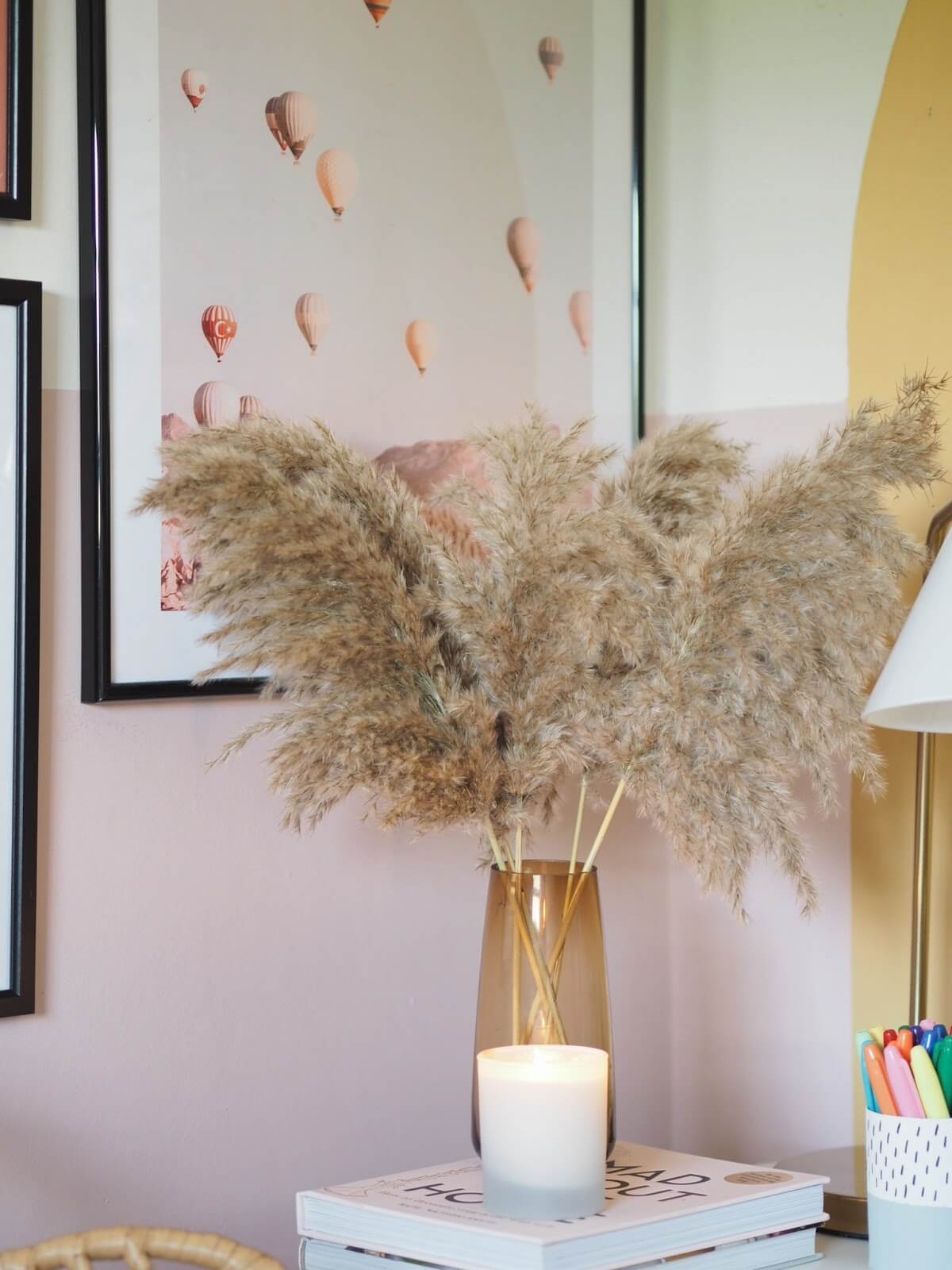 Pastel coloring doesn't need to be applied throughout the entire room. Instead, you can just focus your efforts on a single corner, and it will provide just enough of that peaceful and soothing vibe to breathe life into the entire space. You can take a larger approach by painting an accent wall with pastel coloring or go for both with a cool multi-colored design instead. Some art will do wonders for your decorating style too as it can give some nice contrast to the corner of the room so that everything flows better. More contrast is found with the darker decorative items like a vase, and it helps to ensure that the corner won't blend too much with the same color or shade.
15. Stunning and Vibrant Handmade Candle Holders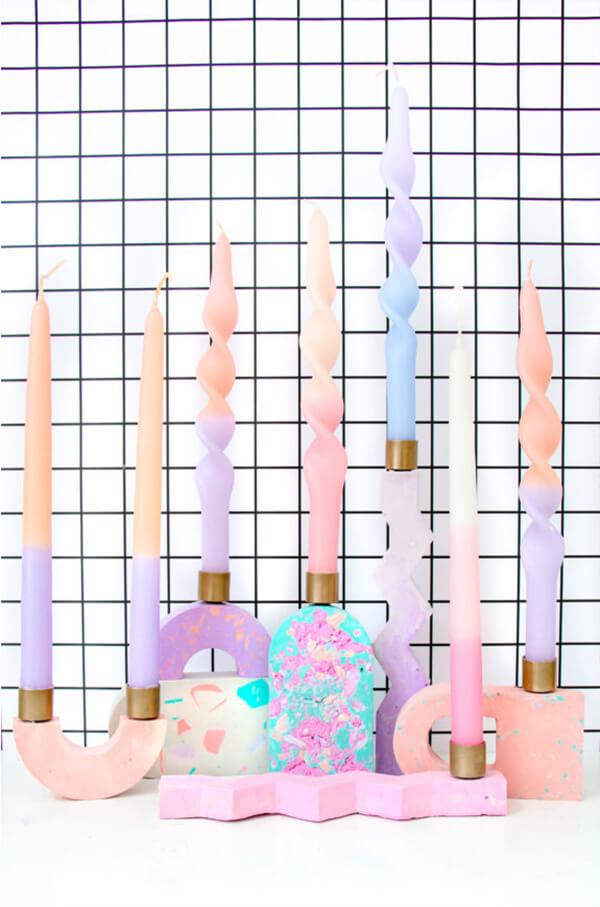 If you have some unique and intricate candles, then they deserve some distinctive candle holders to support them. This puts a lovely spin on the usual pastel room ideas by focusing on something that's typically small and transforming them into something that is attention-grabbing. The shapes themselves, of course, stand out. They are not your standard candle holders, and they can give off a quirky look befitting your personality. Meanwhile, they successfully use pastel coloring in a vibrant and bright way to make the area look livelier. So, you can set these up in almost any room that is in need of some more life.
16. Romantically Curved and Tufted Upholstered Bed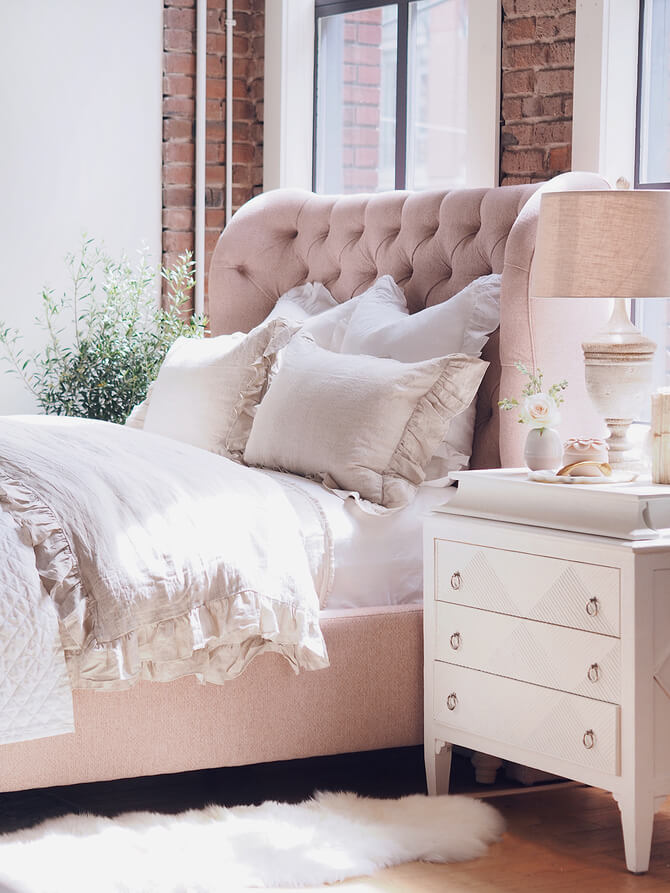 Bring some soft romance into the bedroom with this stunning upholstered beauty. Featuring a sturdy headboard of tufted upholstery with curved sides to offer a comforting and cozy corner to enjoy your next page-turner. Both the sides and footboard coordinate with the same fabric seen on the headboard for a custom look. Choose your favorite fabric swatch to create your own personalization on this elegant bed. The size and shape of this specialty bed make it ideal for nearly any bedroom. It would look pretty in a guestroom, teenage girl room, and of course the master suite.
17. Natural Wood Traditional Coffee Table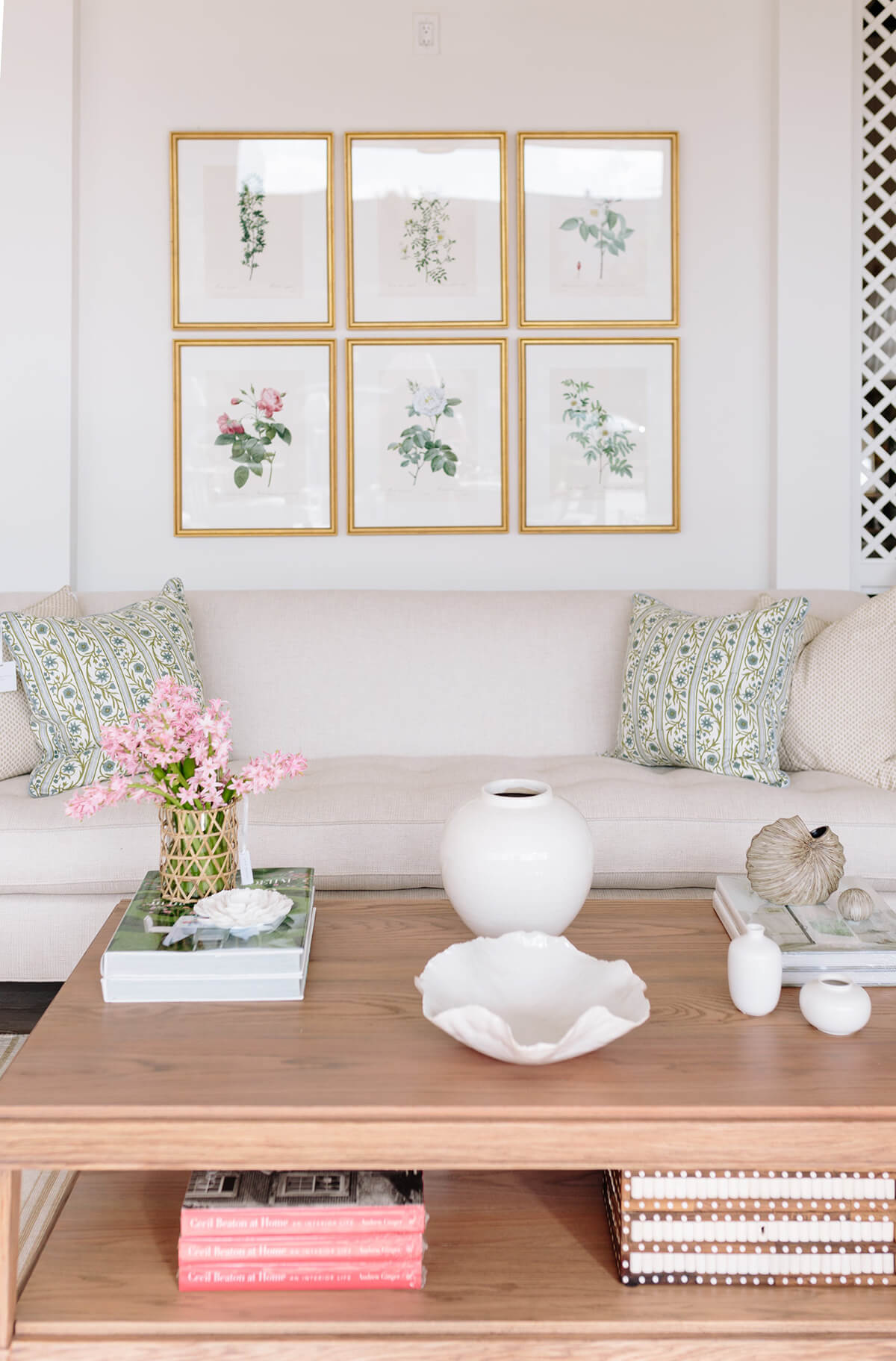 Enjoy the beauty of the gorgeous grains of this traditional oak coffee table. Coated with a natural finish, this wooden beauty works well when paired with soft pastel hues in your main living space. A gentle hint of pink wall color is grounded in the presence of this oak table. The soft floral decor is kept from becoming too frilly with the inclusion of this solid oak coffee table to keep everything in perfect balance and harmony. Featuring a conversation piece like this offers versatility as this piece of wooden furniture works with nearly every design style on the planet.
18. Ribbed Neutral Peach Column Candle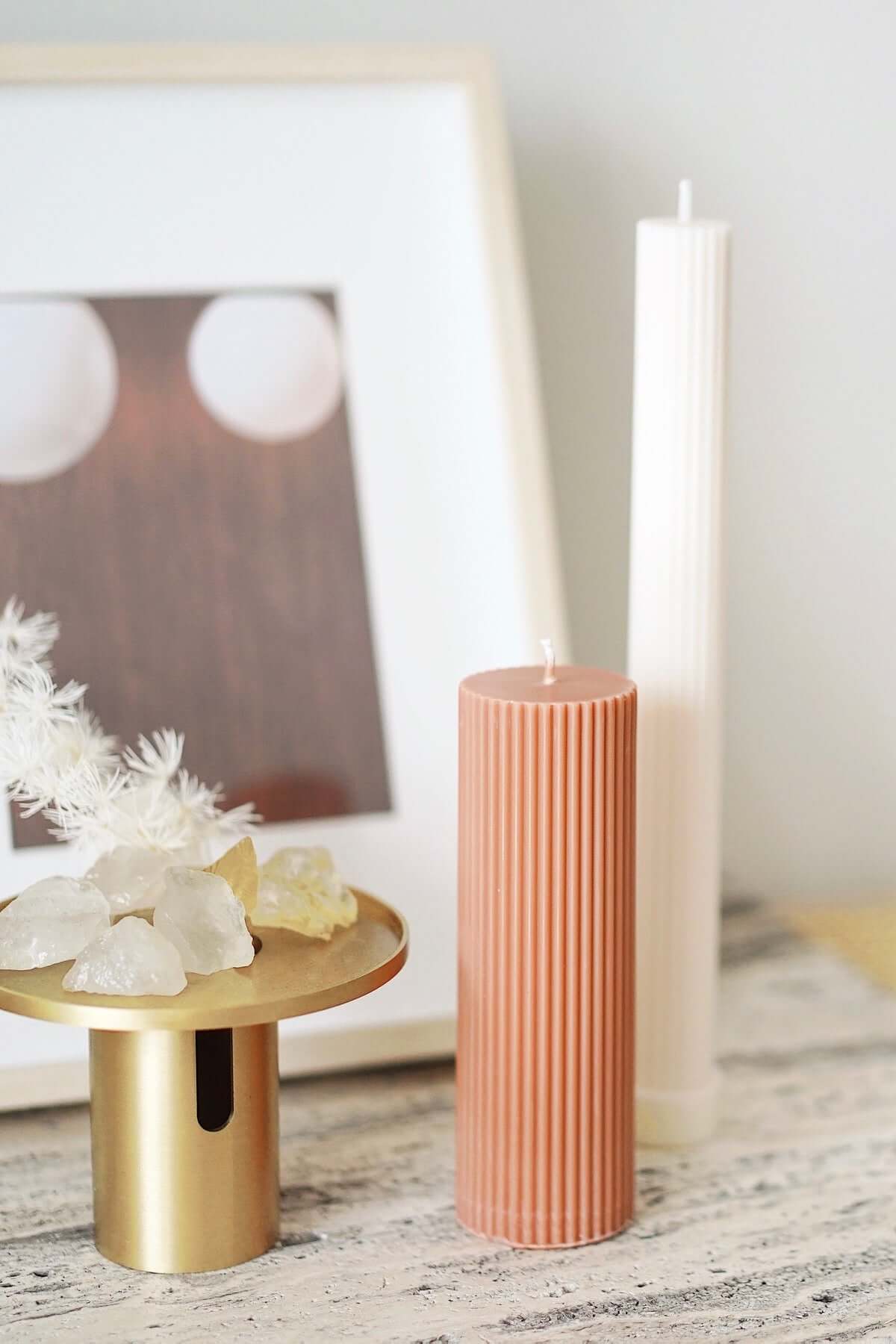 Placing a column candle on your bedside table is a great choice for an accent of style and color. This peach version features details of ribbing all around it for an added element of texture that enhances the room's design. Selecting a pastel tone like peach gives a breath of fresh air to the room since it's not the first color choice that often comes to mind. It blends in with all neutral decor and especially looks good when paired with bright white.
19. Navy with Pastels Royal Floral Rug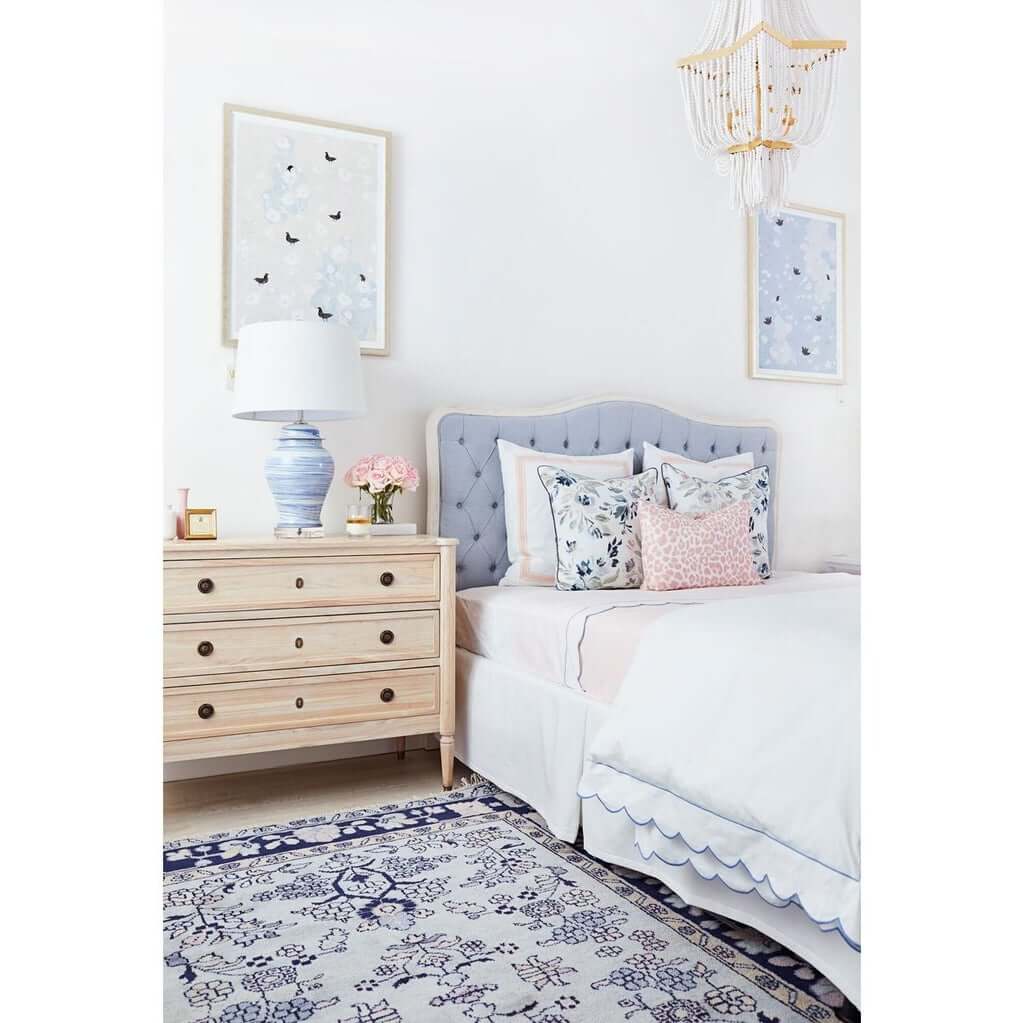 Cozy up a room with the right rug. Featuring a gorgeous floral area rug adds charm and sophistication to any space while grounding all of the room's colors into one organized place. With a background of deep navy, the cool pastels of pink, blue, and beige are brought to life and echo their counterparts as seen on the bedding, wall art, and table decor. Keep the patterns of the room low-key so this royal floral rug can be the star of the show.
20. Elegant Pastel Colored Paper Flowers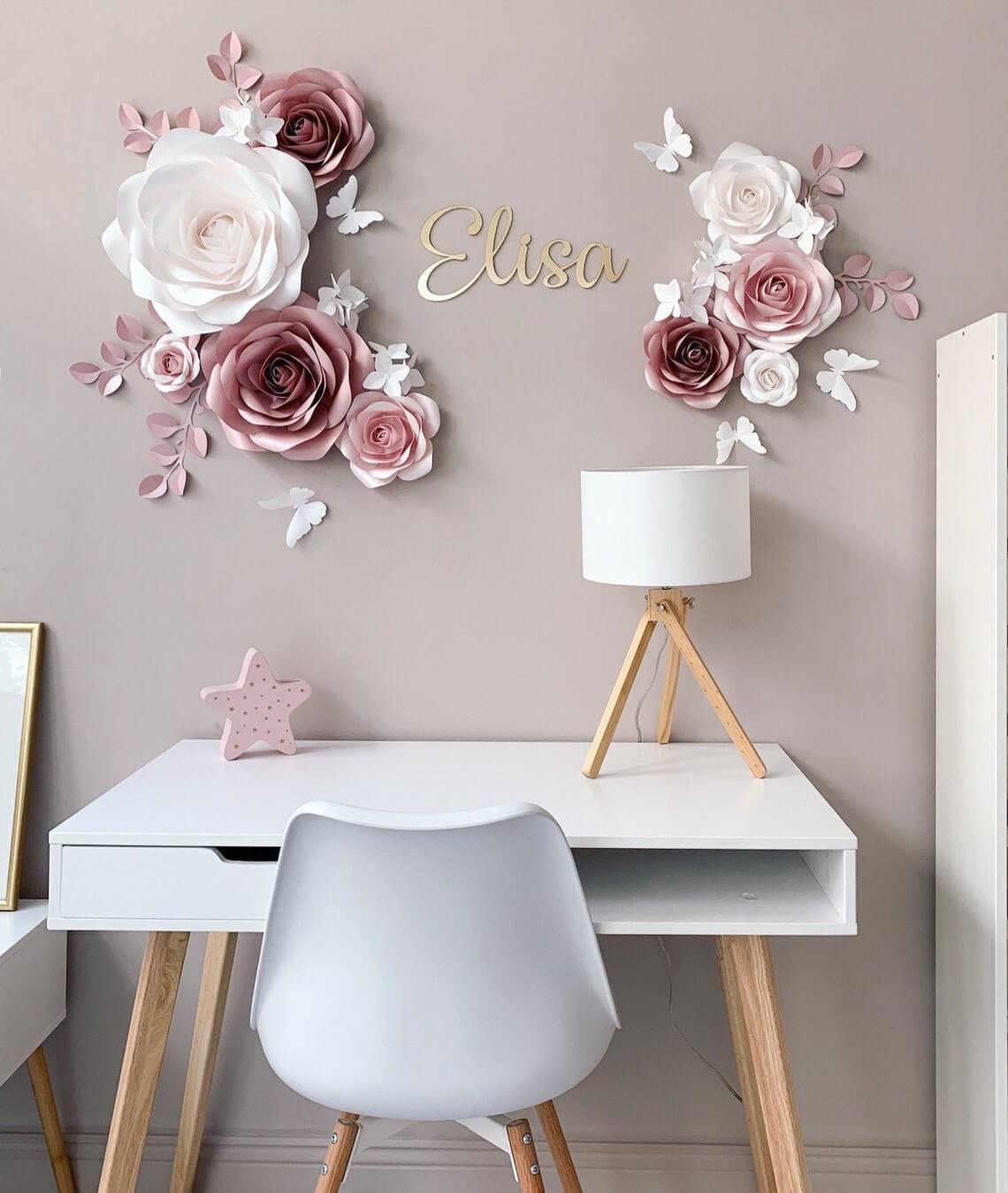 Some of the best pastel room decor ideas rely on a traditional method as is the case with these paper flowers. They may be traditional, but they are wonderfully elegant and chic. They can look well when hung on the wall inside of a nursery to add some more style without doing too much to the walls. Additionally, the flowers even look well when used against a similar background or even a darker one so that every color in the paper flowers stands out. Getting this flower set even comes with the name, so you can completely personalize your little one's nursery.
21. Lovely Blue Theme Pastel Bedroom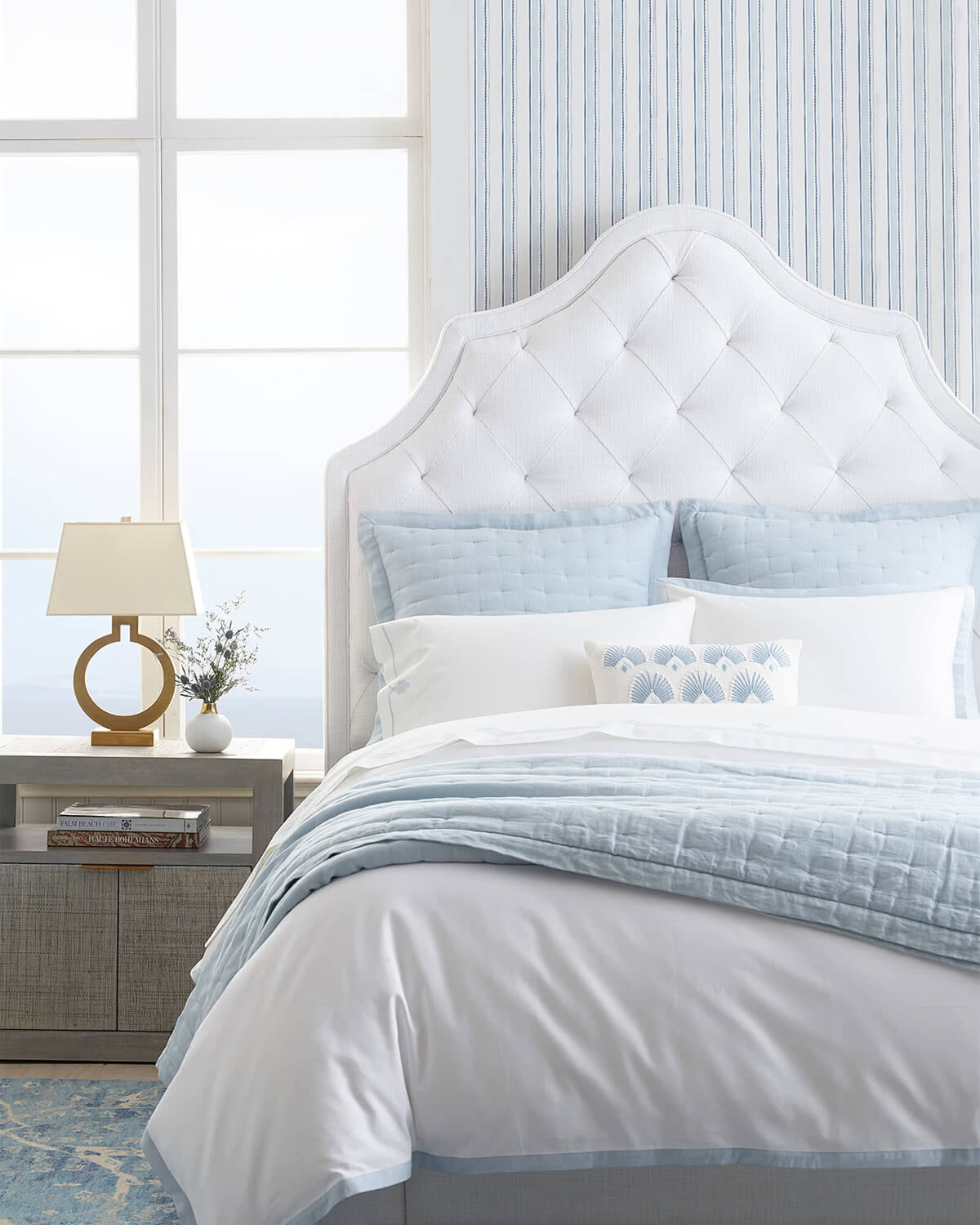 With this blue pastel coloring theme, you can create a peaceful, coastal vibe inside your bedroom. This can bring the beach home with you too with its more nautical approach. The blues are gentle and relaxing, and they pair well with the white coloring options from the pillows and comforter to the headboard. You can go further with this theme by using a striped blue and white wall too so that the theme carries all around the room. This is such a beautiful style that the little bit of contrast provided by the darker nightstand pulls it all together.
22. Set of 2 Monstera Blush Prints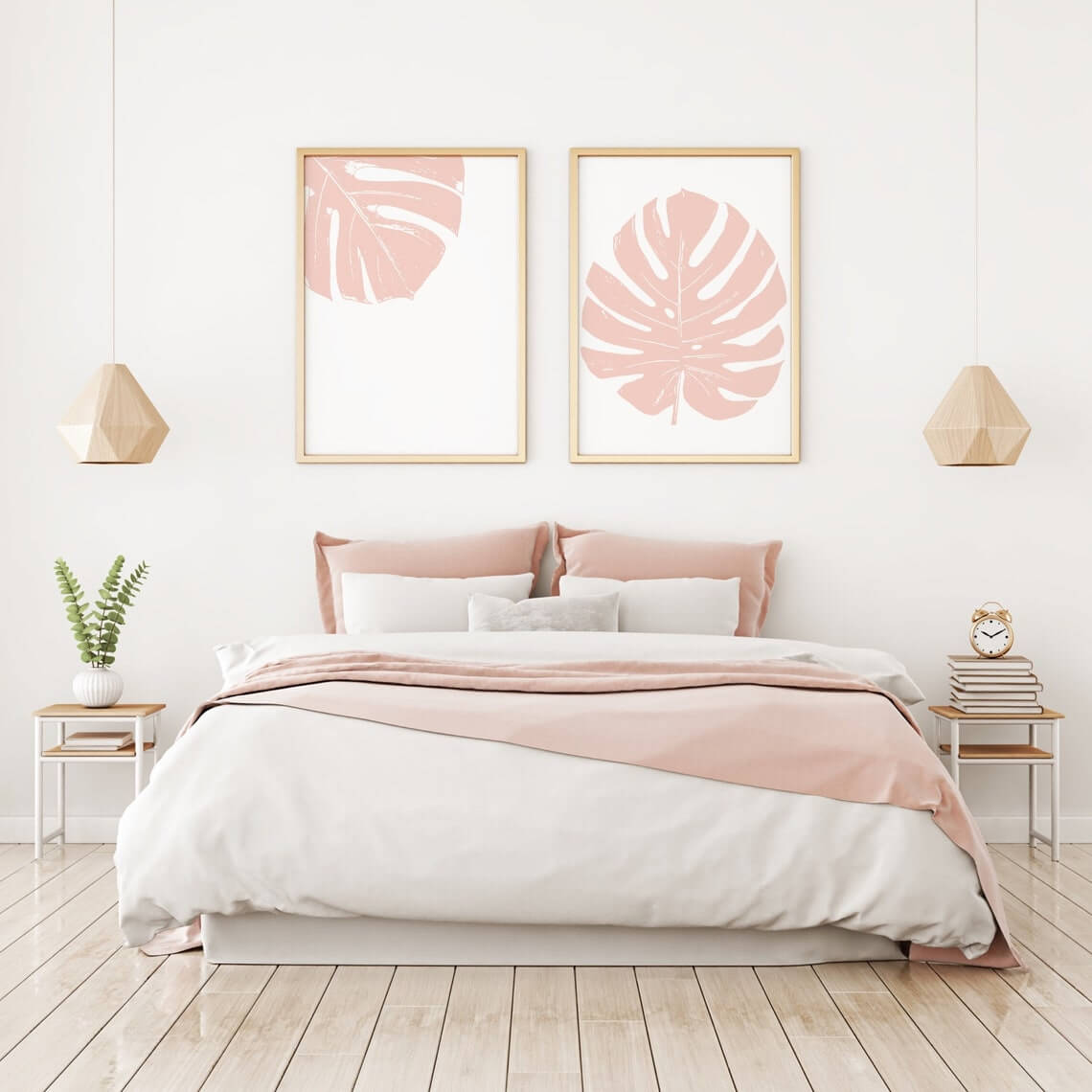 Are you interested in adding some botanical decorations, but you don't want anything green? Then these prints are a good way to get exactly what you want. Instead of the typical green, these use a lovely blush pastel coloring. It captures the essence of the stunning Monstera Deliciosa Leaf while giving it a more updated, modern look thanks to the different coloring choices. This stands out even more against the solid white background too. As it comes in a set of two with each print different, one with a leaf in the center and the other off to the corner, you have plenty of ways to style your room.
23. Pastel Blush Colored Stoneware Vase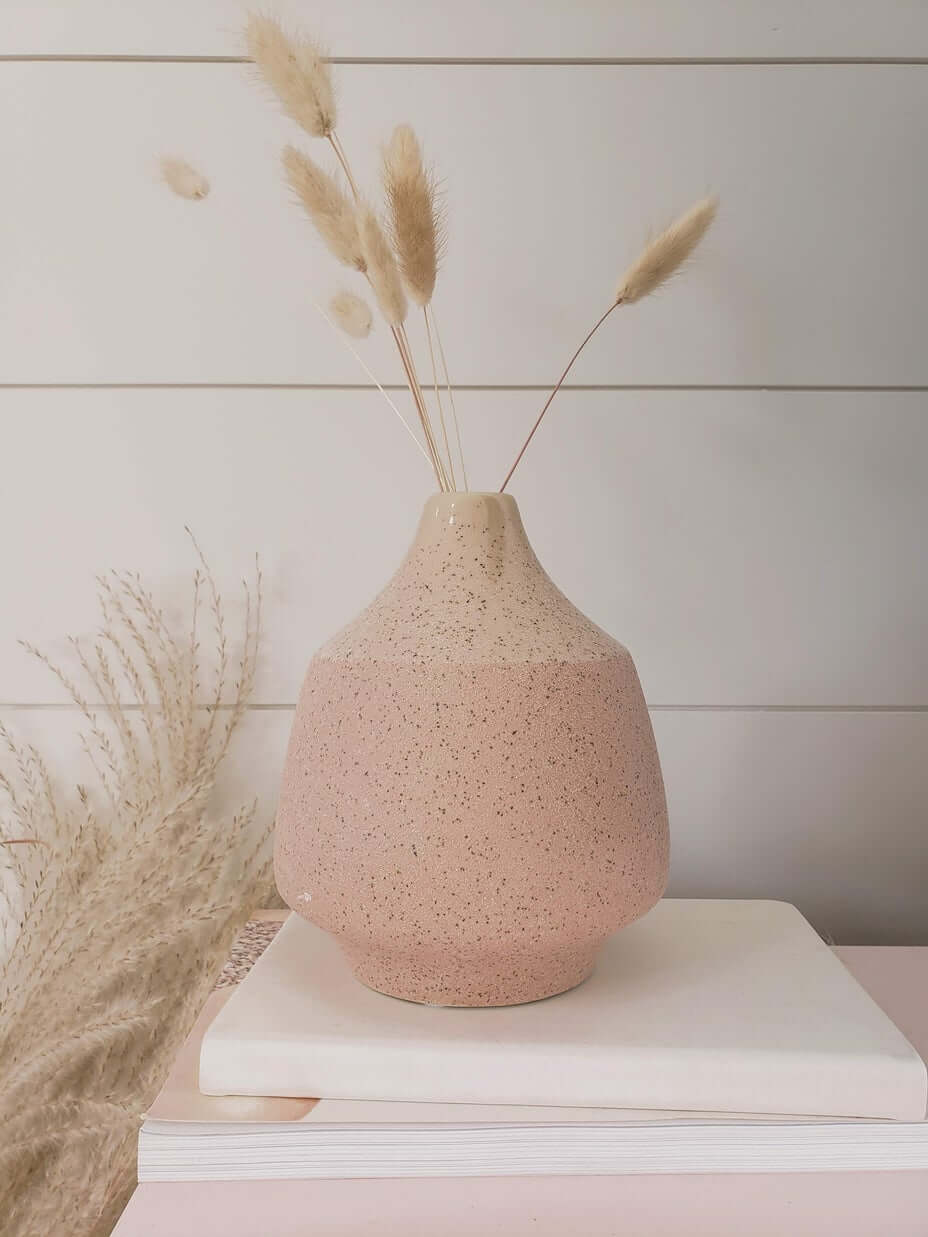 Sometimes, all that is missing from your pastel room aesthetic is a simple vase for your greenery or other flowers. This stoneware vase is a perfect choice. It has such an incredible shape to it that immediately pulls attention toward whether you add small, simple flowers, or tall, outlandish ones to it. However, using similarly themed flowers can help pull this whole style together. It is a simple and effective way to add more to your room, or if your room lacks any pastel, this can be that missing piece you need.
24. "Love" Metal Wall Art Decor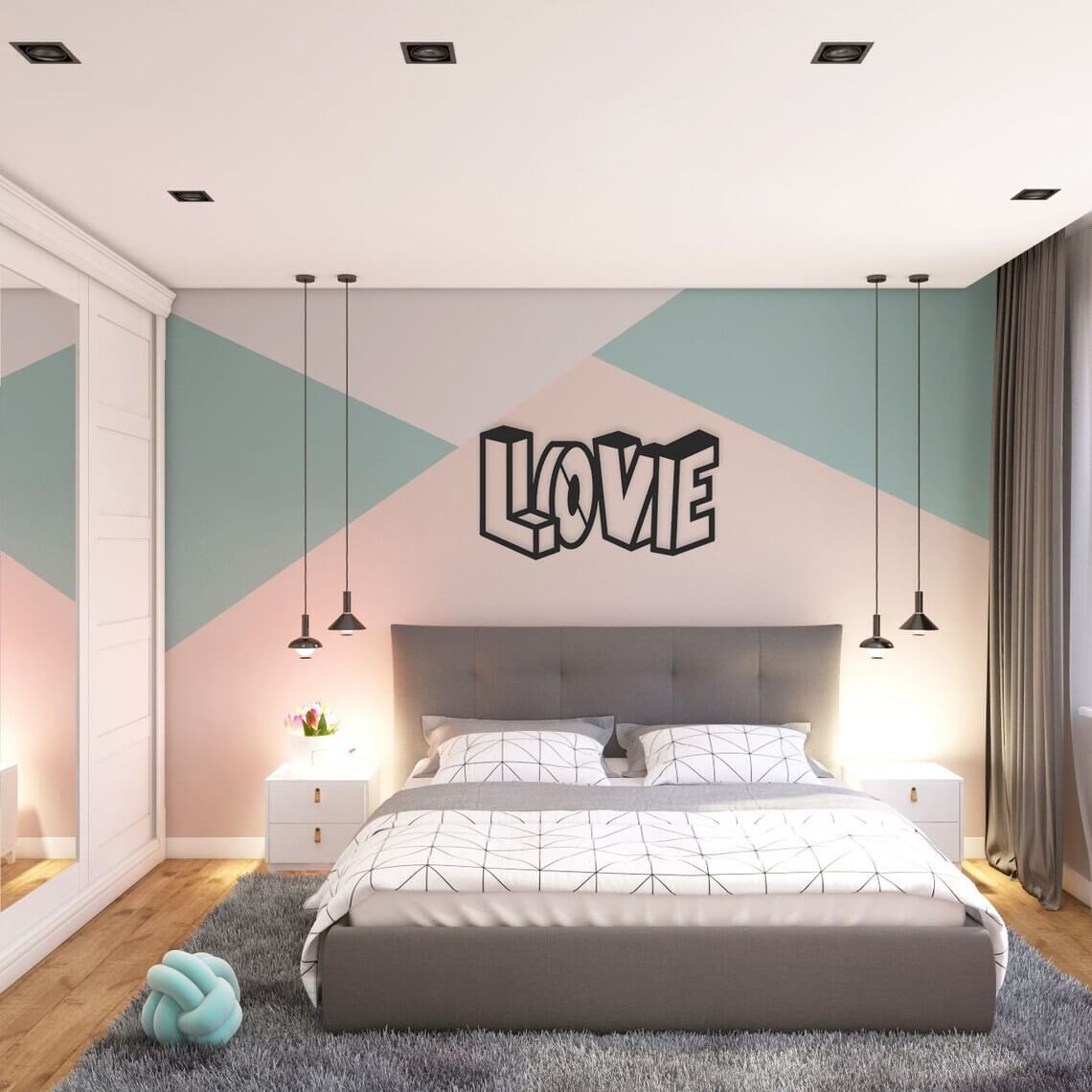 Sometimes, your pastel room can really use some darker contrast to help give the walls more flow and not seem static. This wall art is a nice fit. It is bold, yet with how it's made, it still allows for the wall to show through. So, you can easily hang this up against a pastel background like gray, blue, or even pink and still allow those colors to show through. The wall art itself is simply stunning, yet it still offers a minimalistic approach to decorating.
24 Beautiful Pastel Room Aesthetic Ideas to Add Some Color to a Room
There are several ways that pastel colors can give a room a complete makeover. These colors are bold, yet soft at the same time. What is so great about them is that they come in numerous colors from pinks to blues. These colors still blend together rather well. So, with pastels, you can easily combine several different colors and still create a unified decorative theme. It all comes down to choosing what colors or single color works best for your room and your personality.
A pastel room aesthetic is also a wonderful way to add some light to a room. Everything just seems brighter and livelier with pastel coloring. This can also work hand-in-hand with the natural lighting in your room. So, feel free to add this color theme to a living room, bedroom, or even a kitchen that has natural lighting to see just how well the colors stand out.
If you are unsure where to begin your pastel journey, we hope that our list will give you some good ideas on where to start. You can opt for changing the paint on an entire wall or simply adding some pastel-colored wall art instead. Anything can work from lamps to throw blankets. With the list of our favorite best pastel room decor ideas, you're bound to leave with a wonderful way to style your home.